Considering doing a Working Holiday Visa in New Zealand? This article will answer all your questions about life in NZ, cost of living, how to find housing, and advice from someone who has been there before. This guide also walks you through the necessary steps to apply for a New Zealand Working Holiday Visa so you can start your adventure!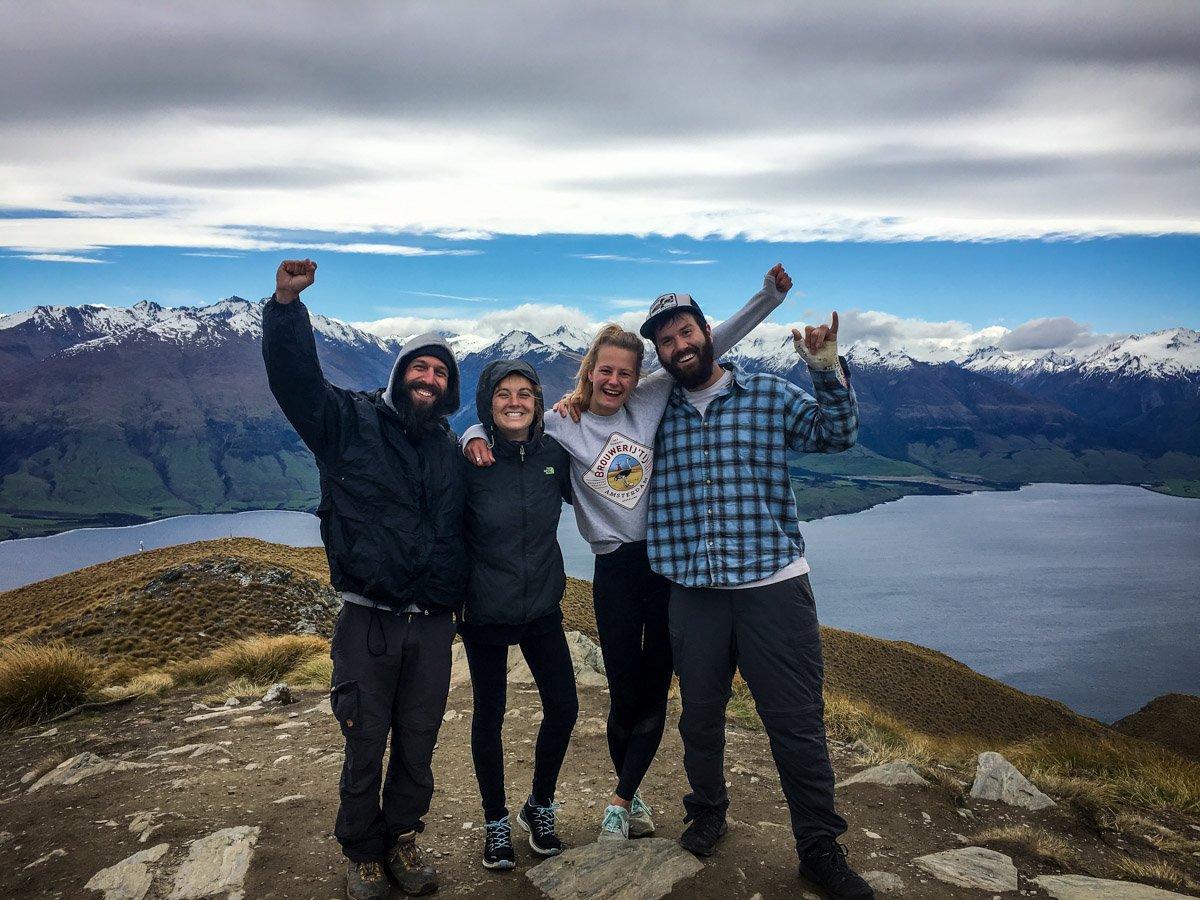 Have you ever thought about taking a year off to live in another country where you will work and travel?
We spent a year teaching English in South Korea and it was one of the best decisions we ever made. It allowed us to save money while experiencing another culture and making friends from around the world.
If teaching English abroad isn't appealing (or possible) for you, another option is to consider doing what's called a "Working Holiday Visa".
Many countries around the world offer Working Holiday Visas, which essentially gives people from outside the country the opportunity to live and work for a set amount of time.
Without getting into too much detail, I'm going to say that the Working Holiday Visas you're eligible for is determined by your citizenship.
For instance, Americans can do working holidays in 5 countries around the world: Australia, New Zealand, Singapore, Korea and Ireland.
Other nationalities have many more options, while some have fewer.
Two of the most popular working holidays programs in the world are Australia and New Zealand. And for the purpose of this article, we are going to discuss the latter.
Disclaimer: Also, there are some affiliate links in this article, which means when you click we get a small percentage of the purchase at no extra cost to you. This allows us to keep sharing great travel tips with you, so feel free to click away!
New Zealand Working Holiday Visa
We recently did a campervan trip through New Zealand and absolutely fell in love with the country. We talked about how fun it would be to call NZ home for a year, working odd jobs and exploring the nooks and crannies. But sadly, we are too old to do a Working Holiday Visa (devastating, I know!).
So I called upon someone very special to answer some questions about New Zealand's Working Holiday Visa… my brother!
Let me introduce you to my brother, Joey. Although he's 2 years younger, his lumberjack beard means he's often mistaken as the older sibling when we first meet people.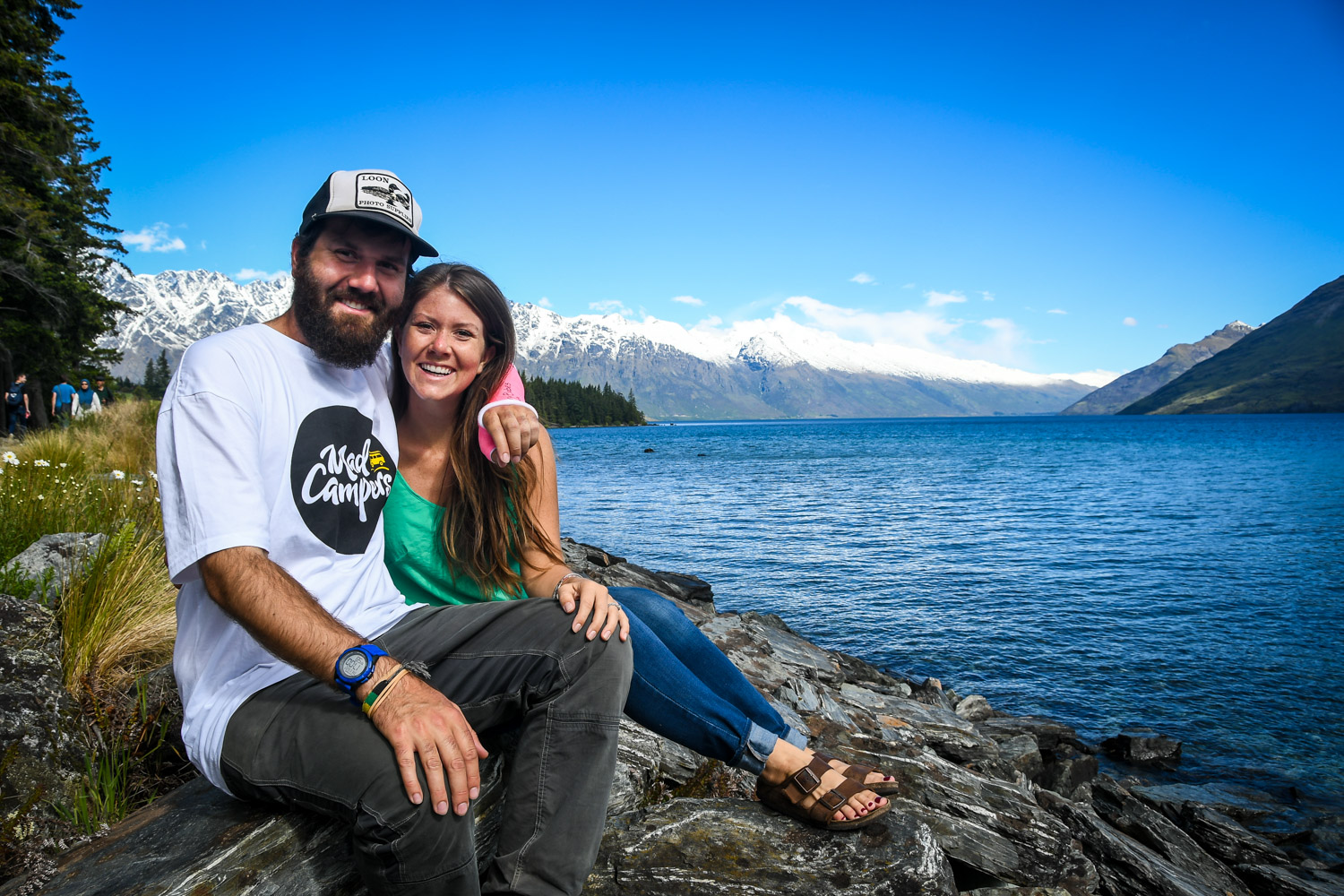 Joey is a civil engineer, and just after passing the PE exam (that stands for "Professional Engineer" exam, and apparently it's a big deal—kind of like what the Bar is for lawyers) he took a leave from his job to do something kind of crazy…
He applied for a Working Holiday Visa in New Zealand, packed a very small backpack (I'm one proud sister!), and boarded a one-way flight to Kiwi country.
He's agreed to answer all the questions about what it's really like living in New Zealand–from the daily struggles to the epic highlights—plus all the super important stuff you need to know, like how to set up a bank account and what insurance to get.
Without further adieu, I'm going to turn the questions over to Joey!
1. Why did you decide to do a working holiday visa?
I chose to take a year off from working a "real" job in order to take a step back and evaluate what I wanted in my future.
2. How did you choose New Zealand over other countries?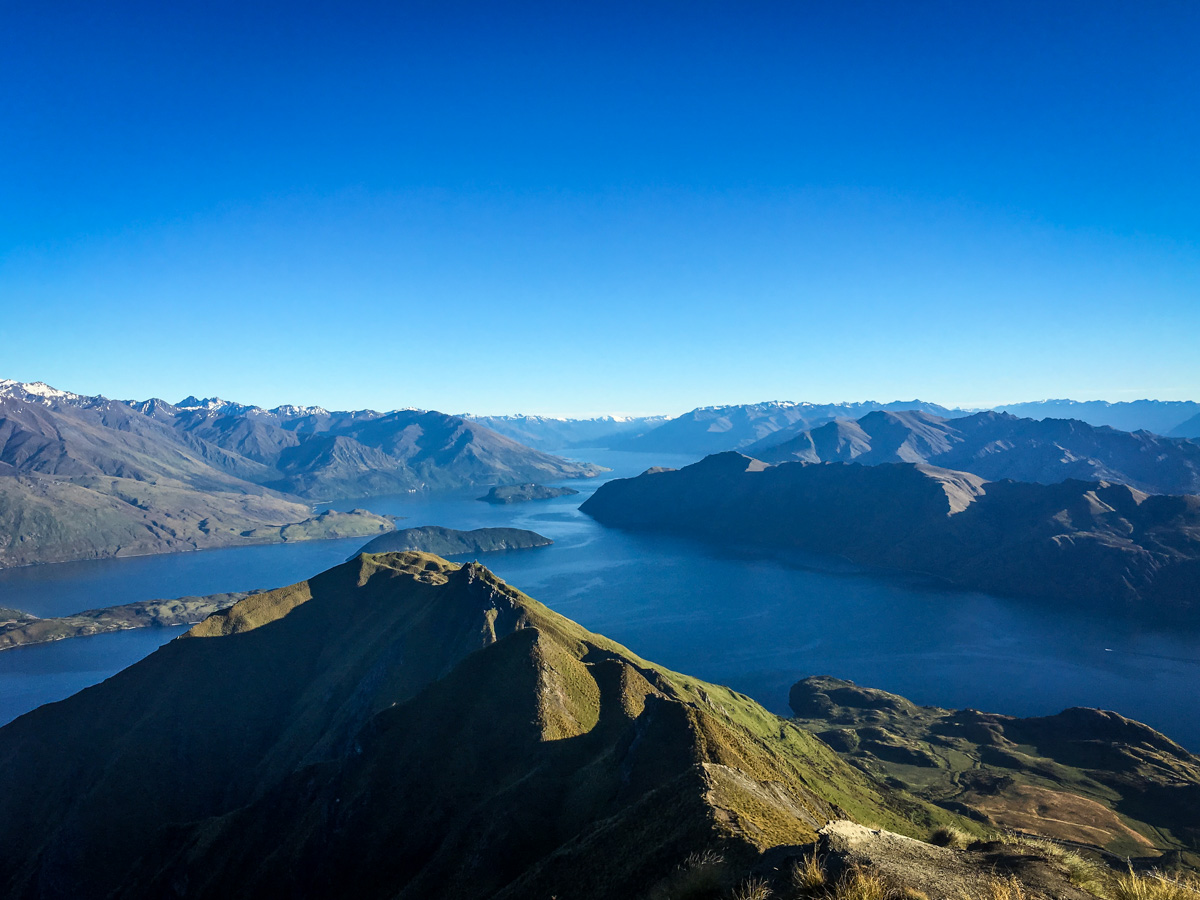 Ever since a "choose a country to research" project in the 4th grade, I've had a fascination with New Zealand. Being such a naturally beautiful country, having English as the primary language, and being able to travel far away from home physically (laying on the beach during Christmas is an amazing experience!) were all factors that played into choosing New Zealand as a working holiday destination for me.
In all honesty, there was never any competition with another country. I've know for years New Zealand was the place I wanted to spend a part of my twenties in!


Working Holiday Visa Jobs in New Zealand
Let's get down to the details of what types of jobs are available and how to go about snagging one…
3. What types of jobs are typical for people doing Working Holiday Visas in New Zealand?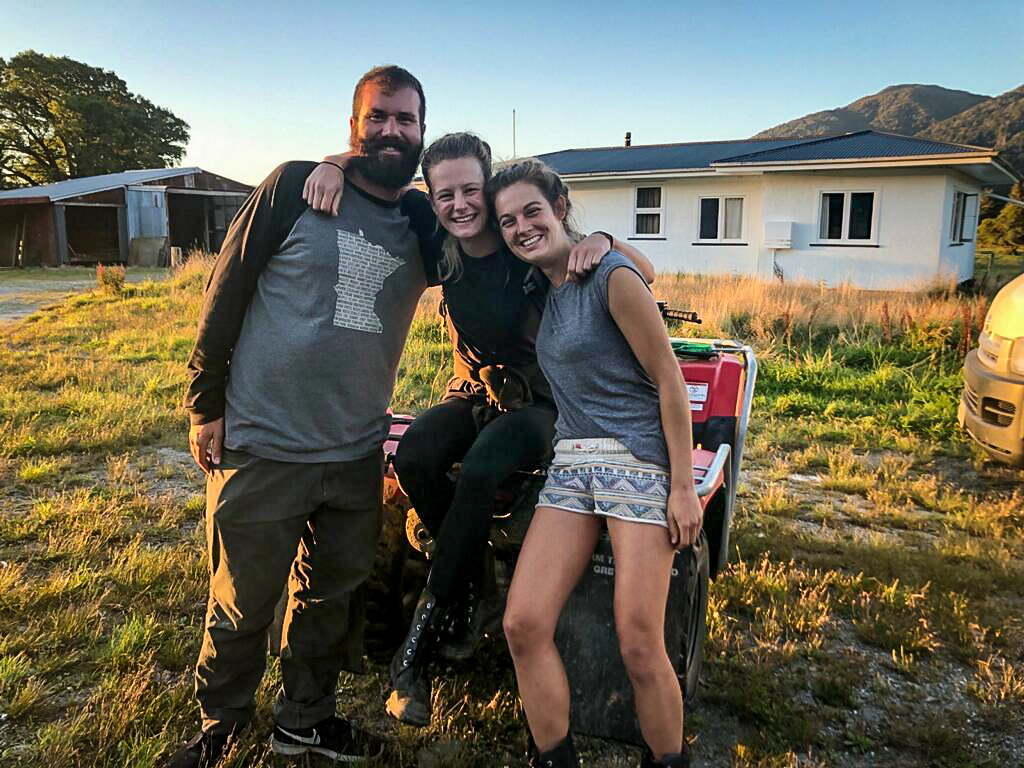 Typical jobs for people on working holiday visas can vary greatly. Friends I have met here work on salmon farms, in hostels, as bankers, serving in restaurants, and yes, even picking kiwi fruit!
Almost all jobs are open to people on working holiday visas. The employer just needs to note that it is not a "permanent" position.
4. Where can you find these jobs? Is there a job board website, or is it easier to find them in person?
Jobs seem to be available on almost any New Zealand backpackers Facebook group as well as posted on cafe or business windows in most places around towns.
Due to strict immigration policy, both Australia and New Zealand rely heavily on backpackers to fill serving, labour, and farming positions. It seems that if you want a job in this country, you'll be able to find something within a short amount of time.
5. Do you recommend finding a job before you arrive, or is it pretty easy once you get there?
If you are low on cash or want to stay in a big city I would recommend at least speaking to employers prior to getting here.
However, if you have enough money to make it a month or two and are open to different kinds of work, there are options everywhere in New Zealand. I haven't met anyone who truly needed a job and couldn't find one.
6. If you have a Working Holiday Visa, are you required to work the whole time? Or can you travel?
The working holiday visa does not have any requirements for time spent working versus traveling. It just allows someone to stay in New Zealand for up to a year from arrival with the option to work as a non-permanent employee.
There are slight differences if you are from a commonwealth country where certain amounts of farm work can extend your visa time, but I didn't get to play by those rules (since I'm from the US).
Finding Housing in New Zealand
Finding a place to live in a different country can be a worry of many people thinking about doing a working holiday visa. We're asking all the important questions, from how to find housing and how much you should expect to pay.
7. When you first arrived in New Zealand, where did you stay?
Before I arrived in New Zealand I had exactly 1 week booked in a hostel in Auckland. Due to some injuries prior to arrival (a tragic coconut incident while traveling with Ben & Katie in Bali!), I ended up spending about another week in Auckland, but moving around hostels.
Accommodation for 1 person can easily be found 3 days prior and usually even the day of.
8. Is it easy to find housing in New Zealand? What would be a typical cost for a month of accommodation?
Many backpackers will stay in hostels long-term, even while working here. This seems to be a pretty common theme through most cities in New Zealand.
If you want to find short-term leasing (think 3-6 months) there are options as well, but depending on the location, you might be better off just staying in a hostel. A typical cheap hostel bed or room to rent would be anywhere from $160NZD – $210NZD depending on location.
FYI: Queenstown is the most expensive city to stay in New Zealand.
Insurance in New Zealand
Yep, we're getting into the nitty-gritty! But Joey proves just how important having insurance is during your working holiday visa… Oh, and it's required by law. So you definitely need to read this section!
9. Is it a requirement to get medical insurance when you're doing a Working Holiday Visa?
Medical insurance is required for the working holiday visa.
I found a company called OrbitProtect which is a New Zealand insurance firm that knew the requirements I needed for my working holiday visa.
It was a simple process to get insured and they were great once I had to open an insurance claim.
I am covered for 12 months in New Zealand including up to 3 months in Australia and Southeast Asia for about $275NZD. I would definitely recommend this company to others looking to travel to New Zealand.
10. I know you had a little medical issue in New Zealand… Can you tell us more about that?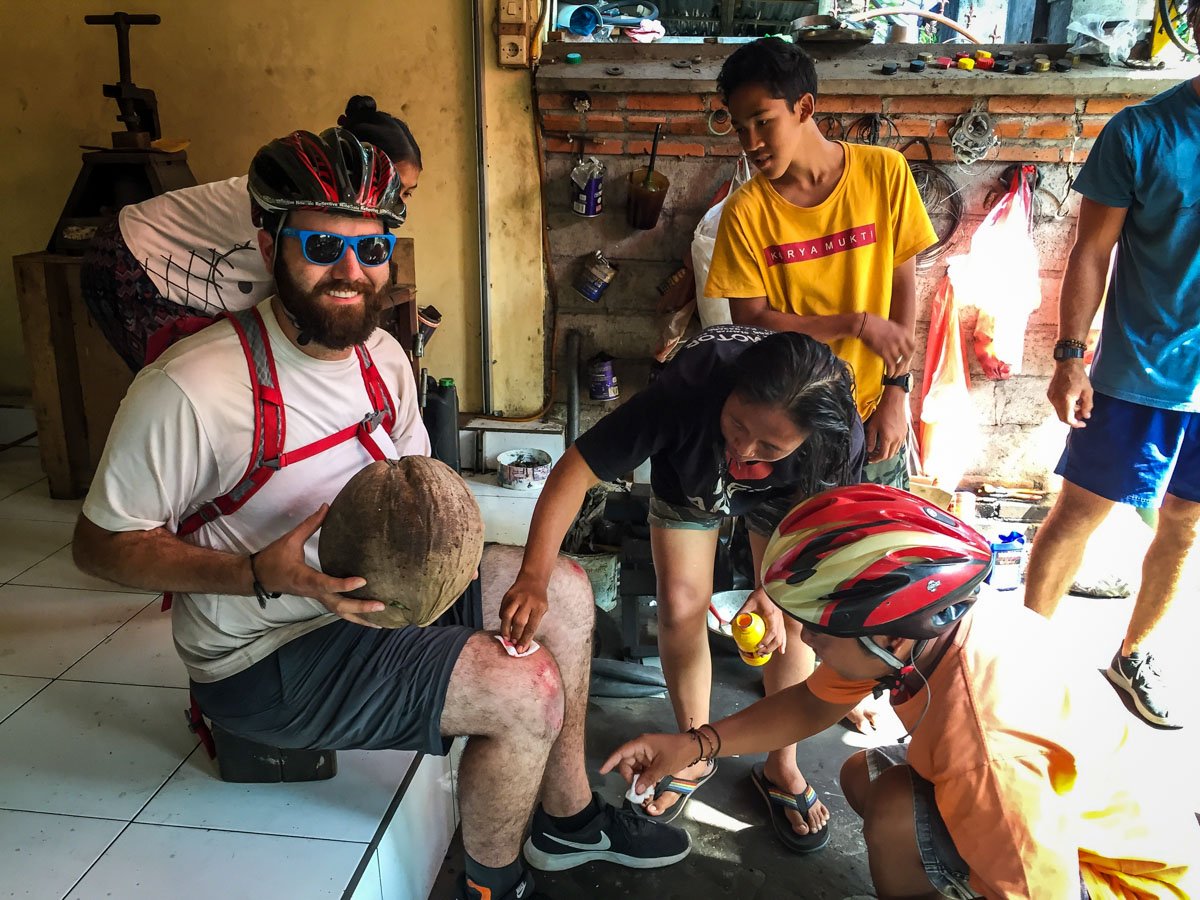 Before arriving in New Zealand I visited Katie and Ben in Bali. Besides having a great time, I also had an issue involving a bicycle and a coconut that ended with me having a fractured wrist.
If this accident had happened in New Zealand I would have been fully-covered and paid for under their ACC insurance (which I purchased online before arriving in New Zealand). Since it happened prior to me arriving though, it needed to be paid for out of pocket.
11. How did you find the experience working with doctors and getting your arm healed?
The doctors I saw in New Zealand were great. Everyone was very professional and similar to what you would find in the US. I ended up seeing a fracture specialist in Queenstown which I'm sure sees some of the highest rates of wrist fractures in the world (since Queenstown is the home to many adventure sports!), so I felt very fortunate there.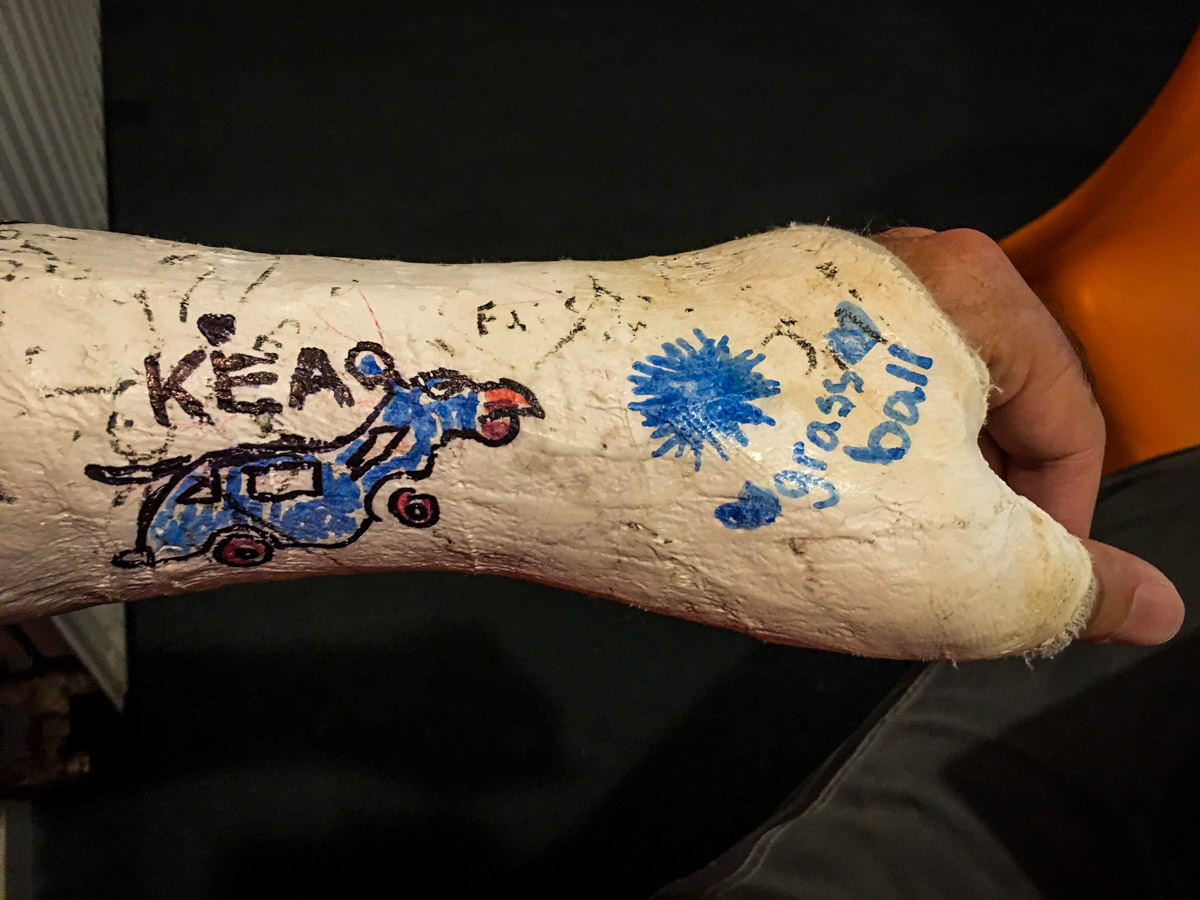 All together I believe I had 5 or 6 appointments with sets of X-rays, 2 casts, and a follow up appointment. Everything combined to a little over $2,000NZD.
The insurance that I had reimbursed me for everything other than the first $50NZD to open the claim. Combining the $50 with my $275 one-time premium means I spent about $325NZD total for the year. I definitely made out better than I could have on this one since I had insurance!
Tip: Katie & Ben always travel with Allianz Travel Insurance.
Cost of doing a Working Holiday Visa in New Zealand
Finances are a major topic you'll want to understand before making the leap and moving to New Zealand. We're discussing the cost of living and asking Joey for his best budgeting tips. Plus, he's sharing advice about the "adult essentials" like getting a phone plan and bank account in New Zealand.
12. How have you found New Zealand in terms of cost of living?
Overall, New Zealand has a very similar cost of living to the United States and Western Europe. Even less expensive than the coasts of either of the aforementioned.
Certain products, such as petrol (gas) and camping equipment can be more expensive, but other expenses such as accommodation and eating out can be less expensive comparatively.
One thing I find delightful about New Zealand is that the price shown in a store or on a menu is the price you pay. With taxes and tips included. If a dinner is priced at $20 NZD then I can pay for it with one twenty dollar bill.
Combined with the strength of the US Dollar, and knowing what I am paying for everything up front, I have actually found New Zealand MUCH more affordable than I imagined.
13. Do you have any budgeting/money-saving tips?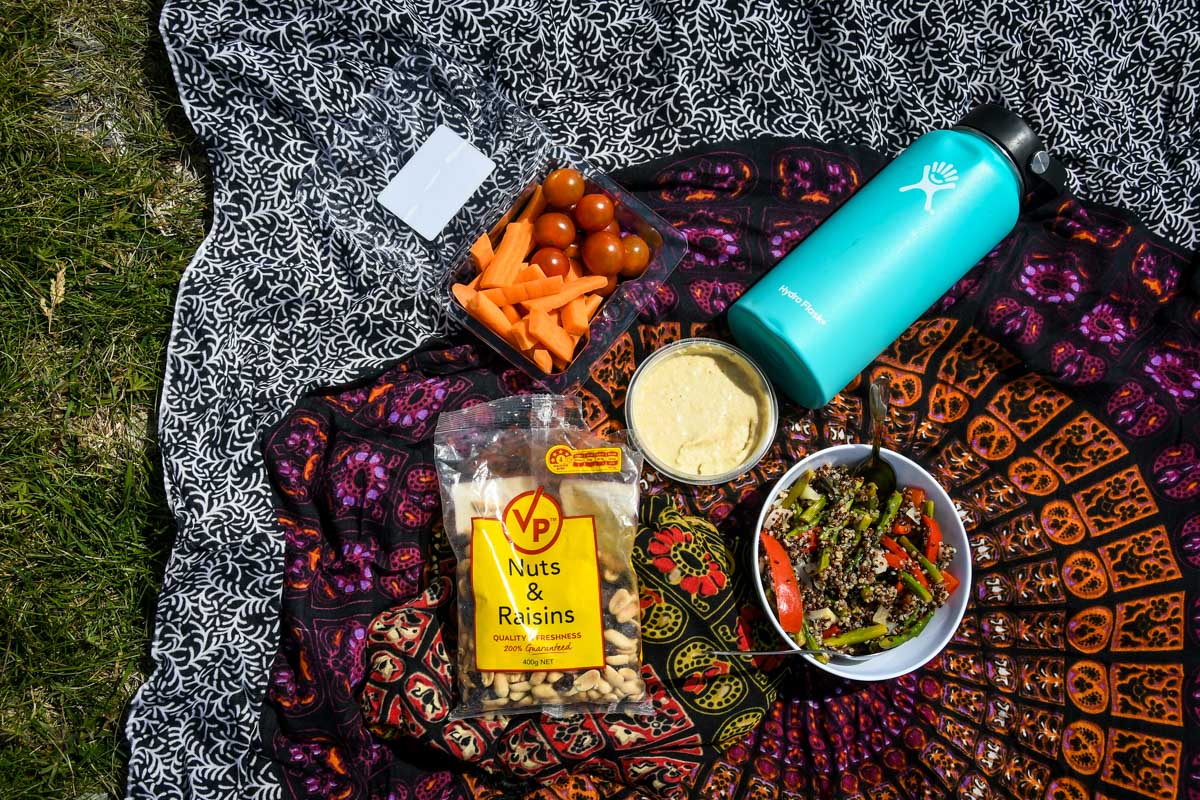 Tips to saving money one New Zealand are similar to those in any other Western country. Cooking in, staying in dorm beds, and being selective on entertainment are all ways to save money.
One additional way to save money in New Zealand is to take advantage of the amazing hikes and the DOC campsite/hut network. Huts and campsites are cheap to stay in, usually require your own cooking, and mean you don't have spendy entertainment options at your fingertips.
14. How did you buy a car in New Zealand?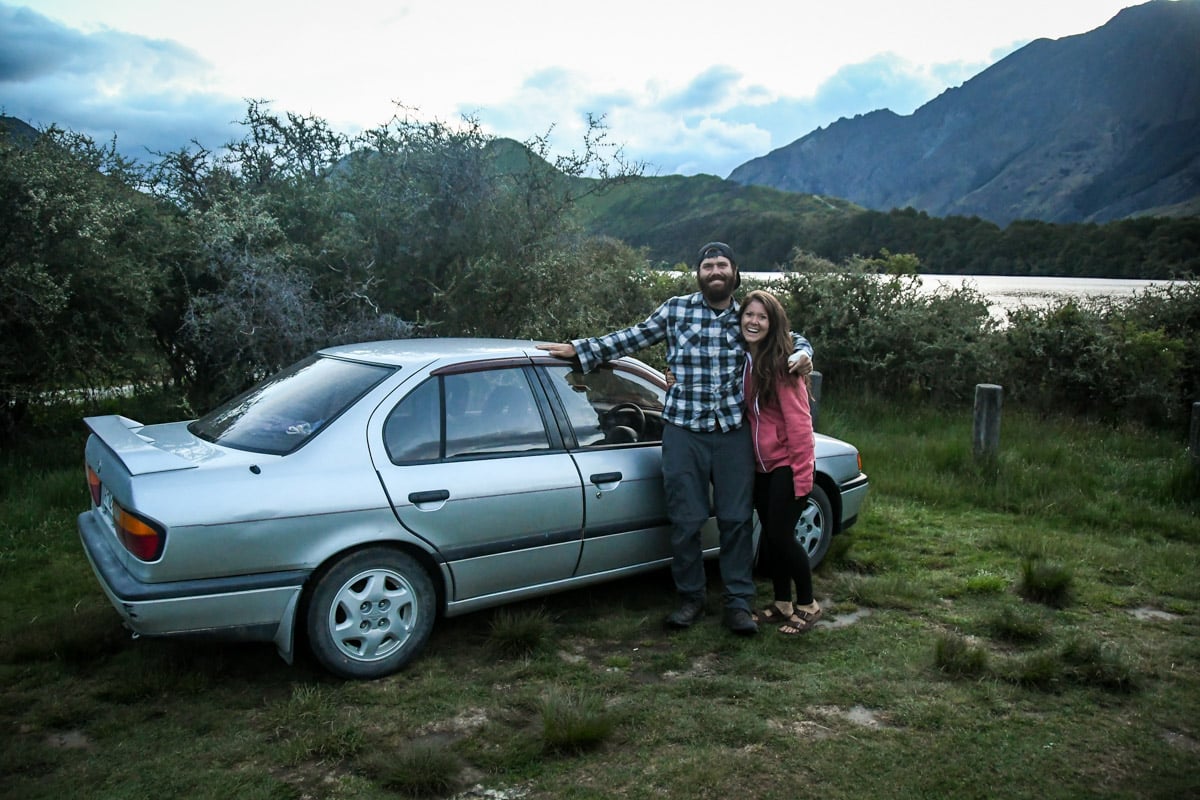 Used cars are cheap and easy to come by in New Zealand. The climate means that cars seem to run much longer than in some parts of the world (like where I'm from in the Midwest, USA for instance).
There's a site called Trade Me which is essentially New Zealand's version of Craigslist and where many people buy cars.
I found my car at a used dealership in Christchurch, but originally got their contact info regarding another car from Trade Me.
15. Do you need a special International Permit to be able to drive in New Zealand?
A United States drivers license is valid to drive in New Zealand for up to one year from your date of arrival.
I went ahead and purchased an International Drivers License while I was still in the US (about $30 and 15-minute process) just to ensure I had the proper ID, but I haven't had to use it.
16. How did you set up a phone plan? What about a bank account?
PHONE PLAN: There are 3 major phone providers in New Zealand (very similar to the US). I checked with Spark and Vodafone on what deals they had for "pay as you go" monthly plans.
I decided to go with Vodafone because of a better package for myself.
BANK ACCOUNT: To work in New Zealand you need to get an IRD (a tax ID number for the government) and to get an IRD you need a New Zealand bank account.
Your passport and a letter of residency are required from the bank to set up an account. The letter of residency can either be a signing agreement on a flat or room you have decided to rent. Most hostels (especially in the major cities where you'll likely be starting your NZ adventure) will evenprovide a letter stating for this purpose.
Basically this just gives the bank SOME physical address for where you may be. My "physical address" in New Zealand is a hostel I haven't been back at for months, but it has worked out just fine.
Fun Questions about Life in New Zealand
Now it's time for the fun questions about everyday life! Joey is giving us a glimpse into what it's like doing a working holiday visa in NZ.
17. Is it pretty easy to make friends with other people doing Working Holiday Visas?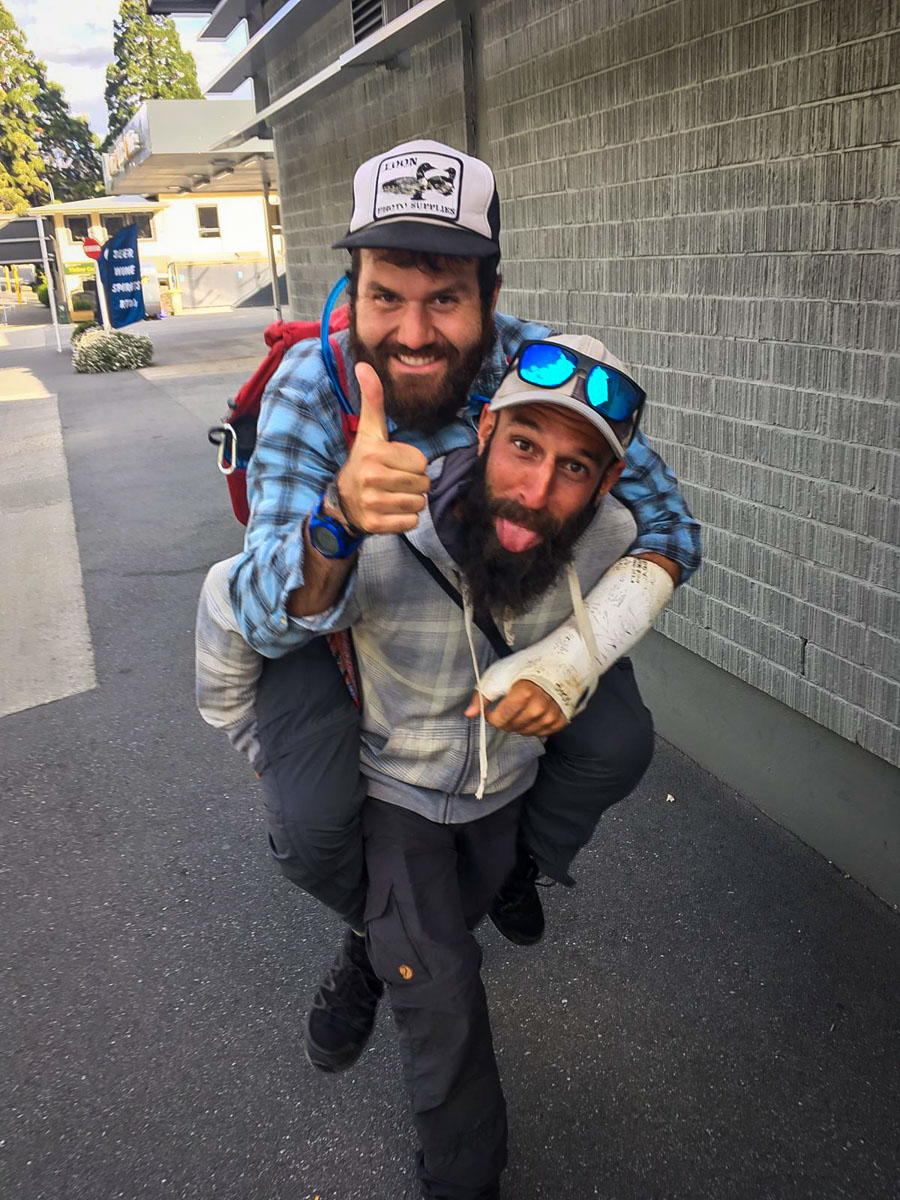 Meeting other people on Working Holiday Visas is as easy as you make it. All hostels are brimming with people on these visas and if you're friendly and outgoing, you'll have more new friends than you know what to do with.
There are groups on Facebook that will aid to match you with people in similar areas, doing similar activities, etc., but I've found it easier to form natural connections around a tea or a beer. After all, New Zealand is the land where you make better connections.
18. What have been 3 of your favorite memories while living in New Zealand? (Besides seeing Ben and me, of course!)
Three of my favorite memories, besides seeing my lovely sister and B.I.L., have been (in no particular order):
Climbing Mount Taranaki

Laying on the beach during Christmas

The people I have met along the way
19. What is the best part about living in New Zealand?
My favorite part about living in New Zealand is how quickly you can travel between totally different climates.
In one day you can start in a city, drive through small mountain villages, walk through a rainforest, and have dinner on the ocean.
It's similar to having the different climates of the US stuffed into one or two states.
20. What has been the biggest challenge?
The biggest challenge I encountered over here was finding a job I would want to do while being injured.
I didn't come to New Zealand to work in an office or inside much, so that was out of the question for me. I had spoken to a company about being a kayak guide prior to arriving but a broken wrist canceled that opportunity.
Although this was a challenge, it ended up being just fine. I can't complain for getting to use the "holiday" part of my visa much more than the "working" bit.
21. Is there anything you've missed from home while living in New Zealand?
A couple things that have either been different or I have missed from back home are:
Close friends that you have known for years

Having my own kitchen to experiment in

Season Vikings tickets
22. What 3 things would you recommend to pack for living in New Zealand?
Three things you NEED to pack for living in New Zealand:
Rain jacket

Hiking shoes/boots

Sunglasses
23. Is there anything you wish you should have known before you arrived in New Zealand?
Nothing truly caught me completely off guard while living over here.
One thing I wish I had known a little more before coming was that the price of groceries can be quite high. Being an island nation, a lot has to be imported and most of the animal products are free-range/grass fed, making for slightly higher costs. That being said, nothing is prohibitively expensive.
Related Reading: Things to know before you travel (or move!) to New Zealand!
24. What advice would you give someone who's thinking about doing a Working Holiday Visa in New Zealand?
If you are someone considering a working holiday visa in New Zealand, I would definitely say go for it! It's is a once in a lifetime experience that no one can ever take away.
---
New Zealand Working Holiday Visa Requirements & Application Process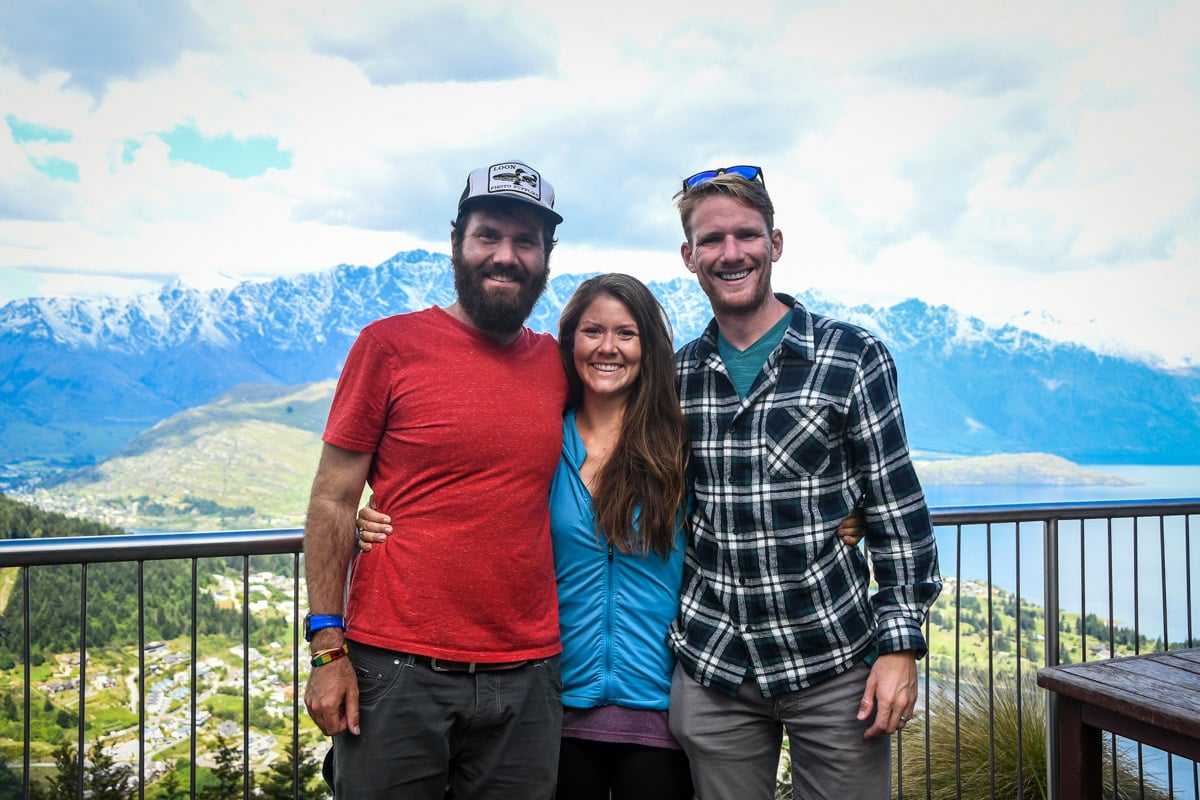 Did Joey's story inspire you to consider a Working Holiday Visa in New Zealand?

Here are some things you'll need to know before you apply…
Are you eligible for a working holiday visa?
Requirements for US citizens:
Age 18 – 30

You must have at least NZ $4,200 to live on during your stay
Check New Zealand's Immigration website for requirements for all non-US citizens.
How much does a Working Holiday Visa cost?
The application cost of a working holiday visa for US citizens is NZ $35.
This handy tool on the NZ Immigration website will let you calculate fees and processing times for your working holiday visa depending on which country you are a citizen of and where you are residing when you apply.
How to apply for a working Holiday Visa in New Zealand
All Working Holiday Visas in New Zealand must be applied for online. Visit the official New Zealand Immigration website and choose your country of citizenship to apply. You'll be asked to log in or create a new account. From there you can follow the instructions to select your country of citizenship and the visa for which you are applying.
How to get insurance for a Working Holiday Visa in New Zealand
Without a doubt the most important thing to remember for any trip is travel insurance. You can read more about why travel insurance is so important, including the story about what made us realize we never want to leave home without it, or you can take our word for it.
Orbit Project is a New Zealand-based company that provides excellent coverage specifically geared towards people traveling on the Working Holiday Visa. Check out their Working Holiday Insurance overview to get coverage specifics, request a quote or buy a policy for your trip.
---
Are you planning a trip to New Zealand?
We have TONS of resources on travel in New Zealand and destinations throughout the country. Check out our Ultimate New Zealand Travel Guide for all the answers to your most burning questions, or read some of our favorite articles below.
Save this article on Pinterest for later!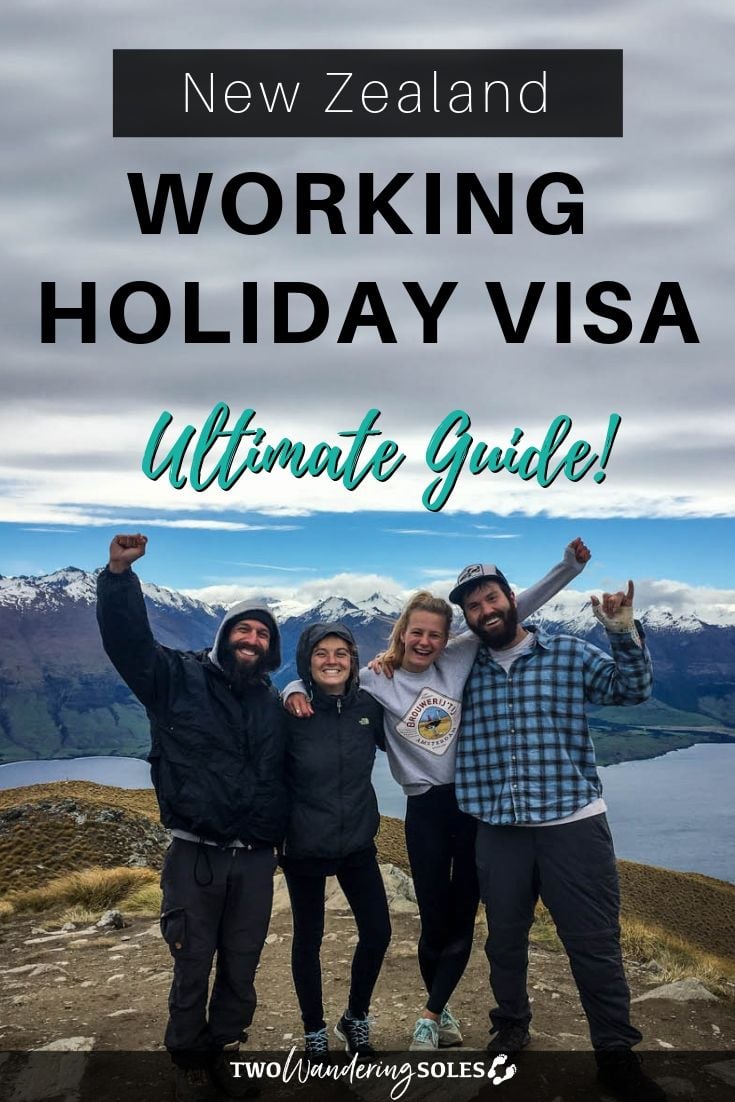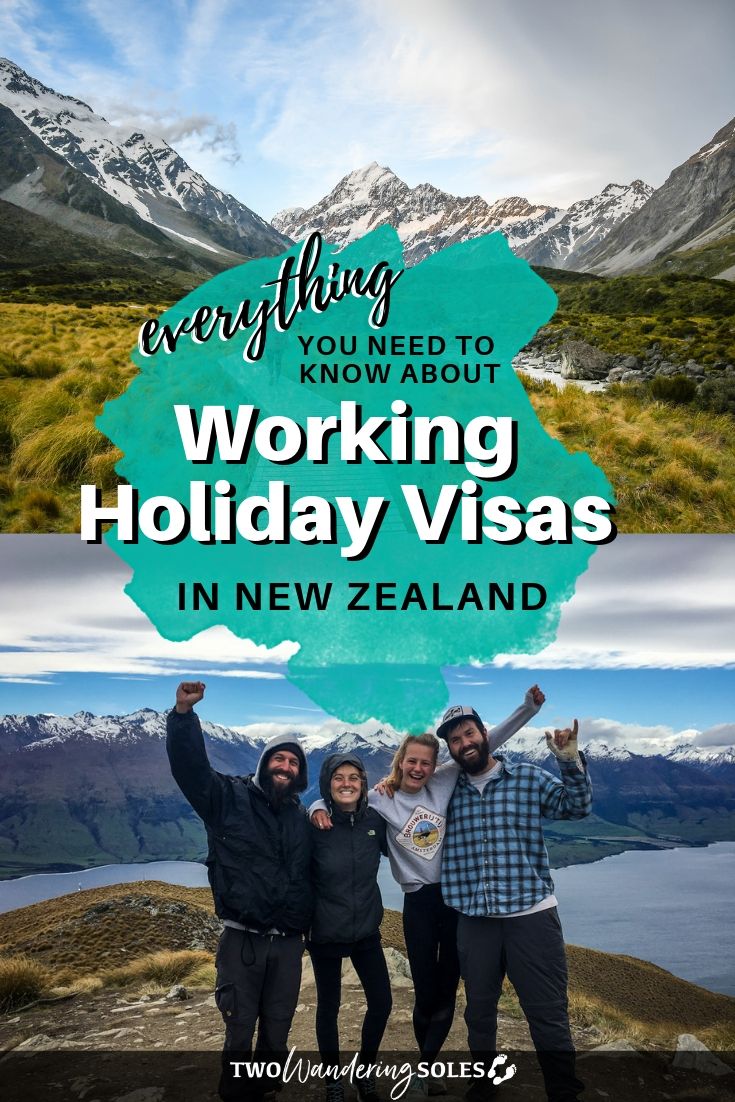 Still have questions?
Comment below and we'll do our best to get back to you and point you in the right direction!