In the buzzing capital of Jordan, you'll find ancient ruins, delicious food, and a modern urban vibe. There are so many awesome things to do in Amman—this vibrant city is worth at least a few days of exploration. In this guide, we'll go over the details of our favorite Amman experiences.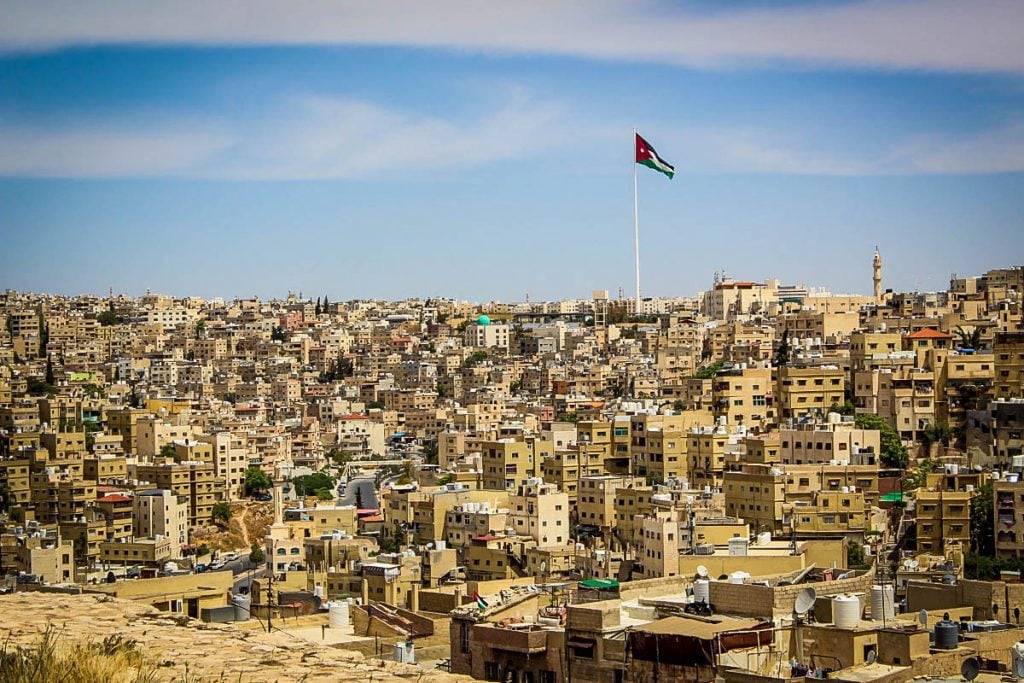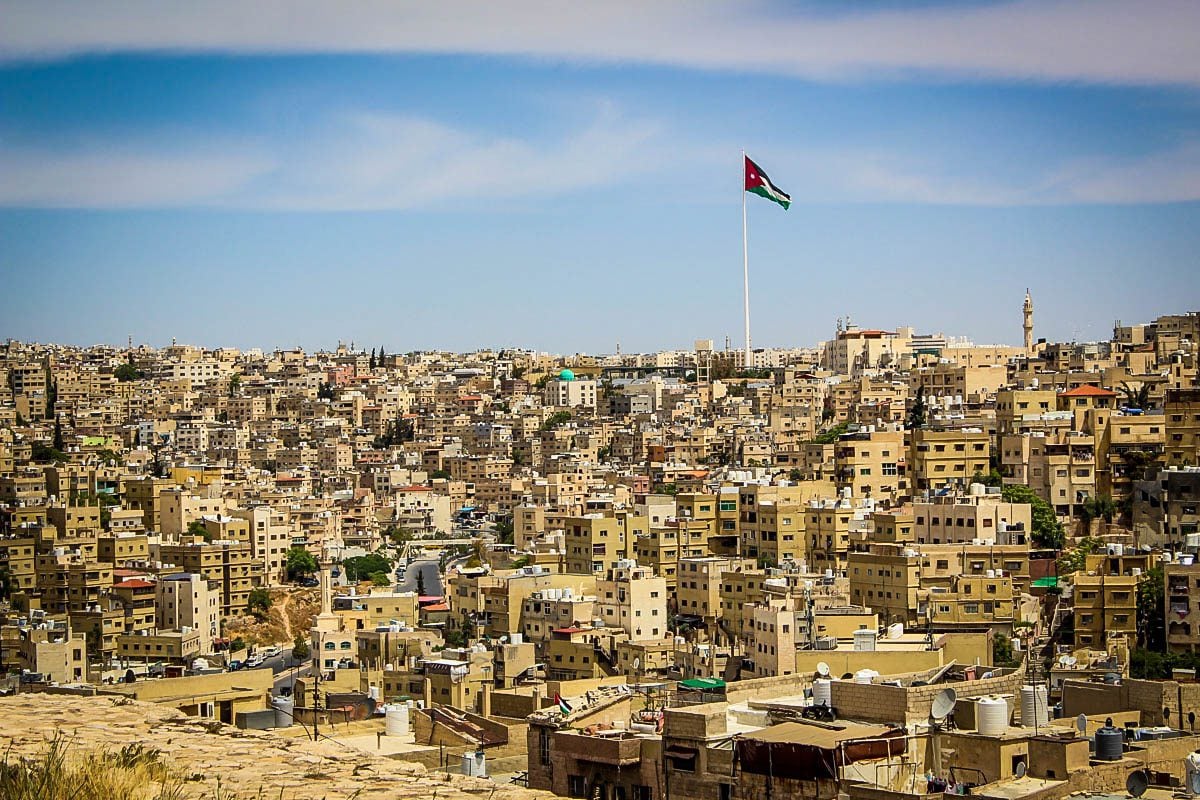 Amman is often overlooked by visitors, using it as just a stop-over on their way to visit Petra and the Dead Sea. However, Jordan's capital city is incredibly charming and we wholeheartedly recommend exploring it for a few days. In fact, we've heard it referred to as one of the best-kept secrets in the Middle East and we fully agree!
Home to several excellent museums, intriguing ruins, lively markets, and the country's best cafes, restaurants, and nightlife, there are tons of awesome things to do in Amman. Plus, with well over one-third of Jordan's population, the city showcases a beautiful and fascinating contrast between traditional and modern Middle Eastern culture.
At the heart of a dramatic valley, Amman offers beautiful views, especially from the citadel and at night when lights twinkle throughout the city. The cafe culture is thriving and don't even get me started on the food…the FOOD!
In a country so small, Amman is just a short drive from many of the best things to do in Jordan, making it an ideal urban basecamp for exploring the rest of the country! 
Article Contents
Psst! If you'll be traveling more throughout the country, be sure to check out our bucket list of unforgettable things to do in Jordan!
---
Hot tip: the Jordan Pass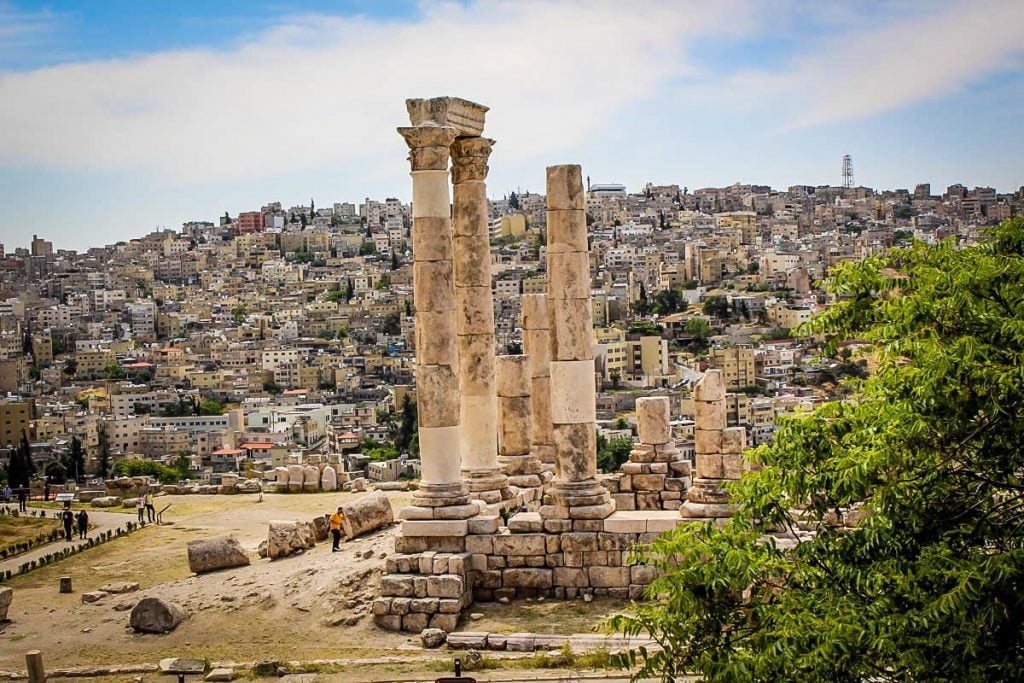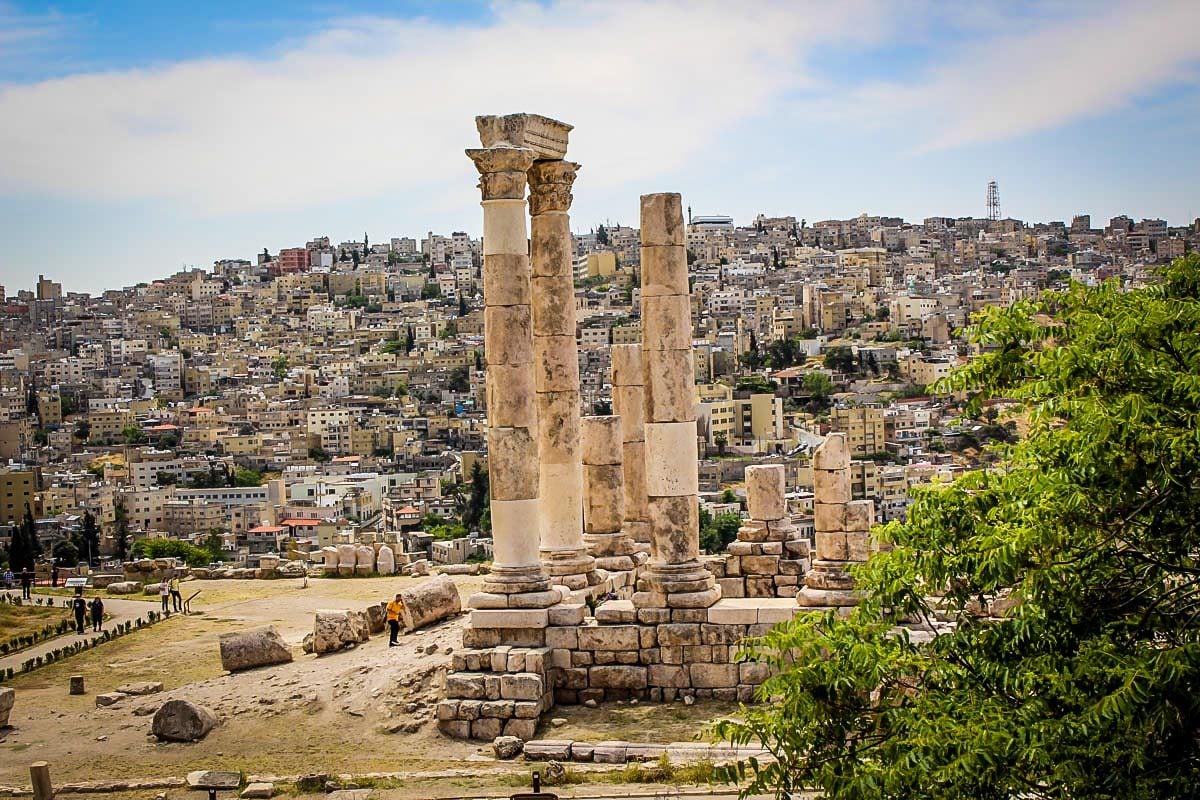 Before your arrival in Jordan, you may want to look into getting the Jordan Pass to save you time and money on entrance fees. If you plan on visiting some of the historical sites around Amman as well as elsewhere in the country (such as Petra!), the Jordan Pass is a no-brainer.
At 70-80 JOD, the pass is not cheap, but combining the free access to over 40 tourist attractions in Jordan (including a few on this list, as noted below!) with the waived visa on arrival fees, it can actually be a huge money-saver.
Check out our guide to the Jordan Pass to help you understand how to use it, where to use it, and if it's worth purchasing for your trip.
Other resources for planning your trip
---
1. Take a free walking tour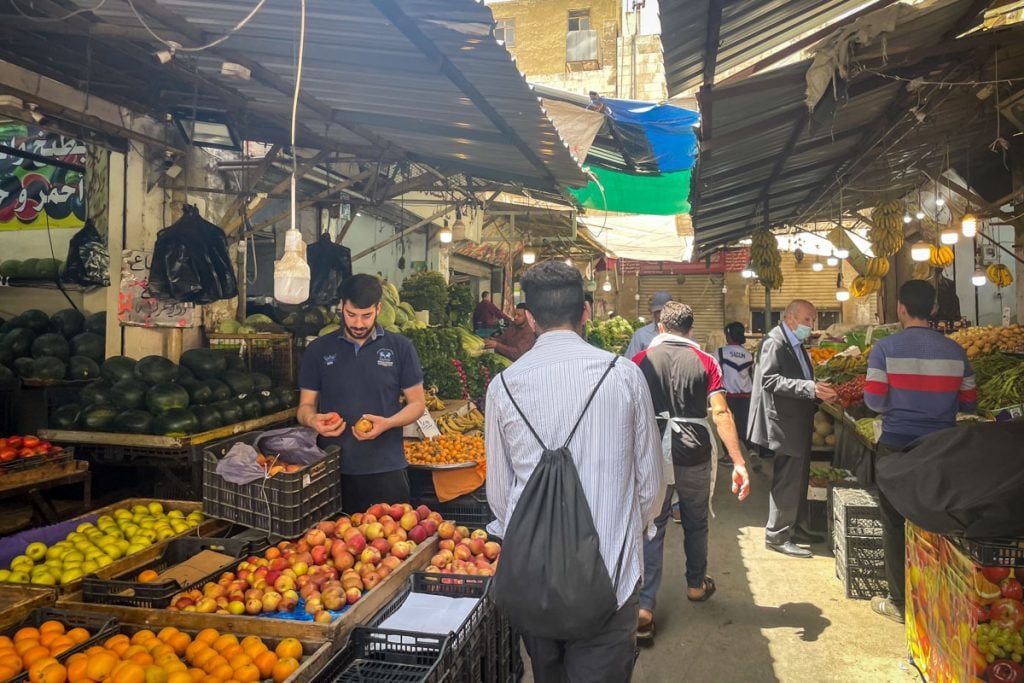 Taking a walking tour is usually one of the first things I look into doing when visiting a new city. It is the best way to get my bearings in a new place, and get some local perspective. Plus my tour guides often turn out to be great resources for figuring out my new city and sometimes even make good friends!
Before arriving in Amman I found it difficult to discern if there was an official free walking tour of the city. After pursuing Airbnb Experiences and Get Your Guide, and seeing prices for city tours upwards of $50 USD for a couple hours, I was a bit nervous.
I found a free tour of Amman on GuruWalk that sounded like what I was looking for and had great reviews. Though I was a bit skeptical having never used the site before, our guide, Mujallie, was very friendly and super informative. The tour was exactly as advertised.
My friend and I were joined by another couple and the five of us chatted away as we walked about the city, taking in the scenes and learning about the history and local culture. It was a fantastic tour and a great introduction to Jordan.
2. Stroll the Citadel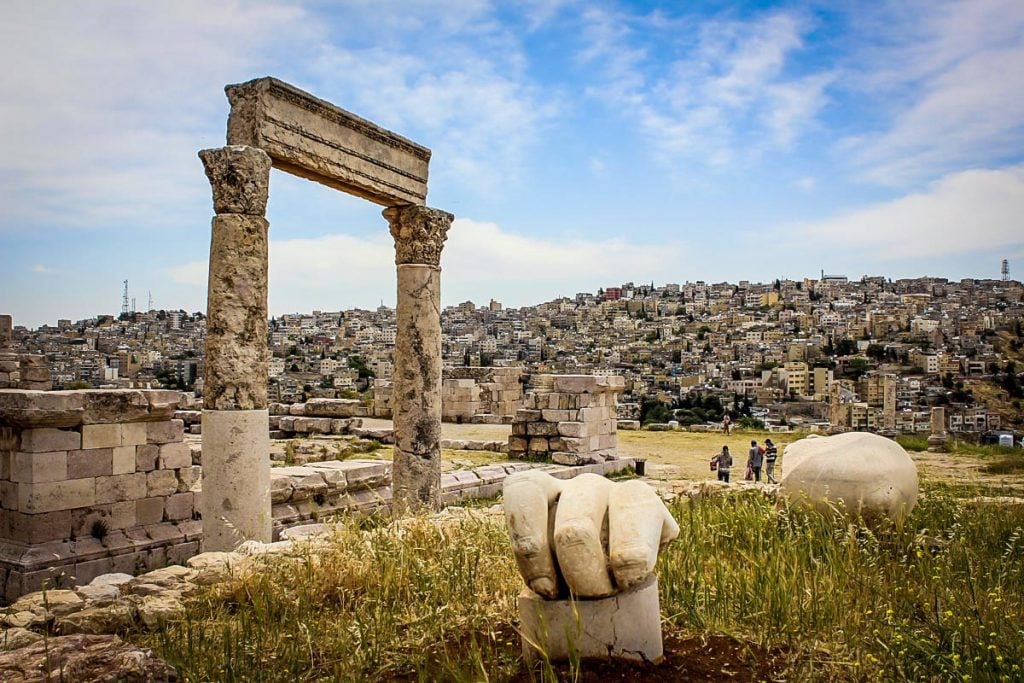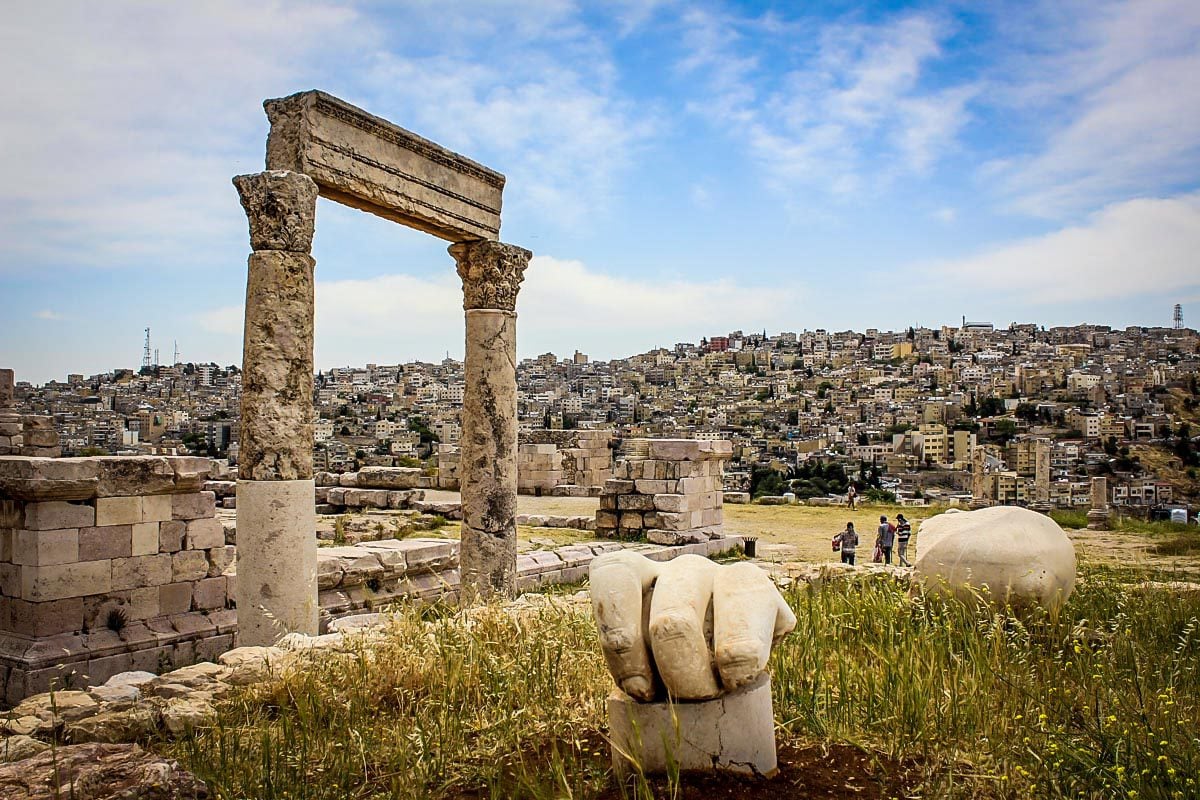 Perched on a hilltop overlooking the city, the Citadel illuminates Amman's ancient history. Archaeologists have found relics here dating back to the Bronze age — around 1500 B.C. Through the ensuing thousands of years, this area was inhabited by Babylonians, Romans, Byzantines, and Umayyads, making it one of the oldest continuously inhabited places on Earth.
With an impressive number of structures still intact, the history comes alive right before your eyes. The Roman Temple of Hercules (circa 2nd century) and the Umayyad Palace (from the 8th century) are especially breathtaking!
In addition to the sights themselves, the hill provides a great view of Amman. We highly recommend coming about 1.5 hours before sunset to explore the remains, then watching the sun drop below the city. Seeing the contrasting skyscrapers and ruins bathed in an orange glow is an unforgettable experience!
*Entrance to the Citadel is included in the Jordan Pass.
3. Climb the steps of the Roman Theater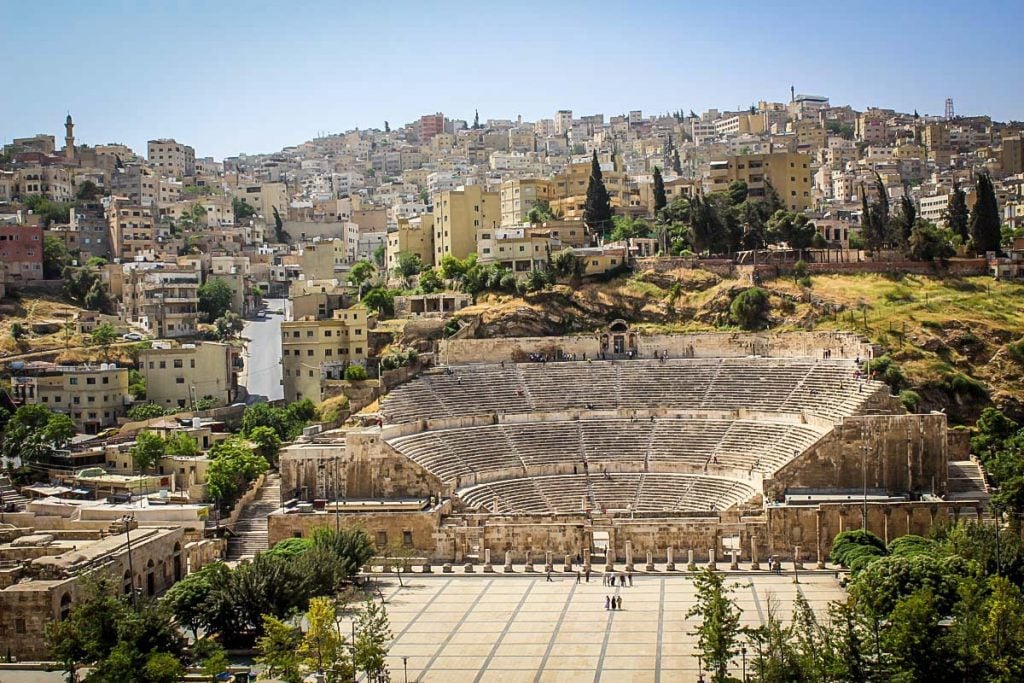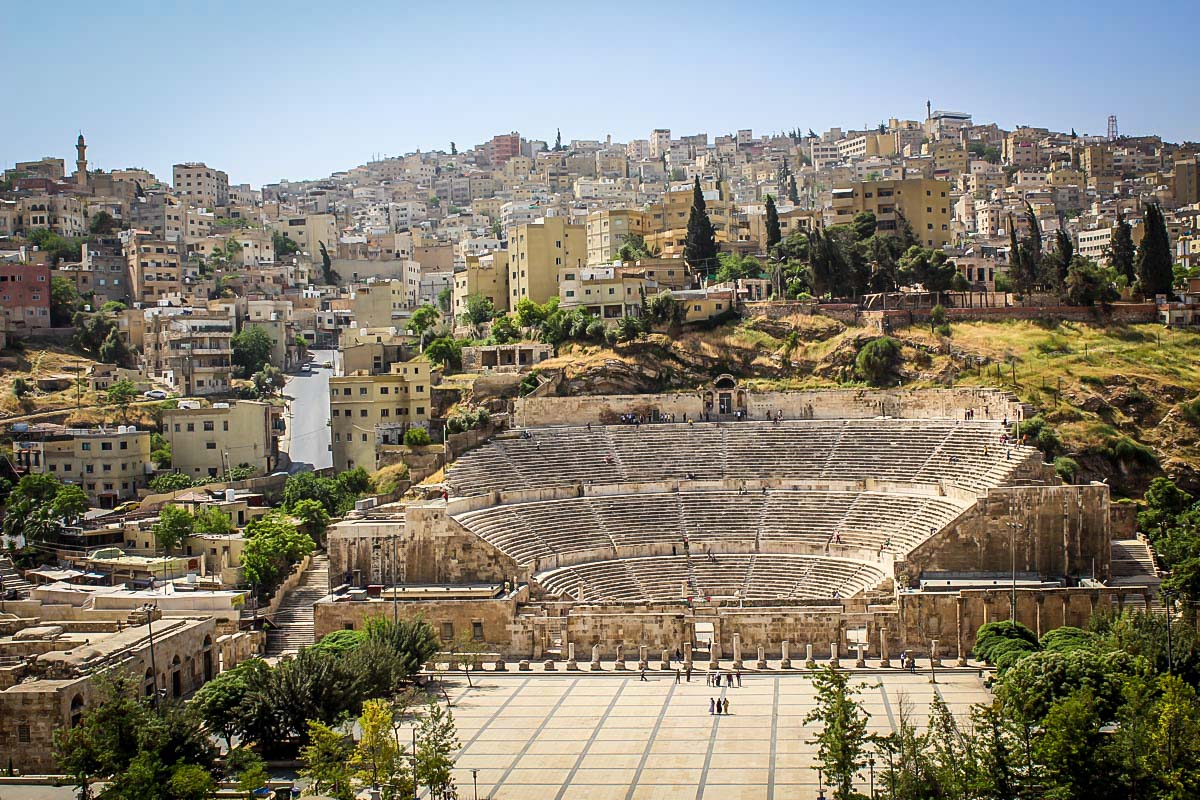 Built between 138-161 CE, the 6,000 seat Roman Theater is another one of Amman's impressive historical sites. Situated on a hill opposite the Citadel, the famous landmark dates back to the period of Roman occupancy when the city was known as Philadelphia. (Random, right!?)
Today the theater is still used as a cultural center of Amman, hosting events such as the Amman International Book Fair and Amman Marathon prize ceremony. The Royal Film Commission puts on outdoor movie events at the theater, and the venue even hosts concerts, most notably the Al-Balad Music Festival.
When it's not being used as an event venue, the Roman Theater is open to the public and locals love to gather there, often crowding the steps by 10 a.m. and not vacating until after dark.
*Entrance to the Roman Theater is included in the Jordan Pass.
4. Fill up on mezze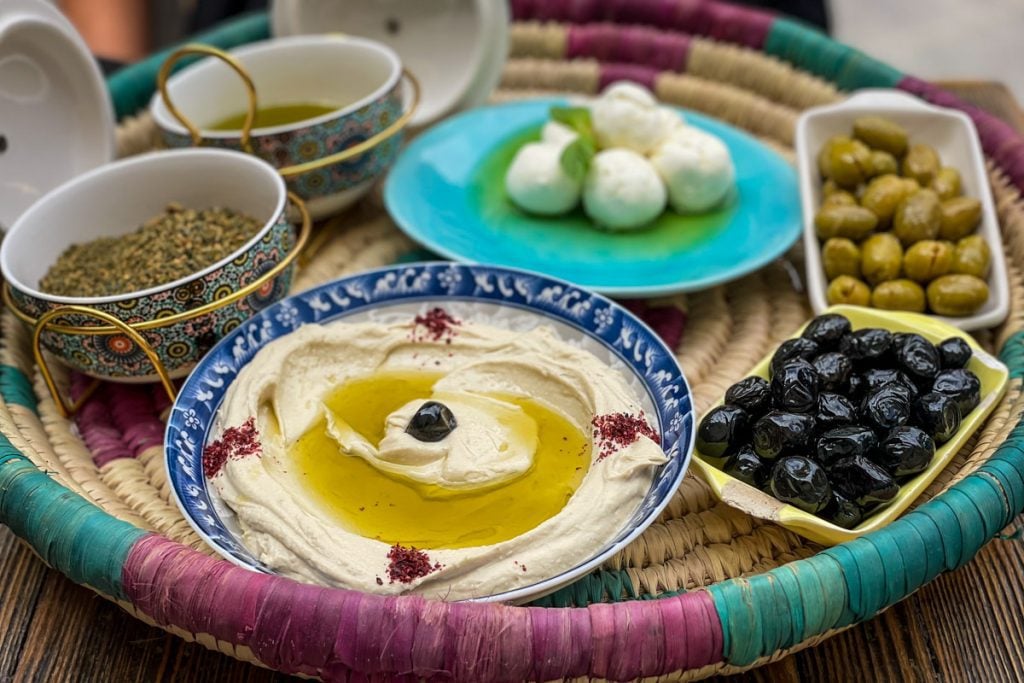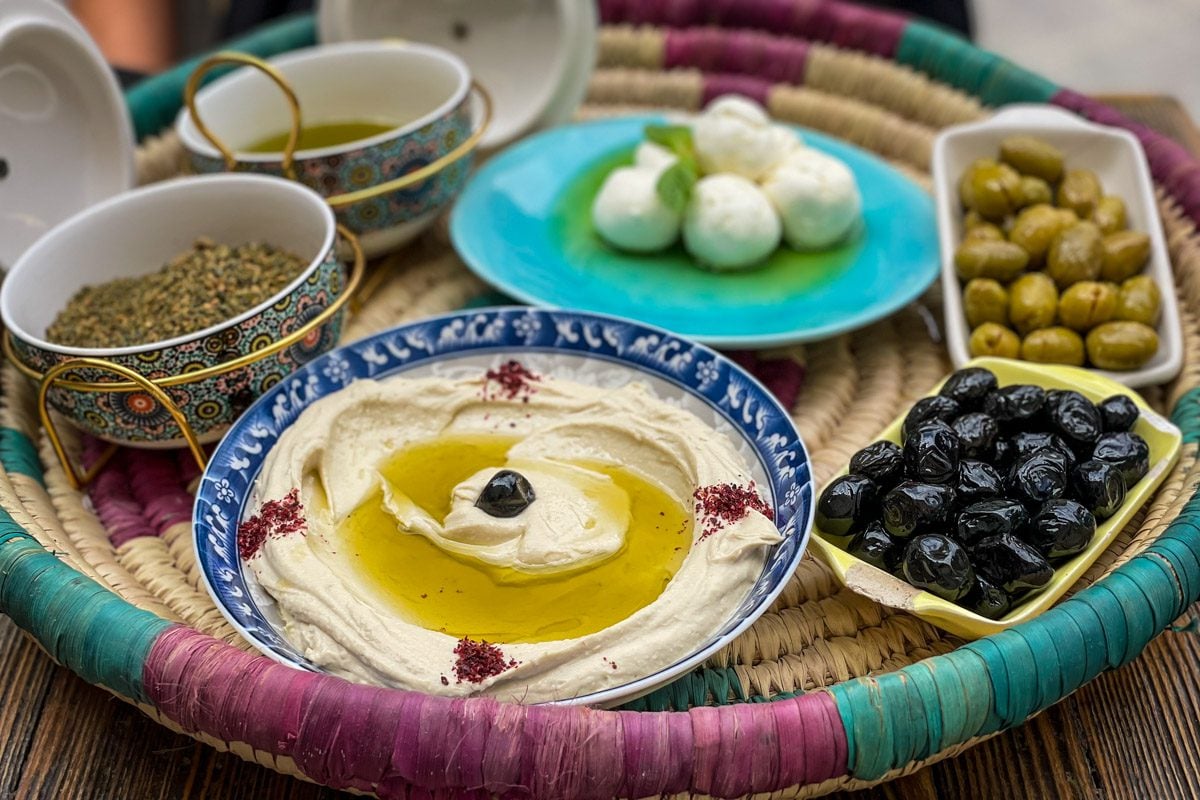 Extremely popular throughout the Middle East, Turkey, the Balkans, and northern Africa, mezze refers to "small plates" (i.e., tapas), but it's more a way of eating, rather than a specific food.
Typically, you'll find a table covered with various small plates, which could be individual appetizers or the main course, divided into servings. Mezze dishes can be hot or cold, something as simple as olives and bread or more complex, like Kubbeh, meat-filled dumplings.
Sampling mezze is a great way to try the local cuisine — and boy is it delicious! Here's a quick roundup of some of my favorite plates.
Hummus: I love fresh hummus, and eating hummus in Amman is like getting it from the source. I was surprised to find out that it's often eaten for breakfast and sometimes served as a hot dish with meat on top.
Labaneh: A creamy, slightly sour, cream cheese-like concoction typically served with olive oil, Za'atar spices, and pita. So tasty!
Dolma: Like Greek Dolma, these are grape leaves stuffed with rice, spices, and sometimes meat.
Falafel: Another common dish throughout the Middle East, delicious Jordanian falafel is a popular fried street food made from chickpeas and spices.
Tabouleh: Made from a small couscous-like grain called bulgur, this light salad is loaded with fresh flavors like parsley, tomatoes, herbs, and olive oil.
5. Take a cooking class
We're pretty vocal about our love for cooking classes (and, let's be honest, food in general!) on Two Wandering Soles. A great way to truly immerse yourself in local culture, meet new people, and support local families, cooking classes are consistently some of our favorite activities when we travel.
After hearing about all the delicious Jordinian cuisine, why not try a cooking class in Amman!?
There are plenty of options for cooking classes in Amman, including options that emphasize vegetarian and vegan cooking. Even though we're decidedly carnivores, we actually eat a ton of veggie-based meals, especially when we're away from home, so we loved to see this option available.
At Beit Sitti, you can choose your class based on the dish being prepared. There are also some highly rated options available on Airbnb Experiences, such as this one with Shereen.
6. Indulge in kanafeh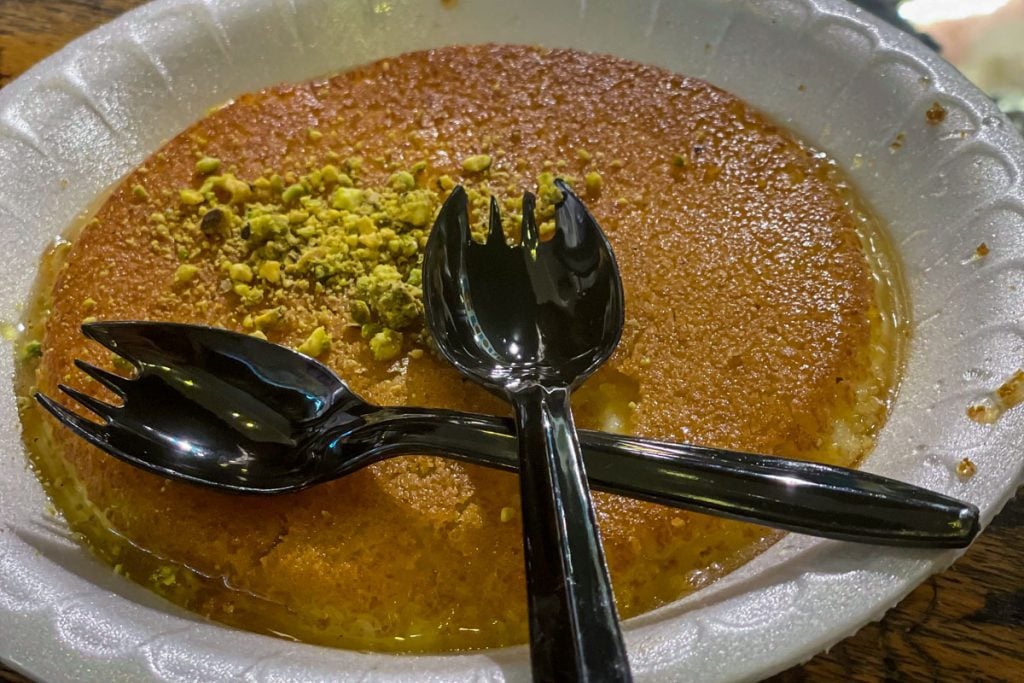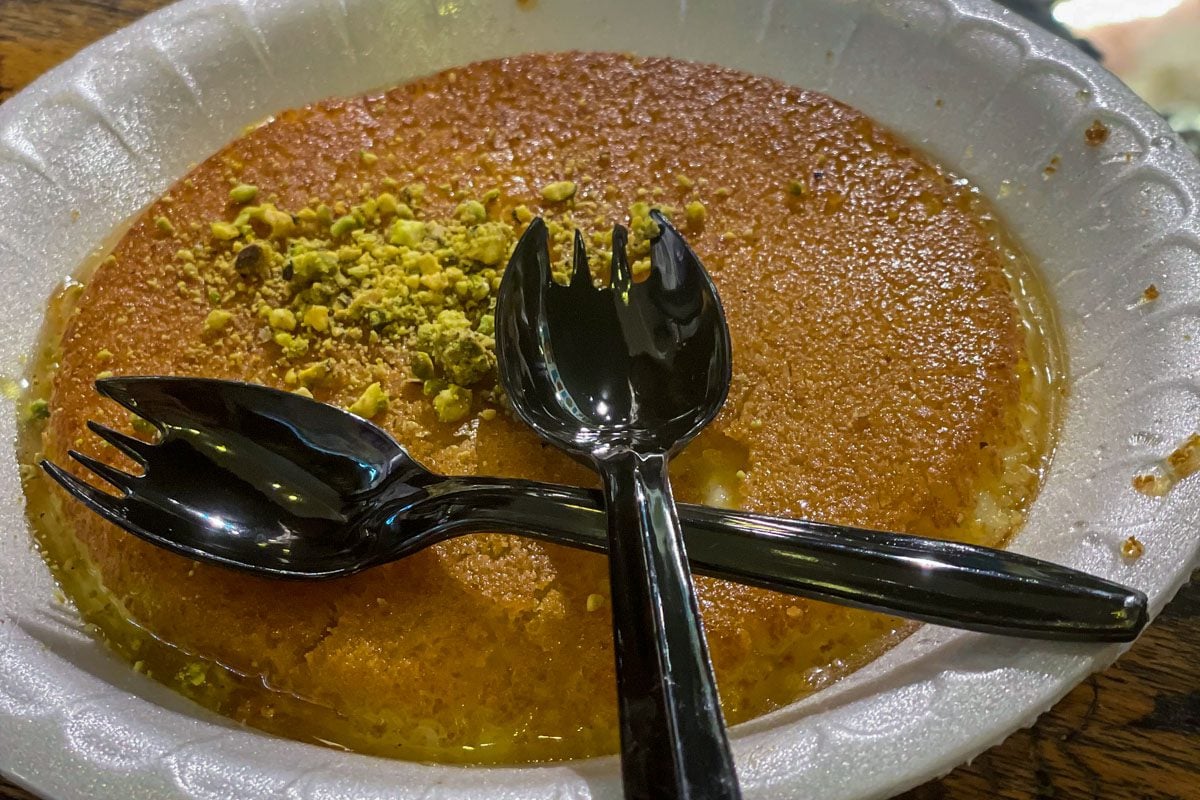 As you may have noticed, I practically ate my way through Amman — this city has some seriously delicious foods! One of my favorite new dishes I tried was kanafeh. A unique dessert popular throughout the Middle East and Turkey, Amman's variations are especially tasty.
Prepared with a thin pastry called kataifi, kanafeh involves crispy noodle-like wisps of dough soaked in a sweet syrup and layered with cheese… Yes, you read that right—a cheesy dessert!
The dessert is drizzled in rosewater syrup and topped with pistachios, and is typically enjoyed alongside a cup of tea.
With the tangy, salty cheese flavors, I love how this dish balances contrasting sweet and savory elements. Every bite combines crispy elements and gooey, cheesy deliciousness — a recipe for an unexpected but addictive dessert!
7. Stroll Rainbow Street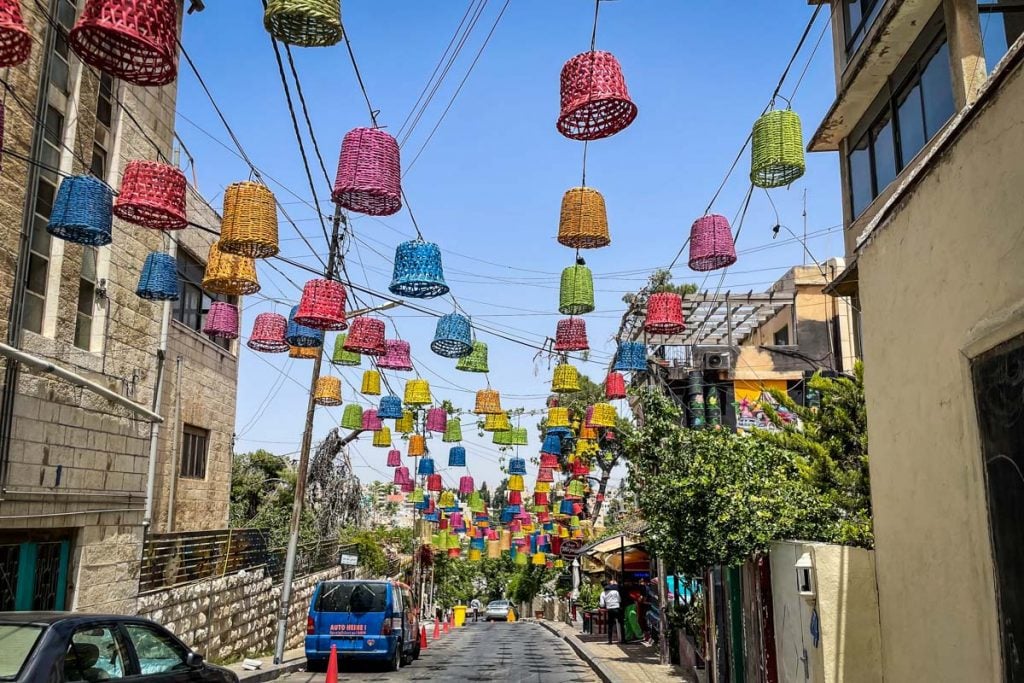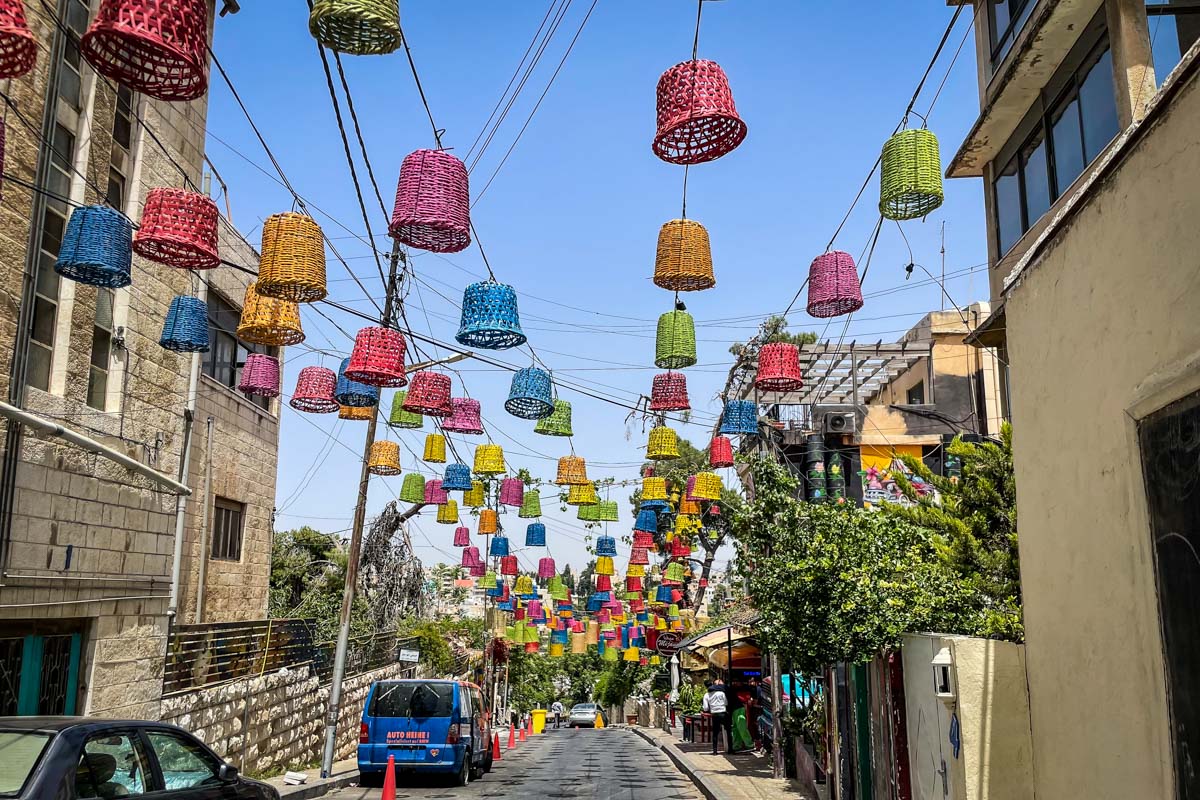 A promenade bustling with restaurants, bars, cafes, and plenty of photo-ops, Rainbow Street was one of my favorite spots in Amman for an afternoon stroll.
Several sections of the street are decorated with colorful lanterns and there are dozens of patios and chic rooftop spots to linger on, many with panoramic views of the city. It makes a great spot for people-watching as well.
Especially on Friday and Saturday evenings, Rainbow Street fills with people and buzzes with energy — it's clear to see why this is one of the most popular things to do in Amman!
8. Enjoy the view from a rooftop bar or cafe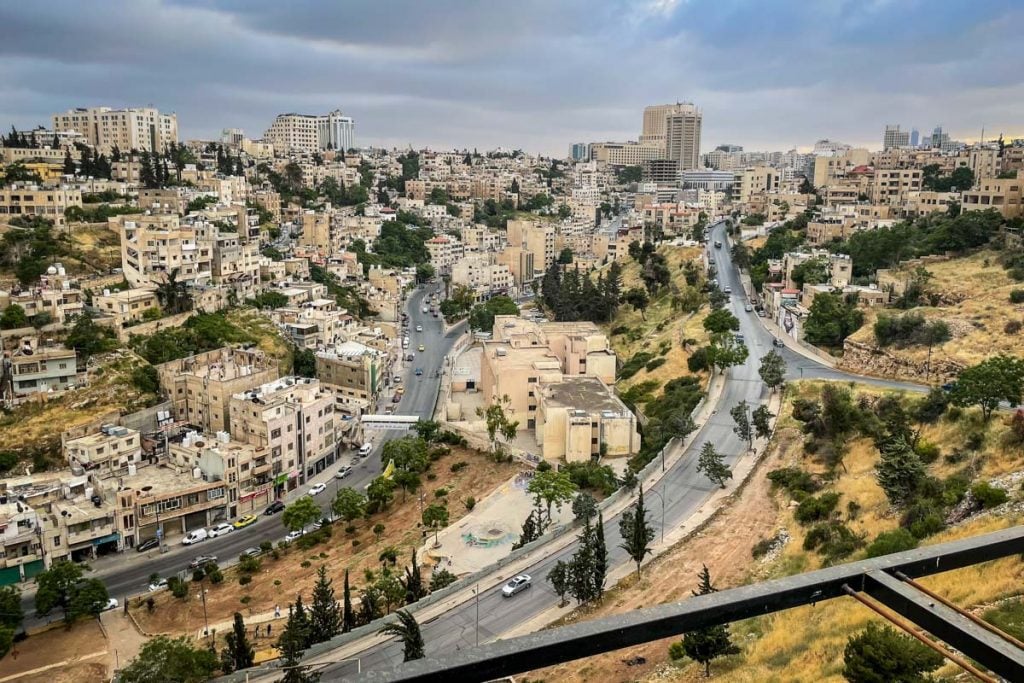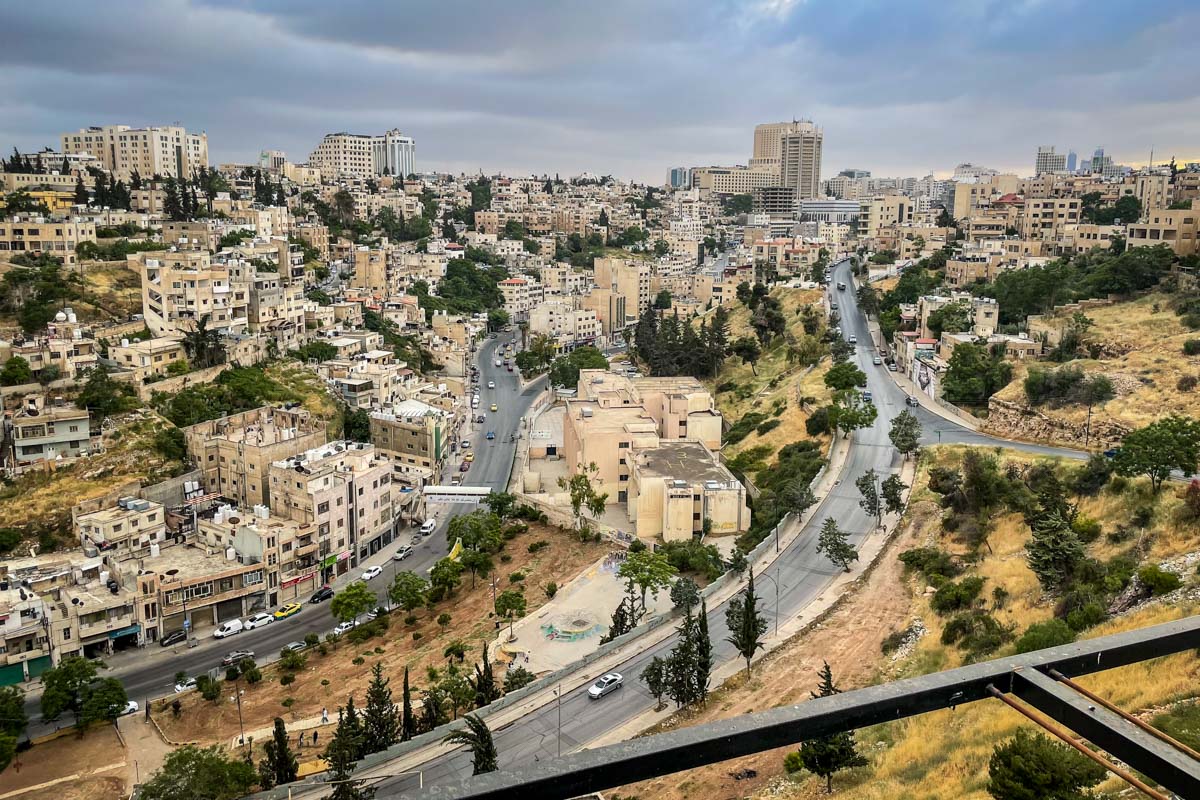 I fell in love with the lounge-like, easygoing nature of Jordan's cafe scene. As social meeting hubs, locals and tourists alike congregate over cups of coffee or tea to unwind (as a predominantly Muslim country, you're far more likely to be invited to tea than for a cocktail!).
Because Amman is such a hilly city, there are several cafes and bars with great rooftop views. Many double as restaurants, serving food alongside drinks or having a separate bar area. Here are a few noteworthy spots to check out:
Cantaloupe: Located on Rainbow Road, Cantaloupe has cocktails, wines, and European-influenced food accompanied by the most expansive view over Old Town
Sekrab: An eclectic retro-style rooftop bar with street snacks, beers, and a casual vibe
Dunia: For a more Middle Eastern-inspired bar with a local feel, head to Dunia for a modern Arabic vibe in a less touristy part of the city
9. Shop in Al Balad
Al Balad is a vibrant marketplace with colorful produce, jewelry, artisan crafts, souvenirs, and more. Situated next to the Roman Theater downtown, the market's central location and lively atmosphere make it one of the best things to do in Amman.
Very much an active locals' marketplace, the range of spices and products for sale is impressive. Plus, friendly merchants often offer samples and you can purchase local street food, juices, and snacks to munch on while you browse.
In addition to the vibrant food section, Al Balad is also an ideal place for souvenir shopping. From classic trinkets to scarves, rugs, rings, and more, nothing beats the experience of purchasing from an active local market. Don't forget that negotiating on price is the norm—some vendors actually encourage it!
10. Browse the souks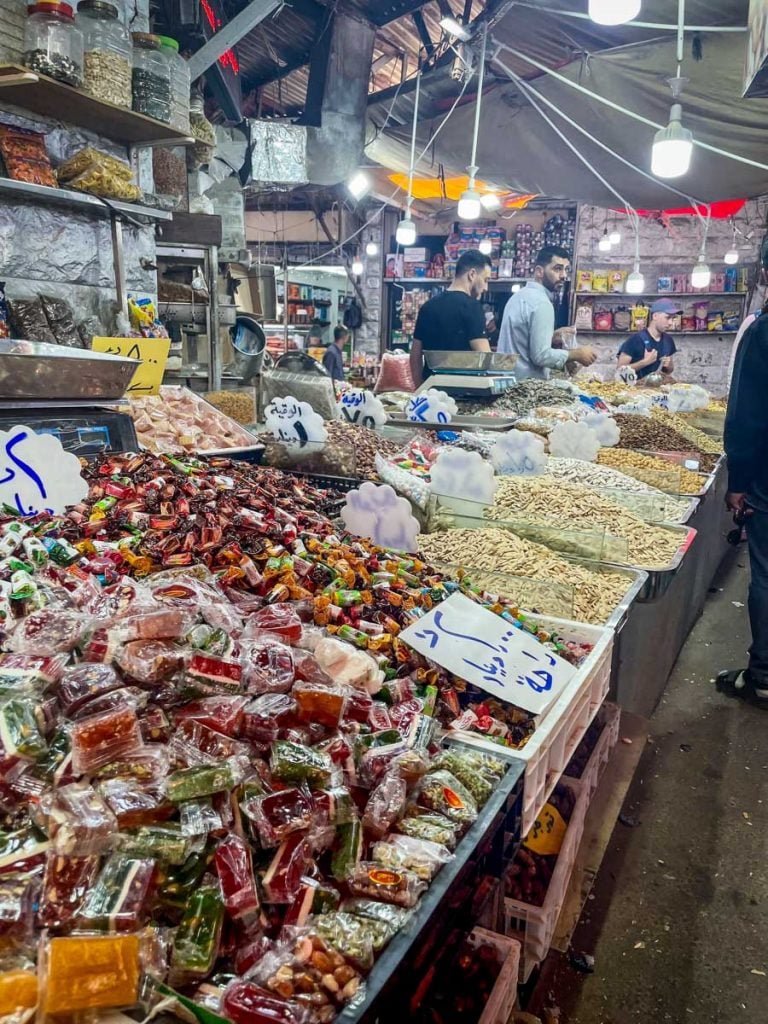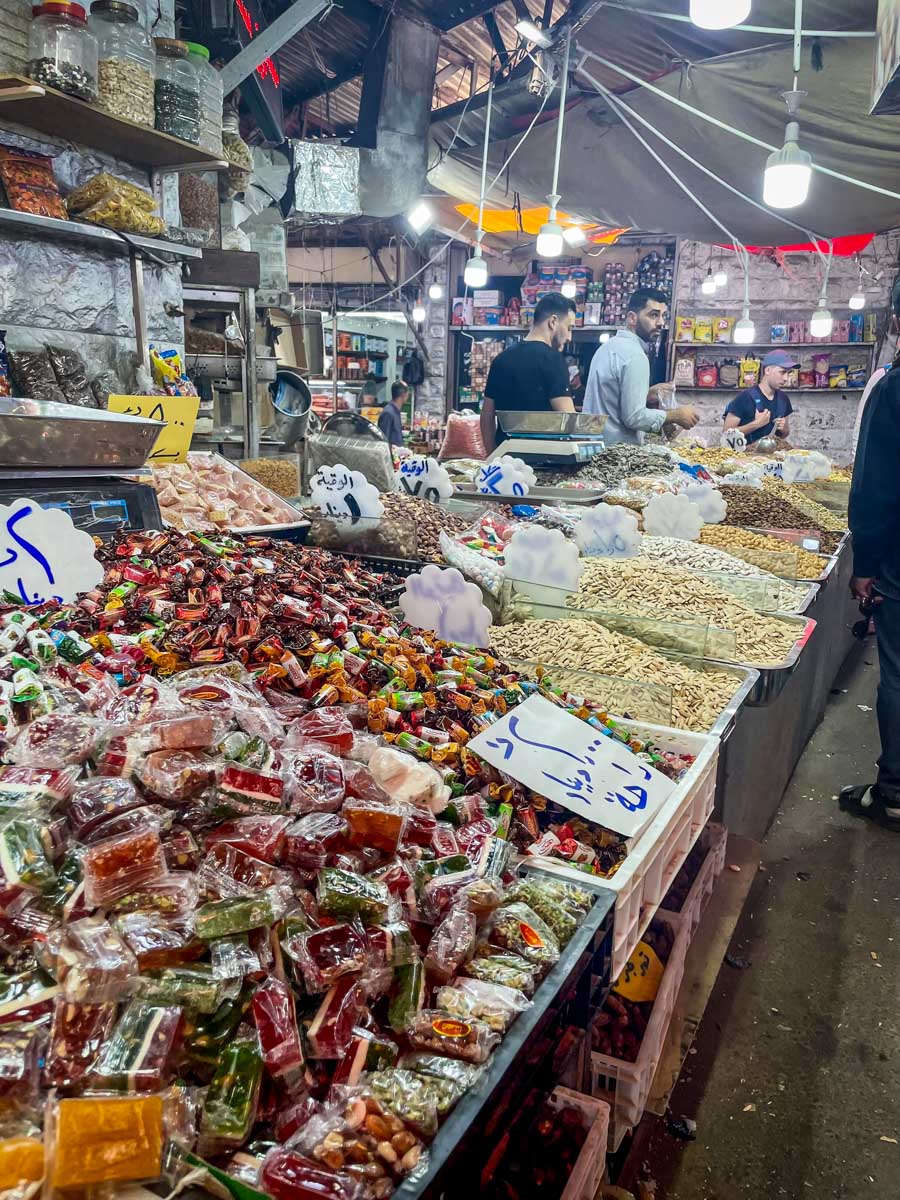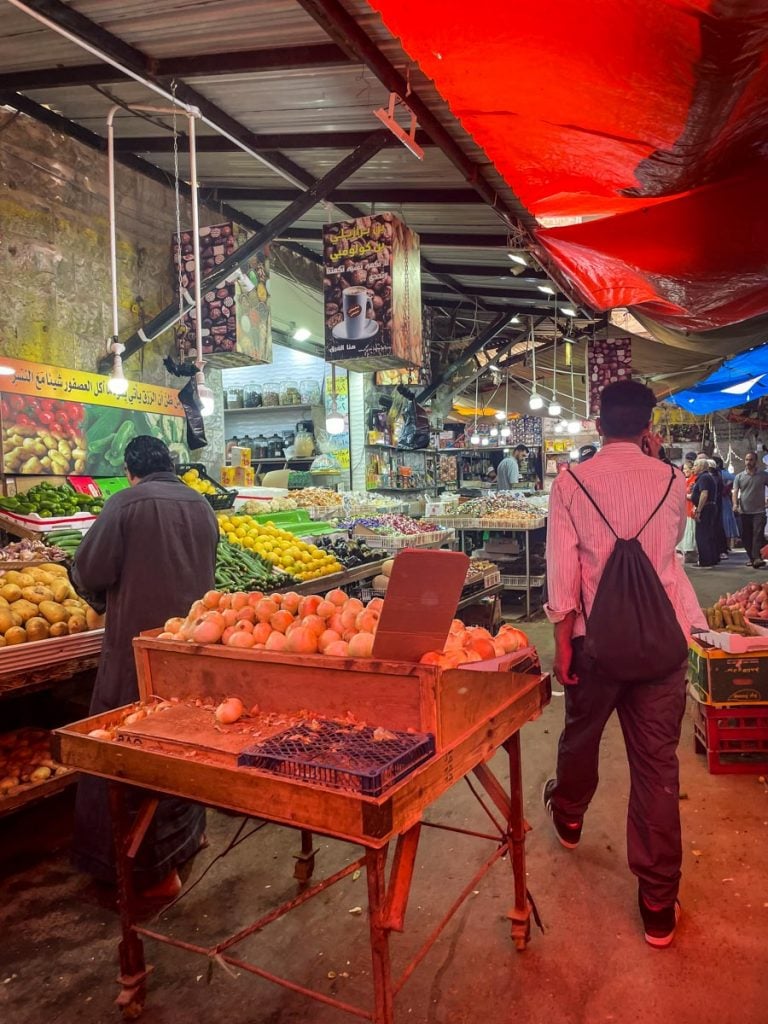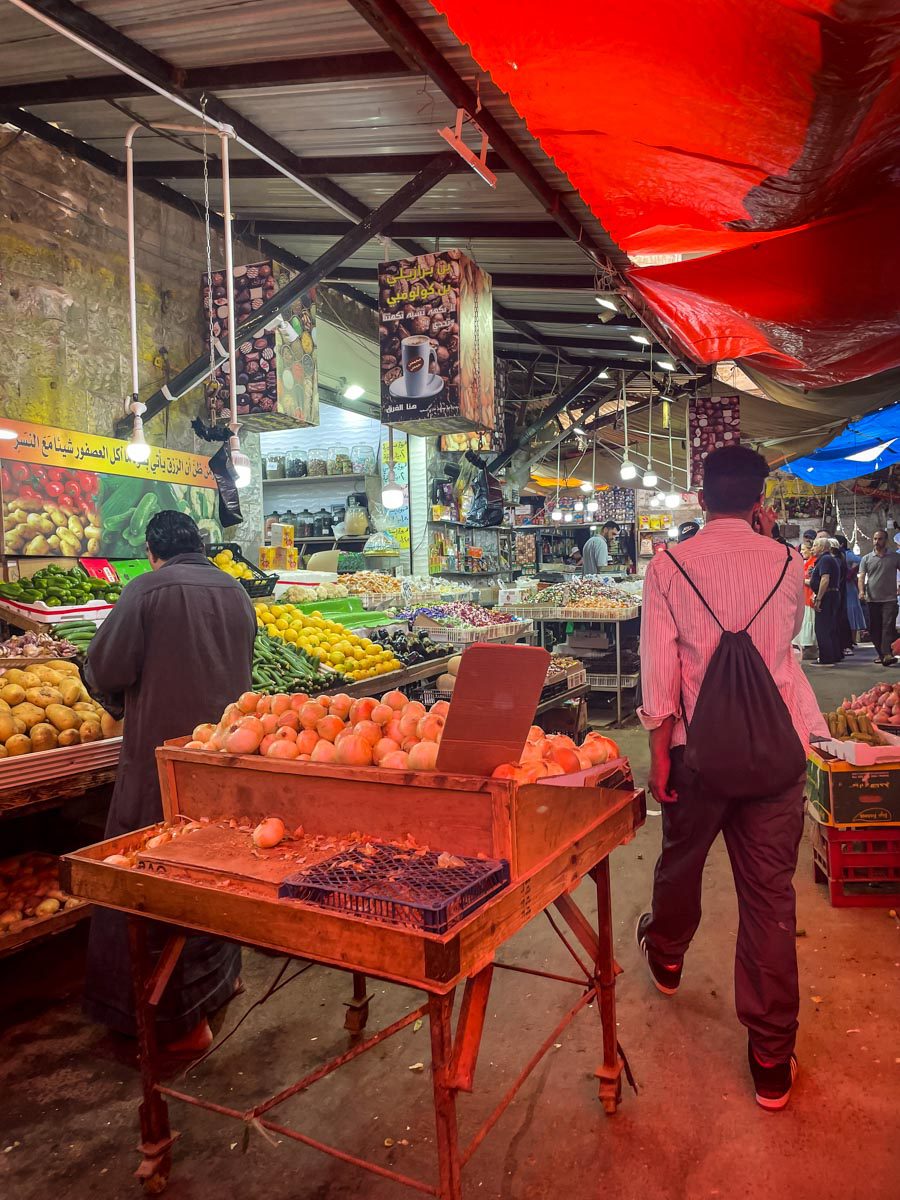 Amman's vibrant market culture doesn't end in Al Balad. There are several other souks, or bazaars, each with their own unique atmosphere. Many occur only on weekends, similar to flea markets in the U.S.
A favorite to visit for souvenir shopping is Souk Jara, held on Fridays near Rainbow Street. Many small artisan producers set up shops, selling everything from soaps to condiments to quirky antiques.
Another fascinating market is Souk el-Joumea, also held on Fridays. Primarily a second-hand clothing market for locals, the vendors spill out into a vast maze on the edge of downtown. Energetic and immersive, it provides a fascinating glimpse into the city's culture.
11. Search for street art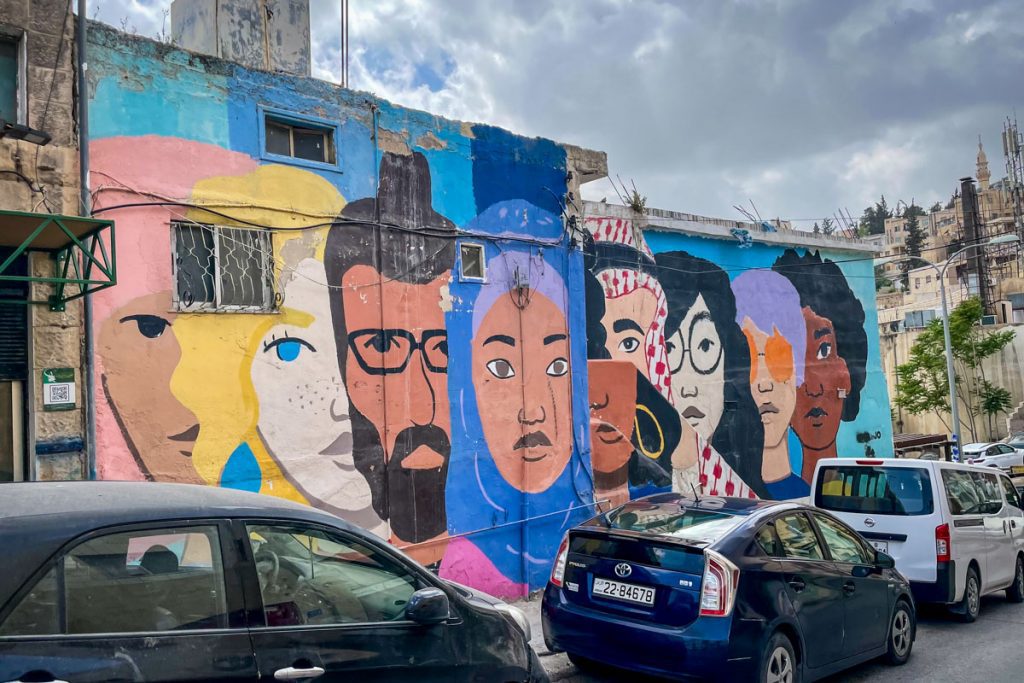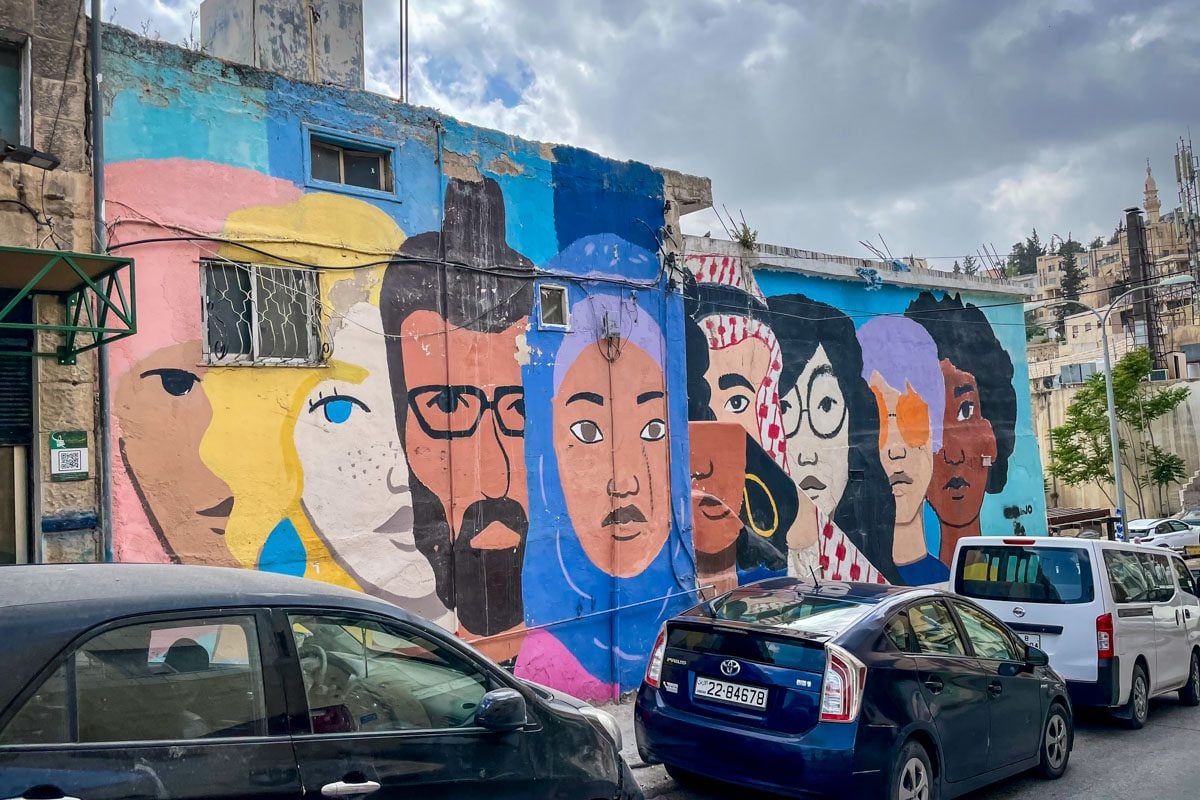 Throughout this sprawling city, you will see murals around every corner. There are some really unique art pieces with great detail, and even some pretty interesting political pieces. Stroll through the street and take pictures of your favorites.
12. Peep the King Abdullah Mosque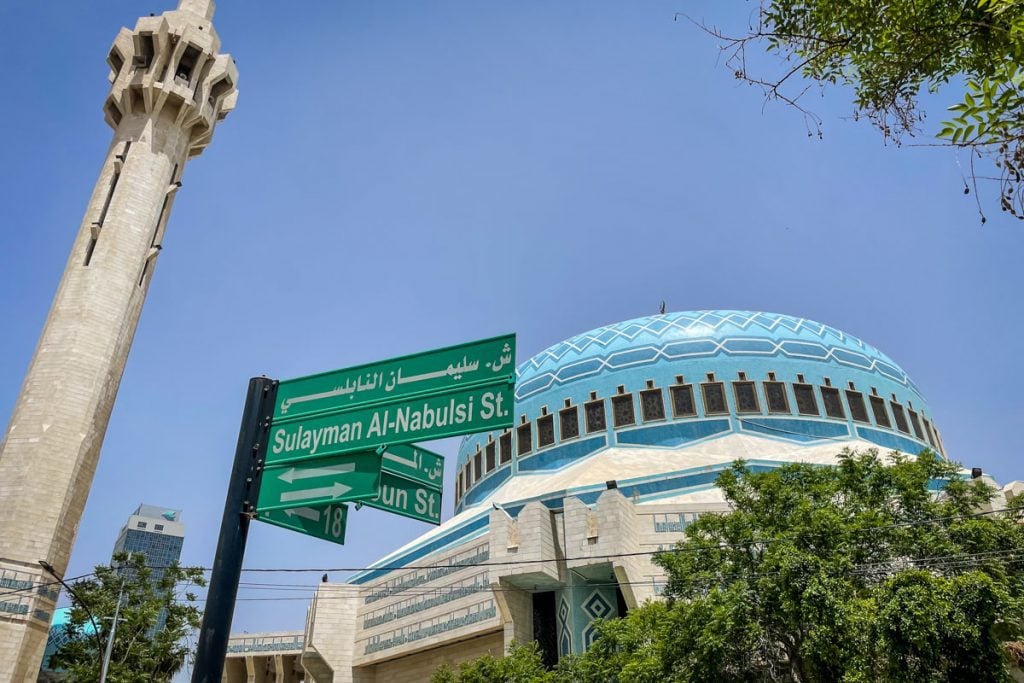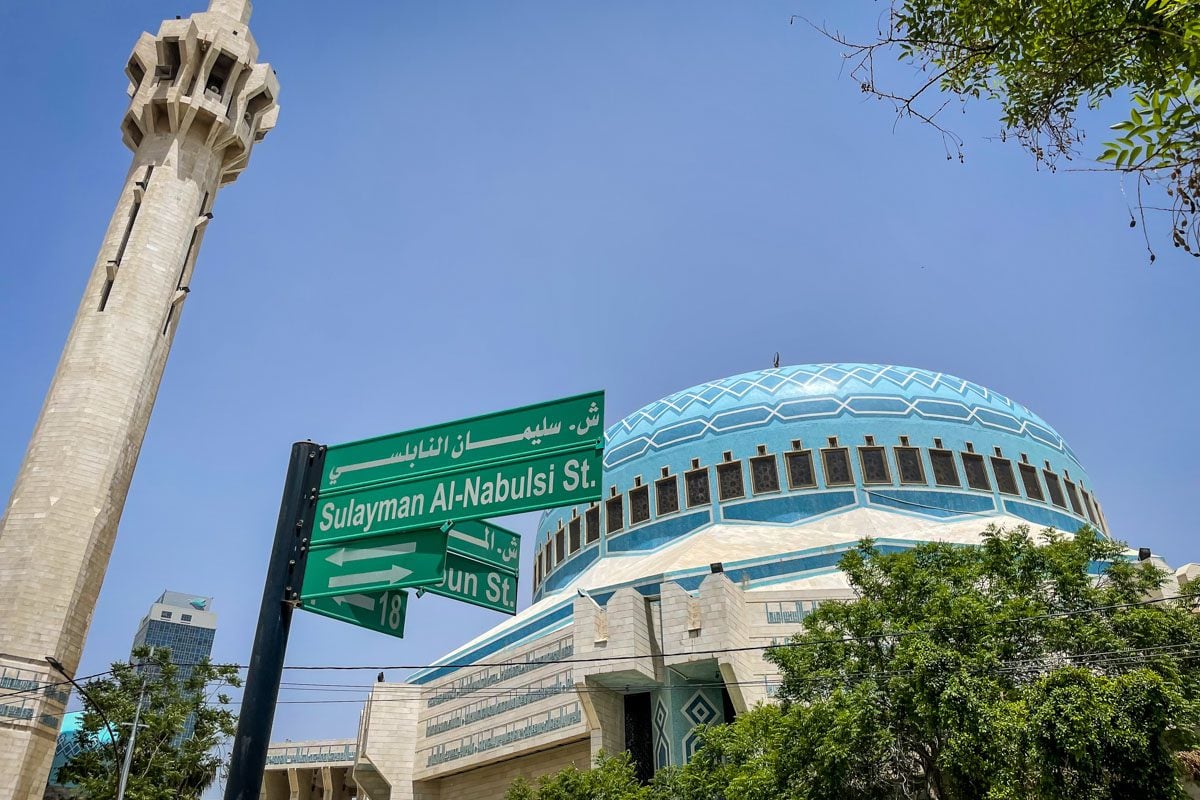 Completed in 1989, the King Abdullah Mosque accommodates some 10,000 worshippers in its grand interior and courtyard. The only mosque open to non-Muslim visitors in all of Jordan, it's worth your time to stop by to see the magnificent prayer hall and blue-capped dome.
Keep in mind it's not open for visits during prayer times, and men must wear pants, while women must cover their heads, arms, and legs to go inside. Note: It's possible to borrow headscarves near the entrance.
13. Make your own perfume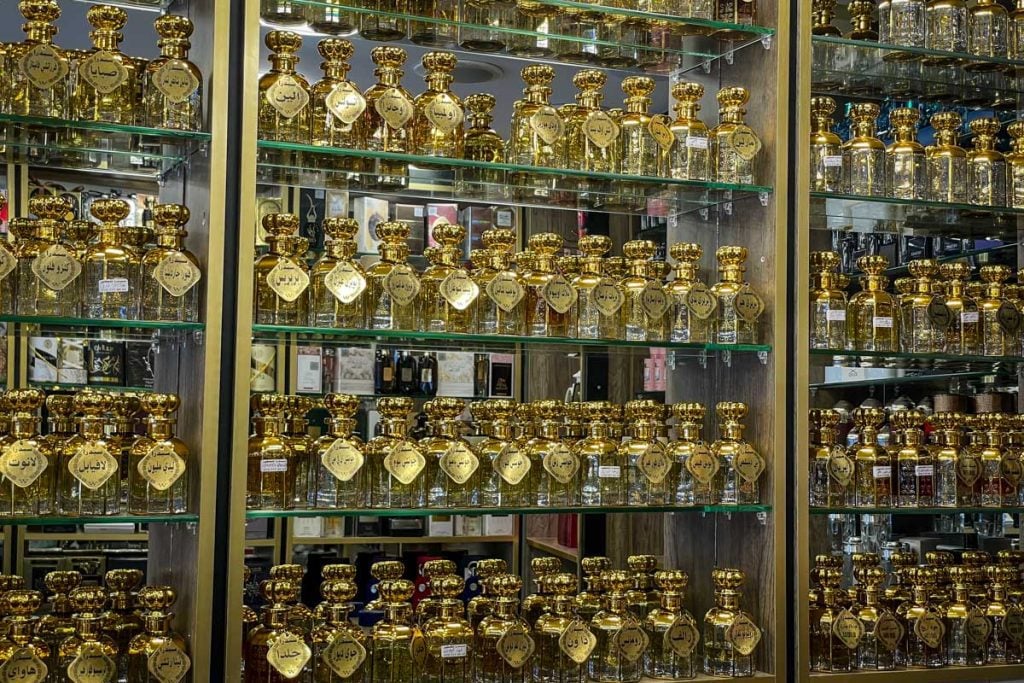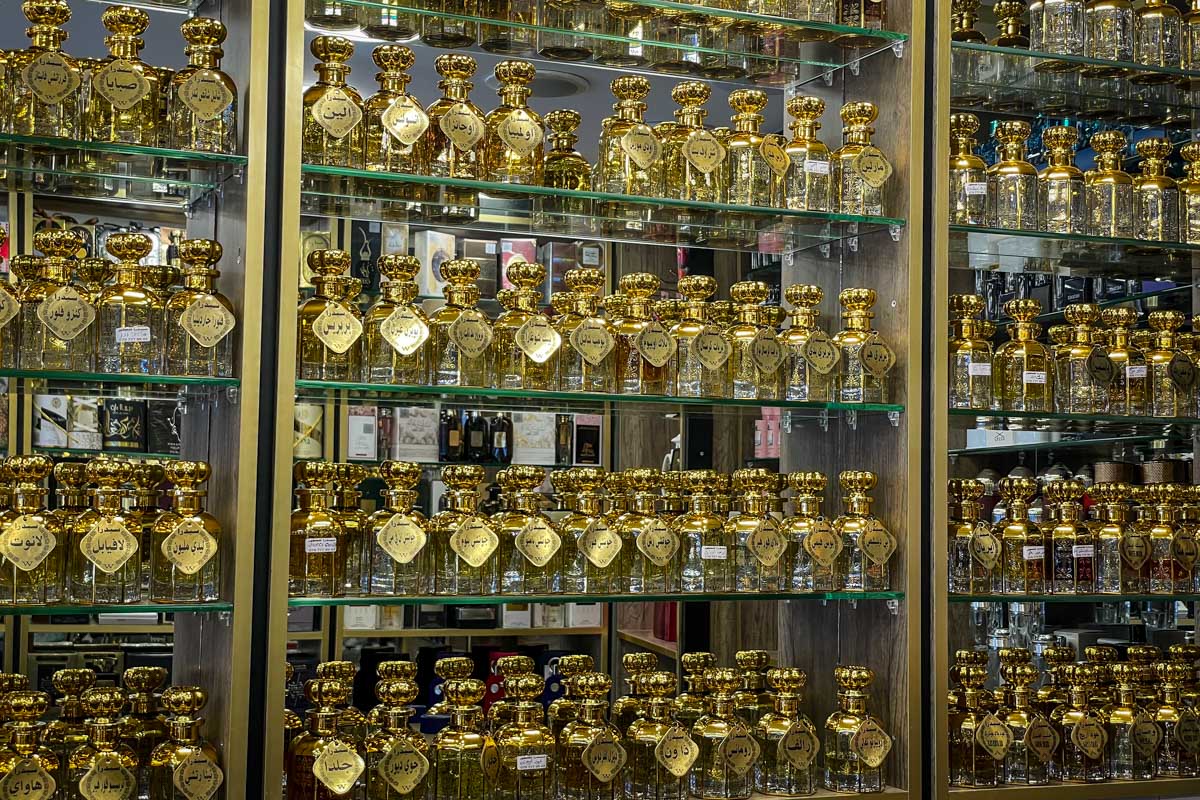 There's a rich tradition of perfume-making in Amman. Downtown perfume shops are lined with row upon row of identical-looking glass bottles, each containing a distinct aroma. The perfume-makers possess an astonishing ability to match the scents from memory, mixing various bottles to create your desired scent.
One of the most unique things to do in Amman, you can pop into one of these shops and leave moments later with your very own signature scent! It's certainly a more unique souvenir than an "I heart Jordan" t-shirt.
14. Discover the old Post Office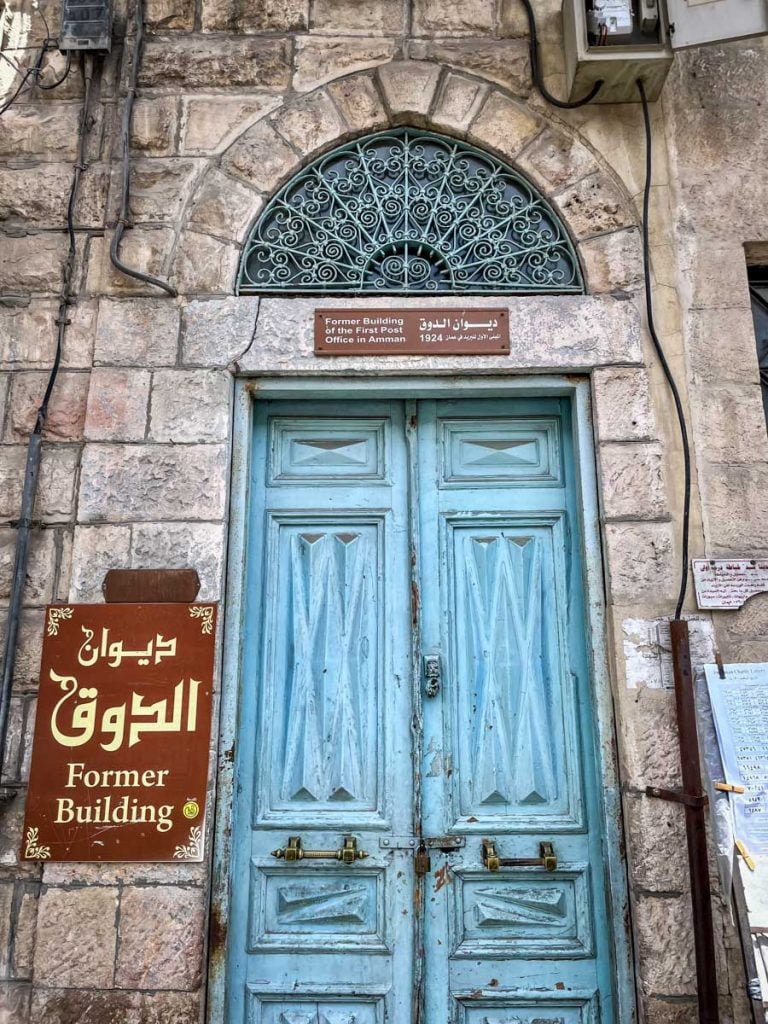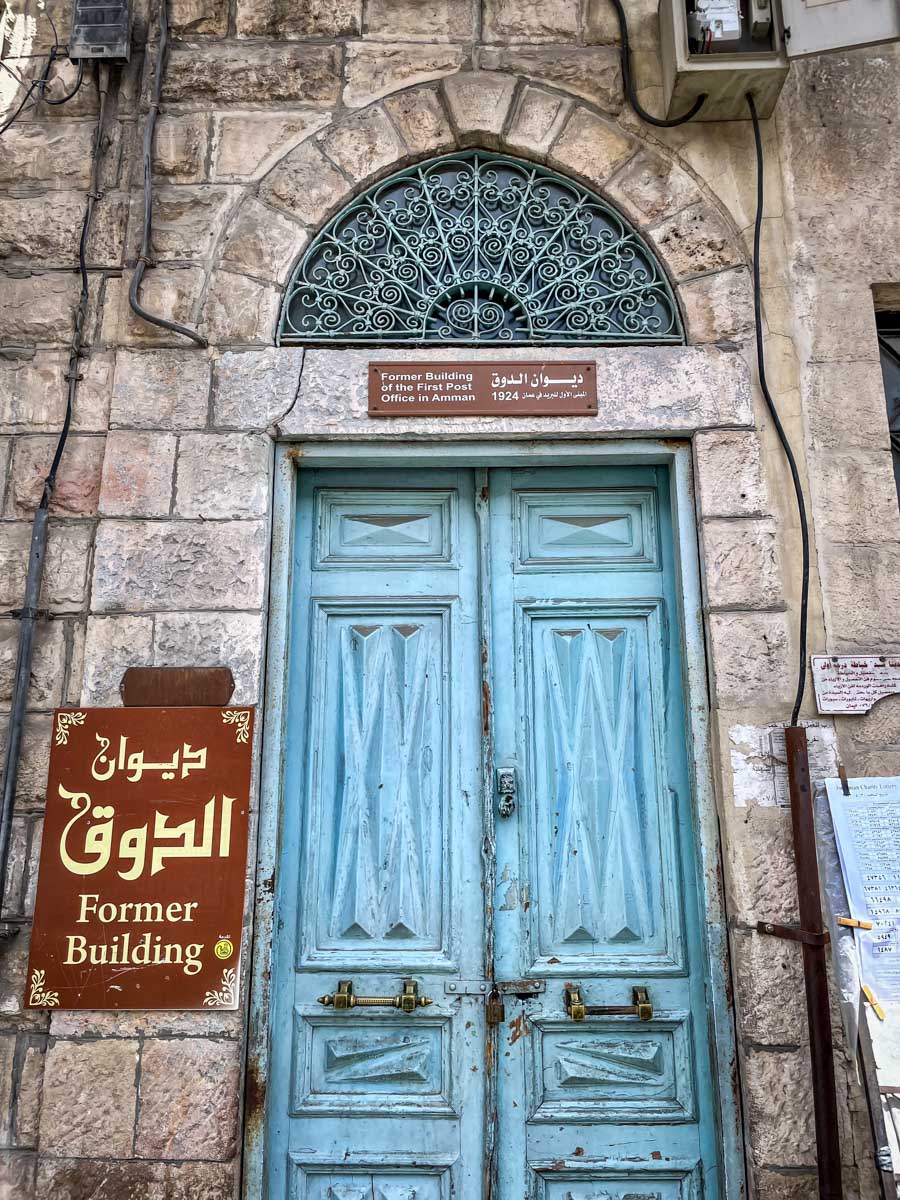 Known today as the Duke's Diwan, this post-office-turned-hotel-turned-art-gallery showcases a slice of Amman's history dating back an entire century. One of the oldest buildings in the city, Duke's Diwan houses well-preserved 1920s furniture, photographs, and memorabilia cataloging its prominence as a cultural hub.
Music, poetry, and painting events are held here frequently. We definitely recommend a stop while exploring Amman, especially if you're near Al Balad. Entrance is free and a visit only takes about 15-20 minutes.
15. Shop for gold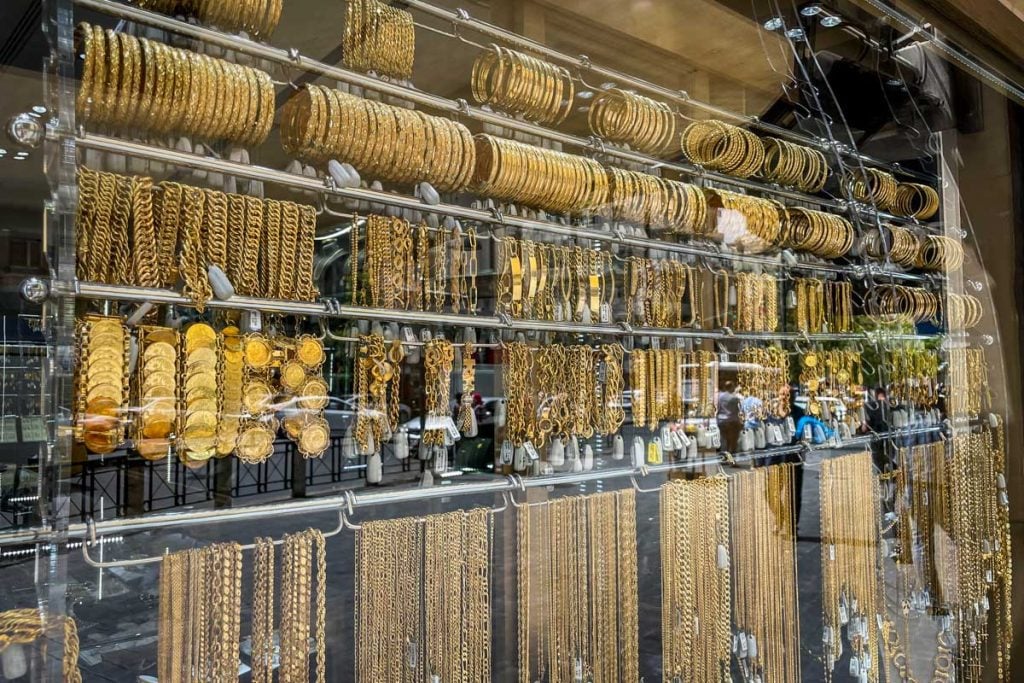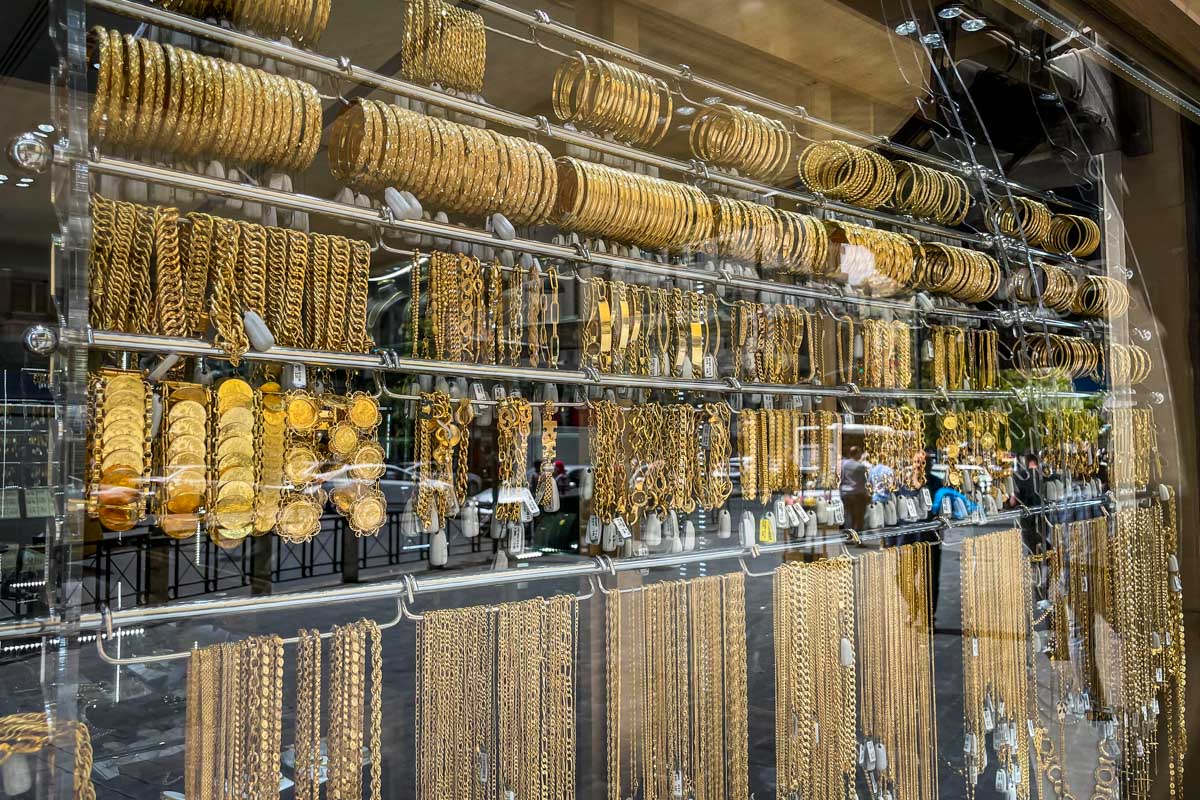 There's a dazzling variety of gold jewelry (gold everything, really) sold in Amman. The best place to shop is at Souk el-Sagha, which is lined with a multitude of vendors.
Jordan's most prominent jewelry makers all have storefronts here and there are smaller, lesser-known merchants, too, so you'll have a huge selection. Many sellers also offer the opportunity to engrave a name in Arabic on jewelry, making a unique gift.
Keep in mind that the price of gold is regulated by the government in Jordan, so unlike most other market goods, you will not be able to negotiate a bargain.
16. Relax at a hammam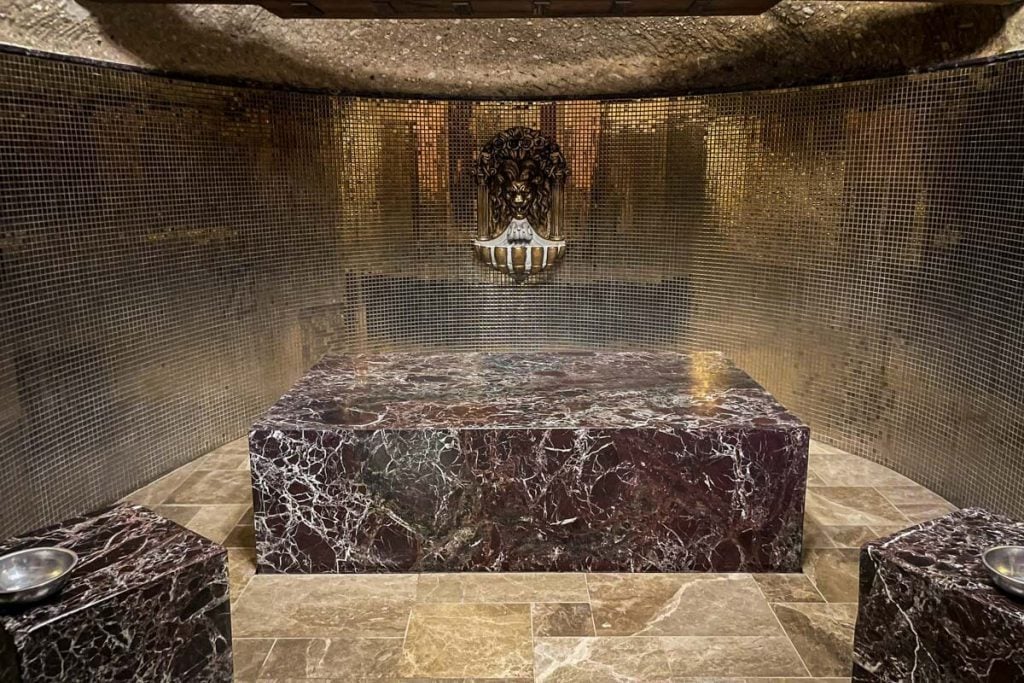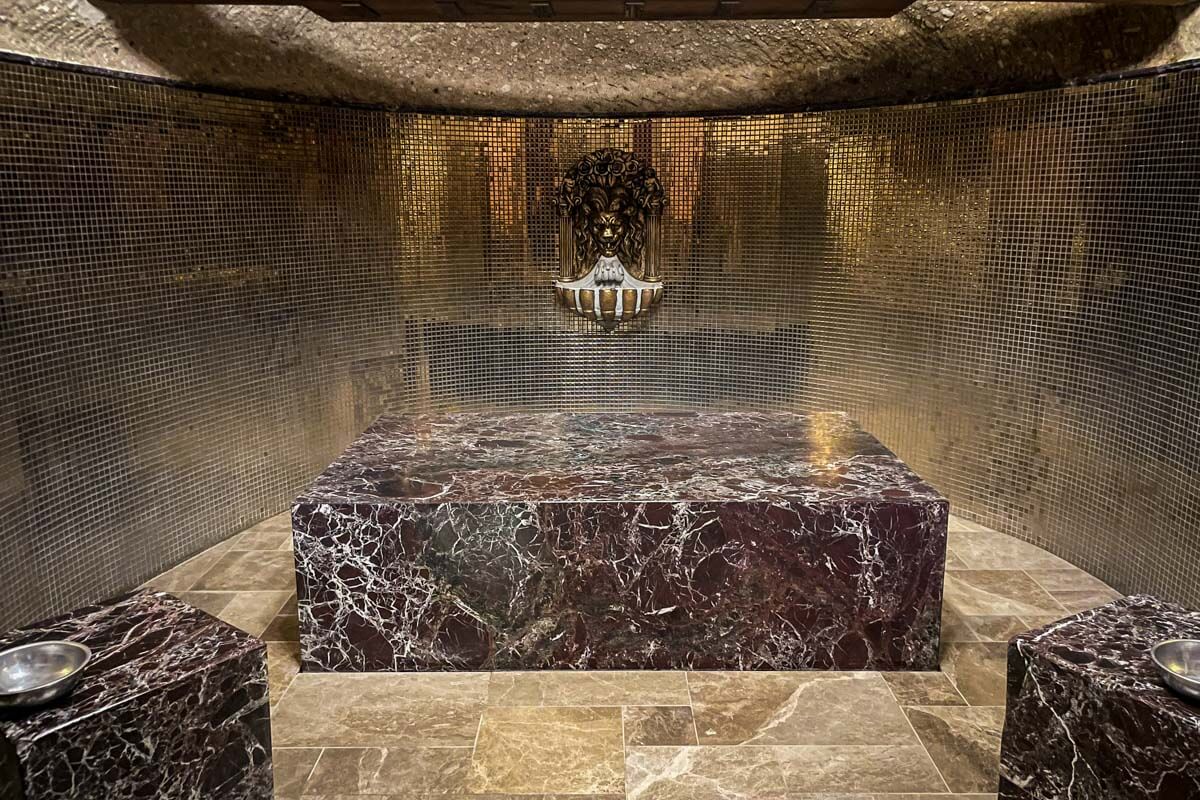 Popular throughout the Islamic world, hammams (or Turkish baths) are public baths, typically offering massages, body scrubs, and steam rooms. Some are luxurious, offering spa-like atmospheres, while others are more basic, purely functional places to bathe.
In Amman, most hammams are akin to a sauna, offering a wide range of pools, shower rooms, tailored experiences with some spa treatments, and more.
The hammam ritual typically includes resting on a heated stone slab (very relaxing!) and getting scrubbed down head to toe with an exfoliating cloth and cloud-like bubbles. Since it's a very normal part of Jordanian culture, you can experience a hammam without the steep price point you might find at a western spa.
We love participating in local spa rituals, as we've found that it's an excellent, relaxing, and generally non-touristy way to learn about the local culture.
17. Visit a museum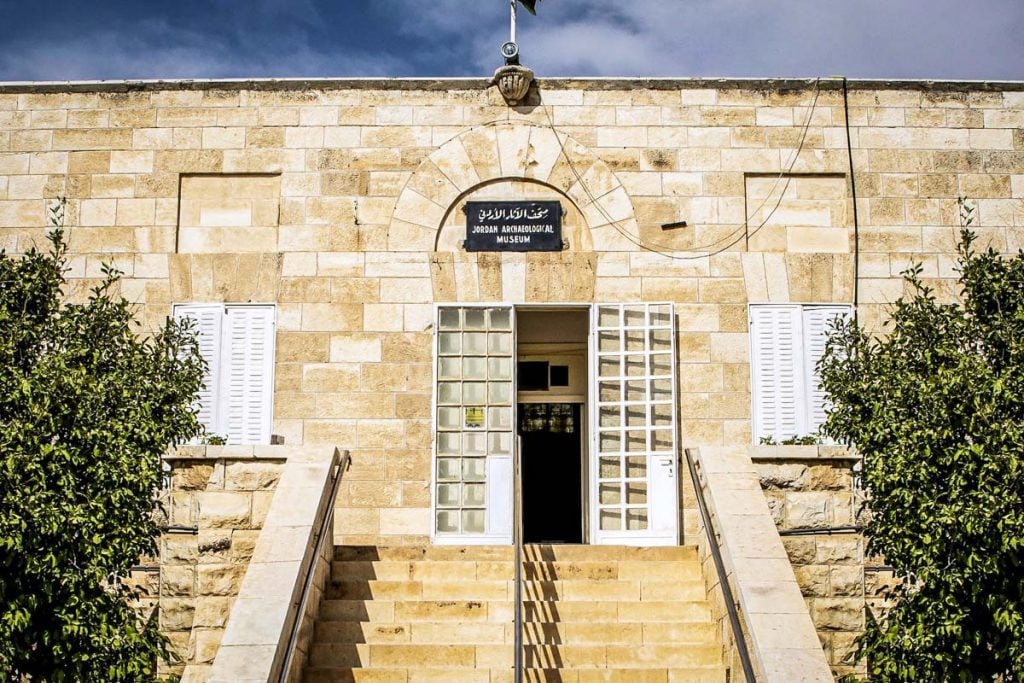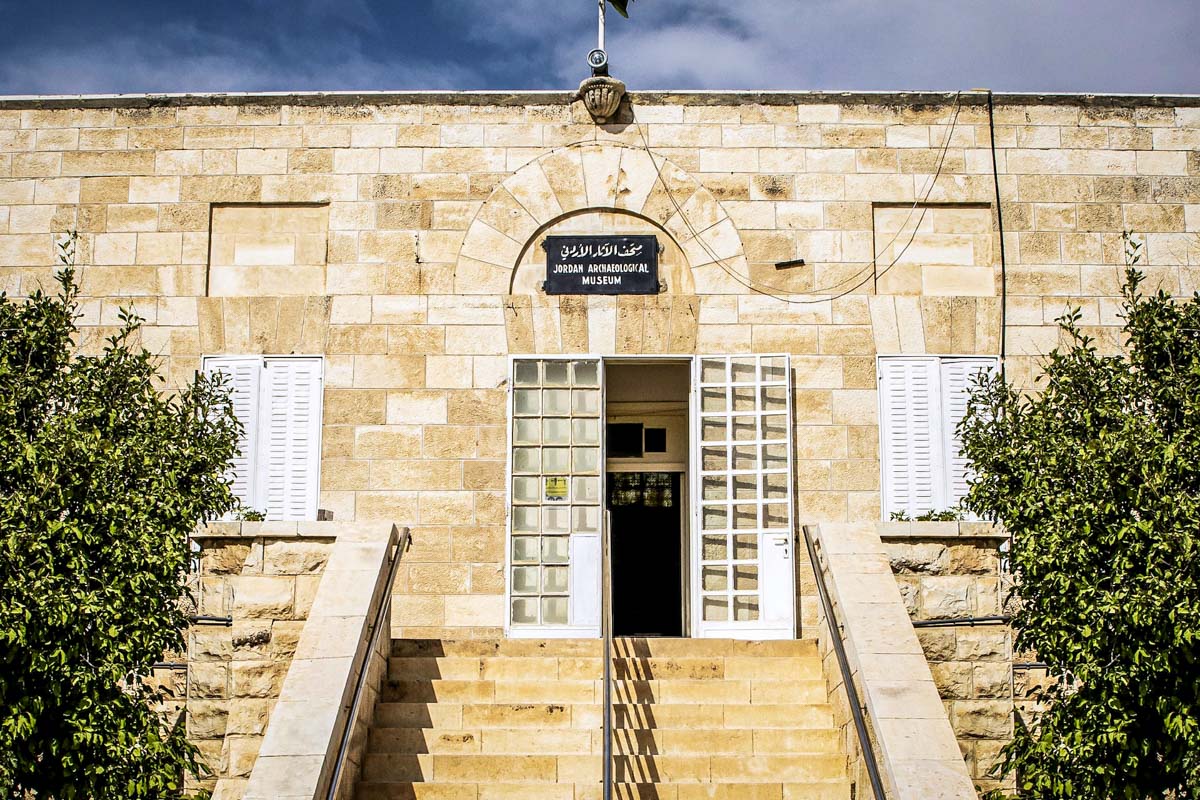 As Jordan's cultural hub, Amman has several fascinating museums to visit. A great way to get some enlightening background on the country's history, it's the perfect activity on a rainy or extra hot day.
If you're interested in adding a museum to your list of things to do in Amman, here's a roundup of three particularly noteworthy ones.
Jordan Museum: Opened in 2014, this museum was created to house Jordan's ever-growing archaeological finds. Filled with interactive exhibits accompanied by well-written descriptions, it does a great job of encapsulating the country's ancient history. Especially noteworthy artifacts include one of the oldest-known statues of a human and the copper Dead Sea Scroll.
Archeological Museum: Jordan's original archeological museum sits on the Citadel, right next to the outdoor ruins. Despite appearing compact from the outside, the museum houses an astounding number of artifacts spanning over 8,000 years of history. Entry is free with entrance to the Citadel (and included in your Jordan Pass), so it's definitely worth a stop if that's your kind of thing.
Royal Automobile Museum: Looking for a changeup to something more modern? The Royal Automobile Museum is a surprising delight. The collection spans from the first cars ever brought to Jordan to modern-day supercars. You'll even find the rover from The Martian movie at the museum, since the movie was filmed in Wadi Rum!
Bonus: Day trips from Amman
In addition to all the interesting things to do in Amman proper, there are several awesome day trips you can take from Amman to explore more of Jordan!
18. Hike through Wadi Mujib Canyon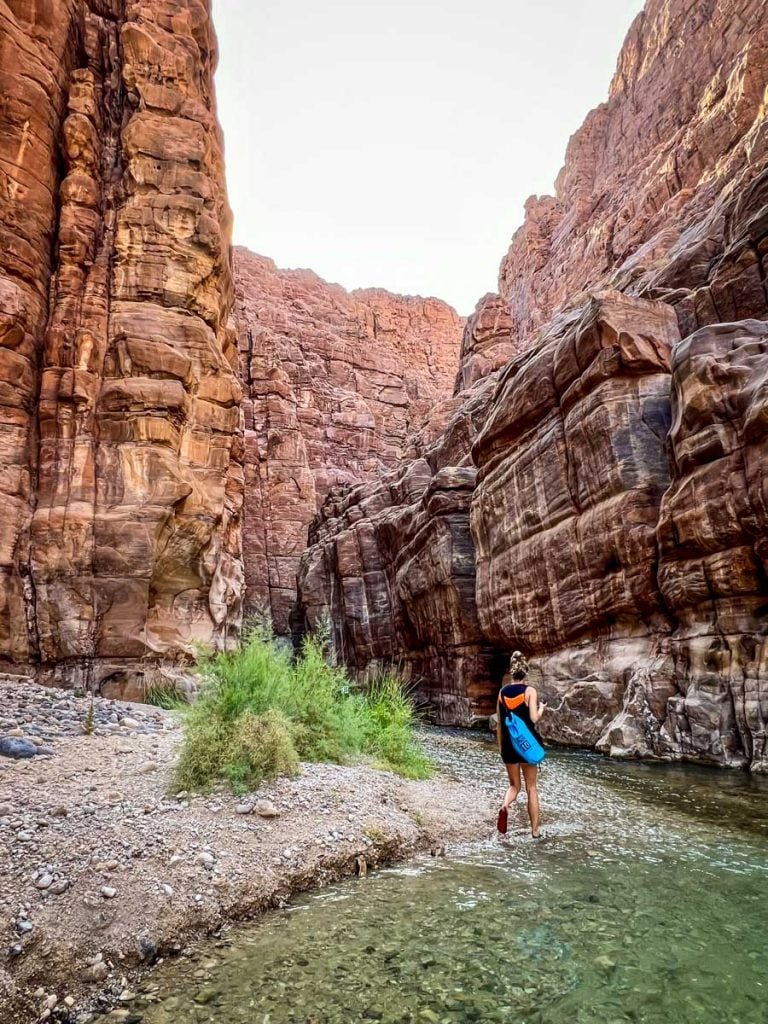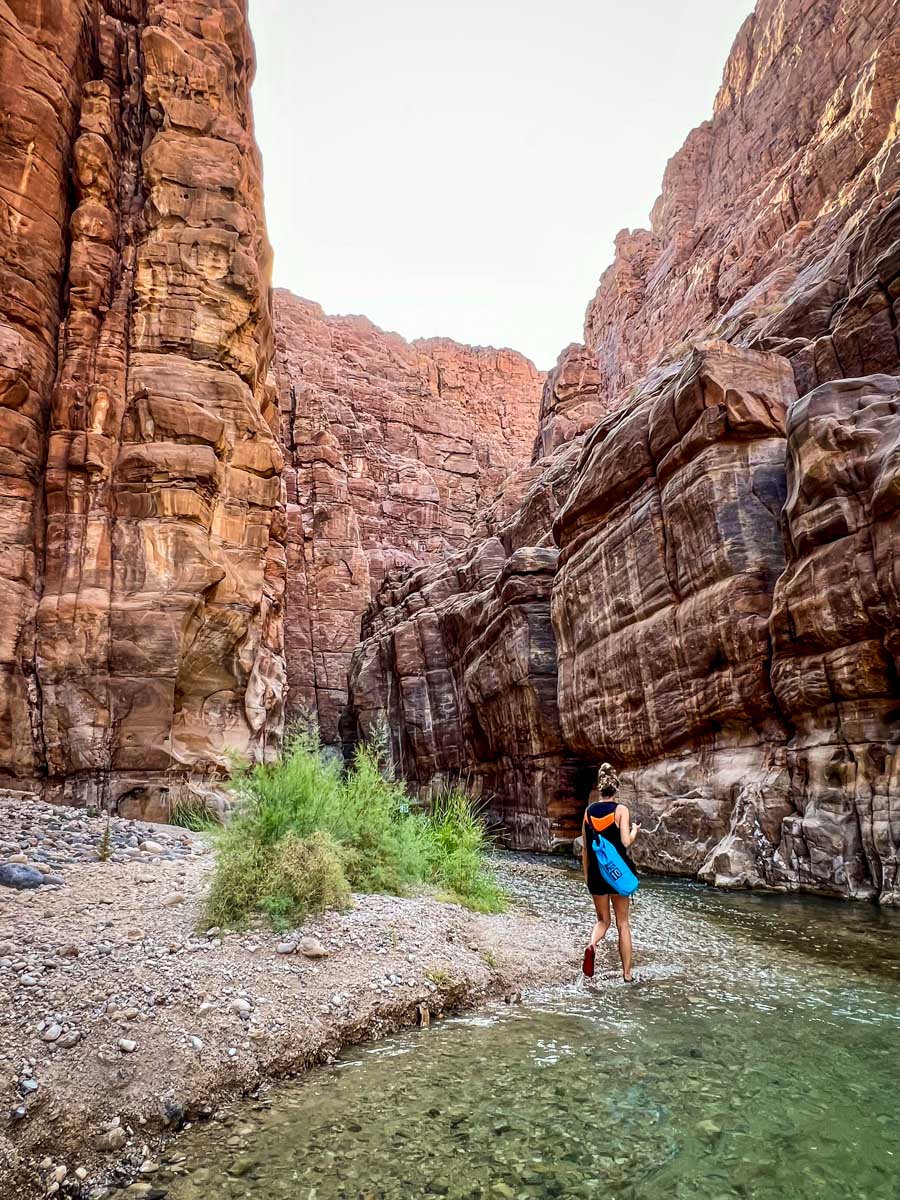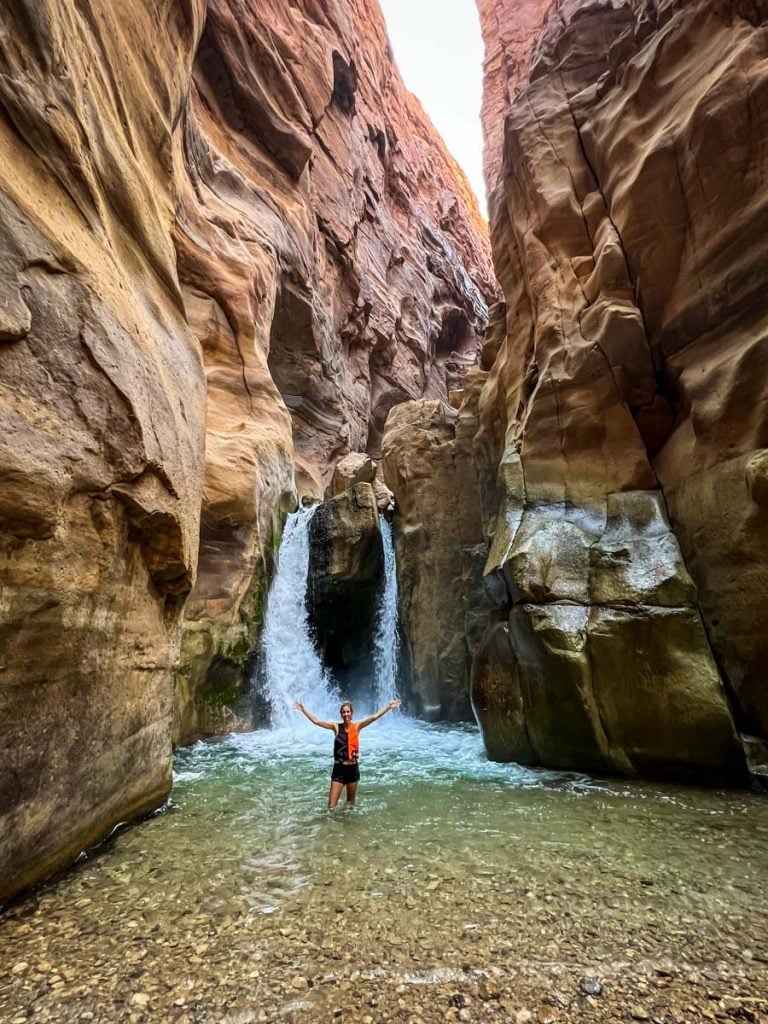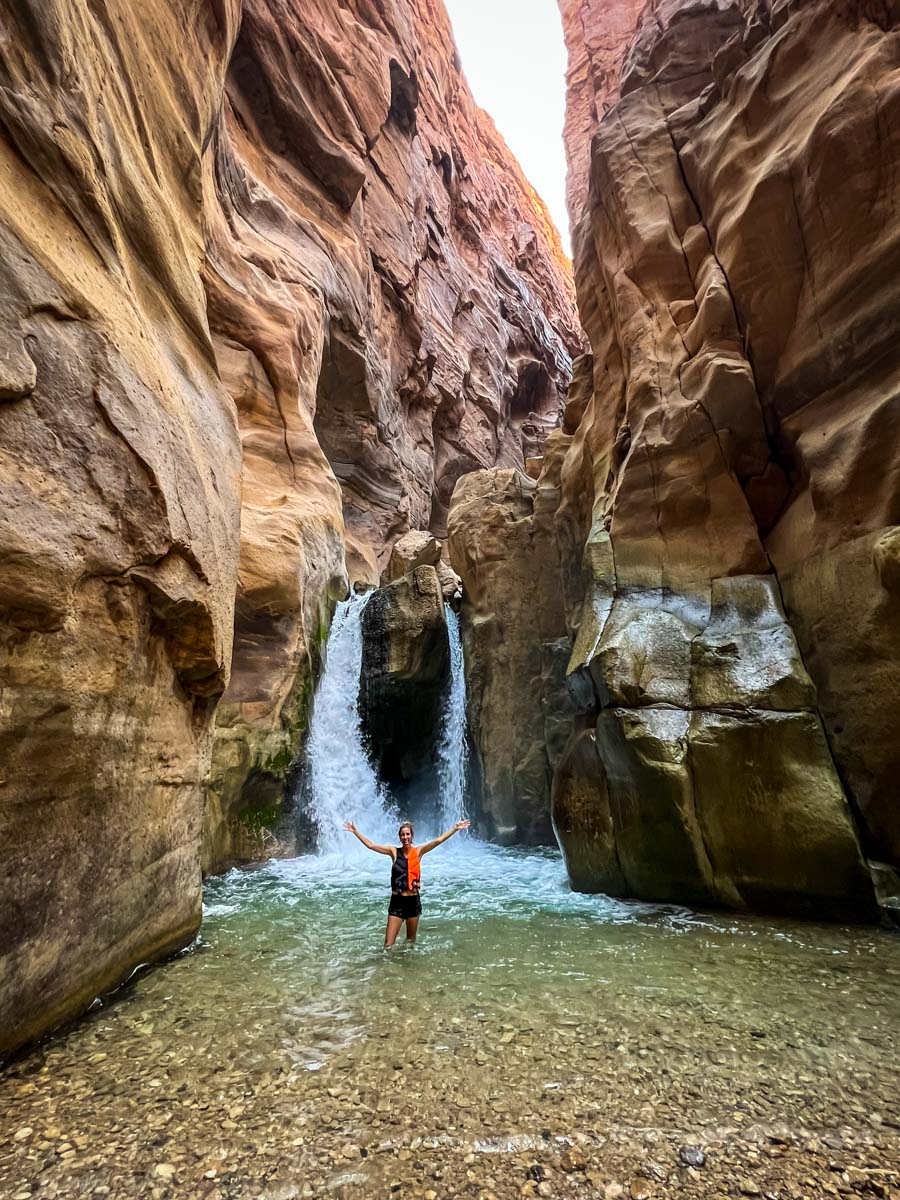 For an adventurous day trip, head to Wadi Mujib Canyon, about 1.5 hours south of Amman. A slot canyon with a rushing stream weaving through its towering walls, the canyon is less of a hike and more like an adult waterpark-meets-obstacle course.
Over the course of a mile, you'll need to wade, swim, and clamber up rocks in a well-maintained and thoughtfully laid-out setting. There are ladders and ropes adhered to the canyon walls in strategic places, and spotters are on standby to assist passing hikers if necessary.
The excursion is easily organized as a day trip from Amman, best done with either a hired driver or a rental car. And since the canyon is right next to the Dead Sea, you can also combine your hike with a salt float for a fun, nature-filled day!
Keep in mind Wadi Mujib Canyon is only open during the summer months, typically closed to the public from early October through March.
If you're interested, we have a complete guide to hiking the Siq Trail through Wadi Mujib, including insider tips on how to save money and avoid the crowds.
19. Float in the Dead Sea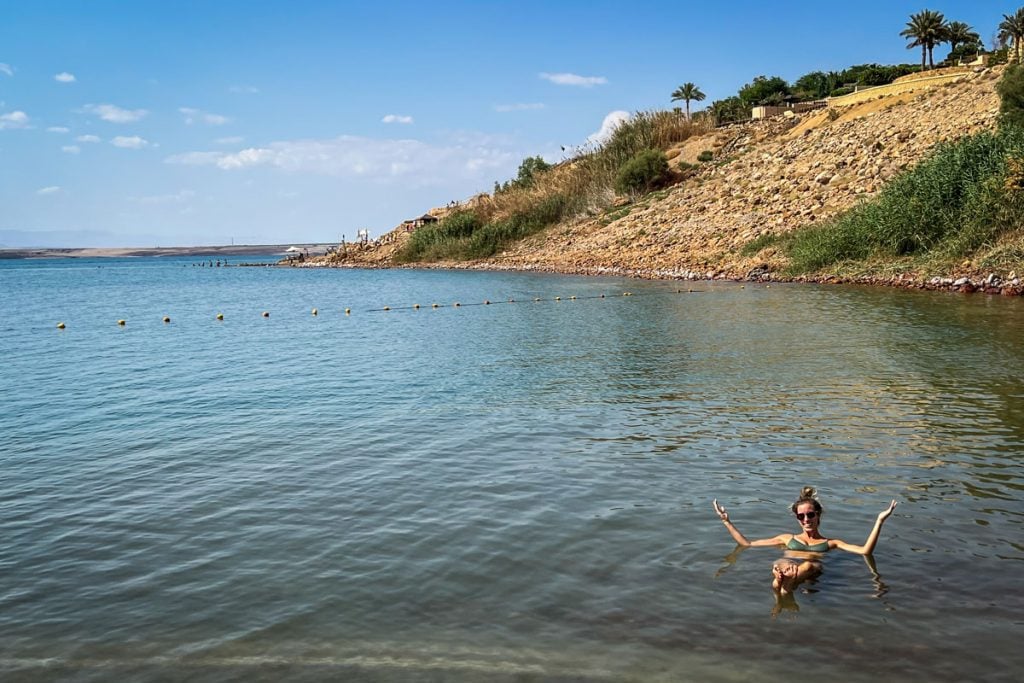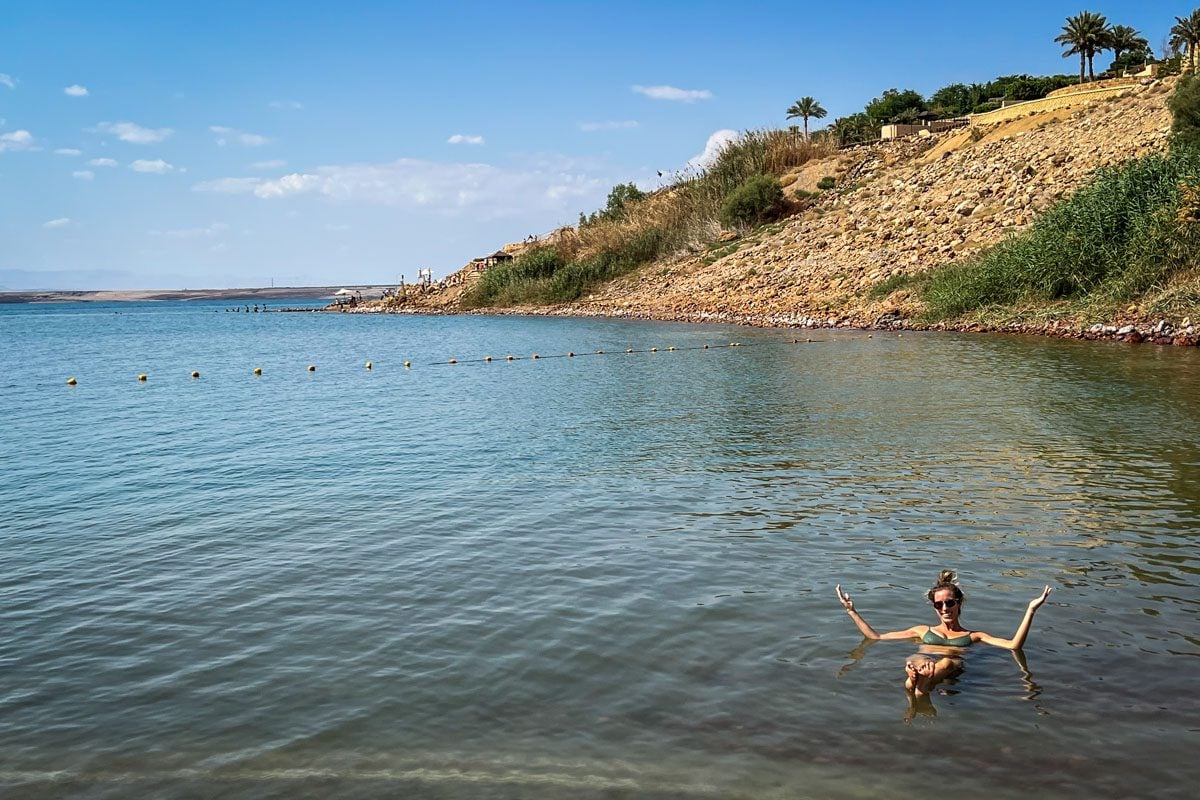 Technically a hypersaline lake with a depth of over 1,000 feet and sitting at the lowest elevation on Earth, there's nothing quite like the Dead Sea. Only an hour from the city, don't skip a day trip — it's one of the most fascinating things to do in Amman (and all of Jordan)!
There are several ways to reach the Dead Sea, with options suiting different budgets and expectations about what you'd like from the experience.
Since the water is so salty, a classic beach day is typically enjoyed from one of the dozens of waterfront resorts. It's difficult to relax lakeside under the desert sun in super buoyant water that makes you bob rather than leisurely float! However, a pool, shade umbrellas, and a bar create a much more pleasant environment. Plus, nearly every resort offers a cleansing mud bath, which is a must-do Dead Sea experience!
Alternatively, if you'd simply like to see what the Dead Sea and its unique salt formations look like and go for a quick dip, it's best to rent a car or hire a driver.
If you're interested in more information, we have a guide to visiting the Dead Sea, including where to float for free and tips on accommodation and transportation.
20. Go back in time at the ruins of Jerash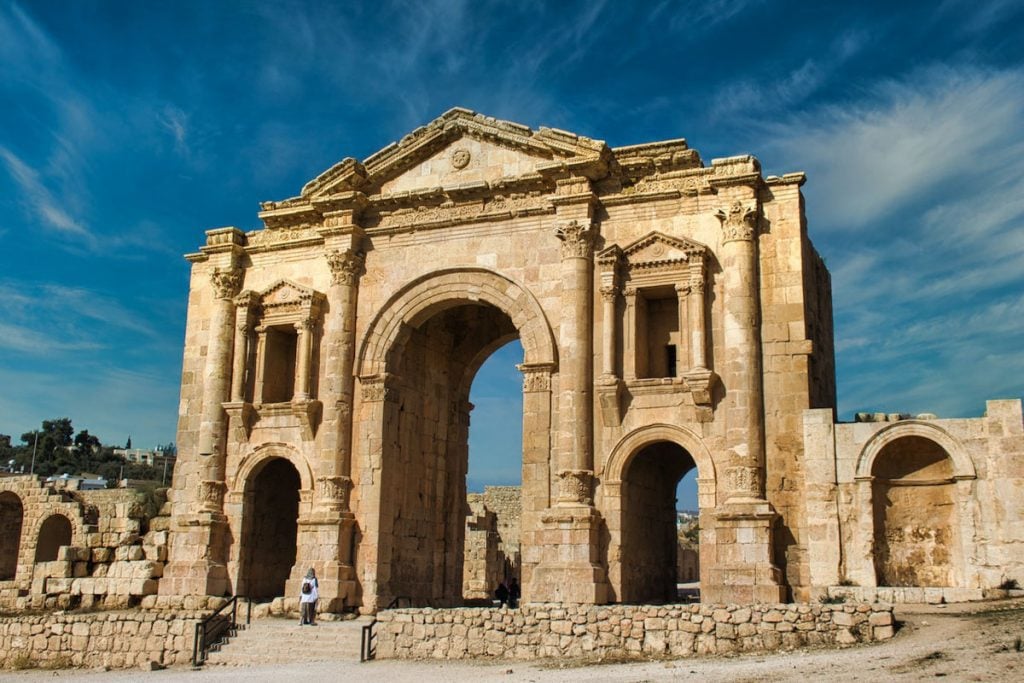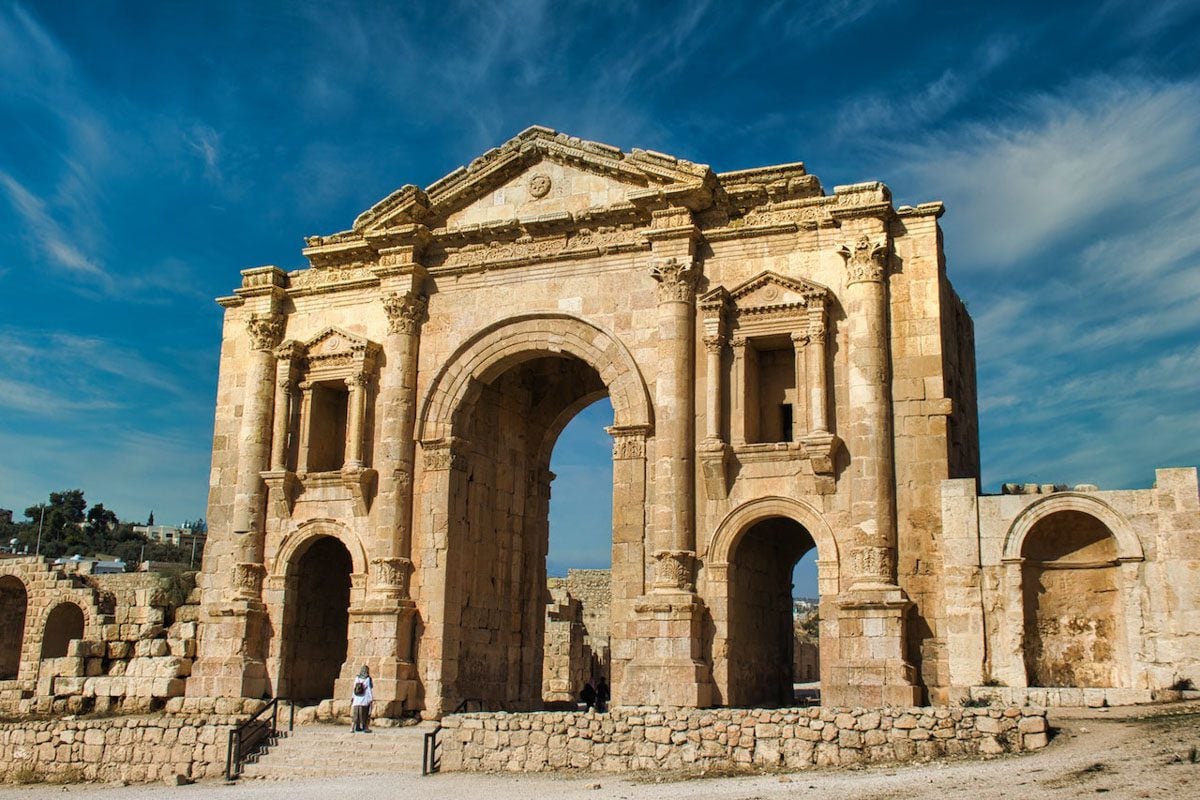 Dating back to Roman times, it almost feels inaccurate to call Jerash "ruins" — it's one of the most well-preserved ancient cities in the world. Deservedly one of Jordan's major tourist attractions, it's magical to get lost among the arches, columns, and temples of this once-thriving trade and cultural hub.
The archaeological site is quite large, easily taking up three or four hours of exploration. Since there isn't a lot of information about the buildings onsite, we recommend hiring a guide to explain their significance. However, even without one, the ruins are jaw-dropping! We especially recommend stopping by the amphitheater and Adrian's Arch.
Located about an hour from Amman, Jerash is an easy day trip, with plenty of buses, tours, and taxis available to visit this spectacular historical attraction.
*Entrance to Jerash is included in the Jordan Pass.
---
Where to eat in Amman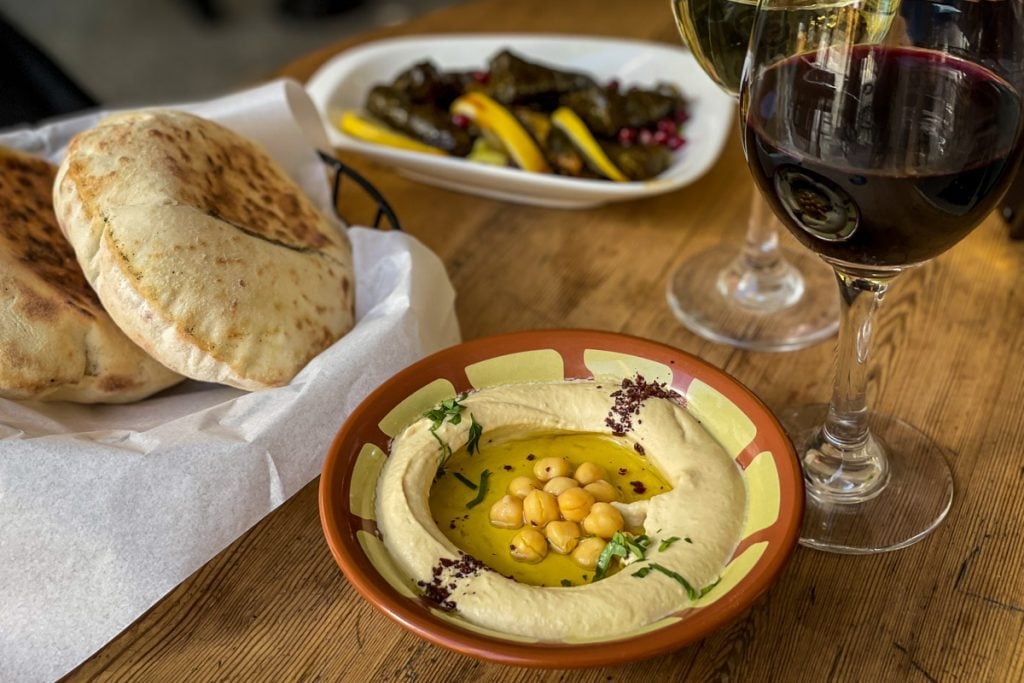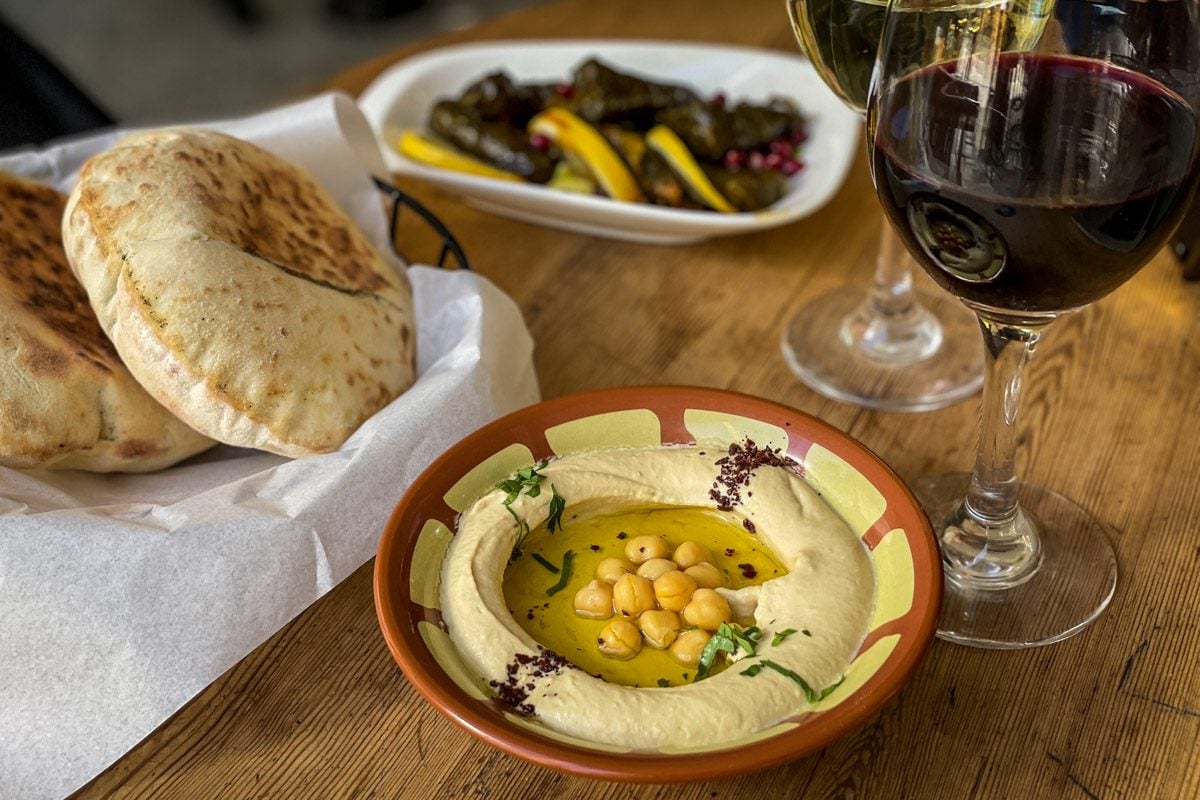 If you haven't already picked up on it, food is an important part of Jordinian culture and finding the best places to eat in a new place is sort of my specialty. Below are my top recommendations for places to eat in Amman.
Cafe/breakfast:
Lunch/street food:
Dinner
Where to stay in Amman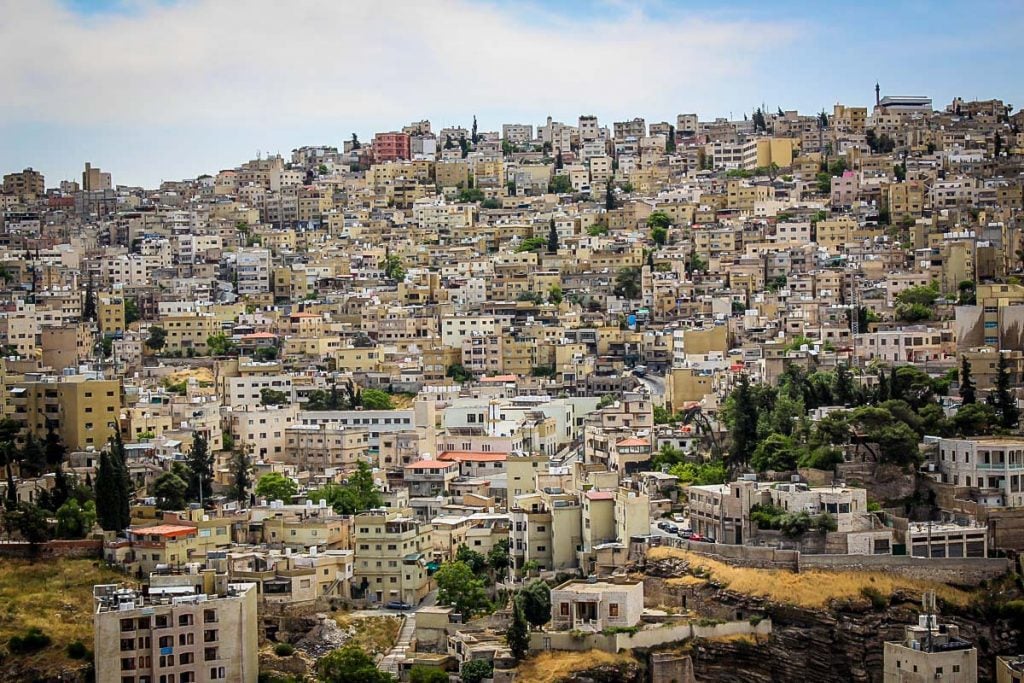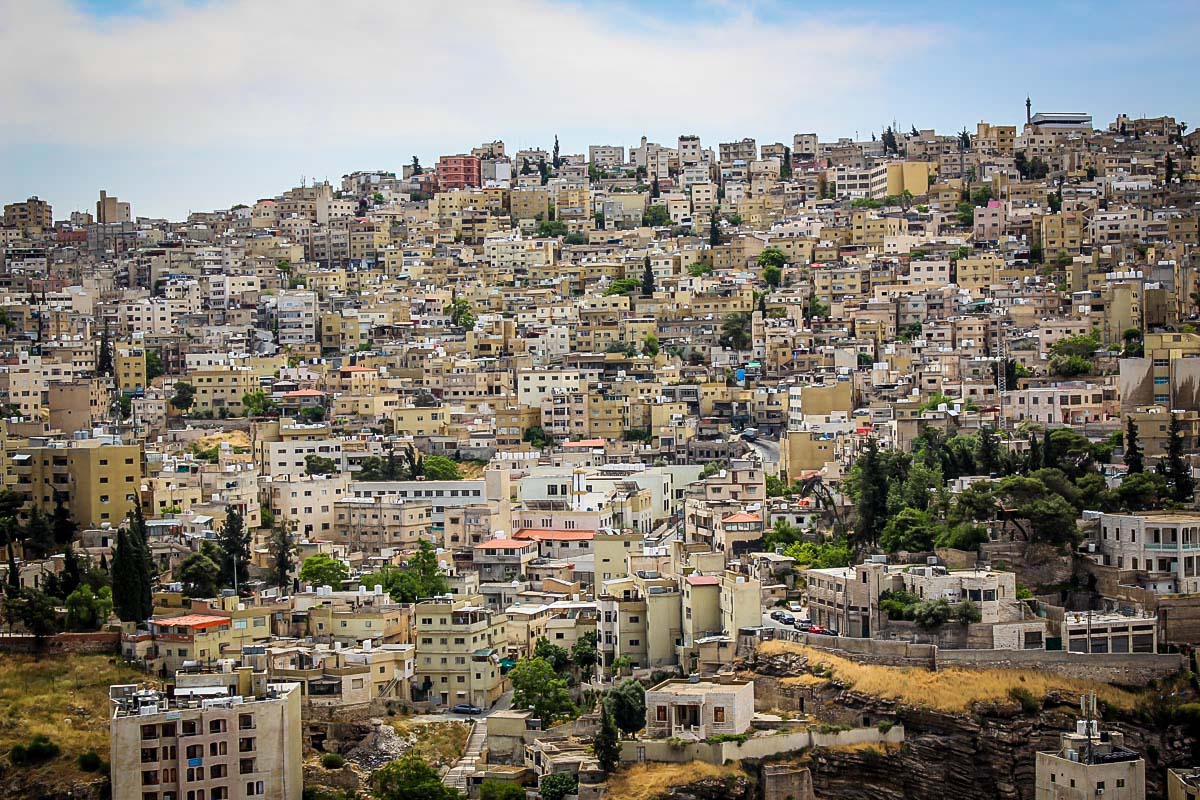 With distinct neighborhoods sprawling across eight picturesque hills, there are several Amman districts to choose from for accommodation. As a very pleasant surprise, most options are rather affordable and comfortable, with lots of nice amenities.
Traffic in the city tends to get quite congested, so it's best to consider where you plan to explore most before deciding.
Amman is generally split into two distinct halves. The eastern side is more historic and conservative, while the western half is home to more businesses, skyscrapers, and nightlife.
The three main neighborhoods tourists tend to visit most are in the city center, almost straddling the line between the two halves. Look for accomodation in these areas for a great mix of historical attractions and familiar comforts.
Jabal Amman: Amman's cosmopolitan center provides a wonderful mixture of pleasantly bustling streets, historic buildings, and lively cafes. Home to Rainbow Street, there's a palpable youthful vibe here.
Downtown: This can be confusing since Amman has two downtowns. One is the old market core and the other is an ever-changing business center defined by modern skyscrapers. For a more cultural experience, we recommend old downtown. It's a vibrant neighborhood full of life, with the city's best markets, fascinating old buildings, and a unique atmosphere.
Jabal Weibdeh: Similar to Jabal Amman, this neighborhood is filled with buzzing cafes and bars but is also adjacent to great historical sights. Plus, being a stone's throw from the Citadel makes it an excellent base for many things to do in Amman.
Hotels in Amman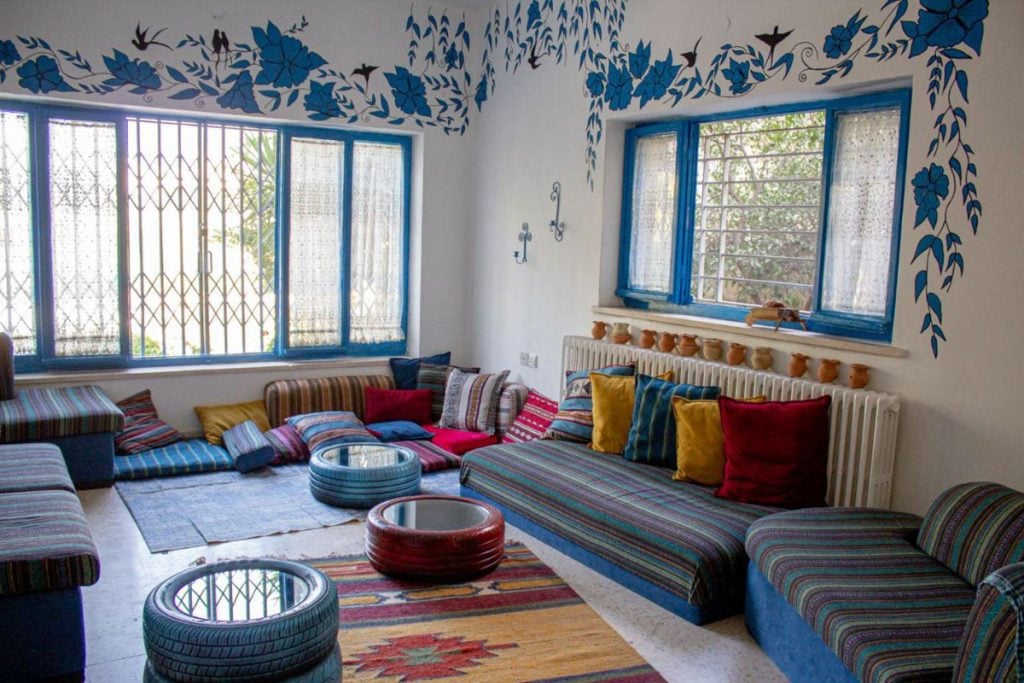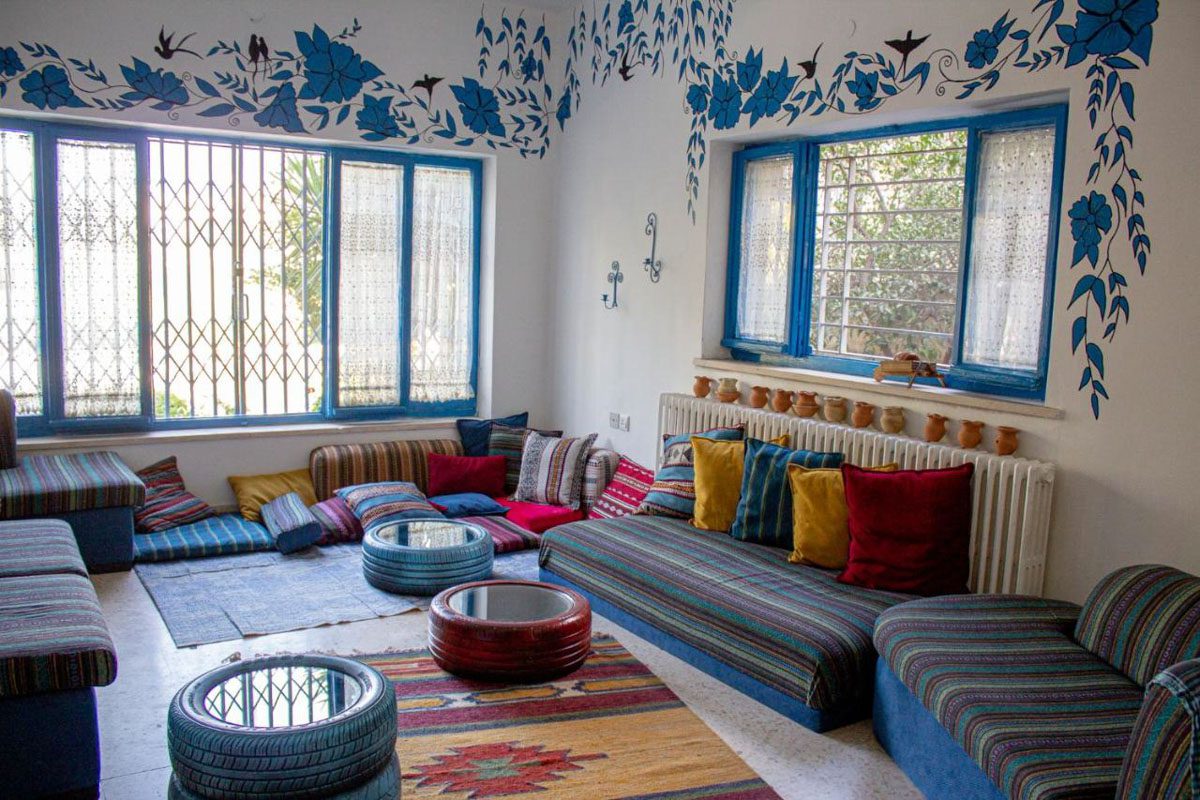 Budget-friendly stay: The Wanderers Hostel (aka Battutah)
Social hostel with a fabulous rooftop and several nice amenities, including laundry, a fitness center, and free parking. The Wanderers is within a 15-minute walk of Rainbow Street and many of the city's best markets, and the staff even organizes tours!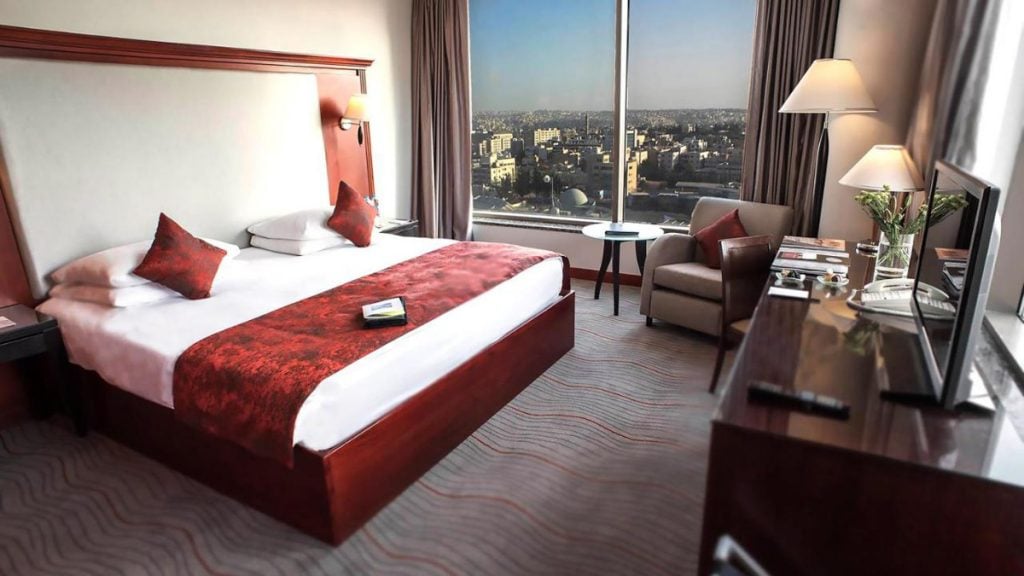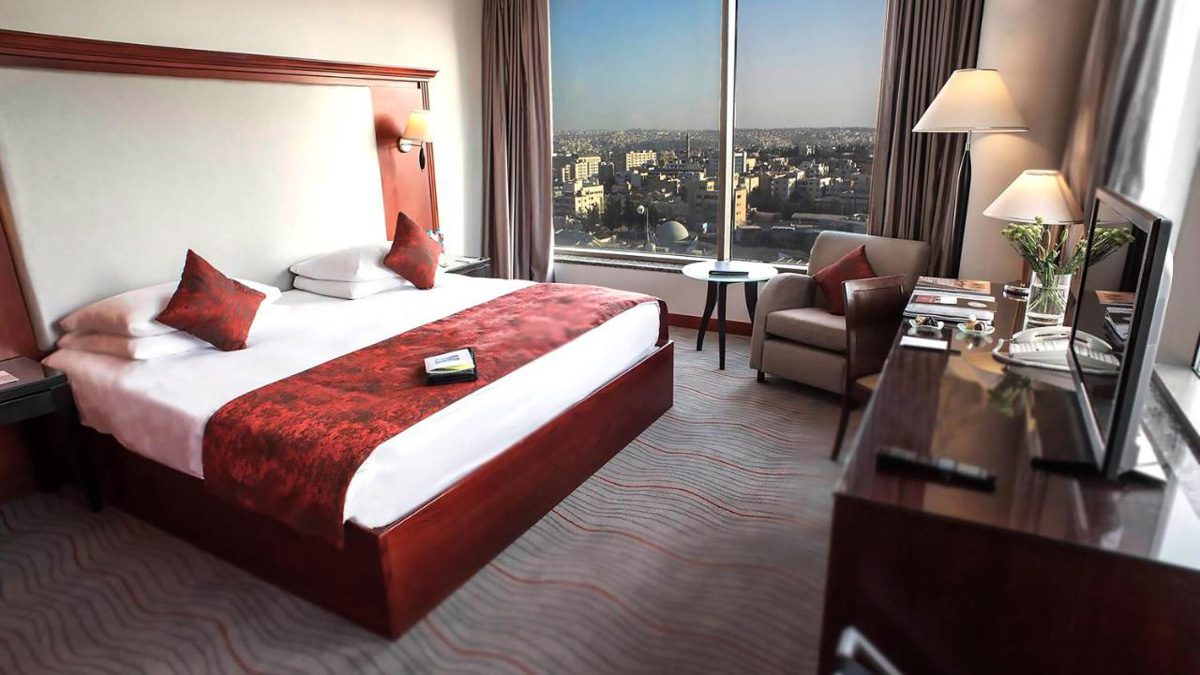 Mid-range/couples stay: Kempinski Amman
Modern high-rise hotel in the heart of new downtown Amman with a swimming pool, three restaurants, a spa, and spacious rooms. It's also convenient to both the airport and the Citadel, and offers quick access to tours and rideshares.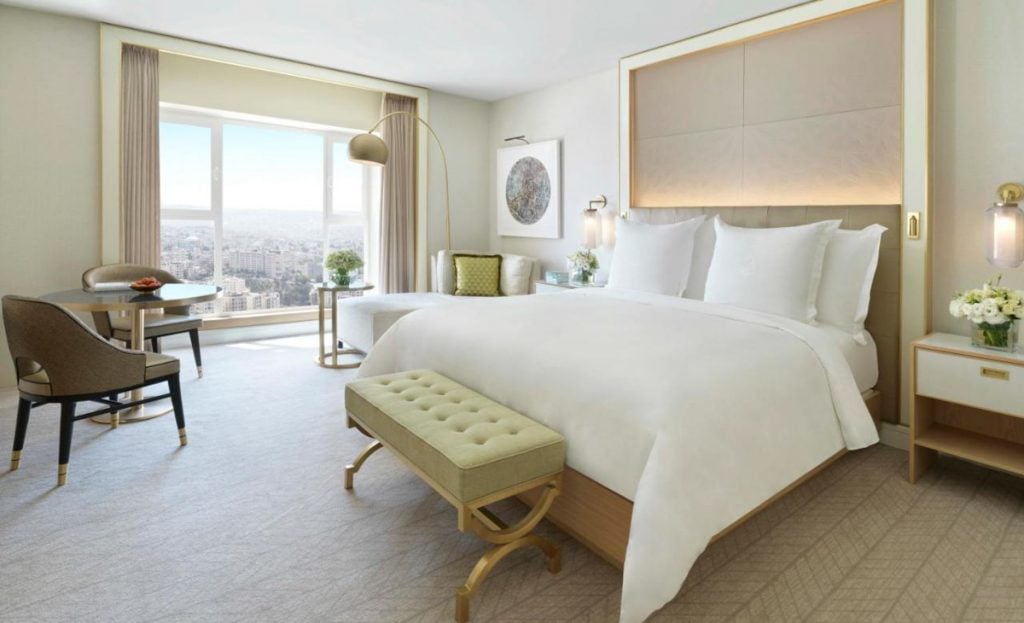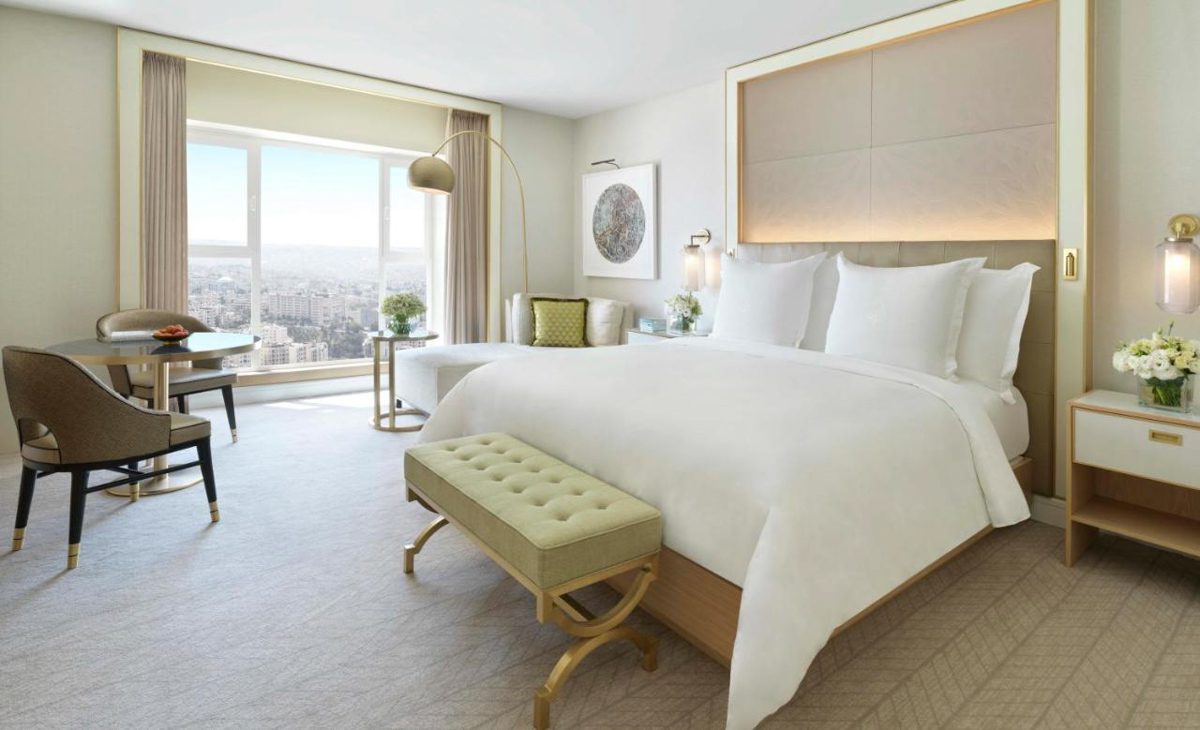 Splurge stay: Four Seasons Amman
For all-out luxury, choose this bohemian hotel with city views from atop Amman's highest hill. Enjoy top-notch amenities including a rooftop pool, en suite mini bars (a rarity in Jordan), complimentary valet and afternoon tea, and three onsite bars.
Airbnbs in Amman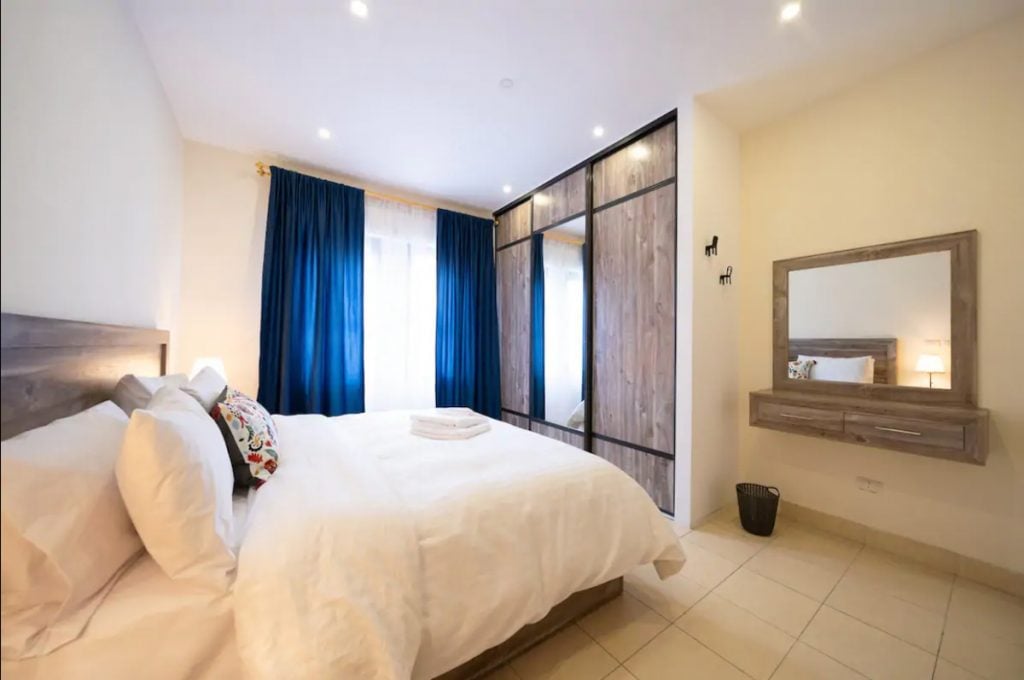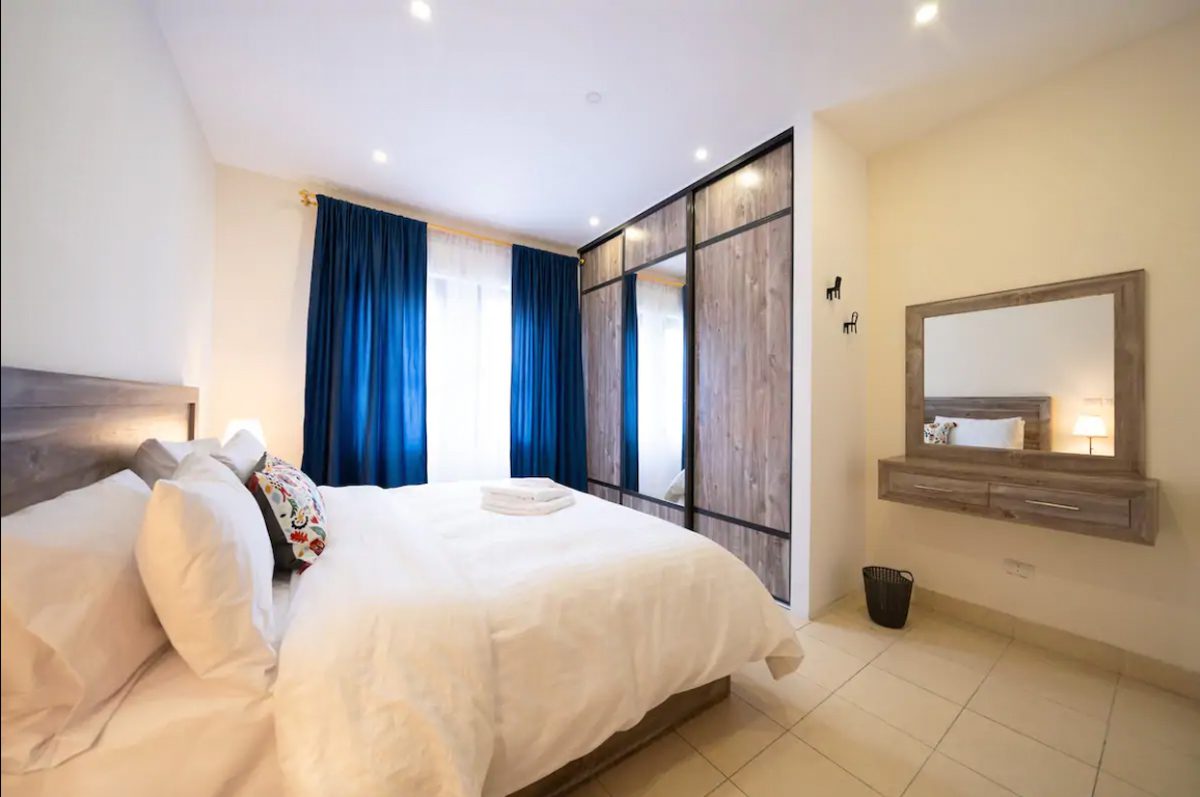 Budget-friendly stay: Eze Apartment with balcony
Centrally-located, excellent value apartment with a balcony and full kitchen. Just a 5-minute walk to Rainbow Street.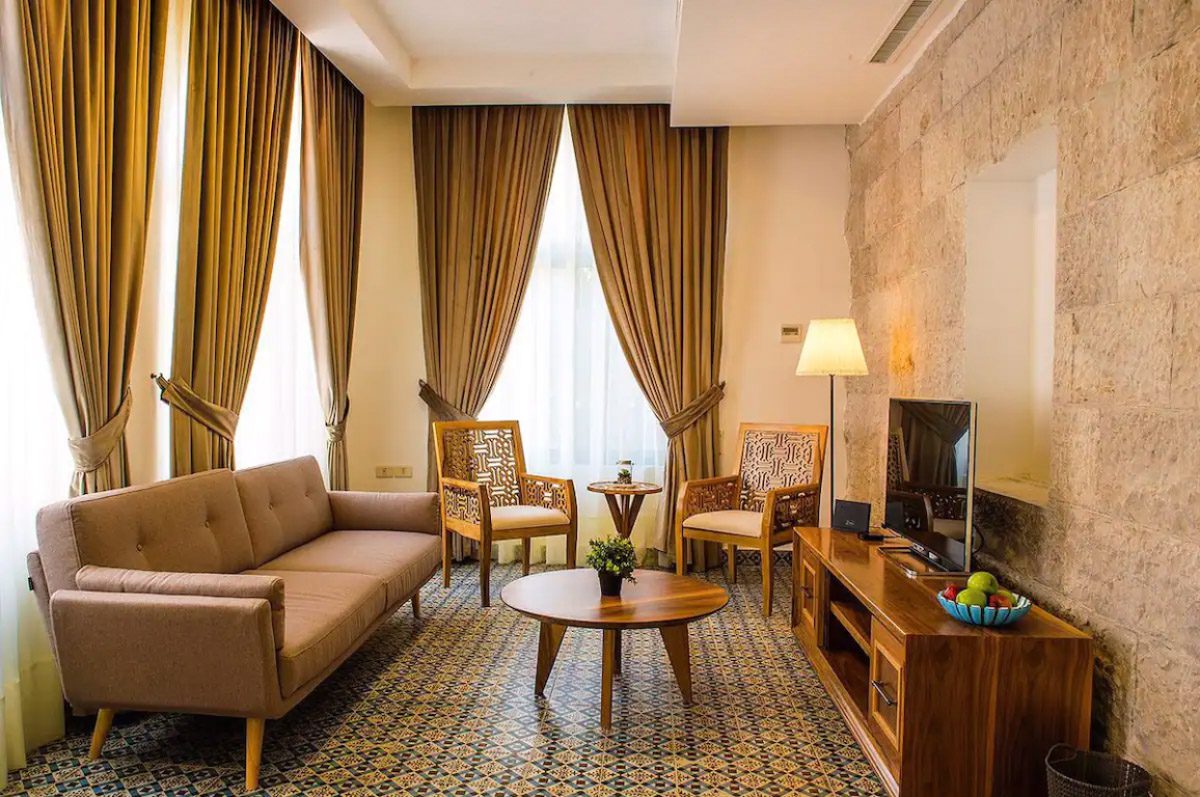 Budget-friendly stay: Magnolia Apartments 10
Beautiful, modern apartment with Arabic decor touches situated perfectly between the old and new sections of the city in a walkable neighborhood.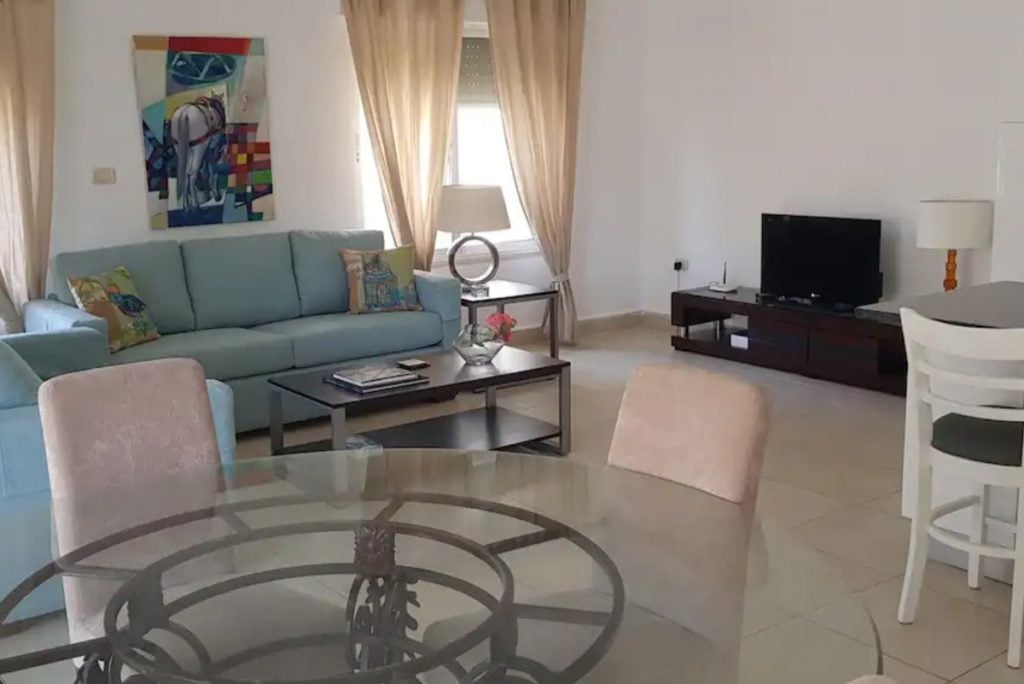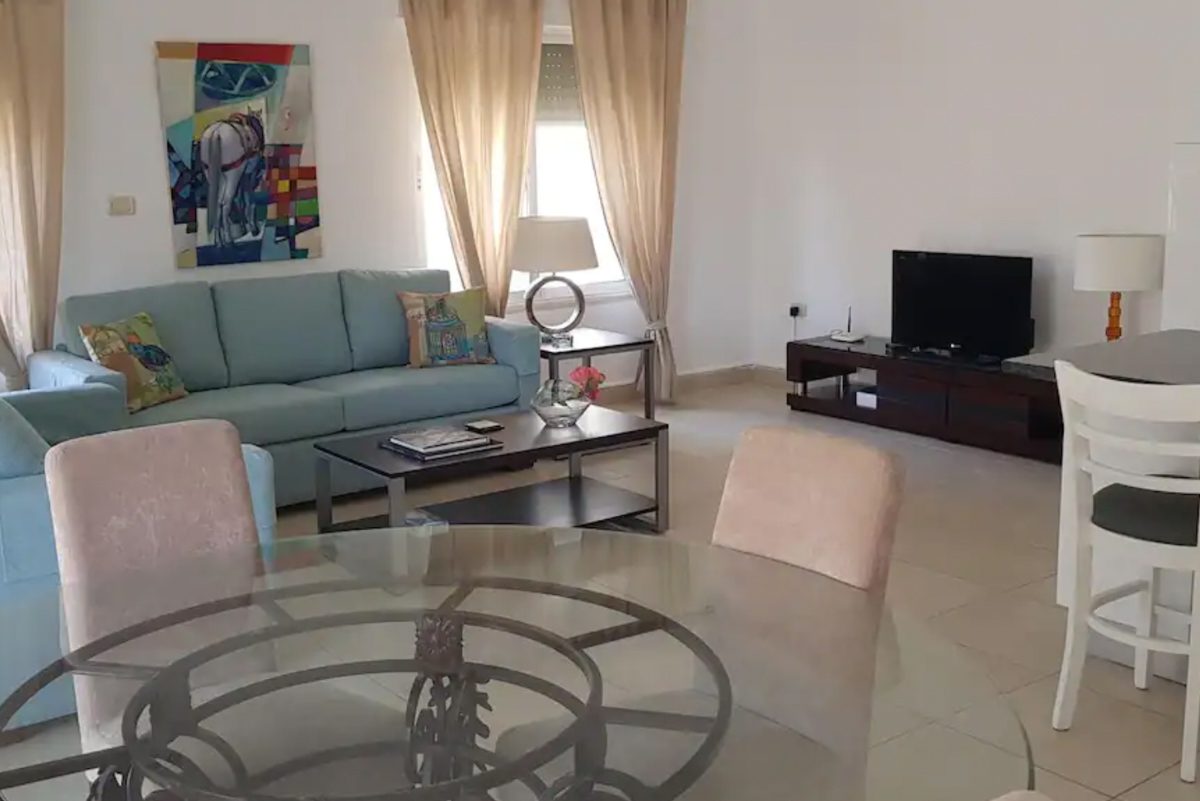 Mid-range/couples stay: Bright, Artful Apartment in Central Weibdeh
Spacious, airy 2-bedroom apartment in residential Weibdeh with a private balcony, central A/C and heat, and full kitchen. This is where I stayed when I was visiting Amman and I loved it, especially the location!
A word of caution for women about safety in Amman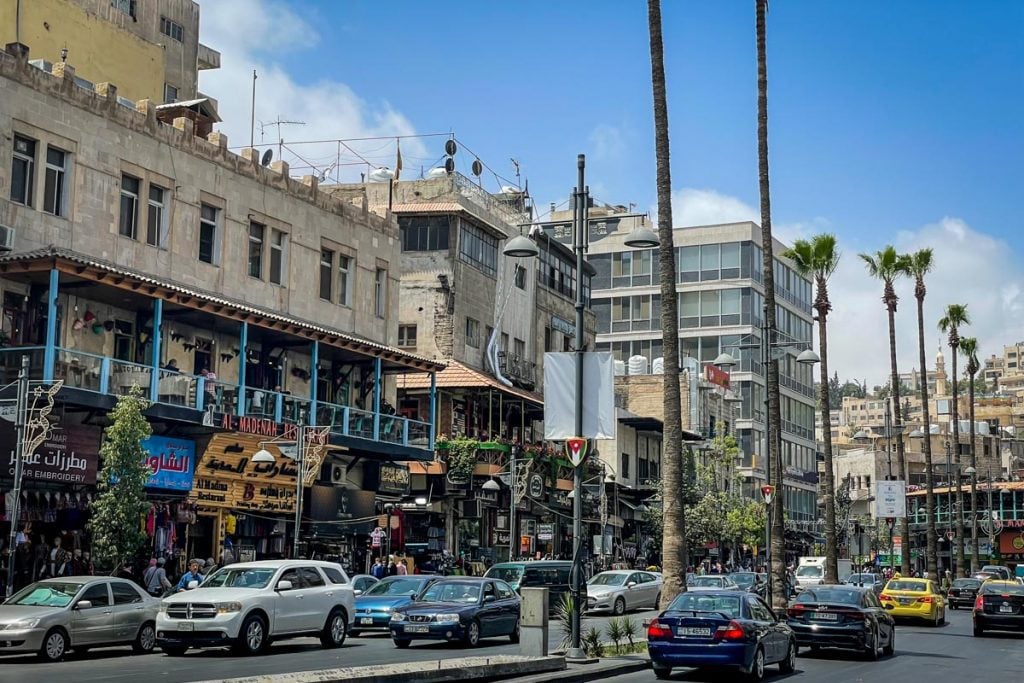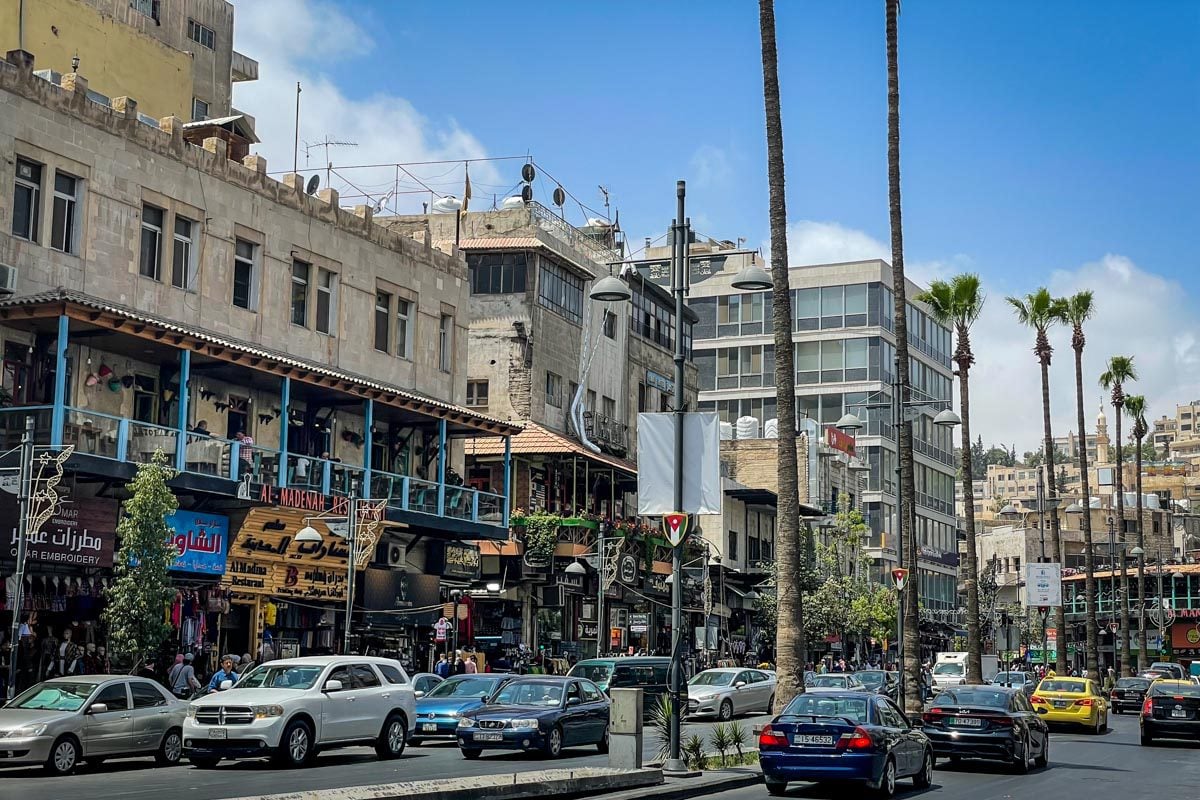 Amman was my first experience visiting the Middle East and an introduction to the region for me. I'd spent time in other predominantly Muslim countries, but never ventured into this often underrepresented or misunderstood region (from a Westerners point of view).
I'd read that Jordan is one of the safest and most stable countries in the region. At first sight, I felt Amman lived up to that reputation. The streets, albeit chaotic, felt safe and friendly. People didn't seem to worry about carrying valuables or even leaving a purse hanging on the back of a chair while dining at a sidewalk cafe. A local friend told me the crime rate in Amman is very low.
Understanding that we were guests in a foreign culture with different belief systems than the ones we grew up with, my friend and I made sure to dress appropriately and keep our shoulders and knees covered while in public.
We fell in love with Amman, and compared to some of the other destinations we visited in Jordan (like Petra, which didn't feel like a "local" experience at all, and Aqaba, where we felt the male gaze much more strongly) we didn't feel very uncomfortable in Amman as women traveling alone…at first.
After some more time spent in Amman (we were there for a total of 12 days) the honks and stares from men started to get old. There were times when we felt uncomfortable with the uninvited interactions we were having with men (and sometimes even young boys). And there was more than one incident where we felt downright unsafe—being harassed and even groped in the streets.
My intention in sharing my experience is not to scare you away from visiting an otherwise incredible nation with plenty of wonderful, warm and welcoming people. It is simply meant as a word of caution, especially to my fellow female travelers.
The culture in this part of the world is different. Women do not have the same rights as they do elsewhere. And as such, you may be treated differently than what you are used to.
Traveling in a group, or with a male partner is one way to avoid some of the unwanted attention. Also, wear loose-fitting clothing that covers as much skin as possible.
If you are traveling to Jordan as a solo female traveler, be aware of your circumstance and manage your expectations.
---
Are you planning a trip to Jordan?
We have lots of resources on travel in Jordan and destinations throughout the country. Check out our Jordan Travel Homepage for everything you need to know, or read some of our favorite articles below.
Save this article on Pinterest for later!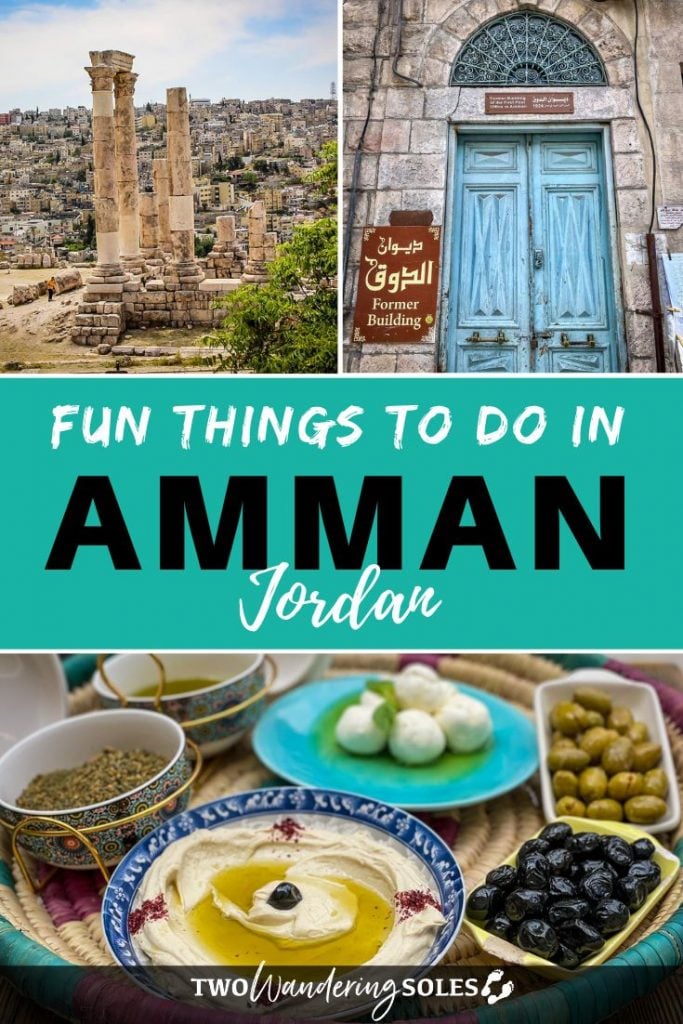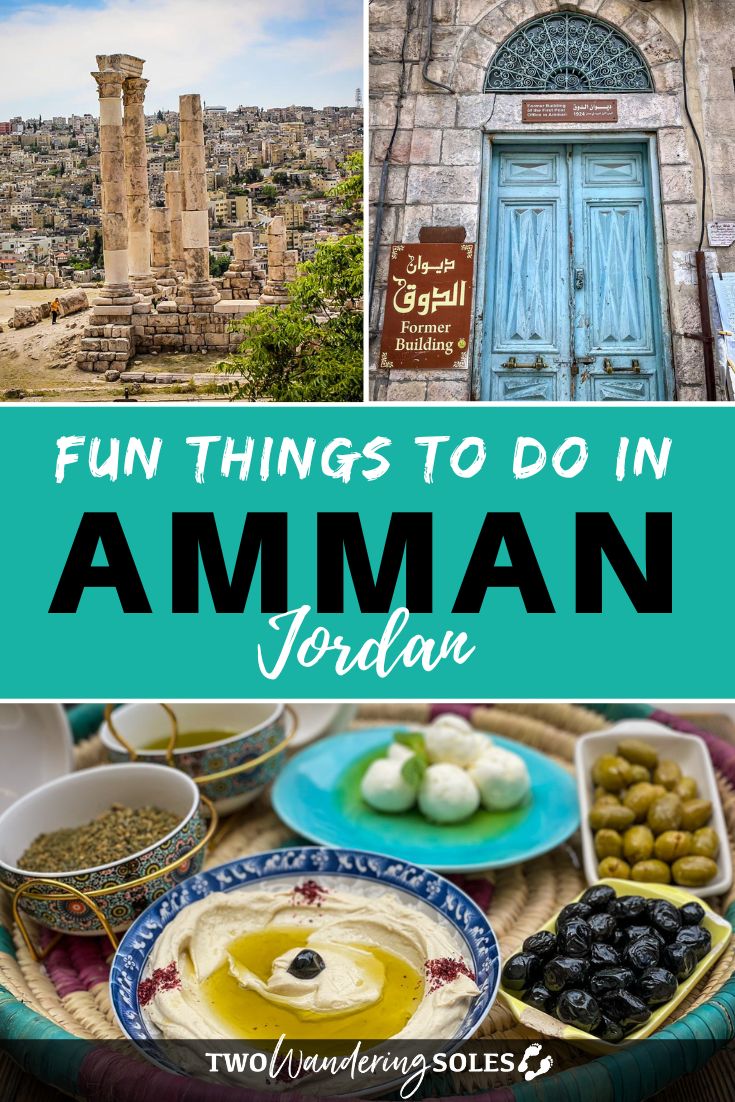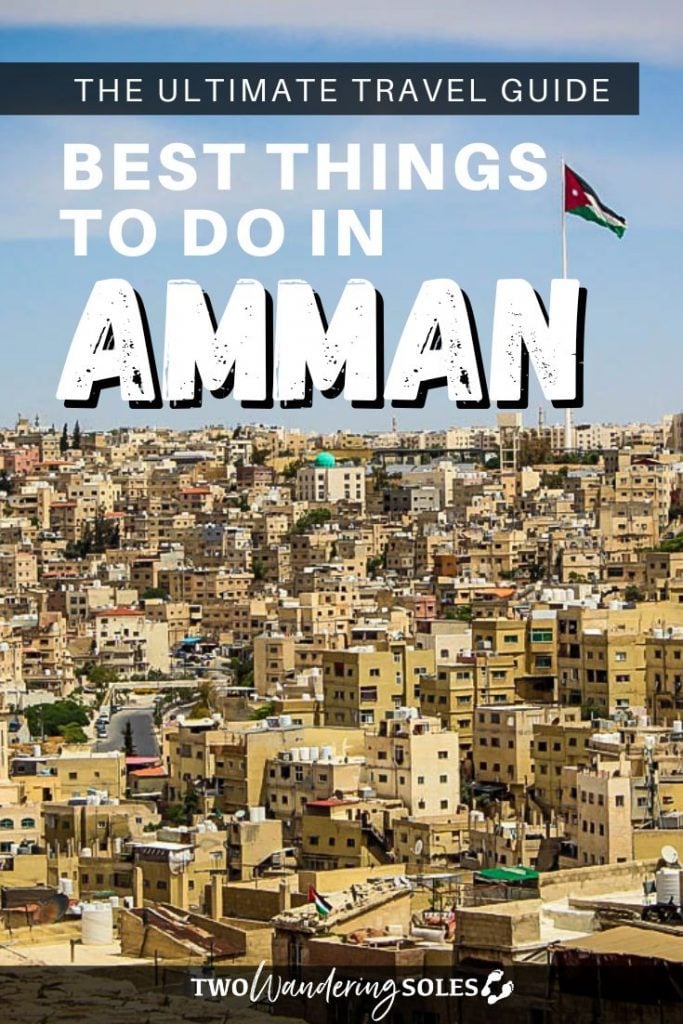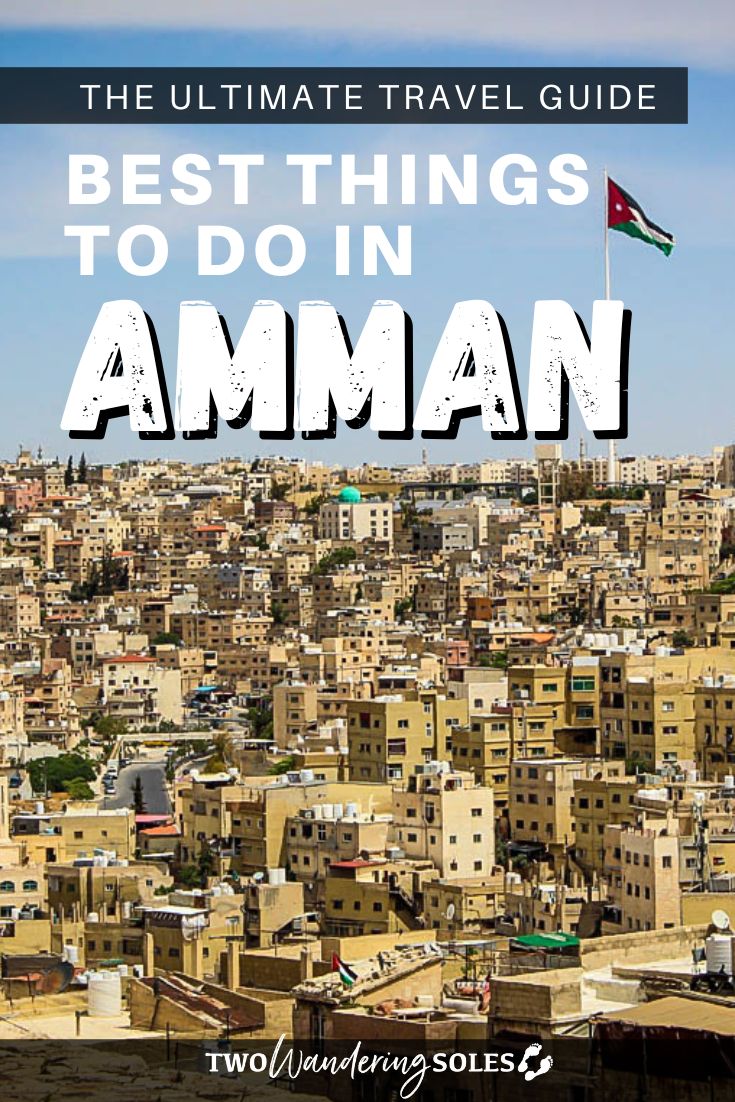 We want to hear from you!
Which of these things to do in Amman are you most excited for? Are you planning a trip to Jordan and still have questions? Leave your comment below and we'll do our best to get back to you!