If you're planning a trip to explore Petra, the Dead Sea, or Wadi Rum, renting a car may be a great option for you. This guide breaks down everything you need to know about getting a rental car in Jordan, including where to find the best deals.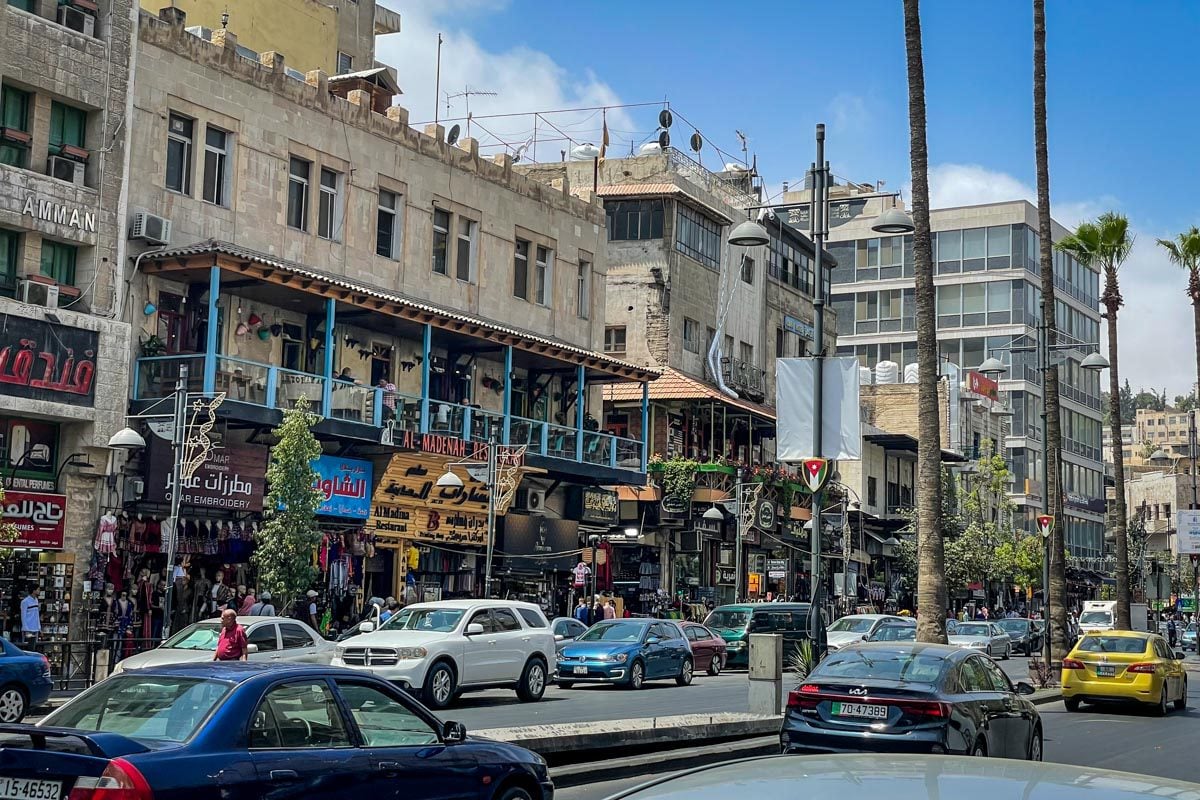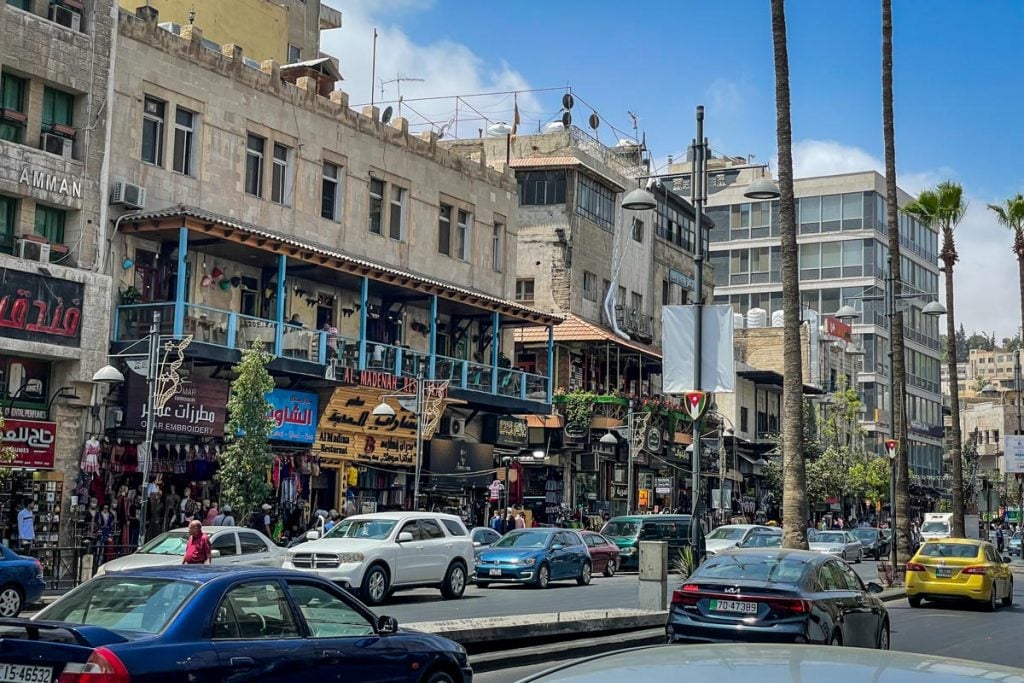 Between the diverse landscapes of the Dead Sea and Wadi Rum, plus many fascinating historical attractions like the ancient city of Petra, it's easy to understand why traveling to Jordan tops so many bucket lists. It's a relatively small country, taking just six-ish hours to drive from north to south, so getting a rental car in Jordan is a great option to hit all the highlights on your own schedule.
There are a handful of things we wish we would have known before getting a rental car in Jordan, so we've put together a complete guide with everything you need to know. This way you'll be much more prepared than we were!
We're breaking down the exact cost of a rental car in Jordan, answering some of your most frequently asked questions, plus sharing our top tips to save you money and headaches.
Article Contents
---
Other resources to help you plan your trip
---
Why rent a car in Jordan?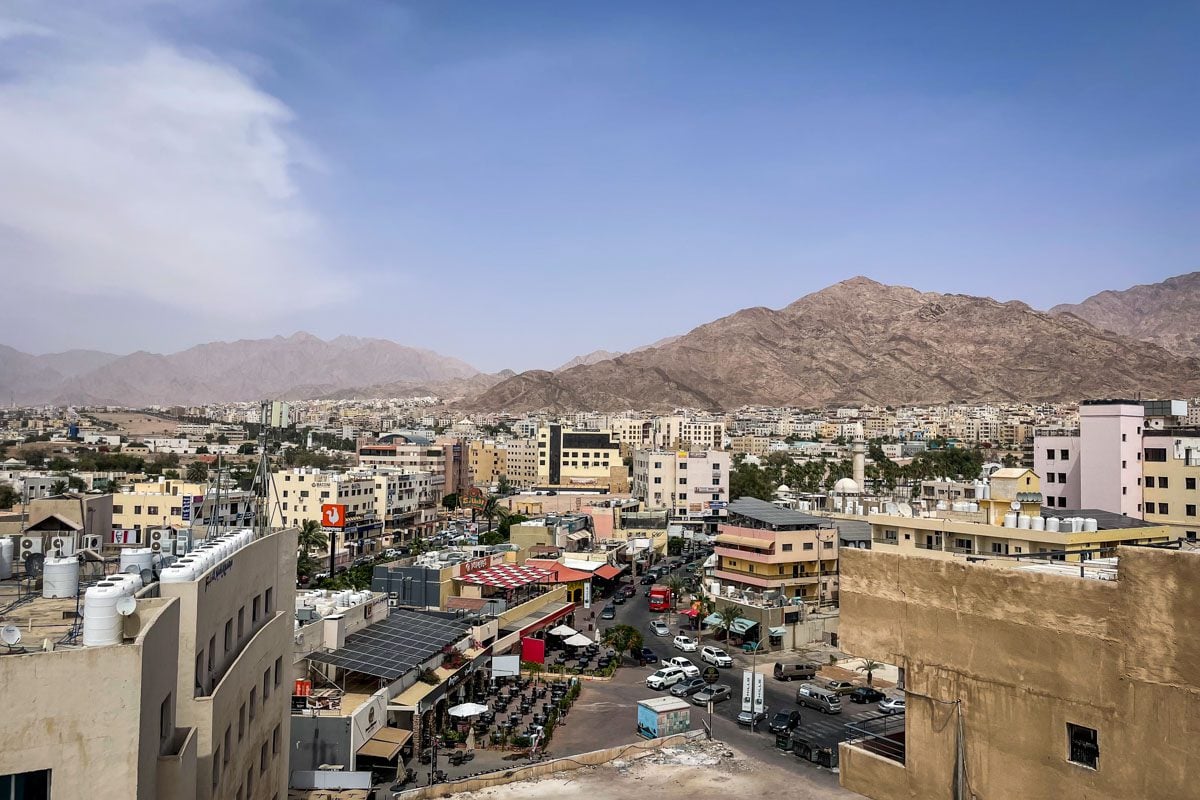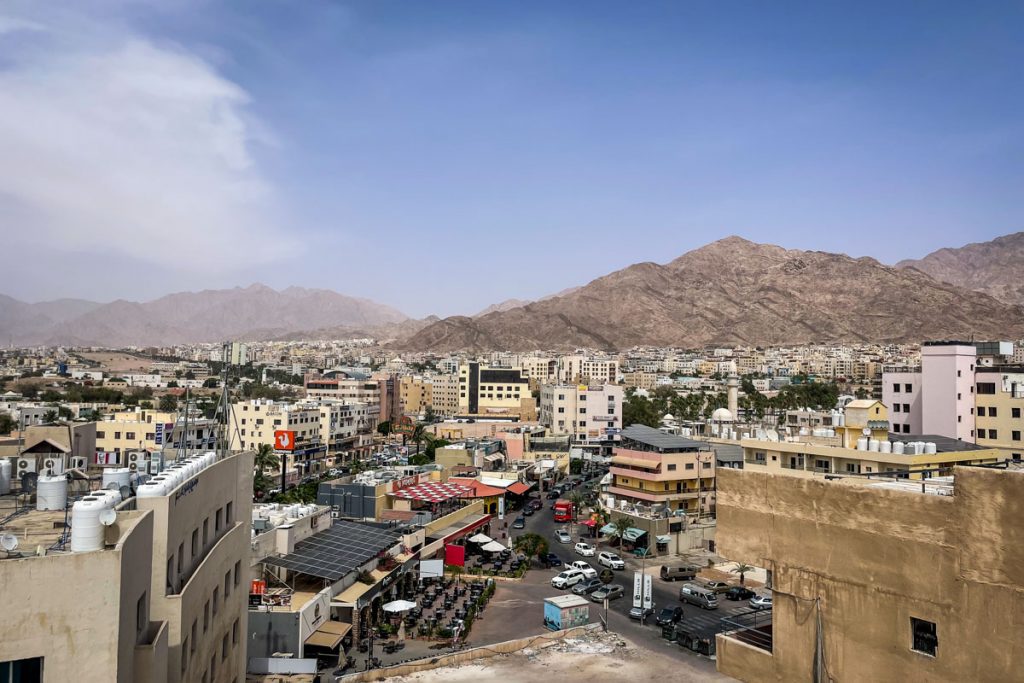 If you're on the fence about getting a rental car in Jordan, here are the top things to consider and the reasons we think renting a car is the best idea.
1. It's cheap
We expected renting a car to be expensive, but as we found out, it is actually cheaper than renting a car in the United States. Read below to see exactly how much you can expect to pay for a rental car in Jordan.
2. You can see more hidden gems
Jordan is a very touristy country, and the only way to escape the crowds is to venture off the typical tourist trail. The best way to do this is by renting a car and going on a road trip!
Some of the highlights of my time spent in Jordan included things we couldn't have done without the freedom of our rental car. Road tripping around the country was my ideal way to see everything I wanted to see, and on my own time.
4. It's faster
Local buses may be cheaper, but can be oh so slow! Local buses in Jordan are akin to mini buses or colectivos in Latin America. They won't leave a stop until they are full of passengers, so a short journey can take exponentially longer than you might think.
The JETT bus system in Jordan is great for getting from town to town, but you'll have to adhere to their schedule, which may not always match up with your own.
5. Driving in Jordan is easy
There are some countries where the insane traffic and crazy driving etiquette would scare us away from renting a car. (We're thinking of many major cities in Vietnam!) But most of Jordan is pretty laid back when it comes to driving (especially outside of Amman), and the rules of the road are pretty much the same as you'd find elsewhere in North America and Europe.
Depending on where in Jordan you plan to drive, you likely won't encounter too much traffic or difficult situations (the major exception to this is if you're driving through Amman).
6. It's convenient
If you have your own vehicle, you don't need to look up bus times, or stick to someone else's schedule. You don't have to wake up early to catch that 6 a.m. bus or leave a destination before you are ready because it's the last ride home.
You can stop whenever you need to, whether it's to use the restroom or you get hungry. Turn on the AC or roll down your windows. It's up to you!
7. It's fun!
There's just something about road trips that are so much fun! Stock up on snacks, crank some tunes and sing aloud, or listen to a podcast with your travel buddy. No headphones needed!
8. Parking is easy
I drove my rental car all over Jordan and can confirm that finding parking was never an issue. All our hotels and Airbnbs were equipped with parking spots. Street parking in cities like Amman and Aqaba was easy enough to find.
9. Combat car sickness
If you're someone who suffers from the occasional motion sickness, getting crammed into a mini bus with a crazy driver is not an ideal situation. I understand, believe me!
If you're like me, having your own vehicle will allow you the freedom to stop when you need to. Plus, sitting in the front seat (or driving) helps prevent car sickness a ton.
Pro Tip: Motion sickness wrist bands and ginger chews have helped me a lot!
Reasons not to rent a car in Jordan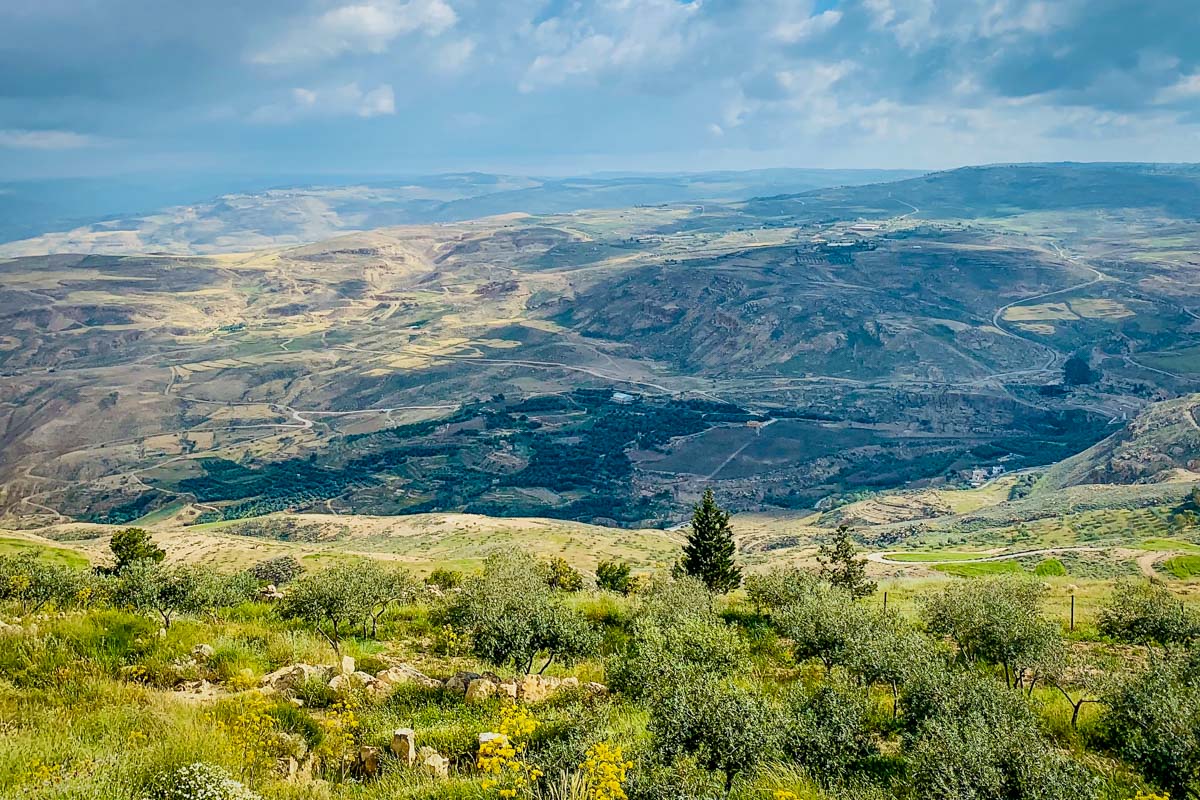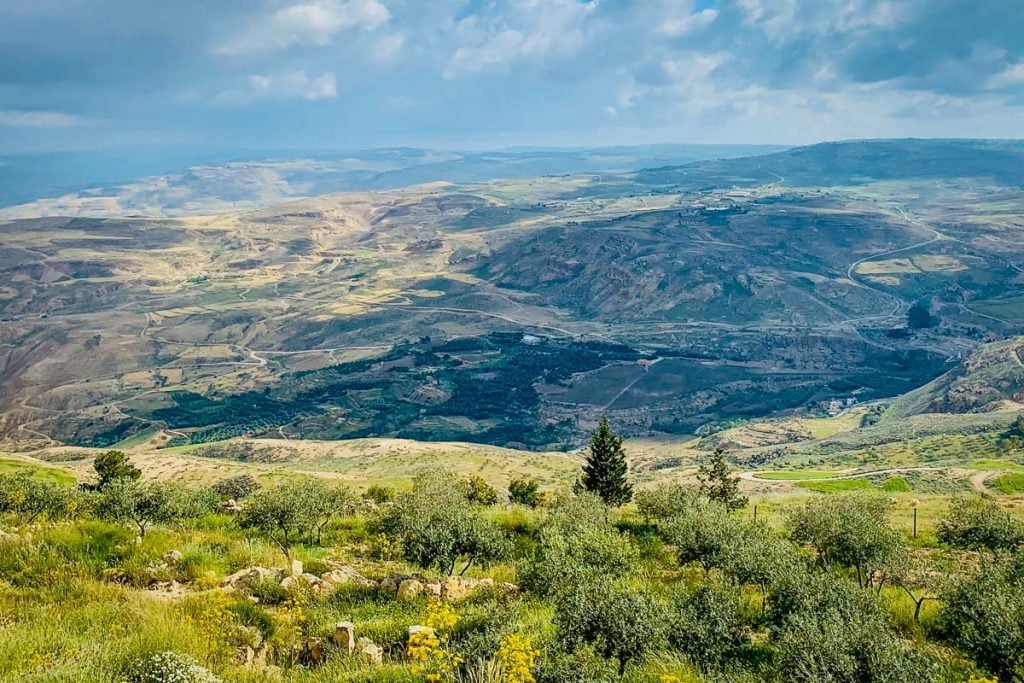 Getting a rental car in Jordan was the best option for my travel plans, but I certainly don't think it's the best option for everyone. Here are some things to consider:
How much does a car rental in Jordan cost?
Rental cars in Jordan are pretty affordable, especially compared to prices in the US and Europe.
Like anywhere else, prices fluctuate based on demand, so you'll find lower prices in the off-season (December through early March, and July and August) and higher prices during peak season (mid-March through early June and September through November).
Low-season prices average about $30-35 USD per day for a "compact" car, while high-season prices are between $55-60 USD. We like to use Discover Cars to search and compare prices from all the rental car options in the area, and find it generally saves us money in the long run.
Search & Compare Rental Car Prices
Discover Cars: We personally use this aggregate site to compare rental car prices from all the big name companies and get the best price possible.
RentalCars.com: We've had good experiences finding rental cars with this site in the past.
Do I need rental car insurance in Jordan?
A Collision Damage Waiver, commonly referred to as CDW, is legally required to rent a car in Jordan—and built into the rates. Even if you have great rental car insurance from a premium travel credit card, CDW is non-negotiable. However, you can decline theft protection and other insurance "extras" with your rental company.
FAQs about car rentals in Jordan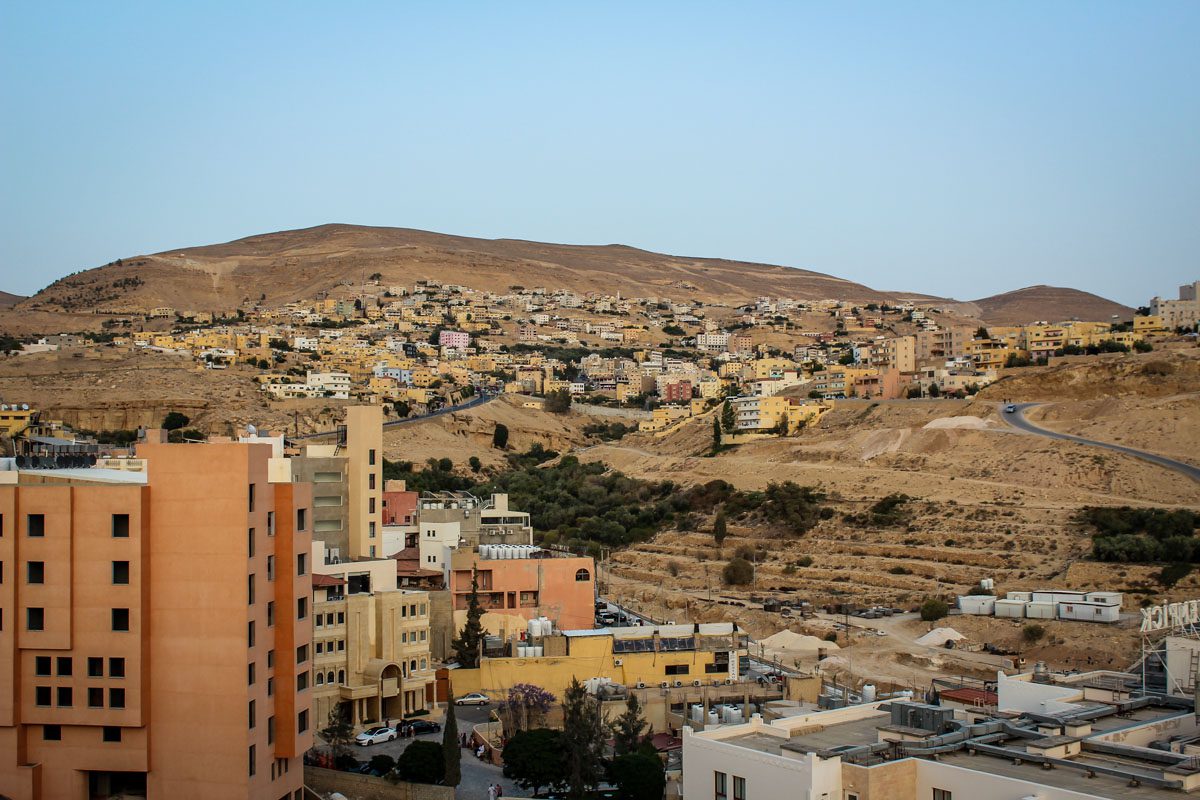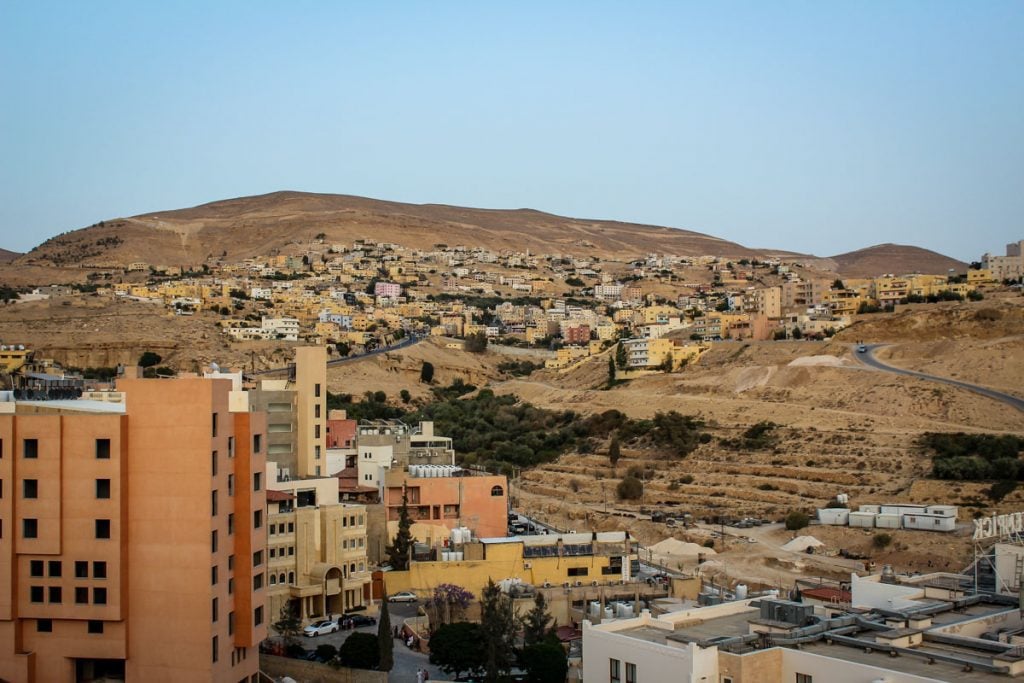 It's perfectly safe and relatively simple to get a rental car in Jordan, but there are still a handful of things you should know before you do.
Is it safe to rent a car in Jordan?
In short, yes. Roads in Jordan are generally well-maintained, have good signage, and are very easy to drive on. In particular, Jordan's major highways, the King's Highway, Desert Highway, and Dead Sea Highway (also called the Jordan Valley Highway) are easy to navigate.
The bustling capital city of Amman is the only exception to everything above—there's significantly more traffic and driving is quite a bit more chaotic. Even so, it isn't nearly as hectic as many other large cities in the Middle East and Asia.
Who can rent a car in Jordan?
It's relatively simple to get a rental car in Jordan, but one of the most important things to know is that you must be at least 21, despite the country's minimum driving age being 18. Much like in the United States and throughout Europe, you need a valid passport and drivers' license from your home country. Some rental companies may charge an additional fee for drivers under 25.
It's also important to note that the law officially states that drivers must have a valid International Driving Permit (IDP), aka an international drivers' license, in order to get a car rental in Jordan.
What's the cheapest rental car company in Jordan?
Much like in the U.S., all the big players offer rental cars in Jordan: Thrifty, Dollar, Budget, Avis, Enterprise and others — all at mostly similar price points. Factors like the time of year, type of car, and demand among people searching all affect the exact price.
We love to use DiscoverCars.com when searching for rental cars in other countries because they compare rates for you so you can easily find the best rates on your exact trip dates.
Do I need an international driver's license to rent a car in Jordan?
As discussed above, you're technically supposed to have an international drivers' license or IDP in order to get a car rental in Jordan. However, this law doesn't seem to be strictly enforced country-wide.
Having said that, we'd recommend you err on the side of caution and go ahead and get your International license if you are planning to get a rental car in Jordan.
It certainly doesn't hurt to have one, especially if you frequently travel internationally — popular destinations including Greece and Chiang Mai do require them as well.
As long as you have a valid driver's license in your home country, you can get your international driver's license here, for just $30 USD. They have urgent processing available to get your digital license within 15 minutes.
Related: Renting a Car in Costa Rica: ESSENTIAL Tips & Warnings
Tips for renting a car in Jordan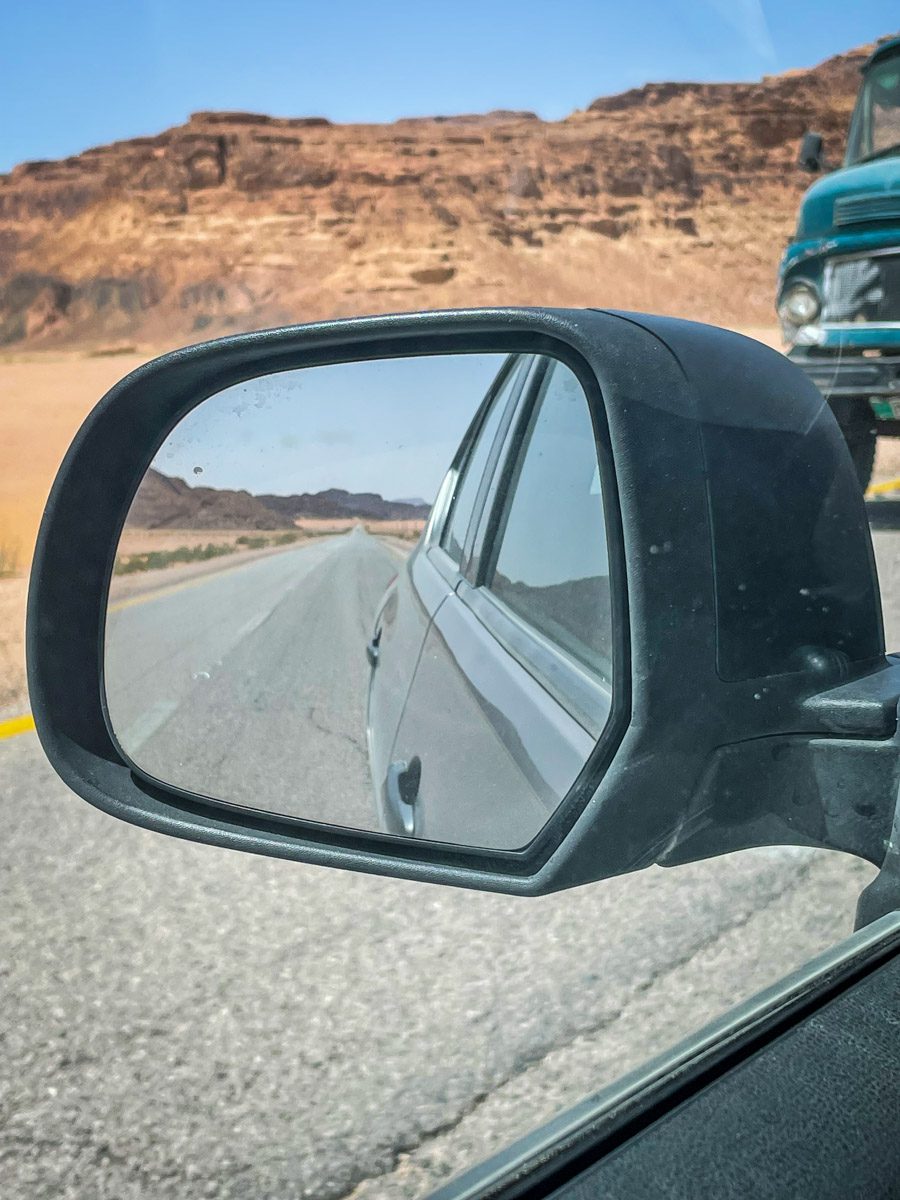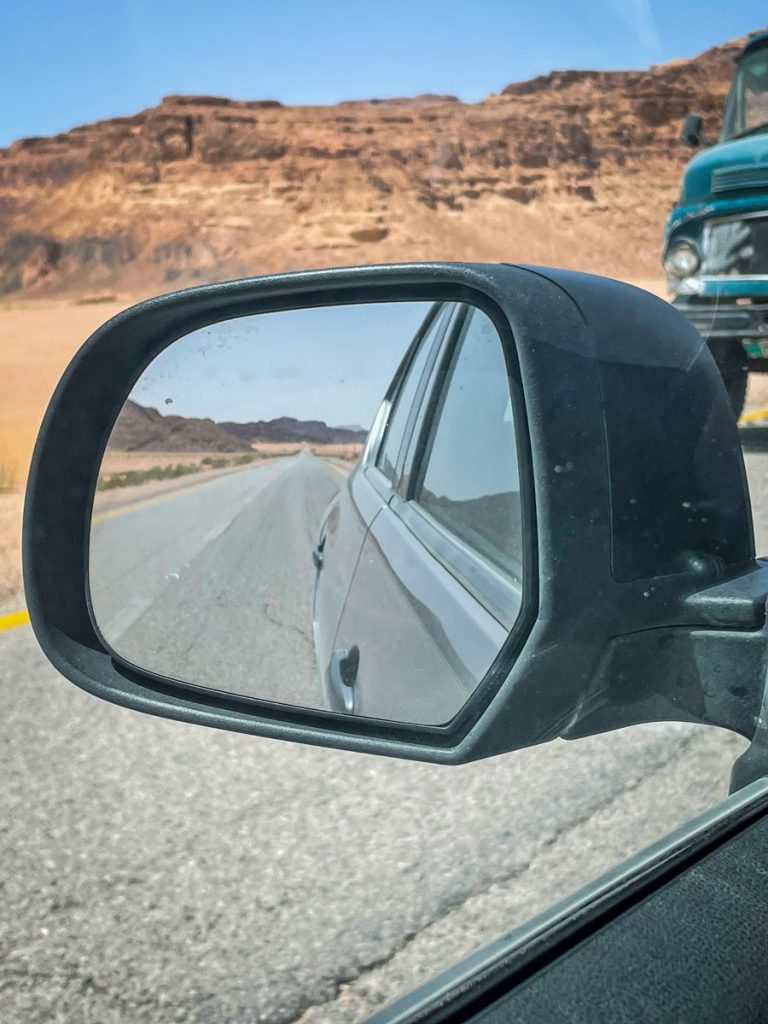 These tips are pretty universal whether you're renting a car in Jordan, Europe or the United States. We hope they are helpful to you as you plan your trip.
1. Take pictures of the outside of the car before driving
Get up close and personal. Take photos on your cell phone of any scrapes and dents, no matter how small. And don't forget any little cracks on the windshield. This way, none of these issues can be blamed on you.
We've never had to use these photos, but it's a good idea to have yourself covered just in case!
2. Rent your car online
Since the online booking platforms reserve several cars and pay the company whether or not someone actually rents them, they get a great rate and can pass the savings onto you.
It is almost always cheaper to book online rather than walking into a store. (I never would have believed this until we walked into a car rental shop in Costa Rica and were quoted nearly 3 times as much for the same vehicle as it was listed online!)
Plus, you won't need to worry whether there will be availability if you book it ahead of time!
3. The longer you rent, the less you pay per day
When we looked for a 1-day rental in Jordan, it was going to cost us nearly $50. But when we decided to rent for a week, it broke down to just $27 per day. Had we rented the car for longer, it would have been even cheaper.
4. Download offline navigation
It's important to download the map before your trip so you have access to roads, restaurants, and attractions even if you don't have cell phone service.
For this, Google Maps is amazing! Not only can you pin all the points of interest along your route, but it will also show your current GPS location even when you're not within cell signal. To enable this feature, keep reading…
How do you Download Google Maps Offline?
It's super simple, just follow these steps:
Sign into Google Maps (it's connected with your Gmail account).
Search for "Costa Rica" in the search bar.
You'll see a white bar that pops up at the bottom of the screen. You may need to swipe right to find the "download" icon.
Make sure you're in Wifi, and click the "download" icon.
The map data from this region will now be on your phone, and can be accessed even when you have no cell signal! You'll even be able to see your current GPS location as long as you have it authorized. (Settings > Google Maps > Location > select "Always")
Maps.Me is another great map option, and we use it a lot to find hiking trails and things that aren't always marked on Google Maps. You might want to download both maps before your trip!
5. Get a local SIM card
A local SIM card is invaluable when you're traveling abroad. Not only does it help you avoid costly roaming or data charges, it also provides a safety net and keeps you generally more connected, providing local cell and data coverage while on the road.
Just make sure you're traveling to Jordan with an unlocked smartphone in order to use the local service.
In Jordan, you'll find both physical SIM cards and eSIMs available:
Psst! Will you be traveling in more than one country? Use our ultimate guide to getting an international SIM card, including helpful tips for using your phone abroad.
6. Make sure you have travel insurance
We never leave home without it, and neither should you!
Travel insurance is just as important as your passport and contrary to popular belief, it is NOT expensive. Take a look at our travel insurance comparison to learn why it's so important and find out which policy is best for your travels.
Other forms of transportation in Jordan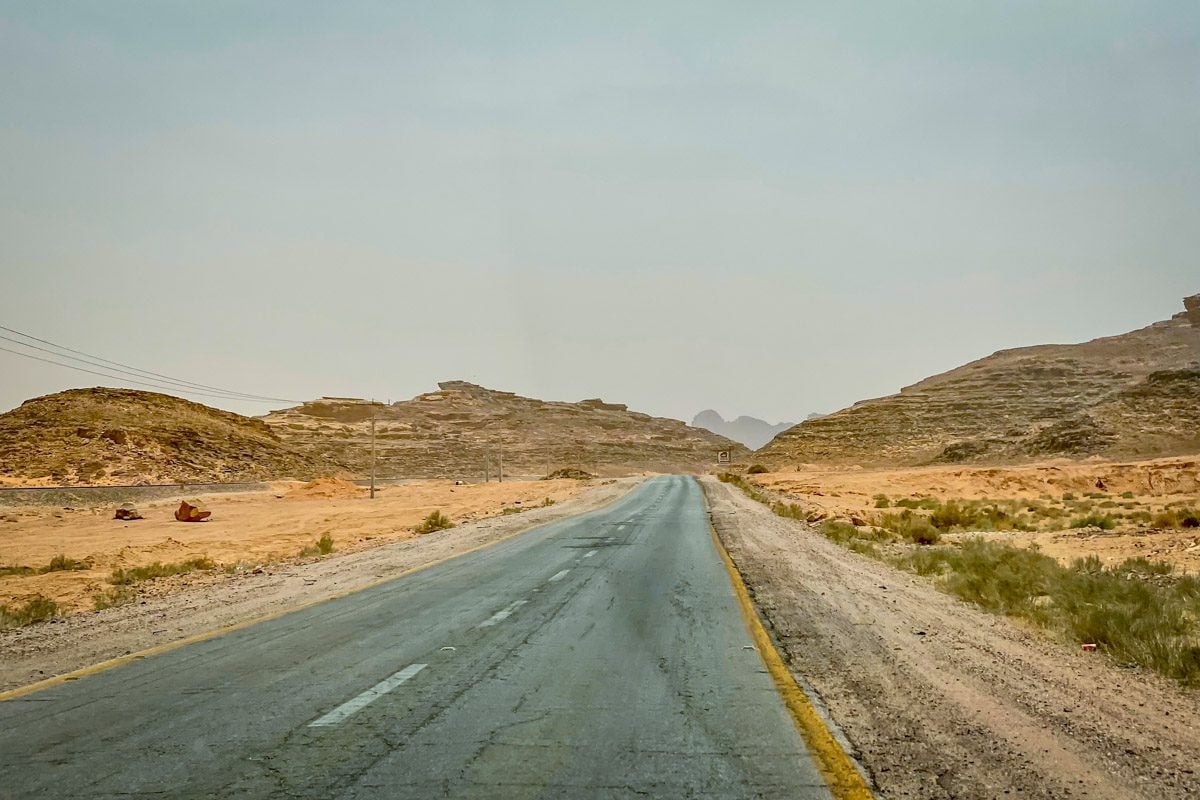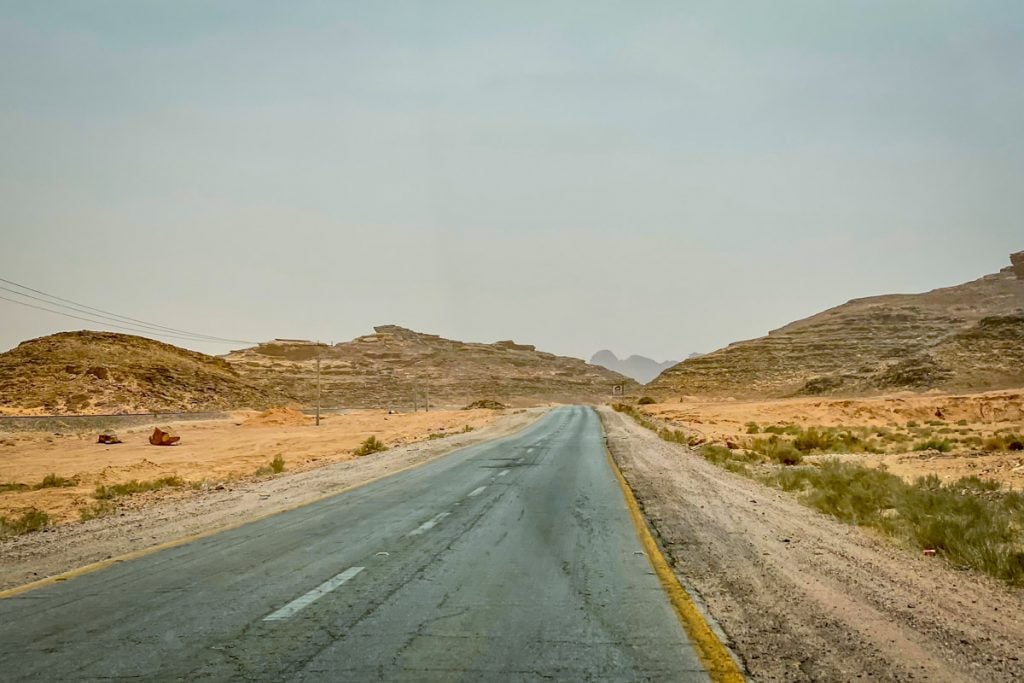 If you're still on the fence about getting a rental car in Jordan and want to know what your other options are. Here's how you can get around Jordan with public transportation.
JETT Bus
Another great option for traveling around Jordan is by bus. The JETT bus company connects all of the major cities and travel destinations throughout the country.
It's very affordable and actually quite comfortable with air conditioning and power outlets. The best part is you can purchase your tickets online with 12go.Asia (we love this service and have used it to purchase bus tickets all over Asia and the Middle East).
While JETT services all of the larger cities and destinations in Jordan, there are also local buses that run shorter routes between towns. These mini buses are akin to colectivos in Latin America and typically won't leave until they are full of passengers (making it hard to plan around their schedule).
The best way to find out more is to visit the bus terminal in your area to find out about routes and pricing.
By Taxi
Taxis can be an excellent alternative to a rental car in Jordan, depending mostly on where you plan to visit. In popular destinations like Amman, Aqaba, and Petra, taxis are readily available and pretty affordable, especially if you have a travel partner you can split costs with.
To get from the Amman airport to downtown, about 30 minutes away, costs 20-25 JOD ($28-35 USD). The rates are identical for traveling between Aqaba and Wadi Rum, and only slightly higher to go from Petra to Wadi Rum.
One thing to know about taxis in Jordan is that it's extremely common for the driver or company to take only cash. It's a good idea to come prepared with small change.
Another important note is that the law requires drivers to turn on the meter, although many don't unless expressly asked. Be sure to (politely!) ask your driver to turn it on to avoid any unpleasant arguing or "negotiating" the rate later.
By Rideshare
Uber operates in several cities in Jordan, including Amman. It works just like in any other city and, though not cheap, is a convenient and safe method for getting around town.
You can also call an Uber to further destinations like the Dead Sea and Wadi Mujib if you're in need of a ride, just be sure you arrange a pick up with your driver as the app will not call cars back to those destinations.
To give you an example of cost, our Uber ride from the airport to Amman city center was 32 JOD ($45 USD).
---
Are you planning a trip to Jordan?
We have lots of resources on travel in Jordan and destinations throughout the country. Check out our Jordan Travel Homepage for everything you need to know, or read some of our favorite articles below.
Save this article on Pinterest for later!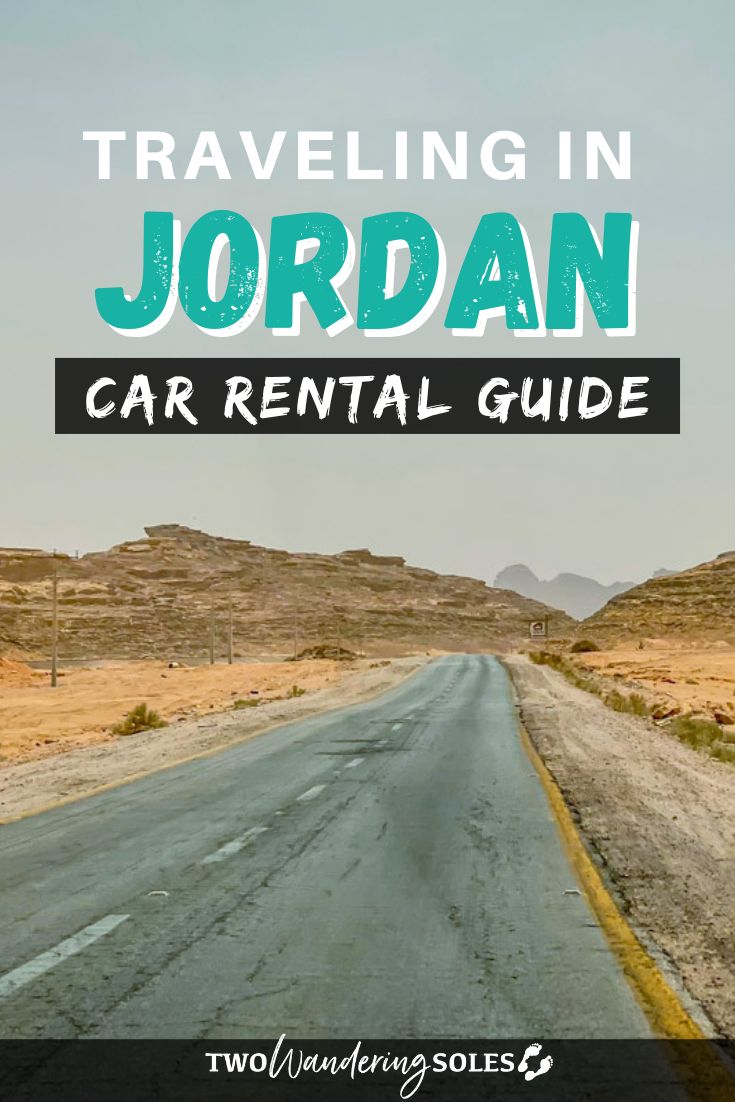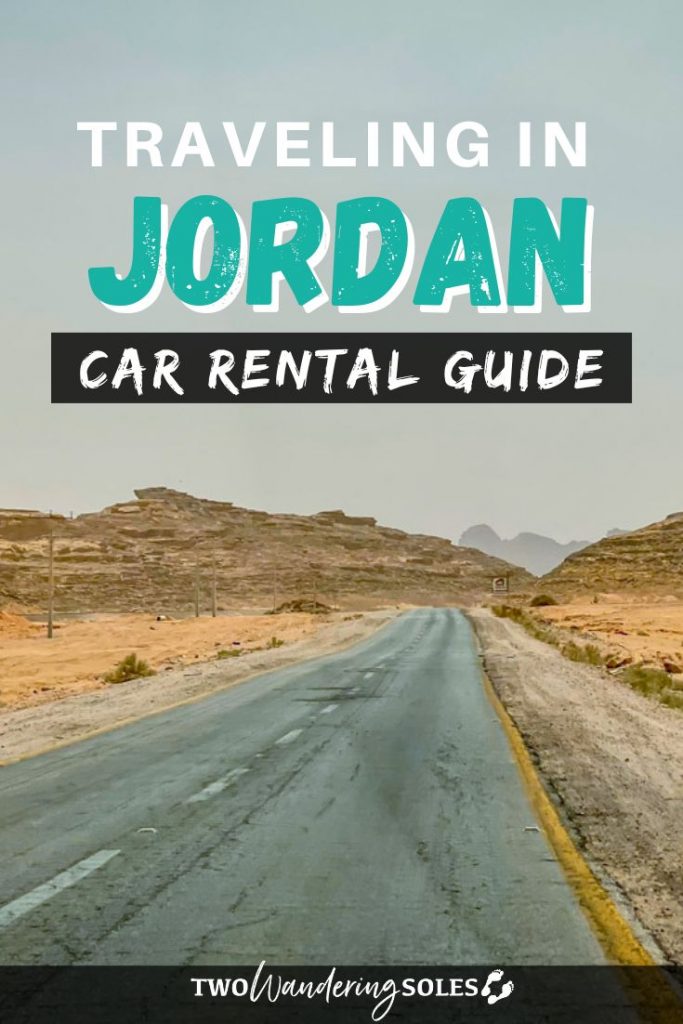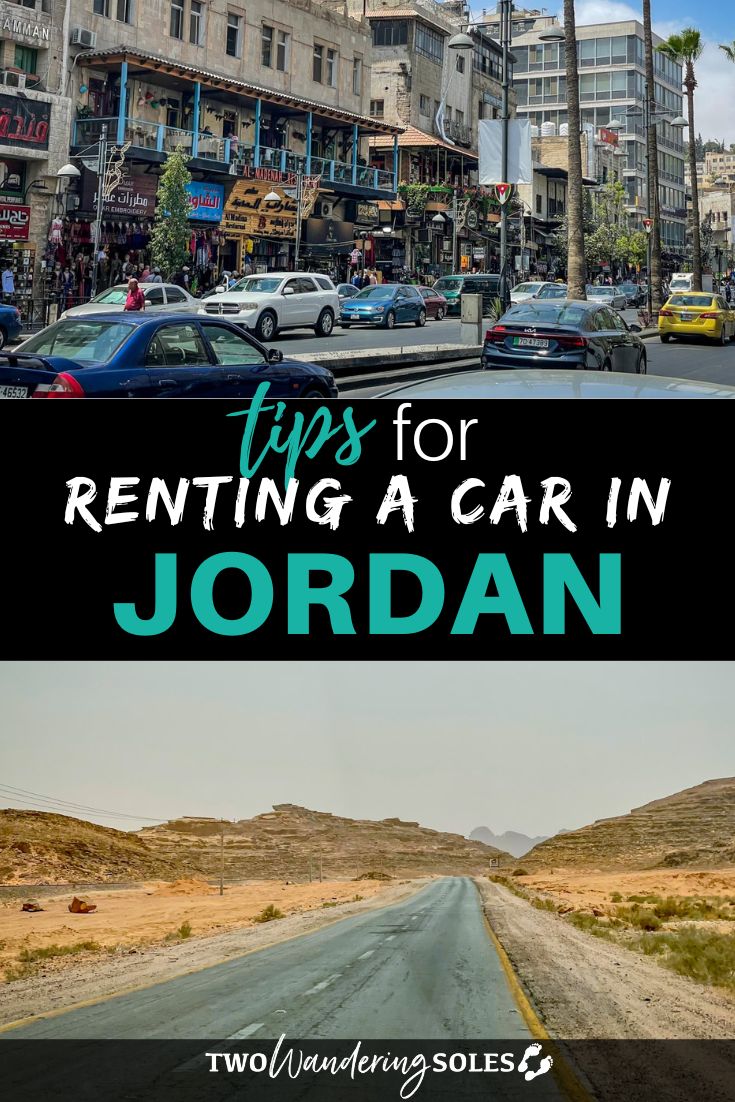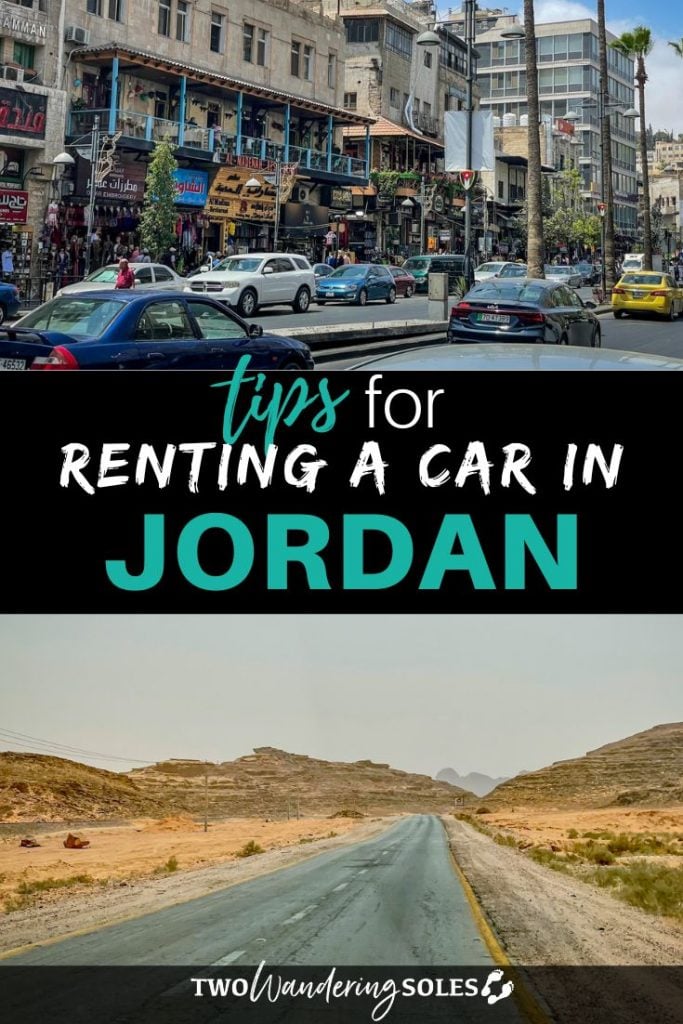 We want to hear from you!
Do you have any more questions about getting a rental car in Jordan? Comment below and we'll do our best to answer your questions!