Full of scenic hikes and ancient wonders, we have put together an epic list of the best things to do in Jordan so you can plan the ultimate itinerary to this exciting Middle Eastern gem.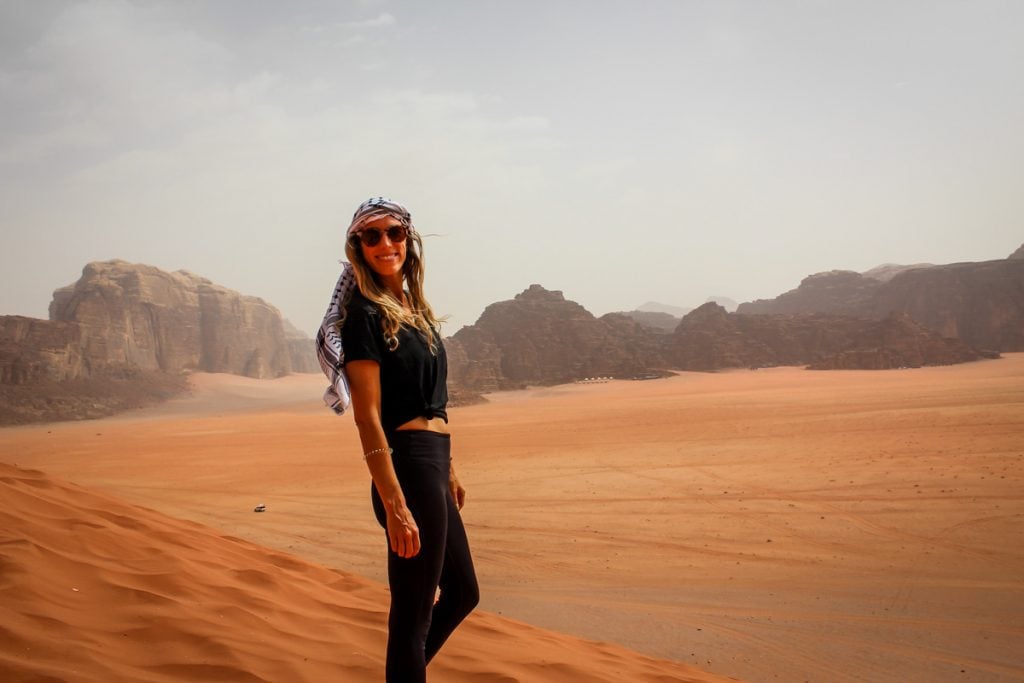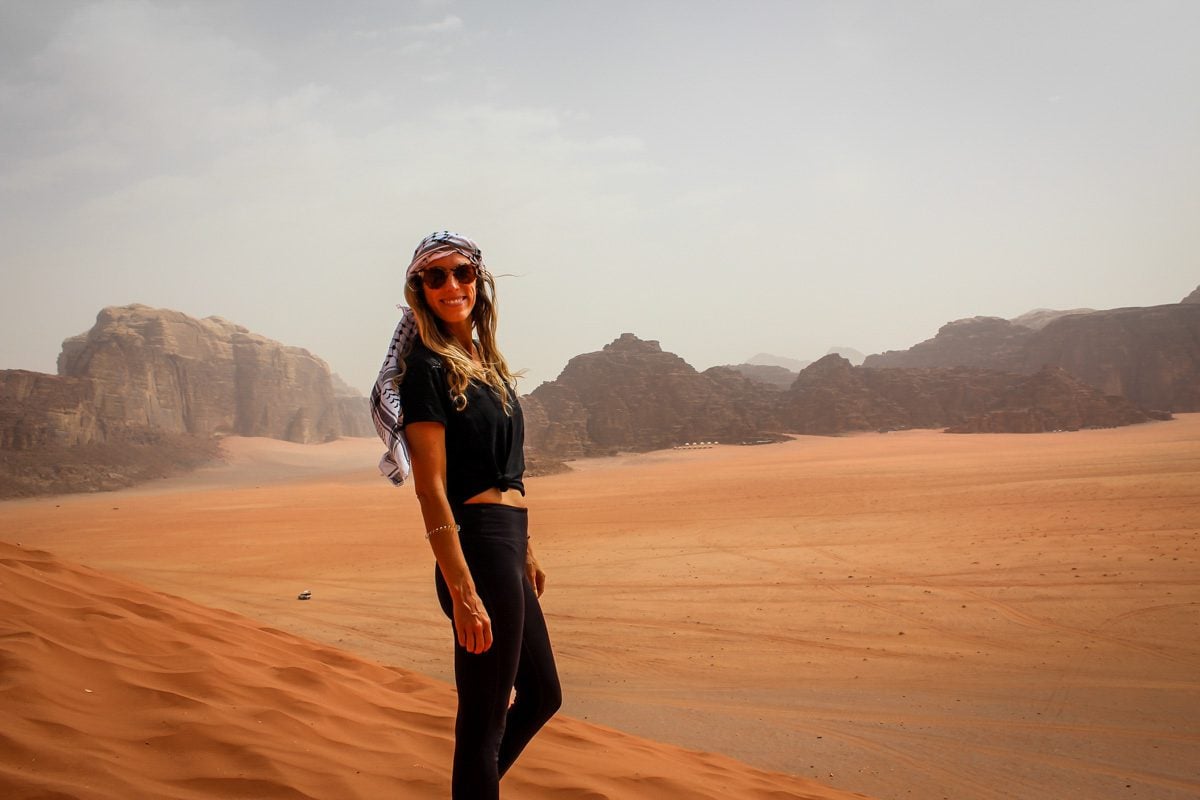 Although expansive and diverse, the Middle East holds a tattered reputation due to decades of war and turmoil. What doesn't make the news headlines for the Middle East are the hospitable locals, rich culture, and mesmerizing natural wonders.
One place to experience just a drop of this sea of intrigue, is the Kingdom of Jordan.
The Heshmite Kingdom of Jordan is bordered by Saudi Arabia, Iraq, Syria, Israel, and the Palestinian West Bank, an area known for it's history of contention and conflict. From the outside looking in, it's easy to assume Jordan to hold the same amount of tension and safety concerns, but in fact, it's quite the opposite.
Throughout history, Jordan has remained stable and untouched by the political climates of the surrounding area, acting as an oasis for visitors coming to this part of the Middle East. From its vibrant capital city or Amman, to some pretty astounding ancient and natural wonders, Jordan is a country worthy of being explored.
After having my fair share of thrill-seeking adventure, drool-worthy street food, and rich cultural history, I'm ready to dish out all the best things to do in Jordan so you can plan the perfect visit and experience the true essence of this adventure-packed travel destination.
Article Contents
---
Best time to visit Jordan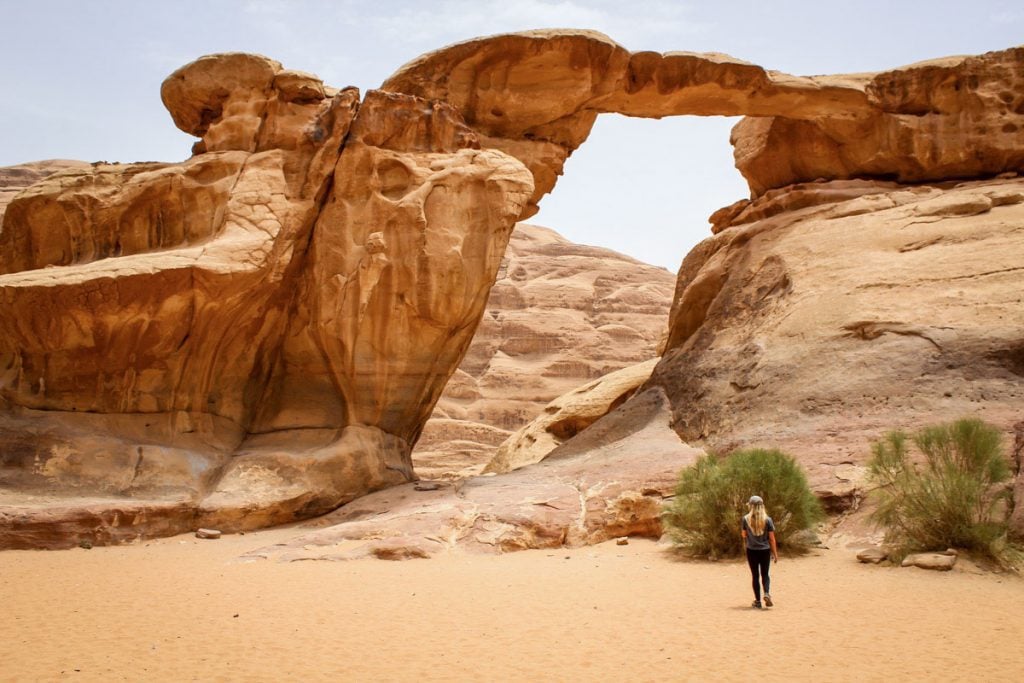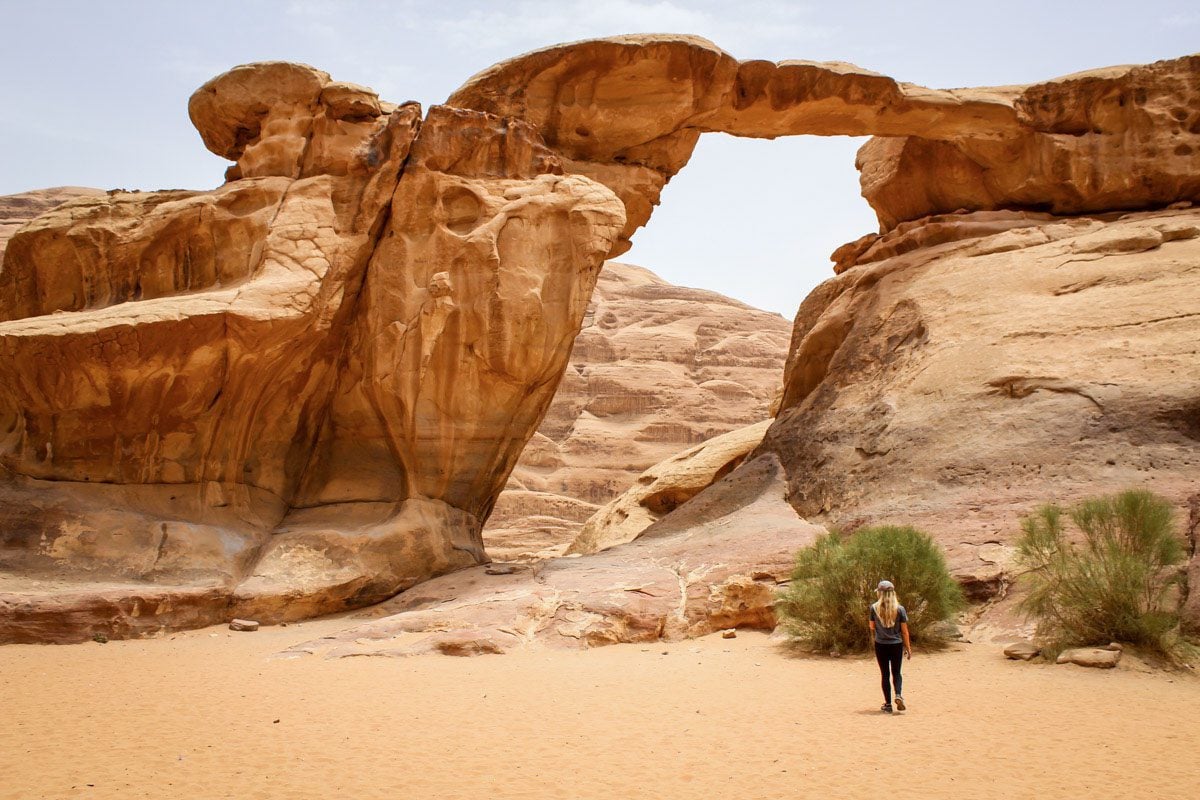 Though Jordan is truly a destination year round, there are some things to consider when planning your visit. The weather will get swelteringly hot in the summer months, and—contrary to what some may think of the Middle East— it actually gets quite cold and rainy in the wintertime.
The best time to visit Jordan is in late fall or early spring, ideally November or March, outside of peak tourist season and when temperatures are pleasant and rain is (mostly) at bay.
For an in-depth guide on the regional seasons, weather patterns and other factors, check out our complete guide on the best time to visit Jordan.
Things to know before visiting Jordan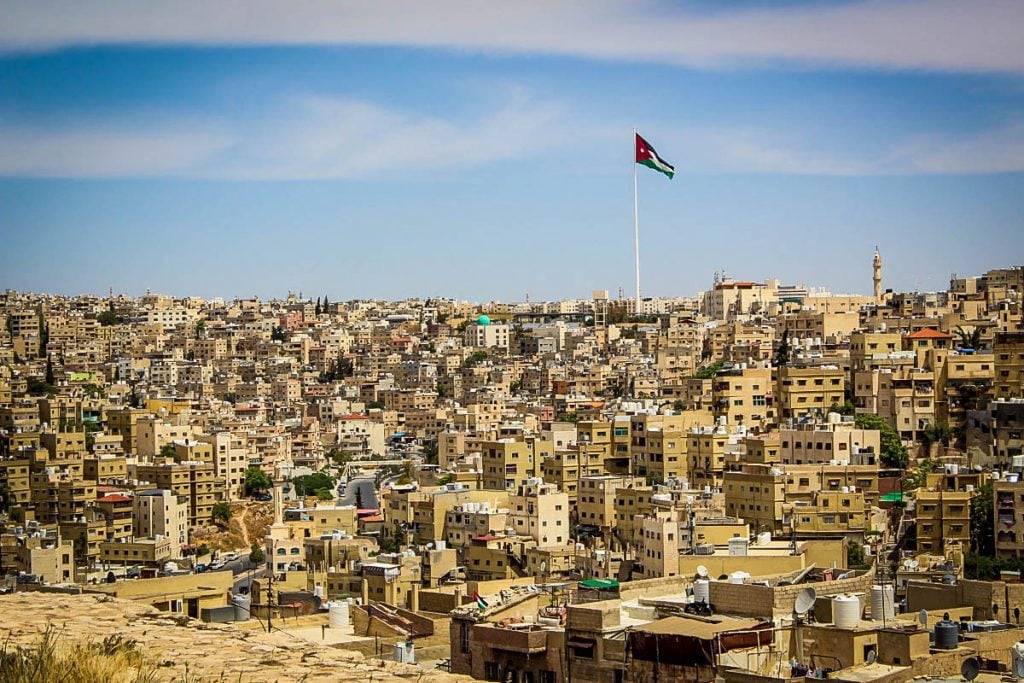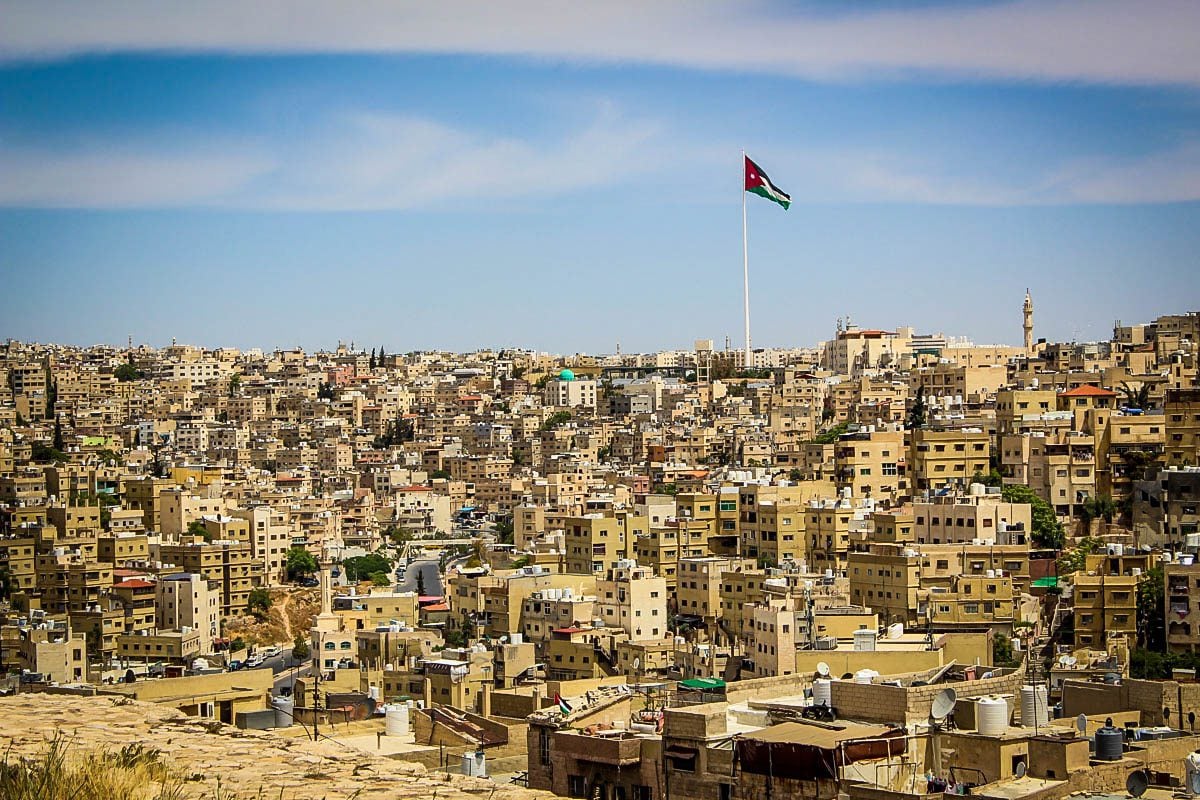 Respect the local culture. Jordan is predominantly muslim with 95% of locals practicing the Sunni Islam religion. With this in mind, it's important to know that Jordanians dress modestly, especially women. Aim to wear loose and breathable clothing that covers your shoulders, legs (below the knee) and chest, and mid section.
You cannot drink the tap water. A reusable water bottle (bonus points if it's filtered) will serve you well in Jordan. Bottled water is recommended, but note the country doesn't have any recycling facilities or initiatives, so all plastic waste goes directly to the trash.
Jordan is expensive. Although you'll spend a bit more on a trip to Jordan than other budget-friendly destinations, it's more than worth it. While it is pricey, you can save a good amount of money by eating local. In restaurants, you can expect to pay anywhere from $20-30 USD per person per meal on the lower end and $2-3 per meal at local food markets and street food stalls.
It is quite safe. Jordan is in the heart of a region that has had a long history of conflict, but Jordan remains a safe place to explore, even for solo travelers. Violent crime is rare and out of 135 countries, Jordan was ranked #9 for safety by Gallup's Law and Order Report.
Women should mind the male gaze. For women traveling in Jordan, the attention from men may not always feel as warm and welcoming as one would hope. You can expect a lot of stares, and getting honked at isn't uncommon. It's best to try to dress conservatively to blend in since wearing western styles will certainly attract unwanted attention. (See my note about safety in our Amman article.)
Smoking shisha and cigarettes is common. This is a national pastime in Jordan, so expect to smell like smoke after a bit of roaming around. Restaurants and even Uber's are quite smokey, so keep this in mind.
Trash and plastic are a prevalent issue. The plastic-free movement hasn't quite caught wind in Jordan yet, so you'll notice excessive amounts of plastic used and lots of trash everywhere. Even driving on the side of the road in the middle of nowhere, you'll likely see plastic caught in bushes and blowing around. See our list of eco-friendly travel products and learn how you can reduce your own plastic waste.
Hot Tip: The Jordan Pass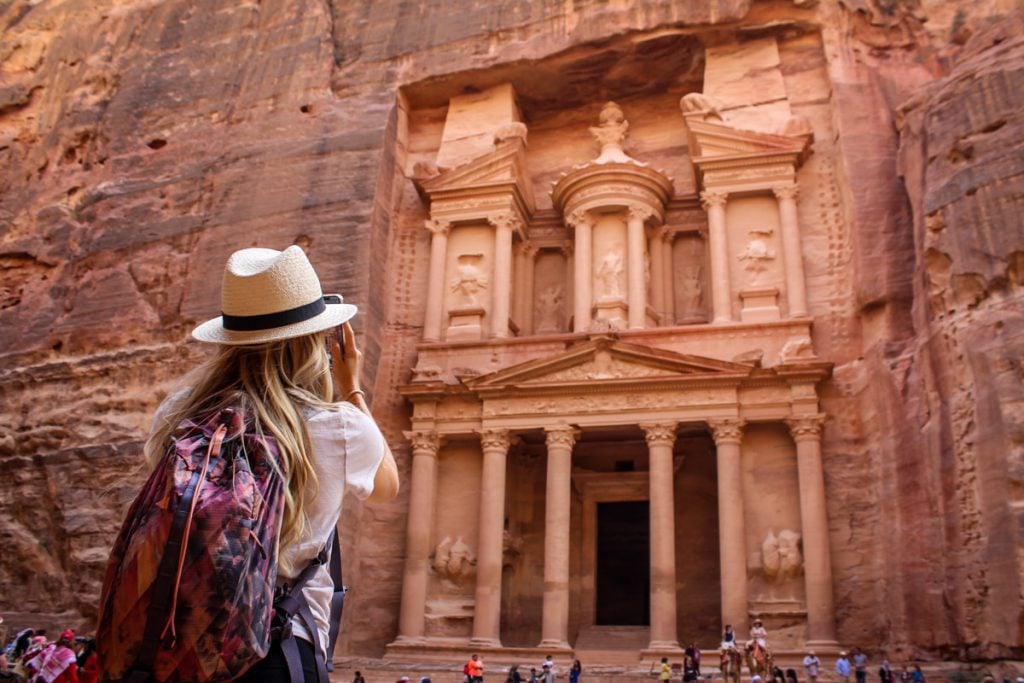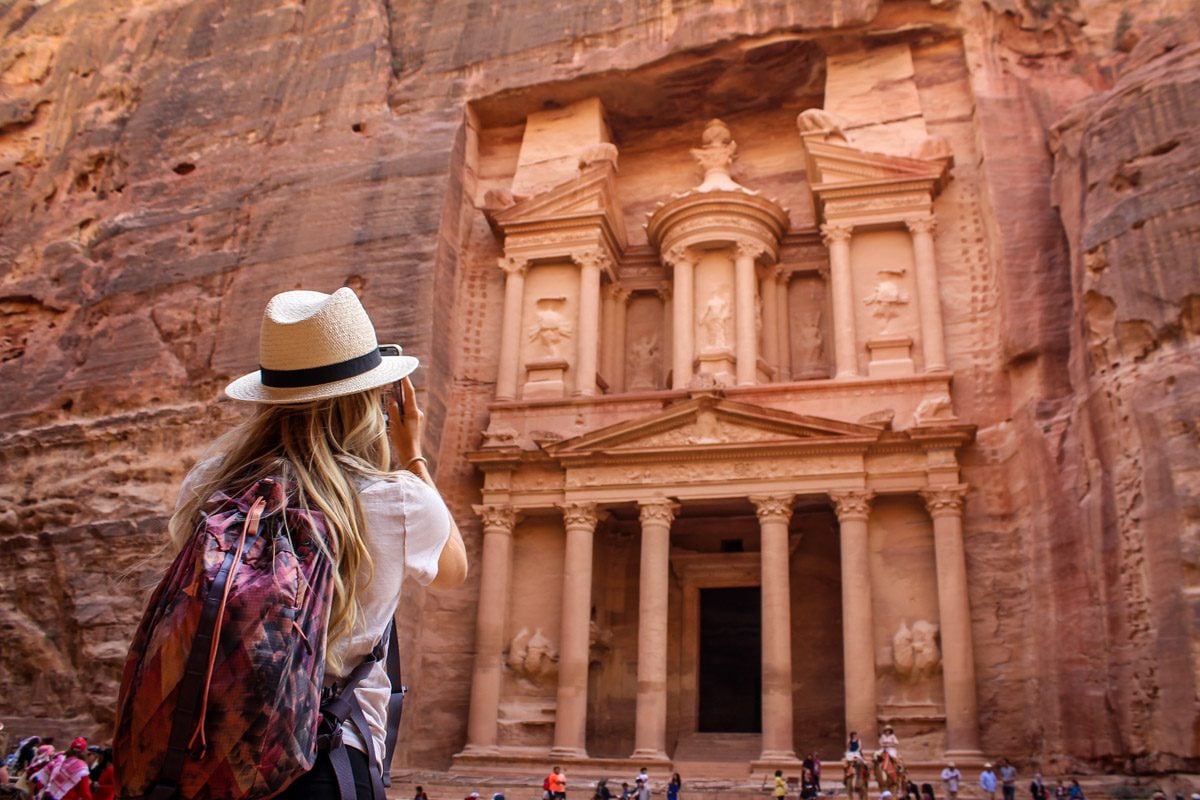 Before you arrive in Jordan, you'll want to know about the Jordan Pass. It's a digital pass that grants you entry to over 40 tourist locations around Jordan, including Petra, and will waive your visa on arrival fee (around 40 JOD / $56 USD) as long as you qualify and purchase the pass before you enter the country.
This is a great way to save a lot of time and money while you're in Jordan. We have an entire guide to the Jordan Pass that includes how it can save you a ton of money on your trip to Jordan, how to get it, how to use it once you arrive, and the included attractions you can visit with the pass.
How to get around Jordan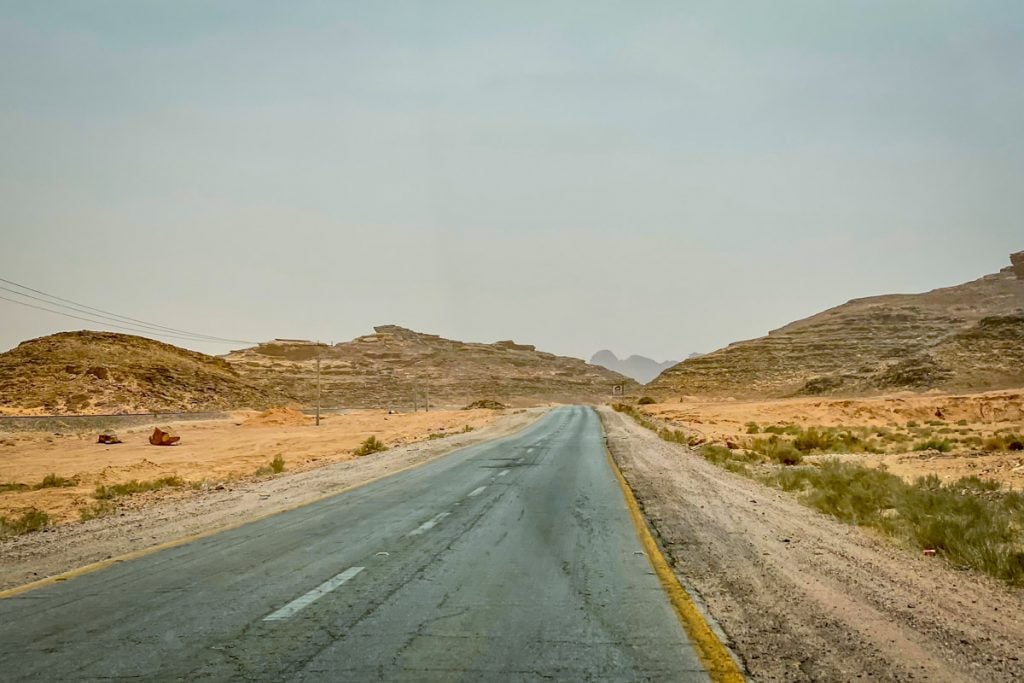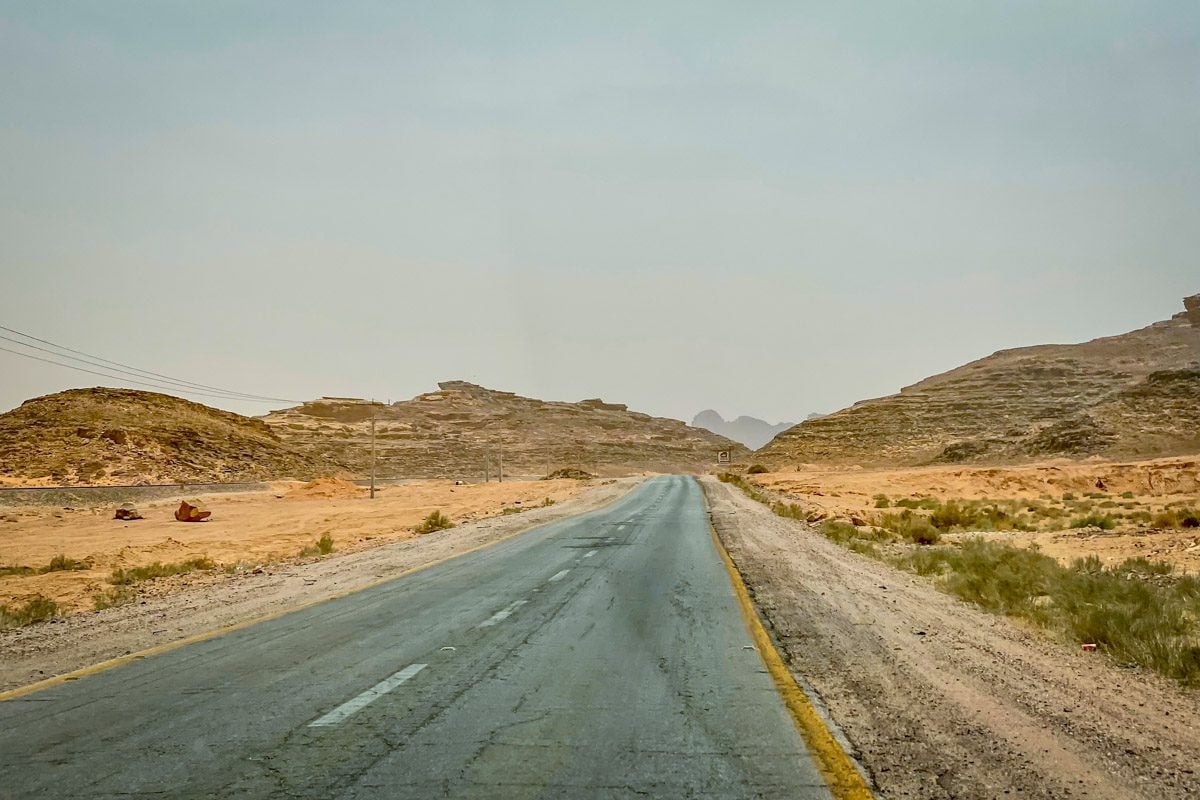 The entire country of Jordan is rather small, considering how much there is to see and do. You can drive the length of the country north to south in a matter of hours (about 6ish if you're wondering).
There are a few good options for getting around, depending on your travel style and where you want to go.
Traveling by car in Jordan is the easiest way to get from place to place on your own schedule. The roads in Jordan, particularly the Desert and Kings Highways—two routes that connect the country north to south and hit most of the major attractions—are well-kept and easy to navigate.
Renting a car in Jordan is pretty affordable, especially if you are traveling with a partner or small group to split costs. If you are looking for more information on this, we have an entire guide to getting a rental car in Jordan.
Outside the city of Amman, the traffic is minimal and driving is laidback. However, inside the city, driving gets a bit more chaotic as the traffic is much more of a factor and lanes seem to be more of a suggestion than a rule.
Another great option for traveling around Jordan is by bus. The JETT bus company connects all of the major cities and travel destinations throughout the country.
It's very affordable and actually quite comfortable with air conditioning and power outlets. The best part is you can purchase your tickets online with 12go.Asia. (We love this service and have used it to purchase bus tickets all over Asia and the Middle East.)
Finally, using taxis and rideshare apps like Uber is a safe and easy way to get around each destination. Ubers are readily available in Amman, and you can arrange rides to nearby destinations like Wadi Mujib and the Dead Sea. And taxis operate in all the destinations you're likely to want to visit in Jordan.
Other resources to help you plan your trip
---
Things to do in Jordan
If you're planning a trip to Jordan for your first time, here are our top recommendations for things to do in this adventure-packed country.
1. Take a free walking tour of Amman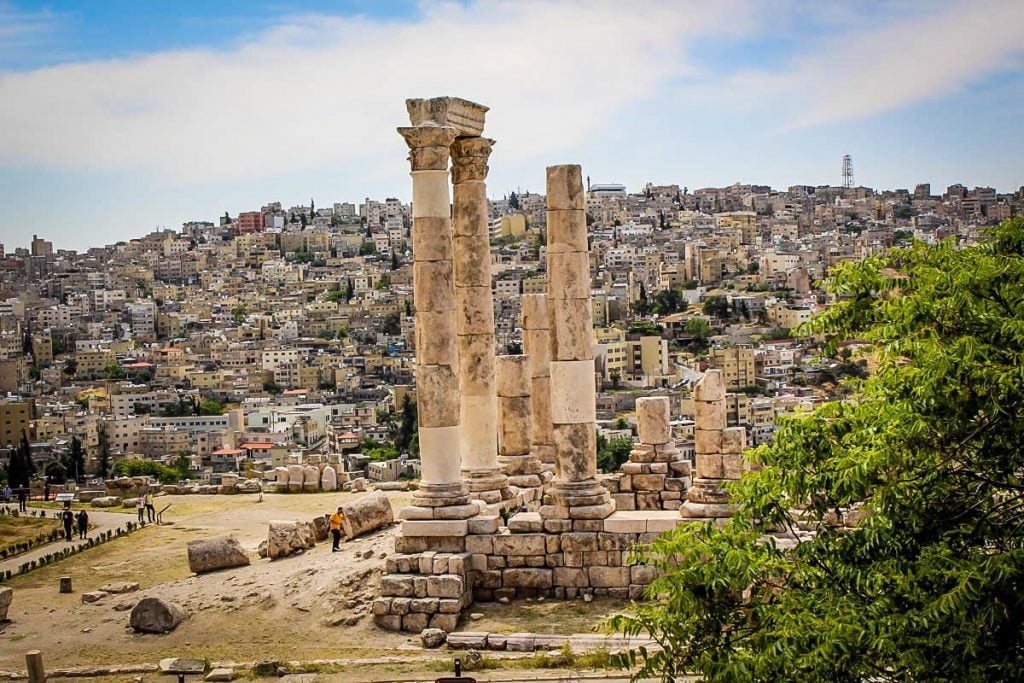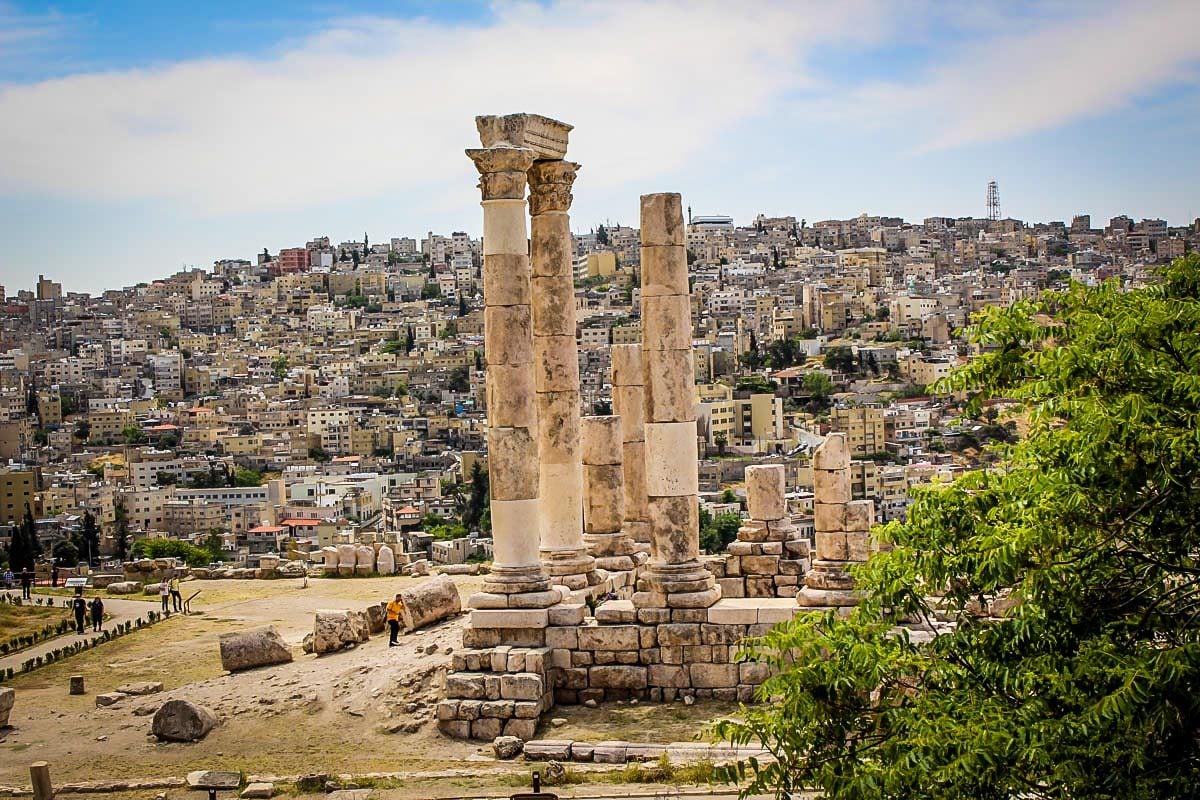 If you're planning a trip to Jordan, don't skip Amman.
Yep, you read that right. Most people use the capital city as a jumping off point to visit the better-known highlights of Jordan such as Petra and the Dead Sea, but with so many interesting things to do in Amman, I think it's worth more than just a stopover.
Taking a walking tour is one of the first things I like to do in a new city. I've taken free walking tours in cities all over the world, and consistently find that they are the best introductions to a new place.
A walking tour gives you the opportunity to get the lay of the land in a new city, along with anecdotes and personal recommendations from a local. Plus, it's a great way to meet other travelers. You might even make a new friend or two!
After doing a fair amount of research and coming up short, I was thrilled to find a free walking tour through GuruWalk. I was a bit nervous having never used the site before, but the reviews were fantastic so I took the plunge.
It ended up being one of my favorite activities in Amman! Our guide, Mujallie, was friendly and super informative, offering up all sorts of little nuggets of history and personal advice about where to go, what to eat, and what to avoid.
2. Take a mud bath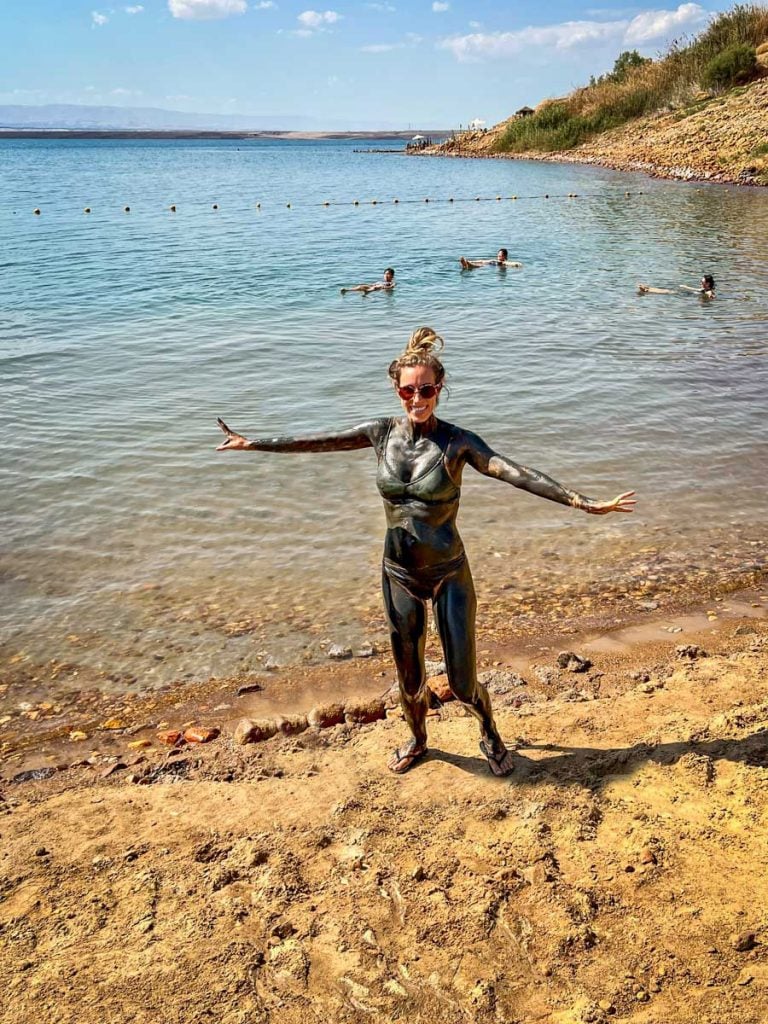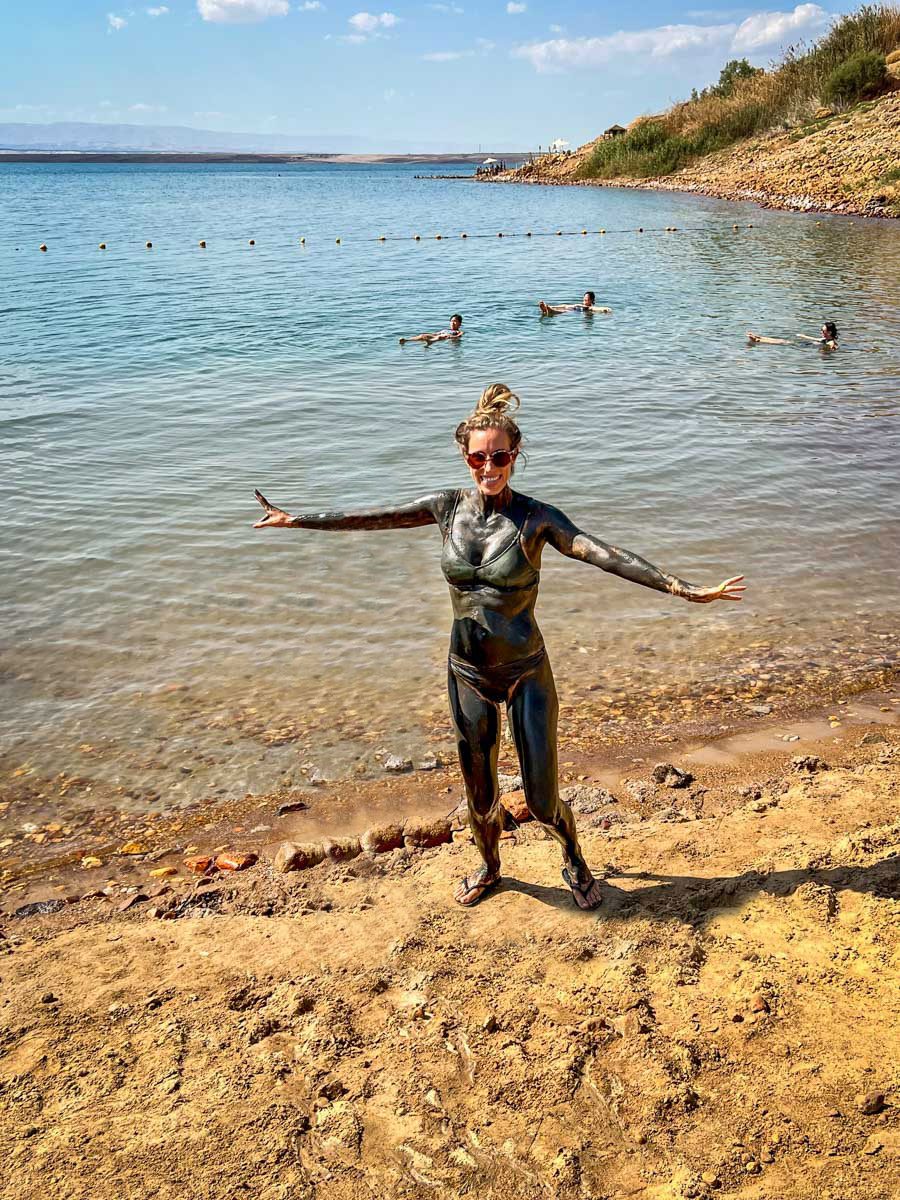 The mineral-rich mud in the Dead Sea is the perfect way to experience its healing qualities. This spa-like ritual is essential on your visit to the Dead Sea because the mud has unique mineral properties that are amazing for your skin. Just one mud bath is said to assist the skin's detoxification process, draw out excess oil, and firm your skin.
Covering yourself from head to toe in the mud is just as fun as it sounds. Snap a few selfies as you wait for the mud to dry completely before rinsing it off with a soak in the Dead Sea.
If you're going for the full Dead Sea ritual, after you soak the mud off, you'll apply an exfoliating salt scrub made from—you guessed it—the Dead Sea salt. Then the final step is a rinse under a fresh water shower.
3. Float in the Dead Sea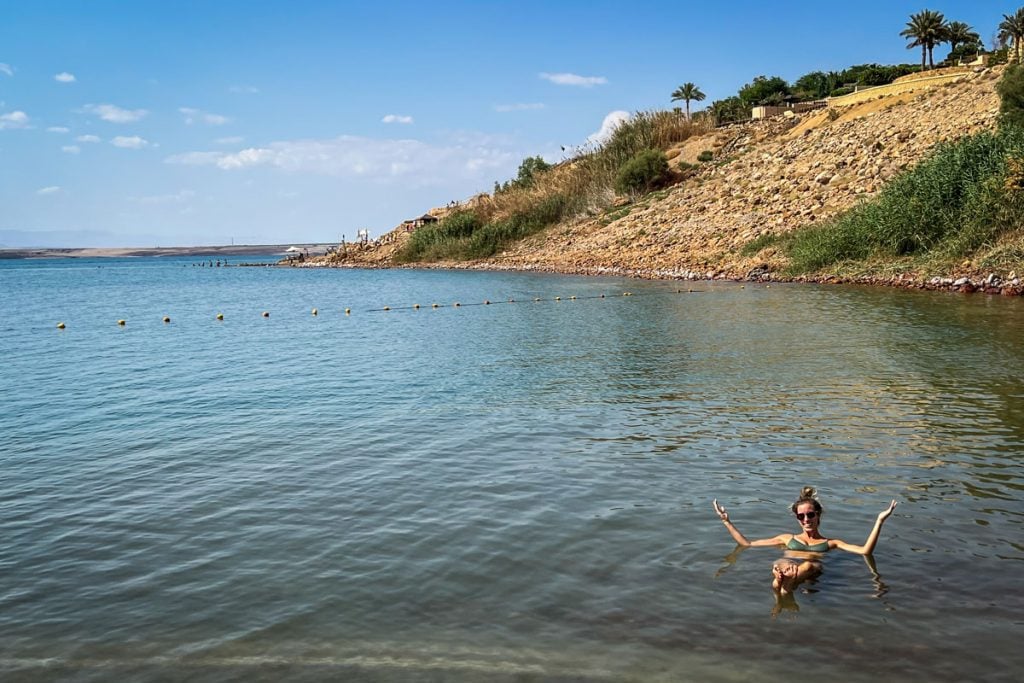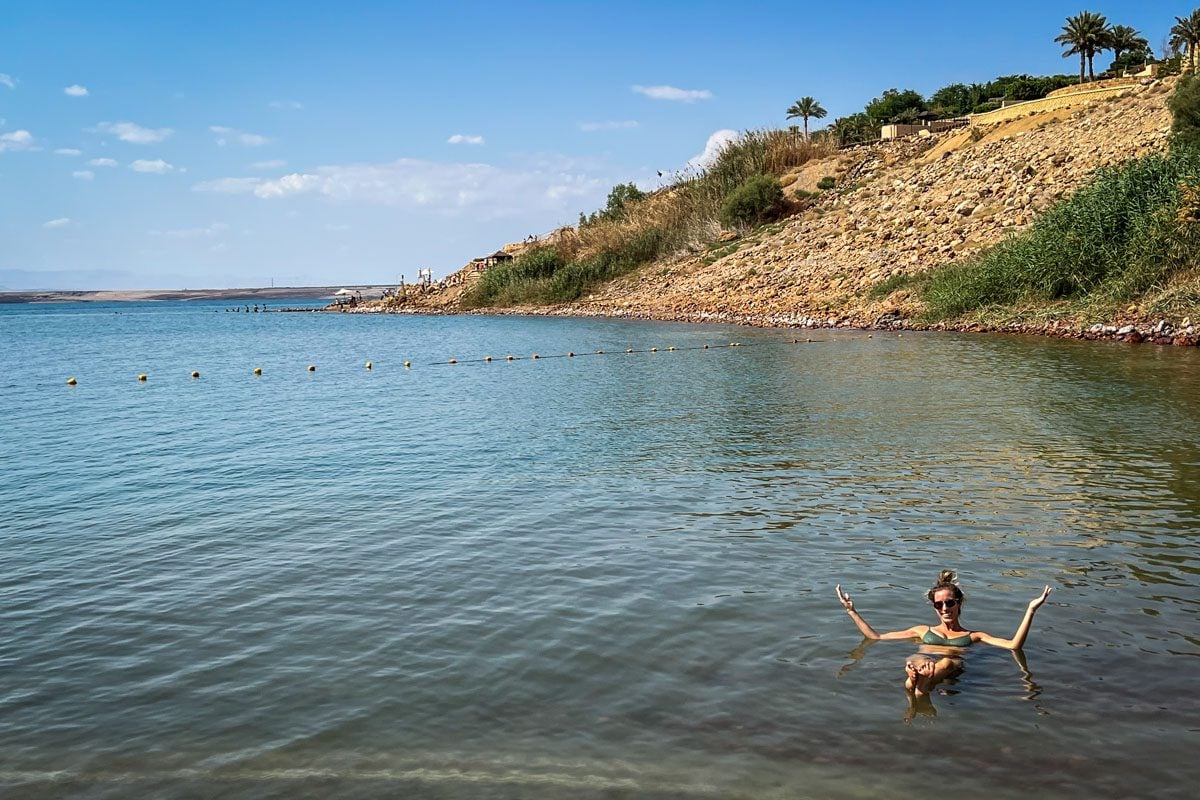 As you may have gathered, floating in the Dead Sea is a must when visiting Jordan. Extending over 400-miles down the Jordan Rift Valley, and dipping nearly 1,400 feet below sea level, the Dead Sea is one of the best things to do in Jordan for a variety of unique reasons.
Not only is the Dead Sea the lowest point on earth, but due to its hypersalinity (it's about 9x as salty as the ocean!) you'll float effortlessly in the water. And although the Dead Sea is known for being inhospitable to plants and animals, its mineral-rich waters and mud attract visitors and locals alike to soak in its healing properties.
Before you plan your visit, we have a detailed guide to visiting the Dead Sea in Jordan complete with everything you need to know and bring before you go.
4. Visit the Treasury, but don't stop there!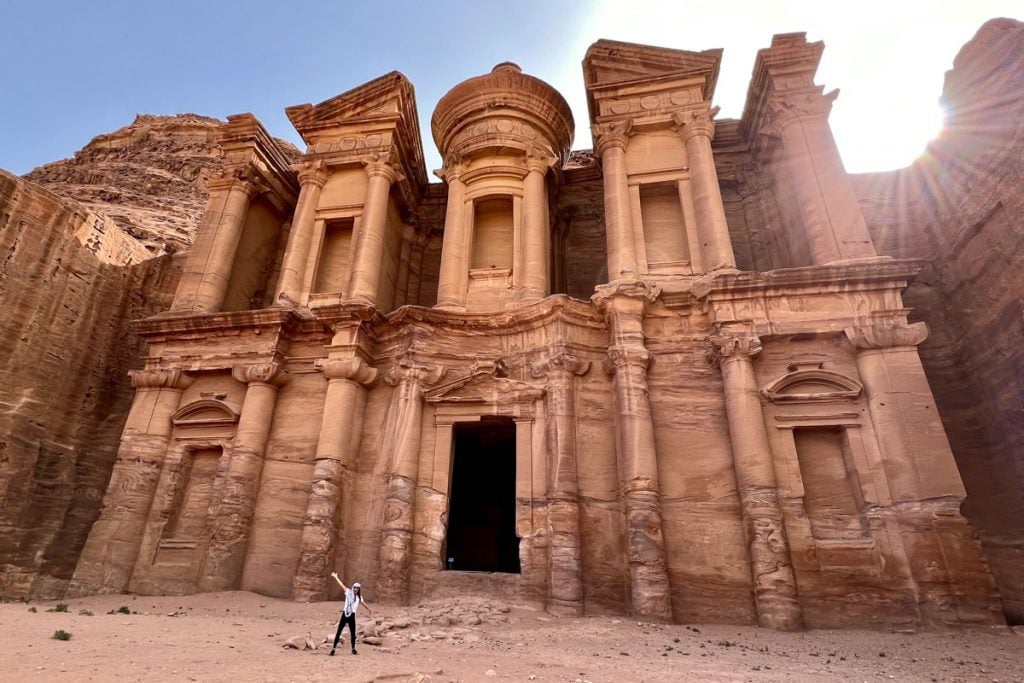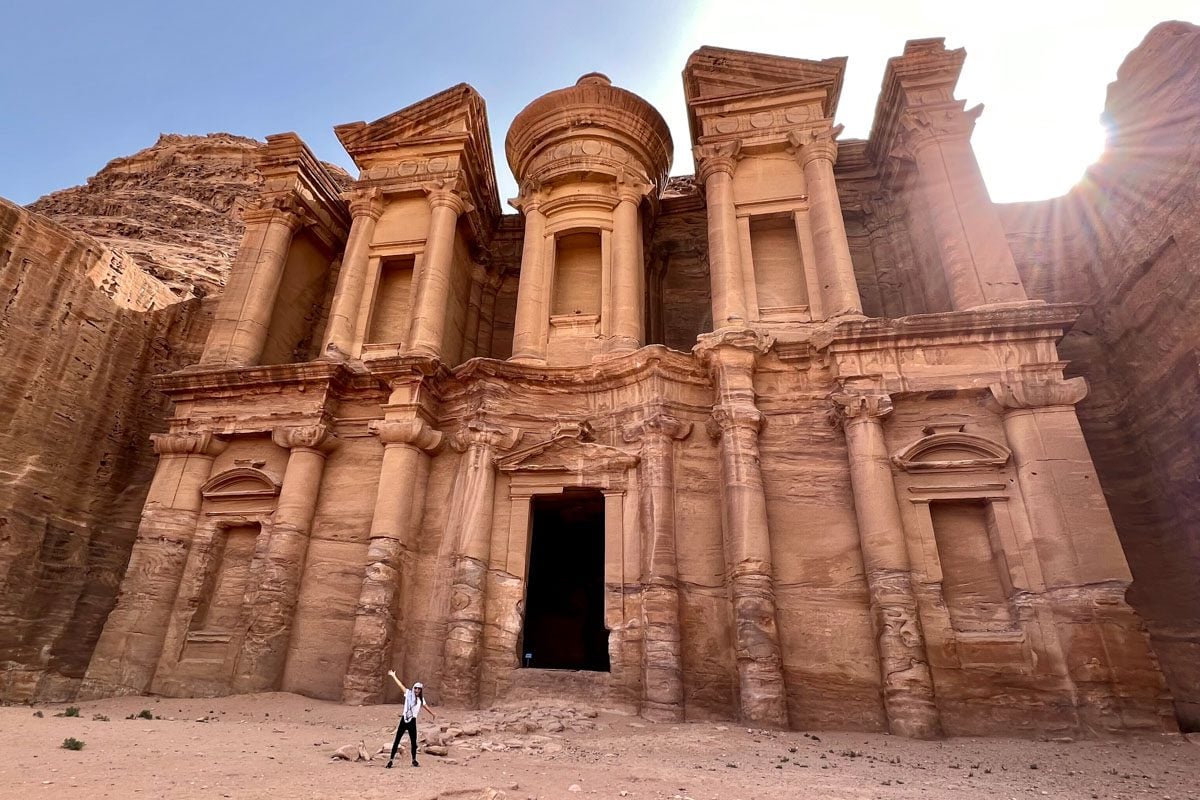 Known to be the crown jewel of Jordan, visiting Petra is one of the main reasons tourists flock to this country. And let me tell you, it is well worth the journey to one of the Seven New Wonders of the World.
Most tourists in the country come to visit Petra—it's one of the top things to do in Jordan after all—making it crowded and confusing to navigate. How do you get there? Where do you buy tickets? And what exactly should you try to see inside Petra?
That's where we come in! We've put together the ultimate guide to visiting Petra, so you can go beyond the Treasury and take in all this ancient site has to offer. Our guide includes insider tips to help you avoid the crowds and save money, plus the times of day that'll give you the best lighting for photography.
Tip: If you are starting your trip in the capital city, you'll want to read our guide on how to get from Amman to Petra to help sort out your travel plans.
5. Experience Petra at Night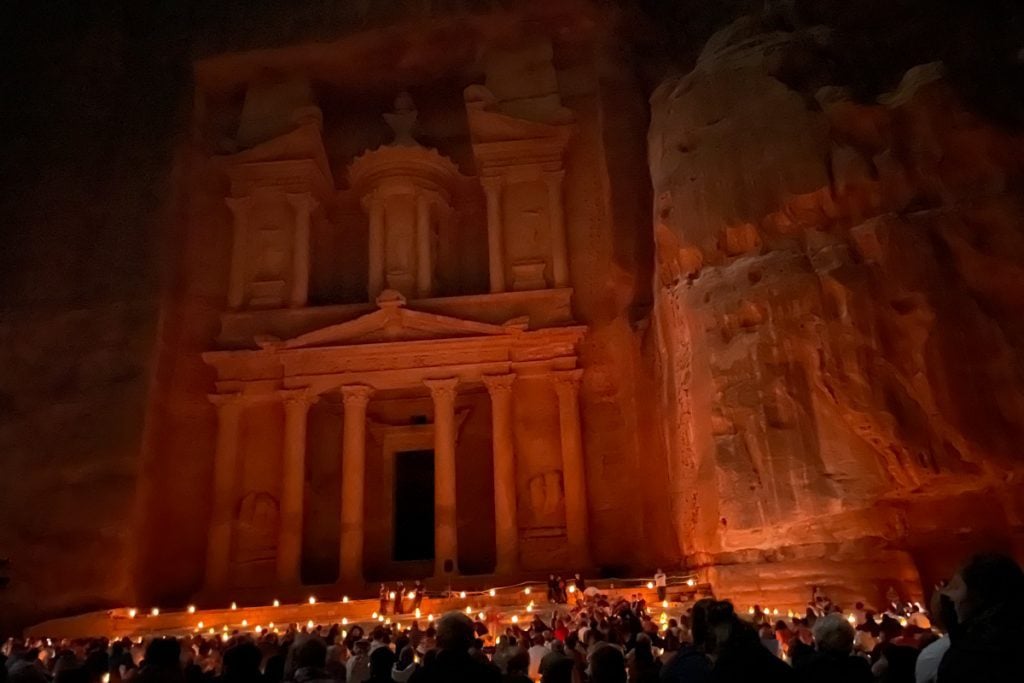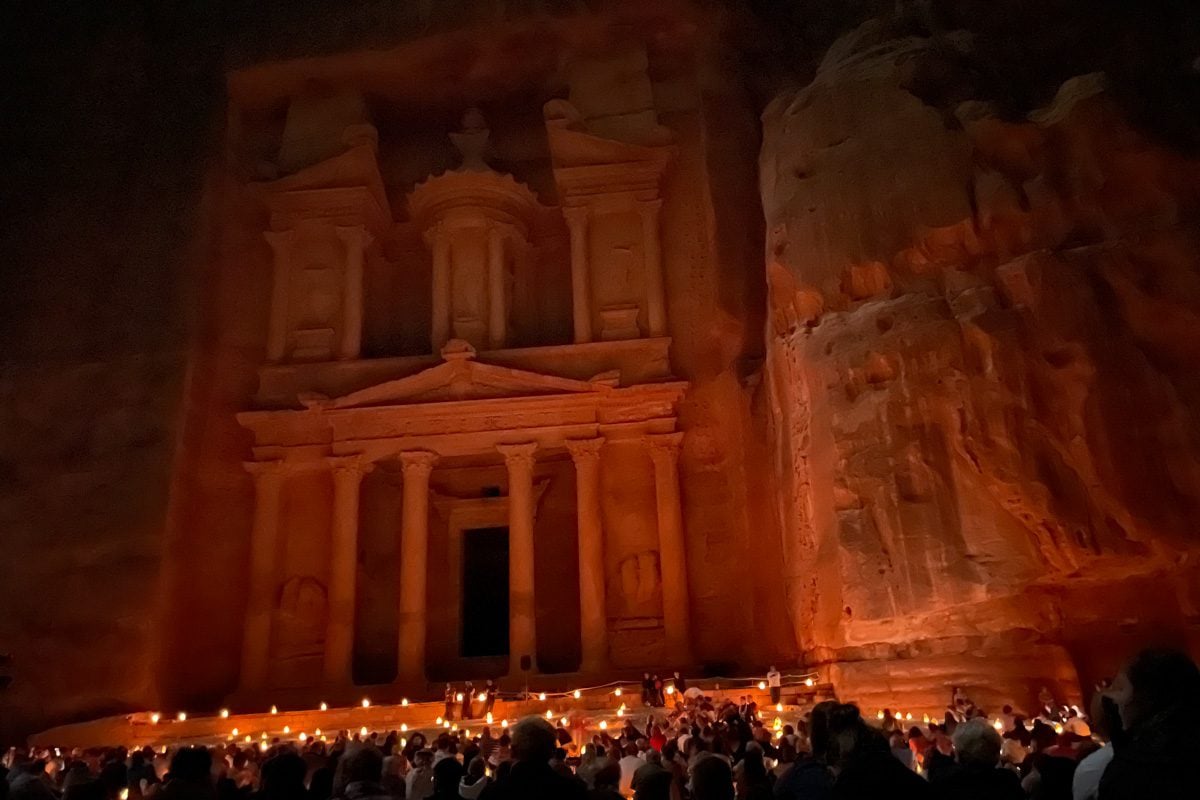 To see the first rays of the morning sun light up the chiseled details of the Treasury is one thing, but experiencing Petra at Night is a whole different experience. You'll be able to see Petra illuminated by hundreds of small candles, a truly magical experience.
There are a few things to keep in mind before planning your visit, mainly being that the night experience only runs on Mondays, Wednesdays, and Thursdays, and is a separate ticket from your Petra entrance ticket (and not included in your Jordan Pass). You'll have to pay an additional 17 JOD for this experience.
You can purchase a ticket at the Petra entrance ticket window, only on the days mentioned above. Show up to purchase your ticket at any time in the evening, or arrange for tickets ahead of time with your hotel.
The night experience technically runs from 8:30-10:00 p.m., but we were still able to get tickets about a half hour after it was said to start. As long as you make it to the Treasury by 9:15 p.m., you'll be able to see the show, but they clear everyone out by 10:00 p.m.
For an experience like this, you definitely want to get some quality photos, which can be difficult given the extremely low lighting. To replicate all the beautiful photos you see on the internet you'll need a tripod and a professional camera, but any of the newer phone models can get decent shots of the Treasury (as proof we took the photos above with an iPhone 12 and tripod).
Gather up your preferred photography gear and read up on our detailed guide to Petra at Night that you'll definitely find useful for planning your late night venture.
6. Hike the Siq Trail through Wadi Mujib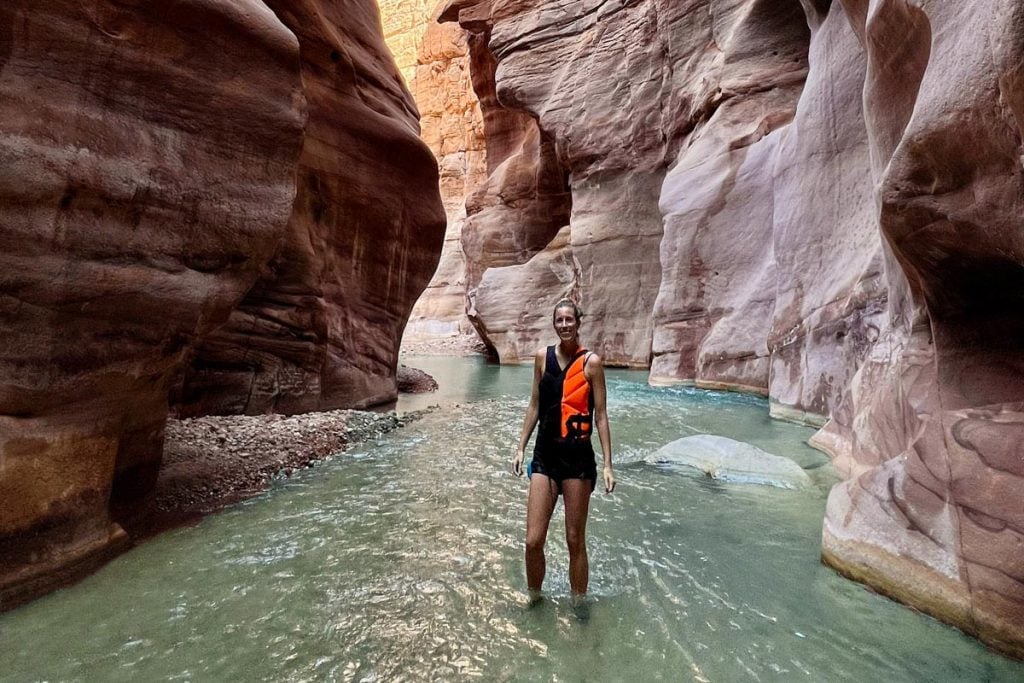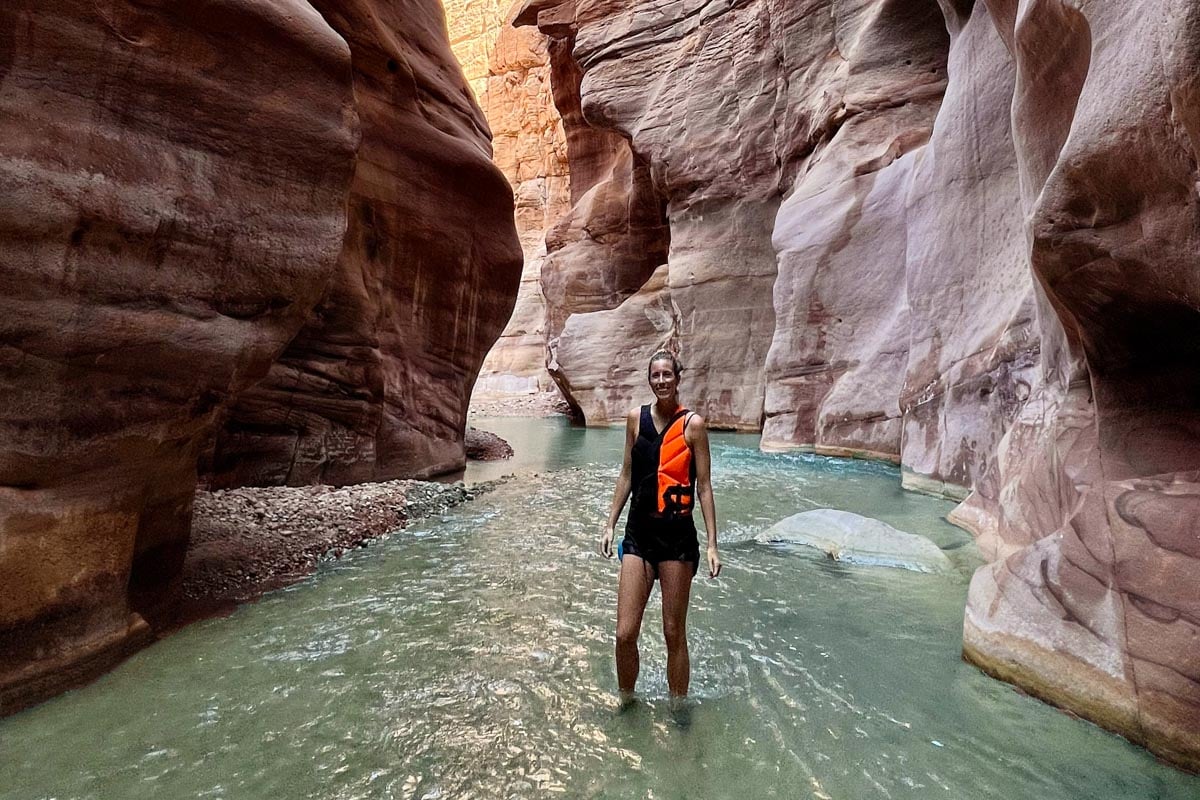 One of the most thrilling and exciting adventures you can have in Jordan is hiking through Wadi Mujib canyon. The canyon is part of the Mujib Biosphere Reserve and is cleverly nicknamed "the Grand Canyon of Jordan".
The Siq Trail takes you through turquoise-colored water that carves steep and impressive canyon walls along the route. Not only is Wadi Mujib a beauty to behold, but the canyon is also a blast to explore.
The entire trail only takes about one hour each way, and navigating the moving water is half the fun. Embarking on the Siq Trail is something like attempting an adult obstacle course in a natural water park.
Luckily for you, we've created a detailed guide to hiking the Wadi Mujib Canyon, including how to get there without a tour, how much it costs, and what to pack.
7. Take a cooking class and/or food tour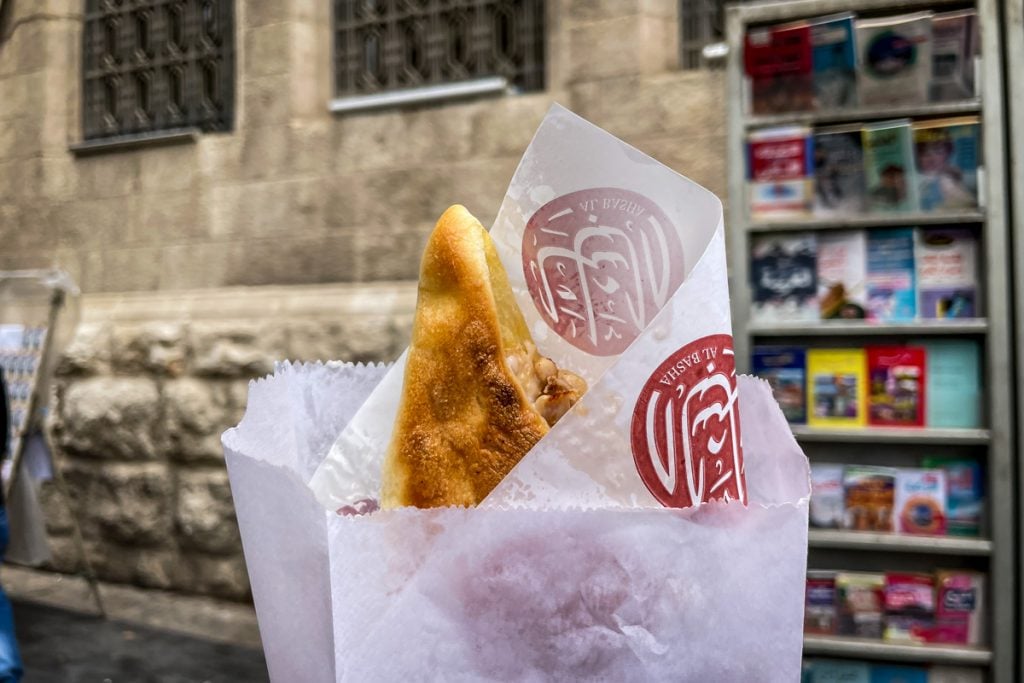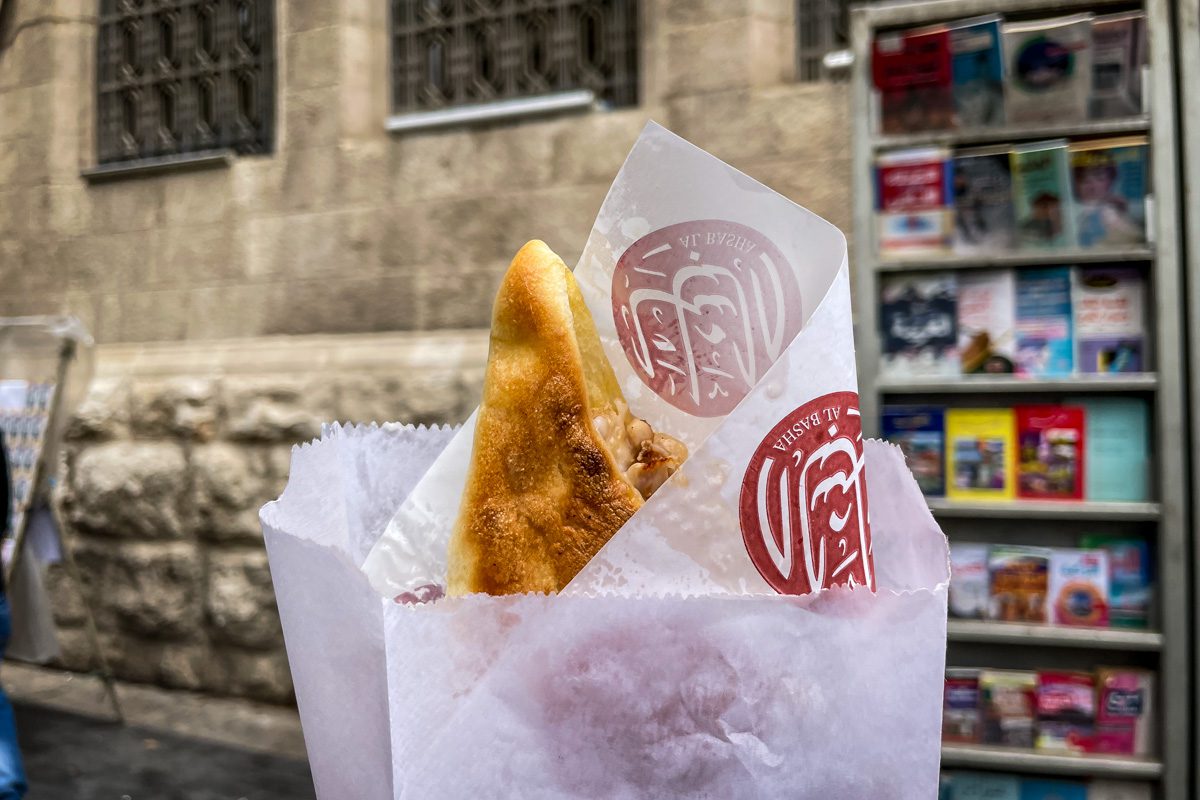 One of the most interesting aspects of Jordan cuisine is the variety of influences from neighboring countries and regions. You'll discover that the climate and conditions of Jordan have influenced the food in intriguing ways, with some techniques dating back to ancient times.
Not only will you learn about traditional Jordanian foods in a cooking class, but you may walk away with recipes you can replicate and to share your experience with friends and family back home.
Beit Sitti Cooking School comes highly recommended, and if you're looking for a more personalized experience, this Airbnb cooking experience with Shereen is at the top of our list!
If cooking isn't your forte, food tours are one of the best outlets to get local knowledge of recipes, ingredients, and history from a different perspective. You'll enjoy visiting restaurants and street stalls you may not have discovered otherwise and enjoy freshly made foods from the best stops in town.
This Food Crawl or this Street Food Tour would be our top picks.
8. Eat like a local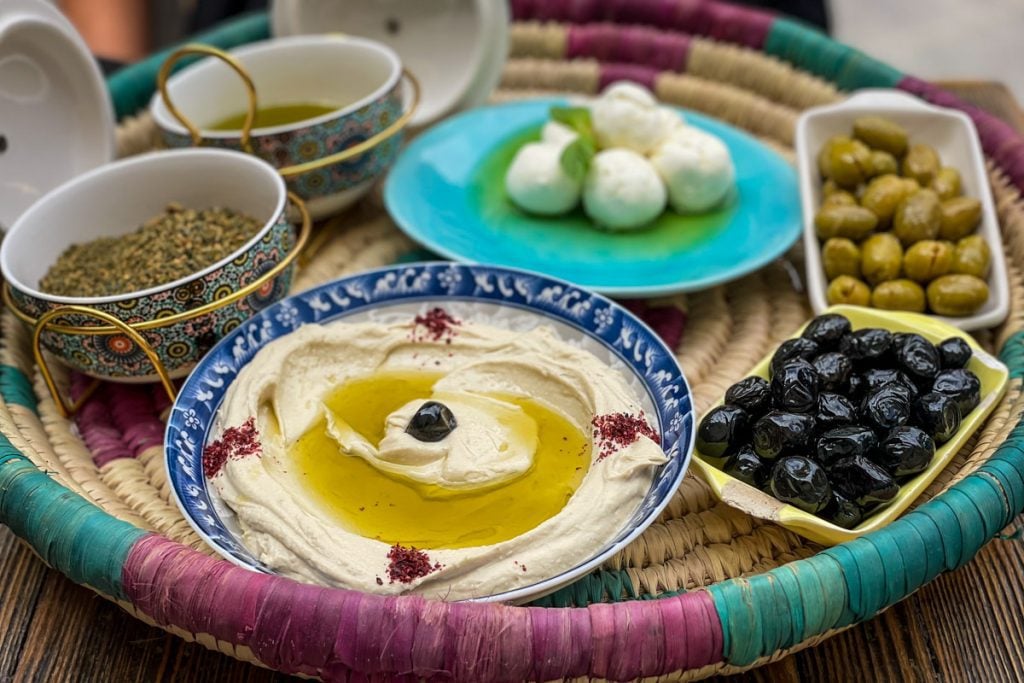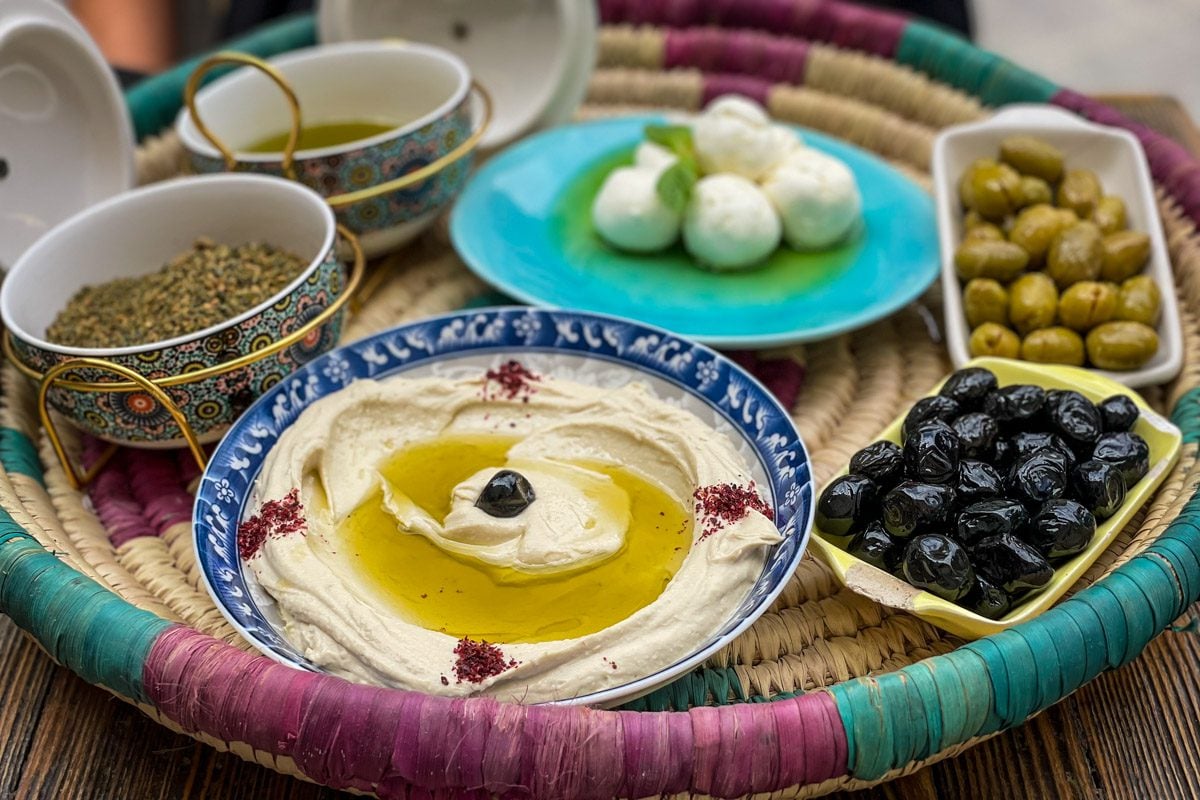 Throughout history, Jordan has had a wide variety of influence on its cuisine from North Africa, the Middle East, Persia, and the Mediterranean. Here you'll find traditional Jordanian dishes as well as dishes that originated elsewhere, but are still very popular in Jordan.
Lamb, rice, olives, bread, olive oil, tahini, garlic, za'atar, onions, pickles, mint, and sage, are just a handful of the flavors you'll experience as you taste your way through Jordan. Note these staple Jordanian foods while exploring the country and wandering into local eateries:
Mansaf: Widely considered to be the "national dish" of Jordan, this is one of the most beloved dishes in the kingdom consisting of rice, lamb, and jameeb (a fermented goats milk yogurt).
Rashouf: In the winter months, Rashouf is one of the ultimate Jordanian comfort foods made with lentils, jameeb, wheat, and sour pickles.
Hummus: One of the most well-known Middle Eastern foods that's enjoyed around the world. Garbanzo beans, lemon, tahini, and olive oil combine to make it to the menu of almost every restaurant in Jordan.
Zarb: This traditional Bedouin dish is made with a mix of meat, generally lamb or chicken, rice, onion, carrots, and are placed in the ground to cook. It's most commonly enjoyed in the desert.
Falafel: Word on the street is that Jordan has some of the best falafel in the Middle East. This common street food is a mix of garbanzo beans and spices that are deep fried to crispy perfection.
Maqluba: This dish is both translated and served upside down. At the bottom is meat or chicken, then the rice is cooked on top with a variety of spices. The pot is flipped over onto a communal plate when served.
Shawarma: Layers of thinly sliced meat are wrapped in a warm slice of bread with garlic sauce or tahini and pickled vegetables.
Mezze: Meaning "to taste" this is a variety of small dishes served as an appetizer before the main dish. Dolmas, hummus, falafel, and kubbeh are popular options in mezze.
Kanafeh: Prepared with a thin pastry called kataifi, kanafeh involves crispy noodle-like wisps of dough soaked in a sweet rosewater syrup and layered with cheese. AND. IT'S. DELICIOUS.
Tip: Check out the Where to Eat section of our Amman article to find out where you can indulge in all of these local eats!
9. Stay in a bubble hotel or Bedouin camp in the desert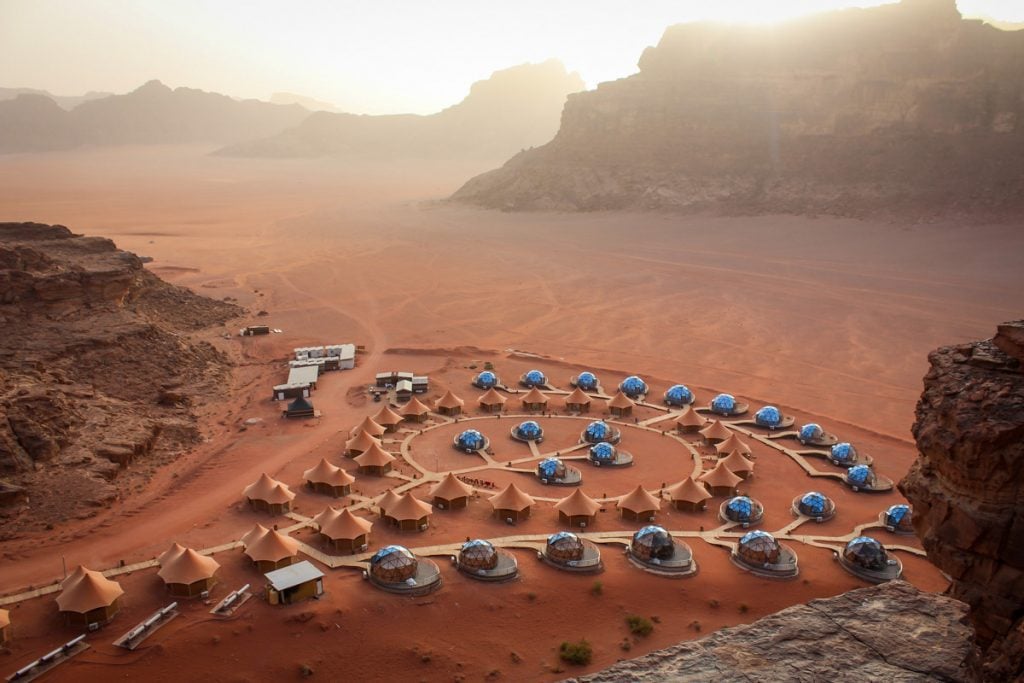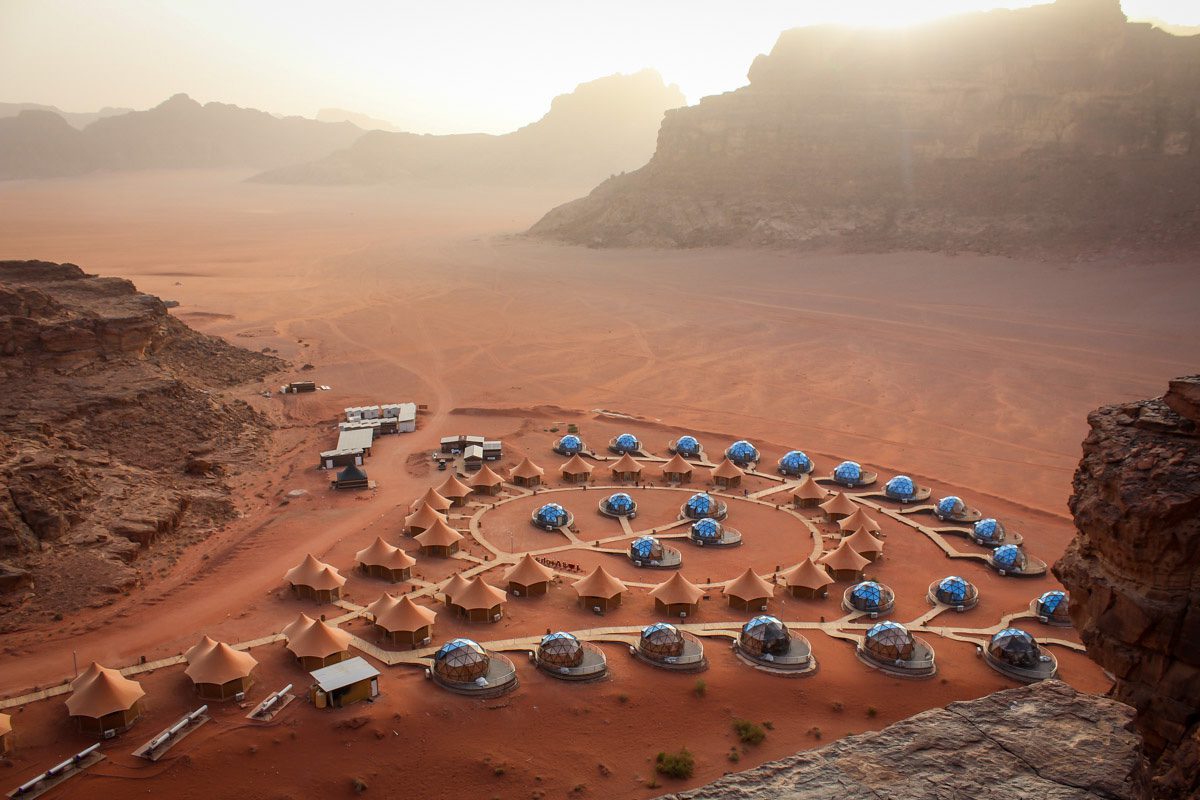 Bedouins are one of the main nomadic tribal groups in Jordan that stretched through the Middle East and into North Africa. Their culture is still very much alive today and one of the best ways to get a feel of the Bedouin lifestyle is by staying in one of their camps in the desert, most popularly in Wadi Rum.
There are over 200 different camps in Wadi Rum ranging from the martian-style bubble hotels to traditional Bedouin tents, so you can choose one that fits your travel style, but Wadi Rum Bedouin Camp and Captains Desert Camp are two great options for the complete Bedouin experience.
For a more luxurious stay, spending the night in the private bubble hotel in Wadi Rum is one of the quintessential things to do in Jordan.
Memories Aicha Luxury Camp is one of the most beautiful properties nestled between two dramatic cliff faces. I spent two nights here and had a fantastic experience. While it was a bit of a splurge, the experience was worth it. (Hint: climb up the cliffside behind the camp and you'll be rewarded with sweeping views of the desert at sunset!)
Wadi Rum Bubble Luxotel is another place that comes highly recommended, but with an even higher price tag. For those on a budget who still want the bubble experience, Sun City Camp is a bit more reasonable.
10. Go on a 4×4 adventure through Wadi Rum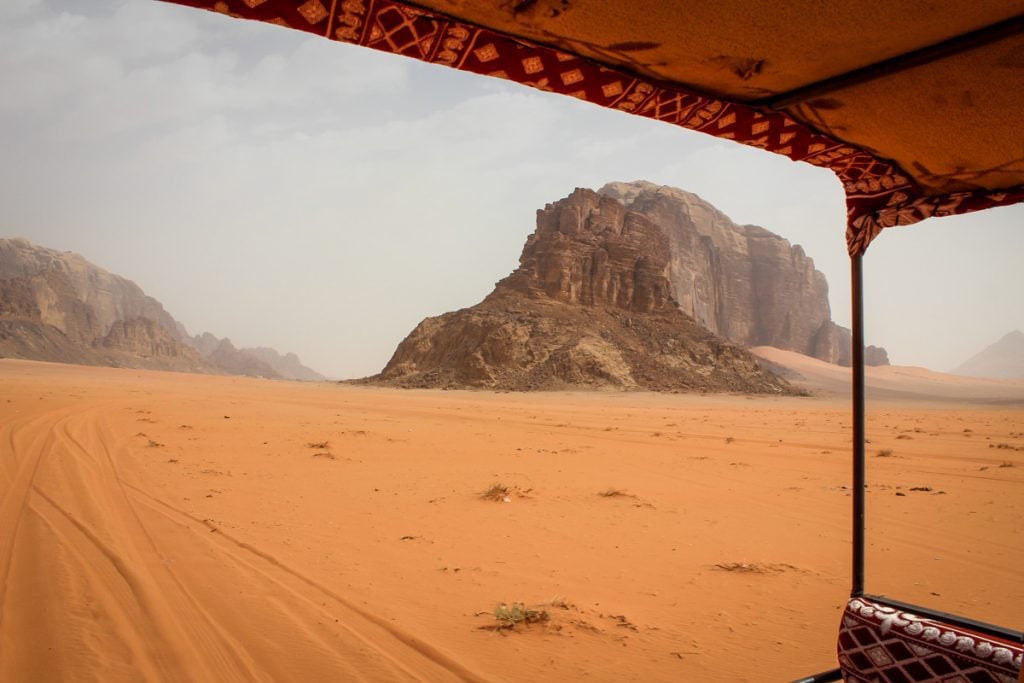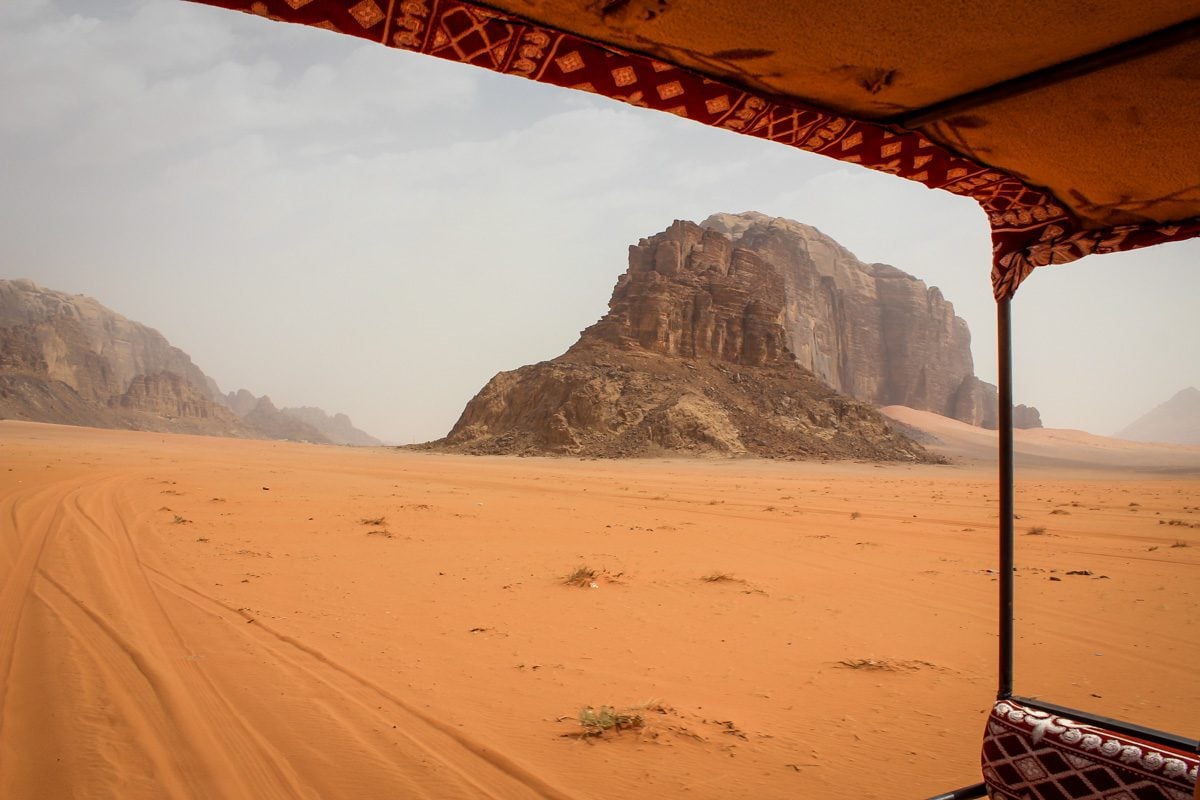 Wadi Rum, also known as the Valley of the Moon, is a picturesque desert valley that the Bedouins have inhabited for almost 12,000 years. Narrow gorges, skyscraper-like rock formations, and natural stone arches were carved into the granite and sandstone over millions of years, creating the largest wadi (or desert) in Jordan.
Right up there with Petra, visiting Wadi Rum is one of the most unmissable things to do in Jordan.
One of the best ways to see everything Wadi Rum has to offer is on an adventurous 4×4 safari tour. Many tours are around two hours and cover the highlights, but you can book longer tours ranging from half day to a multi-day trips.
If you don't have the extra time for a multi-day tour, I recommend spending at least one night in Wadi Rum so you can experience the sunrise and sunset in this magical otherworldly place.
Tip: It's easy to get from Petra to Wadi Rum to add an extra day to your itinerary.
11. Eat a traditional Zarb dinner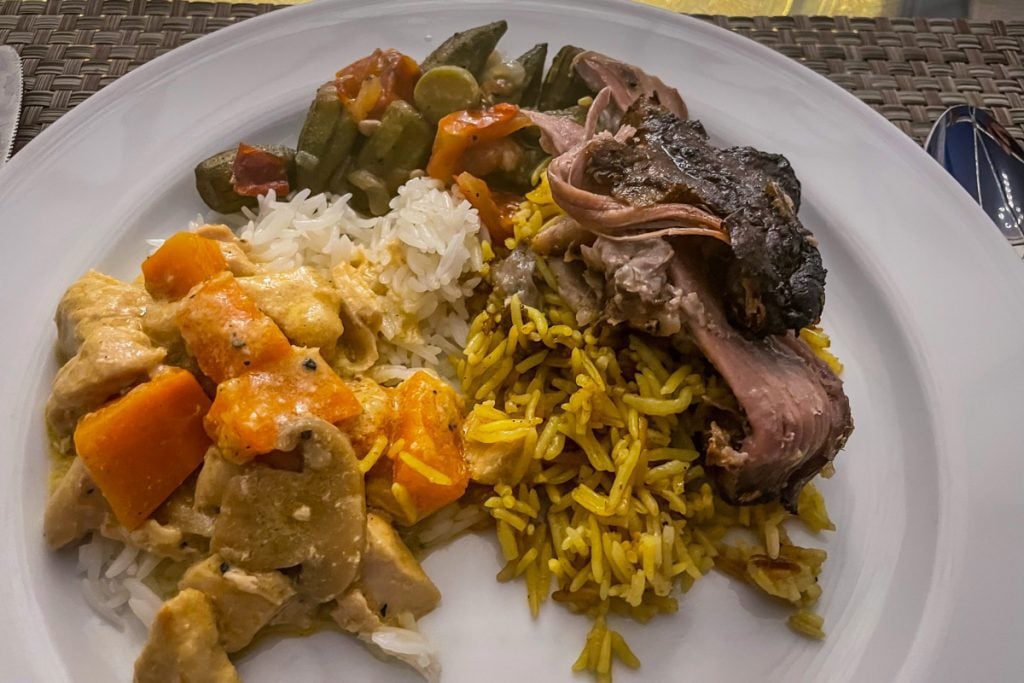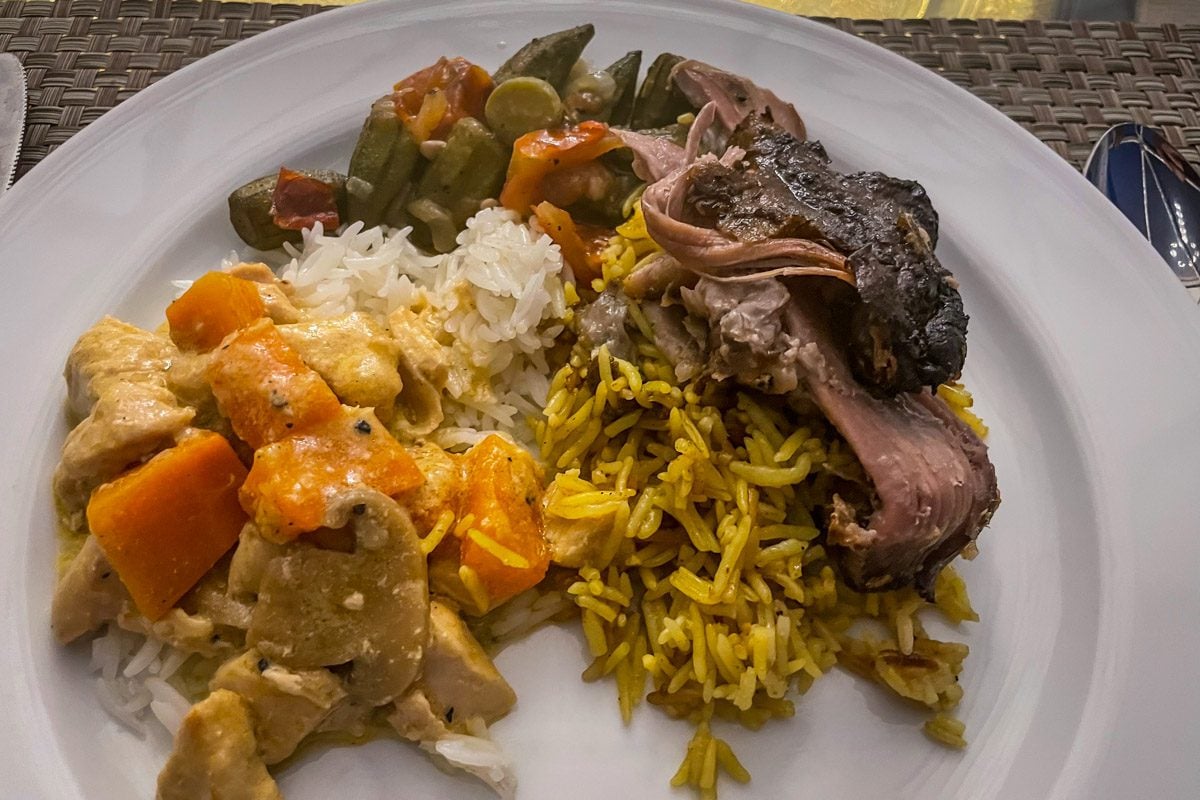 One of the most cherished delicacies of Bedouin culture, Zarb is traditionally prepared with chicken, goat, or sheep, and an array of veggies like carrots, potatoes, tomatoes, and onions. The meats and vegetables are served on large communal plates with rice, salads, and a variety of dips.
For centuries, their food was cooked in an underground earth oven using stones, but it has since evolved just slightly to create the same flavorful meals but with metal barrels and foil.
With their ancient techniques, you'll forget all about your cookouts at home once you taste and experience the flavors of a Bedouin barbeque.
12. Go scuba diving in the Red Sea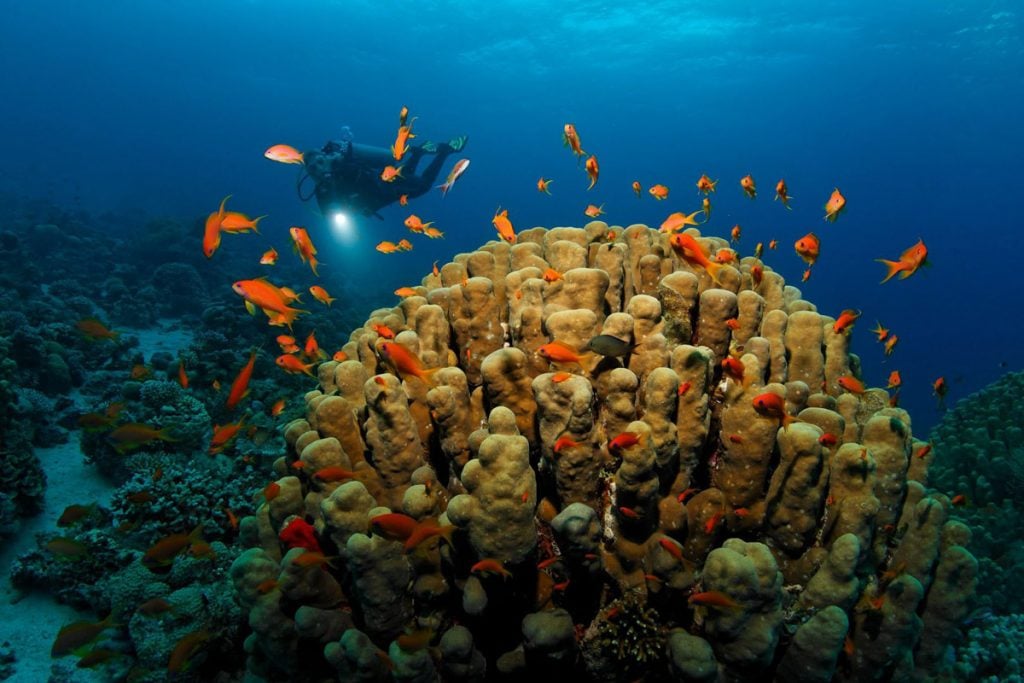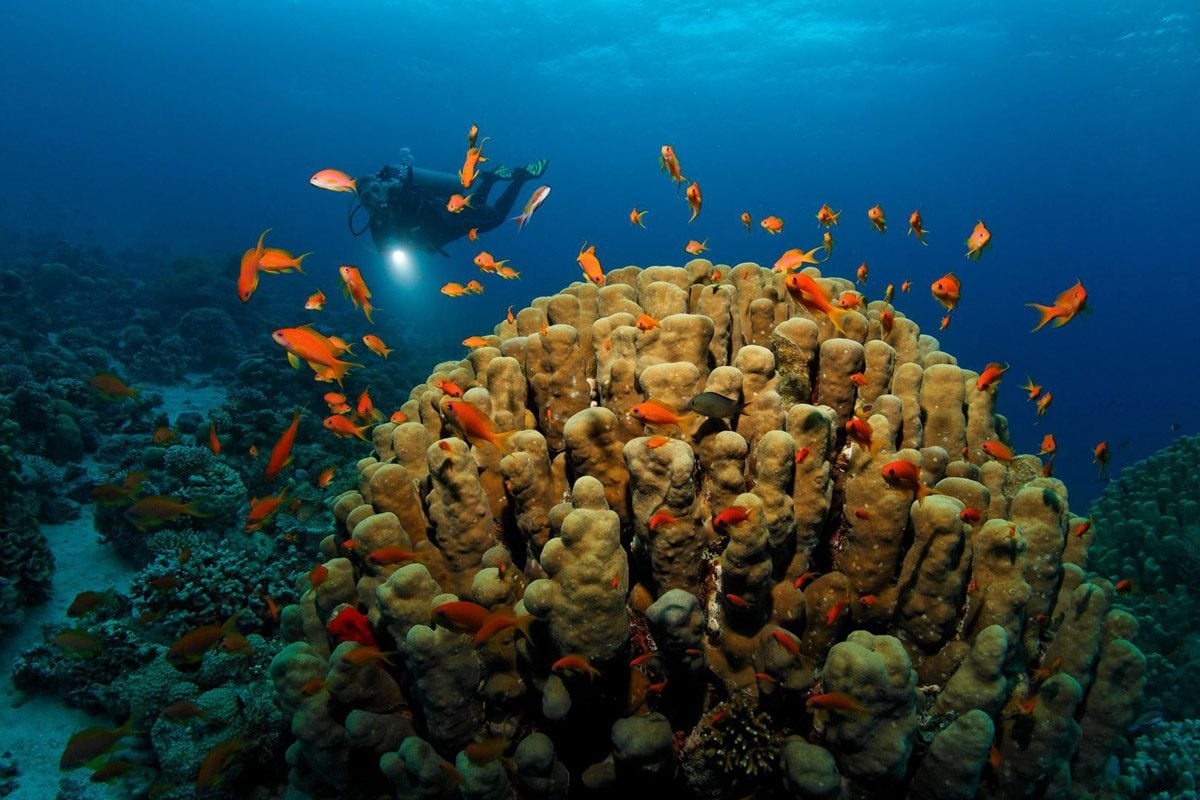 Nestled right in the southernmost corner of Jordan is Aqaba, a developing port overlooking a 17-mile stretch of coastline along the Red Sea. Scuba divers flock to Aqaba as a base camp to experience the world famous reefs, World War II shipwrecks, and colorful marine life that flourishes in the glittering sea.
There are a variety of different dive shops in Aqaba that can set you up for an amazing day, or days, of exploration. Many of the most popular dive sites run parallel to the shores of Jordan, making access to them pretty easy even for the recreational diver.
I had a great experience with Deep Blue Dive Center, although the waters in the Red Sea in May were much colder than I was prepared for, and we came on a rare day where the visibility wasn't great.
13. Drive the King's Highway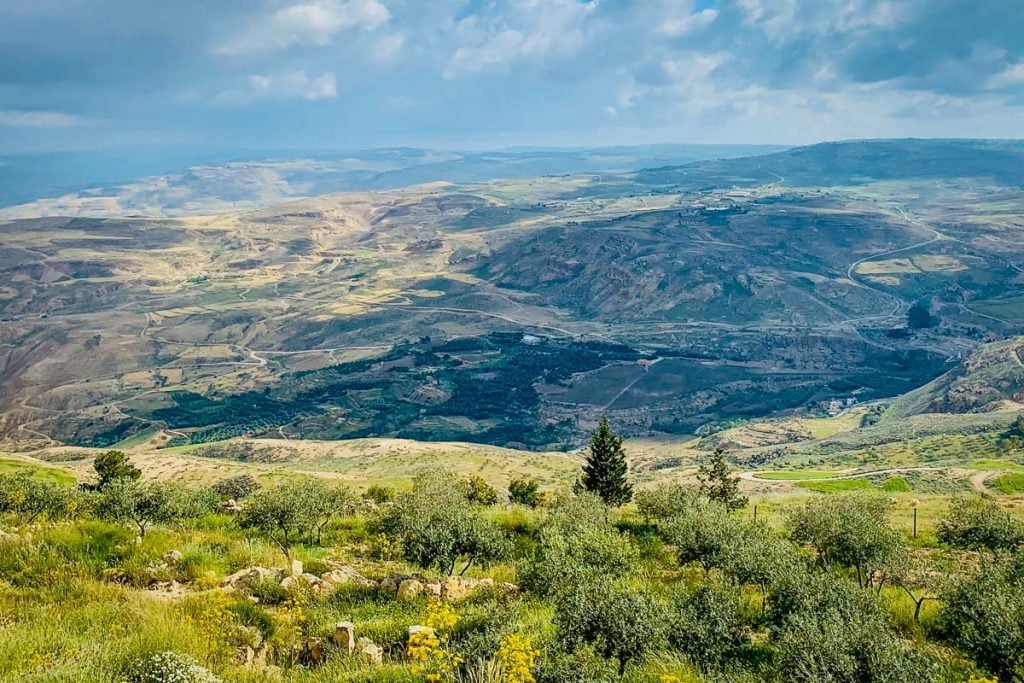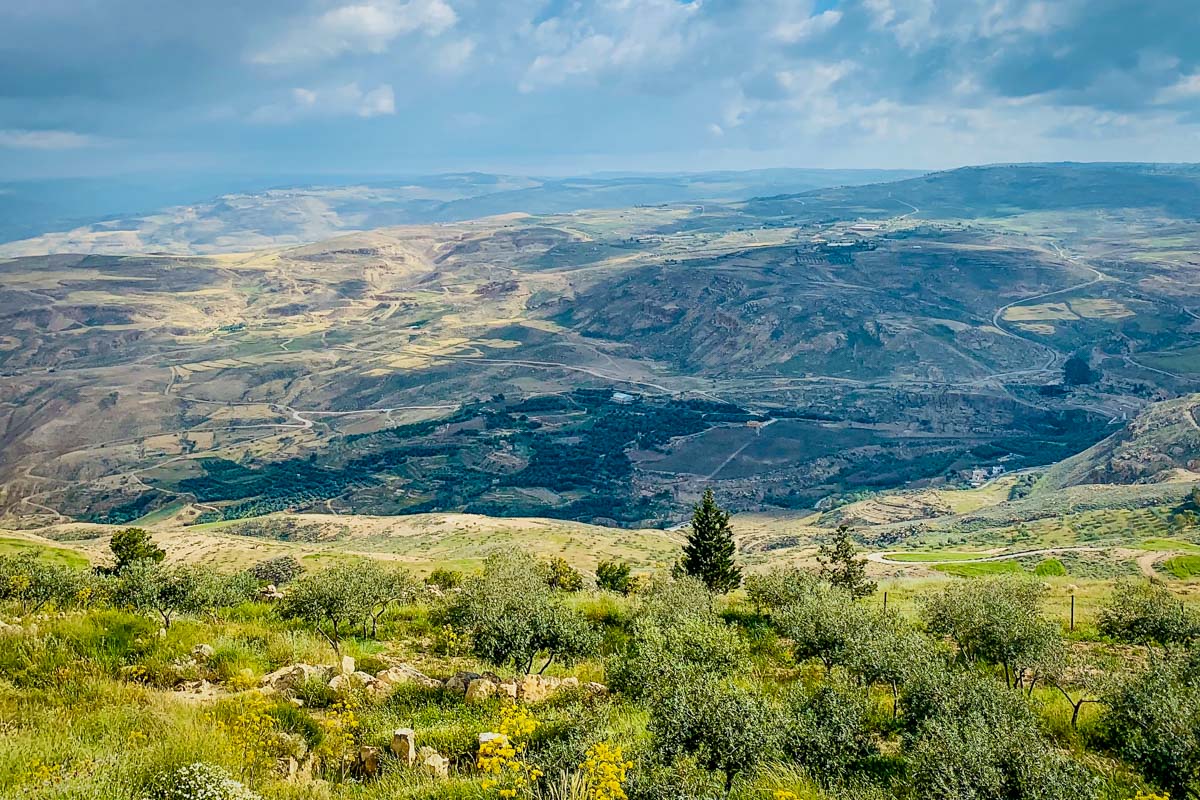 The King's Highway was an ancient trade route that connected Syria to the Gulf of Aqaba, through what is now the Kingdom of Jordan. This trade route dates all the way back to the Old Testament and is one of the oldest communication routes in the world still in use.
Today, the route connects a variety of popular things to do in Jordan like Madaba, Mount Nebo, Wadi Mujib, Dana Nature Preserve, and even offers a more scenic drive from Amman to Petra. The King's Highway acts as a gateway from Amman to all the best sights in the south of Jordan, so if you're renting a car in Jordan, this will inevitably make it onto your itinerary.
When you put directions into your phone or GPS, it's going to take you on the quickest route, Route 15. So make sure you opt for Route 35 (King's Highway) instead, south from Amman or north from Aqaba.
14. Explore the souks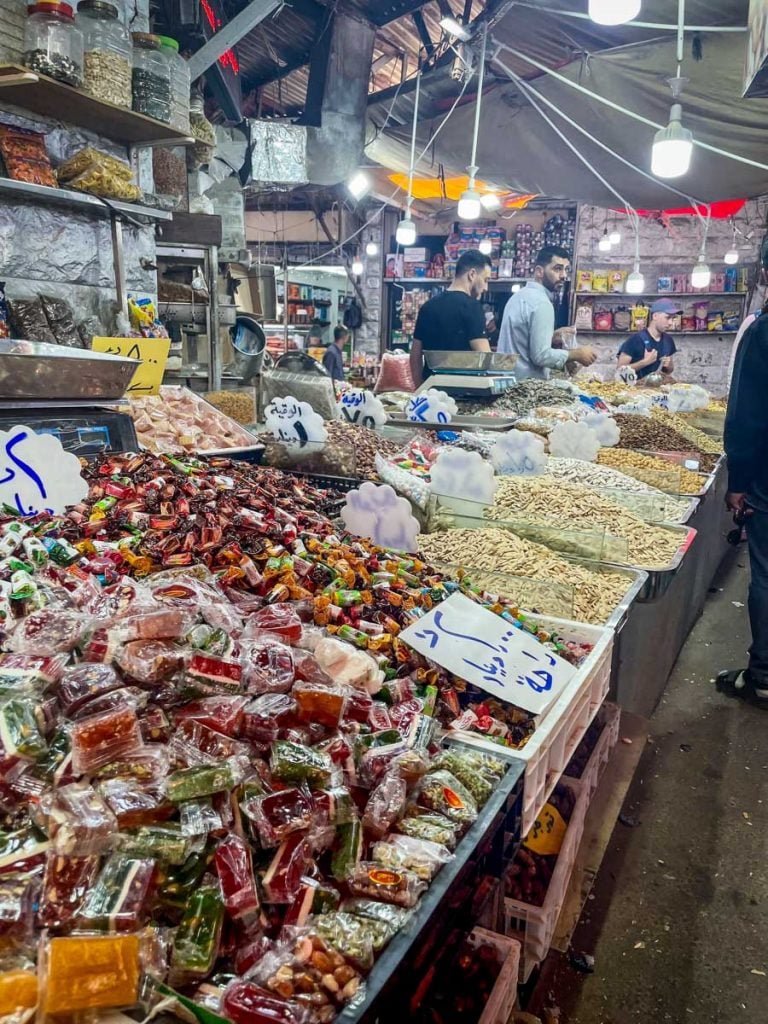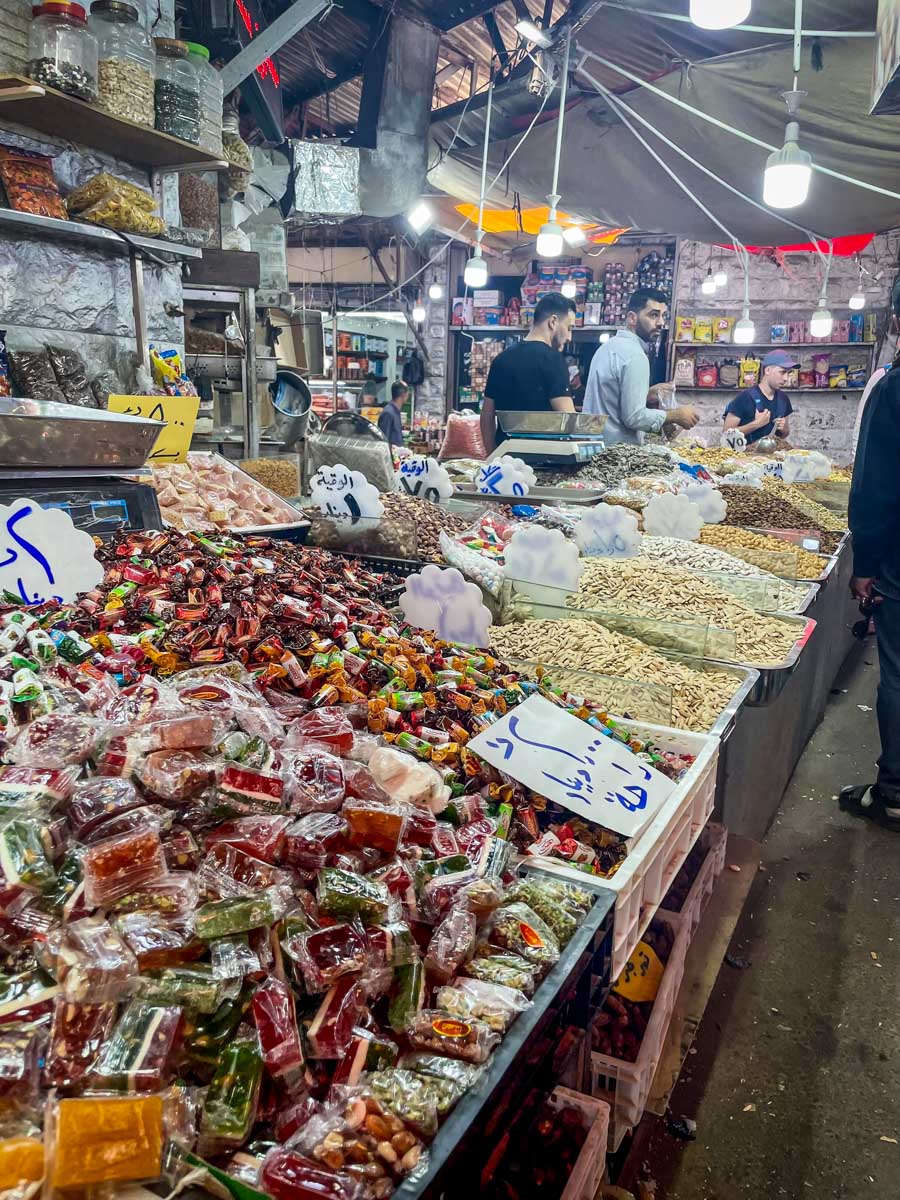 There is no better way to connect with Jordanian locals than by practicing your haggling skills at one of the many souks in Amman. Haggling and bartering form a huge part of Middle Eastern culture, so grab your dinars and make your way through rows of colorful spices, gemstones, textiles, and anything else you can think of.
This is the perfect place to grab a souvenir and support the locals in Jordan. If your bartering skills aren't sharpened, you can easily spend the day walking around and embracing the bustling energy of shoppers and owners as they banter back and forth.
15. Go for a hammam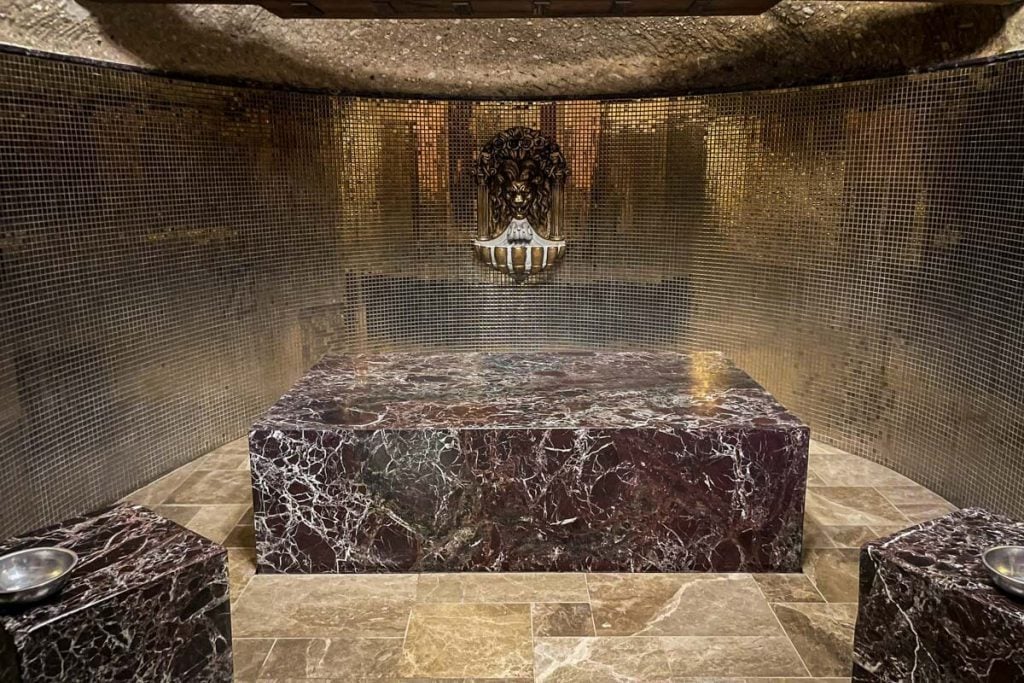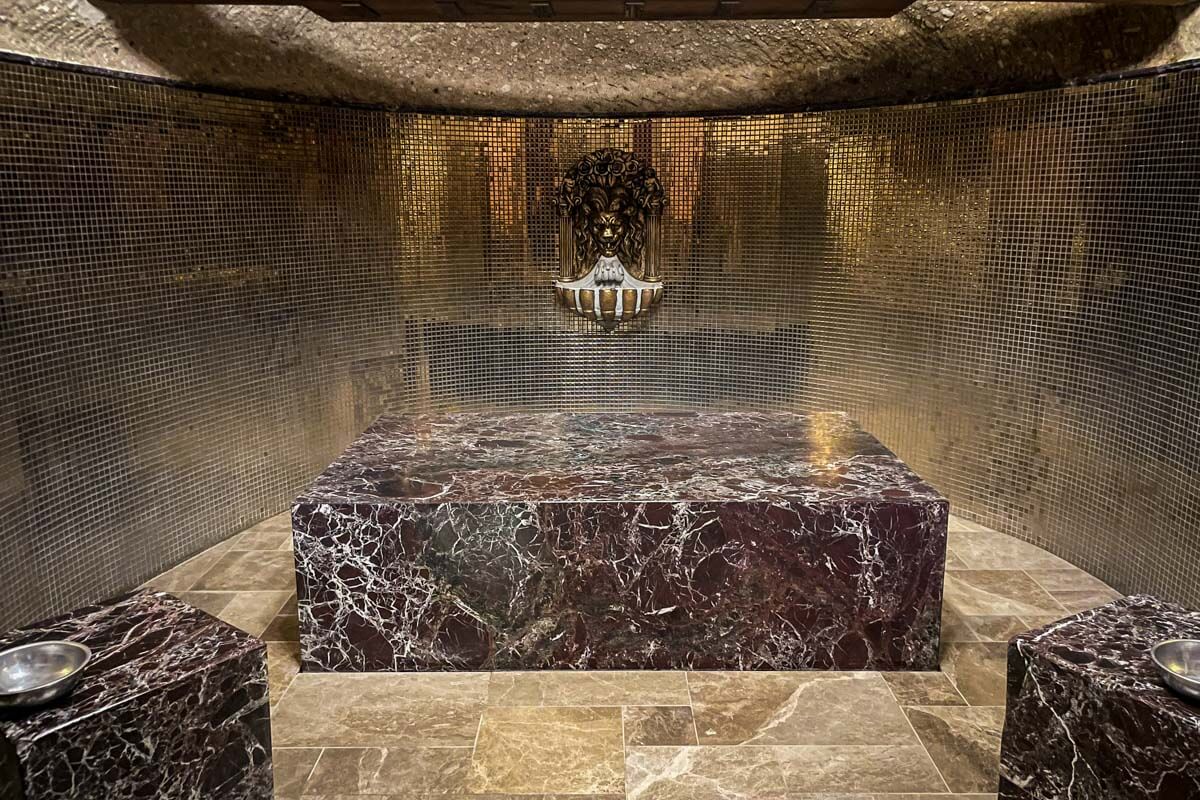 After all the adventurous things to do in Jordan, there is no better way to slow things down than with a relaxing hammam experience. These are Turkish baths, that were and still are a prominent feature of the Islamic world.
Most modern hammams are separated by gender. You'll begin in a sauna-type room, sprawling out on a heated stone slab to relax and work up a sweat.
From there, a male or female staff member (they will match you with the same gender) will exfoliate and scrub you down from head to toe in a luxurious pillow of suds. It's a very unique way to experience centuries old culture of this region of the world (and get that squeaky clean feeling!).
Though there are hammams spread across the Middle East, the baths in Jordan are some of the oldest known examples of Islamic bath houses, dating back to the 7th and 8th centuries.
16. Drink Turkish coffee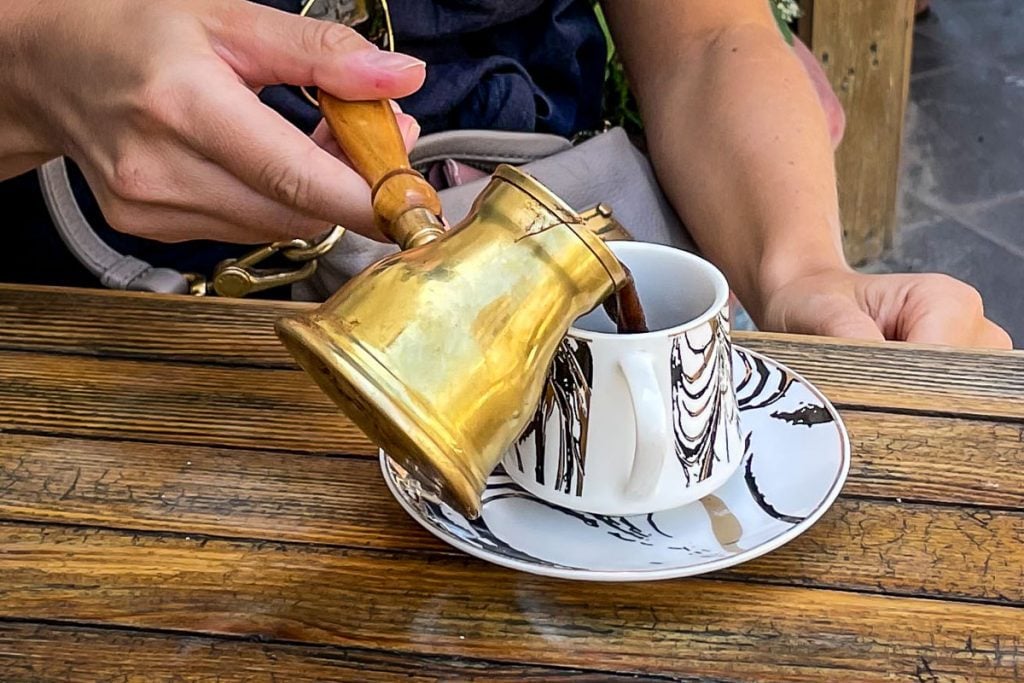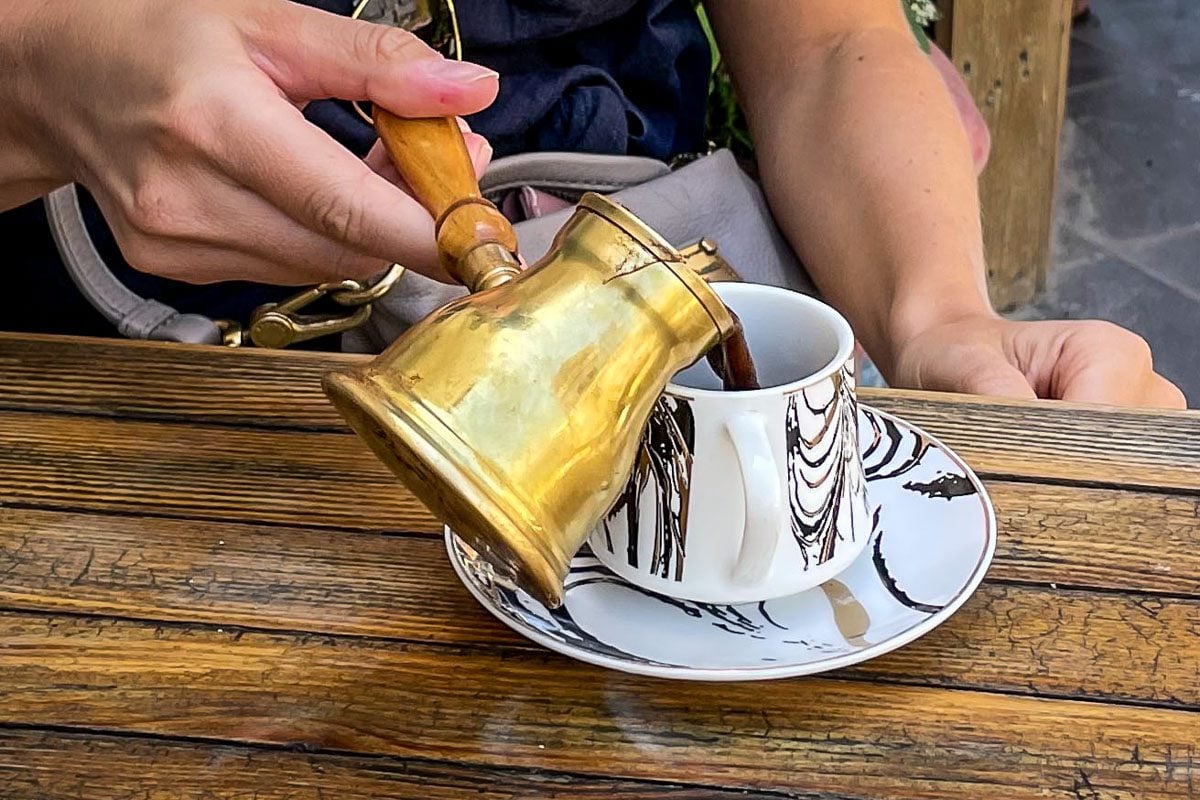 Any coffee lover visiting Jordan should visit a local cafe to try a unique spin on traditional coffee. Turkish coffee is set apart from other coffees due to its grinding, roasting, and brewing techniques, and not just the source of the beans.
Water, coffee, and sugar are boiled together in a cezve, or ibrik. As soon as it's boiled, and just before it foams over, it's taken off the heat and served in small cups. Unlike many other coffee regions of the world, Turkish coffee is served with the grounds still in the cup, and often made with cardamom and other spices, making it a very unique coffee tasting experience.
Turkish coffee was added to the UNESCO Intangible Cultural Heritage List in 2013, because of its special significance and techniques used to create the perfect cup. Though its origins are Turkish, the tradition of coffee has served as a symbol of friendship and hospitality for centuries, so it's one of many ways to connect with the warm and inviting local culture in Jordan.
17. See the ancient mosaics of Madaba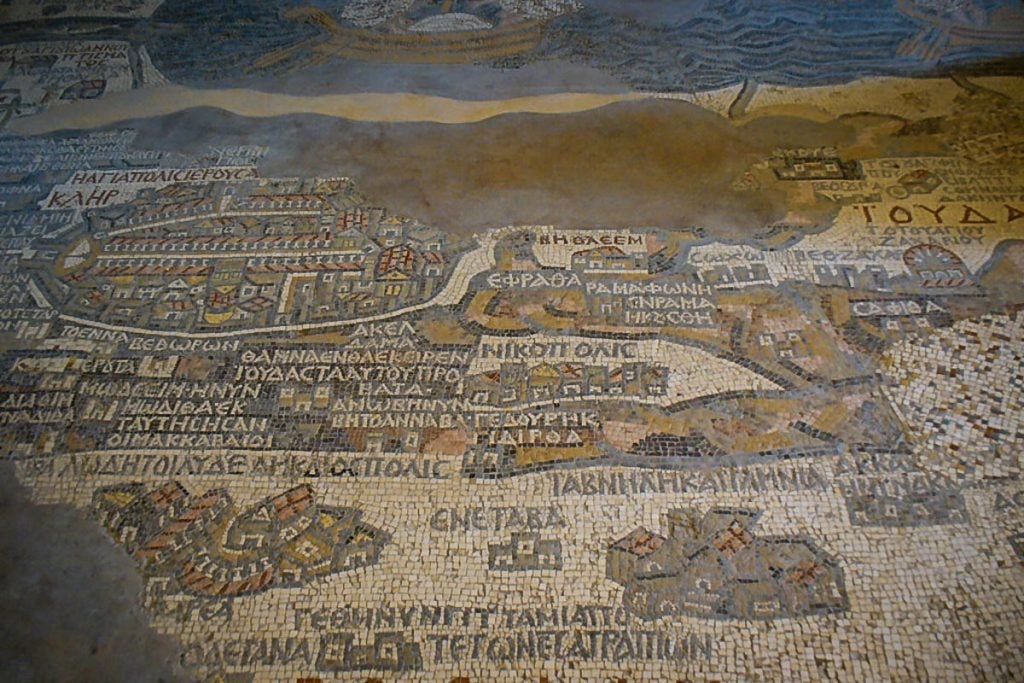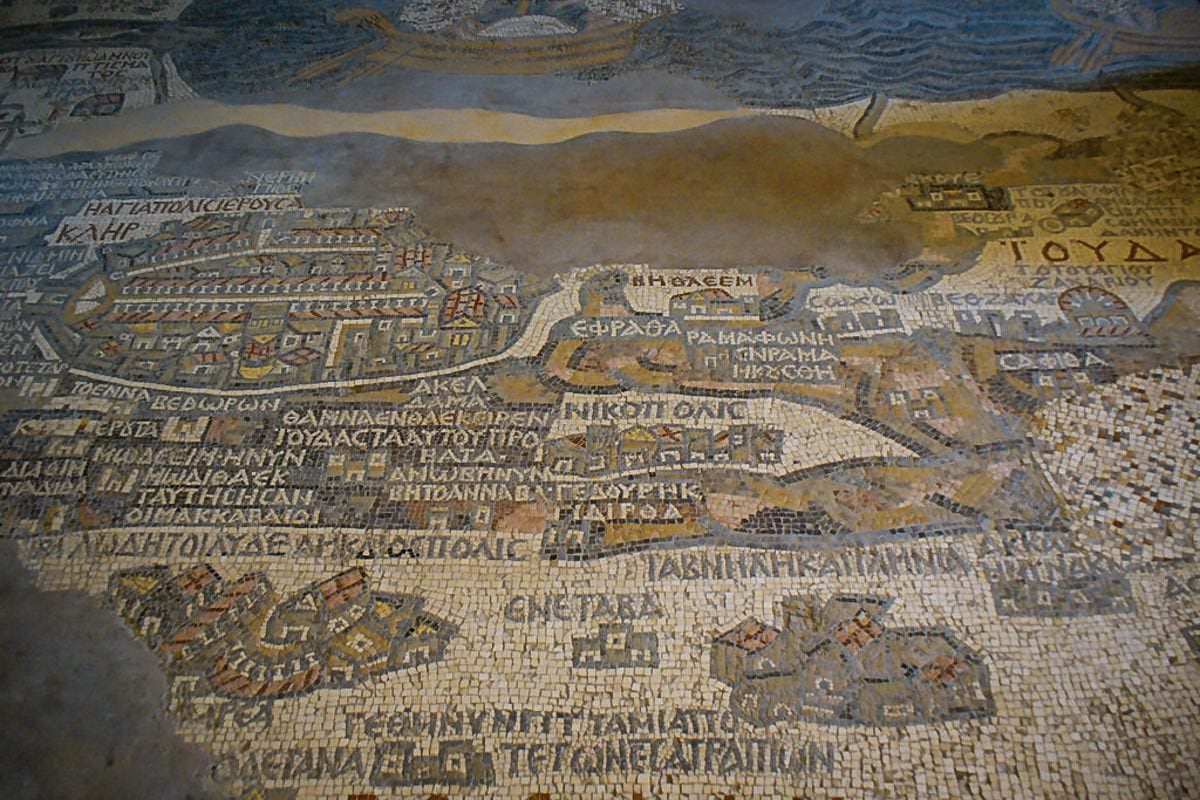 The ancient Mosaics of Madaba will transport you back 1500 years to the height of the Byzantine period. This is the oldest known map in the world and introduces you to the cartography of the Holy Land during biblical times from Egypt all the way to Lebanon.
Two million pieces of colored stones make up this map that was once lost, only to be rediscovered again in 1896. Today, it is on display in St George's Greek Orthodox Church in Madaba, just 40 minutes south of Amman.
There are segments of the map that have been chipped away or lost, but the fundamental cities, hills and valleys of the Nile Delta and Jerusalem remain. And it is certainly a sight to behold.
18. Discover the Roman ruins of Jerash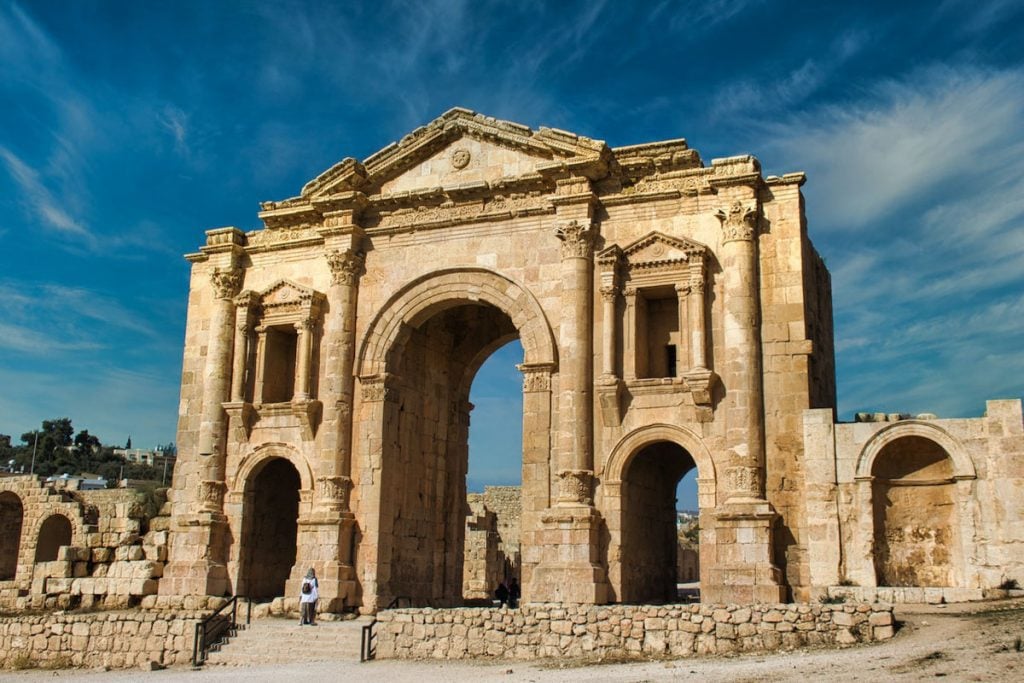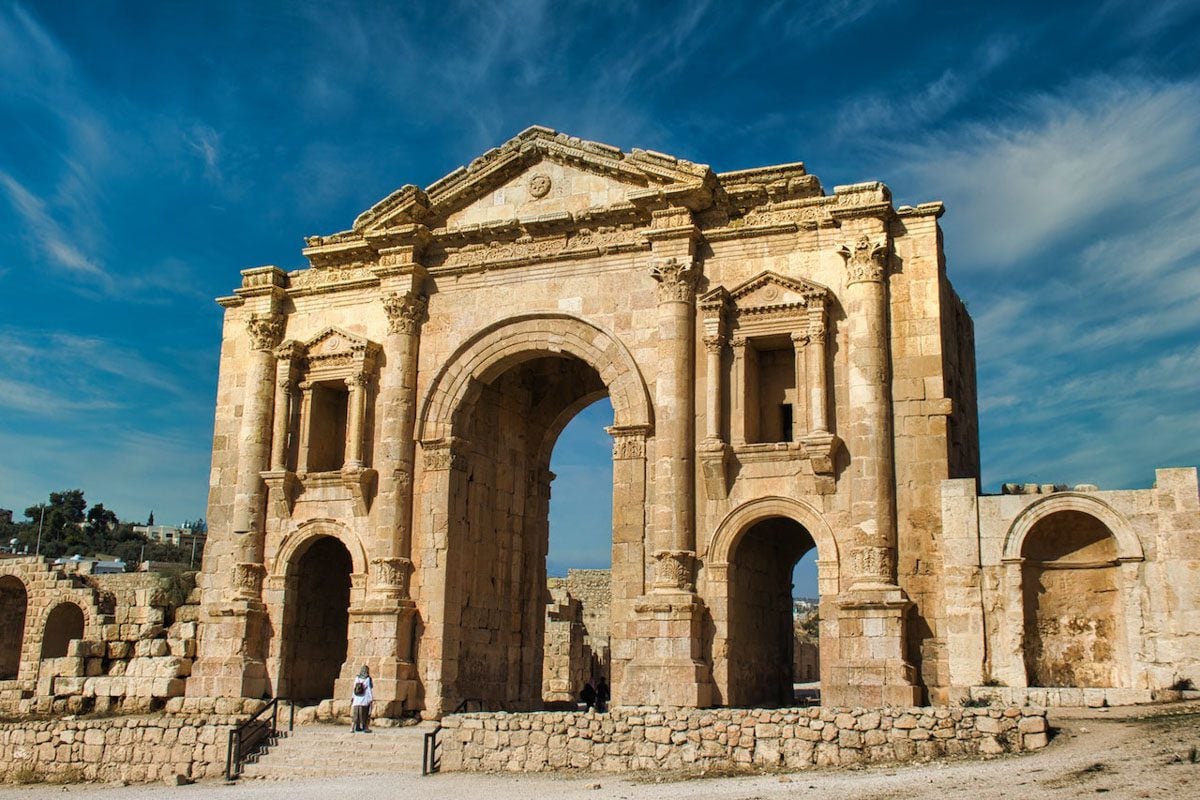 Just 45-minutes north of Amman, the city of Jerash is famously known for its Roman ruins. After Petra, the Roman ruins of Jerash are the second most visited archaeological site in Jordan and the most well preserved sites of Roman architecture in the world outside of Italy.
Ceremonial gates, hilltop temples, spacious public squares, and theaters are only a few of the ruins on display here. Most impressively, archaeologists have excavated the ruins and discovered proof of human occupation of the area for more than 6,500 years, dating back to the Neolithic Age.
You can easily spend half the day exploring Hadrian's Gate, the temple of Artemis, and admiring the blend of Greco-Roman and Ancient Arab Orient influences.
19. Visit Umm Qais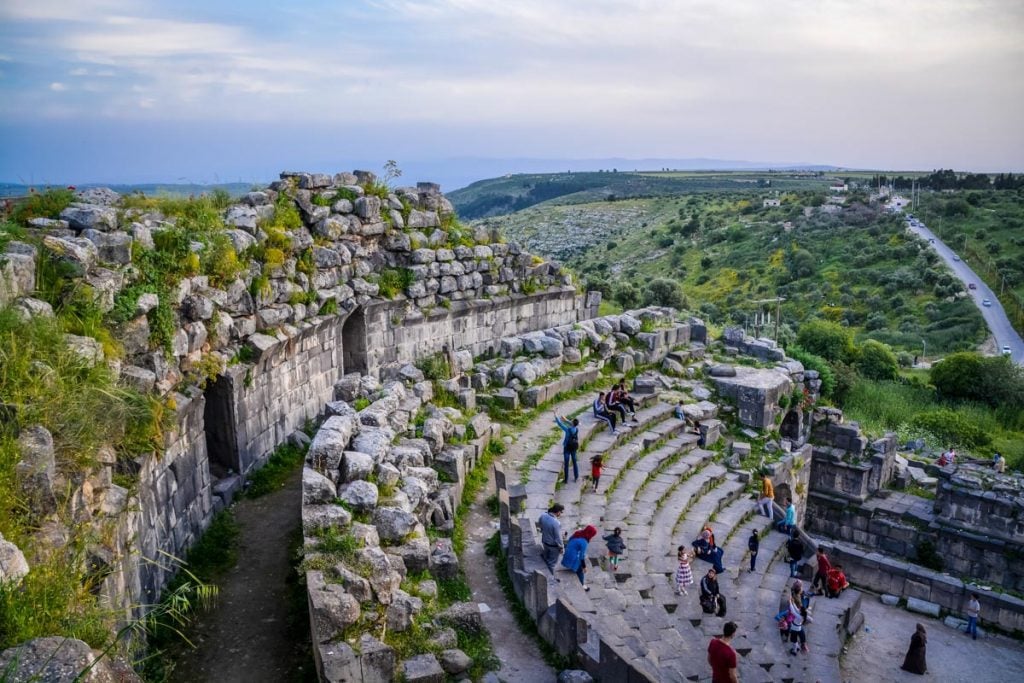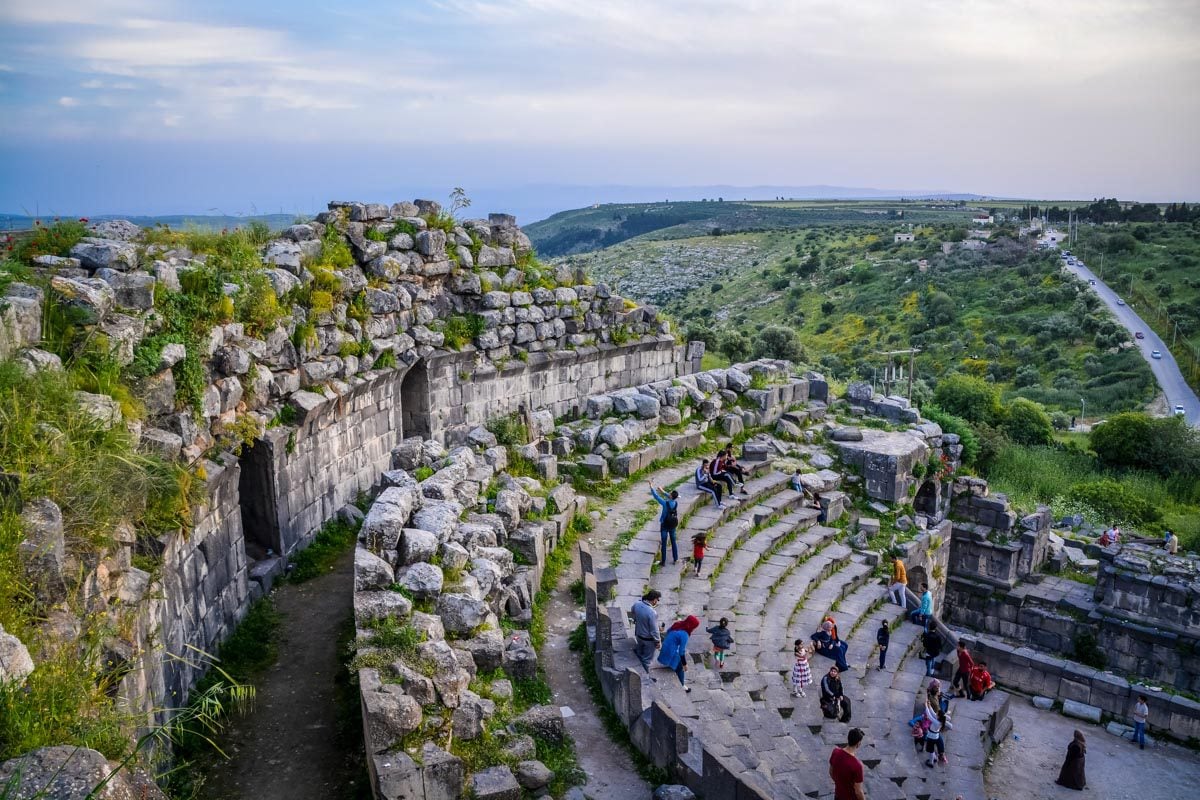 Nestled in the hills above the Jordan Valley, just 2-hours north of Amman, is a diverse array of sights to see in the northwesternmost corner of Jordan. This site was famously known as the ruins of the Decapolis city of Gadara, but today it's known as Umm Qais, meaning 'Mother of Qais'.
This site is divided into three main areas: the archaeological site of Gadara, the traditional Umm Qais village, and the modern town of Umm Qais. The variety of influence in this area plays a large part to the drastic juxtaposition you'll see between an abandoned Ottoman-era village and ancient Roman ruins.
Not only are the sites within Umm Qais unique, but its geographical location is equally as impressive. Because it sits on hill with an amazing vantage point , you'll be able to see views over the Jordan River Valley encompassing Jordan, Syria, and the Israeli and Palestinian territorties in the north.
20. Stay at the Feynan Eco-Lodge in Dana Biosphere Reserve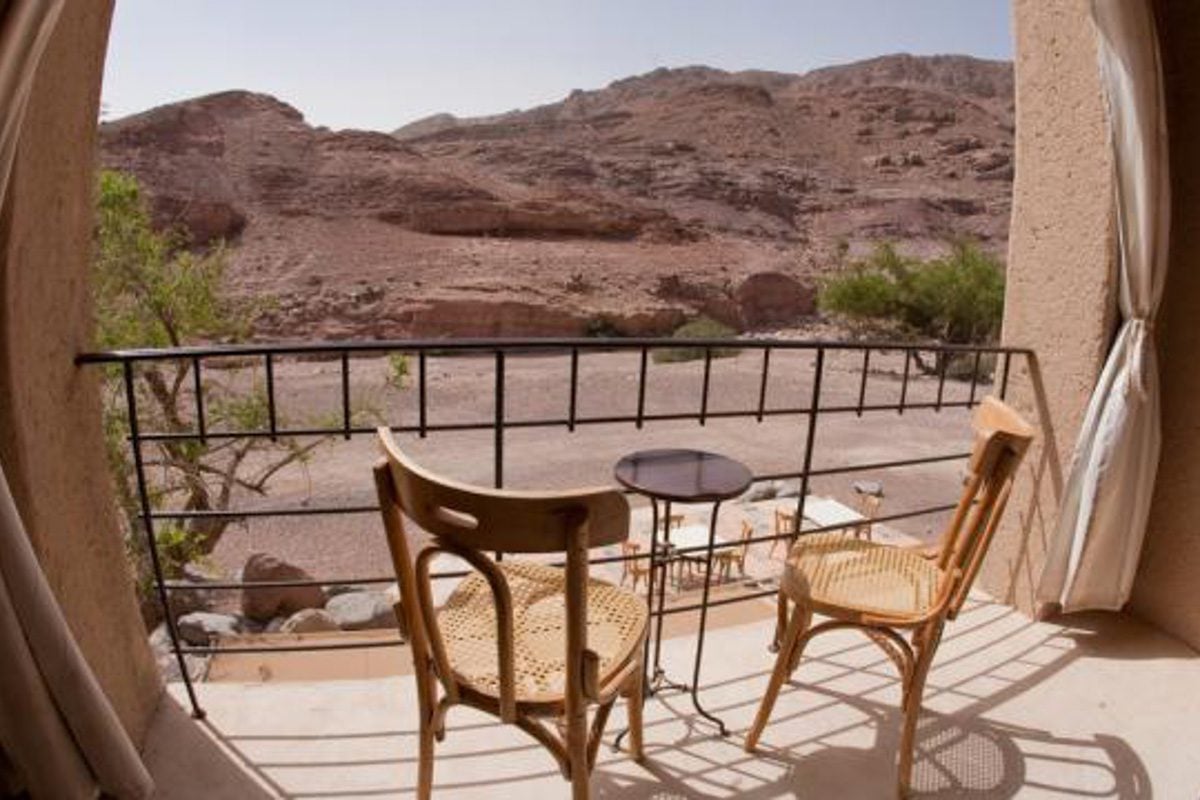 After visits through wadis and the vast desert landscape, you wouldn't expect Jordan to have any form of nature reserve. However, the Dana Nature Reserve is about the size of Malta, and it's one of the most important archaeological sites in Southern Jordan.
Home to rich biodiversity, history, natural beauty, and over 100 archaeological sites, it will take more than just a day trip to explore one of the best kept secrets in Jordan. And what better way to end your days immersing yourself in nature than at one of the top 25 ecolodges in the world, as hailed by National Geographic Traveler Magazine.
The Feynan Eco-Lodge is tucked away in Wadi Feynan, lit by hundreds of candles, solar-powered, and the perfect way to step away from crowds and indulge in local culture. Unfortunately, I didn't get the chance to stay here on my trip to Jordan, but the sustainability factor was what really drew me in to this amazing stay in the heart of the reserve.
So if you get the chance to experience this, you'll have to let us know how it was!
21. Soak in the Ma'in hot springs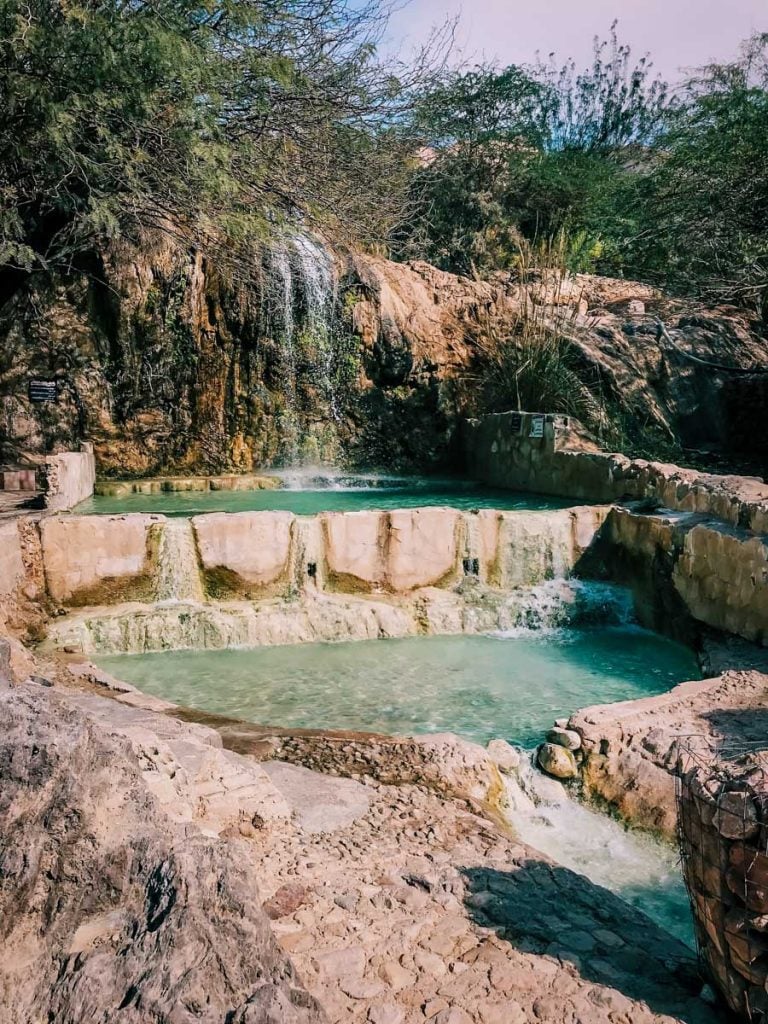 Local Jordanians have flocked to the mineral rich waters of Ma'in hot springs for centuries. With lush palm trees and dramatic travertine cliff sides, it's easy to see how this lush canyon paradise became so popular among the vast, desert landscapes surrounding it.
Because the sixteen pools are located along a large fault and experience lava fissures frequently, the water in the hot springs is some of the hottest in Jordan, with temperatures staying between 140 – 180°F (60 – 82°C).
To experience a more tranquil soak in Ma'in, consider staying at the Ma'in Hot Springs Resort, built right along the cascading waterfalls that fill the pools. Otherwise, this is a great stop to make before or after visiting the Dead Sea since it's close by.
22. Climb Mount Nebo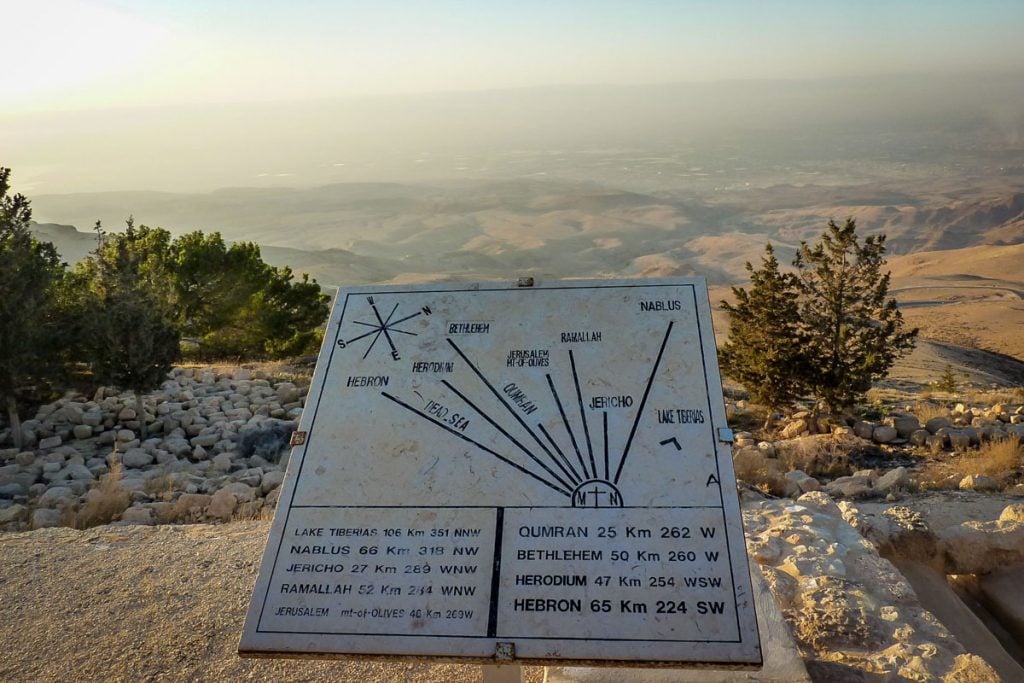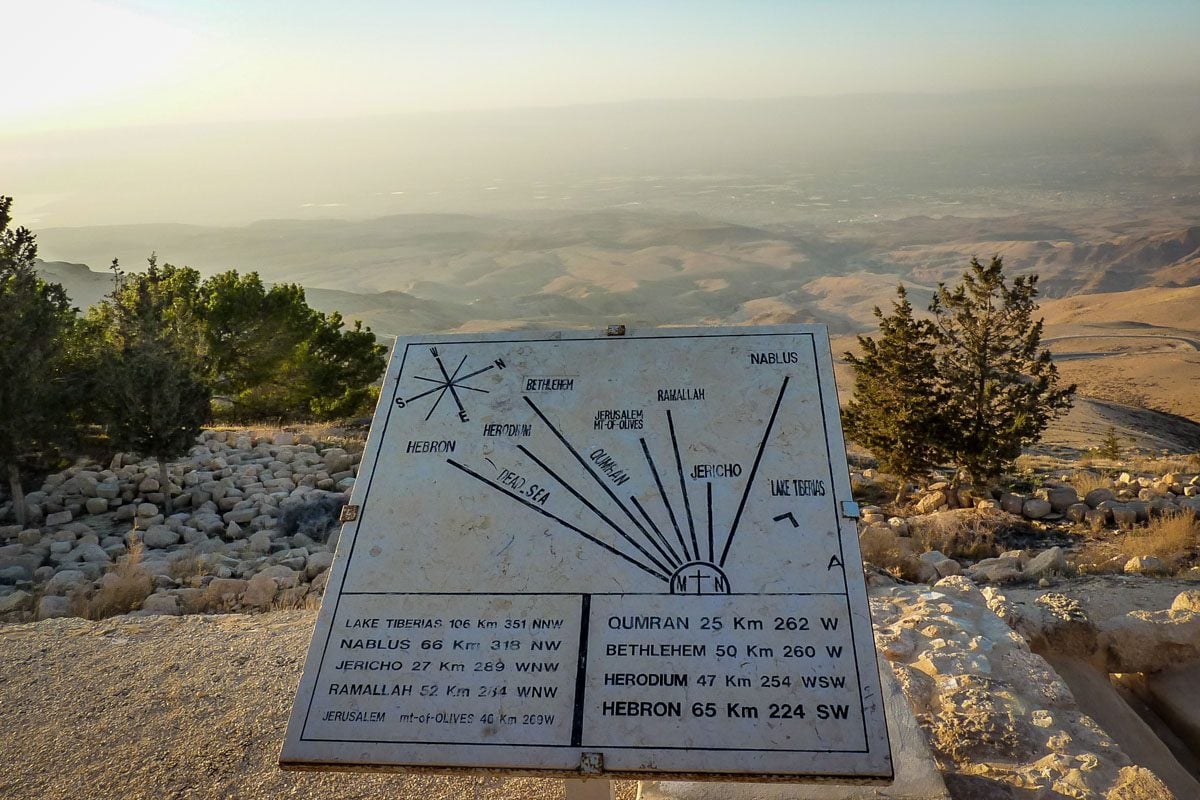 Along the Abarim mountain range is one of the many sites rich with religious significance in Jordan, Mount Nebo. At over 2,000 feet above sea level, this peak is noted in the bible as being the place where Moses saw the promised land before his death at age 120.
The Book of Deuteronomy notes that Moses died on Mount Nebo and was buried in Moab shortly after. Nearing the fourth century, Egyptian monks built a small monastery on the mountain in memory of Moses that was later reconstructed into a basilica that still stands today.
During a visit to Mount Nebo, you are able to enter the basilica and marvel at a fascinating collection of Byzantine mosaics and a number of other mosaics dating back to 530.
Another feature of the mountain is the Brazen Serpent sculpture that has become the official symbol of Mount Nebo. After Moses built the brazen serpent to save people from the plague, it was said that one glimpse of the serpent would protect you from the deadly plaque.
From the top, gaze at expansive views over the Jordan River Valley, Dead Sea, and the city of Jericho, Bethlehem. And on clear days, you can even spot Jerusalem in Israel.
23. Hike through Wadi Numeira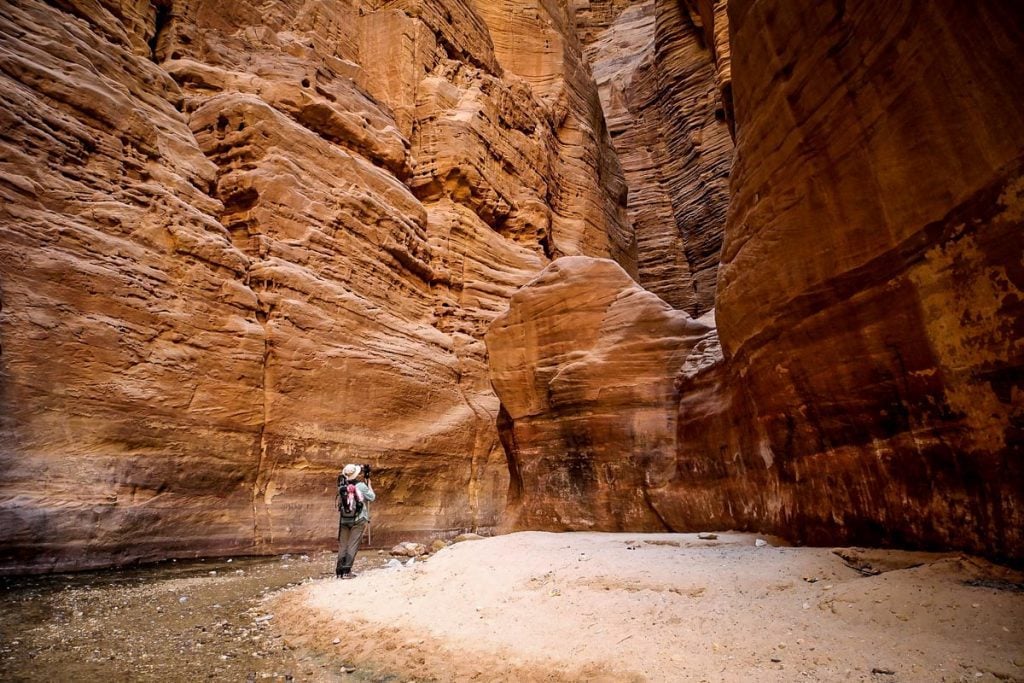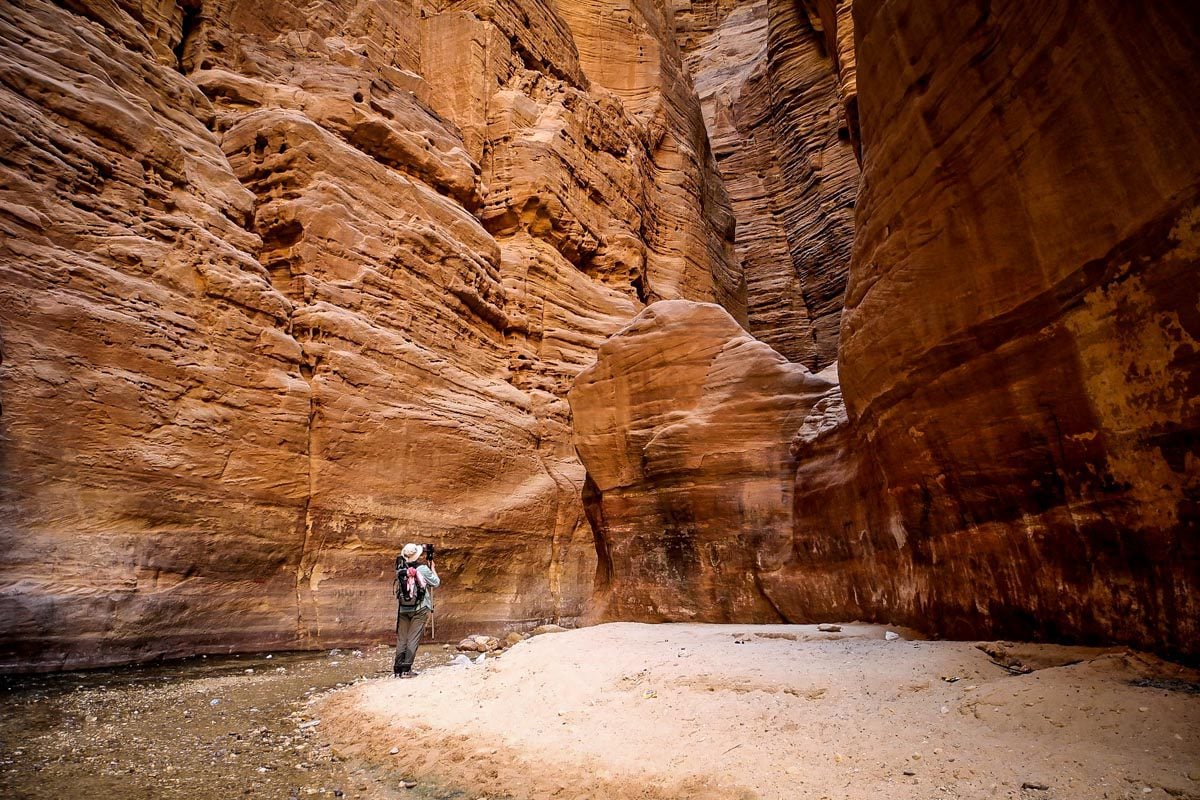 Near the southern shores of the Dead Sea is one of many picturesque slot canyons in Jordan, Wadi Numeira. It is commonly nicknamed "Petra with water" or "Water Petra" by the local Bedouins.
While there are numerous other slot canyons to explore in Jordan, more famously Wadi Mujib, you can explore Wadi Numeira independently without a guide, leave a lot of other tourists behind, and see remnants of the Bronze Age.
Along this 3.8-mile trail, you'll start in one of the many springs flowing from Karak, see the popular hanging rock wedged between two cliffs, and enjoy the views hiking through narrow passages of carved sandstone.
24. Hike the Wadi Ghuweir Trail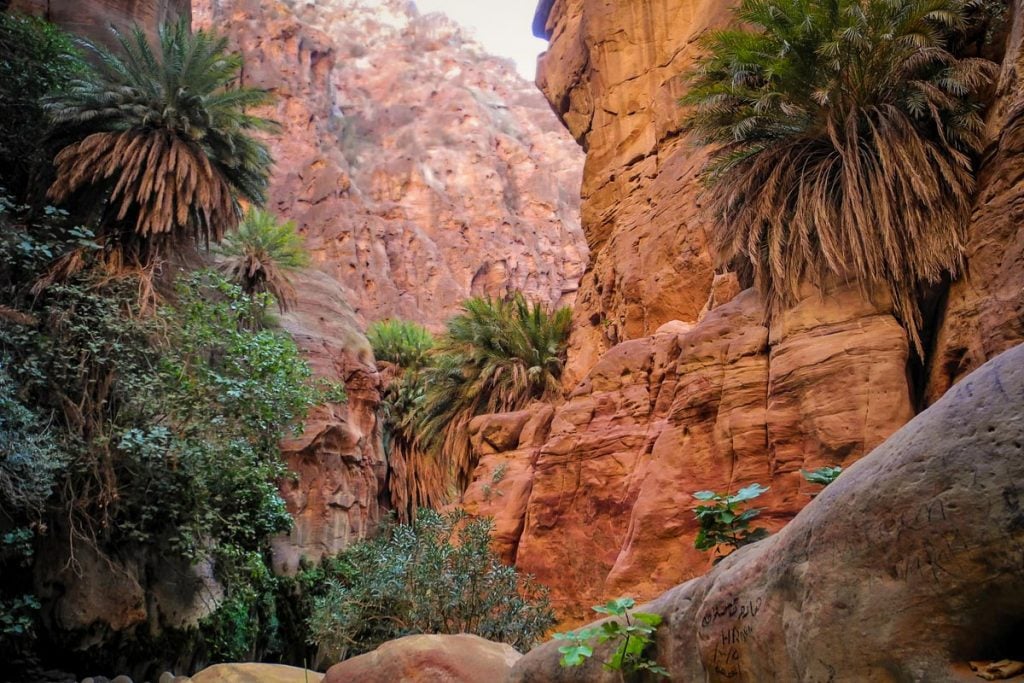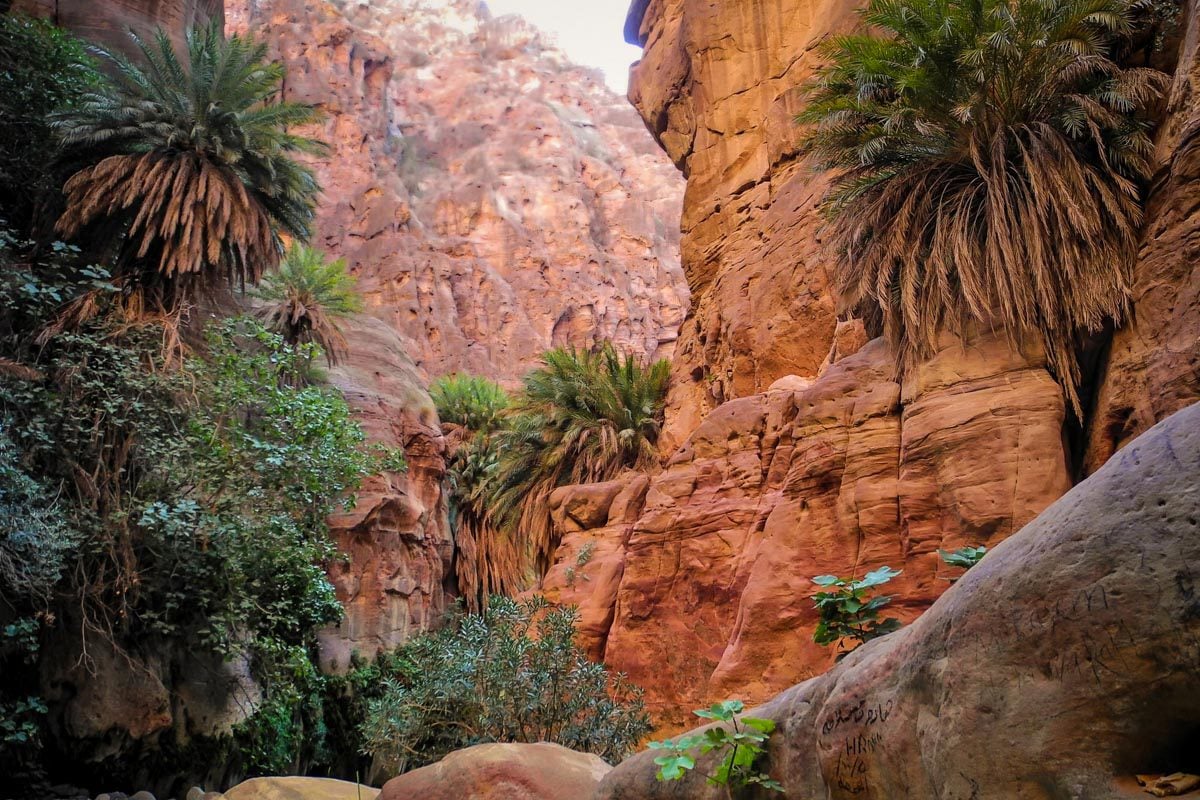 If there is one main takeaway from this list of the best things to do in Jordan, it's to not neglect the wadis on your Jordan itinerary, especially one as picturesque as Wadi Ghuweir. This is the longest river valley in Jordan, stretching over 17-miles and filled with Jordan's unique micro diverse landscapes.
This trail cannot be completed, or attempted, without a guide, so make sure you book a tour in advance to access this area safely. The hike can be divided into three main sections, each named differently by locals due to their difference in appearance.
Wadi Ghuweir is the first portion of the trail where you'll start in the valley and follow where the water descends into the canyon. You won't be hiking in water for the entire portion, but expect to get wet. The next part of the trail is Wadi Al-Nakheel, meaning the valley of palm trees. You'll follow magnificent canyon walls covered in green ferns and palm trees.
The final portion of the trail is Wadi Ushayqir, which is named for its beige, gray, and black stones. As you hike out of the wadi, the water will disappear, and the landscapes will open up to the beautiful Feynan Region.
The Wadi Ghuweir Trail, among many others, crown Dana as one of the most well-kept secrets of Jordan. Truly a hikers paradise, explore this place now and enjoy the solitude and unparalleled experience of this scenic wadi.
25. Visit the baptismal site of Jesus on the Jordan River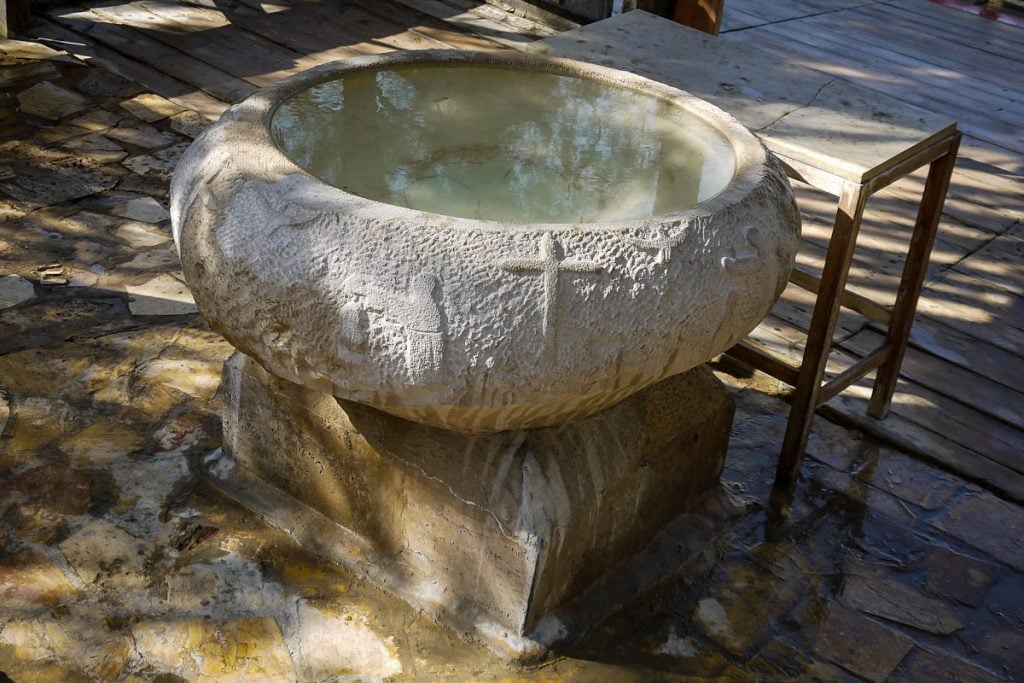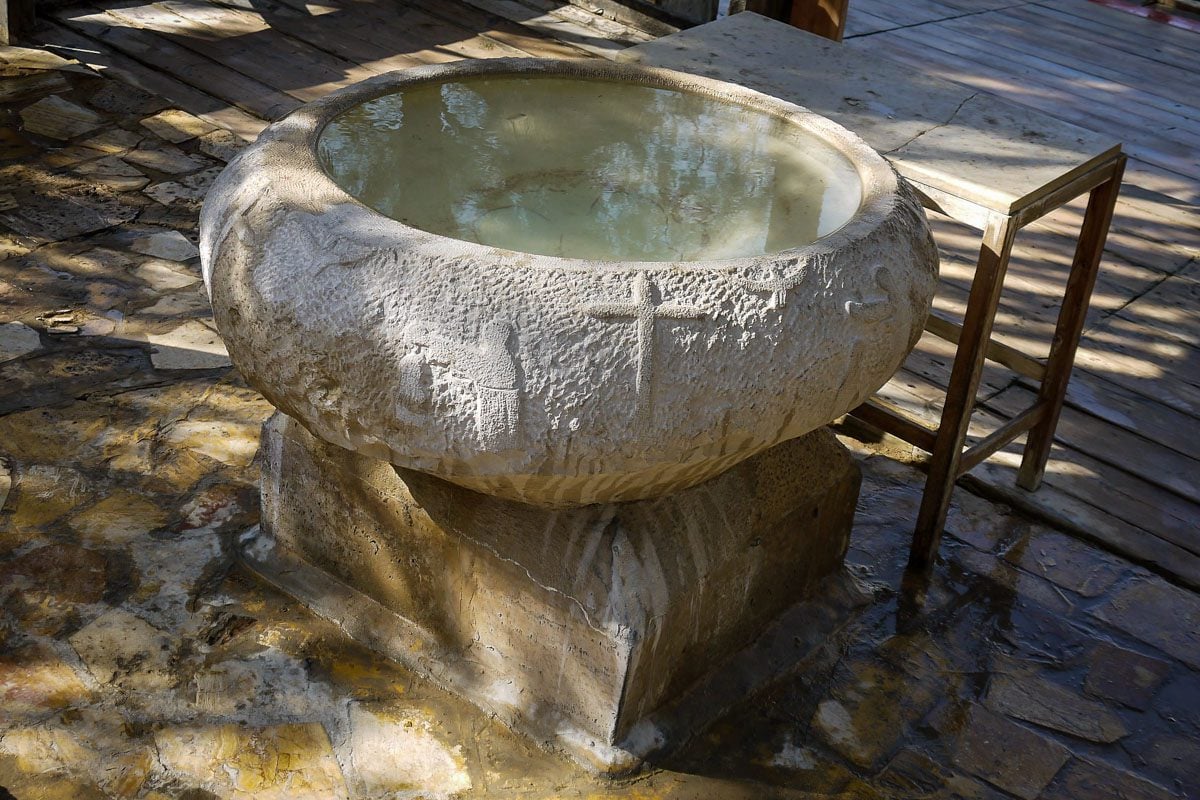 This baptism site, most commonly known as "Bethany beyond the Jordan," is one of the most historically significant things to do in Jordan, regardless of religious belief. In 2015, this site was inscribed on the World Heritage List for Outstanding Universal Value as this is the place where Jesus was said to be baptized and Christianity began.
The actual baptsmal site is now dried up, since the course of the Jordan River has since diverted, but your guide will show you both the original site, and where the Jordan River flows currently.
The tours to the site will talk briefly about the meaning of "Beyond the Jordan" as well as the land disputes between Jordan, Israel, and Palestine. So a visit to Bethany Beyond the Jordan packs a lot of interesting historical topics into one tour.
It's important to note that a tour is required to visit this site. The tours run on the hour, and the guide will pick you up from the booth and take you to a handful of stops before arriving at the river. This can be a very interesting stop on anyone's Jordan itinerary, but we totally understand if it's not your cup of tea.
---
Are you planning a trip to Jordan?
We have lots of resources on travel in Jordan and destinations throughout the country. Check out our Jordan Travel Homepage for everything you need to know, or read some of our favorite articles below.
Save this article on Pinterest for later!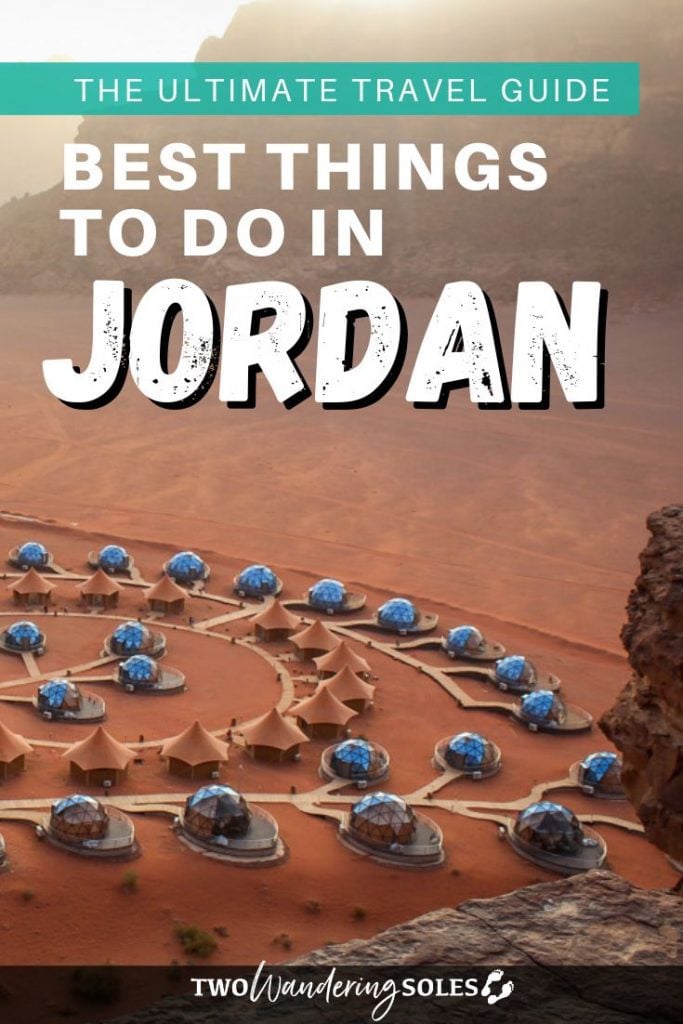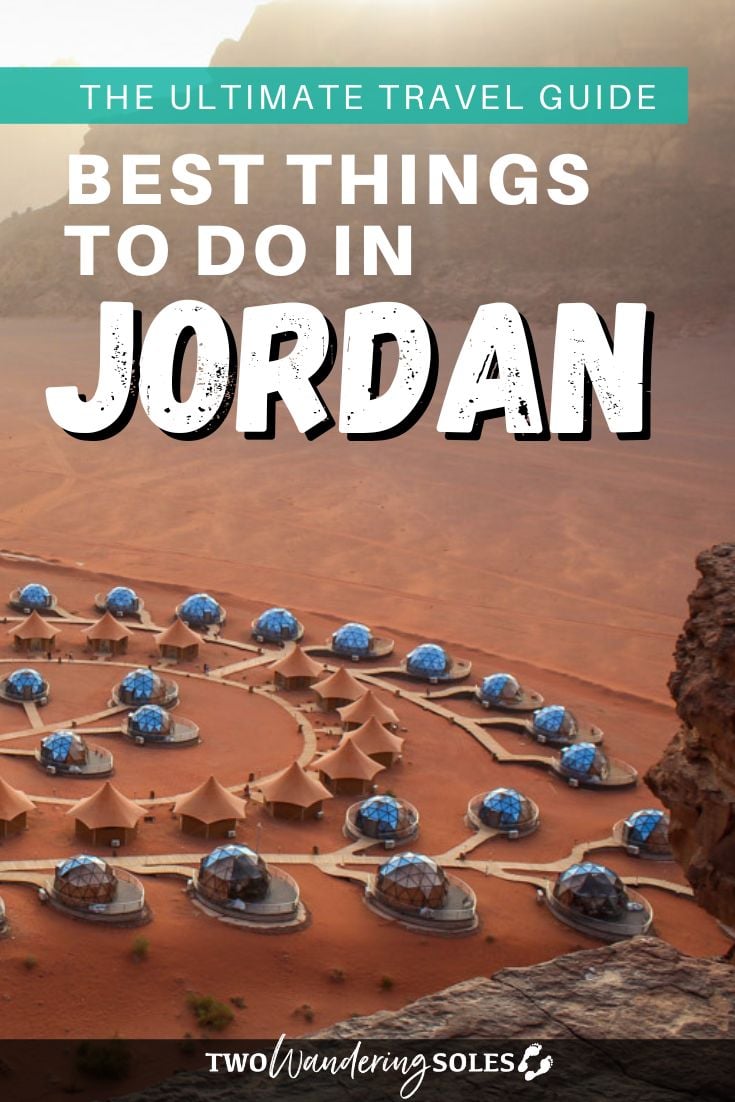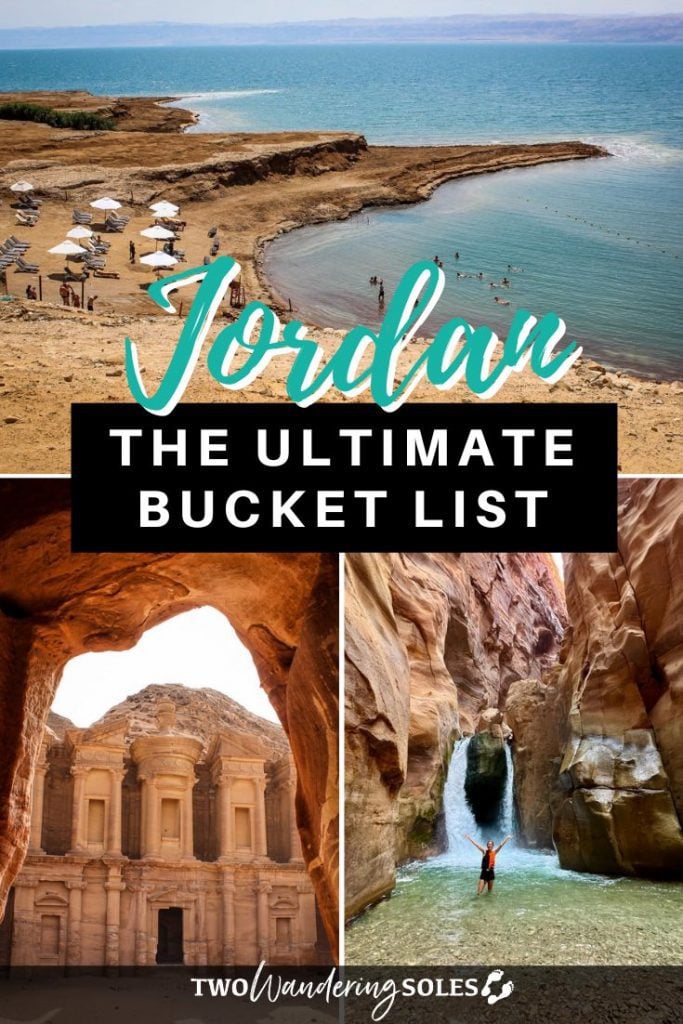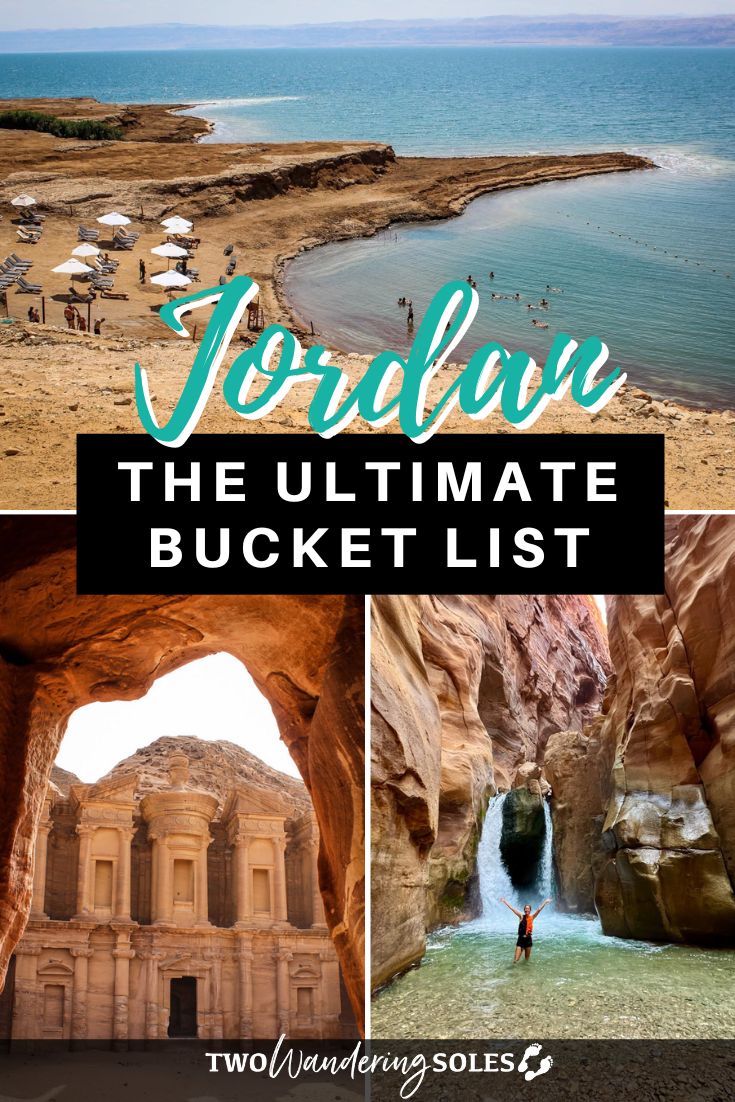 We want to hear from you!
What are you most excited to do when you visit Jordan? Are you planning a trip to Jordan and still have questions? Leave your comment below and we'll do our best to get back to you!