Wadi Mujib Canyon combines breathtaking scenery with heart-pumping adventure. Hiking this canyon, which culminates at a waterfall, will easily be one of the highlights of your trip to Jordan! This article outlines all the details so you can explore Wadi Mujib on your own.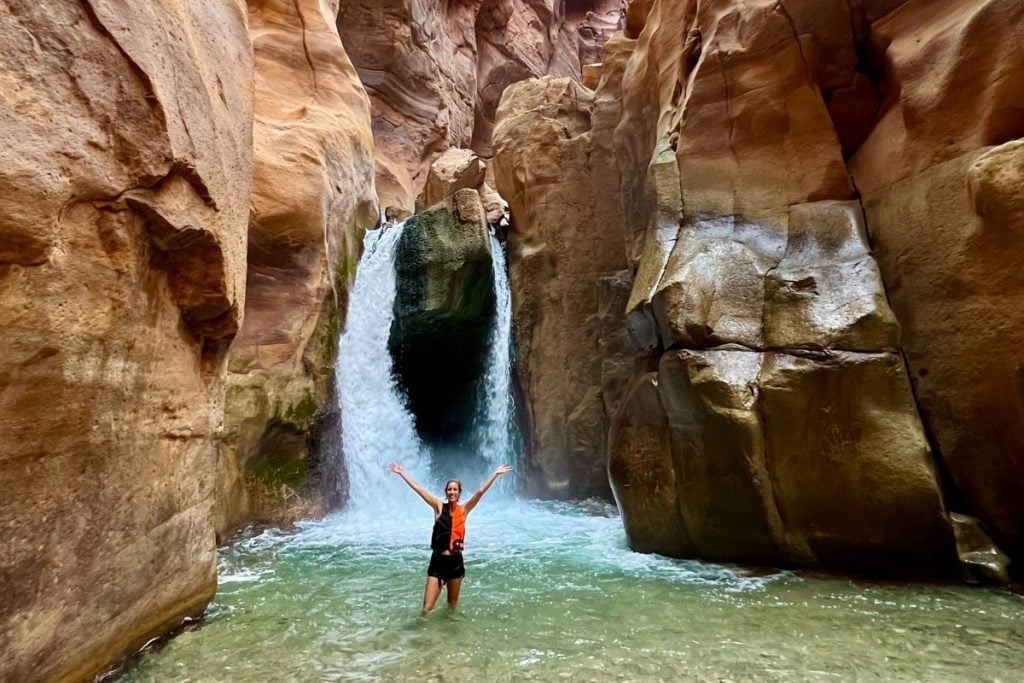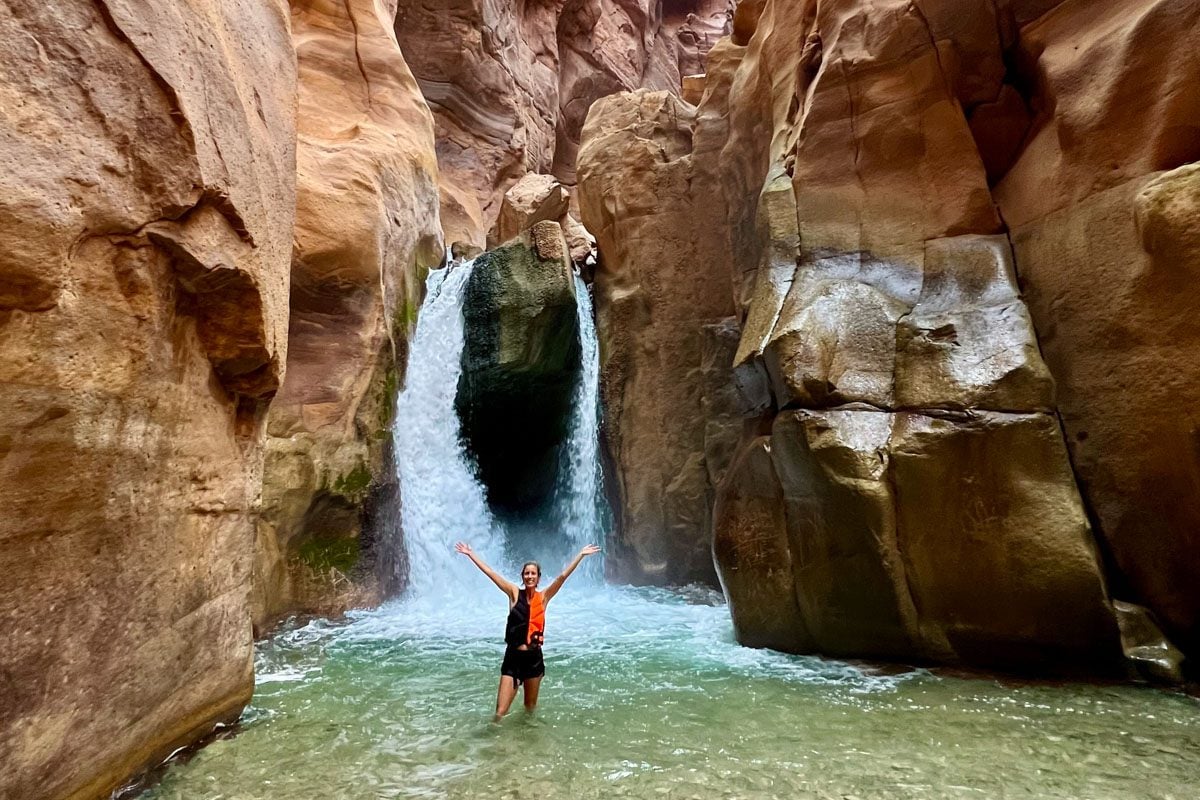 Located on the eastern shore of the Dead Sea, the Wadi Mujib Canyon is one of Jordan's most stunning natural sights! Set in a seaside mountain range, this area is home to several small canyons carved out by free-flowing streams.
Not only is Wadi Mujib a beauty to behold, but the canyon is also a blast to explore!
Embarking on the Siq Trail is something like attempting an adult obstacle course in a natural water park. This was easily one of the highlights of my trip, and one of my top recommendations for things to do in Jordan.
The "hike," which could also be described as a canyoneering adventure, involves wading through a stream (sometimes chest-deep) to a scenic waterfall, using ropes and ladders to guide you along the way.
For a more adventure, you can also head out on the Malaqi or Canyon Trails, which both include rappelling down a 65-foot cascade!
All the hikes in Wadi Mujib are extremely well-maintained, with personnel stationed throughout the canyon and guides available to accompany those who don't necessarily want to explore on their own.
In this guide, I'll walk you through all the details–-including how to get there and what to bring—to prepare you for hiking Wadi Mujib Canyon without a guide.
Article contents
Psst! If you'll be traveling more throughout the country, be sure to check out our bucket list of unforgettable things to do in Jordan!
---
First things first, let's get this out of the way. A lot of you may be wondering…
Is Wadi Mujib worth visiting?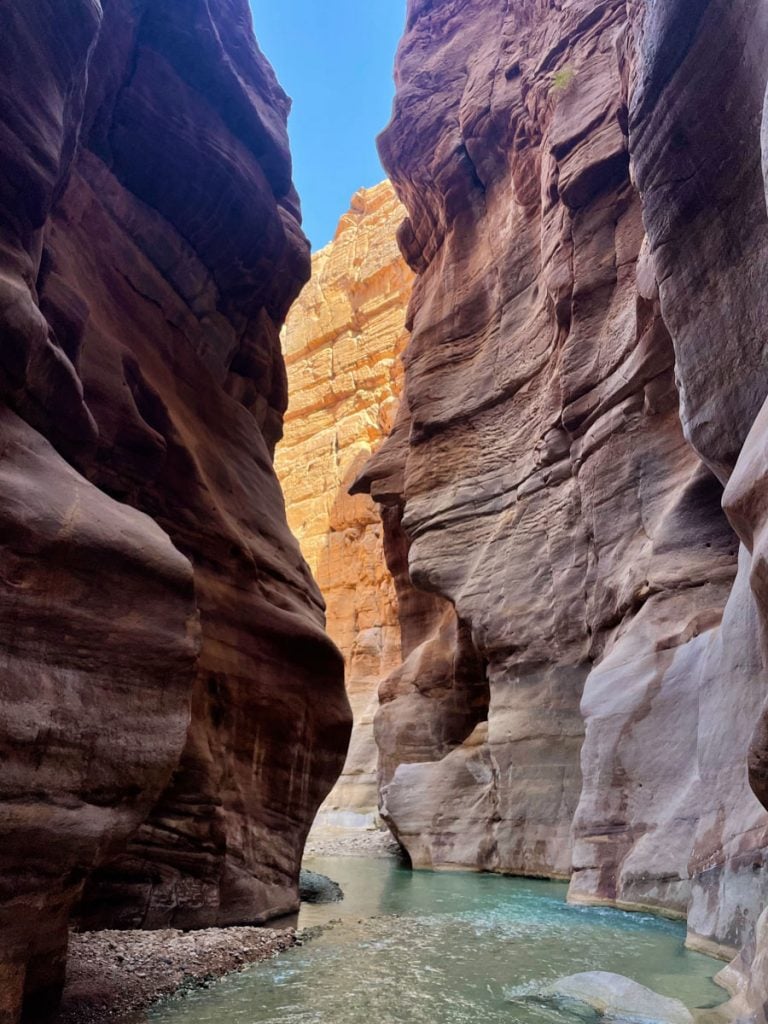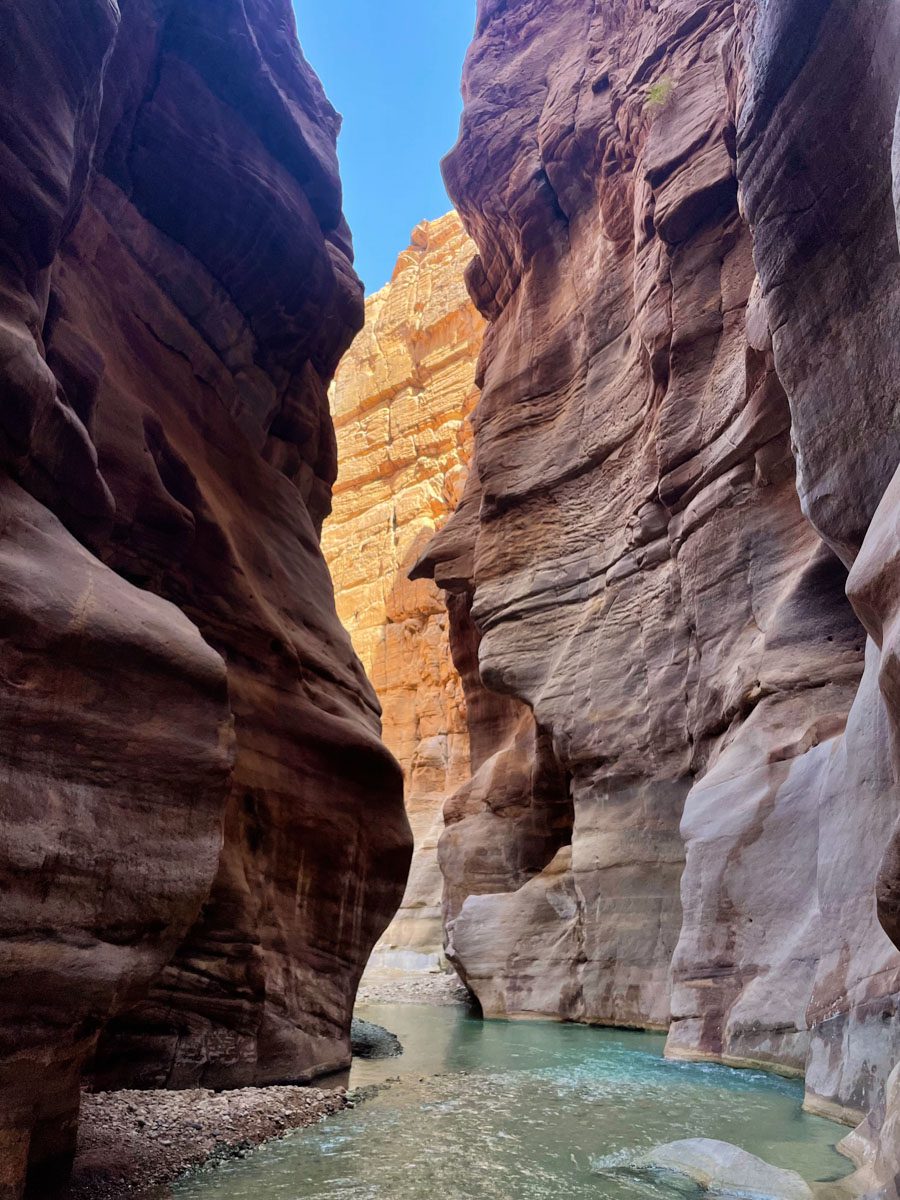 The short answer: Yes, absolutely!
The Siq Trail is a fun experience that only takes a few hours but delivers on adventure, making it a must-do on your Jordan itinerary. The canyon itself is stunning, but climbing upstream and navigating different water obstacles enhances the experience.
While many canyon hikes require rappelling experience or a professional guide, this one does not. In fact, the Siq Trail is safe for hikers of all ages and abilities, as long as they are comfortable in the water (lifejackets are worn throughout the hike) and have the strength to hoist themselves up a ladder.
And if you have the time and want a slightly more adrenaline-pumping climbing challenge, the other hikes in Wadi Mujib are also worth a stop.
Psst! Check out some of the other fun and unique things to do in Amman we recommend.
General Info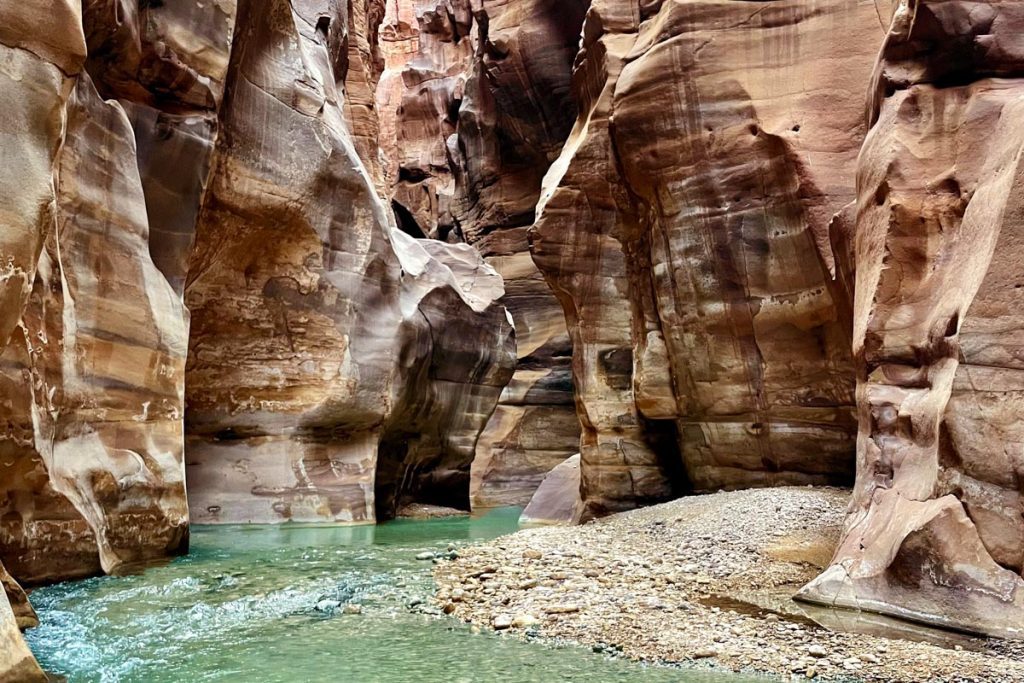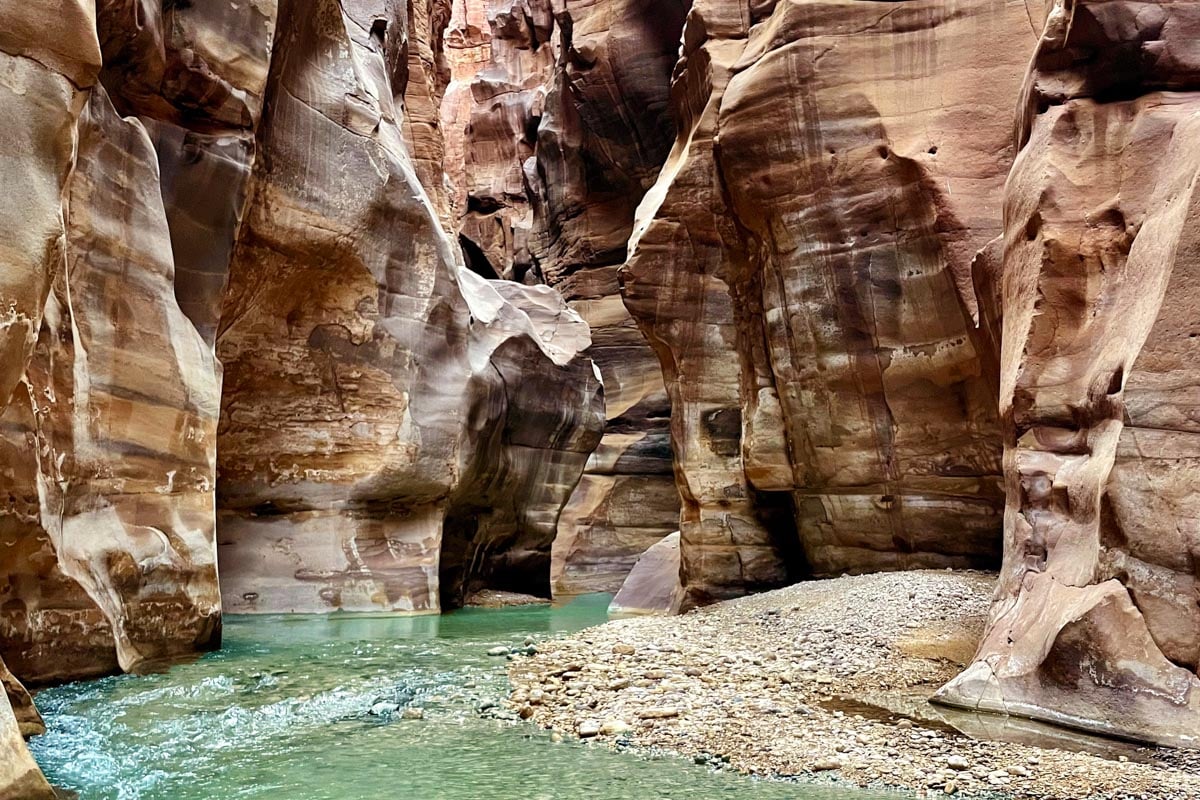 Location: Mujib Adventure Center
Open: April 1st – October 31st, from 8:00 a.m. to 3:00 p.m.
Cost: 21 JOD without a "company" tour (more on that later!), 18 JOD with one (~$25-$30 USD)
Reservations: None required
Distance: 1.8 miles/2.9 km roundtrip
Difficulty: Easy to moderate
Time: 2-3 hours to complete
Guide: not required, self-guided
The Siq Trail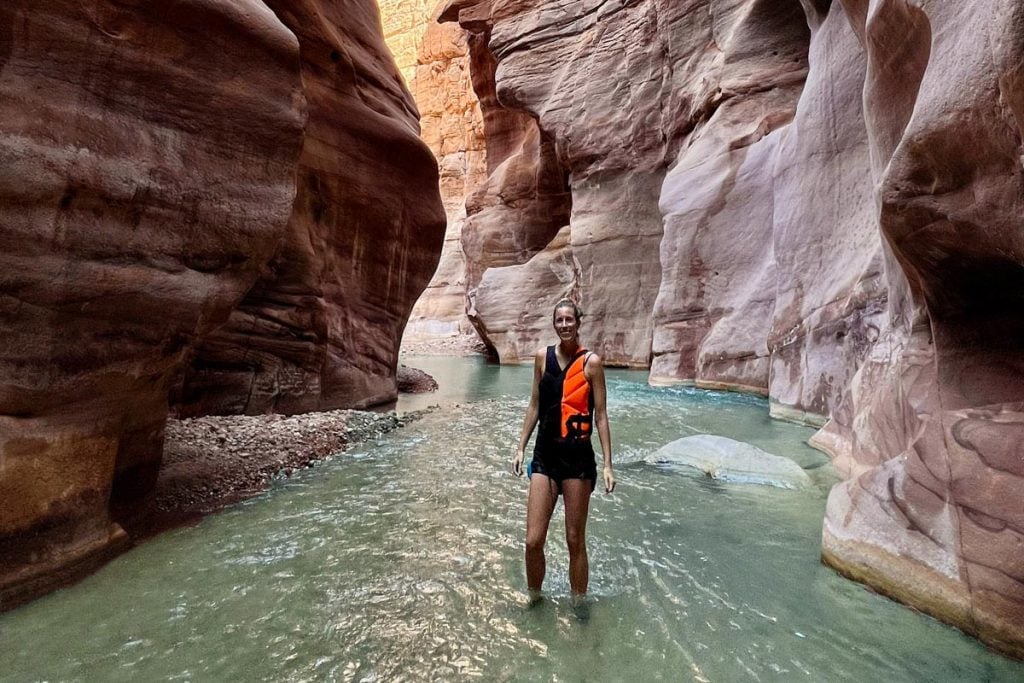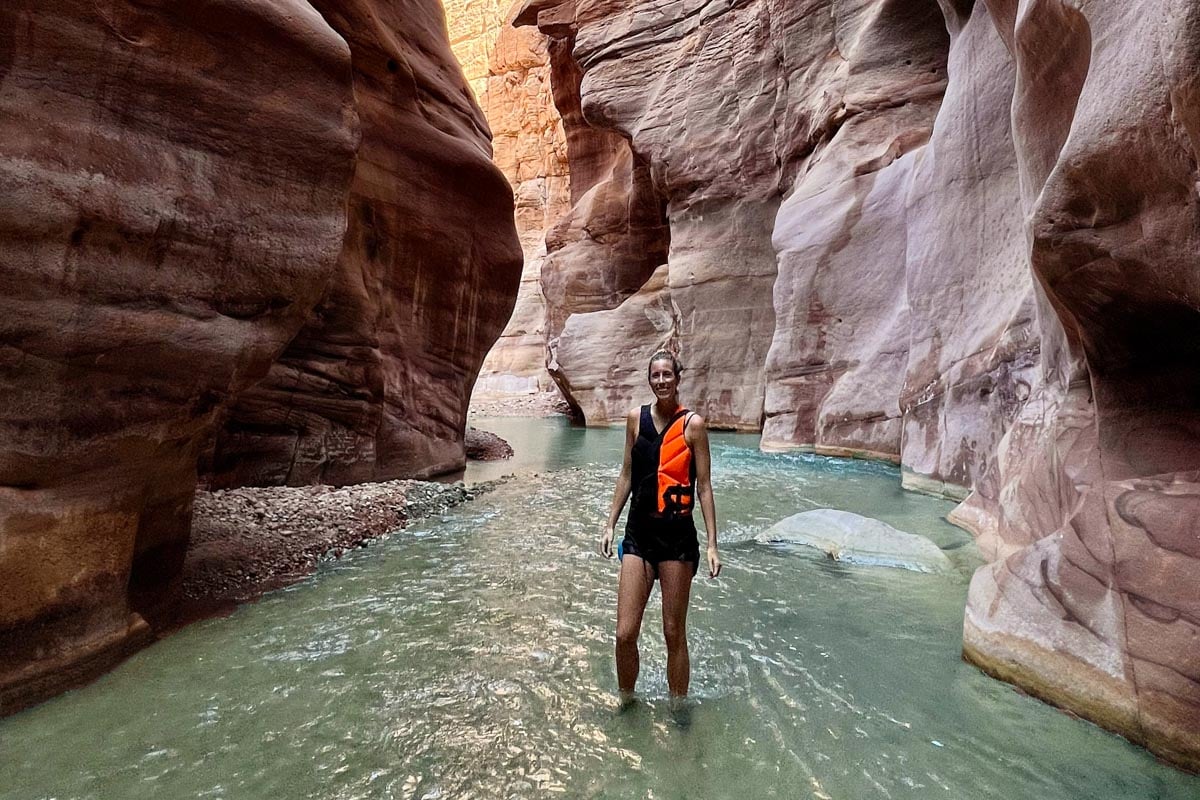 The unquestionable star attraction of Wadi Mujib, this hike is akin to The Narrows canyon hike at Zion National Park in Utah — but is even more adventurous!
The Siq Trail starts off in a shallow, slow-moving stream that winds through a picturesque curving canyon. There's very little current here and there are plenty of dry banks, so it's manageable even for beginner hikers.
The resistance starts to pick up some with each turn, and the water gradually gets deeper. Soon, it's necessary to hold onto the rocks and ropes that have been strategically positioned in order to keep your balance.
At the trickier sections, attendants are nearby to help navigate. While challenging in a truly fun way, this route through the Wadi Mujib Canyon is always logical and it's nearly impossible to get lost (I promise!).
The most challenging parts pop up closer to the waterfall, toward the end of the trail. There's a steep section where you use handles to pull yourself up and another similar section with a rope ladder.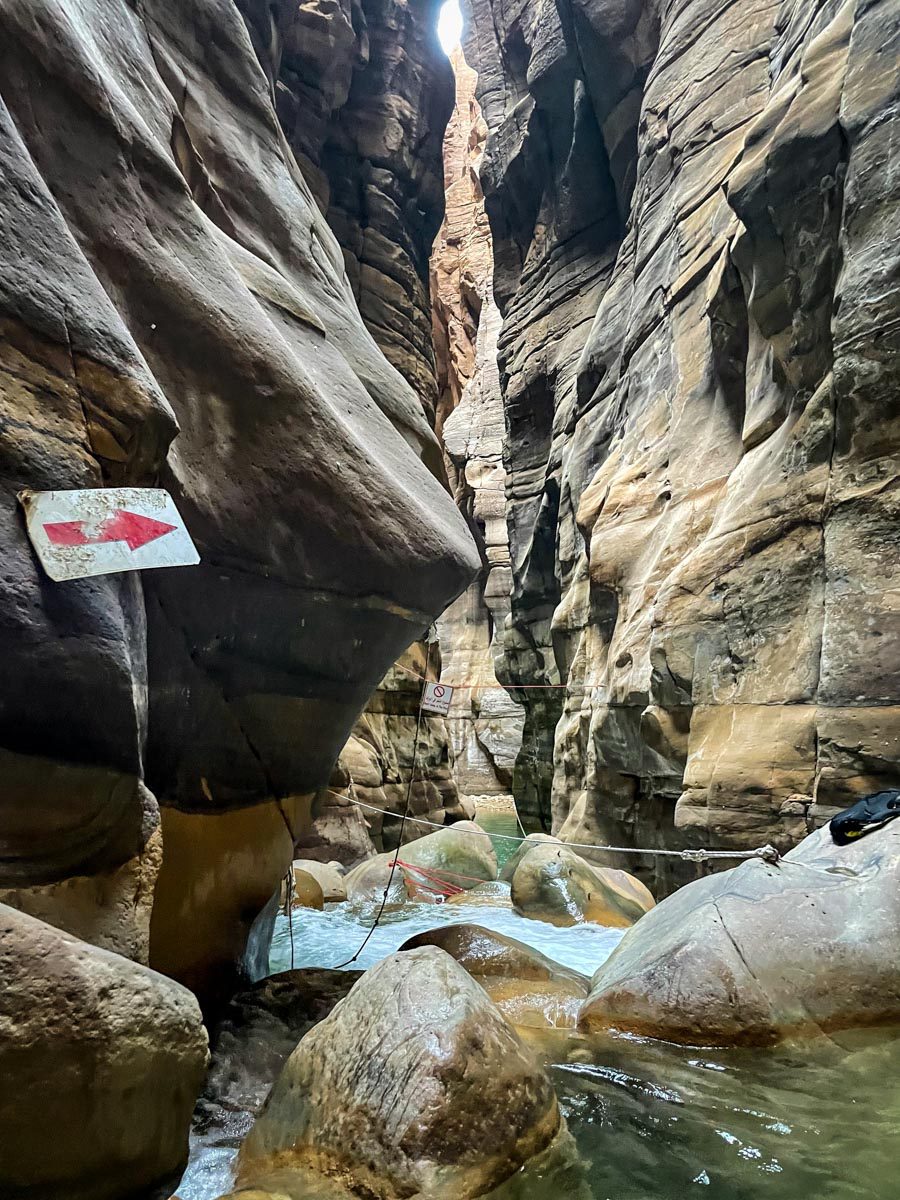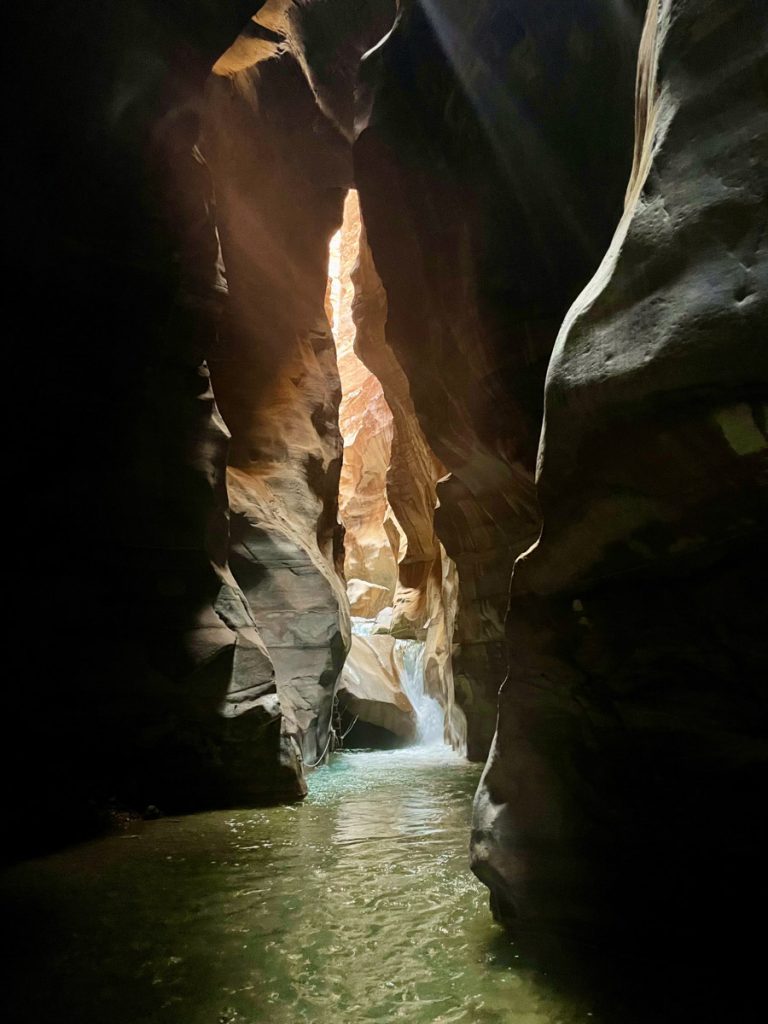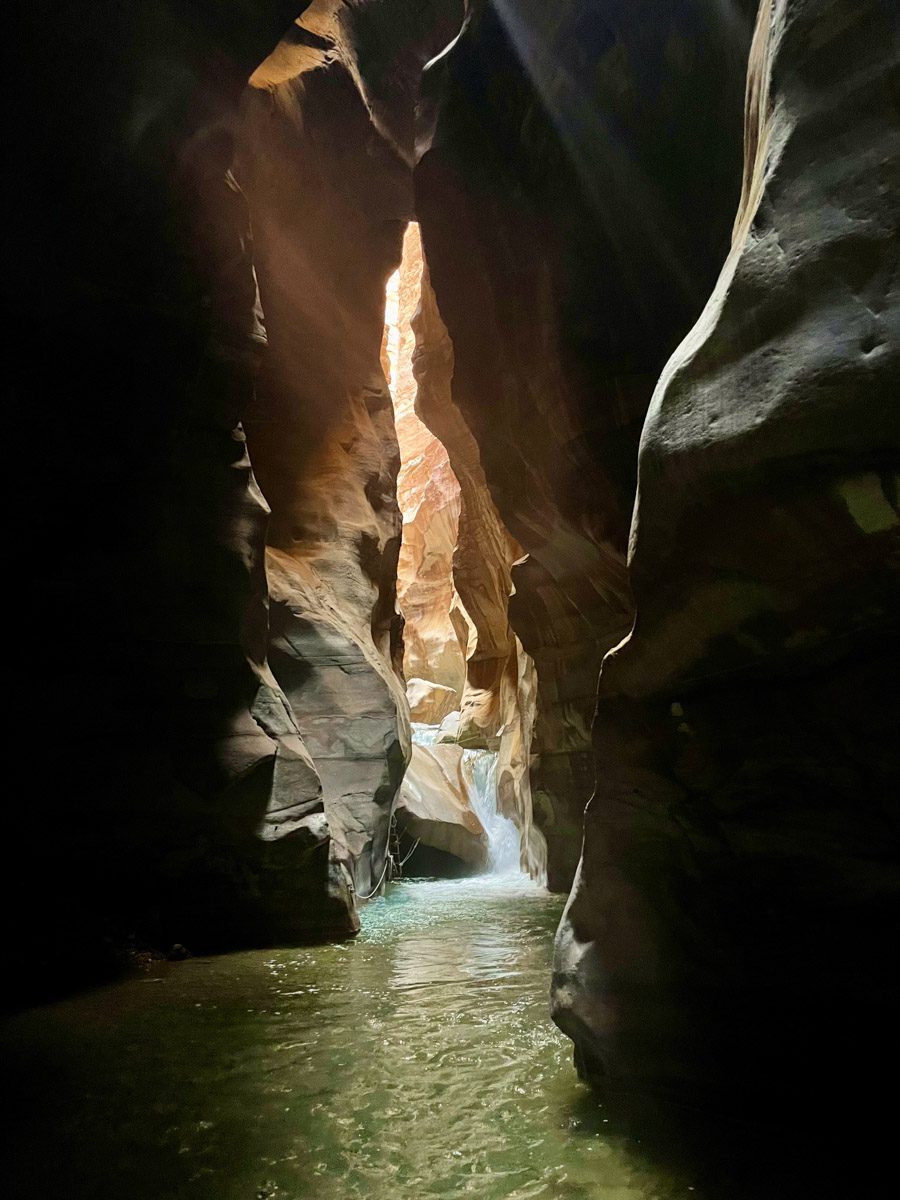 If it gets too tricky, you can always turn around and head back. You'll still enjoy the experience of the canyon and have plenty of incredible views to take in.
Truthfully, though, we think it's doable for anyone in reasonably fit shape. While the water was deep in a few spots, we only had to swim in a few short sections.
After this exhilarating adult obstacle course, the canyon opens up to a stunning waterfall cascading into a natural swimming pool. It's the perfect place to take off your life vest, have a snack, snap some photos, and go for a swim!
Take at least a few moments to relax on the rocks before making the journey back.
During the return hike, the Siq Trail involves sliding down some rocks and jumping into the water, rather than climbing down the ladder you came up. Don't worry, the friendly attendants point out the best spots to dive in!
The entire hike took us about an hour to complete each way — the trail isn't long but takes a bit more time to navigate than hiking on a mountain.
Between the attendants and well-placed ropes, we personally don't think this hike requires a guide. However, if you aren't confident navigating such an environment on your own, an extra hand is certainly helpful! Guides are readily available when booking a group trip or if you contact Wild Jordan in advance.
How to get there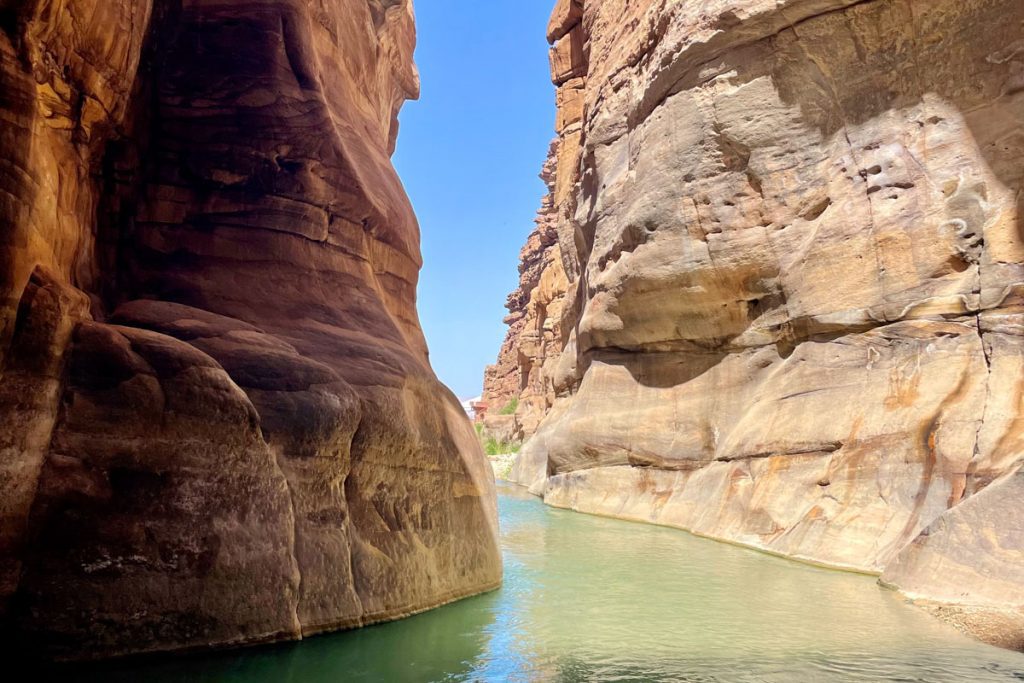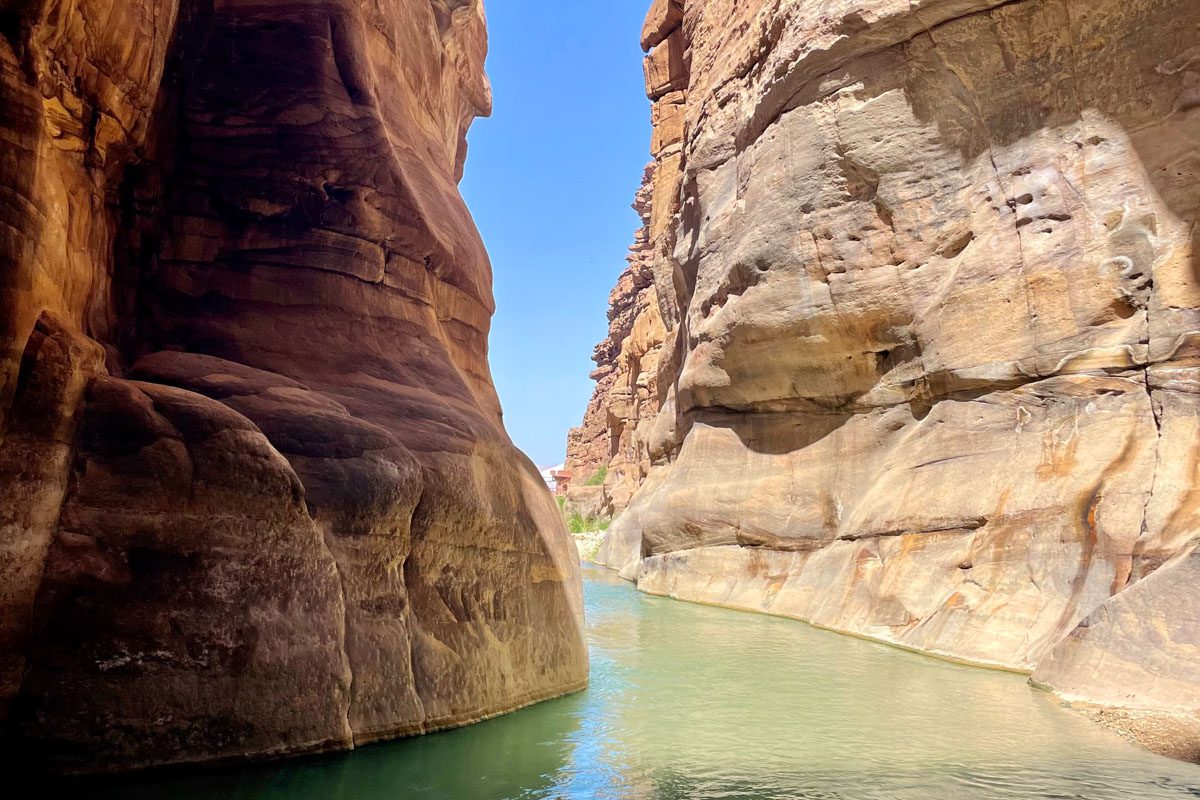 Public transportation is limited in Jordan, so it's best to travel in your own rental car, hire a private driver, or book a group tour to Wadi Mujib. 
We opted for a driver, who took us to Wadi Mujib from Amman for 75 JOD roundtrip. The drive takes about 1.5 hours one way. Our driver waited in the parking lot for us while we did the hike before returning us to Amman.
Tip: To save yourself the driving time (and money if hiring a driver) combine your visit to Wadi Mujib with a trip to the Dead Sea. The hike starts just across the highway from the shore, and is only about 30 minutes from some of the popular Dead Sea resorts.
If you're renting a vehicle and you're up for an attraction-packed road trip, make Wadi Mujib a stop as you explore King's Road. An easy-to-follow loop from Amman that combines Madaba, the Dana Biosphere, the Dead Sea, castles, and many other attractions included on your Jordan Pass. 
If joining a tour is more your speed to avoid figuring out logistics, this Wadi Mujib private hiking tour from Amman has great reviews.
Psst! We have an entire guide to getting a rental car in Jordan including where to find the best deals and tips for driving and safety. 
What to wear/pack for Wadi Mujib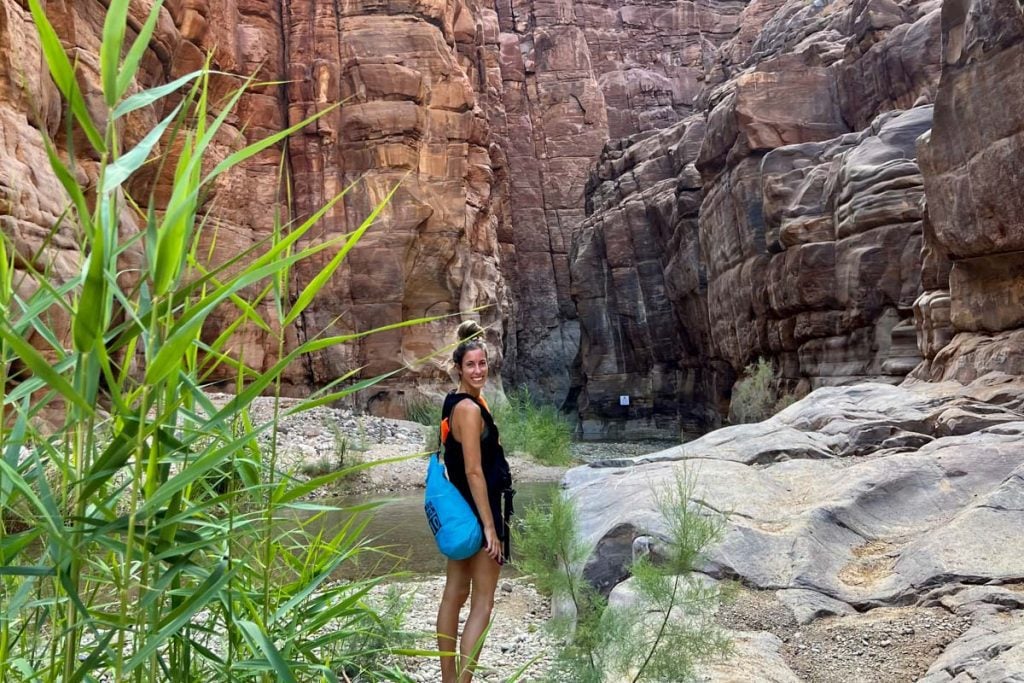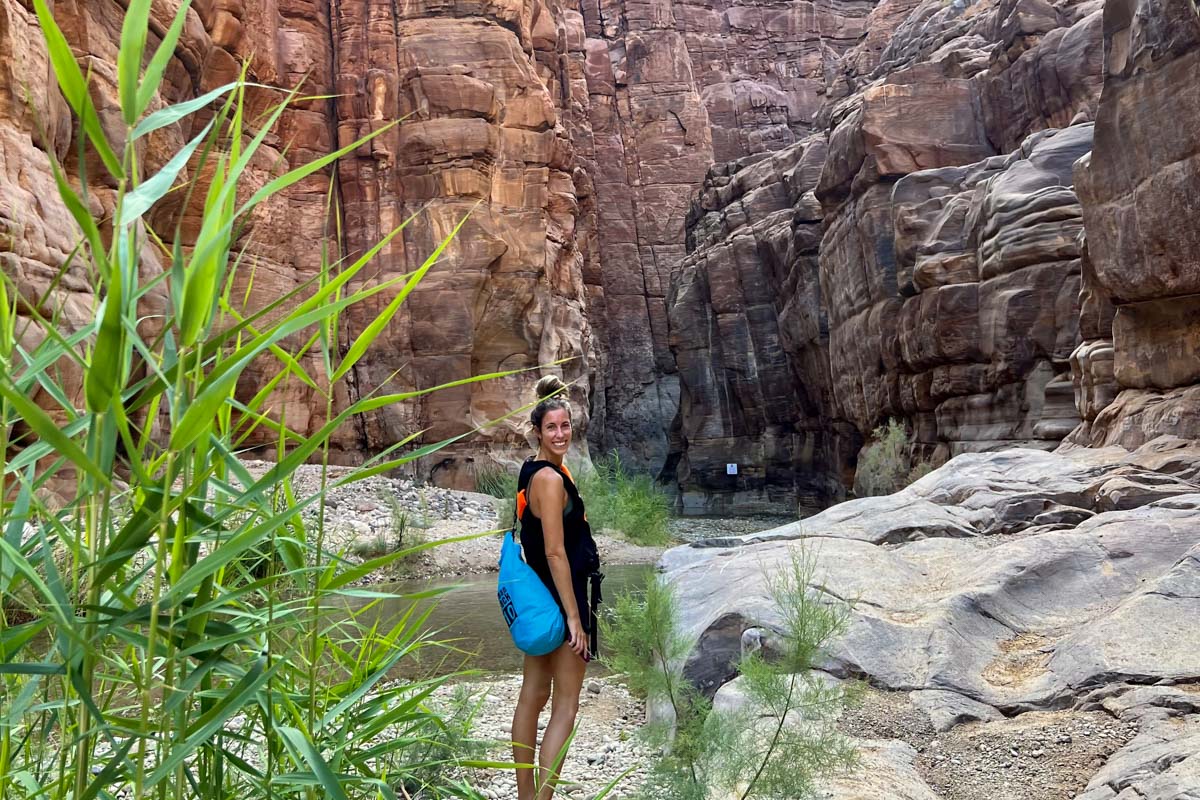 You will definitely get wet while exploring the Siq Trail, there's no avoiding it.
With that in mind, you should wear a swimsuit or clothing you're comfortable swimming in. The hike involves everything from walking on gravel to clambering up rocks and swimming, so you should avoid wearing anything delicate. And if you wear a hat, you'll want to make sure it fits snugly or you can secure it with a string.
Since the entire trail is in the shade, there's no need to worry about sun protection. Leave your sunglasses and other valuables behind in your locker or locked in your car.
To tackle the slippery terrain, water shoes are definitely helpful. They're sold at the entrance for just 5 JOD. You'll also get a life jacket with your entrance fee, so there's also no need to bring your own.
For capturing pictures of the stunning environment, particularly the waterfall, we recommend grabbing a dry bag to store your phone/camera in. They're available to rent for 10 JOD, or if you go on a guided trip, some guides provide them. There are plenty of spots en route to the waterfall to stop and safely take pictures of the impressive canyon. A Go-pro would also come in handy on this excursion!
Other than the Ibex Trail, all hikes in Wadi Mujib involve water submersion of some sort, so don't forget your swimsuit when visiting!
Wadi Mujib packing list
Swimwear
Shorts or pants you're comfortable with getting wet
A rash guard or water shirt to wear under your lifejacket (optional)
Sneakers or Chacos that securely attach to your feet (do not attempt this hike in flip flops or loose sandals)

If you don't want to get your shoes wet, water shoes are available for 5 JOD

Gopro / camera / phone: You'll want to take pictures here, trust me!
Dry bag: To keep the above from getting wet!

If you don't have your own, you can rent one for 10 JOD

Quick-dry towel for drying off after your hike
Best time to visit Wadi Mujib Canyon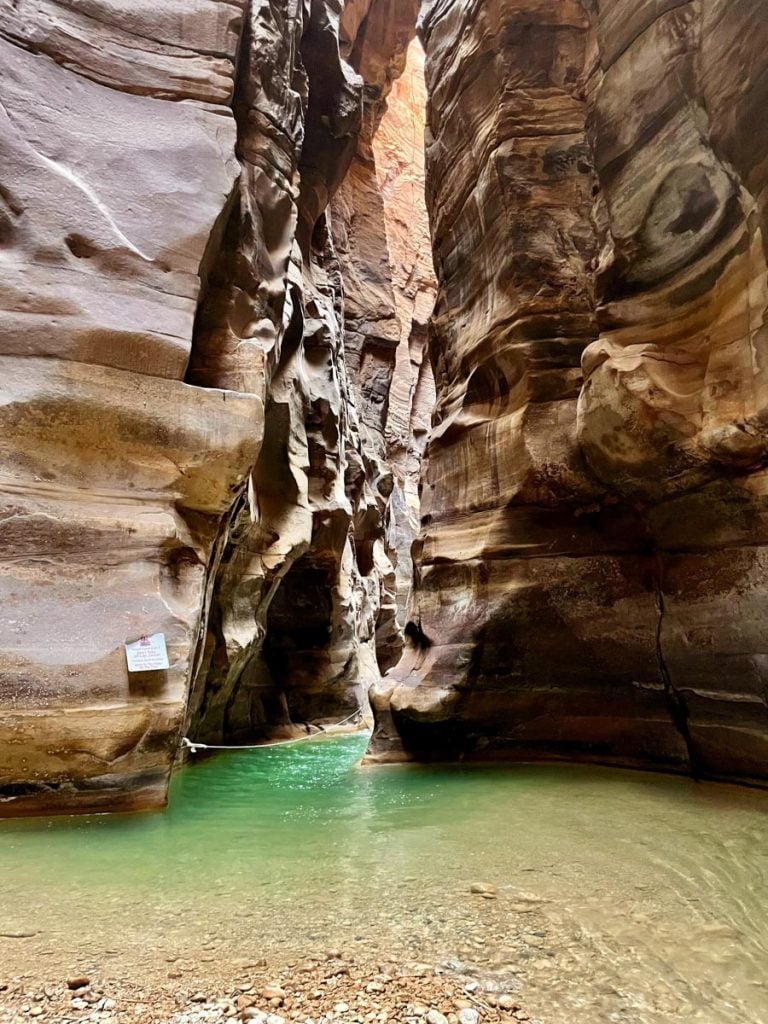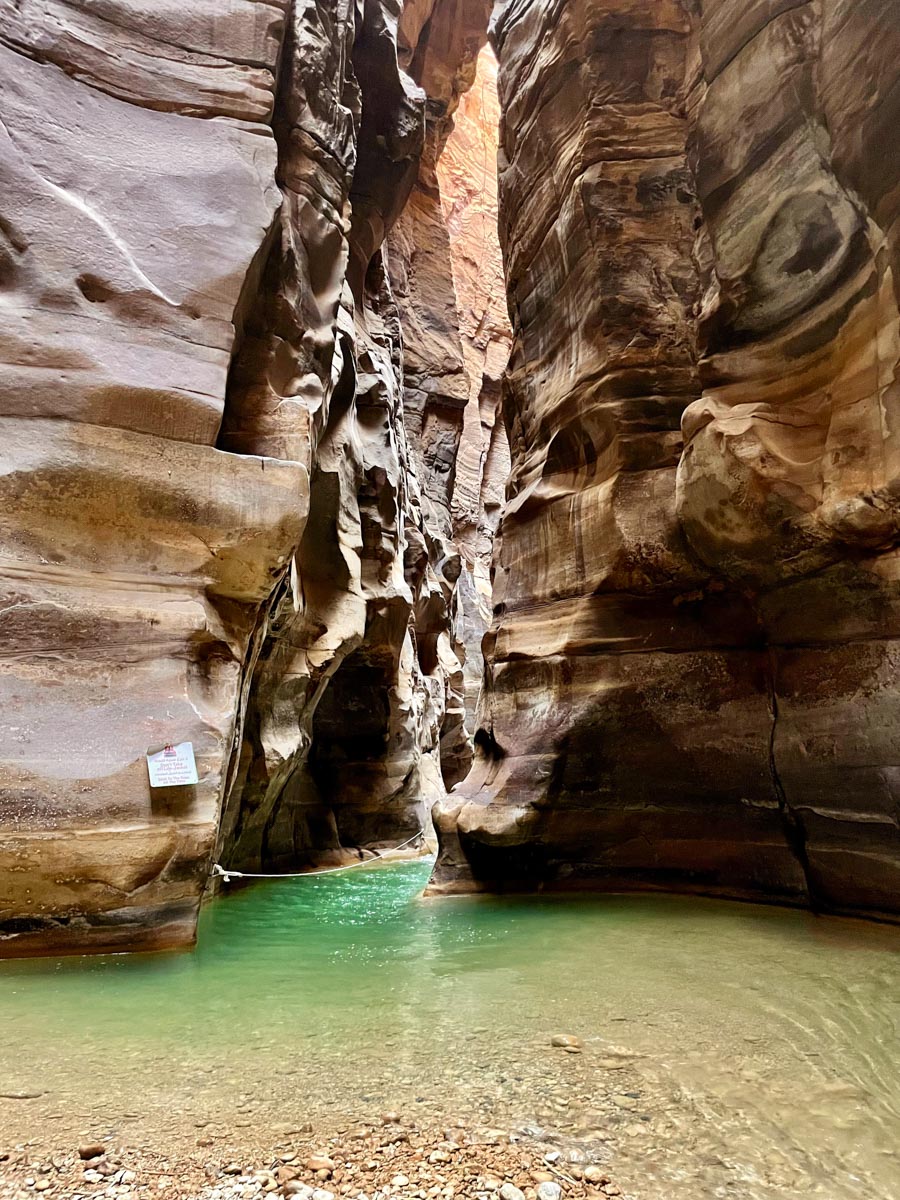 Although the park lists April through October as the official open dates, these deviate slightly depending on weather conditions. Therefore, it's best to avoid a trip very close to either the season opening or closing.
Alternatively, if you've scheduled a trip outside of this window, check the Wild Jordan Facebook page – you could get lucky with an earlier or later opening if conditions are favorable!
It's ideal to plan your visit to Wadi Mujib between May and early October. The water will be warm during the shoulder months, and the region will get quite hot in peak summer.
If you do happen to arrive on a hot day, the shade and water of the canyon will be a welcomed reprieve from the heat!
It's also best to show up as close to 8:00 a.m. as possible if you want to avoid the crowds. This will mean an early wake up call if you're coming all the way from Amman, but it'll be worth it to have the canyon almost entirely to yourself.
During my visit, I arrived at the Wadi Mujib entrance center just before it opened. There were a few other visitors hanging around in the parking lot waiting for the opening, but once we all got out on the trail, we spread out and it felt like we had the canyon mostly to ourselves.
Psst!For an in-depth guide on the regional seasons, weather patterns and other factors, check out our complete guide on the best time to visit Jordan.
Other trails in the Wadi Mujib Bio Reserve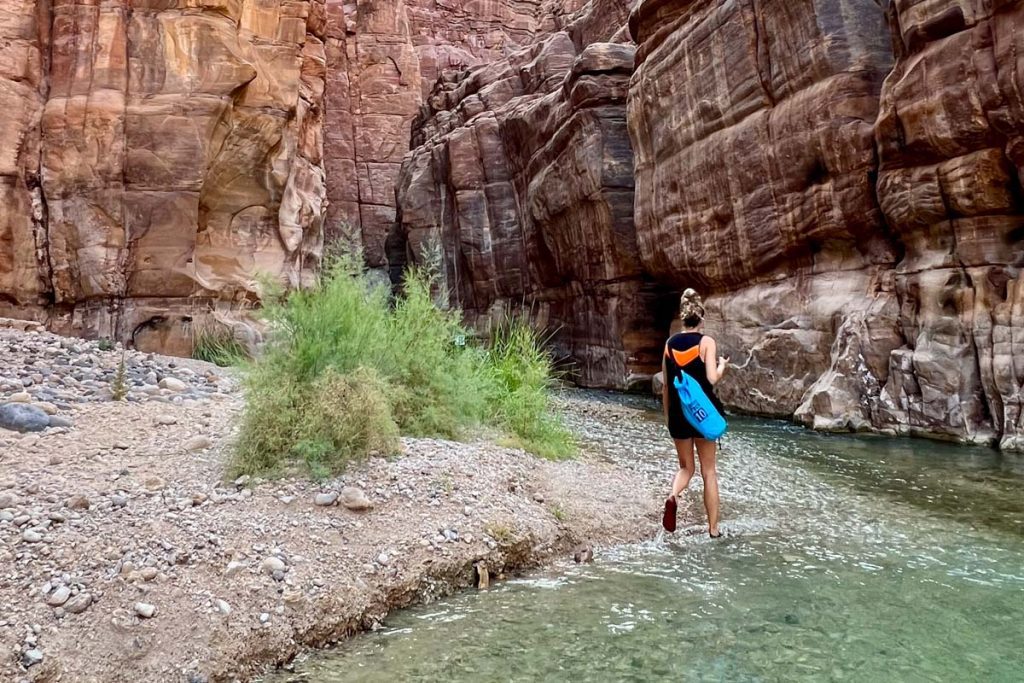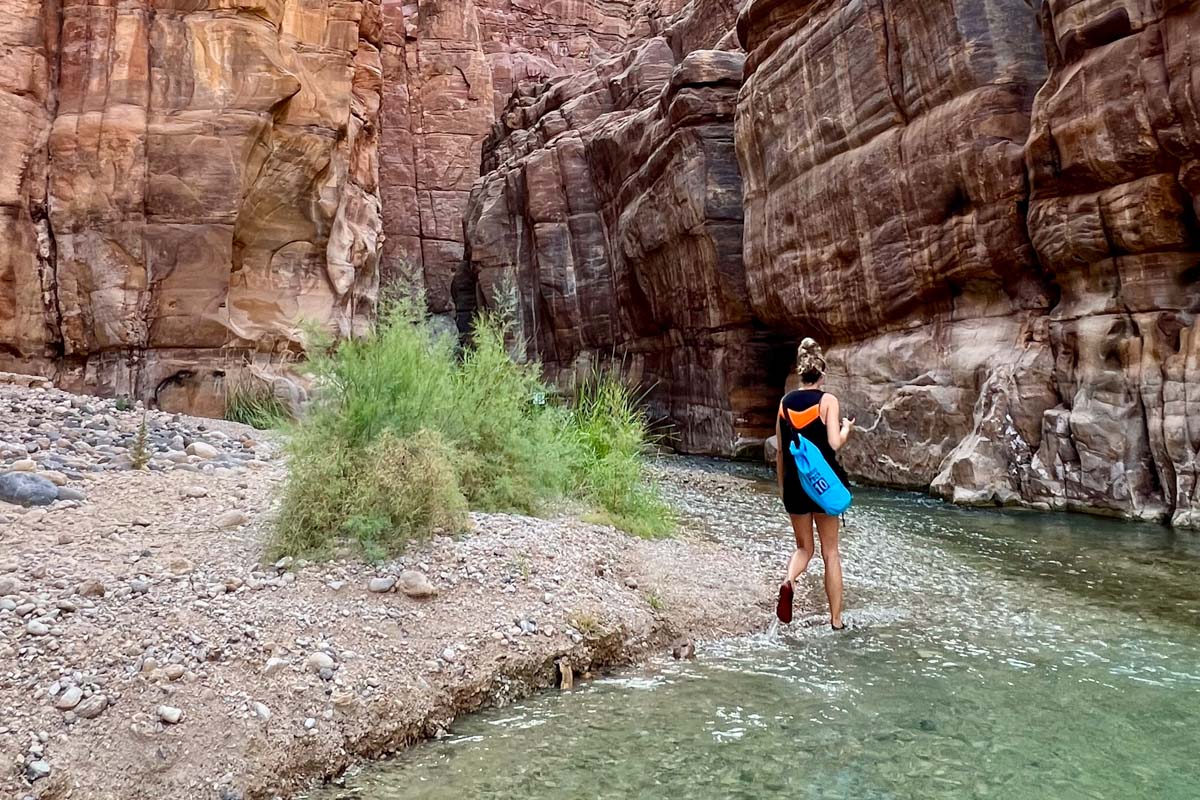 In addition to the Siq Trail, there are three other hikes in the Wadi Mujib Bio Reserve. All of which require a guide and some advanced planning.
The Malaqi and Canyon Trails both embark on longer, deeper excursions into the park before requiring a rappel down a waterfall and then returning via the Siq Trail.
All Wadi Mujib trails depart from the Adventure Center, whether you have a guide or you hike on your own. You'll meet your guide here and go through an information and safety briefing.
If you do want to go on a guided tour, it's best to book in advance. Reserve by phone or through the Wild Jordan office in Amman.
The Malaqi Trail
Distance: 6 km roundtrip
Difficulty: Moderate to challenging
Time: 6-7 hours to complete
Guide: Required
Cost: 44 JOD
Open: April 1st – October 31st
Reservations: Required
This trail goes further into the Wadi Mujib Canyon to an intersection with a different canyon. It passes by several lovely swimming pools before requiring a rappel down a waterfall to the Siq Trail.
The Canyon Trail
Distance: 4 km roundtrip
Difficulty: Moderate
Time: 2-3 hours to complete
Guide: Required
Cost: 31 JOD
Open: April 1st – October 31st
Reservations: Required
This hike starts on dry land and reaches a point in the canyon a bit further than the Siq Trail. From there, the guide helps hikers rappel down a waterfall before returning via the Siq Trail, creating a loop.
The Ibex Trail
Distance: 5 km roundtrip
Difficulty: Moderate to challenging
Time: 5-6 hours to complete
Guide: Required
Cost: 31 JOD
Open: Year-round, with exact dates and start times depending on the guide
Reservations: Required
The only fully dry trail in the Wadi Mujib reserve, this hike is open year-round, making it a great attraction to visit during the winter. The trail ascends up into the mountains for stunning views of the Dead Sea and Ibex sightings are common (hence the name of the trail!).
---
Are you planning a trip to Jordan?
We have lots of resources on travel in Jordan and destinations throughout the country. Check out our Jordan Travel Homepage for everything you need to know, or read some of our favorite articles below.
Save this article on Pinterest for later!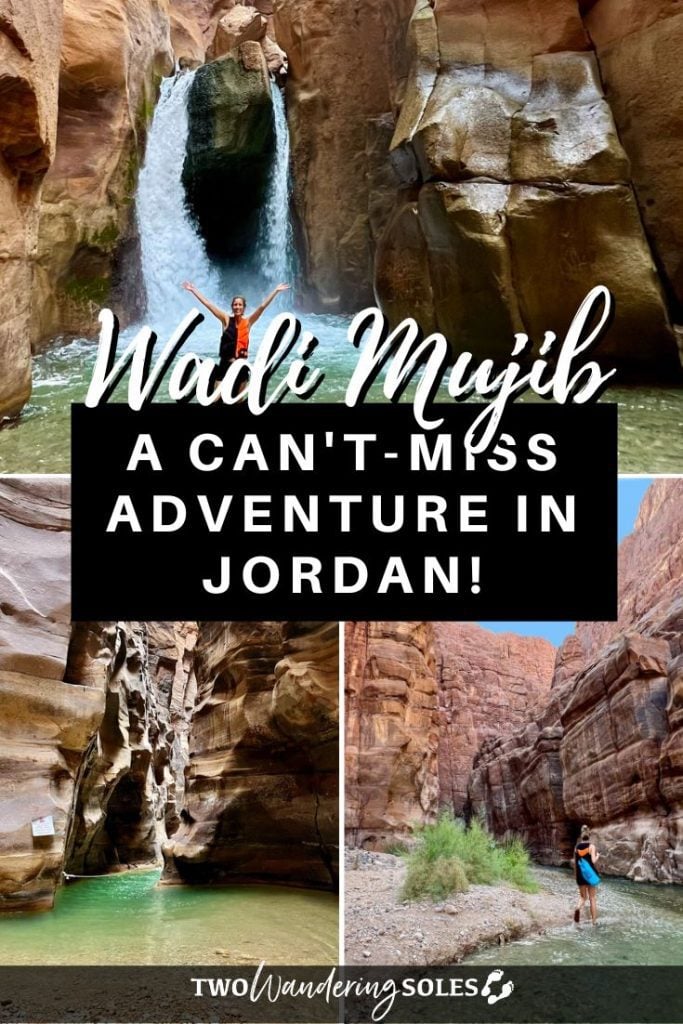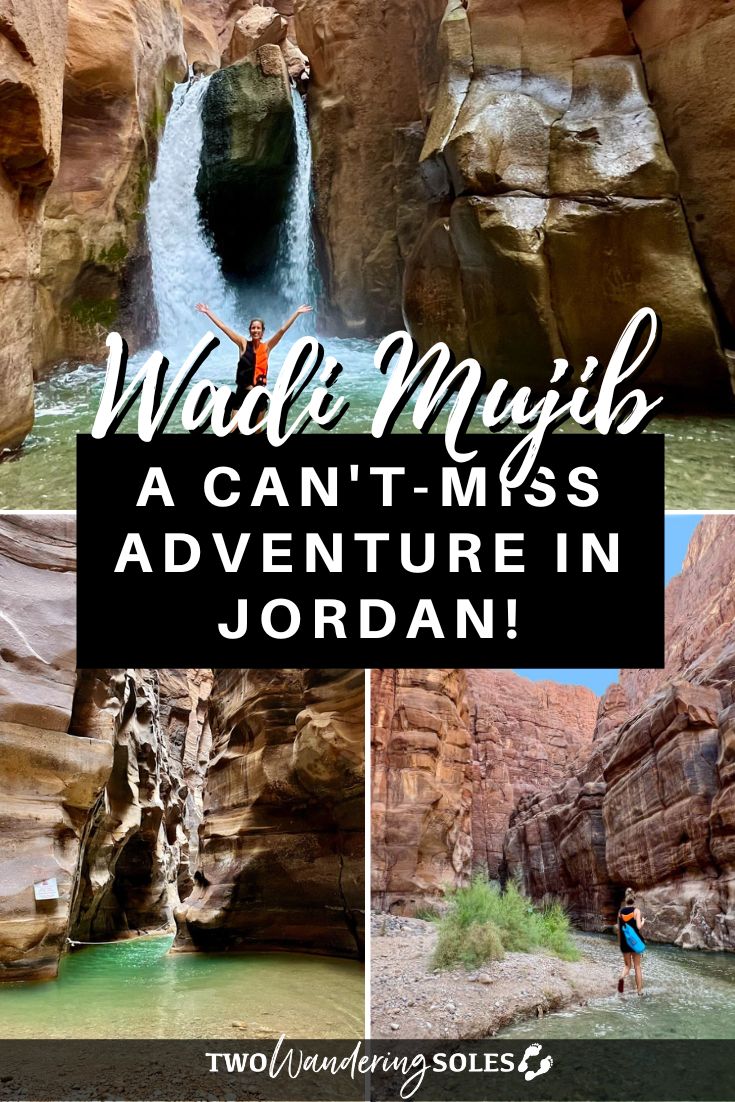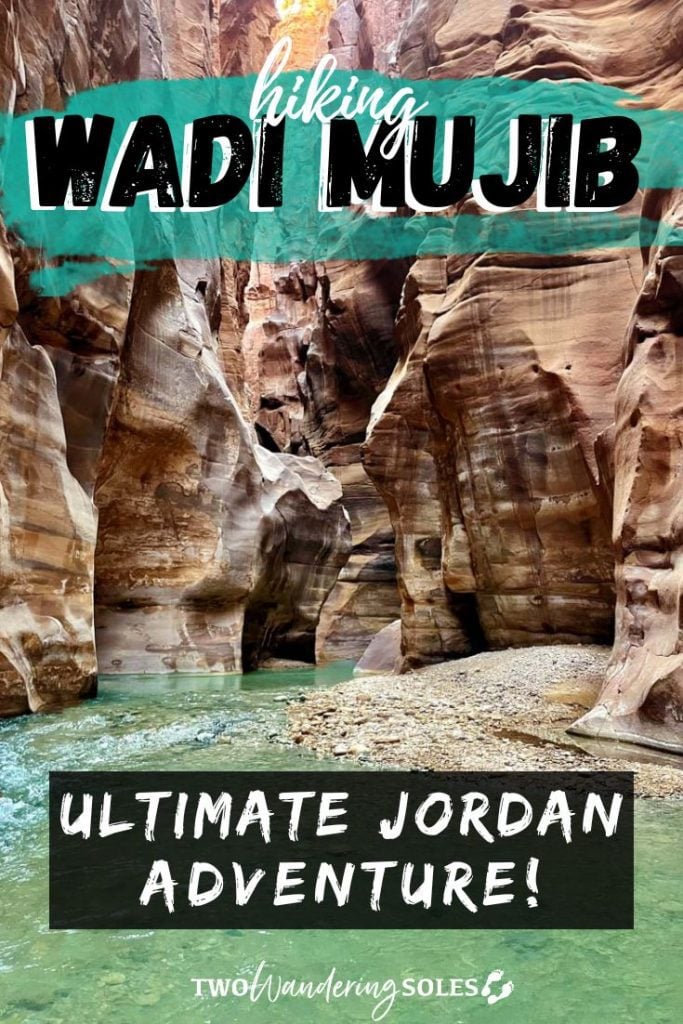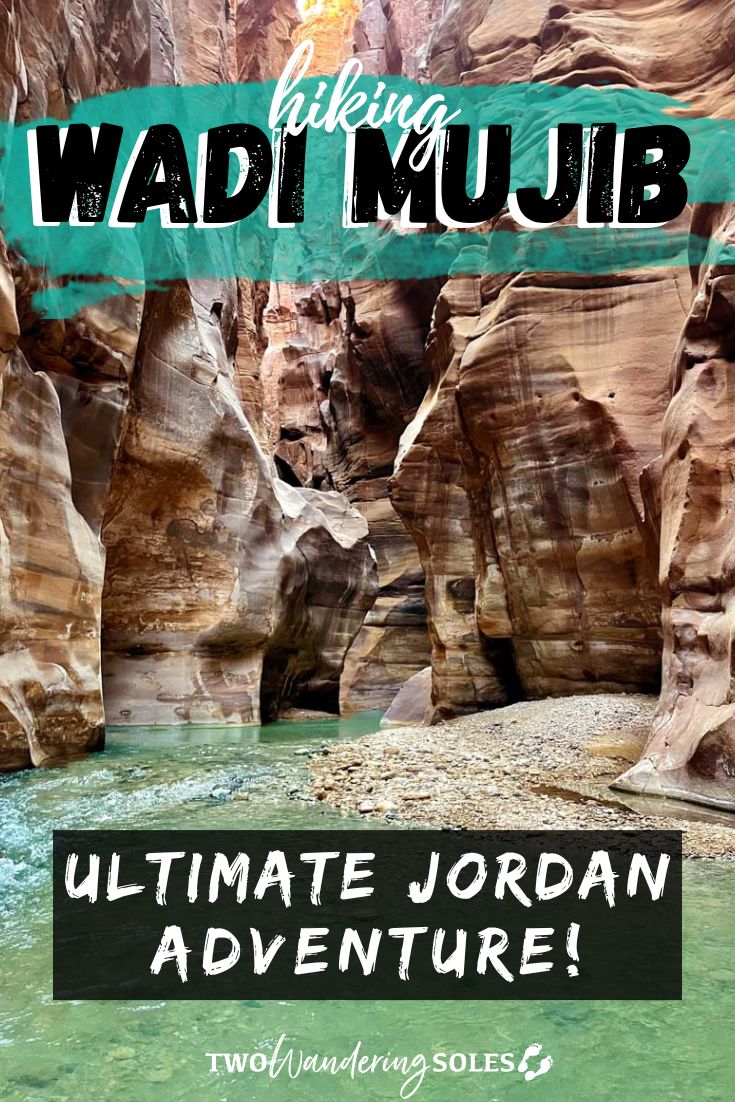 We want to hear from you!
Are you planning to do the Wadi Mujib Canyon hikes and have more questions? Leave your comment below and we'll do our best to get back to you!