To float in the lowest, and arguably the saltiest, point on Earth is an experience on many travelers' bucket lists. In this guide, we're going over everything you need to know to soak up the mineral-rich water of the Dead Sea in Jordan.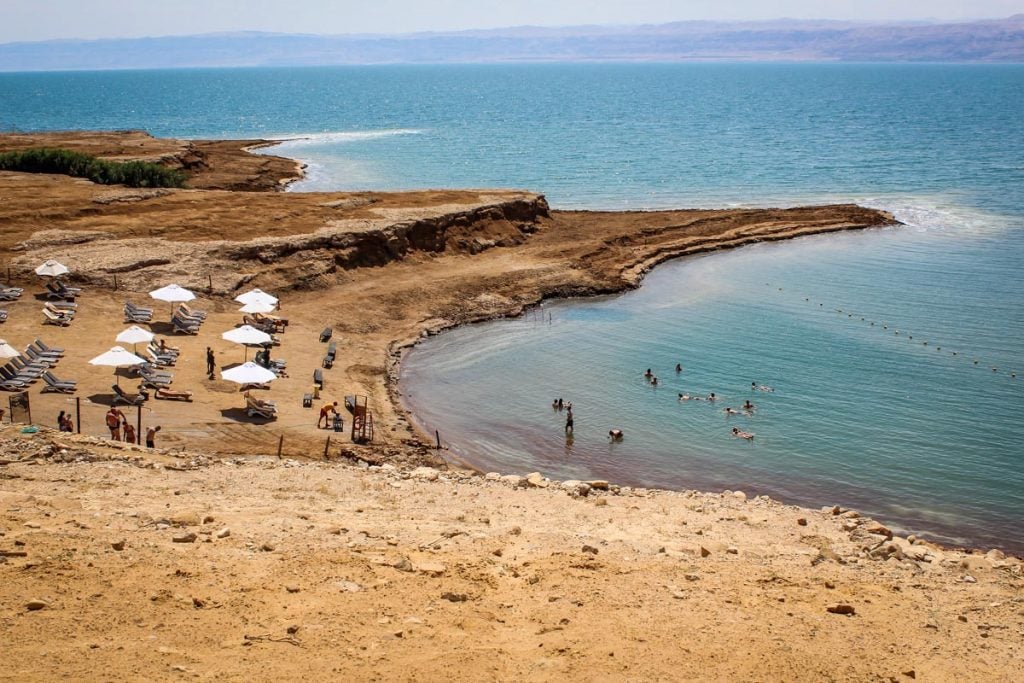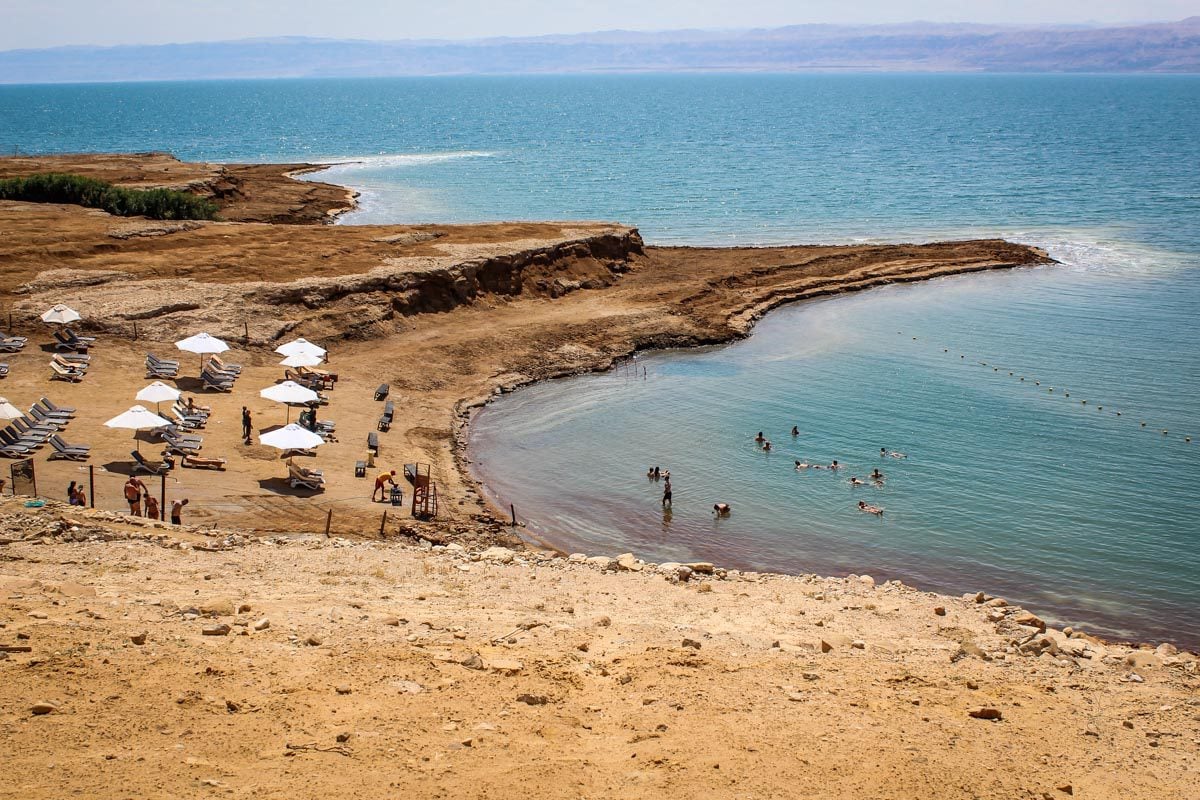 One of the most spectacular natural wonders in the world, the Dead Sea is the perfect spot in Jordan to escape the desert heat and enjoy a spa-like ritual on the salty banks of the lowest point on earth.
The buoyant and mineral-rich waters of the Dead Sea have attracted visitors dating all the way back to ancient times. Even the Egyptian Queen, Cleopatra, has relished in the rich, black mud and soaked up the waters impressive mineral composition under the Jordanian sun.
If you're planning a visit to the Dead Sea in Jordan, we're going over what to do and what NOT to do while visiting this unique destination. Whether you're visiting the Dead Sea on a budget or looking for a luxurious stay right on the coast, we're covering where to stay, important tips, and everything you need to know before you go.
Article contents
Psst! If you'll be traveling more throughout the country, be sure to check out our bucket list of unforgettable things to do in Jordan!
---
First things first, you may be wondering…
Is the Dead Sea worth visiting?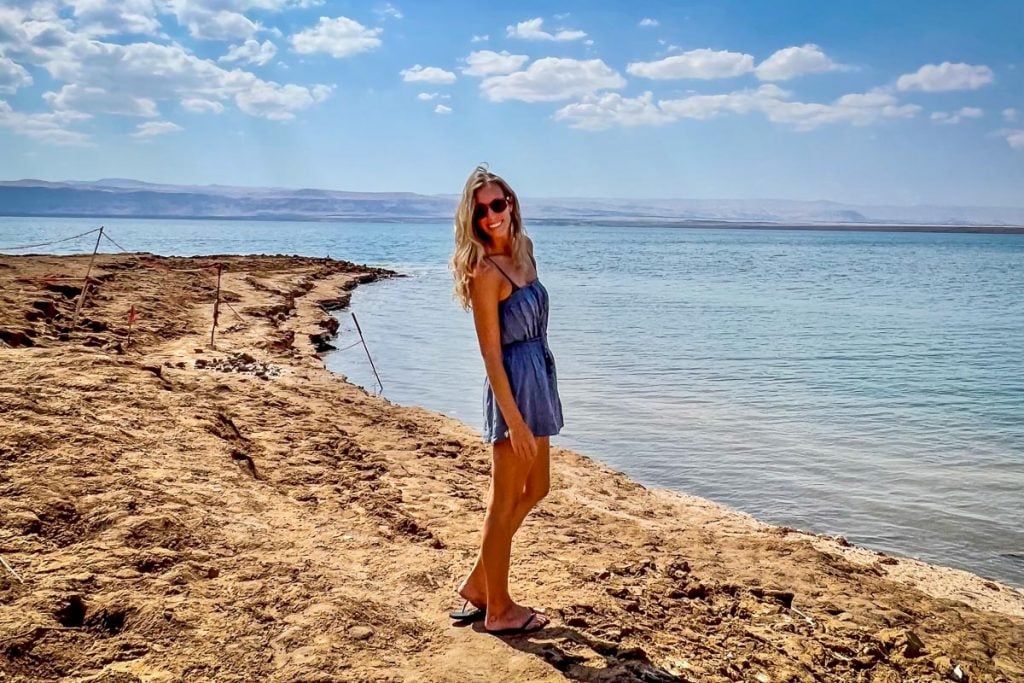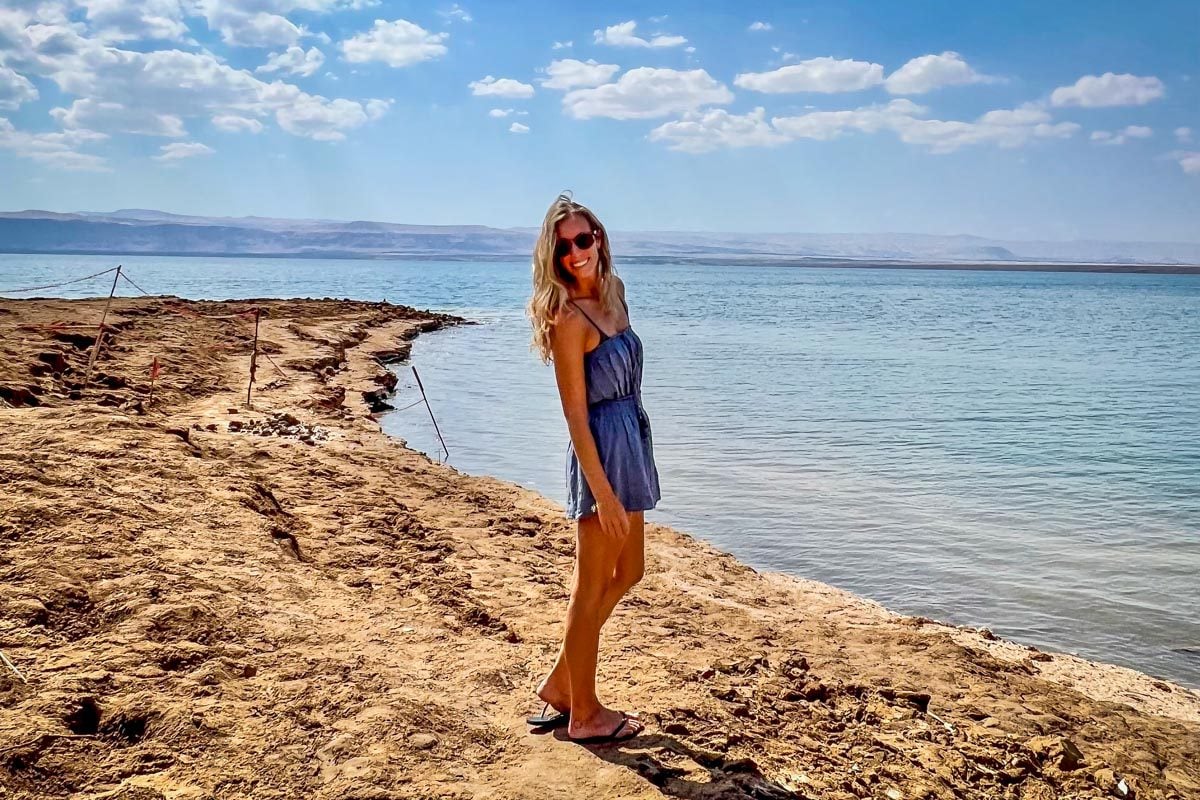 The Dead Sea is well-worth a spot on anyone's bucket list, so it's absolutely worth visiting. The feeling of floating effortlessly in the water is a pretty unique and unmissable experience if you ask me!
The only exception for a visit to the Dead Sea is if you have already visited the Dead Sea on the Israeli side. The experiences are quite similar on each side, so it's not necessary to visit twice. However, if you want to treat yourself to the spa-like qualities of the Dead Sea for a second go round, I totally understand.
General info about the Dead Sea Jordan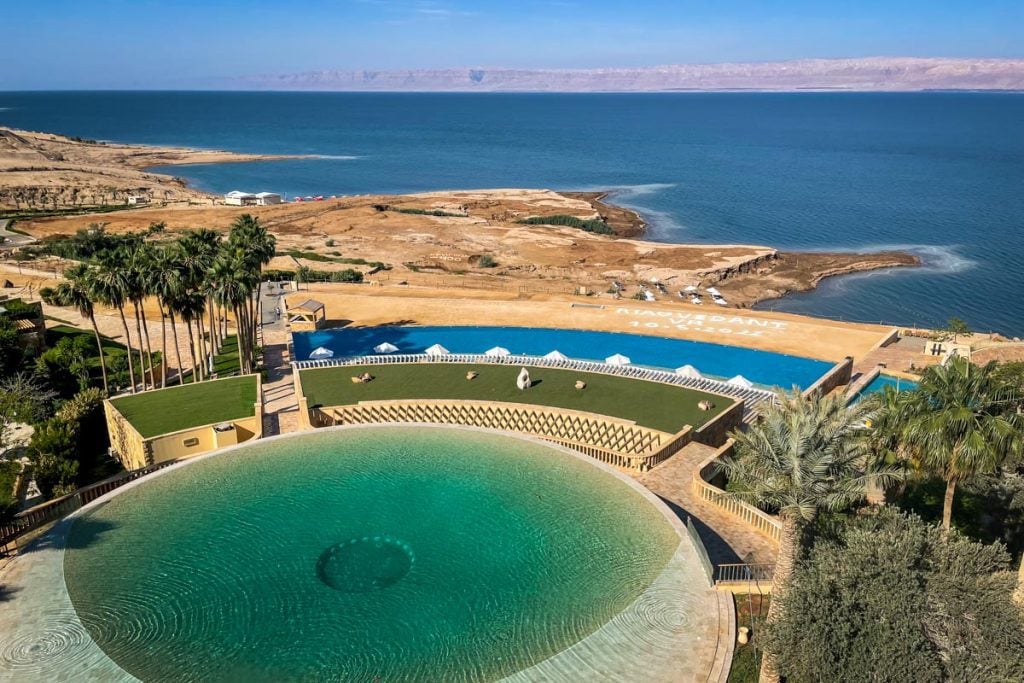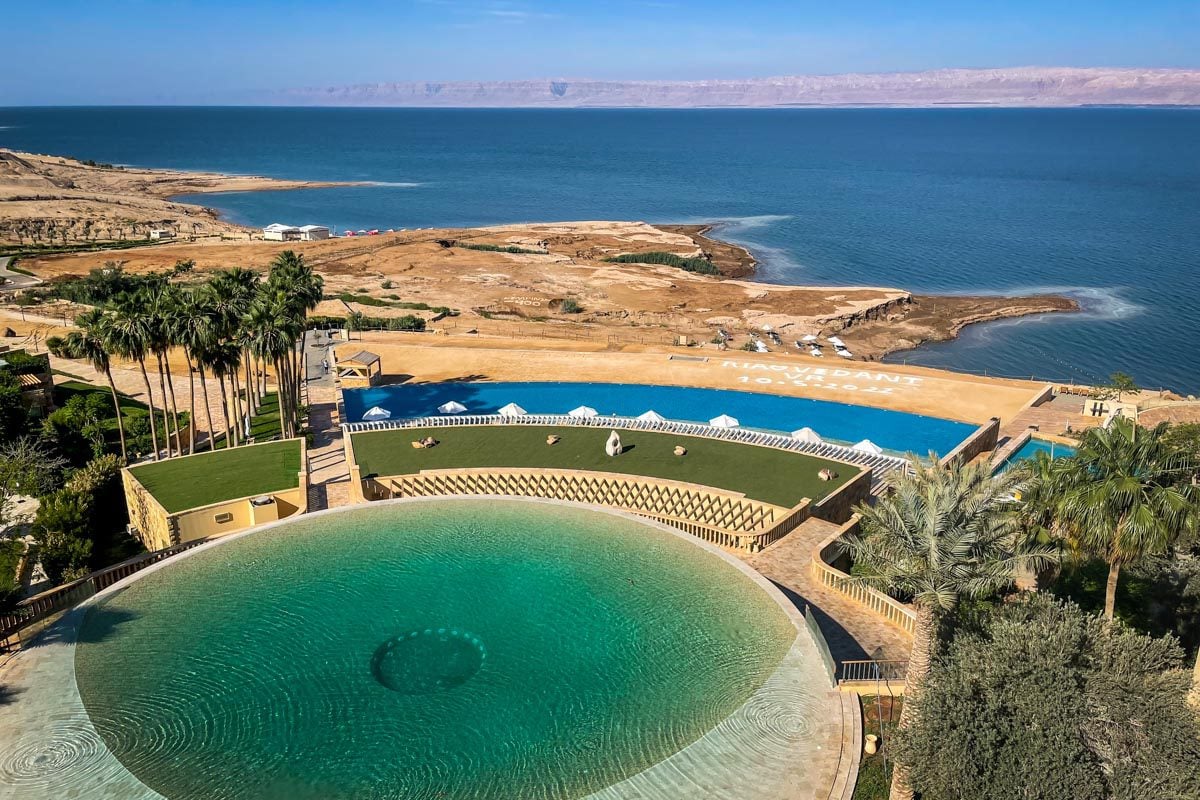 Location: On the border between Jordan and Israel
Elevation: 430.5 meters/ 1,412 feet below sea level
Depth: 304 meters/ 997 feet deep
Salinity: 34.2% (9x as salty as the ocean!)
The Dead Sea is the deepest, hypersaline lake that creates the border between Jordan and Israel. Due to its high salinity and density, humans can actually float here instead of sink!
This salty phenomenon placed in the heart of the beautifully barren desert is a must-see on your trip to Jordan. The Dead Sea is only a 45-minute drive from Jordan's capital, Amman, making it a perfect day trip from the city or pit stop on a road trip through Jordan.
As stunning and unique as the Dead Sea is, it's receding at a dramatic rate, around 3 feet every year due to the result of the National Water Carrier scheme that was completed in 1964. There is no other place on earth similar to the Dead Sea, so go and experience it while you still can!
Why is it called the Dead Sea?
Due to the water's extremely high percentage of salinity, a whopping 34.2%, the harsh environment of the Dead Sea is lethal to plants and animals. Other bodies of water around the world are home to a variety of complex ecosystems, whereas the Dead Sea is only home to microbial fungi and bacteria, hence the name "dead".
How to get from Amman to the Dead Sea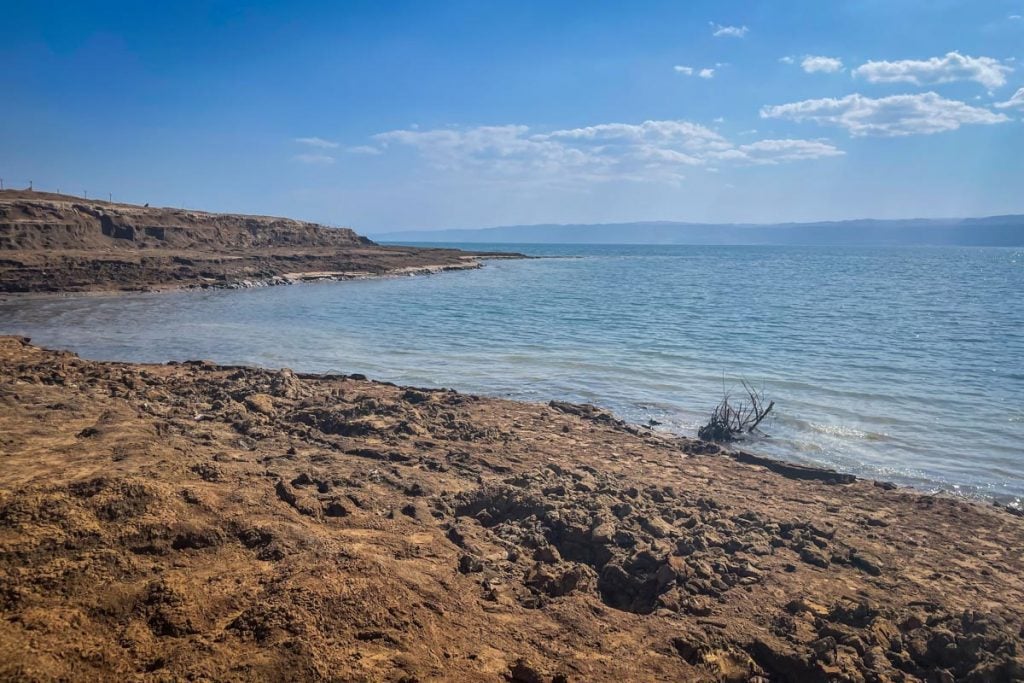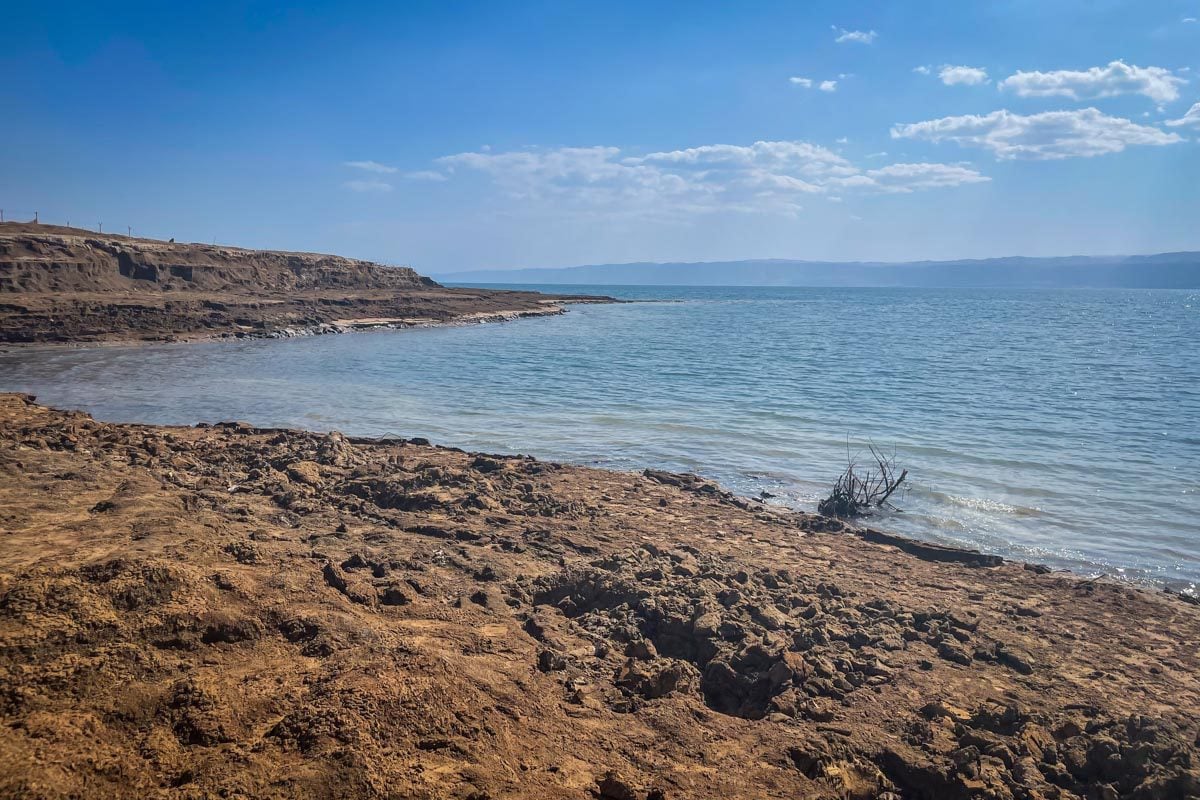 The Dead Sea is about a 45-minute drive from Amman, making it a very easy day trip to take from the capital city.
There are a variety of different ways to get there, but we arranged our transport from Amman with a local driver who had given us his card during an Uber trip. He charged us 50 JOD for round trip service from our Airbnb in Amman to the Kempinski Resort.
You can expect to pay around 25 JOD for a one way with a driver, but there are a handful of other ways to get to the Dead Sea from Amman:
Rental Car
If you prefer to make the drive yourself or turn it into a stop on your road trip, it's really quite easy to rent a car in Jordan. We like to use Discover Cars to search and compare prices from all the rental car options in the area, and find it generally saves us money in the long run.
Psst! We have an entire guide to getting a rental car in Jordan including where to find the best deals and tips for driving and safety.
Bus
The cheapest way to get from Amman to the Dead Sea is on the JETT bus. This costs around $12 USD and they have trips daily to Amman Beach at the Dead Sea. You'll board at the 7th Circle bus station and it will take you directly to the beach. You can check schedules and book your tickets online.
There is another local bus that leaves from the Mujarahin Bus Station and stops in Rame, not directly at the beach. The upfront cost is cheaper to ride this bus, but you'll have to either walk or take a taxi the rest of the way to the beach, so you really aren't saving more money by going this route. It's much better, and cheaper, to get dropped off on the tourist bus.
Taxi / Private Driver
If you want to use a taxi to get to the Dead Sea from Amman, it's best to negotiate a day trip or roundtrip fare with your driver. Once you're near the Dead Sea, finding a taxi to get back to Amman will be difficult if you don't arrange it in advance.
Like taxis, you can hire a private driver to take you to and from the Dead Sea for a day. Drivers may offer you their cards on the street, but you should be able to arrange something with your hotel. Alternatively, you can book a driver online for a half or full day at the Dead Sea.
Uber
Uber works great in Amman and is a great way to get reliable transport from place to place. Expect to pay at least 50 JOD round-trip to the Dead Sea and back.
If you get an Uber at any point in Amman, it's worth asking if they would be willing to take you to the Dead Sea and back on the day you like to go. Depending on where on the coast you're headed, it's about 45-minutes to the resorts and 50-minutes to Amman Beach.
Organized Tour
There are a variety of Dead Sea guided tours you can take to explore the Dead Sea and many other popular spots in Jordan. This is a great option if you don't have your own transport and want to see a lot of other sites using a guide.
Best time to visit the Dead Sea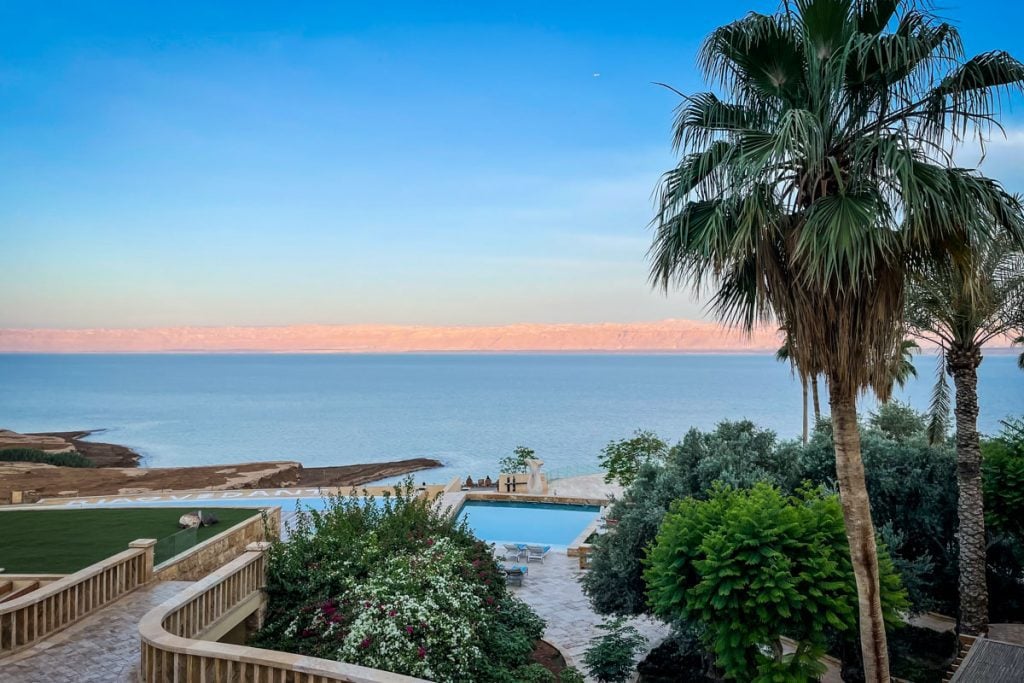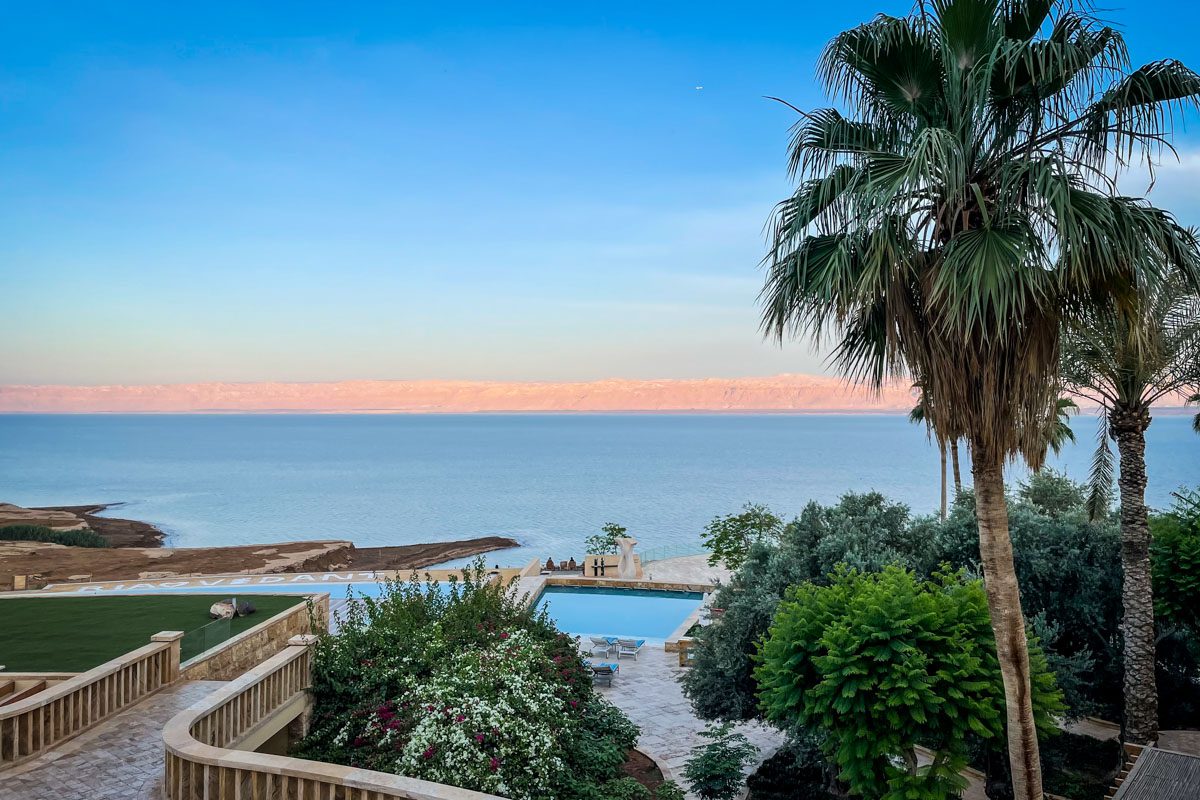 The Dead Sea is nestled in the desert, so it sees sunny skies and warm weather year round.
The drive from Amman only takes about 45 minutes, but we noticed a major change in the weather from place to place. As we descended into the valley of the Dead Sea, the temperature rose by about 10°F and the partially cloudy skies that covered Amman opened up to pure blue with the sun shining.
The humidity seemed to rise along with the temperature as well and we found ourselves shedding layers the minute we stepped out of the car's AC.
The best time to visit the Dead Sea is during the late fall or early spring months when the weather is more mild.
Because the weather is much more favorable this time of year (March to late May and late September to November), it's important to note this is also the peak tourist season. You can expect public areas on the weekends to be bustling.
Visiting the desert in the summer months (May through August) is notoriously brutal as temperatures can soar up to 115 °F (46°C). The cooler sea water may feel good compared to the air temperature, but exploring around Jordan will be extremely hot and you'll have to limit your excursions to early morning and late afternoon to escape the heat.
Temperatures don't dip too low in the winter months as they mainly stay around 70°F (21°C) during the day and drop to the 50s (10-15°C) at night. The weather is a little chillier this time of year and it has the highest likelihood of rain. So, it's not peak season, but if you don't mind you can have a little bit more solitude this time of year in the Dead Sea.
Psst! For an in-depth guide on the regional seasons, weather patterns and other factors, check out our complete guide on the best time to visit Jordan.
Where to go swimming in the Dead Sea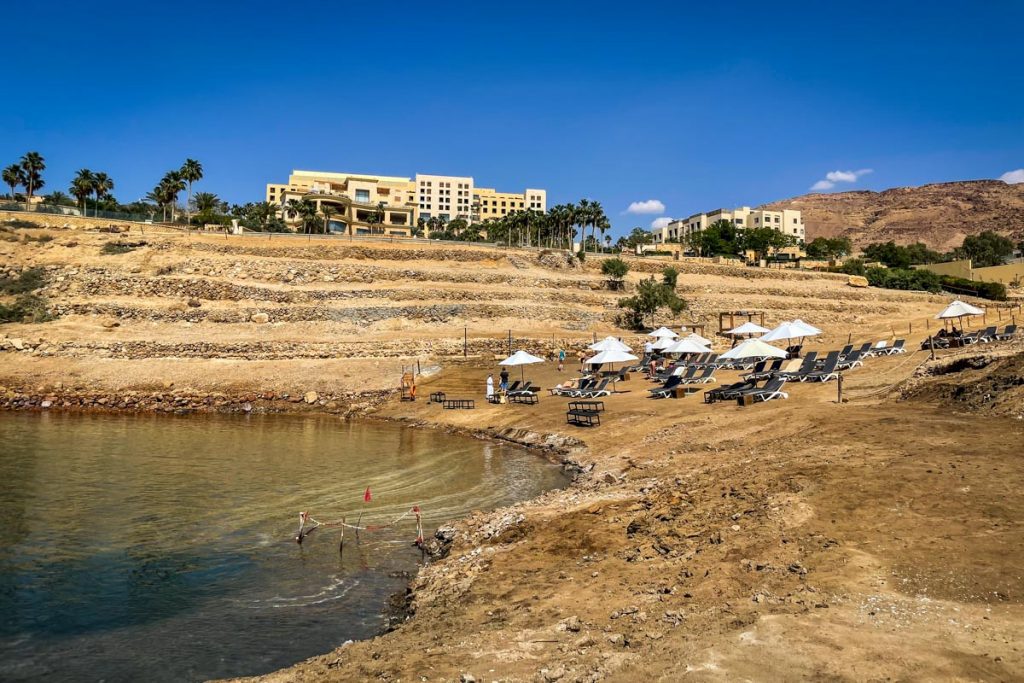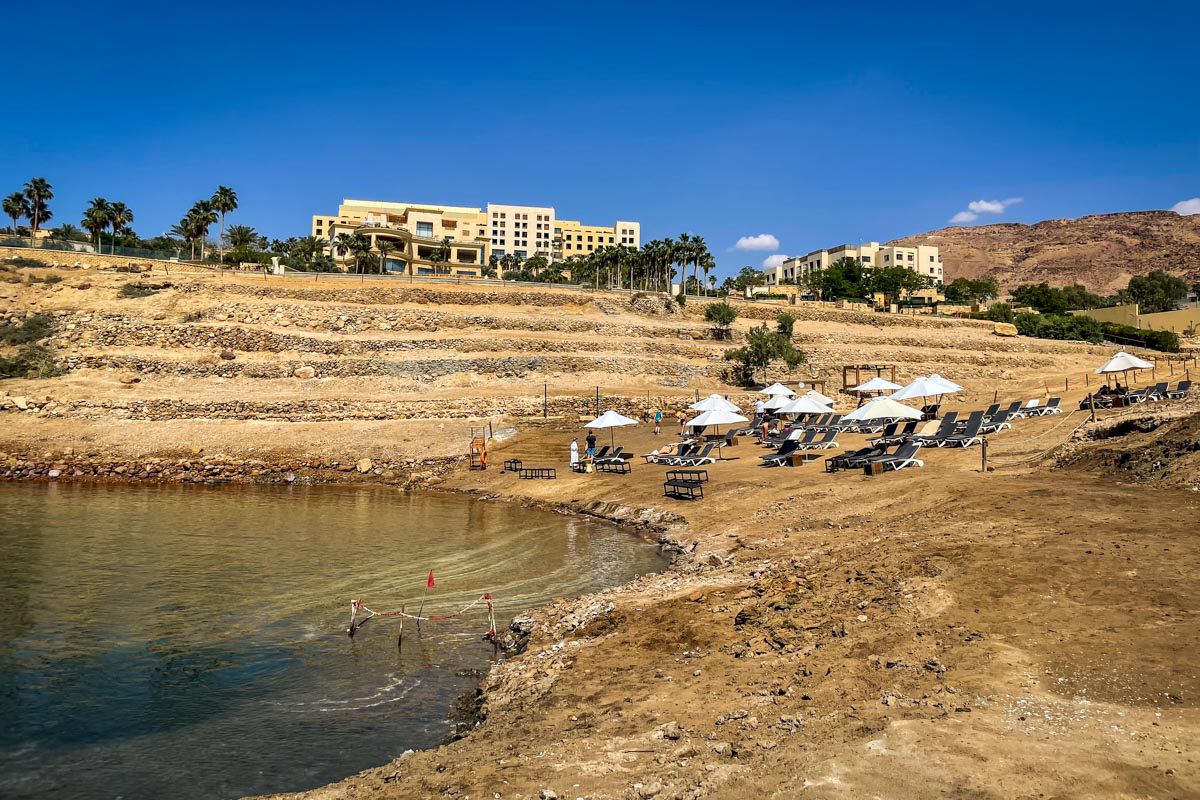 On the Jordan side of the Dead Sea, there is public access at Amman Beach. It costs 25 JOD to enter. This is one of the most popular Dead Sea beaches, so note it'll be pretty busy, especially in the high season.
If you don't want to pay to swim in the Dead Sea, there is a location you can access safely for free. It's just south of where the Wadi Mujib Trail begins. See the location
When you're driving along the road that parallels the Dead Sea, you'll notice a lot of places to pull off, but keep in mind there have been sinkholes forming where the sea has receded over the years, so proceed with caution and opt for an established path to access the Dead Sea.
If you don't mind paying more for a bit of solitude, you can get a day pass to one of the resorts that have private beaches. It'll usually cost you 25-75 JOD for the day, but it depends on what resort you go to. Most of them offer a day pass, but not all of them, so you'll have to call ahead to make sure.
Here are a few notable resorts worth visiting for a private Dead Sea beach experience:
Hilton Dead Sea Resort & Spa: 25 JOD, entrance only and no lunch.
Dead Sea Marriott Resort and Spa: 60 JOD, 25 JOD is given to you for food and drinks at the resort.
Movenpick Resort and Spa Dead Sea: 50-75 JOD. There are different price tiers that come with food, drinks, and spa access.
Finally, if you want to make a trip of it (and are willing to splurge a bit) you can spend a night or two in one of the resorts with a private beach. More on that in the where to stay section.
Tips for floating in the Dead Sea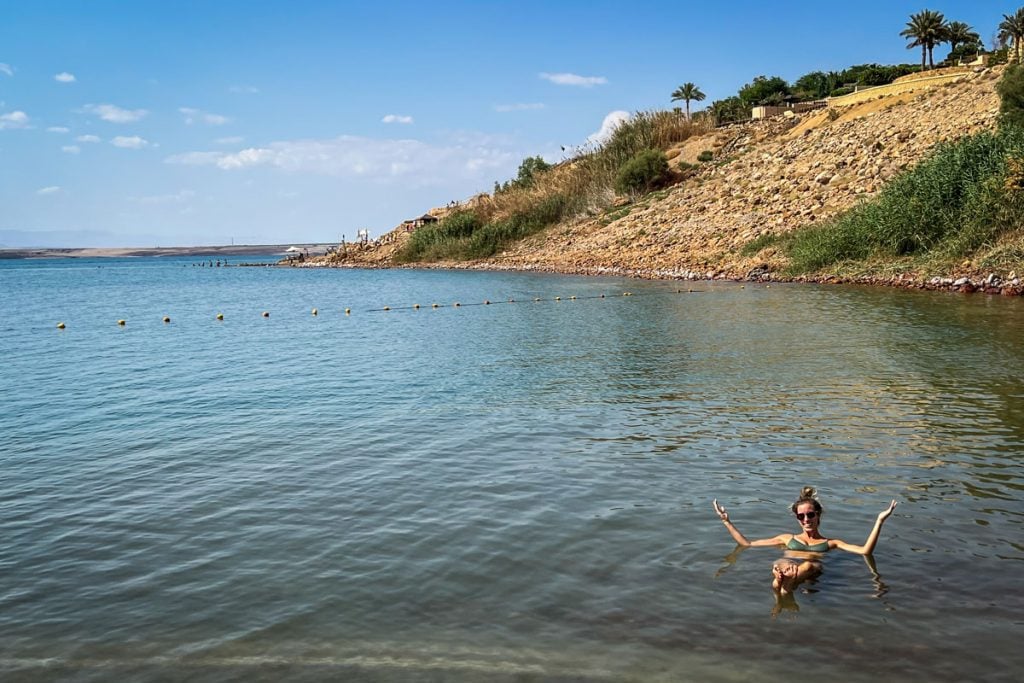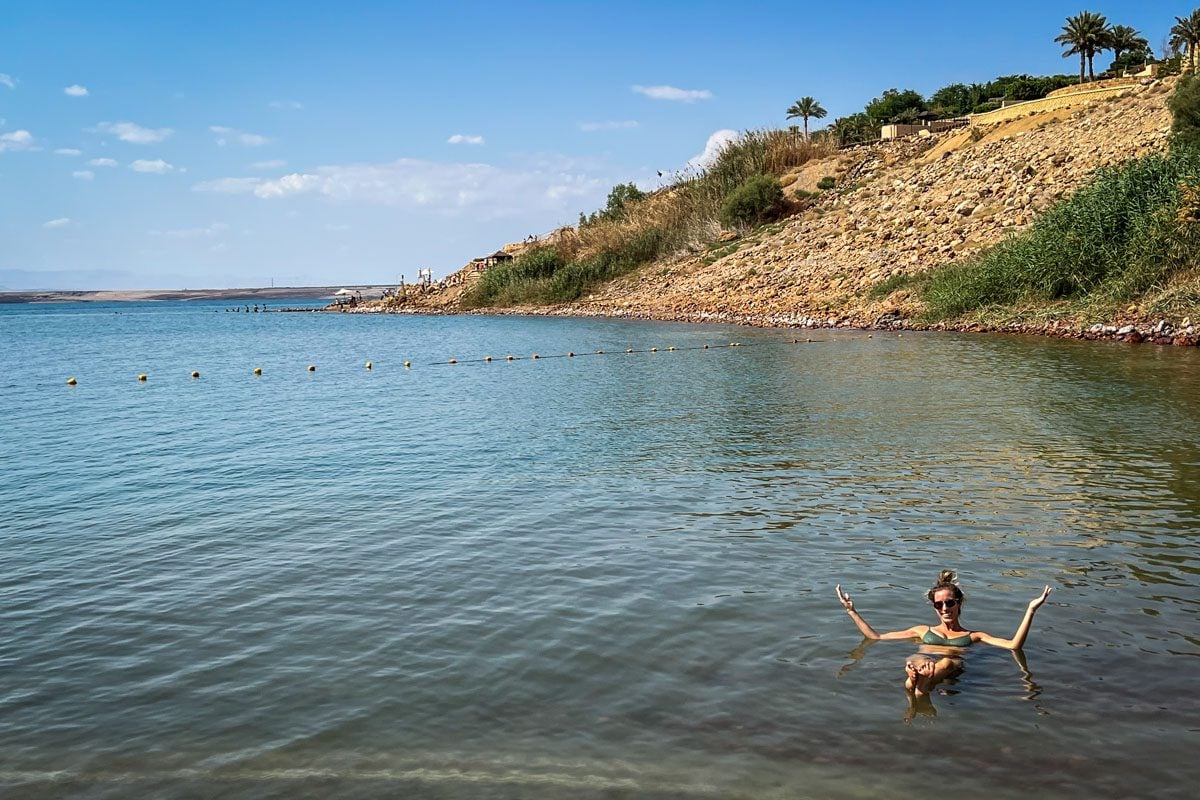 Keep your head above water. It only takes one drop of the Dead Sea's water in your eye to cause a massive hiccup in your peaceful soak. A small amount won't do permanent damage, but it will be very painful.
Avoid splashing. For reasons above try to keep your float still and relaxed.
Don't float for more than 10-15 minutes. Because the water is so salty, it's incredibly dehydrating, even after a minimal amount of time. But this short soak will be plenty of time to reap the benefits.
Avoid shaving 1-2 days before and after your soak. You may not think it, but the salt will penetrate your pores and it can sting a bit if you've recently shaved.
Check for wounds before you enter. This is something to note since the salt will remind you of even the tiniest of scratches on your body. The pain generally goes away after a bit, but keep this in mind if you have a larger wound.
Be mindful of what time you visit. All the hotels on the Dead Sea Jordan side are required to close the beaches when it gets dark out. If you arrive an hour before sunset, you can enjoy most of the golden rays before the beach closes.
Stay hydrated and drink lots of water. You won't really notice while you're floating peacefully in the Dead Sea, but the massive amount of salt will dehydrate your body fast.
Bring props for fun photos. Take advantage of your effortless floating abilities by bringing a prop or two for pictures. Books are a crowd favorite as you can appear to be defying gravity while being absorbed into the latest adventure novel.
Wear an old or cheap swimsuit. Just one dip in the Dead Sea can cause discoloration in your swimsuit and it may lose its stretch. The mineral mud may even stain or refuse to come out even after a few washes. It's also recommended to wear a darker colored suit if you can.
Consider bringing water shoes. The salt that lines the sea can be very abrasive on your feet, so bring water shoes or at least wear your flip flops to the edge of the water.
The Dead Sea ritual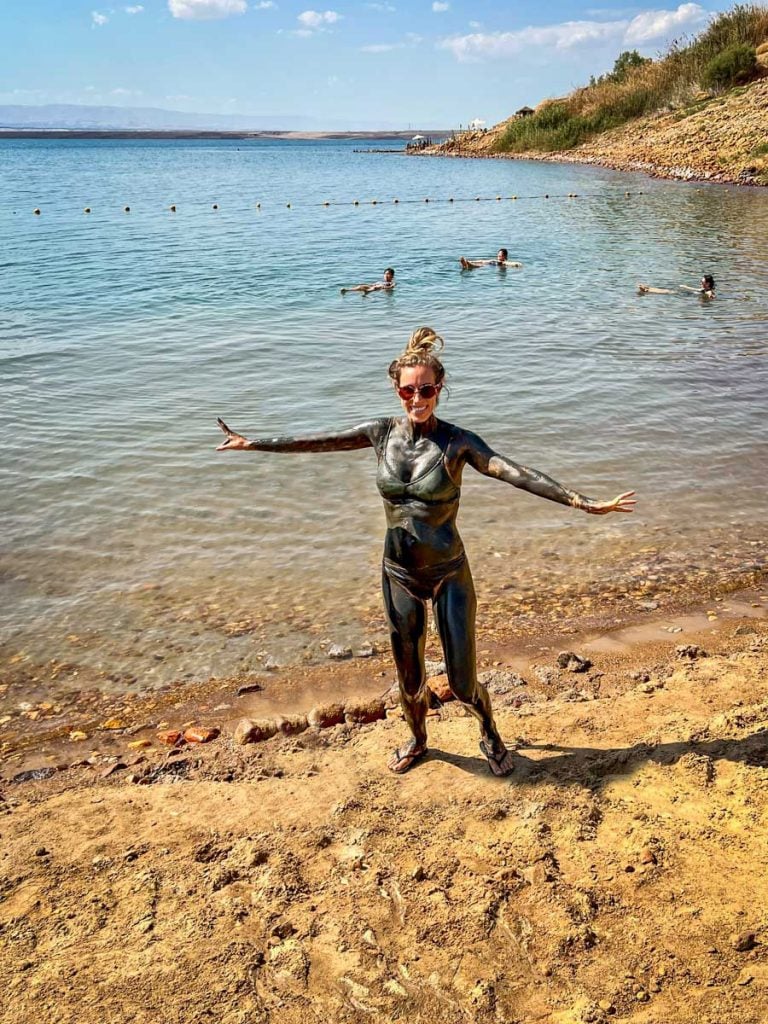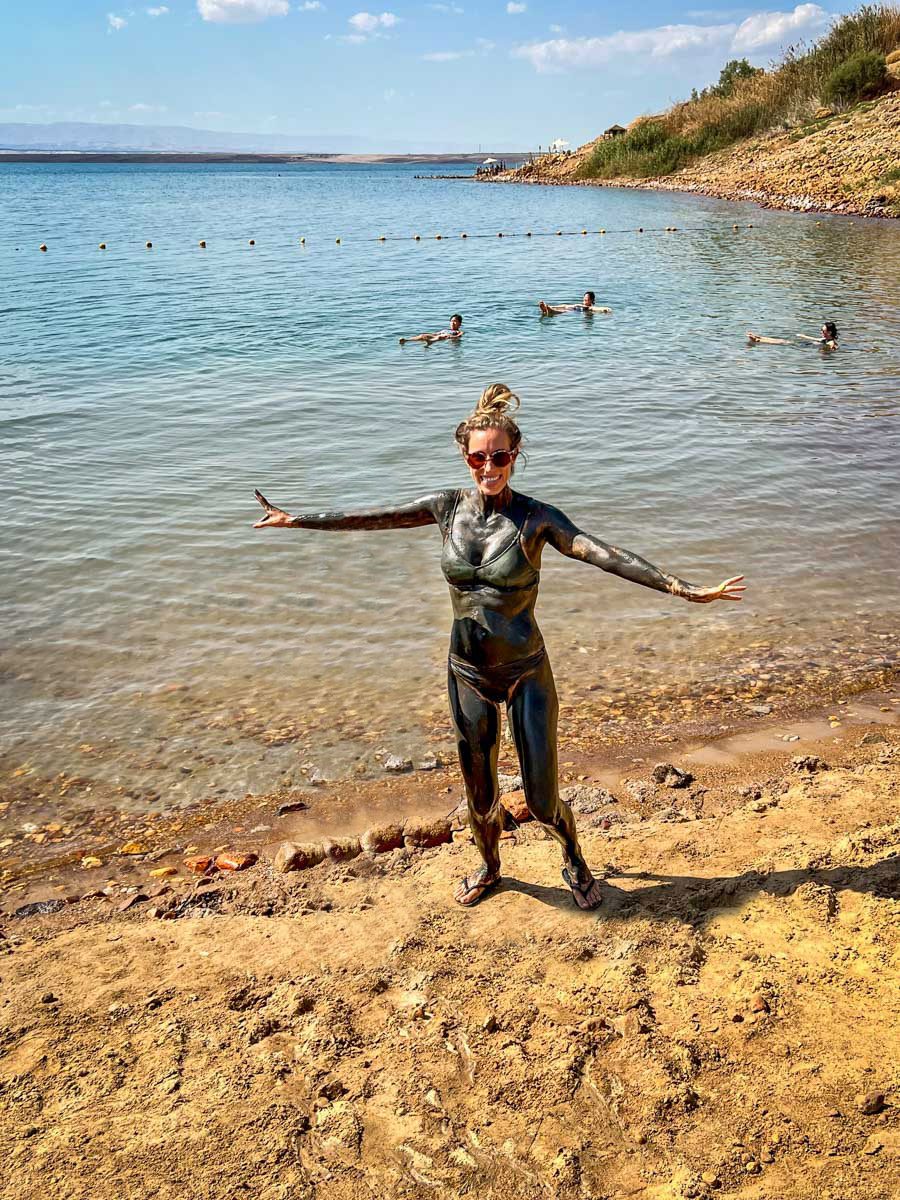 If you are staying at a resort at the Dead Sea, you'll likely have the opportunity to experience the more "spa-like" Dead Sea Ritual, as explained to us by our hotel attendant:
First, you cover yourself head-to-toe in mud, dug from the shores of the Dead Sea daily, and provided in basins at the beach.

The Dead Sea mud has unique mineral properties that are meant to be really good for your skin. It is said to assist in the skin's detoxification process, draw out excess oil, tighten and firm your skin.

Wait for the mud to dry completely and take a few selfies in the full length mirrors (or ask the attendant, who was more than happy to be our photographer!).
Then go for a 10 minute soak to cleanse your skin of the mud. It's not a good idea to soak more than 10-15 minutes in the Dead Sea or you'll dehydrate yourself.
Afterwards apply a salt scrub with special Dead Sea Salt (also provided in a basin near the beach) for exfoliation.
And finally, rinse yourself with fresh water under the shower.
Where to stay at the Dead Sea Jordan
One of the best ways to experience the Dead Sea is by staying at one of the many stunning properties along its shore.
Budget-friendly properties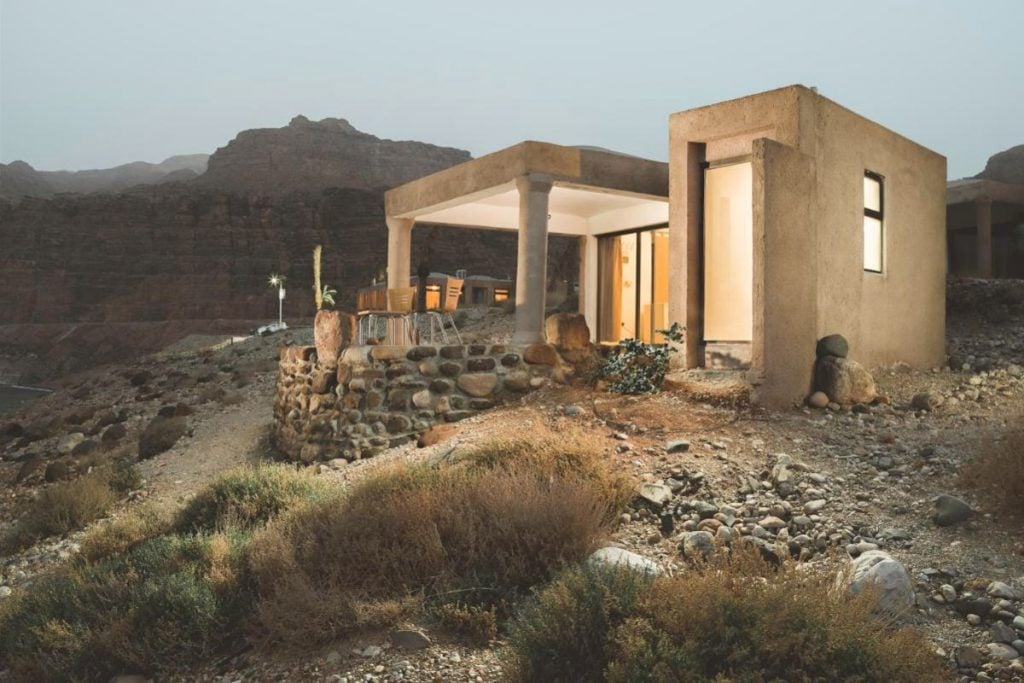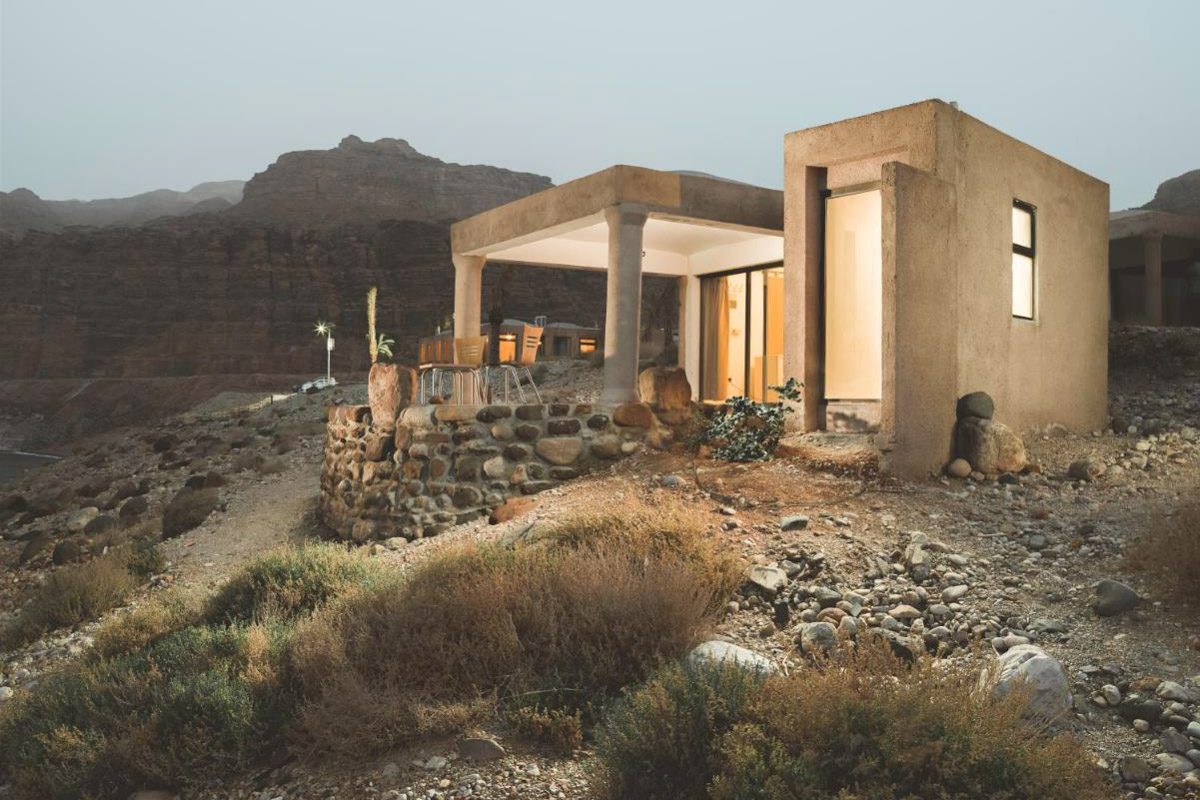 Mujib Chalets: This is the perfect option if you want a little more privacy and your own private access to the Dead Sea. Mujib Chalets provide deep immersion into nature and a nice slice of solitude.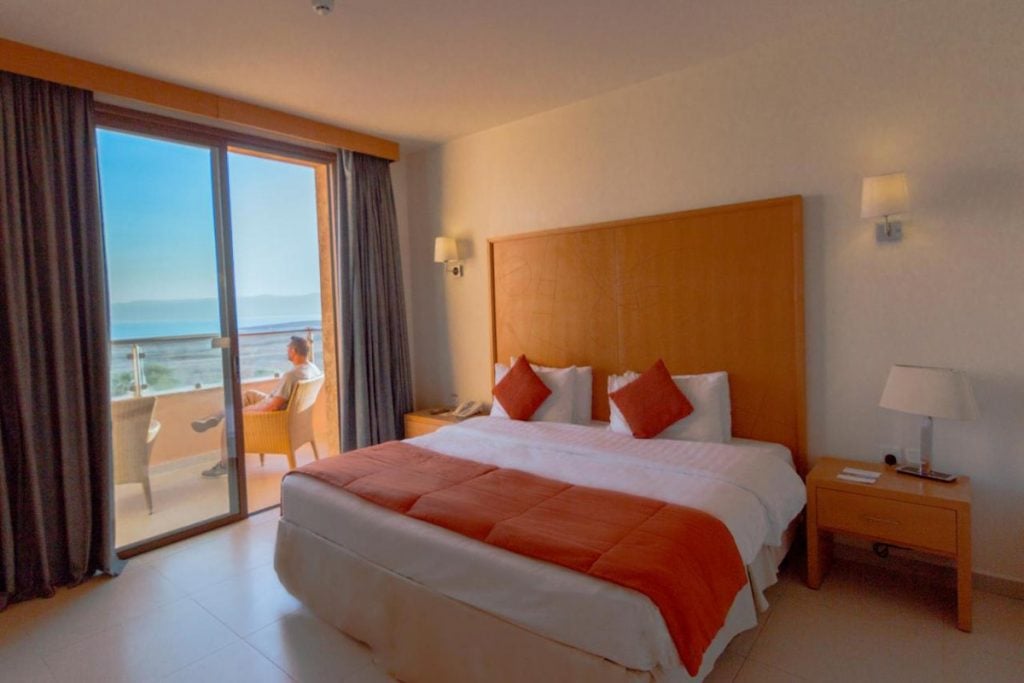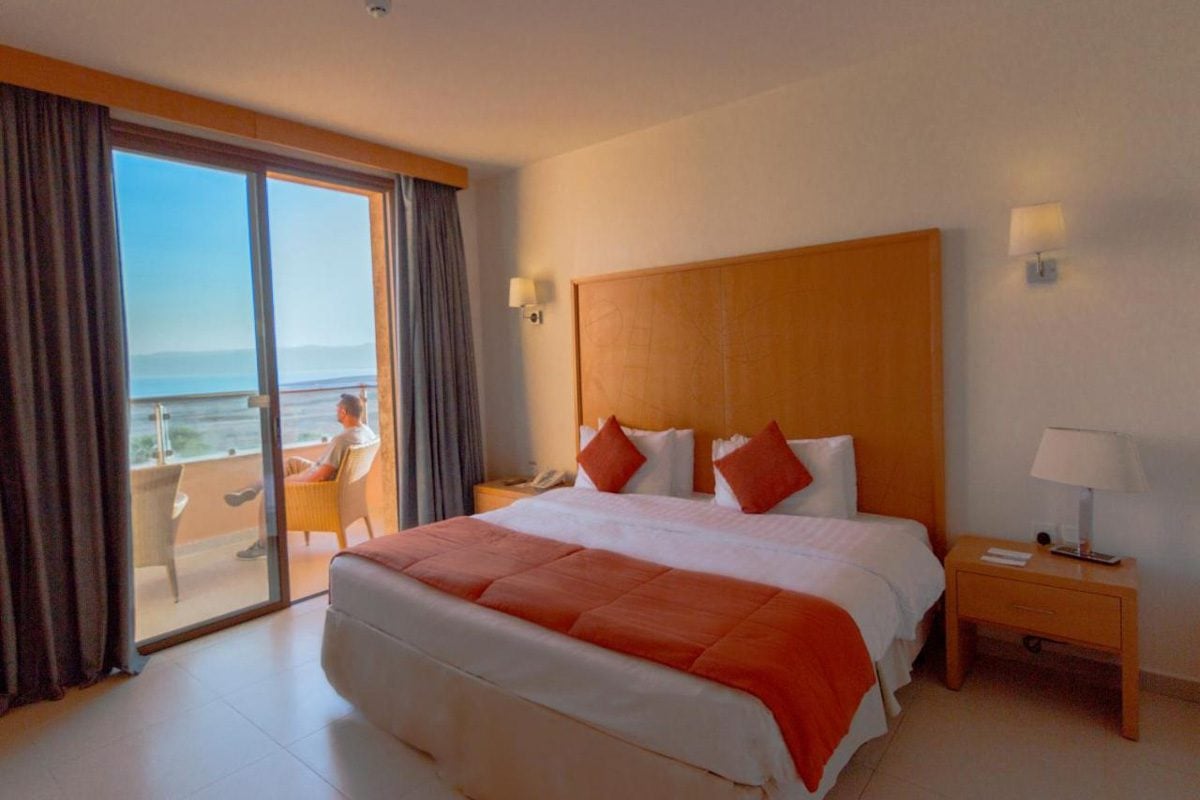 Ramada Resort Dead Sea: This is the most budget-friendly option that still offers private access to the sea, which is great for travelers on a budget that still want nice amenities. It's situated on the northernmost coast of the Dead Sea Jordan side and offers shuttles to the sea every 30-minutes, beginning at 7:30 a.m.
Mid-range budget hotels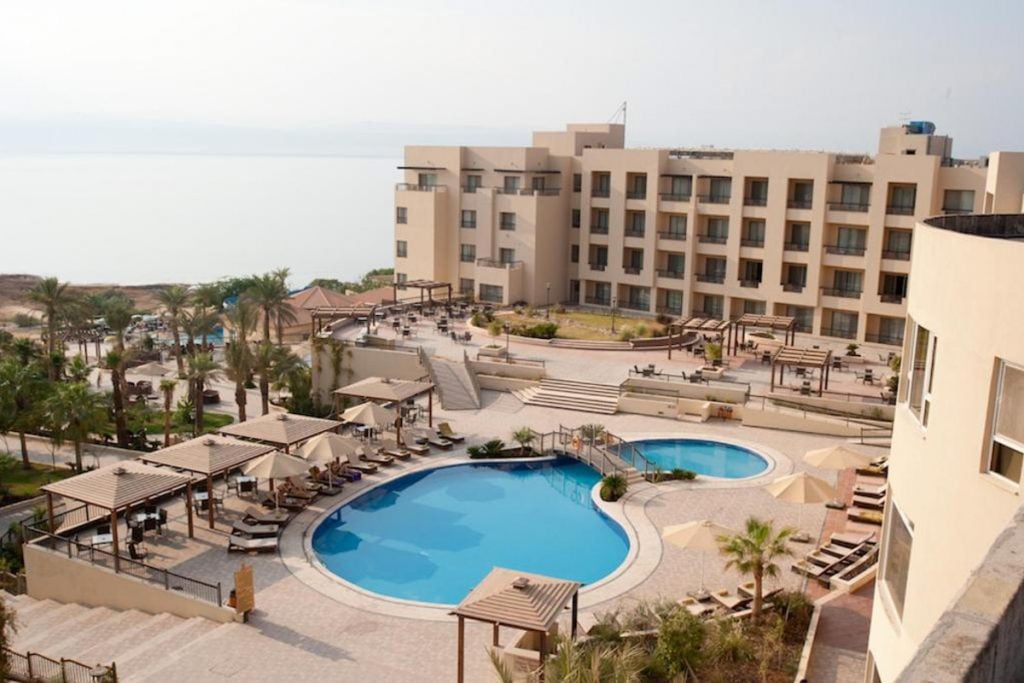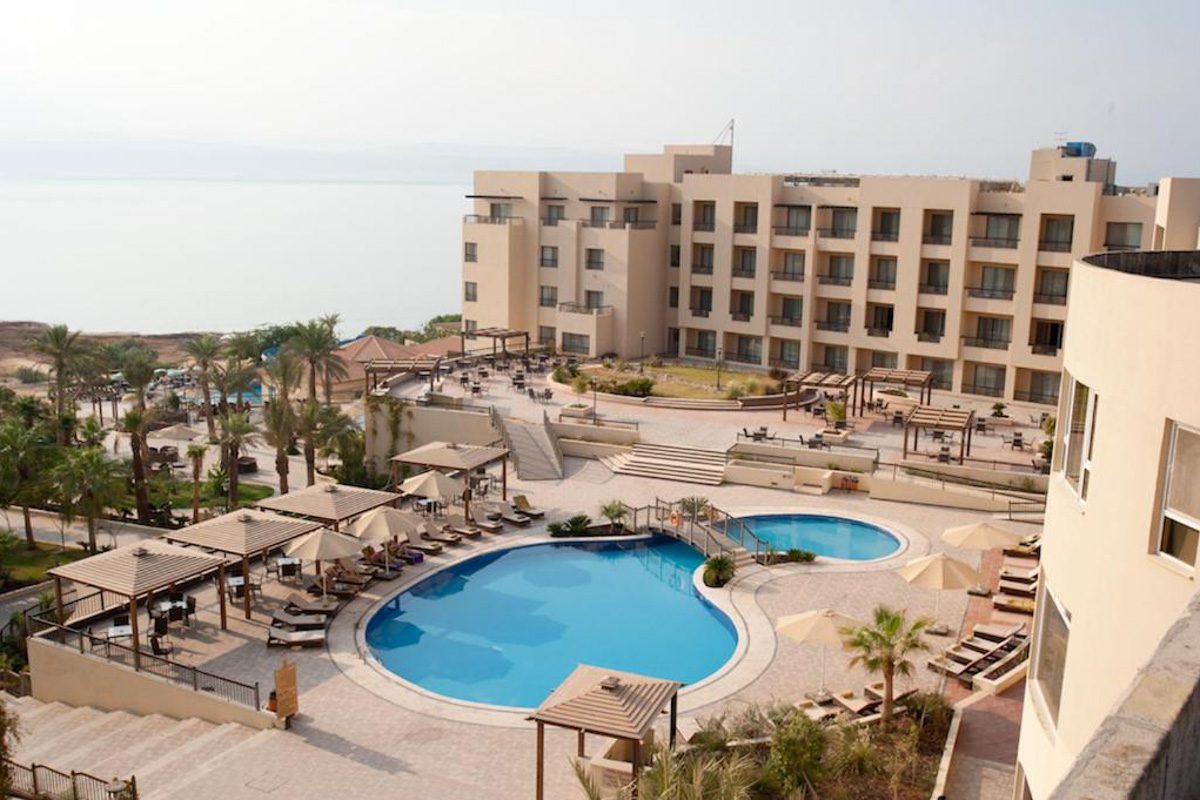 Dead Sea Spa: This is the first resort that opened along the Dead Sea. It's the perfect option for those with a mid-range budget or if you're traveling with a family. Dead Sea Spa has the largest beach out of all the other resorts on the shores, is locally owned, and is the best 4-star hotel along the Dead Sea.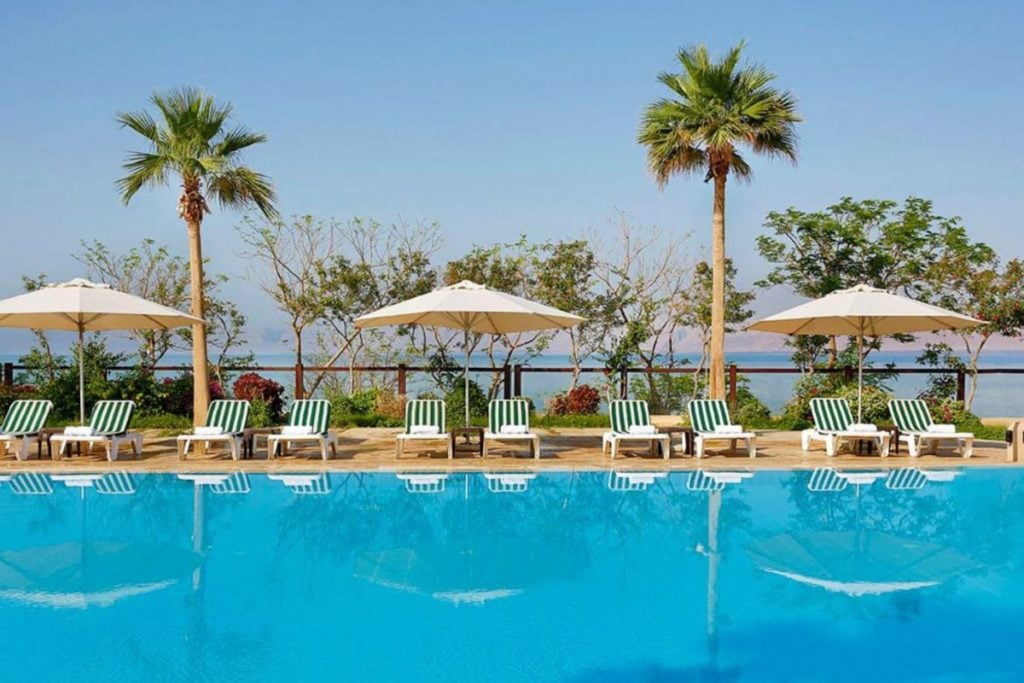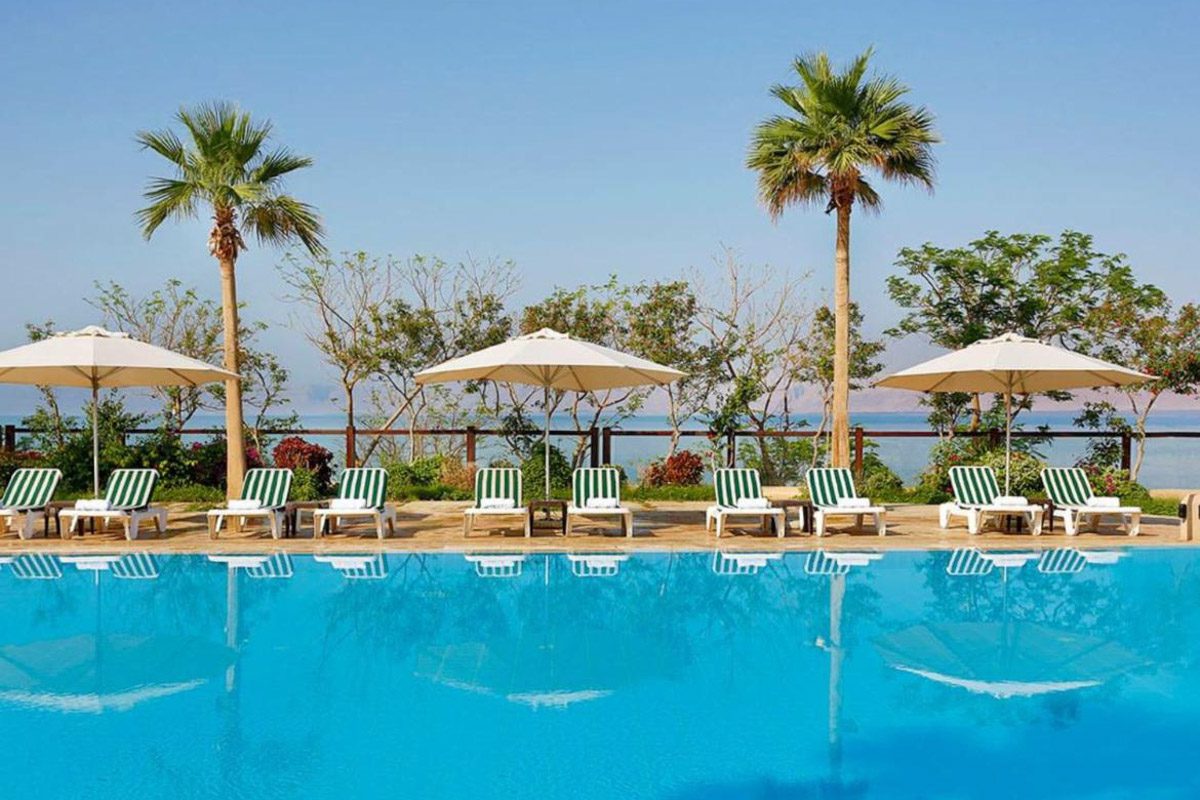 Holiday Inn Resort Dead Sea: This is a classic and cozy stay right along the northern edge of the sea. This is a great spot for couples and families looking for a beautiful property without breaking the bank.
Worth the splurge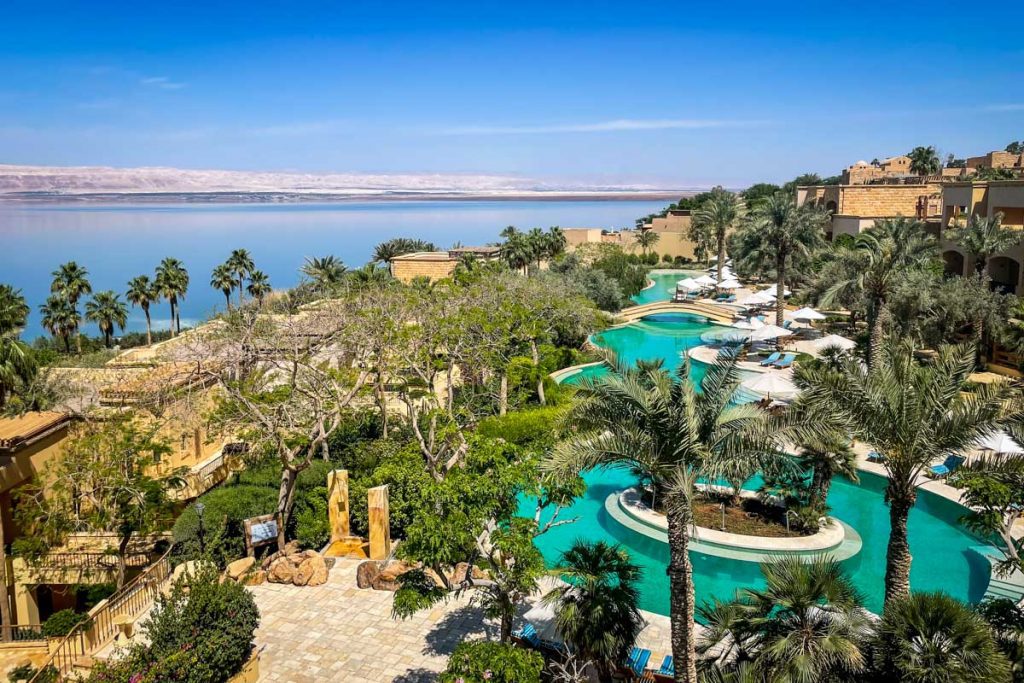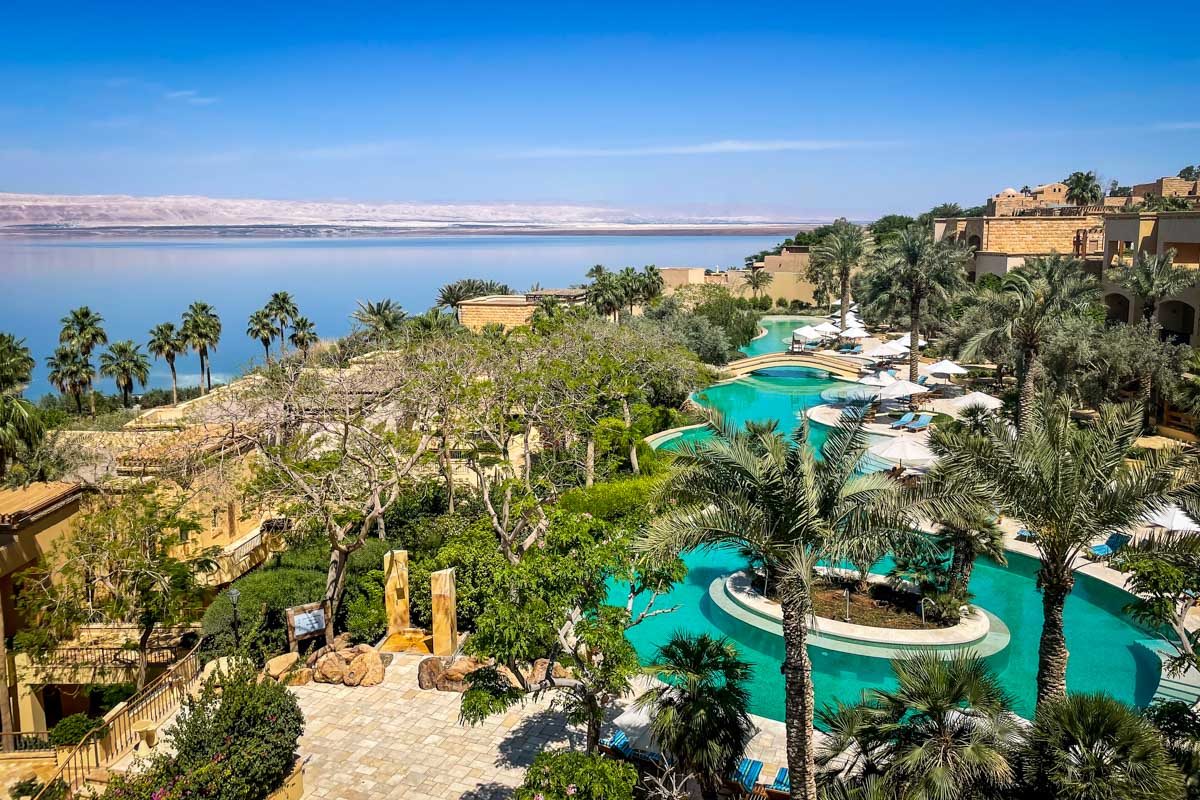 Kempinski Hotel Ishtar Dead Sea: This is where I stayed overnight on my trip to the Dead Sea and I felt it was 100% worth the splurge! This stunning 5-star resort has it all to experience luxury in the desert from meditation and yoga classes, traditional Thai massages, and nine fresh water pools to cool down in.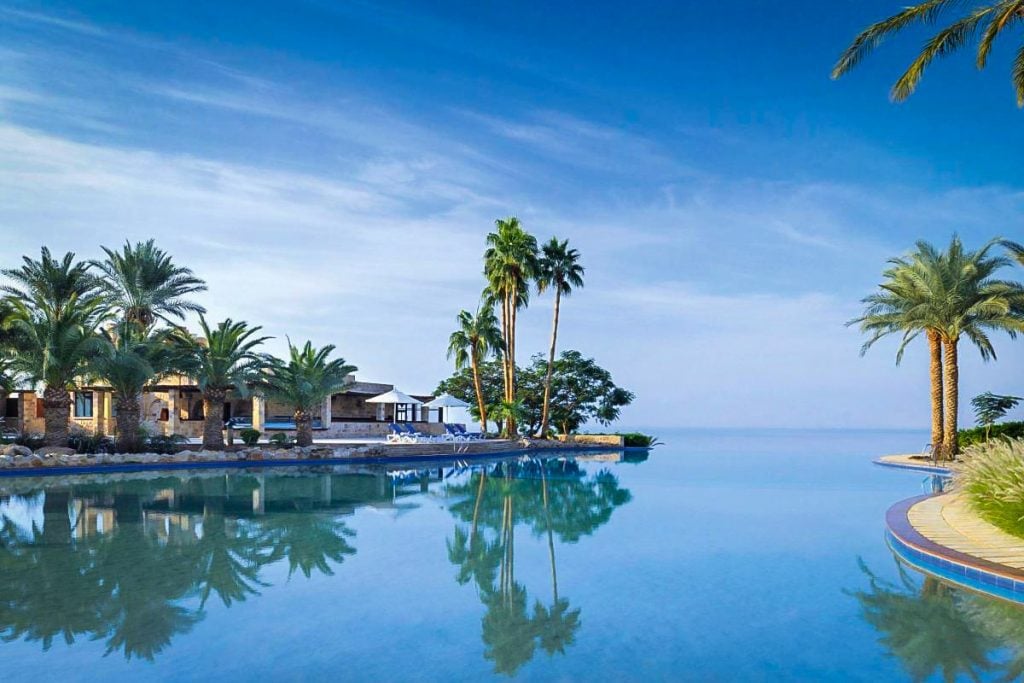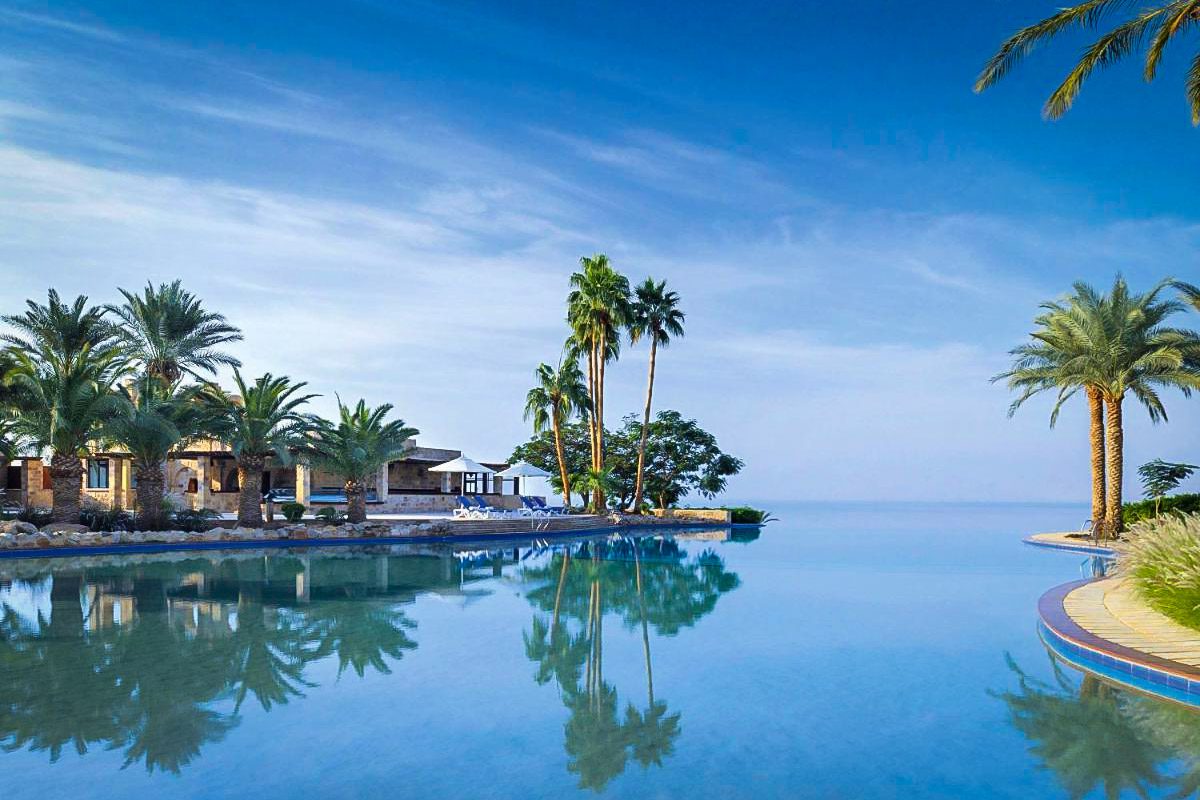 Mövenpick Resort & Spa Dead Sea: This luxurious stay is set up like a traditional Arabic village with almost 20 acres of gardens and a massive spa to relax in. If you're wanting to splurge to make the most out of your visit to Dead Sea Jordan, this is a top contender.
Tips for visiting the Dead Sea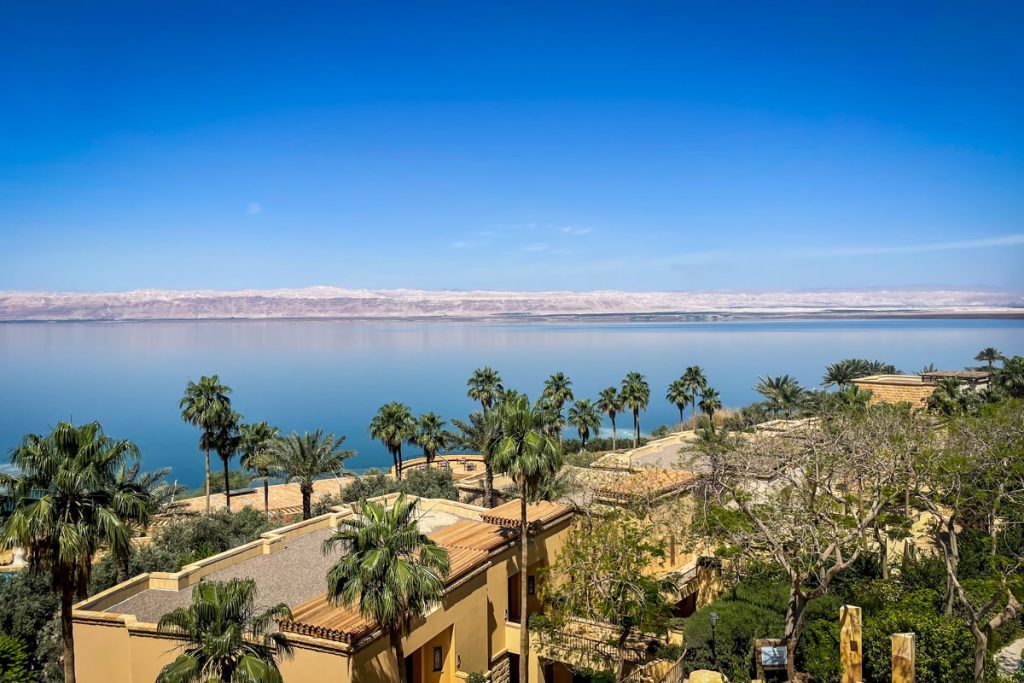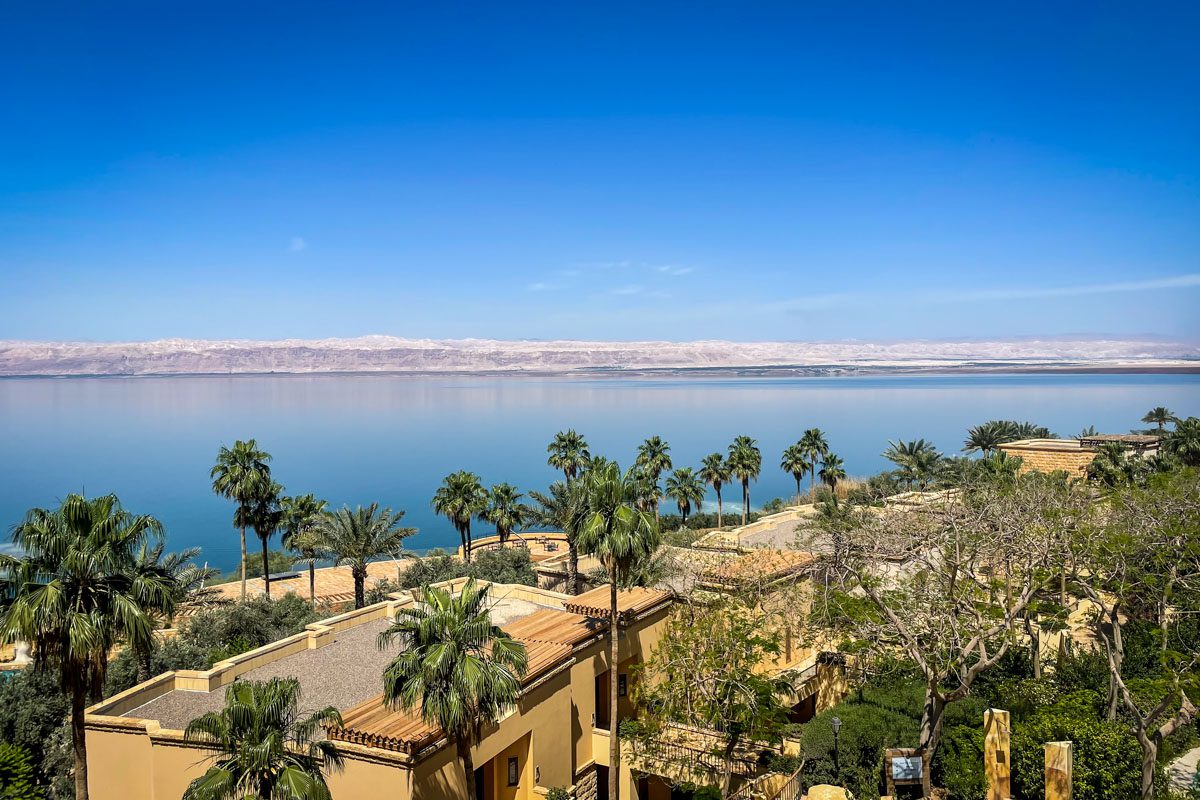 Unless you have your own rental car, it's best to arrange a return trip with your driver before he drops you off at the Dead Sea.
The resort fees are steep, but the cost of food and drink is even pricer! Alcohol is the most expensive, so bring a bottle of wine from Amman to stash in your hotel mini fridge if you want to save money.
While traveling elsewhere in Jordan you should dress modestly and keep your shoulders and knees covered. However, at the Dead Sea, it was perfectly acceptable to wear whatever you like. I saw plenty of people in shorts, tanks and bikinis.
Wear a cheap swimsuit in a darker color if you can. The mud and salt may stain a lighter suit. It's also a good idea to let your swimwear soak in fresh water and then rinse it thoroughly after you've been in the sea.
Make the most of your complimentary breakfast buffet! Like I mentioned, food is expensive here, so stay a while at the breakfast buffet and see if you can extend that meal into your lunchtime. (At the Kempinski, the buffet was meant to close at 10:30 a.m., but we noticed they were pretty relaxed with this rule.)
---
Are you planning a trip to Jordan?
We have lots of resources on travel in Jordan and destinations throughout the country. Check out our Jordan Travel Homepage for everything you need to know, or read some of our favorite articles below.
Save this article on Pinterest for later!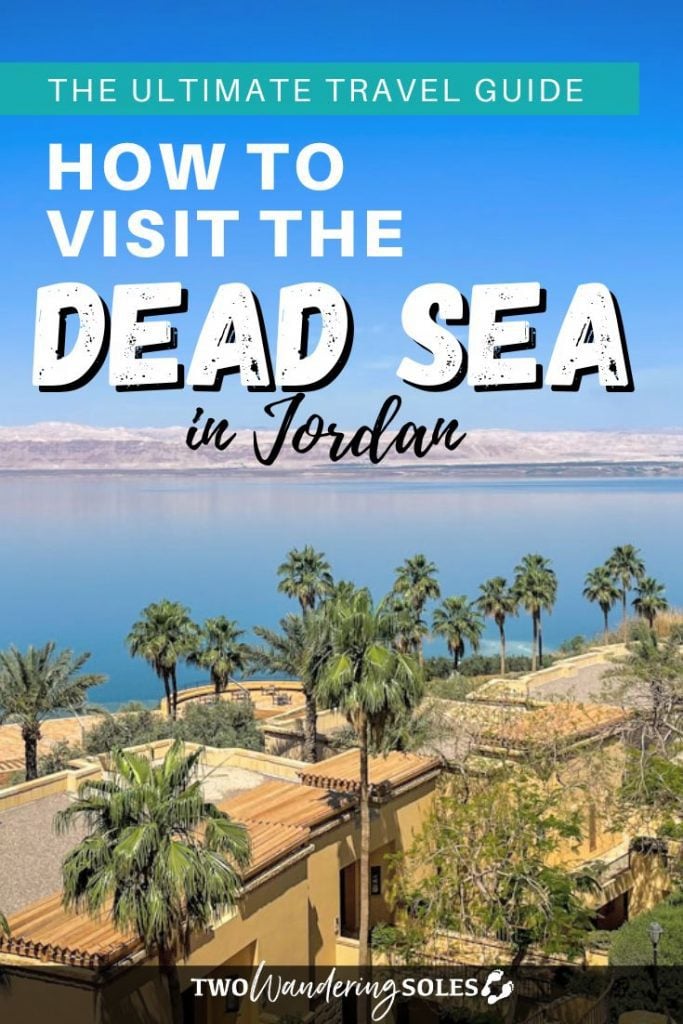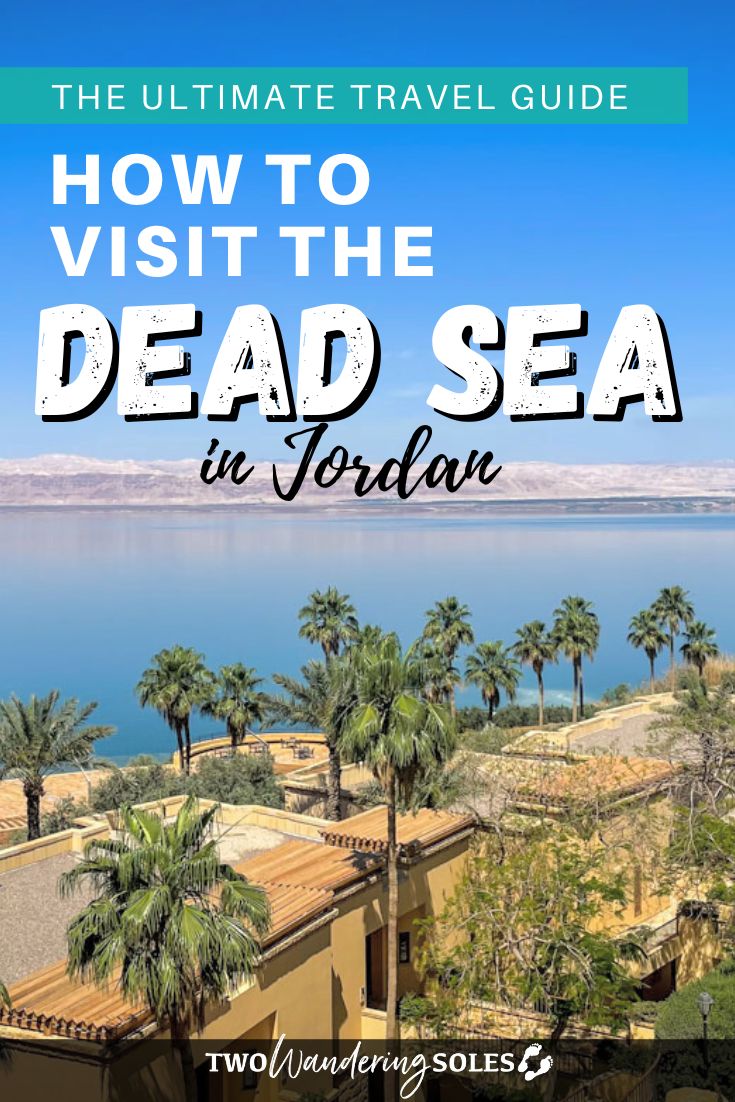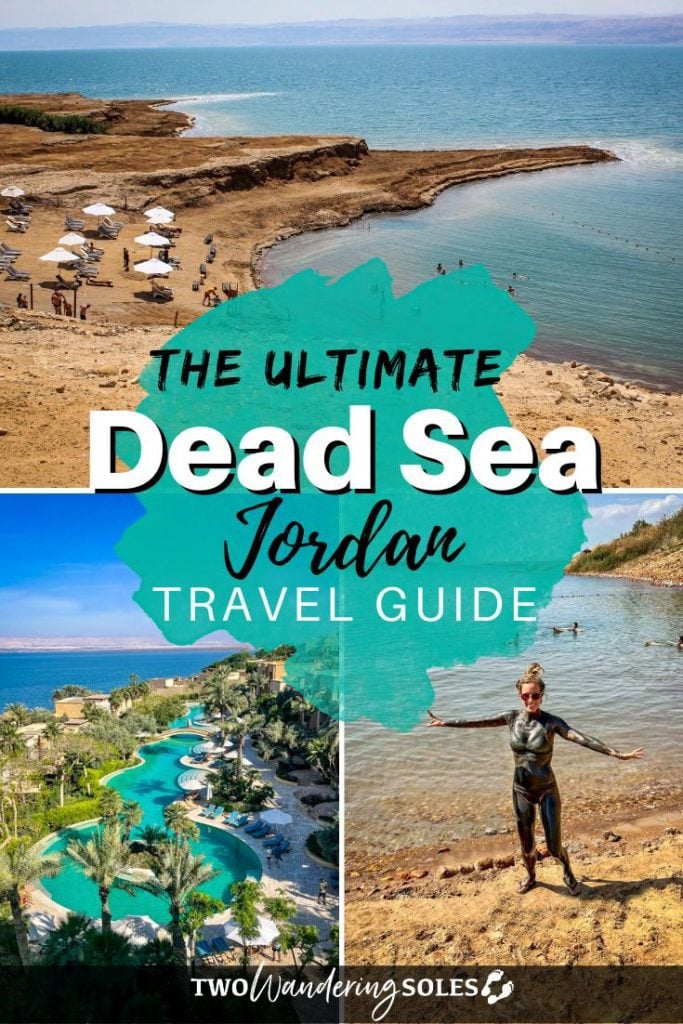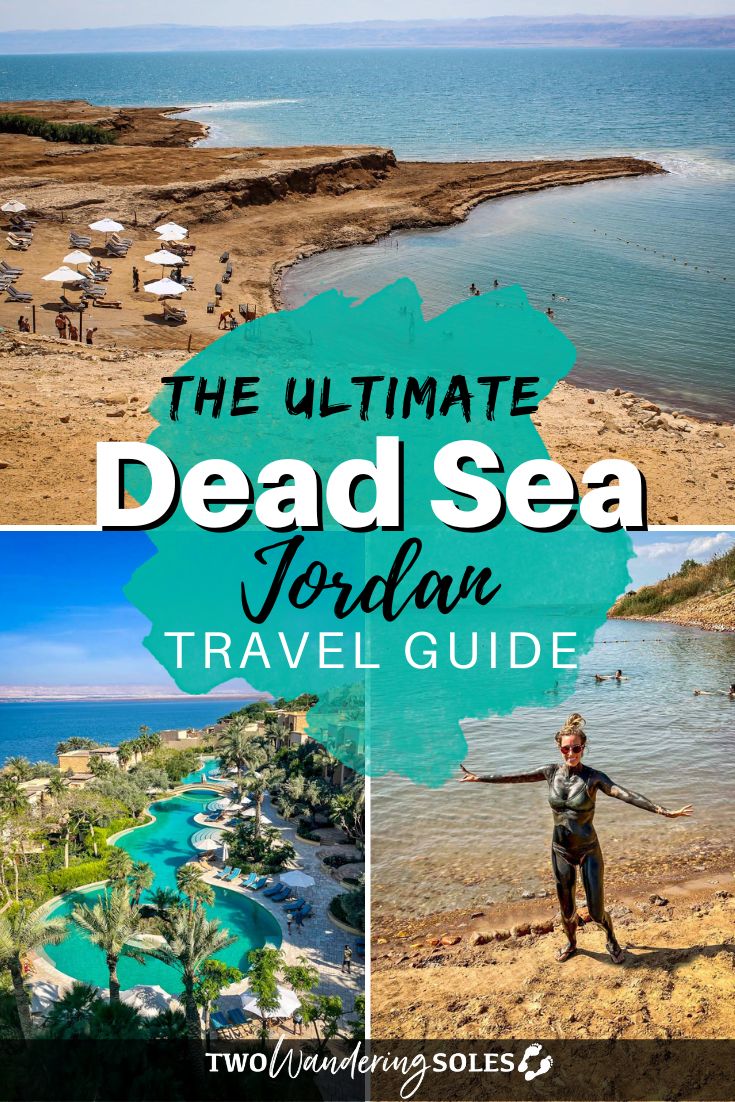 We want to hear from you!
Is visiting the Dead Sea in Jordan on your itinerary? What questions do you still have about the Dead Sea? Leave your comment below and we'll do our best to get back to you!