A trip to Jordan isn't complete without a visit to Petra, the renowned ancient city nestled deep in the desert. There are many transportation options to the UNESCO site from the country's bustling capital, so we created this guide to help you travel from Amman to Petra.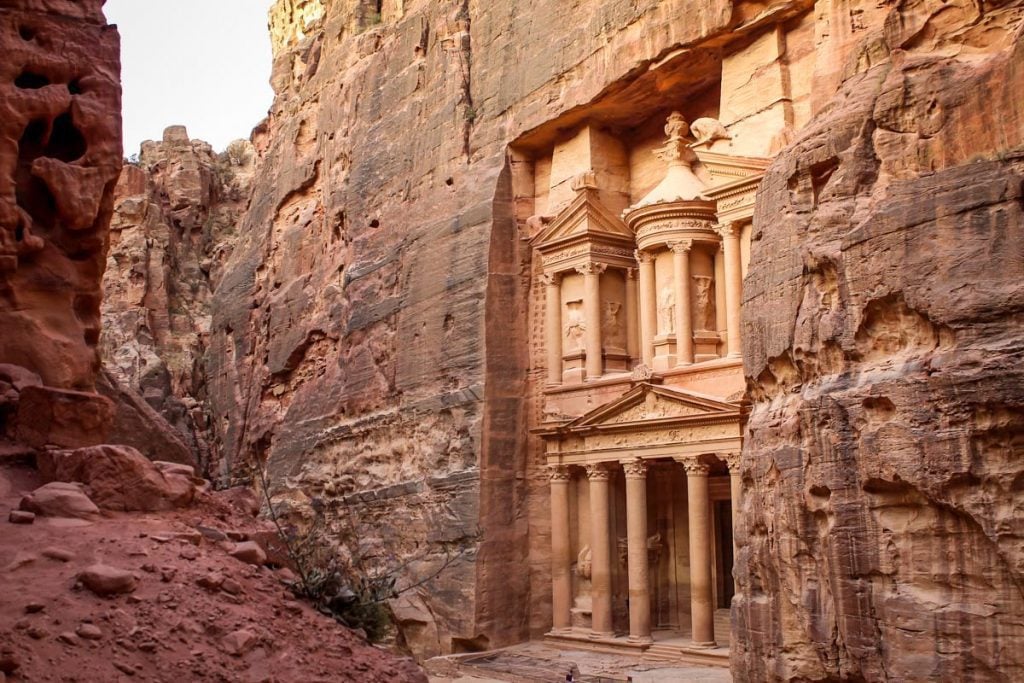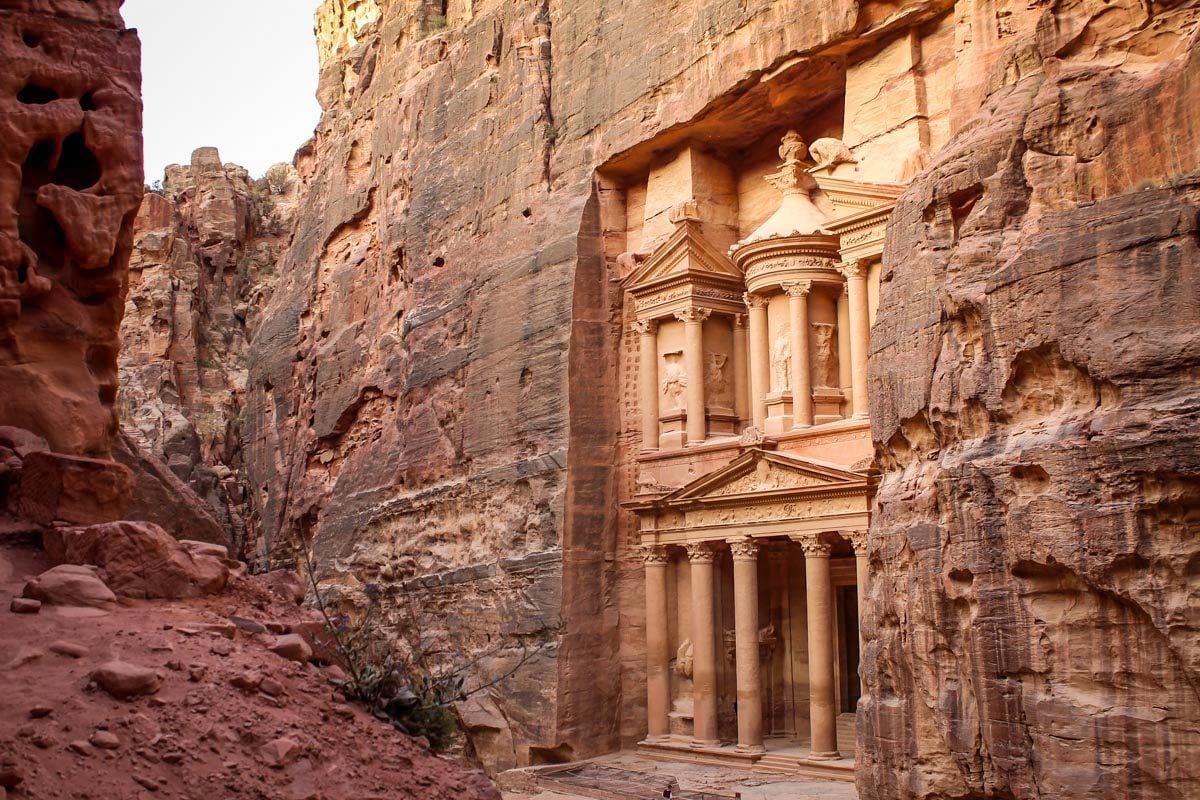 Jordan is deservedly attracting more and more attention as a bucket list-worthy travel destination in the Middle East. With mystifying ancient cities and attractions, the peculiar Dead Sea, rugged mountain scenery, and so much more, there are so many unforgettable things to do in Jordan.
The crown jewel of this captivating desert nation is Petra, a well-preserved ancient city carved right into colorful cliffs. A UNESCO World Heritage Site and one of the New Seven Wonders of the World, this iconic destination receives more than its fair share of visitors year-round.
Since the country's capital city, Amman, is home to Jordan's largest airport, visitors frequently travel from Amman to Petra. There are many transportation methods connecting the two cities, and we've broken down the various options.
Amman to Petra
Be sure to read our independent guides for visiting Petra like a pro and things to do in Amman so you have all the information you need to plan your trip!
---
Hot tip for visiting Petra: The Jordan Pass
If you're planning to visit at least a few attractions in Jordan, getting the Jordan Pass is a no-brainer! It grants free entry to over 40 sites across the country, including Petra. Not only does the pass reduce time spent waiting at the ticket counter, it also waives your visa on arrival fee.
In order to get the Jordan Pass, there are a few stipulations. First, you must be qualified for a visa on arrival in Jordan. Your trip must also be at least three nights/four days, and you're required to purchase your Jordan Pass before entering the country in order to get the cost of your visa waived.
Other resources to help you plan your trip
---
Amman to Petra by car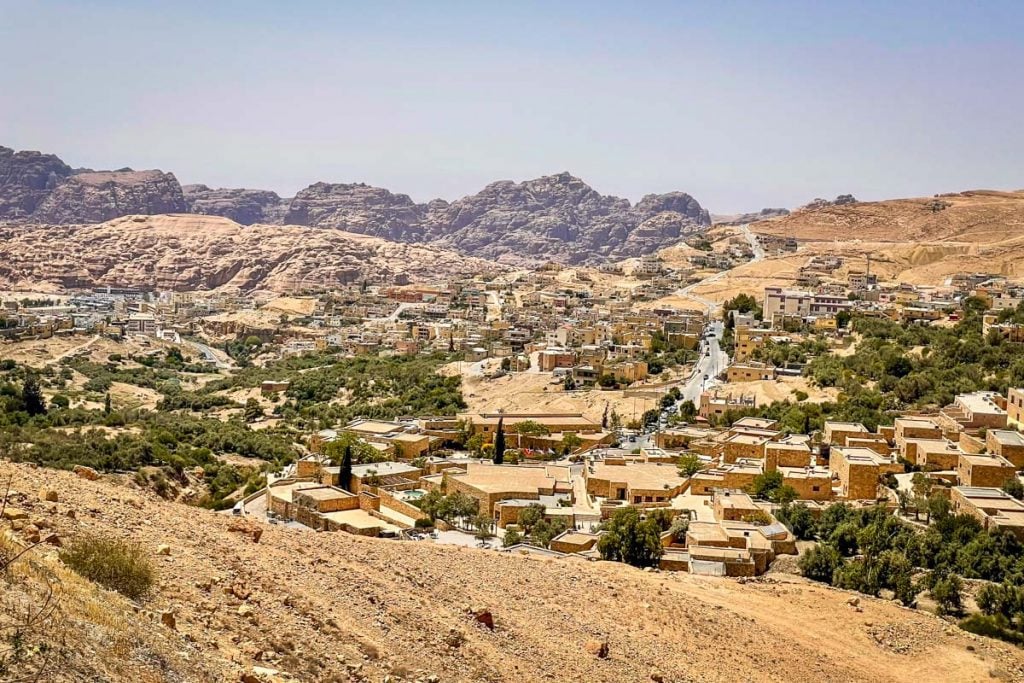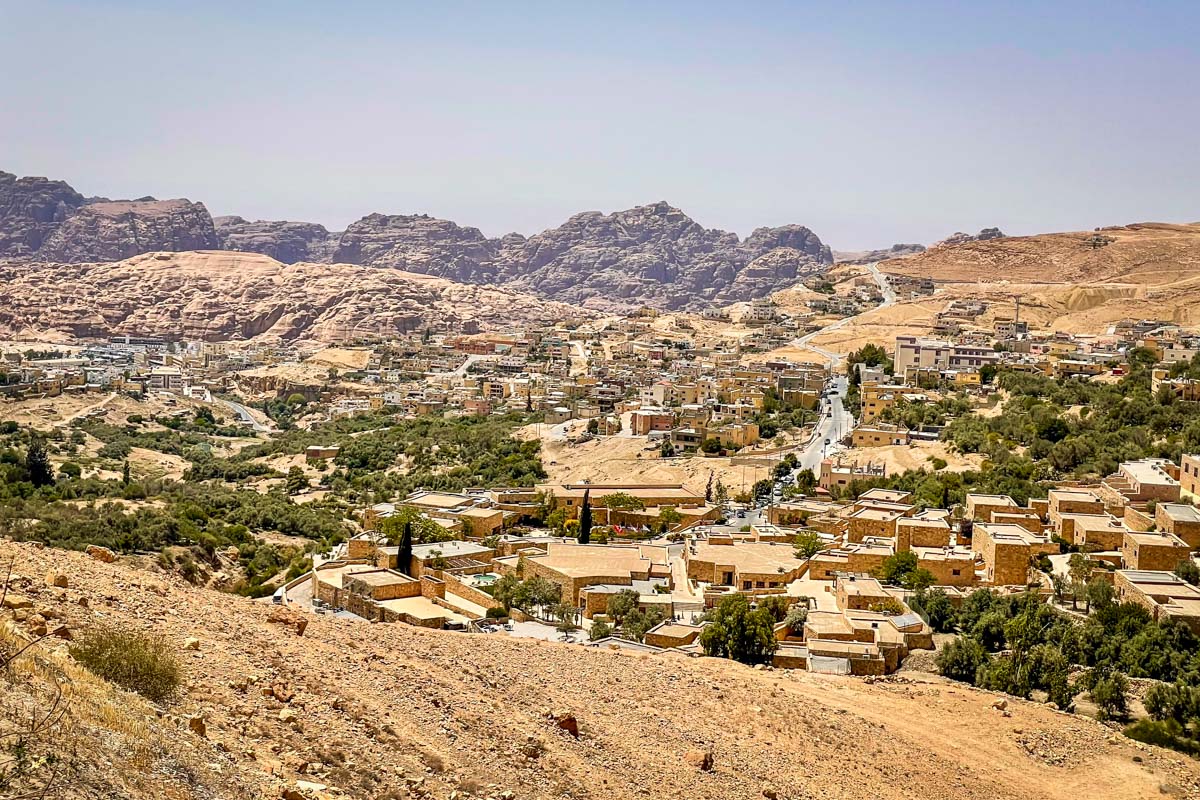 For visitors interested in exploring Jordan on their own schedule, traveling by car is your best bet. There are several routes that go from Amman to Petra.
Route 15 (Desert Highway)
Distance: 230 kilometers / 143 miles
Driving time: 3 hours
The quickest, most direct route from Amman to Petra by car follows the Desert Highway (Route 15) through Jordan's center, with good signage and few intersections. Make sure not to miss the right turn to King's Highway just before Ma'an, but otherwise, there's little navigation required! While this route is the fastest, the downside is the relatively dull scenery.
Route 65 (Dead Sea Highway)
Distance: 251 kilometers / 156 miles
Driving time: 4 hours
If you're more of a "take the scenic route" type, another option for driving from Amman to Petra is down Route 65. This route, also known as the Dead Sea Highway, this is one of the lowest elevation highways in the entire world! It travels along the shore of the Dead Sea and passes Wadi Mujib Canyon.
This route is just slightly longer than the Desert highway, but takes almost an hour longer to get from Amman to Petra. However, the turquoise sea beside you is exponentially more scenic. Plus is a great route to take if you plan to stop off and visit the Dead Sea, or hike Wadi Mujib Canyon (one of my favorite activities in Jordan!).
Route 35 (King's Highway)
Distance: 266 kilometers / 165 miles
Driving time: 5 hours
Finally, the most scenic way to get from Amman to Petra is via the King's Highway, Route 35. Once used as an ancient trade route, this highway passes by Madaba, Mount Nebo, Dana Nature Preserve, and loads of other Jordan attractions.
Although similar in length to the other routes, this highway is defined by countless twists and turns, steep hills, historic landmarks, and plenty of roadside viewpoints that mean you spend a lot more time driving. This is easily one of the best road trips through the country.
Most travelers complete the King's Highway drive from Amman to Petra in one day, but it's easy to plan an overnight stop if you don't want to feel rushed. The Dana Preserve is a great halfway point to rest, allowing for a short morning hike before hitting the road again.
Tip: For an excellent overview of Jordan, you can also combine King's Highway with Route 65. This showcases some of Jordan's top attractions without passing the same sight twice.
Is it safe to drive from Amman to Petra?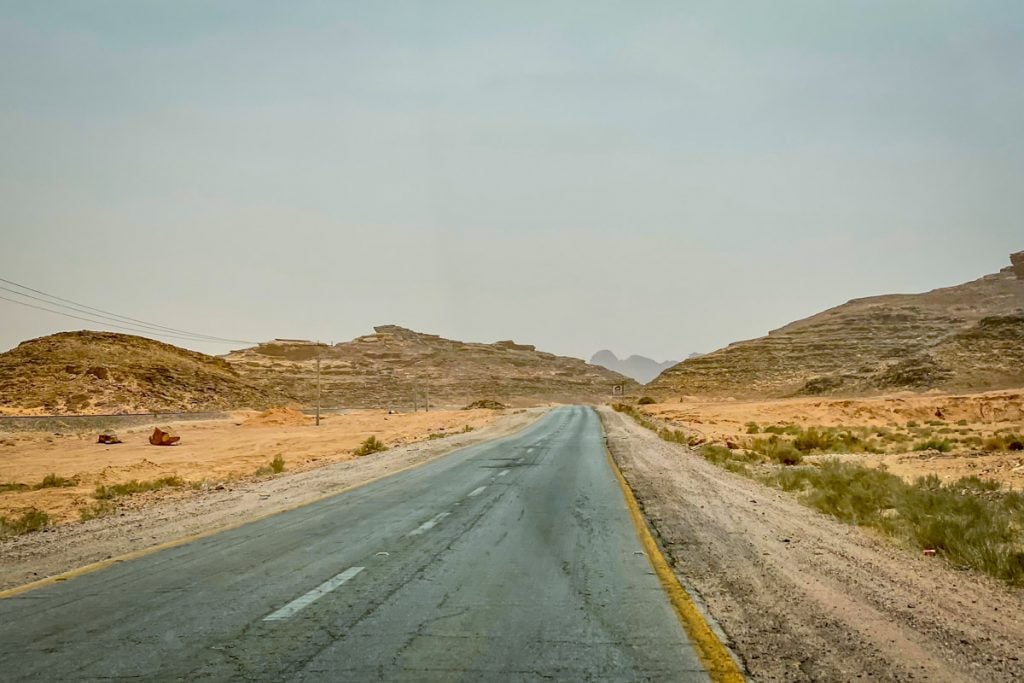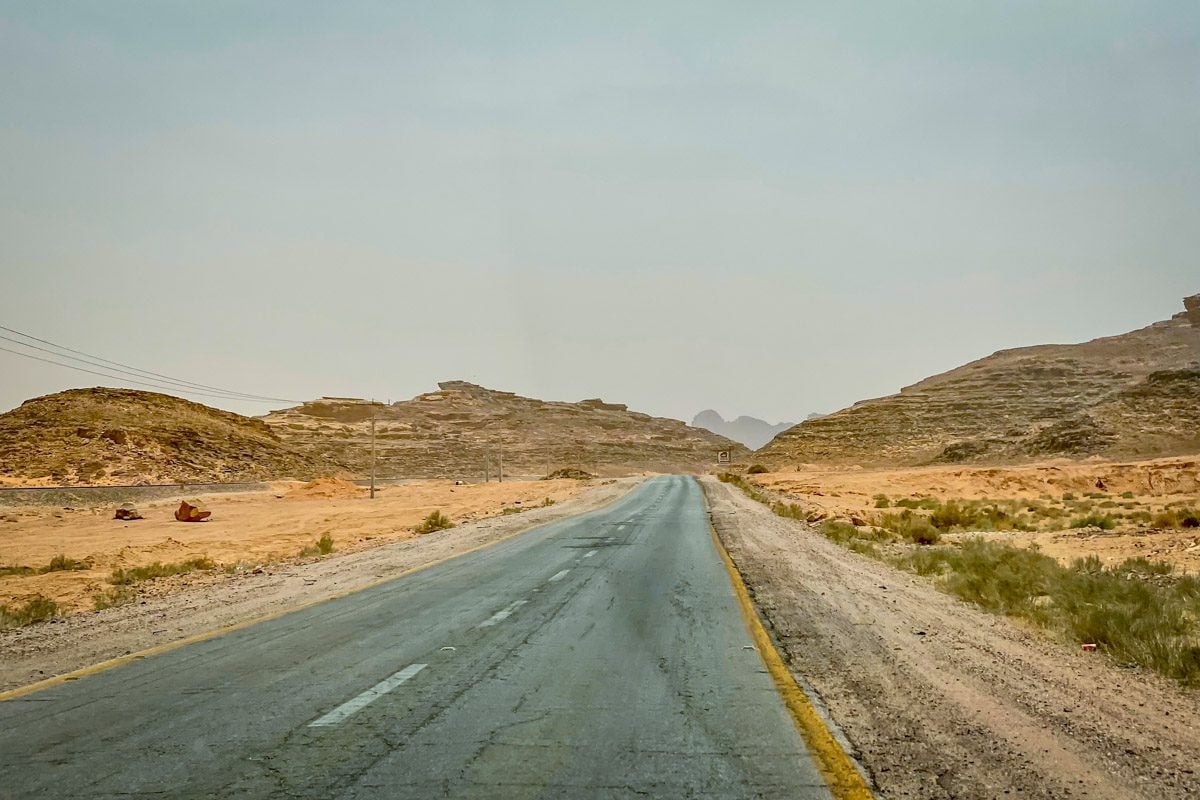 Driving in Jordan is perfectly safe for locals and foreigners alike. The roads in Jordan, especially the main routes that connect Amman to Petra, are in (mostly) great condition, so it's easy enough to drive yourself.
Traffic is a bit more chaotic in Amman, and that can be intimidating to some foreign drivers. However, once you're outside of the city, you won't run into much traffic. They drive on the right side of the road, same as in North America and most of Europe, so that's easy enough to navigate if that's what you're used to.
Experienced drivers should feel perfectly confident driving from Amman to Petra.
Getting a rental car in Jordan
Adults must be at least 21 in order to rent a car in Jordan, and the country requires all drivers to have an international driver's permit (IDP). As long as you have a valid driver's license in your home country, you can get your international driver's license here, for just $30 USD. They have urgent processing available to get your digital license within 15 minutes.
Prices for car rentals in Jordan aren't too steep, with daily rates between 25-40 JOD (approximately $35-55 USD). Especially if you're splitting the cost with one or more travel partners, renting a car in Jordan is one of the most economical options for getting around on your own schedule.
We put together a complete guide to getting a car rental in Jordan, with all the information you need to find the best price, including tips for driving in the country.
Search & Compare Rental Car Prices
Discover Cars: We personally use this aggregate site to compare rental car prices from all the big name companies and get the best price possible.
RentalCars.com: We've had good experiences finding rental cars with this site in the past.
Keep in mind you'll want to book in advance if you're visiting during high season (March-May and September-November).
Amman to Petra by private transfer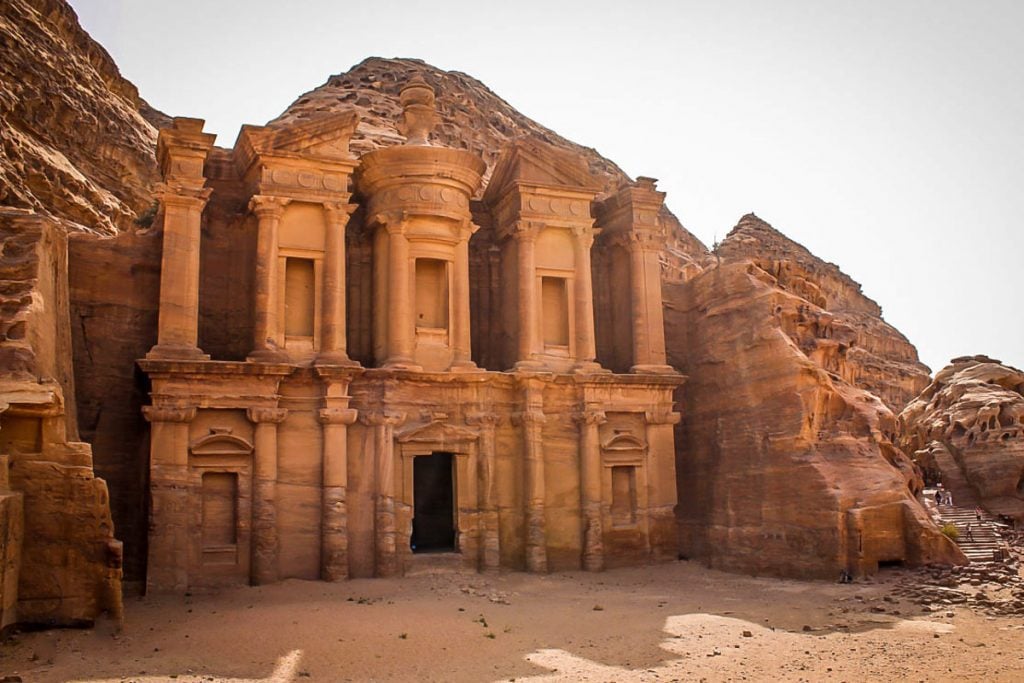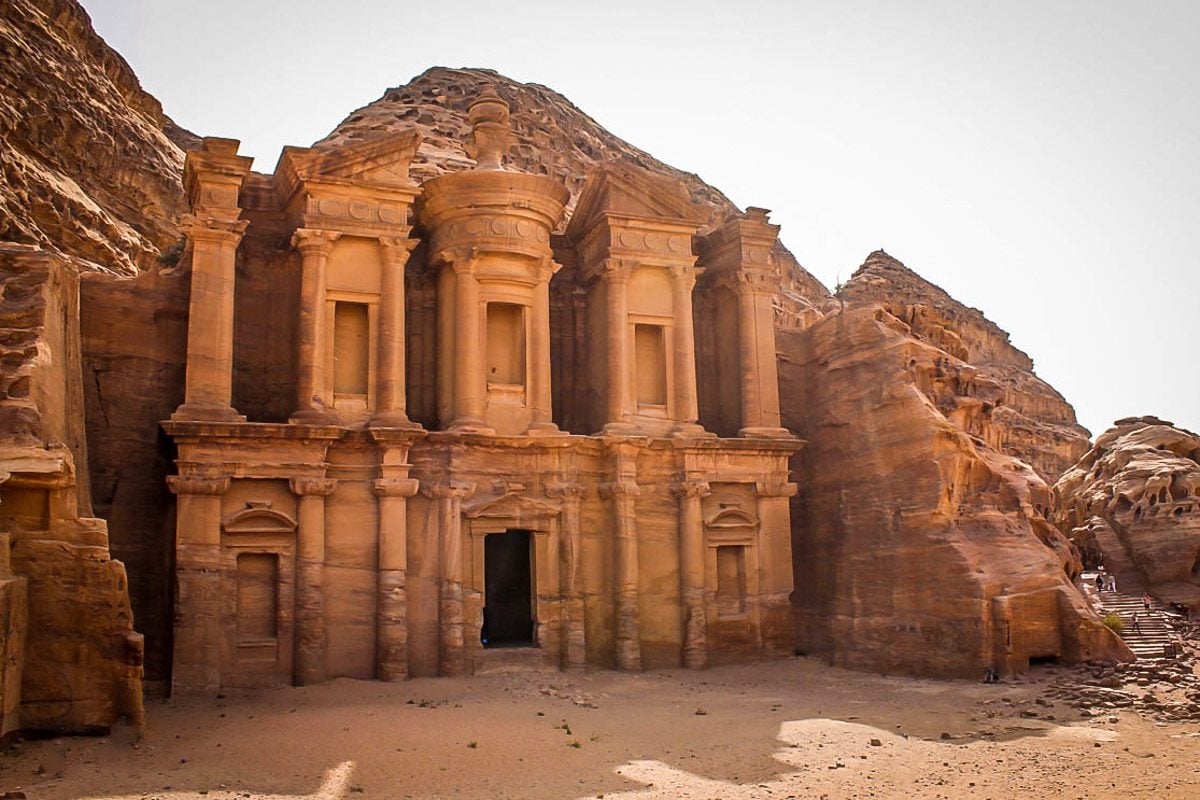 If you don't want to deal with the hassle of driving yourself, a private transfer is a great option for traveling from Amman to Petra. Especially if you're short on time, a transfer arranged directly from the Amman Airport to Petra and back may be the most efficient option.
While it's pricey, a private transfer is a fantastic option for larger groups who can travel in a bus, with prices as low as 12 JOD (about $17 USD) per person.
Transfer services depart from the Amman Airport, the Amman Visitor's Center, or from a designated hotel. The airport is actually 30 minutes closer to Petra than the city itself, so if you're low on time, book directly from the airport.
Here are a handful of private transfer companies offering service from Amman to Petra:
Tourist Jordan: Cars, vans, and buses for 3-47 passengers with group rates starting at $195 USD
Get Your Guide: Starting at $135 USD each way for 3 people
My Transfers: $337 USD for up to 3 people in a luxury car
Amman to Petra by bus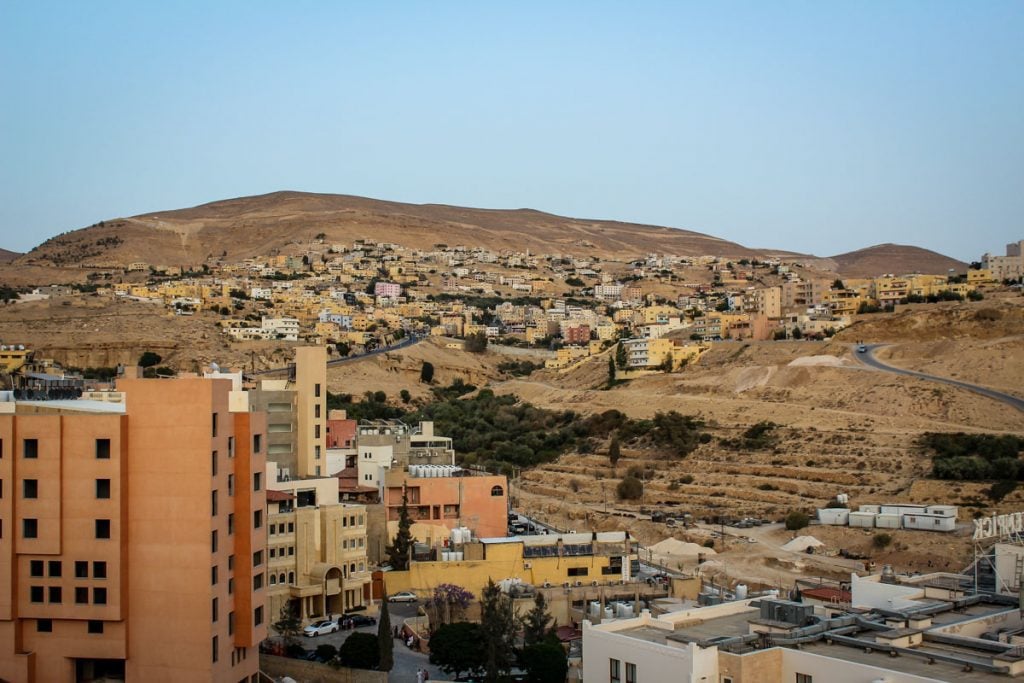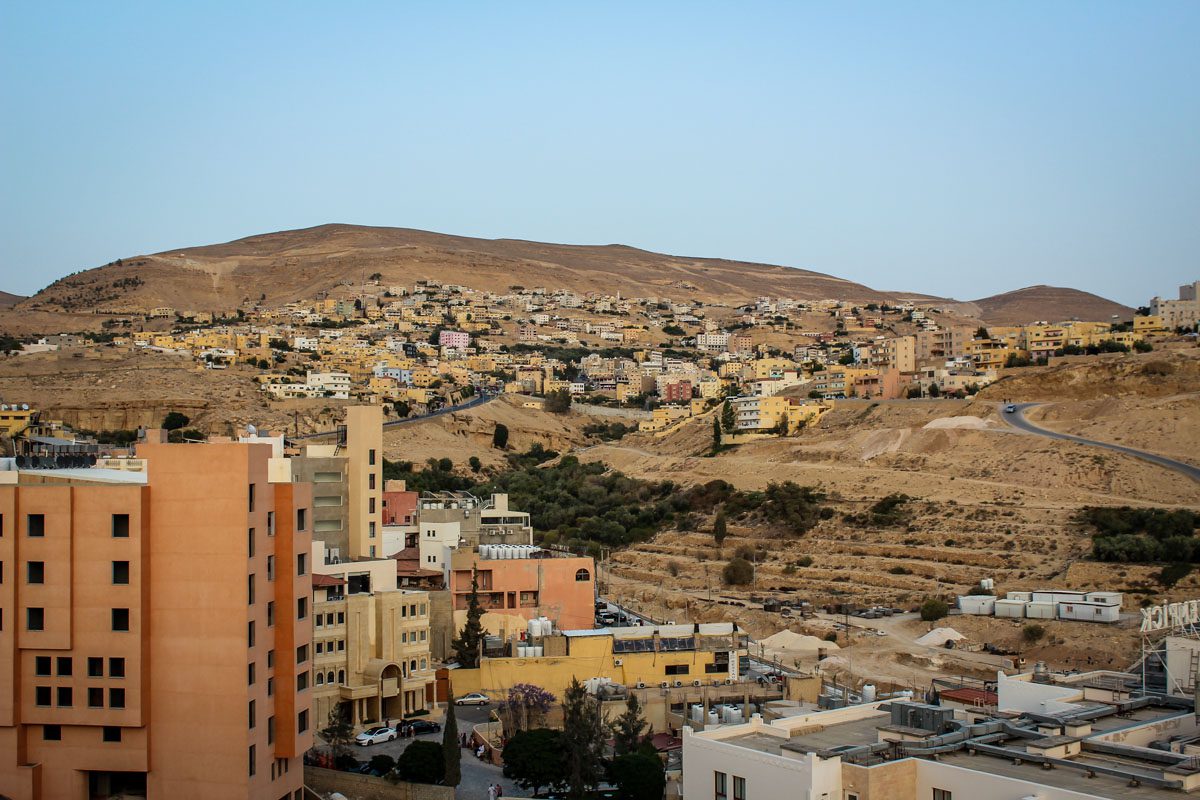 The most affordable option (by far!) is to take a bus from Amman to Petra. With tickets as low as 3 JOD (about $4 USD) one-way, there's no doubt this is the best transportation method for budget travelers.
JETT buses from Amman to Petra
JETT, Jordan Express Tourist Transportation, caters specifically to international travelers. While pricier at 10 JOD ($14 USD) per trip, the buses are more comfortable and tickets can be purchased in advance. There's also a restroom and AC onboard, huge advantages in the desert heat.
The JETT bus from Amman to Petra departs daily at 7:00 a.m. from 7th Circle JETT station or at 6:30 a.m. from the Abdali Jett station in Amman.
Tickets can be purchased online or at the JETT office at the 7th Circe. The journey takes about three hours, arriving in Petra at 10:00 a.m. The return bus to Amman leaves nightly from Petra at 5:00 p.m., making for an easy day trip or quick overnight.
Local buses from Amman to Petra
If you're looking for the most budget-friendly option, there are local mini buses that run from Amman to Petra with tickets costing 3-7 JOD ($4-10) per person. These depart from the South Bus Terminal station in Amman, and arrive at the Wadi Musa Minibus station.
These buses have 10-15 available seats each and don't run on a schedule; instead, they depart when full. There is no AC and if you're traveling with a large bag, you'll be charged an extra fee — much like with budget airlines.
Expect these local buses to take a bit longer going from Amman to Petra since they make several stops in small villages along the way.
For travel in all Jordanian cities, minibus departures are even less frequent after 2:00 p.m. Additionally, if a bus doesn't quite fill up, the driver may ask passengers to pay more per ticket, up to 10 JOD.
Taking a local bus can be an immersive travel experience, but for the journey from Amman to Petra, sticking with JETT is recommended — especially during hot summer months. The AC alone warrants the extra cost!
Amman to Petra by taxi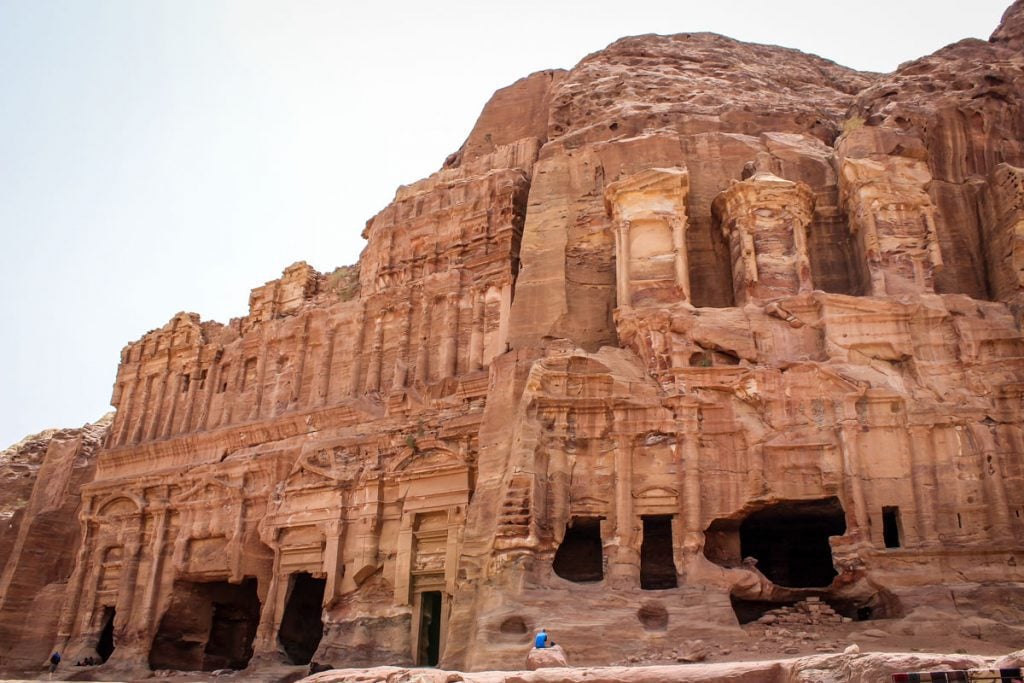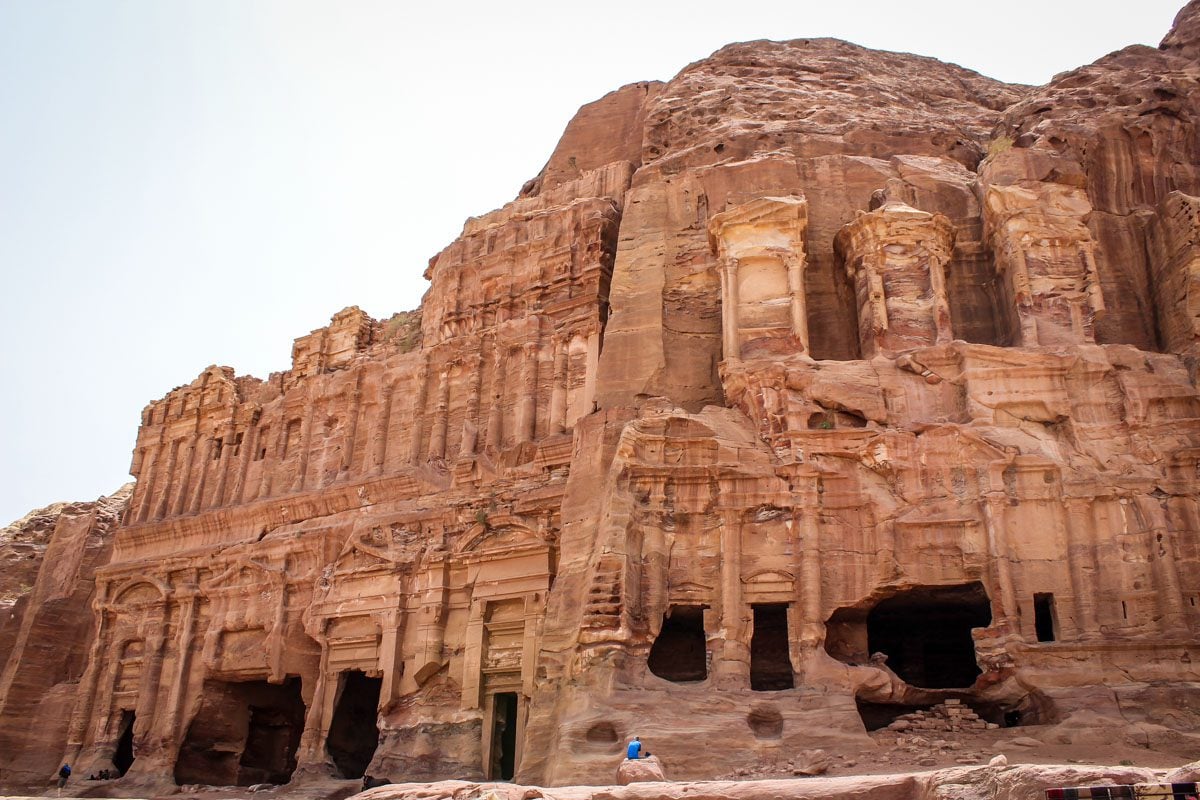 Intercity taxis are quite common in Jordan, with many carriers offering service from Amman to Petra. However, as you may expect, this is one of the more expensive transportation methods.
Depending on who you ask, the price of taxis from Amman to Petra vary. A lot of websites mention typical costs for about 75-90 JOD ($105-125), which is from the Amman Airport (not the city center). You can expect to pay a bit more if traveling from the city center.
Having said that, many people find traveling by taxi an attractive option because of the convenience. Taxis allow you to negotiate a custom itinerary; drivers can be hired for King's Highway or Dead Sea road trips. With so many different Amman-based cab services available, inquiring at your accommodation is the best option.
Amman to Petra by rideshare
The popular rideshare app, Uber, works in Amman, Jordan. This is a great way to hire a last minute driver to take you from Amman to Petra. According to the app, rides to Petra will run you between 99-107 JOD ($140-150 USD), but that's if you can get a driver to accept your ride (some may not want to drive the distance).
One way I get around this is by talking to my Uber drivers while in the city. I took a lot of shorter Uber rides within Amman and had many drivers give me their cards. I even contacted a few of them to take me on longer trips. That way they can quote you ahead of time and prepare for the longer distance.
Guided tours from Amman to Petra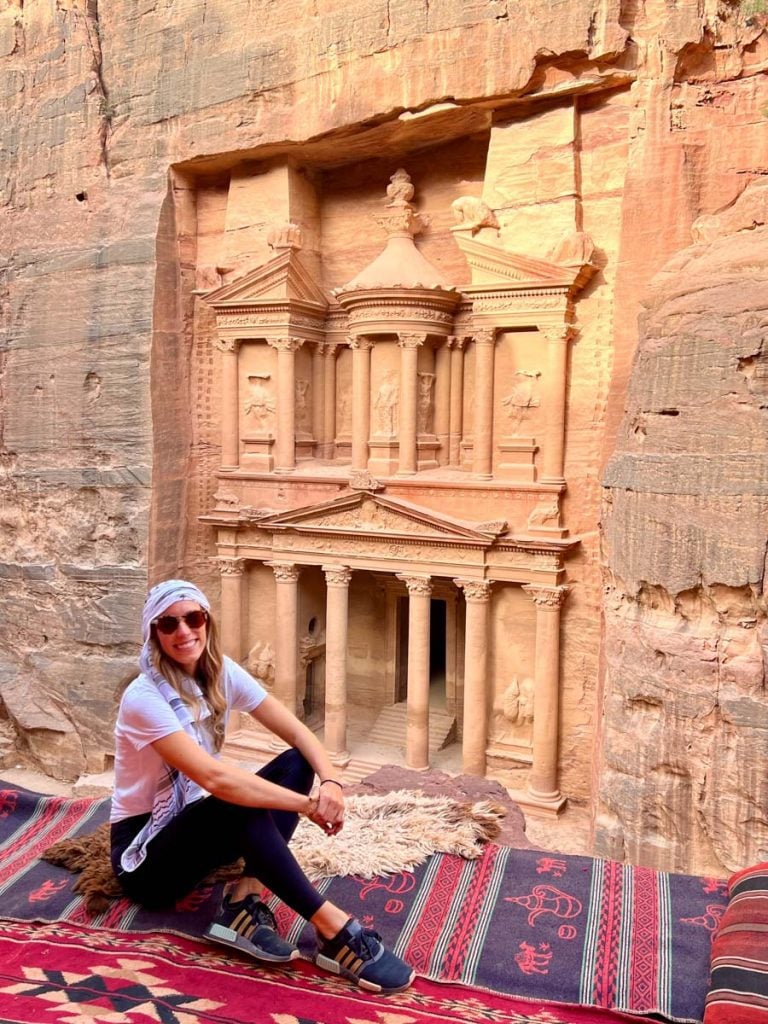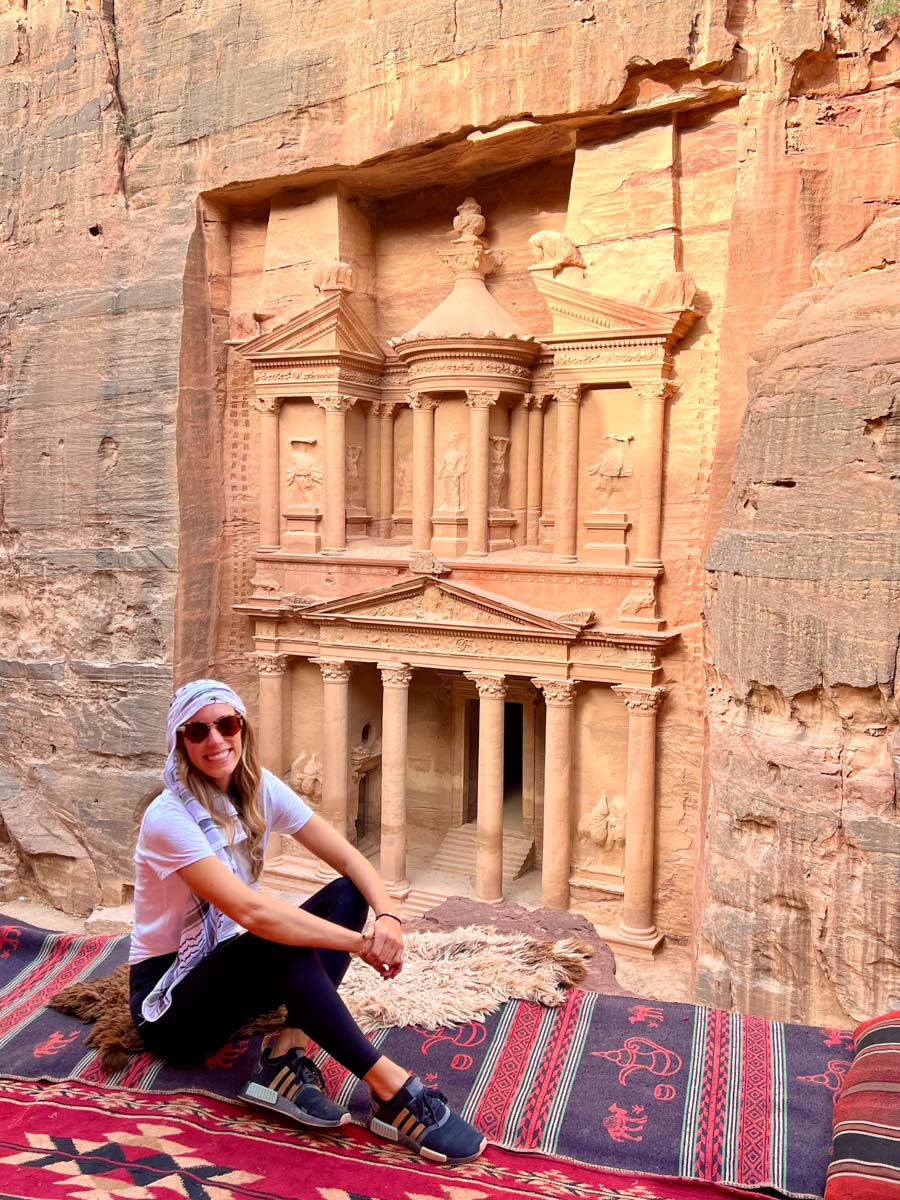 If you'd like to leave all of the logistics to someone else, consider booking a tour from Amman to Petra. Here are a few highly recommended tour options from Amman:
---
Are you planning a trip to Jordan?
We have lots of resources on travel in Jordan and destinations throughout the country. Check out our Jordan Travel Homepage for everything you need to know, or read some of our favorite articles below.
Save this article on Pinterest for later!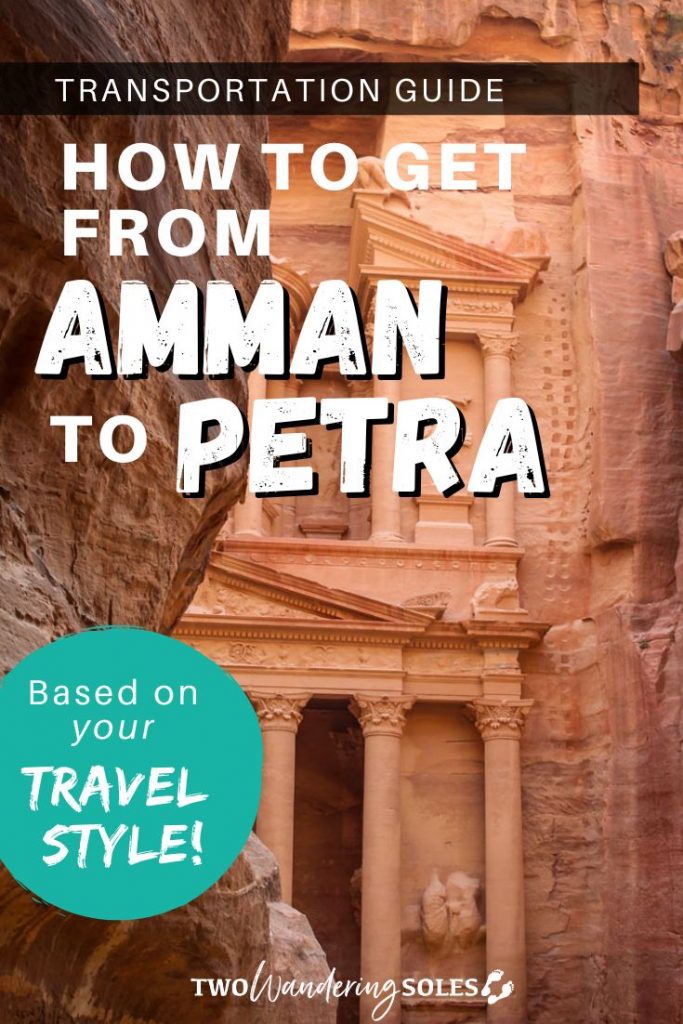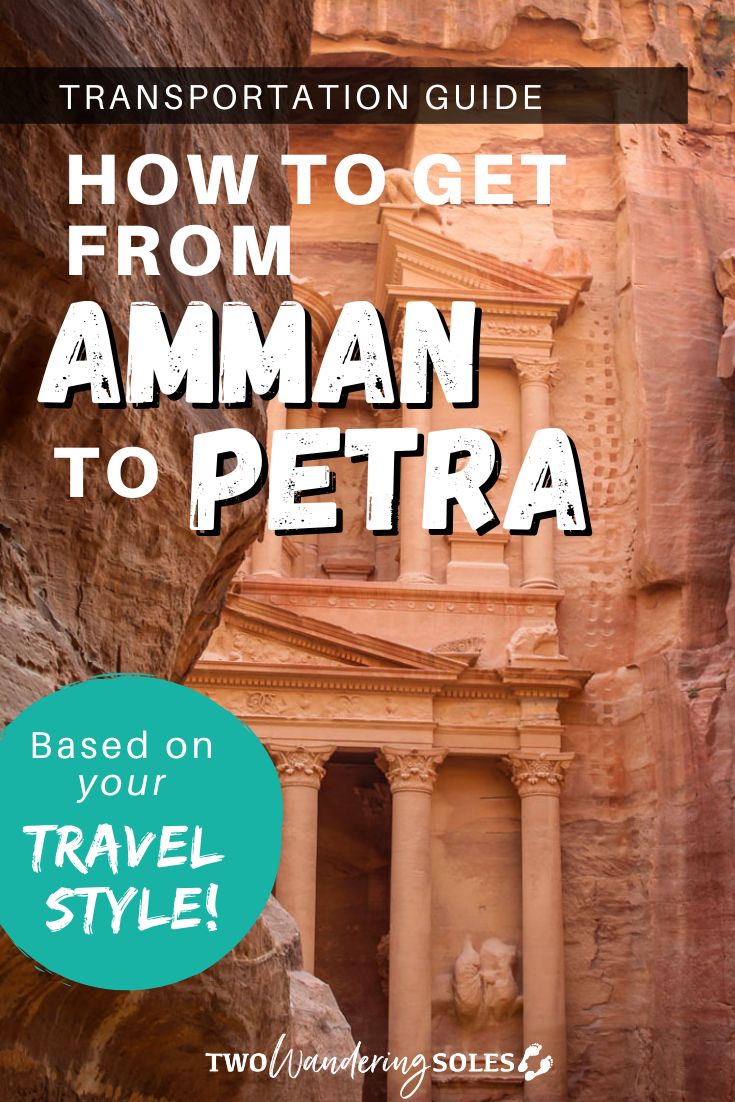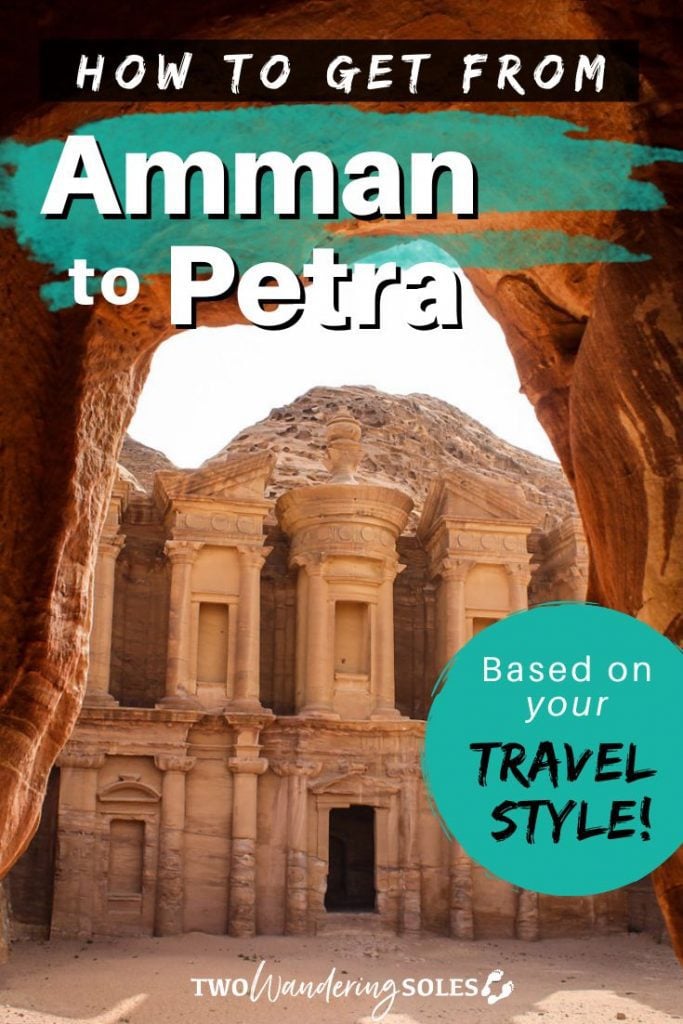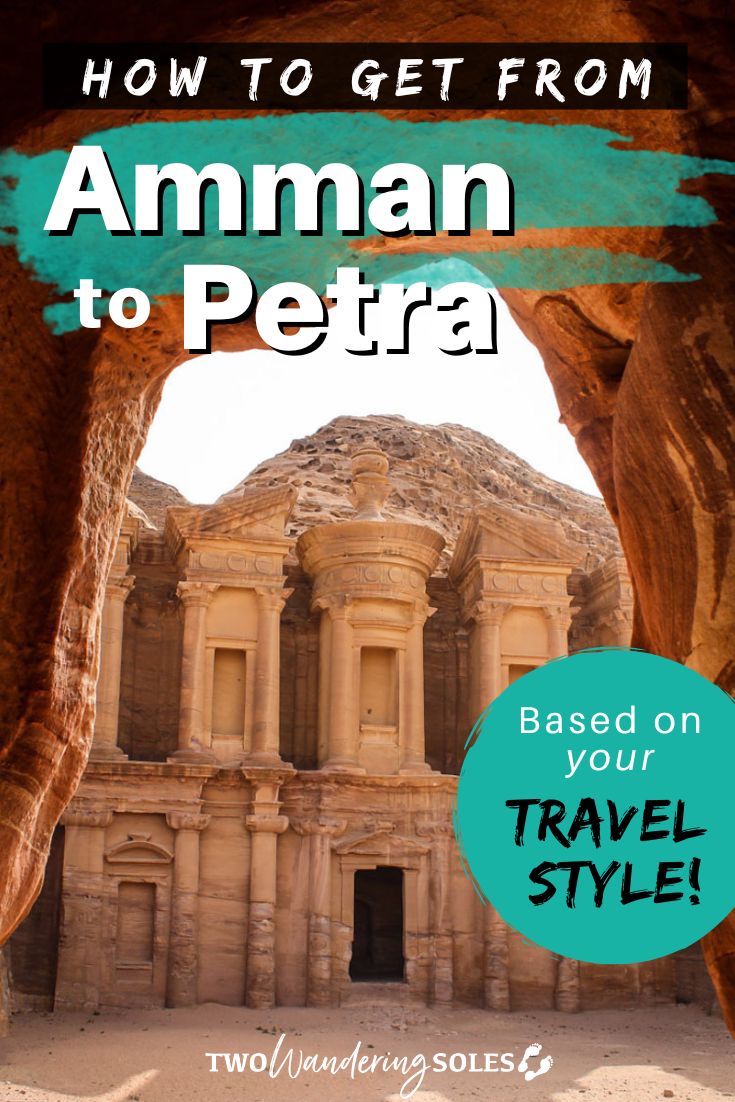 We want to hear from you!
What's your preferred method of transportation when you travel? Are you planning a trip to Jordan and still have questions? Leave your comment below and we'll do our best to get back to you!