There are countless reasons to visit Petra, Jordan — and lots of things to know and consider before going. This guide is packed with all those important details, including insider tips for making the most of your visit to this famous world wonder.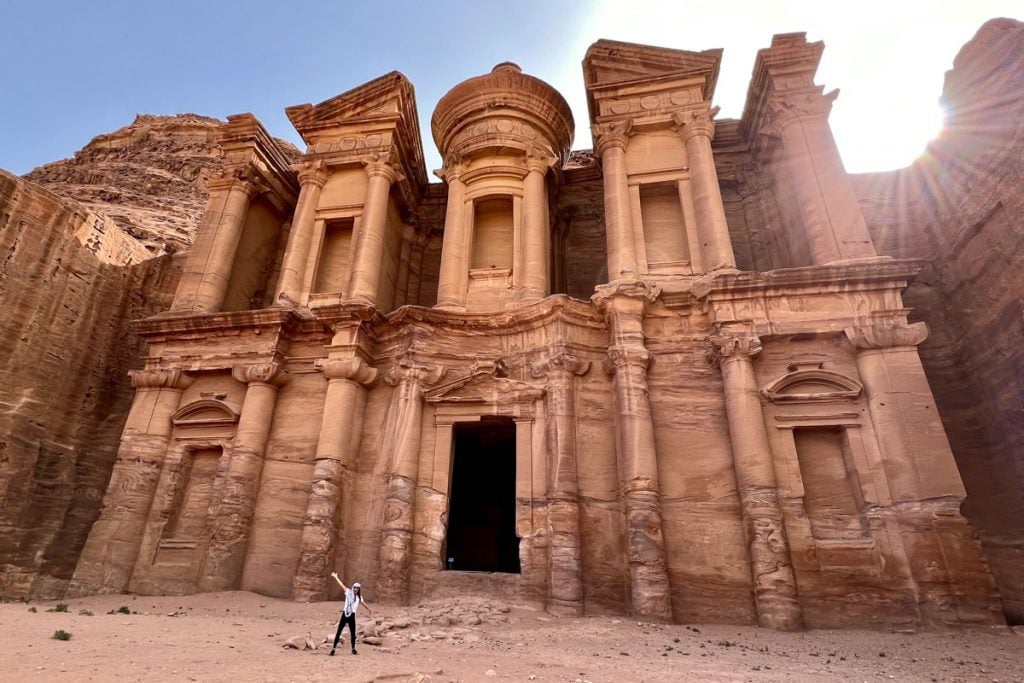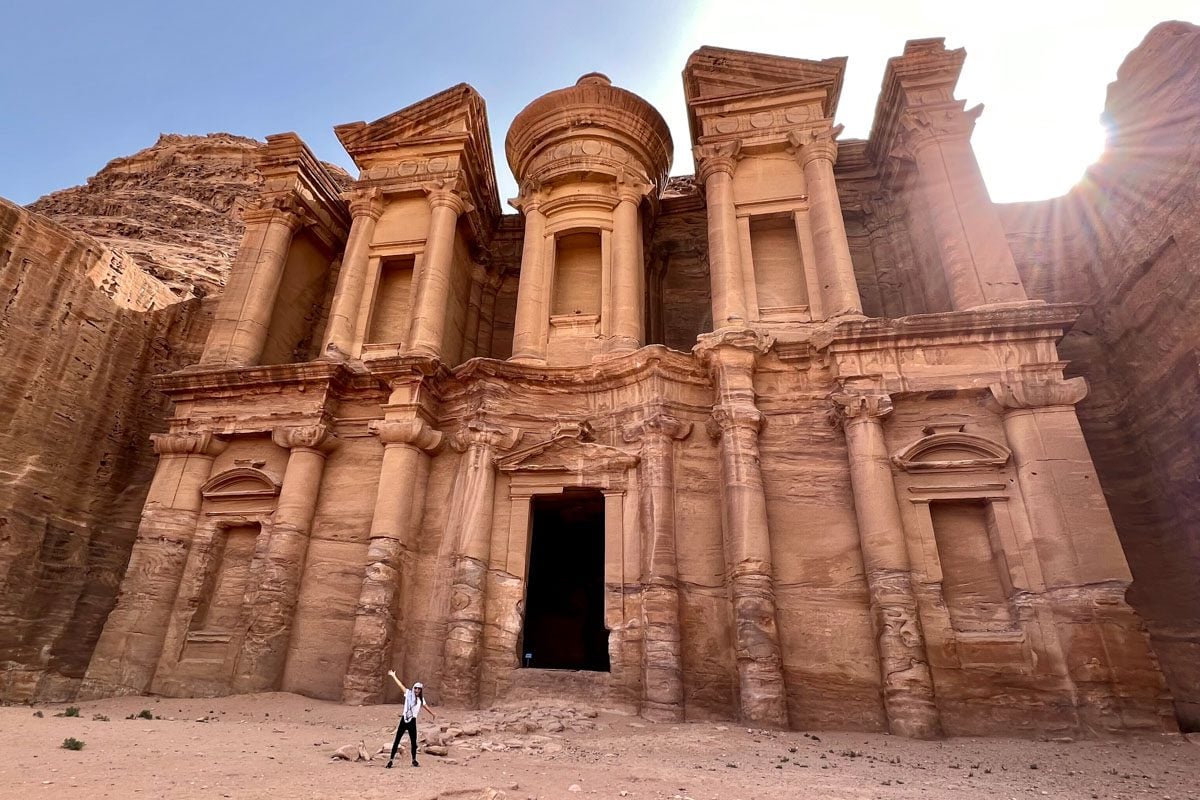 Petra, the "Lost City" and former capital of the Nabataean Kingdom, is Jordan's crowning jewel of tourist attractions. Once an important trading city with a population of 20,000–30,000 people, the settlement was later abandoned and remained uninhabited for five centuries.
After it was rediscovered in 1812, Petra was later declared a UNESCO World Heritage Site and one of the New Seven Wonders of the World. Today, there's nothing on Earth quite like this beautiful, ancient city that defies logic and exceeds expectations.
Most tourists in the country come to visit Petra—it's one of the top things to do in Jordan after all—making it crowded and confusing to navigate. That's where we come in! This article will cover everything you need to know about visiting Petra, including insider tips to avoid the crowds and make the most of your time.
Article contents
---
First things first, let's get this out of the way…
Is Petra worth visiting?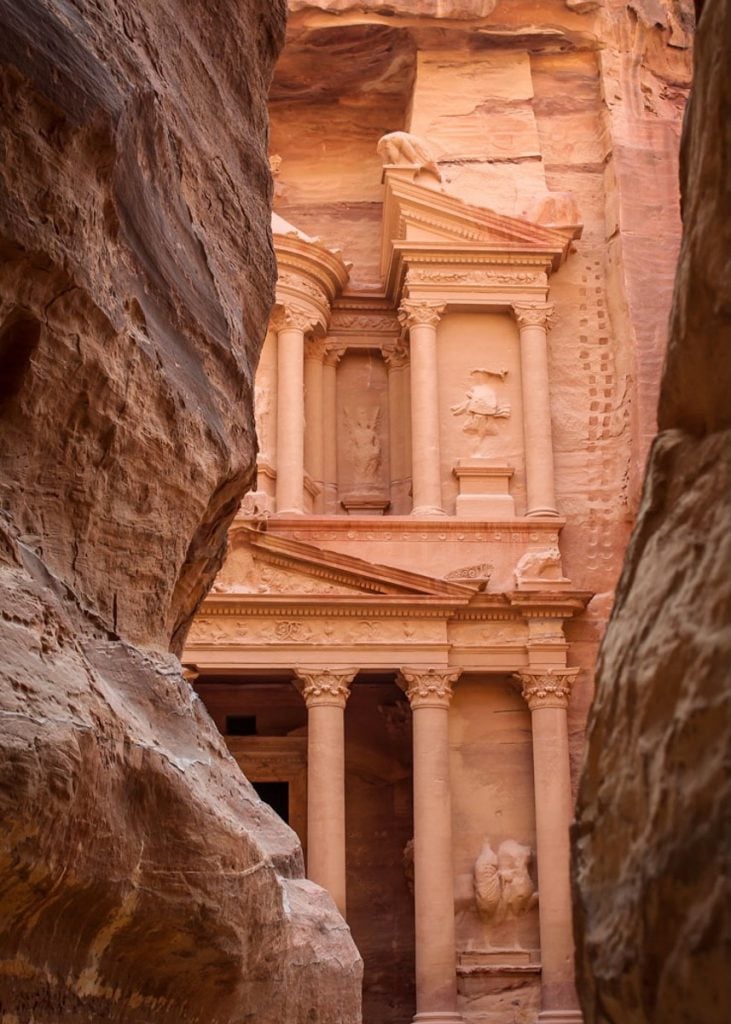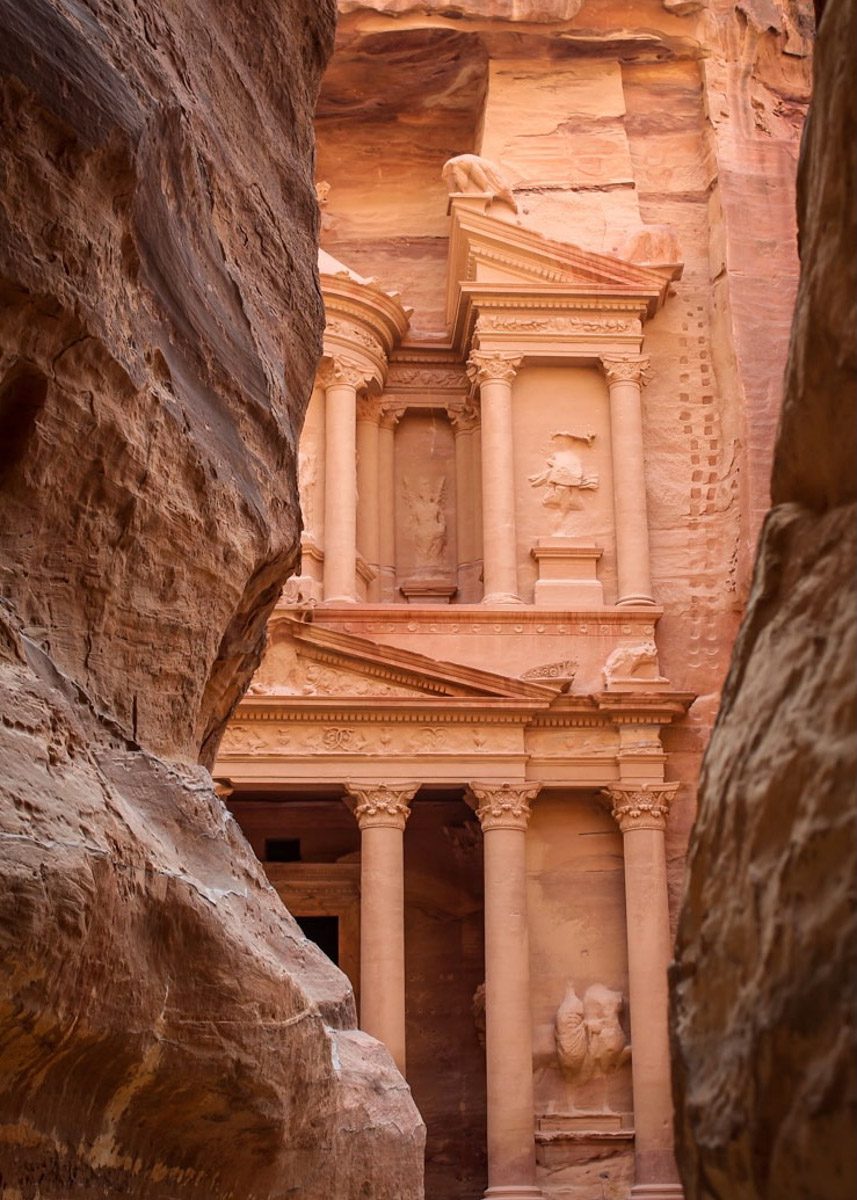 Petra is 100% worth visiting! The "Lost" Nabatean City was carved directly into the sandstone cliff faces and comprises beautifully-preserved buildings in hues of rose, orange, and red (hence, Petra's well-deserved nickname, "the Pink City").
Experiencing the unique history, culture, architecture, and landscapes of this prehistoric city is absolutely thrilling and exploring Petra feels like a true expedition!
General Info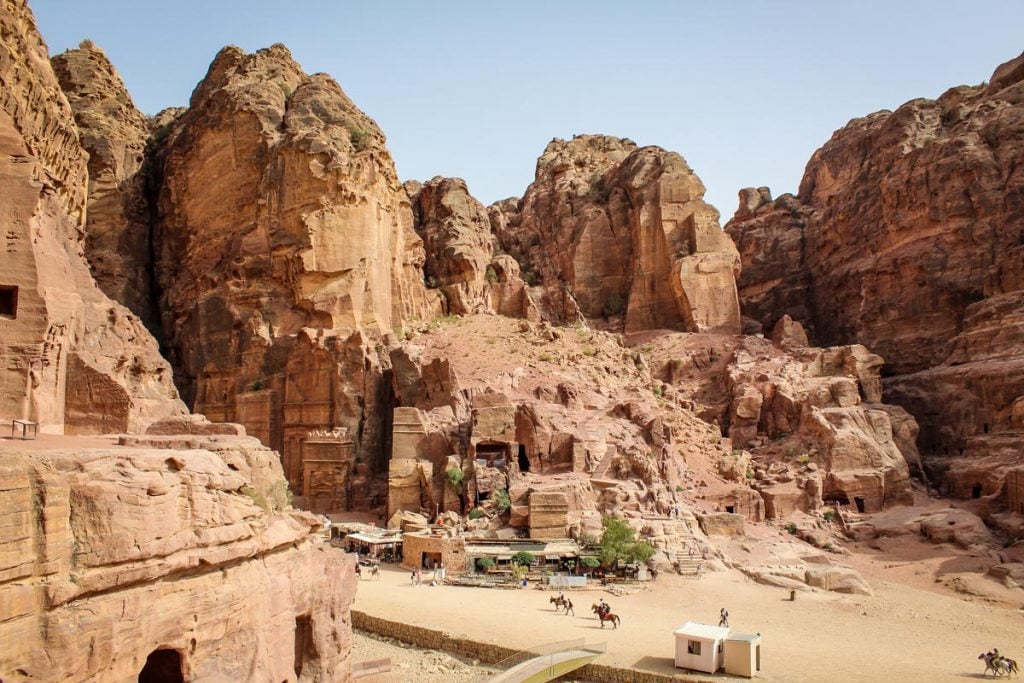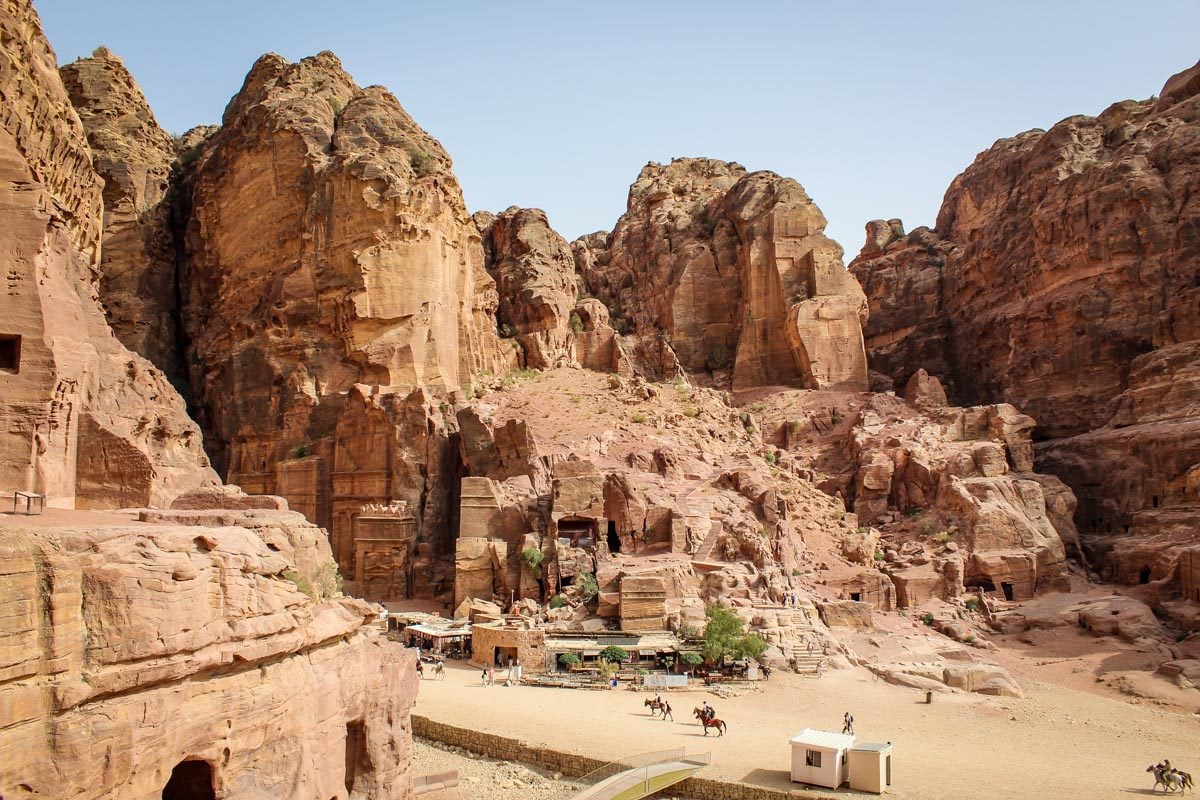 Here is all the info you need to visit Petra at a glance.
Location: The only public entrance is through the Petra Visitor's Center in Wadi Musa, Jordan
Hours: 6:00 am to 6:00 pm during the summer and 6:00 am to 4:00 pm in the winter
Cost: From 50 JOD ($70 USD)
Reservations: None required
Area: 102 square miles (264 square km)
How to get to Petra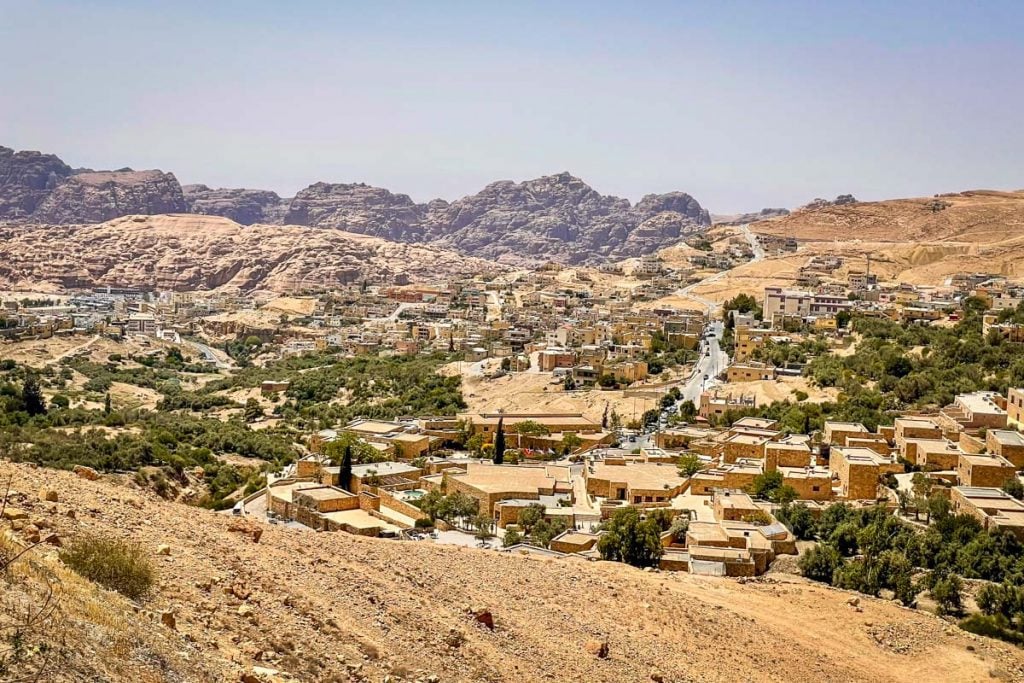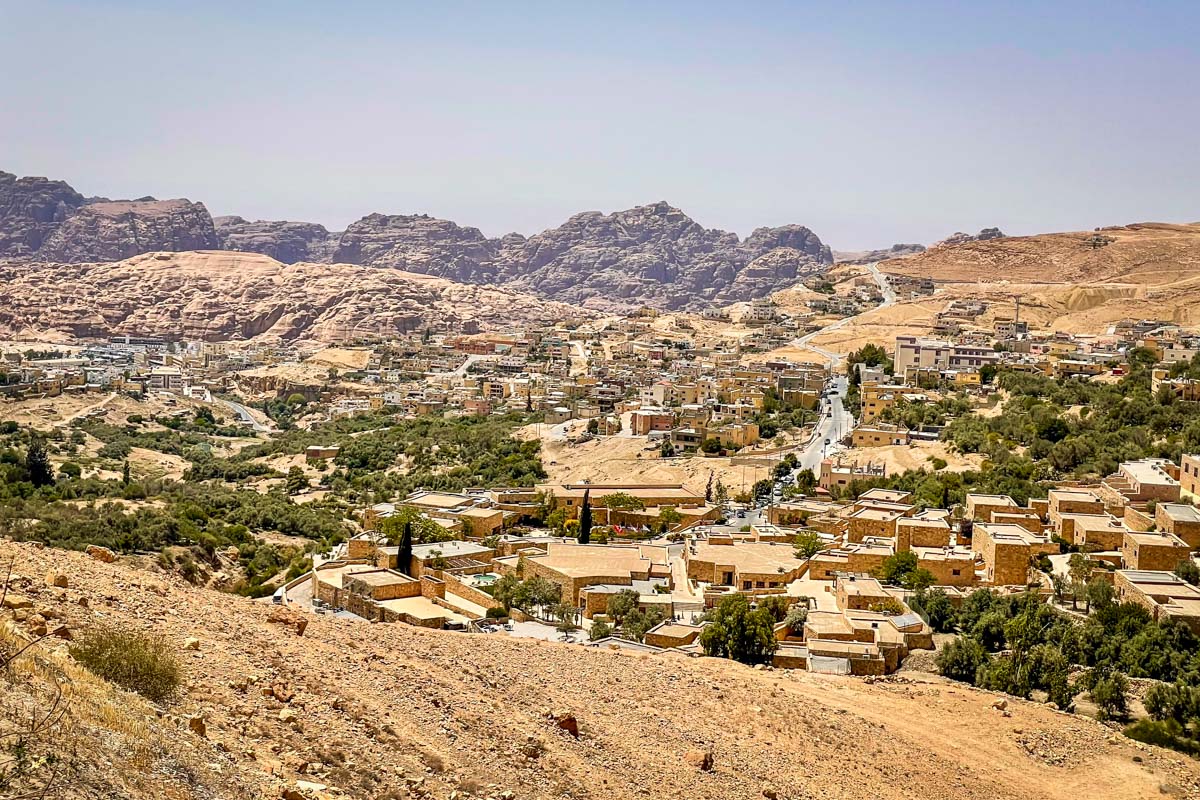 You'll likely start your Petra trip from either Amman, Jordan's capital city, or the coastal resort city Aqaba. From either origin, you can rent a car, hire a private driver, or use public transportation to connect to Wadi Musa—the gateway to Petra.
Amman is 143 miles (230 km) north of Petra, home of the Amman International Airport (AMM). There are several options for transportation between the two cities, and we have a detailed guide on how to travel from Amman to Petra which outlines all of your options.
Aqaba is 78 miles (125 kilometers) southwest of Wadi Musa – a 2-hour drive via the Desert Highway. Coming from this direction, the Jordan Valley Highway takes about an hour longer but is much more impressive visually.
Tourist buses operated by JETT travel the Desert Highway from both origin points. They depart Amman daily at 6:30 a.m. with a trip time of three hours, and from Aqaba every day at 8:00 a.m., with a 2.5-hour drive time.
If you prefer to visit Petra via tourist bus, you can book tickets online in advance via the JETT website or ask your hotel to arrange for you.
Psst! If you're flying into or out of Amman, don't skip this underrated city! We put together a guide to the best things to do in Amman to help you plan your stay.
What airport do you fly into for Petra?
The closest airports for getting to Petra are located in Amman and Aqaba.
Amman's Queen Alia International Airport (AMM) is 126 miles/203 km north of Wadi Musa, while Aqaba's King Hussein International Airport (AQJ) is located 83 miles/133 km southwest of the city.
Can tourists enter Petra?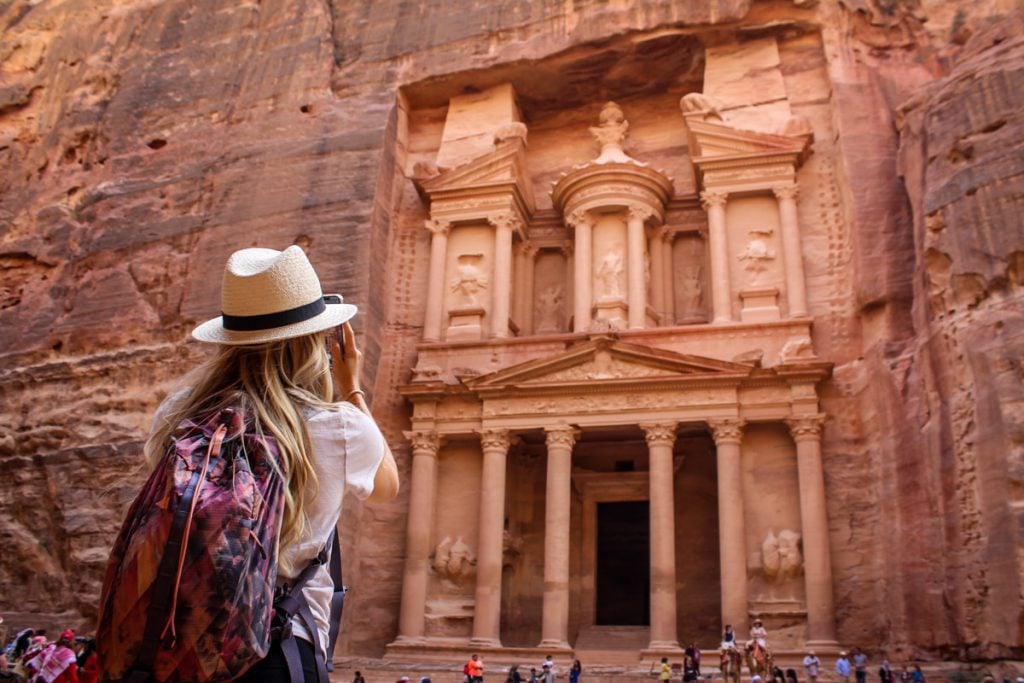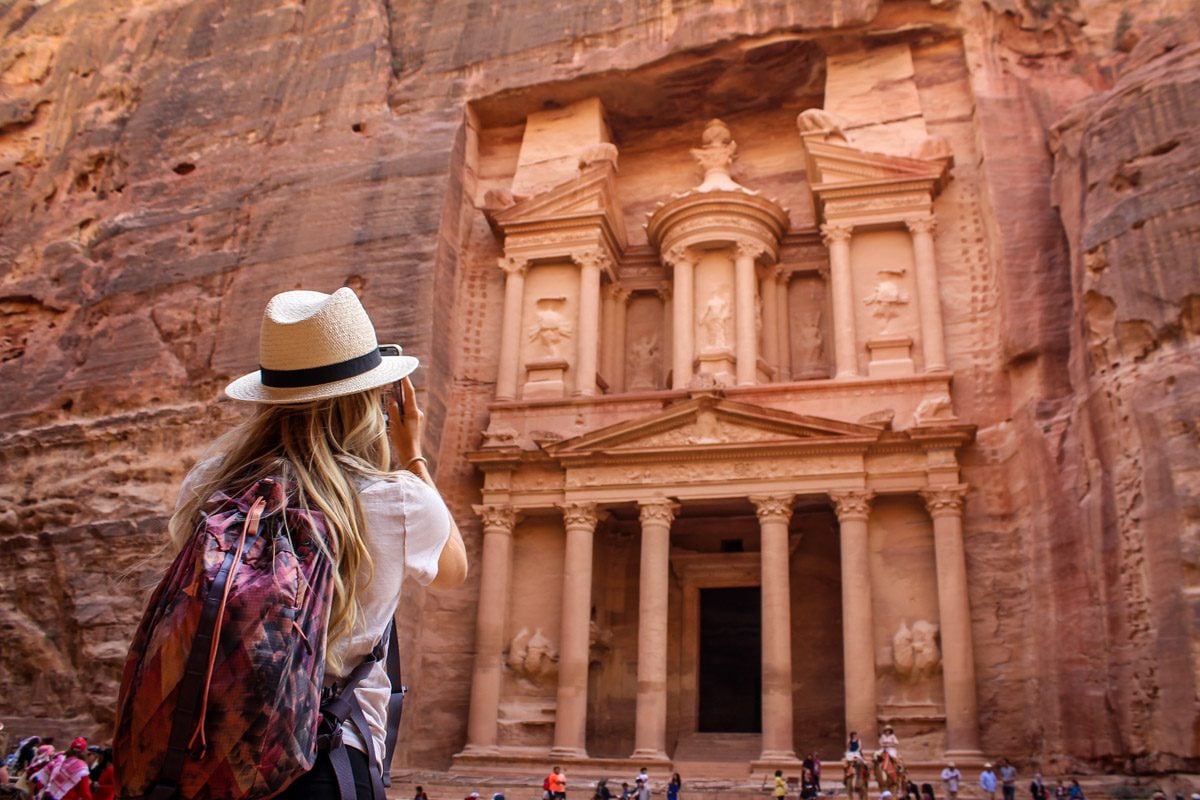 Absolutely! The Lost City is Jordan's number one attraction — and you should make it your priority to visit Petra and marvel at this ancient, truly unique site with your own eyes.
There are well-trodden paths throughout the site to bring you to all of the ancient ruins. Some of the ruins, like the Royal Tombs, you can actually go inside and some, like the Treasury and Monastery, are just to marvel at from the outside.
Within the site there are also cafes, snack shops, restaurants and restroom facilities, so you can easily spend an entire day inside.
How much does it cost to visit Petra?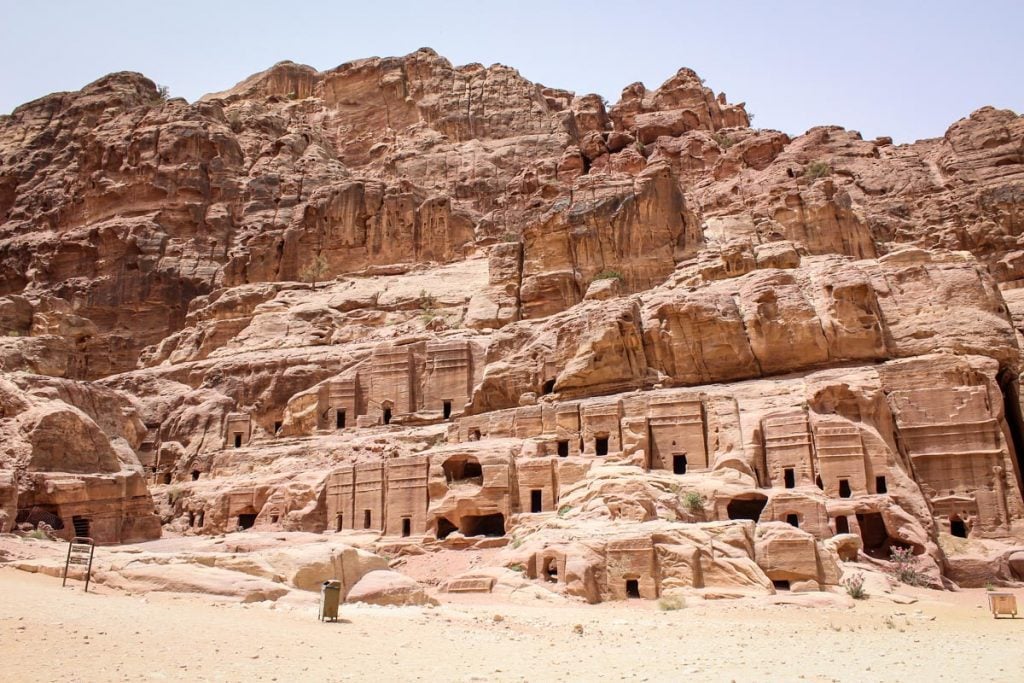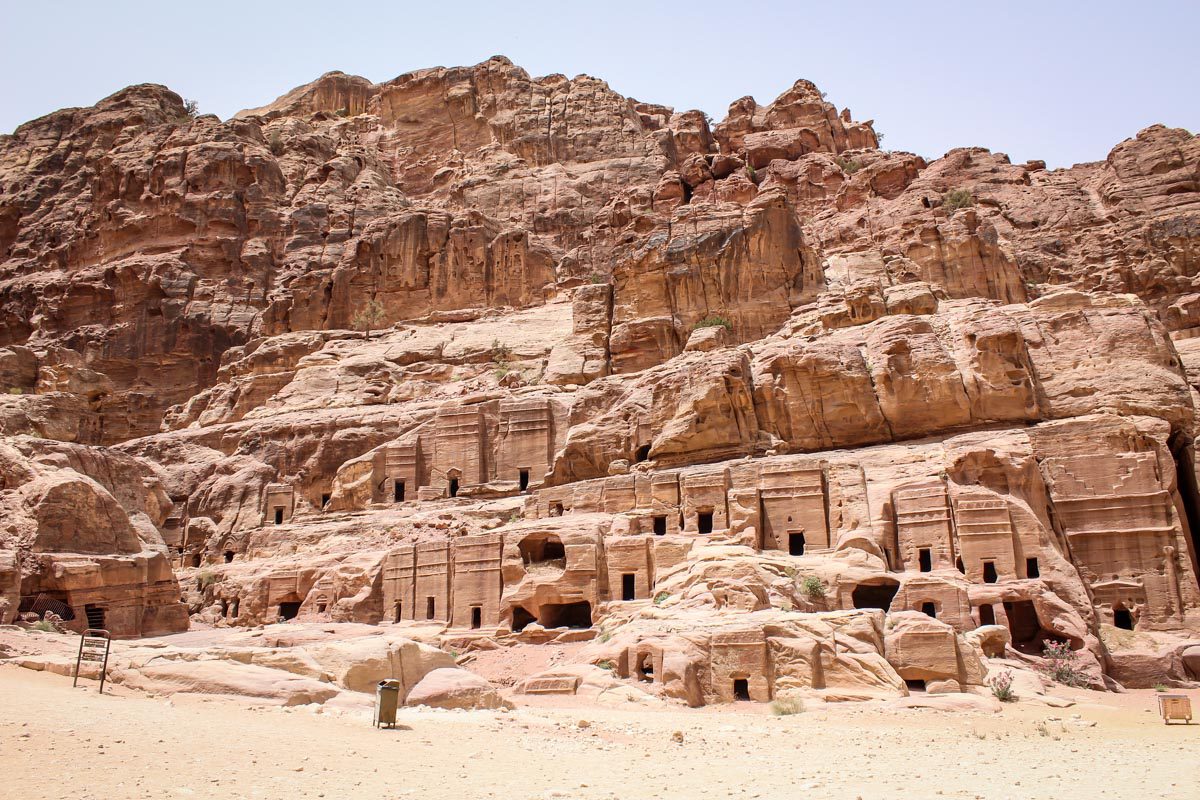 You can purchase tickets to visit Petra at the entrance for the following rates:
1 day: 50 JOD (~$70 USD)
2 days: 55 JOD (~$78 USD)
3 days: 60 JOD (~$85 USD)
If you're planning to visit Petra without a tour group, spending at least 3 nights in Jordan and eligible for a visa on arrival, we'd highly recommend saving money by purchasing a Jordan Pass.
Admission to Petra is included in the Jordan Pass, which saves you money on visa fees and grants you access to over 40 other sites and attractions around the country. It's well worth the cost even if you just visit Petra for a single day.
Check out our guide to the Jordan Pass to find out how it can save you money and if it's the best option for your trip to Jordan.
If you plan to visit Petra with the Jordan Pass, you'll need to swing by the Ticket Office in the Petra Visitor Center before you can enter the site. They'll scan your pass and give you physical tickets that you'll need to enter the site.
Make sure not to lose these tickets if you purchased more than one day in Petra as you'll need to show the physical ticket each day for entry!
What is the best time to visit Petra?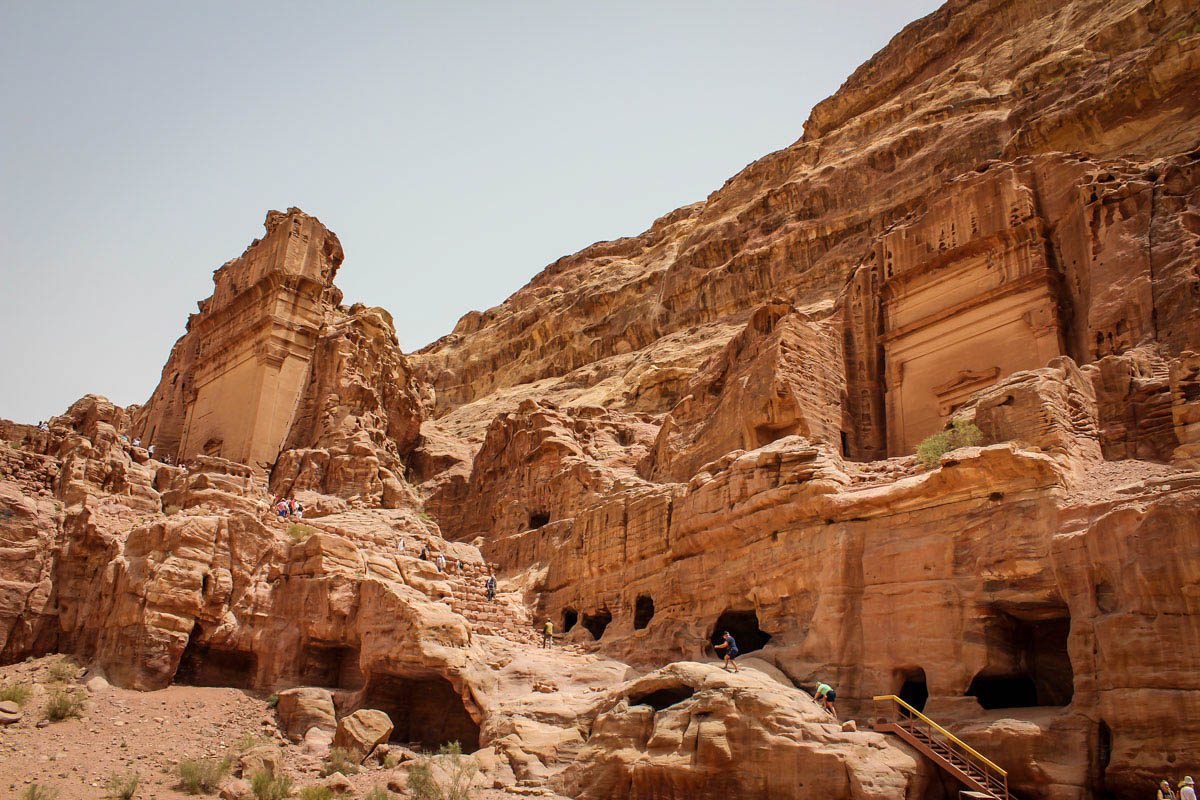 The best time of year to visit Petra is during the spring (March – May) and fall (September – November). Cooler temperatures with significantly less chance of rain make it an overall more pleasant experience.
Of course, everyone else knows this, too, so spring and fall are busy in Petra. Summer and winter see far fewer crowds, but the downside in both seasons is the weather. Temperatures in the summer can soar above 100°F (about 40°C), while the winters are rainy and cold.
No matter what time of year you visit Petra, plan to arrive as early in the morning as possible before 8:00 a.m., and/or later in the evening after 3:00 p.m. This spares you the sweltering midday heat, overhead sun, and most of the crowds.
During my visit, my travel partner and I woke up at the crack of dawn and reached the entrance at opening time, promptly at 6 a.m. (highly recommended!). We shared the site with just a few other early risers until about 8 a.m., when foot traffic picked up.
By 10:30-11 a.m., crowds are heavy and the sun moves into a position directly overhead, casting glare to a point that lighting isn't very good for photos.
In contrast, late afternoon is another nice time to visit Petra. Most of the crowds have dispersed by about 3:30 p.m. and by 4:00 p.m., it's relatively quiet. Keep in mind the site closes at 6:00 p.m. so if you arrive later in the afternoon, you won't have time to make it all the way to the Monastery and back before closing.
If you want to experience Petra by Night, when the entire city is illuminated by candles, plan to visit on a Monday, Wednesday, or Thursday. The Petra Night Show starts at 8:30 p.m. and lasts for two hours. Tickets cost 17 JOD ($24 USD), and admission is NOT included in your daytime entry ticket or the Jordan Pass.
Psst!For an in-depth guide on the regional seasons, weather patterns and other factors, check out our complete guide on the best time to visit Jordan.
What to see in Petra
Now that we've covered the basics of how to visit Petra, it's time for the good stuff! Here's what you're going to want to see when you visit Petra.
Note: There are tons of beautiful ruins and points of interest to see in Petra as you stroll through the site. We are going to cover the highlights below to give you a taste, but you'll have plenty more to see when exploring on your own.
The Treasury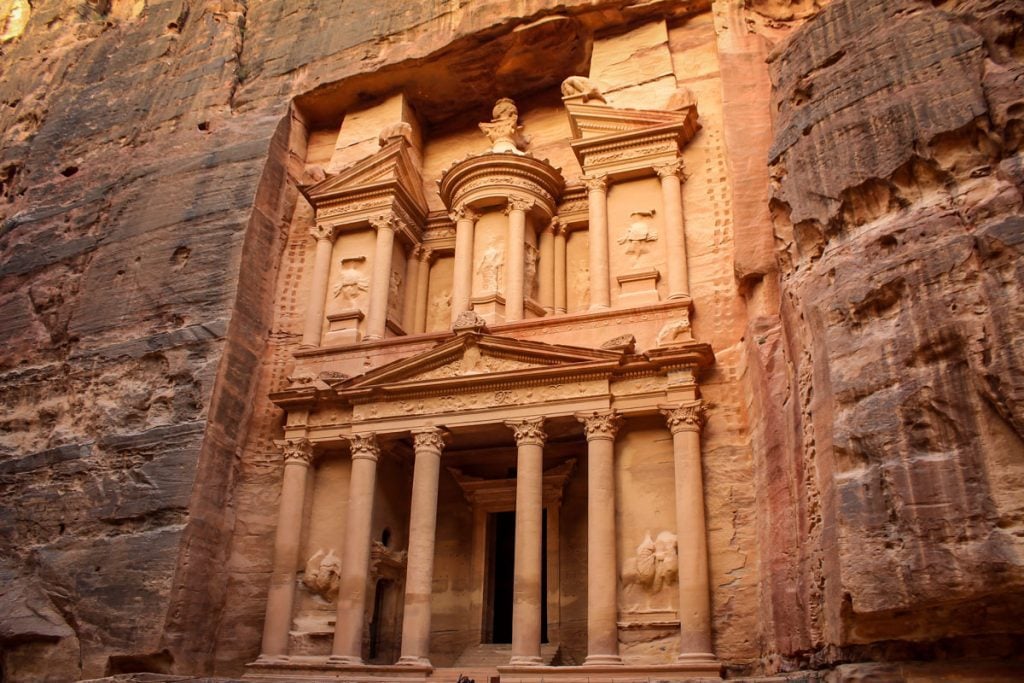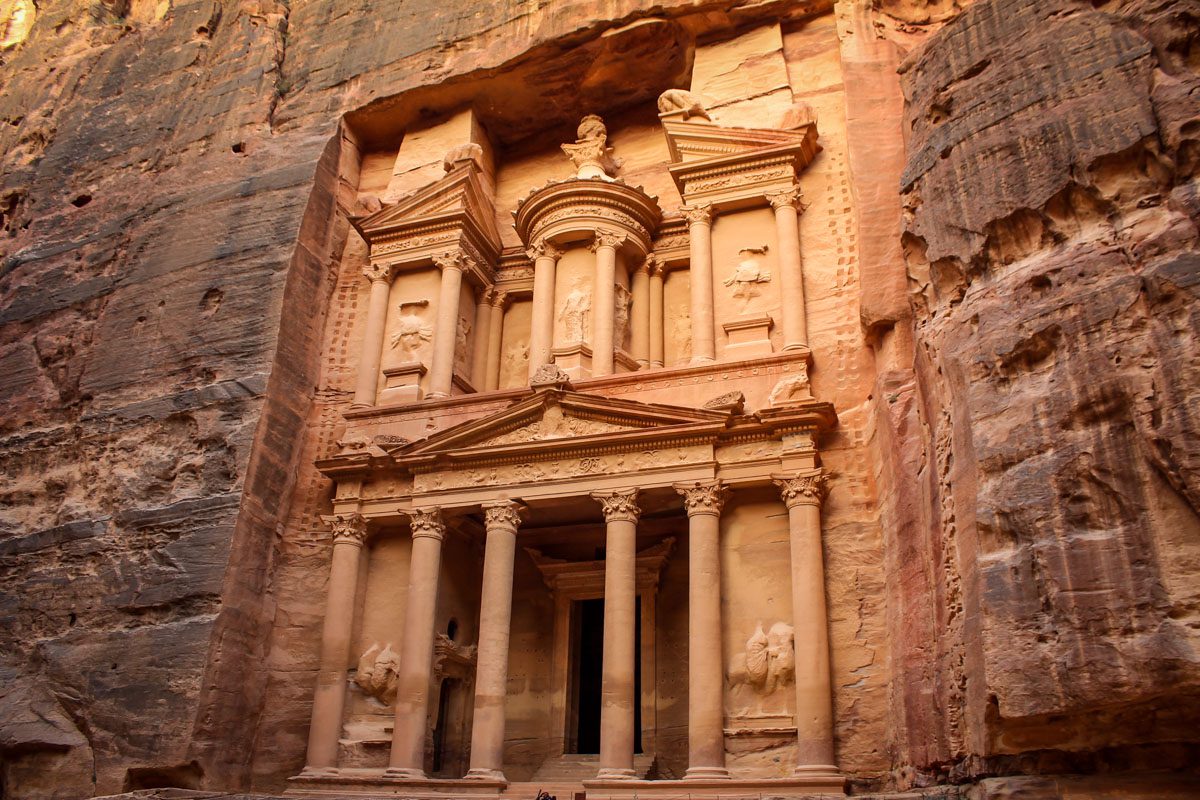 The Treasury, officially called Al-Khazneh, is the first major point of interest when you enter Petra, acting as a sentinel guarding the rest of the city. It takes around 30 minutes to walk from Petra's main entrance to the Treasury along the Siq Trail, a narrow gorge in the desert.
All of a sudden, about a 30-minute walk through the canyon, you get your first peek of the Treasury!
Immortalized by Indiana Jones and the Last Crusade, the Treasury is undoubtedly the most famous Petra landmark. Elaborately ornamented with columns and sculptures, the temple is topped with a funerary urn, typically used to hold ashes. Its specific use during the Nabataean era is unknown (this is the type of thing that makes Petra so fascinating!).
Note that you cannot go inside the Treasury itself, but you should still allow sufficient time to admire the facade, pore over every detail, and take plenty of pictures.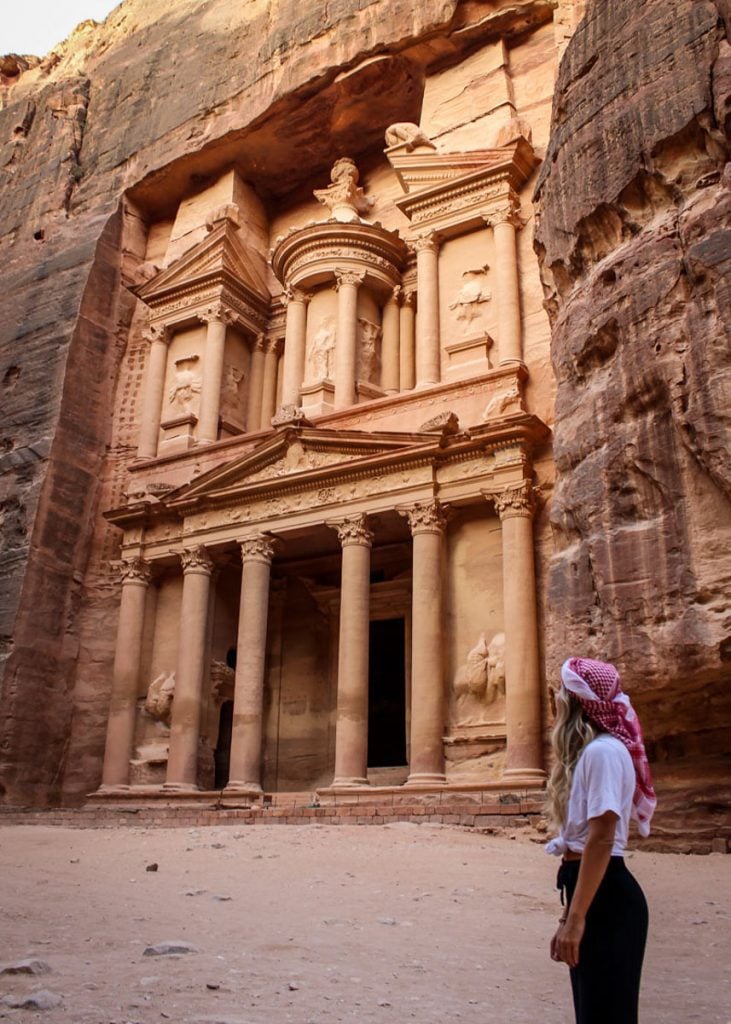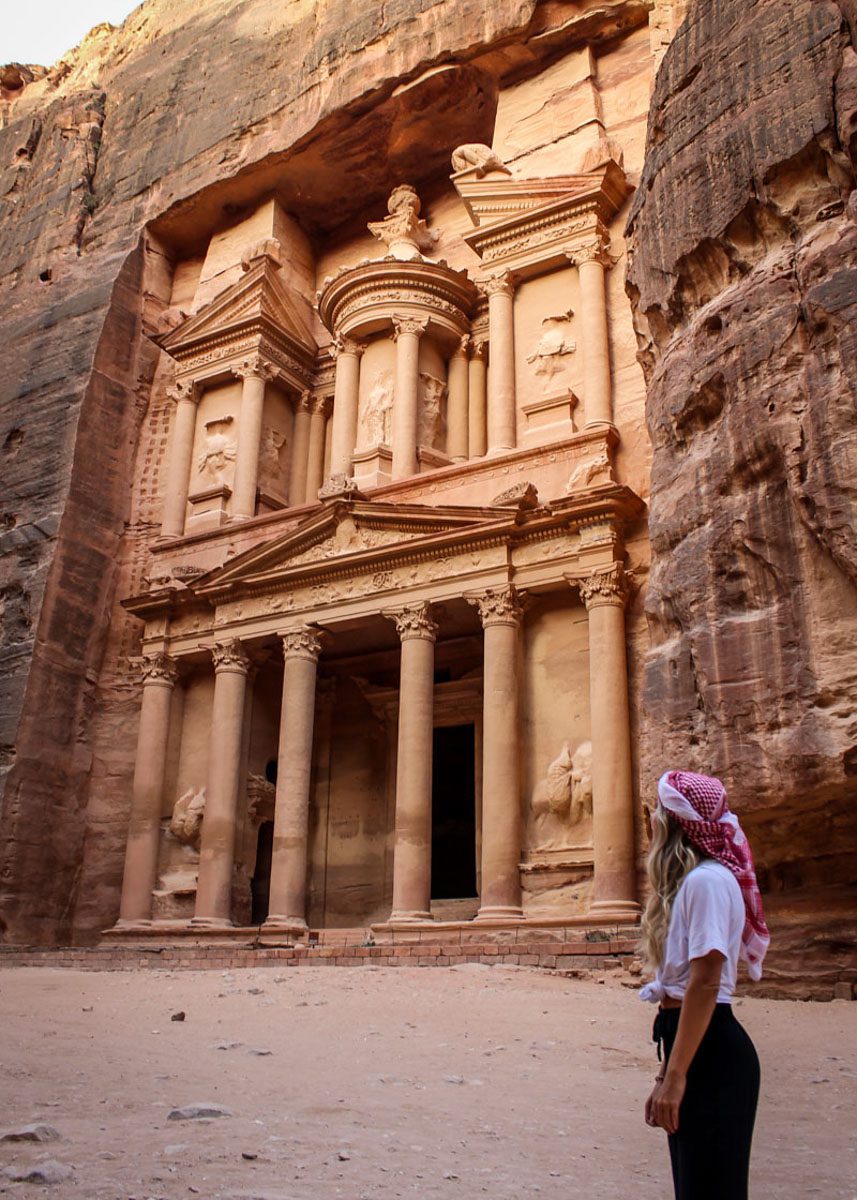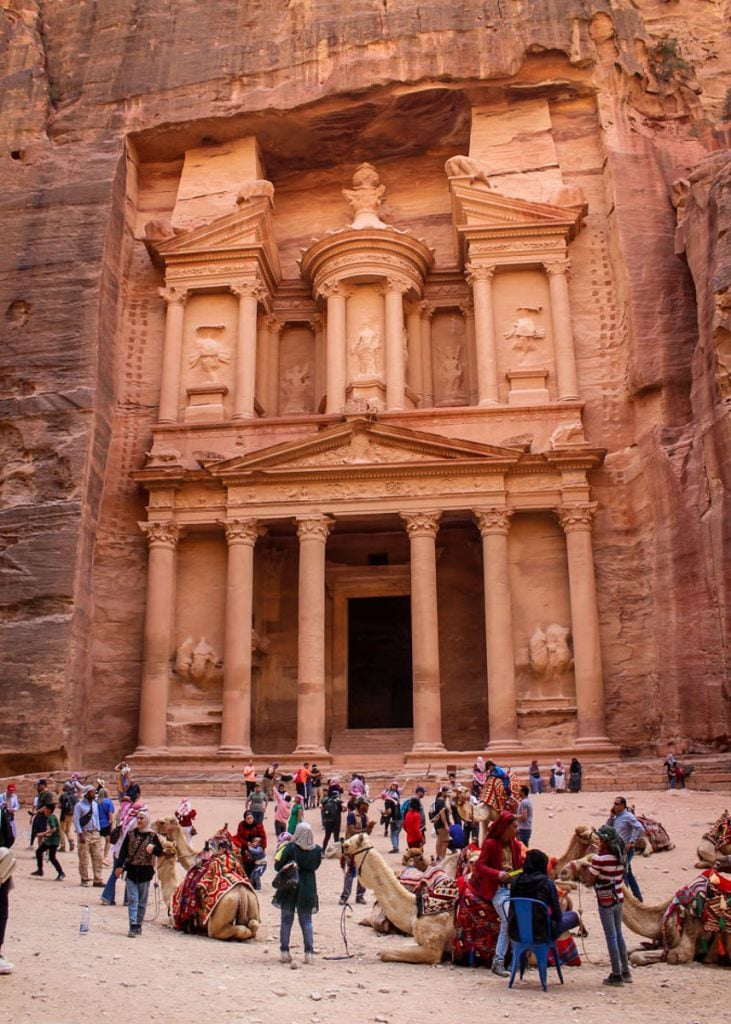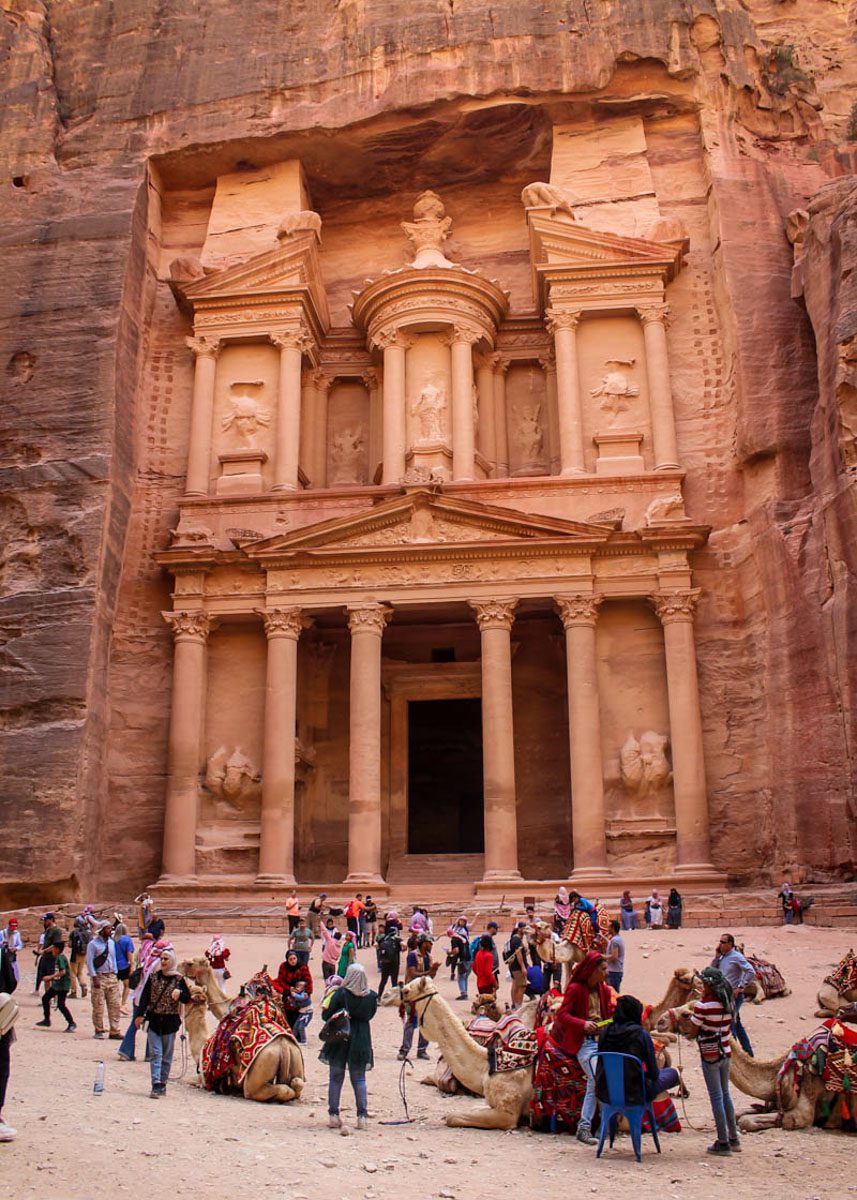 Lighting conditions for photography are best early in the morning and late afternoon into early evening. This is also when the Treasury is at its quietest in terms of crowds, so if possible, plan your visit then.
Insider tip: Plan on arriving at the entrance to Petra right at 6:00 a.m. when it opens to have the Treasury mostly to yourself first thing in the morning! You'll get better photos, without all the crowds.
The High Place of Sacrifice & Treasury viewpoints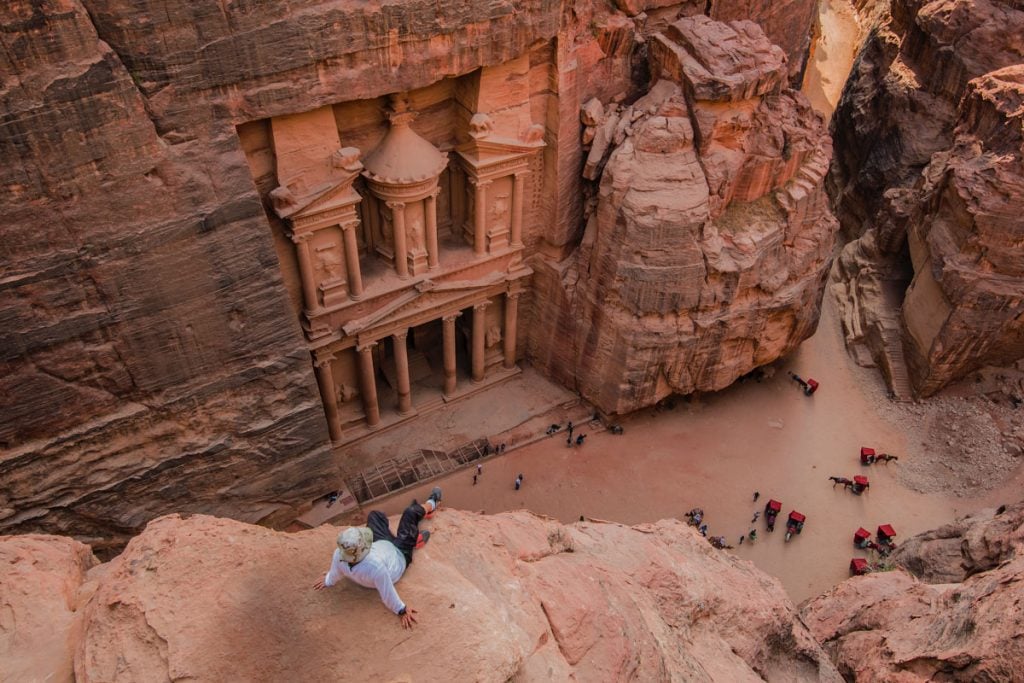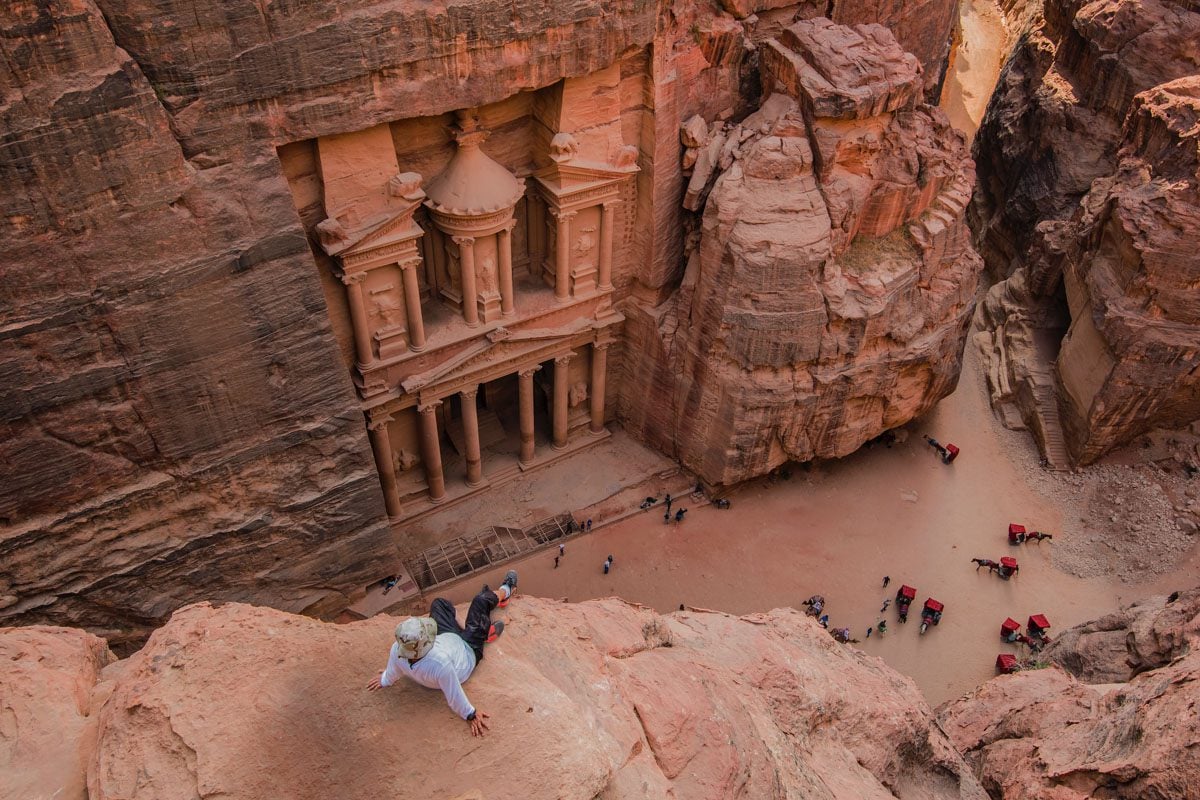 Most commonly known as simply "The High Place," this is one of the highest points in Petra, offering a vantage point with an incredible — and utterly Instagrammable — view and photo op of the Treasury. Access requires a half hour climb up a steep staircase carved into the side of the rock face beginning from the Theater.
Note: There are actually a few different vantage points setup to view the Treasury from above; each with unique but similar views. If you don't want to climb the steps all the way to The High Place, you can choose a shorter climb, which also gives you closer views, like we did.
While at the Treasury, you'll run into a lot of Bedouin people (men, mostly) who will approach you and offer to escort you to the High Place. It can feel overwhelming, so the best thing to do is politely but firmly offer a simple "no" or "maybe later."
A lot of tourists complain about these men, but keep in mind that ultimately, they're simply trying to make a living. And in my experience, everyone we encountered was quite respectful. They're not aggressive, just persistent.
While it's not required to have a guide to visit The High Place, it may be nice for some people to have an escort.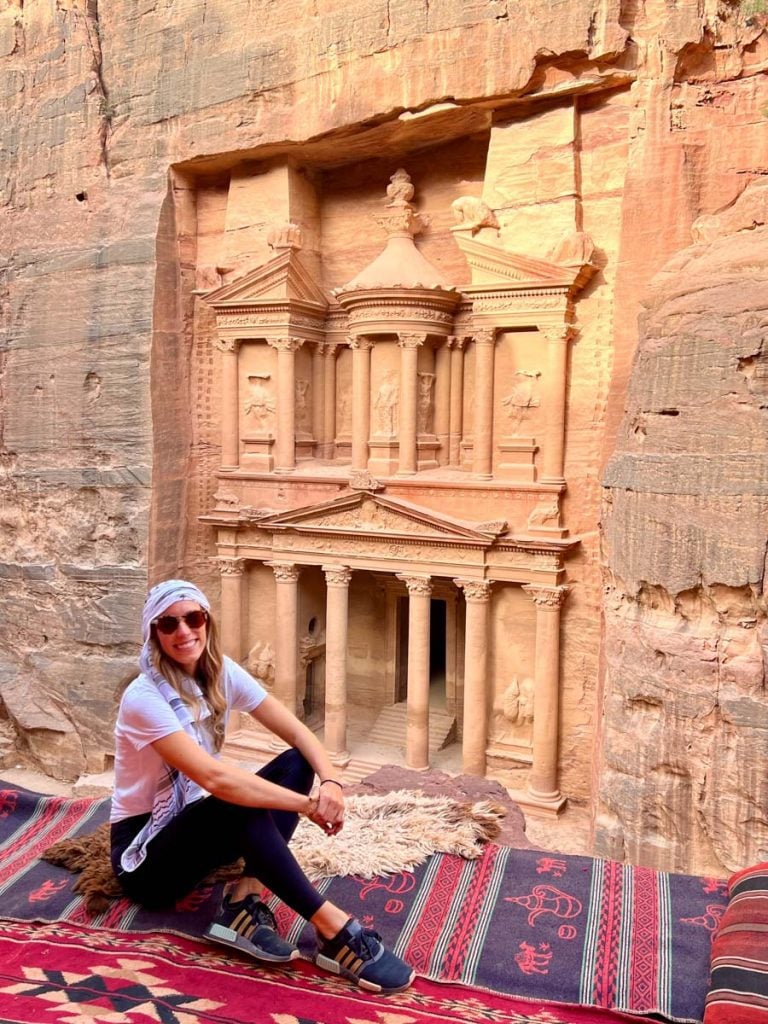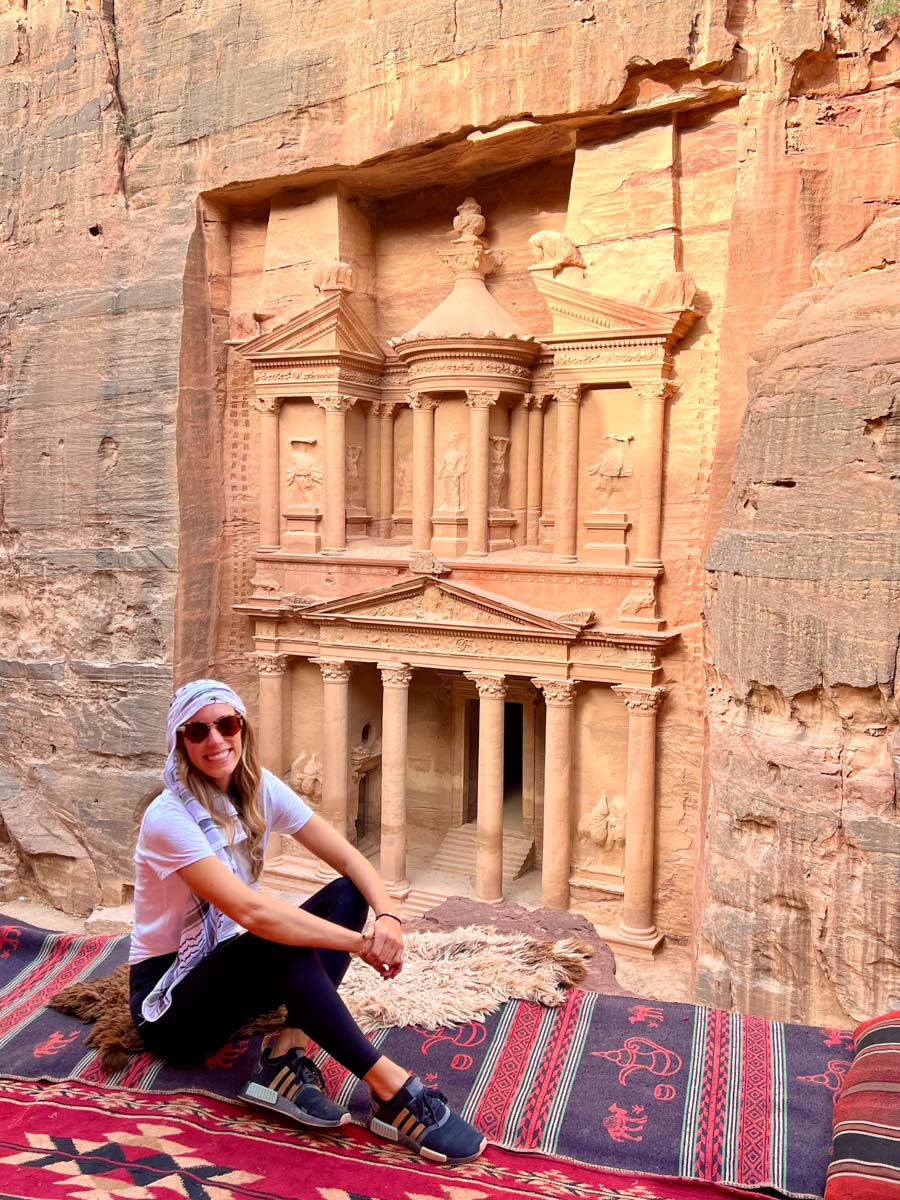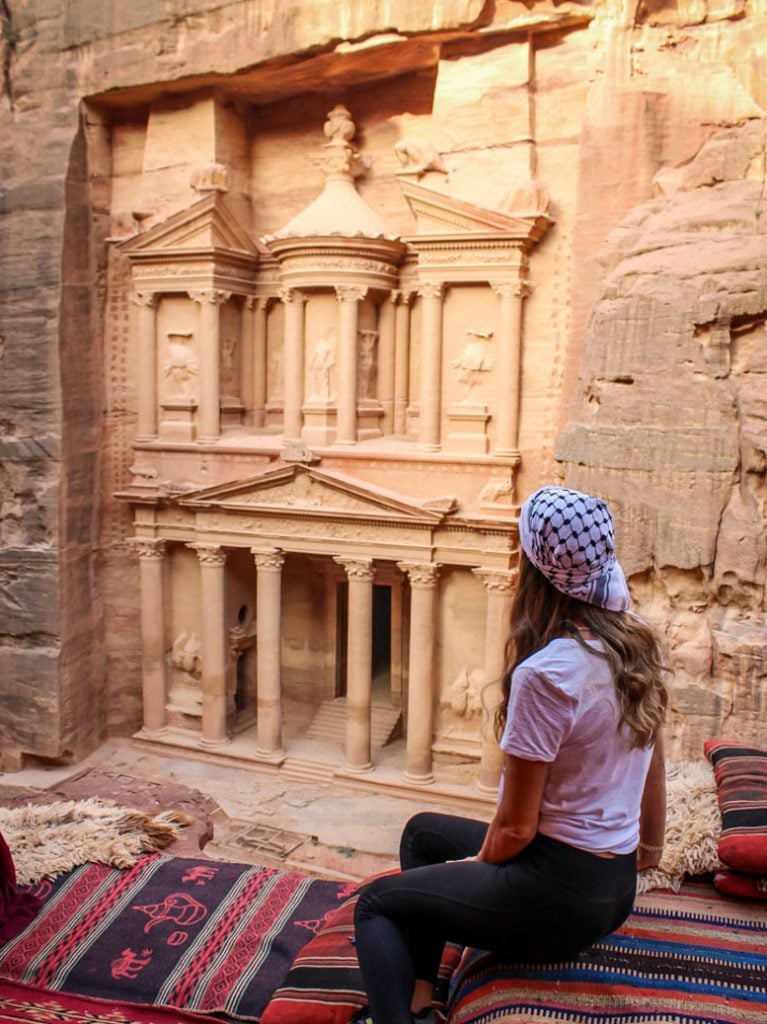 If you want to visit any of the other viewing areas above the Treasury, you should expect to pay your Bedouin "guide" around 5 JOD (7 USD) per person. They'll likely quote you closer to 15 JOD (21 USD), but negotiating is common. We were told ahead of time not to pay over 5 JOD and sure enough, our guide accepted that immediately to take us to one of the closer viewing points.
Once at the viewing area, your guide will happily take photos of you and allow you space to soak in the view for as long as you want. Ours was a surprisingly good photographer! There is also usually a man brewing mint tea at the top; bring some extra cash for a cup and to tip him (1 JOD is sufficient).
The Royal Tombs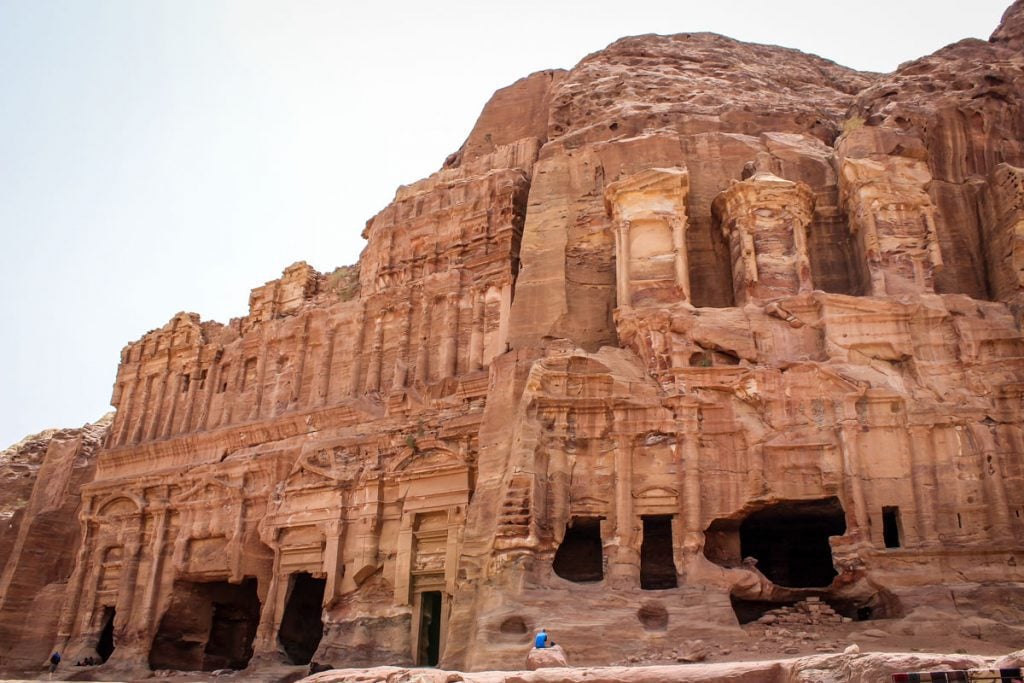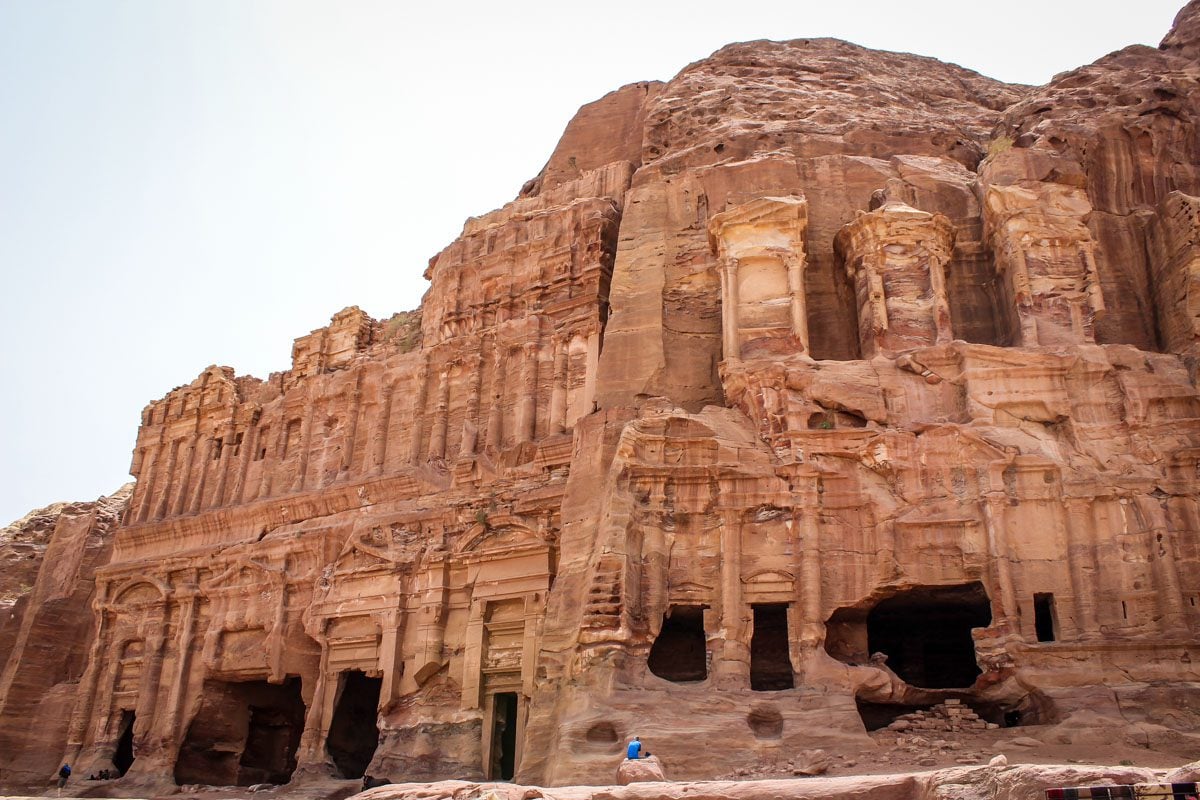 Leaving the Treasury, you'll stroll along the Street of Facades (not really much of a street as it is a wide and sandy pathway) on your way to the Royal Tombs.
The postcard-worthy mausoleums were impressively chiseled right into the western face of the Jabal al-Khubtha cliffs. Archaeologists don't have any evidence directly linking these tombs with specific Nabataean rulers, but they generally agree that they serve the royal family.
Similar to the Treasury, the Royal Tombs feature jaw-dropping facades that include intricately-detailed Corinthian columns and other architectural embellishments.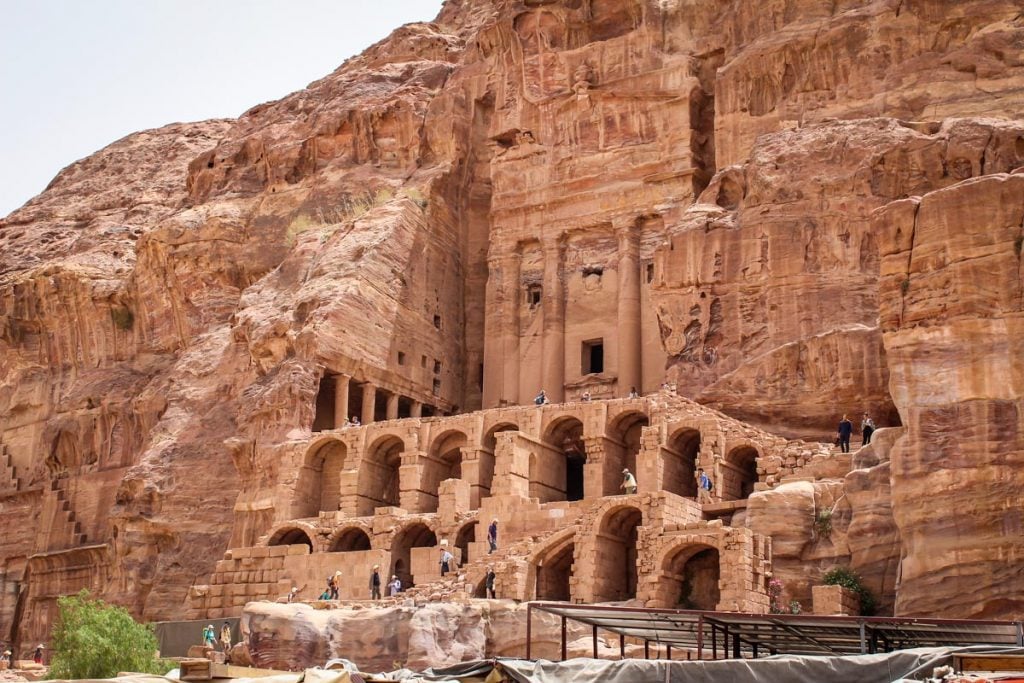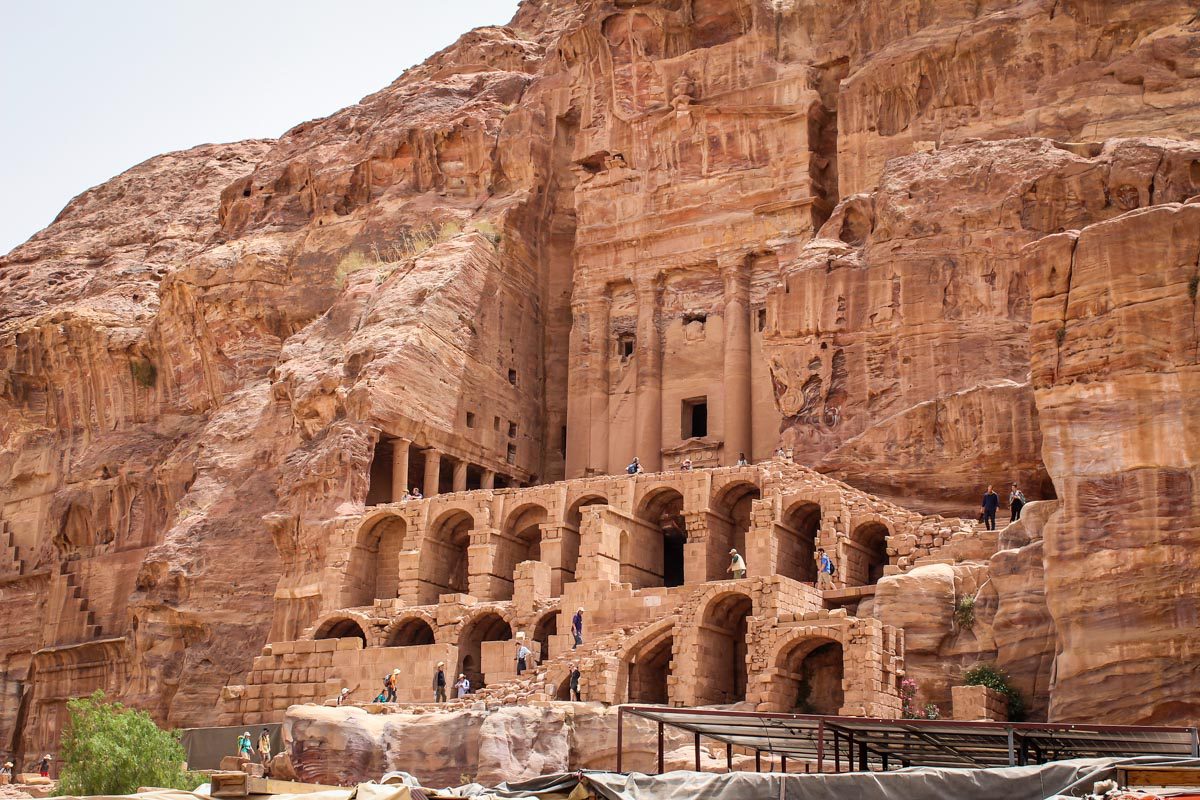 The Urn Tomb is particularly noteworthy, with several striking features. There are two stories worth of arches, as well as a massive courtyard (seriously, photos do not do the size of this structure justice!). Views over the entire city are spectacular from this spot.
Insider Tip: A good time to visit the Royal Tombs is in the afternoon, around 4:00 p.m., when the majority of Petra visitors have returned to their accommodation to rest and the place is nearly deserted! The sun will also be in the best position to highlight the west-facing tombs.
The Monastery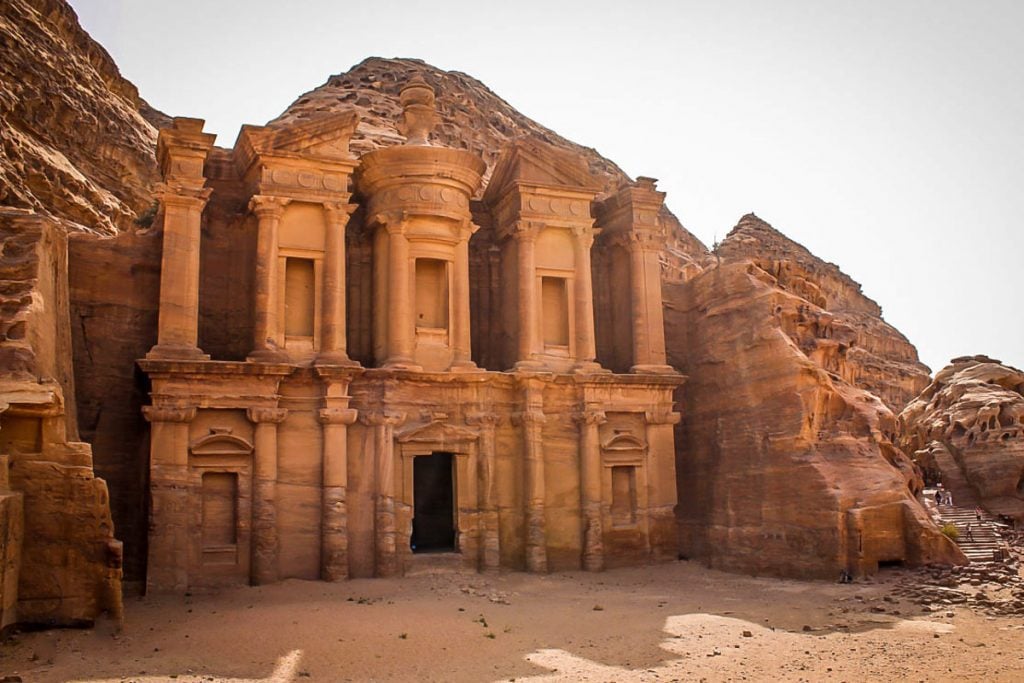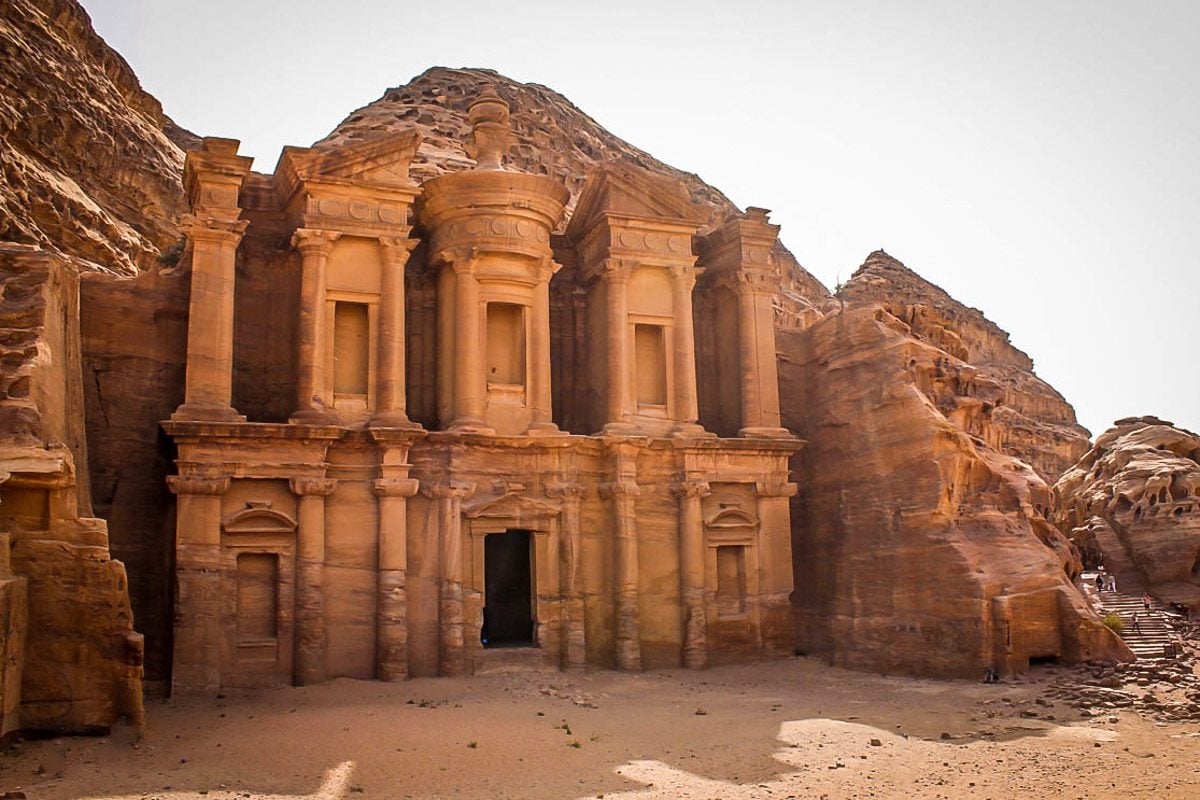 The Monastery (Ad-Deir) is a substantially larger structure than the Treasury. It's absolutely enormous! It's not quite as elaborate in terms of detail, but its size is breathtaking and as a bonus, it's in a slightly less-accessible location. (Hint: Less accessible = fewer people!)
Once you leave the Colonnaded Street, getting to the Monastery requires a serious climb of 800 steps. For those of moderate fitness levels who hike or exercise somewhat regularly, plan on it taking approximately 1.5-2 hours.
If you can reach the base of the staircase by around 10:00 a.m., you'll hike up mostly in the shade and escape the worst of the heat. Keep in mind, though, you'll still have to come back down while the sun is at its strongest.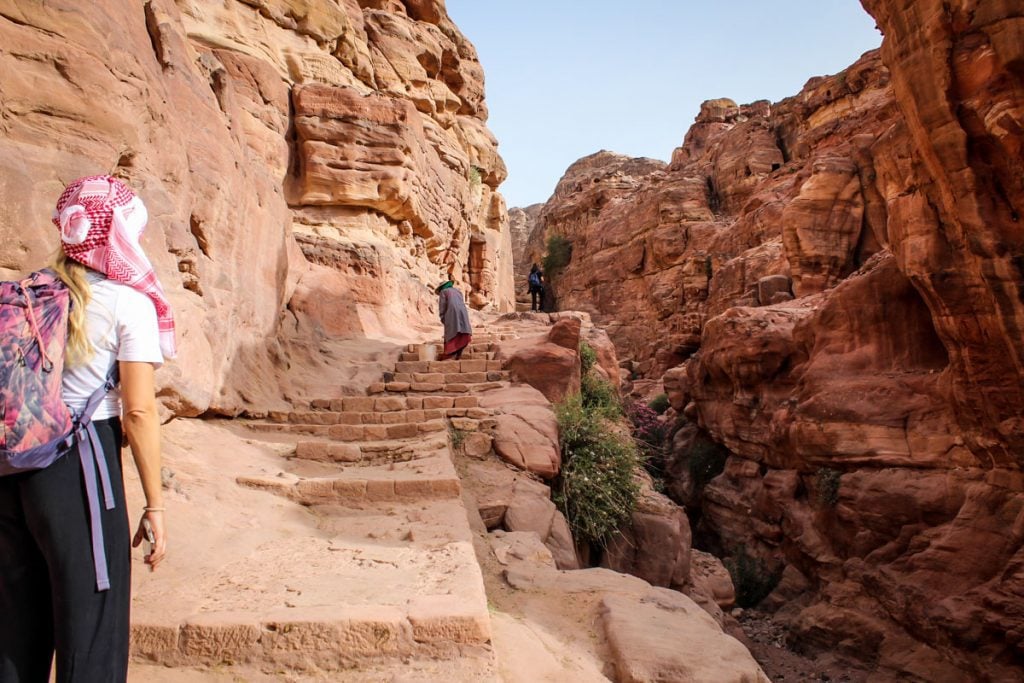 If you're up for a bit of a sweaty climb, the Monastery is a worthwhile addition to your itinerary when you visit Petra. The monument itself is a wonder, but its isolated setting against the backdrop of mountains is extraordinary. Wander around the area and you'll find epic panorama after epic panorama, looking out over the city and surrounding landscape! There's a restroom at the base of the steps and a cafe at the summit, so you can have a snack and relax.
Insider Tip: Immediately after visiting the Treasury and the High Place first thing in the morning, head straight to climb the steps to the Monastery. You'll beat the crowds (who are just starting to fill in at the Treasury around 8:00 a.m.) to the Monastery, enjoying it mostly to yourself.
How many days do you need in Petra?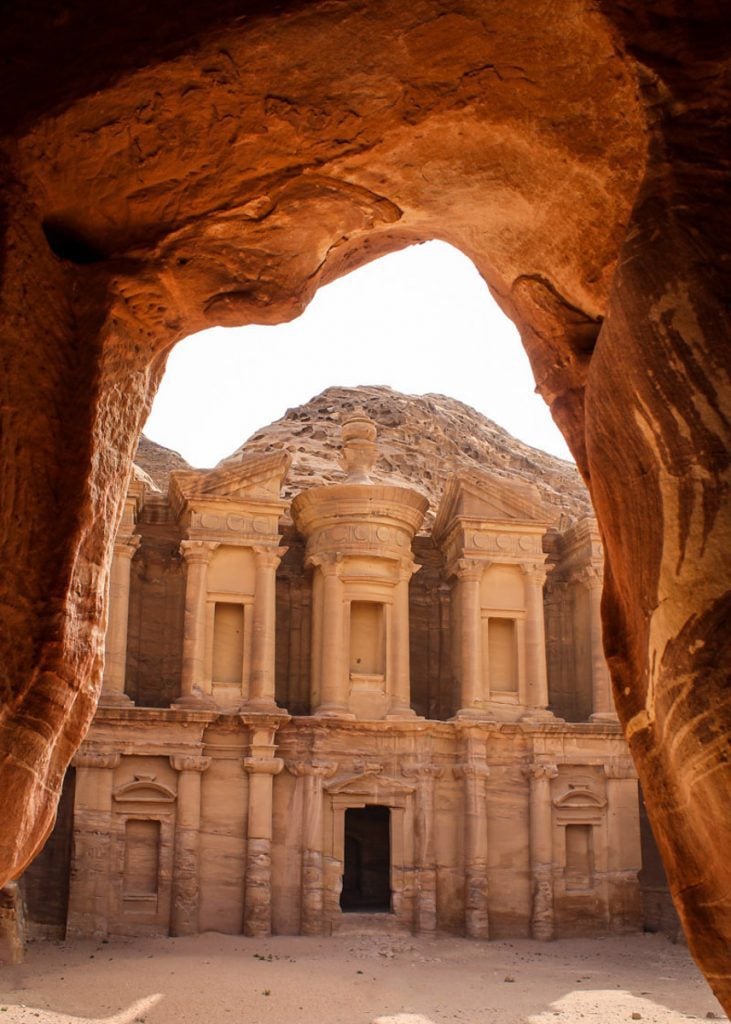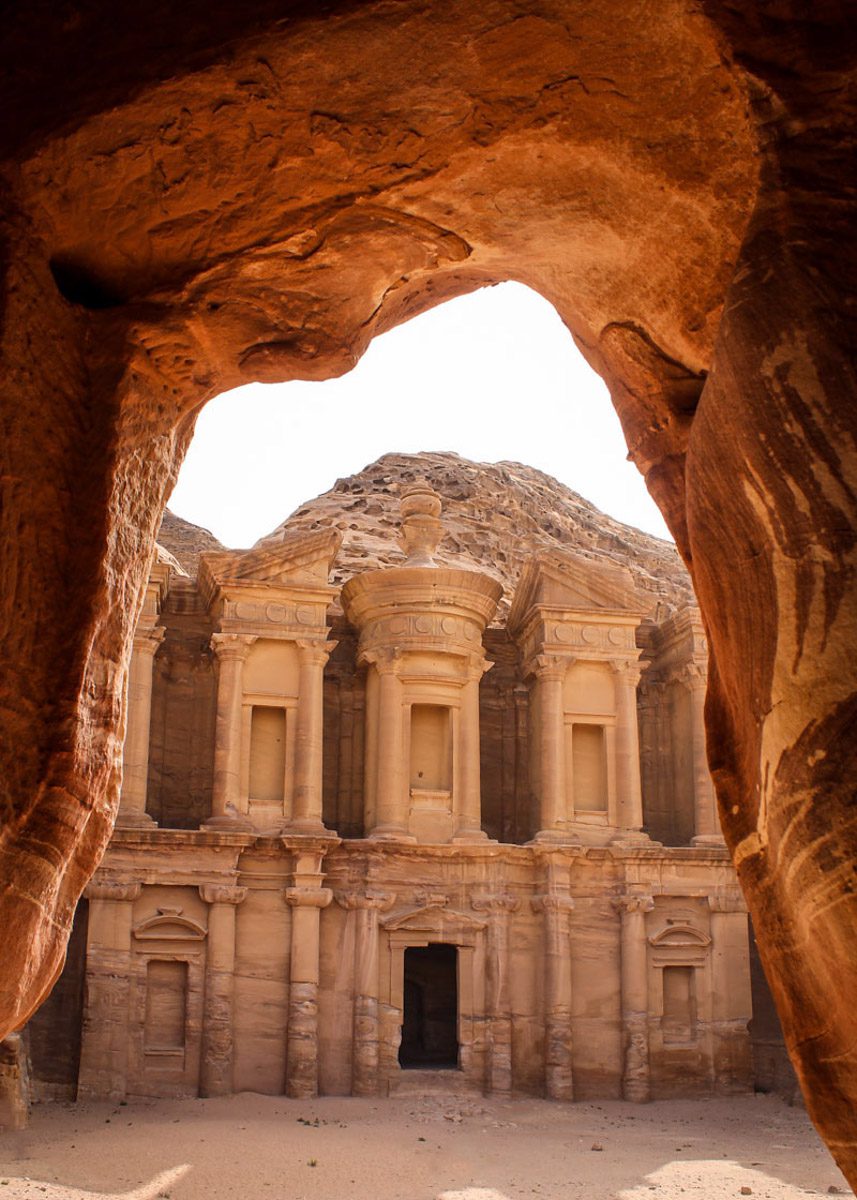 In my opinion, two days is an ideal amount of time to visit Petra. This allows you to see all the major points of interest without having to rush. Technically, you can squeeze in all four spots listed above in a single day, but it will be a long, exhausting day moving at a faster pace than we recommend.
If you cannot manage 2 full days in Petra, I'd recommend visiting in the late afternoon on your first day and first thing in the morning on your second day to make the most of your time there.
Psst! If you'll be moving on after Petra, be sure to check out our transportation guide for how to get from Petra to Wadi Rum to take the guess work out of your logistical planning.
What to wear/pack for visiting Petra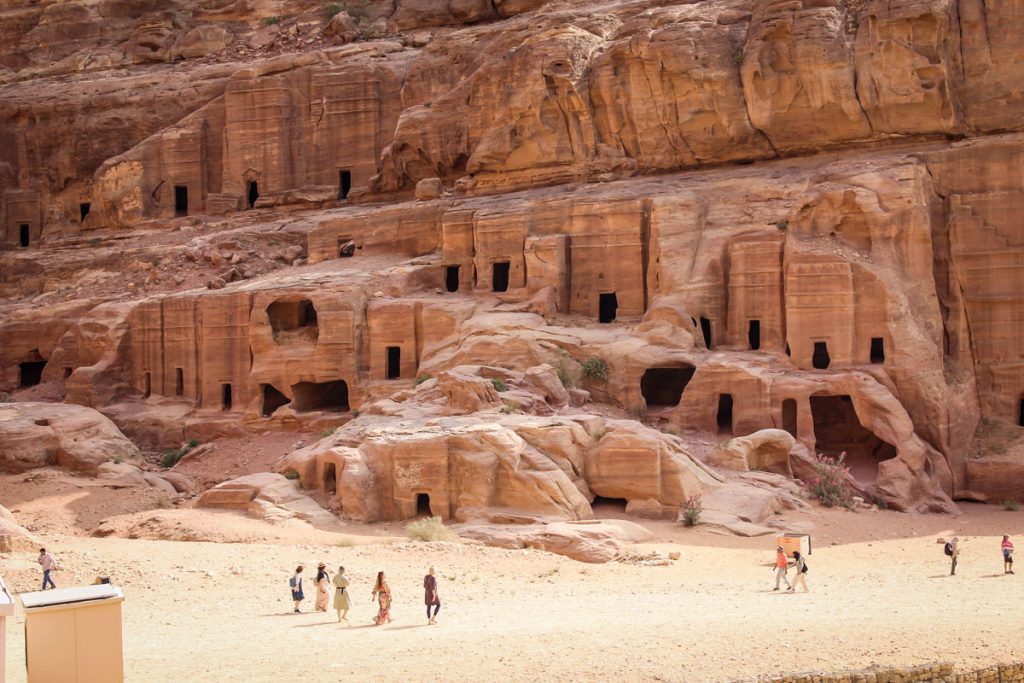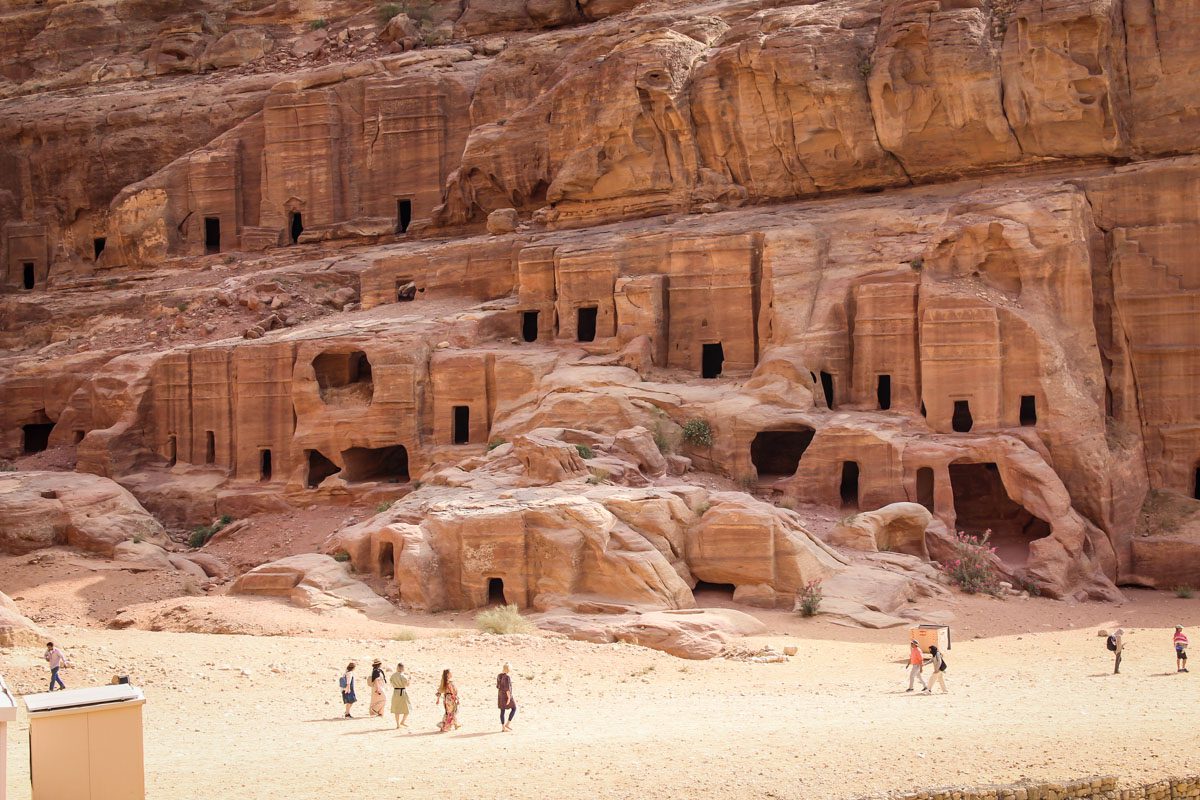 Modest but breathable clothing: Lightweight, breathable clothing made from non-synthetic fibers.

Note: While Petra is the one place in the country where you may see women sporting tank tops and short-shorts, due to the heat and overwhelming number of tourists, I still recommend yielding toward modesty to avoid offending anyone.

Sun protection: Sunscreen, hat and sunglasses are essentials!
Comfortable footwear: You'll be doing a ton of walking, so go for comfort over style, trust me!

Chacos are a great sandal for walking in offering comfort, support and open-toes

Water bottle: Packing a reusable water bottle is the best way to stay hydrated while exploring Petra, without adding to plastic waste.
Snacks: It's always a good idea to have a few light snacks with you in case you get hungry while exploring.

Note: There are dozens of food vendors inside the city, and even a few sit-down restaurants where you can also refill your water bottle.

Camera and tripod: Trust me, you won't want to come all the way to Petra without a means to capture the memories!

Joby makes our favorite travel tripods that are small enough to pack in your day pack, handheld, and with flexible leg that can latch onto anything.
Where to stay to visit Petra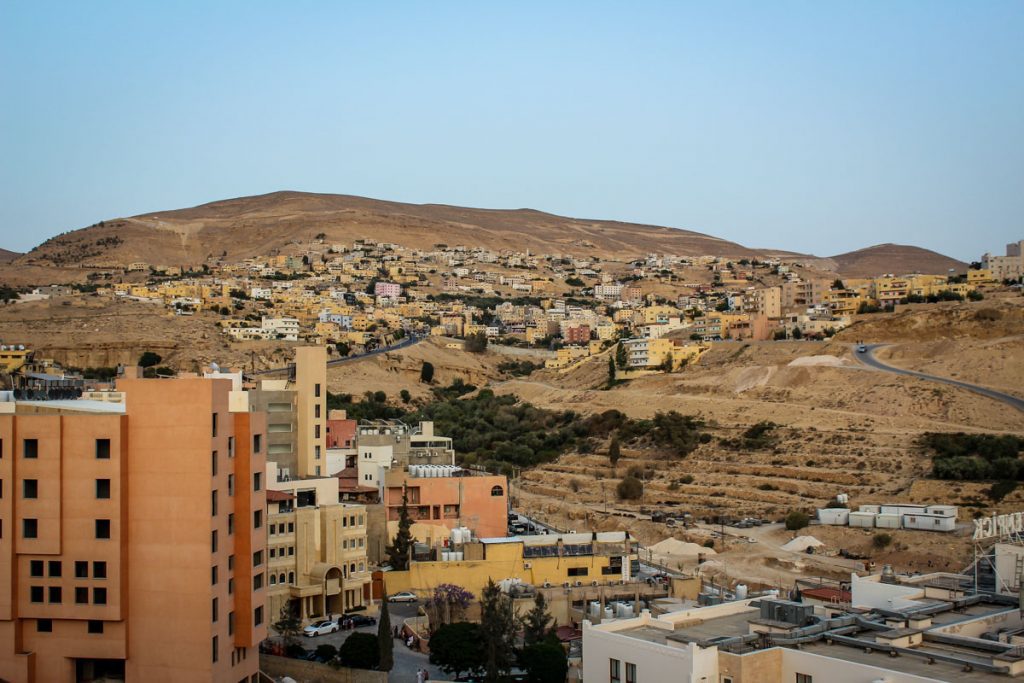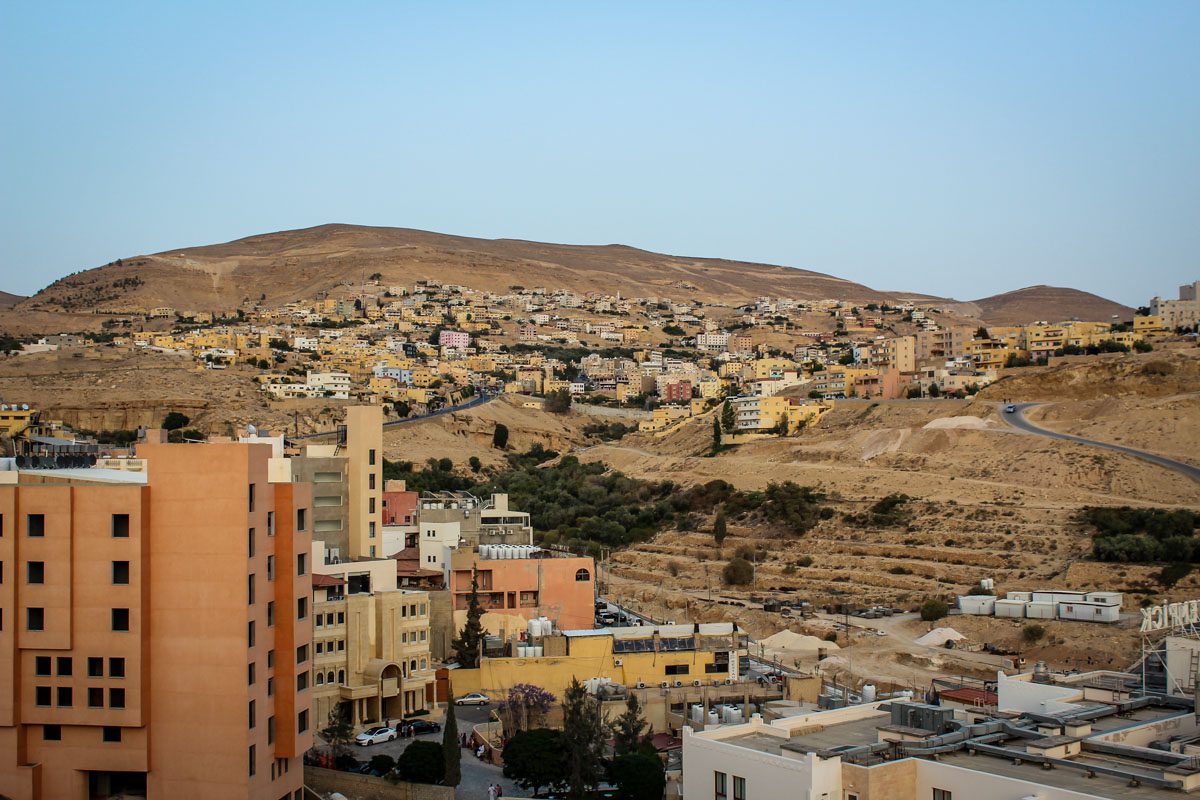 In terms of where to stay to visit Petra, the town of Wadi Musa is the most convenient. Truthfully, it's not much more than a tourist-focused gateway to the ancient city, so there isn't a ton of difference between the main hotels.
It does make a huge difference, though, if you choose accommodation within walking distance of Petra's entrance. This will spare you the high costs of either parking a vehicle or taking taxis.
Hotels near Petra
We recommend three hotels near Petra, and they're all very similar in several regards. All are easily walkable to the entrance, have near-identical amenities, and are priced similarly.
As a pleasant bonus, accommodations in Jordan are relatively inexpensive in comparison to, well, just about everything else!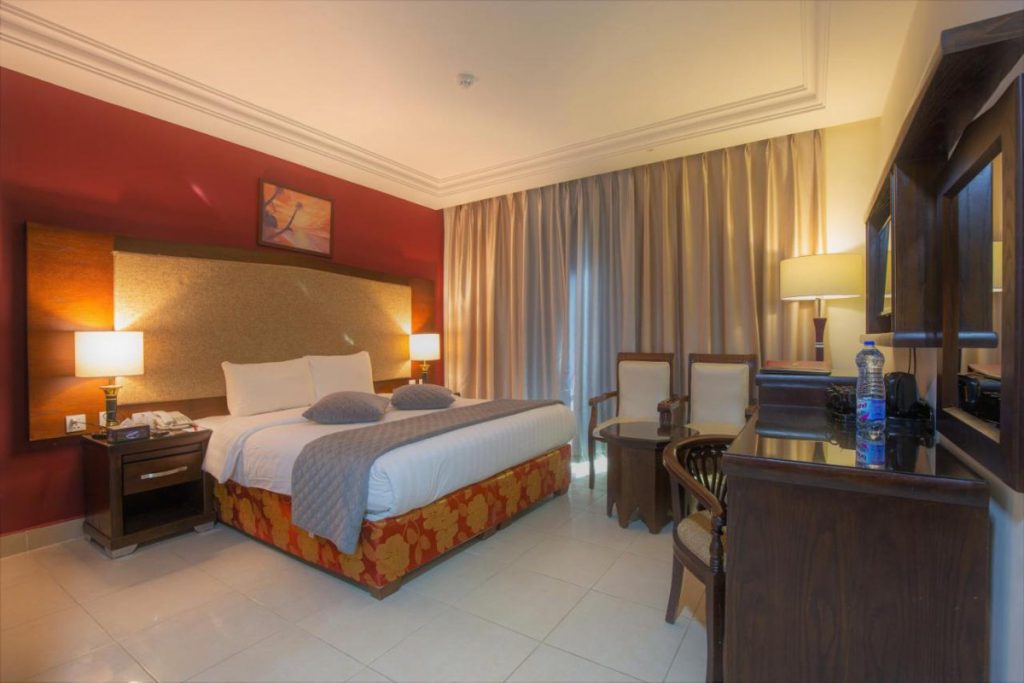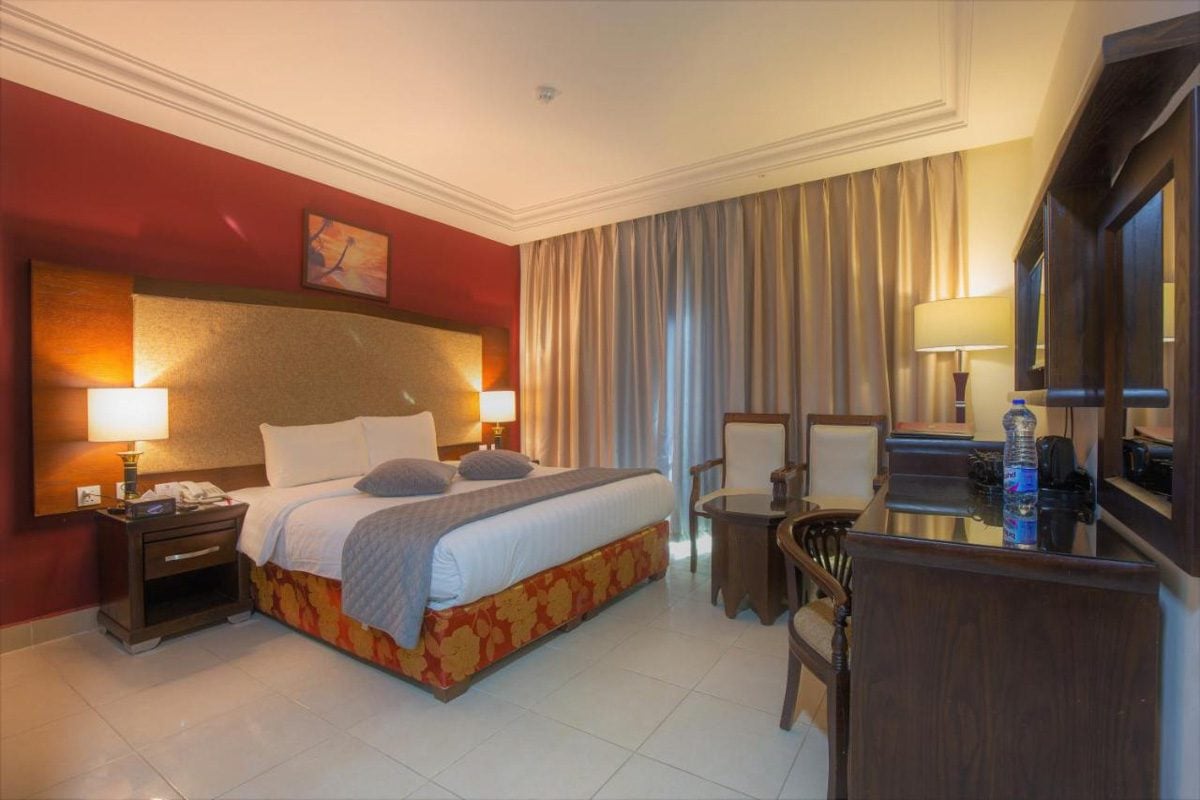 Budget-friendly stay: The Petra Moon Hotel
A decent hotel at an affordable price, just across the street from the Petra Visitor's Center entrance. The rooms are very much no-frills, but the beds are outrageously comfy and you have in-room temperature control. The dinner buffet deserves a special shoutout; it's loaded with local and international foods with tons of fresh produce and healthy options!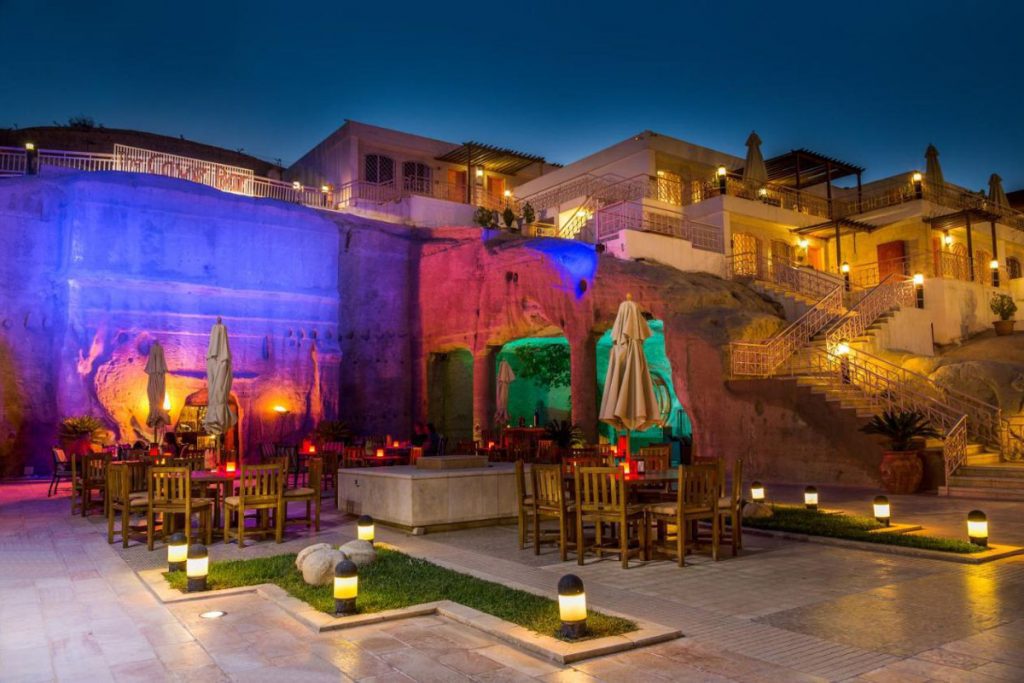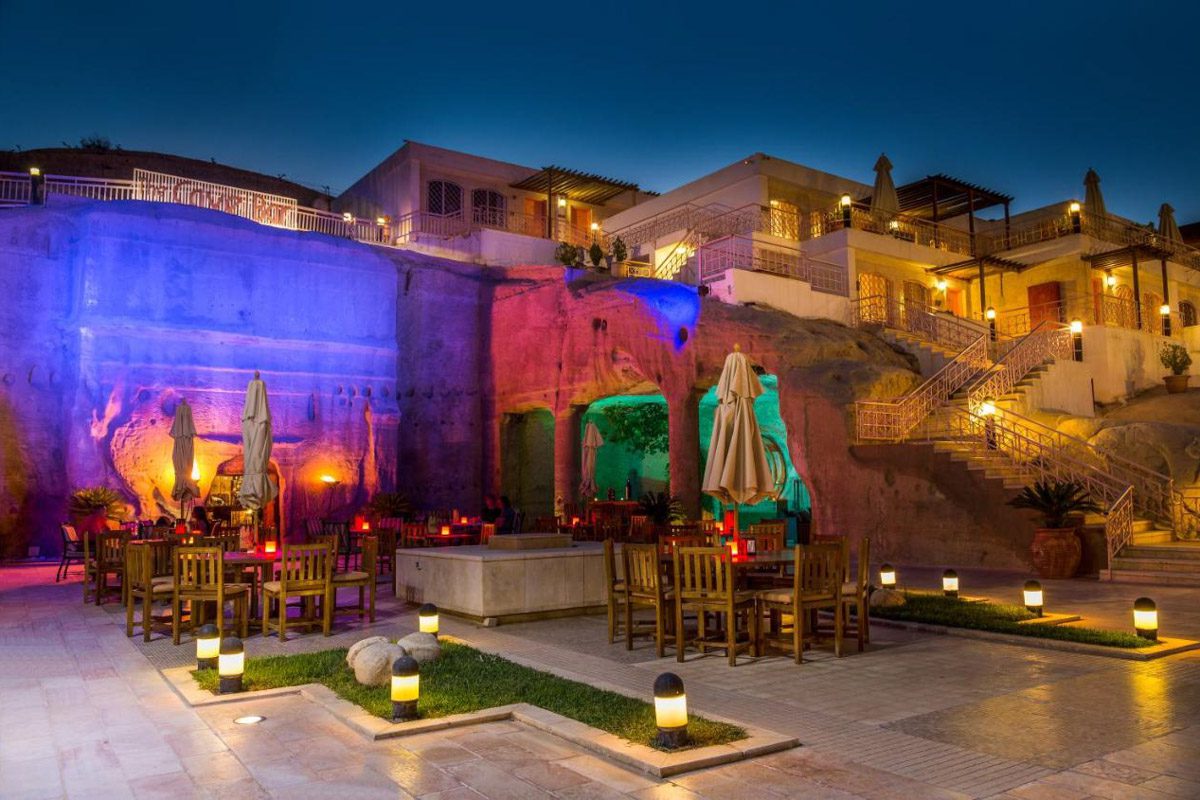 Mid-range/couples' stay: Petra Guest House Hotel
Situated inside the Petra Visitor's Center, just before the entrance to the site itself, this 4-star hotel has air-conditioned rooms with en suite bathrooms and high-quality furnishings. Communal exterior spaces include landscaped gardens and a sublime terrace bar with views over the town and mountains. Rates include a very good buffet breakfast and the option to add on dinner.
Tip: Even if you're not staying there, head to The Cave Bar, a 2000 year old cave-turned-wine-bar on the property of the Petra Guest House Hotel. It's a great place to grab a drink in a seriously unique atmosphere.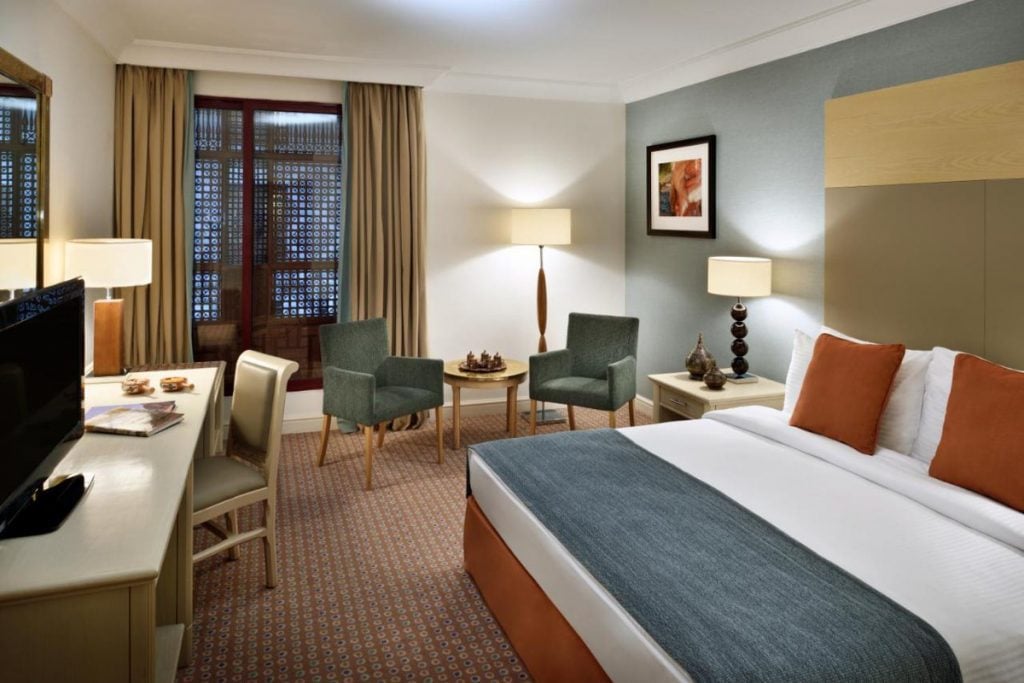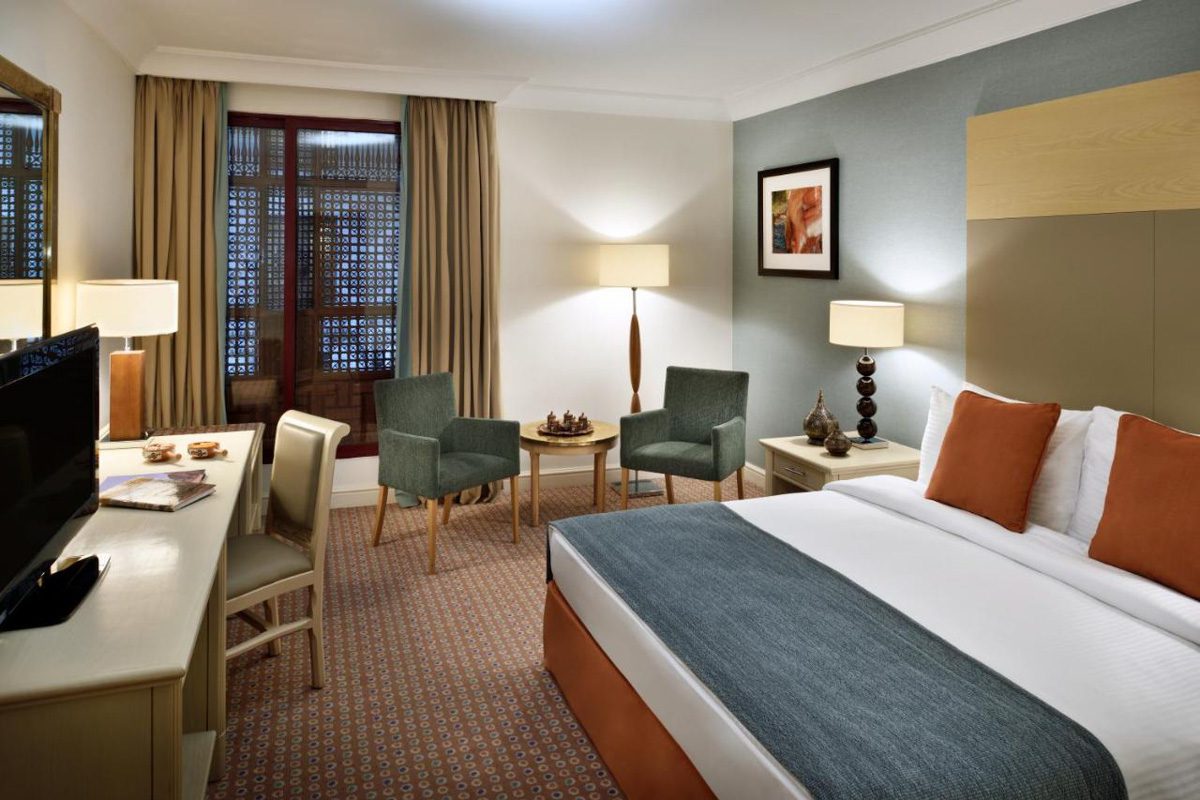 Splurge stay: Mövenpick Resort Petra
Planning to visit Petra for a special occasion? You'll love this swanky resort with an open-air pool, wellness spa, and rooftop terrace, situated just outside the entrance to the Petra Visitor's Center. The guest rooms are clean, comfortable, and practical, while suites come with plush, roomy salons where you can sprawl out after a day of sightseeing. Breakfast is included, and you absolutely must make time for a cocktail in the statement lobby!
---
Are you planning a trip to Jordan?
We have lots of resources on travel in Jordan and destinations throughout the country. Check out our Jordan Travel Homepage for everything you need to know, or read some of our favorite articles below.
Save this article on Pinterest for later!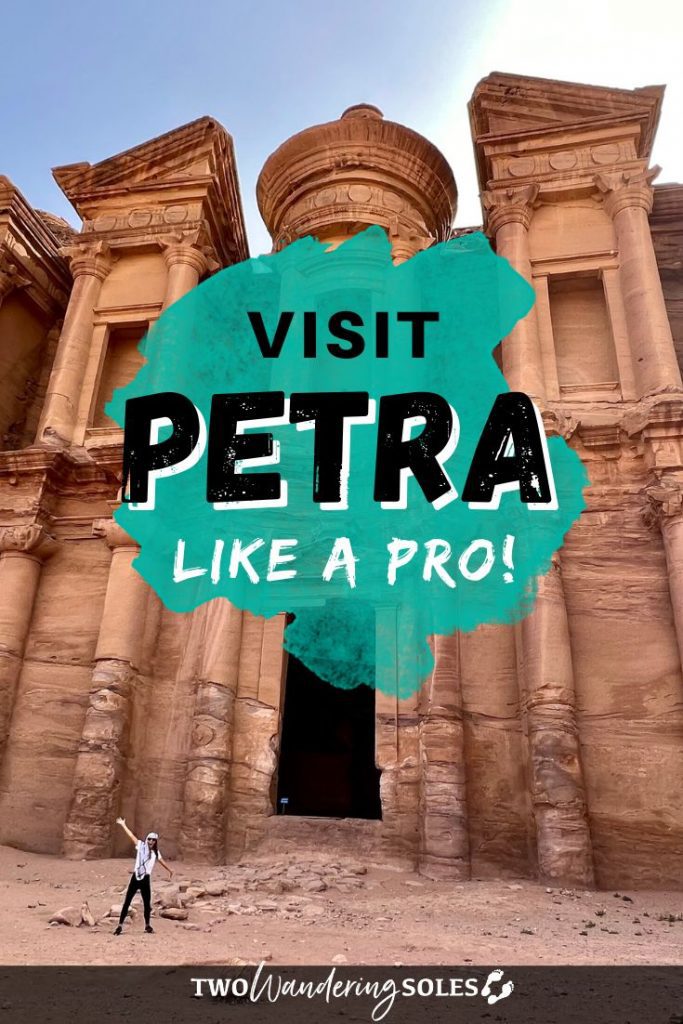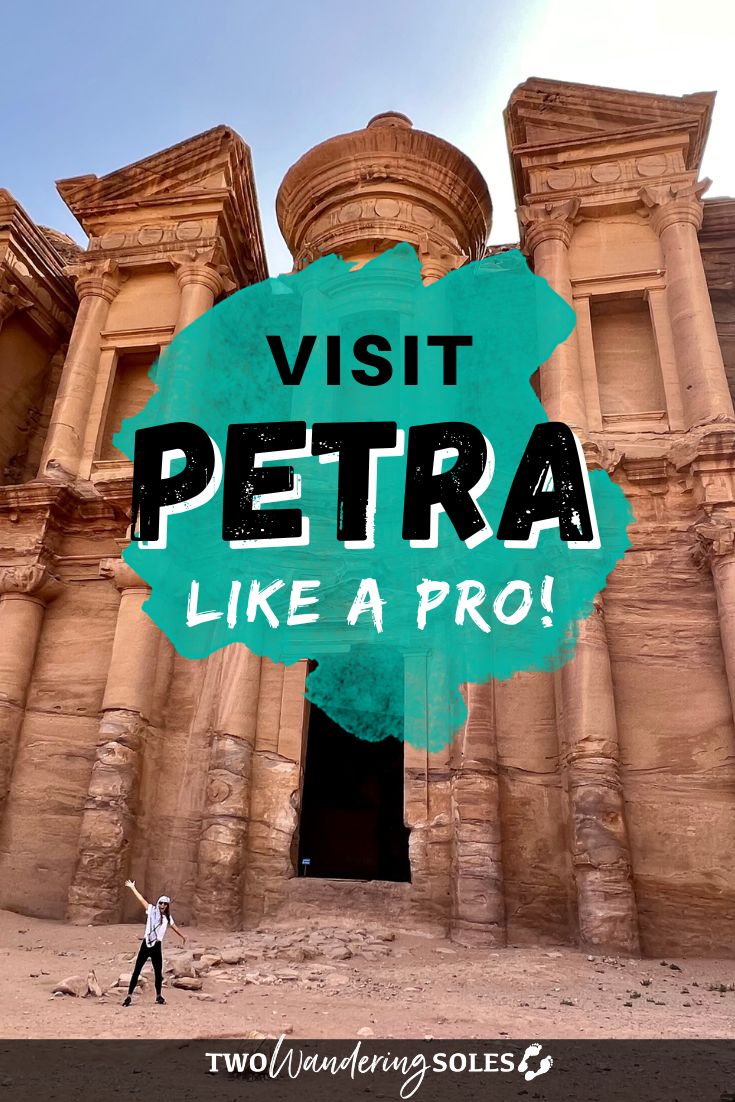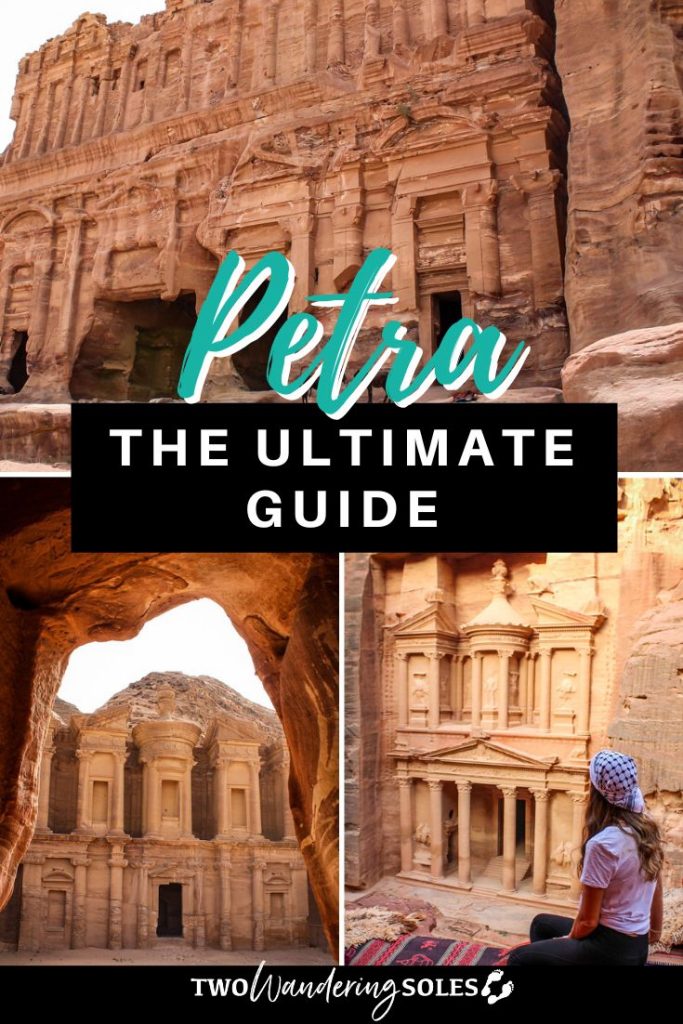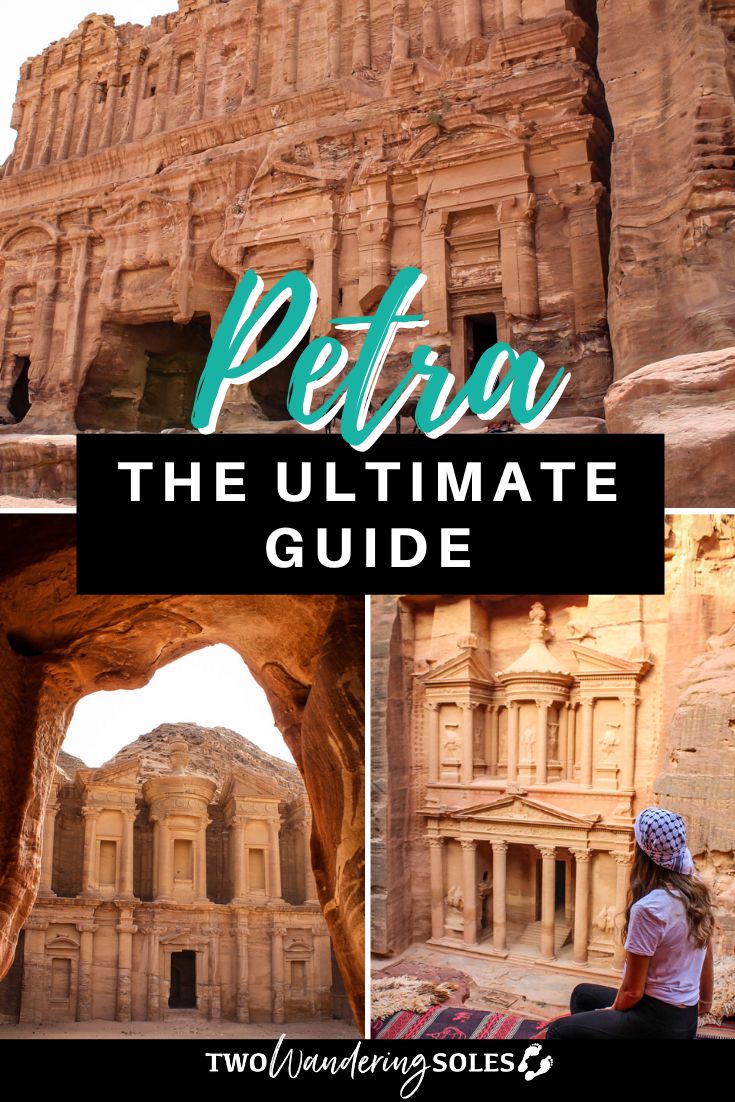 We want to hear from you!
What are you most excited to do when you visit Petra? Are you planning a trip to Jordan and still have questions? Leave your comment below and we'll do our best to get back to you!