Largely a desert, the climate here is extreme, so to help you make the most of your trip (and especially the country's beautiful outdoors!), we've broken down the best time to visit Jordan by season.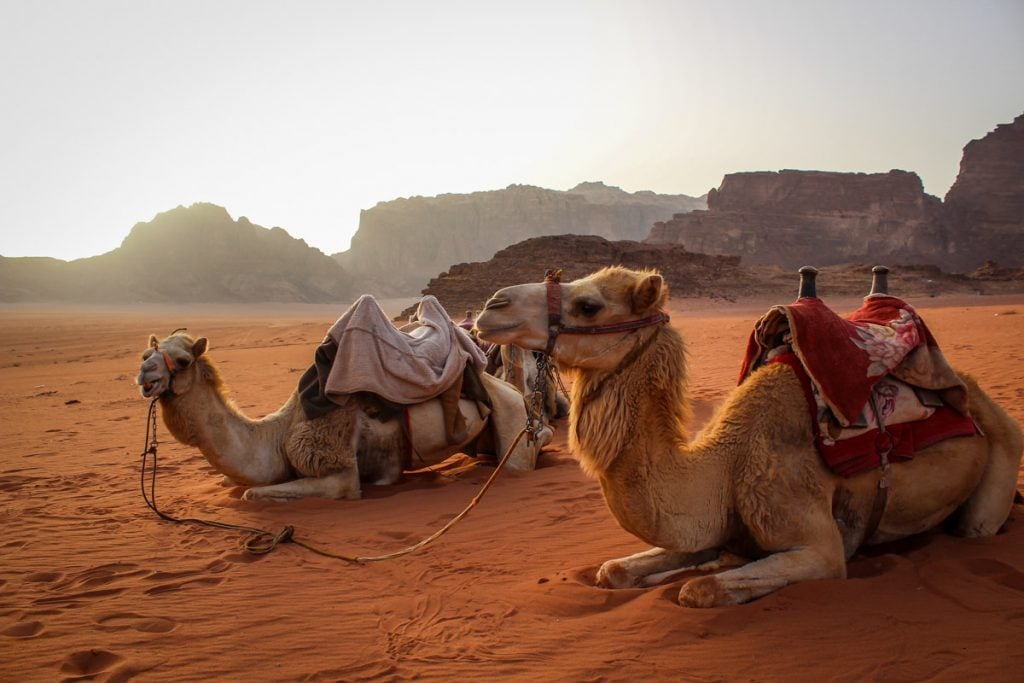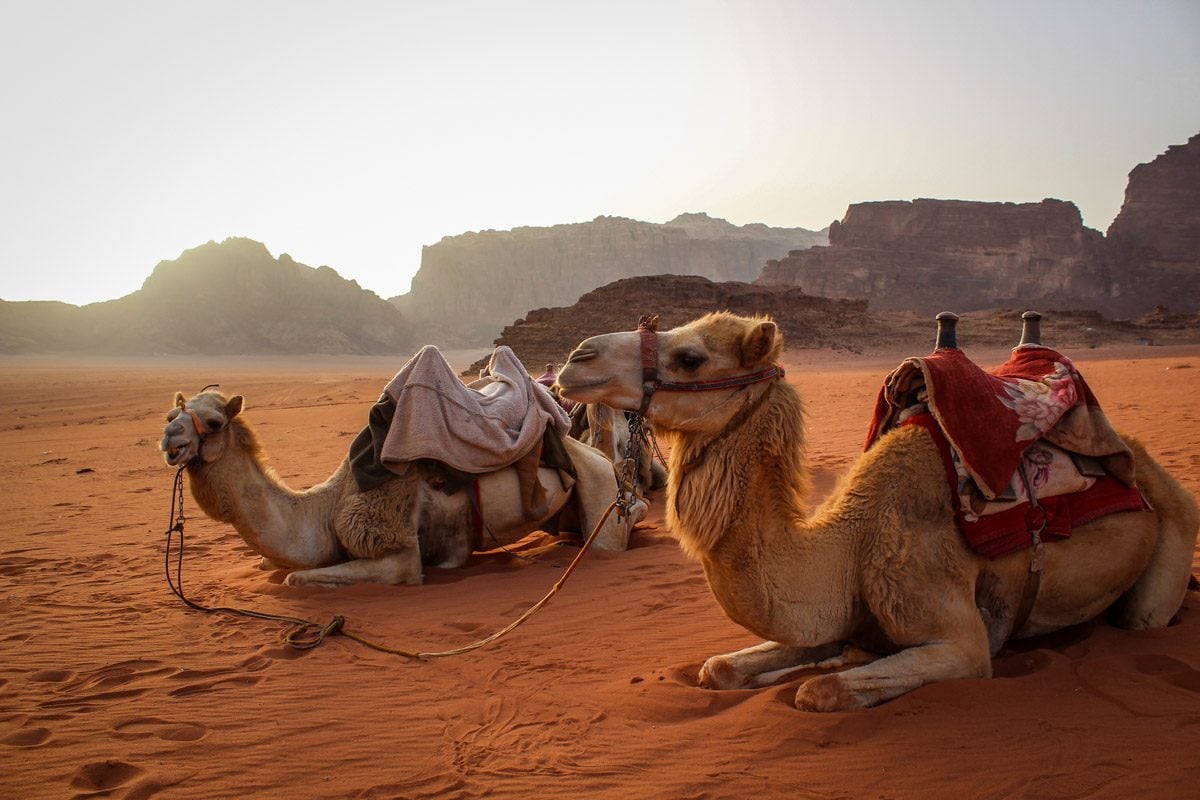 Deservedly one of the most-visited Middle Eastern countries, Jordan offers an unparalleled blend of a welcoming culture, ancient historical sights (some of its cities are among the oldest in the world!), and incredible natural landscapes. Ripe for adventure, you could go from snorkeling in the Red Sea to camping in the desert in a matter of hours!
You'll quickly notice when you're planning the best time to visit Jordan that places like Petra and Wadi Rum tend to steal the spotlight. However, they barely scratch the surface of all the incredible things to do in Jordan!
A fantastic hiking network winds through some of the world's most breathtaking desert landscapes, with countless gems to discover along the way.
For travelers chasing culture, Jordan is one of the most accessible yet enthralling countries in the region. There are immersive cooking classes, architecture and small village tours, and fantastic museums throughout the nation.
With a notoriously gloomy winter and a sizzling summer, Jordan's travel season is a bit shorter than other destinations. That's precisely why we've broken down the best time to visit Jordan for your specific travel needs.
When is the best time to visit Jordan?
The best time to visit Jordan is in late fall or early spring, ideally November or March, outside of peak tourist season and when temperatures are pleasant and rain is mostly at bay.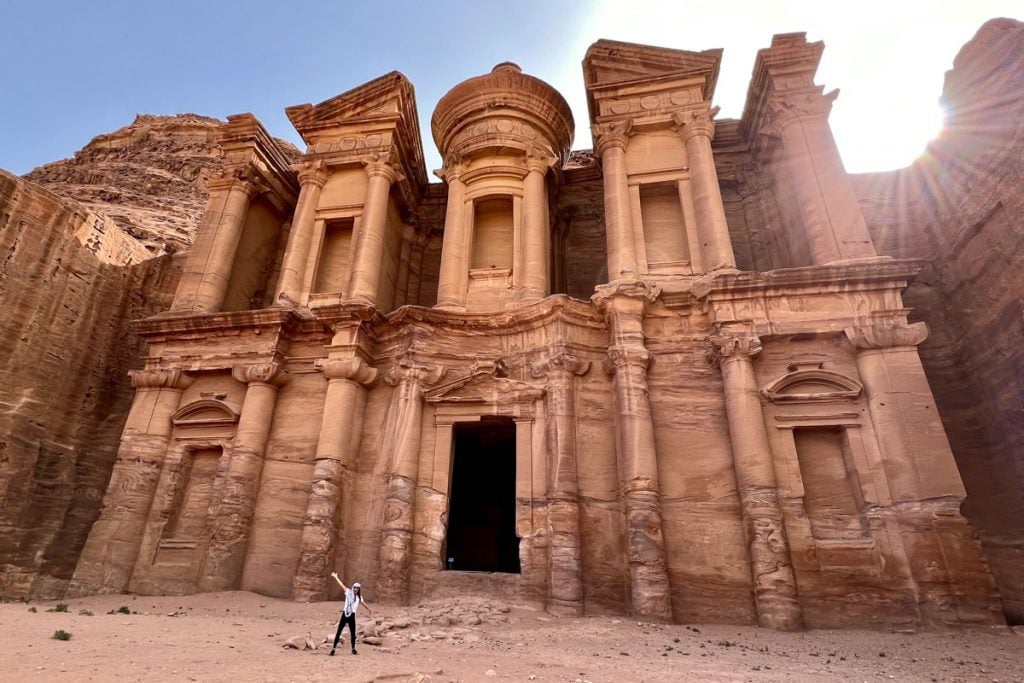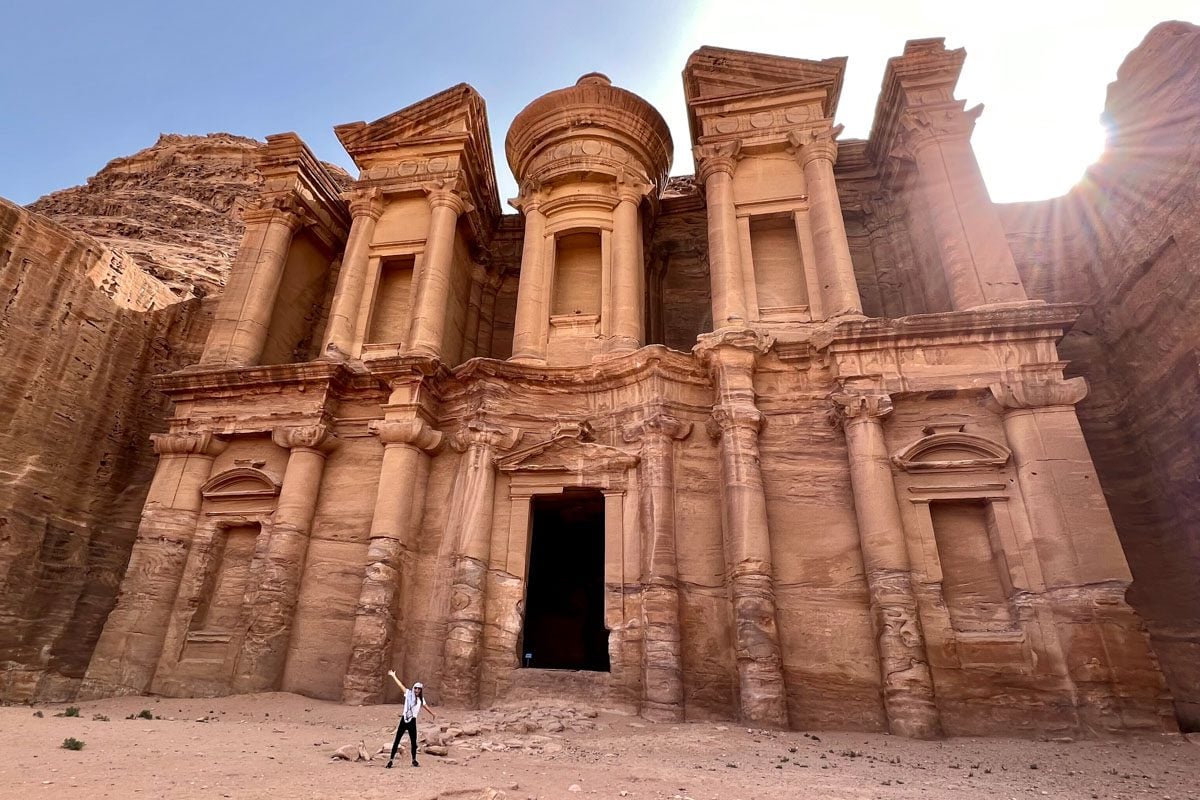 Dialing in the exact time to visit for your travels, however, depends largely on several individual preferences, including what you plan to see and do, your comfort level in both hot and cold weather, and other factors.
Jordan's desert climate means the country frequently experiences extreme weather. Summer temperatures regularly exceed 100°F (38°C), while much of the country (especially the deserts!) gets winter snow.
Winter is also the rainiest season in Jordan. While this certainly doesn't mean you shouldn't visit then, it's a good idea to consider these things when deciding on the best time to visit Jordan.
Answer these questions to get started:
Where are you planning to go in Jordan?
Are you easily bothered by crowds?
Are you negatively affected by heat?
Do you mind chilly temperatures?
Are you planning to do activities like scuba diving or snorkeling?
Thinking about your answers to these questions is going to help you start to determine when to visit Jordan.
Article contents
Overall BEST time to visit Jordan
Want a quick recommendation? Jump down to see our personal advice for the best time to visit Jordan. Plus, we'll share what times of year we'd avoid visiting!
---
Hot tip: The Jordan Pass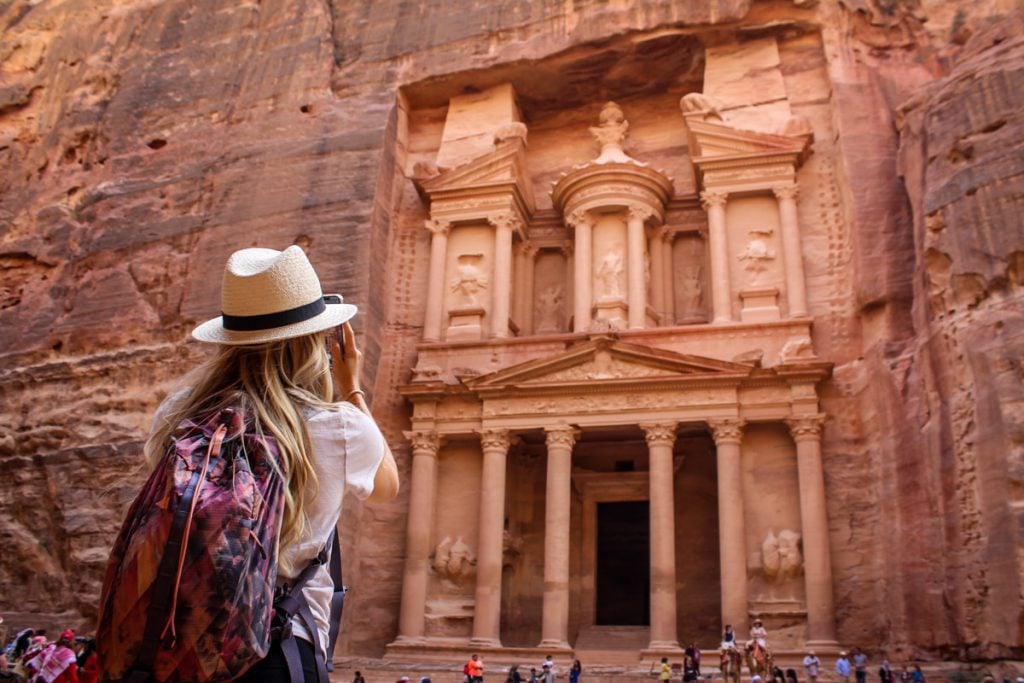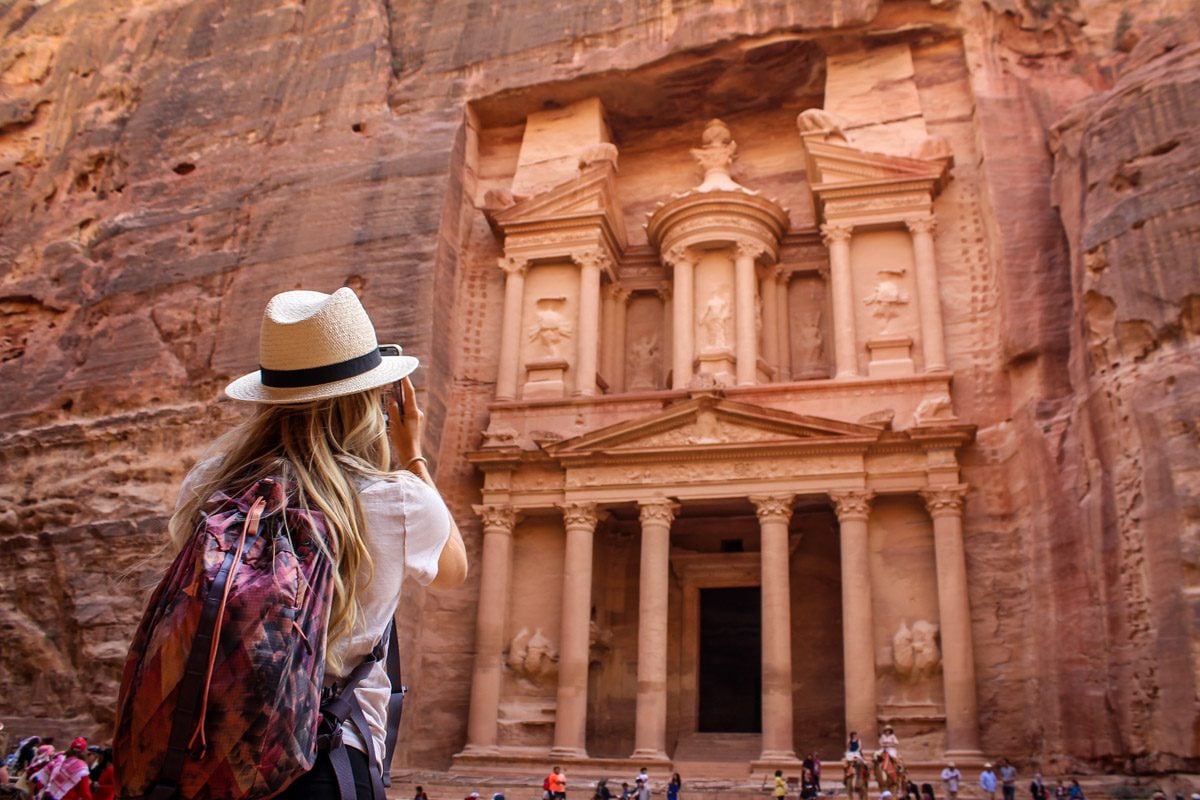 If you're planning to visit at least a few attractions in Jordan, getting the Jordan Pass is a no-brainer! It grants free entry to over 40 sites across the country, including Petra. Not only does the pass reduce time spent waiting at the ticket counter, it also waives your visa on arrival fee.
In order to get the Jordan Pass, there are a few stipulations. First, you must be qualified for a visa on arrival in Jordan. Your trip must also be at least three nights/four days, and you're required to purchase your Jordan Pass before entering the country in order to get the cost of your visa waived.
Other resources to help you plan your trip
---
Our experience traveling in Jordan
Amanda visited Jordan in May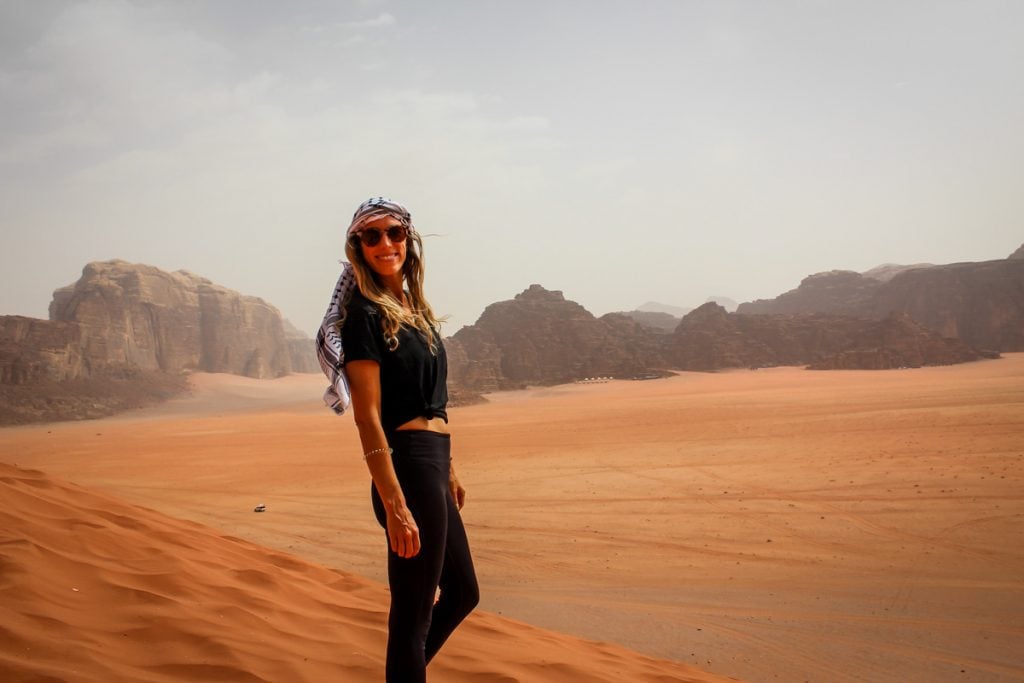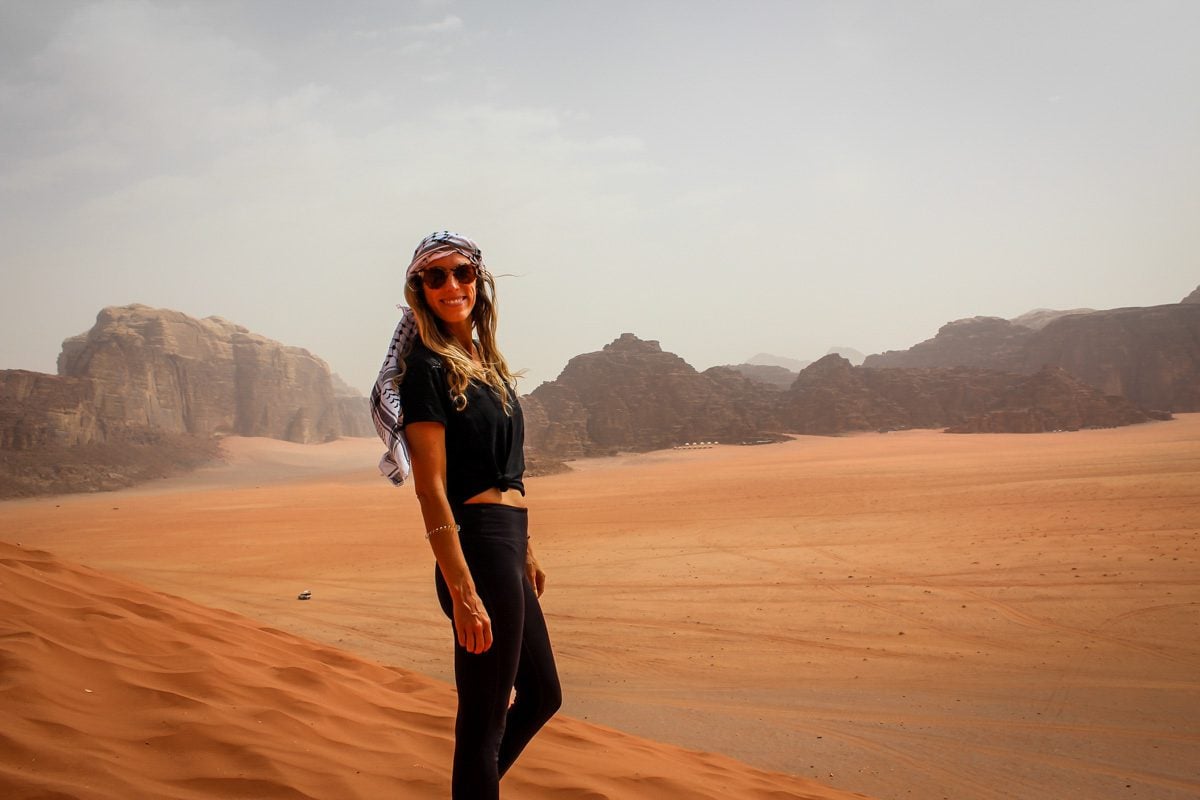 Our experience:
I (Amanda) visited Jordan in May (2022) and spent a few weeks in Amman, visited the Dead Sea and hiked Wadi Mujib Canyon, then road tripped down to Petra and spent a few nights in Wadi Rum desert.
The weather was very pleasant in Amman during this time. It was warm but cooled off at night. The Dead Sea was paradise and a nice reprieve from the bustling city. Petra and Wadi Rum were even warmer, but not stiflingly hot (yet!).
As expected, we ran into crowds in Petra, and everywhere else was moderately touristy, but didn't feel terribly overcrowded. Amman felt the least touristy of all and I actually felt like I had quite the local experience there.
Would I recommend visiting in May?
Absolutely! May is a great month to visit Jordan (even better would be April), when the summer heat hasn't taken over just yet.
Jordan geography overview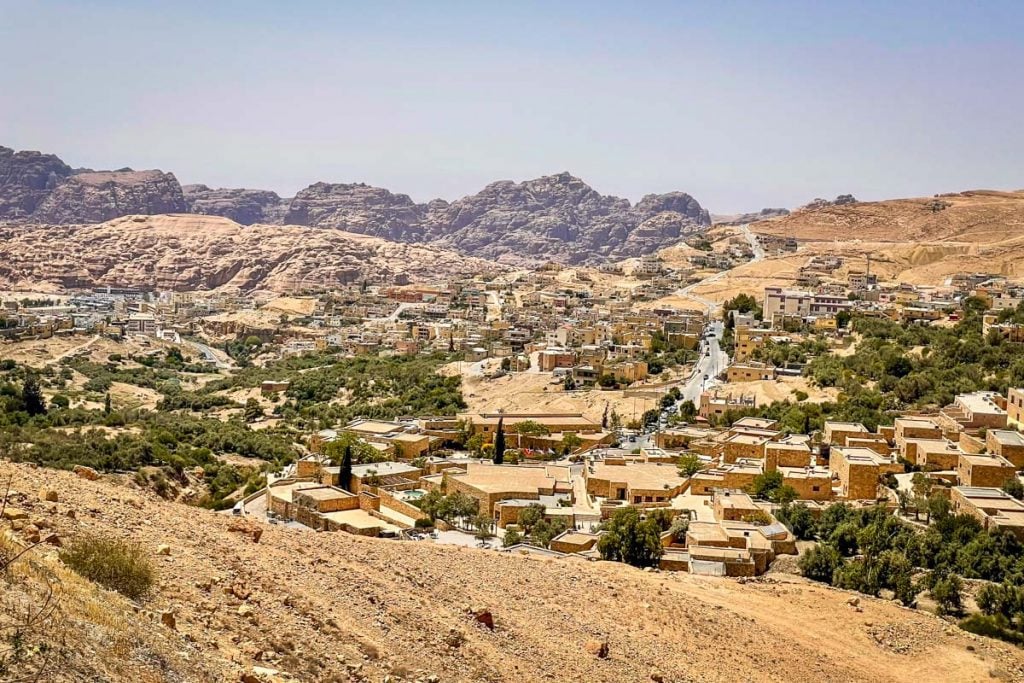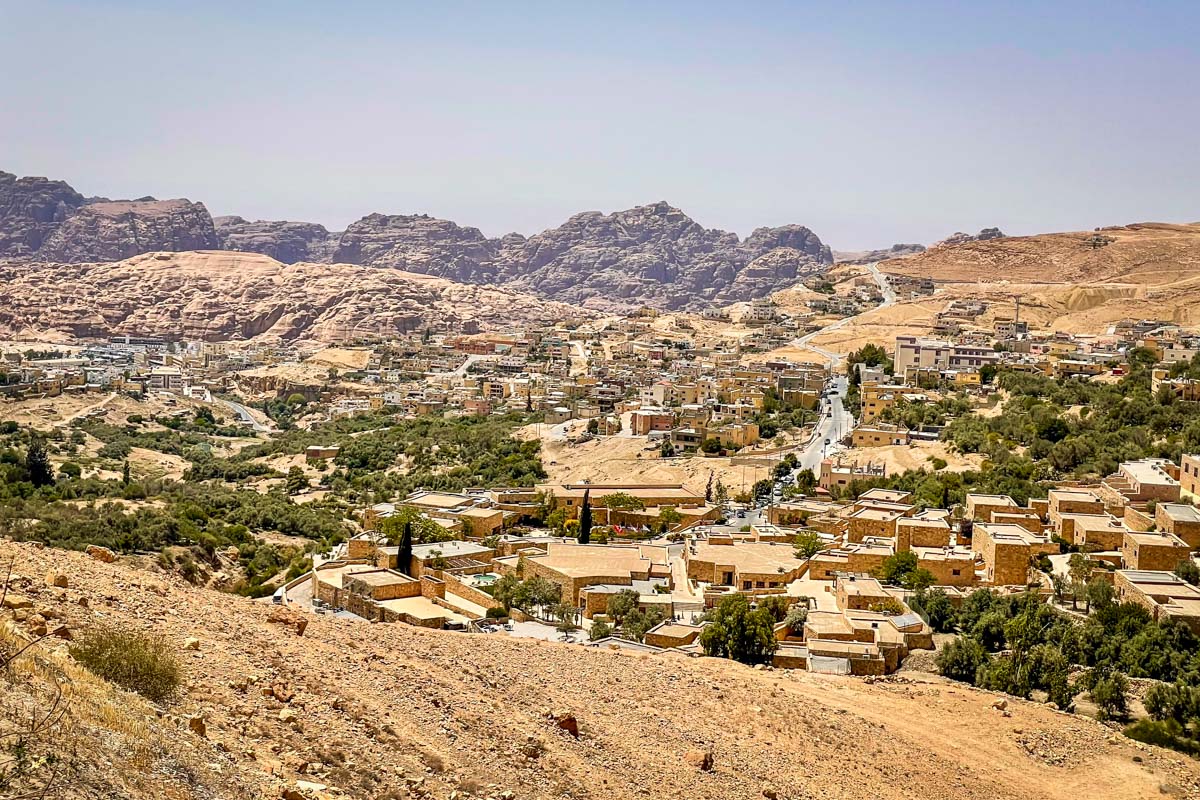 Jordan is a fairly small country, not quite the size of the state of Ohio. You can drive across it from north to south in just five hours!
In spite of this, Jordan offers quite a bit of geographic diversity: a mix of remote deserts, stunning valleys, fertile Mediterranean hills, and some of the world's most unique bodies of water.
With this in mind, Jordan is divided into three distinct regions: the eastern deserts, known as the Badia Region; the Mountain Heights Plateau; and the Jordan Valley, which separates the Jordan River's East and West banks and is part of the larger Great Rift Valley that extends into Africa.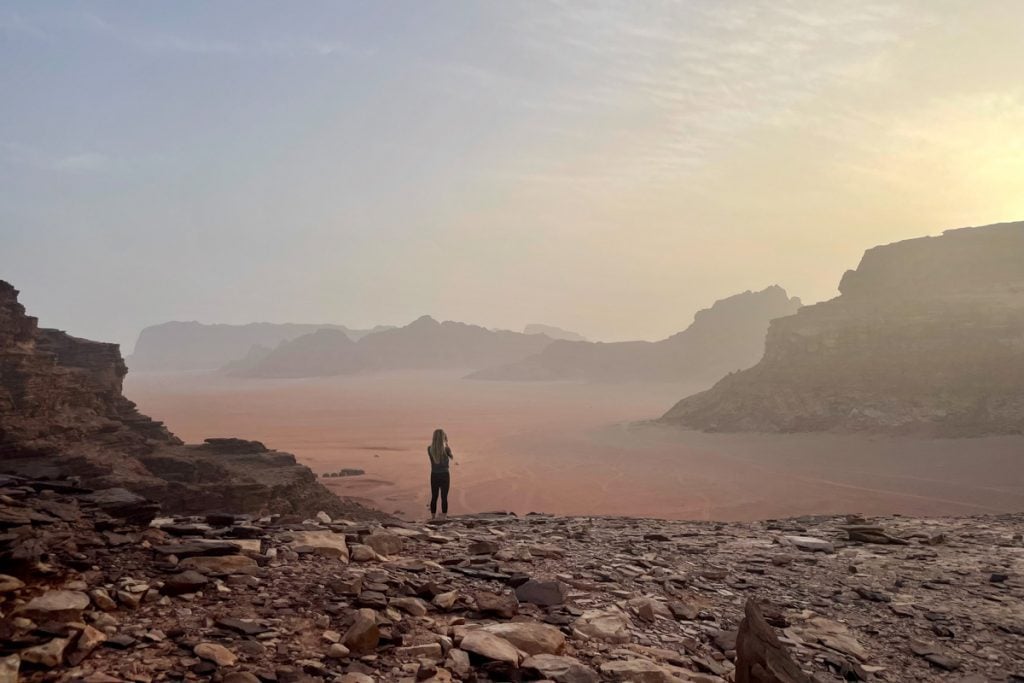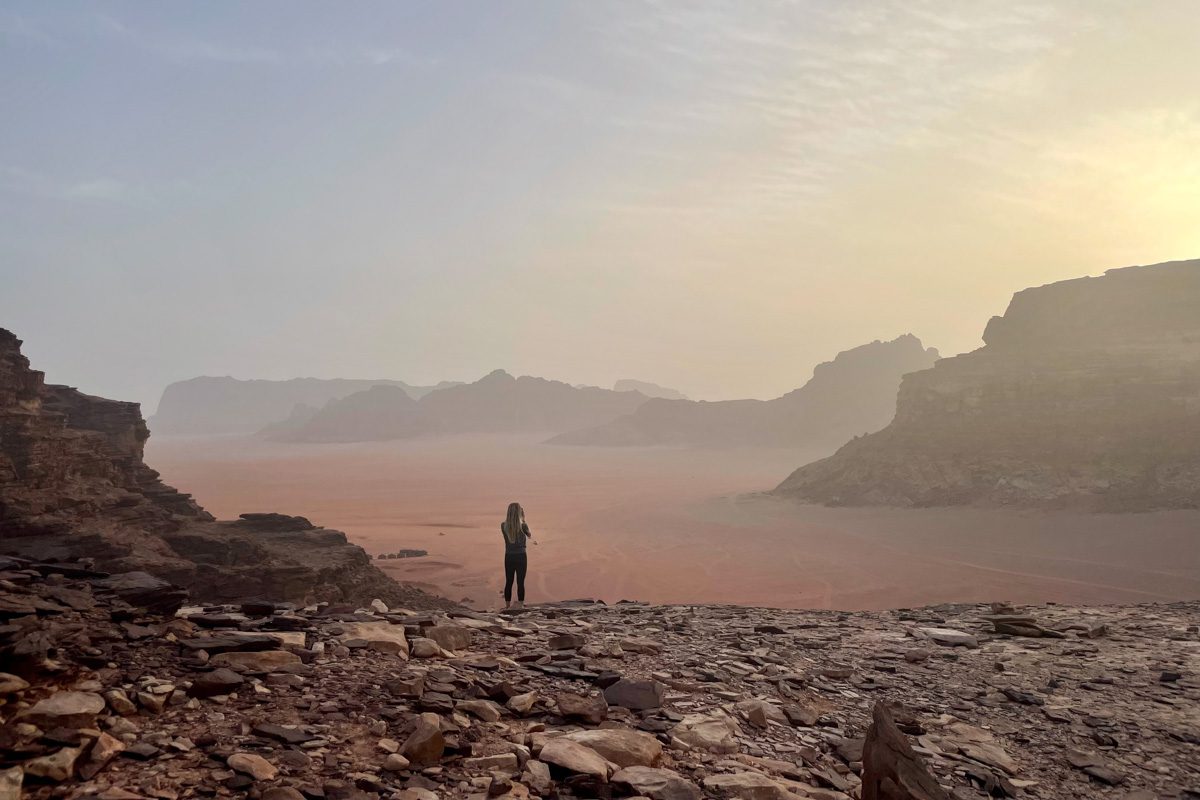 Eastern Jordan's deserts are desolate and largely uninhabited. With extreme temperatures and no infrastructure, few visitors make their way to this corner of the country.
In the west of Jordan, mountains run north to south from the Red Sea to the capital, Amman.
The Jordan Trail weaves through this interesting typography, connecting Wadi Rum with Petra and other stunning landscapes. Home to dramatic valleys, mesas, and rock formations, we highly recommend hiking and camping throughout this region.
At Jordan's southern end lies Aqaba, Jordan's gateway to the Red Sea. Sandwiched between the Israeli and Arabian borders, Jordan's coastline isn't large, but well worth a visit.
Here, in stark contrast to the rest of the country, you'll find sandy beaches, sprawling waterfront resorts, and fantastic snorkeling.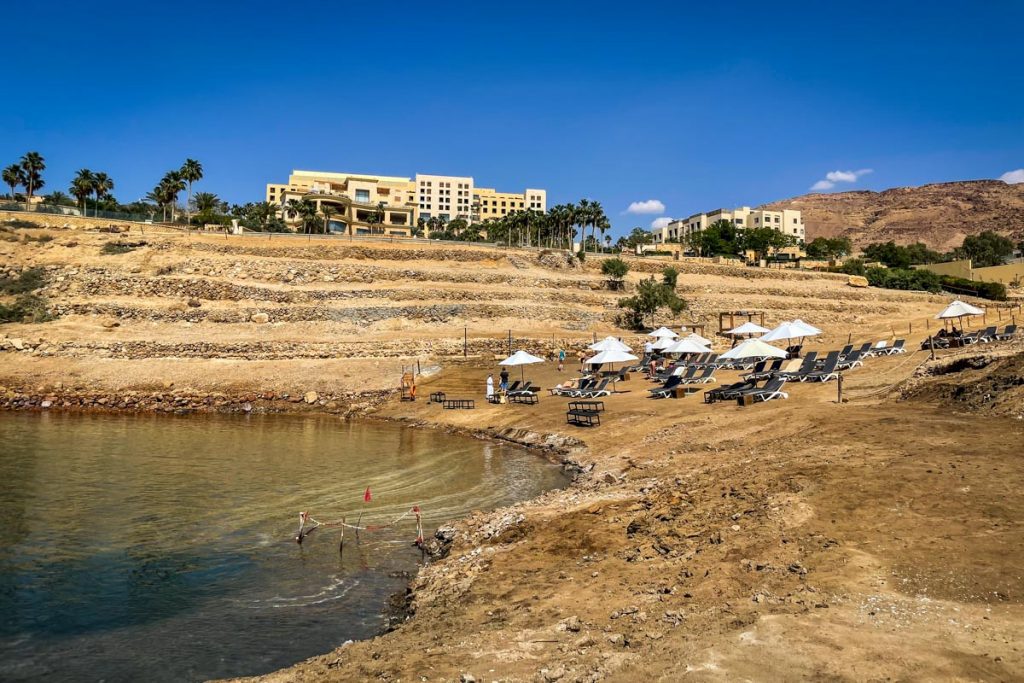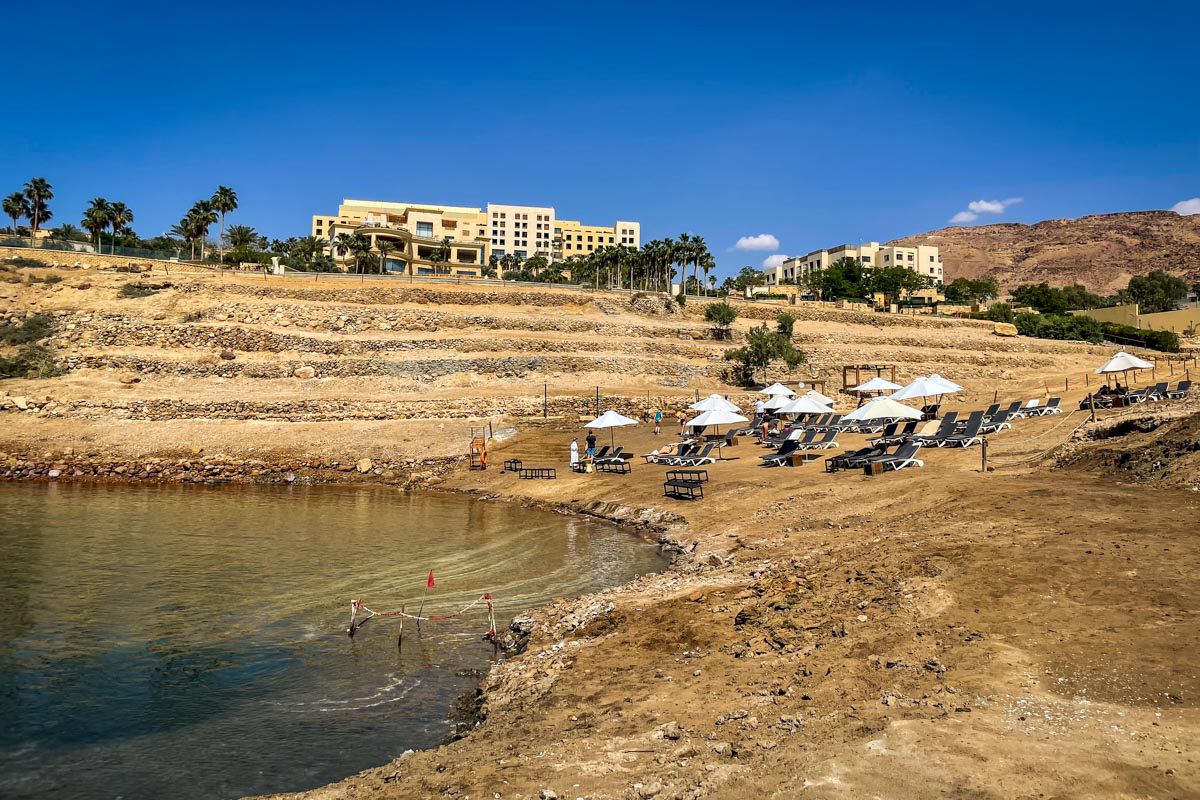 Meanwhile, in central Jordan, a depression in the earth's surface gives way to the Dead Sea, shared with Israel. This fascinating hyper-saline lake, the lowest point on Earth and with no outlets, is surrounded by small canyons, waterfalls, and other natural attractions.
In Amman and the north of Jordan, steep mountain valleys give way to fertile, rolling hills. More Mediterranean than desert in just about every metric, this region of Jordan is more temperate and home to many archaeological sites and small villages.
Weather in Jordan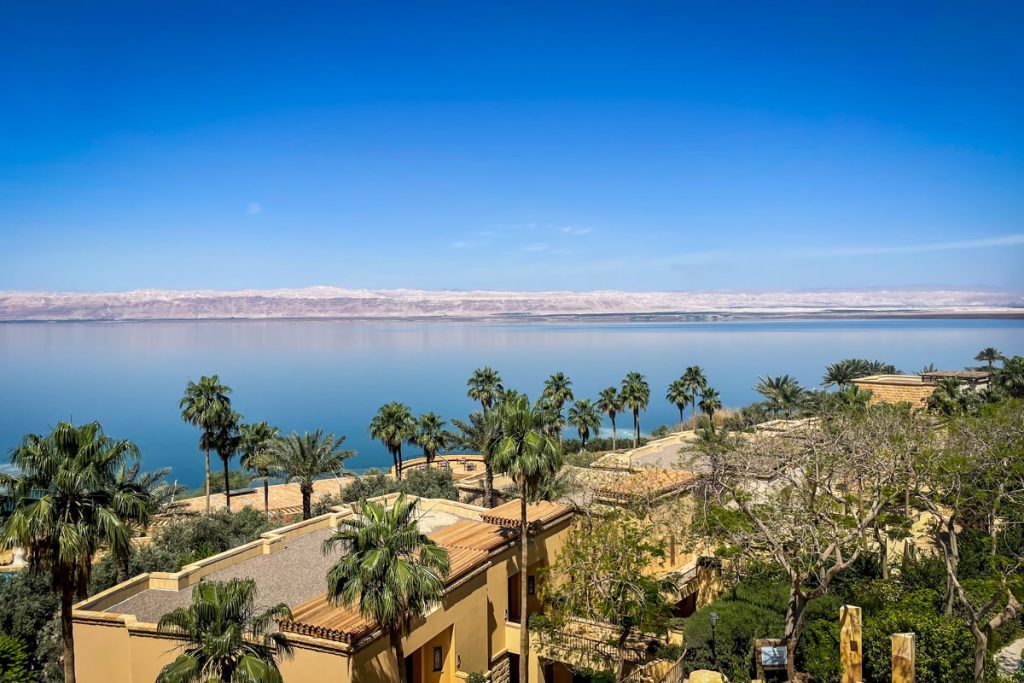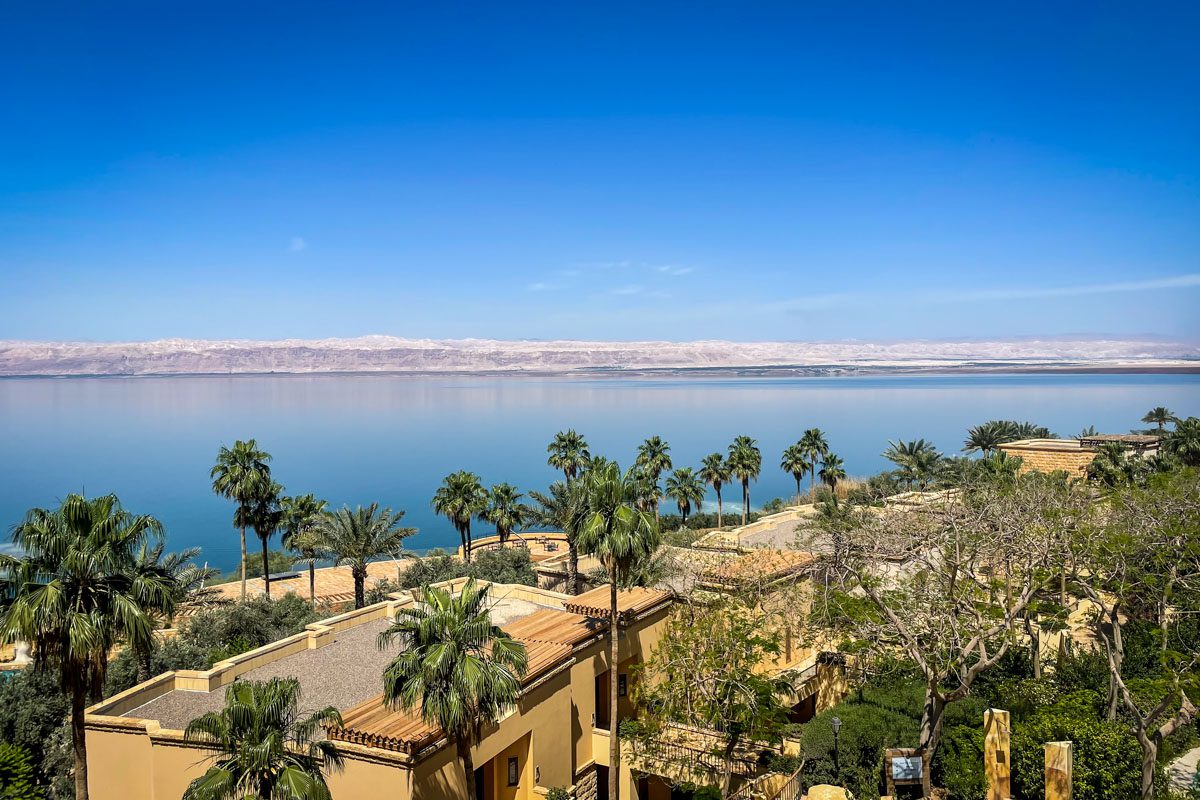 Despite its arid environment, this Middle Eastern country experiences distinct seasons! With two climate extremes, the transitional seasons of Spring and Fall are the best times to visit Jordan.
Many travelers are surprised by the country's cold and rainy winter. Vicious winds often accompany precipitation during the winter, making outdoor activities uncomfortable, if not impossible. The steady downpour of rain also washes out some roads and fills Wadis (seasonal canyons) with water.
The only part of Jordan that largely escapes the gloomy season is Aqaba on the Red Sea, which remains relatively warm and devoid of precipitation year-round.
During the summer, it's the opposite: temperatures reach scorching highs, often exceeding 100°F (38°C). While it's almost always sunny, the desert is at its most foreboding — not great for exploring anywhere but the beach. Peak temperatures typically hit in July and continue through August.
In these months, you should especially avoid traveling to the Dead Sea, where it's incredibly humid. The capital city Amman and the north of Jordan around Ajloun, on the other hand, are a little more temperate; similar to other Mediterranean climates during this time of year.
Spring and Fall are the best seasons in Jordan, when the weather is near-perfect! It seems to be perpetually sunny, temperatures are stable, and planning outdoor activities is a breeze.
While there are some minor regional differences, the whole of Jordan is well-suited for exploration during these seasons.
Stats on Jordan Weather & Seasons:
Warmest months in Jordan: July – August
Coldest month in Jordan: January
Rainiest months in Jordan: January – February
Driest months in Jordan: June – August
Most crowded months in Jordan: April – May, October
Least crowded month in Jordan: June – August
---
Spring in Jordan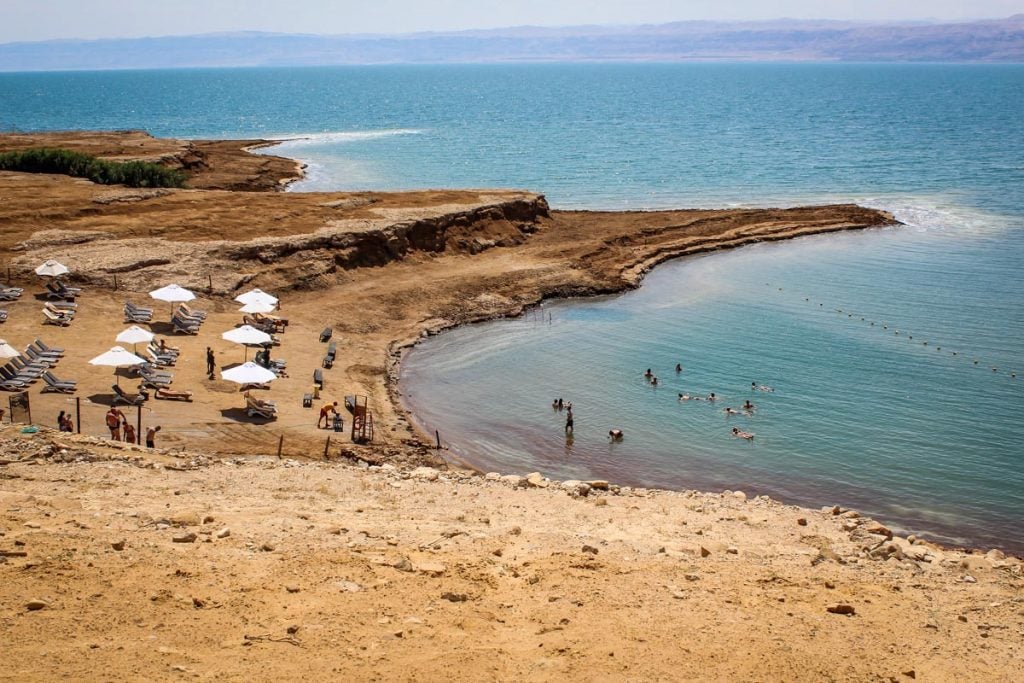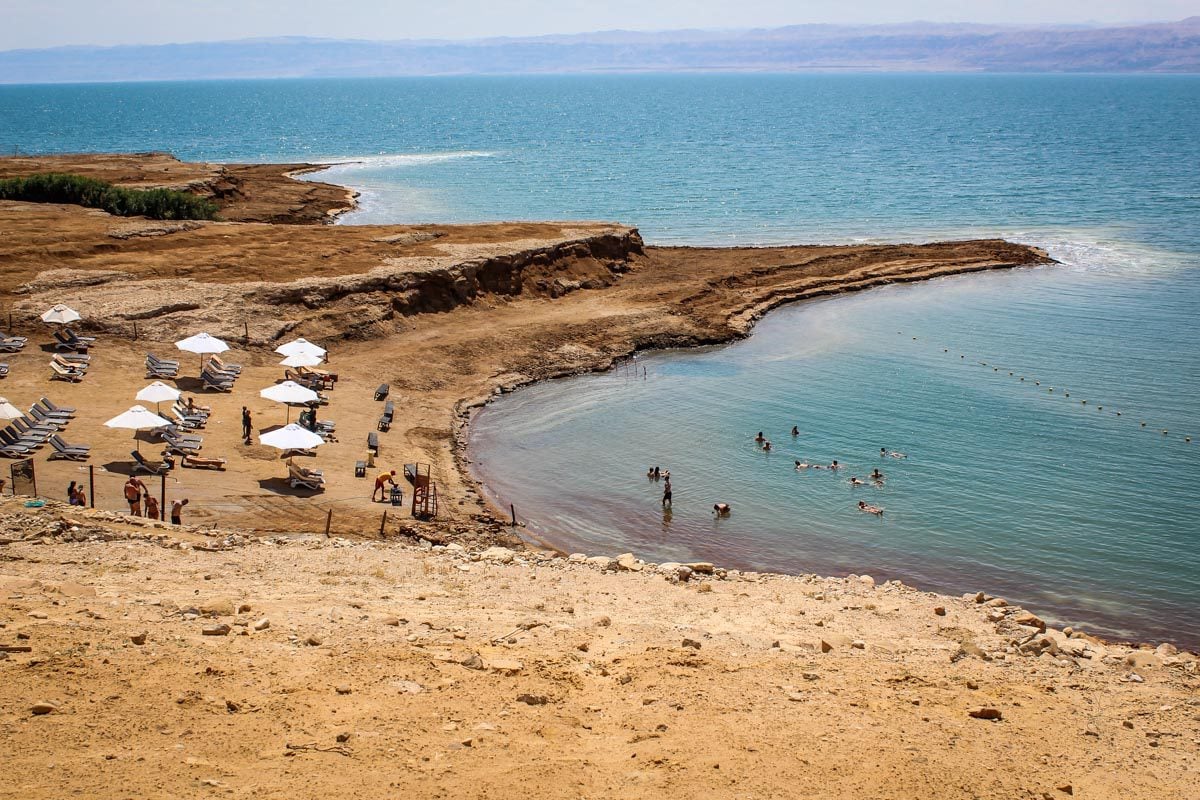 During spring, Jordan as a whole seems to be in full bloom—literally! Wildflowers pop up in droves around Wadi Rum, the North, and many other parts of the country. The weather is perfect, with highs in the 70s (20-27°C) and a relaxing cooldown in the evenings.
The conditions are ideal for just about any activity — hiking, visiting Petra, cultural sightseeing, you name it!
Thanks to the country's dry desert climate, spring arrives early, so it's already quite warm in March. Beginning in April, it's even possible to swim in the Red Sea!
With such a favorable climate, unsurprisingly, this is also the high season for travelers. Expect higher prices and more crowds, especially closer to the summer. Consider visiting in March to beat the most hectic tourist times.
Best things to do during spring in Jordan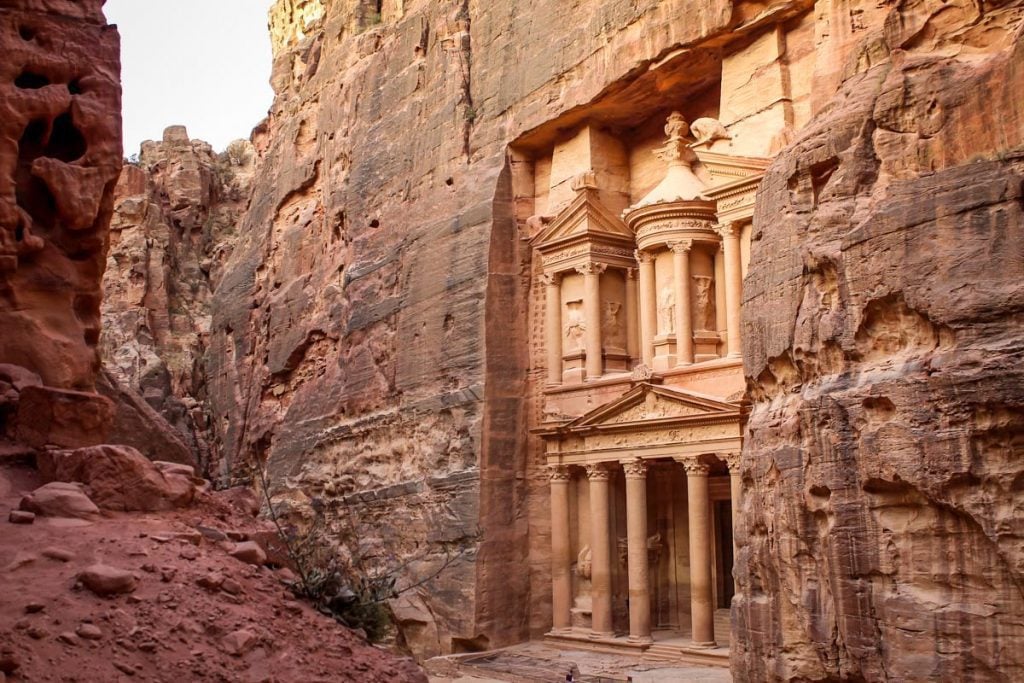 Float effortlessly in the uber-salinic waters of the Dead Sea
Hike through the wildflower-clad hills surrounding Ajloun
Visit Petra, an unforgettable experience taking in the spectacular ancient architecture
Camp with Bedouins in Wadi Rum, a stunning desert valley. In April, the wildflowers are in full bloom here!
Road-trip through impressive castles near the Dead Sea, like AlKarak and Shobak
For an off-the-beaten-path experience, hike from Petra all the way to Wadi Rum
Summer in Jordan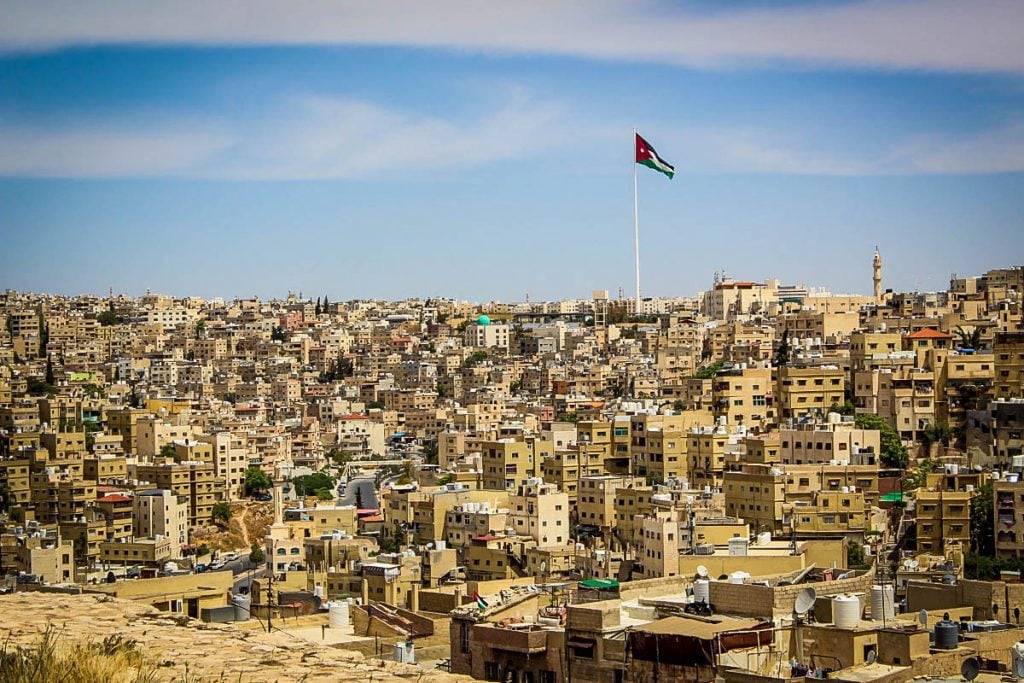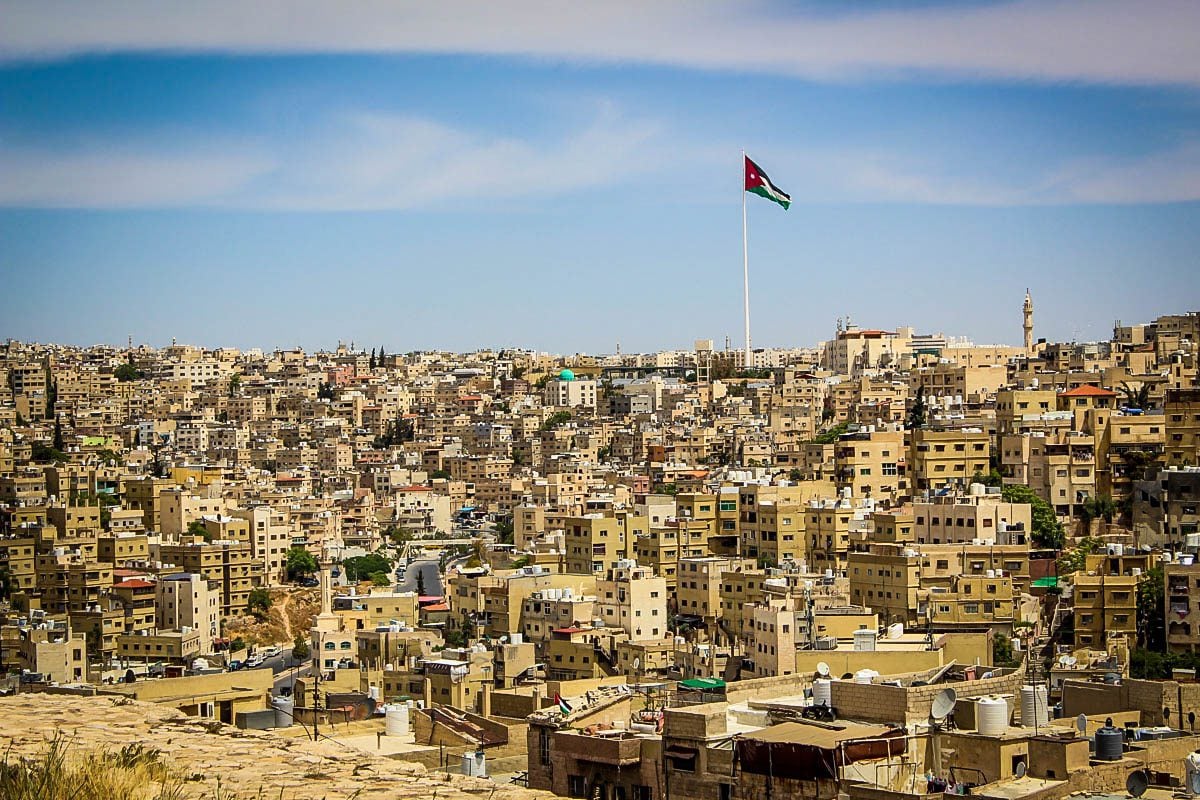 Summers are low season in Jordan, since temperatures are sweltering, soaring well into the 100s (38+°C). Especially on the Red and Dead Sea coasts, temperatures reach truly uncomfortable (and potentially even dangerous) levels, so don't plan for a beach vacation during the summer.
It's a little more temperate in Amman, as well as the north of the country, where maximum temps generally cap out in the mid-90s (~35°C).
If you're unphased by the hot desert sun, a summer visit to Jordan does offer practically nonexistent crowds and excellent deals. Also, unlike the winter, all attractions remain open and you're all but guaranteed sunny weather. There is some undeniable extra magic in seeing Petra all to yourself!
However, it's crucial to beware of dehydration and heat stroke, especially if you're doing any hiking during the summer. With minimal shade, even the rocks and roads heat up, making everything feel even hotter.
Best things to do during summer in Jordan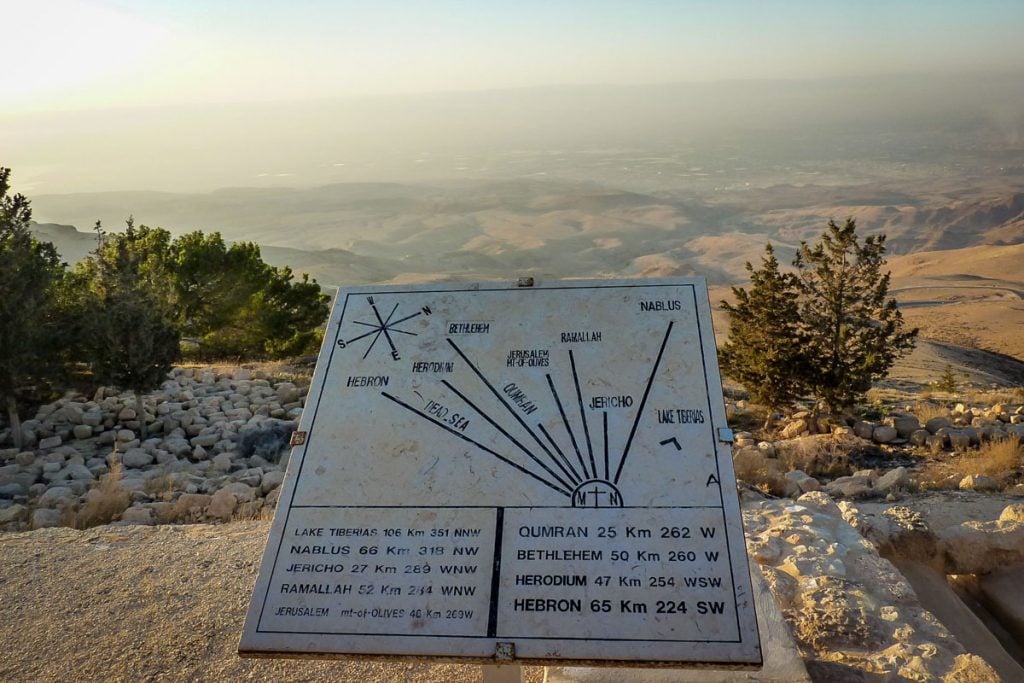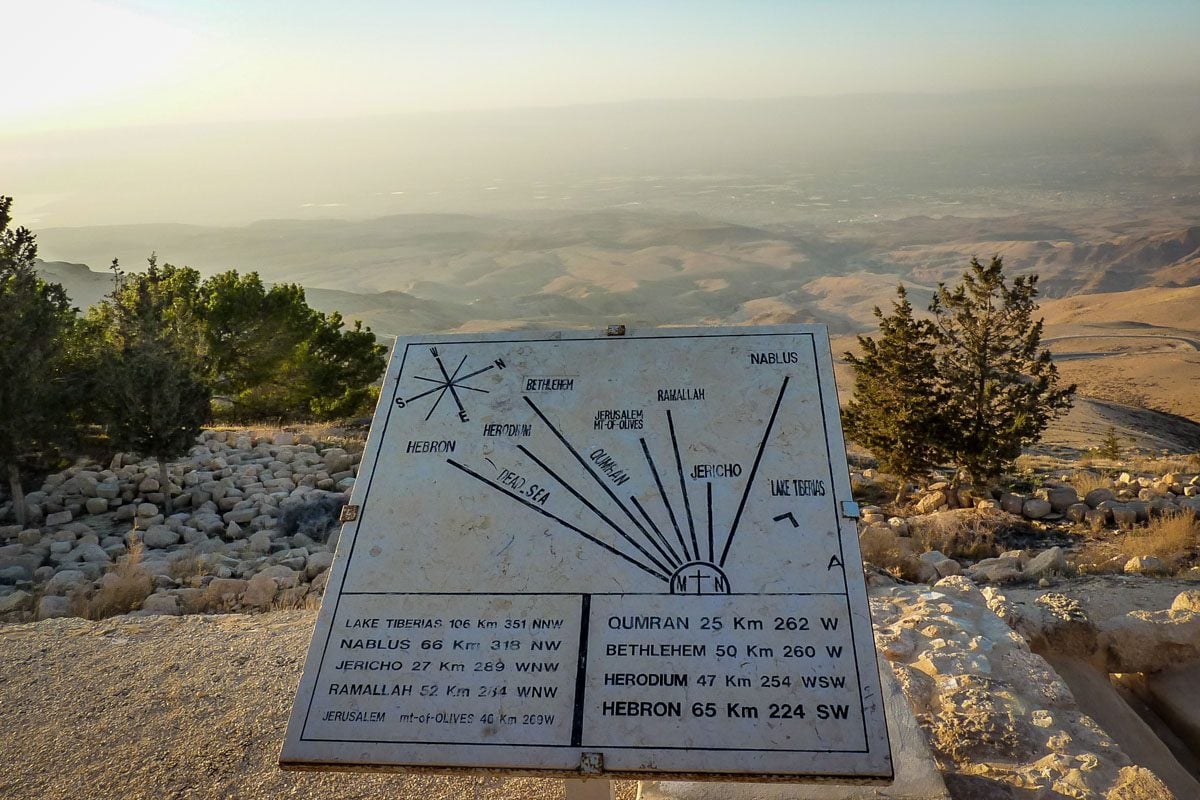 Explore the capital city of Amman
Attend the Jerash cultural festival, a vibrant display of Jordanian tradition in July.
Camp alongside Bedouins in Wadi Rum underneath the stars during the Perseid Meteor. shower, which reaches its peak in August.
Cool off in the waterfalls and Wadis (slot canyons) along the Dead sea.
Drive to Mount Nebo, where Moses saw the promised land.
Visit the baptism site of Jesus.
Fall in Jordan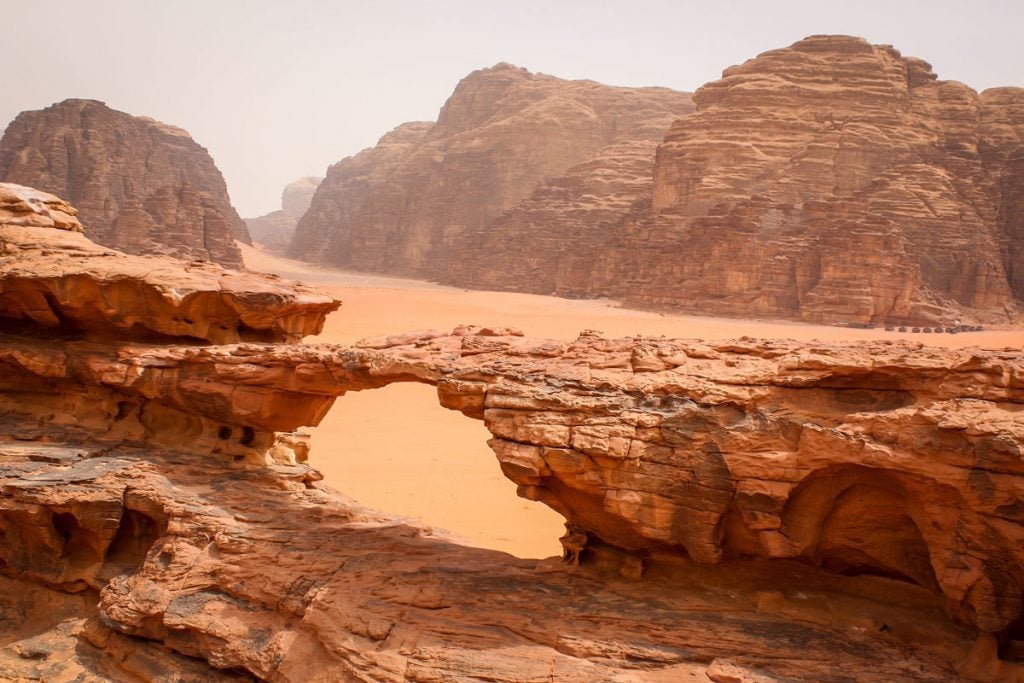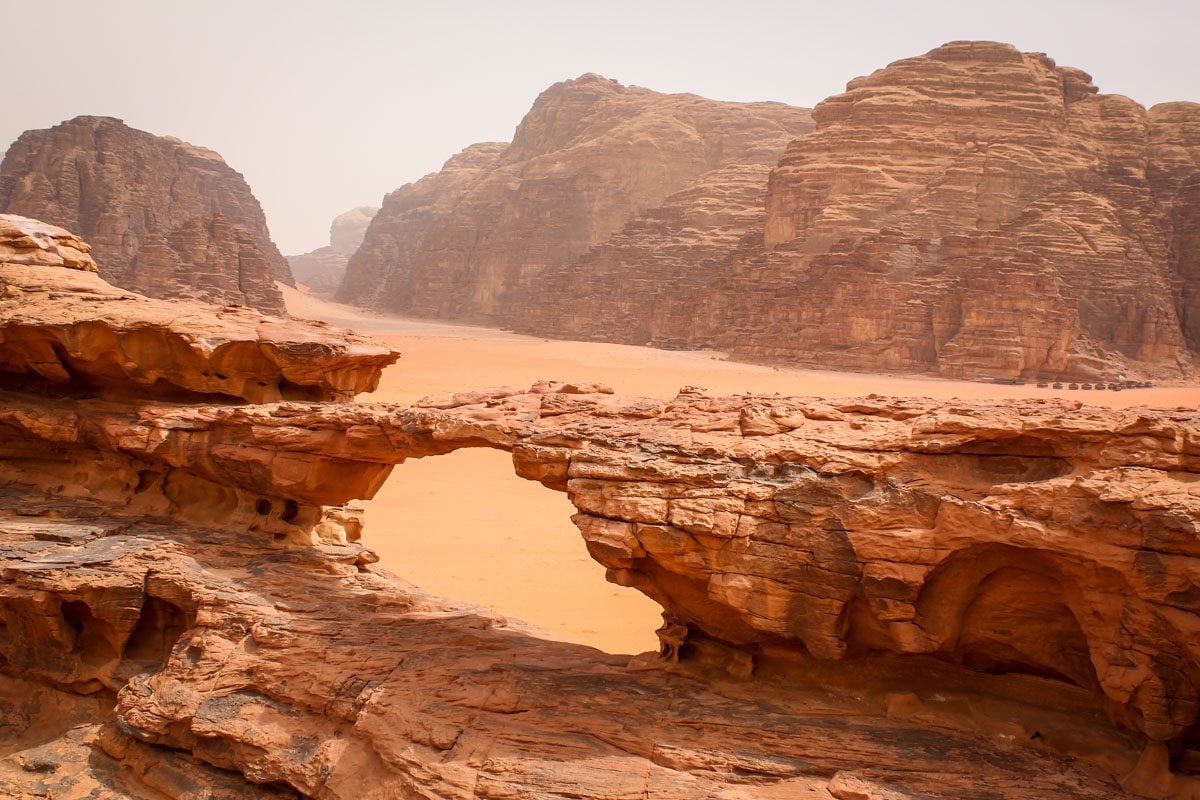 In the fall, temperatures start dropping and conditions become significantly more comfortable. Petra, Amman, and Wadi Rum are perfect for visiting beginning in September, with average daily highs in the 80s (~30°C).
The Red Sea and Dead Sea remain toasty until October, when it starts to become more temperate around the entire country. Tourism picks up again in mid-fall, especially on the coast, where the water typically remains warm enough for swimming through November.
If you're interested in snorkeling, diving, or combining beach time with sightseeing, this is the best time to visit Jordan. Keep in mind that just like Spring, Fall is also the high season.
Best things to do during fall in Jordan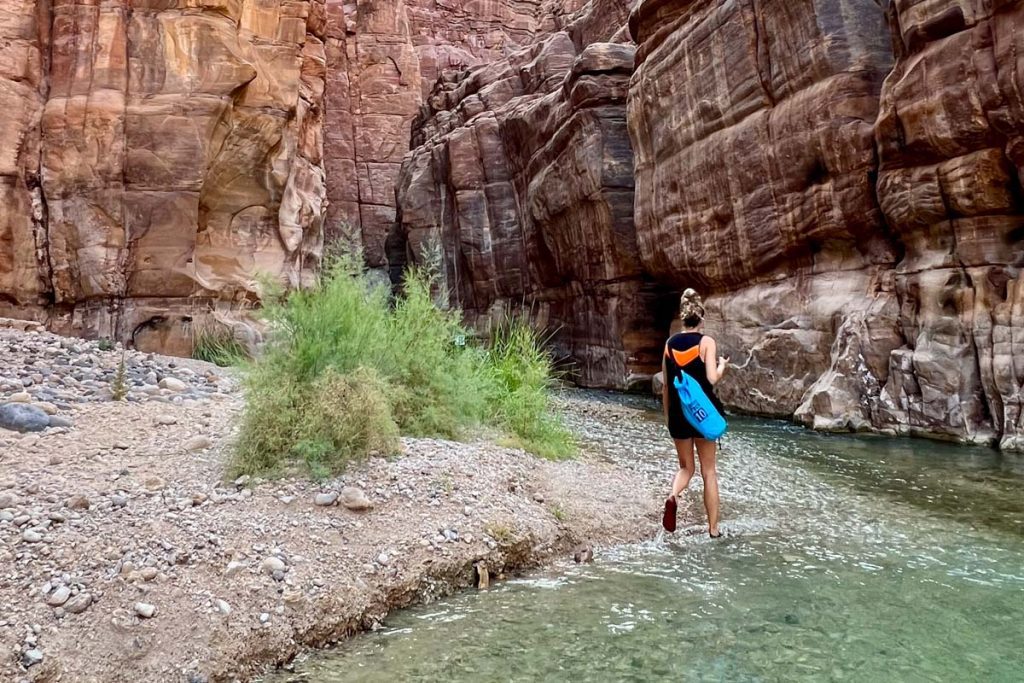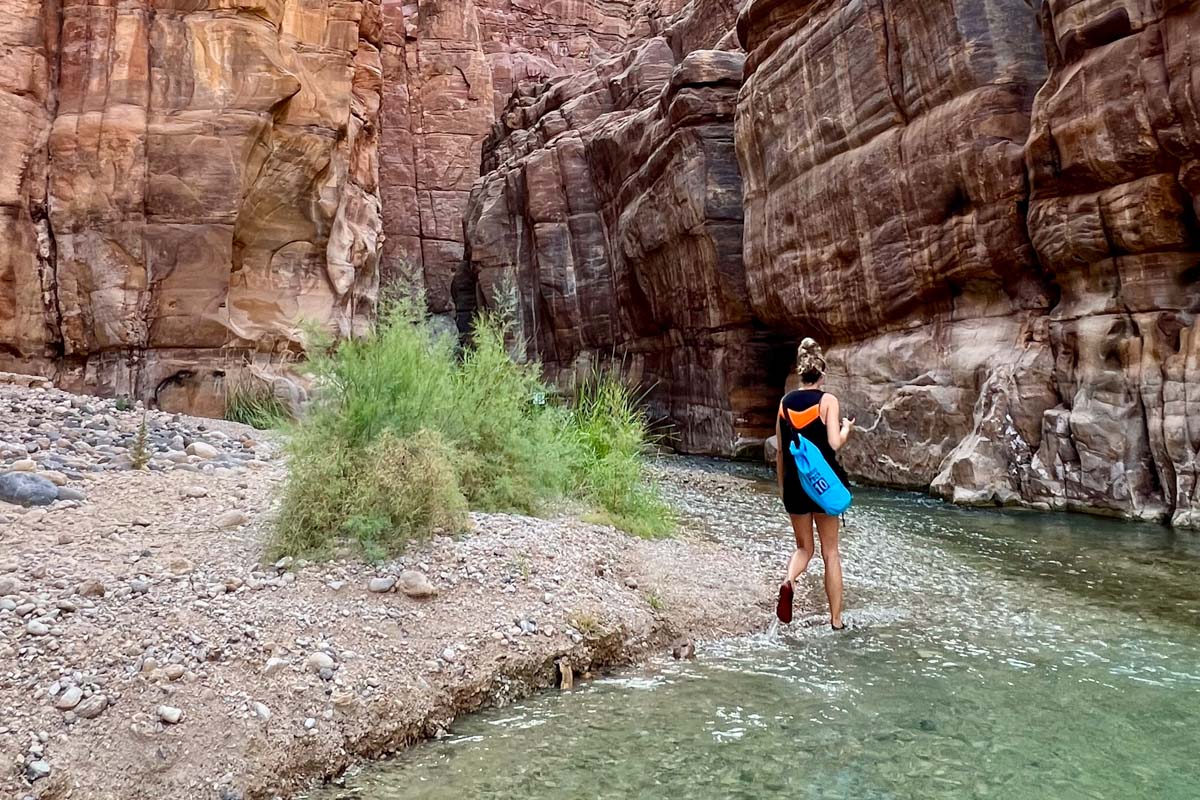 Hike a section of the Jordan Trail (or the entire thing!). The 400-mile hike connects villages throughout the country.
Swim and snorkel in the Red Sea. Water temperatures remain warm long after the scorching summer temps have subsided.
Participate in a seasonal olive harvest in northern Jordan.
Visit Siq Al Barid, a smaller, less-visited (but still incredible!) alternative to Petra.
Go canyoneering through the wet canyon of Wadi Mujib.
Explore the mysterious abandoned village in the dramatic Dana Nature Reserve.
Winter in Jordan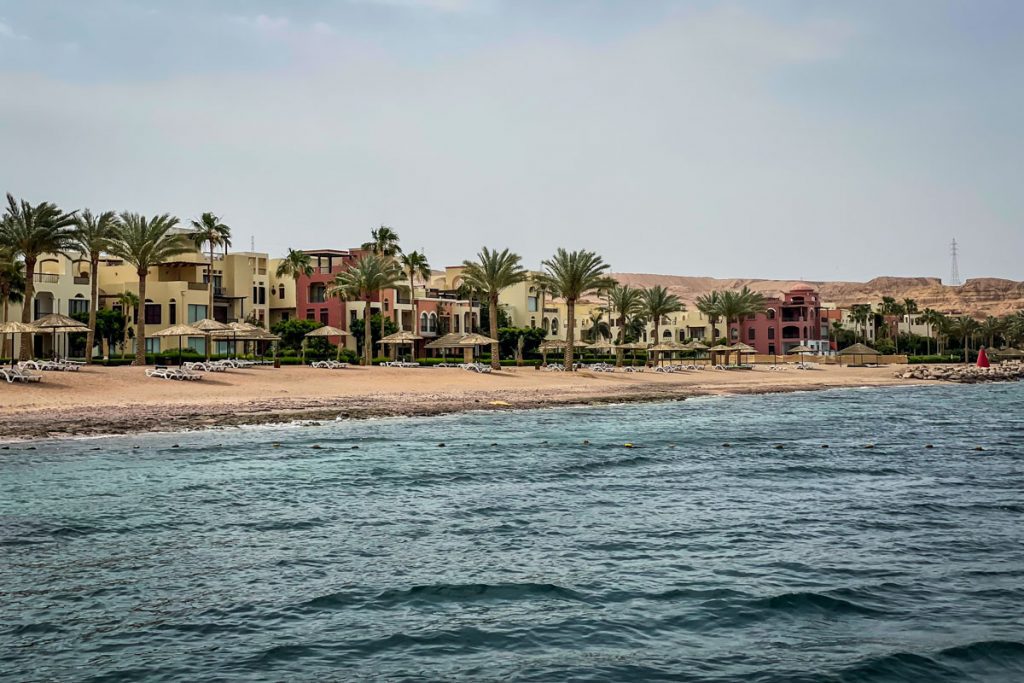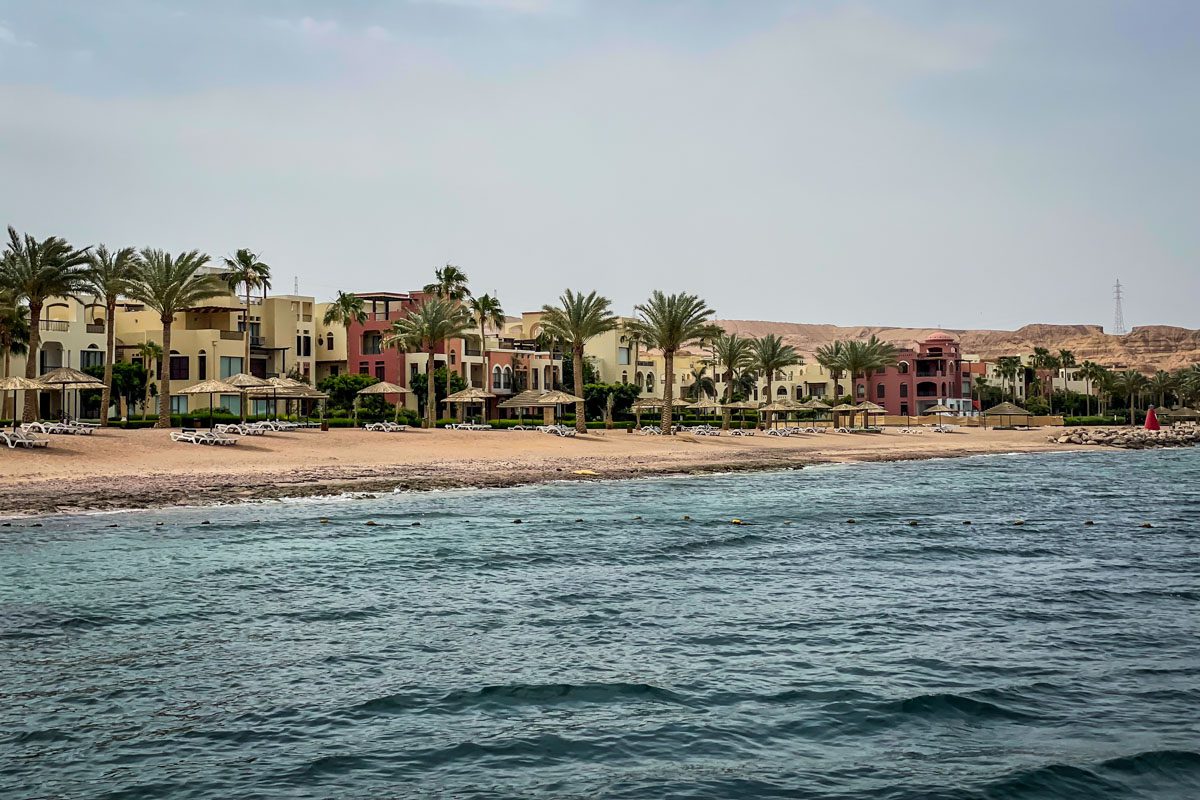 Despite its desert geography, Jordan's winters are surprisingly cold (and wet!). In Petra and Wadi Rum, the highs rarely exceed 60°F (15.5°C), while in Amman, it's even chiller.
At night, the temperature hovers just above freezing, making it an inopportune time for desert camping. Additionally, the cold is matched by notorious brutal winds and frequent precipitation. In fact, Jordan receives about 3/4 of its annual rainfall during the winter.
Needless to say, this season is not the best time to visit Jordan for outdoor activities. However, for exploring city attractions, museums, and other cultural sights, it can be quite pleasant. The crowds are low, with the bulk of visitors coming in from neighboring countries, making accommodation much more budget-friendly.
If you visit during the winter, be sure to pack a rain jacket and several layers, and check for road closures, as some get rained out completely.
The one exception to everything we just said is Aqaba on the Red Sea. Winter temperatures on the coast remain mild and it rarely rains in the winter. The water is usually a bit too cold for swimming from November through April, but if you're happy with soaking up some sun while relaxing on the beach, this is actually one of the best times to visit Jordan.
Best things to do during winter in Jordan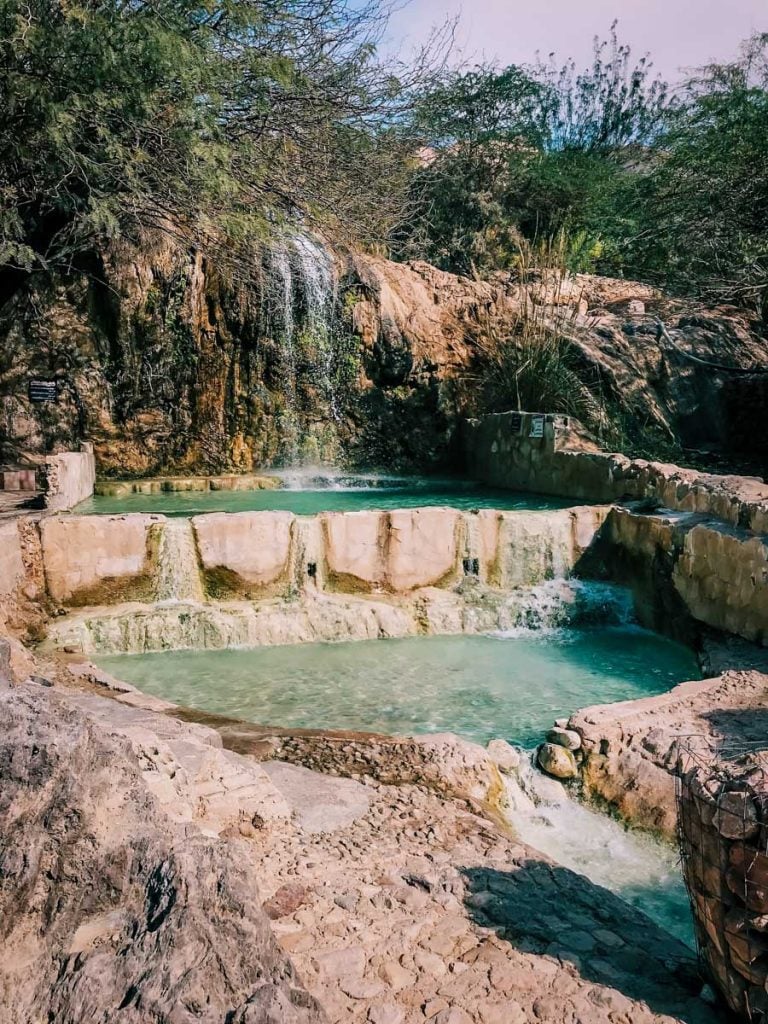 Take a cooking class in Amman
Head to Madaba to see the centuries-old mosaics
Spend an entire day exploring the excellent Jordan Museum in Amman
Discover the hilltop ruins of Umm Qais
Explore the unique desert castle, Quseir 'Amra, a UNESCO World Heritage site
Relax in the Ma'in Hot Springs, a natural spa well below sea level!
Best time to visit Jordan in our opinion…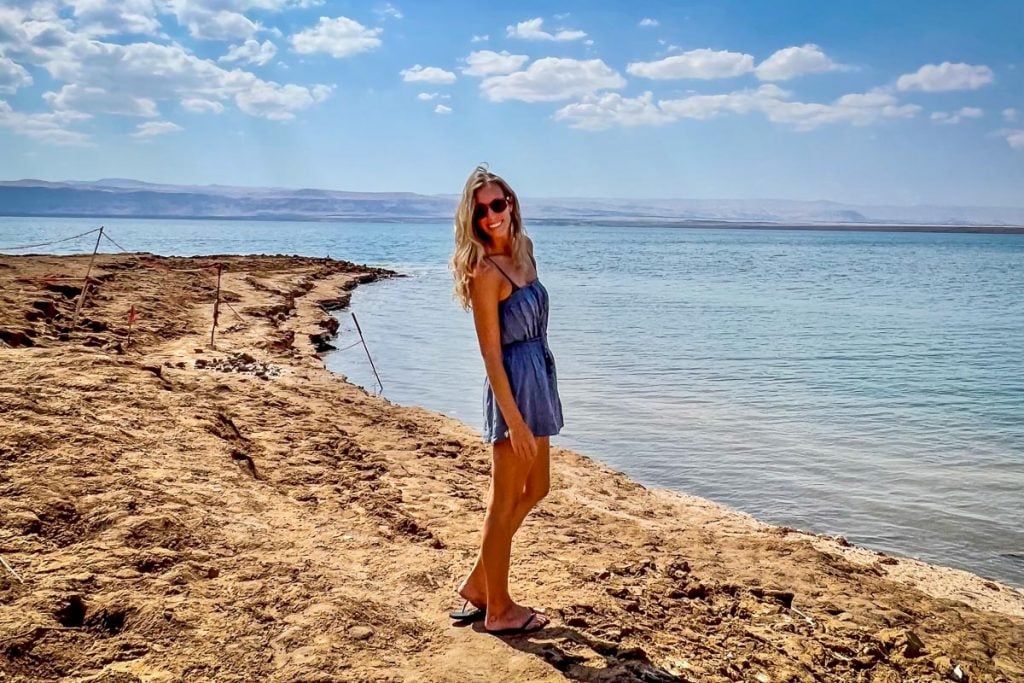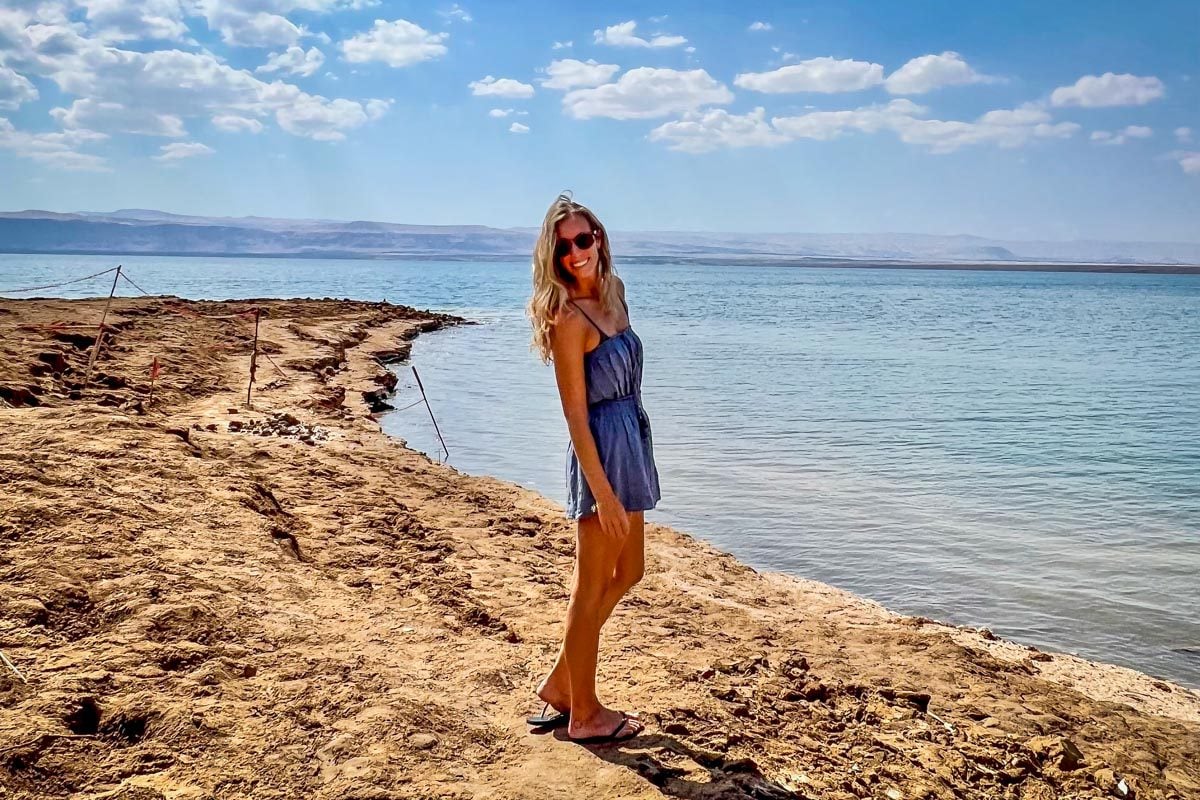 The best time to visit Jordan depends primarily on the activities you have planned and how important it is to avoid peak crowds.
With Spring and Fall offering by far the most pleasant climates for exploration, it means most travelers make their way to Jordan during the same approximate timeframes.
If you're hoping to take advantage of the nicest weather and avoid peak tourist season, consider visiting Jordan in March. Although the Red Sea may still be a little chilly for swimming, the rest of the country begins turning verdant green and wildflowers start to bloom in early spring.
Alternatively, if you're okay with significantly warmer temperatures, you may want to arrive in mid-May. At this time, hiking is still bearable, but the coast has warmed up and there will be virtually no precipitation.
If you're an avid diver, snorkeler, or general beach-goer, the best time to visit Jordan is in October.
The sea is still comfortably warm, but most tourists will have begun to clear out, and the rest of the country is still ideal for exploration in late fall.
Of course, if you don't mind some crowds, March through May and September through November are all great times to visit. One of the unique advantages of Jordan's stark climate is that the transitional seasons are stable and predictable, with little rain and perpetually sunny skies.
The only time we'd definitely avoid visiting Jordan is during the summer months, July through August. It is during this time you're most likely to run into complications from the heat and being outdoors for long periods can be downright dangerous.
---
Are you planning a trip to Jordan?
We have lots of resources on travel in Jordan and destinations throughout the country. Check out our Jordan Travel Homepage for everything you need to know, or read some of our favorite articles below.
Save this article on Pinterest for later!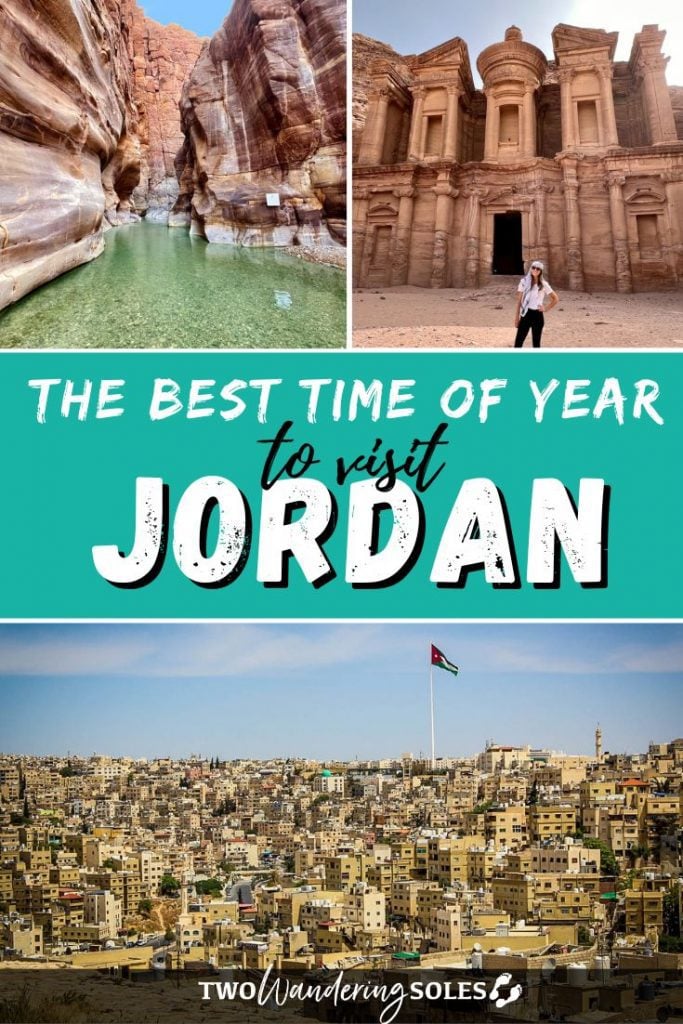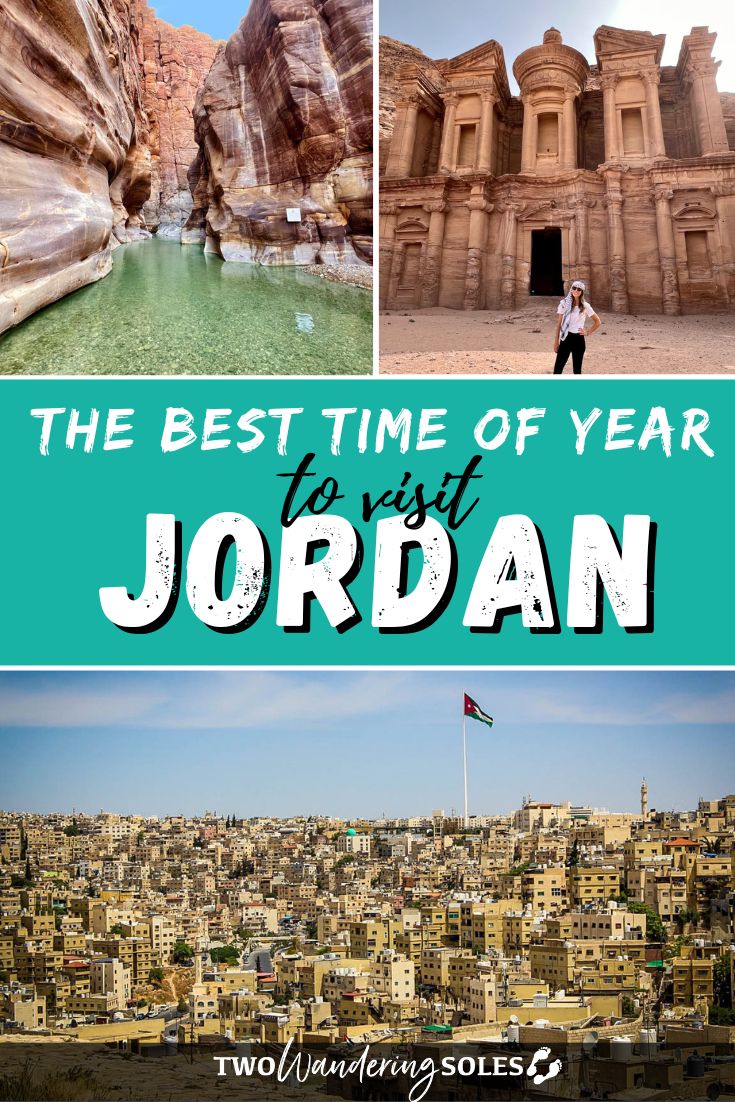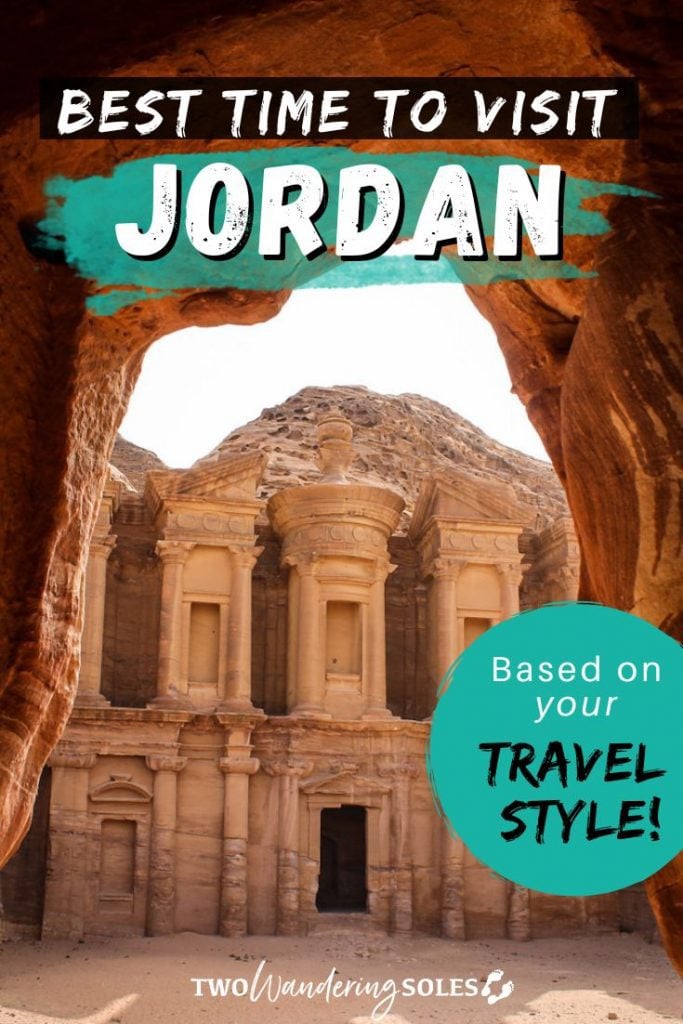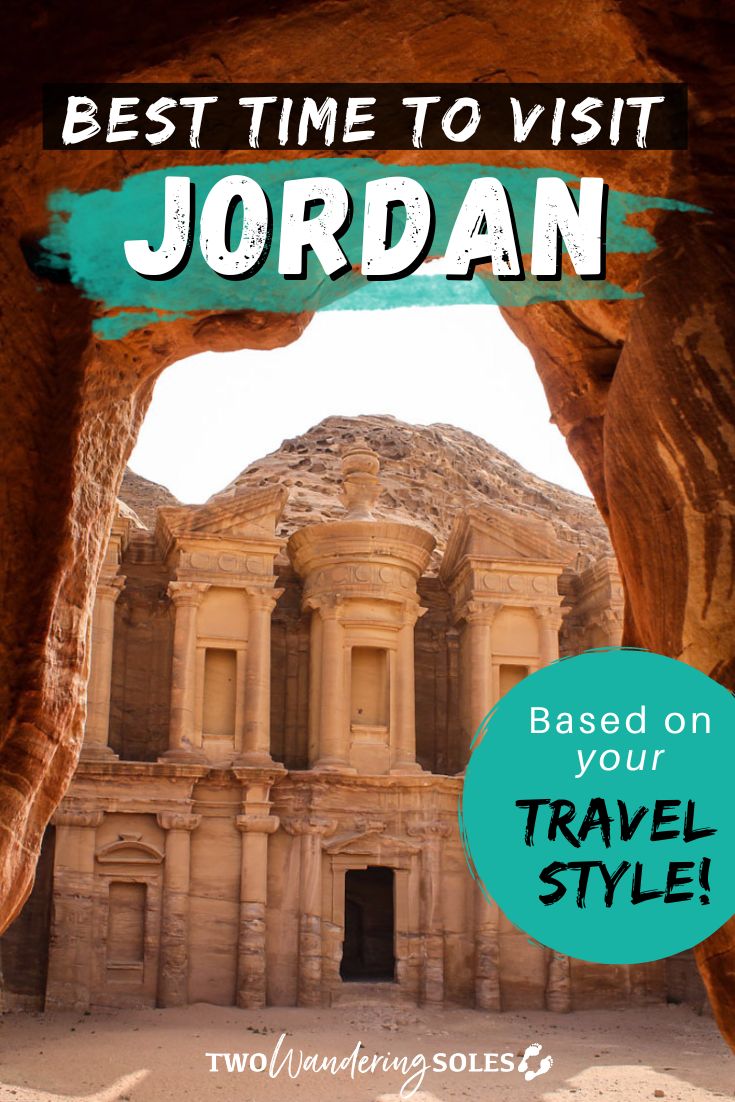 We want to hear from you!
Have you ever been to Jordan before? When did you go and what was your experience like? Leave your comments in the section below and we'll do our best to respond to any questions!