As two of Jordan's most popular tourist destinations, many visitors make the trip from Petra to Wadi Rum. Coordinating travel logistics can be a bit overwhelming if you've never been to Jordan, so we put together this guide with all the important details.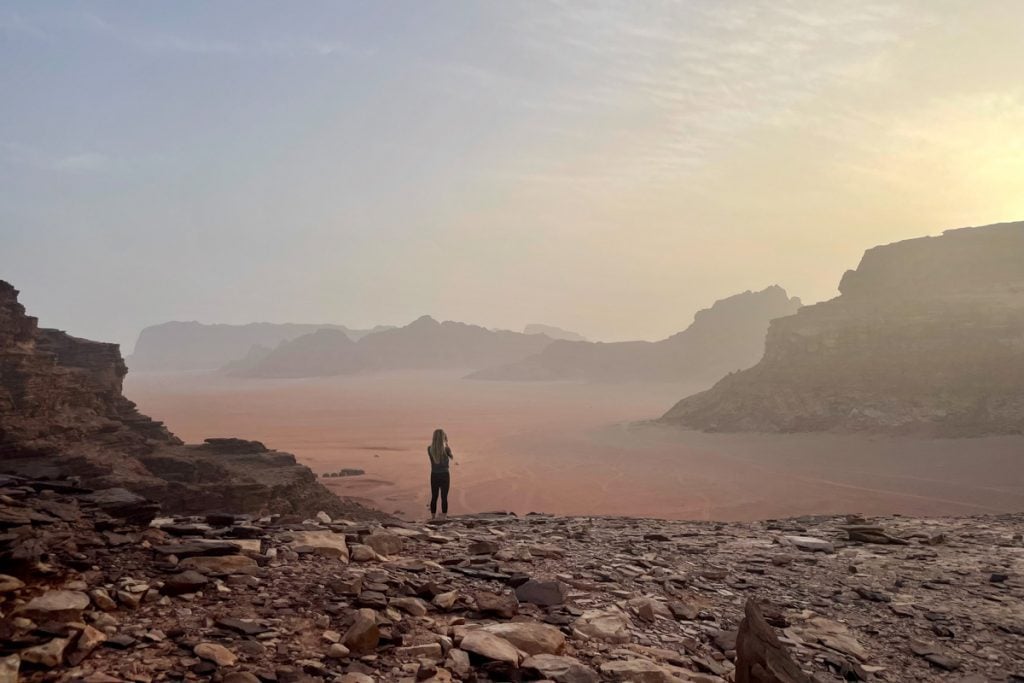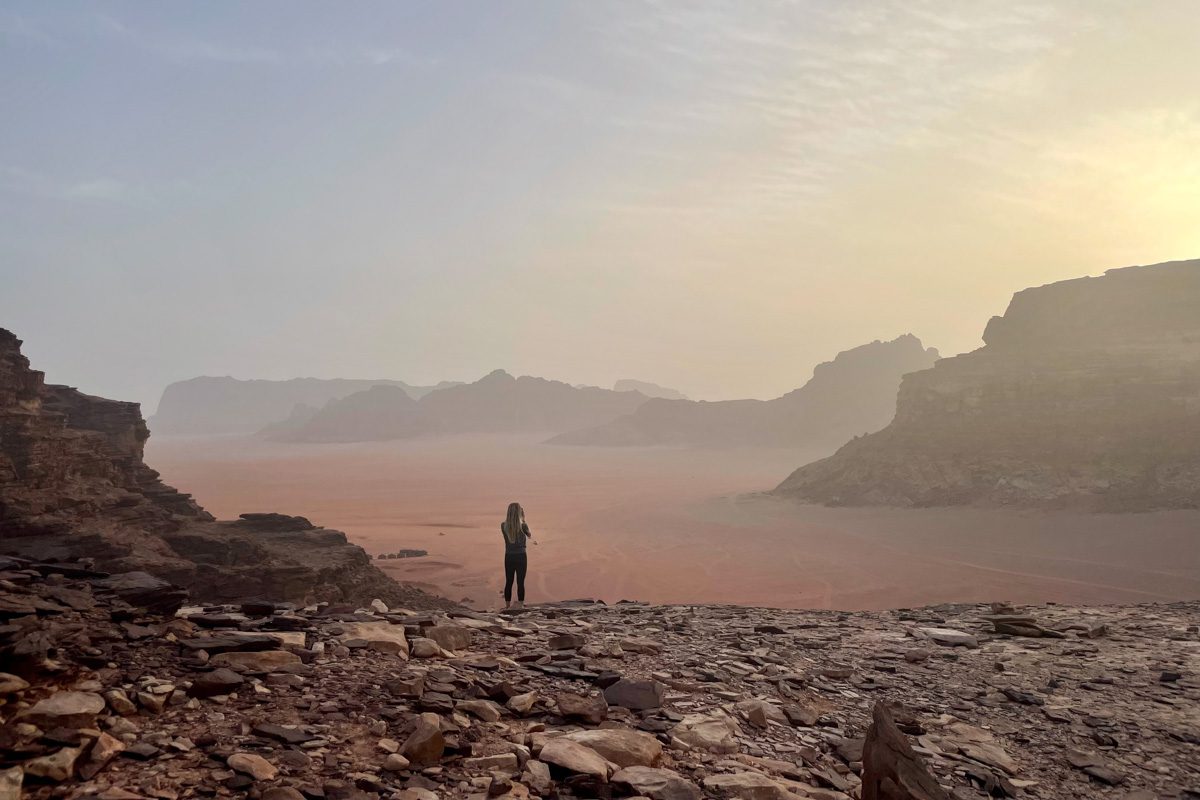 The ancient city of Petra is undeniably the most popular tourist attraction in Jordan — but the Wadi Rum Desert isn't far behind, and is certainly worth a visit.
A jaw-droppingly impressive city very literally carved into the cliffs (and holding some of the world's oldest secrets!), it's no wonder that Petra tops many a bucket list. Wadi Rum, on the other hand, packs a surprising punch of its own, with red and pink moon-like sandscapes, huge natural arches, and unique glamping-style desert camps.
Being just two hours away from one another and offering vastly different experiences, the journey from Petra to Wadi Rum is popular for travelers looking to experience all the best things to do in Jordan. It's a well-trodden route with plenty of safe, modern transportation options suiting all budgets and travel styles.
There are several things to take into consideration, however, when planning how to go from Petra to Wadi Rum. We'll go over all of your options for transportation in this article, as well as a little bit of the history of the desert and where to stay when you arrive.
Petra to Wadi Rum
Other Wadi Rum resources
---
Other resources to help you plan your trip
---
About Wadi Rum Desert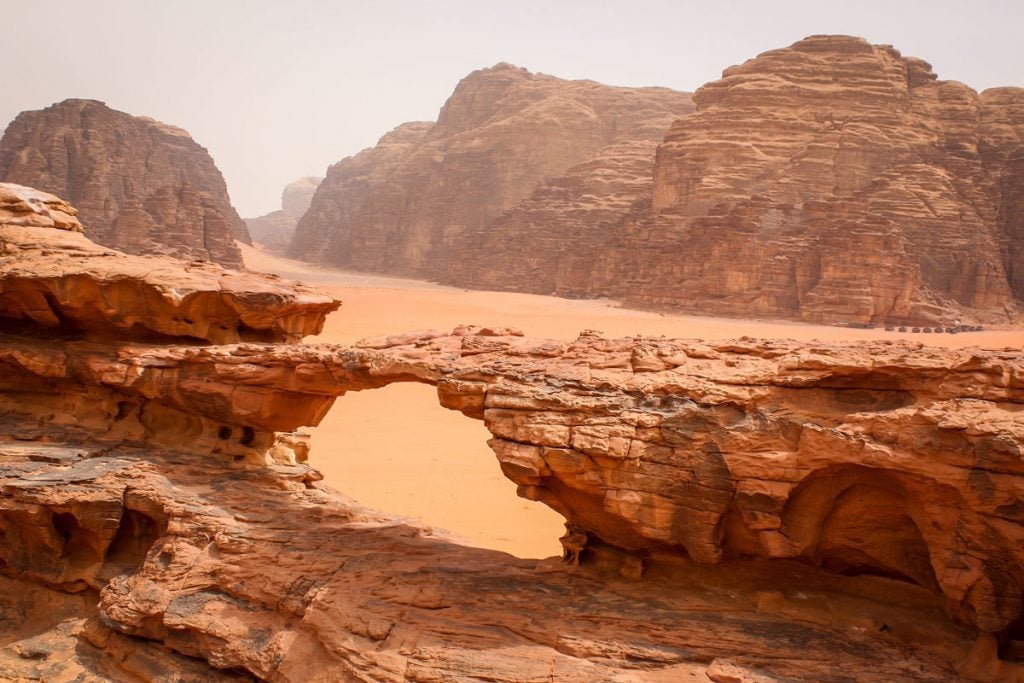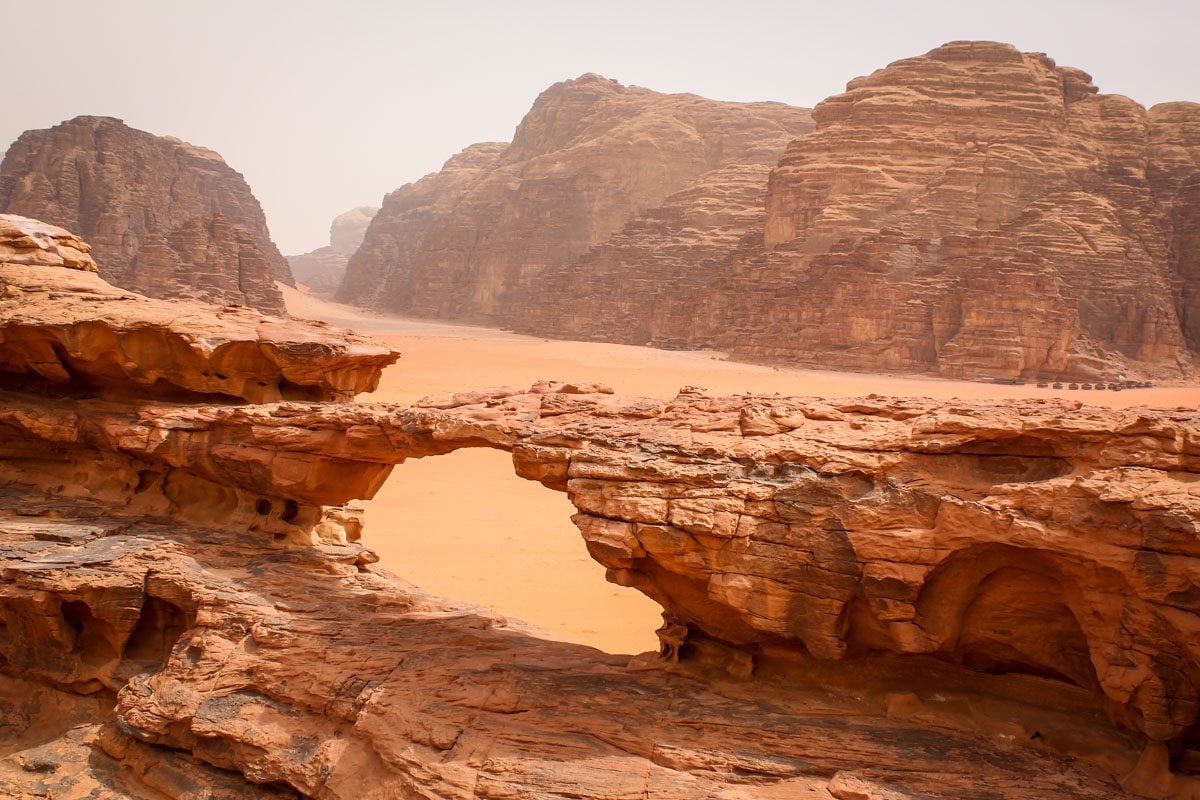 The Wadi Rum Desert is a truly magical place offering an unforgettable travel experience. Located in southern Jordan, Wadi Rum is a large valley that was formed by water and sand erosion over millions of years. It's the largest wadi, or valley, in Jordan and has been a protected UNESCO World Heritage Site since 2011.
There's evidence that Wadi Rum has been inhabited for at least 12,000 years, but it's also possible that the area was part of the first migratory routes out of Africa about 1.5 million years ago!
Despite Wadi Rum's fascinating, long-standing history, it didn't become a major tourist attraction until the 1960s, when the desert was featured in the film Lawrence of Arabia.
There are still people living in Wadi Rum today—most of them of Bedouin descent. Bedouins have been living as nomadic tribes across much of the Arabian Peninsula and North Africa for thousands of years, and those in Wadi Rum maintained that nomadic lifestyle until just about 50 years ago.
The newfound boom of the tourism industry has allowed the formerly nomadic people to settle down and continue to develop Wadi Rum as a tourist destination with their desert camps and restaurants, and by selling artisan goods and providing guide services.
Wadi Rum is stunningly beautiful and there's no shortage of things to do. The local guides have fantastic knowledge of the area and loads of experience trekking in the desert. Most of them are bilingual (at least!), helping to make communication easier.
Some of Wadi Rum's most popular activities include camel or 4×4 tours, camel rides, hiking, rock climbing, camping under the stars, and more. Tour operators typically provide the necessary equipment, food, and transportation.
Petra to Wadi Rum by car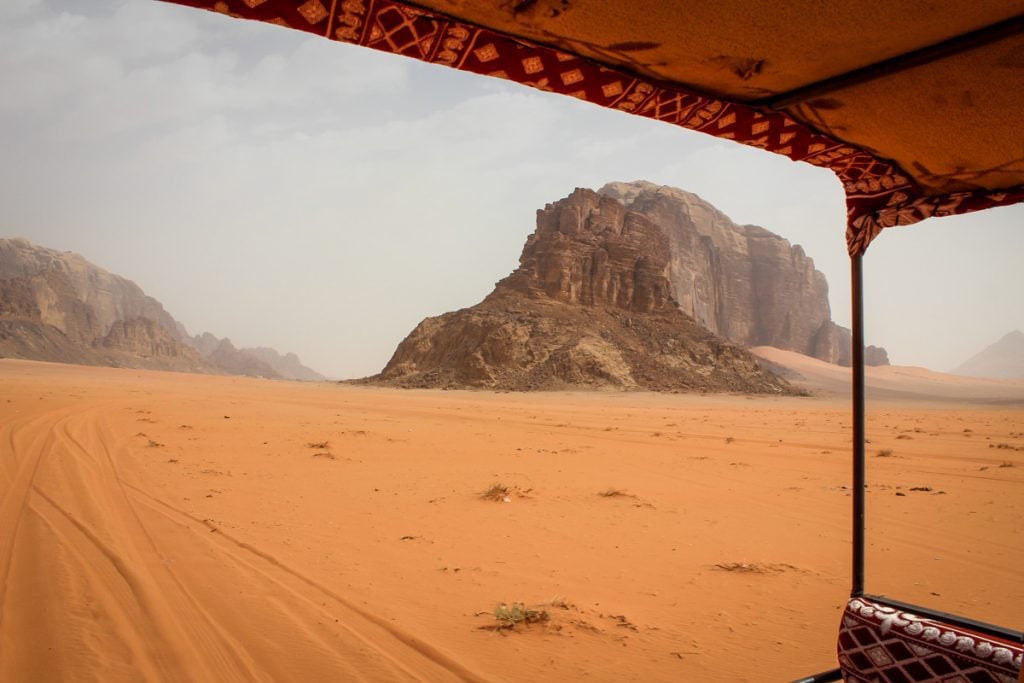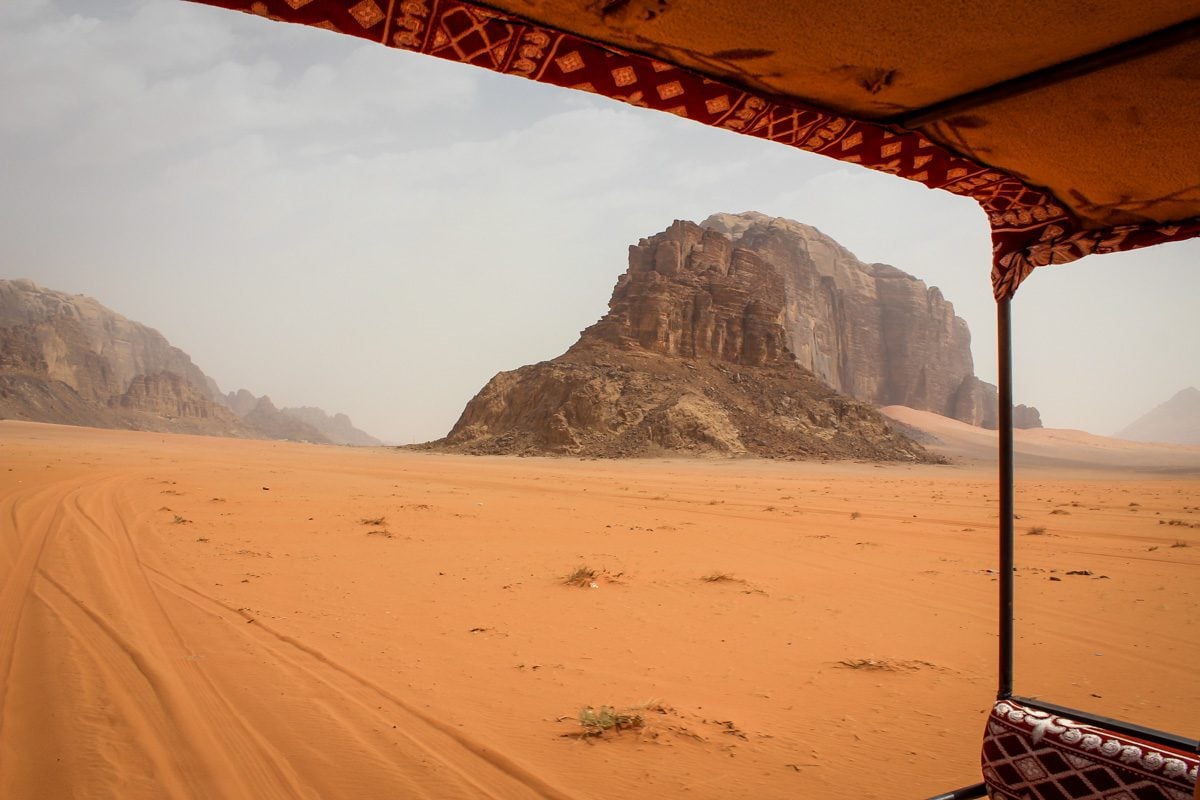 The best and most common way to get from Petra to Wadi Rum is by car. The 104-kilometer trip (65 miles) takes about 1.5 hours and is pretty straightforward, traversing part of the Kings Highway (Route 35) and partially on the modern Desert Highway (Route 15). Most of the street signs have English translations and the drive is overall fairly scenic and enjoyable.
Renting a car to drive from Petra to Wadi Rum
If you're comfortable with driving yourself, it's easy to rent a car in Jordan. Plus, of course, this option offers the most flexibility. There are several lovely spots along the way to stop and take in the views or enjoy a snack and stretch your legs. You can also grab a meal or shop in one of the small towns and generally just drive at your own pace.
Car rental prices in Jordan are fairly affordable in Jordan, ranging from 25-40 JOD (approximately 35-55 USD). Drivers need to be at least 21 and, according to official law, drivers must have an International Drivers' License, or permit (commonly referred to as an IDP).
As long as you have a valid driver's license in your home country, you can get your international driver's license here, for just $30 USD. They have urgent processing available to get your digital license within 15 minutes.
We put together a complete guide to getting a car rental in Jordan, with all the information you need to find the best price, including tips for driving in the country.
Search & Compare Rental Car Prices
Discover Cars: We personally use this aggregate site to compare rental car prices from all the big name companies and get the best price possible.
RentalCars.com: We've had good experiences finding rental cars with this site in the past.
Rideshares
Rideshare companies including Uber and Careem are present in the capital city of Amman, but extremely unreliable in both Petra and Wadi Rum. You may get lucky with timing and find one to take you from Petra to Wadi Rum, but then you'd have to figure out how to get back or to your next destination. It's best to simply not rely on rideshares for this route.
Important note about driving to Wadi Rum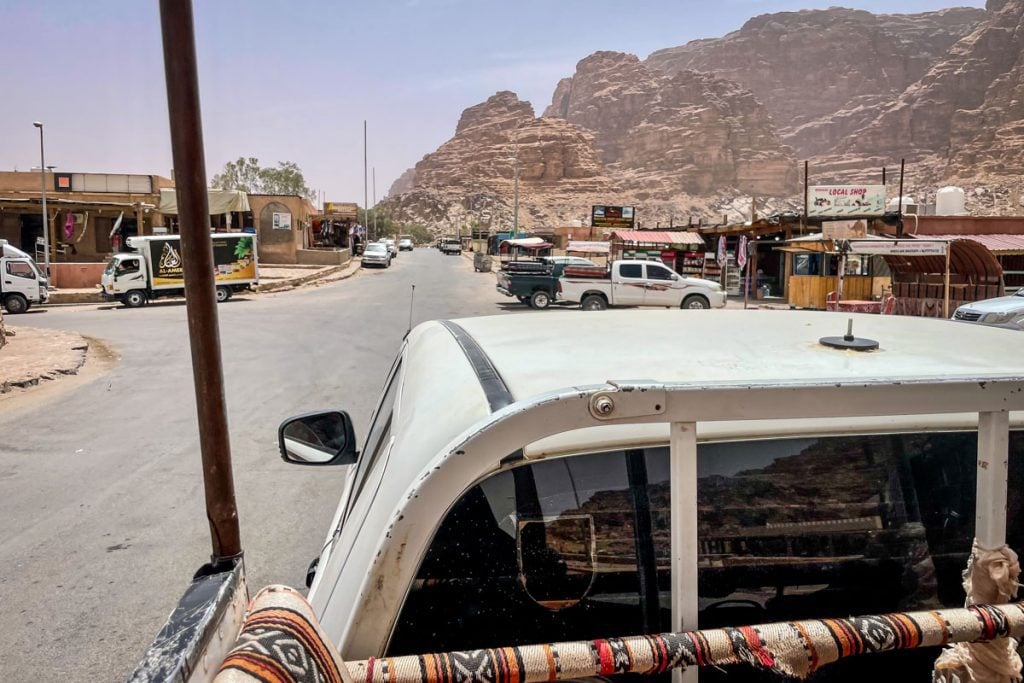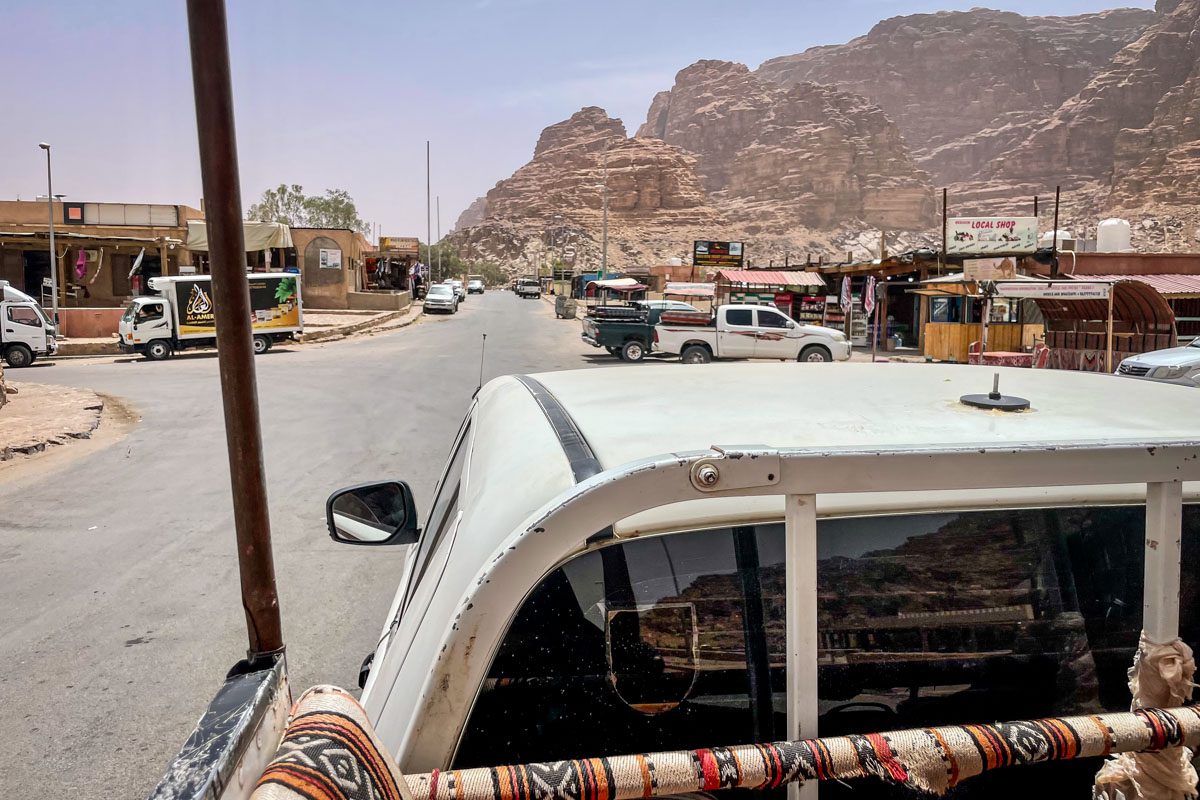 One important thing to be aware of is that private vehicles are not allowed inside the Wadi Rum reserve.
When you first arrive, you'll need to go to the Wadi Rum Visitor's Center to buy your entrance tickets, which cost 5 JOD ($7 USD). Wadi Rum is also included in the Jordan Pass, so you can scan your pass here if you have one. If you have the time, there are a few excellent short walks and viewpoints right near the visitor center.
Once you have your tickets and are ready to enter the preserve, you'll pass through the Visitor's Center entrance gate and drive for about 10 minutes to Wadi Rum Village. Private vehicles can't go any further than this, so you'll have to park in the visitor's lot and arrange transportation with your hotel or camp to take you the rest of the way.
Staying in Wadi Rum for at least one night is highly recommended, but if you aren't staying overnight, you can arrange 4×4 Jeep and camel tours, as well as other excursions, from Wadi Rum Village.
Petra to Wadi Rum by private transfer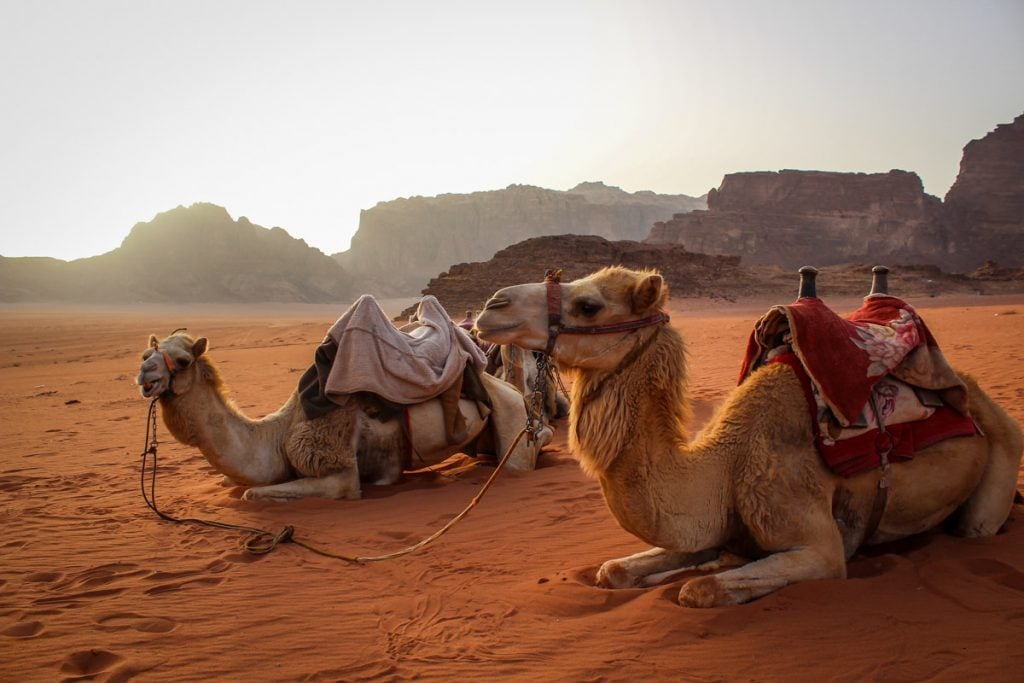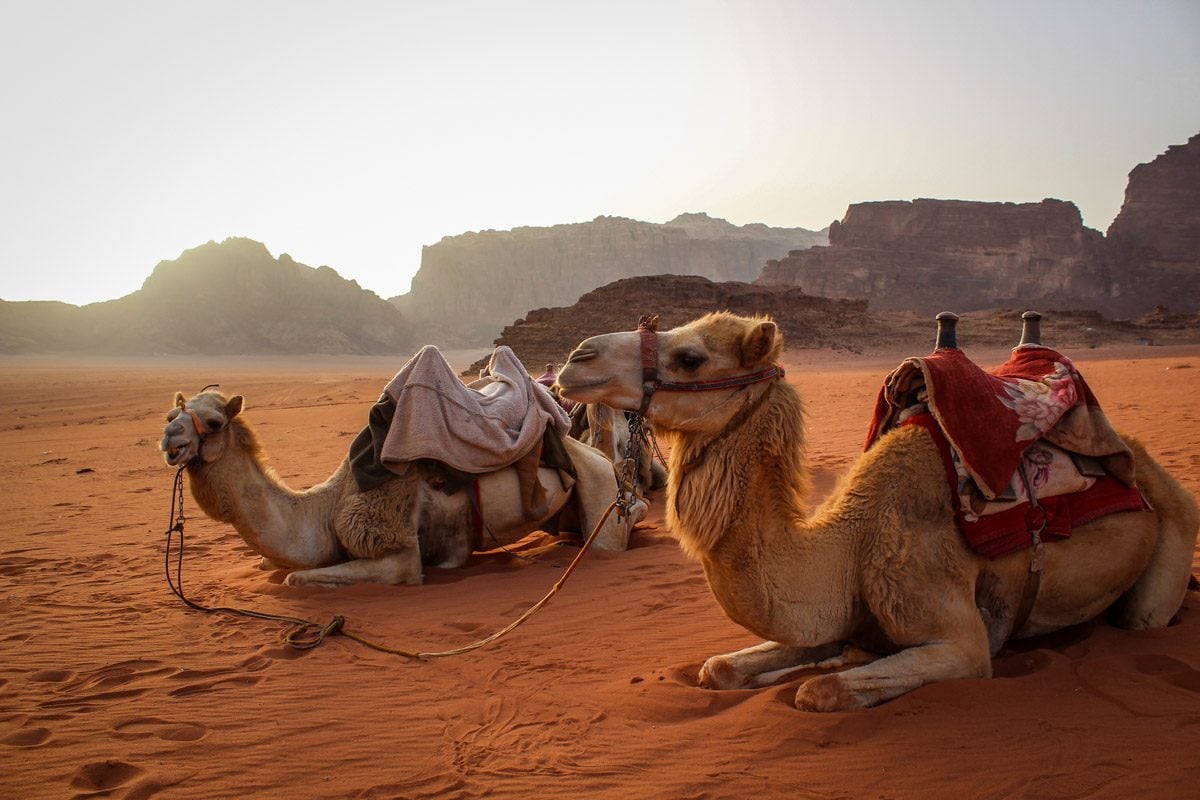 If you want the most stress-free option to get from Petra to Wadi Rum, a private transfer may be your best bet. It's unquestionably the most expensive option, but the trade-off is that you'll be able to sit back and enjoy the ride without worrying about a thing—no hailing a taxi, no negotiating rates, and no sharing the vehicle with other passengers!
Private drivers also tend to have newer, cleaner vehicles, and you may even have amenities including wi-fi. Plus, you'll have the added benefit of being able to stop when and where you want along the way, just as if you drove yourself.
Drivers typically pick passengers up from the Petra visitors' center, but you can often arrange pickup directly from your accommodation in Wadi Musa.
When looking for private transfer companies, be sure to check lots of reviews and ensure that they're licensed and insured. Here are a few options for companies providing private transportation from Petra to Wadi Rum.
Petra to Wadi Rum by bus
Taking a bus from Petra to Wadi Rum is the cheapest option, but definitely not the most convenient. There are two kinds of buses servicing the route: JETT (Jordan Express Tourist Transportation) buses and local buses. JETT costs a bit more, but is also a much easier and more pleasant experience than local buses, with more modern, roomier buses.
How to take the JETT Bus from Petra to Wadi Rum
The JETT bus from Petra to Wadi Rum is modern, with comfortable seats, air-conditioning, and bathrooms. It usually runs once a day, with a 5:00 p.m. departure from right in front of the Petra visitors' center in Wadi Musa.
The ride takes a little over 1.5 hours, dropping passengers off at the Wadi Rum visitors' center. One-way tickets cost $15 JOD ($21 USD) and can be booked online in advance.
Note that the return JETT buses also depart just once a day, leaving Wadi Rum at 11:30 a.m. daily. This means the JETT isn't a feasible day trip option, but works well for an overnight or for just one leg of your trip.
How to take local buses from Petra to Wadi Rum
The local minibus from Petra to Wadi Rum is a bit more…immersive. It's by far the most budget-friendly option at 7-10 JOD ($10-14 USD) each way, but it's also the least convenient and has some unique quirks.
The bus only runs once a day, but it also usually won't leave Wadi Musa until it's full — which means the schedule is loose, at best. Passengers may be asked to pay a bit more if the bus does depart with some empty seats, and you'll be charged for bringing a large bag. And while you may have guessed already, local mini buses generally do not have A/C.
You'll also have to get up pretty early in the morning to take the local bus from Petra to Wadi Rum, as it leaves Wadi Musa around 6:00 a.m. daily. It may stop at various hotels and other places to pick up passengers, so the trip takes about three hours, sometimes a bit more.
If you can deal with the longer trip, the local bus is a great affordable option, but if you're short on time, it may be worth it to spend a little extra for a different transportation method.
Petra to Wadi Rum by taxi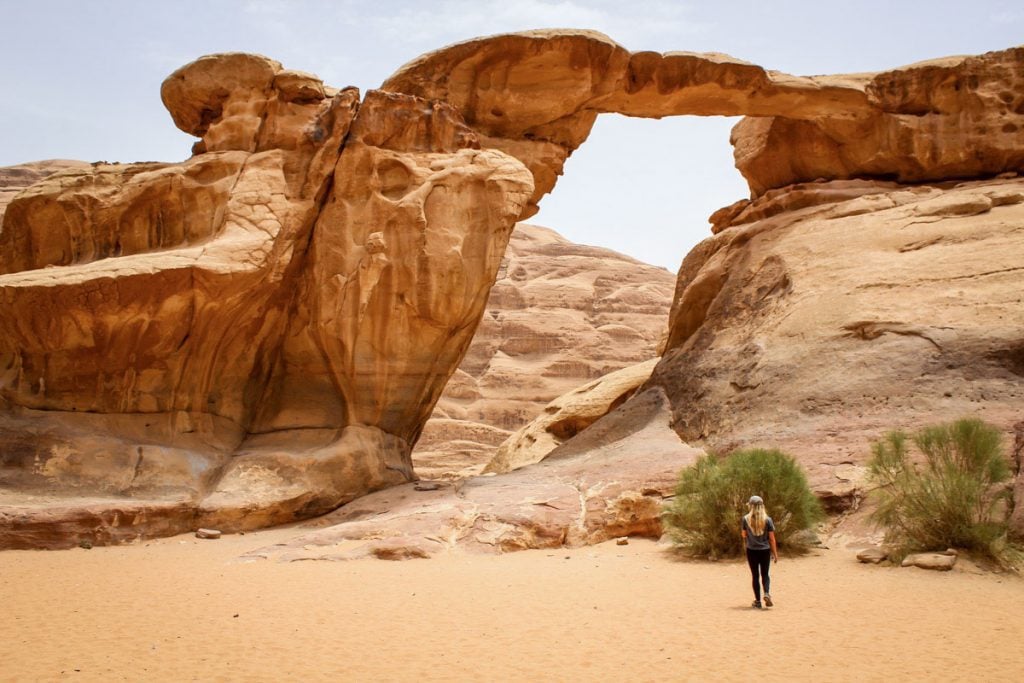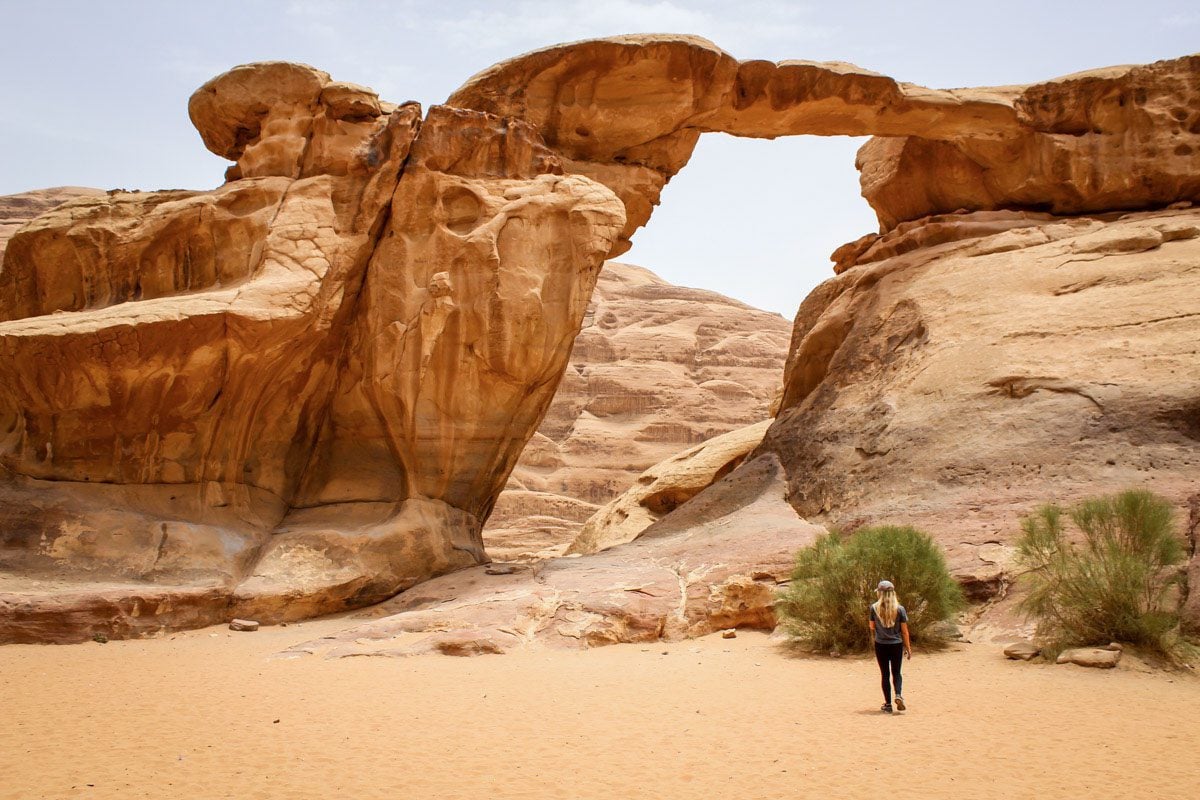 Taxis are another good option for traveling from Petra to Wadi Rum. There are plenty of taxis in both cities and the cost is approximately 35-40 JOD ($50-56 USD) for one-way travel.
While this is a bit more expensive than renting a car, it's hardly more than the JETT bus for two people. It also means you can sit back and take in the scenery while someone else drives. Plus, sharing the cost with a travel partner (or friendly strangers!) makes it even more affordable.
You can have your hotel in Petra arrange a taxi, or simply flag one down on the street. The Petra Visitor's Center usually has a line of taxis waiting, so you may even be able to negotiate your price a bit due to the competition.
No vehicles are allowed inside the Wadi Rum preserve, so you'll probably be dropped off at Wadi Rum Village. Because of this, when you're ready to depart Wadi Rum, you'll most likely end up with a driver from one of the camps.
Another thing to note is that while taxis are generally lined up and ready to go in Petra, they aren't quite as readily available in Wadi Rum. Waiting 45 minutes to one hour is not at all uncommon, but if you're staying at a camp in Wadi, you can also inquire about setting up a taxi ahead of time with your accommodation.
Finally, make sure that you and the driver agree on a destination before departing — and politely request that they turn on the meter. Jordan law requires them to do so, so if your driver refuses, it's totally okay to get out and choose another taxi. Also note that many taxi drivers country-wide operate on a cash-only system, so be sure to have some small change.
Guided tours from Petra to Wadi Rum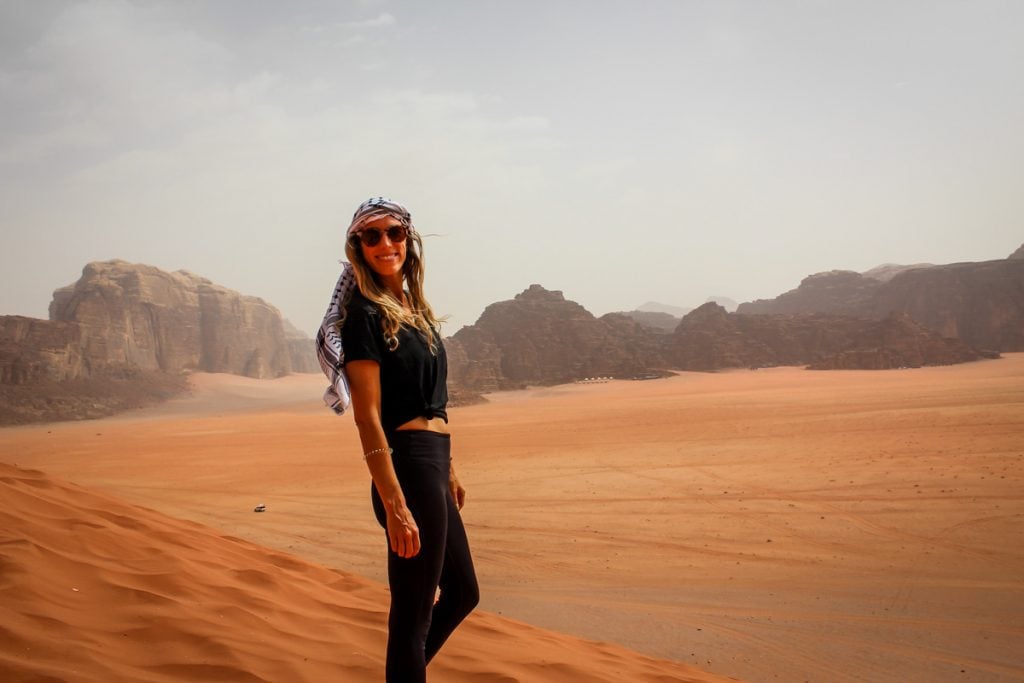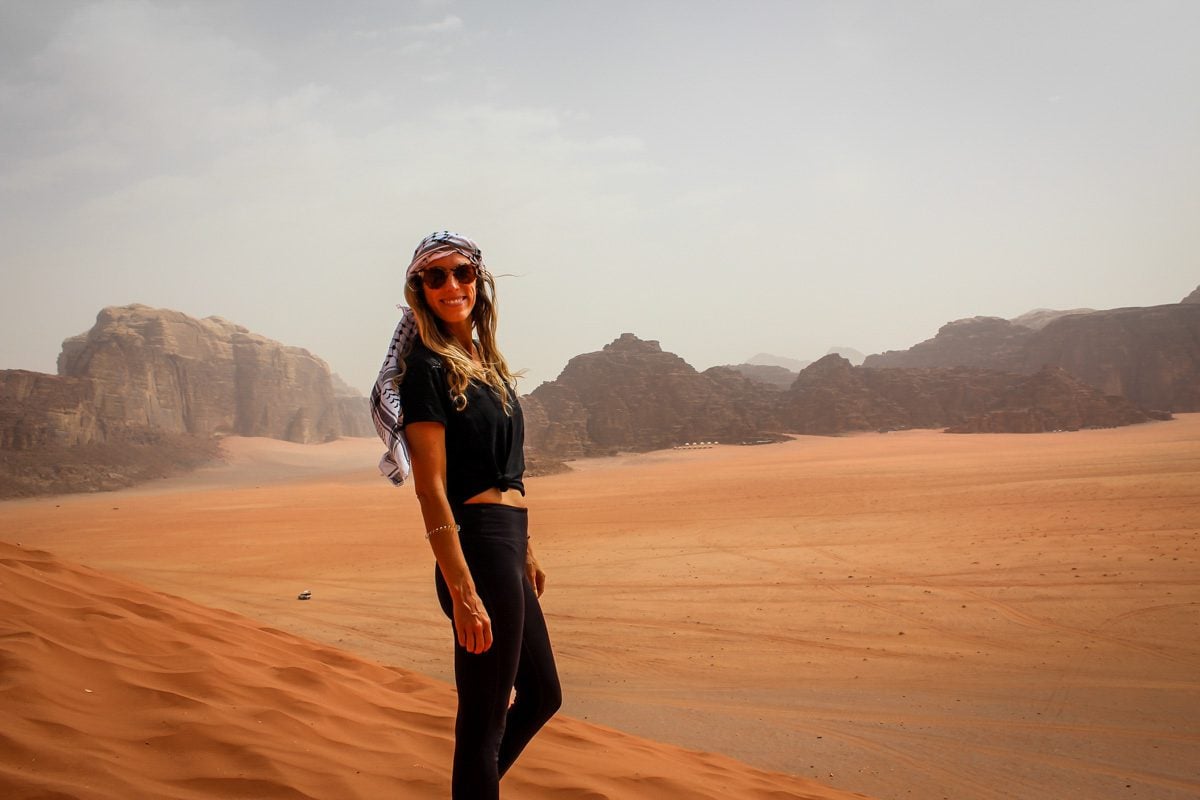 A guided tour is a fantastic way to see both Petra and Wadi Rum without having to worry about logistics and transportation. Tours almost always have an English-speaking guide, and most multi-day tours include private transportation, hotels, and the excursions during the trip.
---
Where to stay in Wadi Rum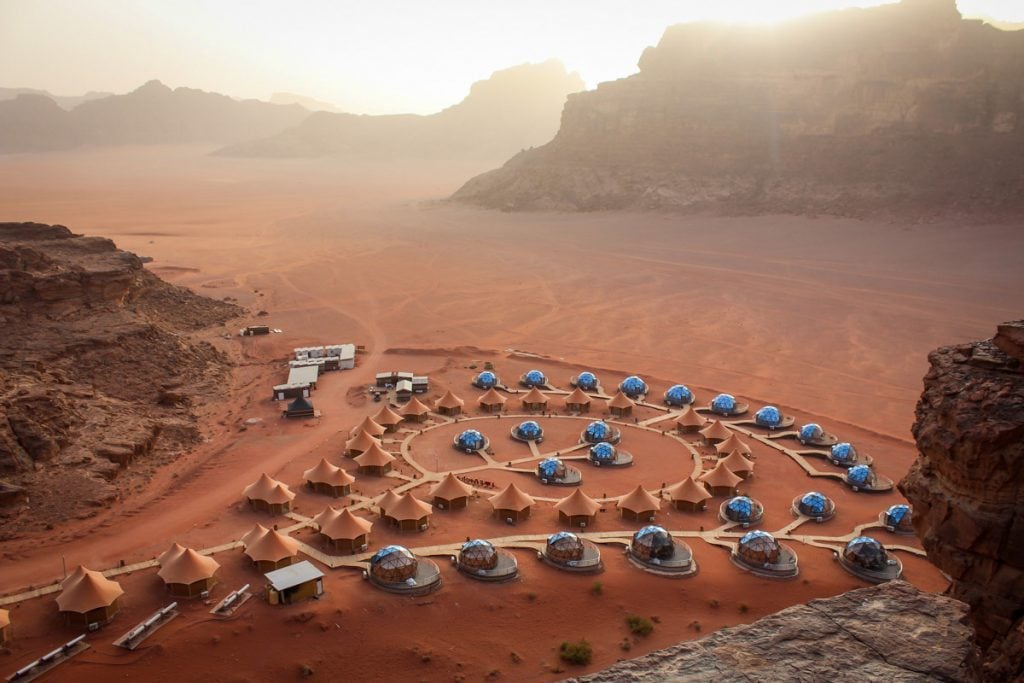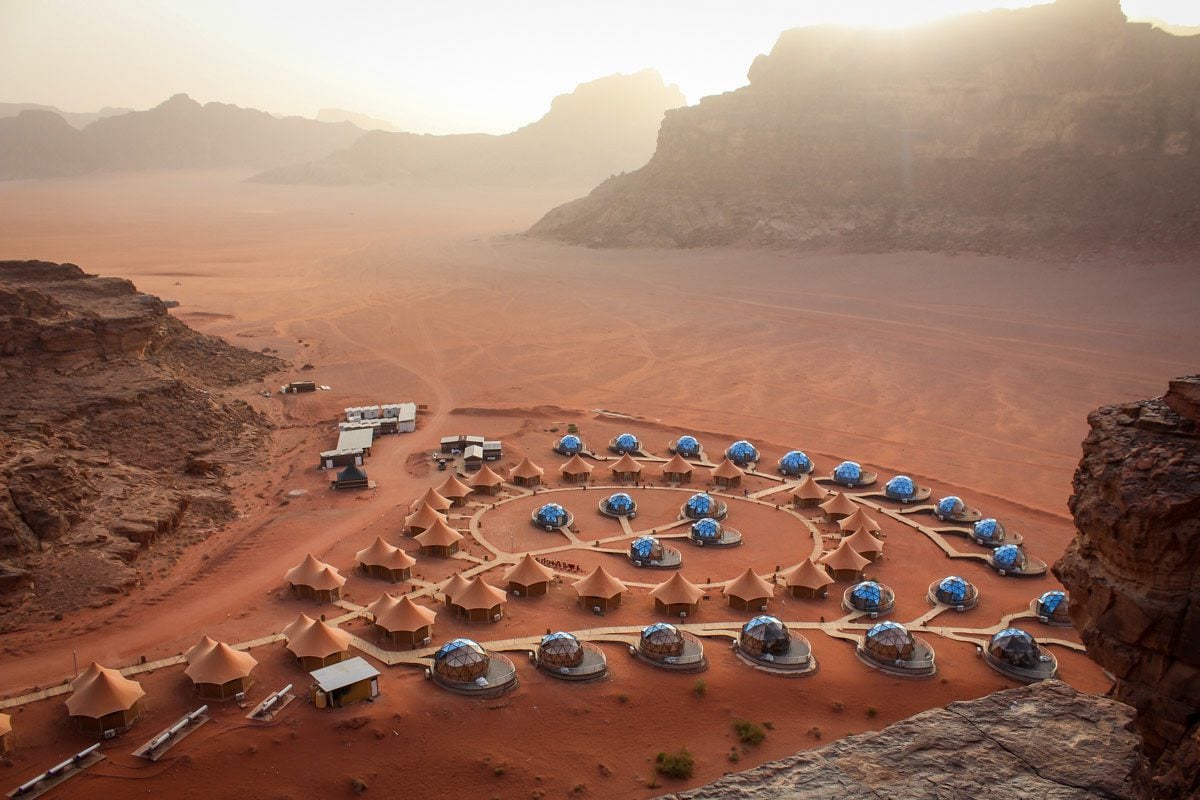 The two most popular types of accommodations in Wadi Rum are bubble hotels and traditional Bedouin camps. Bubble hotels are essentially luxury camping, or "glamping," where you'll stay in a bubble-like dome tent with an incredible view of the landscape and night sky.
Traditional Bedouin camps are a lot more authentic, you might say, providing a more rustic, less glam experience amongst locals. These camps offer a small peek into how the area's nomadic tribes lived for thousands of years.
Both options are fantastic, but offer a totally different experience, so if they both sound appealing, consider splitting your stay and trying both!
Bubble hotels in Wadi Rum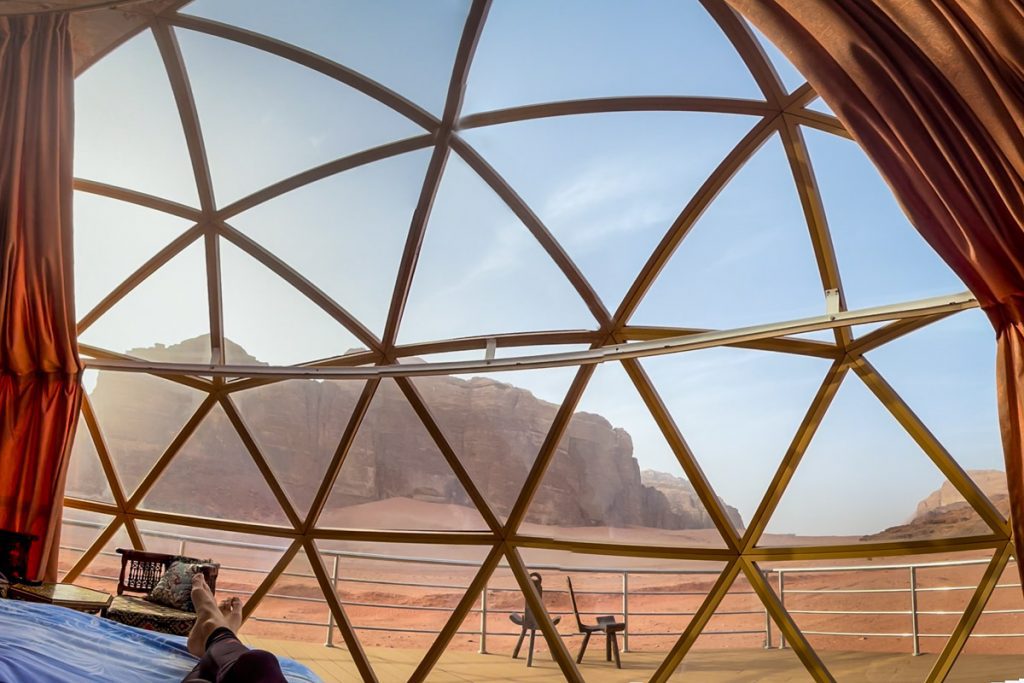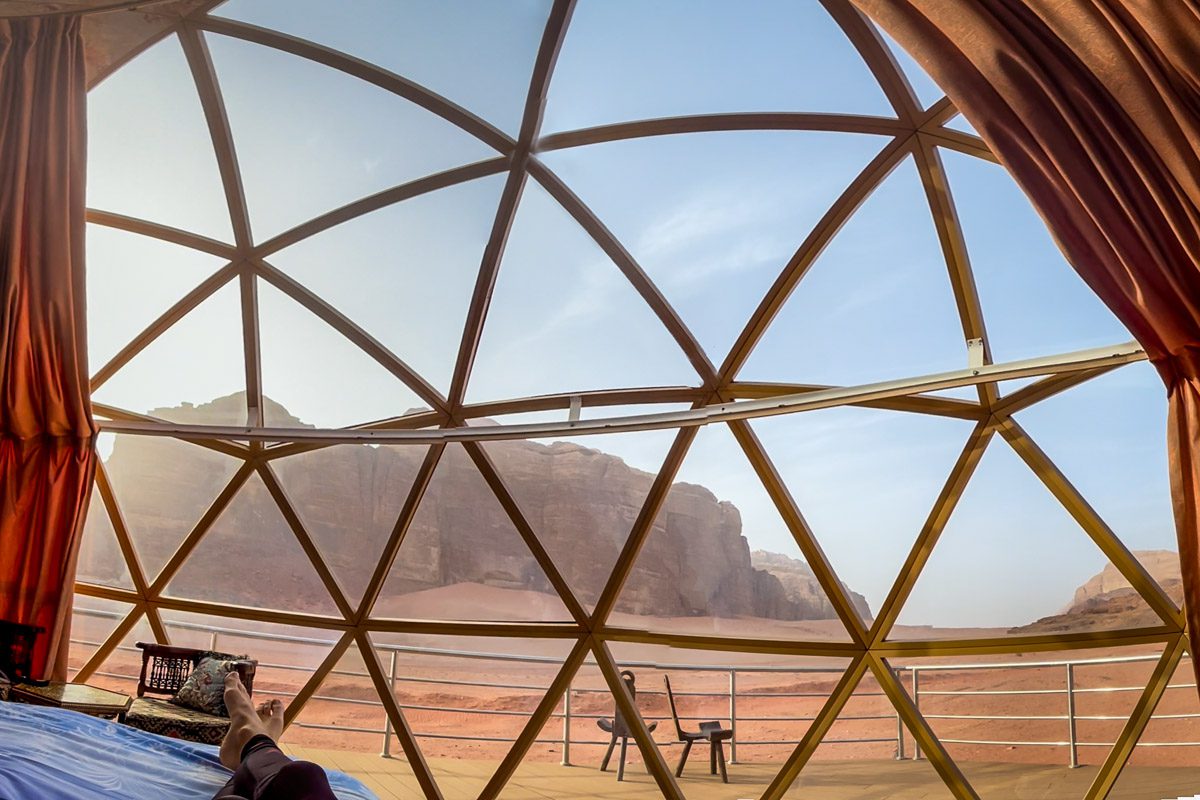 Memories Aicha Luxury Camp: This luxury bubble hotel features an excellent restaurant, unique cave bar, garden, handmade linens, and 24-hour concierge. The property also offers Jeep tours and guided stargazing tours, and each unit has a private bathroom.
Tip: This is where I stayed during my time in Wadi Rum and I very much enjoyed it! There is a small path that runs up the cliffside behind the hotel and ends on a large plateau with excellent views of the desert. This is a must-go at sunset!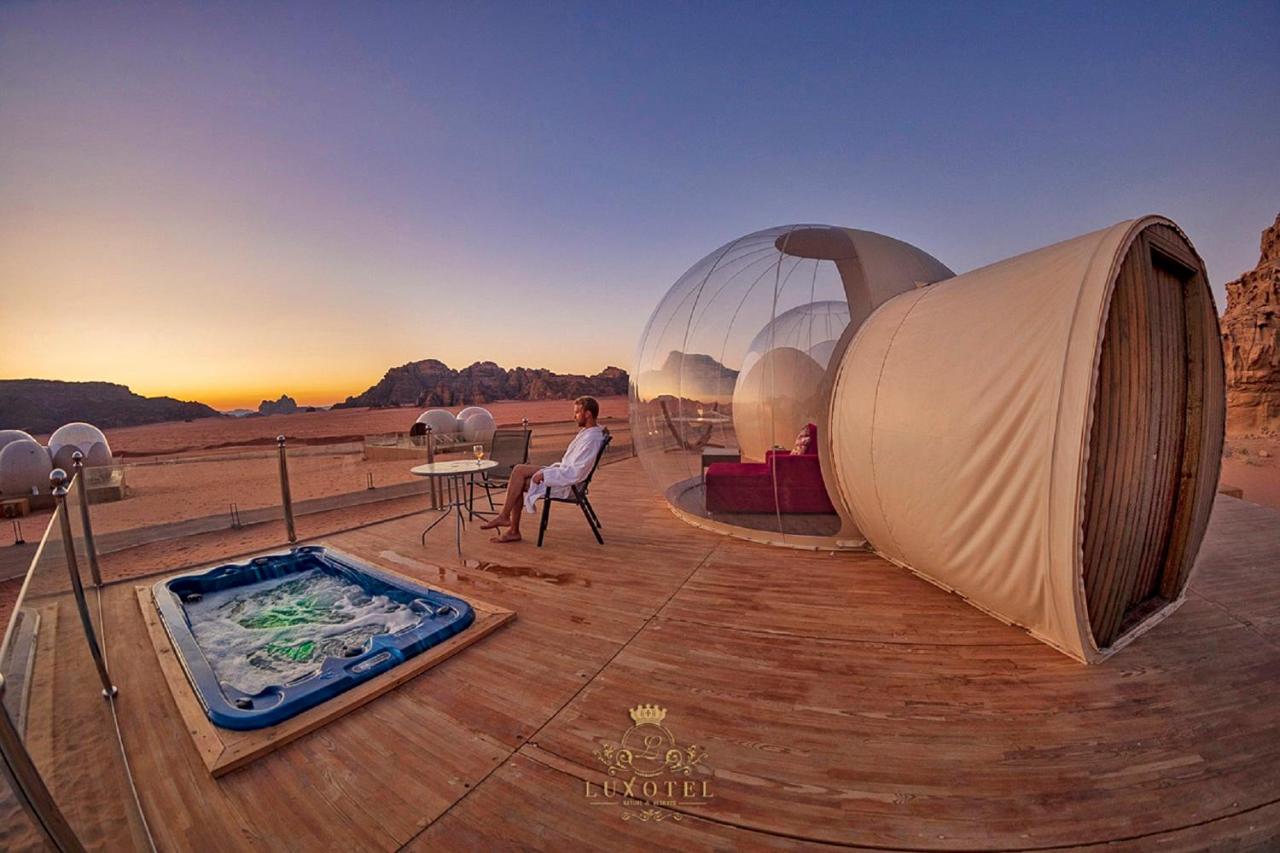 Wadi Rum Bubble Luxotel: One of the most popular and secluded Wadi Rum bubble hotels, with private bathrooms, A/C, complimentary dinner, and some bubbles with a private hot tub. The property offers a variety of tours, including camel rides, hiking, and stargazing.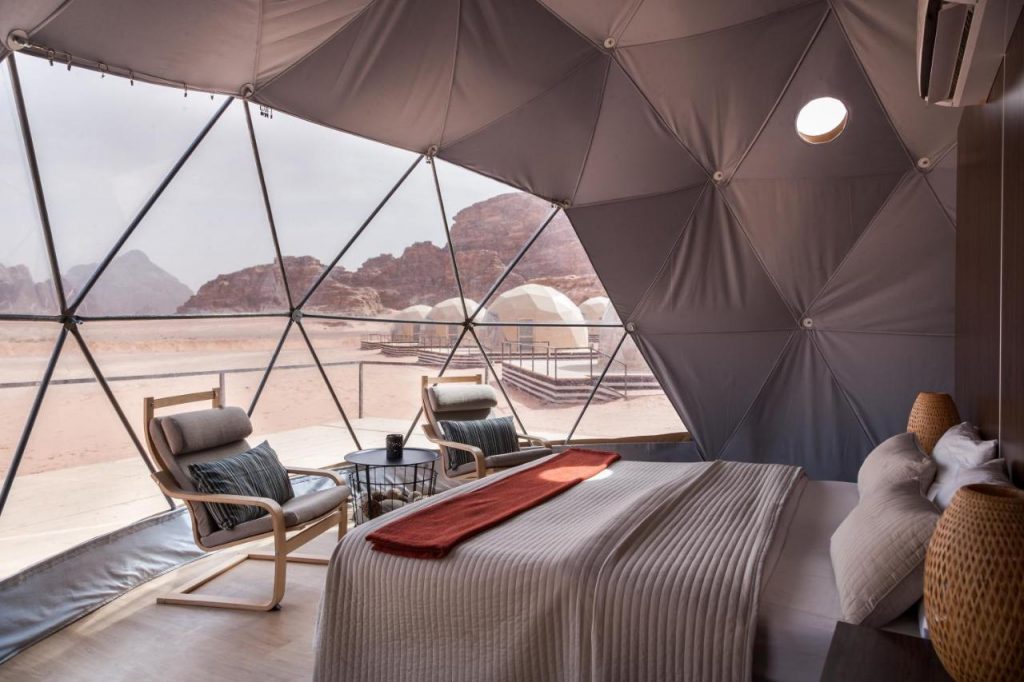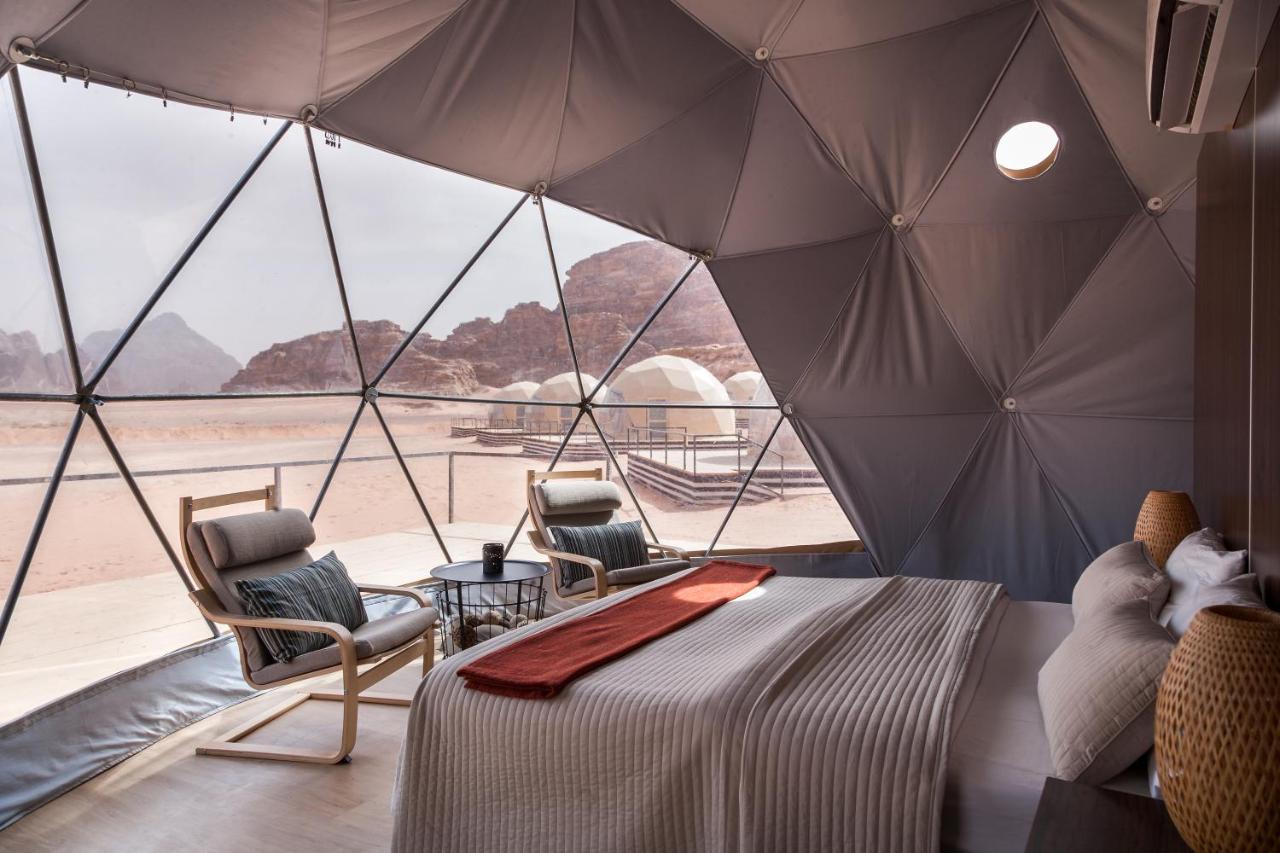 Sun City Camp: Guests rave about the service and food at Sun City Camp, which has geodesic "Martian Domes" with A/C, plush robes and slippers, 24-hour security, and included buffet meals for breakfast and dinner.
Bedouin Camps in Wadi Rum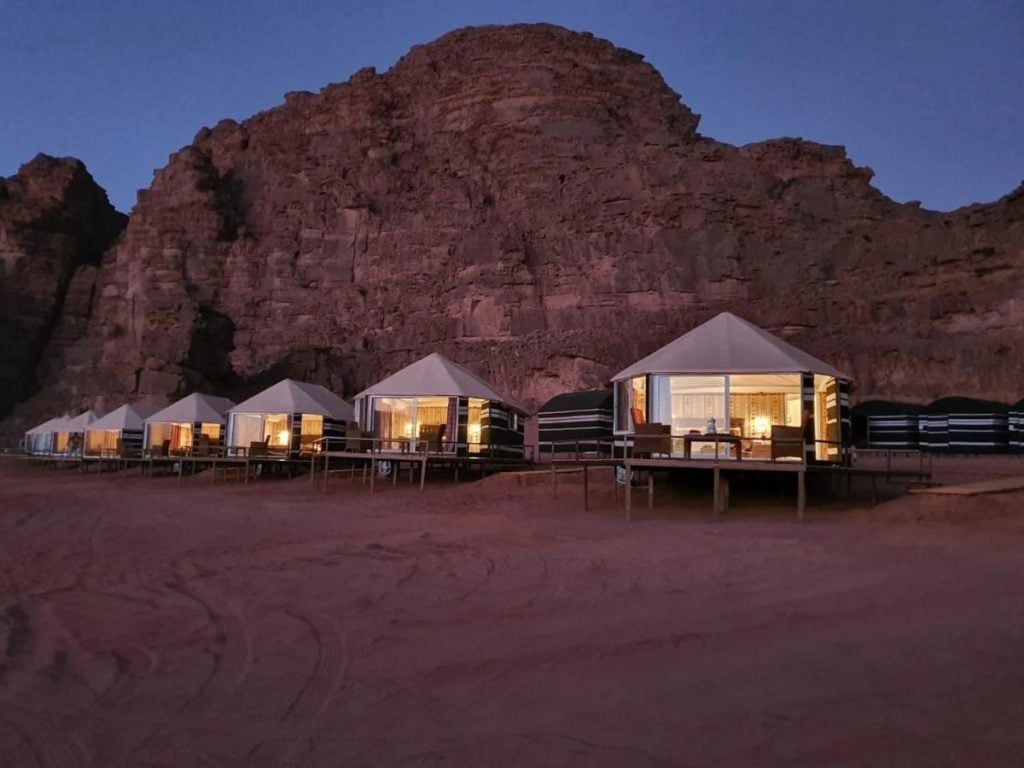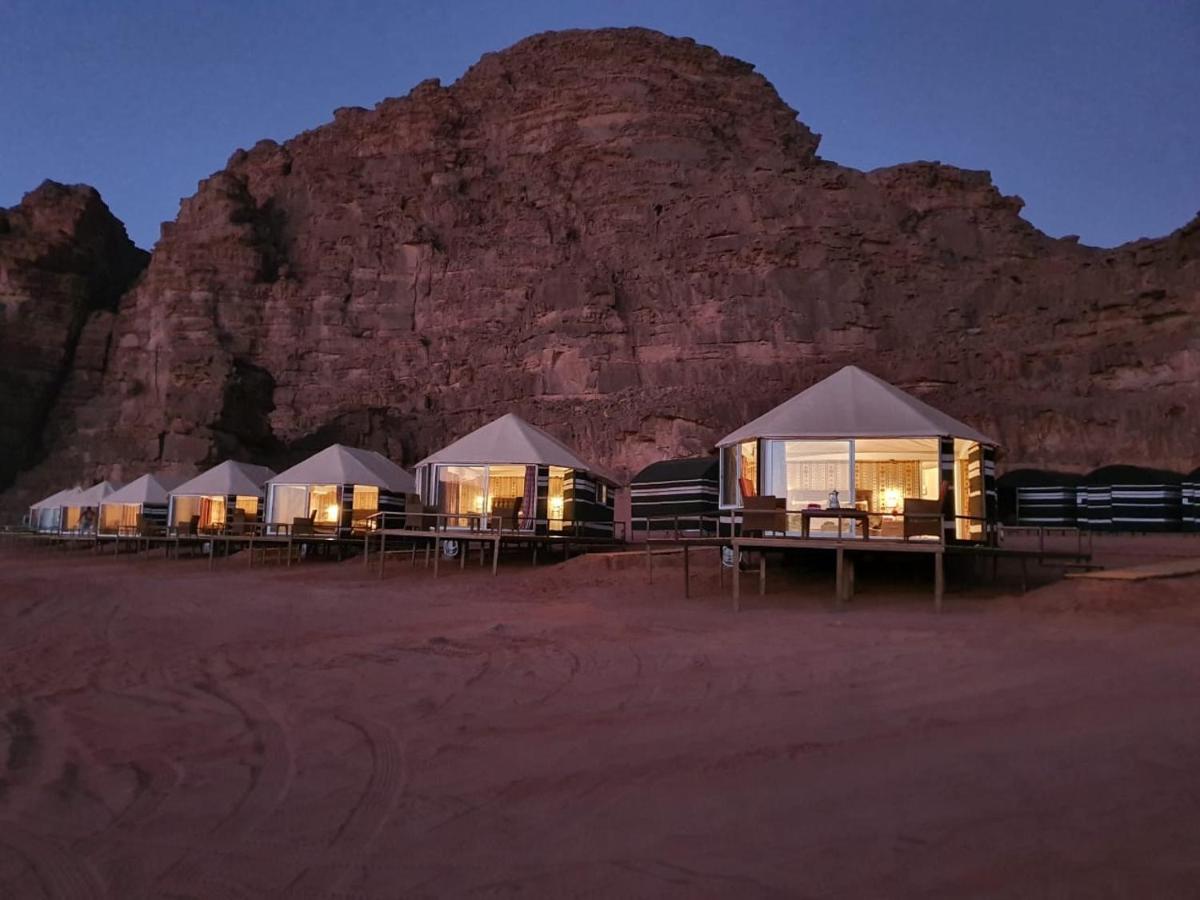 Wadi Rum Bedouin Camp: The traditional Bedouin-style tents here accommodate from 1-4 people, and there are also bivouac-style options to sleep in a cave under the stars, or budget hostel rooms. Hot showers and fish toilets are available in community bathhouses.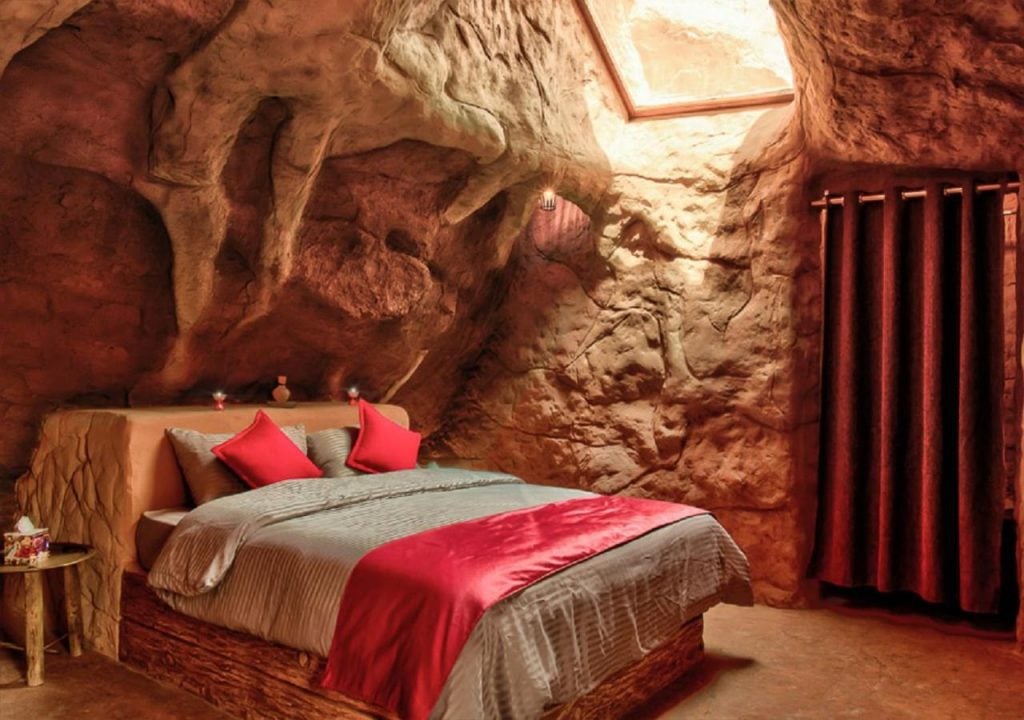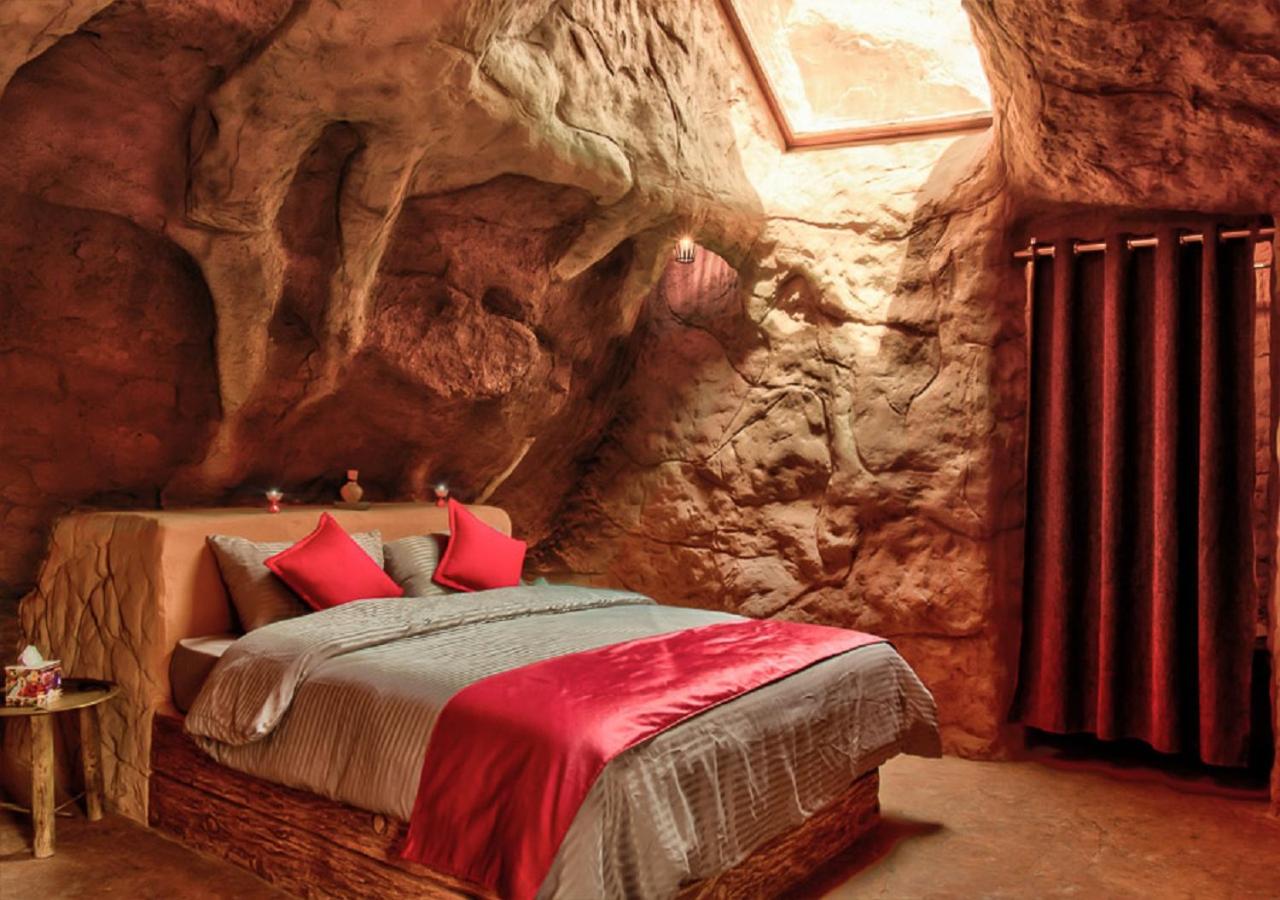 Captains Desert Camp: Choose traditional, colorful Bedouin-style tents or extremely unique rooms in a real cave at this desert camp. Complimentary buffet-style breakfast is included, and they offer a variety of tours, including Jeep excursions and camel tours.
---
Are you planning a trip to Jordan?
We have lots of resources on travel in Jordan and destinations throughout the country. Check out our Jordan Travel Homepage for everything you need to know, or read some of our favorite articles below.
Save this article on Pinterest for later!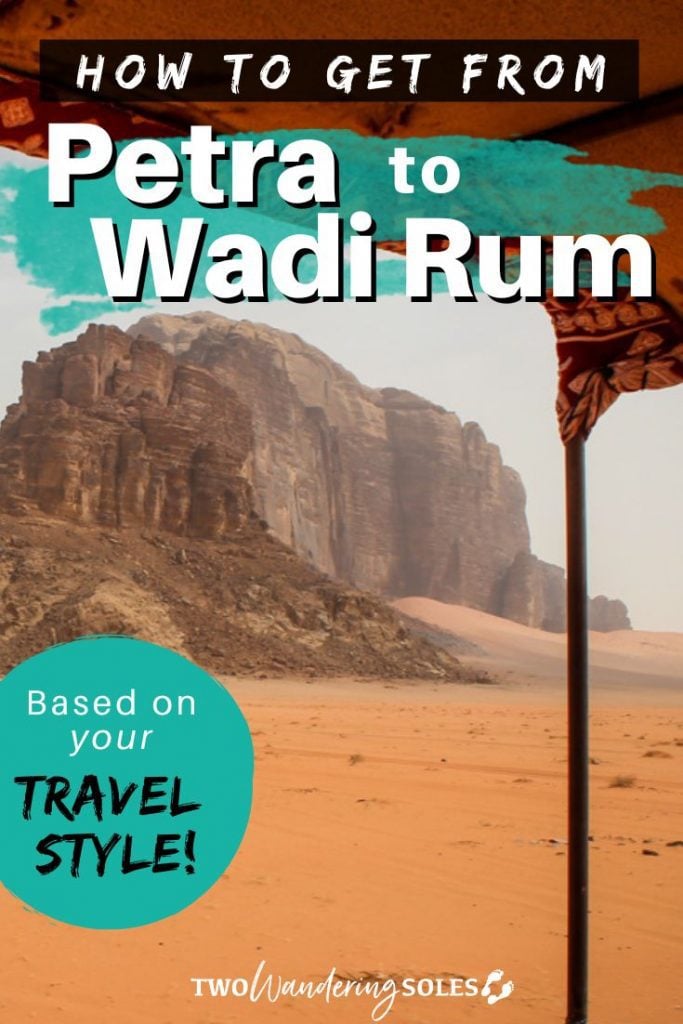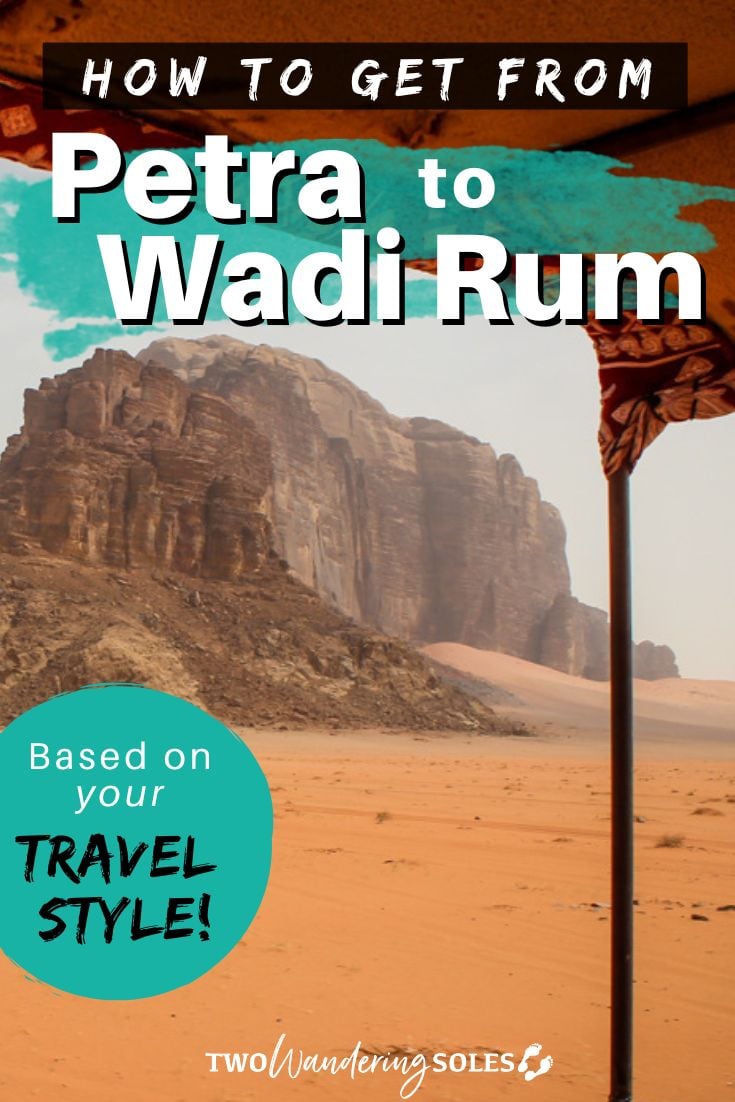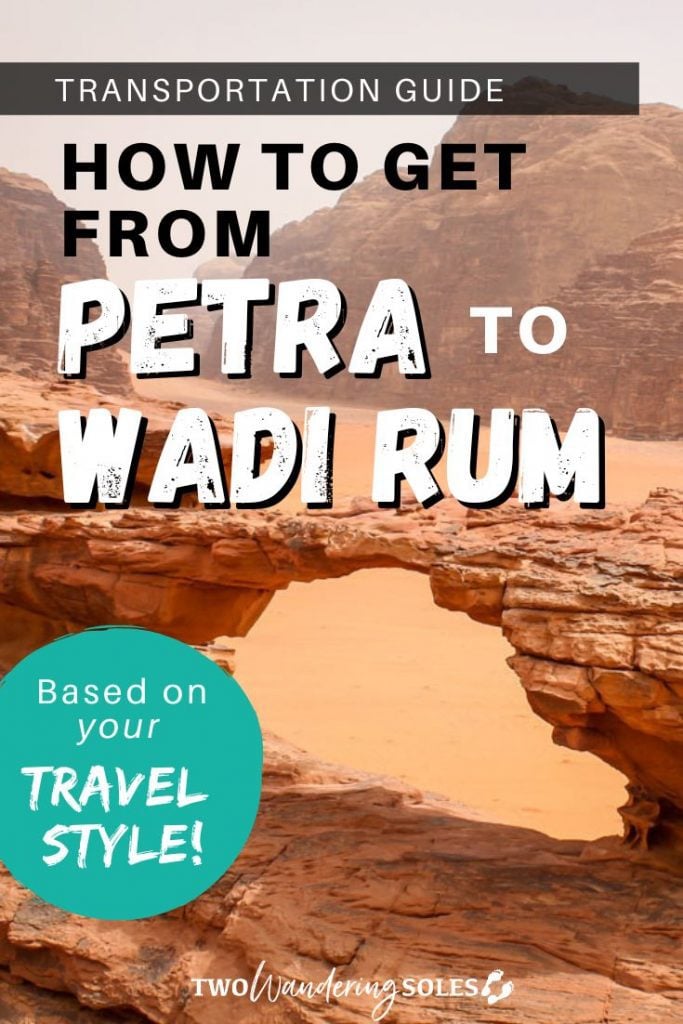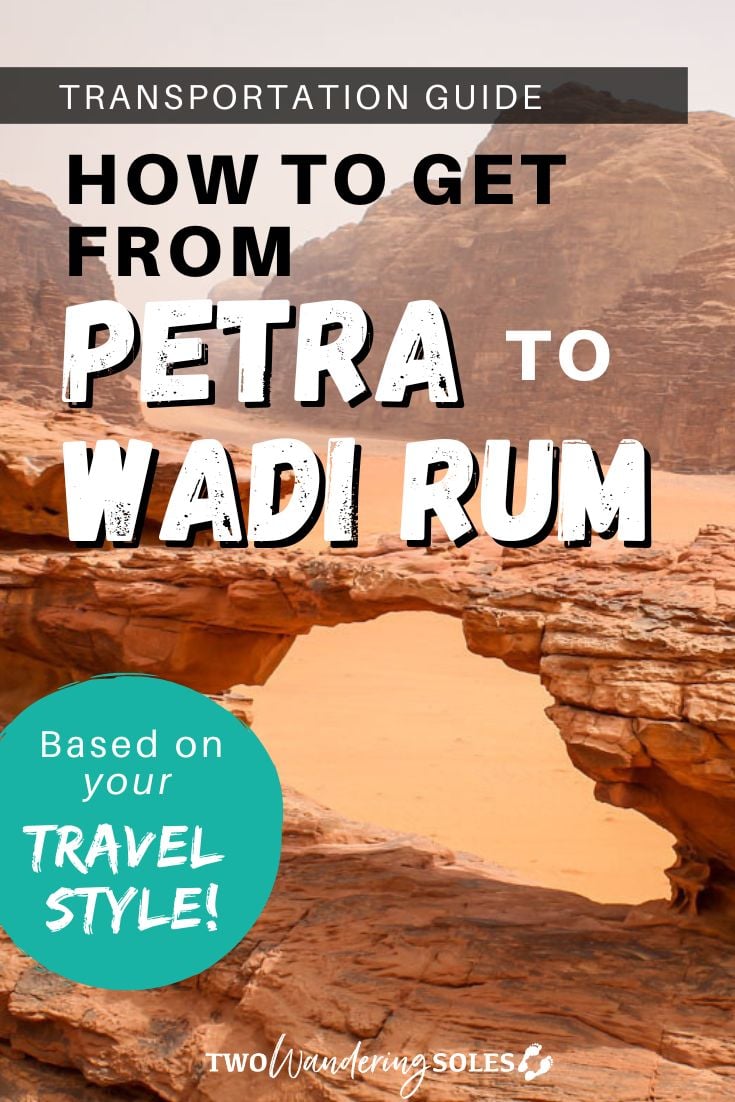 We want to hear from you!
What's your preferred method of transportation when you travel? Are you planning a trip to Jordan and still have questions? Leave your comment below and we'll do our best to get back to you!