Puerto Viejo de Talamanca is one of Costa Rica's most famous towns on the Caribbean side. We put together this ultimate guide to Puerto Viejo, Costa Rica, including when to go, where to stay, things to do, and essential tips.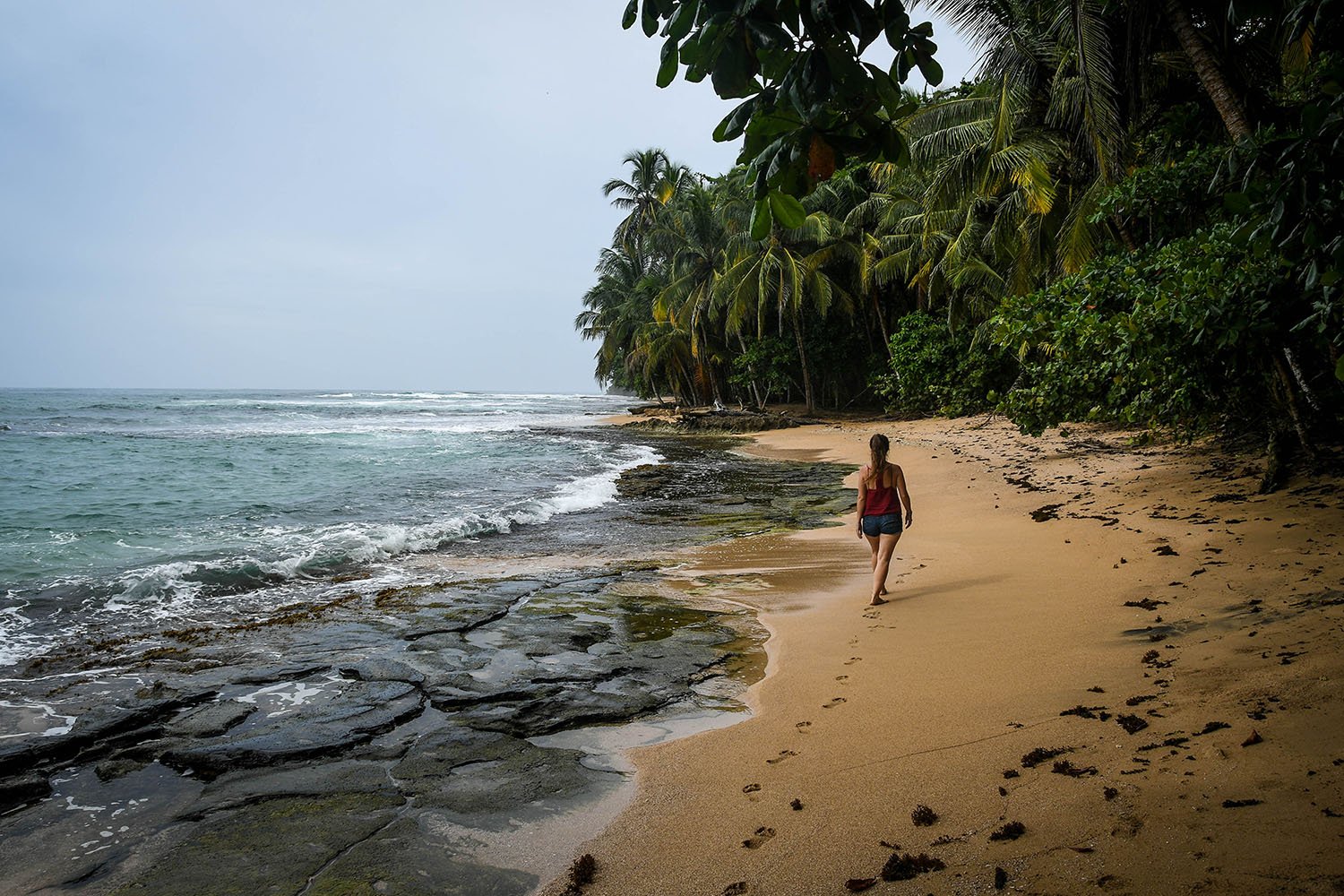 Puerto Viejo de Talamanca sits on Costa Rica's Caribbean Coast and has a vibe unlike the rest of the country.
It's a popular place for backpackers seeking a party, or a getaway for travelers looking for unspoiled beaches to explore. It also makes a great stop before crossing the border to Panama's gorgeous Bocas del Toro archipelago.
Whatever draws you to Puerto Viejo, we've got you covered with this ultimate travel guide. In this article we've included all of the best things to do in PuertoViejo, including tips to help you plan your trip and pictures to spark your wanderlust.
Puerto Viejo, Costa Rica guide
---
Best time to visit Puerto Viejo, Costa Rica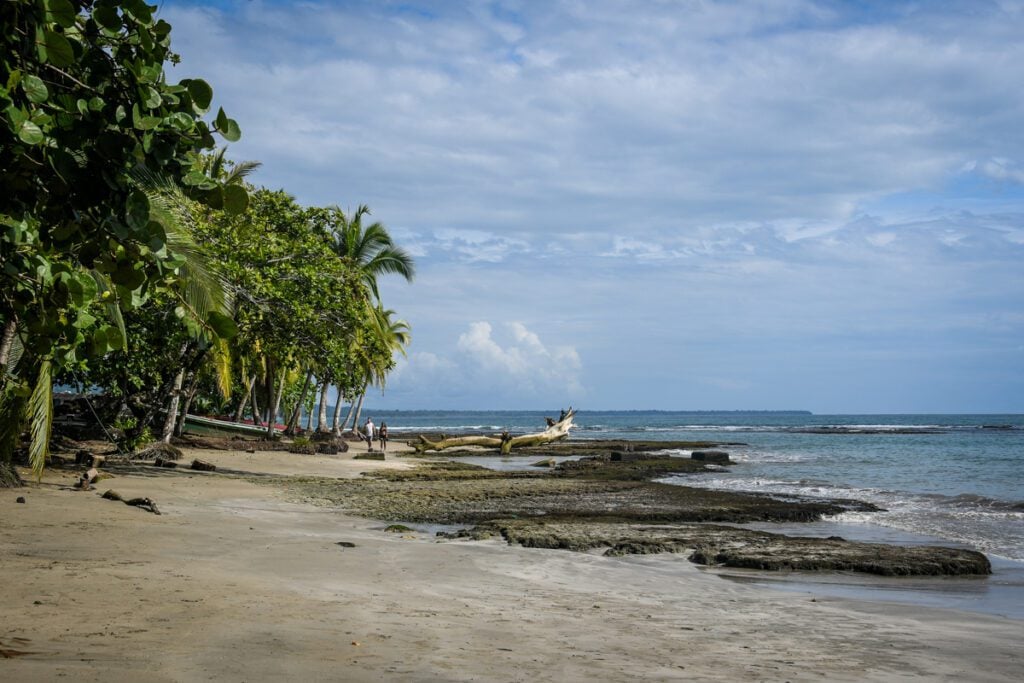 If you don't mind occasional showers, the best time to visit Puerto Viejo, Costa Rica is during the months of August and September. Prices are considerably lower, there are fewer crowds, and you can still get beach time on the sunny Caribbean coast.
For an in-depth guide on the regional seasons, weather patterns and other factors, check out our complete guide on the best time to visit Costa Rica.
How to get to Puerto Viejo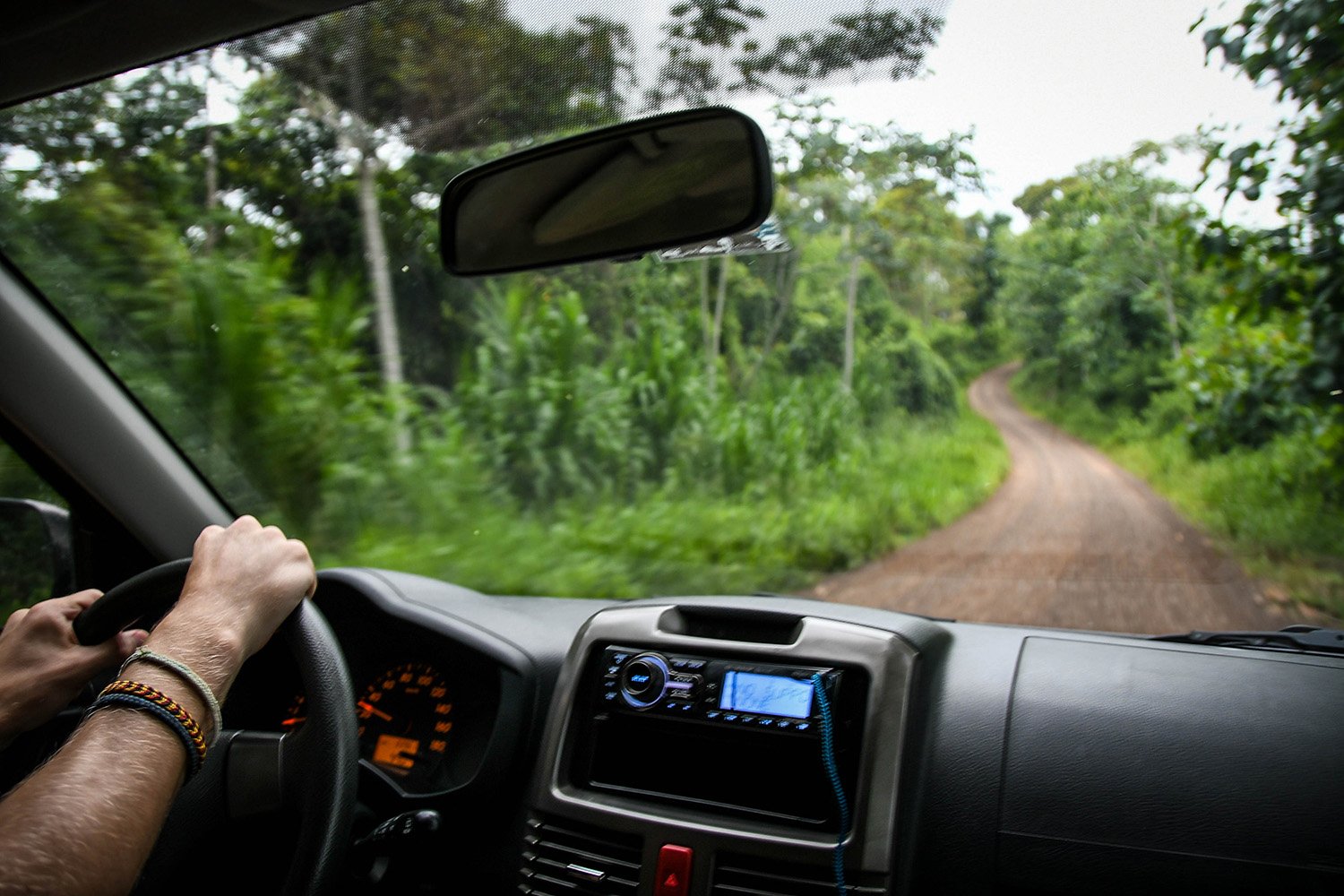 There are many different options for how to get to Puerto Viejo depending on where in Costa Rica you are coming from.
By rental car
The easiest way to get around Costa Rica is by renting a car. We rented one for two weeks and had a blast. The best part is it's pretty cheap! We met a guy who had rented a small SUV for 1 week and it only cost him $90 USD. We wrote about our experience on renting a car and which companies to book with.
Driving your own car from San Jose to Puerto Viejo is easy and will take about 3 hours.
By flight
You can opt to take a domestic flight from elsewhere in Costa Rica to Limon Airport (LIO), which is about a 1-hour drive from Puerto Viejo. From there you will either need to rent a car or take a shuttle to Puerto Viejo.
By bus
The cheapest way to get to Puerto Viejo from San Jose will be by taking the bus.
Buses depart from Terminal de Autobus Atlantico Norte (Terminal MEPE) to Puerto Viejo de Talamanca and leave every two hours starting at 6 a.m. The journey takes about 4.5 hours and will cost about 5,500 colones ($9.50 USD) per person.
By shuttle from Bocas del Toro Panama
There are many shuttles leaving from Bocas del Toro to Puerto Viejo. These shuttle companies will have someone to help you across the border and guide you to a shuttle on the Costa Rican side. These trips take about 4 hours and cost about $33 USD per person.
Getting around in Puerto Viejo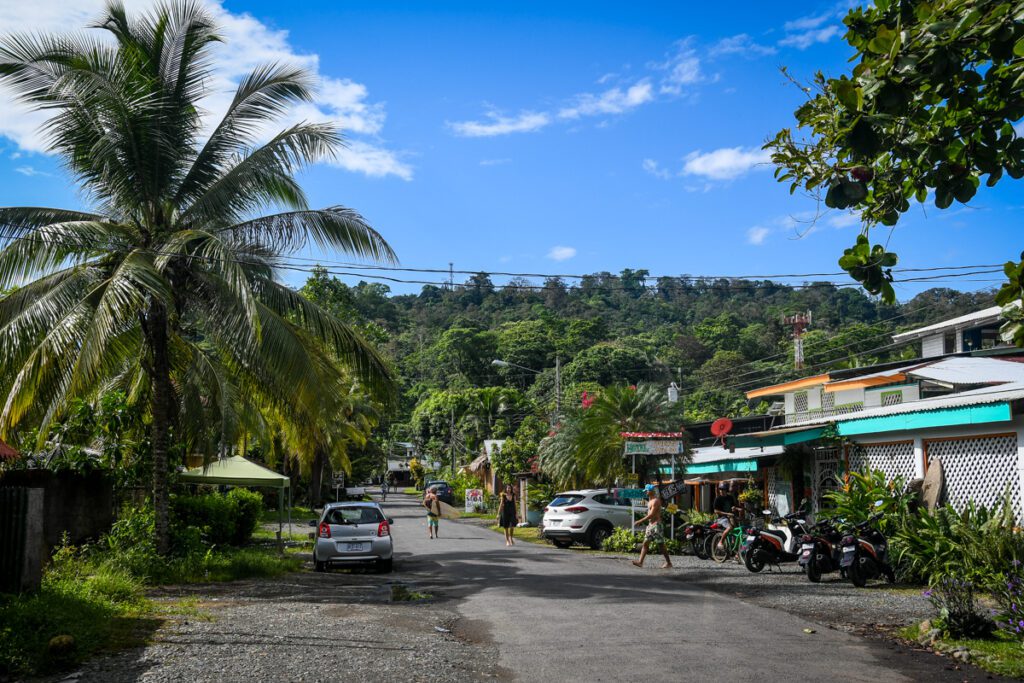 The preferred way to get around Puerto Viejo is by bicycle. Since the roads are mostly dirt with the occasional pothole, bicycles can maneuver with more ease.
There are lots of places to rent bikes in town, including local shops and many hotels. You can usually get a bike rental for about $10 USD per day, or negotiate a rate for a longer term.
---
15 Fun things to do in Puerto Viejo, Costa Rica
Puerto Viejo is the perfect place to soak up the Caribbean vibes and just chill. But if you, like us, want to do more than sip rum from a hammock (okay, that sounds great actually!), we've got you covered with some fun things to do around town.
And after feeling like you've seen a bit of the area, then it's really time for that rum and hammock combo!
1. Bike to Manzanillo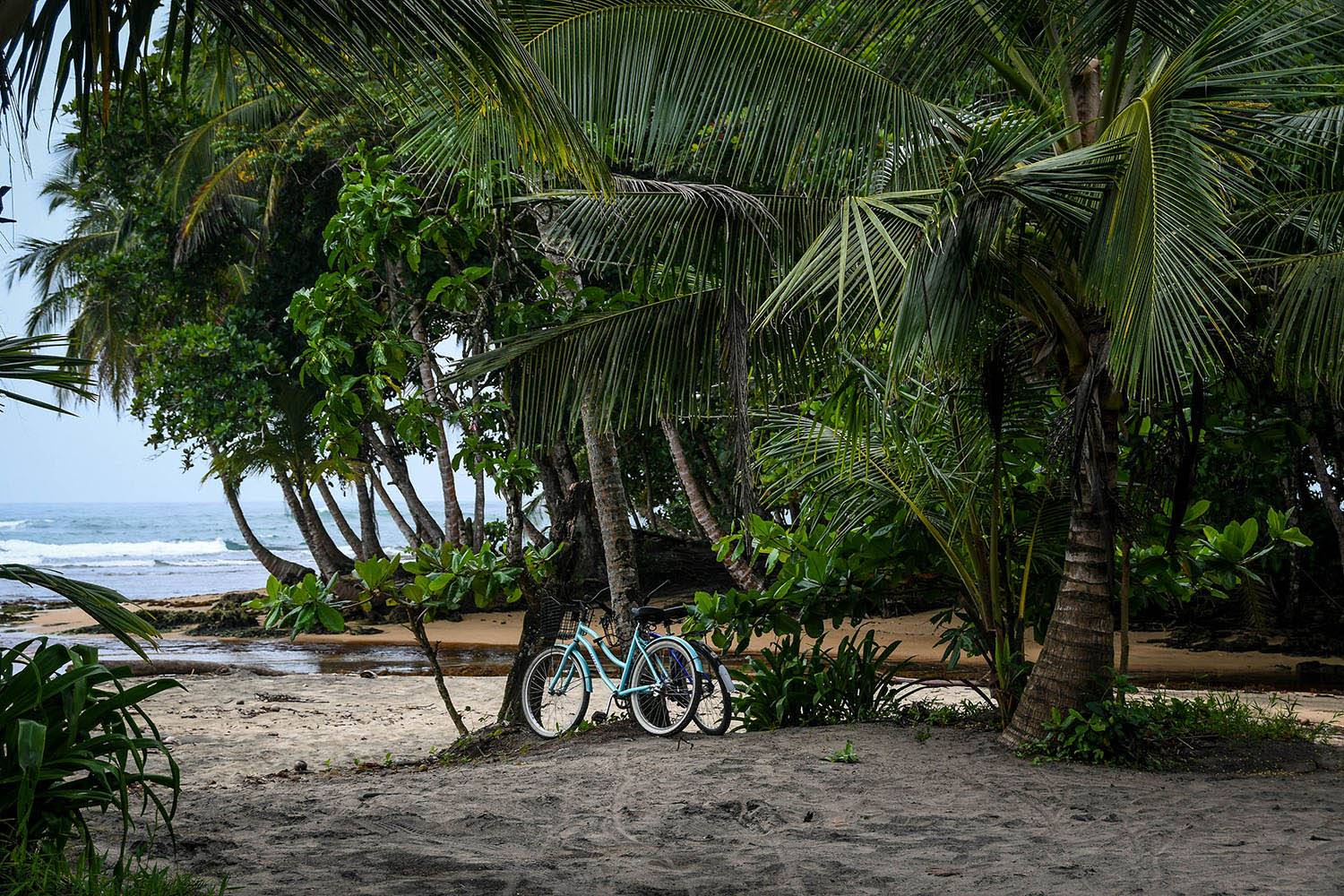 Manzanillo is a peninsula that juts out into the sea, just 13 km from town. Head there for a day of exploring secluded beaches, wandering through the Gandoca Manzanillo Wildlife Refuge and taking pictures of the stunning scenery.
How you get there is up to you, but biking is fun, eco-friendly and cheap. Plus, you'll get a bit of exercise.
If you're pressed for time, driving a rental car is a convenient and fast way to get around. Plus, it's cheaper to rent a car in Costa Rica than you might think!
2. Visit an indigenous village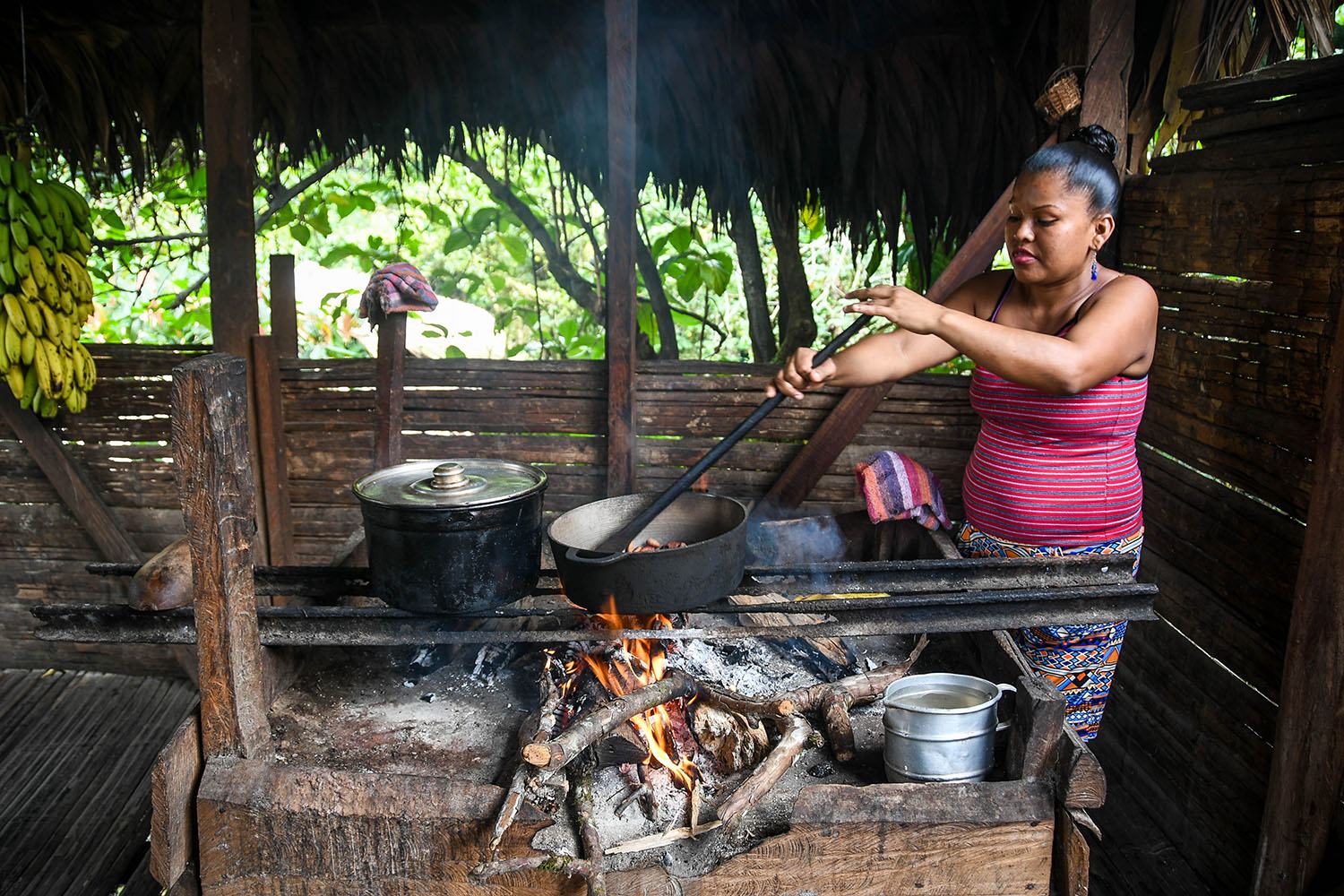 Although Costa Rica is arguably the most Westernized country in Central America, there is still a beautiful and rich culture to experience. While in Puerto Viejo, take a break from the beaches for one day and learn about the Bribri, an indigenous group that calls this region home.
When you book a tour to visit a Bribri village, you will have the incredible opportunity to speak with a shaman. You'll also learn about how this community grows and processes chocolate, eat a traditional lunch, and you'll get to walk through the jungle and learn all the uses they have for the plants that are native to this area.
If learning about the local culture is important to you, this might just be a highlight of your time in Puerto Viejo – it certainly was for us. Read more about our experience visiting a Bribri village near Puerto Viejo.
3. Discover Bri Bri Waterfall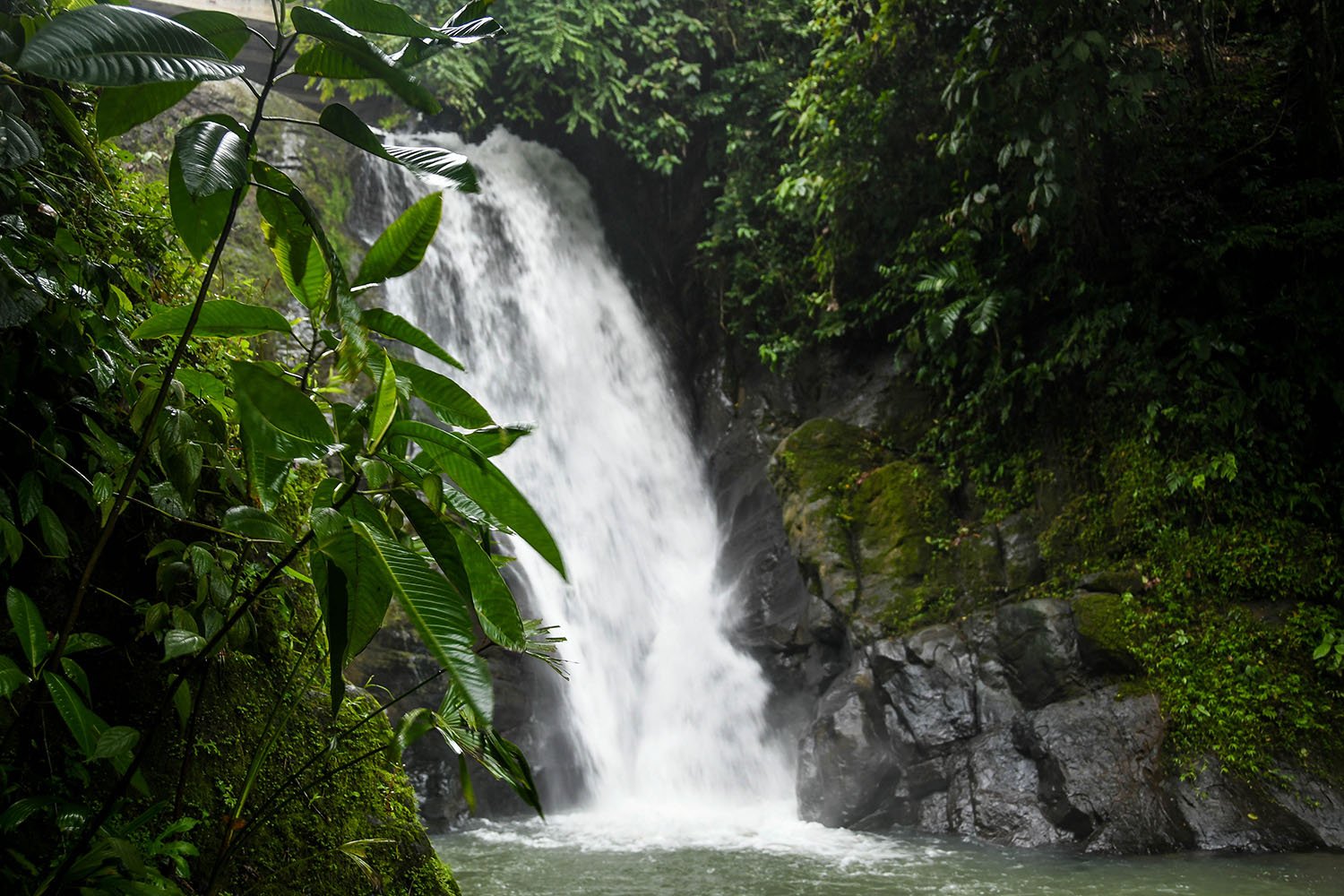 We ended our tour of the Bribri village at Bri Bri Waterfall. While it wasn't all that impressive compared to the other waterfalls we visited in Central America, it was still a refreshing way to spend a bit of time in the afternoon. Plus, there were only a handful of locals there when we visited, so it's not an overly touristy place.
There is a small entrance fee to visit the waterfalls if you go on your own, otherwise it is covered in the Bribri tour. You could easily get to the location of the Bri Bri falls if you have a rental car.
4. Visit the Jaguar Rescue Center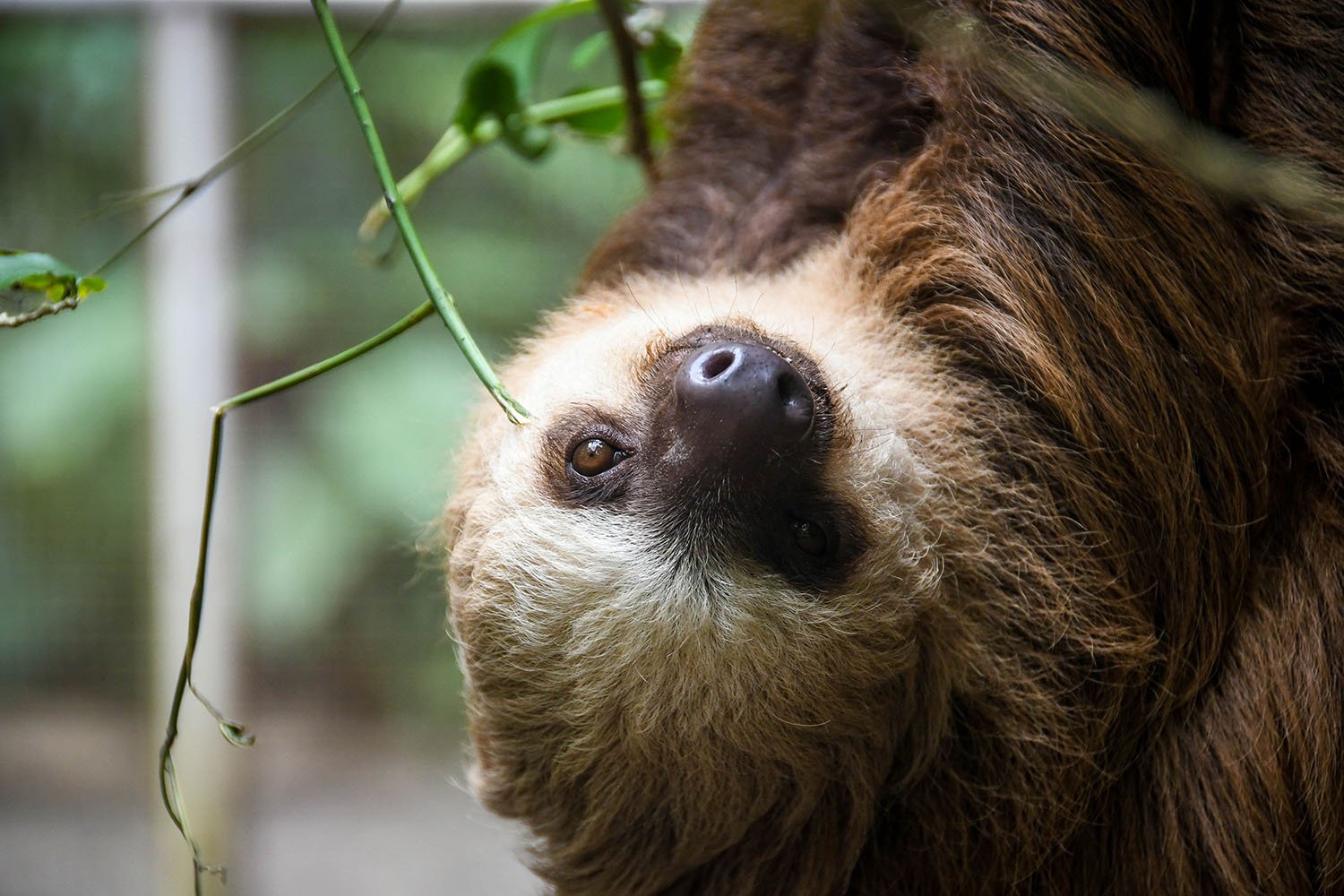 Unlike the name implies, there aren't actually jaguars at this place. But you won't be too disappointed after you see all the other beautiful creatures that call this place home.
The Jaguar Rescue Center is a sanctuary and care facility for animals that have been accidentally injured or purposely abused.
Their goal is to rehabilitate and release the animals back into the wild, once they have been healed. But in some cases the injuries are so severe that the animals wouldn't survive on their own.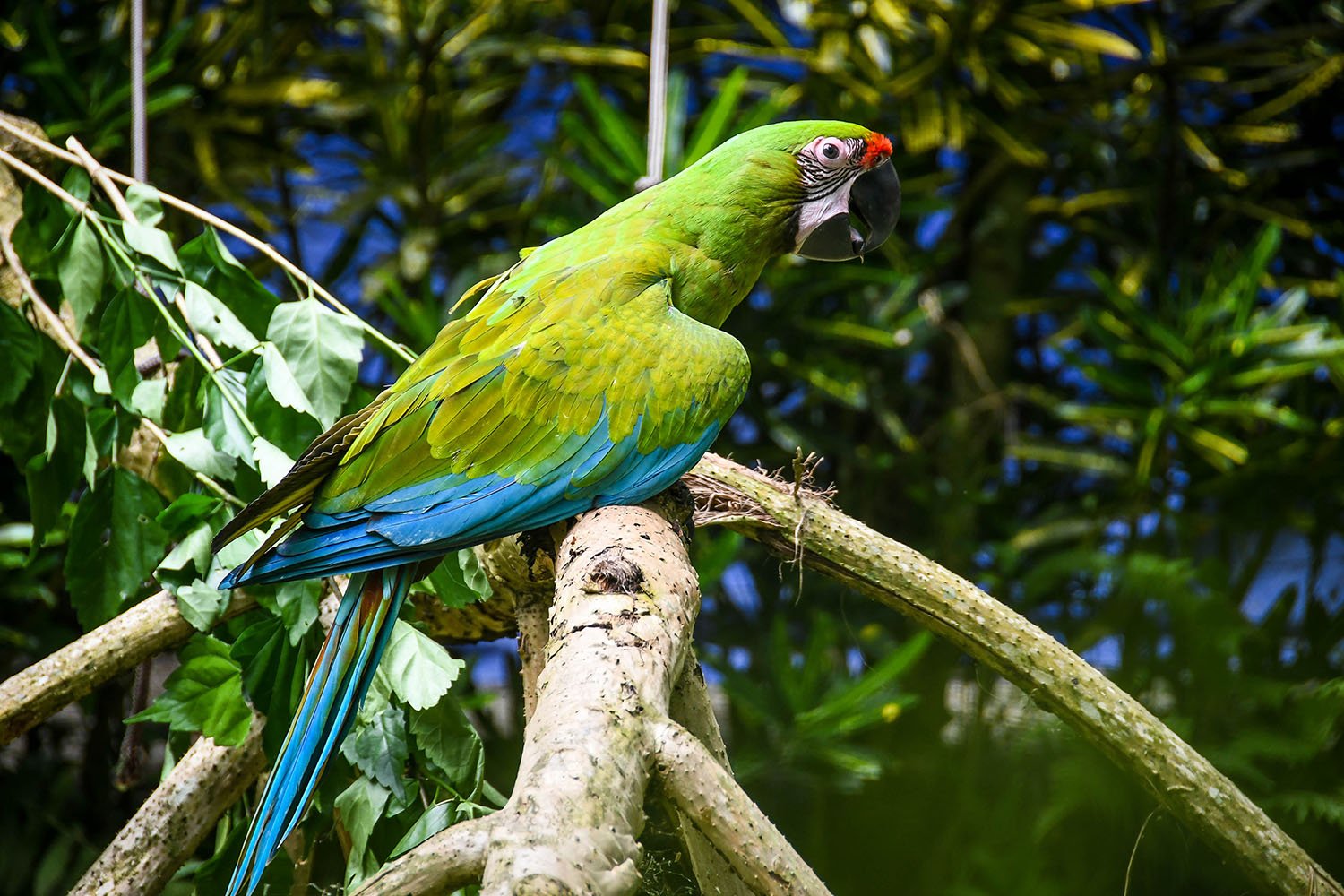 Take a tour of the facility and learn about each animal's story and how it ended up at the sanctuary in the first place. The tour was actually really informative and more interesting than we were expecting.
You can only visit the Rescue Center with a public or private guided tour. It runs for about 90 minutes and starts twice a day, at 9:30 a.m. and 11:30 a.m. It costs $24 USD per person (free for kids under 10 years old). While it's not cheap, your money goes directly to support the animals you will meet during your visit.
5. Beach hopping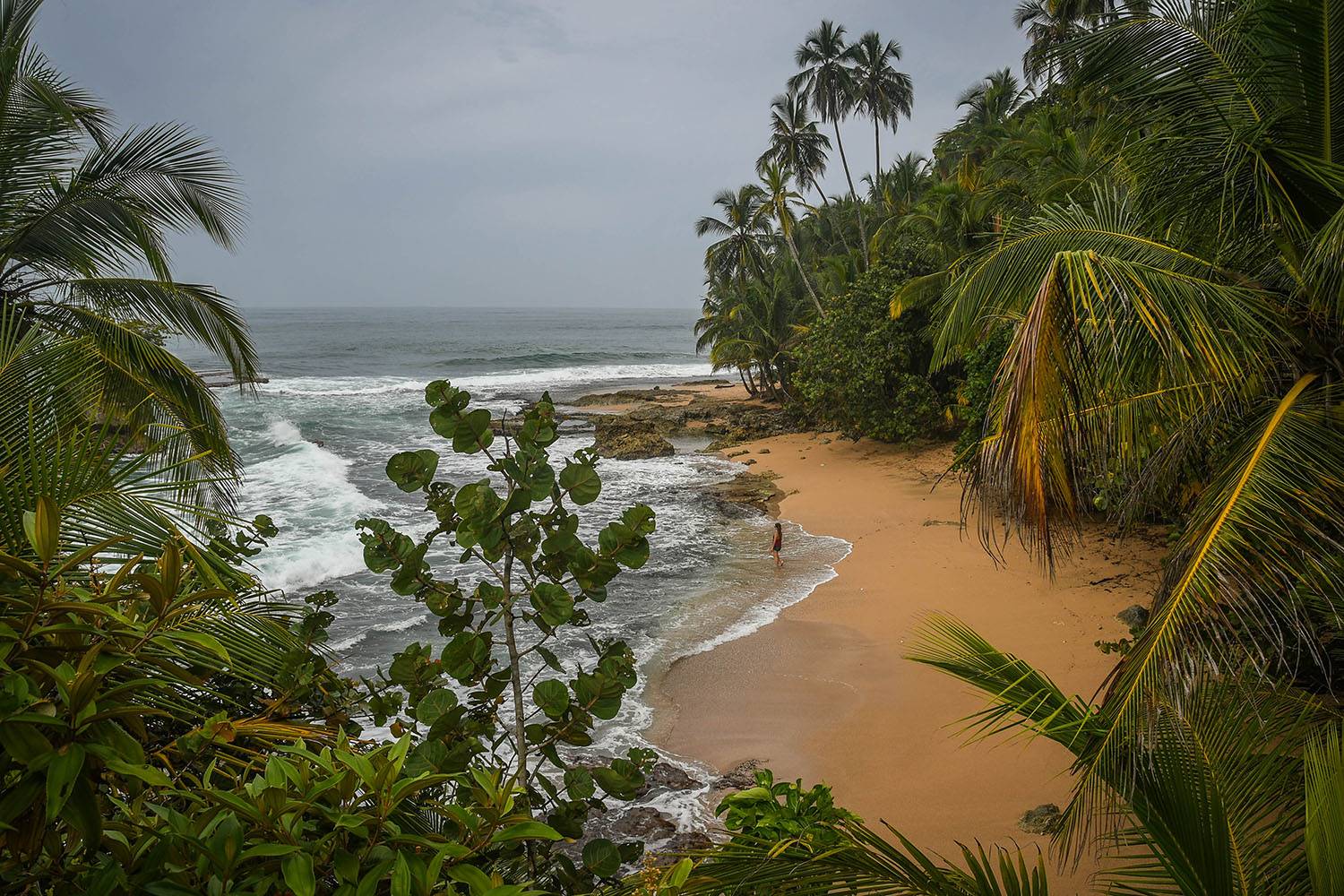 You likely came to Puerto Viejo to get a little R&R in the sun. Am I right?! Lucky for you, there are plenty of beaches in the South Caribbean to explore. Hop around and try 'em all, or take it easy and chill at the one you like best.
You may have to rent a car to get to some of these beaches, but lucky for you, rental cars in Costa Rica are really cheap!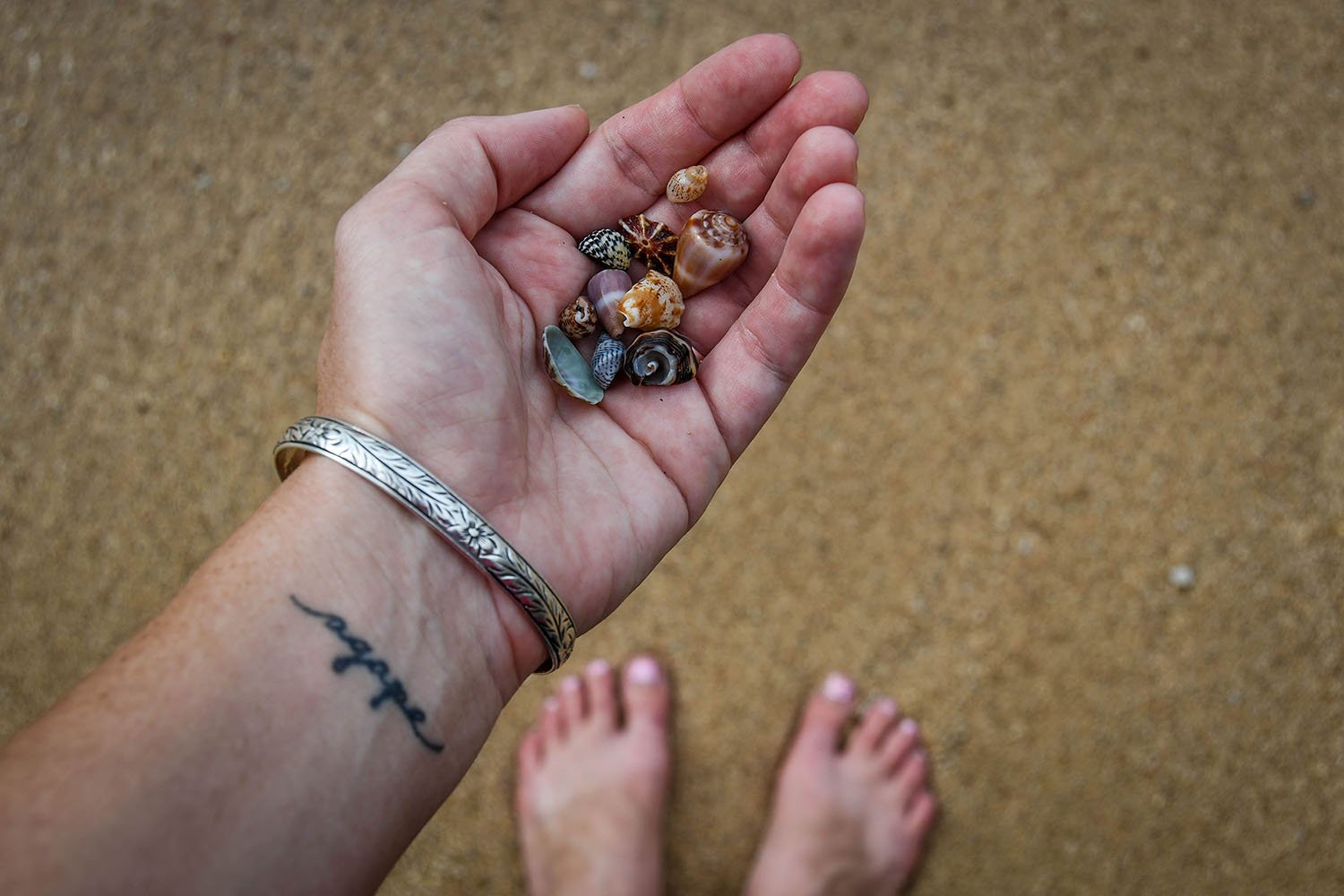 Here are some of the best beaches in Puerto Viejo:
Playa Punta Uva: a short, bumpy ride from road 256, you'll arrive at a quaint beach with a small shop that rents out kayaks. Relax at the beach or paddle around the point off to the right.
Playa Grande: At the end of road 256, you'll drive straight into Manzanillo. And you guessed it, this beach is GRANDE. There are plenty of places to park along the beach, best spots are down further closer to Punta Manzanillo.
Playa Chiquita: Peaceful and secluded, enjoy the waves and the pure nature that Playa Chiquita offers. This beach is really a series of small bays, so you may find one all to yourself. There are no restaurants, so be sure to bring your own snacks for a day.
Playa Negra: West of Puerto Viejo is a black sand beach. It's fun to see and walk along the dark sand, but not many people relax here because it used to be close to the old port area, as you can tell by the Old Barge stuck in the water.
Playa Puerto Viejo: Right in front of the famous Johnny's Place in Puerto Viejo town is a soft sand beach for lounging all day. If you want a bite to eat just walk 20 meters to the closest restaurant.
6. Explore Cahuita National Park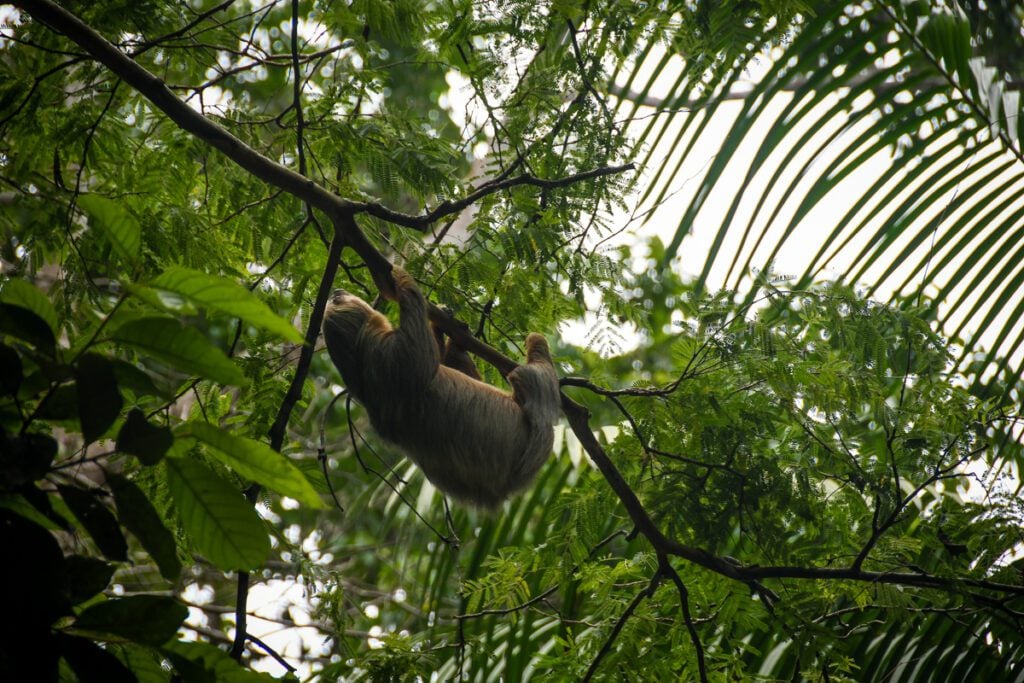 Just about 20 minutes north of downtown Puerto Viejo, is the pristine Cahuita National Park, Known for vibrant coral reefs, white sandy beaches, and lush tropical rainforests, this is a must-stop for most travelers who come to the Caribbean side.
Snorkeling is best here during dry season when visibility is good and visitors can enjoy the coral reefs just off shore.
If you prefer to do your exploring on land, Cahuita National Park has a rich diversity of wildlife, including howler monkeys, sloths, and a variety of exotic birds. Take the winding trail from the Kelly Creek station at Cahuita village, around the point to the Puerto Vargas station and keep your eyes peeled.
The park is open daily from 8 a.m. to 4 p.m. and entrance costs $5 USD per person.
7. Shop sustainably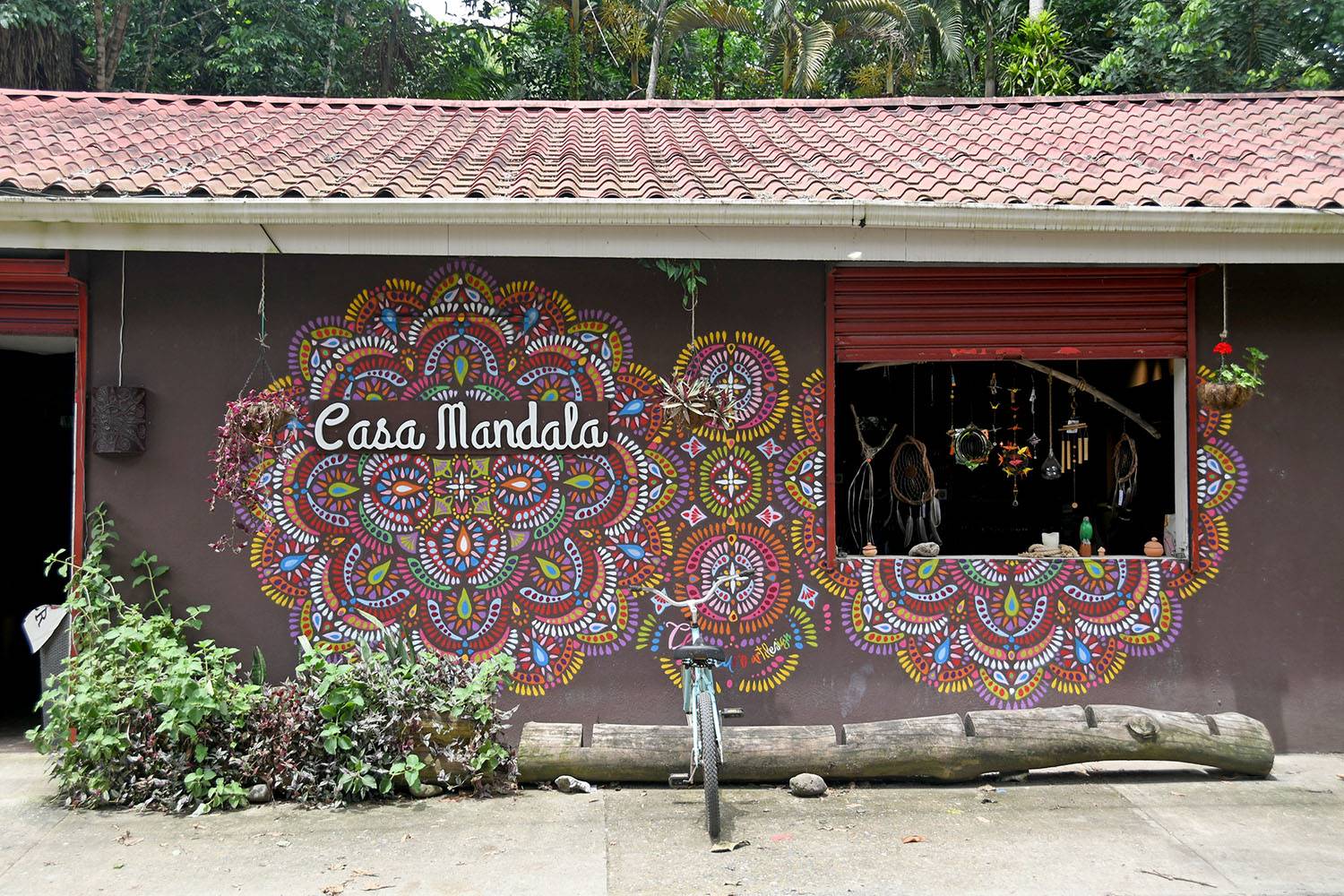 We love supporting local artisans, so when we drove past Casa Mandala, we turned our car around and stopped to take a look around. Inside, there are tons of different handicrafts, eco-friendly home goods and pieces of art. If you like artisan goods, you will love this place!
There were so many pretty things I fell in love with (Ben says I fall in love too easily!) but being that we were carrying backpacks, we had to limit ourselves (aka Ben told me I could only choose one thing, and it had to be small!).
We ended up buying a dried gourd with beautiful carvings, which the woman at the desk told us is a craft made from the local indigenous tribe, the Bribri. Well, we were so inspired by this beautiful craft that we ended up visiting a Bribri village a couple days later and bought another carving!
8. Go on a kayaking tour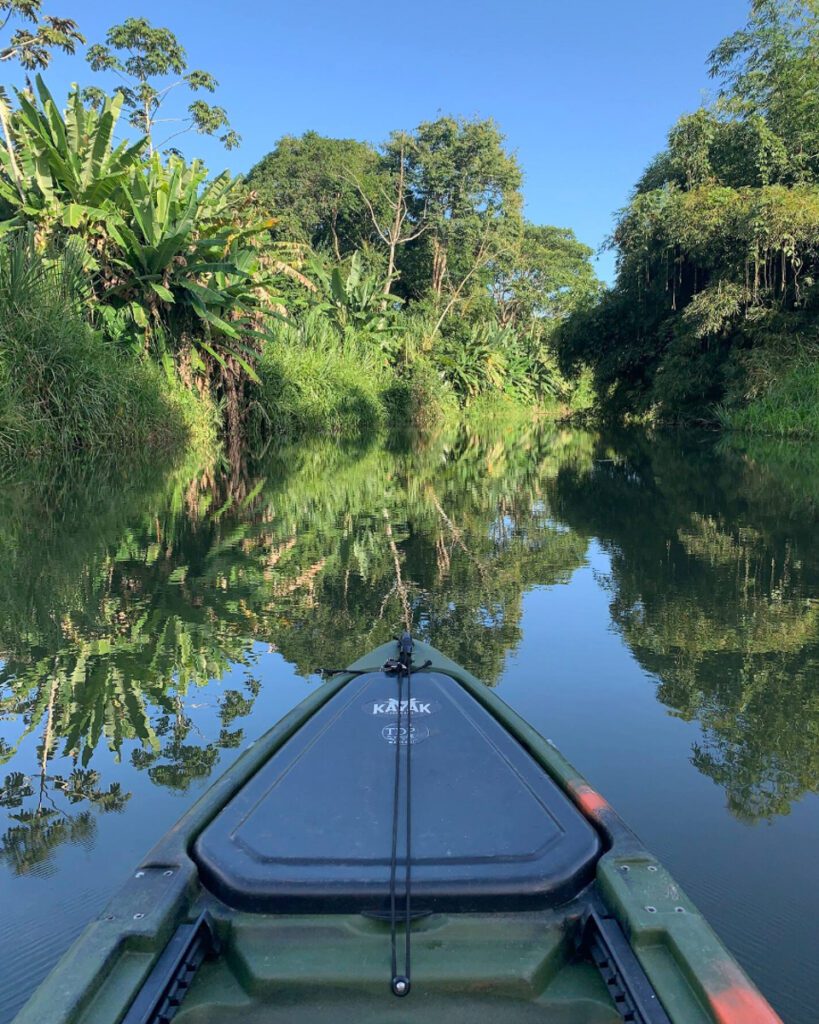 If you're looking for a way to immerse yourself in nature and get off the typical tourist path, this unique kayaking tour looks pretty cool.
Starting at Playa Negra, the tour offers an authentic, nature-filled experience with the chance to spot howler monkeys, herons, and other wildlife.
What you need to know:
What guests are saying:
"This was an AMAZING experience. Jimmy was a great guide. He pointed out all the wildlife and shared stories about some. He took care of all the details, including water and sunscreen. The river was very low key and just a chill paddle. I would 10000% do this again. Definitely the highlight of our trip. He even sent us a video of our experience he took with his gopro afterward. Thank you Jimmy and Heike!" – Angela, September 2023
9. Enjoy the nightlife
Backpackers seem to flock to Puerto Viejo de Talamanca for its legendary nightlife. If you're looking for a good time, you'll find it here.
For dancing, head to Johnny's Place. Located right on the beach, the music blasts and crowds of locals and backpackers spill out onto the sand.
If you're looking for a more local experience, Salsa Brava is another restaurant that turns into a party location as soon as the sun sets.
Looking for something more chill, but still open late? Grab a beer at Hot Rocks and stay for the live music.
Or head to one of the only craft breweries in the area, Playa Negra Brewing, which is located right on the beach.
Wanna try a little bit of everything? Check out the Puerto Viejo pub crawl.
10. Check out the cafe culture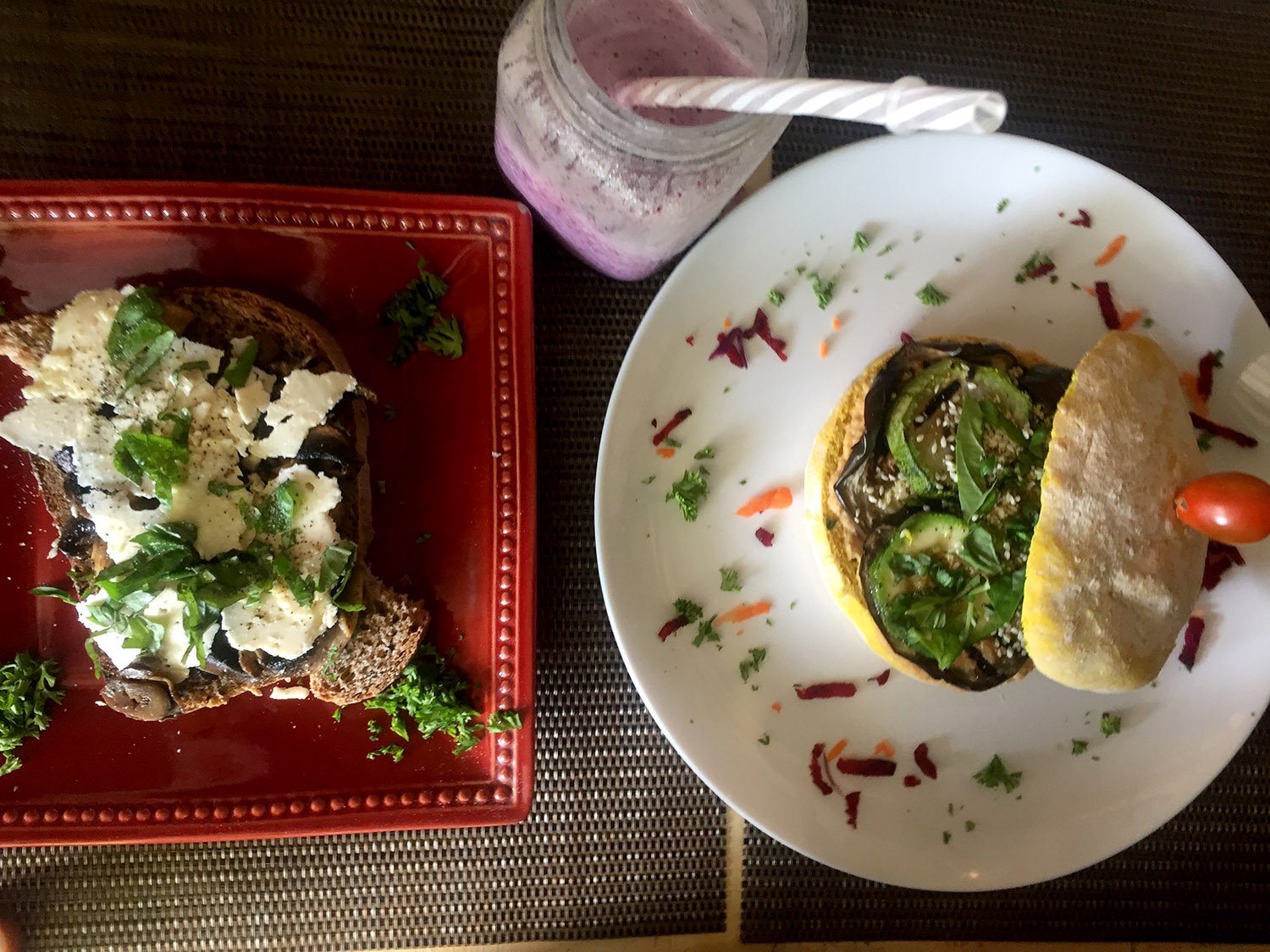 After consuming just about as much rice and beans as our bodies could handle, we were pleasantly surprised by the cafe culture in Puerto Viejo. We finally found proper salads, fresh fruit smoothies and yummy baked items.
There are a handful of healthy and delicious cafes and restaurants to choose from:
11. Indulge in Caribbean flavors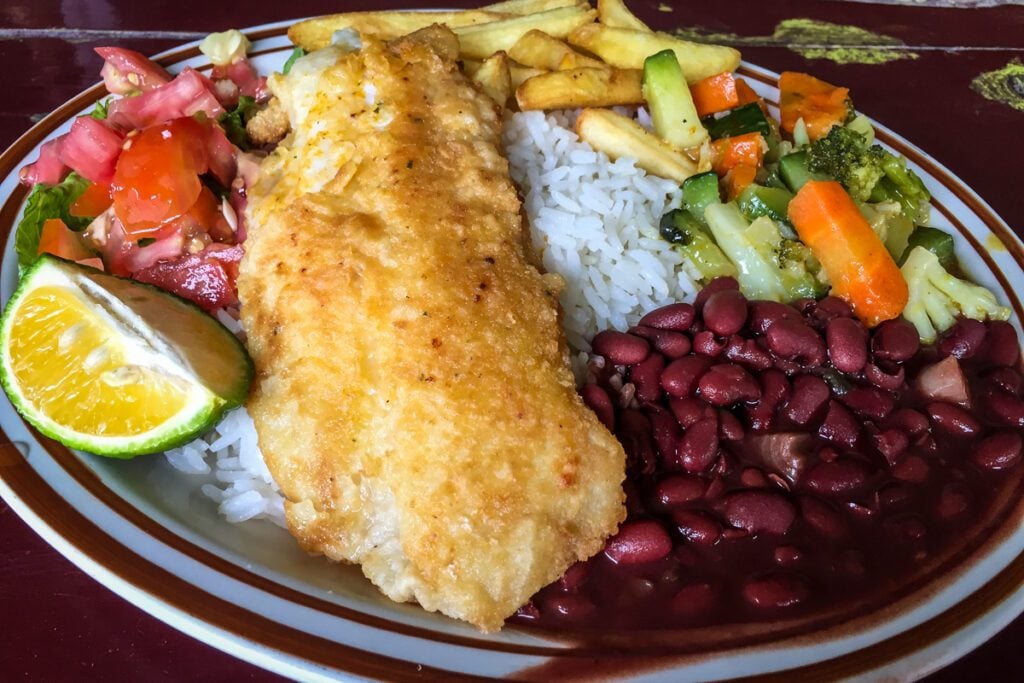 While Costa Rican cuisine isn't one that we were entirely thrilled about, some of the best meals we had were in Puerto Viejo.
The Caribbean flavors in this area mean the dishes were a little more exciting (in our opinion!) than the rest of the country.
Some dishes to try in Puerto Viejo:
Salsa Caribeña: This curry or stew is a very common dish up and down the Caribbean coast. Each place makes it different according to their own style. Made either with fish, shrimp, or lobster with the mixture of coconut milk, tomatoes, veggies, pepper, spices, sugar, oil and butter.
Patís: Costa Rica's version of an empanada, these meat (or veggie) filled pastries are a great snack on the go.
Rice and beans: I know, I know, you're already sick of hearing about how much R&B's there are in Costa Rica. But on the coast this dish has it's own style and you have to give it a go. Called gallo pinto, it includes red beans, coconut milk, thyme and various spices to tingle your taste buds.
Rondon: This meal is so special it deserves its own section. Keep reading…
12. Try rondon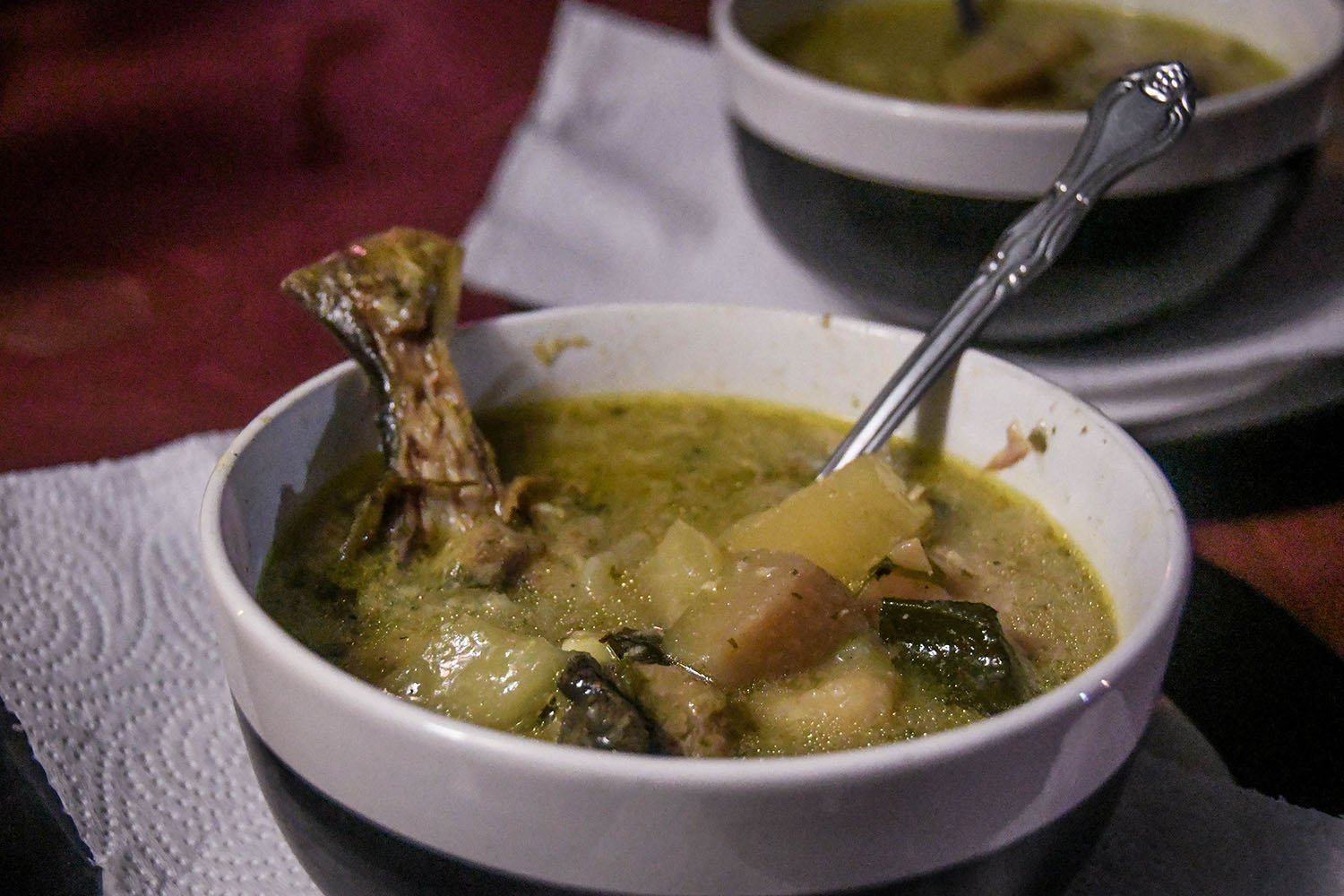 This Caribbean fish stew is made with coconut milk, plantains, peppers and spices, local veggies and the catch of the day. But it isn't on most menus.
That's right; if you want to try this signature dish, listen up…
We were told that this dish is a local favorite, but it's more "home cooking" than something listed on a restaurant menu. And we had a hell of a time trying to find it.
Unfortunately the place we tasted rondon at in Puerto Viejo has since closed, but we did some research and found it at a few other places around town:
Slevin: Located near Punta Uva, this place has a bit of a reputation. People come from all over to try rondon here.
Soda El Ranchito: Located right in downtown Puerto Viejo, this local joint is serving a family recipe for the traditional dish.
13. Do a cooking class or food tour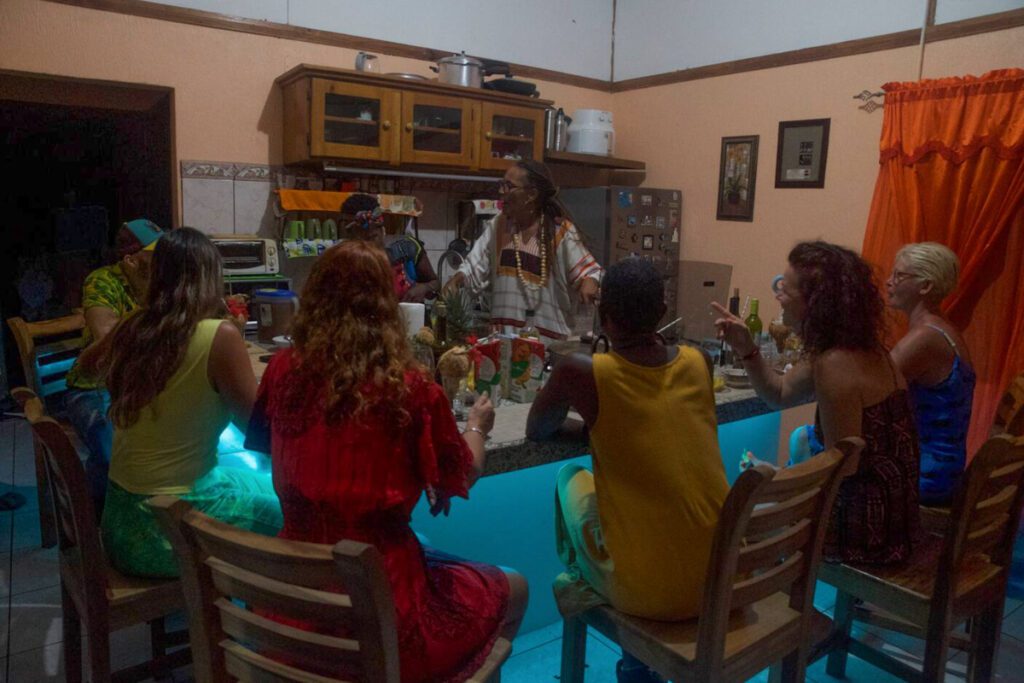 If you know anything about us, you know we love food. Part of the draw to travel for us is tasting new and interesting cuisines around the world.
We think there is really no better way to do this than by taking a cooking class or a local food/market tour.
Caribbean cooking class
Hosted by Josephina, a native to Puerto Viejo, this cooking experience looks like a great way to learn more about Caribbean flavors, passed down by generations.
In small groups of up to 4 people, Josephina will teach you how to prepare a traditional Afro-Caribbean feast, which you will then get to enjoy together as you swap stories and learn more about her culture.
What you need to know:
Hours: 5 – 7:30 p.m.
Price: $48 USD/person
Location: meet in downtown Puerto Viejo and join your host at her family home
What guests are saying:
"Had an absolutely amazing time. The food was so good, and we got to ask a bunch of questions. Learning about the history of the food and Costa Rica was extra special. We can't wait to try to make it at home. Highly recommend." – Rosemary, September 2023
Food & culture tour
Explore the vibrant food culture of Caribbean Costa Rica on this unique culinary tour, tasting traditional dishes like rice and beans with coconut milk and the unique patacon.
Your guide will lead you to local eateries for six delectable food samplings, including rich seafood rondon, chicken with coconut milk, and a sweet plantintá dessert. Discover the cultural influences on Costa Rican cuisine, and receive restaurant recommendations to continue your food exploration independently.
What you need to know:
Hours: 11:30 – 2:30 p.m.
Price: $82 USD/person
Location: downtown Puerto Viejo
What guests are saying:
"Don't hesitate – book this tour now! Our tour guide, Victor, was awesome. I learned so much about Puerto Viejo and its Afro-Caribbean culture. And all the food stops were amazing! I highly recommend!" – Dani, October 2023
14. Try surfing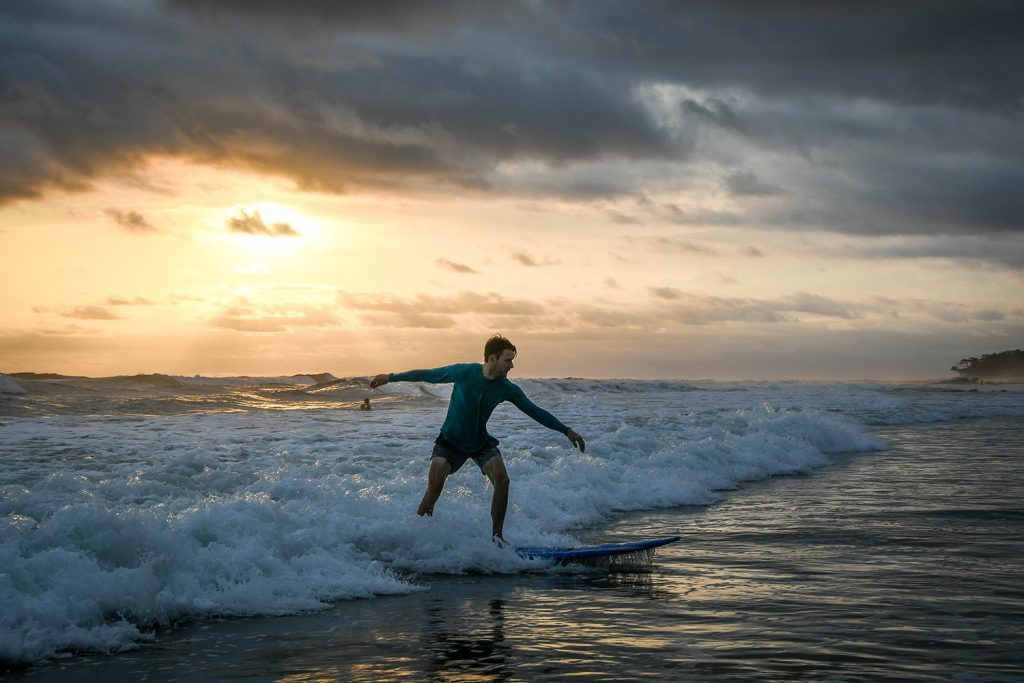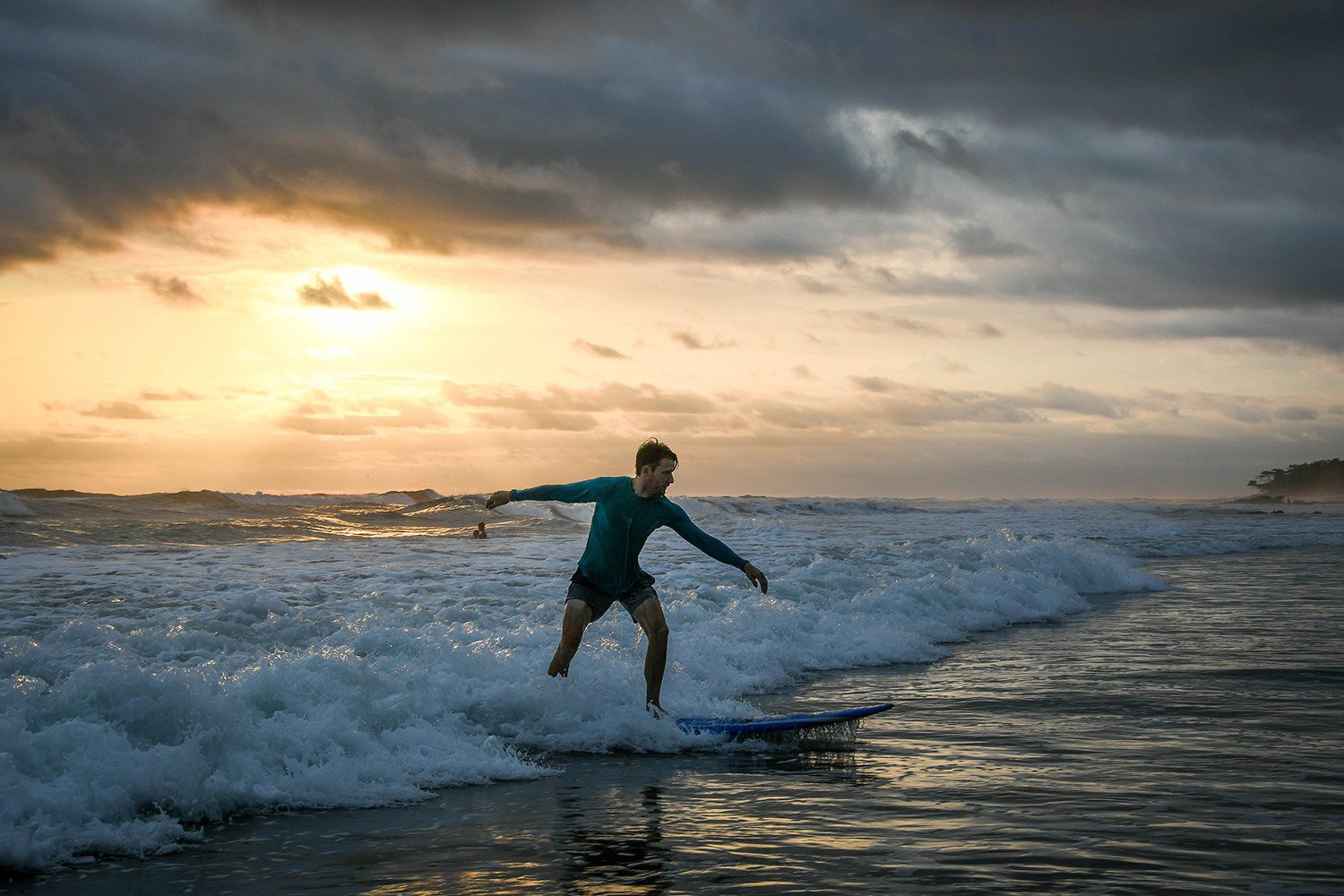 Puerto Viejo isn't as popular a surf destination as it counterparts on the Pacific side like Tamarindo and Santa Teresa. However, it is possible to catch some good waves in the Caribbean, particularly from December through March.
Playa Cocles is the most popular beach for surfing in Puerto Viejo and gets some fairly big waves during the season. If you're new to surfing, we'd recommend taking a lesson to learn some basic techniques before heading out on your own.
15. Go white water rafting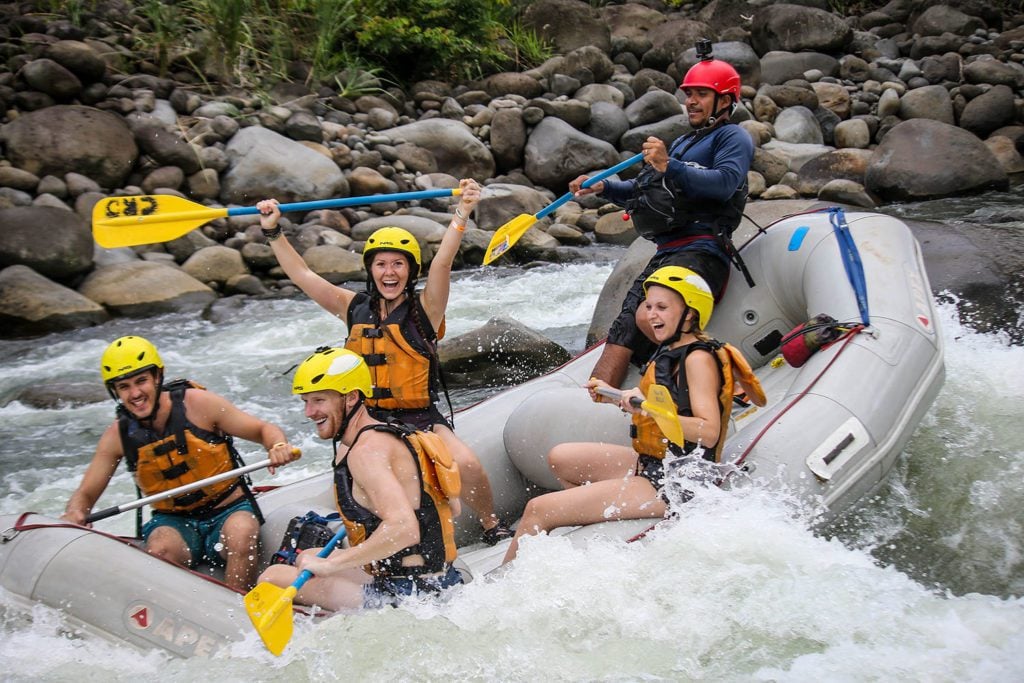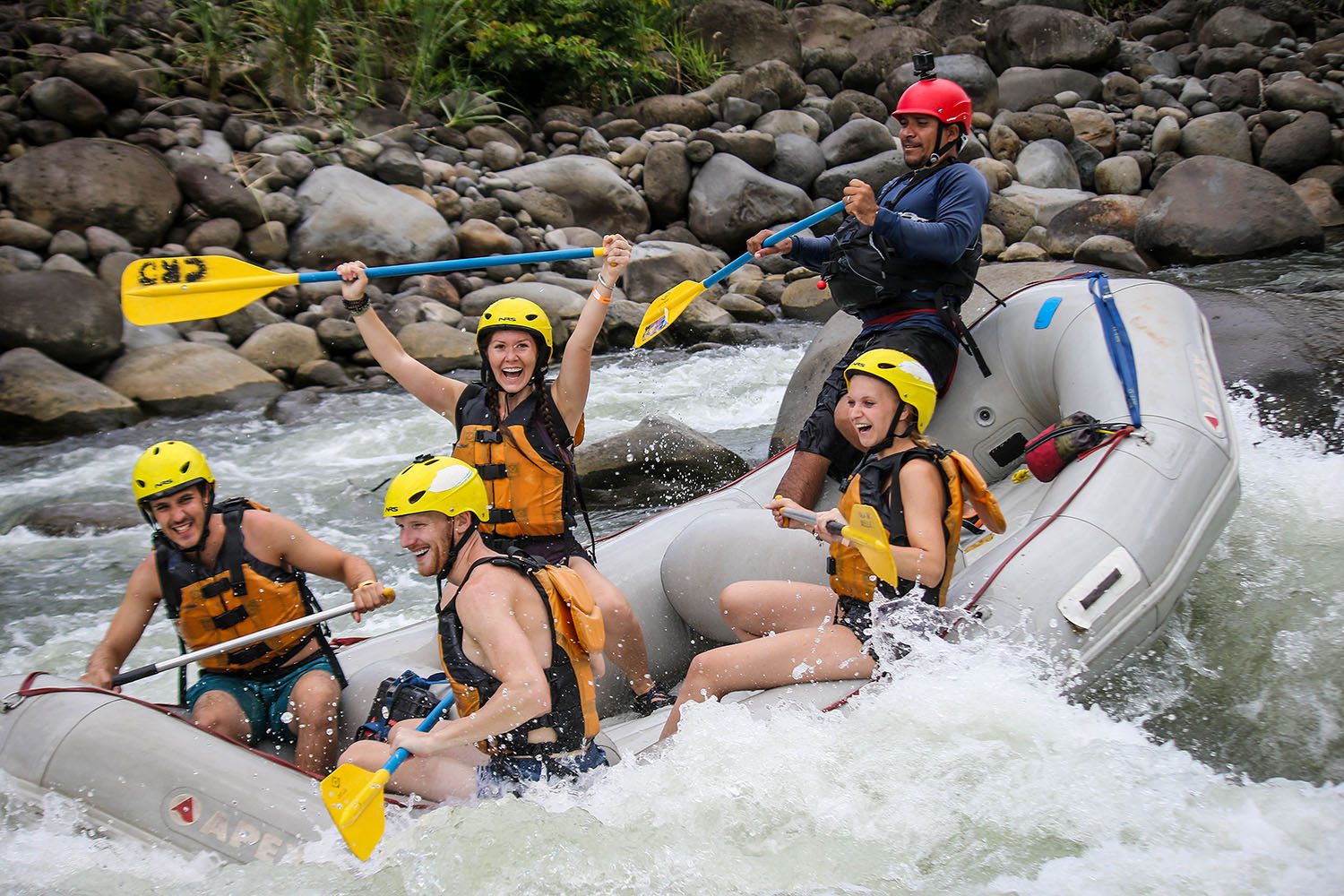 Embark on an exhilarating full-day white water rafting adventure down the Pacuare River, one of Costa Rica's premier rafting destinations.
Over the course of 18 miles, you'll navigate more than 50 thrilling rapids ranging from class II-IV, including exciting ones like 'Double Drop' and 'Pin Ball,' while being surrounded by stunning scenery, verdant cliffs, cascading waterfalls, and pristine rainforests. Between the heart-pounding rapids, keep your eyes peeled for native wildlife such as sloths, coatis, toucans, and colorful frogs.
A hearty breakfast and lunch along the way are included, all with the convenience of hotel pickup and drop-off.
What you need to know:
Hours: 6 a.m. – 12:30 p.m.
Price: $132 USD/person
Location: Limon, Costa Rica
What guests are saying:
"We had a fantastic time. The Pacuare river was beautiful. Andres and Edwardo were wonderful. They were patient and knowledgeable. We would recommend the trip to anyone who wants to have a good time while making some awesome memories." – Billie and Marie, July 2023
---
FAQS
We've got answers to some of your most common questions about Puerto Viejo, Costa Rica.
Is Puerto Viejo, Costa Rica worth visiting?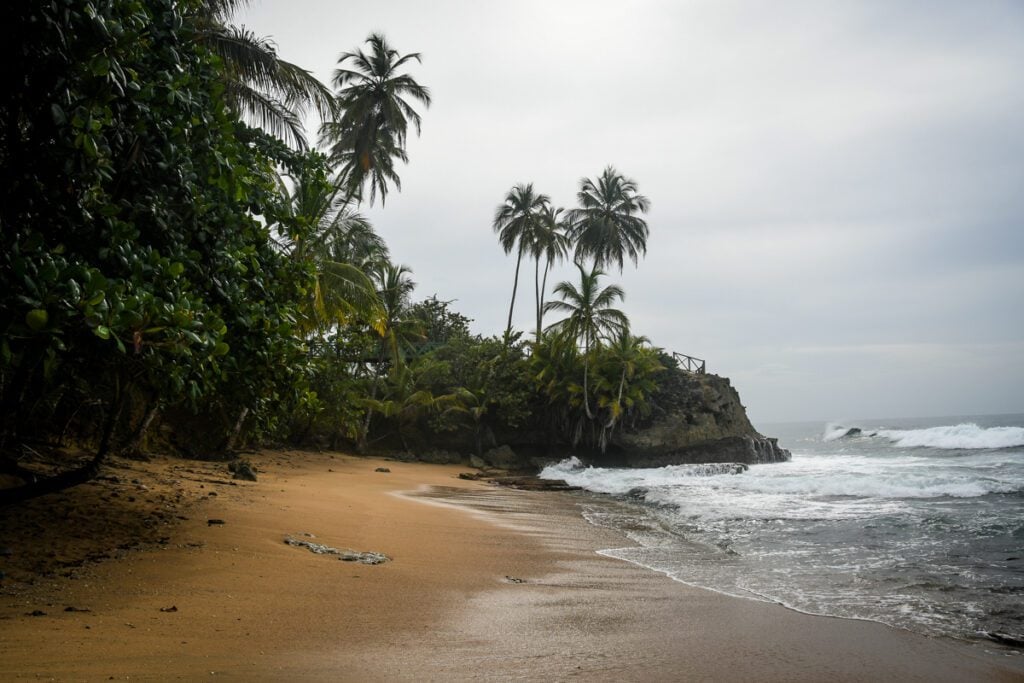 Yes, Puerto Viejo, Costa Rica is definitely worth visiting. At least we think so!
This charming beach town on the Caribbean coast offers a unique blend of coastal charm, Afro-Caribbean culture, and a laid-back atmosphere that makes it a popular destination for travelers.
How many days do you need in Puerto Viejo?
As with most destinations, the number of days you spend in Puerto Viejo can vary based on your interests and what you want to experience. We think one week is a good amount of time to experience some of the unique things to do in the area.
Here are some general guidelines:
2-3 days: Get a taste of Puerto Viejo de Talamanca. Enjoy the beaches, some water sports and a few local attractions.
4-6 days: More time for extended beach relaxation, exploring nearby attractions like Cahuita National Park, and experiencing the local culture and cuisine.
1 week or more: If you're looking to immerse yourself fully in the Caribbean atmosphere and explore the surrounding area in depth, a week or more is ideal. This allows for a leisurely pace, more adventure activities, and a deeper understanding of the town and its surroundings.
Where is the nearest airport to Puerto Viejo, Costa Rica?
Limon International Airport (LIO) is about 1 hour drive north of Puerto Viejo de Talamanca.
Why is Puerto Viejo so popular?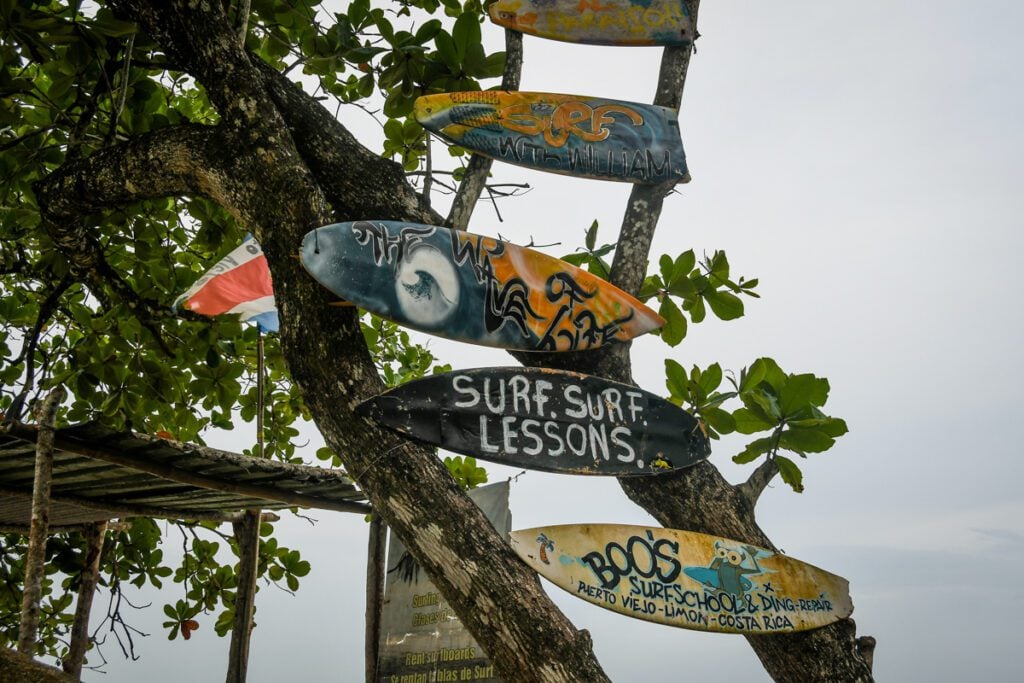 Puerto Viejo, Costa Rica, is a popular destination for tourists not just for its stunning beaches and lush natural surroundings.
The town's vibrant cultural mix, with a strong Afro-Caribbean influence, adds a unique vibe while adventure activities, reggae music, delicious cuisine, and beachfront bars cater to a diverse range of travelers.
Can you drink the tap water in Puerto Viejo, Costa Rica?
No. The tap water in Puerto Viejo comes from local wells. Brushing your teeth and washing your produce in tap water is fine, but to err on the side of caution we wouldn't recommend you drink it.
As with a lot of countries in Central America, we'd recommend drinking only bottled water.
Is Puerto Viejo a party town?
Puerto Viejo de Talamanca has a bit of a reputation for being a party town. However, that doesn't mean you won't enjoy the destination if you are not seeking nightlife.
Is it safe to walk around Puerto Viejo at night?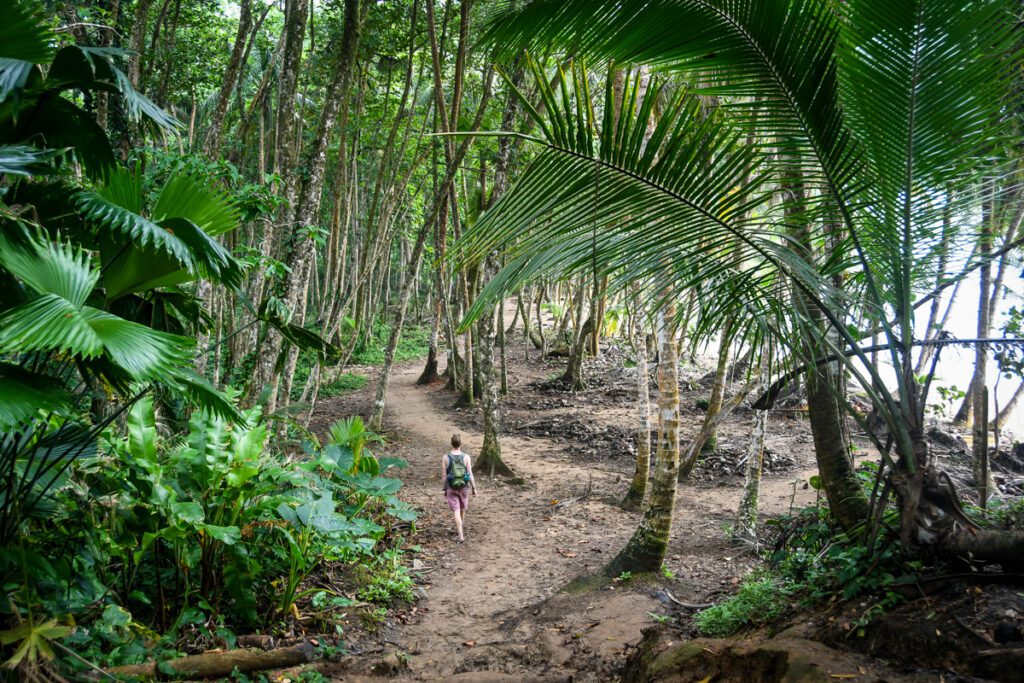 In general Costa Rica is a fairly safe travel destination. However as with any new place, we always recommend exercising a healthy amount of caution and common sense.
It is safe to walk through Puerto Viejo at night with others, but we wouldn't recommend walking alone. Also, never walk a dark beach alone at night. Petty crime is known to occur in PV.
Do you need a car in Puerto Viejo, Costa Rica?
You won't need a car just to get around Puerto Viejo. However, it might be convenient to have your own set of wheels if you want to do some more exploring of the surrounding area on your own time or without tours.
Tips for visiting Puerto Viejo, Costa Rica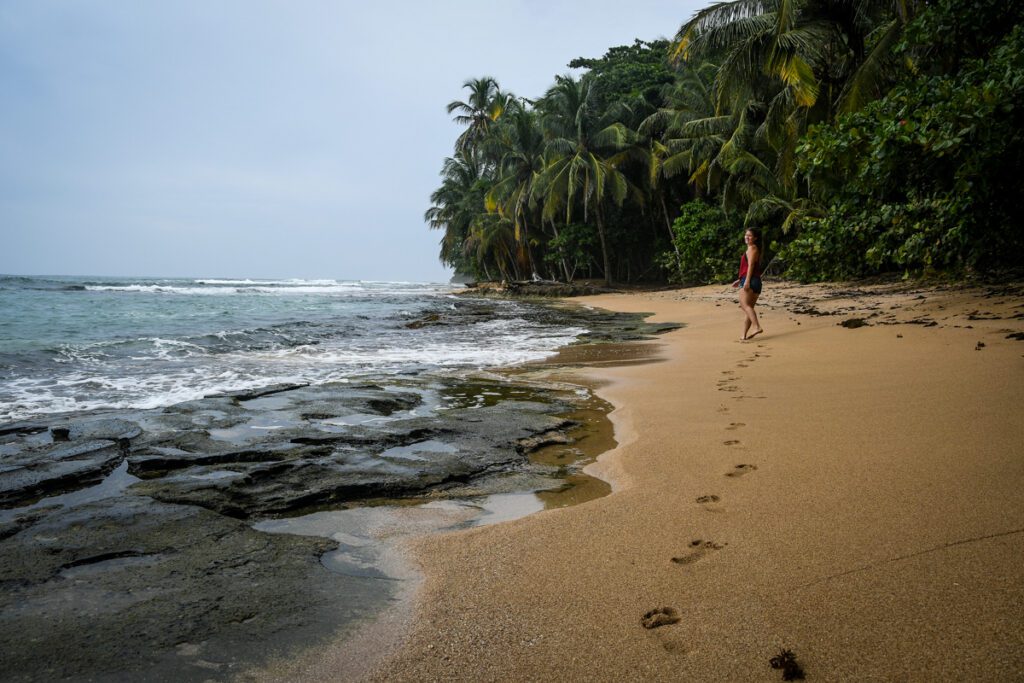 Here are our top tips for visiting Puerto Viejo to make the most out of your stay.
Wear sun protection. The sun can be intense in Puerto Viejo. Be sure to bring sunscreen, sunglasses, a wide-brimmed hat, and lightweight, long-sleeved clothing to protect yourself from UV rays.
Try the local cuisine. Explore the town's culinary scene and savor the fresh seafood, Afro-Caribbean-inspired dishes, and exotic flavors that Puerto Viejo has to offer.
Learn some basic Spanish phrases. While English is spoken in many tourist areas, learning a few basic Spanish phrases can enhance your experience and interactions with locals.
Cash is king. While there are ATMs in town, it's a good idea to carry some cash as well, as some smaller businesses may not accept credit cards. The national currency is Costa Rican colones, but U.S. dollars are often accepted, too.
Respect the environment: Puerto Viejo places a strong emphasis on eco-tourism and sustainability. Follow Leave No Trace principles, dispose of waste properly, and respect the local wildlife and ecosystems.
Stay aware of wildlife. Keep a safe distance from wildlife, especially when observing animals in their natural habitat. NEVER feed or approach them to ensure their well-being and your safety.
Follow these practical tips for being a responsible traveler.
Where to eat in Puerto Viejo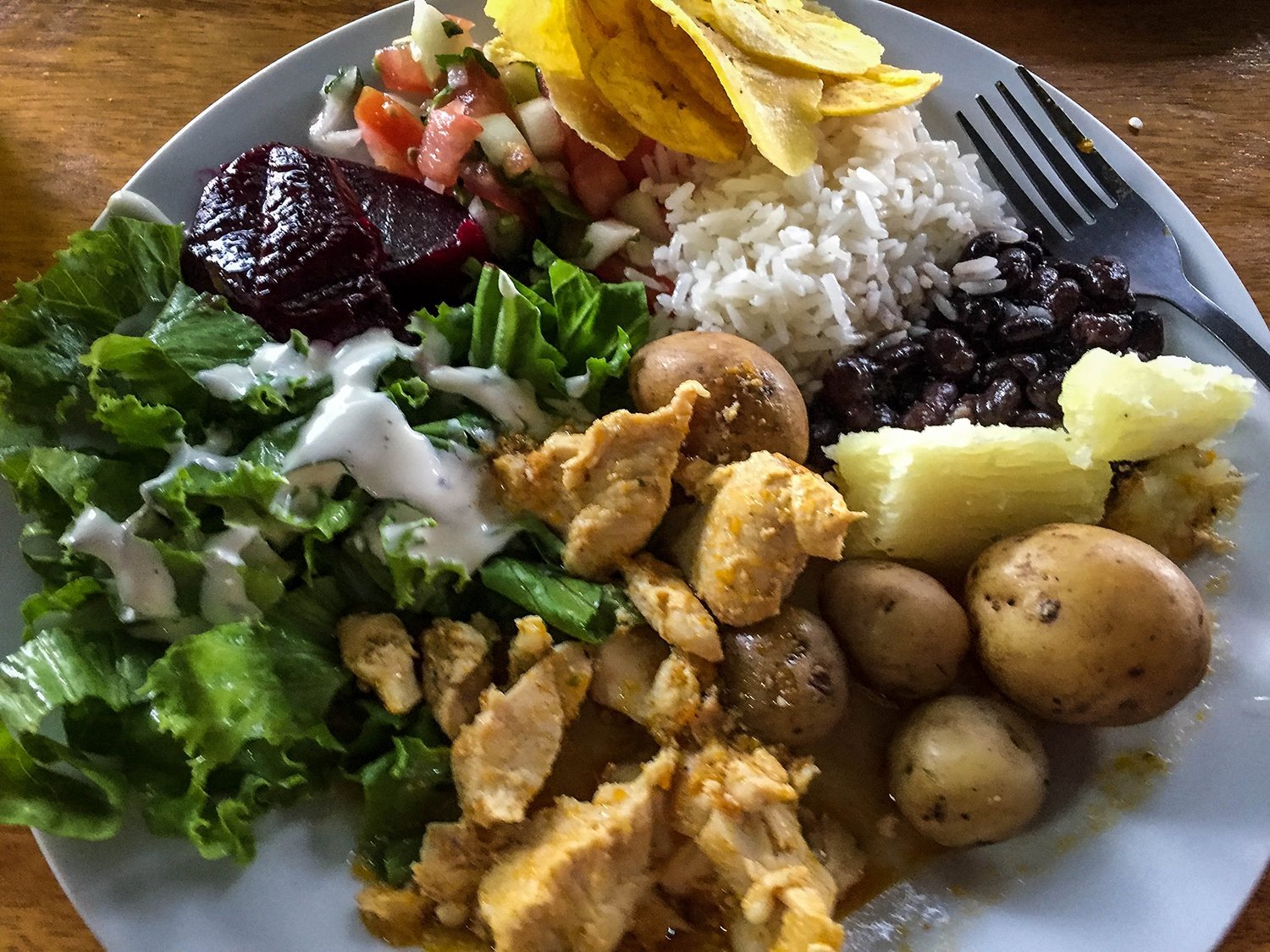 There are some great restaurants in Puerto Viejo, Costa Rica, but you should be prepared to spend a pretty penny. Dining out in tourist towns like this usually costs about the same as you'd expect to pay in the US.
Where to stay in Puerto Viejo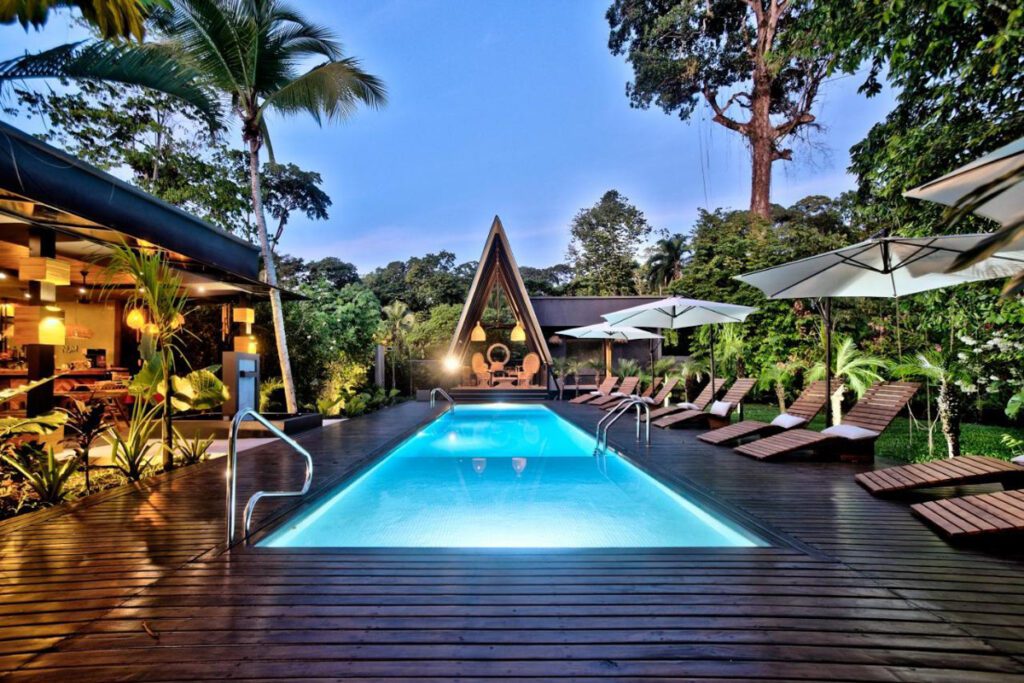 Luxury stay: Namu Garden Hotel & Spa
This beautiful property features air conditioned suites with an outdoor swimming pool, garden restaurant and spa.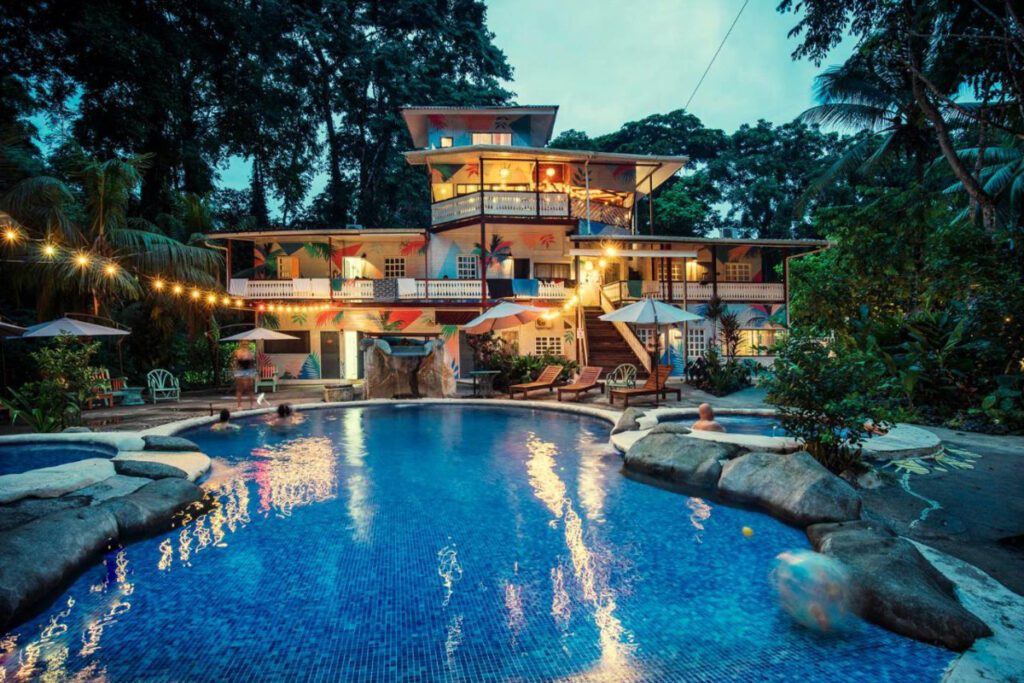 Budget hostel: Selina Puerto Viejo
We love a Selina as they usually have great co-working spaces. This one has options for both private rooms and super budget-friendly beds in dormitory rooms.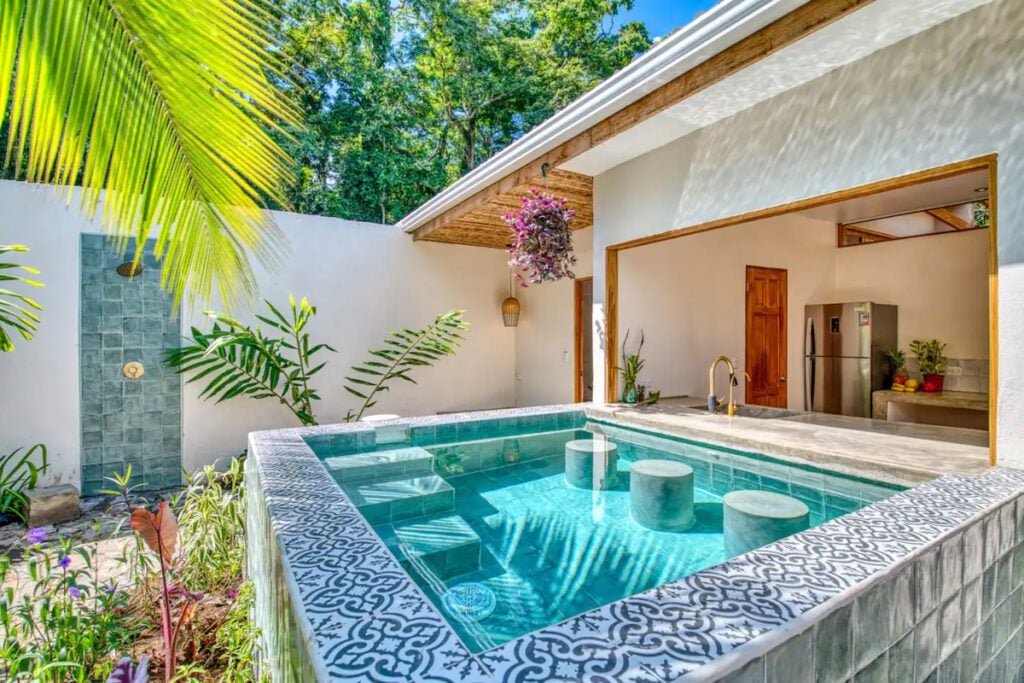 Private Villa: Nectar Airbnb
If you're traveling with others and looking for a sweet pad within walking distance of downtown Puerto Viejo and the beach, this one looks like a great deal!
What to pack for Puerto Viejo, Costa Rica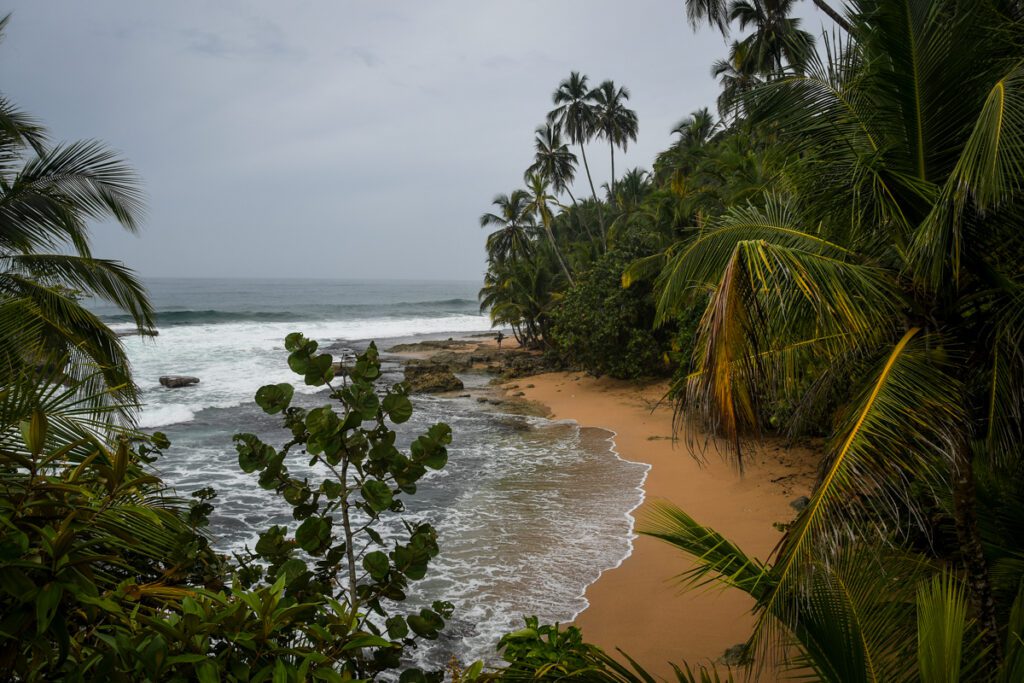 Here are some specific items we'd recommend packing for Puerto Viejo, Costa Rica:
bug repellant (solids are the way to go)
dry bag or waterproof phone case
reusable straw & reusable bag
loose, lightweight clothes & layers
rain jacket (it can rain during any season, so you'll want to be prepared!)
swimwear
rashguard (if you plan to do any surfing)
Chaco sandals (we'd recommend these for Costa Rica instead of hiking boots as they are less bulky and are good for walking through water) or other sturdy shoes
Be sure to download our complete packing list for Costa Rica! It's packed with good suggestions and insider tips to help plan your Italy trip. And it's completely FREE, so why not!?


---
Planning a trip to Costa Rica?
We have lots more resources on travel in Costa Rica and destinations throughout the country. Check out our Ultimate Costa Rica Travel Guide for all the answers you're looking for, or read some of our favorite articles below.
Save this article on Pinterest for later!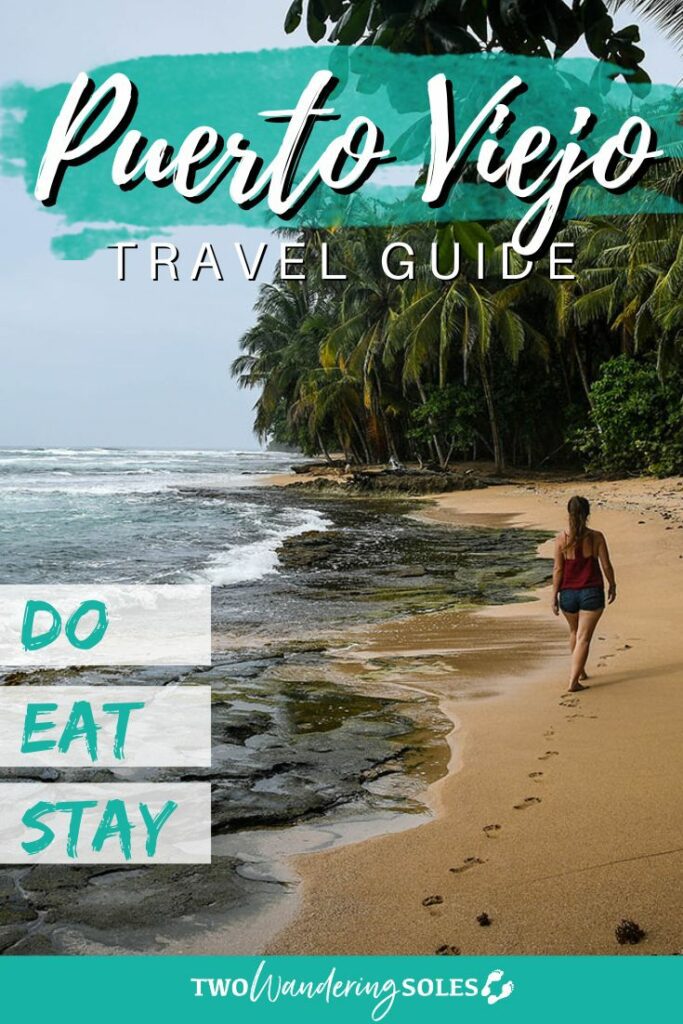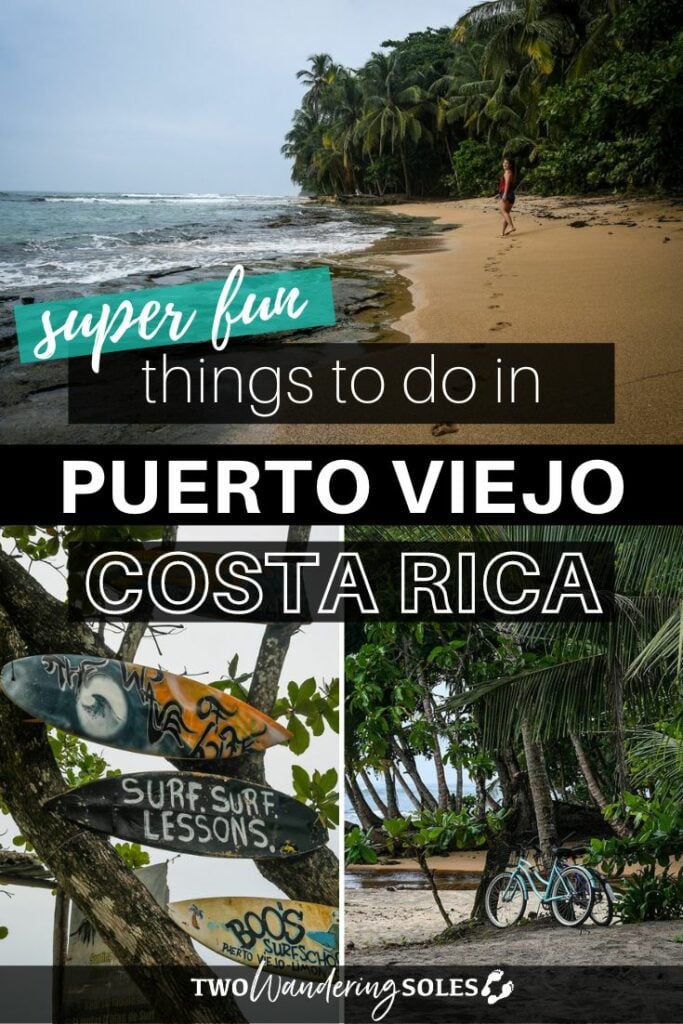 We want to hear from you!
Have you been to Puerto Viejo? Are you planning to go? Do you have any other places to see or travel recommendations for others visiting here? We would love to hear from you in the comments below.