A popular destination for eco-travelers, surfers , divers, and backpackers, known for it's incredible biodiversity and party scene. This ultimate Bocas del Toro travel guide is packed with travel tips that will help you plan your trip; whether you're looking for things to do, where to stay or, most importantly, where to eat!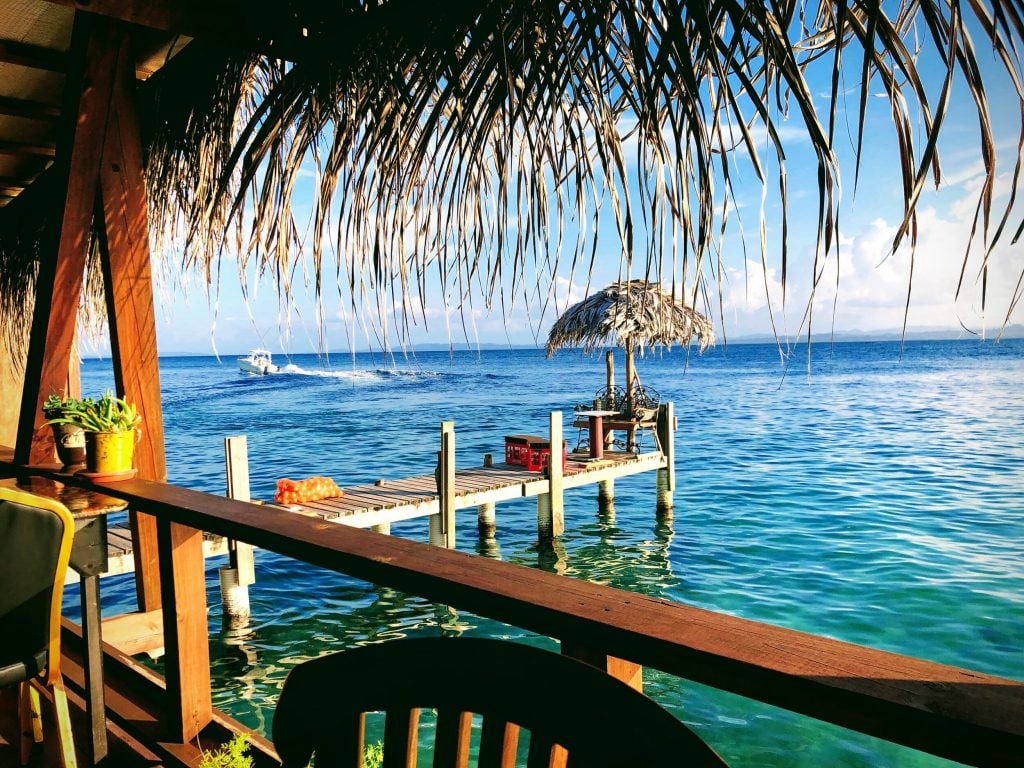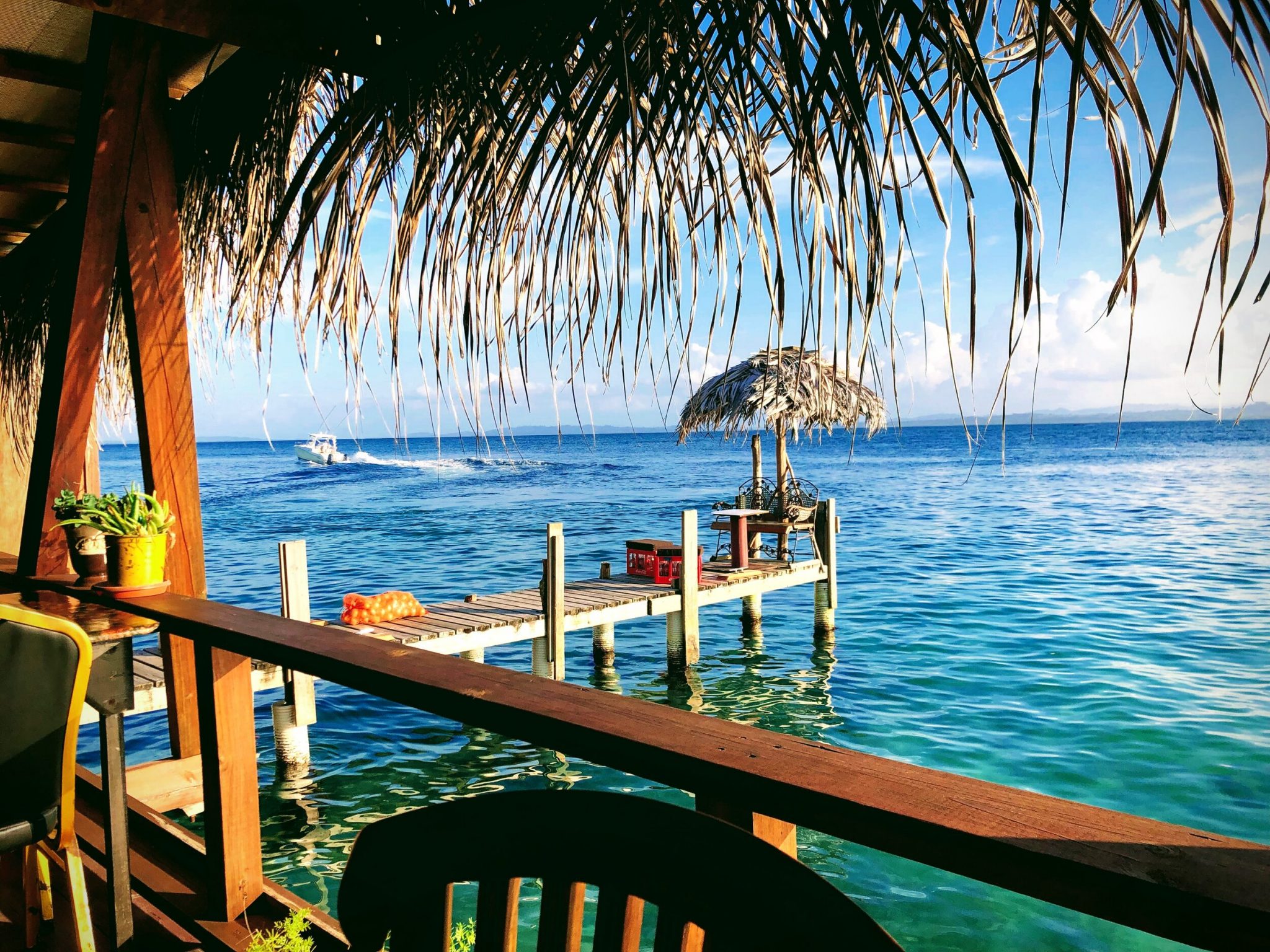 The providence of Bocas del Toro in Panama is actually an island archipelago best known for it's incredible biodiversity. It's a popular destination for eco-travelers, but there is so much more to the discover here.
Surfer's will rejoice in the waves, divers will enjoy the underwater paradise, nature lovers will have plenty of wildlife to view, and backpackers will rave about the party scene.
I spent just over a month living in Bocas del Toro in 2019 experiencing all these islands have to offer. This ultimate Bocas del Toro travel guide is packed with travel tips that will help you plan your trip; whether you're looking for things to do, where to stay or, most importantly, where to eat!
Article contents
---
Things to do in Bocas del Toro
There is so much of this island archipelago to explore, you'll have plenty to keep you busy on a trip to Bocas del Toro Panama.
1. Explore Bocas Town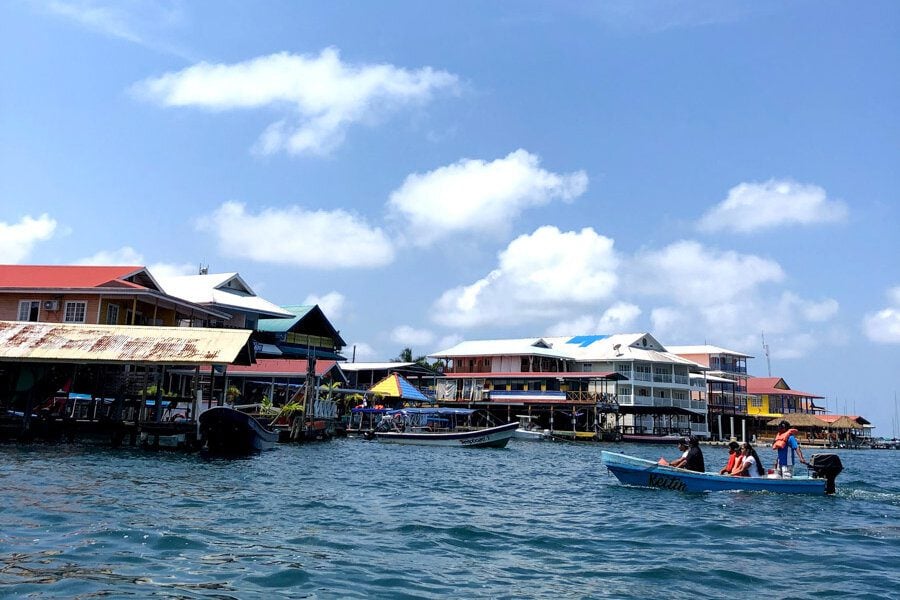 The first thing you're going to want to do when you arrive in Bocas del Toro is to explore Bocas Town, the largest "city" on the most populated island, Isla Colón. The small little town is packed with island vibes. Rent a bike or explore on foot as you pop your head into shops, sip a smoothie on a dock and enjoy the laid back island lifestyle.
2. Catch some waves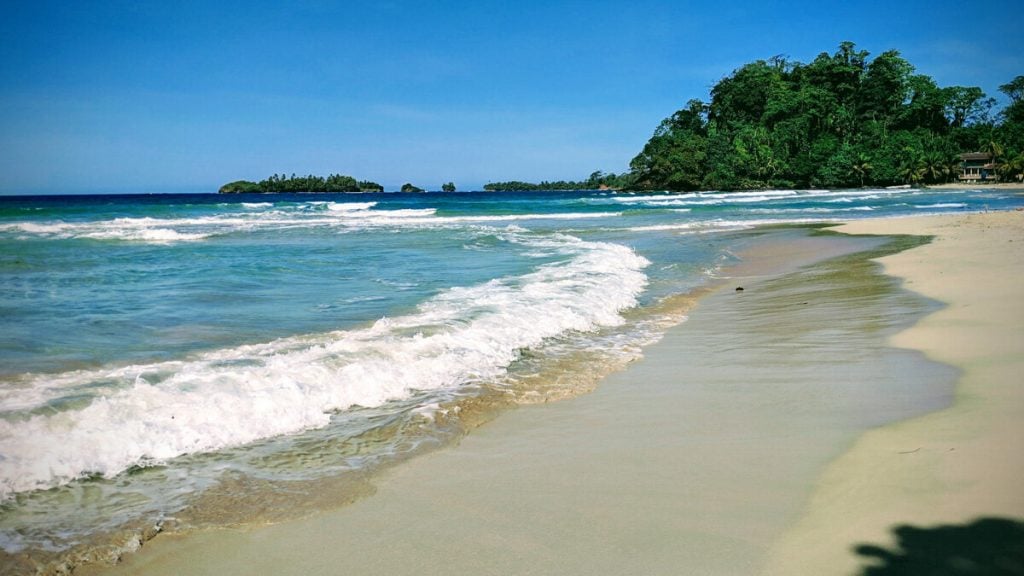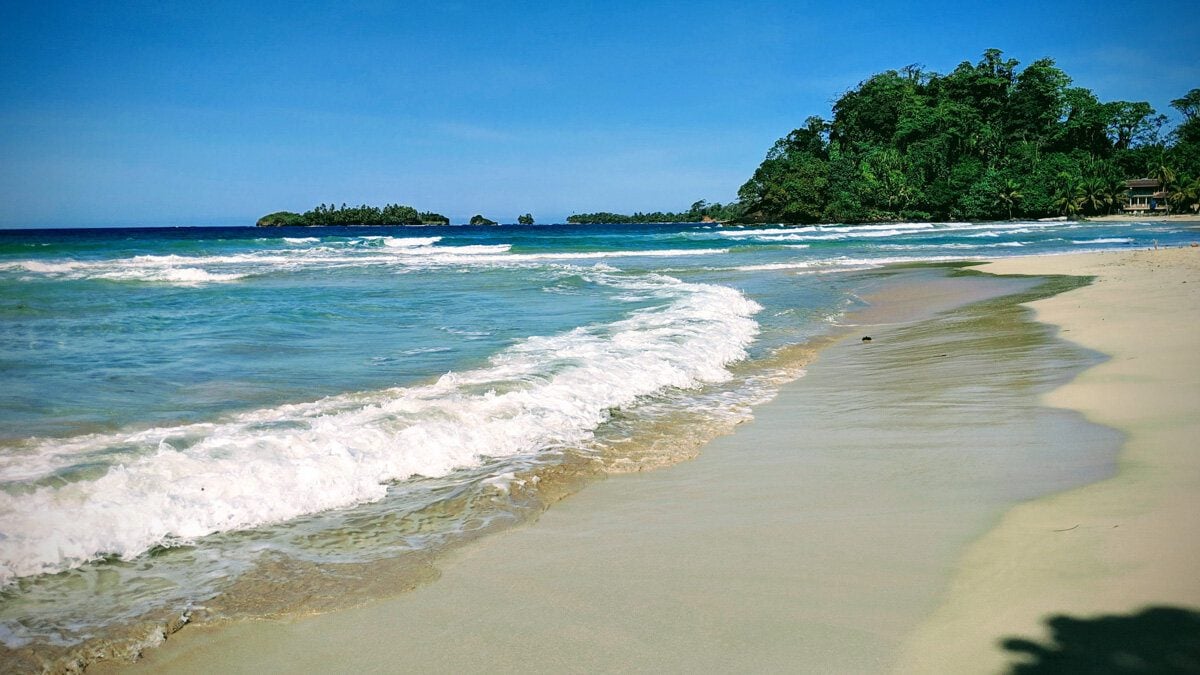 You don't come to an island destination like this without the expectation of seeing surfers in their natural habitat. Whether you're an old pro or just a beginner, there is plenty of good surfing to go around. You can rent a board at countless surf shops in Bocas Town for $10 – $20 per day (depending on the quality of board). And they will likely have weekly or monthly rates as well.
Catch the morning surf by heading to the water taxi stand just down the street from Bocas Brewery. You'll want to make sure you have your board and $6 for the water taxi, but leave all your other valuables and even your shoes behind as the taxi will drop you right in the middle of the waves. All you need to do is let your boat driver know what time you want to be picked up and you're free to catch as many waves as you can!
3. Go scuba diving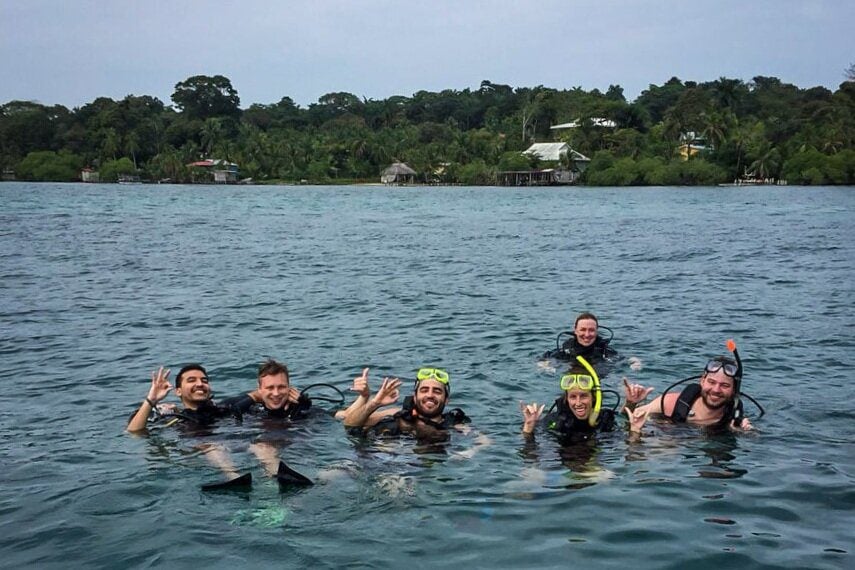 The Caribbean Sea is known for having some fantastic scuba Diving and Bocas del Toro is no exception. There are a few dive shops around Bocas Town that'll take you to some of the best diving spots in the area. You can also opt to do a night dive with bioluminescent plankton if the visibility is right!
With warm waters and great visibility, Bocas makes a good place to get PADI certified as well. I did my PADI Open Water Divers Certification with La Buga Dive & Surf and was pleasantly surprised by how fast I fell in love with the underwater world.
The course took 3 days and included a full day of theory plus 4 open water dives. The instructors were knowledgeable and entertaining and made me feel very comfortable as we eased our way into the sport.
4. Find your inner balance in a peaceful yoga class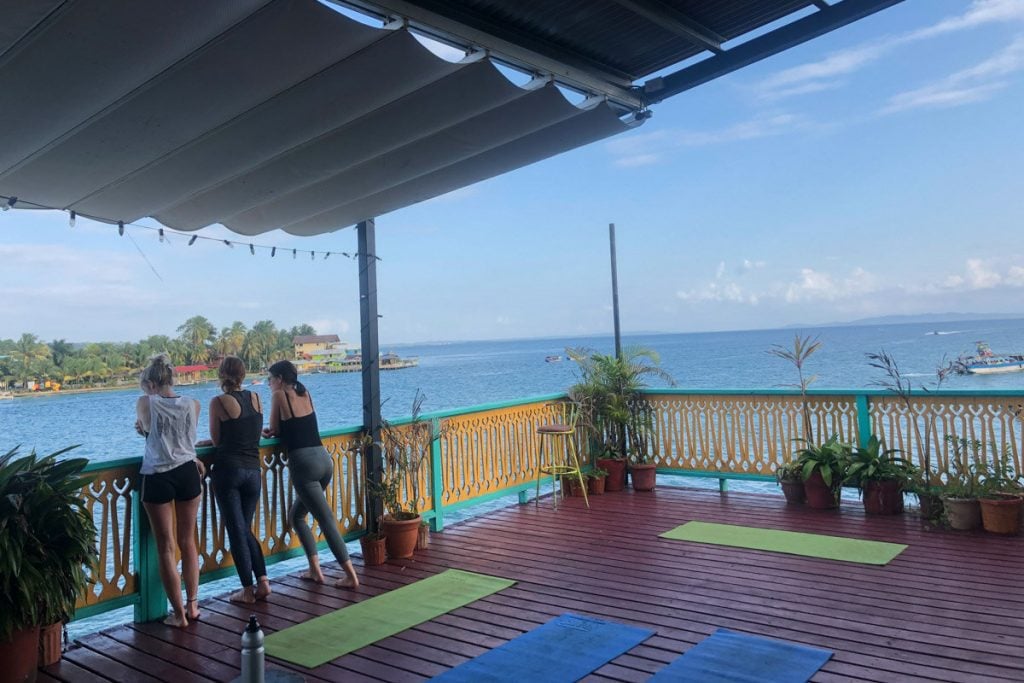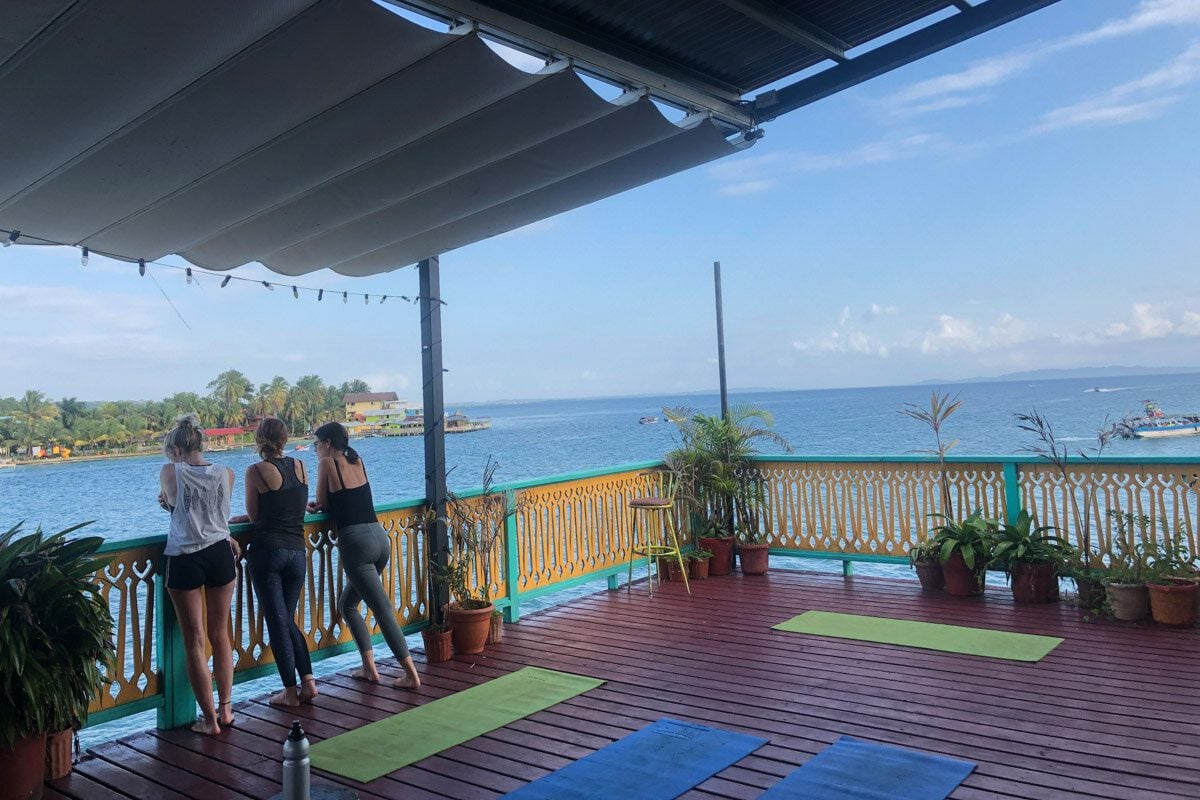 What better way to really appreciate the laid back island lifestyle than to do a little yoga by the water? There is one yoga studio in Bocas Town called Bocas Yoga, which offers daily classes both morning and evenings. However, my favorite classes were offered by some of the hostels on their over-water decks. Ask for class schedules at Selina or Mamallena and enjoy the peaceful lapping of the waves as you find your inner balance.
5. Have a quad biking adventure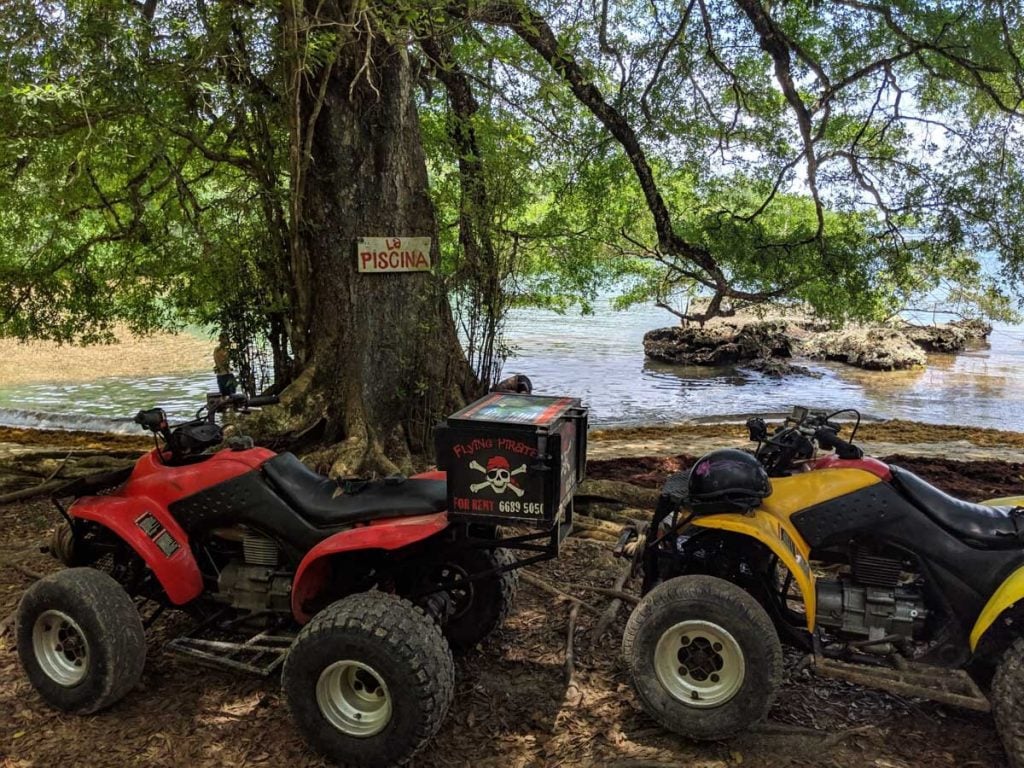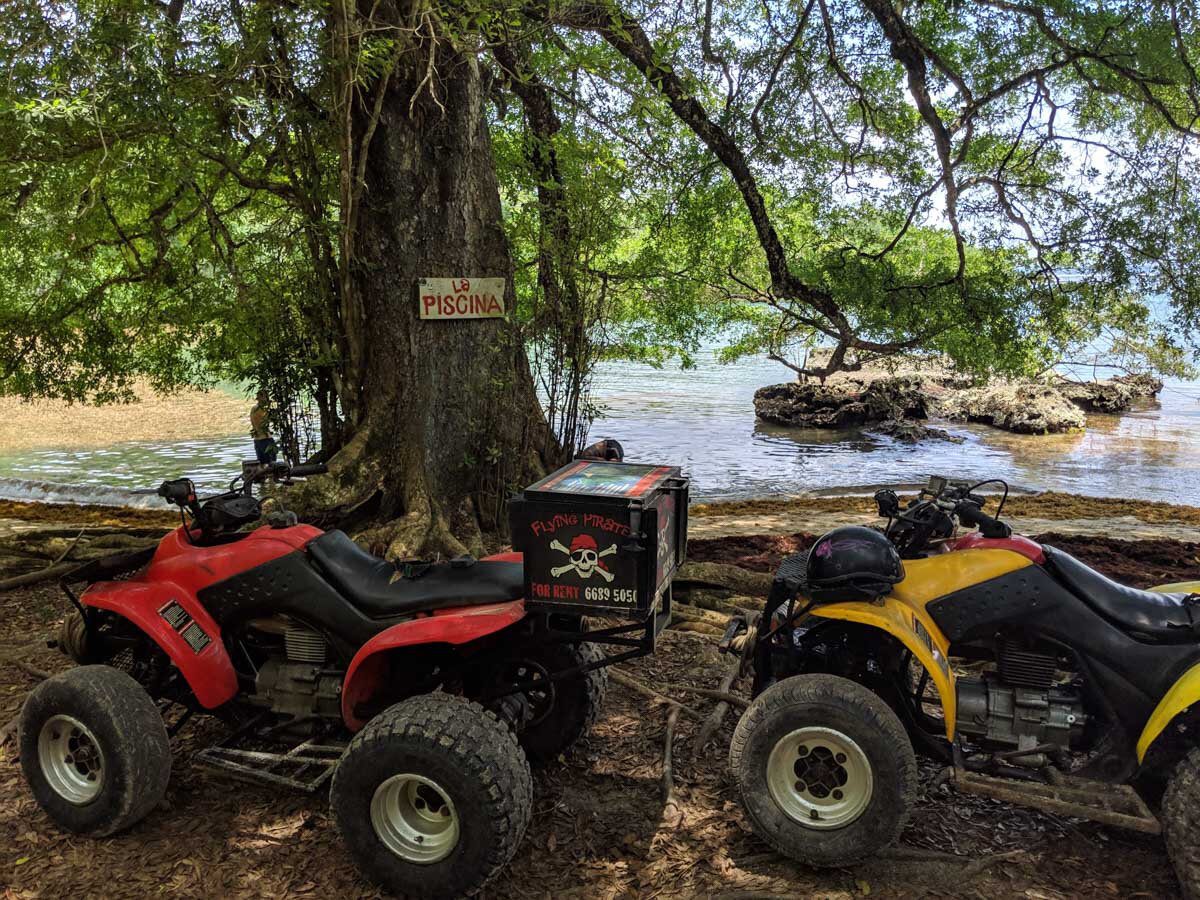 By far one of the most thrilling (and my personal favorite) adventures to be had in Bocas del Toro was a quad biking excursion. Flying Pirates offers a guided tour through the jungles and along the coast of Isla Colón. Stop for a swim at completely deserted beaches and cool off in the cenotes as you make your way up and around the northeastern coast.
6. Tour the Bat Cave on Bastimentos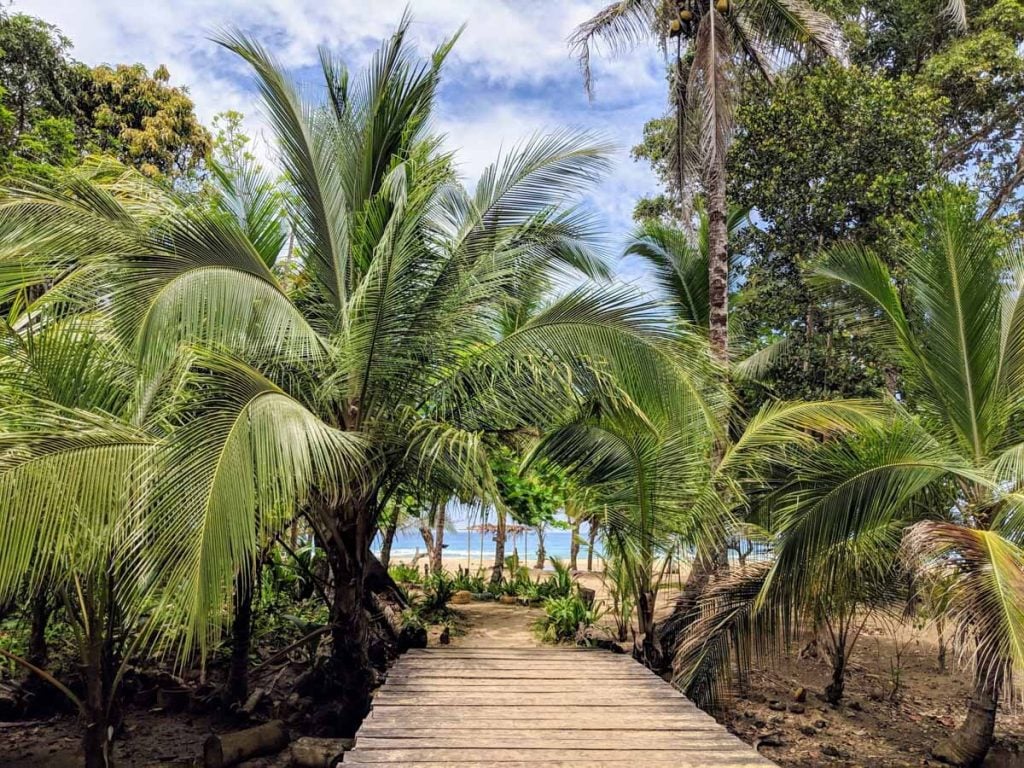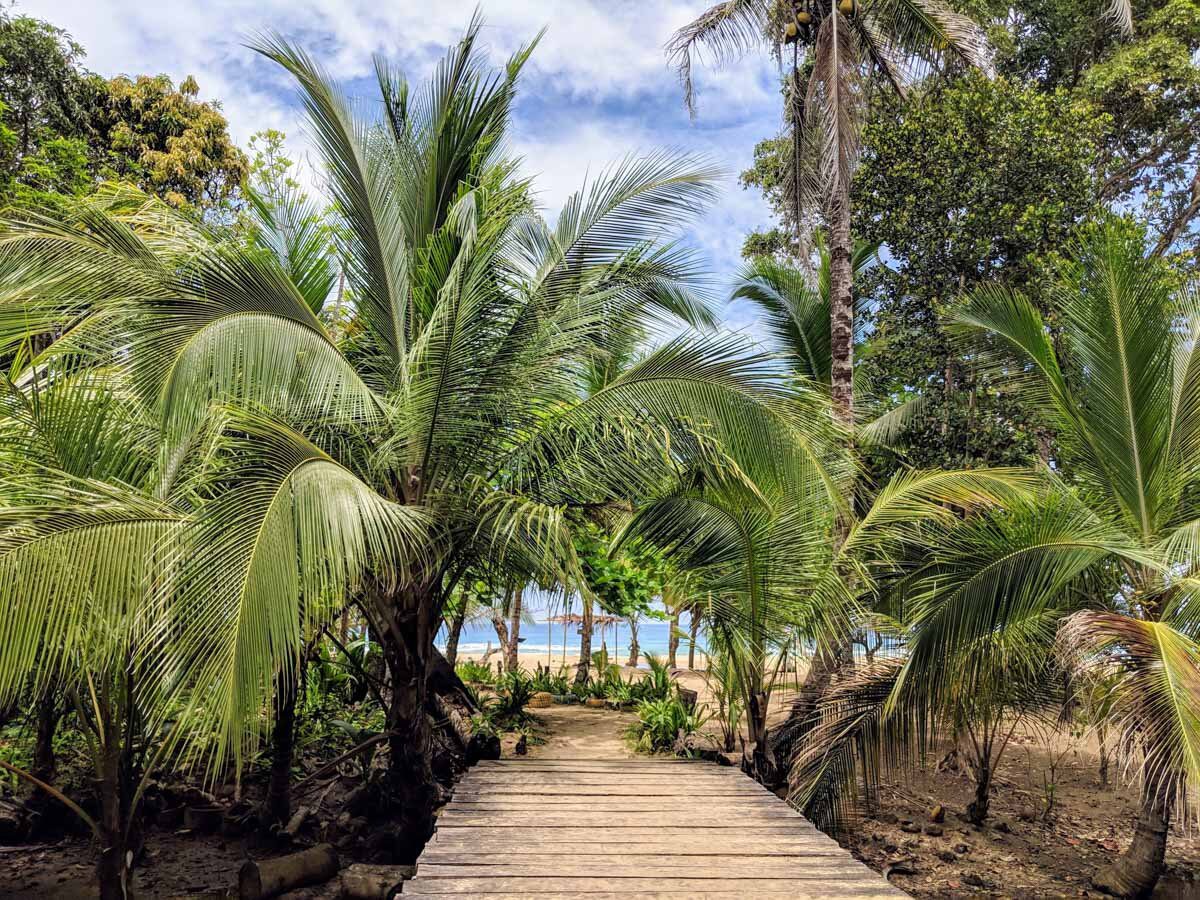 If creepy crawlies are your thing, you'll enjoy touring the famous bat cave on Bastiamentos Island. Take a water taxi down the Sloth's Trail canal for about 15 minutes until you reach a local village (any water taxi drivers will know where to take you). A $5 entrance fee will get you a guided tour of the caves, complete with a headlamp.
7. Take a Cocoa Plantation Eco-Tour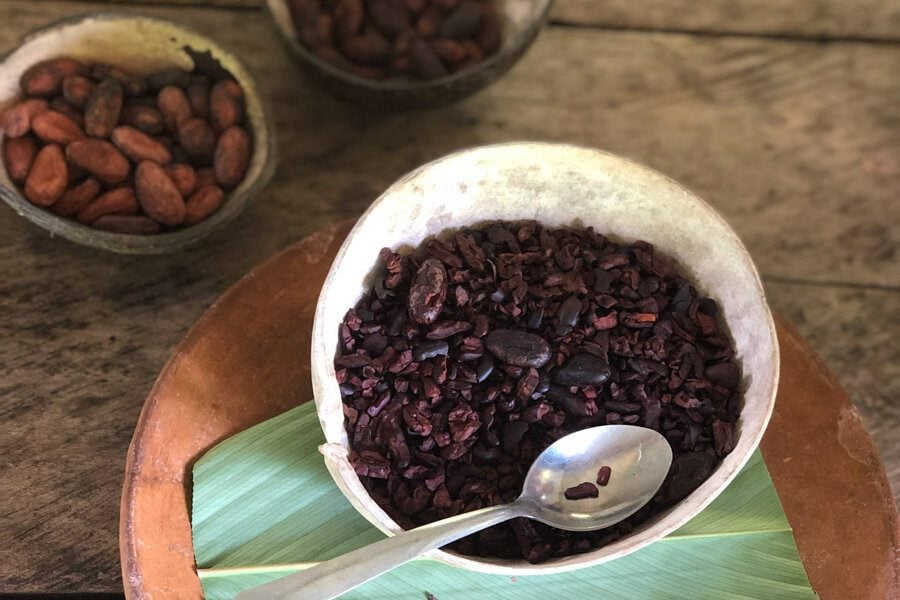 Did you know that chocolate is one of Panama's biggest exports? Learn about the cocoa cultivation and how chocolate is produced on the Oreba Chocolate Tour. During the tour, you'll also get the chance to experience life in the indigenous Ngabe community.
8. Zipline on Bastimentos Island
If you're looking for a spike in adrenaline, try a zipline canopy tour of Bastimentos. This 150 ft. high tour includes 7 ziplines, a swaying canopy bridge, and an optional treetop challenge course. The 2-hour tour will set you back about $55, but the views will make it totally worth it!
9. Join the Filthy Friday Bocas island party crawl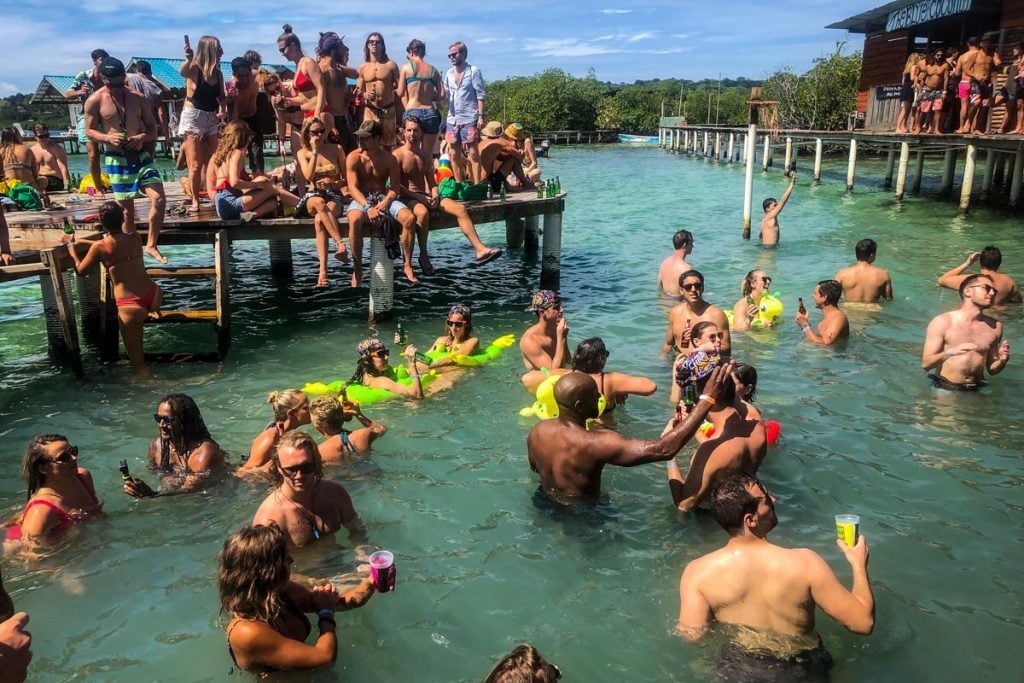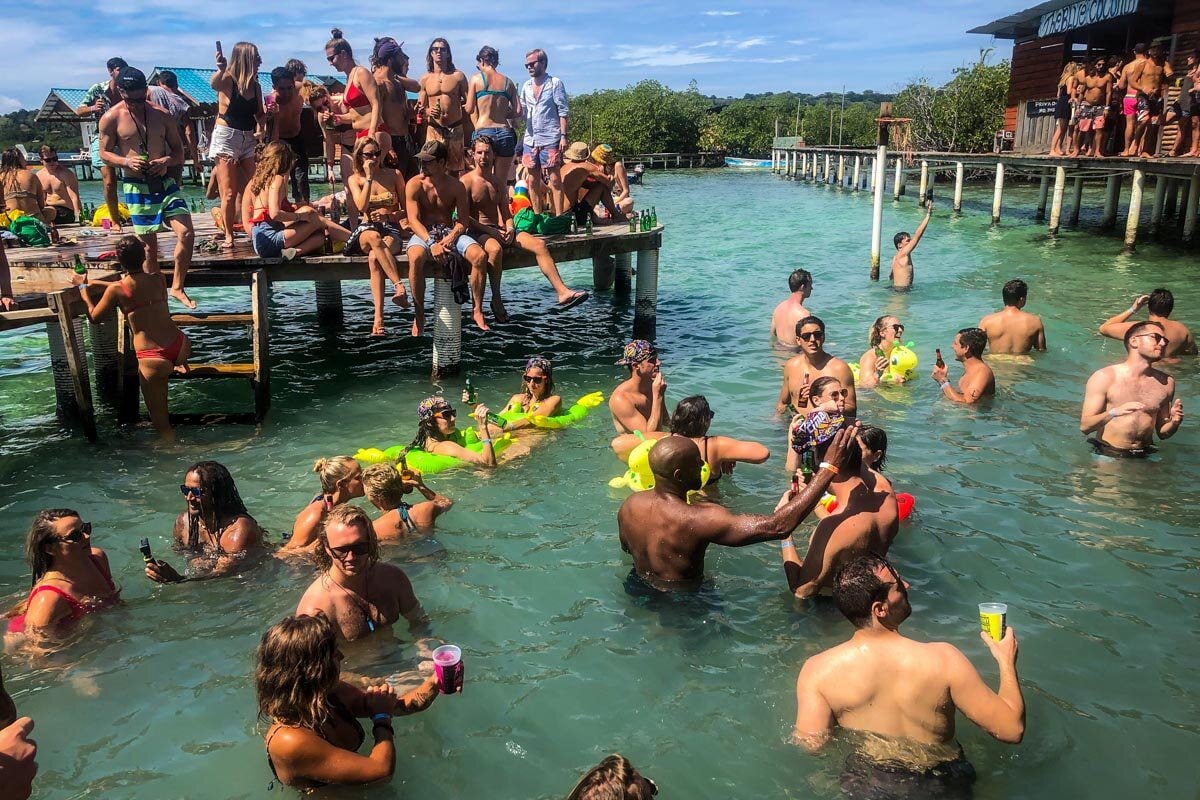 Perhaps what Bocas del Toro is most known for, the Filthy Friday Island Party Crawl happens every Friday in Bocas. The party starts around 11 a.m. at a bar in Bocas Town (the venue changes by the week). After an hour or so, participants are ushered into water taxis (with mandatory life jackets!) and taxied to the next stop, a "floating bar" on one of the islands.
Spend the majority of the day here with a swimming area, DJ, and even floaty races. Water taxis will take everyone to the final location, Aqua Lounge Bar, across from Bocas Town on Isla Carenero, around 5 p.m. where you can watch the sunset and party the night away.
The $40 ticket can be purchased at the Filthy Friday shop in Bocas Town and includes a tank top, wristband for admission, and transportation between the first, second and final bar. All your drinks, food and water taxi home will be on your own dollar.
Wear your swimsuit, bring lots of sunscreen and try to leave valuables at home. I recommend eating a big meal before starting the party crawl to prepare your stomach as the food at the second bar is minimal.
10. Become a beach bum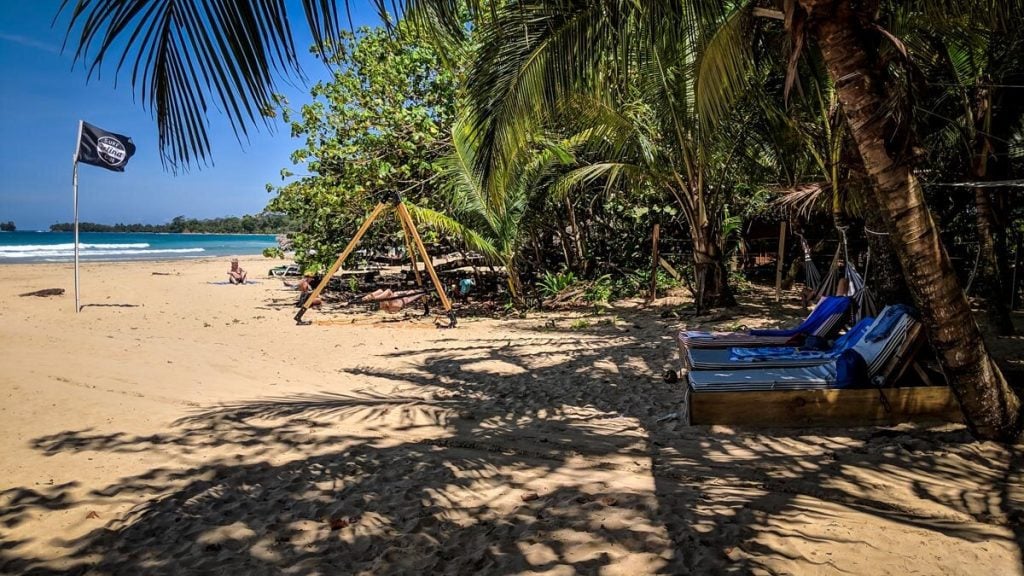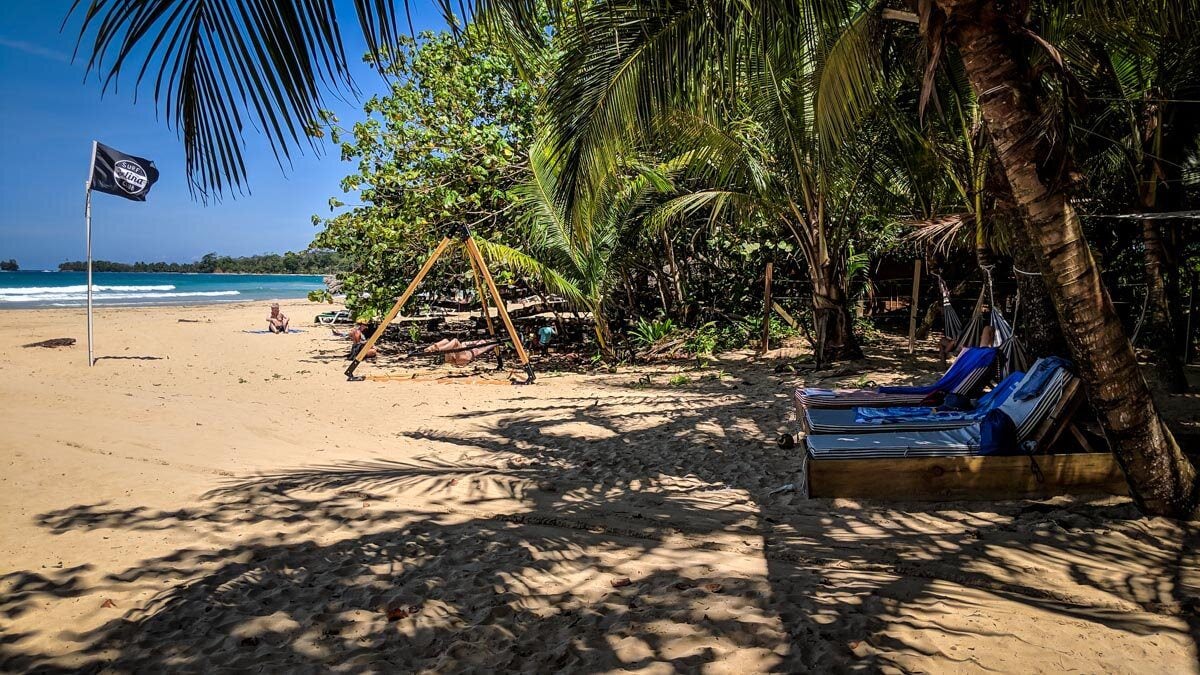 You're on an island after all! Get out and explore some of the beautiful beaches in Bocas del Toro. The most popular beach, which is easy to get to from Bocas Town is Red Frog Beach on Bastimentos. A $6 water taxi will get you there and there are a few restaurants so you can stay all day.
Bluff Beach on Isla Colón is another good one, and in my experience is almost completely deserted by humans. Check out Paki Point and Skully's beach bar near bluff for some food and entertainment.
Visit Old Man Polo on Polo Beach and enjoy a cold one while he fries you up some of his catch of the day for just $5. While the beach wasn't as impressive as some of the others in Bocas, meeting the man named Polo, who took us residence on this beach years ago and consequently had the beach named after him, was an experience in and of itself. And his food was fabulous…even when eaten with our hands because he had no utensils!
11. Baby turtle release on Bluff Beach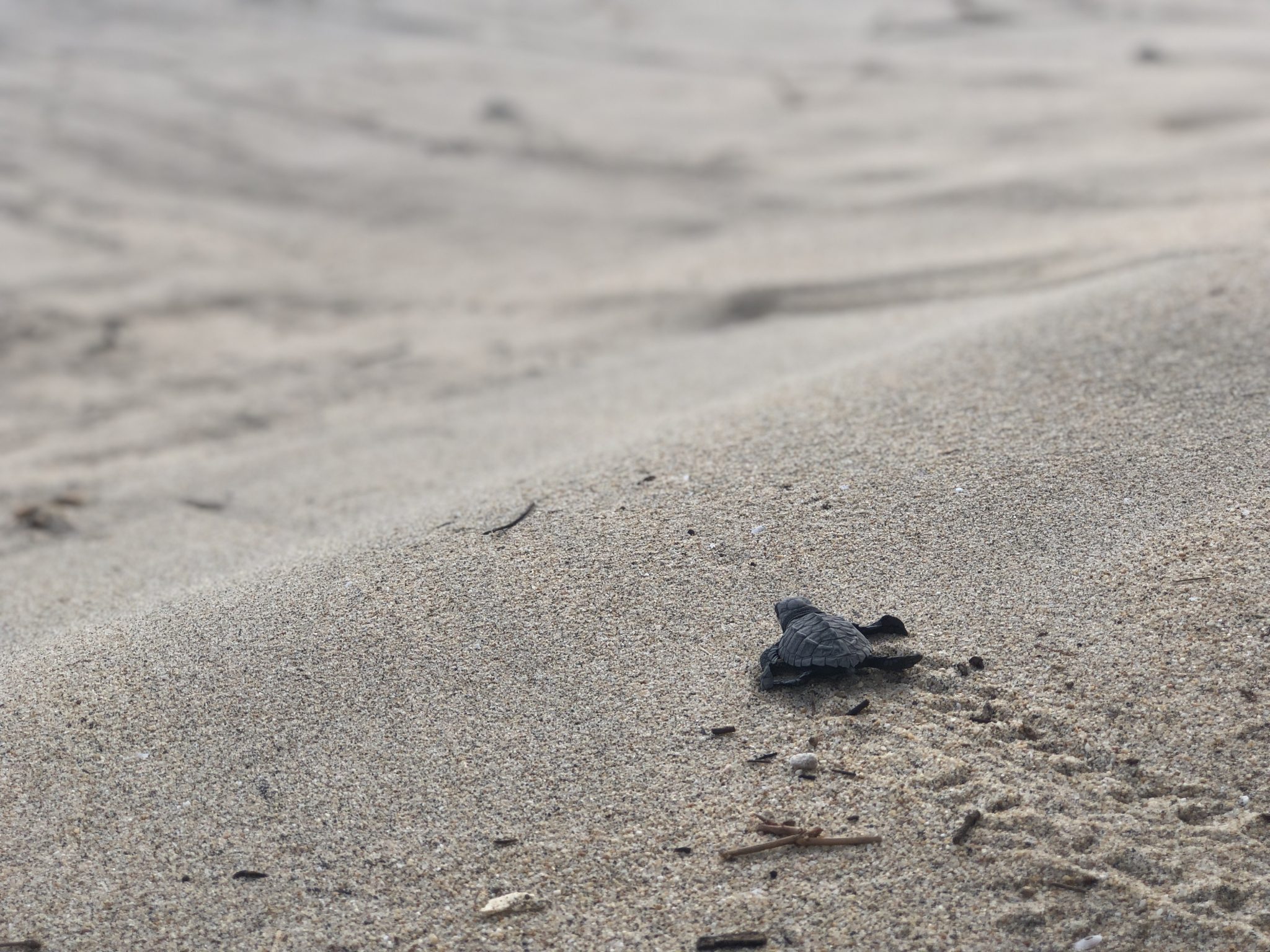 If you're visiting Bocas del Toro during the months of May – November, you might just be lucky enough to witness the nesting or hatching of baby sea turtles. The local Spanish Language School, Habla Ya, offers eco-friendly turtle watching tours. During nesting season, the tours take place at night, using red lights so as not to disturb the turtles. Turtle hatching can happen at any time during the day so you must remain on standby until the hatching starts and the tour begins.
The $35 per person tour includes a guide and round trip transportation to Bluff Beach from Bocas Town.
12. Swim with starfish at Starfish beach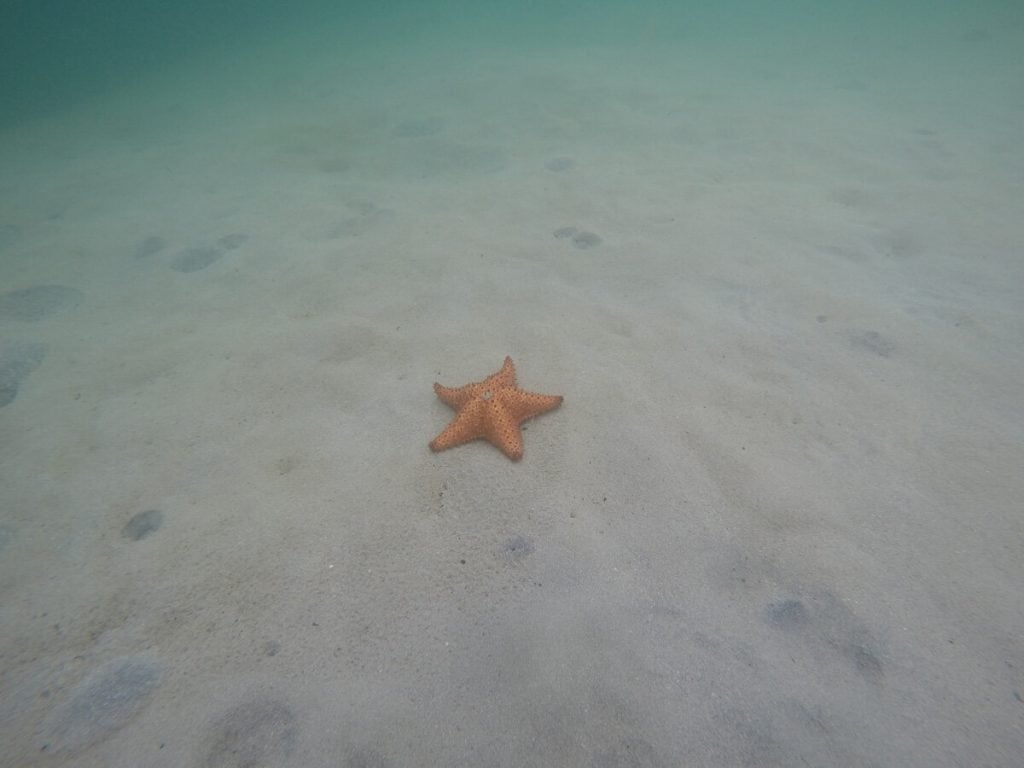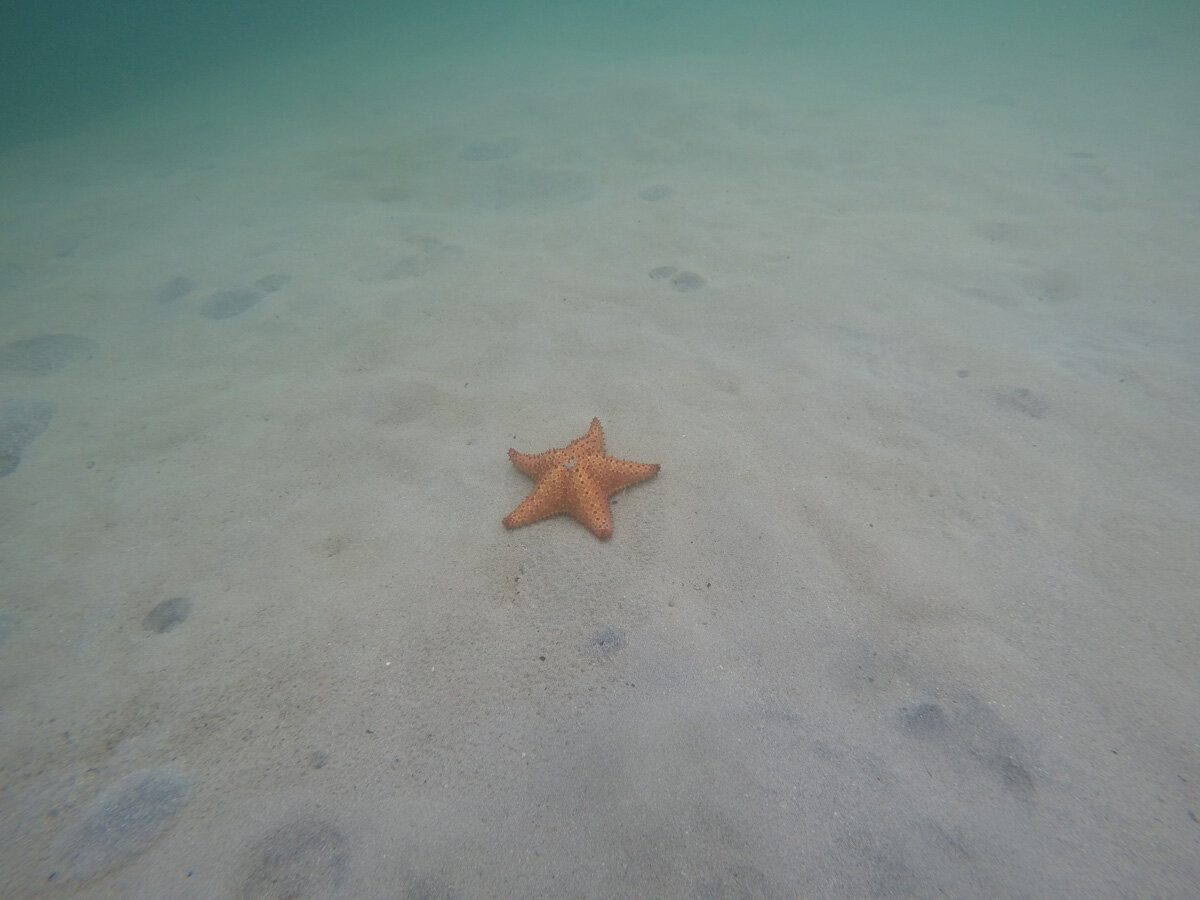 Starfish beach is located on the northwestern part of Isla Colón and is named so because of the ample starfish that make their home just below the water's surface in the shallows of the beach.
Bring a mask and snorkel to get the best view of these magnificent creatures in their natural habitat. Just remember not to touch the starfish as our human bacteria can be dangerous to these fragile sea dwellers. And under no circumstances should you ever take a starfish out of the water.
13. Day trip to Cayos Zapatilla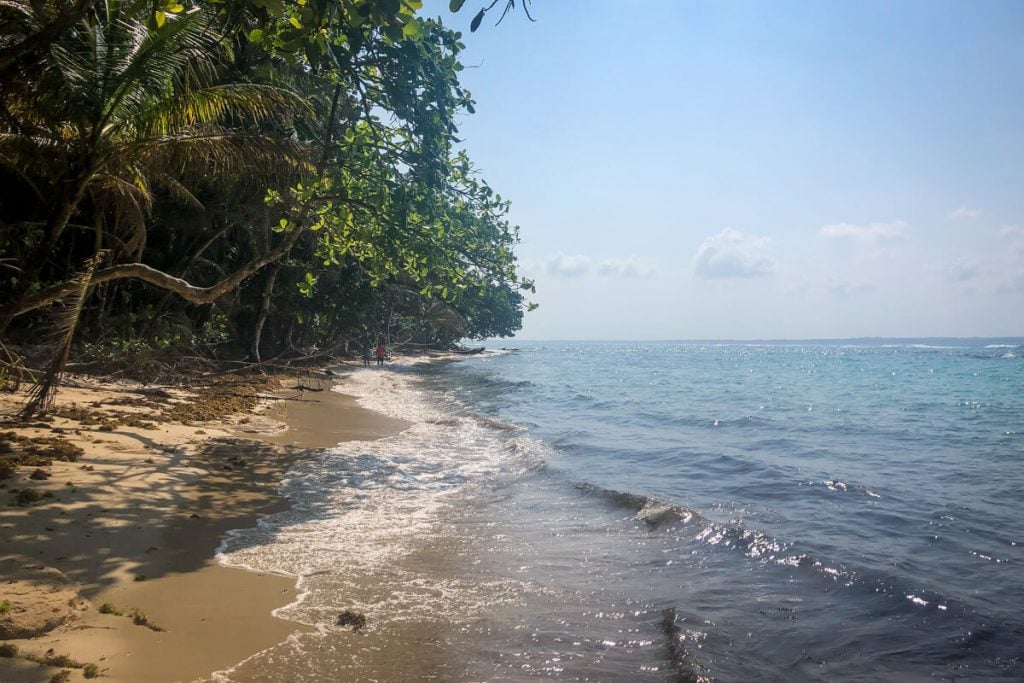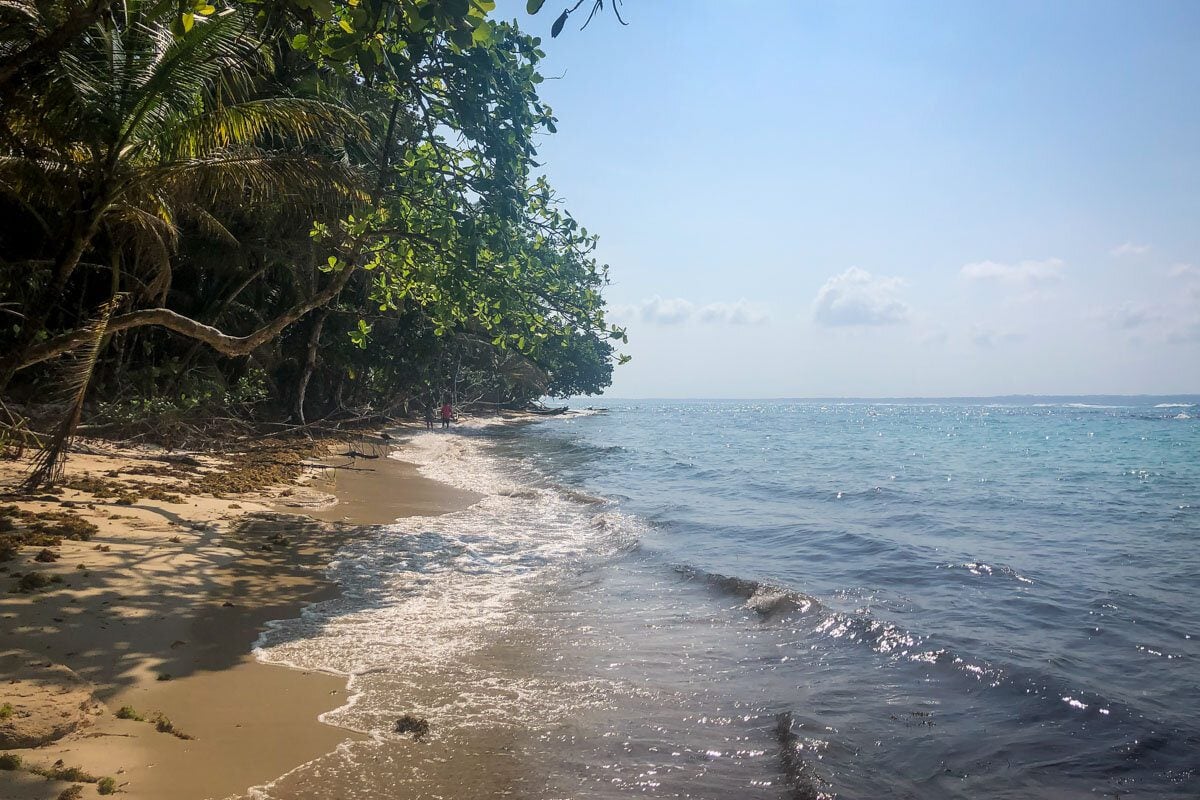 About an hour's boat ride around the large island of Bastimentos and to the southeast, you'll find an island that looks like it jumped right off a postcard. Cayos Zapatilla is a completely uninhabited slice of paradise and highly worth the long boat ride for a day's visit.
14. Peep Bird Island
Isla Pajaros, or Bird Island, is a bird-watchers paradise. This island is a refuge to some of the region's most interesting tropical bird species. It is the only place in Panama where you can find the red-chough, famous for their long tail feathers. It is recommended to visit at dusk when the bird population spreads out across the sky, flying to nearby islands to spend the night.
15. Go hiking through the jungle on Bastimentos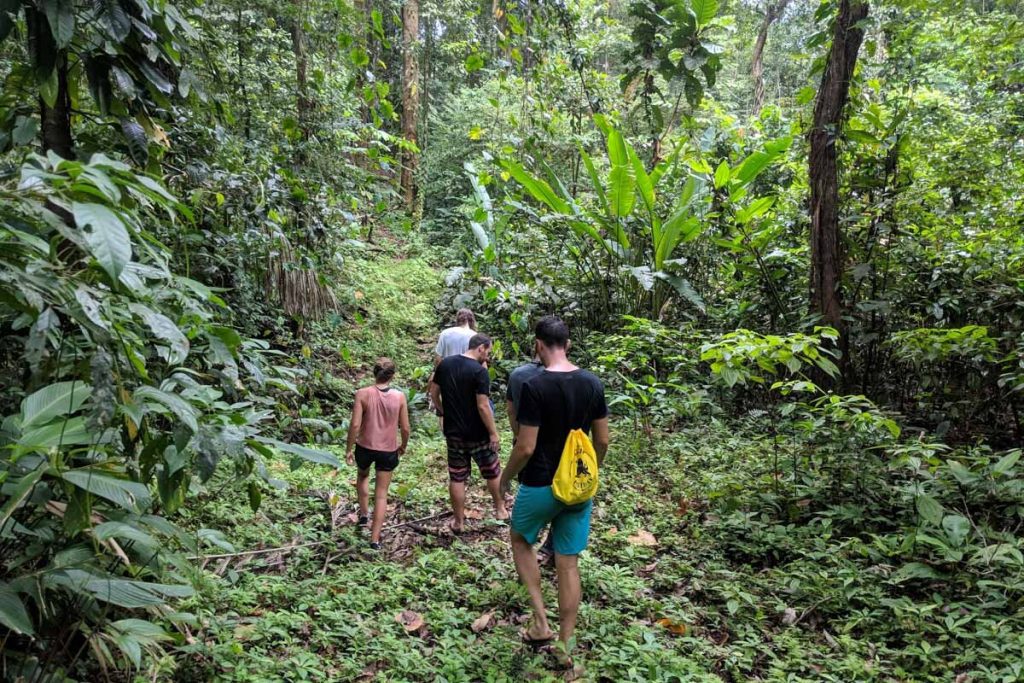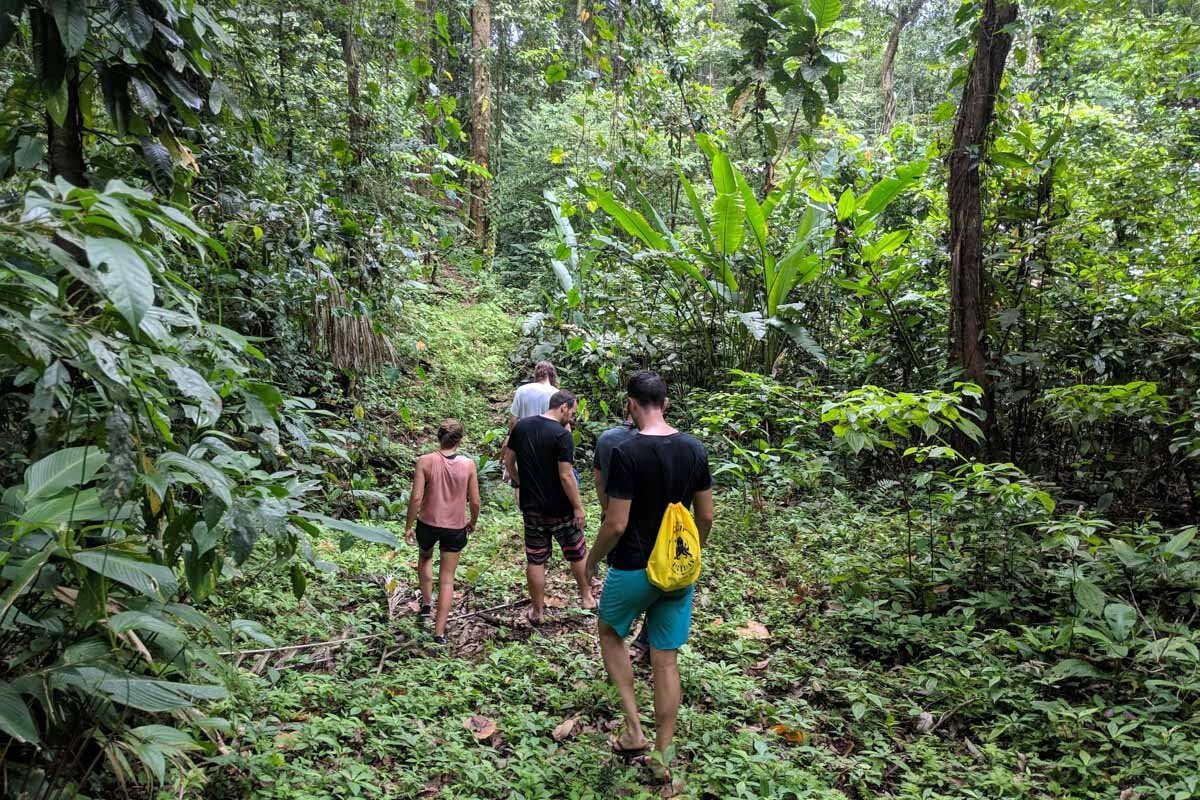 Home to the National Marine Park, Bastimentos is the second-largest island within the archipelago of Bocas del Toro and a great place for some jungle hiking. Keep an eye out for sloths and the infamous red frogs!
16. Swim with bioluminescent plankton
Have you ever seen bioluminescent plankton in the wild? It's an incredible sight on a dark night when the water lights up at the slightest touch. There is an area off Bocas Town where bioluminescence is common and you can actually dive in and swim amidst this fascinating phenomenon.
To book a tour, head over to Bocas Surf School where they will take you out on a private boat and provide snorkeling equipment for your nighttime adventure.
17. Experience the nightlife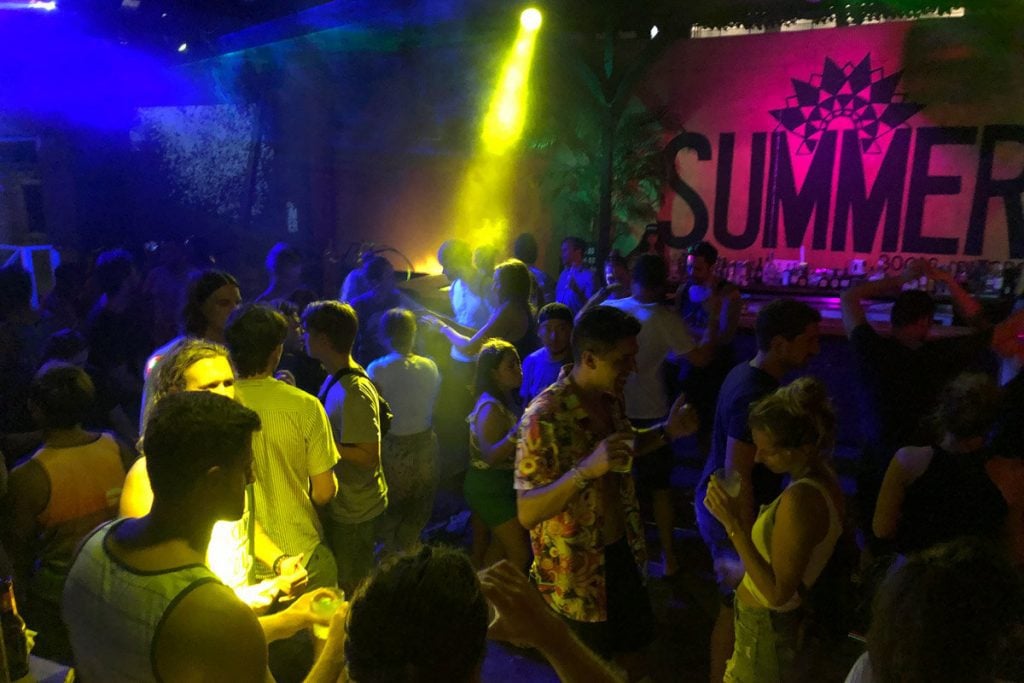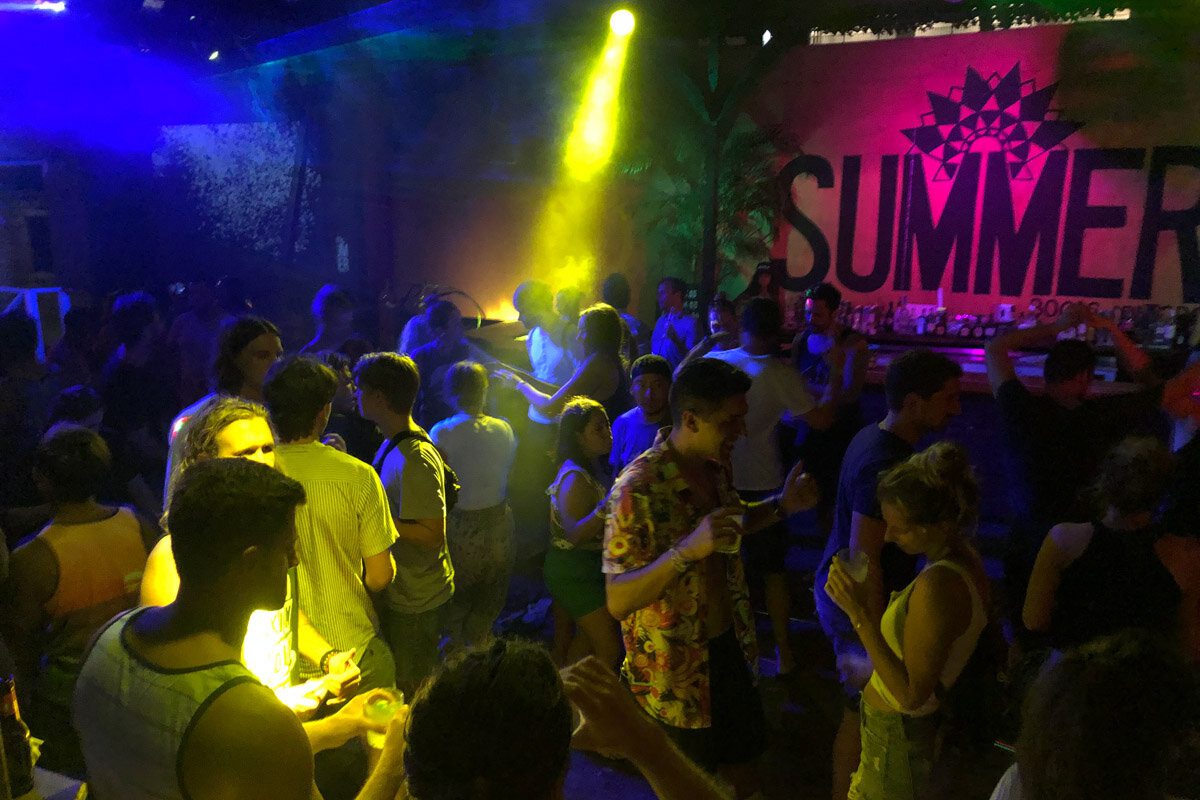 As a big backpackers destination, you can imagine Bocas Town has quite the nightlife scene. Some popular places to grab a drink and enjoy the party are…
Summer Beach Club (pictured above)
Selina Bar
The 'Wreck Deck' aka Barco Hundido
Tequila Republic
La Iguana Surf Bar
Skully's Beach Club
Bookstore Bar
---
Getting Around Bocas del Toro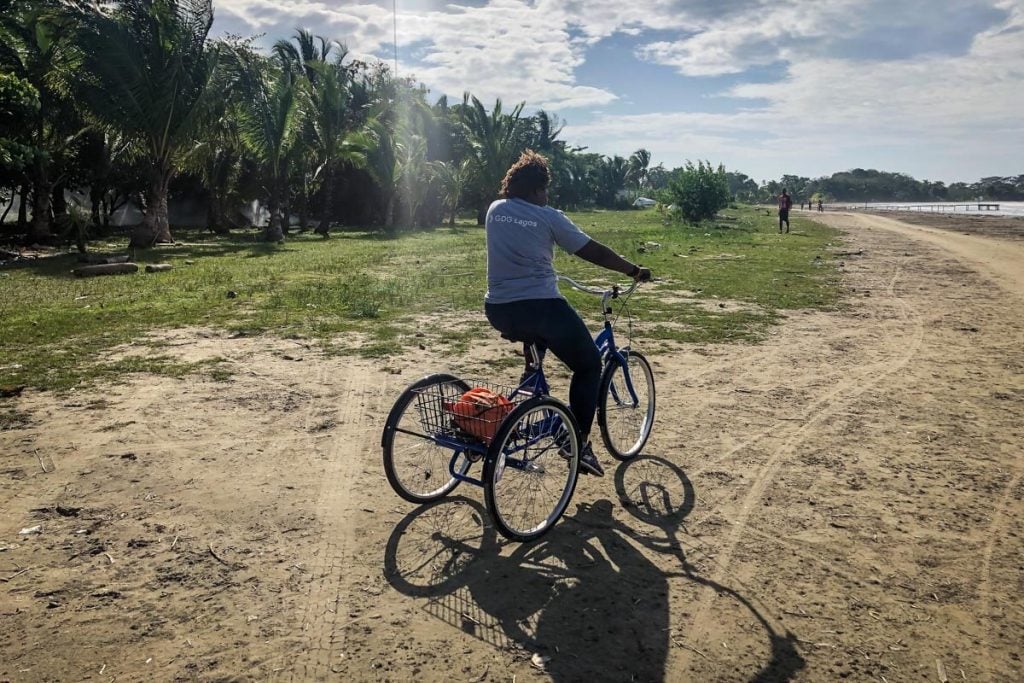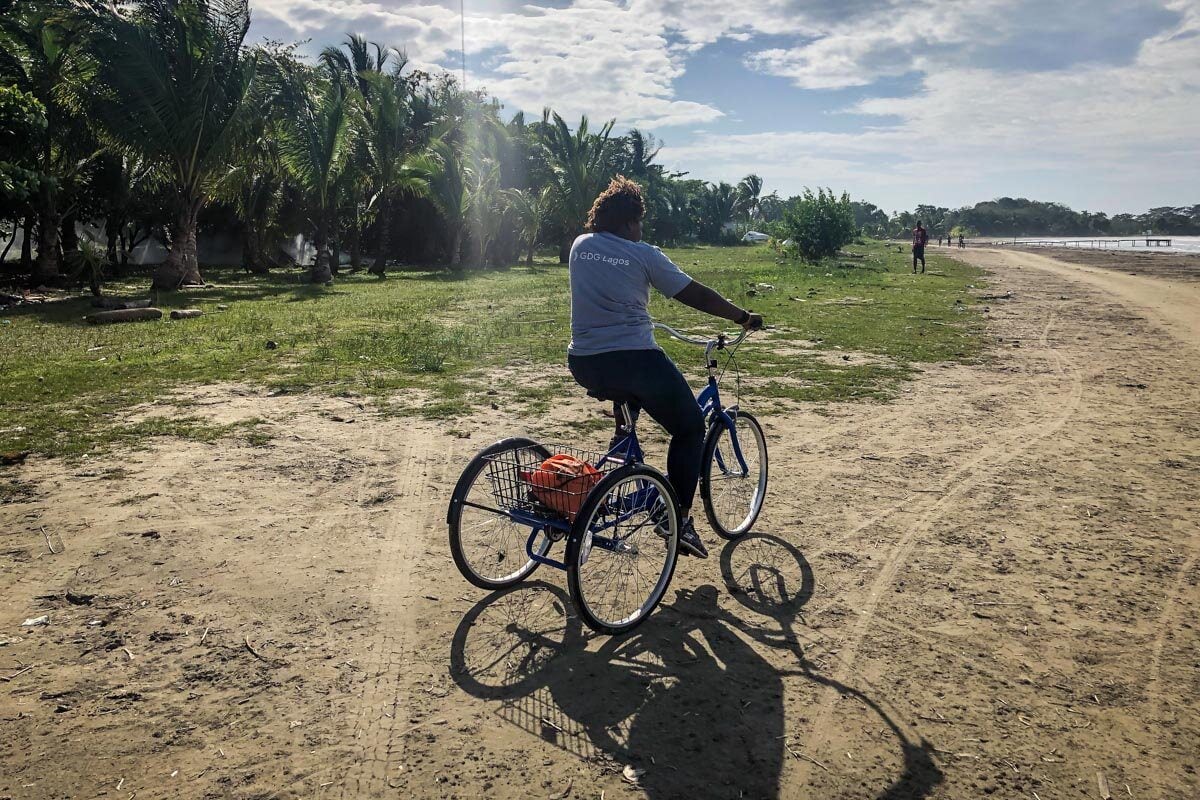 Rent a Bicycle
If you're staying on the island of Colón, Bocas Town is very walkable. However, it can take a while to walk from one end of town to the other. Renting a bicycle will be a easy way to speed up your transportation since the island is mostly flat. You can rent a bike in town for just $5 for the day, or they have weekly & monthly rates for longer term stays.
Taxis
There are pick up truck taxis that drive around Bocas Town that will take you anywhere you need to go on the island for as little as $1.
Water Taxis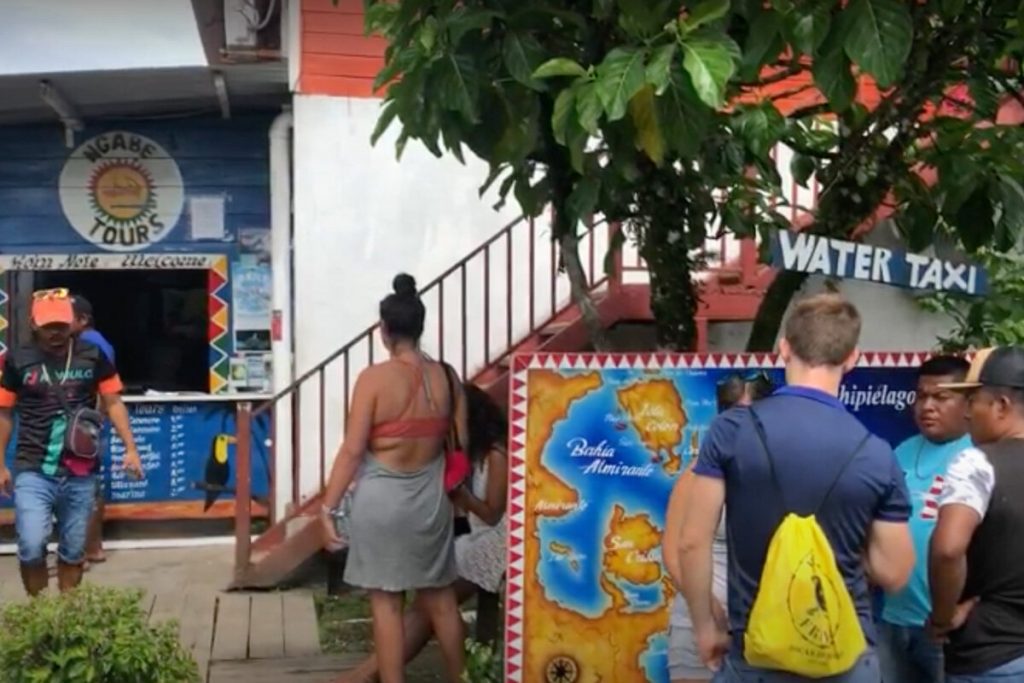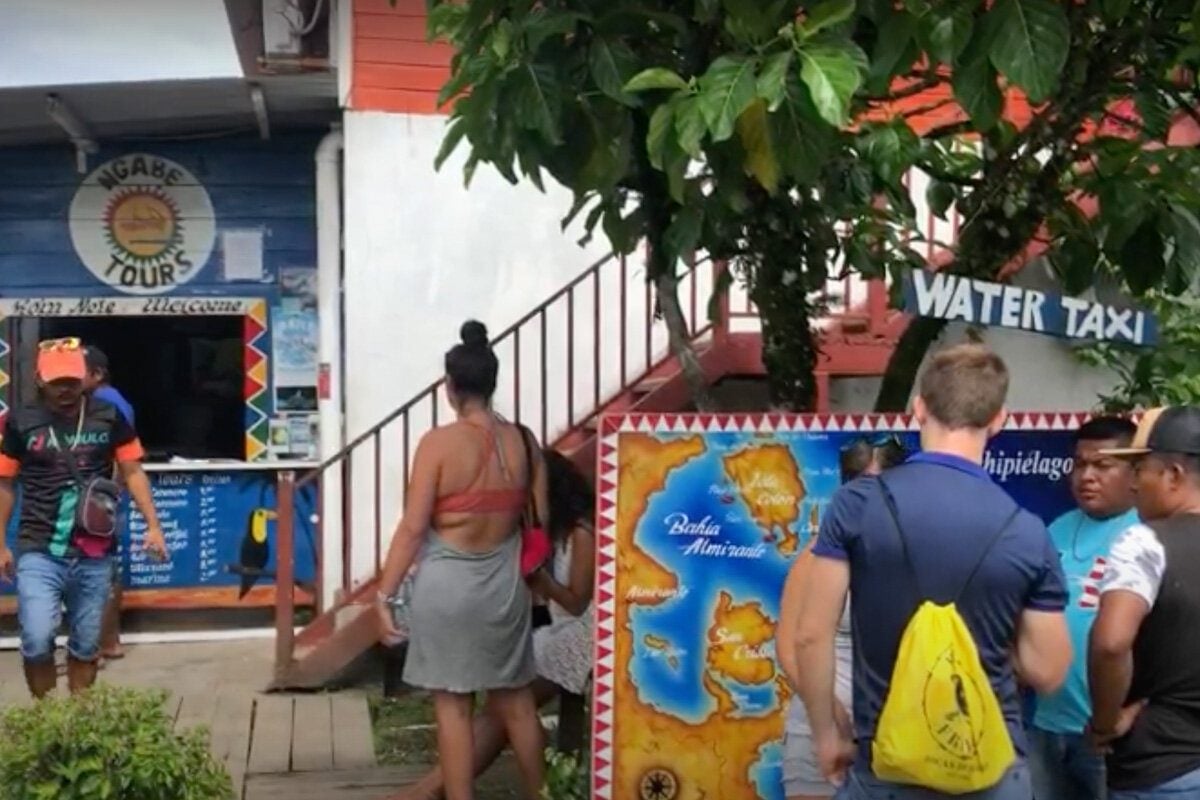 You'll need to take a water taxi to get to the other islands in Bocas del Toro. Water taxis can be booked from the stand across the street from the Selina Hostel in Bocas Town. The taxis themselves take off from the dock just behind the hostel. They can cost anywhere from $1 – $5 depending on where you need to go (or more for longer routes to the outter islands).
Where to Eat in Bocas del Toro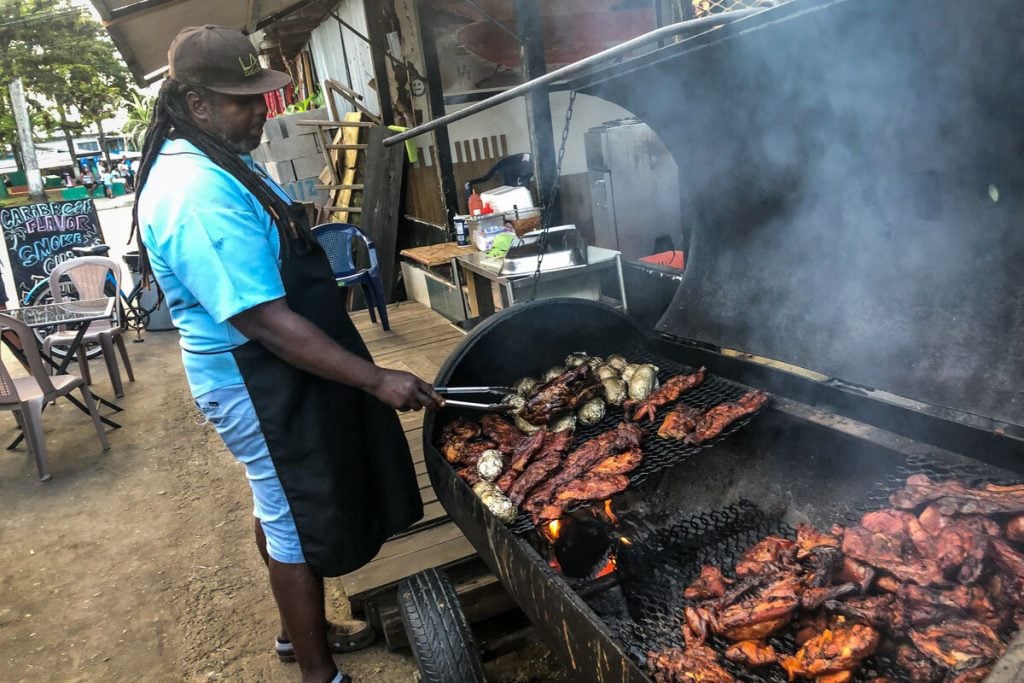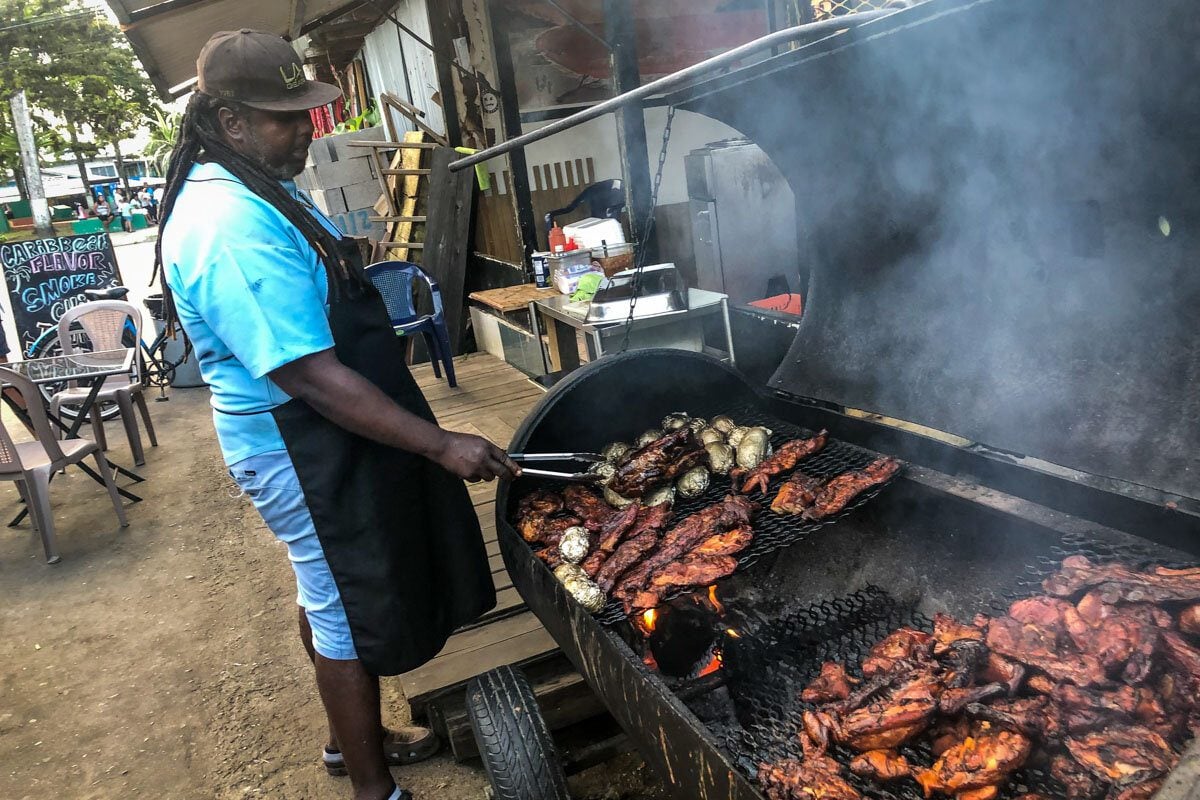 Derek's Caribbean Flavor (Bocas): For the best grilled meats this side of the Caribbean. Ask Derek if he'll have lobster for one of the days you are there. You will not regret it!
Bocas Blended (Bocas): A fun painted school-bus-turned food truck, this tiny eatery serves up wraps, salads and smoothies.
Bocas Brewery (Bocas): For an island brewery, their craft beer ain't half-bad! (Read: It's actually really good) The pub food goes well with the laid back atmosphere too.
Cafe del Mar (Bocas): A cute little cafe dedicated to using fresh local ingredients with no preservatives.
Amaranto (Bocas): Right next door to Cafe del Mar, this cafe serves up fresh coffee, cold pressed juices, and breakfast favorites.
Falafel Bocas (Bocas): This vegan-friendly restaurant is serving up the best authentic middle eastern cuisine in town.
Sweet Love Tea House (Bocas): This holistic tea house will give you all the hippie vibes, providing a cosy space to relax and enjoy a hot beverage.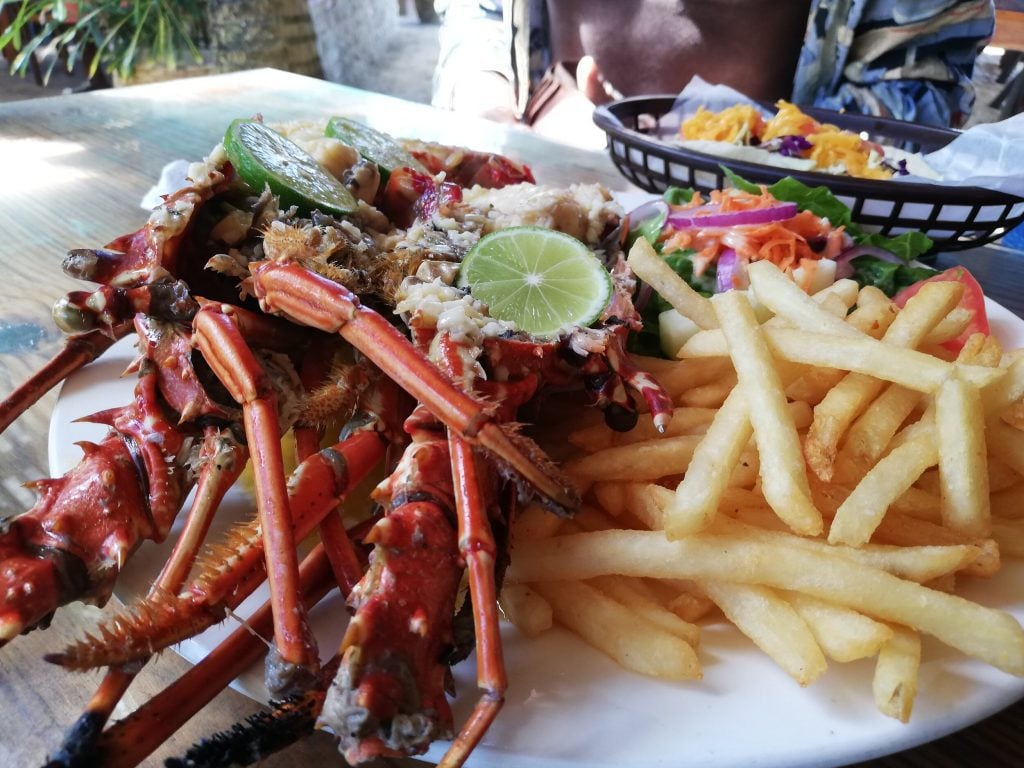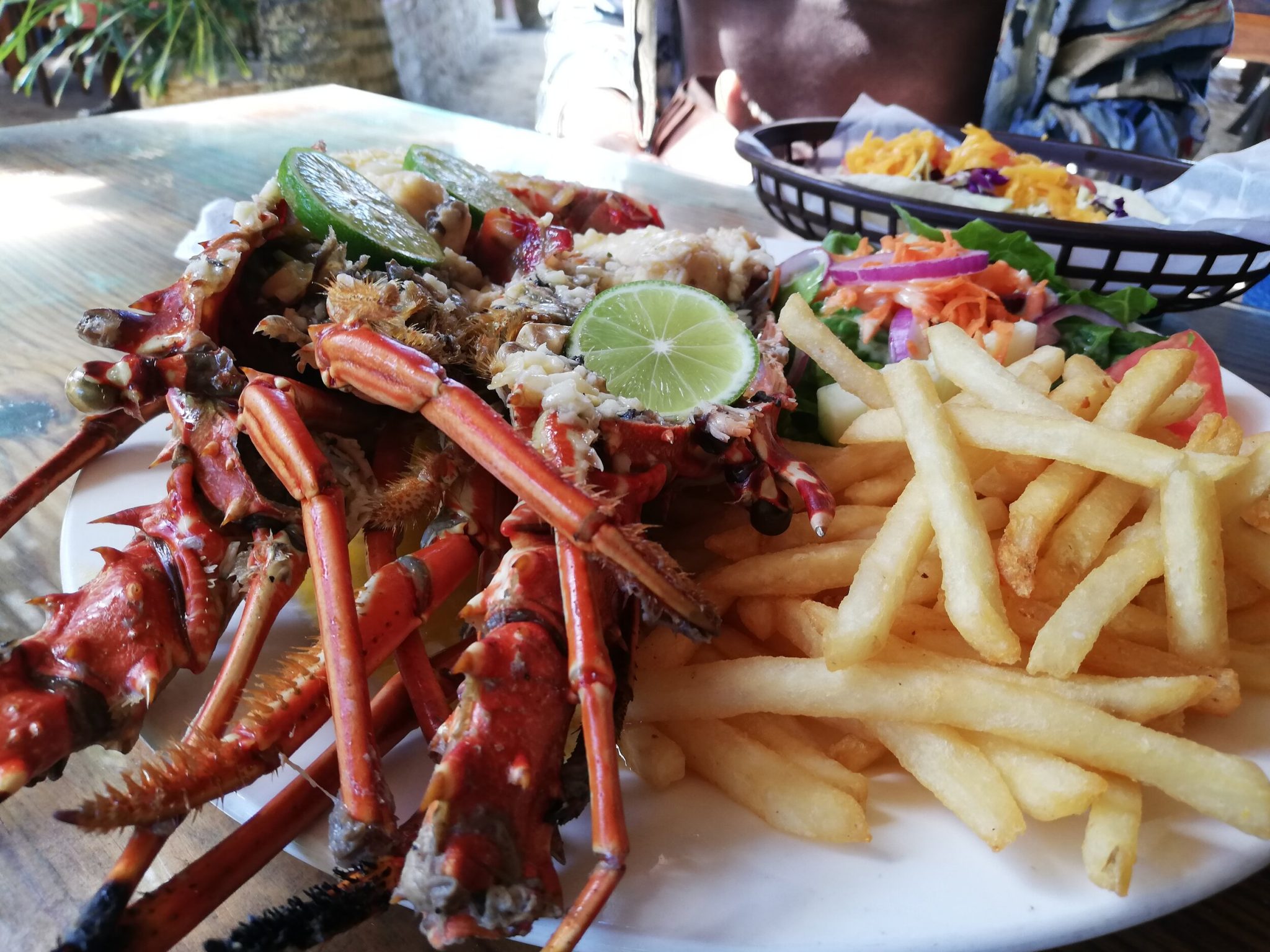 Leaf Eaters Cafe (Carenero): You'll need to take a $1 water taxi from Bocas Town to reach this over-water restaurant, but the delicious and healthy menu is worth it. Save room for desert as the chocolate brownie is life changing! (Ok…maybe not life changing, but it'll make your day!)
Raw Fusion (Bocas): One of the more fancy restaurant establishments in Bocas Town, this place deems itself a "Japanese fusion and sea lounge".
La Bugita Cafe (Bocas): This over-water cafe serves up some delicious favorites for a casual lunch.
Azul Restaurant (Bocas): One of the few spots in Bocas Town for gormet dining.
Om Cafe (Bocas): If you're looking for Indian food, this over-water restaurant is the spot for you.
El Ultimo Refugio (Bocas): Serving up Caribbean/American fusion with a focus on sea food.
Tequila Republic (Bocas) – If you're looking for a good cocktail, try the spicy margarita!
Bibi's on the Beach (Carenero): Serving up surfside seafood with a beachy vibe and great views. You'll need to take a water taxi from Bocas Town to reach this place.
Where to Stay in Bocas del Toro
The two most popular islands for tourism in Bocas del Toro are Isla Colón and Isla Bastimentos. Bocas Town is the largest town in the providence, located on the southern part of Isla Colón. It's is focused around a small town center with shops, restaurants, hotels and colorful Caribbean clapboard houses that can be seen from the water.
Budget Accommodation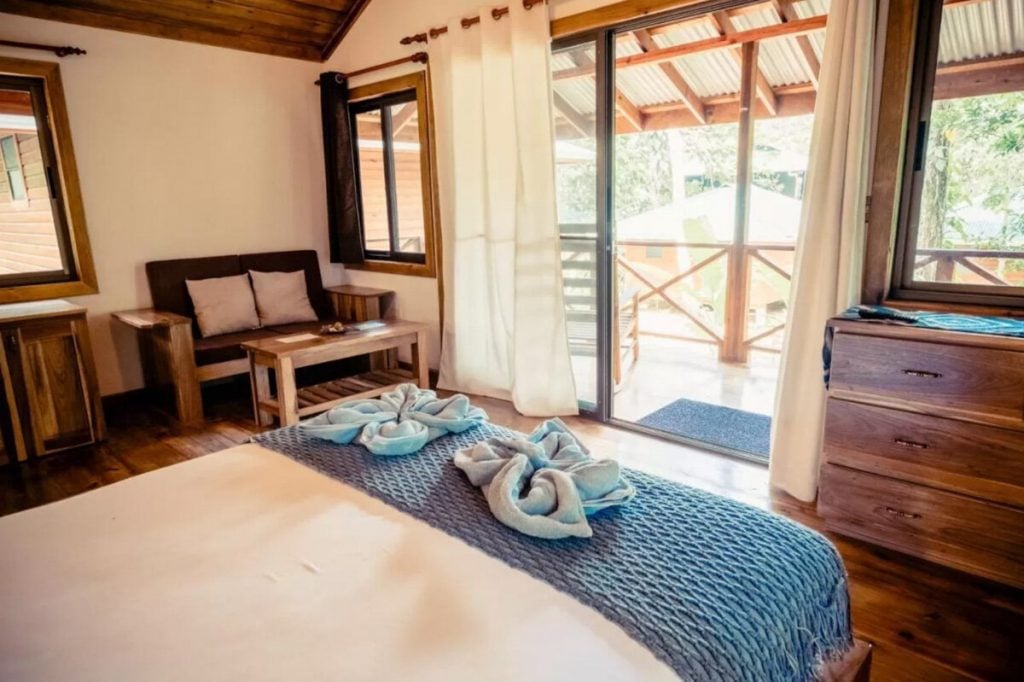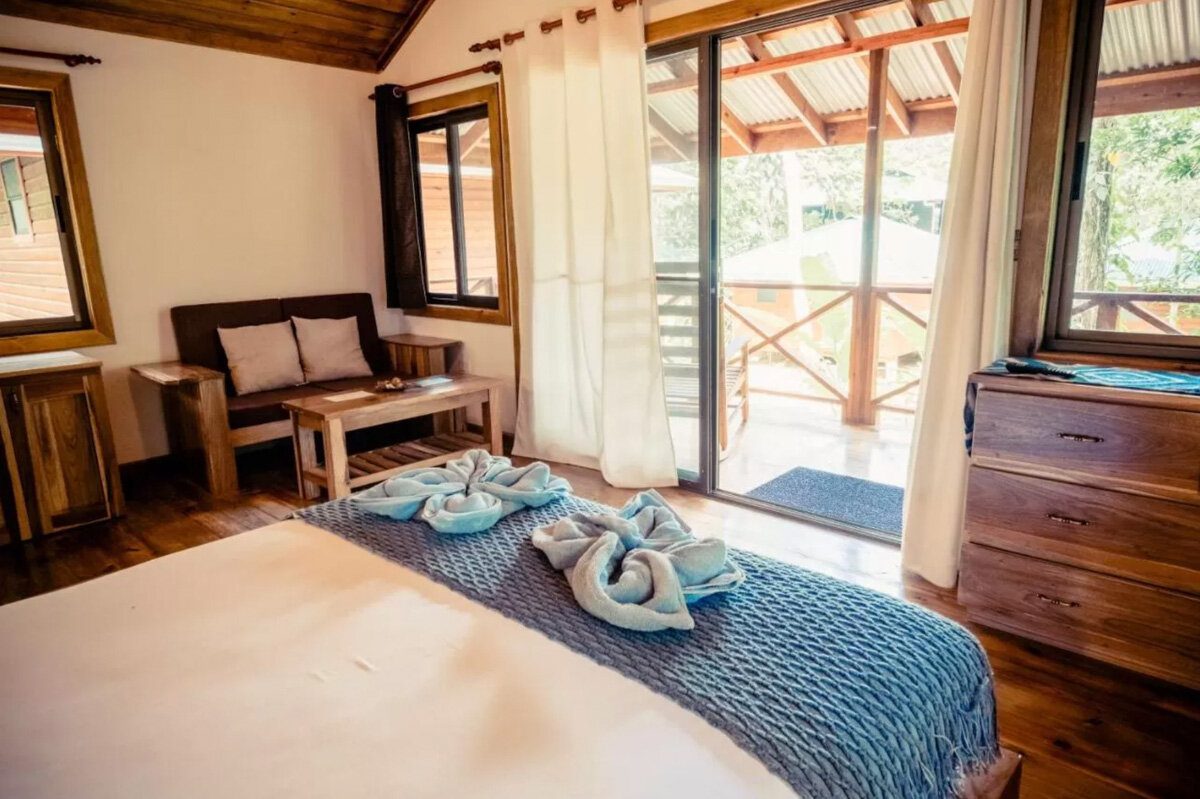 Palmar Beach Hostel: As the only beach front hostel in Bocas del Toro, Palmar is a great option for budget-minded travelers. It's located directly on the famous Red Frog Beach on Isla Bastimentos and offers free daily activities for guests such as hikes, bonfires and BBQs.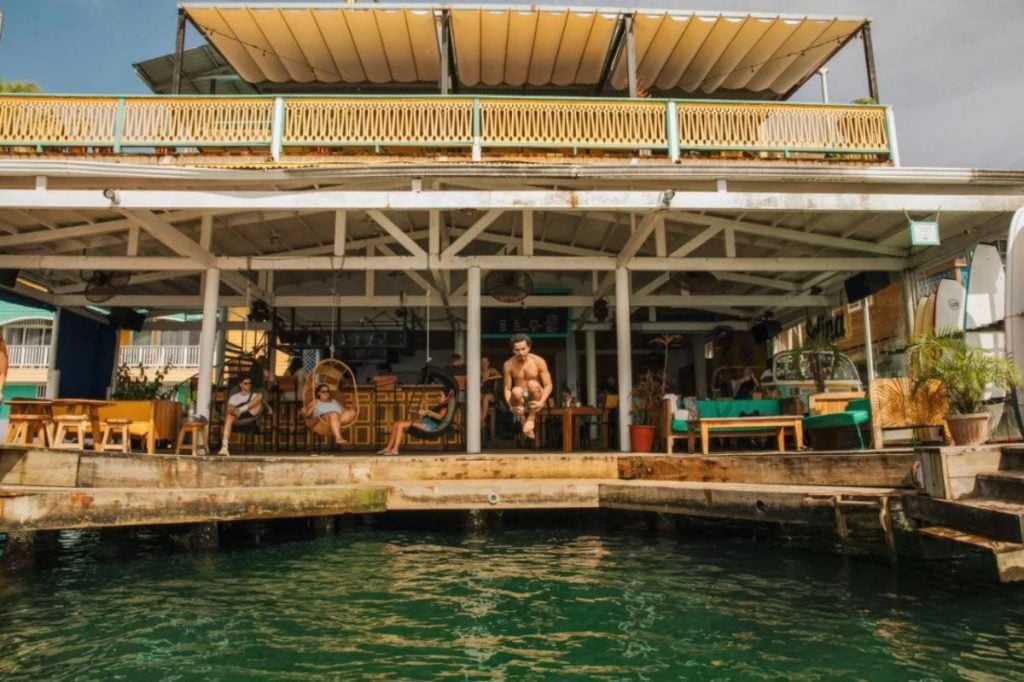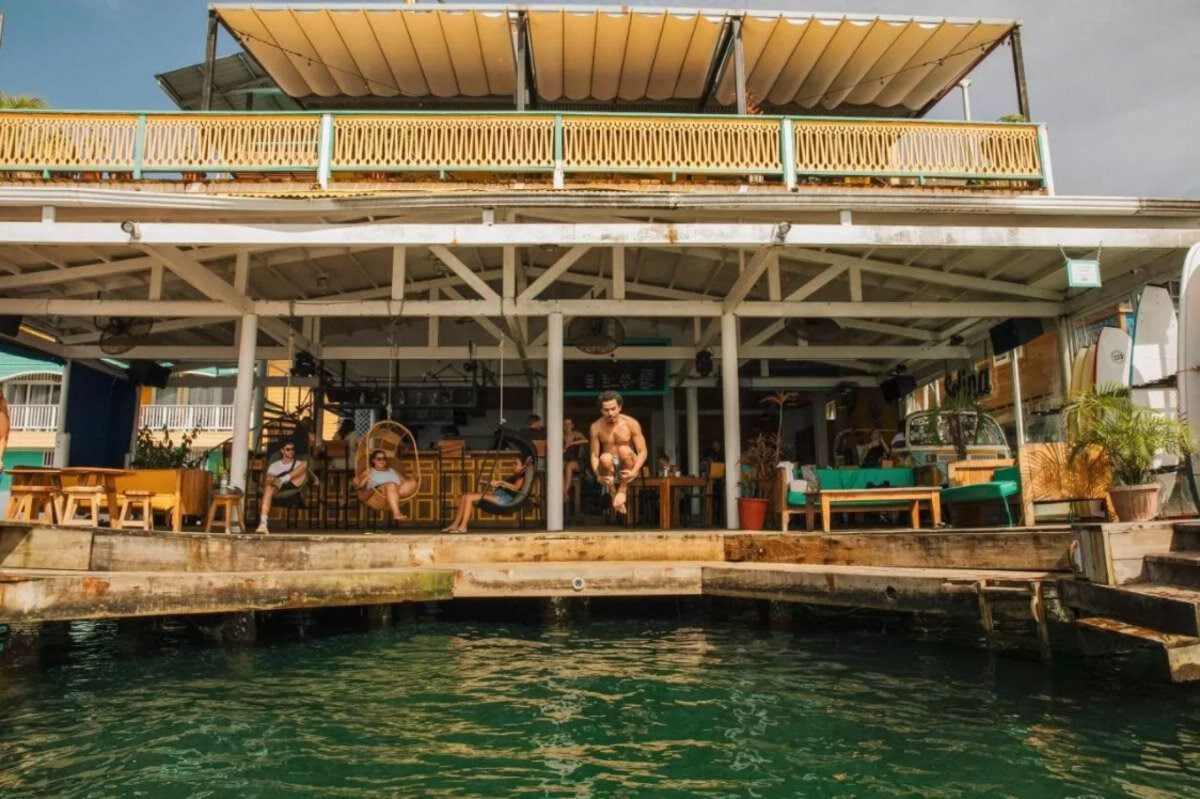 Selina Hostel: There is a Selina hostel in Bocas Town center and also on Isla Bastimentos (although not directly on the beach). Both have decent wifi, but are known for their parties. The Bocas Town location is a bit higher-end with better accommodation than the Red Frog location, which is pretty bare bones.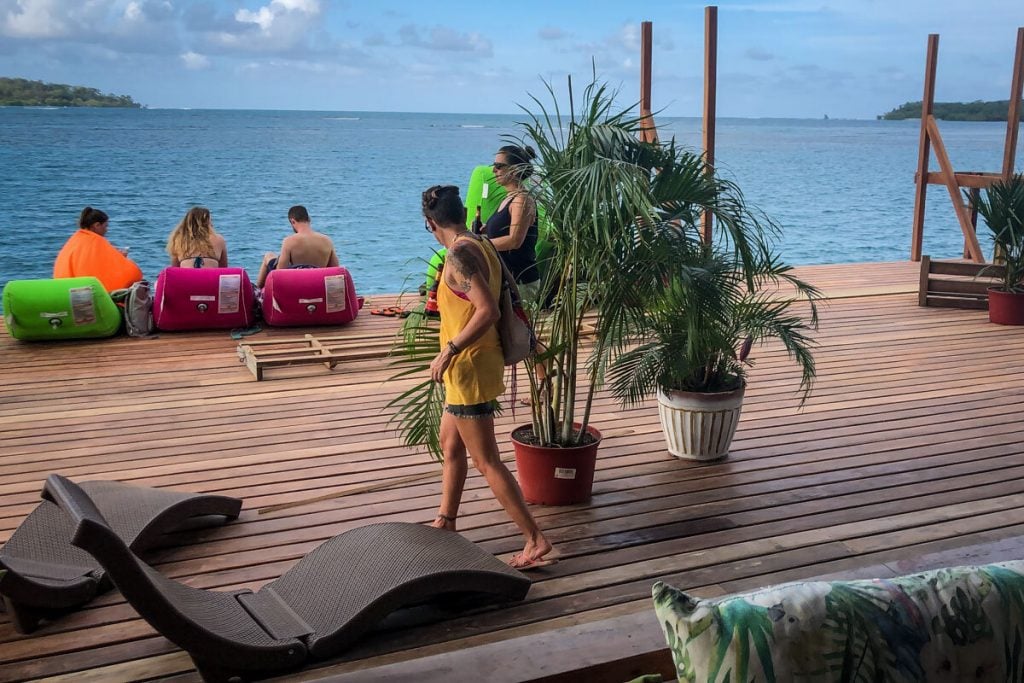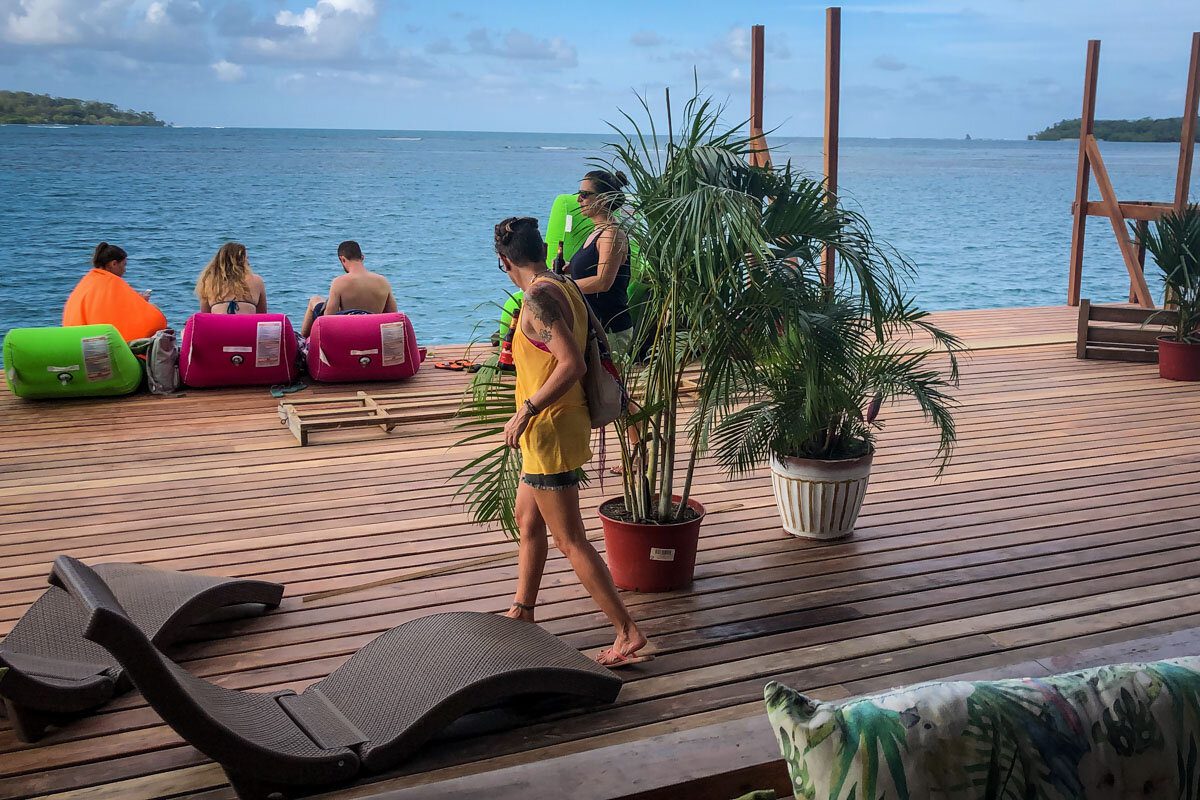 Mamallena Hostel: For a more laid-back vibe than the party-heavy Selina in Bocas Town, head to Mamallena where you'll find a gorgeous ocean terrace and plenty of community space to hang and meet fellow travelers.
Mid-range accommodation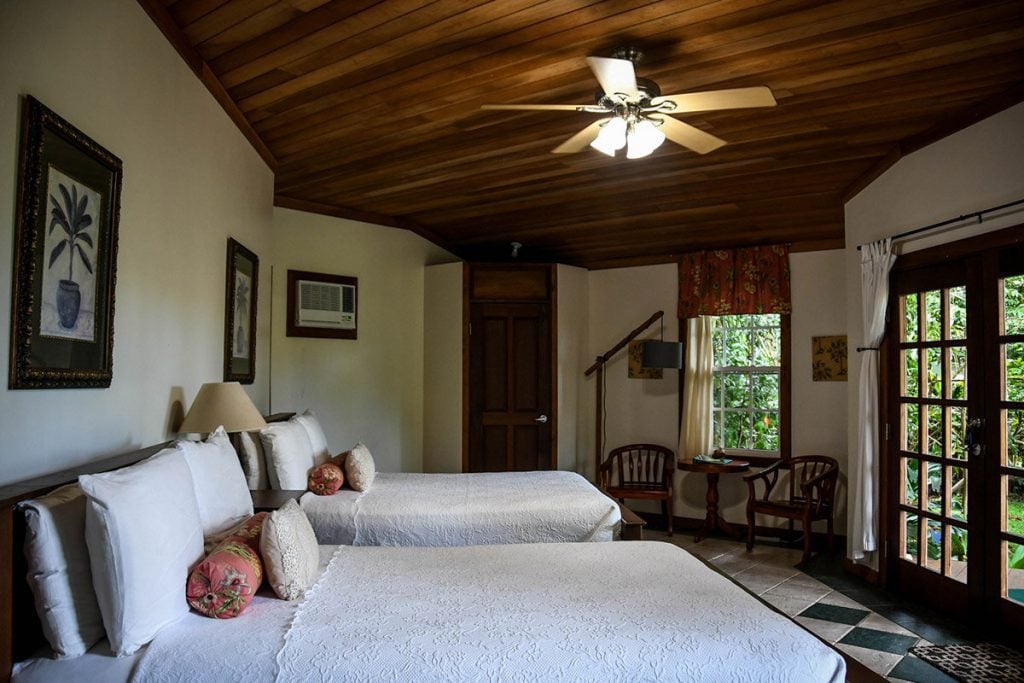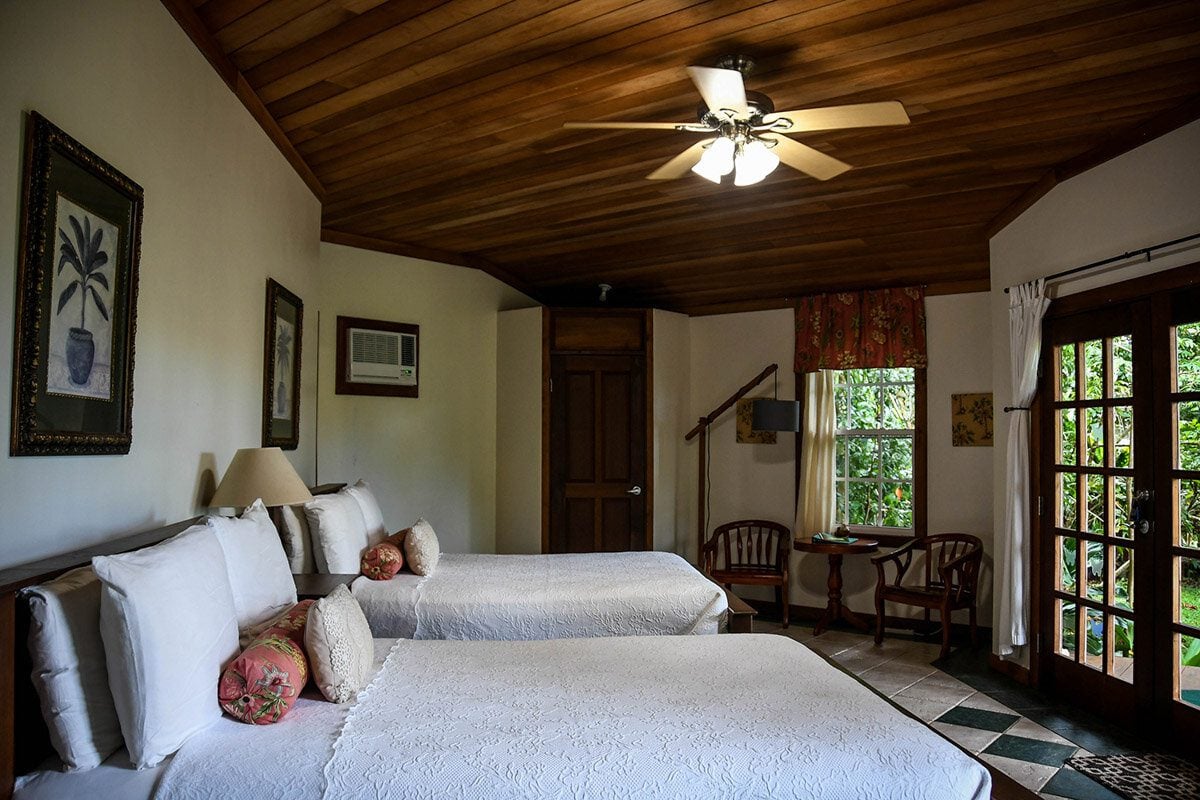 Tranquilo Bay Eco Adventure Resort: This peaceful and sustainably-run hotel is our top pick for where to stay in Bocas if you're looking for an adventurous vacation. With beautiful private cabanas and plenty of amenities, you will find plenty to do here. Check out our honest hotel review to find out more.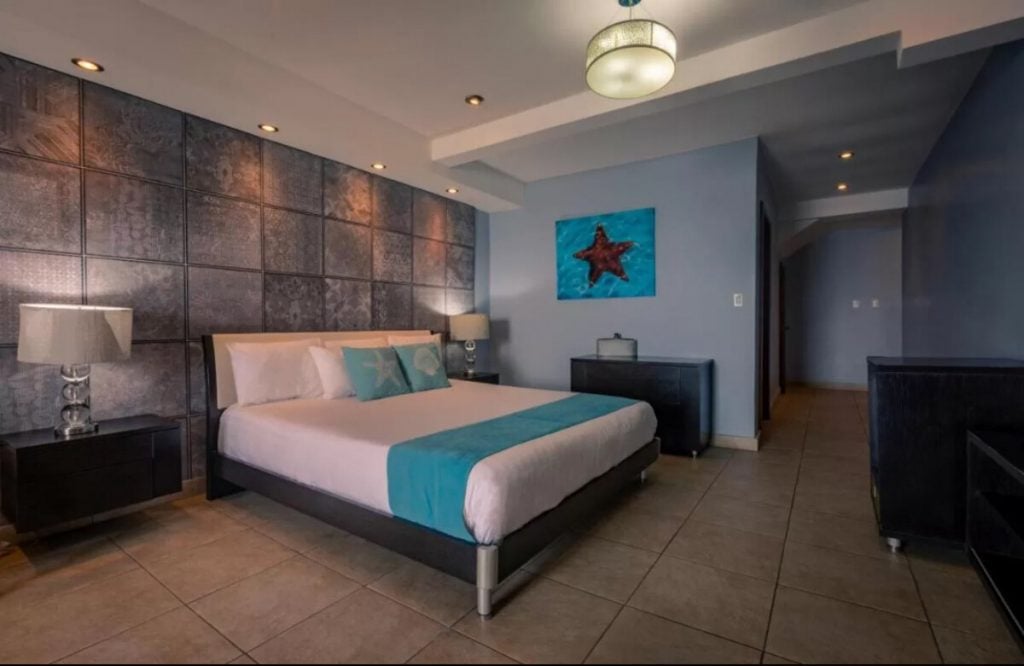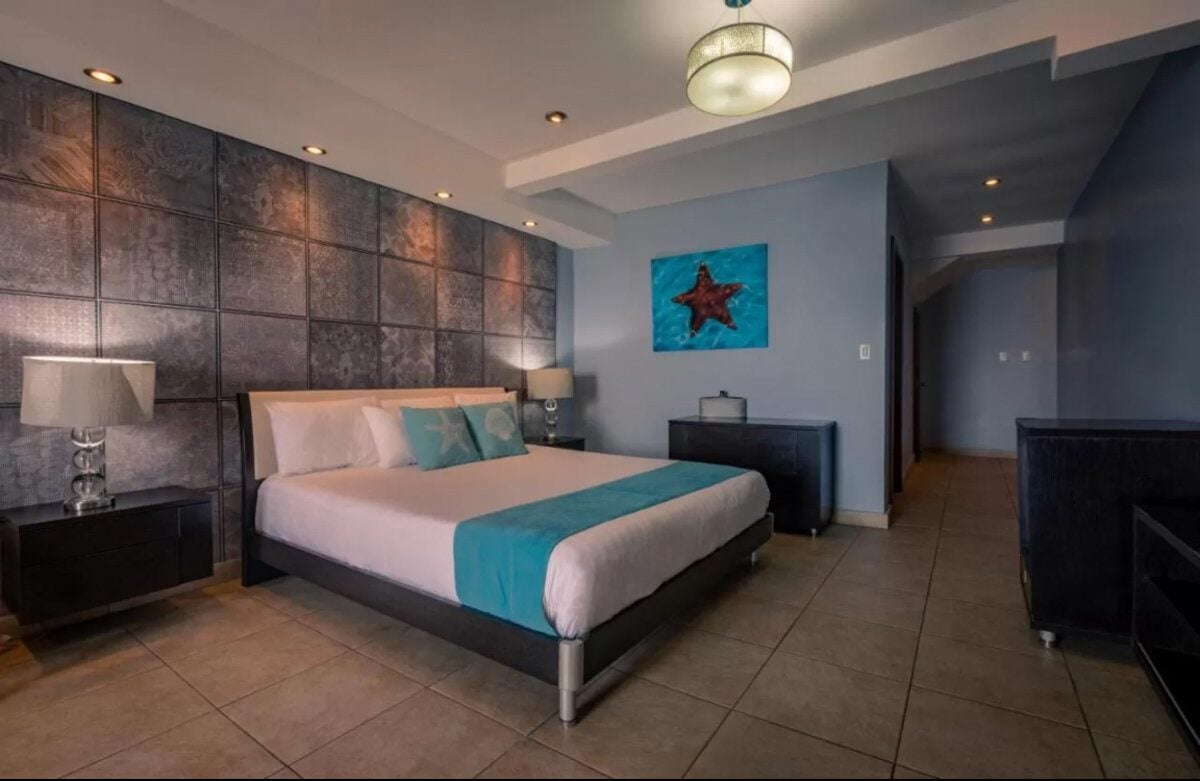 Tropical Suites Hotel: An oceanfront boutique property in the heart of Bocas Town makes for a comfortable stay during your Bocas del Toro travels. It's walking distance to plenty of shops and restaurants, and we recommend shelling out the extra dough for a sea view room.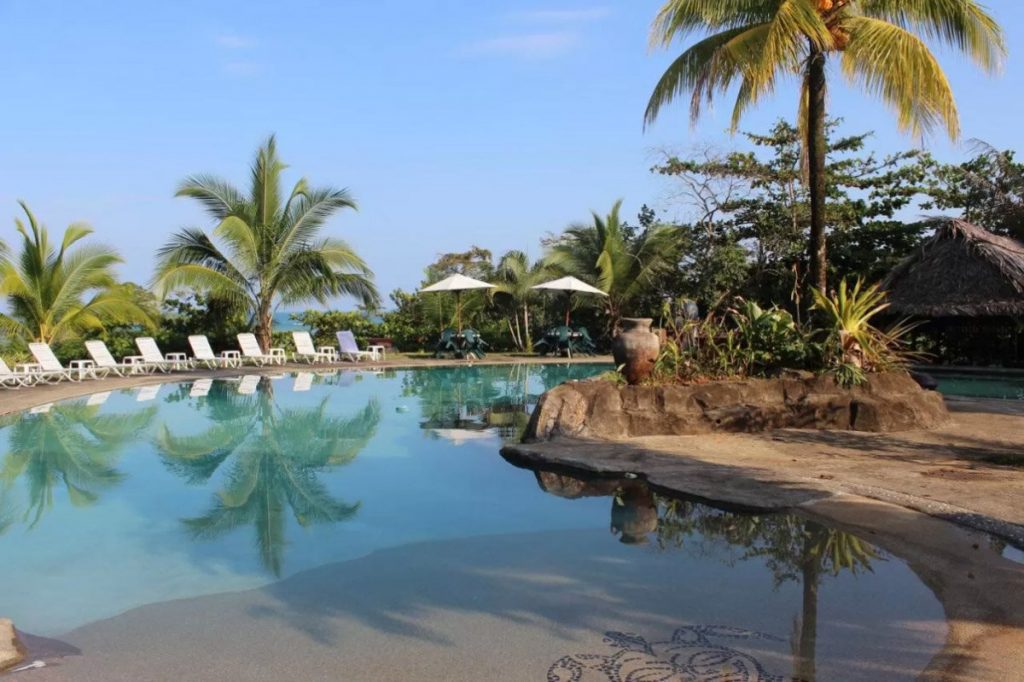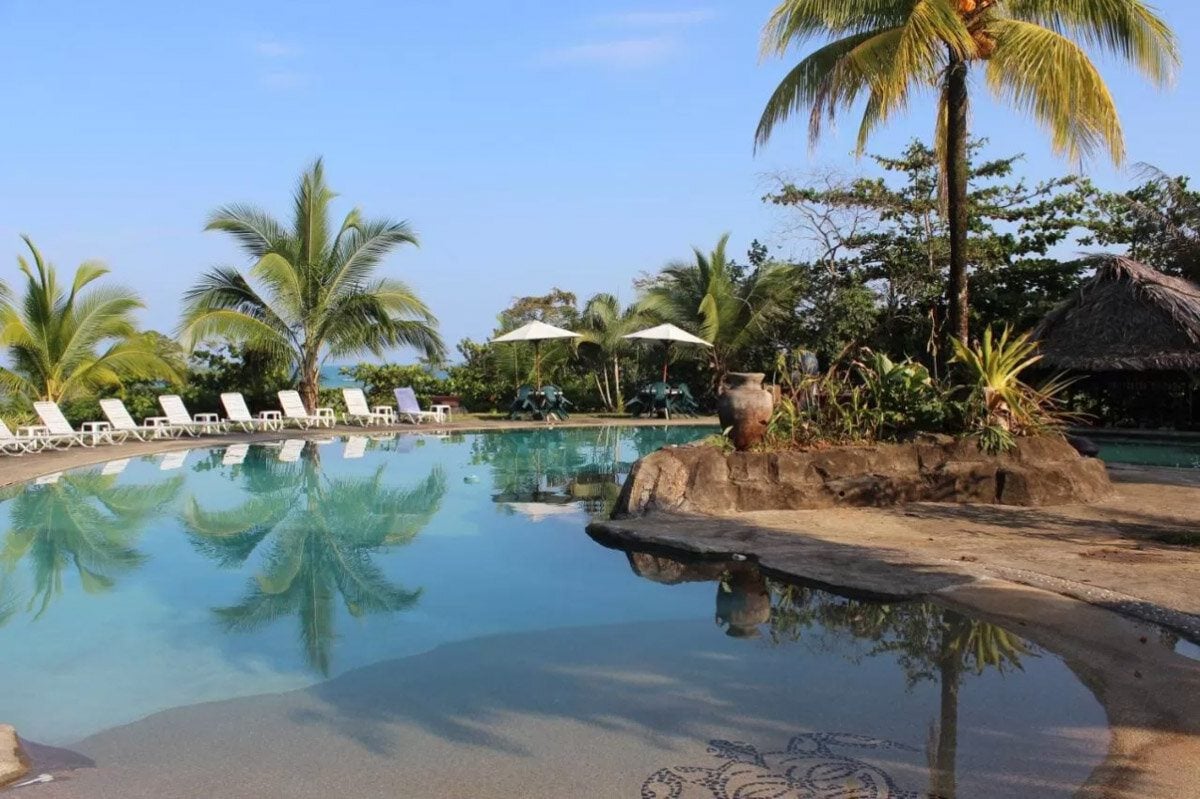 Popa Paradise Beach Resort: For a more secluded adults-only stay, head to Isla Popa for a stay at their premiere island resort. Catering to the adventurous traveler, accommodation here ranges from typical lodge rooms to private casitas to luxury suites.
Luxury accommodation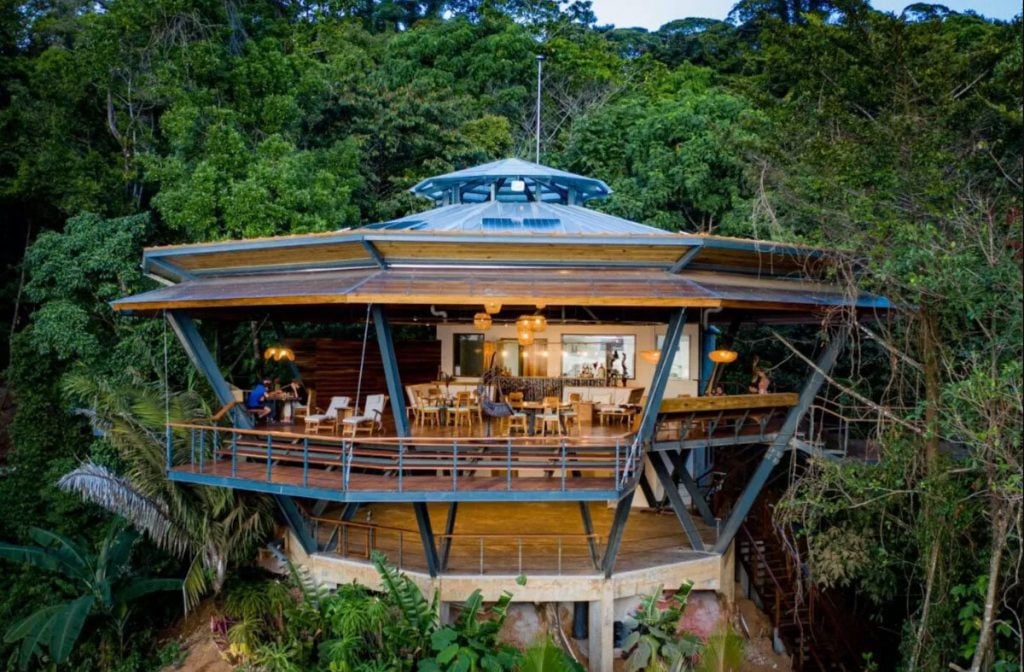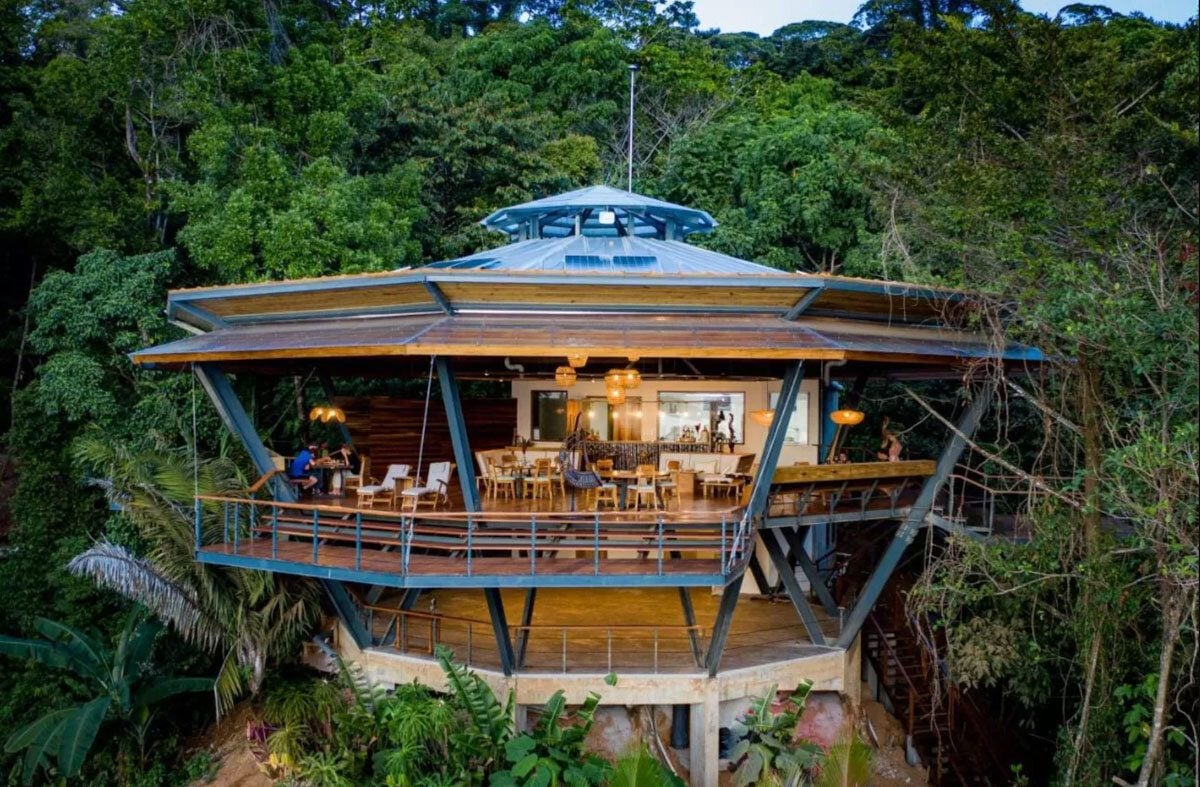 La Loma Jungle Lodge & Chocolate Farm: Situated in the heart of the rainforest on Isla Bastimentos, this luxurious accommodation has some of the most amazing views of the island. We love this hotel for their focus on sustainability and protecting the island's precious environment and the lives of its inhabitants.
How to get to Bocas del Toro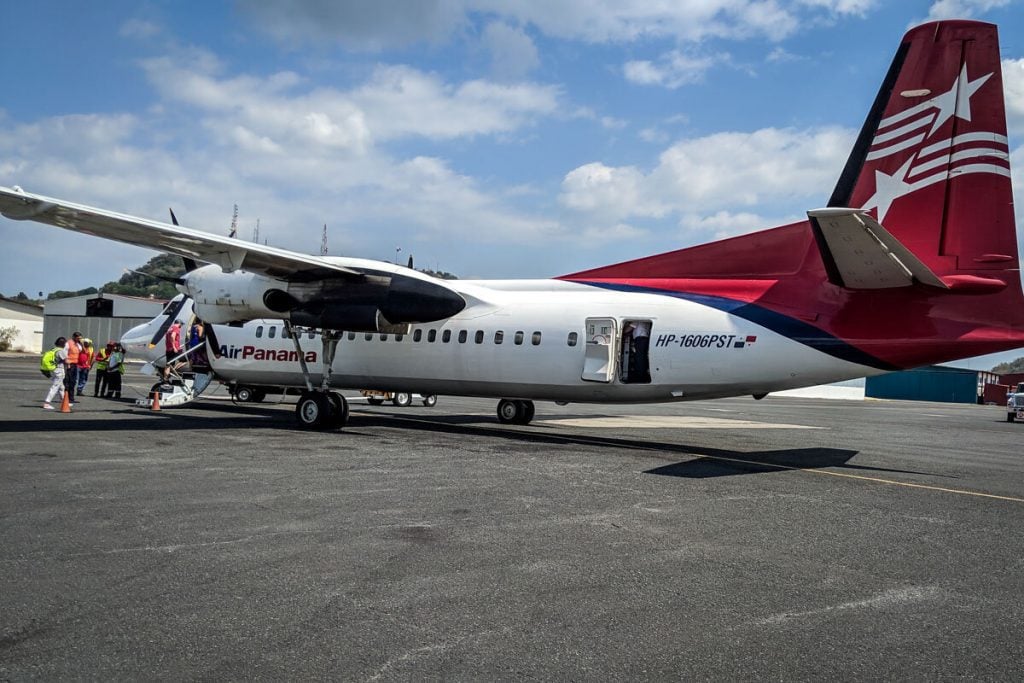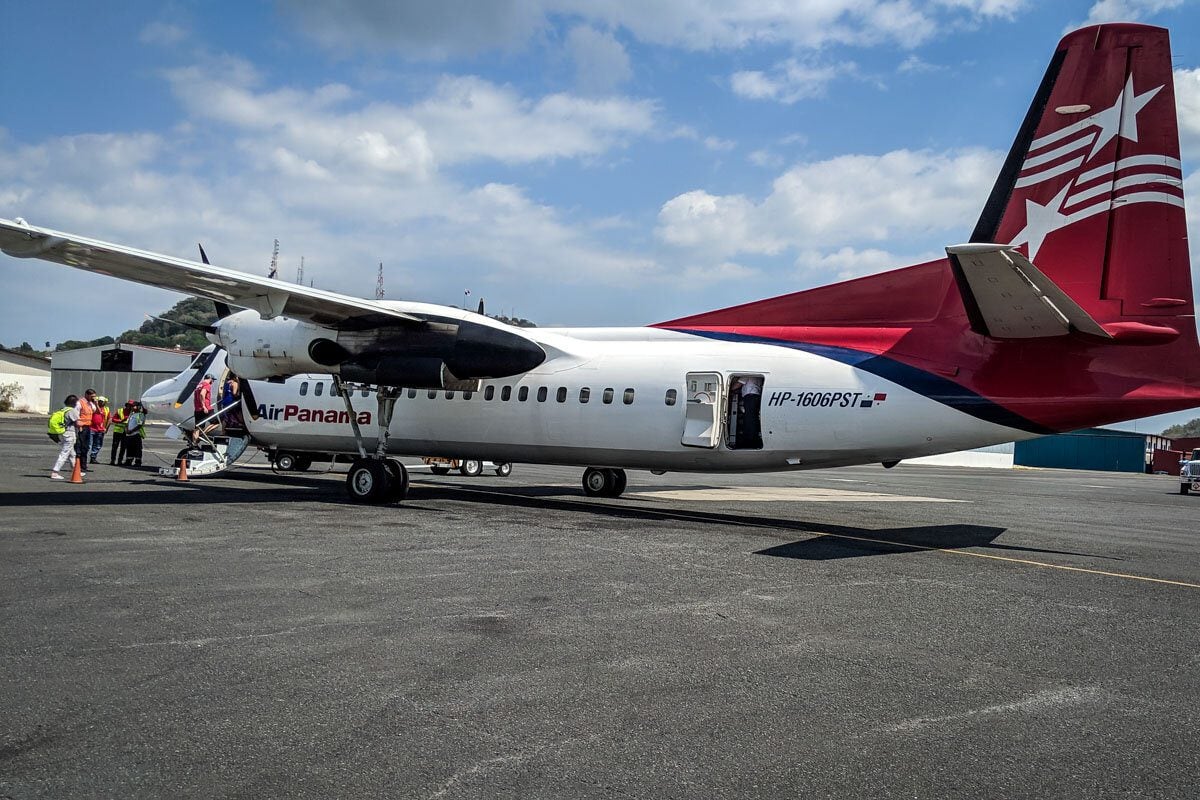 By Air:
The fastest way to get to Bocas del Toro is by plane. The Bocas del Toro (BOC) airport is located in Bocas Town on Isla Colón. Air Panama is the only airline that flies into the small airport and there are multiple flights a day to and from other cities in Panama.
Your best bet, if you are coming from another country, is to fly into Panama City's Tocumen International Airport (PTY). You'll need to take a ground transfer to Albrook International Airport (PAC) which is where Air Panama operates out of, and you can fly to Bocas from there. The flight takes about 45 minutes from Panama City.
A cab or an Uber between the 2 airports will set you back about $20 – $35 USD and can take anywhere from 30 min to an hour depending on traffic, so plan your flights accordingly.
By Land/Sea: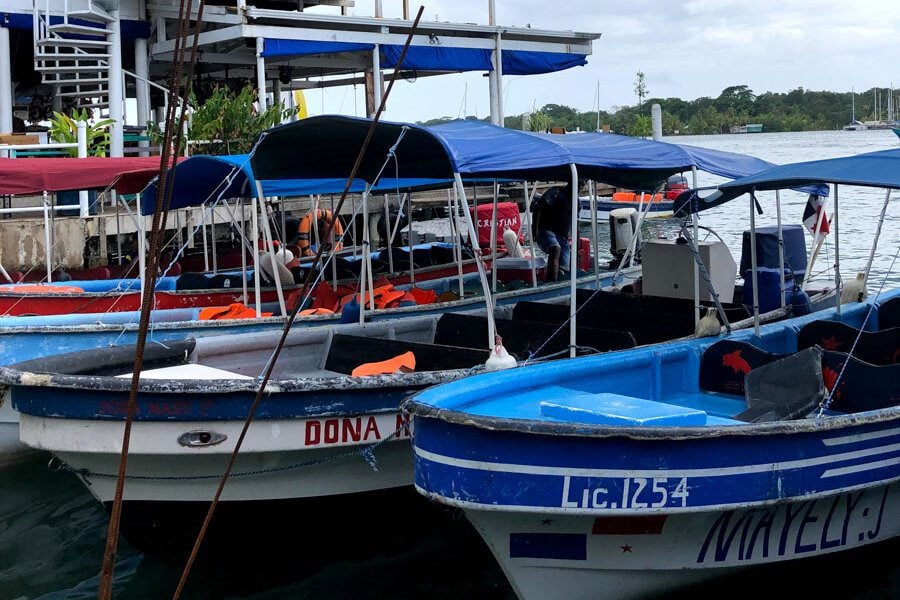 If you have the time and want to save a bit of money, a more affordable option for getting to Bocas del Toro is taking a shuttle bus to Almirante and then a water taxi across to Bocas. There are shuttles to Almirante from most cities in Panama. If you are coming from Panama City, there is an overnight bus, which takes about 10-11 hours. But be sure you get off in Almirante because this bus will continue on to other cities.
You will board the bus at Albrook Bus Terminal (same complex as Albrook Airport). The overnight bus to Almirante departs at 6 p.m., 6:30 p.m., and 7 p.m. Which means you'll arrive in Almirante between 5 a.m. and 7 a.m. The bus ticket will set you back only $30, but these tickets sell out, so be sure to get there early to make sure you get a seat. These buses are also notorious for cranking up their AC to the point of refrigeration, so be sure to bring an outer layer or blanket to keep warm.
Once you disembark at the bus stop in Almirante, you can take a $1 USD taxi to the docks where the water taxis depart from. The water taxi will cost you $6. The first boat to Isla Colón is at 6 am and boats depart every half hour until 6 p.m. The bus that will take you back to Panama City from Almirante departs daily at 8 a.m. and 7 p.m.
Bocas del Toro Travel Tips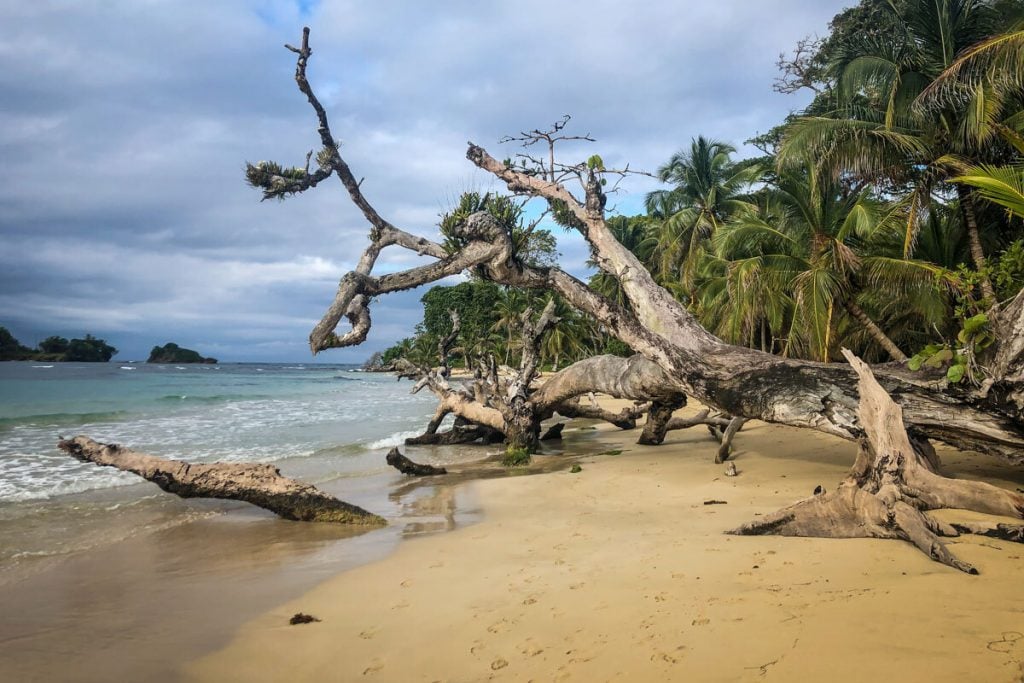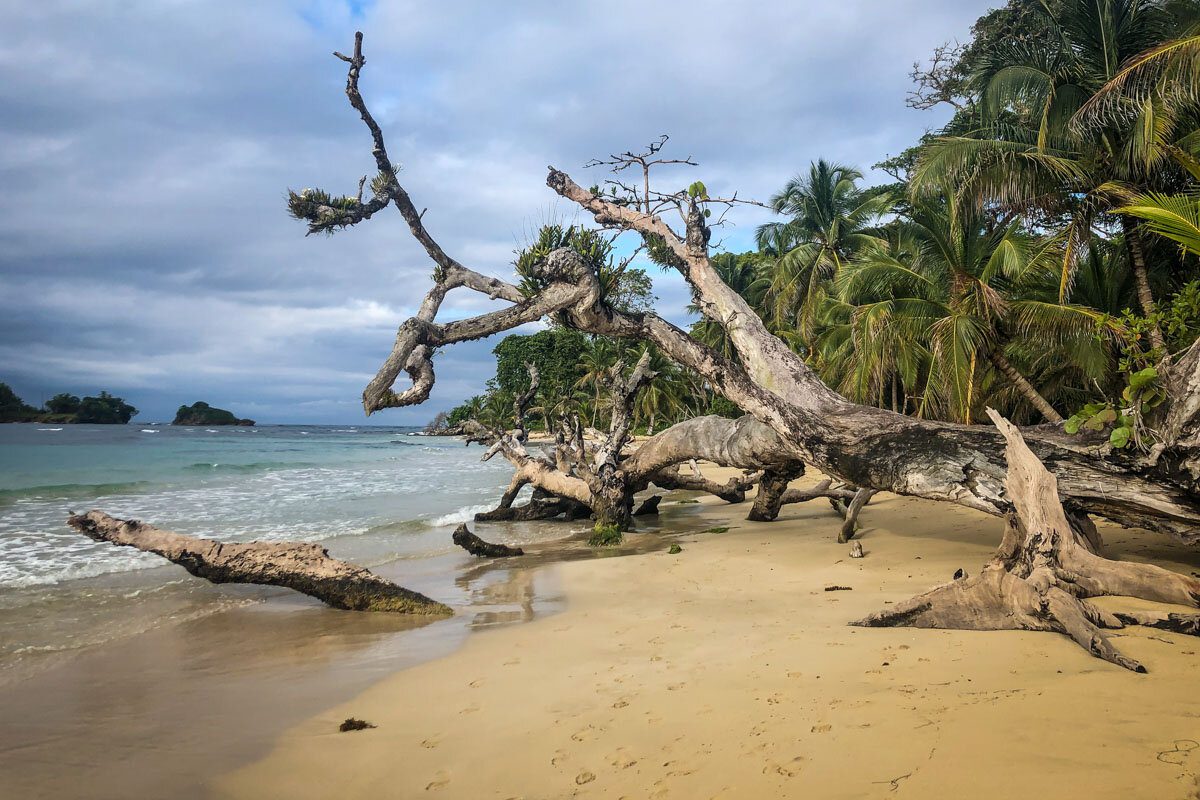 Language: Spanish is the official language spoken in Panama and in Bocas del Toro, however, most people in the tourism industry speak enough English to get by.
Currency: The official currency of Panama is the U.S. dollar, so prices can be pretty steep here compared to other Central American destinations.
Banks/Credit cards: There is only one bank in Bocas Town on Isla Colón with an ATM for retrieving cash. A lot of places on the island don't take credit card, so it's good to have a nice stash of cash on you.
Weather in Bocas del Toro: Averaging more than 130 inches of rain a year, Bocas del Toro is one of the rainiest island destinations in the Carribean. And there is no predictable dry season. This is important to keep in mind when planning a trip. You'll want to make sure you pack a rain jacket and have a dry bag with you in case of a sudden down pour.
"Island time": You may have heard the phrase with regards to a slower pace of life that is typical of the Caribbean islands… well Bocas del Toro is no exception. The locals here are not exactly known for their promptness. So keep this in mind anytime you are planning activities and account to extra delays and waiting time.
---
You might also like…
Save this article for later on Pinterest!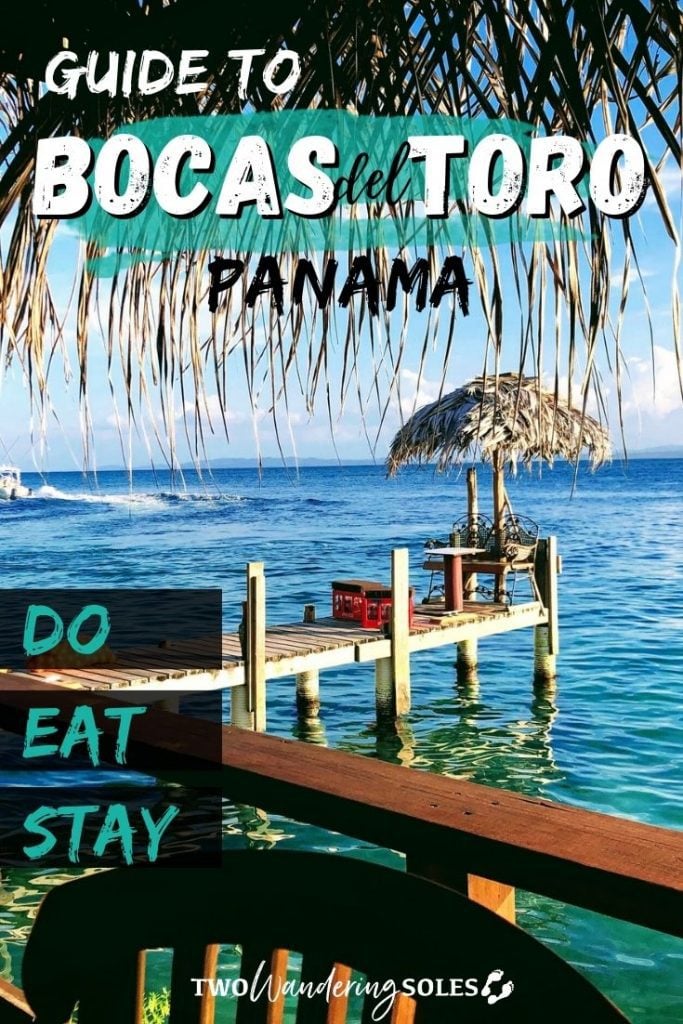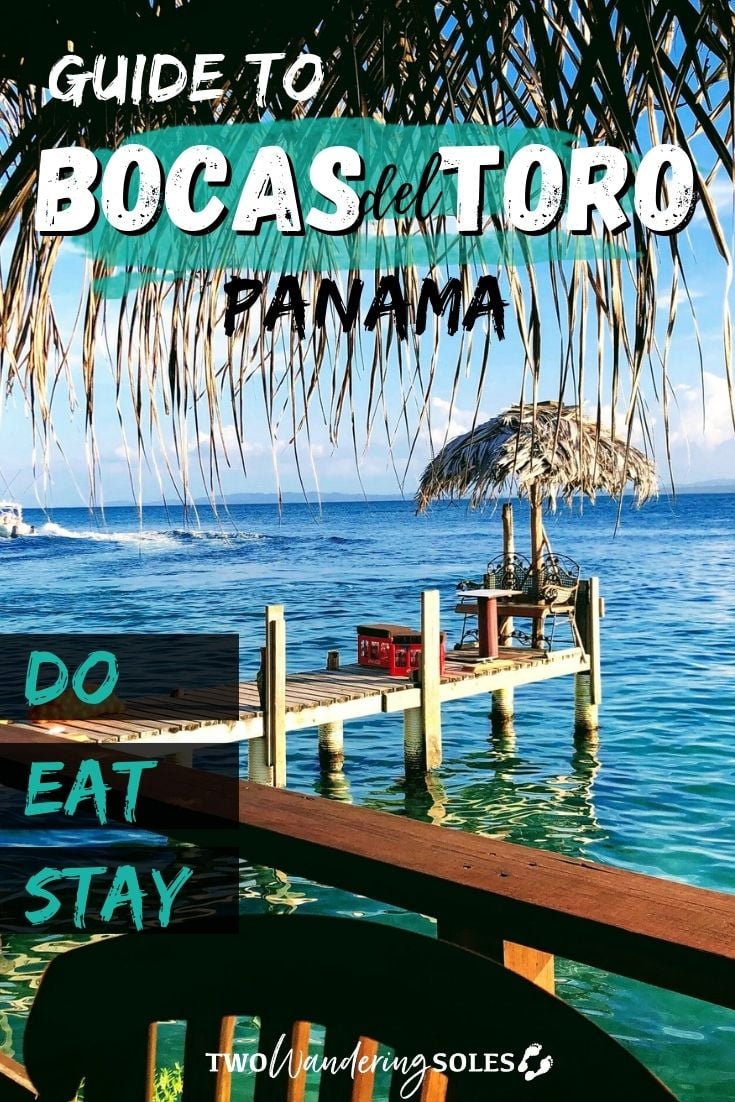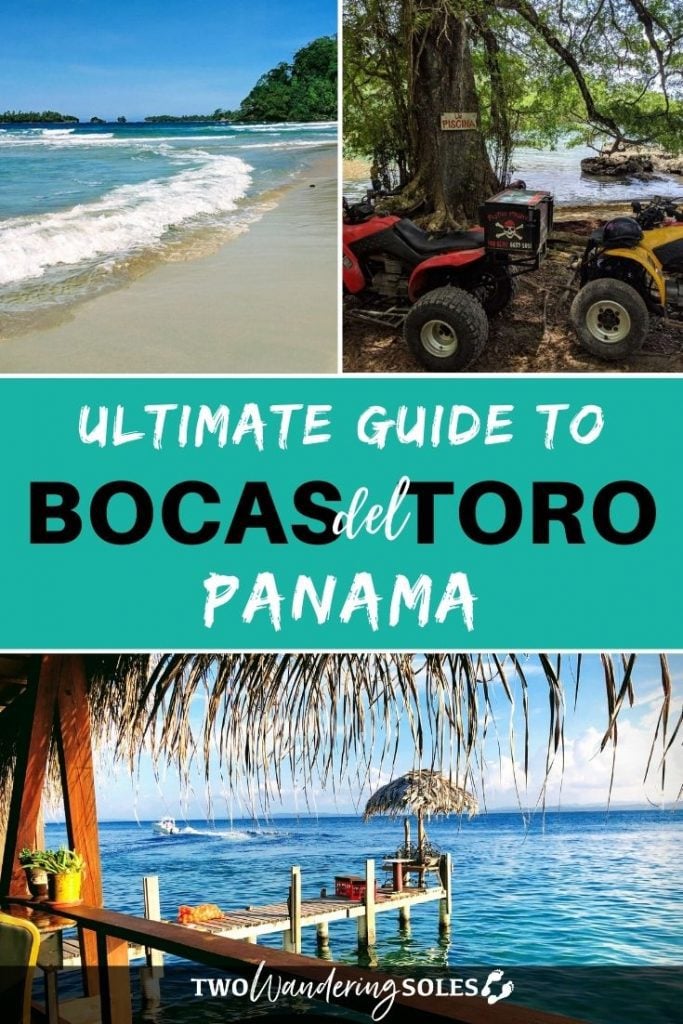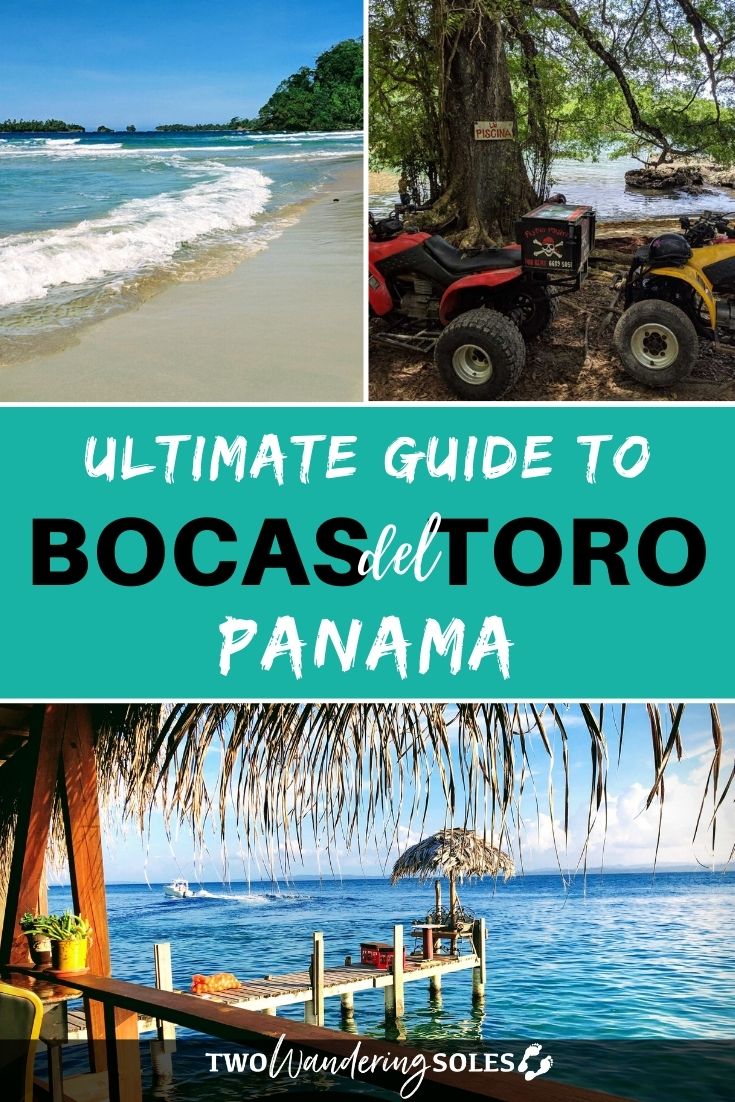 We want to hear from you!
Have you ever been to Bocas del Toro or is it on your list? Do you have any more questions about the destination to help you plan your trip? Comment below and we'll do our best to get back to you!