Wondering if Petra by Night is worth it? We created this detailed guide on how to visit Petra under the stars to help answer that question! Find out everything you need to know, including how much Petra by Night costs, how to get the best photos, and what to expect.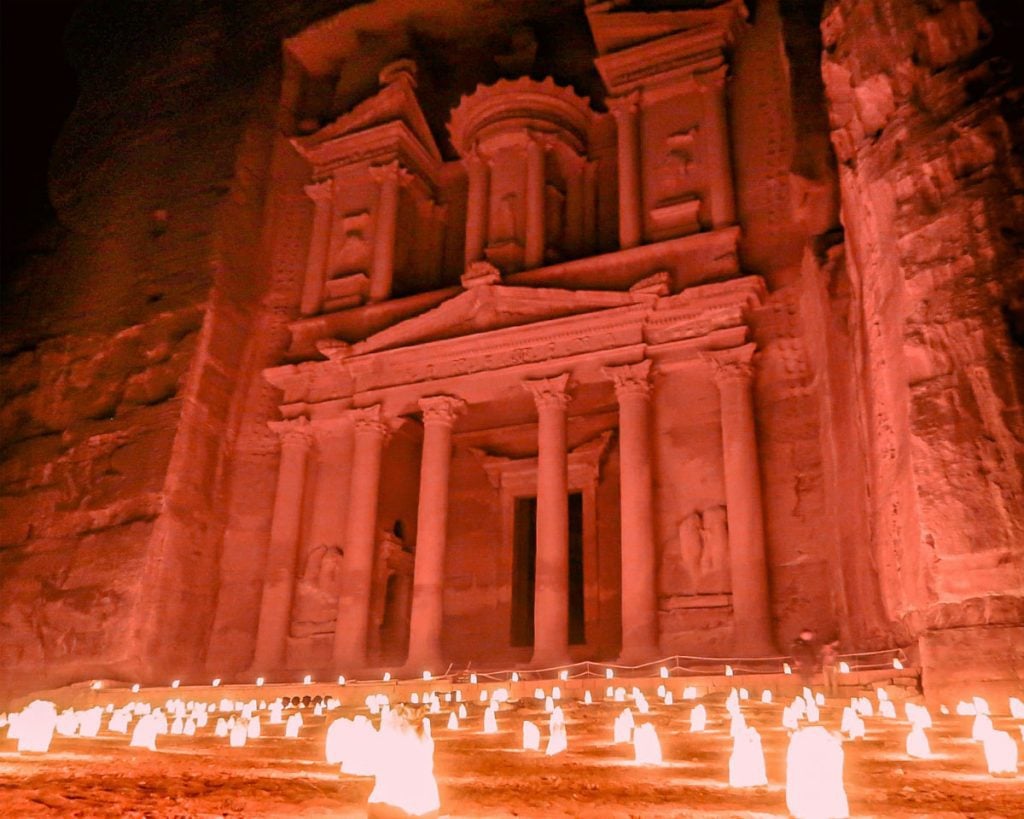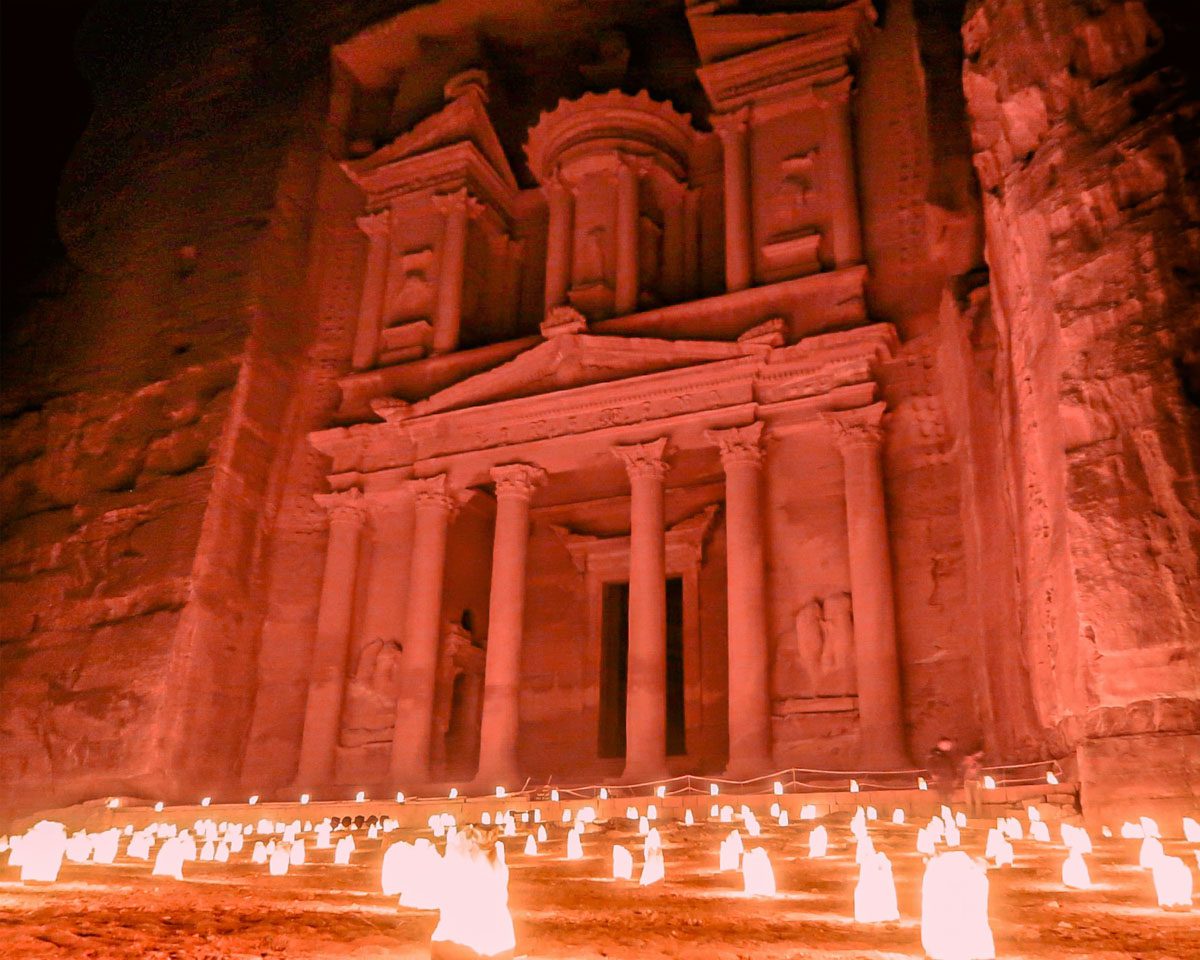 The "Lost City" of Petra is one of the New Seven Wonders of the World and a truly phenomenal addition to your Jordan travel itinerary. There are many bucket list-worthy sights and experiences in the ancient city, but one of the most unique is undoubtedly Petra by Night.
Three times a week you can experience the ancient capital of the Nabataean kingdom from an entirely different perspective.
This unique adventure includes a hike through the candle-lit Siq Trail culminating in a cultural presentation in front of the renowned Treasury illuminated with 1,500 candles. Trust me when I say—the Rose City looks even more ethereal under glowing candlelight.
So, how do you experience Petra by Night? And more importantly, is it even worth it?
This comprehensive guide will "shine a light" on Petra by Night (pun and rhyme both very much intended!).
Before diving into it, one quick thing: we highly recommend reading this article in tandem with our in-depth guide to visiting Petra by day, packed with other essential trip planning tips and advice.
Article contents
Tip: If you are starting your trip in the capital city, you'll want to read our guide on how to get from Amman to Petra to help sort out your travel plans.
---
Petra by Night entrance fee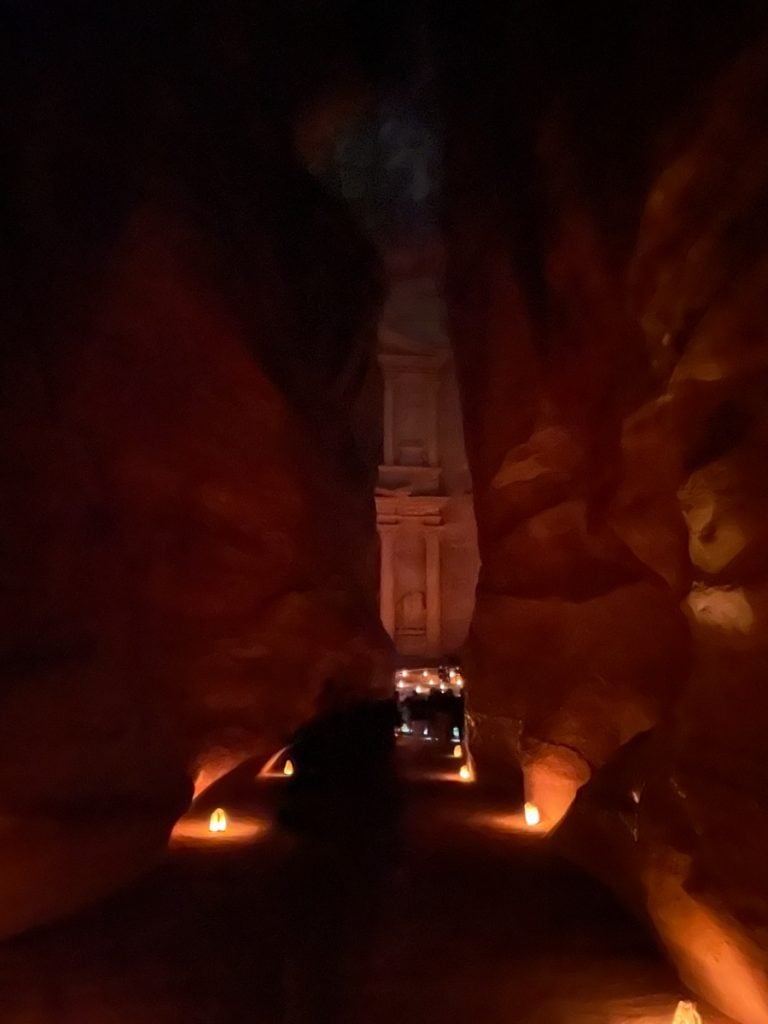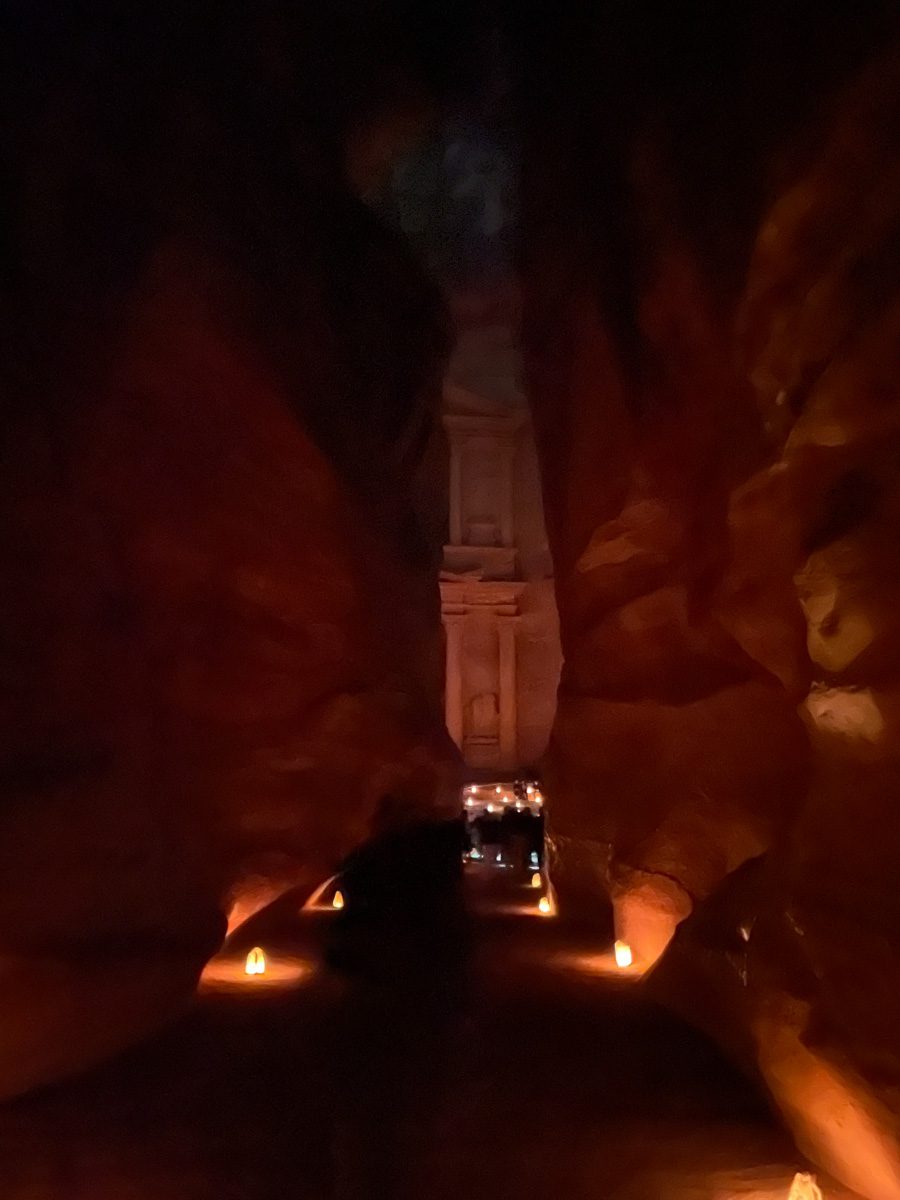 Admission to Petra by Night is 17 JOD (~$24 USD) per person. This is in addition to the general admission for visiting Petra. Petra by Night is not included in your Jordan Pass.
Note: you must have a valid daylight ticket, either regular entry or the Jordan Pass, in order to purchase tickets for Petra by Night.
General admission rates for Petra increase slightly depending on how many days you plan to visit.
1 day: 50 JOD (~$70 USD)
2 days: 55 JOD (~$78 USD)
3 days: 60 JOD (~$85 USD)
If you're planning to stay in Jordan for at least three days and you'd prefer to explore on your own versus with a tour group, and you're eligible for a visa, we highly recommend buying the Jordan Pass. While the pass actually excludes Petra by Night, it includes access to many other worthwhile sights in the country (including Petra itself) and saves you money in the long run.
How to get tickets for Petra by Night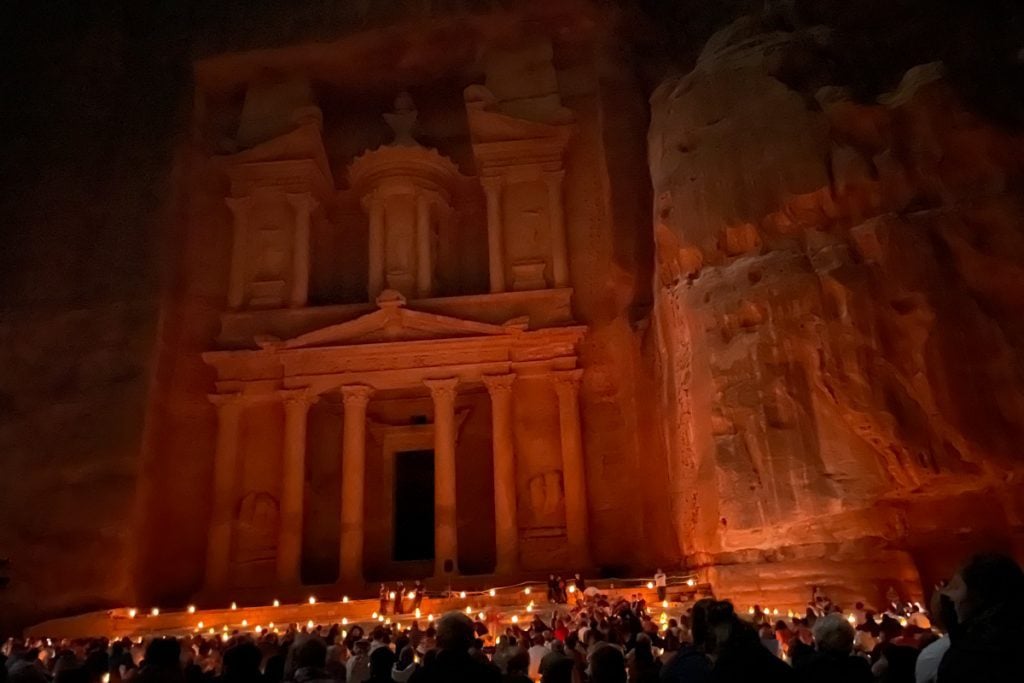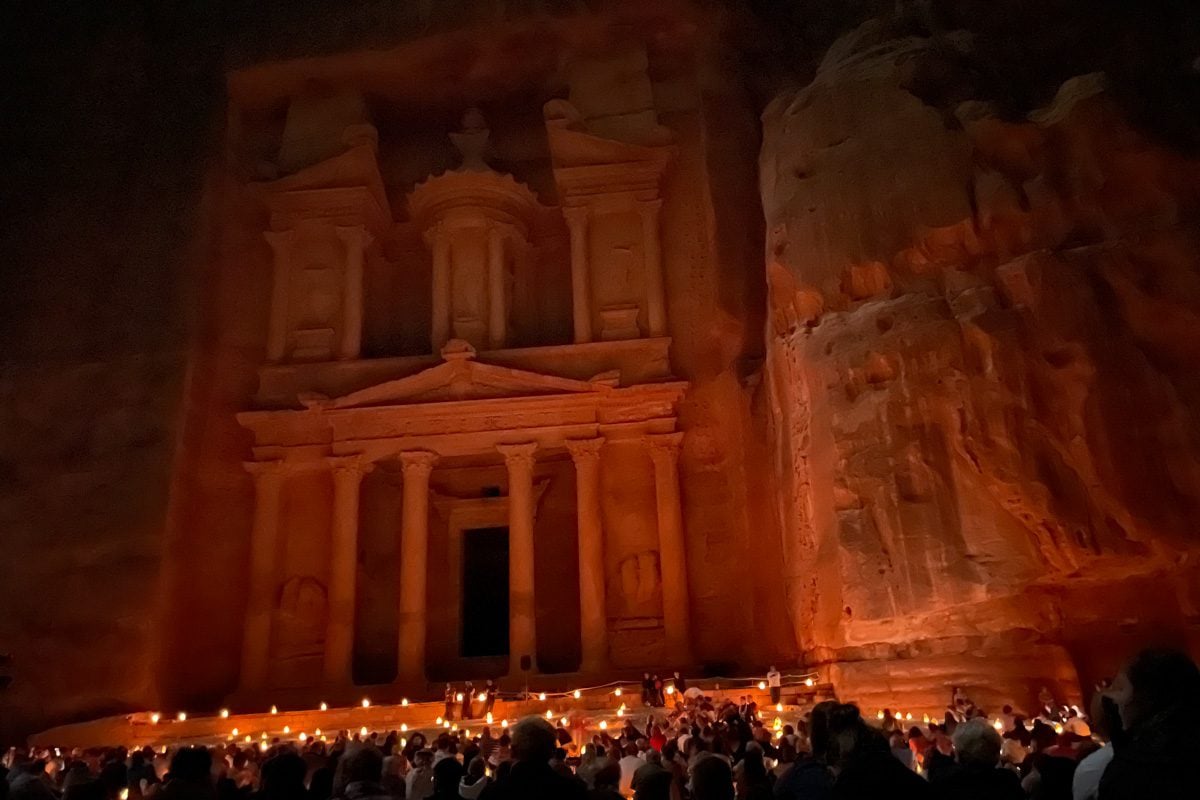 You can purchase tickets for Petra by Night at either the visitor's center, right by the main entrance to the city, or you can arrange with your hotel to pick up the passes for you. It is not possible to purchase tickets for Petra by Night online.
Important note: you can only get tickets on the day of the Petra by Night event you're planning to attend. In other words, advanced reservations are not available.
The great news is that the event doesn't appear to cap numbers, so if you arrive at Wadi Musa late and want to attend that night, there's no need to panic. In fact, we arrived fairly last-minute due to a slight mix-up with our hotel, and still managed to nab tickets at the visitor's center even after the start time of the event.
Planning a Trip to Jordan? Find out the best time to visit Jordan based on regional weather patterns and your personal travel style.
What to expect at Petra by Night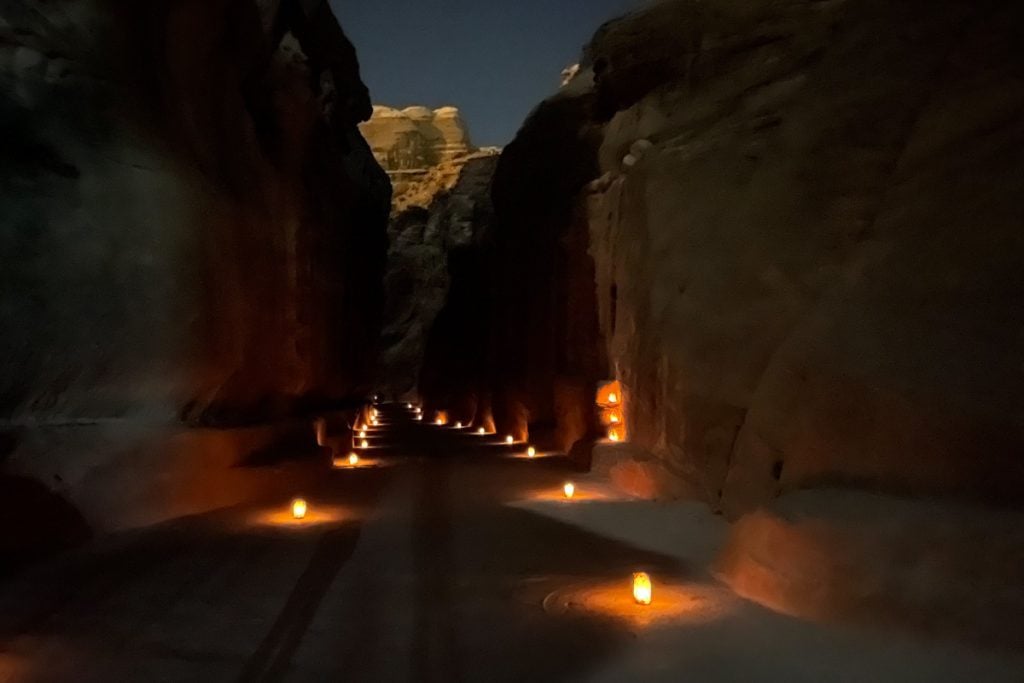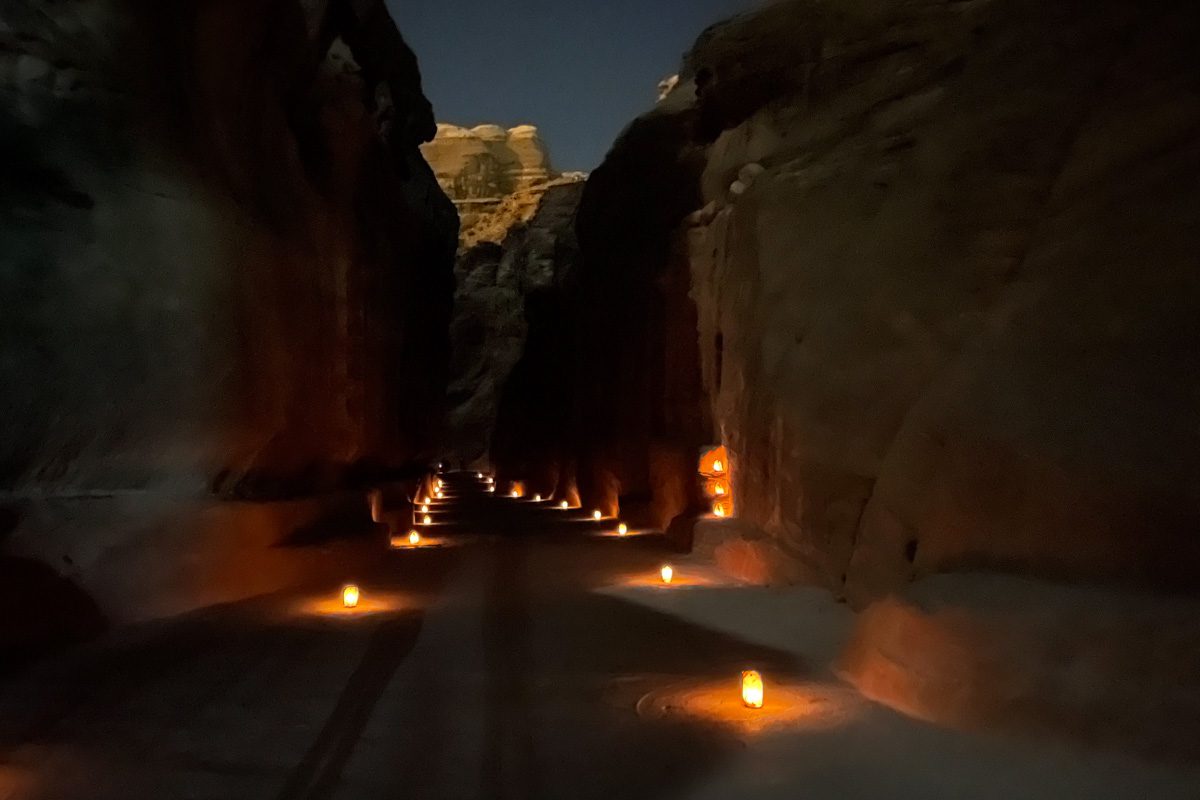 After showing your ticket at Petra's entrance in Wadi Musa, you'll follow the Siq Trail to the Treasury. Lit by thousands of flickering candles, the narrow canyon takes about 30 minutes of walking to reach the Treasury, where Petra by Night takes place.
Once at the Treasury – unquestionably the jewel of Petra – you will be greeted with Jordanian music and another 1,500 candles illuminating the facade. You'll have the option to settle onto one of the mats laid out for the event or to stand toward the back of the seating area.
Tip: We found that most attendees opted to sit, but by choosing to stand, we actually got a superior view over the crowd and unobstructed photo opportunities.
It's important to point out that the candle-lit Treasury isn't nearly as bright as it looks in photos. The way your eyes perceive the light (versus leaving your shuttle wide open to take in the light) is very different and when we arrived, we felt it was much darker than expected. You could hardly make out the scene beyond silhouettes with your naked eye.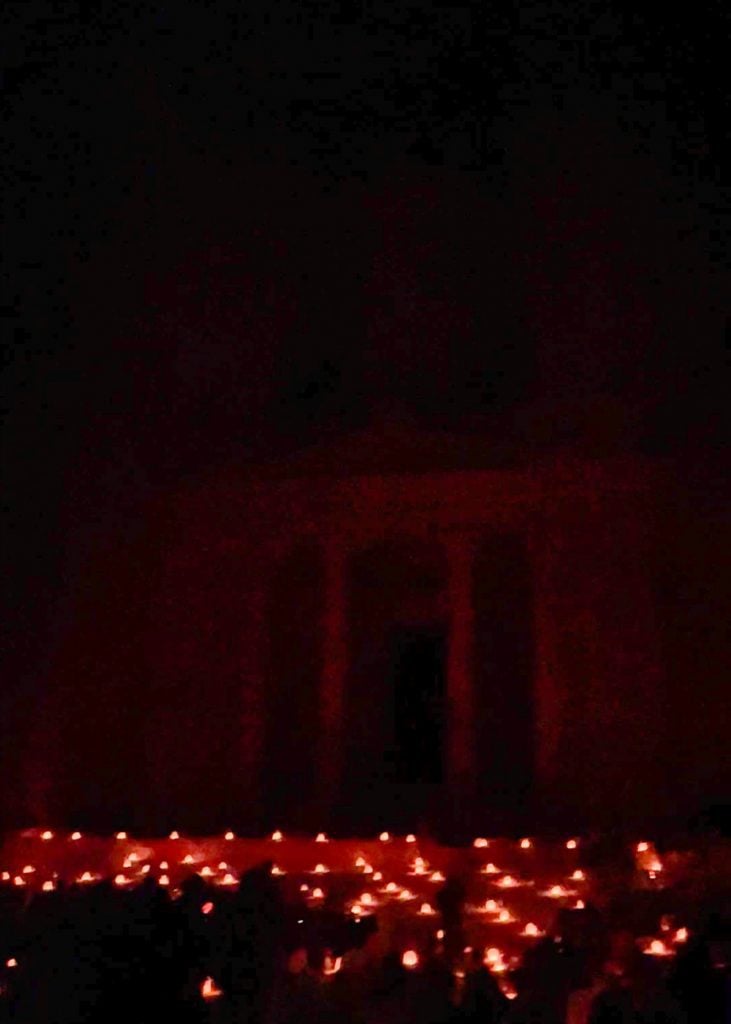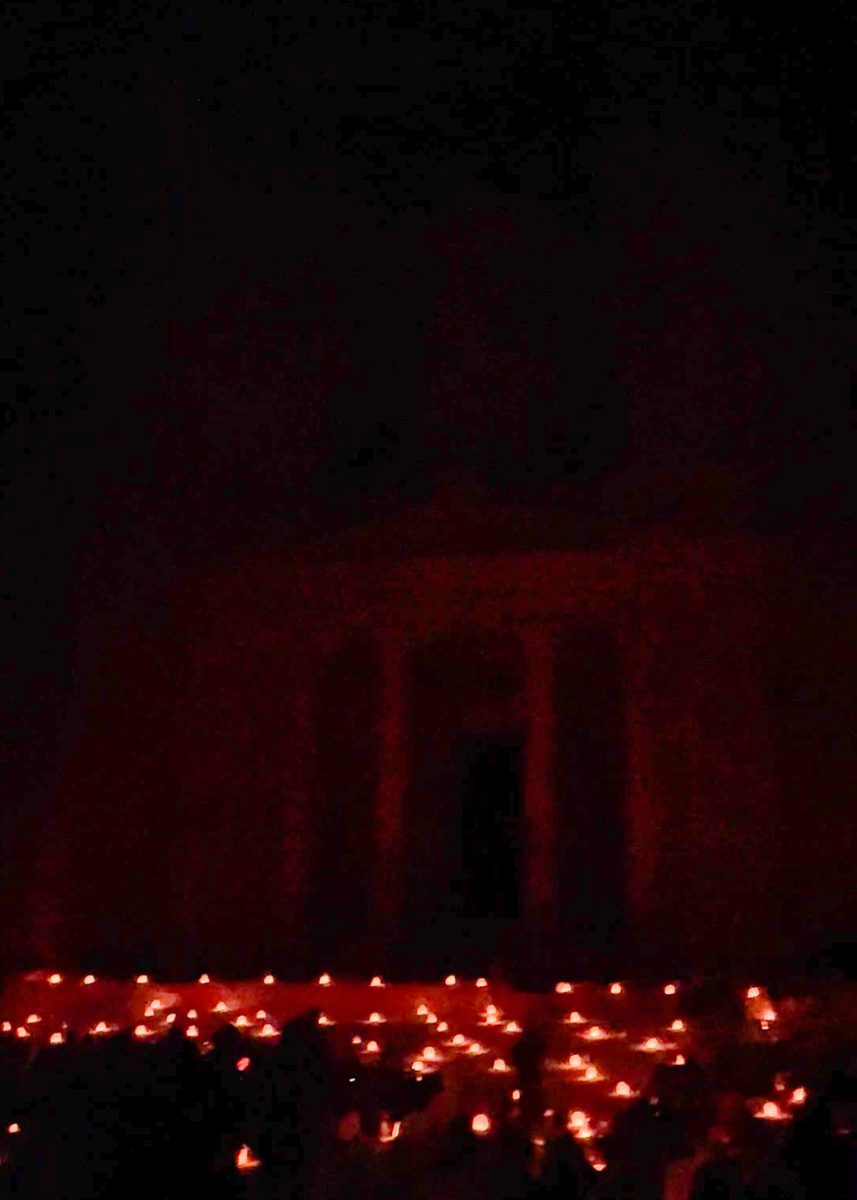 I took a video to show what your eyes perceive, instead of what your camera picks up with low-light settings, and grabbed a screen shot to illustrate the scene above. This is not an exaggeration, you can hardly make out the shape of the Treasury with your naked eye.
The event starts with a guide delivering a brief presentation about Petra and its history. It's a tad tricky to hear, especially from the back, due to poor audio quality and the persistent chit chat all around. If you're interested in this part of the presentation, you may want to find a spot closer to the front.
After this, the Petra Night show will continue with a display of colored lights lighting up the Treasury. The music will continue, and you'll have plenty of time to snap photos and just soak up the atmosphere.
In my personal opinion, while easier to see the facade, the colored lights actually took a lot away from the magical glow and ambiance of the candles. However, others around us seemed to love it. To each their own!
If you want to experience Petra by Night without all the crowds, here's a pro tip: get to the site around 10 minutes or so after 8:30 p.m. when the event officially starts. This puts you toward the end of the masses, which also lets you experience the candlelit trail to the Treasury in a more solemn way and without so much background chatter.
This is exactly what we did, although in retrospect we actually walked faster than we needed to (because we thought we were racing against the clock and might be too late!). We ended up passing other groups who were quite loud, which sort of detracted from our experience. Had we known that we could show up anytime before 9:15 p.m. or so, we would have trailed behind more for a quieter atmosphere.
Tips for photographing Petra by Night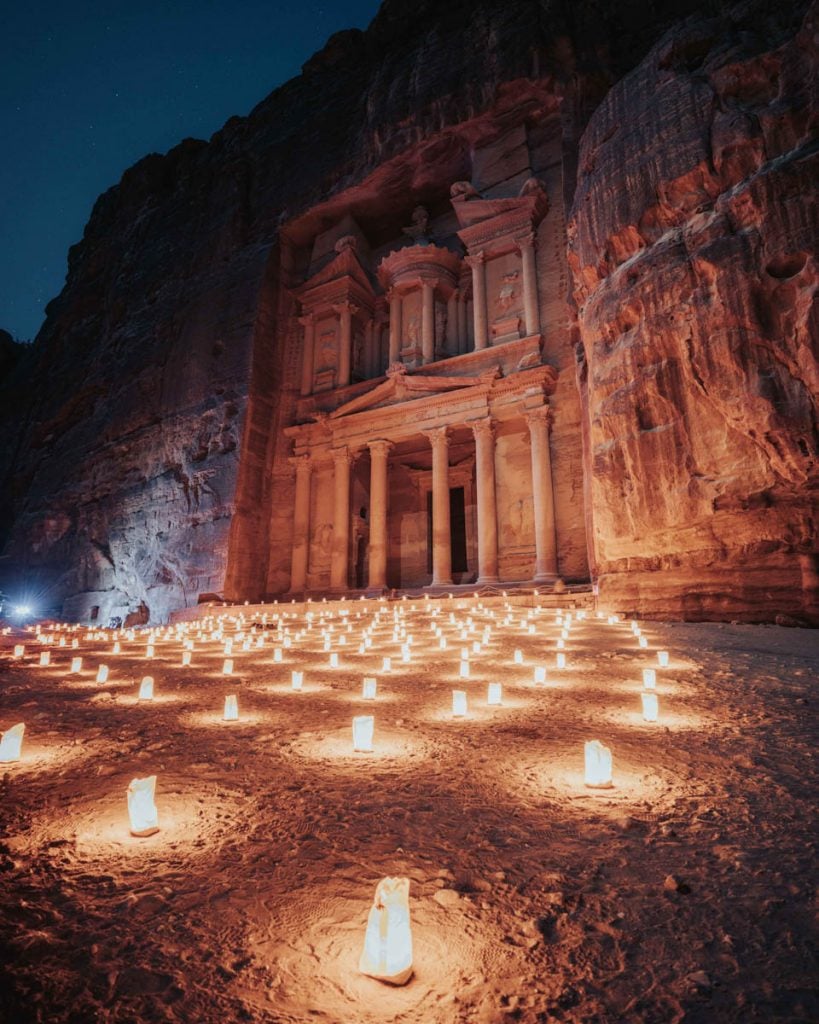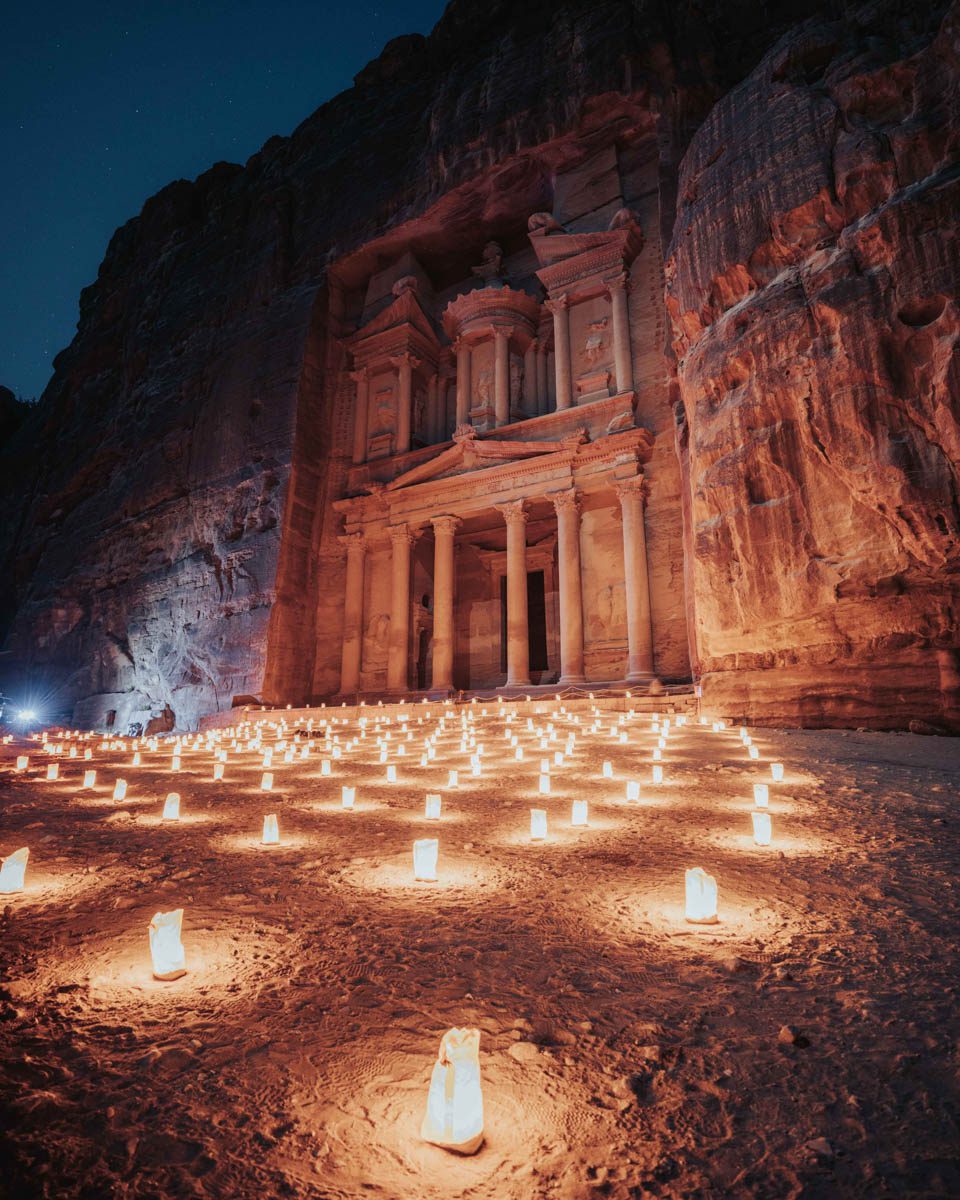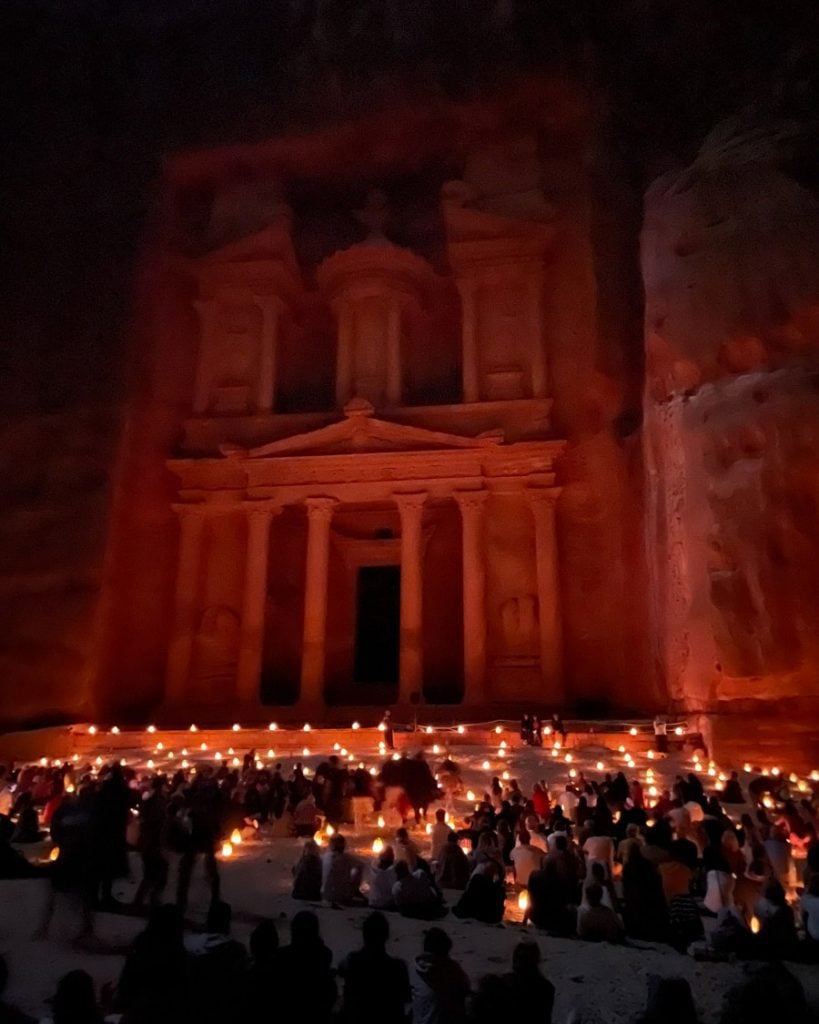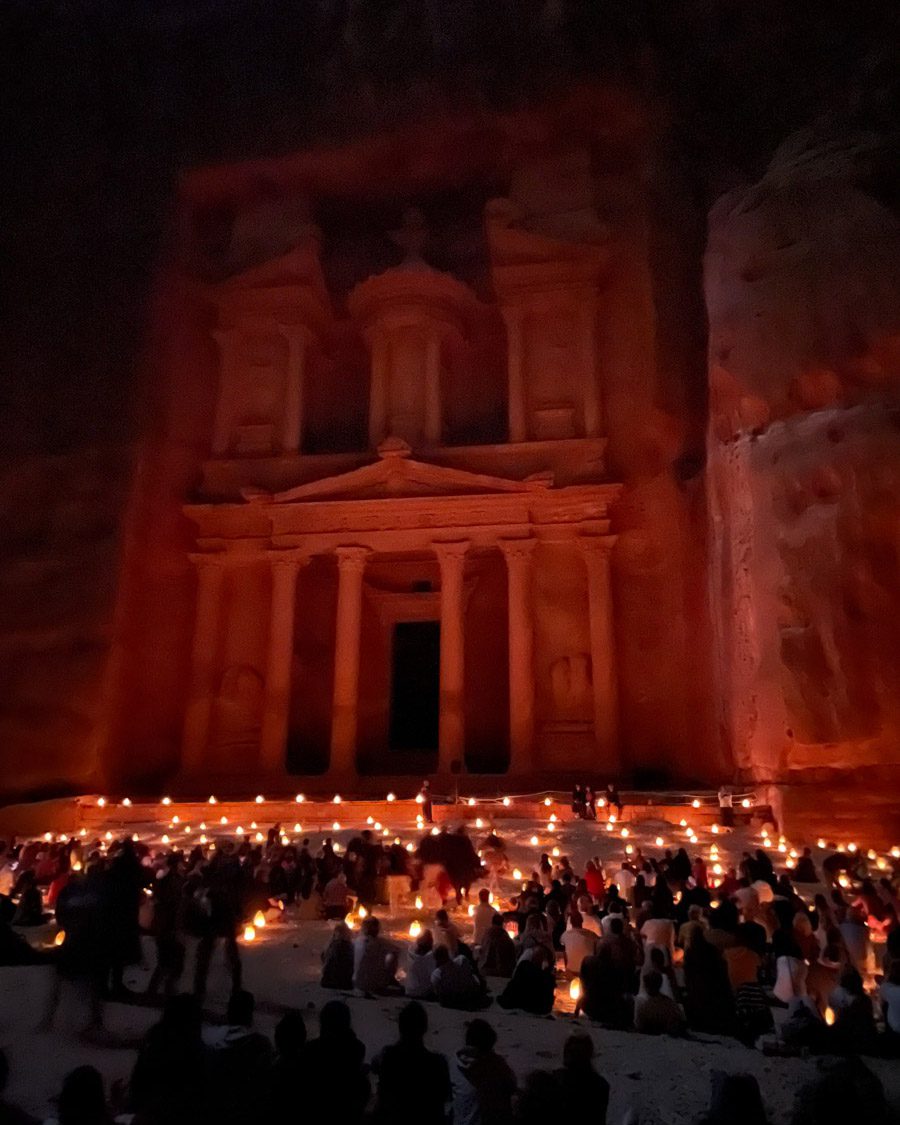 If you want to capture high-quality photos of Petra by Night like the ones you see all over the Internet, you will absolutely need a DSLR (or mirrorless) camera with a tripod. Between the darkness and candlelight, there's just no way of avoiding blurry pics without a tripod.
Unfortunately, I didn't have one for my camera, but through trial and error with the settings, I managed to get some decent photos. The key is to use a long shutter speed (10+ seconds), which makes it extremely hard to get a decent picture if you're holding your camera by hand.
On the other hand, my iPhone 12 Pro did alright with its low light settings. Though not exactly professional quality, those photos turned out better than the photos from my handheld DSLR photos.
Here are some other top tips for photographing Petra by Night:
Keep the ISO as low as possible, ideally between 200 and 800.
Set the shutter speed to a minimum of 10 seconds — and ideally around 20 seconds. This is necessary to let enough light in, and the biggest reason a tripod is so important.
Balance the aperture between f5.6 and f11 (you'll likely have to play around with it and may also need to move it a few times based on the lighting).
Pay close attention to your light meter and be prepared to adjust it as your camera grapples with the contrast of pitch black skies and artificial lights.
The colored light show helps to get sharper shots, but it also detracts somewhat from the ambiance of the candles.
Keep in mind that even if you don't get the photos you hoped for at Petra by Night, you'll more than make up for that when you visit Petra in the daytime!
Is Petra by Night worth it?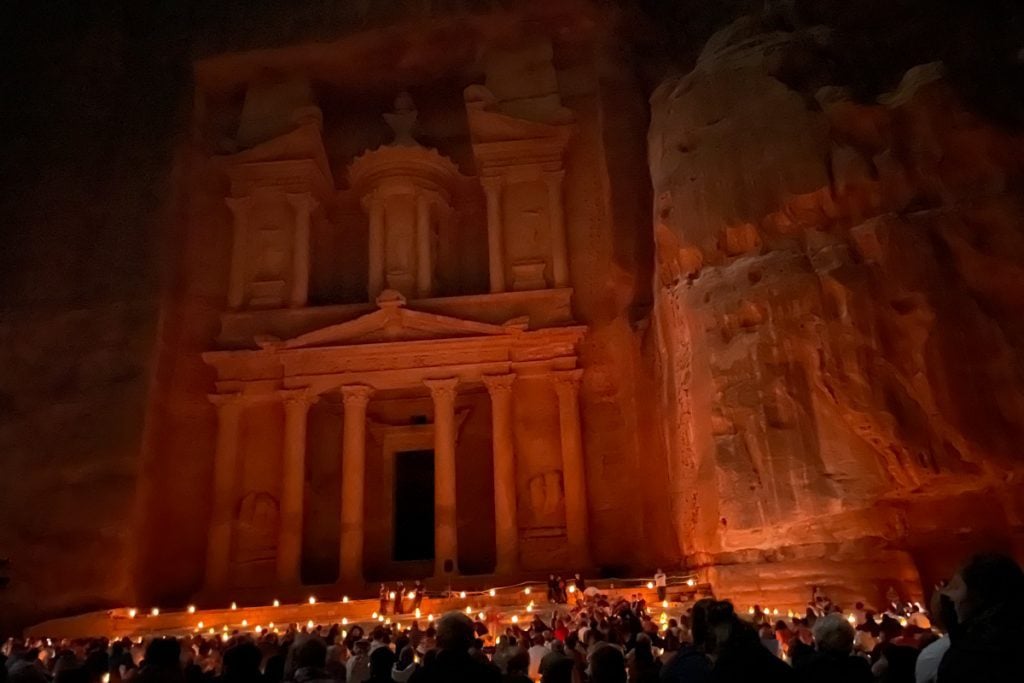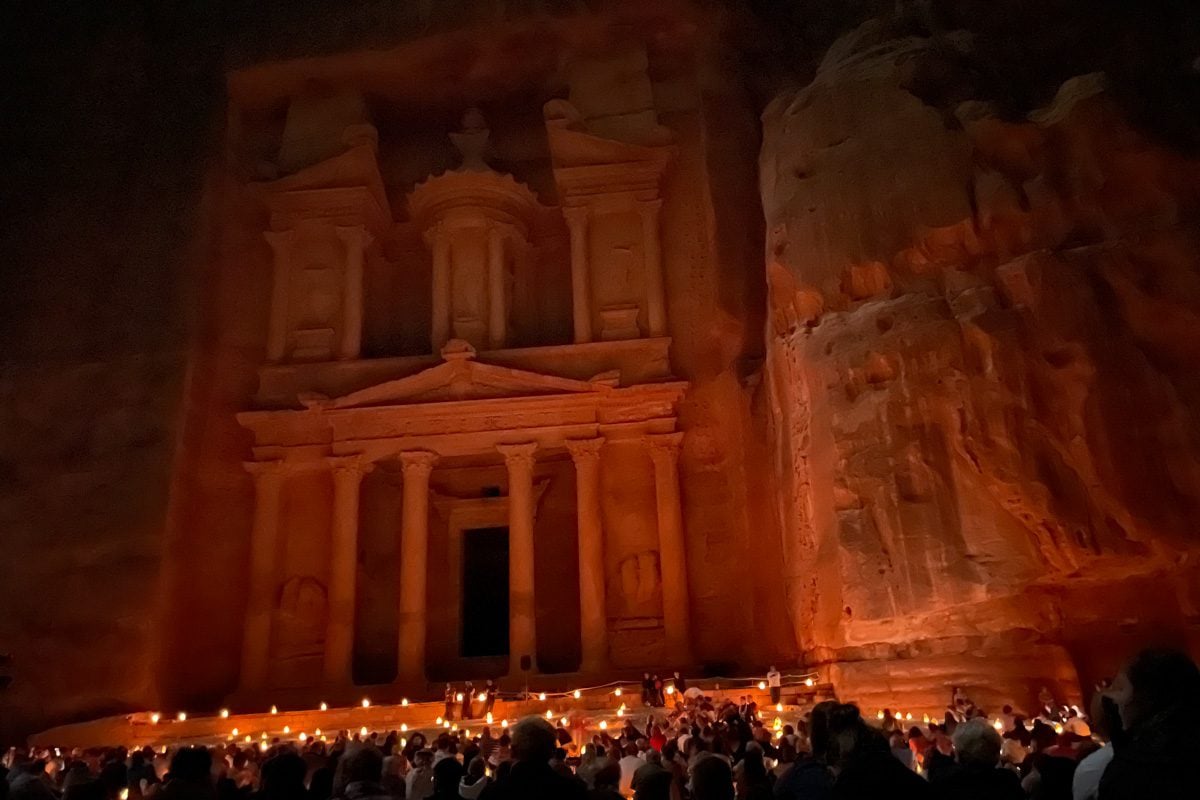 So, the big question: is Petra by Night worth it? My answer depends on a few pros and cons to consider.
As you can probably imagine, the whole experience does feel pretty touristy. The emphasis is almost entirely on getting photographs, but with the colored artificial lighting, the Treasury doesn't appear to the naked eye the same way it does in all those beautiful, professional photos online.
And while there was a presentation about Petra's history, the audio quality wasn't very good and we found that we could only make out small parts of it.
Having said that, the concept of Petra by Night is undeniably cool. Even with a few drawbacks (and especially taking into account some of the tips I've given here!), you can still have a thoroughly enjoyable evening.
If you happen to be in Wadi Musa visiting Petra and the event aligns with your itinerary, you should absolutely go. However, I wouldn't encourage you to create your entire travel schedule around the event or rearrange anything to attend.
You'll get a far greater experience when you visit Petra in daylight hours and explore beyond the Treasury.
Psst! If you'll be traveling more throughout the country, be sure to check out our bucket list of unforgettable things to do in Jordan!
Petra by Night FAQs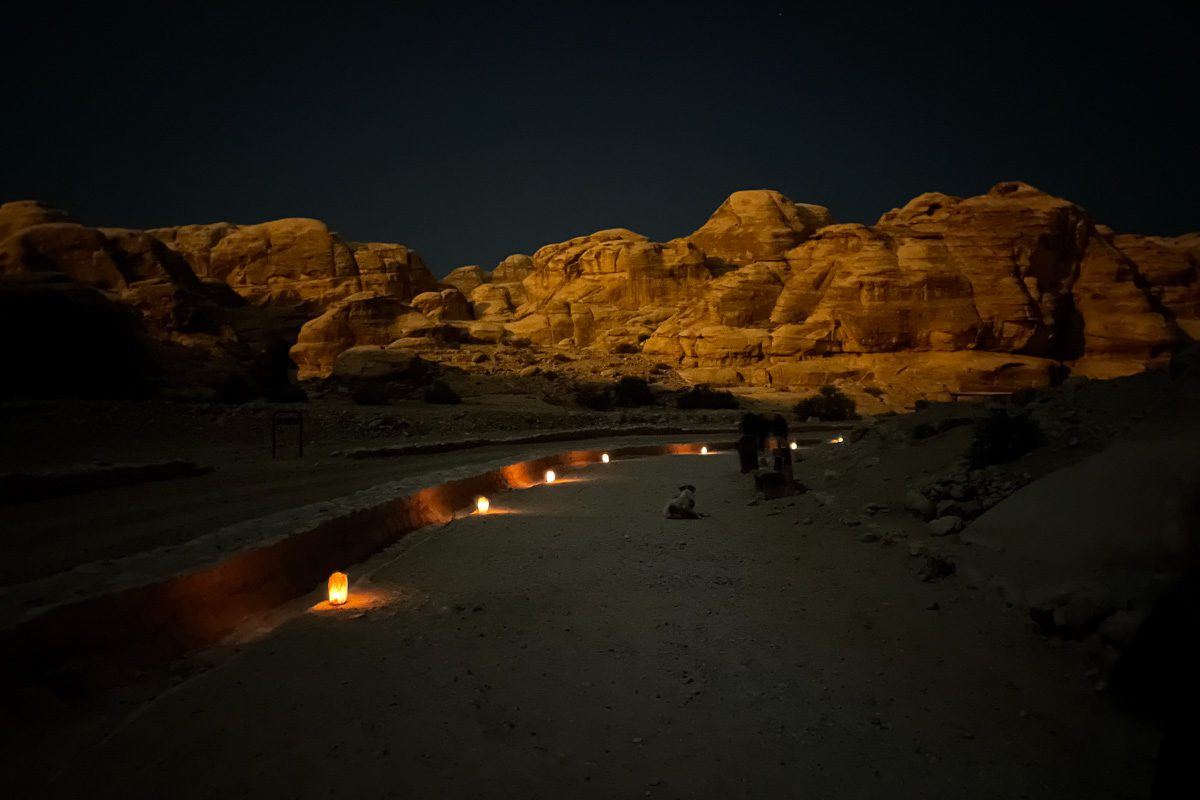 To wrap up, let's highlight some of the most important and frequently asked questions about attending Petra by Night.
Is Petra by Night included in Jordan Pass?
No, Petra by Night is not included in the Jordan Pass; you must buy a separate entry ticket. To clarify, the Jordan Pass does cover entry to Petra itself (during daylight hours), just not Petra by Night.
Which days is Petra by Night?
Petra by Night only runs on three evenings a week: Mondays, Wednesdays, and Thursdays.
What time does Petra by Night run?
Petra by Night officially runs from 8:30-10:30 p.m. However, you can arrive anytime before 9:15 p.m. and still easily make it to the Treasury in time to see the light show. Staff will begin to clear everyone out of the complex sharply at 10:00 p.m.
---
Are you planning a trip to Jordan?
We have lots of resources on travel in Jordan and destinations throughout the country. Check out our Jordan Travel Homepage for everything you need to know, or read some of our favorite articles below.
Save this article on Pinterest for later!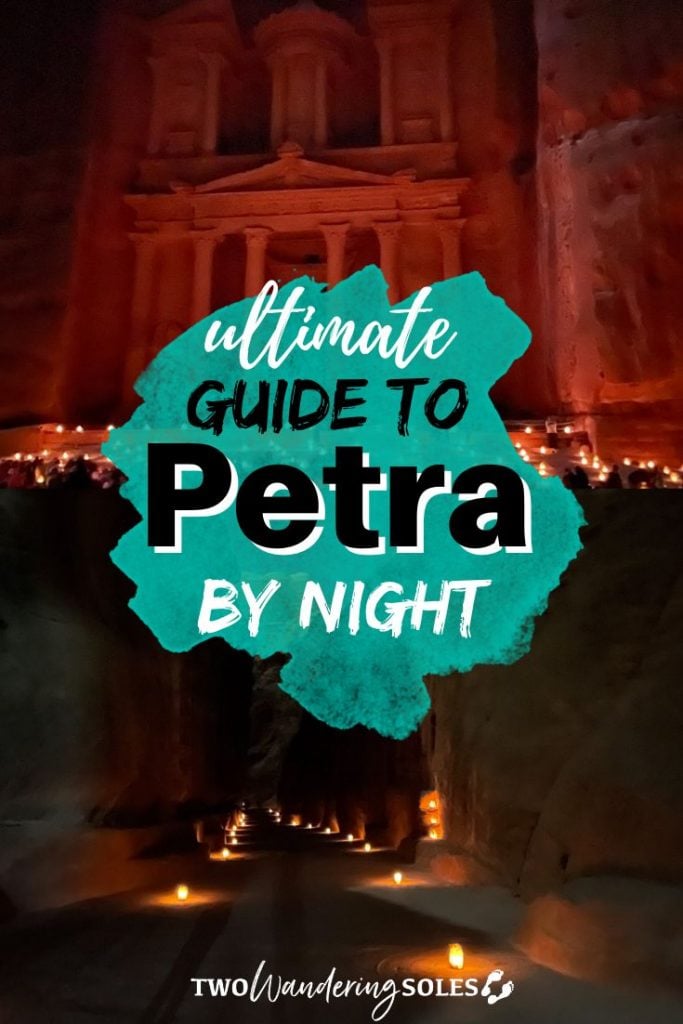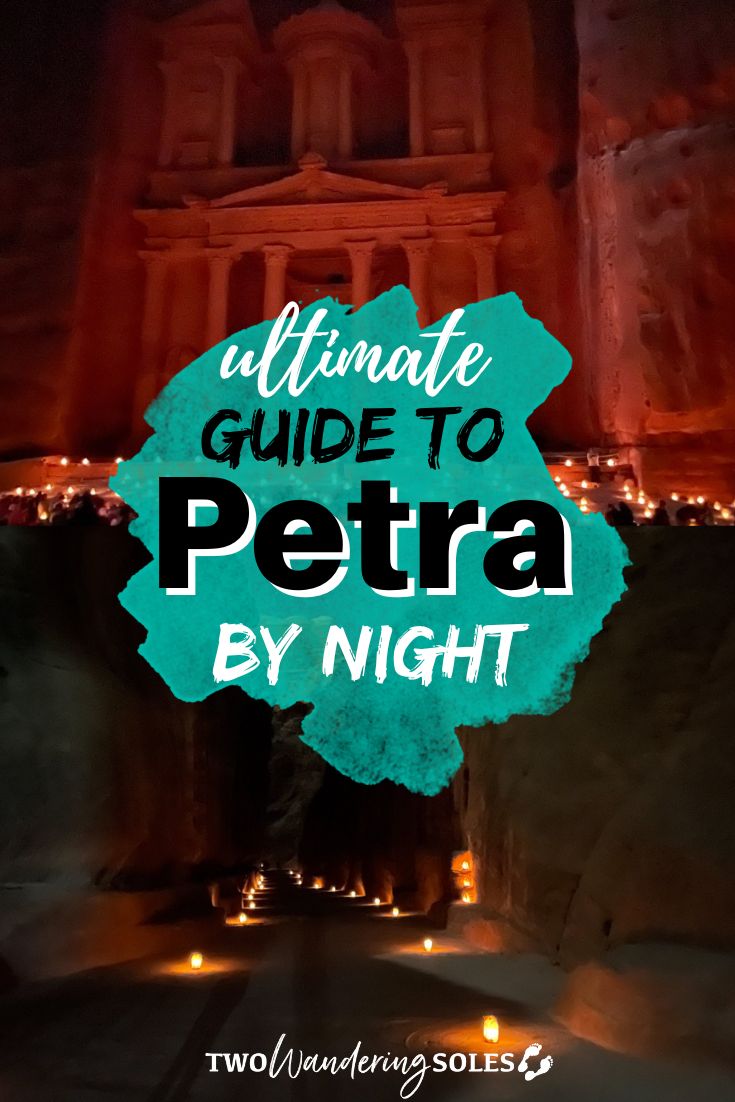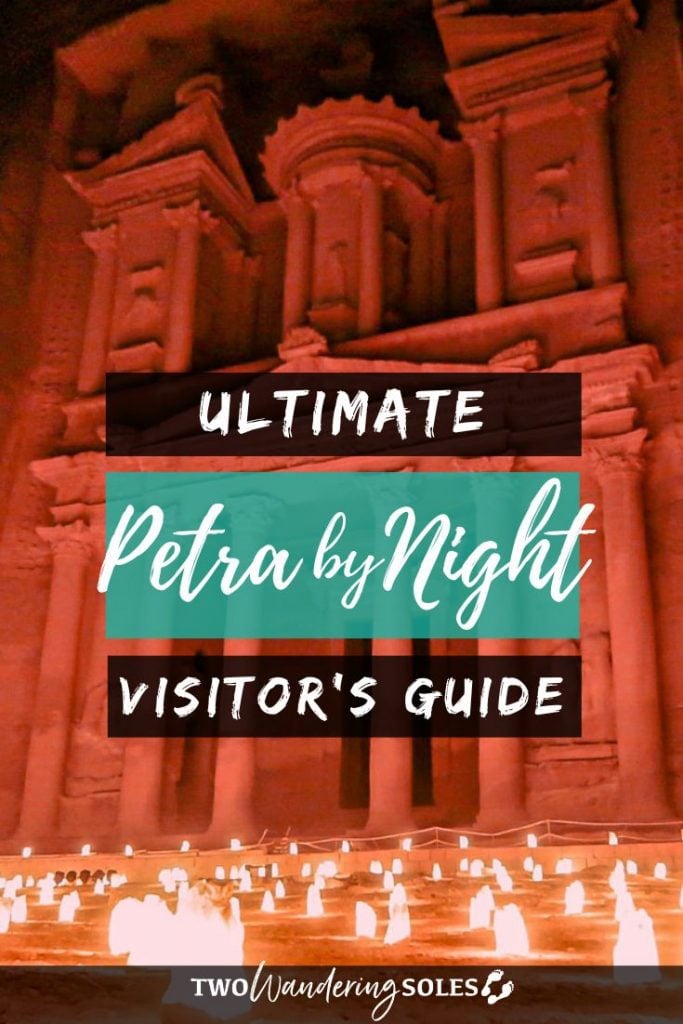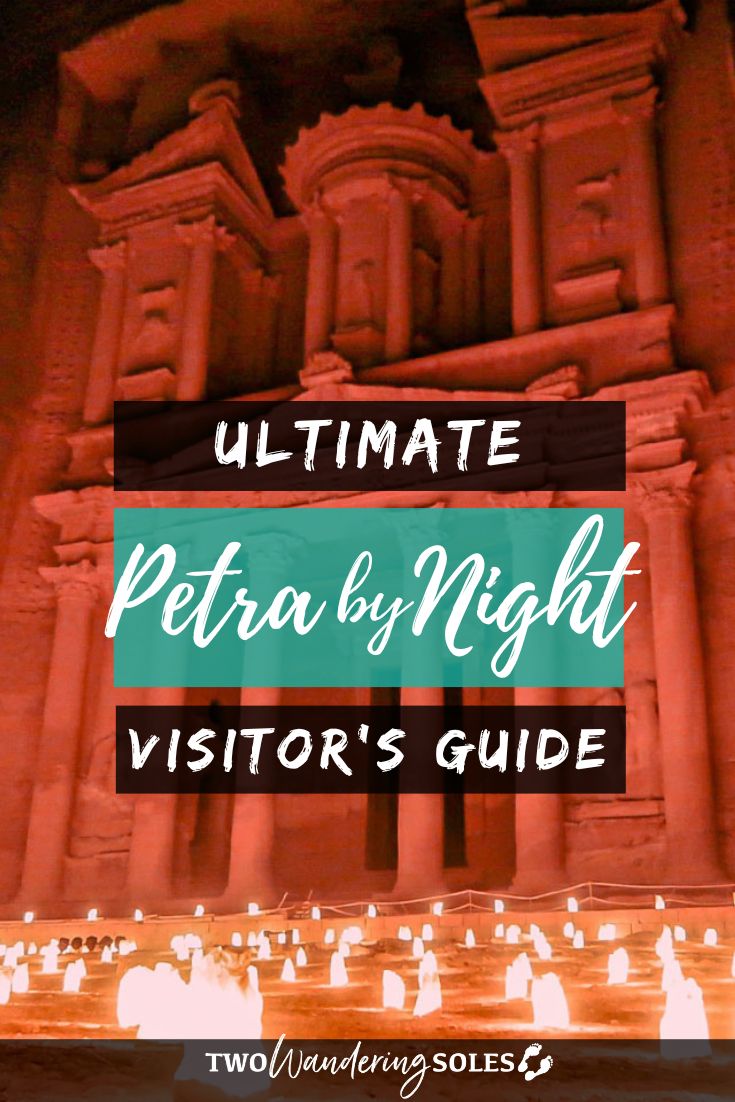 We want to hear from you!
Have you ever been to Petra by Night? What was your experience like? Leave your comment below and we'll do our best to get back to you!