Choosing accommodation when traveling with a baby is a whole different beast than picking a room for just yourself. We're going over all the things we think about when choosing a hotel with a baby.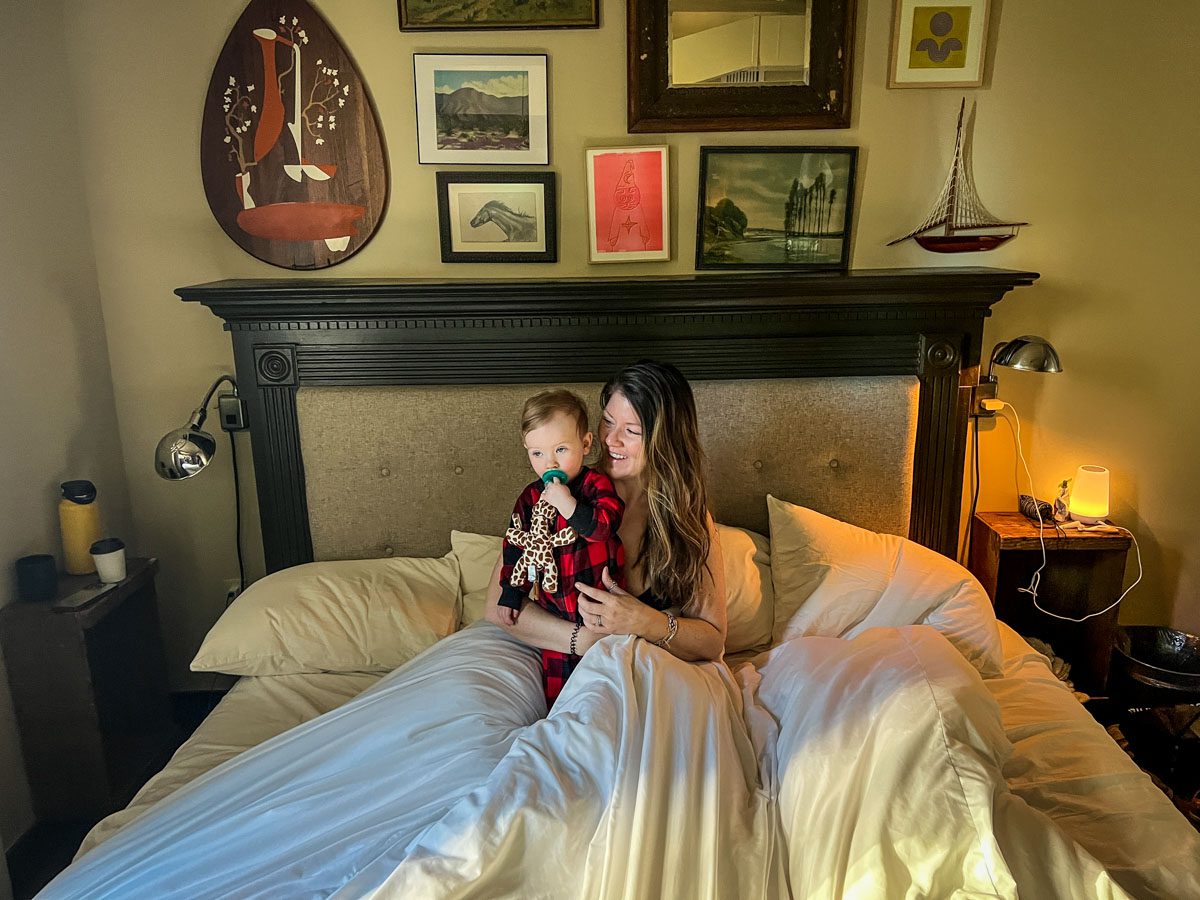 Before having a baby, there wasn't a ton that went into choosing hotel rooms. We'd compare prices. Read reviews. Look at the location.
And then we'd book it. Boom. Simple as that.
But these days, it's not just the two of us that we need to think about. And choosing accommodation with a baby has become a lot more involved.
There are many more factors we need to consider. And there are types of accommodation that we would have booked in the past that simply no longer work with a baby.
In our daughter, Juniper's, first year, we stayed at all sorts of places – hotels, resorts, Airbnbs – the whole gamut.
During that year, we spent more than 70 nights in hotels and Airbnbs.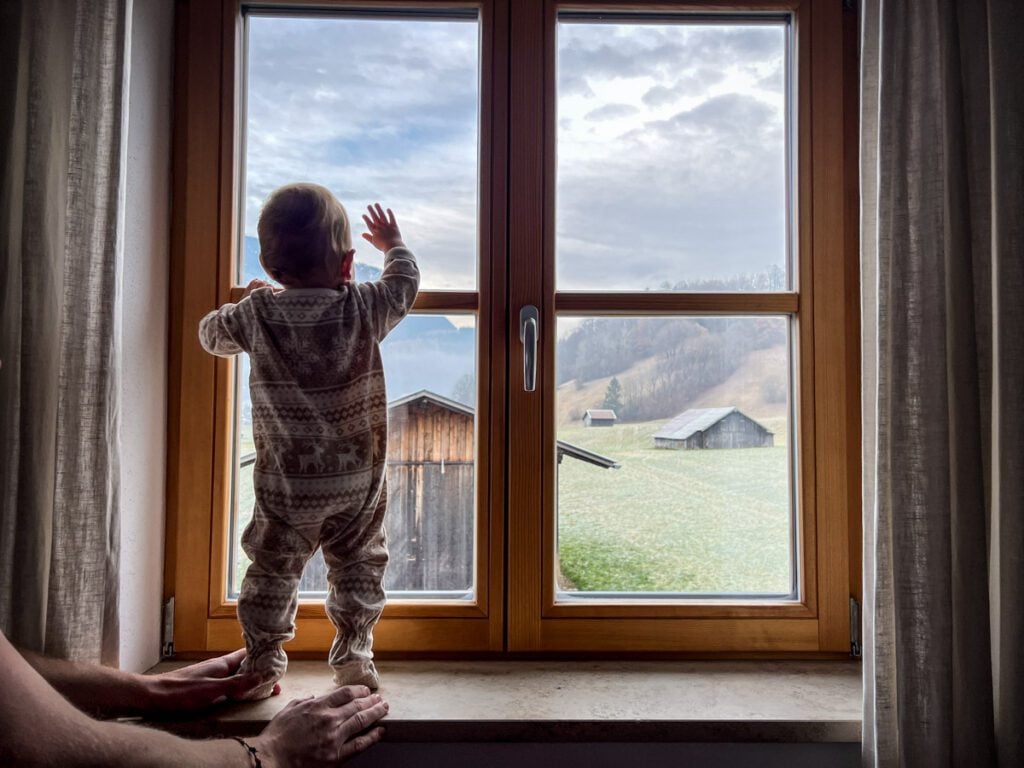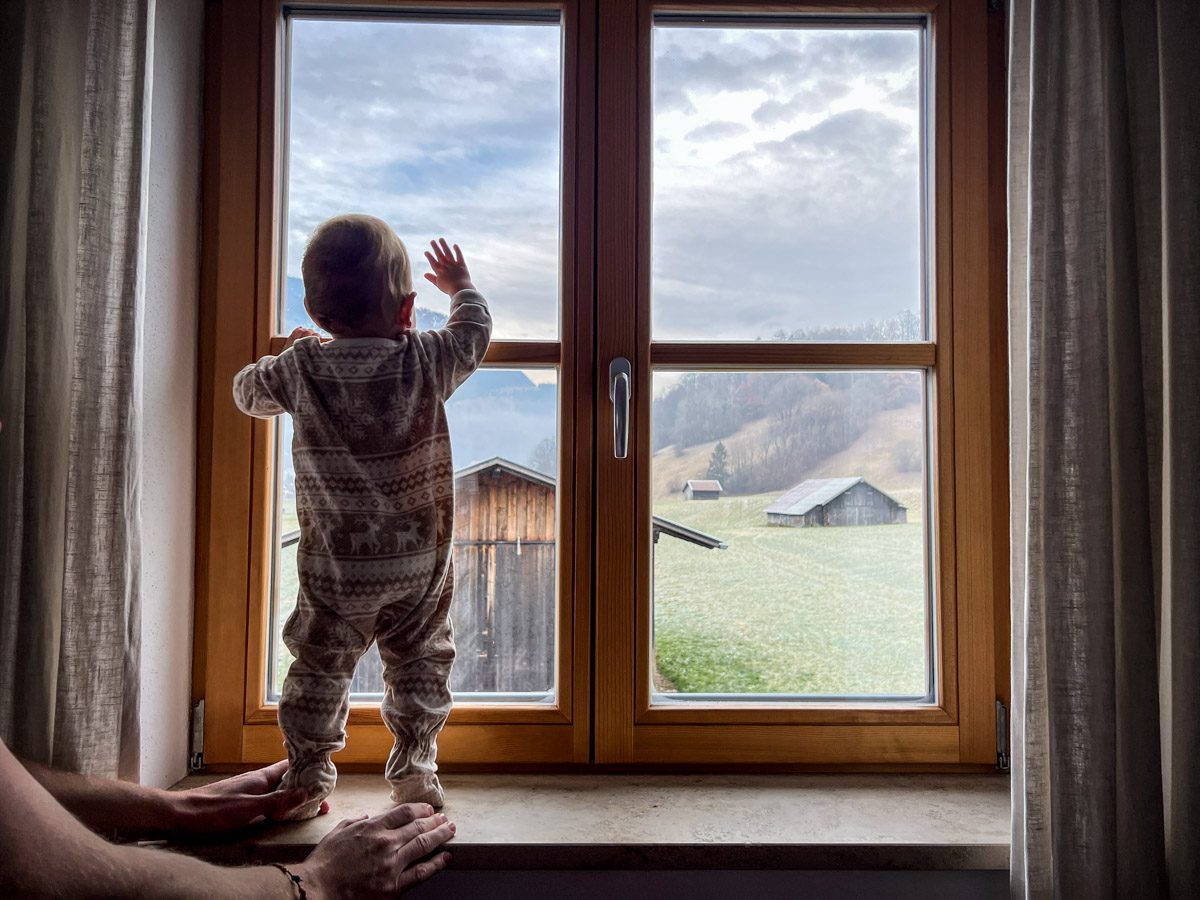 We had good, bad, mediocre, and downright awful stays.
Through it all, we have learned a great deal about what works well and what doesn't. We've created a "checklist" of things we personally look for when booking a hotel with a baby to ensure it will be a comfortable stay for all of us.
In this article, we're sharing this info with you so you know exactly what to look for and what to avoid. Hopefully after reading this, you won't have to experience any of those downright awful stays, like we did.
---
Thinking about taking an adventure with your little one?
Be sure to download our complete packing list for traveling with a baby! It's packed with good suggestions and advice for what has personally worked for us on our travels with a baby.
Whether you're getting ready for your first ever trip with a baby, or you're a parenting pro just looking for a few extra tips, we hope this baby travel packing list will serve you well!


Psst! Have you checked out our top tips for traveling with a baby? This list of practical tips and encouraging advice will be super helpful!
---
Best types of accommodation with a baby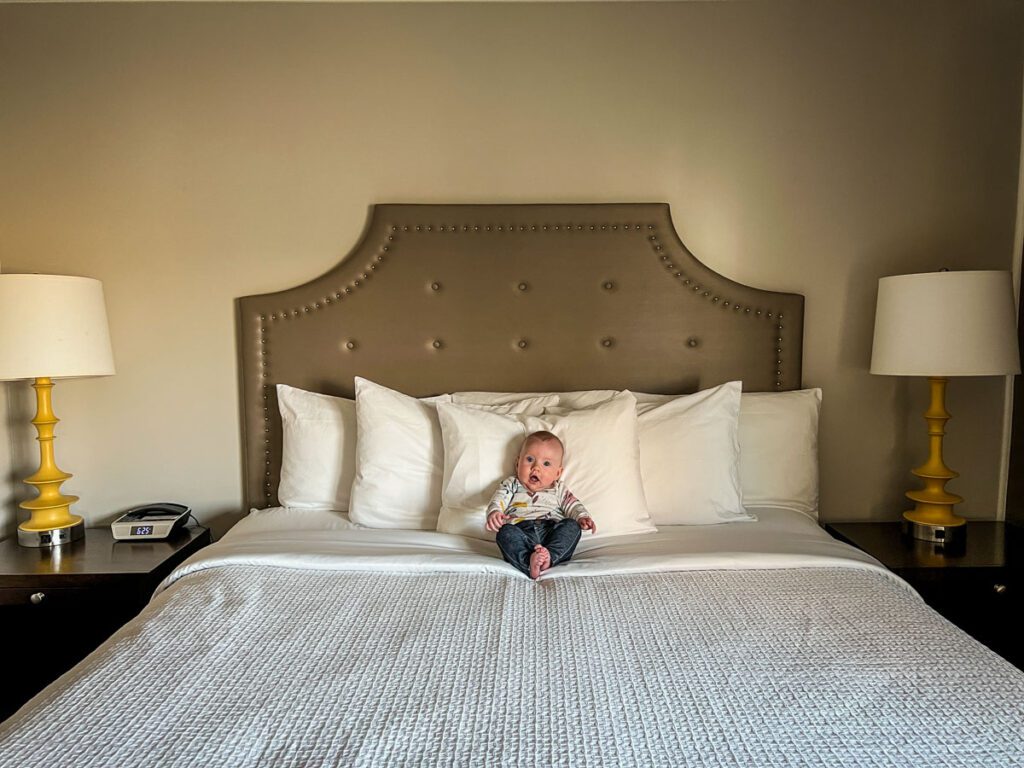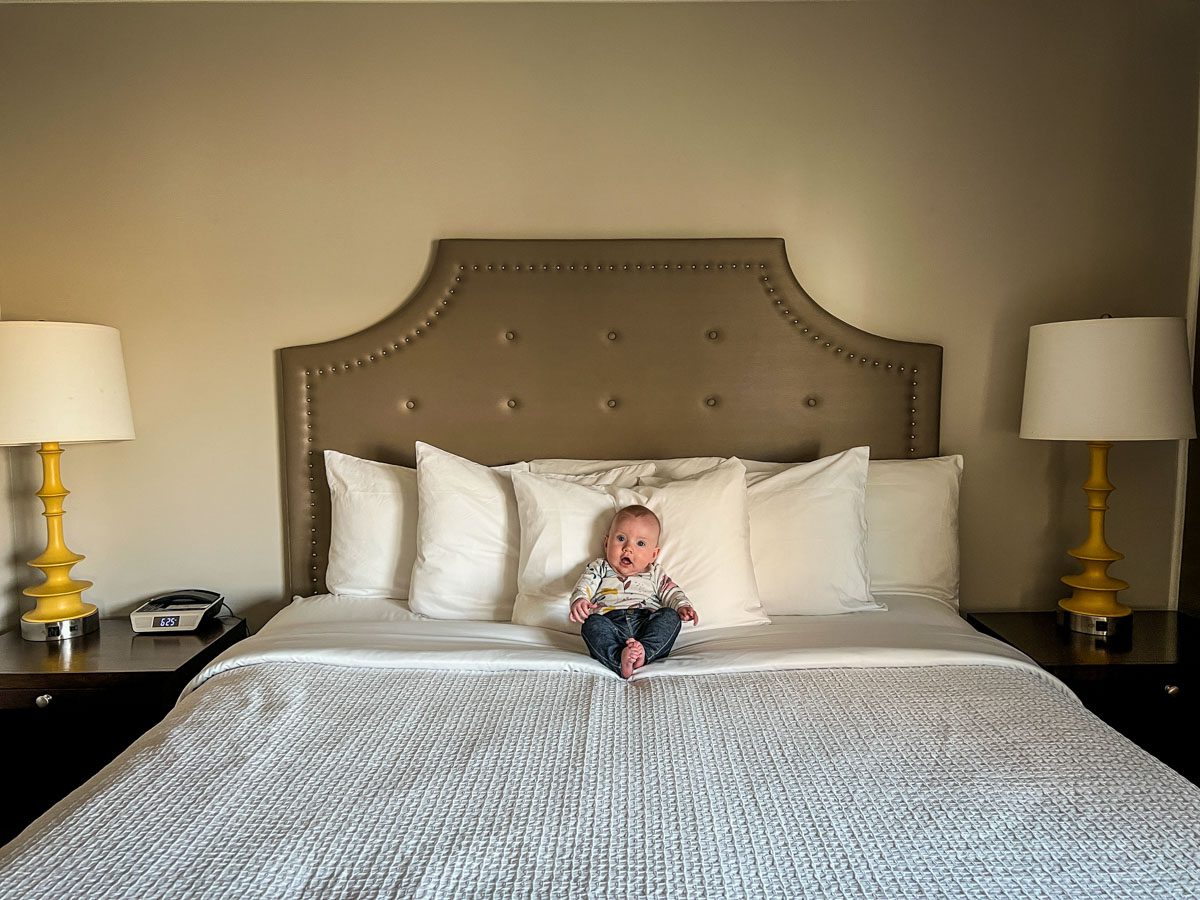 First, let's get this question out of the way: Which type of accommodation is best for staying with a baby?
The answer totally depends on your family and the ages of your child(ren).
I'll cut to the chase and tell you our favorite type of accommodation for traveling with a baby is typically Airbnbs (as long as we look for a few specific things when booking, which we'll go over in this article).
Just because it's our favorite, you might find a different style works better for your family.
My advice is to try a few different types of stays to determine which you personally prefer. There truly are pros and cons of each, and you'll probably like different styles of accommodation for different types of trips.
Hotels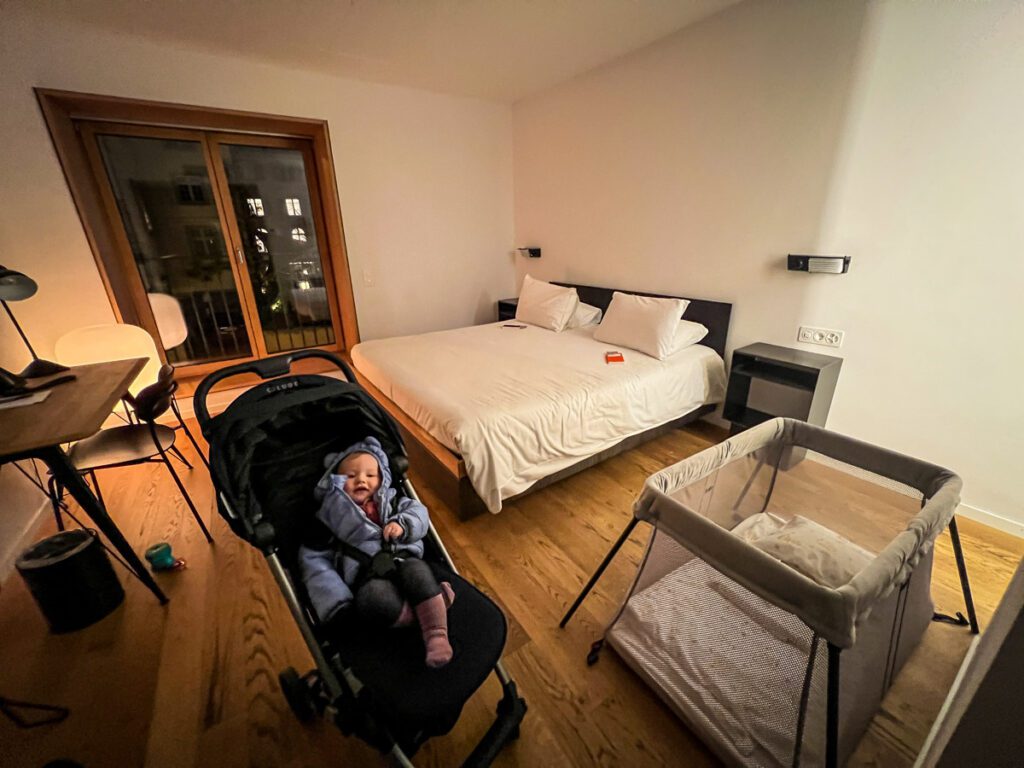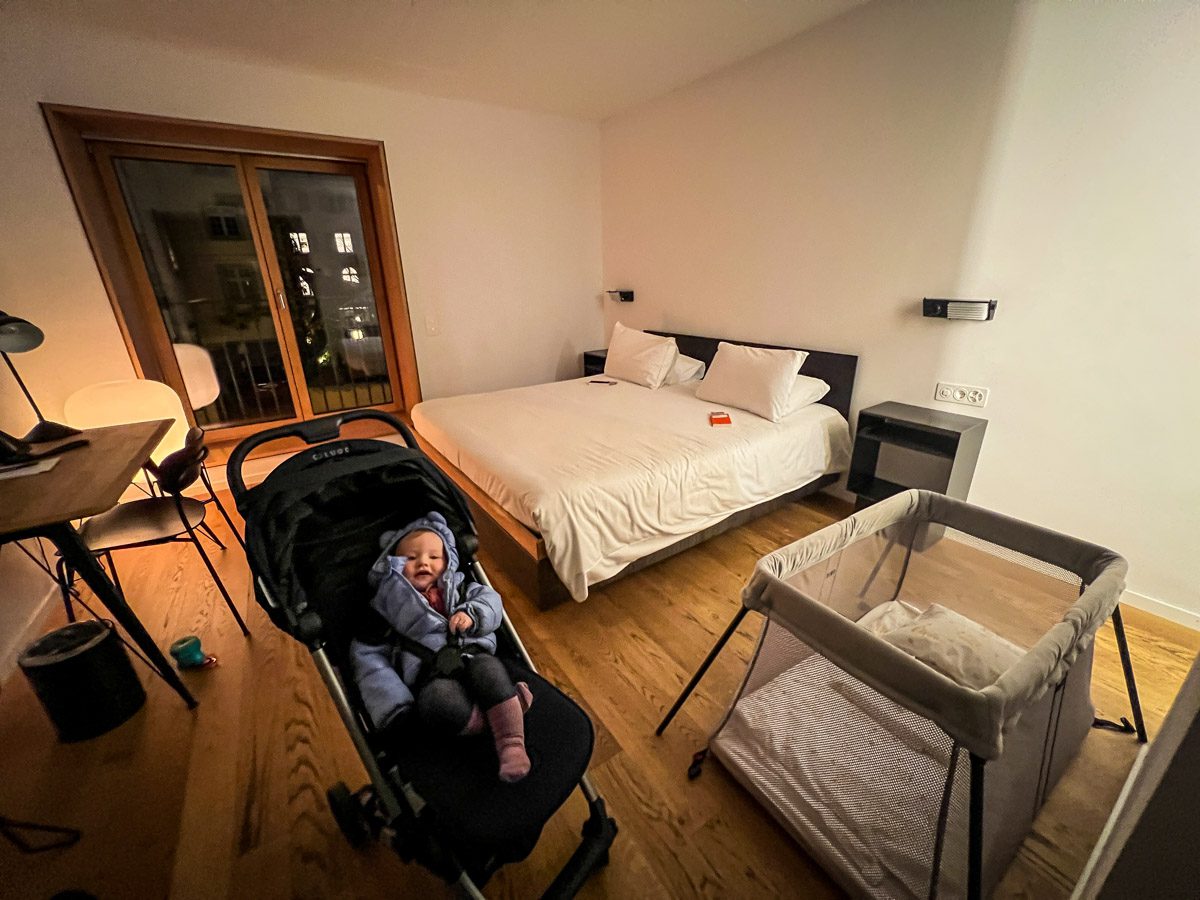 Pros of Hotels:
Staff to help
Luggage storage
Room service (which can be nice after a long day of exploring)
Cons of Hotels:
Unless you book a suite or 2 rooms, you likely won't have separate sleeping spaces
Close quarters to other guests can make you feel uncomfortable if your child is fussy
Airbnbs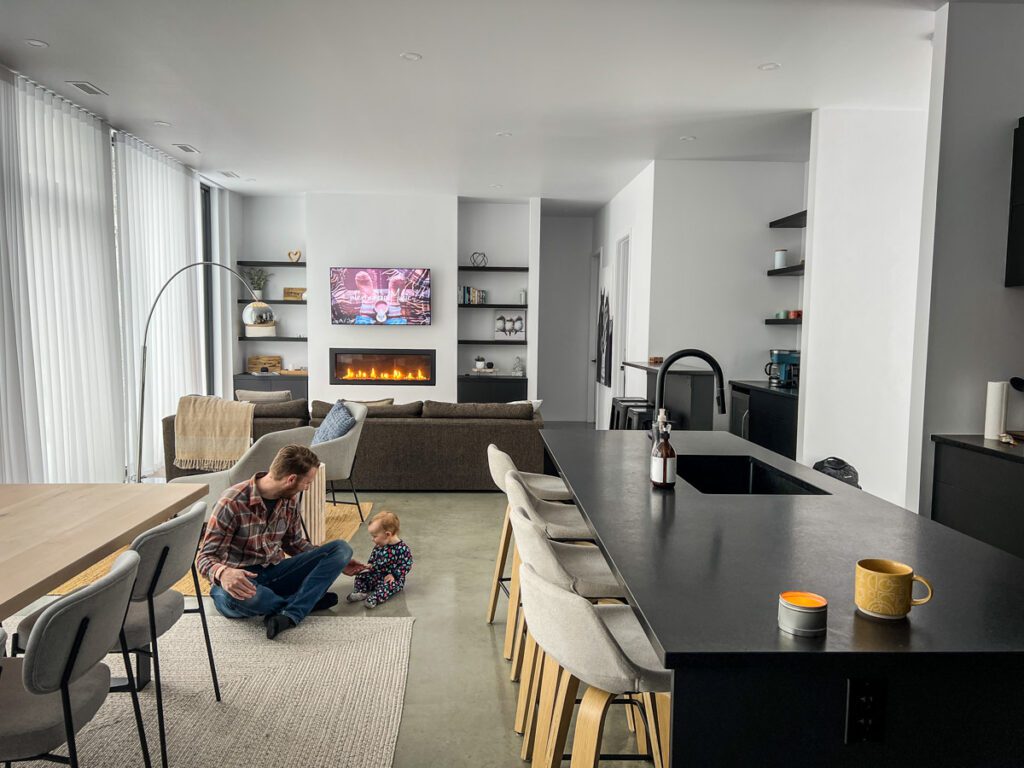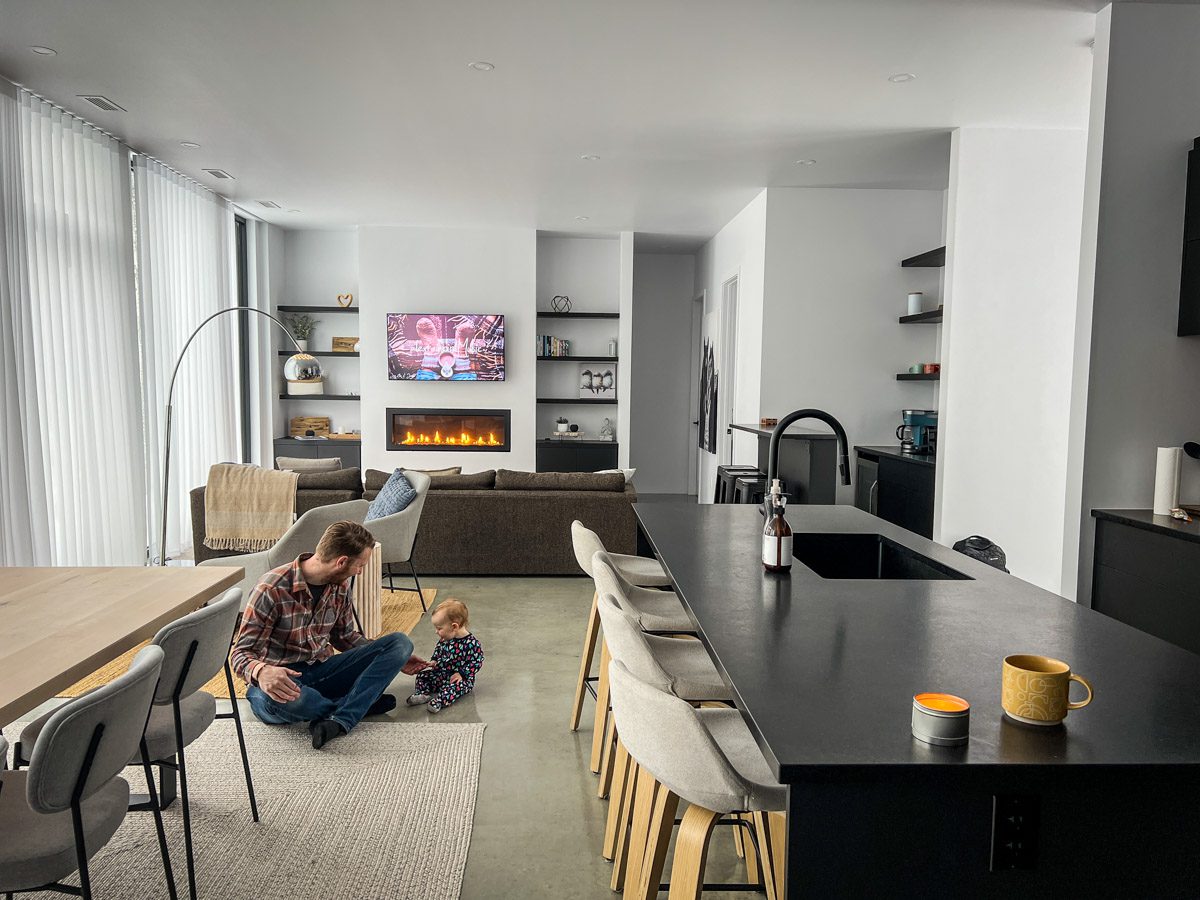 Pros of Airbnbs:
You can often find properties with multiple bedrooms so you and your child can have separate sleeping spaces
The option to cook for yourself (if you choose one with a kitchen)
Usually more privacy than hotels
You can find unique and well-thought out designs
While you won't have hotel staff, Airbnb hosts are often generous with local tips for the area to make sure you have the best possible stay
Cons of Airbnbs:
Not all Airbnbs are created with children in mind, so you will have to be especially choosy when picking your stays
In some areas or cities, there just aren't great Airbnb options
You may not have some of the amenities that hotels offer
Kid-friendly resorts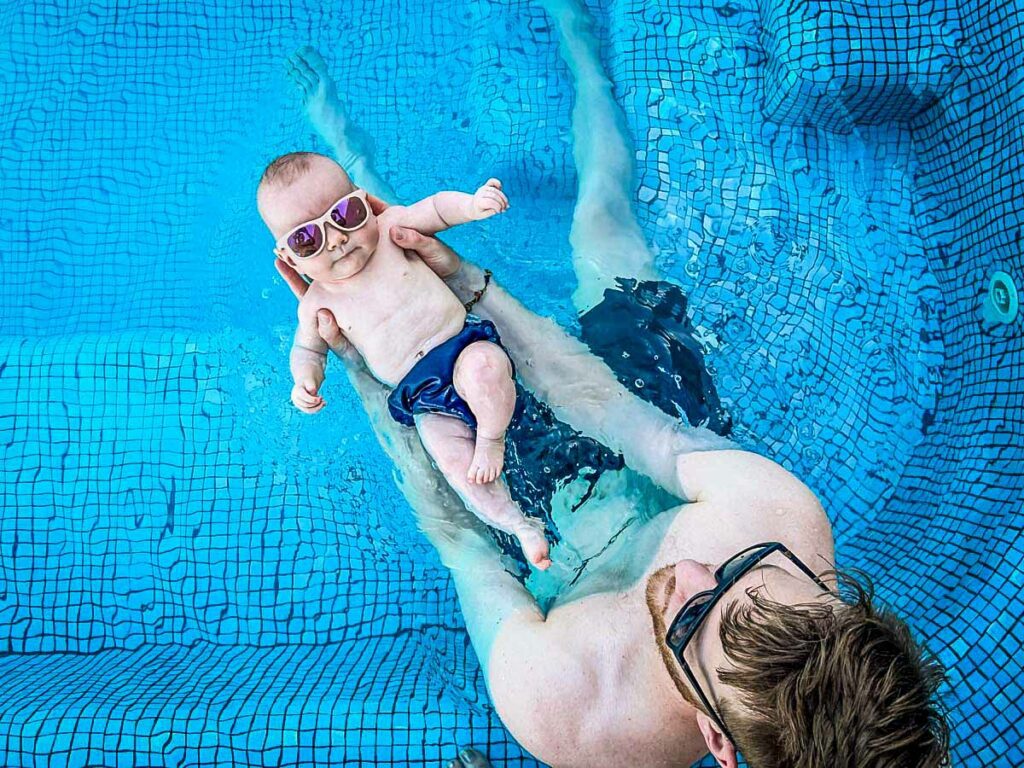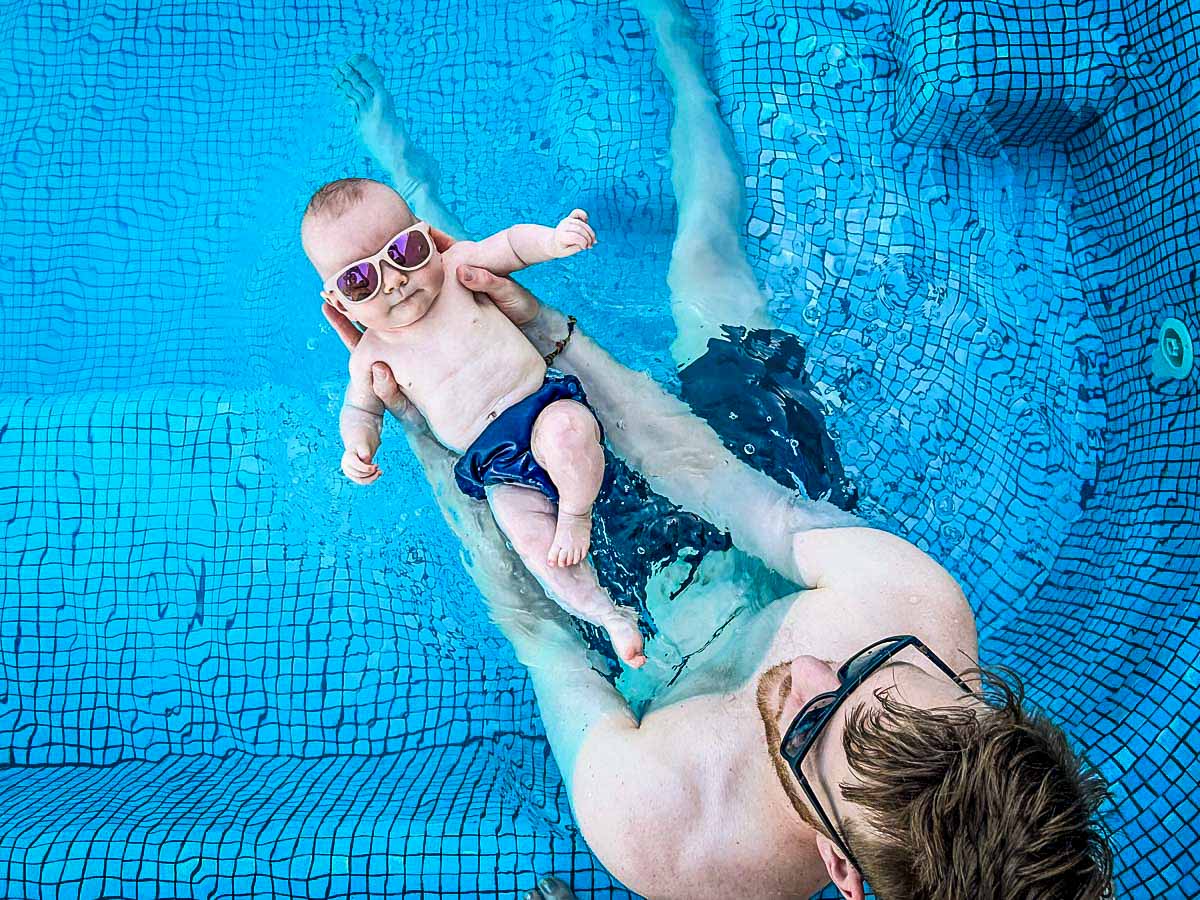 Pros of kid-friendly resorts/hotels:
You won't need to feel self-conscious about your child making a fuss
Kid-friendly facilities (pools, restaurants, rooms, etc.)
Sometimes there are childcare options
There will definitely be a pack-n-play (or somewhere for you child to sleep)
Cons of kid-friendly resorts/hotels:
This will make your stay feel very much centered around children (and pretty far from what your travels were like pre-kids)
Other children might disturb your sleep or your stay
More often than not, the design of family resorts might feel kind of meh (unlike a trendy boutique hotel or cute Airbnb)
Aparthotels or long-stay hotels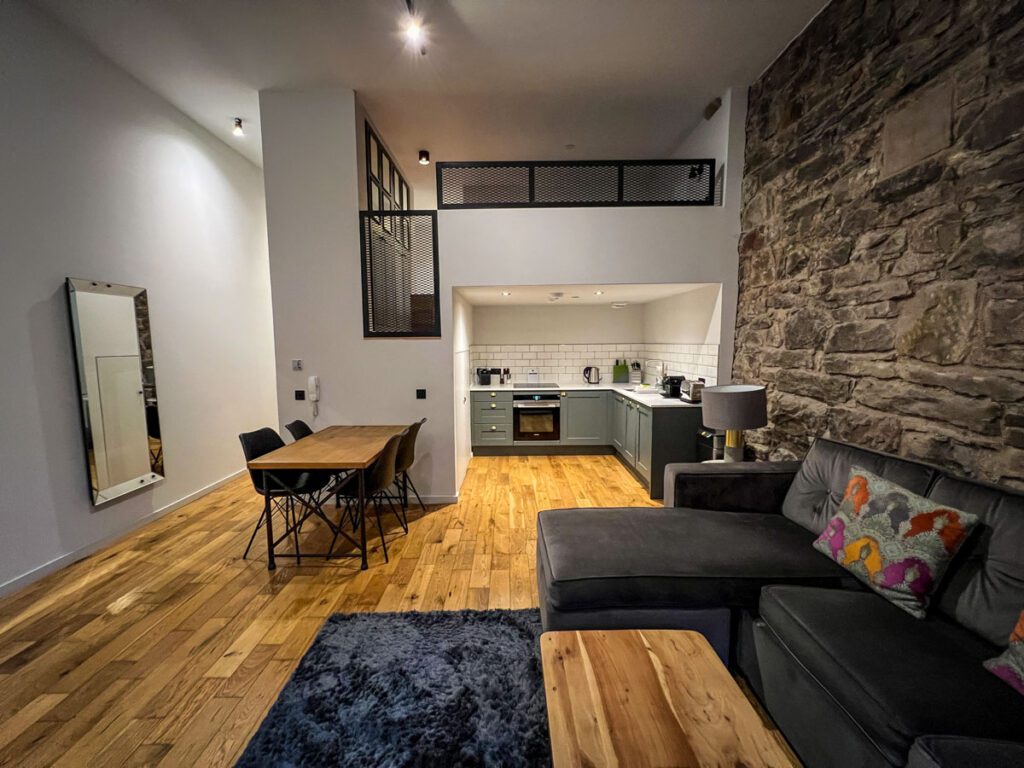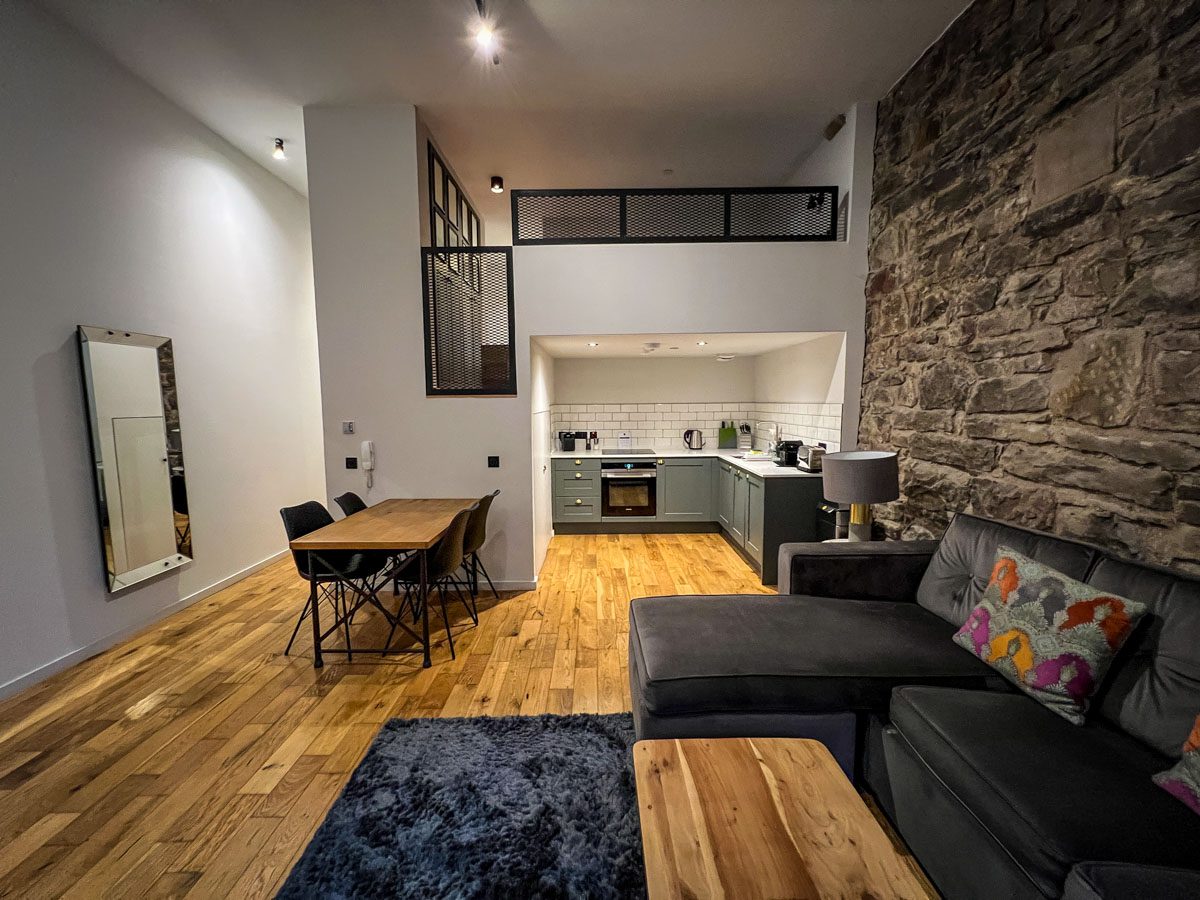 Pros of long-stay hotels:
Kitchenette (though they tend to be pretty basic)
More spacious than a typical hotel
Typically there is some separation between living space and sleeping area, even if it's not an actual door
Cons of long-stay hotels:
Sometimes there is no front desk staff, and we've found it a bit harder to get in contact with someone when you need help than a traditional hotel or Airbnb
Sometimes these are not as easy to find as the other types of properties on this list
Tips for choosing your accommodation with a child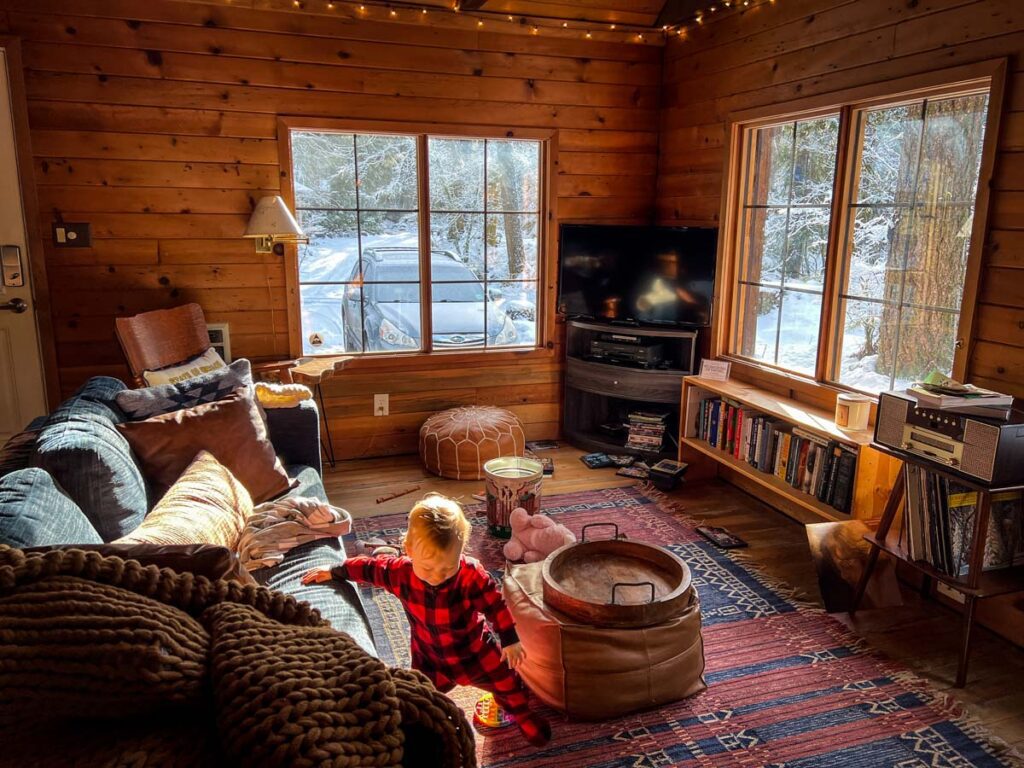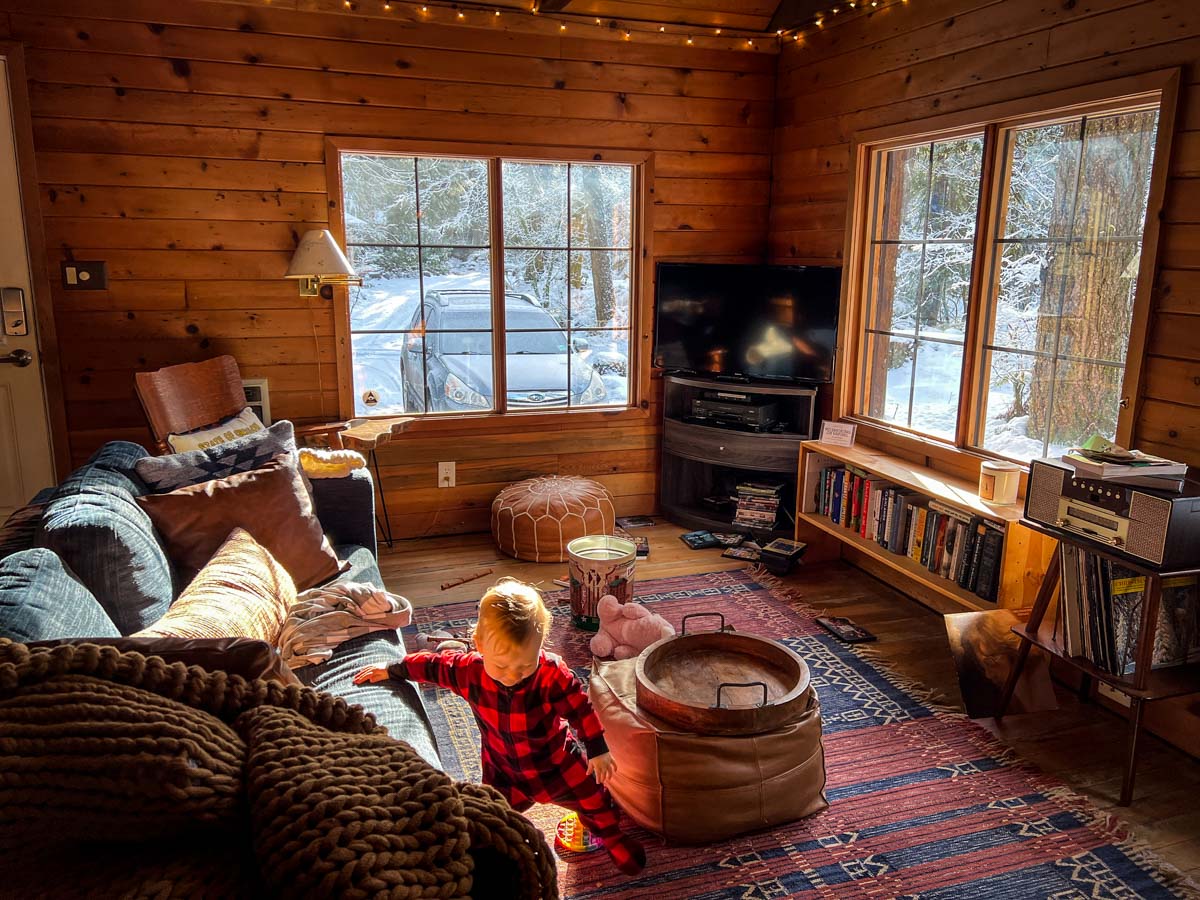 In order to have the most comfortable stay, we start by booking differently than we used to.
The type of accommodation we book with a kid is much more specific than when it was just the two of us.
We've learned the hard way what doesn't work well anymore now that we travel with a baby. We have a checklist of things we look for in accommodation, which we'll share below.
It's not going to be possible to check every single box for every stay you book (nor is it necessary). But these are things we consider when choosing accommodation with a baby.
These are things that have been helpful for us. Maybe not all of them will apply to you. Decide which features are most important to you to make your own vetting process for the places you book.
1. Separate sleeping space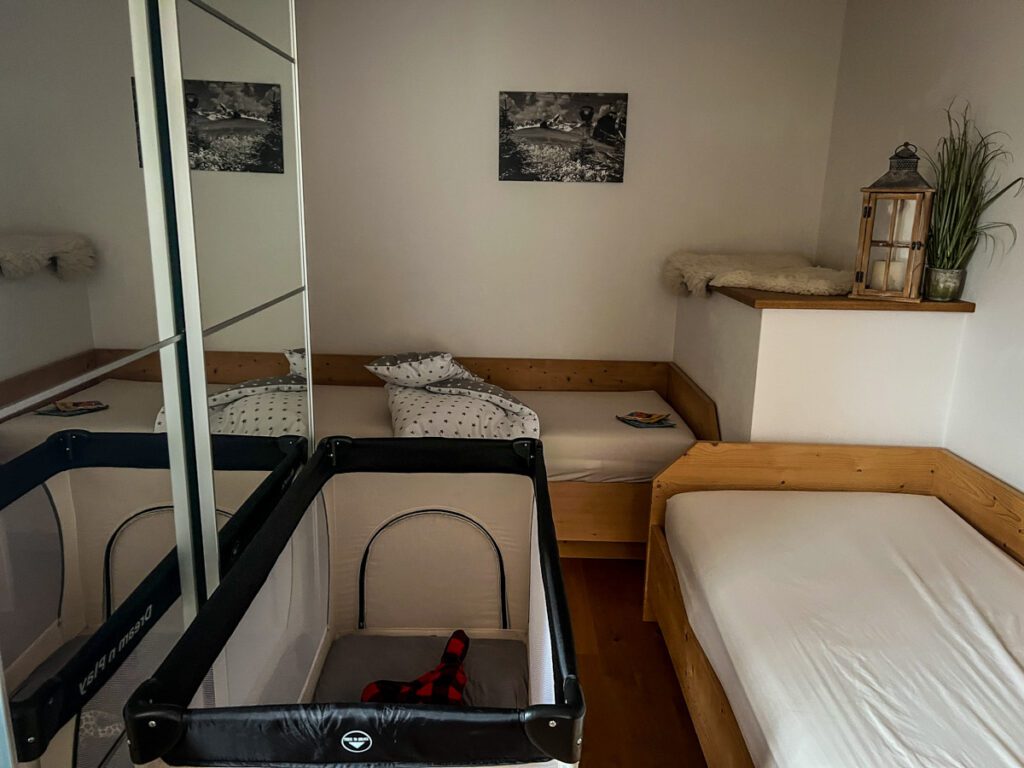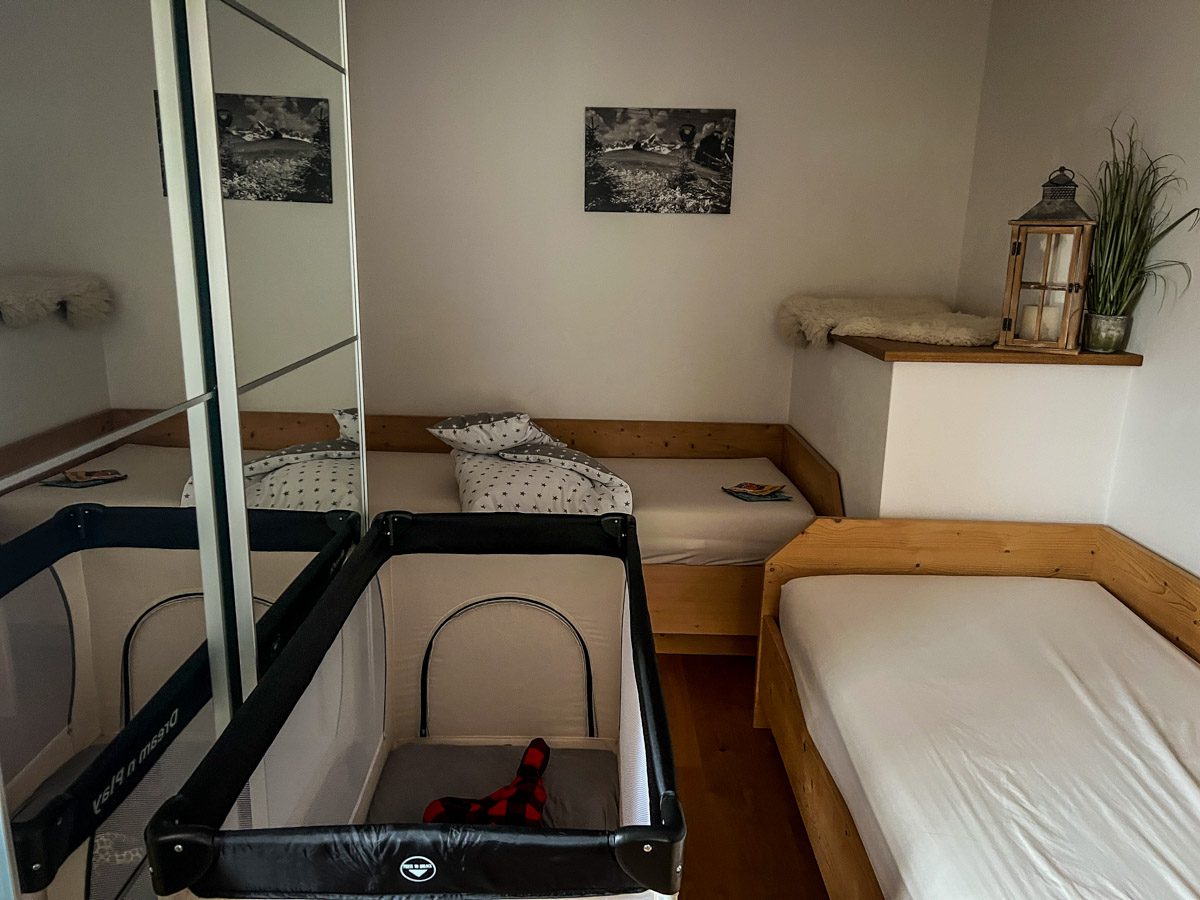 When the option is there (and it's not crazy expensive), we like to book accommodation that has a separate sleeping space for our daughter so we can still hang out once she goes to bed.
Separate sleeping spaces also mean she sleeps better (and so do we!), since our daughter has her own room at home.
Win-win.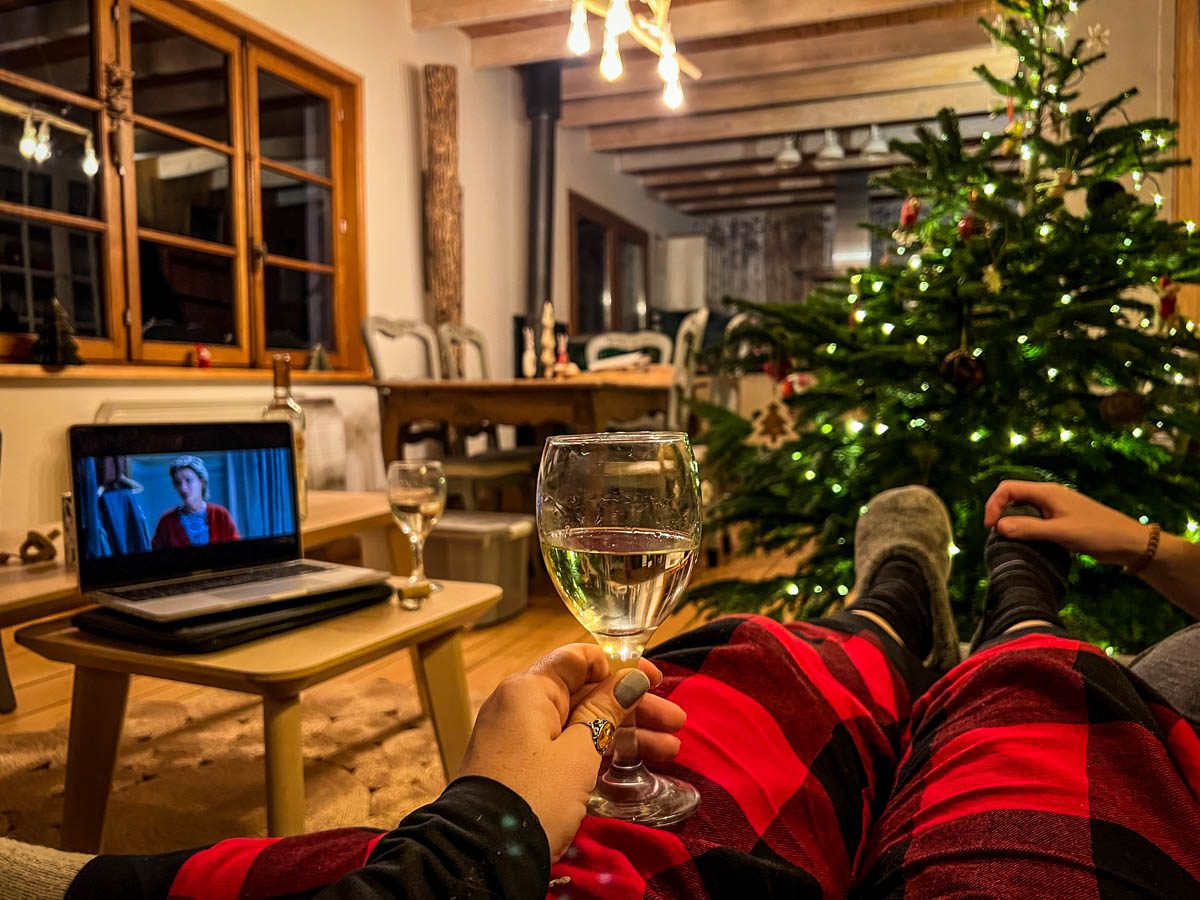 Note: When Juniper was very young – under 3 months old – we slept in the same room as her. But as she got older and was sleeping on her own at home, it worked well to have separate sleeping spaces at hotels too. Sleeping arrangements are a very personal thing, and you know what works best for you and your family.
Separate sleeping spaces can look different depending on the property, and you might have to get a little creative:
1 bedroom (with a door that separates it from a living space)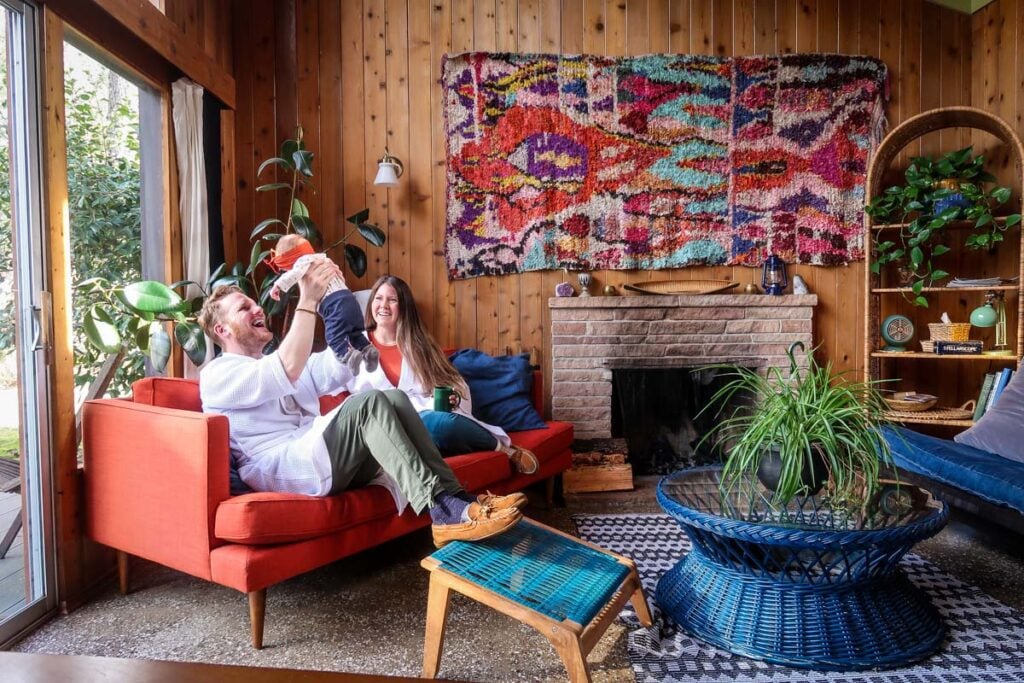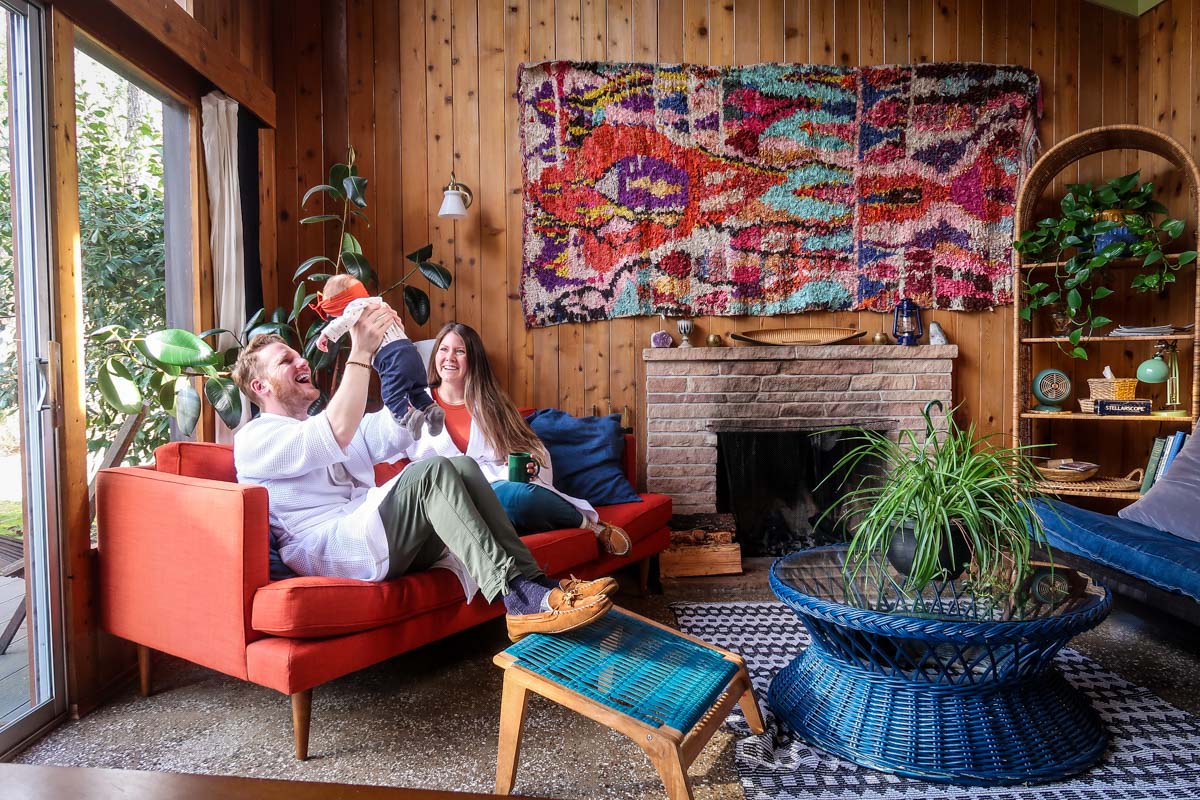 In this case, we set up Juniper's pack 'n play in the bedroom so we can have space to hang out in the living room when she goes to sleep.
When we go to sleep, we quietly transfer her crib to the living room so we can sleep in the bedroom.
This is often the most affordable option and is pretty easy to find when searching Airbnbs.
2-bedroom property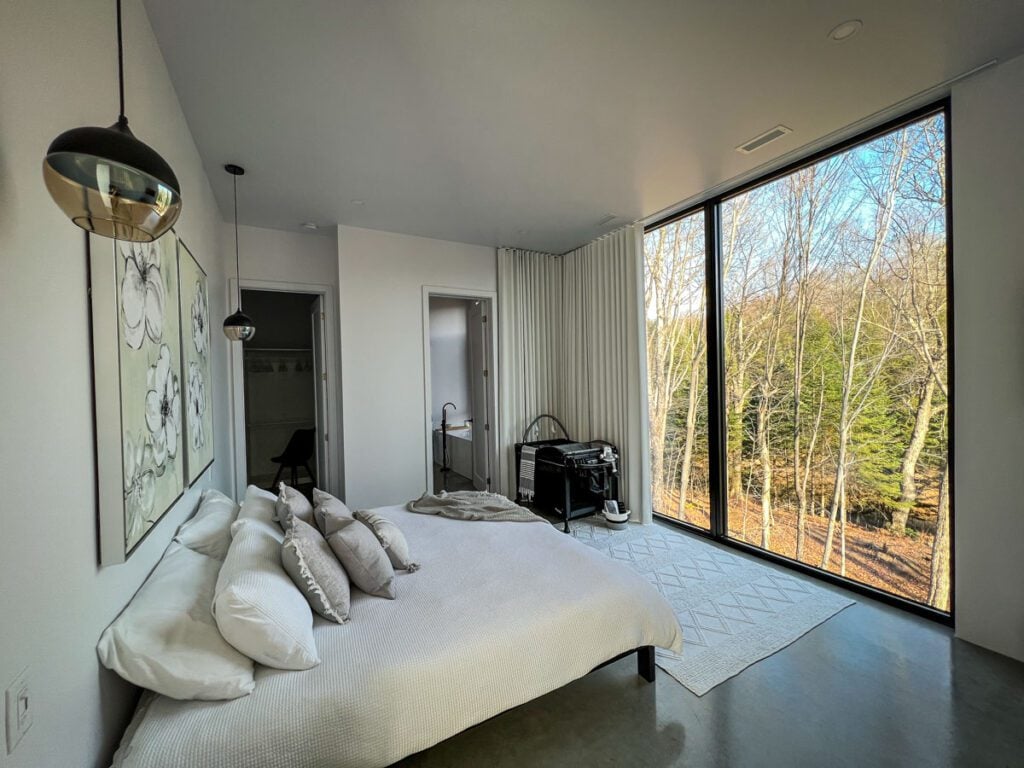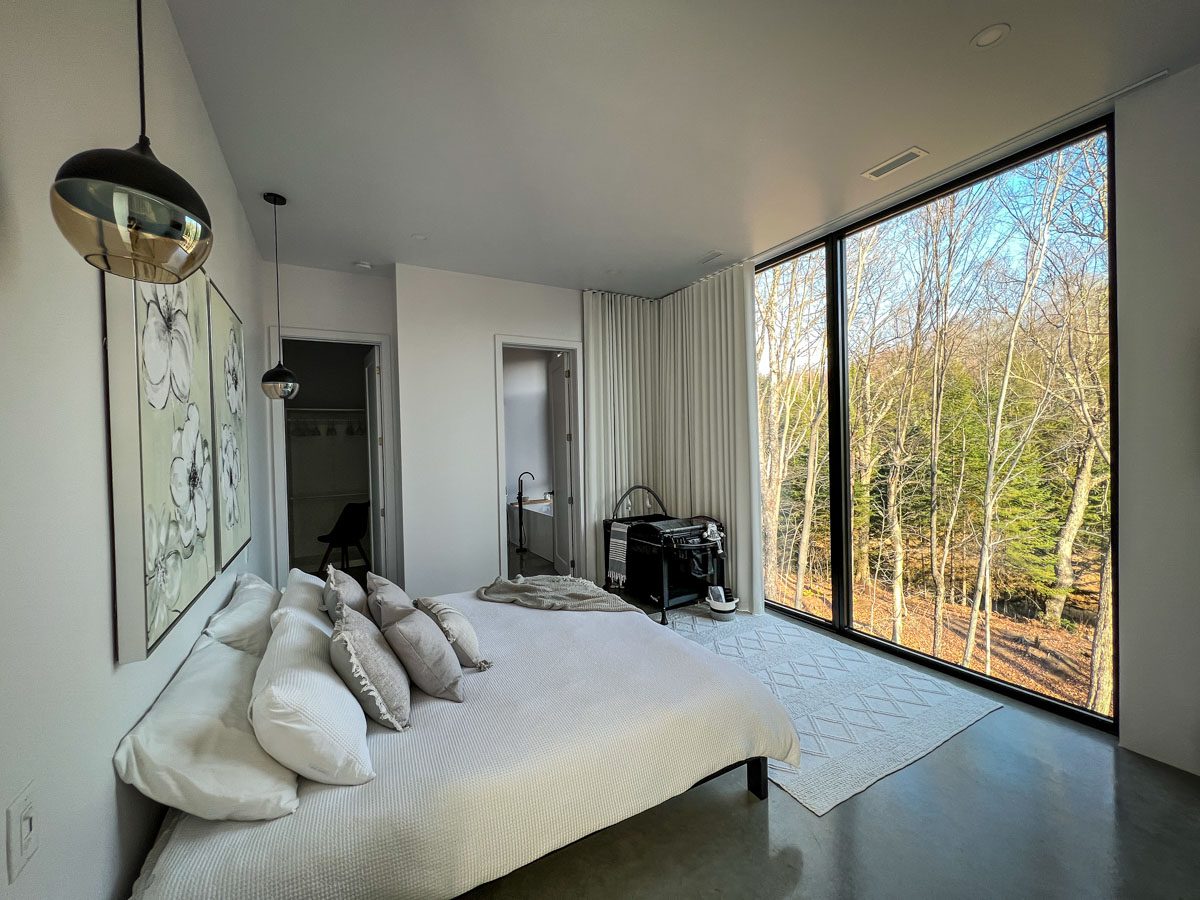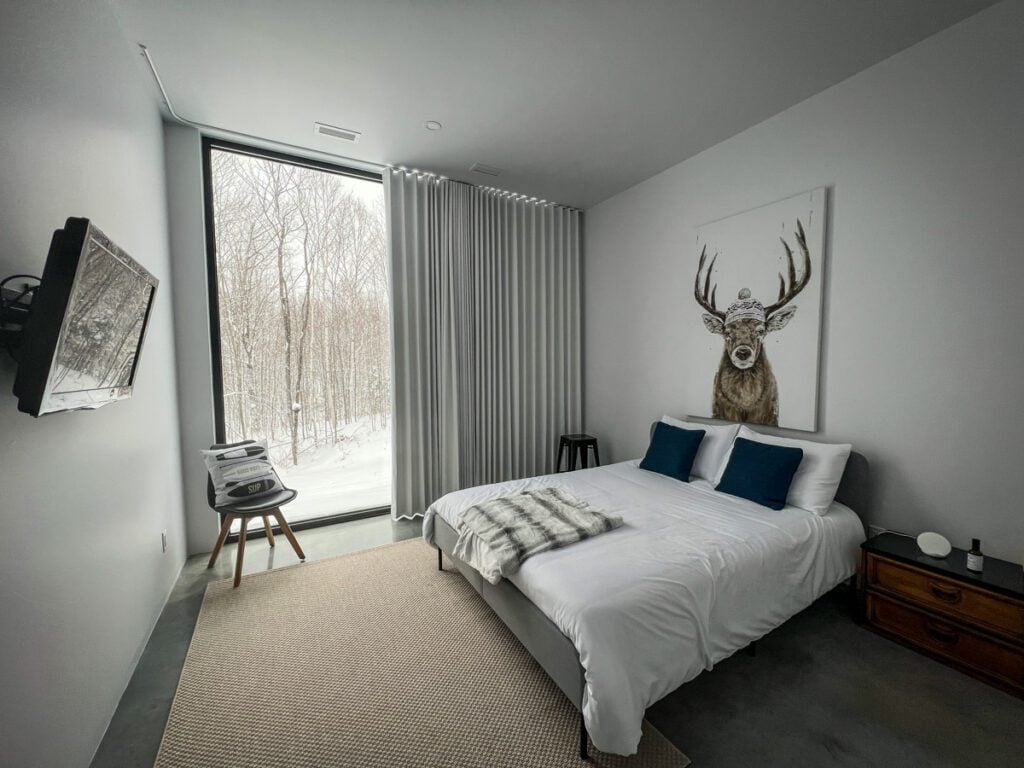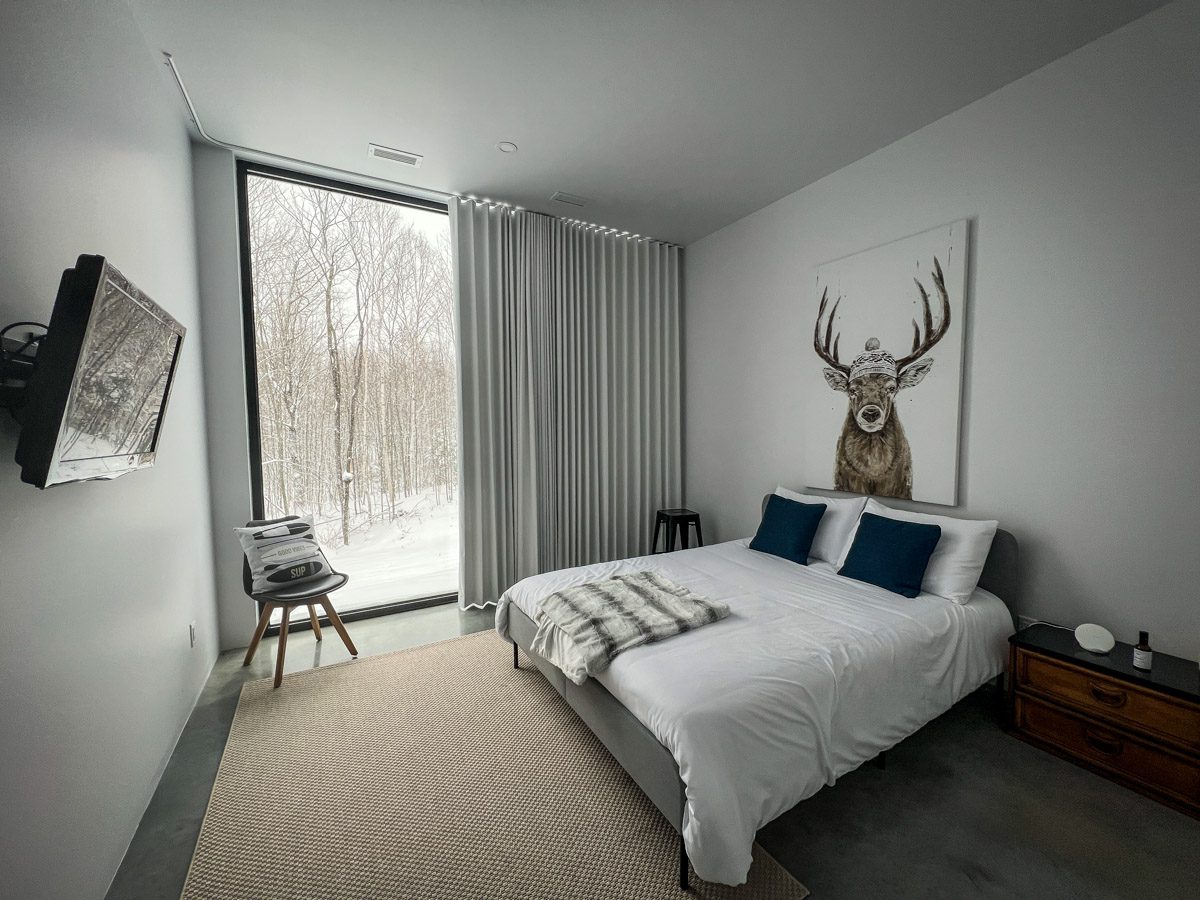 We each get a bedroom as well as a separate living space.
This is our favorite option when we have the choice, but it's not very common (without being crazy expensive) in big cities.
Loft with a living space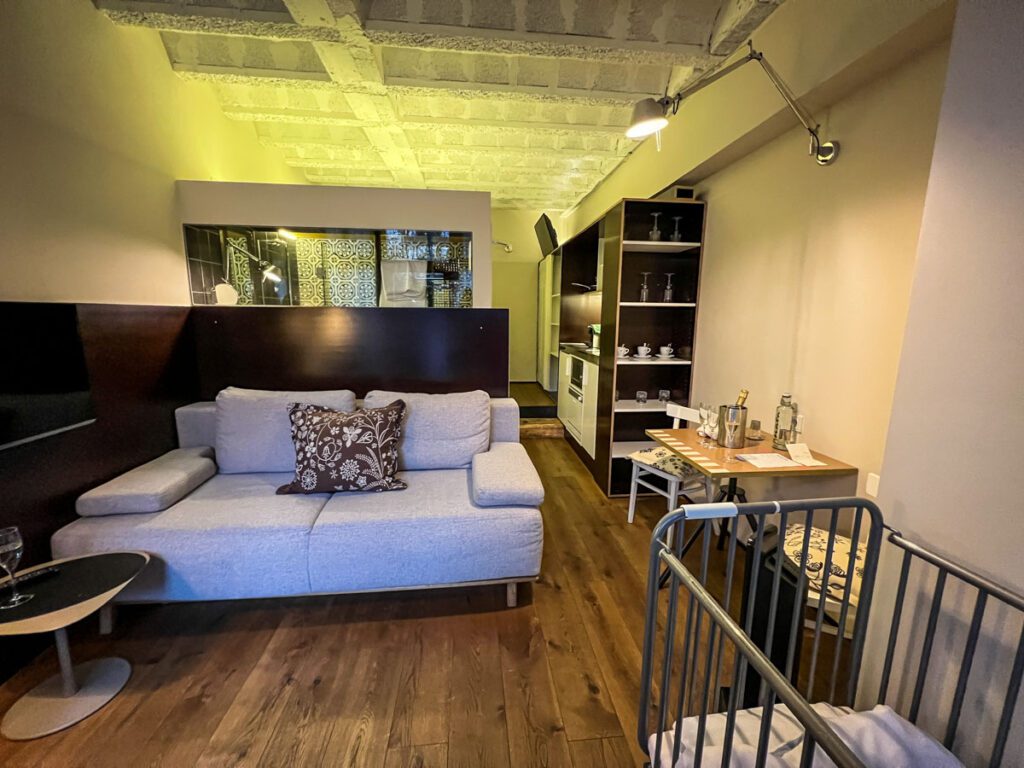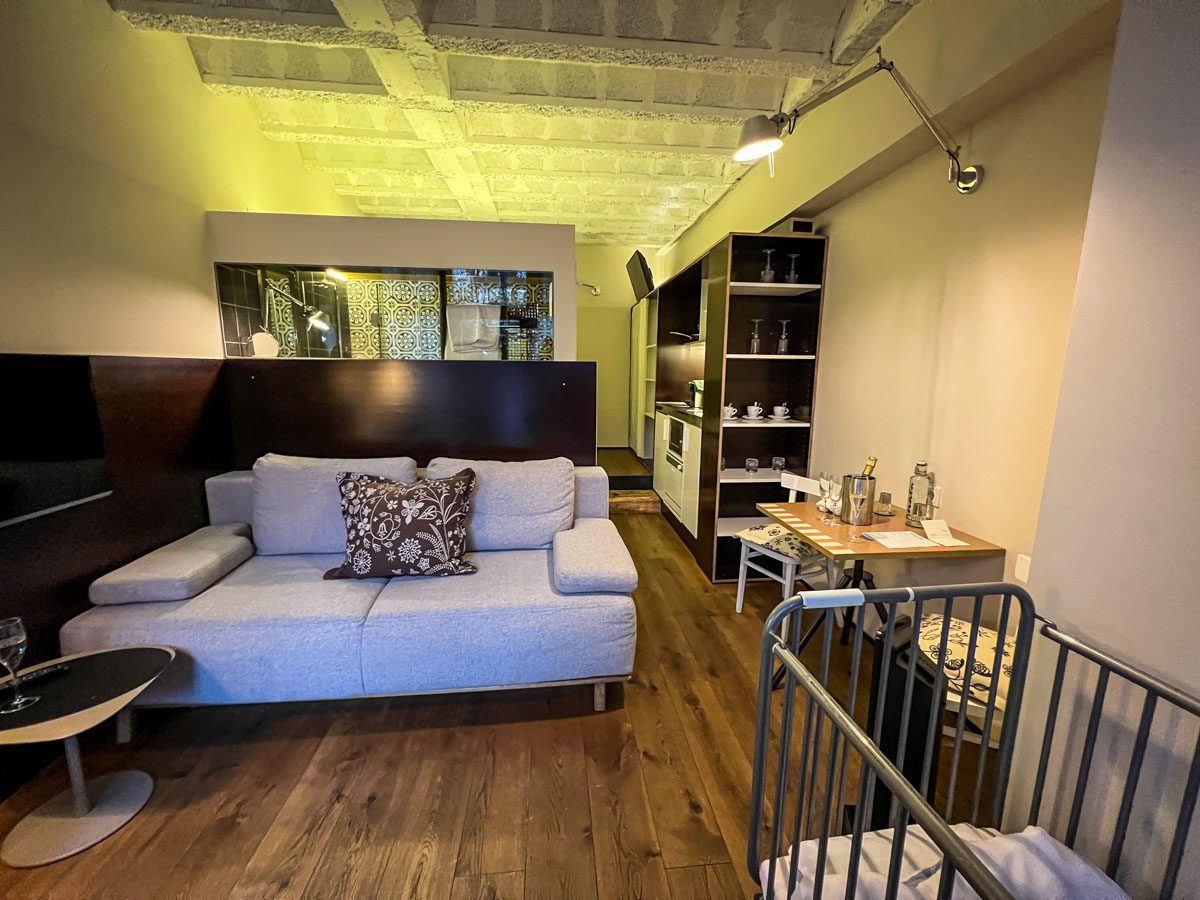 We have booked a few properties where the bedroom is not separated by a door, but is still more divided than a typical hotel room.
Example 1 (loft-style aparthotel in Edinburgh)
Example 2 (tiny home with loft-style bedrooms Kona)
Example 3 (aparthotel in Innsbruck, Austria, pictured above)
Note: If there's a lofted bed, we are the ones sleeping up there. For safety reasons, we always set up Juniper's bed on the ground level.
In our experience, we've found Airbnb has more affordable options with separate sleeping areas than hotels.
2. Accommodation that we want to hang out at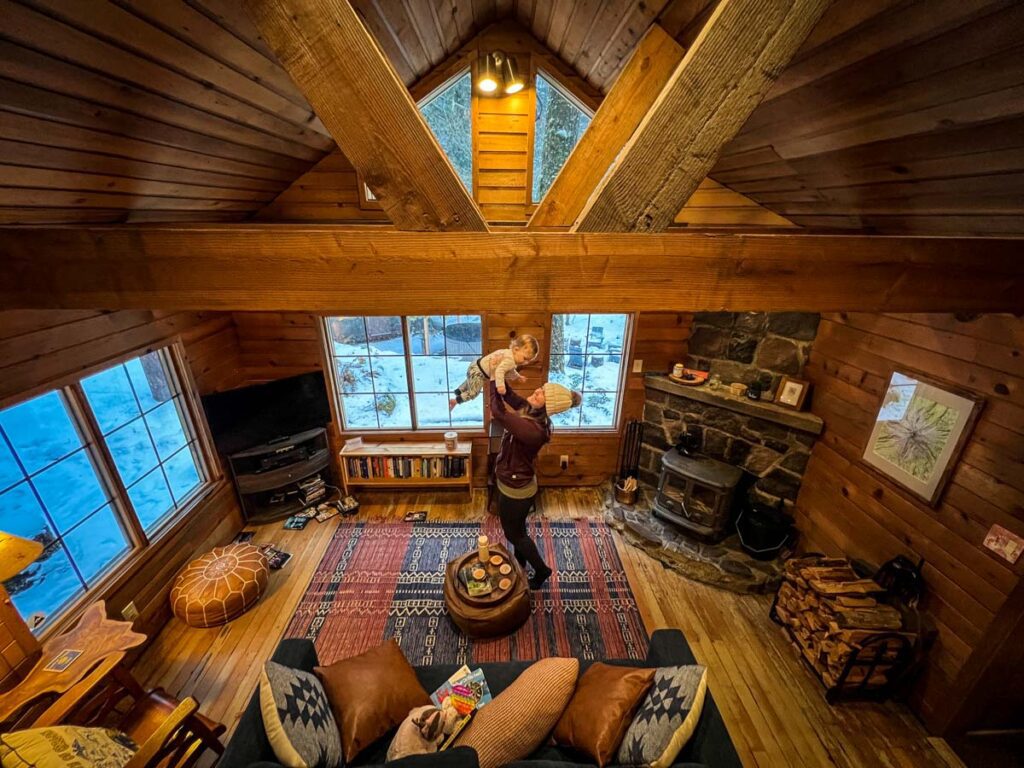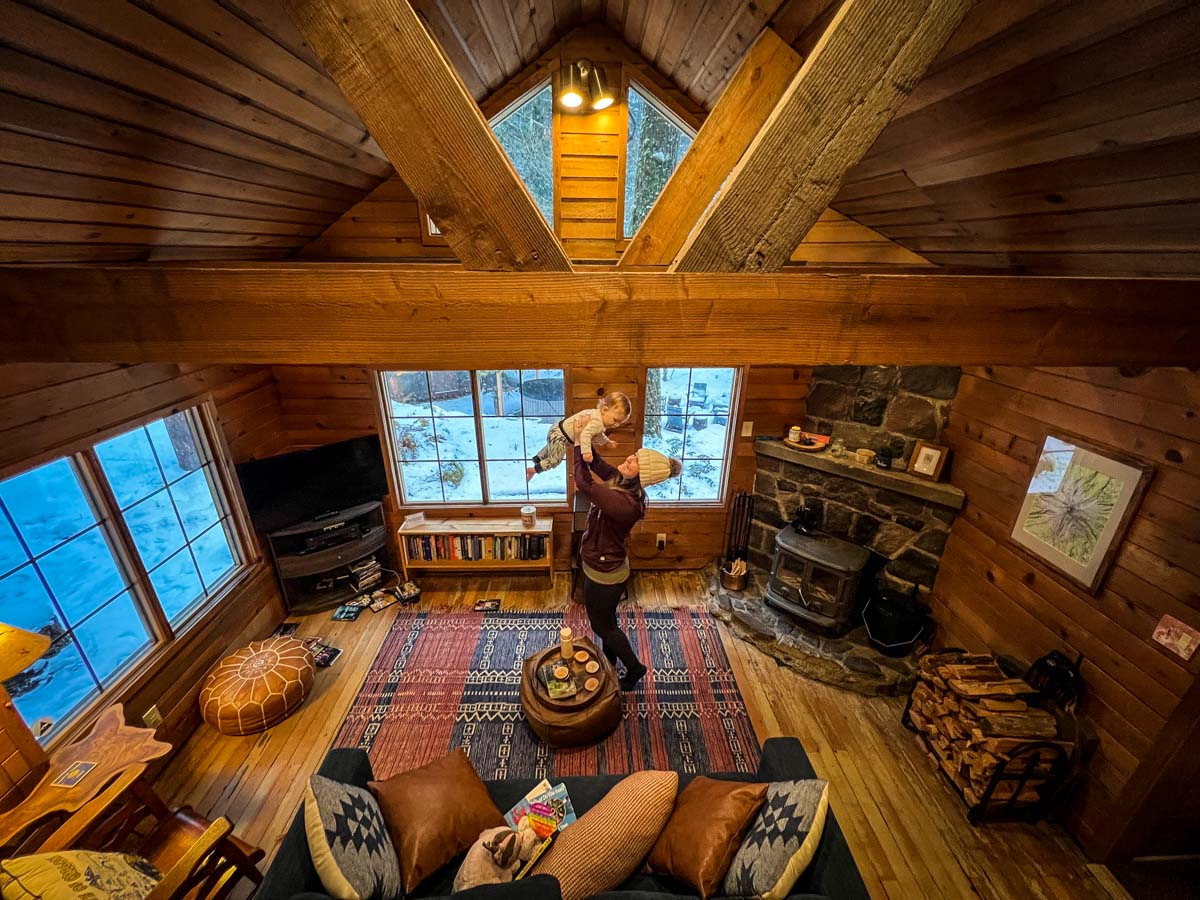 In the past, we booked hotels mostly based on location and price.
Our motto used to be:
"We'll be out exploring most of the day (and night!) so we might as well save money on accommodation and get the cheapest one. We're just sleeping there, after all!"
Now that we travel with a baby, we sometimes come back to the hotel at some point to rest during the day. And we're definitely not out all night.
In fact, we're usually hanging out at the property after Juniper goes to sleep. So we try to make sure it's a space where we will enjoy spending time.
And since we spend more time in accommodation now than we used to, we tend to allocate a bit more of our budget to this (and less to drinks/eating out/adventure activities).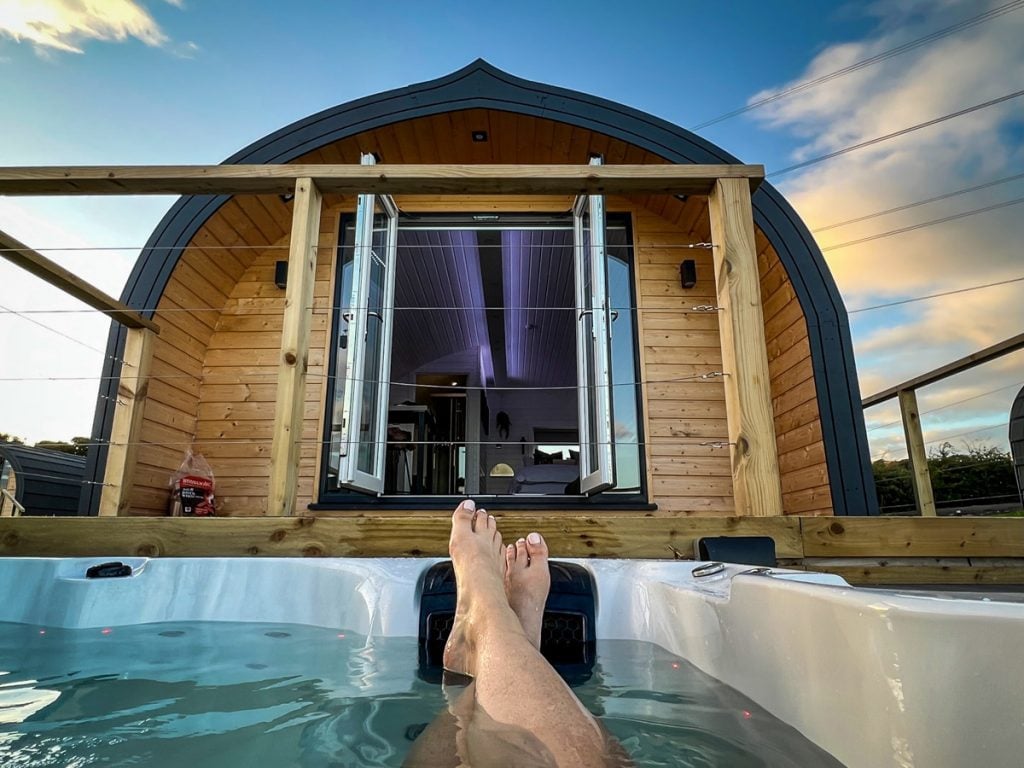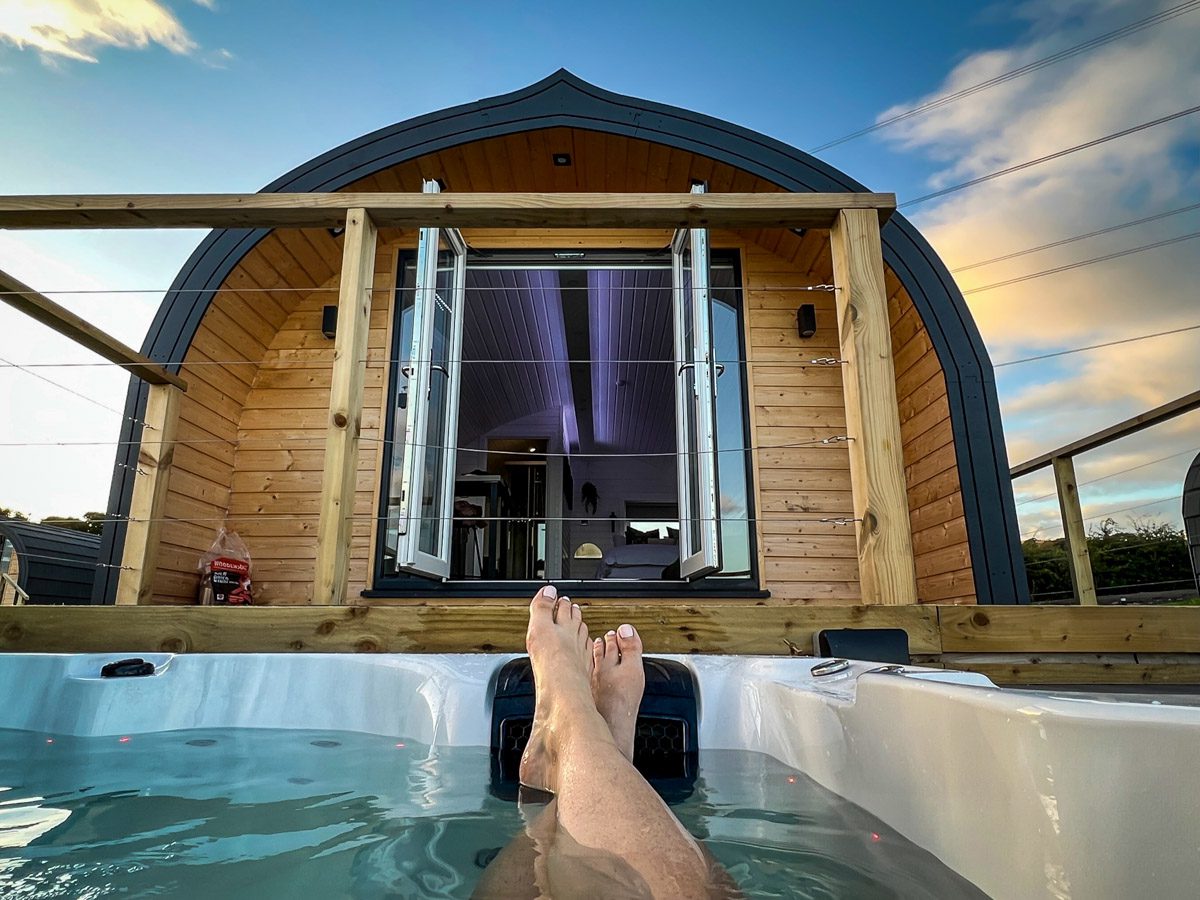 Gone are the days when I'll book a dingy hotel just to save a few bucks.
When booking accommodation now, I like to picture ourselves hanging out at night in the room after Juniper has gone to sleep.
I ask myself:
Is it comfortable?
Do I want to spend time in this space?
Is there space for us to hang out and talk once our baby has gone to sleep?

a living room
an outdoor space (like a patio or balcony)
This is one of the main reasons we prefer Airbnbs over hotels, as there tend to be better options when it comes to the "hang-out space".
3. Plan your trip with balance in mind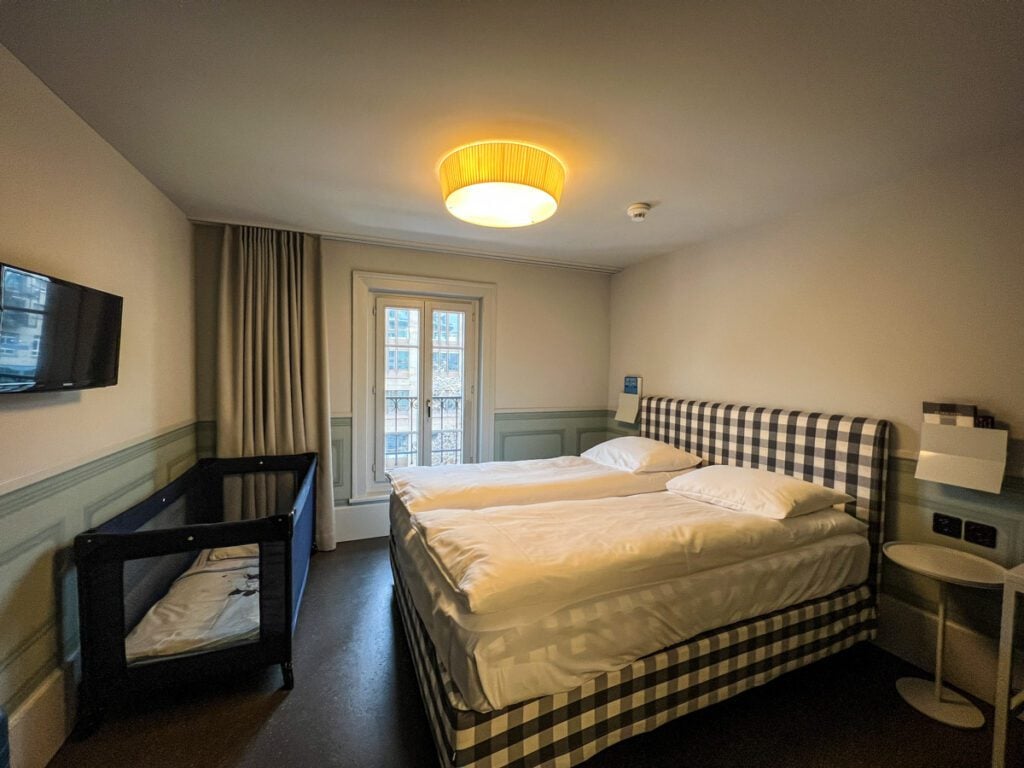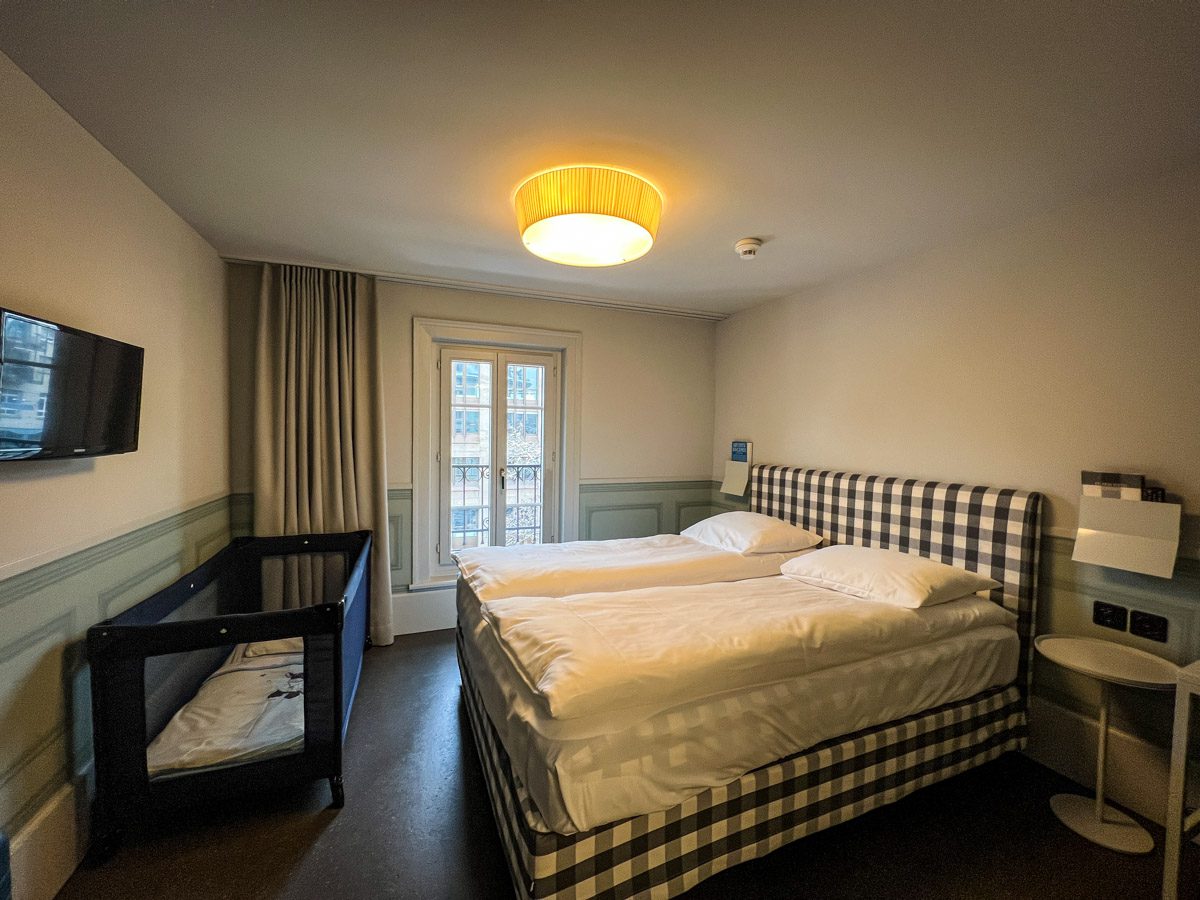 I'm not going to pretend that we're always able to find hotels or Airbnbs where we have separate bedrooms and a cool hang out space.
The thing is you can't always find perfectly comfortable accommodation, especially when staying in ultra-expensive cities where pocket-sized rooms are the norm.
This means we try to limit the amount of time we spend in major cities, and include smaller towns and countryside stays into our itineraries. We find these are often our favorite parts of our trip, especially when traveling with a baby.
Aim for a balance of accommodation that you're truly excited about as well as hotel rooms that'll allow you to explore a city without breaking the bank.
Our experience
We did a lot of traveling during Juniper's first year, and we had our share of very small hotel rooms.
For instance, when booking hotels in Zurich and Boston, we found that these cities were just so difficult (and expensive) to find larger spaces, that we had no choice but to book tiny rooms.
In both cases, we honestly dreaded going back to the hotel room at night. It wasn't very comfortable, and it kind of put a damper on those portions of our trip. But they were the only options within our price range if we wanted to spend any time in those respective cities.
We balanced these uncomfortable nights out with stays in more spacious accommodation before and after, so that our whole trip wasn't full of sardine-style rooms.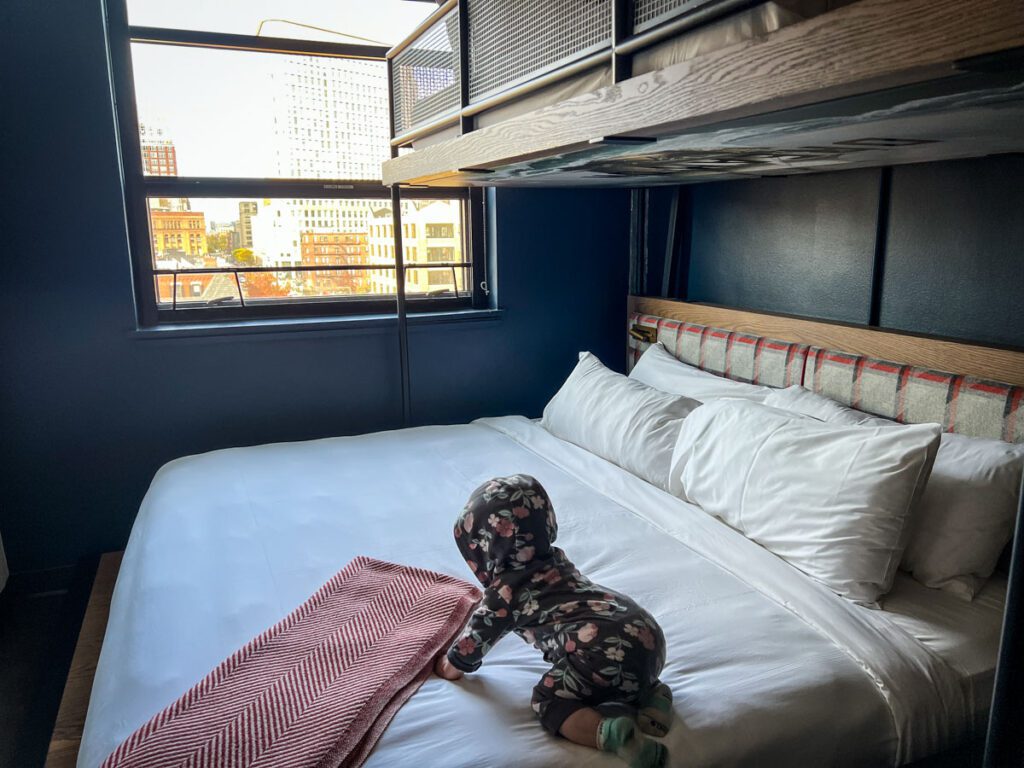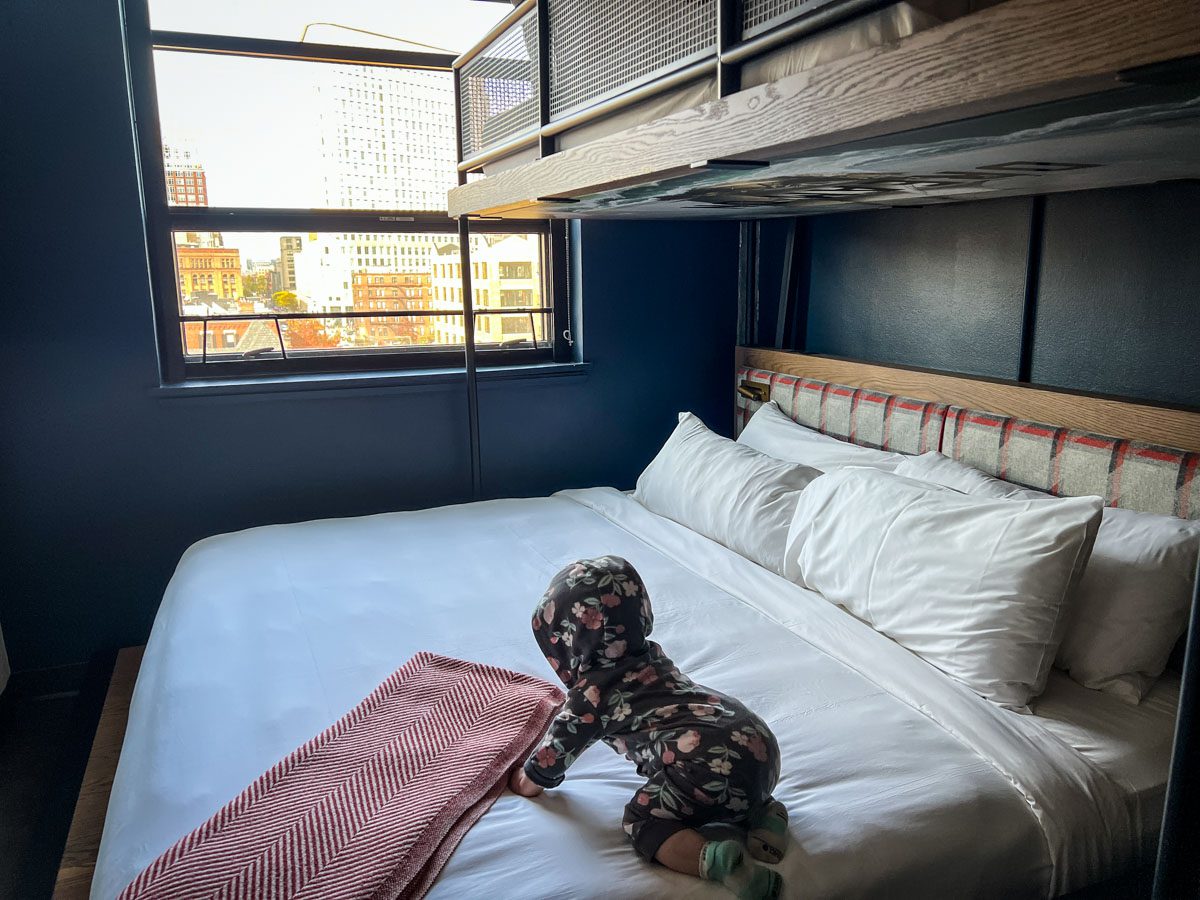 For example, before Zurich, we spent time in the German countryside at a 2-bedroom Airbnb. And after Boston, we retreated to the mountains in Quebec where we had a spacious 3-bedroom space.
Having a mixture will make the tiny places feel more bearable (since it's not your entire trip), and it will make the larger spaces feel all that more luxurious. It also gives you a blend of city and nature on your travels, which is a nice combination.
4. Be extra prepared when you book a small room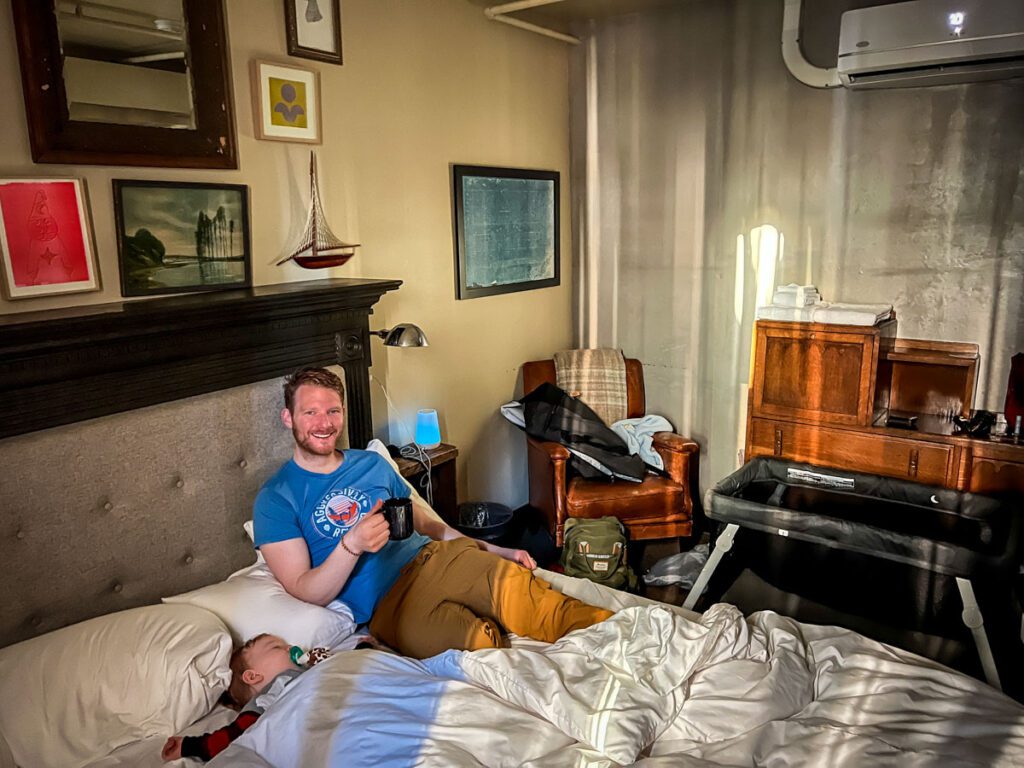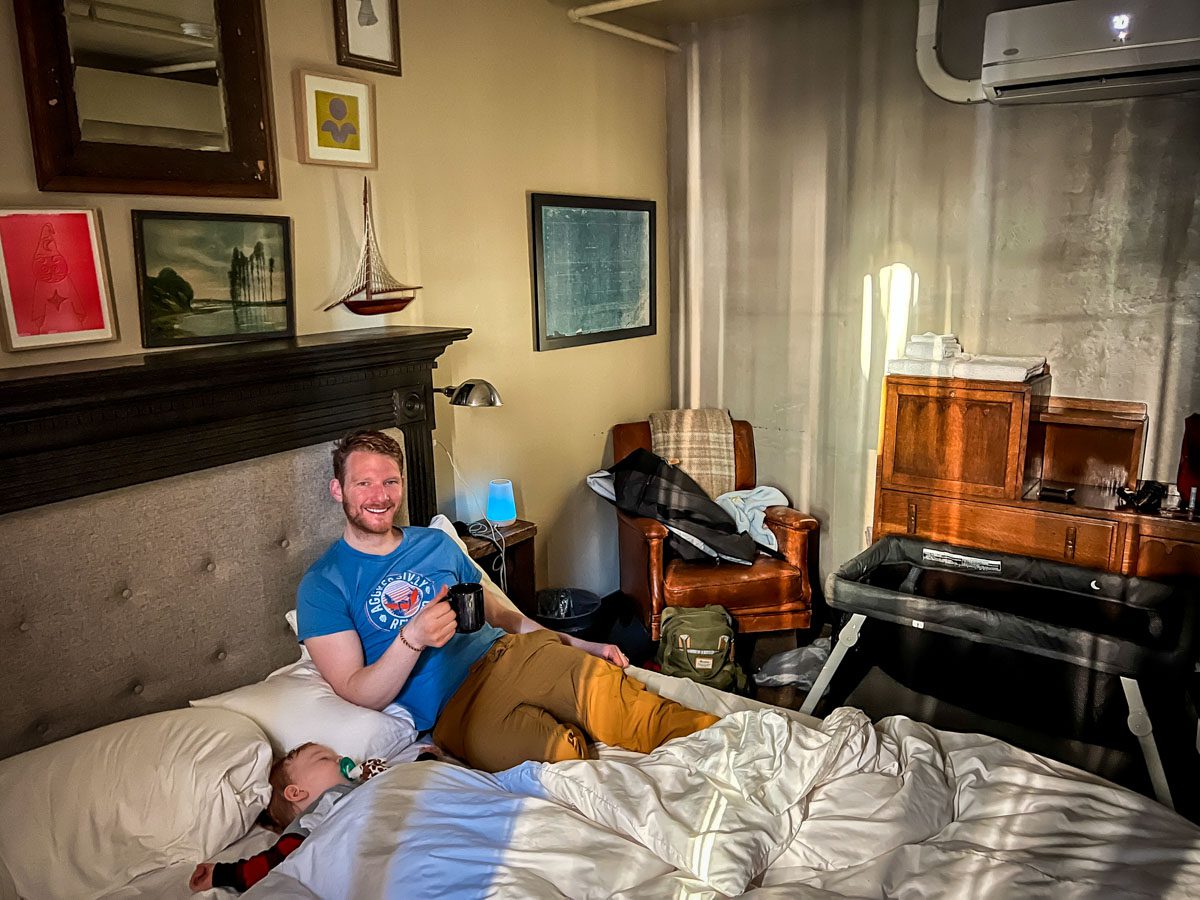 Can't find a place with separate sleeping spaces?
As much as we'd always like to have separate sleeping spaces, it isn't always possible (unless you have an unlimited budget!). In many big cities, for example, you'll have to pay the big bucks to have a separate sleeping area.
Here are a couple of ideas to make things more comfortable when sharing a hotel room with baby:
a) Look into Slumber Pods
We personally haven't bought one of these – yet (we may someday) – but the Slumber Pod is a sleep tents that fit over pack 'n plays to create a barrier for you and your baby when you're room sharing. It can also help create a dark space even if the room is still light.
We like to travel as minimally as possible, and this seems like another bulky item we'd need to pack. However, if you have a lot of upcoming stays where you know you'll be sharing a room with your baby, it could be worth the bulk and investment.
b) Turn the bathroom into a bedroom
We've personally never done this, but I have a couple of good friends who swear by booking hotels with large bathrooms. They set up their baby's pack 'n play in the bathroom and crack the door for airflow, creating separate sleeping spaces. This might get tricky if you need to go to the bathroom in the middle of the night!
c) Do your normal bedtime routine
Try to recreate your bedtime routine as much as possible (whatever that looks like) – bath, story time, lullaby, etc. to signal that it's time for bed.
d) Pack all the nighttime essentials
Having the items your little one is used to from home will make bedtime easier all around. When they have their sleep sack, their favorite binky, and a white noise machine, it'll almost feel like home for them.
Bonus: The white noise machine will also create a bit of a sound barrier so you and your partner can still talk (softly) even if you're not in a separate space.
e) Use headphones
When we are sharing a very small hotel room with Juniper and don't have much space to ourselves once she goes to sleep, we usually take out a laptop and watch a show (since she goes to sleep earlier than we do!).
To make sure we don't disturb her, we are sure to use bluetooth headphones. We each take one ear bud so we can still hear her if she stirs.
f) When all else fails, try co-sleeping
This is a personal thing, but if you're comfortable with it, co-sleeping can sometimes help calm a cranky baby.
We've found that when we're sharing a very small hotel room, Juniper can tell we're very close and doesn't sleep as well as when she has her own space. In these cases, we'll sometimes bring her into our bed in the middle of the night or in the morning.
5. Prioritize kitchens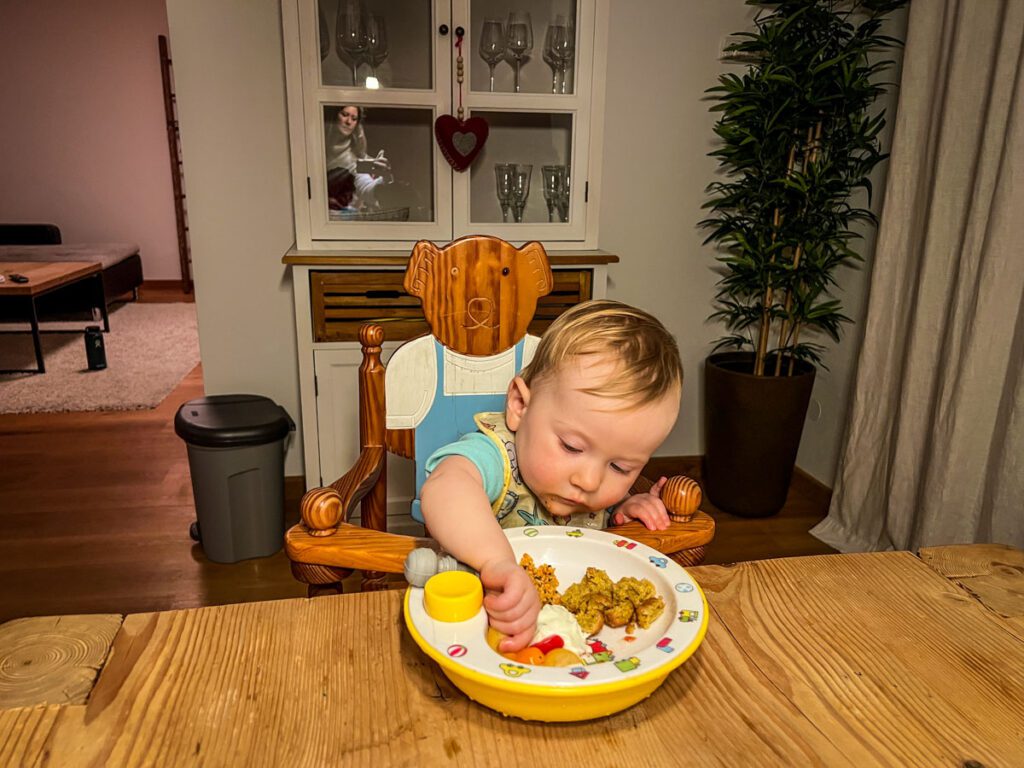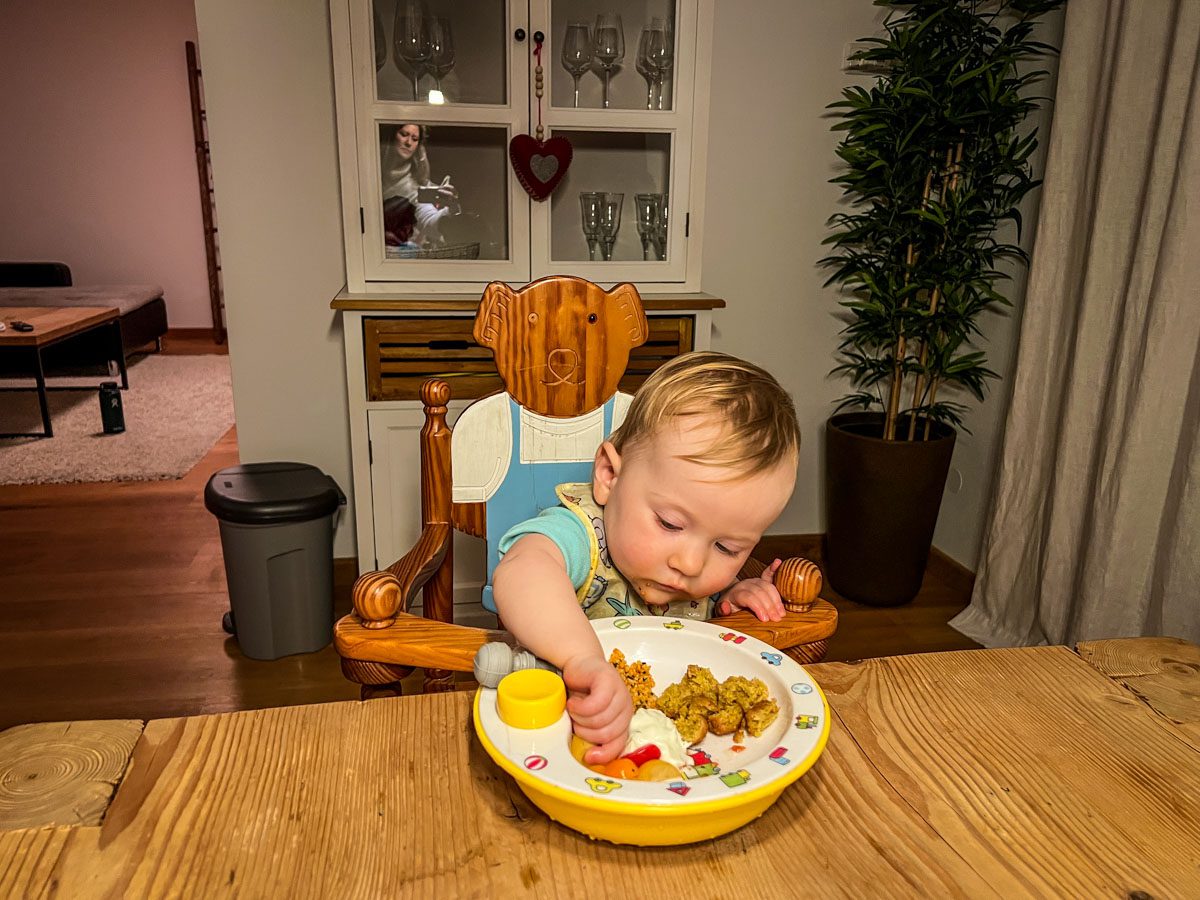 Having a cooking space has always been a perk in our mind as you can save quite a bit of money if you're able to cook a couple meals for yourself.
But now that we're traveling with a little one, it's even more of a bonus so we can cook some of Juniper's favorite meals even when we're far from home. (Here are some baby foods that work well on the go!)
Airbnbs and long-stay hotels will be your best bet for finding accommodation with a kitchenette.
Insider Tip: We've only found a handful of properties that have high chairs. Depending on the type of trip, we sometimes bring with this travel high chair (we love it and it's really affordable!).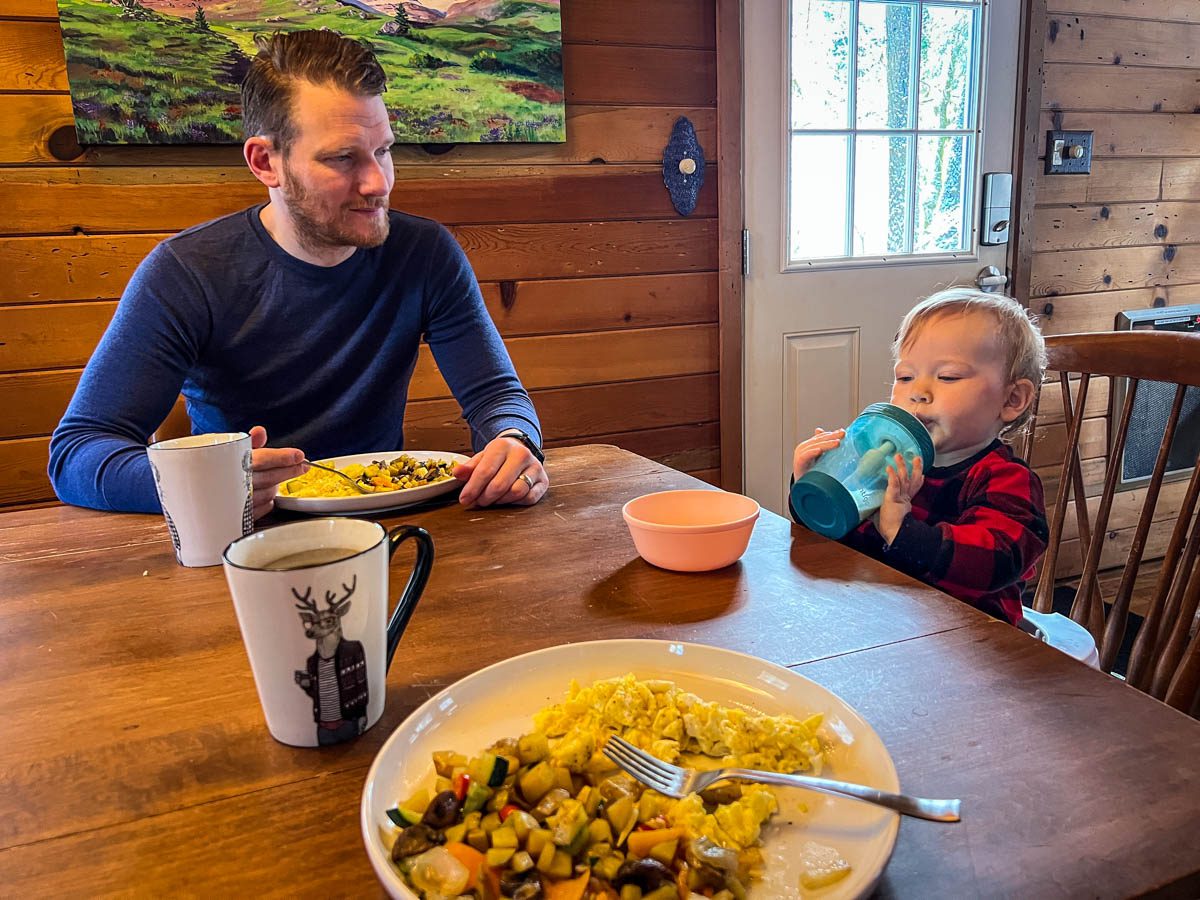 …or at least make sure there's a mini fridge
Having an actual kitchenette isn't always possible, but the next best thing is a mini fridge. This is especially important if you will be using bottles or pumping.
Insider Tip: If the property doesn't have a kitchenette, be sure to pack a mini bottle of dish soap for cleaning bottles. We like this compact travel bottle cleaner.
6. Choose a convenient location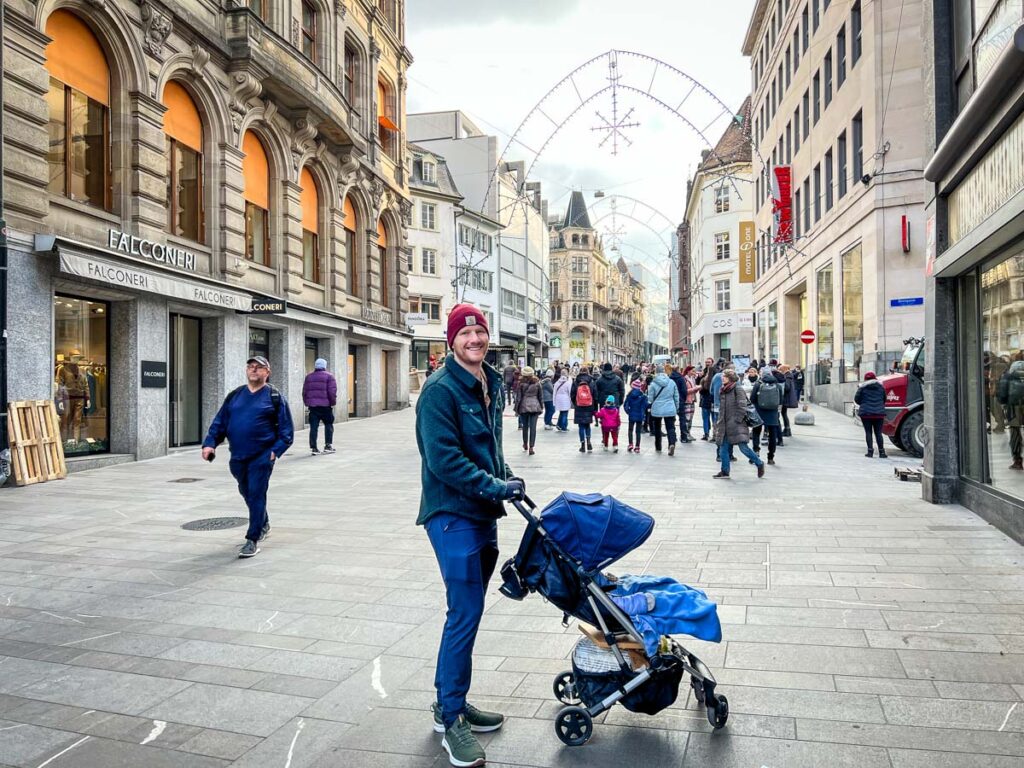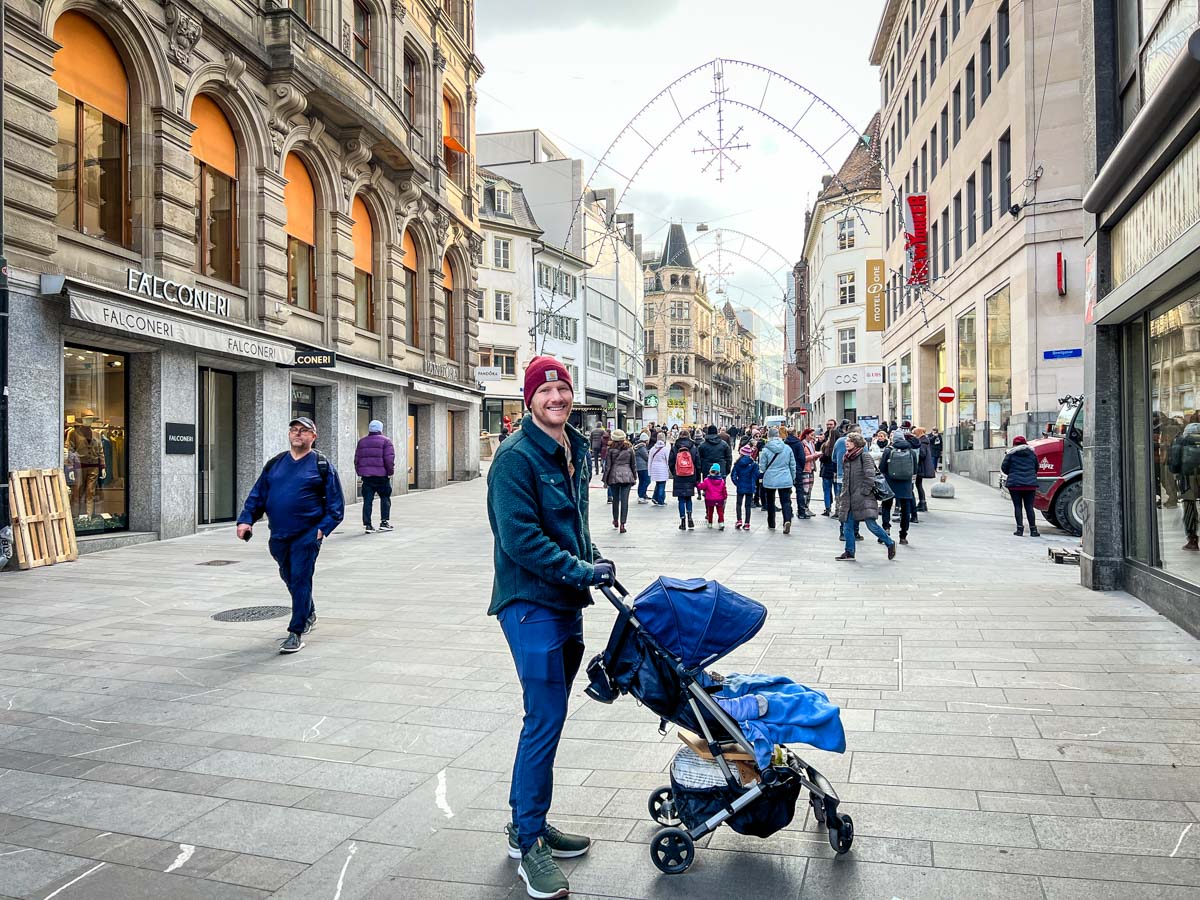 We like to think about location a little more critically, now that we have a baby.
When booking your accommodation, think about how you'll be getting around.
Will you be driving everywhere? In this case, being located away from the main sites isn't a big deal.
Will you be walking everywhere? If you answered "yes", you are going to want to choose a place that is more centrally-located.
Being a 20-minute walk away from the main parts of town used to not be a big deal, but if we want to go back and forth for nap time or to take breaks during the day, it can be a big inconvenience.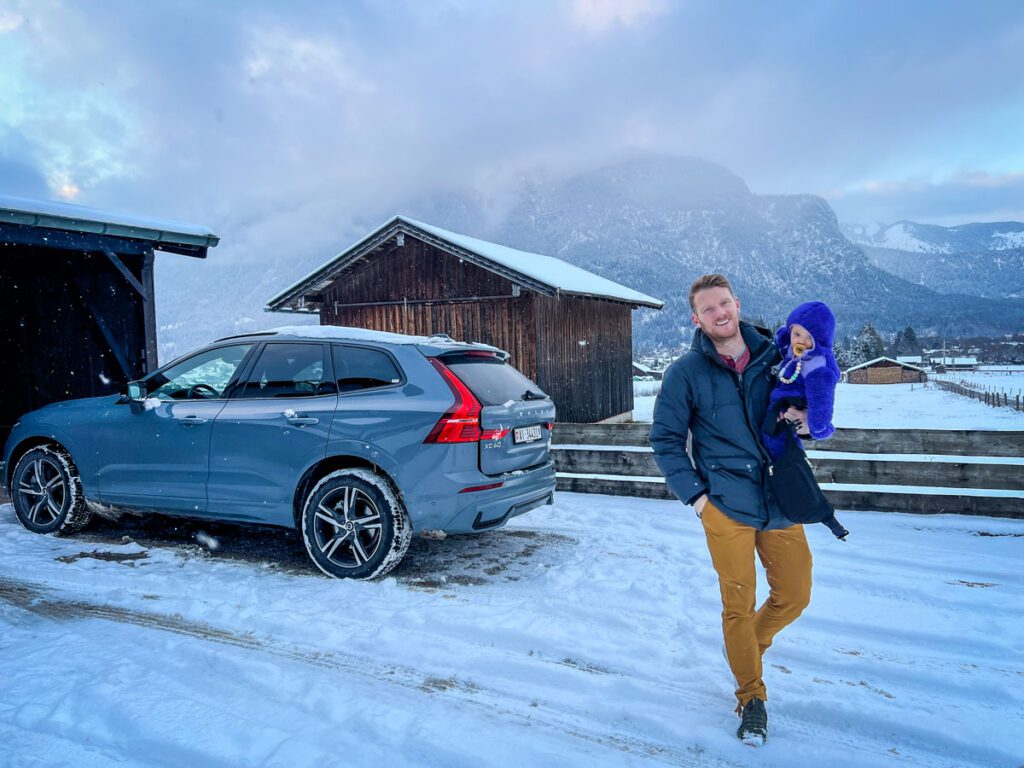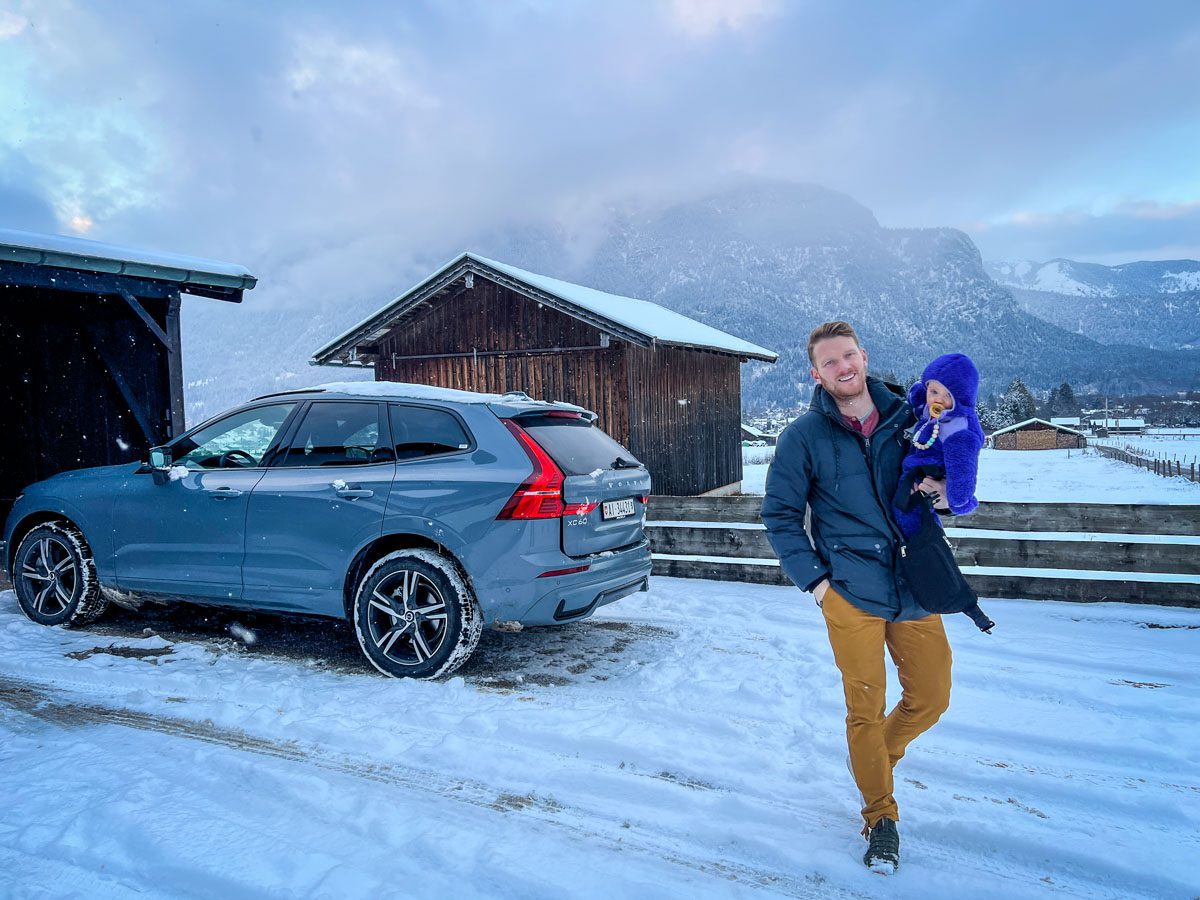 Our personal experience:
We booked an Airbnb in Mexico that was a 25-minute walk from most of the places we wanted to go. The sidewalks in the area weren't great, so we found ourselves carrying our stroller in the heat and crossing major intersections frequently.
It got to be really frustrating after just one day, but we had already booked the entire week. Yikes! During our next trip, we were sure to choose a location that was more centrally-located.
7. Think about the sleep environment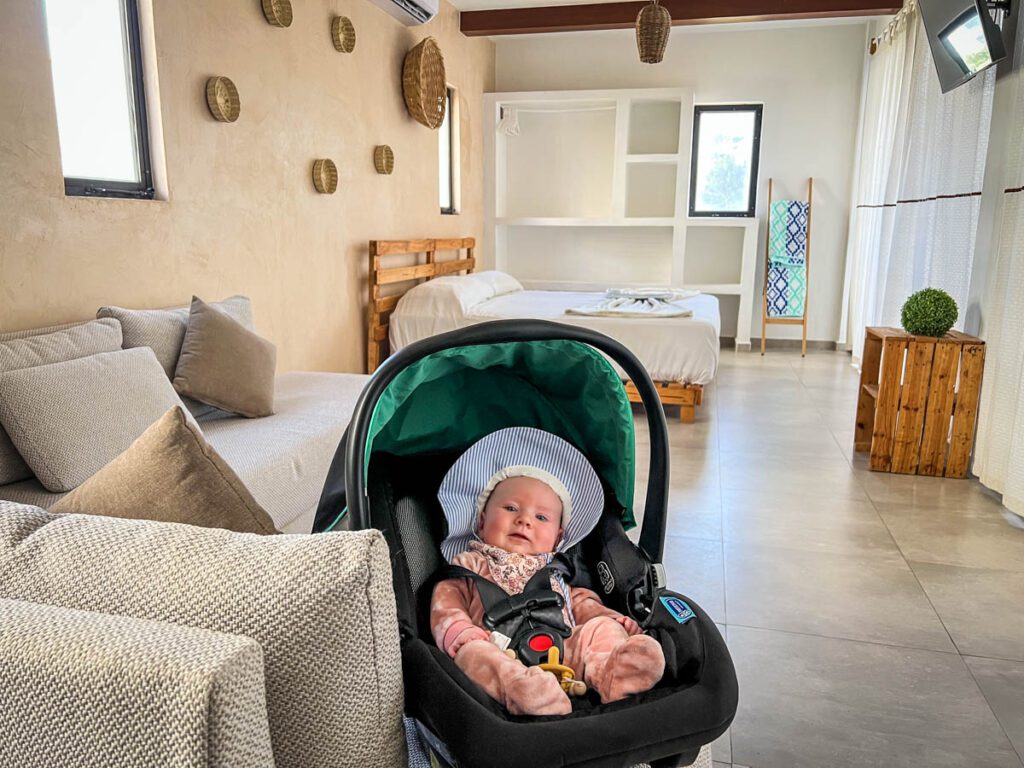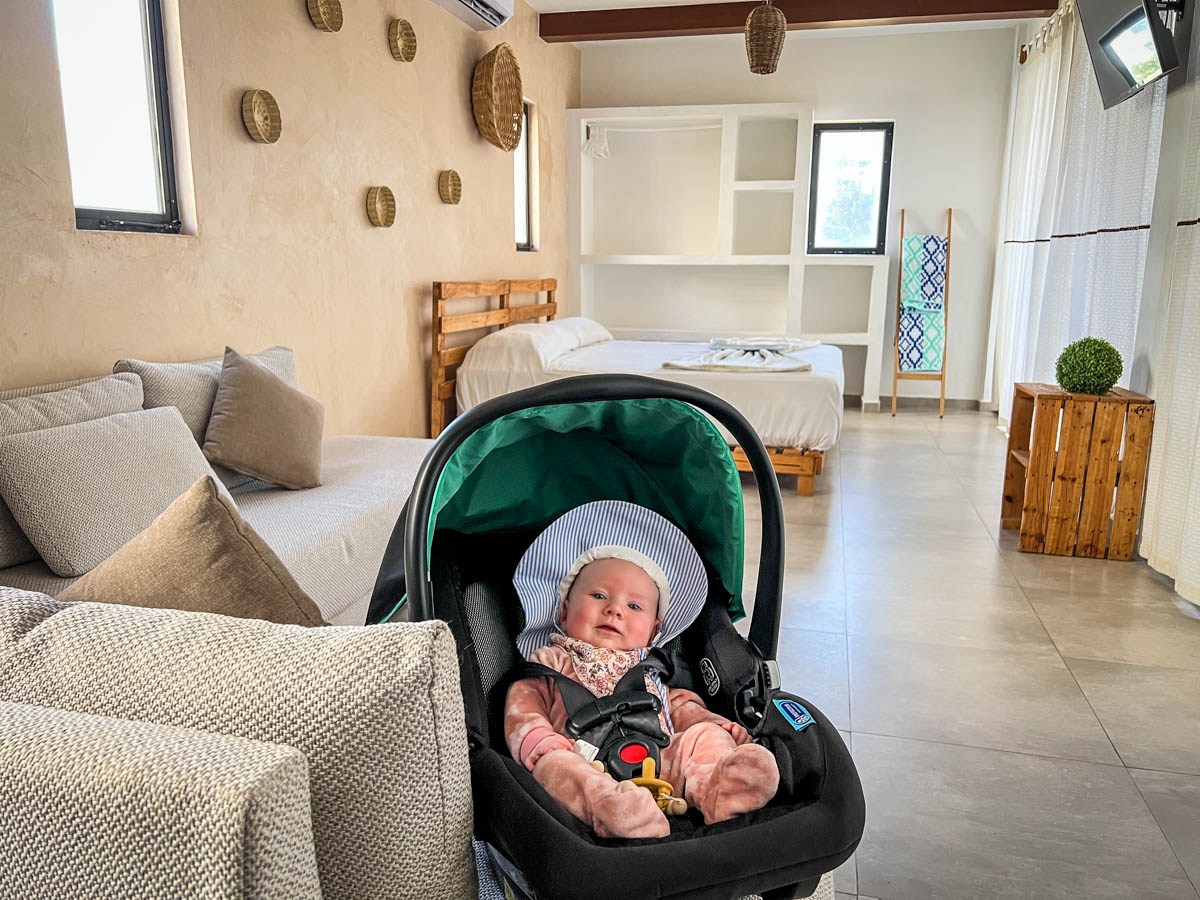 See if you can spot any red flags when it comes to the sleeping environment.
Most hotels are pretty decent with this, but we've had a few Airbnbs that aren't the best for sleeping. Read the reviews and pay attention to the photos.
Is it a quiet neighborhood?
You definitely don't want to book a place in an area known for partying. 'Nuff said.
Are the curtains light blocking?
This is something I never would have considered pre-baby.
I'm not necessarily meaning they need to be blackout curtains, but they should be somewhat substantial. For example, without thinking about it, we booked an Airbnb with cute, boho curtains that were very see-through, as well as some windows with no curtains at all. (See the picture above!)
We could pop on an eye mask, but Juniper obviously couldn't and the street lights were a huge nuisance. (So much so that we actually moved to a hotel instead.)
Insider Tip: Pack some safety pins or chip clips to help close curtains that are letting light in through the gaps. Additionally, we've recently seen some portable blackout curtains, which may be an option you want to consider. We haven't personally used these because it seems like another bulky thing to pack. However, if having a very dark environment is important for your baby's sleep, it might be worth considering.
8. Consider the amenities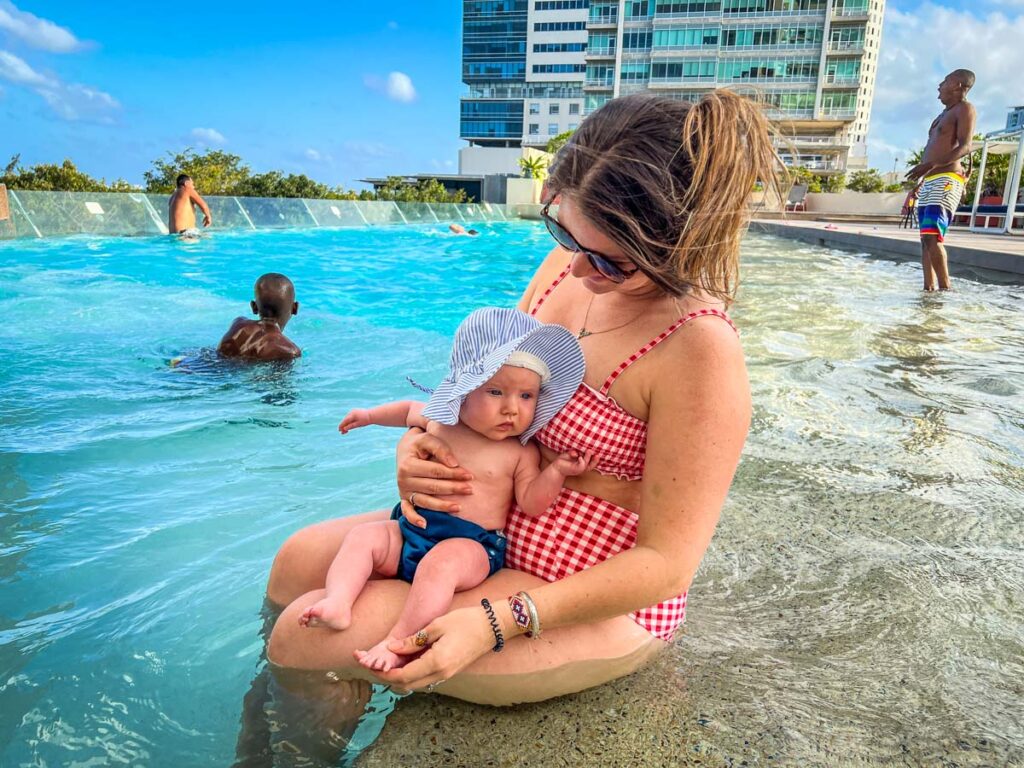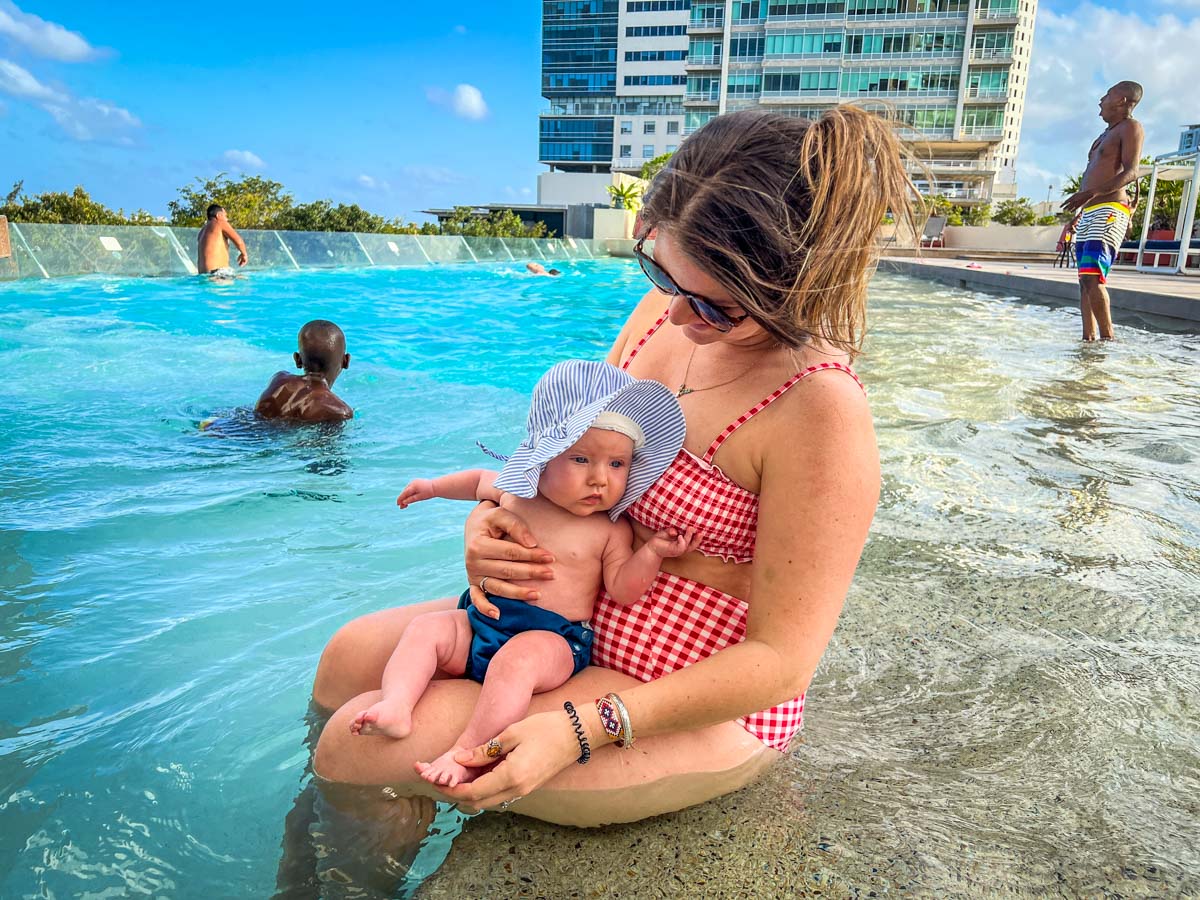 This is more of a bonus, but there are some features that can be nice to have when you're traveling with a little one.
Pool
A pool can be great for kids of all ages (and parents too!).
Room service
This can be a nice perk if you want a low-key dinner after a busy day. Delivery or takeaway (pizza, anyone?!) is another option if room service isn't an option.
Outdoor space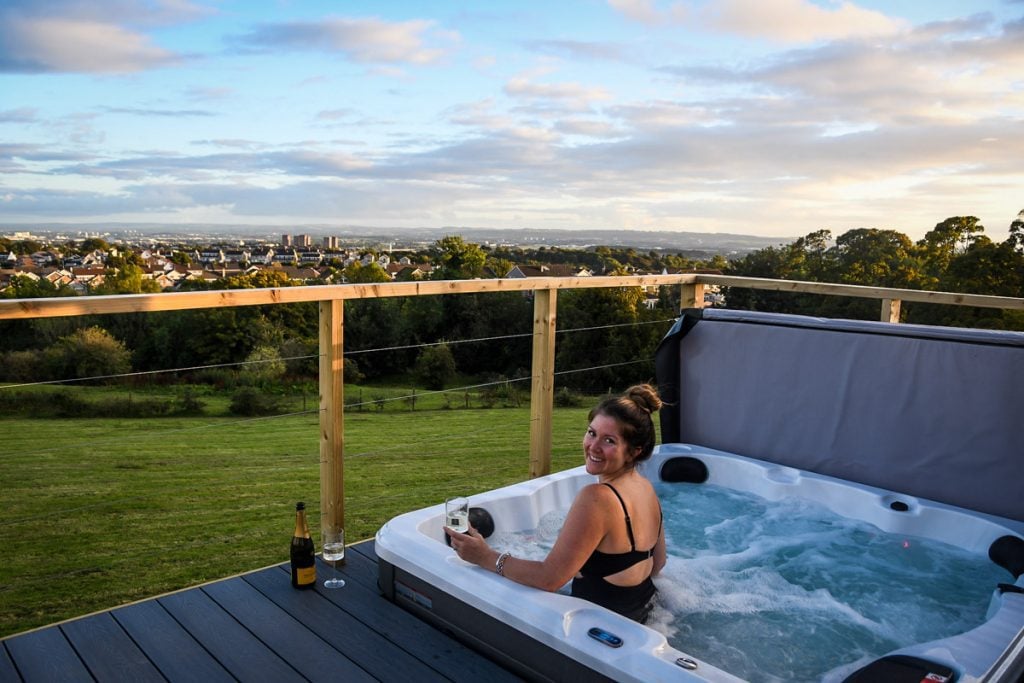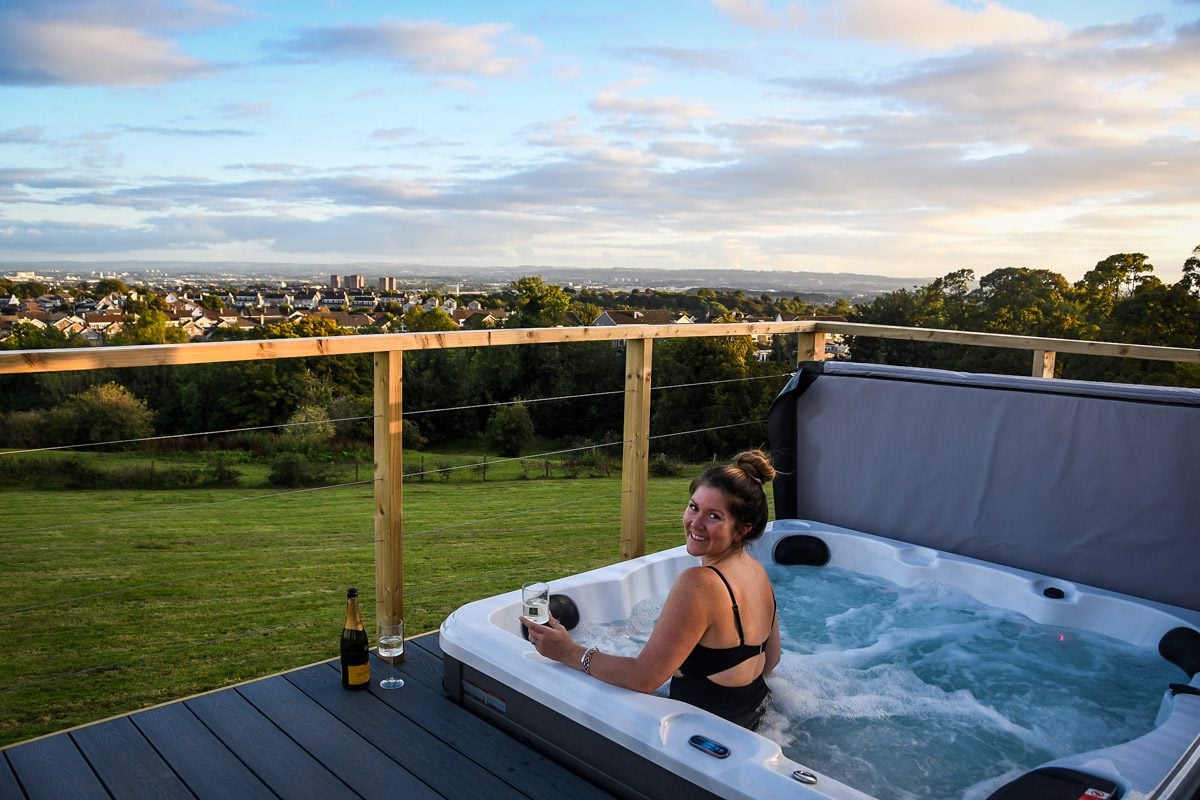 A spacious balcony or outdoor space can be a great hang out spot after your little one has gone to bed (even if there aren't separate sleeping areas).
Luggage storage
On travel days it can be nice to know if there is luggage storage available. Most hotels offer this, but with Airbnbs you'll have to message your host. We've had good luck with simply asking.
Free breakfast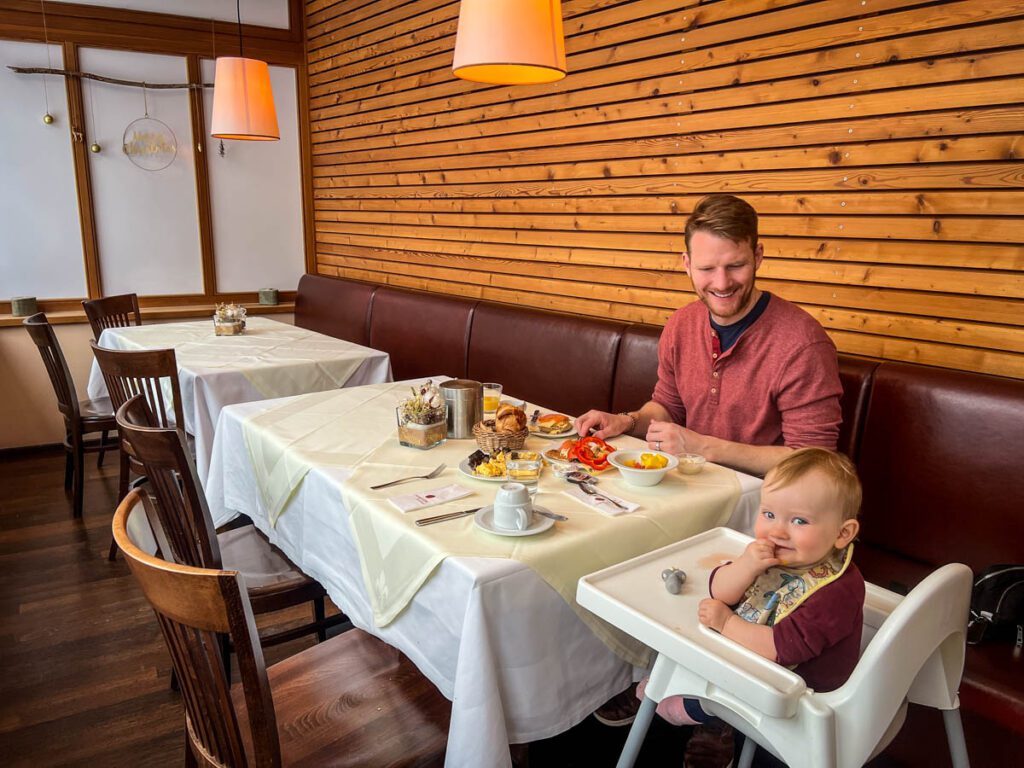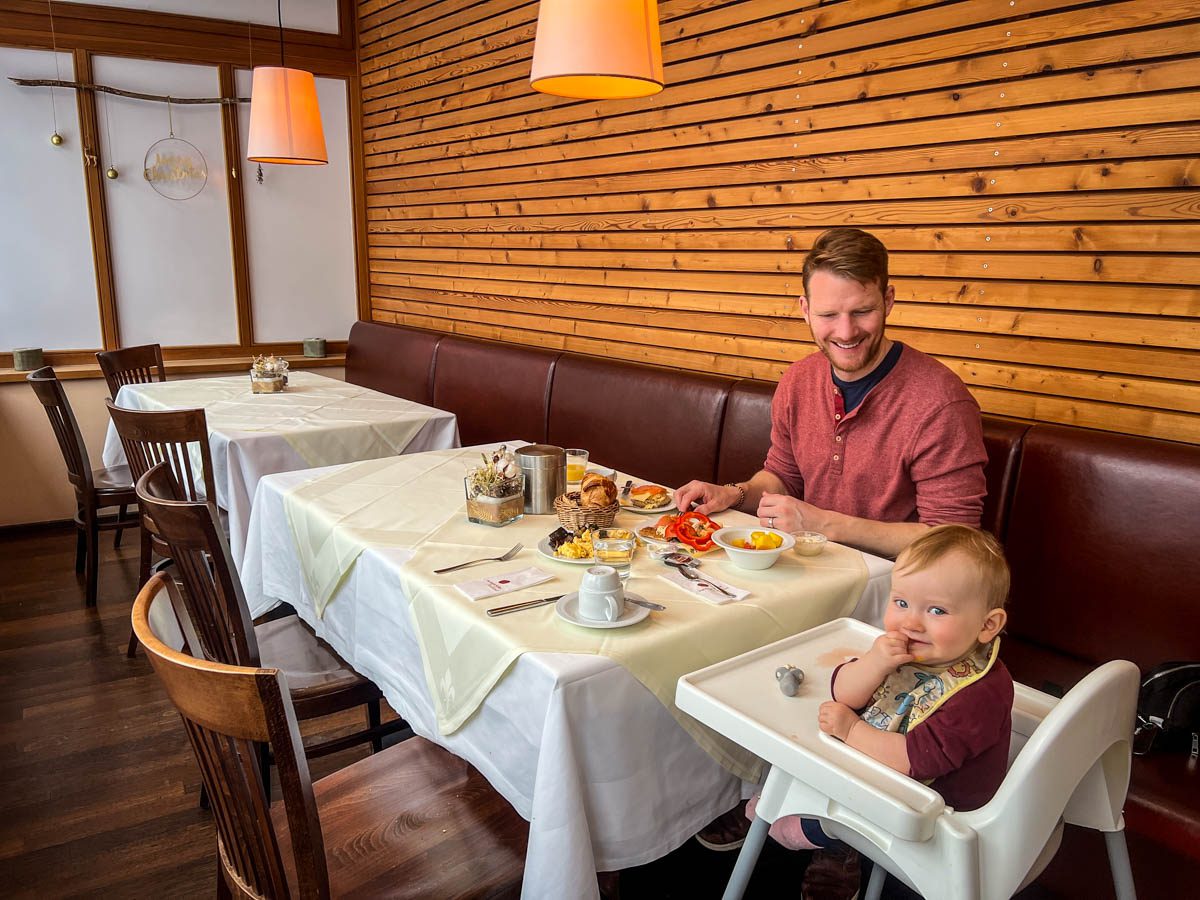 If your baby is eating solid foods, sometimes a breakfast buffet can be nice. It means you won't have to figure out where to find food in the morning, and you can just pop down at your convenience.
Early check-in
If you know you'll be arriving early to your destination (or leaving late), contact the property to see if they have the option for early check-in/check-out. This can be another big perk when traveling with a little one.
Elevator
This may seem weird to consider if you're from the USA where just about any building over 2 stories tall has an elevator. But in much of Europe, you may find that buildings under 5 stories may not have an elevator. We've run into this a few times, and carrying all our baby gear (stroller, car seat, pack 'n play) up many flights of stairs isn't the most fun!
9. "Baby friendly" environment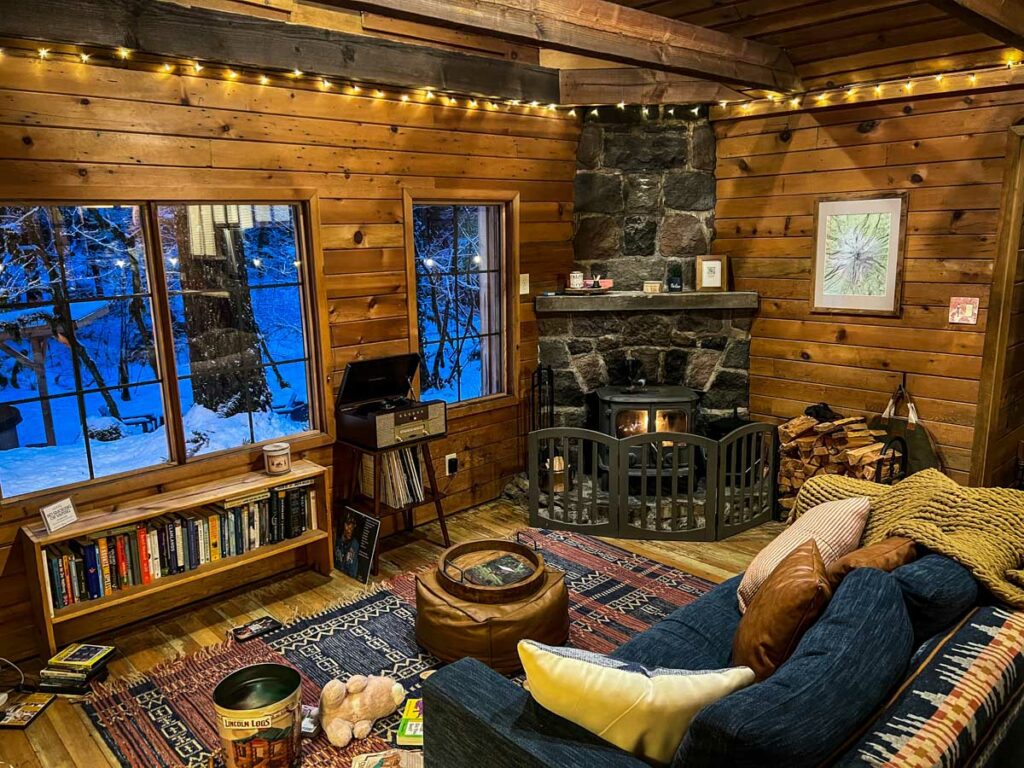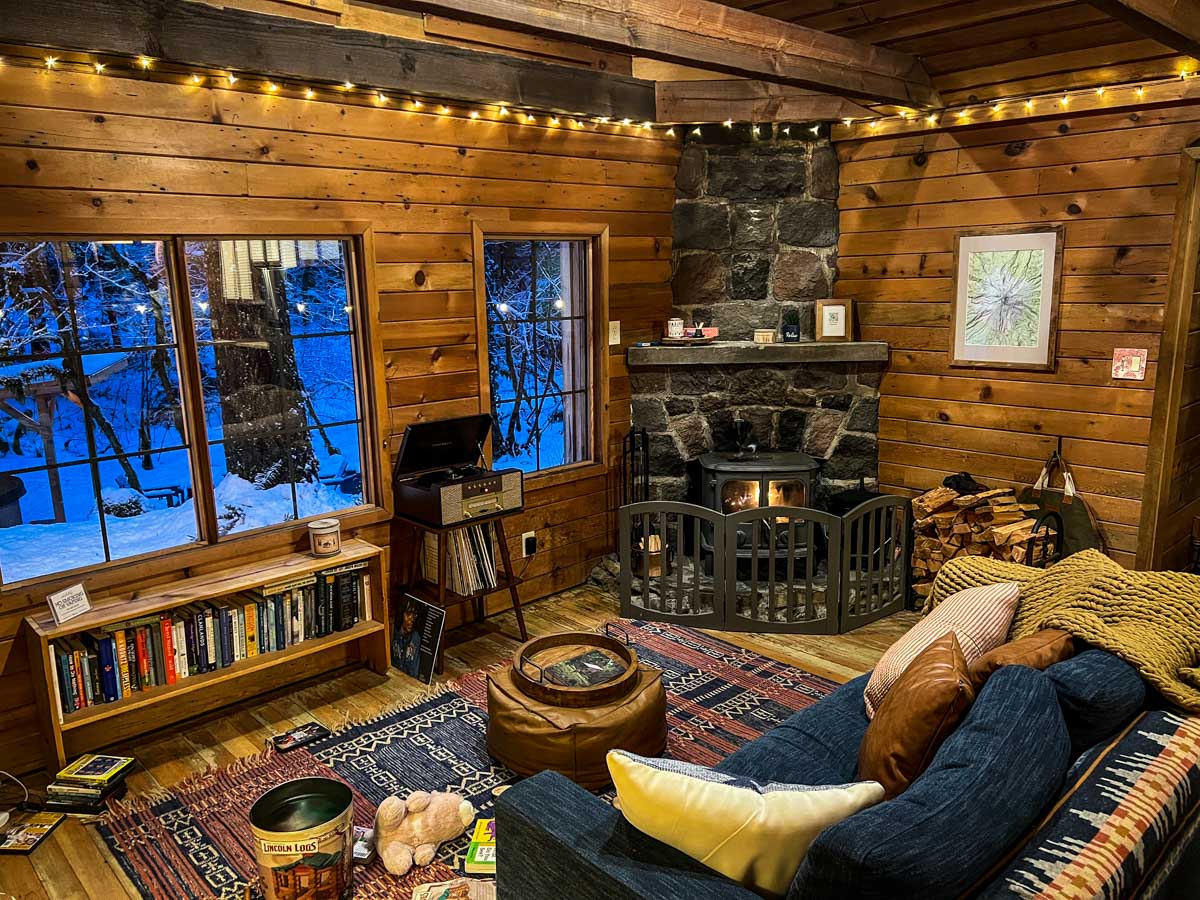 This applies mostly to Airbnbs, but one thing to keep in mind is whether or not the space will work well with a child.
Are there stairs?
Breakable items (like a glass coffee table, for example)?
Does it look clean?
Is there an elevator or do you have to walk up and down several flights of stairs with your stroller and babe in tow? (We've learned the hard way that this isn't super fun!)
Another thing to consider is whether the property owner has taken the steps to install safety features or design the space with little ones in mind.
Honesty, this hasn't been a huge factor for us (yet). We are sure to pay extra close attention when we're in a new environment and watch out for or remove the things that could be a hazard.
Tip: If you're worried about this, you could bring a small roll of painter's tape and use it to cover outlets or close drawers you don't want opened.
10. Book places with pack 'n plays when possible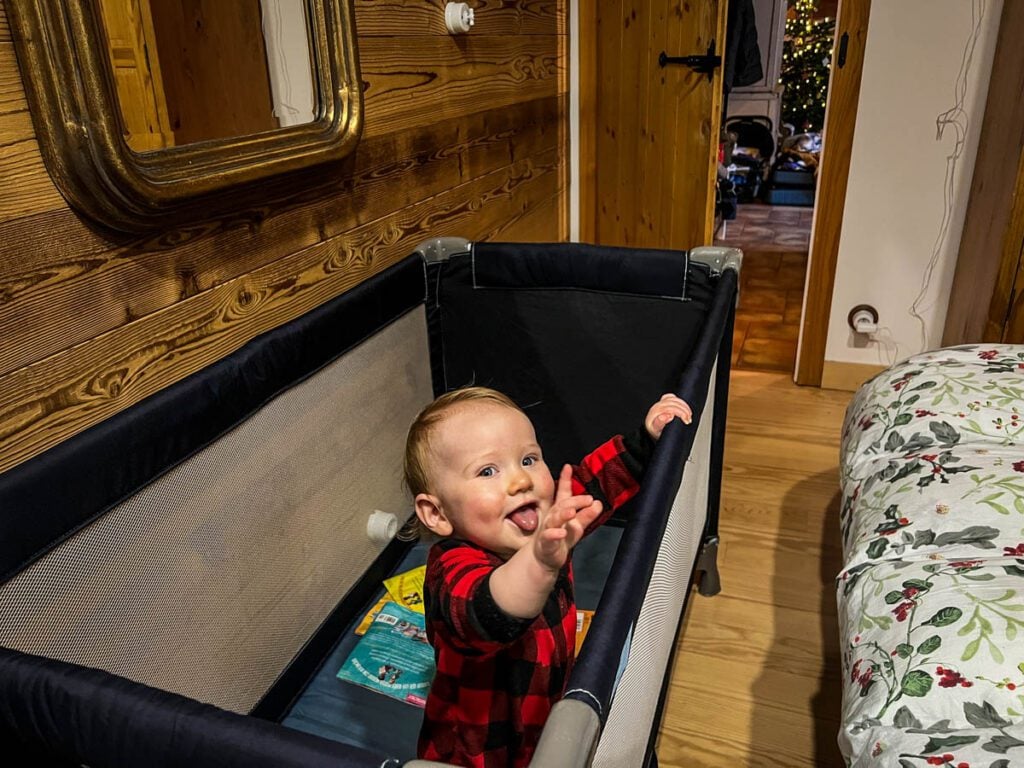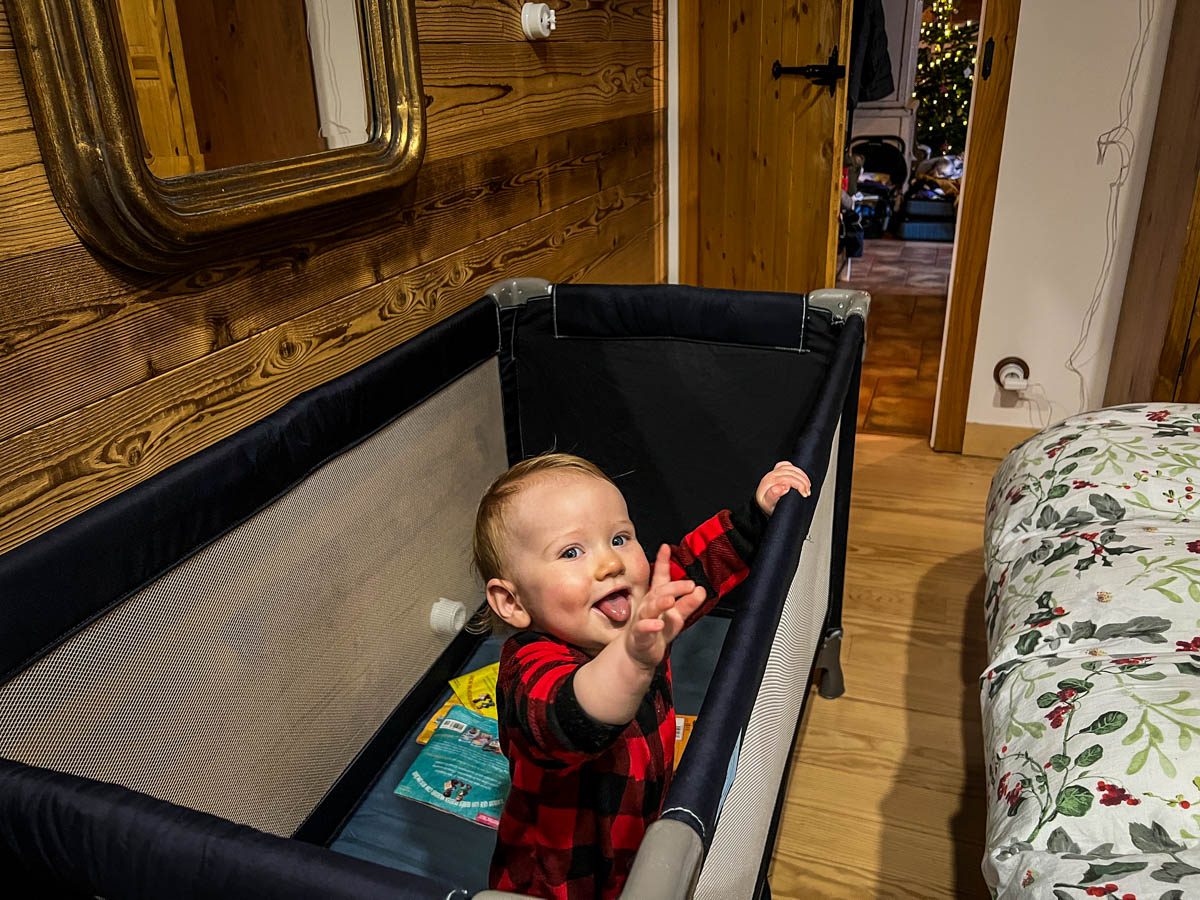 If it's an option, try to book hotels and Airbnbs that have a travel crib for your baby.
Many hotels and many Airbnbs offer this, so keeping it in mind when you're making your reservations is key.
Their booking details will usually disclose if they have a crib available. If you don't see anything about a crib, it doesn't hurt to ask. We had an Airbnb host that decided to buy one when we asked if she had a crib so that she could offer it to future guests.
This means you won't have to travel with your own, which is a huge space saver.
Our personal experience
During our 3-week European Christmas Market Trip, we stayed at 8 different hotels/Airbnbs, and all but one had a crib available, so we decided not to bring our own. We are comfortable with co-sleeping, so we did this on the nights that we did not have a crib available.
Need to bring your own pack 'n play?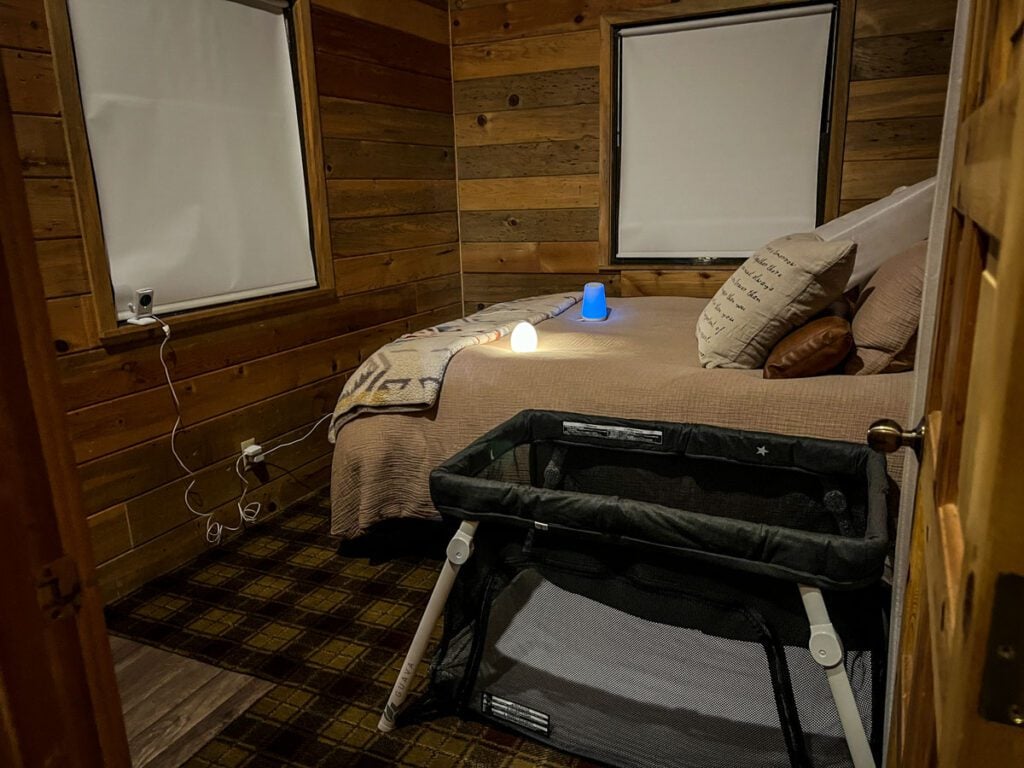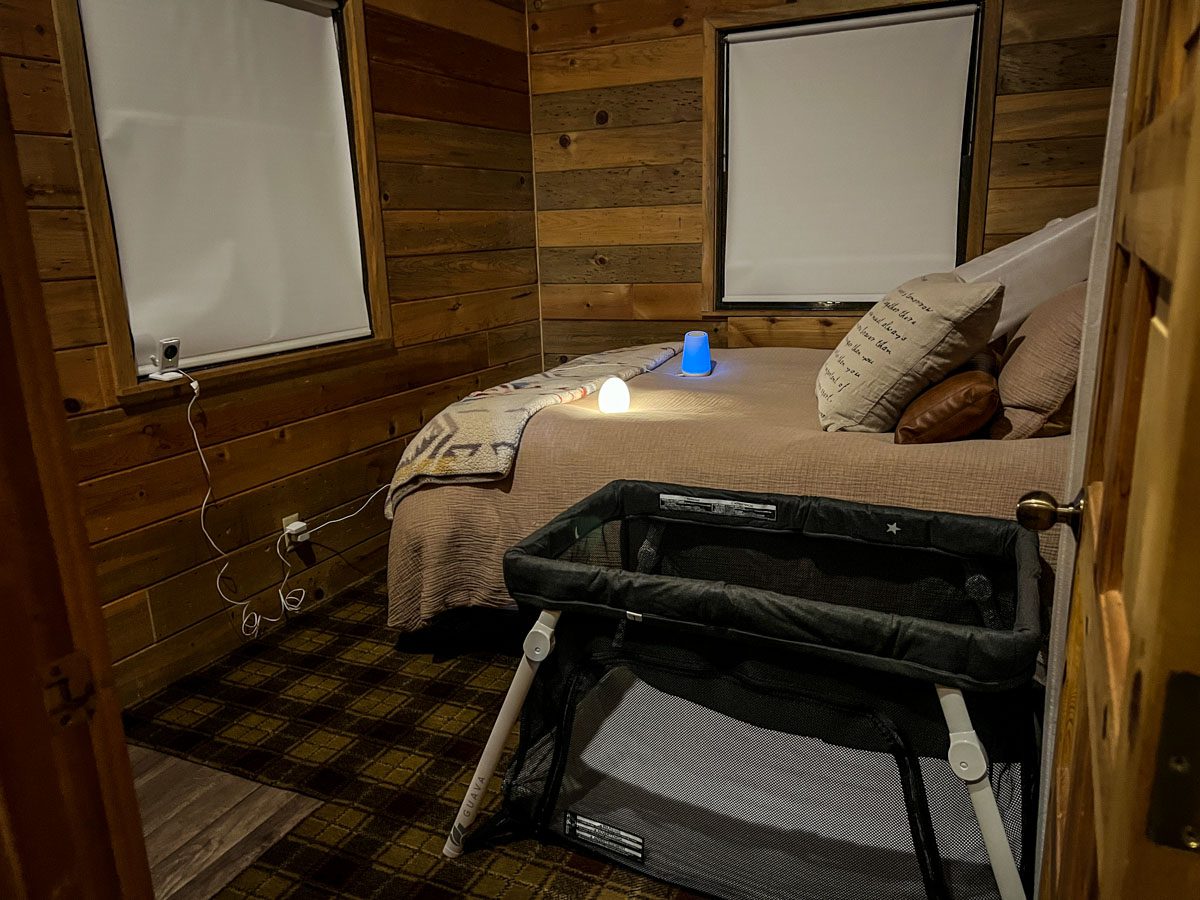 If the accommodation will work great but doesn't have a pack 'n play, it's not necessarily a deal breaker.
There are some destinations where finding accommodation with cribs is much more difficult. For example, we're currently planning a trip where we're mostly staying at Airbnbs and none offer pack 'n play, so we are bringing our own.
The Guava Lotus pack 'n play is undoubtedly the best travel one on the market. Trust me, I spent a lot of time comparing, and it is the smallest, most durable, and made without toxic materials. So if you're looking at buying one for travel, the Guava Lotus is what you want. (This is the one we personally have.)
Even though it is compact, it is still bulky and another item to lug around. So if you can get away with not having to pack it, that's a big win.
Alternative: Travel bassinet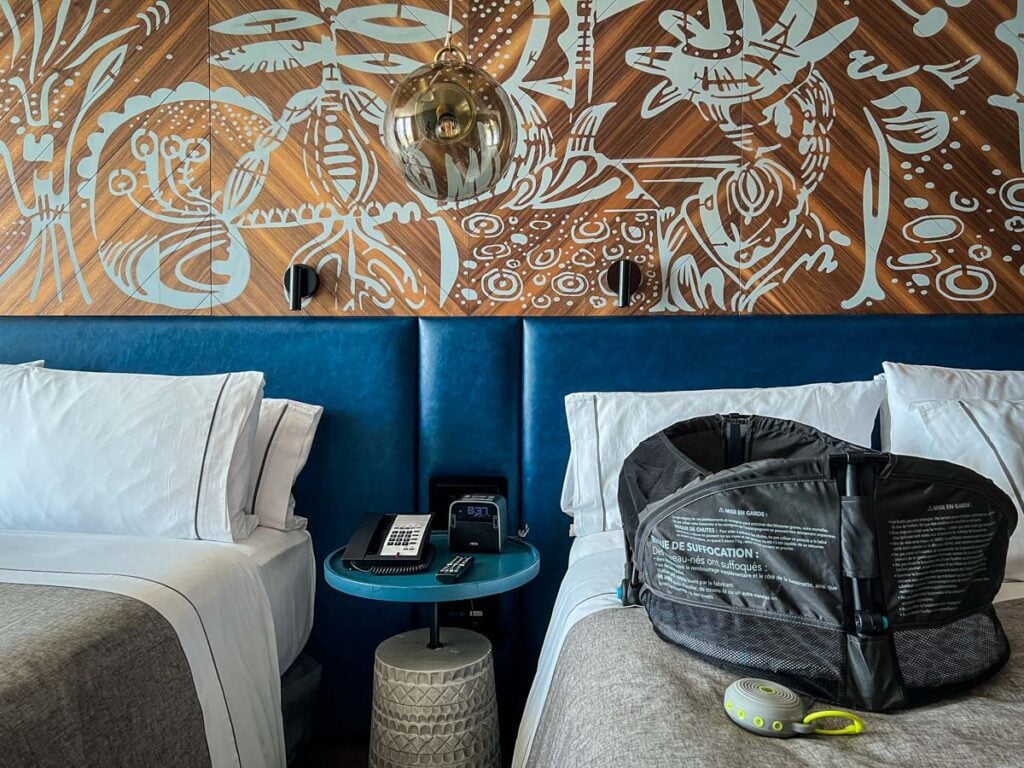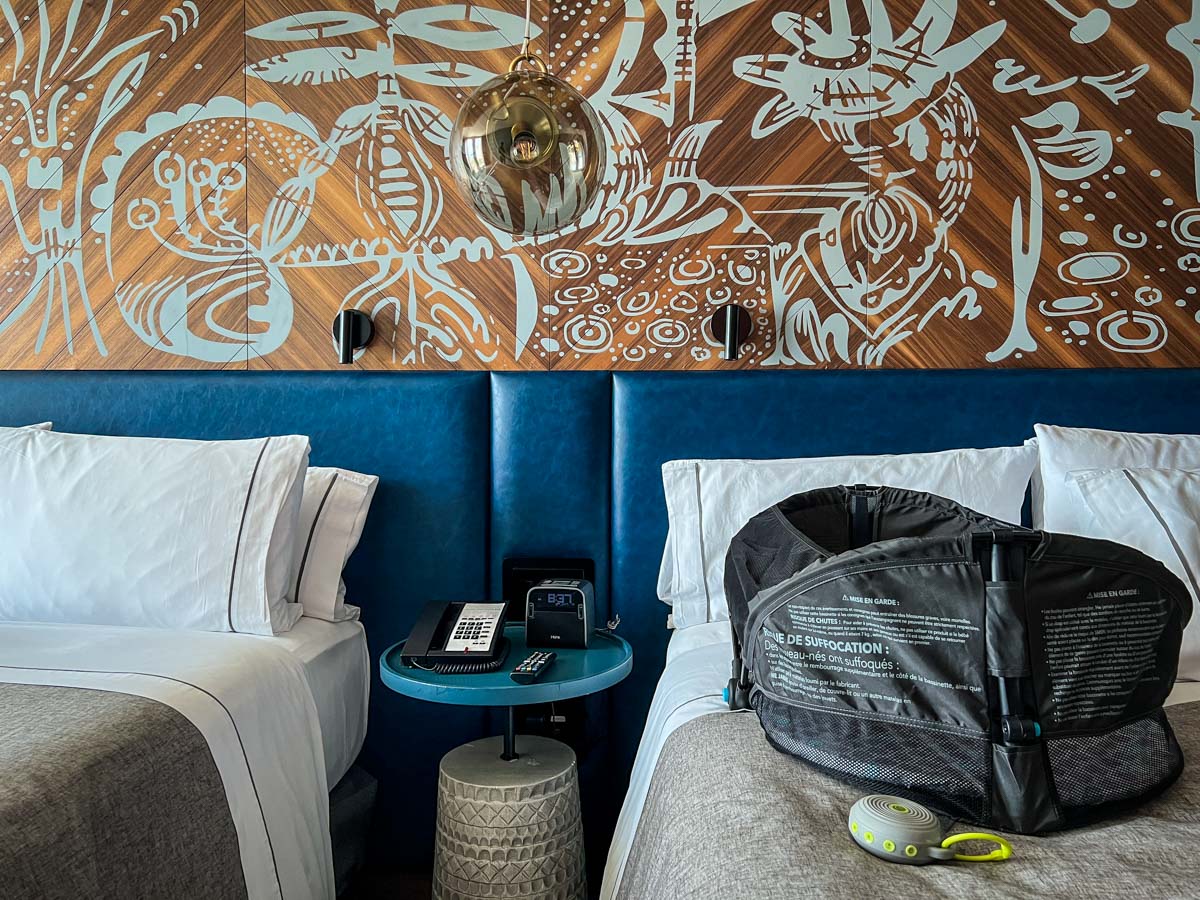 We used this travel bassinet until Juniper was about 6 months old and we really liked it.
Once she outgrew the bassinet, we bought this this travel tent. We liked it and it's much more compact than a pack 'n play, but it only lasted us until she was about 9 months old.
We felt like once she got more mobile, the tent option wasn't working very well and we bought the Guava Lotus pack 'n play. Looking back, I think we should have just got the pack 'n play and skipped the tent since it didn't last very long.


11. Compare hotels vs. Airbnbs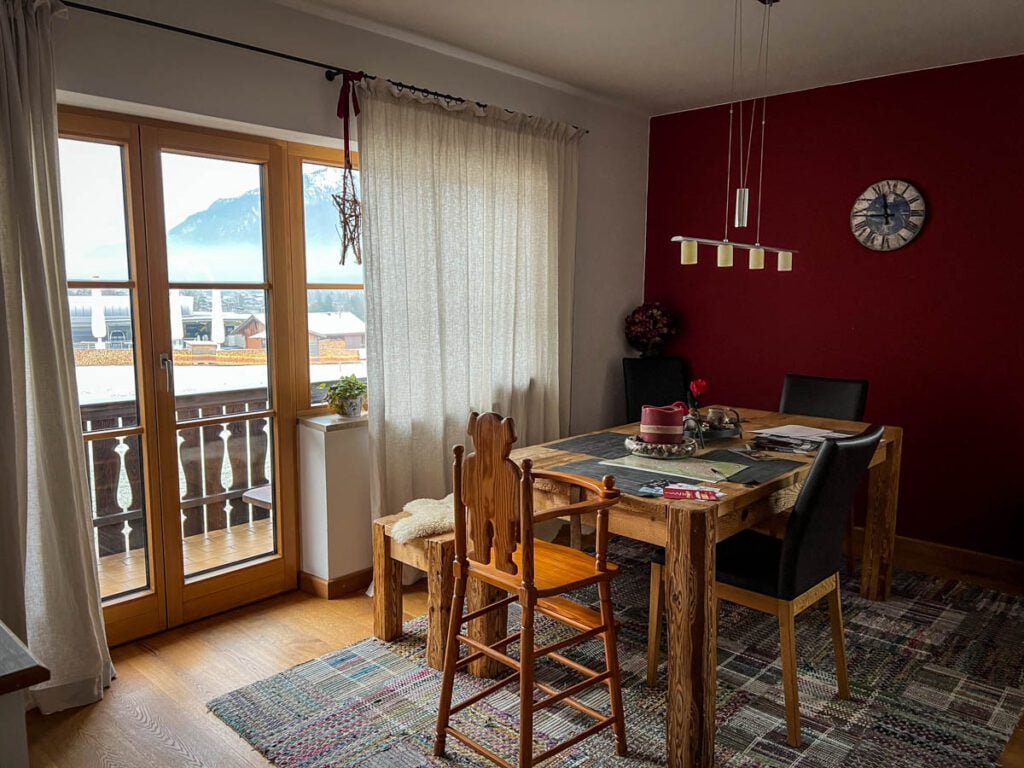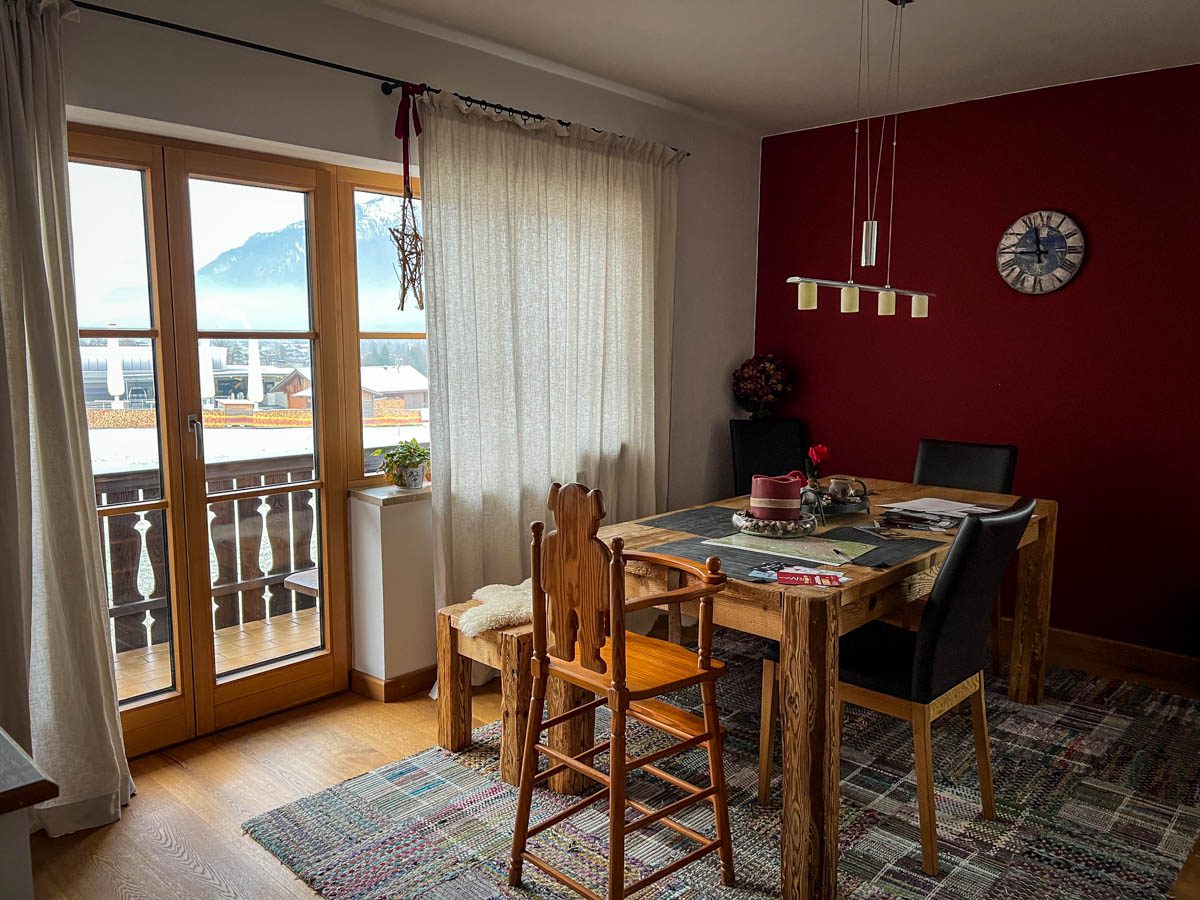 We've already shared that Airbnbs are our favorite option for traveling with a little one, but in some regions or cities, the options are just not great.
Often, this comes down to local regulations or supply and demand. And in some cases, hotels can be a much better choice.
On the other hand, there are some areas of the world where the hotel options are pretty mediocre.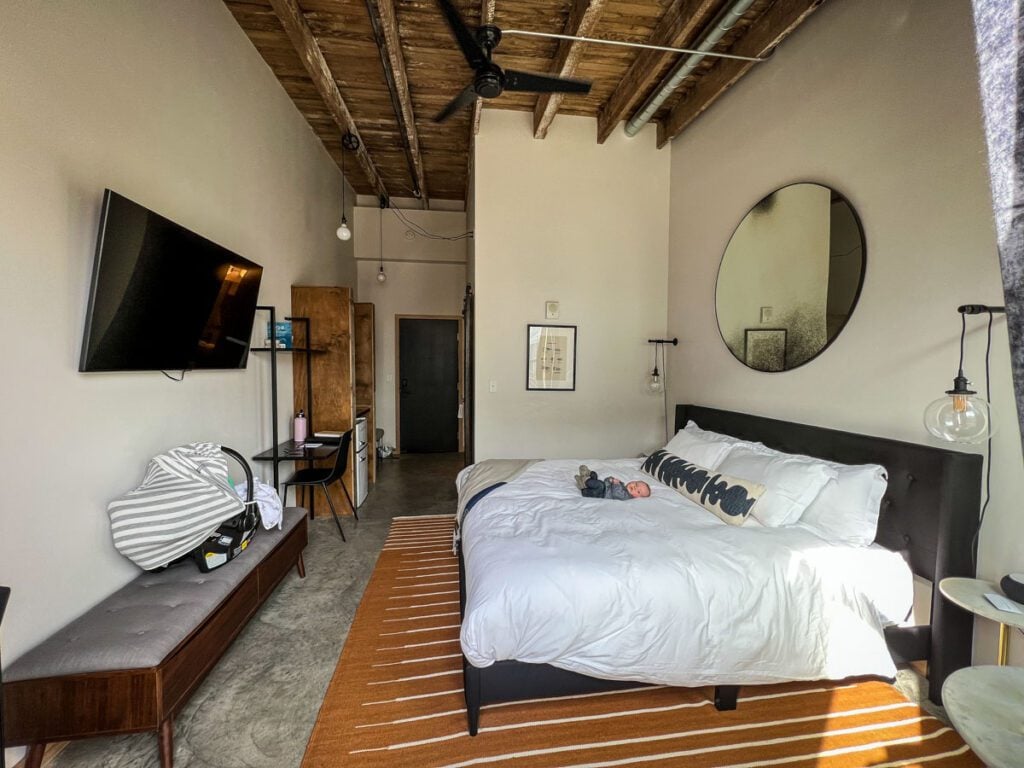 For example, while recently planning a trip to Hawaii, we found that almost all the hotels in our budget (under $300 per night), were very blah and basic. When we hopped onto Airbnb.com, we found a lot of properties that would work much better for us.
The moral of the story is this: don't only rely on one platform when searching for accommodation.
Personally, we always compare Booking.com and Airbnb when searching for accommodation. This way, we're able to make a decision knowing we've seen all of our options.
12. Stay at least 2 nights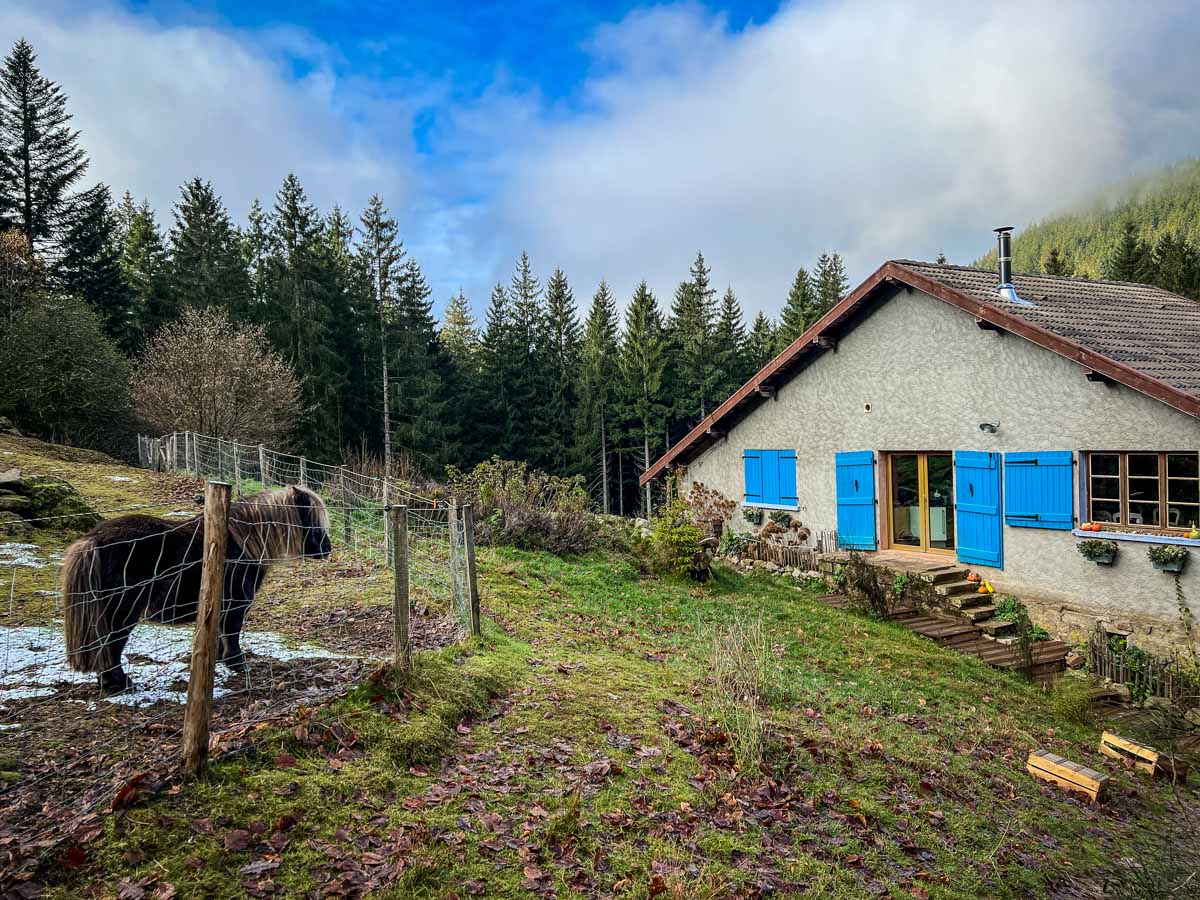 As a general rule of thumb, we try to stay at least 2 nights in any accommodation while traveling with a baby. Even more is better!
The main exception being when we are staying near the airport before our departure or arrival.
Moving around each night gets to be exhausting when you have to move around all your baby gear and set up and take down their sleeping arrangement.
Trust me, two nights will feel much more manageable. And longer than that will feel damn near luxurious.
13. Bathtub vs. shower
Personally, this is something we don't put much thought into when booking a property. We give Juniper a bath only every handful of days (unless she gets really dirty).
We use tubs when we have them, but we also bring her into the shower with us or do sink baths when a hotel or Airbnb doesn't have a tub. We're comfortable with most situations, and Juniper is pretty adaptable with baths.
That said, we know a lot of people have bath time as an integral part of their bedtime routine. In this case, looking for a property with a tub could be really helpful and might be something you want to specifically search for when choosing a place to stay.
Insider Tip: If you just can't find a place that you like that has an actual tub, you may want to pack a travel-sized inflatable tub, like this one. Personally, we haven't found this necessary, but if you think it would make your travels more comfortable, it may be really worthwhile. We'd definitely recommend getting a portable pump so you don't have to blow it up yourself after a long travel day (yikes!).
14. Look for (really) good reviews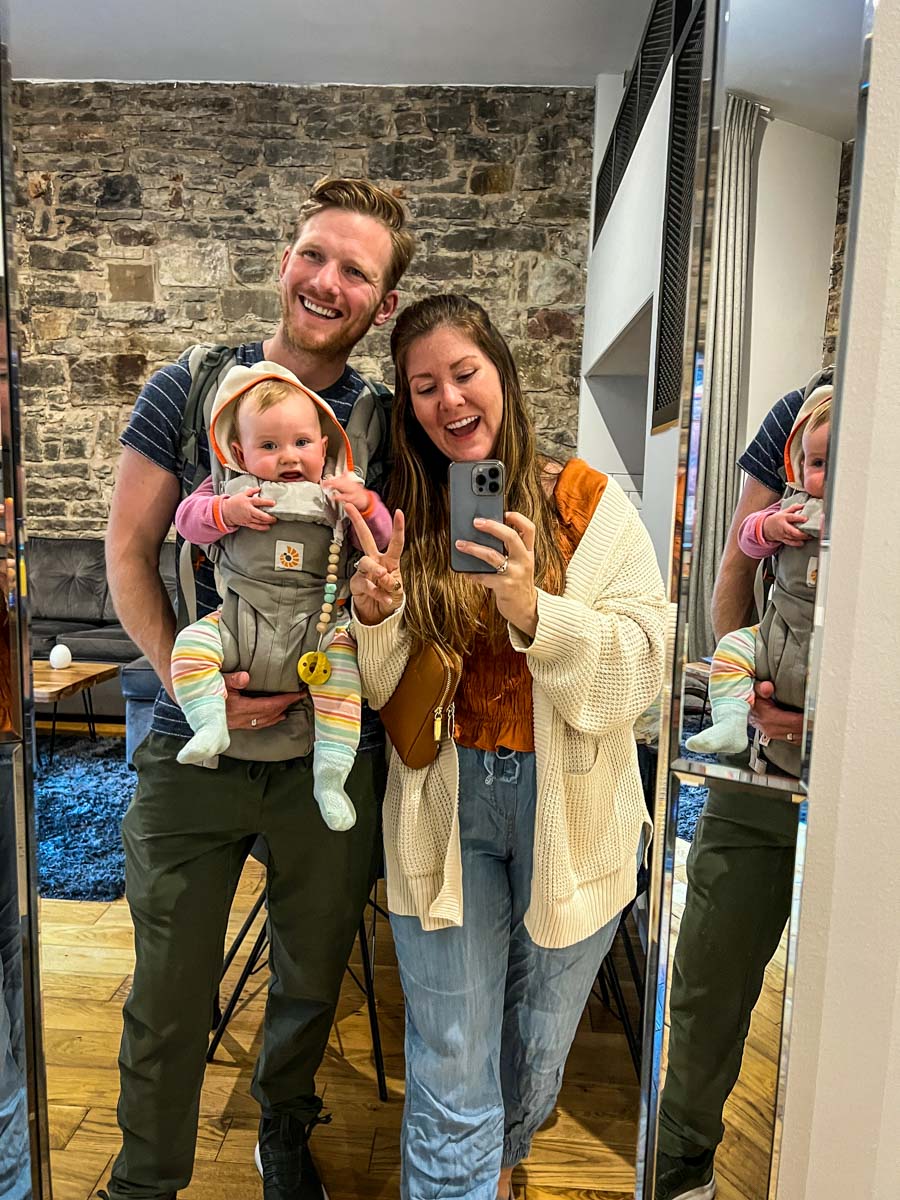 I'll admit, I'm kind of a snob about reviews.
Each platform has their own rating system and scale, and after hundreds of bookings, these are the numbers I try to aim for:
Airbnb
I look for properties with ratings that are 4.9 or higher
I prefer staying with Superhosts
Booking.com
I look for properties with ratings of 8.5 or higher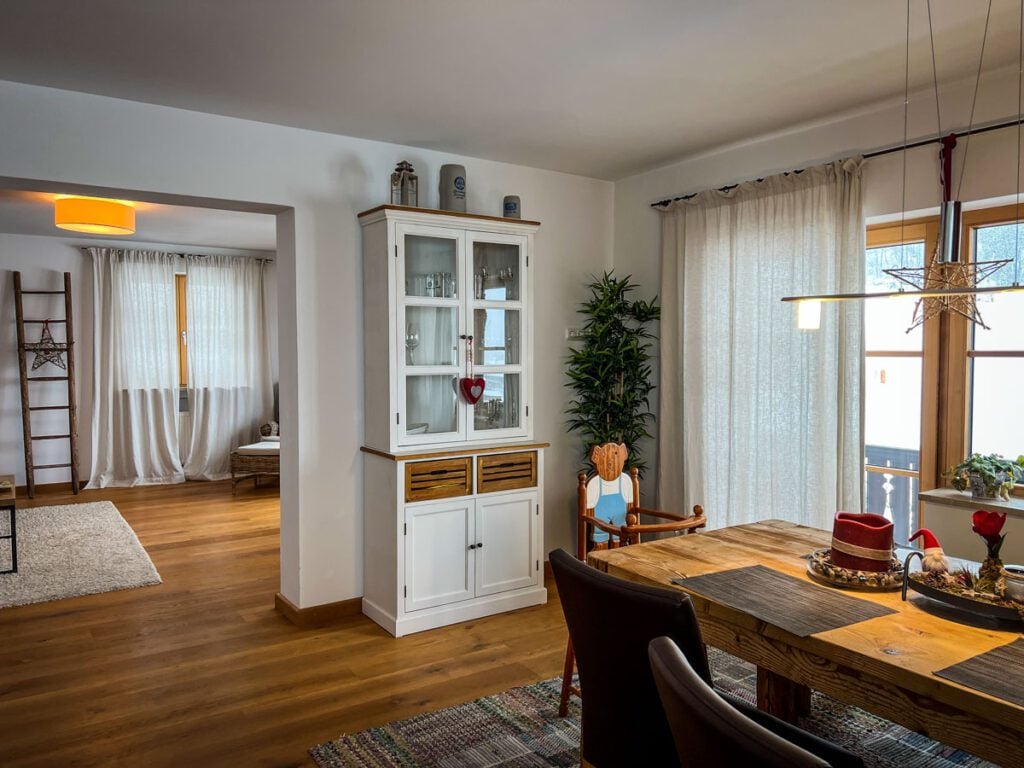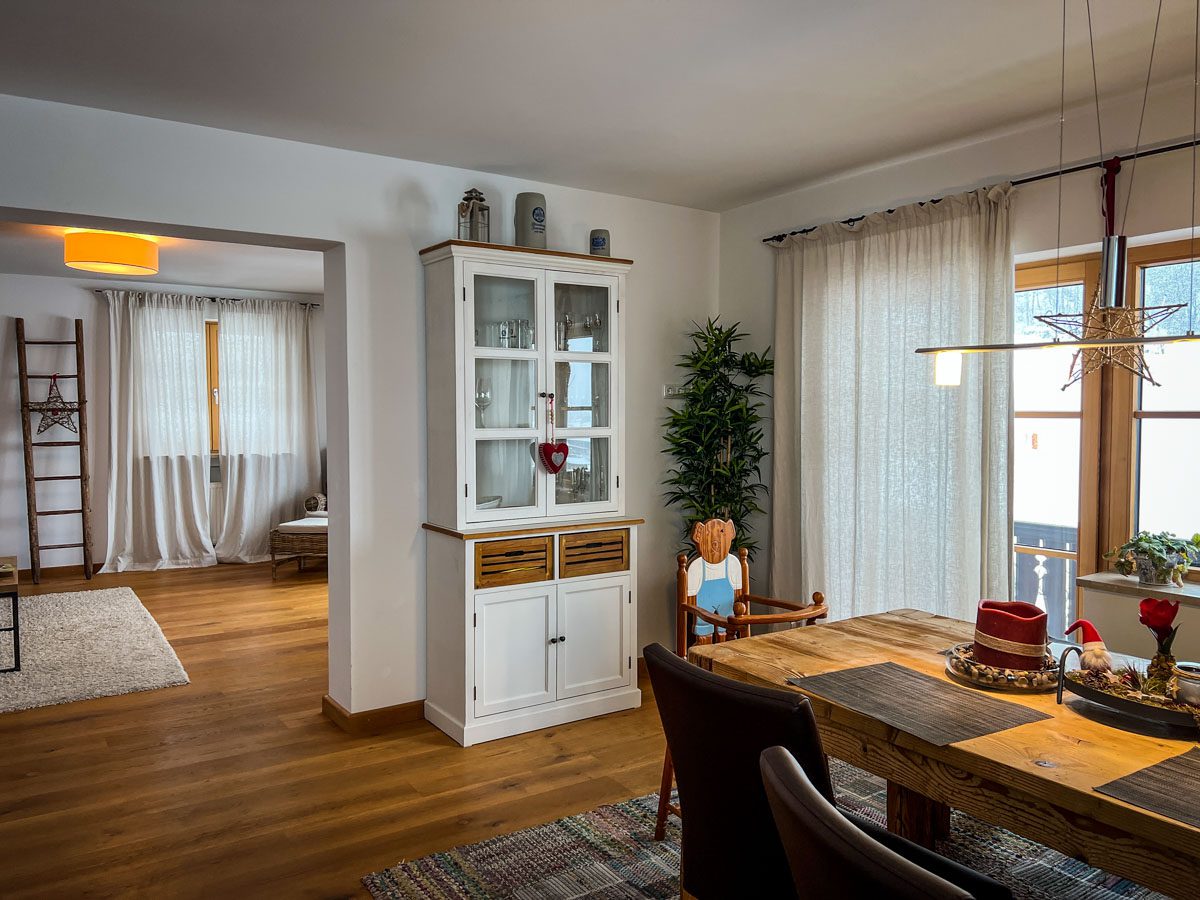 This isn't to say we never book anything lower than this. In some areas with limited availability, we may have no choice. Also, our budget comes into play a lot as well which might mean we'll book a property with lower ratings.
In this case, I'll look closely at reviews and pay attention to the things that matter most to me: cleanliness, location, etc.
My point is that when choosing a place to stay with a baby, be sure to think about the ratings and read reviews.
I've found that properties with high ratings want to keep it that way and will often be much more helpful and flexible than places with average ratings.
Insider Tip: While we're on the topic, I sometimes like to search other guest reviews for "kid" or "baby" or "child". Simply type each word into the search bar and see what previous guests have to say about staying there with a child. This can be helpful if I'm on the fence about whether a property will work for us or not. If no results appear, this may tell you that the property isn't particularly child-friendly. This doesn't have to be a deal-breaker, but it is something to consider.
15. Book an Airbnb with a hot tub (or other cool hangout space!)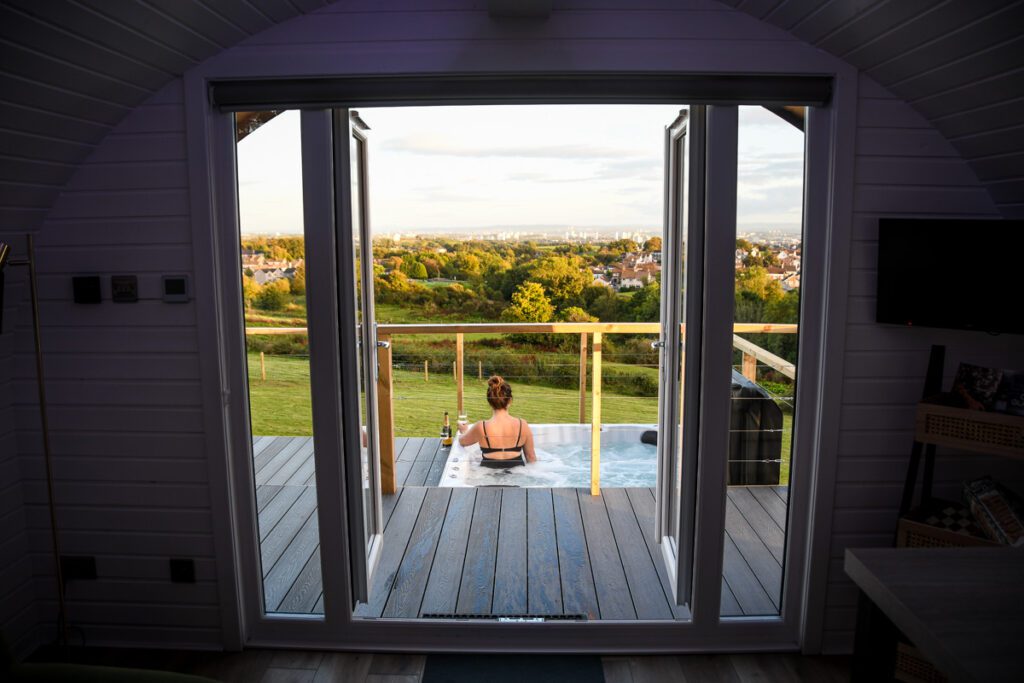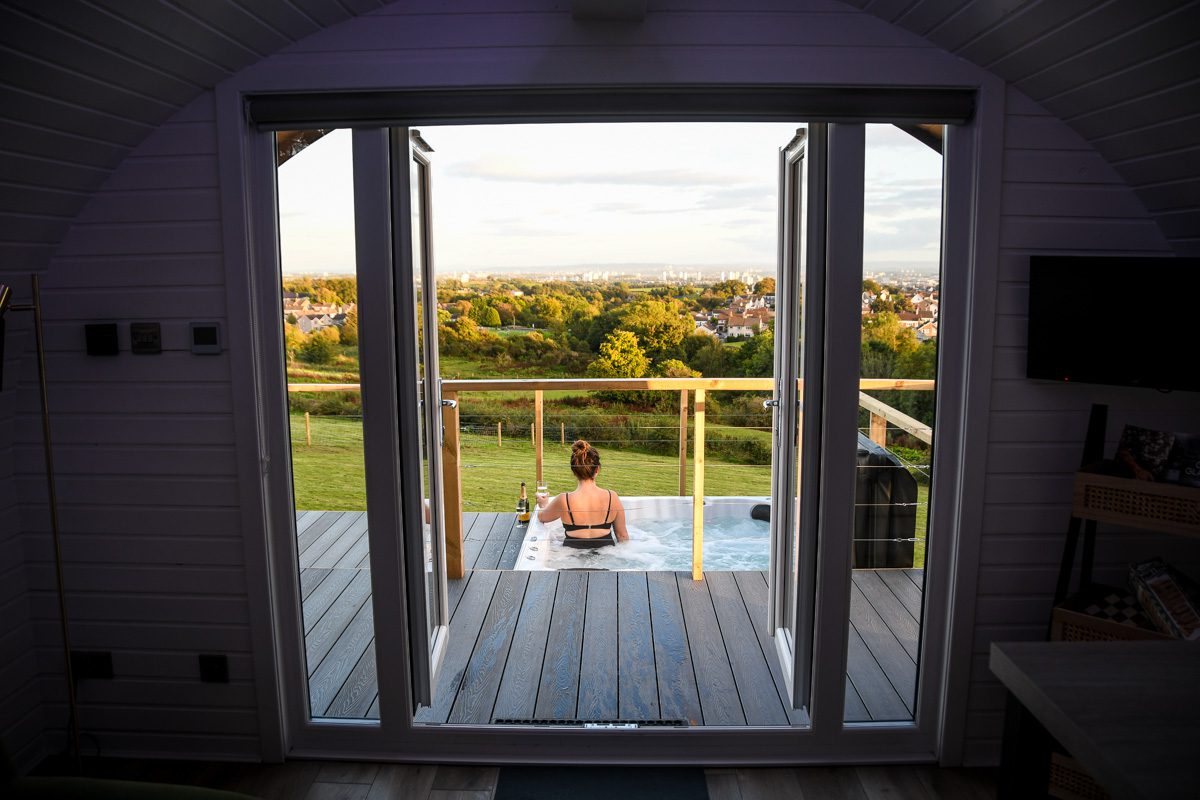 We've booked a few different Airbnbs with a hot tub just outside the property so we could use the baby monitor and soak while Juniper sleeps.
It is the best thing ever, FYI, and now we're obsessed with seeking out Airbnbs with hot tubs.
It makes getting back to our accommodation at night a treat for all of us. We almost don't miss wild nights out on the town!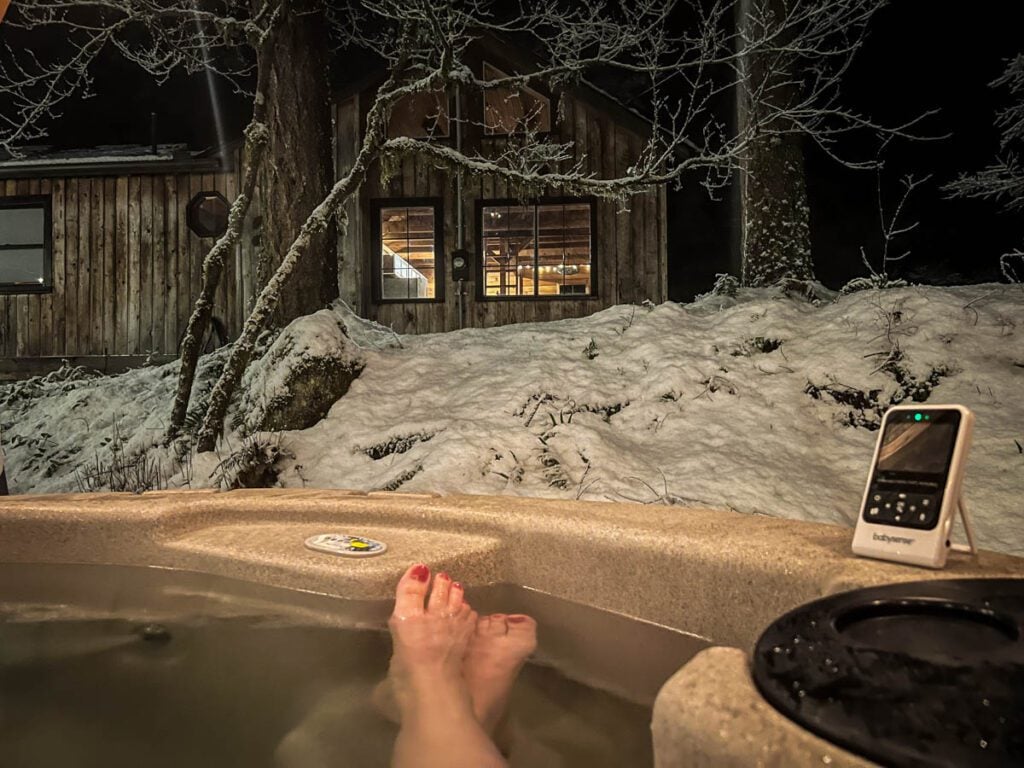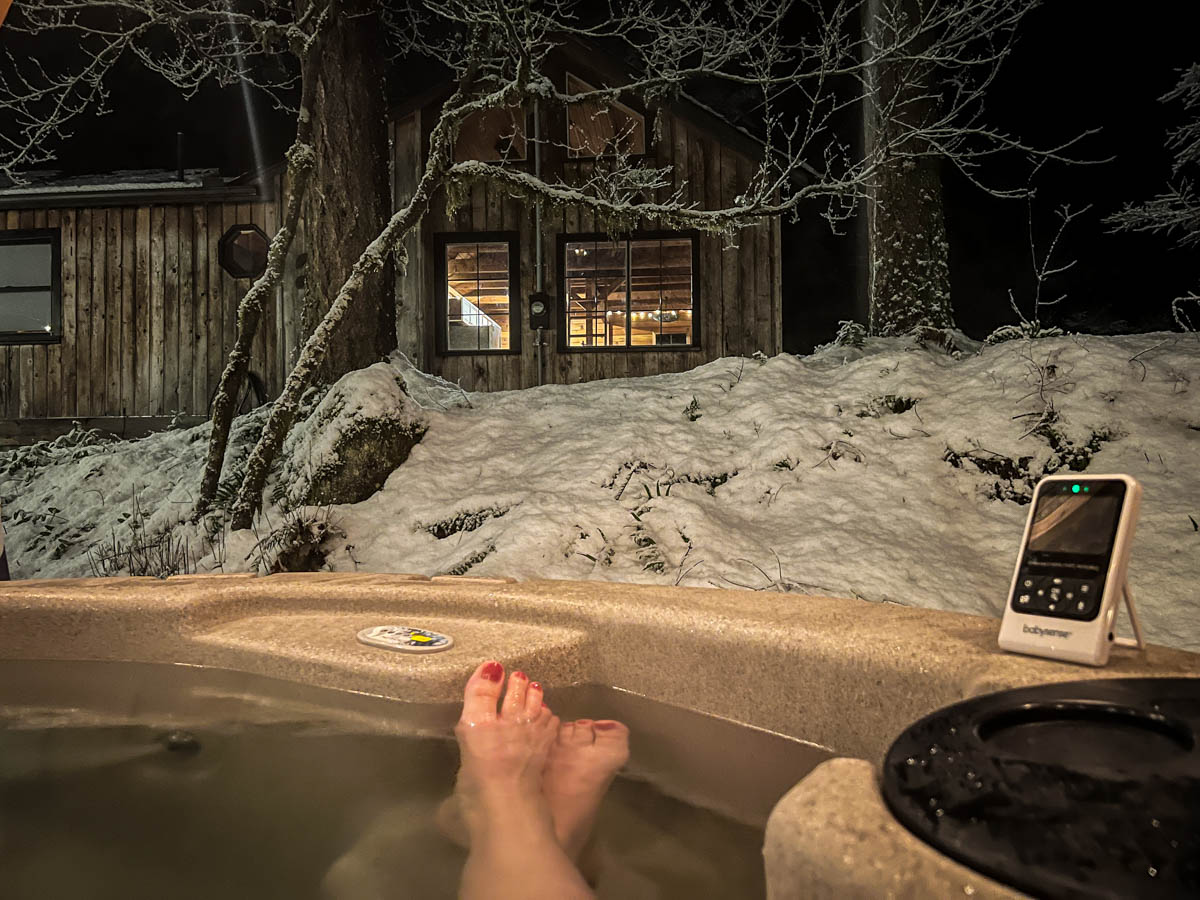 We'd recommend turning on the Airbnb filter to search for properties with hot tubs, then look through the photos to see how far the tub is from the house.
If you're not crazy about hot tubs or you're just not finding any in your search, another version of this is a cool hangout space in general. A spacious balcony with chairs, a fire pit, hammocks, a comfy couch and fireplace, you name it!
Finding a property with a cool space you can spend time in the evening once your little once goes to sleep is a game changer.
16. Onsite childcare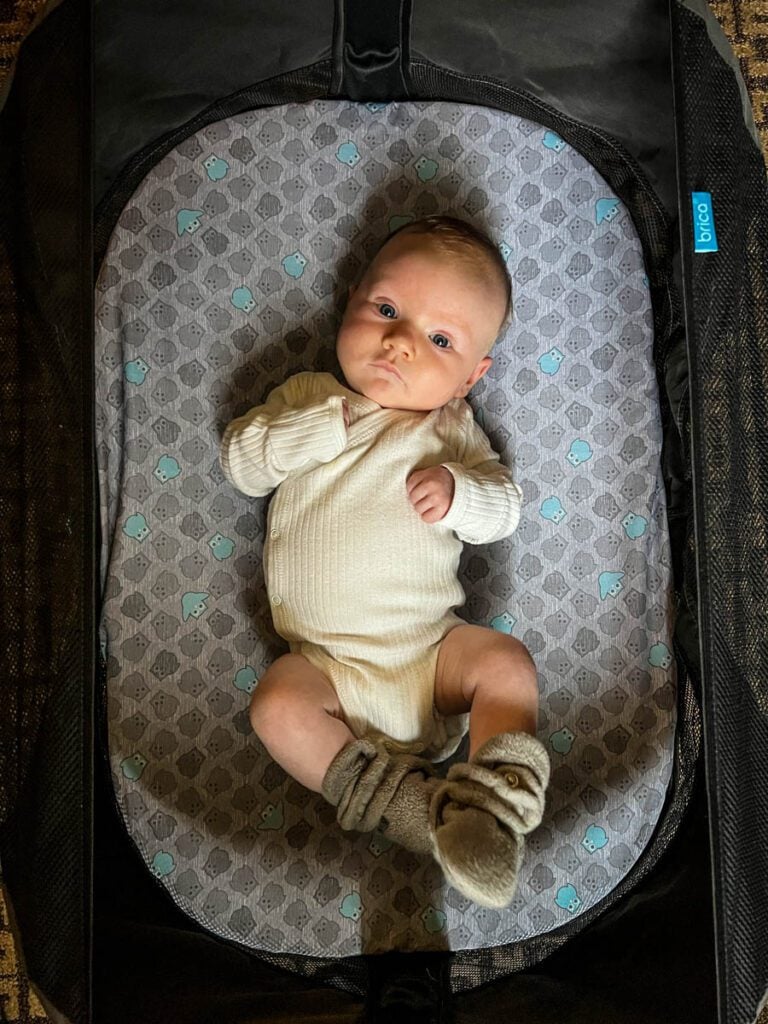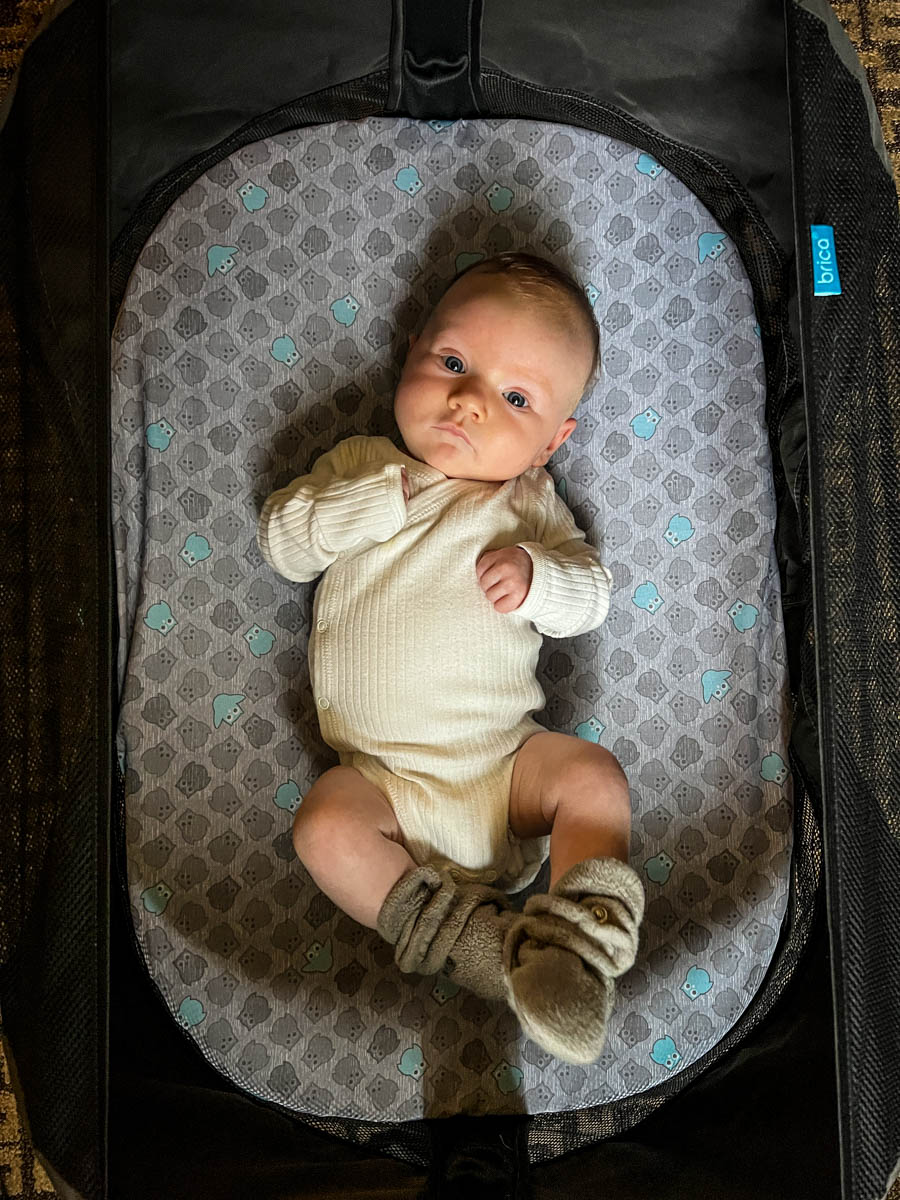 We personally haven't done this (yet!), but there are hotels out there with childcare or even kids clubs.
Sometimes it's affordable, other times it is a big splurge. But it could be another thing to think about, depending on your budget, your comfort level, and the type of trip.
While this perk is mostly limited to big hotels or resorts, we recently booked an Airbnb that has recommended babysitters that can take care of your child during an outing or date night (which we plan to take advantage of!).
Psst! We're currently drooling over this spa hotel in the Austrian Alps with onsite childcare, which is available for 2 years+.
17. Utilize the filter feature when searching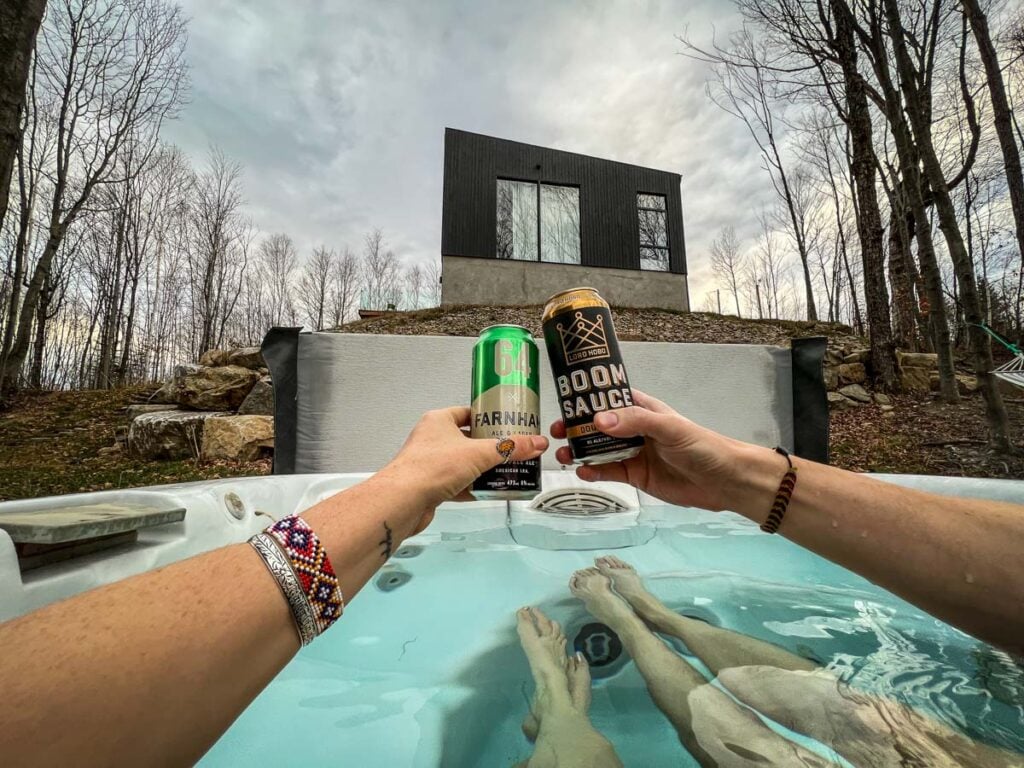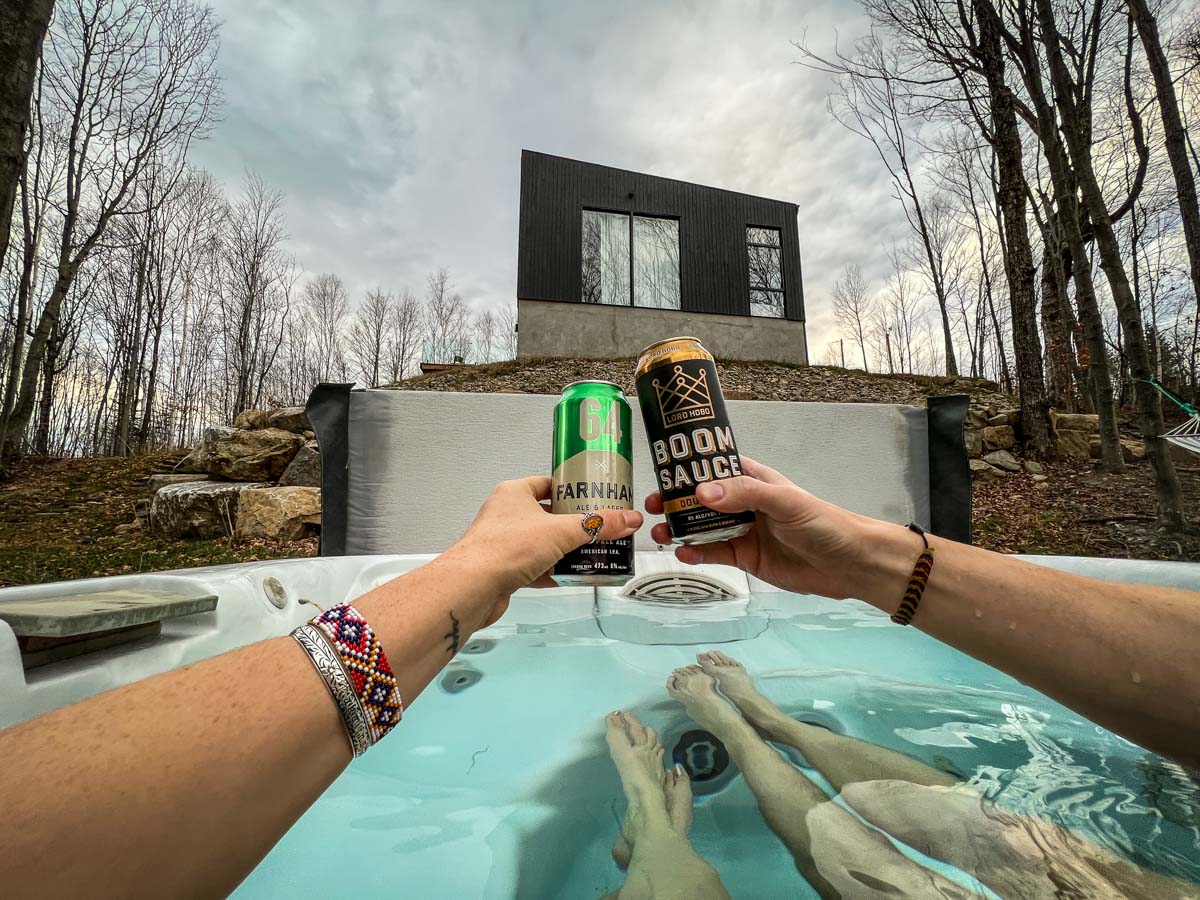 Both Booking.com and Airbnb have pretty good filter systems that can help you find your ideal accommodation.
I like to use the following filters:
Set a top budget: this will only show you properties in your price range
Highly-reviewed properties: you can select the threshold so you only see the best properties in the area
Location filter: this is especially useful if you are looking for a place in a large city and want to stay in a particular part of town
Number of bedrooms: this is handy on Airbnb so we can find properties with separate sleeping spaces
Entire place: I almost always select this on Airbnb so I know we have the place to ourselves
Other amenities: like a pool or hot tub
Breakfast included: this is sometimes really helpful when choosing hotels
Parking: having convenient parking is another thing to consider
This can help really narrow down your search from the get go.
If you're not finding many options, adjust your filters to see more results.
18. Contact the property with questions or requests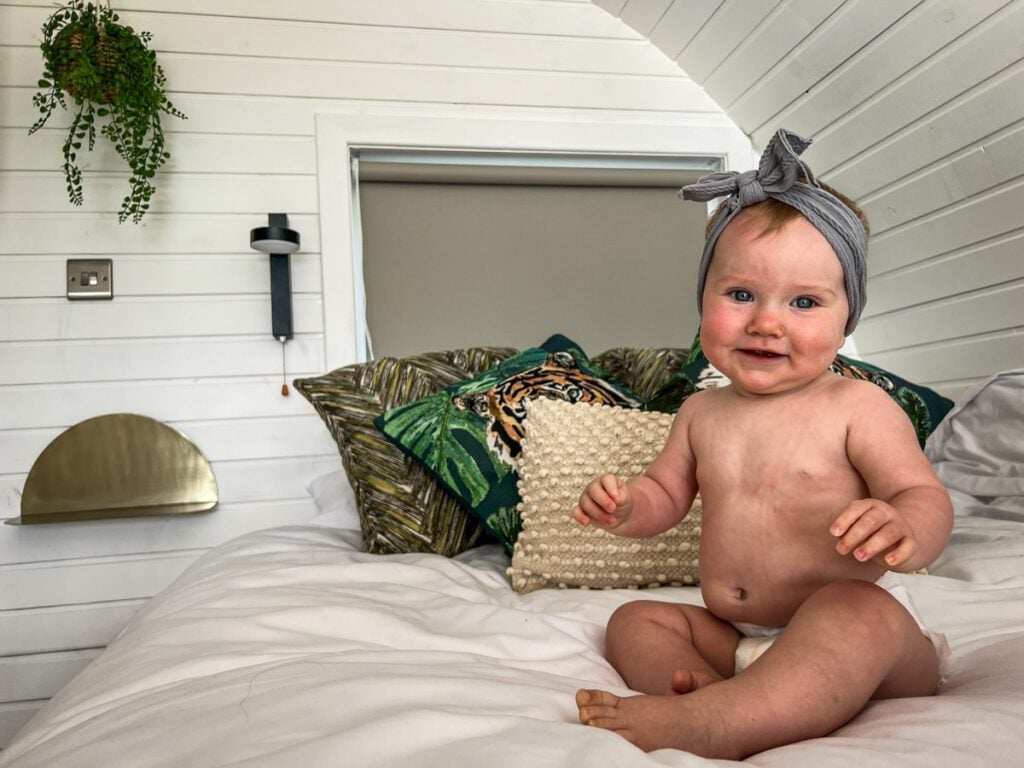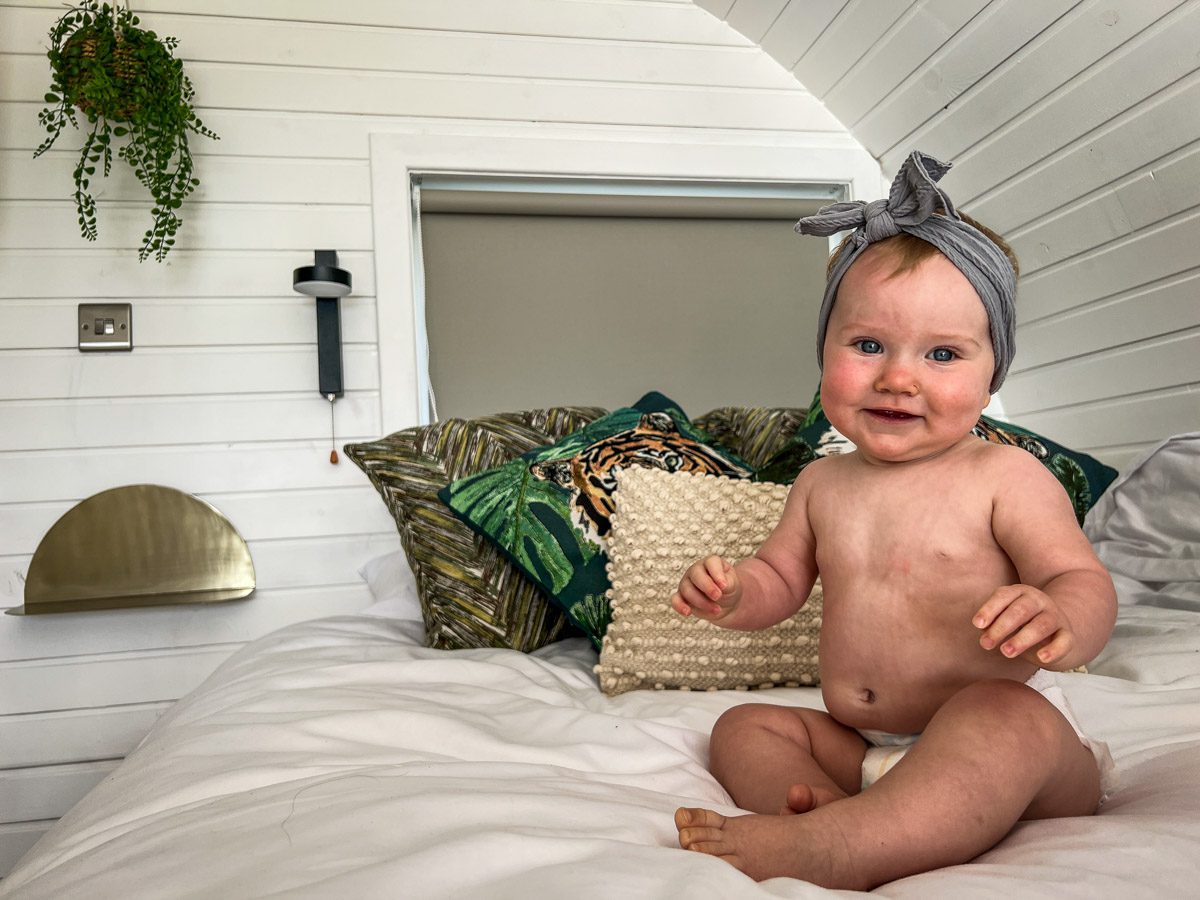 Still have concerns or questions? Does the booking platform say you need 2 rooms for two adults and an infant? (Booking.com does this to us all the time!)
Contact the property to get the answers you're looking for. It'll make you feel more comfortable going into your trip.
We've also reached out with requests for an early check-in or luggage storage options, and we've been pleasantly surprised with how accommodating most hosts and hotels have been.
Examples of great stays with a baby
Want to actually see some places that we thought worked really well with a baby?
Morin-Heights, Quebec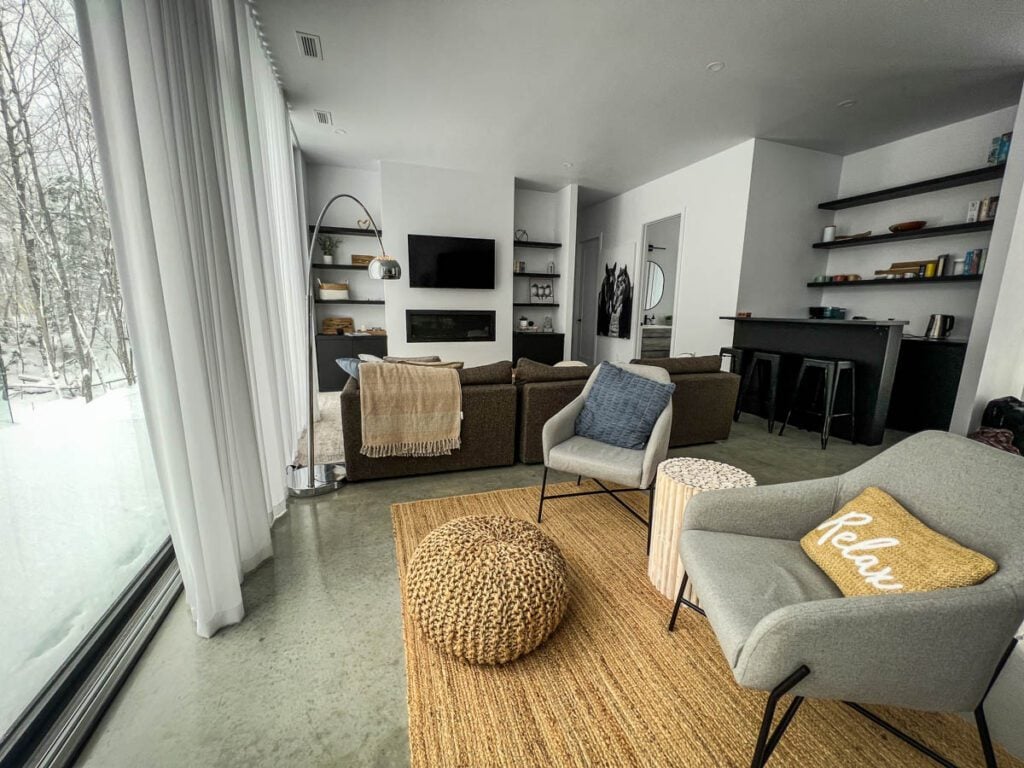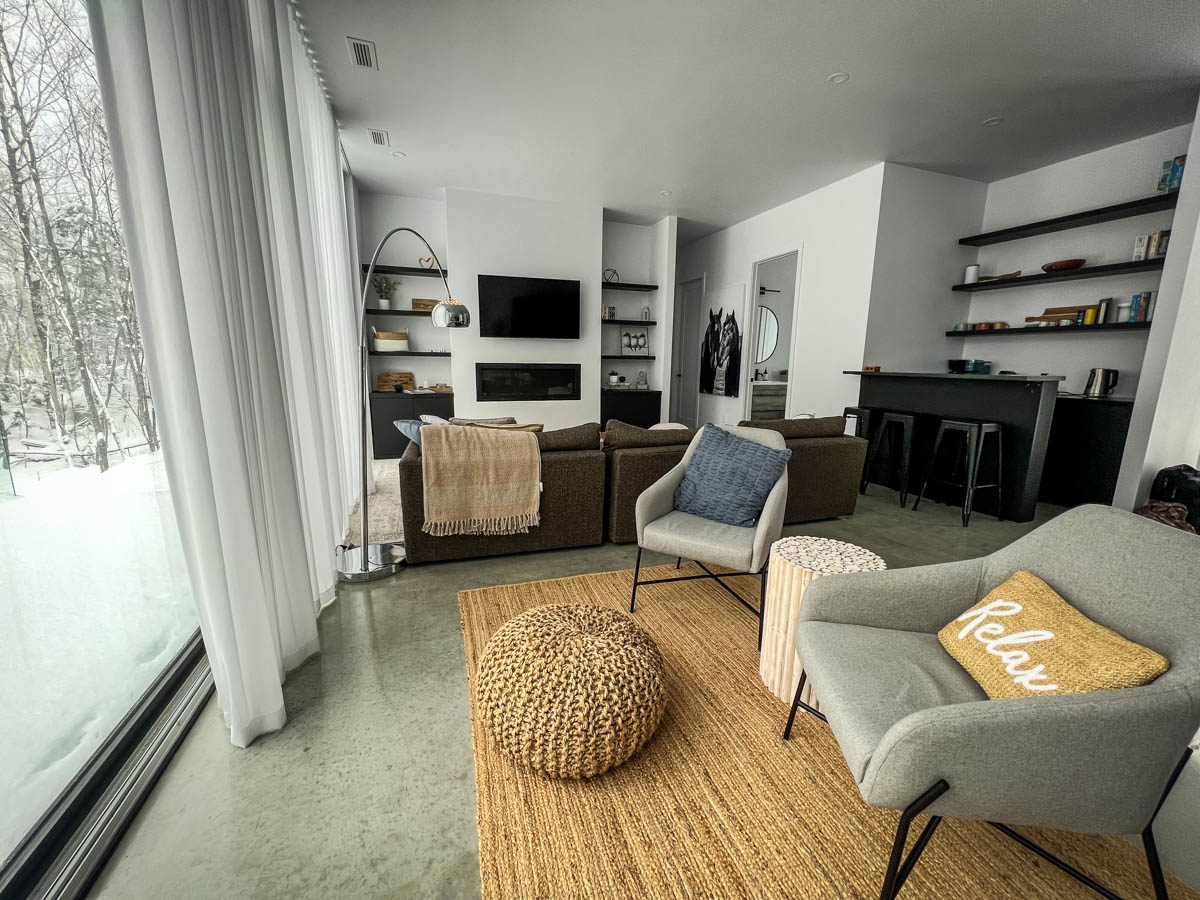 This Airbnb is kind of like our gold standard now because it was absolutely perfect. There's no way we'll always be able to match it, but this is the property we have in mind when choosing places to stay.
Highlights:
Separate sleeping space for us and Juniper (her room was on the other side of the house, so we had a lot of space)
Spacious, well-stocked kitchen
Bathtub for bathing Juniper (+ a large soaking tub for us)
Hot tub close enough for the baby monitor to reach
Pack 'n play
Sleek, modern design
Garmisch, Germany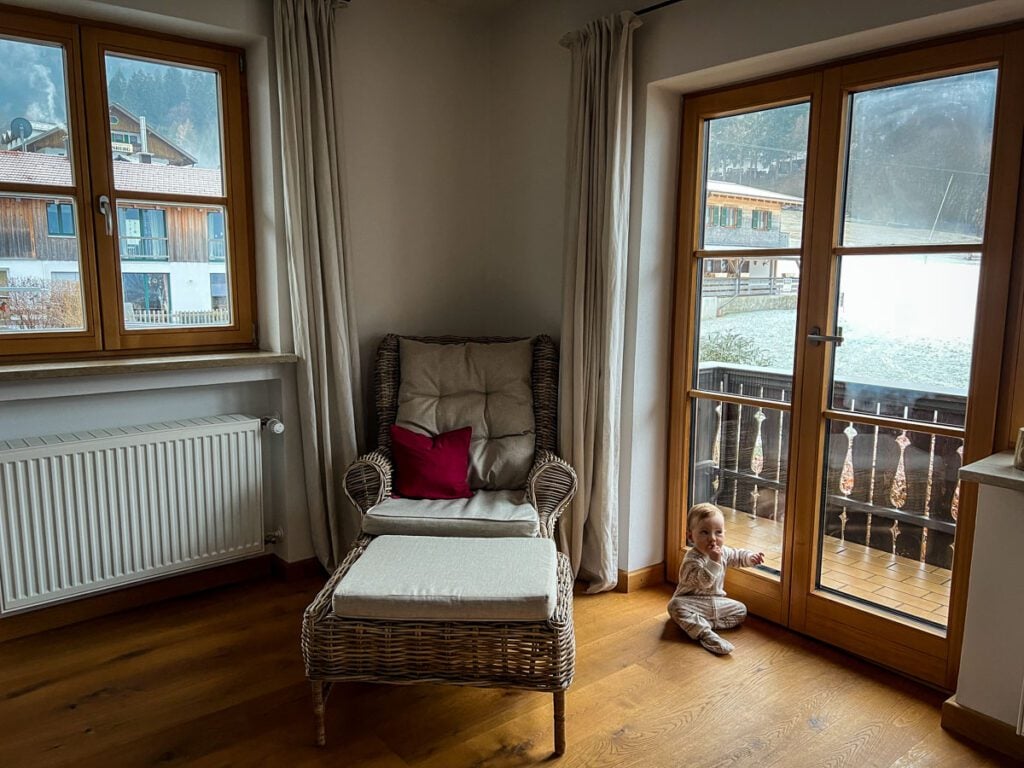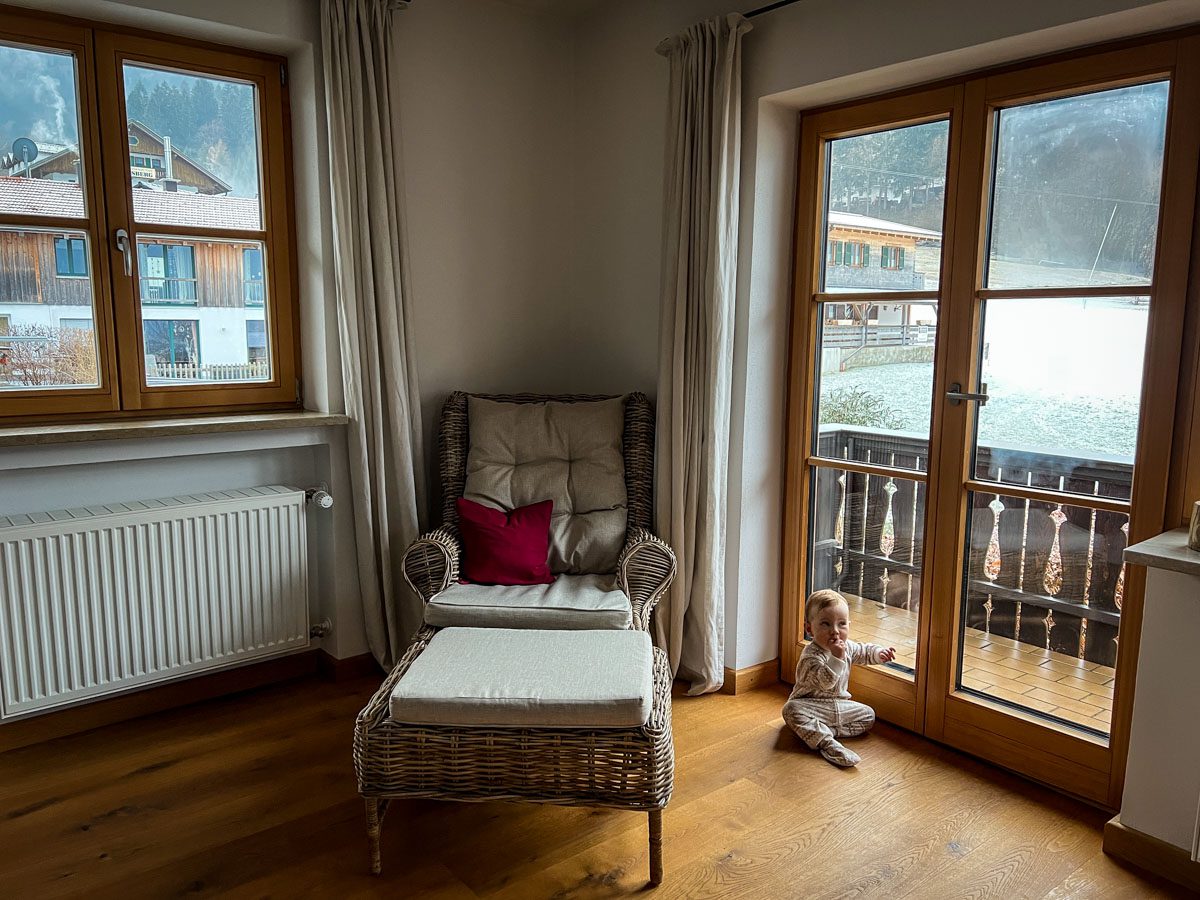 This charming apartment was perfect for our little family. The small kitchenette allowed us to do a bit of cooking while we were there, and it was equipped with a high chair and children's plates and utensils.
Best of all, there were 2 bedrooms, so we had separate sleeping spaces. The living area was spacious, with a comfy couch and lots of floor space for Juniper to crawl around.
Highlights:
Separate sleeping spaces (it was set up for families, with 2 kids beds)
High chair
Pack 'n play
Basic but functional kitchenette
20-minute walk from town, but we could also drive
Mount Hood, Oregon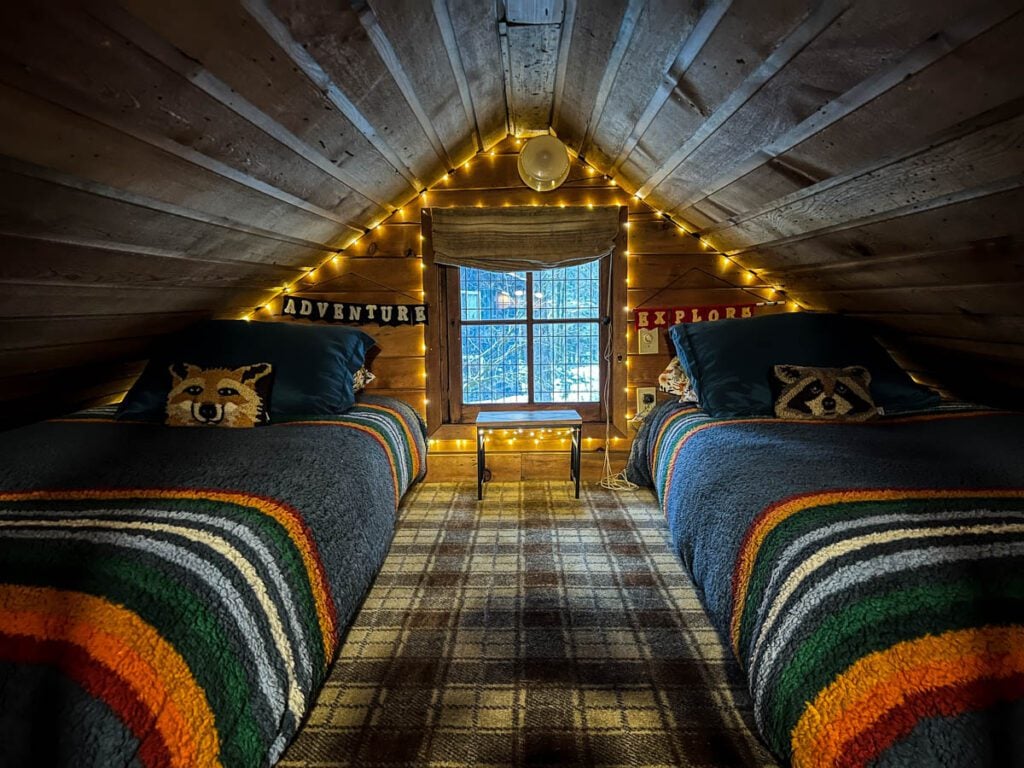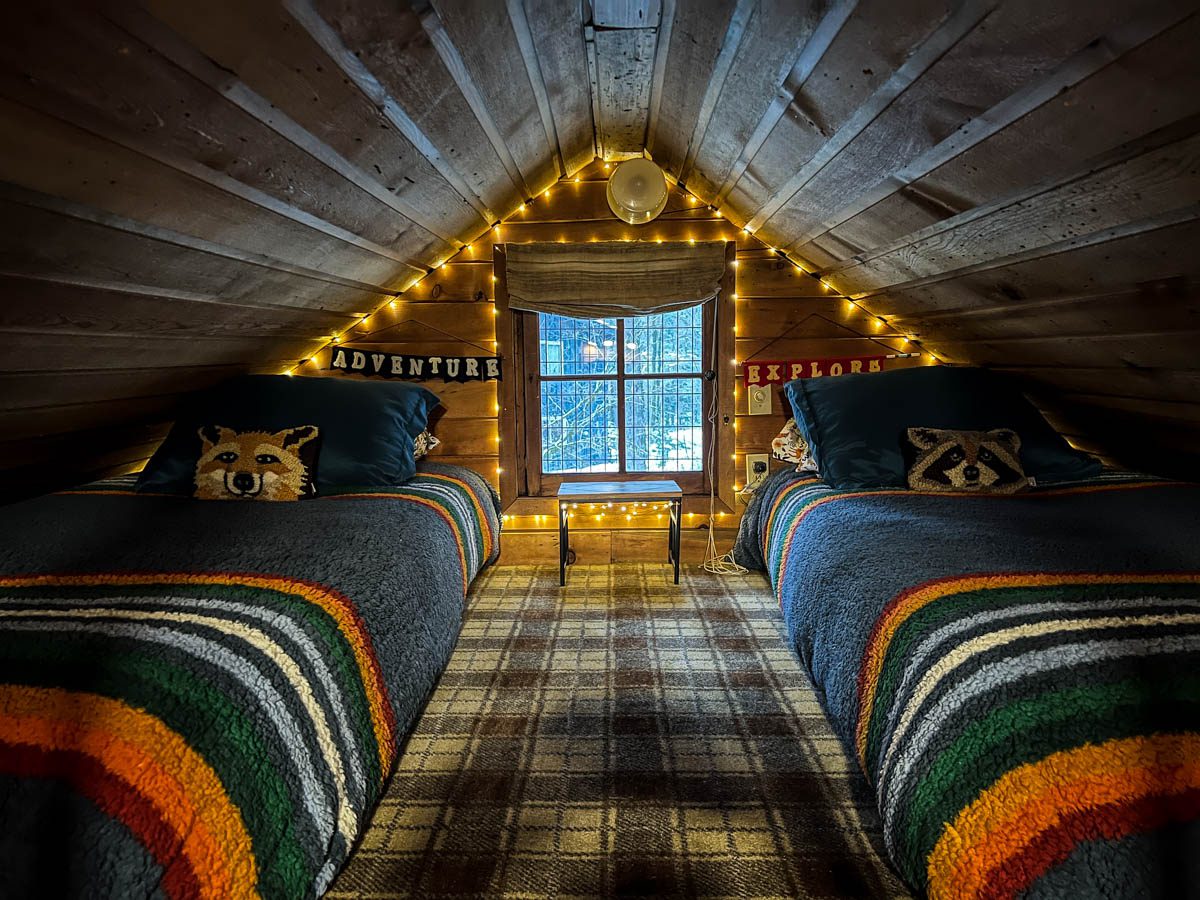 We booked a last-minute getaway at this cabin nestled in the woods in Oregon. It was pure magic and we are already itching to return (which is totally possible since it's just a 2.5 hour drive from our home in Bend, OR).
With 2 main bedrooms as well as a children's loft (for bigger kids), this place was designed with little ones in mind. There was a fully-stocked kitchen, children's plates and utensils, a high chair, toys (like Lincoln Logs!) and other special touches, like a snowman making kit (and a bottle of wine for us grown ups!). There was even a child safety gate for in front of the wood-burning fireplace.
The icing on the cake was the hot tub just outside (and the signal on our baby monitor stretched!), which meant we got to really enjoy our nights once Juniper went to sleep.
I'm telling you, friend, book an Airbnb with a hot tub! You'll thank me later.
Highlights:
Separate sleeping areas
Well-stocked kitchen
Pack 'n play
Highchair and children's toys
Child safety features
Hot tub and bottle of complimentary wine for mom and day!
Bathtub
Kona, Hawaii
This 2-bed, 2-bath apartment is spacious, has a full kitchen, and is beautifully designed. It truly feels like a space I want to hang out in, while also being really comfortable for traveling with a child.
There's a community pool for guests to use which is an added bonus. Plus, we can walk to most of the main parts of town!
Highlights:
Separate sleeping spaces
Pool
Beautiful design
Perfect location downtown
Full kitchen
Balcony
Bathtub
Gerardmer, France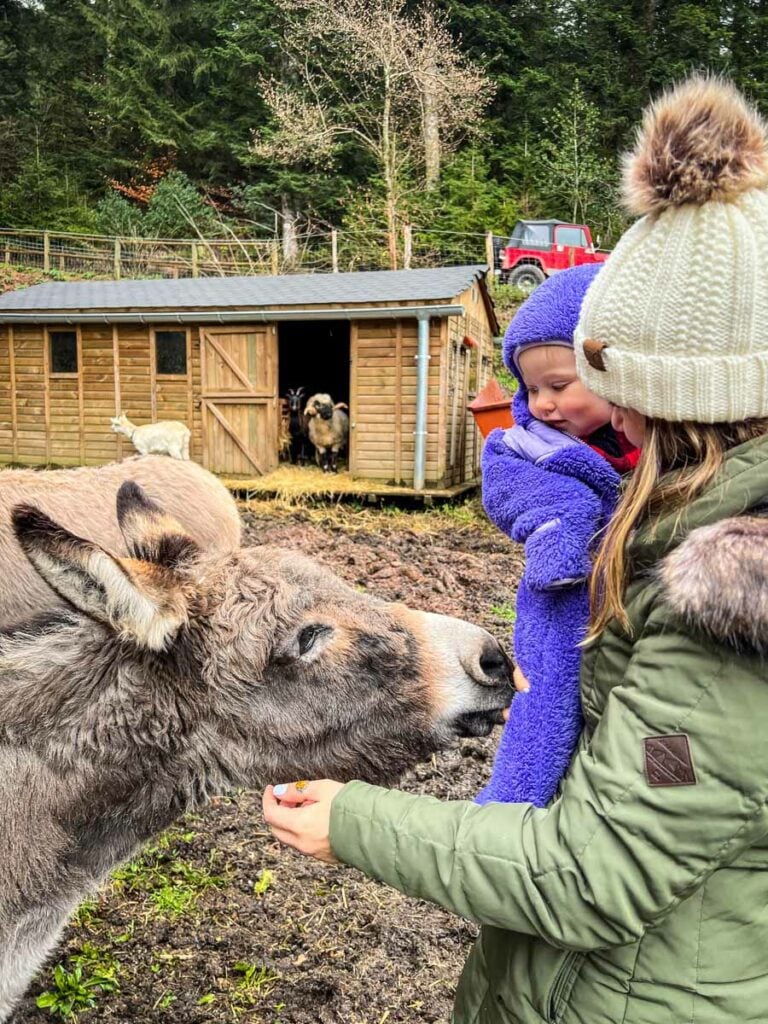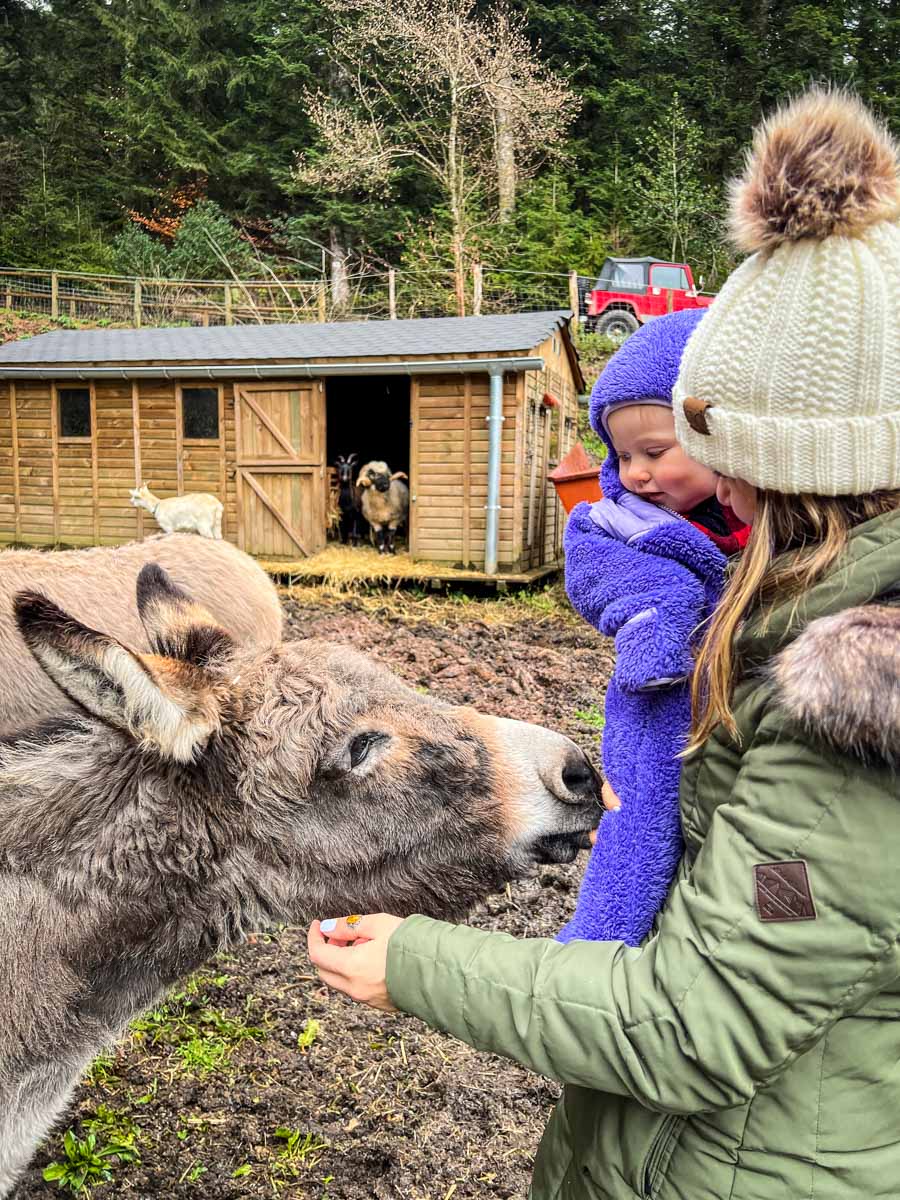 We celebrated Juniper's first birthday at this special Airbnb in the countryside of France. The hosts were lovely, and the property was amazing.
Each morning, we were presented with a lovely breakfast of fresh milk, juices, homemade jams and, of course, a variety of French baked goods. There were also lots of farm animals on the property to meet and some trails to explore.
Honestly, this space wasn't the most baby-friendly – there were some breakable items we had to hide and there was no gate for the wood-burning stove, so we really had to keep an eye on Juniper. But it worked for us, and we had such a wonderful stay.
The sofa converts to a bed, so this space would be really great for kids that are a little older. They would especially love the animals.
There was only one bedroom, so we set up Juniper's pack 'n play in the room at bedtime so we could hang out in the living room and watch movies. When we went to bed, we quietly moved her into the living room for the night.
Highlights:
French breakfast each morning
Lovely hosts
Animals to meet
Well-stocked kitchen (we cooked many meals here)
Pack 'n play
McKenzie Bridge, Oregon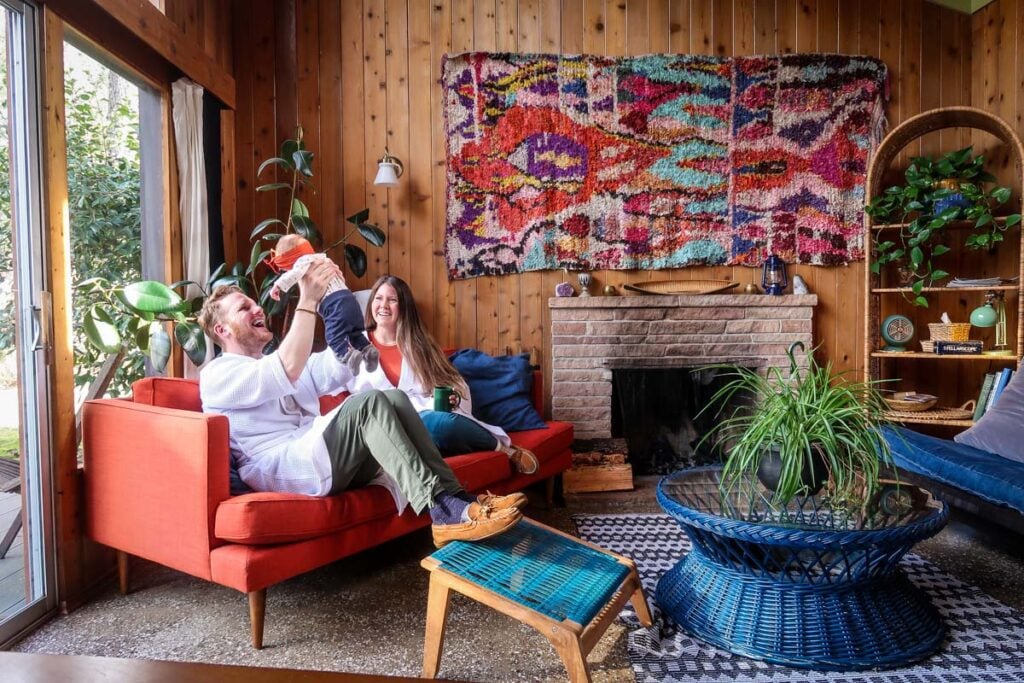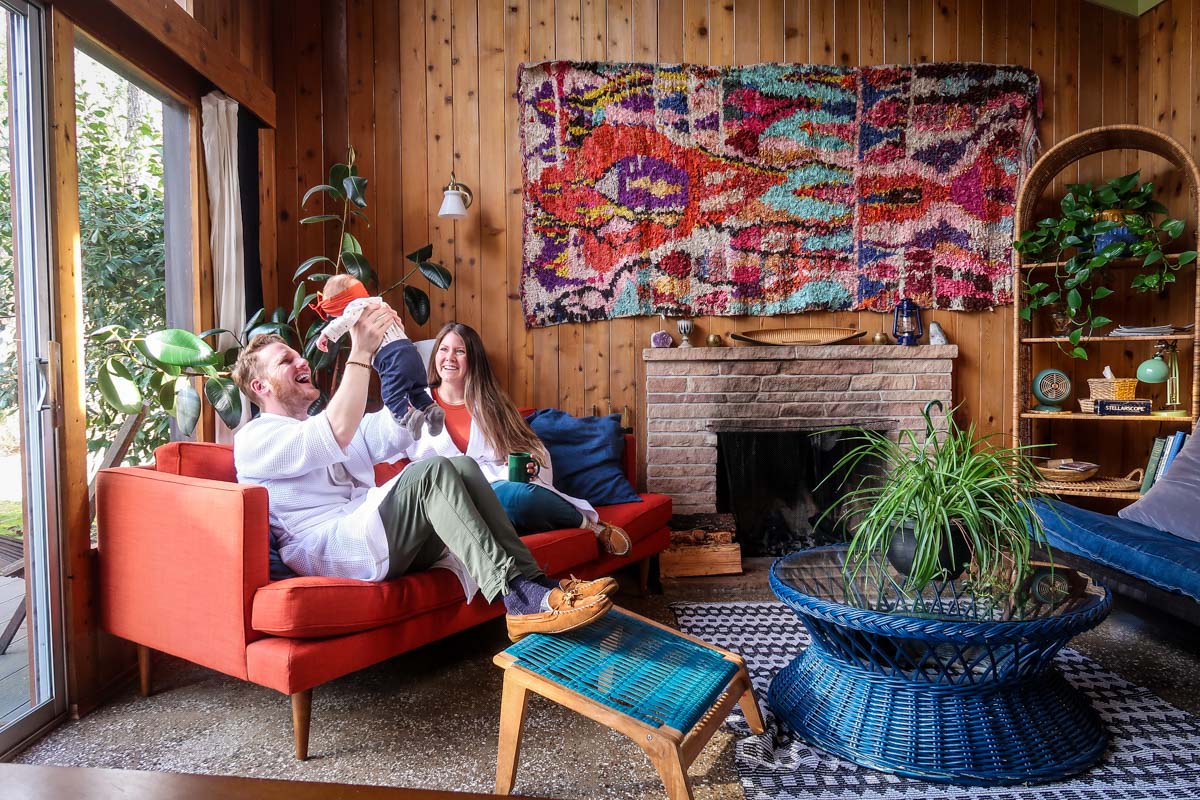 Staying at this 1-bedroom cabin on the McKenzie River in Oregon was our first real getaway as a family of three.
We all slept in the same room at night since she was still very young. But it was nice to have door that separated the bedroom from the living space so we could hang out while Juniper napped during the day.
We were also able to stay up at night after she had gone to sleep to play board games in front of the fireplace.
This cabin also had a full kitchen, so we were able to cook for ourselves and didn't need to leave the property. It was the perfect first stay and gave us confidence to continue to play family vacations!
Highlights:
Full kitchen
Separate bedroom and living space
Fireplace and board games
Relaxing location on the river in the woods


Want more tips for traveling with a baby?
Save these tips for later!
Pin this article so you can find the tips later…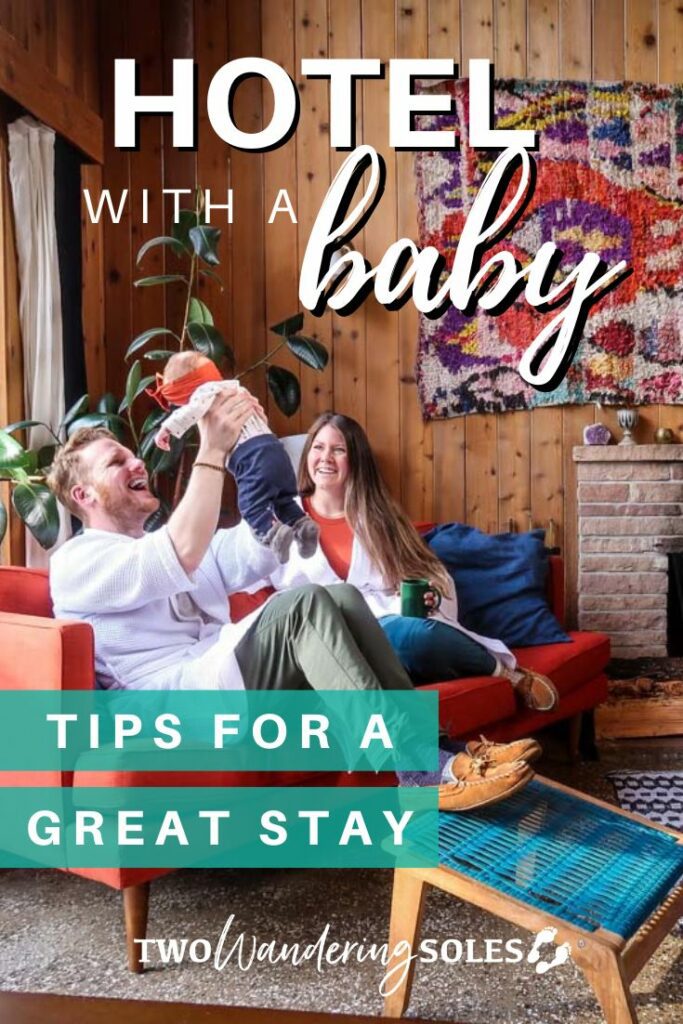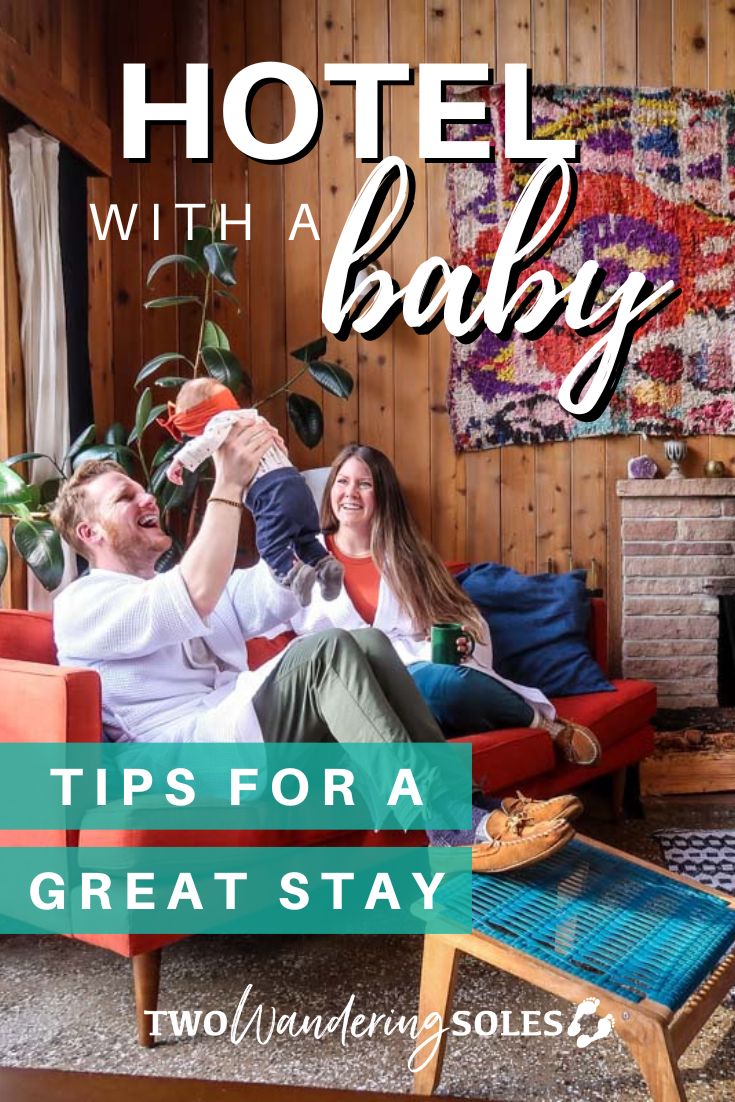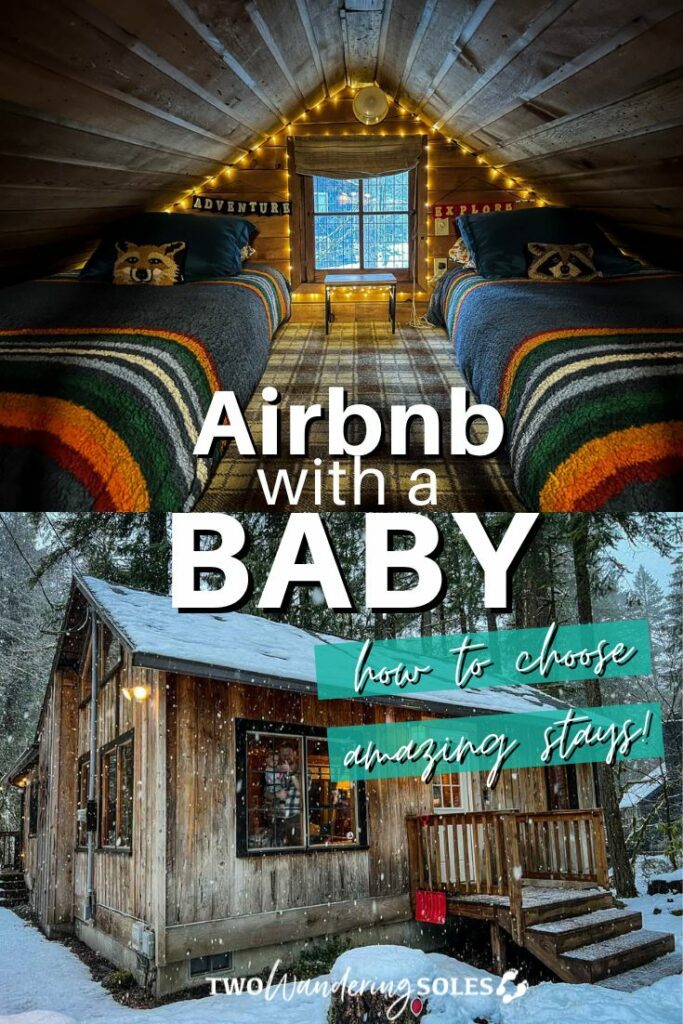 We want to hear from you!
What questions do you still have about staying in a hotel with a baby? Do you have more tips you'd like to share?
Note: Please keep your comments respectful. Everyone's parenting journey looks different. We're simply sharing what has worked for us.