With miles of cerulean coastline, a magnetic summer atmosphere, and captivating history, Croatia is a top travel destination. In this article we've rounded up the best things to do in Croatia, from the highlights to off-beat adventures.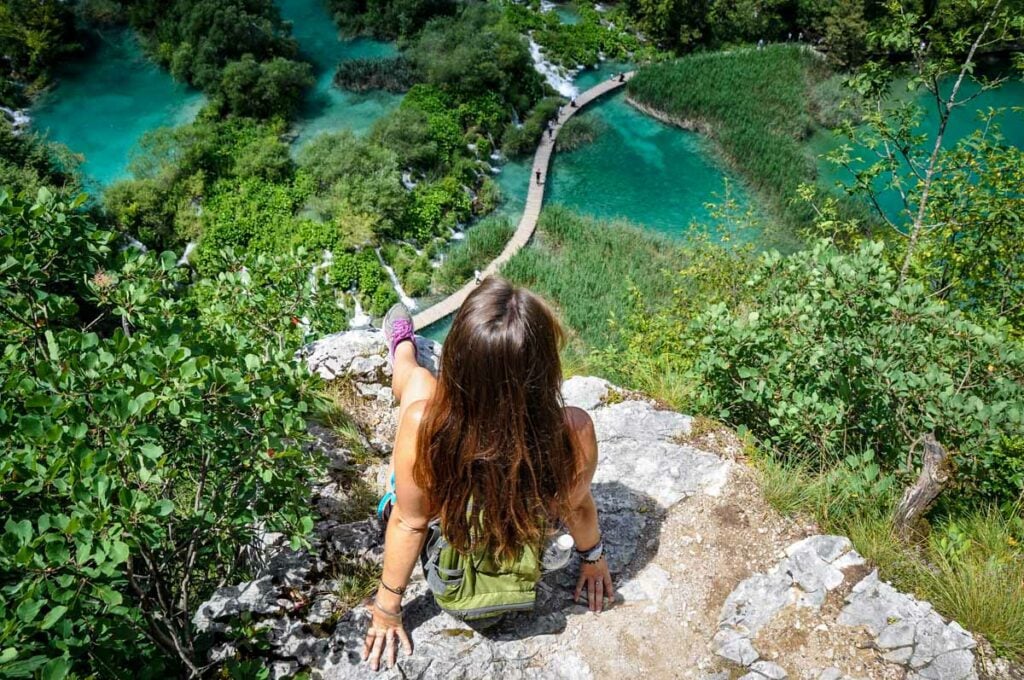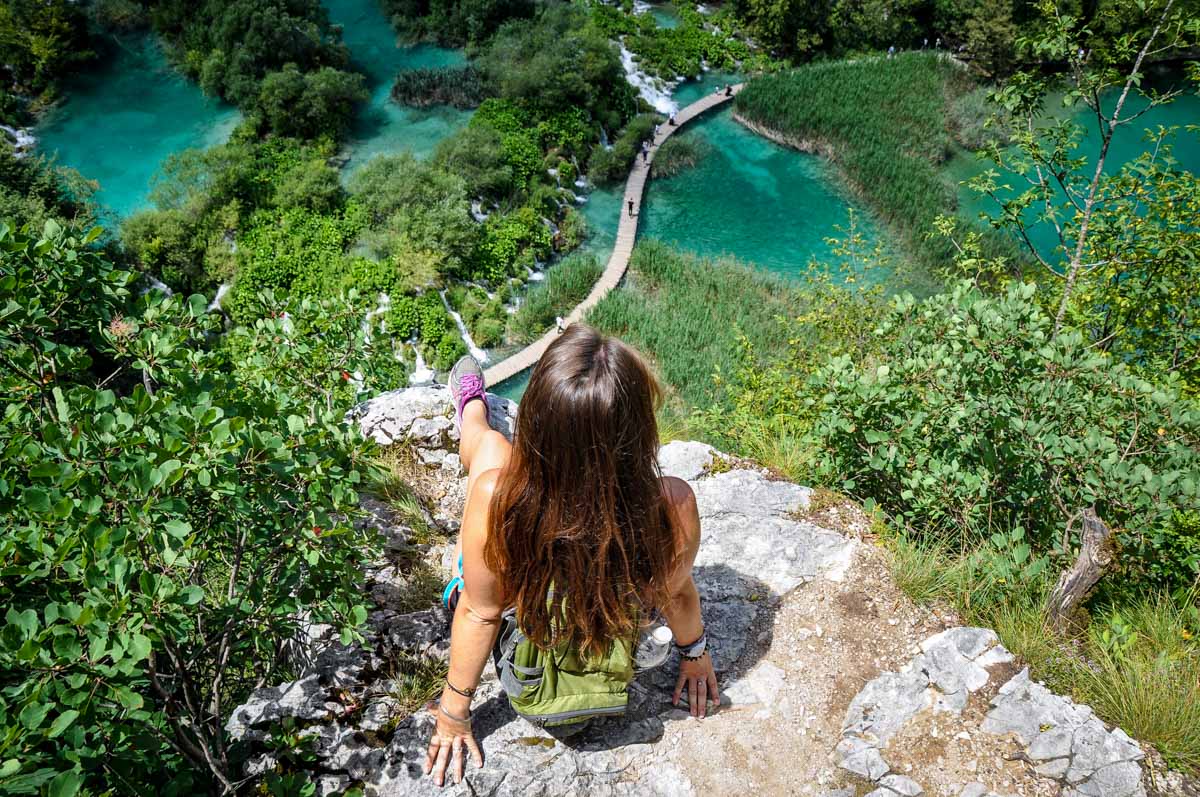 As the Land of One Thousands Islands, there's no question that Croatia is breathtaking.
Spanning the entire country's eastern edge, the Dalmatian Coast is Croatia's crown jewel where travelers flock to take a refreshing dip from jagged coastlines, go island-hopping, and take part in every locals favorite pastime, leisuring on the beach.
But even if you're not looking to slather on the SPF, Croatia's sights stretch far beyond the Adriatic Sea.
UNESCO World Heritage Sites are defining pillars of even the smallest of coastal cities, ruins and stories fill the streets. And as foodies, it would be a crime to pass over the award-winning seafood, wineries, and olive groves.
In this article, we're breaking down the best things to do in Croatia with must-know information and exciting day trips so you can plan the ultimate itinerary around this stunning country.
---
Best things to do in Croatia
If you're looking for the very best things to do in Croatia, here are our top 5 recommendations:
Explore Plitvice Lakes National Park
Walk around Dubrovnik's Old Town walls
Go truffle hunting
Discover Krka National Park
Go sailing
Keep reading for more detailed information on each of these things and more ideas of fun things to do in Croatia.
1. Explore Plitvice Lakes National Park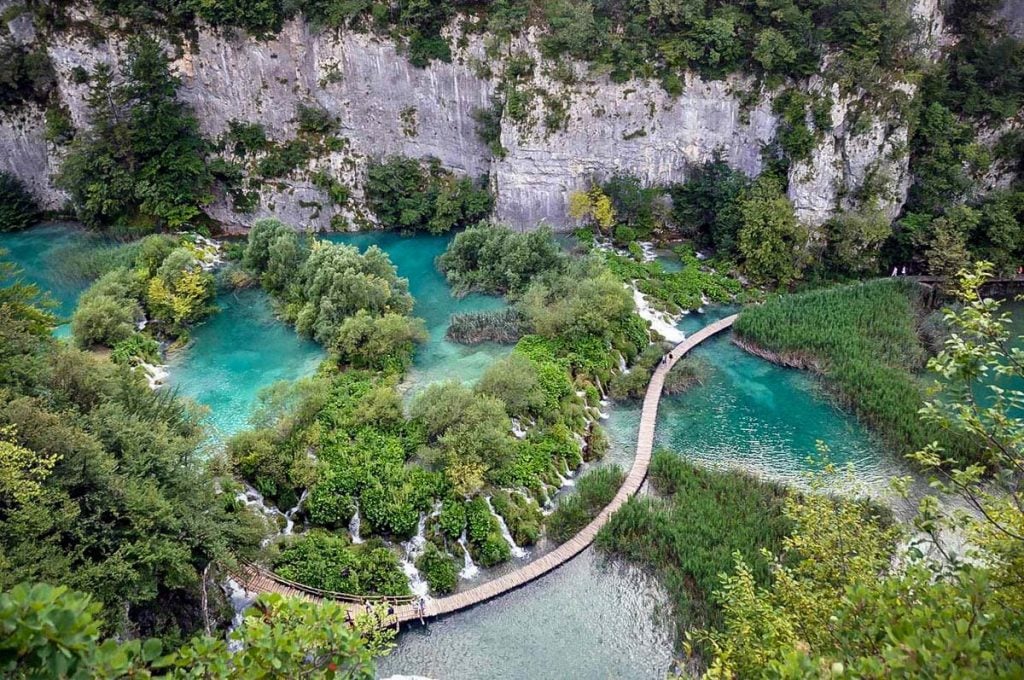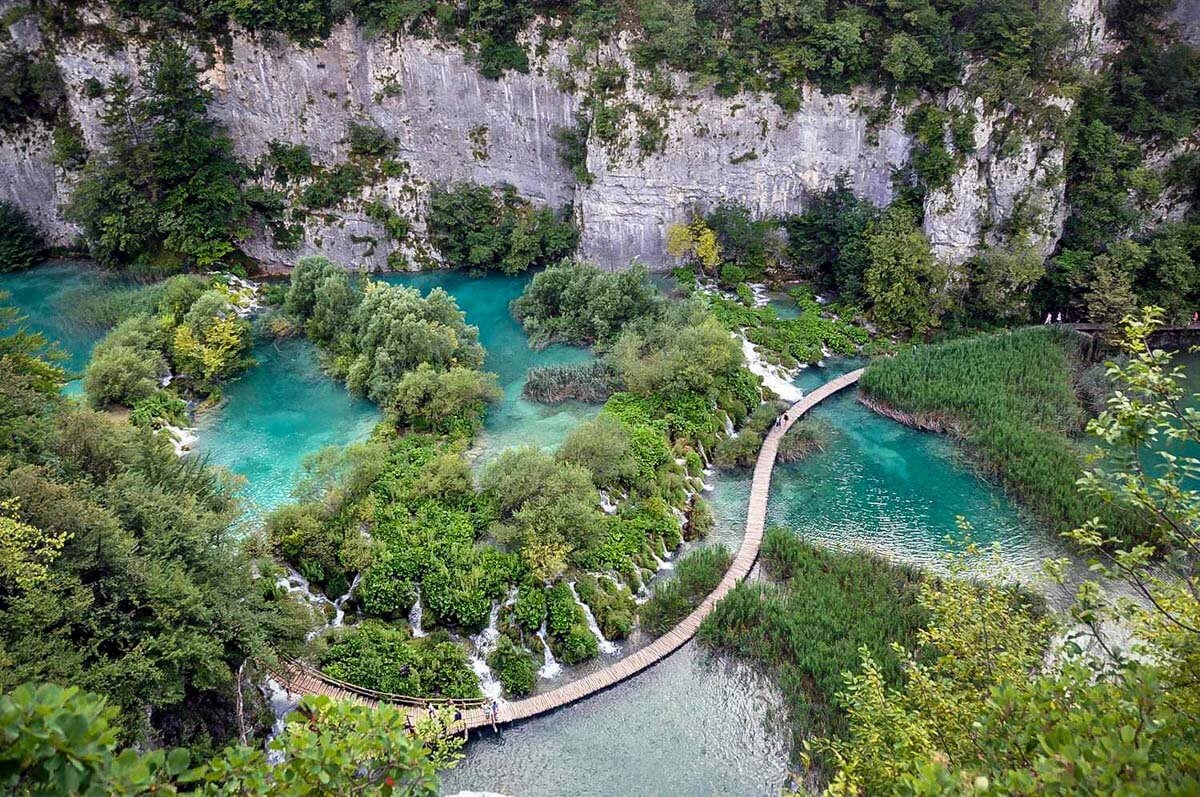 Arguably the most stunning and famous thing to do in Croatia is hiking in the world-famous Plitvice Lakes National Park.
Crowds of tourists flock to transport themselves into this fairytale land where emerald lakes are fed by cascading waterfalls settled in lush forests.
This UNESCO World Heritage Site is seriously unlike anything we have seen before and it's a must-see on any trip to Croatia.
However, planning a bit in advance is crucial to have a pleasant experience in the park as it gets insanely crowded. We've got all the best tips and everything else you need to know in our guide to Plitvice Lakes National Park.
2. Walk around Dubrovnik's Old Town walls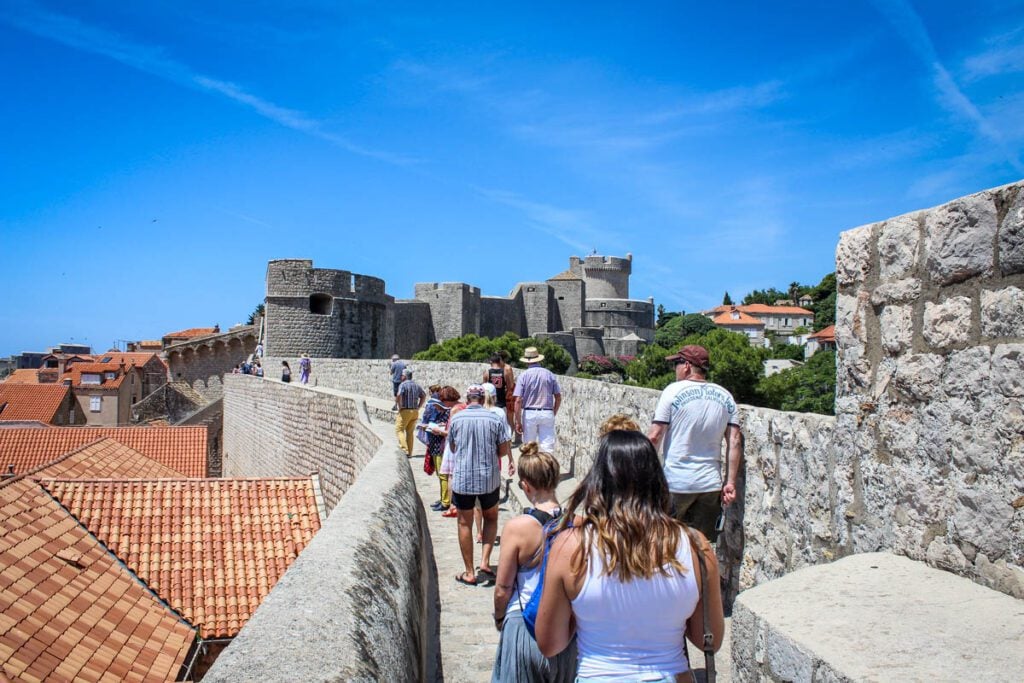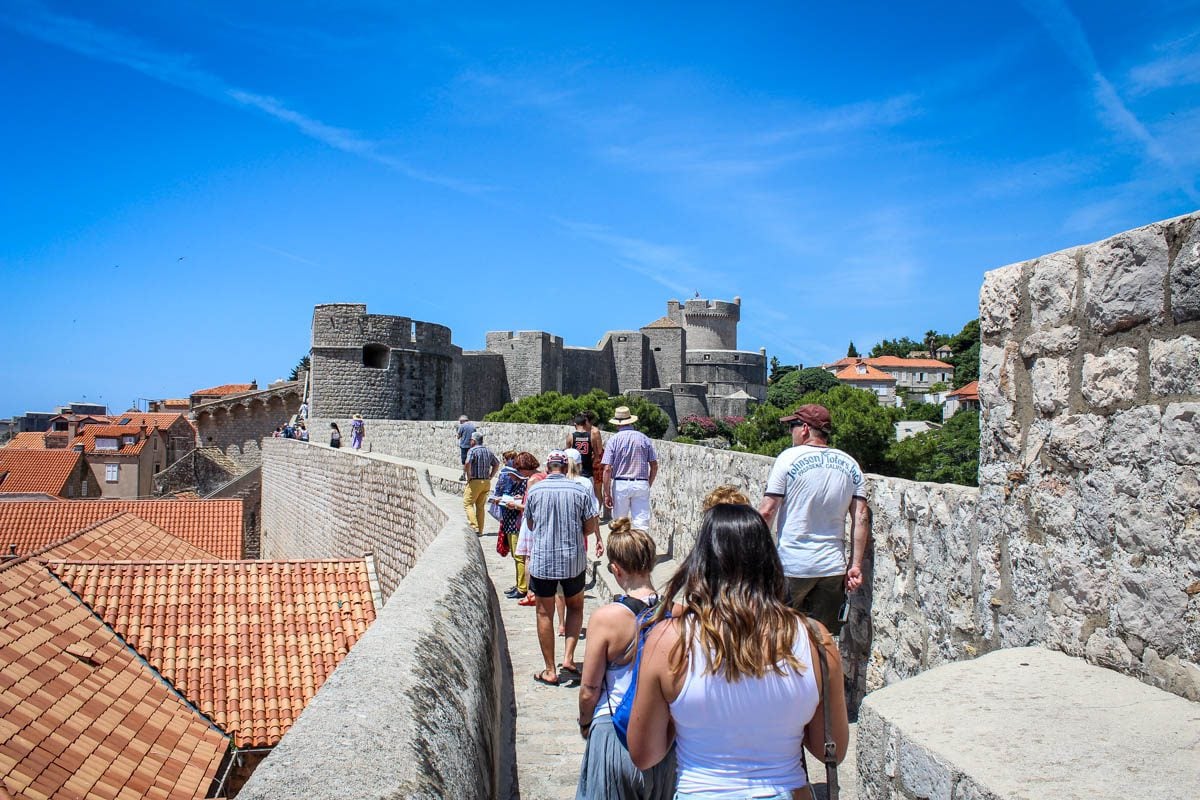 Dubrovnik is one of Europe's most famed walled cities, so it's only fitting to climb to the top of the stone barricades to get a bird's eye view of everything from the outer rim.
It's an excellent stop to make when you first get to the city since you can get a really good lay of the land and incredible views over Old Town in the process.
Psst! We have more spectacular sites you don't want to miss in our guide, super fun things to do in Dubrovnik.
3. Go truffle hunting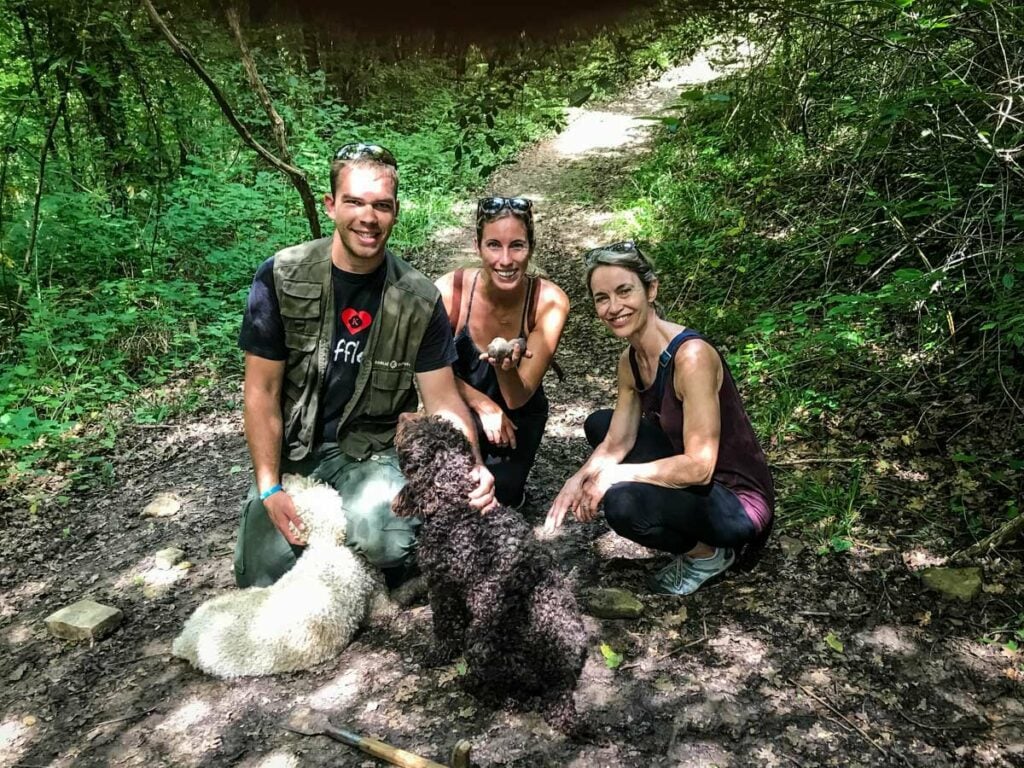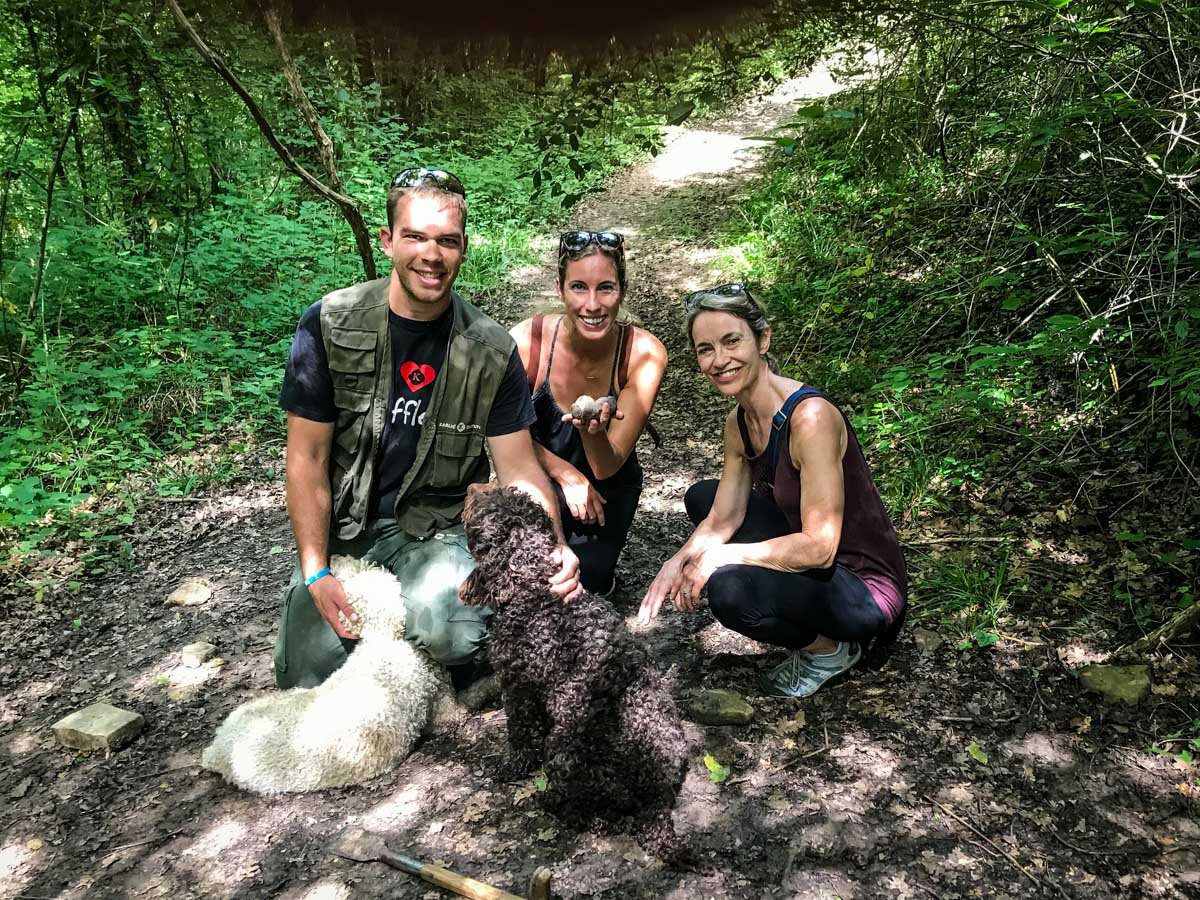 Did you know Croatia happens to be the best (and one of the only!) place to find truffles in the world!?
It also just so happens that the Istria Peninsula is known as the truffle region of Croatia. So it's no wonder that truffle hunting has become a bit of an experience to be had in the region.
If you are visiting during the months of April – November, it is a great time to experience the thrill of the "hunt"!
Karlic Tartufi, a local family business of 3 generations, offers a truffle hunting experience that we highly recommend. They were friendly and incredibly knowledgeable about all things truffle.
You'll come away from the experience filled with knowledge about truffle hunting, the process and how they train their dogs.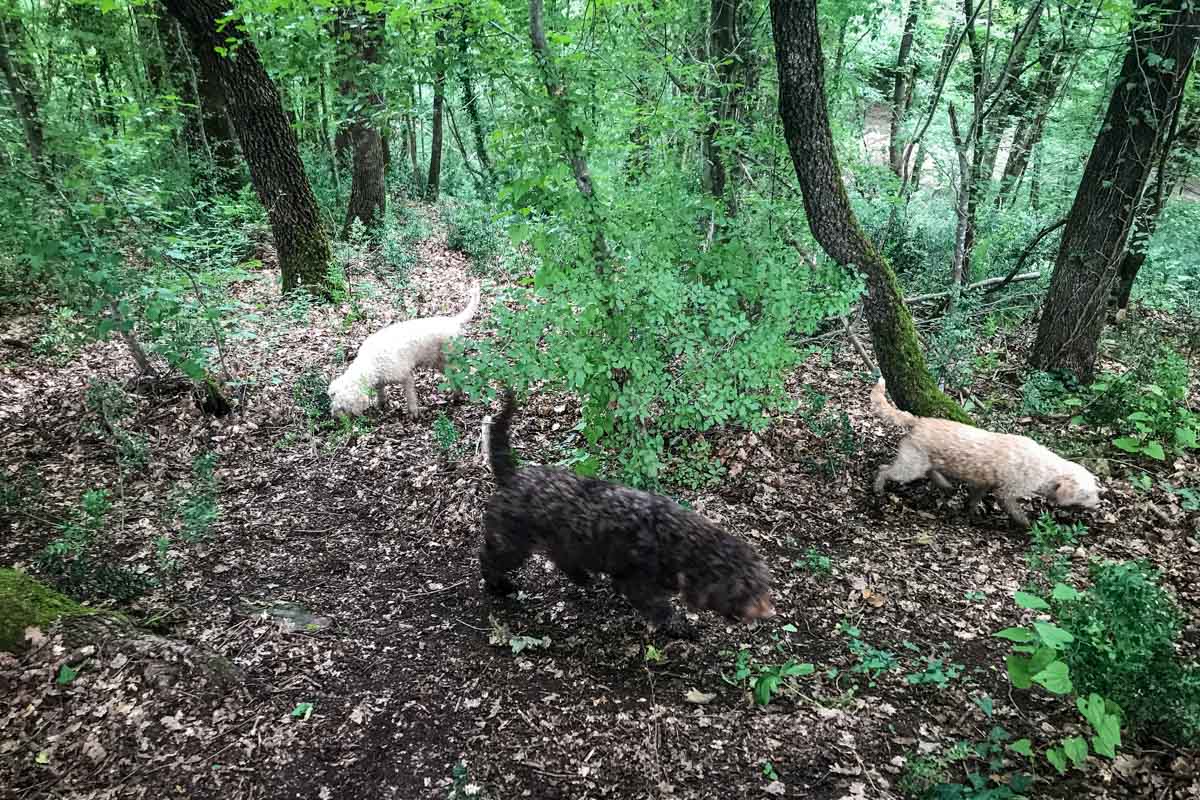 …And before you ask, the answer is YES! The animals are treated very well. In fact, once the dogs have been trained to hunt truffles, they are considered extremely valuable and are given the doggy equivalent of the royal treatment.
Plus they absolutely love the hunt! Their tails were wagging the entire time as they were free to roam about the forest and sniff everything in sight.
4. Discover Krka National Park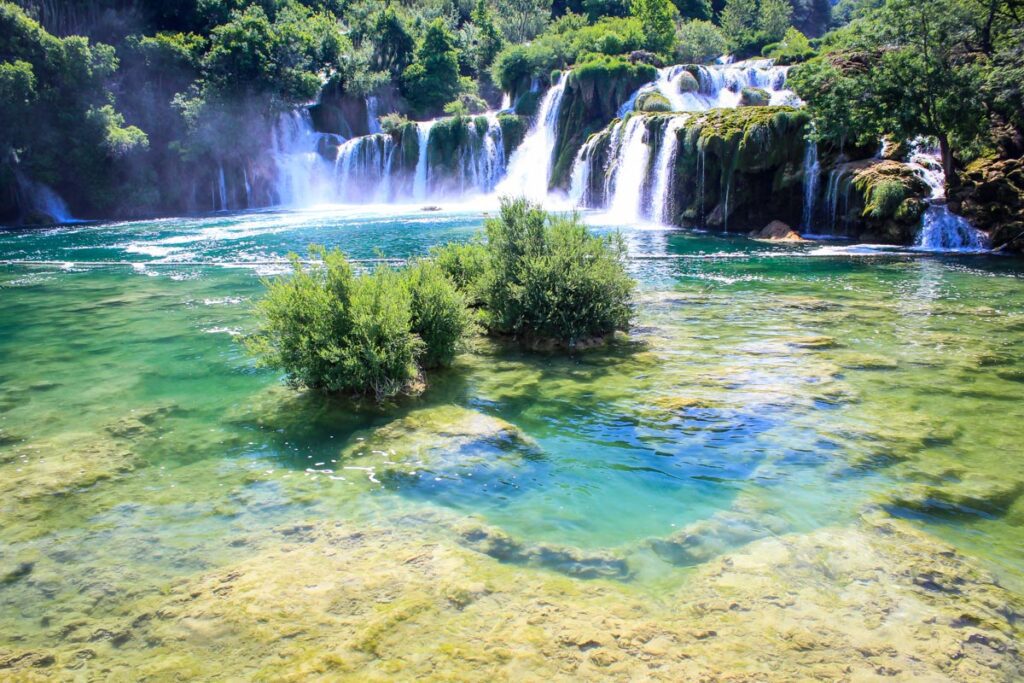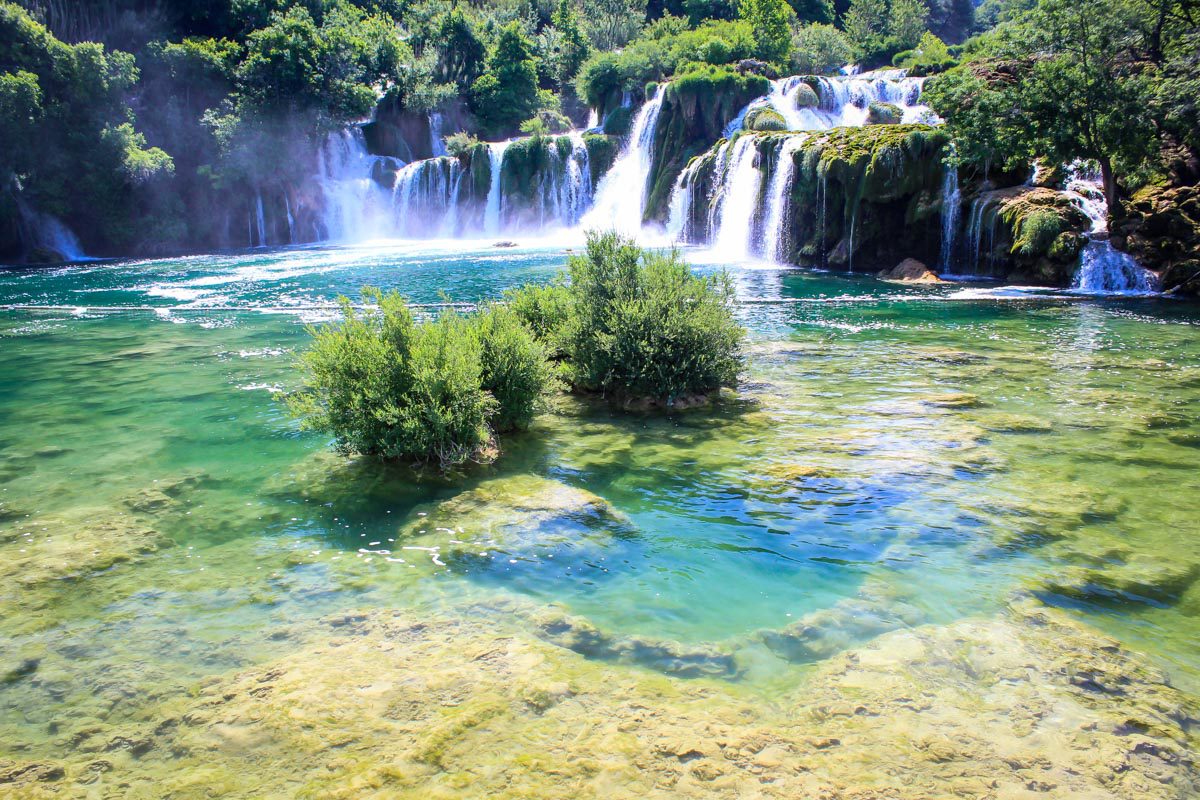 Just inland from Sibenik, luscious foliage, travertine waterfalls, and turquoise water make up the famous Krka National Park.
Krka is a very popular stop, which means it can get really crowded, but it's more than worth it to see its stunning beauty.
Boasting similar eye candy to Plitvice Lakes National Park, but a fraction of the size, it's easily explored on a day trip from Split, Hvar, Zadar, and Dubrovnik.
We have all the tips and know-how for avoiding crowds, plus everything else you need to know to plan an epic trip in our guide to Krka National Park.
5. Go sailing around the islands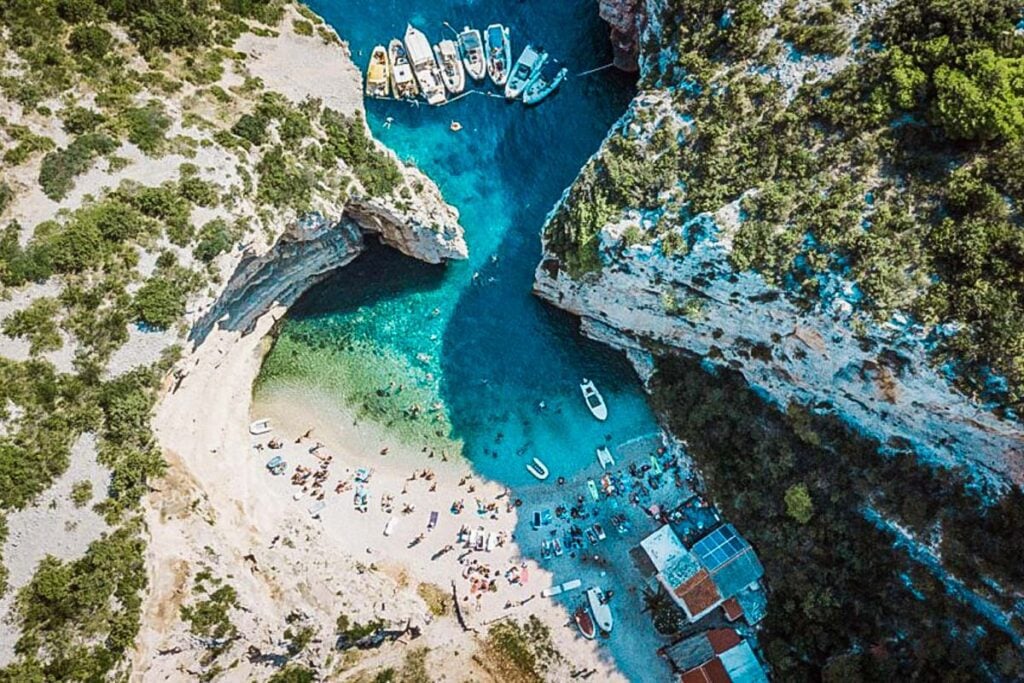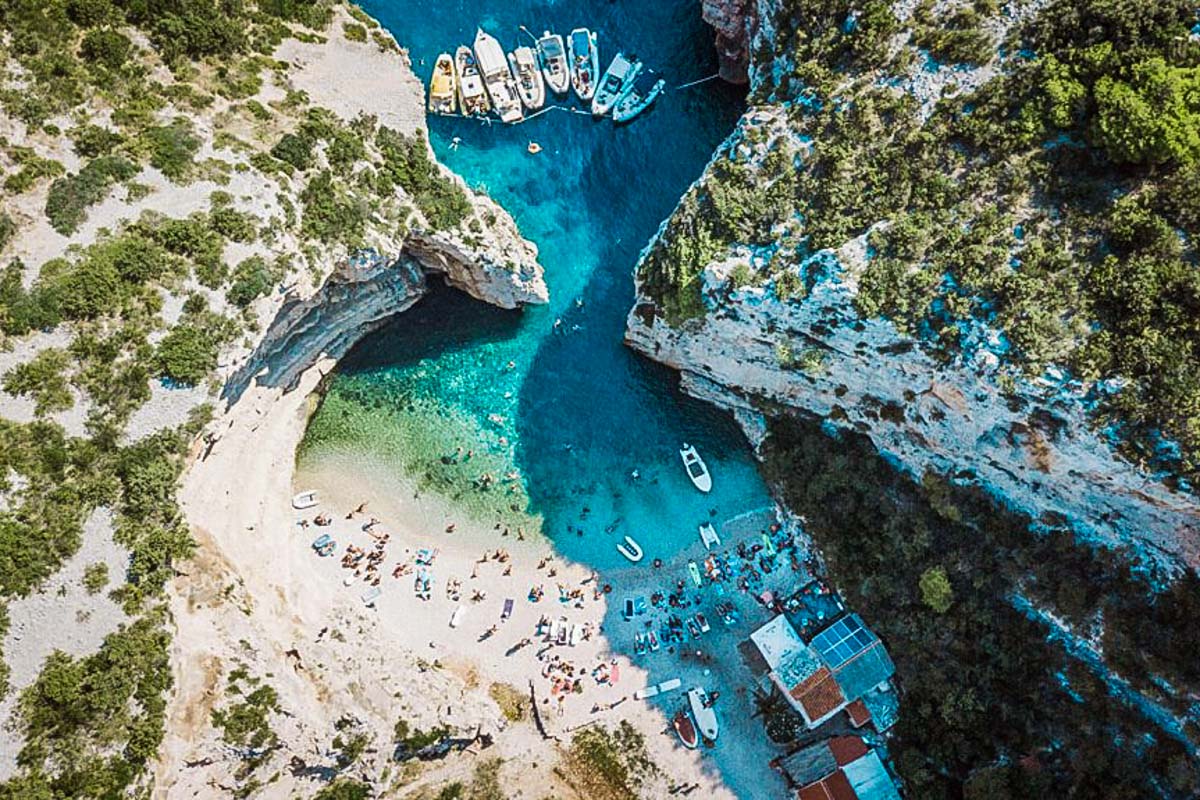 What's the best way to indulge in Croatia's fine beaches, turquoise water, and Mediterranean sun?
On a boat, of course!
Lucky for you, there are endless ways to take part in a sailing trip depending on your interests and travel style.
Most famously, The Yacht Week is the most popular way to sail around the islands and a quintessential summer experience in Croatia.
Nicknamed "the floating festival", you and 1-12 friends can fill or join a yacht, and spend a week island hopping in the Adriatic, partying till dawn with other twenty-something year olds.
If getting boozy for a straight week isn't your fancy, you'll want to look towards Sail Week, which is essentially the same concept, except you're swapping the drinks and nightlife for adventure and natural excursions like hiking and kayaking.
If peak summer crowds of both weeks don't pique your interest (we don't blame you!), you can rent your own boat or hire a private skipper to explore at your own pace and itinerary.
No matter what outlet you use to go sailing in Croatia, it will be one of the most memorable experiences in one of Europe's top sailing destinations.
6. Discover Diocletian's Palace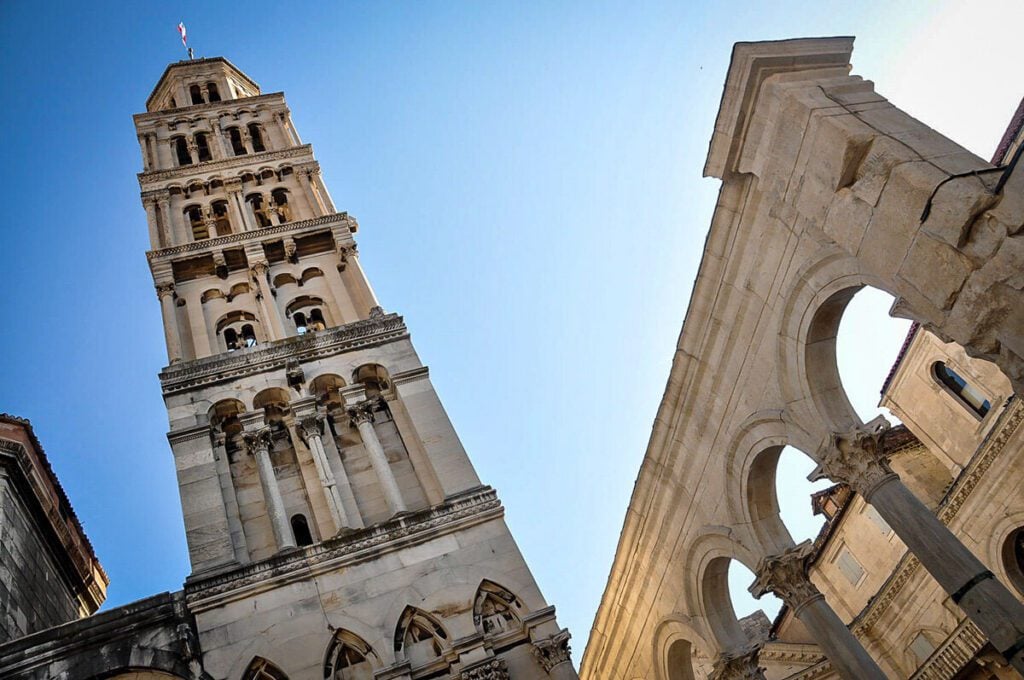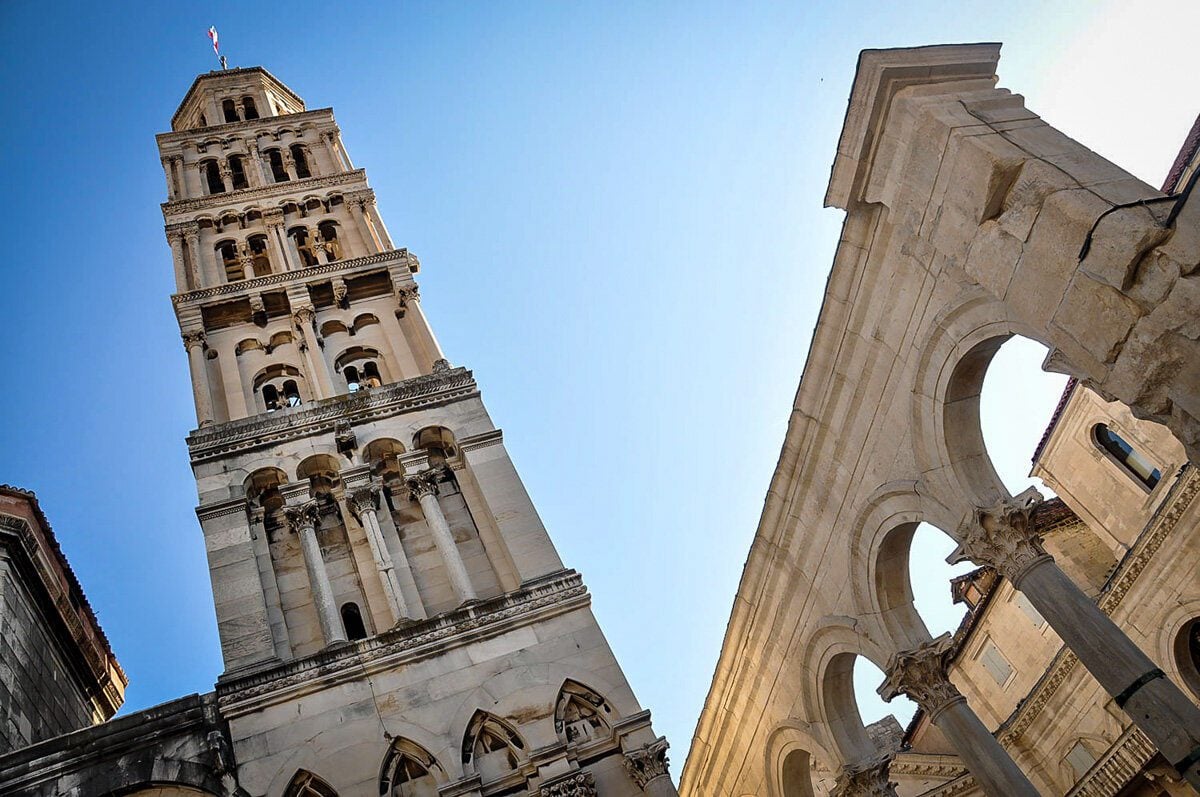 Built in the turn of the 4th-century AD, this stunning palace swallows almost half of Split's Old Town. As one of the most impressive and well-preserved Roman ruins in Europe, it's a must see while in Croatia.
With a network of squares, alleyways, ruins, shops, restaurants, and people, Diocletian's Palace forms a confluence of old and new.
If you wander aimlessly through this massive complex, you'll likely miss some of the most significant details that make this palace so spectacular, so we recommend booking a walking tour with a knowledgeable guide to really take the place in.
Psst! There's so much to see in Split beyond this stunning palace. You'll find a ton of other fabulous recommendations in our guide to the best things to do in Split!
7. Hit the beach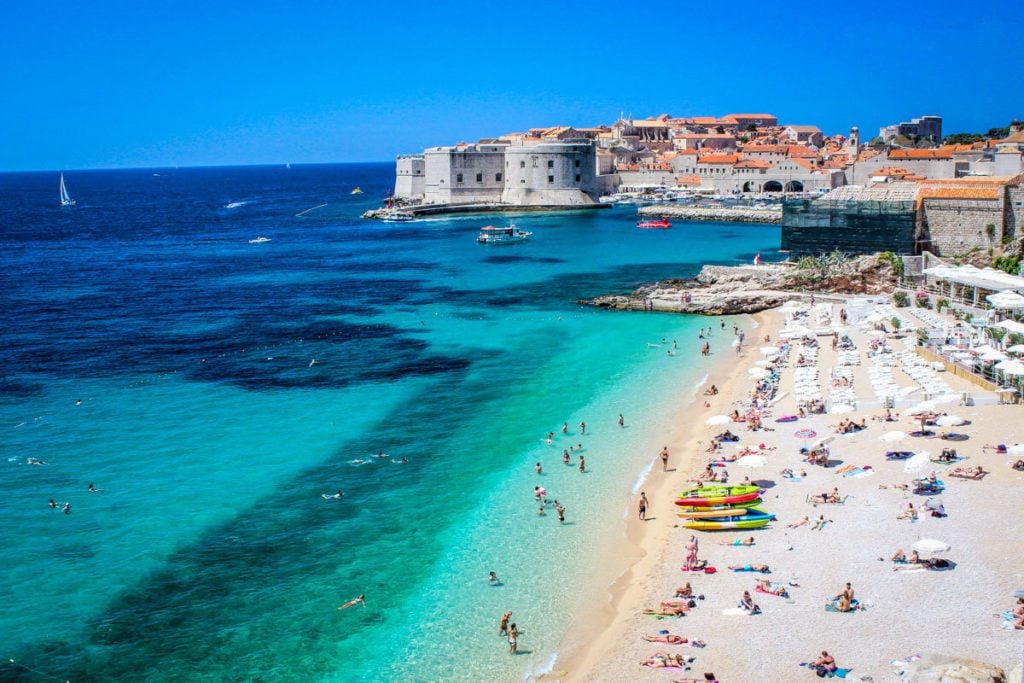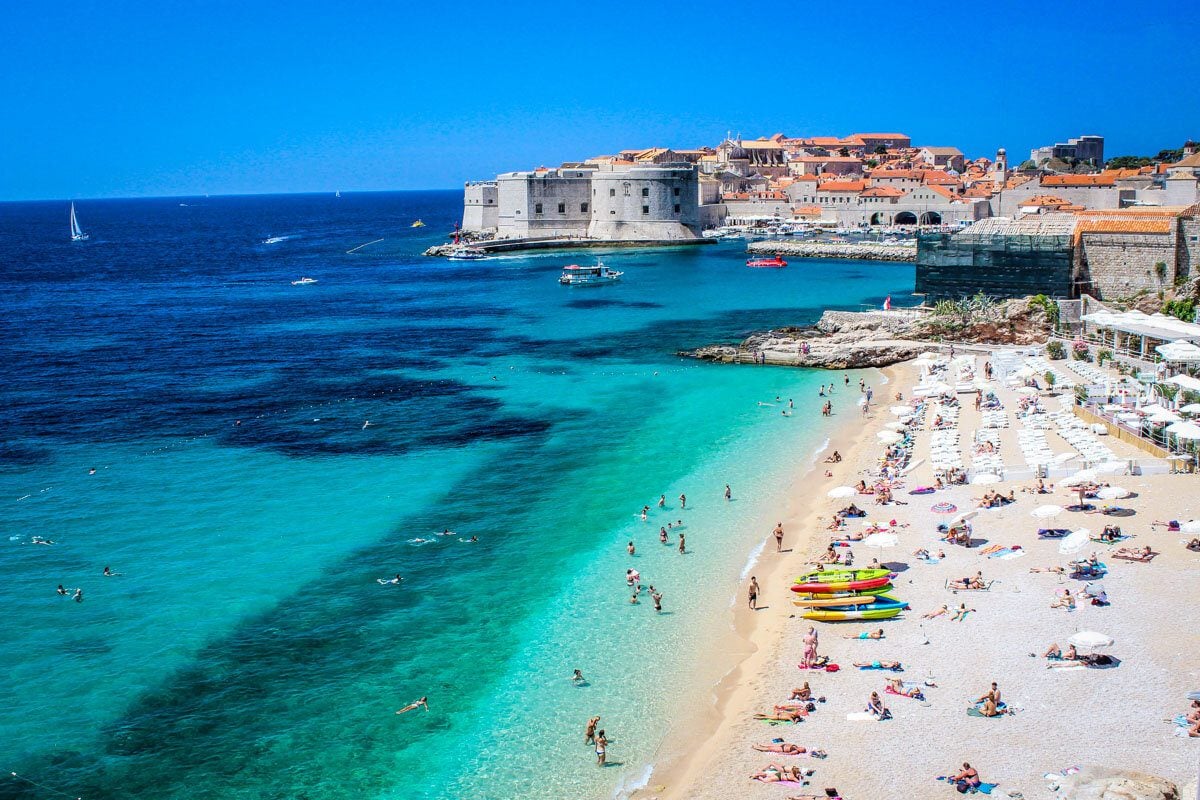 The beaches alone are reason enough to make a trip to Croatia.
Sandy and pebbled beaches line nearly 3700 miles (6000 km) of turquoise coasts, so there's a lot to choose from to lather up on SPF, grab your favorite read, and leisure under the sun.
These are some of the most famous beaches in Croatia:
8. Climb the bell tower in Split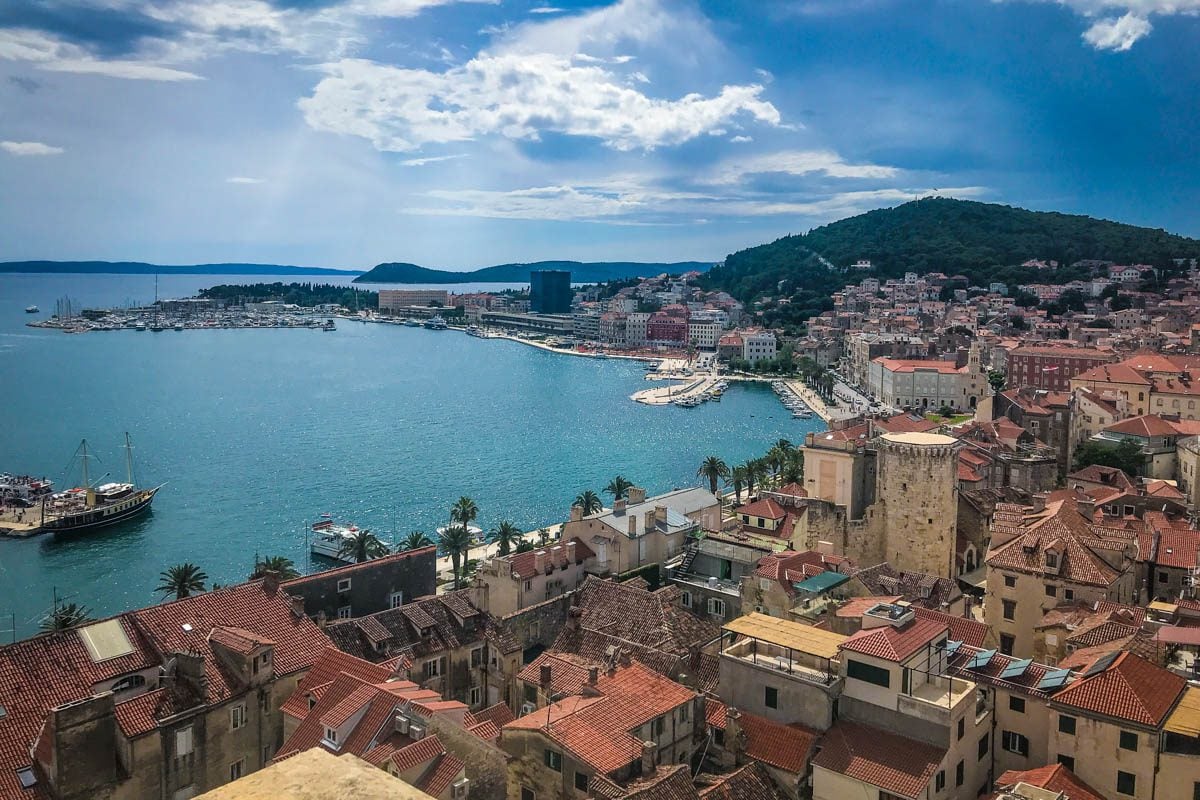 Spectacular views over Split await you at the top of St. Domnius Bell Tower.
While the journey isn't for the faint of heart with wide open windows, narrow passageways, and steep staircases the entire way up, the 360º views at the top are more than rewarding.
The bell tower is in the heart of Old Town, which almost always guarantees long lines and crowds. Go in the early morning or late afternoon to bypass and get all the views to yourself.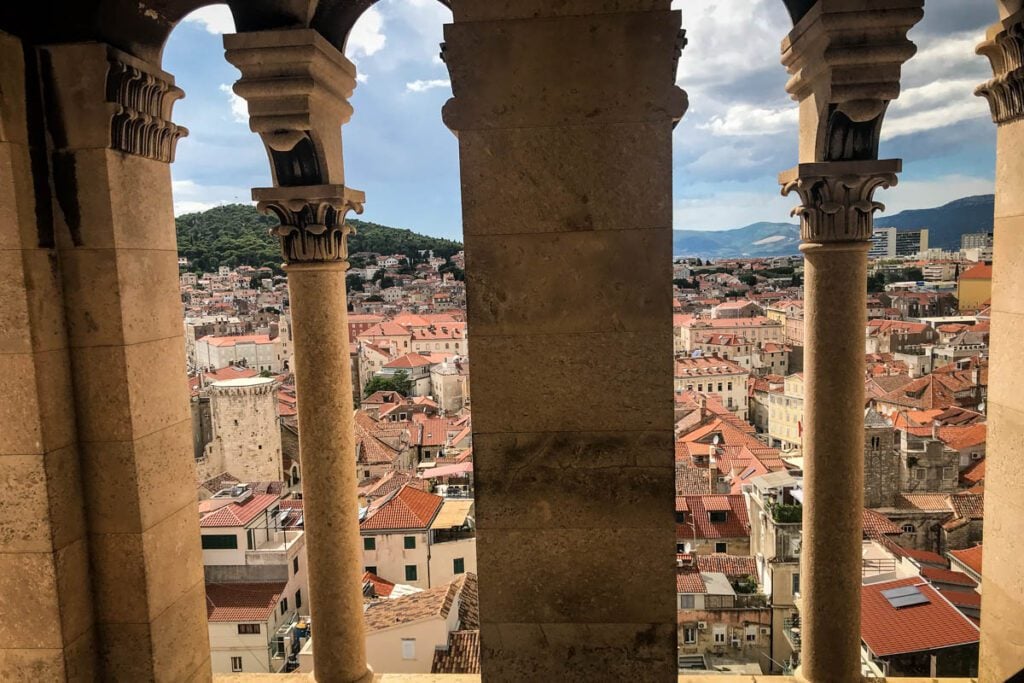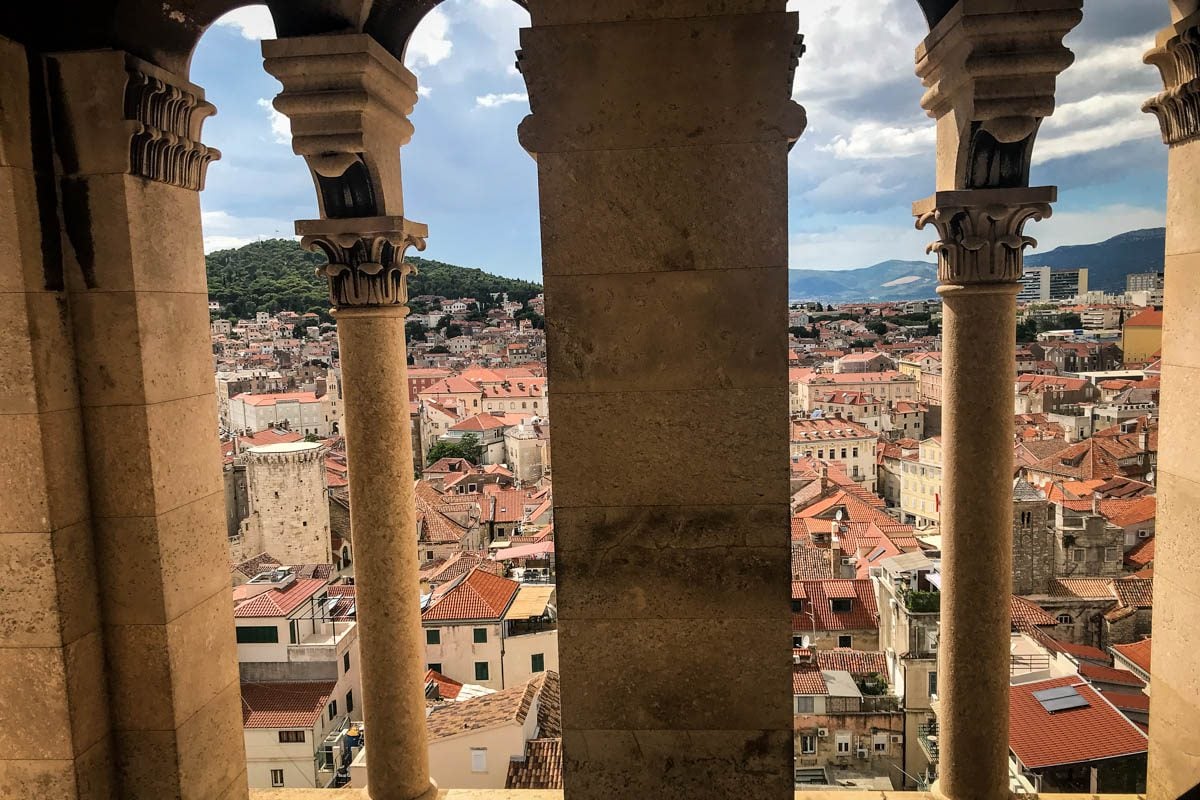 Hours: 8 a.m. to 7 p.m. daily, Sundays 12:30 p.m. to 6:30 p.m.
Entrance fee: There are 4 types of tickets you can purchase to enter the St. Domnius Cathedral that grant you access to the bell towerX€ (~$X USD)
Blue ticket (6.63€) includes 3 sites: The Cathedral, Crypt, Baptistery
Green ticket (9.29€) includes 3 sites: The Cathedral, Bell tower, Treasury
Red ticket (7.96€) includes 4 sites: The Cathedral, Crypt, Baptistery, Treasury
Purple ticket (10.61€) includes all 5 sites: The Cathedral, Crypt, Baptistery, Treasury, Bell tower
9. Visit the Blue Cave on Bisevo Island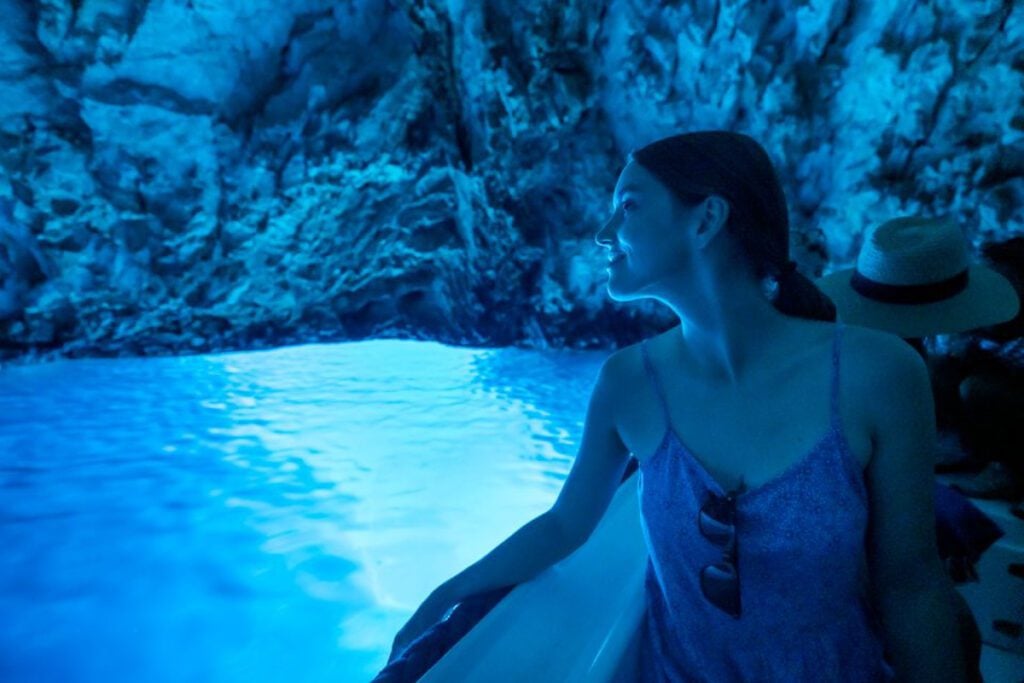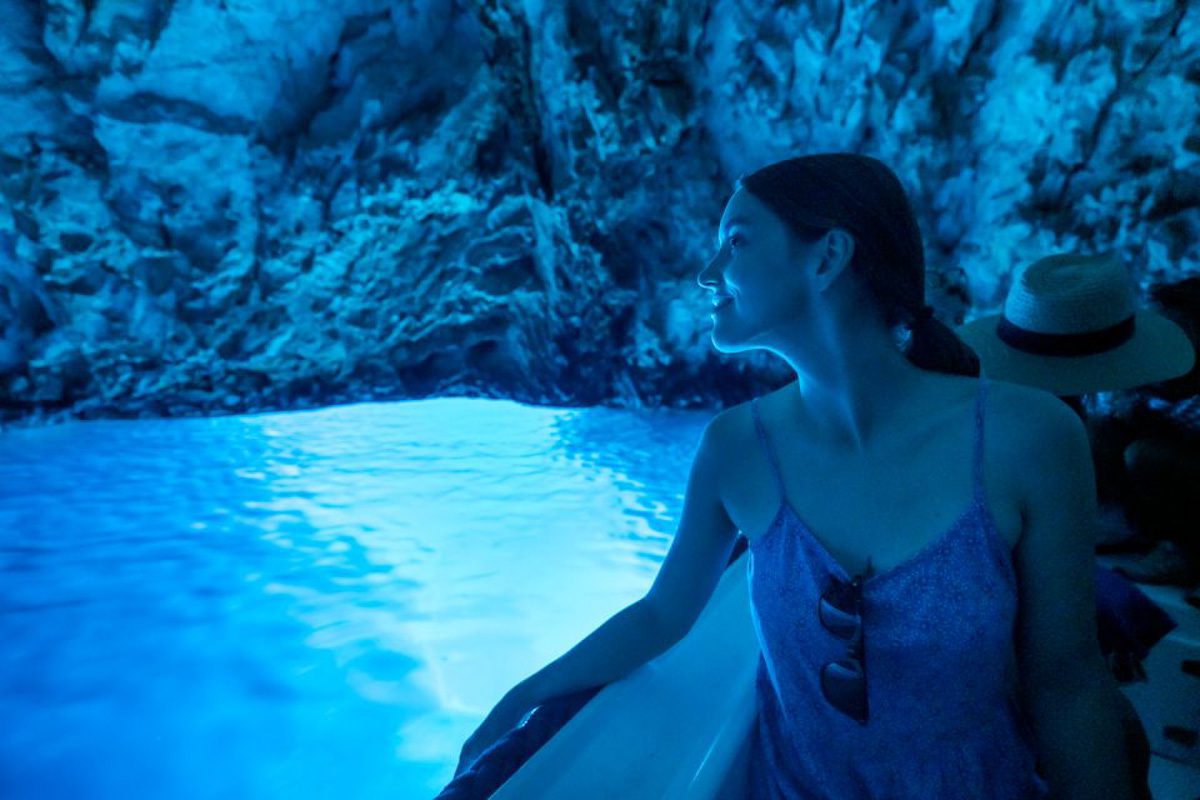 A tiny cave illuminated by brilliant blue light dancing off the bottom of the sea is one of the most popular things to do in Croatia.
While highly sought-after, it can only be accessed in favorable weather, through a narrow water-logged entrance made seamless with a small boat, so you for sure need to book a tour to visit.
We recommend booking one that gives you a head start in front of other tours and offers a refund in the event of poor weather. There are several fantastic tour options from Split, Hvar, Vis, or Dubrovnik.
This Blue Cave tour from Split gives you a head start into the cave so you can beat the crowds and it hits many other incredible Adriatic locations for a well-rounded day.
What you need to know:
Hours: 11 hours
Price: $203
What guests are saying:
"Incredible tour with limited guests (12 on our trip) that makes you feel like it's a private tour. They don't overlap with most other tours, the restaurant is private, great food, swims feel private as well, and amazing staff/captains…" –Traveler, Canada (August, 2022)
10. Don't skip Zagreb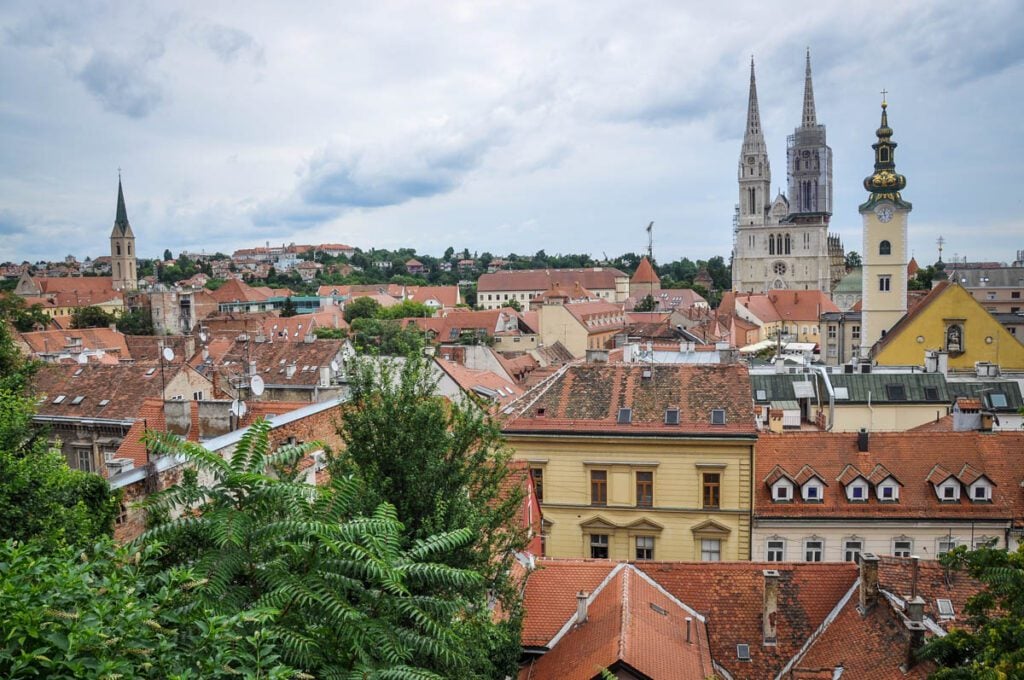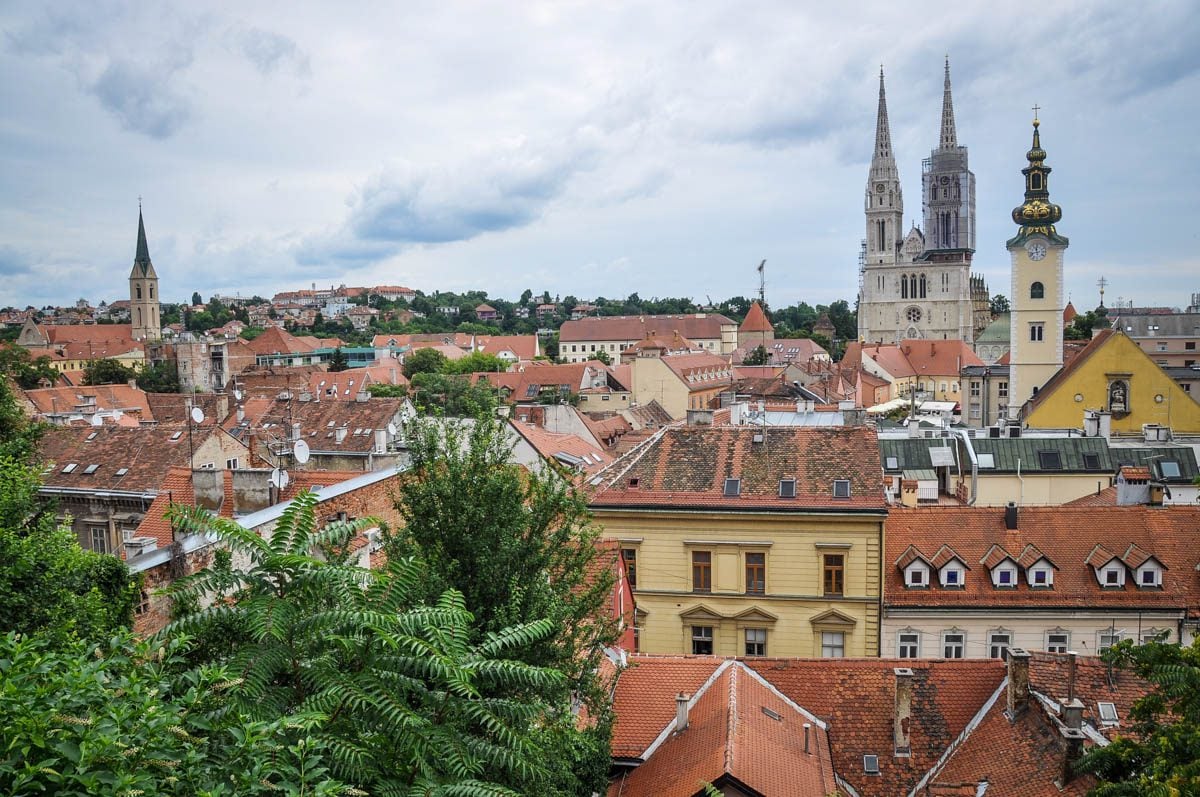 Both unsuspecting and welcoming, it's a wonder how Croatia's capital is missed by many traveling throughout the country.
While still a developing 900-year-old metropolis, the city's unique eastern Mediterranean meets western continental Europe is something to indulge in and cherish.
Zagreb has the same feel as a small village, yet its boundaries are stretched encompassing rich culture, modern contemporary scenes, plenty of historic sites, and how could we forget the vibrant coffee and cafe scene.
The streets are best mapped on foot, where you can admire the eclectic mix of architecture and colorful street art in the Upper and Lower Towns.
11. DIY Game of Thrones tour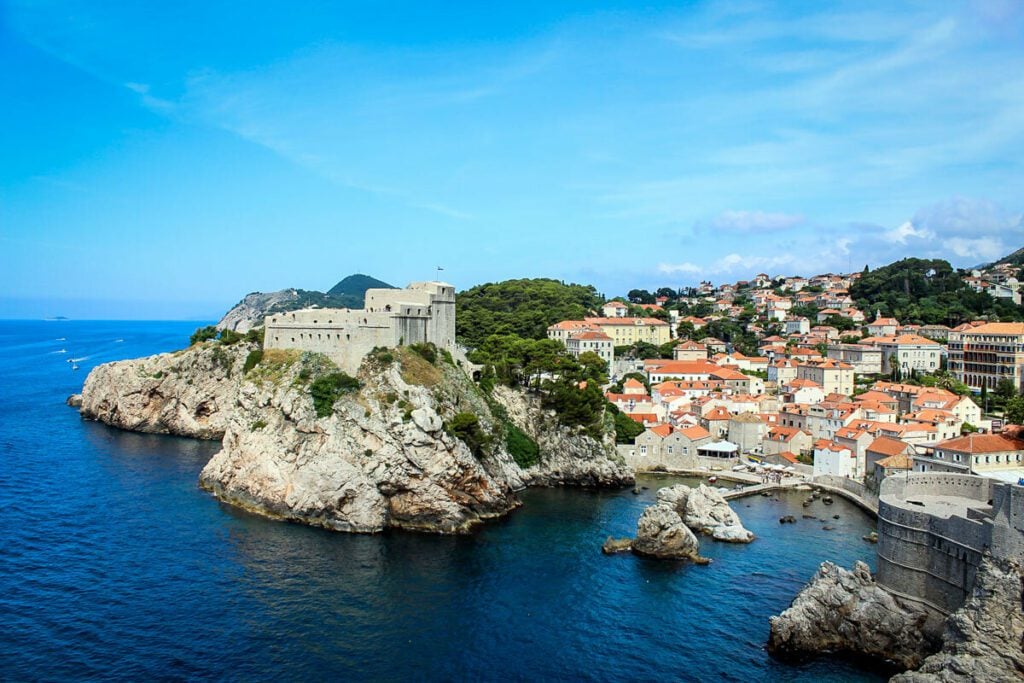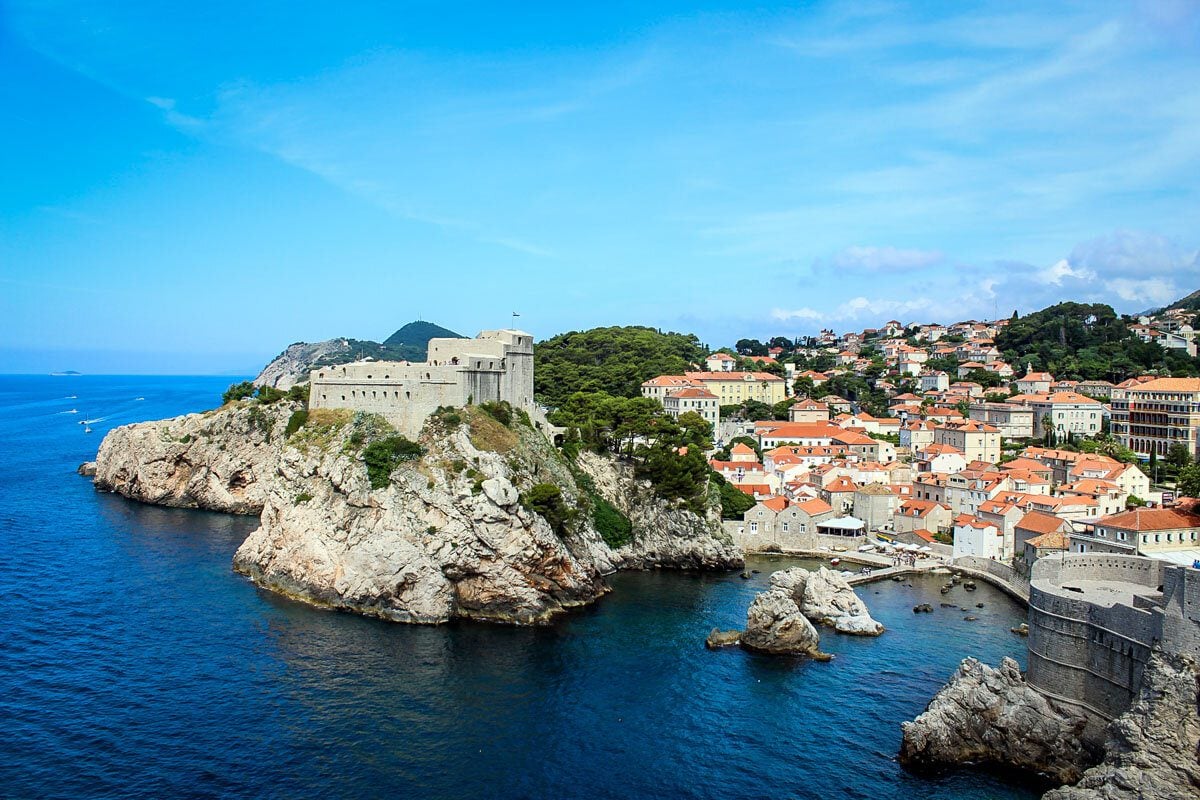 Croatia is famously known outside of Europe as the backdrop of King's Landing in the much-adored HBO series, Game of Thrones.
While you can find filming locations practically everywhere, Dubrovnik, Split, and Trsteno were used in some of the most significant scenes of the show, so they draw a ton of GOT-specific tourism.
You can join a Game of Thrones tour on almost any corner of Dubrovnik, but because the locations are so close together, they're easily visited on your own.
These are some of the most popular filming locations in Dubrovnik and nearby:
12. Rafting on Cetina River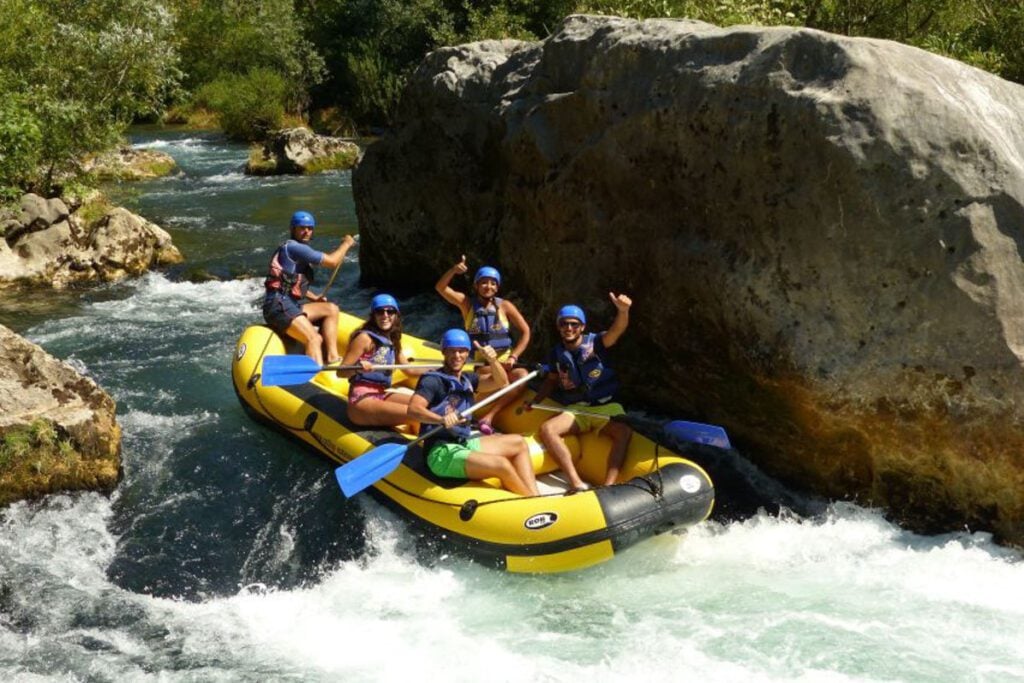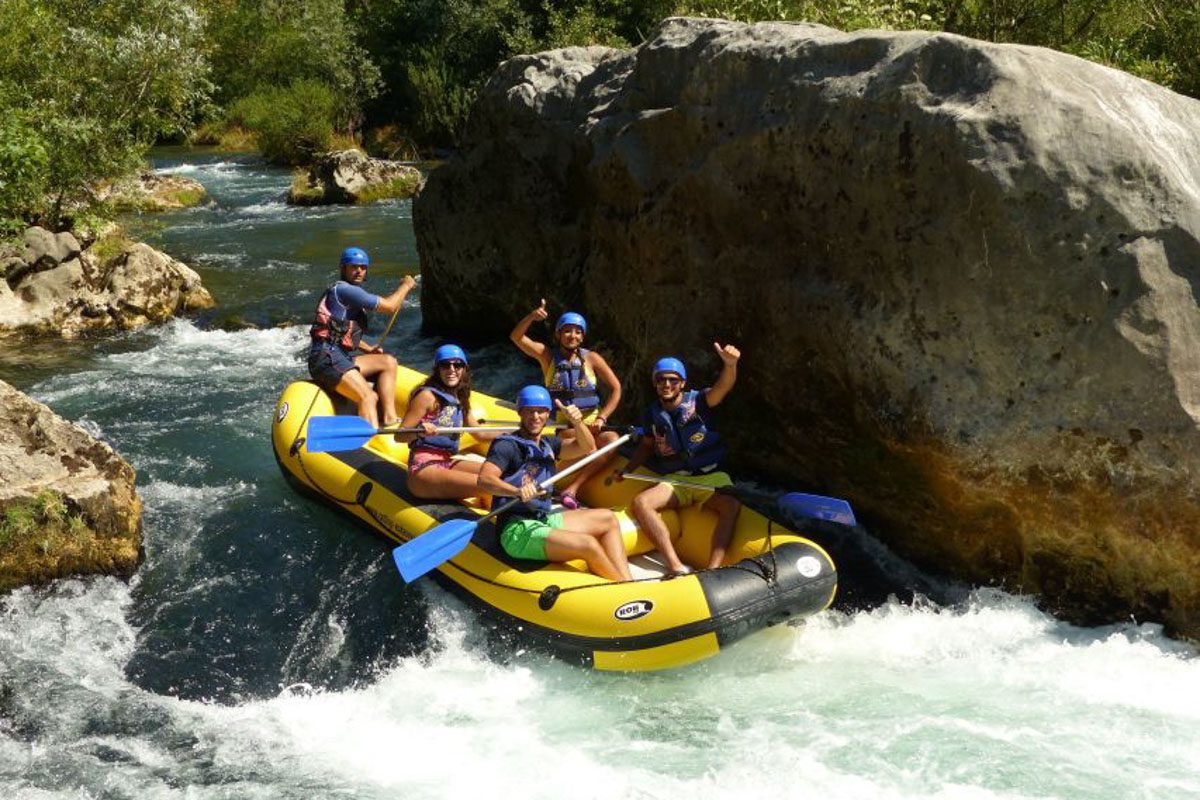 From peaceful floats to class III rapids, a Cetina River rafting tour is one of the most exciting day trips from Split, and an ideal way to cool down from Croatia's Mediterranean sun.
With an expert guide, you'll paddle 9 km (5.5-miles) where you'll navigate rapids, relax on beaches, explore caves and waterfalls, all along one of the most beautiful rivers in Croatia.
What you need to know:
Hours: 3-5 hours
Price: $43 USD
What guests are saying:
"Fun and great value for your money! The short drive from Split was comfortable and the driver explained our day to us en route. […] We rafted 10km total, climbed and jumped through a secluded cave, rafted over rapids, swam in the icy cold Cetina river, and even swam/floated over some rapids too! […] Our guide, Christian, and his operatic singing brought a brilliant vibe and atmosphere to the trip too. […] Would absolutely recommend it to anyone!" – Anna, United Kingdom (October, 2022)
13. Hike to the Spanish Fortress in Hvar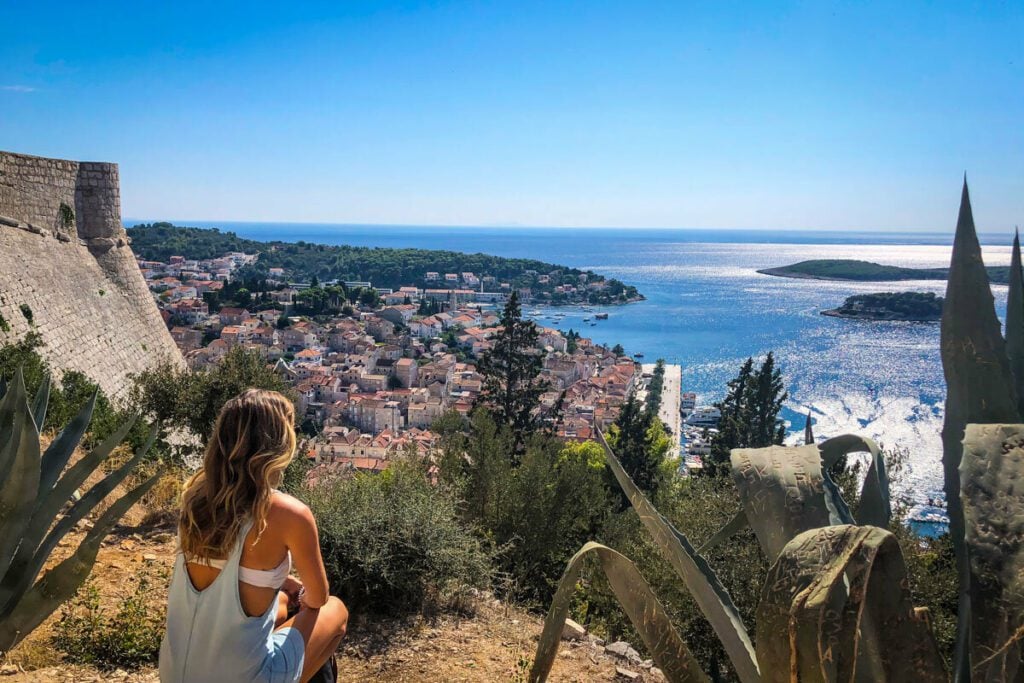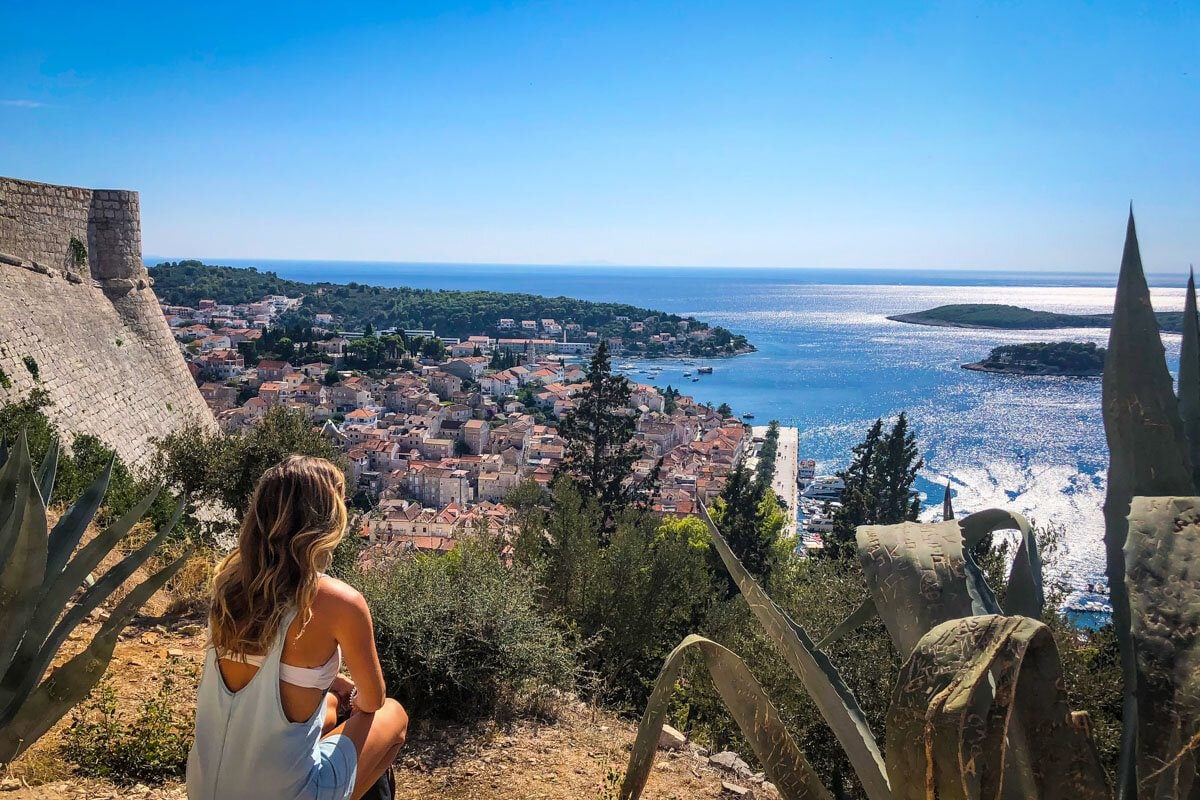 Overlooking the Pakelni Islands, Hvar Town, and the cerulean waters of the Adriatic, the Spanish Fortress in Hvar offers sweeping views over this unspoiled hub.
It's one of the best things to do in Hvar as the site has roots dating back to 500 BC and was one of Croatia's main defense systems in the 16th-century.
While not in use today, you can ponder exhibits and antiques showcasing what life was like thousands of years ago.
The path to the fortress is straightforward and a little over half a mile out-and-back. It's free to hike up there, but you'll need to pay to actually get inside, so bring some spare euros with you.
The staircase to access the path is just north of town, along Ul. Higijeničkog Društva. Get location.
14. Discover the charming island of Korčula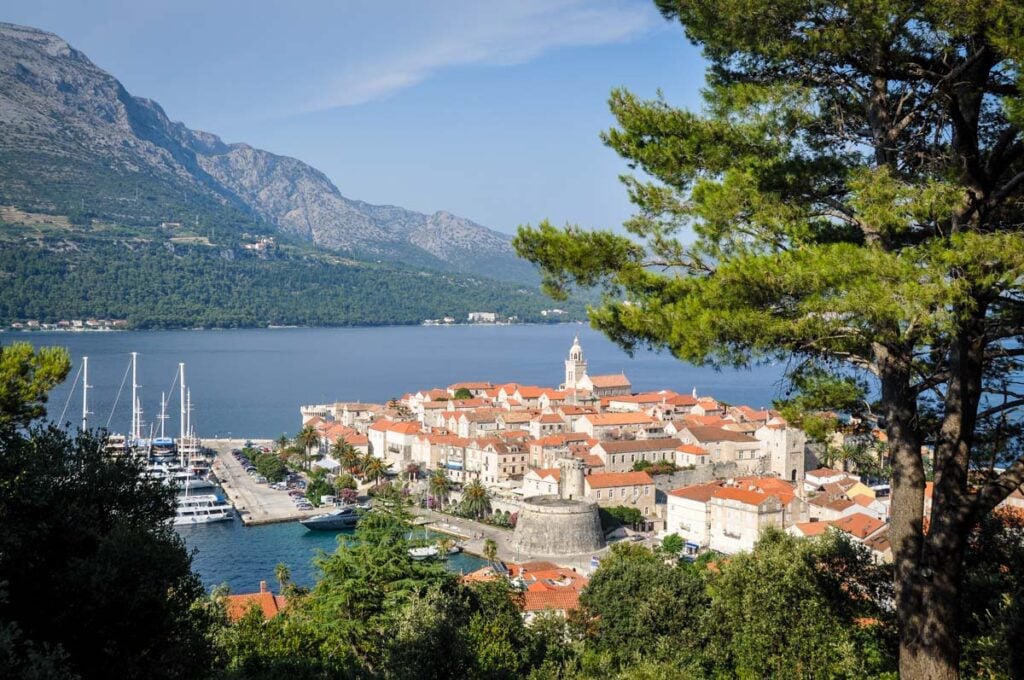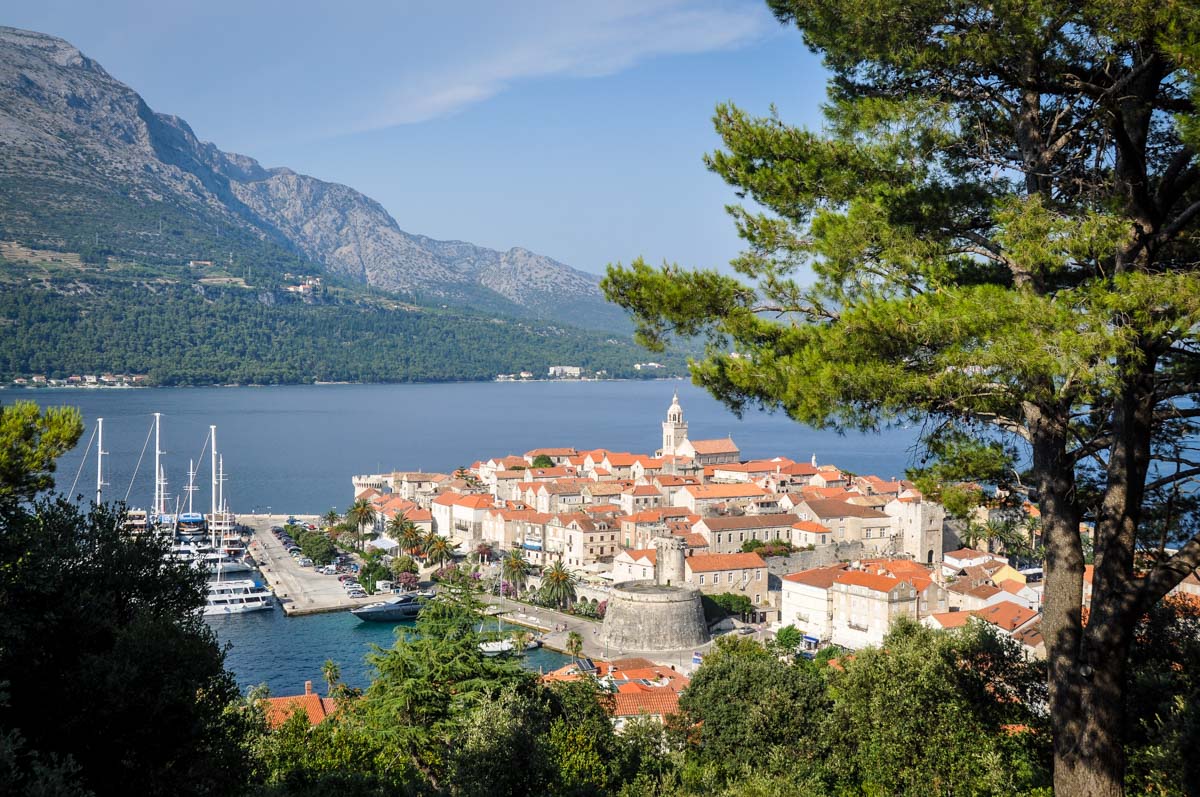 Filled with olive groves, vineyards, and old-time charm, Korčula is a laid-back island whose medieval streets mirror much of Dubrovnik and Split, but without the overwhelming hoards of tourists.
While here, indulge in Korčula's famous dry white wines, local-food restaurants (bonus points for a dish with seafood, lamb, or goat), and its many pebbled beaches.
After having your fill of the walled Old Town, pick up a pedal bike or scooter rental to explore more of the east and western edges of the islands, and everything in between as your oyster.
15. Zlatni Rat (Golden) Beach on Brac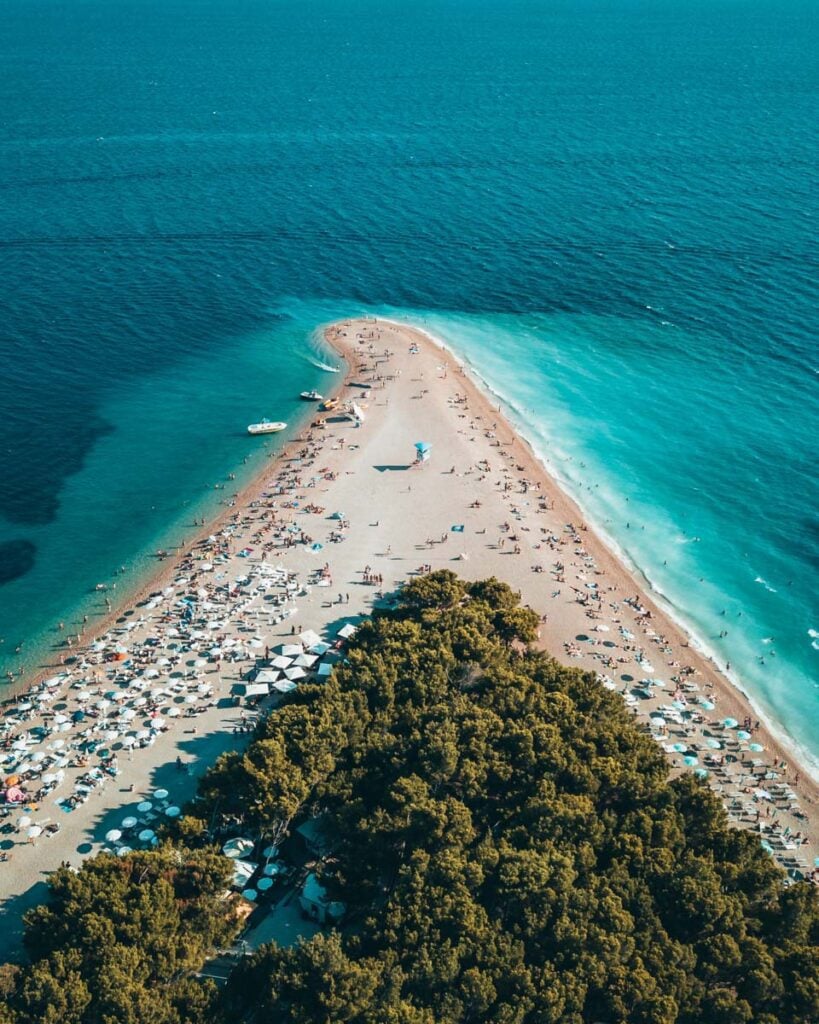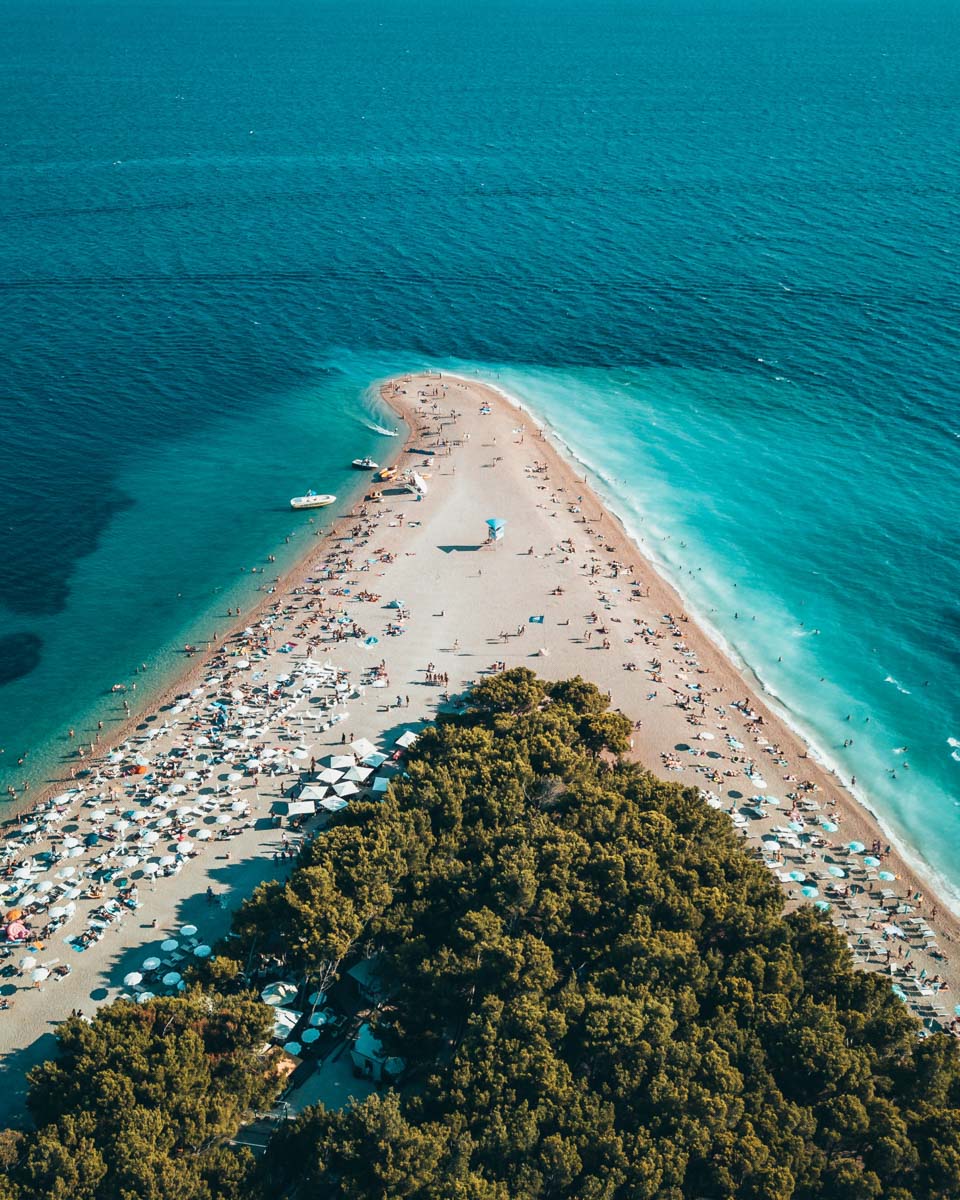 If you've seen any jaw-dropping postcard of Croatia, it's likely you've already seen this horn-shaped beach jutting out into vivid, turquoise waters.
Zlatni Rat Beach is a widely recognized symbol of tourism in Croatia and consistently ranked as one of the best beaches in both Croatia and Europe.
Choose from two sides of the beach to sunbathe on or cool down by swimming, snorkeling, or renting a SUP, kayak or jet ski.
16. Go wine tasting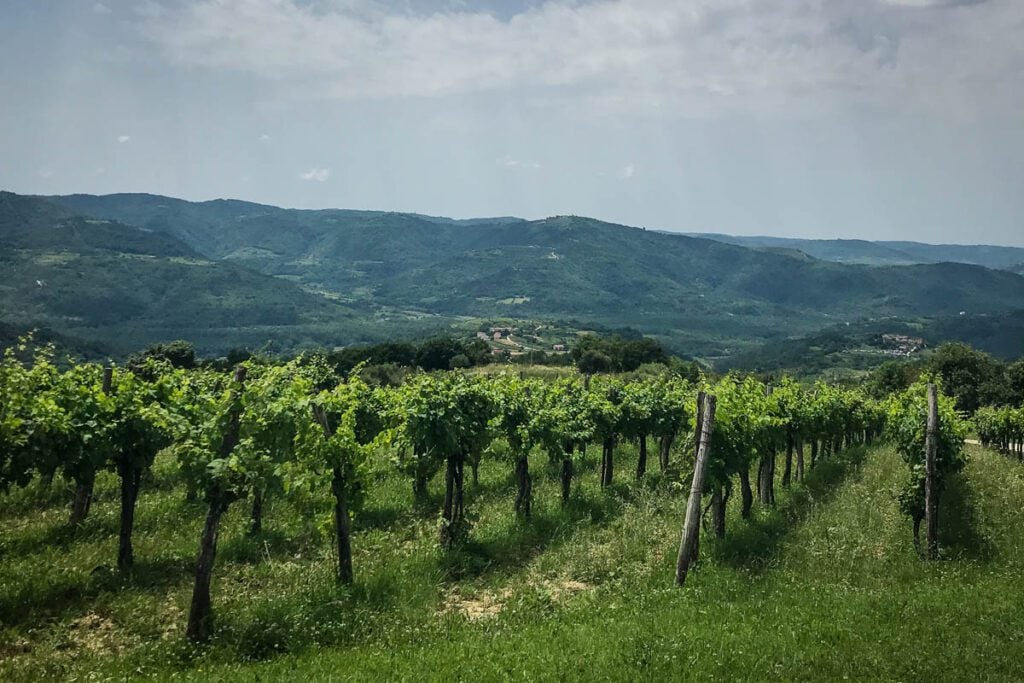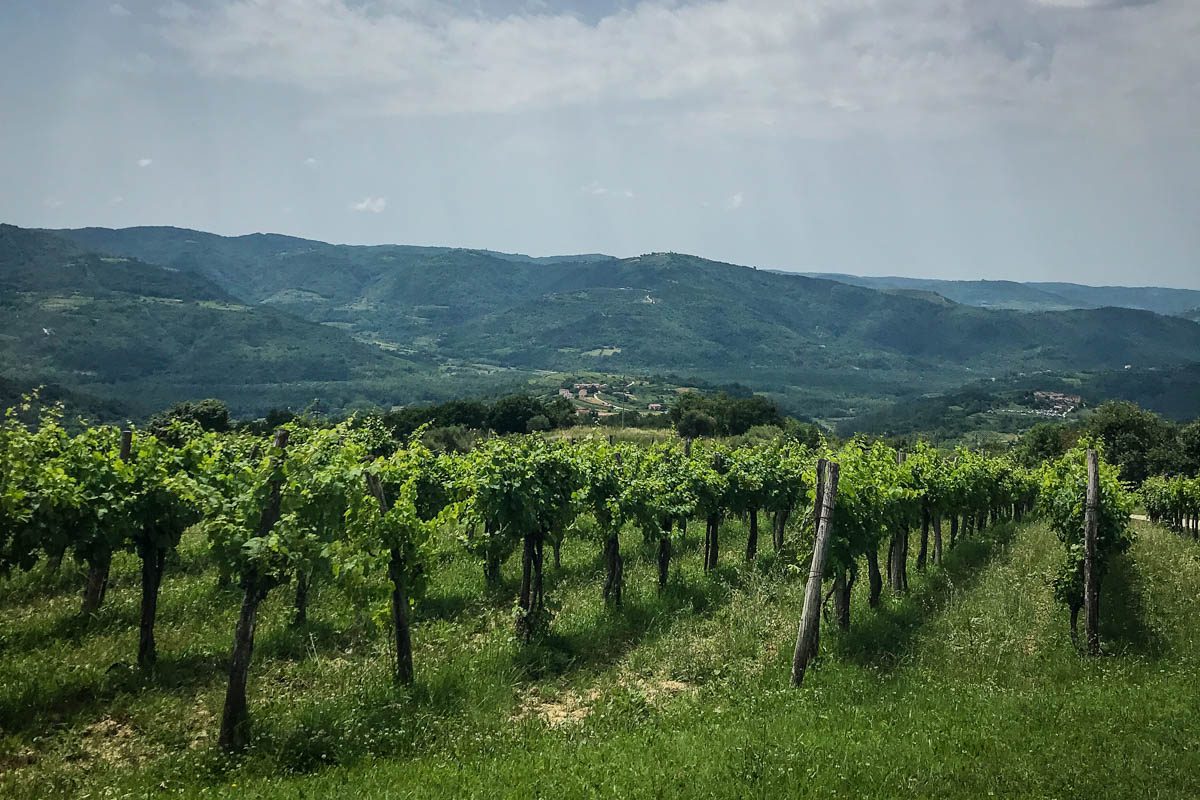 Let it be known that Croatia is one of the world's leading wine producers, particularly in the Istria and Dalmatia regions where the climate is ideal for different grape varieties.
The country's renowned vino history dates back over 2500 years and even if you're not an expert sommelier, you can appreciate the quality of a Croat pour.
Each region around the country has a unique terroir, climate, and story behind their cellars.
You can explore some of the best regional wineries on a DIY tour, or join a wine tasting tour to get the full experience.
17. Learn about olive oil production
Just north of Pula is one of the best organic extra virgin olive oil producers in the world.
Luka and his family follow generations of skilled farming practices.
On this olive oil tour, they share with you the ins and outs of the farm, teach you how to taste olive oil like a professional using their products, and how to pair different oils with complimentary foods.
You'll leave the farm an olive oil connoisseur, with the taste of internationally-awarded olive oil lingering on your taste buds.
What you need to know:
Hours: 2 hours
Price: $27 USD
What guests are saying:
"First of all, thank you very much to Luka, who has taken far over the requirement, time (+1h) for us and our questions! […] Luka and his family really do a really great and culturally enriching work here with love and energy that takes so much time and strength into it. Not only does he speak perfect English, but he also has an extremely far-reaching knowledge and has informed us perfectly about the production and recognition of good olive oils and left no questions unanswered…" – Max (November 2022)
18. Take an adventurous food tour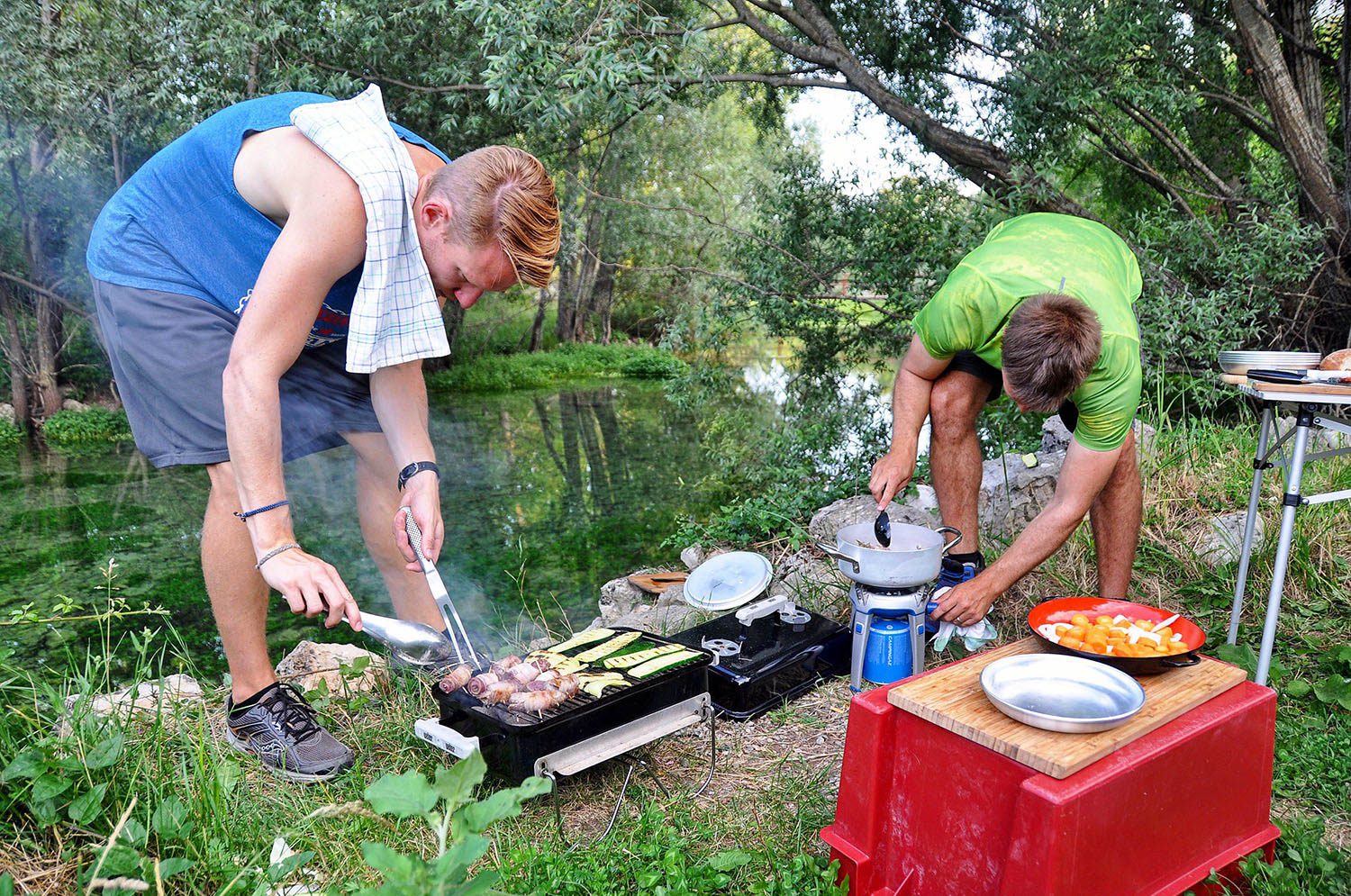 Unspoiled wilderness and gourmet cooking are two of our favorite things, and we were absolutely thrilled when we found this Adventurous Foodie Tour hosted by the world-renowned Secret Dalmatia.
After navigating the swarm of tourists that accompanies a hot July day in Croatia, we were more than ready to get off the trodden path for a literal and metaphorical breath of fresh air in the countryside.
Our experience was nothing short of memorable, learning that Croatian food is all about letting the flavor of the ingredients shine as we picked fresh thyme and wild heather for our dishes.
Cooking up a delicious meal using hand-picked ingredients with no one around was a highlight of our trip to Croatia and is a must for anyone looking to find solace in pure Croatian nature.
19. Visit a lavender farm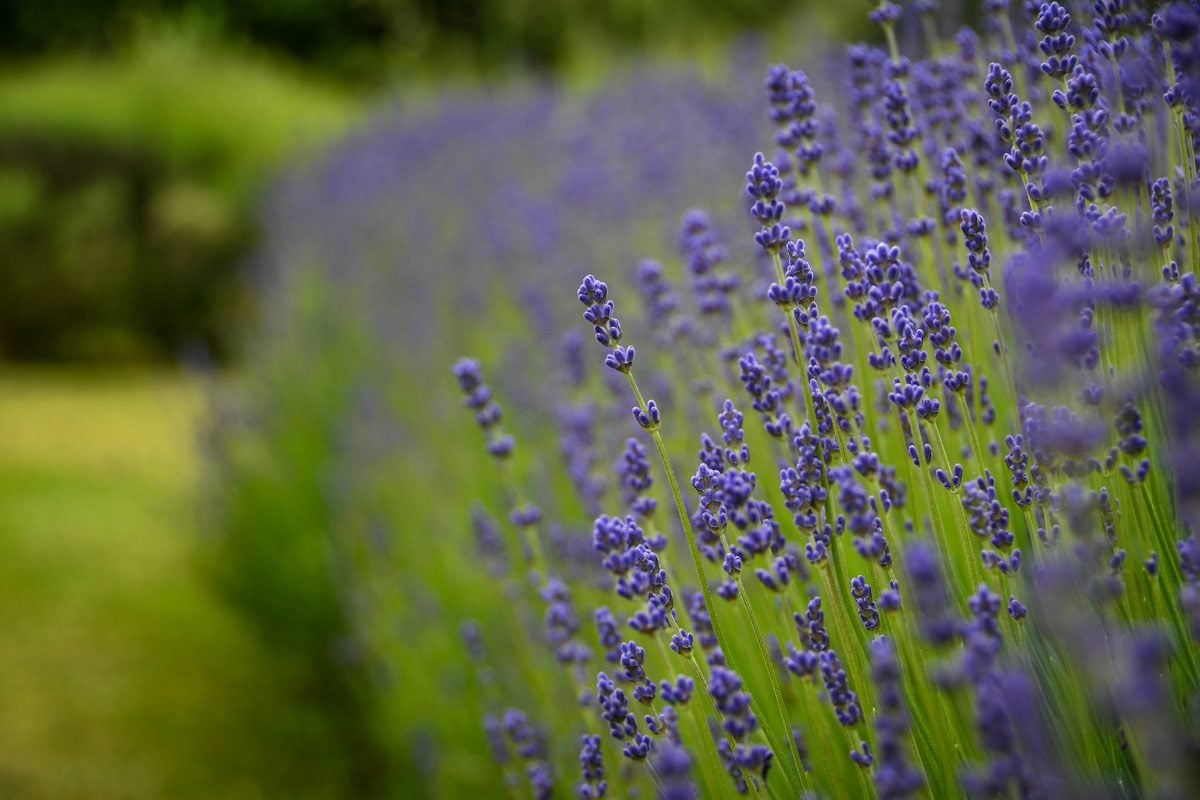 Fragrant and stunning lavender are a quintessential stop while exploring Hvar Island.
On a lavender field tour, you can wander the rolling fields, collect your own purple bundles, and take in spectacular views over the island's natural beauty.
Do note the lavender field season is especially short from Late June to early July, so plan your trip accordingly.
What you need to know:
Hours: 3 hours
Price: $140 USD
What guests are saying:
"Very enjoyable trip with a knowledgeable guide. We learnt a lot about Hvar culture and crops, and great lavender cheesecake." — Traveler, (July, 2022)
20. Discover the Roman ruins in Pula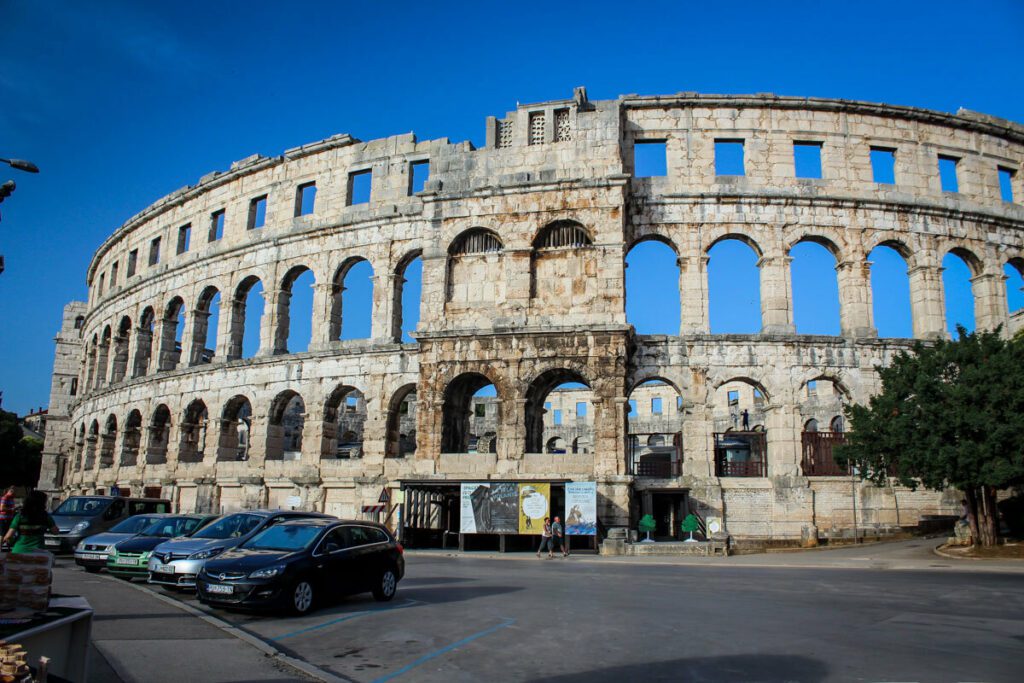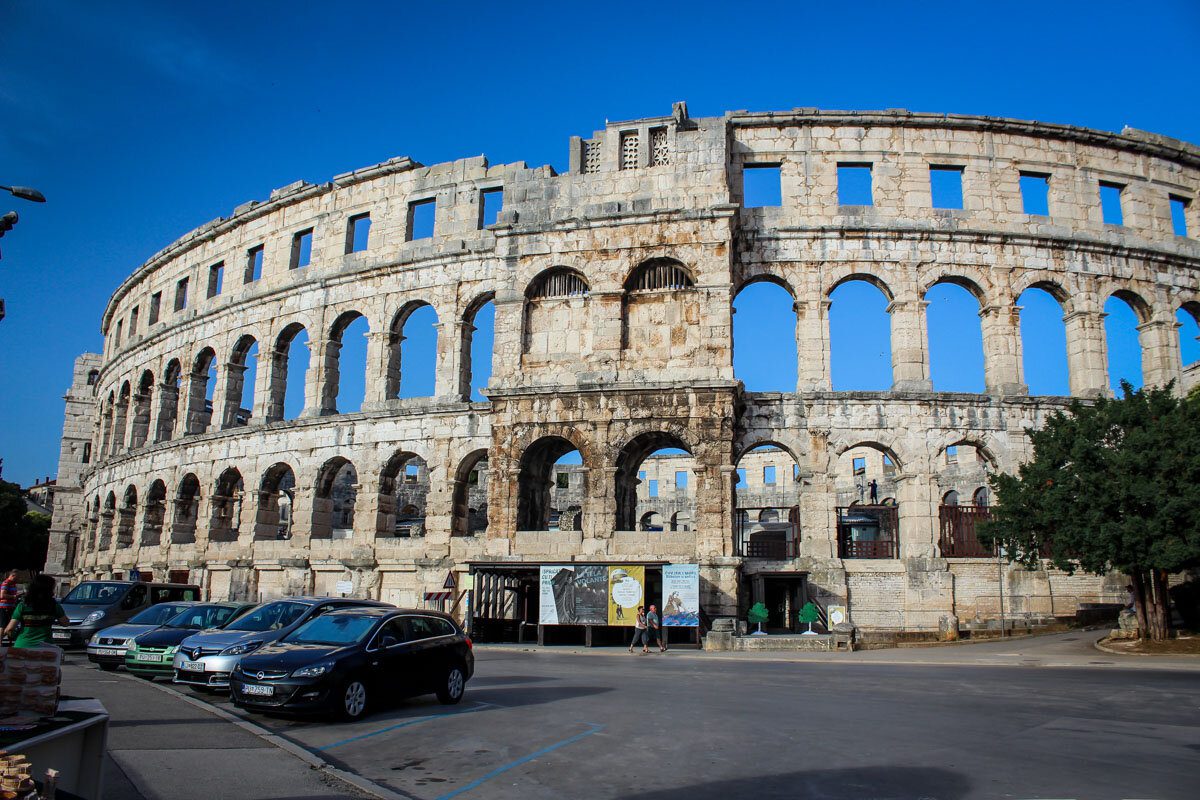 One of the greatest collections of Roman architecture outside of Italy is dotted in Pula's streets.
Easily the most impressive is the 1st-century AD Roman Amphitheater (second only to the actual Colosseum in Rome), but the Temple of Augustus, Arch of Sergii, and Gate of Hercules are all highlights of the Istrian city.
When not exploring the ruins, Pula offers a laid back and authentic atmosphere that makes for the perfect gateway to other gems on the peninsula.
21. Get lost in the alleys of Rovinj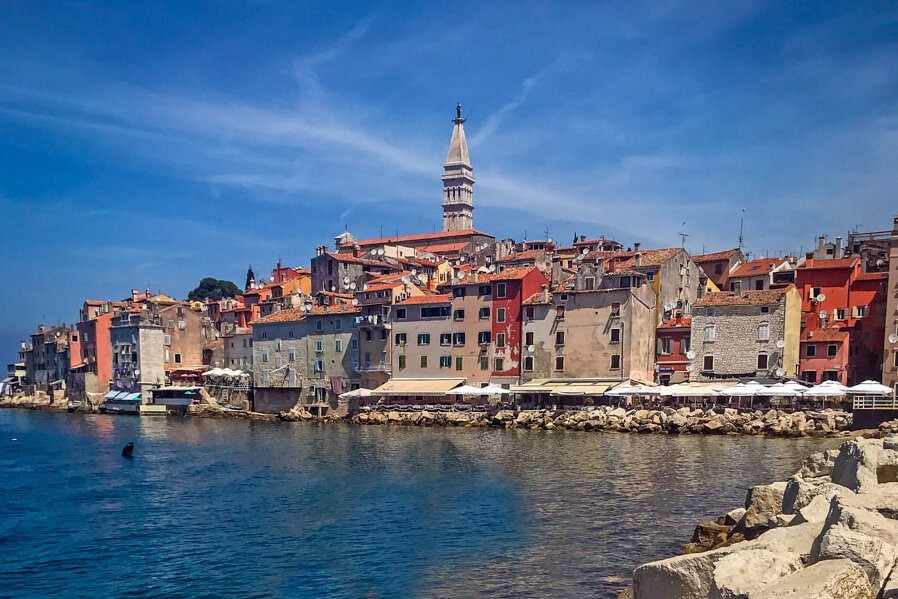 While the rest of the towns along the Adriatic are brimming with visitors, Rovinj remains an up and coming gem that's both enchanting and surprisingly Italian.
With bilingual streets signs and Venetian-style architecture, it mixes the timeless Croatian old-town allure with a modern hip flare.
Rovinj's skyline meets at the hilltop Euphemia Church, and winds down into a series of atmospheric streets, alleys, and passageways that are a must-see if you want to ditch the mainstream crowds in Croatia.
22. Discover the Sea Organ in Zadar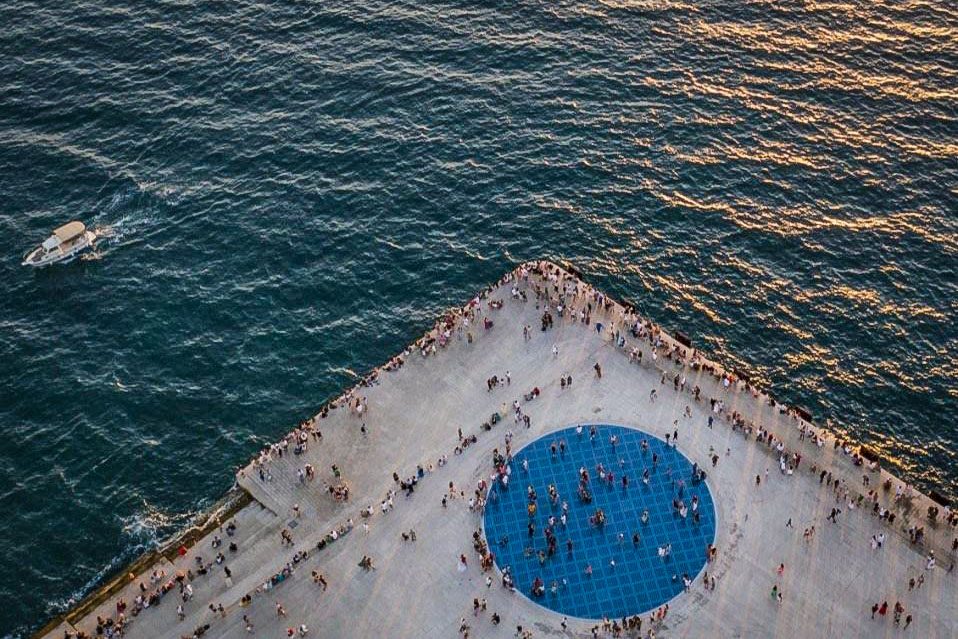 Both a musical instrument and a hidden architectural thinking piece, the Sea Organ in Zadar resembles the sound of whale calls as it is played by sea waves.
Its 35 organ pipes of various sizes and lengths are hidden beneath marble steps descending into the Adriatic, creating the perfect scenery to stop and listen.
23. Go kayaking along the Dalmatian coast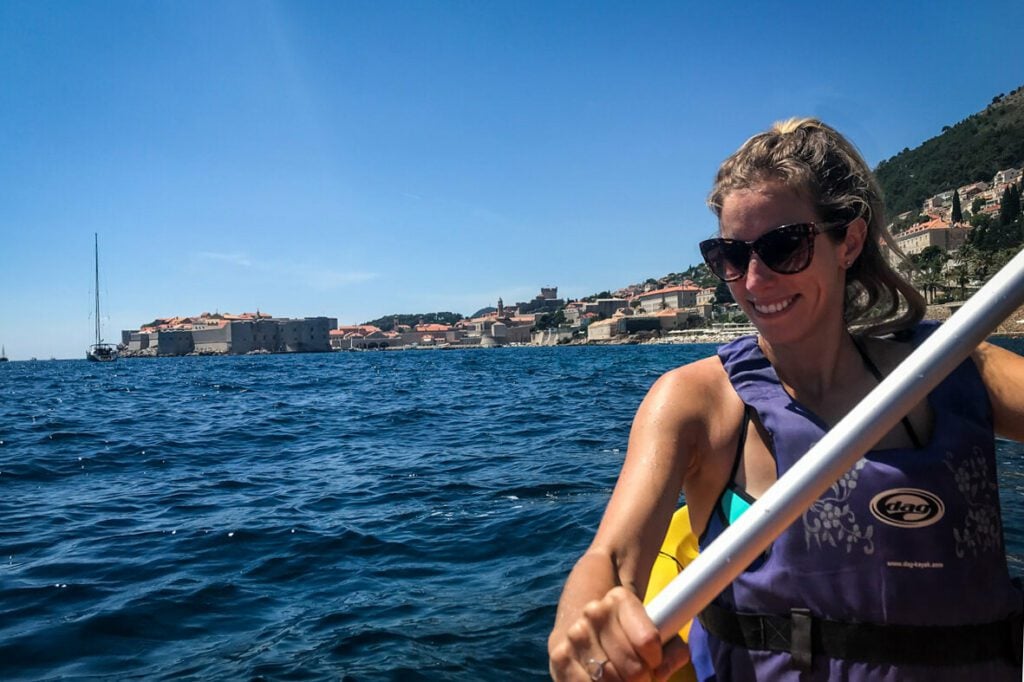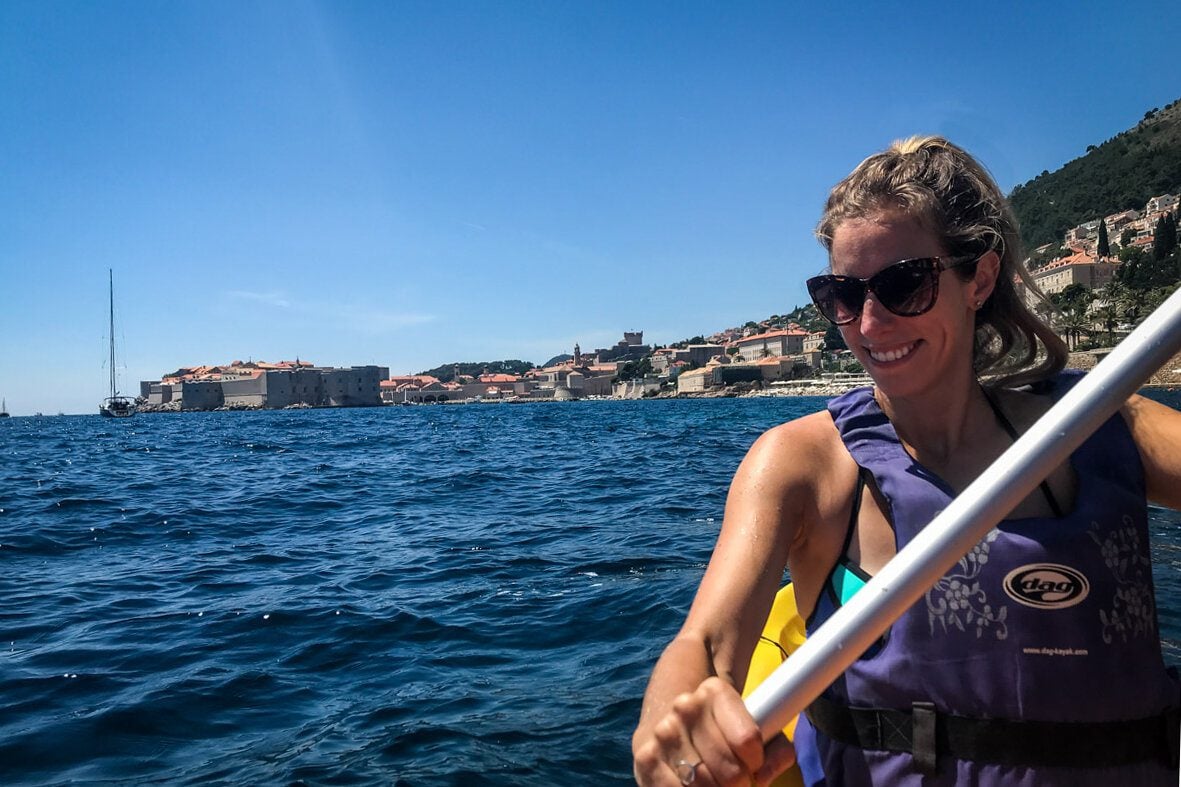 As the glittering coast is Croatia's most defining natural attraction, you'll want to explore it the best way possible with a paddle in hand.
Kayaking is an exciting and fun way to cool down on those scorching days and to get a little bit off the beaten path in sea caves, remote beaches, and ruins.
Luckily, most towns along the Dalmatian Coast will have rentals or tours available. Get Your Guide has top-rated kayaking tours in cities like Dubrovnik, Pula, Zadar, and Split.
24. Rent a boat to explore the Pakelni Islands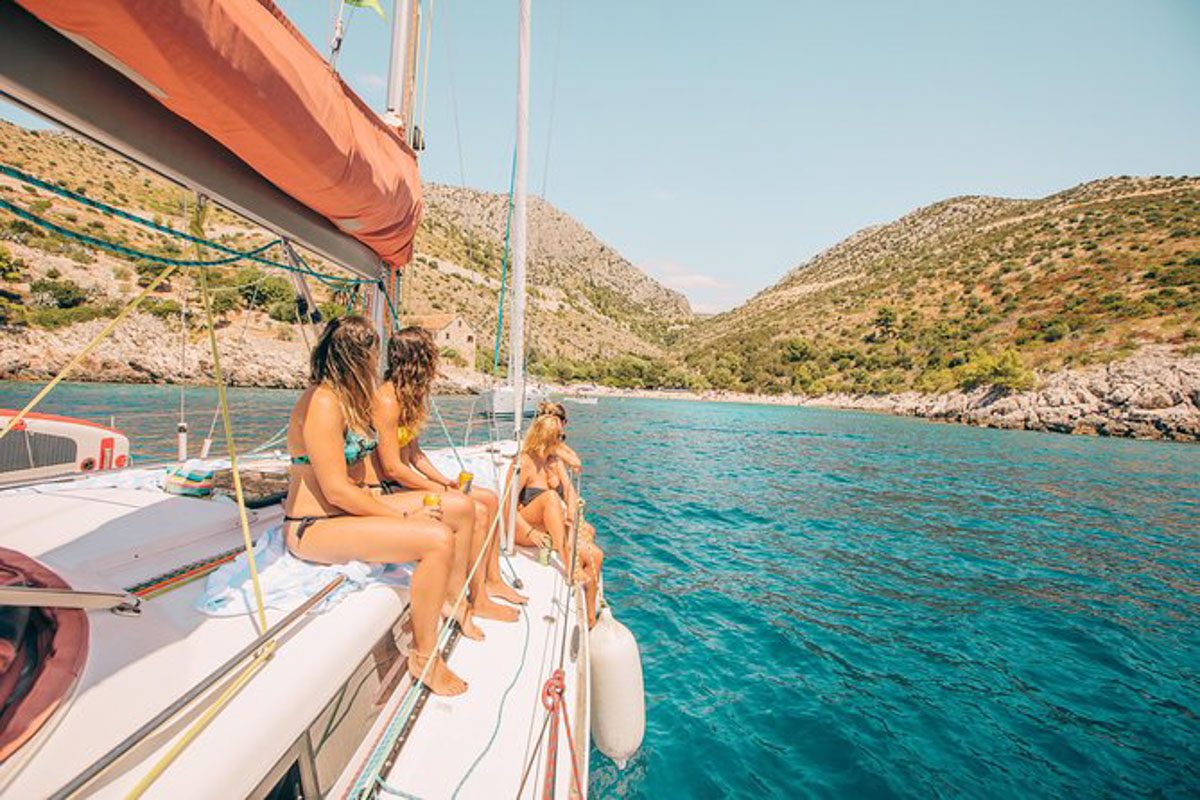 Just across the Hvar Strait, nestled in an archipelago of 16 islands are unspoiled beaches, pristine nature, hip bars and beach clubs, and crystal-clear waters to soak up the Mediterranean sun for a day.
As one of the most popular day trips from the coastal hub, it's best explored with your own boat where you can drop your anchor at your leisure and play skipper for a day.
Boat rentals are surprisingly very cheap and the ride is only 10-20 minutes away from Hvar's port. Boats range from a variety of horsepowers and come with a brief lesson to get you going.
However, if you don't have your boating license, you can join a full-day sailing tour around the islands where you can lounge, snorkel, and swim with similar leisure.
What you need to know:
Hours: 8 hours
Price: $125 USD
What guests are saying:
"We had a fantastic day. The skipper was very friendly and caring, took us to a great and fancy restaurant, made stops where we could go swim and use the stand up paddle and snorkels, and explained all of the regional details… We really had a lovely day. I would recommend this to anyone going to Hvar." – Daniela (July 2022)
25. Try cliff jumping in Dubrovnik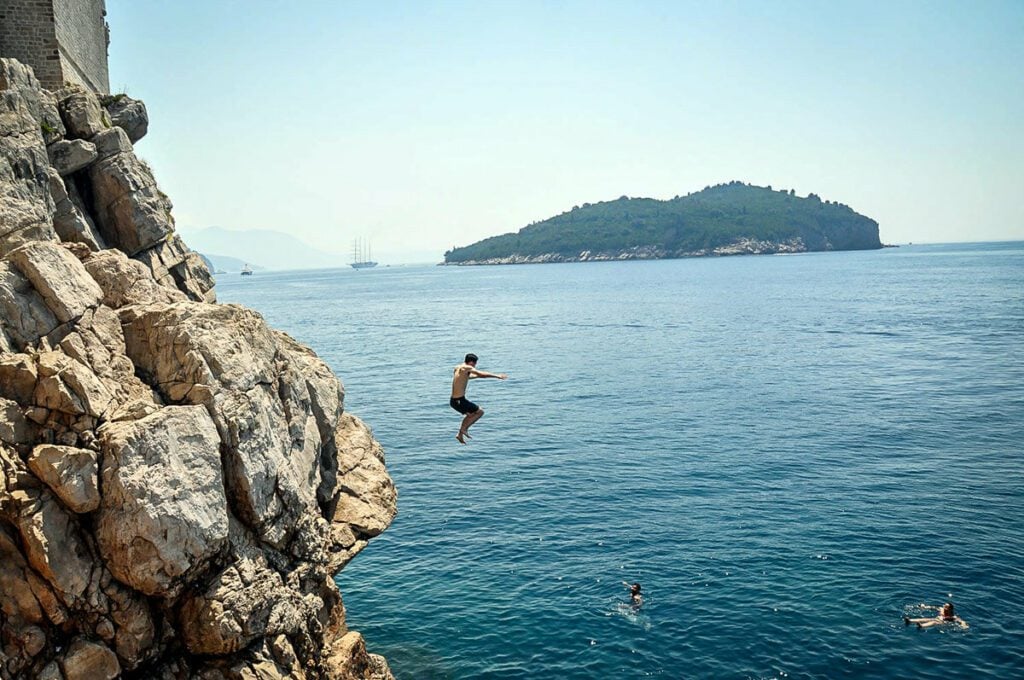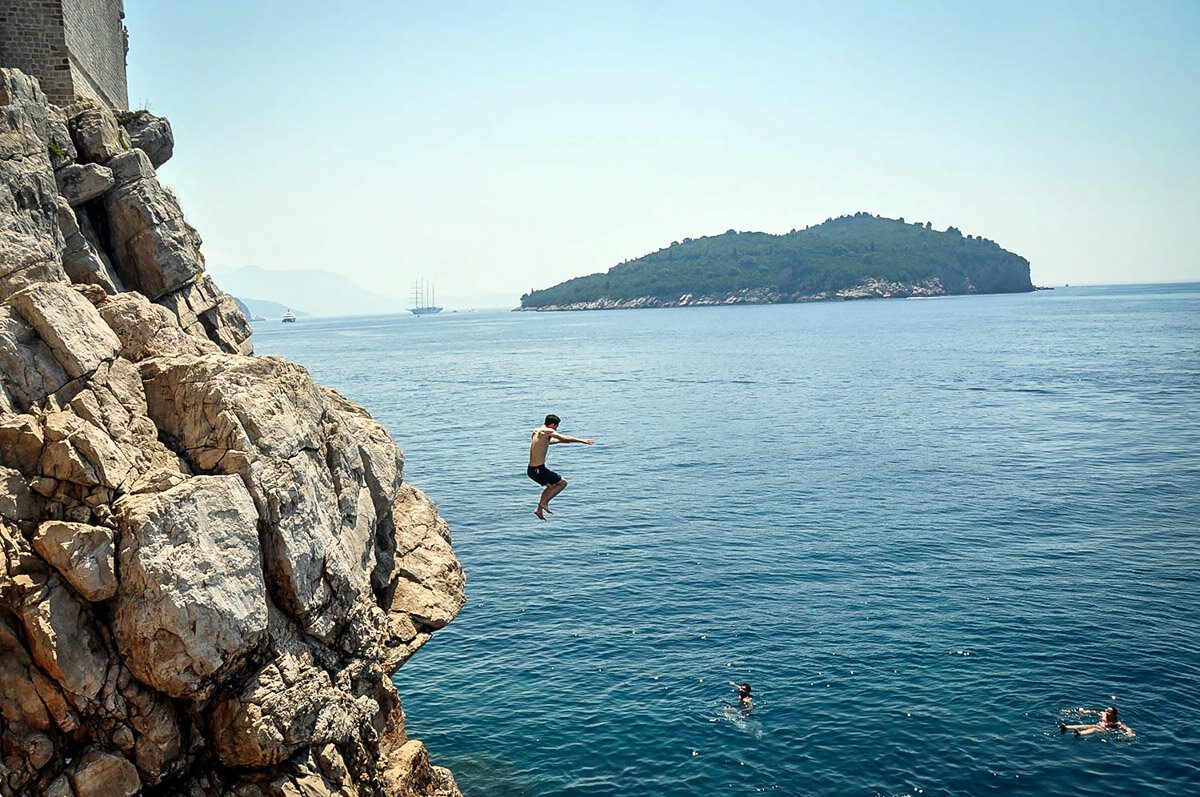 The most ideal way to cool down during a hot summer day in Dubrovnik is an adrenaline-filled plunge into the cerulean waters of the Adriatic.
The city has a steep coastal area with plenty of amazing local spots to check out:
If cliff-jumping isn't your style, you can take a dip and sip on a cold drink while watching locals and tourists take turns making a splash.
26. Explore Mljet National Park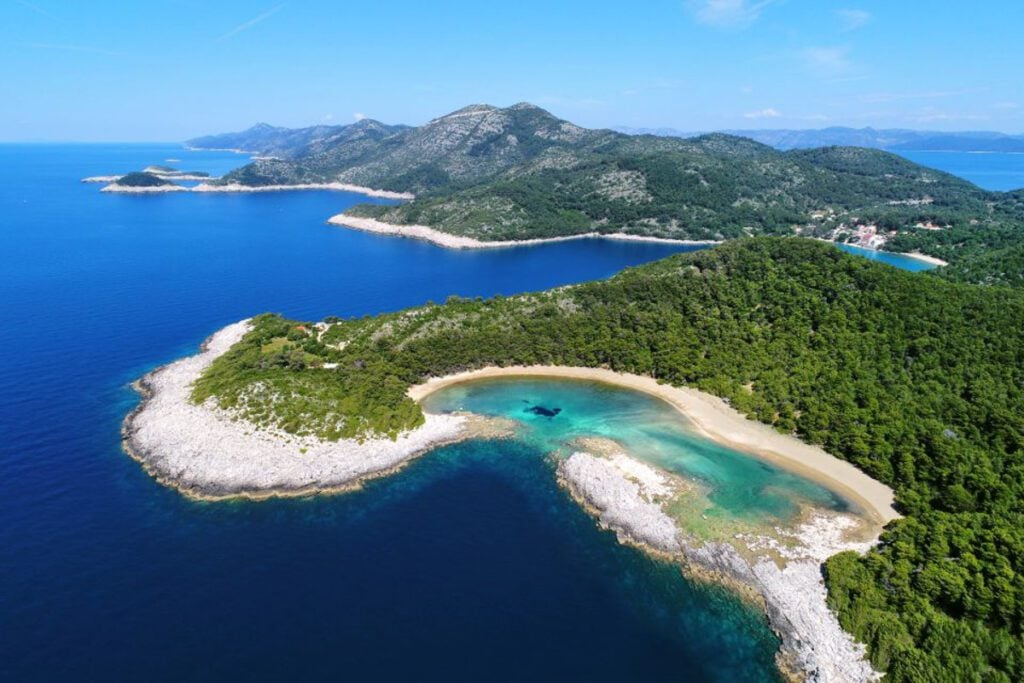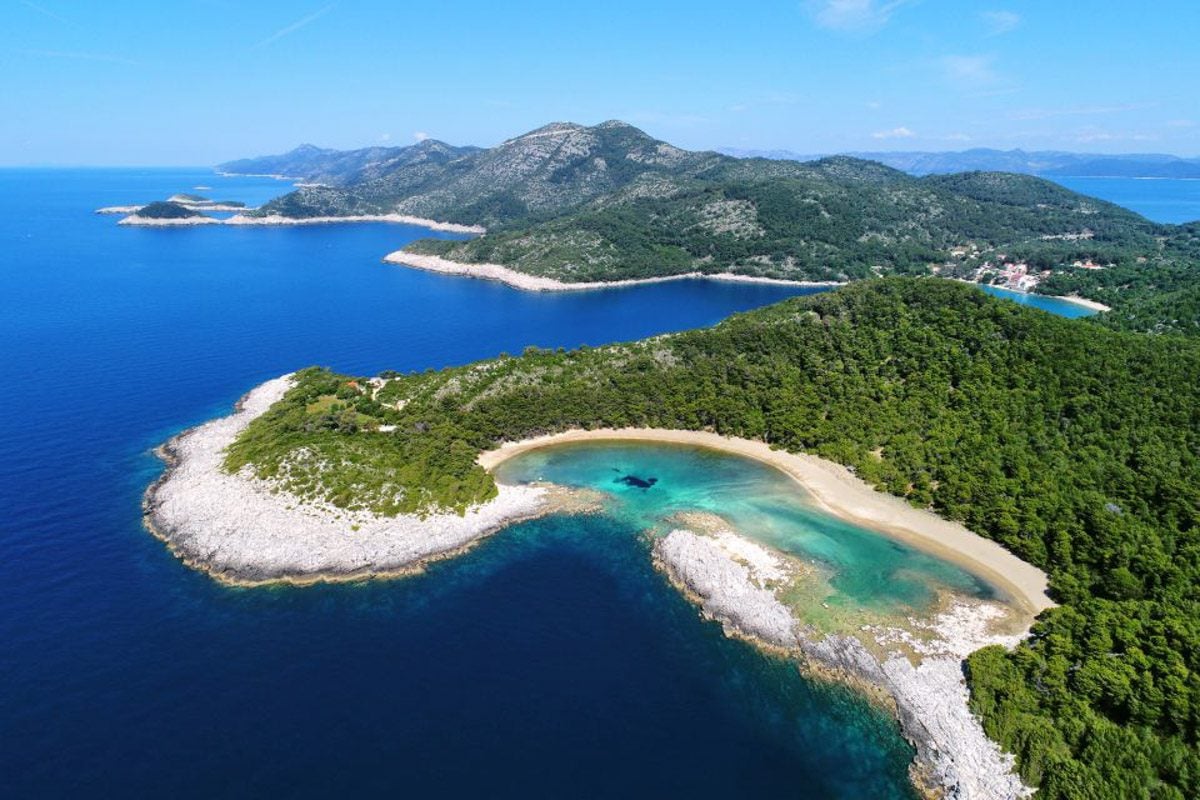 This National Park takes up about ⅓ of the island of Mljet, right off the coast of mainland Croatia.
There is a wealth of things to experience here: hike Mount Montokuc, snorkel and swim at Veliko Jezero and Malo Jezero, and visit the Isle of St. Mary.
While it doesn't boast the waterfalls and magic like Plitvice Lakes or Krka, it does make up for it with a fraction of the tourists, pristine waters, and miles of hiking trails that make for a peaceful experience.
Rent a bike and cruise the island, hit the water with a kayak, or you can explore the park and the treasures of 3 different southern Dalmatia islands on this boating tour from Dubrovnik.
What you need to know:
Hours: 10.5 hours
Price: $162 USD
What guests are saying:
"Had an absolute blast on Marko's tour – you don't want to miss out on this one! Mljet is stunning and one of the highlights of my time in Croatia. Marko has put together a really unique experience and was a fun, attentive, and knowledgeable guide. Great for solo travelers like me and small groups alike!" – Melissa, United Stated (August 2022)
27. Hike to Odysseus Cave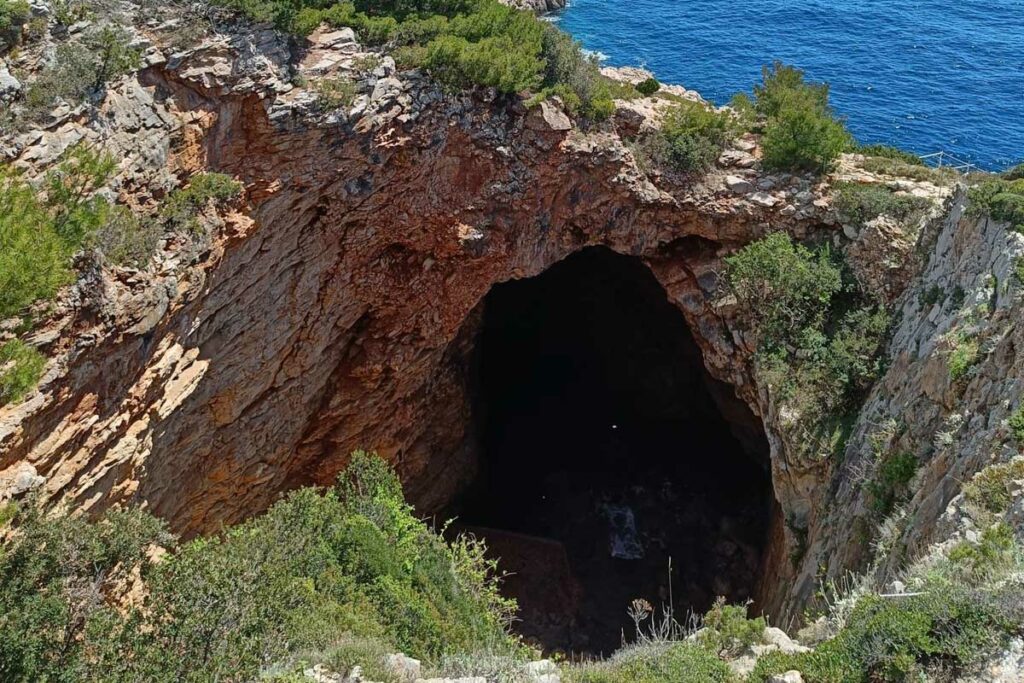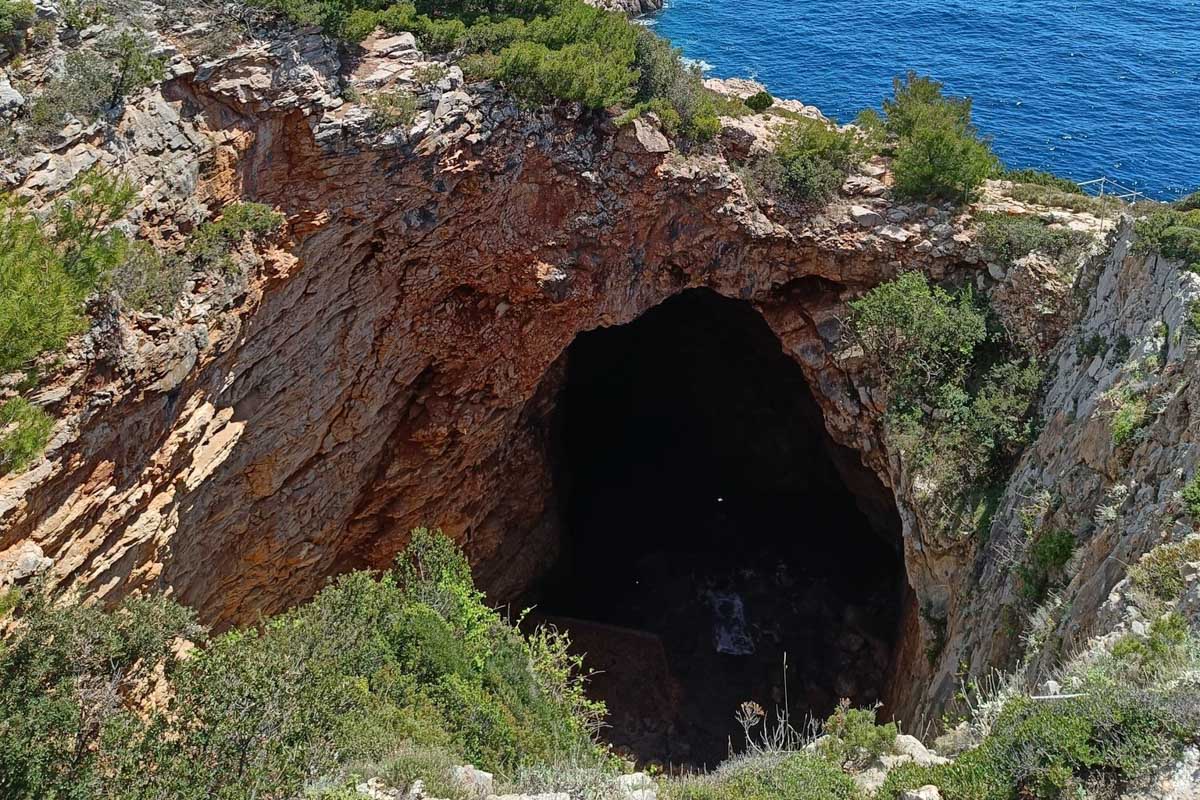 Nearly 3,000 years ago, one of the greatest ancient Greek poets, Homer, wrote that his hero Odysseus spent seven years seeking refuge in this haven on Mljet island.
While there's stipulation among the Croats and the Greeks if this is the actual cave from the epic, one thing is for certain, it's spectacular.
From the largest village on the island, Babino Polje, you'll follow the trail heading towards the sea and arrive at the scene that captivated Odysseus.
Use the steep rocky steps to access it by land, or take the hero's way via a brave plunge into the sea, swimming through a small tunnel to get to the cave.
28. Take the cable car up Mt. Srd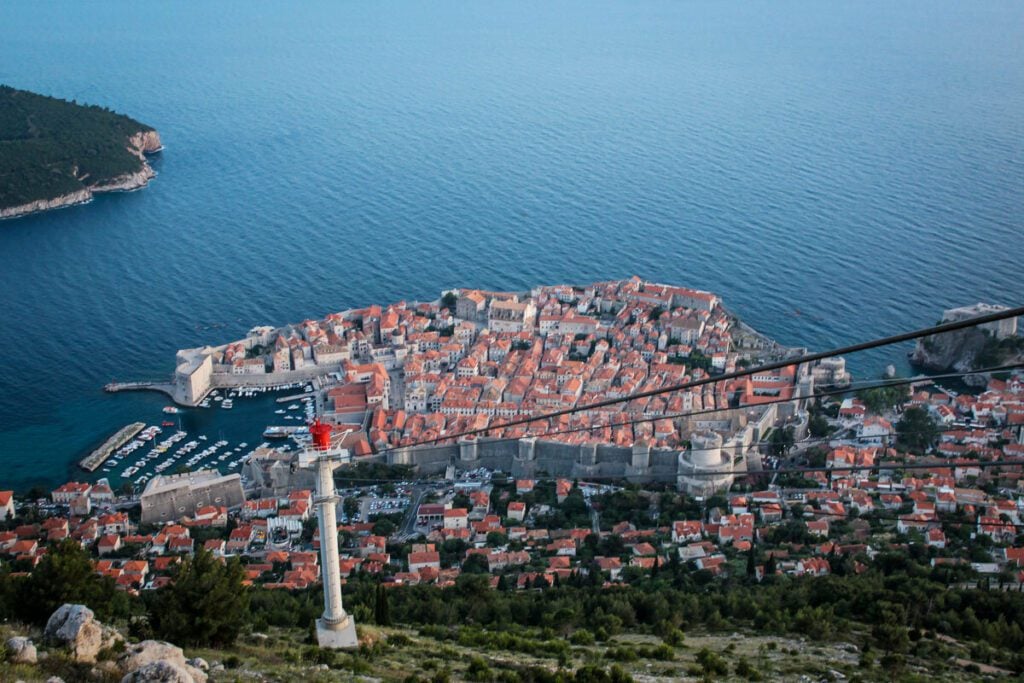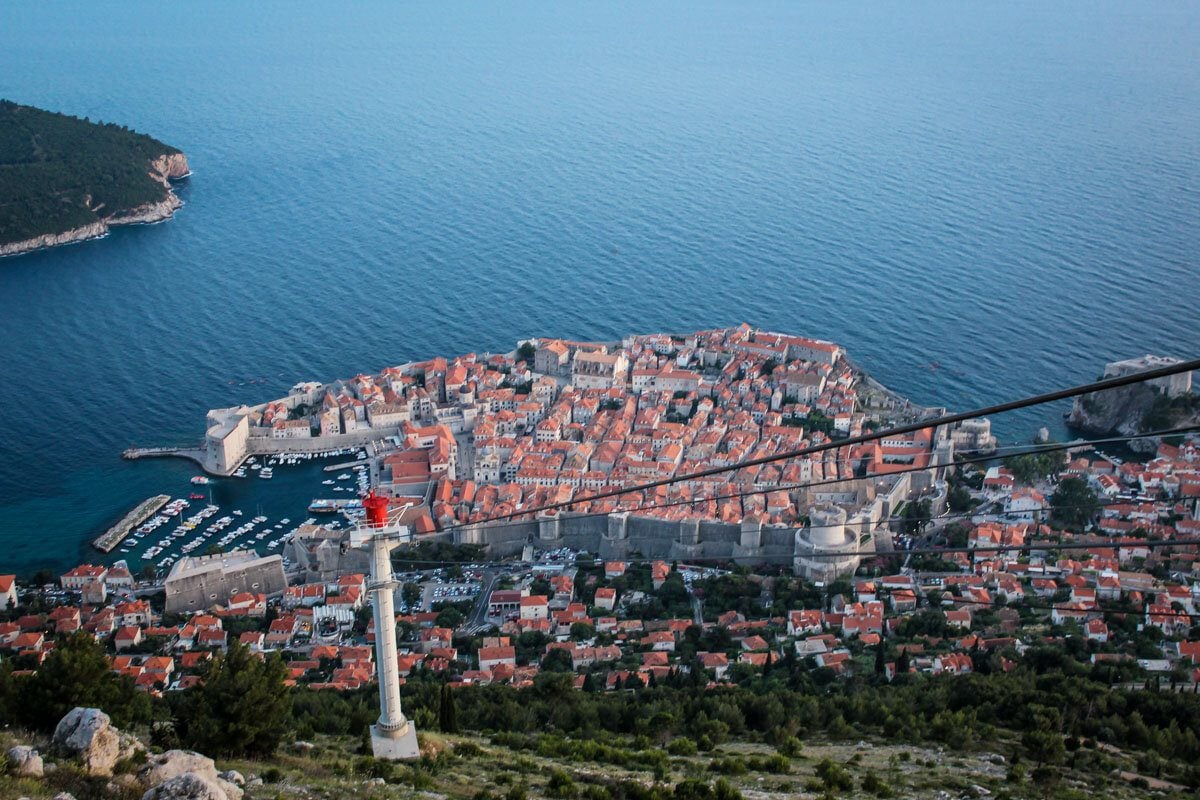 At the top of Mt. Srd, take in incredible views over Dubrovnik's walled Old Town and all the small islands dotting the Adriatic coast.
Although there are a few ways to get to the top, including hiking or driving, taking the all-glass enclosed cable cars is the most fun way to get up there as you have 360° views the whole way up the mountain.
Once at the top, you'll find different tiered platforms to get the best postcard-worthy view, as well as the famous Restaurant Panorama, where you can relish in the views and get a unique dining experience.
29. Climb Marjan Hill for sunset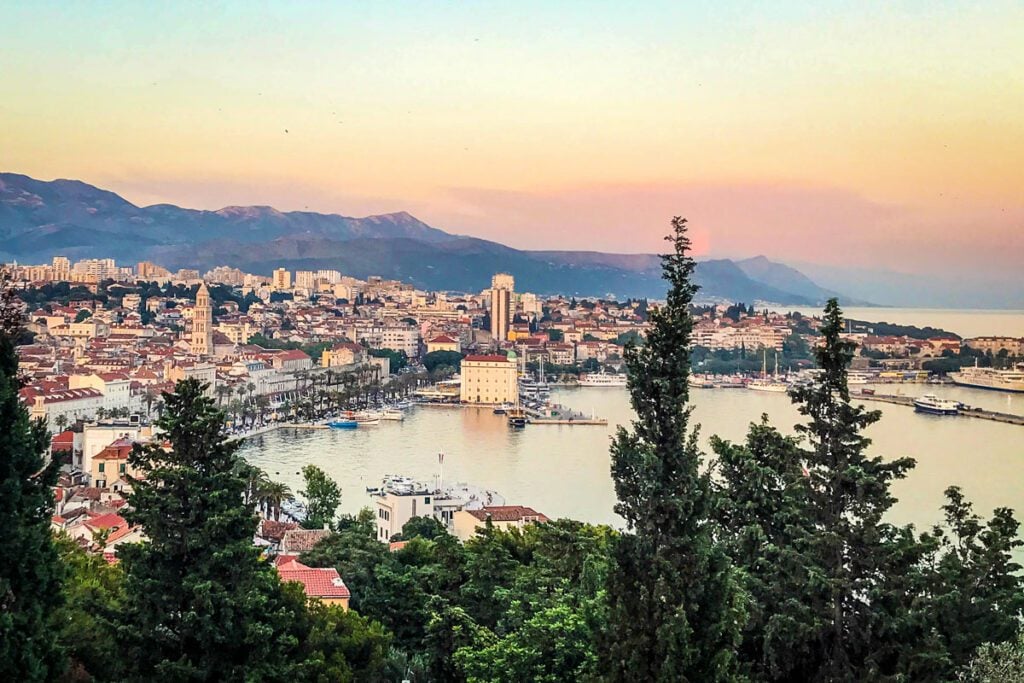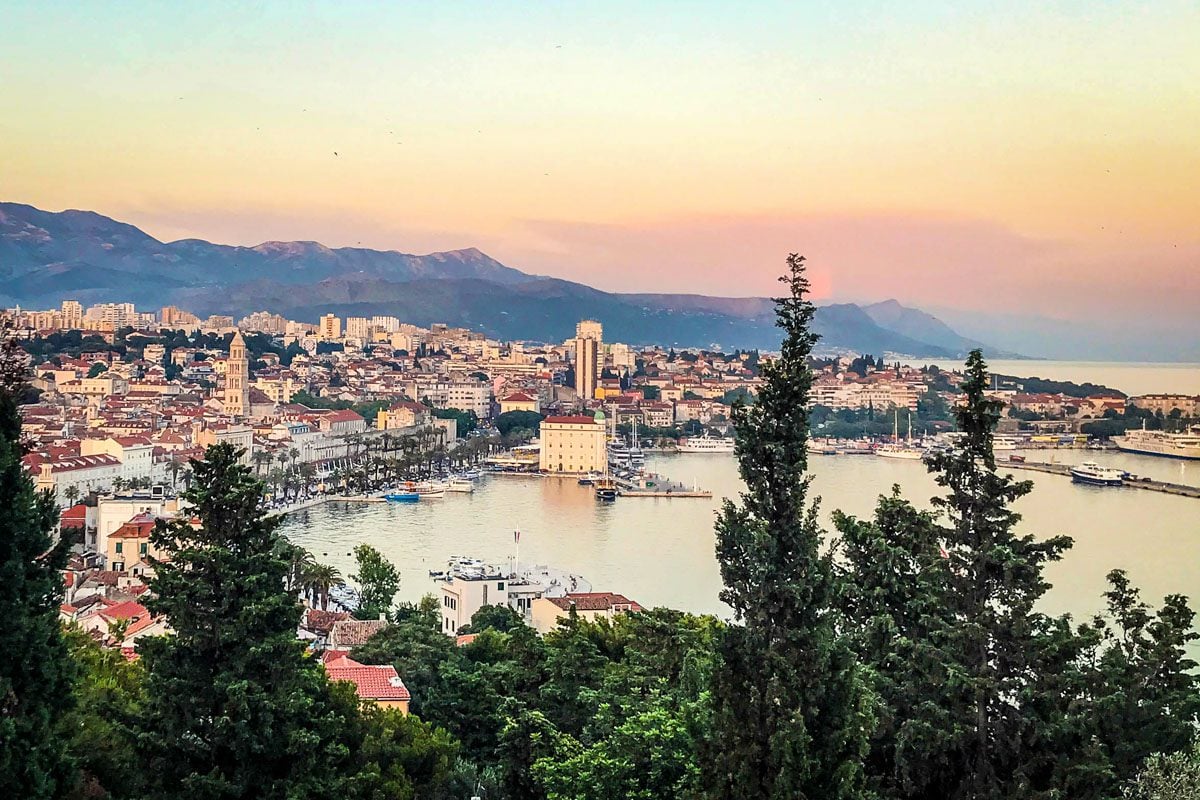 Overlooking Old Town, the absolute best view of Split is atop this hill in the Marjan Hill Nature Park.
It's the perfect sunrise or sunset location as it's only 20-30 minutes to the top, where you can hear ABBA tunes from passing Mamma Mia boat tours below and get a slice of peace away from the city crowds.
There are a few different ways to get to Marjan Hill, but the most convenient and popular is southwest of Old Town. Get walking directions
30. Visit the Museum of Broken Relationships
This quirky museum is dedicated to failed love relationships.
It started as a traveling collection of donated items, but as popularity rose, it gained a permanent home in Zagreb.
As you walk through the museum, you can ponder items collected from past lovers and brief descriptions that retell stories of heartbreak and melancholy.
31. Discover Šibenik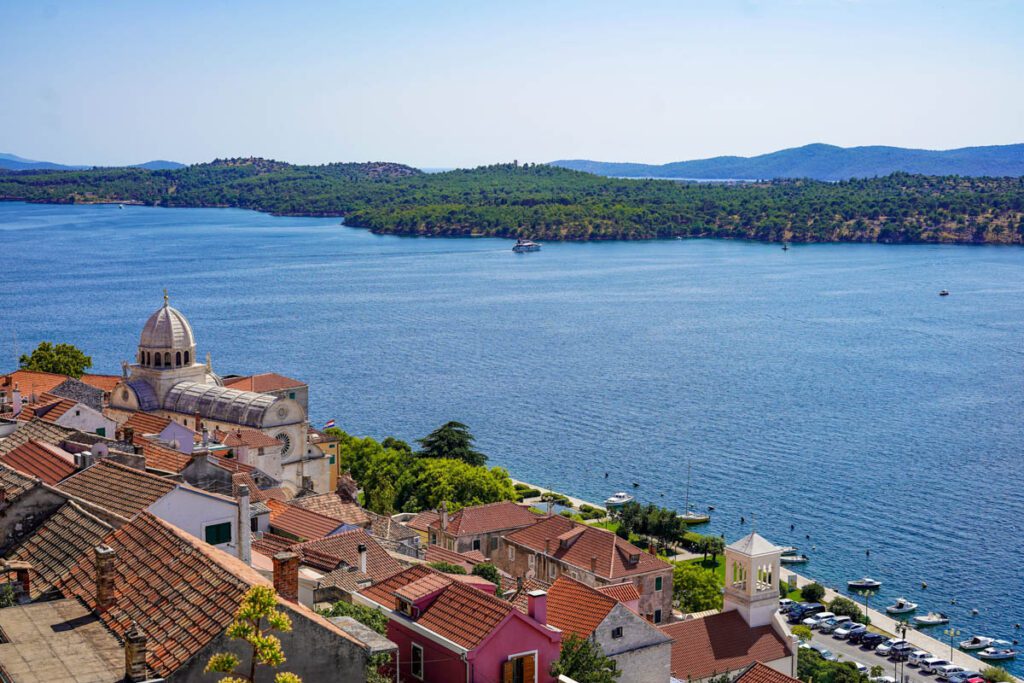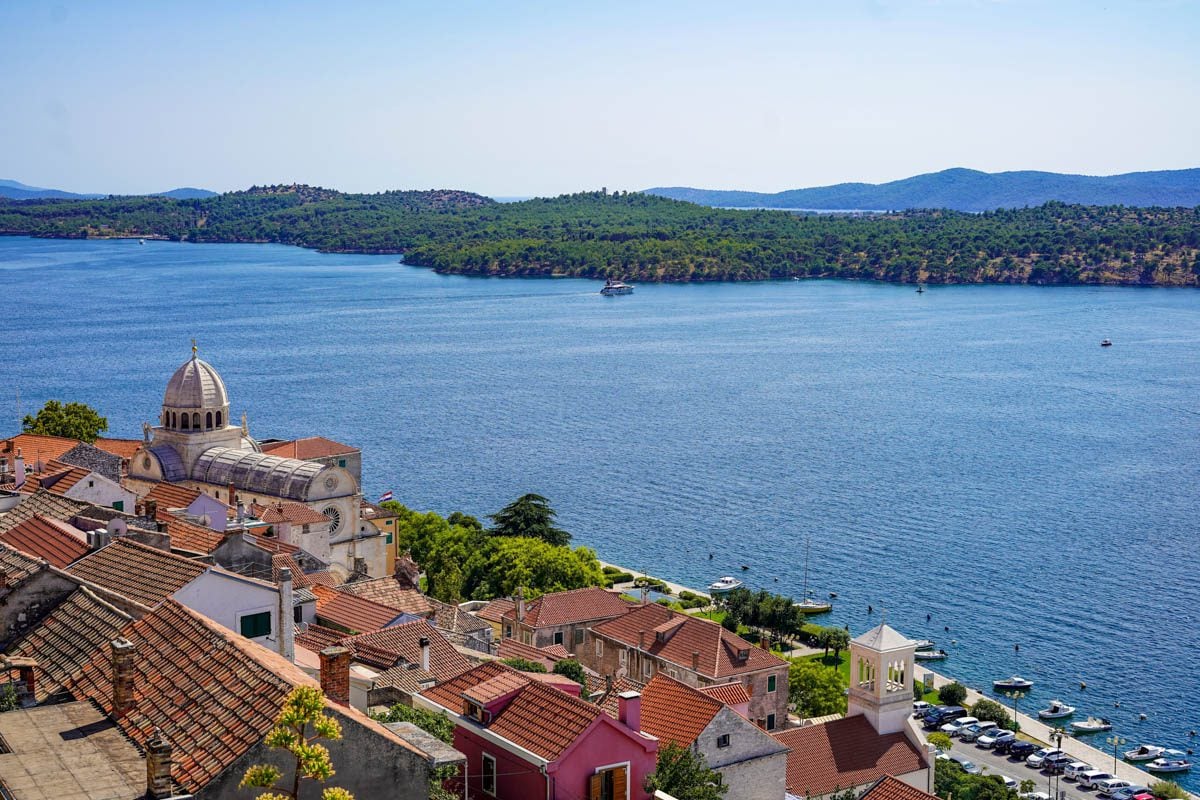 With a maze of medieval architecture, sand-filled day trips, and far less visited streets than Split and Dubrovnik, it's a wonder how Šibenik, one of the oldest towns on the Adriatic, is overlooked by most tourists.
As one of the only cities along the coast that established and maintained its very own Croatian flare after centuries of power trades, Šibenik holds a wealth of history worth delving into.
The heart of the city, a gleaming white stone cathedral, is a UNESCO-titled treasure, and the rest of the city, dotted with Game of Thrones filming locations, fortresses, and beaches that sit beautifully along narrow passageways and alleys.
With Krka National Park just inland and Zlarin and Prvić just a boat ride away, it's also an excellent base camp for exploring more gems of the Dalmatian Coast.
32. Meander the Trsteno Arboretum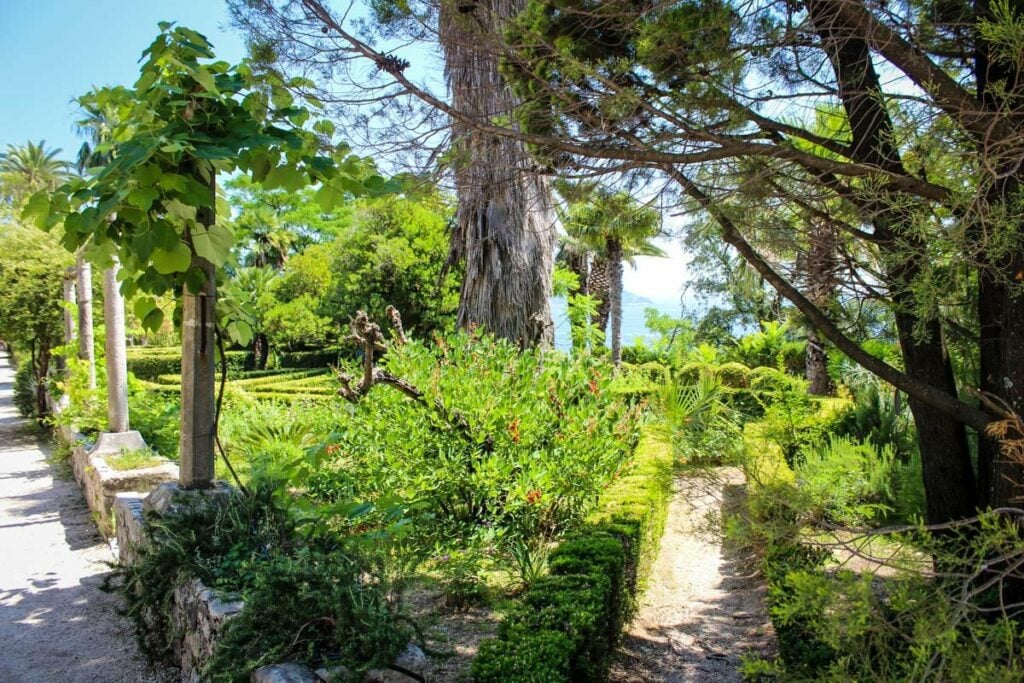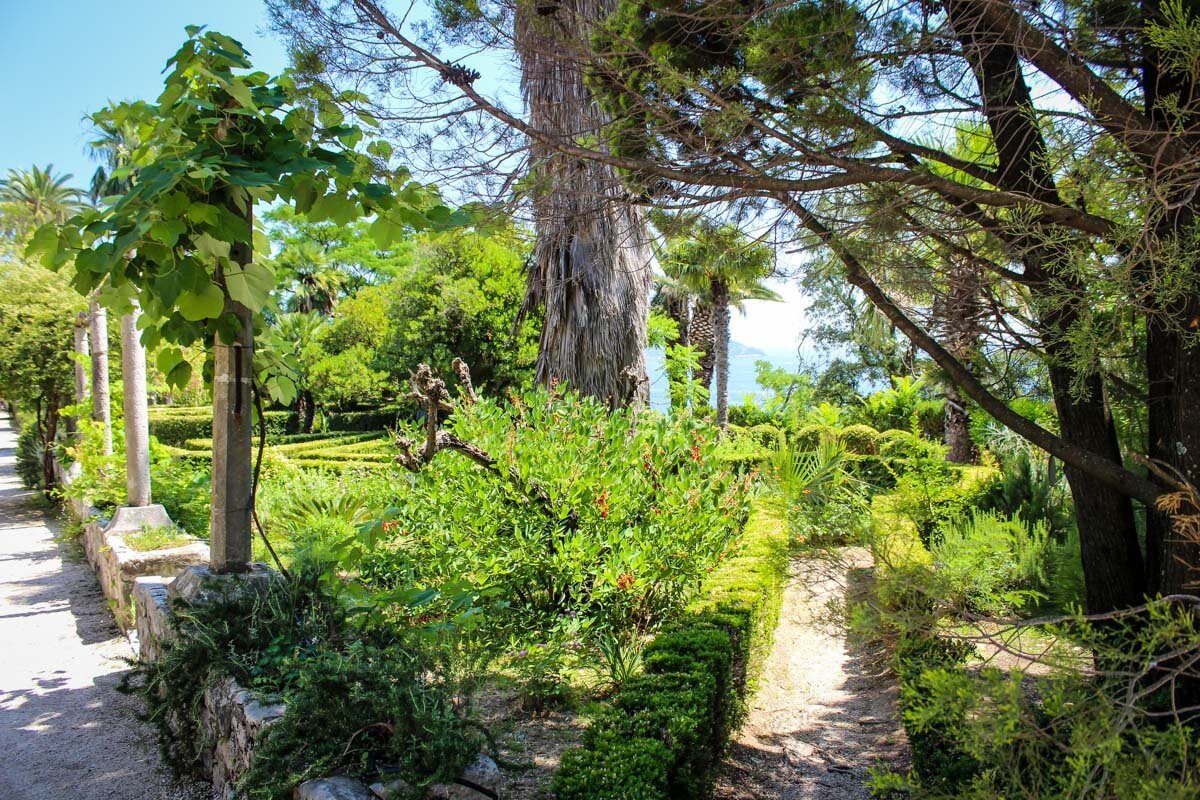 Just north of Dubrovnik in a small fishing town is the oldest and most exotic arboretum in Croatia.
Originally built as the centerpiece of a nobleman's summer villa in 1494, it only recently gained popularity after its cameo as the Red Keep palace gardens of King's Landing in the cult-favorite HBO series, Game of Thrones.
Don't miss the two, 500-year-old Oriental Plane Trees, picturesque pavilion overlooking the Adriatic Sea, and Neptune's Fountain.
33. Go glamping
Croatia is known for many things; historic medieval cities, turquoise beaches, and charming fishing villages, but glamping often doesn't make the top of the list of things to do in Croatia.
However, camping is one of the most popular accommodation options in Croatia, and the locals have taken the experience to the next level with glamping.
A fine median between the nature and serenity of traditional camping and the modern, creature comforts of a hotel, glamping is popular all along the Dalmatian coast.
Find bungalows, countryside gems, and coastal escapes away from the crowds, but close enough to the main hubs.
34. Learn about the history of Tito's Tunnels on Vis Island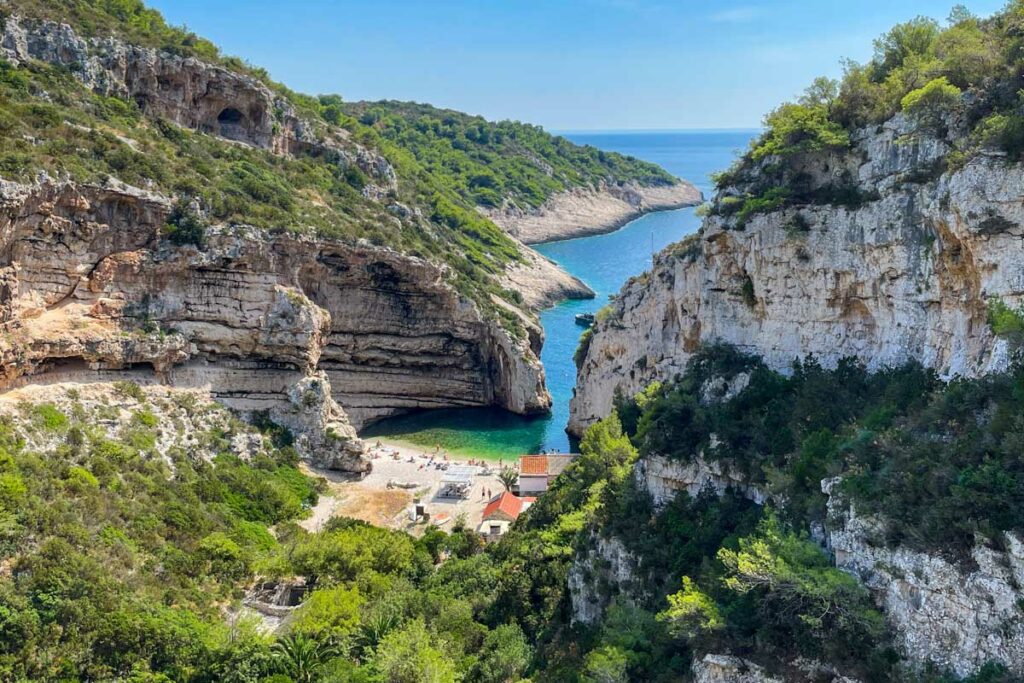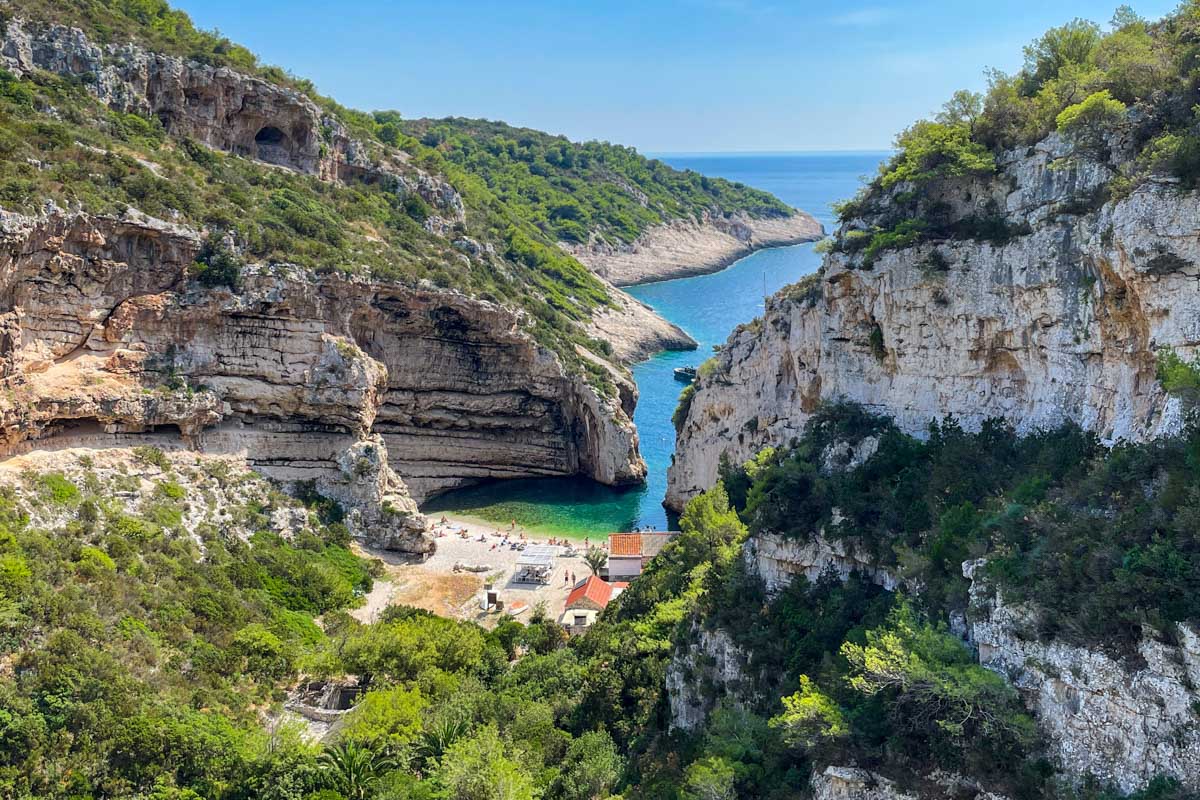 Vis was an integral military base of the Allied Forces during World War II, resulting in a network of underground tunnels, passages, and caves.
The most popular secret hideaway was a cave dedicated to Josip Broz Tito, the leader of the Communist Party of Yugoslavia and the Resistance to Nazi invasion.
You can explore the cave on your own, or ponder one of the most pivotal slices of Vis's history as part of a larger military tour.
What you need to know:
Hours: 3-4 hours
Price: $43
What guests are saying:
"Brilliant fun! Honestly the best thing I've done in a while. It was the perfect amount of information, sightseeing and humor, so there's something for everyone. I went on the tour with Toni and his little companion Benni who were both great! There really isn't a better way to discover all of Vis's beauty and history." – Reviewer (July 2022)
35. Take a road trip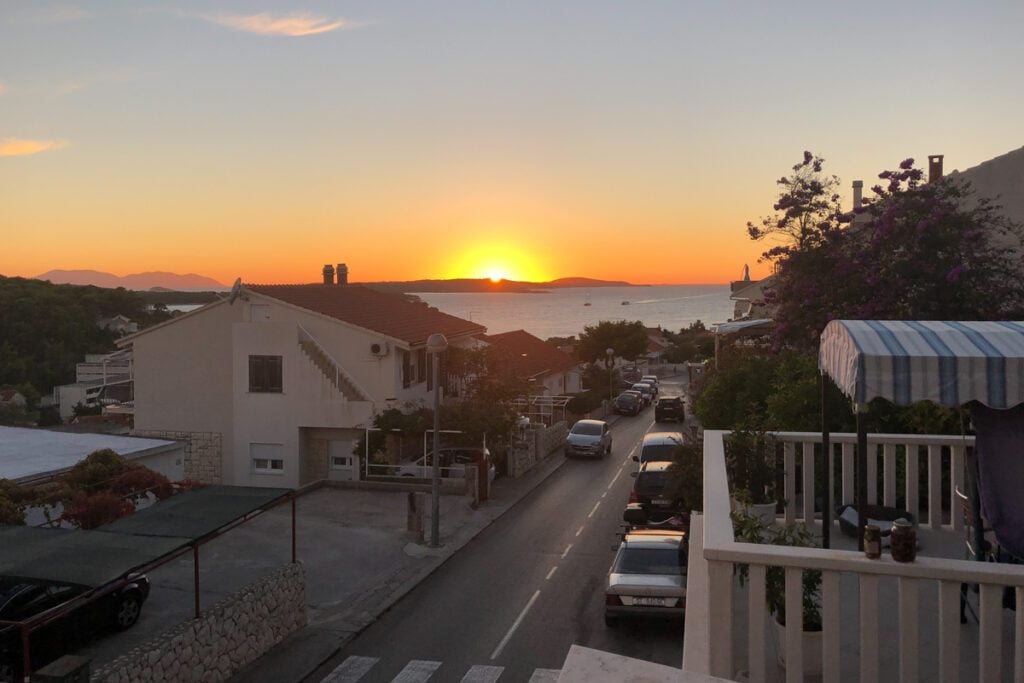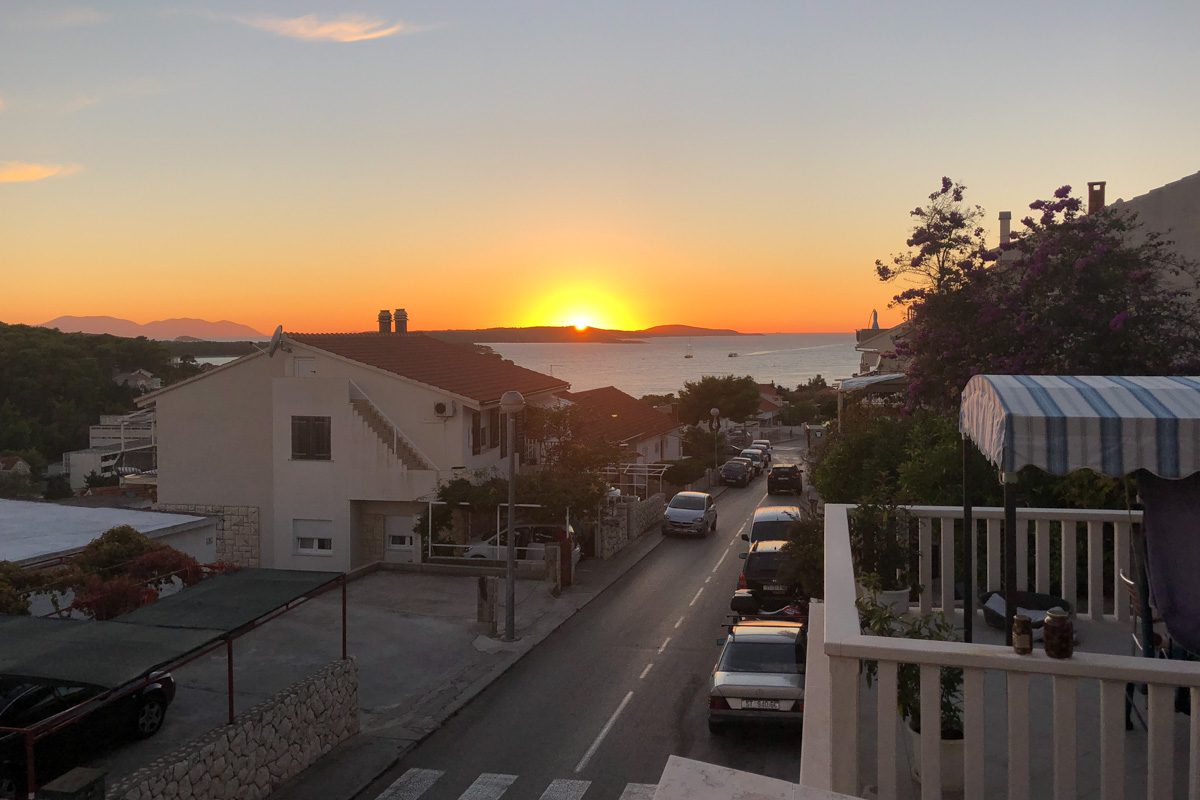 The best way to see all of these magical things to do in Croatia is on a full fledged road trip around the country with your own rental car.
It gives you the ultimate freedom, and you don't have to rely on local bus schedules to plan your itinerary.
Our favorite way to find cars around the world is with Discover Cars. They consistently get us really great deals and we love that we can compare across the top companies to get the best price.
It's no secret that we love campervanning, both at home and around the world. Croatia is an excellent country for it and there are some seriously good deals on campervan rentals in Croatia.
---
Bonus: Day trips from Croatia
Five different countries border Croatia, creating an excellent roster of day trips to consider. These are the most popular trips that are only a few hours drive from the biggest metropolises in Croatia.
36. Day trip to Mostar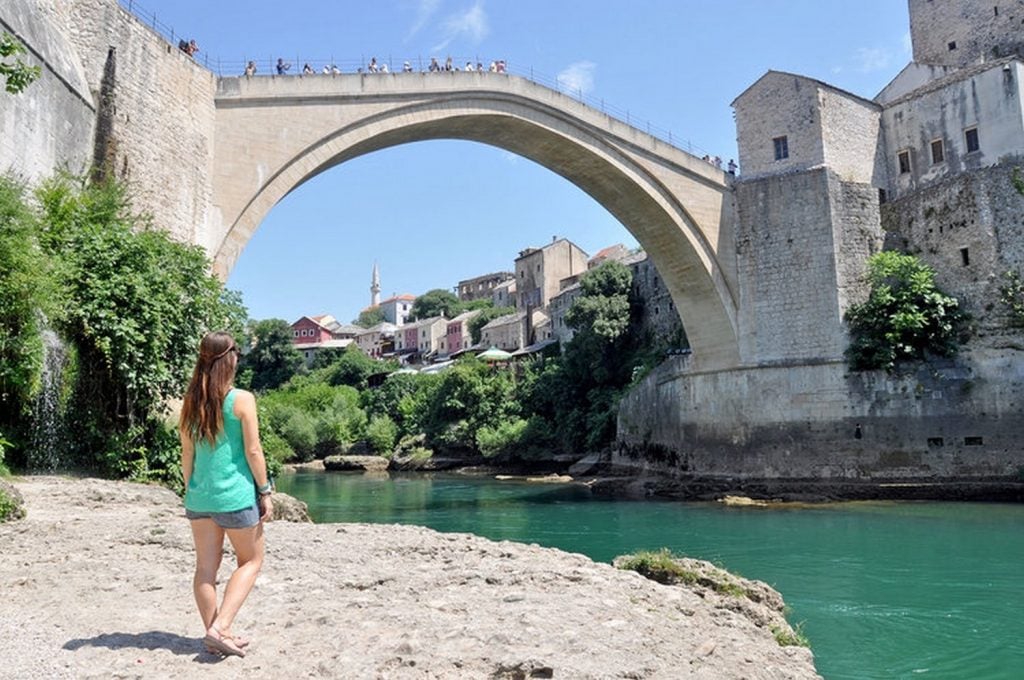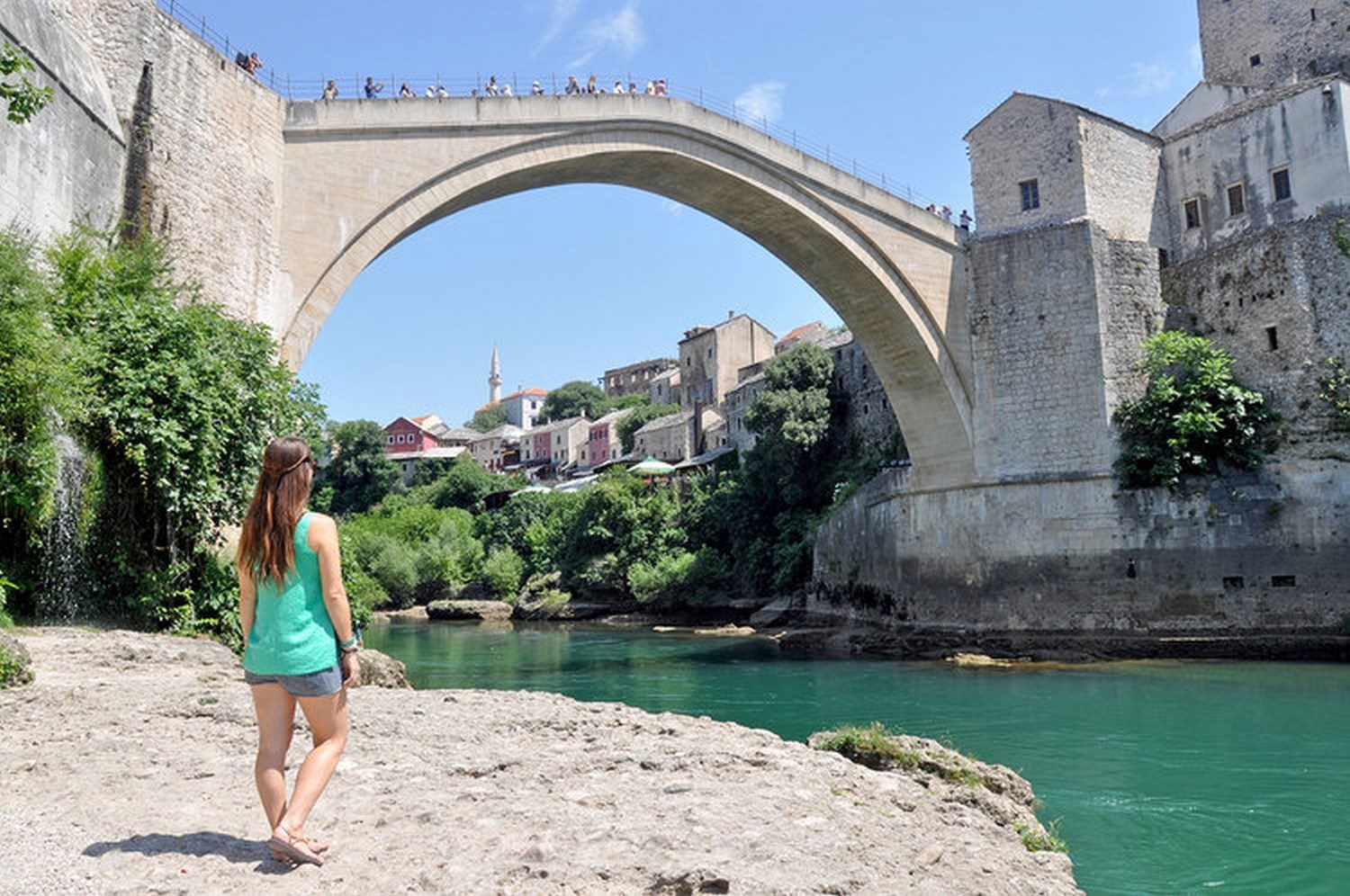 Bosnia and Herzegovina is just a stone's throw away from Dubrovnik and is one of the most popular day trips from the infamous walled city.
You can do a self-tour of Mostar, but if you really want to maximize your day we recommend booking a guided tour (see highlights).
Mostar is a gem filled with rich travel experiences that will have you booking a trip back to this tiny blip on the map as soon as you arrive.
Top highlights of Mostar
Bata's Crazy Tour: This full day tour is a gem that is considered a well-kept secret among travelers. Enjoy sightseeing, history lessons, adventure, and food tastings on this tour with none other than Bata.
Kravice Waterfalls: Often compared to the waterfalls in Krka National Park, this series of falls cascade into stunning pools you can swim in.
The Old Bridge: This bridge is the focal point of Mostar and one of the most famous bridges in Europe.
Sniper's Tower: An abandoned bank building that was used as a sniper tower during the war. Tiptoe around and you'll find local, thought-provoking art.
Psst! Use our guide to the best things to do in Bosnia and Herzegovina for other exciting destinations in this overlooked gem.
37. Day trip to Kotor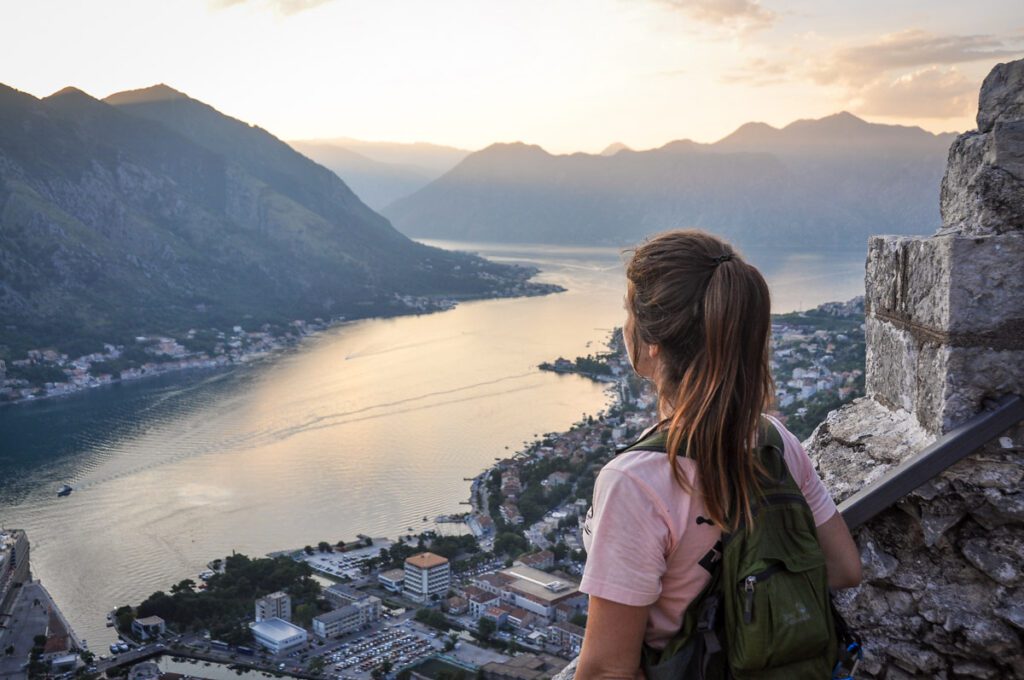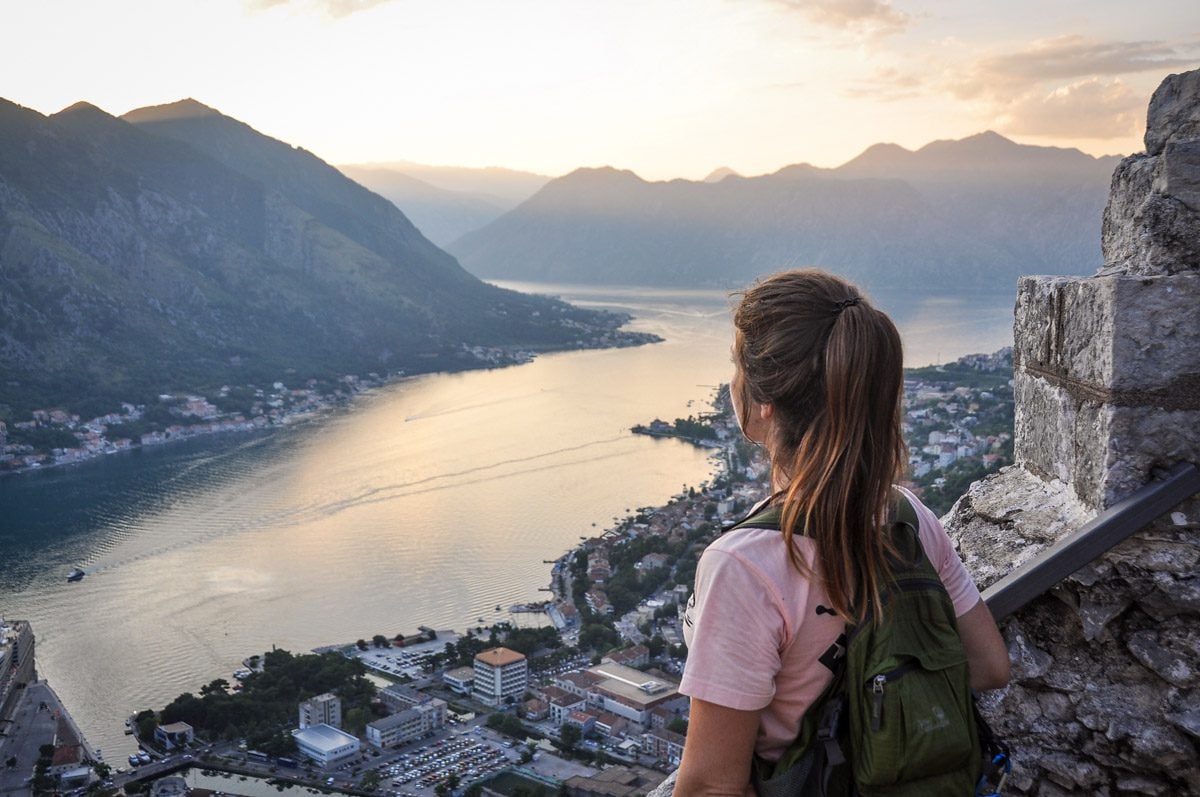 From Dubrovnik, this coastal town is just a few hours away nestled in a country roughly the size of Connecticut.
If you don't mind taking your time, there are a handful of buses with routes that go directly into town. Flixbus has multiple routes daily to Kotor.
Otherwise taking your own rental car is incredibly scenic and will shave off an hour or so. Be sure to add a little bit more time to your drive for the border crossing.
Top highlights of Kotor
Bay of Kotor: This fjord-like bay is the highlight of the city brimmed with medieval towns and charm. You can get the best views of the bay by riding to the top of Lovcen Mountain.
Explore Old Town: Walk to explore this preserved UNESCO World Heritage Site filled with medieval walls, cobblestone streets, churches, and the three spectacular town gates.
Climb the Kotor Fortress: As a must when in Kotor, take the lesser known path up a series of switchbacks that takes you to the fortress through a small hole in the wall.
Perast: Both a UNESCO World Heritage Site and stunningly preserved Baroque town, Perast is a must-see while in Kotor. Along its beaches you'll find stunning views of Ostrovo Island holding a famous church built upon it.
Psst! Discover more amazing spots around this bite-sized country in our guide to the best things to do in Montenegro.
38. Day trip to Slovenia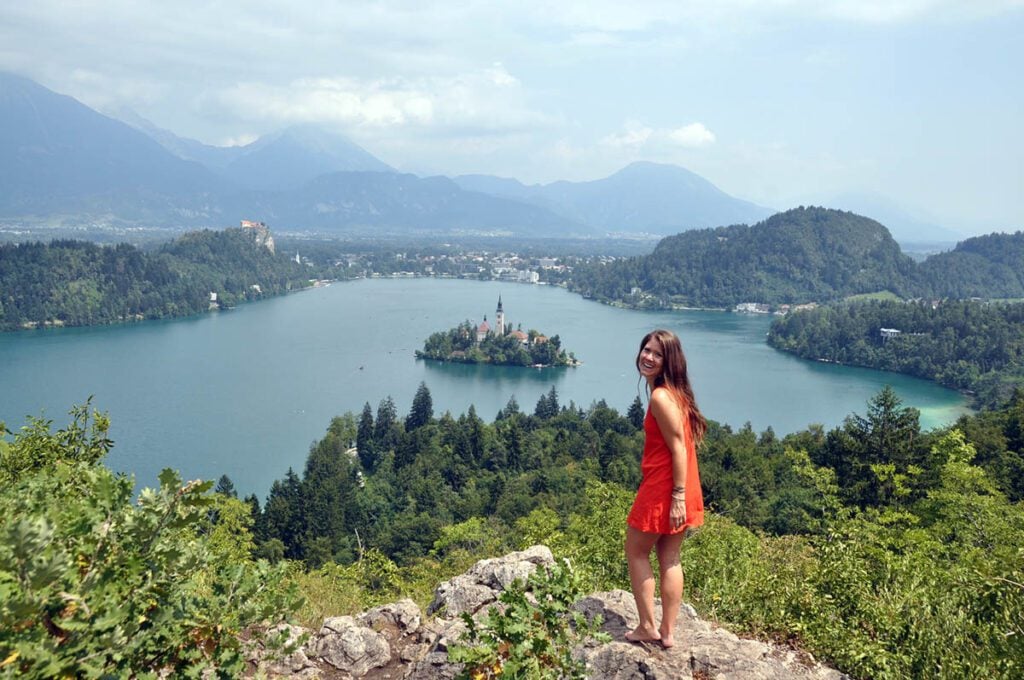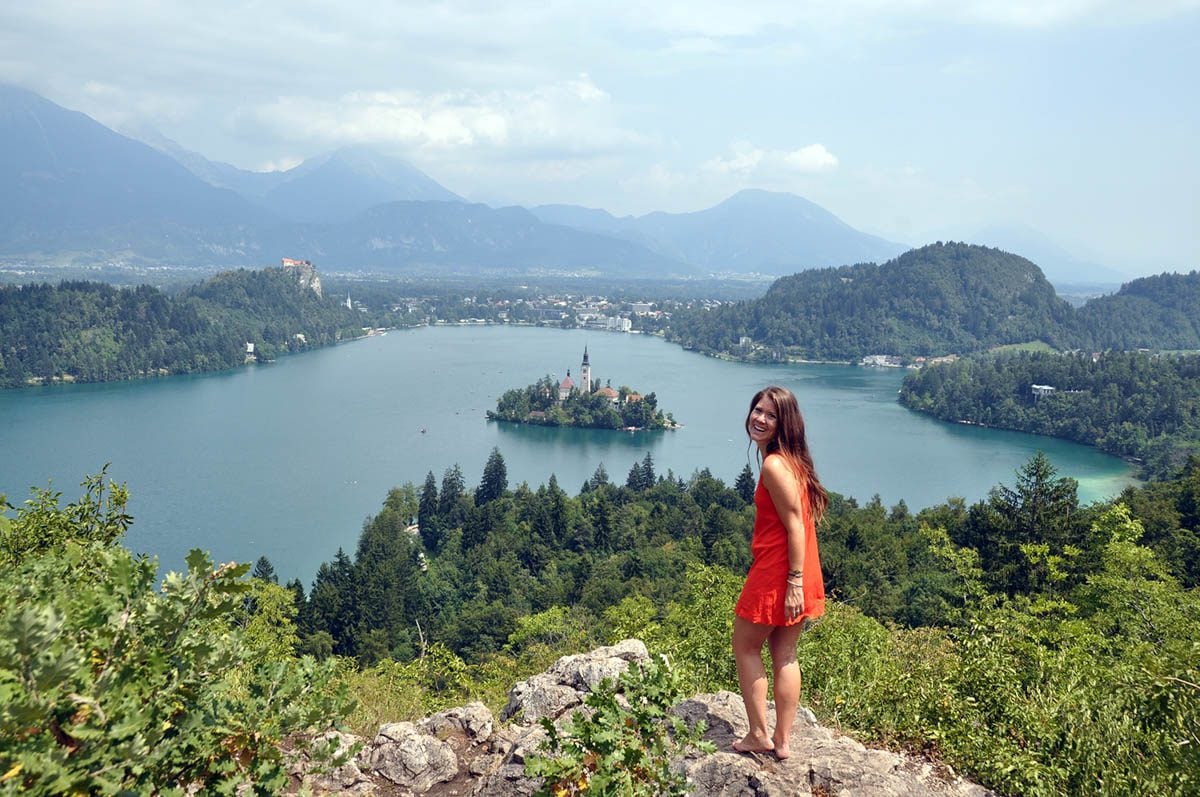 The northern border of Croatia hugs the vastly overlooked country of Slovenia.
It's hands down one of the most underrated destinations in Europe since it's overshadowed by its much more popular neighbors, but you'll discover there's so much to love about this country.
It's the perfect way to get away from the bustle of coastal Croatian cities and immerse yourself in serene alpine nature. Plus, many of the best sights in the country can be reached in only a few hours from Croatia with your own rental car.
Top highlights of Slovenia
See the charming Ljubljana: Wander one of the cutest capital cities in Europe in search of its famous dragons, Ljubljana Castle, gorgeous architecture, and traditional Slovenian food.
Take in the views at Lake Bled: This tranquil lake surrounded by lush forests and mountains is one of the most iconic places in Slovenia.
Go hiking in Triglav National Park: Nestled against the Italian border, this is Slovenia's only national park with towering peaks, carved glacier valleys, and high alpine lakes.
Explore Boveç: This northern mountain sanctuary is filled to the brim with adventure and an excellent place to try some water sports. You'll find turquoise gorges, waterfalls, and stunning vistas no matter which way you choose to wander.
Psst! We've got a whole blog post of the top things to do in Slovenia you don't want to miss!
39. Day trip to Venice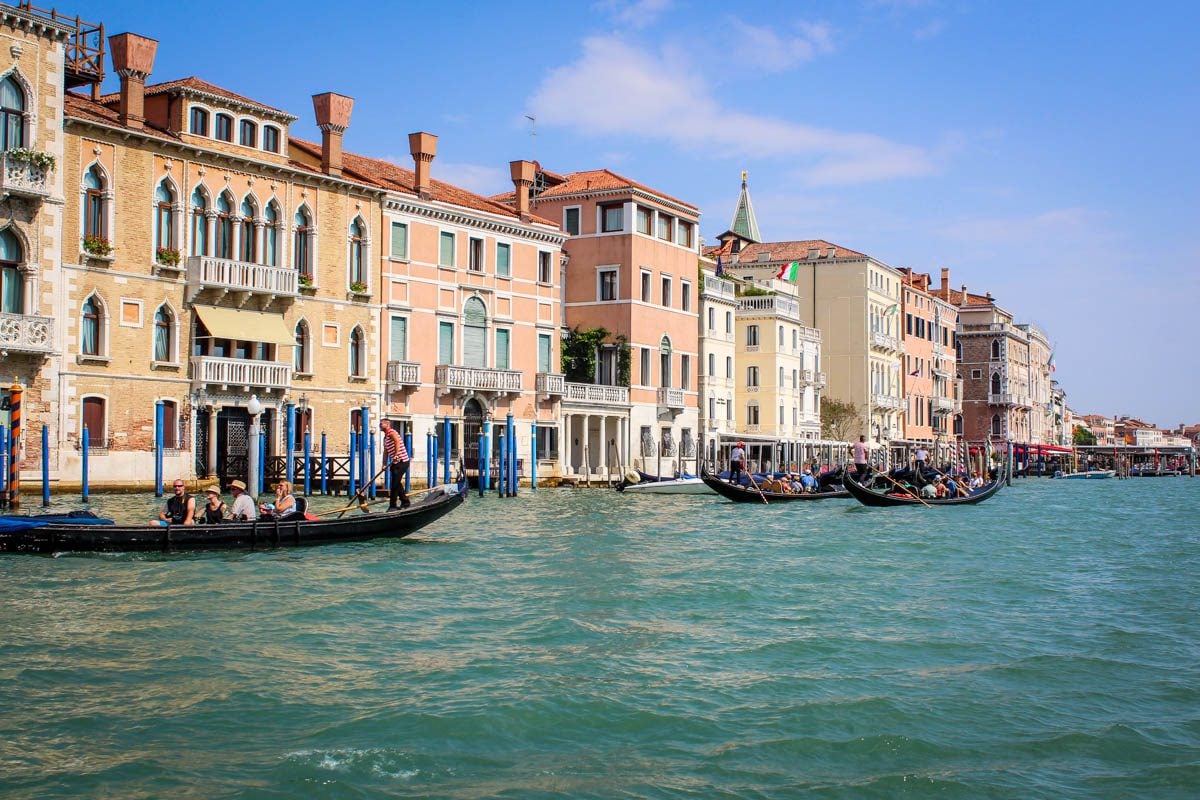 Did you know you can get to Italy from Croatia in just 3 hours!?
There are 2 ferries that run between Pula and Venice, Italy 8 times every week. The price varies by season but the trip takes just 3 hours and is well-worth it if your travel schedule allows. You can check the ferry schedules and buy your tickets online at Direct Ferries.
You might just find a lot more similarities than you'd guess between Venice and the Istria region of Croatia.
Top highlights of Venice
Getting lost in the network of canals and bridges: 149 neighborhood canals and over 400 bridges offer the most beautiful views around Venice. The Bridge of Sighs and Rialto Bridge are two staples overlooking the Grand Canal.
Explore St. Mark's Square: This is the social heart of the city, where you can access most of the main highlights directly from this bustling square. Marvel at St. Mark's Basilica, climb to the top of Campanile di San Marco, visit the Clock Tower, or relax at a cafe with the city's trademarked drink, the Aperol Spritz.
Visit the Doge's Palace: One of the most famous landmarks and museums in Venice with an opulent interior and admirable views of the city.
Go on a gondola ride: Quintessential Venice, this experience is easily a trademark of the floating city. Board a long and narrow gondola boat and take in the views as your gondolier navigates through the city's canals and colors.
Get off the beaten path in Canareggio: Charm aside, Venice is also known for its crowds, the Canareggio neighborhood will help you leave the bustle behind among quiet local treasures.
---
Best Things to Do in Croatia
Here's a recap of all the best things to do in Croatia so you can see everything in one place.
Plitvice Lakes National Park
Dubrovnik's Old Town walls
Truffle hunting
Krka National Park
Sailing – Sail Week and Yacht Week
Diocletian's Palace
Hit the beach
Bell tower in Split
Blue Cave on Bisevo Island
Zagreb
DIY Game of Thrones tour
Rafting on Cetina River
Hike to the Spanish Fortress in Hvar
Discover the charming island of Korčula
Zlatni Rat (Golden) Beach on Brac
Wine tasting
Learn about olive oil production
Take an adventurous food tour
Visit a lavender farm
Roman ruins in Pula
Get lost in the alleys of Rovinj
Discover the Sea Organ in Zadar
Kayaking the Dalmatian coast
Rent a boat to explore the Pakelni Islands
Cliff jumping
Mljet National Park
Hike to the legendary Odysseus Cave
Take the cable car up Mt. Srd
Climb Marjan Hill for sunset
Visit the Museum of Broken Relationships
Šibenik
Trsteno Arboretum
Glamping
Tito's Tunnels in Vis
Road trip
Day trip to Mostar
Day trip to Koto
Day trip to Slovenia
Day trip to Venice
---
Are you planning a trip to Croatia?
We have lots of resources on travel in Croatia and destinations throughout the country. Check out our Croatia Travel Homepage for everything you need to know, or start by reading some of our favorite Croatia articles here:
Save this article on Pinterest for later!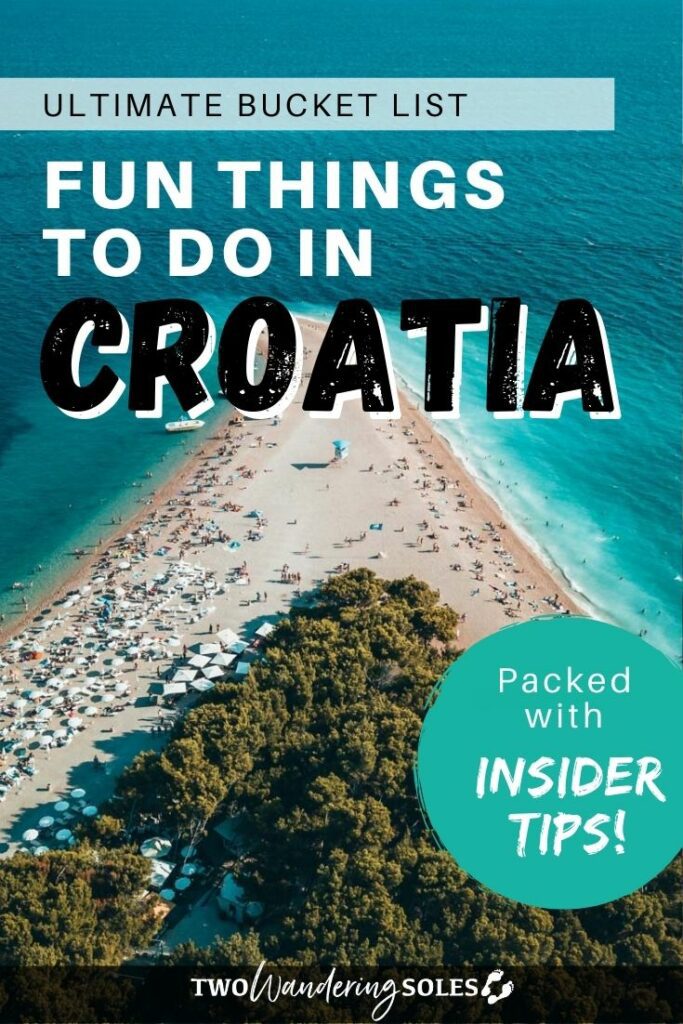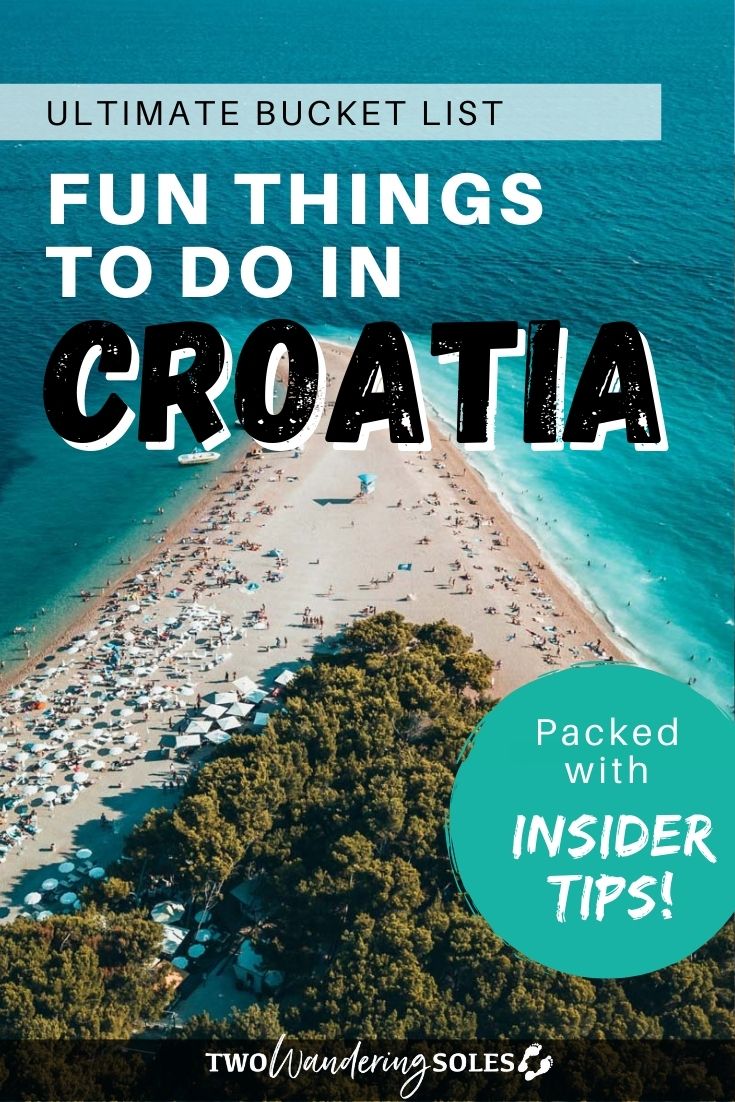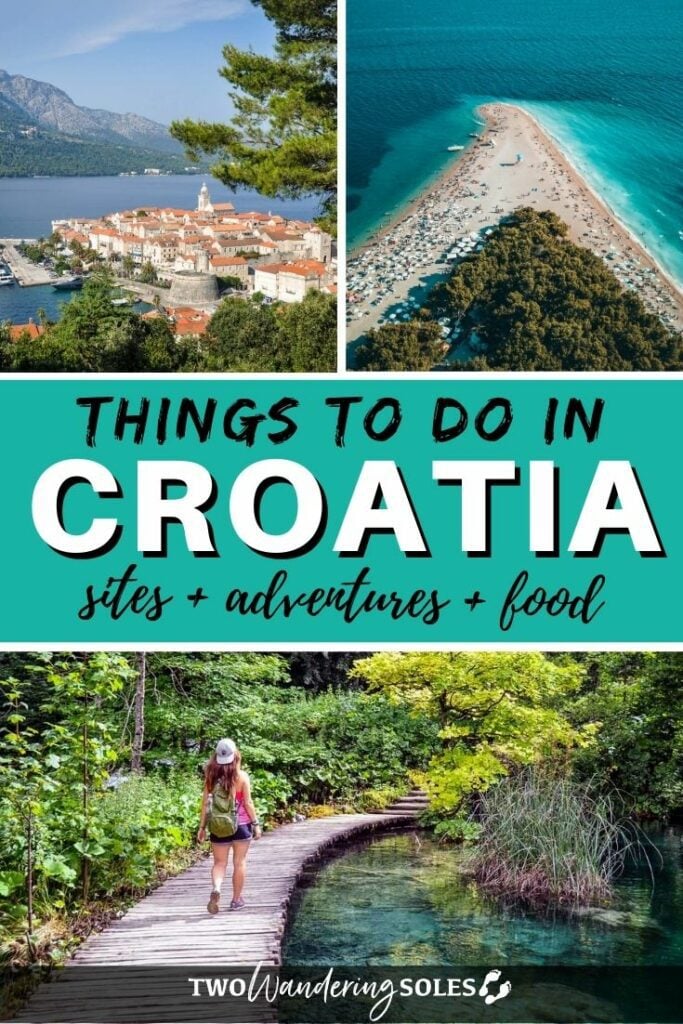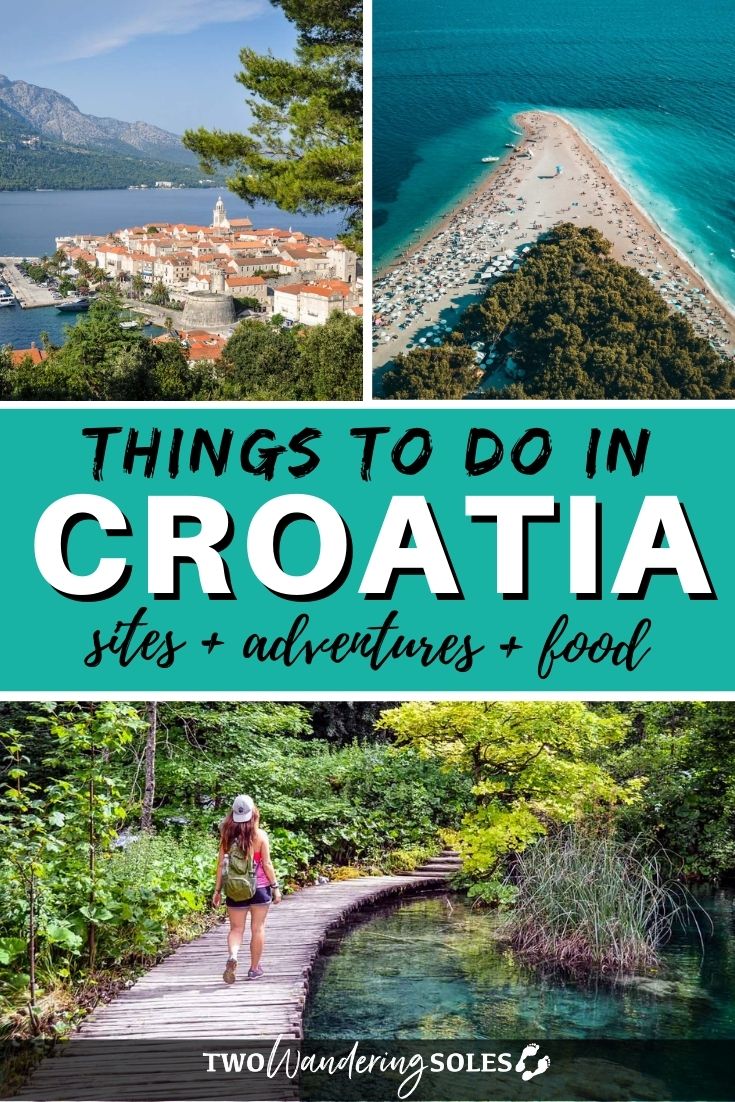 We want to hear from you!
Which of these things to do in Croatia is on the top of your list? Are you planning a trip to Croatia and still have questions? Leave your comment below and we'll do our best to get back to you!