Dubrovnik is a city on Croatia's southern coast probably most well-known for its unique walled Old Town, which juts out into the electric blue waters of the Adriatic, offering the perfect juxtaposition with its stone buildings and red rooftops.
While it has been a popular tourist destination for Europeans for decades, Dubrovnik became a world travel hotspot after it was seen as the backdrop for King's Landing in the popular HBO series Game of Thrones.
With so many unique things to do in Dubrovnik, it's no wonder the city has remained a world-renowned travel destination for sun worshipers, history buffs and adventure-seekers alike.
Tip: Be sure to bookmark or pin this article for later so you have access to it during your travels.
---
Dubrovnik Article Contents
Jump to the section you are looking for, or just scroll down the page.

Disclaimer: There may be some affiliate links on this page, which means when you click we get a small percentage of the purchase at no extra cost to you. This allows us to keep sharing great travel tips, so feel free to click away!
---
Things to Do in Dubrovnik
Dubrovnik is a smaller city on Croatia's coast with plenty of charm (if you can look past the hordes of tourists that flock there each summer). Here are our top recommendations for things to do in this lively costal hotspot.
1. Walk the City Walls of Dubrovnik Old Town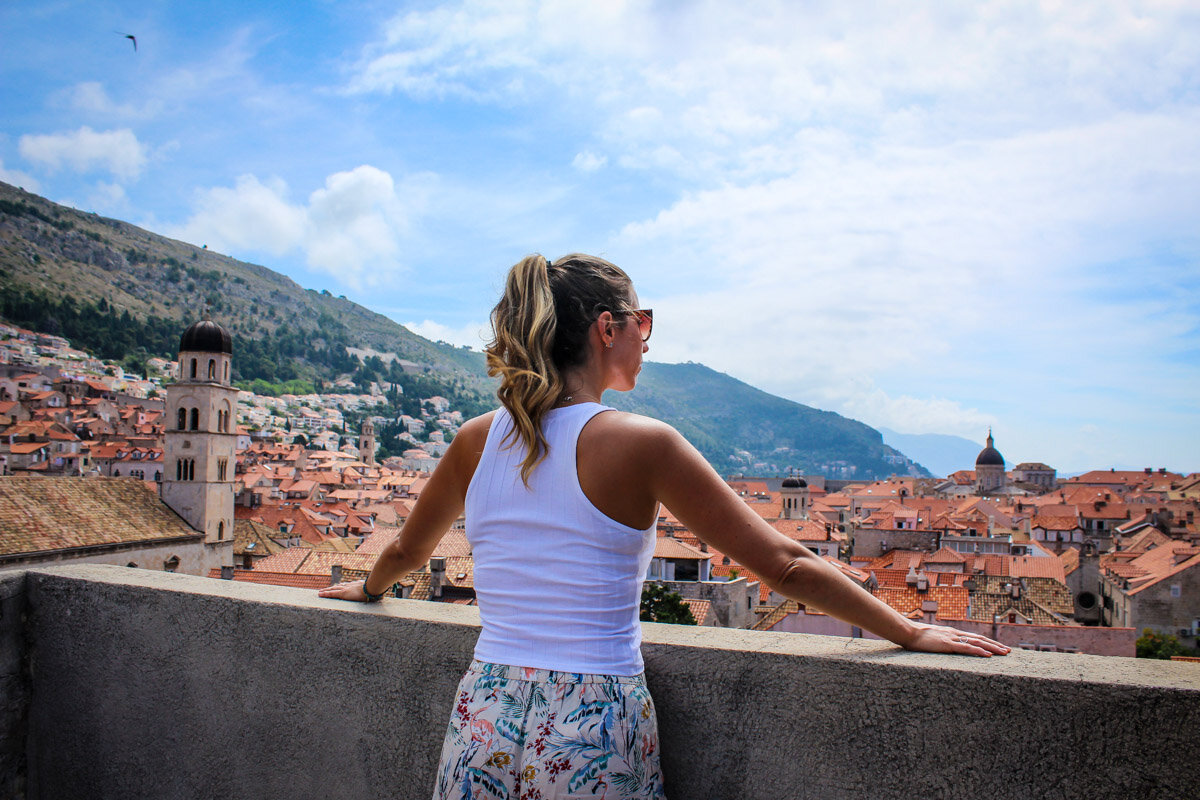 You cannot visit one of Europe's famous walled cities without climbing the stairs to the top and walking the loop around the wall. Besides finding all the best photo ops, you'll get a bird's eye view of the Old Town city center below which can help you get your bearings when you first arrive.
The Old Town city walls are mostly unshaded, although there are a few restaurants and rest stops along the way, so we recommend you go early or later in the evening to escape the midday heat and wear lots of sunscreen! You will also beat some of the crowds if you show up as soon as they open at 8 am.
How to do it yourself: You can walk the city walls of Dubrovnik on your own, simply by paying an entrance fee of 200 kn (about $30 USD) or you can book a guided tour to get more information on the history of the area.
2. Take the cable car up Mt. Srd for sunset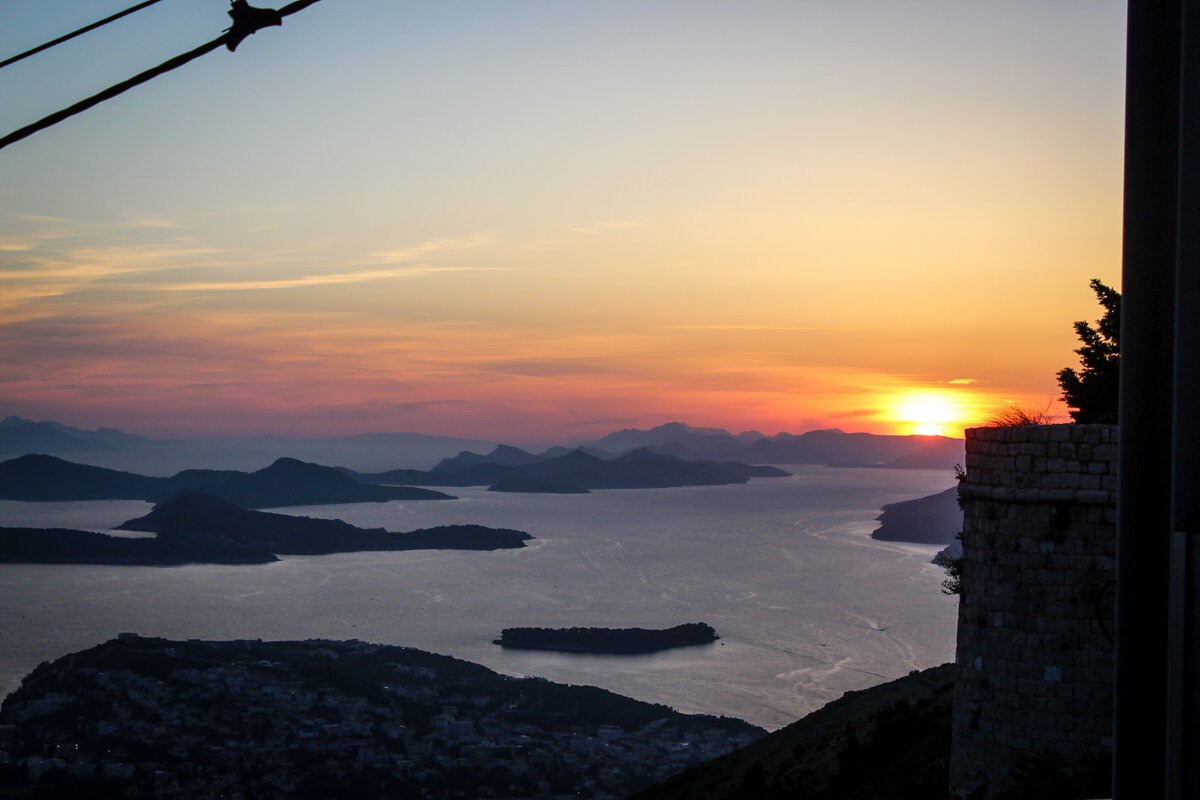 For the most epic views of Dubrovnik's beautiful walled Old Town and the surrounding islands, dotting a sea of electric blue, you have to head to the top of Mr. Srd. You can drive or hike to the top, but the most fun way to ascend is via cable car. You'll have 360° views all the up in the all-glass enclosed cars.
At the top, you'll be greeted by multiple levels of viewing platforms in front of the famous Restaurant Panorama. If you want to savor the views for longer while indulging in a unique dining experience, be sure to make a reservation well in advance and ask for a table on the edge of the terrace with the best views for sunset.
How to do it yourself: The most convenient way to buy tickets for the cable car is directly at the Dubrovnik Cable Car station, which can be found on Google Maps. Tickets will set you back 170 kn (about $25 USD) and you'll want to get there with time to spare before the sunset as there can sometimes be long lines.
3. Seek out a hidden cliff bar
Dubrovnik has 2 famous cliff bars hidden under the ancient city walls, Buža Bar and Bard Mala Buža (otherwise known as Buža II). Buža, meaning "hole" takes the literal meaning from the hole-in-the-wall that you need to pass through to enter these "secret" bars.
The entrance can be found on Google Maps, and the bars are not so secret anymore as they tend to get packed (standing room only) during sunset. However, if you get there early enough, or are lucky enough to score a table which are strewn across the cliffside, this is a great spot to have a cheap drink and enjoy the colors of the changing sky during sunset.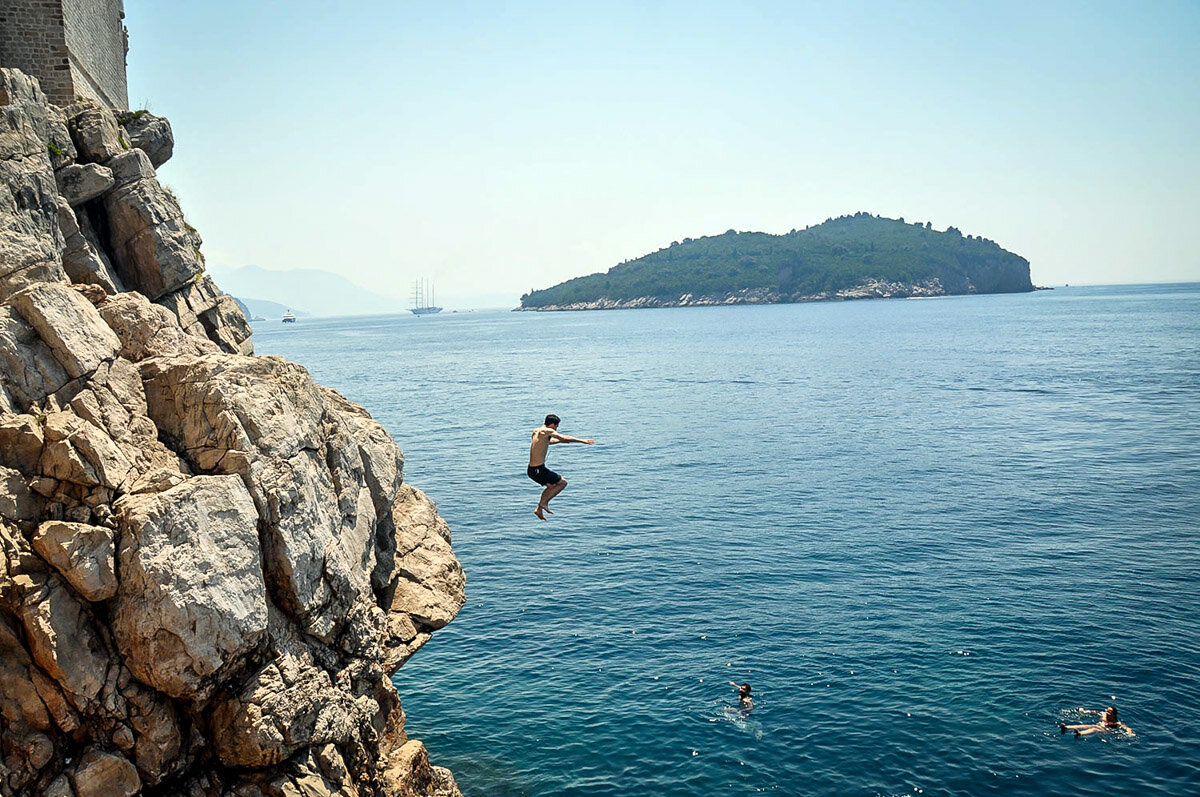 If you're brave, you can even jump from the cliff into the crystal blue waters below…there are ladders for reentry and a few platforms for swimmers and cliff-divers.
A few important things to note: I can't speak for Bard Mala Buža because it wasn't open when I visited Dubrovnik in 2018. However, at the original Buža Bar, you cannot actually see the sunset as it is eastern facing, although the views were still spectacular.
The bathroom situation, however, was non-existent, so if you're putting back a few and nature calls, you'll have to make your way into the city and hope a nearby establishment will be nice enough to let you use their facilities.
4. Kayak your way to a private beach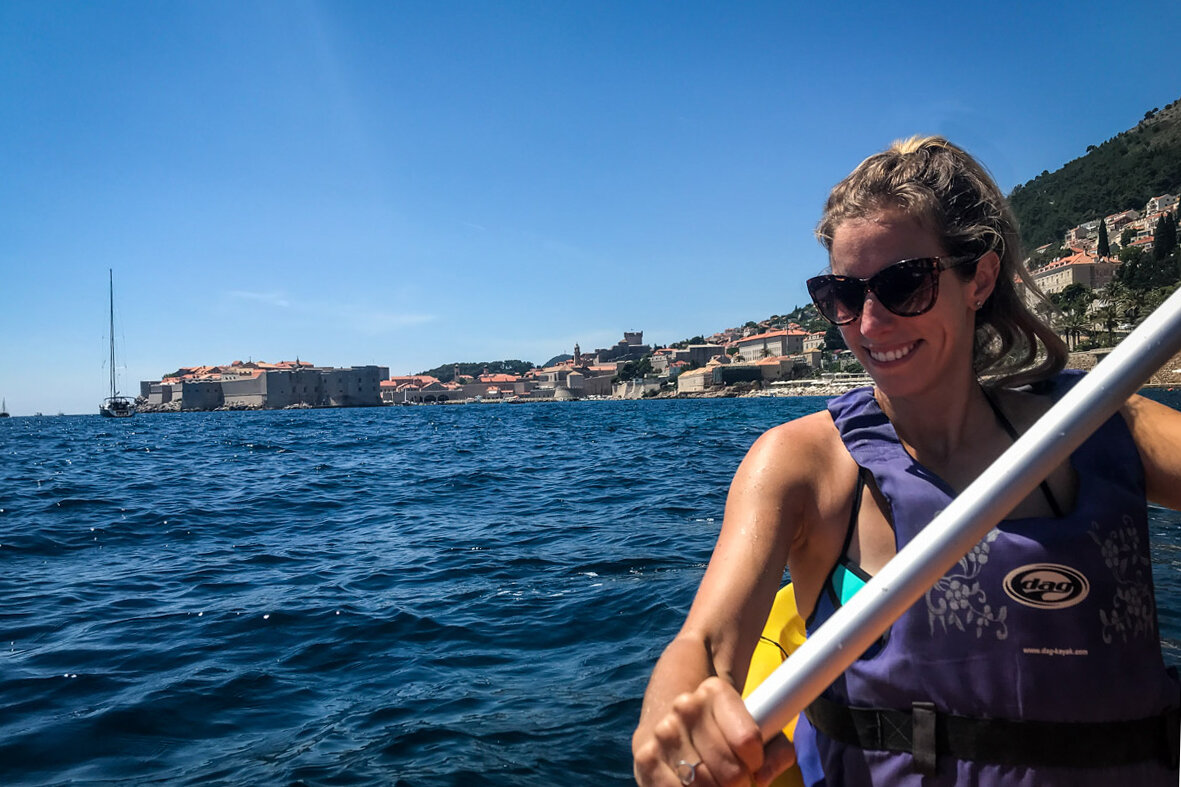 Kayaking your way around Dubrovnik's ancient city walls is a fun way to get out of the city center and get your body moving. While it may seem harmless from above, this is in fact sea kayaking, and the seas, with plenty of boating traffic, can be a bit challenging to paddle, so you'll definitely have your blood pumping.
As a bonus, you'll be able to reach some pretty epic swimming spots and a private cave-beach that is only accessible by kayak.
How to do it yourself: There are plenty of kayaking tours that will take you around nearby islands and show you where the good swimming spots are. If you choose to go without a tour, you can make your way down to the Dubrovnik West Harbour where you'll find plenty of kayaks for rent.
Follow the instructions of your rental company to kayak your way around the city walls and through the active port. Then follow the coast line past the Banje Beach and down a ways until you come across a small stretch of beach with what appears like a cave opening behind it.
There are rocks to climb and jump off and you can explore the small cave or just relax on your own private beach for a bit (that is until a kayak tour comes along to spoil your solitude).
5. Day trip to Trsteno Arboretum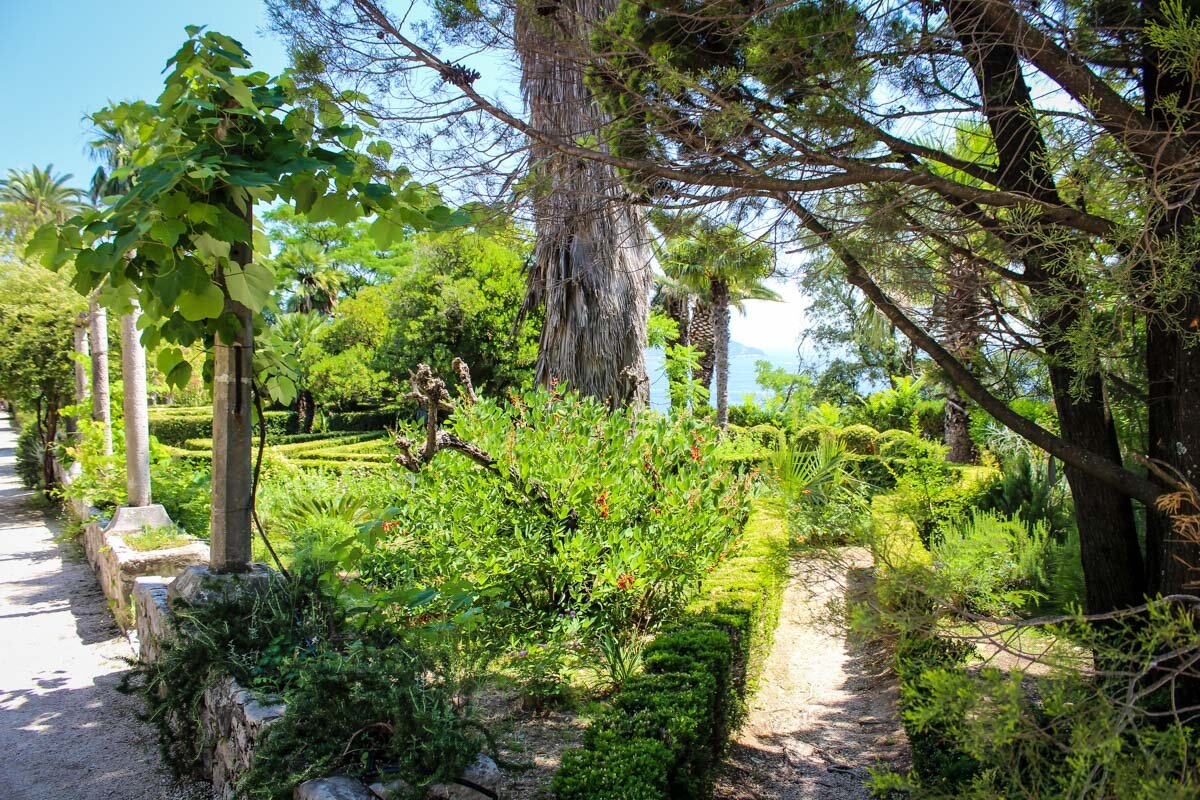 Trsteno Arboretum is located about a 30 minute drive outside of Dubrovnik Old Town and makes for the perfect escape from the city. You can wander the grounds and peak at the 500-year-old monuments that have been swallowed by nature or take up shelter in the thick trees as you make your way through the forest. Be sure to check out the views from some of the lookout points and get a glimpse of that electric blue sea below.
How to do it yourself: To get to Trsteno Arboretum from Dubrovnik, you can rent a car, which is usually very cheap in Croatia. Trsteno is also accessible by one of the regular bus lines that runs up and down the coast. Your entry fee to the arboretum will set you back just 50 kn (about $8 USD).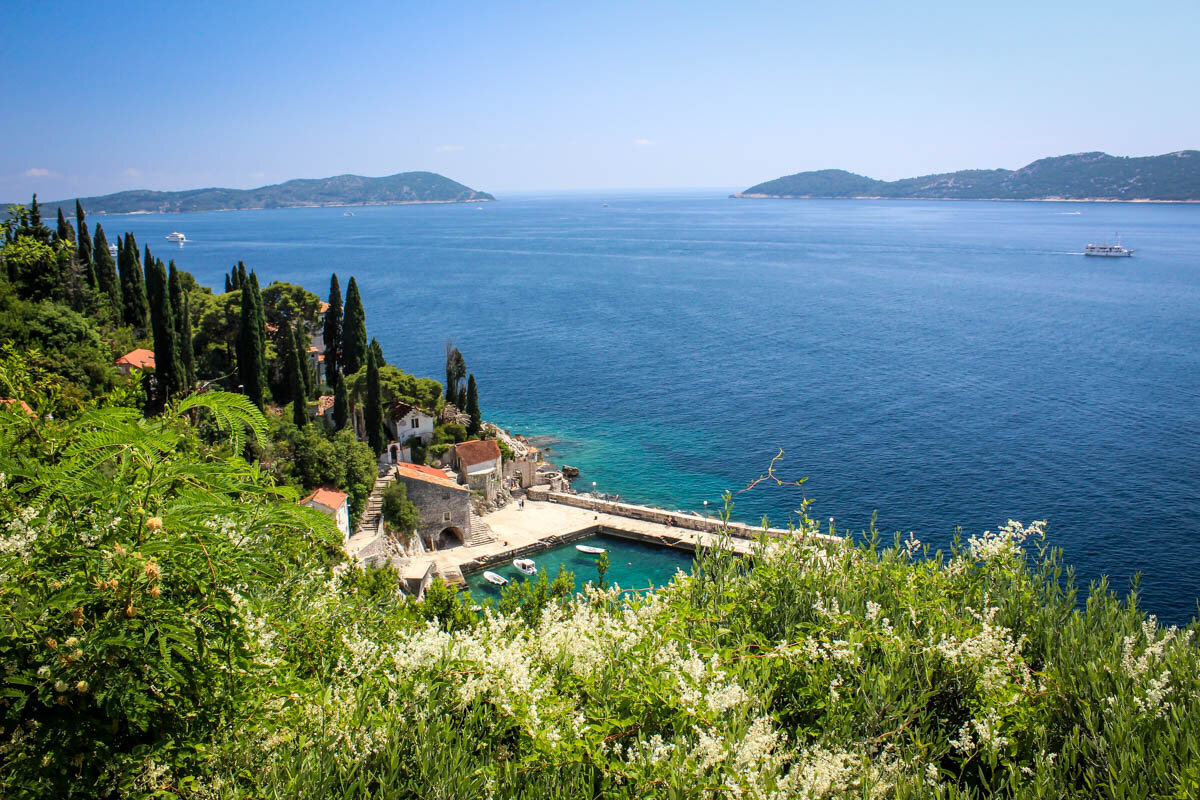 Bonus: Be sure to exit the Arboretum and walk down the path way with steps leading to the coast. At the bottom you will find the Haven Trsteno Marina (which is also accessible by car from the other side) with beautiful views and even some old ruins you can climb around.
6. Dance the night away in a fortress
Croatia has a reputation for putting on a good party and Dubrovnik is no exception. There are only a few nightclubs around the city, but what they lack in quantity, they make up for in excess and the DJs are sure to keep you dancing until the sun comes up.
Revelin Culture Club is probably the most well-known in the city, situated on the eastern edge of Old Town inside the angular walls of a 16th-century fortress. What Dubrovnik's old military architects probably did not plan for was the makings of an ideal club venue with a large dance floor, stage and cage dancers and performers popping up all around.
The club opens from 11 pm – 6 am daily. Walking past after dinner, we were handed vouchers that granted us free admission to the club before midnight, but the party was just getting started by then.
7. Check out the views from Minčeta Fortress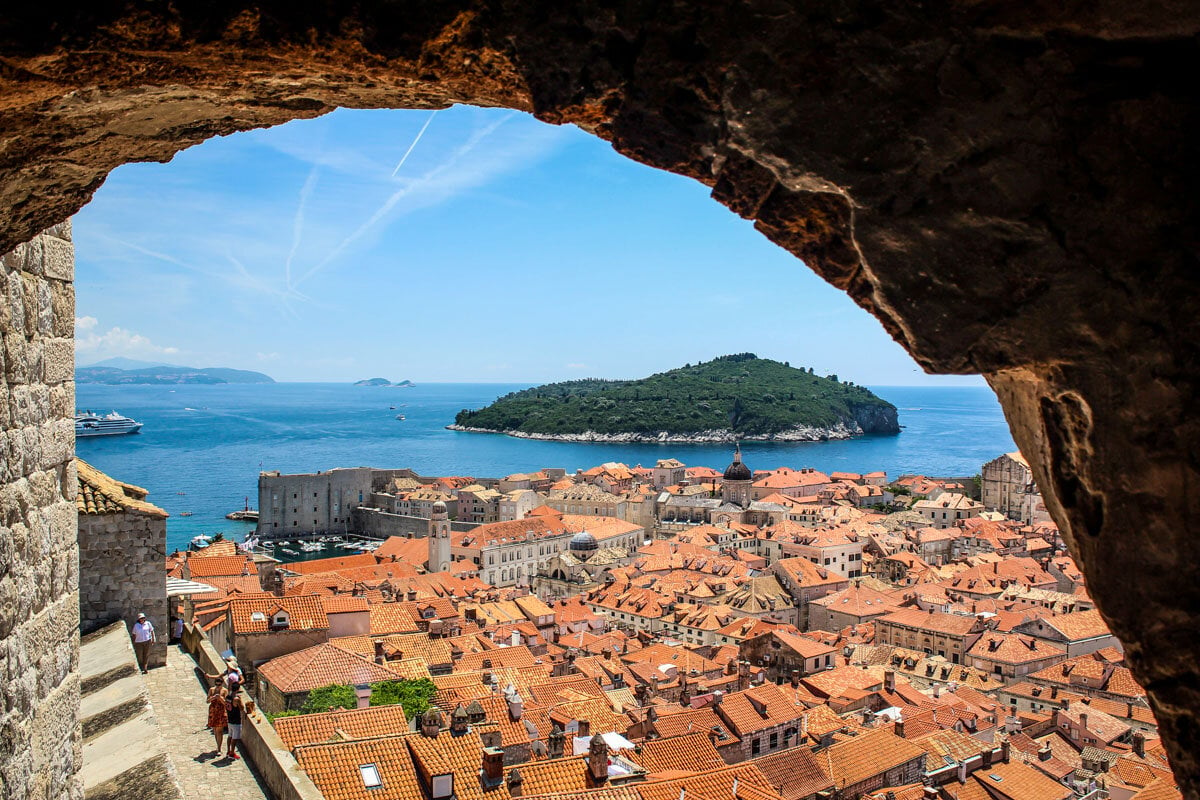 This 14th-century fortress is located high above Dubrovnik where the city walls converge on the northwestern side. Easily the largest of all the city's fortresses, Minčeta stands proud as a symbol of the unconquerable city and offers panoramic views of the city and surrounding seas below.
How to do it yourself: This fortress is part of the city walls and can be entered via the wall walking route or on a guided tour.
8. Relax and Unwind at Banje Beach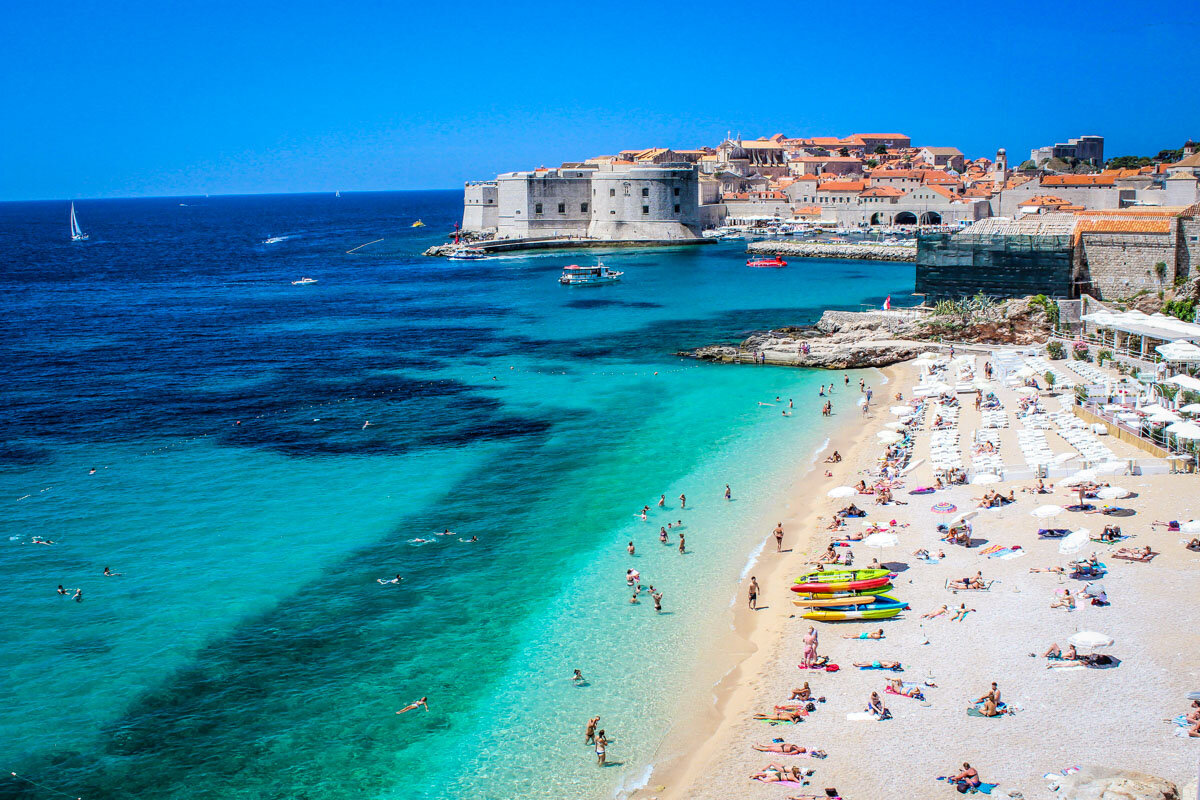 Just outside Dubrovnik Old Town city walls you will find an expanse of beach with the walled city as its backdrop that looks like it was plucked straight from a postcard. (I mean just look at that photo!) The umbrella-dotted white sand (yes, a SANDY beach in Croatia!) colliding with aquamarine waters known as Banje Beach is the perfect place to relax and cool off in the mid-day summer heat.
How to get there: You can't miss this beach just west of the walled city. There is a road that passes by and a set of stairs that lead down to the public access beach. You can also access the beach through the beach club which has stairs on the other side.
9. Go for Happy Hour at Hotel Excelsior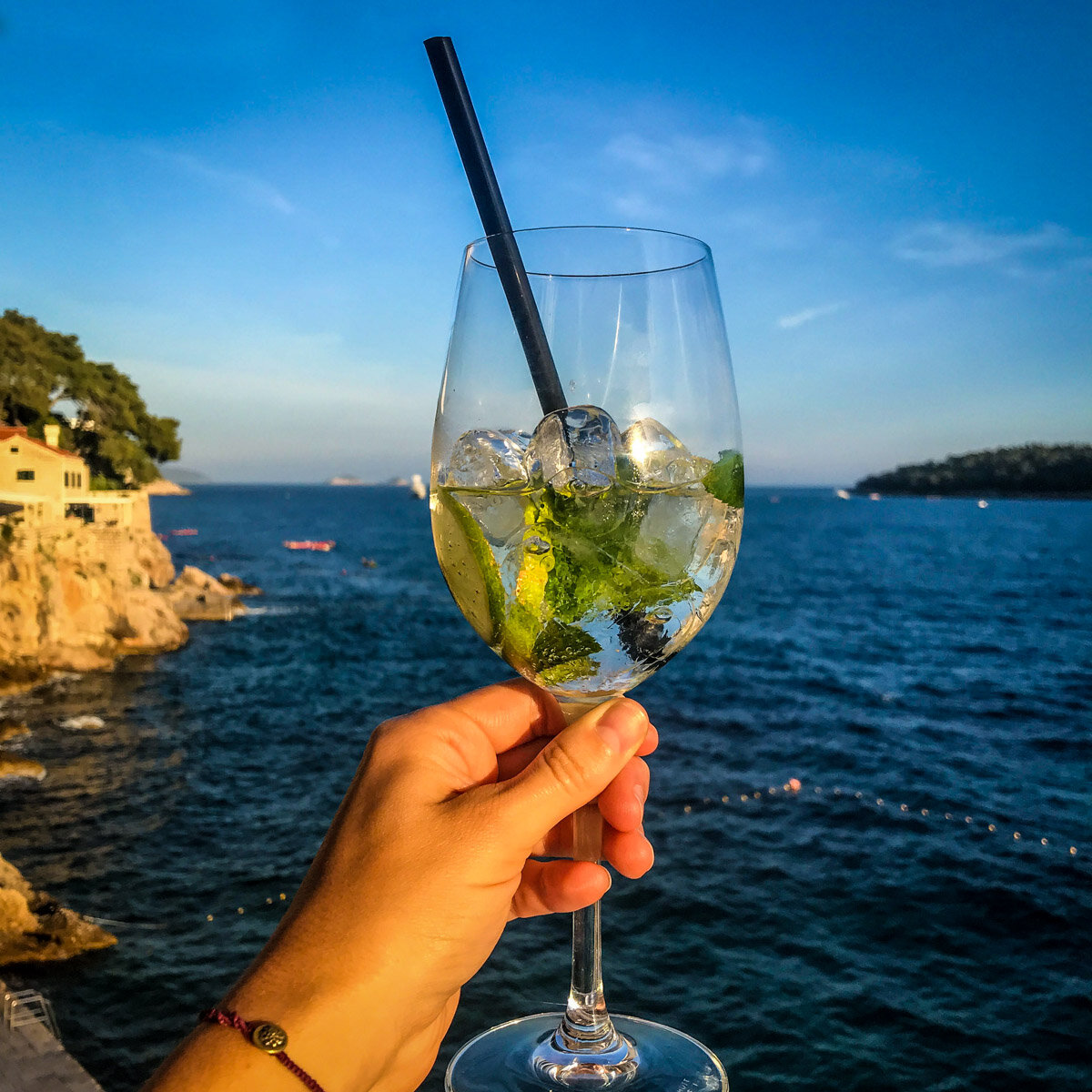 This 5-star hotel just west of Dubrovnik Old Town has a dreamy terrace with views of the water and the walled city in the background. While a room there can set you back more than 500€, a happy hour cocktail won't break the bank and is worth it to gain entrance to the lavish terrace.
10. Have a Michelin Star Dining Experience
As of 2019, Dubrovnik is home to 1 Michelin star-rated restaurant and 10 Michelin-recommended restaurants. All of which serve up dishes that are as pretty as they are delicious. If you are a foodie, or just appreciate fine cuisine, this is a great place to try out some tasting menus with a more affordable price tag than you'll find elsewhere in Europe.
360° is Dubrovnik's first Michelin-starred restaurant, which was announced in the 2018 guide. A meal here costs between 540 – 880 kn (about $80 – $130 USD), that is if you can get a reservation. Book in advance to secure yourself a table and spend the night making your way through the 5-course tasting menu as you take in the views of the marina below.
11. Explore Lokrum Island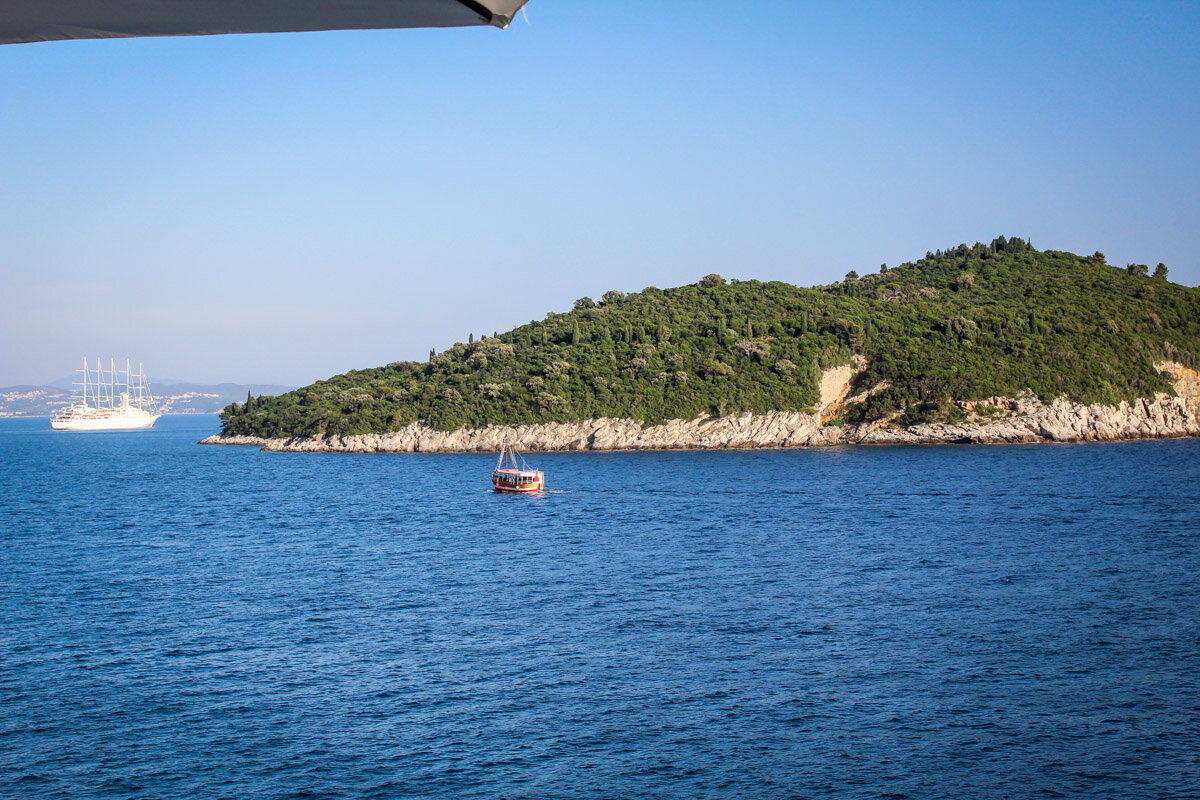 Just a short 15-min ferry ride from Dubrovnik Old Town, trips to this lush island are quite popular among tourists and locals alike. During the summer months, the dense vegetation offers a much needed reprieve from the hot sun. You can easily spend the day strolling the botanical gardens, exploring the ruins of the medieval Benedictine Monastery and swimming in the coastal waters.
How to get there: During the summer months, ferries leave for Lokrum Island from Dubrovnik's Old Port every 30 minutes (and less often during low-season). The trip takes 15 minutes and costs 40 kn (about $6 USD). You can also get to the island by sea kayak.
12. Check out the abandoned Hotel Belvedere
Sitting high atop a cliff just outside of Dubrovnik, with panoramic views of the city is the Hotel Belvedere. Once a luxurious property when it opened in 1985 the hotel only operated for 6 years before it was abandoned during the Croatian War of Independence. There is sits neglected, except for a brief appearance in the Game of Thrones series.
You can visit the now derelict hotel and walk through the halls with shattered windows to take in the scene of what was once the most luxurious hotel in Dubrovnik, before it fell victim to the war.
13. Do a self-guided Game of Thrones tour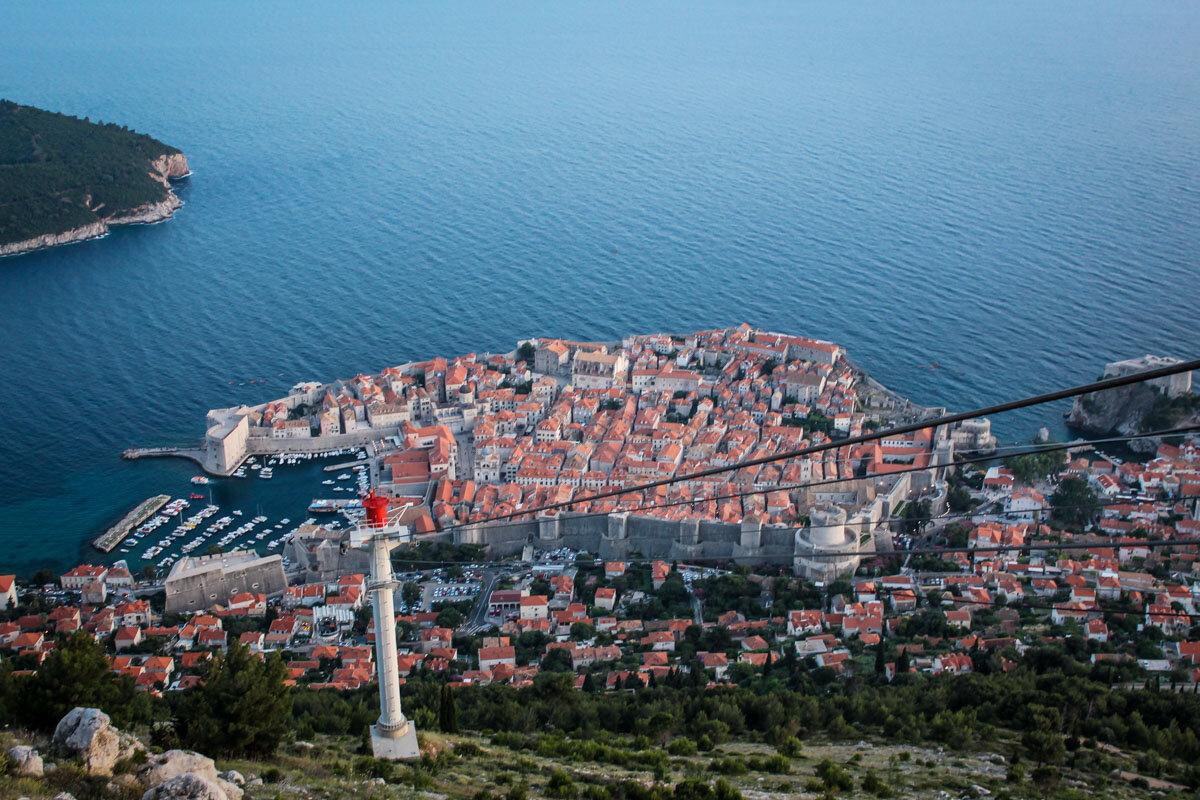 Dubrovnik is perhaps best known outside of Europe as being the main location of King's Landing in the HBO hit series Game of Thrones. This has become a pretty big draw for tourism in the area and you will find Game of Thrones tours and merchandise around just about every corner.
If you're a fan of the show and want to do a little touring of your own, it's fairly easy to see a bunch of locations in a single day. A quick Google search will provide you with all of the Game of Thrones filming locations in Dubrovnik. You will even find screengrabs and YouTube videos with the exact scenes from each location.
One of the highlights is that Dubrovnik is home to one of the original iron thrones used in filming the series. It was donated to the city of Dubrovnik by HBO and is currently housed in the Lokrum Island Visitors Center. You too can conquer the throne and even have your picture taken upon it if that's what you're into.
Some of the most popular Game of Thrones filming locations in Dubrovnik are:
Dubrovnik Old Town itself was used as the backdrop of King's Landing

Lovrijenac Fort as the Red Keep

Dubrovnik's West Harbour as Blackwater Bay

The city walls as, well, the city walls of King's Landing

Jesuit Staircase by Saint Ignatius Church where Cersei took her infamous walk of shame

Hotel Belvedere as the location of the fight between the Mountain and Prince Oberyn

Trsteno Arboretum as the palace gardens in King's Landing
14. Day trip to Mostar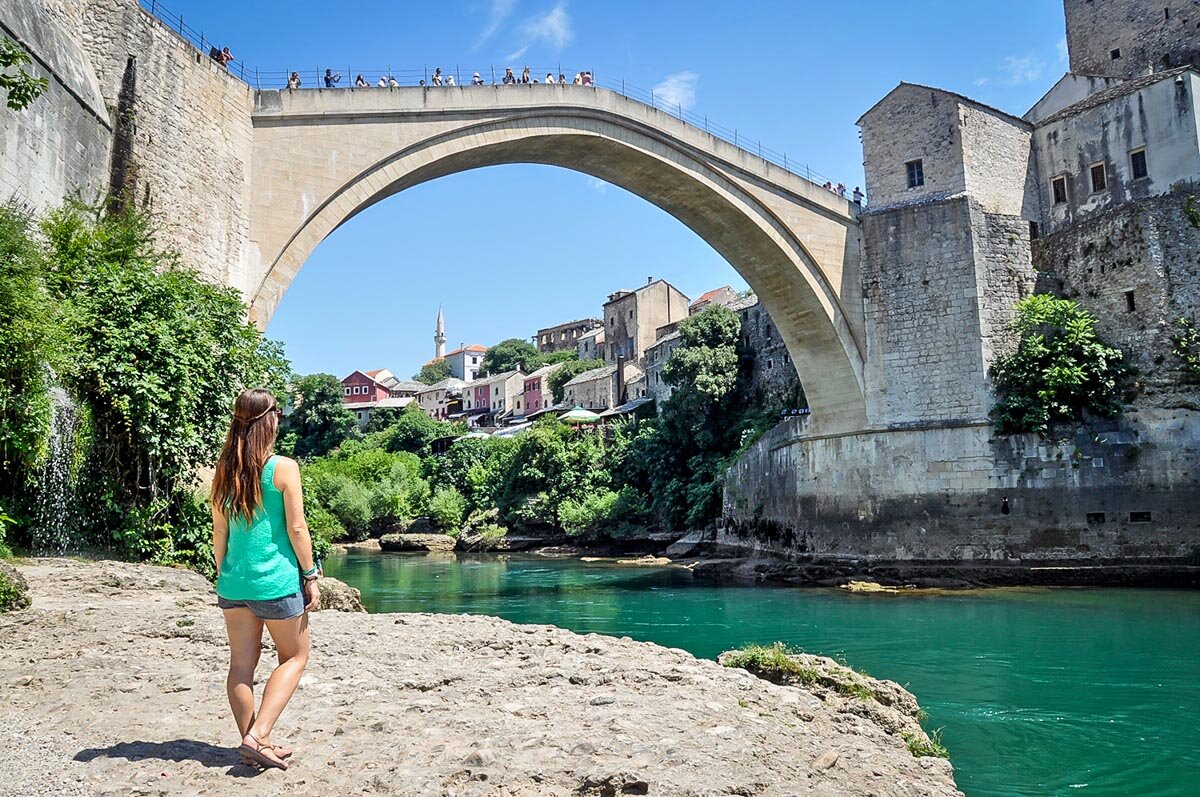 Just a 2 and a half hour drive across the border into Bosnia & Herzegovina is the city of Mostar. At the center of this Eastern European jem is the Stari Most bridge, an iconic symbol of unification, literally uniting two sides of the country. This impressive architectural wonder was once destroyed in the war, but has since been built again and restored to its former glory.
With so much to do in this town, which stars as both the historic and the administrative center of the country, you can easily spend a day or two exploring on a trip from Dubrovnik.
15. Take to the water for sunset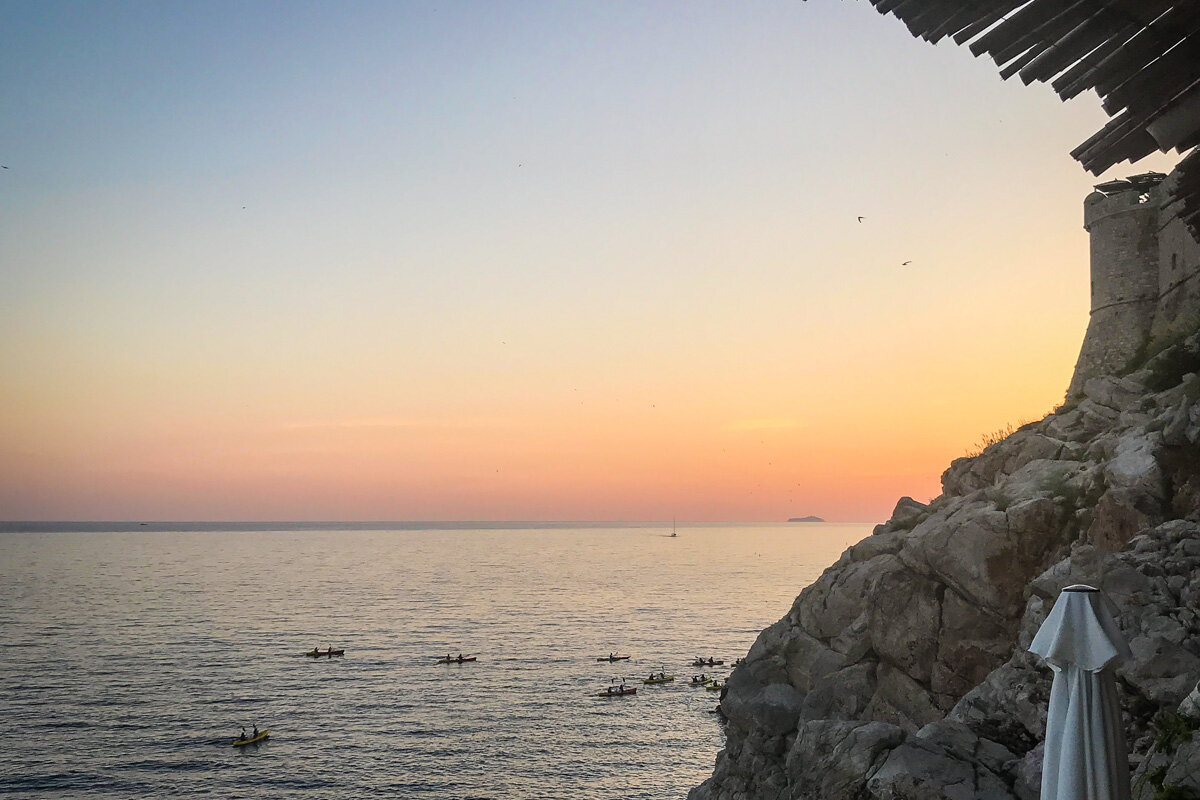 Viewing the sunset from the water is one of my favorite things to do when visiting a coastal city. In Dubrovnik, you have a few options for taking to the sea.
Whether you choose a sunset paddle in sea kayaks or a more traditional sunset cruise on a ship, (some of the tours even include dinner!), you'll be sure to have some amazing views as the sun dips below the Adriatic.
---
Where to Stay in Dubrovnik
Given that most of the things to do Dubrovnik are in and around Old Town, finding accommodation close to the city center may be the most convenient. However, you will most certainly find that accommodation get cheaper the further from the center you get.
You may also enjoy discovering the other non-touristy parts of Dubrovnik like Katie & Ben did when they packed a picnic and hiked up the hill near their Airbnb to find a quiet and secluded space to view the spectacular sunset.
Budget Accommodations in Dubrovnik:
Location: Dubrovnik Old Town city center
Spacious rooms

Rooftop views

Great location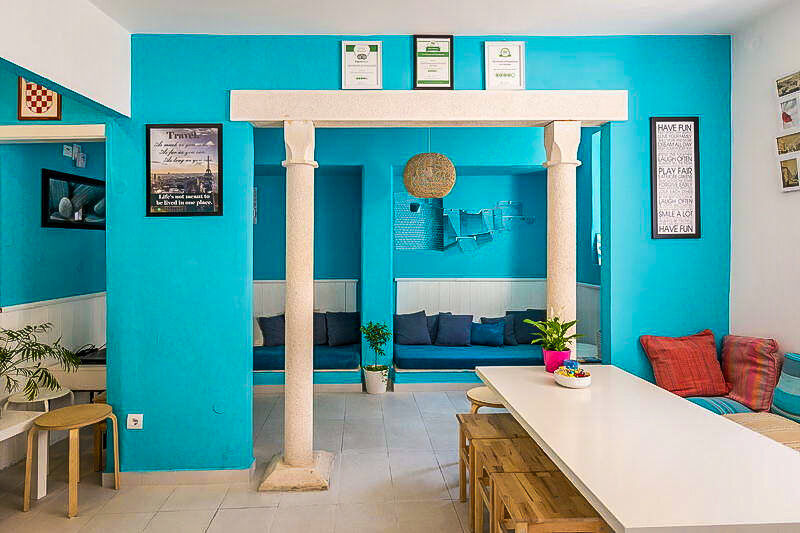 Location: Dubrovnik Old Town city center
Quiet location

Bright rooms

Modern touches
Mid-level Accommodations in Dubrovnik: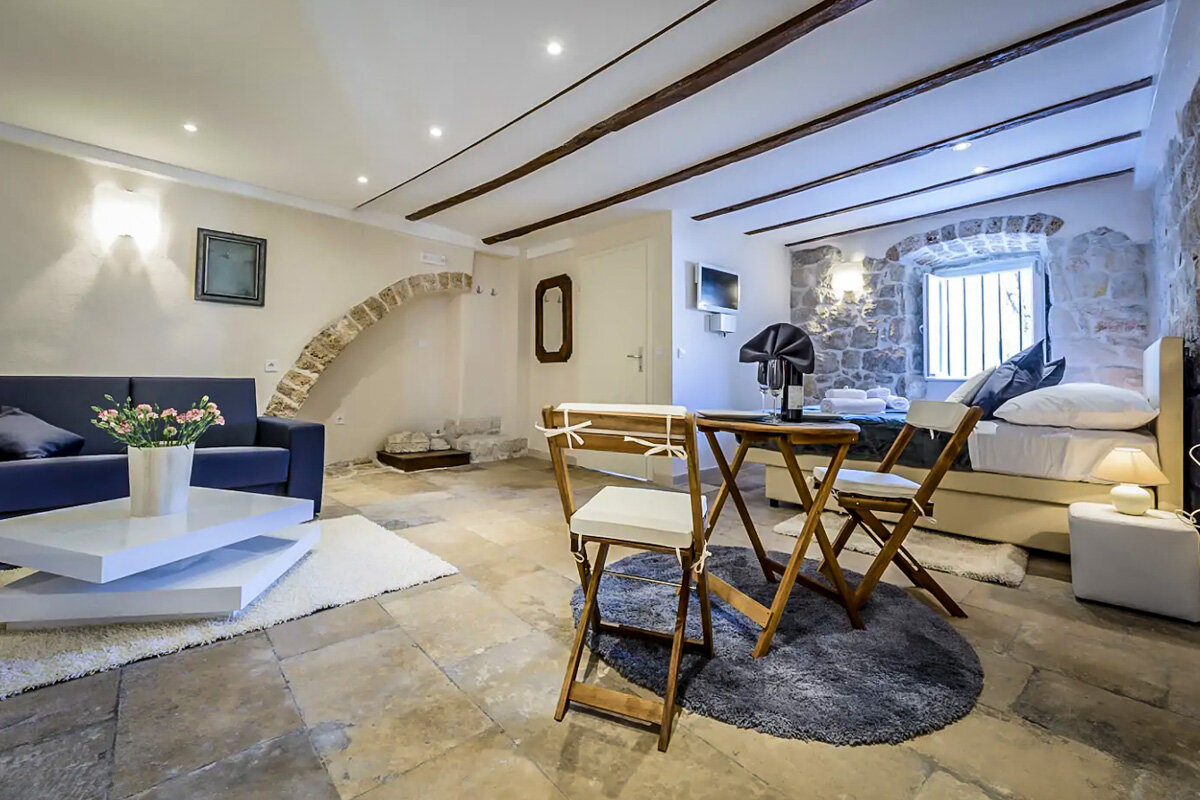 Location: Dubrovnik Old Town city center
Beautifully renovated

Bright room

Stone accents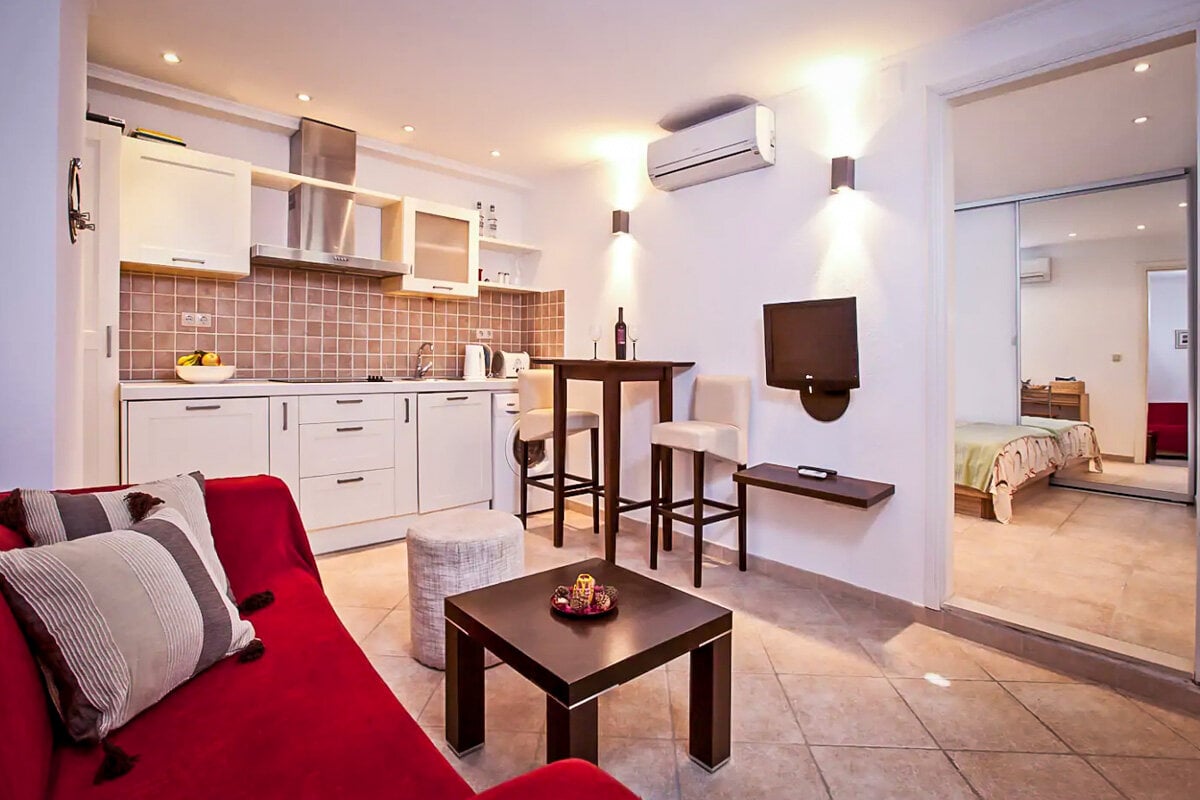 Get $55 off your first Airbnb stay on us! No gimmicks! Just use this link and book!
Luxury Accommodations in Dubrovnik: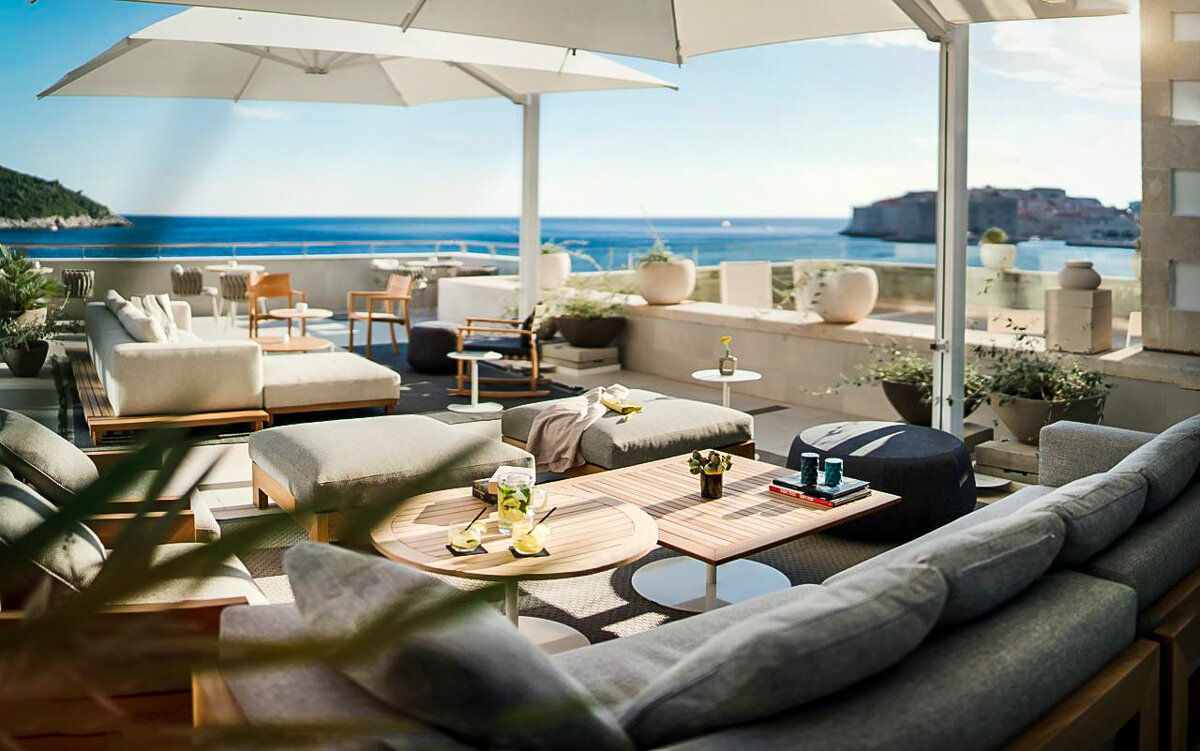 Location: 5 min walk from Dubrovnik Old Town city center
Beautiful terrace

Sunset views

Great amenities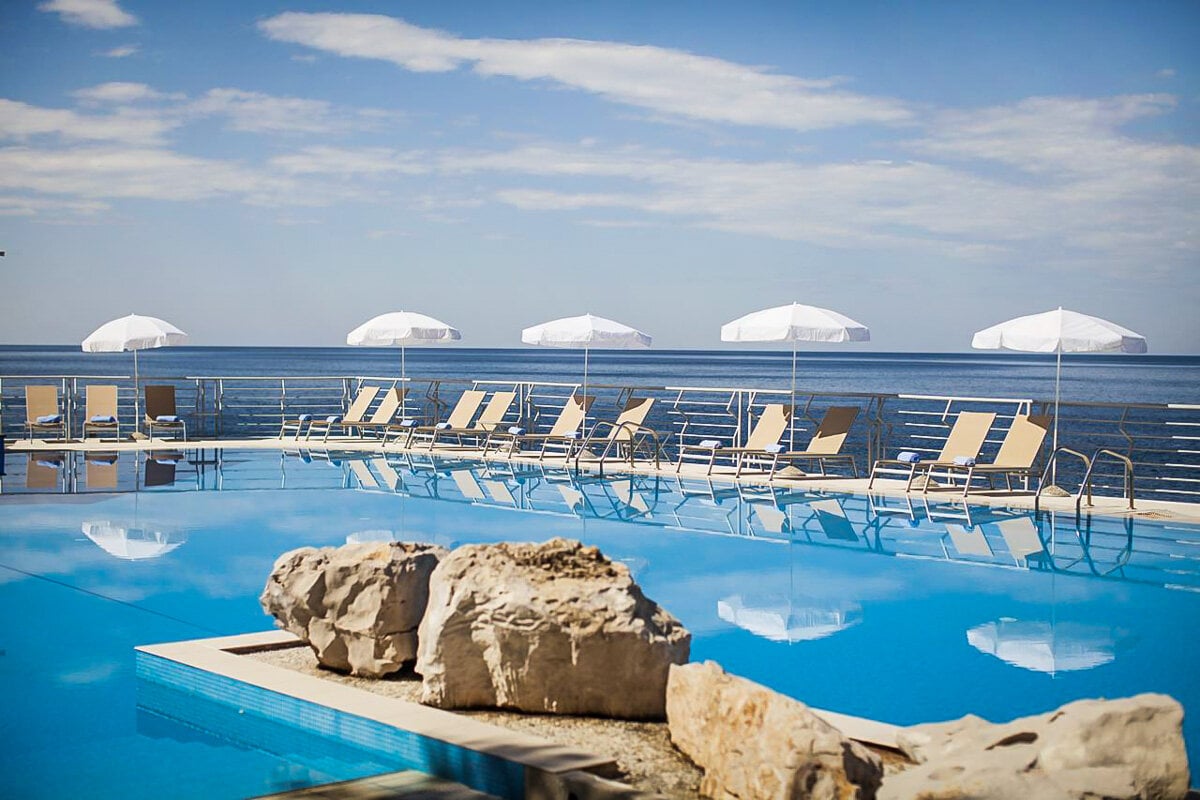 Location: West coast of the Lapad peninsula
Beachfront

Luxurious pool

Panoramic sea views
We have loads of info on how to book Airbnbs, red flags to watch out for when booking, and our favorite Airbnbs in our Airbnb article. Plus, we'll give you our Airbnb coupon code for up to $55 off Airbnb.
---
4 Things You Should Know Before Visiting Dubrovnik
An excerpt written by Katie:
Ok, real talk here… Have you ever been disappointed by a place you thought you'd love?
More often than not, I fall in love with the cities and countries we travel through. And when I fall, I fall HARD. I've been surprised by towns I planned to only pass through, and it's pretty common for me to extend my stay in places I like.
That said, with my Instagram feed clogging up with insanely beautiful pictures, it's safe to assume that not everywhere I visit will be nearly as stunning as it appears on my iPhone's screen.
For us, Dubrovnik was a bit of a disappointment.
Croatia was one of the countries I was looking forward to most in the Balkans. Its aquamarine waters and perfect waterfalls in lush forests are what travel dreams are made of, right!? And an imminent trip to Dubrovnik pushed me to start watching HBO's Game of Thrones so I could fully appreciate the real-life King's Landing on my visit.
I read up on the history, I oogled over pictures, looked up things to do in Dubrovnik and was so ready to get there.
When I arrived, there was no arguing it is gorgeous. In fact, Dubrovnik has some seriously Instagram-worthy spots!
With my expectations set so high, some of what did I find in Dubrovnik left me disappointed. Let me explain…
1. Dubrovnik was incredibly crowded with tourists
Yes I know, we visited Croatia at the pinnacle of high season, and crowds are to be expected. But this was to the extreme. When Ben and I entered the narrow entrance to the old city, selfie sticks blocked our path and tour groups clogged the streets.
The July heat burned down on my shoulders and the only escape from the sun was to step into the souvenir shops lining the streets that sell magnets for €8 and Game of Thrones t-shirts for €30.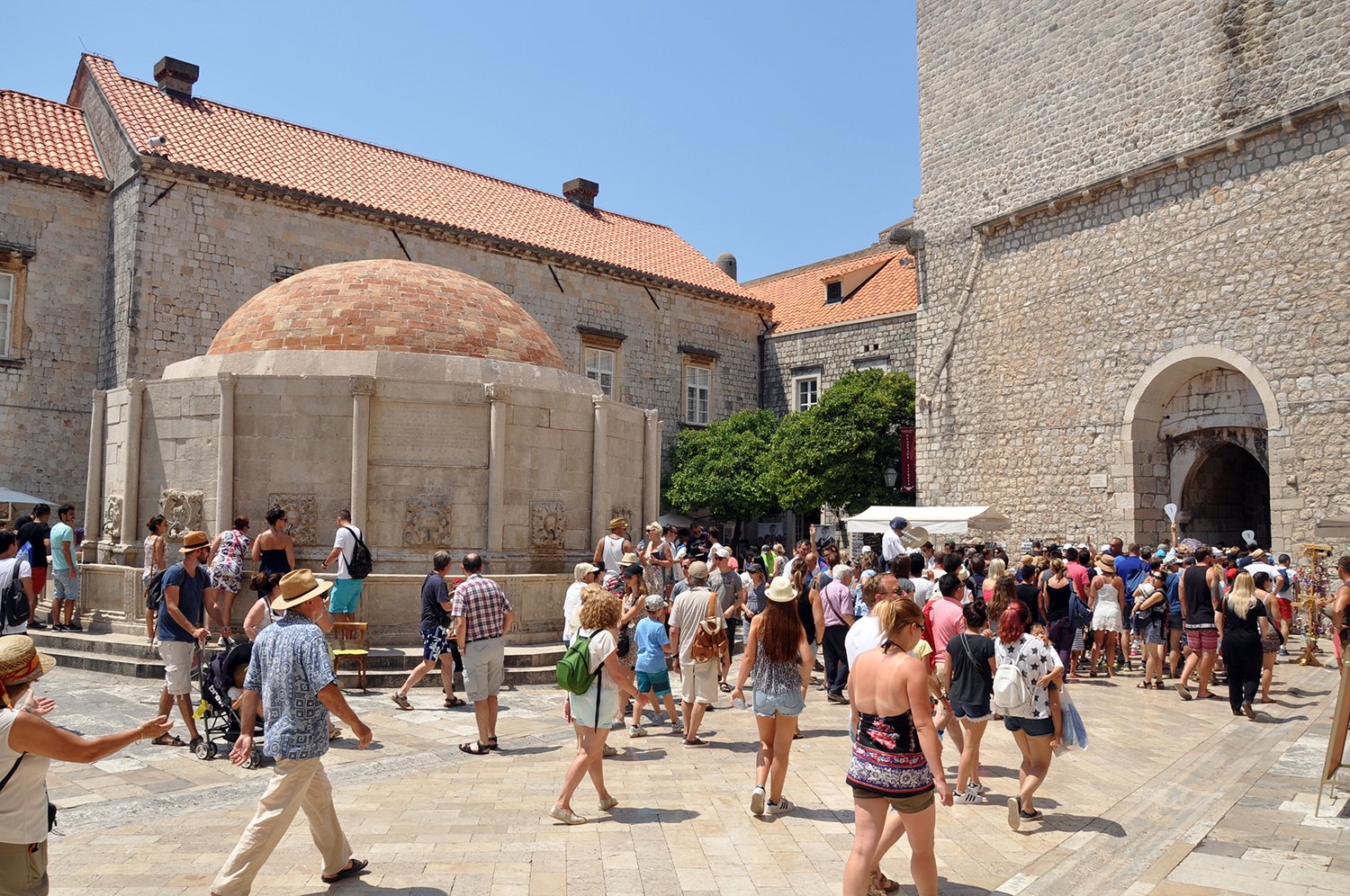 I wandered down a back street hoping to find a bar that we heard being described as "off-the-beaten-path." We ducked under a low arch to enter and discovered that it can no longer be called a "hidden gem" in any sense of the phrase. Every table was occupied and others lurked behind tables, hoping to grab the first seat available.
2. Dubrovnik is expensive
So we wandered further and found a shaded little café that had an open table. I needed to get away from the crowds and out of the sun, so this seemed like the perfect escape. I ordered the cheapest thing on the menu – a €3 americano. When the waitress asked if I wanted a little milk on the side I nodded, "Just a tiny bit," without knowing she would charge me an extra €1 for a teensy pitcher.
I knew Dubrovnik would be expensive. Most of the tourism in Croatia is aimed at Europeans on week-long holidays, so it only makes sense. We've been to expensive places before, but there are usually some cheaper options if you know where to look: street food, free walking tours, dorm beds.
But in our experience traveling in Dubrovnik, we found tourist prices and slightly cheaper tourist prices. Meals seemed to be a minimum of €12, tours of the city started at €15 per person, and an average dorm bed would set you back €50.
Budget Tip: Hotel prices throughout Croatia were so much higher than the other Balkan countries. To save money we booked a few Airbnb apartments. It was typically cheaper than hotels or hostels, we would get an entire apartment, and it was more of a local experience. If you use our link, you can get $55 USD off your first trip with Airbnb.
Related: We have loads of info on how to book Airbnbs, red flags to watch out for when booking, and our favorite Airbnbs in our Airbnb article. Plus, we'll give you our Airbnb coupon code for up to $55 off Airbnb.
3. More tourists than locals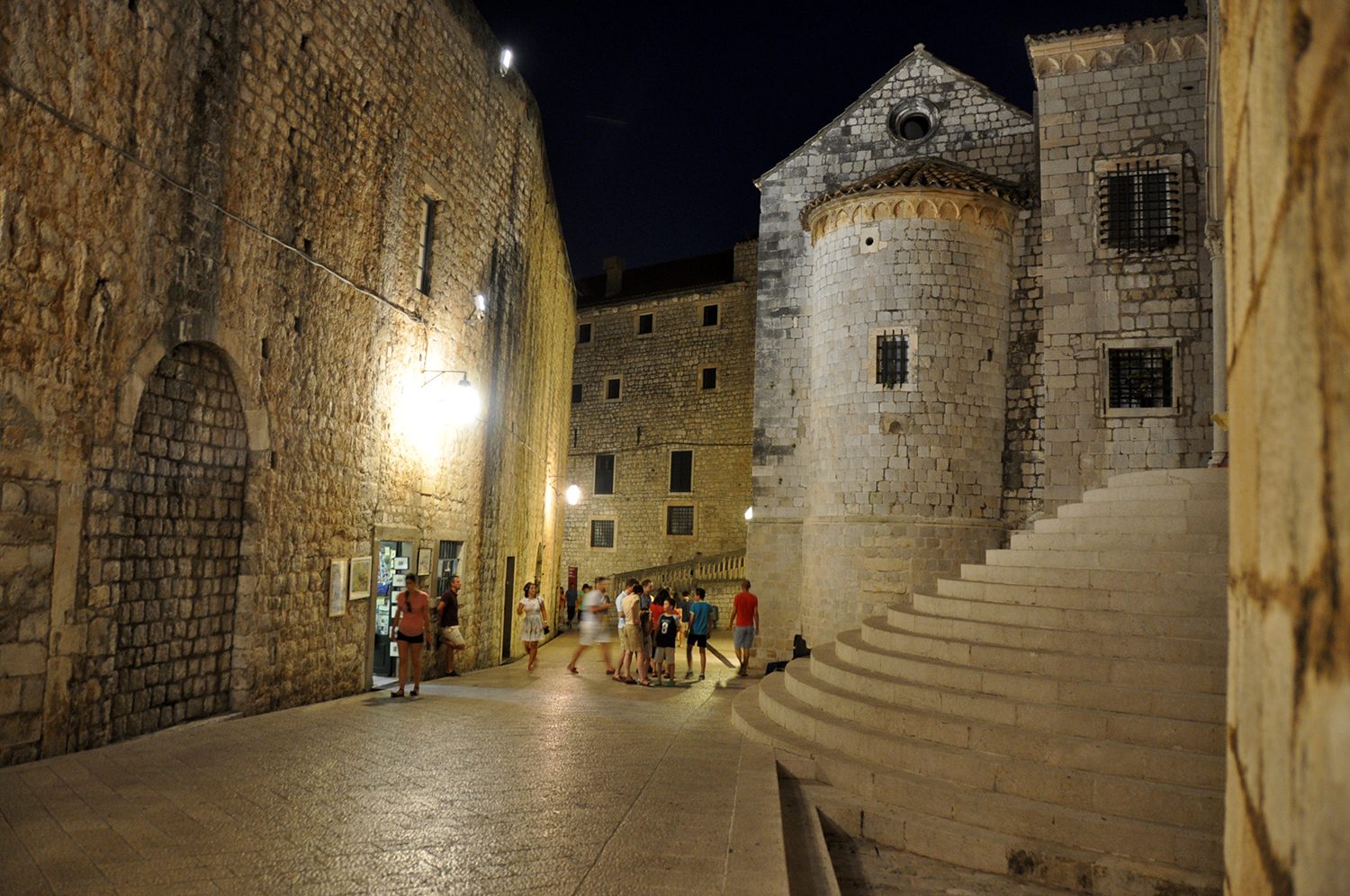 I'm a tourist, so this may sound a little hypocritical, but I don't want to be surrounded only by tourists when I travel. In my mind, travel is meant for experiencing other places and cultures different from what you already know. That is how we grow and learn, pushing ourselves out of our comfort zones.
4. It felt "cheesy"
The Old City, to me, felt kind of "fake". Historic buildings had been transformed into souvenir shops and pirate-themed candy stores. Tour guides dressed in chainmail led groups on "Game of Thrones" tours where they'd hold up an iPad and show scenes from the show.
To me, it kind of had a Disney Land feel. Which, in my opinion, is fine for a theme park, but not for a UNESCO World Heritage city.
Would we go back to Dubrovnik?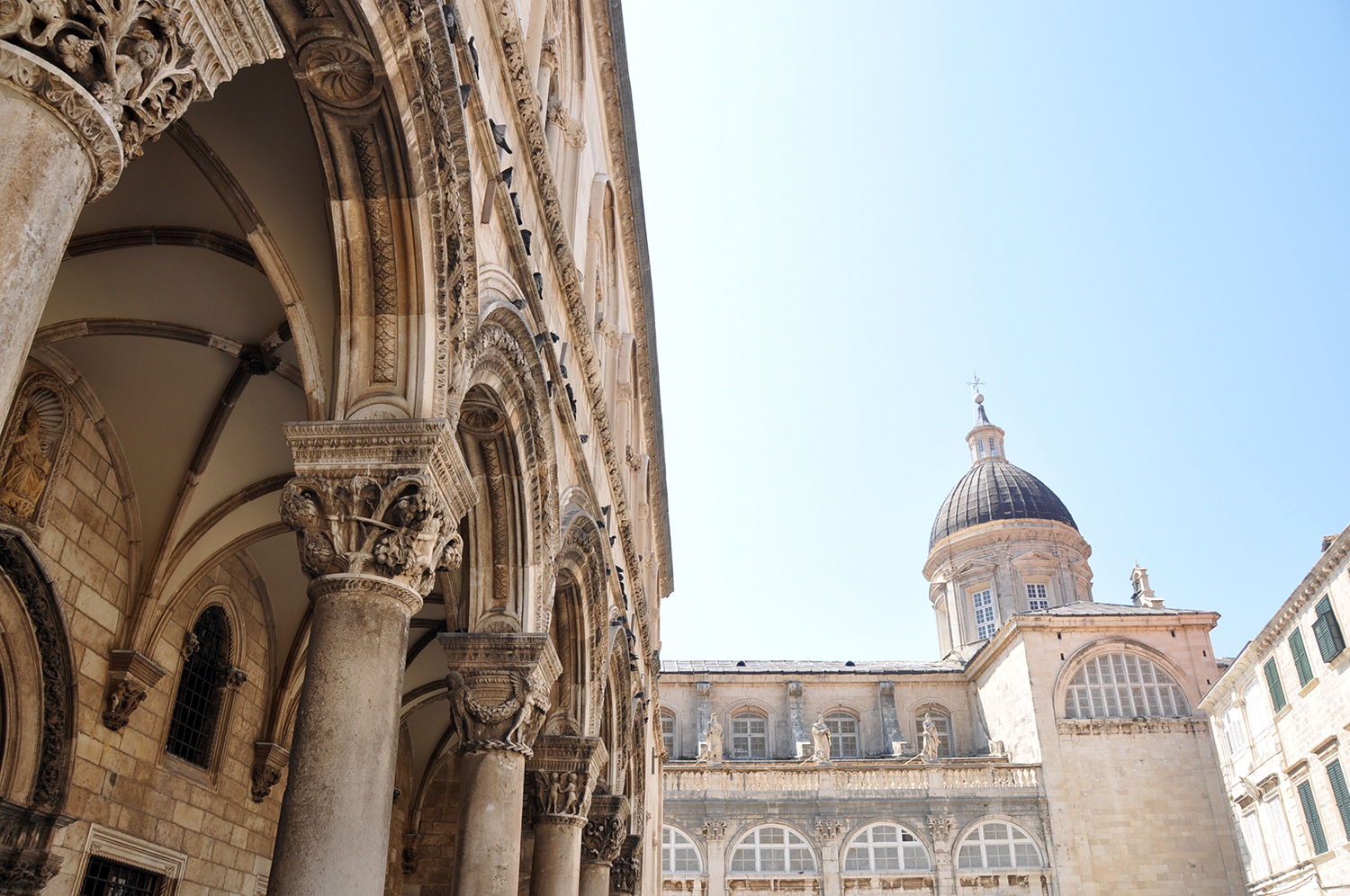 I'll admit, Dubrovnik is a beautiful city. Drop dead gorgeous, actually. It's clean. It has history. But it just didn't feel like a real city. It seemed that everything was preserved only for tourists, and the only jobs people seemed to have revolved around tourism, meaning many of the workers were clad in historic costumes.
A little cheesy, if you ask me.
I'm not one to discourage people to go places. I'm glad I visited Dubrovnik because I would have always wondered what it is like.
And circumstances definitely affect how much I like a place. Maybe with the cooler temperatures and fewer crowds of low season, I would enjoy myself much more.
And to answer the question above, "Would we go back?" Absolutely. I'm all about second (and third!) chances. But I also wanted to share our honest opinions because I haven't heard many others talk openly about this.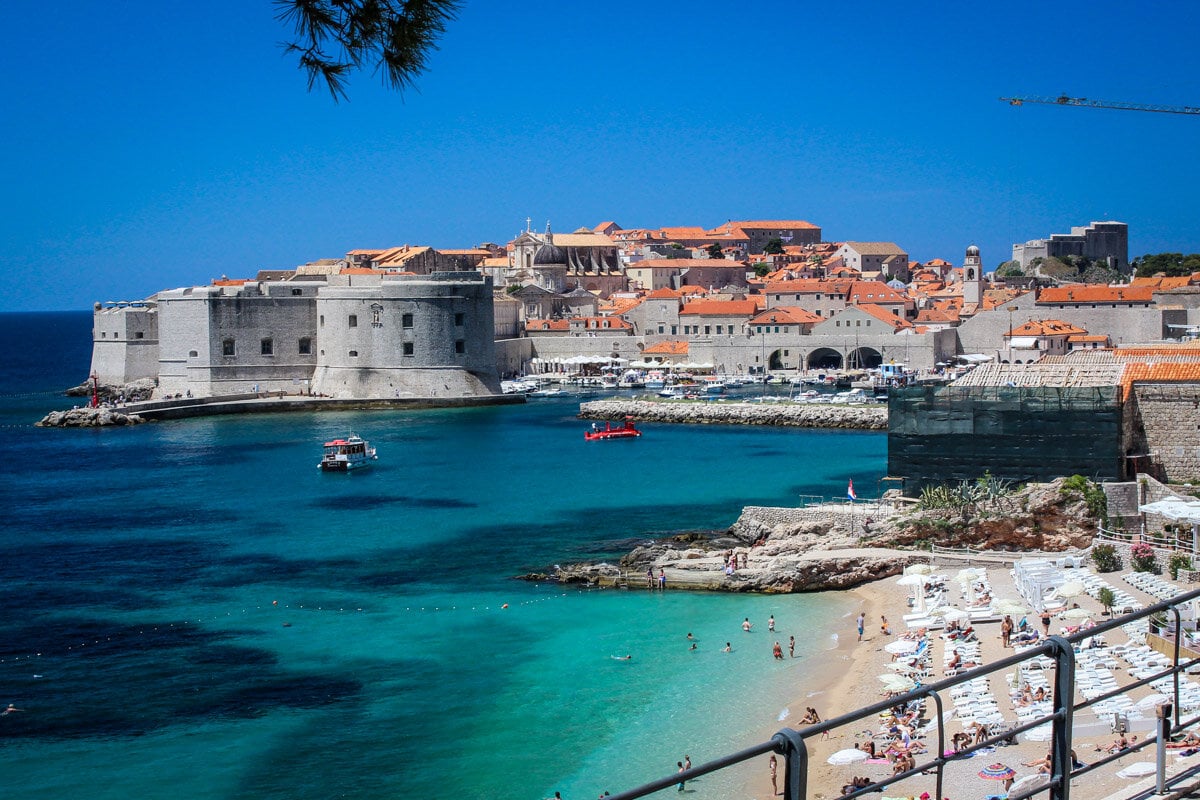 Dubrovnik Travel Tips
If you plan to travel to Dubrovnik, but my little message in the section above has you worried, keep these tips in mind. They will help you have a better experience than we did.
1. Avoid peak tourist season (if possible!)
We traveled to Croatia in July, during the busiest time for tourism. If you don't dig crowds, go earlier or later in the year.
2. Be sure your budget is big enough
Our budget was too low to be able to fully enjoy Croatia. The prices in this country are more on par with Western Europe, and while our budget was just fine for the rest of the places we visited, we had to be super frugal in Croatia.
3. Don't compare
We LOVED Bosnia and Slovenia which we visited before and after Croatia. So we found ourselves comparing it to these countries where the crowds were fewer, the locals seemed friendlier and the landscapes were just as beautiful. I know it's not fair to compare, but it's a natural reaction.
4. Venture out of the Old City
We stayed in an Airbnb at a family's home a 30-minute walk from the center, so we saw a lot more than just the historic part of town. We thought the island of Korcula reminded us of Dubrovnik, but we found it to be less crowd and less touristy. For information on Korcula, check out our Croatia Travel Guide. And in terms of big cities, we actually enjoyed Zagreb, the capital city in Croatia.
5. Allot enough time
We didn't give it enough time. We spent about 2 weeks in Croatia, and went to the major spots, but if we were to go back again, we would have gone to more small villages and budgeted time and money to get further off the beaten path. Croatia is much more than Dubrovnik and Split.
6. Manage your expectations
We had super high expectations, and that's where this disappointment stems from. It's not that we didn't enjoy Dubrovnik or think it wasn't beautiful. But sometimes not having expectations at all can help you enjoy travel experiences more.
7. Explore places other than Dubrovnik too!
No country can be summed up by a single city. The US isn't only NYC. France isn't only Paris. Japan isn't only Tokyo. And Croatia isn't only Dubrovnik.
There is so much more to this country, and if you're anything like us, you will find that the other places in Croatia have a more authentic feeling.
Check out our Croatia Travel Guide for more ideas of places to visit in this country.
---
Want more information on Eastern Europe?
We have tons of resources for you on popular and off-the-beaten-path destinations in the region. Check out the 19 places to visit in Eastern Europe you absolutely cannot miss and read some of our favorite articles below.
We want to hear from you!
Have you traveled to Dubrovnik? What did you think? Do you share Katie's feelings or did you love it? Have any questions?
Let us know in the comments below!