Whether you are backpacking through or are wanting to splurge on Yacht Week, this Croatia travel guide has everything you need to help you plan your next adventure throughout this beautiful country in the Balkans.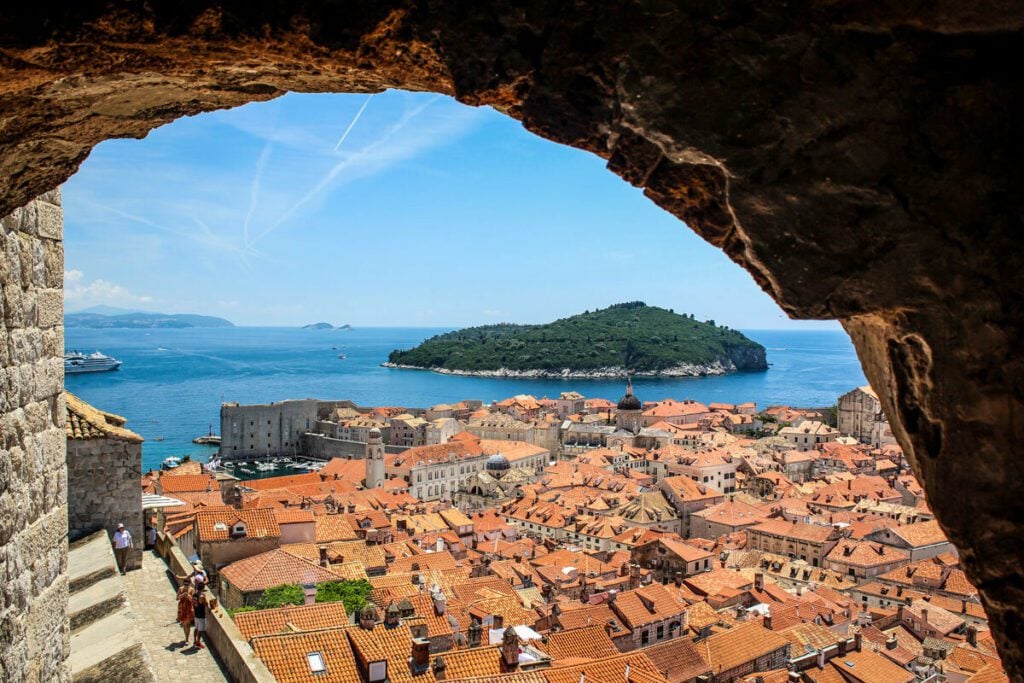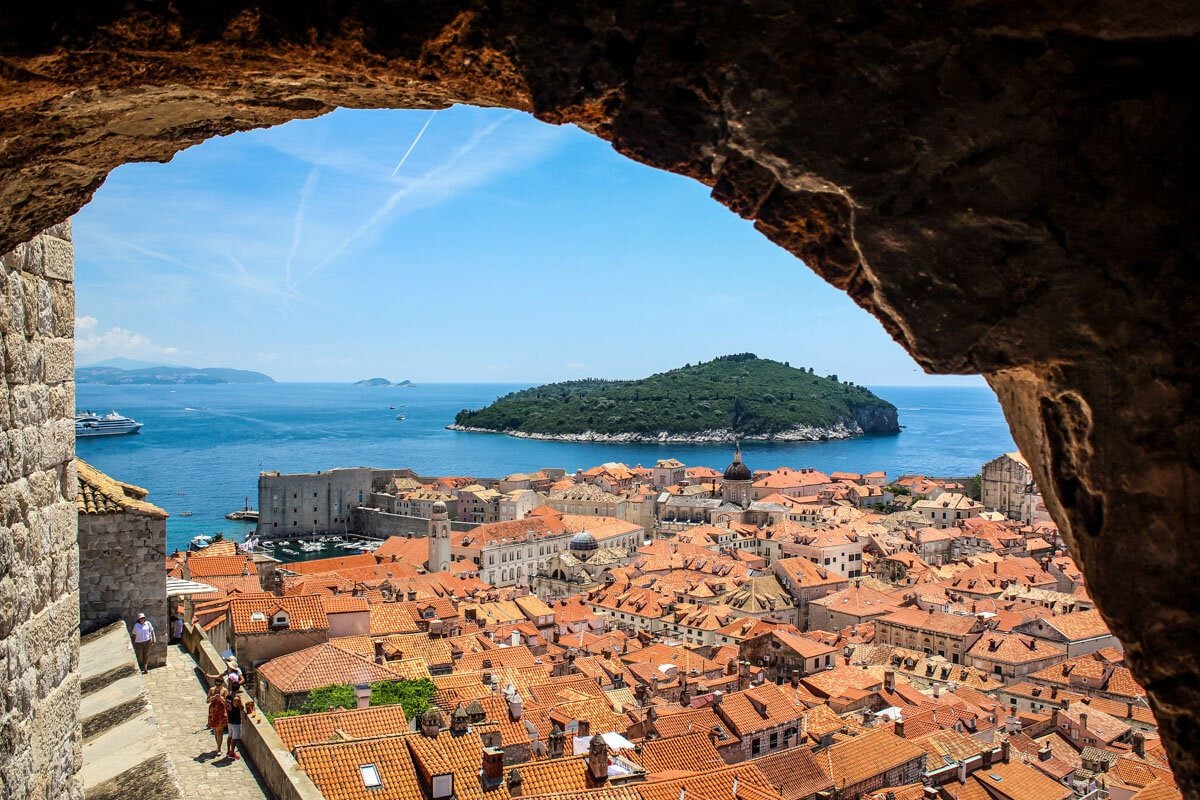 With piercing turquoise seas and fairytale-like architecture, there is no denying Croatia is breathtakingly beautiful.
Spanning most of the Adriatic Sea, you're never too far away from the coast when traveling in Croatia. And even if it's not pretty beaches you seek, stone castles and magnificent waterfalls await travelers of all kinds.
Whether you are backpacking through Croatia or are wanting to splurge on Yacht Week, this Croatia travel guide will help you plan your next adventure to the Land of a Thousand Islands.
What we really thought about Croatia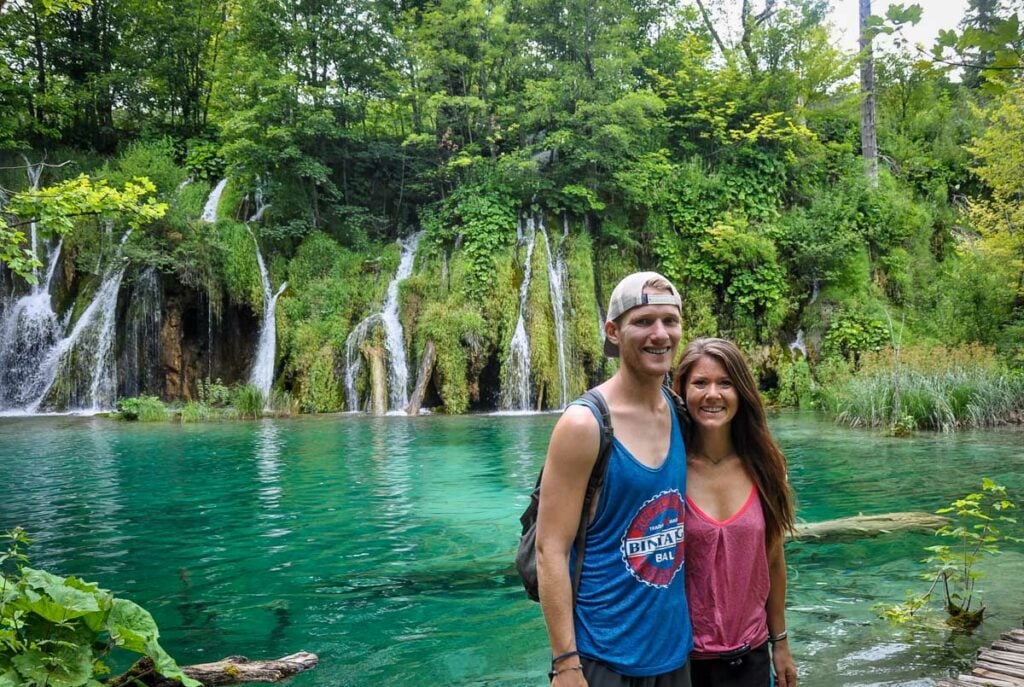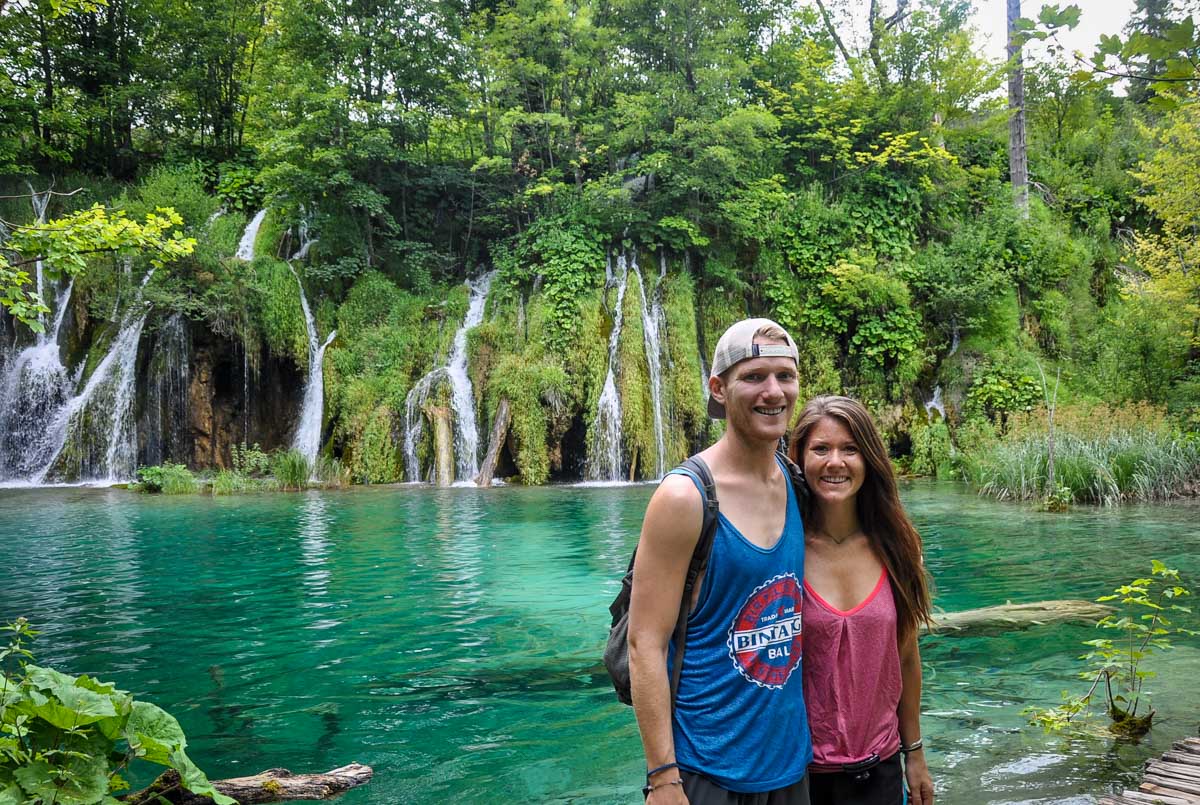 We do our best to give our honest opinions about all the destinations we travel to and the products we recommend through Two Wandering Soles. That is why we are going to be honest about our thoughts on traveling in Croatia.
So brace yourself because ours is an unpopular opinion. What we're about to say may come as a surprise, but it has to be said: We didn't love Croatia.
That doesn't mean we didn't like Croatia. We just didn't fall in love like we so often do with places we visit.
There's no denying Croatia's beauty. The aquamarine waters and craggy beaches are what dreams are made of. And Plitvice Lakes National Park is out-of-this-world gorgeous!
But frankly, it takes more than beautiful landscapes to make us fall in love. Just like with people: a pretty face is nice, but we crave more.
The thing is, we made some big mistakes when traveling to Croatia. So make sure to read until the end of this article so you don't make the same mistakes. If you follow our advice we think you will enjoy your time in Croatia much more than we did.
Croatia Travel Guide
---
Important info about Croatia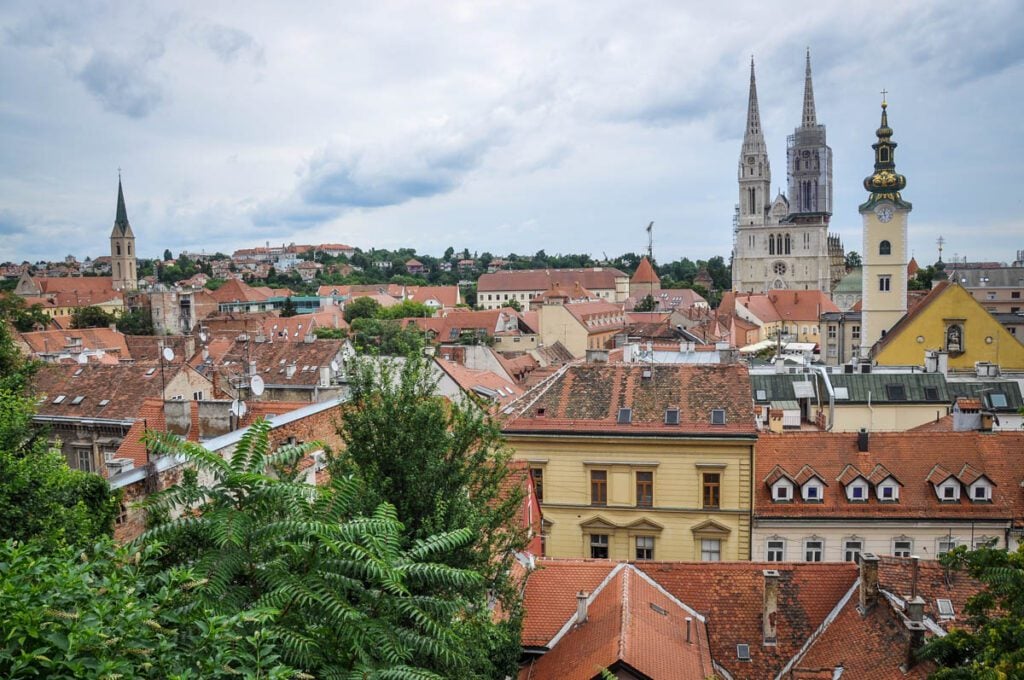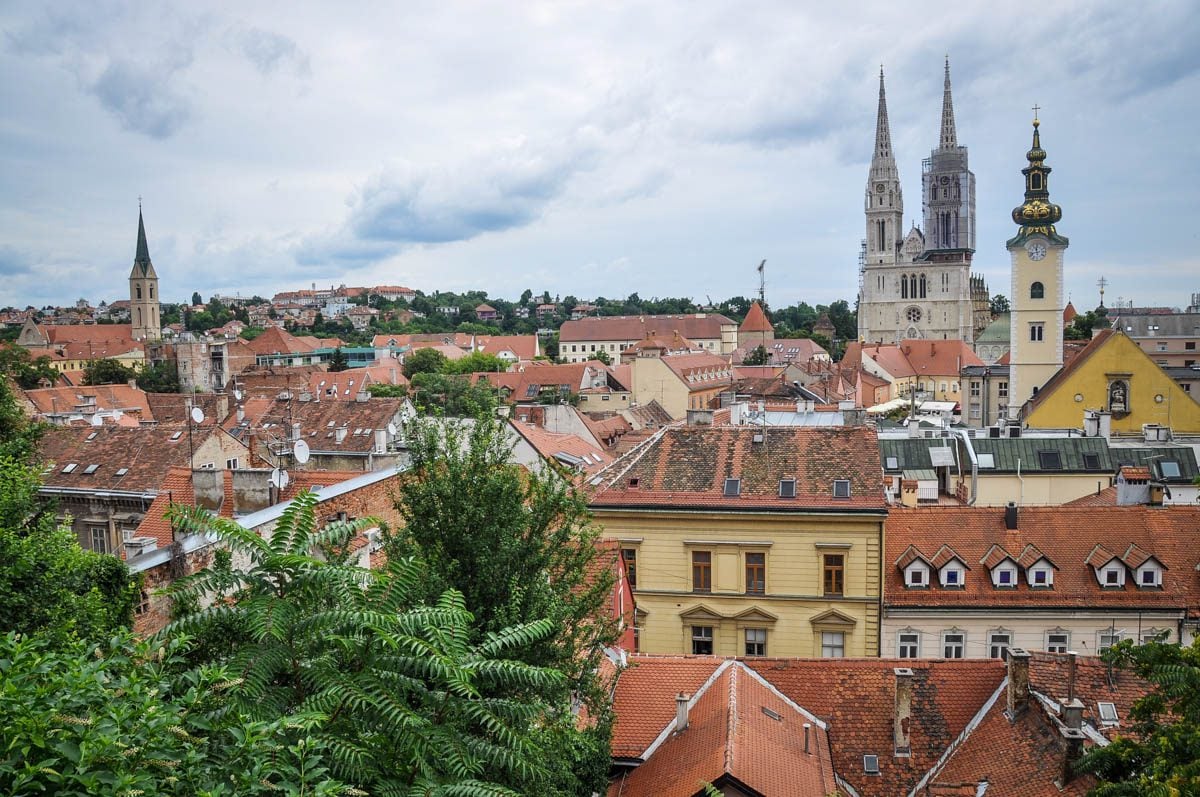 Croatia at a glance: Croatia is a popular travel destination due to its breathtaking beauty, historic seaside villages and stunning national parks.
Location: The Balkans region of Eastern Europe on the Adriatic Sea (view on Google Maps)
Capital city: Zagreb
Language: Croatian
Currency: Euro (EUR / €)*
Plugs/outlet types: Plug types C and F / 230 V and 50Hz
*A note about the currency: As of January 1, 2023, Croatia joined the Eurozone and adopted the Euro as their currency. Kuna (kn or HRK), the former currency of Croatia, will no longer be accepted as a form of payment. However, Kuna banknotes and coins can be exchanged until December 31, 2023.
Visa Requirements
As of January 1, 2023, Croatia joined the Eurozone and officially became part of the Schengen Area for passport control and visa purposes. If you are a citizen of a Schengen Area country, you can enter Croatia easily without the need for a visa.
If you are a U.S. citizen, you can enter the Schengen Area countries with a visa on arrival (just a stamp in your passport) and stay for up to 90 days in a rolling 180 period. (Meaning you cannot exceed 90 days in the previous 180 days.)

If you are from a non-Schengen country, and not a U.S. citizen, you may need a visa to enter Croatia. However, this is dependent on your nationality and purpose of visiting. We suggest double-checking with your home state department for updates on visa requirements.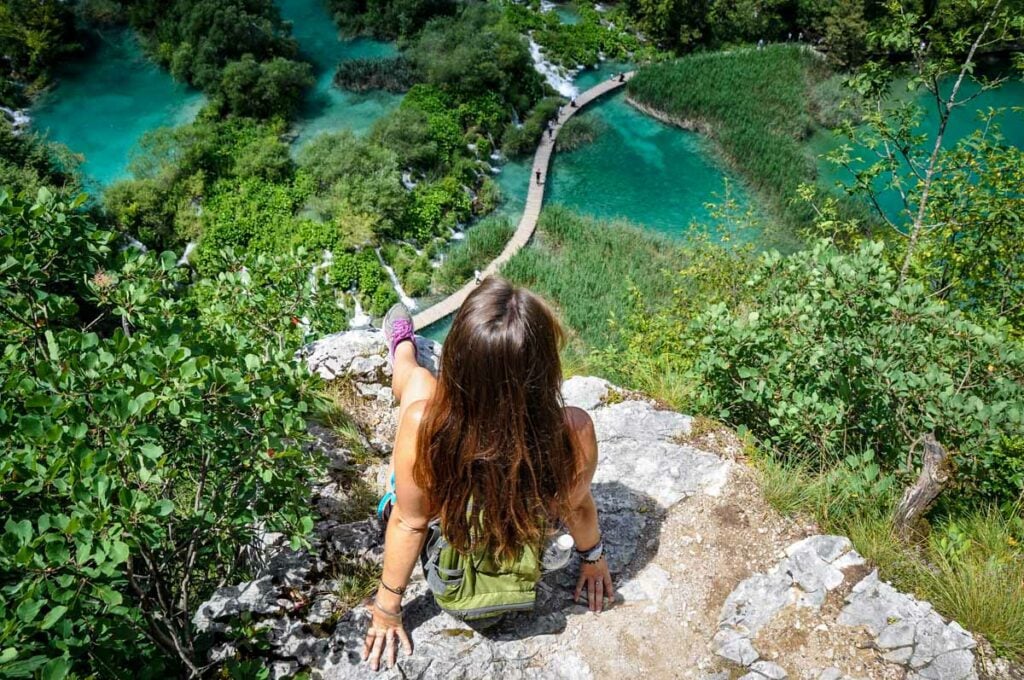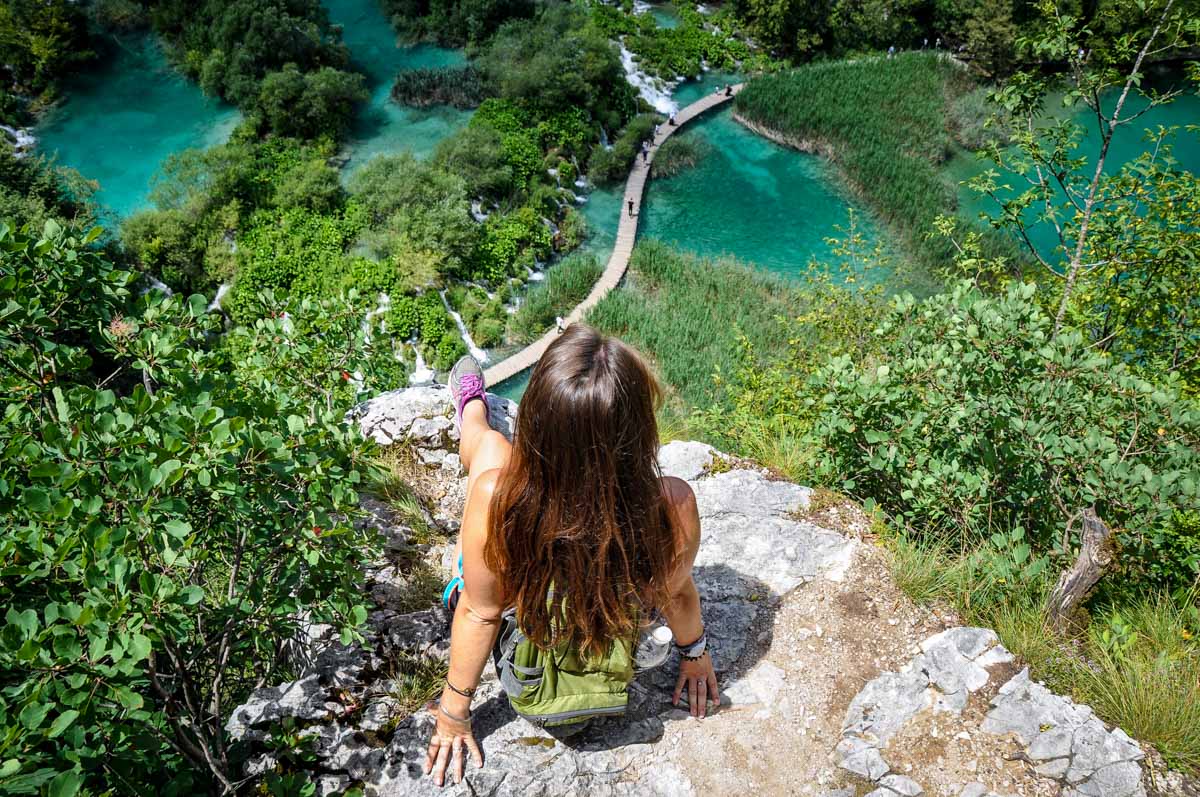 Language and helpful phrases
The official language of Croatia is Croatian (shocking!), but most people in the tourism industry will speak at least a bit of English.
With that being said, it is always nice to learn a few local phrases to show you've done your homework and respect the local culture.
Hello = Bok
Please = Molim
Thank you = Hvala
Beer = Pivo
Bathroom = Kupaonica
How much? = Koliko Kosta?
Tipping in Croatia
While it isn't necessarily expected to tip in Croatia, it is fairly common to round your bill up to the nearest whole number after a meal. You might consider adding a bit extra if you were especially pleased with your service.
For cafes, bars or drivers, you can simply round up your bill.
Since Croatia is a popular tourist destination, you can assume getting tips is becoming more and more common for service-industry workers and tour guides. Offering a few extra Euro is a great way to show someone they did an excellent job.
Best time to visit Croatia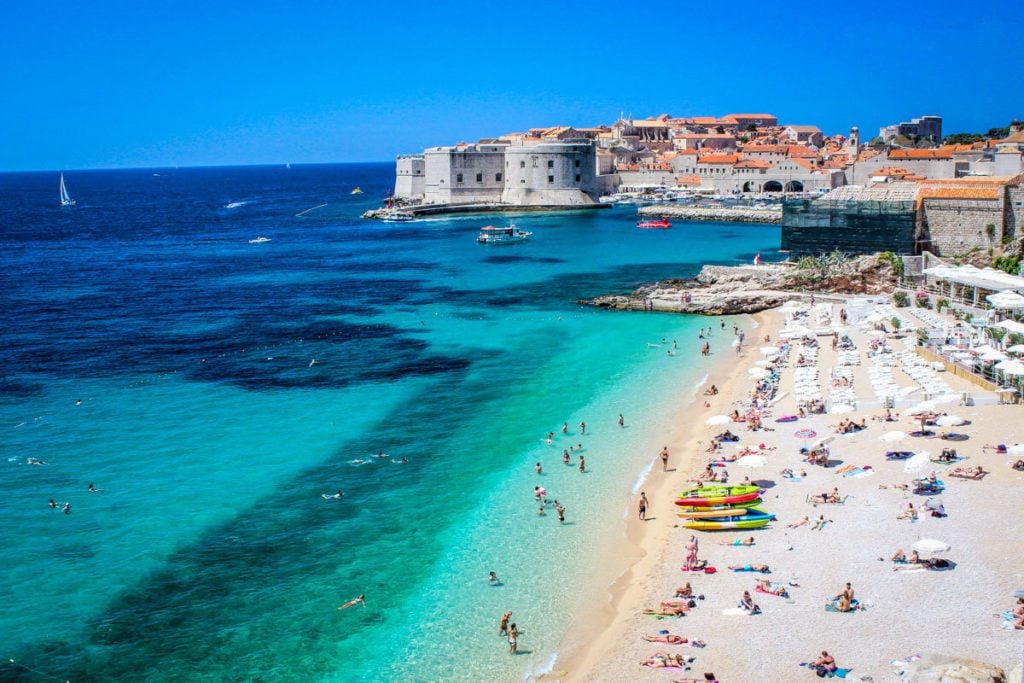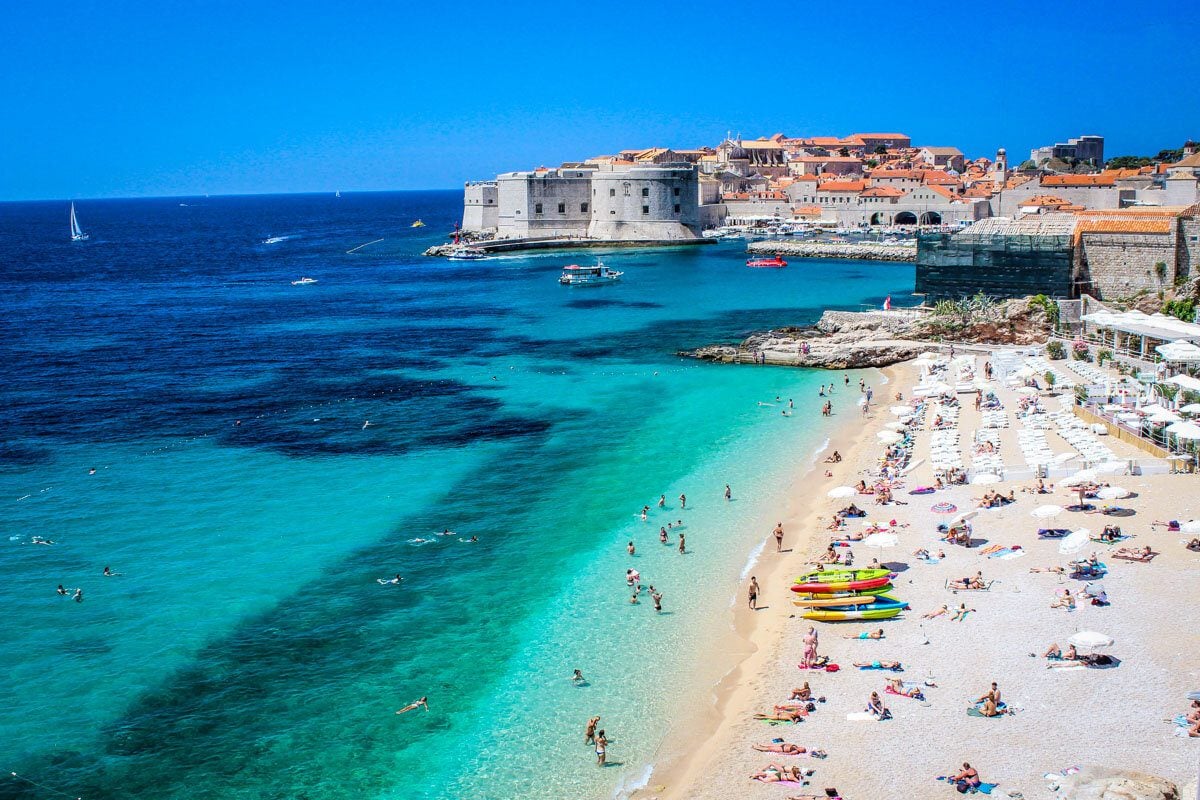 In short, you'll have the most favorable weather and avoid peak season crowds during the late spring and early fall.
Although Croatia's busiest season is during the summer, the sheer number of crowds and scorching heat are no joke. So while it is the most popular time to visit, those factors may heed you to reconsider.
However, each season and month has its own draws and drawbacks, so there's really no correct answer as it depends on what you're doing and where you're going.
Psst! You'll find our guide to the best time to visit Croatia helpful to get the full breakdown on what makes each season distinct and unique to help cater to your trip.
Top places to visit in Croatia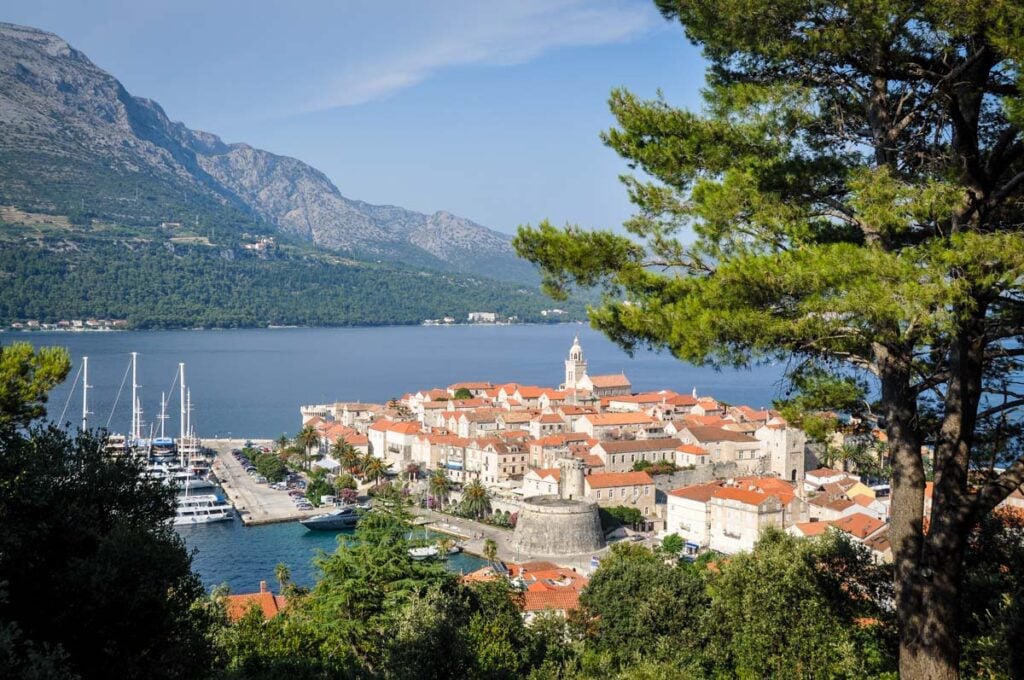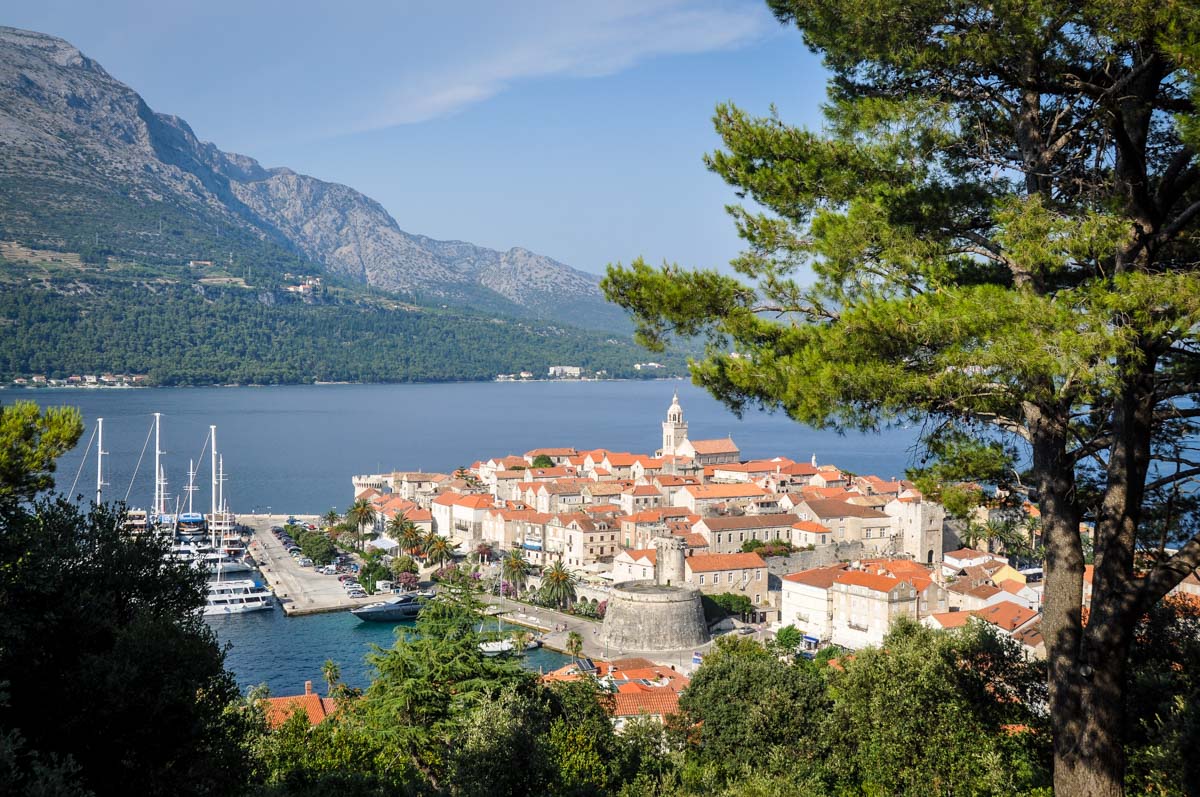 Croatia boasts of beauty and unique places to visit. Choosing where to go is the hardest part!
Dubrovnik: For those who have a love for history (or happen to be a Game of Thrones super-fan), definitely plan a visit to this Croatian walled city to see its medieval architecture.
Split: This central coastal city has it all from gorgeous beaches to historic landmarks and a fantastic nightlife scene. Due to its central location, it is a great 'home-base' when traveling to many of the islands.
Plitvice Lakes National Park: Nature enthusiasts flock to the stunning waterfalls, lush forests and array of wildlife in this national park. This is an absolutely perfect place for anyone looking to get swept away in the beauty of nature.
Zagreb: As the capital of Croatia, you can expect this city to always be bustling with activity. Whether you're visiting a museum, a cute boutique or trying out a new dish at a local restaurant, you will not run out of things to do.
Croatian Islands: Home to over 1,000 islands, Croatia is a beach-lovers paradise. Hvar, Brac, Vis and Korcula are some of the most popular island destinations. Connected by a network of ferries, it's easy to hop around.
Istria Peninsula: Roman ruins and delicious cuisine make up this part of Croatia that shares a lot of similarities to neighboring Italy.
Want more info? We have an entire article with a round up of the best places to visit in Croatia, including the top things to do and where to stay in each place.
Top things to do in Croatia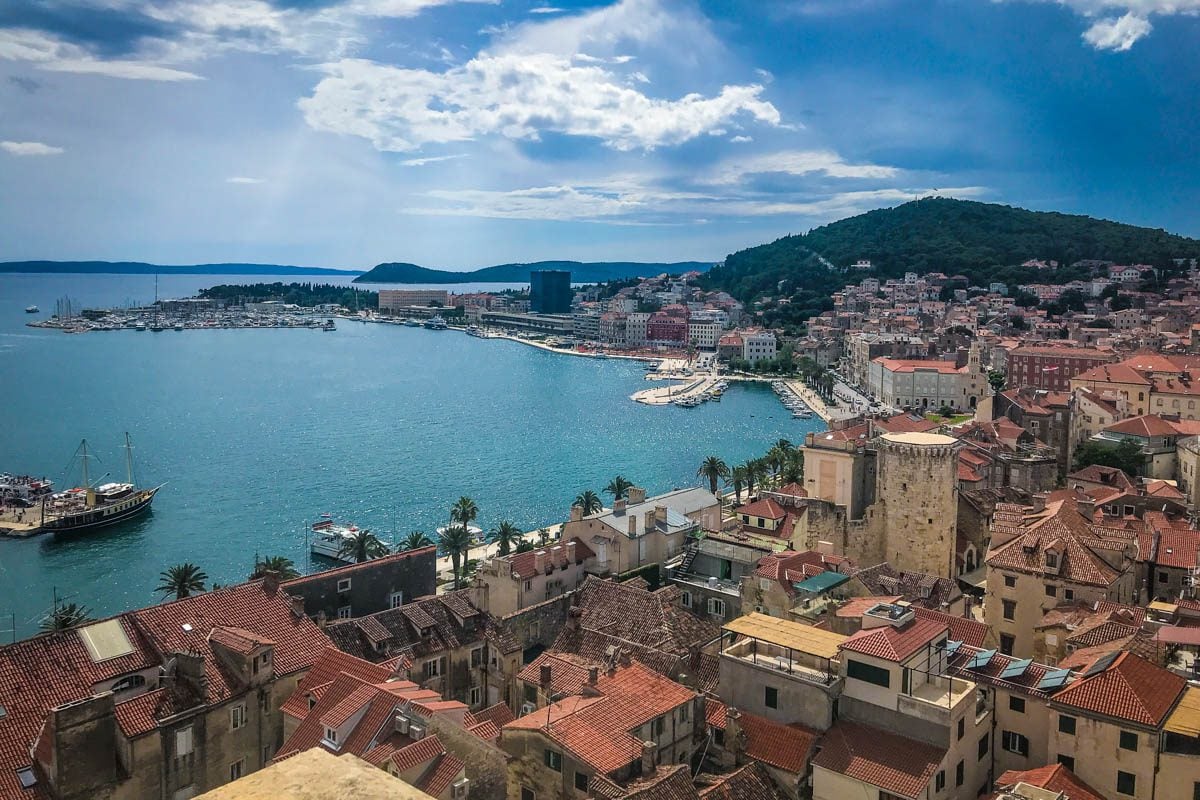 Croatia truly offers a variety of activities for every type of traveler. We've pooled together a few of the highlights (though there are many, many more!) in this Croatia travel guide. To find out more, check out our round up of absolute best things to do in Croatia.
Visit Plitvice Lakes National Park. With its network of waterfalls, stunning canyons and array of wildlife, you'll adore Plitvice Lakes. This is one of the oldest national parks in the country and part of the World Heritage Foundation.
Go truffle hunting. Croatia happens to be the best (and one of the only!) place to find truffles in the world. If you are visiting during the months of April – November, Karlic Tartufi, a local family business of 3 generations, offers a truffle hunting experience that we highly recommend.
Walk Dubrovnik's Old Town walls. Throw on your walking shoes and weave through these ancient city walls to explore the stunning Medieval architecture.
Explore Krka National Park. Throughout Krka National Park, there are dozens of waterfalls, picnic spots and numerous winding nature trails waiting to amaze you.
Discover Diocletian's Palace. Experience a (mega) slice of ancient history by visiting a real-life palace built for the Roman emperor, Diocletian, over 1,500 years ago. If you're in Split, you really cannot miss this.
Go sailing. One of the best ways to explore Croatia's gorgeous coastline is from the water. As a popular sailing spot, there are numerous companies that offer sailing tours, lessons or charters.
Budgeting for Croatia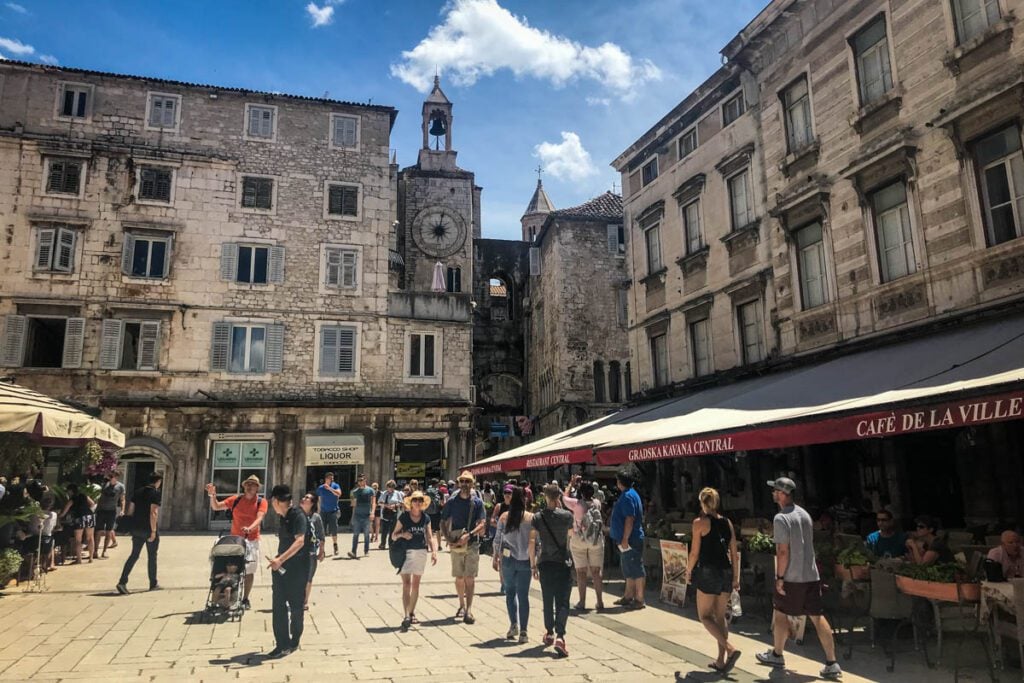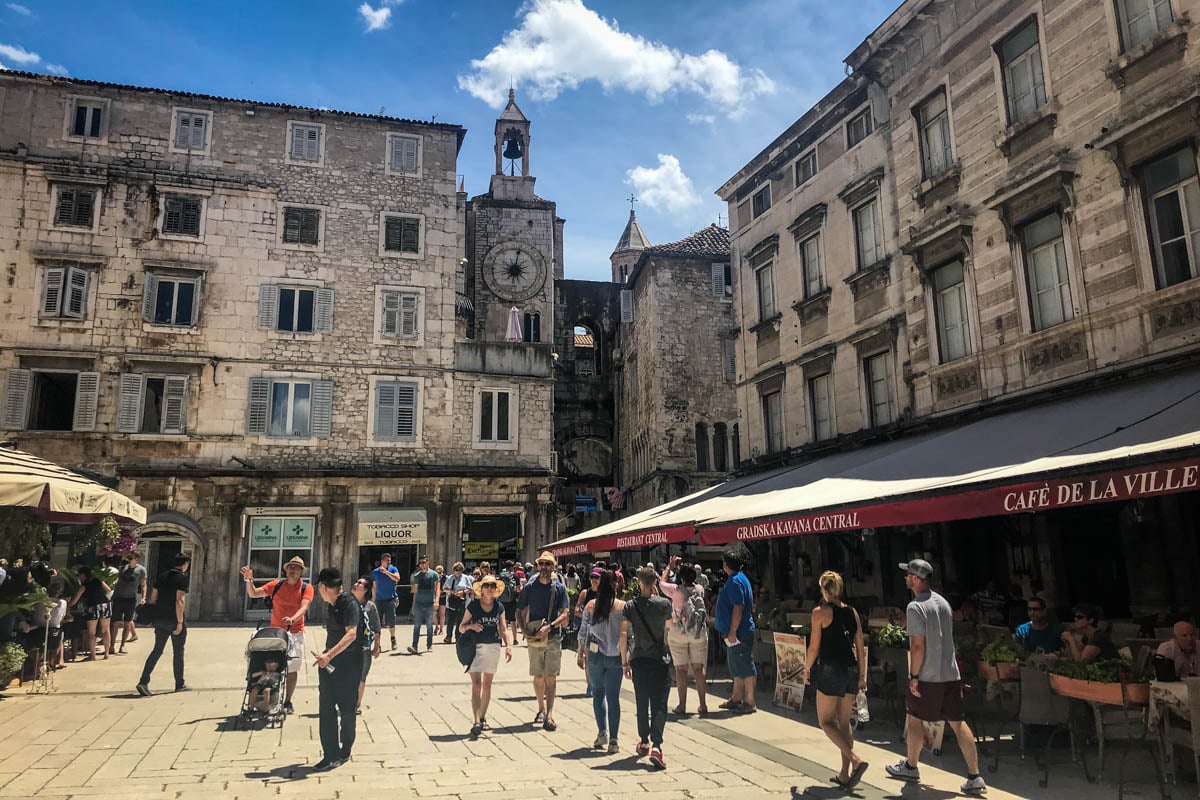 Compared to its neighbors, Croatia is a pretty expensive place to visit. There are areas to cut costs so it doesn't have to break the bank, but it's definitely pricier than we expected.
You can expect to see the highest prices in popular places like Dubrovnik and Split. Many prices countrywide may double or even triple during summer.
Typical daily budget for Croatia
Budget traveler: If you are on a tight budget and watch your spending closely, €45 – €55 could be a sufficient budget.
Mid-range traveler: If you want to have a few splurges and stay in nicer accommodation, plan to budget €100 – €150 per person, per day in Croatia.
Luxury traveler: You can easily spend as much as you want traveling around Croatia without any budget concerns. However, if you hope to have a luxury vacation, you should expect a minimum daily budget of €210+.
Typical costs for Croatia
Prices in Croatia fluctuate depending on the area you're traveling and the season, with summer being the most expensive time to travel.
Accommodation
Dorm bed: €10 – €20
Private room: €20 – €30
Mid-range hotel: €50 – €80
Luxury hotel: €150+
Food
Street food: €5 – €10
Mid-range restaurant meal: €10 – €25
Local beer: €3 – €5
Coffee: €2 – €4
Rides
Taxis:€2 – €4
Local bus: €1 – €3
Cross-country bus: €13 – €24
Ferry: €5 – €13 (small ferries) and €30 – €40 (large ferries)
Fun
Plitvice Lakes entrance: €10 – €40 (depending on the season)
Dubrovnik City Walls: €35
Truffle hunting tour: €35 – €200
Krka National Park entrance: €20 – €40
Transportation in Croatia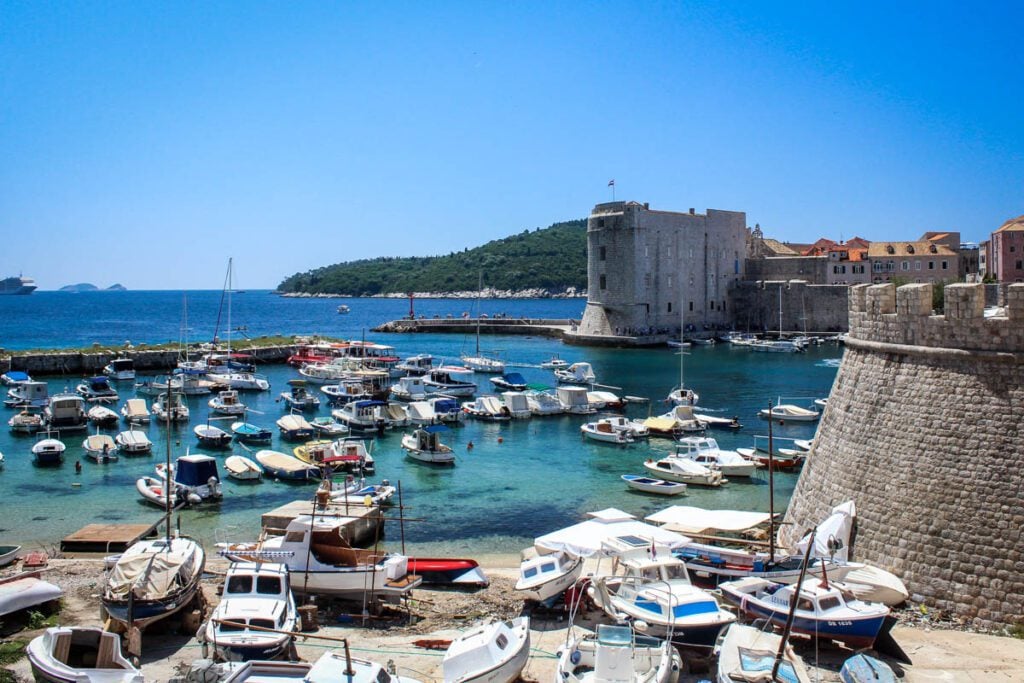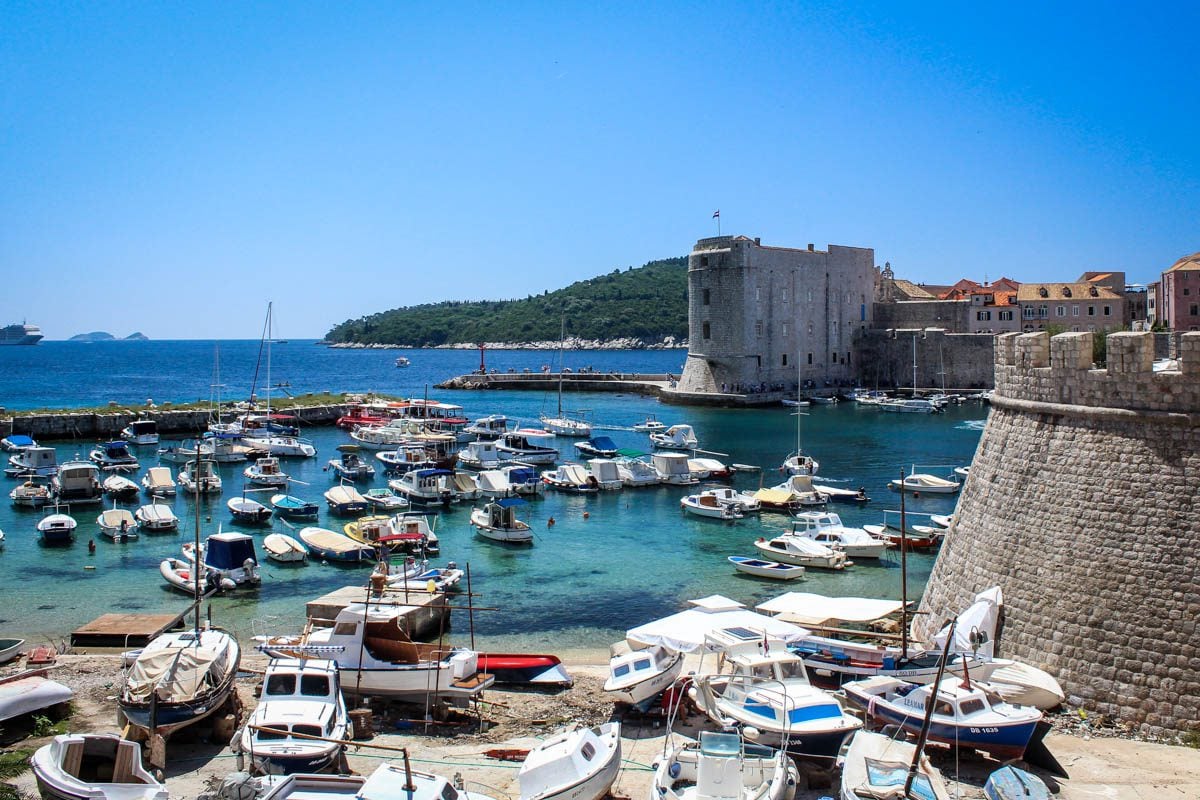 There are a few convenient ways to get around Croatia, but if you stay near the city center, you'll find that most cities are convenient and walkable.
For longer distances, buses and ferries are quite popular. Or, if you really crave freedom, you may opt to rent your own vehicle.
Rental car
Renting a car in Croatia is shockingly affordable (around €13 – €26 per day) and allows you the freedom to explore the natural wonders of Croatia without having to adhere to a schedule or timetable.
Overall, the roads in Croatia are safe and easy to navigate making this an ideal spot for a road trip. However, because some of the roads can be twisty and locals tend to drive with a lead foot, be sure you're a comfortable driver.

For the best deals on car rentals and to compare prices, we recommend using Discover Cars.
Uber
You'll easily be able to snag an Uber in popular areas like Zagreb, Dubrovnik and Split which can be a convenient way to get around. Ubers might not be available on the islands, but taxis are around.

Whenever traveling with Uber, always be mindful of your journey home. Sometimes Ubers are happy to take you to a remote location, but finding a ride back can be tricky.
Ferries
Traveling by ferry within Croatia is really convenient, affordable and makes island hopping a dream.

There are two major ferry ports in Dubrovnik and Split and it takes about 4.5 hours to travel between the two. This will cost you around €30 – €40.

There are also smaller ferries that almost work like a public bus system connecting the smaller islands to the mainland. Prices for these ferries can range from €5 – €13.
Public bus
In recent years, Croatia has committed to improving their roadways, which has resulted in a fantastic public transport system.

Although buses are usually a cheaper option, they aren't always the quickest option—except in Croatia.
You'll be pleasantly surprised that the public buses in Croatia are both quick and inexpensive. With AC, WIFI and comfy seats, you'll be riding in style—er—as stylish as a public bus can get.
There are a few major routes connecting the big cities and smaller ones that run between villages and towns. Therefore, prices can range anywhere from €1 to €25.
Ues Bookaway to search routes and purchase bus tickets in Croatia.
Campervan
Enjoy the freedom of waking up to some of the most scenic landscapes in Croatia by renting a campervan. This is becoming an increasingly popular way to explore some of the most magical spots in Croatia—ones that might not be accessible by public transport or within the constraints of a tour's timetable.
We are big fans of campervan travel and highly recommend this mode of transportation if you love adventure and straying from the beaten path a bit.
Practical tips for traveling in Croatia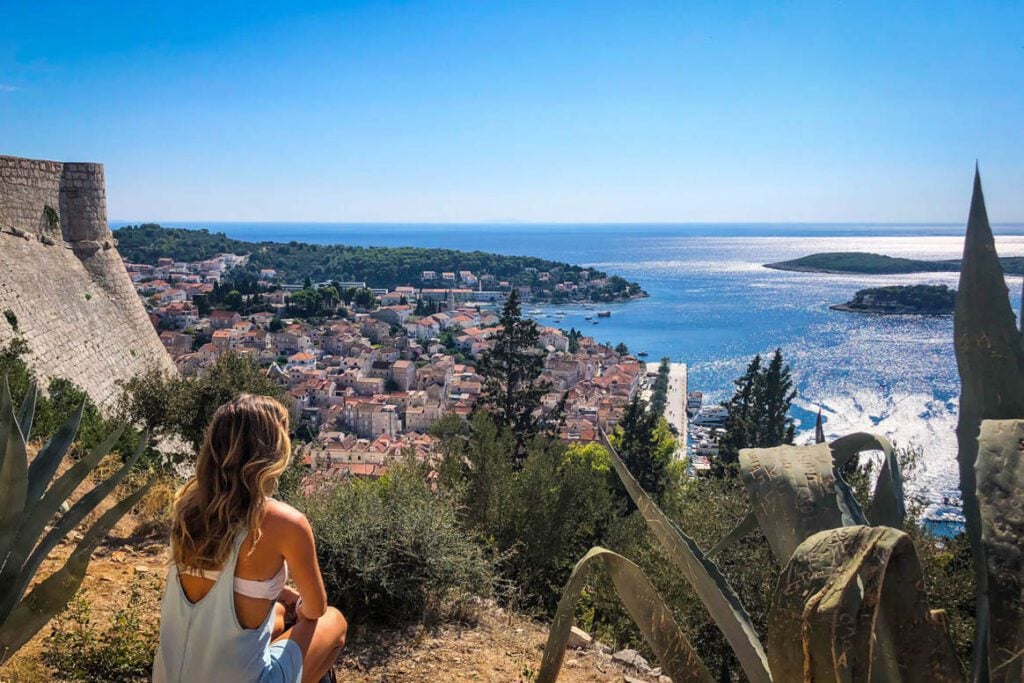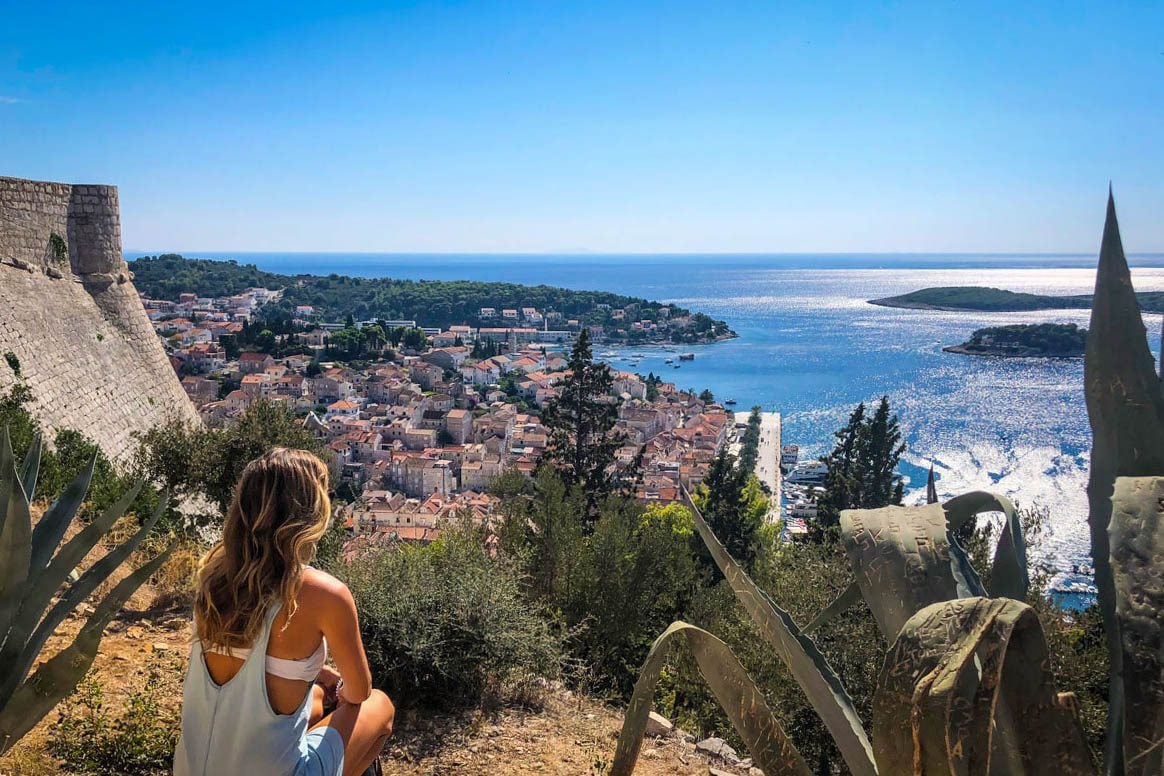 Whether it's your first time traveling in Croatia or you're a regular, it's always helpful to keep in mind some helpful tips that can come in handy when you're traveling.
Download a local eSIM. We recommend using Airalo.
Use public transportation. Not only is it an easy way to reduce your carbon footprint, the public transportation in Croatia (Ubers, buses, ferries) is accessible and cheap.
Check visa rules. If you're from a non-Schengen area, you'll be granted 90 days to visit. However, you must keep in mind this accumulates for time spent in all other countries in the Schengen Area in a rolling 180-day period.
Book ahead. This is especially important if you're traveling during peak travel season because things will book out months in advance.
Drive carefully. If you're renting a car or a campervan, be sure you're a comfortable driver and map out your routes ahead of time to avoid any added stress.
Don't make these mistakes when traveling to Croatia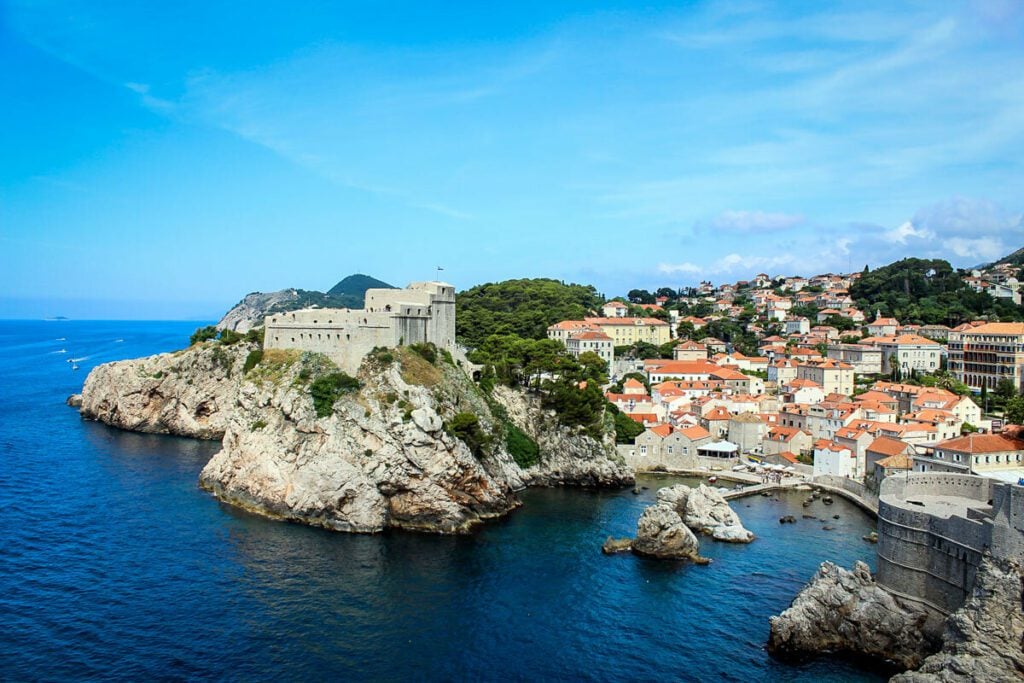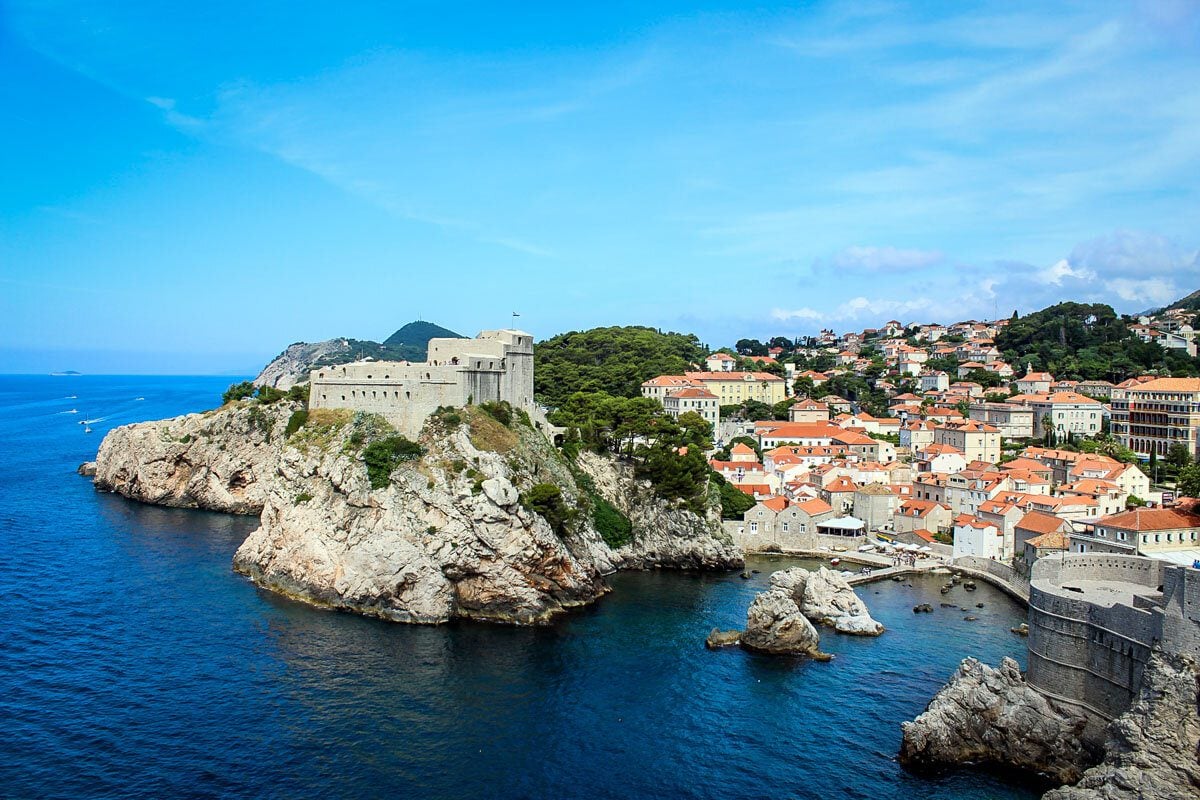 We're not writing this to discourage anyone from visiting this Mediterranean beauty. We tend to shy away from sharing when we don't like a place. But I think we've pinpointed what it was that turned us off to Croatia at the top.
We hope by sharing our disappointment, it may help others come with more realistic expectations and avoid the mistakes that we made while traveling in Croatia.
There are a few things that affected our feelings about Croatia, and we made some big mistakes when we traveled there. Once you understand the mistakes we made, you will enjoy Croatia so much more!
1. Our expectations were high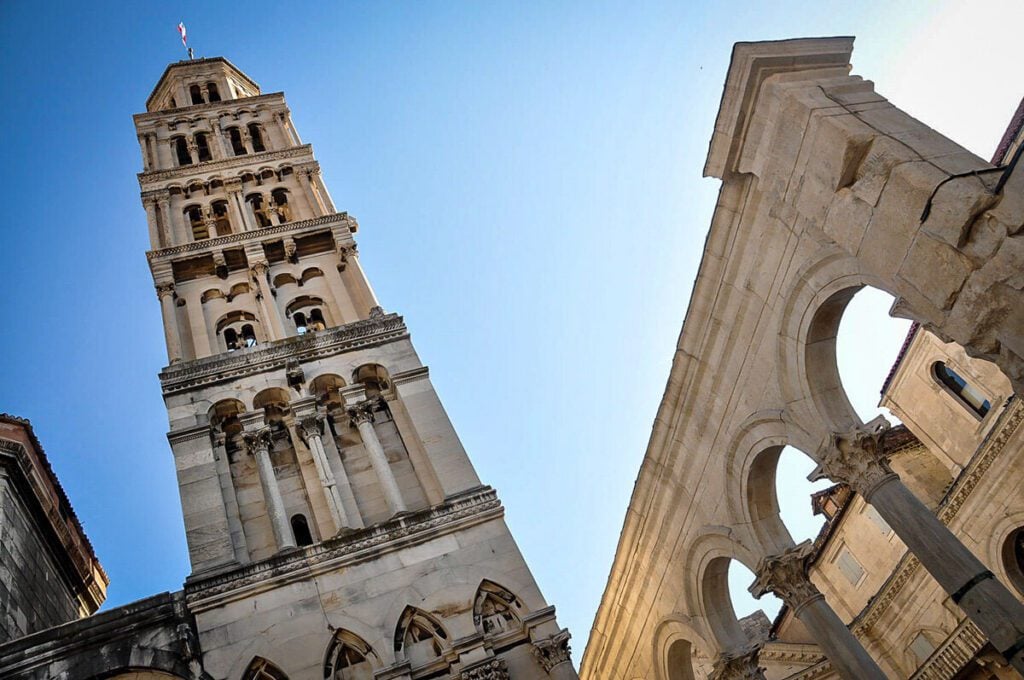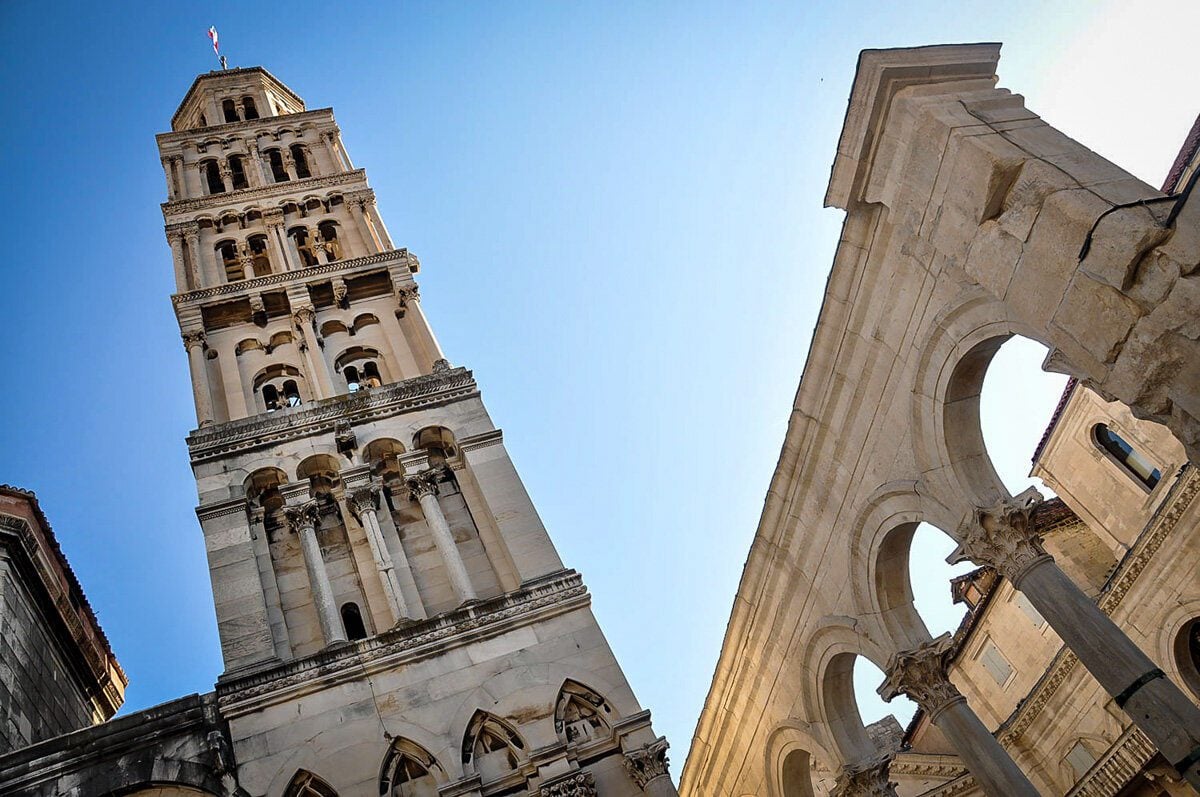 For one thing, we had super high expectations. Back in 2009, Ben and I studied abroad in Italy. That was the first time I remember hearing about Croatia.
A friend of mine went there and raved about the beaches, the lack of other tourists compared to neighboring Italy. She said it was cheap, "off the beaten path", and beautiful. I've been dreaming about visiting Croatia ever since. You can probably guess where I'm going with this…
Have you ever visited a place that was so hyped up that even though you had a good time, you left feeling underwhelmed?
That's how we felt about Croatia. We had allotted 2 and a half weeks to visit Croatia, but ended up leaving early – something we rarely do when traveling (in fact, it's almost always the opposite!).
2. It was PEAK tourist season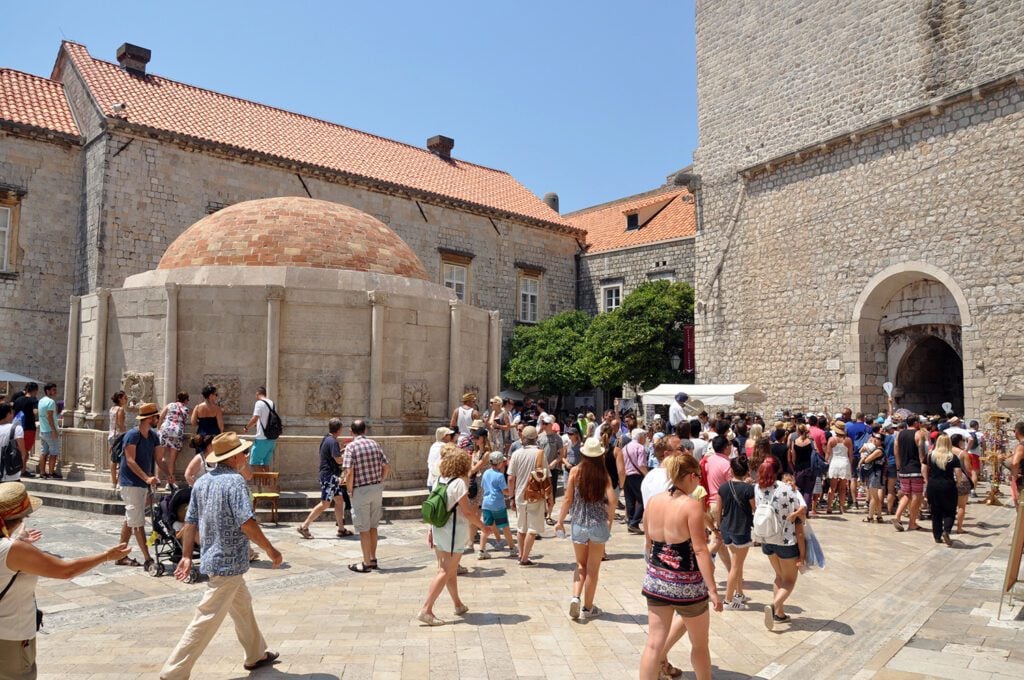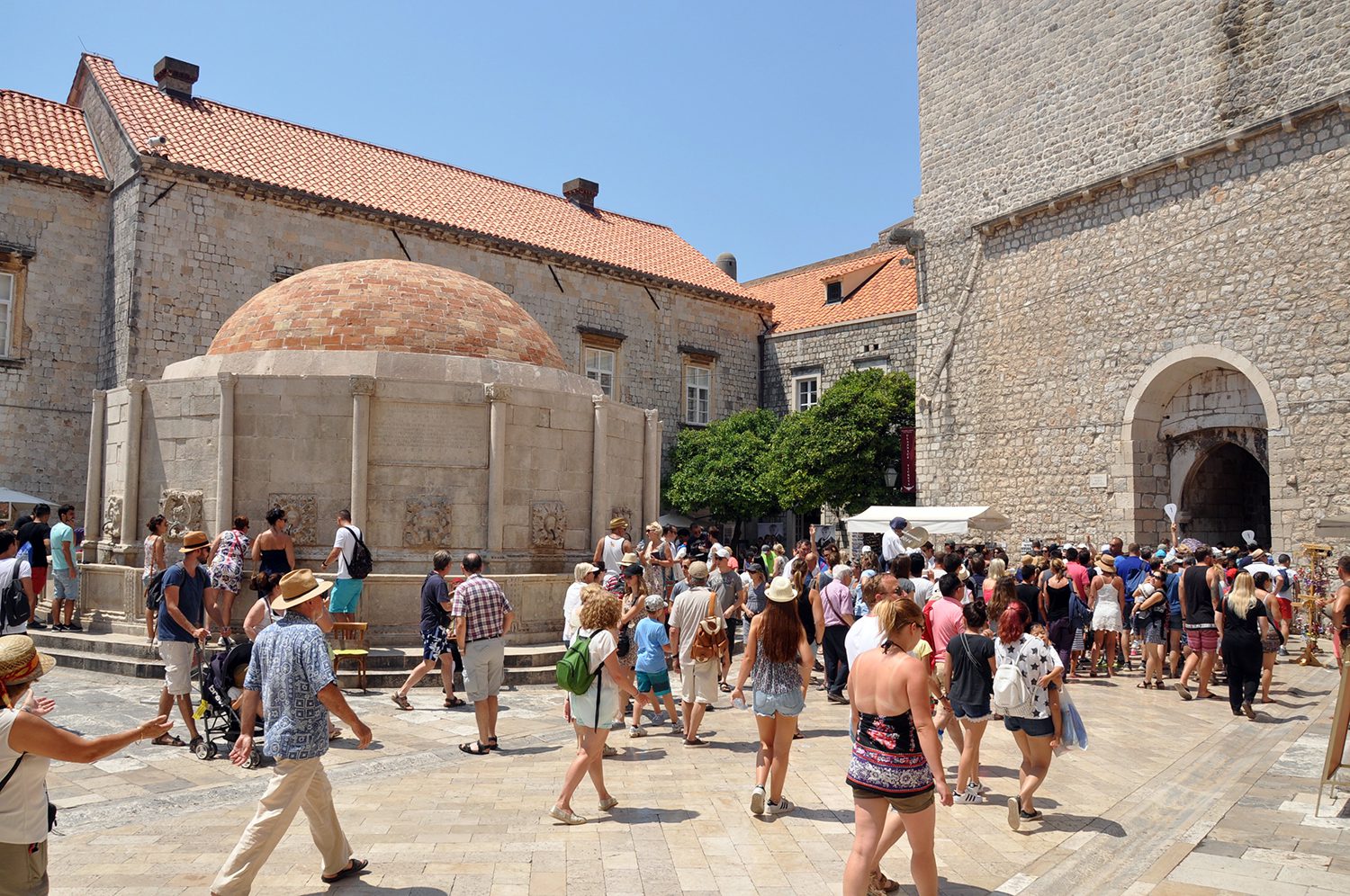 When we visited Croatia in July, it was packed with tourists everywhere you looked. Places that were described online as "hidden gems" had lines around the block.
The famed Plitvice Lakes that grace your Instagram feed are magical, yes, but some of that magic is diminished when you have to walk the wooden boardwalks behind long lines of people carrying selfie sticks.
And in Dubrovnik, you couldn't walk a few minutes in the Old City without seeing one of the many corny "Game of Thrones" tours (complete with a guide dressed in chainmail and holding an iPad that was playing a scene from the show).
Historic buildings had been turned into overpriced pirate-themed candy shops. It felt a bit like Disney World. And not in a good way.
I think a few years ago, these crowds didn't exist to the extent that we experienced. But with photos of Croatia being an Instagram staple (I'm guilty of posting these too!) and with the exploding popularity of Croatia as a filming location for Game of Thrones, people are flocking to this Mediterranean country in hordes. Especially during the summer months.
3. We didn't budget correctly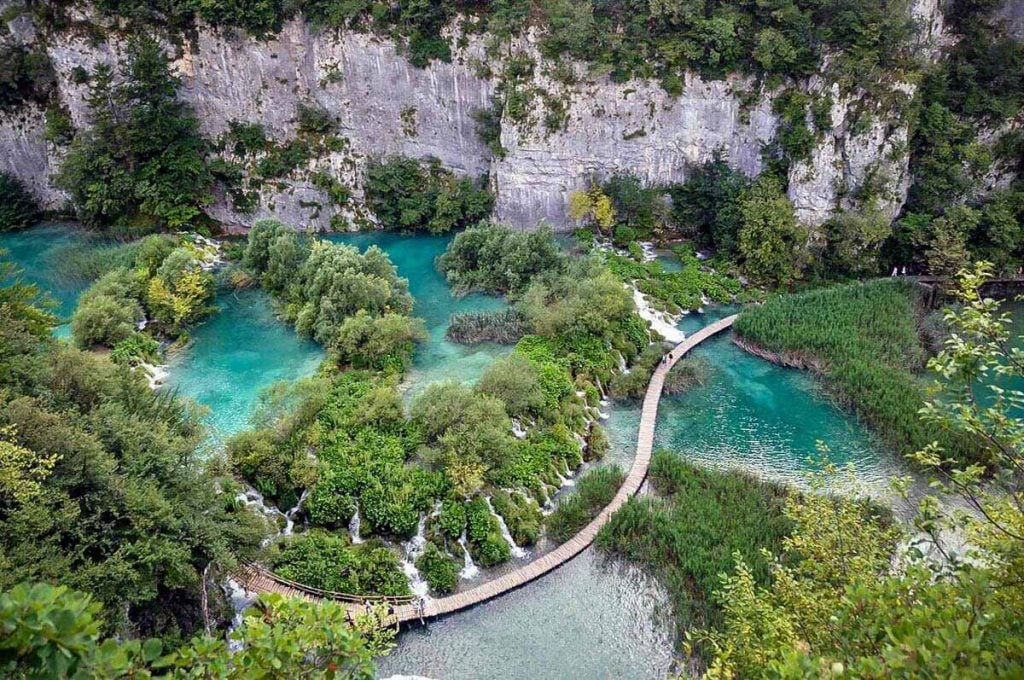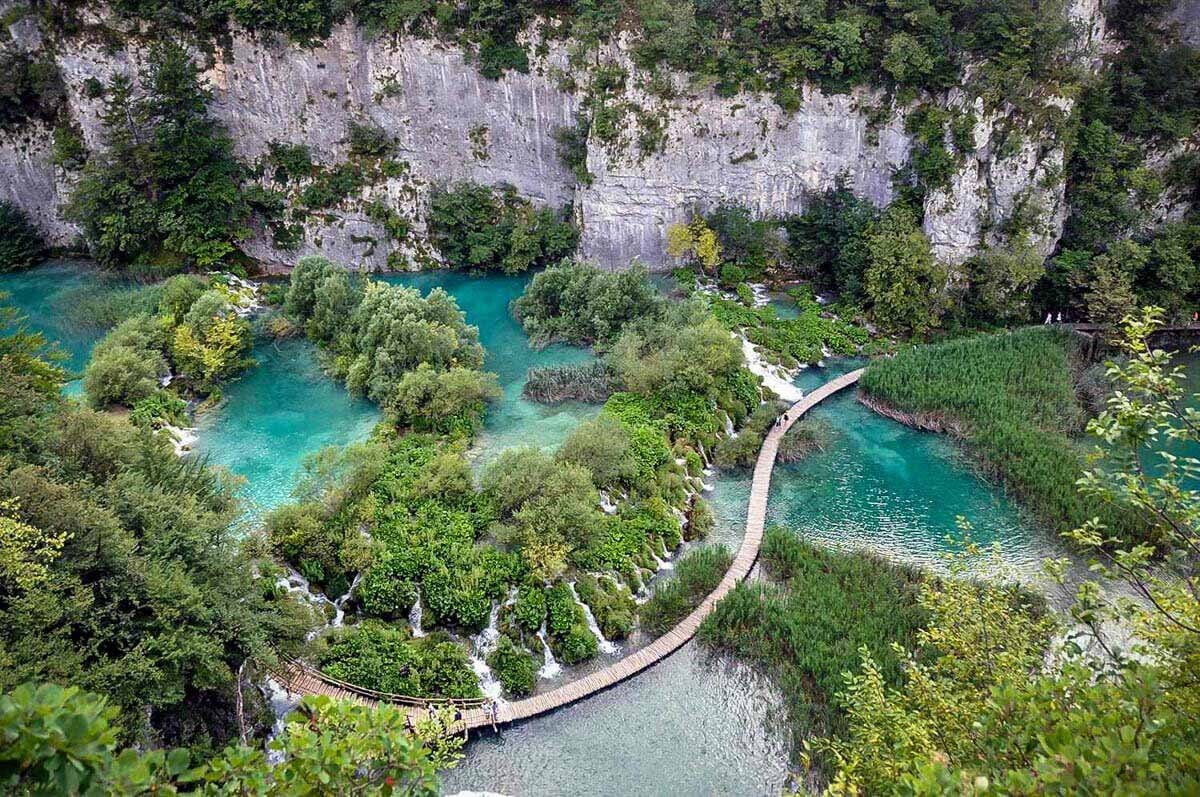 Prices were much higher than any of the neighboring countries we visited (and with all the tourists there, I totally understand why).
This is more on us than anything else, but we just didn't have the right budget expectations to fully appreciate Croatia. If we raised our budget, we probably would have been able to enjoy ourselves a little more.
4. The people weren't as friendly as the neighbors
On top of everything else, we'd just come from Bosnia & Herzegovina where the people were incredibly friendly, funny and excited to talk with us. Many of the people we met in Croatia were lacking in this department.
This isn't to say we didn't meet friendly Croatians – just the opposite. We had a few lovely guesthouse owners that were very kind, but the overall vibe just wasn't as friendly as many of the countries we visited during our round-the-world trip – especially the neighboring countries.
5. Our feelings are relative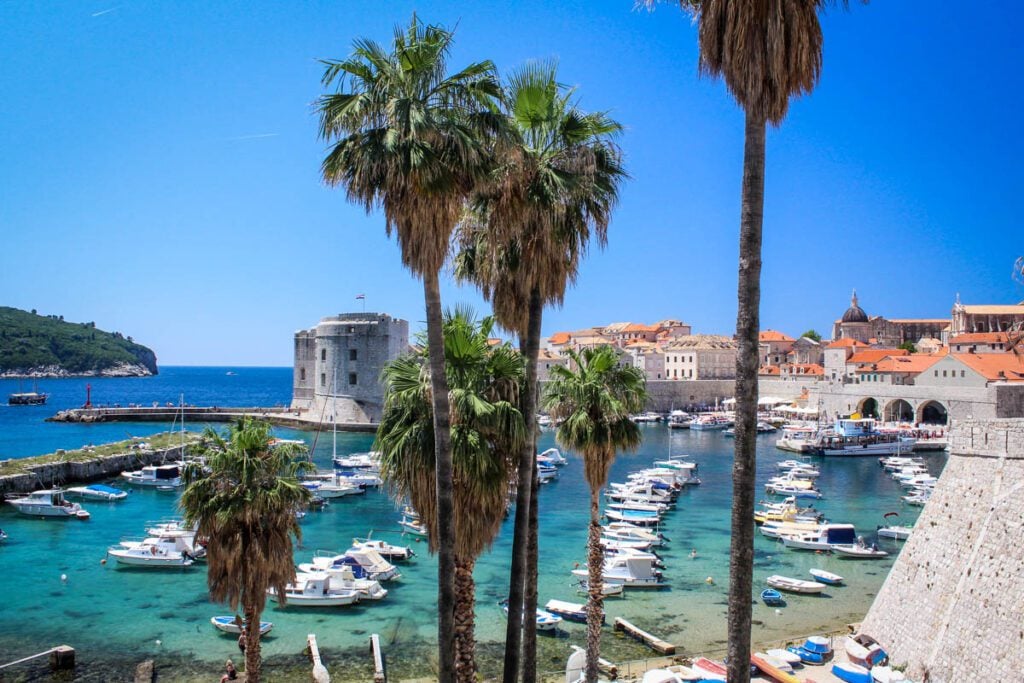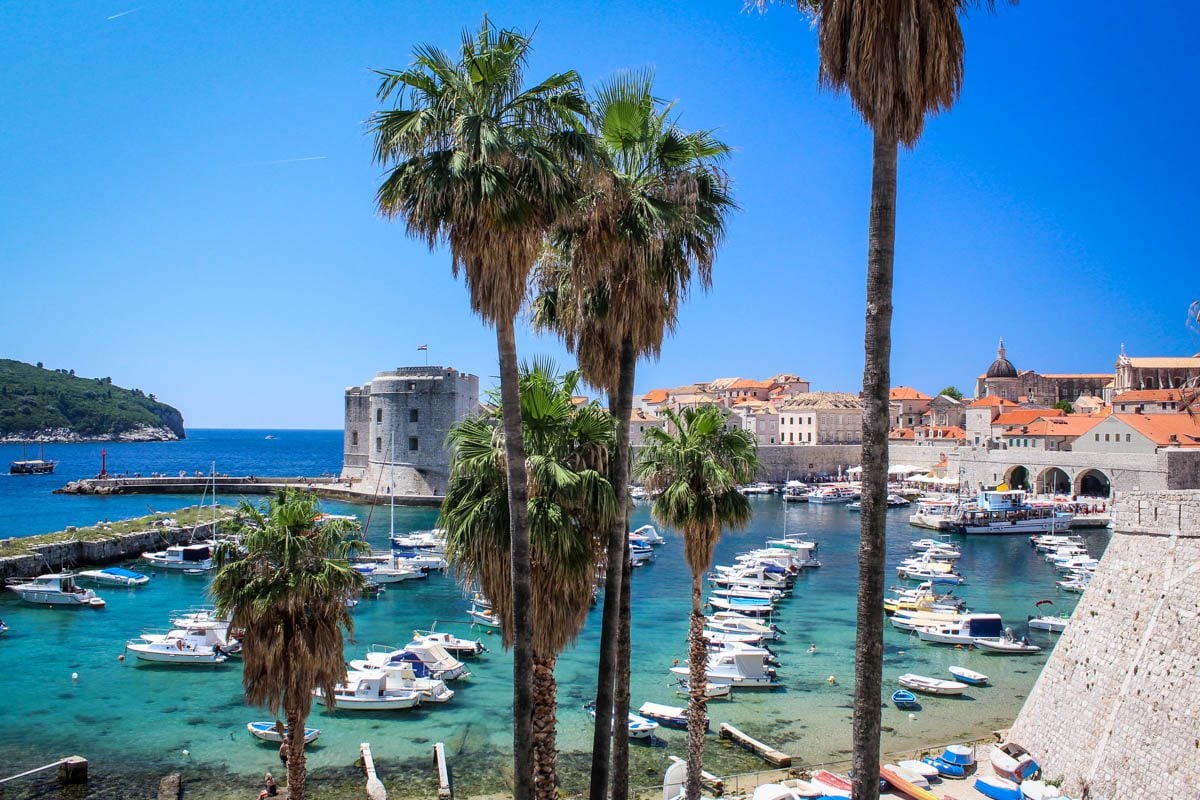 Our travels were bookended with visits in two countries that seriously surprised us: Bosnia and Slovenia. And it just so happened that Croatia fell in between.
Think of it this way: You go to a dinner party and speak with 3 people. The first (Bosnia) and the last (Slovenia) are humble and surprisingly interesting. You laugh, you cry. You listen to their stories and they listen to yours.
That person you speak with in between is perfectly nice. A little cocky, maybe. They are beautiful, but they know they are. Everyone in the party wants to talk to them, so you kind of just feel like you scratch the surface of really getting to know who they are.
And when it comes time to leave the party, you reflect on the two fantastic conversations you just had. The one in the middle kind of fades away. Maybe if you hadn't spoken with the other two party-goers, you would have really appreciated that middle convo a bit more.
For better or worse, our opinions of people or places are heavily impacted by where we've just come from or where we're going (literally and metaphorically). We just weren't in a place to fully and wholeheartedly appreciate what Croatia had to offer.
6. We may have gone to the wrong places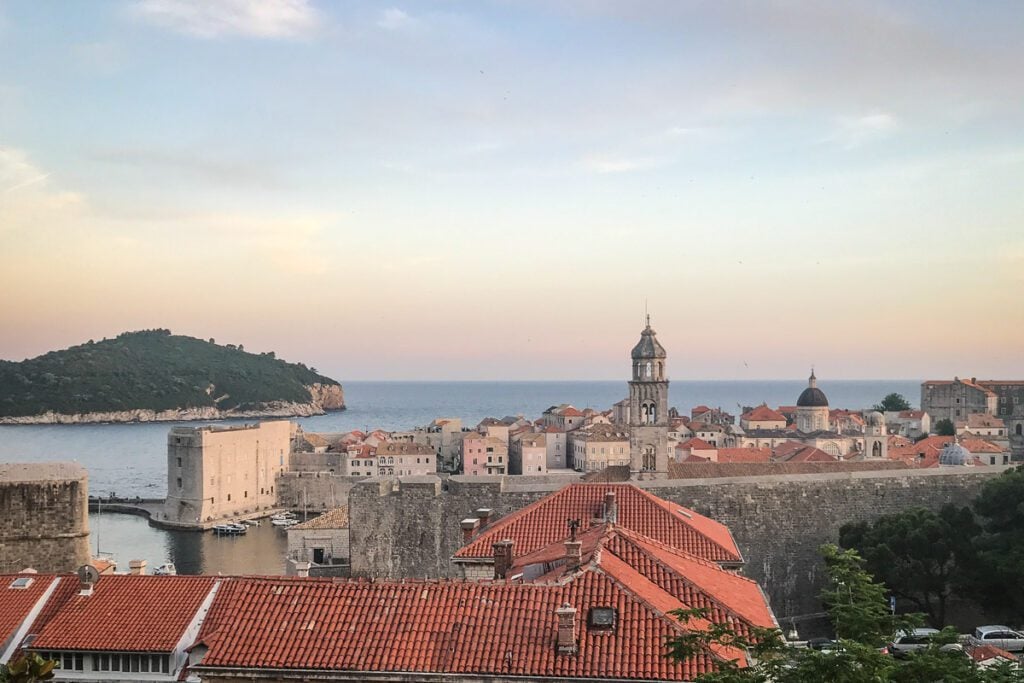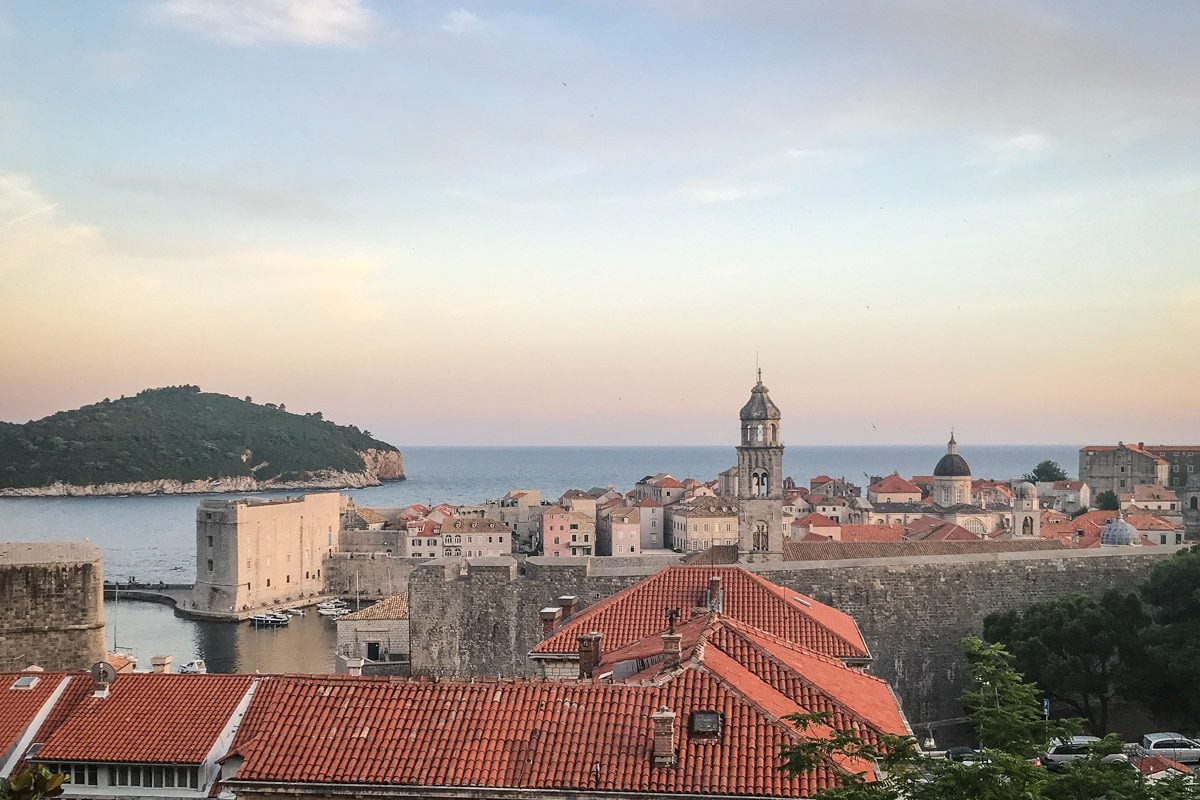 This is a lesson we learn over and over again.
The most popular destinations almost always leave us a bit disappointed. I'm sure anyone who has ever gone to the Leaning Tower of Pisa can relate. Cool tower, but that's about it for Pisa.
Maybe it was our route: Dubrovnik – Korčula – Split – Plitvice Lakes – Zagreb. We started off with a city that we really didn't enjoy, and that sour taste lasted in our mouths for the rest of the country.
We probably should have done some more research and found more off-the-beaten-path areas, but we were traveling so fast that we just defaulted to the easiest route.
Would we go back to Croatia?
Yes, without a doubt. We would return in a heartbeat.
There are a few places we already have in mind that we'd like to visit the second time around. These include some that our Director of Content, Amanda, has visited and wrote about in some of our other Croatia guides.
We won't deny that Croatia is absolutely breathtaking. Dubrovnik is as touristy as it is beautiful and Plitvice Lakes are a natural treasure.
Our advice to others visiting Croatia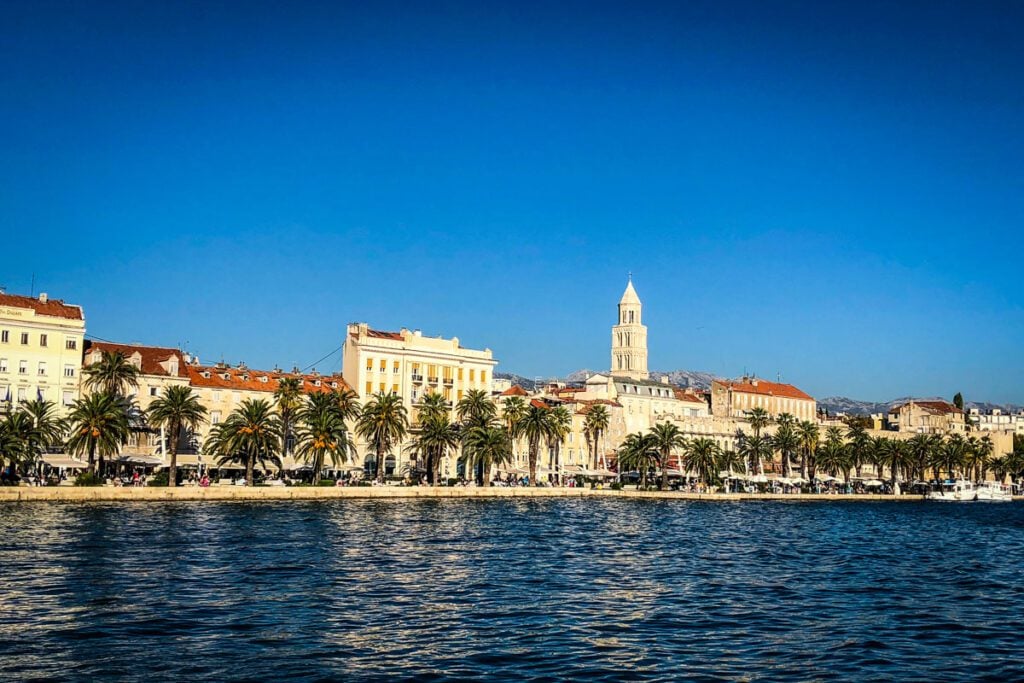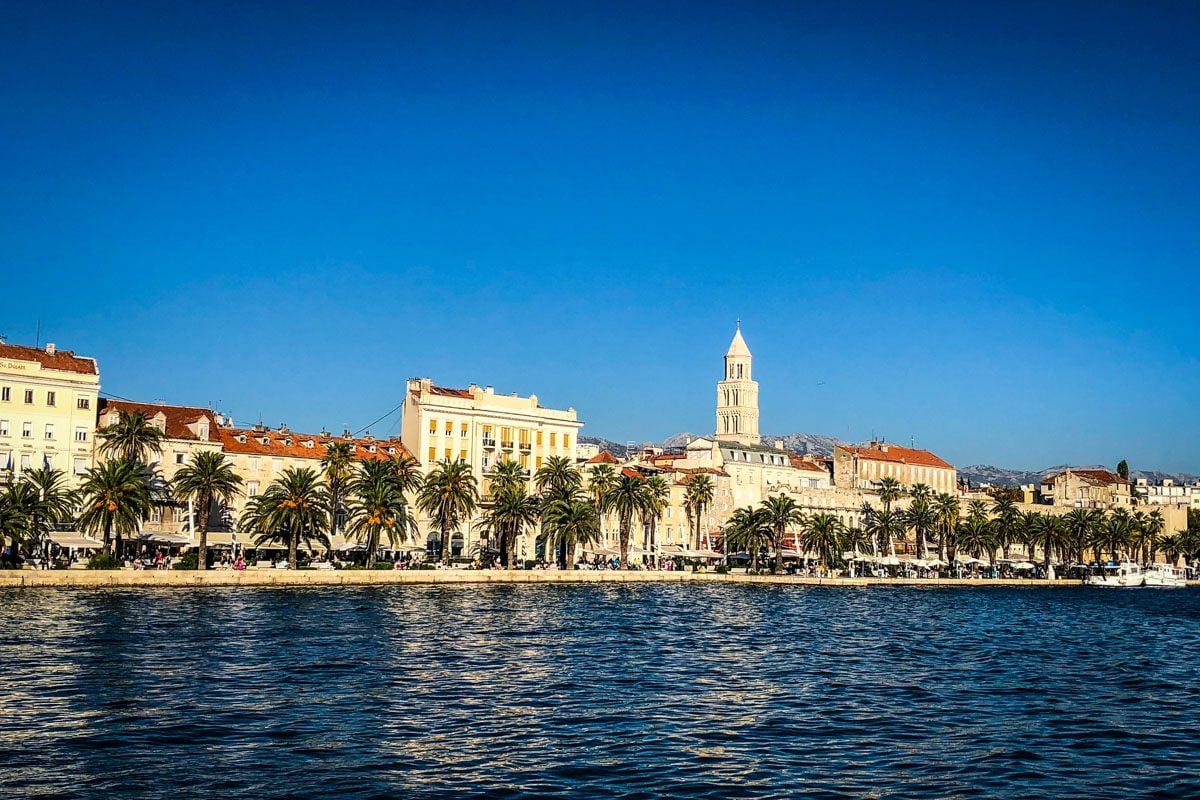 Avoid peak tourist season. Period. Go somewhere else.
Budget quite a bit more money than you would for the rest of Eastern Europe. We knew Croatia would be one of the more expensive countries on our trip. But we didn't think we would be seeing the same prices as Western Europe.
Don't make the mistake we did. You'll enjoy yourself more if your budget has some wiggle room.
Have realistic expectations about crowds. Unless you visit during a totally off-peak time, Plitvice Lakes will be crowded. Dubrovnik may feel a bit like Disney World. If you go in knowing that there will be long lines and selfie sticks, you won't be as disappointed as we were.
I'm sure there will be a few people who read this and think we're crazy because they had a fantastic time in Croatia. And I know we rave about places that others may not like. Travel is personal.
We try not to highly publicize when we don't like a place because we truly believe that there are so many factors that can affect how much you like a particular city or country. But we also believe in honesty, and think that it's okay not to fall in love with every place we visit.
Our intention is not to discourage anyone from visiting Croatia, but instead to help set expectations and give you advice so you avoid some of our mistakes. We would definitely go back to Croatia; and knowing what we know now, we would most likely enjoy it much more.
How to book your trip to Croatia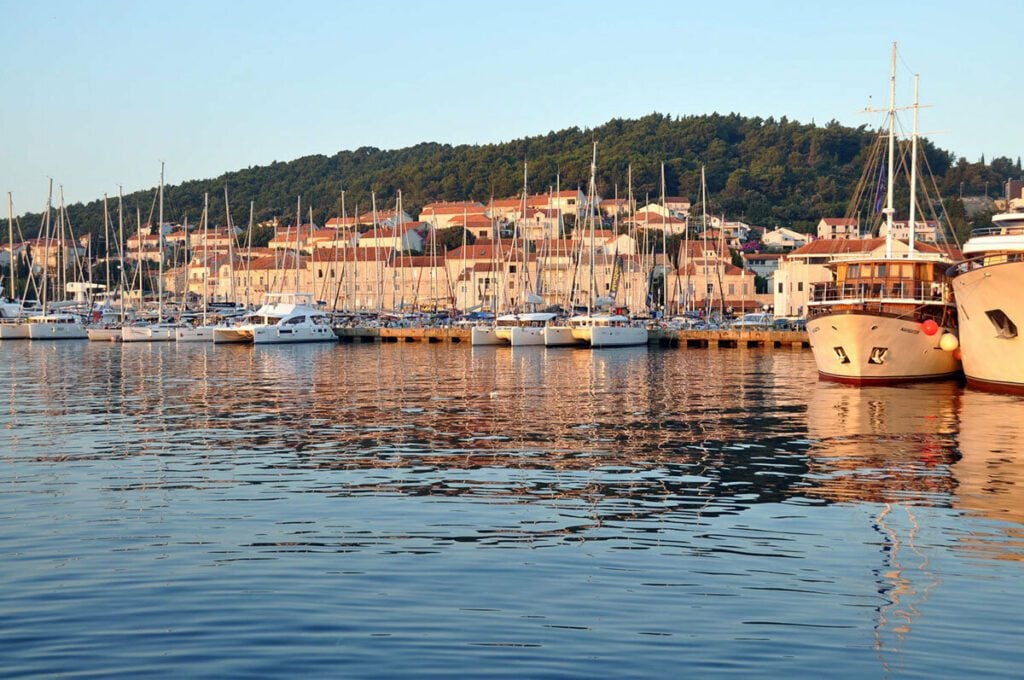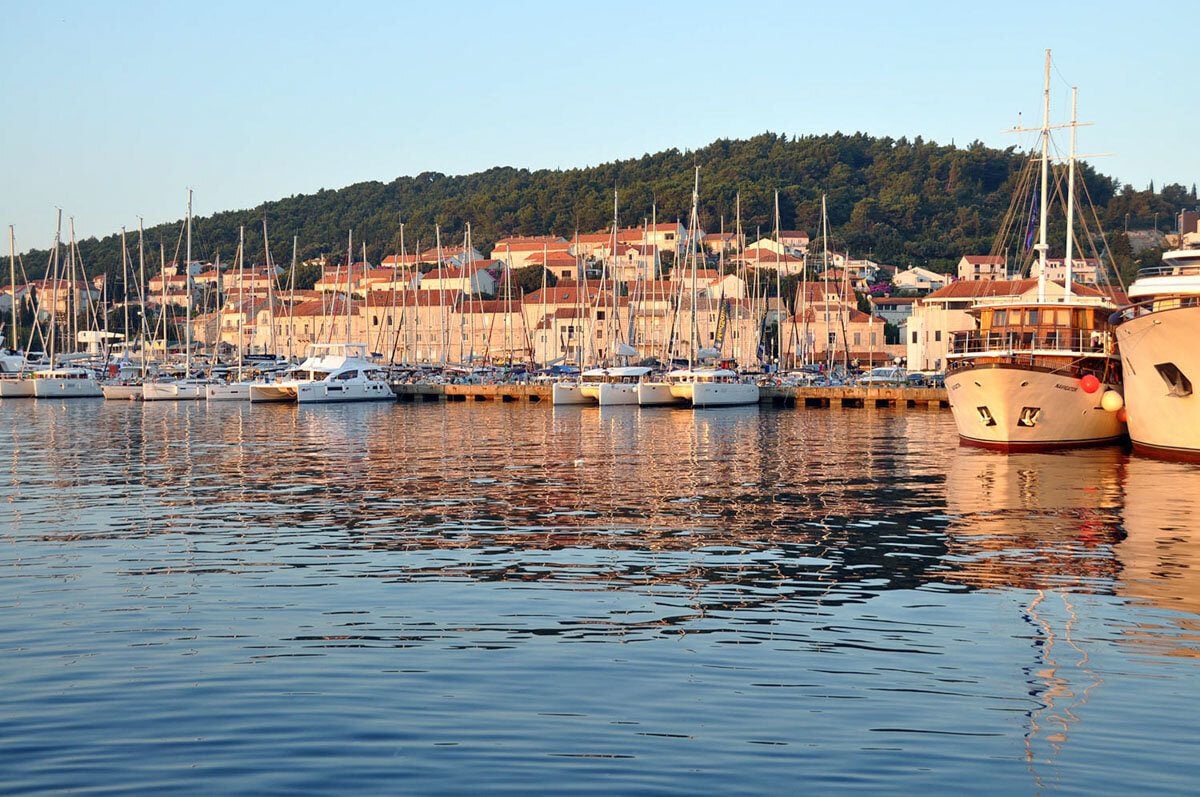 Planning a trip to Croatia, whether long or short, can seem overwhelming. But it doesn't have to be! Take the stress out of planning by following these simple steps that'll ensure you don't forget anything.
1. Decide where you want to go
Okay, this is definitely the hardest part of traveling, right? The looming feeling of trying to pack in every magical hike, every historical site, every restaurant … how!?

We feel you, seriously.

In our opinion, less is usually more. Choose a few of the best places to visit in Croatia and work backward from there.
Once you've narrowed down the places you actually want to go, the rest becomes easy (and fun!). While we know this will differ based on your budget, time and interests, Croatia truly offers something for every type of traveler.
2. Book your flights
As we all know, airfare is one of the priciest parts of traveling, so definitely check out our guide on how to find cheap flights before you book your trip to Croatia.

Skyscanner is a great way to gauge prices and easily compare between airlines, days and flight times. We really love the 'whole month' feature, too, especially if you can be a little flexible with your dates.
3. Book your accommodation
There are loads of options in terms of accommodation in Croatia suitable for a variety of budgets. Whether you're looking to stay at a swanky beach-side villa, a quaint home-stay or a hostel, sites like Booking or Airbnb are your best bet in finding exactly what you're looking for.
4. Get travel insurance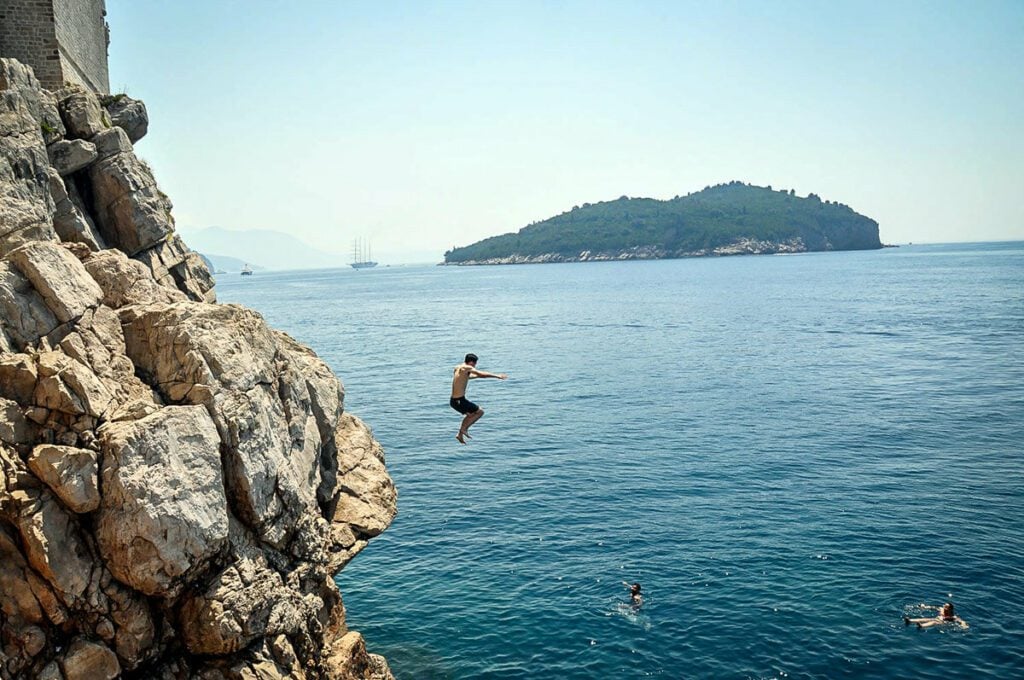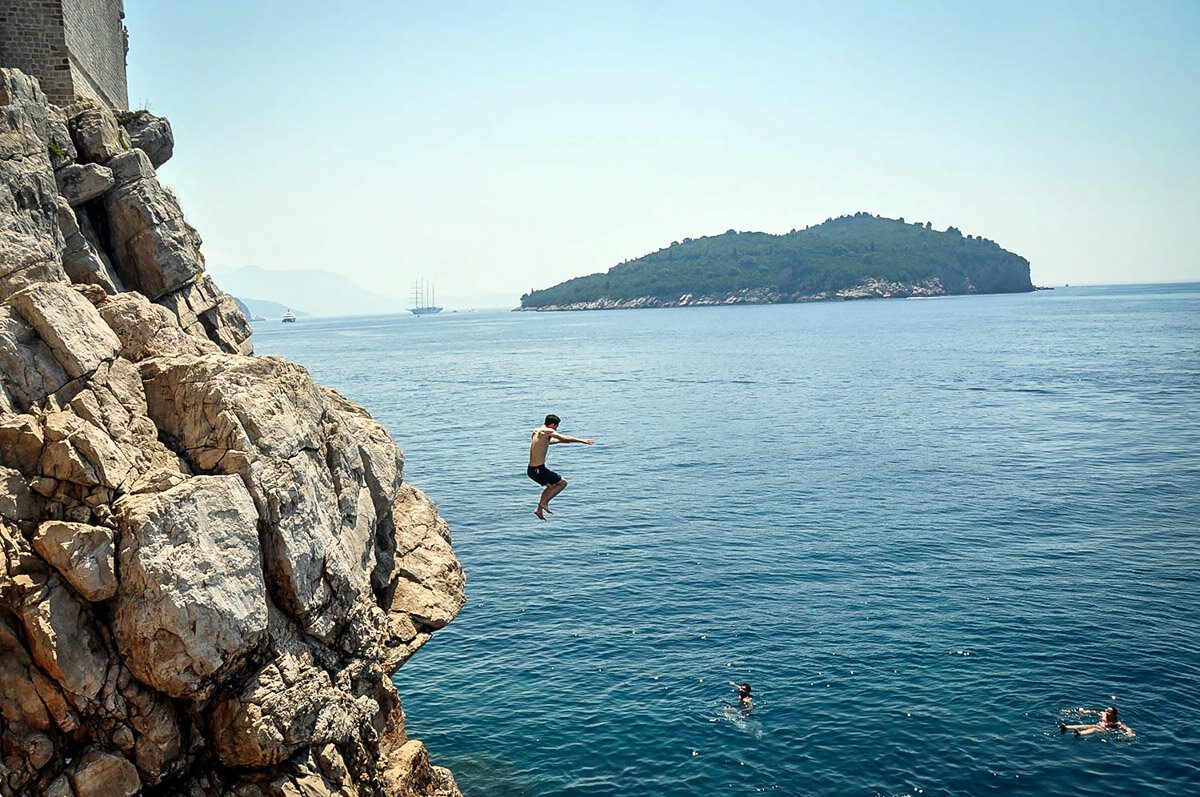 Travel insurance is a key component when planning a trip and we NEVER leave home without travel insurance. Honestly, it's never a fun thing to pay for, but it is definitely worth it if something goes wrong and can put your mind at ease while you explore a new place.
For a trip like this, we'd recommend Safety Wing insurance.
For more information on how to pick a policy and what we look for in travel insurance, check out our detailed travel insurance comparison article.
5. Start packing!
Now that you've got all the boring logistical stuff out of the way … it's time to get packing for your trip. Whether you're rolling, folding or using packing cubes, we've got a quick guide on what you don't want to forget on your trip to Croatia.
What to pack for visiting Croatia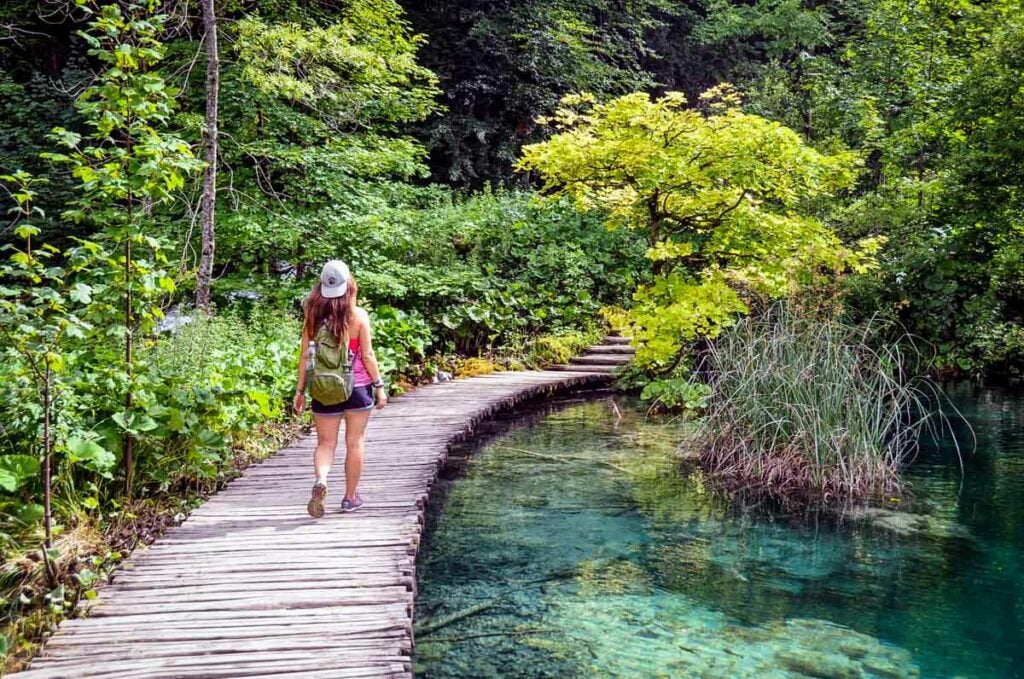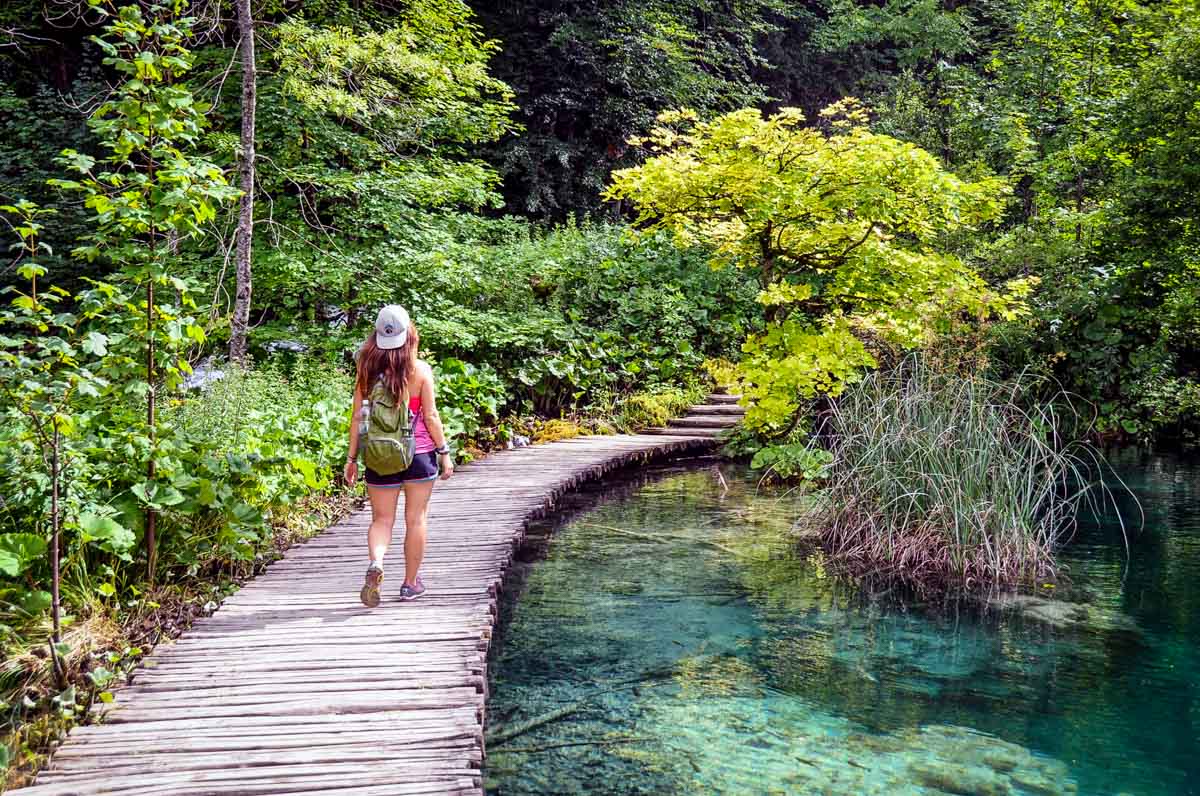 Croatia experiences a wide range of temperatures throughout the year, so be mindful of the time you travel when packing. Aside from clothes, here are some essential things you don't want to leave at home.
Outlet adapter
Back up credit cards
Comfortable walking shoes (your feet will thank you)
Reusable straw & reusable bag (always!)
Swimwear (with over 3,000 miles of coastline, you'll want to take a dip!)
Light breathable clothing and plenty of layers
Camera and tripod (this one is our favorite for travel)
Insect repellent (we prefer the natural stuff)
---
Are you planning a trip to Croatia?
We have lots of resources on travel in Croatia and destinations throughout the country. Check out our Croatia Travel Homepage for everything you need to know, or start by reading some of our favorite Croatia articles here:
Save this article on Pinterest for later!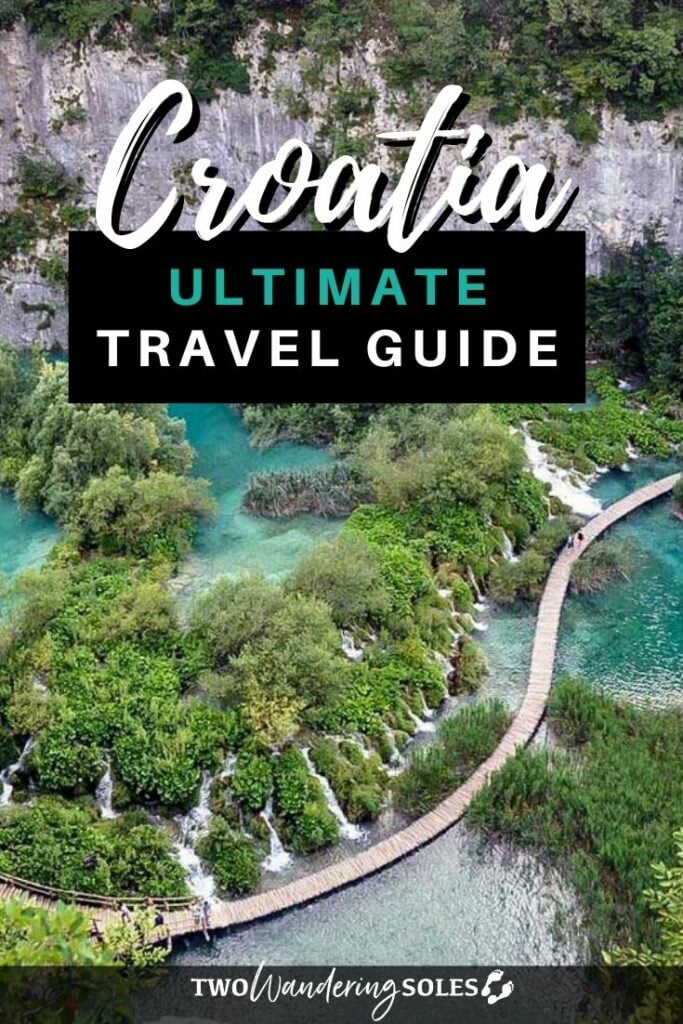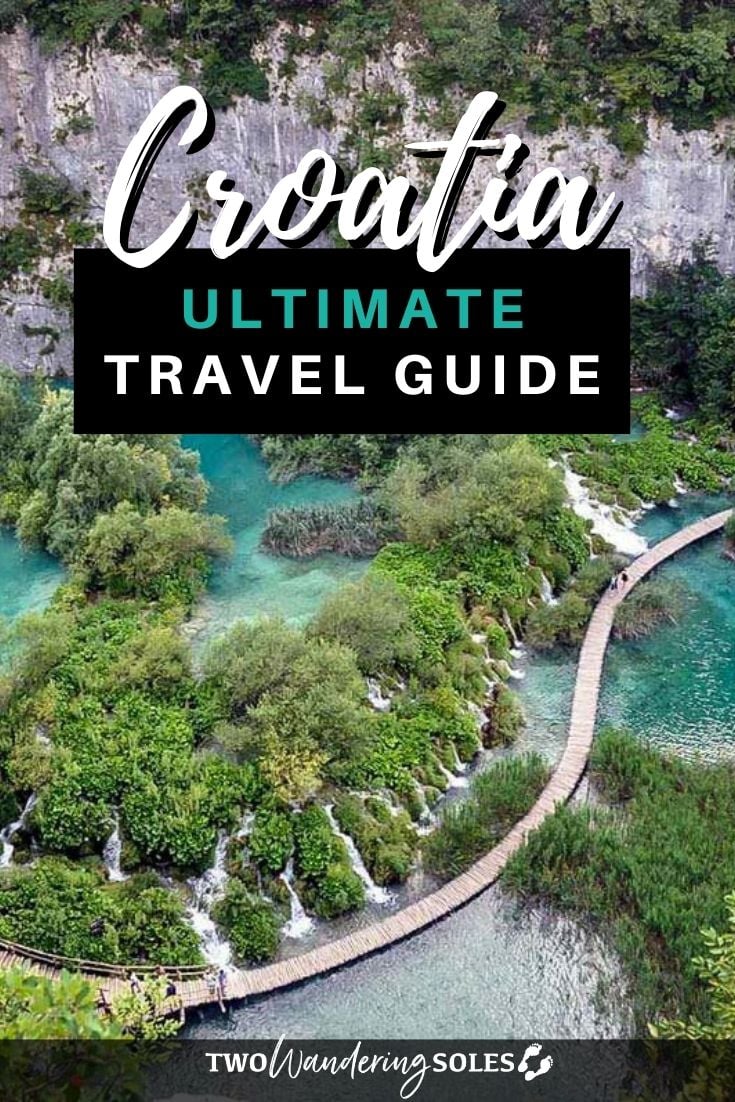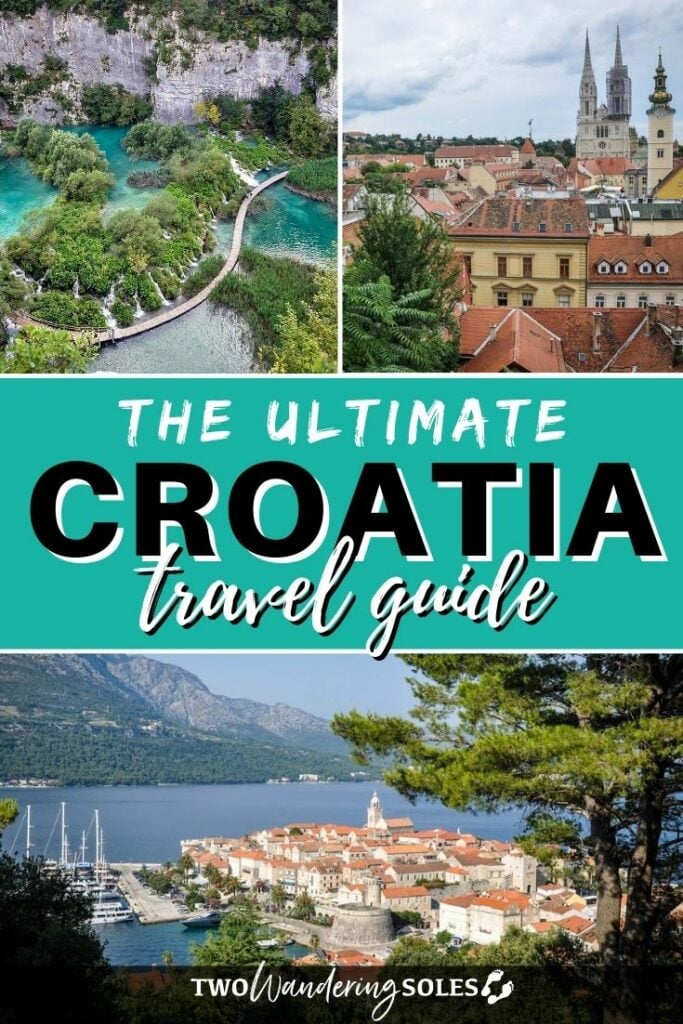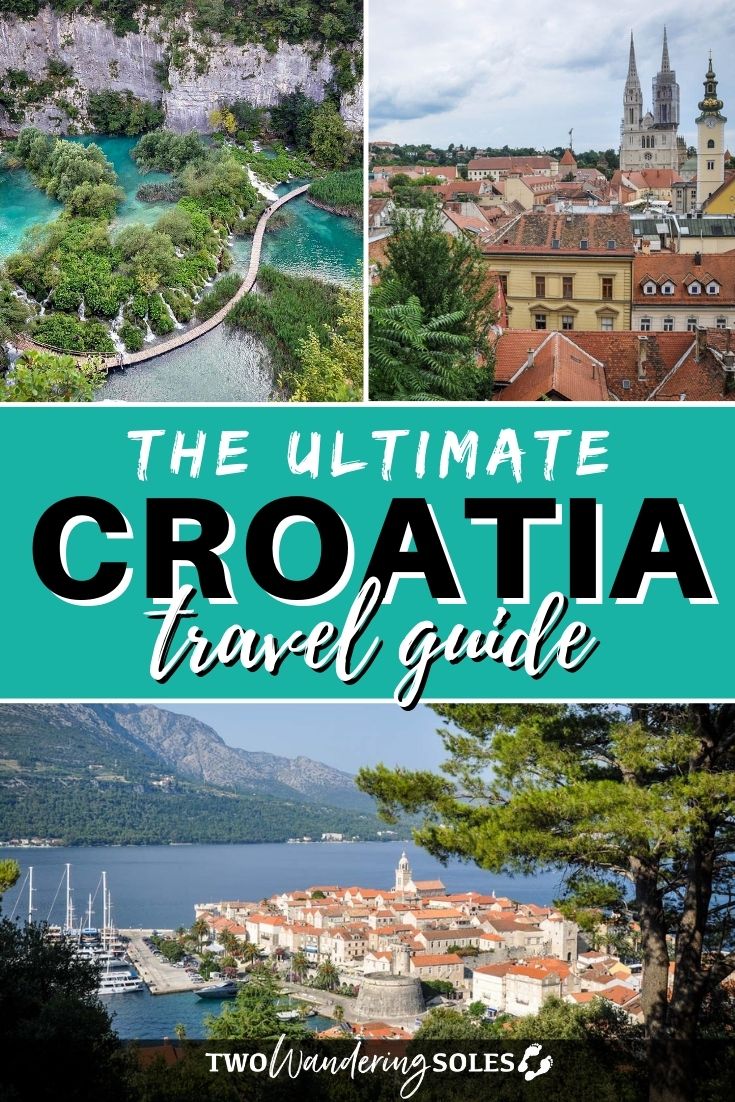 We want to hear from you!
Are you planning a trip to Croatia and still have questions? Let us know if anything in this Croatia travel guide surprised you, or what you're most excited about in the comments below!