Stunning waterfalls, turquoise lakes, and panoramic vistas make up Plitvice Lakes National Park, one of the most beautiful natural attractions in Croatia. In this guide, we provide all the information and insider tips for planning a visit to this UNESCO World Heritage Site.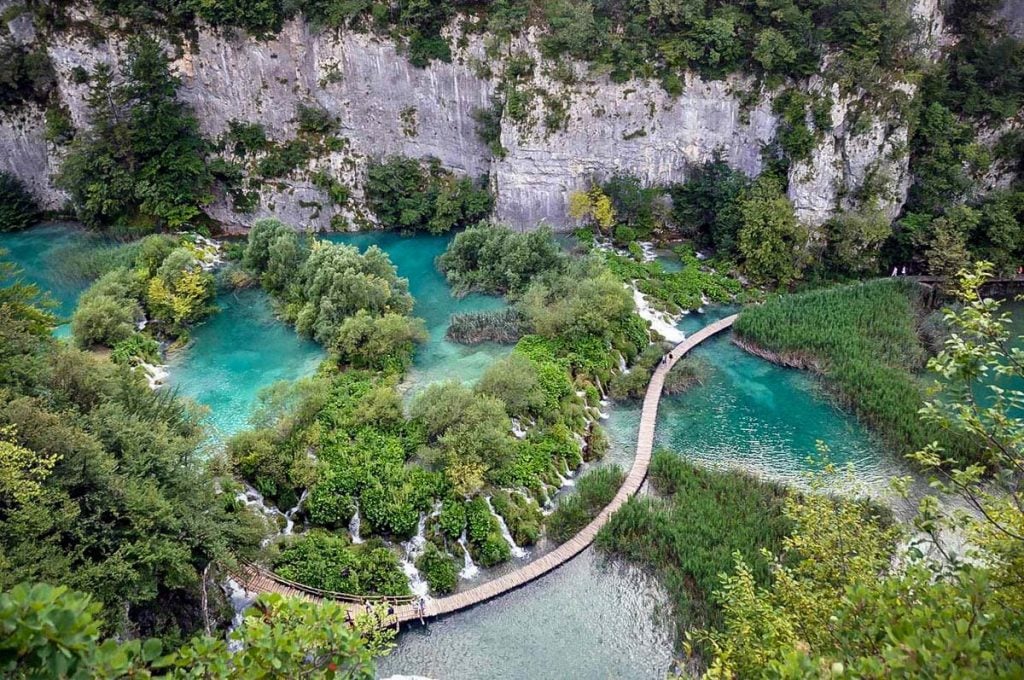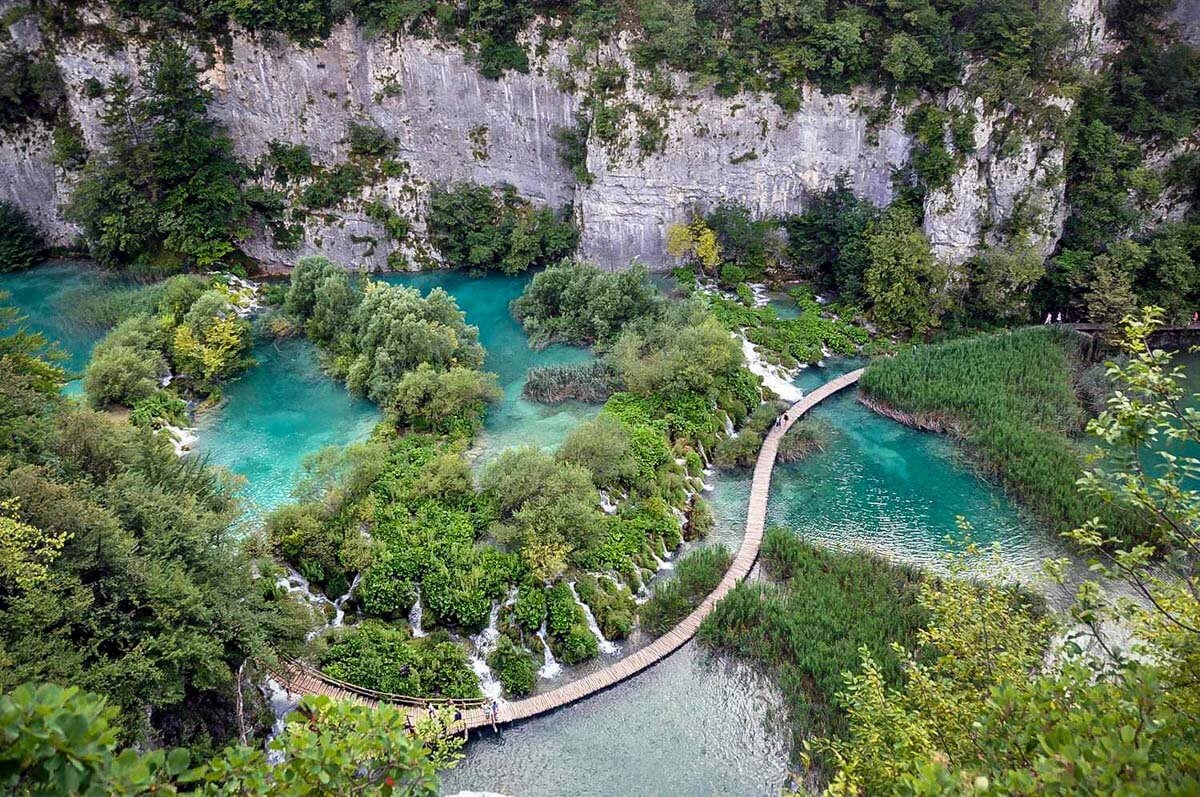 Quick Note: As of January 1, 2023, Croatia joined the Eurozone and adopted the Euro as their currency. Kuna (kn or HRK), the former currency of Croatia, will no longer be accepted as a form of payment. However, Kuna banknotes and coins can be exchanged until December 31, 2023. This also means Croatia is now part of the Schengen Area and adheres to those laws and visa requirements.
Situated in the heart of the mountainous Lika region is a fairytale paradise unlike anything you've ever seen. Plitvice Lakes National Park is one of the most visited sights in Croatia just after Dubrovnik.
Wooden boardwalks snake through turquoise lakes while waterfalls pour over the surrounding limestone cliff sides. It's no wonder that this location has become so renowned and sought-after.
Divided into two main sections with separate entrances, Plitvice Lakes has seven sightseeing routes including four different hiking trails. Planning a trip here can be overwhelming without all the know-how.
In this guide, we breakdown everything you need to know about visiting Plitvice Lakes National Park. This article includes the best routes through the park, what to pack, tips for avoiding crowds, and everything else you should know to make the most out of your visit.
Plitvice Lakes National Park Travel Guide
Psst! Don't leave before you check out our bucket list of absolute best things to do in Croatia.
---
Plitvice Lakes National Park overview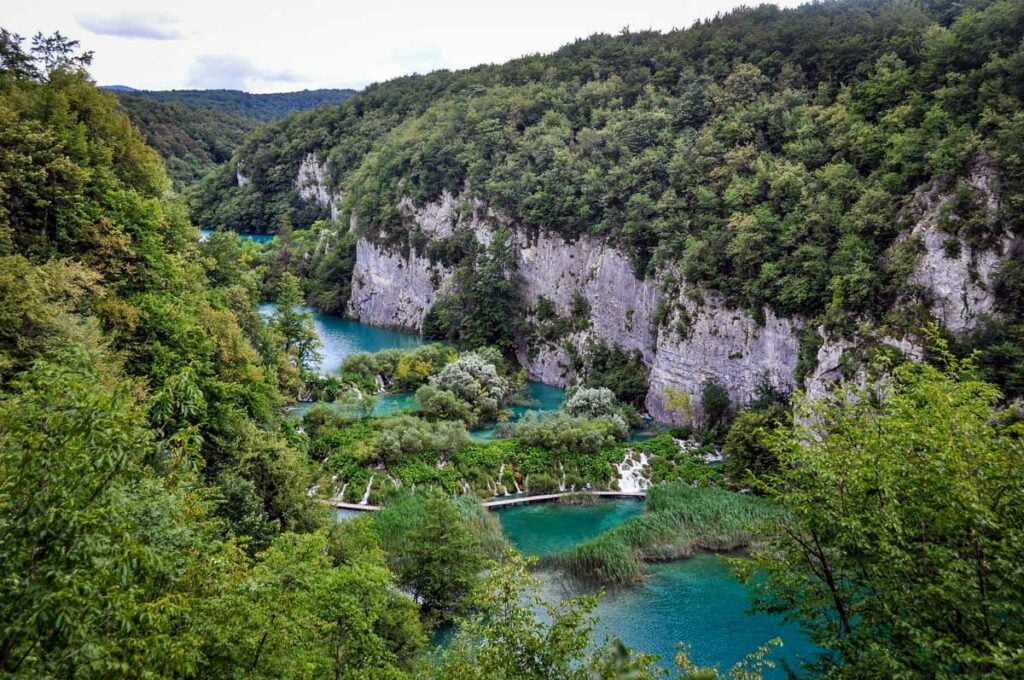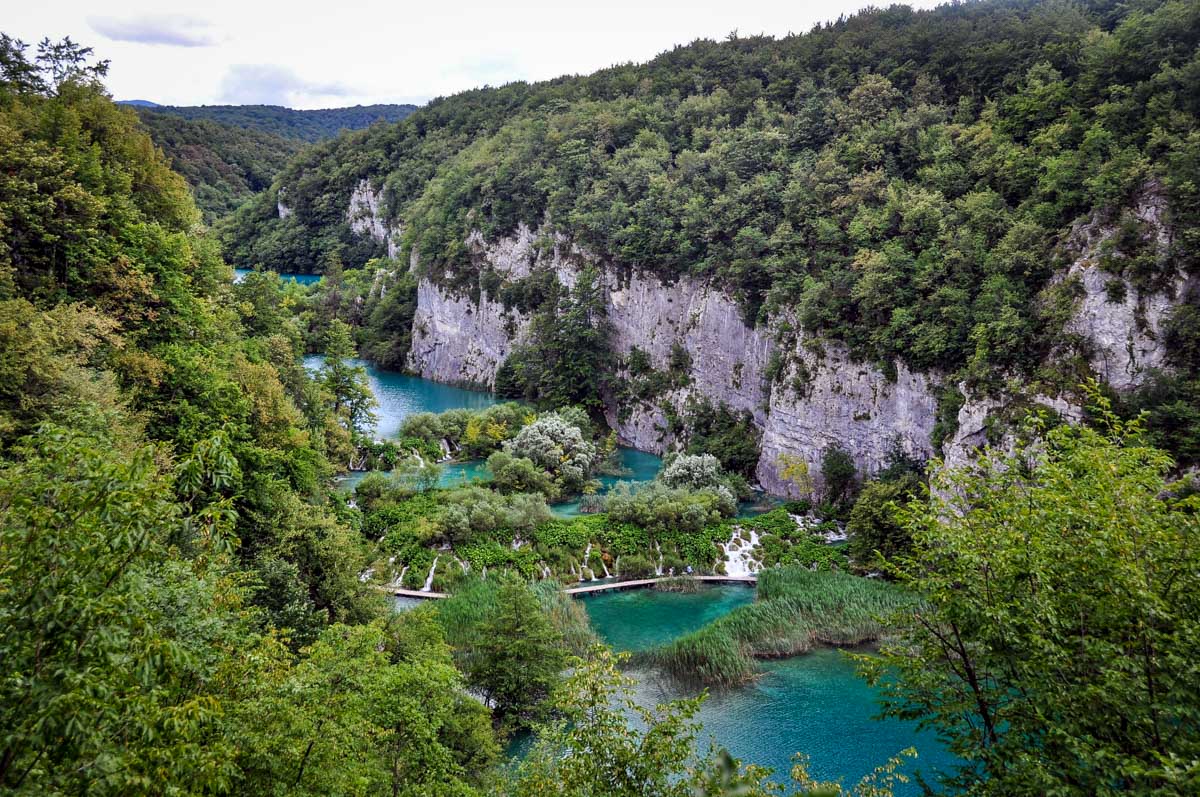 Comprised of 16 interconnected lakes with colors ranging from deep cerulean to turquoise, all pooled beneath more than 90 cascading waterfalls, Plitvice Lakes is easily considered one of the crown jewels of Croatia.
Spanning an impressive 73,000 acres, the park is divided into two main sections: Lower Lakes and Upper Lakes.
These two sections have been organized into 4 different hiking trails that can be explored using 7 different routes (known as programs).
Hiking is the main way to get around in Plitvice Lakes National Park. However, there are also boats and shuttles (called panoramic trains) that are situated across the park as additional transportation options.
Each program takes you on a colorful journey through this UNESCO-awarded park filled with jaw-dropping waterfalls, lush forests, and glittering blue-green lakes.
The other-worldly beauty of this park is something that you cannot miss while traveling around Croatia. Despite the millions of visitor's it attracts each year, it should definitely be on your itinerary. 
Psst! If you have time to discover more of the country, don't miss these other epic places to visit in Croatia.
Plitvice Lakes National Park hours and fees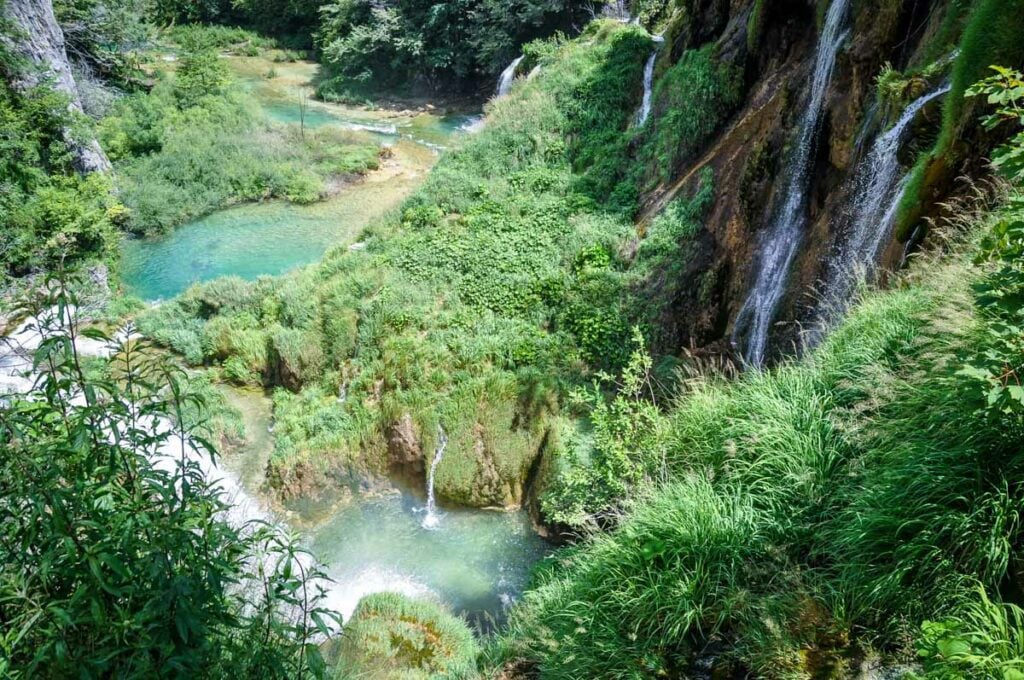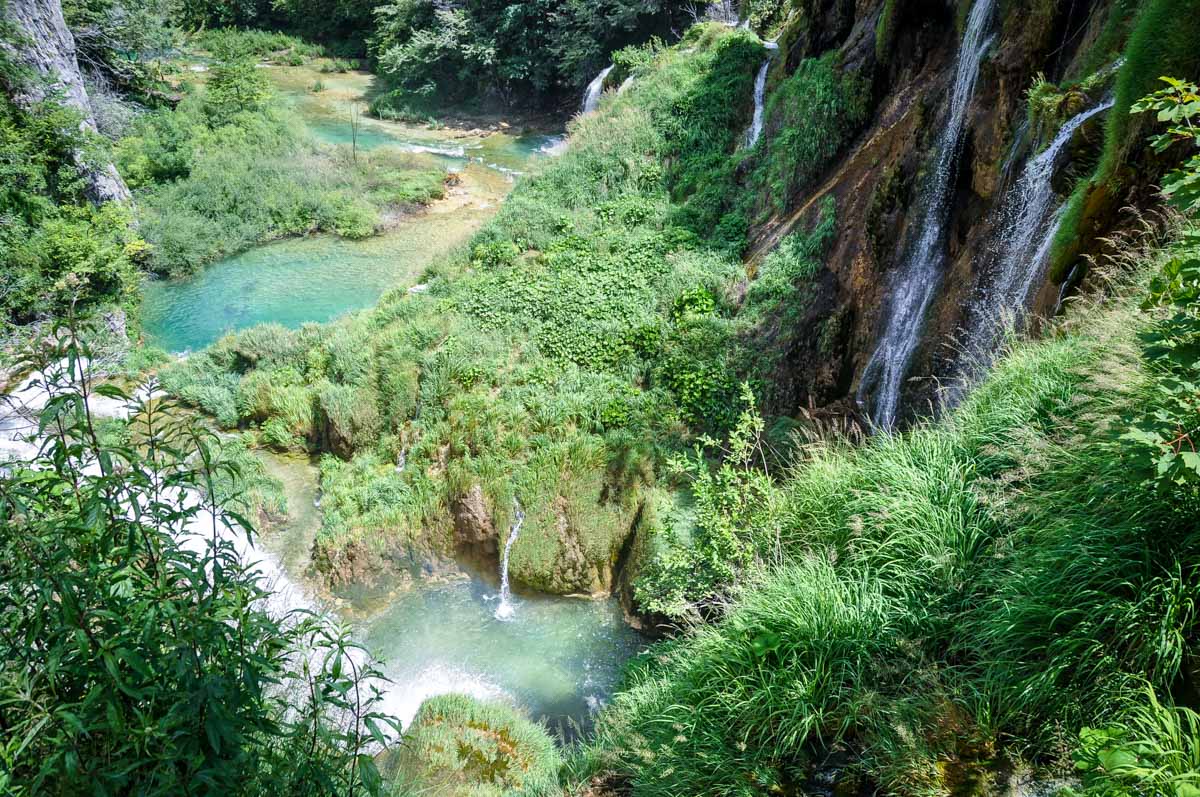 Plitvice Lakes is open every day, year round, however the opening hours, fees, and facilities vary depending on each season.
Opening hours*
Summer: 7:00 a.m. to 8:00 p.m.
Fall: 7:00 a.m. to 7:00 p.m.
Winter: 8:00 a.m. to 4:00 p.m.
Spring: 8:00 a.m. to 7:00 p.m.
*Note these hours may vary seasonally so it's a good idea to check the official website before you plan your visit.
Unsure which season is best for your trip? We break it all down in our guide to the best time to visit Croatia.
Entrance fees
The cost to get into Plitvice Lakes varies season to season and you can purchase tickets one of two ways: in-person at the ticketing booth or online.
We recommend purchasing your tickets online, in-advance. There are limited tickets each day and you could end up wasting a lot of time waiting in line for a ticket. OR the worst case scenario, they're sold out, which is nearly guaranteed in high season.
You can purchase 1- or 2-day tickets for adults, children and students. Below we've listed the cost for a single day adult ticket. View prices online
Summer: 39.80 € (~$42 USD)
Fall: 23.50 € (~$25 USD)
Winter: 10 € (~$10 USD)
Spring: 23.50 € (~$25 USD)
The cost for children (7-18) and students is typically half or less than half of the regular adult cost. If you have children under 6, they get in free.
Good to know: When you purchase a ticket you must choose a time slot. You will be able to enter the park up to 30-minutes before and 1 hour after your specified ticket time and they are very strict about this rule.
If you waited to purchase tickets and it says they're sold out online, you can view the current number of available tickets at both entrances at this link.
They're only available to buy in-person at the official ticket booths and will change availability as sold and depending on people waiting in line.
Parking
If you have your own car, parking will cost an additional fee. You'll pay when you exit the park at one of the payment stalls.
Prices listed are for the main tourism season (June 1 – September 30). View list of parking costs.
Standard vehicles: 1.32 € (~$1.40 USD) / per hour
Larger vehicles (camper, bus, etc.): 13 € (~$14 USD) / per day
Bikes and motorcycles: Free
In the winter (November 1 to January 3), parking is free.
Plitvice Lakes National Park entrances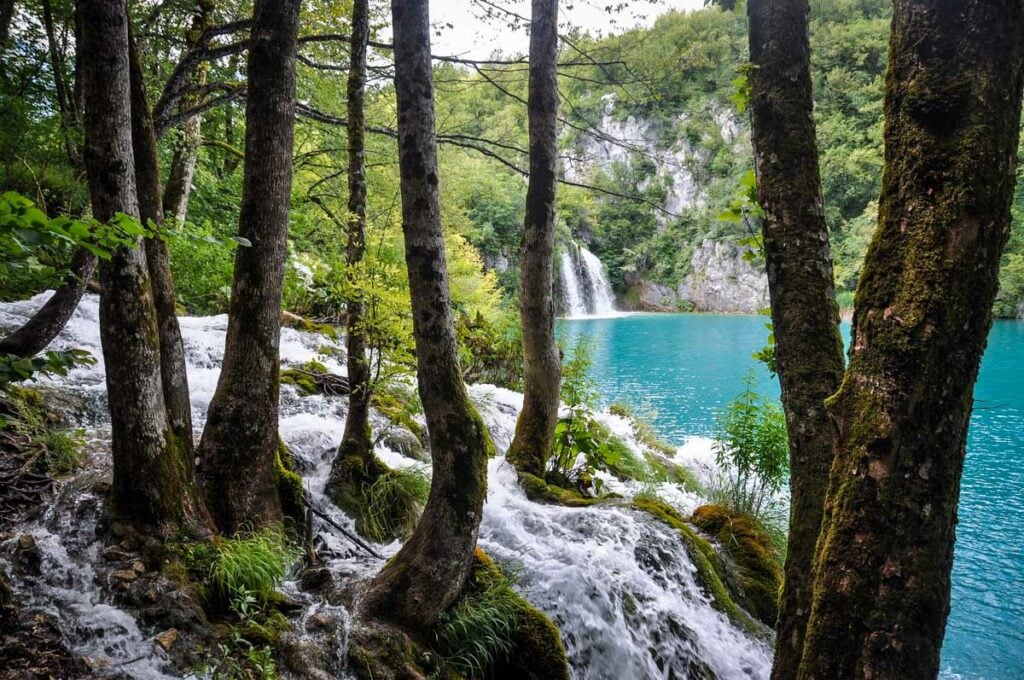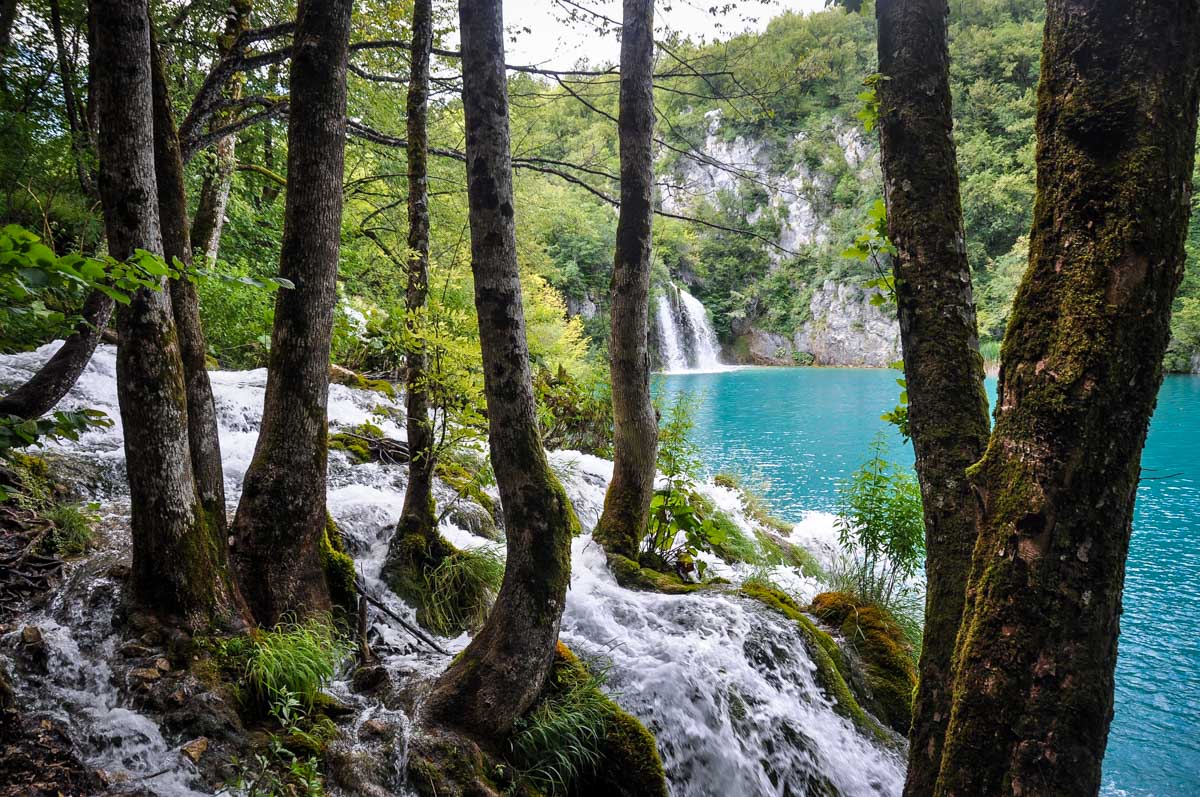 The park can be accessed using three entrances: Entrance 1, Entrance 2, and an auxiliary entrance called 'Flora'. The third isn't used as frequently since you cannot purchase tickets here and all tickets start at the other two entry points.
You must enter and leave from the same entrance. Whichever one will depend on what program you choose (more on that below).
Each entrance highlights one of two areas: Upper Lakes or Lower Lakes. Neither is a bad choice, especially if your program covers both areas.
Entrance 1
This entrance is next to the Lower Lakes area of Plitvice Lakes and is open year round.
The best views (arguably) are from this entrance and some people prefer it since the route is uphill in the morning and downhill near the end of your day traveling back to the entrance.
Entrance 2
This entrance is next to the Upper Lakes area of the park.
All the buses coming from major cities drop riders off at this entrance. Also, the hotels that are actually inside the park are located next to Entrance 2.
Good to know: This entrance is closed in the winter.
How to get to Plitvice Lakes National Park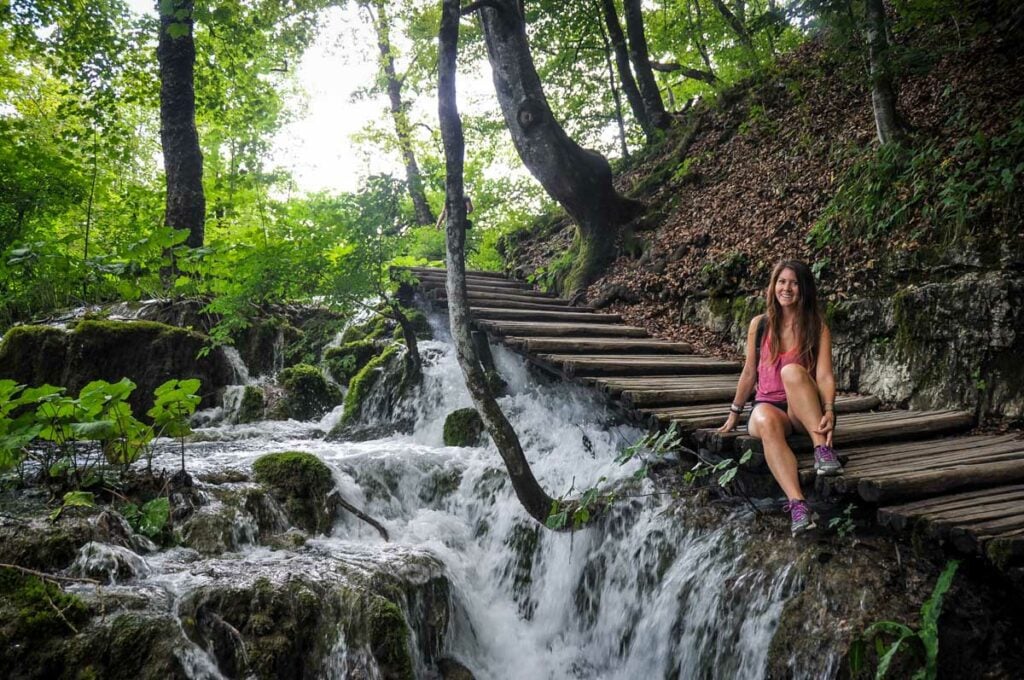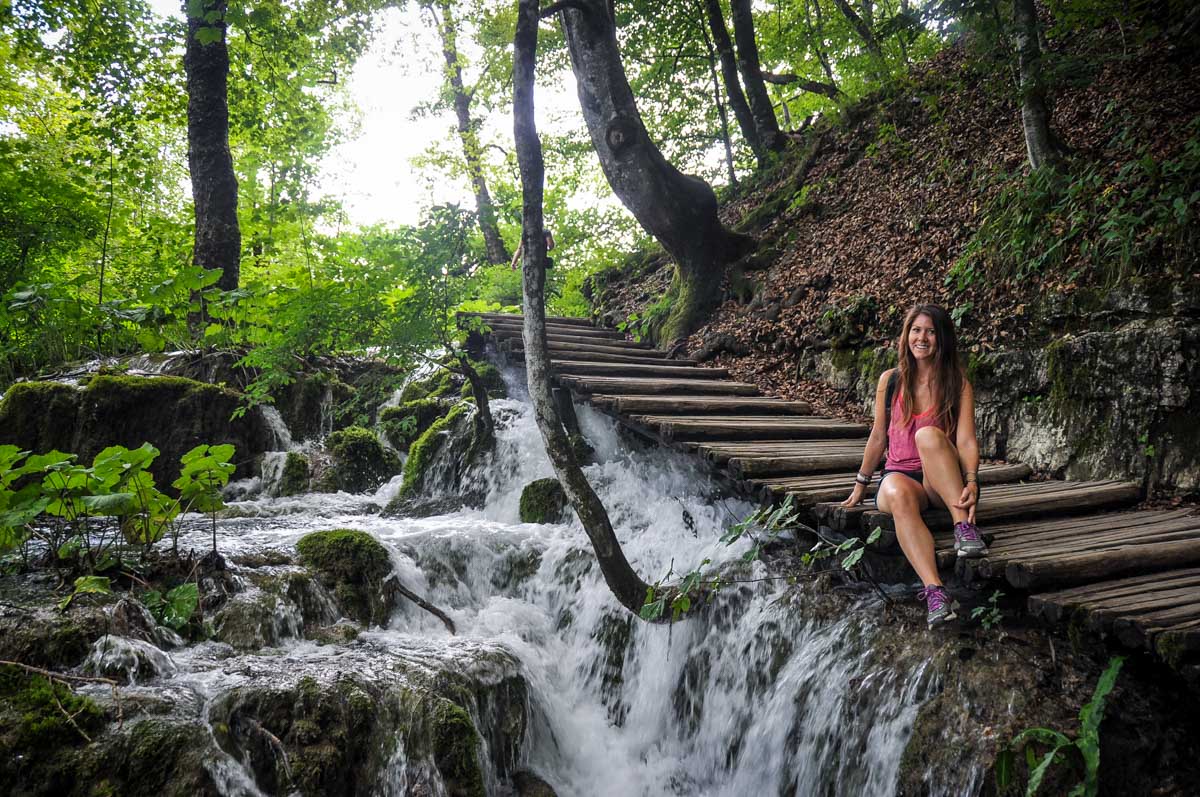 Compared to all the main cities and attractions in Croatia, Plitvice Lakes is kind of in the middle of nowhere.
Situated far inland from the Adriatic Coast, close to the country's border with Bosnia and Herzegovina, it's a bit of a journey to get here from most major cities and hubs (we're talking a few hours minimum coming from any direction).
Luckily, there are plenty of different transportation options to get to the park whether you're on a jam-packed day trip or staying overnight near the park.
Rent a car
If you want to maximize your experience at Plitvice Lakes National Park, having your own rental car will allow you to travel freely on your own schedule.
Here are the driving distances from the most popular cities:
From Zagreb: 130 km (80 miles); 2 hours, 15 minutes
From Zadar: 130 km (80 miles); 2 hours
From Split: 241 km (150 miles); 2 hours, 25 minutes
From Dubrovnik: 411 km (255 miles); 5 hours, 26 minutes
From Pula: 257 km (160 miles); 3 hours, 11 minutes
Discover Cars is our go-to site for finding affordable rental cars worldwide. You can compare rates across rental agencies from top companies and we've found it to save us money in the long run.
Public transportation
The best way to get to the park using public transportation is by bus.
Zagreb and Zadar are the two closest cities to Plitvice Lakes National Park.
Both cities are equal distance from the park, but if you can, we recommend coming from Zagreb. It offers a better variety of ticket times for a cheaper price, and is ideal if you want to arrive at the park closer to the opening hour.
The journey takes about 2 hours and 20 minutes from the Zagreb bus station to the Plitvička Jezera bus stop near Entrance 2.
You can purchase your bus tickets online ahead of time.
Guided tour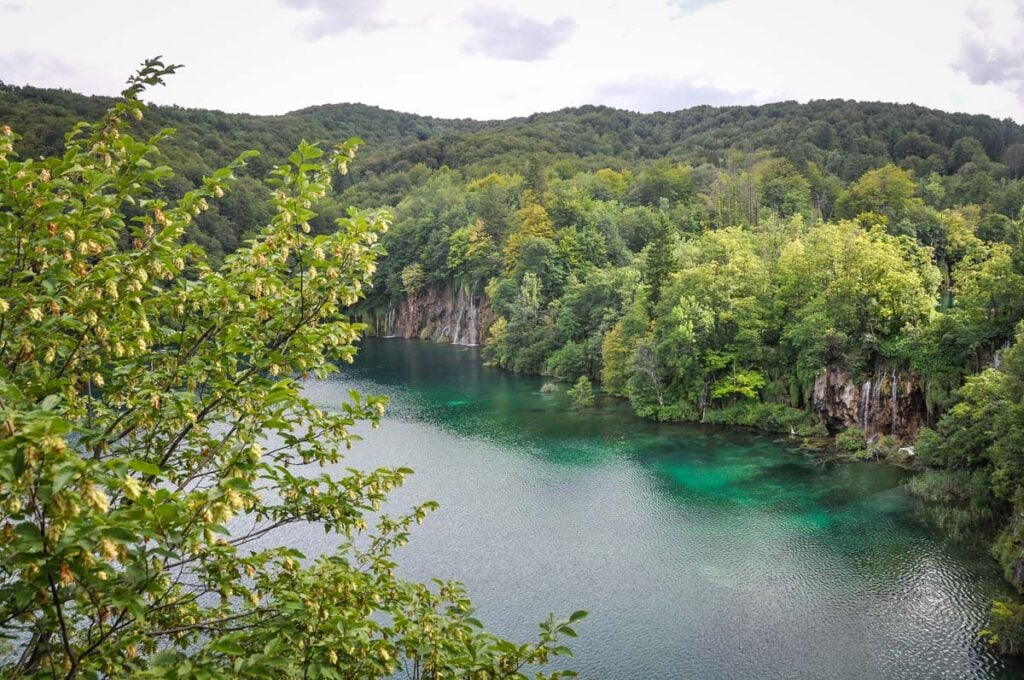 Guided tours are a great outlet for a fulfilling day trip to Plitvice Lakes National Park. You can book tours from a variety of different major cities in Croatia.
Rastoke & Plitvice Lakes National Park Tour from Zagreb: Skip the lines on this small, intimate tour of the park. On the way, you'll stop in Rastoke to visit a small windmill village before spending the day exploring the turquoise lakes and waterfalls of Plitvice.
From Split: Plitvice Lakes Fully-Guided Day Tour: Explore the highlights of the Upper and Lower Lake sections of the park. With a local guide, you'll admire beautiful lakes, canyons, waterfalls, and fairytale walking paths. On your way back to Split, enjoy a traditional Croatian meal.
From Zadar: Plitvice National Park Full-Day Tour: Visit the Upper and Lower Lakes of Plitvice on this in-depth tour. A local guide will take you around the park on the best routes and offer insightful facts and knowledge.
If you're traveling to Plitvice Lakes as a day trip, read this first!
We departed from Split and were going to Zagreb that night, so we had all our stuff. There is free luggage storage at Plitvice Lakes where you can leave your belongings at both entrances. Do know that the storage room is locked, but it's not secure.
People will be going in all day long to drop off and pick up their belongings, so lock up your valuables. A trick we often use is locking our bags together with these wire locks. Nobody will steal your bag when it's locked to another bag. It's just too awkward!
How much time do you need in Plitvice Lakes?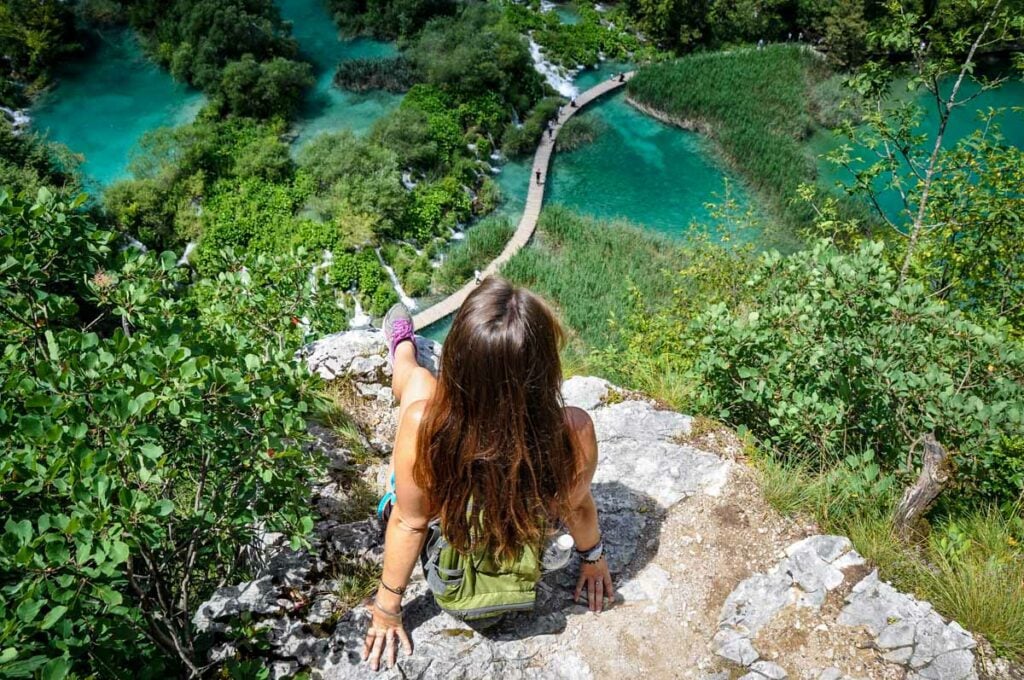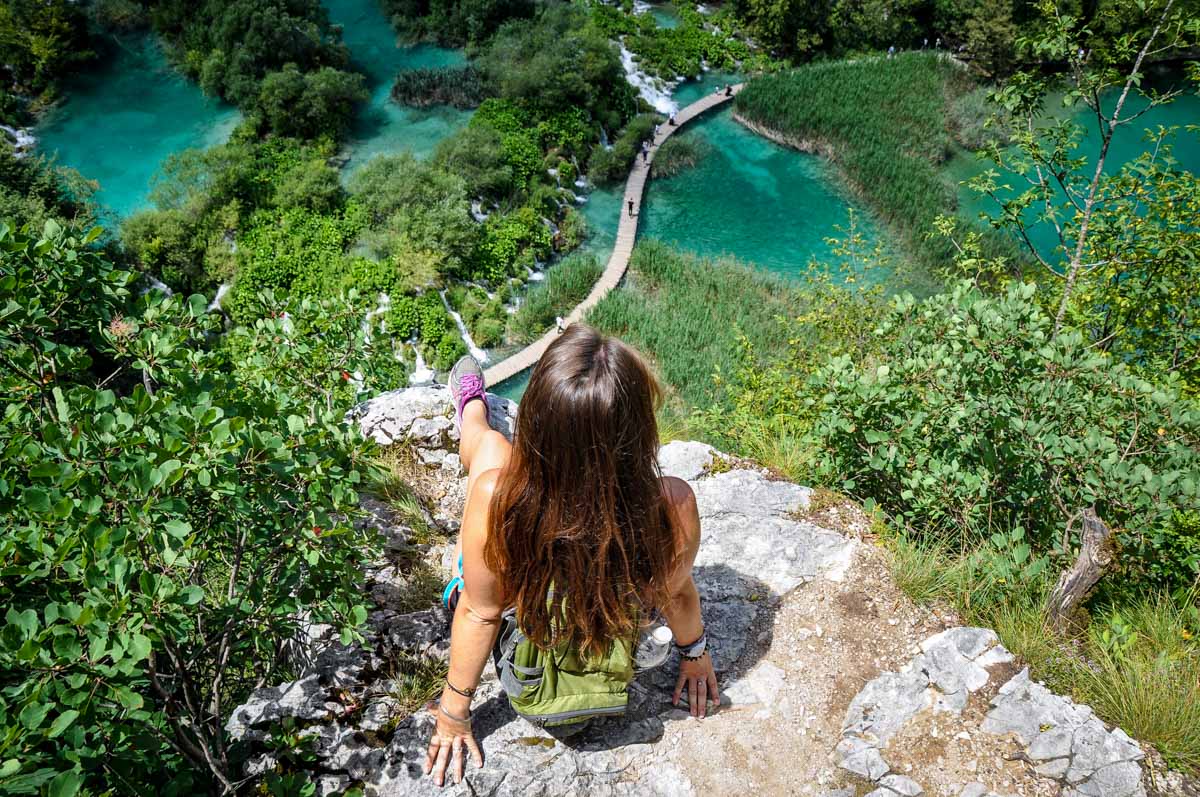 Half a day minimum is ideal to explore the park, however more time is always better.
With half a day to work with you can explore all the main highlights and feel satisfied with your visit. Maximize your time by arriving early to beat lines and traffic getting into the park.
With more time, you can get off the beaten path and explore lesser-known gems of the park for a well-rounded visit.
Insider tip: Stay in a hotel near Plitvice Lakes instead of doing a day trip from Split or Zadar (if your timing allows!). You'll get there bright and early and will be able to stay after the last buses leave. This is how we would do it next time. (Find some recommended hotel options in the where to stay section below!)
Plitvice Lower Lakes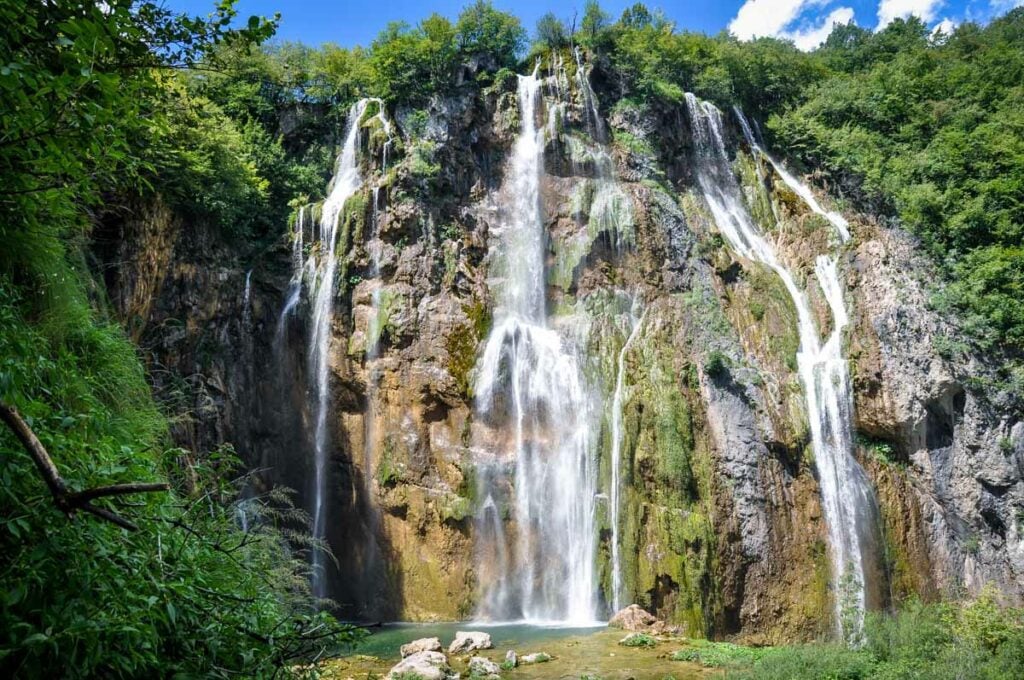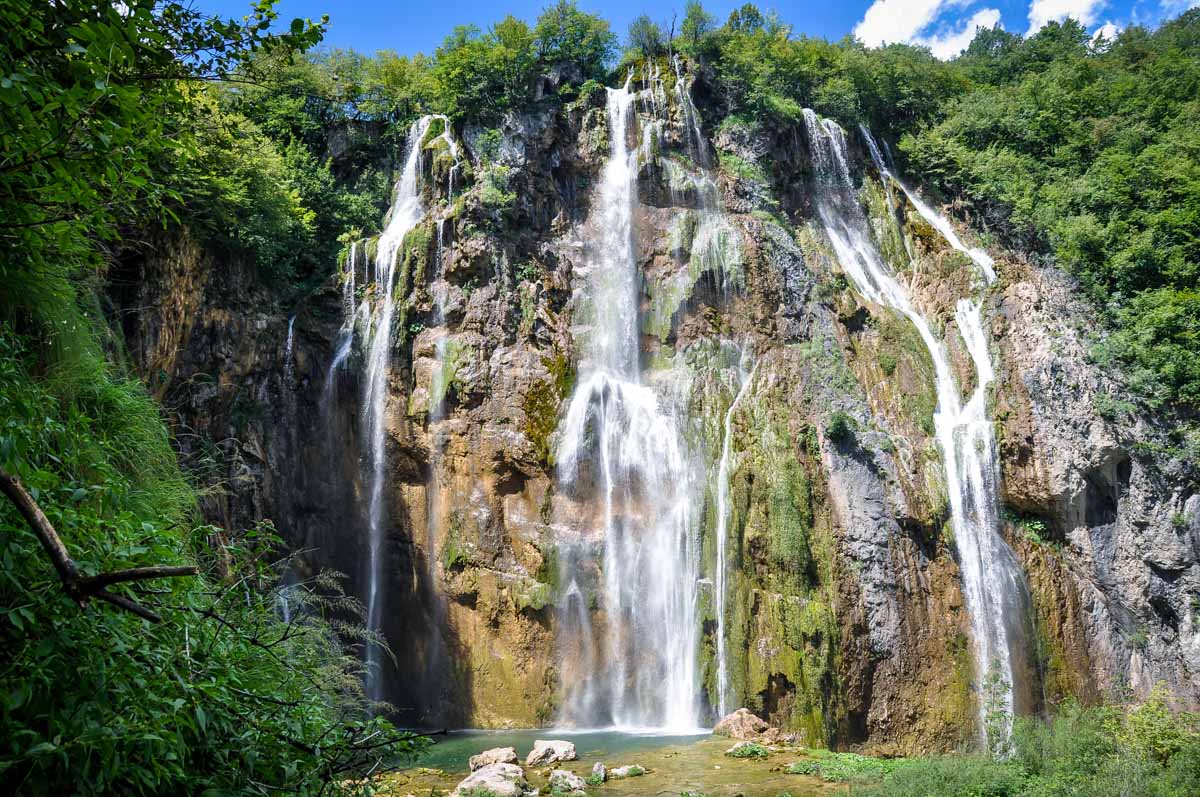 This section contains four large lakes: Milanovac, Gavanovac, Kaluđerovac and Novakovića Brod. The lakes cut deep into limestone canyons, creating steep cliff sides and dramatic views.
All of the Lower Lakes are connected via a series of boardwalks with steep climbs and steps throughout creating the effect of a dreamy fantasy world.
The main highlight of the Lower Lakes is Veliki Slap, also known as the Great Waterfall, which is the largest lake in both the national park and all of Croatia. This is also the most popular part of Plitvice Lakes National Park, so it's best explored early in the morning before all the crowds.
Plitvice Upper Lakes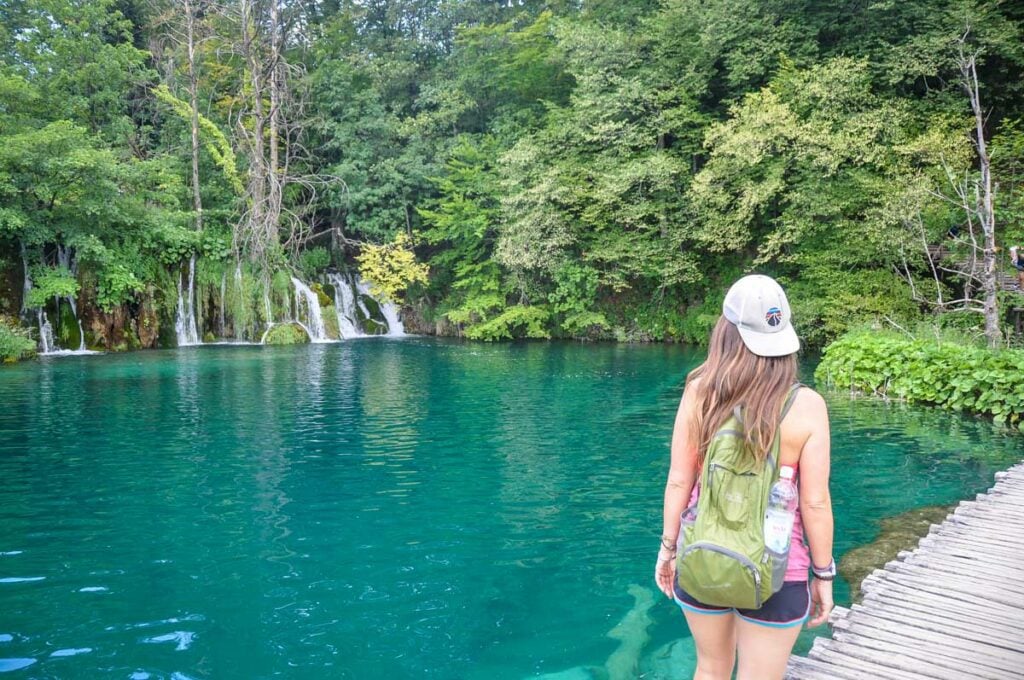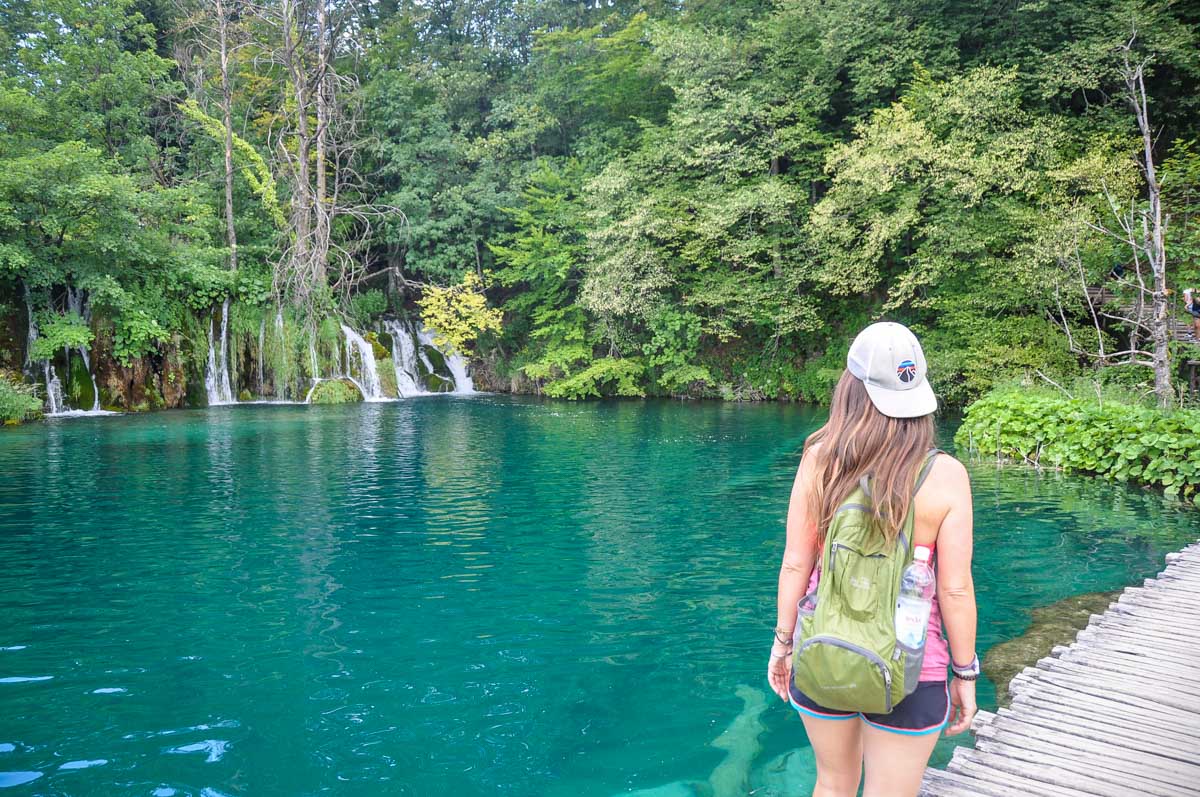 The remaining 12 lakes make up the Upper Lakes Section: Prošćansko Jezero, Ciginovac, Okrugljak, Batinovac, Veliko Jezero, Malo Jezero, Vir, Galovac, Milino Jezero, Gradinsko Jezero, Burgeti, and Kozjak.
These lakes are nestled in dolomite rock and all connected by natural travertine barriers. The barriers form a massive staircase-like structure where the highest lake (Prošćansko) flows down and eventually feeds into the lowest lake (Kozjak). This then feeds into the Lower Lakes section of the park.
More wooden boardwalks criss-cross traversing the lakes, showcasing waterfalls and stunning vistas at viewpoints along the way.
This section has less people, albeit still crowded, and has some of the most stunning natural beauty we've ever seen.
Plitvice Lakes viewpoints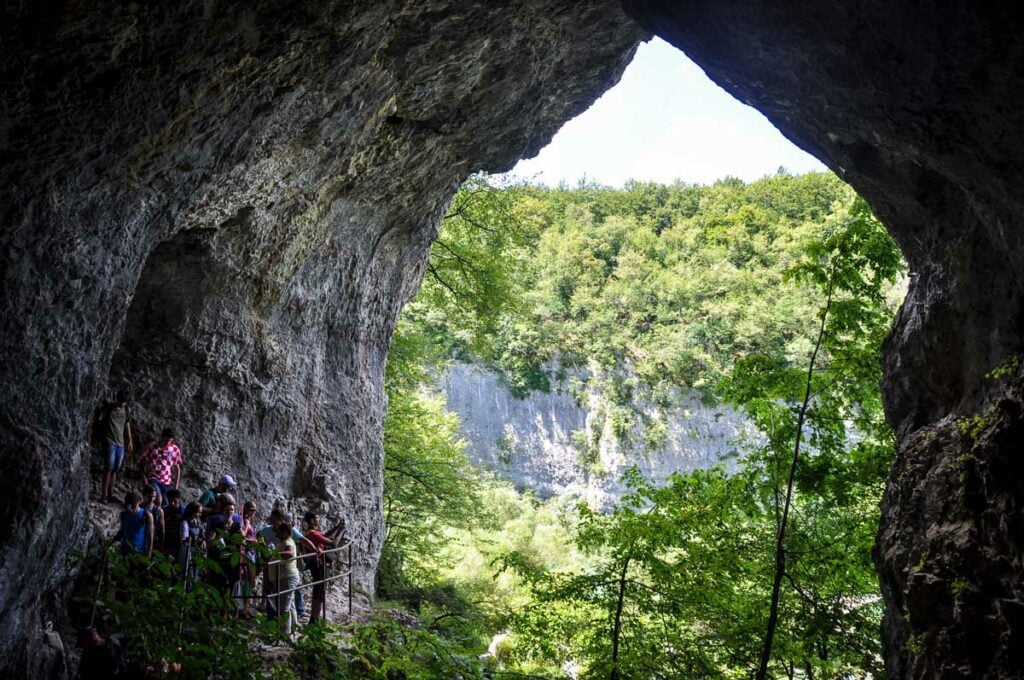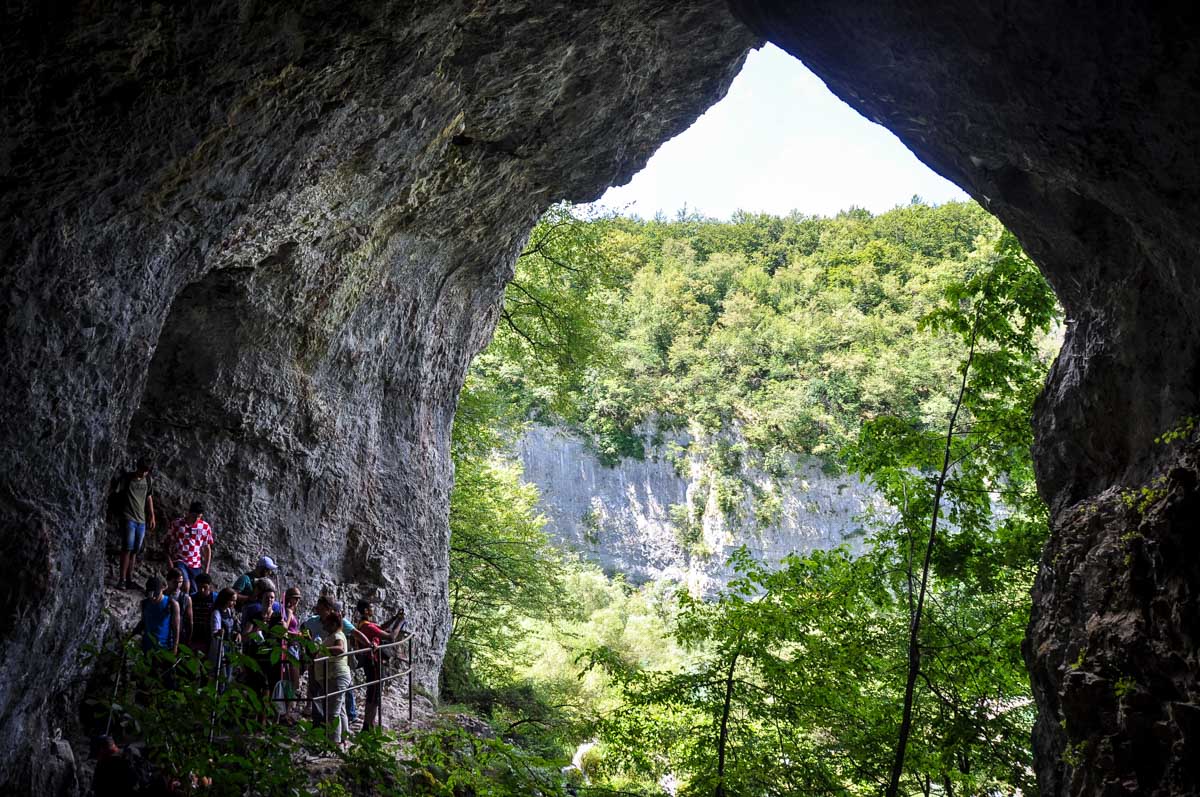 There are a variety of viewpoints to stop at around the park that offer high vantage points with jaw-dropping panoramic vistas.
These are some of the most beautiful (and popular) viewpoints around Plitvice Lakes National Park. You'll encounter them along the main programs.
Upper Viewpoints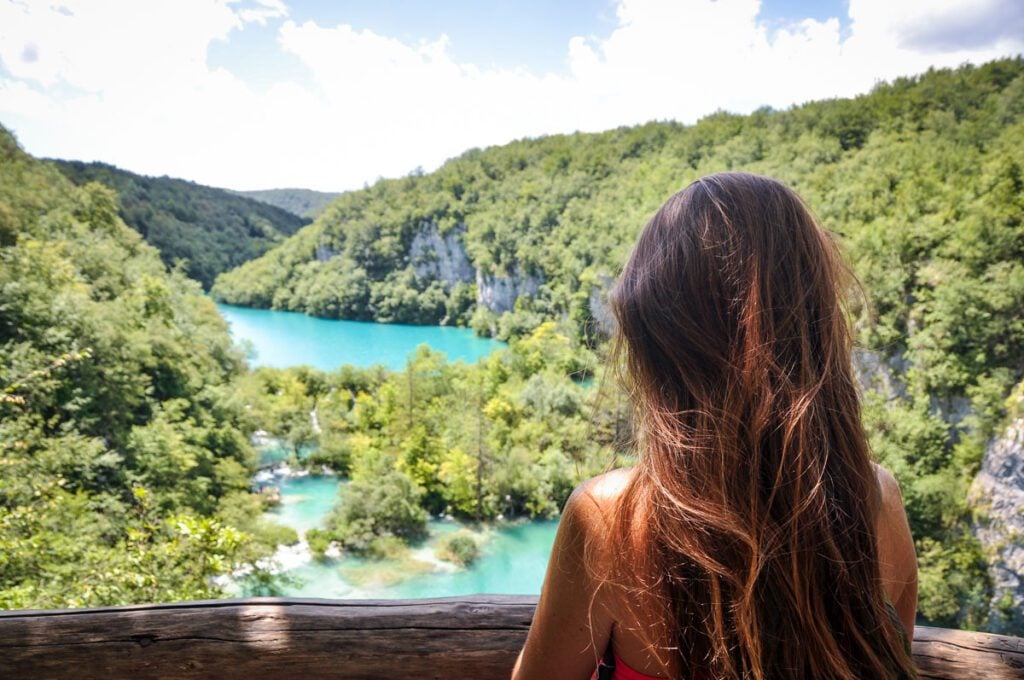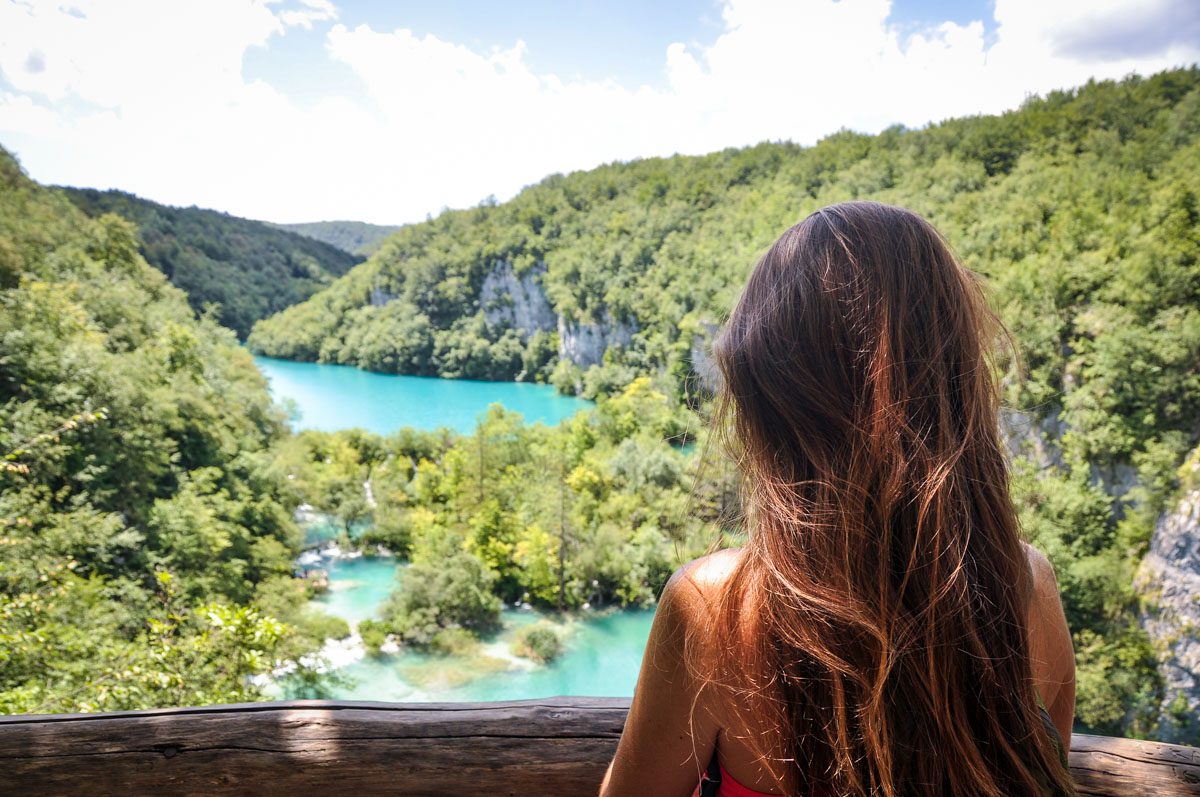 Alternatively, there is a lesser-known route on the western edge of the park where you'll hike hitting various viewpoints along a cliff side.
In Lower Lakes, once near the boat dock (P3 on the map), you'll spot a road that branches off the main trail on the right side (location).
You'll follow the trail north, taking in the various viewpoints until you arrive at Veliki Slap.
The end of this trail is where the Plitvicke Jazera Waterfall Viewpoint trailhead begins. You'll spot it on the right.
You can hike to the famous postcard viewpoint, then follow the stairs back to the Lower Lakes section.
Important note: As of the time of publication, the staircase connecting the upper viewpoints to Entrance 1 is closed, so once you're finished along the trail you'll need to hike back to the boat dock (P3), then back to Entrance 1.
Plitvicke Jazera Waterfall Viewpoint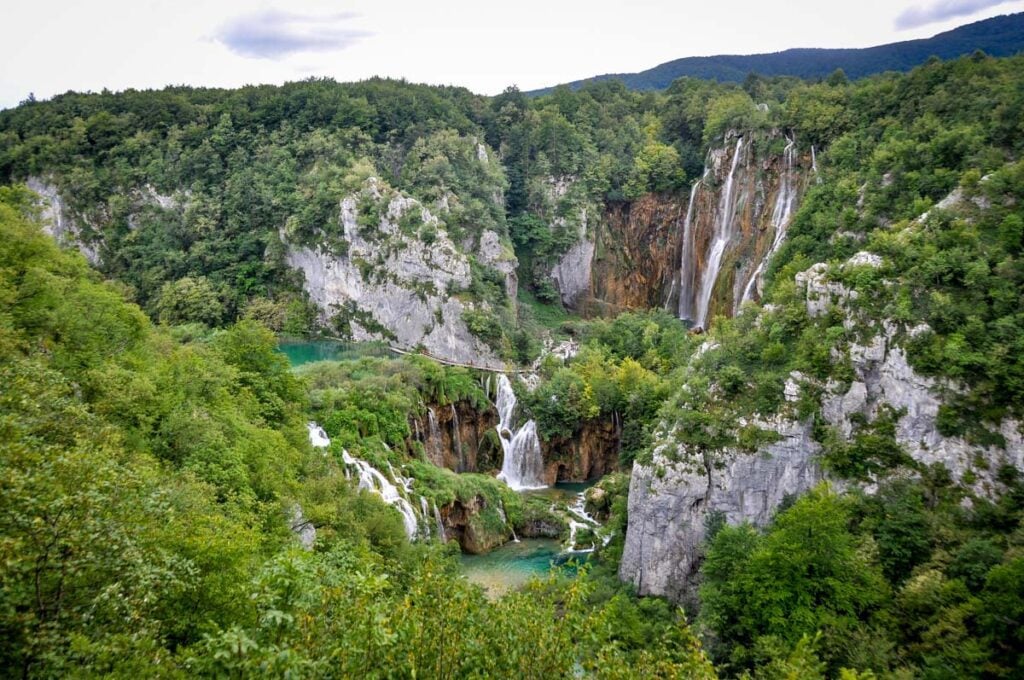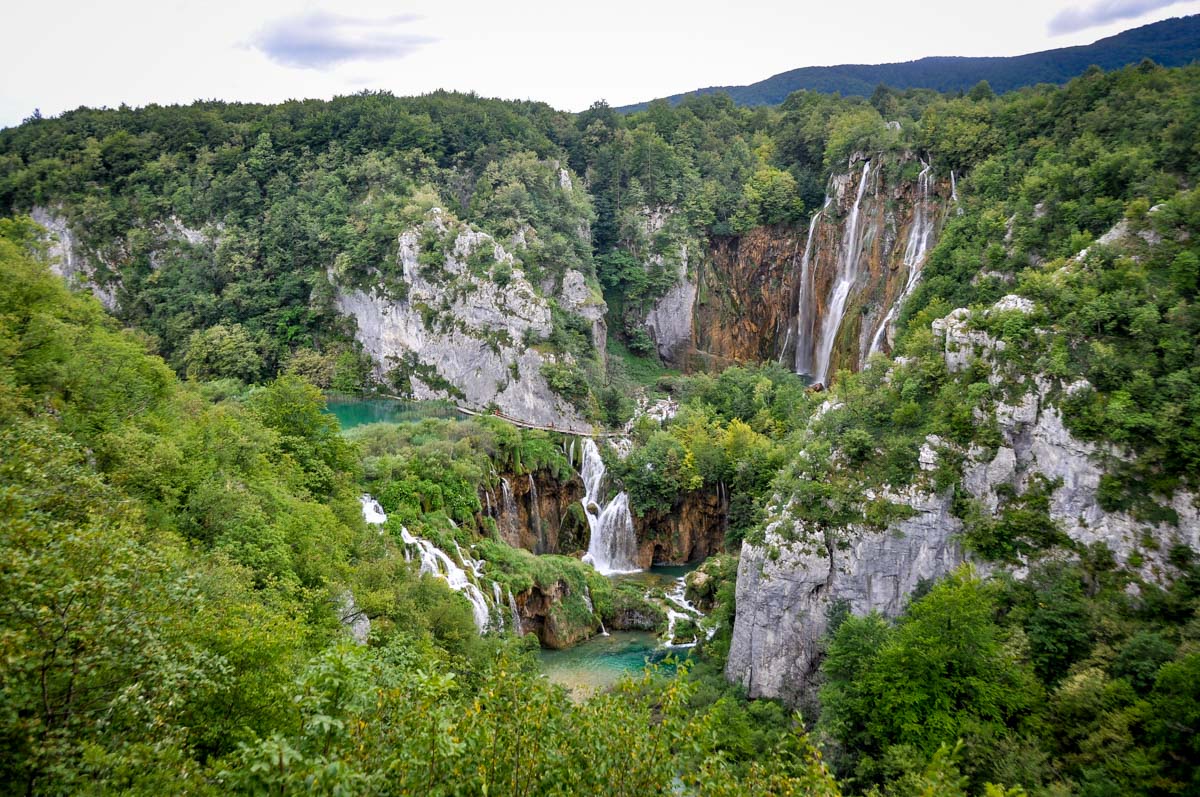 This is the most postcard worthy view in the entire park where you can see Veliki Slap pouring into the Lower Lakes section.
You can drive or hike from Entrance 1 to this viewpoint.
From Entrance 1, you'll come across a staircase on the right that leads to the viewpoint (location). You'll follow the staircase up to the viewpoint, then hike back down the way you came.
Good to know: This staircase is currently closed, but you can still access the viewpoint by driving or following the route to the Upper Viewpoints we talked about above.
Driving is the most convenient option as it's located on the western side of the park within Plitvica Selo. There is a small parking area at the trailhead, then it's only a few-minutes walk to the viewpoint.
Routes for exploring Plitvice Lakes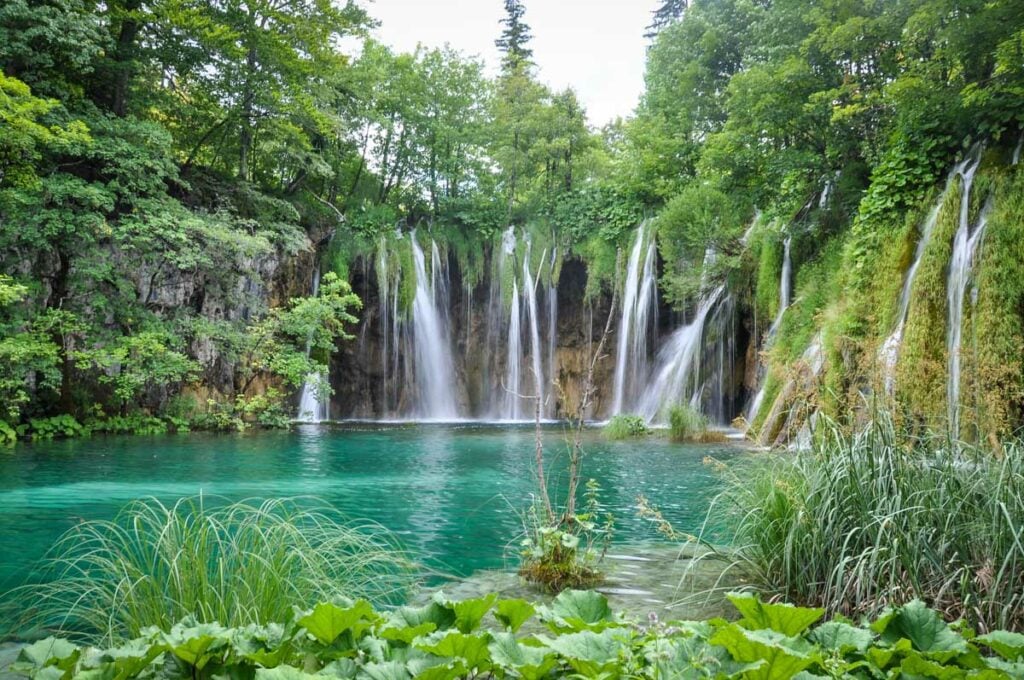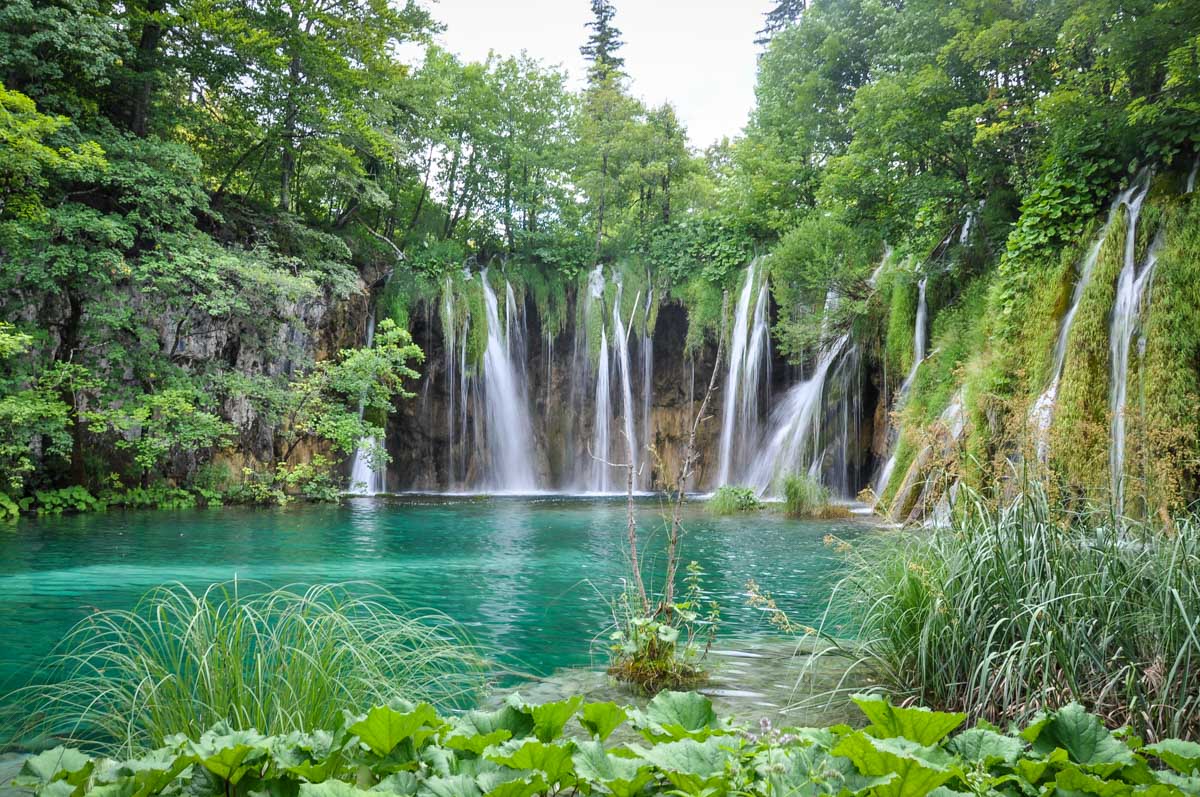 There are seven different routes (called programs) you can take to explore the park.
Each one ranges in length and difficulty, and depends on a few different factors: how much time you have, your starting point, and how much energy you have.
With so many options, it can be overwhelming to try and choose, so we've broken them all down below to make finding the right one for you more seamless.
Depending on the program, it starts at one of two entrances:
Entrance 1 routes: A, B, C, and K (option 1)
Entrance 2 routes: E, F, H, and K (option 2)
Note that routes E-F are the same as A-C, except they travel in the opposite direction from a different entrance. Route K is a long day hike through the entire park so it's offered from both entrances.
Program A
Distance: 3.5 km / 2.2 miles
Estimated Duration: 2-3 hours
This trail highlights the Lower Lakes section, taking you upstream along boardwalk trails to admire Veliki Slap ("Great Waterfall") and postcard-worthy lakes.
Once you get to Kozjak Bridge, you'll turn around and walk back to Entrance 1 or opt for the shuttle.
Program B
Distance: 4 km / 2.5 miles
Estimated Duration: 3-4 hours
This route takes you through the limestone canyon of the Lower Lakes section and along the east rim of the park.
It's a continuation of Program A, except you'll cross the Kozjak Bridge, boat to the other side of Kozjak Lake, then hike or shuttle back to Entrance 1.
Admire Veliki Slap (the "Great Waterfall"), other waterfalls and scenic lakes along this straightforward route.
Program C
Distance: 8 km / 5 miles
Estimated Duration: 4-5 hours
Explore both the Upper and Lower Lakes section of Plitvice on this circular route.
This route is a continuation of Program B. After boating to the far side of Kozjak Lake, you'll walk along the boardwalk trails through the Upper Lakes area, then hike or shuttle back to Entrance 1.
You'll see the most spectacular waterfalls in the park; "Great Waterfall", Veliki Prštavac, and Mali Prštavac, as well as countless other falls and pretty lakes.
Program E
Distance: 5.1 km / 3.16 miles
Estimated Duration: 2-3 hours
This program highlights the Upper Lakes section of Plitvice Lakes.
Starting from Entrance 2, you'll take a boat ride across Lake Kozjak, then follow the trail upstream to Lake Prošćansko.
Along the route, admire the Great Waterfall, many smaller falls, and lakes before taking a panoramic train ride back to Entrance 2.
Program F
Distance: 4.6 km / 2.8 miles
Estimated Duration: 3-4 hours
Follow this program to explore the Lower Lakes section of Plitvice Lakes.
From Entrance 2, you'll walk a short way to the boat dock, then take a boat shuttle across Kozjak Lake.
Once on the other side, walk through the limestone canyon, admire the Great Waterfall, high cliff sides, and various viewpoints highlighting the park before hiking or taking a train ride back to Entrance 2.
Program H
Distance: 8.9 km / 5.5 miles
Estimated Duration: 4-6 hours
Starting at Entrance 2, this route travels through both the Lower and Upper Lakes sections.
You'll begin taking a shuttle from the entry point to the top of the Upper Lakes (St3). From there you'll follow the trails and boardwalks through this section before taking a boat shuttle across Kozjak Lake to Lower Lakes.
Explore around Lower Lakes, passing the Great Waterfall, viewpoints, and lakes, then you'll take the shuttle from Entrance 1 back to Entrance 2.
Program K – Entrance 1 or 2
Distance: 18.3 km / 11.4 miles
Estimated Duration: 6-8 hours
This is the longest program available through Plitvice Lakes that goes through both Lower and Upper Lakes as a full walking tour rather than using a series of shuttles.
There are two options for Program K, and the only difference is which entrance you want to start at. Each also travels in the same direction, so you're getting the best views no matter which you choose.
You'll walk through the Lower Lake boardwalks snaking through the canyon, admire the Great Waterfall, explore Upper Lakes, all while taking in the views and waterfalls along various high vantage points.
At the end of the route, you'll take a short boat shuttle to get back to the east side of Kozjak Lake, allowing you to arrive back at Entrance 2, or walk back to Entrance 1.
Our recommendation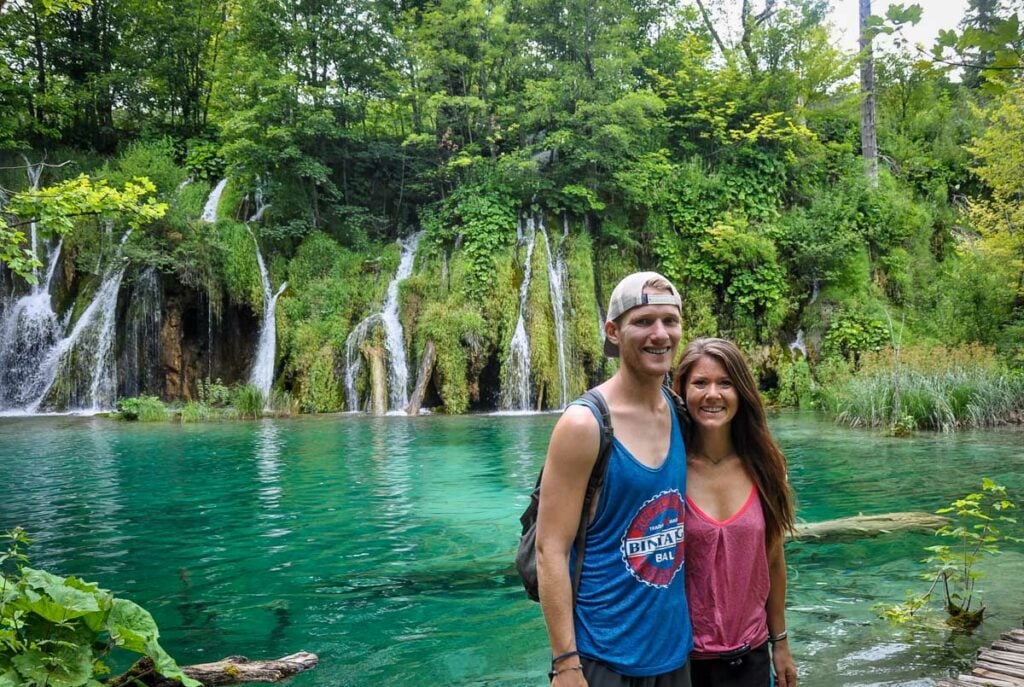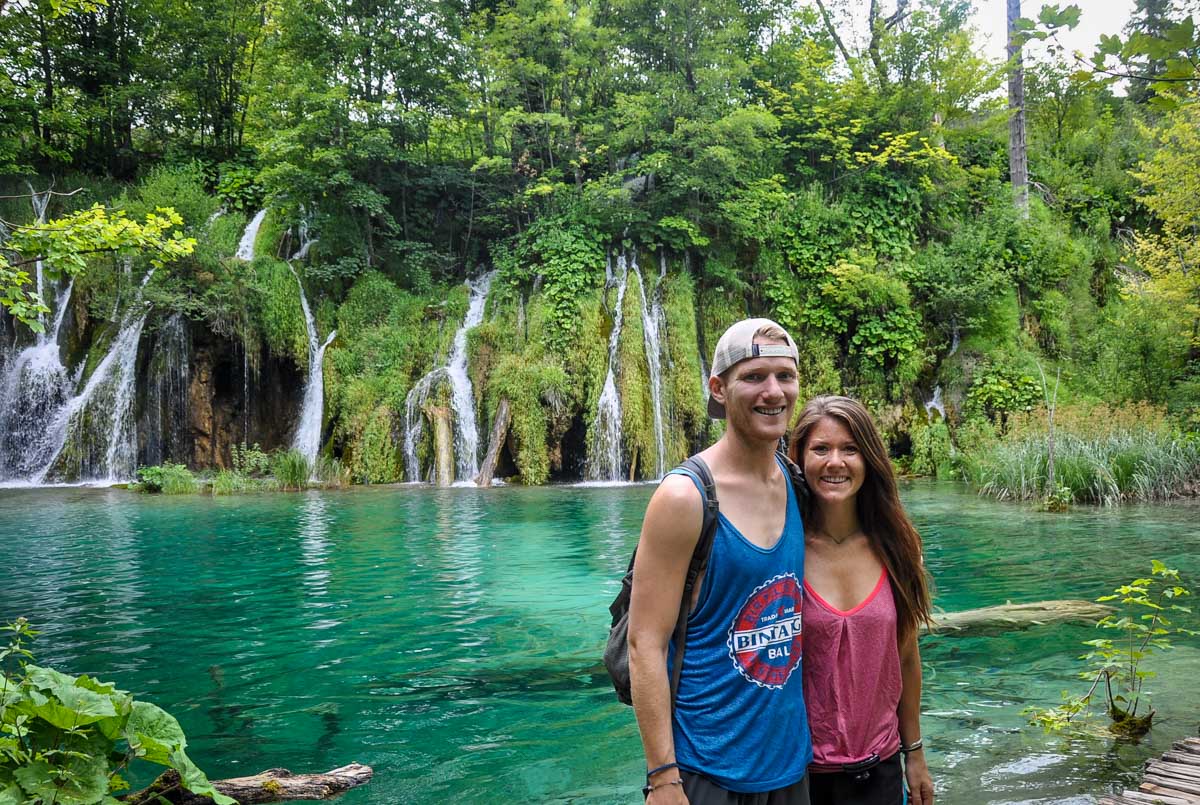 To avoid the crowds in Plitvice and see all the major sights, this is the route that we would recommend: Do the H hiking route in reverse.
Starting at Entrance 1, go down to the Lower Falls, see the Great Waterfall, (which is spectacular) but then follow the reverse of the H hiking route (similar to K route).
This way you won't feel like cattle moving on walkways with the rest of the crowds. You can either walk around the big lake or take the ferry across.
The Upper Falls were our favorite part, because there were less people and the way the water flows off all the rocks is unlike anything we have ever seen.
Continue to follow the H hiking route in reverse, twisting through the upper falls, until you reach Station 3. Then, take the free shuttle to Station 1 so you don't have to walk the entire way back.
Getting around the park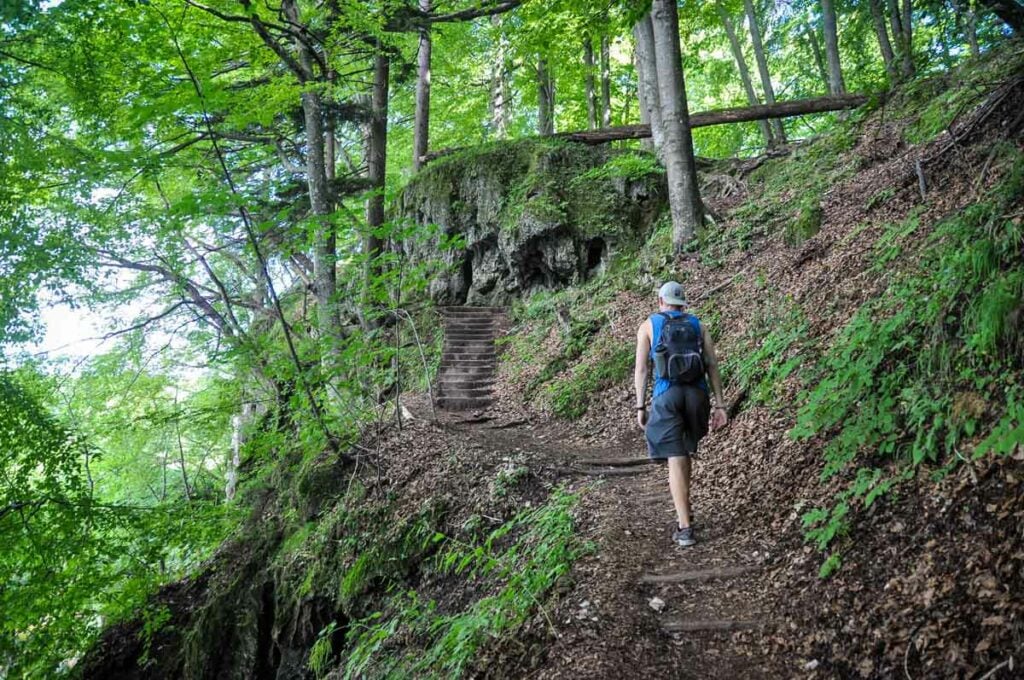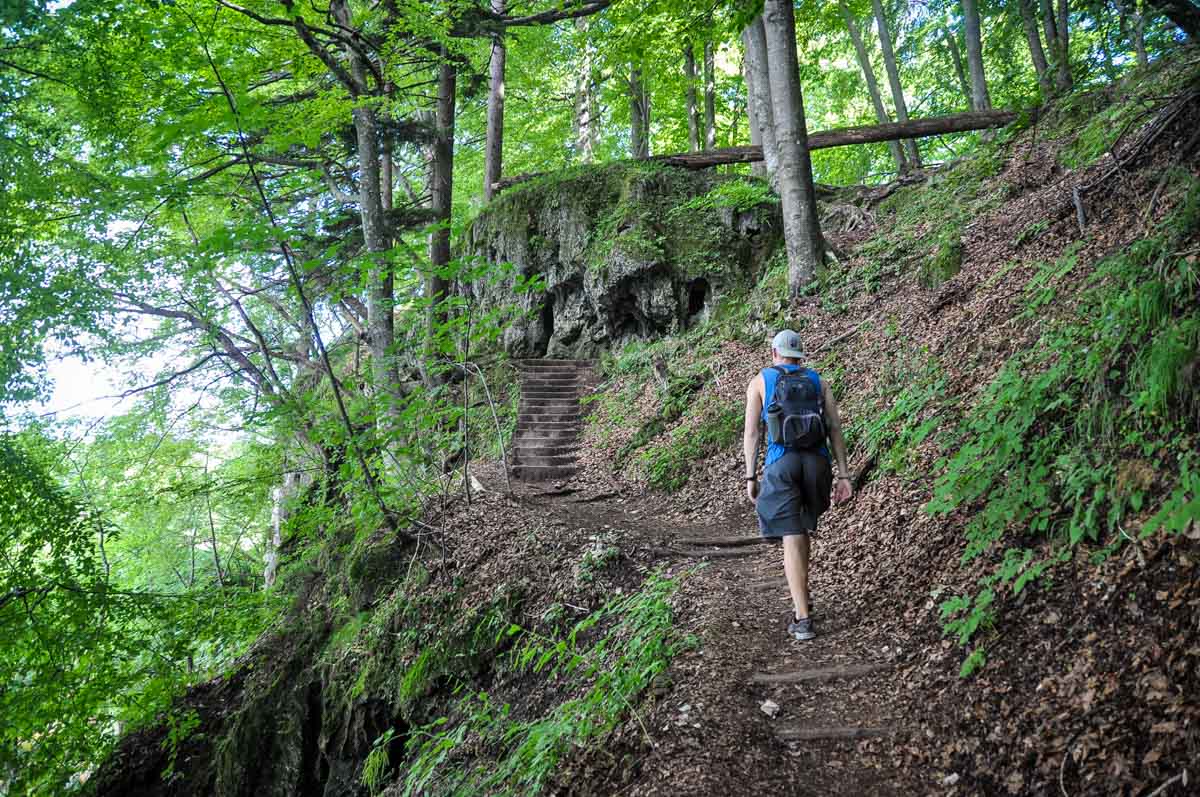 There are three main ways to explore the park: on foot, shuttle buses, and the boat ferries.
Throughout your visit you'll use a combination of the three to explore the park depending on what program you're taking. You can expect your day to include mostly walking/hiking along the marked routes.
Good to know: The shuttles and ferries are included in your ticket price.
Best time to visit Plitvice Lakes National Park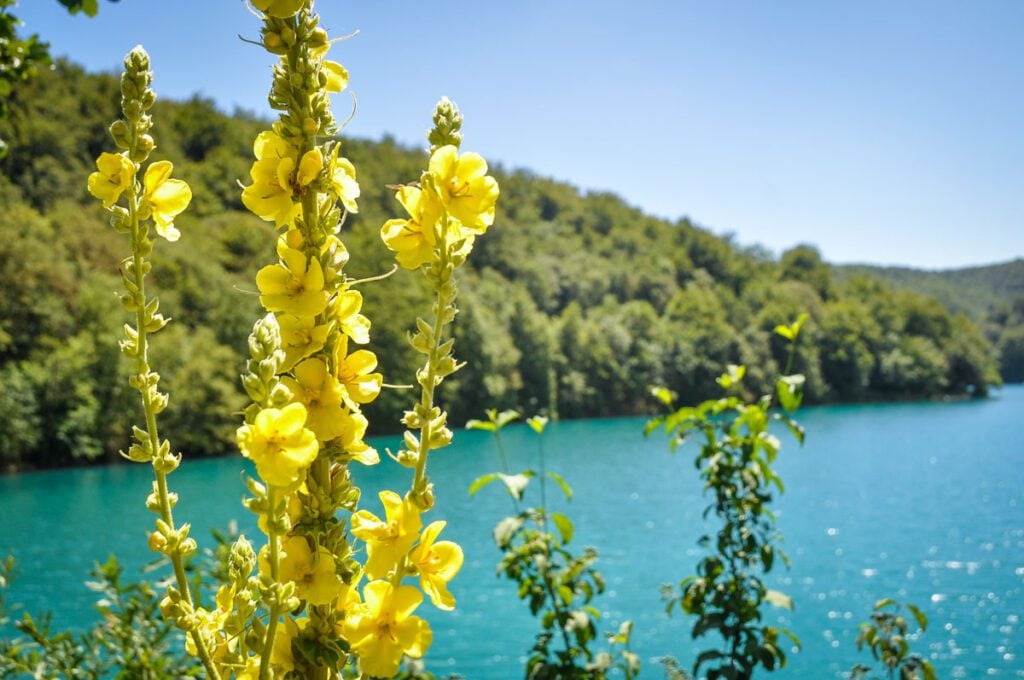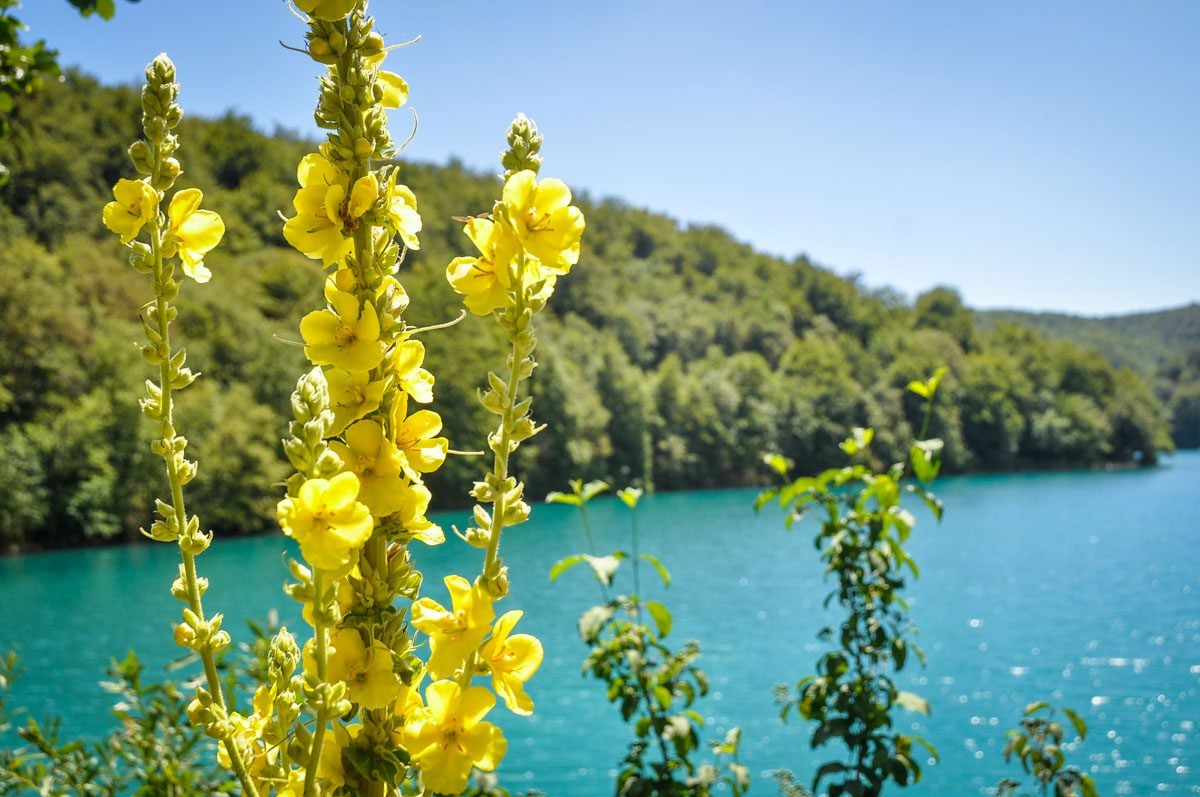 Plitvice Lakes is open 365 days a year, but every season has its pros and cons to visiting.
Summer is the busiest and hottest time to visit the park. Daytime temperatures will be sweltering and the waterfalls may not be as powerful since this season is drier than others. Tickets easily sell out daily during peak season and the boardwalks will be packed.
Spring and fall are arguably the best and most beautiful time to visit Plitvice Lakes. The crowds of summer have left and the waterfalls are more powerful from rainfall. Plus, during the fall, golden foliage blankets the park.
You can expect the least amount of crowds at Plitvice Lakes during the winter, and if you're lucky, a blanket of snow will cover the park. Expect limited facility and accommodation options, as well as trail closures this season.
Where to stay near Plitvice Lakes
Plitvice Lakes National Park is very popular, so there are plenty of great stays in a convenient location near the park.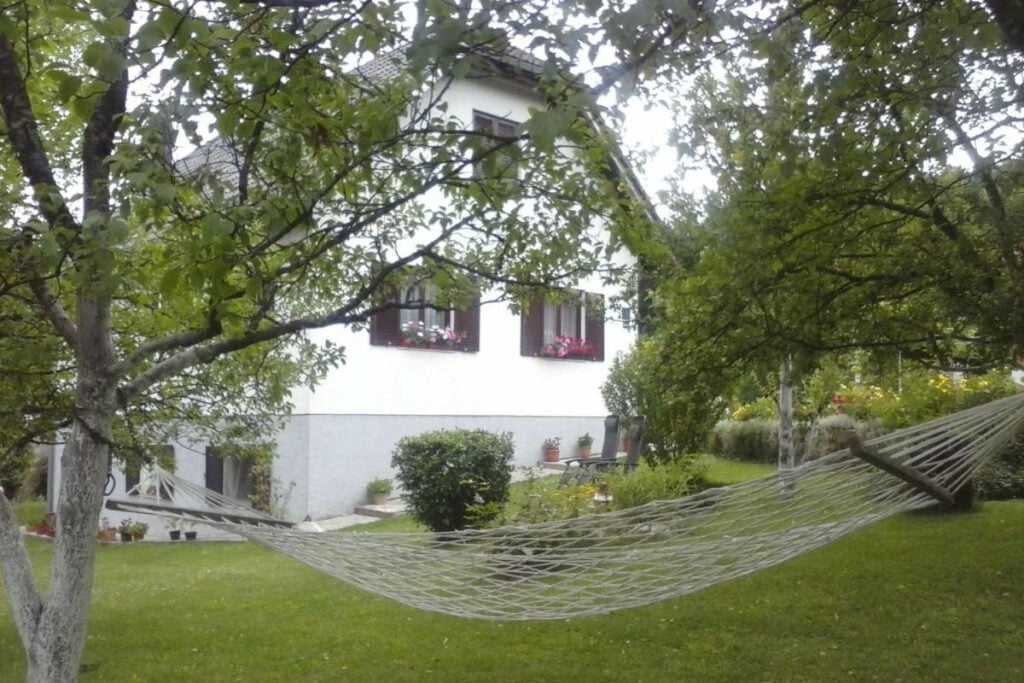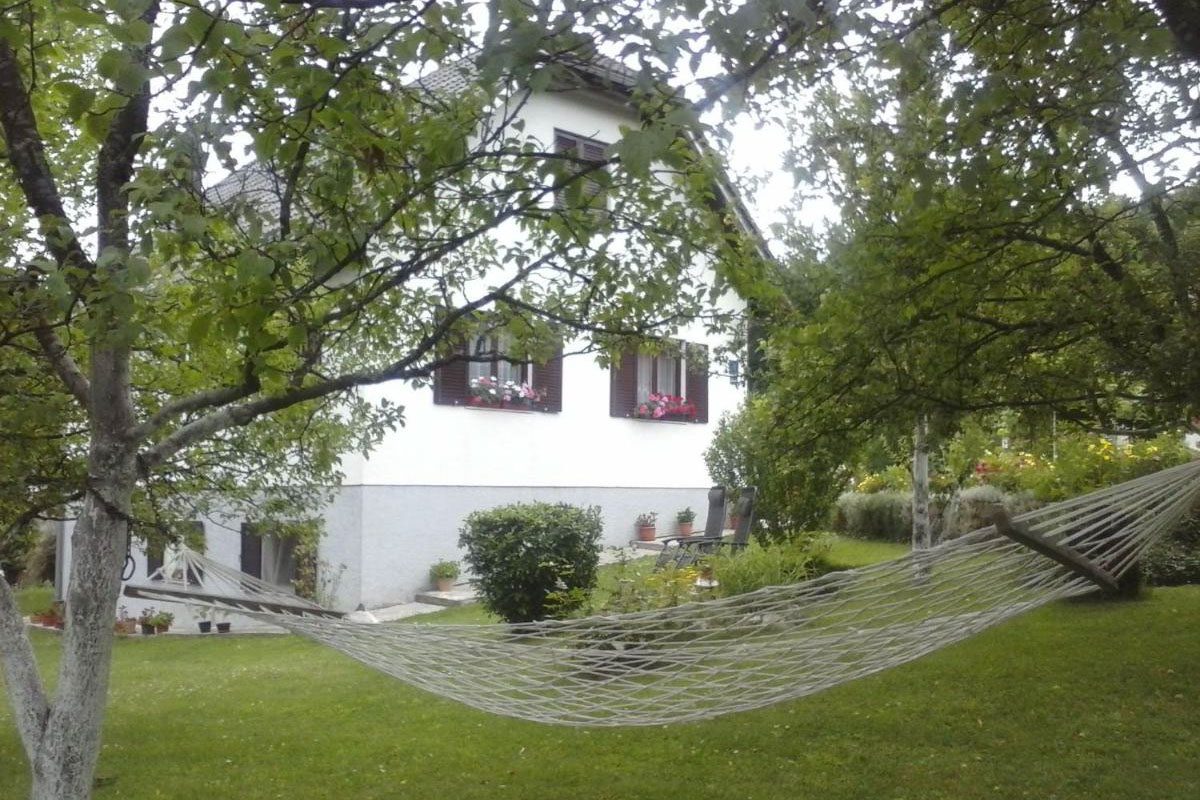 House Nina: Just outside of the park is this budget stay with a social atmosphere. It's in a quiet neighborhood with a big garden and ensuite rooms. It's 5-miles away from the bus stop to Plitvice or a short drive to the park with your own car.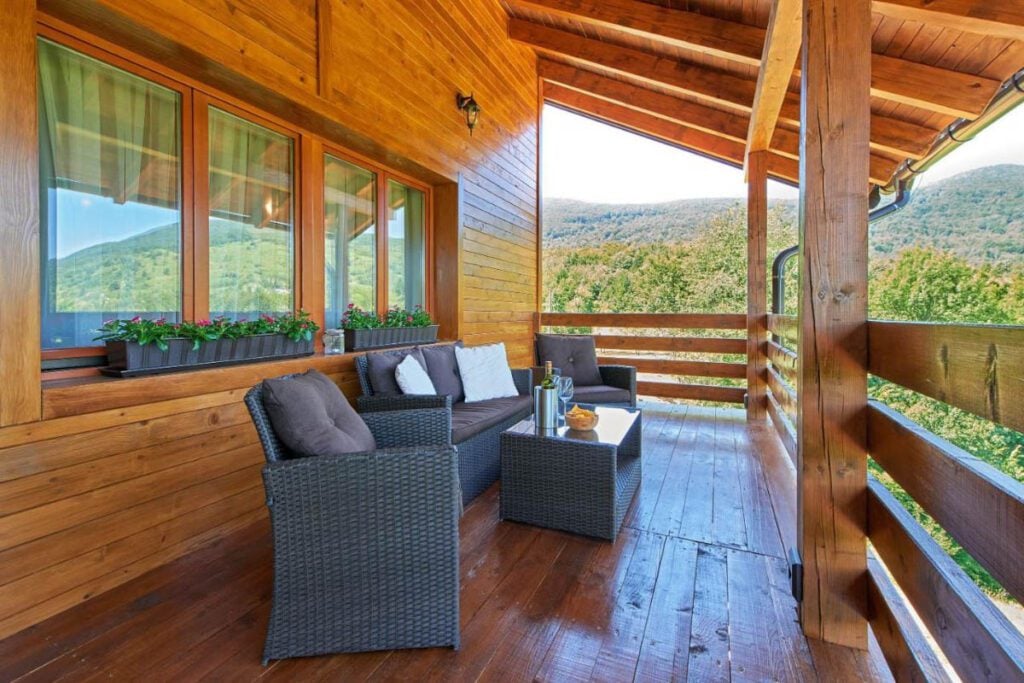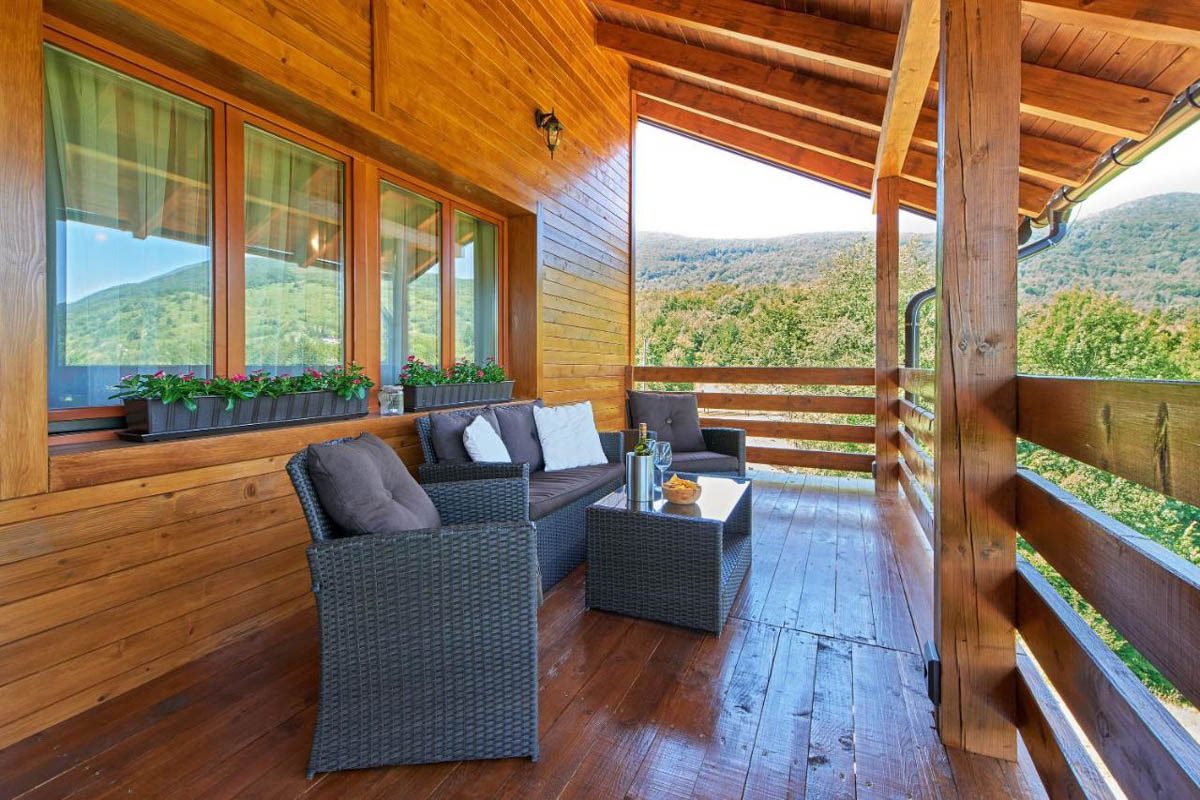 Apartmani Burić: Just a few miles from both entrances, these apartments offer a full-service kitchen, scenic balcony, and onsite restaurant. The host offers taxis to and from Plitvice, otherwise there is a bus stop nearby and the drive is 6-10 minutes by car.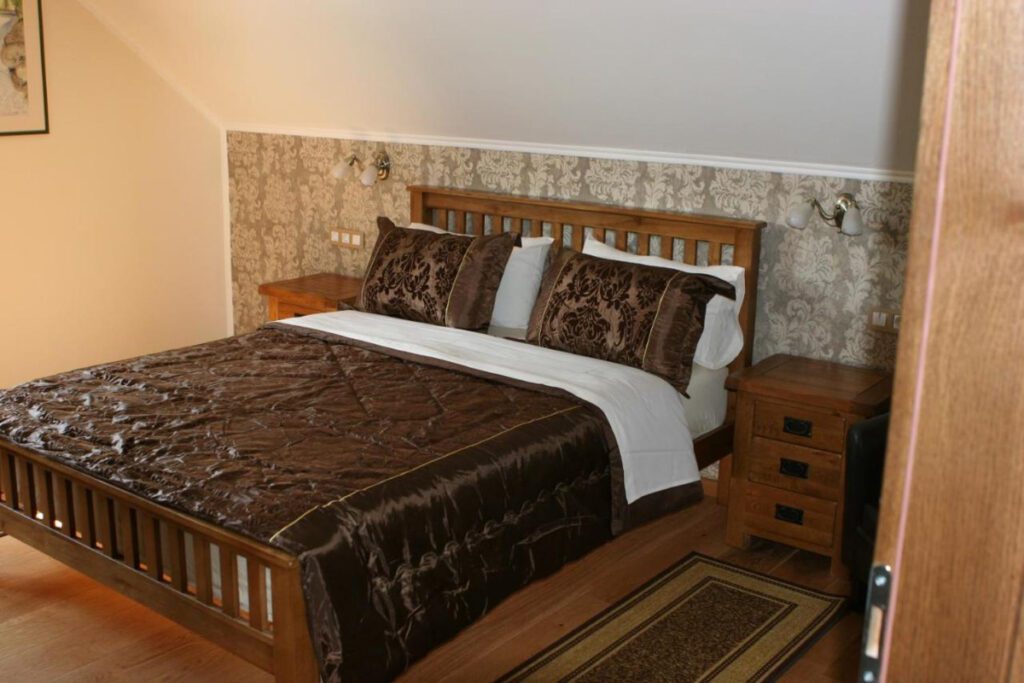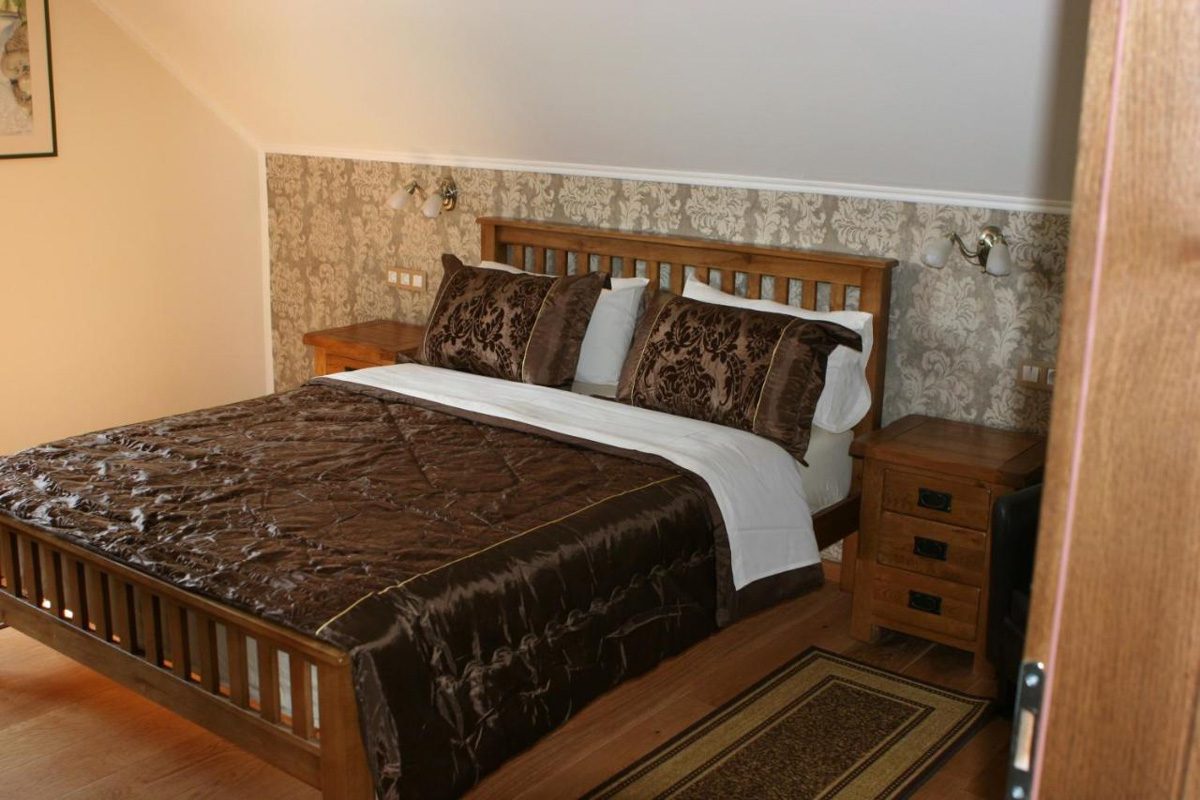 Millennium House: Just a 5-minute drive from Entrance 2, this B&B has amazing views, breakfast included, free Wifi, an onsite restaurant, and an outdoor terrace perfect for relaxing. They offer a shuttle to the entrance or you can use their free bike rentals. The bus stop is only a 5-minute walk away where you can shuttle to Entrance 1.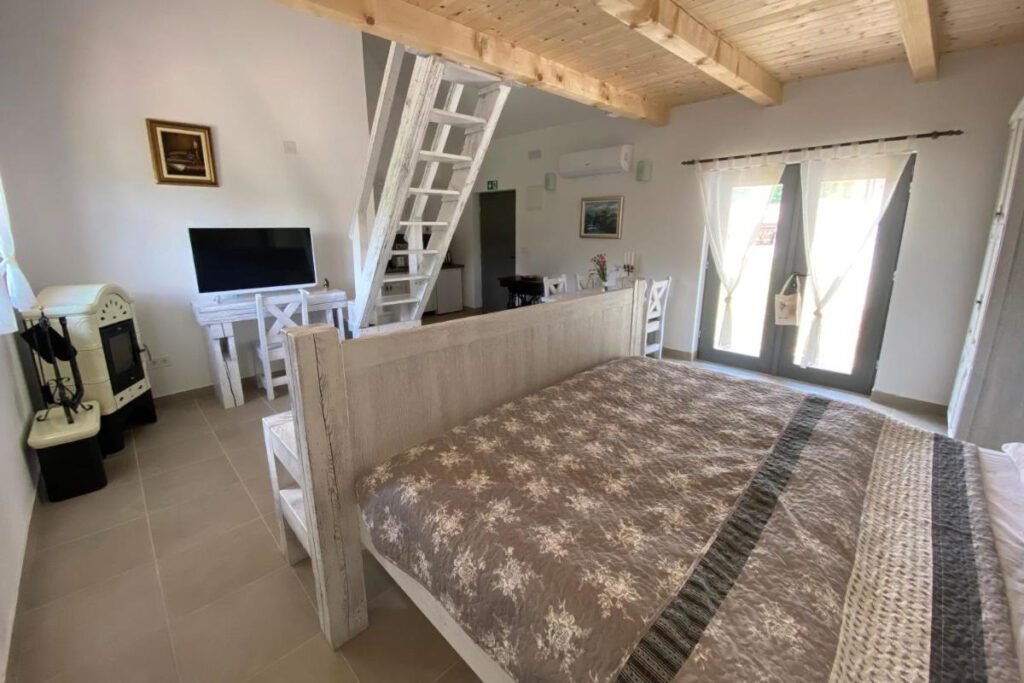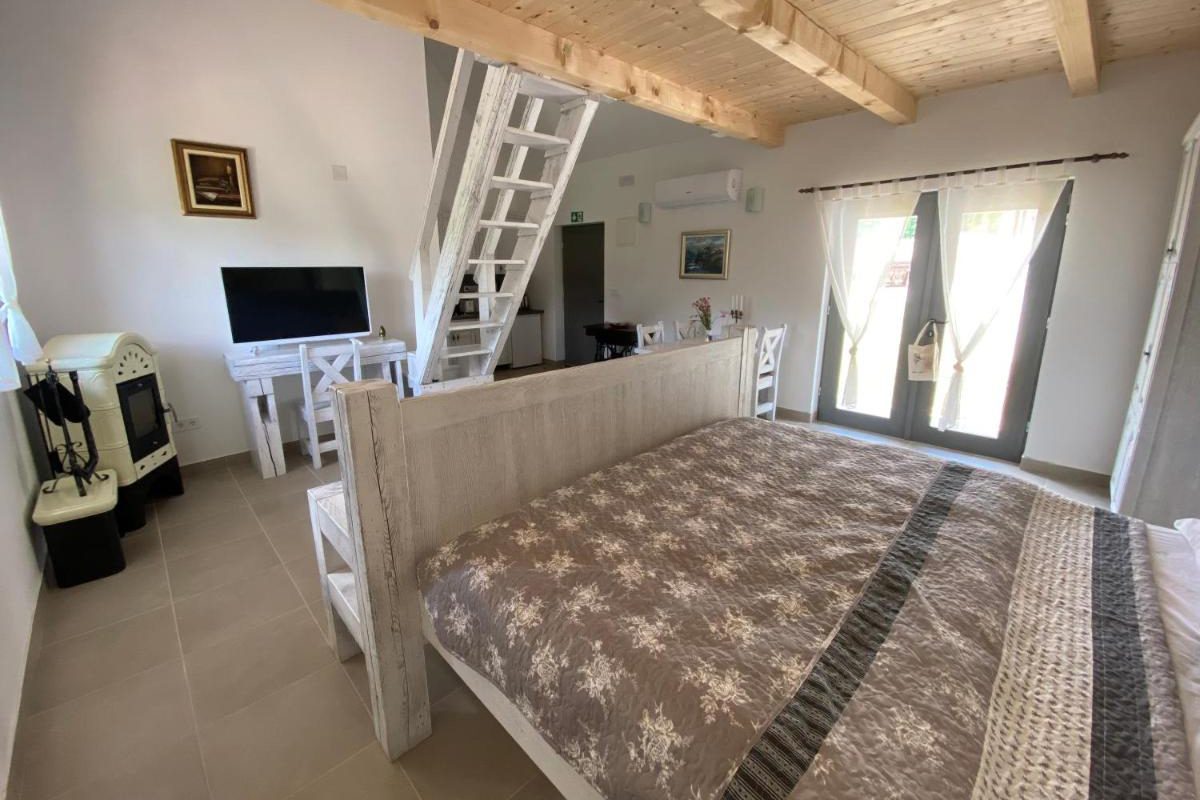 Apartment I&M: Steps away from Entrance 1, this full-service apartment has 2 bedrooms, a kitchen, shared lounge area with games, free Wifi, free bike rentals, and a scenic terrace. There is an onsite restaurant you can dine at for breakfast and dinner before or after exploring the park for the day.
What to pack for visiting Plitvice Lakes National Park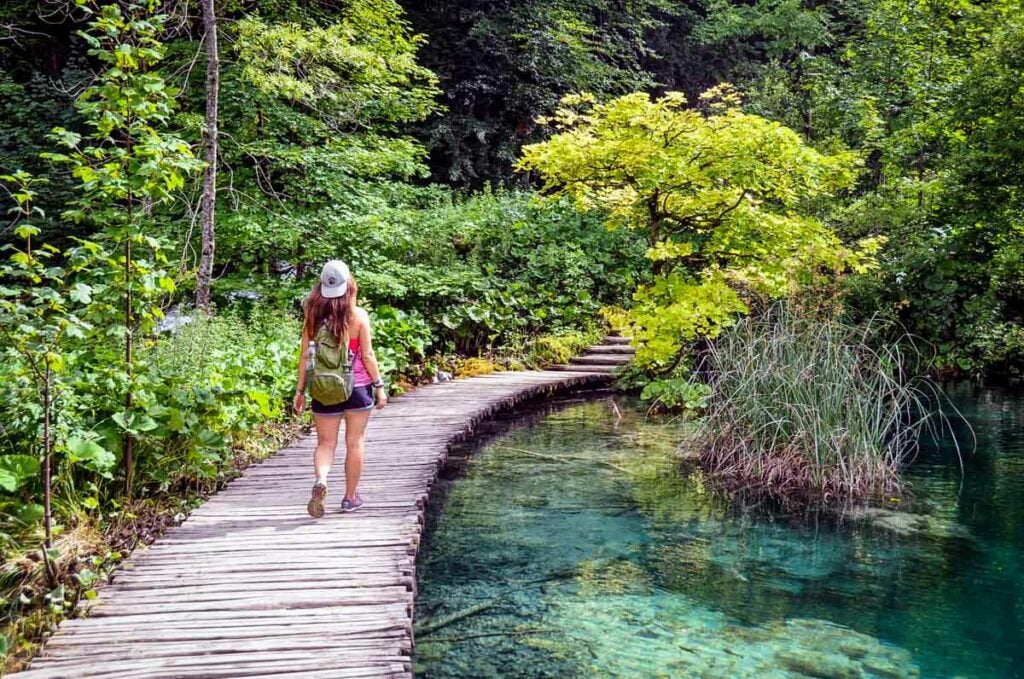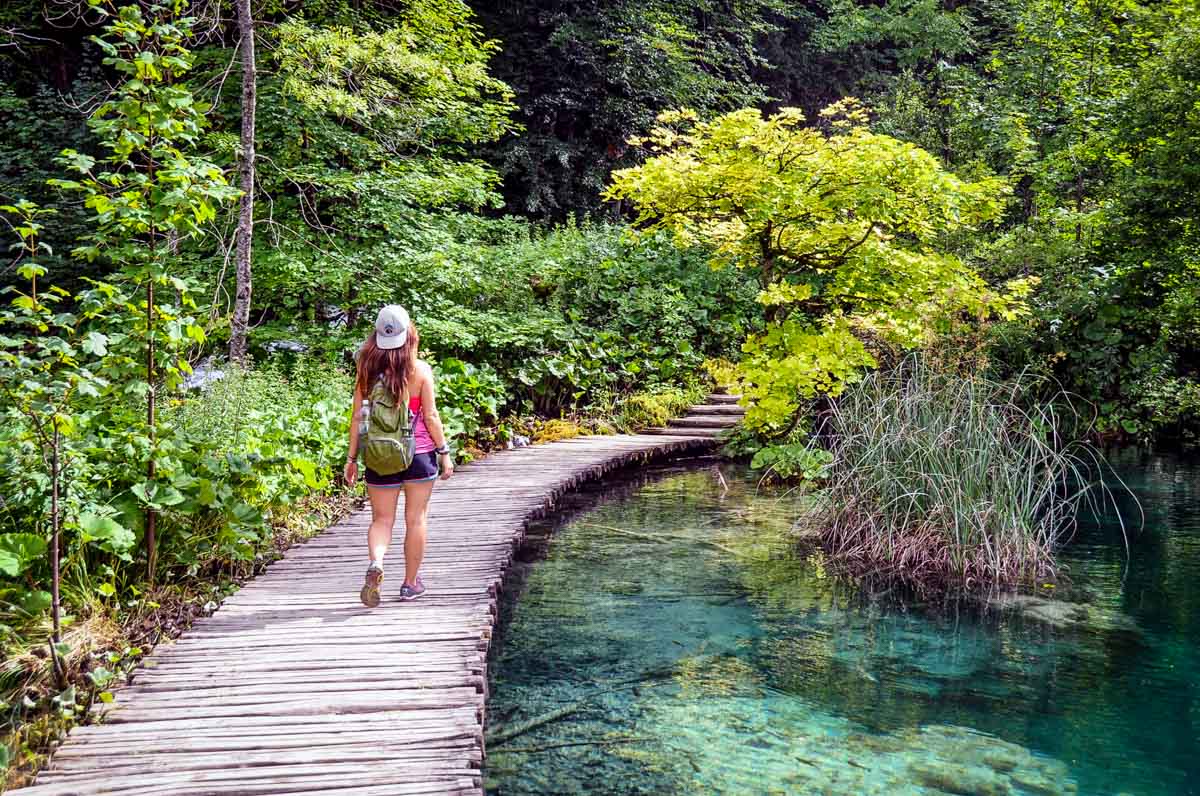 We suggest bringing these items along for a comfortable day around the park:
Sun protection: sunscreen, sunglasses, hat
Rain protection: bring a raincoat or umbrella, just in case
Day pack
Comfortable walking shoes
Camera
Plenty of water
Picnic lunch
Snacks
FAQs about visiting Plitvice Lakes National Park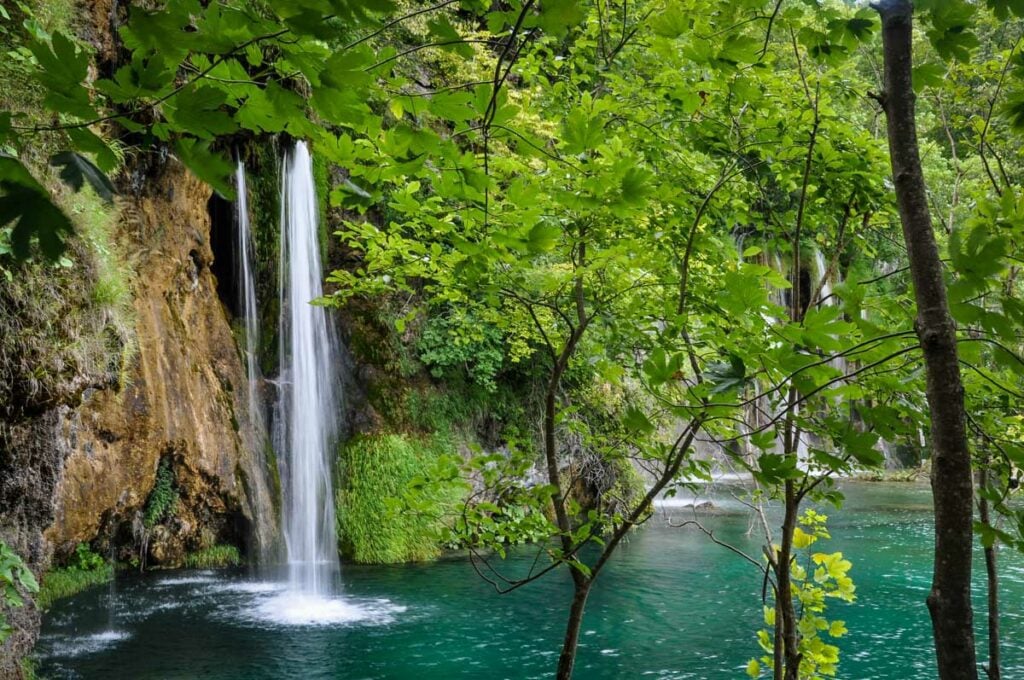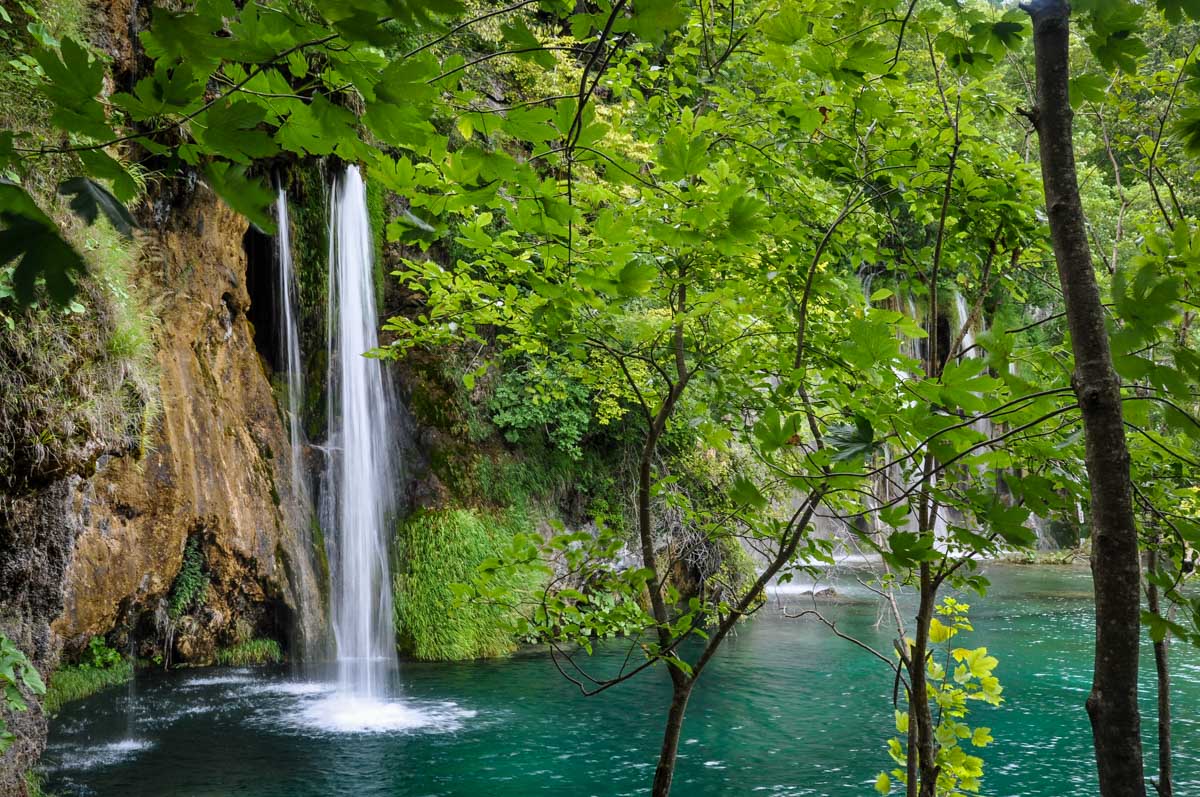 We've covered a ton in this guide, but here are more must-knows for your visit to Plitvice Lakes.
Is Plitvice Lakes worth visiting?
Yes! Absolutely. Plitvice Lakes is one of the most beautiful places in Croatia.
Its network of turquoise lakes and waterfalls, all connected with dreamy boardwalks will likely be a highlight of your trip in Croatia.
Why is the water in Plitvice so blue?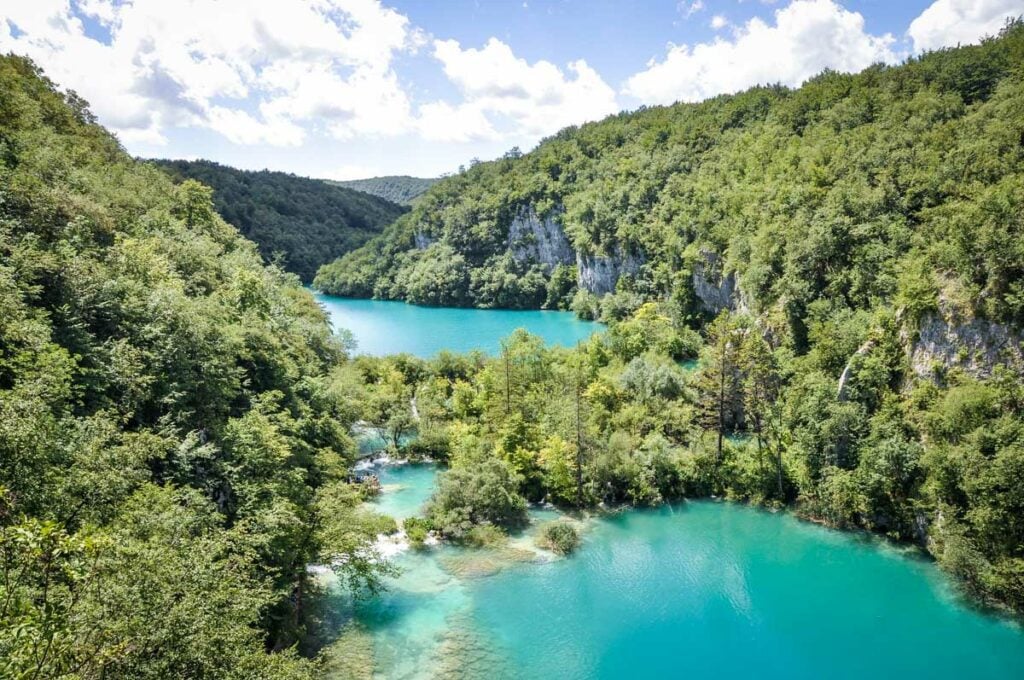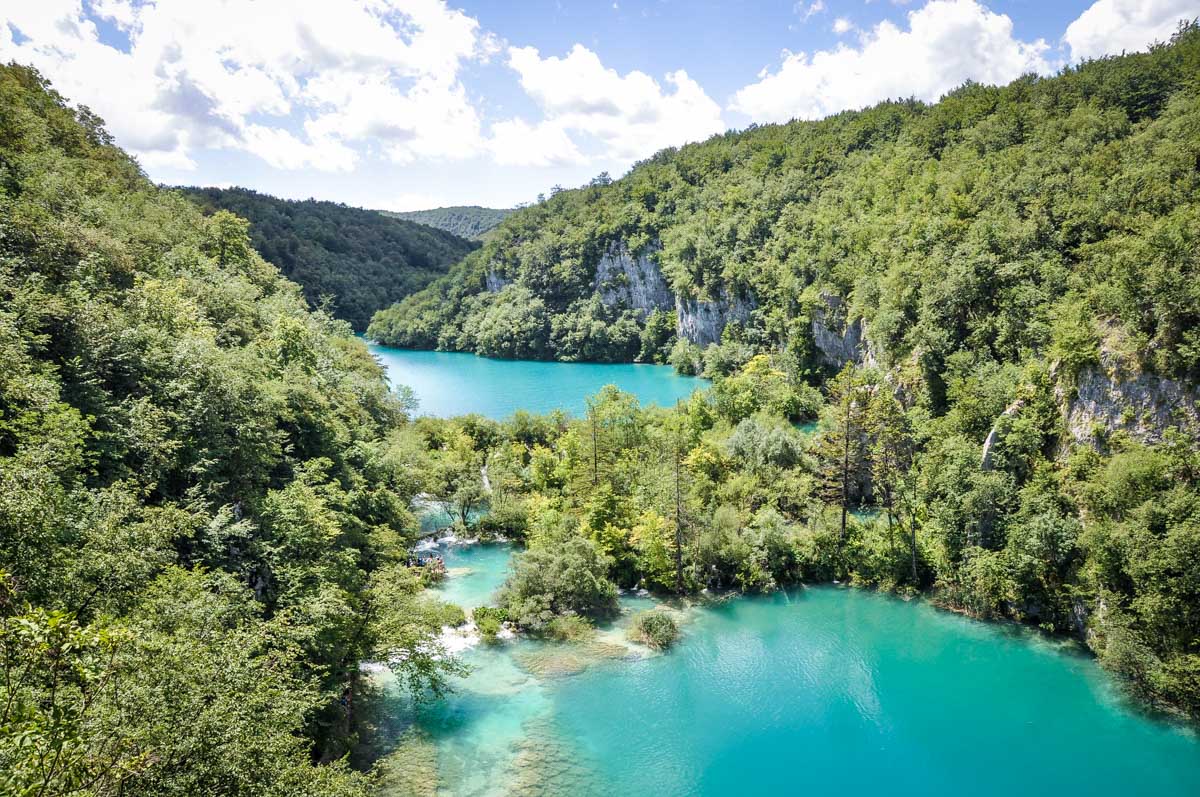 The blue-green water is spectacular from the synergy of a few different factors: direct sunlight, mineral rich and crystal clear waters and the way they absorb the sunlight, and moss with filtering and color-changing effects.
Can you swim at Plitvice Lakes National Park?
No, it's strictly prohibited to protect the ecosystems.
Should I start at Plitvice Entrance 1 or 2?
We recommend starting at Entrance 1. It's ideal for exploring Lower Lakes first and arriving at the park early in the morning.
You'll (mostly) beat the late-morning crowds in the area and have the best views along the trail since the waterfalls will be in front of you rather than behind you.
What is the best time of day to visit Plitvice Lakes?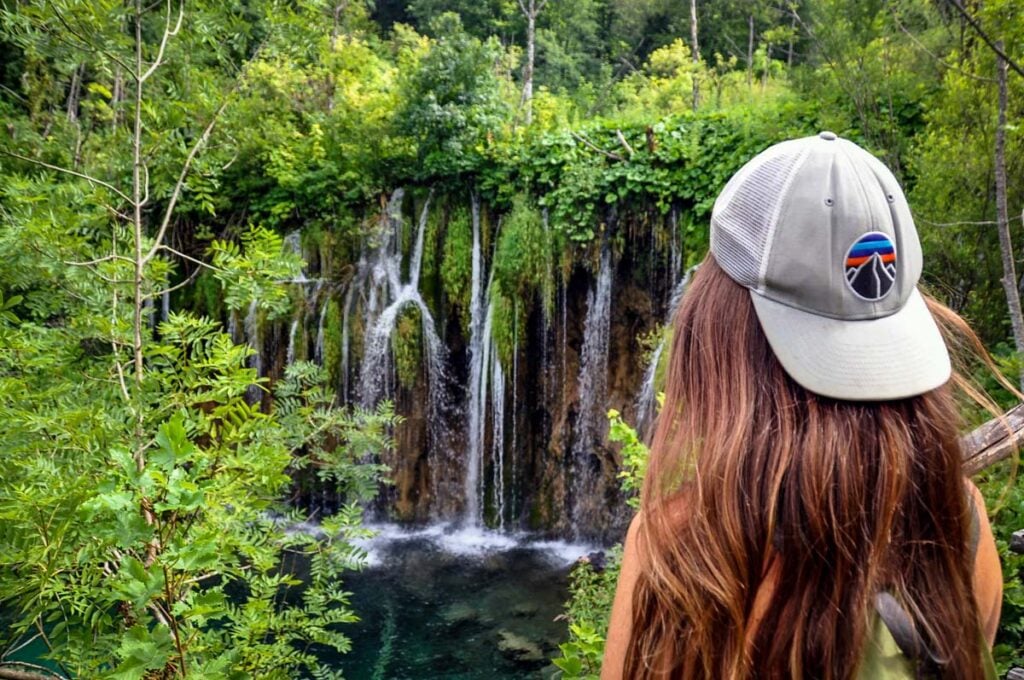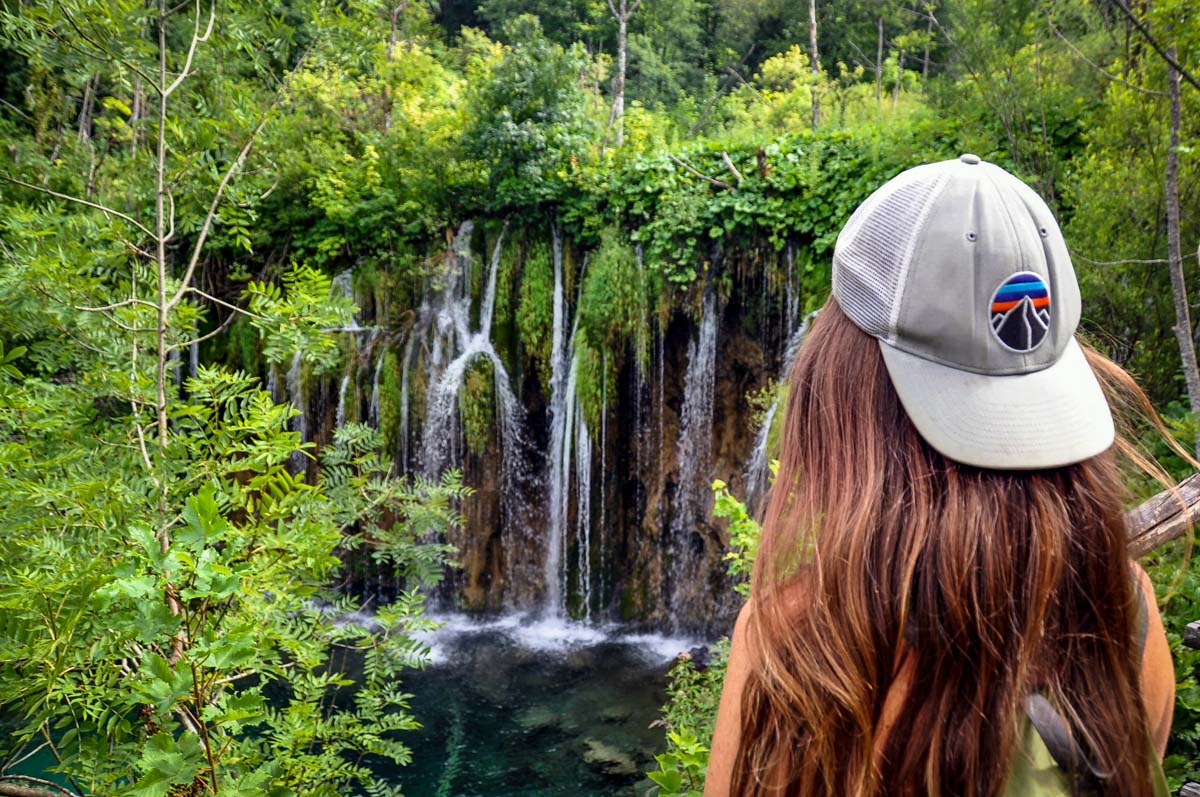 The earlier the better (aim to arrive when the park opens), especially if you're visiting in peak season.
In the early morning, you can stroll the boardwalks with a fraction of the tourists and beat the midday heat. By 10 a.m., the park is very packed.
How to avoid the crowds at Plitvice Lakes?
Getting there early and in the shoulder seasons will help you avoid the crowds. Visit the most popular spots early in the day or in the later afternoon when the lighting is better and the crowds have thinned. In the meantime, venture off the well-trodden path a bit for a better chance of (semi) solitude.
What should I wear to Plitvice?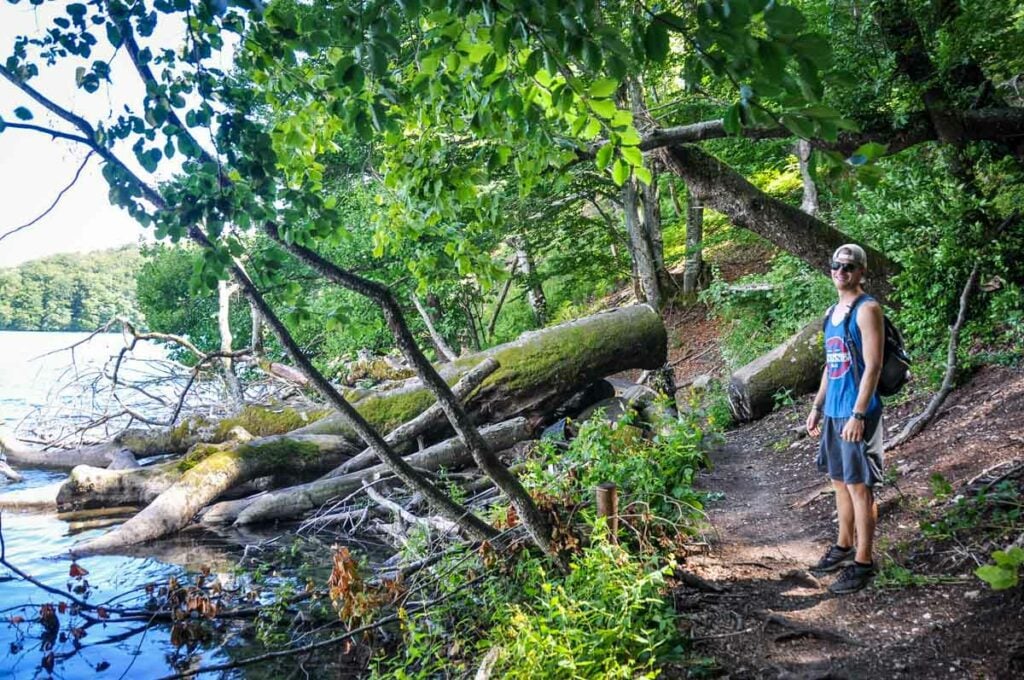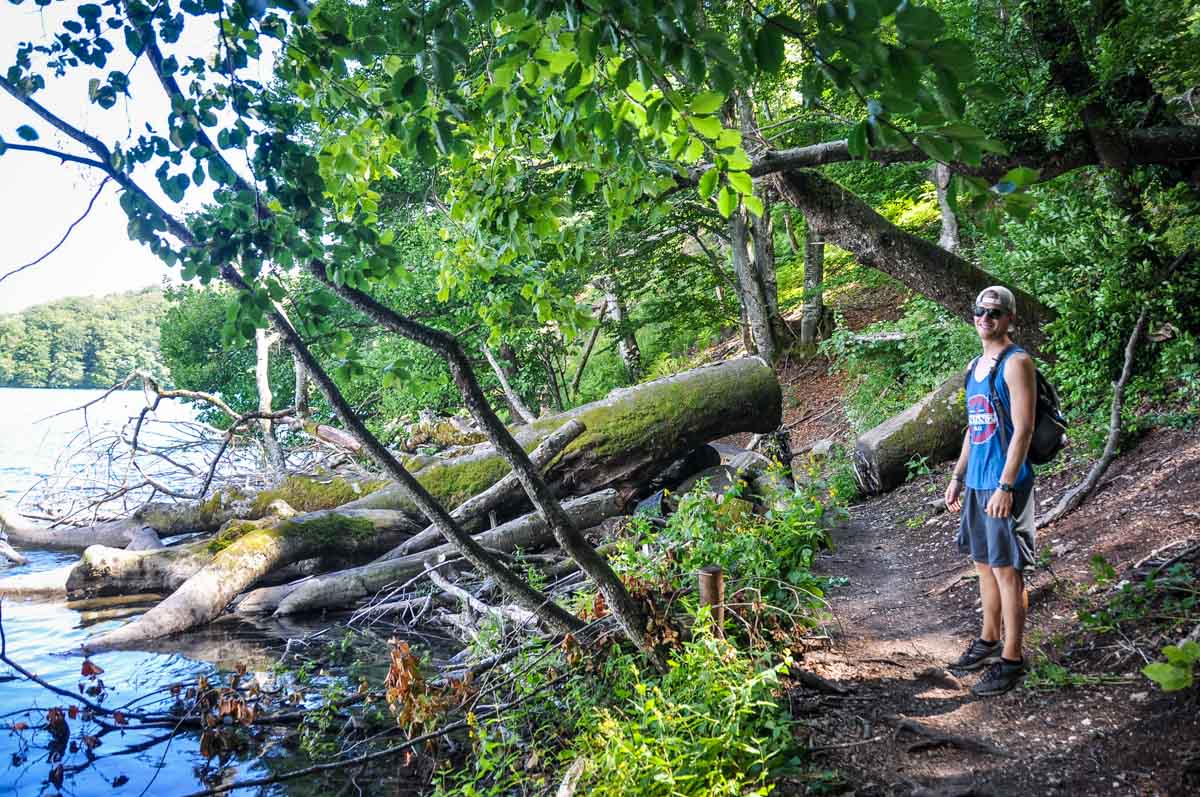 What you'll wear will depend on the season that you visit, however you'll want to make sure you wear sturdy, close-toed shoes year round since the trails can be uneven and steep.
No matter the season, it's important to check the weather before you go so you can dress accordingly.
Lightweight, breathable clothing is recommended for summer, plenty of layers are essential in the winter, and rain gear will likely be needed in the shoulder seasons/on rainy days.
Do you need to buy tickets in advance for Plitvice Lakes?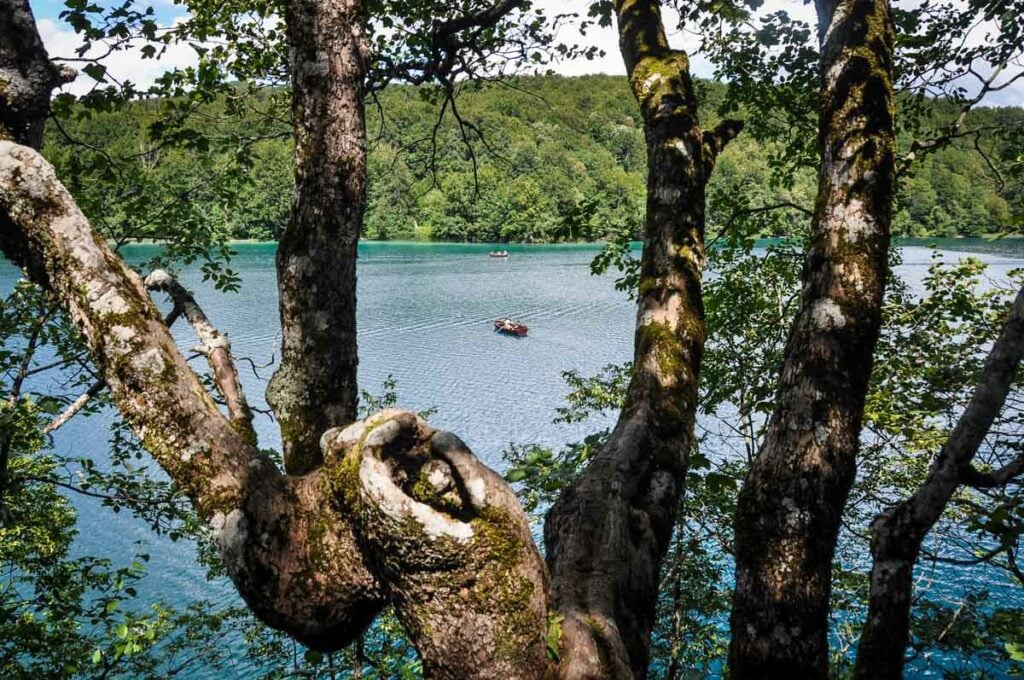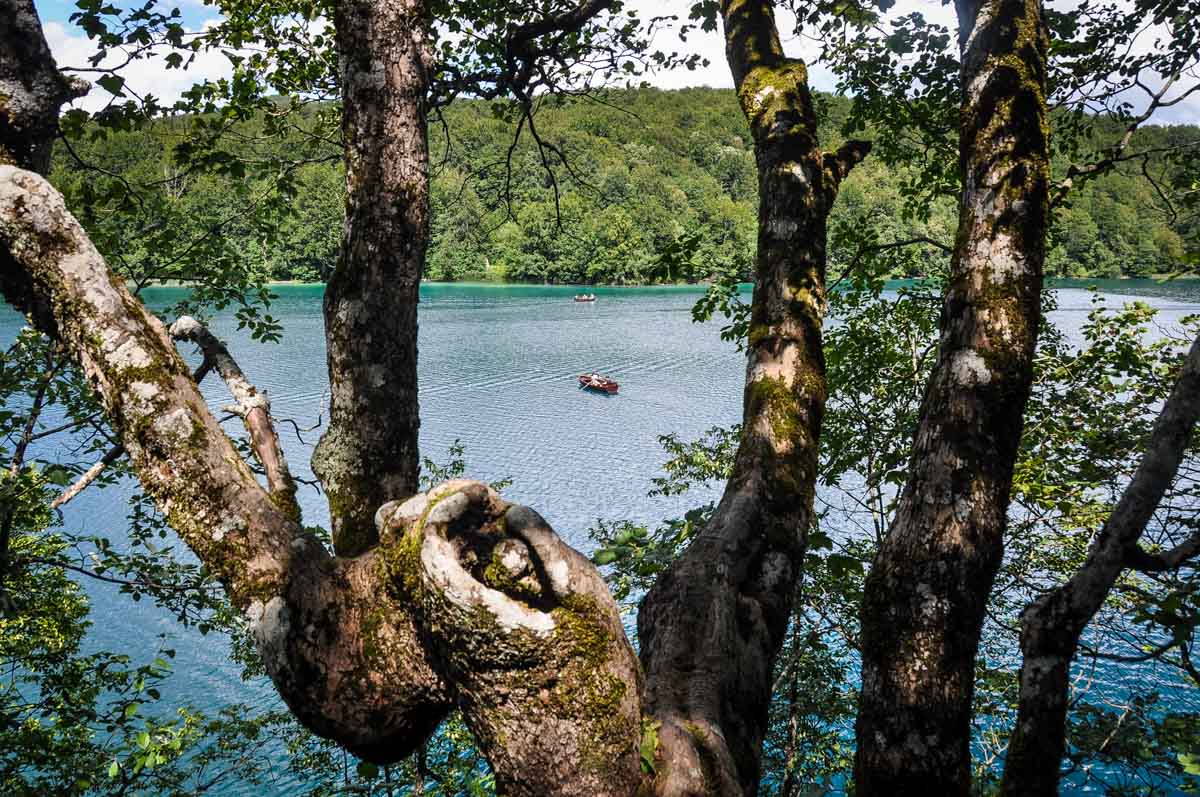 Yes, during peak season tickets can sell out well in advance, or there could be a long wait to enter the park.
Ideally, buy your tickets in advance and try to grab the earliest time slot.
Is there food available inside Plitvice Lakes National Park?
There are several restaurants to choose from inside the park with a variety of food options.
Insider tip: Pack a picnic lunch because a) it's a beautiful spot for picnics, and b) the choices inside the park are limited and expensive.
Can you stay overnight in Plitvice Lakes National Park?
Yes, there are three hotels within the park you can stay at: Hotel Jezero, Hotel Bellevue, and Hotel Plitvice. Note they're all next to Entrance 2.
That said, they're the most expensive options and fairly old-fashioned. But staying within the park has its perks.
---
Are you planning a trip to Croatia?
We have lots of resources on travel in Croatia and destinations throughout the country. Check out our Croatia Travel Homepage for everything you need to know, or start by reading some of our favorite Croatia articles here:
Save this article on Pinterest for later!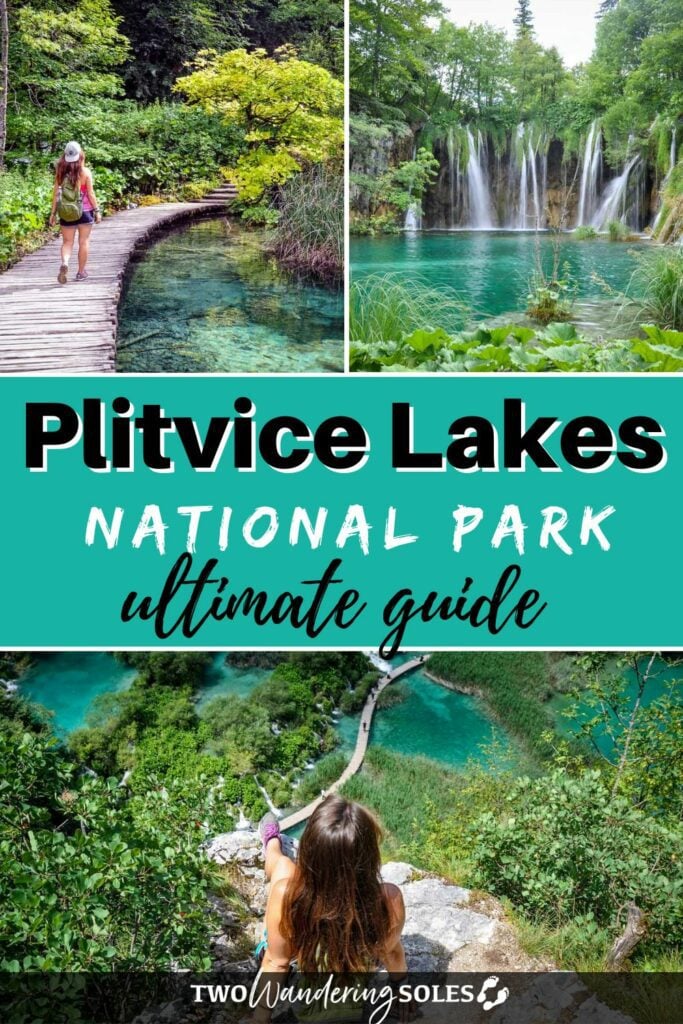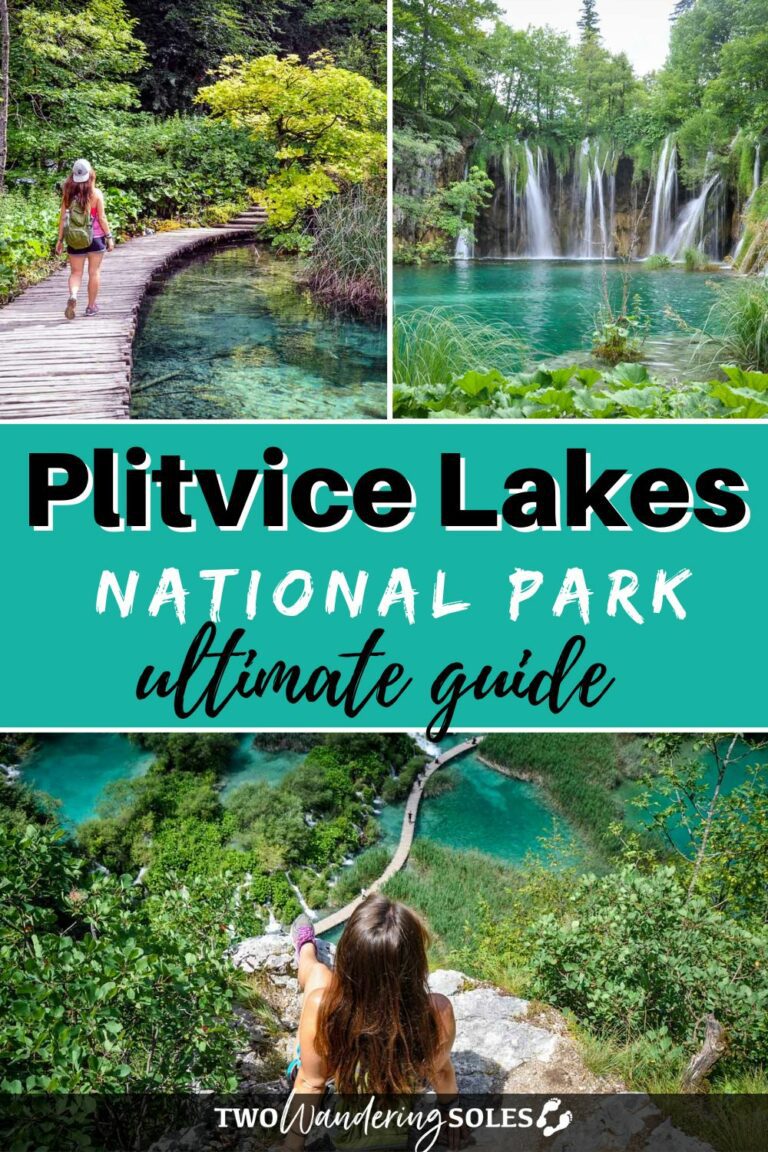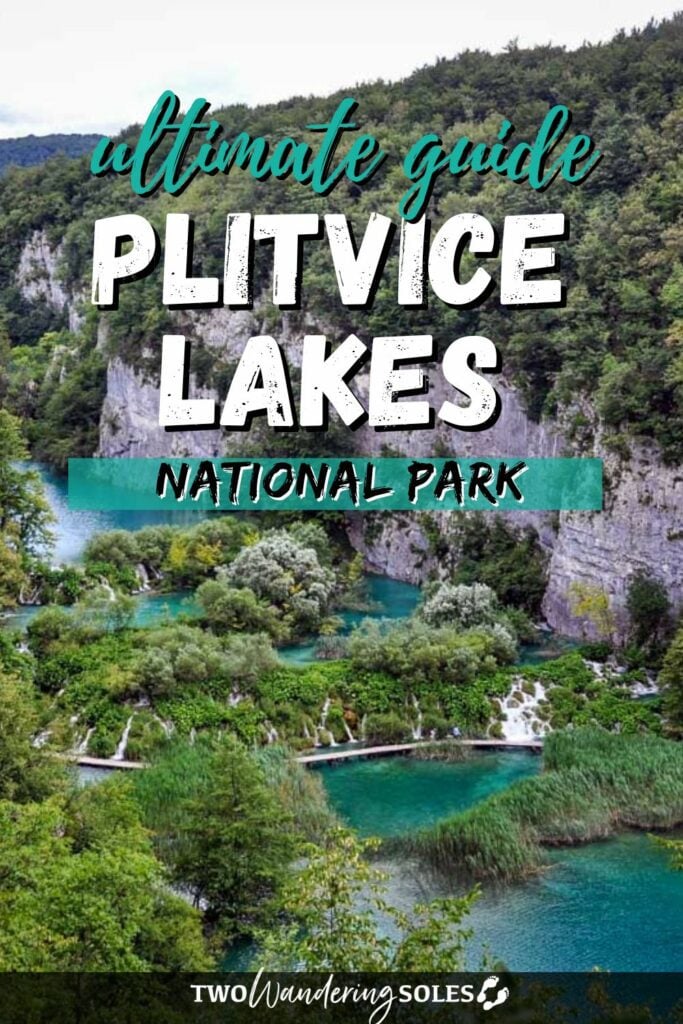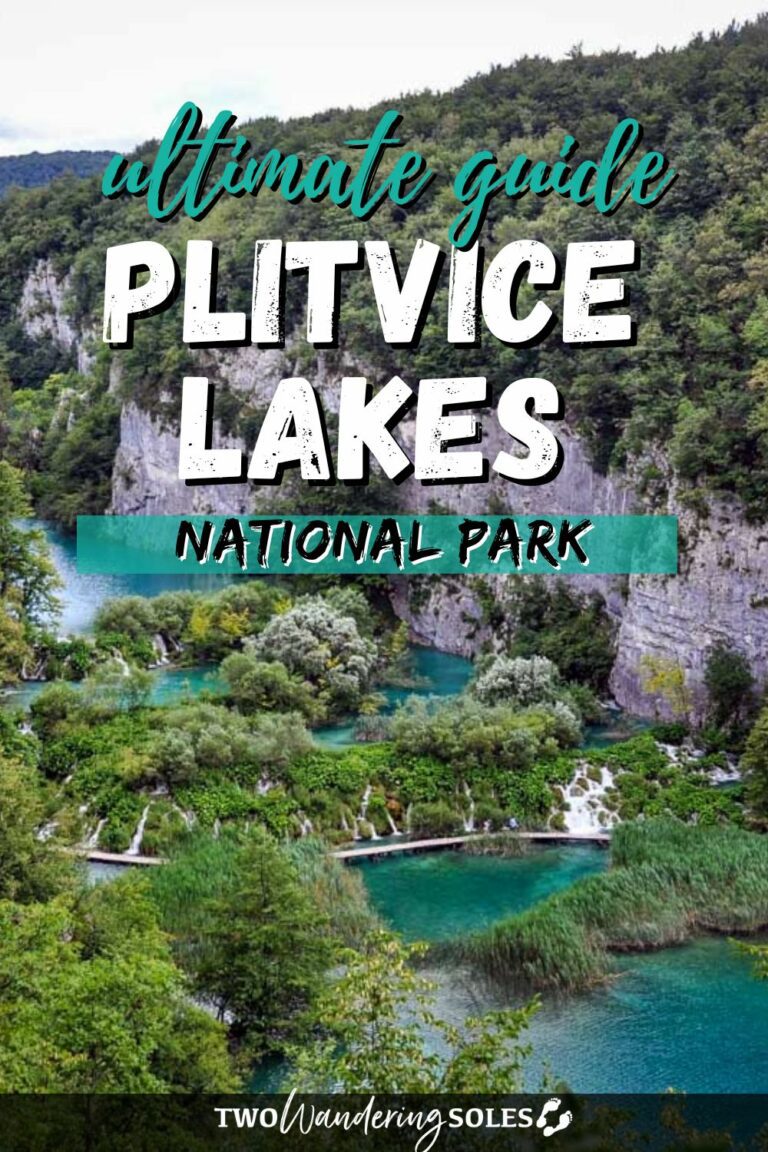 We want to hear from you!
Are you planning a trip to visit Plitvice Lakes National Park in Croatia and still have questions? Leave your comment below and we'll do our best to get back to you!