If you're planning a trip to Croatia's Dalmatian Coast, we've rounded up all the best things to do in Split, including where to eat and where to stay. Plus some helpful tips for traveling to this Croatian coastal hotspot.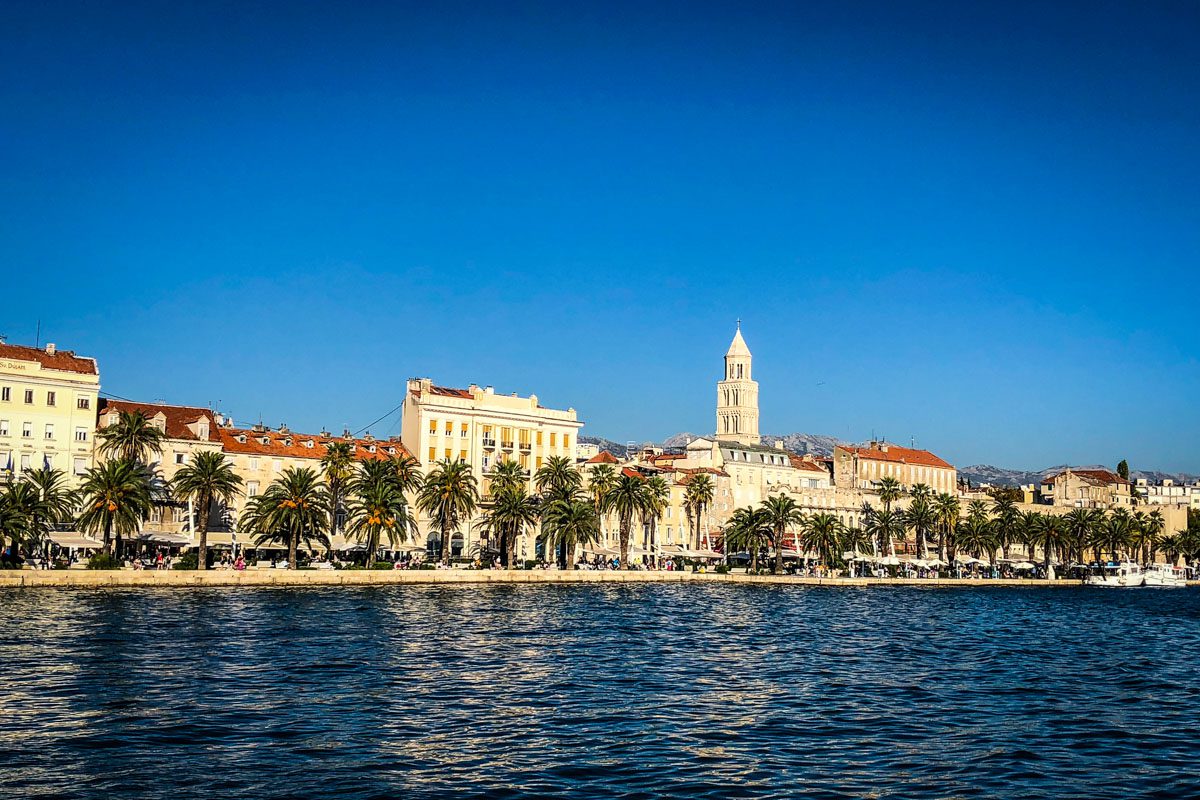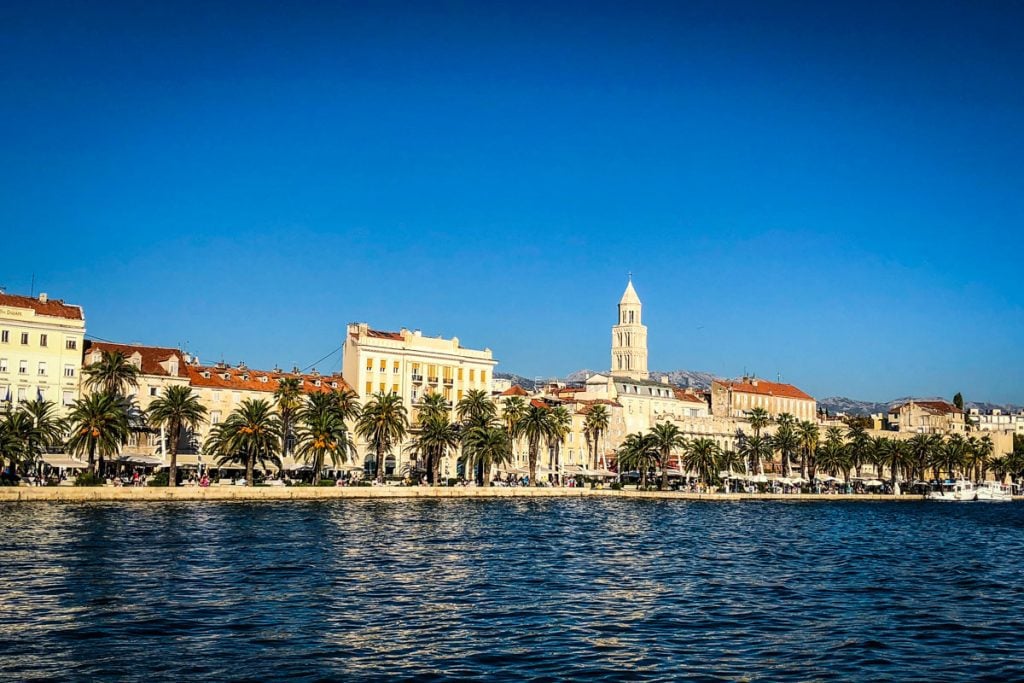 Quick Note: As of January 1, 2023, Croatia joined the Eurozone and adopted the Euro as their currency. Kuna (kn or HRK), the former currency of Croatia, will no longer be accepted as a form of payment. However, Kuna banknotes and coins can be exchanged until December 31, 2023. This also means Croatia is now part of the Schengen Area and adheres to those laws and visa requirements.
The second-largest city in Croatia, Split has made quite the name for itself as a popular destination on most Croatian itineraries. It is the jumping-off point for The Yacht Week Croatia as well as host to the popular Ultra Music Festival.
With nightlife, beautiful beaches, a historic city center and proximity to some of the country's most famous islands, Split makes for an easy and centralized destination in Croatia. Likewise, there are plenty of exciting things to do in Split for backpackers and vacationers alike.
In this article, we've rounded up the best things to do in Split to help you start planning your trip. Plus we've included everything you need to know about traveling here to make the most of your time in Split.
Split Travel Guide
For more tips and advice for planning your trip to Split, jump to the following sections (or just keep scrolling to see it all!).
Planning a trip to Croatia? We've gathered everything you need to know in our ultimate Croatia travel guide.
---
Top things to do in Split
If you're looking for the very best things to do in Split, here are our top 5 recommendations:
Discover Diocletian's Palace and the Old Town
Climb the Saint Domnius Bell Tower
Get a spectacular sunset view from Marjan Park
Explore Krka National Park
Head to the beach
Keep reading for more detailed information on each of these things and more ideas of fun things to do in Split.
1. Discover Diocletian's Palace and the Old Town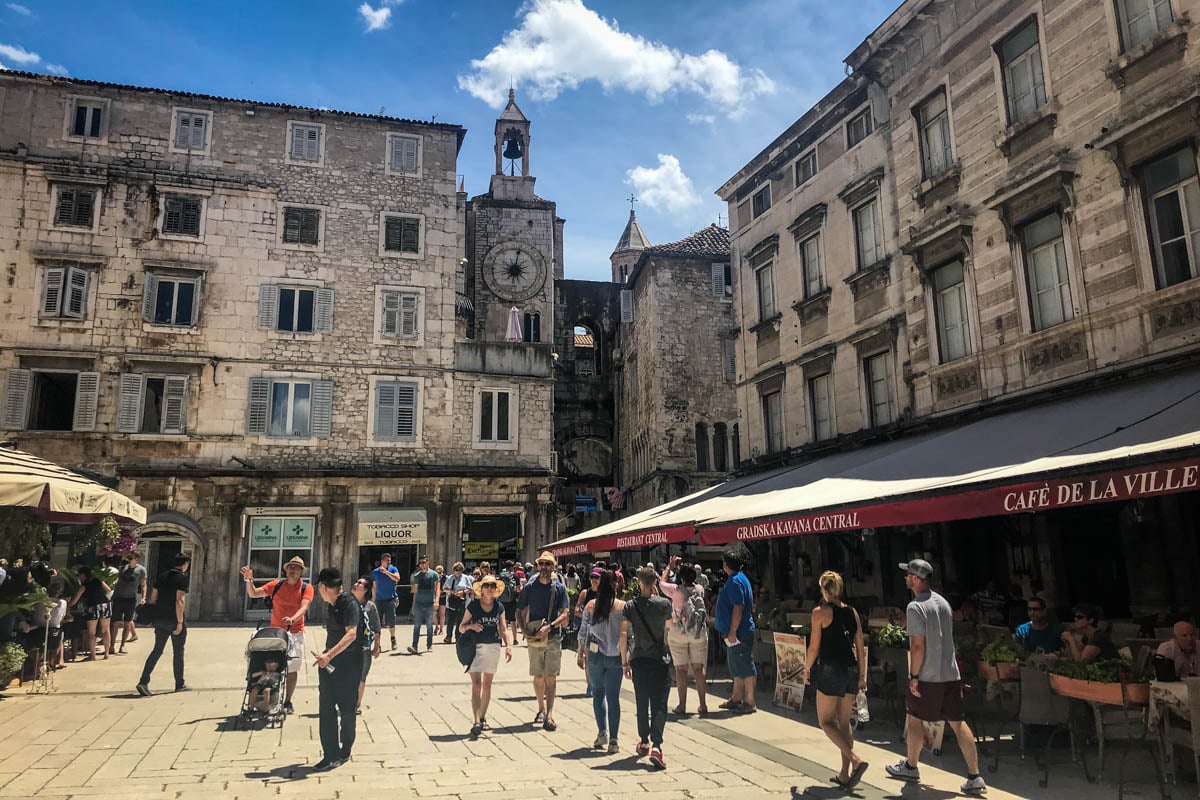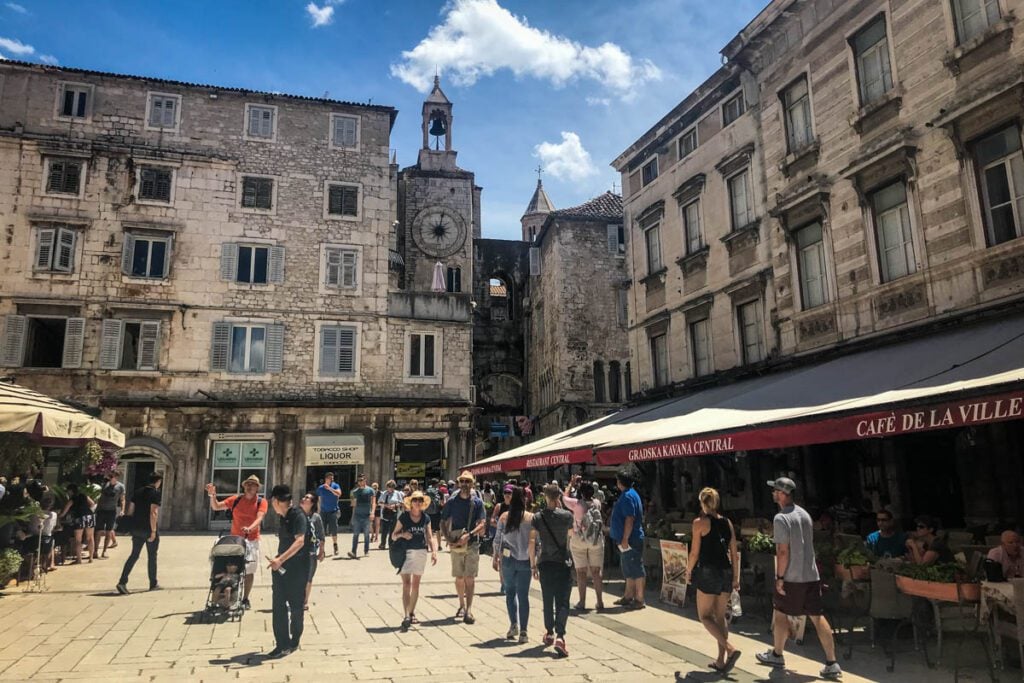 The historical city center of Split is known as the "Old Town". This walled city center was erected by the Roman Emperor Diocletian in the 4th century and became an UNESCO World Heritage Site in 1979.
Stroll the historic streets beneath white stone walls and explore the shops, restaurants and historic remains there.
The former Roman Emperor's palace, Diocletian's Palace, now makes up about half of the Old Town of Split. You may recognize the basement from its appearance as a set on the popular HBO TV series, Game of Thrones.
The main square and its surrounding areas are a popular gathering site for tourists and events such as wine festivals and live music performances. It's also a great place to take a walking tour of Split.
If you don't want to go on an official tour, you can check out many of the highlights of the Old Town on your own.
Other highlights to check out in Split's Old Town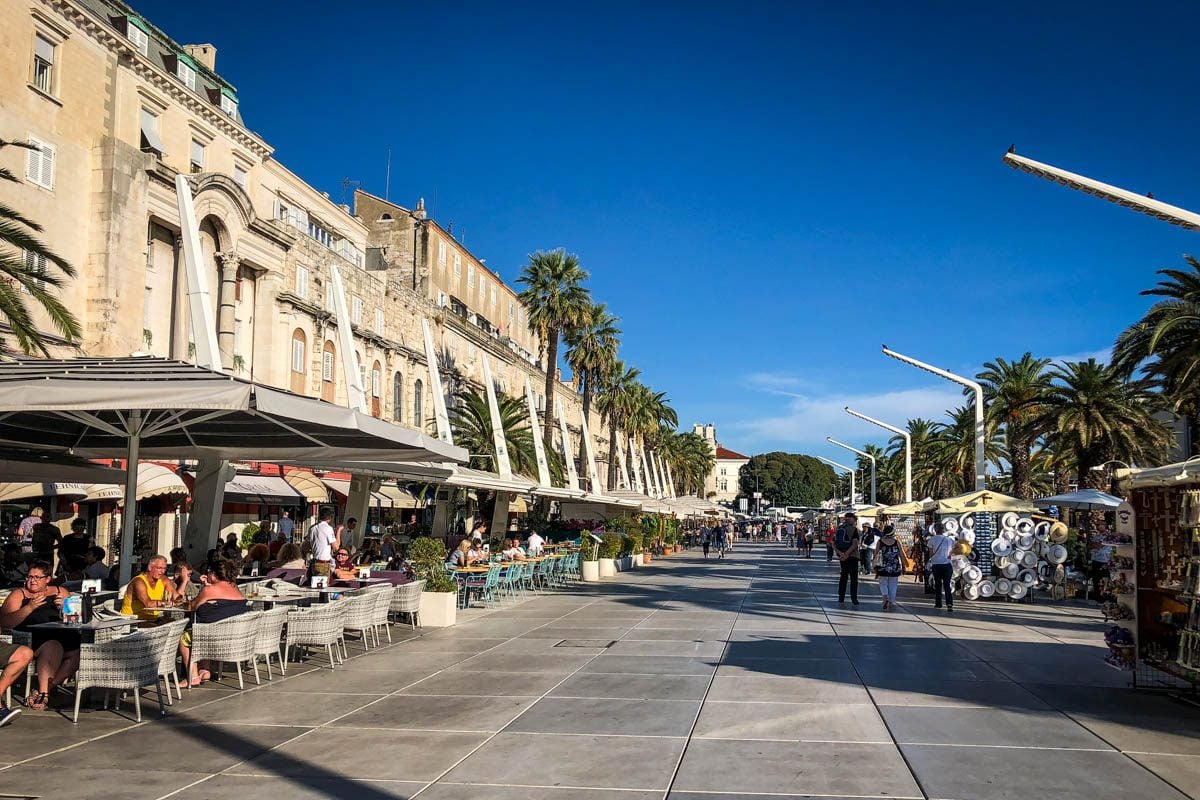 2. Climb the Saint Domnius bell tower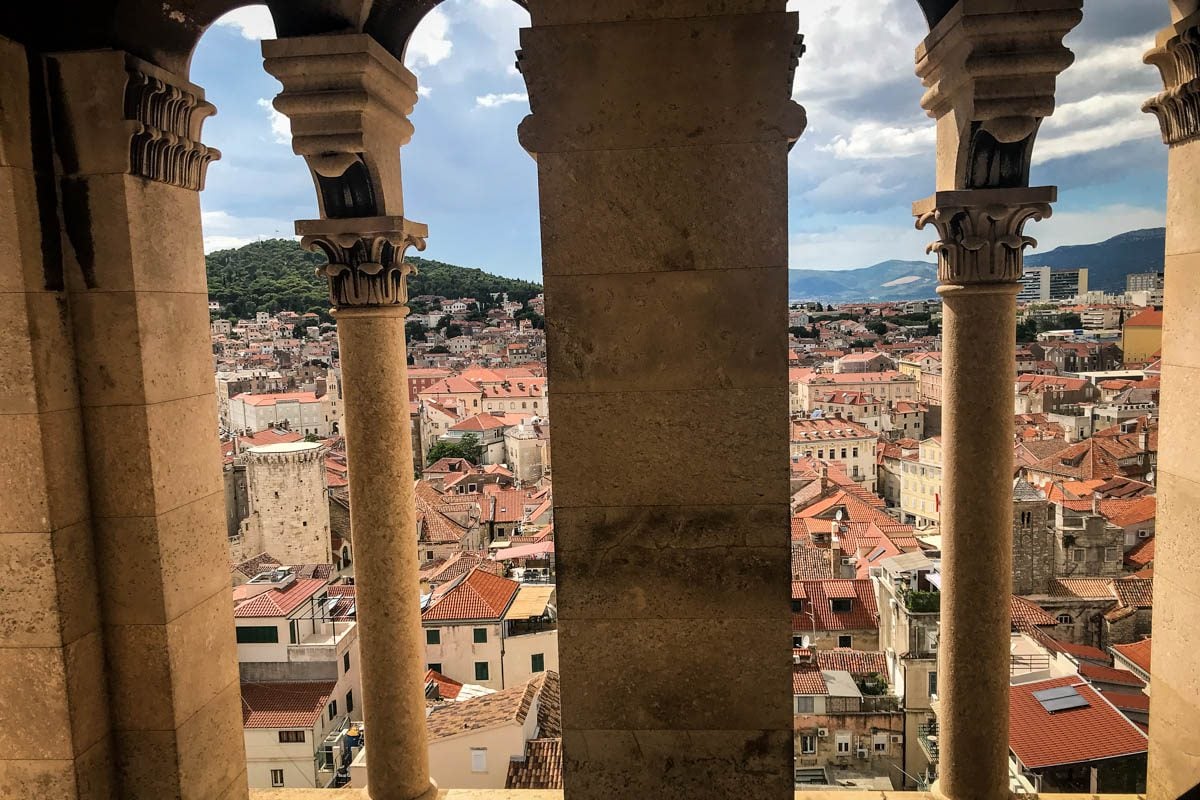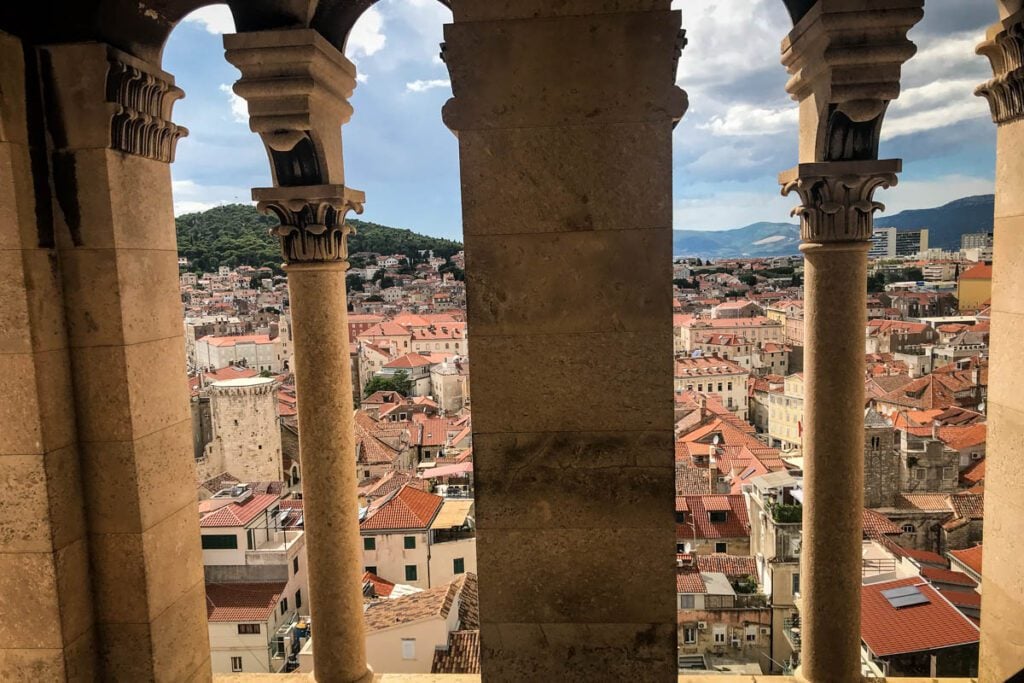 Located in the center of the Old Town, the Saint Domnius Cathedral can be spotted from afar due to its soaring bell tower.
Climb to the 200 steps to the top of the bell tower and enjoy unparalleled 360-degree views of Split. Go early in the morning or late in the afternoon to skip the lines and have the views all to yourself.
Hours: 8 a.m. to 7 p.m. daily, Sundays 12:30 p.m. to 6:30 p.m.
Entrance fee: There are 4 types of tickets you can purchase to enter the St. Domnius Cathedral that grant you access to the bell towerX€ (~$X USD)
Blue ticket (6.63€) includes 3 sites: The Cathedral, Crypt, Baptistery
Green ticket (9.29€) includes 3 sites: The Cathedral, Bell tower, Treasury
Red ticket (7.96€) includes 4 sites: The Cathedral, Crypt, Baptistery, Treasury
Purple ticket (10.61€) includes all 5 sites: The Cathedral, Crypt, Baptistery, Treasury, Bell tower
Psst! Don't leave before you check out our bucket list of absolute best things to do in Croatia.
3. Get a spectacular sunset view from Marjan Hill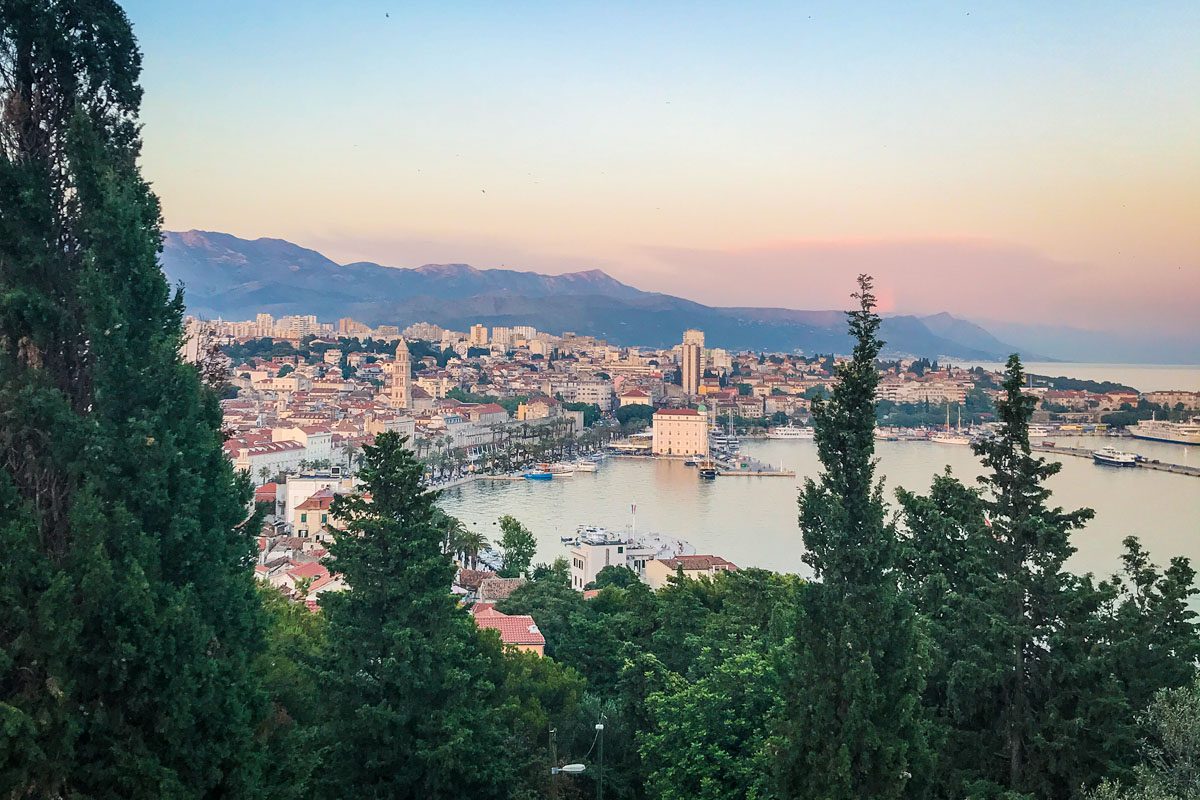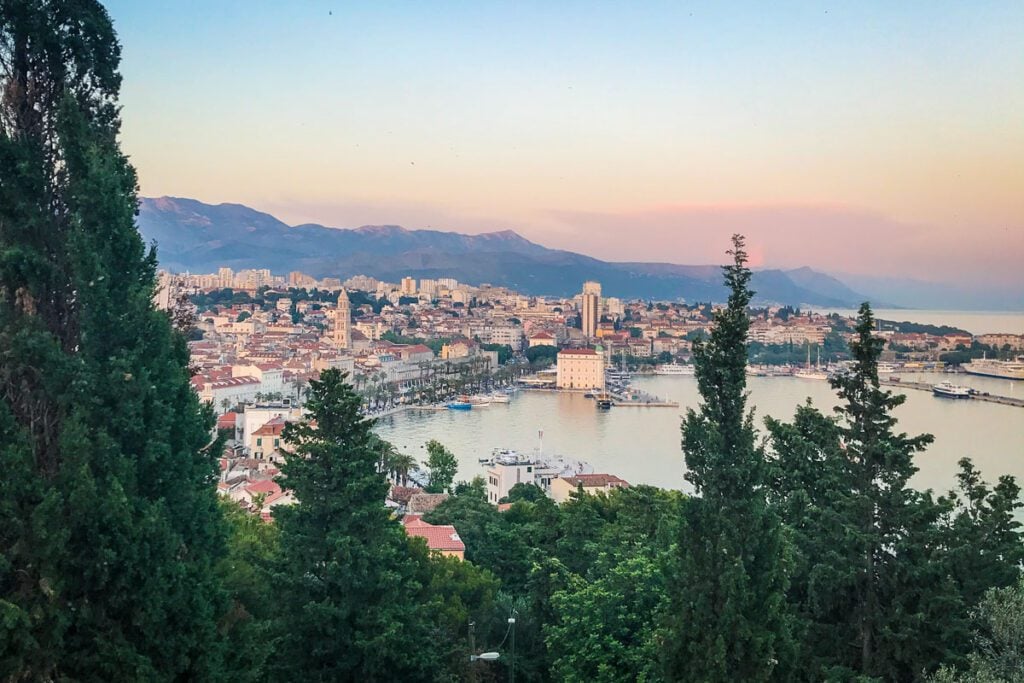 Escape the city and head west and enter the Park Šuma Marjan. This is one of the best places in Split for nature and some incredible views.
There are two ways to get to the top of Marjan Hill; you can either hike it, or drive.
If you choose to hike, you'll start at the bottom of the Marjan Hill stairs. It's a bit of a climb up hundreds of steps but if you go later in the afternoon, you will be rewarded with great sunset views of the old town and the sea.
Alternatively you can take a taxi or drive yourself to the Marjan viewpoint that overlooks the city.
4. Explore Krka National Park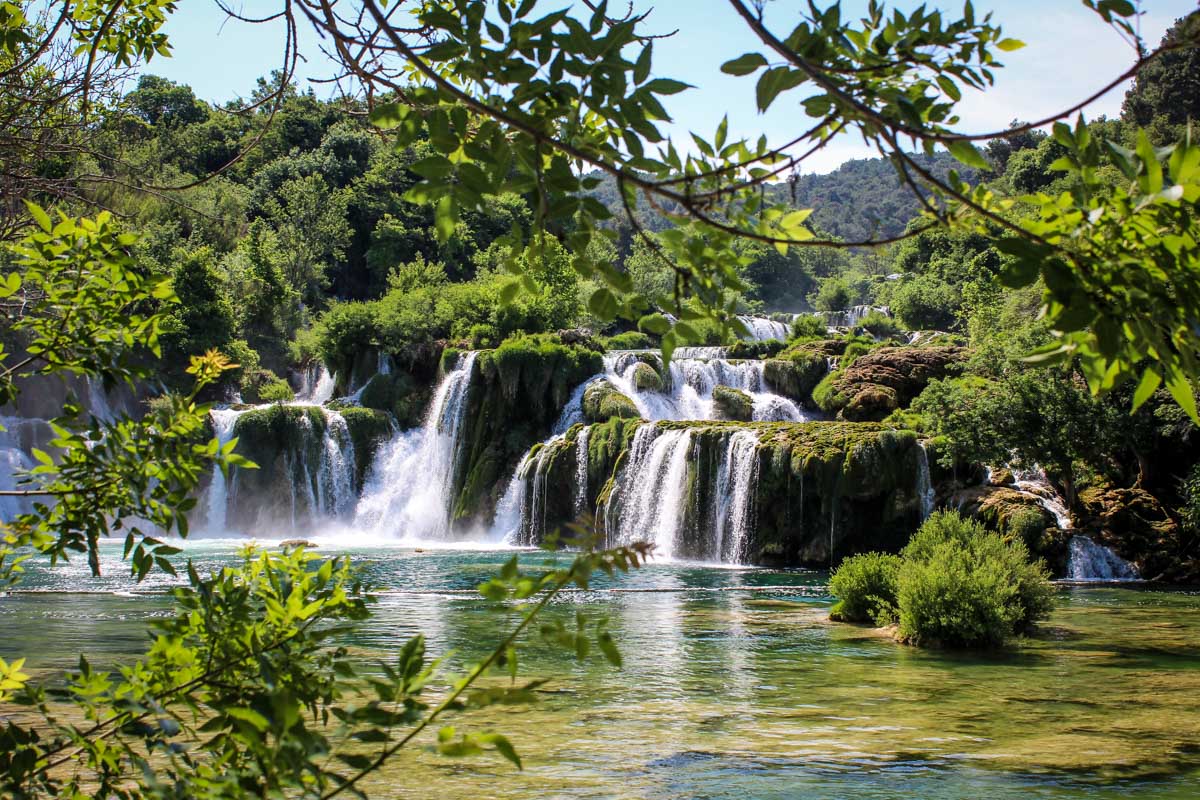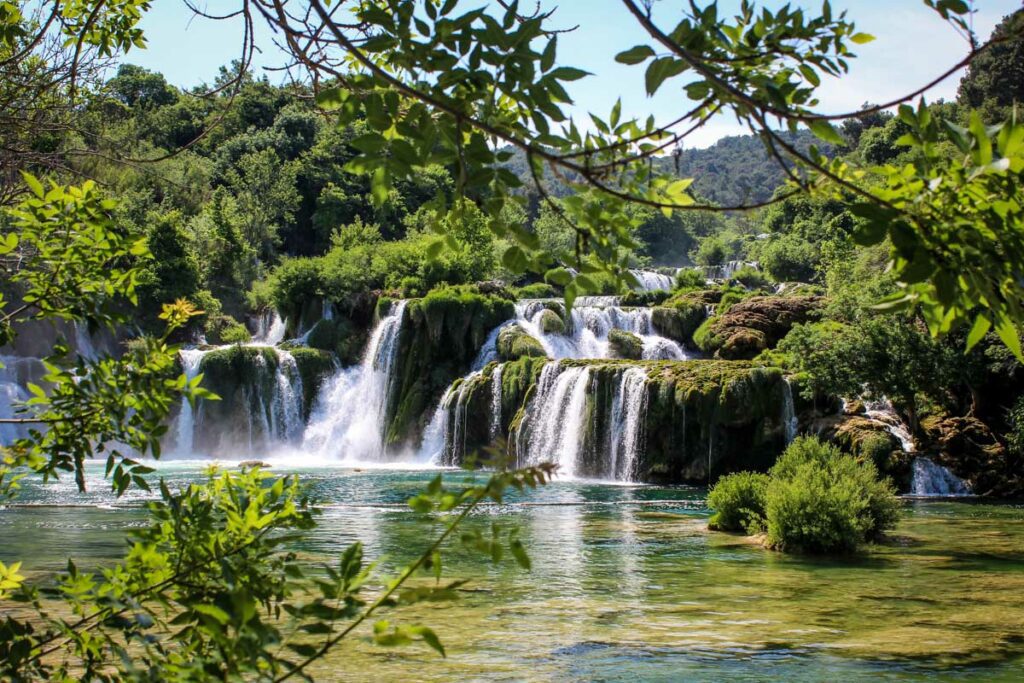 Just 1.5 hours outside of Split, this national park may not get the same hype as Plitvice Lakes National Park, but it is definitely worth a visit!
Less hype means fewer tourists (ok, maybe just a few less). Plus a single loop around the park makes it easy to explore on your own without a tour.
However, the benefit of booking a tour is gaining access to the park before it opens to the public. Plus you get to ride in on a ferry boat, which is a nice relaxing cruise down the river.
We have all the tips and know-how for avoiding crowds, plus everything else you need to know to plan an epic trip in our guide to Krka National Park.
Psst! If you have time to discover more of the country, don't miss these other epic places to visit in Croatia.
5. Head to the beach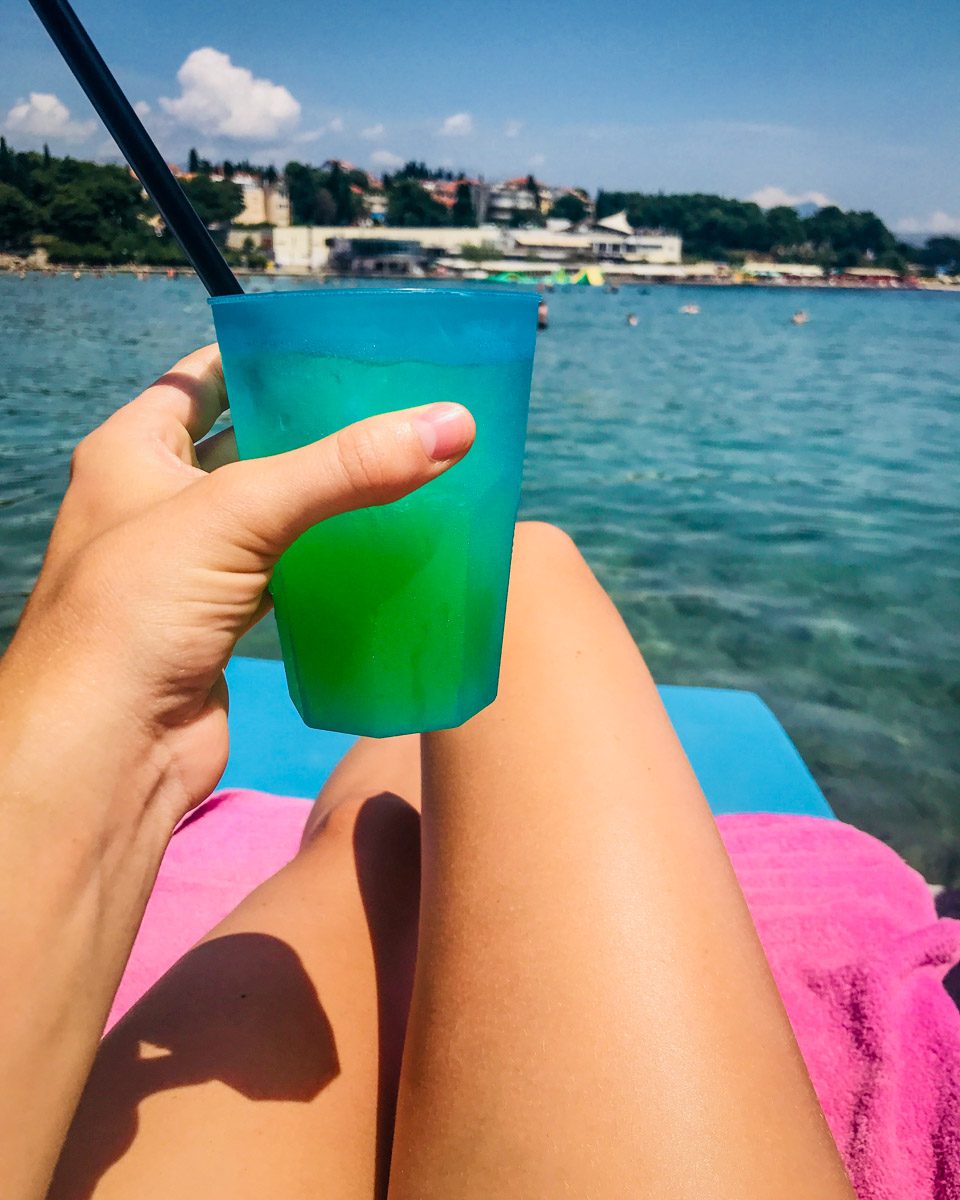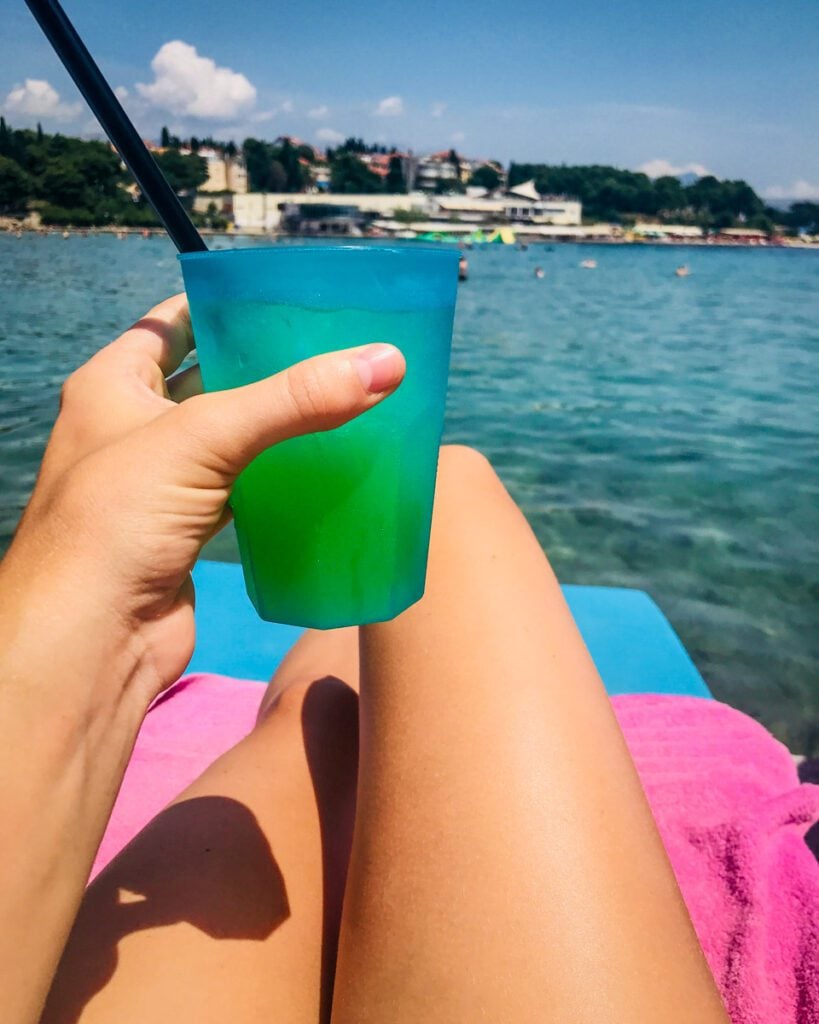 As a coastal town, beaches are a prominent feature of Split.
One of the best public beaches is Bacvice Beach, otherwise known as "City Beach." This beach is closest to the Old Town and easily walkable from there.
Bacvice Beach is a great place to spend the afternoon, or even all day! There is a small sandy area and plenty of restaurants lining the small bay offering sun chairs and umbrellas for a small fee.
Alternatively, Trstenik Beach is a bit more of a locals spot. But that also means there will be considerably fewer people there!
You won't find any sand on this beach, however there is a path that follows the coast for a few kilometers that is great for running, walking, biking, etc.
Follow the road from Old Town up the coast and it'll take you about 20 min to get there on foot.
Kasjuni Beach is another great place to relax on Split's western shores. It's very popular among locals and the water is peaceful enough for a swim.
You can grab a lounge chair and have drinks hand delivered to you, or you can opt to grab a drink at the bar nearby.
Note the eastern edge of the beach tends to run quieter than the western side near the car park.
6. Discover Split one bite at a time
The easiest way to fall in love with Split is through its showcase of authentic Croatian cuisine.
As you make your way through 15 individual tastings on this Split Food Tour, you'll be transported into the heart of Croatian culture, walking in the same footsteps as Roman Emperor Diocletia and sampling the finest Dalmatian foods.
After tasting Croatia's famous truffles, indulging in skillfully made black risotto, snacking on local Burek, plus many more dishes and local liquor, you'll leave this tour full of delicious food and inspiration for exploring the city.
What you need to know:
Hours: 4 hours
Price: 95.50 € ($105 USD)
What guests are saying
"This was the best tour I've been on hands down! Right away Dino made us feel welcomed and excited to get going. From beginning to end he was like an encyclopedia, sharing dates and fascinating facts surrounding Diocletian and his palace. I was impressed with how easily he kept us engaged with his high energy and witty humor all throughout. […] Would 100% recommend Dino's tour if you're looking for the perfect balance of cuisine and culture." – Claudie, United Kingdom (October 2022)
7. Take a sunset cruise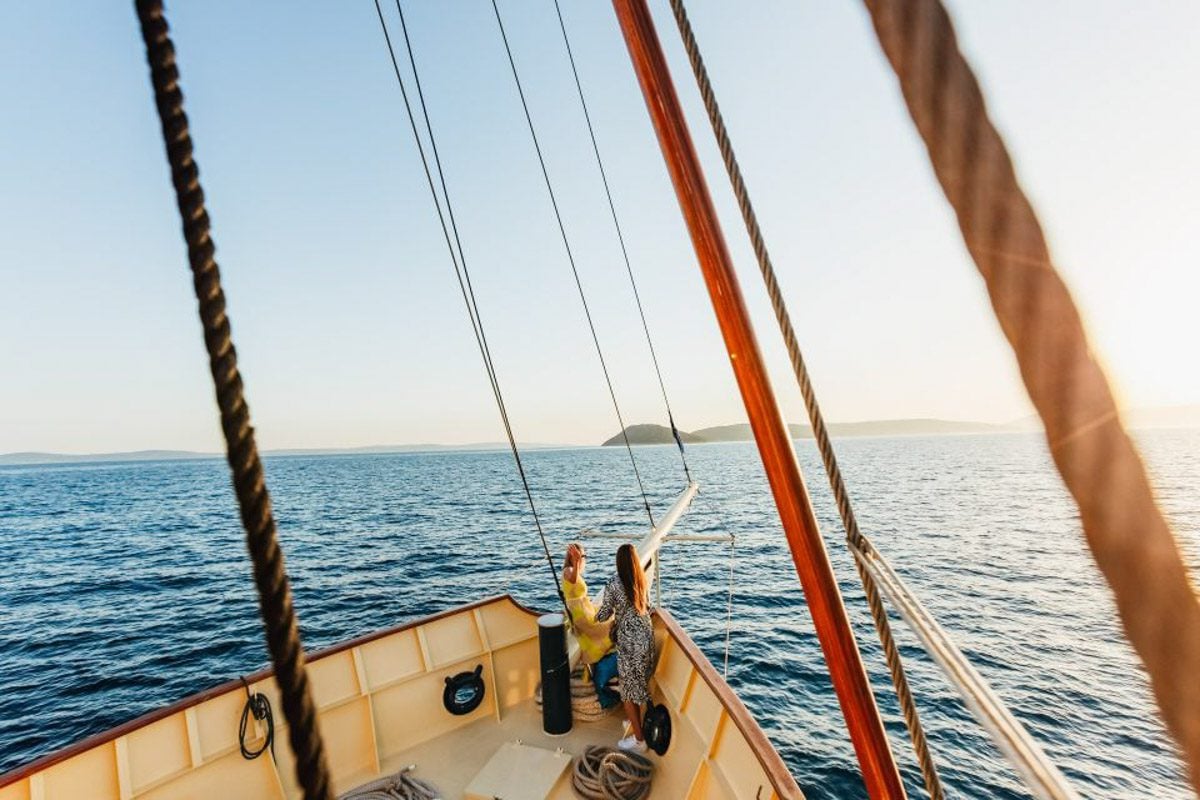 The Dalmatian Coast is easily one of the most beautiful coastlines in the world! So why not take to the water to enjoy a sunset?
Make your way down to the marina in Split and you will find plenty of tour companies offering sunset cruises. You can spend the evening on a ship with an open bar and live music, or enjoy a nice dinner while cruising the Adriatic.
8. Do a nighttime stand up paddleboard tour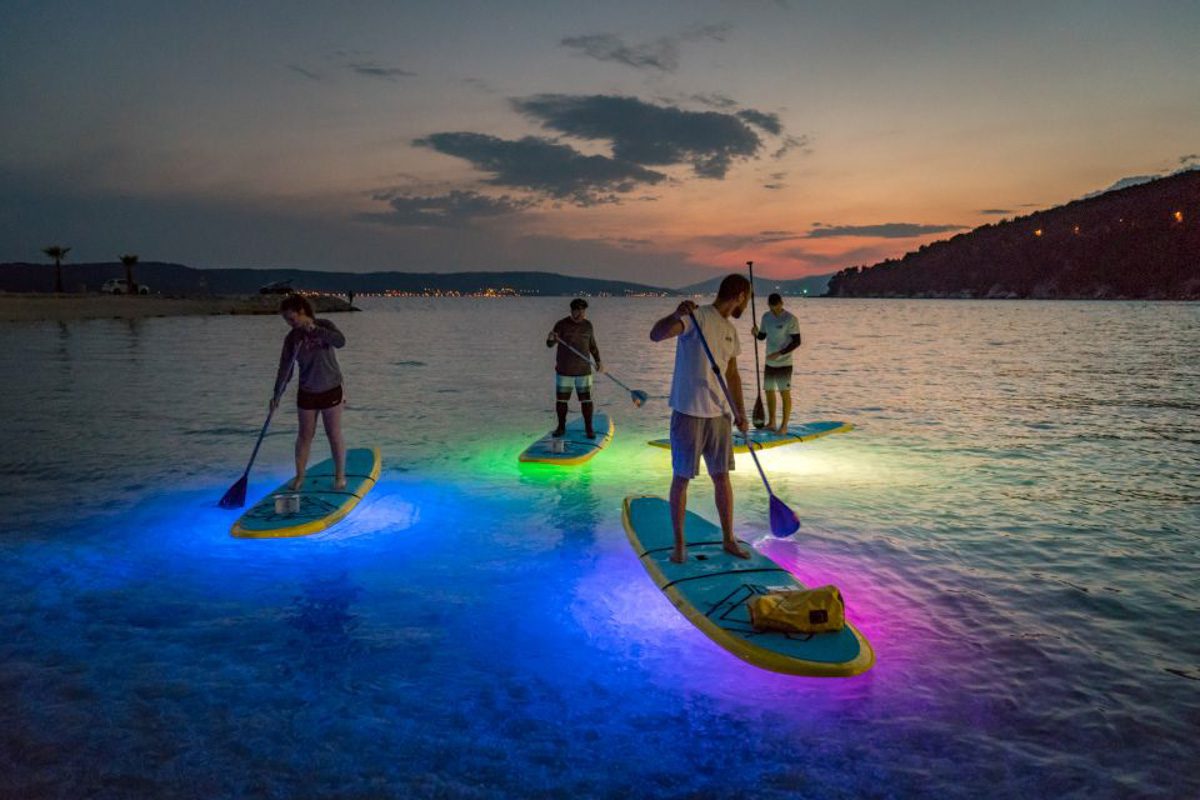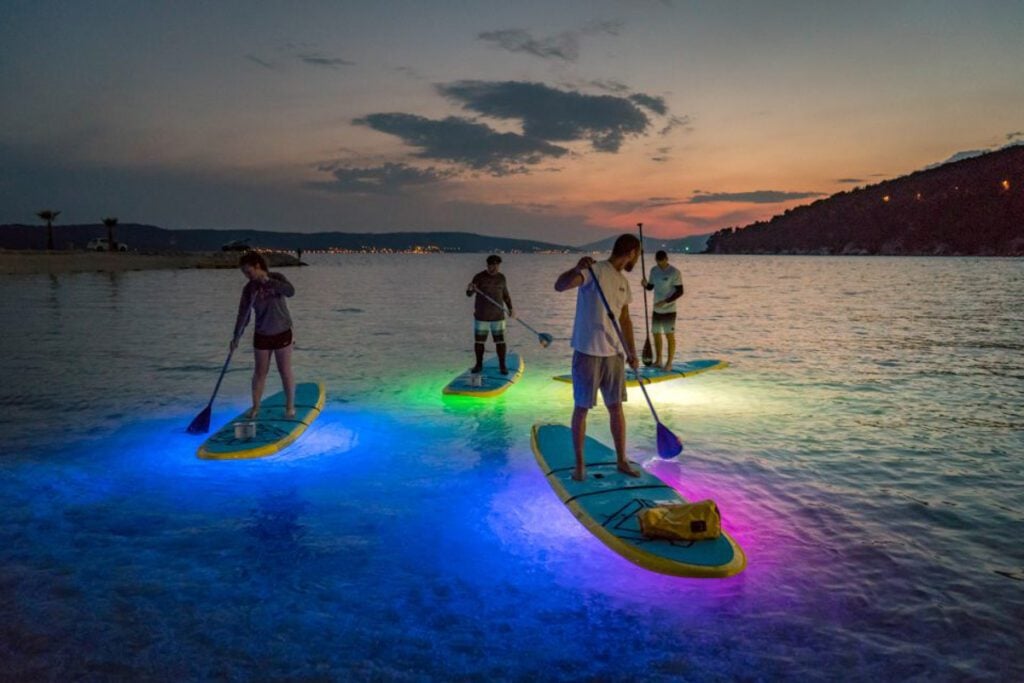 Most of the Adriatic is explored under the hot Croatian sun, but on this stand up paddleboard night glow tour, you'll paddle with the stars above you and waters illuminated beneath you.
Each paddle board has LED lights on the bottom of it that light up the sea and river beds as you paddle along white cliff sides, which makes for a very unique and serene experience in Split.
What you need to know:
Hours: 2 hours
Price: 42 € ($46.17 USD)
What guests are saying
"Definitely a highlight of our week in Croatia! The water was beautiful under the glow of the paddleboard lights. Super surreal experience in a beautiful place with a great instructor. We can't recommend this experience enough and would definitely go again!" – GetYourGuide Traveler, United Kingdom (October 2022)
9. Join a pub crawl and party the night away
Split is known for having a great party scene for twenty-somethings, but the pub crawls can be on the pricey side.
Create your own pub-crawl through Old Town by hitting up some or all of our favorite spots:
10. Check out Klis Fortress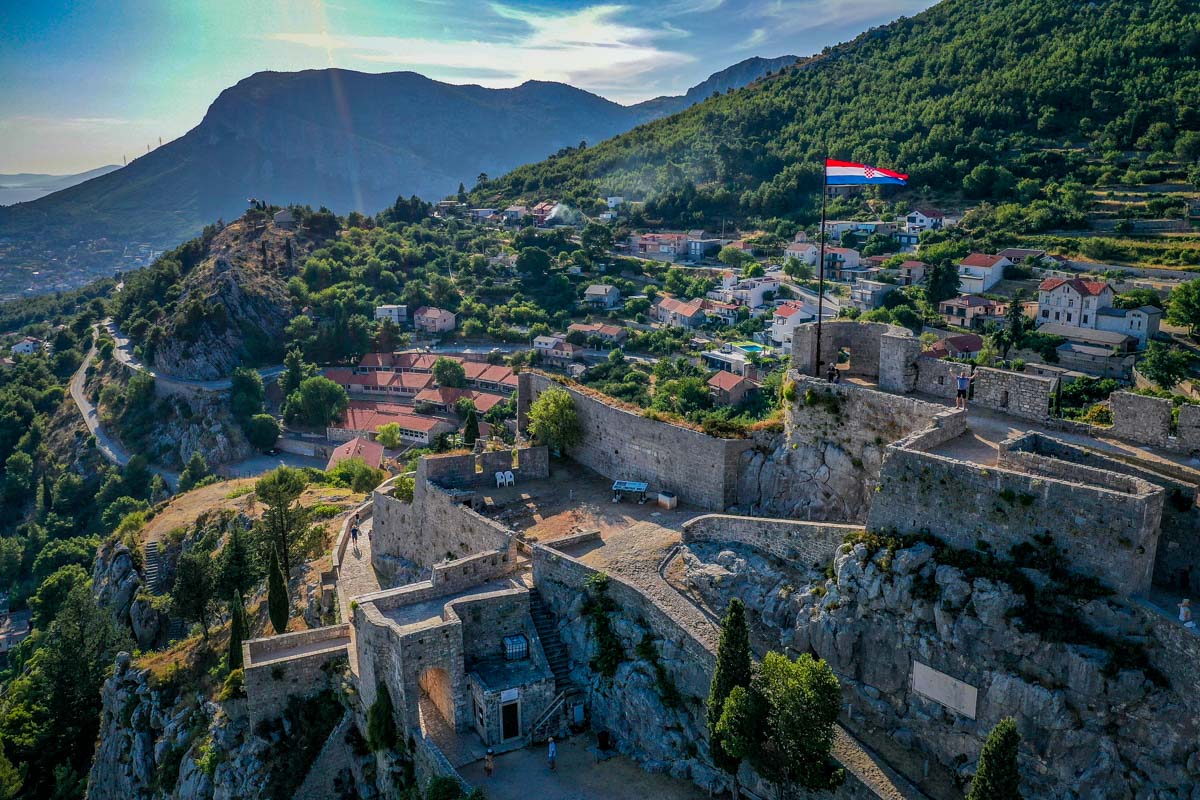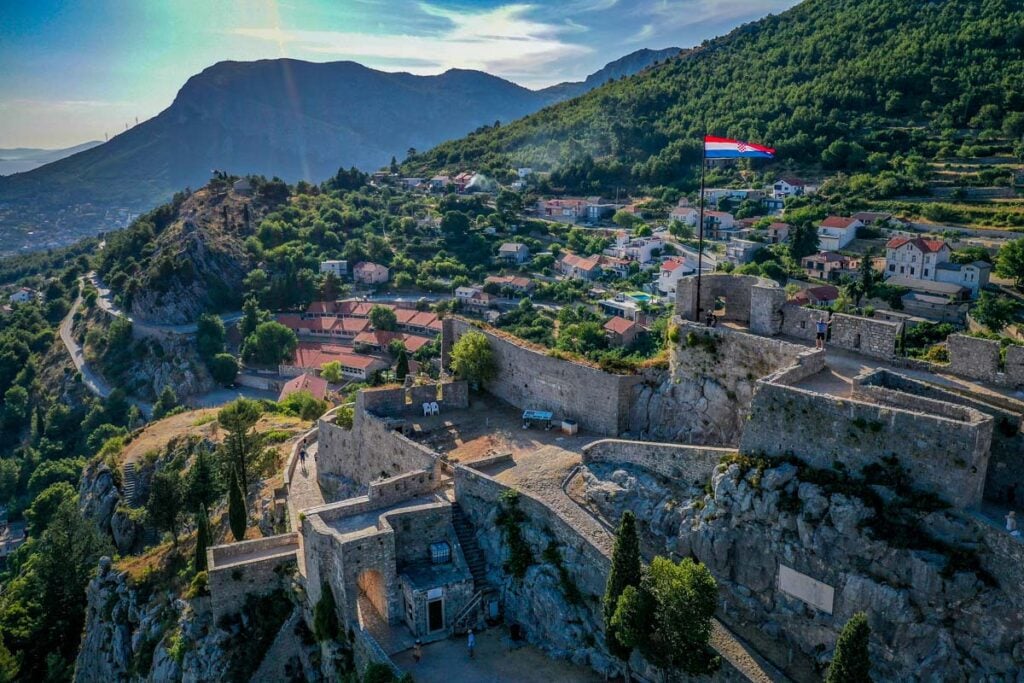 A medieval fortress overlooking the city of Split, situated in the mountain pass between the Mosor and Kozjak. Klis Fortress was built into the rocky ridge and gives visitors a bird's eye view of the entire coastline.
Like most of Croatia, the fortress has an interesting history, including its role in defending the Balkans from the siege of the Mongols and the Ottomans in the 1500s.
In modern times, it can be seen as the setting for the city of Meereen in Season 4 of Game Of Thrones. (A must-see stop on your self-guided Game of Thrones tour!)
Unlike other ruins, this fortress offers free reign to tourists without any red tape or locked doors. Since it hasn't become a major attraction, there are no lines and you won't have to compete with selfie sticks to get your photo ops.
Hours: 9 a.m. to 5 p.m.
Entrance fee: 8€ (~$8.65 USD)
Related Reading: Traveling on to Dubrovnik? Here is everything you need to know before visiting.
11. Visit the nearby town of Trogir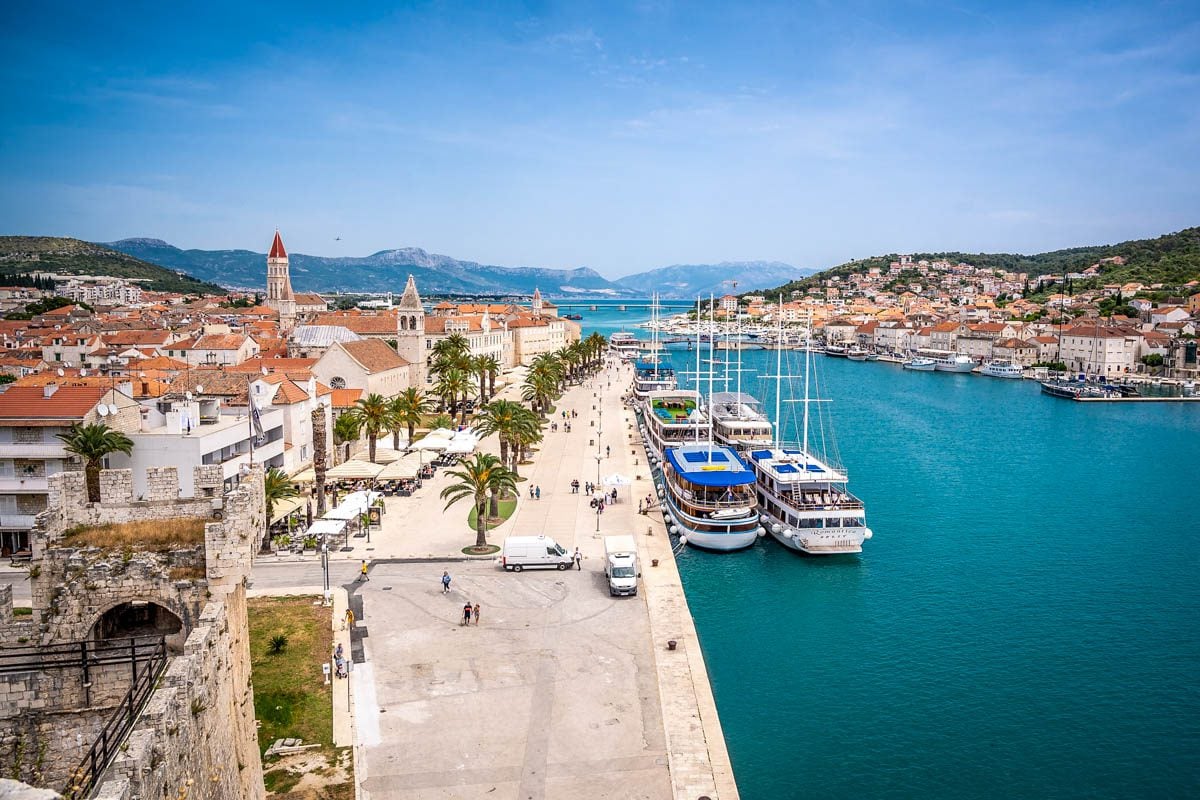 Often overshadowed by Split, Trogir is a UNESCO World Heritage City nicknamed the "Croatian Venice" for its scenic bridges and narrow passageways.
Coming from the bustling streets of Split, this small town feels like a breath of fresh air.
You can immerse yourself in authentic Dalmatian culture, explore quiet, centuries-old streets, and recharge with a drink along the coastal Riva.
How to get there: Trogir is about 30 km (18.5 miles) from Split and takes about 30-50 minutes to get there depending on your transportation. The cheapest and easiest way to get there is on Promet Bus 37 Line.
12. Take the ferry to Brač Island for a day trip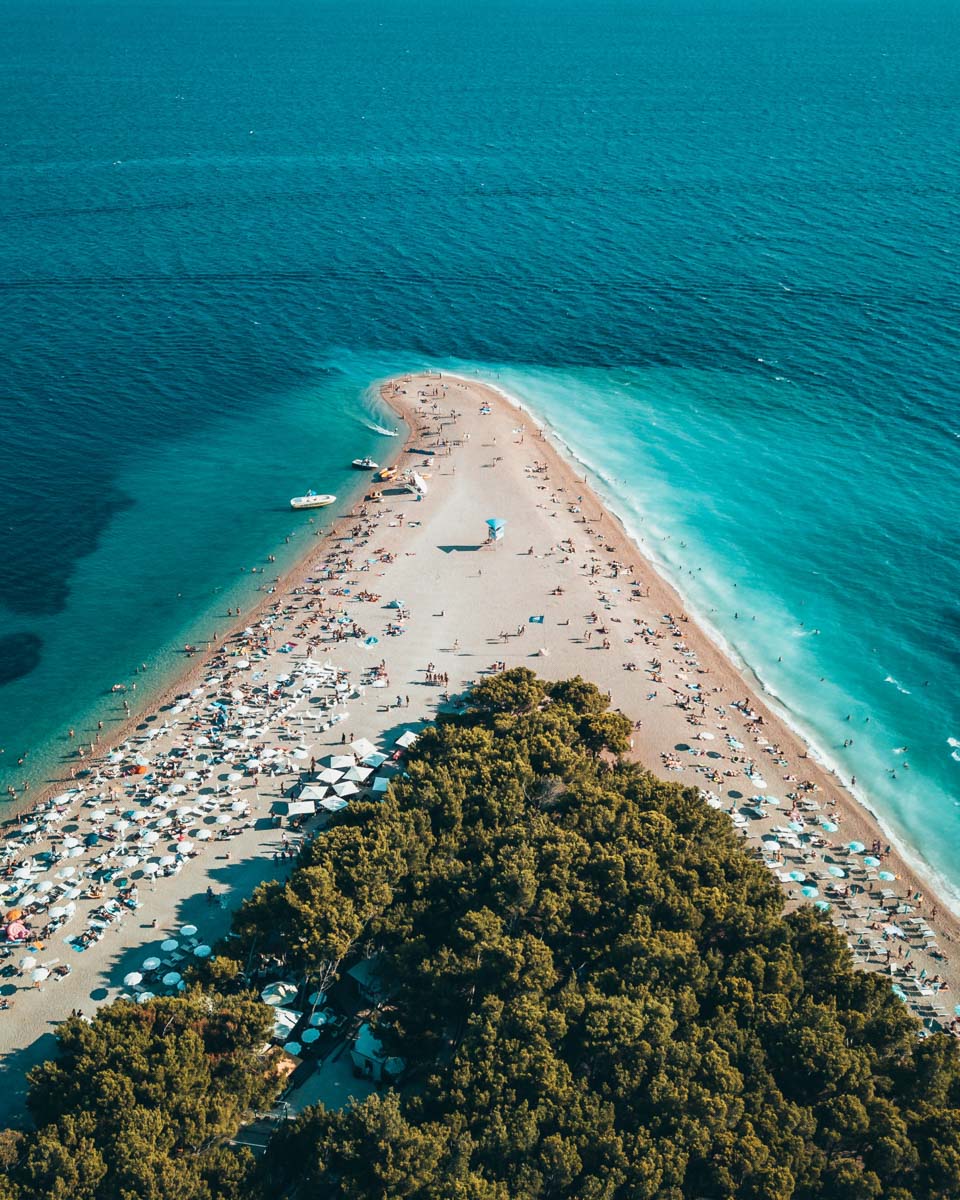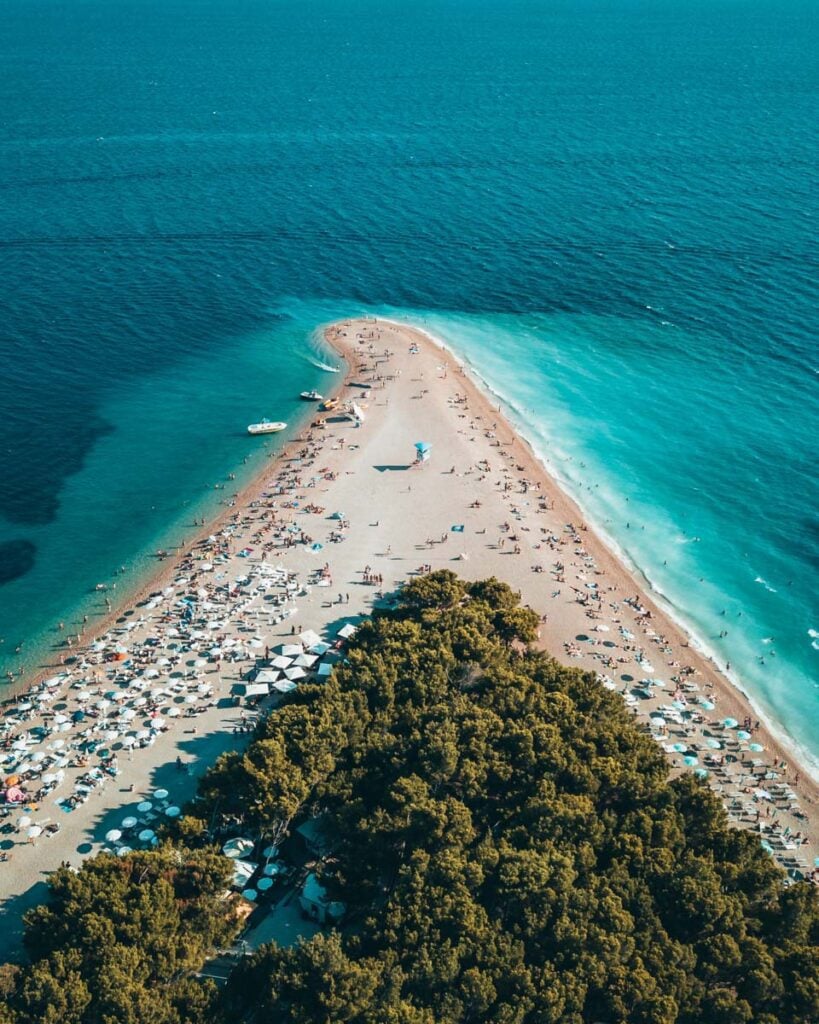 Hop on a ferry from Split and spend the day exploring the nearby island of Brac. You won't find the giant yachts belonging to celebrities in the harbor as you would on Hvar, but there is still plenty to do on the longest island in central Dalmatia.
Things to do on Brac Island
Rent a scoot or quad bike for the day from the port area in Supetar
Visit the famous Zlatni Rat Beach in Bol (also referred to as the 'Golden Horn' or 'Golden Cape')
Explore the medieval town of Skrip
Discover the stunning harbor in Milna
Try some of the island's local wine and olive oil
Visit the Olive Oil Museum
13. Experience Croatian cuisine in the countryside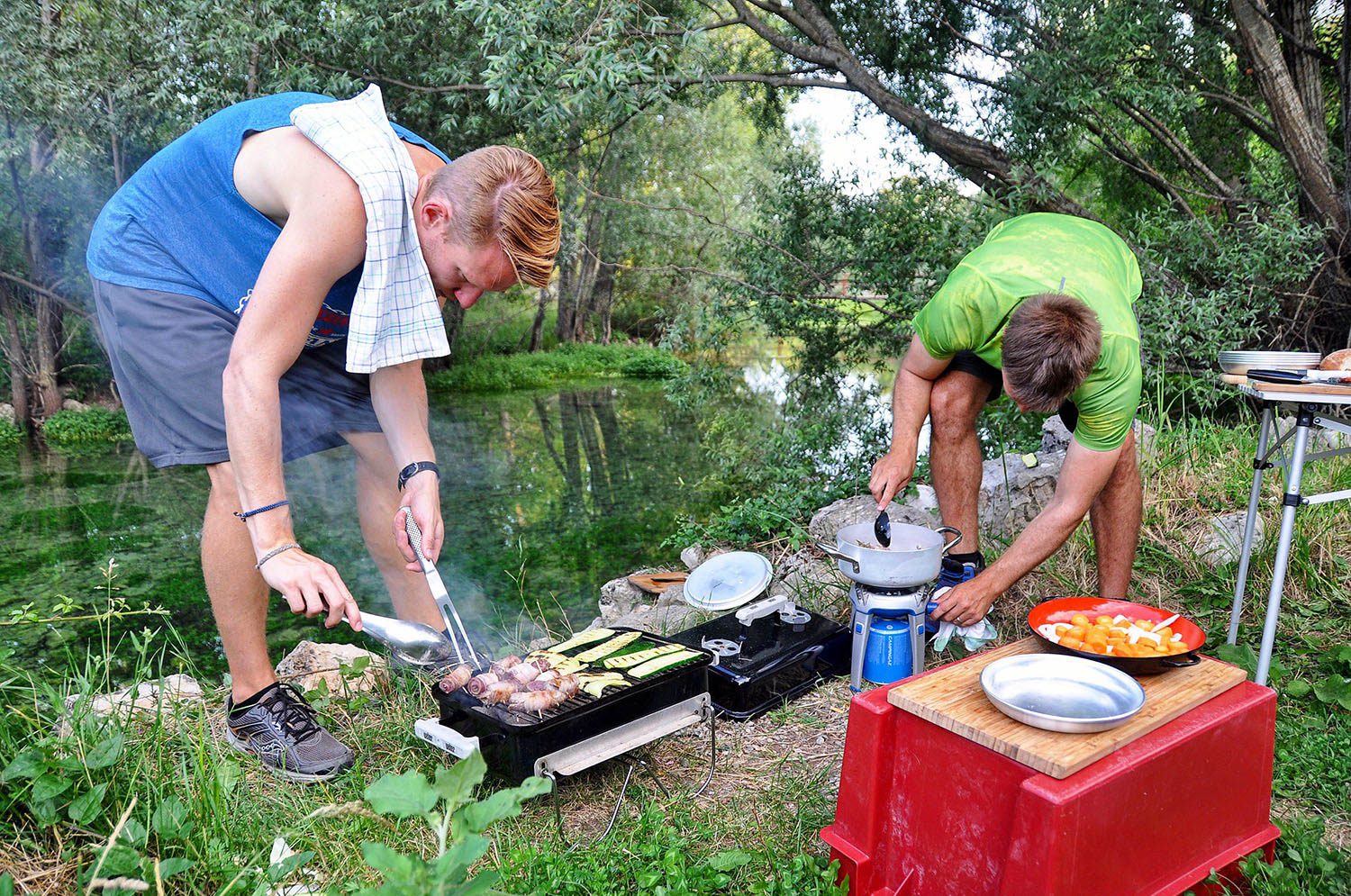 If you want to get even further out of the city, take a tour with Secret Dalmatia and get off the beaten path.
Learn about local cuisine as your guide cooks a traditional Croatian meal in an idyllic outdoor setting. You'll enjoy your food with a fine bottle of Croatian wine for a bit of luxury in nature.
It'll likely be the most memorable meal you have in Croatia — it certainly was for us!
14. Get your adrenaline pumping while rafting down the Cetina River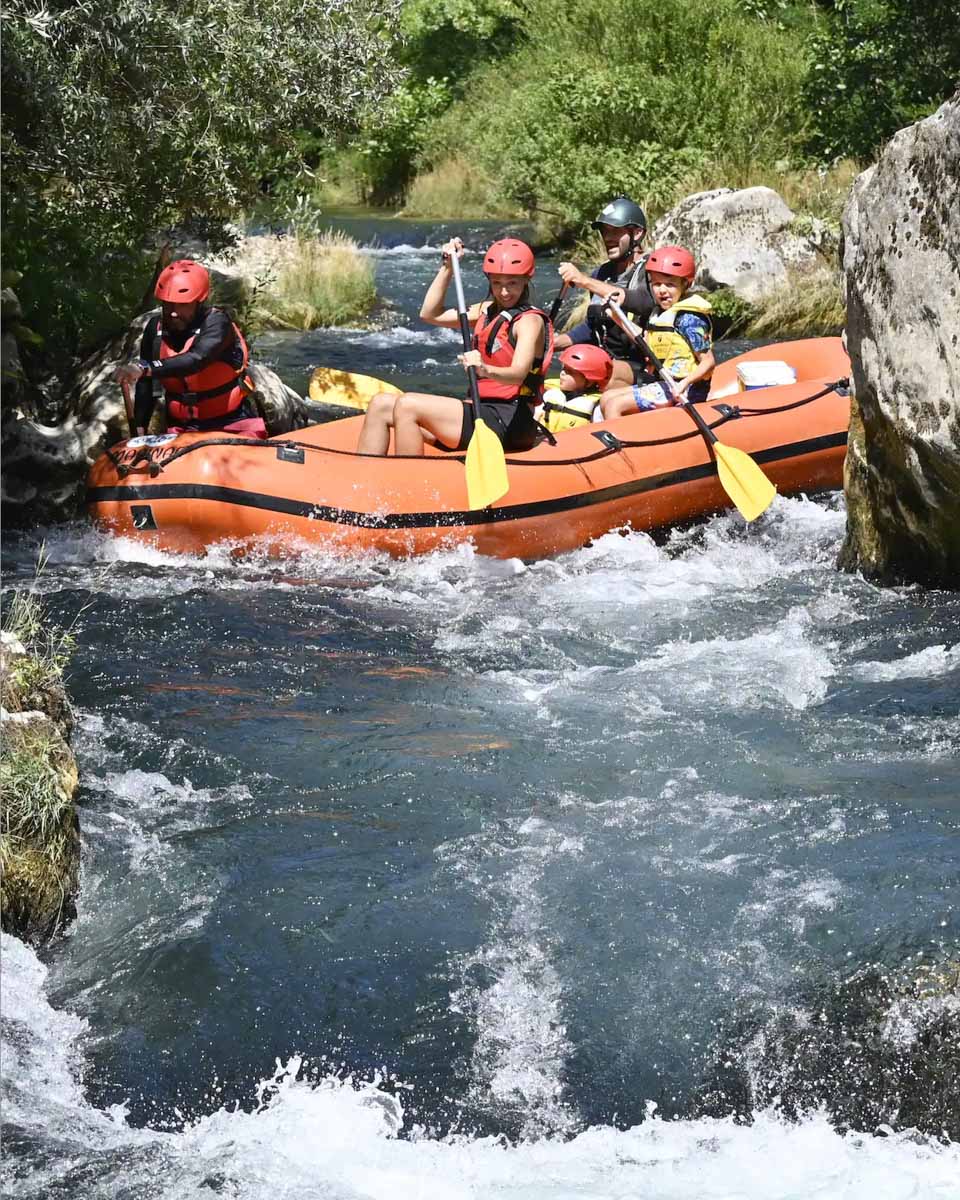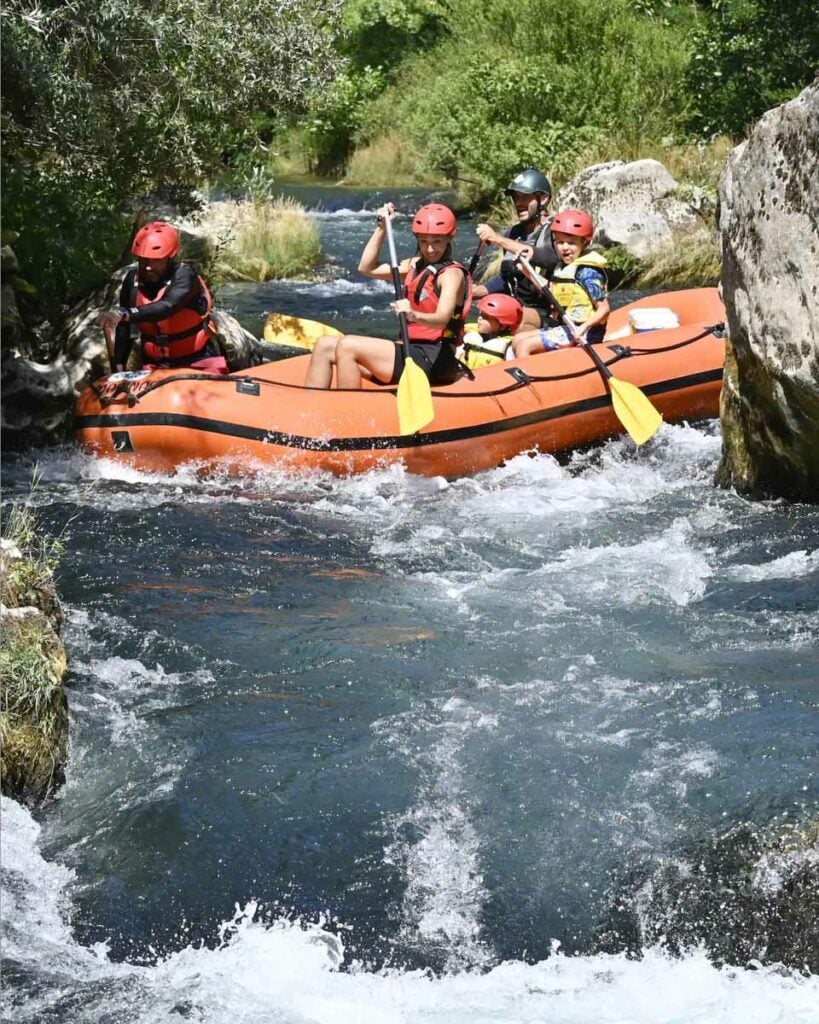 The Cetina River Canyon is one of the most pristine natural areas in all of Croatia.
On this Cetina Rafting Tour, you'll navigate class II/III rapids safely with your guides, explore caves, canyoneer, and enjoy the river entirely undisturbed.
Guides Ante and Ivan are skilled and certified guides that specialize in small, private groups on the river. They provide snacks and drinks, plus GoPro photos and video included with your trip.
What you need to know:
Hours: 6 hours
Price: 60 € ($66 USD)
What guests are saying
"The trip was amazing. I loved every part of it. Ante gave us the information and equipment to be safe and warm (wetsuits, lifejackets, helmets, water shoes). I'd never done rafting and enjoyed it very much. […] The group was small and we did many things: cliff jumping, canyoning, swimming and climbing through a beautiful cave with waterfalls, the whole time very well accompanied by Ante, who is about 2 meters tall and friendly and makes you feel very safe. We finished with beer, fruit and cookies he brought along. This tour is very personal and varied. I highly recommend it." – Mylene, Netherlands (April 2023
15. Discover the Blue Lagoon
Taking a dip in the pristine cerulean waters of the Blue Lagoon off the coast of Split is a bucket list experience while in Croatia.
Although there are numerous 'blue lagoons' around the Adriatic, the one you will discover on Escape from Split Tour is by far the most spectacular.
After meeting with local Ivan at the pier, you'll start your day exploring the UNESCO town of Trogir before continuing to the Blue Lagoon where you'll swim, snorkel, and chill.
Before returning back to Split, you'll have the opportunity to explore the sunken ship off the coast of Šolta Island.
What you need to know:
Hours: 5 hours
Price: 60 € ($66 USD) / person
What guests are saying
"The best part of this experience is spending time with Ivan on his boat. This isn't a hired skipper, or a large tour company. This is a local guy sharing his afternoon with you on his boat in a place that he loves. Ivan shared some good stories, we had a lot of laughs, and he provided food and entertainment suggestions for after the trip. We could not have been happier with our day in Split, this was a great experience." – Jon, United States (October 2022)
16. Have an ATV adventure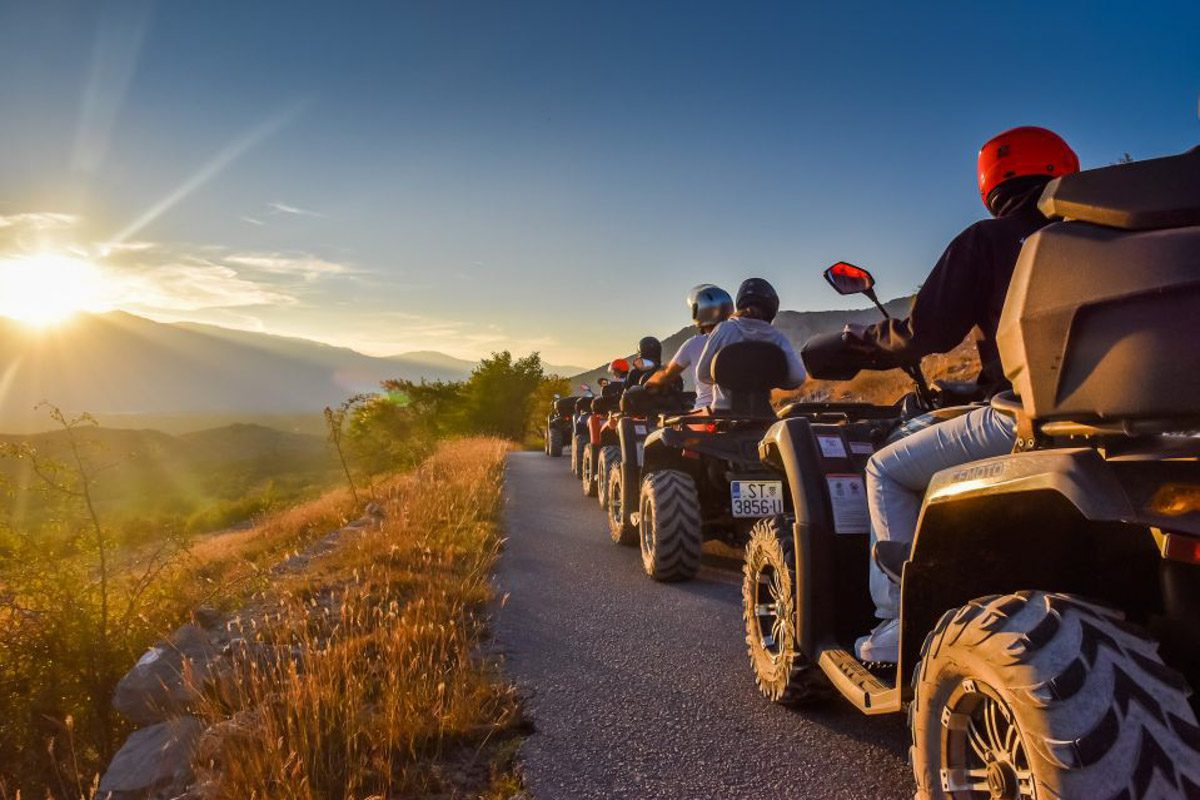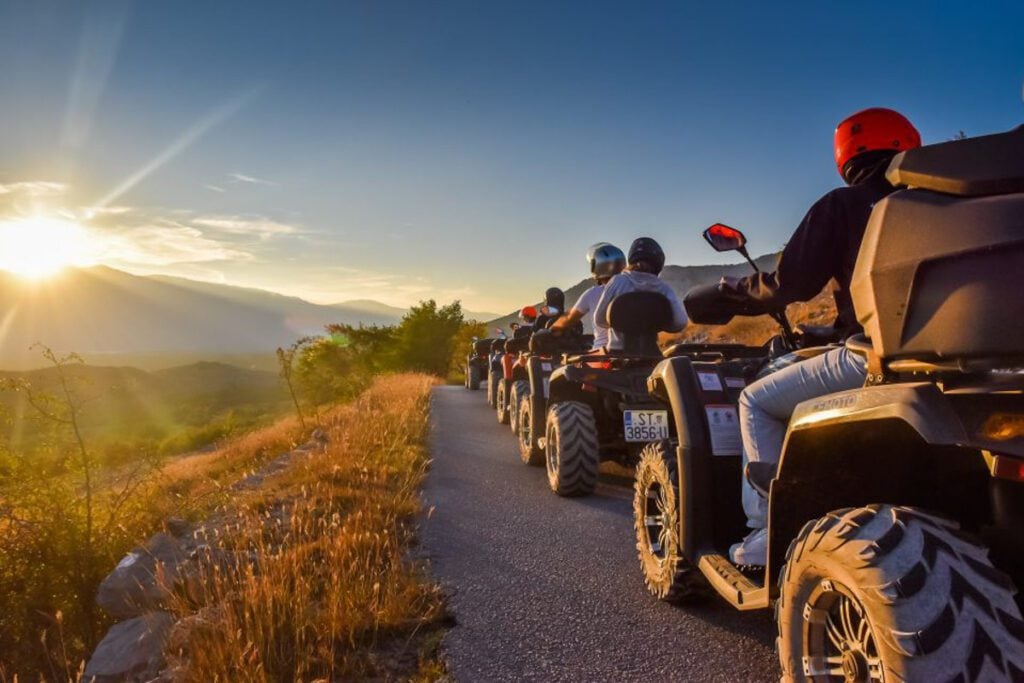 Take an adventurous ride through untouched Dalmatian nature to explore hidden trails, river canyons, and expansive fields.
On this ATV Quad Tour a professional driver will guide you through over 40 km (25 miles) along the Cetina border, wrapping up your 2.5 hour ride with a homemade lunch and swim along the scenic Cetina River.
This tour is completely beginner and family-friendly, so no prior ATV experience is required for this thrilling adventure!
What you need to know:
Hours: 5 hours
Price: 100 € ($109.92 USD)
What guests are saying
"We absolutely loved this tour, the guide Dino made it for us! It was brilliant and Craic knew so much about the area. He was patient, friendly and went over and above the expectations! This was one of the highlights of our honeymoon!" – GetYourGuide Traveler (September 2021)
17. Learn about olive oil and wine production
On this Olive Oil & Wine Tour, Marin will take you on a journey through his family-owned farm that uses the same techniques and cultivation practices since its birth in 1537.
This is a complete farm-to-table experience in Split's stunning countryside where you'll sample homemade, vine, schnapps, smoked meats, olive oil, brick-oven bread, and goat cheese.
What you need to know:
Hours: 4 hours
Price: 80 € ($88 USD) / person
What guests are saying
"This tour is the hidden gem of what makes Split so unique and beautiful. Marin takes you into his home and his family farm to tell you all about the foods you'll be eating throughout the trip and how he makes it himself. Literally all him and only a few others help! The wine is delicious, the olive oil is amazing and he'll pick whatever is in season and cook it for you. This is truly a once-in-a-lifetime experience that I will treasure." – Sarah, United States (April 2023)
18. Check out the Ivan Mestrovic Gallery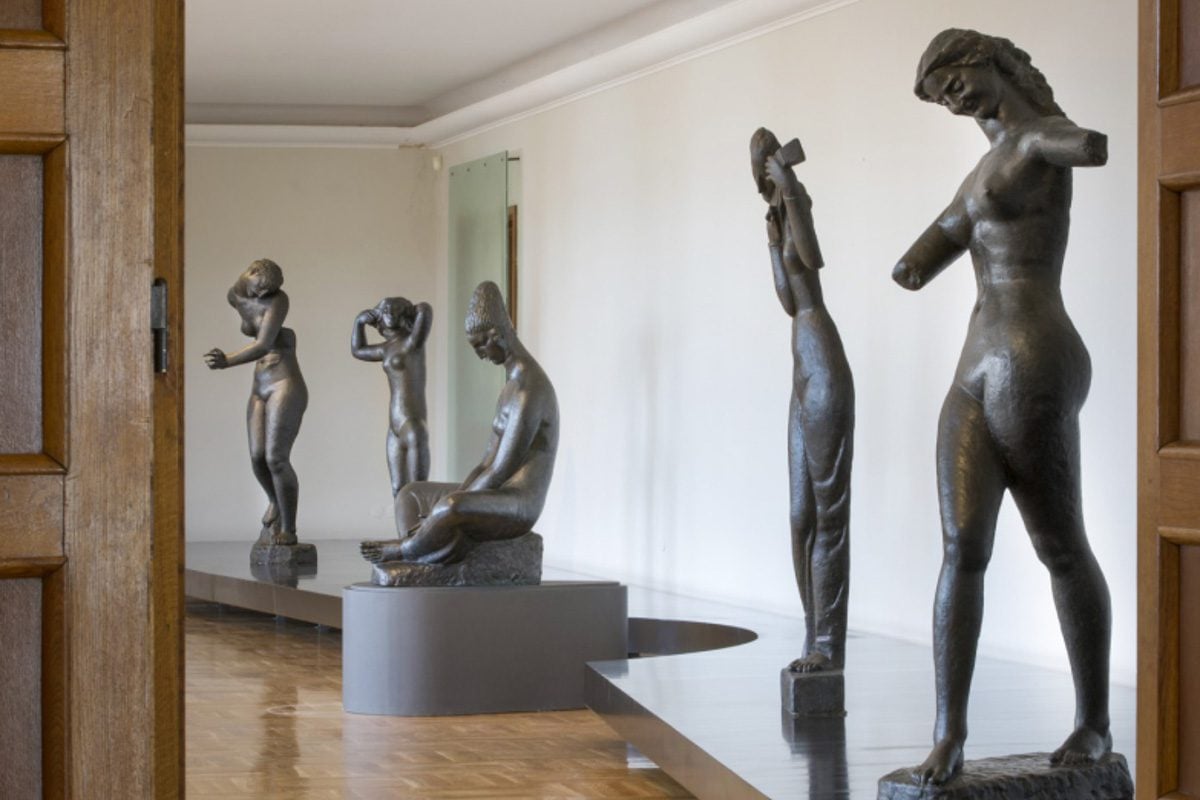 Ivan Mestrovic was a famous 20th-century sculpture artist renowned for his carved works using marble, wood, and bronze.
The self-named gallery is housed in his very own architectural design that was intended to be his summer home, studio, and exhibit space.
After leaving for Zagreb, he donated the property to the state and it was transformed into a gallery housing his most famous and impressive works.
The permanent gallery is a work of art in and of itself, showcasing 192 sculptures, 583 drawings, 4 paintings, and 291 architectural plans, nearly all of them by Ivan Mestrovic himself.
19. Take a cruise to Hvar and Pakleni Islands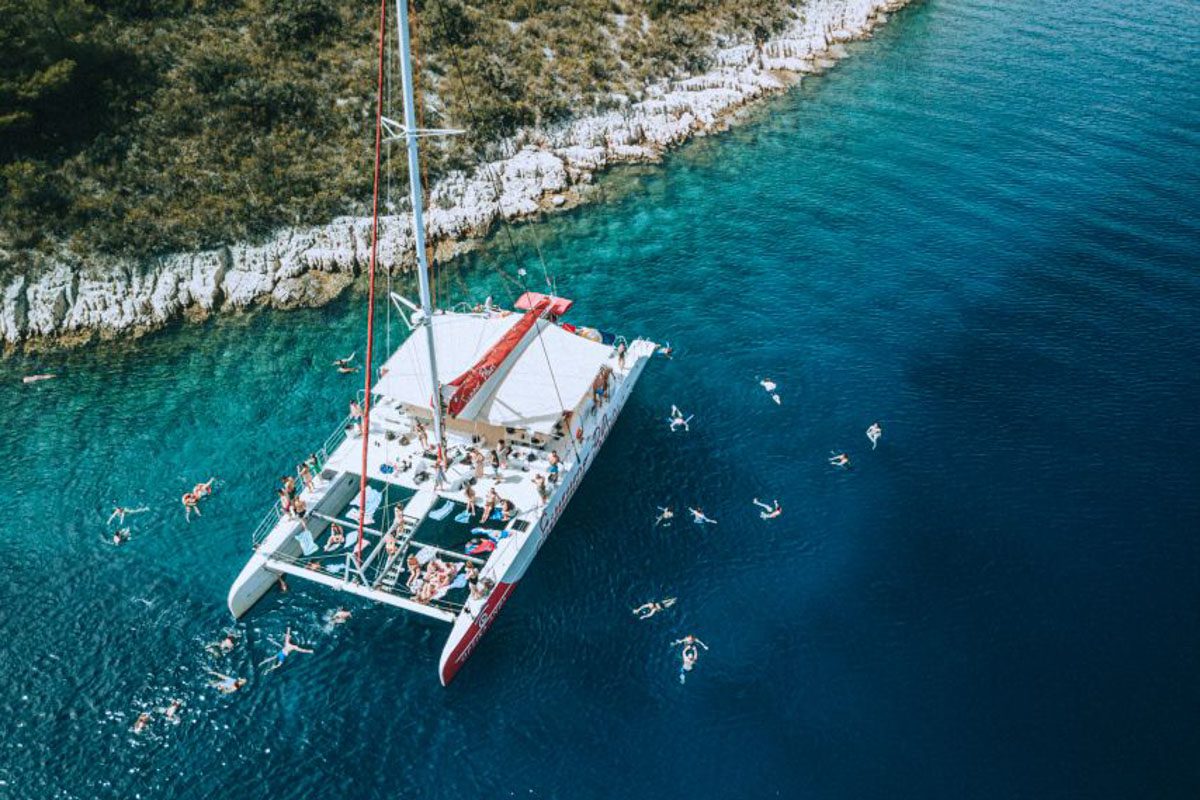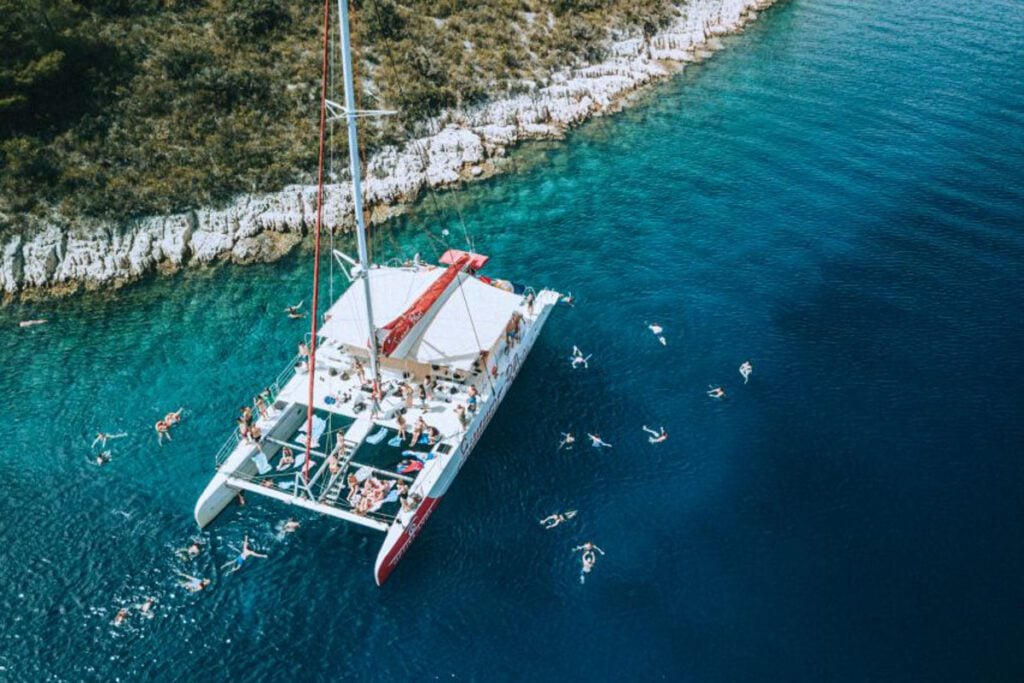 Island hopping in the Adriatic is a quintessential activity to experience while you have Split's massive port at your fingertips.
Hvar and Pakleni are known for their crystal clear waters and dreamy bays, which you can immerse yourself in on this Full-Day Catamaran Cruise Tour.
Swim and explore 3 different bays (Brač, Hvar, the Pakleni Islands, and Šolta), have the opportunity to explore Hvar's old town with a guide, and return back to Split as the sun sets over the Adriatic Sea. While you explore, enjoy unlimited drinks as well as a light lunch.
What you need to know:
Hours: 10 hours
Price: 114.15 € ($125.50 USD)
What guests are saying
"The most perfect day from beginning to end. The crew were all lovely and welcoming and the meeting point was easy to find. Good range of drinks all day with no limit, pastries and coffee for breakfast, salad for lunch and cake and fruit in the afternoon – all delicious and very fresh. All the swimming spots were dreamy, and we had a good amount of time to explore these and the town of Hvar. The dancing on the boat on the way back was the perfect end to the perfect day. Thank you! 10/10 recommendation." – GetYourGuide Traveler, United Kingdom (April 2023)
20. Discover the Blue Cave on an island tour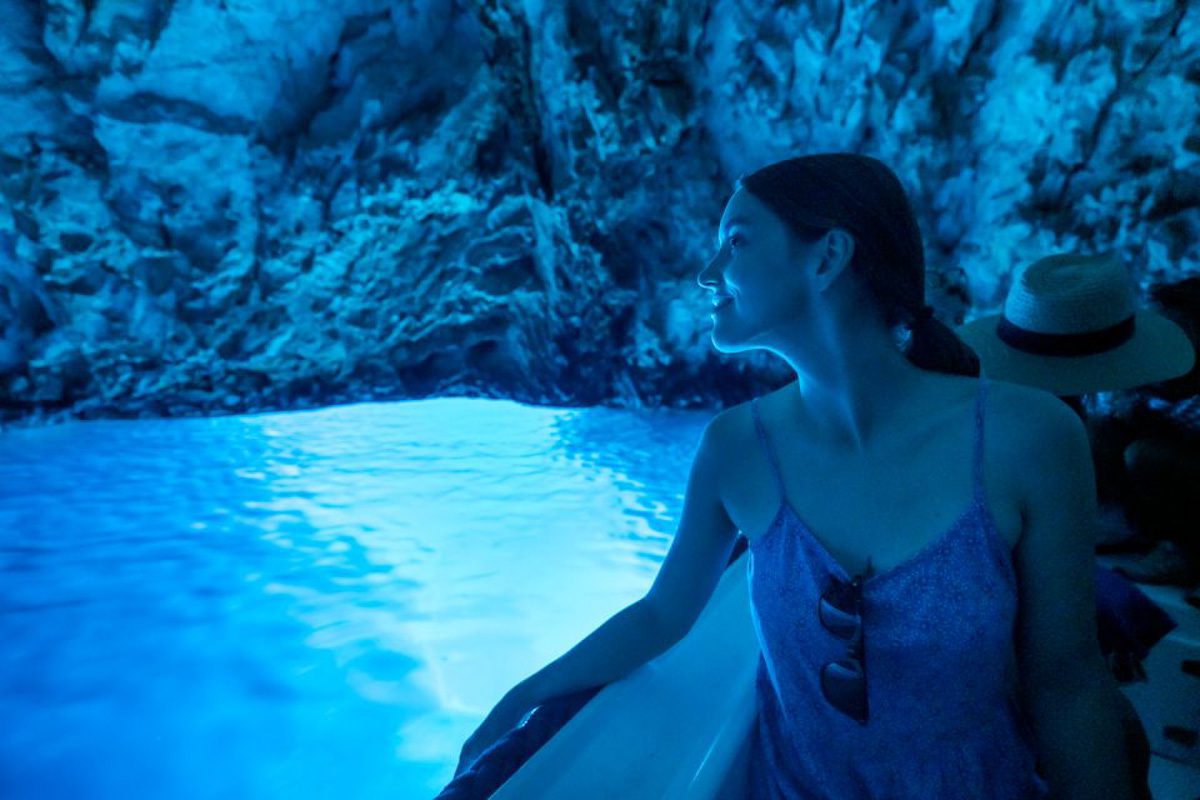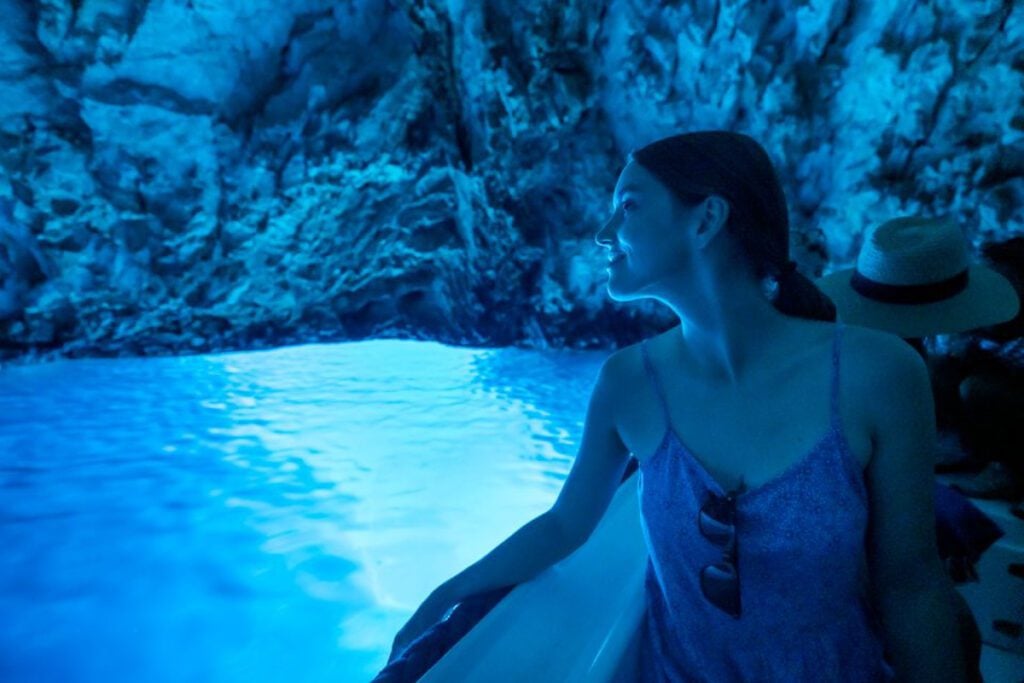 The Blue Cave is one of the most famous destinations in Croatia, which can be reached on an adventurous day trip directly from the port in Split or Trogir.
This 5 Islands Day Trip is a jam-packed tour to the cave and the most exciting islands in the Adriatic.
You'll begin your day exploring Biševo, watching azure water reflect off the walls of the Blue Cave before heading to Vis to explore a traditional Dalmatian village.
Cruise around the island to take a dip in Stiniva Cove, then head to Budikovac Island for snorkeling and swimming in the Blue Lagoon.
End your day exploring Hvar with views over the Pakleni Islands before returning back to Split.
What you need to know:
Hours: 10 hours
Price: 135.53 € ($149.51 USD)
What guests are saying
"A fantastic day and great way to see lots of the surrounding islands during a short stay in Split. The crew on the boat was great. […] Lots of fun with the music playing and the company of other passengers. Each location we visited during our October stay was quiet and tranquil! A great time to visit and do this tour. We were the first boat at the blue caves which can be queued for hours during high season apparently." – GetYourGuide Traveler, United Kingdom (October 2022)
---
How many days do you need in Split?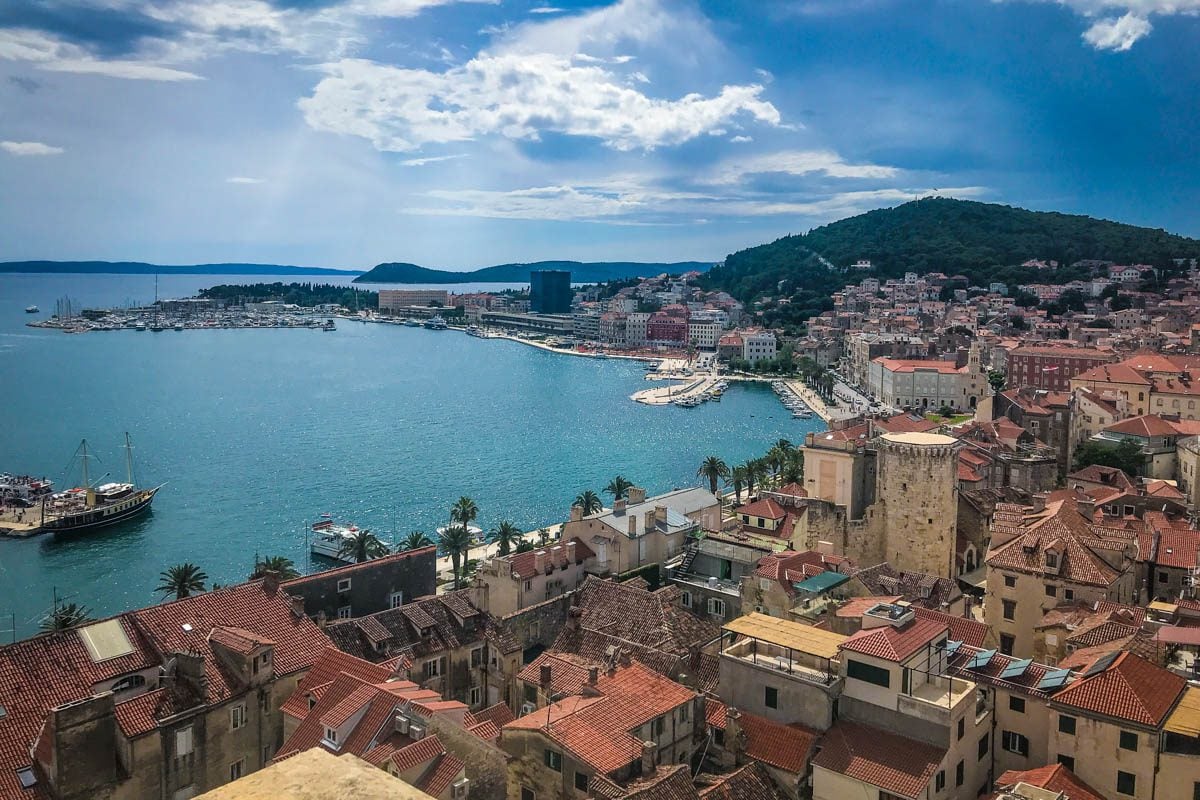 From all the hype that Split receives, you wouldn't expect the city to be as small as it is.
You can easily see the main highlights of Split in only one day, but we think 2-3 days minimum is an ample amount of time so that you can experience the hotspots, but still get off the beaten path.
Split also makes an ideal basecamp for many exciting day trips closeby, so that's something to consider when planning your trip as you may want an extra day.
Best time to visit Split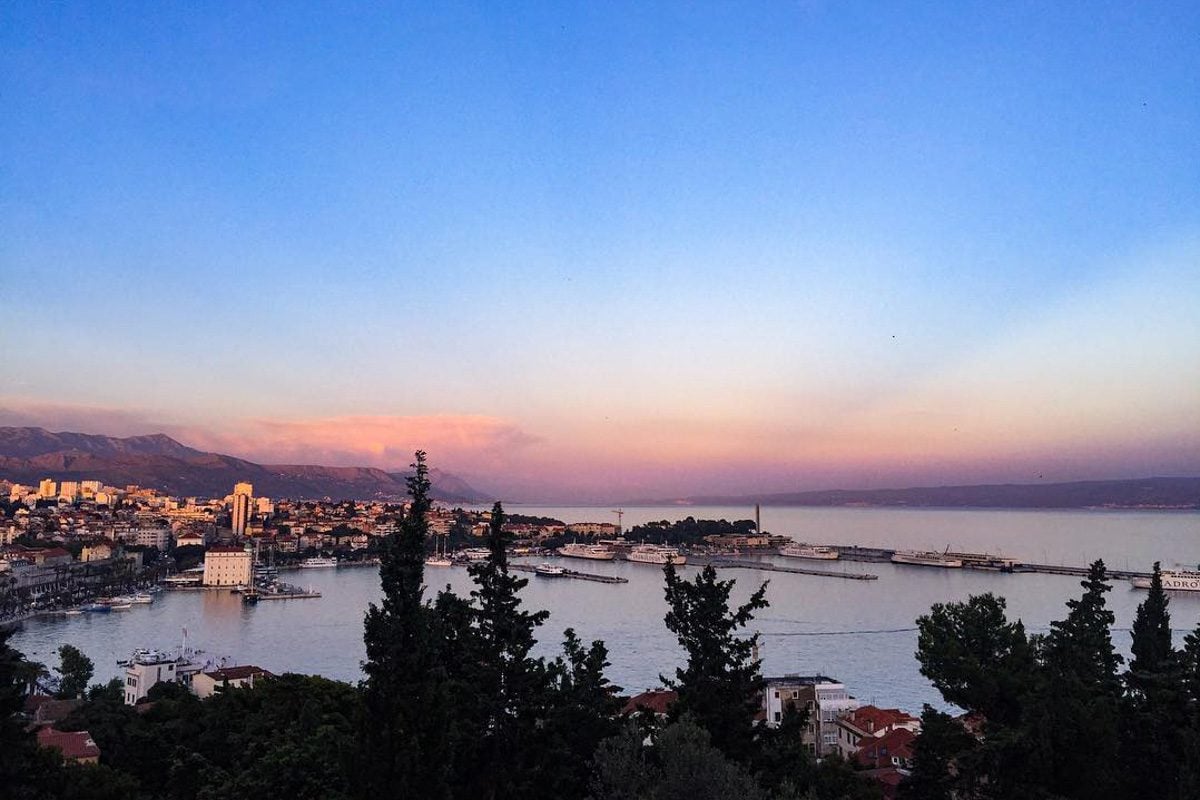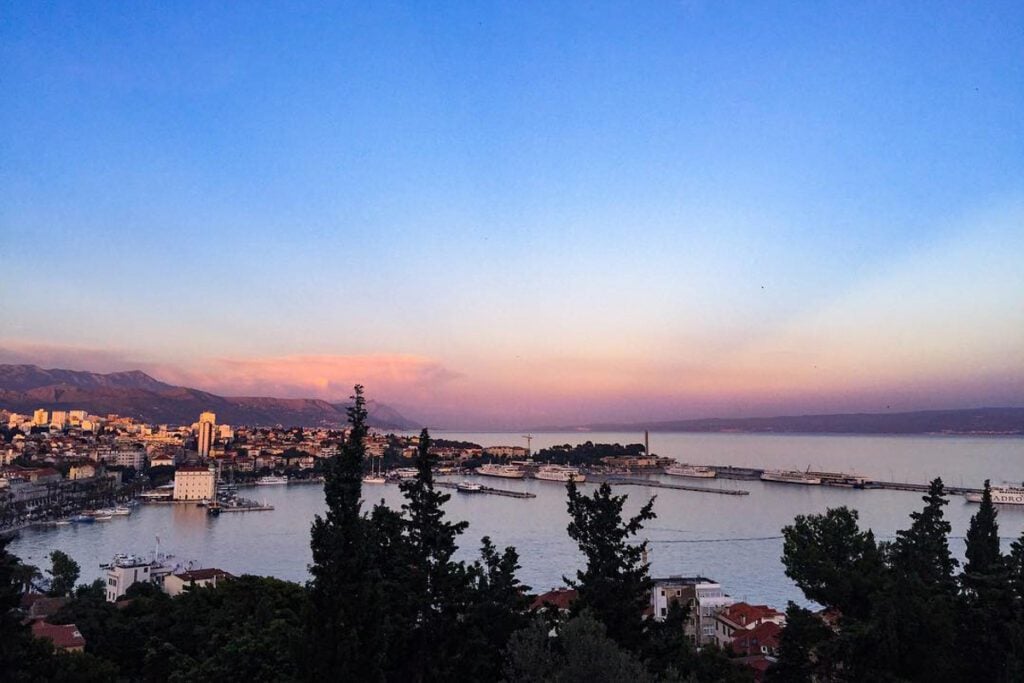 Summer is an exciting time to visit Split, especially if you're here to experience ULTRA and the Yacht Week. The city is alive this season, however because of the sheer number of crowds and prices this season, we would recommend avoiding this season.
Late-April to May and September to early October are perfect times to visit Split because the crowds have dispersed, sea water is still warm for swimming, the ferries are still in operation, and restaurants are still open for the season.
Winter can be a good time to visit Split if you want to immerse yourself in culture, but keep in mind most restaurants are closed, ferries to islands aren't running, and the experience will be much different.
Still not sure when to plan your trip? Check out our guide to the best time to visit Croatia, where we break it all down by season.
How to get to Old Town from the Split airport
A cab from the airport will cost you around $35-50 USD depending on the time of day. Ubers run around the same price and are readily available.
There is a public bus that runs from the airport to the marina in Split for a fraction of the cost (about $8 USD). It runs about every half hour or so, and even more frequently during high season.
How to get around Split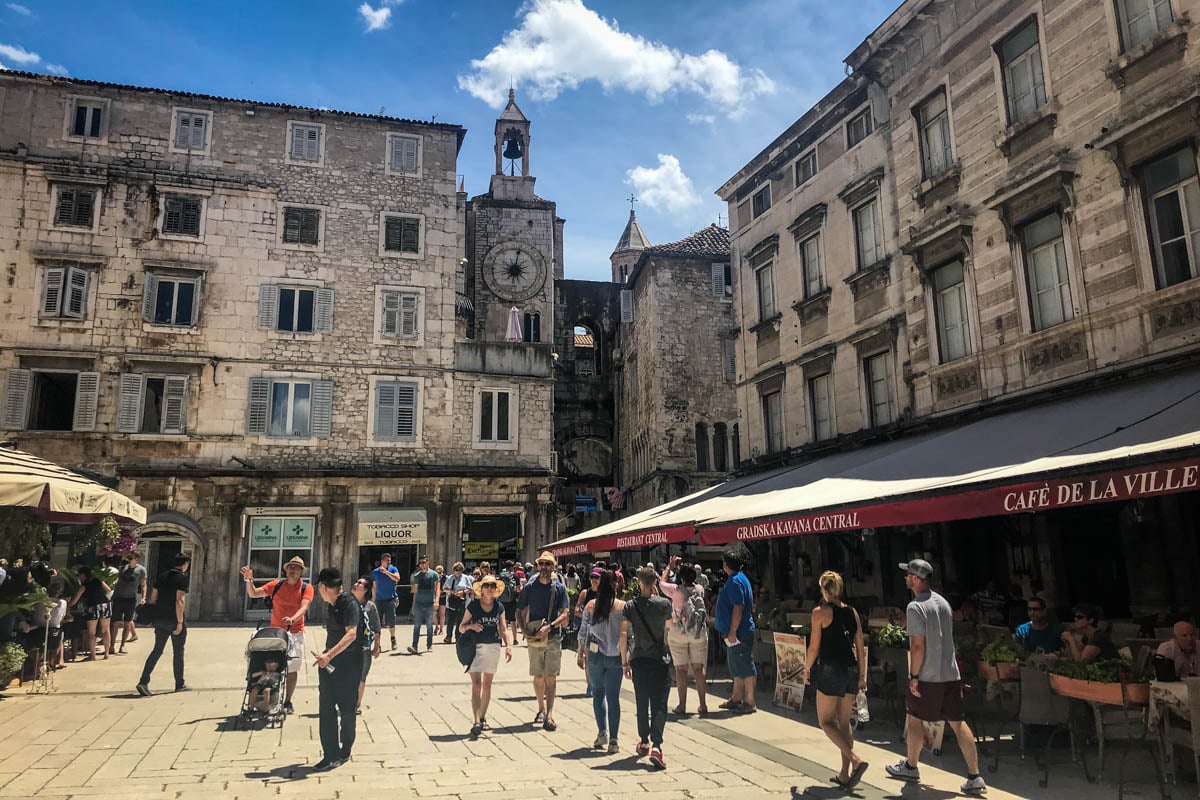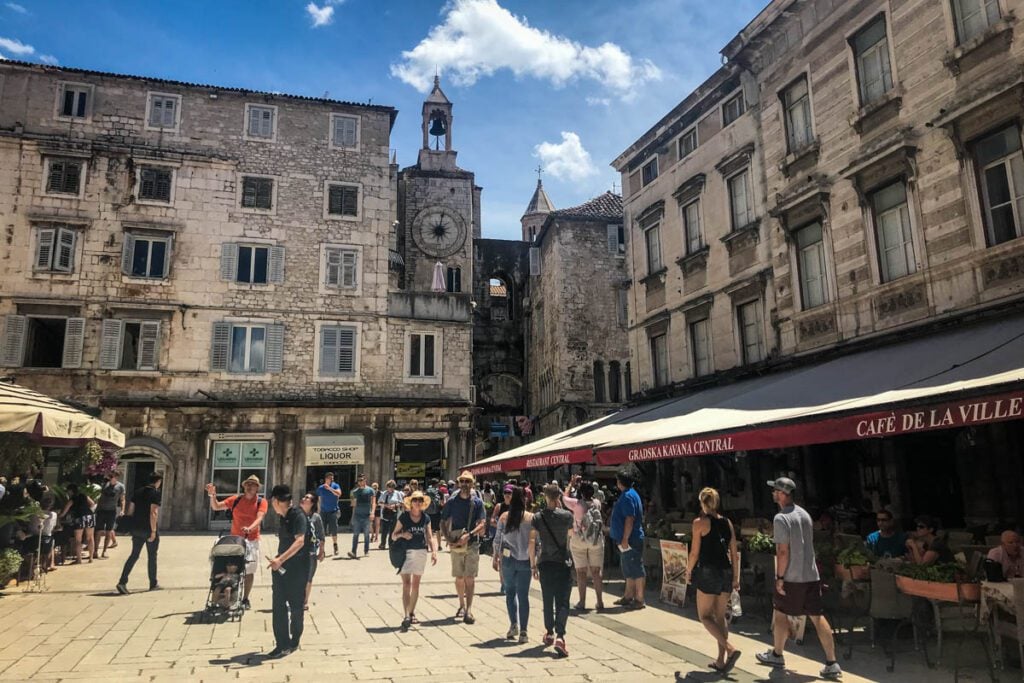 Most of the inner-city roads in Split are pedestrian-only, so the best and main way to get around is by walking or using rentable bikes dotted in those areas.
If you need to go further distances, there are a few different ways to get around:
Split buses: The city has an extensive bus system with services in the tourism area, residential areas, and nearby villages. Download the Split Bus App or view timetables and tickets on the Promet Bus website.
Taxi/Uber/Bolt: Taxis can be found at stations around the city or you can wave one down and they'll stop if unoccupied. Otherwise you can hail one with this phone number: +385 (0)21 473737. Getting a ride using Uber or Bolt is another convenient way to get around with transparent pricing.
Tips for visiting Split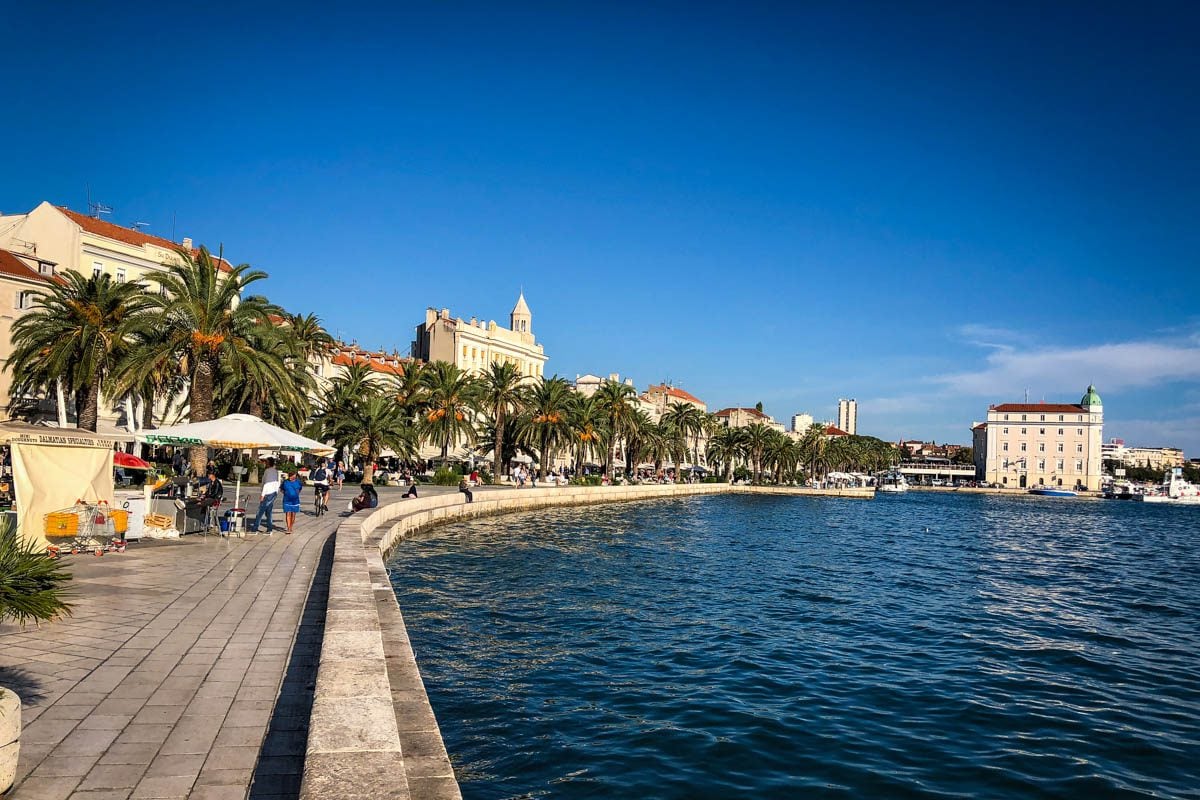 Use these tips when planning your trip and after you arrive in Split to elevate your experience in the city.
Avoid peak tourist season. We landed in Split in July, the peak of peak season, and were shocked at the sheer number of crowds. Go earlier or later in the year for quieter streets.
Ubers is a cheap and easy way to get around. Rides are readily available and you use it the same as you would back home.
Allot enough time. Split is best experienced with more than a day or two to really see the sites and get off the trodden path. We weren't able to give the city the time it needed, and with more time we could have spent more time in smaller villages and out of the main tourism area.
Wear comfortable walking shoes. Split is very pedestrian-friendly, so you'll spend a lot of time walking around on cobblestone streets.
Local data is cheap to stay connected. You can purchase a SIM card at the small kiosk inside the airport, or they're at nearly every convenience and corner store in Split. You can pick up 10gb of data, good for 1 month, for about 9 € ($10 USD).
Manage your expectations. The visions we had of Split were drastically different than how we felt when we arrived. Knowing what we know now, we would approach the city much differently than we did, but sometimes having no expectations makes you enjoy experiences much more.
Where to eat in Split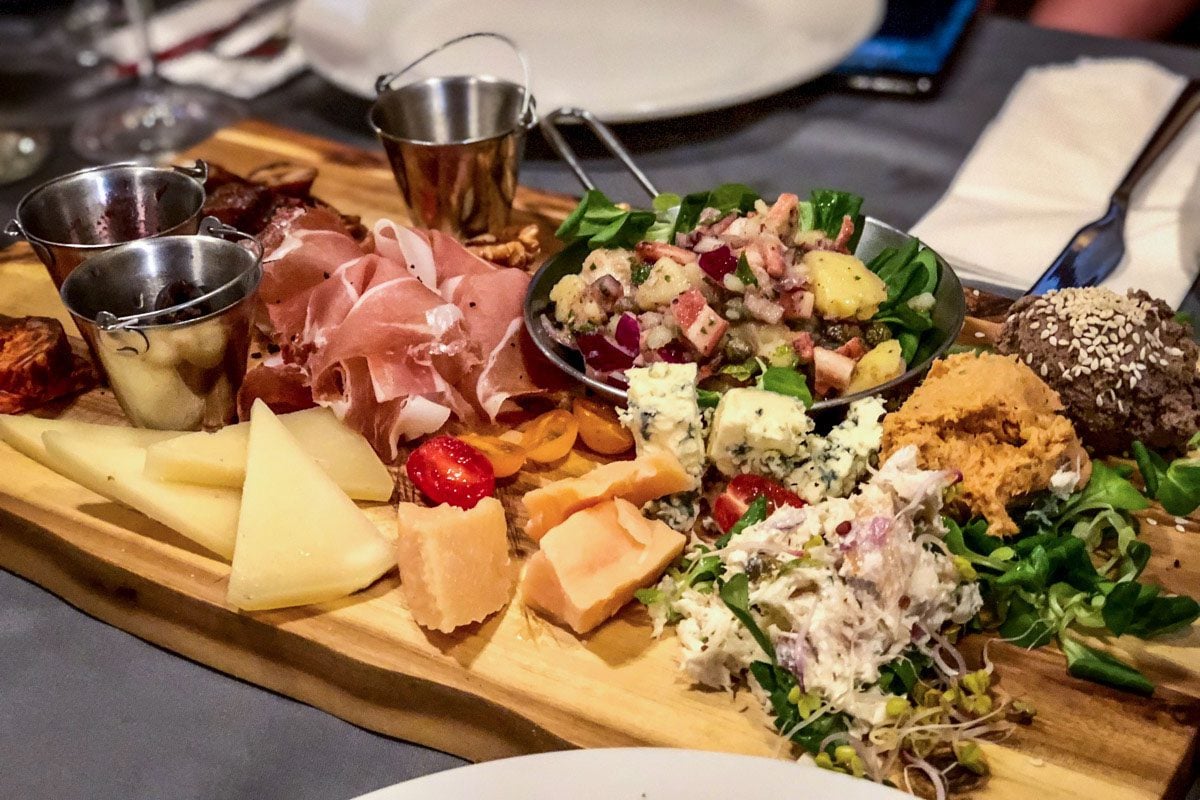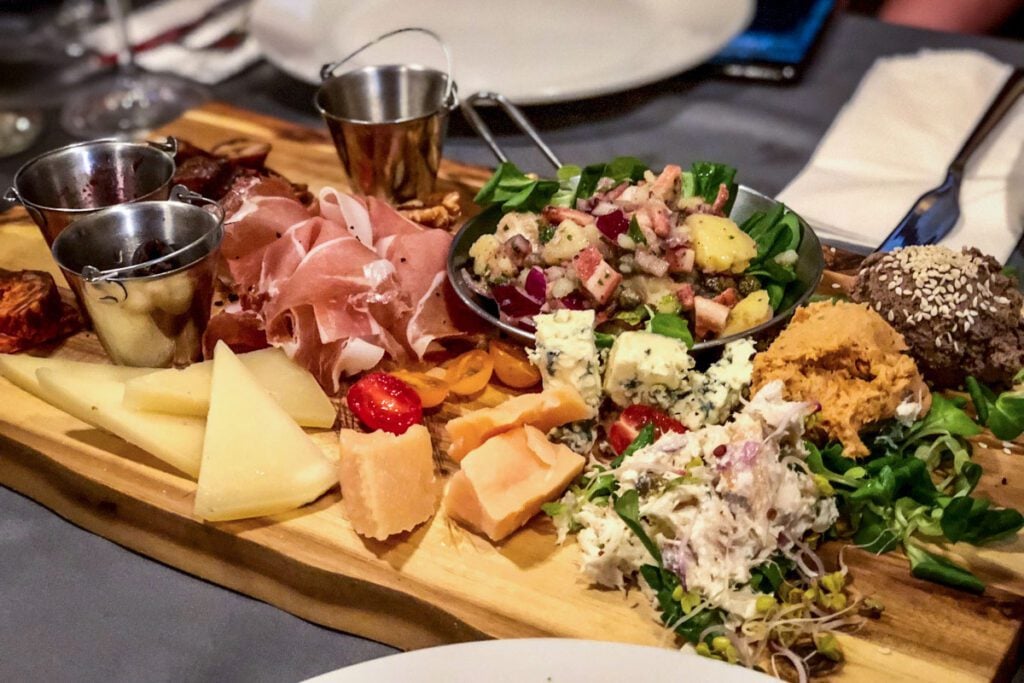 From traditional Dalmatian cuisine to Michelin-star restaurants, eating your way around Split is a must.
Just for drinks
Where to stay in Split
Given that most of the things to do in Split are in the historical Old Town, I recommend finding accommodation as close to the city center as possible.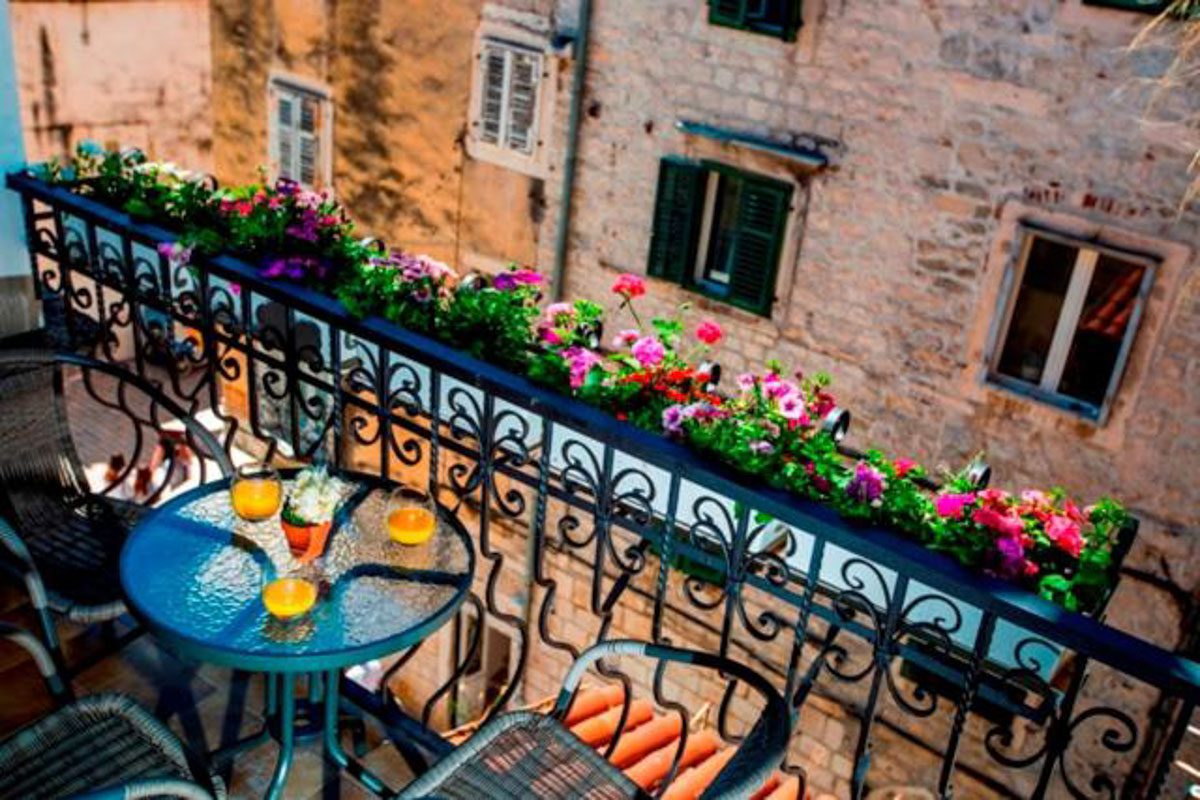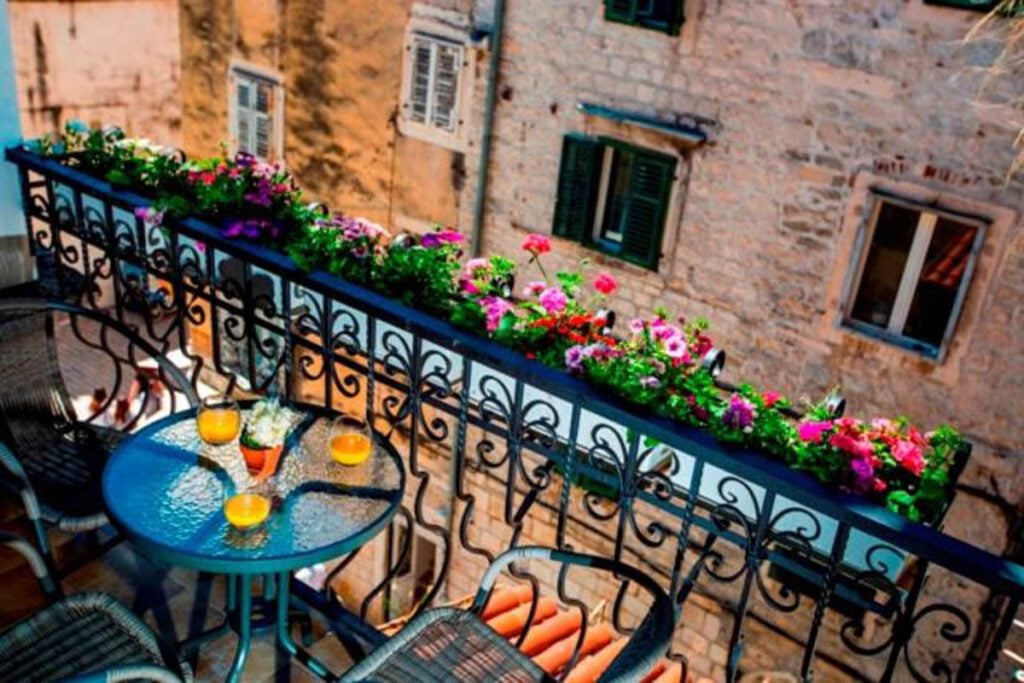 Budget hostel: Downtown Hostel
Split is in the palm of your hand at this hostel in the heart of the city. Steps away from your room, you'll have access to bars, nightlife, the most popular attractions, restaurants, and entertainment in Split. It's an excellent social hostel where you can meet fellow travelers in the common room or over a fun game of darts.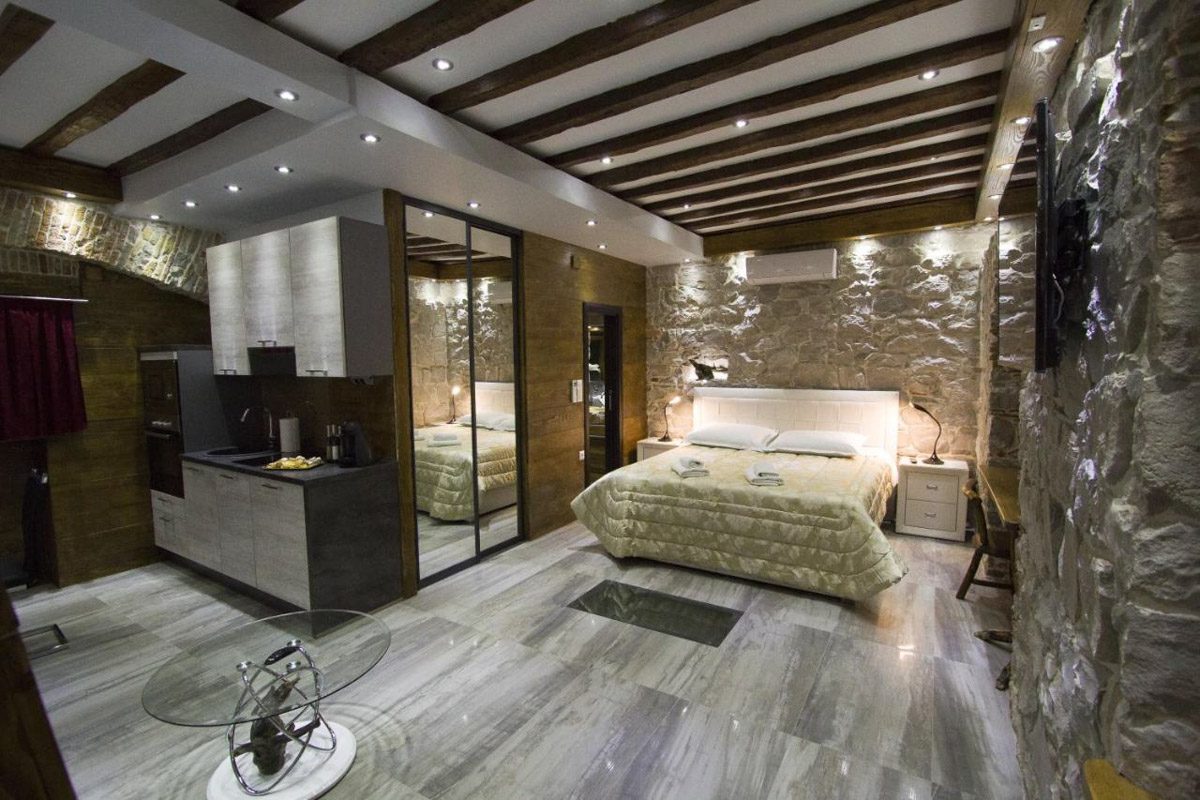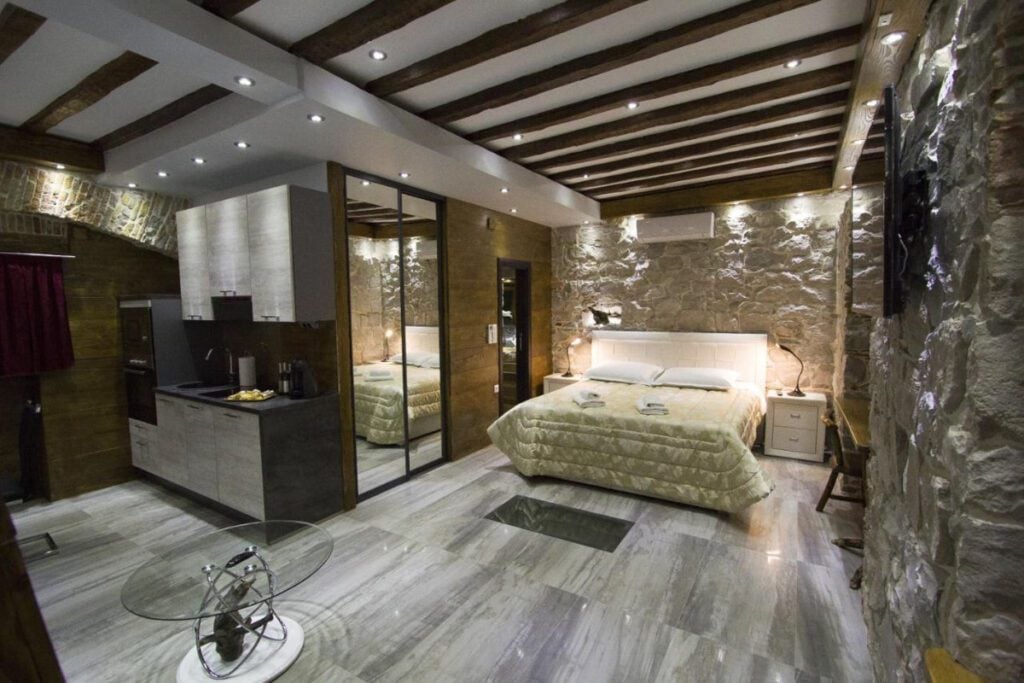 Mid-range budget hotel: Villa Domina
This 4-star stay is only a few minutes walk from the heart of Old Town. It has modern amenities while still showcasing touches of Croatian flare through exposed brick and stone. The kitchenette is fully equipped, rooms are spacious, and location is unbeatable.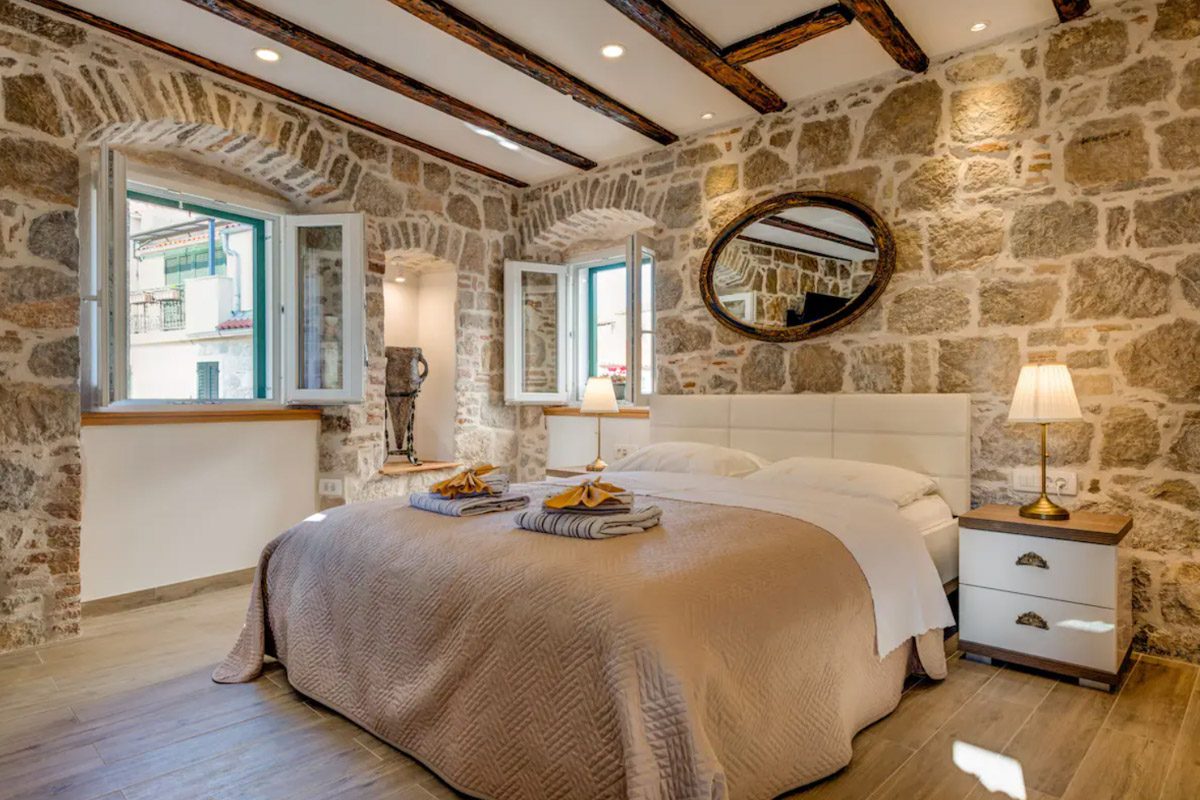 Mid-range budget option: Amorfa Studio
Surrounded by traditional Dalmatian stone homes, this newly renovated studio is a short walk away from the city center and chalked full of amenities. The hosts own their own boat, so you can book many of the most popular day trips from Split directly.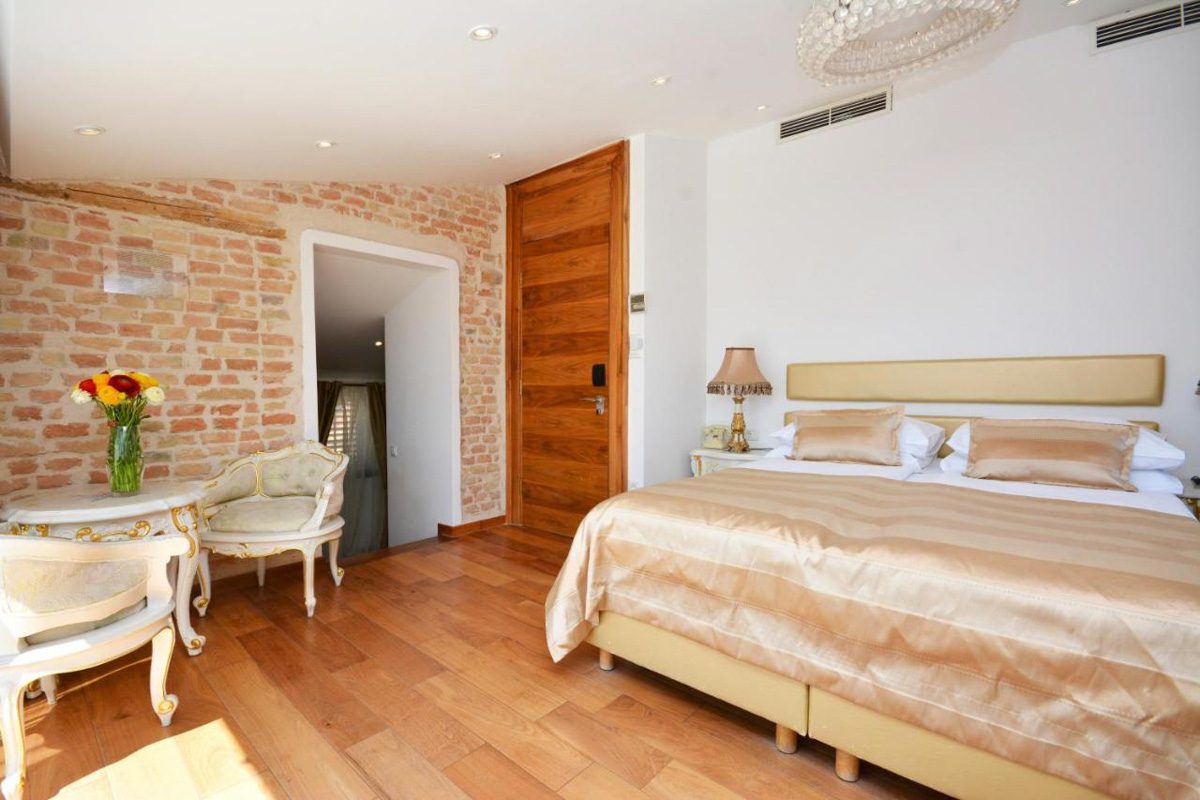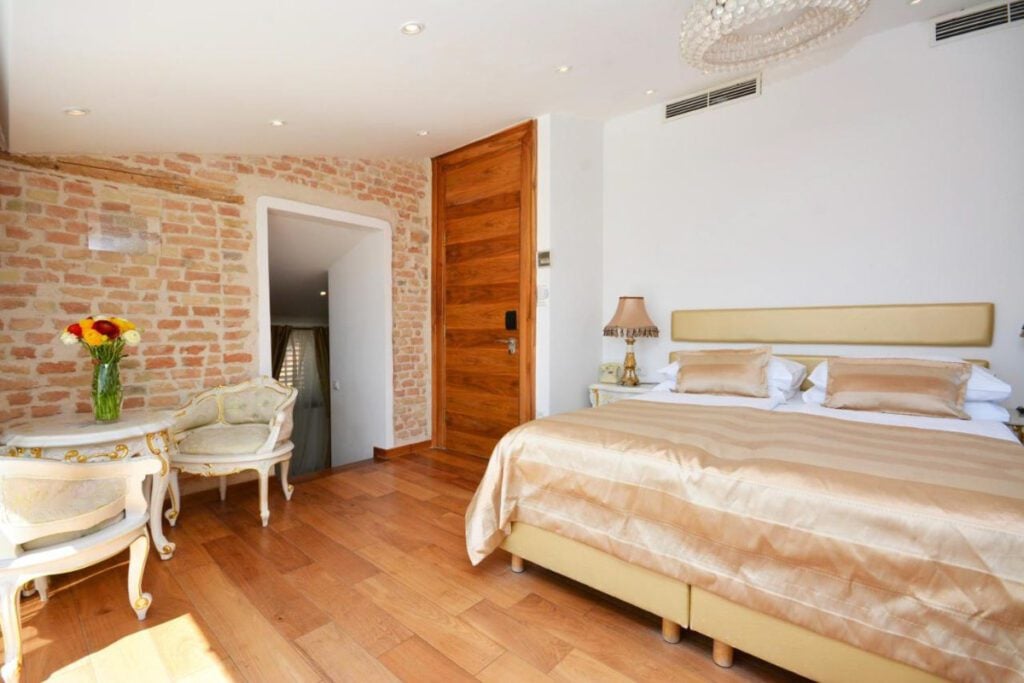 Splurge hotel: Jupiter Luxury Hotel Split
Quite literally IN the heart of Split, this newly restored, luxury hotel is inside Diocletian's Palace. With sauna facilities, onsite restaurant, scenic rooftop terrace, stylish lounge bar, and outdoor hot tub, this stay will be nothing short of memorable.
What to pack for traveling to Split
These are a few essentials you'll need to bring for a trip to coastal Split.
Sunglasses
Sun hat
Sport sandals or water shoes for the rocky beaches
Round up of the best things to do in Split
Here's a recap of all the best things to do in Split so you can see everything in one place.
Diocletian's Palace and the Old Town
Saint Domnius Bell Tower
Marjan Park
Krka National Park
Bravice Beach
Food tour
Sunset cruise
Nighttime SUP tour
Party the night away
Klis Fortress
Trogir
Brac
Secret Dalmatia Food Tour
Rafting down the Cetina River
Blue Lagoon
ATV adventure
Olive oil and wine production
Ivan Mestrovic Gallery
Hvar and Pakleni Islands
Blue Cave tour
---
Are you planning a trip to Croatia?
We have lots of resources on travel in Croatia and destinations throughout the country. Check out our Croatia Travel Homepage for everything you need to know, or start by reading some of our favorite Croatia articles here:
Save this article on Pinterest for later!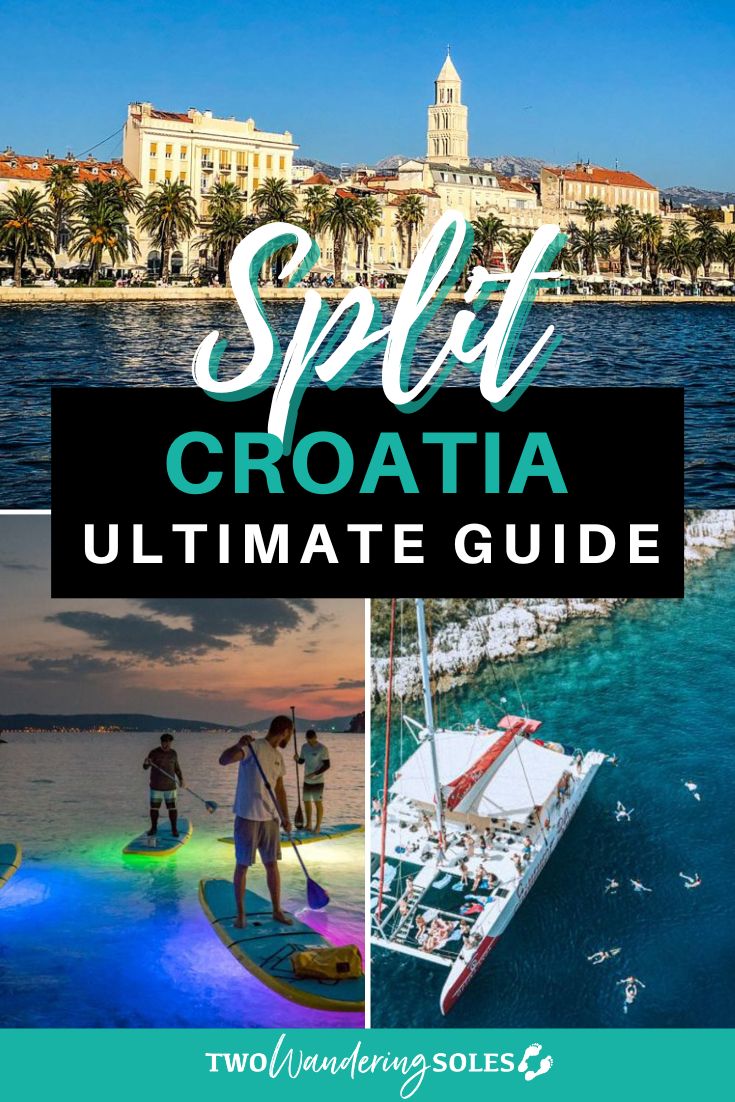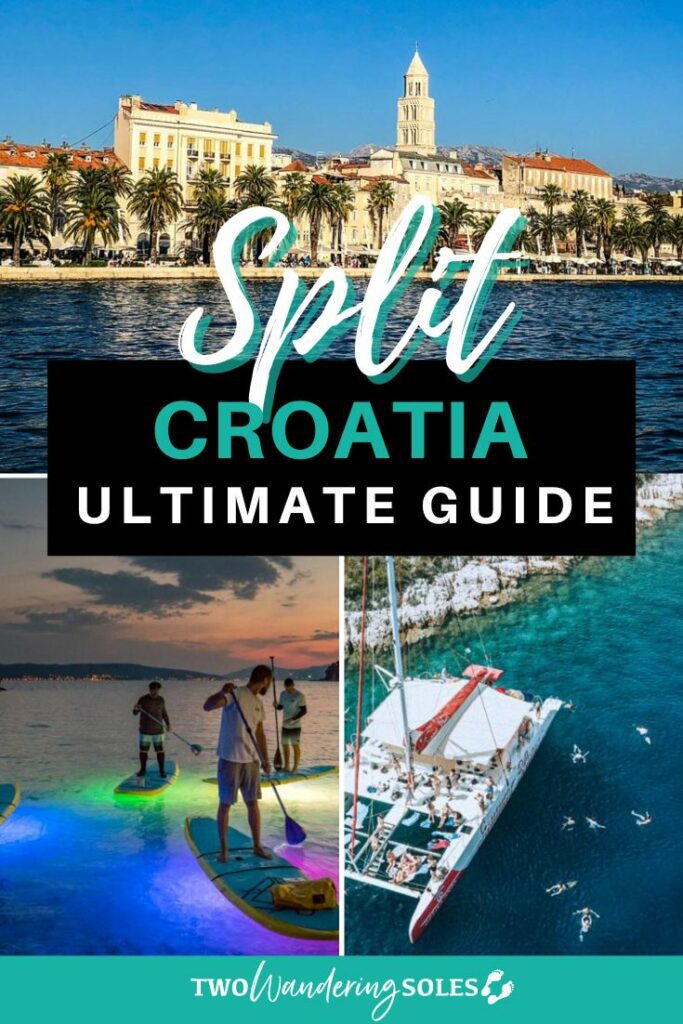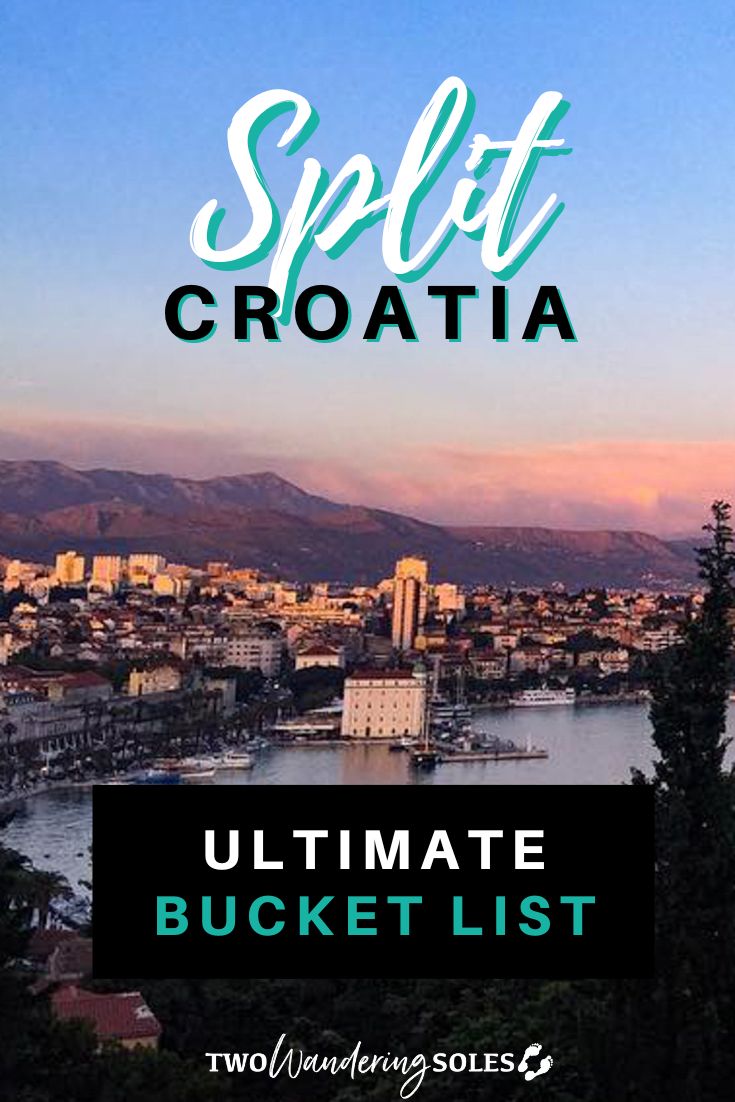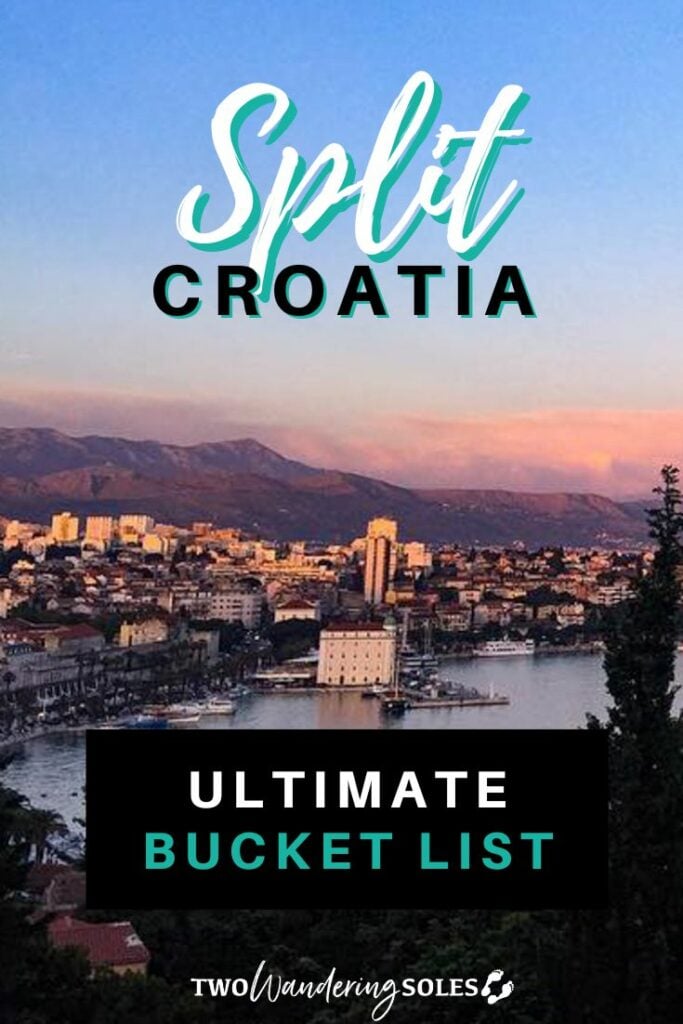 We want to hear from you!
Which of these things to do in Split is on the top of your list? Are you planning a trip to Split and still have questions? Leave your comment below and we'll do our best to get back to you!