As if plucked out of a fairy-tale, Krka National Park is famous for its enchanting waterfalls, winding hiking trails and plethora of wildlife. Since you'll likely want to spend an entire day here, we created a detailed guide to help you plan your visit.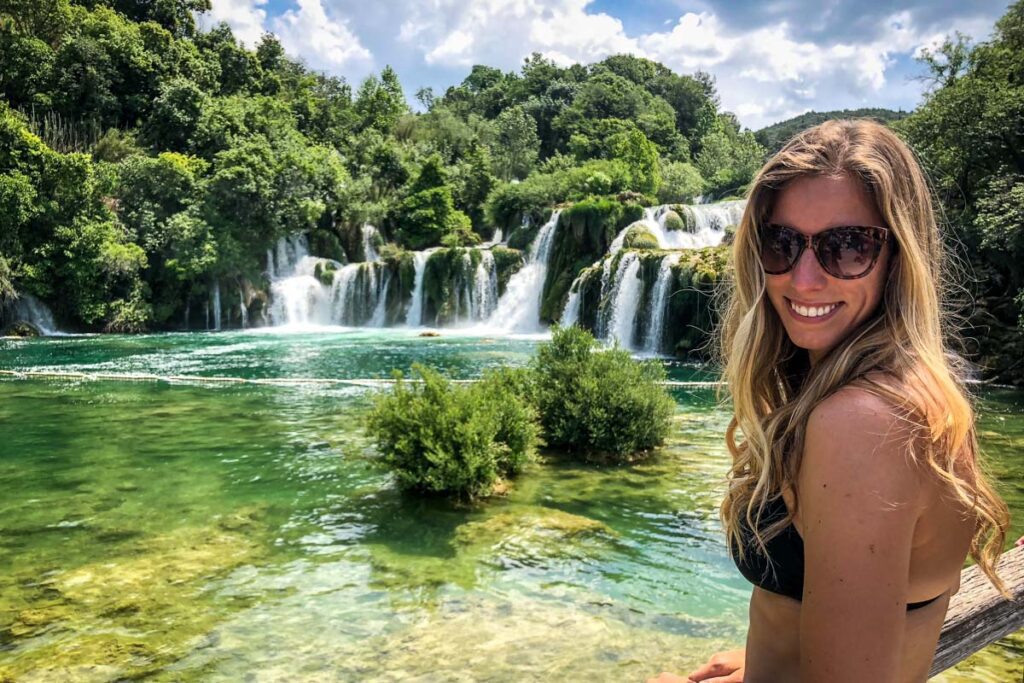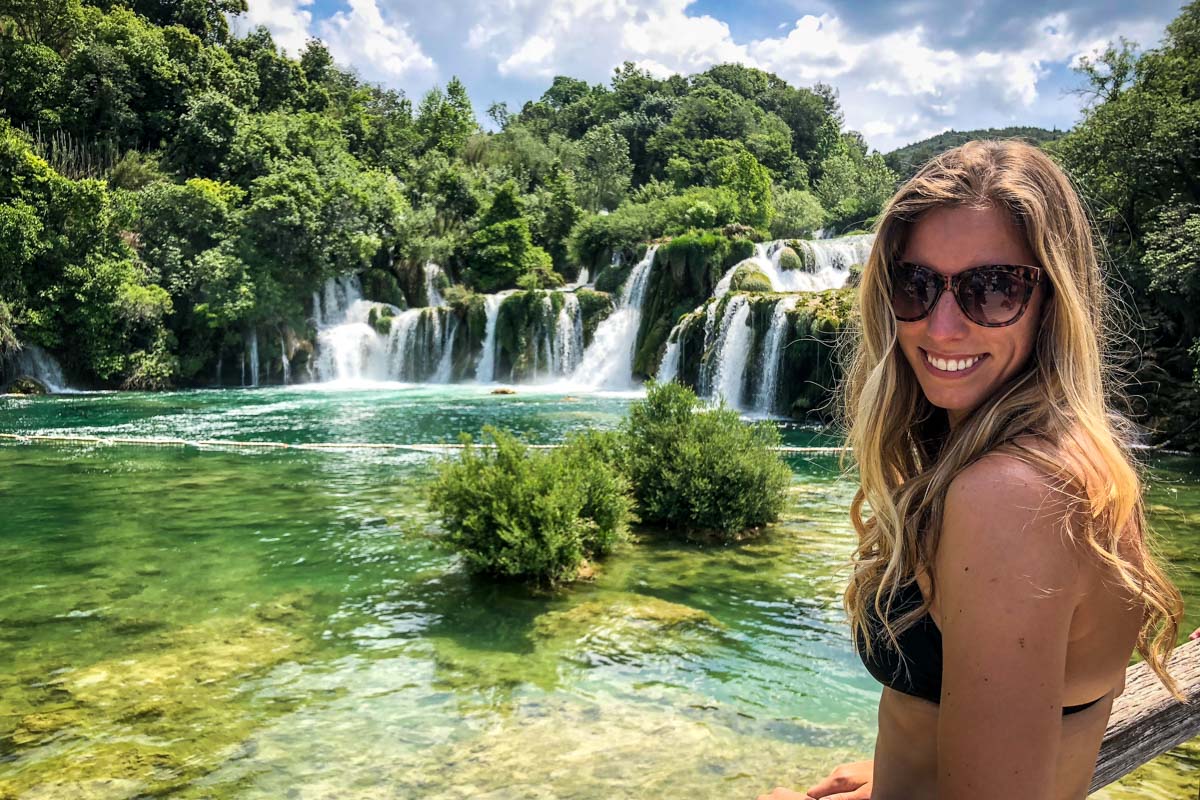 Quick Note: As of January 1, 2023, Croatia joined the Eurozone and adopted the Euro as their currency. Kuna (kn or HRK), the former currency of Croatia, will no longer be accepted as a form of payment. However, Kuna banknotes and coins can be exchanged until December 31, 2023. This also means Croatia is now part of the Schengen Area and adheres to those laws and visa requirements.
Krka National Park makes its way onto many travel bucket lists and for good reason!
Crowned as one of the most beautiful landscapes in Europe, Krka National Park is an ideal place to spend your day while traveling in Croatia.
This park beckons visitors to explore the power and serenity of its famous network of waterfalls, historic sights, picturesque lakes and series of hiking trails.
Aside from gawking at the beautiful landscapes, you'll also have the chance to spot some pretty unique wildlife from wild boars to salmon — not to mention the incredibly diverse bird species soaring overhead.
Krka National Park Travel Guide
Psst! Don't leave before you check out our bucket list of absolute best things to do in Croatia.
---
Krka National Park overview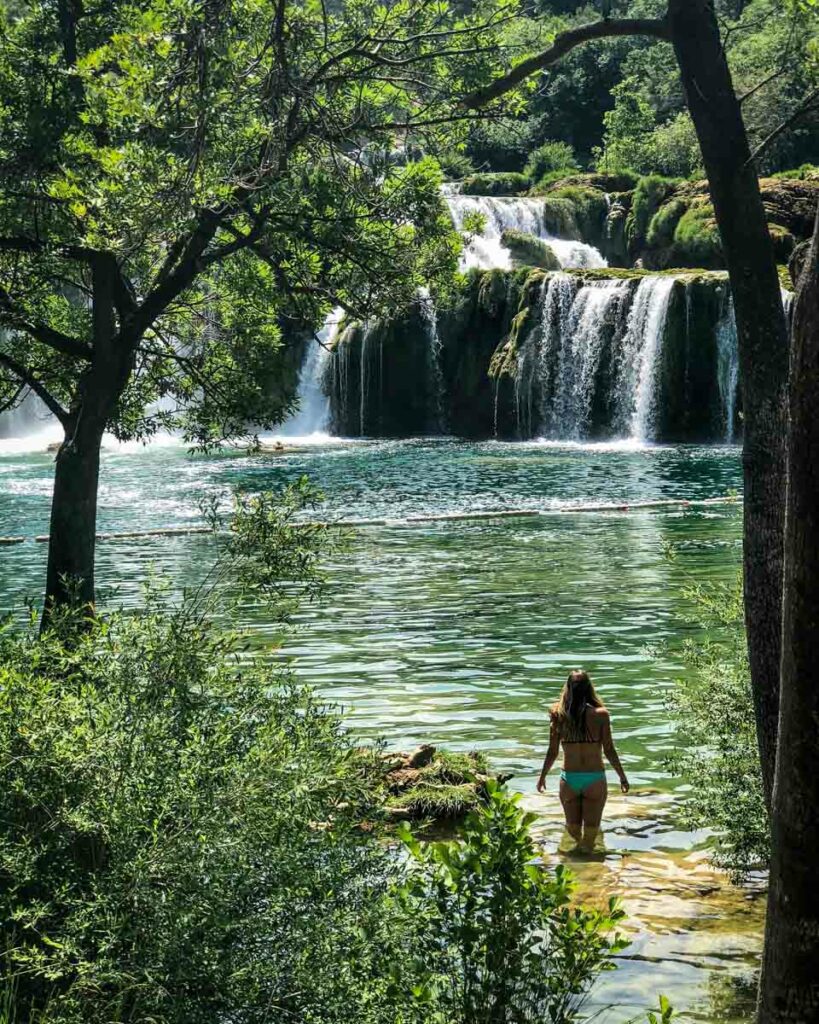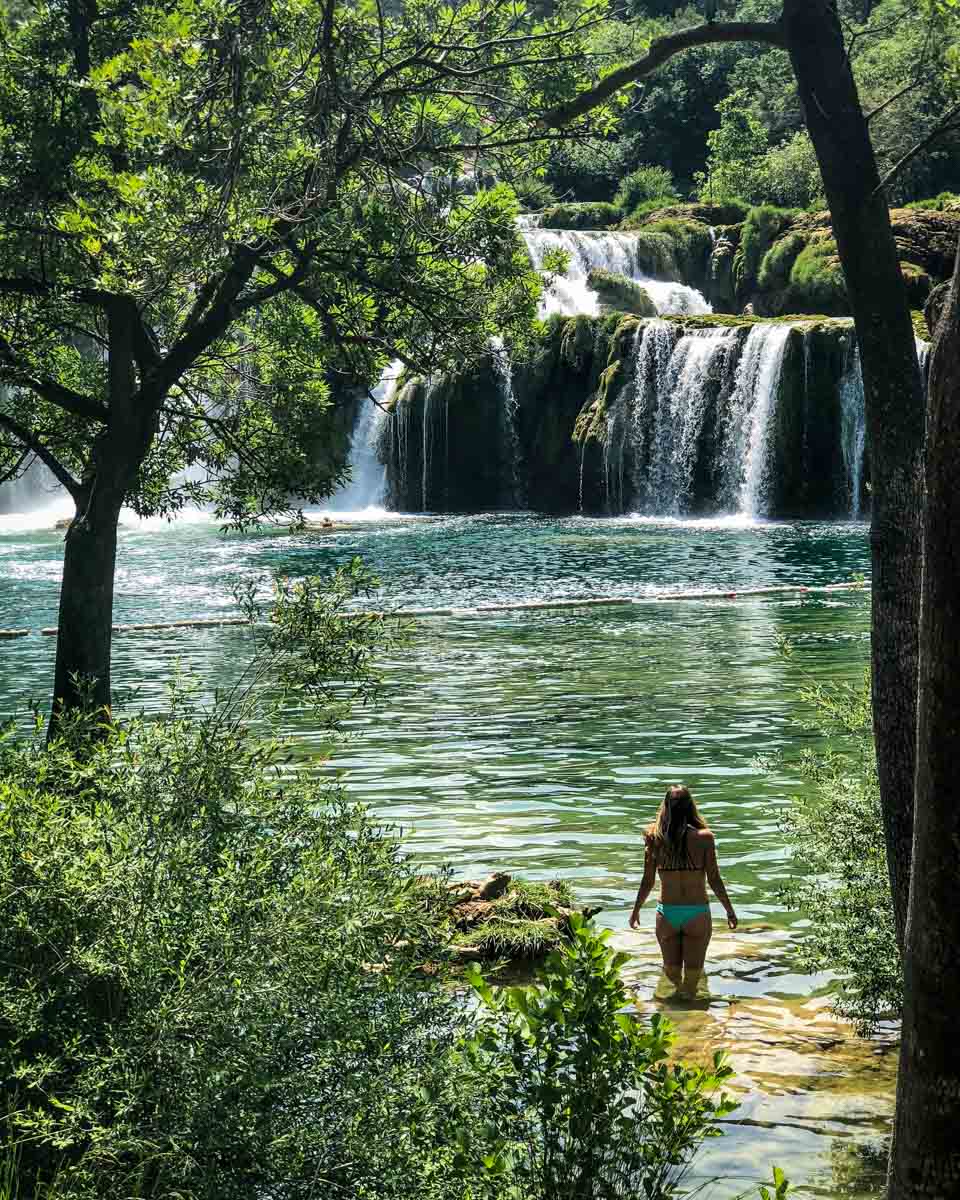 When planning your trip to Croatia, Krka National Park is definitely something you want near the top of your list.
Tucked into the center of the country, this national park is home to hiking trails, emerald lakes and a series of jaw-dropping waterfalls, including the famous Skradinski Buk.
Sounds pretty perfect, right?
Aside from the unique landscapes, Krka National Park also has a pretty vivid cultural history and is home to some ancient Roman ruins, monuments and unique monasteries — all which travelers can easily explore.
Around an hour(ish) from both Split or Zadar, the park is easily accessible by car, but many companies also offer guided tours (more on that below!).
We've collected some essential information in this guide so you know exactly what to expect on your visit to Krka National Park.
Psst! If you have time to discover more of the country, don't miss these other epic places to visit in Croatia.
Krka National Park Entrances/Fees/Hours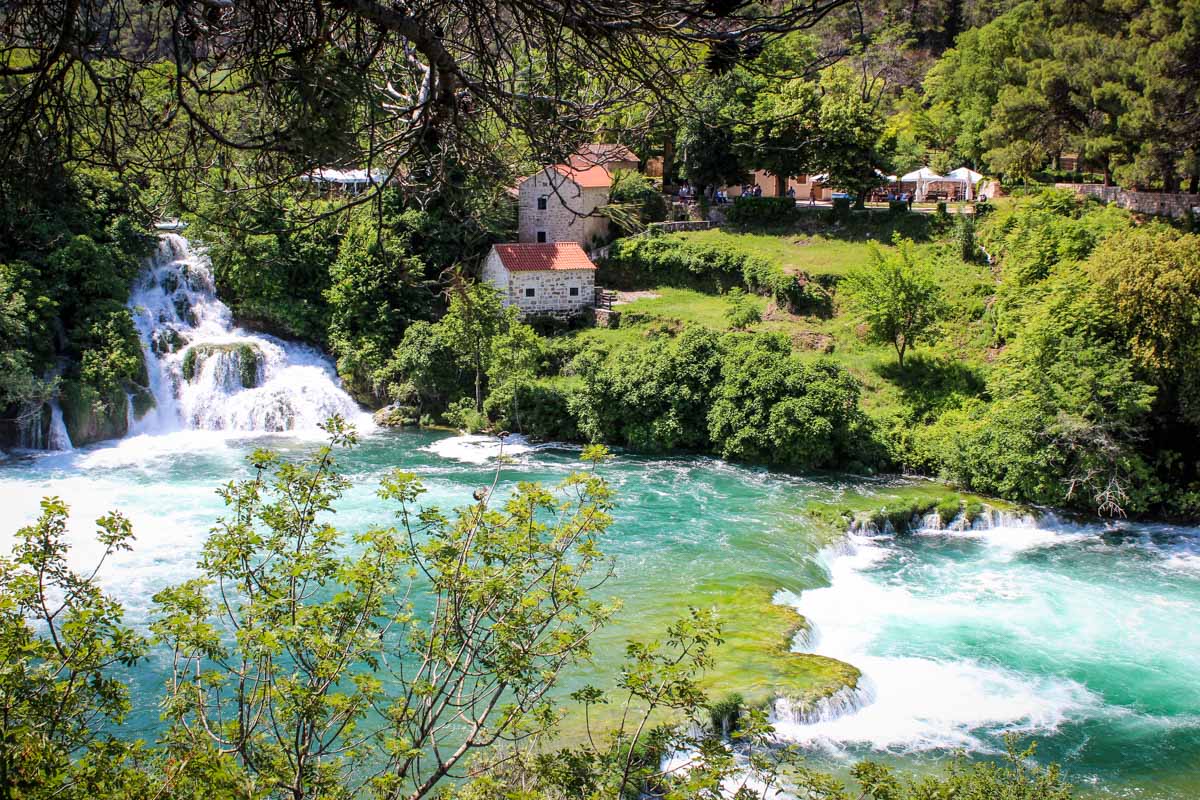 Entrance fee: 6.50-27 EURO / $7-28 USD
Hours: 8 a.m. to 8 p.m.* (varies by season)
There are several ways to enter Krka National Park, each offering unique sites and adventures.
In general, the park is open from mid-April to the end of October, but definitely make sure to double check the official website for seasonal hours and prices.
* Please note that the hours/prices of Krka National Park vary depending on the season you choose to visit so always double check the hours on the official website.
Not sure when to plan your trip? Check out our guide to the best time to visit Croatia.
Skradin Entrance
This is the main entrance to the park — and the most popular one — near the town of Skradin.
At this entrance, you'll board a boat and sail to the famous Skradinski Buk waterfall. From there, you can explore the nearby hiking trails that wind through the lush forests surrounding the waterfall.
This entrance is open from mid-April through the end of October.
Lozovac Entrance
This is another popular entrance into the park. With its spacious parking lot, this is perfect if you are traveling by car.
From this entrance, you can easily access a variety of the hiking trails nestled alongside the Krka River.
Another bonus of this entrance is the easy access to the Ethno Village which is rich in cultural history and well-worth a visit.
This entrance is open from mid-June through September.
Roski Slap/Laškovica Entrance
Opt for the Roski Slap entrance if you're driving on your own. From here, you can easily hop on a boat tour to visit Roski Slap, the Krka monastery or Visovac Island.
From the parking lot, you can also walk along the trail to the stunning Roski Slap waterfall and cool off with a swim or continue further to explore the Ozidana Pecina cave.
This entrance is open from mid-April through the end of October.
Burnum/Puljane Entrance
If you're a history enthusiast, this is where you want to start your adventure into Krka National Park.
You can access this western entrance via car and it will lead you straight to the Burnum ruins — the actual remains of an ancient Roman military amphitheater and bath house.
The hiking trails at this entrance also lead to an outstanding viewpoint of the Krka river and numerous picnic spots.
This entrance is open from mid-April through the end of October.
Kistanje Entrance
If visiting the Krka monastery is high on your list, this is the best entrance for you. You can access this entrance by car or bus throughout the year.

Aside from the monastery, some popular trails near this entrance — Krka Monastery Trail, Velebit Trail and Puljane Trail — lead to a gorgeous viewpoint of the entire Visovac Island. These are some of the more difficult trails in the park so best for those looking for a bit of a challenge.
Don't feel like hiking? From this entrance, you can also take a boat tour to visit the Visovac Monastery, Roski Slap waterfall and the very famous Skradinski Buk.
This entrance is open from mid-April through the end of October.
How to get to Krka National Park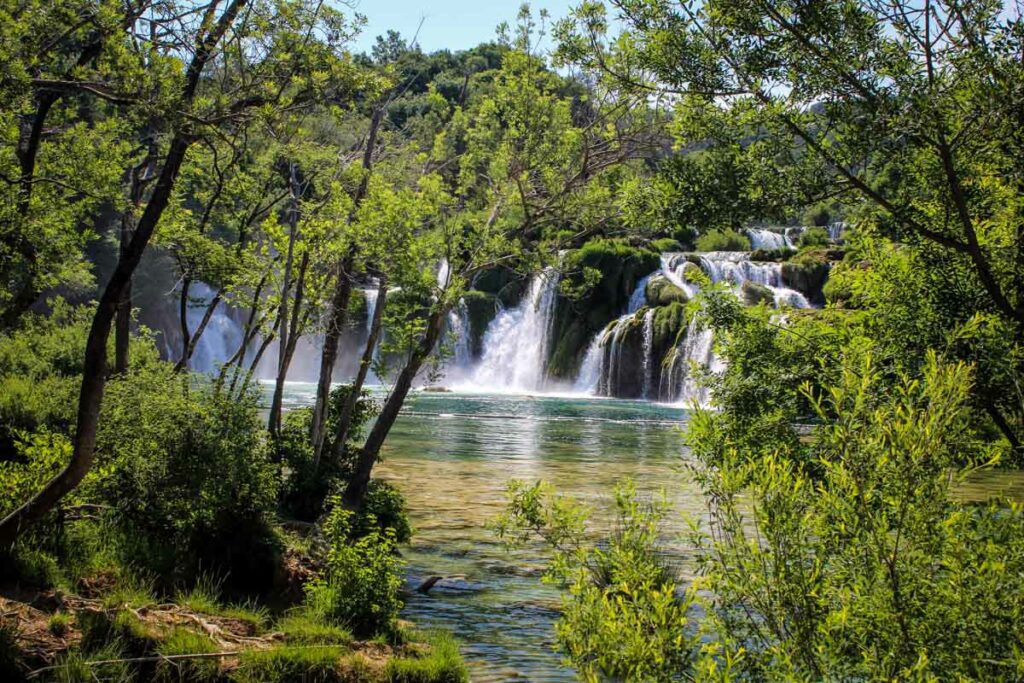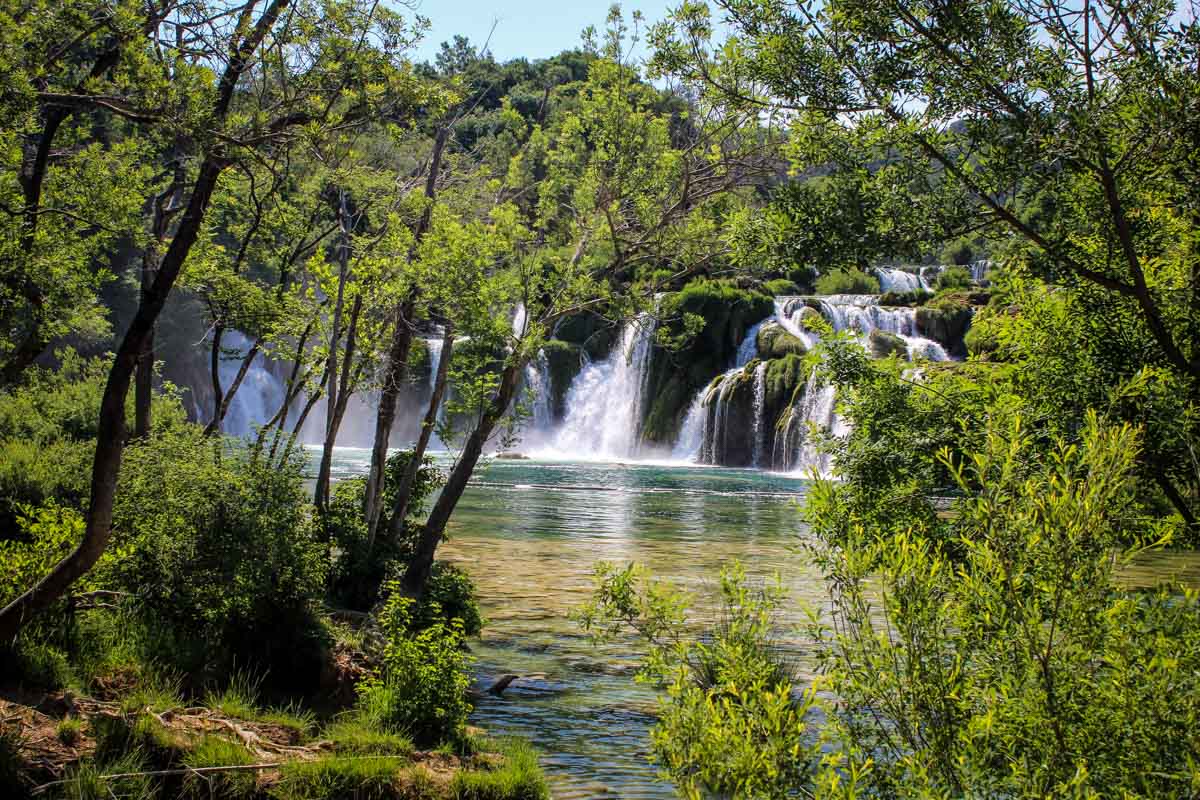 Getting to Krka National Park is quite easy, with Split and Zadar being the two closest cities.
Rent a car
One of the easiest ways to get to Krka National Park is by renting your own car.
Overall, it's really safe to drive in Croatia and having your own set of wheels means you can easily visit the park at your own pace. Since most entrances have large parking lots, you won't have to worry about finding a spot.

We recommend using Discover Cars to find a rental car because they are reliable and affordable.
If you're driving your own car, it takes about an hour and a half to get to the national park from Split. From Zadar, it takes about 50 minutes.
Public transportation
While there is no official bus line for Krka National Park, there are several options you can take to visit the park if you don't feel like driving there yourself.

From Split, you can take a bus to the most popular entrance, Skradin. This trip takes a little over an hour, but can vary depending on time of day or season.

From Zadar, you can easily board a bus to reach the Lozovac entrance which takes anywhere from 50 minutes to around an hour.
Prices for the bus can range from $5 to $17 roundtrip.
Guided tour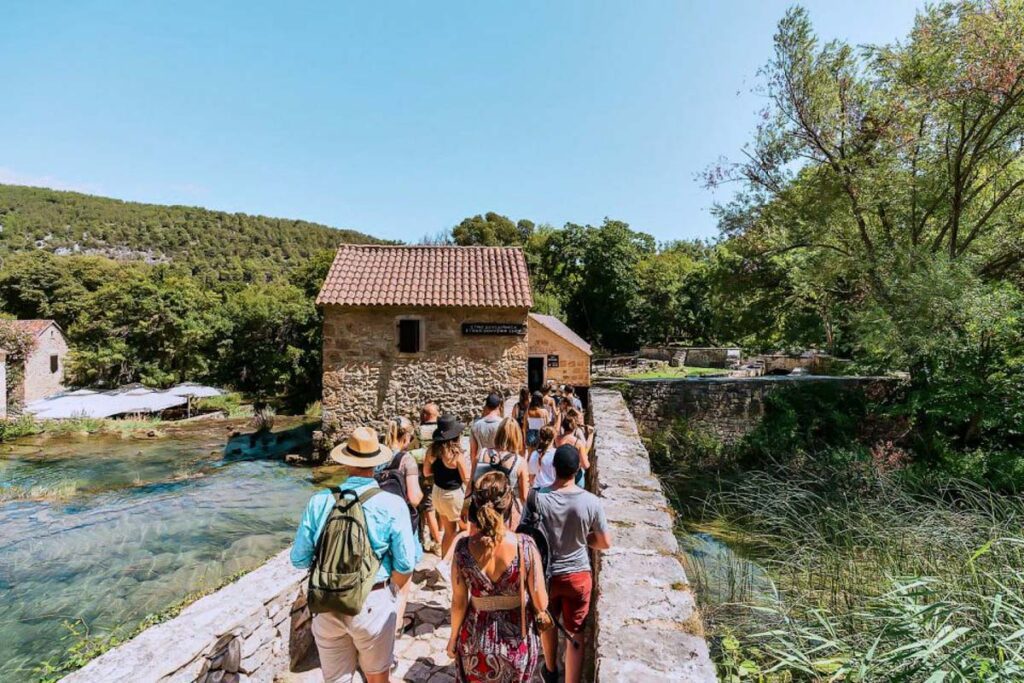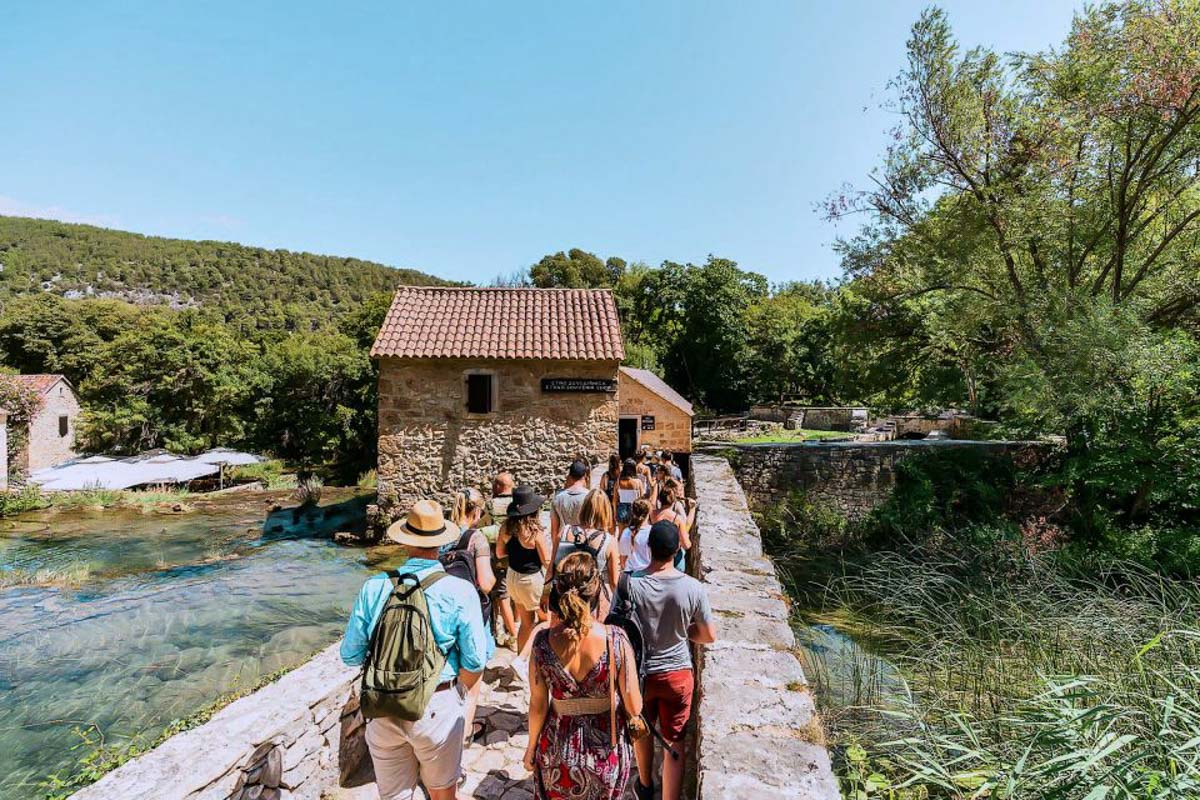 There are several options available if you're looking to take a guided tour to Krka National Park. This is a really easy way to enjoy the park because you don't have to worry about, well, anything! Simply board the bus and enjoy the journey.
Another huge bonus of tours is gaining access to the park before it opens.

Take note, however, that most of the guided tours do not include the fee to get into the park, but often offer a discount.
Krka Waterfalls
TLC would disagree, but chasing waterfalls is highly recommended in Krka National Park.
The Krka waterfalls are what makes the national park so magical. This network of cascading waterfalls are jaw-droppingly gorgeous so choosing which ones to visit can feel a bit overwhelming.
All of the waterfalls are stunning so try to see as many as you can.. you cannot go wrong!
Skradinski Buk waterfall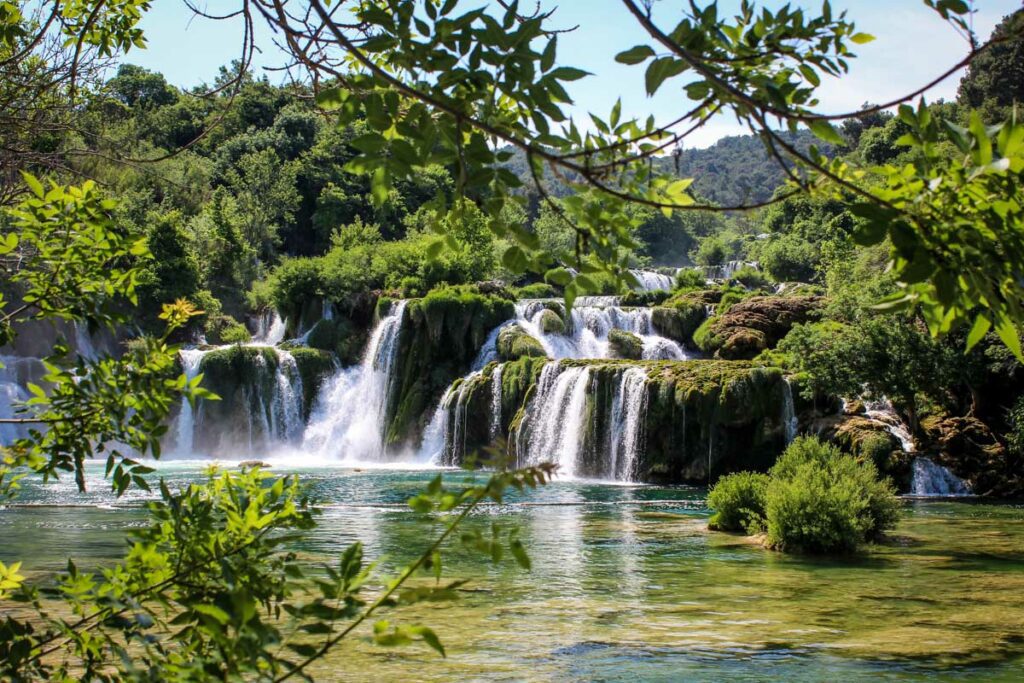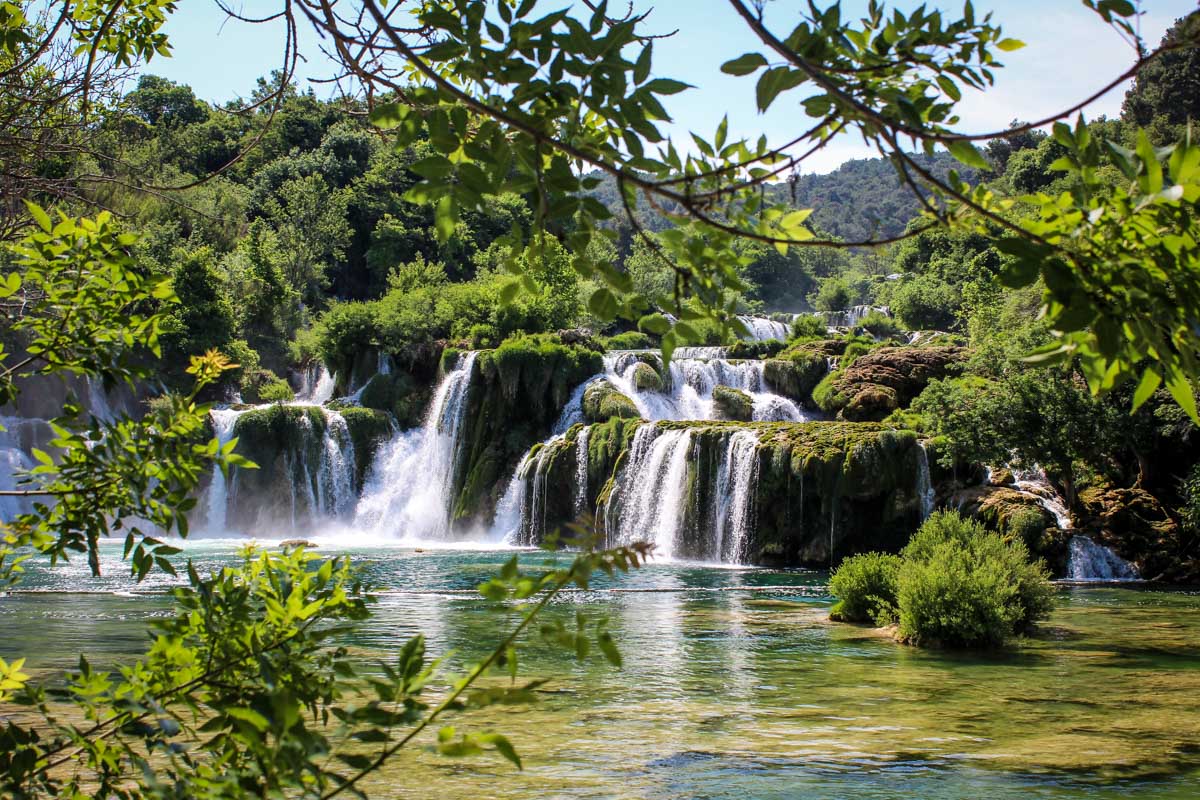 Not only is this one of the most famous waterfalls in Krka National Park, it is also the biggest. Spanning nearly 45 feet, this waterfall is both a powerful and magnificent sight.
The water here is so clear, you can often spot fish swimming across the pebbly bottom. There is also a surplus of cozy picnic spots among the lush foliage surrounding the waterfall.
You can view this waterfall by foot or by boat, both of which offer mesmerizing views of this natural wonder.
Although we still recommend visiting Skradinski Buk, the main downfall of this waterfall is they no longer allow swimming and it gets quite crowded.
Rošnjak waterfall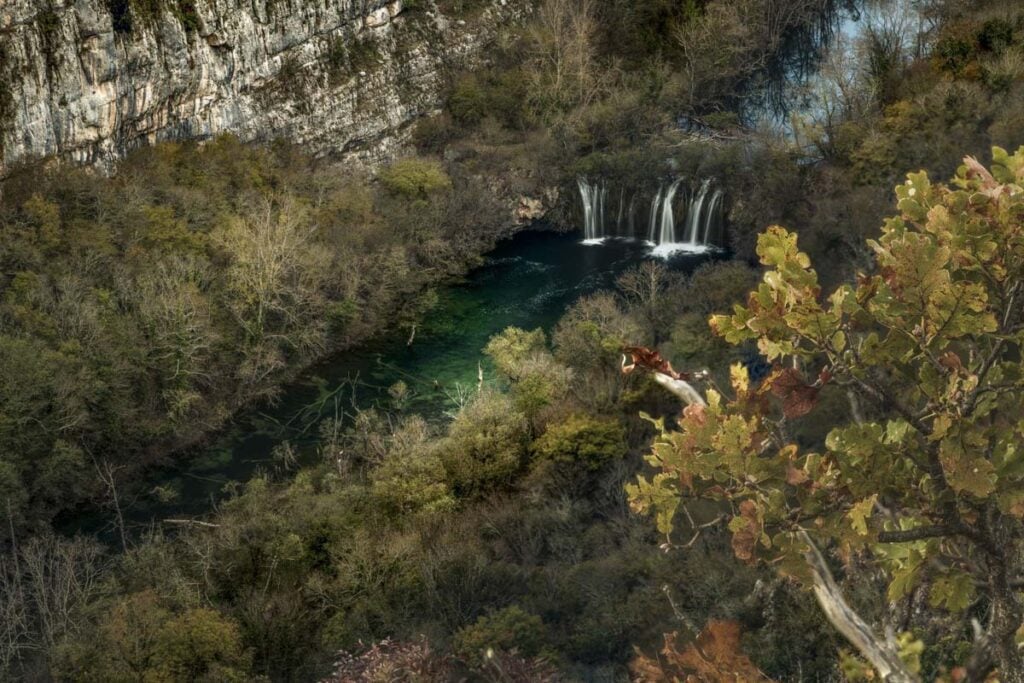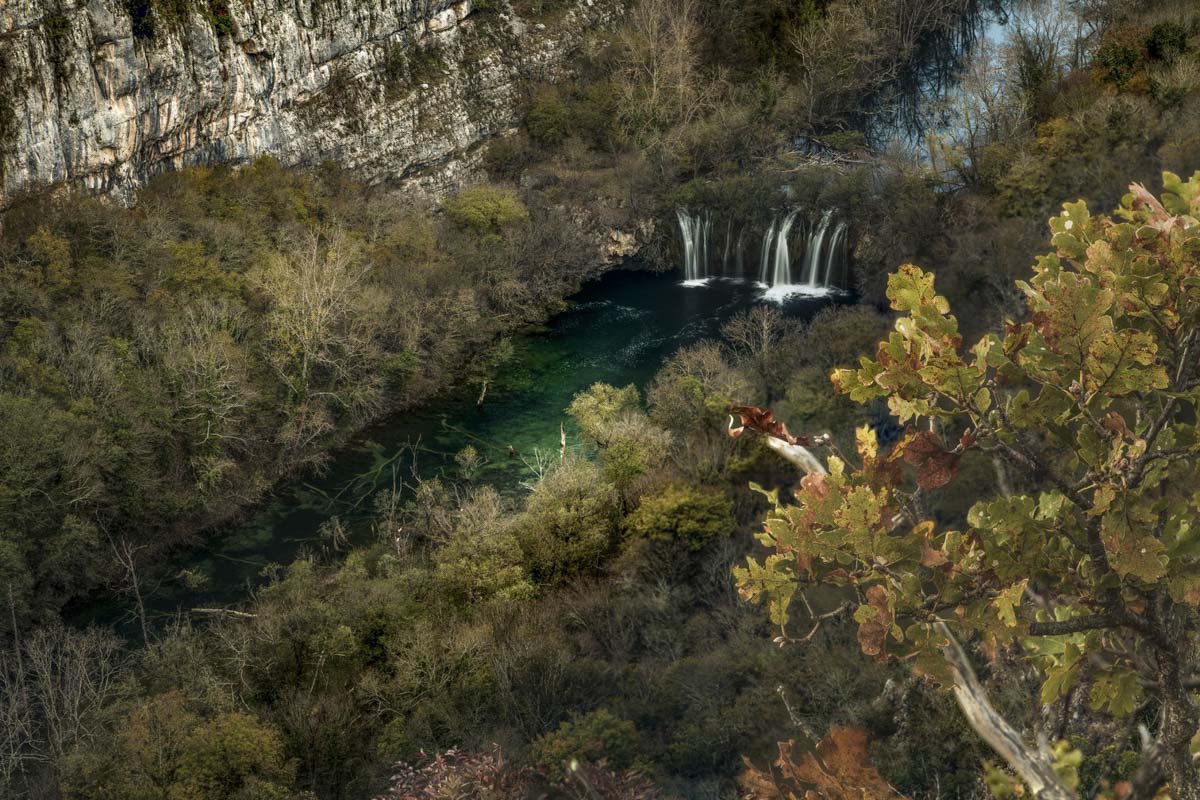 While this waterfall might not be as popular as some of the others within the park, we have a soft spot for hidden gems.
Located near Roski Slap, you take a small (and beautiful) hike through the forest to find this waterfall. You'll be greeted by clear waters cascading over the cliffs and true serenity.
If you want our advice, don't skip this one!
Manojlovac waterfall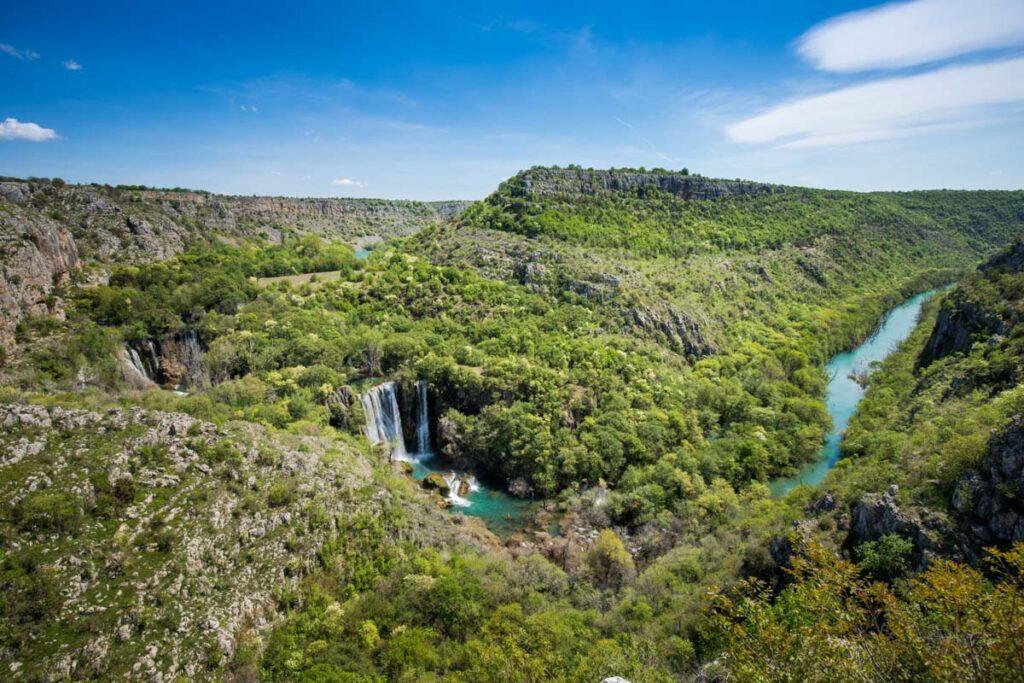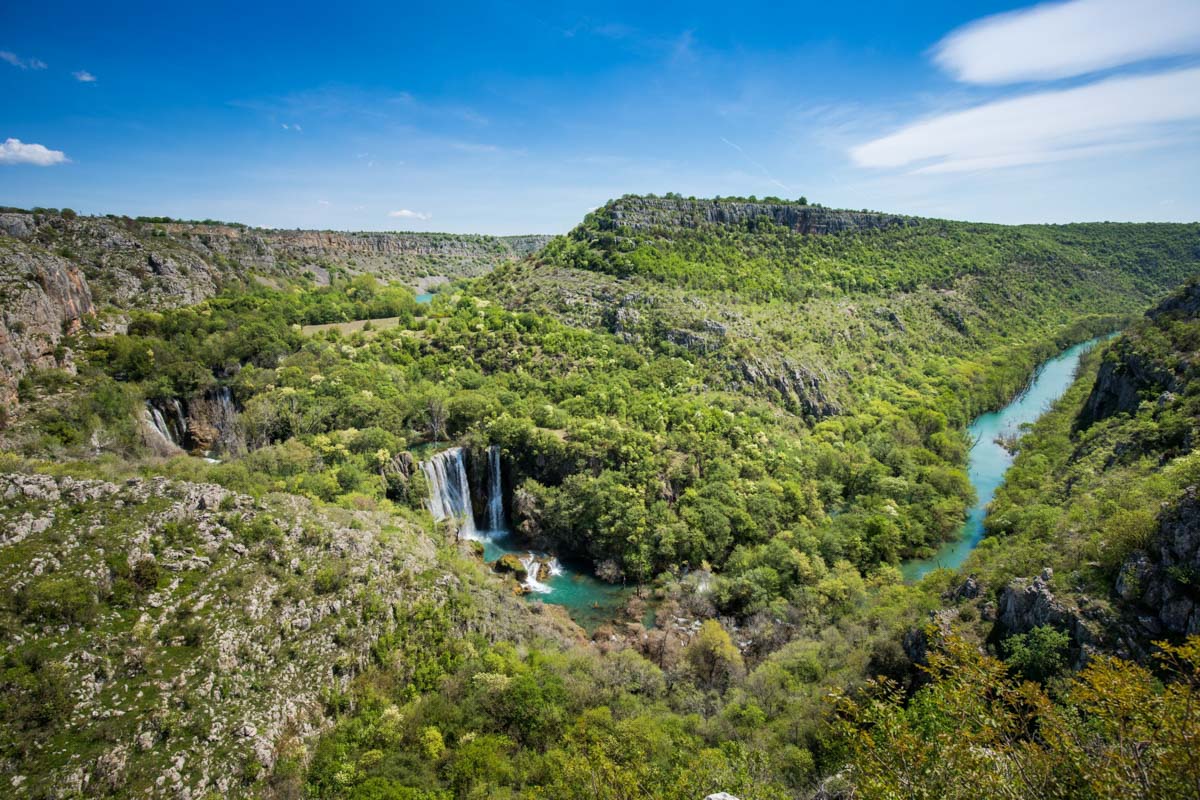 Manojlovac is the tallest waterfall in the park and happens to be located a bit off the beaten path. So if you want to avoid some of the crowds, a visit to this waterfall should be on the top of your travel itinerary.
Surrounded by wildlife, fluttering butterflies and lush forests, this 60-foot waterfall is a must if you're into nature photography or, well, beautiful nature spots in general!
Miljacka slap waterfall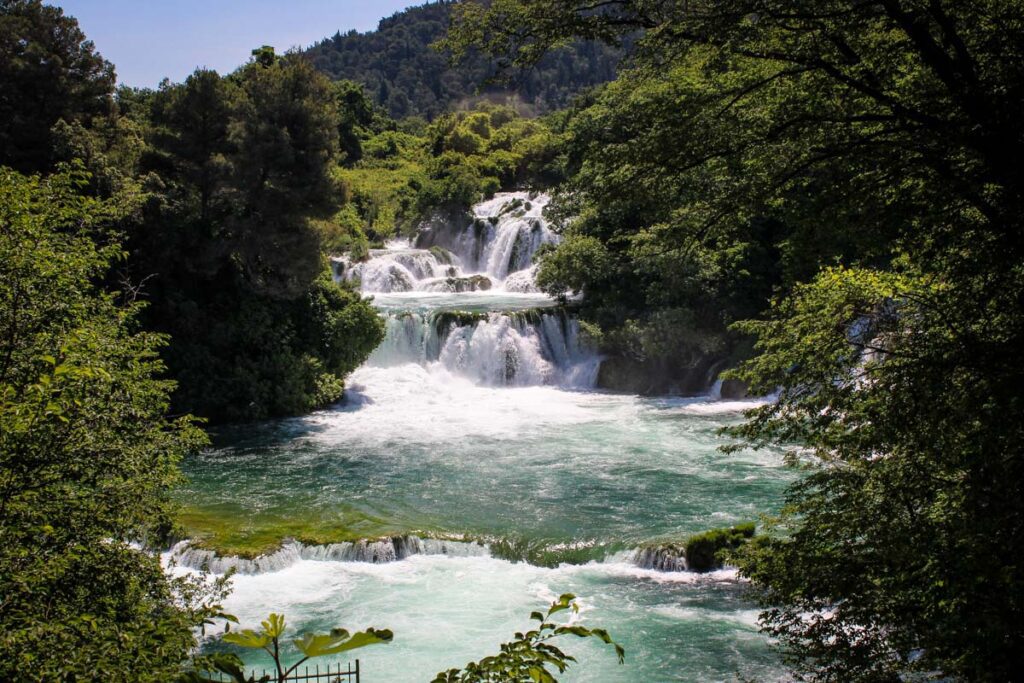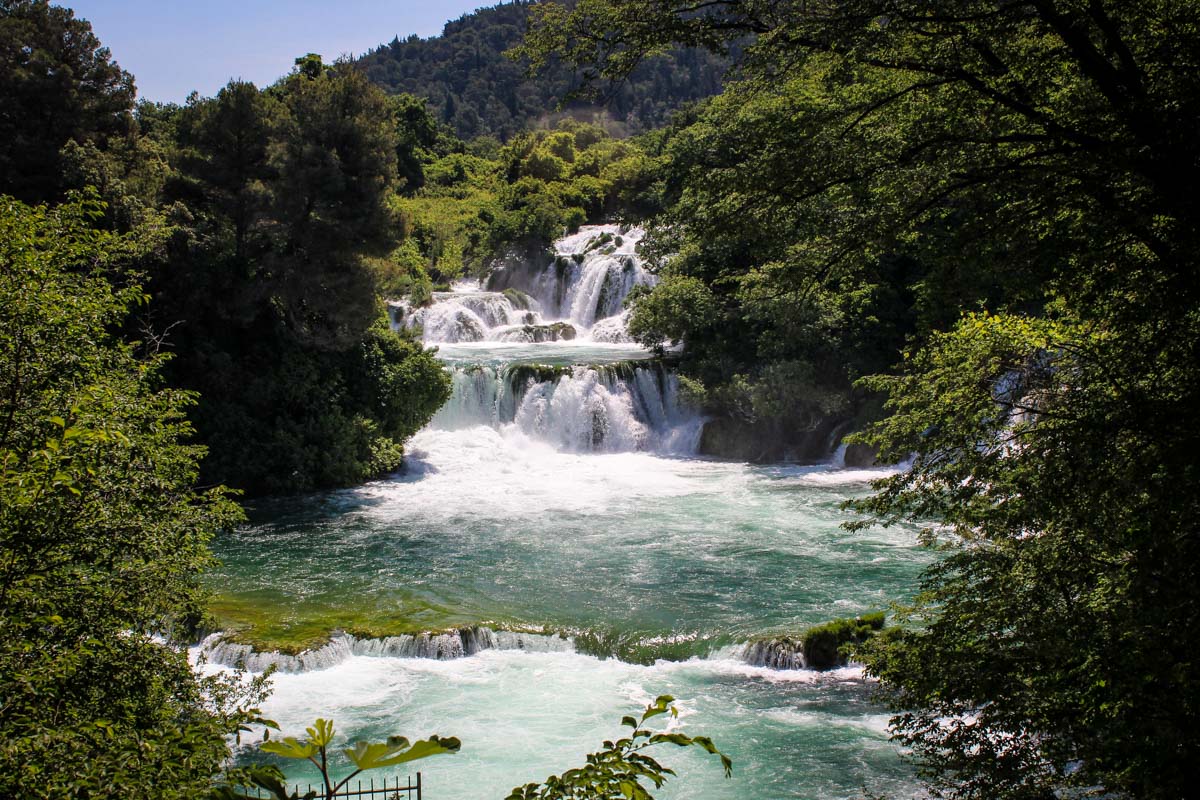 We recommend packing a picnic to enjoy at this spot because the journey there is that perfect. On your way to the waterfall, you'll hike alongside an emerald river and feel engulfed by the verdant forests.
For some reason, Milijacka slap is not as popular as some other waterfalls in the area, which means there is more time for you to admire the waterfall in peace without maneuvering through heaping crowds of people.
Roški slap waterfall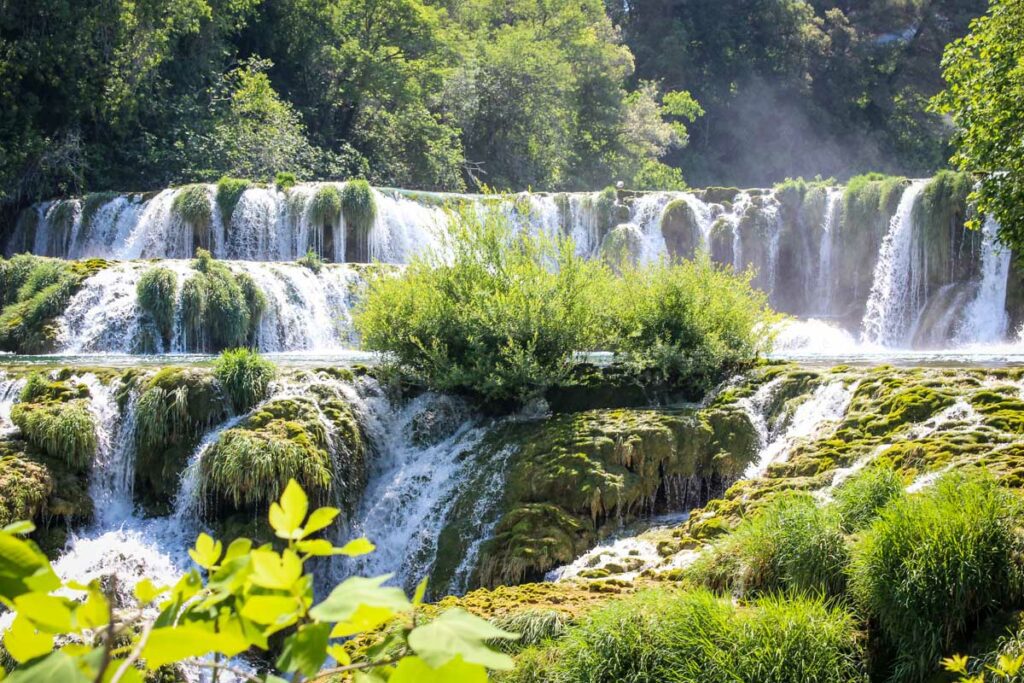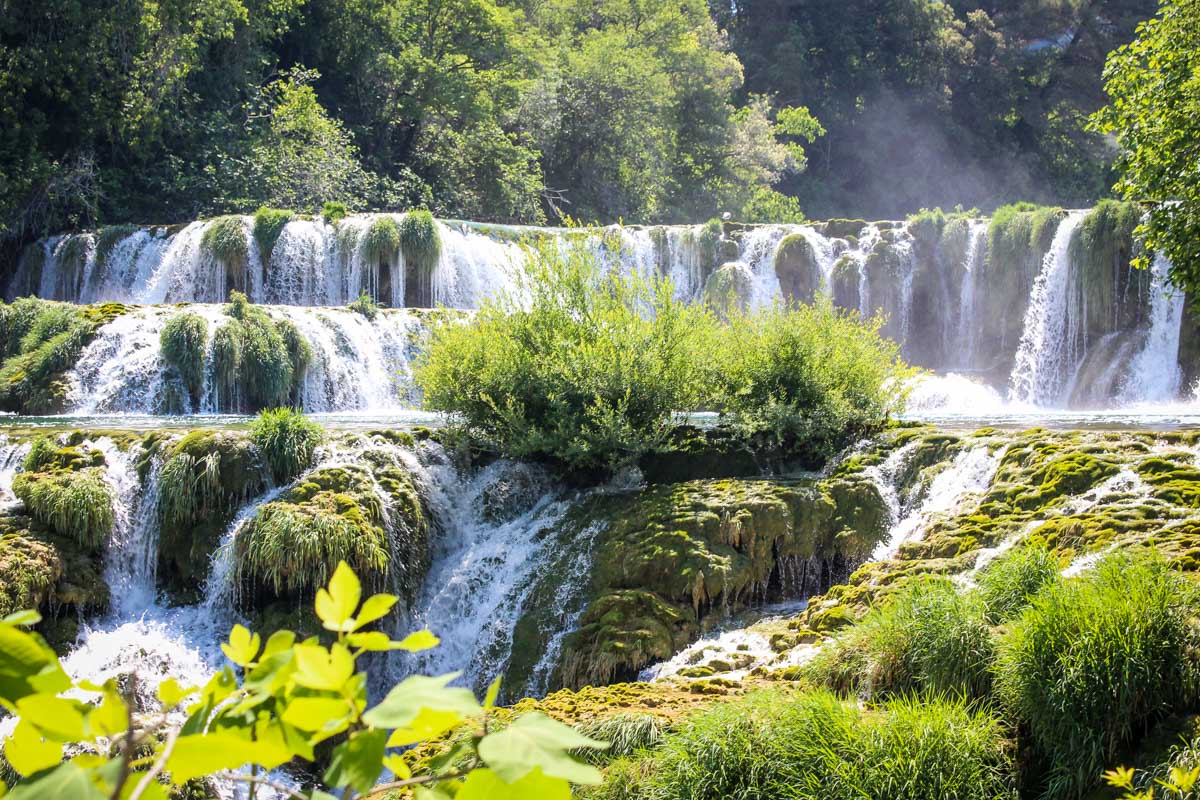 You'll hear the rushing waters from Roski slap before you stumble upon them — and you won't be disappointed.
The hike is somewhat strenuous so be prepared for some steep inclines and hundreds of steps. Aside from the series of waterfalls, there is also a nearby cave for you to explore dating back to the Stone Age.
Roski slap is also one of the designated swimming areas within Krka National Park so we recommend packing your swimsuit to cool off after your hike.
While this is another great picnic spot, there is also a restaurant nearby to grab a bite to eat.
Bilušića buk waterfall
Bilušića buk is the first waterfall in the Krka River, just 16 km (about 10 miles) from the source. This powerful falls drops from a heigh of 22.4 m (nearly 75 ft)!
Surrounded by lush sub-Mediterranean vegetation, the area is also home to several mills and speleological structures.
Other things to do in Krka National Park
Aside from checking out the network of waterfalls within the park, there are numerous other activities to do and sites to see.
Visit Visovac Island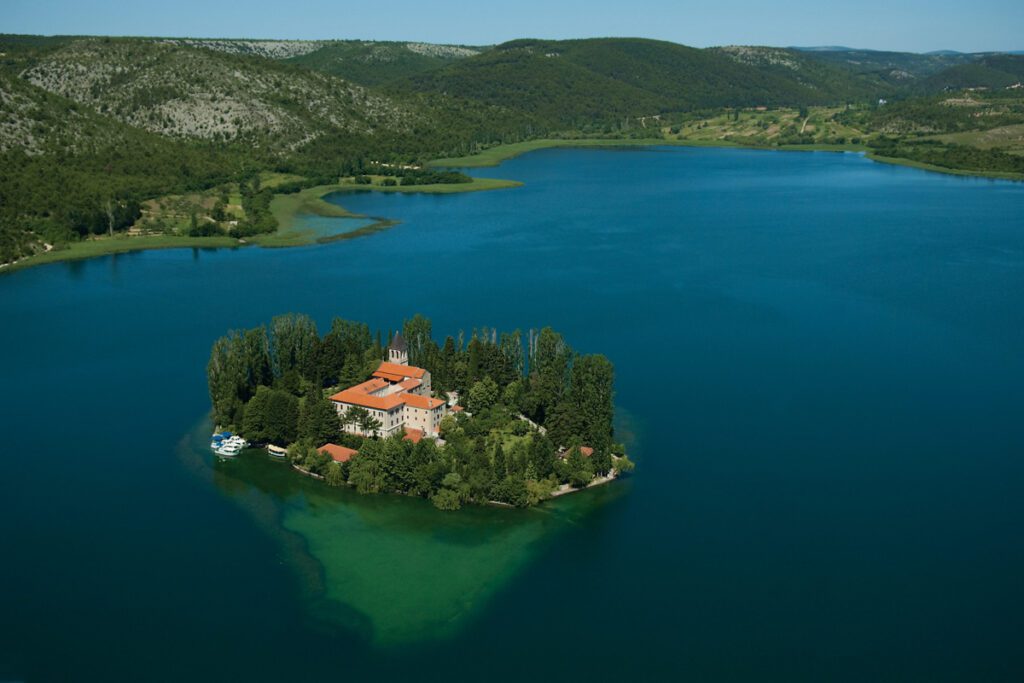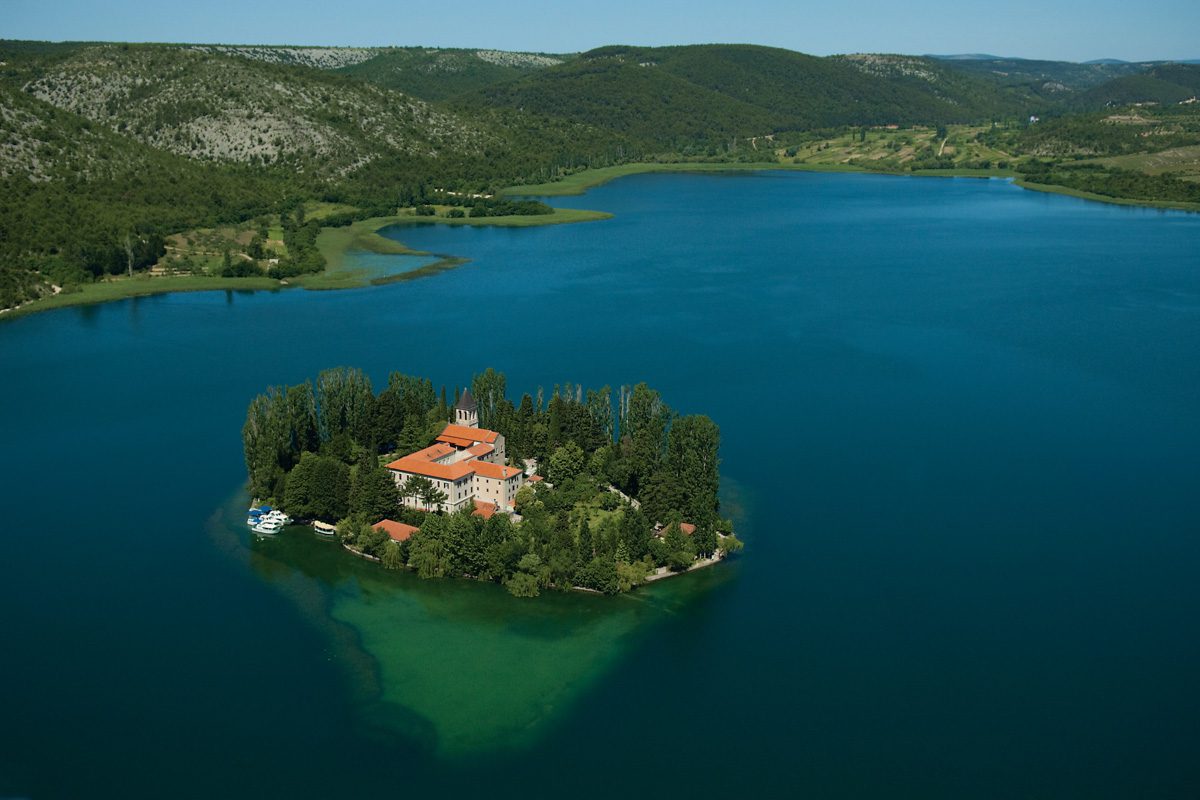 If you're a fan of history, you must hop on a boat and cross the Krka River to Visovac Island, home to a Fransiscan monastery from the 15th century. Take in the artifacts, culture and explore the flourishing gardens.
Near the visitors center, climb the stairs to reach the Visovac Island viewpoint which offers outstanding views of the surrounding national park.
Tour Burnum camp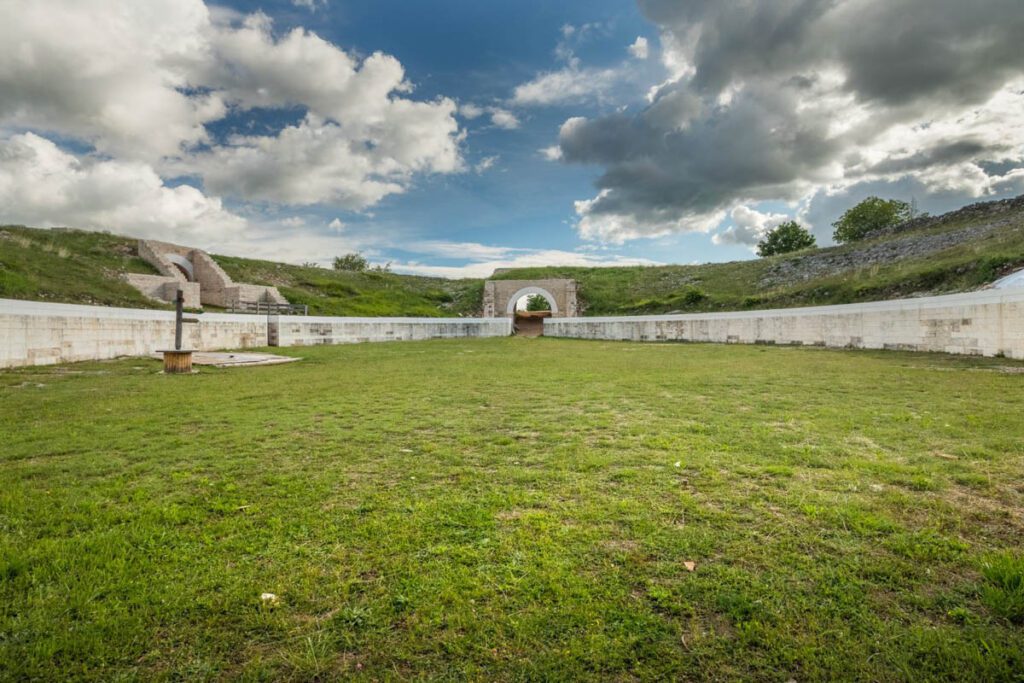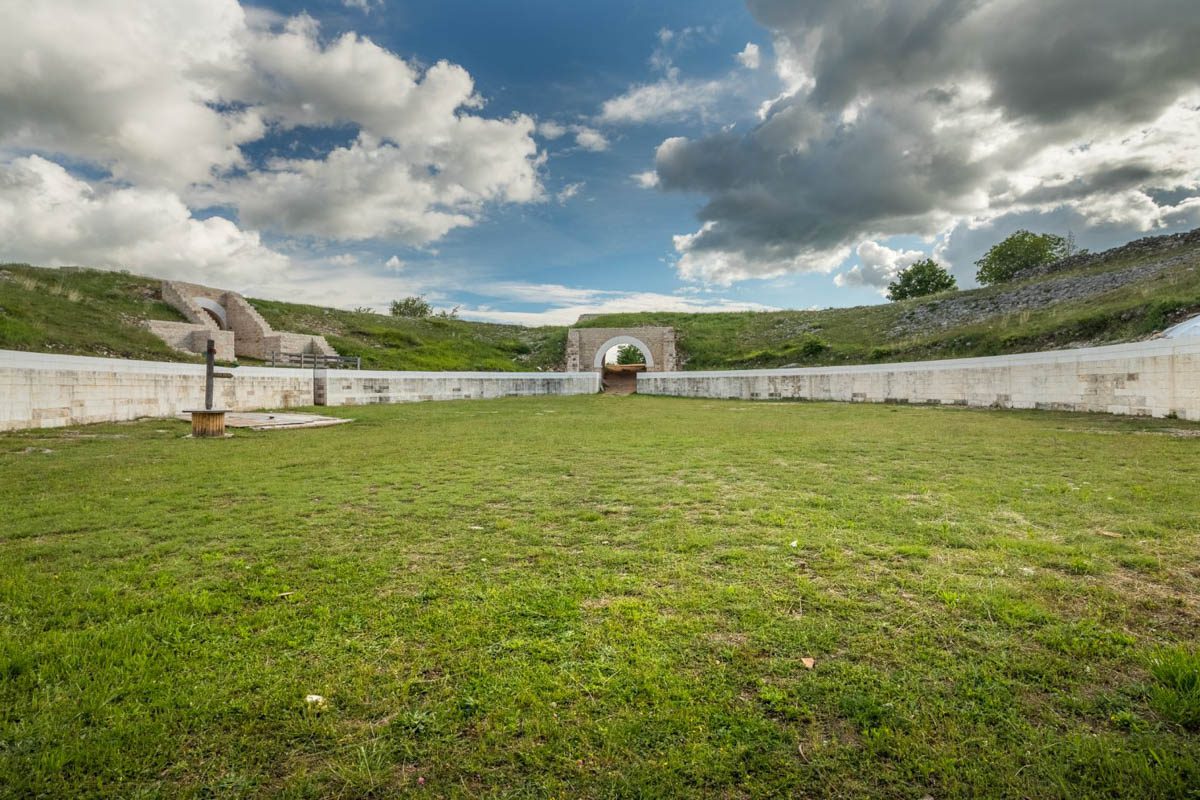 Looking for a peek into prehistoric times? The Burnun camp is a historic ancient site that offers you the chance to get up close and personal with the real-life Roman military camp, Burnum.
Not only was this place used by the military, archaeologists have discovered that it was also a place in which ancient people traded goods and services.
Upon visiting, you can explore the walls, gates, camp and headquarters of Burnum. There is also a museum that showcases weapons, currency and pottery.
The Lozovac entrance is the most convenient way to reach Burnum and there is an additional fee of 4 euros / $4 USD.
Sample some Dalmatian cuisine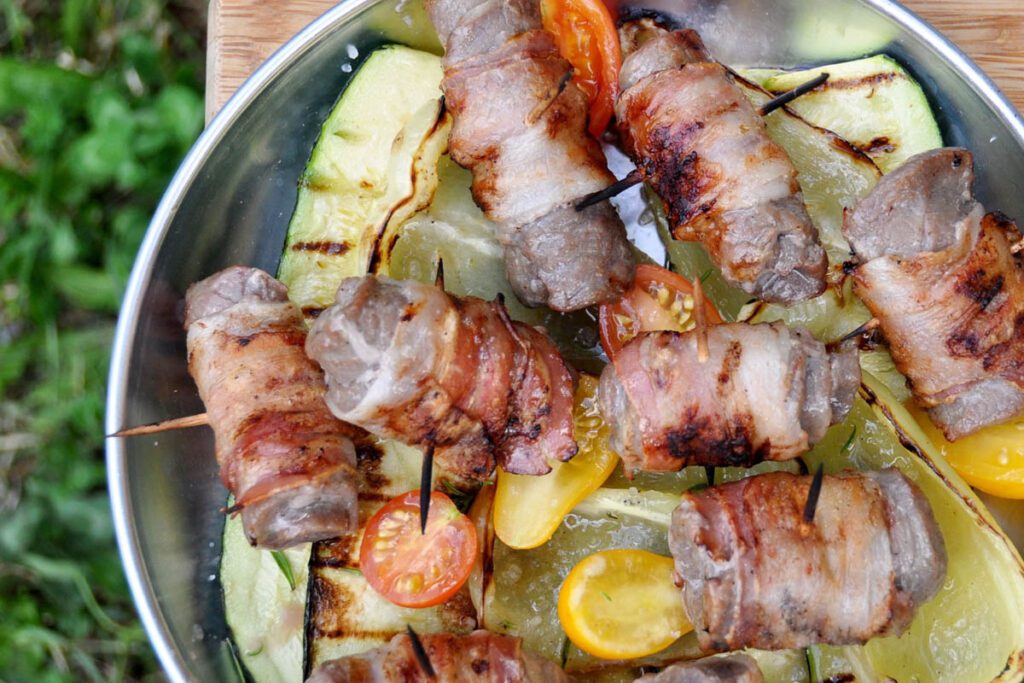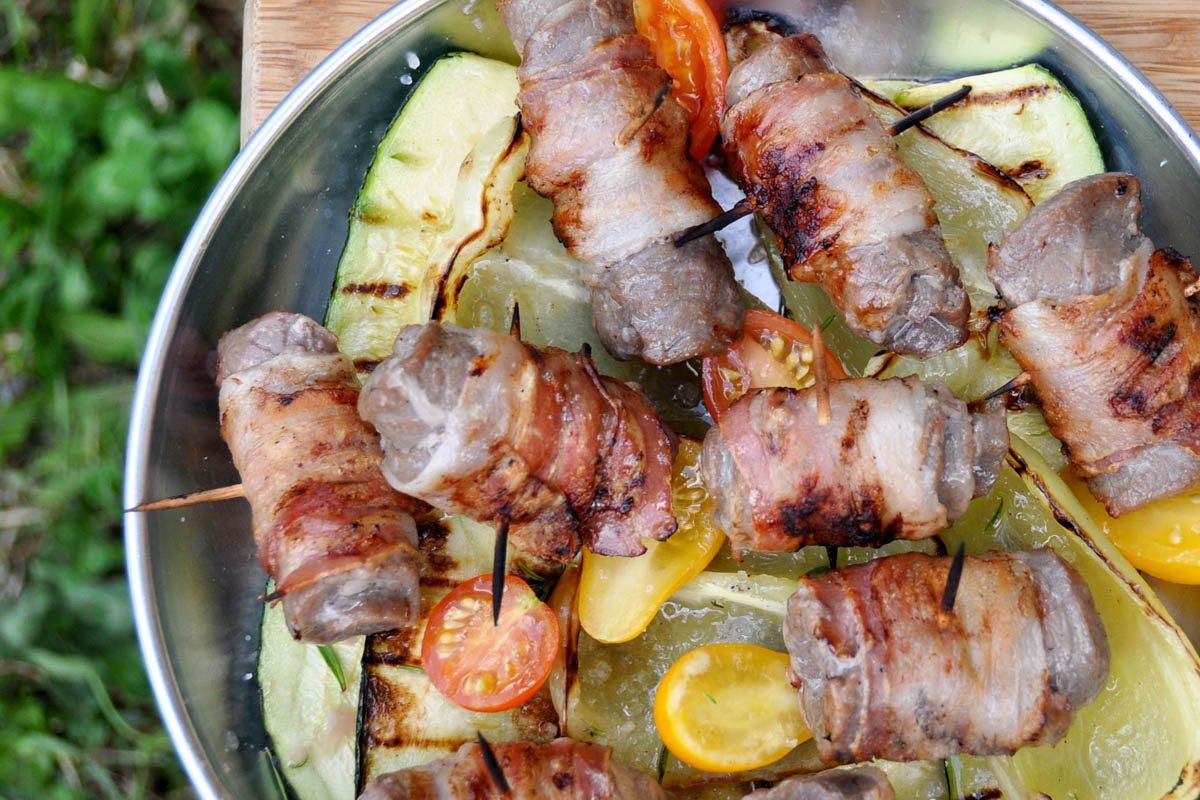 We are huge fans of packing our own picnics when we travel. However, there are loads of restaurants within and just outside of Krka National Park serving delicious, local Dalmatian cuisine that you might want to take advantage of because … why not!?
The people of Dalmatia have a rich cultural history so it isn't any surprise that their food is iconic as well.
Famous for their seafood, fresh veg and mediterranean flavors, you'll likely be drooling over every dish.
Some popular dishes to try: Fritule, Pasticada and Peka.
Enjoy a hike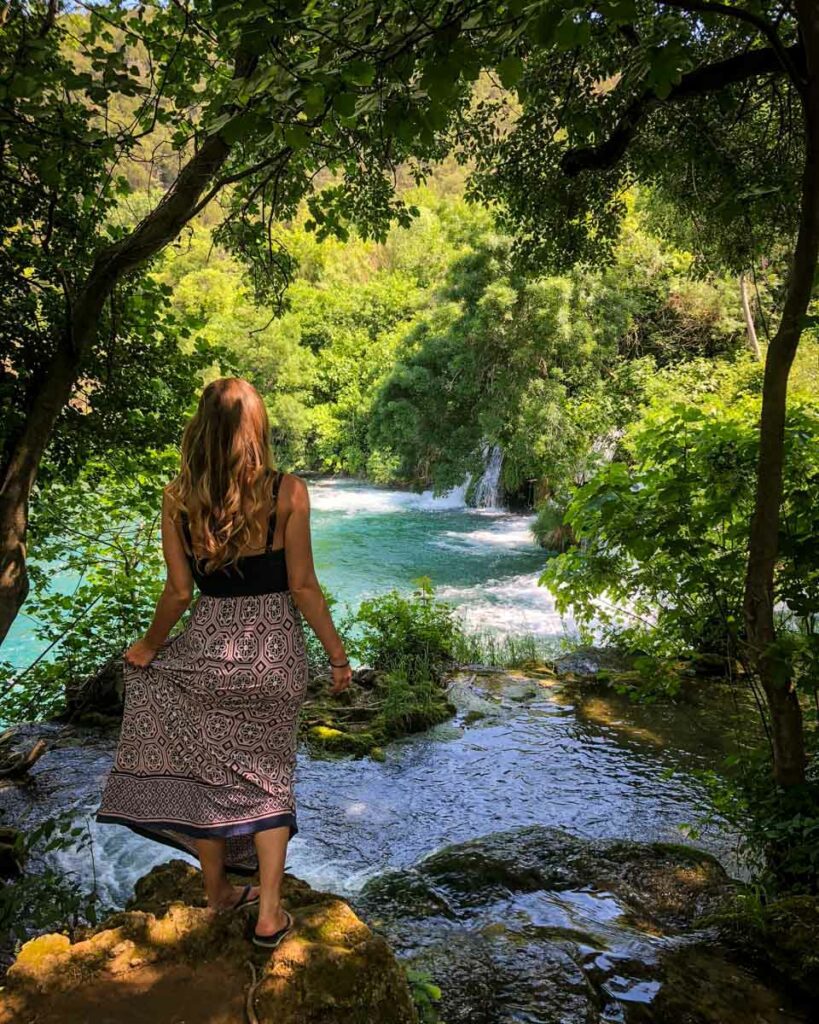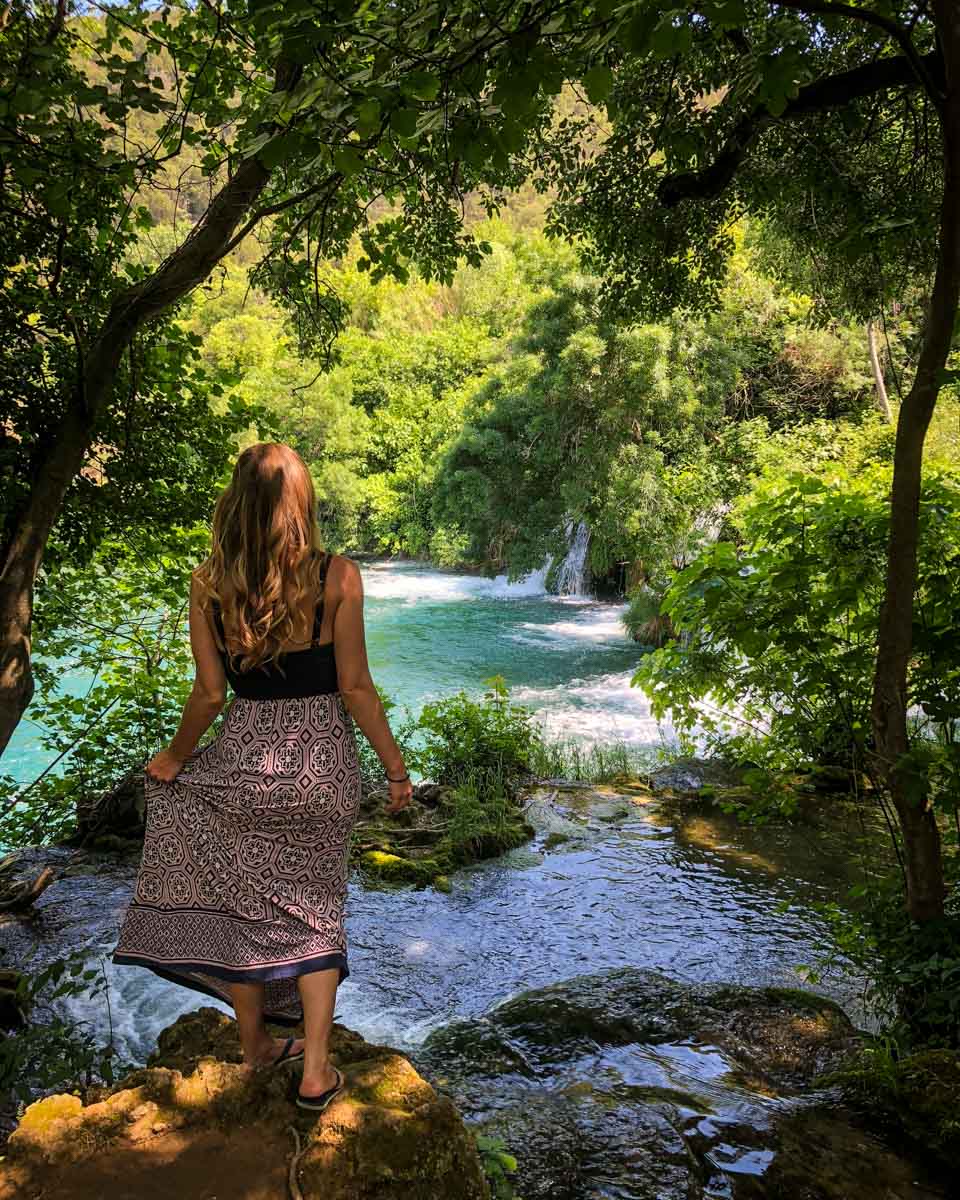 If you know us, you know we absolutely love a good hike. And there are sooo many trails within Krka National Park we almost don't know where to begin.
Nearly every hike within the park is easily accessible, well-marked and often offers you views of natural forests, cultural heritage and cascading waterfalls.
You can absolutely attempt each hike on your own because the trails are accessible and well-marked, but the park also provides guided tours if you're interested in learning more about the surrounding area.
Take a boat tour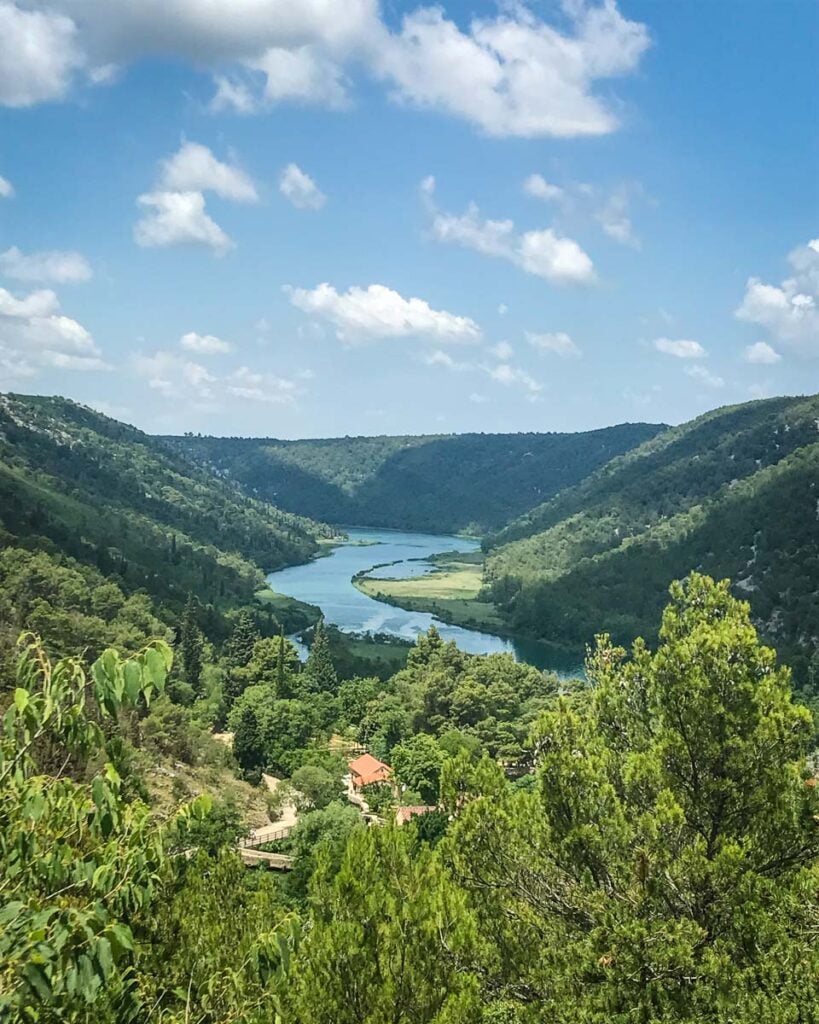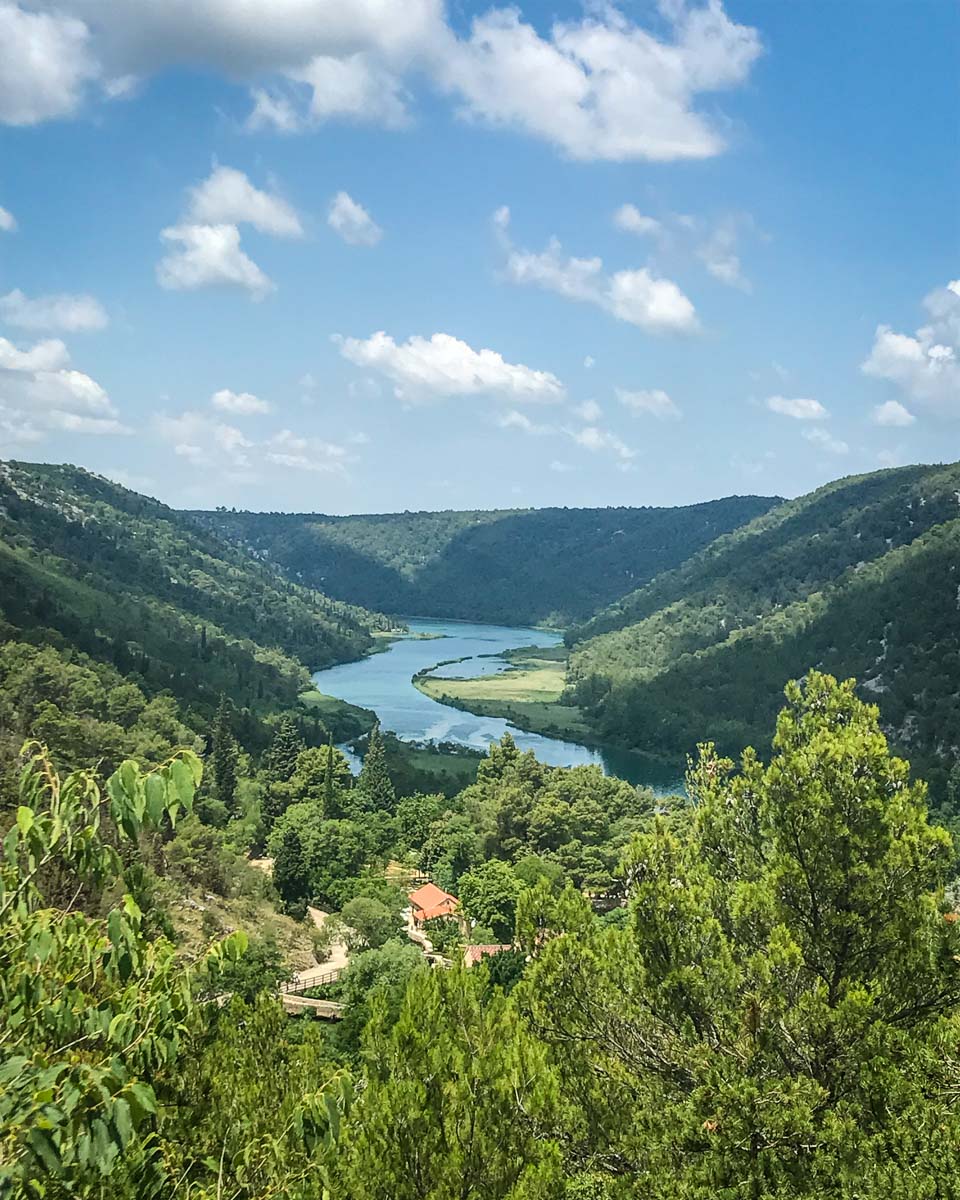 One really cool way to explore Krka National Park is via boat. It'll offer you the opportunity to cruise the coastline and witness some of the stunning waterfalls from a unique vantage point.
There are numerous boat tours offered through the year, but definitely book in advance since these can book out quite quickly.
If you want to get close to the famous Skradinski Buk, take the Skradinski Buk Boat Tour.
Krka Canyon Boat Tour allows riders the opportunity to see some of the magnificent lime-stone walls and historic sites within the park.
Visovac Boat Tour takes you to the remote island of Visococ where you can explore the ancient monastery and quaint town.
Visit the Entho Village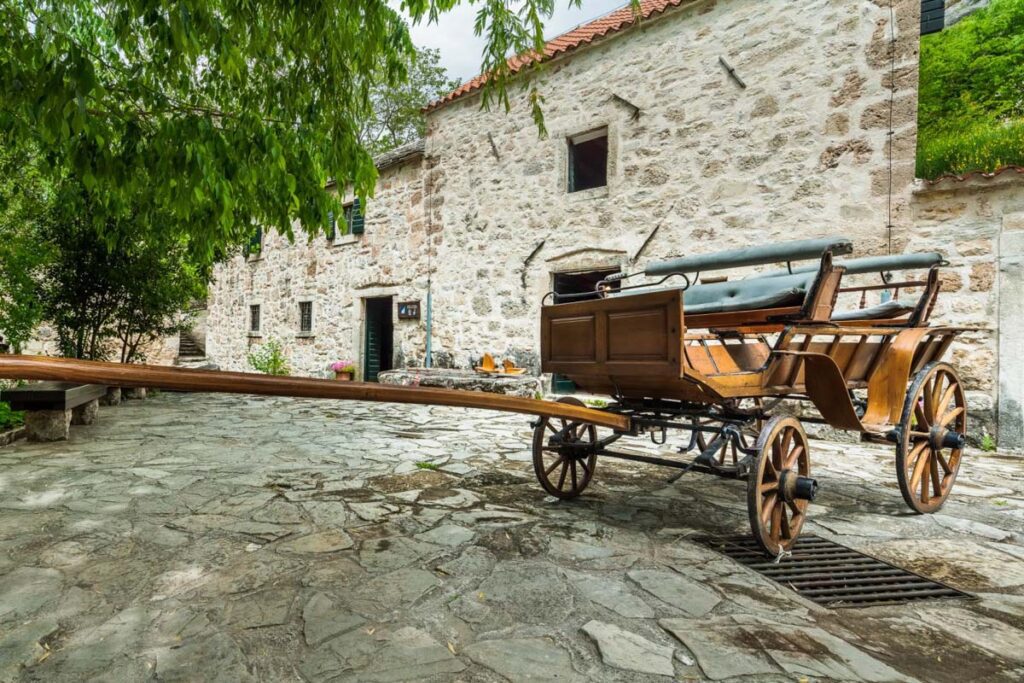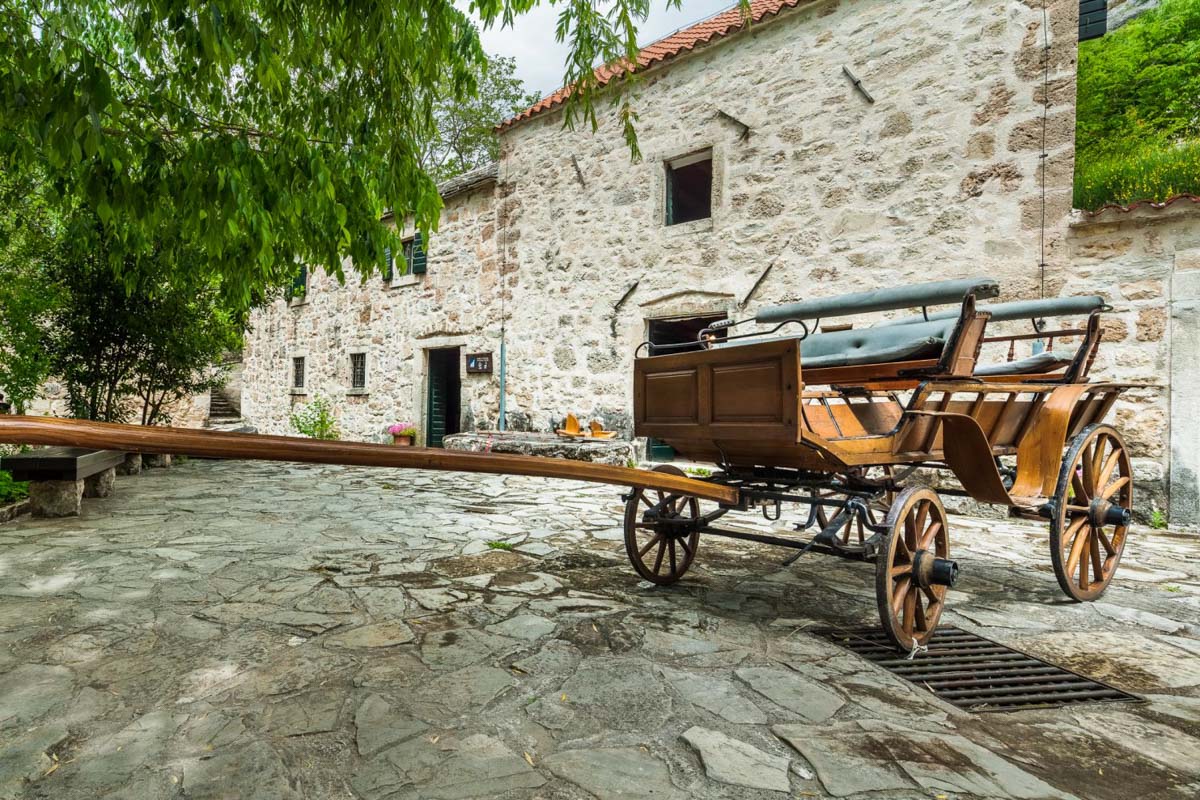 Something that really makes Krka National Park stand out is its cultural heritage. Yes, it is home to outstanding waterfalls, but it is also filled with some of the most vivid history sites in all of Croatia.
A visit to the Entho Village is totally doable paired with a hike or boat trip to the Skradinski Buk waterfall.
This village offers visitors a look into Dalmational life — you can even try your hand at weaving or pottery while visiting.
Feeling hungry? The village offers a variety of restaurants specializing in Dalmatian cuisine so come with an appetite.
Explore Ozidana Pecina Cave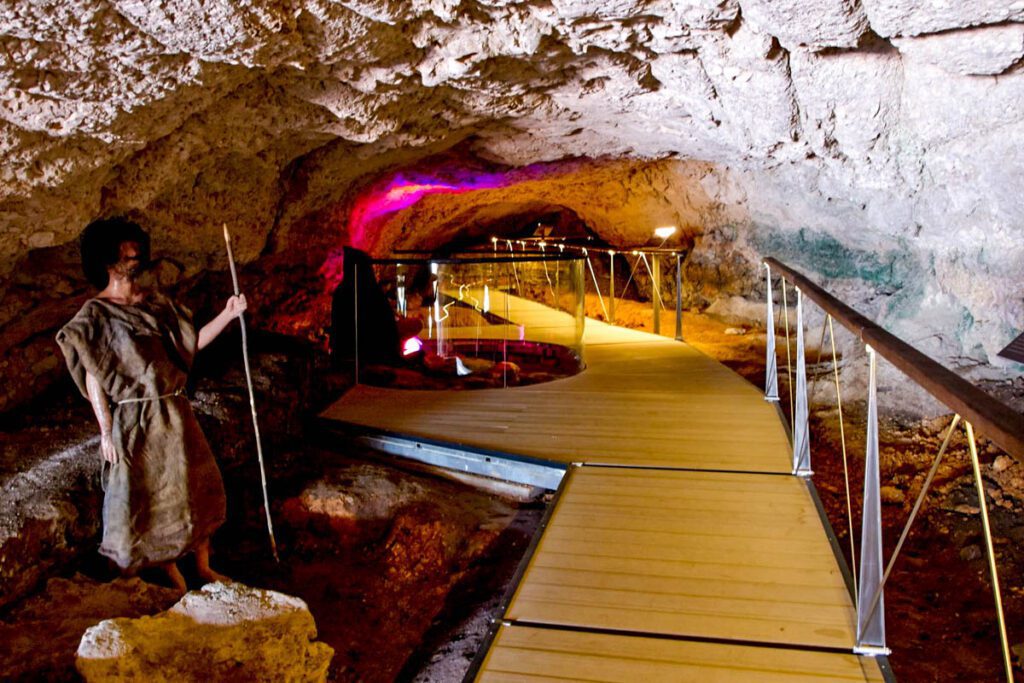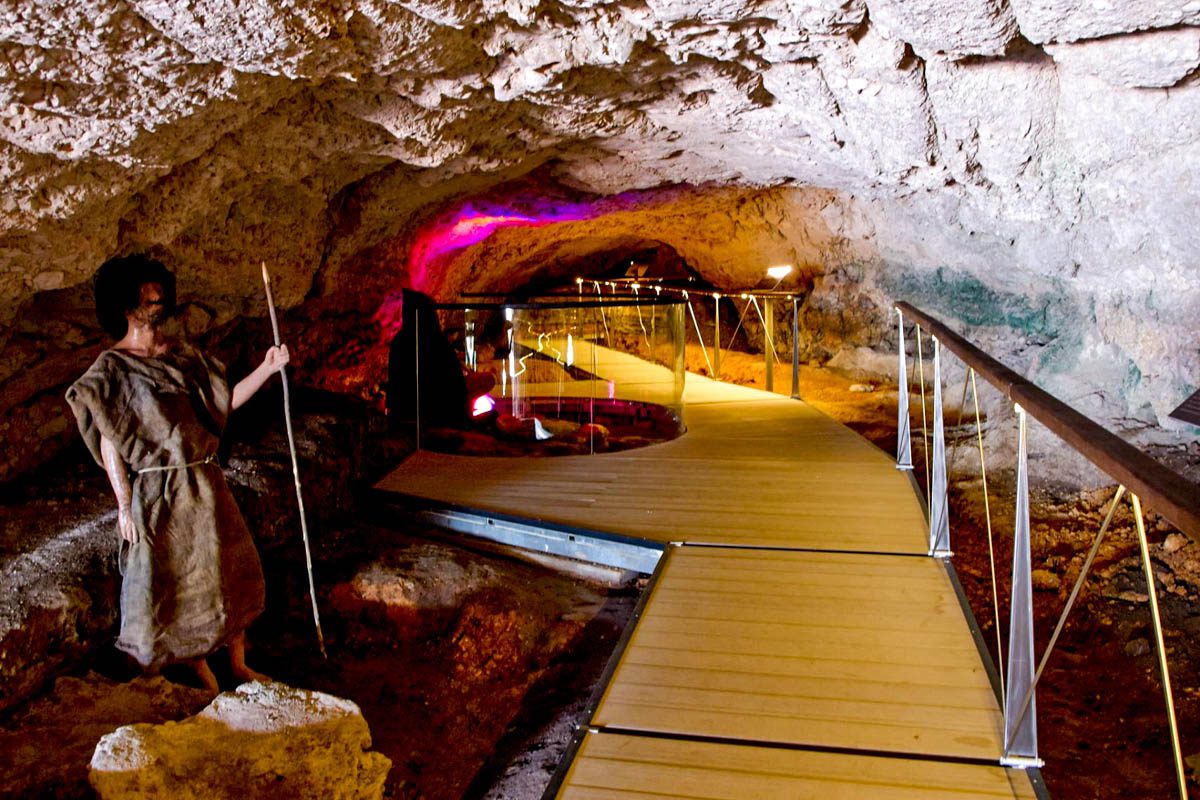 One slightly underrated part of Krka National Park is the Ozidana Pecina Cave.
If you're traveling on the east-side of the park, exploring the cave is a must-do. The formations and energy of this cave are really noteworthy.
It's best to explore with a guide who can offer additional information about the cave's history and geology.
Cool off with a swim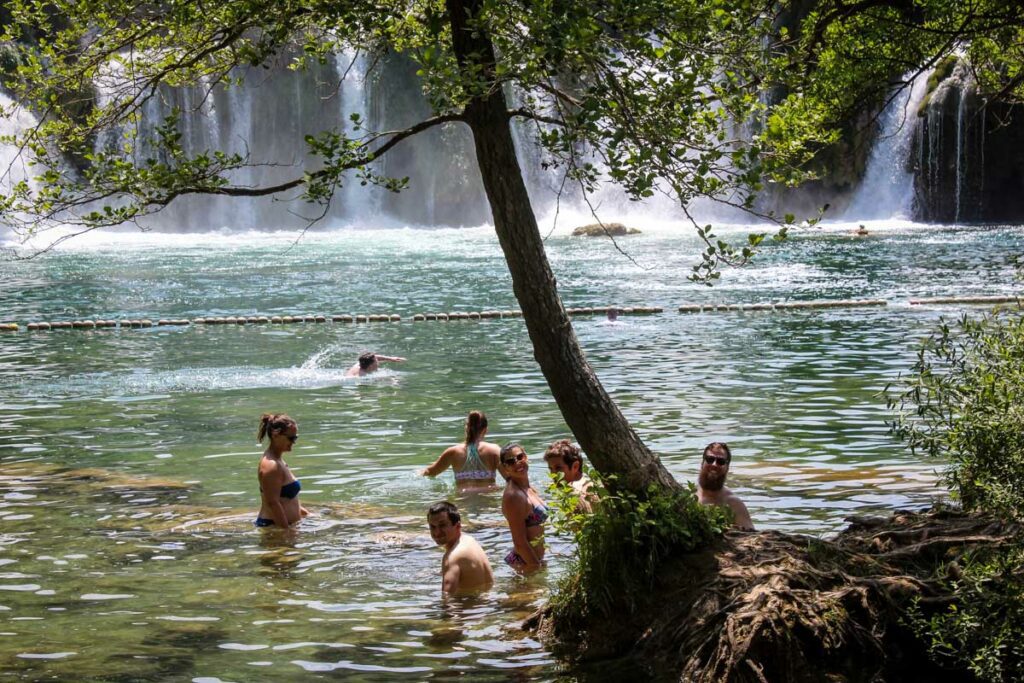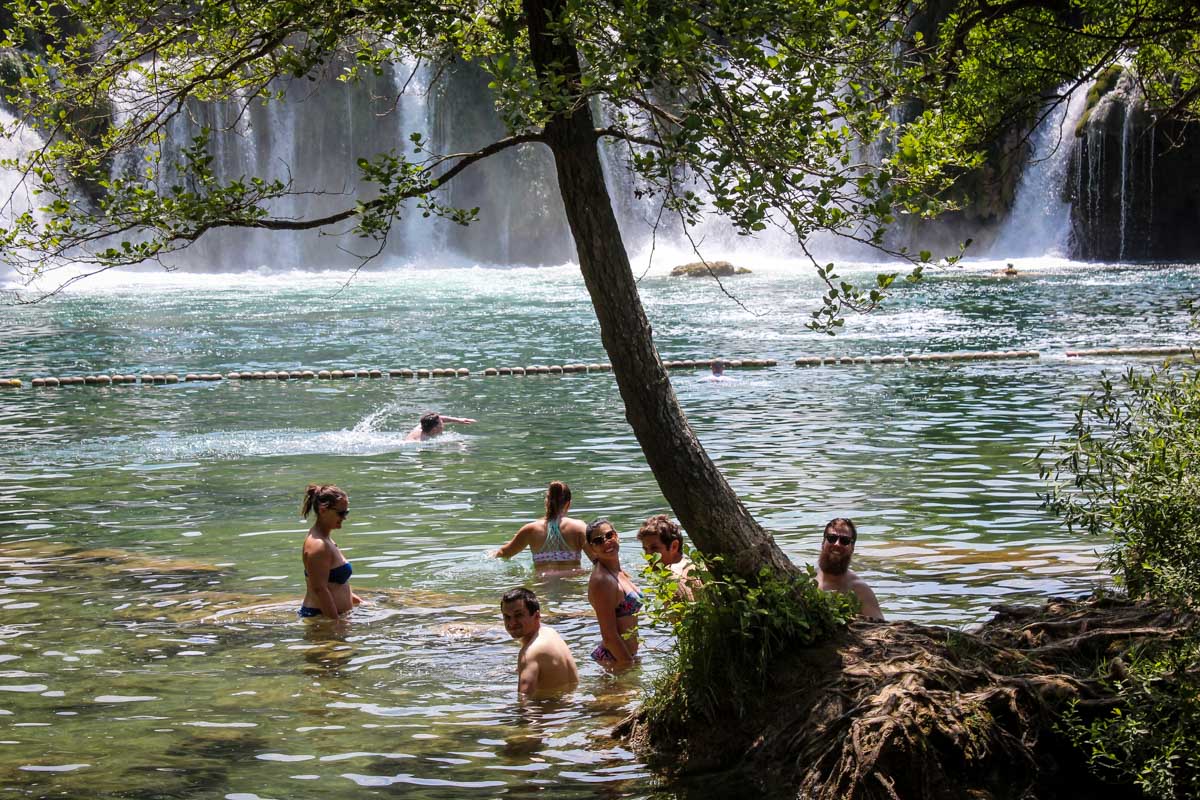 One of the downfalls of Krka National Park is you cannot swim anywhere you like. This is a bit of a bummer because every pool you come across looks really inviting (especially in the summer heat!).
With that being said, the bans on swimming are to protect the area from pollution so while it might be tempting to hop in … it's for the greater good to resist.
However, there are a few areas within the park you can still swim, such as: Remetic, Pisak and Roski Slap. In addition, the nearby town of Primosten has a lovely swimming area.
Visit Krka Monastery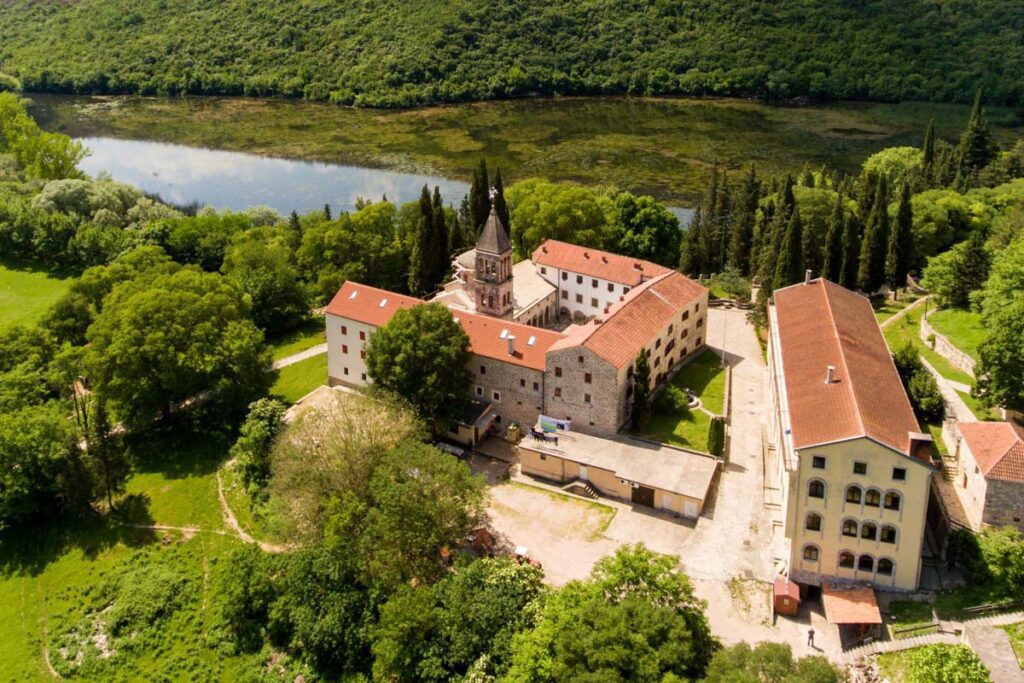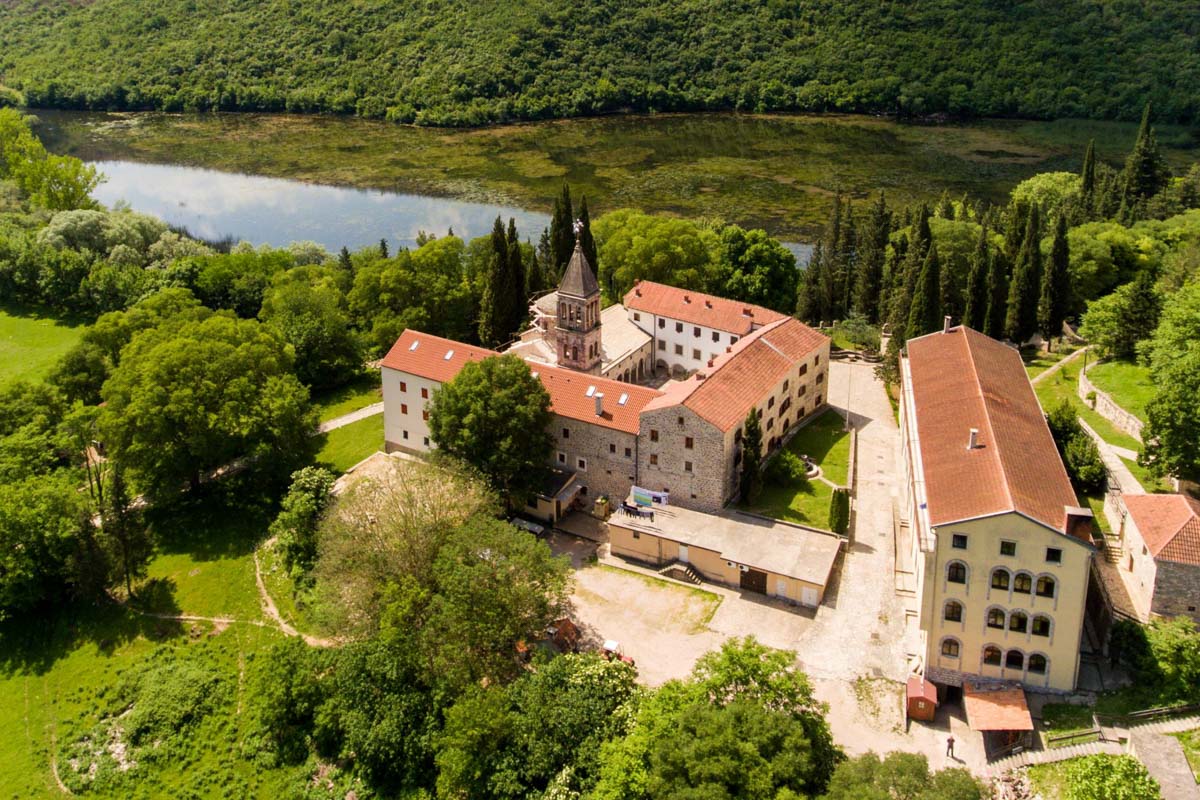 This is a gorgeous place to visit which you can easily access the Krka Monastery by boat from Skranskinski Buk.
Here, you'll have the opportunity to explore the ancient religious items in the museums as well as the local church and restaurant.
This church is still an active place for locals to worship so if you're visiting, please be sure to dress and act appropriately.
Getting around Krka National Park
You can explore the scenic views of Krka National Park by foot, bike or boat.
One of the best ways to explore the park is using your own two feet. There are numerous trails to choose from that range in length and difficulty level. Use AllTrails to find one that suits you, or check out the well-marked signs within the park.
Krka National Park is super bike-friendly. If you'd prefer to cruise around the park, you can either bring your own bike or rent one. This is a great option if you're looking to cover a lot of the park in a short(ish) amount of time.
You can also explore the beauty of the park's nature and wildlife by boat. Check out the stunning sites and as you cruise past popular areas such Skradinski Buk and Roski Slap. Boat tours allow you to explore nooks and crannies that you might not be able to access otherwise.
Best time to visit Krka National Park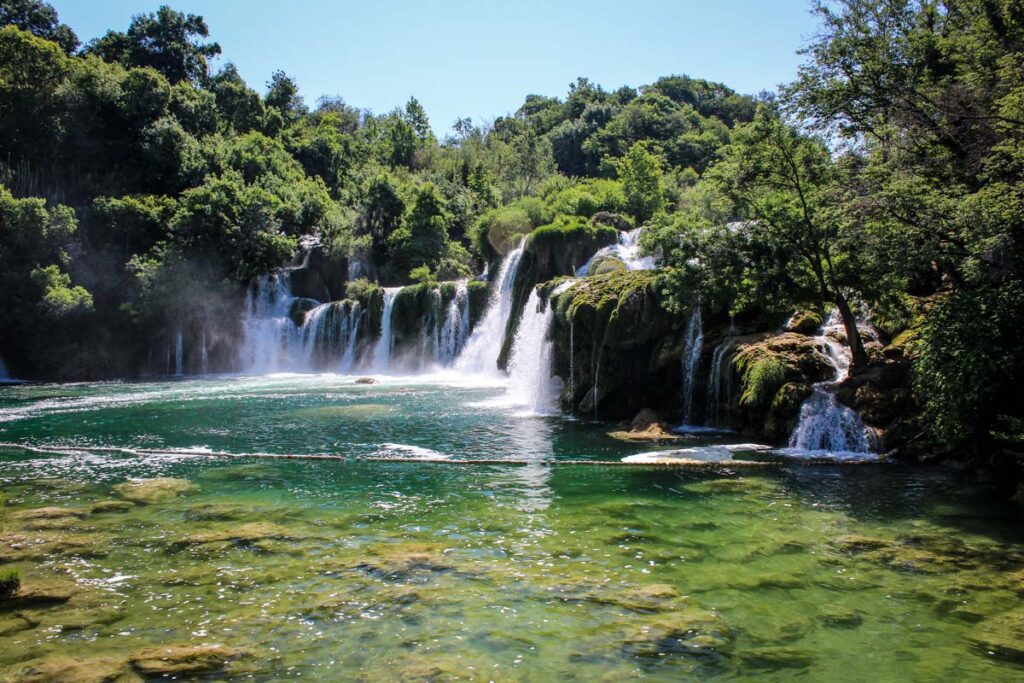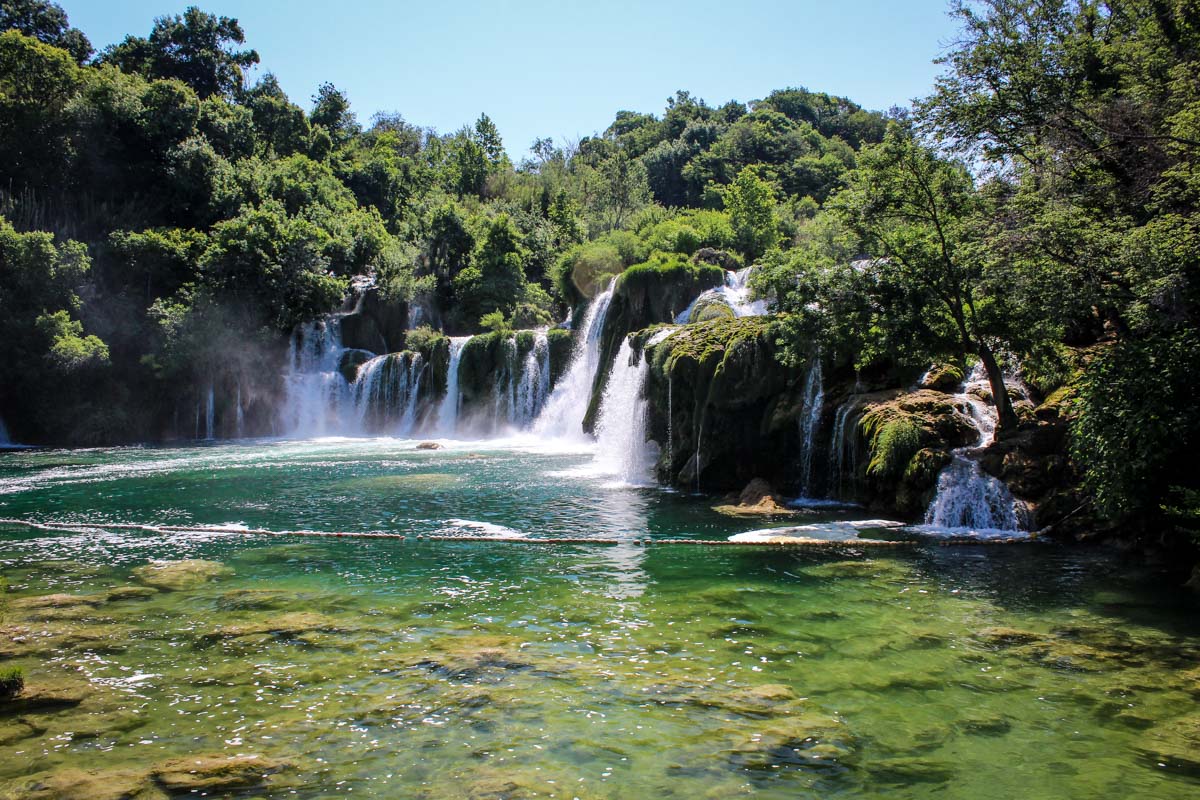 Krka National Park is open-year round, but the hours do vary depending on the season.
There are two 'ideal' seasons to visit the park — spring (April & May) and fall (September & October). Traveling during these months will offer you some of the best weather, vibrant colors and the smallest crowds.
Although it'll be much more crowded, summer (June – September) is also a great time to visit as you'll be welcomed with gorgeous weather and natural vibes. You'll especially welcome a dip into the designated swimming areas during this time as well.
Looking for something truly unique? Visit Krka National Park during the winter. As if almost stopped in time, you'll experience the glistening waterfalls and lakes as they freeze over.
Where to stay near Krka National Park
Since choosing the right accommodation can make your trip to Krka National Park even better, we've created a short list of some great places to stay near the park.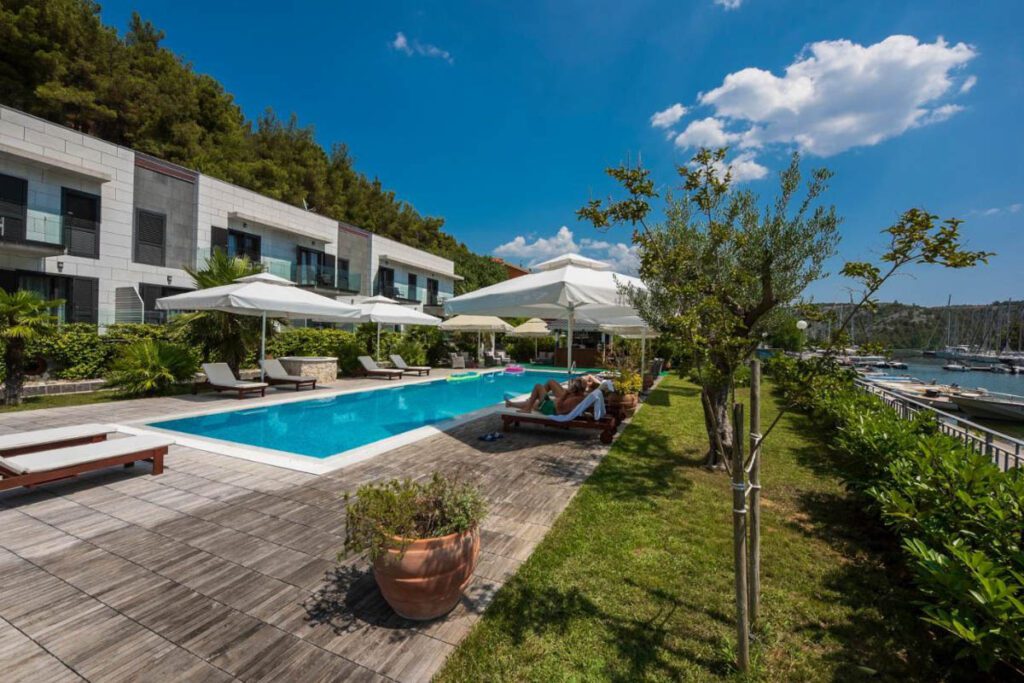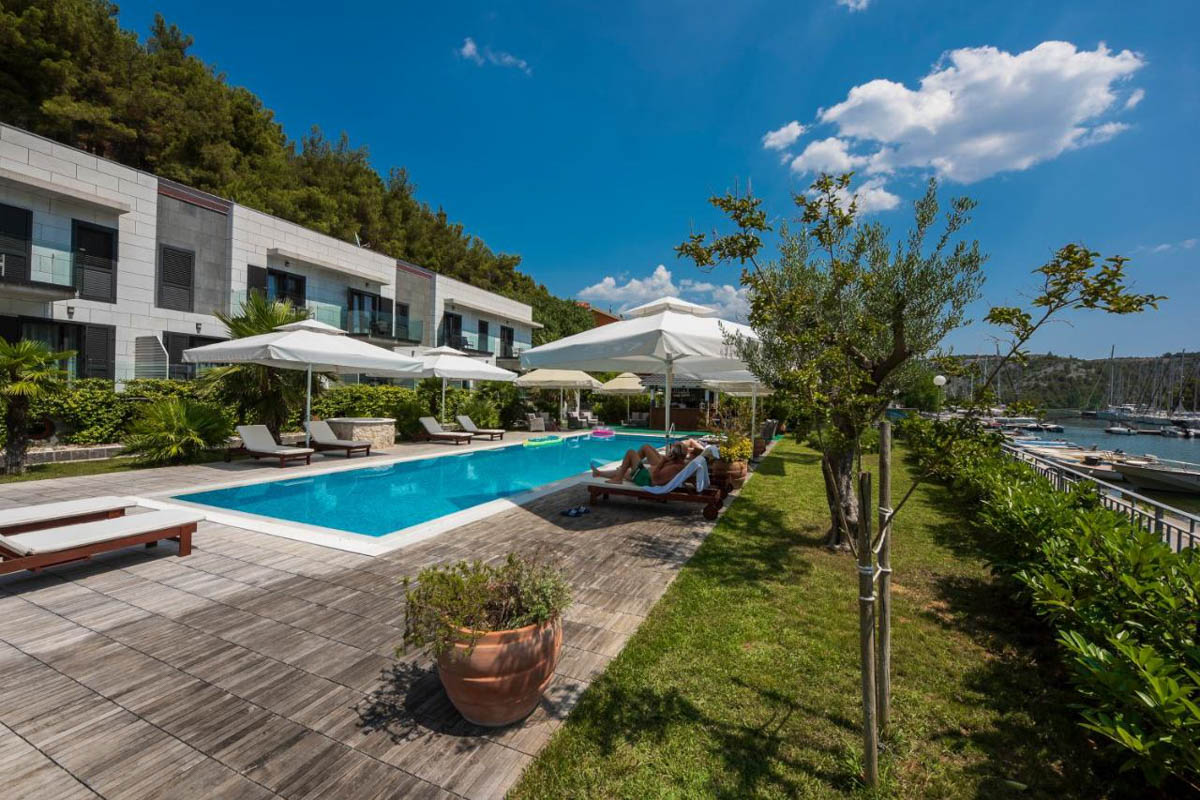 Bonaca Hotel: Located just a mile from Krka National Park in Skradin. It offers terrific views of the town and a refreshing pool which is perfect for cooling off after a long day of exploring.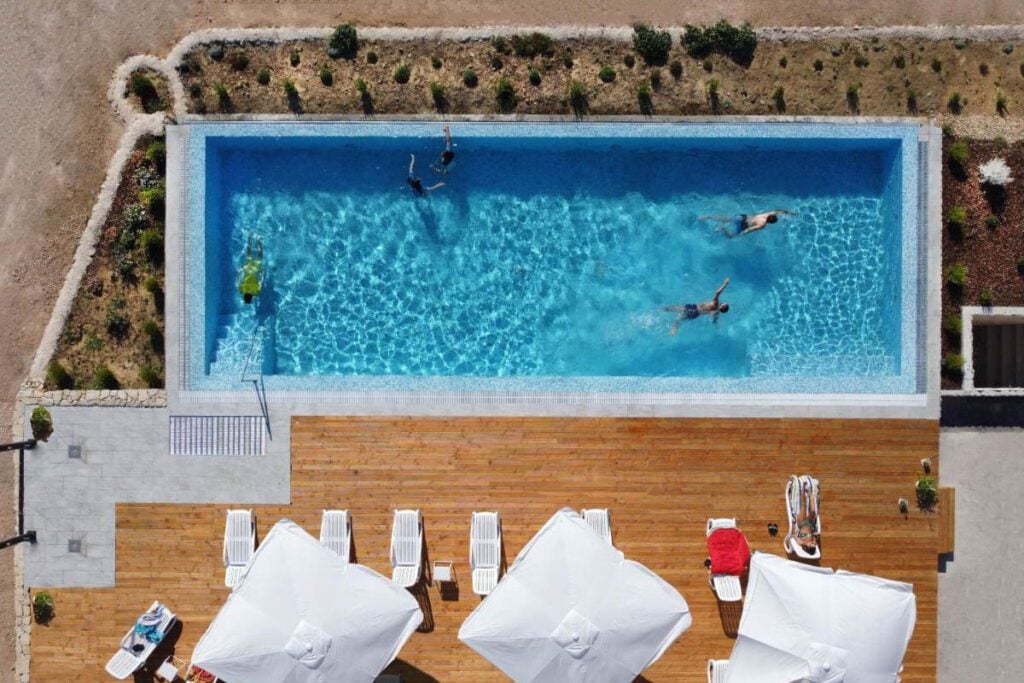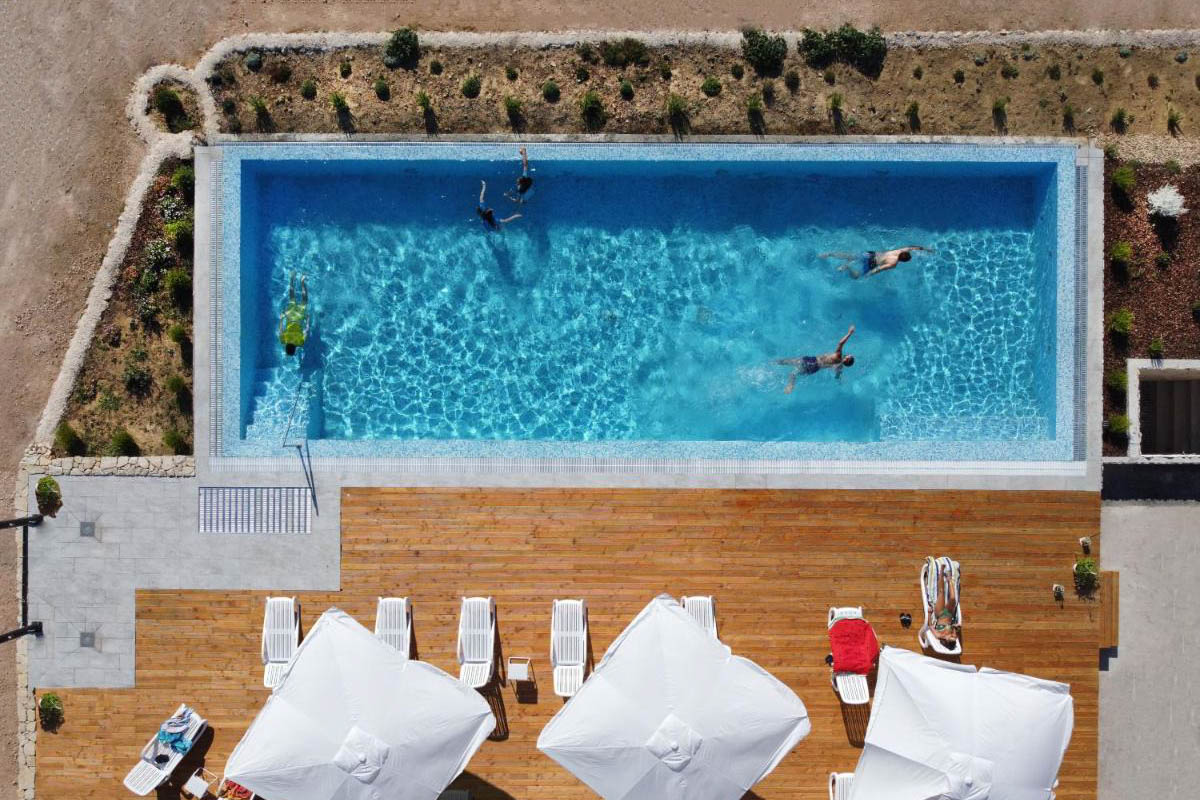 Hotel Vrata Krke: Just a hop away from the Lozovac entrance, Hotel Vrata Krke offers Dalmatian-inspired decor as well as a sauna to enjoy.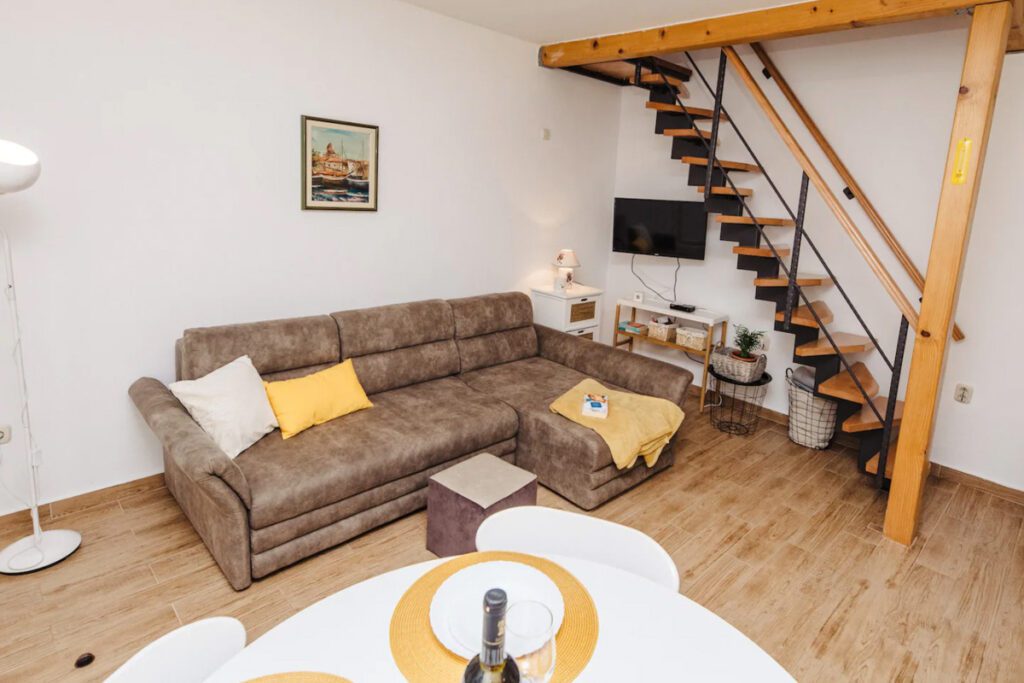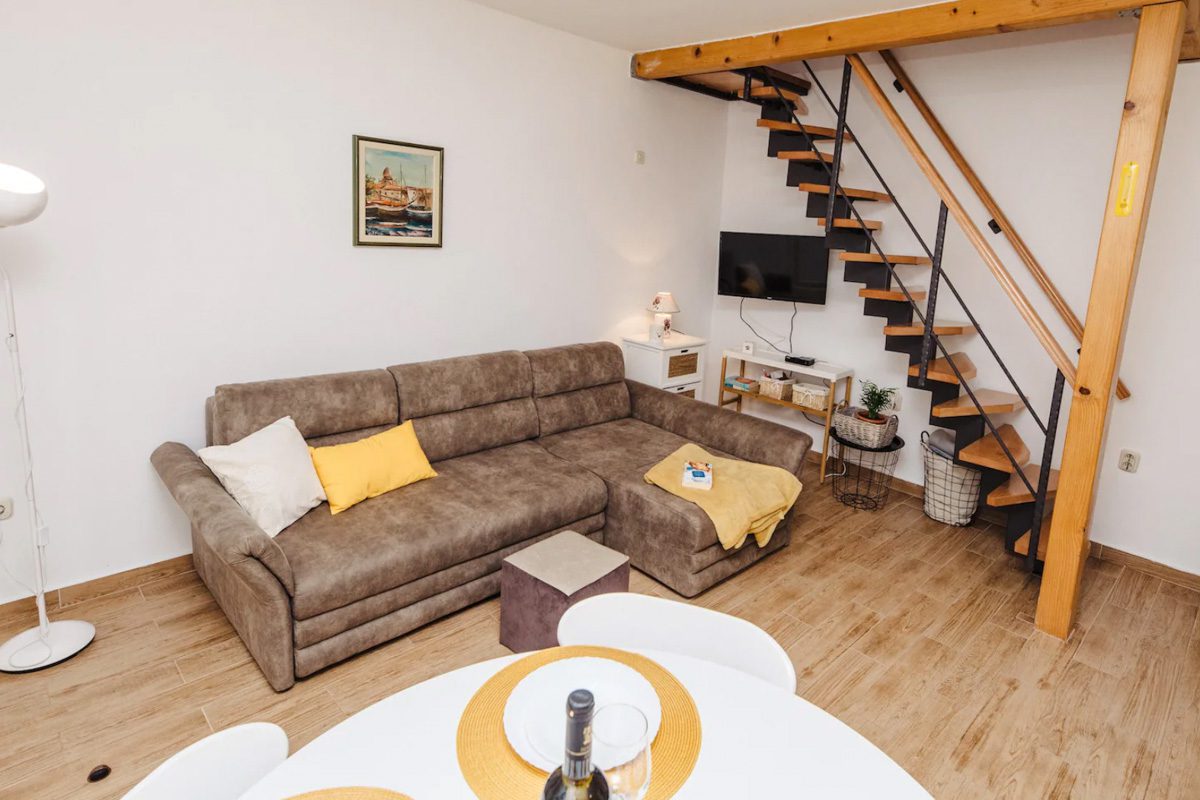 Tranquil House: If you're looking for a more local experience, check out this adorable AirBnb. This family-owned cottage is complete with chickens, fresh vegetables and fantastic local recommendations.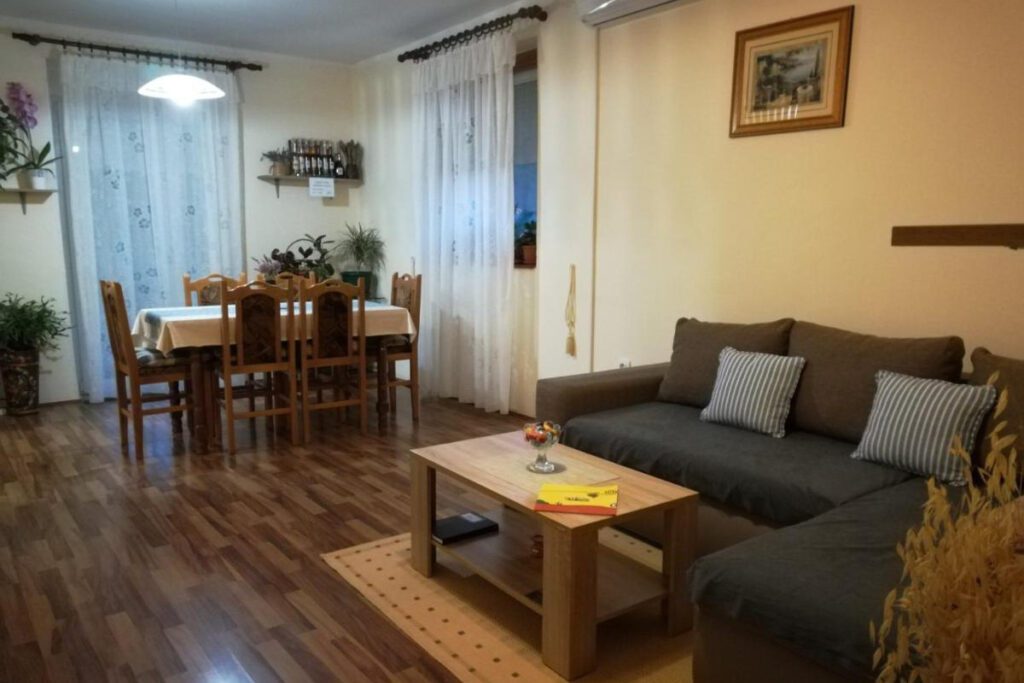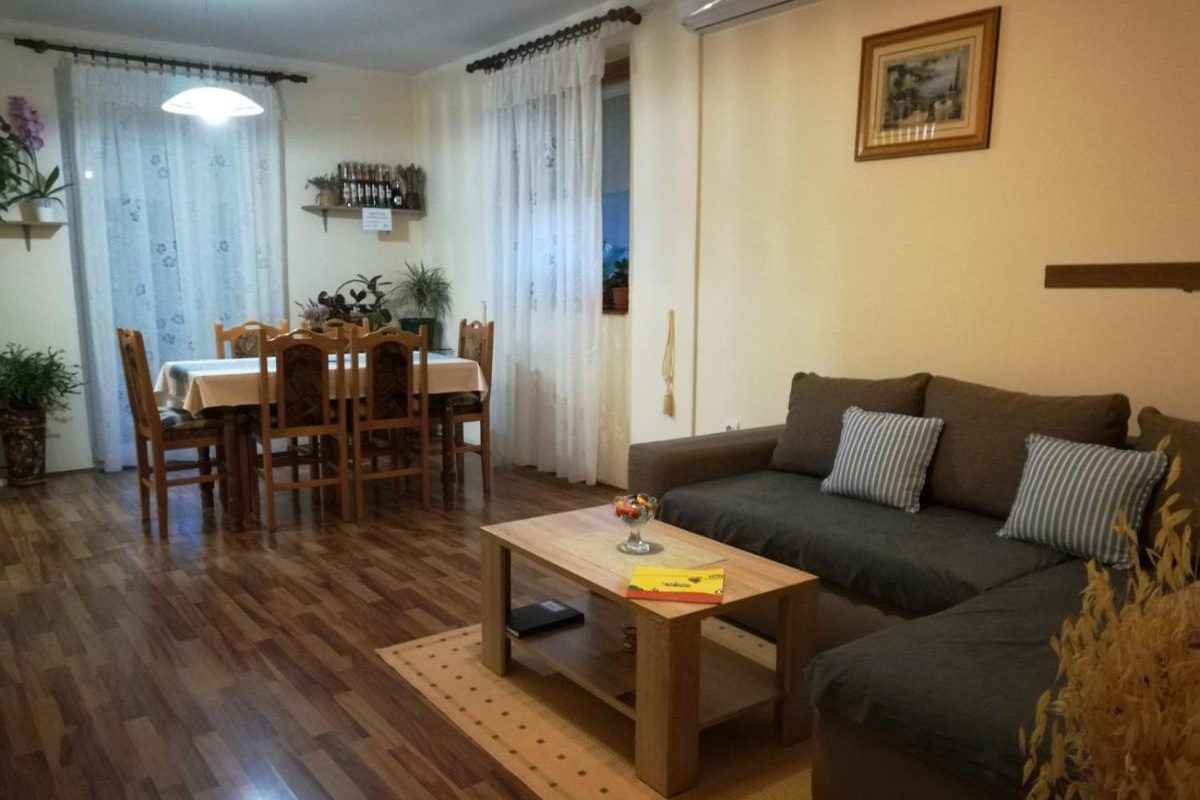 Apartment Rosa: You'll feel right at home in this apartment. Perfect for families, this apartment has 2-bedrooms and a full kitchen.
Alternative
Staying near Krka National Park definitely has its perks, but another option is staying in Split and making a day trip to the park. Due to its close proximity (about an hour), this is a totally doable option.

Find out where to stay, plus tons of other tips and things to do in our complete guide to Split.
What to pack for visiting Krka National Park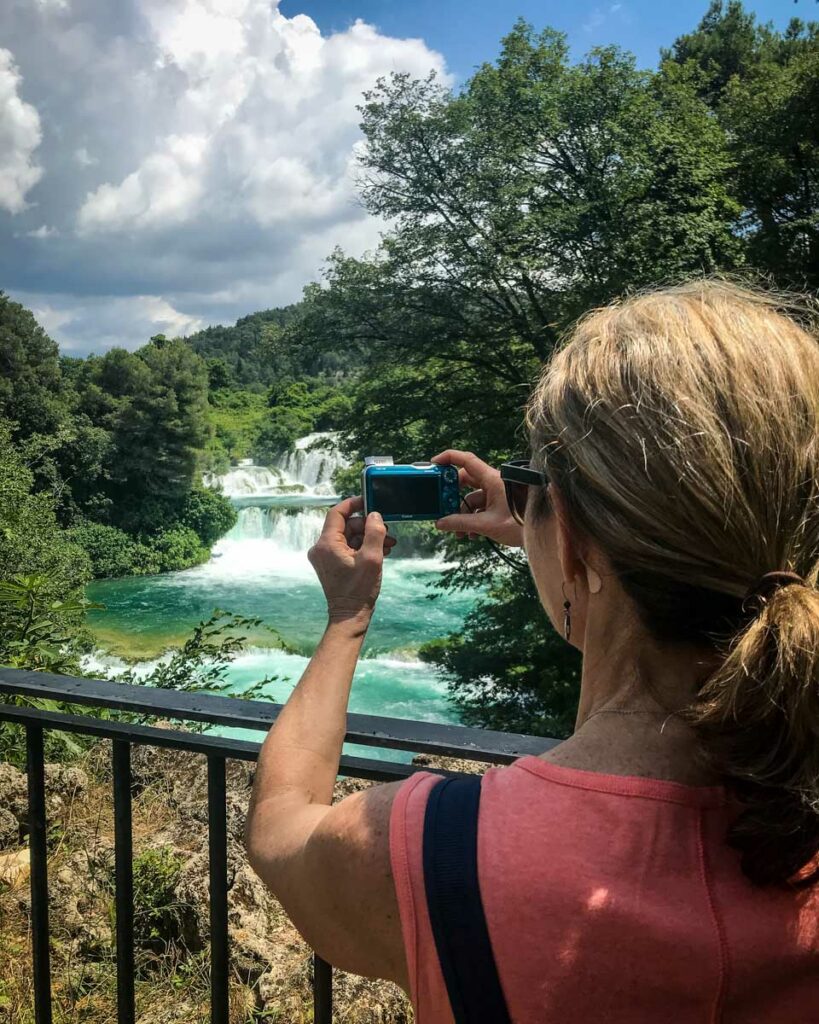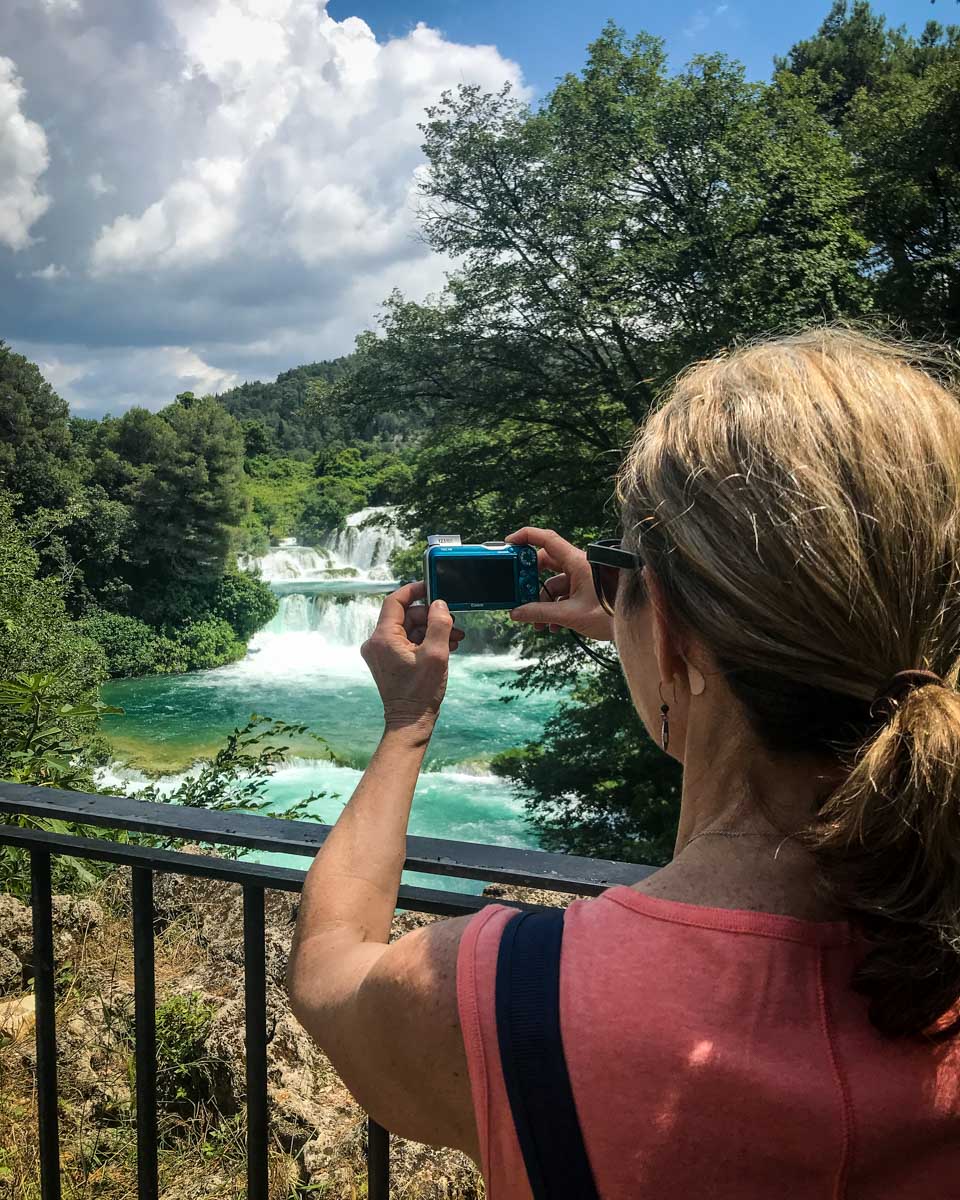 Whenever visiting a National Park, it is always important to be prepared with the essentials to ensure you have the best day.
Swimwear: Although swimming isn't permitted at every waterfall, it is 'tolerated' at others
Sun protection: sun screen, a hat and shades are a good idea
Comfortable shoes: Chacos (or another similar brand) that have a nice grip, but can also get wet
A small day pack
Refillable water bottle: There are several (free!) water stations within the park
Bug spray
Snacks: It won't be hard to find shady spot to enjoy a picnic
A camera
Remember to take everything with you when you leave Krka National Park (including your trash!) so it can stay as 'untouched' as possible.
FAQs about visiting Krka National Park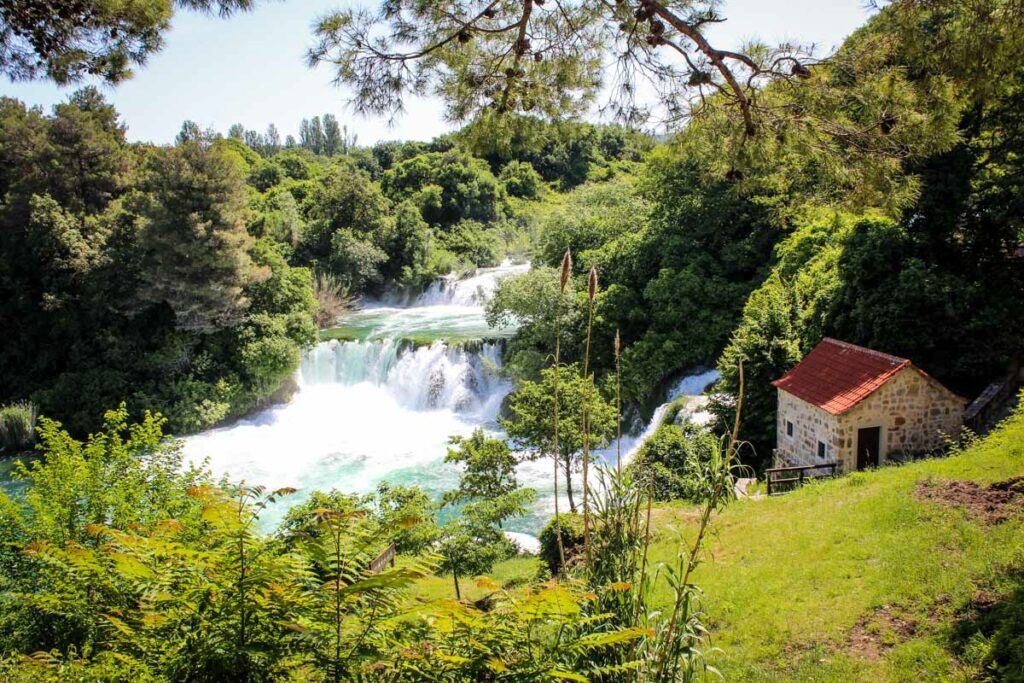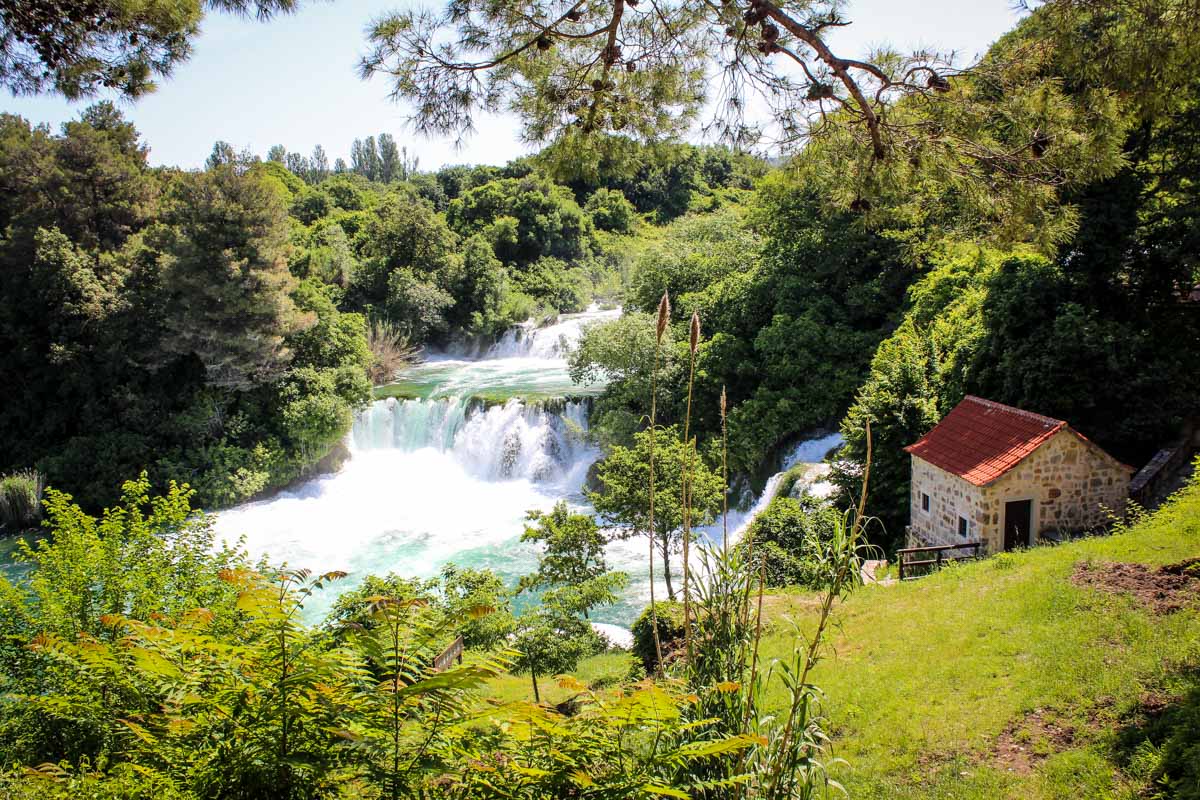 Have some lingering questions about your visit to Krka National Park? We're here to help!
Is Krka National Park worth visiting?
Yes! With idyllic scenery, cascading waterfalls, and a flurry of wildlife, Krka National Park is one of the best places to visit in Croatia.
Spending your day here is perfect for everyone whether you relish adventure or prefer a more relaxing experience.
The park is also rich in cultural heritage making this a must if you're traveling in Croatia.
Can you go swimming in Krka National Park?
Kinda.
In an effort to preserve natural resources, swimming in Krka National Park has been banned since 2021.
There are, however, a few places within the park that tolerate swimming such as: Stinice, Remetic and parts of Roski Slap.
Close to the Skradin entrance, the town of Primosten is also a lovely place to swim and many guided tours make a stop there.
How long does it take to hike Krka National Park?
It takes about two hours to complete the full loop around the park.
Which is best, Krka or Plitvice National Park in Croatia?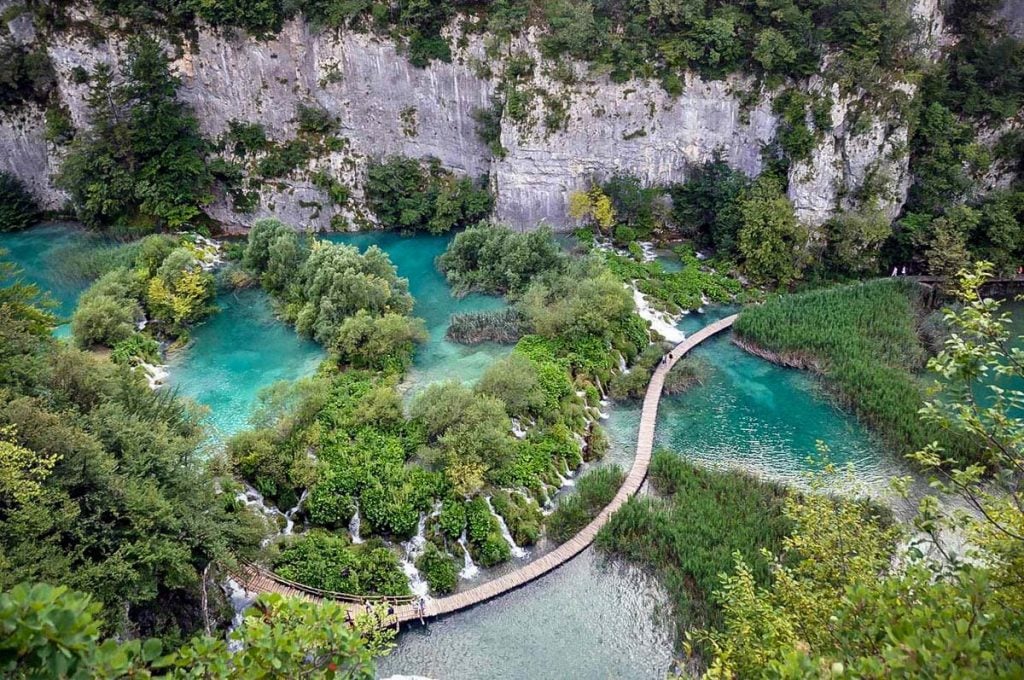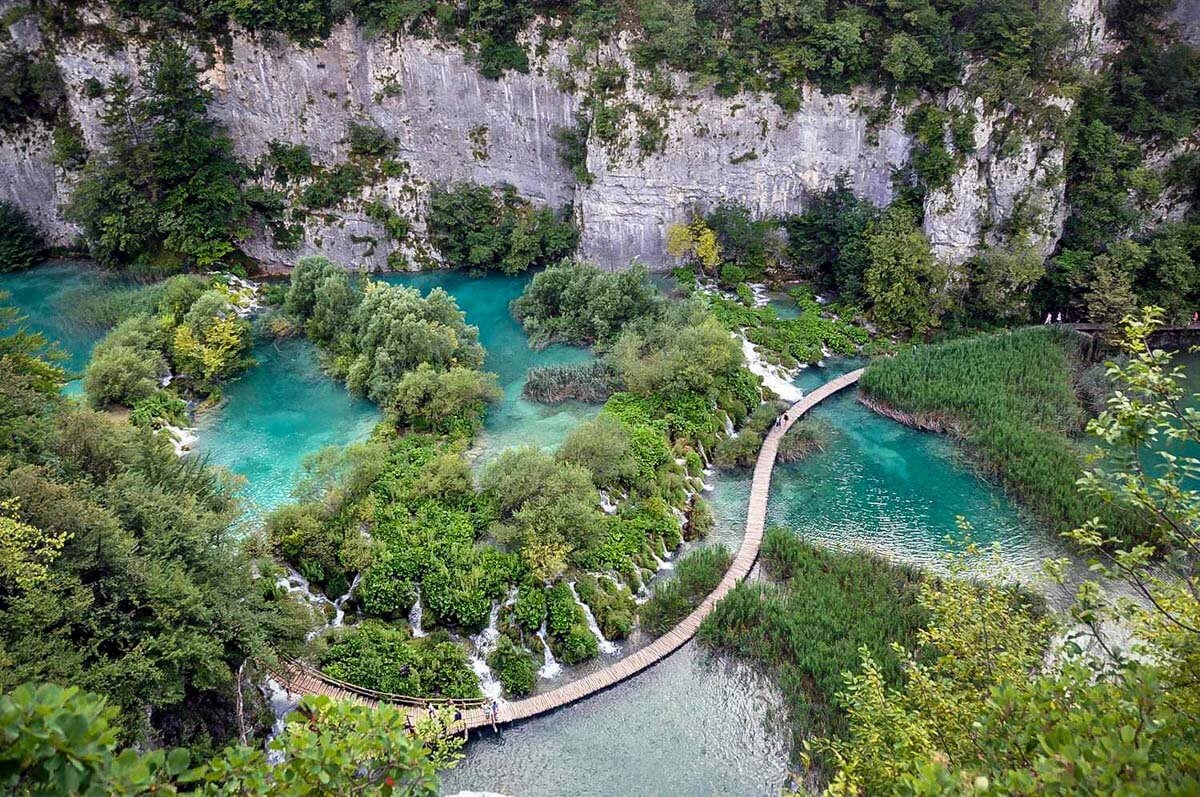 This depends on what you're looking for, but both parks have their perks.
If you're looking for more activities, Krka is your best bet as it offers a variety of tours and historical sites to visit. Plitvice, on the other hand, is best for true nature-enthusiasts.
If cost is a factor for you, Krka is slightly cheaper (albeit smaller) than Plitvice.
But if you have time, why not both?
We have a complete guide to Plitvice Lakes National Park to help you plan your visit as well.
How much time should you spend in Krka National Park?
Spending a full-day in Krka National Park will ensure you have enough time to hit up all the activities you want and get some relaxation time in.
Where is the best place to enter Krka National Park?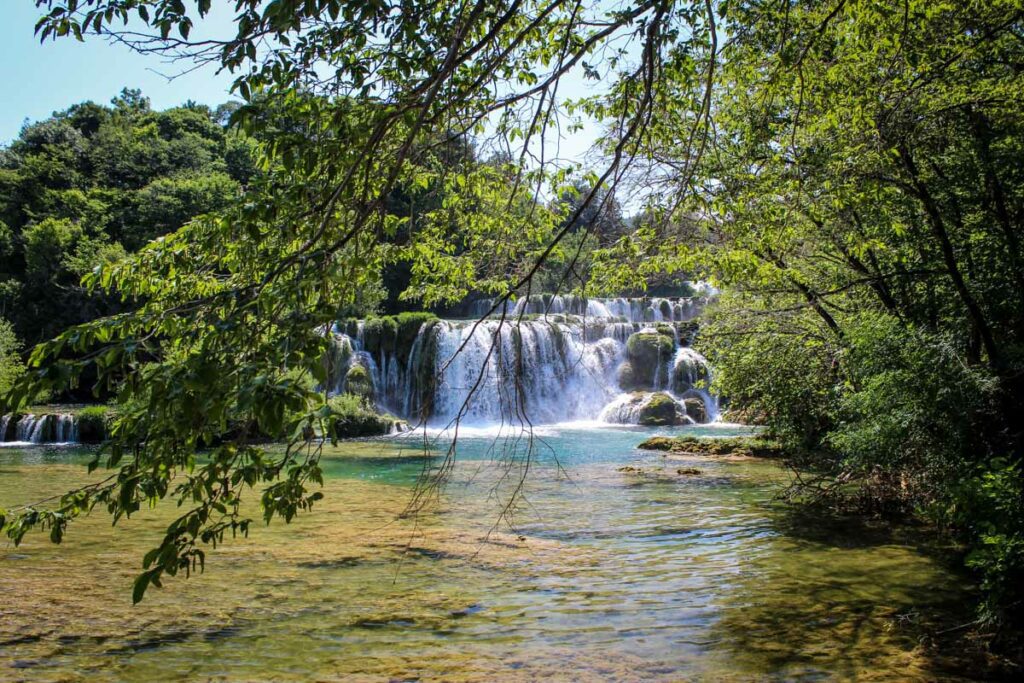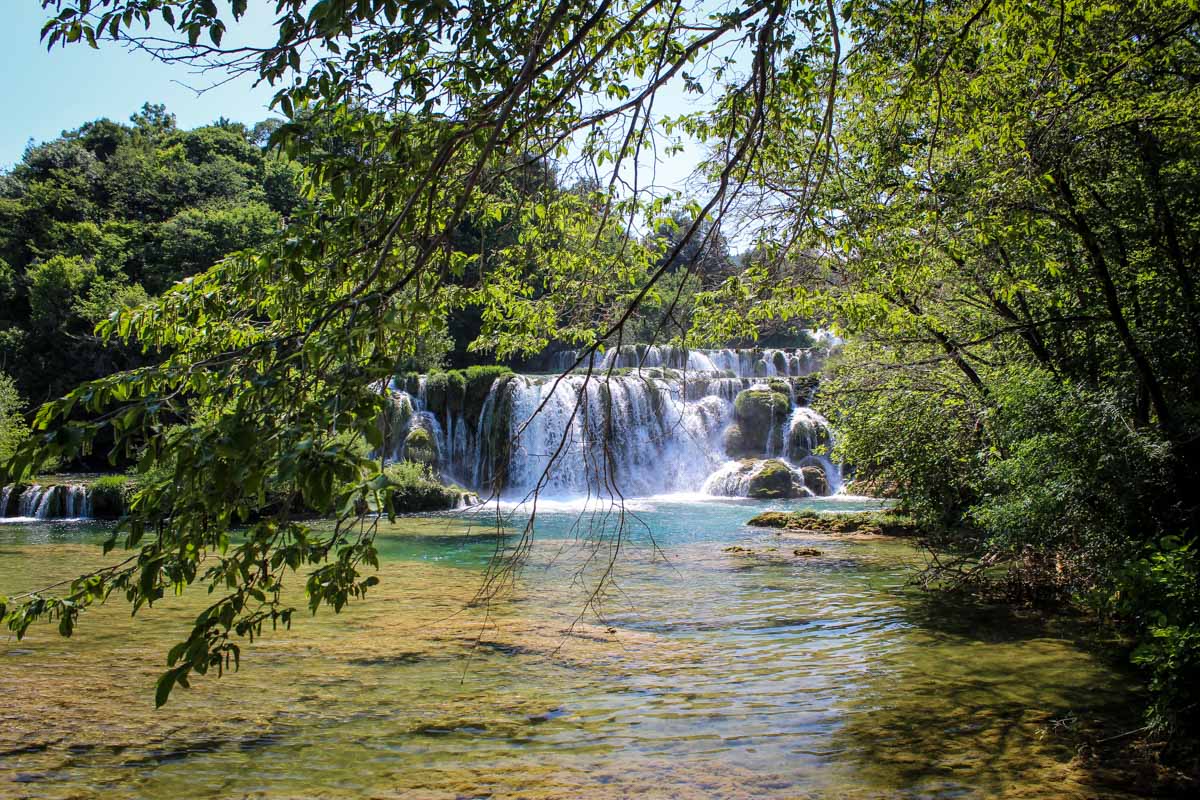 The entrance you choose depends on where you're traveling from and what you want to see when visiting the park.
Skradin & Lozovoc are the two most popular entrances.
If you're looking for a less-crowded part of the park, enter at Roski Slap.
Love history? The Burnun entrance is nearest some of the ancient ruins.
The Kistanje entrance is close to the Krka monastery.
Is there food available at Krka National Park?
Yes. There are numerous restaurants and snack shops within the park, but you can also bring in your own food and drinks.
Can you book your ticket online ahead of time?
Using the official website, it is recommended to book tickets ahead of time especially if you're traveling in summer.
---
Are you planning a trip to Croatia?
We have lots of resources on travel in Croatia and destinations throughout the country. Check out our Croatia Travel Homepage for everything you need to know, or start by reading some of our favorite Croatia articles here:
Save this article on Pinterest for later!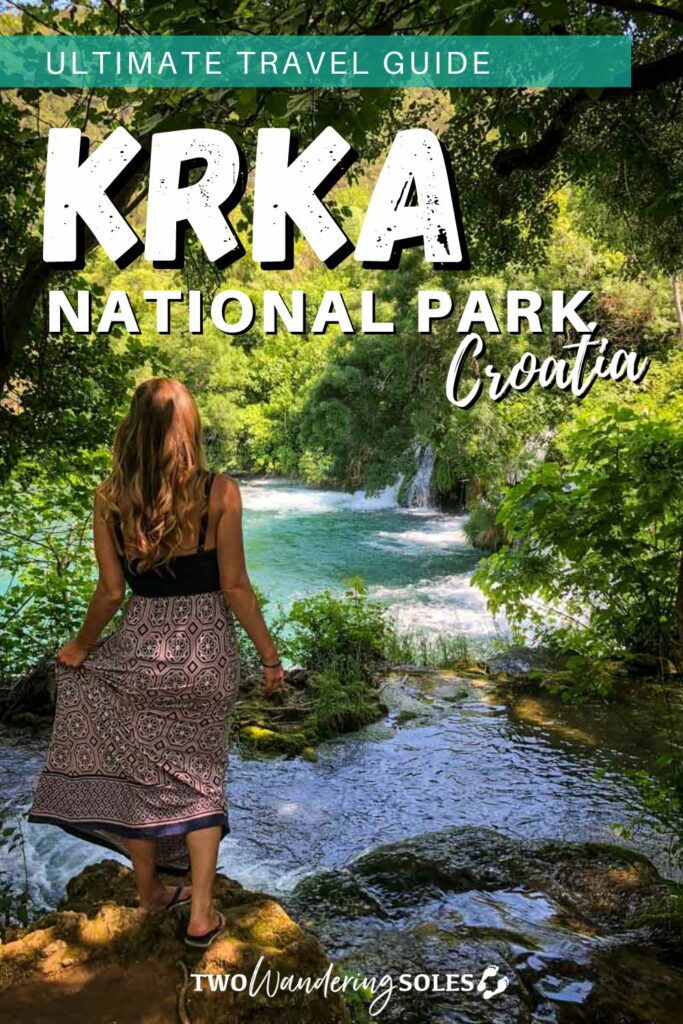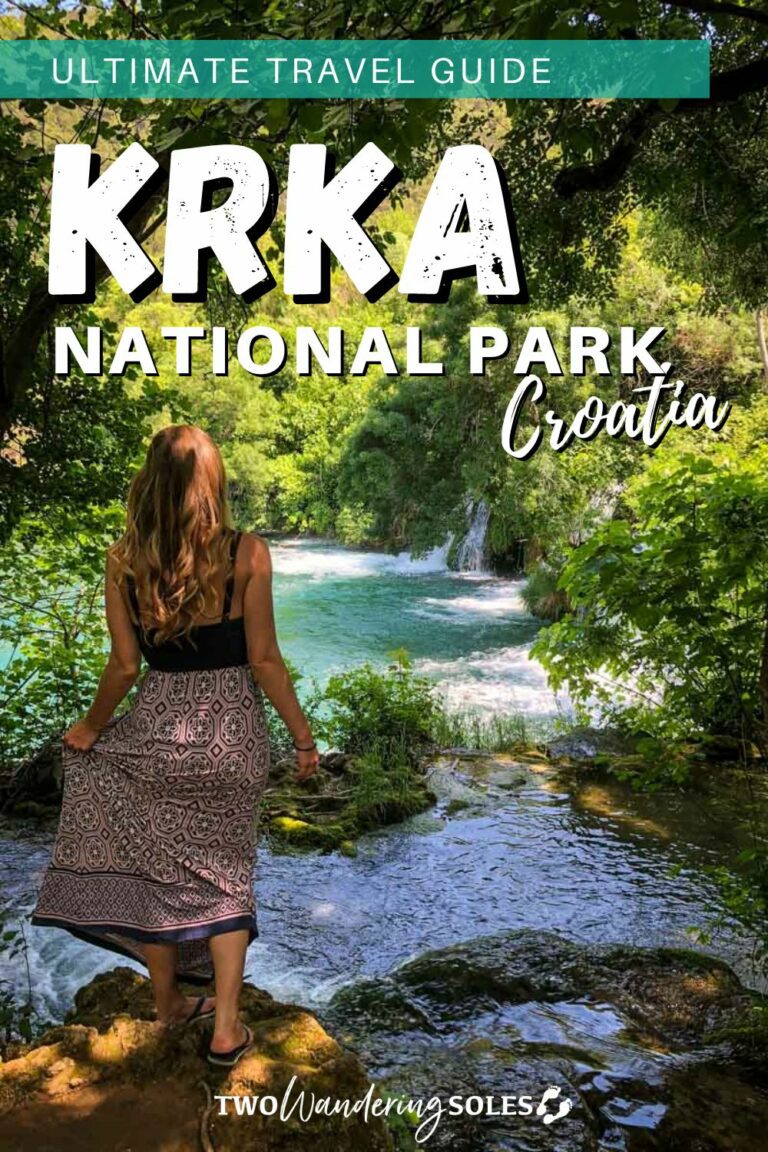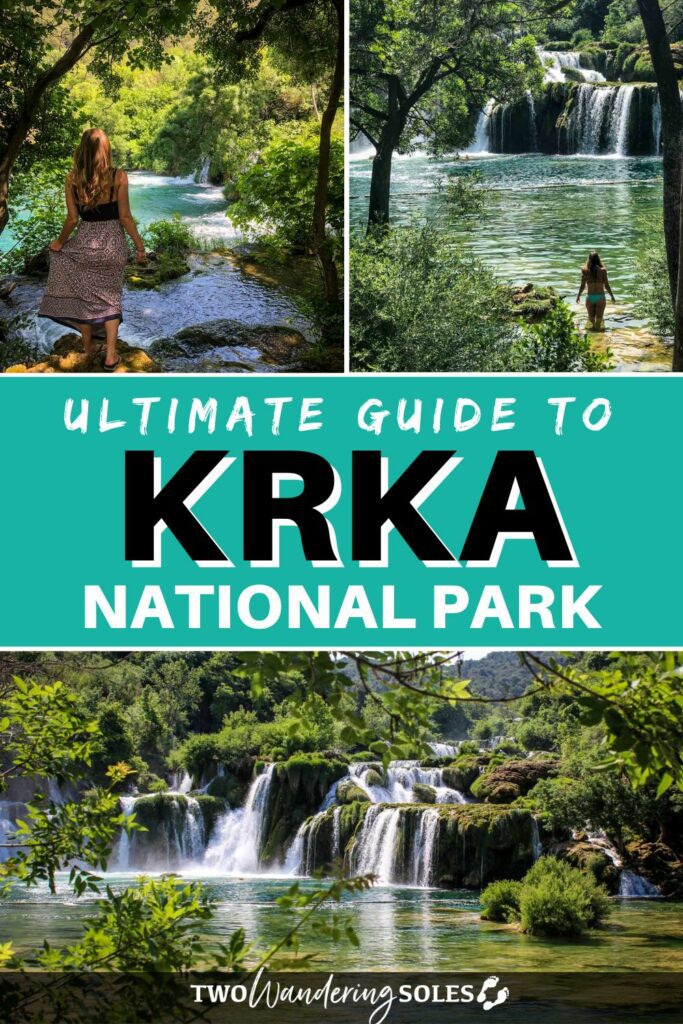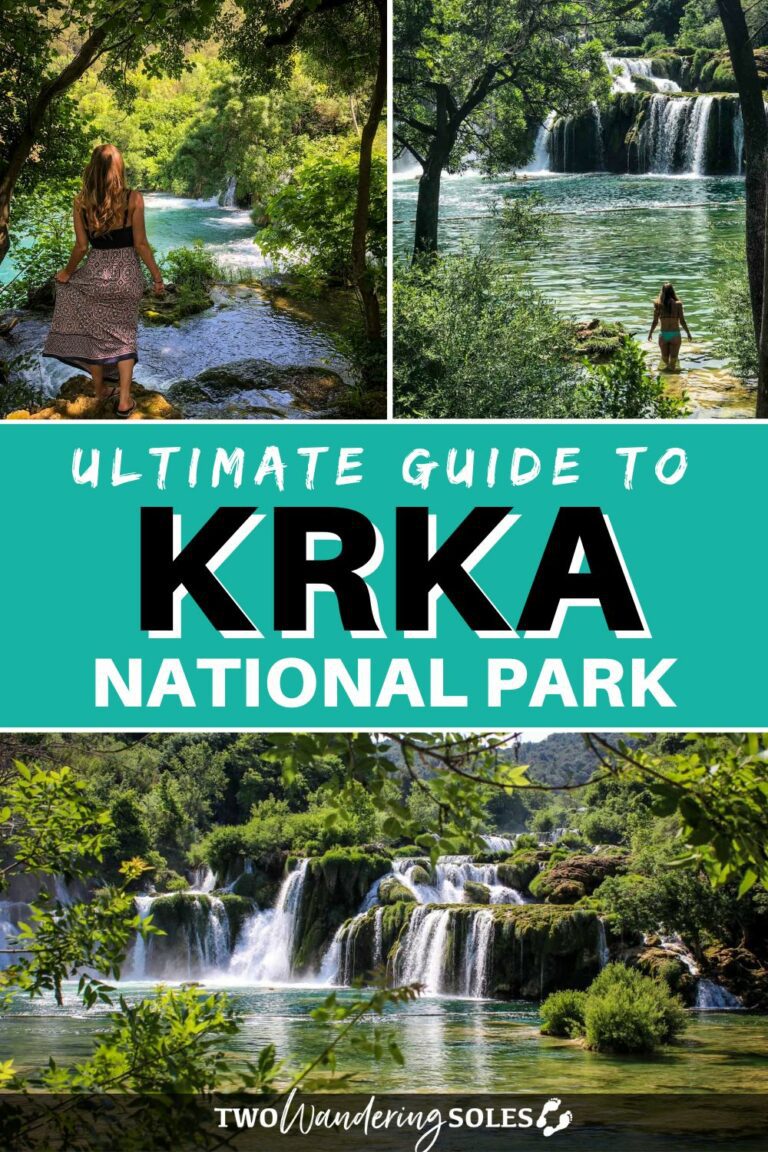 We want to hear from you!
Are you planning a trip to visit Krka National Park in Croatia and still have questions? Leave your comment below and we'll do our best to get back to you!