Croatia is a year-round travel destination for foodies, nature lovers, and beach-goers. We've put together this seasonal and monthly overview to help you determine the best time to visit Croatia for your specific trip.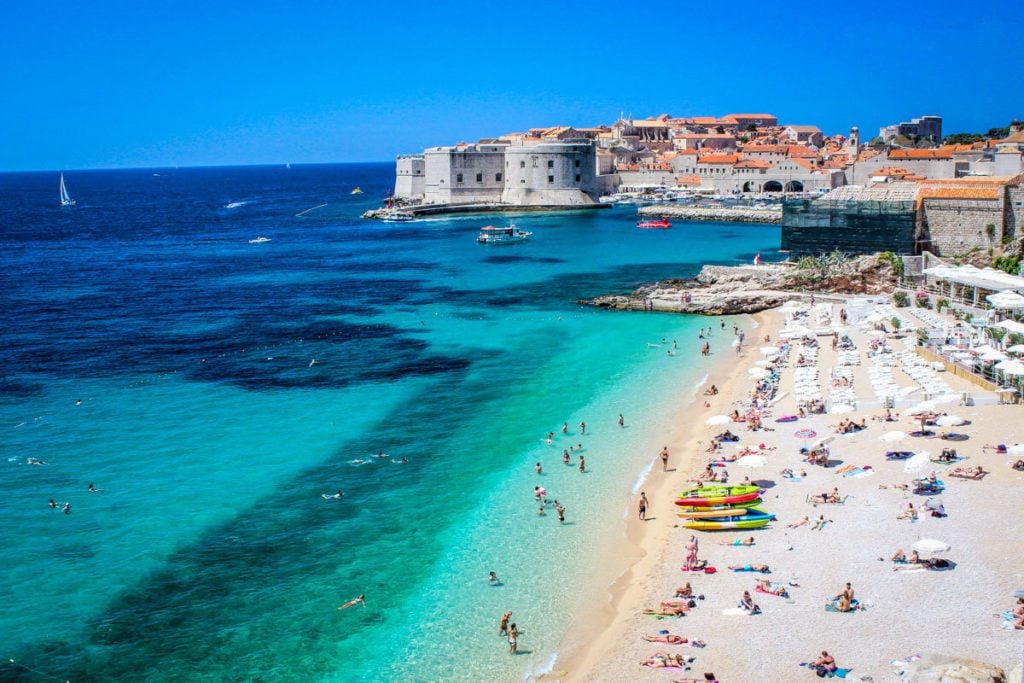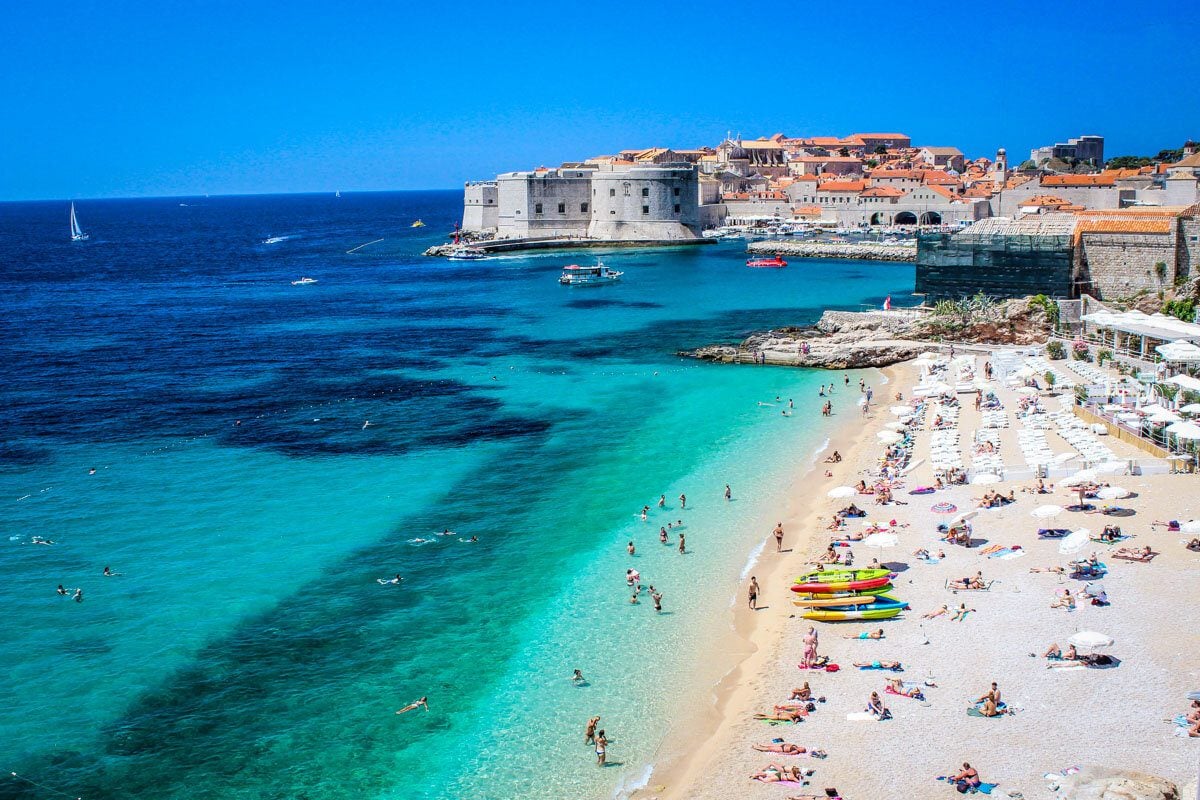 Quick Note: As of January 1, 2023, Croatia joined the Eurozone and adopted the Euro as their currency. Kuna (kn or HRK), the former currency of Croatia, will no longer be accepted as a form of payment. However, Kuna banknotes and coins can be exchanged until December 31, 2023. This also means Croatia is now part of the Schengen Area and adheres to those laws and visa requirements.
As one of the most sought-after escapes along the Mediterranean Coast, Croatia is packed full of idyllic beaches hugging rocky coastlines with jewel-bright waters. White stone cities capped with vermillion rooftops dot the coast line. And the history runs deep, with ancient ruins spread throughout the north.
Many of the places and activities that make this country so spectacular are seasonally dependent, which is why it's important to know the best time to visit Croatia.
Summer is notorious for being THE season to visit Croatia. However, after squeezing through the packed streets of Split and Dubrovnik during our visit in July, we could say otherwise.
There was a lot that we didn't know when we planned our visit to Croatia. We discovered that it's all about finding the sweet spot: when the summer is still lingering but the crowds have (relatively) subsided.
However, the answer isn't always so simple, as it will change depending on where you're going and what you're doing.
In this article, we breakdown all the seasons month-by-month in Croatia, as well as the pros and cons of each season, so you can time your trip to Croatia perfectly.
When is the best time to visit Croatia?
In short, you'll have the most favorable weather and avoid peak season crowds during the late spring and early fall.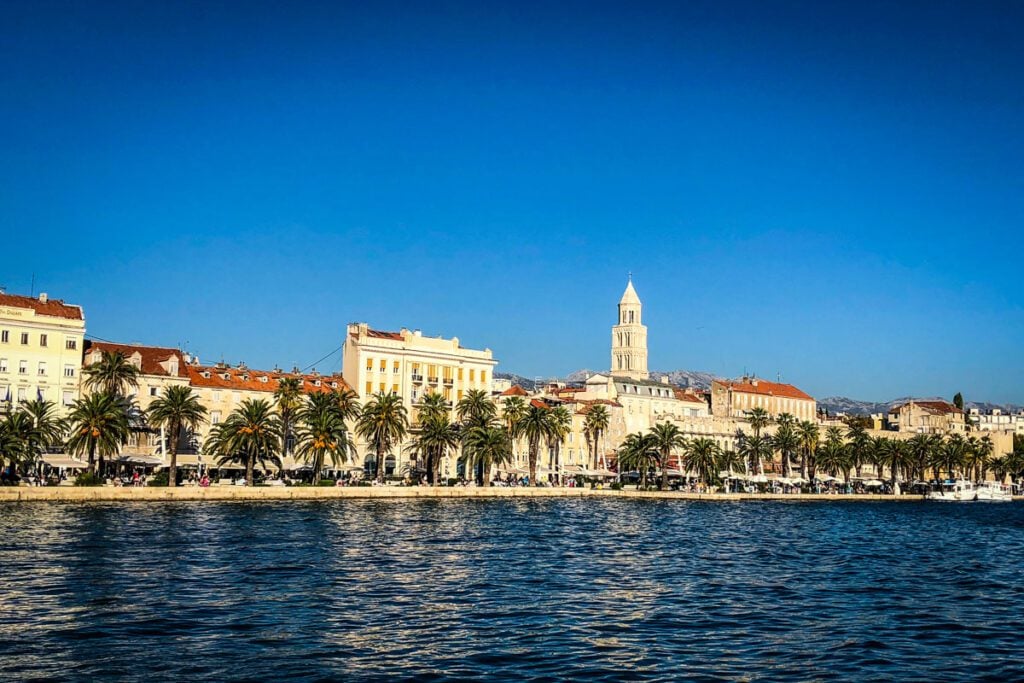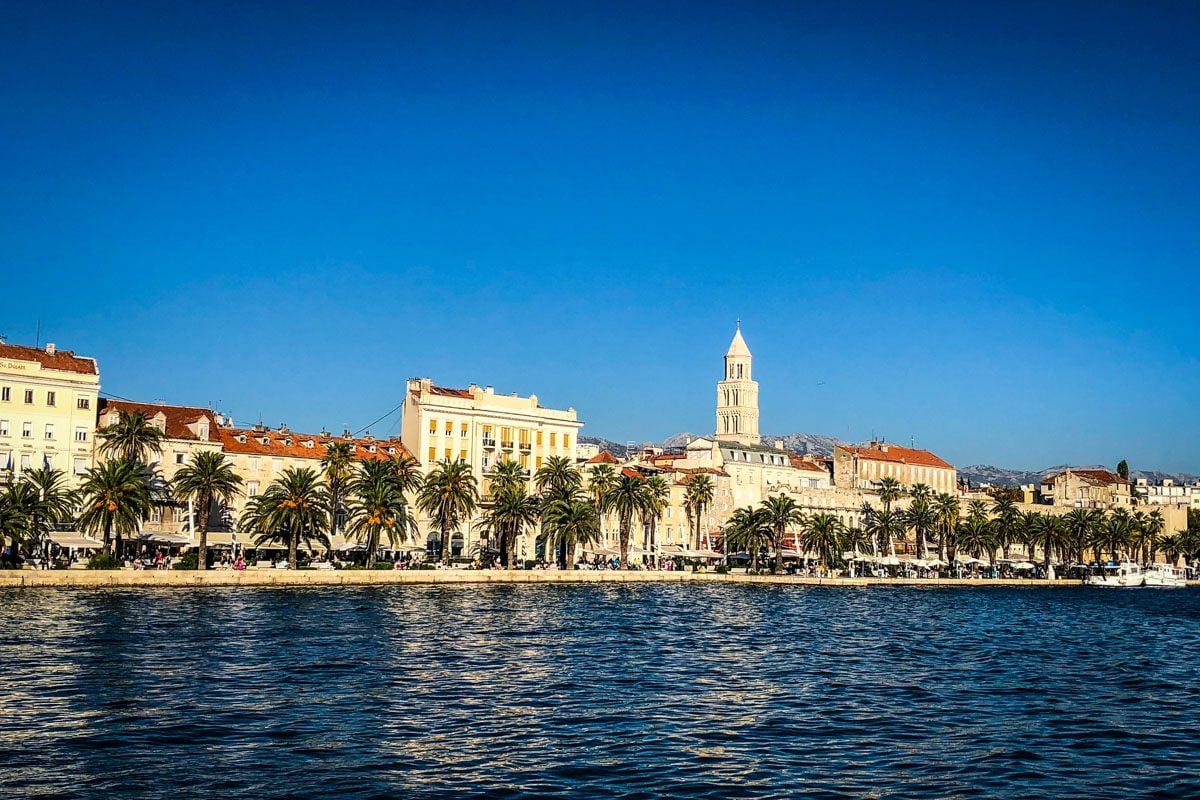 Although Croatia's busiest season is during the summer, the sheer number of crowds and scorching heat are no joke. So while it is the most popular time to visit, those factors may heed you to reconsider.
However, each season and month has its own draws and drawbacks, so there's really no correct answer as it really depends on what you're doing and where you're going.
Answer these questions to get started:
What region of the country do you plan to visit?
Are you easily bothered by crowds?
Are you negatively affected by high humidity?
Do you prefer to spend your time outdoors at the beach or exploring a new city?
Do you plan on doing any specialized activities, such as truffle hunting?
Thinking about your answers to these questions will help you start to determine when to visit Croatia.
Not sure where to go? Check out our guide on all the best places to visit in Croatia to help narrow down your list.
Best Time to Visit Croatia Guide
Overall BEST time to visit Croatia
Want a quick recommendation? Jump down to see our personal advice for the best time to visit Croatia. Plus, we'll share what times of year we'd avoid visiting!
---
Our experience in Croatia
We've visited Croatia in May, July and September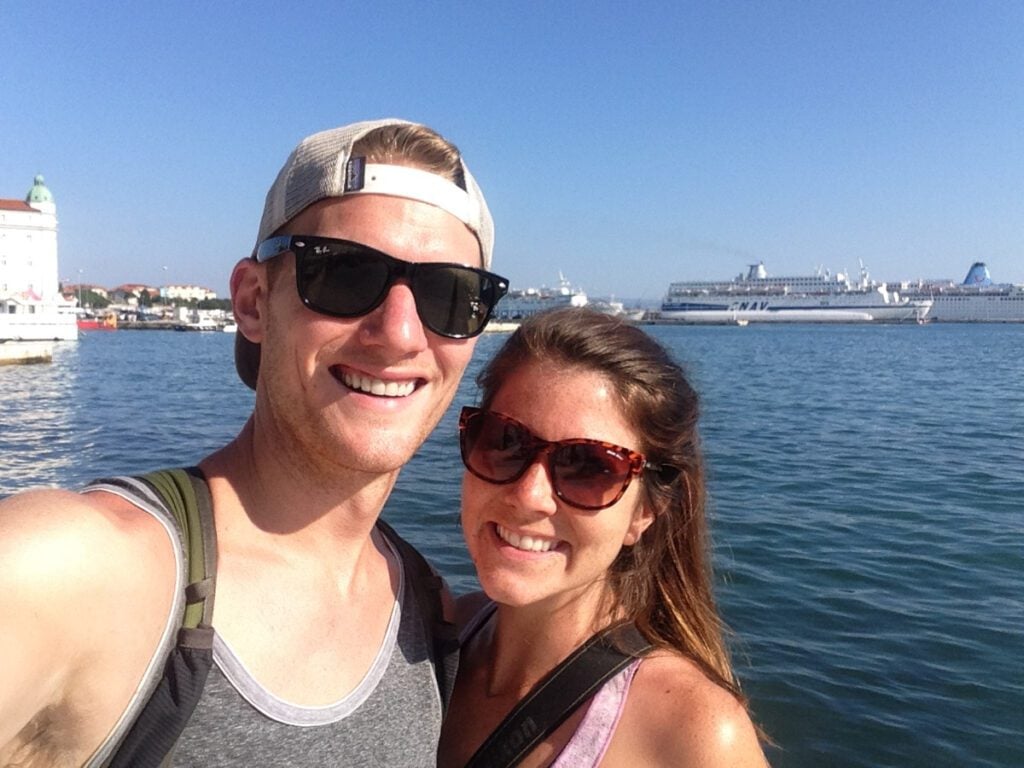 Our experience:
We visited Croatia in July 2016 and found it to be one of the most crowded places in Europe that summer. It was our fault for sticking mainly to the popular tourist spots, and we wished we would have added some lesser-known places to our route.
Our Director of Content, Amanda, has visited Croatia in May 2018 and September 2018.
Spring in Croatia
I (Amanda) spent a month in Croatia in May 2018. The majority of that month was spent in Split (where I was based), but I also visited some of the islands, Dubrovnik, and road tripped through Istria.
As a beach destination, Split was just beginning to "come to life" at the start of May. By the end of the month there was a noticeable increase in visitors as well as beach clubs that had opened fully and were offering their full services.
Though I will mention, the sea water was still pretty chilly in May.
Dubrovnik was the most crowded of all the places I visited in Croatia and the weather was already pretty hot.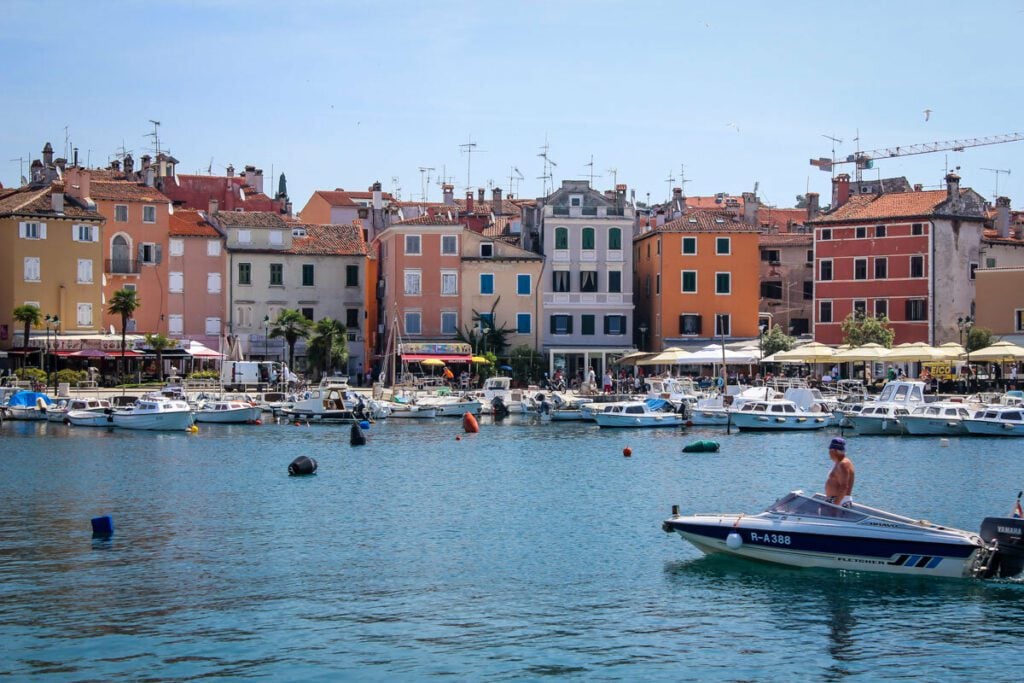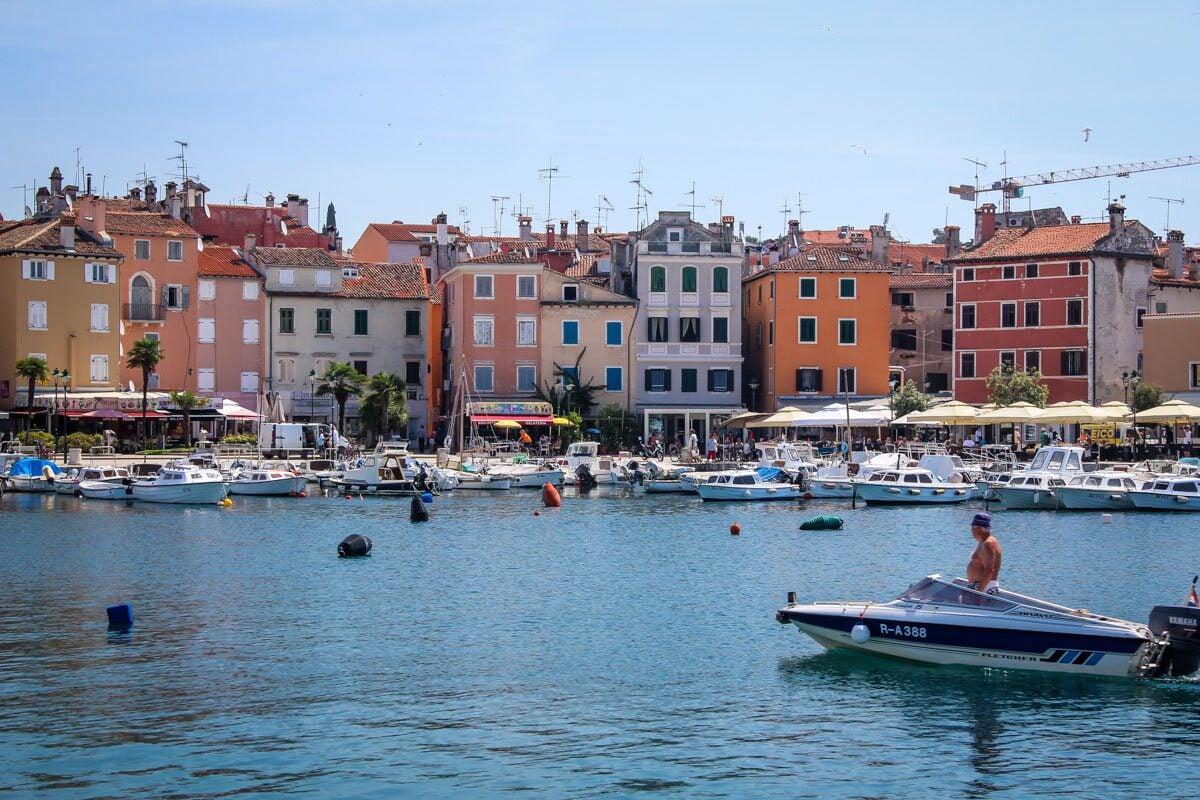 Istria was much less touristy (as a lesser-visited area of the country in general). And the islands were still waking up from their hibernation period so they weren't too crowded yet.
On the day I'd planned to visit Plitvice Lakes, a storm rolled in very quickly and completely rained us out. Since we weren't at all prepared for the weather, we were not able to really enjoy the park and sadly that was the only day we could make it.
Would we recommend visiting in spring?
Yes! Spring was a beautiful time to visit Croatia, especially if you want to experience less crowds but still have a warm weather experience.
Summer in Croatia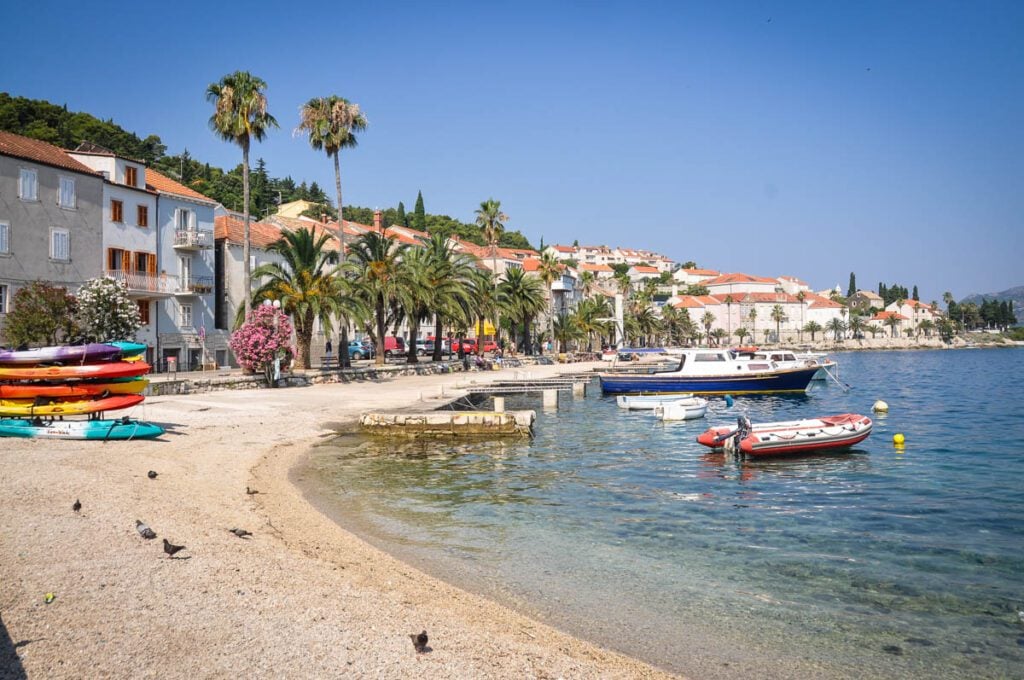 We (Katie and Ben) visited Croatia in the peak of summer season. Not to mention during the time Game of Thrones was still on TV and Croatia was really seeing its star rise as a European destination.
We actually found our experience to be less enjoyable than anticipated because of the overwhelming crowds and we talk about that experience in our completely honest Croatia travel guide.
Aside from the crowds, the weather was hot. In fact, it was scorching hot! With little repreve from the sun while doing popular activities like walking Dubrovnik's famous walls, it wasn't the most ideal time to be there.
Would we recommend visiting during summer?
Not particularly… If you can avoid visiting Croatia during the peak of summer season (June – August), we would recommend that.
Fall in Croatia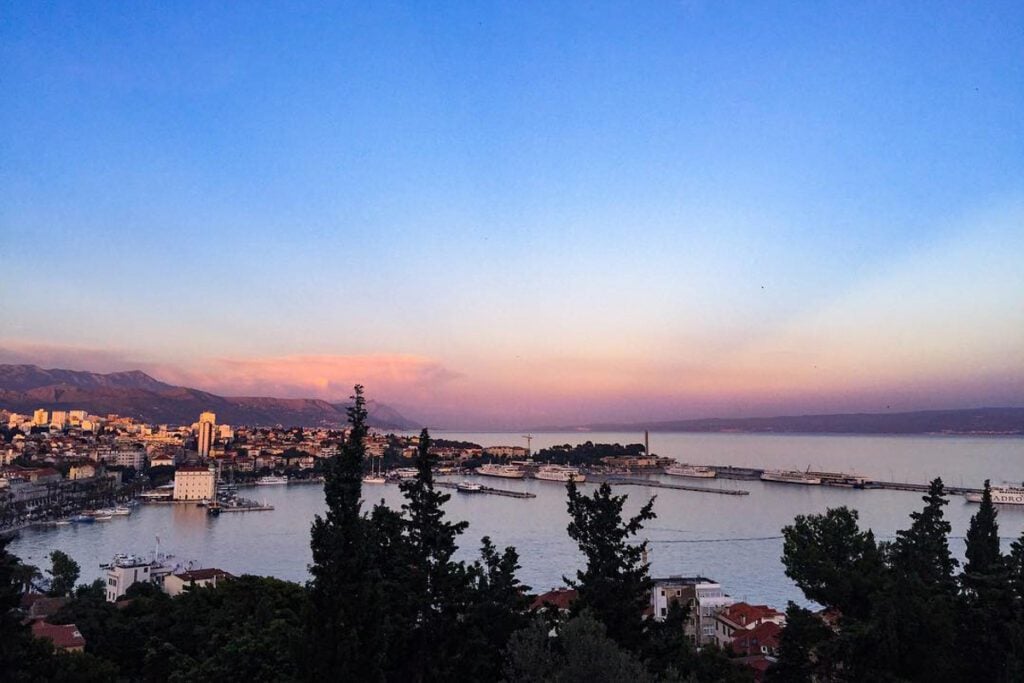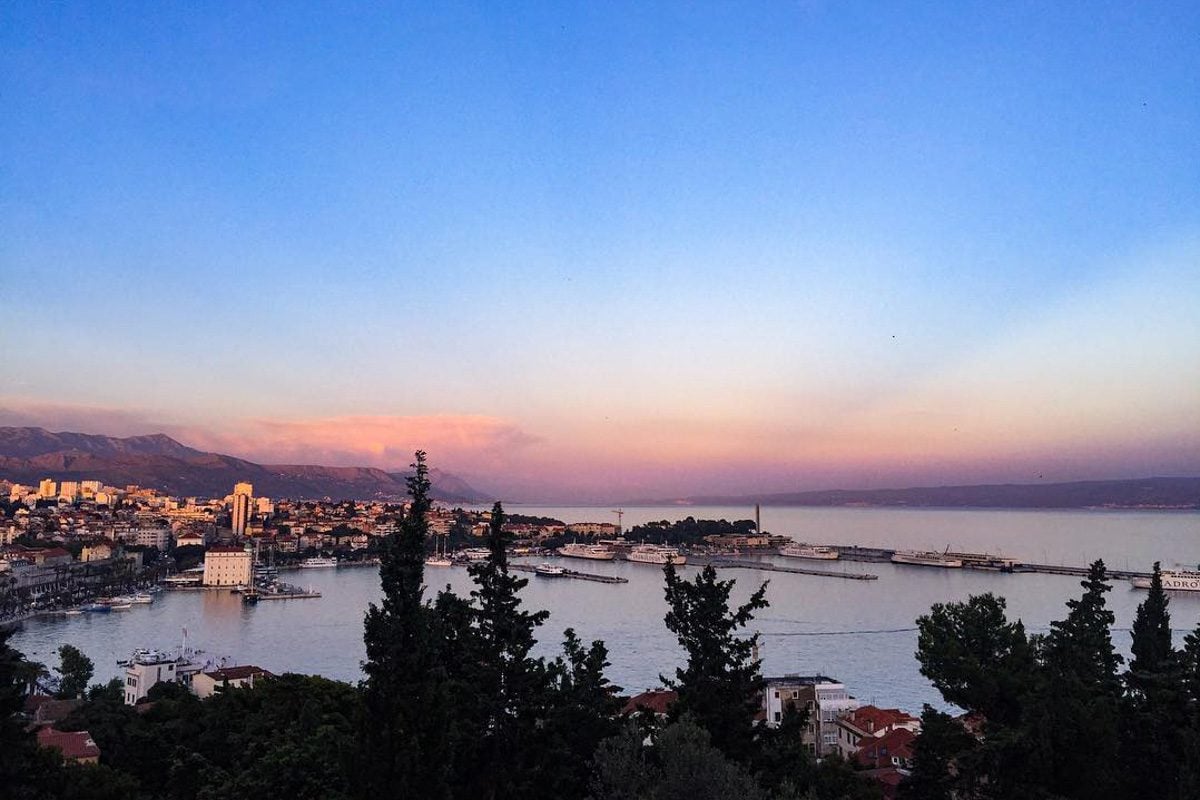 I (Amanda) visited Croatia in September, the same year after visiting in May (back then it was an escape from the Schengen Zone visa – which is sadly no longer the case).
I was in both Hvar and Split. Both places had near perfect weather in September with fewer crowds than what I would expect in the summertime. Prices were also slightly cheaper, however, some beach bars were already closed down for the season and no longer offered services like beach chairs.
Would we recommend visiting during the fall?
Yes! Fall is a great time to experience Croatia, particularly if you still want a bit of beach time mixed in with sightseeing.
Croatia geography overview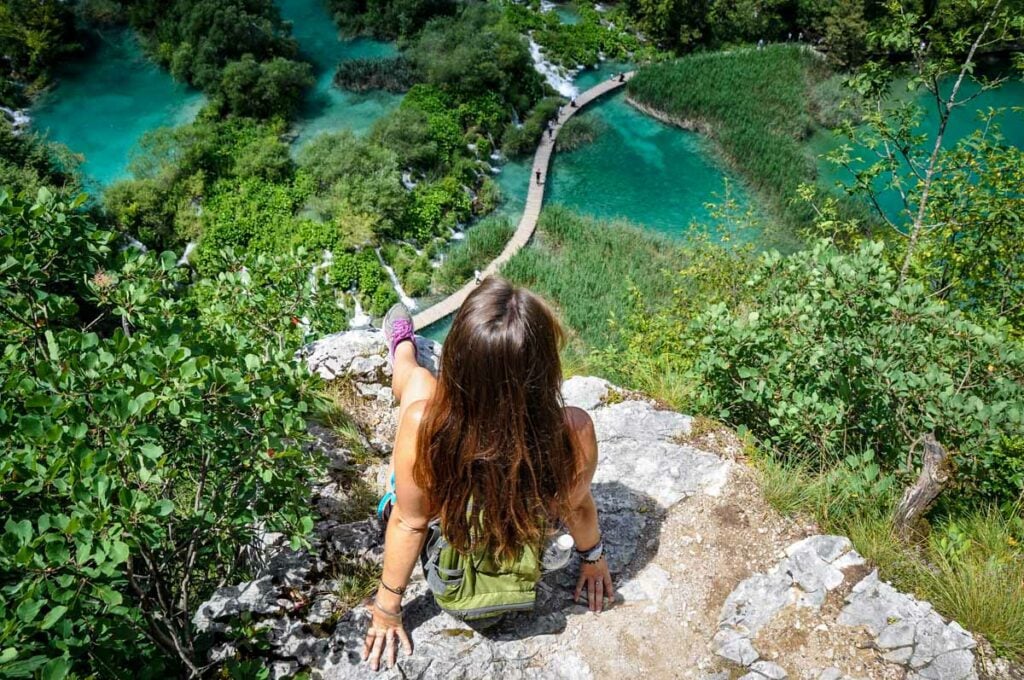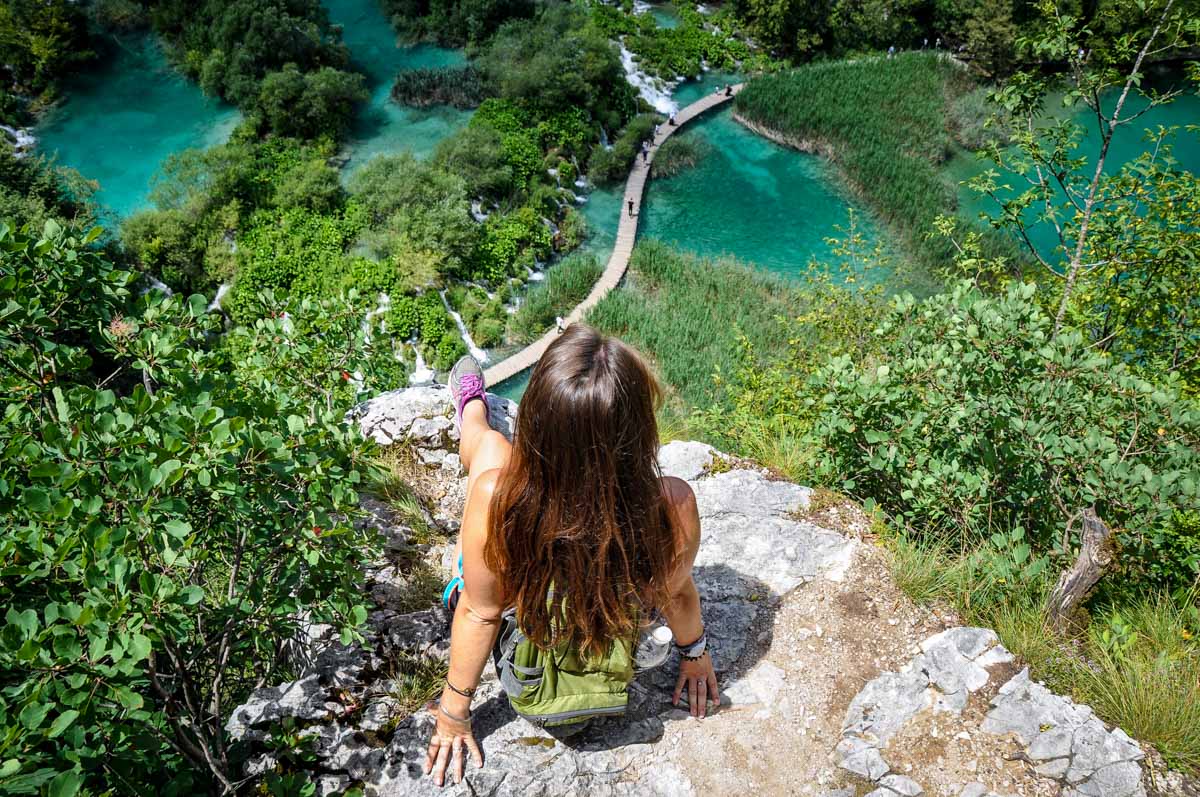 Although Croatia is bite-sized on the map, its landscapes are considerably diverse, from the flat, fertile plains in the northern inland to the low mountains and highlands along the coast.
The Dinaric Alps just north of Zadar slice the country in half with peak elevations around 6,000 feet (1,828 meters). A few smaller ranges are dotted around this part of the country as well.
In Dalmatia, along the coasts and on islands, the terrain is hilly and rocky, hence all the pebbled beaches.
The country has many significant river and lake systems, the two most famous being the Krka River and the Plitvice Lakes systems that formed due to meltwater of the middle mountain ranges.
Croatia is bordered by 5 different countries: Slovenia, Montenegro, Bosnia and Herzegovina, Hungary, Serbia, and maritime Italy.
Weather in Croatia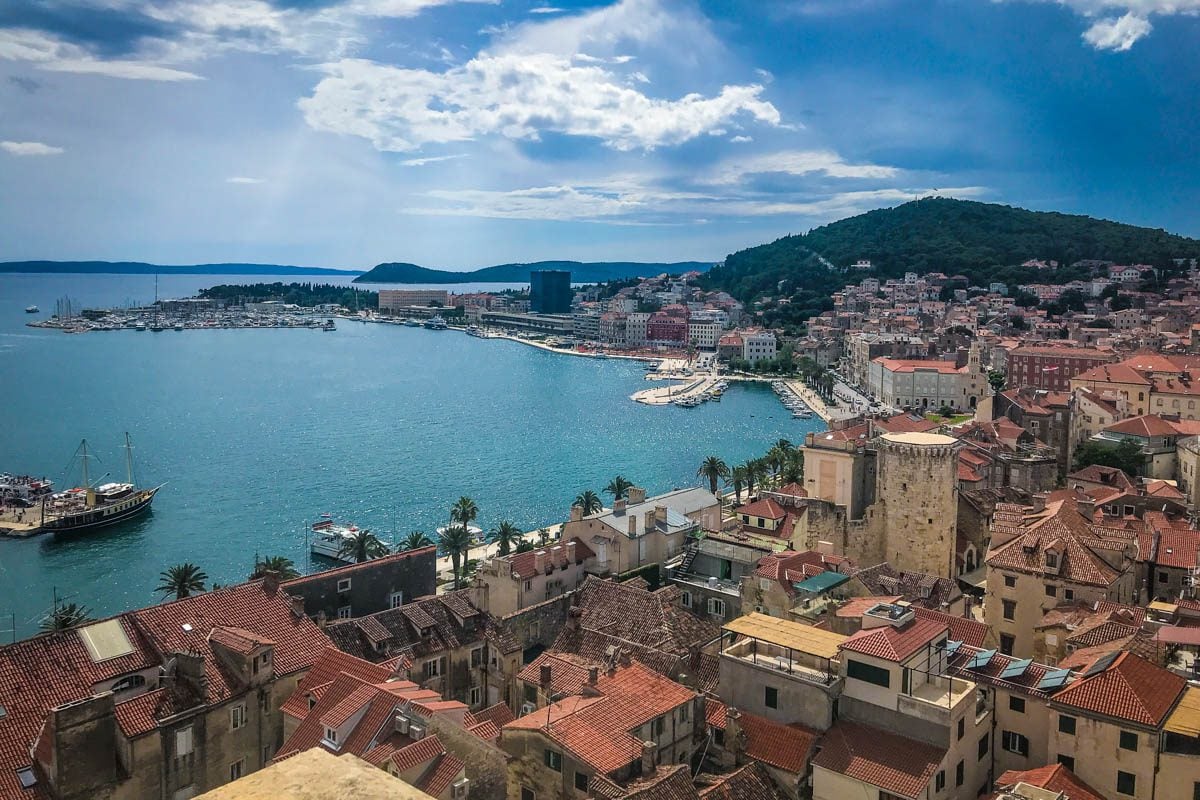 The inland areas tend to have more contrasting weather patterns, such as freezing winters and scorching summers. Conversely, the coastal regions have a Mediterranean climate: hot summers and mild winters.
The summers across Croatia are both hot and dry, whereas the winters are wet, cold, and have notoriously high winds known as bura. Spring and fall are shoulder seasons where the weather will be a bit more inconsistent.
In general, since the country is so small, you can expect really close seasons in both regions. Significant differences are from elevation increases in the mountainous areas and proximity to the coast.
Also note that the inland areas will experience more rain throughout the year. Additionally, the coastal regions have one notorious storm every summer, so be aware that could happen while you're here.
Stats on Croatia weather & seasons:
Warmest month(s) in Croatia: July & August
Coldest month(s) in Croatia: December & January
Rainiest month(s) in Croatia: November & December
Driest month(s) in Croatia: July & August
Most crowded month in Croatia: August
Least crowded month in Croatia: November
---
Summer in Croatia
June, July, August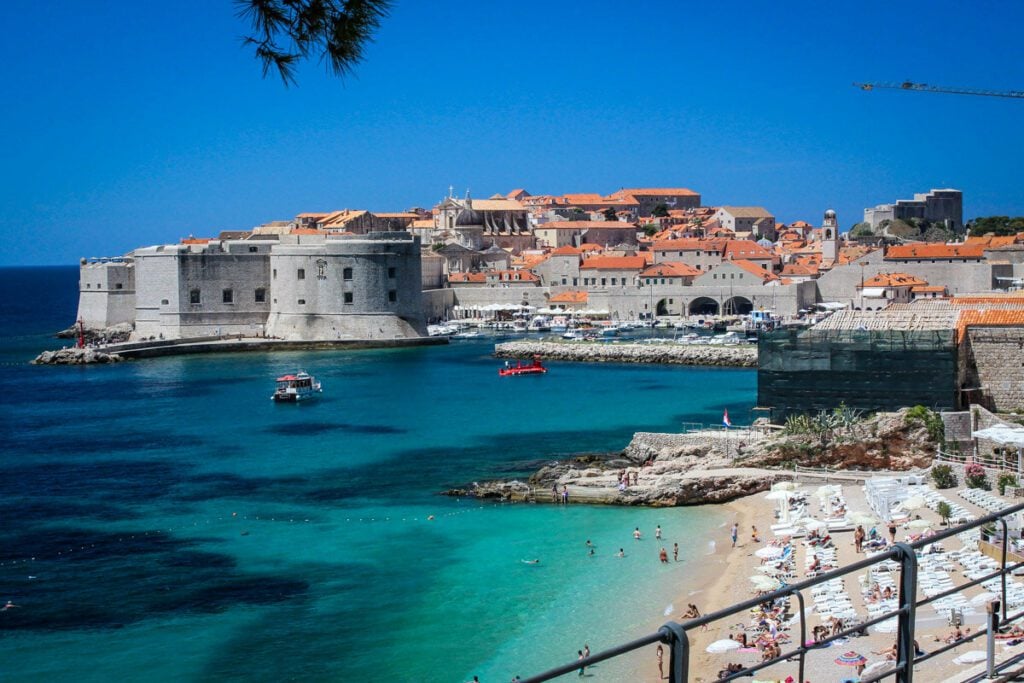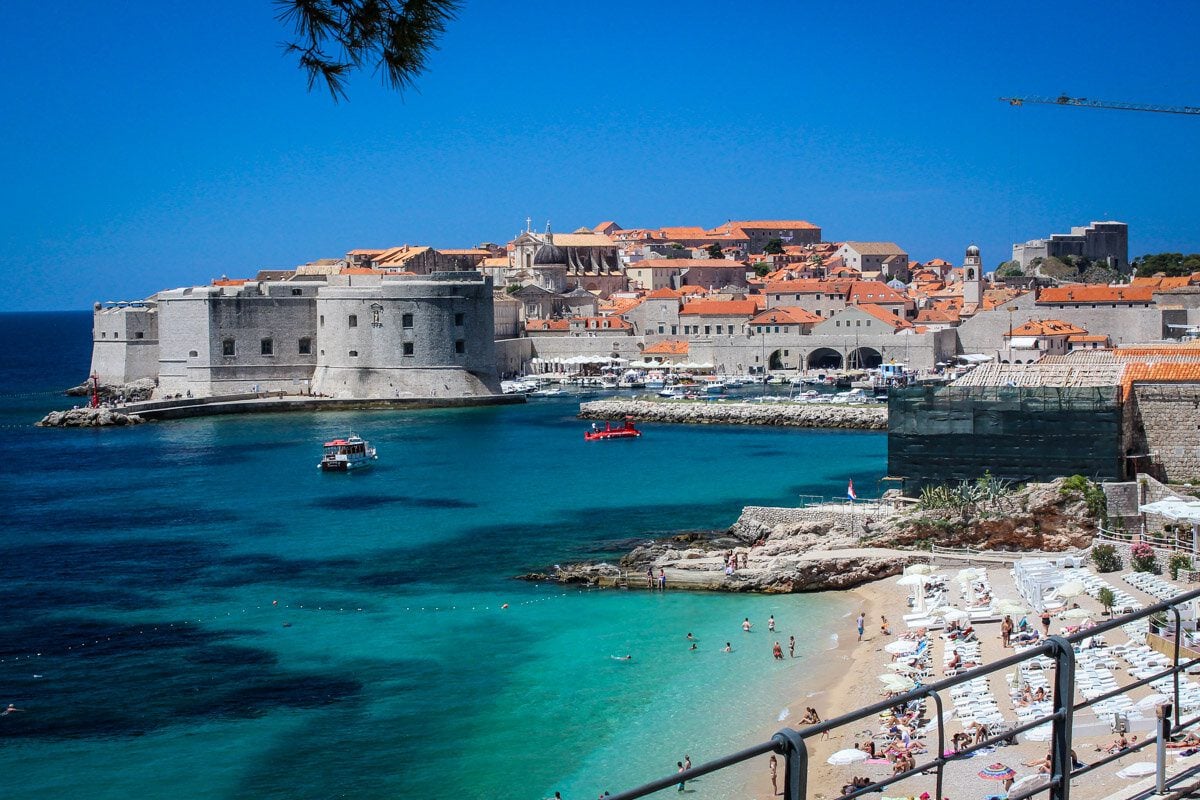 Like most countries in Europe, summer is when Croatia is at its peak.
The daytime temperatures are at an all-time high, sitting from 27-35°C (80-95°F) during the day. Tourists and locals alike take to the beaches and islands of the Adriatic and Dalmatian Coasts to soak up the sun.
As it's the high season, accommodations, tours, ferries, and tickets sell out fast, so it's crucial to book well in advance if you're planning to visit during the summer.
You can also expect high prices this season that are comparable to Western Europe.
It's the most sought-after time to visit. But after navigating the jam-packed streets of Croatian destinations in July, we really don't recommend visiting in the summer unless you're going to an event, are okay with navigating the Disneyland level of crowds, or are planning to get off the beaten path.
If you're into this sort of thing, Yacht Week, Sail Week, and ULTRA Europe are defining events this season as they top many travelers' Croatia bucket lists.
Summer months at a glance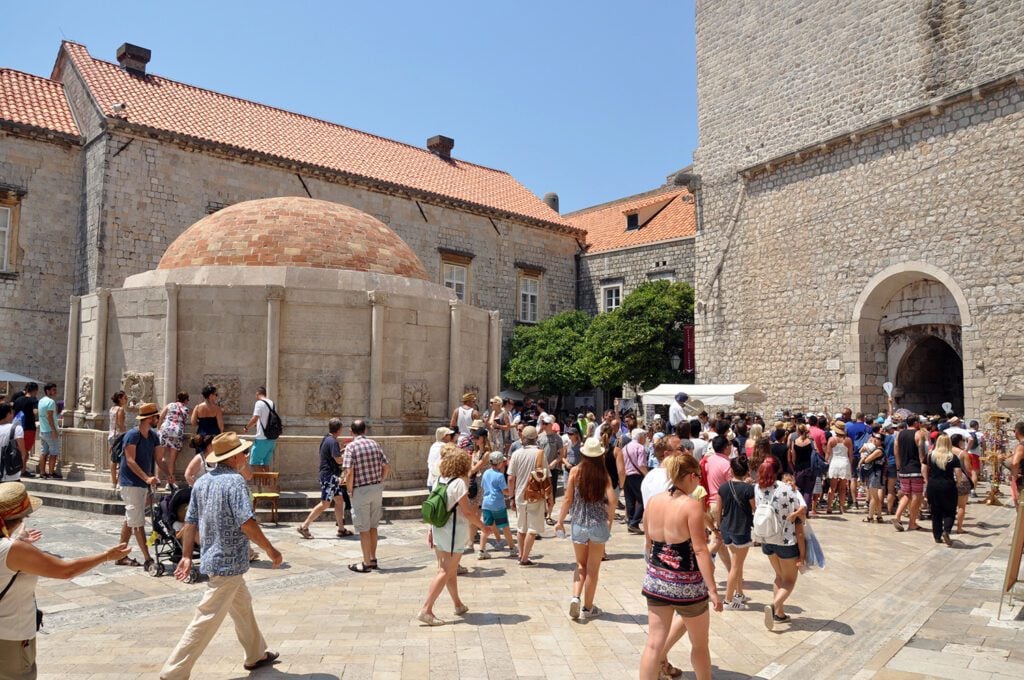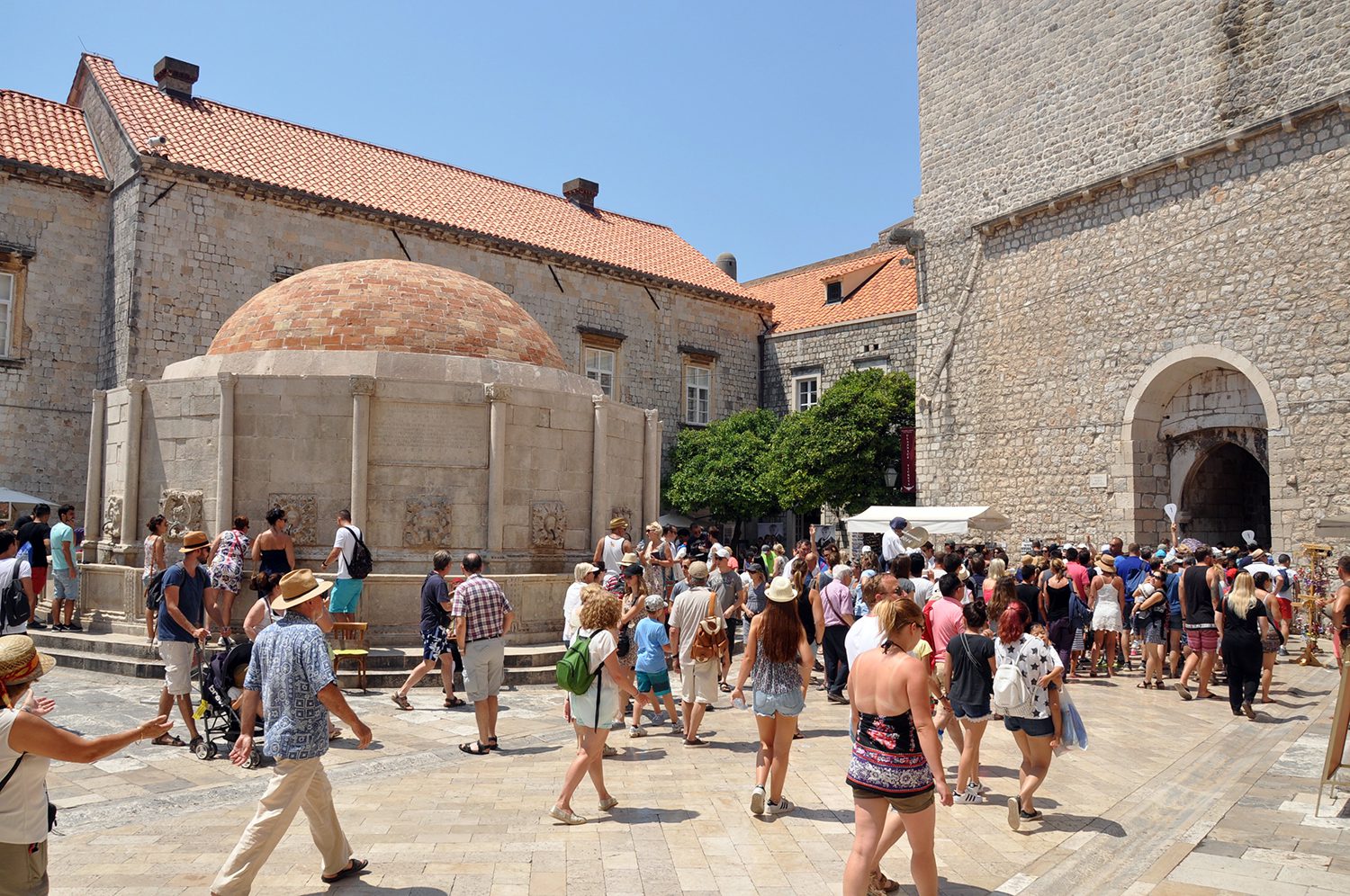 June is the best time to visit Croatia if you're set on a summer holiday. The summer crowds haven't peaked, but the ferries are fully operating, and the weather is hot and dry. Still be sure to book everything in advance to avoid disappointment.
July is the height of the event and festival season in Croatia. City streets are crowded, beaches are packed, and the weather is hot and sunny. Book everything well in advance and get off the beaten path in lesser-known destinations.
August has scorching temperatures, peak crowds, and an array of interesting events happening around the country. Relish in 14+ hours of daylight and late sunsets every night, giving optimal time for exploration and relaxation. Book well in advance and expect it to be packed.
Best places to visit during summer in Croatia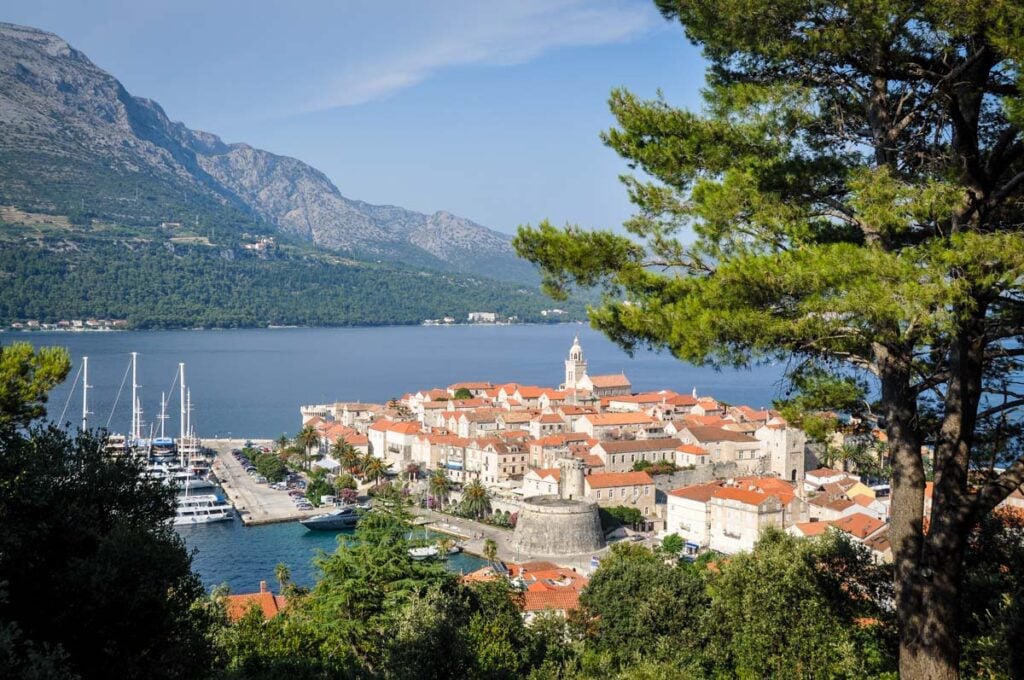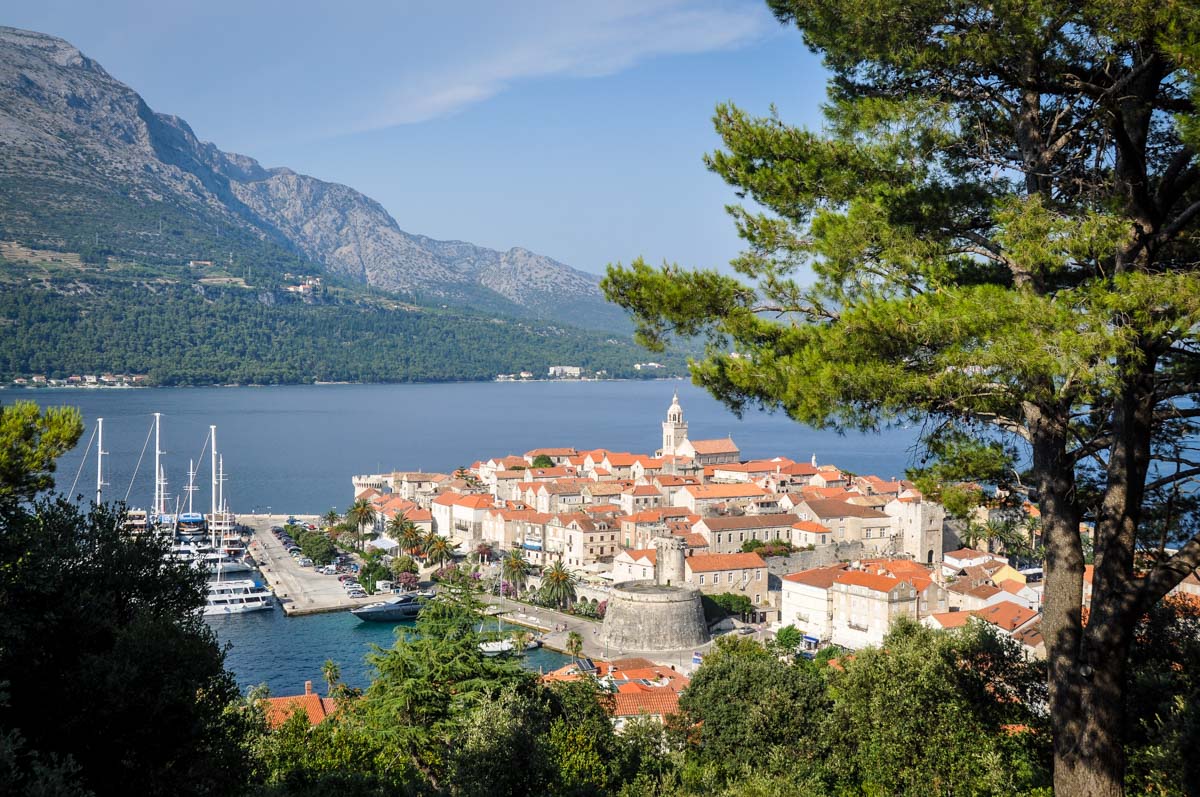 Korčula: for food, music, and wine festivals
Vis: for relaxation
Gorski Kotar: for pristine mountain wilderness
Šibenik: to slow down and enjoy authentic culture
Mljet: to beat the summer crowds
Best things to do during summer in Croatia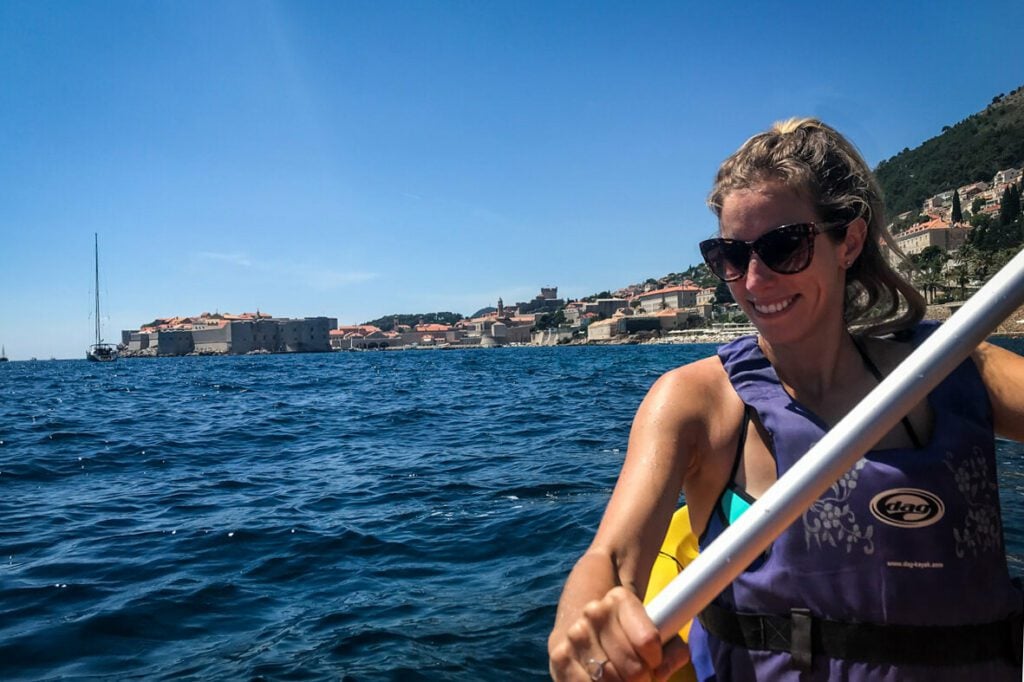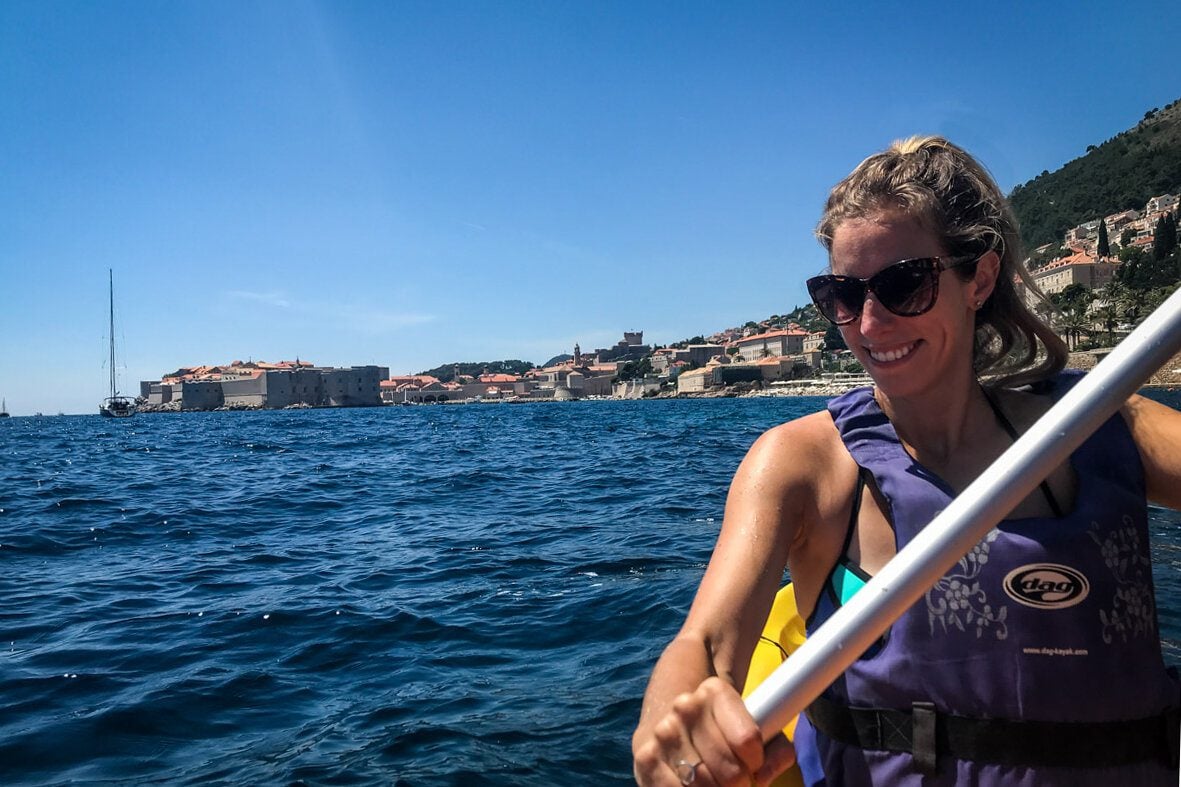 Yacht Week or Sail Week (July)
ULTRA Croatia (July)
Go to the beach
Diving/sailing/kayaking/water sports
Road trip the coast
Visit a lavender field (late June/early July)
Fall in Croatia
September & October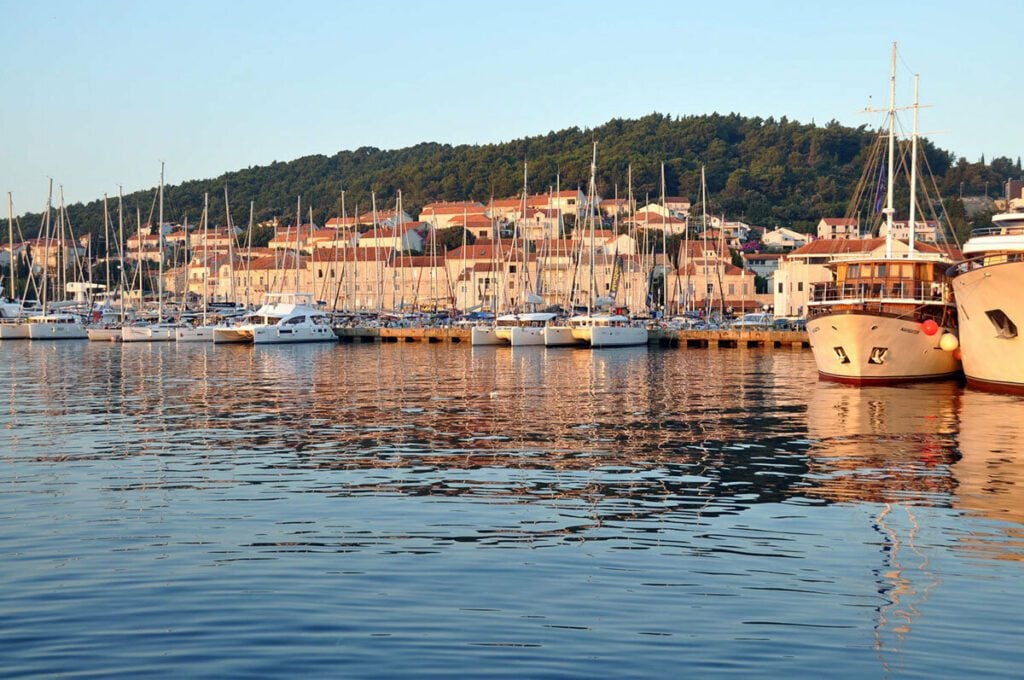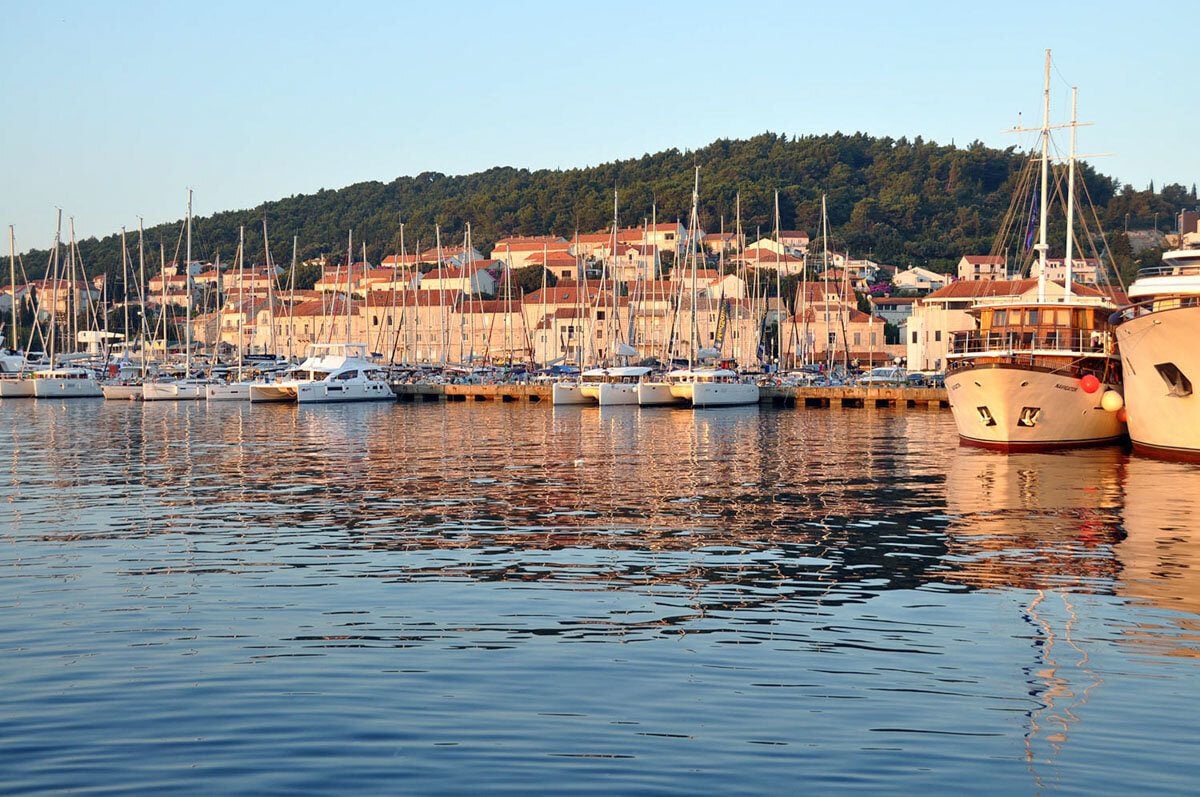 Autumn is a beloved season across Croatia as the country very slowly makes its way into the winter season.
September shakes away the brutal summer heat as daytime temperatures dip to around 25°C (77°F), then fall to around 20°C (68°F) by the end of October. Nighttime temperatures hang around 13-16°C (55-61°F).
This season is great since the country slows down significantly from summer, but islands are still accessible, sea temperatures are favorable, and the streets aren't nearly as packed.
As the temperatures drop, fall foliage soon blankets the country, putting on the most impressive show among the waterfalls of Plitvice Lakes and Krka National Parks.
Many cultural events happen this time of year: prime truffle season in Istria, Nights of Diocletian in Split, and the Zagreb Film Festival.
Fall months at a glance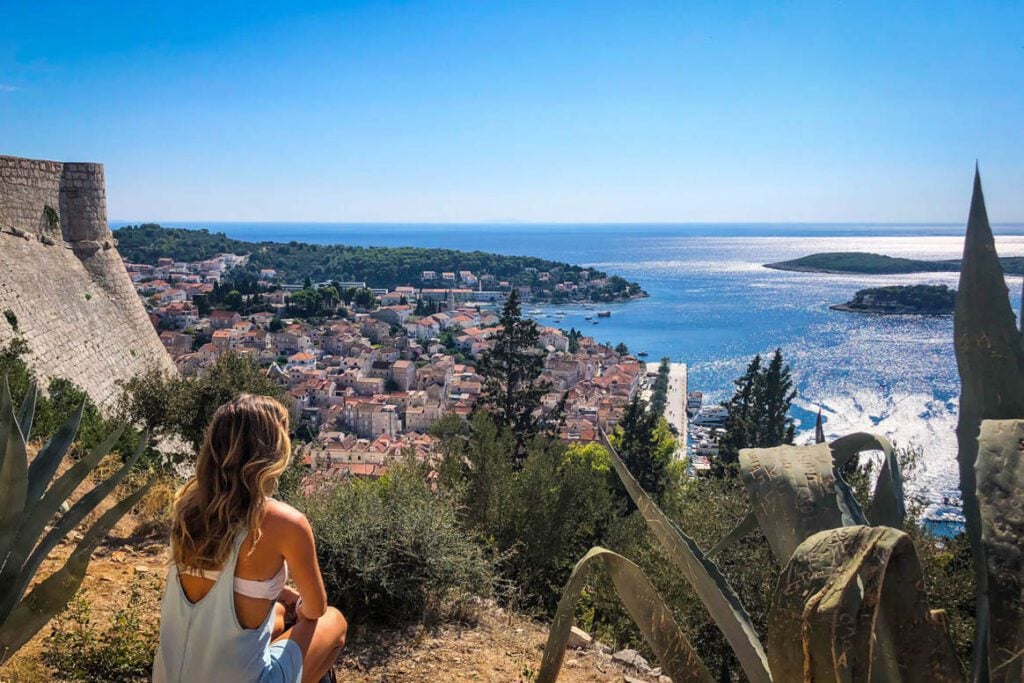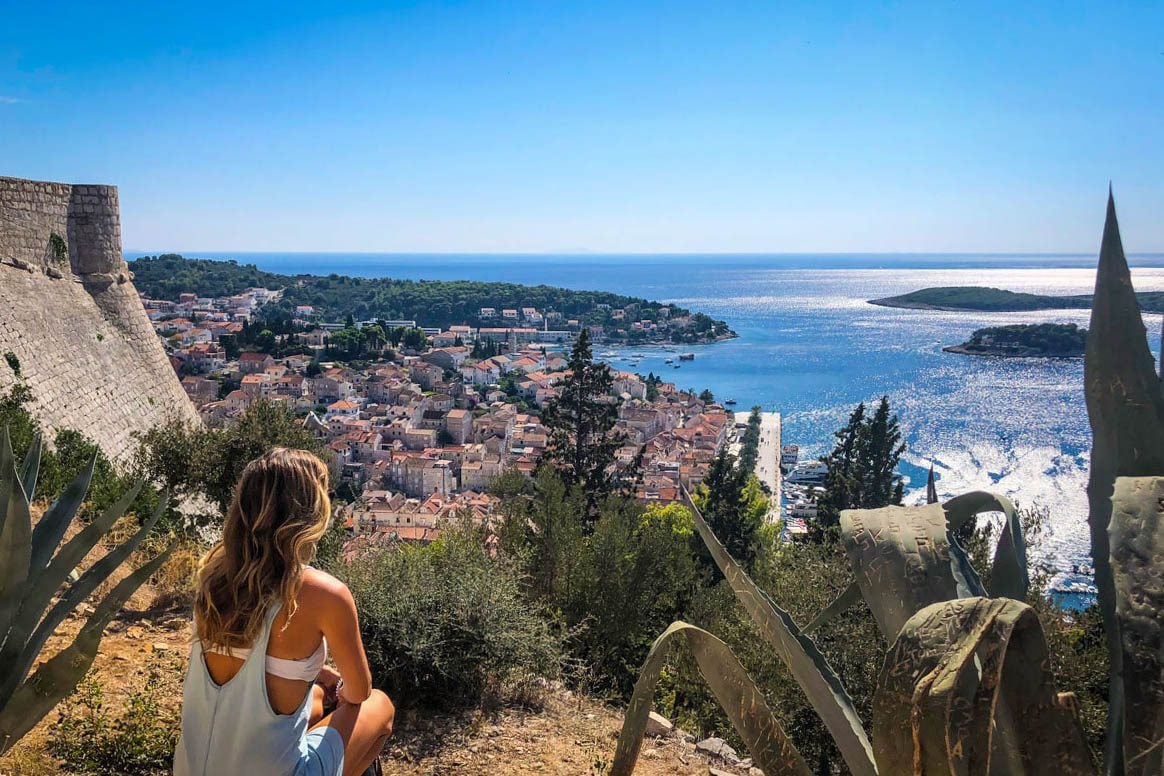 September is a fantastic month to visit Croatia for an all-encompassing visit. The summer crowds have subsided, the sea waters are still warm enough for summertime adventures, and the last bit of nice weather is holding on.
October in Croatia welcomes the first signs of fall with cooling temperatures. Stunning fall foliage blankets Plitvice Lakes and Krka. Throughout the month, ferries and establishments slowly begin to close for the winter season, but you can still get around just about anywhere.
Best places to visit during fall in Croatia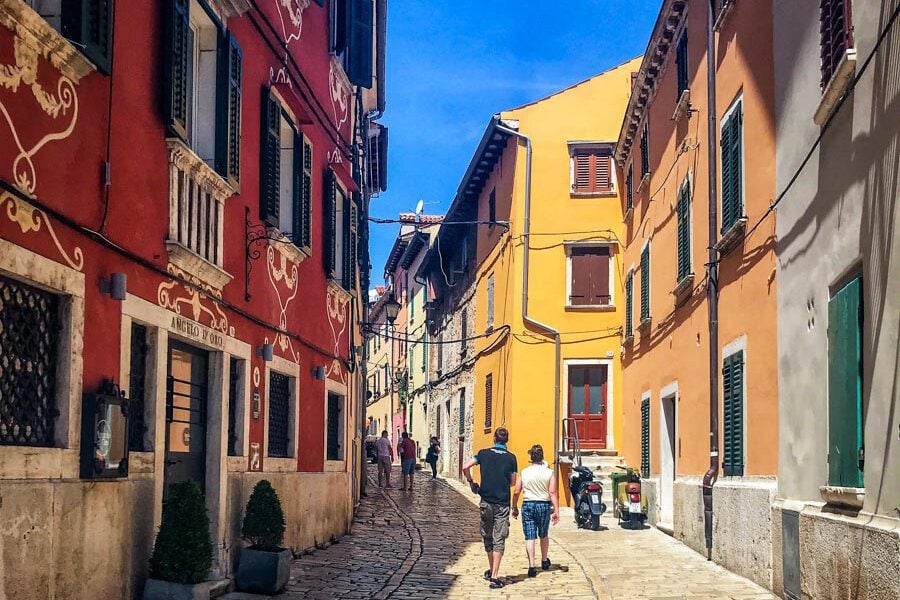 Best things to do during fall in Croatia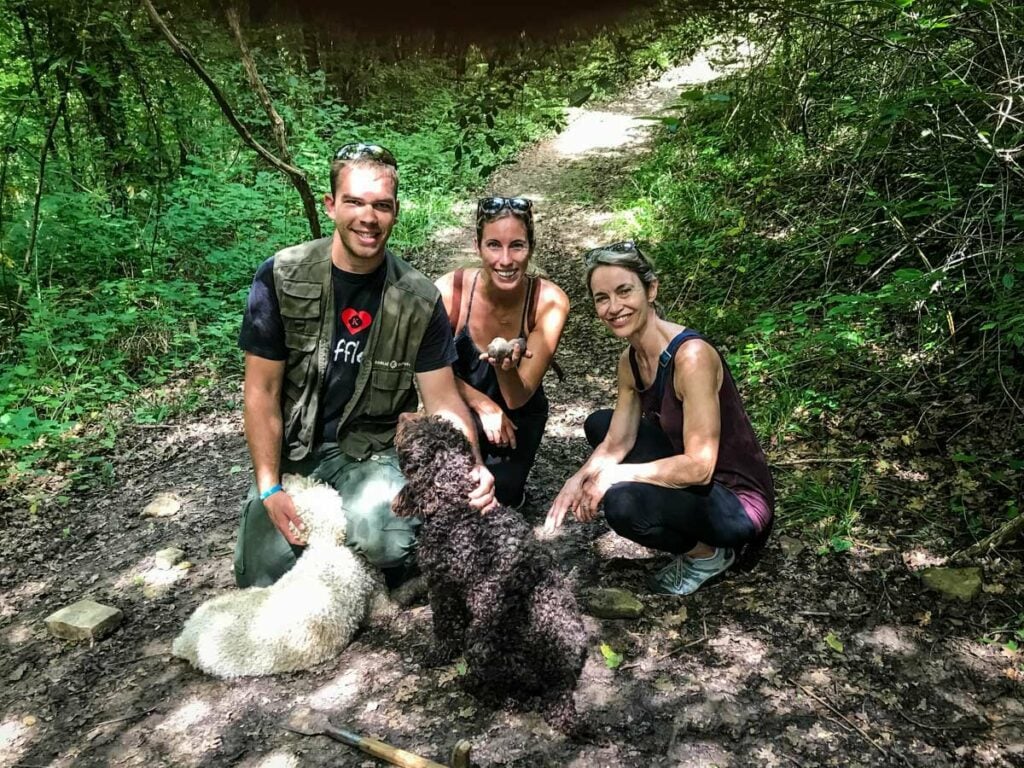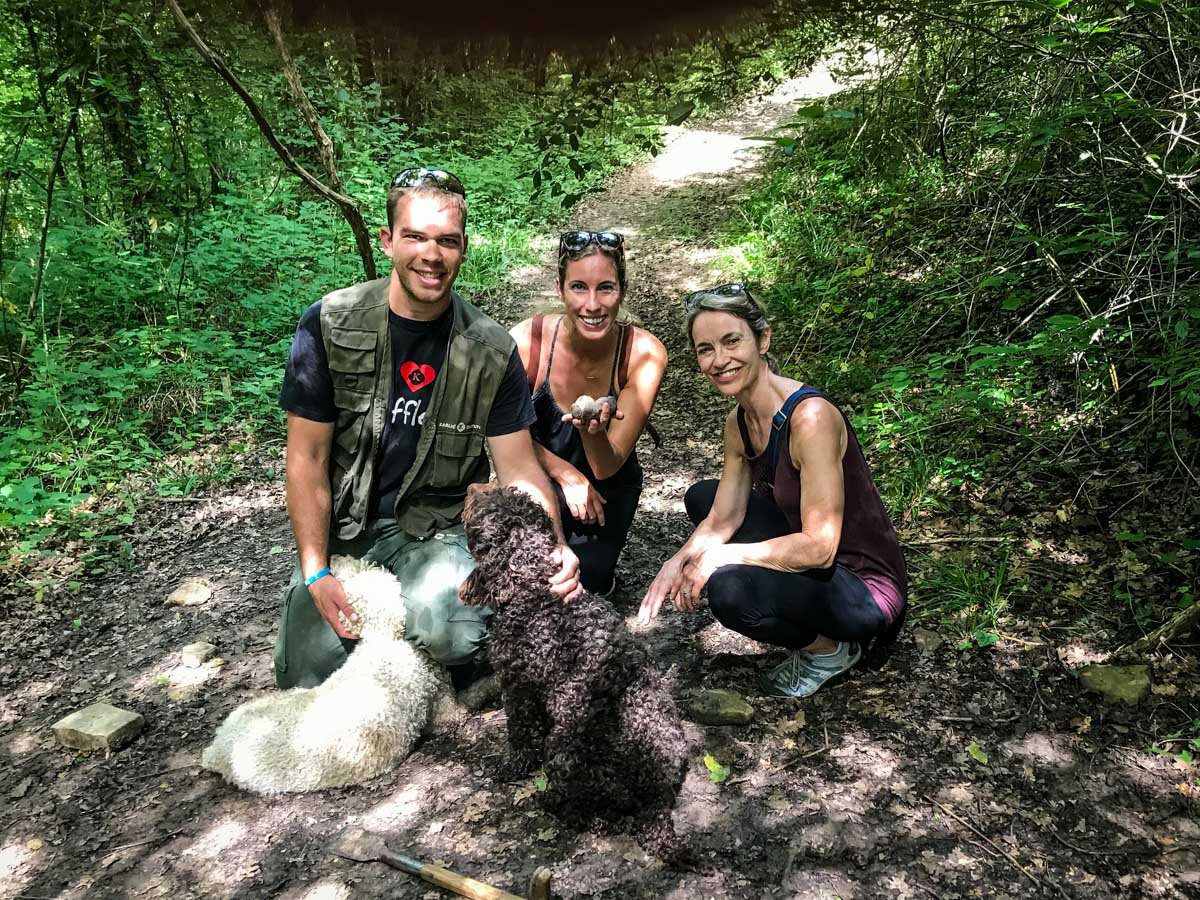 Experience Istria Truffle Days (September) and take a truffle hunting tour
Island hopping in Dalmatia
Sunbathing at the beach
Zagreb Film Festival (October)
Winter in Croatia
November, December, January, February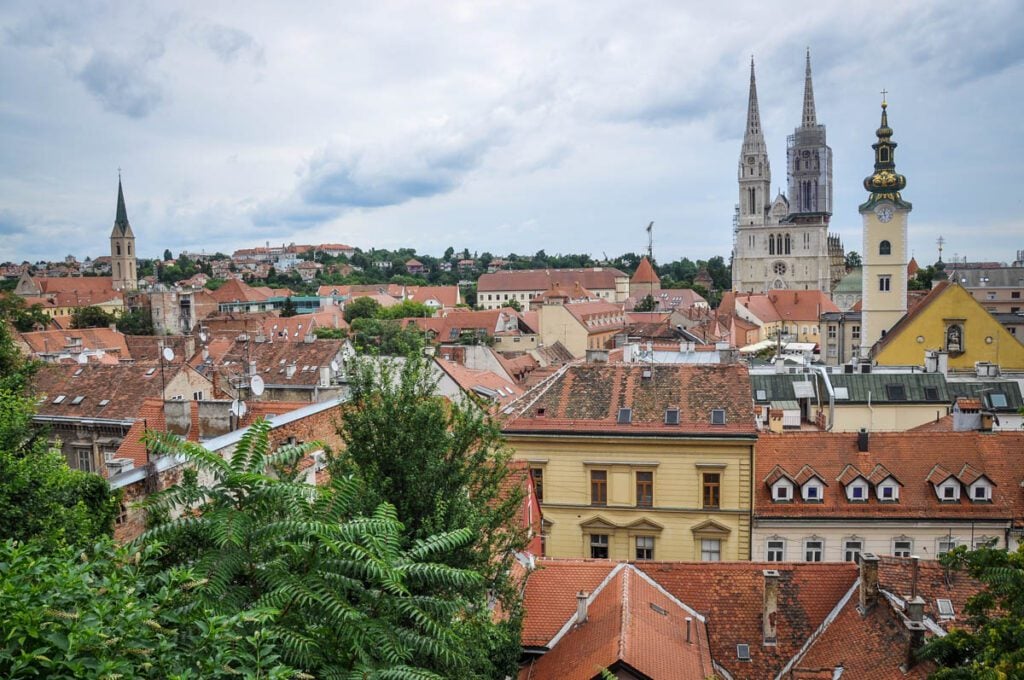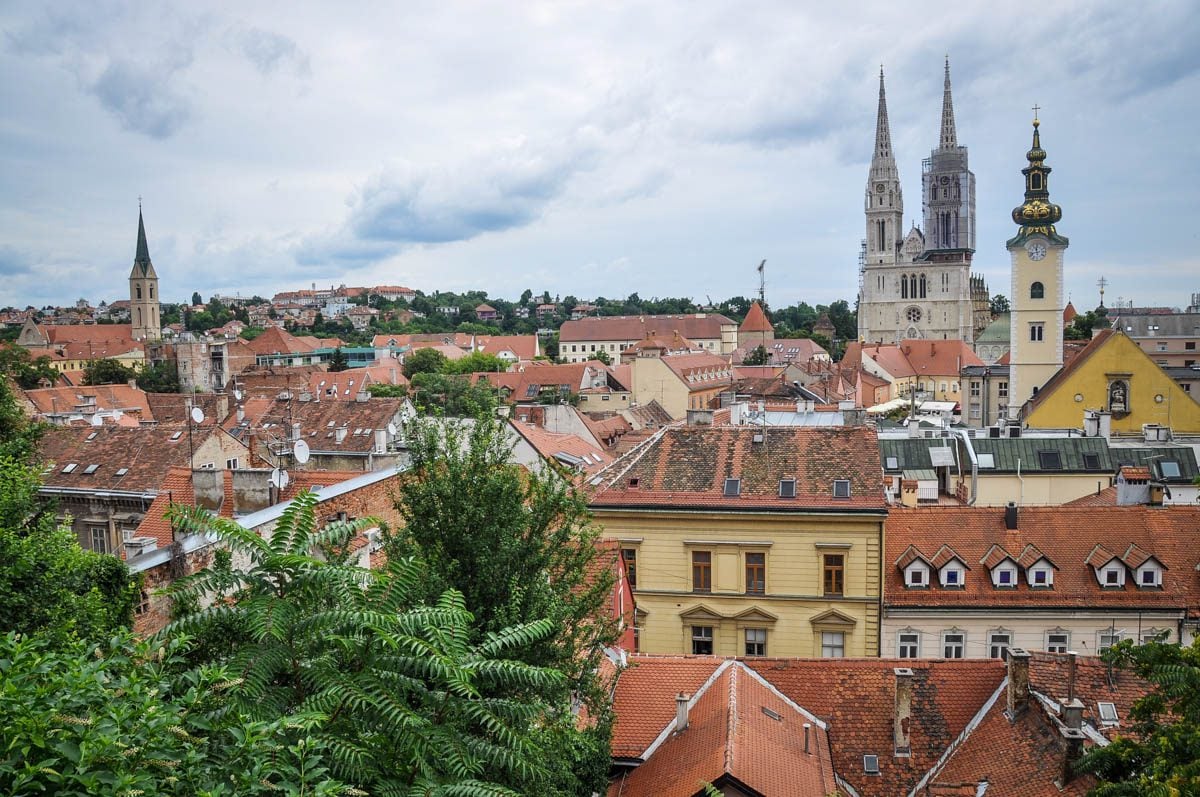 Croatia experiences mild and wet winters across the country. This is the slowest time of year for tourism as rain sprinkles the coast. Both prices and crowds are at an all-time low.
Average temperatures range from 4-8°C (39-46°F) during the night and 9-14°C (48-57°F) during the daytime.
Much of the country is hibernating this time of year with tours on hiatus, ferries off limits, and shops closed, but it's a fantastic time to enjoy local culture and winter sports. Plan your visit near the holidays for a bit of vibrancy among drury days.
Winter months at a glance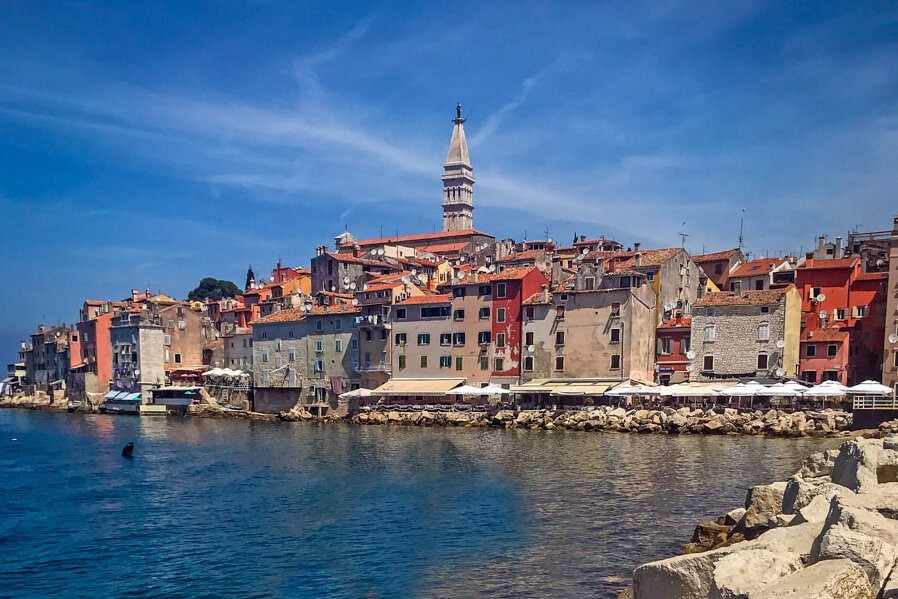 November is the slowest month in Croatia. Watch the last leaves of the fall and potentially the first snow of winter along the city streets.
December is the start of the winter sports season with fresh snowpack in the mountains. In the cities, browse Christmas markets and sip mulled wine.
January brings the coldest temperatures across Croatia. It's one of the best times for skiing and snowboarding or enjoying uncrowded city streets.
February is the tail end of winter, but boasts the exciting Carnival celebration. The weather begins to dry up near the end of the month, but is cold, wet, and windy the majority of the time.
Best places to visit during winter in Croatia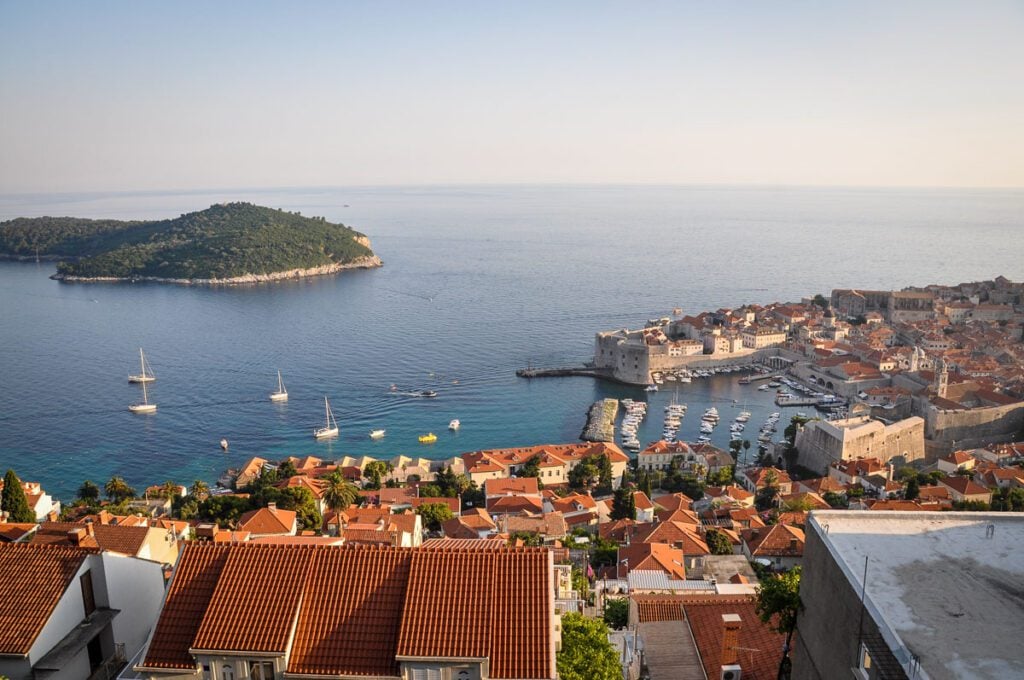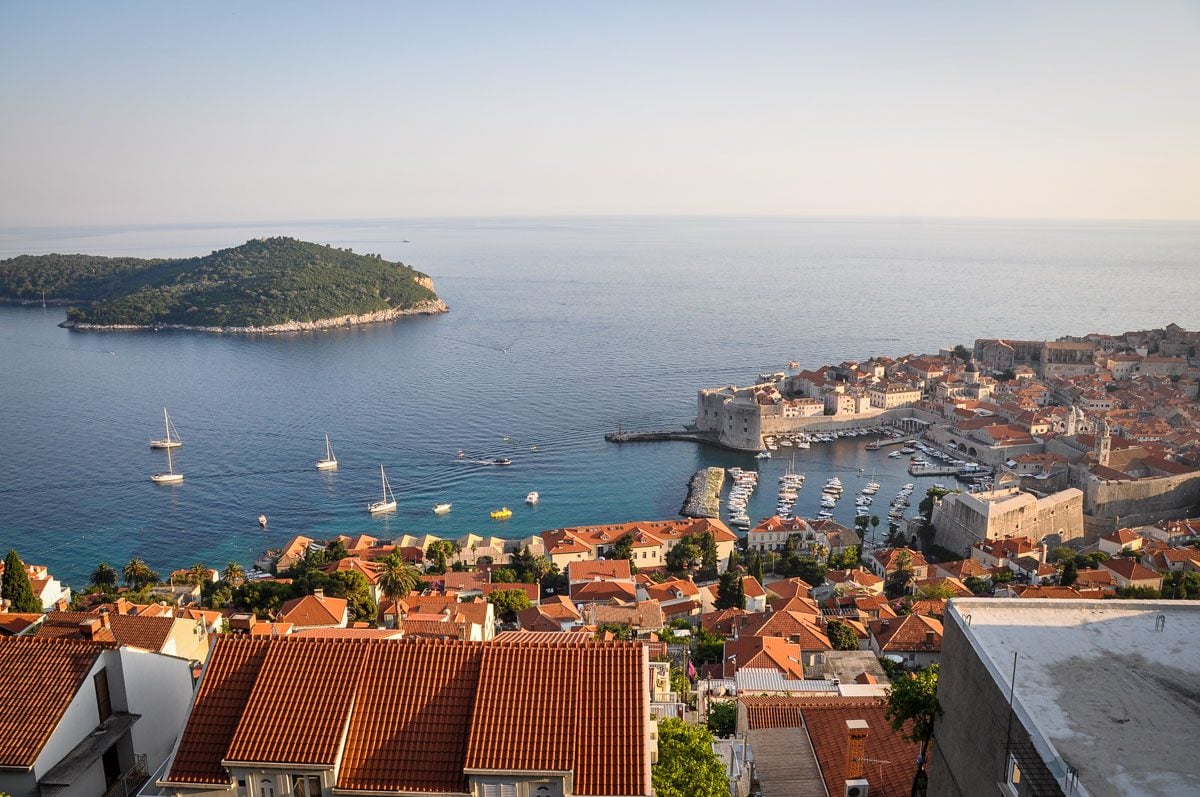 Trogir: for super quiet, breathtaking streets
Rijeka: for Carnival
Dubrovnik: for New Years and crowd-free streets
Hrvatsko Zagorje region: for snow-capped castles
Best things to do during winter in Croatia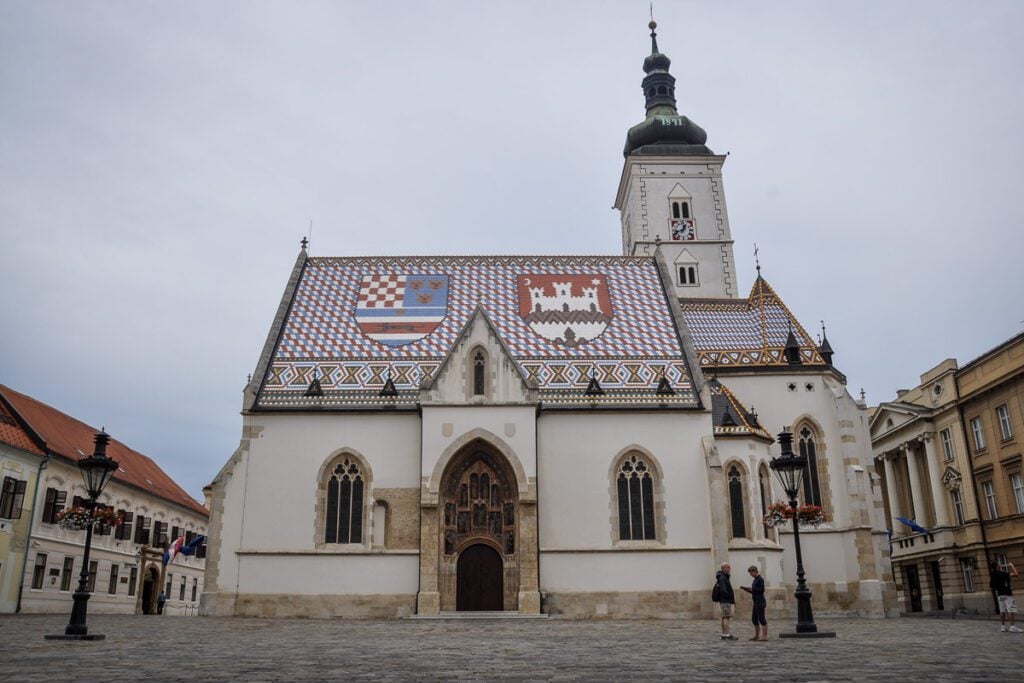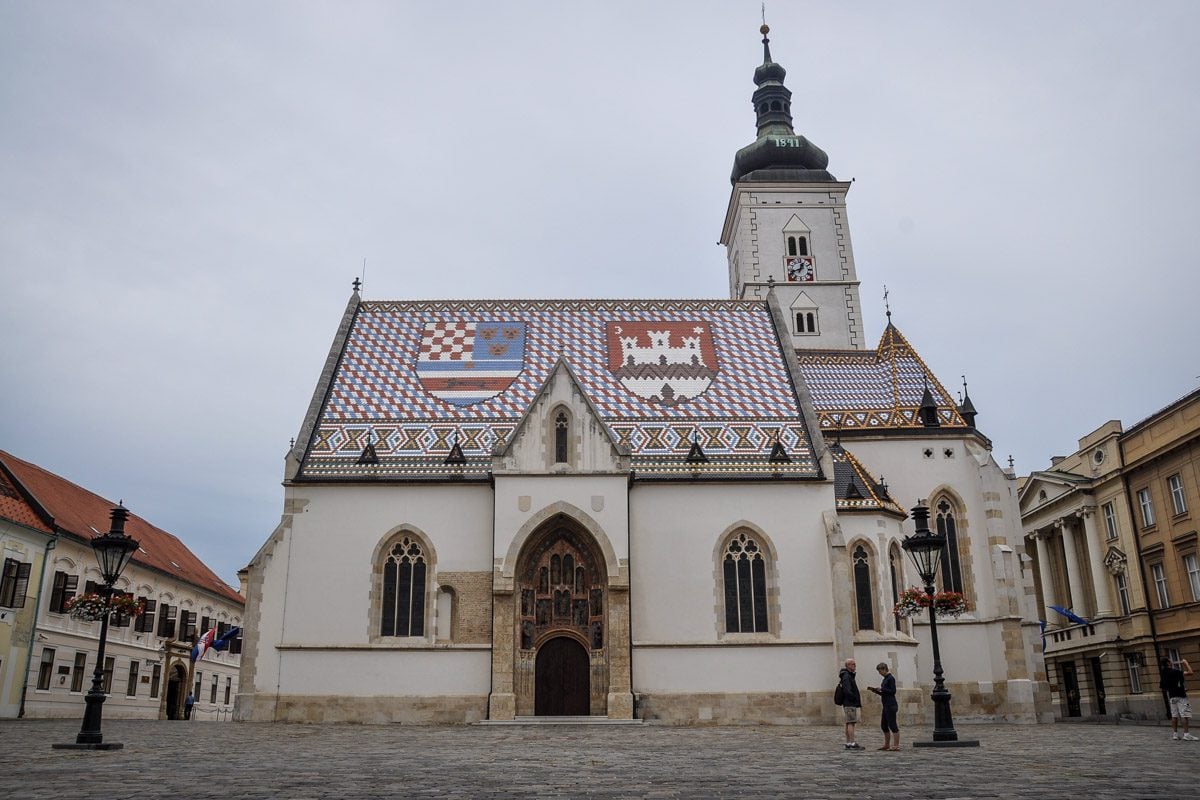 Wander Zagreb's Christmas markets
Skiing/snowboarding
Soak in a thermal spa
Harvest mandarins in Neretva
Indulge in hearty Croatian food
Spring in Croatia
March, April, May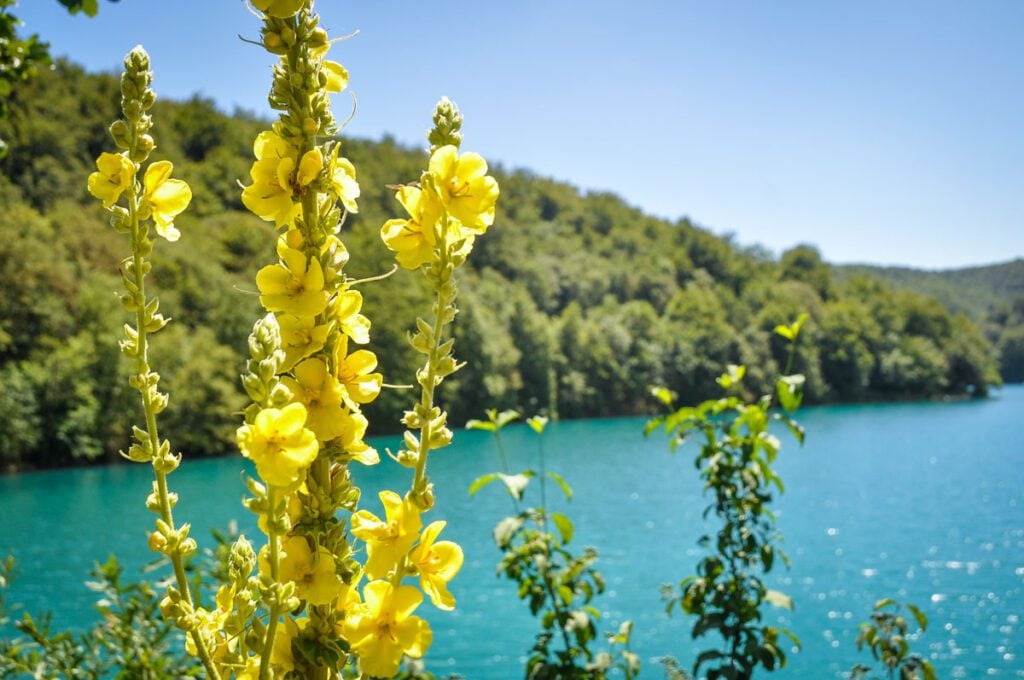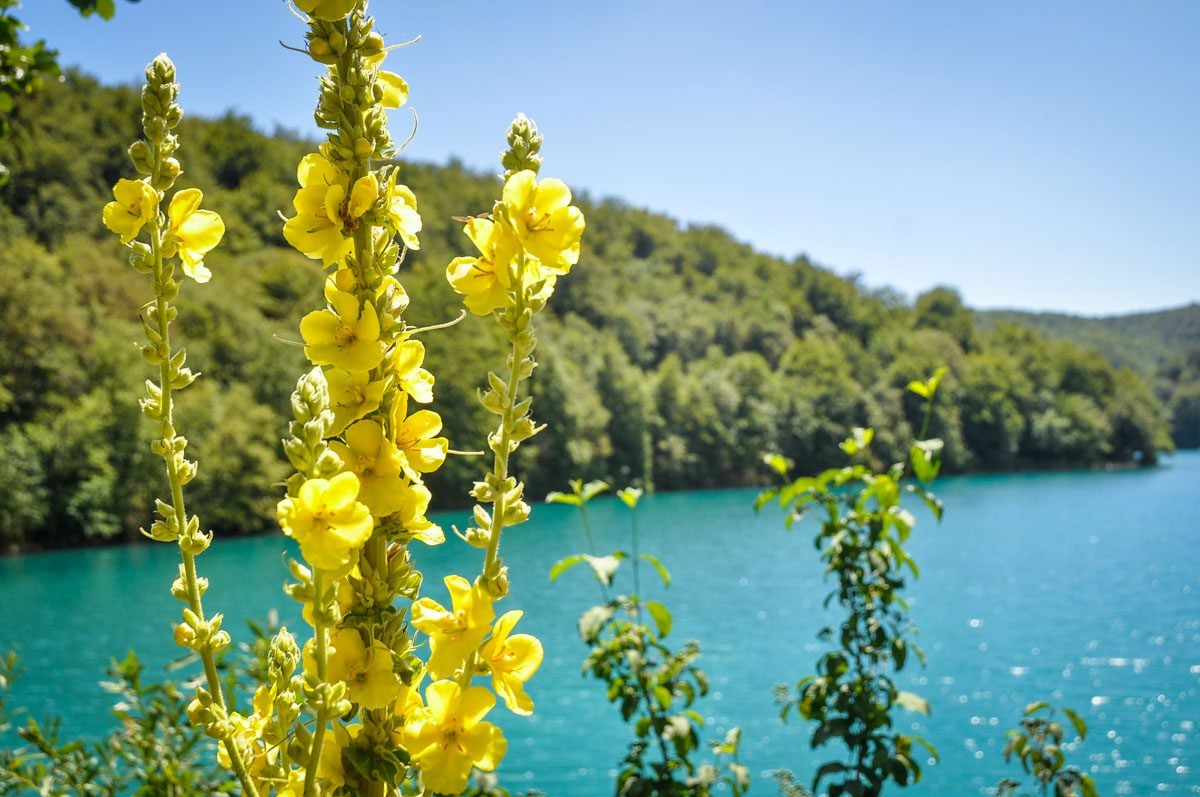 In the spring months, Croatia slowly warms up and prepares for the wave of summer tourism.
While you won't want to hit the beaches and island hop this season, you'll love enjoying the country with the locals, sightseeing in the cities, and scoring deals on flights, accommodation, and excursions.
Daytime temperatures early in the spring rarely exceed 13°C (55°F), then gradually build up to 23°C (74°F) by the beginning of summer.
Easter celebrations are a highlight this season, as well as oyster/asparagus season for foodies.
Spring months at a glance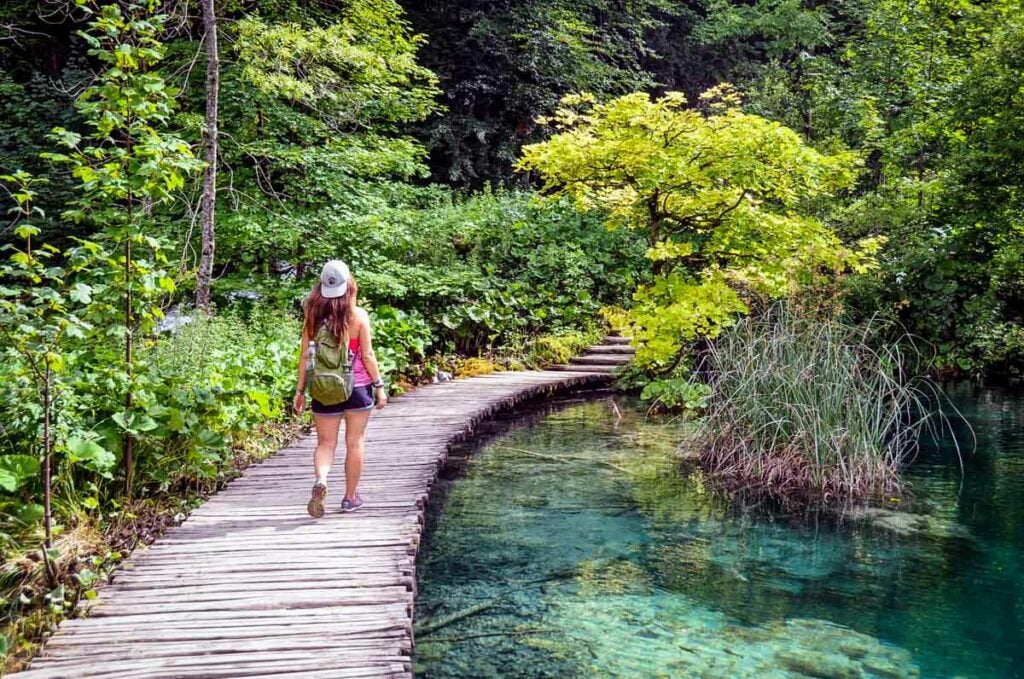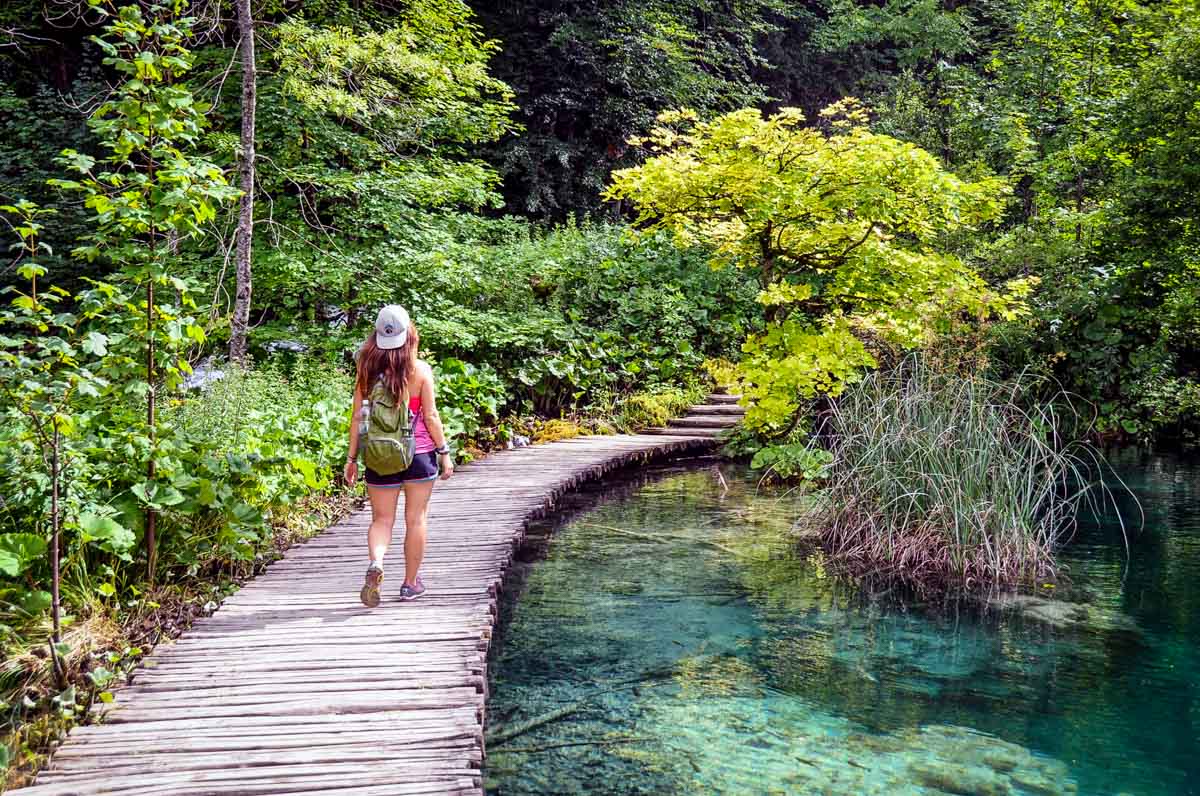 March in Croatia is when the winter finally melts away and the first signs of spring show. Waterfalls in Plitvice Lakes and Krka are powerful from snow melt. Note that it's still a bit chilly for a beach day or a dip in the sea, but it's a great time for sightseeing in cities.
April is a toss-up month for visiting Croatia as the weather can be unpredictable, so pack for all the seasons. Businesses and tours slowly open up this month, Easter brings life to city streets, and the beaches begin to stir near the end of the month.
May concludes the rainy season as the coast warms up and everything comes alive. Locals still outnumber tourists this month and everything opens, preparing for summer. Flexibility will be key as the summer ferry schedules aren't released til the last weekend of May.
Best places to visit during spring in Croatia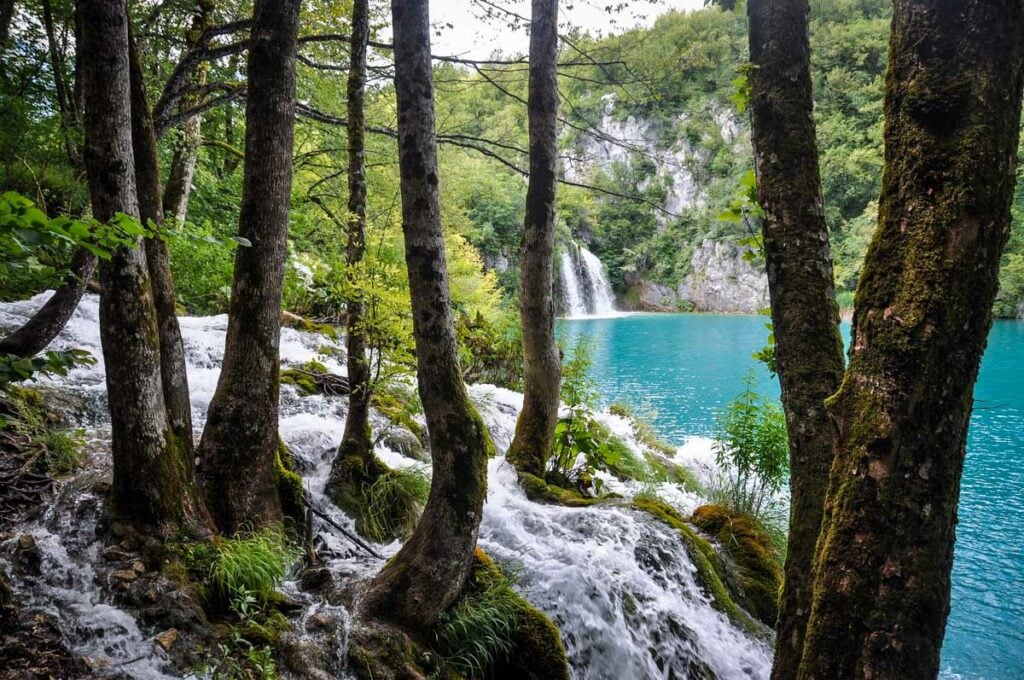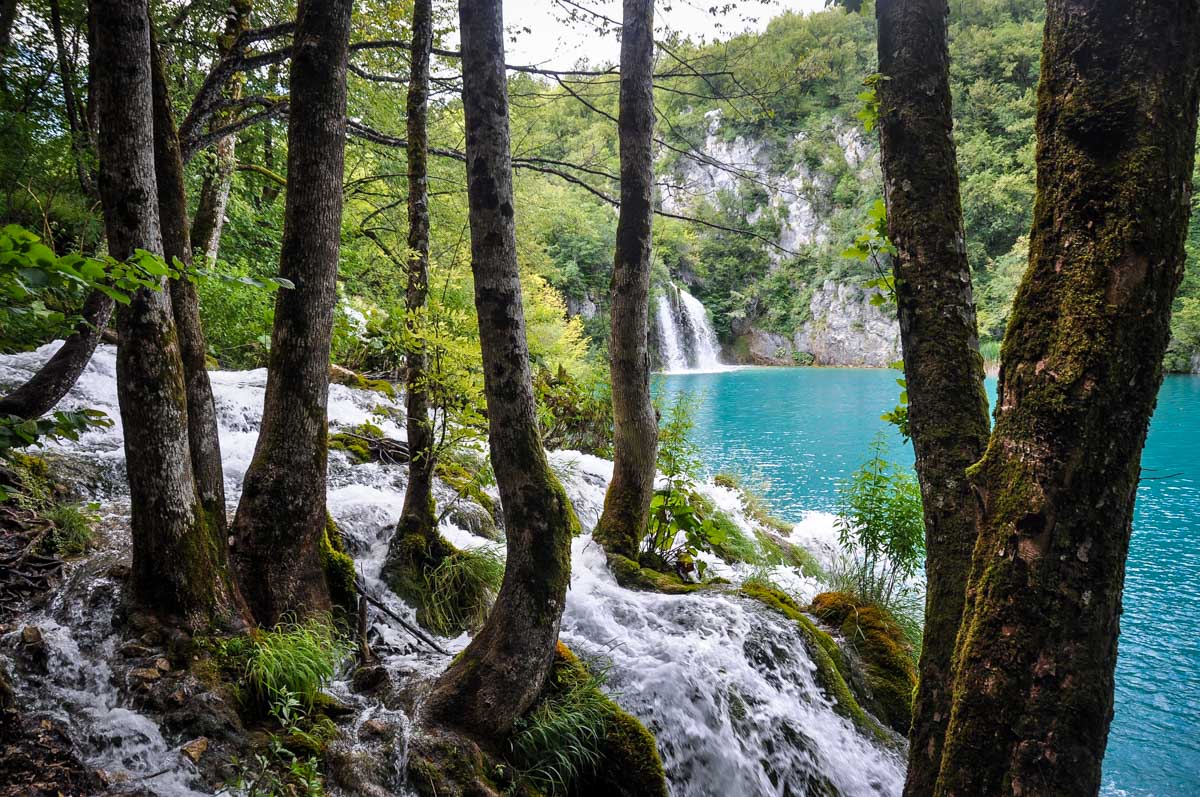 Zagreb: for blooming parks and buzzing streets
Plitvice Lakes National Park – for coursing waterfalls and fewer crowds (late Spring)
Dubrovnik: for mild weather and fewer crowds
Hvar Island: for Easter
Best things to do during spring in Croatia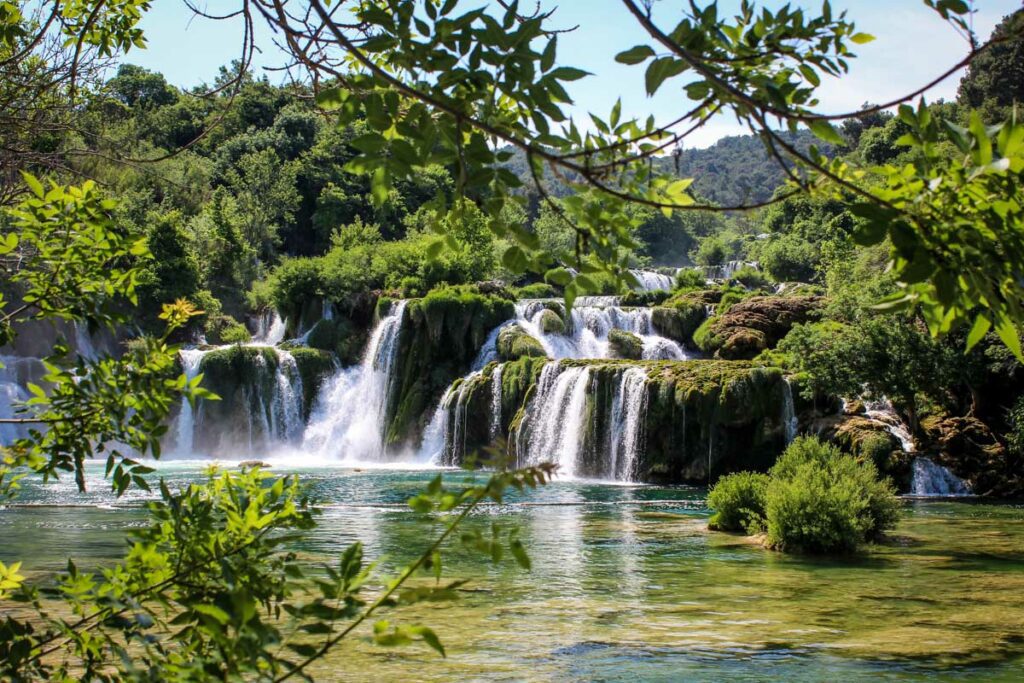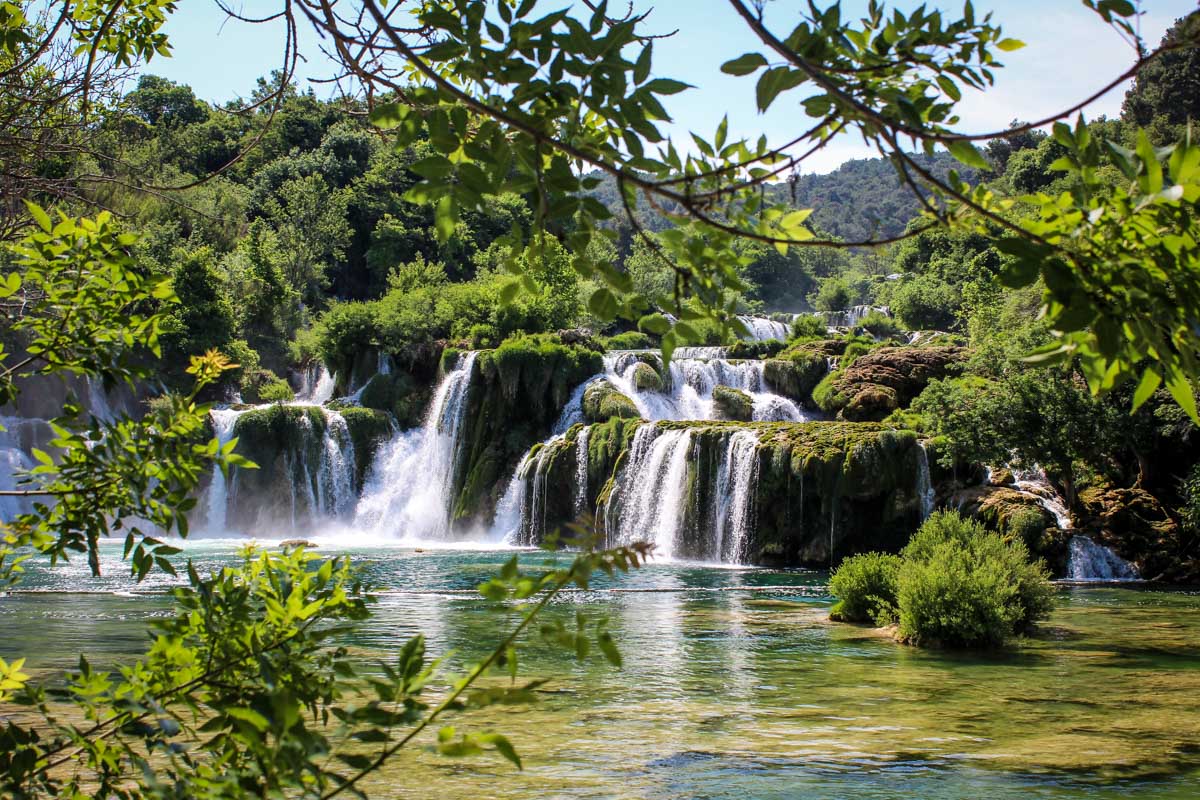 Ston Oyster Festival (March)
Dubrovnik Festiwine (April)
Forage for wild asparagus in Dalmatia
Hiking/white water rafting/outdoor sports
Porec's Vinistra (May)
Best time to visit Croatia in our opinion…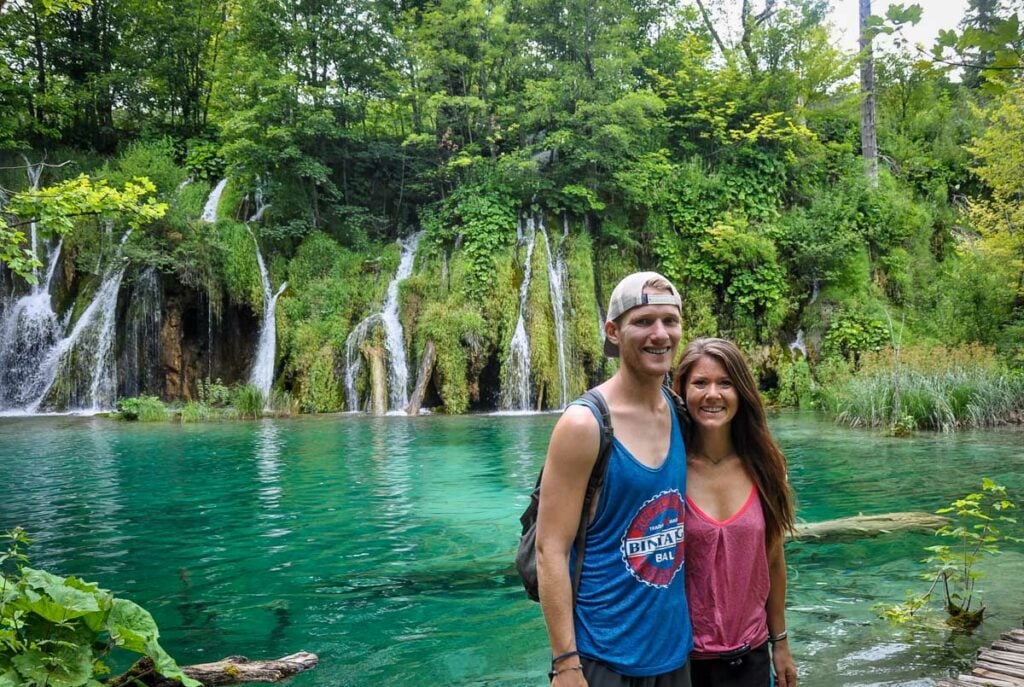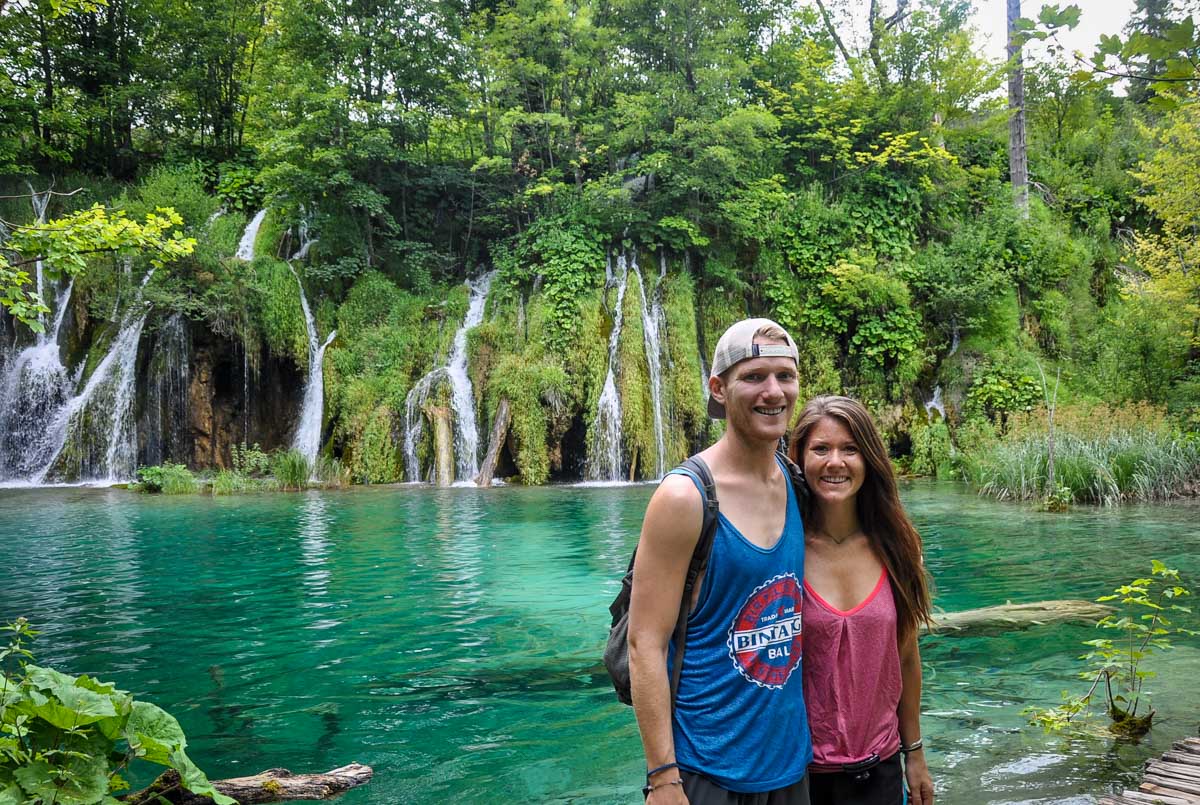 In our opinion, the best time to visit Croatia depends on what you prefer to do.
In general, for the best weather and fewer crowds, visit in the shoulder seasons. Late April – May and September – early October are both excellent times to visit.
If you want to go sailing, island hopping, and indulge in water sports, summer is most popular, but note that this season experiences extremely large crowds and Western Europe prices.
We recommend avoiding summer (peak season) altogether as the most popular sites are filled to the brim with tourists and daytime temperatures are at an all-time high.
September and early October give you all the great weather of summer along the Dalmatian coast, but without the summer crowds and prices. The water is still warm and ideal for snorkeling, swimming, and island hopping. Plus, the weather is ideal for sightseeing in the cities.
If hiking and exploring the National Parks is your goal, March through May is best, as you'll have favorable daytime temperatures and melting snowpack gives powerful waterfalls.
For foodies, late spring is an ideal time to visit for food and wine festivals, the start of truffle season, and asparagus foraging.
---
Are you planning a trip to Croatia?
We have lots of resources on travel in Croatia and destinations throughout the country. Check out our Croatia Travel Homepage for everything you need to know, or start by reading some of our favorite Croatia articles here:
Save this article on Pinterest for later!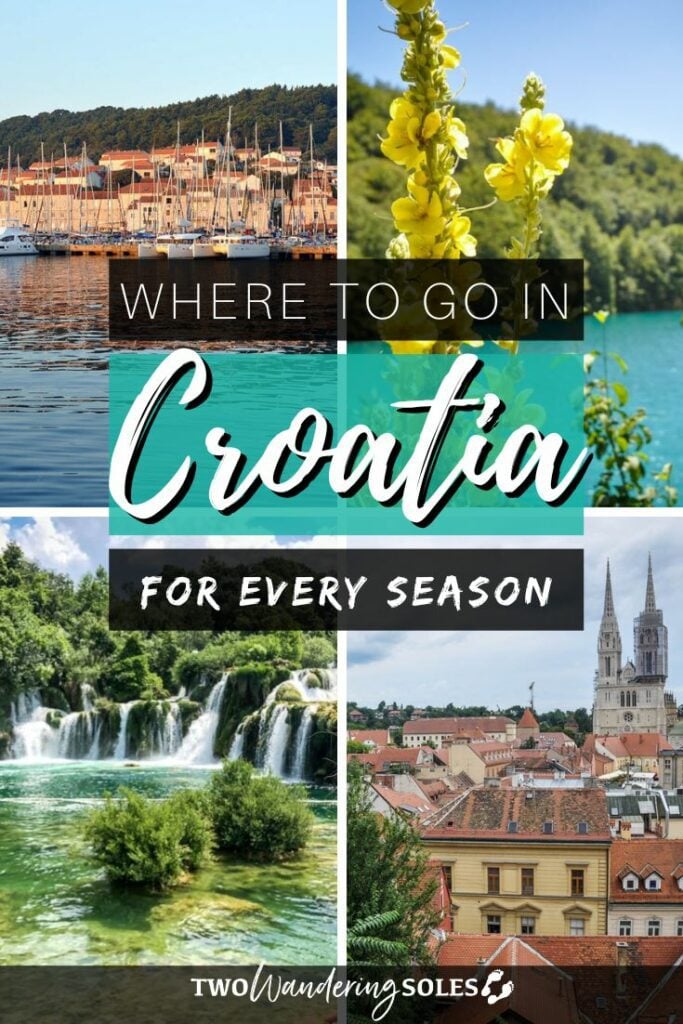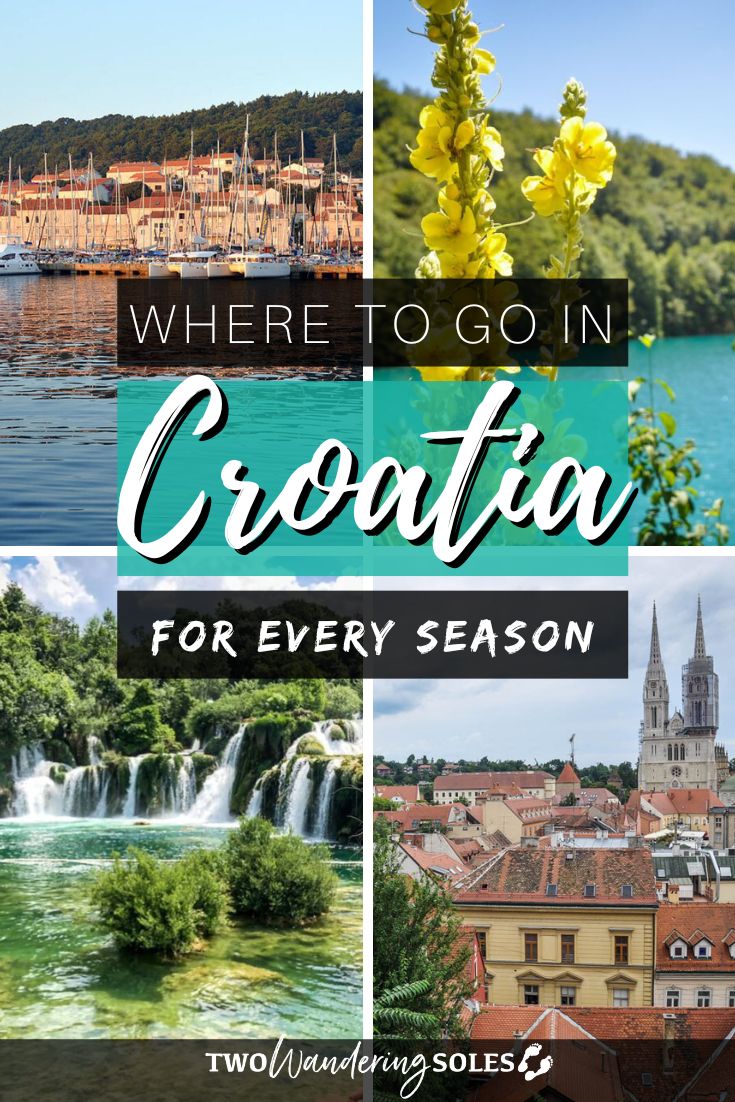 We want to hear from you!
After reading through this article, have you decided on the best time to visit Croatia for YOU? Let us know in the comments below and we'll do our best to get back to you!