The Andean city of Cusco is a must-see on any trip to Peru. In this guide, we give you the full breakdown of the best routes, cost, travel time, and everything you'll need to know to get from Lima to Cusco whether by plane, bus, car, or a guided tour.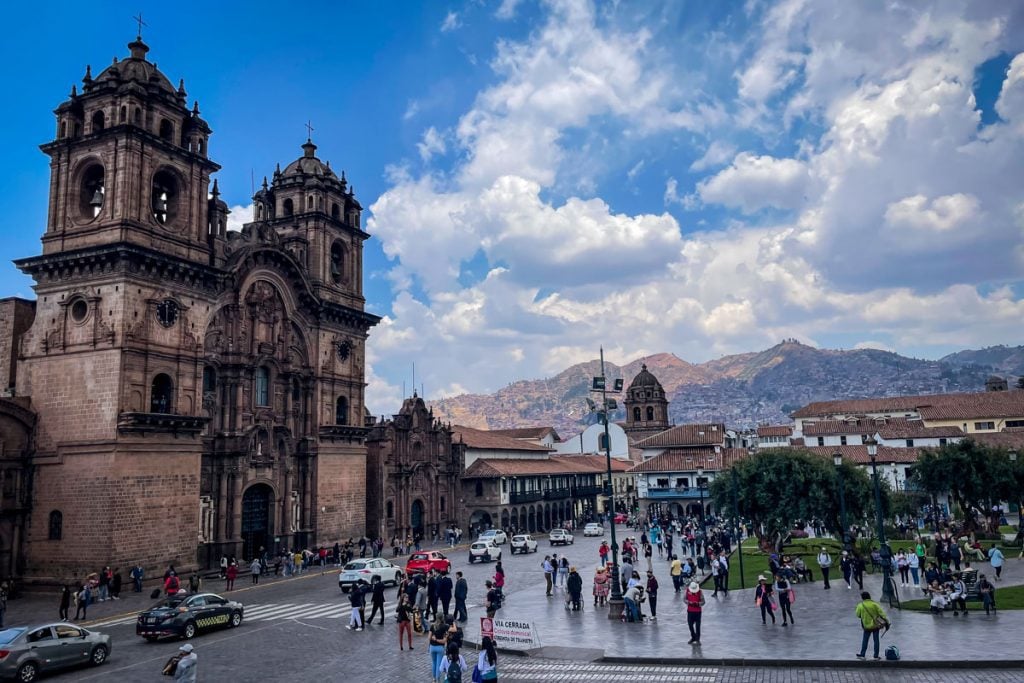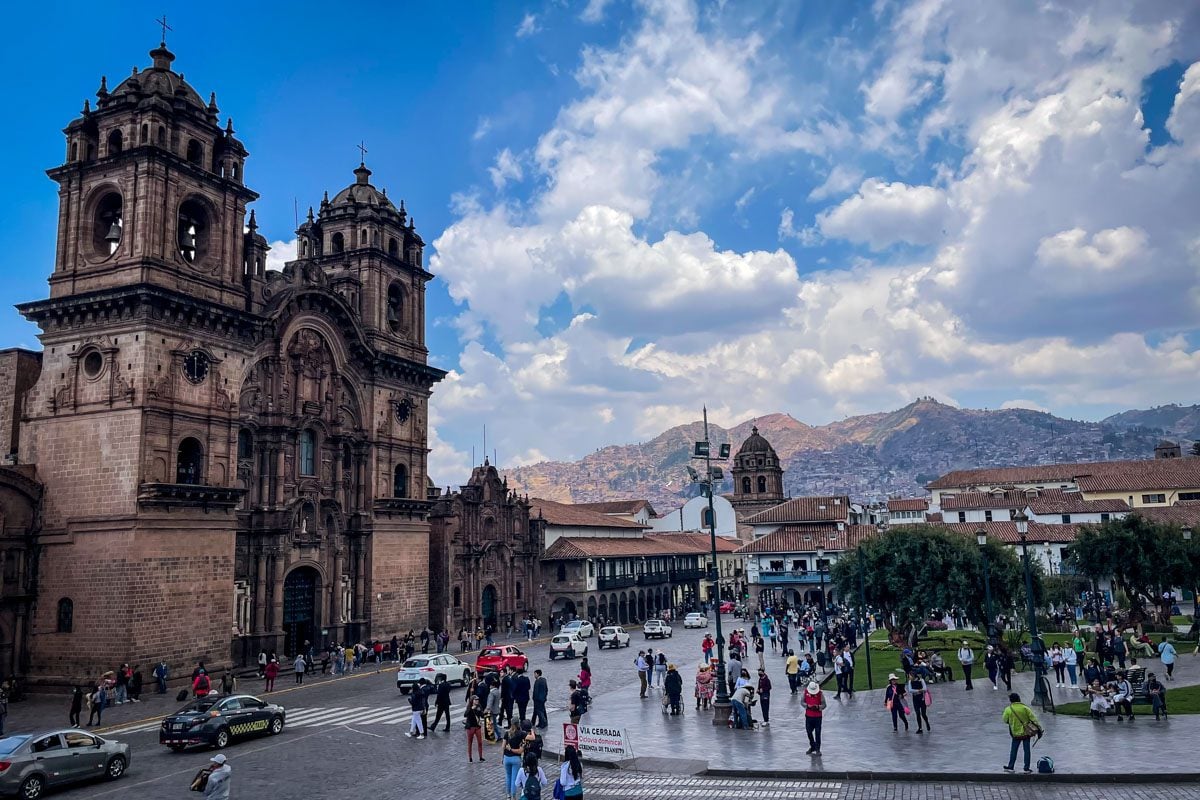 Lima and Cusco are two of the most popular cities to explore in Peru, each with their own unique charm, history and adventure.
After experiencing all the fun things to do in Lima, including eating at world-renowned restaurants, and sightseeing in the capital city, the next best part of any Peru itinerary is to head to Cusco.
Cusco is the capital of the Incan Empire, surrounded by the Andes Mountains, and a great jumping off point to explore Machu Picchu, Rainbow Mountain, and the Sacred Valley.
What makes the journey from Lima to Cusco so incredible is that there are a variety of ways you can get to one city from another. You can view the jagged peaks of the Andes mountains on a quick flight to Cusco, or you can extend your transit time over a few days, taking your time to explore Huacachina, Nazca, Arequipa, and many other popular places between the two prominent cities.
In this detailed guide, we break down everything you need to know about traveling from Lima to Cusco. Whether you're taking it slow or need a more direct route, we dish out all of our best tips from getting from one city to the other.
Lima to Cusco
Planning a trip to Peru? Find out the best time to visit Peru based on regional weather patterns and your personal travel style.
---
Lima to Cusco by plane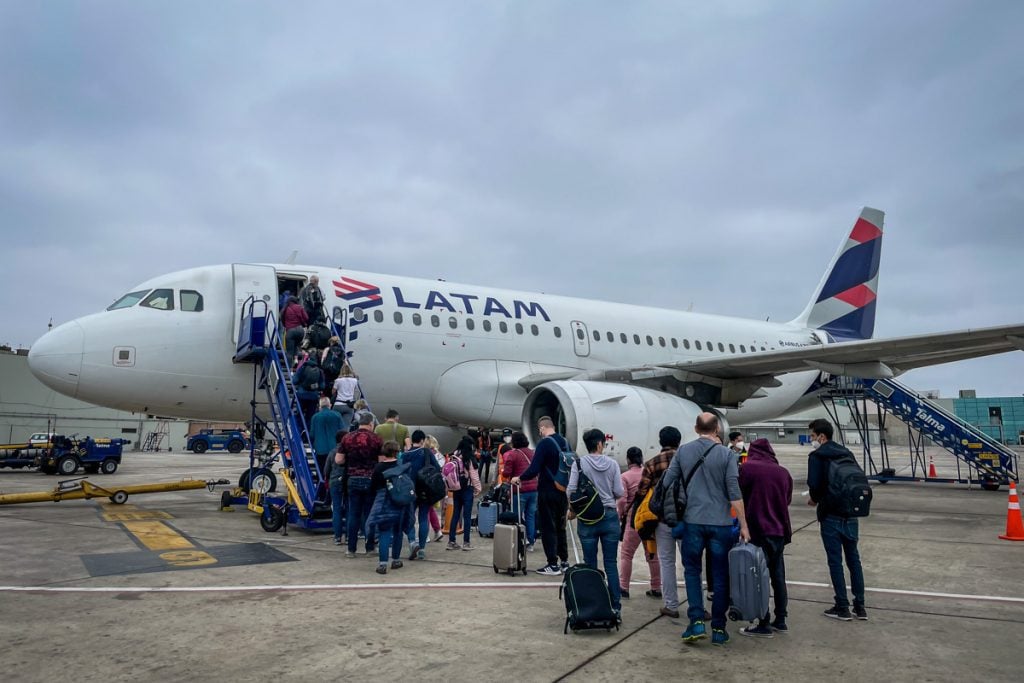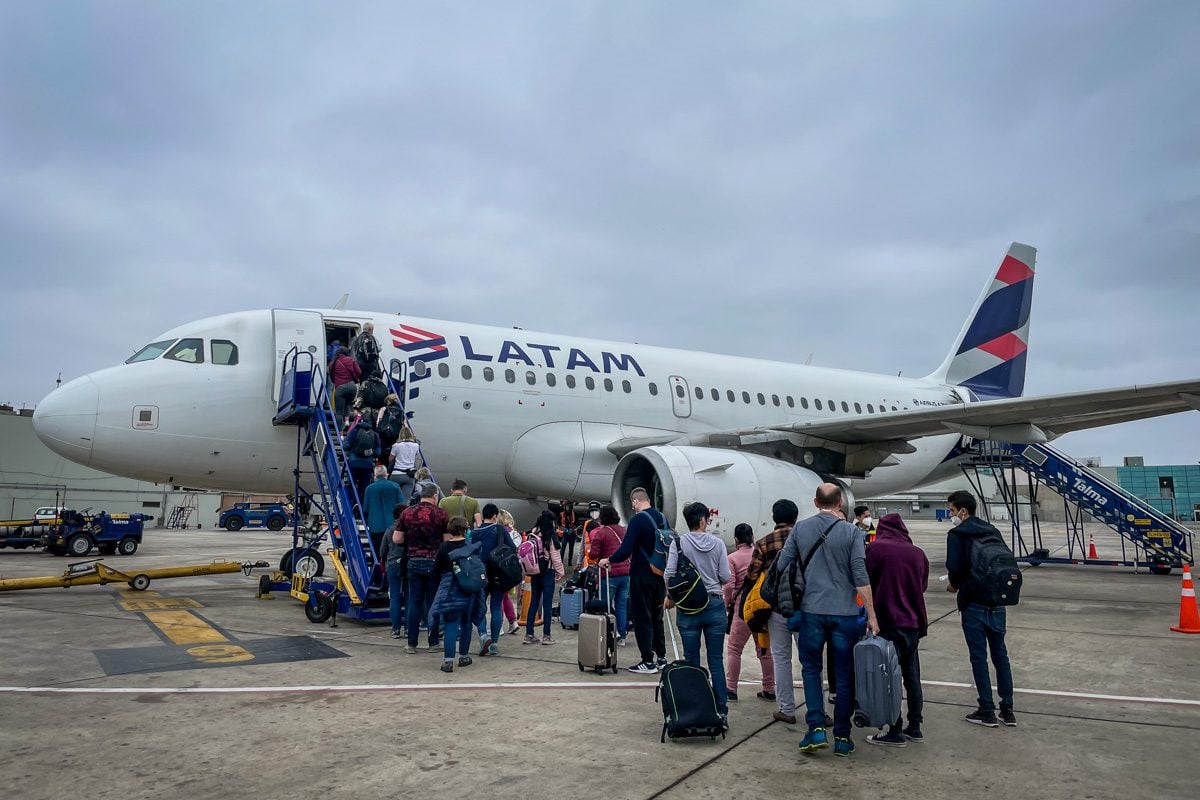 The fastest way and most efficient way to travel from Lima to Cusco is by plane. There are many direct, domestic flights available between Lima and Cusco everyday. And prices are pretty reasonable, with one-way flights as low as $35 USD depending on when you book.
While not the cheapest way to get from one city to another, flying will save you loads of time on your itinerary, which could potentially outweigh the cost depending on how much time you're spending in Peru. If you book in advance, you may be able to catch a good deal on a roundtrip flight.
One thing to keep in mind if you're taking a flight is that the altitude changes between cities will likely have a stronger impact on you. Lima is right at sea level on the coast, and Cusco at a whopping 3,399 meters (11,151 feet) above sea level.
When you arrive in Cusco, we recommend taking it easy for a few days to acclimate, especially if you're planning on hiking the famous Inca Trail during your visit.
Psst! Check out our guide to Cusco for some more tips on acclimating to the high elevation.
Routes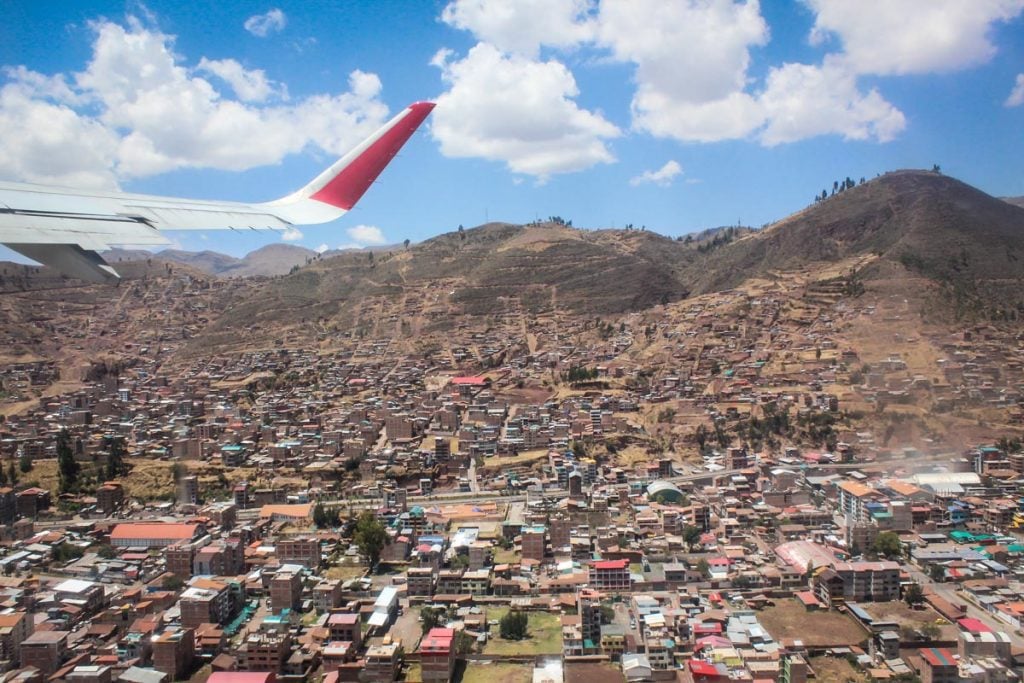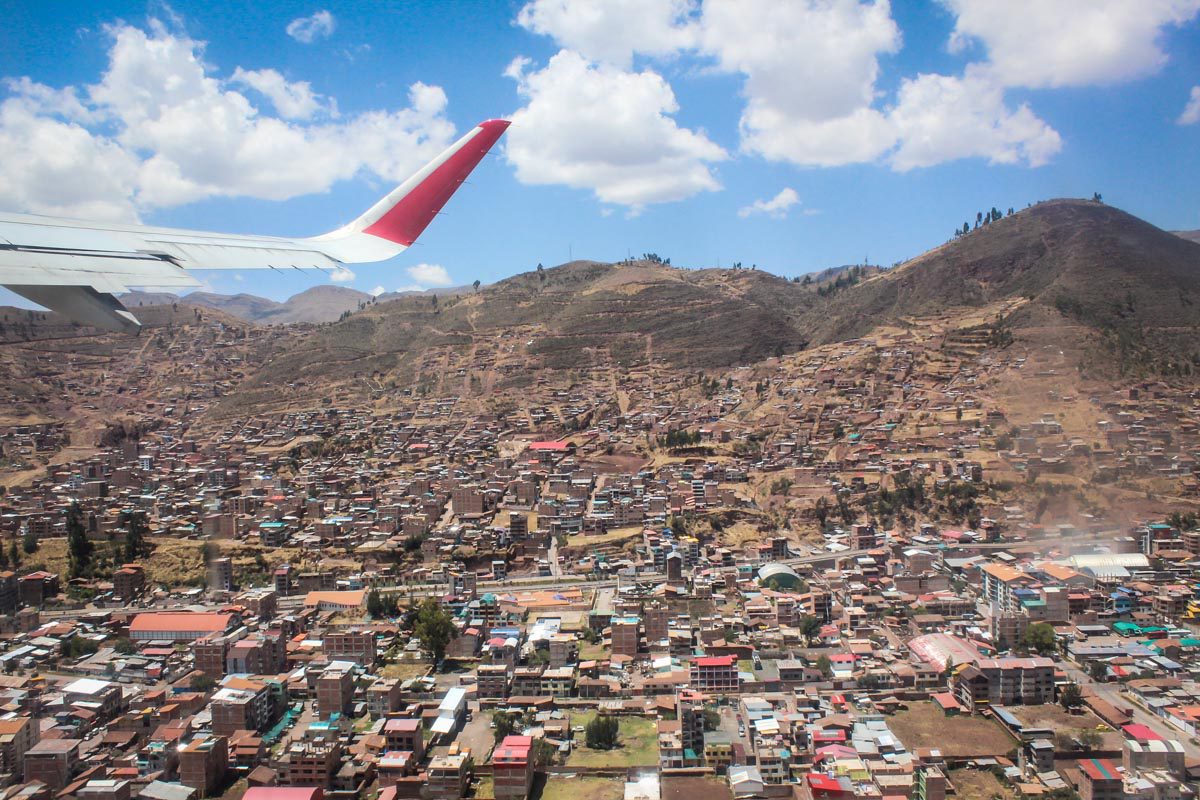 Flight time between the two cities is just 1 hour and 20 minutes on a direct route. Airplanes depart from the Jorge Chávez International Airport (LIM), just 40-minutes northwest of Lima, and arrive in a little over an hour to Alejandro Velasco Astete International Airport (CUZ), only a 10-minute drive from Cusco.
Note: The best way to get to and from the airports in both Lima and Cusco is to use the Uber app to call a ride. Taxis are known to overcharge tourists and Uber is readily available with a set price. It should cost you about 50 PEN (~$15 USD) to travel between the Lima city center and the airport, and about 20 PEN (~$5 USD) to travel between the Cusco city center and the airport.
There are plenty of direct flights available, but some routes include stopovers in Arequipa and Juliaca, which will increase your travel time between the two cities.
Flights depart from 5:00 a.m. to 8:30 p.m., so it's easy to cater your flight to your travel plans in either Cusco or Lima. Note that each airline has a variety of flights, but some departure times are only on certain days of the week, so be sure to shop for different days to see what's available.
Hot Tip: Grab yourself a window seat for some epic views of the Andes Mountain Range and the city as you fly into Cusco.
Airlines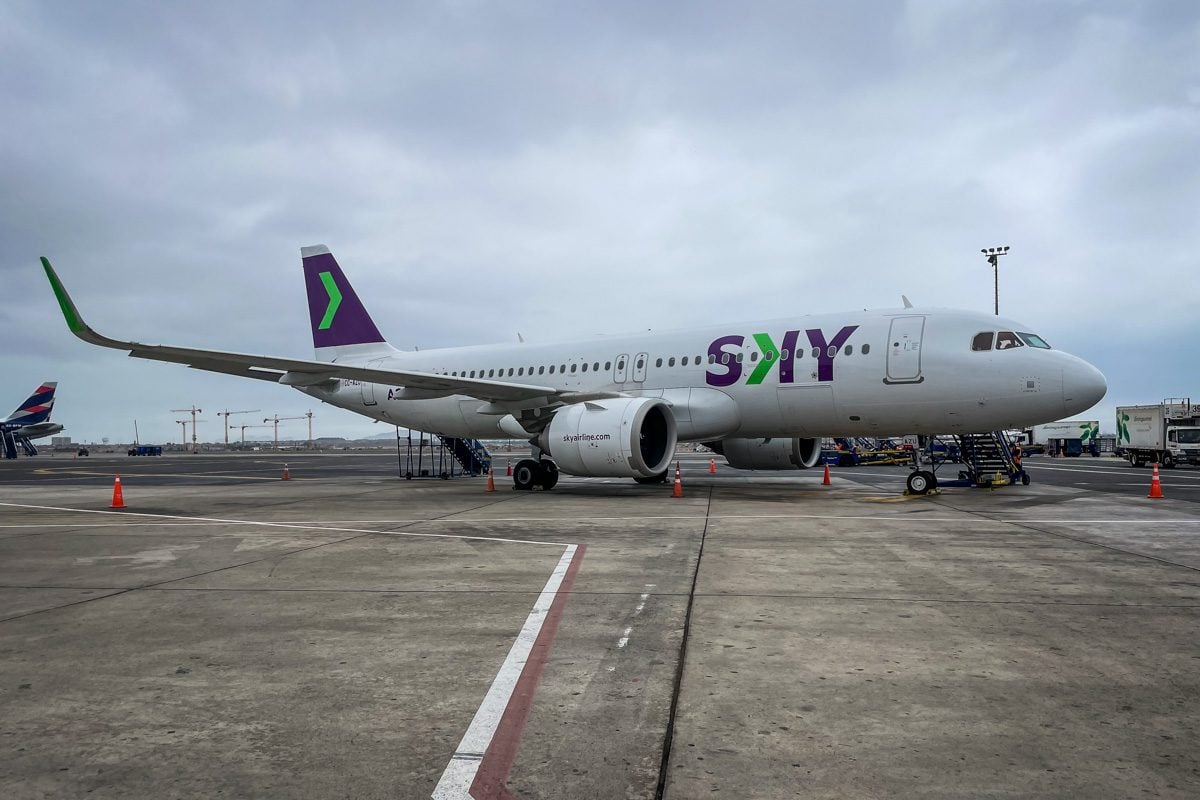 The most reputable airlines with services from Lima to Cusco are LATAM, Sky Peru, Avianca, and Viva Air Peru. There isn't one airline that has better prices over another, so it's best to use a site like Skyscanner to shop around, in advance, so you can catch a good deal.
Cost
The cost of the flight from Lima to Cusco depends on what time of year you're in Peru and the flight schedule. Generally, you can expect to pay at least $80 USD roundtrip during the regular tourist season.
Prices don't generally exceed $120, but it depends on when you're looking. If you book in advance, travel in low season, and catch a good deal, you can get a great price for a flight. We've spotted prices as low as $50 USD roundtrip in the off season, but this isn't common to come by.
Psst! For more potential savings, follow these experience tips on how to find cheap flights.
Lima to Cusco by bus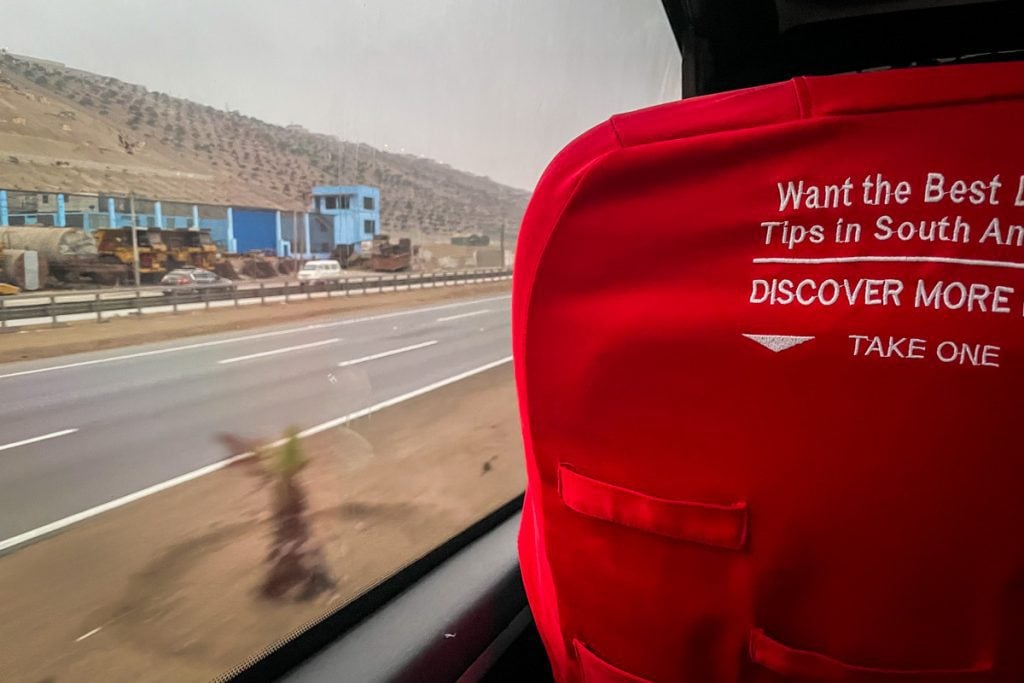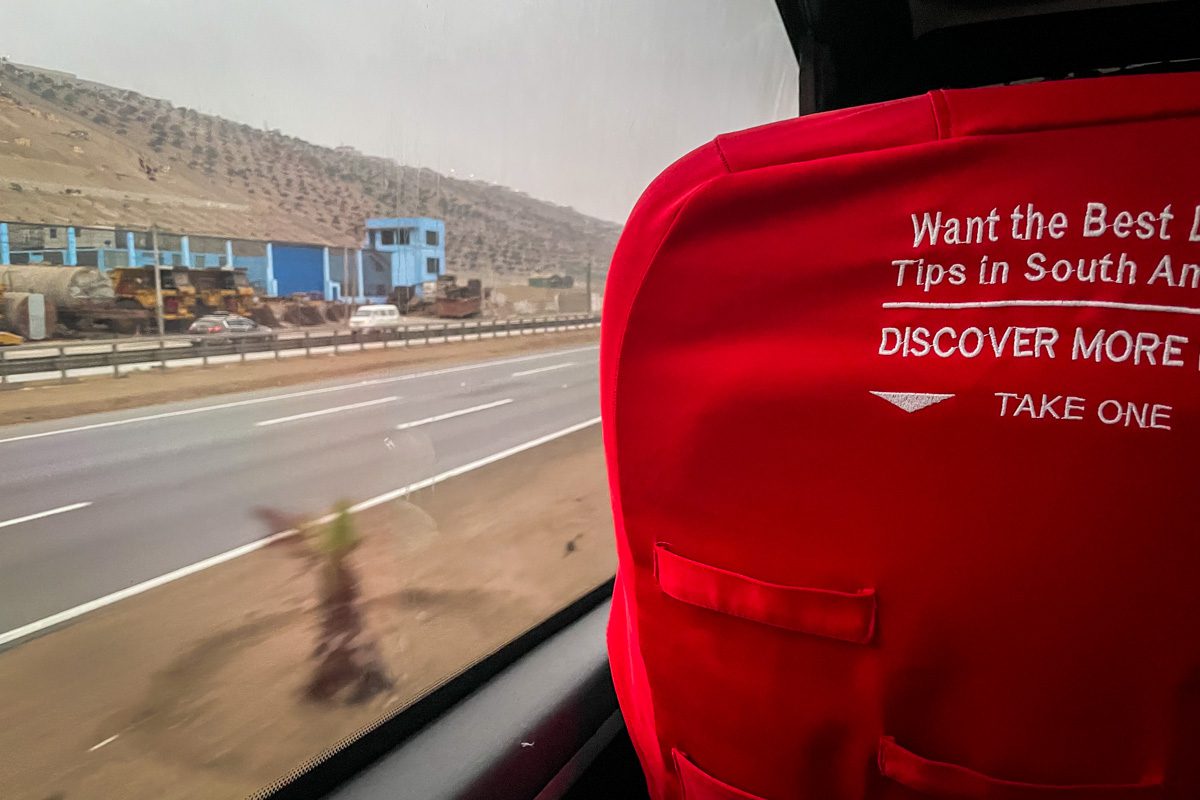 If you have extra time to spare while you're in Peru, taking a bus from Lima to Cusco is scenic, adventurous, and one of the best ways to get around the country. The prices can be comparable to flights, but taking the bus takes up an entire day of travel. It's common for buses to leave Lima at noon, and not arrive in Cusco until noon the next day.
There are many interesting stops between Lima and Cusco, so you may want to consider adding a few transit days to break up the bus journey and spend a day or two in Paracas, Huacachina or Nazca.
Routes
The travel time from Lima to Cusco by bus is 18-25+ hours, and it's important to note that most bus routes to Cusco are overnight.
Depending on the bus company you book with, there are two routes you can choose from. Some companies will choose to make tourist stops at smaller cities along the route, some take a break for a few hours at each, and some may only stop for passengers and go onward to the next city.
Here is a breakdown of each route from Lima to Cusco:
Lima > Nazca > Arequipa > Cusco (23 hours)
This is the longer bus route of the two, but it's recommended since the road is much smoother. It takes you south through Ica and Nazca and then further down to Arequipa. There are many noteworthy stops along this route that makes it the preferred choice of a lot of travelers, especially if you're breaking up the bus ride between cities.
Lima > Nazca > Abancay > Cusco (18 hours)
This is the shortest route from Lima to Cusco and is divided into three segments: Lima to Nazca, Nazca to Abancay, and Abancay to Cusco. This bus route travels into the Andes mountains to get to Cusco, so the road is notorious for being curvy with steep ascents and descents, especially once you near Abancay.
If you're prone to dizziness or car sickness, you may want to reconsider this route or bring proper medication for a more comfortable ride.
Pro Tip: Motion sickness wrist bands and ginger chews have helped me with car sickness a lot!
Bus companies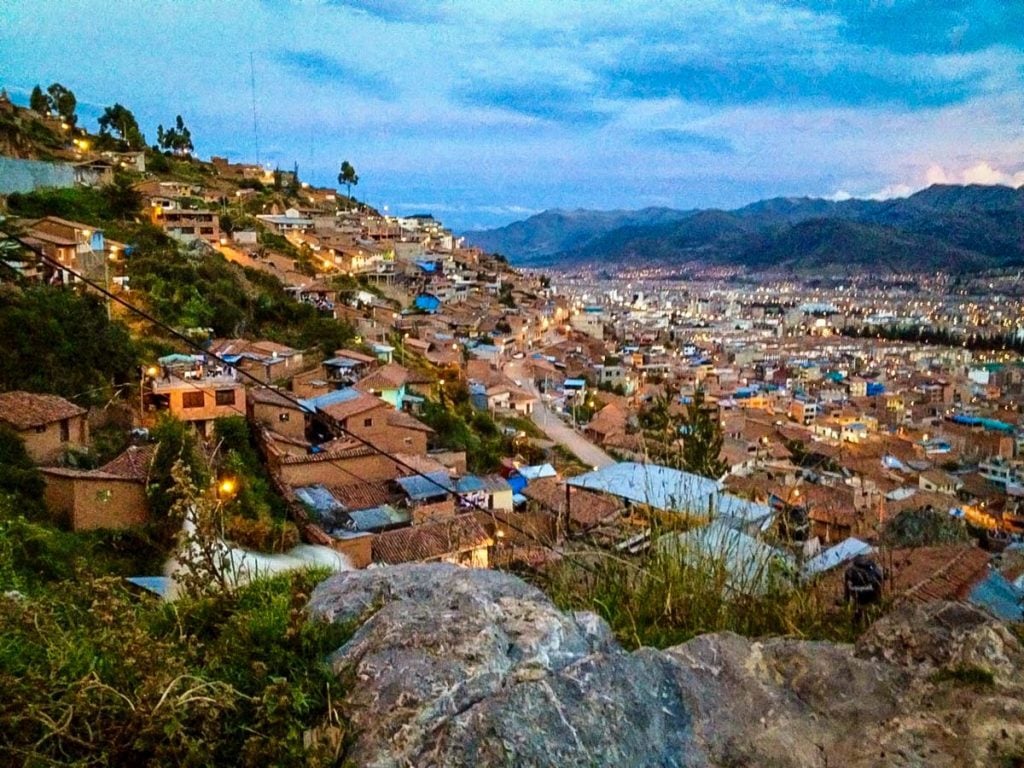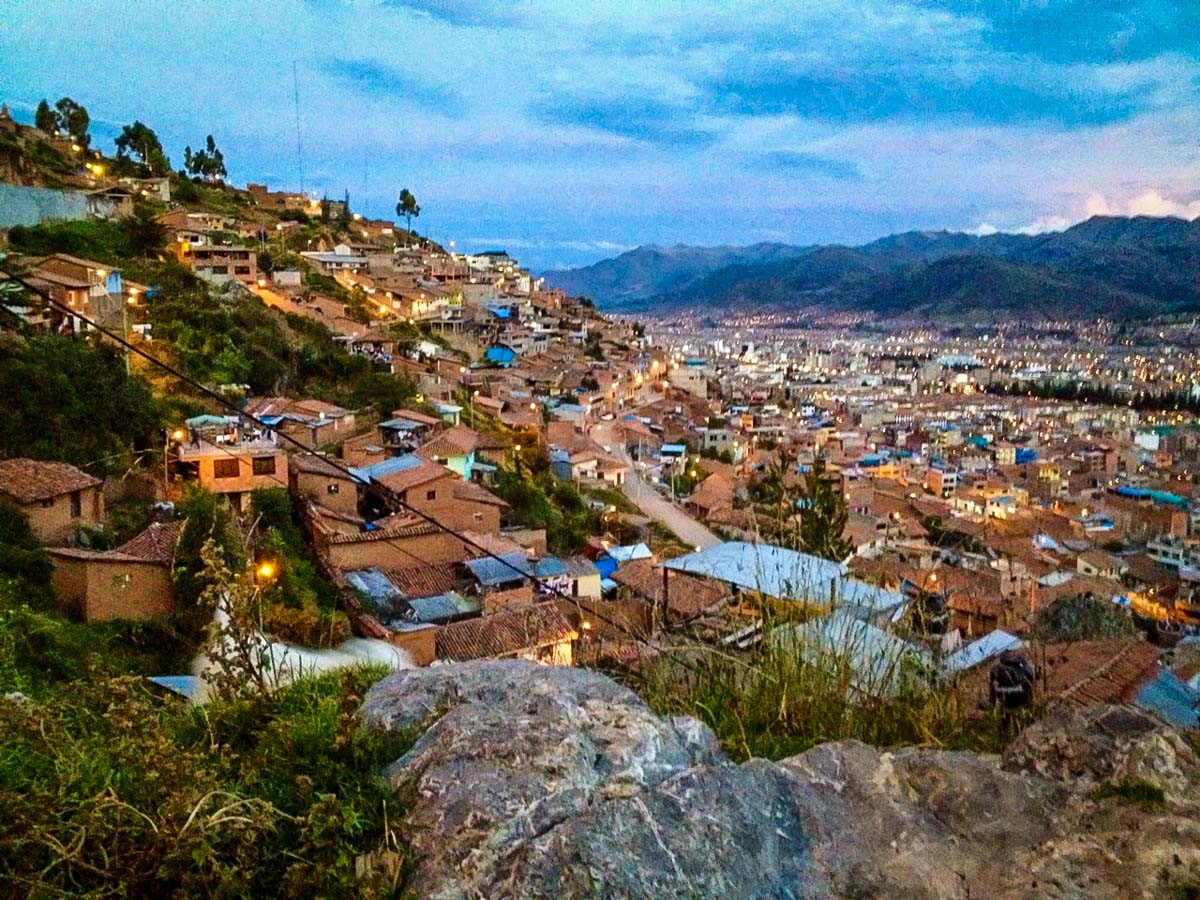 Cruz del Sur, Oltursa, Móvil Tours, Civa and Tepsa are some of the most popular bus companies in Peru that offer bookings online. They generally offer 3-4 departure times each day, all starting around noon.
Note: Each bus company operates from its own station, rather than there being one bus terminal with a variety of companies.
There are luxury buses that have entertainment and food throughout the journey. There are also not-so luxury options with limited perks and no food or drink available. Be sure to review online before you purchase a bus ticket, so you can plan accordingly.
Cost
Although bus routes are much longer than flights from Lima to Cusco, the prices are almost comparable. You can expect to pay around $20-40 USD one way for a basic bus ticket. Expect to pay more for a luxury bus with more creature comforts. The decision of one or the other largely depends on your itinerary and what you want to see.
A bus ticket gives you the opportunity to visit a ton of incredible stops on the way to Cusco, which may make the extra travel time negligible if it's planned into your itinerary.
Psst! If you'll be traveling more throughout the country, be sure to check out our bucket list of can't-miss things to do in Peru!
Lima to Cusco by car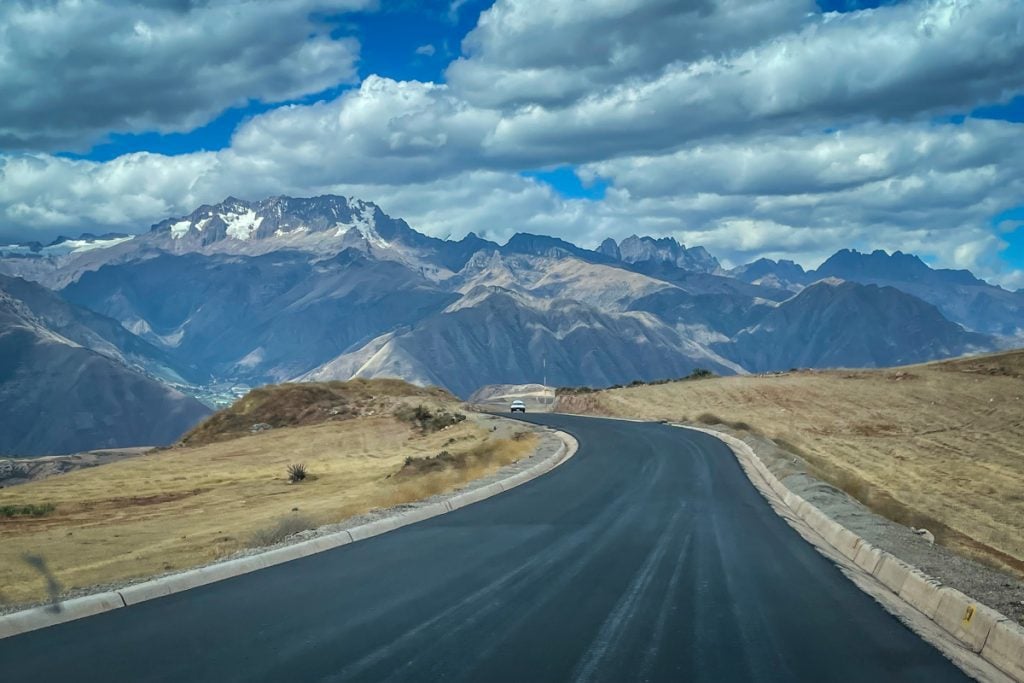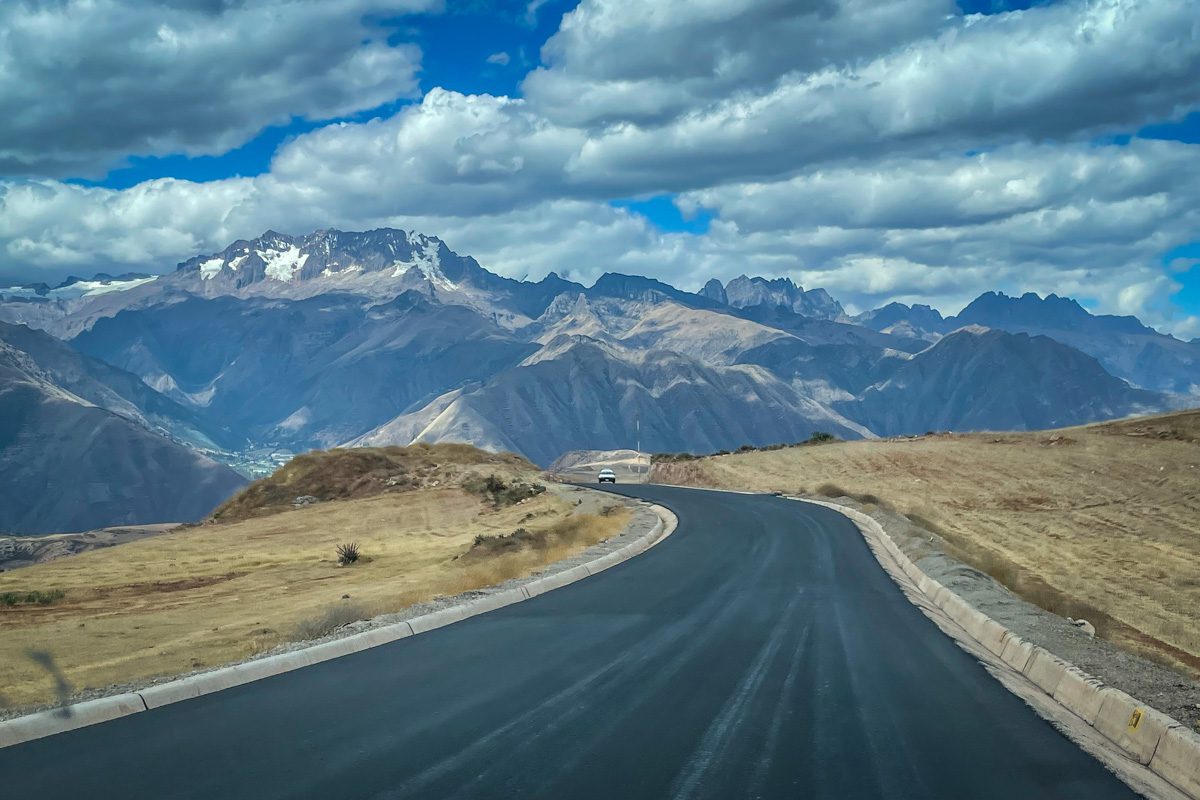 Although the most expensive and not the most popular way to get to Cusco from Lima, getting there by car is an amazing way to enjoy the impressive landscapes along the Central Highlands route.
This route travels through the heart of the Peruvian Andes and will give you a glimpse into the local life and traditions, making it perfect for the more adventurous travelers that want to make the most out of their journey to Cusco. You can explore this route by renting your own car or hiring a private driver.
Routes
With a rental car, you can get to Cusco in a variety of different ways with an unlimited amount of stops, but these are the most popular ways to get there. They're very similar to the bus routes.
Travel time (via Abancay): 18+ hours, without stops
The most direct route to Cusco takes you through Abancay, in the heart of the Andes. Similar to the bus route, the roads are steep and winding, so it's not recommended for beginner drivers. However, it's an impressively scenic drive, one that you won't forget.
Travel time (via Arequipa): 26+ hours, without stops
If you want to stop through other sites along the way to Cusco, consider going further south once you get to Nazca and head to Arequipa. You'll be able to see the famous Nazca lines, Lake Titicaca, and lesser visited spots like Puno on your way to Cusco.
Self Drive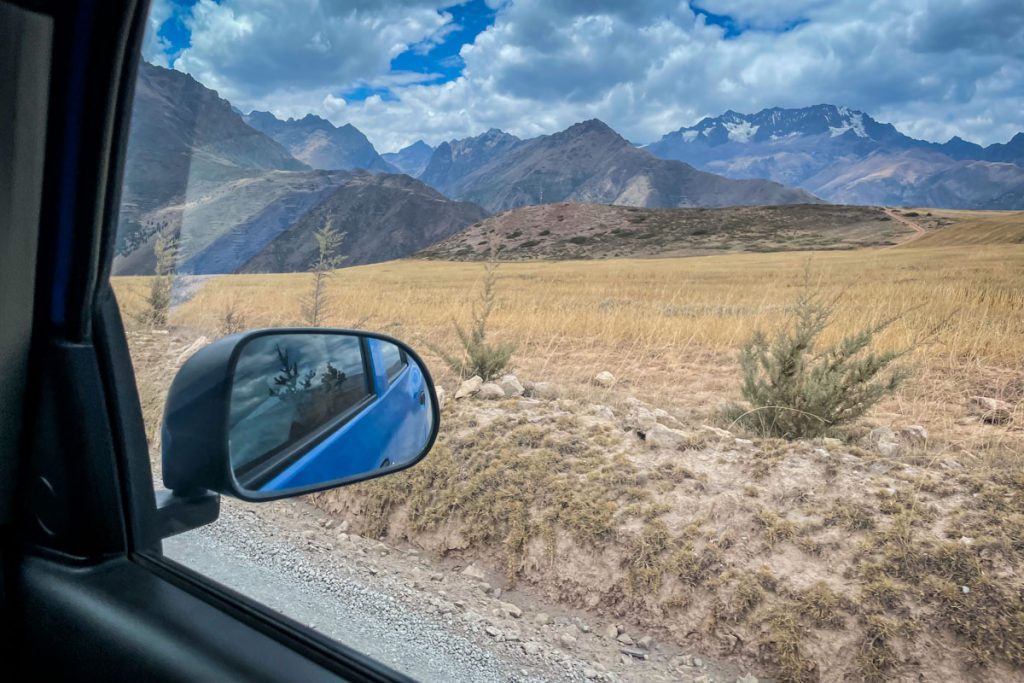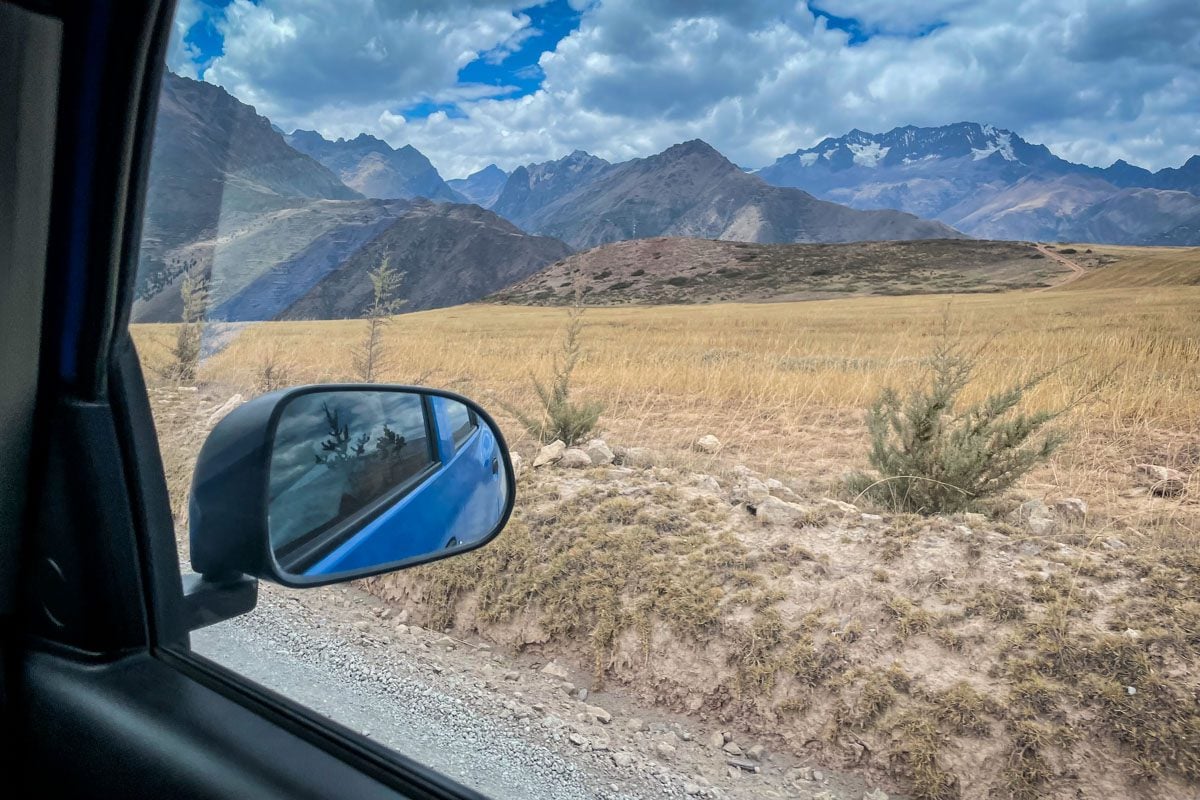 Embarking on a self-drive road trip to Cusco is one of the best ways to take your time and have full control of your schedule. If you are renting a car, make sure you have an International Driver's Permit (IDP), as it's required to drive in Peru.
Tip: As long as you have a valid driver's license in your home country, you can get your international driver's license here, for just $30 USD. They have urgent processing available to get your digital license within 15 minutes.
The first stop on an epic road trip through Peru is a reliable rental car. We have always trusted Rentalcars.com for getting the best deals on car rentals all around the world.
It's important to note that the roads on a self-drive itinerary can be very rough on the way to Abancay, so it's recommended that international drivers go through Arequipa for better road conditions.
If you're visiting during the wet season (November through March), a self-driving route is not recommended due to mudslides and road conditions.
Private driver
A popular option for large groups or families traveling in Peru is to hire a driver to take you from Lima to Cusco. Peruvian Local Friend offers city-to-city transfers as well as tours around Peru. You can contact them through Whatsapp or through email to get an accurate quote for your trip.
Cost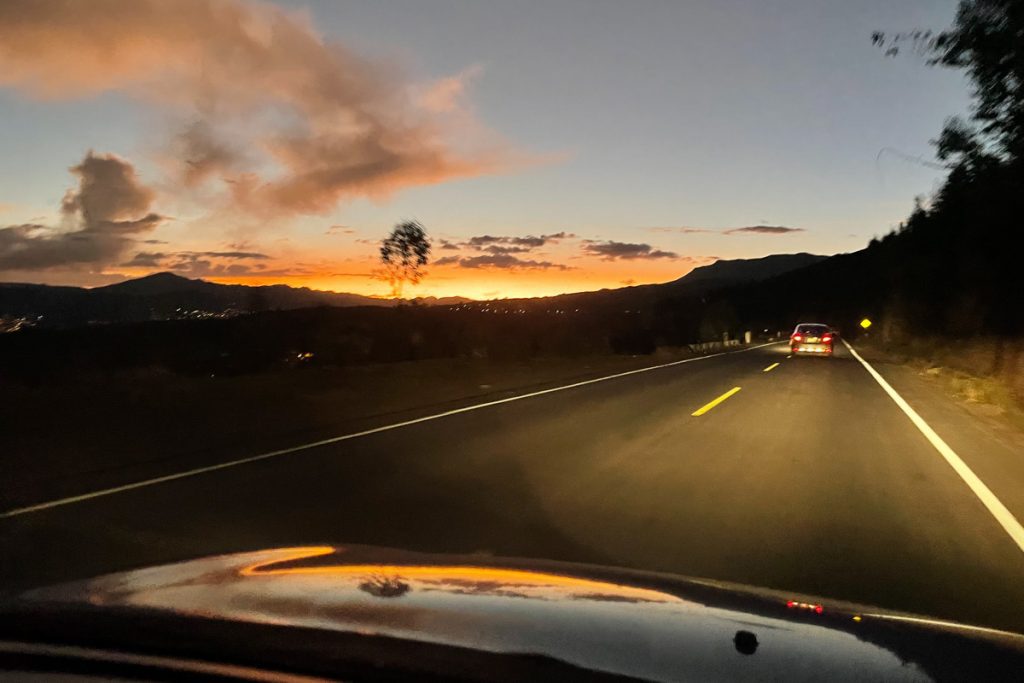 This is the most expensive way to get from Lima to Cusco since you'll need to get a rental car and consider the cost of fuel for the 1400-mile trip, or the cost to hire a private driver.
You can get a rental car in Lima for $20-40/day for a regular car, but you'll want a car with 4-wheel drive to get to Cusco because of the road conditions. Trucks or SUVs are best suited for this route and cost around $50-70 USD/day.
In addition to this cost, you'll need to factor in gas, which is generally $5 USD/gallon, but it is always changing. And don't forget about accommodation costs if you're spending additional time at any of the stops along the way.
Private drivers start anywhere from $80 USD/day and up, but it depends on your specific trip.
Guided tours from Lima to Cusco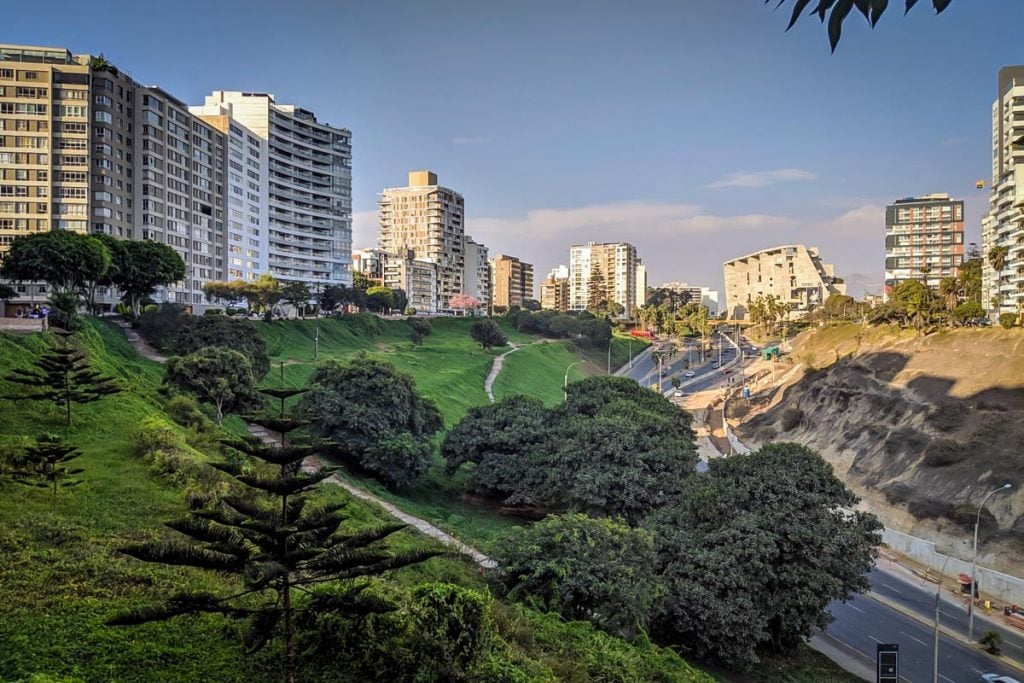 There are many guided tours in Peru that offer immersive trips to make your way from Lima to Cusco. These are similar to the regular bus routes, but with tours like these you'll spend more time in each of the stops and experience some of the best things to do in Peru with the help of a local guide.
The best part is that you can choose from routes of varying lengths depending on how much time you have and what you want to see.
Routes/Tours
Peru Hop offers one of the best hop-on hop-off tours through Peru. With a variety of tour options and lengths, it's easy to find one that works best with your itinerary.
What's unique about Peru Hop is that you can book one bus ticket for the entire journey and if along the way you want to stay longer in an area, you can hop-off the bus, explore around, and then catch the next bus to your next destination. It's a safe and easy way to explore around Peru as slowly or as quickly as you'd like.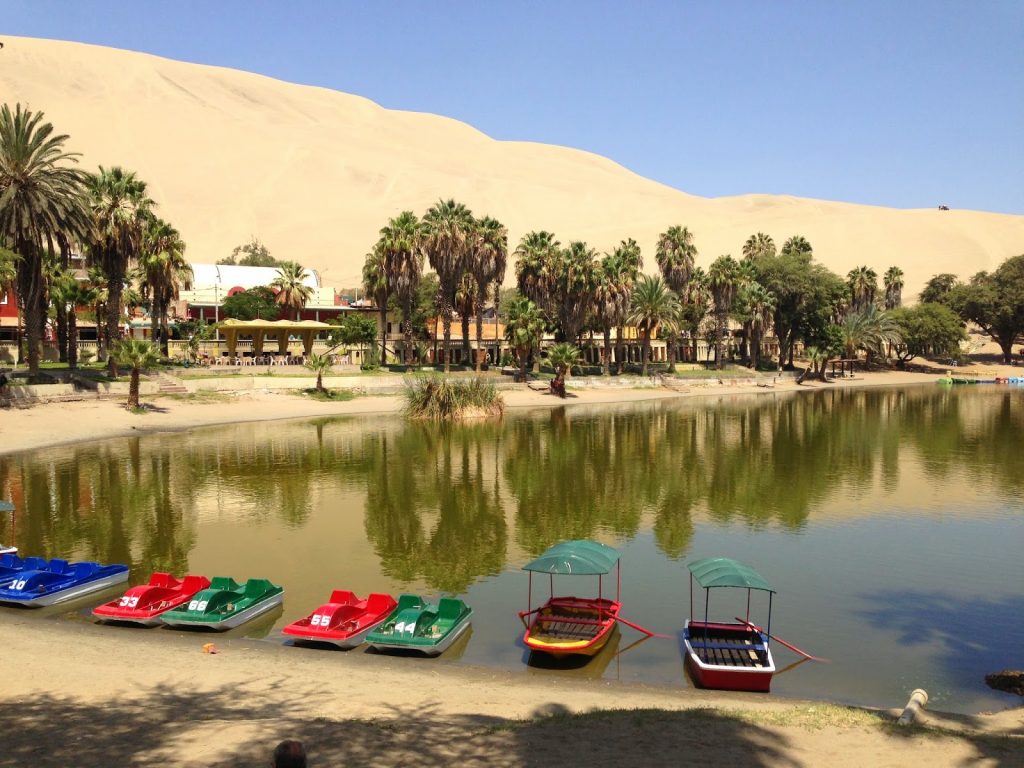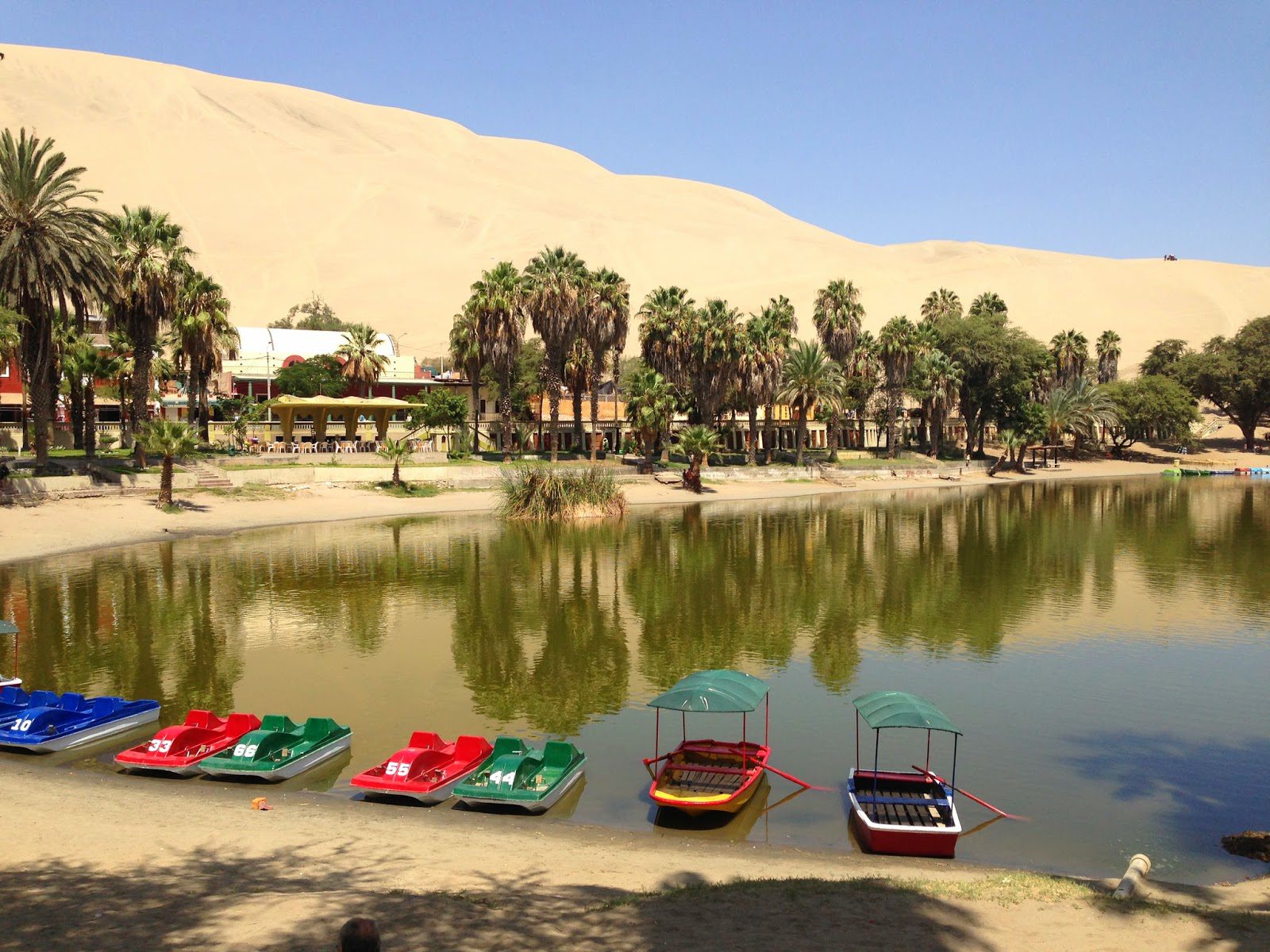 Lima > Paracas > Huacachina > Nazca > Cusco ($179 USD)
This is an ideal tour if you want the quickest way to get from Lima to Cusco, but hit a few sites along the way. First, you'll stop in Paracas to see some cool Peruvian wildlife, then head to the only desert oasis in South America, Huacachina. From there, you'll be able to ponder the views over the mysterious Nazca lines before finally arriving in Cusco.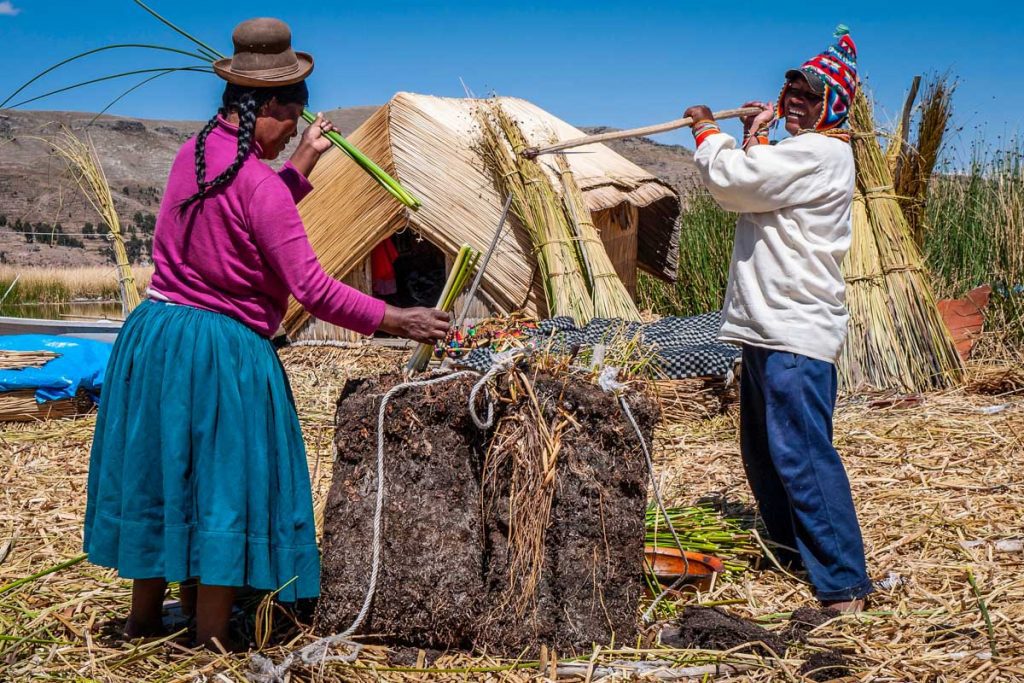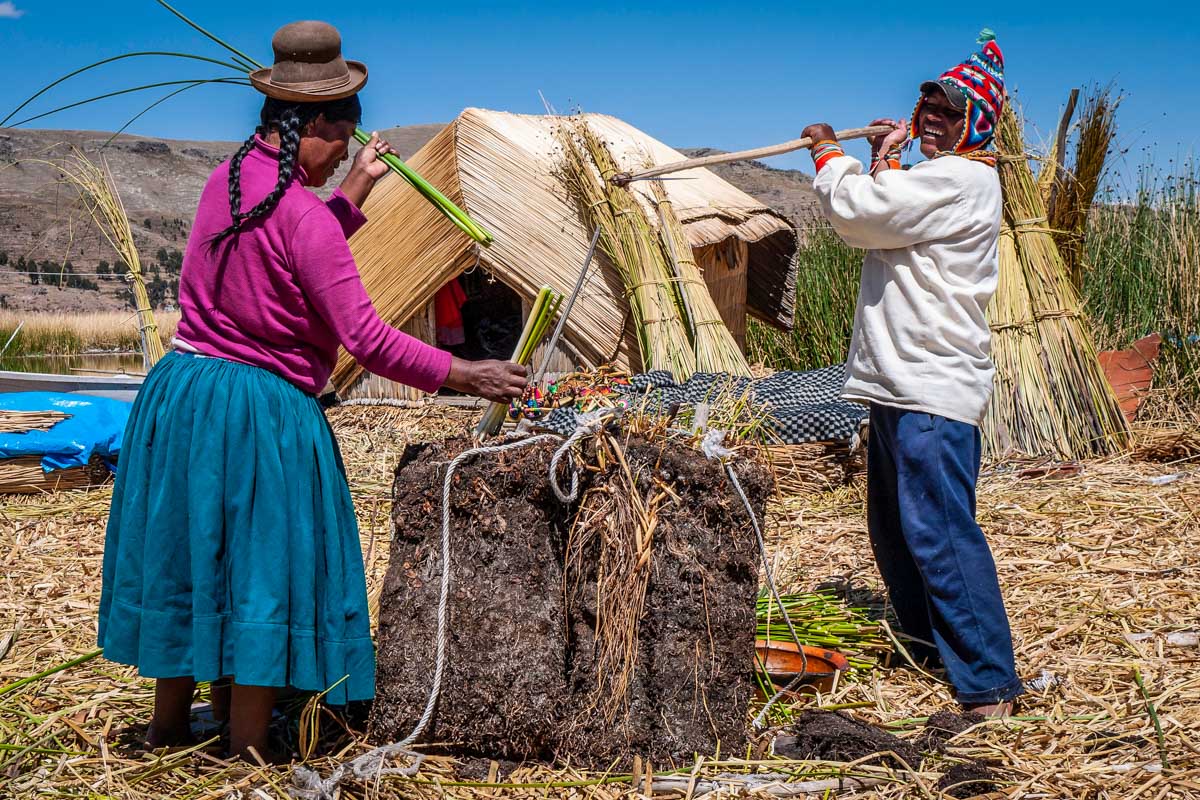 Lima > Paracas > Huacachina > Puno > Cusco ($209 USD)
This is an excellent choice if you're wanting to visit Lake Titicaca before arriving in Cusco. The tour beings in Paracas by taking you along the scenic Peruvian coast to spot untouched wildlife, stopping in Huacachina to see the secluded desert oasis, seeing the Nazca lines, Lake Titicaca, and a final stop at Rainbow Mountain before arriving in Cusco.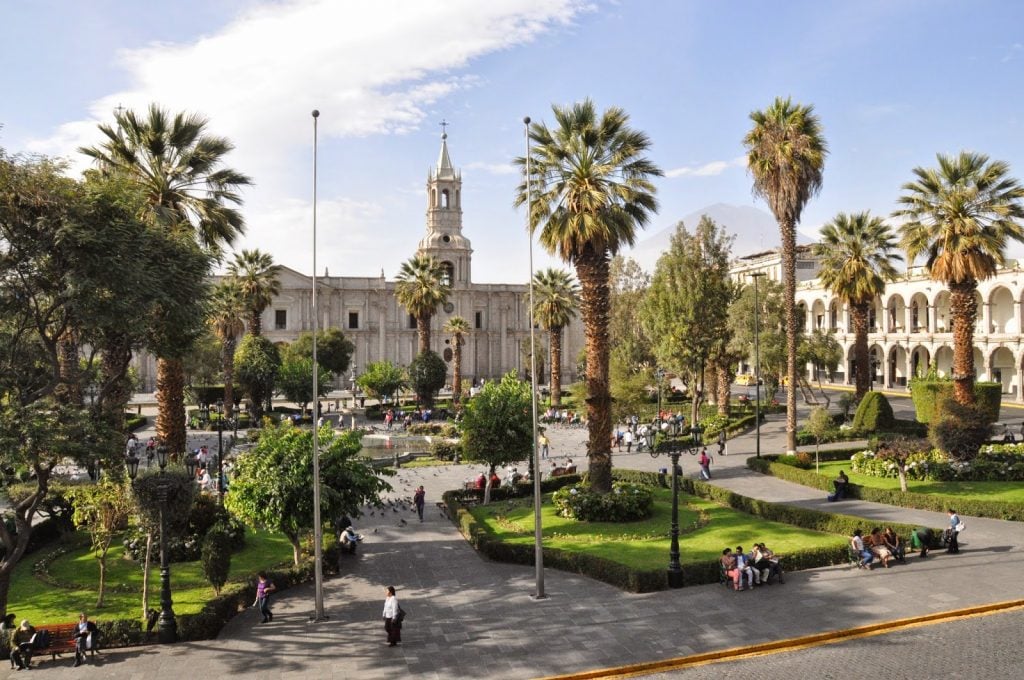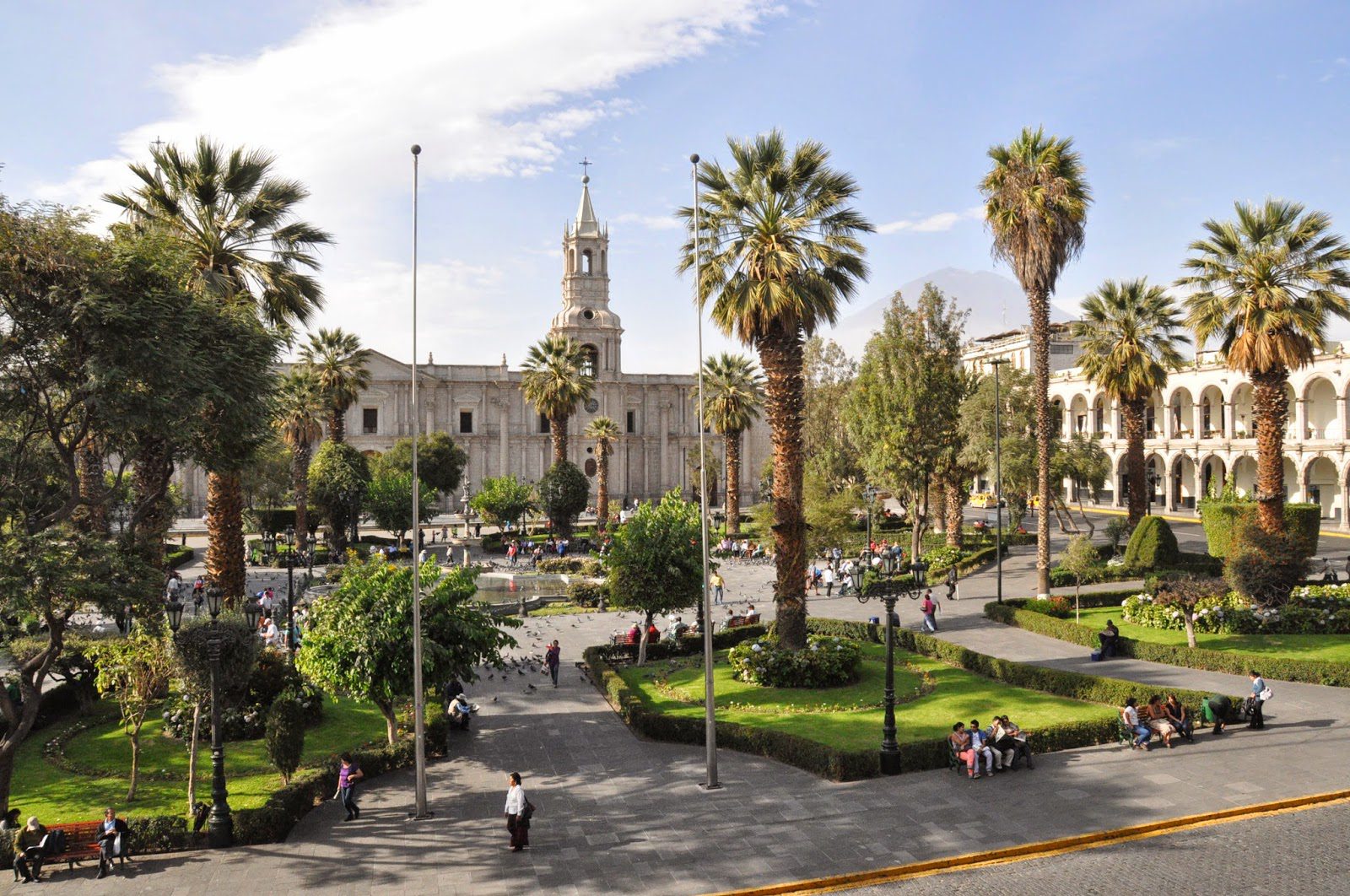 Lima > Paracas > Huacachina > Nazca > Arequipa > Cusco ($199)
If you have a bit more time to afford on your way to Cusco, this tour takes you through many of the highlights of Southern Peru: the glittering coast of Paracas, the desert oasis of Huacachina, mysterious Nazca lines, Colca Canyon (the second deepest canyon in the world!), Arequipa, and the colorful Rainbow Mountain just before getting to Cusco.
---
Are you planning a trip to Peru?
We have lots of resources on travel in Peru and destinations throughout the country. Check out our Complete Peru Travel Guide for all the answers to your most burning questions, or read some of our favorite articles below.
Save this article on Pinterest for later!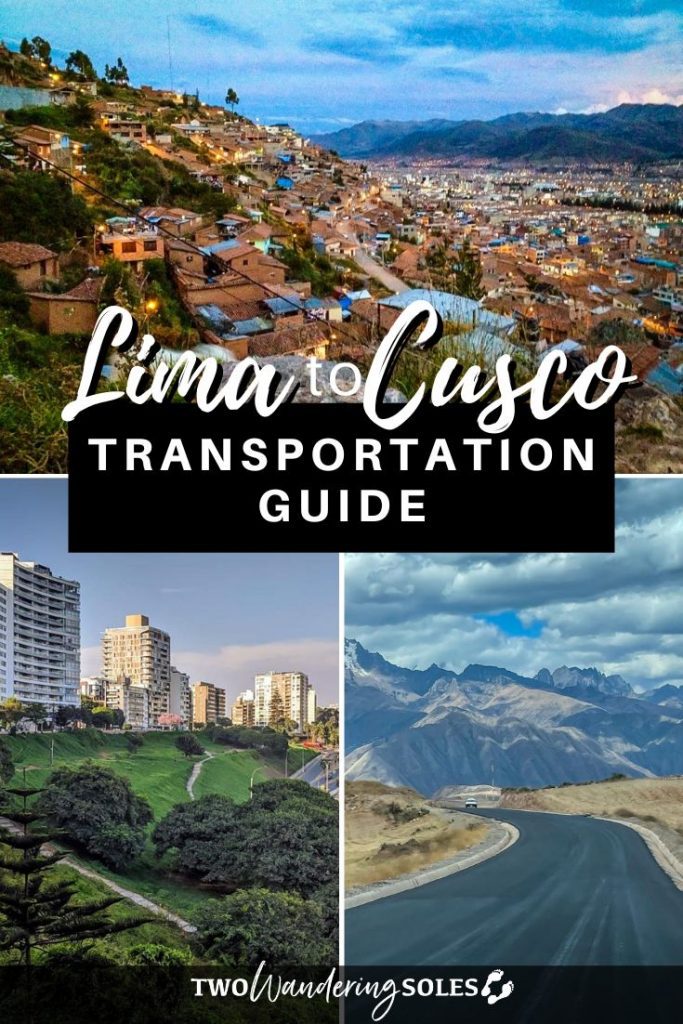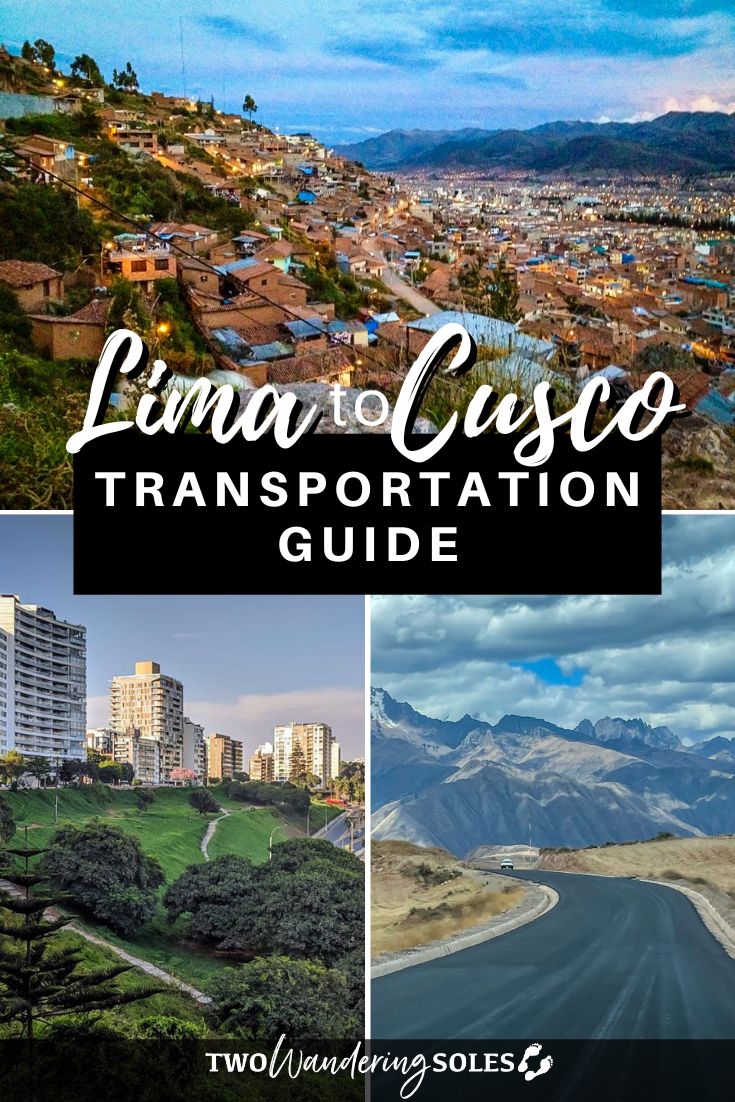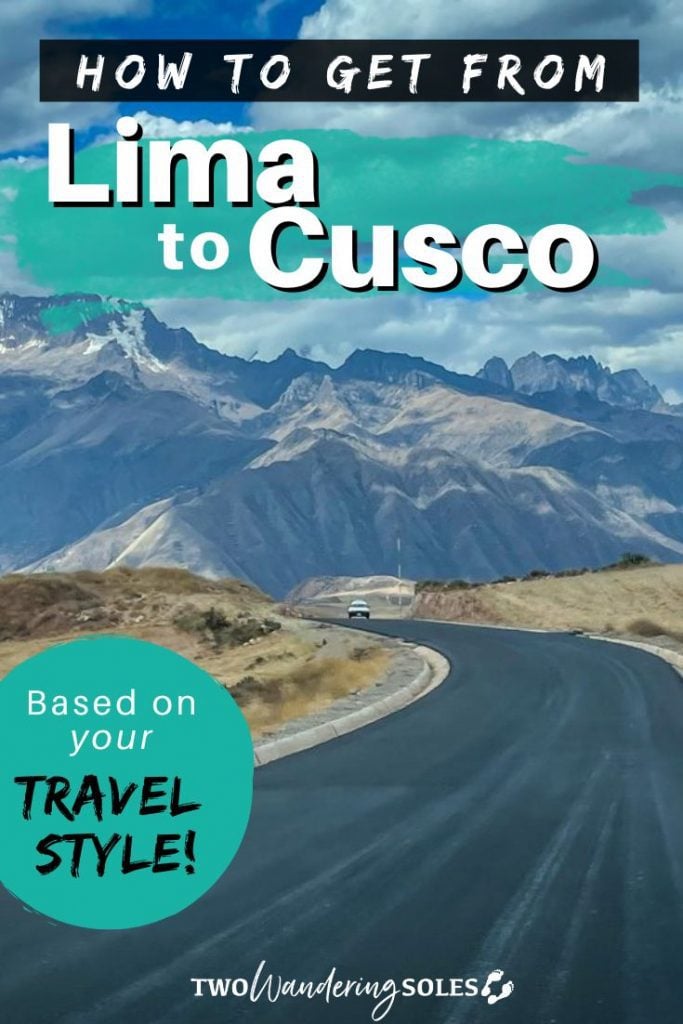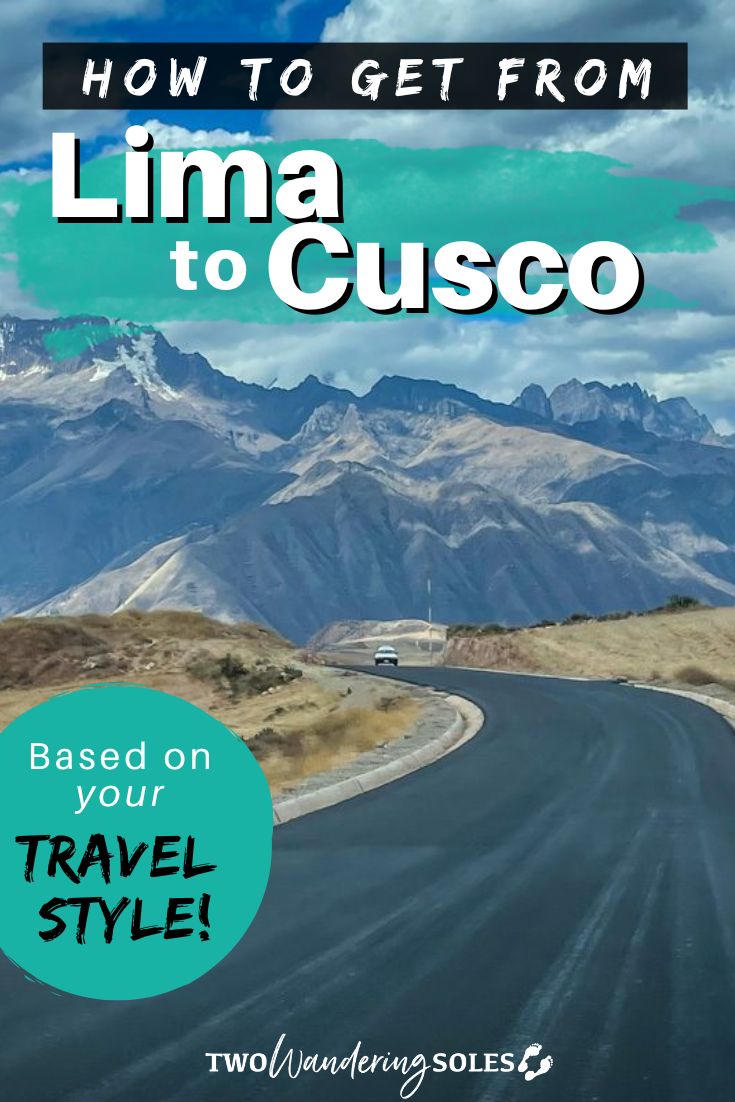 We want to hear from you!
Do you have any more questions about traveling from Lima to Cusco? Leave us your questions in the comment section below and we'll do our best to get you the answers you're looking for!