The stratified sandstone layers of Rainbow Mountain in Peru have captured the curiosity of travelers in only six short years of being revealed. We put together a detailed guide of both Vinicunca and Palccoyo rainbow mountains to help you plan your trip to either of these spectacular sites in Peru.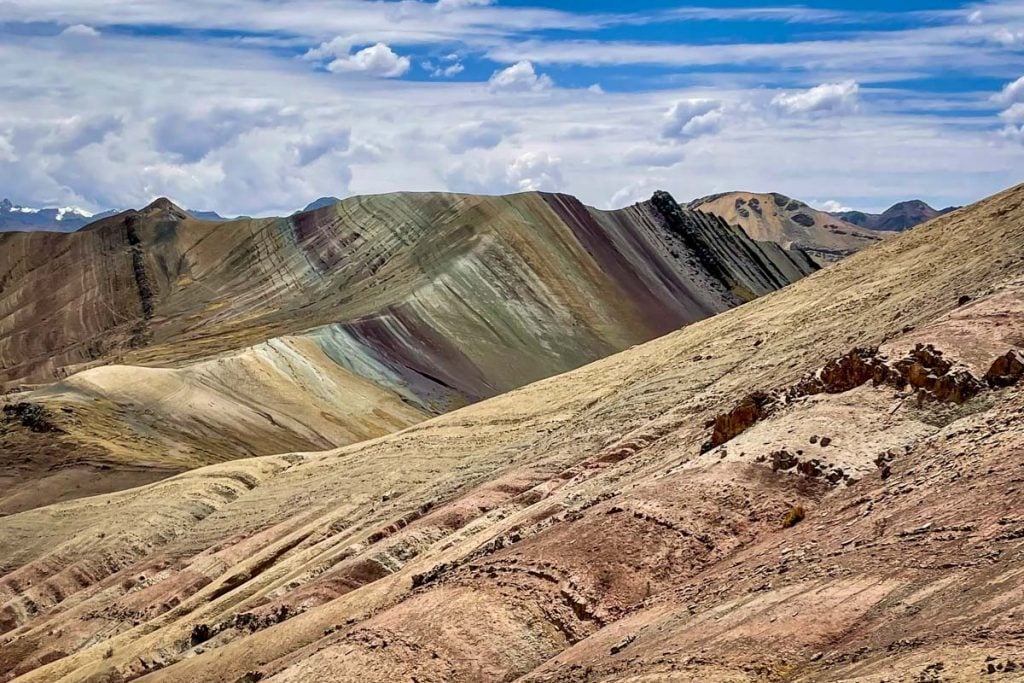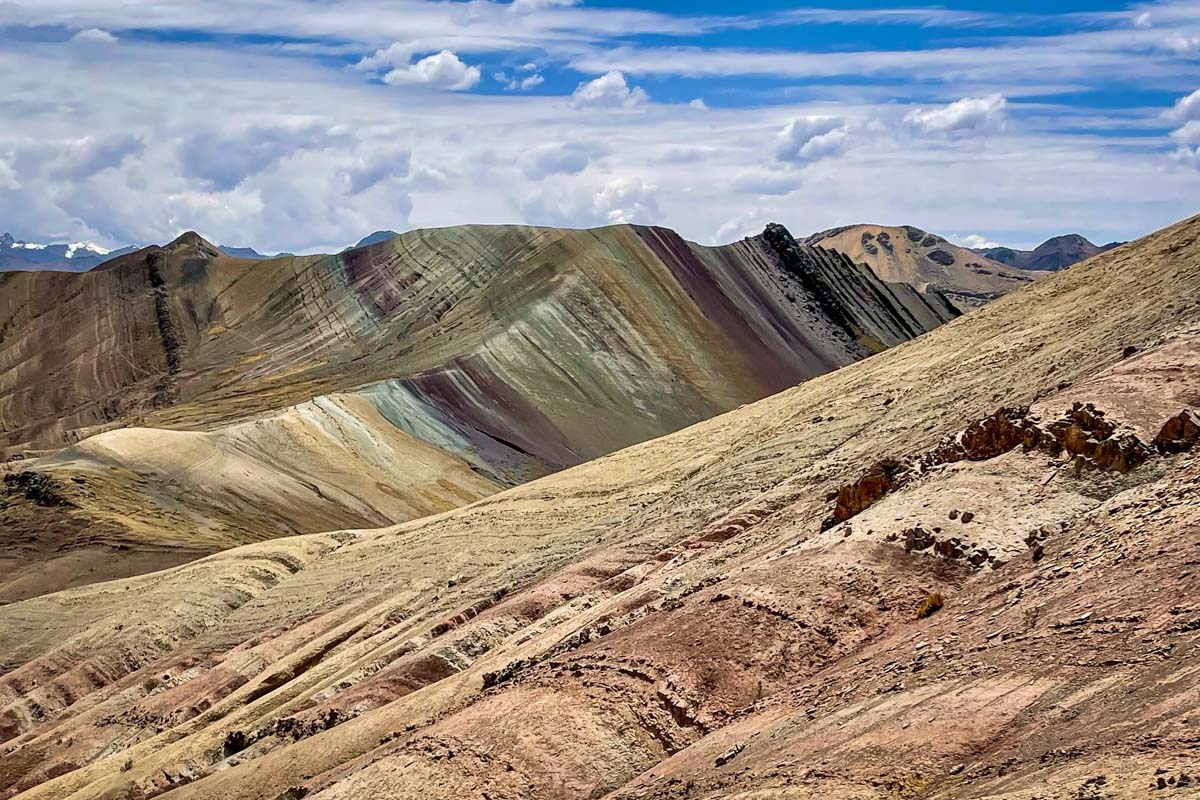 If you visited Peru or traveled around South America at any point before 2015, rumors buzzing over the colorful Rainbow Mountain were nowhere to be heard. But it's not because the mountain didn't exist. It was just…hidden.
Over thousands of years, the effects of climate change have caused all the snow and ice covering the mountain to melt, allowing the seven-layers of color to reveal themselves. 
Since its grand entrance only six years ago, Vinicunca Rainbow Mountain is on its way to be the second most visited site in Peru after Machu Picchu.
After the original mountain's discovery, a few other mountains that boast the same striped layers have made their way slowly onto the tourist circuit radar.
So, while it's believed there is only one Rainbow Mountain in Peru, there are actually a few that are able to be toured in the Cusco region.
Colorful mountains near Cusco:
Vinicunca
Palccoyo
another hidden gem we talk about at the end of this post!
In this guide to visiting Rainbow Mountain, we provide everything you need to know to plan your visit to see the stunning colors: how to get from Cusco to Rainbow Mountain, what to bring, hiking tips, safety tips, the alternatives to Rainbow Mountain, and other important information you need to know before you go.
Because our mission is to travel sustainably and share as much as we can to be responsible travelers, we also discuss the impact overtourism has had on Rainbow Mountain, and why considering alternatives (that are just as, if not more incredible!) may be a good choice not just for the planet, but for a more authentic experience in this special place. 
Note: All of the photos in this article were taken at Palccoyo unless otherwise captioned.
Article contents
Psst! If you'll be traveling more throughout the country, be sure to check out our bucket list of can't-miss things to do in Peru!
---
General Info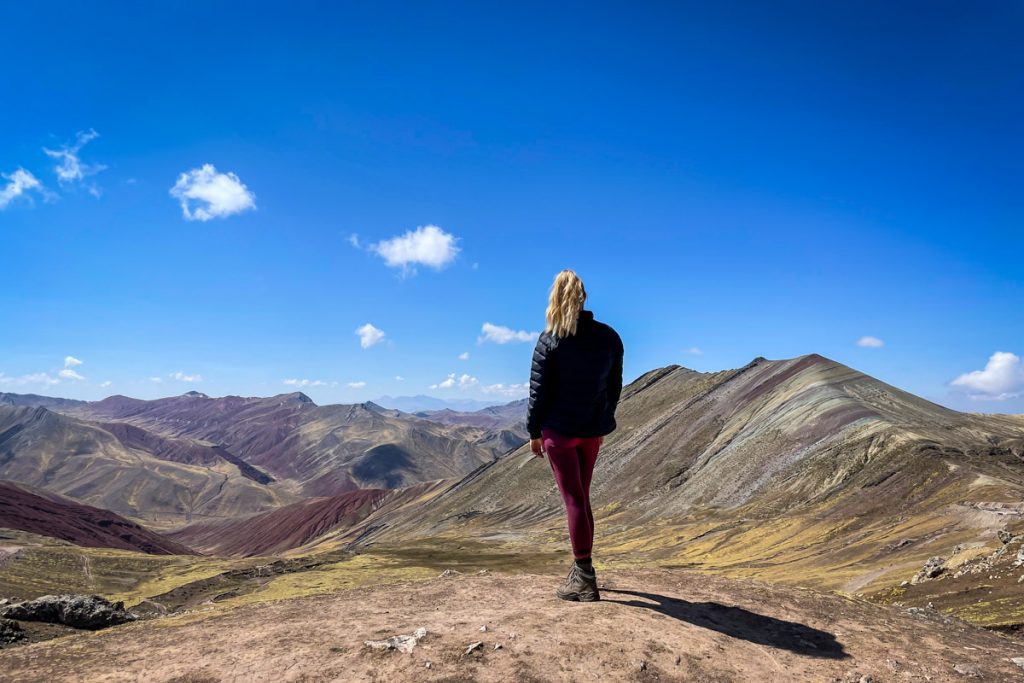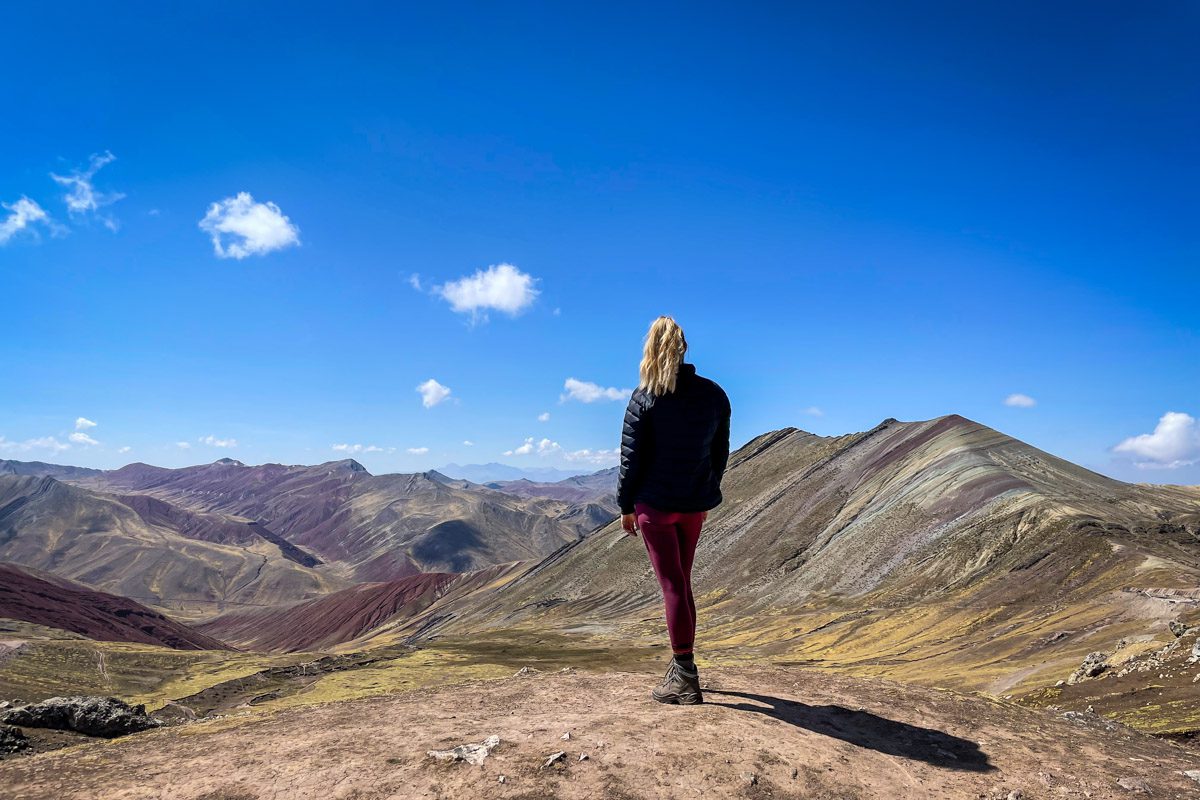 Rainbow Mountain was named one of the "Top 100 Places To Visit Before You Die" by National Geographic due to its unique array of colors that can't be found anywhere else in the world. 
The most popular Rainbow Mountain, known locally as 'Vinicunca', is situated in the Ausangate range of the Peruvian Andes, the largest continental mountain range in the world that forms the western edge of South America.
Millions of years ago, as the Nazca plate shifted underneath the South American tectonic plate, it exposed the newly forming Rainbow Mountain to unique and rare minerals for this part of the Andes. The mineral make-up and weathering transformed the mountain, painting it with the unique stripes of pink, white, maroon, gold, green, blue, and brown tones.
While the mountain of seven colors is a sight in and of itself, it has only been known of since 2015. Before then, the display of colors was covered in a thick blanket of ice and snow, unseen by passing hikers.
Due to the impact of climate change, the Andean ice and snow that once buried the mountain melted to showcase an incredible natural phenomenon in the heart of this remote region of Peru. Since then, guided tours began flocking to this new and exciting destination that would soon become one of the most visited geological sites in the country.
While many believe that there is only one rainbow mountain in Peru since Vinicunca's discovery, other rainbow mountains have been uncovered that showcase the same array of colors as the original, but haven't received nearly the same amount of attention.
Vinicunca vs. Palccoyo Rainbow Mountain
Just as Vinicunca Rainbow Mountain has taken the travel industry by storm, another very similar mountain was discovered in the same region just south of the original that many tourists are still unaware of.
The significant differences between them is mainly the view/shape of the mountains, and that Palccoyo is considerably less busy. Below we'll cover the pros and cons of each so you can make the best decision as to which rainbow mountain to visit on your trip.
Vinicunca Rainbow Mountain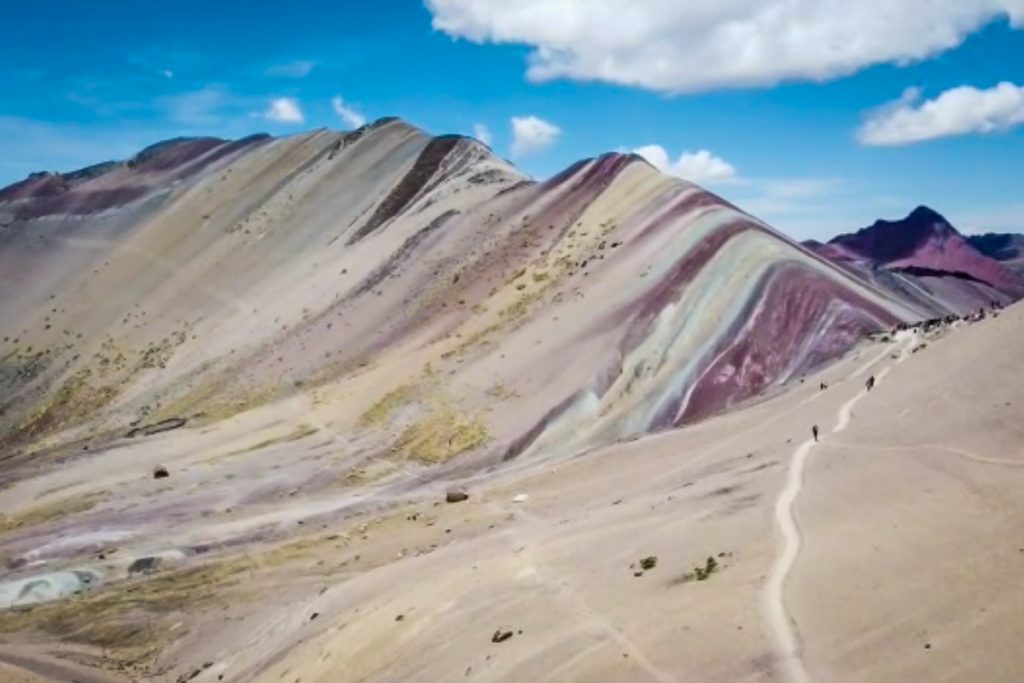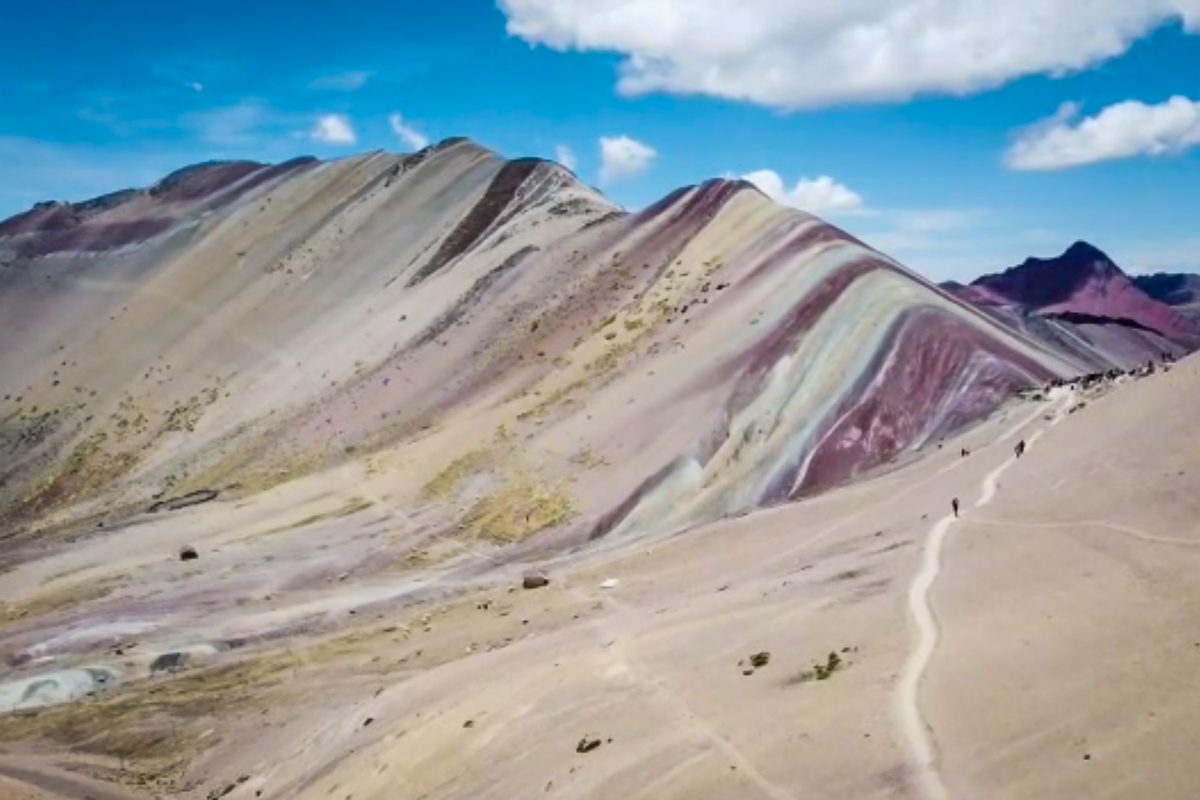 Distance: 10 km / 6.2 miles, out and back
Elevation gain: 524m / 1,719 ft
Peak elevation: 5200m / 17,060 ft
Difficulty Rating: Moderate to challenging
Hiking duration: 3-4 hours
Entrance fee: 15 soles per person
The original Rainbow Mountain in Peru is known as Vinicunca, as well as Winikunka and Montaña de Siete Colores (Mountain of Seven Colors). It's nestled near Ausangate Mountain between a variety of different Andean districts: Cusipata, Quispicanchi, Pitumarca and Canchis.
After transportation from Cusco, the final stretch in reaching Rainbow Mountain is on a 6.2-mile round trip hike. The trail is moderate, with the most challenging part being the small, steep push at the end to get to the final viewpoint.
Although getting there on foot will be challenging, the surrounding region is filled with other eye candy to appreciate along the way: herds of llamas and alpacas, distant vistas of the Ausangate Mountain Range, and traditional villages more than make up for the tough hike to get here.
As long as you're well-acclimized and walking at a slow and steady pace, the Vinicunca Rainbow Mountain hike should be manageable for anyone with an average fitness level.
No matter the time of year, you'll be sharing the trail to Vinicunca with A LOT of other hikers. It is said that Vinicunca Rainbow Mountain receives about 1,000 tourists per day, and up to 4,000 visitors per day during high season.
It's very beautiful and we definitely agree that it deserves all the attention it has gotten over the years, however there is no question that Vinicunca Rainbow Mountain has suffered from overtourism.
Pros
See the original Rainbow Mountain
Great hike for those that want a challenge
Views of the sacred Ausangate Mountain Range
Cons
Very crowded
Suffers from overtourism
Higher elevation means you may run into complications with altitude sickness
Palccoyo Rainbow Mountain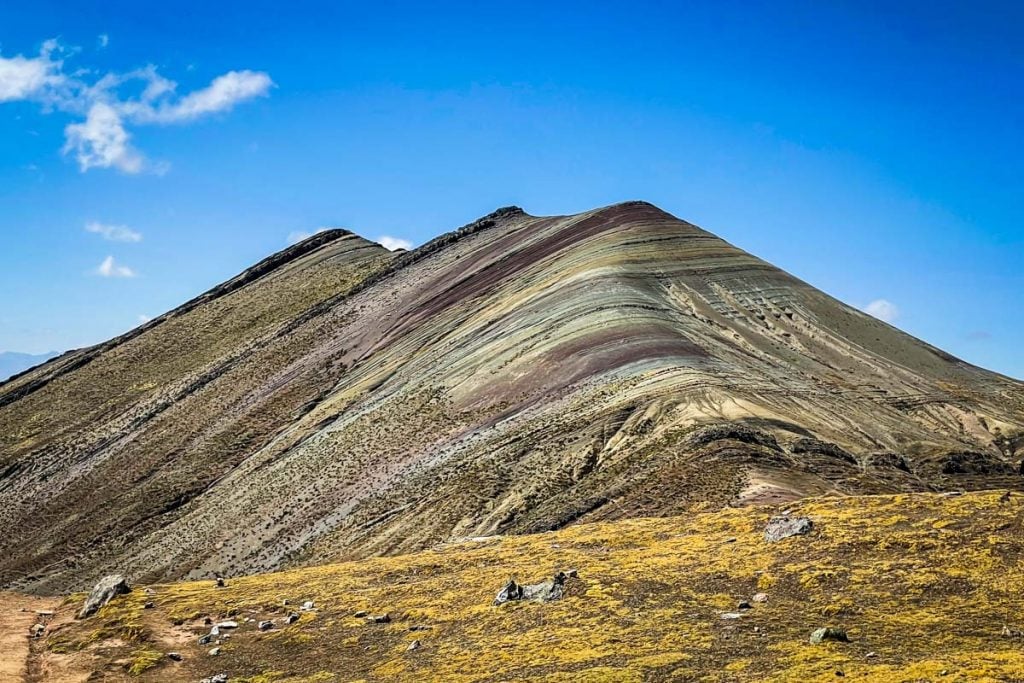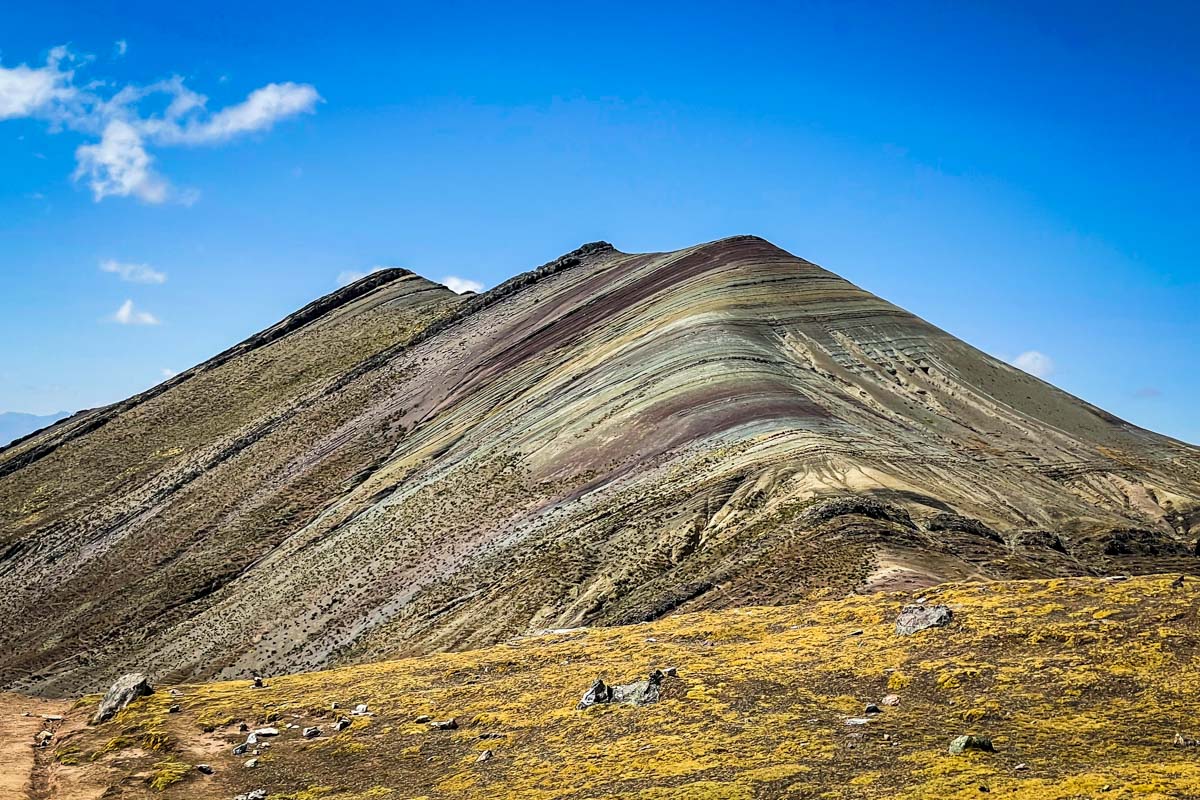 Distance: 4 km, 2.5-mile loop
Elevation gain: 200m/ 656 ft
Peak elevation: 5,00m / 15,748 ft
Difficulty rating: Moderate to challenging
Hiking duration: 1.5-2 hours
Entrance fee: 15 soles per person
Vinicunca's popularity has increased ten-fold in only a short few years, which has led many hikers to search for alternatives. Palccoyo Rainbow Mountain features the same colorful layers as the original, offering comparable sweeping vistas, but without all the crowds.
The journey to Palccoyo Rainbow Mountain is similar to the route from Cusco to Vinicunca, but the two main differences are the hike and the elevation.
The elevation at the base of Palccoyo is just 4,800m, and the peak is at 5,000m (200m lower than Vinicunca). The hike is a relatively flat, well-trodden 4 km (2.5-mile) loop that brings you to a few different viewpoints along the way. Most of the viewpoints are at the lower elevation and just the summit takes a bit of a climb.
The great thing about hiking Palccoyo Rainbow Mountain is that you can enjoy incredible views and sweeping vistas during the entire trek. If you are feeling the effects of the altitude and can't make it past the first viewpoint (just a 1.5 km walk from the parking lot), you'll still be able to enjoy the views of colorful mountains and get some great shots.
Throughout the entire 4 km loop, you can turn around and head back to the parking lot at any time, opting not to summit the peak if you aren't feeling up for it.
For this reason, we recommend Palccoyo Rainbow Mountain to travelers with lower mobility or those that are worried about the elevation.
If you're hiking to Vinicunca, the only view is the main mountain surrounded by the remote regions and ranges, but at Palccoyo, there are actually three different rainbow mountains surrounded by colorful valleys and epic views.
Another huge plus is that Palccoyo is still on the quieter side in terms of tourism. On the morning we went, a Saturday morning in early October, there were maybe only about 30 people in total on the trails with us. Only 3 shuttles in the parking lot and one was a private shuttle for just 2 guests.
This is an ideal option if you want to avoid crowds and enjoy an alternative rainbow mountain.
Pros
Considerably less crowded
Lower elevation
Shorter hiking distance
Trail is relatively flat to most viewpoints
View three different rainbow colored mountains
Cons
We really cannot think of any… this place is truly spectacular!
How to get there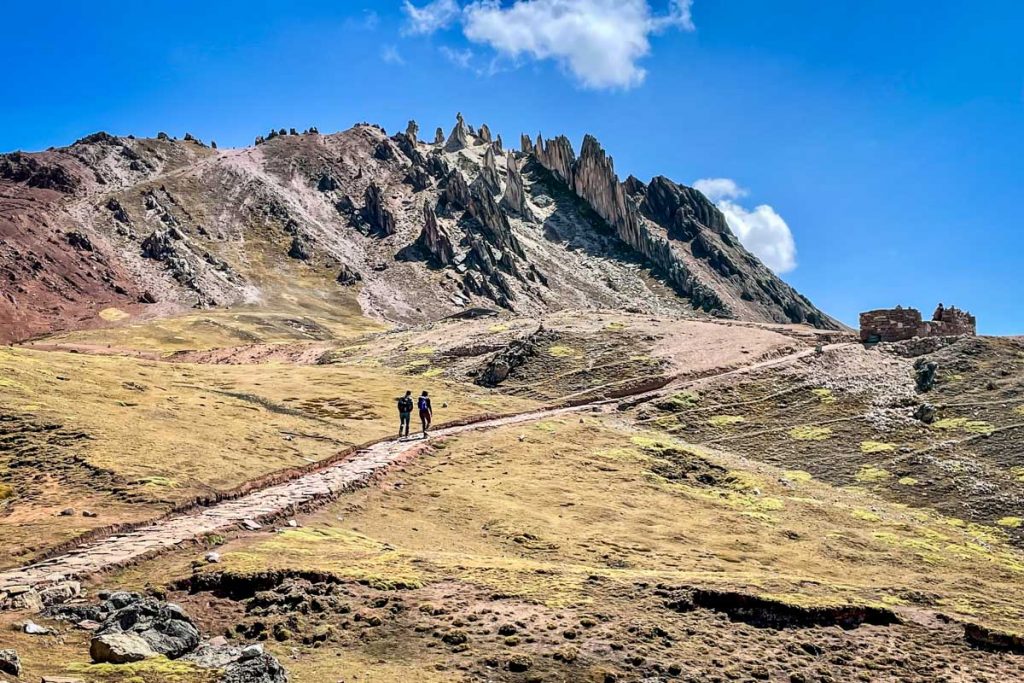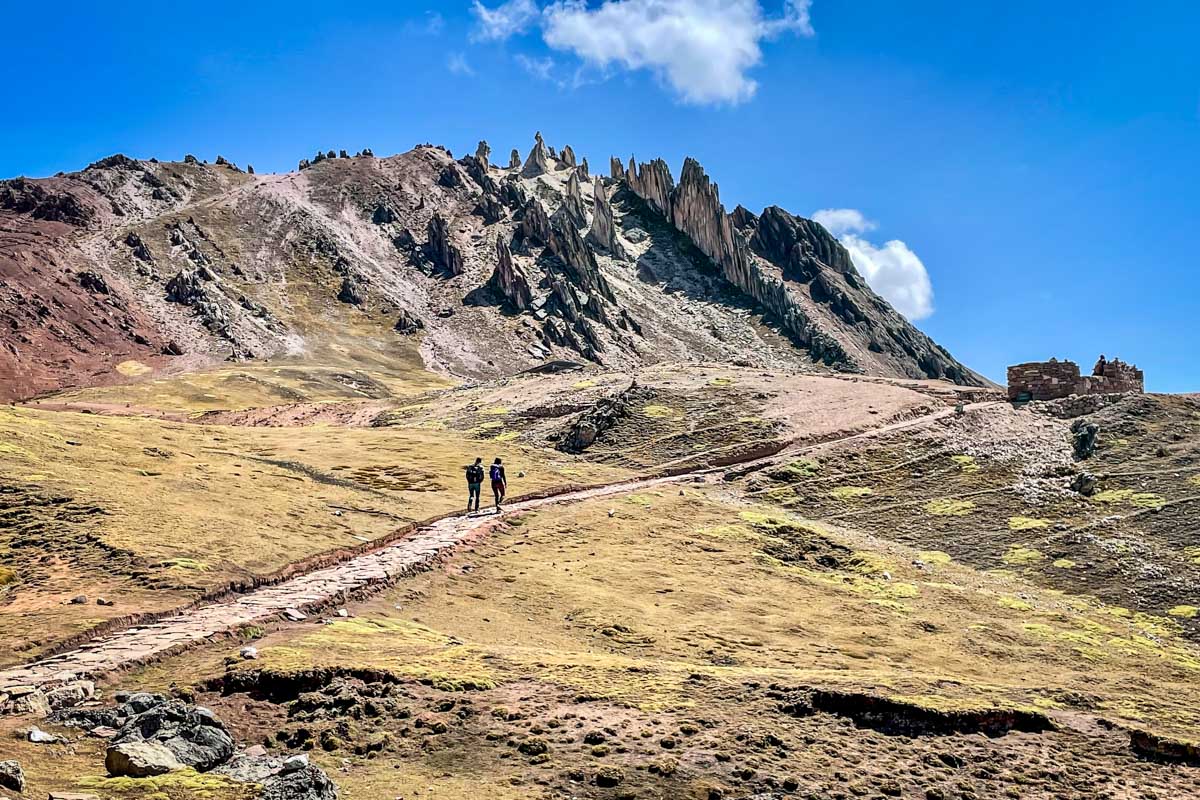 Trying to piece together a visit to Rainbow Mountain by yourself will be very difficult since transportation options can be spotty and unreliable. Your best bet is to book with a local tour operator in order to get to Rainbow Mountain safely and efficiently.
Getting to Rainbow Mountain isn't a quick trip, but for those who are up for the adventure, it makes one of the best day trips from Cusco. 
Your tour will include a hotel pick up anytime from 3:00-5:00 a.m. (depending on which tour you choose), and a return trip to Cusco typically around 4:00-5:00 p.m.
A majority of this full day trip is dedicated to transportation, so you'll spend a good deal of time enjoying the Peruvian countryside. It's a long and jam-packed day, but you won't regret it once you see the beautiful vistas surrounding the colored mountain.
There are a couple different ways to book a Rainbow Mountain tour, and depending on what you choose, you can spend anywhere from $20 to $200 USD.
How to book a Rainbow Mountain tour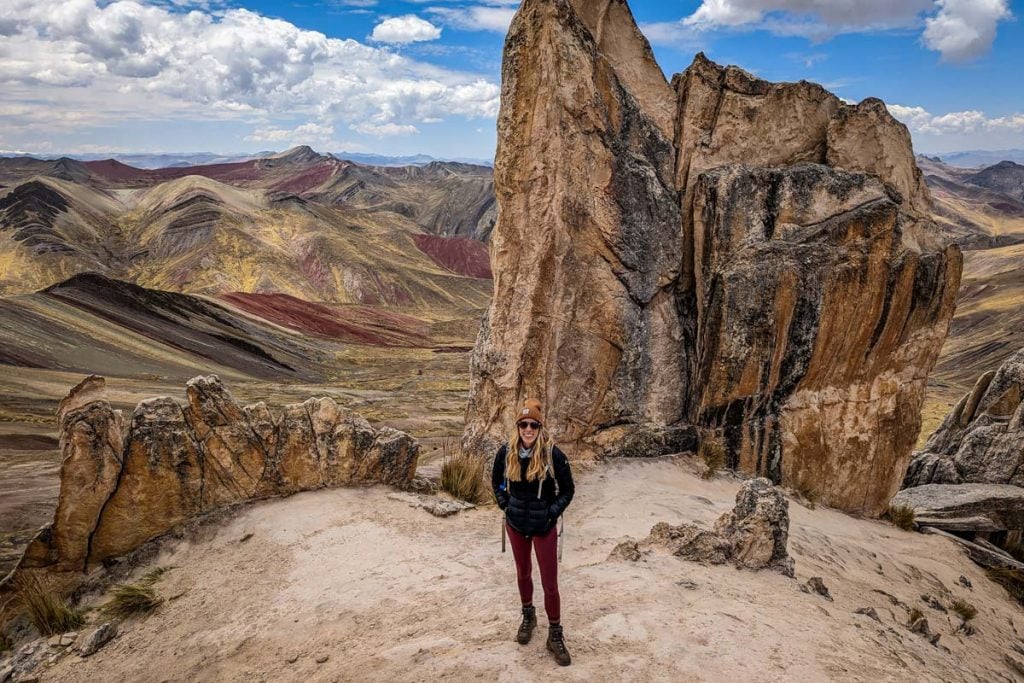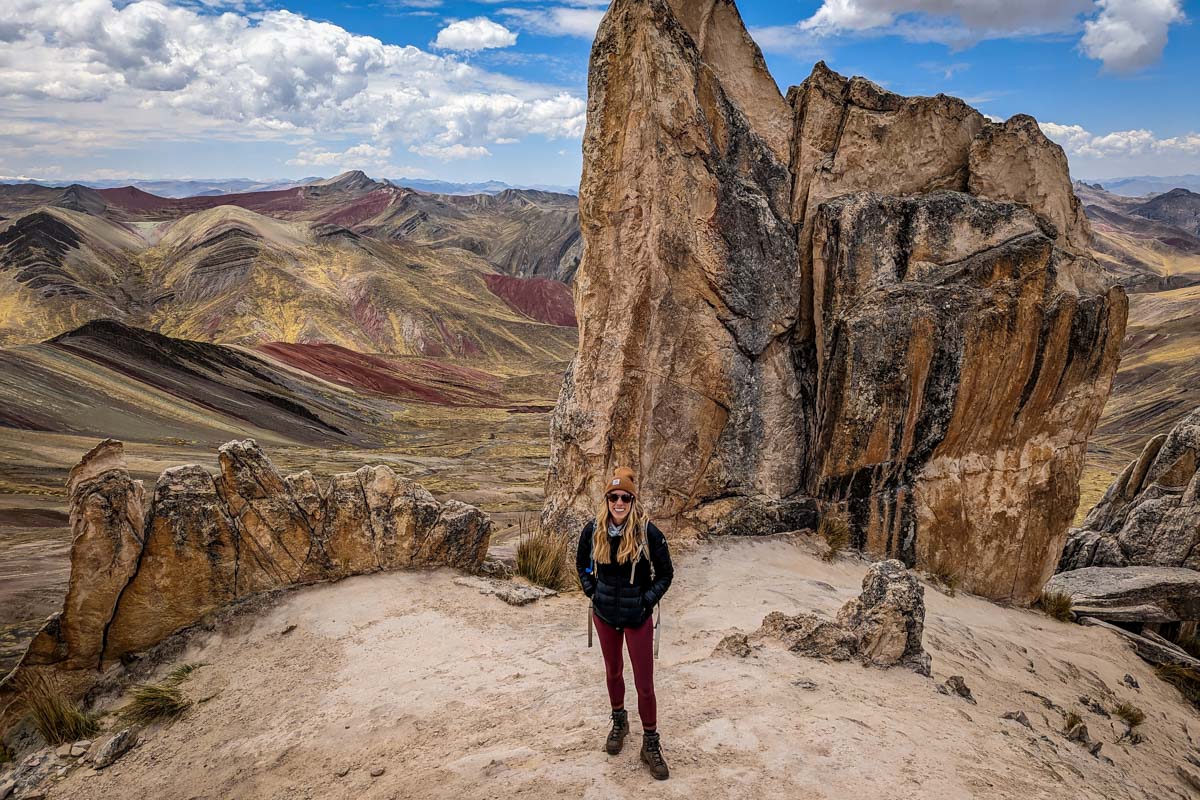 Aside from preparing yourself for hiking Rainbow Mountain Peru, you also need to book a reliable tour operator to take you to and from the site. While almost everyone makes it to Rainbow Mountain just fine, some people don't make it to the top and have to turn around due to the altitude.
By choosing a reputable tour, you'll ensure your tour guides will get you up and back down the mountain safely, are trained in case someone needs first aid, and ensure you're smiling as you huff and puff your way to the viewpoint.
To book in advance, there are a variety of ways to go about this. There are a handful of great tours on Get Your Guide like this full-day Rainbow Mountain tour and this Cusco to Rainbow Mountain tour.
The cheapest way to book a tour is in-person in Cusco, about a day or two before you want to go on the tour. We went with a local tour company in Cusco that charged 80 soles per person (about $20 USD) and had a great experience.
The tour included hotel pick-up at 4:30 a.m. and a 3-hour drive to Palccoyo with a pit stop half way for breakfast. We had enough time to hike the 4-km loop around Palccoyo Rainbow Mountain, then piled back into the 15 passenger van for the return trip to Cusco with a stop for lunch on the way.
Both breakfast and lunch were included in our tour, plus an English speaking guide for Rainbow Mountain. The van was pretty outdated and not a very comfortable ride, but the food was decent and we arrived back at the Plaza de Armas in Cusco by 4:00 p.m. The only thing not included in the cost of the tour was the 15 soles per person entrance fee to Rainbow Mountain, which was collected in cash at pick up.
It's a good idea, while you're exploring all the best things to do in Cusco, that you keep your eyes open and note different tour companies to compare prices and the services they offer.
You can grab a spot on a tour for as little as $18-20 USD this way, but it's important that you're choosing day tours from a reliable company.
How to pick a tour operator
If you're shopping around for the best price and value, keep these things in mind:
Qualified guides: As Rainbow Mountain has grown in popularity, there are some companies that have popped up for profitability, with guides that may rush hikers and have developing English skills. Additionally, some of these may not travel with oxygen tanks or first aid, and in that case you should not risk booking with them.
Oxygen tanks: There is no way of knowing if you'll struggle with the altitude before you're actually there. Oxygen tanks are provided by your tour operator if you, or anyone else in your group, begins to struggle severely with the altitude.
First aid kits: Incase of injury, you'll want to ensure your guide knows proper first aid and has a kit with them. Any professional and authentic company you find will have one.
Best time to visit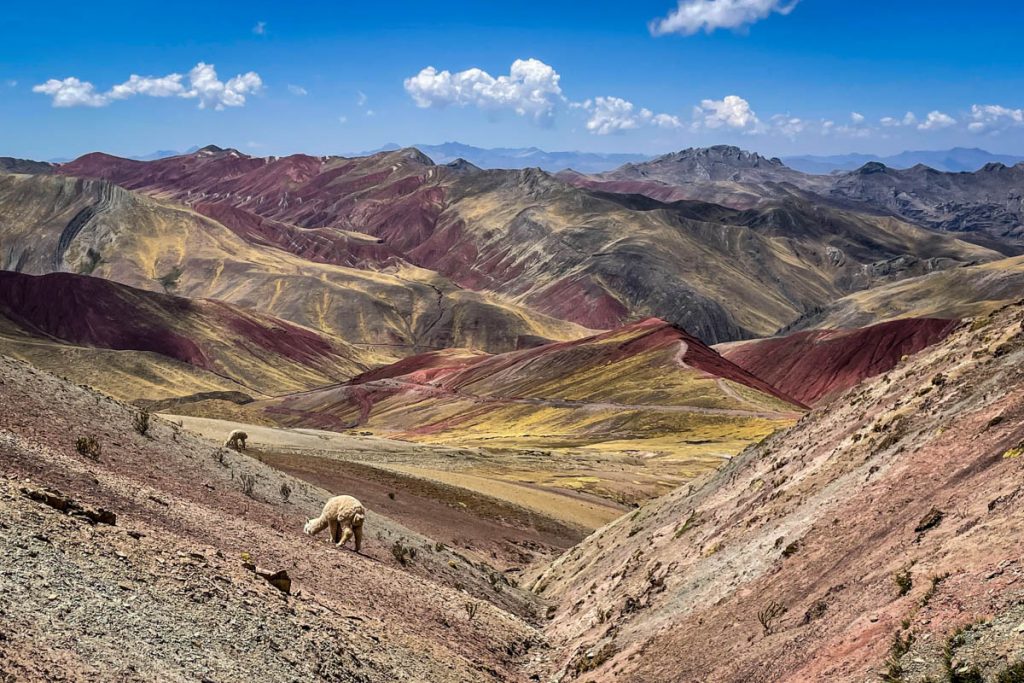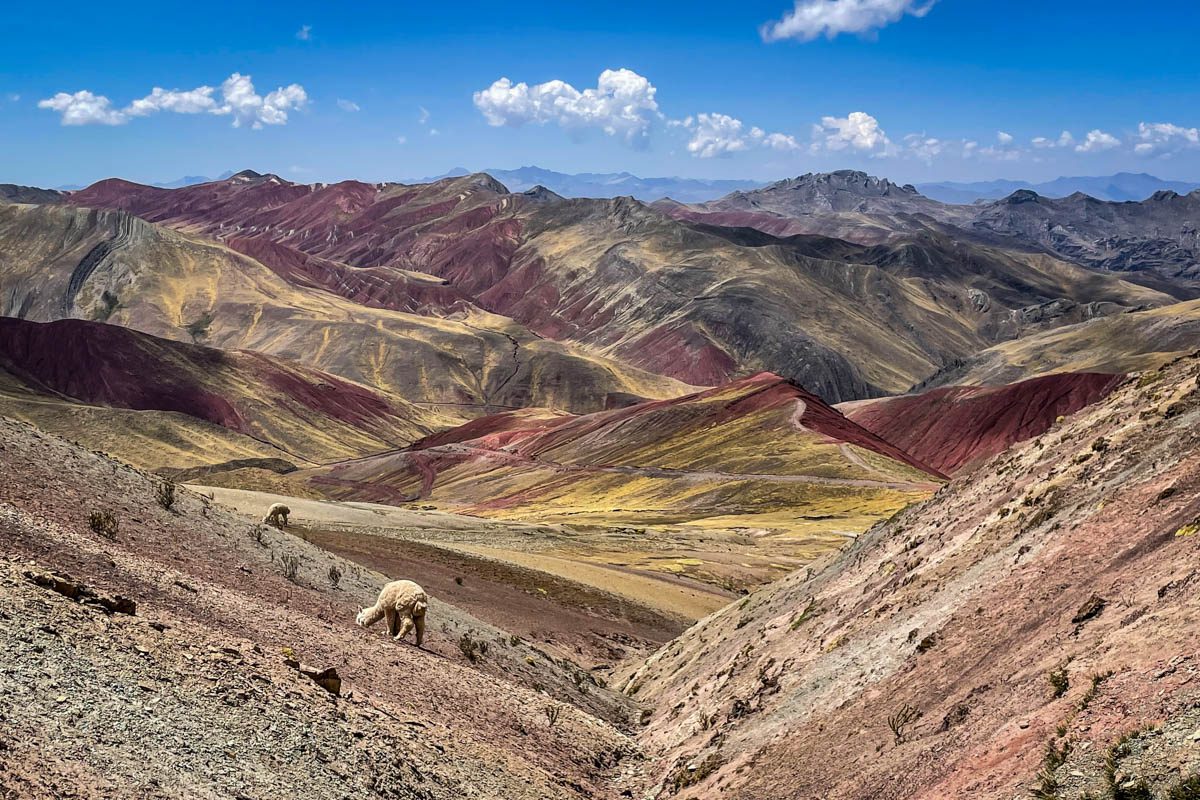 For the best experience viewing and getting to Rainbow Mountain, you want to plan your tour around the best weather. When considering the best time to visit, you'll want to keep in mind Peru's two distinct seasons: wet and dry.
If you're visiting Peru during the wet season, December to March, the chances of getting showered on are much higher, but there are a fraction of the crowds this time of year.
The dry season from May to September has the driest and sunniest conditions. If you're visiting from June to August, you can expect the viewpoint to be crowded as this is the most popular time to go.
For fewer crowds, visit in Peru's spring or fall months (keep in mind its seasons are opposite the northern hemisphere) to get a little bit more solitude. May, September, and October are all good shoulder months to consider. On our trip to Peru in September/October, we still experienced dry and sunny weather, and thinning crowds, which we loved.
Psst! For an in-depth guide on the regional seasons, weather patterns and other factors, check out our complete guide on the best time to visit Peru.
What to wear/pack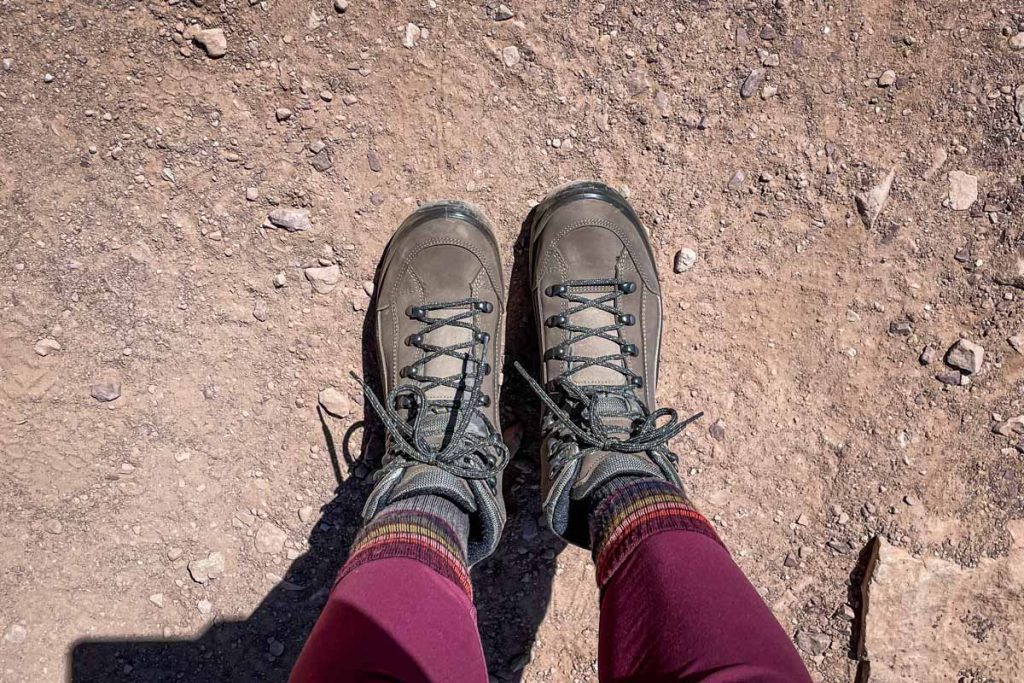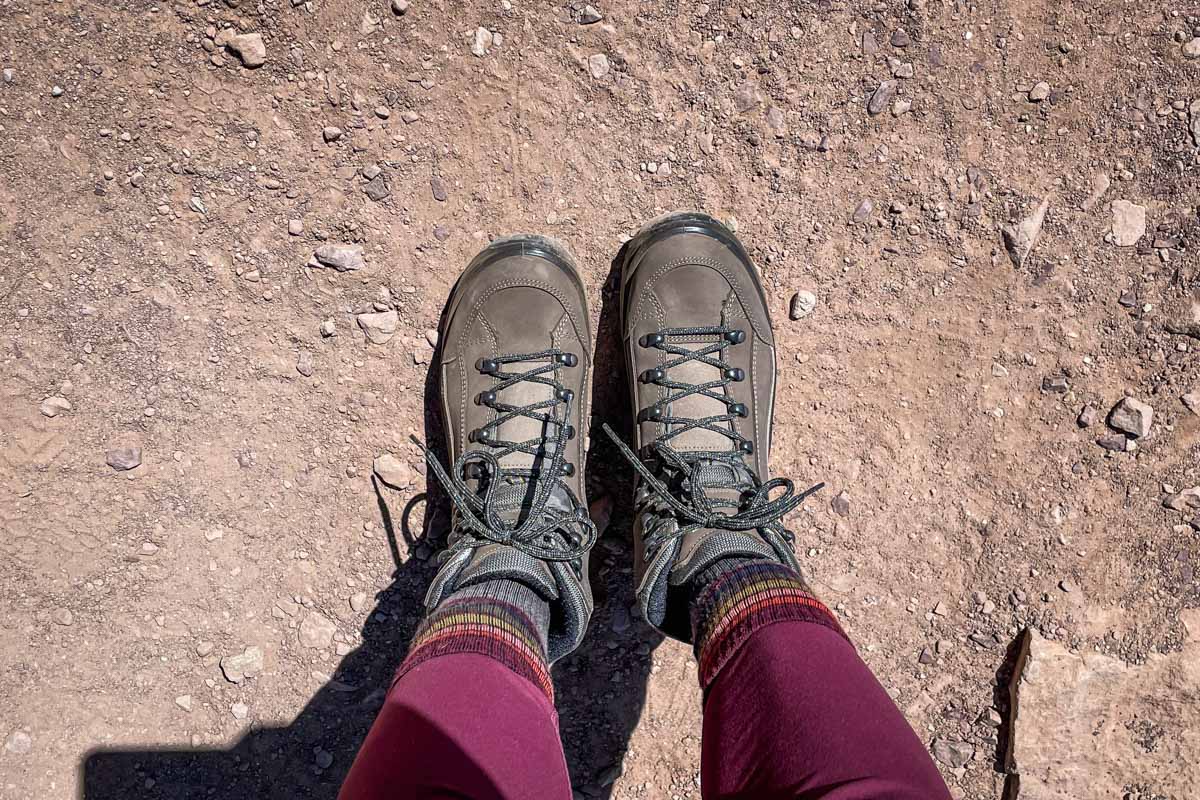 Packing and dressing properly for your Rainbow Mountain day tour is essential for you to be comfortable and prepared throughout the entire day. Here are a few essentials you should consider packing.
Day pack: Bring your favorite bag to hold all your hiking essentials.
Warm layers of clothing: At 17,000 feet, the temperatures are significantly cooler than at lower altitudes. Lots of layers will keep you prepared for weather changes.

I always bring a packable down jacket on my travels and it was very necessary for my Rainbow Mountain hike. I also brought a Buff and some light gloves.

Sturdy hiking shoes: The hikes for both rainbow mountains can be done in sneakers as the trails are relatively flat and well-trodden. But you're in Peru, so hiking boots will serve you well.
Wool socks: These help prevent blisters and are essential for hikes in cooler weather.
Rain jacket/poncho: Even during the dry season, the weather can change on a whim and you'll want to be prepared.
Sun protection: Hat, sunglasses and sunscreen. The UV rays are powerful at higher elevations, so make sure your skin is protected.
Toilet paper & sanitizer: The bathrooms are basic and do have running water. But it's a good idea to be prepared!
Plenty of water: Drinking lots of water will help you combat altitude sickness. Hydrate before your tour and bring at least three liters for the journey.
Extra cash (in soles): You'll need 15 soles in cash for the entrance fee (at both Rainbow Mountains), plus the bathrooms cost 1 sol to enter, and there was a lady selling some snacks and drinks (which were welcomed after the challenging hike) at the base. If you want to get any photos with the alpacas, you'll have to tip the locals a few soles as well.
Trekking poles: These are optional, but may help you navigate the ascents and descents on Vinicunca Rainbow Mountain.
Safety and insurance for hiking Rainbow Mountain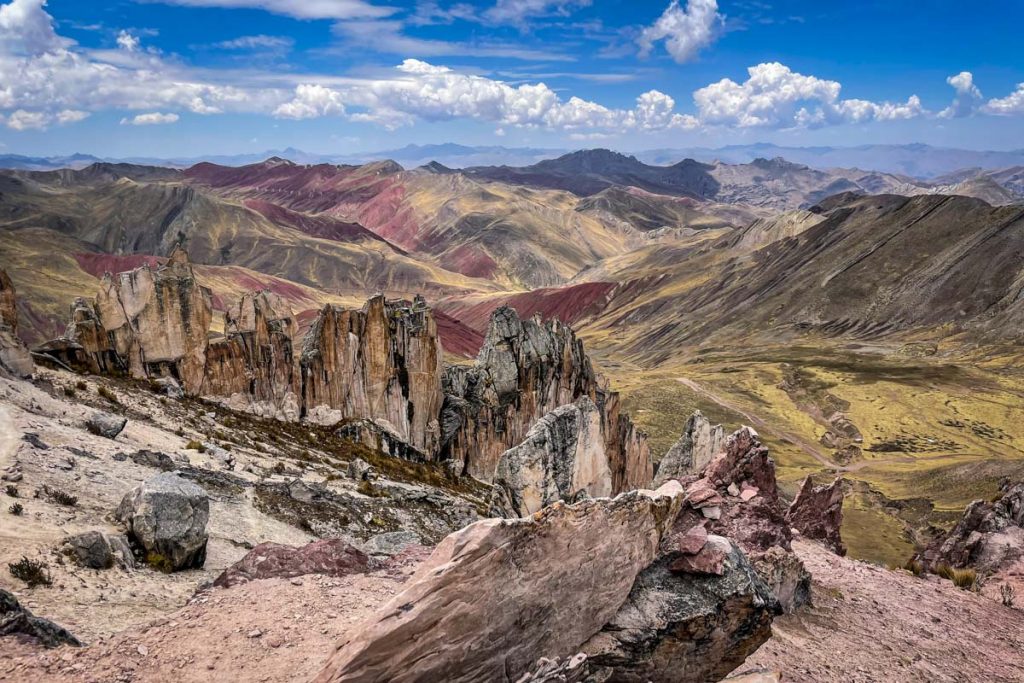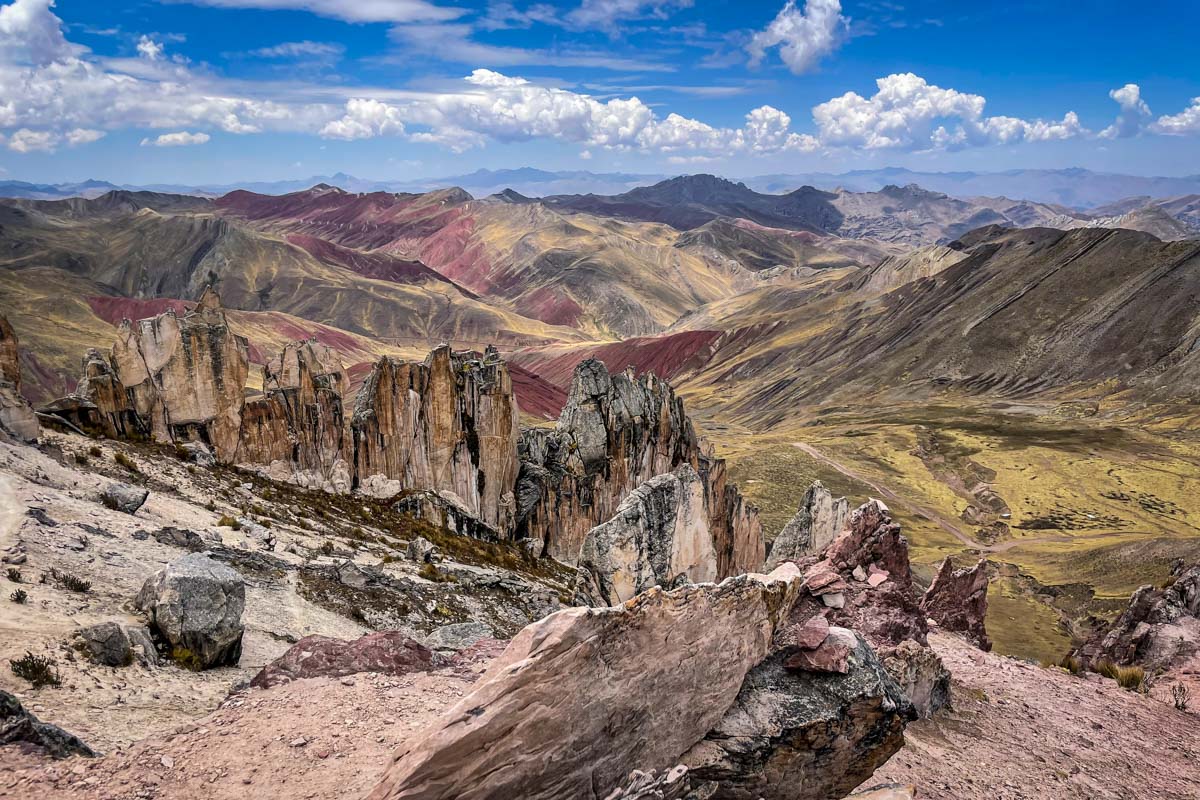 While Rainbow Mountain is something everyone should be able to experience while visiting Peru, the hike to both mountains is not for everyone as there are numerous safety concerns regarding the altitude.
In case anything happens to you with the altitude and you need additional attention, you'll want to be sure your travel insurance covers your trip.
Some insurance plans only include coverage from 2,000-3,000 meters, which is why World Nomads is our go-to for coverage on high-altitude treks like this one. Their Standard Plan covers trekking up to 6,000 meters, which includes Rainbow Mountain and your trek to Machu Picchu, in case that's also on your to-do list
Tips for visiting Rainbow Mountain Peru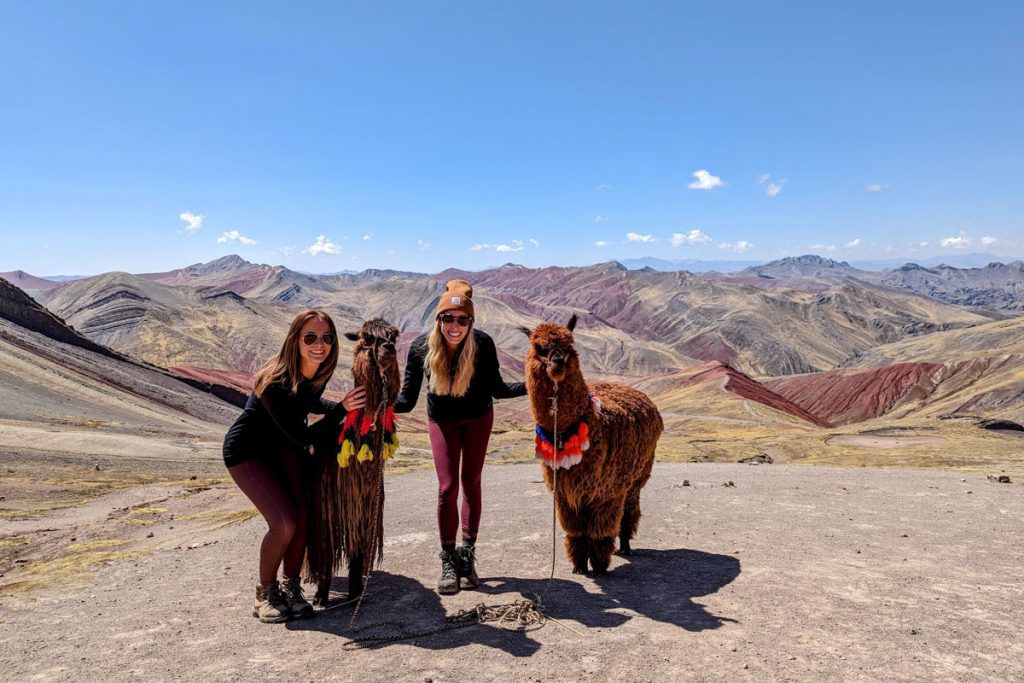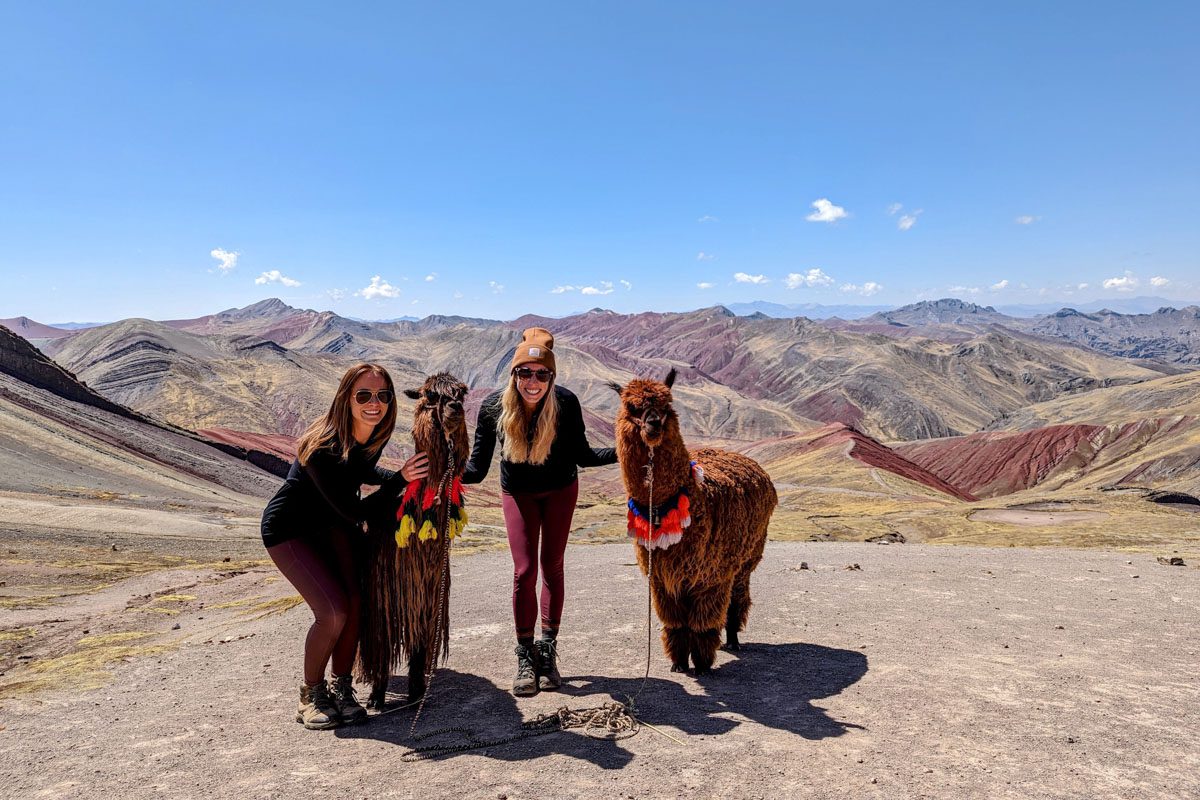 Acclimate in Cusco before visiting. Although the hike to get to Vinicunca Rainbow Mountain is fairly moderate, the mountain is only a few hundred feet below where Everest Base Camp sits, about 17,000 feet. So while the hike isn't that hard, the elevation will make it very difficult to breathe. Symptoms of altitude sickness generally start around 7,000 feet, so if you don't acclimate your symptoms are likely to be more severe.
Buy cocoa leaves in town before going. Peruvians have used cocoa leaves for centuries to help curb altitude sickness symptoms. You can pick up a bag for cheap in Cusco and chew on them to help you breathe and ease your symptoms.
Plan your trip around good weather. A poor weather forecast can devastate your plans to visit Rainbow Mountain. Avoid planning your day trip when there is rain or snow in the forecast and the days following significant rainfall. Many people have not planned accordingly only to show up to the mountain covered in a dull, gray fog. In dry, sunny weather, you'll be able to see the best show of colors on the mountain.
Pick an early tour to avoid crowds at Vinicunca. Many of the Rainbow Mountain tours leave Cusco at 4-5:00 a.m. and they all arrive at the mountain around the same time. However, there are a handful of tours that leave around 2-3:00 a.m. and get ahead of much of the crowds.
Bring motion sickness medication for the drive. The ride to Rainbow Mountain is a long ways up winding mountain roads with switchbacks. If you're like me, you'll want to have some non-drowsy Dramamine on hand.
Be mindful of the altitude. At 17,000 feet above sea level, even walking becomes increasingly difficult, so it's important to be mindful of the way you feel and do not push yourself past your limits. Take it slow. I was moving at about the pace of 1-Mississippi-2-Mississippi and still was at the front of my group.
Hike up the hill behind the first viewpoint for less crowds at Vinicunca. If you're standing right in line for the viewpoint, the mountain is likely going to be obstructed by people waiting in line for pictures, so if you back up a bit and stand on the hill behind the viewpoints, you can get a better view of the colors.
A note about overtourism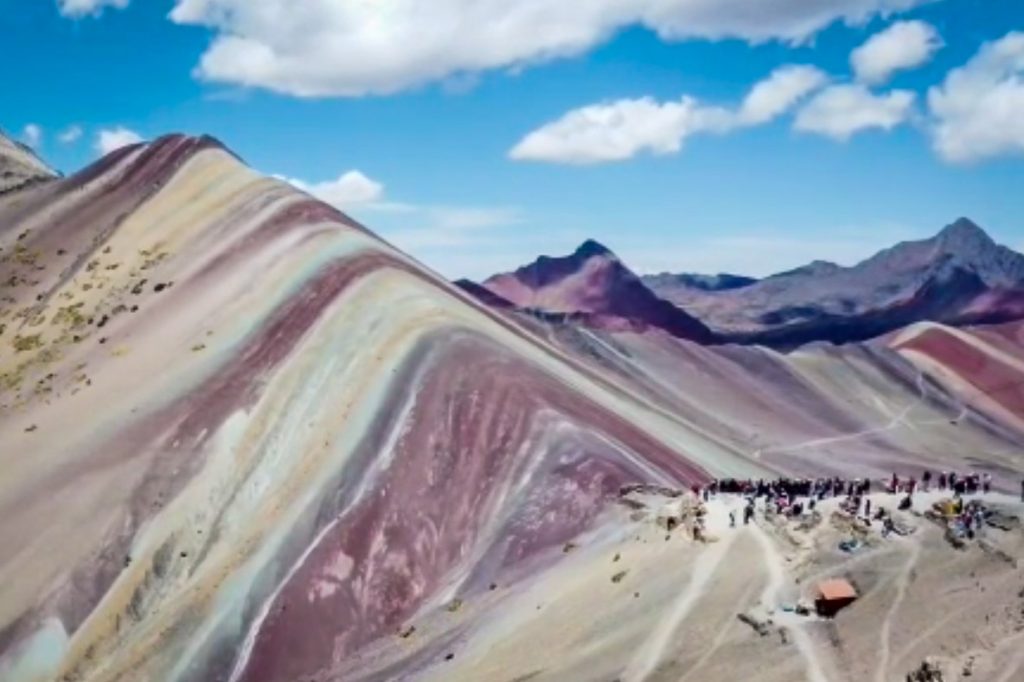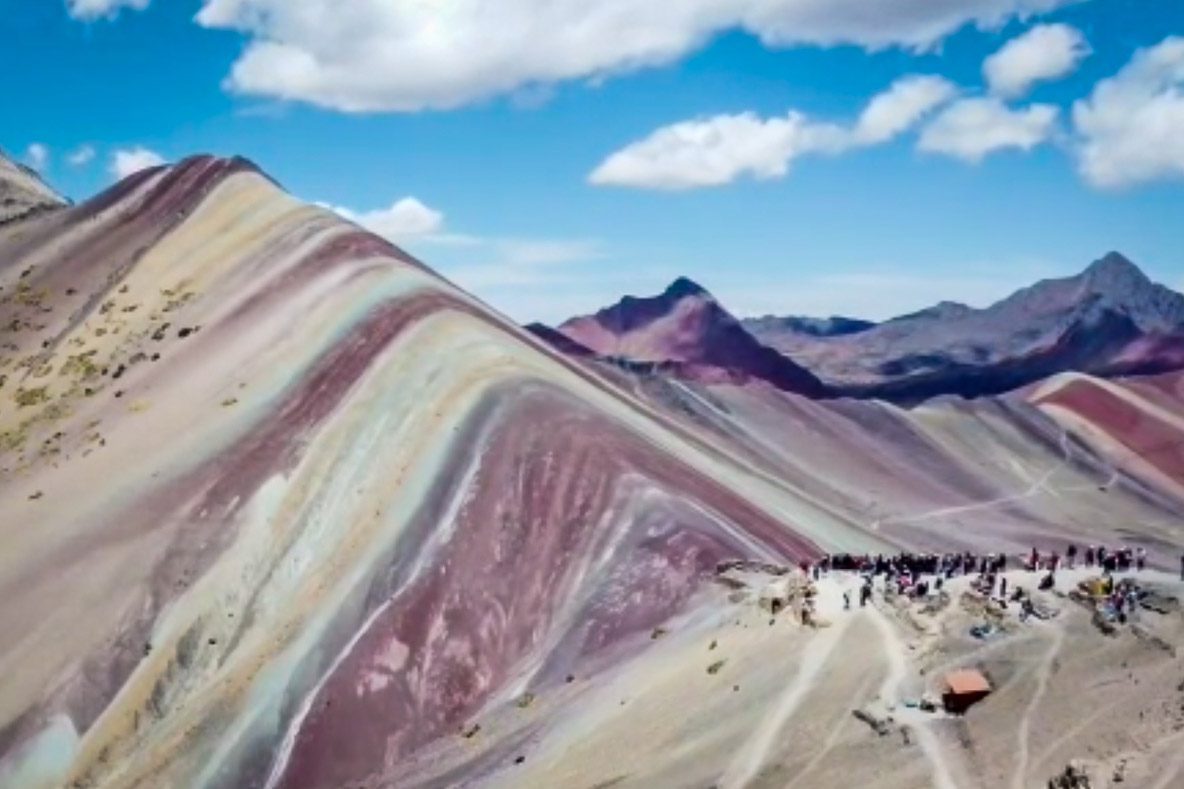 Our goal is to always uphold our values regarding responsible tourism, so there are a few things you should know before you begin planning your visit to Rainbow Mountain in Peru.
In the hundreds of thousands of photos you see online, the mountain still seems to be the hidden gem it was after its discovery in 2015. However, since tours began only a year after its discovery, it's already seen the negative effects of social media, most notably overtourism.
Nowadays, you can expect upwards of 3,000-4,000 hikers visiting Rainbow Mountain per day. Moreover, many of the tours arrive at the same time, so the mountain has an overwhelming amount of foot traffic for an already small, sensitive area.
It's expected that the Peruvian government will step in to limit the number of visitors to the site, but for now, we wanted to be transparent about what a visit to this once untouched gem entails if you're planning a trip to Peru.
It's our hope that a balance can be made where the local communities and Rainbow Mountain can both thrive and benefit from its beauty.
The 15 soles entrance fee is a start. I asked my guide who assured me that the entrance fee goes "directly back to the local communities" at both Vinicunca and Palccoyo. However, when I pressed him on exactly how that money is distributed or what it goes towards, he gave me a vague answer about "local services."
Alternatives to Rainbow Mountain
If you're interested in an alternative to Vinicunca and Palccoyo Rainbow Mountains, there are a few really incredible options worth looking into:
Pallay Punchu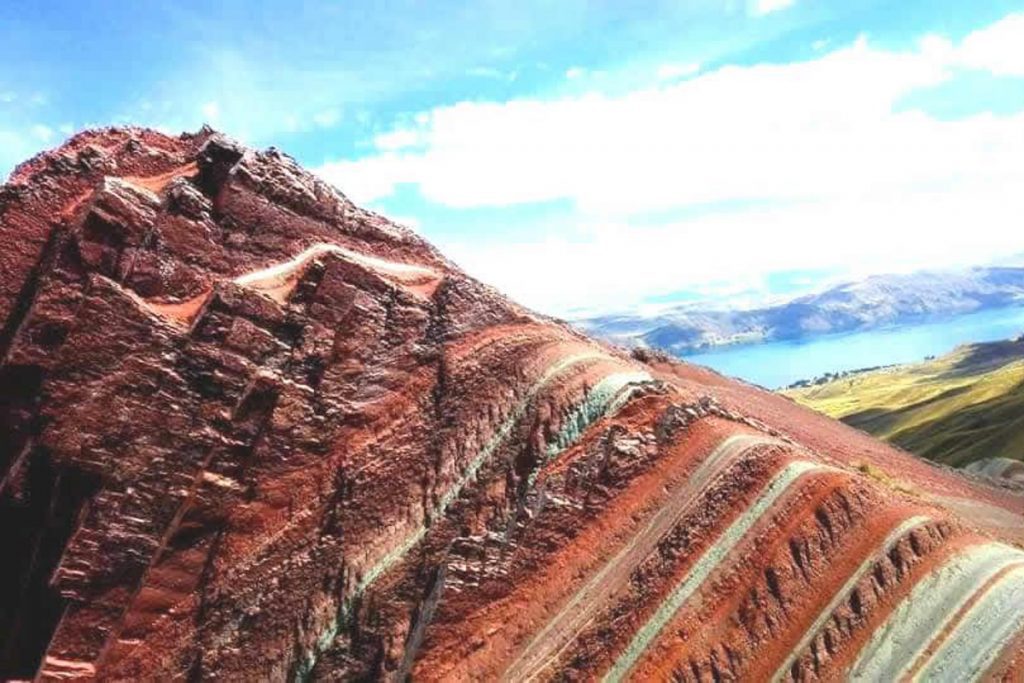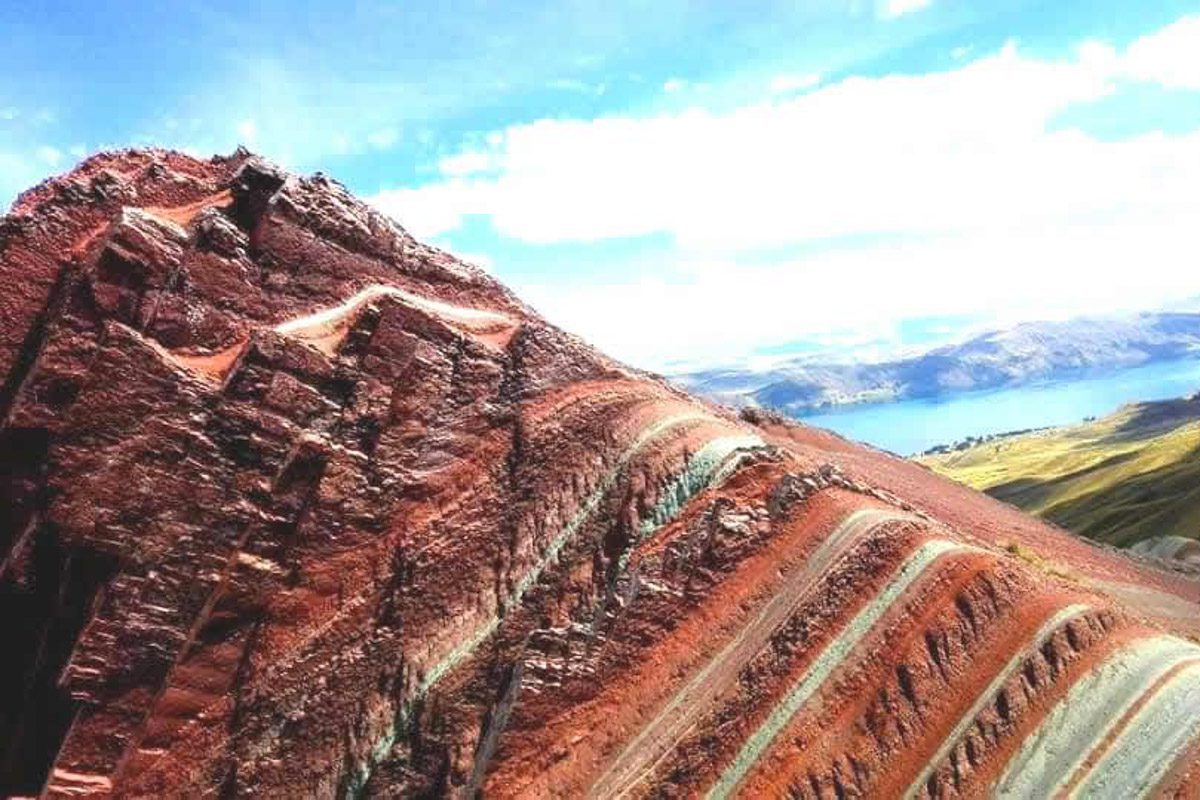 While the Vinicunca Rainbow Mountain has dominated everyone's list of the best things to do in Peru for years now, the just as colorful and slightly more dramatic Pallay Punchu has retained a fraction of the visitors for arguably better views.
Nicknamed "the mountain wrapped in a colored poncho", the rooftop shaped peak boasts the same colors of Rainbow Mountain but has the beautiful Laguna Langui and surrounding mountains as a stunning backdrop.
Not only is the elevation almost 2,000 feet (600m) lower than Rainbow Mountain, you're likely to experience very few crowds in this untouched area just a few hours from Cusco.
The Red Valley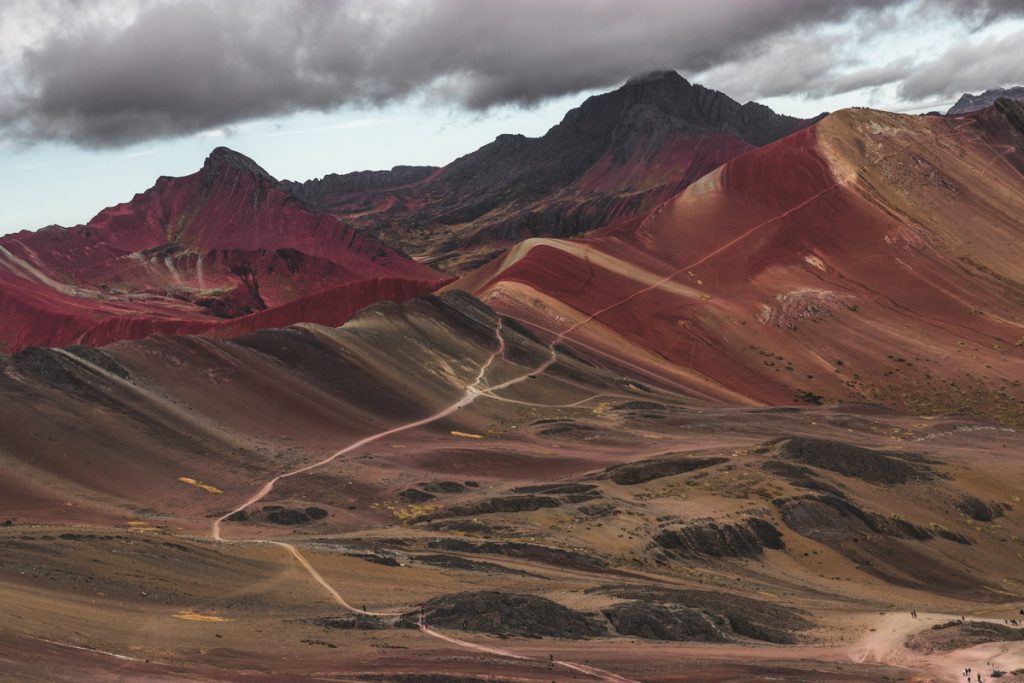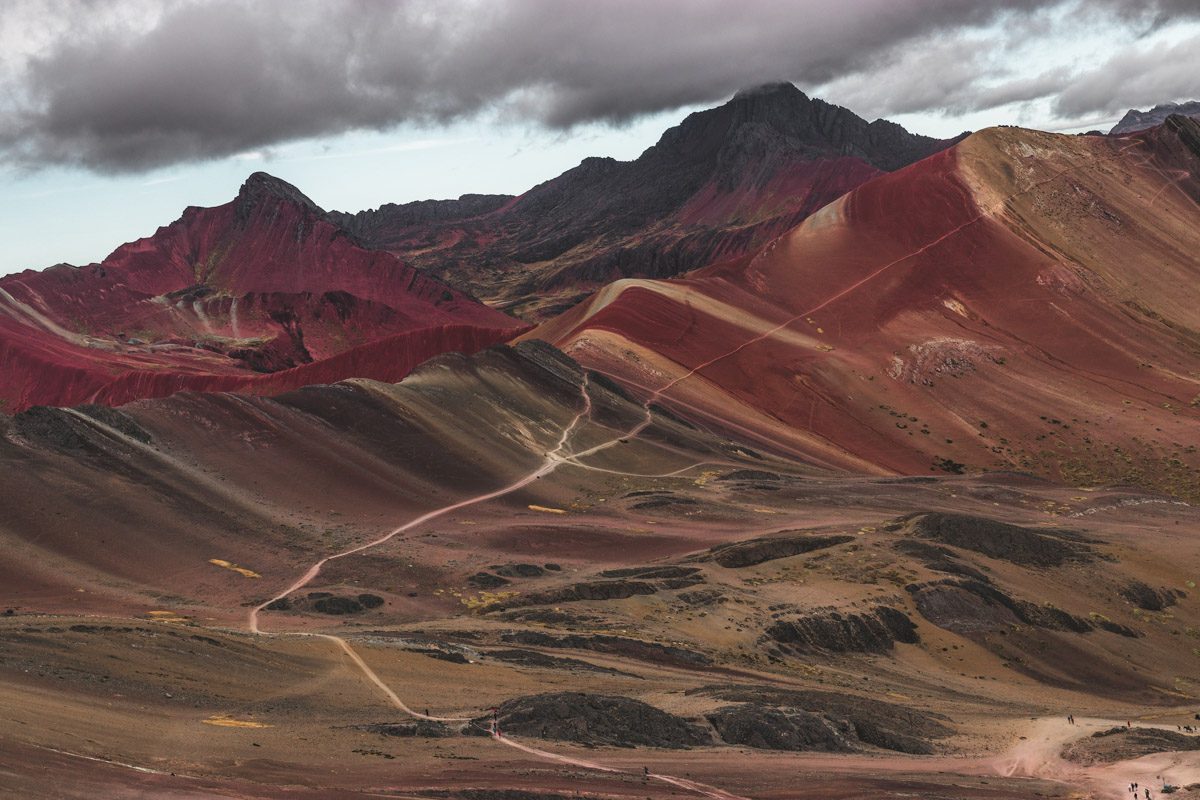 Painted with the same bright and mystifying colors as Rainbow Mountain, this vibrant valley is only a slight detour from both Vinicunca and Palccoyo. With it being a scenic trail rather than a viewpoint, this may seem to make your day trip from Cusco a lot more memorable.
There are some tours that include a hike through the Red Valley in the itinerary, given time allows, so that may be something to consider when finding a Rainbow Mountain tour.
Ausangate Trek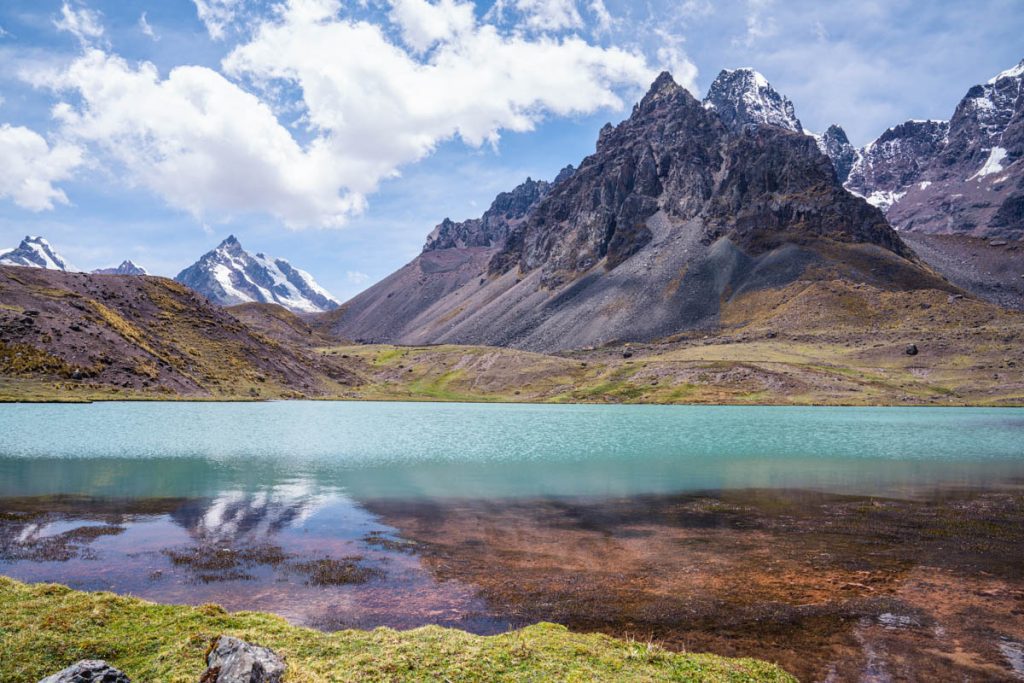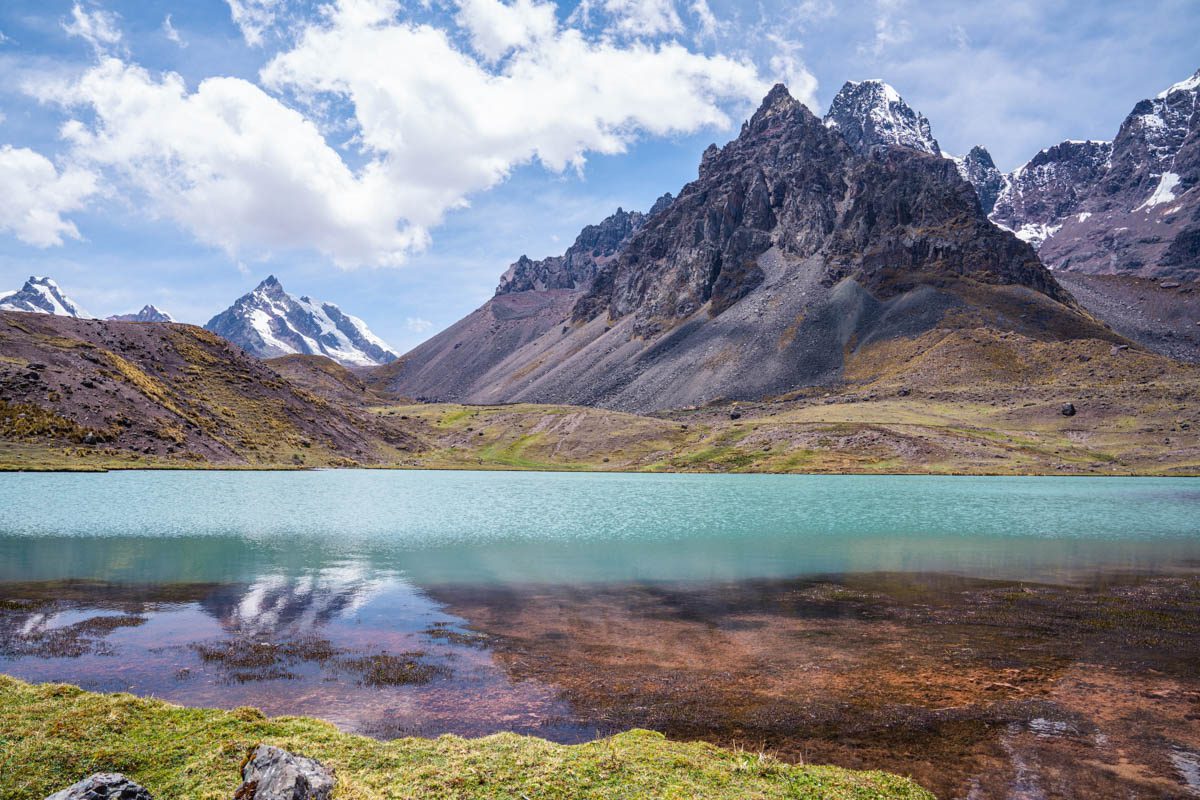 Take this adventurous route through the most remote landscapes of the Peruvian Andes. You'll be circumnavigating the highest peak in the mountain range, Ausangate. Since this is a multi-day trek, it's a great opportunity to immerse yourself in the rugged and natural beauty of the Peruvian Andes.
Towering above the region at 20,948 feet, you will take in Ausangate Mountain's enormity while passing snow-capped peaks, turquoise lakes, hot springs, herds of llama, alpaca, wild vicunas, and even traditional Quechua villages.
---
Are you planning a trip to Peru?
We have lots of resources on travel in Peru and destinations throughout the country. Check out our Complete Peru Travel Guide for all the answers to your most burning questions, or read some of our favorite articles below.
Save this article on Pinterest for later!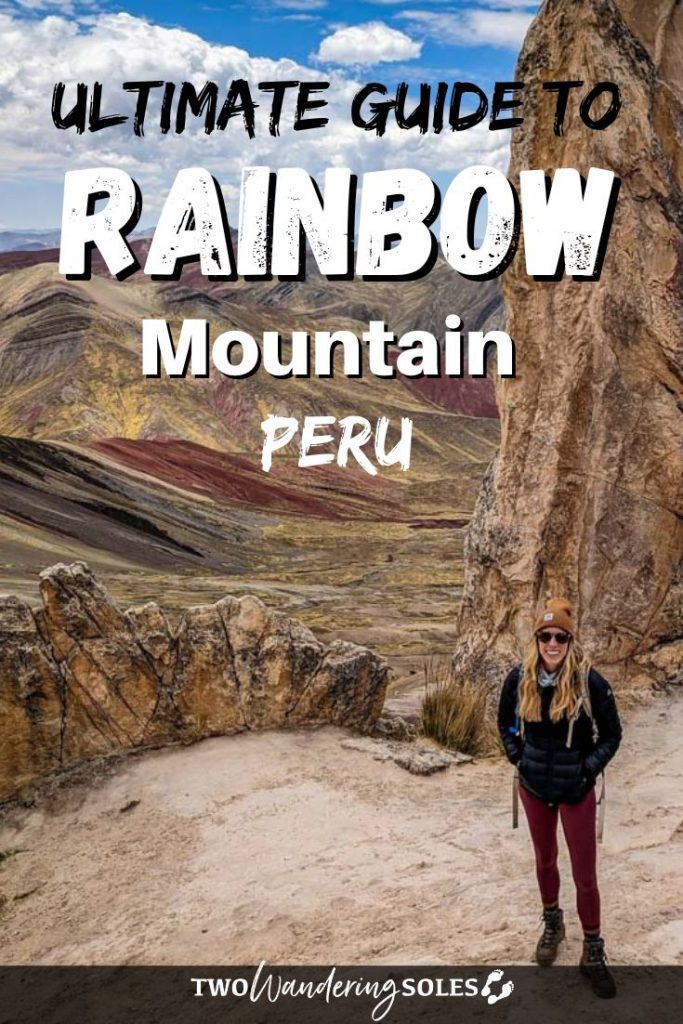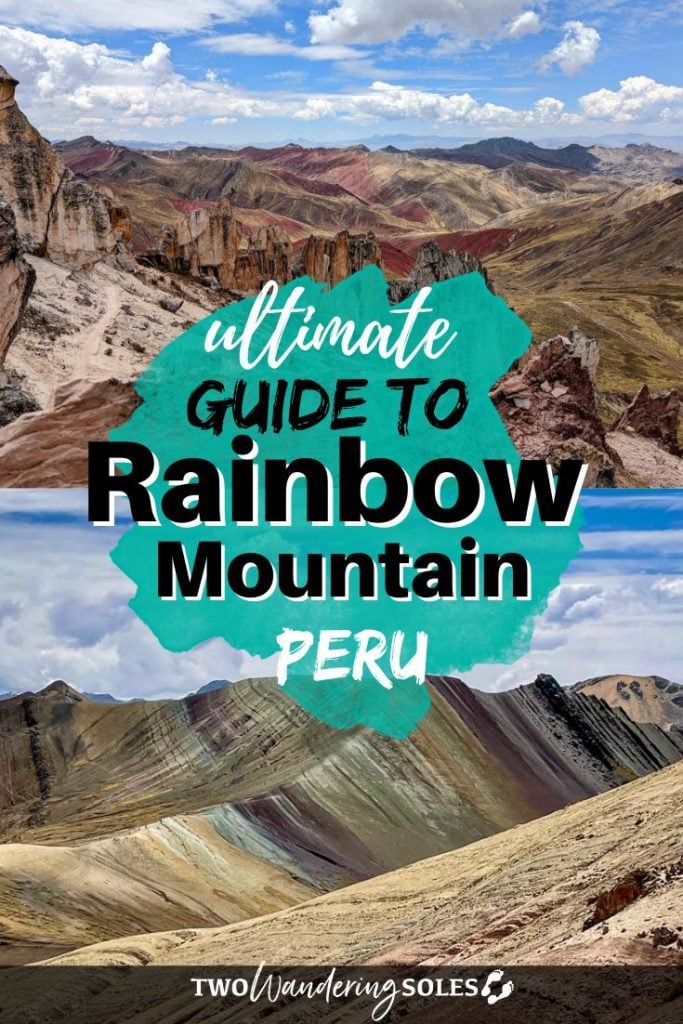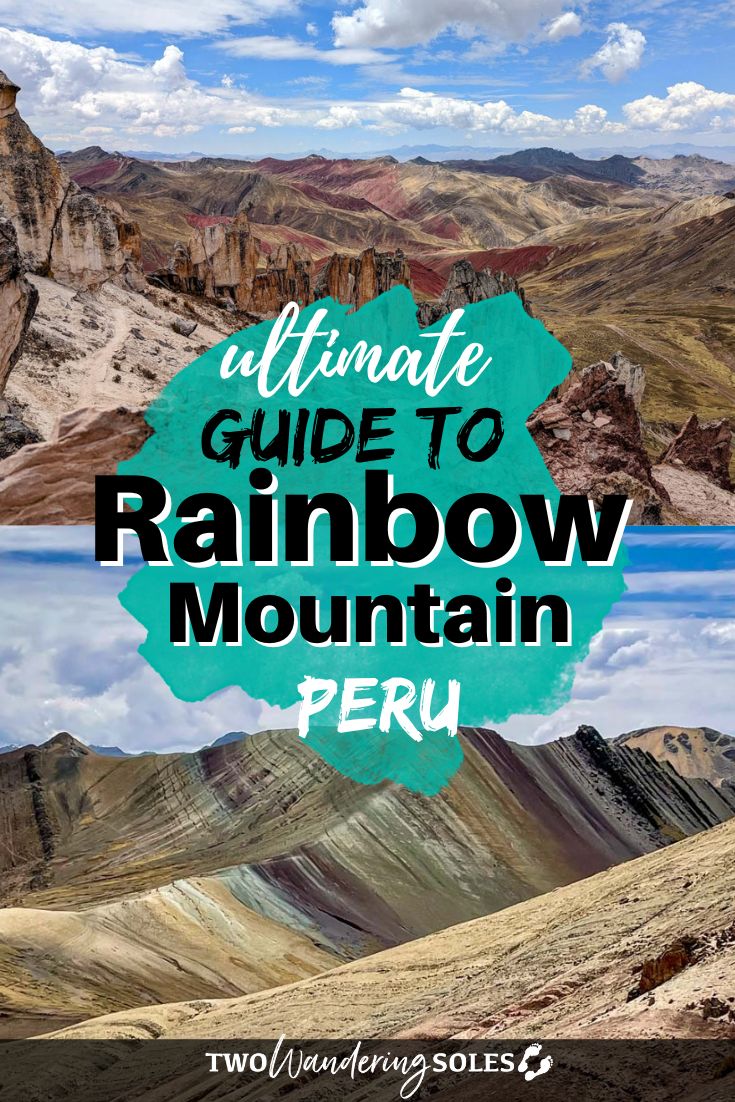 We want to hear from you!
If you had the choice, which Rainbow Mountain or alternative trek would you choose? Still have questions about visiting Rainbow Mountain Peru? Leave your comments in the section below and we'll do our best to get back to you!