The Colca Canyon is located in southern Peru and is the second deepest canyon in the world. Here's everything you need to know to do the Colca Canyon trek, either on your own or with a guided tour.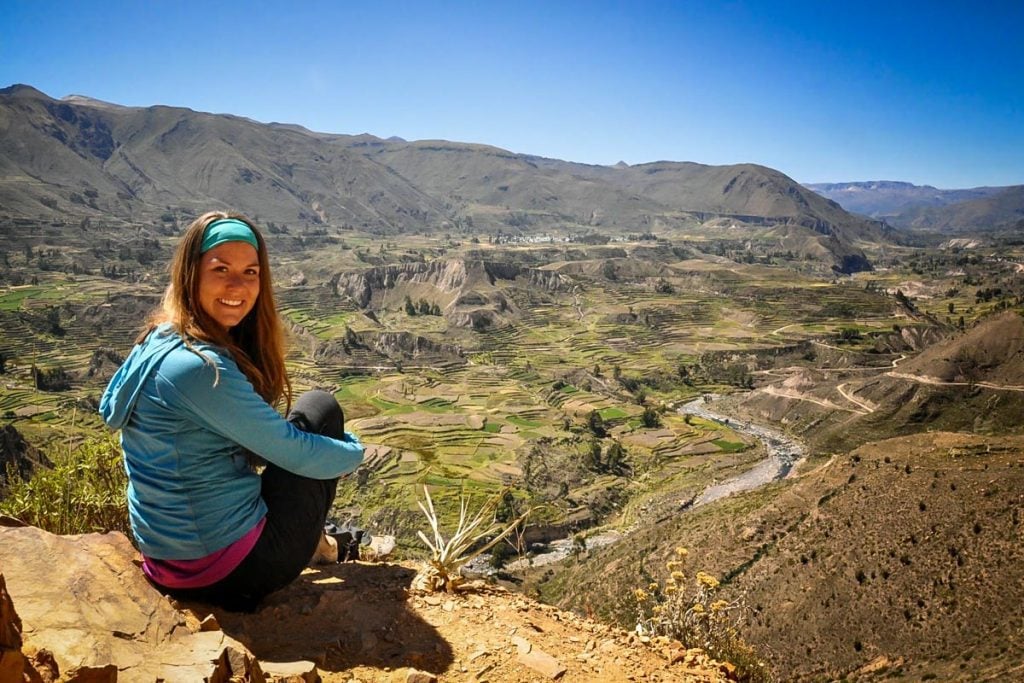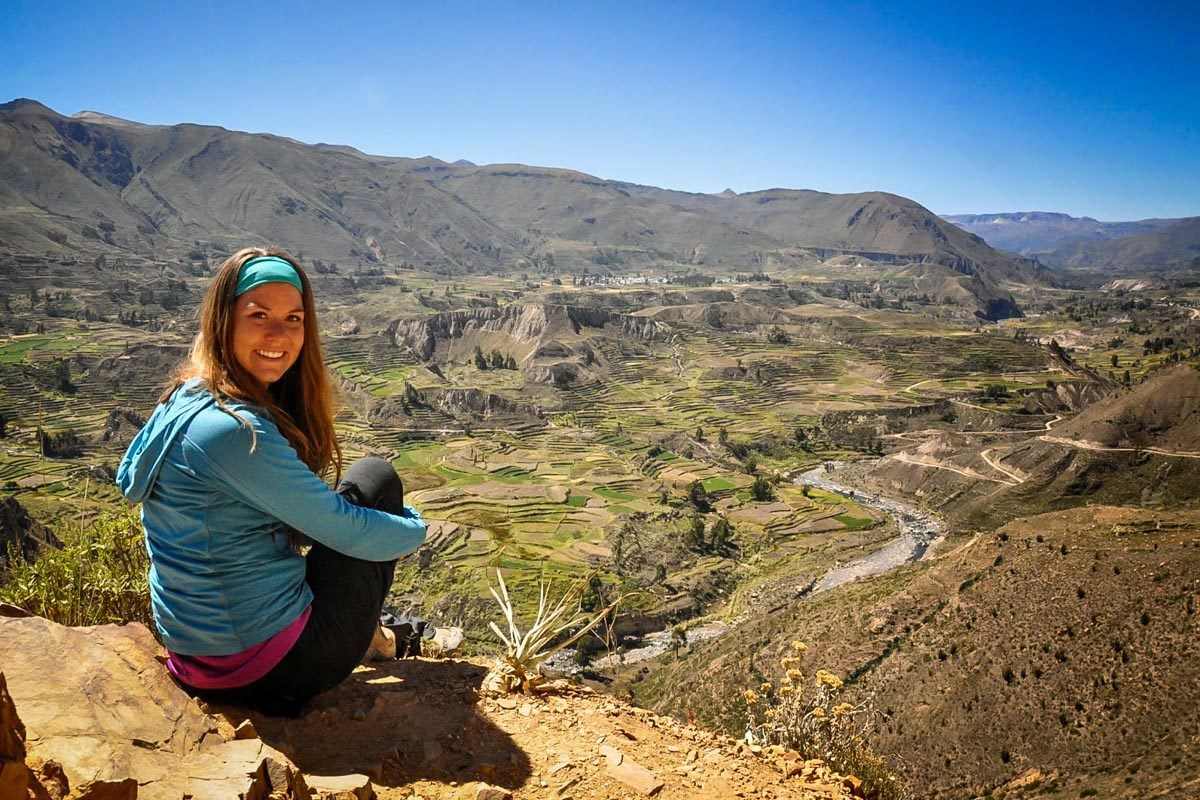 Nestled in the south of Peru, the Colca Canyon is known as one of the deepest canyons in the world, and is a famed hiking destination.
While far less-known than its more popular sister, the Inca Trail, this river canyon is a bucket list trip for hiking fanatics that are traveling around Peru.
To be totally honest, we hadn't heard much about the Colca Canyon until we were staying at a hostel in Arequipa and heard other travelers swapping stories. They spoke of a remote canyon and the oasis-like places they stayed, deep in the canyon on the river's edge.
We don't need much convincing when it comes to epic hikes; so without much research, we packed our bags and headed out on this journey the very next day.
I don't think we were quite prepared for how challenging the hike would be, but we were rewarded with some incredible sights.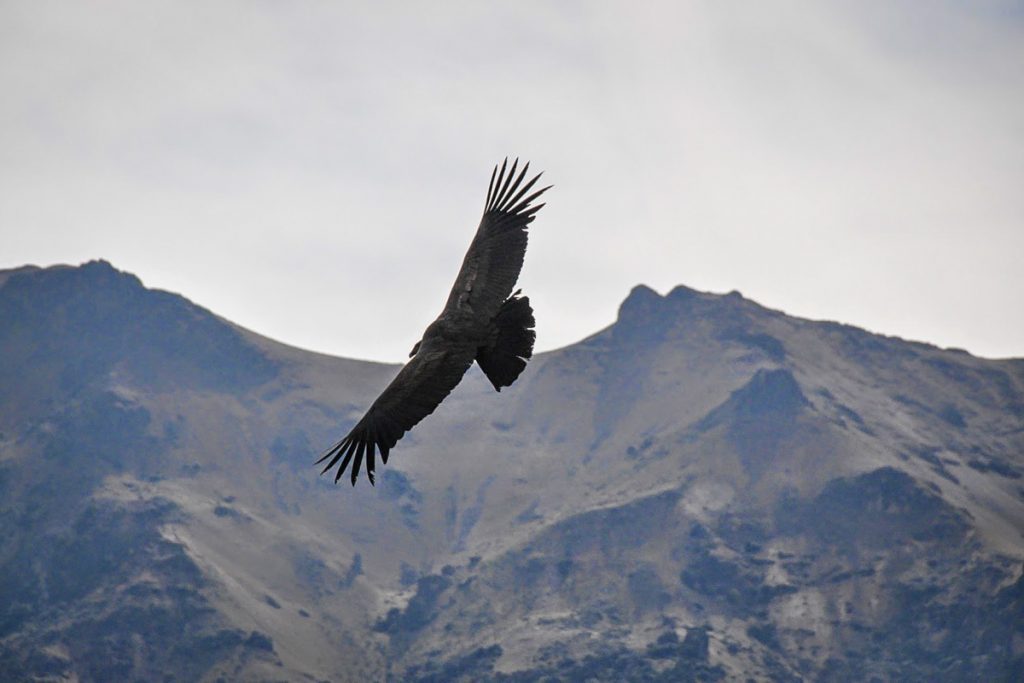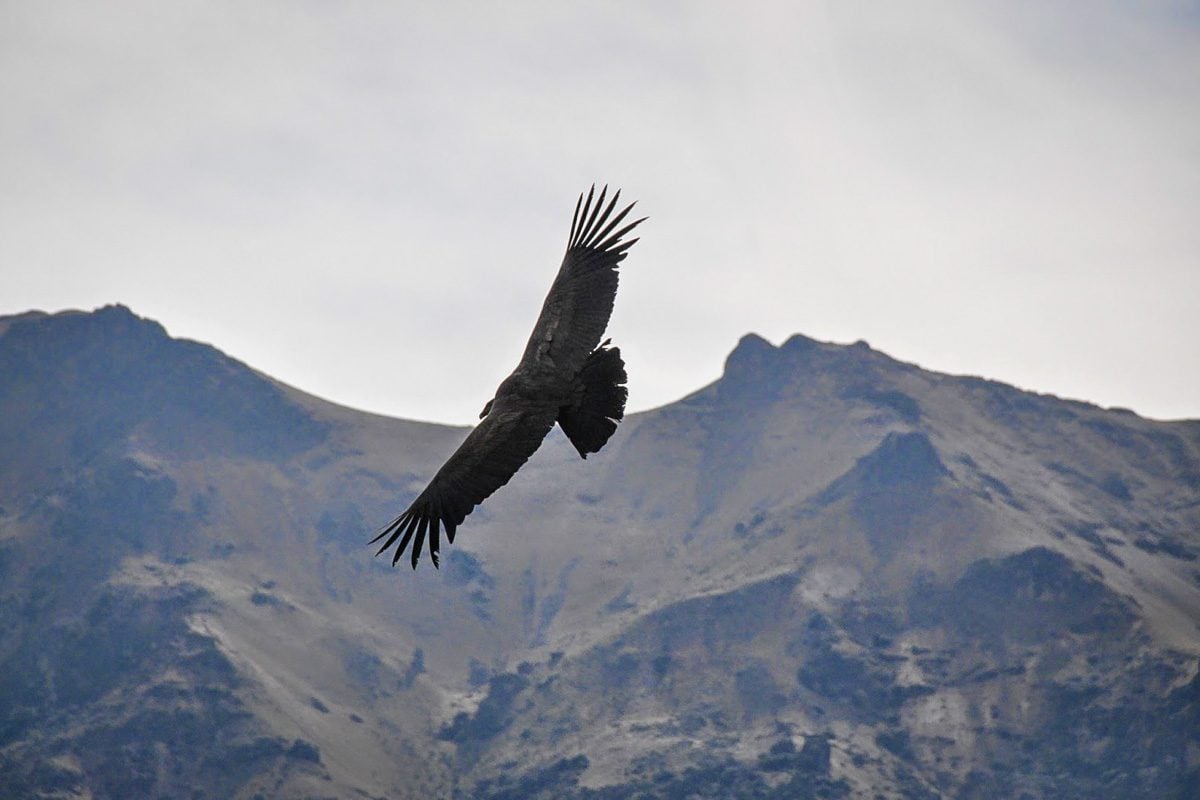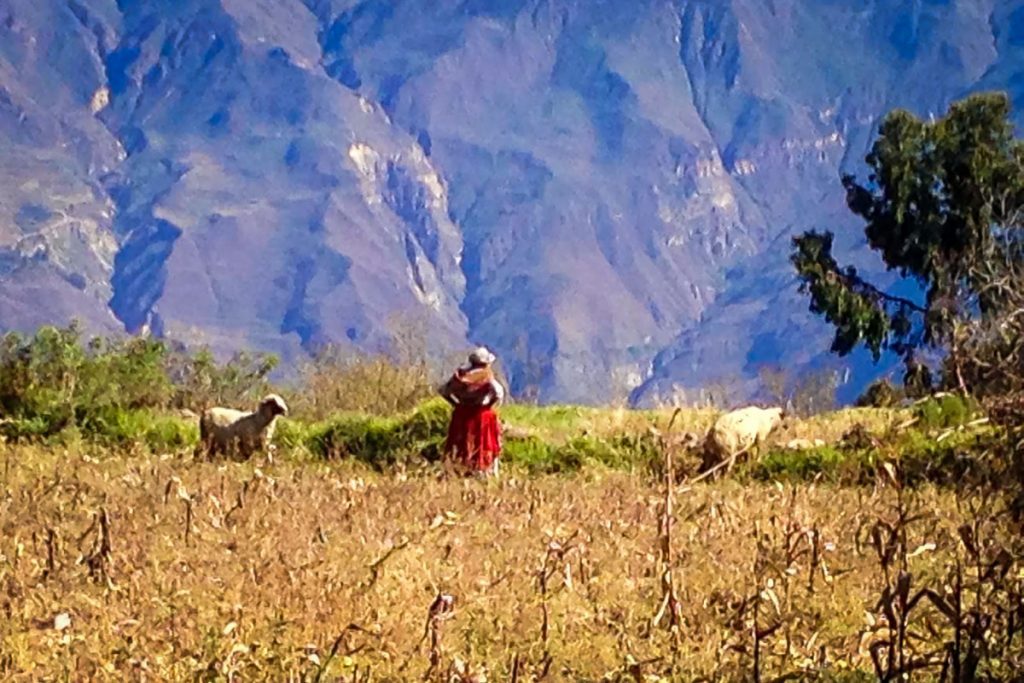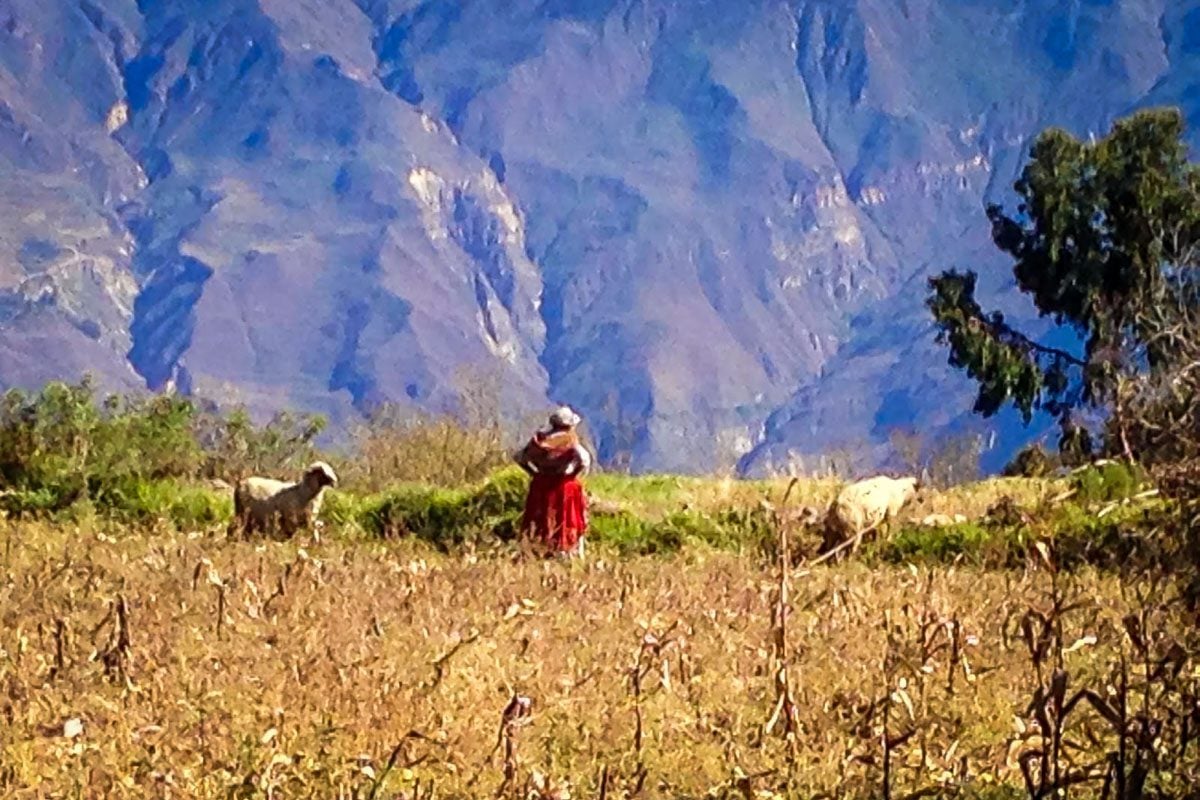 We spotted giant Andean condors swooping above this canyon they call home. We hiked past remote villages and saw the traditional terraced fields that are still used for growing crops (a method that predates the Incas).
Oh, and I haven't even gotten to the best part: We spent the night in a lush, palm-lined oasis on the river's edge, which was well-deserved after a long day of hiking.
I'm going to be transparent and say this hike is quite challenging and is not for everyone. Luckily, you can still experience the Colca Canyon on a tour that doesn't involve much hiking at all (which we'll explain!).
Now that you know a bit of what to expect, we'll dive into everything you need to know to be prepared for this hike.
We'll go over the difference between the Colca Canyon Trek and the Colca Canyon Tour (that involves very little hiking). We'll also share what to pack, how to book your tour, and what you'll see along the way.
Psst! If you'll be traveling more throughout the country, be sure to check out our bucket list of can't-miss things to do in Peru!
Contents
---
Colca Canyon Tour vs. Colca Canyon Trek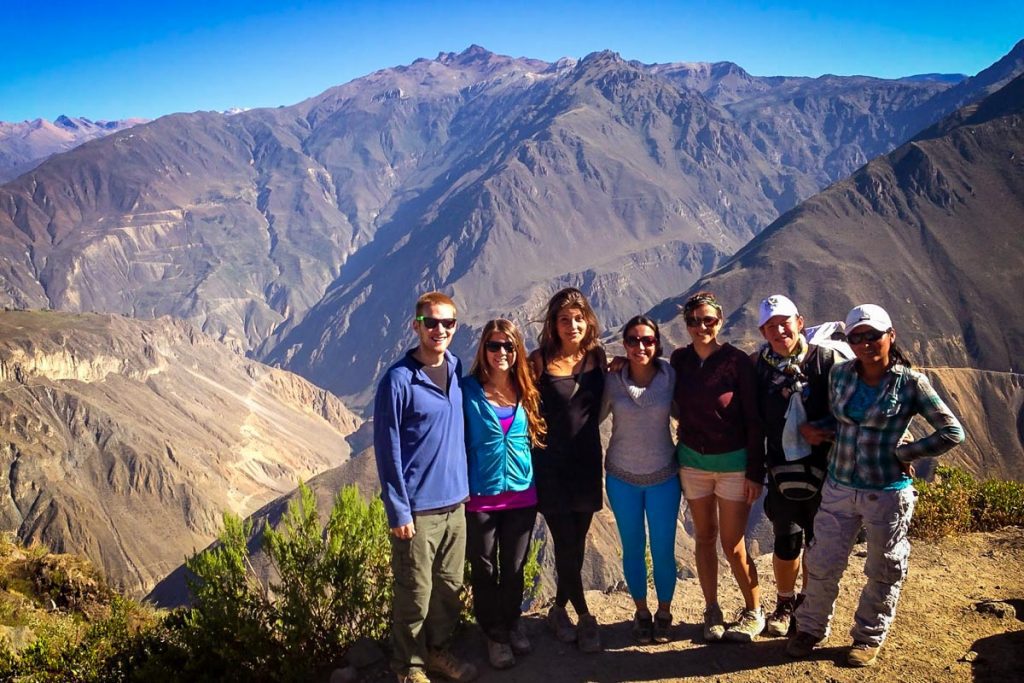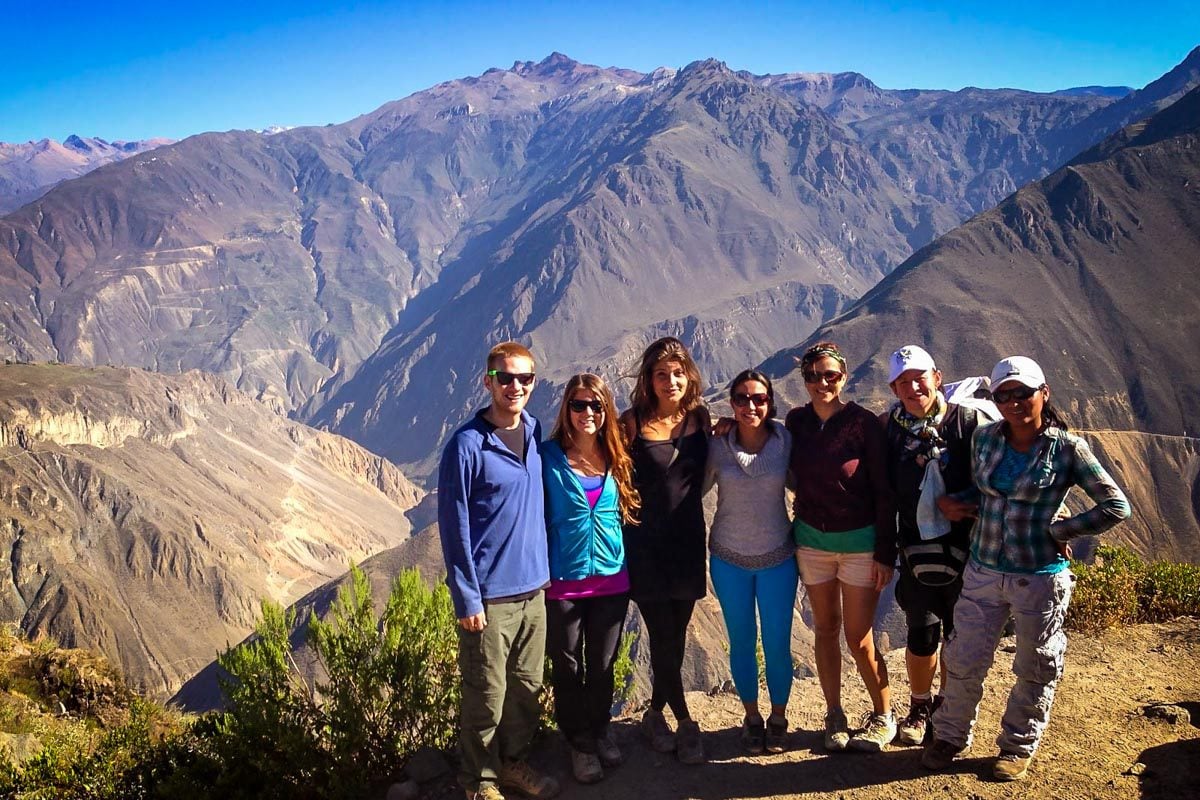 It's important to look at tour itineraries before booking to know exactly what type of experience to expect.
Colca Canyon Bus Tour
Regular Colca Canyon tours usually include transportation, an English speaking guide, sightseeing and viewpoints, but many don't include much hiking at all. Accommodation is usually outside of the canyon in a nearby town if you choose an overnight tour.
Tours are great if you are short on time or not into the idea of a multi-day trekking experience.
Colca Canyon Trekking Tour
Trekking Tours will take you on popular hiking routes down through the Canyon. They usually include long days of walking, accommodation and all of your meals.
This is a good option for active travelers who want to experience the Colca Canyon trek, but don't plan to do it independently.
It is best to book your tour in Arequipa to find the best deal. Most hostels and tour companies will offer Colca Canyon tours so it's good to shop around to find the best deal.
Day tours can cost as little as $30 USD per person, up to around $100 USD per person for a multi-day tour with accommodation. Whereas a multi-day trekking tour will cost a bit more, around $300 – $450 USD per person.
If you are pressed on time and don't have much flexibility in your Peru itinerary, it's a good idea to book online ahead of time with a trusted tour provider. We've listed some highly rated tours below.
It is important to note that most tours available online do not include the Colca Canyon entry ticket. This ticket is required for entrance into the canyon and can only be purchased in cash on the day of your hike for about $20 USD.
Colca Canyon Tours
Here are some options for guided tours on the Colca Canyon trek.
Full-Day Guided Tour from Arequipa: This full day tour includes early morning pick up from your accommodation in Arequipa, round trip transportation, and stops for breakfast and lunch. You'll stop at the Mirador Cruz del Cóndor which includes a short hike to the viewpoint and stops along the way as you cross the pass of Patapampa. You'll return to Arequipa by 5pm.
2-Day Guided Trek from Arequipa: This two day tour includes round trip transportation from Arequipa. On day one you'll pass through the vast Salinas and Aguada Blanca Nature Reserve with stops along the way before checking into your hotel in Chivay. Day two is all about seeing the condors in their natural habitat, including a short hike. You'll return to Arequipa by 5 pm.
2-Day Guided Trek from Arequipa to Puno: Similar to the above, this two day tour includes hotel pick up in Arequipa, stops along the way and a hotel stay in Chivay. After checking out the condor viewpoint on day two, you'll head out to Puno where the tour concludes and you will be dropped off by 7:30 pm.
3-Day Guided Trek from Arequipa: This 3-day trekking tour includes round trip transportation from Arequipa and a 3-day trek from Cabanaconde including stops in Lluhuar and Sangalle. Your final night will be spent in Cabanaconde, with stops at the Mirador Cruz del Cóndor viewpoint and in Chivay before returning to Arequipa.
Best Time of Year for the Colca Canyon Trek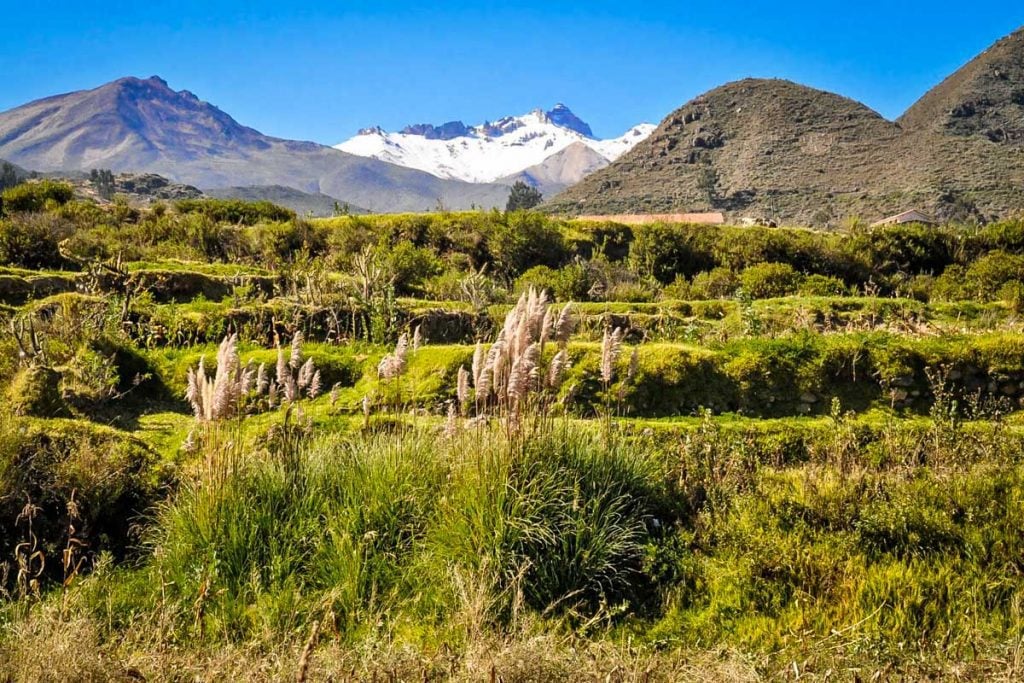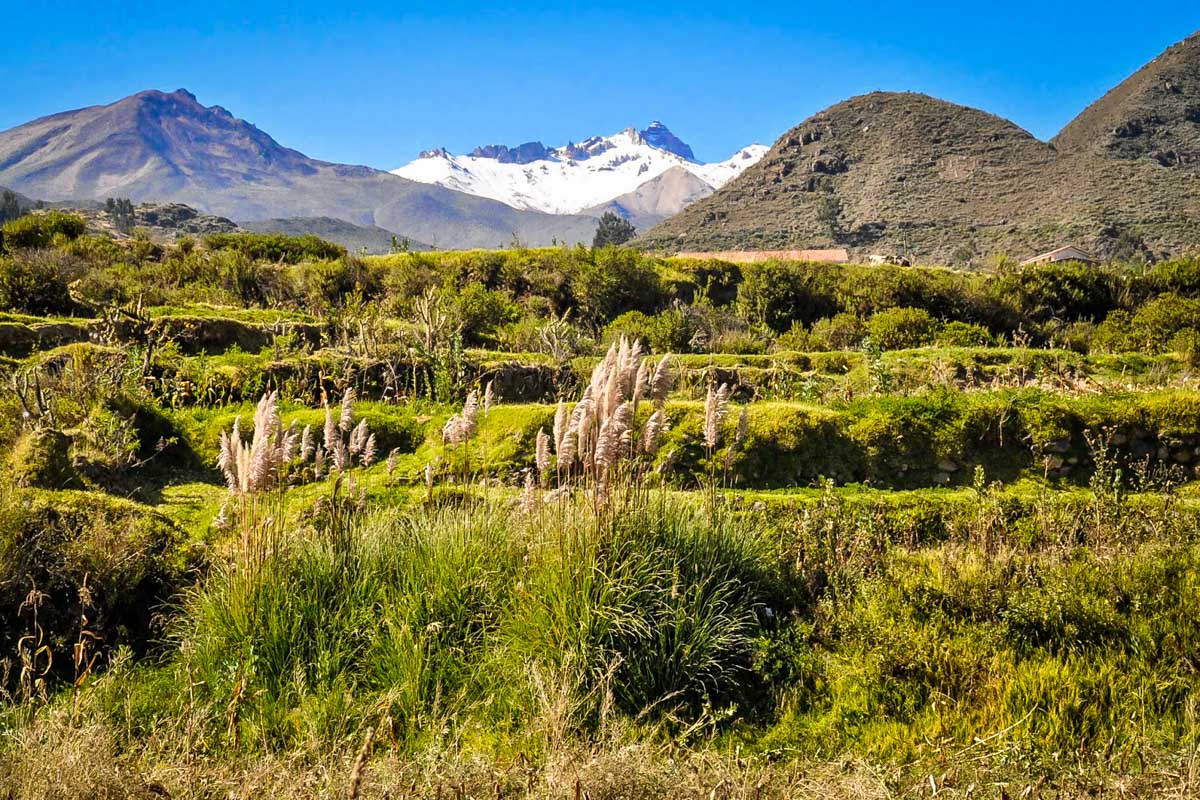 The good news is, the Colca Canyon can be hiked year-round and the famous condors are not partial to any season either. If you are deciding when the best time to do the Colca Canyon trek is, there are two seasons to consider: dry season and rainy season.
The dry season in Peru takes place from May through October and also coincides with the peak tourism season (June – August).
The obvious benefit of trekking the Colca Canyon during this time would be the reduced chance of rain. However, during peak tourism season, you'll likely be sharing the trail with many other travelers, tours will be in high demand and accommodation may be harder to come by.
The remaining months of the year make up Peru's rainy season, with the wettest months being January through April.
You'll likely want to avoid those months as heavy rainfall can make the trails impassable. If you're lucky enough to have dry days during your trek, you'll find the trails much less crowded and temperatures don't drop as drastically at night as they do during the dry season.
If you have the flexibility in your travel plans, we'd recommend planning your trek during May or September/October. This way you'll be more likely to have good weather, but also avoid the crowds of peak season.
Curious about seasons and weather throughout Peru? We've broken down what to expect in this article about the best time to visit Peru.
How difficult is the Colca Canyon trek?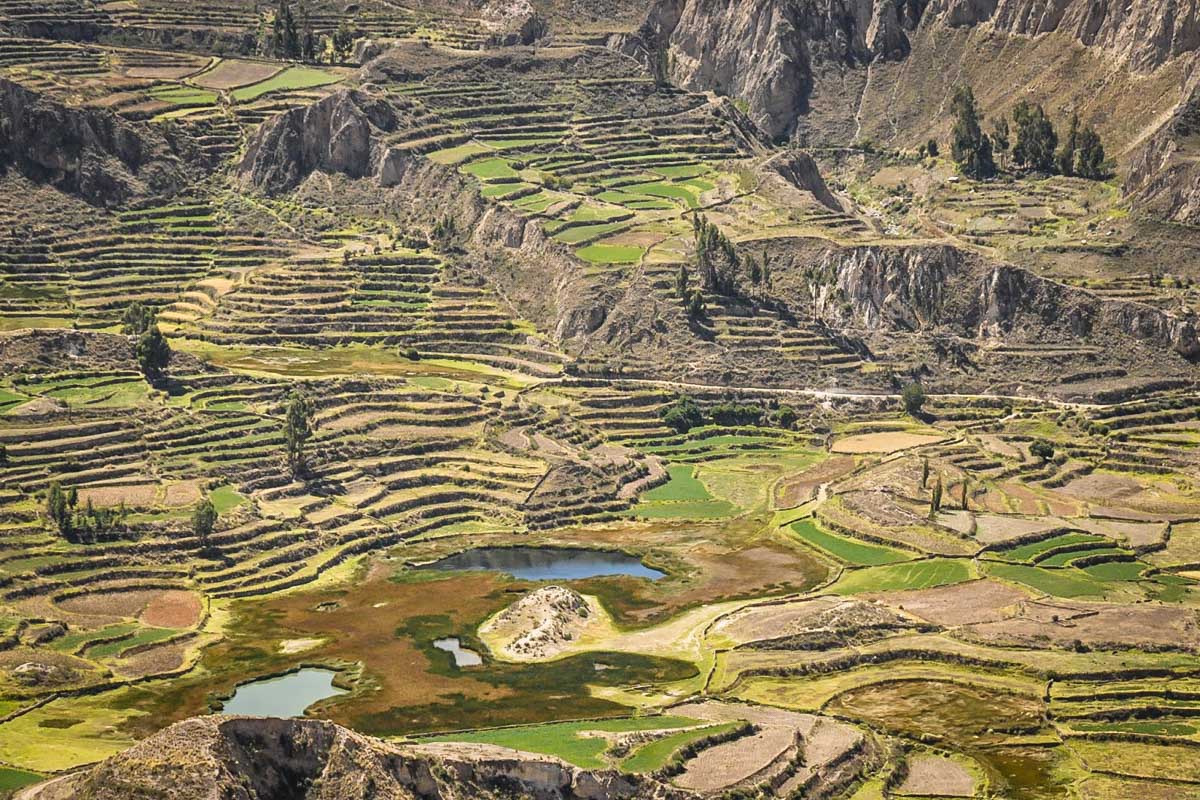 I've said this once and I'll say it again: This hike is quite challenging and is not for everyone.
The first part of this hike is all downhill, meaning the second half is all uphill (with some incredibly steep parts!).
It makes sense when you consider this hike is down into one of the deepest canyons in the world, but we weren't quite ready for the grueling down and up. (My knees shake a little bit just remembering this hike!)
That said, if you're up for a bit of a challenge, you're in for an unforgettable hike. There are modifications to the hiking route to make it longer or shorter, which you will find below.
Insider Tip: If you love the idea of this hike, but are hesitant about the level of difficulty, you may want to consider hiring a mule, which will carry you up (or down!).
How to Do the Colca Canyon Trek Without a Tour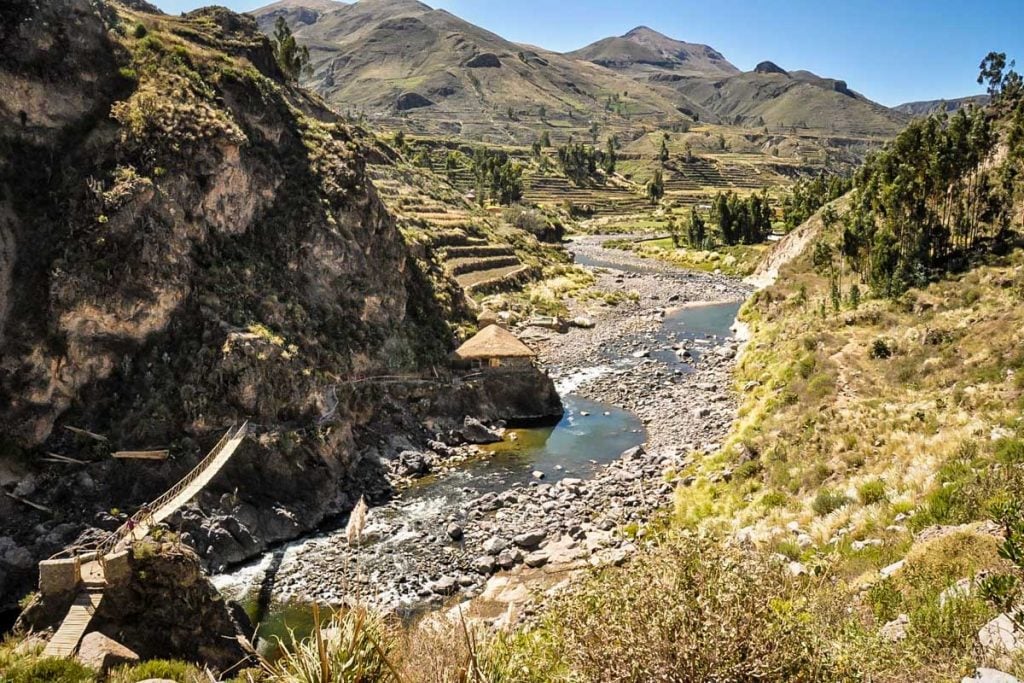 Unlike the Inca Trail to Machu Picchu, you can do the Colca Canyon trek independently without a guide. In fact, the canyon is so vast, there are actually many different trails and routes for hiking it.
Tip: Once you've decided on your route, it's a good idea to download Google Offline maps with all of your locations marked (including your accommodation!) so you can use this feature to navigate the trails once you're on your way.
Trying to decide your route can be a bit overwhelming, so to help you out, we've put together the information on the top 5 routes with options for variances. This way you can decide for yourself which is the best trekking route for your experience level and timing.
1-day trek
It is possible to do the Colca Canyon trek in just one day to see the highlight – the Sangalle oasis at the bottom – and return to Cabanaconde before nightfall. This will be a difficult hike that will leave you feeling pretty exhausted at the end of your day, but if you are pressed for time and feeling up for the challenge, it might be worth it.
It is important to note that you will have to stay the night in Cabanaconde to have enough time to complete this hike in one day.
Cabanaconde > Sangalle > Cabanaconde
Distance: 8 km
Total Trekking Time: 6-8 hours
Difficulty Level: Moderate – Difficult
Begin your hike with a steep descent directly down into the valley from Cabanaconde. Once you arrive in Sangalle, take in the scenery of this lush oasis and maybe have a soak in some hot springs before making your way back up the canyon in a zig-zag that'll have you back in Cabanaconde in about 4-6 hours depending on your pace.
2-days / 1 night treks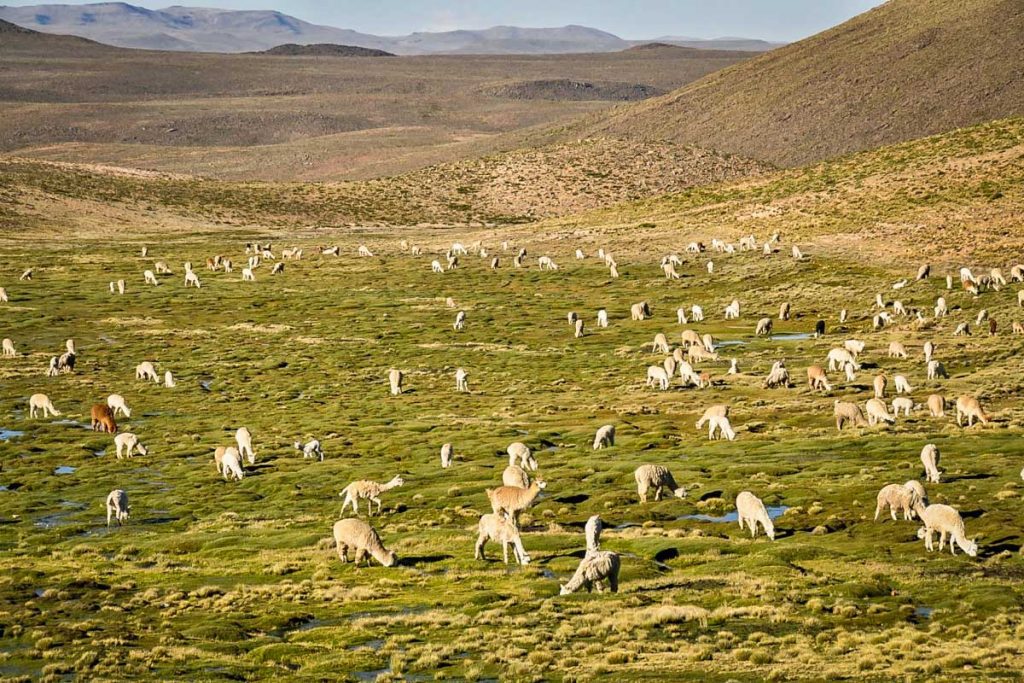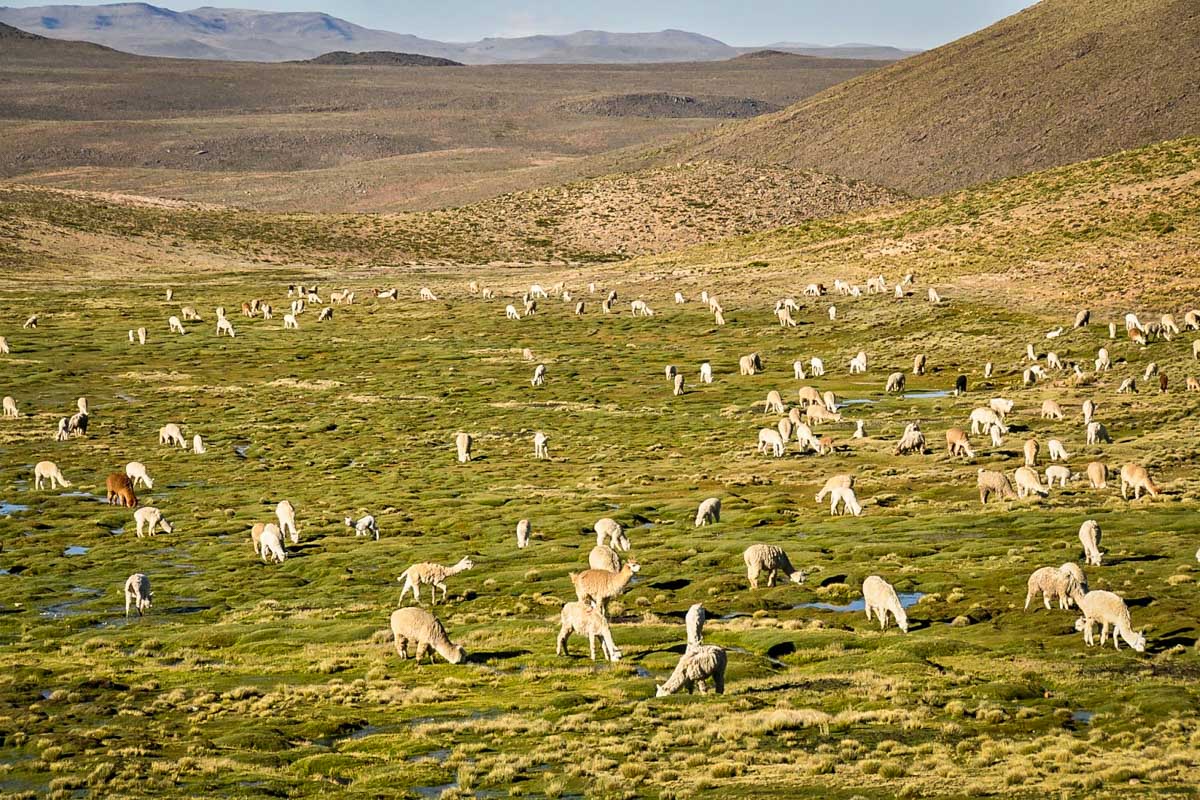 Cabanaconde > San Juan de Chuccho > Sangalle > Cabanaconde
Distance: 20 km
Total Trekking Time: 8-12 hours
Difficulty Level: Moderate – Difficult
Probably the most popular route for hiking the eastern section of the Colca Canyon, this route will take you to all of the highlights and can be done at a more leisurely pace than cramming it all into one day.
Leaving from Cabanaconde, the first day includes a 4-5 hour trek down to San Juan de Chuccho. Then you'll continue onwards via Malata towards Sangalle, where you'll stay the night in the oasis.
On the second day you'll ascend over 1,000 meters back to Cabanaconde which should take about 4-6 hours depending on your pace.
Tip: The first day is a very long day so you'll need to get an early start if you're coming all the way from Arequipa. It'll be more convenient to spend the night in Cabanaconde before you hike.
Optional: If you really want to take this route at a leisurely pace, you can spread it out over 3 days and spend your first night in San Juan de Chuccho, then make the much shorter trek to Sangalle to spend most of your day there on your second day.
Cabanaconde > Sangalle > Cabanaconde
Distance: 8 km
Total Trekking Time: 6-8 hours
Difficulty Level: Moderate – Difficult
This is essentially the same route as the single-day hike, but you'll stay in Sangalle for the night, breaking up your hiking into 2 days.
Begin your hike with a steep descent directly down into the valley from Cabanaconde. Spend the night relaxing in the Sangalle oasis. Then make your accent back up the canyon to Cabanaconde on a 4-6 hour hike.
3-days / 2 nights treks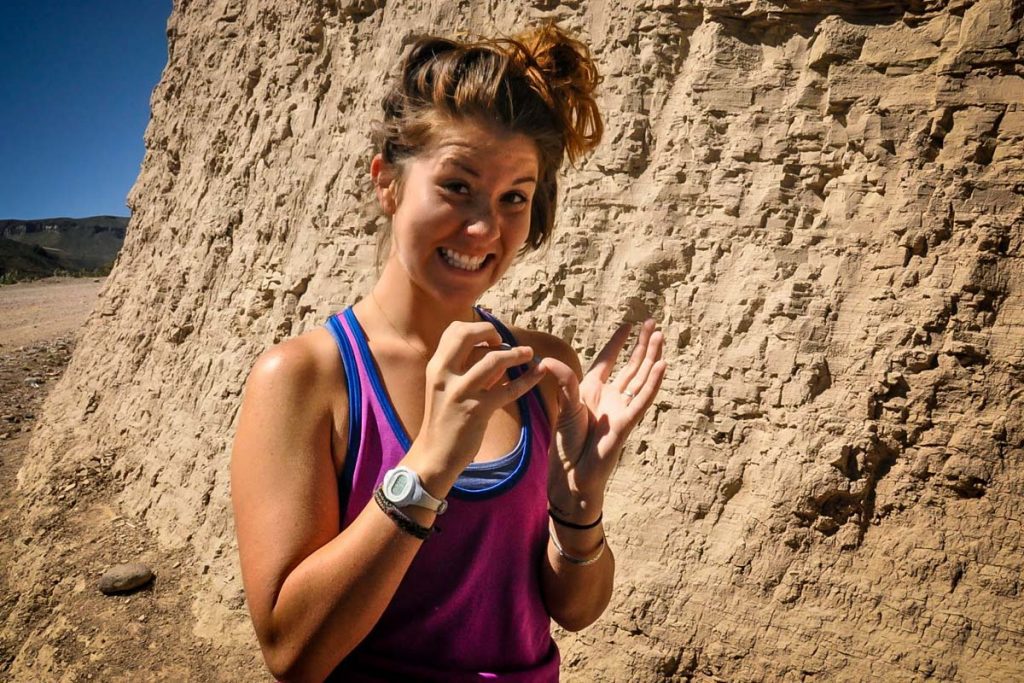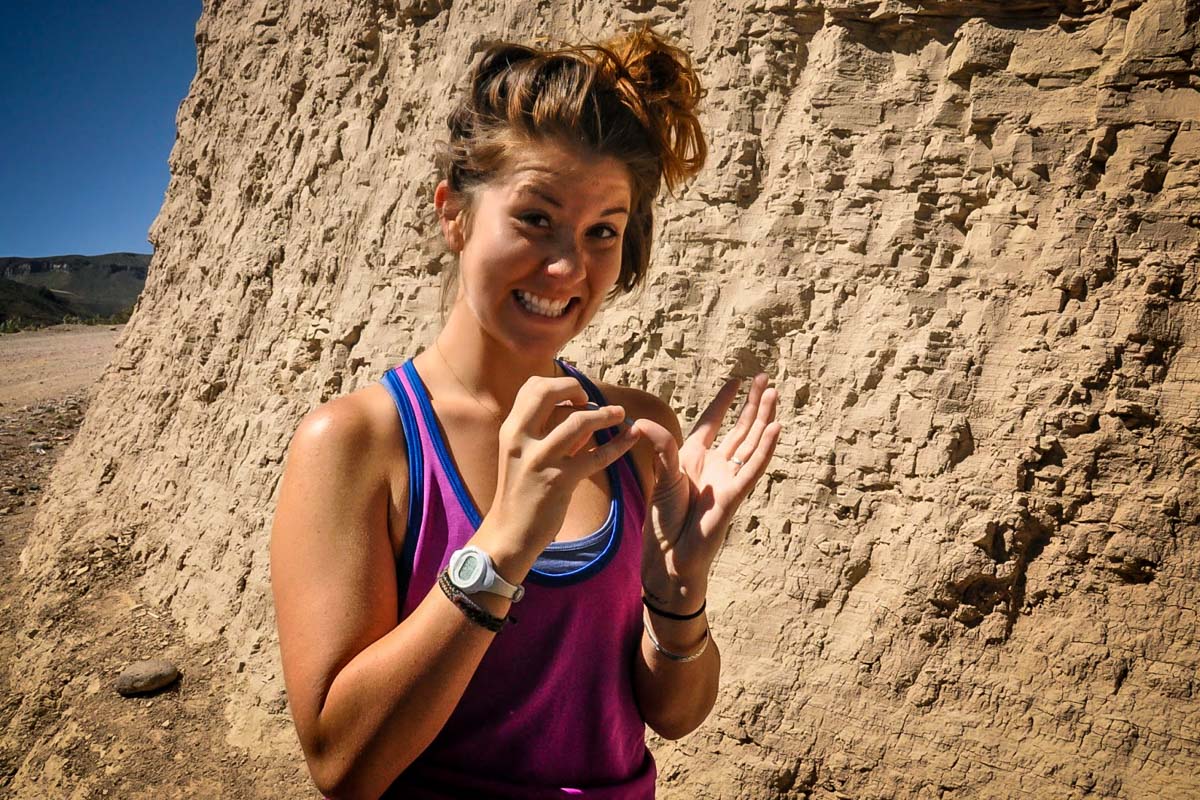 Cabanaconde > Lluhuar > Sangalle > Cabanaconde
Distance: 22 – 25 km
Total Trekking Time: 13-15 hours
Difficulty Level: Moderate
This route will bring you into the western part of the Colca Canyon, which involves breathtaking scenery, a geyser and the thermal baths in Lluhuar.
Since the ascent from Lluhuar to Cabanaconde is considered one of the most difficult accents in the Canyon, it's best to do it in reverse and make this your descent into the canyon. This is the easiest route to trek the Colca Canyon and see all the highlights.
The descent is steep and will take 4-5 hours, but the scenery is well-worth the trouble. After spending your first night in Lluhuar, your second day will include a fairly easy trek from Lluhuar to Sangalle where you will spend your second night.
On your final day, you'll make the ascent from Sangalle back to Cabanaconde in about 4-6 hours, depending on your pace.
Optional: Skip the stay in Sangalle and make this a 2-day trek. This option will increase the difficulty of your trek as the accent from Lluhuar to Cabanaconde is a challenging one.
Cabanaconde > Lluhuar > San Juan de Chuccho > Cabanaconde
Distance: 26-30 km
Total Trekking Time: 16-18 hours
Difficulty Level: Moderate – Difficult
This route covers the most ground in the canyon, but does not include a stop in the famed Sangalle oasis.
The first day includes the steep 4-5 hour descent down to Lluhuar. Spend the night in Lluhuar, then make your way through the valley to San Juan de Chuccho on your second day. Spend the night in San Juan de Chuccho before making your way back up the canyon on a 5-6 hour accent back to Cabanaconde.
Optional: There is an option to do this hike in reserve, however you will increase the difficulty of this hike by making the final day's accent from Lluhuar to Cabanaconde. Plan to add an extra hour or two for that accent and do leave early in the morning as it'll be a long day.
Tip: There is a way to take the bus from Lluhuar back to Cabanaconde, however the steep and winding road doesn't look very welcoming to large bus traffic. Proceed at your own risk.
Our Experience Trekking the Colca Canyon
As if we hadn't had enough hiking after the Inca Trail, we decided to add one last trek to our trip.
Our first stop of the day was a condor viewpoint. Although it was packed with tourists, we were able to spot several of the gigantic birds circling above in the air.
I now have more pictures of condors than I know what to do with…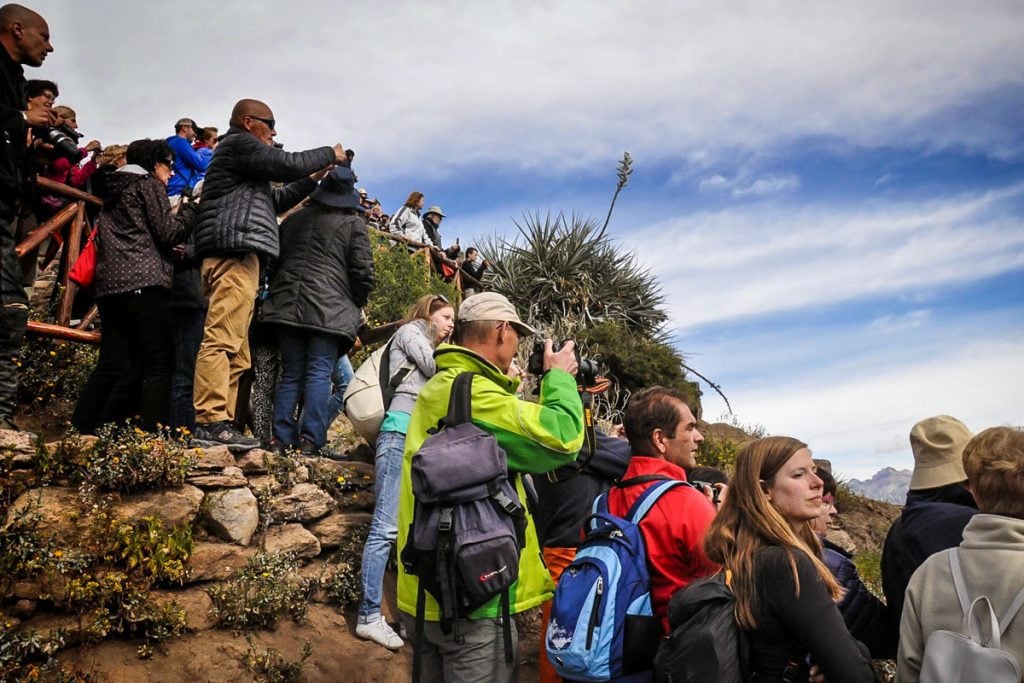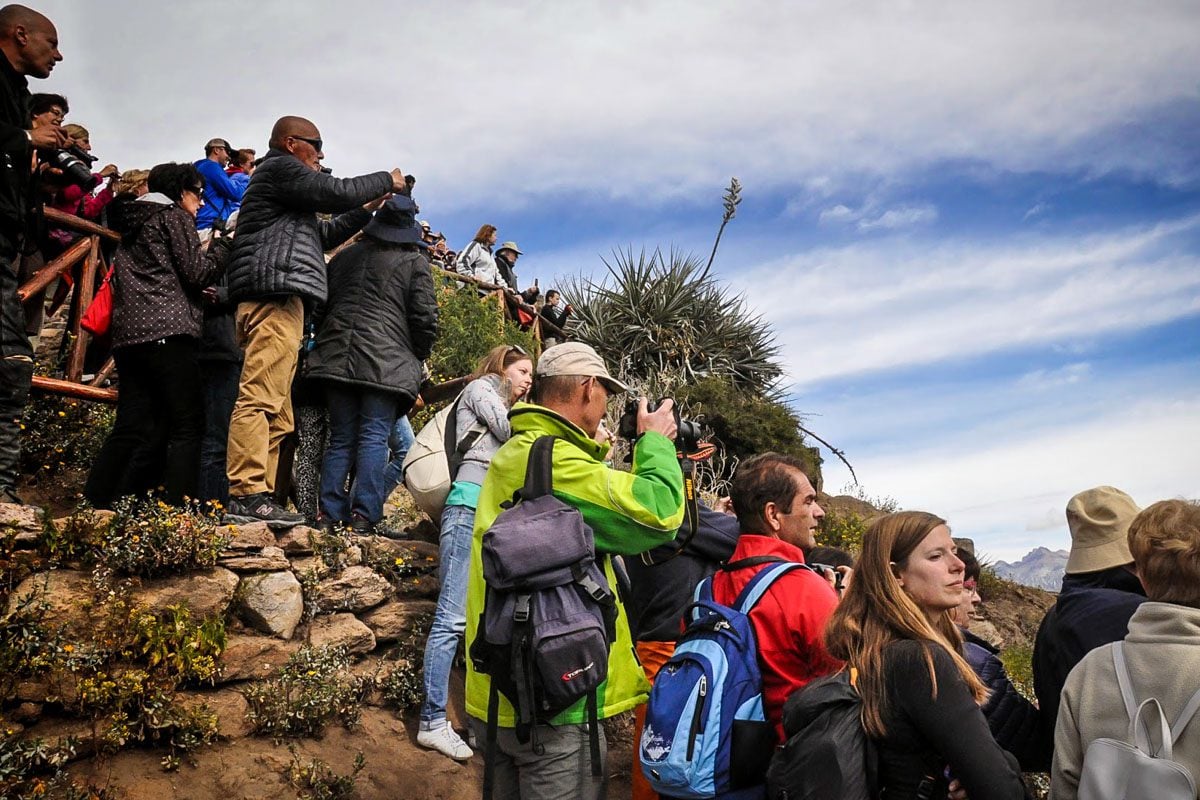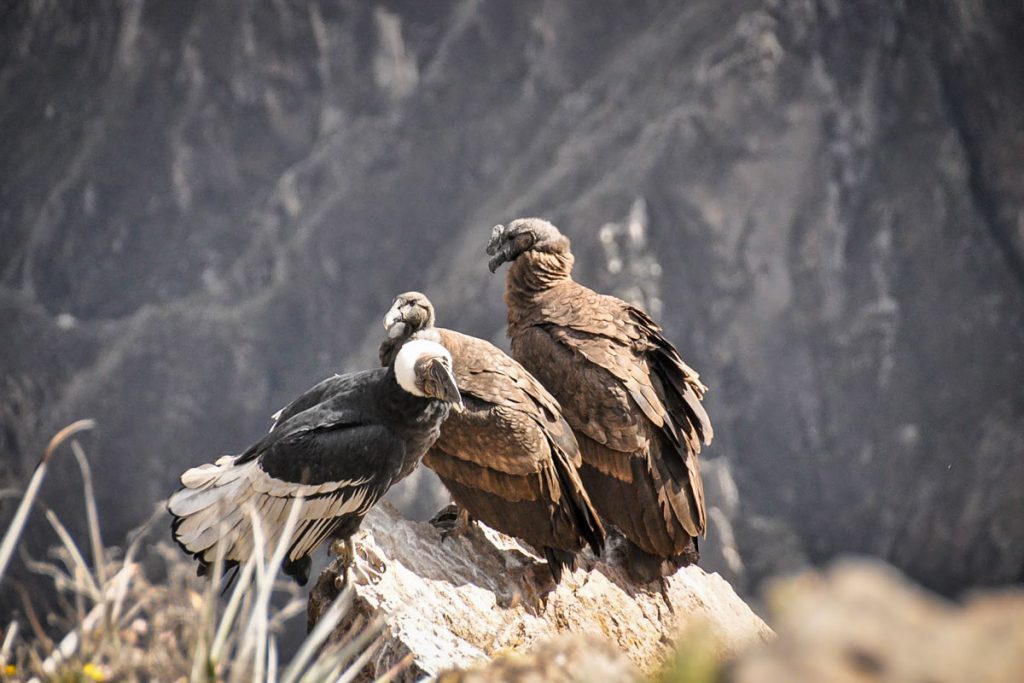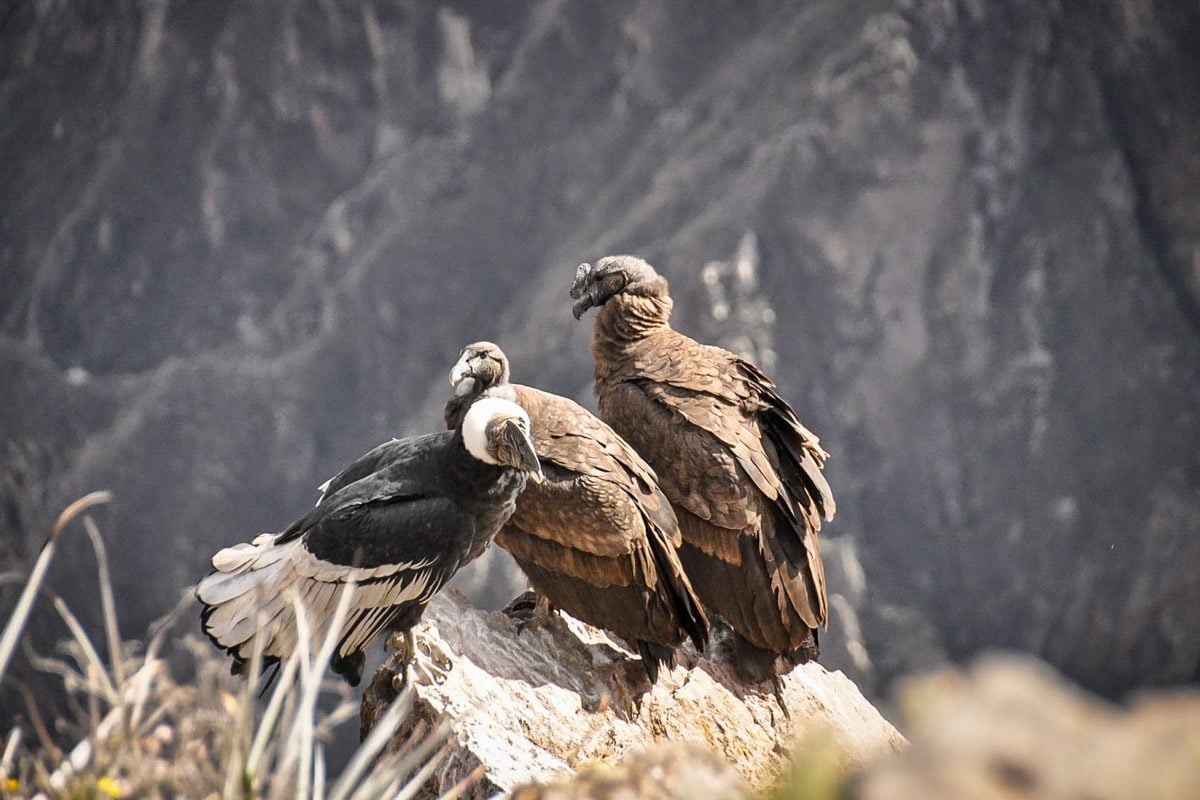 After a few more scenic stops, we started the hike into the canyon below. With stepped terraces and small villages in the distance, the scenery was breathtaking.
Our first day consisted of 5 hours of walking downhill. After so many steep stairs during the Inca Trail, I was thrilled not to be walking uphill. But let me tell you, downhill can be just as hard at times. My hiking boots, which had never given me a problem until this point, started giving me blisters and my knees began to shake.
After walking downhill for five hours, we reached our destination – a beautiful oasis in the valley.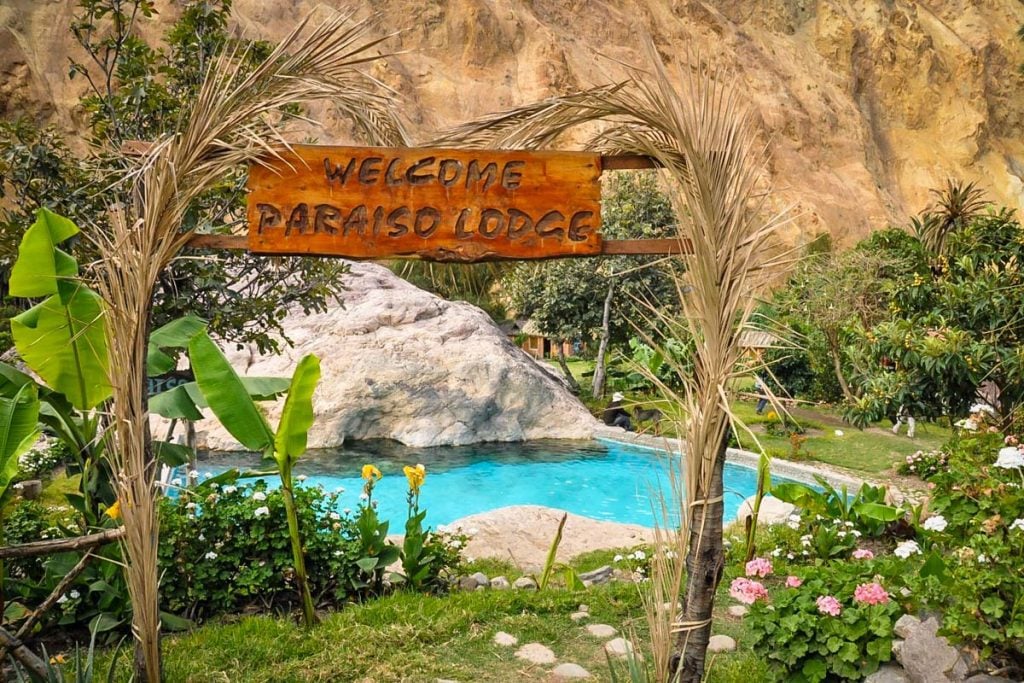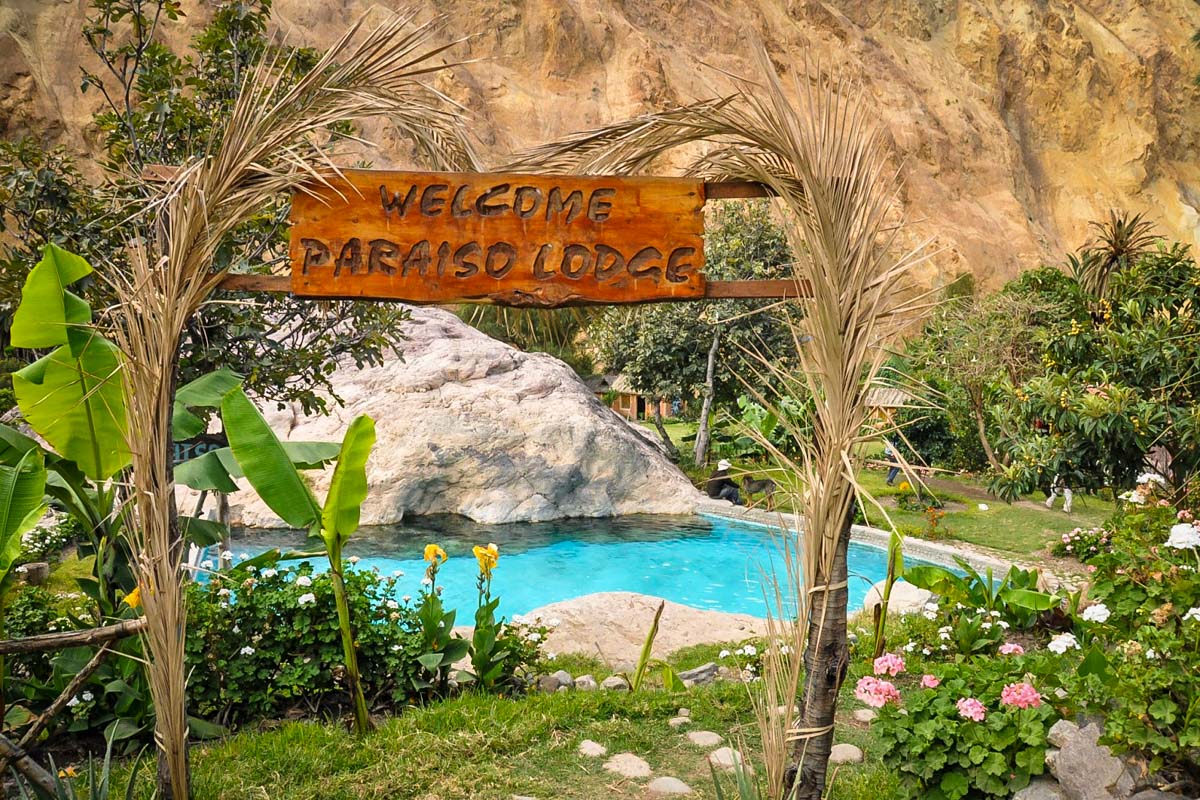 The word oasis brings to my mind lush vegetation, waterfalls and brightly colored flowers in the midst of an otherwise barren setting. I was just as I had imagined – thatched roof bungalow and all.
There was even a volleyball net for those who hadn't had enough physical activity for the day… which turned out to be nobody.
After all that downhill hiking the first day, I was wishing for some uphill – any uphill – and that is exactly what I got the next morning.
A steep, never-ending uphill back out of the canyon.
I guess the grass is always greener, right?
What to Pack for trekking the Colca Canyon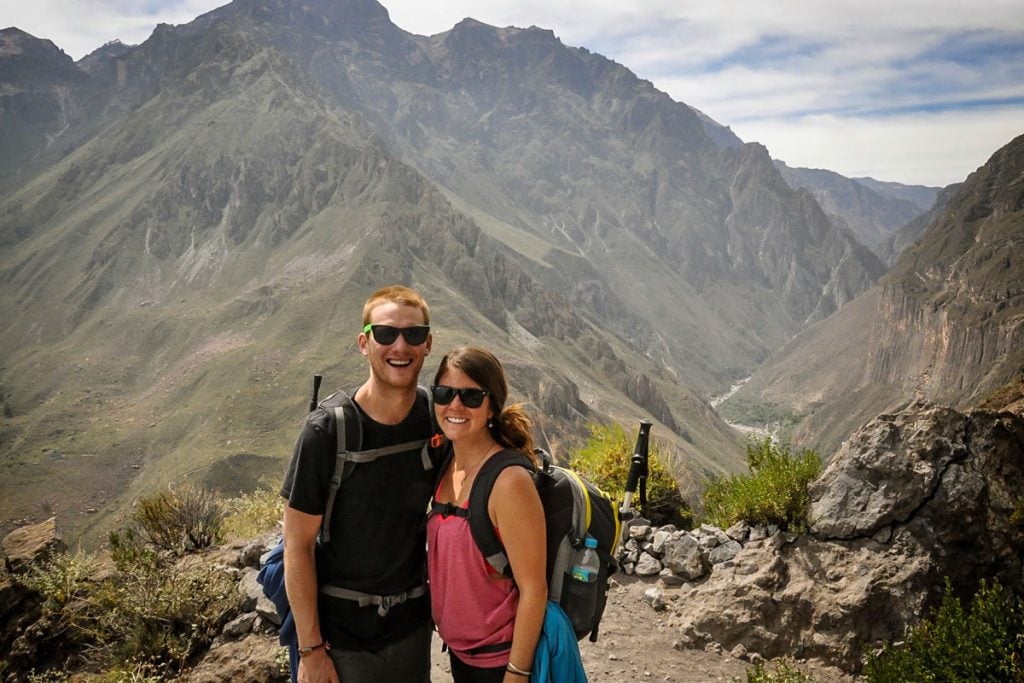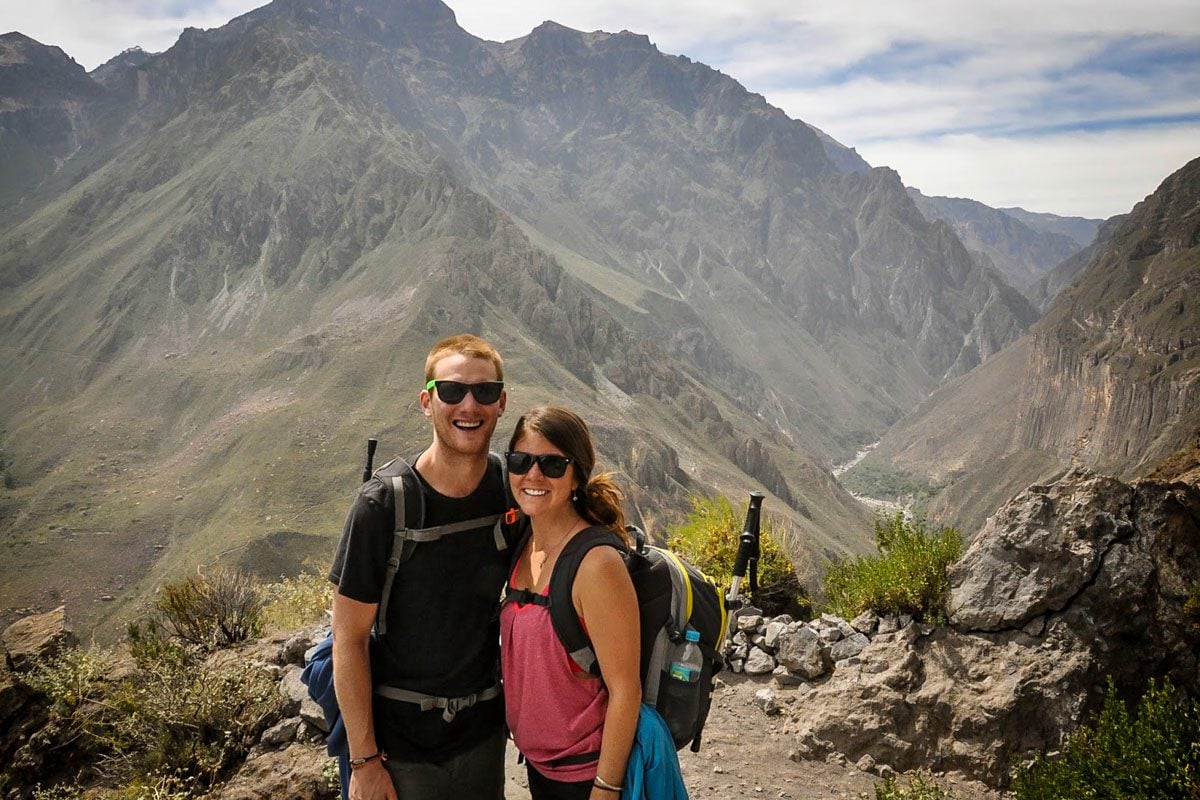 When planning for your Colca Canyon trip, remember that you'll pretty much need to carry everything you'll need with you for the duration of your trek. For this reason, it's a good idea to leave large bags behind at a hotel or hostel in luggage storage and pack as light as possible for your trek.
Luckily, this trek doesn't require any fancy equipment and you won't need to bring anything for sleeping or cooking as your accommodations will provide everything.
20-40 L backpack, weighing less than 10kg when fully packed (our recommendation)
Hiking boots and wool hiking socks
Hat and sunglasses (there's very little shade on this hike)
Sunscreen
Bug repellant
Headlamp/flashlight
Cash – no ATMs, bring more than you think you'll need for emergencies
Warmer layers for chilly evenings
swimwear
Rain gear
Shower shoes (flip flops work great)
Toiletries: toothbrush, toothpaste, soap, deodorant, wet wipes, toilet paper, hand sanitizer, first aid kit, medications
Optional: hiking poles
Travel insurance: As with any international trip, we always recommend you have travel insurance to cover you in case something goes wrong (and let's be honest, it does happen!) For adventurous trips and trekking, we recommend World Nomads.
Find out which is the best travel insurance policy for you with our easy-to-follow Travel Insurance Comparison.
How to get to Colca Canyon from Arequipa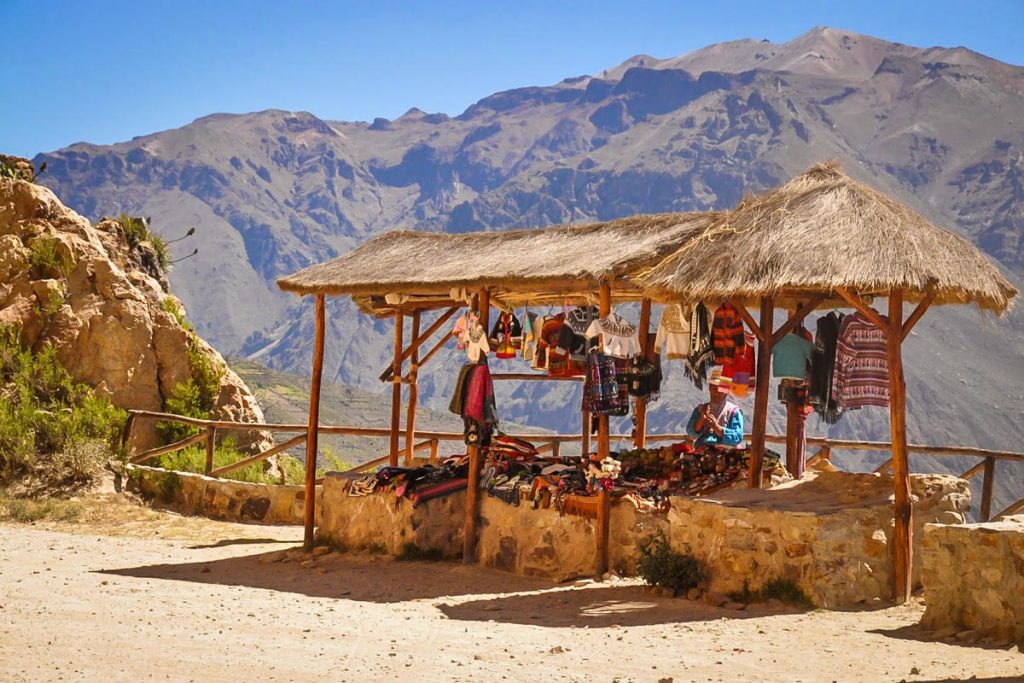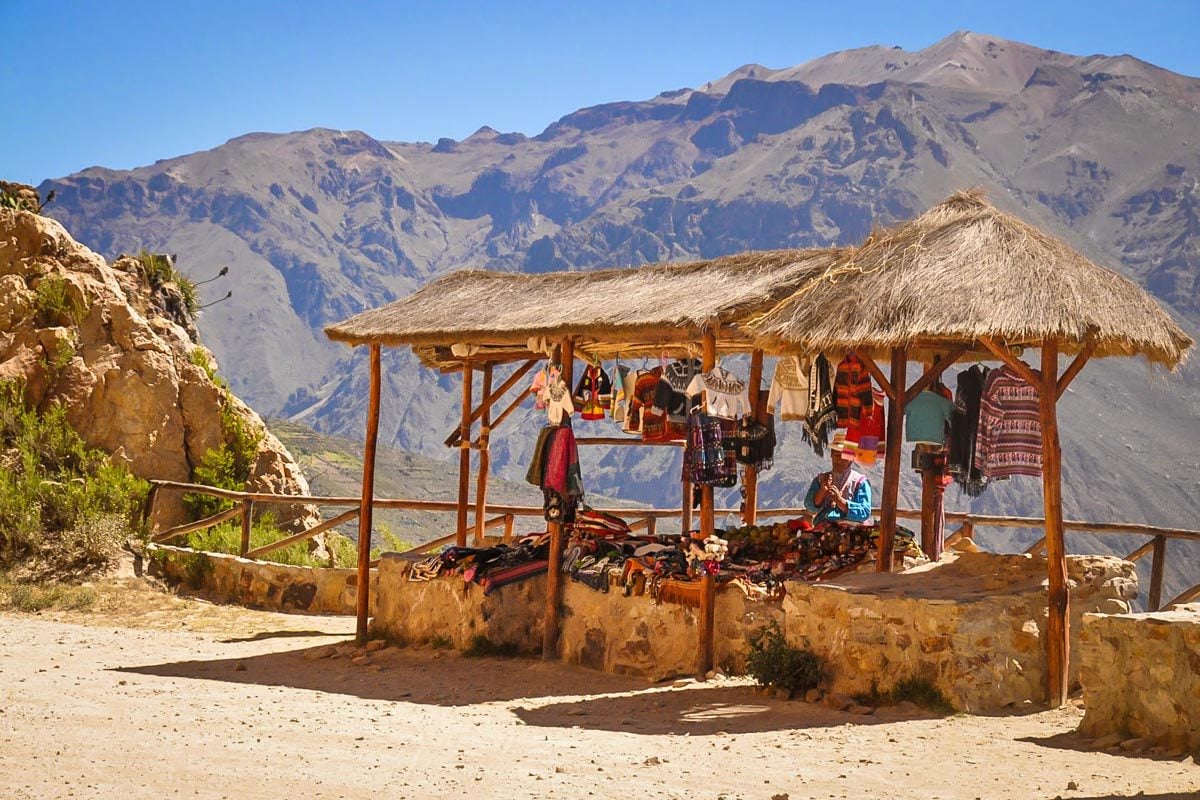 The drive from Arequipa to Cabanaconde, which is the starting off point for most treks or tours into Colca Canyon, is a long, albeit beautiful one. Depending on the traffic and your mode of transportation, it can take anywhere from 4-6 hours.
By Car
Probably the easiest and most hassle-free way would be to rent a car in Arequipa, and plan on returning it after your Colca Canyon visit. The fastest driving route is to take Route 34A to Chivay and then get on AR-109, which is a toll road, to Cabanaconde.
By Bus
To take the bus, you'll want to head to the Terminal Terrestre bus station in Arequipa. It might be a good idea to stop by the terminal a few days in advance to get the most up-to-date bus schedules and secure your tickets.
Buses leave from Arequipa to Carbanaconde early in the morning (2-4:30 a.m.!). You'll have to catch a bus first to Chivay (about a 4 hour ride) as there are no direct routes to Cabanaconde.
From Chivay, you can catch another bus, take a taxi, or colectivo to Cabanaconde, which should take just over 2 hours.
Tip: You'll want to grab a window seat on the right side of the bus to see the canyon as you drive past!
By Colectivo
Taking a colectivo, or shared minivan, to the Colca Canyon from Arequipa gives you a bit more flexibility in your timing than a traditional bus.
You'll find the colectivos departing from Arequipa on and around Avenida Andrés Avelino Cáceres. Any taxi or Uber driver in Arequipa should be able to help you find the colectivo departures.
First you'll have to take a colectivo to Chivay for about 15 Soles. Each minibus holds about 8-12 people and they only leave once they are full, so you should plan for waiting time.
However, once these vehicles get on the road, they are much faster than a traditional bus. The ride will take you just over 3 hours.
Once you arrive at the small bus station in Chivay, you'll have to find a different colectivo to Cabanaconde.
The colectivos in Chivay time their departures based on the arrival of buses and colectivos from Arequipa. So if you walk outside the bus station, there should be a man with a van waiting to take passengers onward to Cabanaconde. This ride will cost you about 10 Soles.
Where to Stay during your Colca Canyon Trek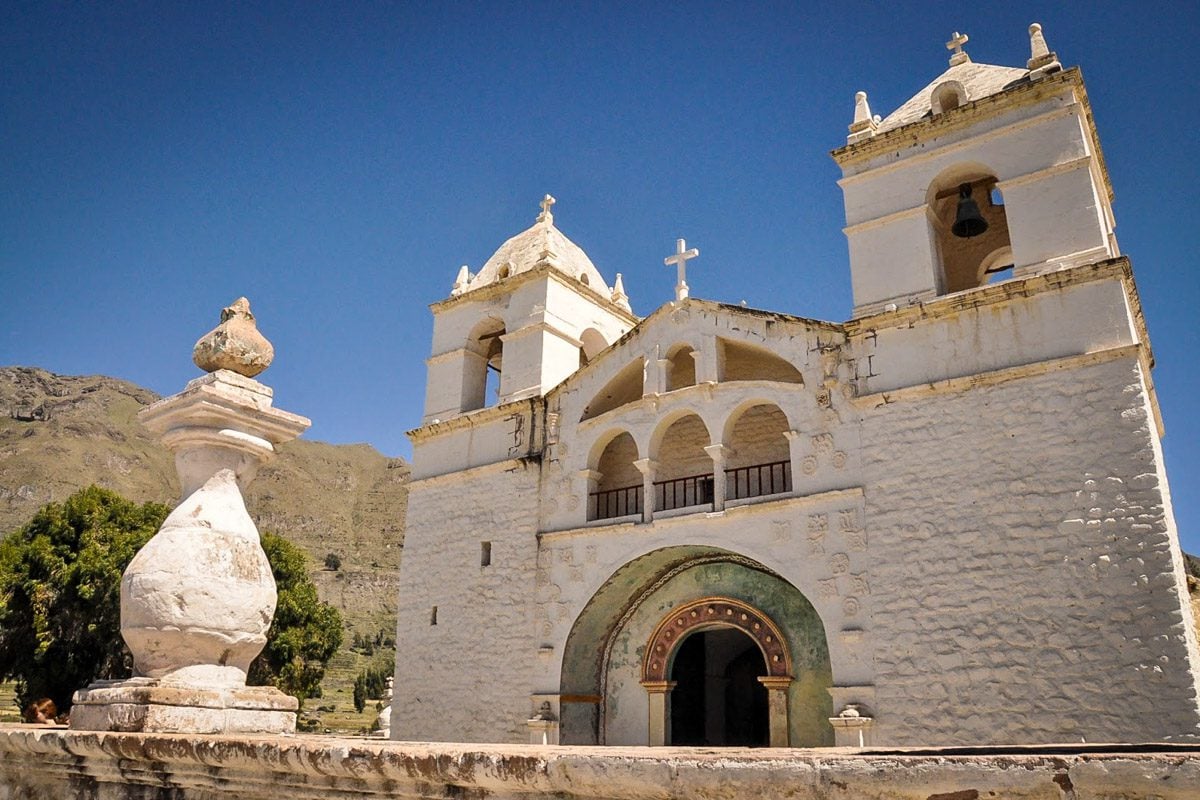 If you are planning to trek the Colca Canyon independently, you'll want to plan out your route first, and then book your accommodation accordingly.
Cabanaconde
Sangalle
Oasis Paraiso Eco Lodge: This quaint ecolodge where we spent the night is one of only 2 accommodation options in the valley of Sangalle. The gardens and outdoor swimming pool make a great place to relax after your trek in.
Paraiso Las Palmeras Lodge: Your other option is staying in one of the private huts at this lodge, which offers shared bathrooms, an outdoor pool and garden views.
San Juan de Chuccho
Colibri Lodge: With free wifi, guests who stay here can enjoy the onsite restaurant and bar. However, it should be noted that linens and towels come at an extra charge.
Posada Gloria: Enjoy the use of a shared kitchen as well as private bathrooms at this quaint lodge in San Juan de Chuccho.
Lluhuar
Lluhuar Lodge: The highlight of staying at this lodge is the thermal-heated hot spring pools on the property. They also offer luggage storage for those returning after their trek.
Casa de Virginia: This property boasts a garden with beautiful views and an outdoor swimming pool to relax in.
Chivay
This is the town where you'll find the closest thing to standard hotels.
Los Portales de Chivay: This property has an onsite restaurant as well as a shared lounge and terrace with very affordable rates.
Hotel El Refugio: This is a 4-star hotel (at very affordable prices!) with an onsite restaurant and thermal baths adjacent to the Colca River.
---
Are you planning a trip to Peru?
We have lots of resources on travel in Peru and destinations throughout the country. Check out our Complete Peru Travel Guide for all the answers to your most burning questions, or read some of our favorite articles below.
Save this article on Pinterest for later!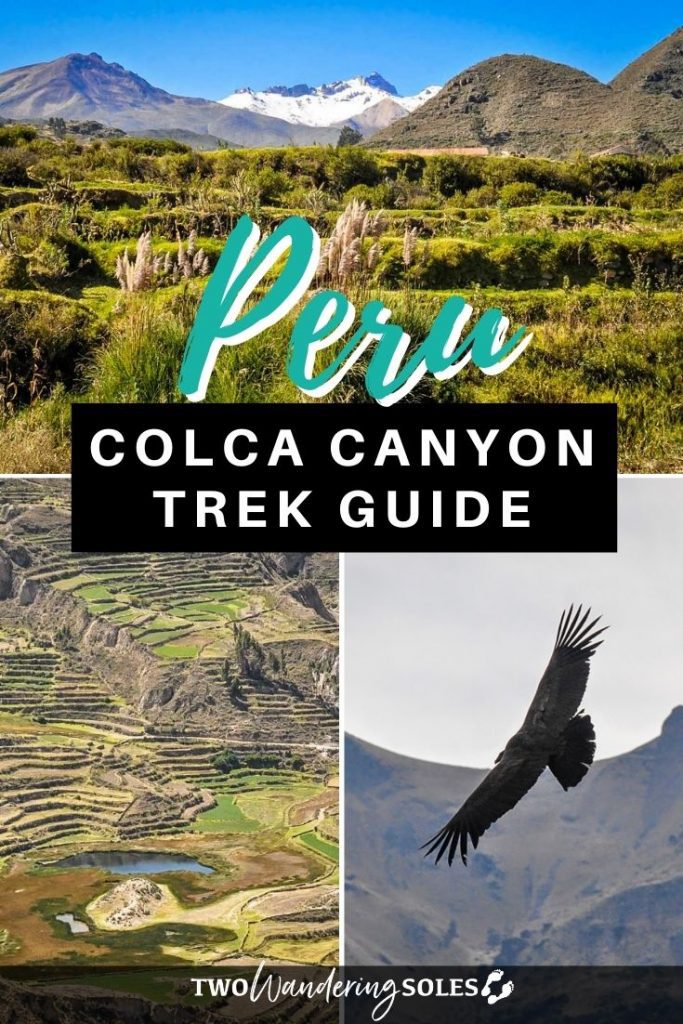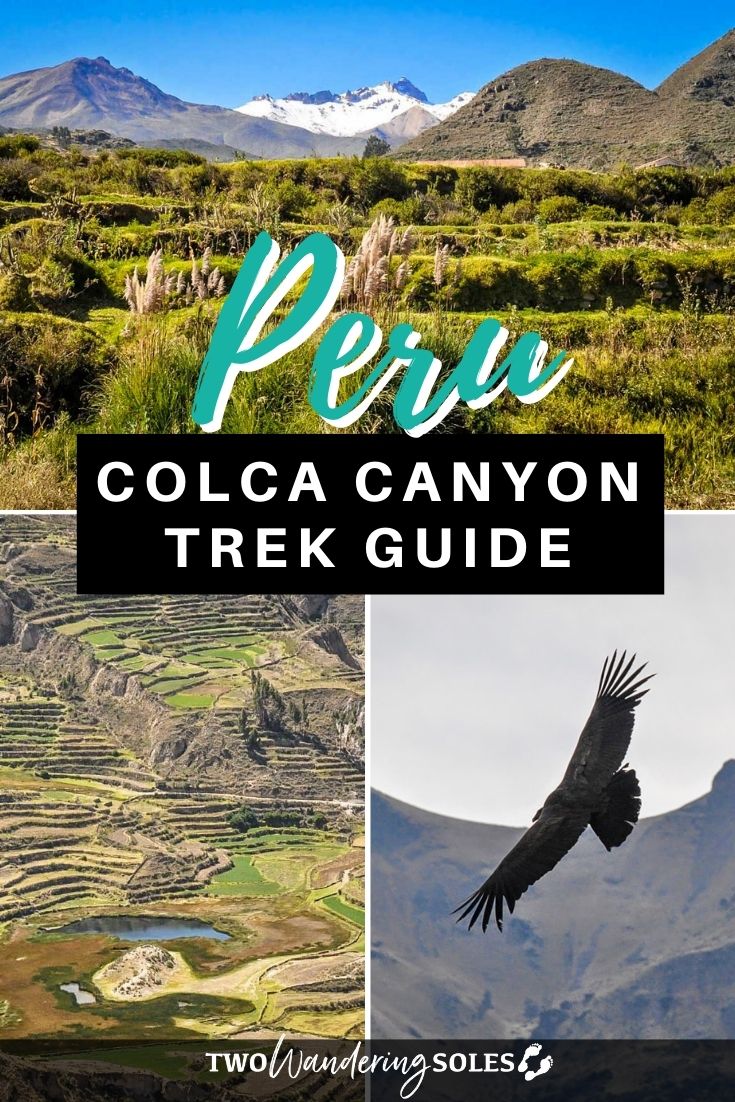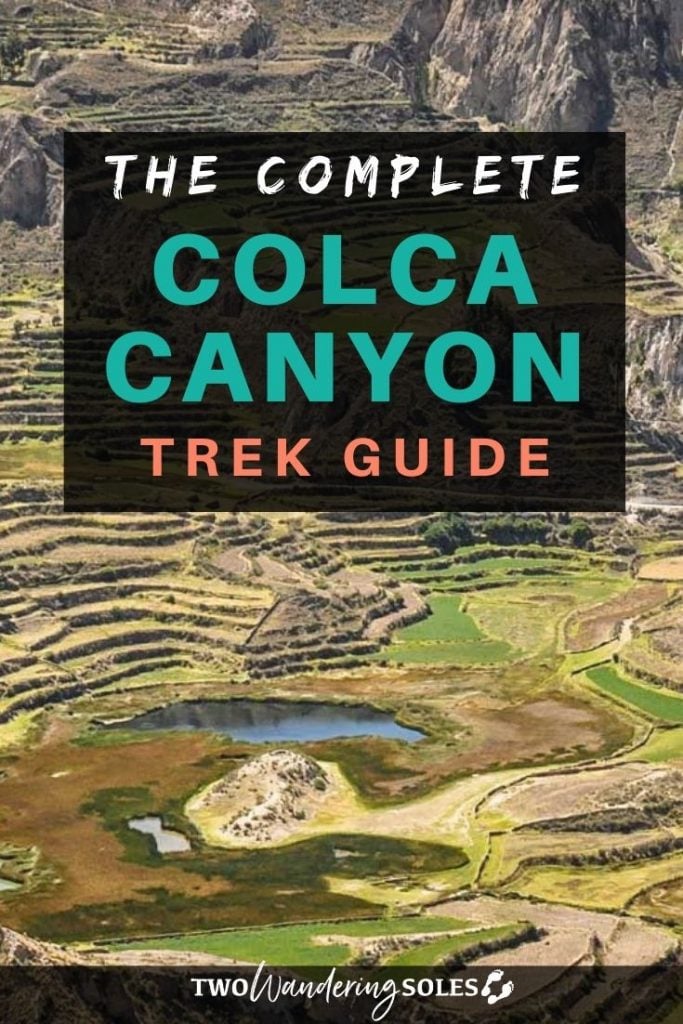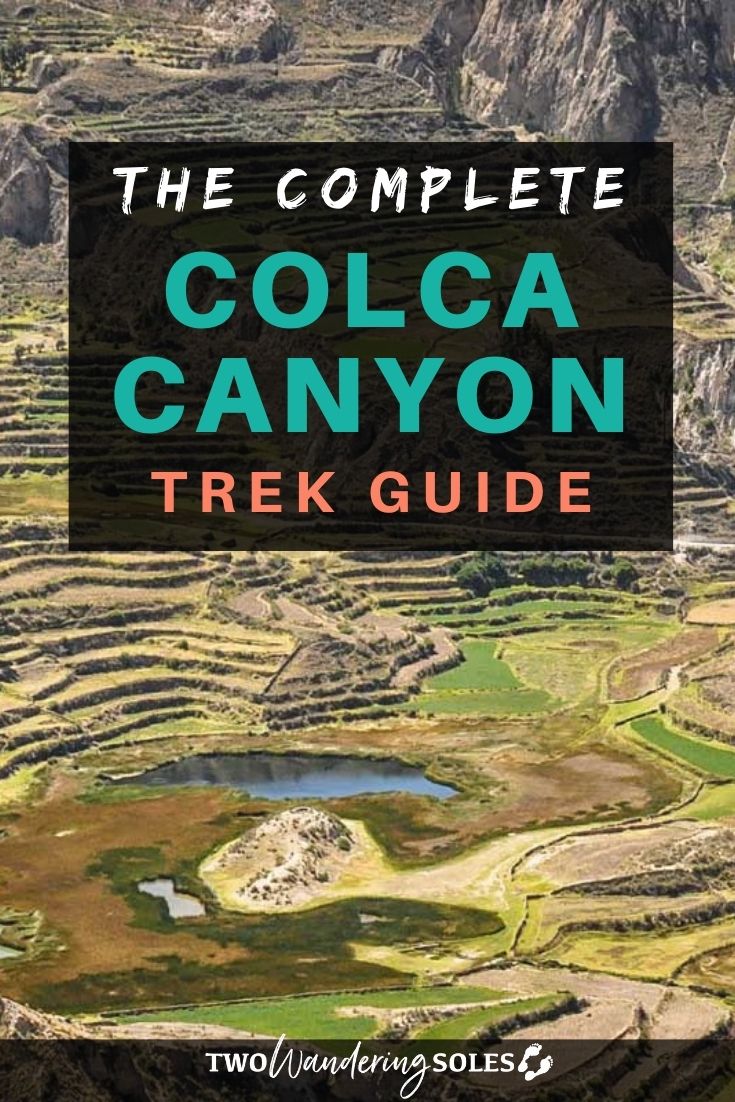 We want to hear from you!
Are you planning a trip to Peru to visit the Colca Canyon and still have questions? Leave your questions in the comment section below and we'll do our best to find you the answers you are looking for!