This tiny oasis in the Ica desert is a stop on most backpackers' itineraries. In this guide to Huacachina, Peru, we cover the best things to do, where to stay, and how to make the most out of your visit.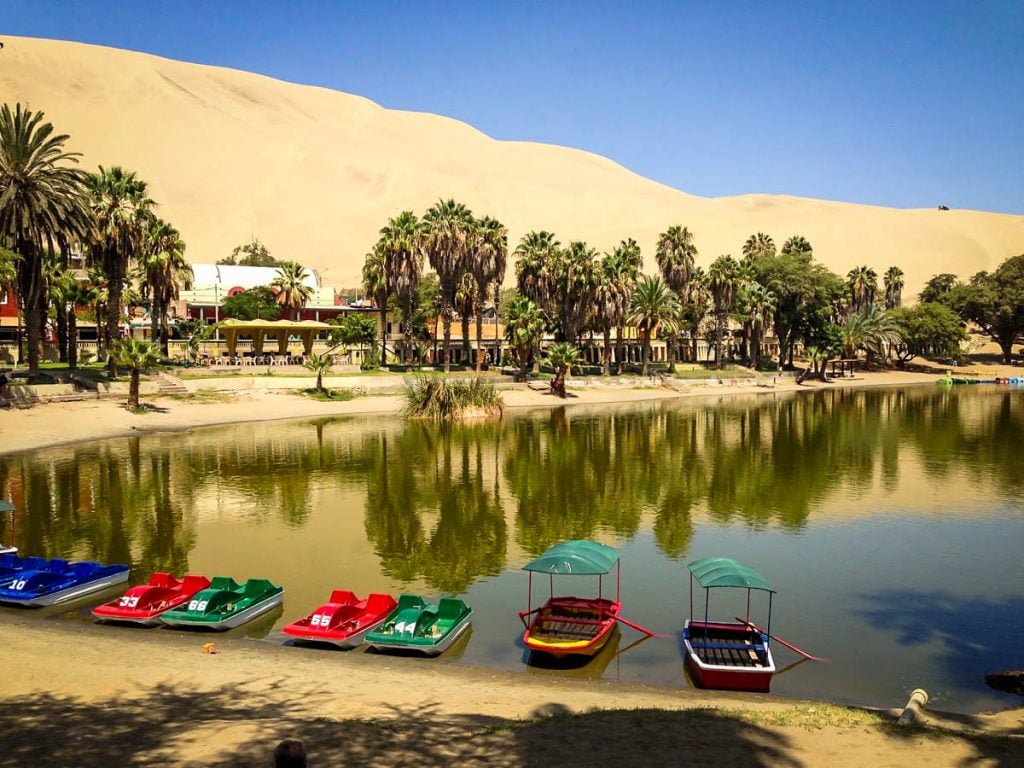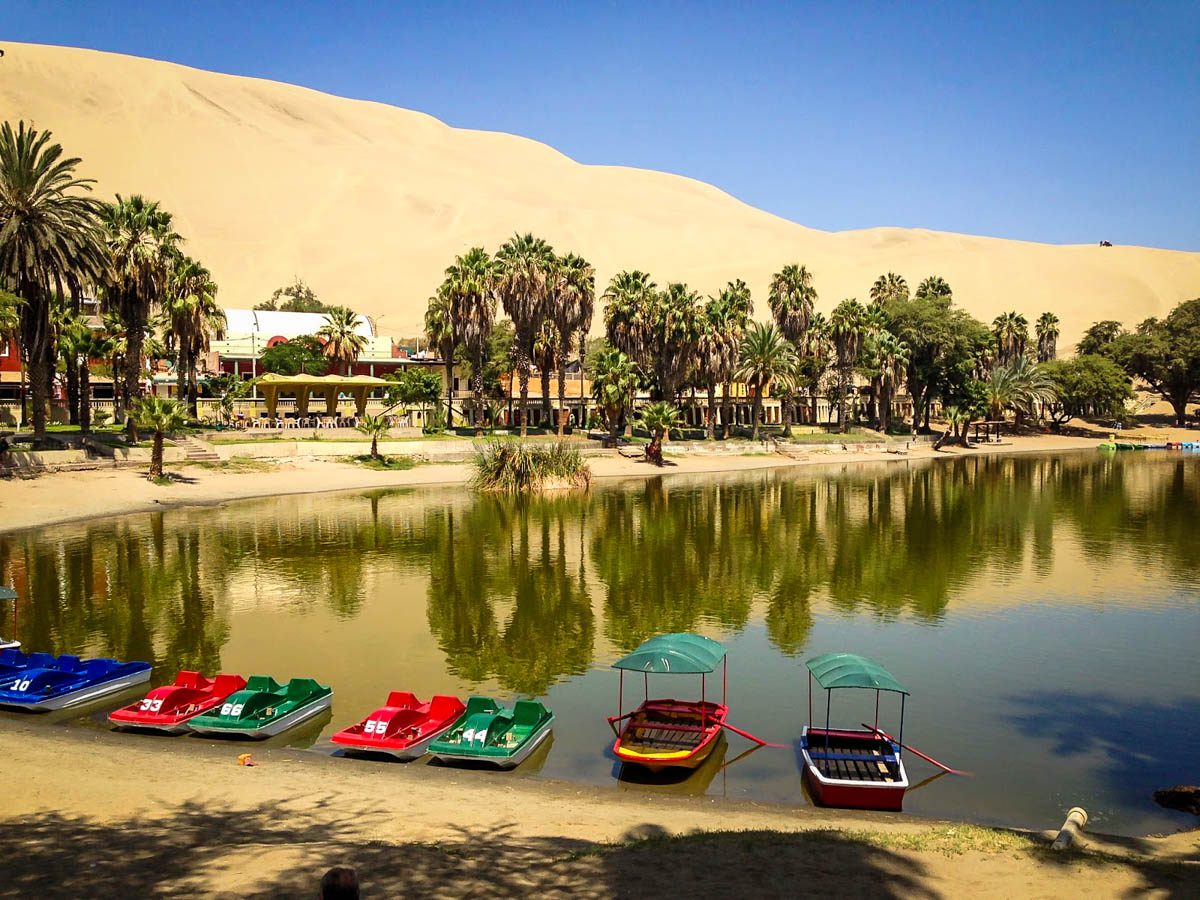 Huacachina (pronounced waka-chee-na) is a lush desert town deep in the Ica Desert. The city was built around the Huacachina Lagoon that was believed to have therapeutic healing properties.
Surrounded by large sand dunes and dotted with bars, clubs, and massive palm trees, the Huacachina oasis makes the perfect playground for adventure sports and sun-lovers. Many people travel to Peru to see the infamous Machu Picchu, but this is a stop that you cannot miss while in this diverse country.
While it was once an exclusive location for the Peruvian bourgeoisie, Huacachina has evolved in the past decades to become a popular backpacking and nightlife destination in Peru. In fact, travelers come from all over the world to test their sand boarding skills out on the massive dunes during the day, and head out to join locals and other travelers for an evening filled with exciting nightlife.
When planning your visit to Huacachina, there are a lot of different things to consider before you go. In this guide to this desert oasis in southern Peru, we cover the best things to do in Huacachina, exciting stops nearby, and helpful tips for getting there.
Article contents
Psst! If you'll be traveling more throughout the country, be sure to check out our bucket list of can't-miss things to do in Peru!
---
How to get to Huacachina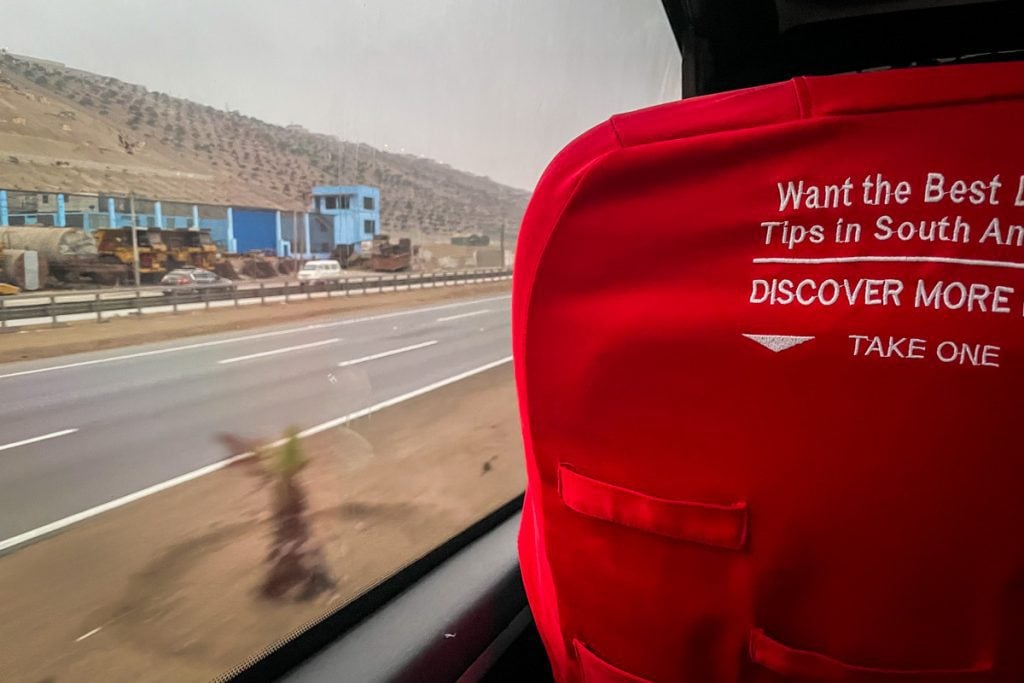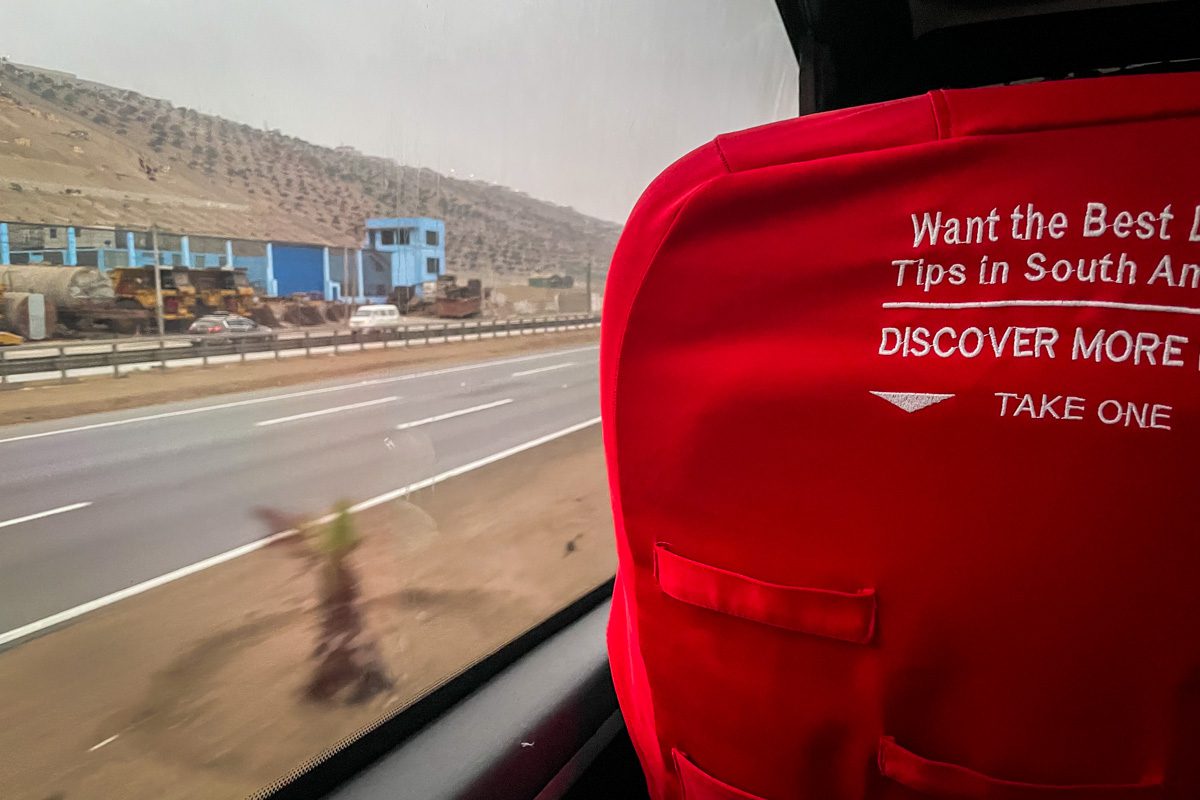 The closest city to Huacachina is Ica, so you'll need to take a bus from wherever you're based, and then take further transport to Huacachina.
If you plan to visit a lot more sites around Huacachina, it's worth looking into a bus pass/guided tour with Peru Hop. You'll be able to buy a single ticket for a hop-on hop-off route to get to almost all of the best things to do in Huacachina safely. We'll go over this option in more detail below.
Public transport
The cheapest way to get to Huacachina is by public bus from various cities around Peru. You'll need to get a bus ticket to Ica, and then take a local taxi to get to the oasis from there.
From Ica: 10 minutes
From Paracas: 1 hour
From Lima: 5 hours
From Arequipa: 12 hours
From Cusco: 13 hours
Guided tour
If you have a little more to spend for your Huacachina experience, a guided tour is a great way to hit a lot more stops on your way. Here are a few recommended tour options from Lima.
Full-Day Paracas and Huacachina Bus Tour: You can easily visit Huacachina in a day if you have limited time. This tour includes a dune buggy and sandboarding tour in Huacachina as well as a stop in Paracas to visit the Ballestas Islands by boat.
Ica Winery and Huacachina Oasis Tour: This full day tour from Lima includes lunch, wine and pisco tasting at a local winery in Ica as well as a dune buggy and sandboarding tour in Huacachina.
Ballestas, Nazca Lines, & Huacachina Oasis: Combine your trip to Huacachina with other nearby attractions in this action packed tour from Lima. The 17-hour tour includes a boat trip to the Ballestas, dune buggies in Huacachina and a scenic flight over the Nazca Lines.
2-Day Tour to Paracas, Pisco Vineyards, and Huacachina: Extend your stay in Huacachina on this overnight tour from Lima which also includes a boat trip to the Ballestas Islands and pisco tasting in Ica.
Peru Hop
Another option is booking a tour with Peru Hop. Peru Hop has buses between all the most popular stops in the area, so their hop-on hop-off bus program is a nice and safe way to get from one area to the next.
Before you book your adventures, read about how Peru Hop works and why we prefer this method of transport over booking a ton of different public buses.
Note: My experience with Peru Hop was overall good, but there was definitely some lacking in communication from the Peru Hop guides. My advice would be to double check the meeting times and locations in person with your guide before you part ways for free exploration time.
How long should you stay in Huacachina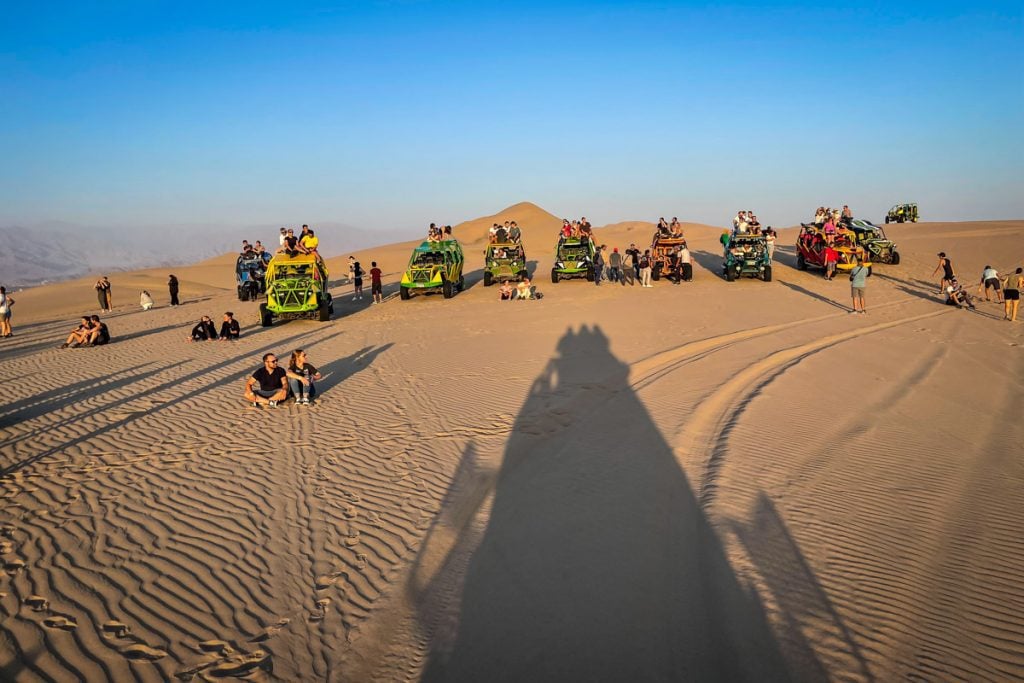 While you can visit Huacachina on a day trip from Lima, we think two days in Huacachina is the perfect amount of time to experience all the adventurous activities and relax at the oasis. The village is quite small, so it's easy to see everything in just a short amount of time.
With a wide variety of things to do in Huacachina, you can mix and match your interests for the perfect few days in the oasis. If you're taking longer day trips to Paracas and the Nazca Lines, you may consider extending your stay.
Or, if you've been backpacking long term and want more time lounging by the pool, we don't blame you for wanting to take a little longer to venture back out in Peru.
Best time to visit Huacachina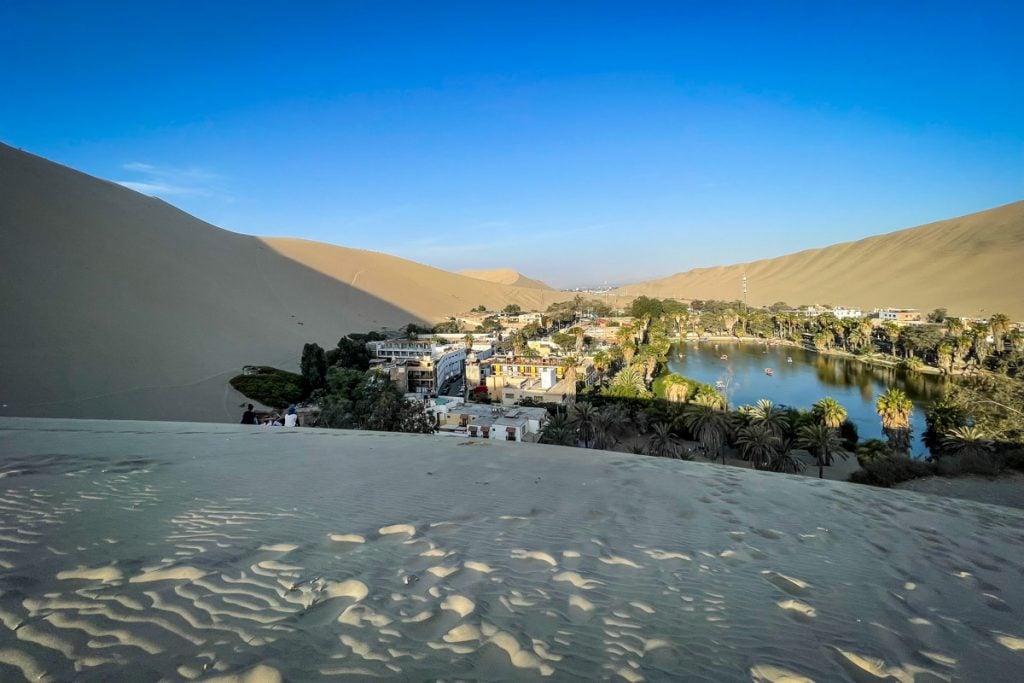 Choosing the best time to visit this desert oasis largely depends on the rest of your Peru itinerary, but there are two main seasons to consider so you have the best weather for sandboarding and dune buggy rides.
Overall, the oasis experiences very little rain and is sunny year round, so you're not likely to run into weather issues no matter what time of year you visit.
The hot season in Huacachina is from December to April. Temperatures rise to the upper 80s (30-32°C) during the day and drop down to the 70s (21-26°C) at night. This weather is perfect if you love a bit of sunbathing, but be sure to pack your sunscreen.
The few months that are considered to be the "rainy season" in Huacachina are January to March. Although "rainy", it is still the desert so you still won't see much rain on a daily basis.
The cooler, dry season is from May to November and this is the perfect time if you want to do a bit of hiking. The highest daytime temperatures stick to the 70s (21-26°C), but you'll likely be in full sun with little access to shade, so it'll feel a little bit warmer.
In our experience, September to December is the best time to visit Huacachina since the weather is dry and the daytime temperatures are favorable. Plus, it's the shoulder season so you avoid a lot of the peak season crowds that flock to Peru from June through August.
Since Peru's weather and ecosystems are so diverse, we made a detailed guide to the best time to visit Peru so you can get a better understanding of the different regions and their climates.
---
Things to do in Huacachina
While Huacachina is a quaint oasis in the middle of the desert, there are a variety of both adventurous and relaxing experiences to have while you're here. From sipping on pisco sours to an exhilarating sandboard ride down the dunes, the options for things to do in Huacachina are endless.
1. Ride in a dune buggy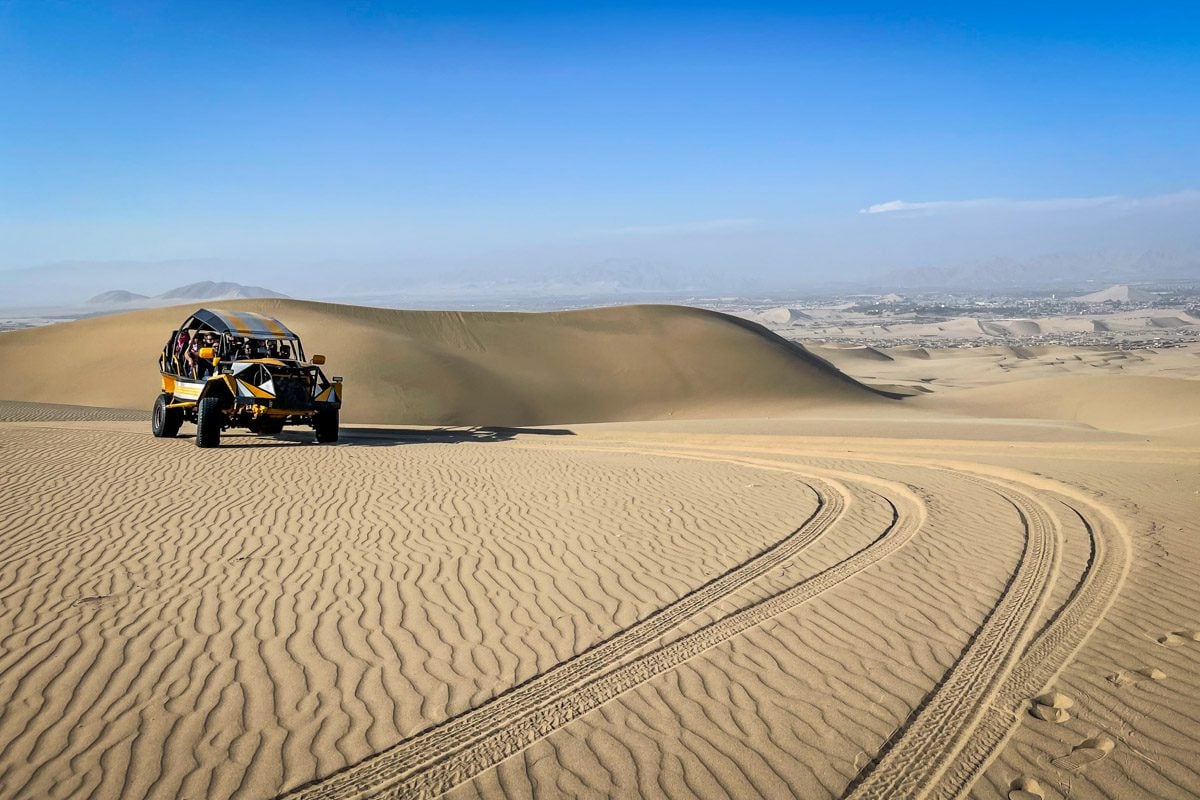 A dune buggy tour along the picturesque dunes of the Ica desert is the quintessential experience in Huacachina. This is the perfect activity for adrenaline-seekers that love to get their heartrate up. Your local driver will speed up, down, and around massive sand dunes as the sun sets over the oasis. You'll feel as though you're on a roller coaster ride, but in the heart of the desert.
Dune buggy tours can be booked with a salesperson in town, with your hostel, or online. Most of the dune buggy tours also include a sandboarding portion where you can test your balance carving your way down the dunes.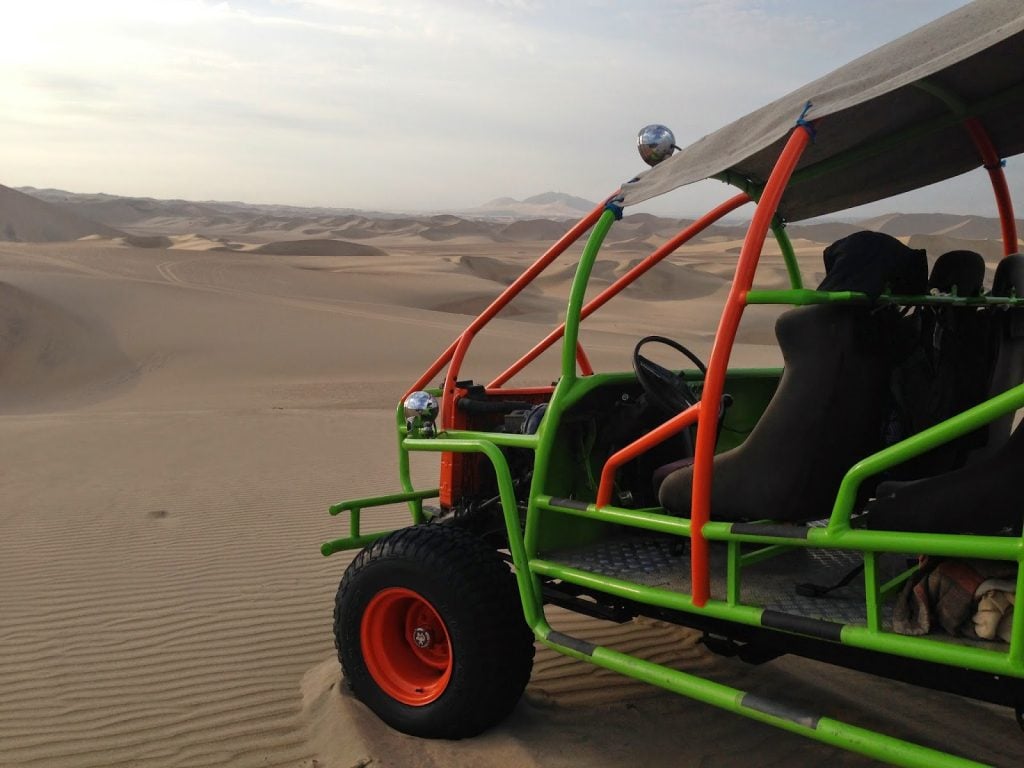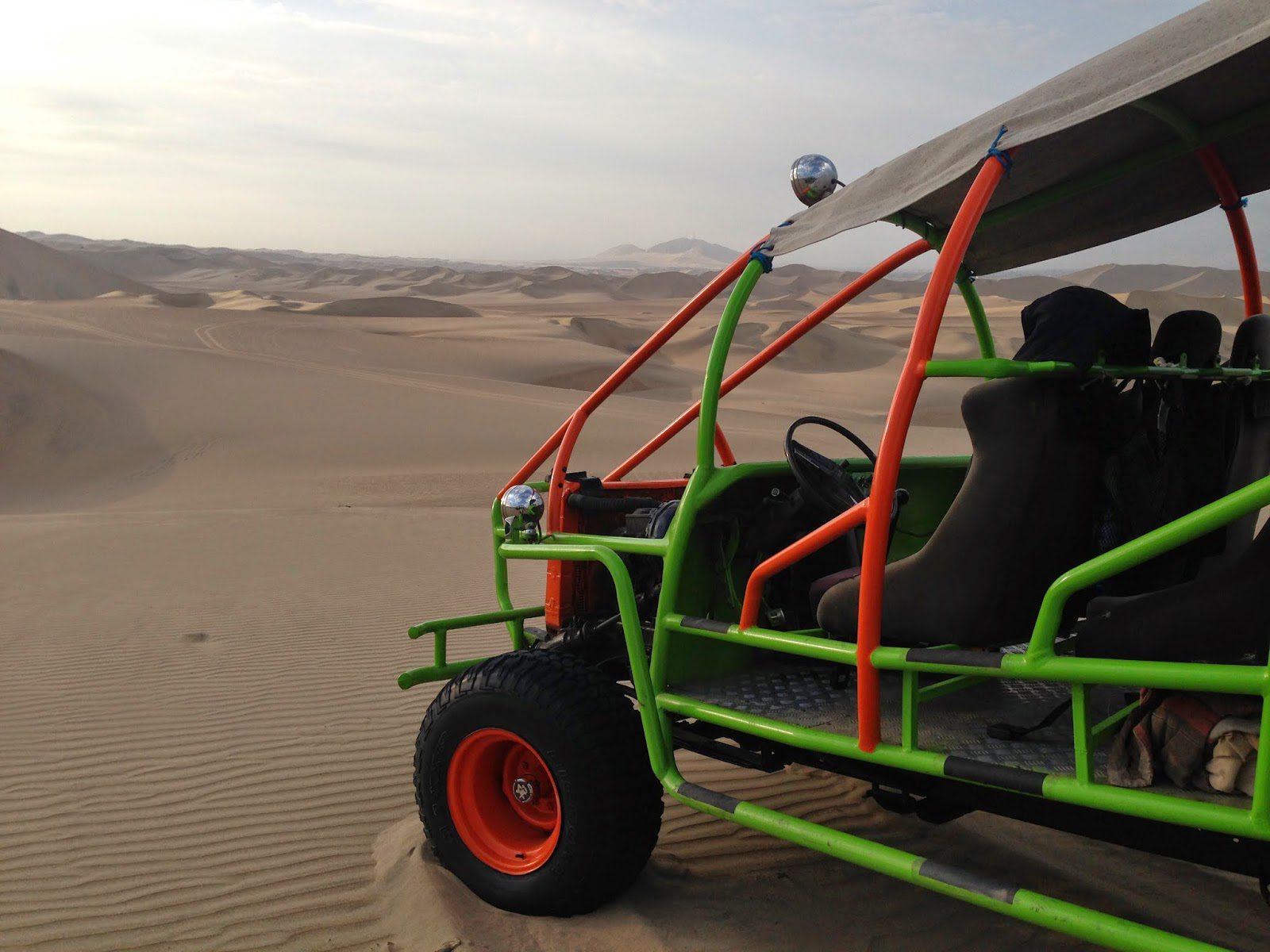 This tour option is great for the traditional dune buggy tour, but if you want to have a little bit more time hitting the dune, Peru Hop offers extended dune buggy tours in their tour packages.
To make your ride more comfortable, bring sunglasses, sun protection, and a face covering or buff to keep the sand out of your mouth. A wind breaker or light jacket will also be useful since the weather cools down dramatically once the sun sets.
2. Go sand boarding or skiing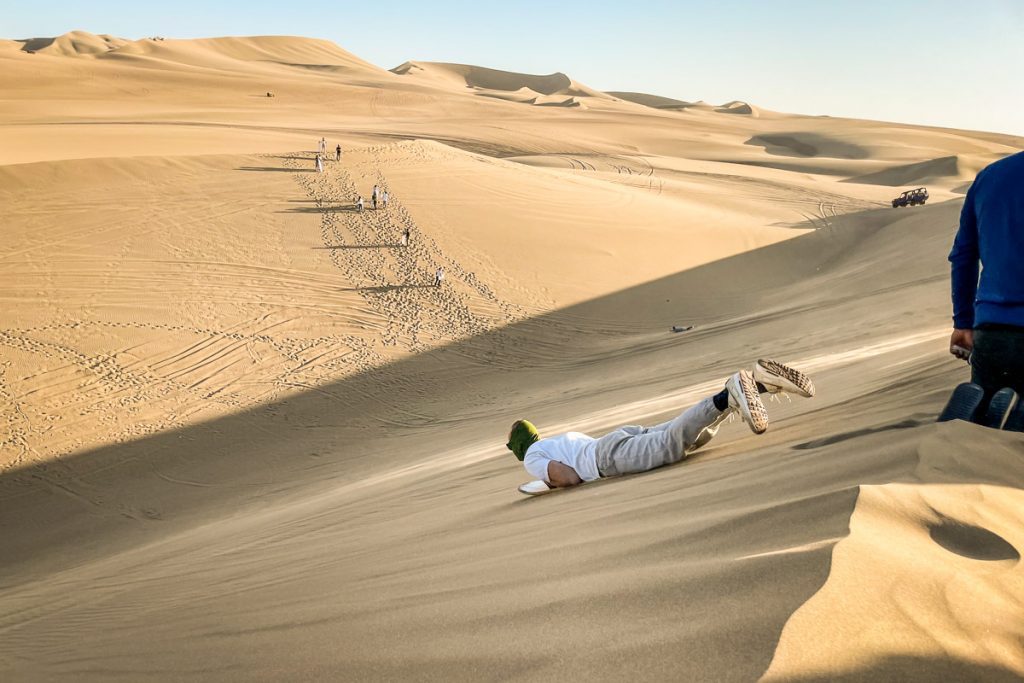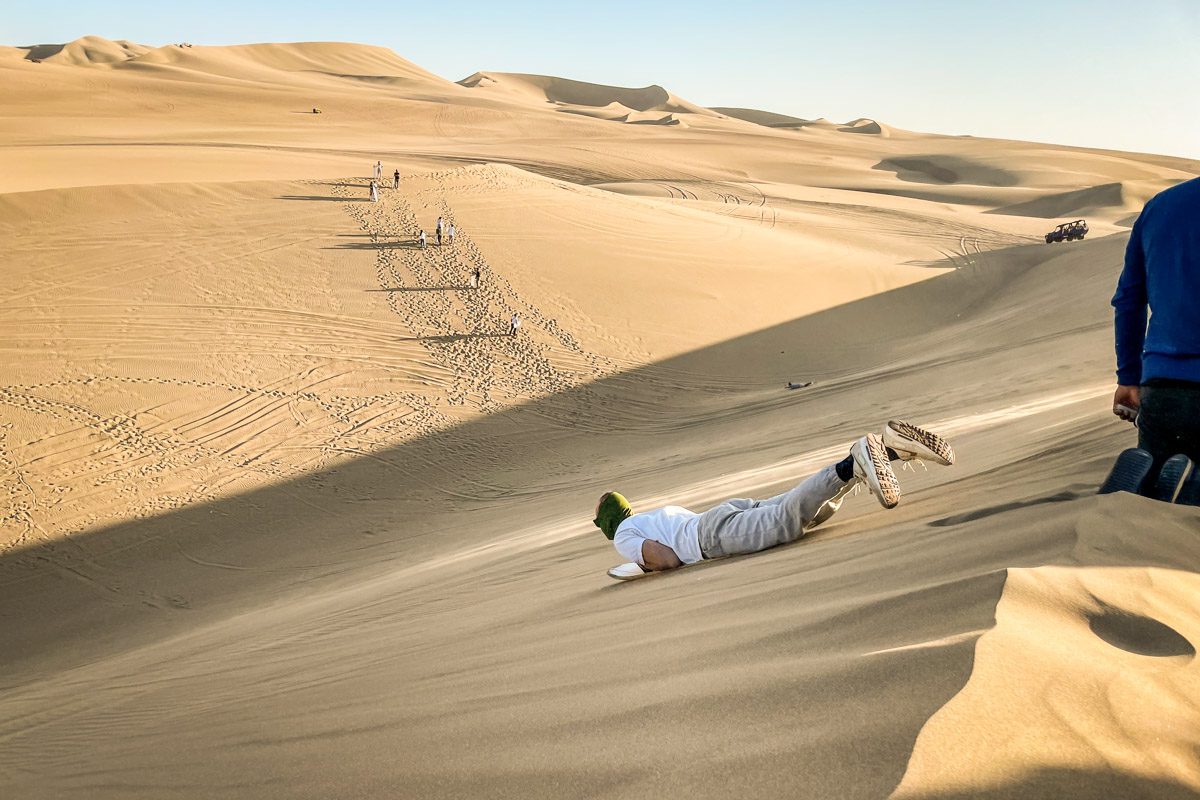 Sandboarding is very similar to snowboarding, except instead of braving the cold snow, you'll be breezing your way down sandy dunes.
Sandboarding tours in Huacachina will most likely be coupled with the dune buggy tour we talked about above. However, the board they provide on these tours is more for belly boarding and not standing or skiing.
So if you want to sandboard the way you would a snowboard (or sand ski), you'll need to rent your own gear in town and/or book an additional tour for the extra time.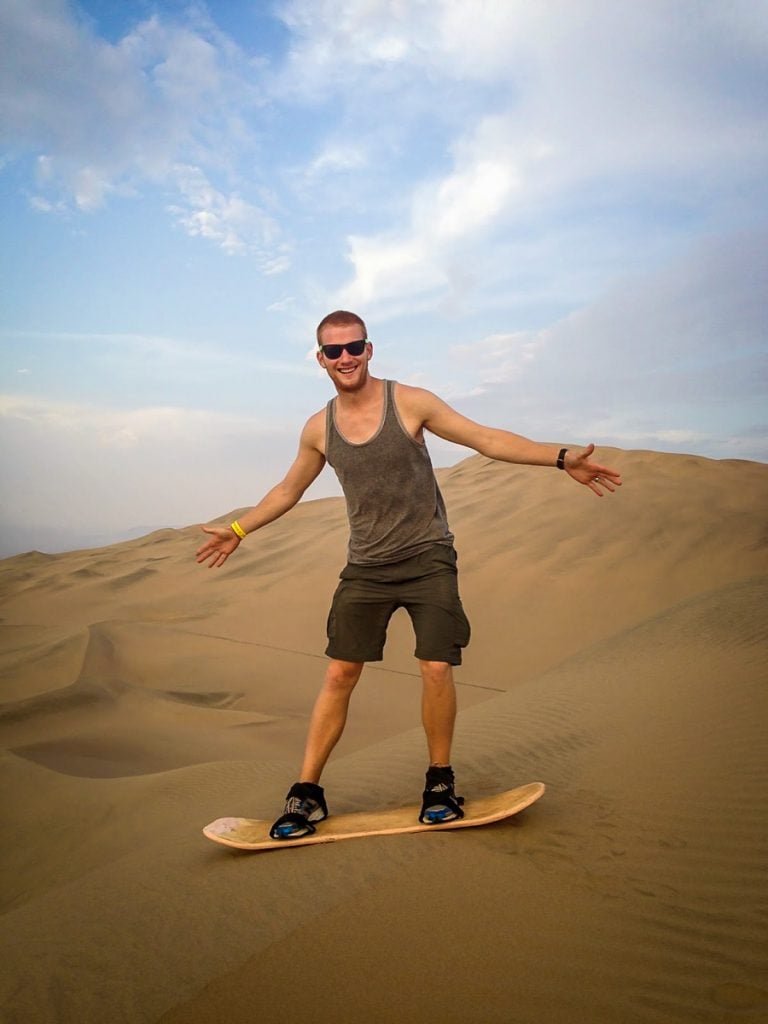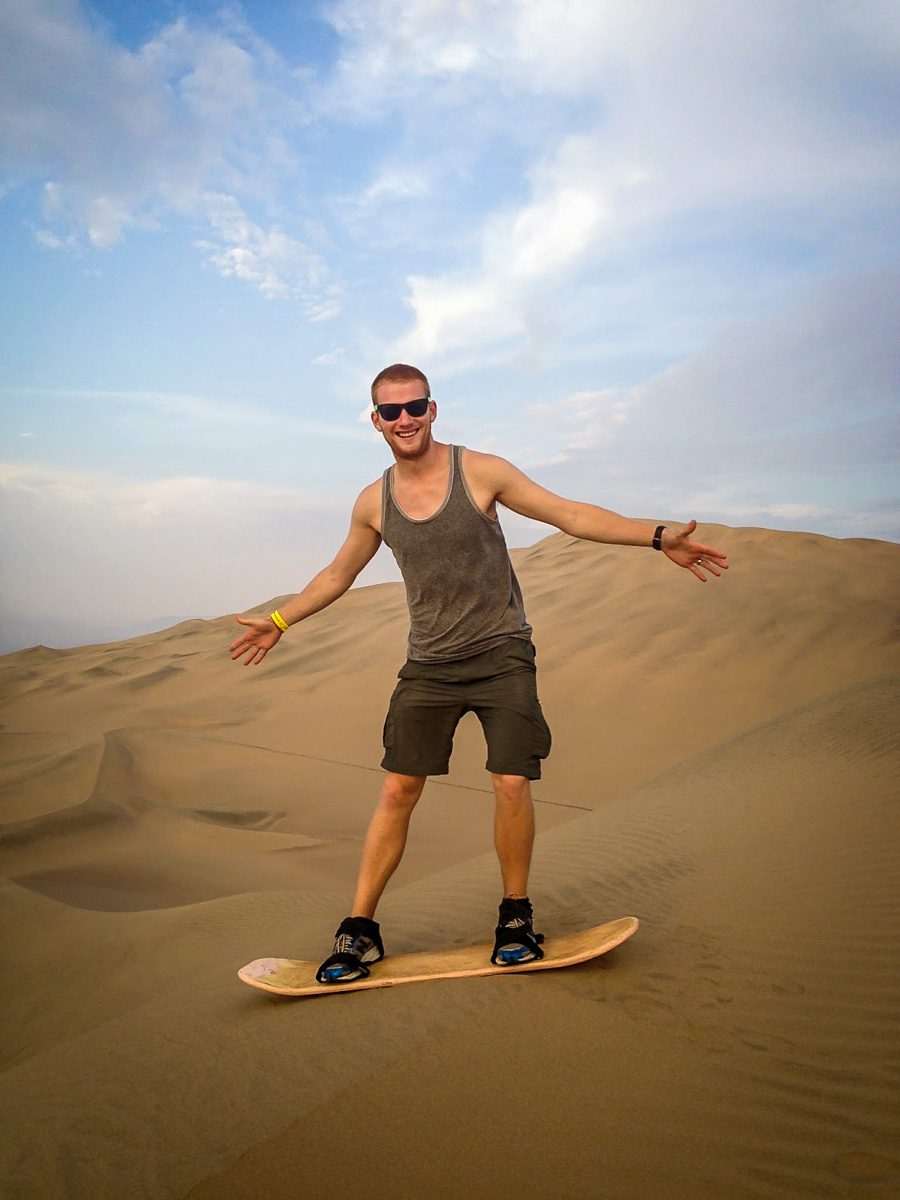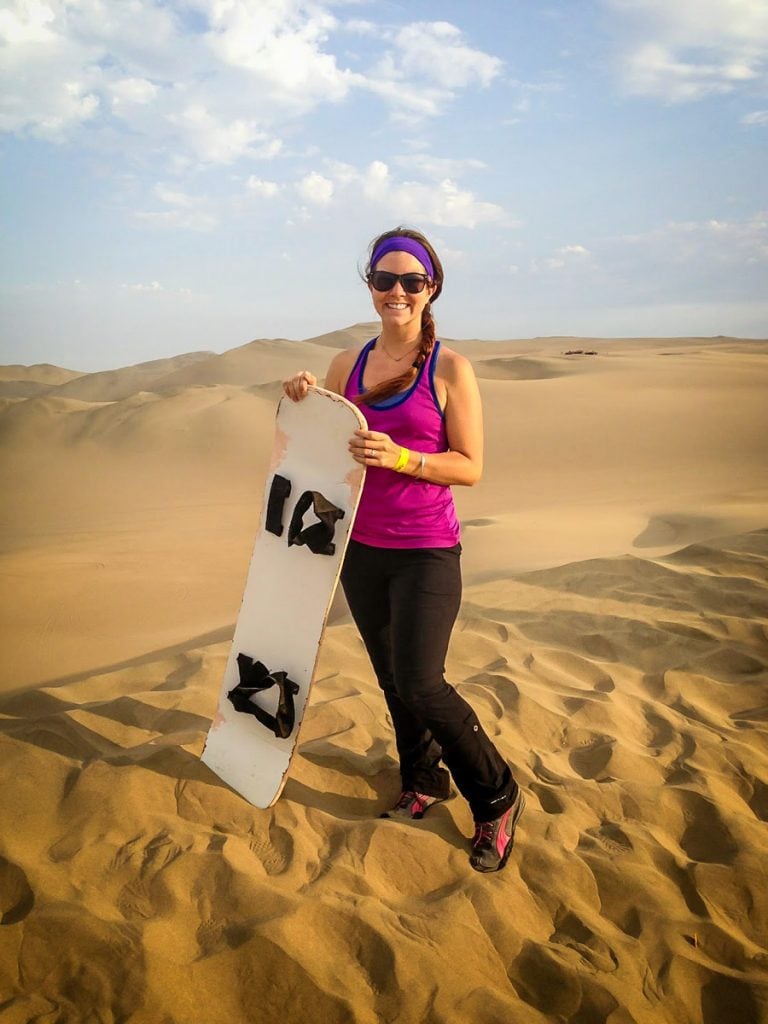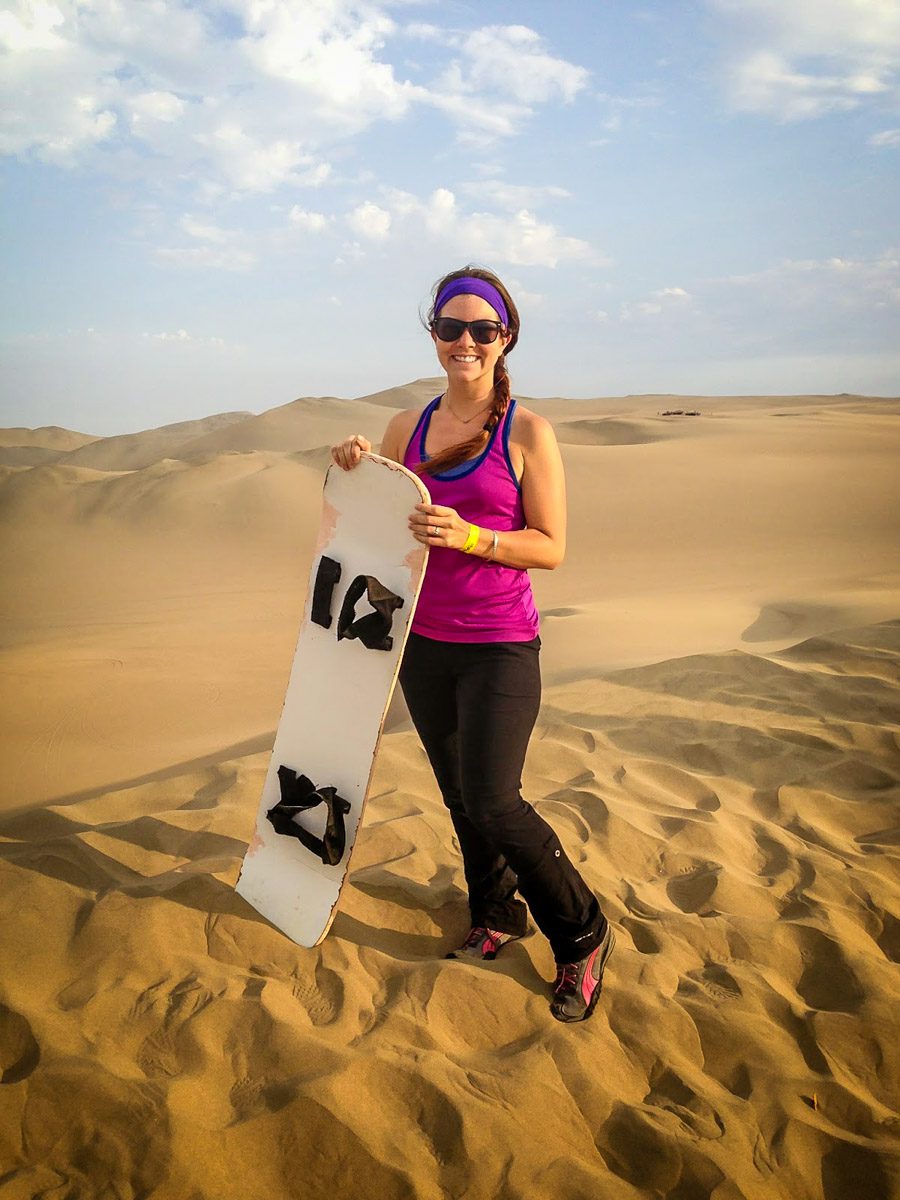 Alternatively, you can rent your own board or skis and head to the dunes yourself. This is good if you want to spend more than just a few hours on the dunes. You can rent three different types of equipment:
Snowboard and snowboarding boots (with locks)
Sandboard (straps can be lose on your feet and hard to steer)
Sand skis and boots (just like downhill skis)
There are small rental shops around town where you can rent your own gear. You can't locate them on Google Maps, but you'll have no problem running into them around town. You can rent them by the hour, until sundown, so you'll have plenty of time to explore on your own.
3. Paddle across the oasis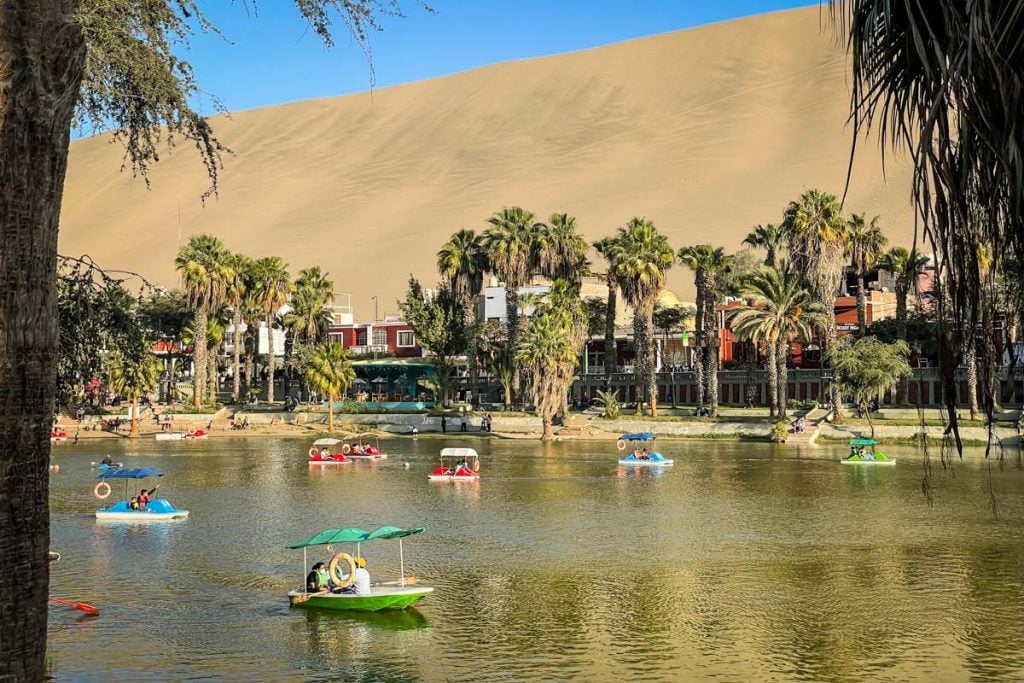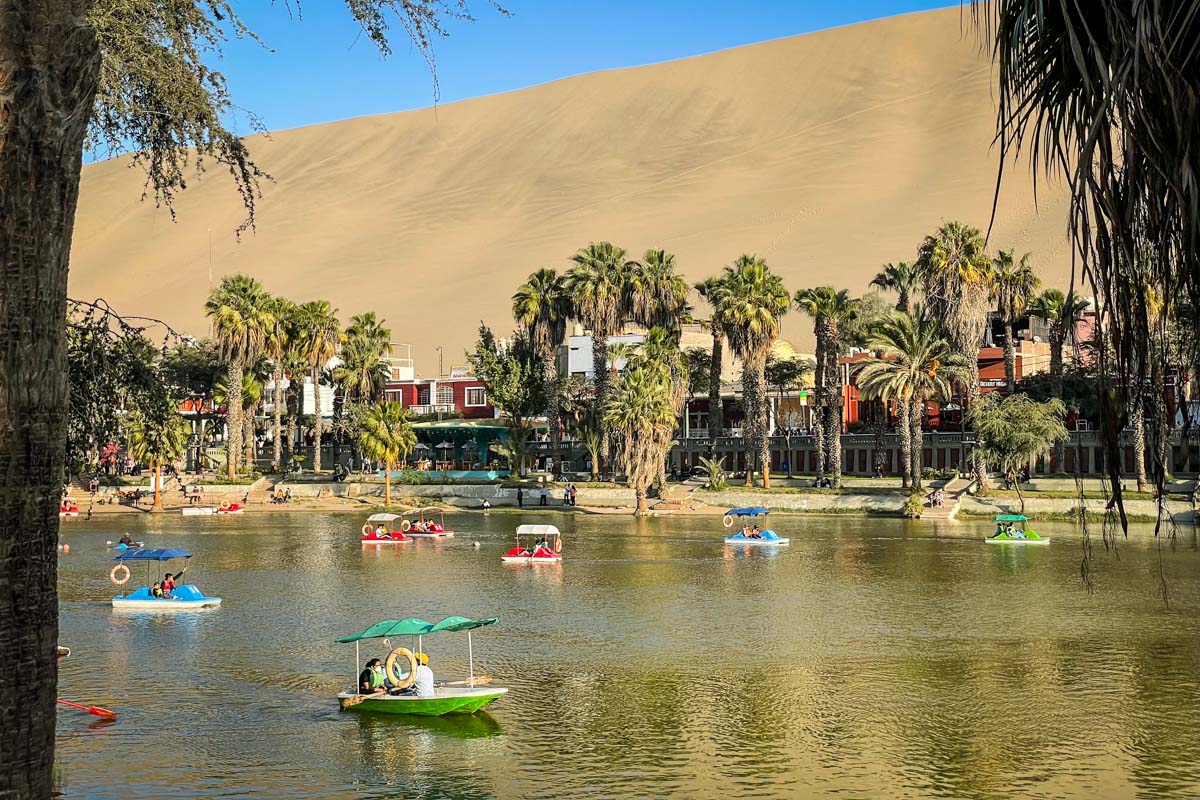 Huacachina has a small man-made lake in the center of town where you can rent paddle boats to float around. This is a great way to get a different perspective of the oasis—from the water surrounded by all the massive sand dunes.
Renting a paddle boat is simple and can be done right at the water's edge. The prices for a rental fluctuate with demand and the amount of time you want to paddle for.
You don't need much time for this activity since the lake is quite small. You'll feel like you've seen a sufficient amount in around 20-30 minutes.
4. Climb the dunes for sunset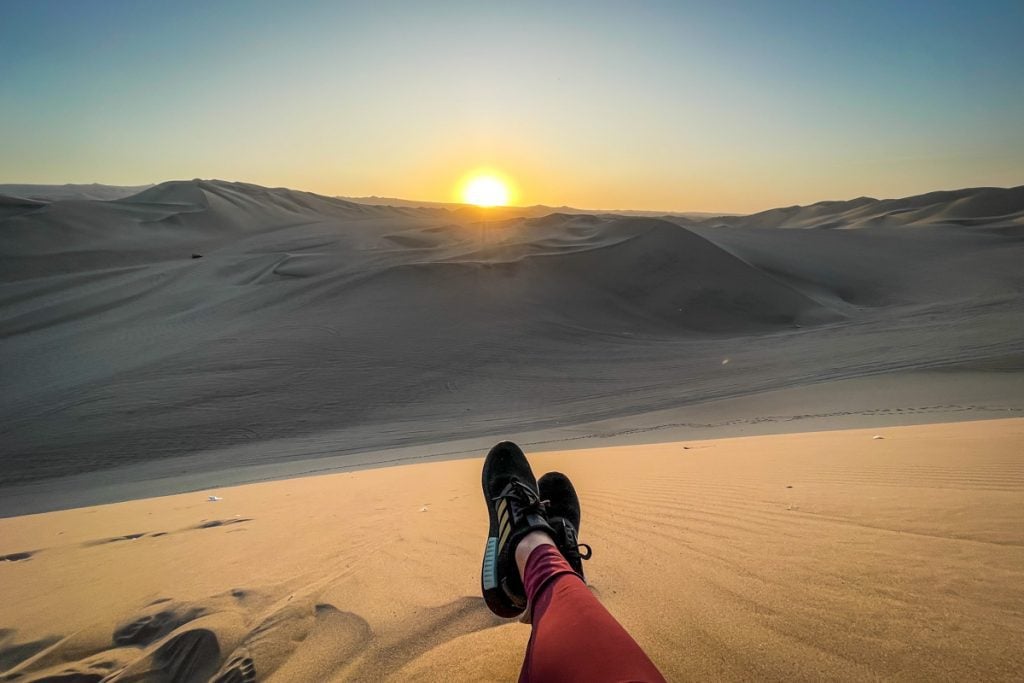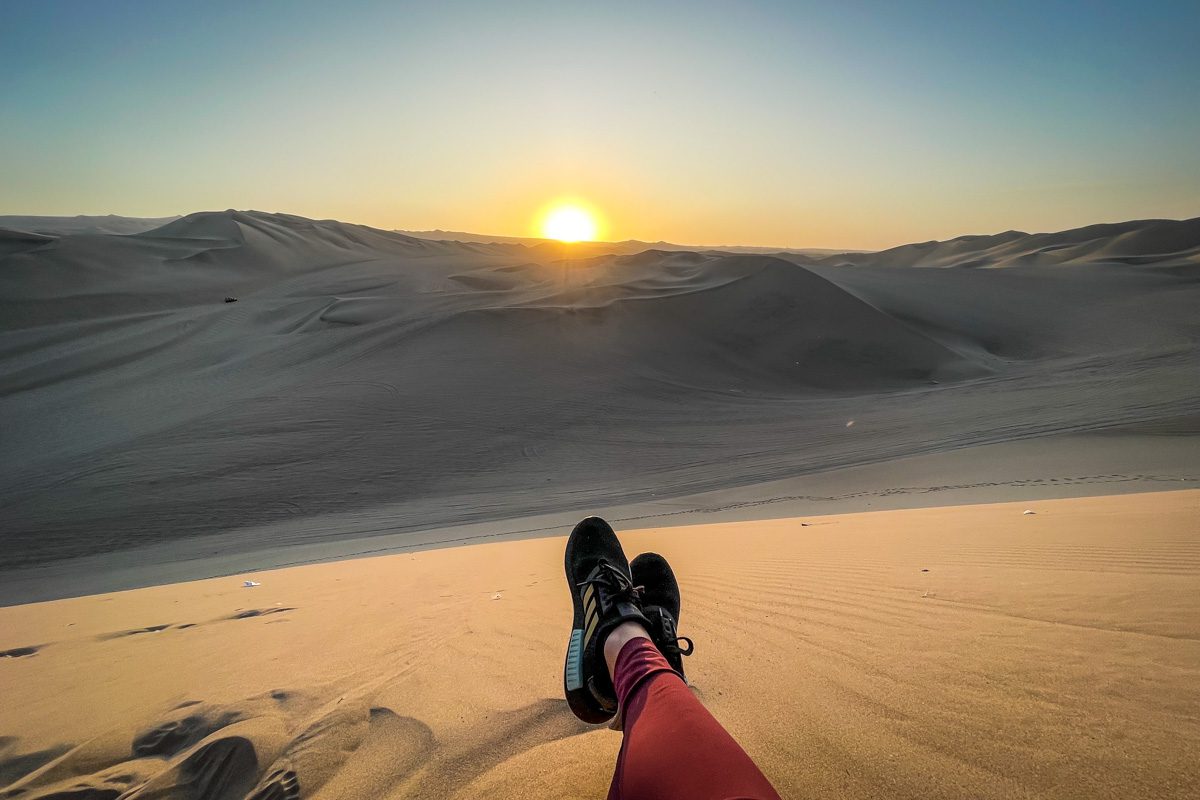 The best place to watch the sunset over Huacachina is on top of one of the surrounding dunes. There is a popular half-mile trail that takes you up to the most popular viewpoint in the area.
To get to the viewpoint, you'll head to where the dune buggies are parked (very hard to miss). Once you arrive at the parking area, you'll take a right past a huge white water tank and hike to the top of the dune. You'll likely join others while heading up for sunset, so it'll be hard to get lost.
This is a great spot, but it's very popular, so continue walking (trudging through the dunes is more like it!) past the crowds and you'll be able to find a spot all to yourself.
Note: The dunes surrounding Huacachina are a protected area and there is an entry cost of 3.70 soles per person. This cost will be included in any dune buggy or sand boarding tours you take, but you'll have to pay the fee in cash if you are exploring the dunes on foot.
5. Go paragliding over the oasis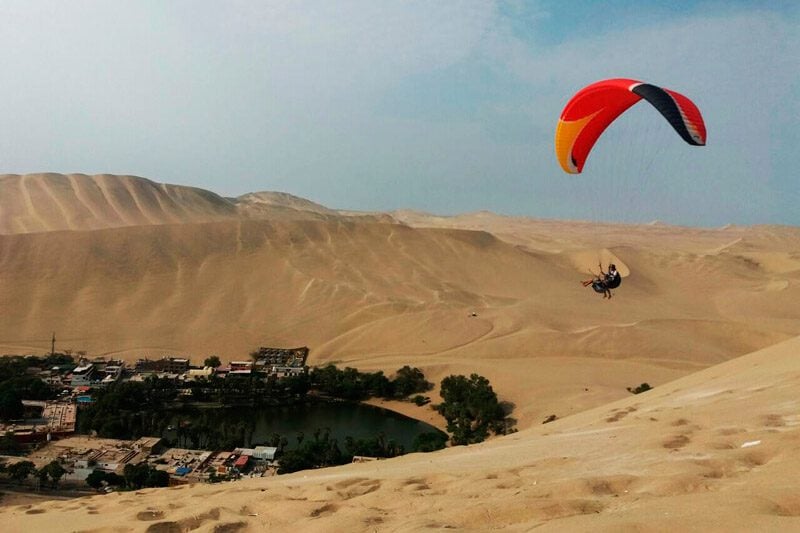 Paragliding over the oasis is another one of the best things to do in Huacachina for the thrill-seekers. You'll get an incredible 360-degree, aerial view of the oasis and surrounding Ica desert.
Join a professional guide and trek 20-30 minutes towards a selected dune depending on the direction of the wind. From there, the professional paragliding pilots will give you basic instruction for takeoff and landing. Once the flight conditions are good, you'll take off and enjoy a 10-15 minute flight over the oasis.
It's hard to find tour operators offering this experience online, but once you arrive in Huacachina you can pop into one of the local tour shops and arrange with the best price.
6. Join a hostel party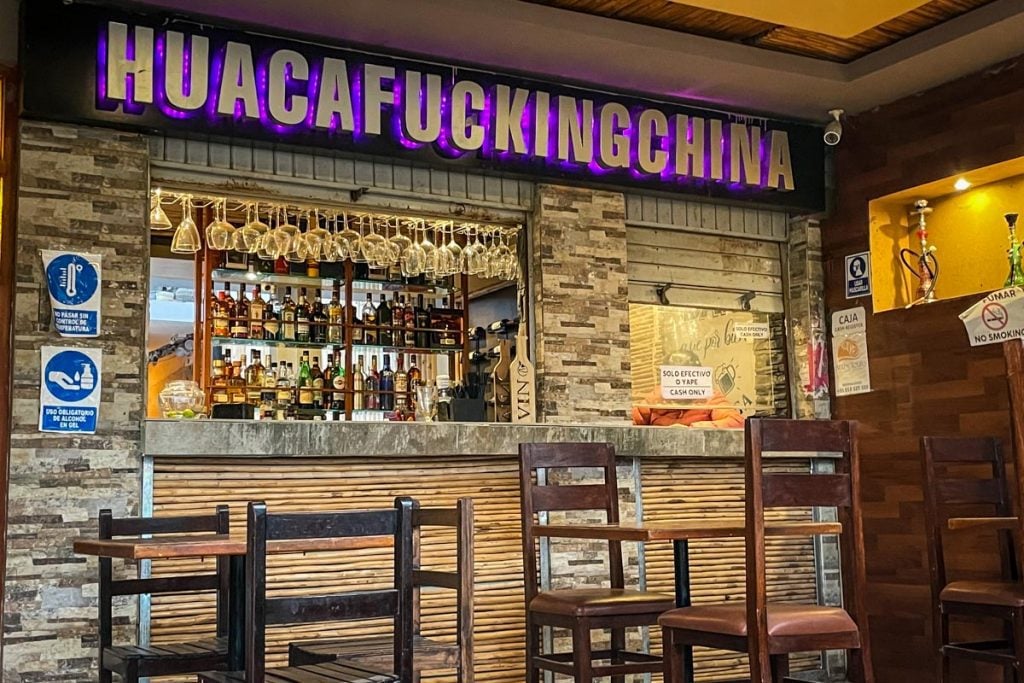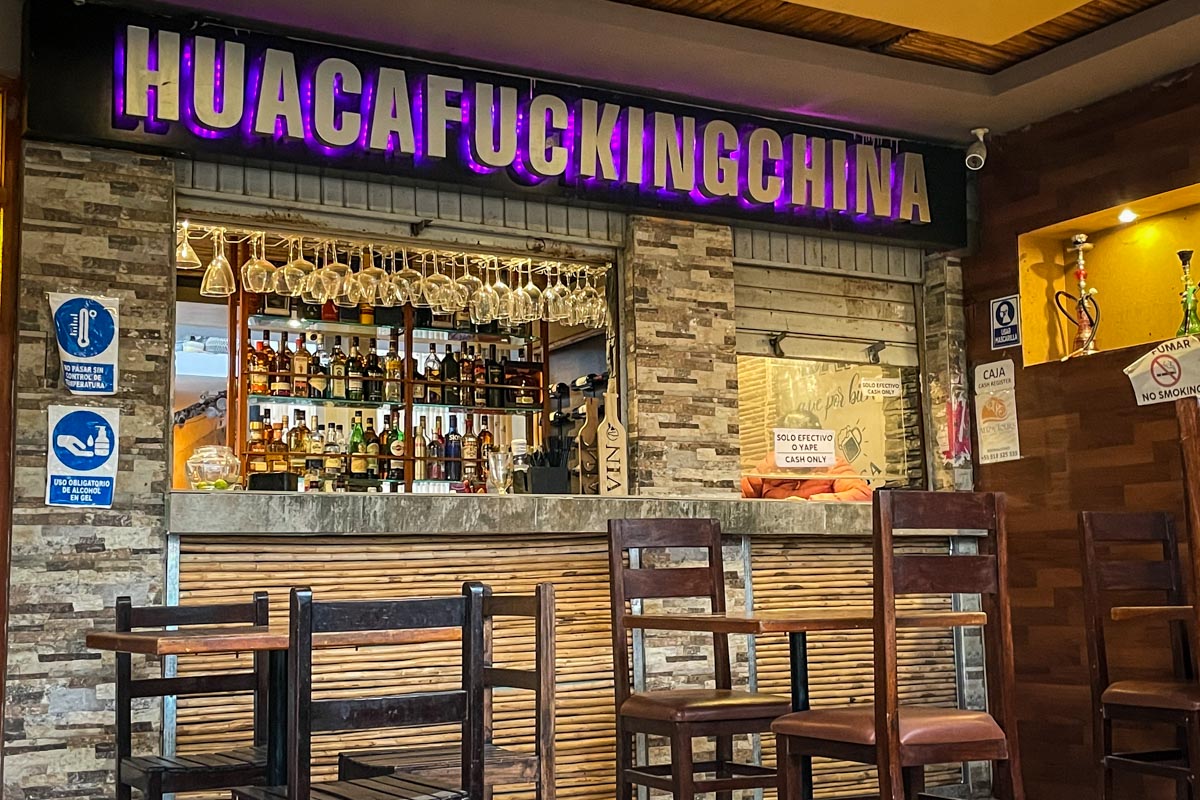 For as small as the town of Huacachina is, the nightlife scene is larger than life. With a constant influx of backpackers and tourists, there's a hostel party happening every night of the week.
Bananas Adventure Hostel and Wild Rover Huacachina are two popular hostels for a pre-party drink if they aren't having a party of their own. You can expect an amazing night at many of the bigger backpacker hostels as well.
If you're looking to bar hop after a stop at the hostel, popular spots like Huacafuckingchina and Discoteca Arenas are known for their open concepts and lively dance floors. You can also head to The Pub for a lakeside cocktail.
7. Lounge by the pool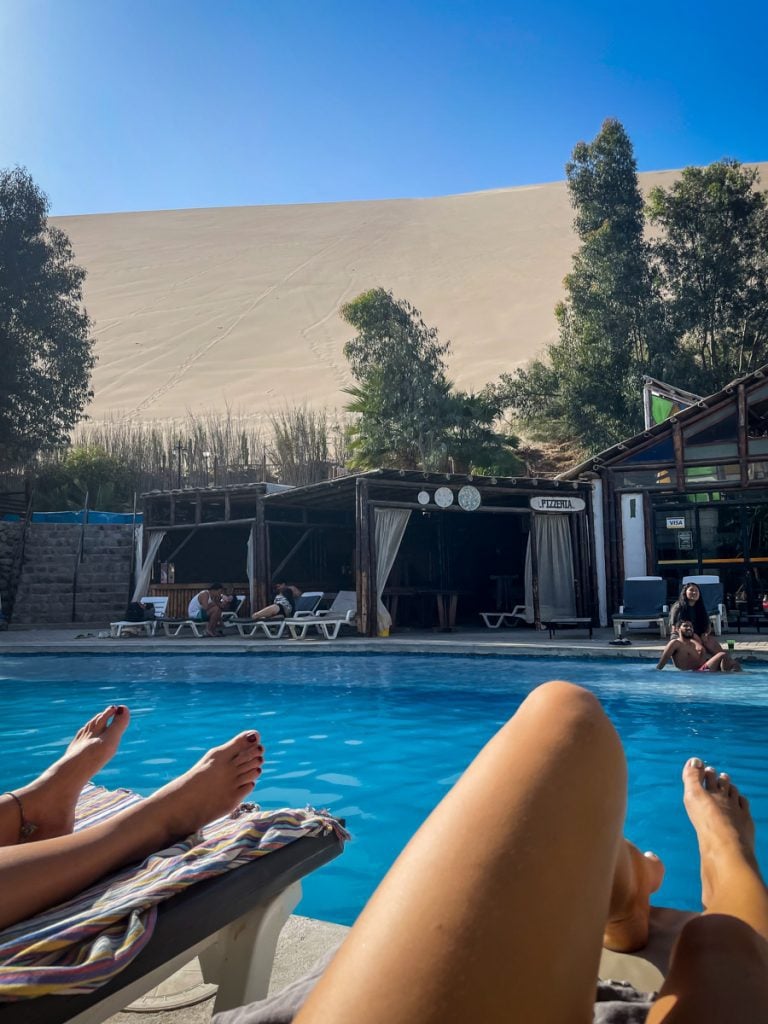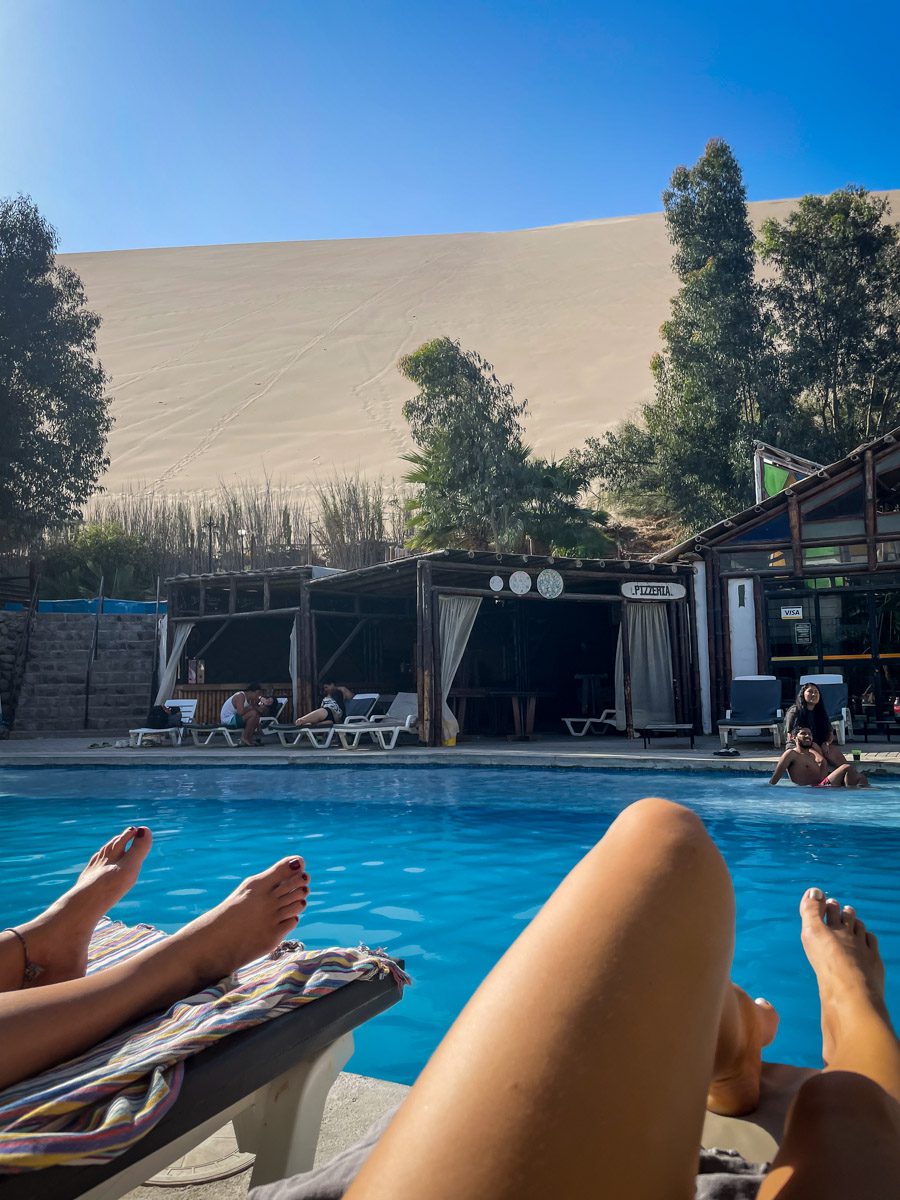 Most of the tours in the oasis only operate in the early mornings and late afternoons since the midday temperatures are too hot to go exploring. What better way to cool off from that Huacachina heat than to be relaxing poolside with a smoothie, juice, or boozy beverage.
Many of the accomodation options in the oasis understand that travelers need a cool place to lounge after an adventurous morning tour, so many places to stay have a pool. If your hostel or hotel doesn't have a pool, you can pop into Carola Lodge and pay a day rate of just 20 soles to cool down.
8. Walk around the oasis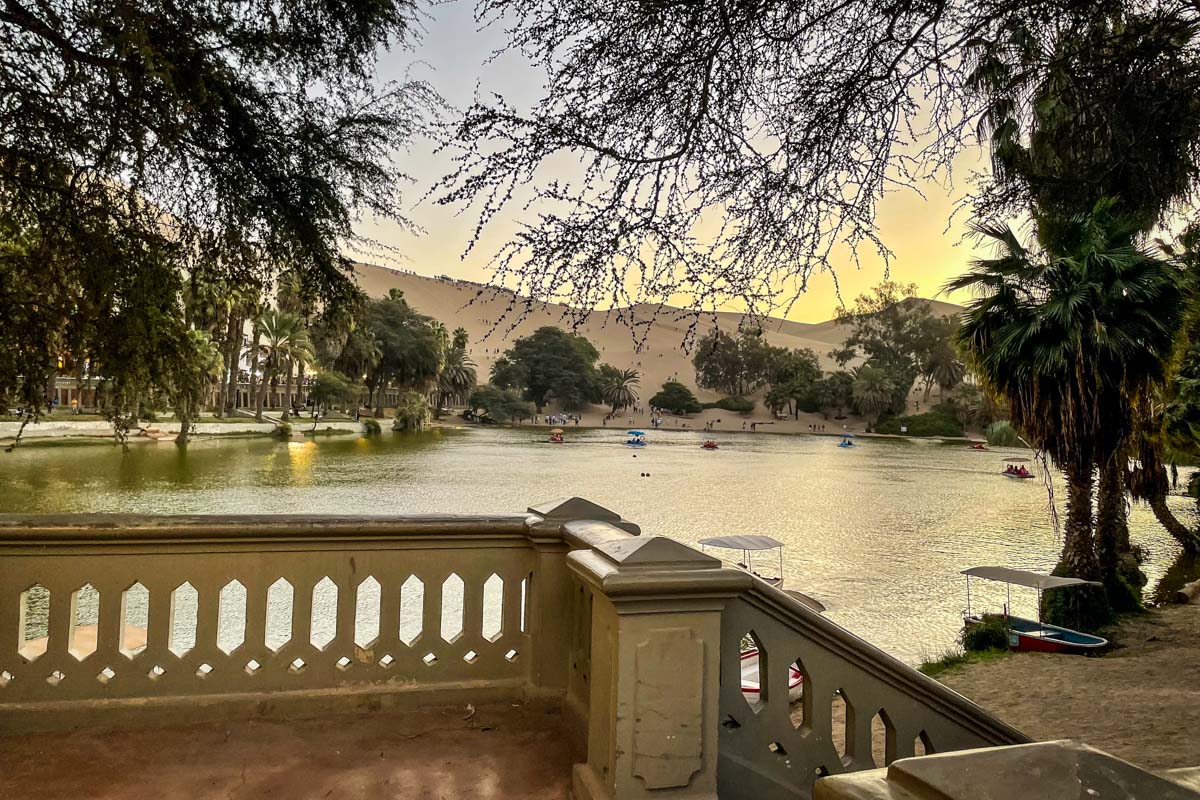 Walking around is one of the best ways to tour a new place and as small as the oasis is, you can get a really good lay of the land in just a short time.
This is a good thing to do when you first arrive in Huacachina since you can spot the nightlife hostels, bars, and note where you can book tours if you didn't book ahead.
9. Taste Pisco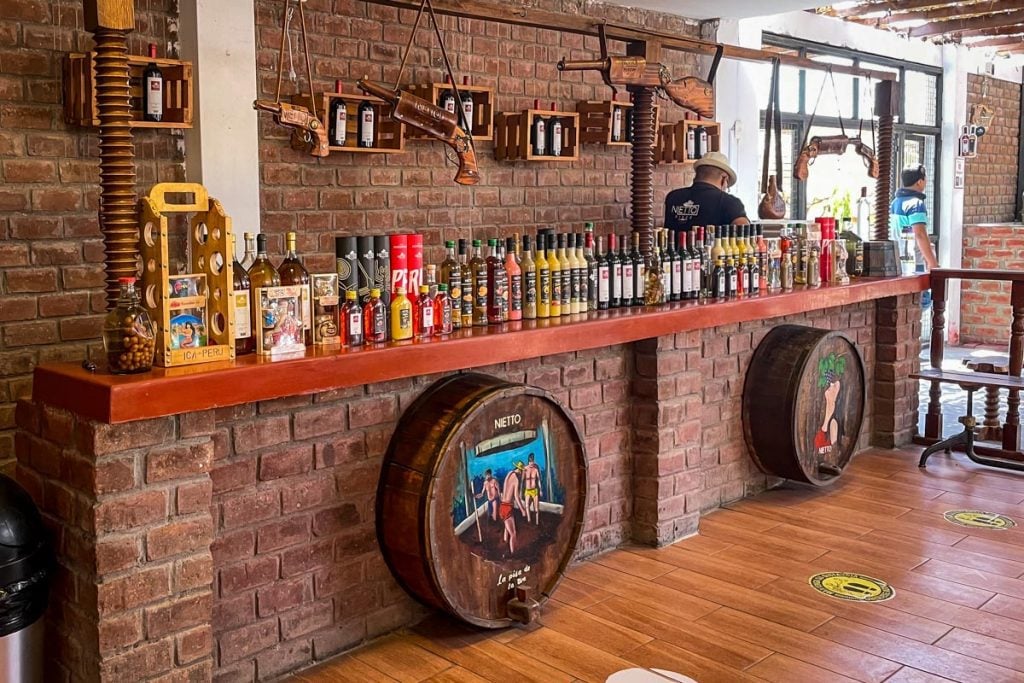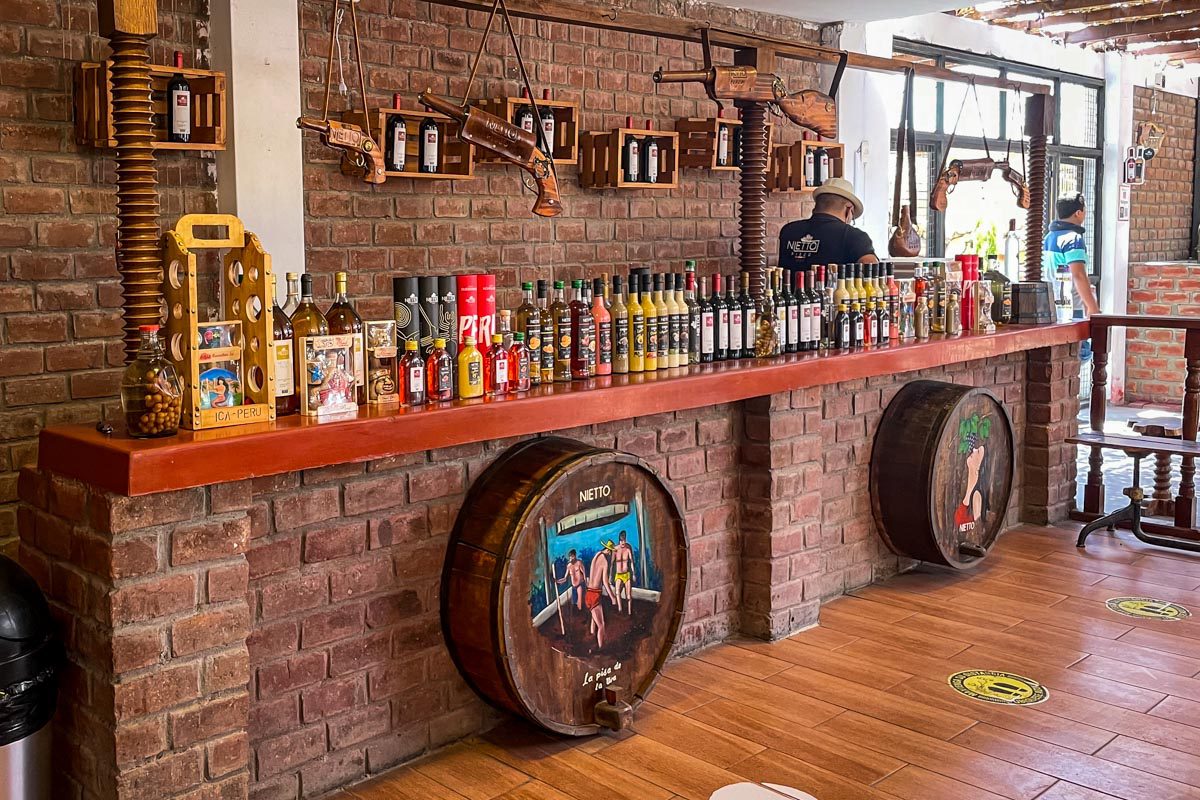 Just north of Huacachina is the nearby city of Ica, one of the largest producers of pisco in Peru. Pisco is a type of white grape brandy that is renowned in the country—it's even considered Peru's national drink.
Ica is the best place to taste this iconic Peruvian spirit, so you can't miss it while you're here.
Because pisco is made from grapes, many of the distilleries also make wine, so on your tasting tour, you'll be able to enjoy both pisco and wine.
At Pisco Nietto, you can enjoy a nice meal indulging in many local Peruvian foods, get an inside scoop on the process of making pisco, and taste some of the best pisco in Peru as well as local wines. They're the largest producers of wine in Ica and they make all their pisco and liqueurs in-house. 
Psst! Check out our guide to Peruvian food to find out all the delicious dishes you must try!
10. Wine tasting at Tacama Winery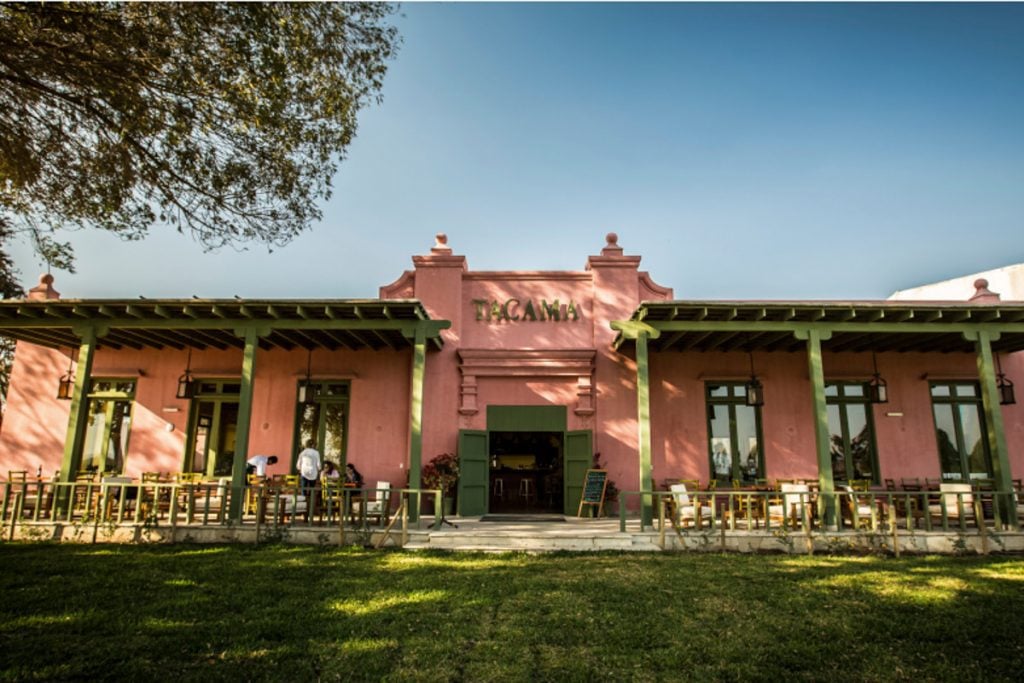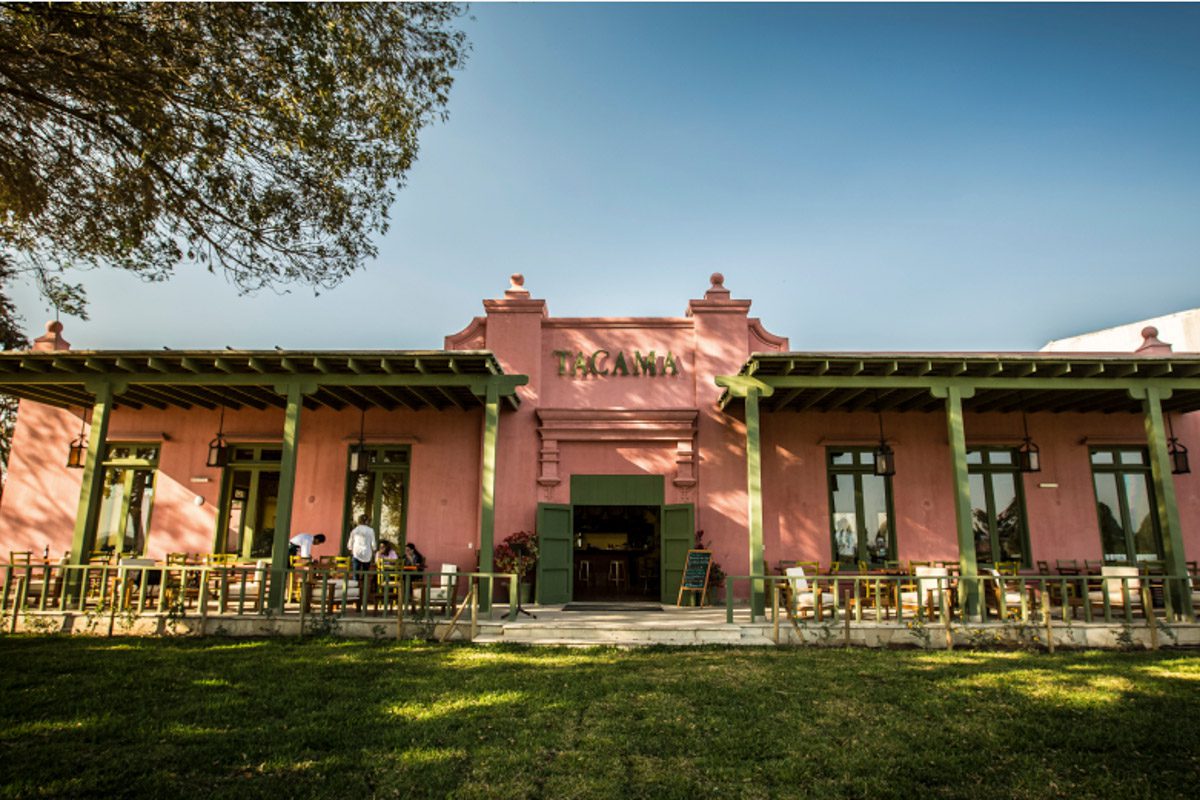 Tasting a 500-year old wine and pisco legacy at the oldest winery in South America is an amazing and historical half day trip from Huacachina. The wines in this region of Peru are shockingly sweet, even the dry varieties, due to the intense heat of the Ica Desert.
The Tacama Winery has a handful of different tours depending on your interests:
Traditional Tour (50-minutes): Enjoy three wines and a pisco while learning about the production process of wines, sparkling wines, and pisco, and how it has evolved over centuries.
Tacama Grand Tour (1.5-2 hours): Taste three different wines and one pisco in a modern tasting room while learning about the architecture of Tacama and and the production process of the vineyard grapes.
Don Manuel Tour (1.5-2 hours): Visit a unique subterranean cellar and learn about the production processes of the vineyard grapes and alcohols. While in the cellar, enjoy a tasting with a sommelier that comes with three high quality wines and a cheese board.
Vineyard Tour (.5-1 hour): Spend your tasting sampling three wines and a pisco among rows of vibrant vineyard vines.
11. Glamping in the desert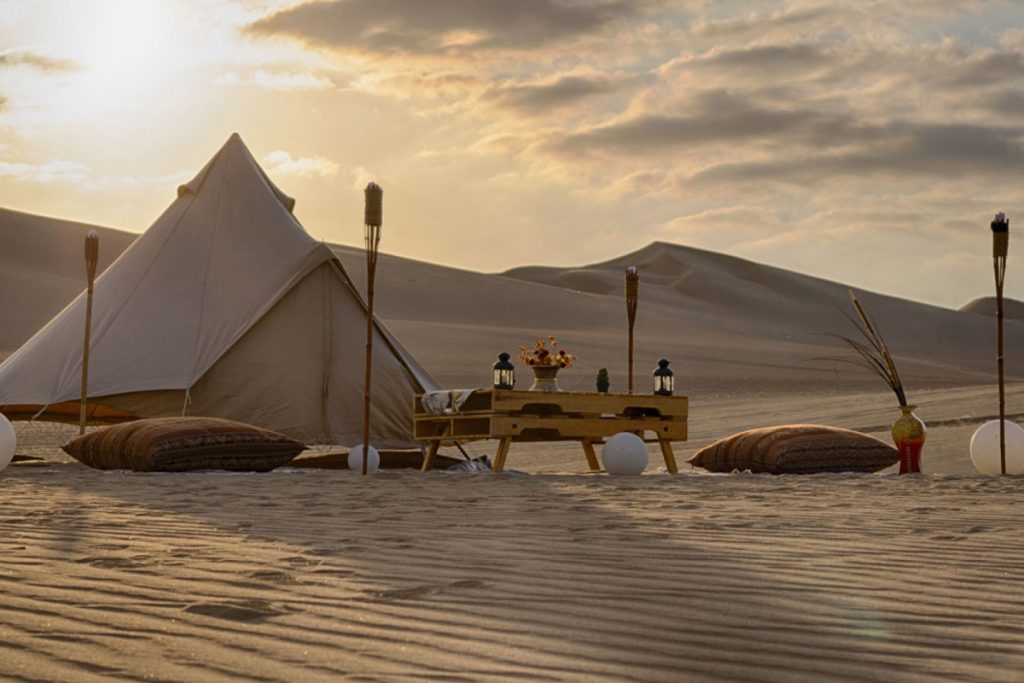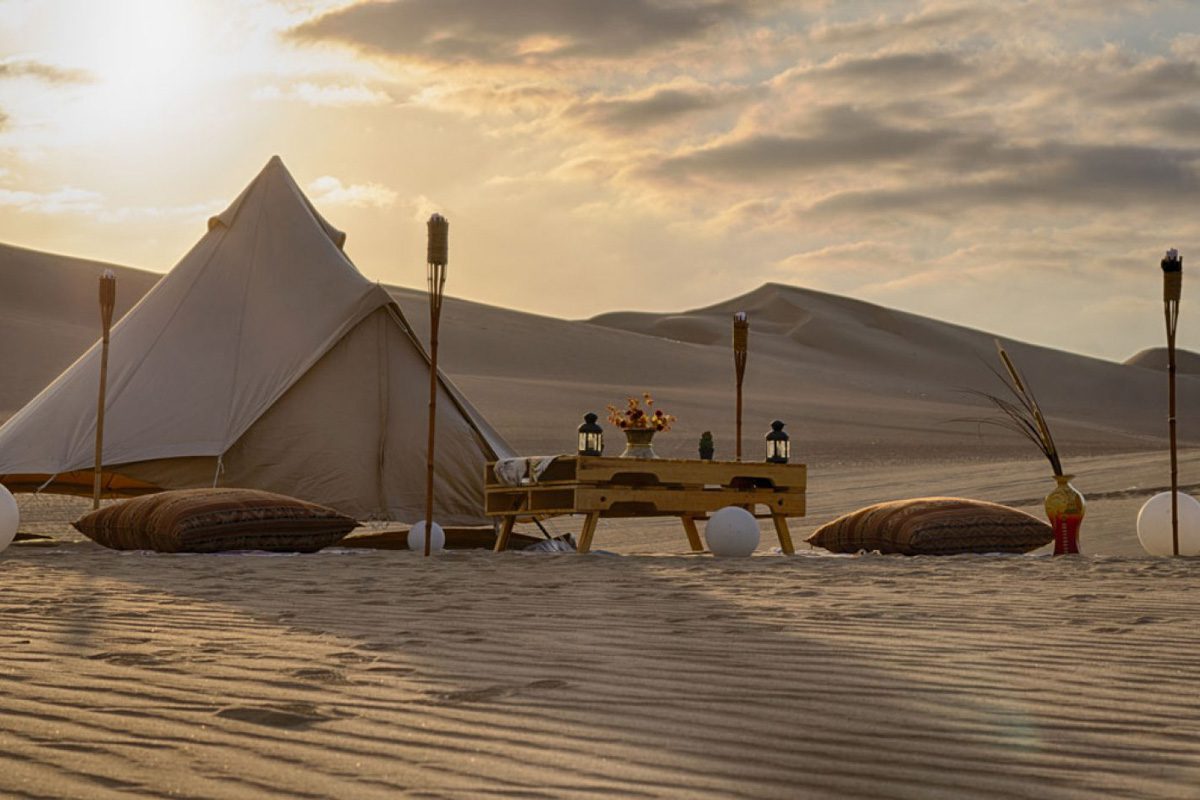 Spending the night sleeping under the stars is one of the best ways to experience the true essence of the Ica desert, get a bit of solitude from the bustle of the oasis, and relax after a day's adventure.
Huacachina Tours offers amazing glamping experiences from both Ica and Lima.
For a luxury glamping experience, you can book with pick-up in Lima. The experience includes a winery tour to sample wine and pisco and see the processes of how they're made. Then wind down in the desert and enjoy a fresh meal made by a private chef before sleeping in your "luxury" glamping tent under the stars.
Alternatively, you can book your Huacachina glamping experience from Ica and enjoy your own tent with a table and floor pillows, private chef, ambient music, as well as dinner and breakfast.
12. Dinner in the desert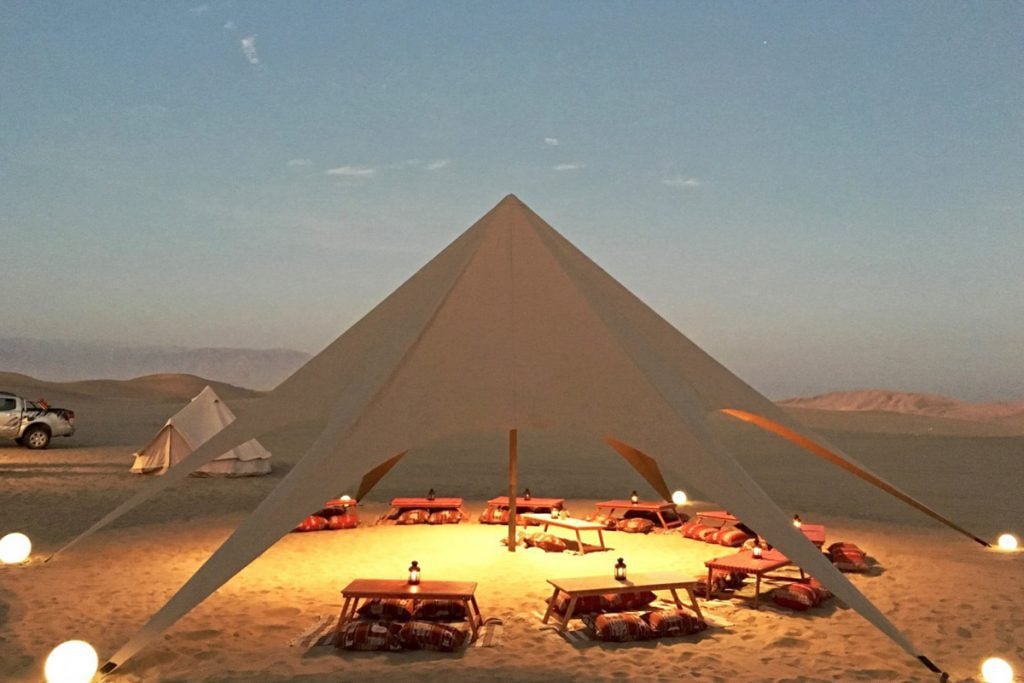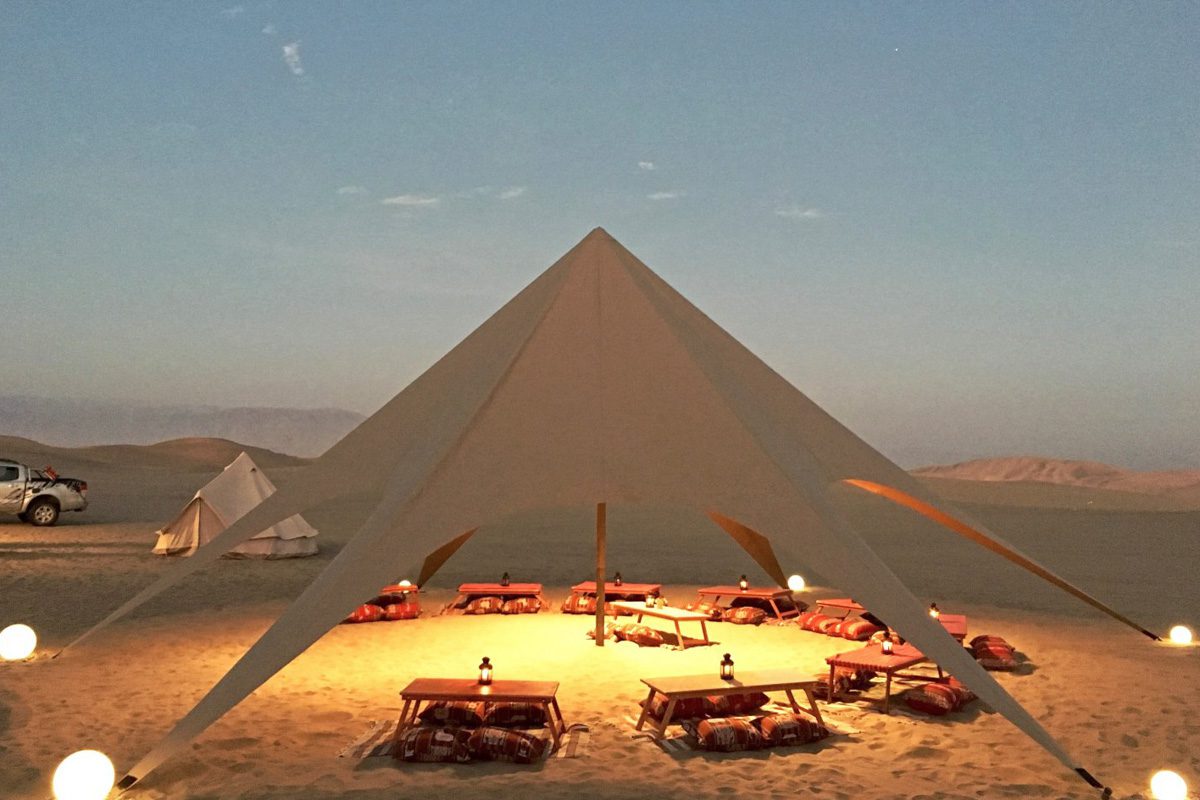 A sunset dinner in the Ica Desert is a relaxing way to end a day of exploring. After you watch the sunset over the highest dunes in South America, you'll be taken to a dinner illuminated by candles, lamps, and torches.
Once you arrive, you'll be greeted with drinks and a Peruvian style charcuterie board. Dinner includes an entree with meat, chicken, or fish, grilled vegetables, and a bottle of wine.
If you took a tour of a winery and purchased a boozy souvenir, this is the perfect spot to indulge.
This tour includes a transfer from Ica, and a dune buggy tour and sand boarding experience before dinner. It's a great option if you don't have the time to spend overnight at the oasis, but still want to experience some of the best things to do in Huacachina.
The company only hosts dinners on Saturday evenings and spots are limited so be sure to book in advance.
---
Bonus: Things to do nearby
Huacachina is a bucket list experience on its own, but while you're in the area, there are a handful of other amazing stops you should try to hit if you have the time.
13. Boat around the Ballestas Islands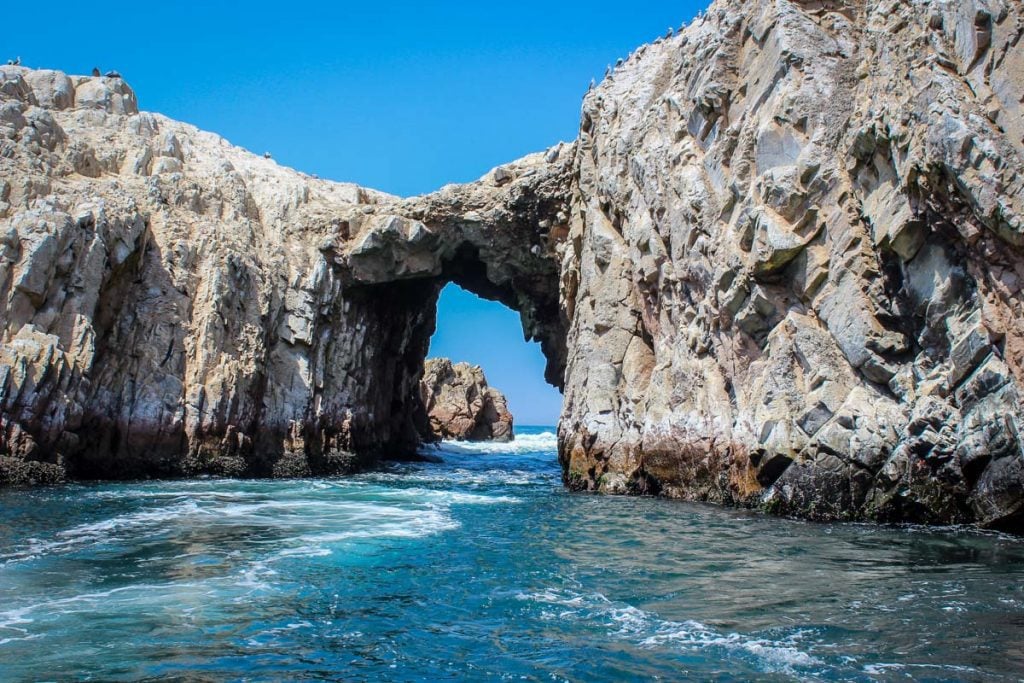 Known as the "Poor Man's Galapagos", the Ballestas are a small group of islands off the southern coast of Peru near Paracasfamed for their biodiversity. This small collection of islands are home to sea lions, Humboldt penguins, guanays, cormorant, Peruvian boobies, pelicans, and many other unique marine life that make up this extremely diverse ecosystem on the Peruvian coast.
The islands are best experienced on a day trip. Catch a boat from Paracas and sail around the small group of rock formations that make up the islands. Since these islands are protected, this is the only way to experience them. You cannot swim with any of the wildlife or set foot on any of the actual islands.
A speedboat tour will be plenty as you'll be able to spot sea lions flopping around and jumping into the sea, penguins nesting, and a whole host of other species. If you're visiting the islands between August and October, you might even get lucky and spot a humpback whale!
14. Visit Paracas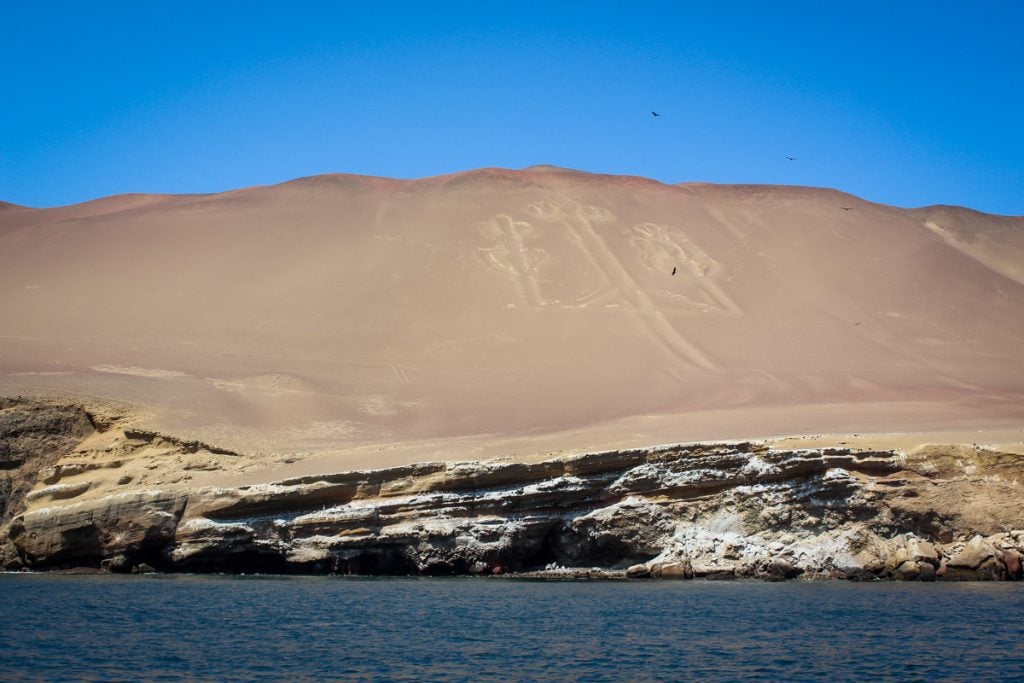 Quaint beach towns are plentiful along the coast of Peru, but what makes Paracas so unique is the immensity of wildlife and natural beauty concentrated in this small coastal area.
Whether you're taking a speedboat to the Ballestas Islands like we mentioned above, hanging out around town, or cycling the Paracas National Reserve, this is a neat place to base yourself for a few days of off-beat exploring.
15. Fly over the Nazca Lines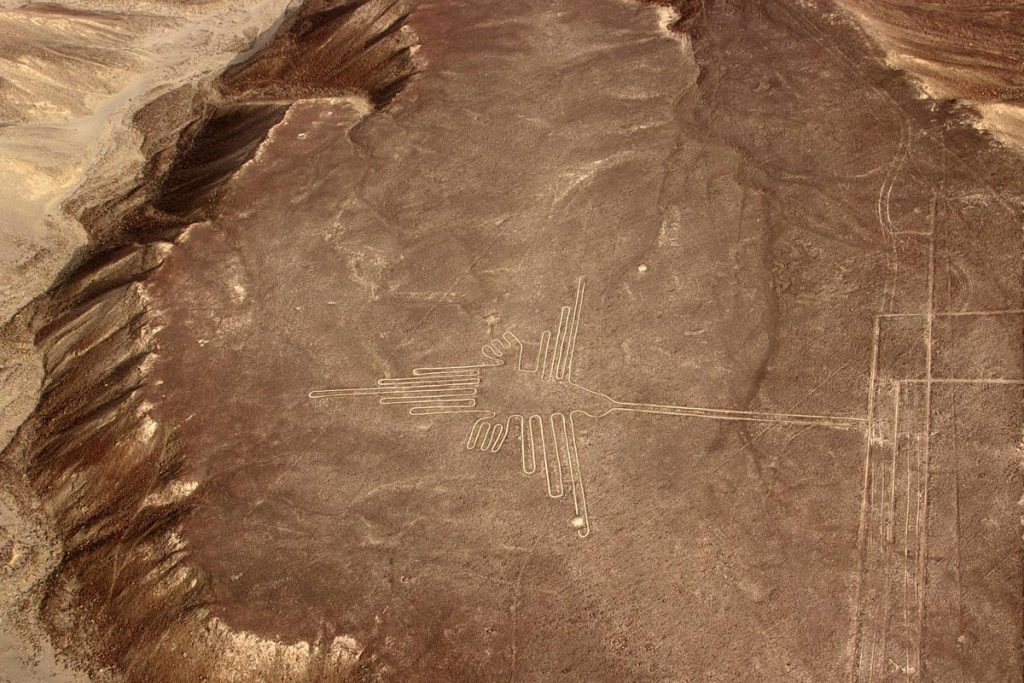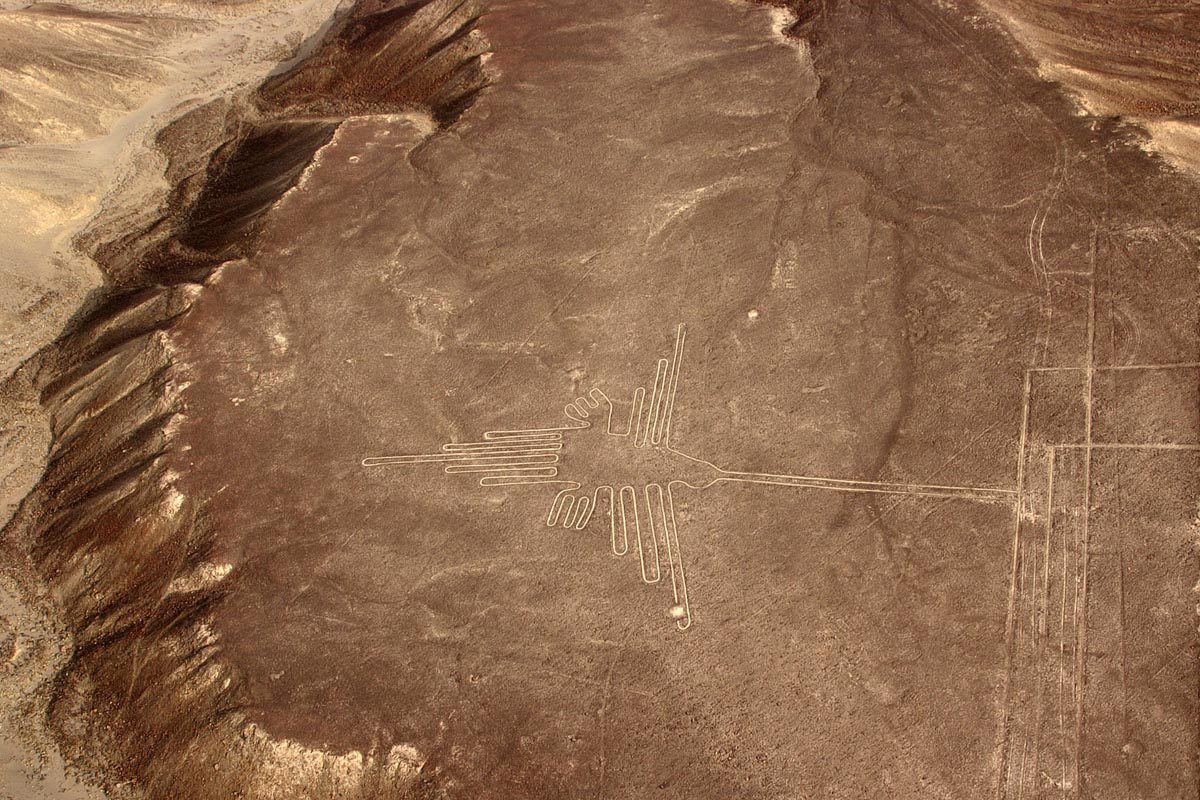 Originally discovered in 1553 and rediscovered by a Peruvian archaeologist in 1927, this mysterious group of geoglyphs in the Nazca Desert has become a popular destination for tourists.
Famed for their mystery, no one knows exactly how these giant glyphs of human and animal shapes were placed in the desert. However, due to the extremely arid conditions, the images have been preserved for over 2,000 years.
While you can view this incredible UNESCO World Heritage Site from viewpoints and scenic drives, there is no better way to experience the wonder of these designs than from a scenic flight to soar 5,000 feet above the geoglyphs.
You can easily book your Nazca flight online to see the figures from the sky, or combine your scenic flight with a tour to Huacachina.
This is a great stop while you're in the area because Ica and Huacachina are the two closest cities to the glyphs.
---
Where to stay in Huacachina Peru
Huacachina is full of a variety of places to stay whether you're backpacking or looking to splurge: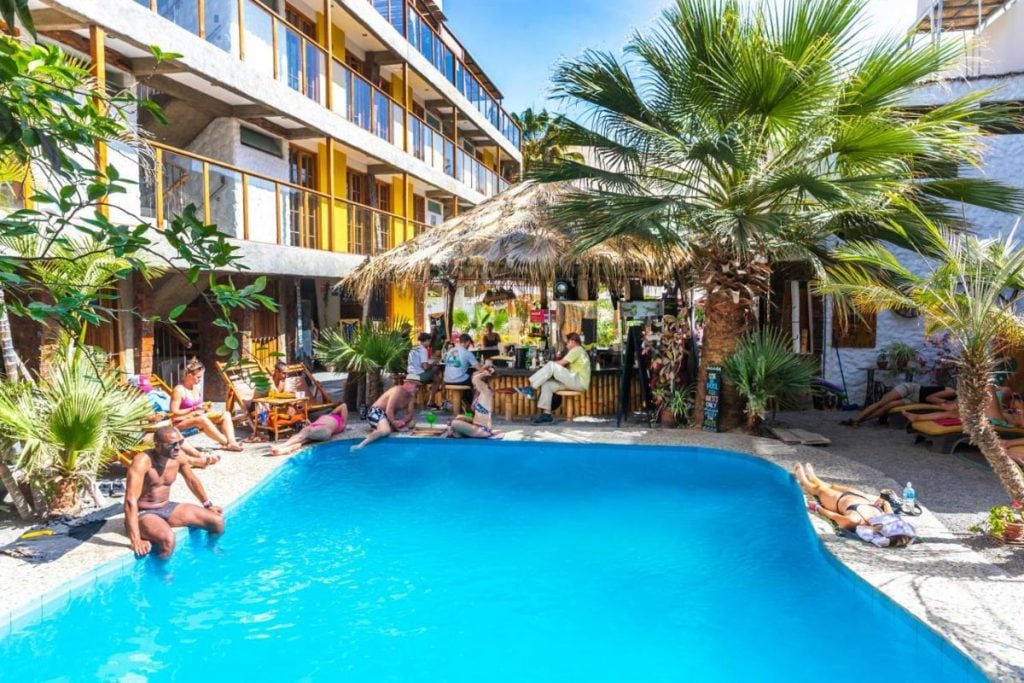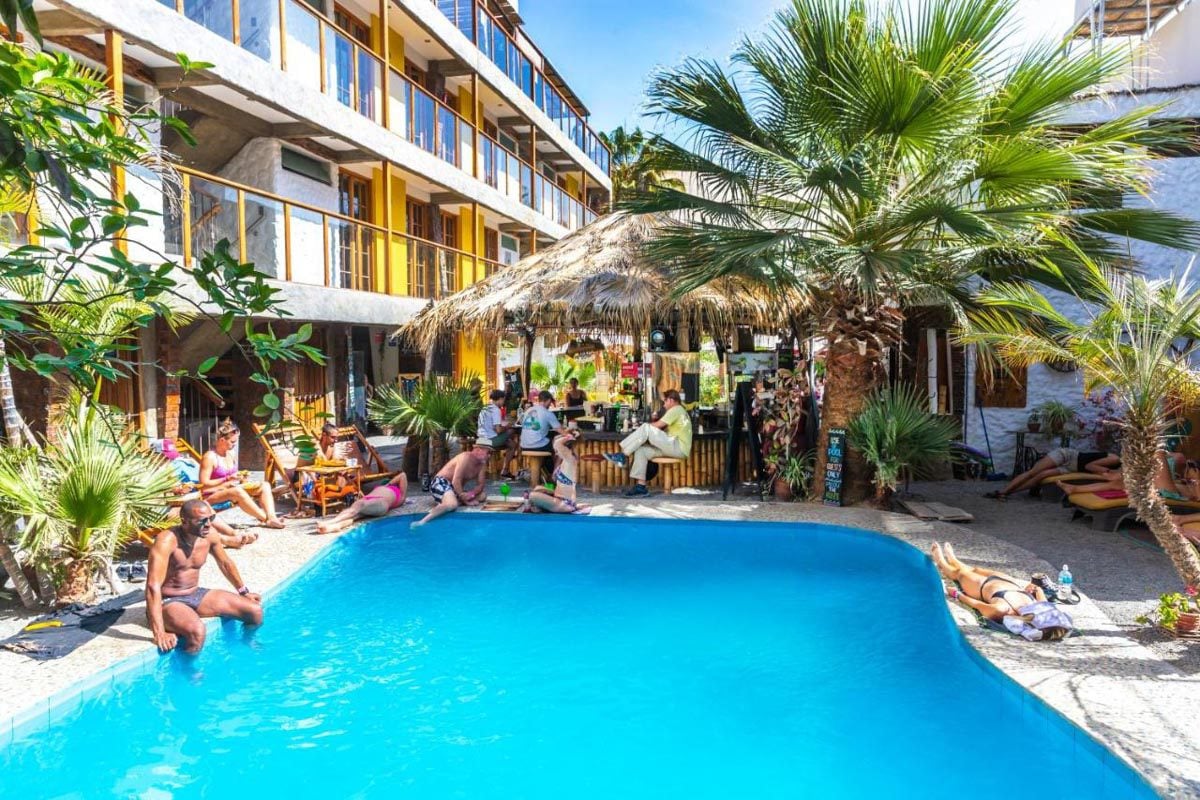 Backpackers stay: Bananas Adventure Hostel
This is a fabulous choice to make friends and enjoy a lively hostel atmosphere. They combine fun with a good night's sleep, so after your day's adventure you can socialize at the rooftop bars or relax with a nice frozen lemonade by the pool.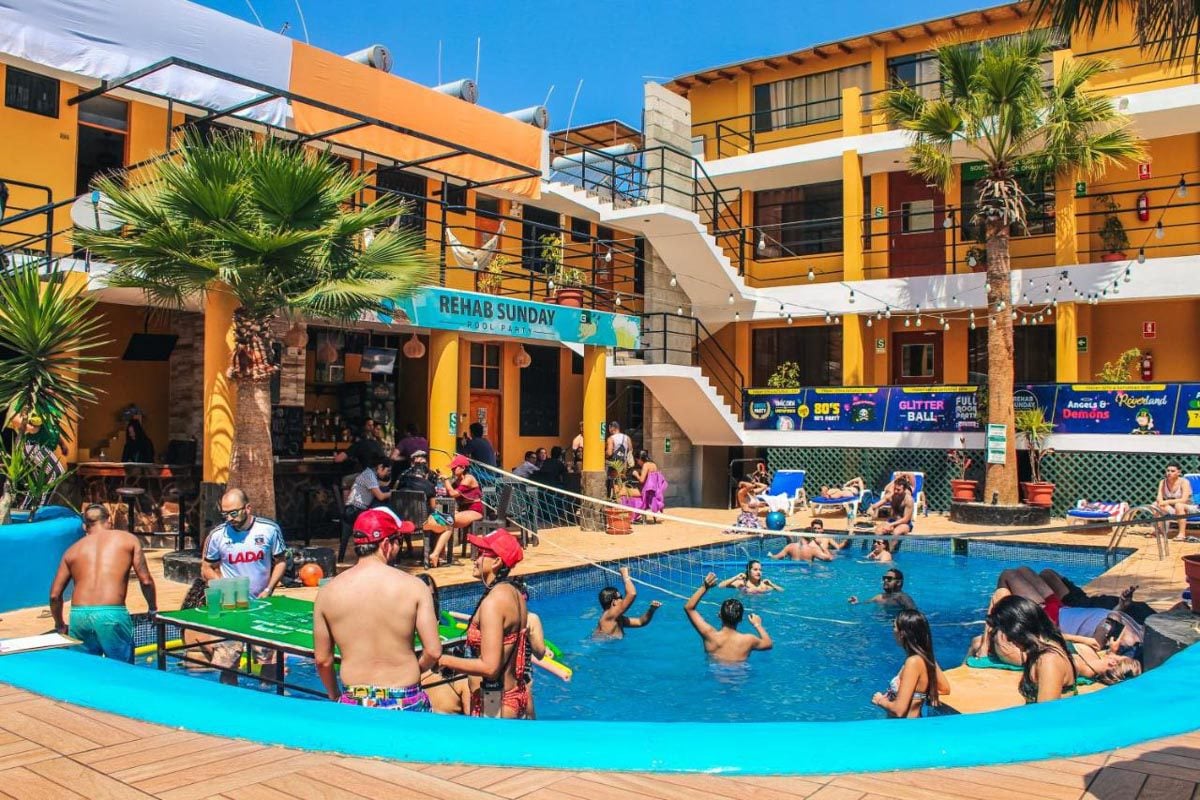 Party hostel: Wild Rover
This fun and social hostel has the largest (and best) pool in Huacachina, cocktail-making and salsa dancing classes, pool parties, and other exciting events to meet other travelers. The local clubs are only a short walk away, otherwise the hostel has incredible local DJ's every weekend.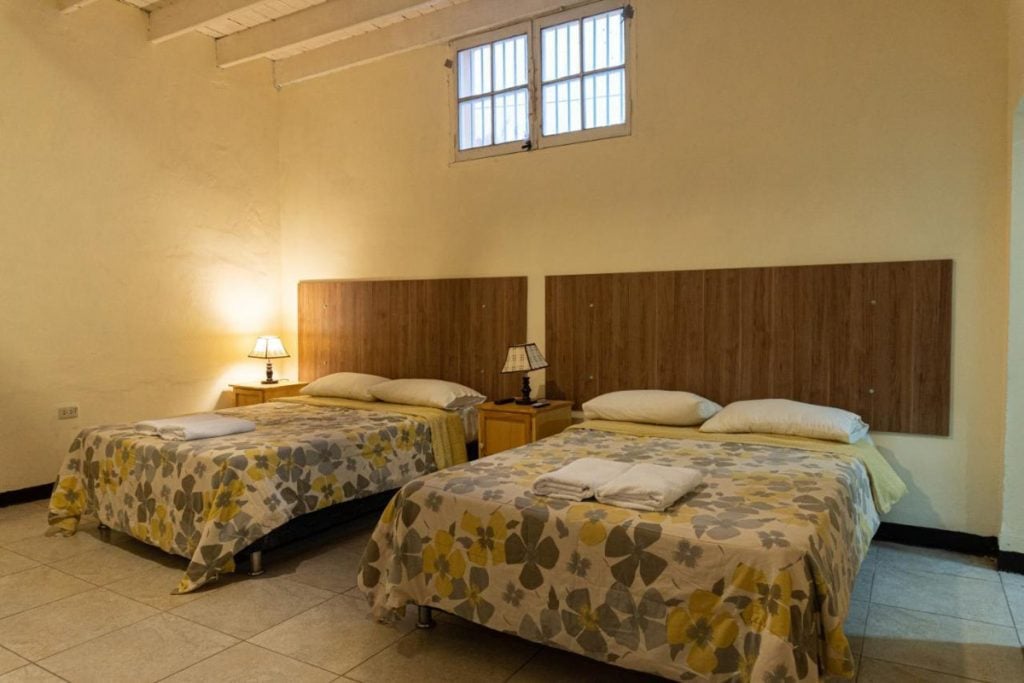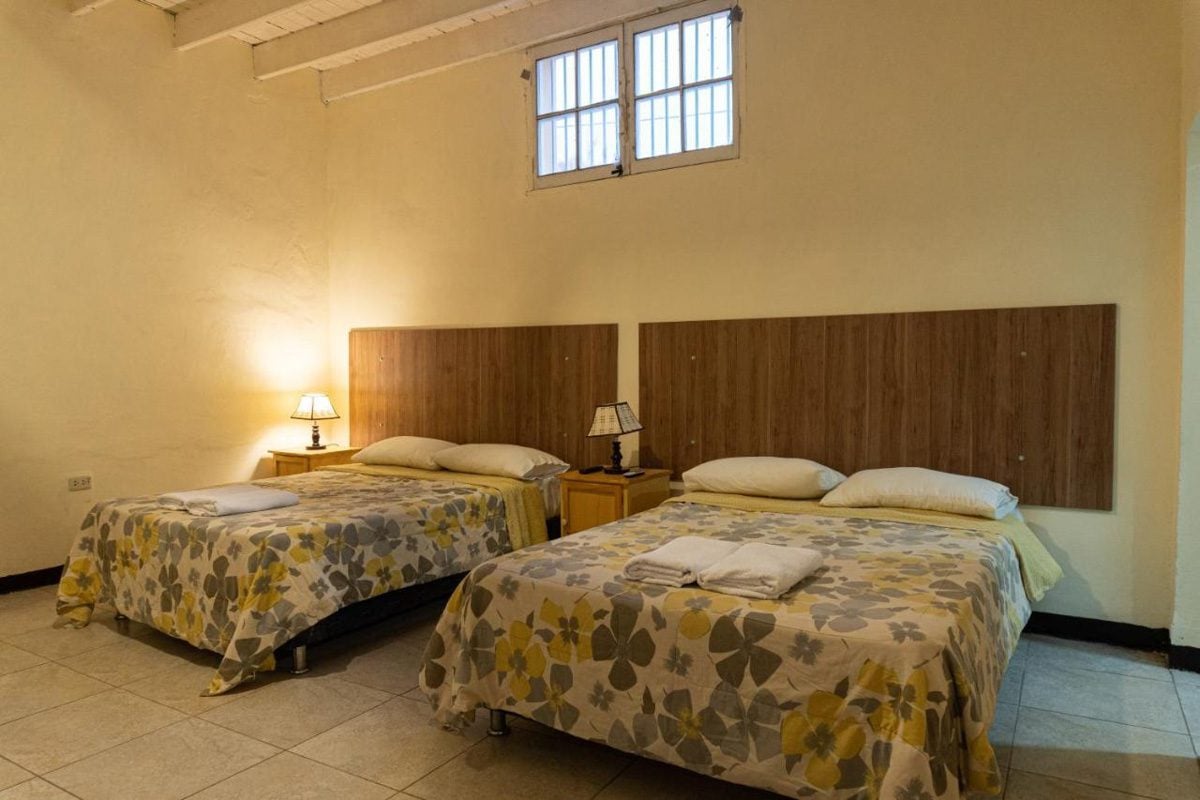 Guest House: Wild Olive Guest House
This guest house is walking distance from the shores of the oasis and is a nice budget option for those looking for a quieter environment. As a guest here, you'll receive 10% off at the onsite restaurant, and it's in a great location that doesn't get as much noise from the clubs.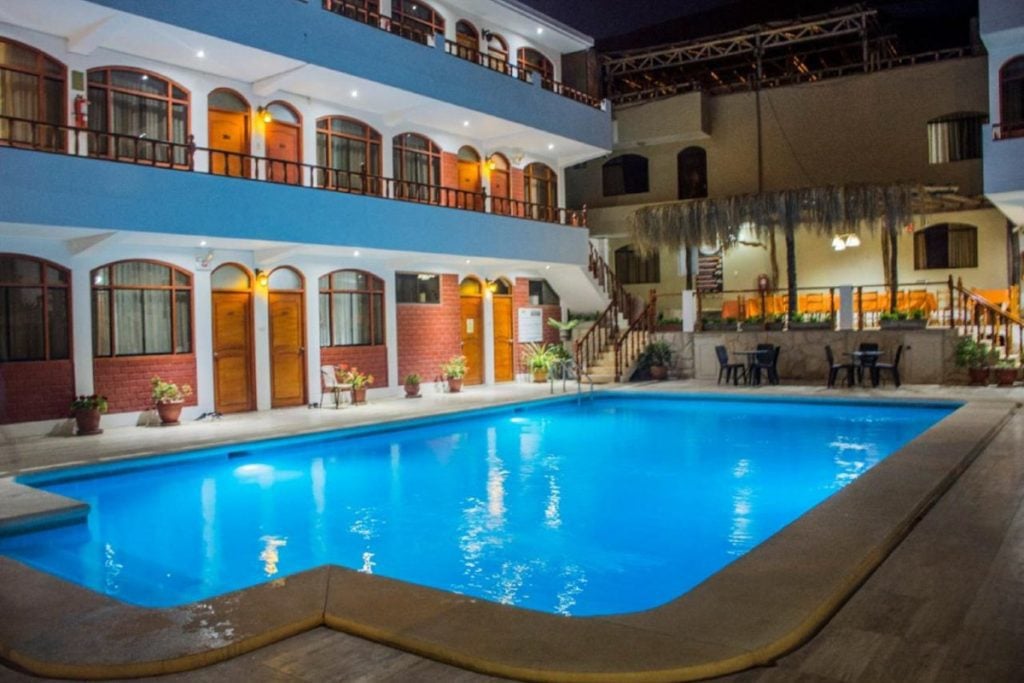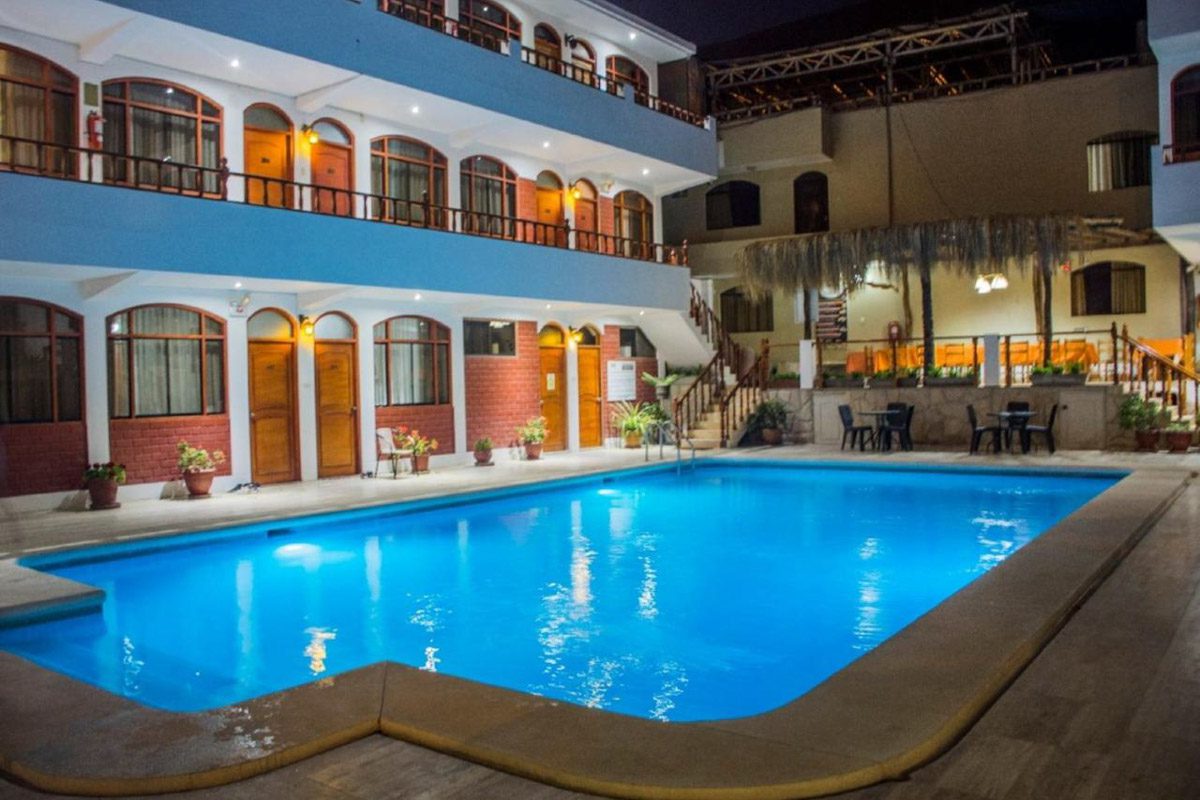 Upscale Hostel: Hotel Curasi
Hotel Curasi is a centrally located option in the heart of Huacachina. The restaurant on site and complimentary breakfast are two excellent dining options and the fast WiFi is a cherry on top of your stay here. Bring your drinks to wind down at the outdoor pool and enjoy the picturesque views of the nearby dunes.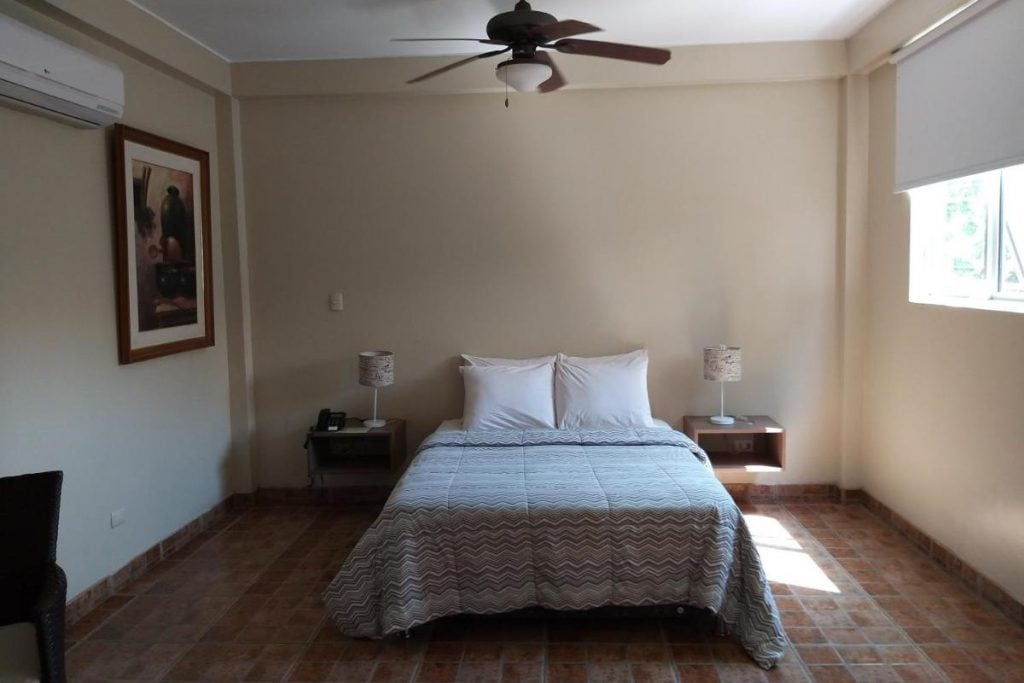 Hotel recommendation: Hotel Huacachinero
This is billed as the nicest hotel and one of the top places to stay in Huacachina, Peru. The outdoor pool, free WiFi, and complimentary breakfasts are some of the included amenities. However, in my experience, the rooms were pretty bare and there was no hot water. The noise from the club down the street was also prominent all night, but a good set of ear plugs would take care of that.
What to pack for Huacachina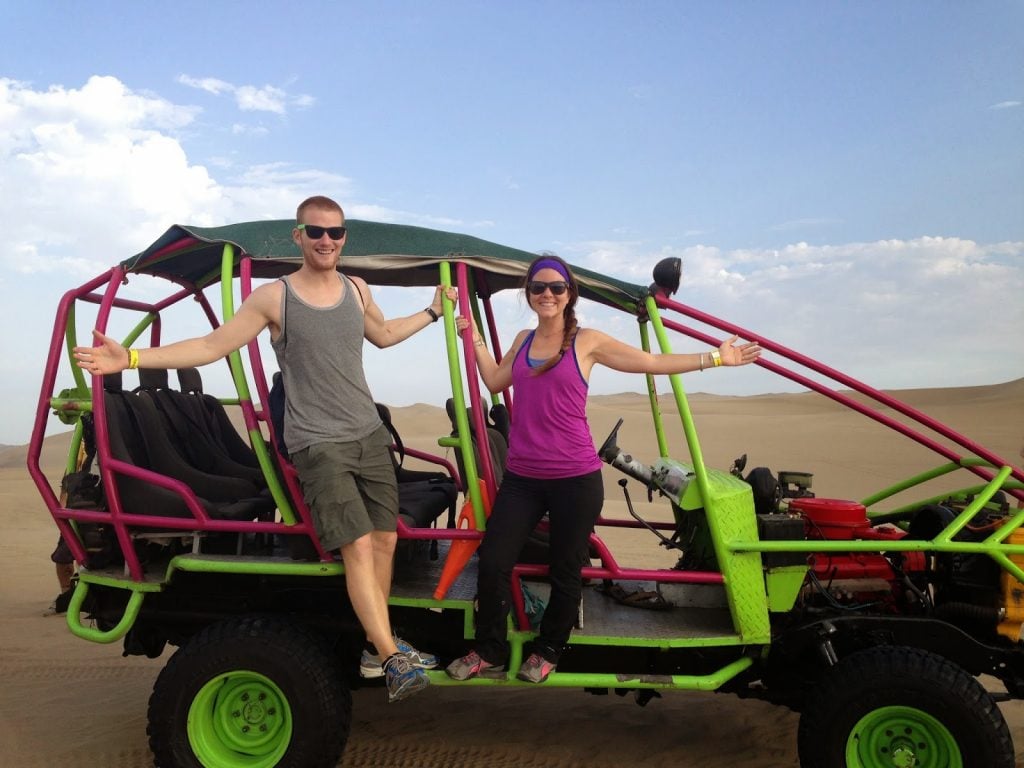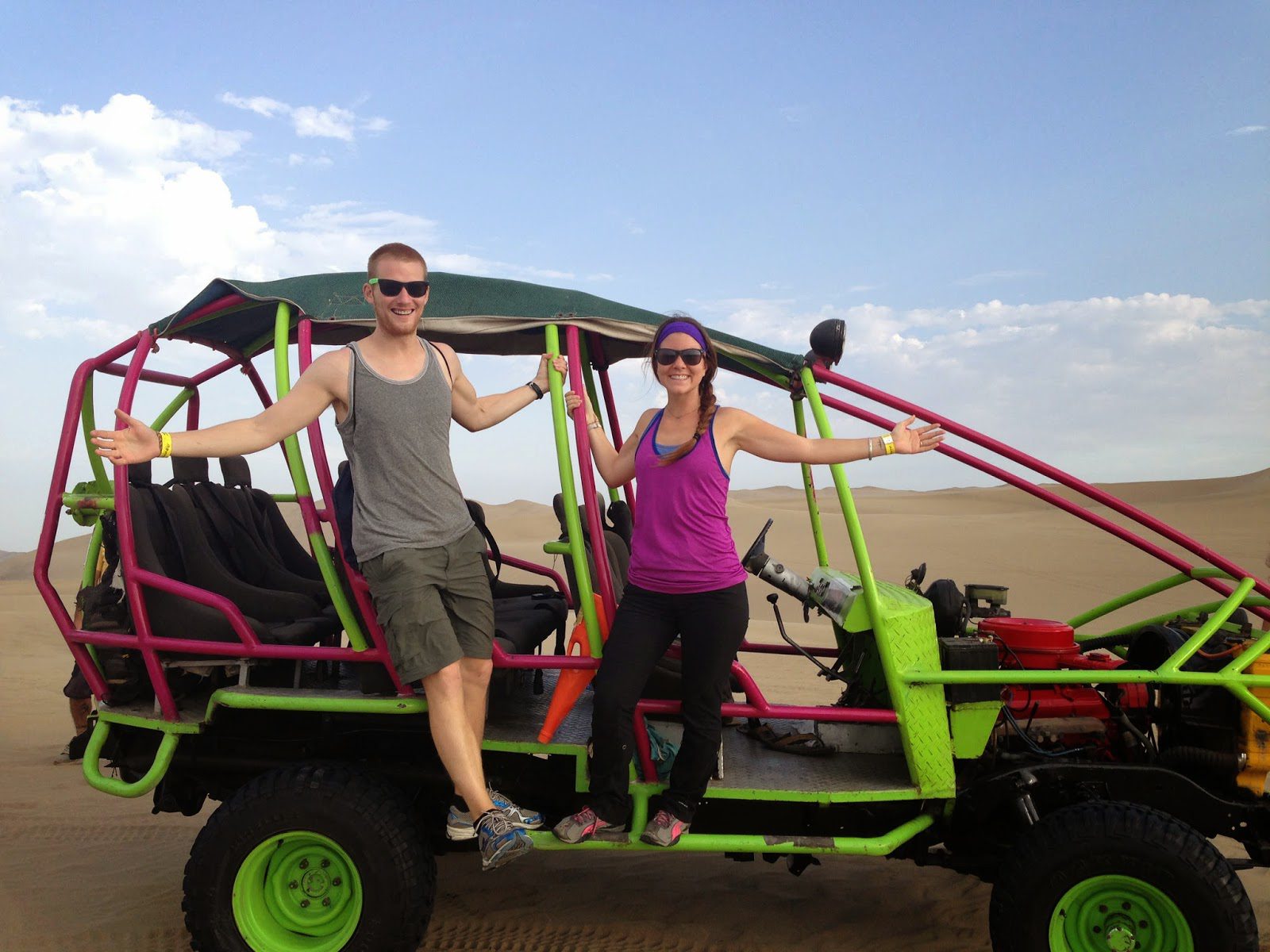 Sun protection: hat, sunglasses and sunscreen!
Face covering (a Buff works well, but we found our Covid masks to be adequate)
Swim suit
Sandals
Sneakers (for walking in sand)
Layers to remove and put on as the temperature fluctuates throughout the day (you'll want warmer layers at night)
Windbreaker or light jacket
Reusable water bottle (we love our Hydroflasks)
Cash (there's only one ATM in the entire oasis and it's not always reliably stocked)
---
Are you planning a trip to Peru?
We have lots of resources on travel in Peru and destinations throughout the country. Check out our Complete Peru Travel Guide for all the answers to your most burning questions, or read some of our favorite articles below.
Save this article on Pinterest for later!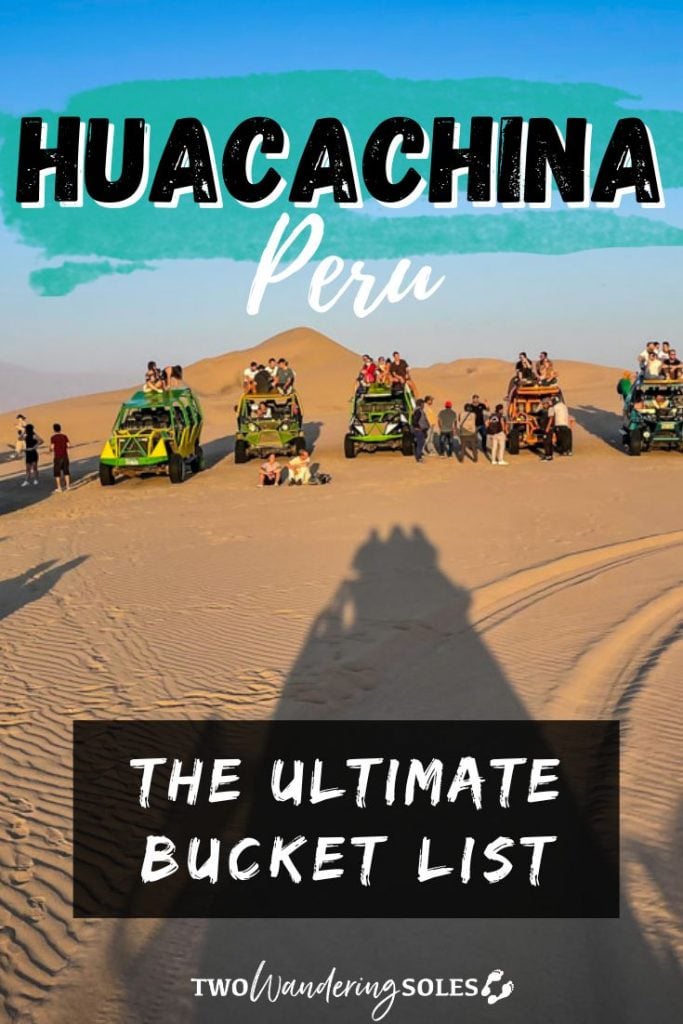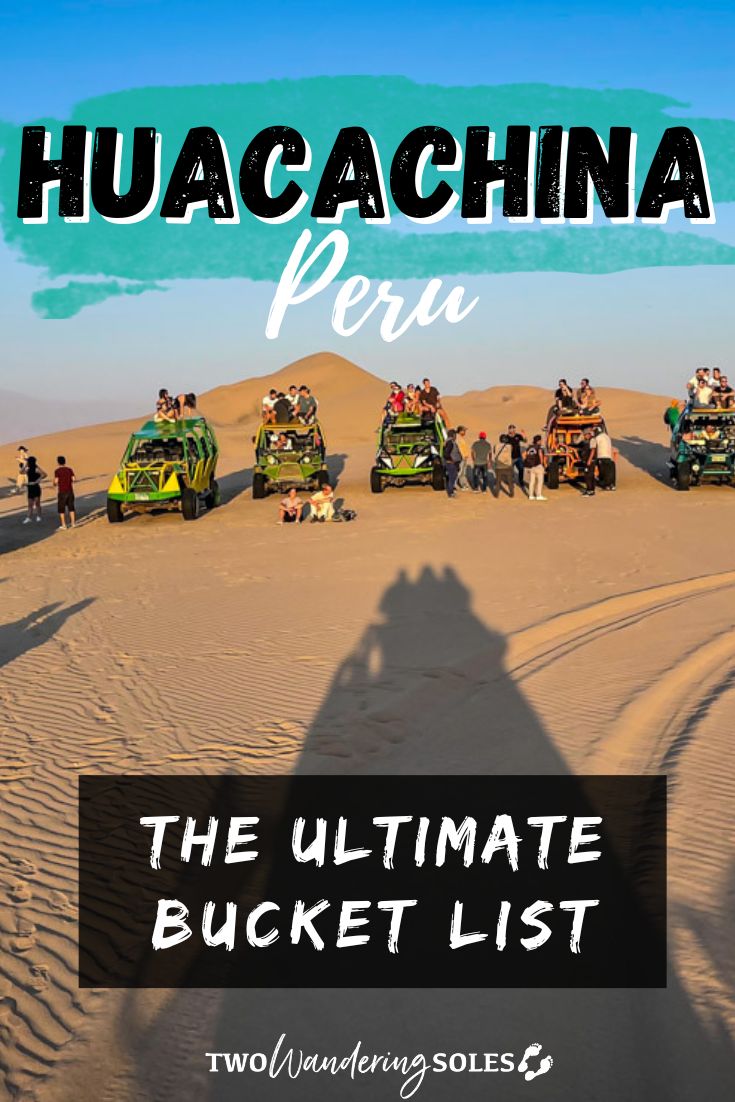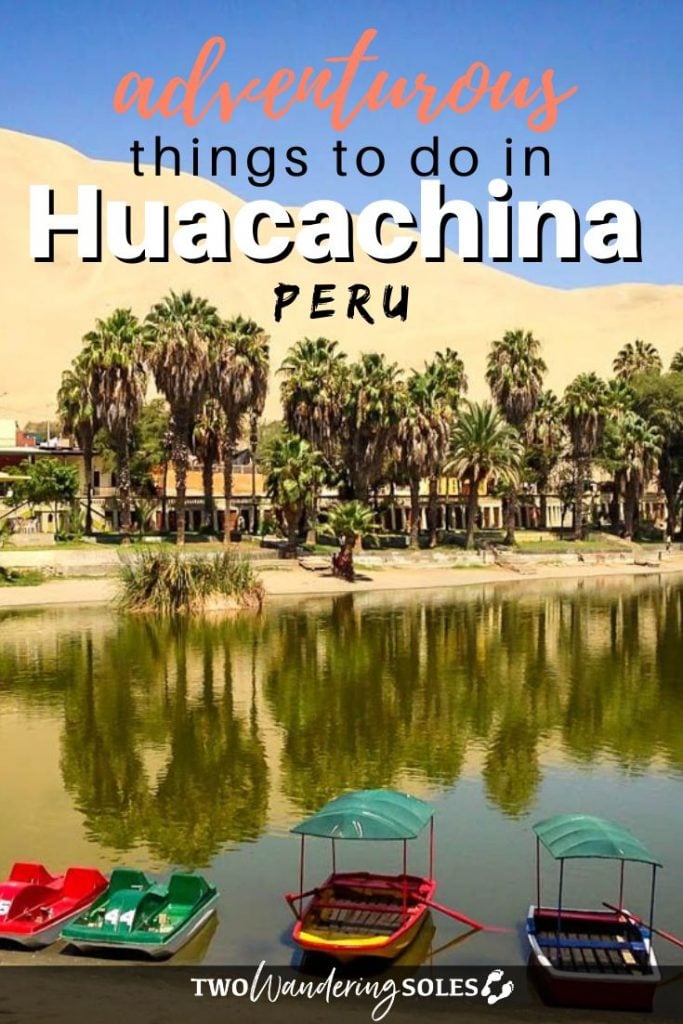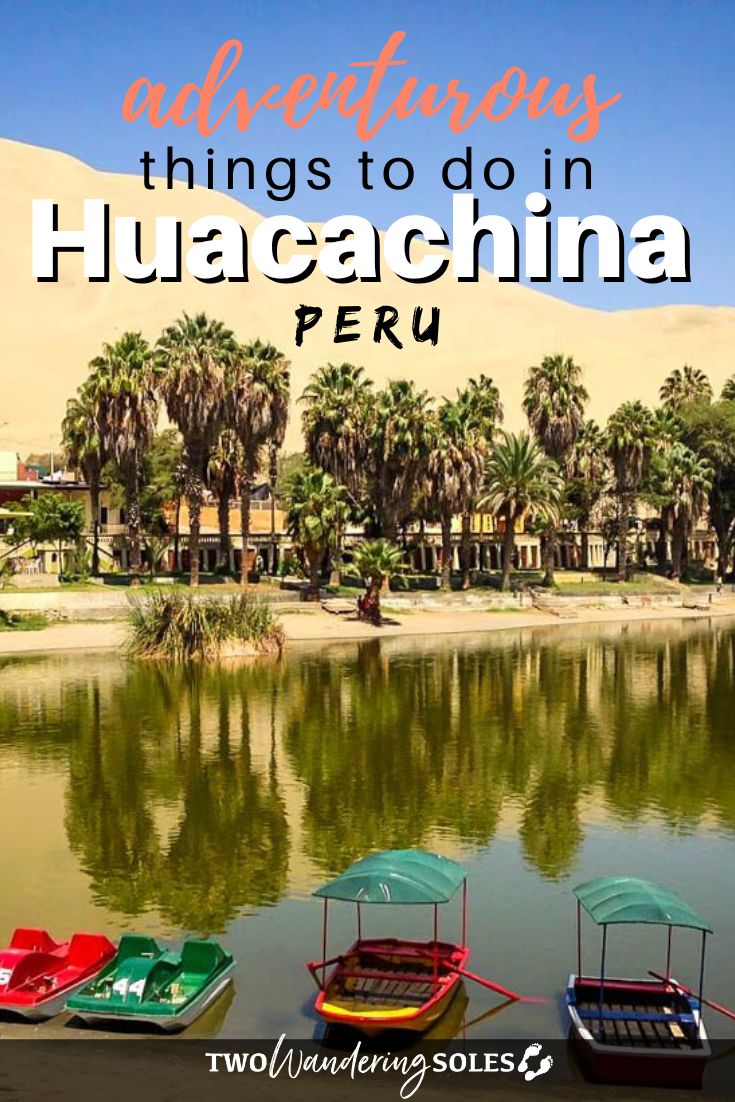 We want to hear from you!
Are you planning a trip to Huacachina, Peru and still have questions? Leave your questions in the comment section below and we'll do our best to find you the answers you are looking for!