In this guide we're breaking down how to get to Machu Picchu in detail from the most convenient to the most adventurous ways. This guide includes where to buy tickets, the time slot system, what to pack and what prohibited items you should leave at home.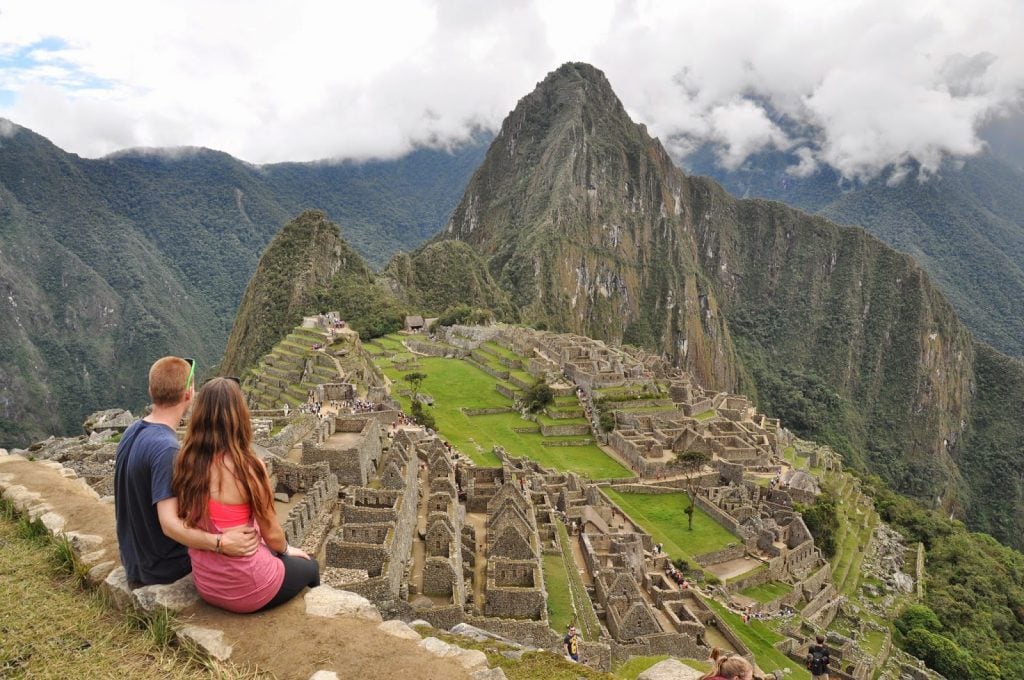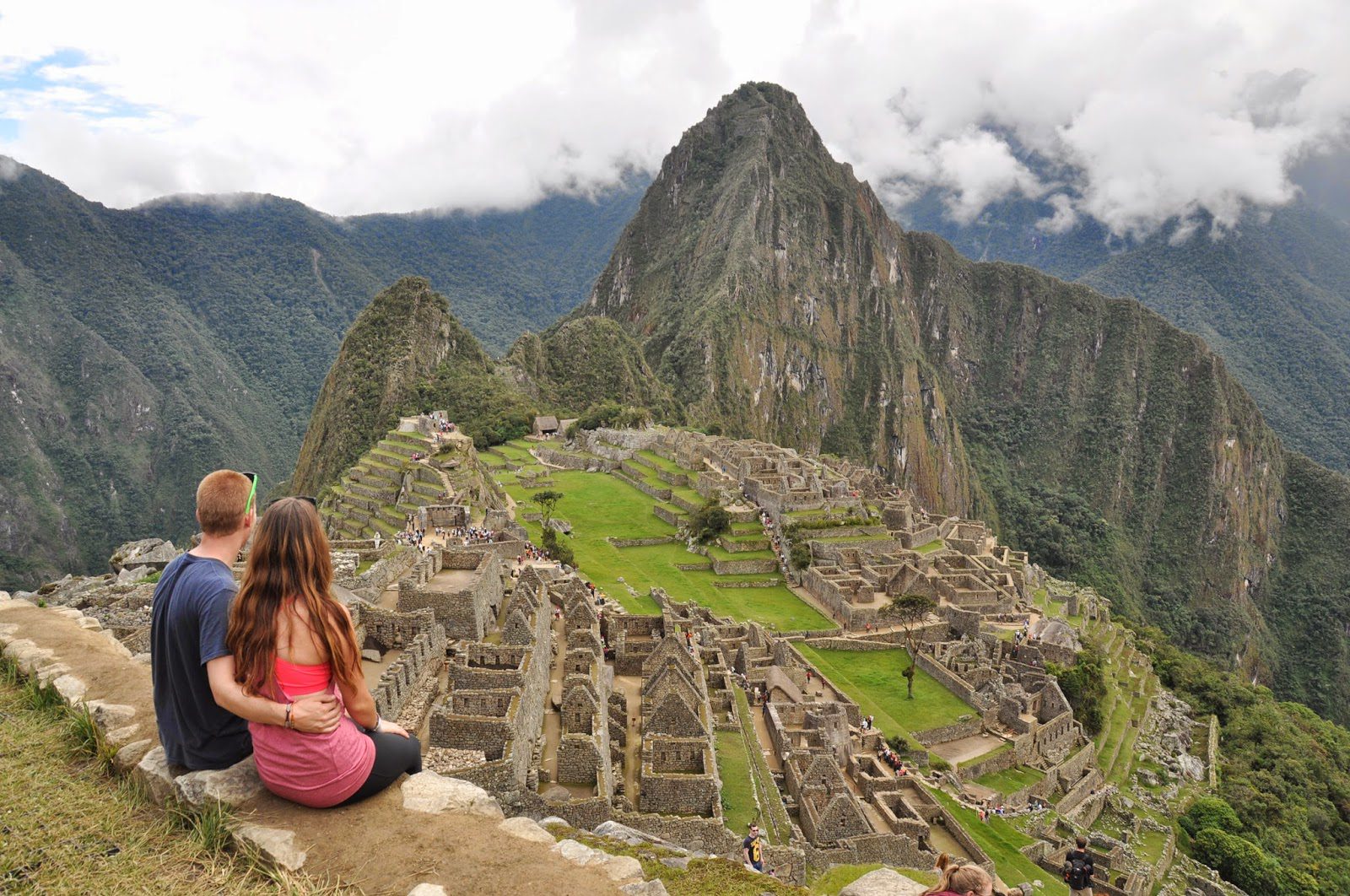 Towering above the Sacred Valley, Machu Picchu has long held the title of the most renowned and famous destination not just in Peru, but in all of South America. Because this citadel is tucked away in the mountains northwest of Cusco, it's believed to have been a sacred religious site for Inca leaders.
Today, the 15th century citadel is one of the New Seven Wonders of the World and has consistently topped lists of the best things to do in Peru. Travelers from all over the world come to marvel at the ancient wonder, either by following the original footsteps of the Incas along the famed Inca Trail, or entering the site from the nearby city of Aguas Callientes.
We are no exception. In fact, I've been twice.
Back in 2012, I traveled to South America with some friends and, like most backpackers, Machu Picchu was on our itinerary. We did a one-day hike and arrived at the ruins early in the morning as the fog was beginning to disappear.
I loved it so much I returned with Ben in 2014 and we completed the 4-day Inca Trail to Machu Picchu hike. It was one of the most incredible experiences of our travels to this day!
No matter how you choose to visit this sacred site, I can promise you, you'll be blown away by its wonder and majesty.
If you're wondering how to get to Machu Picchu, we're here to dish out all the details on how you can visit the Lost City of the Incas, as well as what you need to pack, where to get tickets, and other helpful tips for your visit.
Article contents
---
A brief history of Machu Picchu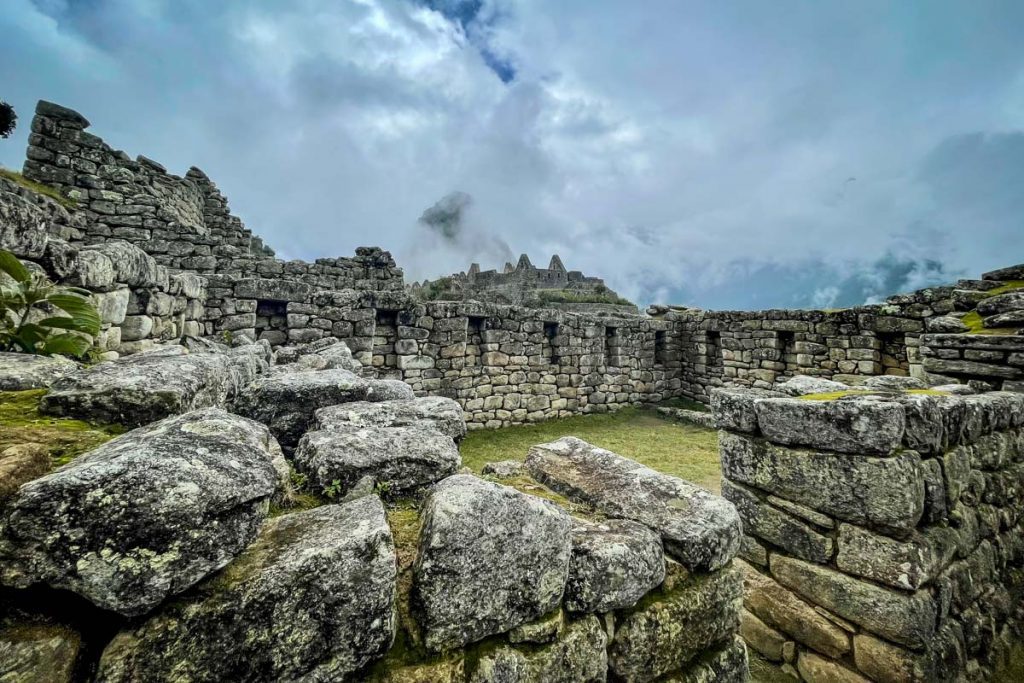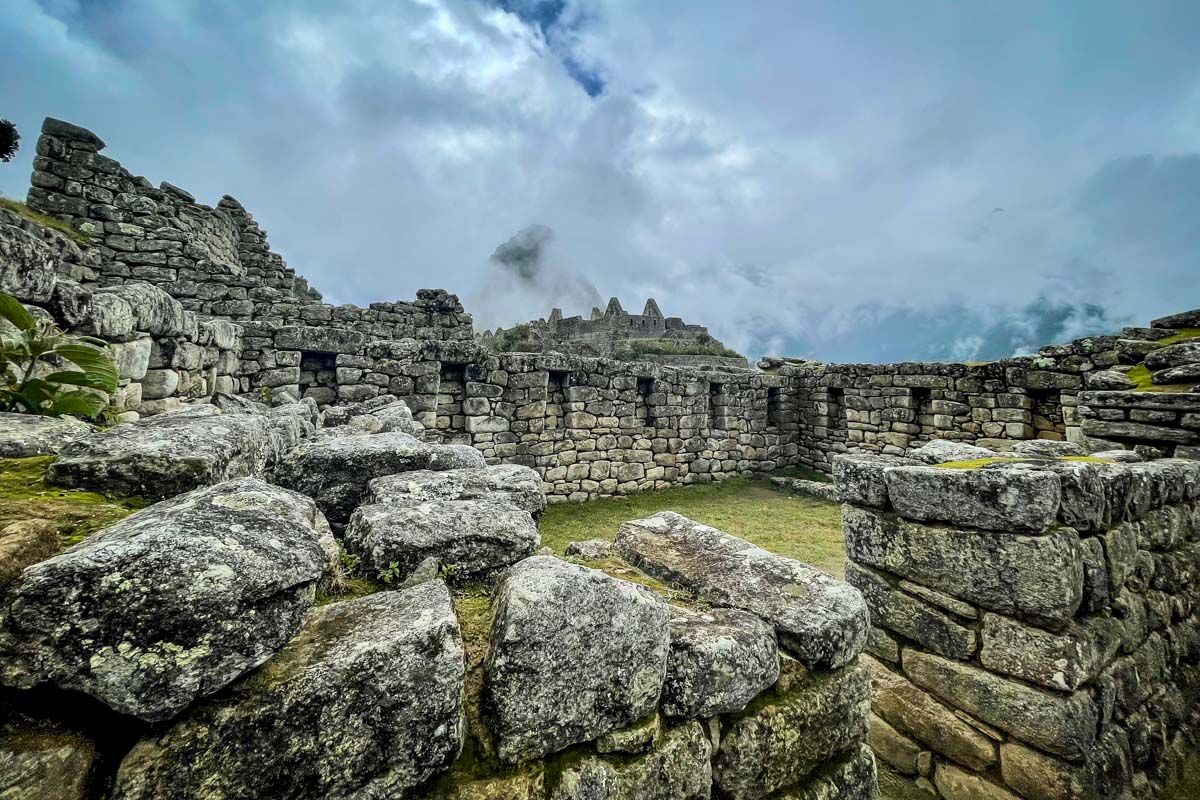 While the rest of the Incan civilization was wiped out by Spanish invaders during the 16th century, Machu Picchu remained undiscovered and only known by peasants living in the region, even one-hundred years after the citadel was abandoned.
In 1911, Machu Picchu was finally uncovered by American archaeologist Hiram Bingham while searching for Vilcabamba, the last Incan stronghold to fall to the Spanish. During his search through the Urubamba Valley, a local farmer notified him of ruins that were at the top of a nearby mountain called Machu Picchu.
The name Machu Picchu translates to "little peak" in the native Quechua language.
After trekking to the top of a nearby ridge, guided by a group of local farmers, Hiram Bingham first laid eyes on the intricate network of stone terraces and thousands of connecting steps and introduced the astounding archaeological site of Machu Picchu to the modern world.
Best time to visit Machu Picchu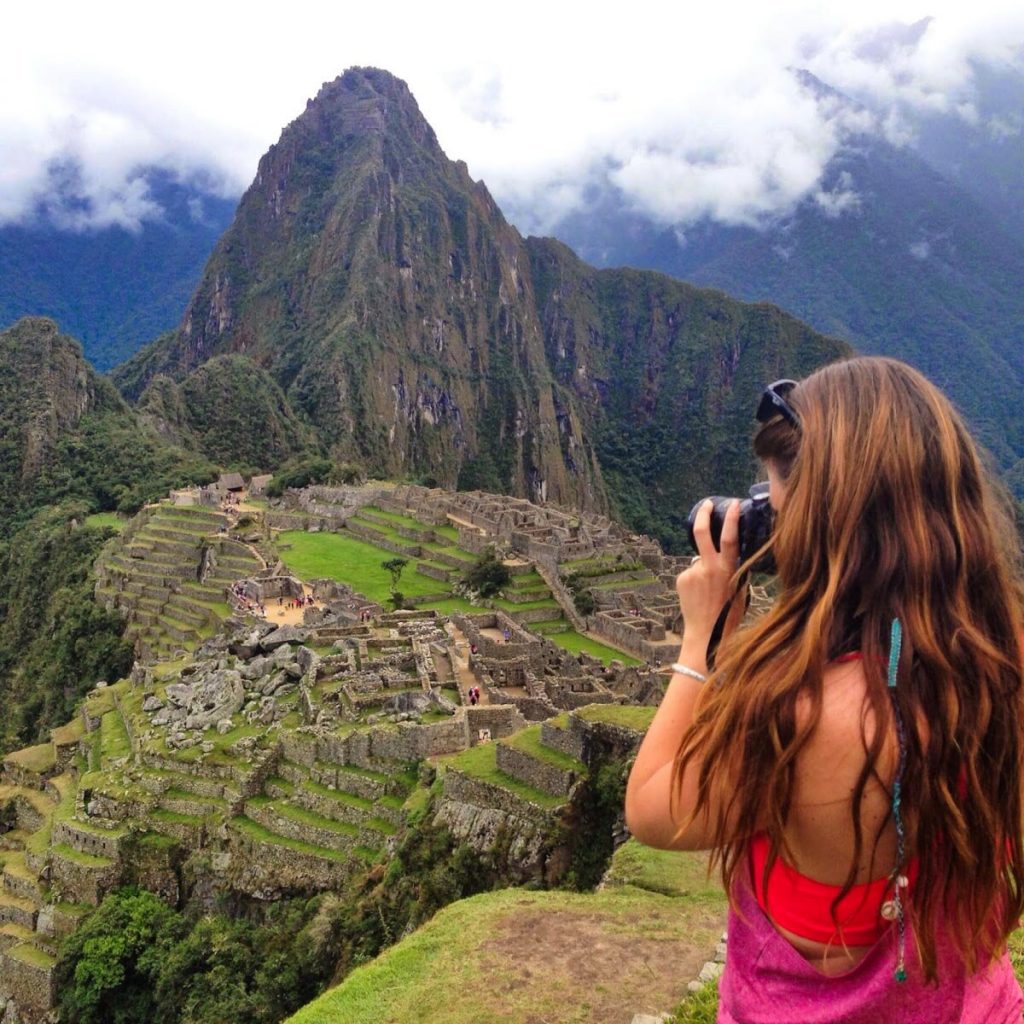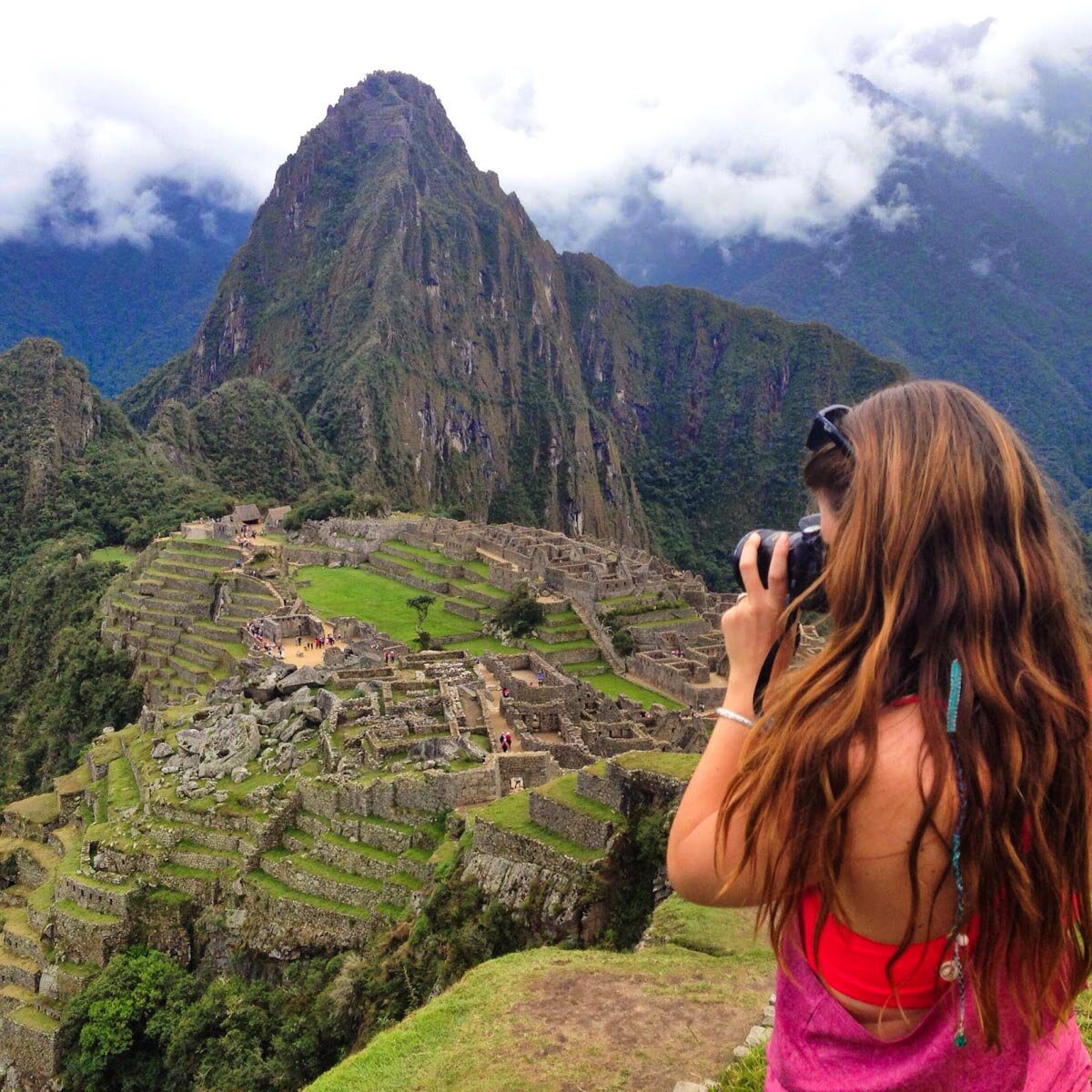 Due to Machu Picchu's location, close to the equator but sitting at 2,430 meters (roughly 8000 feet), the weather here is ideal almost year-round since it is rarely ever freezing or scorching hot.
You can expect the daytime temperatures to sit around 10-27°C (50-80°F) even in the winter months. The biggest thing to consider when planning a visit are the two distinct wet and dry seasons.
The dry season runs from May to October, and this is considered one of the best times to visit Machu Picchu. Cool nights and dry days make hiking during the dry season favorable, so this is a popular time to plan to hike the Inca Trail.
June through August are considered the busiest months to visit Machu Picchu, so avoid these months if you hope to have less crowds.
The wet season starts in November and ends in April, with the highest amount of rainfall from December to February. If you're planning a visit this time of year, be ready for spontaneous weather changes and long periods of rainfall. As long as you come prepared and bring an adventurous spirit, you can enjoy fewer crowds and more solitude at Machu Picchu.
From our own experience, we think it's best to shoot for September when planning your trip to Machu Picchu. This is almost the shoulder season so days are still dry and crowds are fewer.
If you're planning on hiking to Machu Picchu via the Inca Trail, it's important to note that the trail closes each year for the month of February so they can make repairs. Aim to attempt your trek during the shoulder season months of April, May, September, and October.
Psst! For an in-depth guide on the regional seasons, weather patterns and other factors, check out our complete guide on the best time to visit Peru.
Getting to Cusco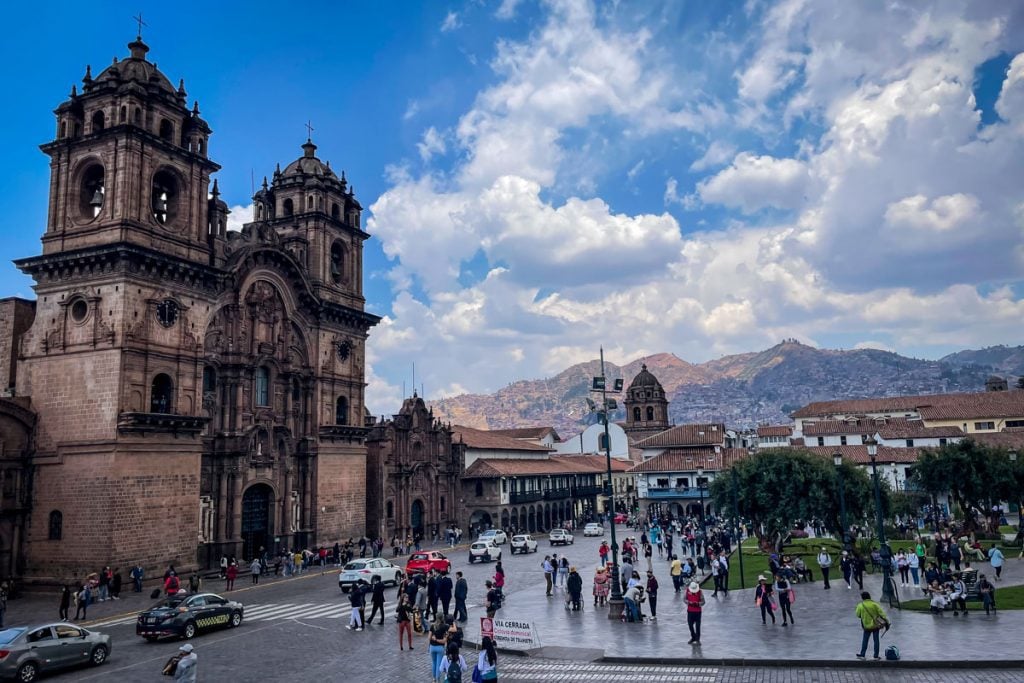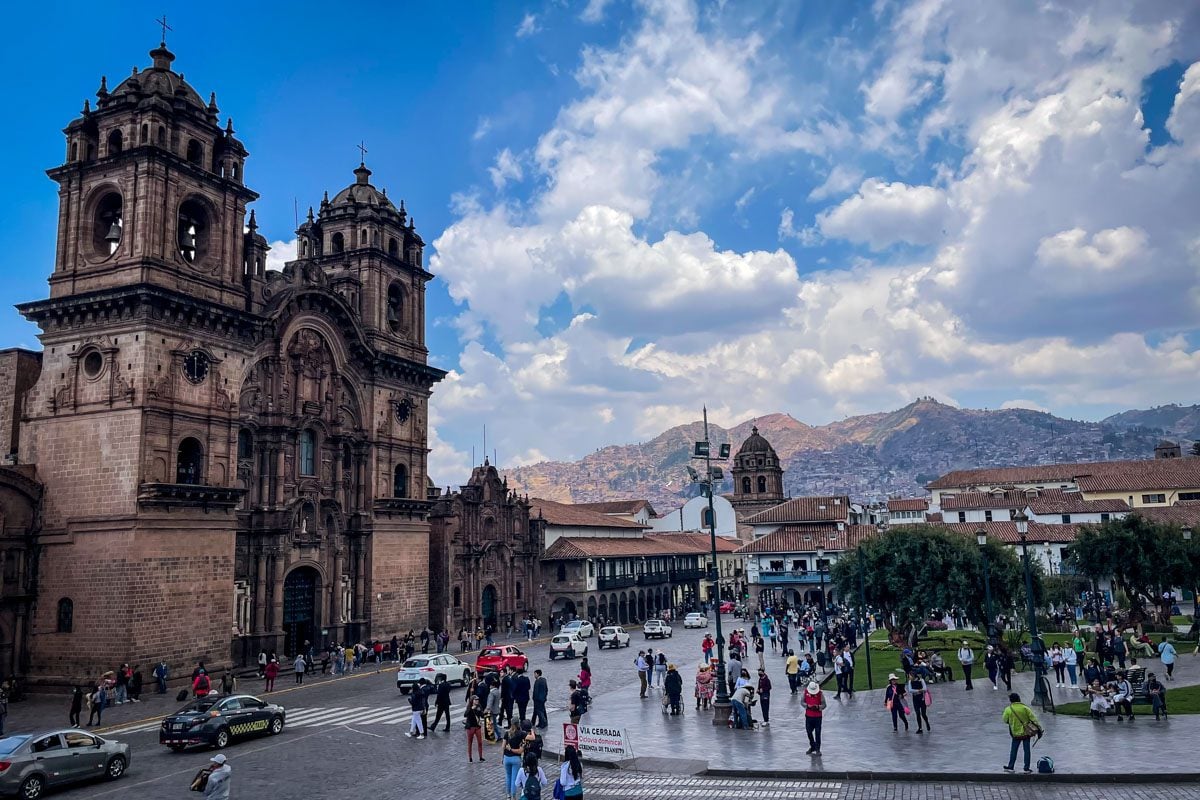 Cusco is the closest major city to Machu Picchu and has the nearest airport, the Alejandro Velasco Astete International Airport (CUZ). If you're flying to Peru internationally or from the U.S., you'll likely have a layover in Lima since the Cusco airport has minimal non-stop routes.
If you started your itinerary in Lima, there are a variety of easy and adventurous ways to travel from Lima to Cusco.
How to get into Cusco from the airport?
The taxis at the Cusco airport may overcharge you so your best bet is to see if your hotel or hostel has a free shuttle service. If not, you can call an Uber. An Uber should run you about 15 soles (less than $5 USD) to get into town from the airport.
Acclimating to the altitude in Cusco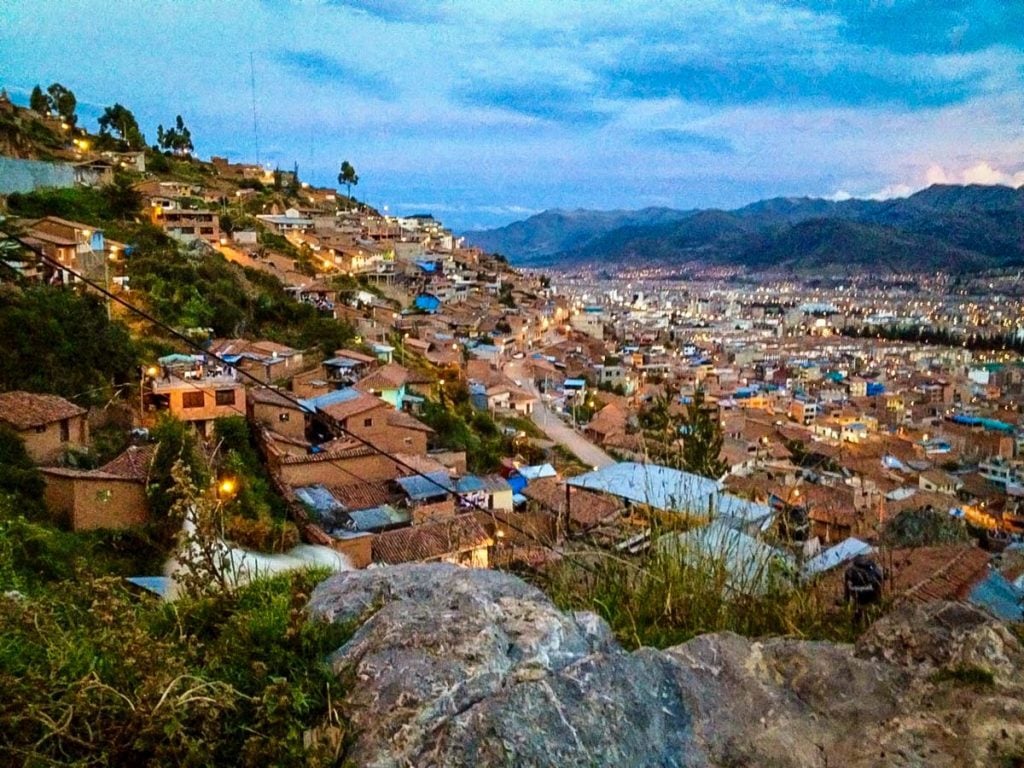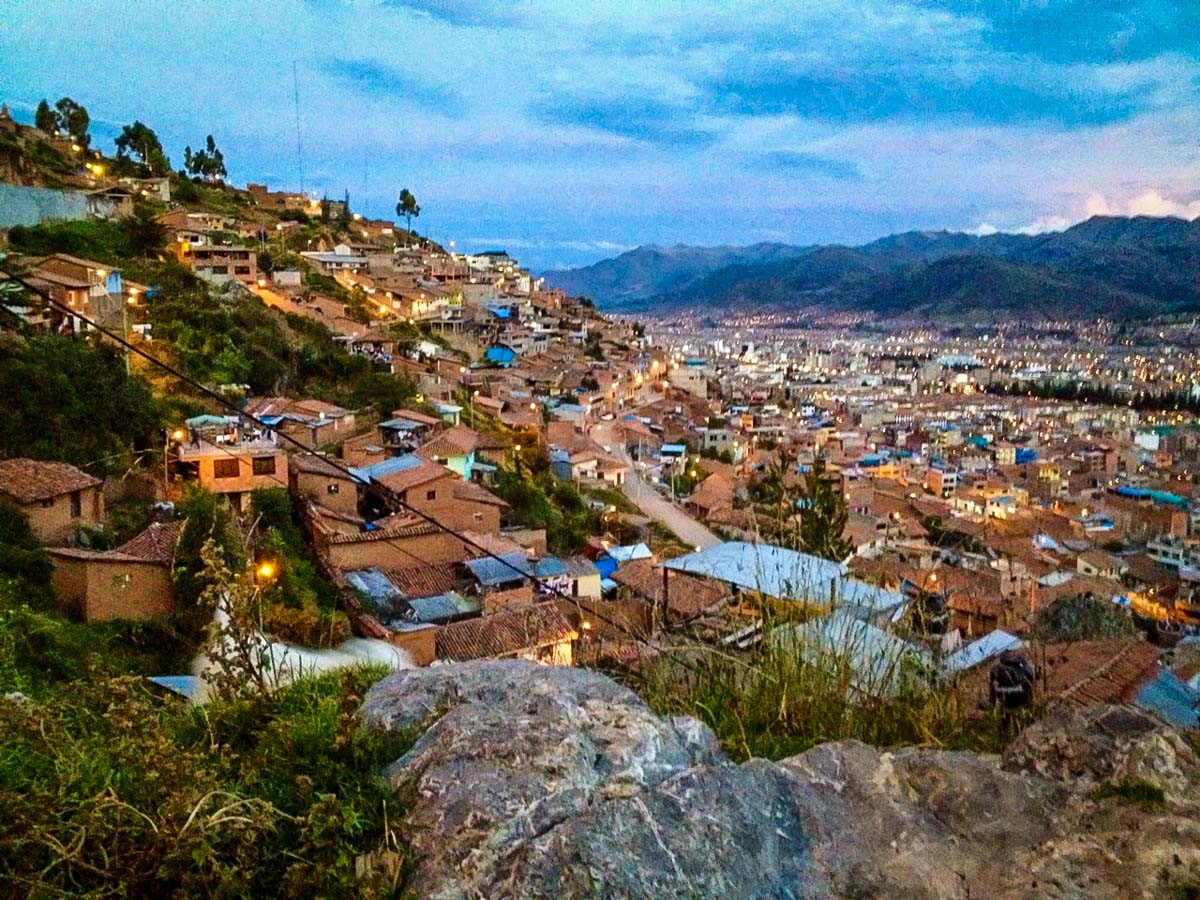 Cusco is the 9th highest major city in the world, sitting at an impressive 3,399 m (11,152 ft). Because the city is so high above sea level, you'll likely experience some acclimation and possibly altitude sickness.
Altitude sickness presents in a variety of symptoms such as lethargy, dizziness, headaches, lack of appetite, and nausea, that occur when you experience a rapid change in altitude. Anyone can be affected by altitude sickness, regardless of age or fitness level.
To avoid the effects of altitude sickness, it's recommended to stay and explore Cusco for a few days to get acclimated to the higher elevation. This is especially important if you're doing any trekking in the area.
While you're there getting acclimated, this is the perfect time to indulge in chocolate, shop the markets, and spend your time discovering all the best things to do in Cusco.
Entrance tickets for Machu Picchu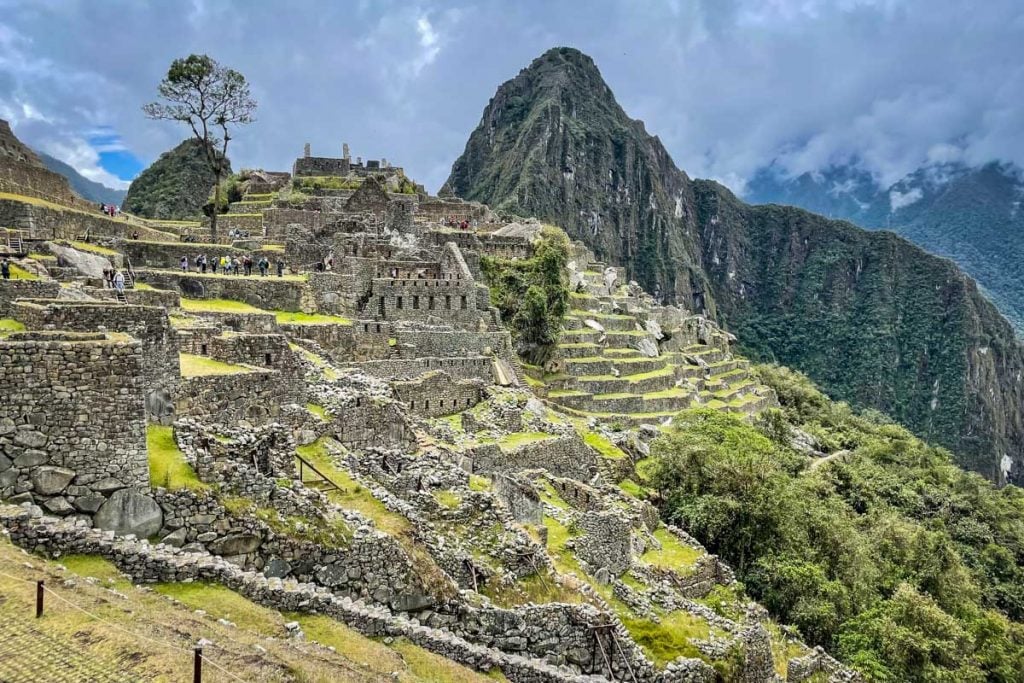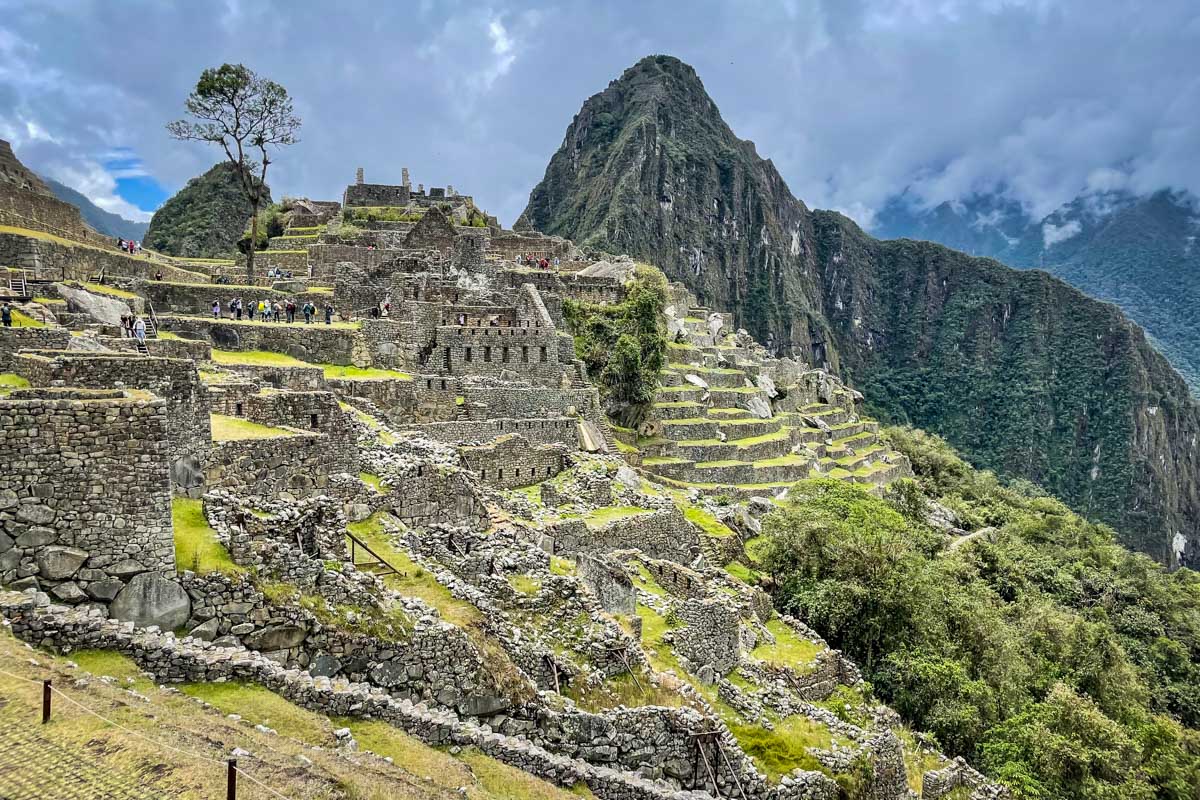 Tickets to get into Machu Picchu MUST be purchased in advance as daily visitors are limited to specific time slots and there is no way to purchase tickets at the entrance. As the popularity of Machu Picchu has increased dramatically, last-minute tickets are increasingly difficult to come by.
The best way to purchase your ticket for Machu Picchu is online, on the official Machu Picchu ticket website. Machu Picchu is open daily from 6:00 a.m. to 5:30 p.m. and you must purchase entry tickets for specified 4 hour time slots with entrance between 6:00 a.m. and 2:00 p.m.
Machu Picchu ticket options
Years ago, you could simply purchase a ticket and roam around the grounds freely, but nowadays, established circuits have been implemented.
There are four different ticketing options for Machu Picchu. Note there was a 5th route in the past that takes you to the Inca Bridge but it is currently closed in 2022. It may reopen in 2023, but there has been no official statement about this.
All ticket types grant you access to the Machu Picchu citadel. However, you can opt to explore other mountains and sites in the surrounding area in addition to the citadel depending on which ticket you choose.
Note the tickets on the official site have specific names, so we've explained everything below to make buying your ticket easier.
There are 3 pricing tiers for each ticket: adult, student (must be an undergraduate university student with an official university ID card, under the age of 25) and minor (children 3-17 years old). Though it does not list this on the website, it is assumed infants and toddlers under the age of 3 are admitted without a ticket. There is also a maximum of 5 visitors per reservation when you book on the official site.
Machu Picchu circuits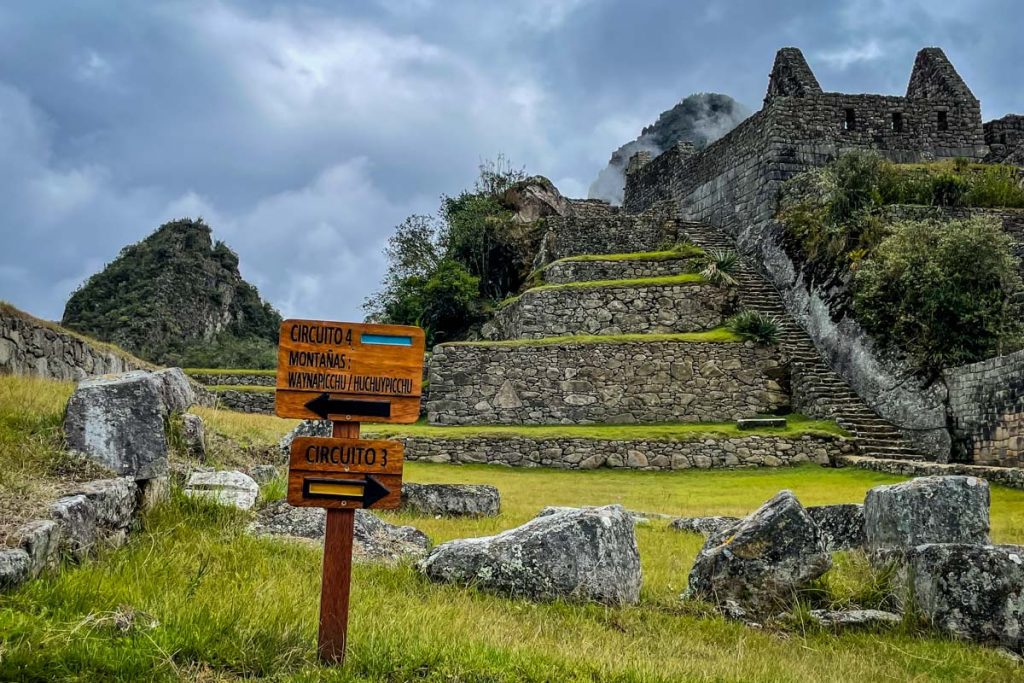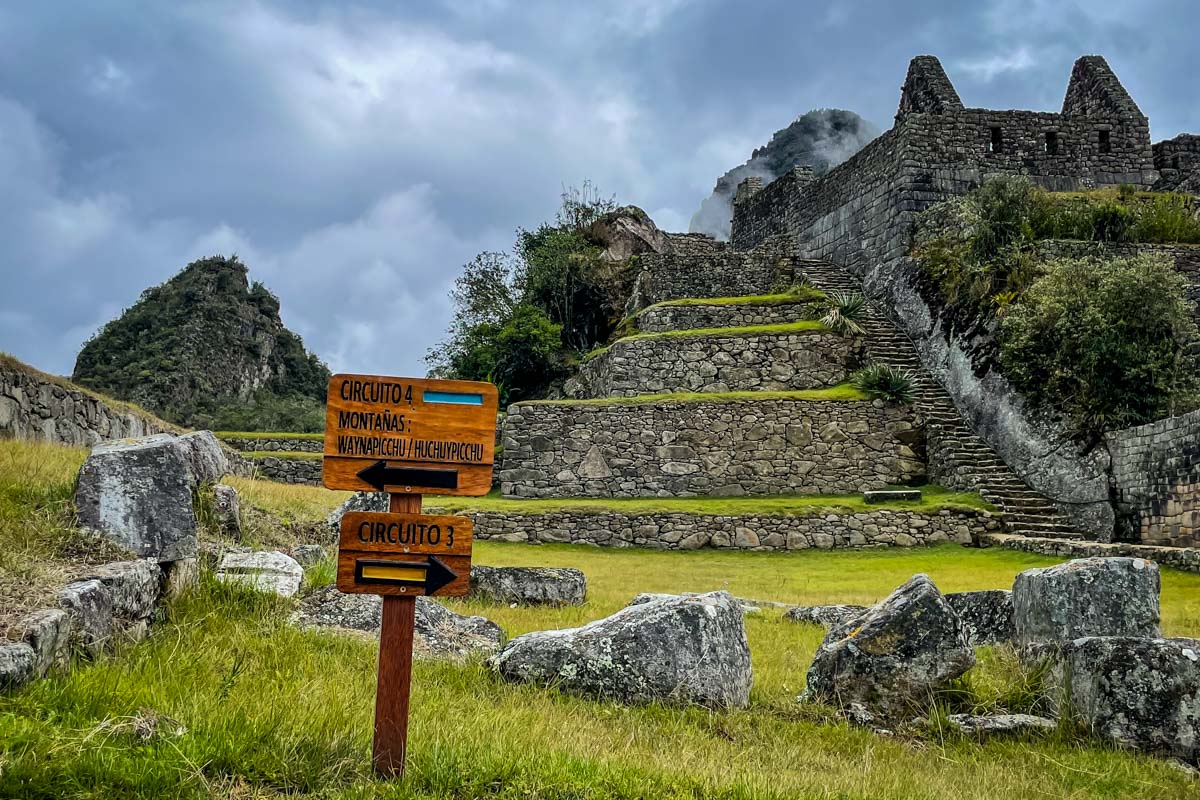 The four circuits in Machu Picchu cover a variety of different areas of the ruins. We want to emphasize again that you can only choose one route, and if you're hiking one of the mountains, the circuit has been chosen for you with your ticket (more on that below).
If you've secured a basic ticket into Machu Picchu, Llaqta of Machu Picchu, you can select any of these four routes to explore the ruins.
Circuit 1: This short circuit takes you to the higher section of the citadel near Machu Picchu mountain. Beginning at the entrance, you'll pass over agricultural terraces, visit the famous Guardian Hut platform known for human sacrifice. From here, you'll cross over to the Sun Gate (Inti Punku) to the urban sector, visit the Temple of the Sun, pass the Hall of Mirrors, then head back to the lower section to exit.
Circuit 2: This route is long and focuses on the upper section of the citadel. This route follows a good portion of Circuit 1, except after you visit the Temple of the Sun, you'll go to the Sacred Plaza and the Intihuatana pyramid where you'll climb and descend down towards Sacred Rock. From there visit the Three Gates, Hall of Mirrors, and Temple of the Condor. This is considered the best route to take since it's more in-depth than the other circuits and explores different sections.
Circuit 3: This short route focusing on the lower section of the citadel is the shortest of all the circuits. The route crosses the agricultural terraces into the urban sector, passes the Temple of the Sun to the House of the Inca, and finishes at the Hall of Mirrors where you head back to the exit. This is a great option for anyone with low mobility and is also the circuit that must be taken if your entrance ticket includes Machu Picchu Mountain access.
Circuit 4: This long route is similar to Circuit 3, also focusing on the lower section of the citadel, but going up into the Sacred Plaza, by the House of the Inca, Sacred Rock, Three Gates, Hall of Mirrors, and the Temple of the Condor. Note this route is only available if you're also hiking Huayna Picchu Mountain.
Llaqta of Machu Picchu (Machu Picchu only)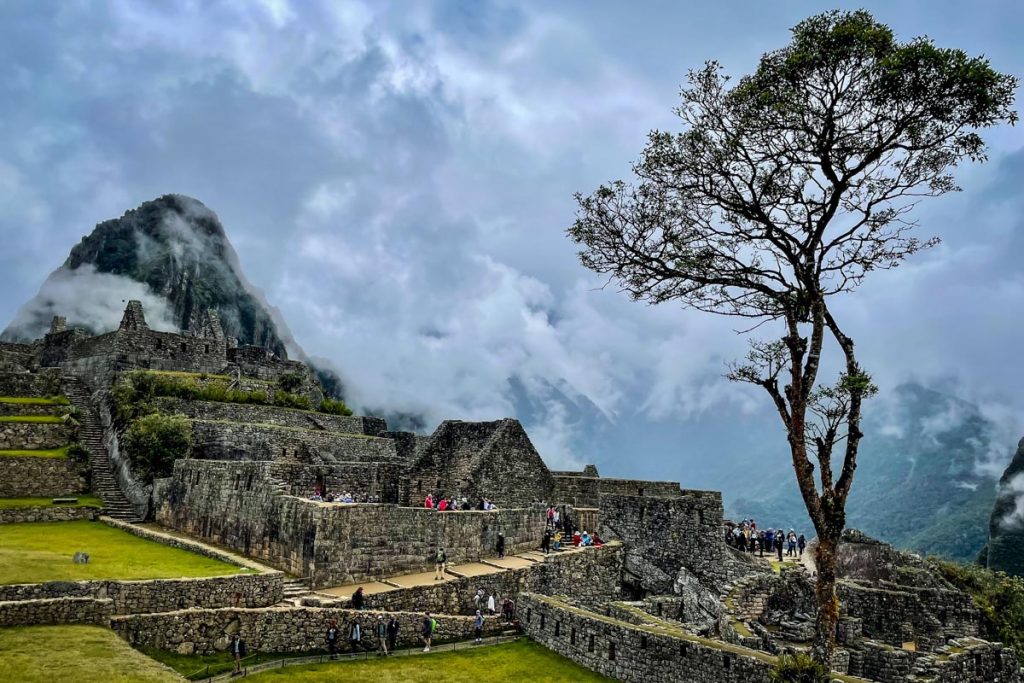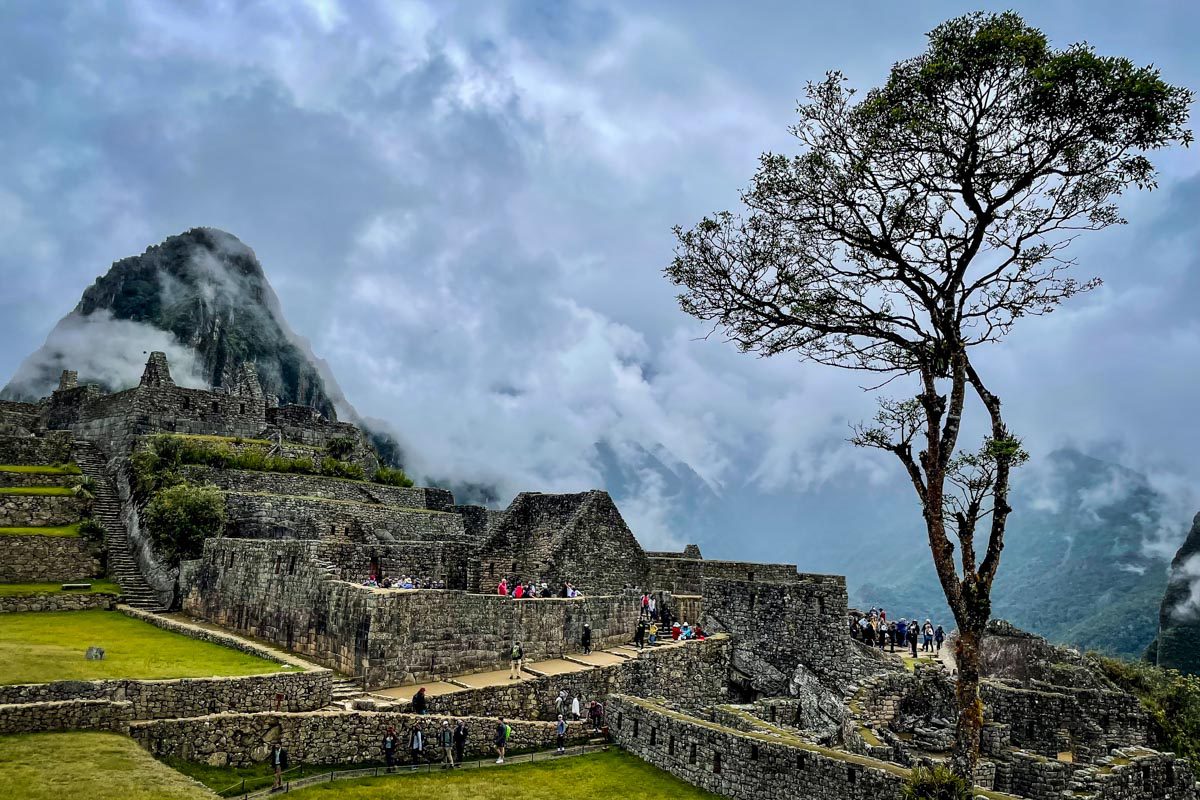 Adult Ticket: 152 soles ($45 USD)
Child Ticket: 70 soles ($21 USD)
Student Ticket: 77 soles ($23 USD)
This is your most basic Machu Picchu entrance ticket and only includes the ruins. It does not include visits to Machu Picchu Mountain or Huayna Picchu Mountain.
With this ticket, you can walk on any of the four circuits to tour the ruins (1, 2, 3, or 4). This is the only ticket where you have the option to choose which circuit you want to take. The other tickets with mountain hikes have to take a specific circuit to access them, therefore you must only take the circuit that is assigned to those respective tickets.
On the booking page, you'll need to select your desired entry time. Entry times start at 6:00 a.m. and end at 2:00 p.m., with entry options every hour. Whatever time you select, you'll have up to an hour past your ticket time to enter the ruins. Once you enter, you'll have four hours to explore.
So with a 7:00 a.m. ticket, you can enter from 7:00 to 8:00 a.m. If you try to enter past the 60-minute window, you will not be allowed entry.
Note that if you want to visit Machu Picchu for sunrise, you'll need to grab a 6:00 a.m. ticket as soon as you can since those are normally the first to sell out. And depending on the time of year you visit, the sunrise may happen before 6 a.m. (This is also true for the sunset, as only during the months of May and June does the sun set right at the 5:30 p.m. closing time.)
Circuit 4 + Wayna Picchu (Machu Picchu & Huayna Picchu)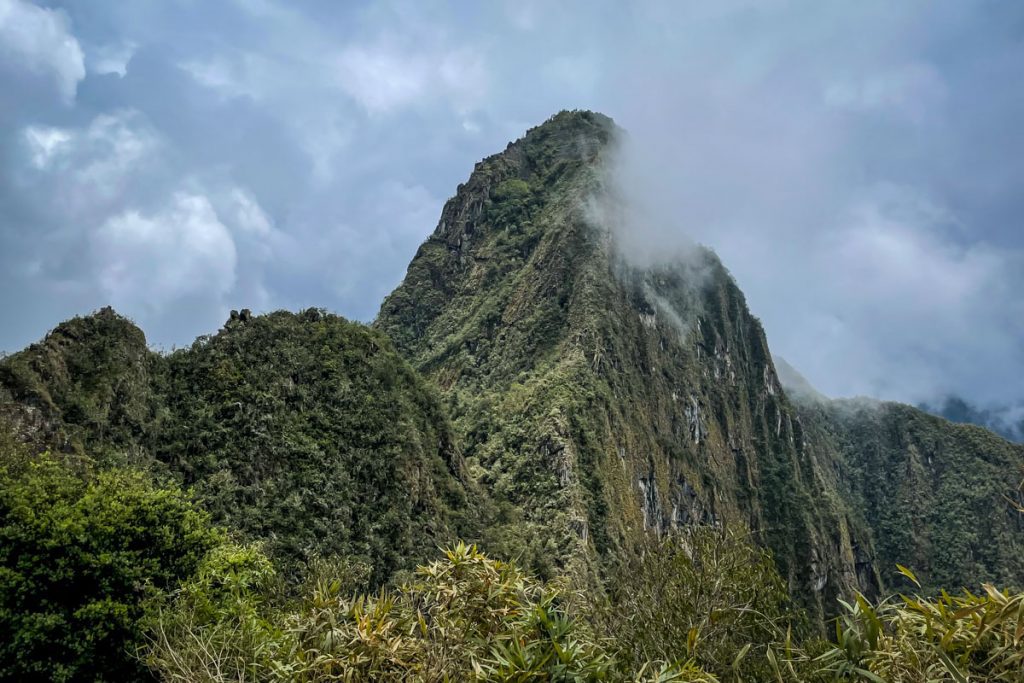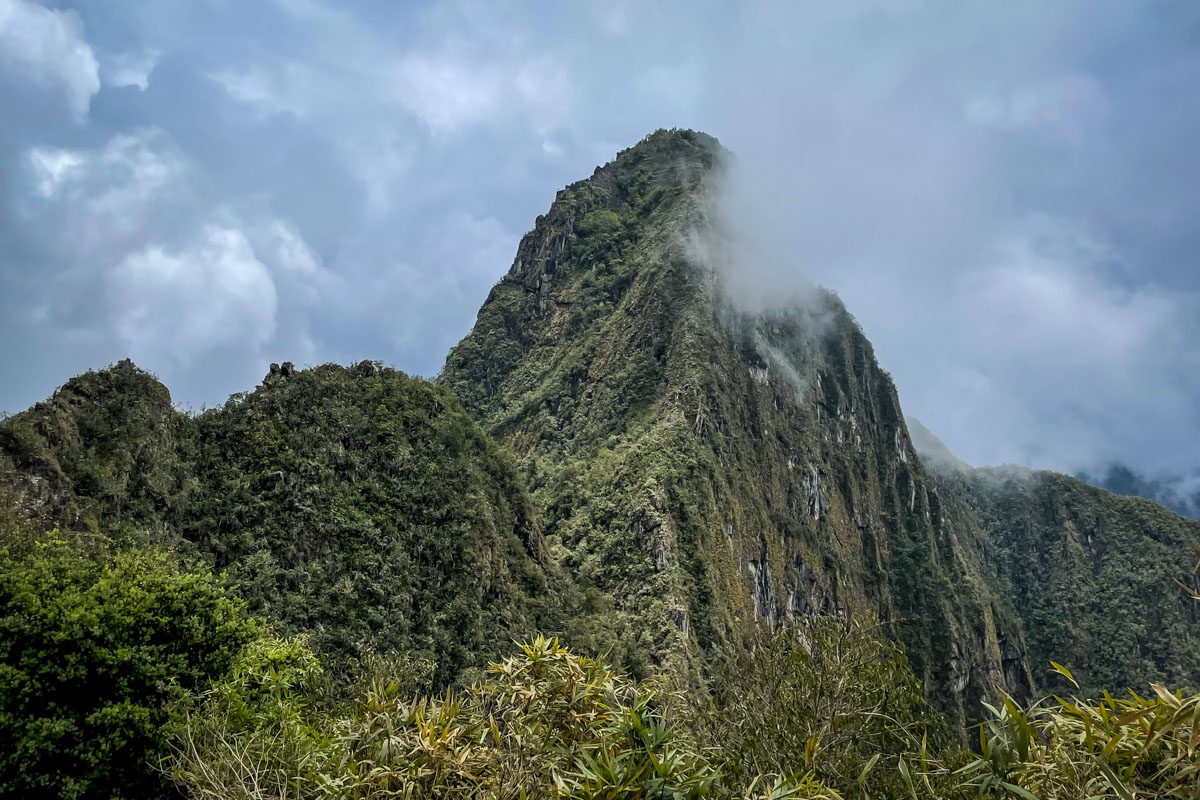 Adult Ticket: 200 soles ($60 USD)
Child Ticket: 125 soles ($37 USD)
Student Ticket: 118 soles ($35 USD)
The second ticket option grants you access to the Machu Picchu citadel as well as Huayna Picchu Mountain, which is sometimes referred to as Wayna Picchu.
This mountain, nicknamed "the Mountain of Death" is the high, pointed peak that sits behind the Machu Picchu ruins and gives you a jaw-dropping view of the citadel and Sacred Valley. The hike is a steep 4 km (2.5 miles), but well worth the sweat-inducing climb to get up there.
The mountain trail can only be accessed on Circuit 4, so you cannot walk any of the other circuits with this ticket. On the map, you'll see that Circuit 2 is a longer route to get to Huayna Picchu, but it's prohibited to go this way, so you'll have to miss a handful of sites at the ruins by opting to hike Huayna Picchu Mountain.
With the Machu Picchu and Huayna Picchu ticket, there are only four entry times available, which dictate your entry slot for hiking the mountain as well: 7:00 a.m., 8:00 a.m., 9:00 a.m., and 10:00 a.m. To add to the exclusivity, there are only 200 tickets available in total over these 4 times slots. So booking far in advance is advised to insure you get a spot (at least three months ahead of time if visiting during high season).
Because you're hiking one of the nearby mountains, the 4-hour time limit doesn't apply for this ticket. Instead they give you a 6-hour window to explore the ruins and do the Huayna Picchu hike. A guided tour of the ruins takes about 2-2.5 hours and the hike up the mountain takes 2-3, so it should be plenty of time to see everything.
Machu Picchu Mountain + Circuit 3 (Machu Picchu & Mountain)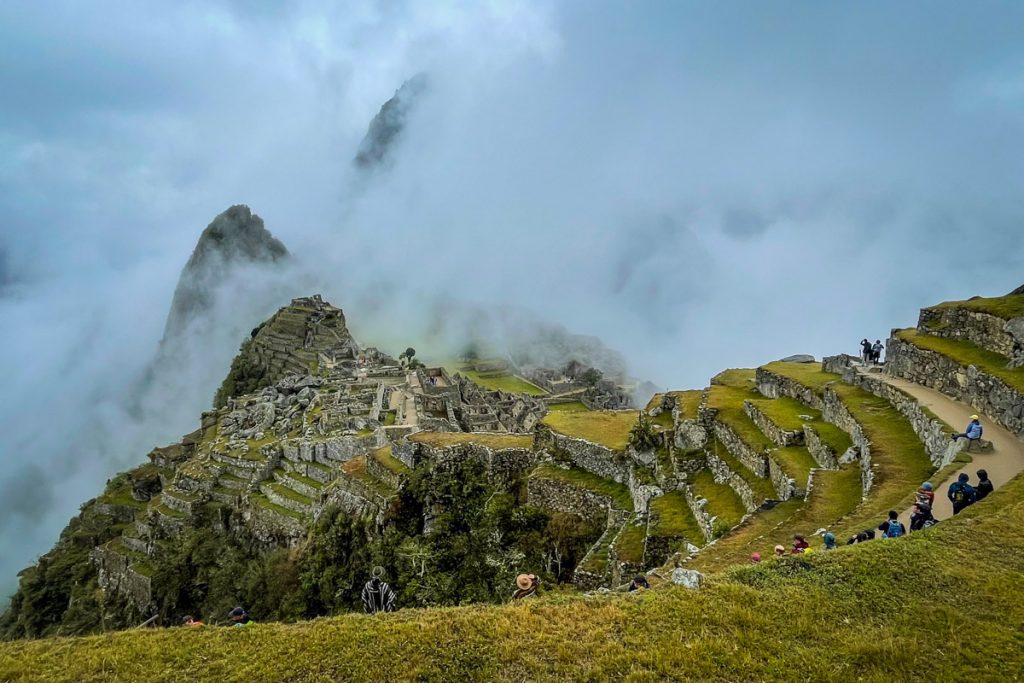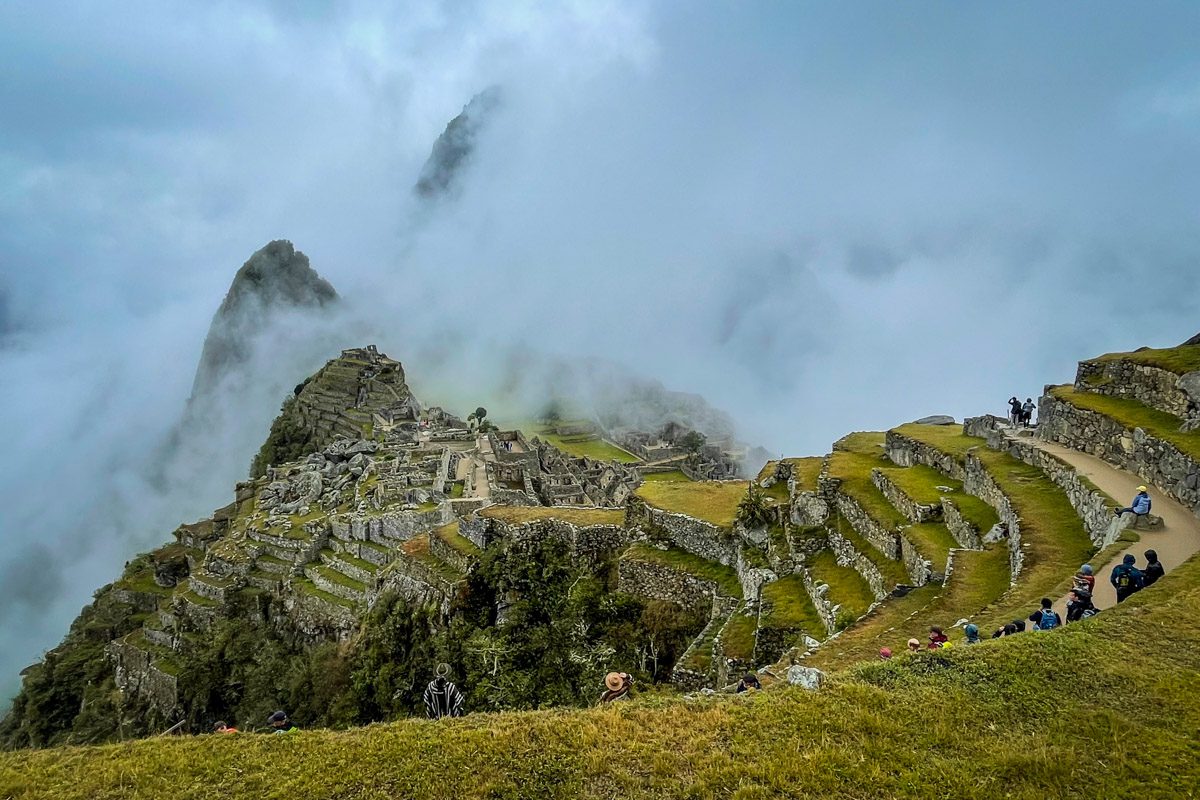 Adult Ticket: 200 soles ($60 USD)
Child Ticket: 125 soles ($37 USD)
Student Ticket: 118 soles ($35 USD)
Opposite to Huayna Picchu Mountain, this easier, 3.1-mile climb takes you to an aerial view over the citadel and Sacred Valley. It's not as spectacular as Huayna Picchu, but it's still well worth the effort.
If you attempt this hike you'll want to be well-acclimated with plenty of water since you'll be climbing almost 600 meters (2,000 feet) in elevation gain.
To access the trail to Machu Picchu Mountain, you'll need to take a small portion of Circuits 1 and 2 until you reach the control point for the hike. After you've completed the hike, you are required to take Circuit 3 to the exit.
There are 400 tickets available for two different time slots: 7:00 a.m. and 8:00 a.m. While you're booking, note the entry times are different for the Machu Picchu ruins and the mountain. They'll be labeled correspondingly on the second booking page.
The 4-hour time limit doesn't apply to this ticket. Instead they give you a 6-hour window to explore the ruins to get up the mountain and back. The 3rd circuit is fairly short and the Machu Picchu Mountain hike should take around 2.5-3 hours, so this is plenty of time.
Circuit 4 + Huchuy Picchu Mountain (Machu Picchu & Huchuy Picchu)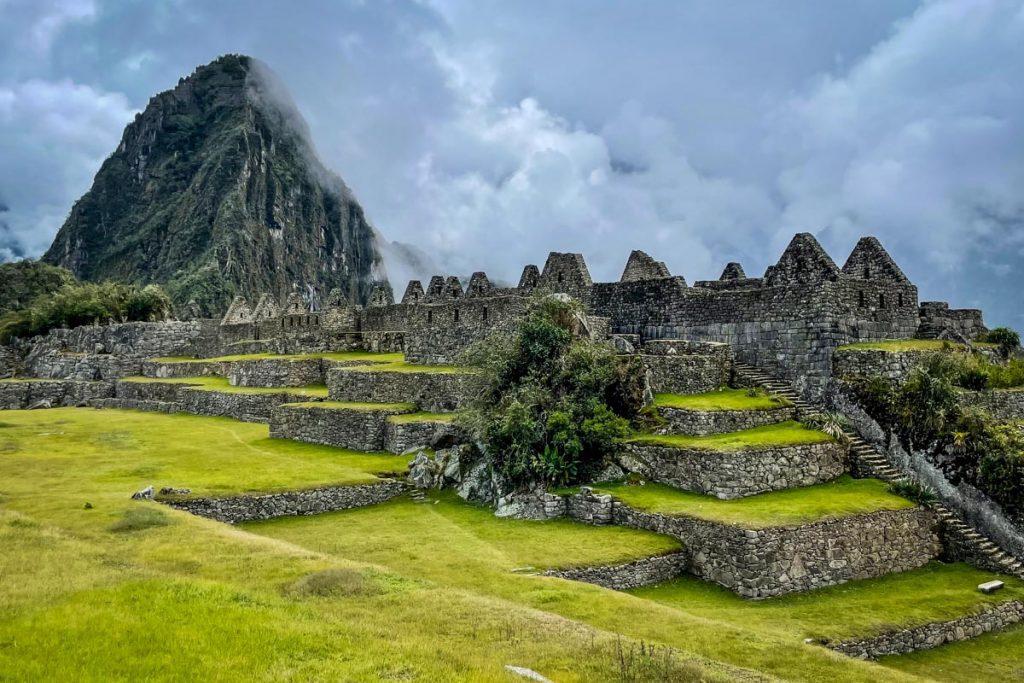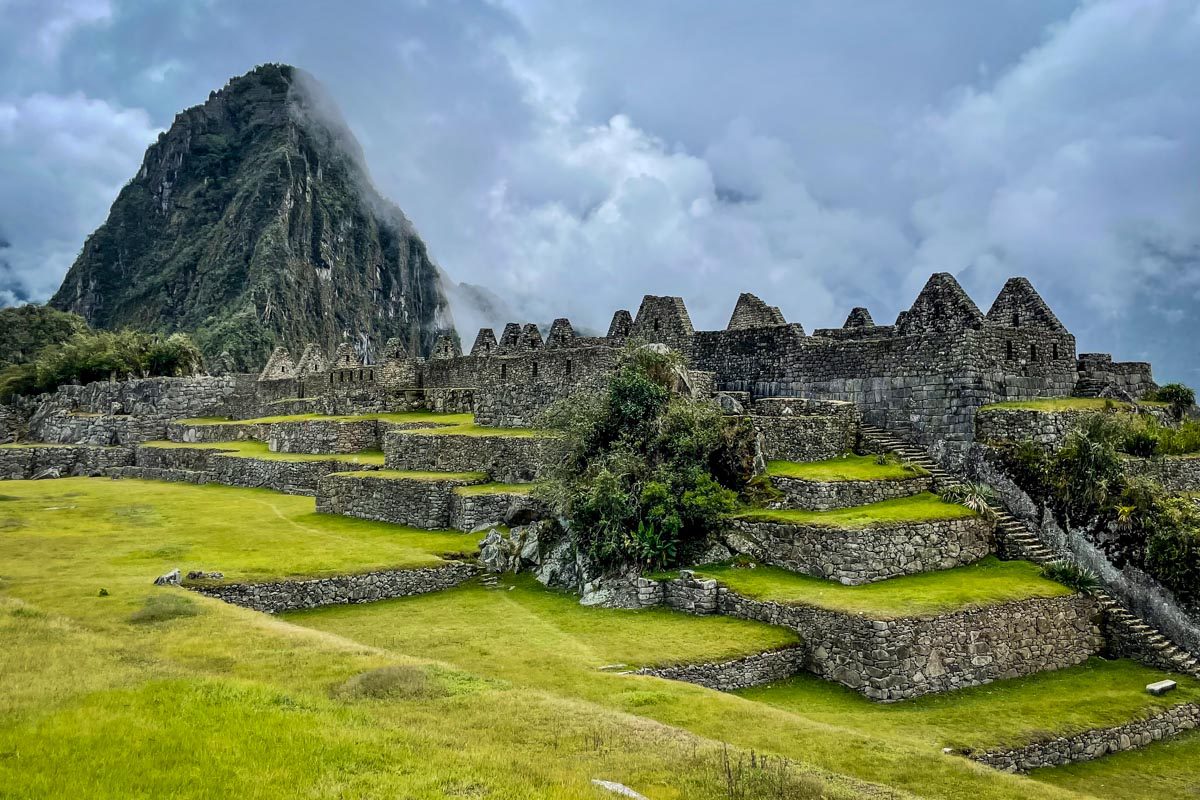 Adult Ticket: 152 soles ($45 USD)
Child Ticket: 70 soles ($21 USD)
Student Ticket: 77 soles ($23 USD)
If you still want to get amazing aerial views of the Machu Picchu ruins, but want a less-challenging route, Huchuy Picchu Mountain is an incredible hike.
This 2 km (1.2-mile) trail follows the same basic route as the Huayna Picchu route, except you'll be taking a short spur trail to access Huchuy Picchu. In years past, if you had a ticket for Huayna Picchu, you could also have the option to climb Huchuy, but they are now separate tickets.
There are many more time slots available for this trail since it's not as hard as the other two mountains. You can book your entry from 6:00 a.m. to 2:00 p.m., with entry options every hour. With this ticket, the 4-hour time limit applies once you enter the ruins.
Rules for visiting Machu Picchu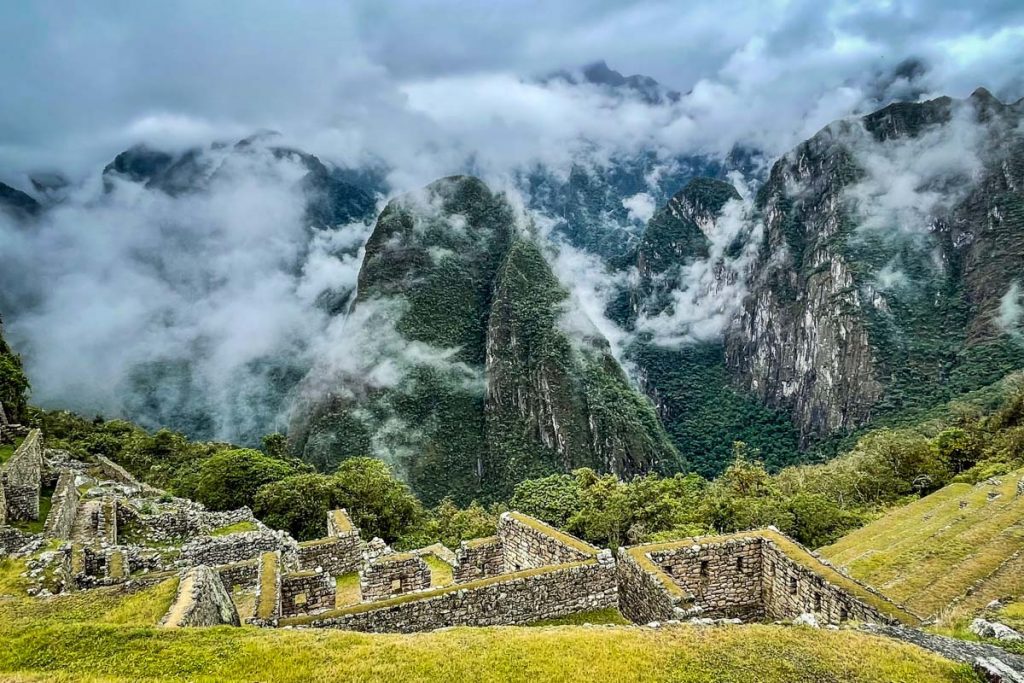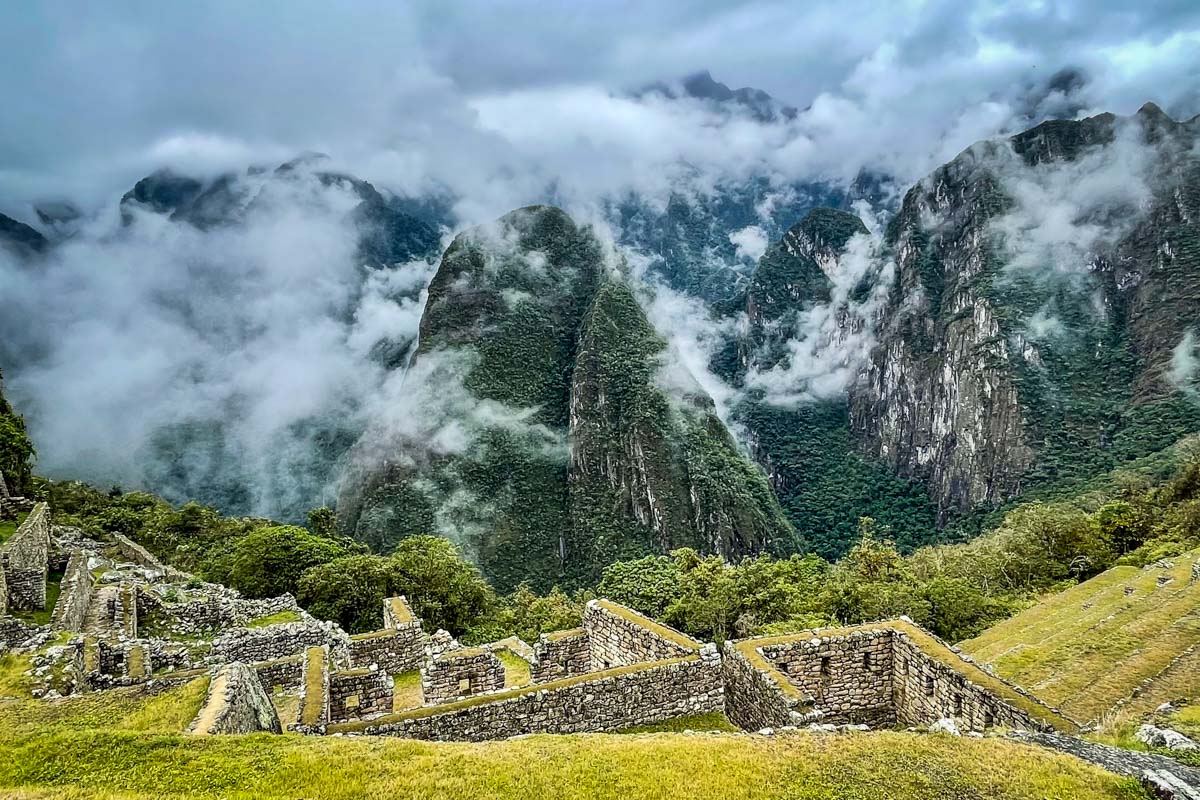 These rules are in place to make everyone's experience at Machu Picchu memorable. Please respect these rules and regulations put in place.
Guides are no longer required. However, there are tour guides all around the site you can join that will give you a 2.5 hour tour with a history of the ruins for an additional cost.
Bring your physical passport. Ensure your passport matches the name on your ticket. No passport, no entry.
No re-entry: In the past, you used to be able to re-enter with the same ticket as long as it was the same day, but this no longer applies. Once you leave, you cannot reenter.
The following items are prohibited inside the entrance to Machu Picchu: food, utensils, illegal substances, alcohol, umbrellas, camera tripods, selfie sticks, animals (except guide dogs), musical instruments, baby strollers, high heel shoes, any type of gun, metal walking sticks, or backpacks/bags that exceed 40x35x20 cm.
You may not: feed the animals, fly a drone, make films or documentaries without prior permission, or enter parts of the ruins that are off-limits.
Do not: walk or climb on any of the structures, remove or deface structures, remove any flora and fauna, or smoke.
How to get to Machu Picchu on your own
Many people that don't want to get down and dirty on the trails opt for a scenic train ride from Cusco or Ollantaytambo. There are direct Machu Picchu train rides from either city, or you can make a combo out of the two with a same day bus from Cusco and a train from Ollantaytambo to Machu Picchu Station.
There are two main rail companies that offer routes from both cities: Peru Rail and Inca Rail.
The prices for the train tickets vary by season, time, and operator, so you have the opportunity to cut down on the cost for a more budget-friendly trip, or splurge for a more luxury ride. You can expect to pay upwards of $200 roundtrip on the cheapest ticket service.
By train from Cusco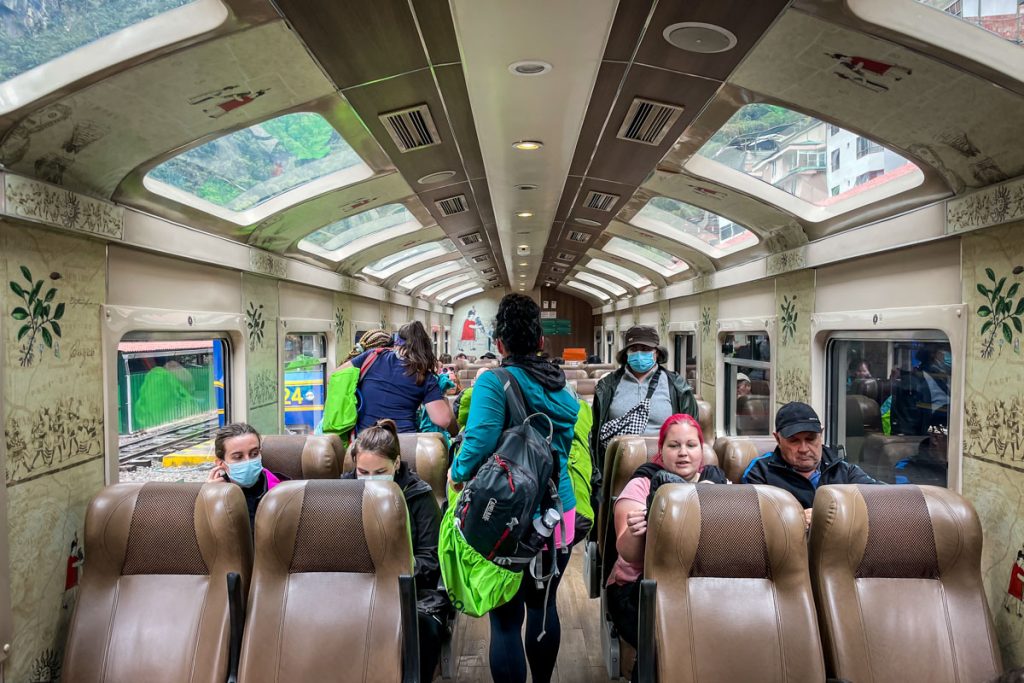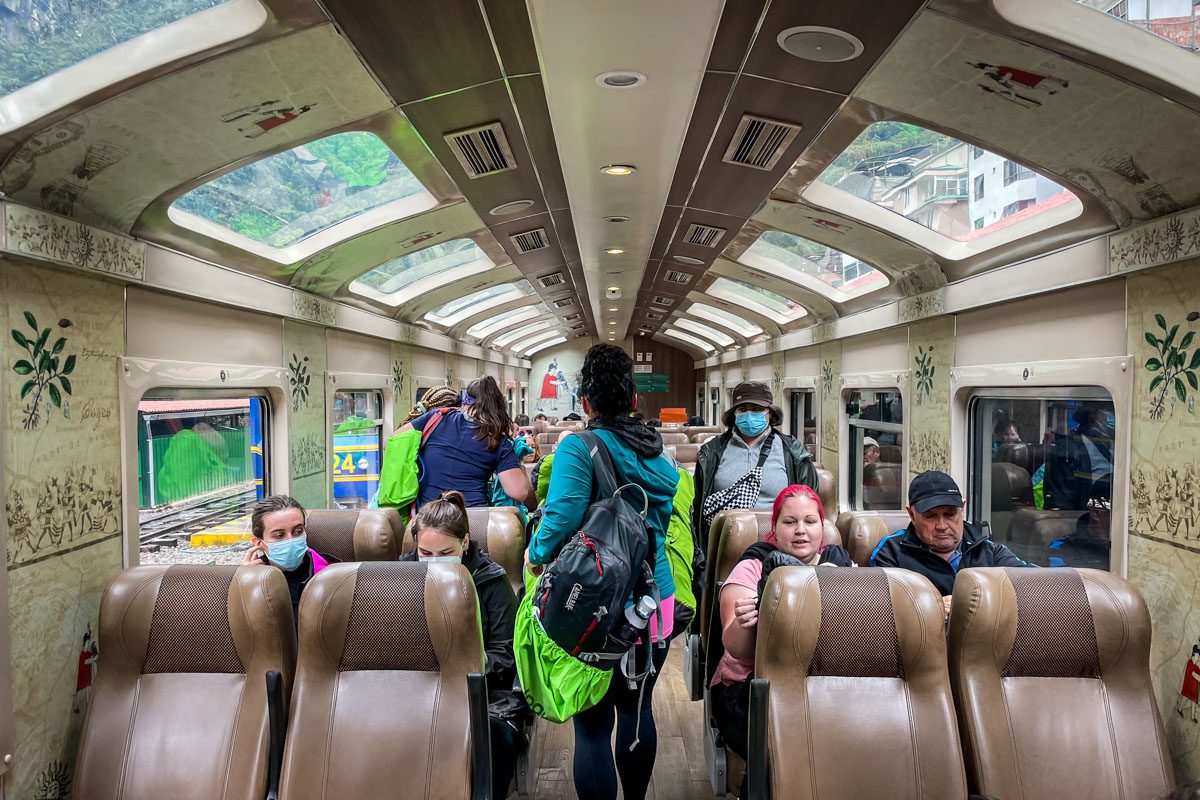 Direct trains from Cusco to Machu Picchu take 3-4 hours and range from $60 to $100+ for a one way ticket depending on what level of train ticket you purchase.
You can purchase tickets directly at the Poroy Train Station in Cusco, but we recommend booking online, in advance with Peru Rail or Inca Rail so that you can ensure you have a seat and are getting the best price for your journey.
Trains begin leaving Cusco as early as 6:30 a.m. and as late as 6:00 p.m. Keep in mind, if you have an early entrance time for Machu Picchu, you'll need to take the train up the day before and spend the night in Aguas Calientes (more on that below).
By train from Ollantaytambo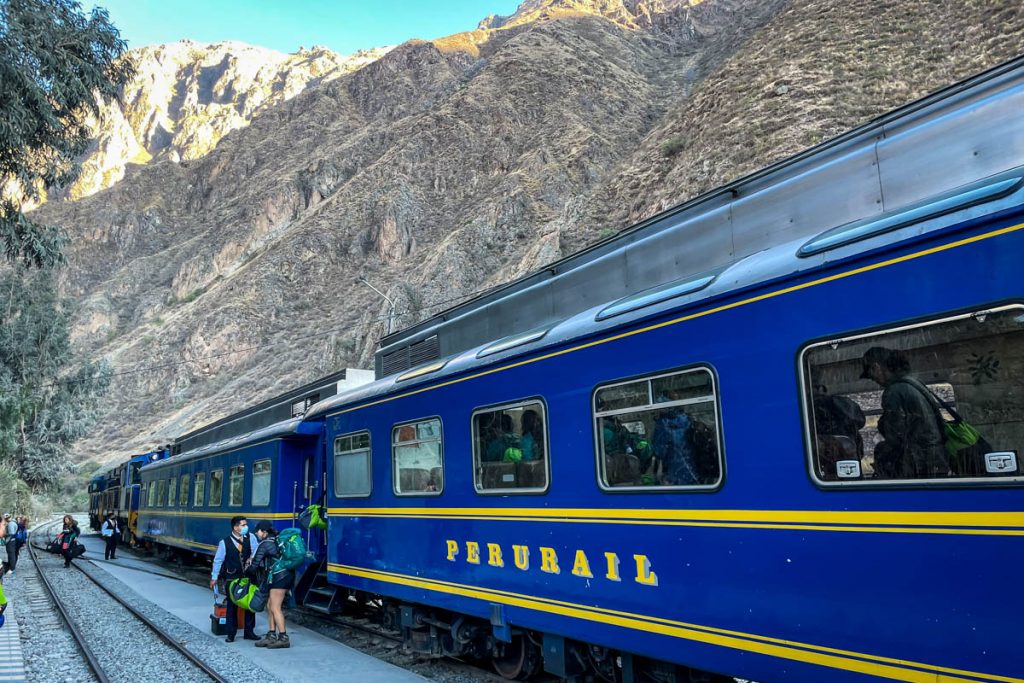 During the period of the Incas, the town of Ollantaytambo served as a checkpoint and ceremonial center for people coming to the Sacred Valley. It was also the center of the resistance operations during the time of the Spanish invasion.
The town's Inca urban design has been preserved since the 13th century and it continues to serve as a checkpoint for visitors to Machu Picchu. With 5 star hotels and restaurants, the town may look a little different nowadays, but is well worth a stop over on your journey.
The ride from Ollantaytambo is about 1.5 hours and ranges from $50 to $100+ for a one way ticket depending on what level of train ticket you purchase.
You can purchase tickets at the counter in the Ollantaytambo Train Station, but if you want to guarantee a seat and the best price, you'll want to buy your tickets in advance online from either train company, Peru Rail or Inca Rail.
To get from Cusco to Ollantaytambo, you can take a bus, scenic train ride, or local minibus known as a colectivo.
Both train companies offer what is known as a "bimodal" ticket that includes both a bus and train ride. Beginning in Cusco, you'll board a private bus to Ollantaytambo, then transfer and finish the rest of your journey on one of the scenic train rides.
Things to do in Ollantaytambo while you wait for your train: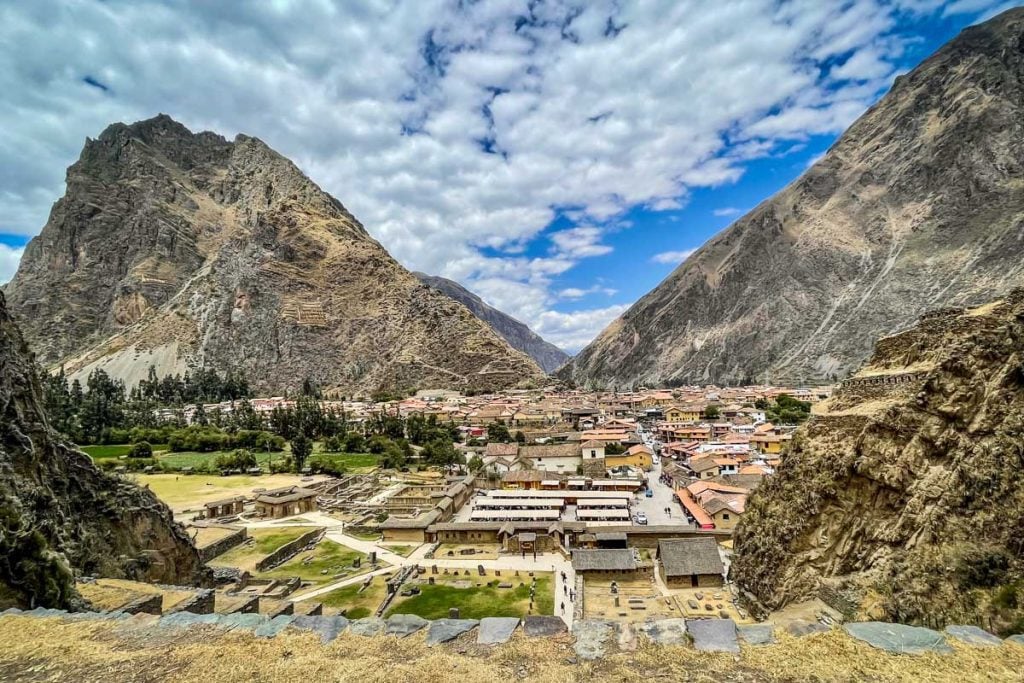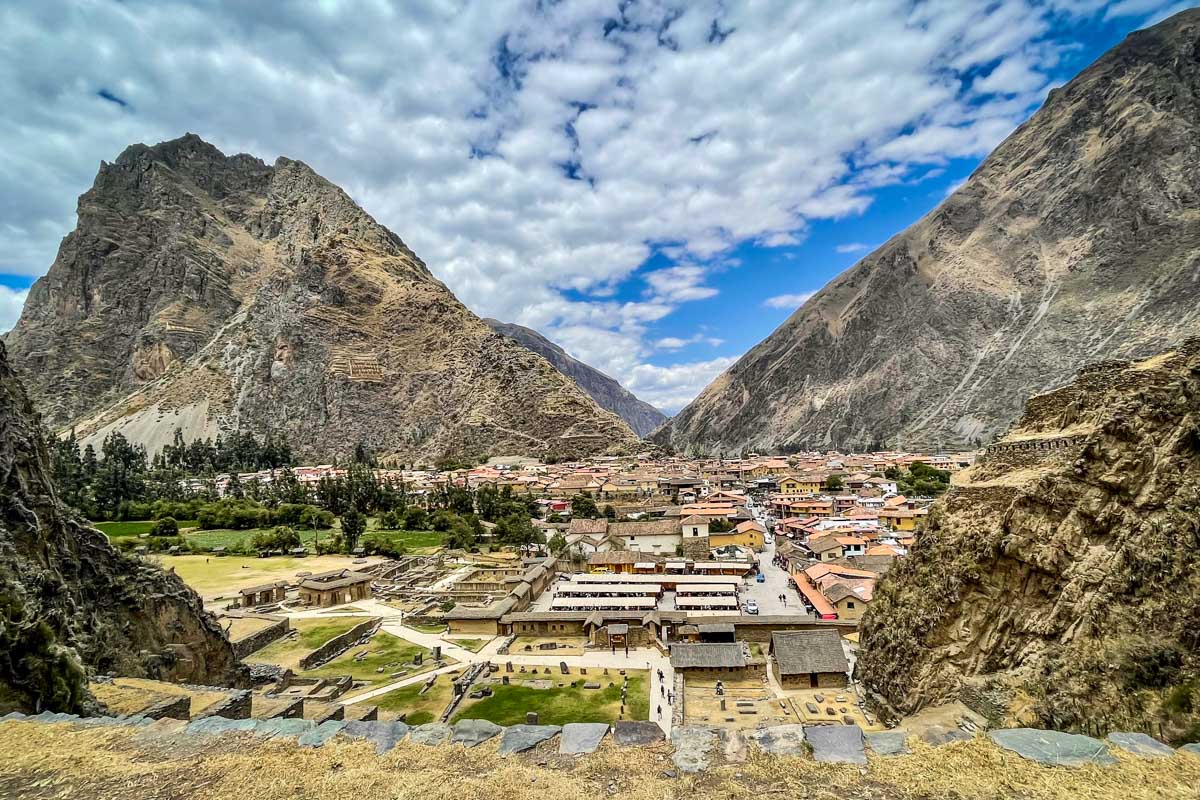 Walk around the town and peruse the main square
Shop for artisan handcrafts
Visit the ruins, including the impressive Sun Temple that dates back to the 13th century
Climb Pinkuylluna Hill for even better views of the archeological zone
Taking the shuttle bus from Aguas Calientes (Machu Picchu Town)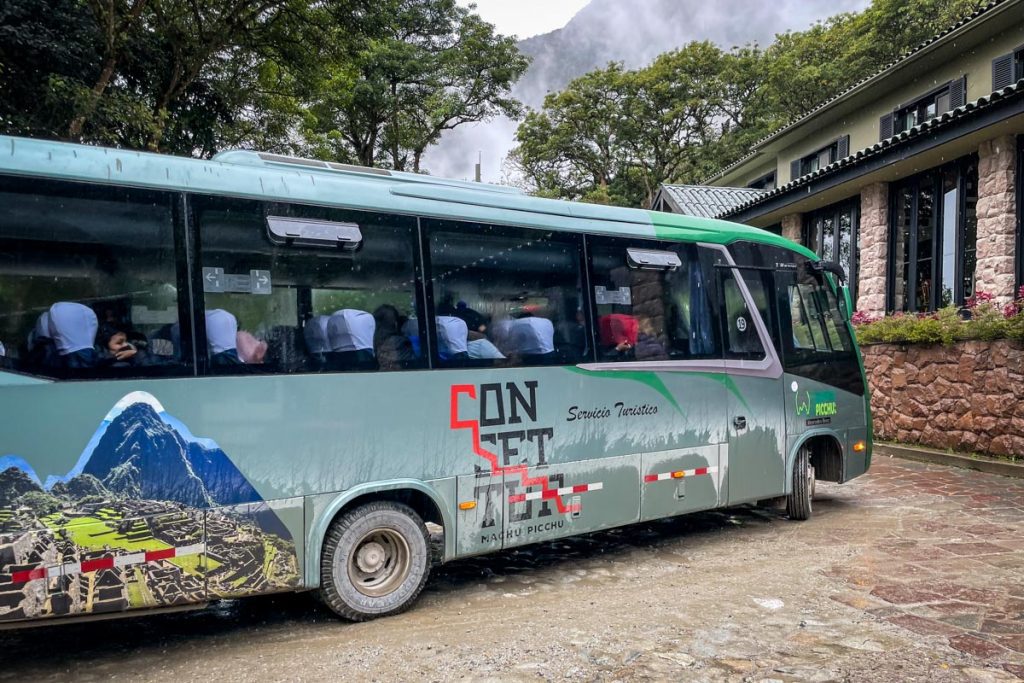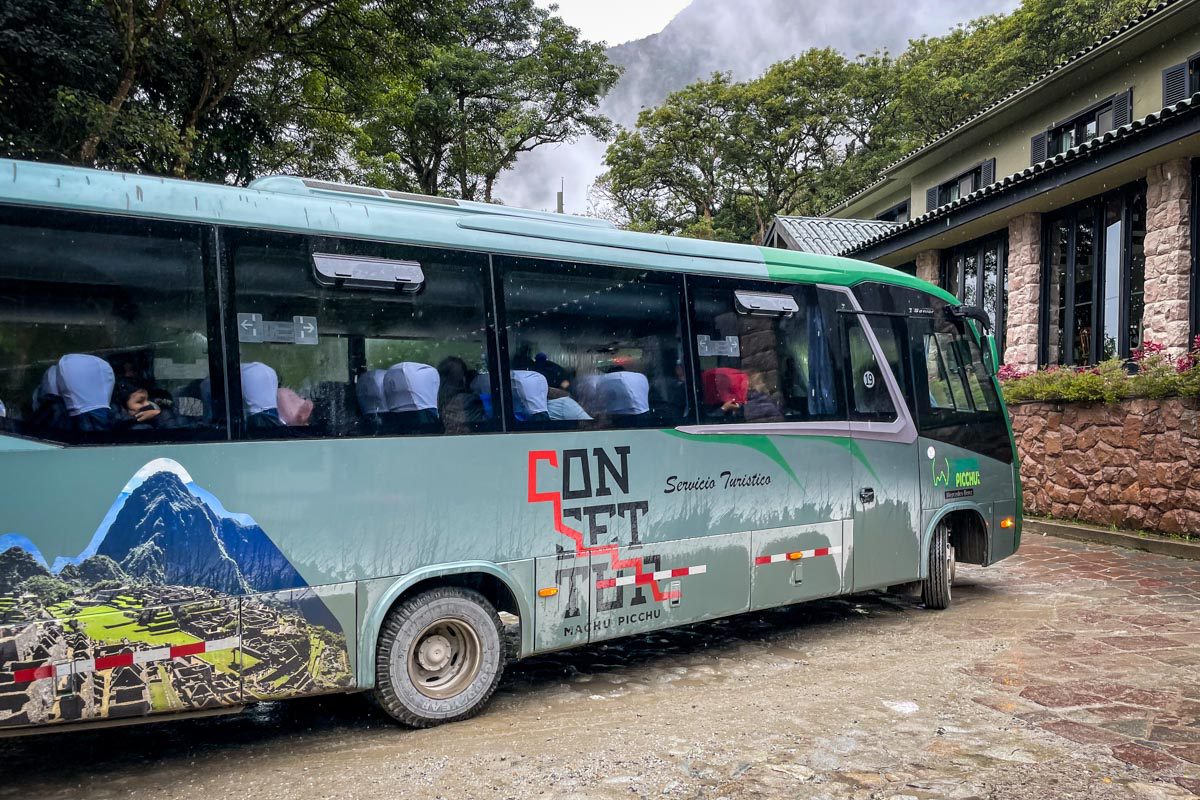 All trains to Machu Picchu will depart at Machu Picchu Station in Aguas Calientes (sometimes referred to as Machu Picchu Town).
A shuttle bus is the fastest way to get from Aguas Calientes to the entrance to Machu Picchu and takes about 25 minutes. Because Machu Picchu is, well, Machu Picchu, you can expect to pay $12 each way to and from town. If you hike up, there are return tickets available for $24.
The buses are pretty comfortable and are operated by Consettur. They leave from the bus stop on Avenida Hermanos Ayer road (map it), that's about a 10 minute walk from the train station.
Tickets for the bus are flexible, so you can purchase them in advance, the day before, or even the day of. It's easiest to book your shuttle tickets online, or you can pick one up at the ticket counter next to the bus stop.
The buses departing from Aquas Calientes run from 5:30 a.m. to 3:30 p.m. and the return buses from Machu Picchu run from 6:00 a.m. to 5:30 p.m. There isn't any set schedule since the buses leave when they're either full or another bus replaces them.
When you're planning your ticket, make sure you give yourself enough time to get the bus and make your time slot for Machu Picchu.
Optional: 2-hour walk from Aguas Calientes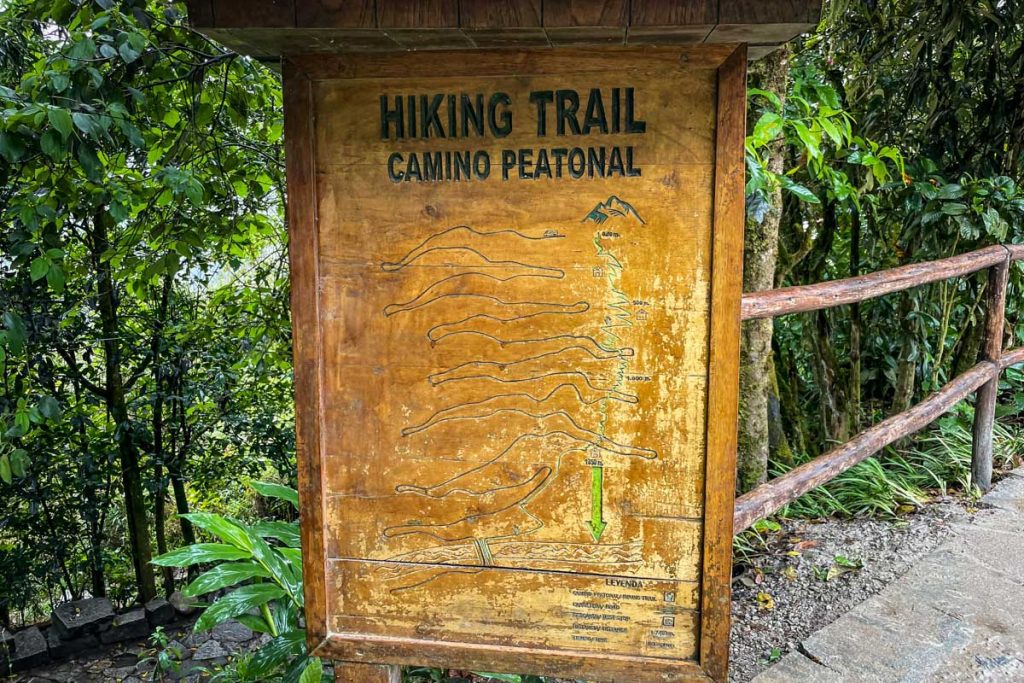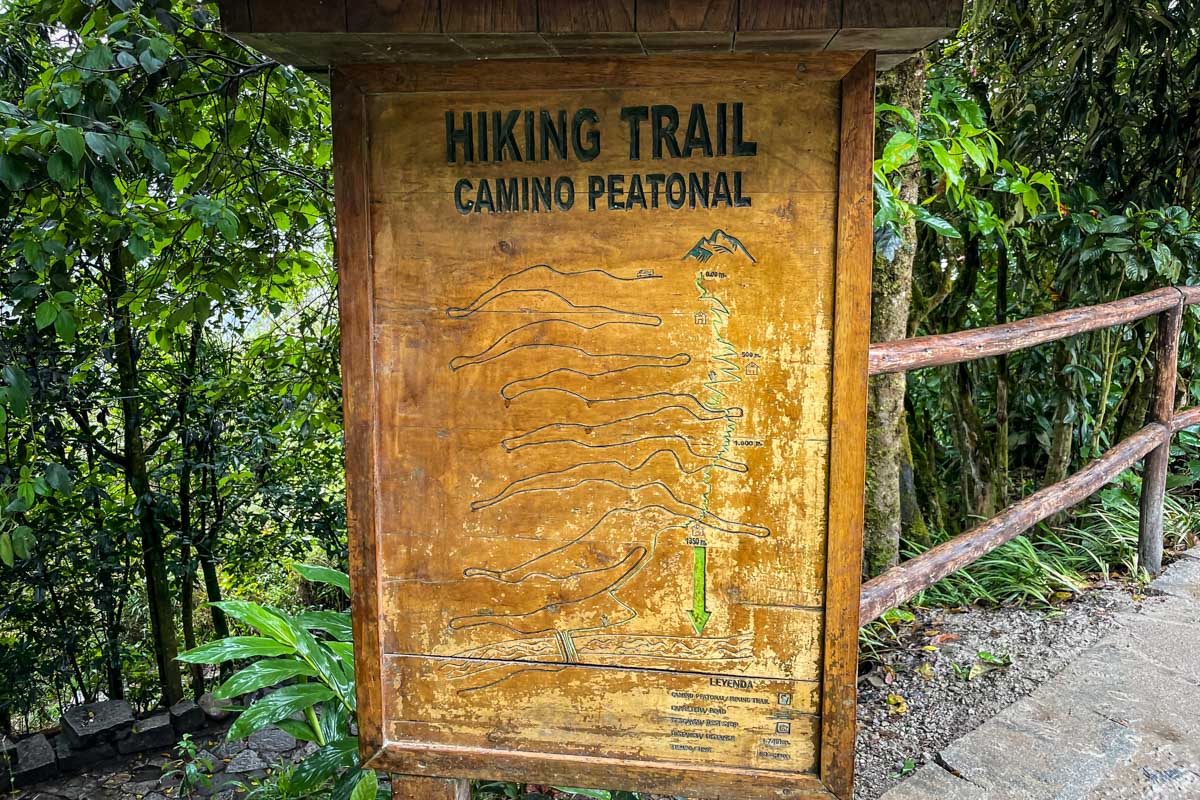 The alternative way to get to Machu Picchu from the train station in Aguas Calientes is by hiking. If you've properly acclimated in Cusco, this shouldn't be too much of a slog, but if you just arrived, this may not be the best option.
The hike from Aguas Calientes is a moderate trail that will take you about 1.5-2 hours to get to Machu Picchu.
To find the trail, you'll follow the shuttle bus road that leaves town to Machu Picchu. After around 30-minutes, the road will make a sharp left turn over the Vilcanota River. You'll cross the bridge and make an immediate right down a small lane that leads to the Manuel Chávez Ballón Site Museum. Keep walking and you'll spot the official trail sign (very large and hard to miss).
This is a beautiful trail, but if you want to arrive at Machu Picchu early to avoid crowds, consider taking the shuttle.
Where to stay in Aguas Calientes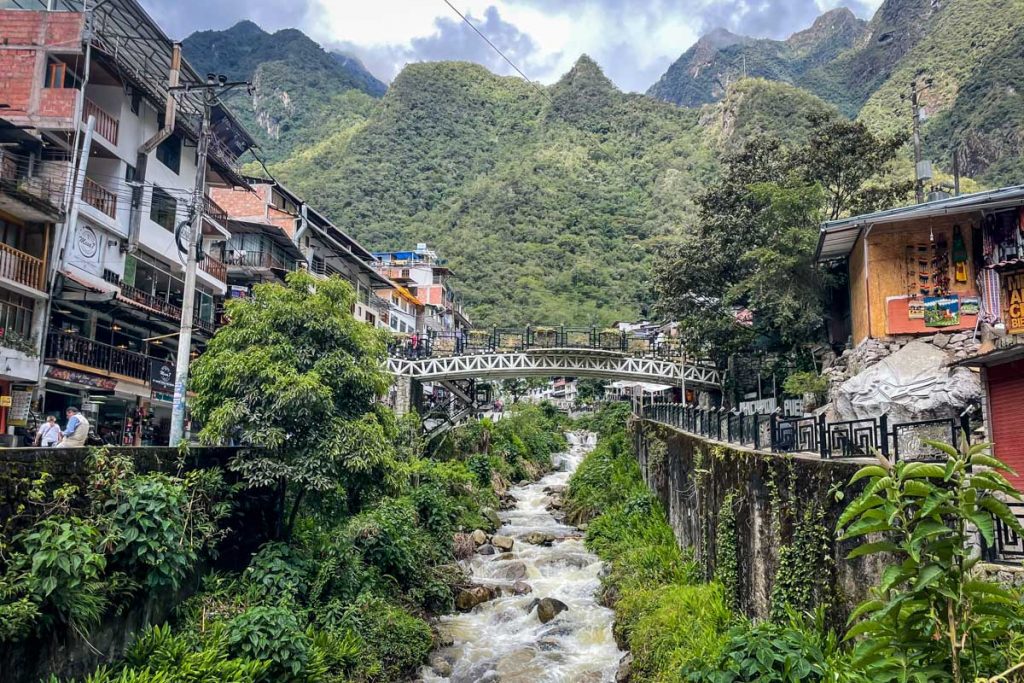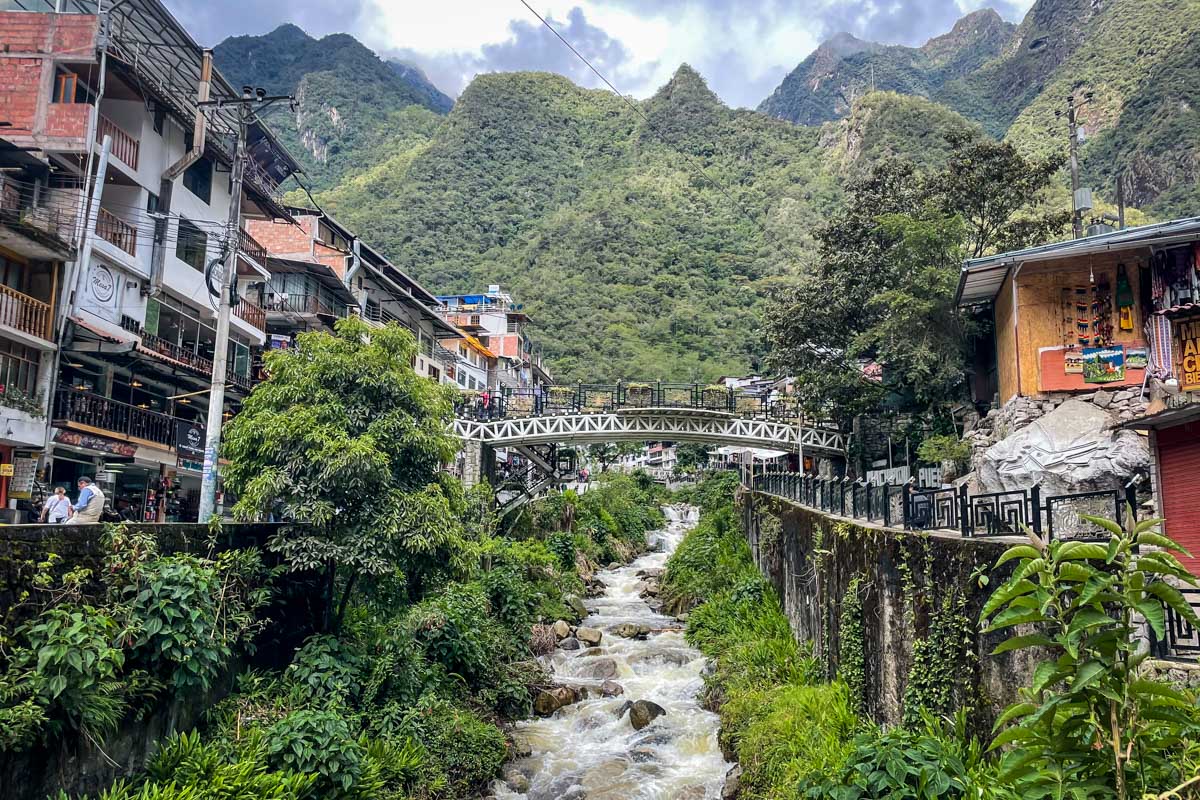 If you plan to enter Machu Picchu early in the morning, you'll likely want to spend the night in Aguas Calientes beforehand to save time.
Note: The earliest arrival to the Machu Picchu Station is 6:35 a.m. on Perurail. And that is if you're taking the 5:00 a.m. train from Ollantaytambo. Factoring in the time it'll take to get a shuttle, your earliest entrance to Machu Picchu would be 7:00 a.m.
There are a plethora of hotels in Aguas Calientes to choose from. Ranging from $30 per night to $200 per night. Here are some of our top recommended stays: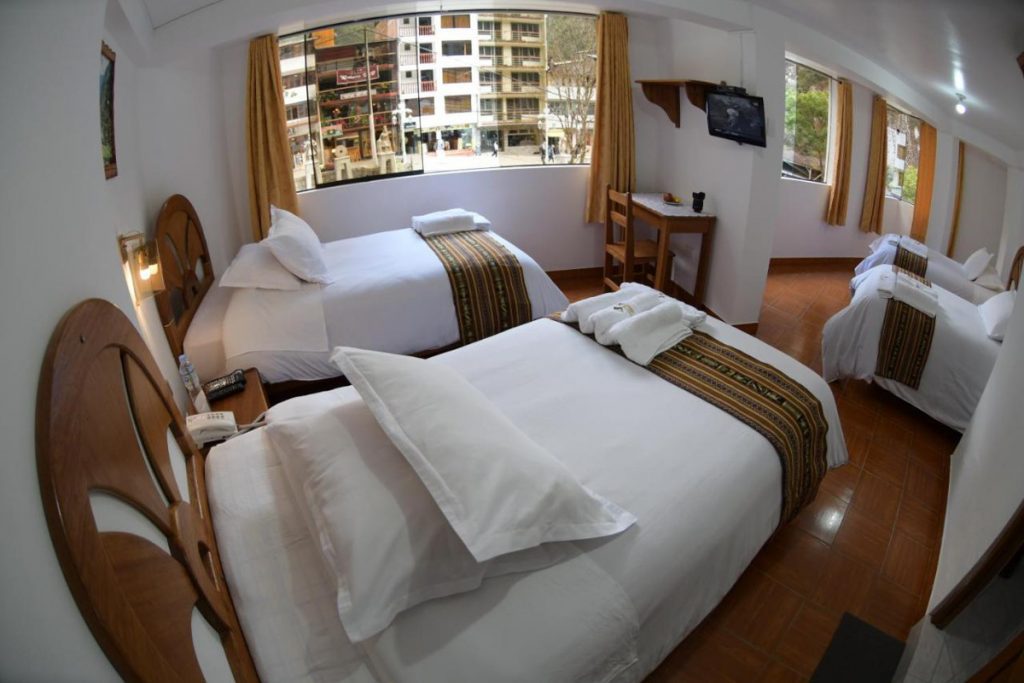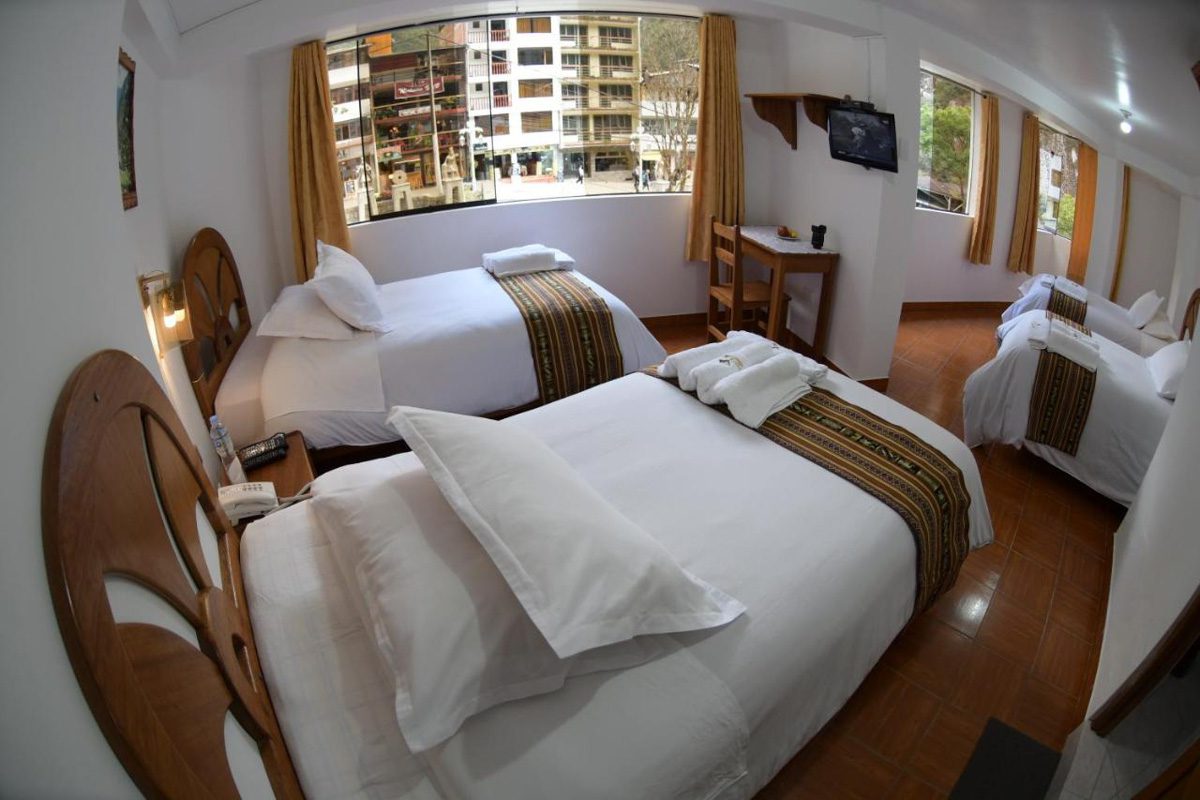 Budget Hotel: MAPILAND- Hotel Boutique
Located in the center of Machu Picchu Town, this boutique hotel offers private single, double, triple and quadruple rooms at a very reasonable price. There is an onsite restaurant and bar and free wifi throughout the property.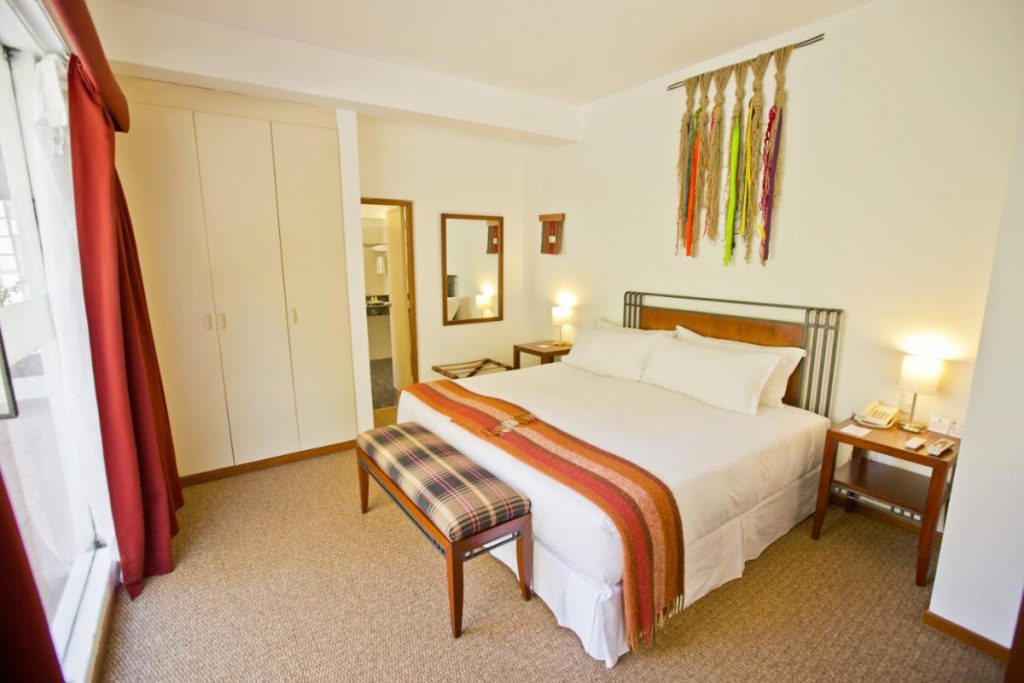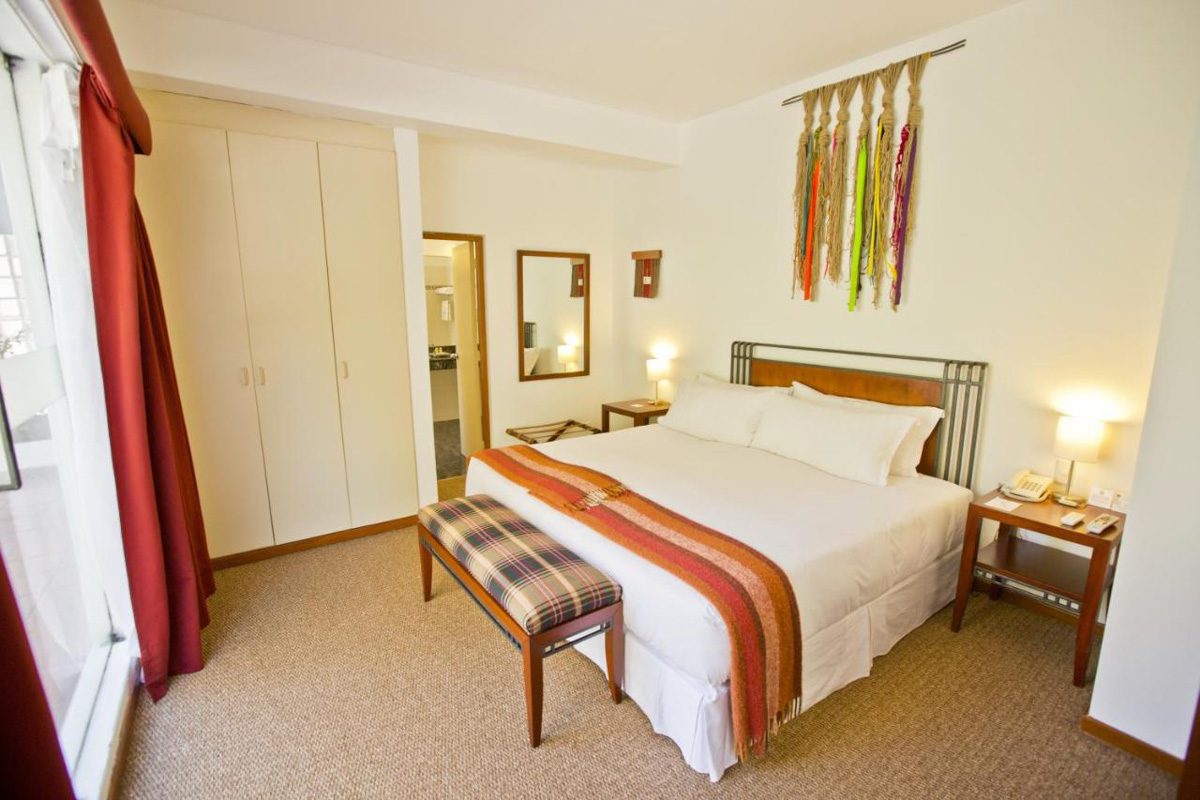 Mid-range budget hotel: Tierra Viva Machu Picchu Hotel
Just a 5-minute walk from the bus station to Machu Picchu, guests can enjoy the hotel's panoramic sun terrace and impressive views of the surrounding hills. Single and double suites are available here at a reasonable price.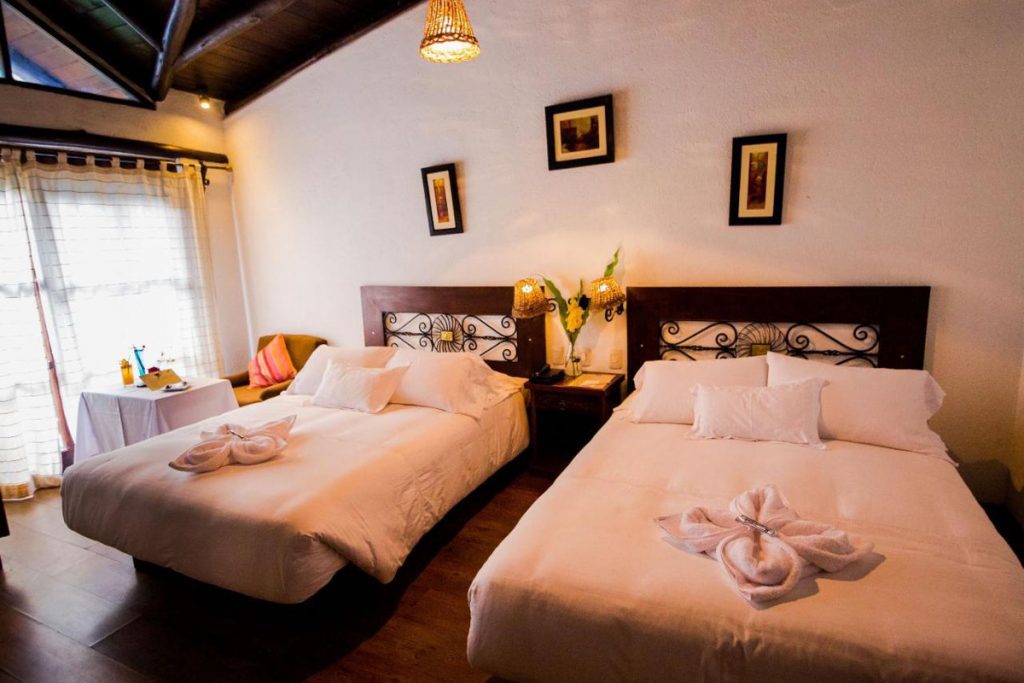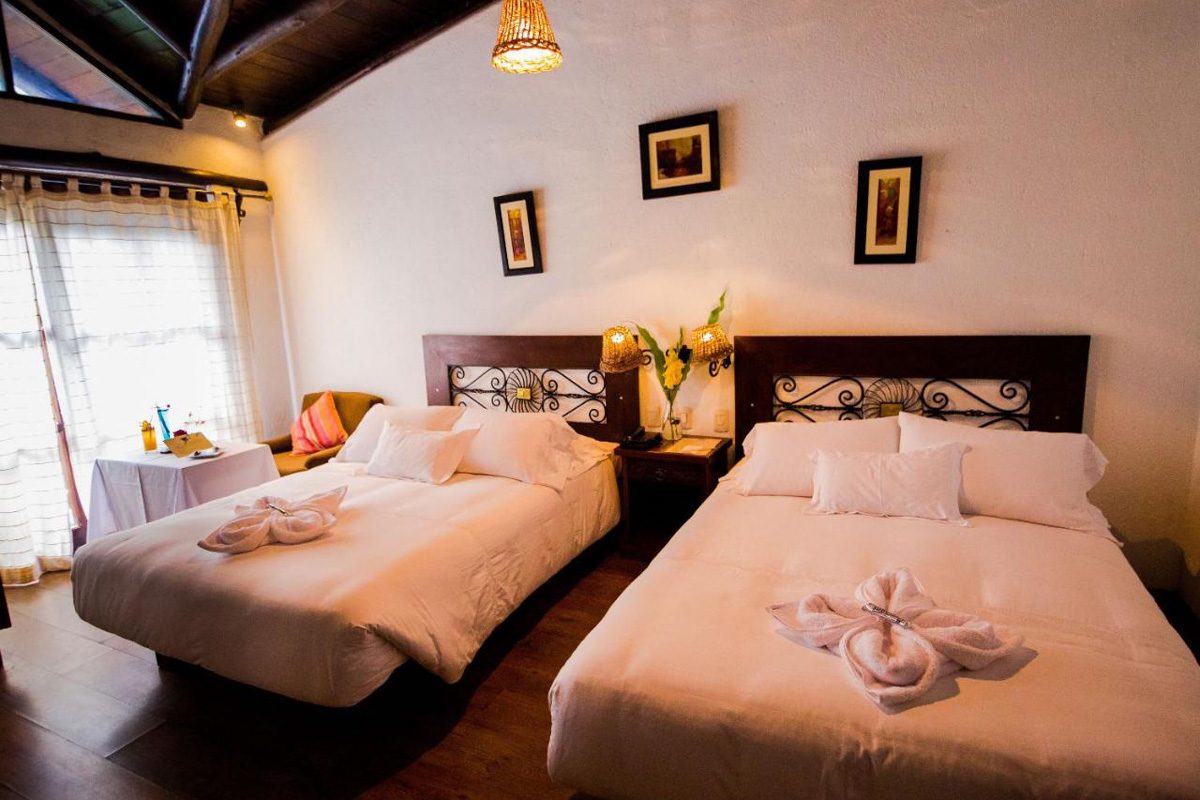 Mid-range budget hotel: Hatun Inti Boutique
Boasting spacious rooms with private spa baths and balconies, this boutique hotel is just a 5-minute walk from the train station on the Urubamba River. The property includes an onsite restaurant serving breakfast daily.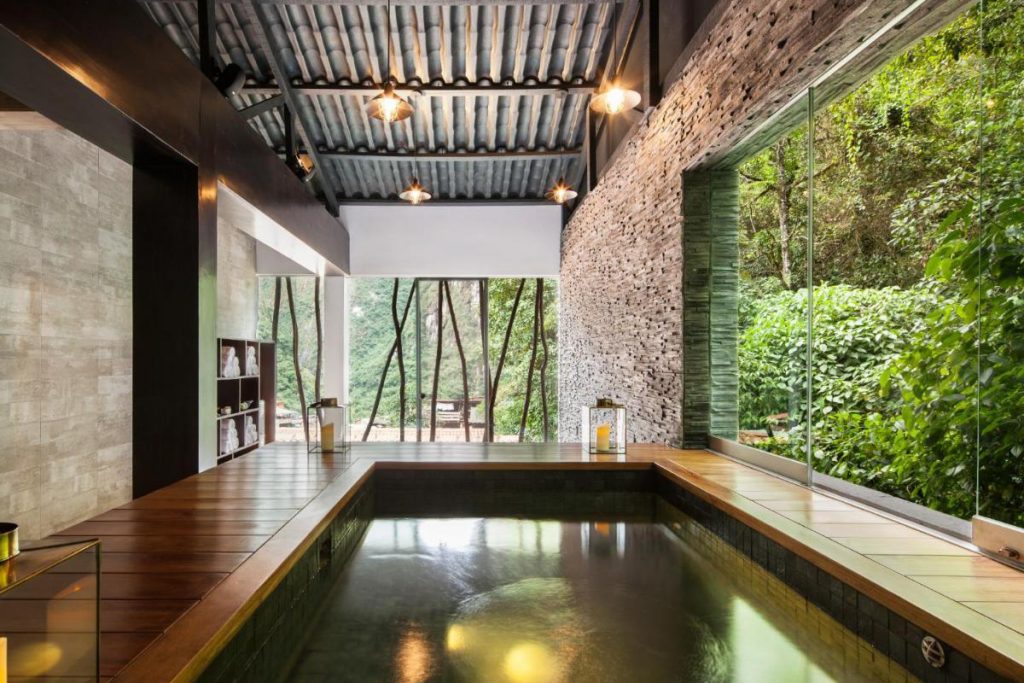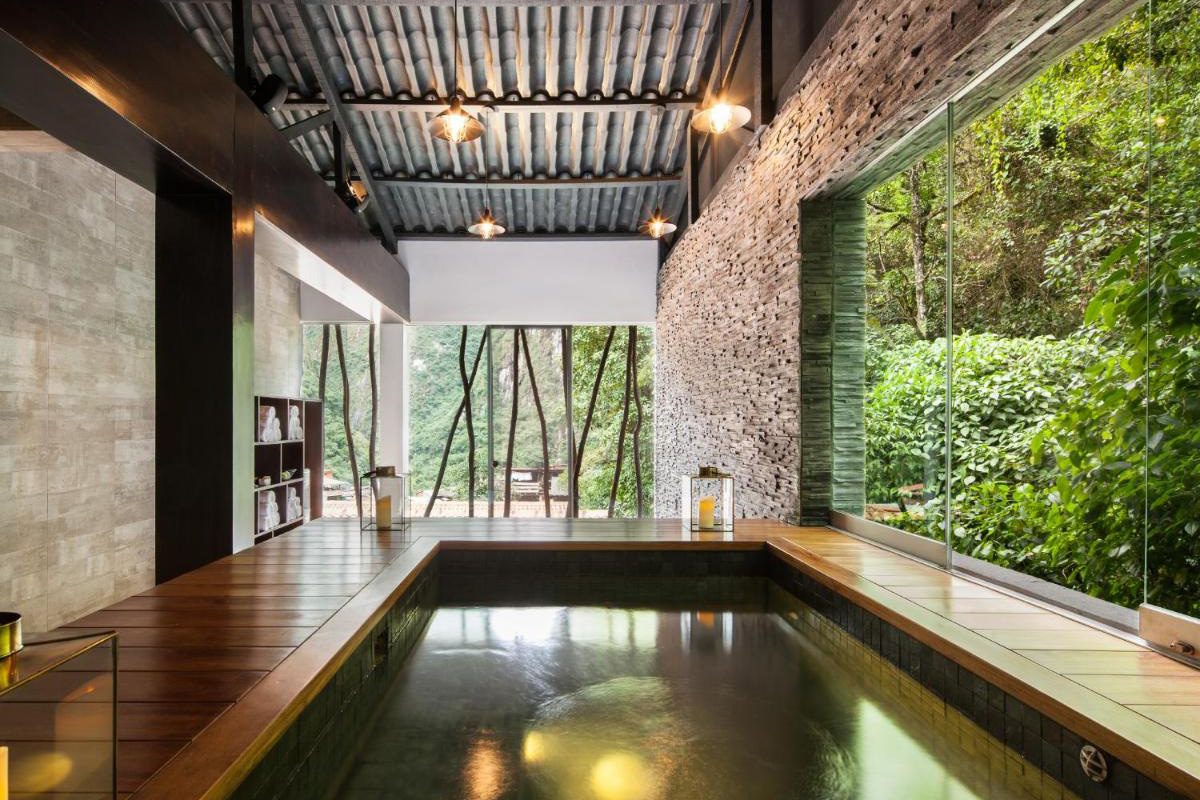 Luxury Hotel: El MaPi by Inkaterra
This stylish boutique hotel offers contemporary suites, a spa and wellness center, and onsite restaurant serving organic foods. Guests are welcomed with free shuttle service from the train station.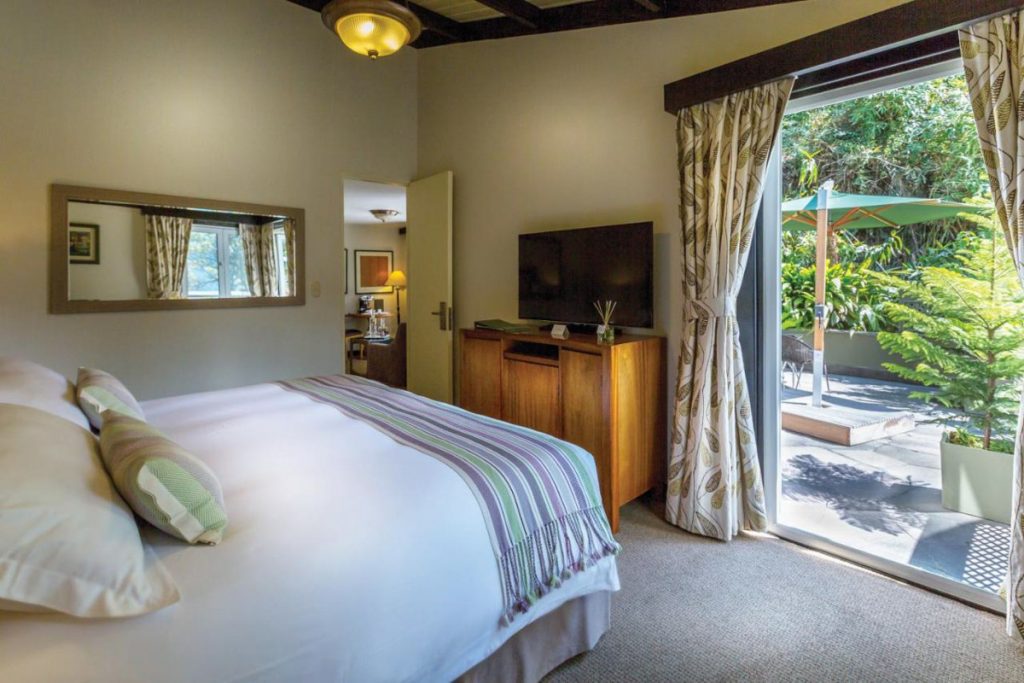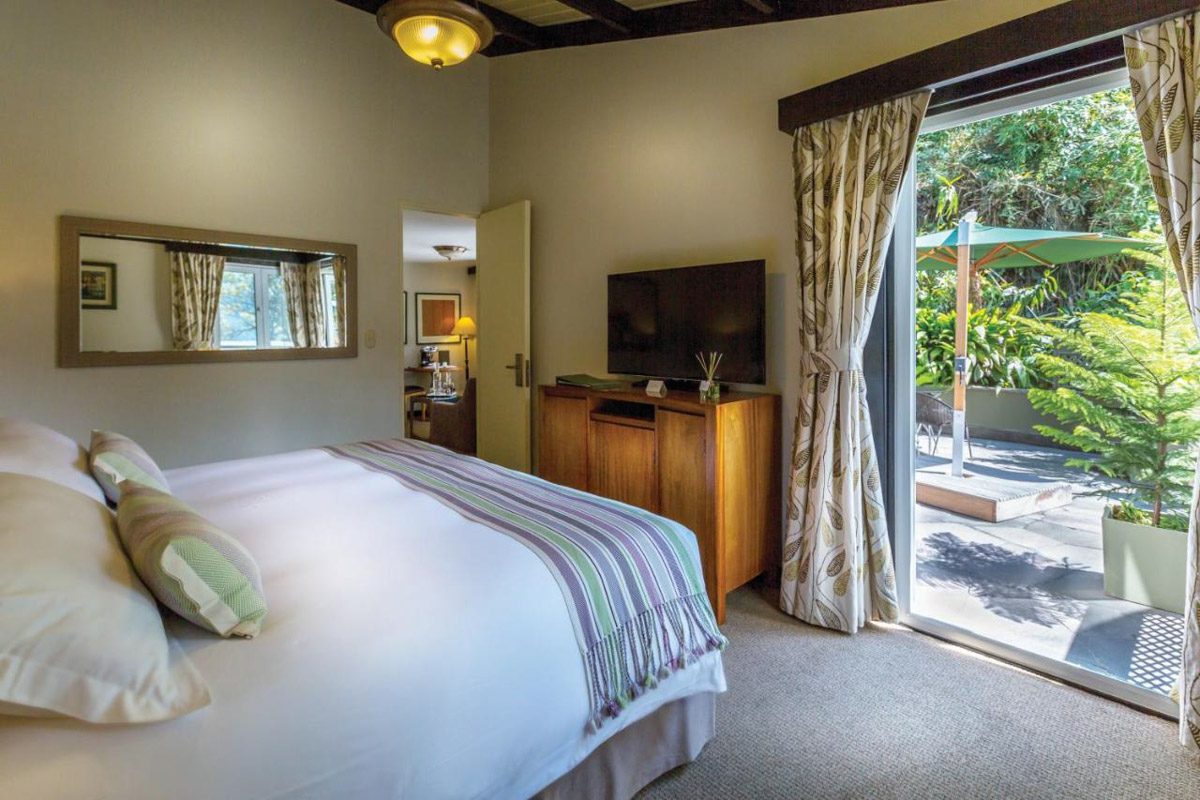 Ultra-Splurge: Sanctuary Lodge, A Belmond Hotel
A single night stay at this luxury hotel will cost you upwards of $1,000 USD per night, but it's the only property located at the entrance to Machu Picchu. (Yes, this means you can skip the shuttle bus. All you have to do is cross the street to enter the citadel!) In addition to the stylish rooms and panoramic views, the hotel features an onsite restaurant and cozy interiors.
Trek to Machu Picchu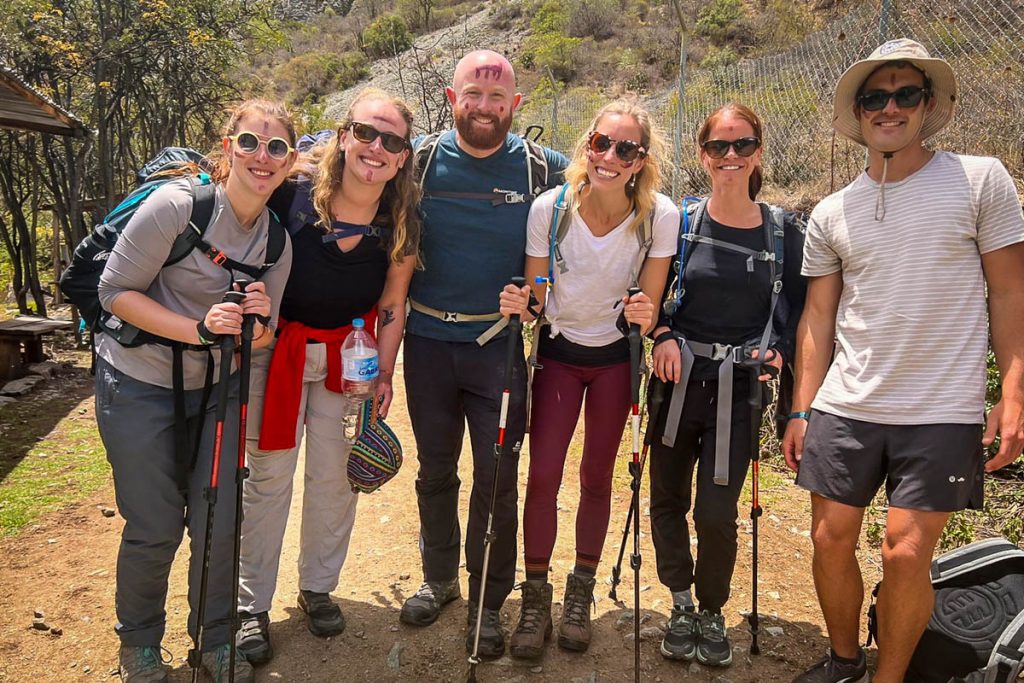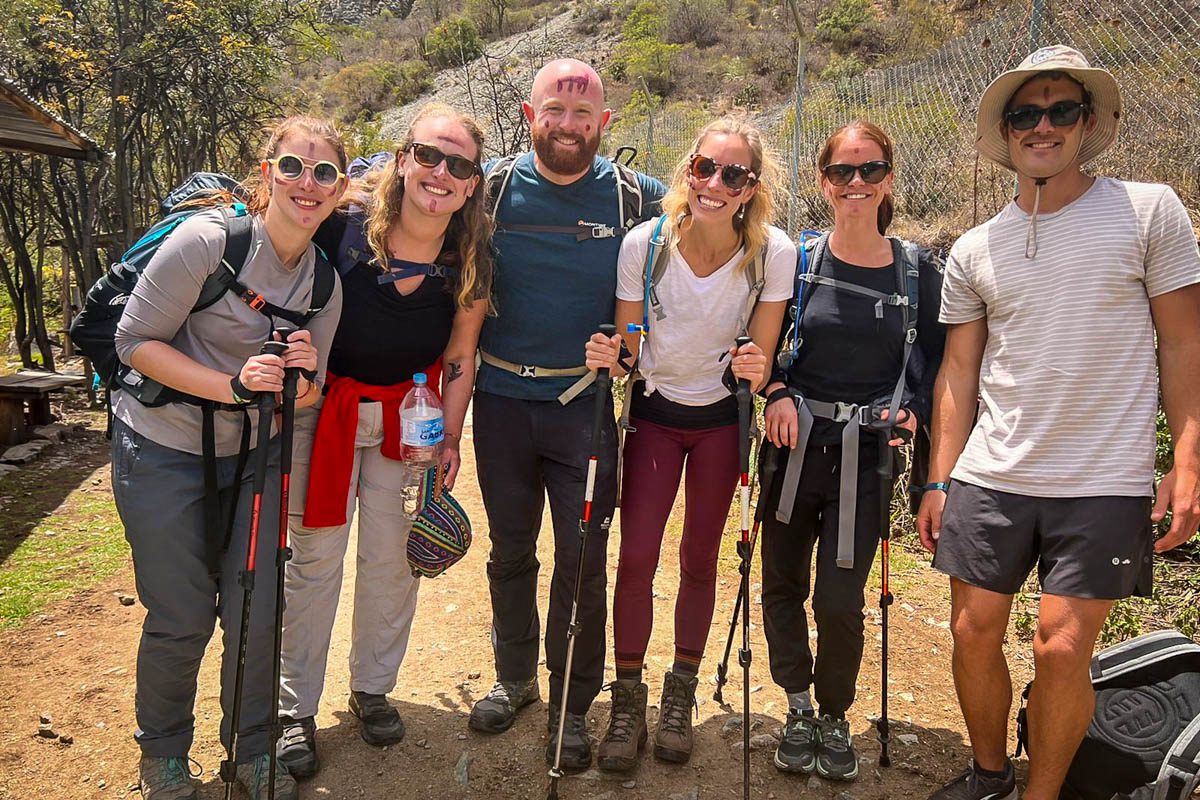 Setting off on a multi-day trekking tour through the Sacred Valley is a favored way to have the complete Machu Picchu experience. A trekking tour is a great option that includes your entry ticket to Machu Picchu and a bunch of other perks depending on the tour company.
Trek through vibrant cloud forest, rugged Andean peaks, and ancient archaeological sites before arriving at the Lost City through the original Sun Gate. You cannot enter the city through the Sun Gate unless on a trek, which makes this such a once-in-a-lifetime experience.
There are 3 trekking routes that take you to Machu Picchu: the Inca Trail, Salkantay Trek and Lares Route. Each offers uniquely different experiences and multi-day options that we will go over in more detail below.
Choosing a trekking company is an important decision when planning your trek to Machu Picchu. As with all tours, we recommend doing your own research and finding a company whose values and practices you can get behind.
One company we recommend is Alpaca Expeditions. They are a Peruvian-owned sustainable and responsible tour operator, committed to improving the lives of their team members with better wages and services. This means fair wages and better working conditions for their porters and guides.
They offer expeditions for all of the treks to Machu Picchu, and tours by train.
BONUS OFFER! As as a special bonus for our readers, if you book a trek with Alpaca Expeditions using our promo code: TWS you'll receive FREE sleeping mat and walking sticks rentals. This is a great perk because traveling with a sleeping mat is not ideal and walking sticks are a must on the trail!
Inca Trail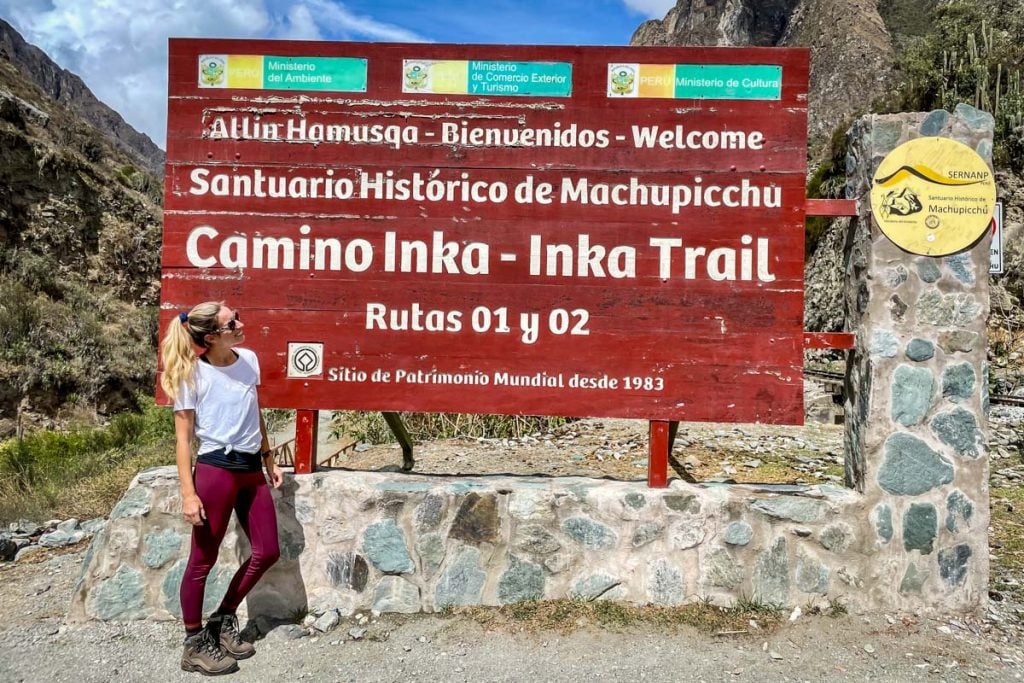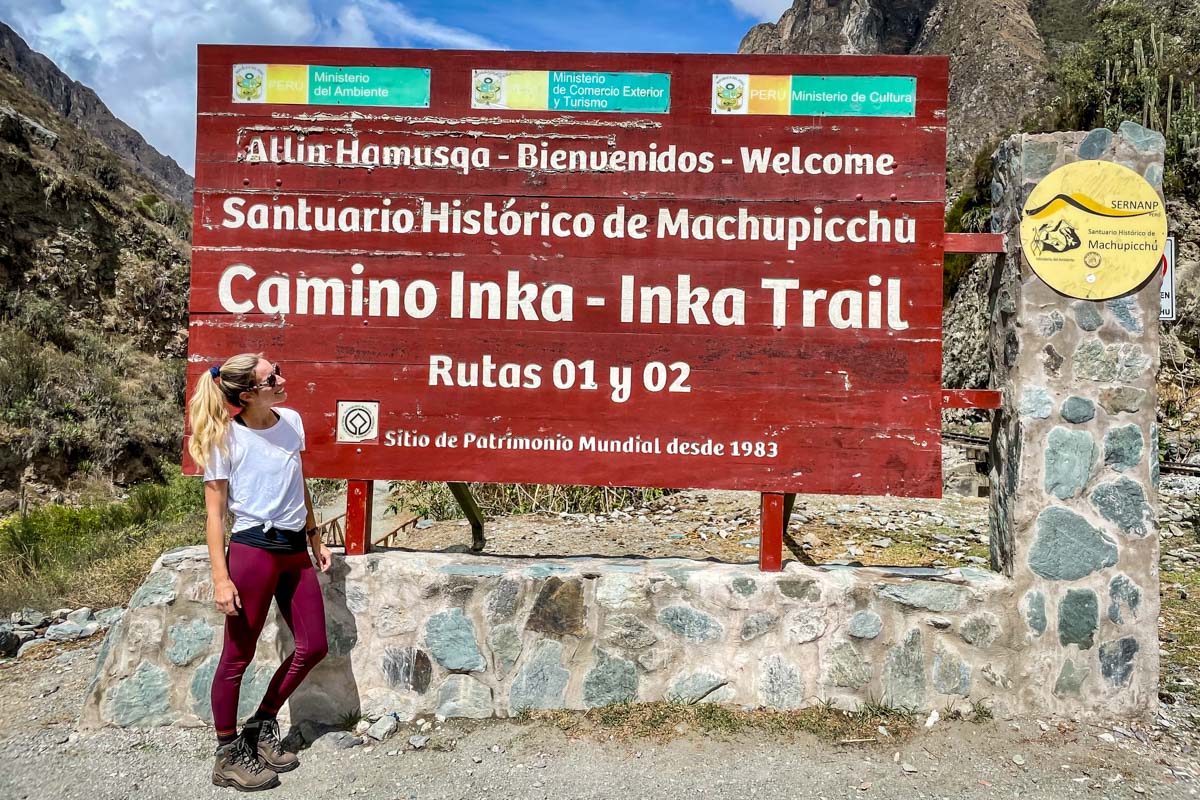 Distance: up to 43 km / 26 miles
Total Trekking Time: 1, 2, 3 and 4-day options
Difficulty Level: Moderate – Difficult
Peak Altitude: 4206 meters / 13,802 ft
The classic 4-day Inca Trail is the most popular Machu Picchu trek. You'll tackle 25+ miles over the course of four days and your reward will be the magnificent sunrise over Machu Picchu on the morning of the last day, just before entering the citadel through the Sun Gate.
Alternatively, there are 1, 2 and 3-day Inca Trail routes available to hike just a portion of the trail.
If you want to secure a spot for trekking the Inca Trail, we recommend booking about 6 months in advance, especially if you're planning on visiting in high season.
Permits for the trail are limited and the longer you wait, the slimmer your options will be. The shorter the tour, the cheaper the price, but for the traditional 4-day route you can expect to pay $650+ as a baseline price.
Be sure to read our full guide to hiking the Inca Trail to Machu Picchu for more information on exactly what to expect and how to book your trek.
Salkantay Trek
Distance: 74 km / 45.9 miles
Total Trekking Time: 5 days
Difficulty Level: Moderate – Difficult
Peak Altitude: 4,600 meters / 15,091 feet
The Salkantay Trek was ranked one of the 25 best treks in the world by National Geographic Adventure Travel Magazine and is a wonderful alternative to the well-known Inca Trail.
On this high-altitude trail, you'll summit Salkantay peak, a sky-high mountain that rises 6,271 meters (nearly 21,000 feet) in elevation. This is an amazing option for those who want a more off-the-beaten-path experience.
For the Salkantay trek, it's best to book at a minimum, 2-3 weeks in advance. The cost for this journey typically runs from $500-800 USD and includes camping gear, meals, and private transfers to and from your hotel, depending on the company you book with.
Lares Trek
Distance: 34 km / 21 miles
Total Trekking Time: 4 days
Difficulty Level: Moderate – Difficult
Peak Altitude: 4,780 meters / 15,682 feet
If you want to get off the beaten path, the Lares Route to Machu Picchu has a fraction of the traffic that the Inca Trail does, and offers the opportunity to visit traditional Andean villages along the way.
You'll enjoy remarkable views traversing the Sacred Valley as you pass vibrant lakes, jagged peaks, and get to interact with local Andean communities, some of which haven't changed in over 500 years. Hiking this route will immerse yourself in Peru's most rugged and remote regions, some of which can only be accessed on foot.
One of the best parts about this route is that permits aren't required, so you can get to Cusco and plan your hike from there. The typical cost for this route starts at around $500 USD. Different companies include different transport/tickets, so keep that in mind before you secure your spot.
Guided tours to Machu Picchu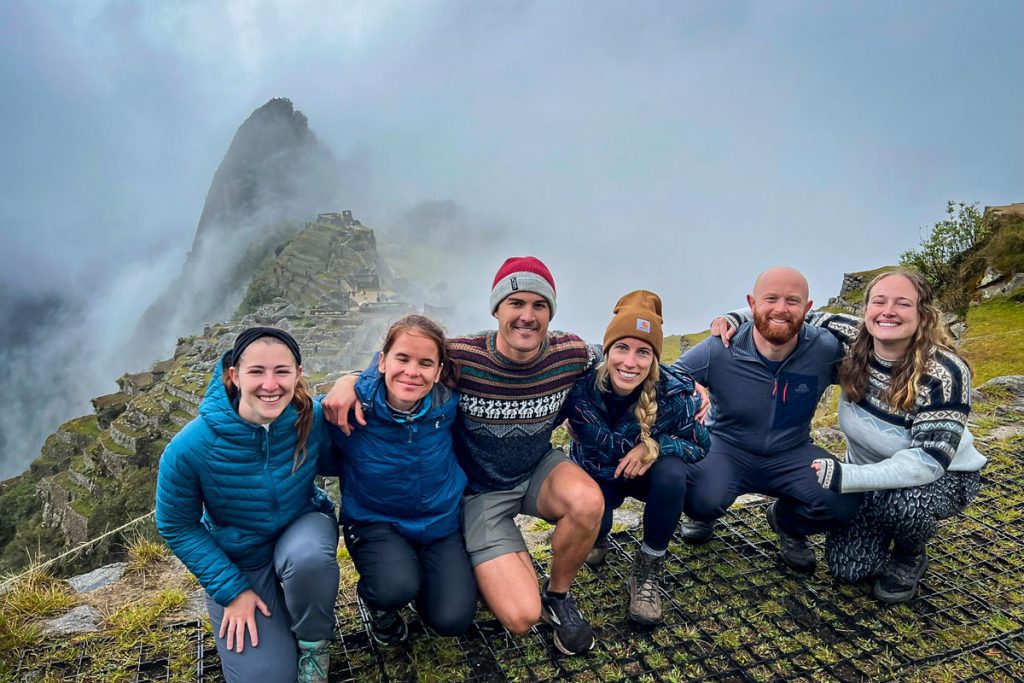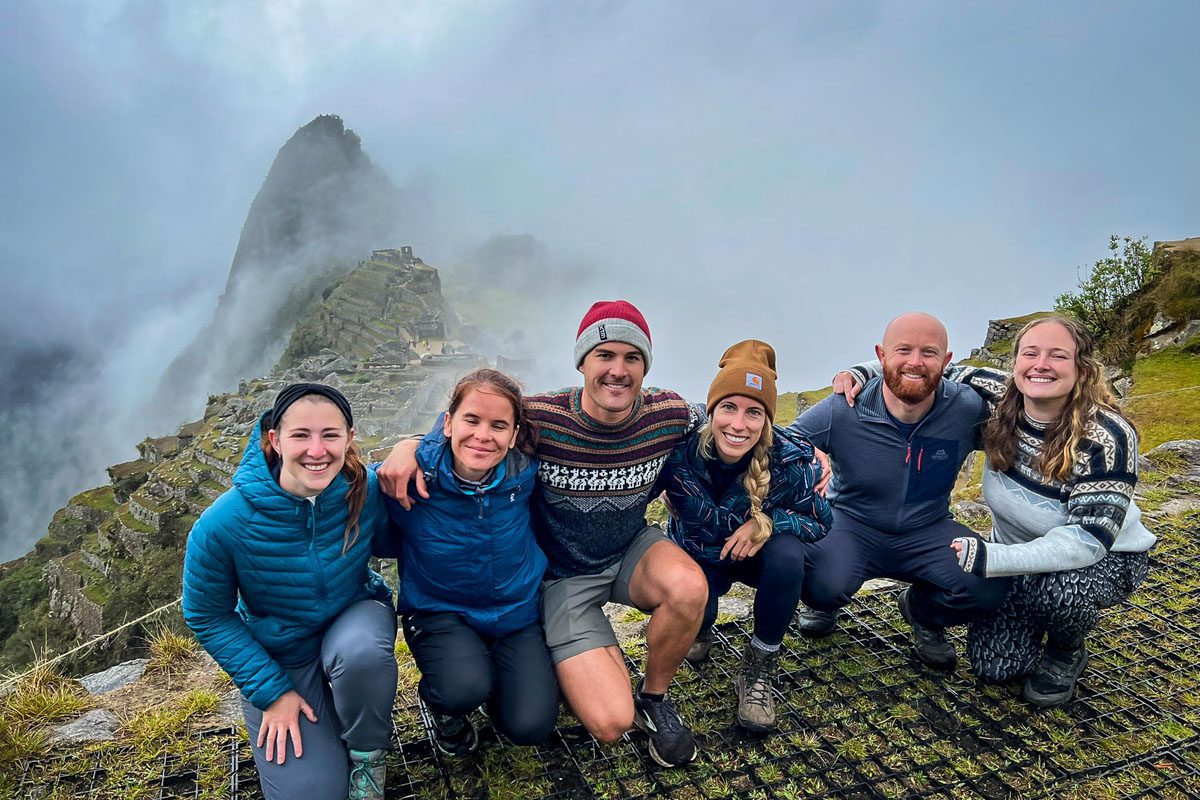 If you're limited on the time you have to see Machu Picchu, a guided day-trip is going to ensure you take full advantage of all the time you have to explore.
The journey starts with an early morning pick-up from your hotel in Cusco to board a scenic train ride to Machu Picchu. You'll get to gaze out the window and marvel at the Peruvian Andes on your way until you arrive in Aguas Calientes and take a shuttle to Machu Picchu.
Enjoy a 2-hour guided tour of the citadel to learn about the history of the Lost City and admire the Temple of the Sun, Inka House, Qolas, Pisonay Square, and the archaeological reserve on site. Then head back to Aqua Calientes for lunch, and relax on the ride back to your accommodations in Cusco.
Experience the full Machu Picchu experience on this jam-packed tour. You'll take a breathtaking ride through the mountain range between Cusco and Pisac.
Once you're in Pisac, you'll have an in-depth tour through ancient Incan temples, bargain for traditional goods and textiles at a local market, and enjoy lunch in Urubamba.
After lunch, head to Ollantaytambo, climb to the Temple of the Sun ruins and feast on local produce before ending the day in Aguas Calientes.
The next day, you'll experience the most beautiful sunrise over the Lost City of the Incas and explore the maze-like structure of the citadel or opt to trek to the top of Huayna Picchu. Head back to Aguas Calientes for lunch and make your way back to Cusco.
If you have the time and the sense of adventure, spending 4 days on a trip to Machu Picchu with multiple adventure activities is a once in a lifetime experience.
Over the course of 4 days, you'll get your adrenaline pumping with mountain biking, river rafting and ziplining before touring the citadel of Machu Picchu. Beginning in Cusco, you'll travel by bus to Santa Maria where you'll experience mountain biking and river rafting with an overnight homestay.
Day 2 will be filled with trekking, crossing a section of the Inca Trail and continuing to the thermal baths of Cocalmayo. Spend the night in a homestay in Santa Teresa.
Day 3 will consist of trekking from Santa Teresa to Aguas Calientes, and includes a ziplining adventure and hotel stay.
On the final day of your tour you'll get an early start to Machu Picchu to see the sun rise over the Lost City, take a guided tour of the citadel and sumit nearby Huayna Picchu.
This guided tour includes transportation to and from your accommodation in Cusco, entrance to Machu Picchu, 3 nights accommodation, all meals during your tour, all activities and equipment, and much more.
What to pack for visiting Machu Picchu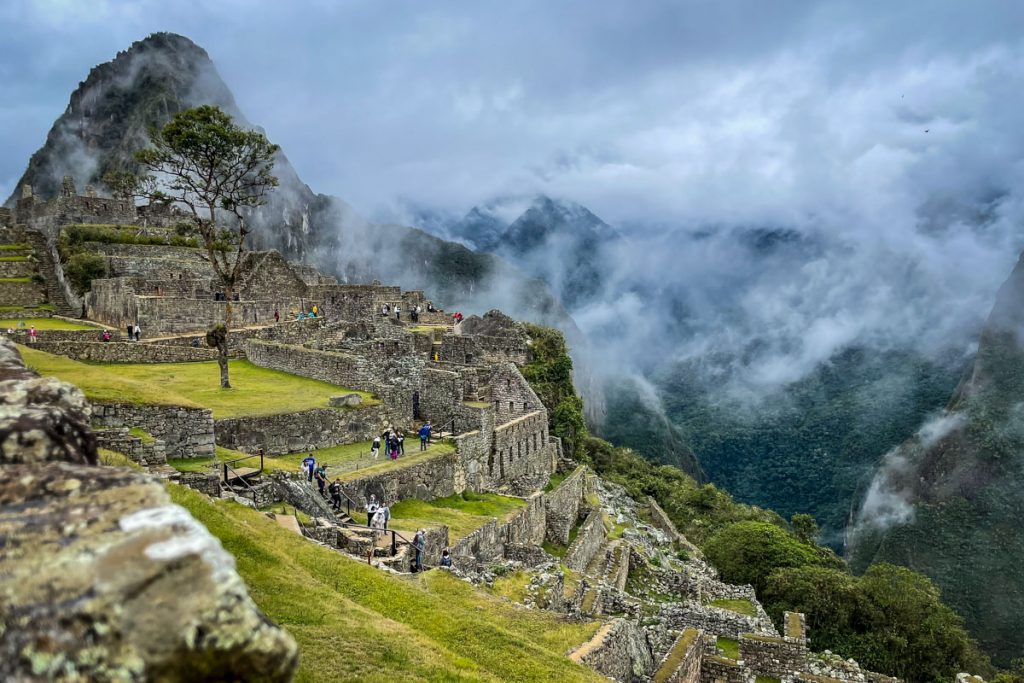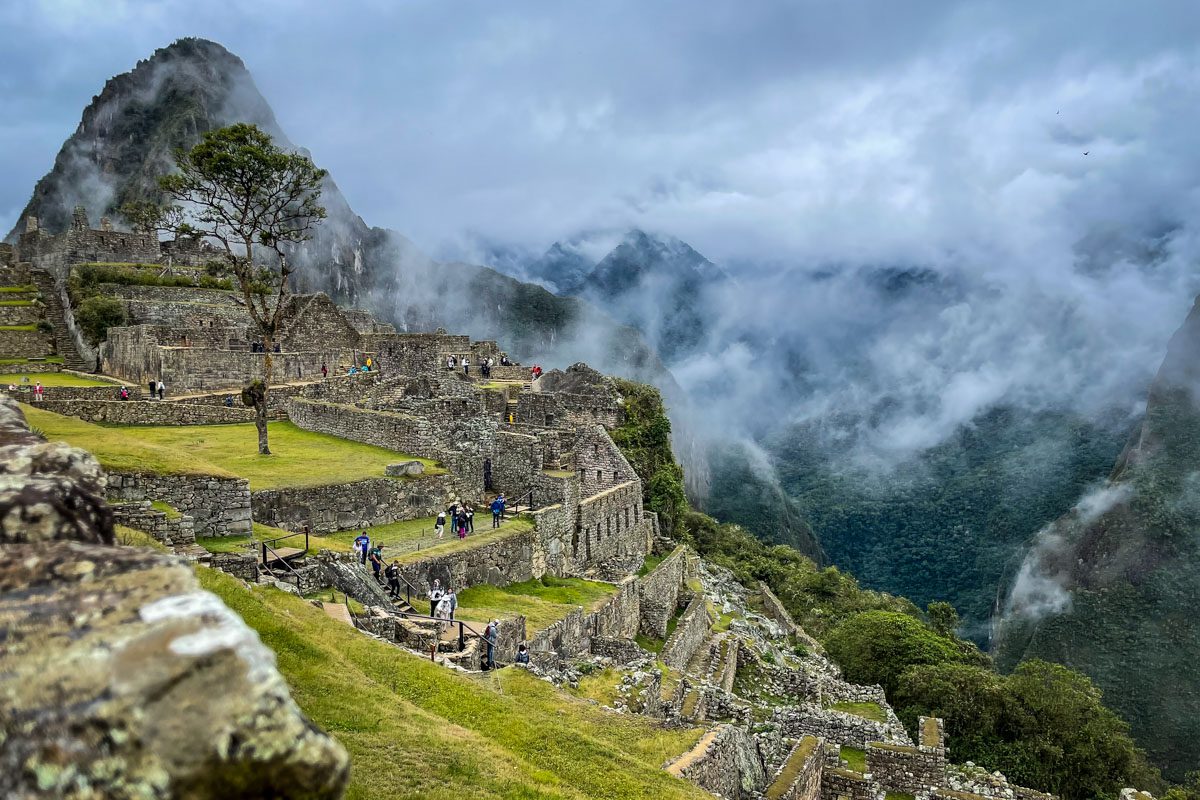 No matter what season or how long you plan to stay in Machu Picchu, there are a few essentials you'll want to make sure you have with you.
Sun protection (hat, sunglasses, sunscreen): The sun is harsh at this elevation and you will burn, even on an overcast day, if you're not protected. 

Tip: Pack sunscreen to bring with you to Cusco! You can buy sunscreen in the pharmacies there, but it's very expensive and you cannot find anything under 50 SPF. 

Rain protection: just as with the sun, if you're visiting Machu Picchu during the rainy season or the shoulder seasons, you'll want to be prepared with rain gear. A simple rain jacket and rain proof pack cover will work. You can also purchase a plastic rain poncho at the entrance. 

Note: Do NOT bring an umbrella, those are prohibited at Machu Picchu.

Plenty of drinking water: We like to take our Hydroflasks just about everywhere with us! A camelbak day pack is also a good idea. 
Bug spray: You'll thank us later!
Comfortable walking shoes
Plenty of layers: you'll certainly shed some as you hike or as the day wears on.
Personal camera

Note: Professional photography equipment (including tripods) is prohibited at Machu Picchu without a permit. You will have to fill out paperwork and apply for your permit in Aguas Calientes. The official cost isn't published, but according to the internet people have been asked to pay $350 USD.

Day pack to carry everything

Note: You cannot bring large backpacks into Machu Picchu. Only small, personal day packs are permitted. The official limit is a maximum 20 liter bag, and anything larger will be required to remain outside.
Frequently asked questions about Machu Picchu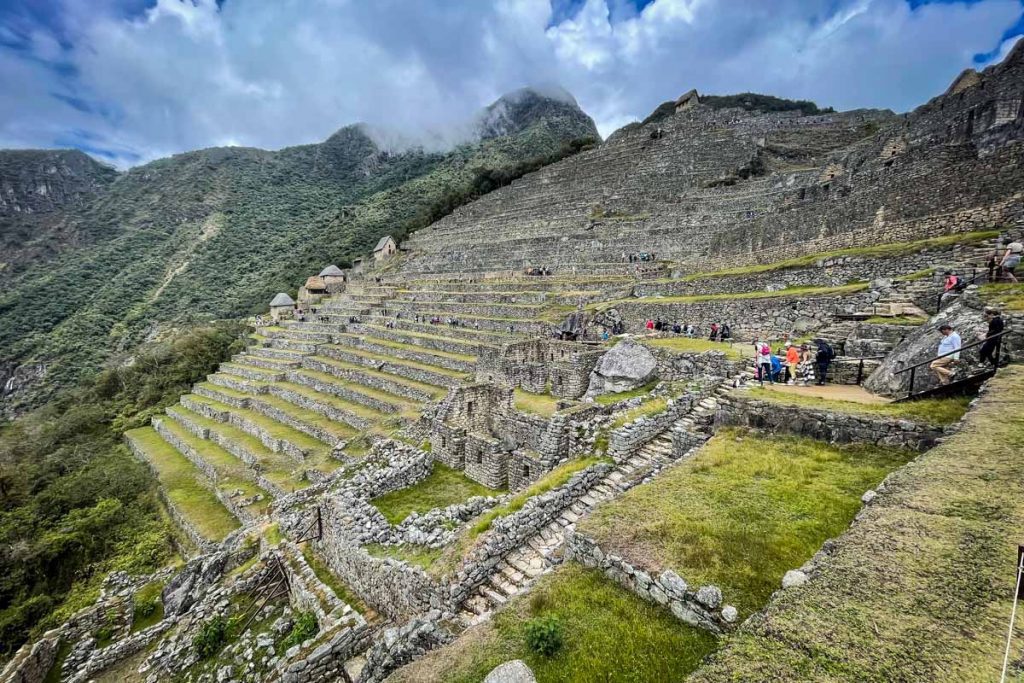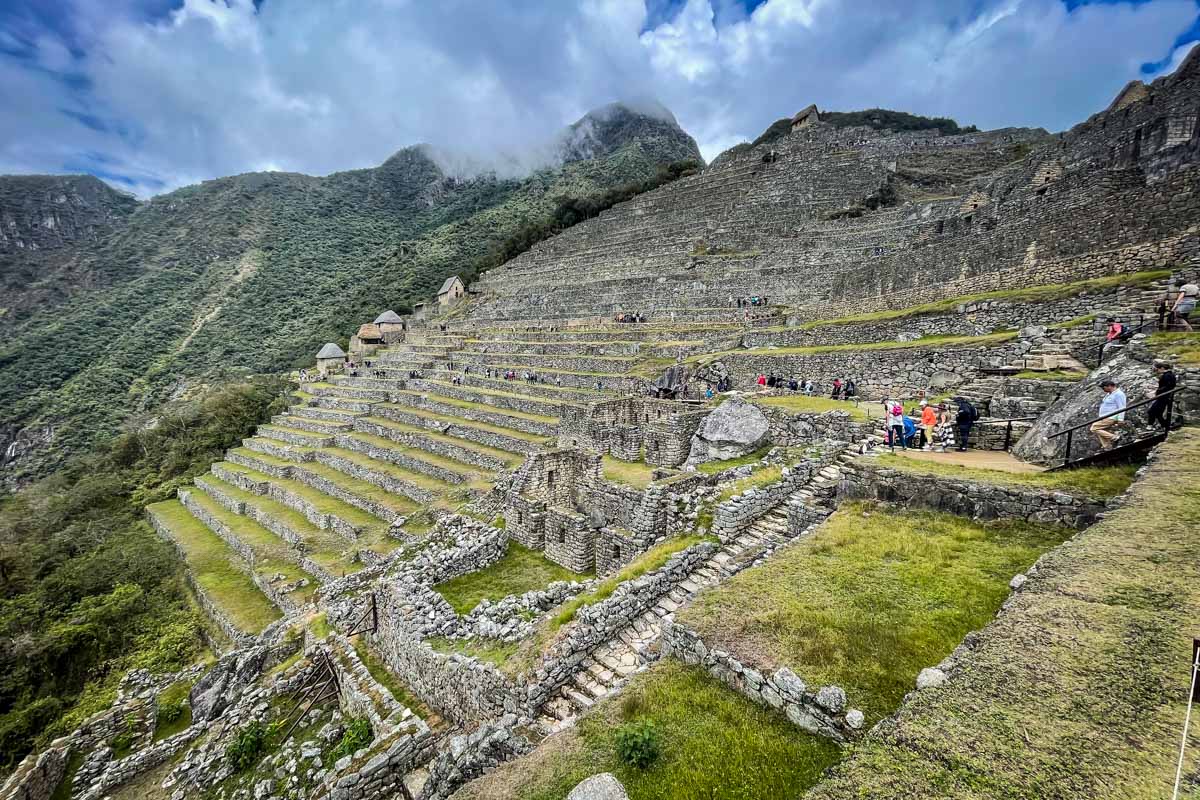 Keep these things in mind as you're planning your visit and how to get to Machu Picchu. There were many new regulations put in place in 2019 that are important to note.
What is the closest town to Machu Picchu?
Aguas Calientes, also commonly referred to as Machu Picchu Pueblo or Machu Picchu Town, is the closest town to Machu Picchu. It's around 8 km (5 miles) from the entrance to the Machu Picchu citadel.
What airport do you fly into for Machu Picchu?
The Alejandro Velasco Astete International Airport (CUZ) in Cusco.
How much does it cost to go to Machu Picchu?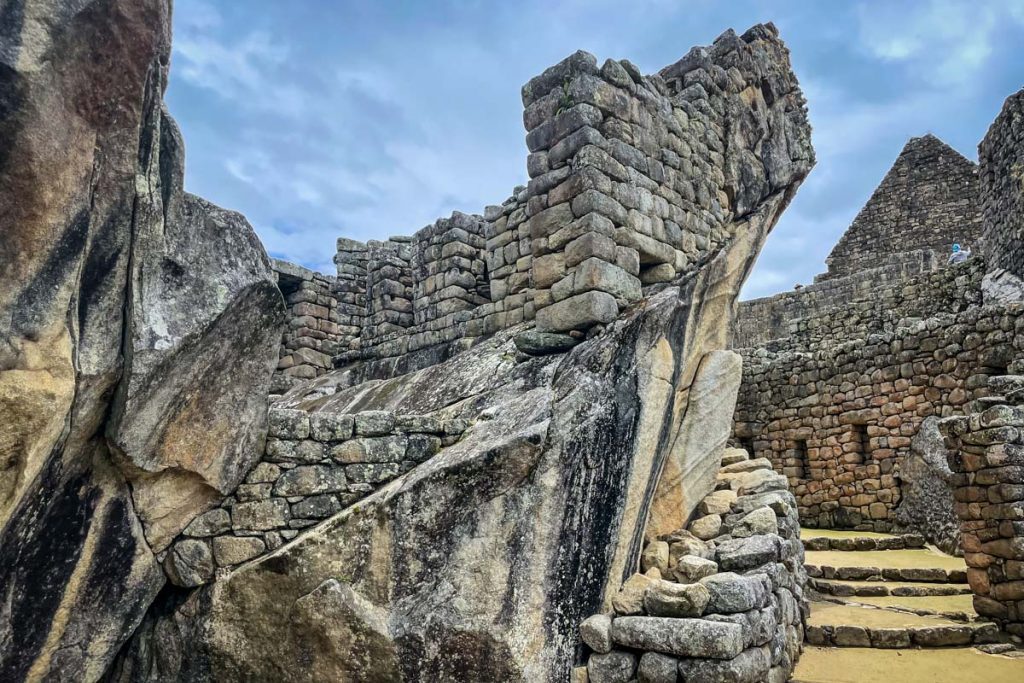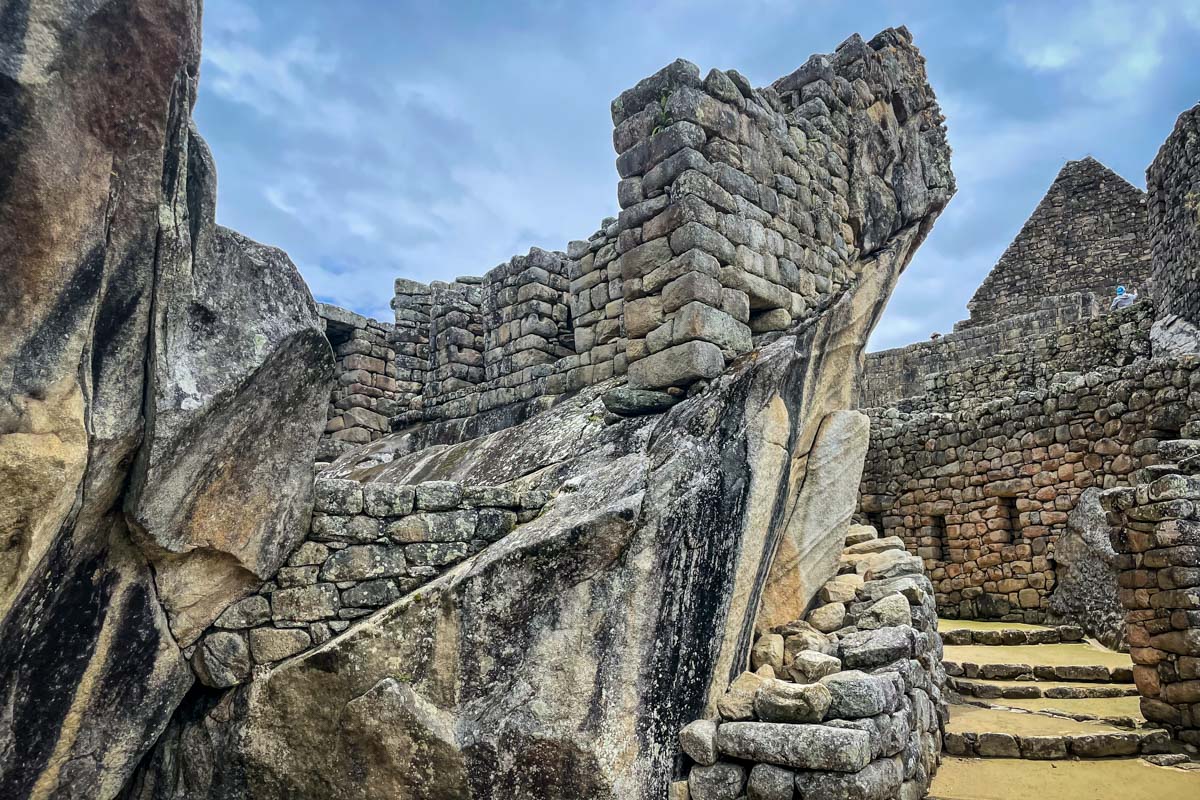 Tickets to get into Machu Picchu range from $60-80 USD. When you consider the cost of overnight accommodation and trains/other transportation to get here, you'll likely spend upwards of $300 USD/person just to get to and from the site.
In this case, tours could be a more affordable option since they generally include the tour, transportation, and door-to-door service from your hotel. You'll get a bit more bang for your buck on a trek, so it's definitely worth considering if you're up for it.
How many days do you need in Machu Picchu?
Most people find visiting Machu Picchu in just one day is sufficient. Guided tours of citadel typically take 2-2.5 hours and with the timed entry permits, you'll get 4-6 hours in total to explore, depending on which ticket you buy.
Spending a night in Aguas Calientes is recommended to give you the option to enter Machu Picchu on the 6:00 a.m. entry slot. If you trekked to Machu Picchu, an extra day in Aguas Calientes is also nice to relax and soak in the hot springs.
If you're not in Peru for very much time, a long day trip will be plenty of time to see Machu Picchu.
How far in advance do you need to book Machu Picchu?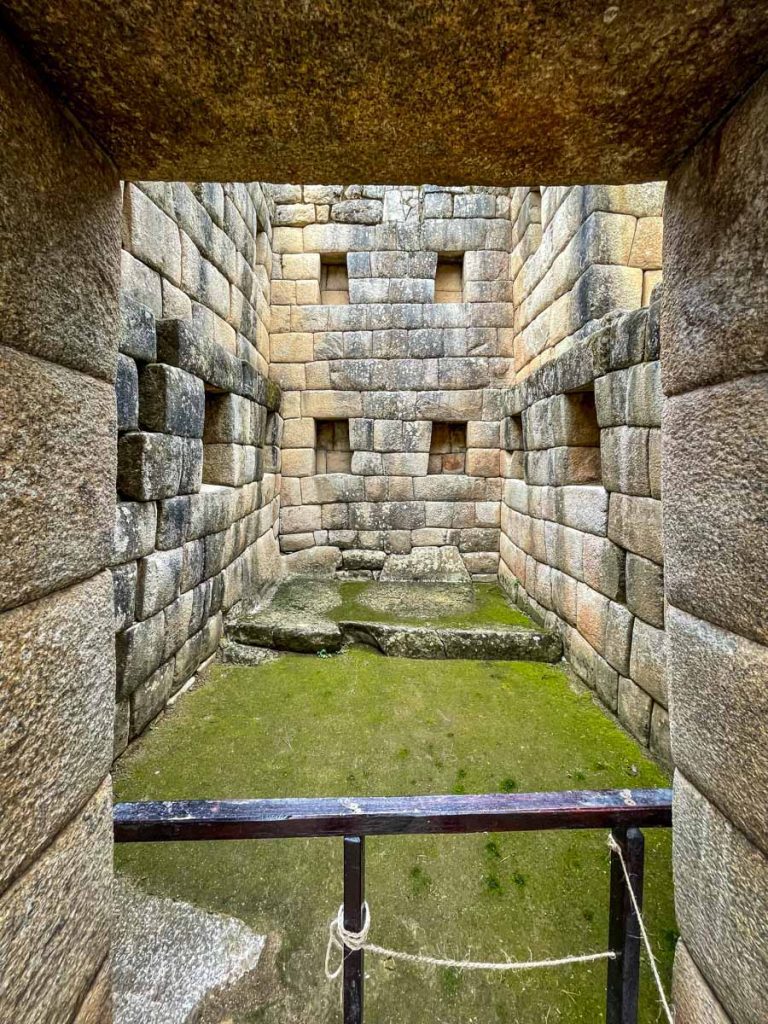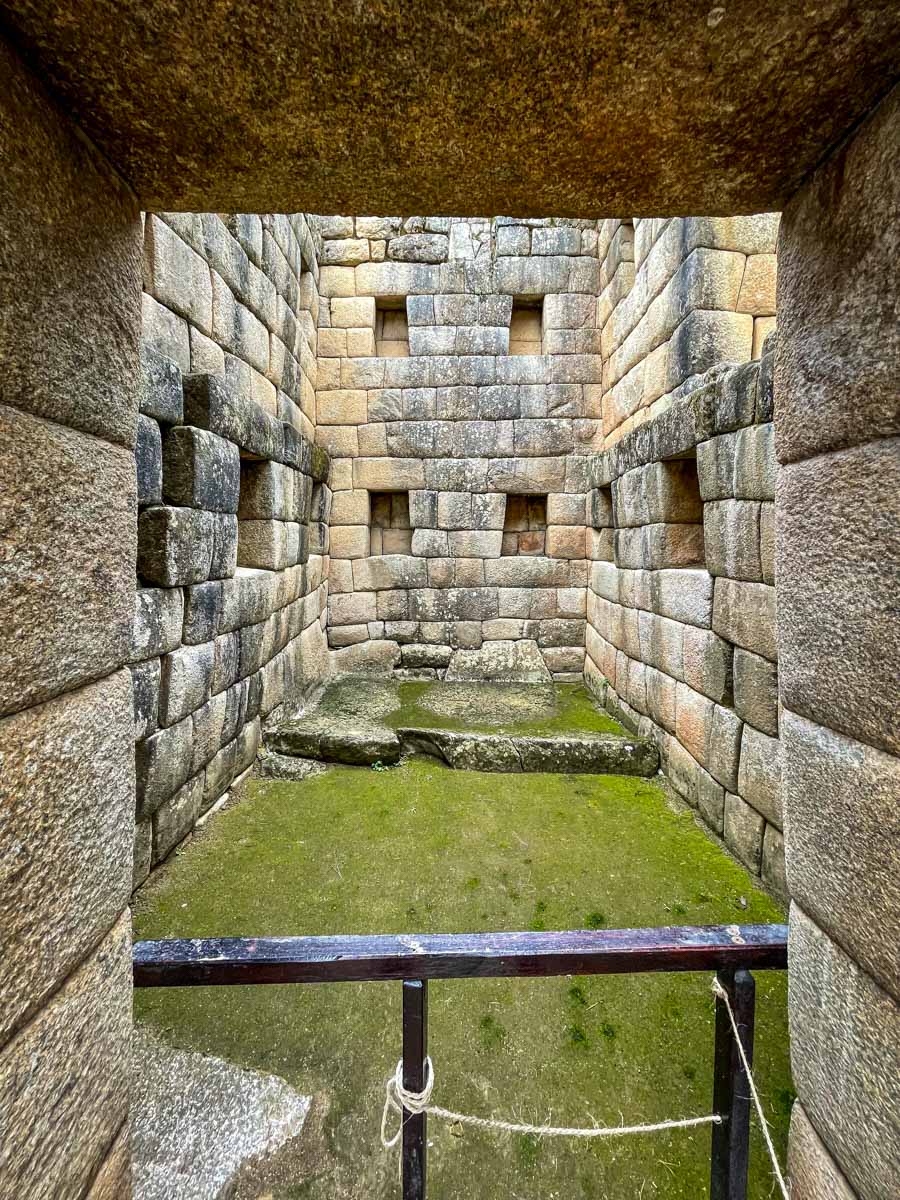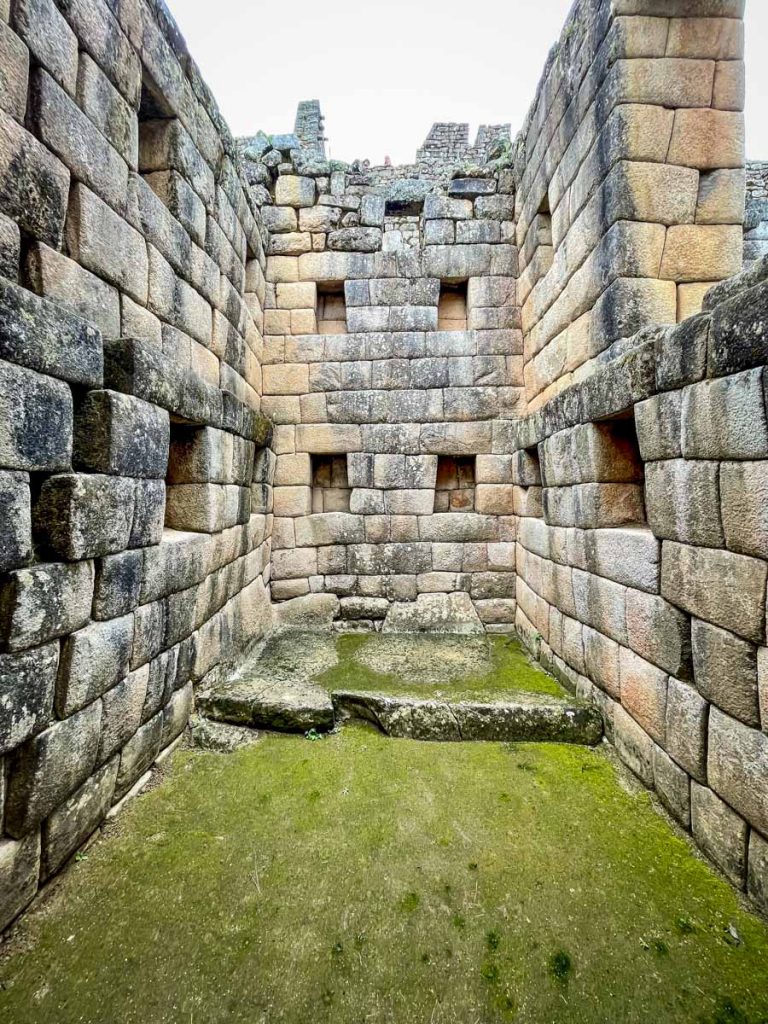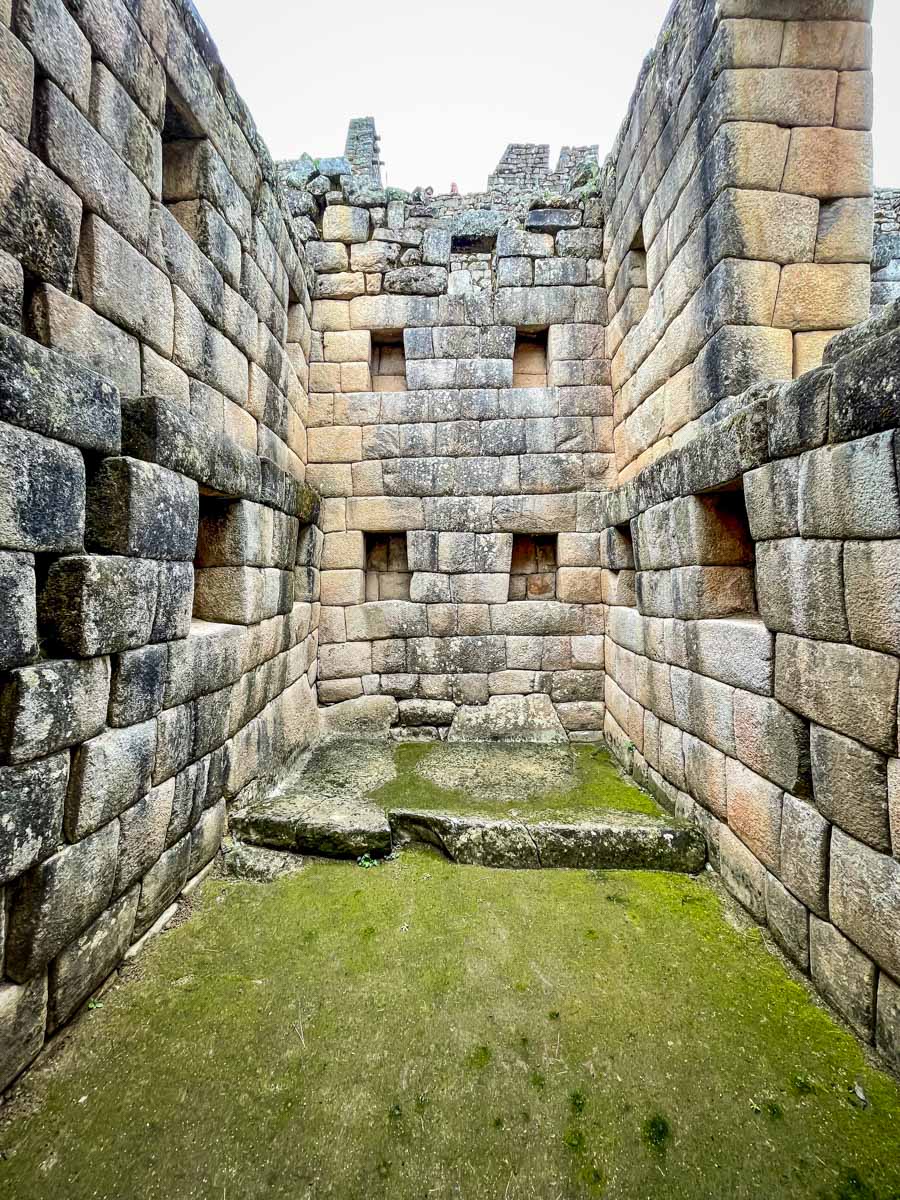 A good rule of thumb is to book as far in advance as you can because there are only a certain amount of tickets per time slot available each day and a limited number of permits for each trek. However, the answer can really depend on how you're getting there and what time of year you're visiting.
In any circumstance, booking last minute may not always be an option. And it will be very difficult, especially during high season.
If you want to visit Machu Picchu on a general ticket for sunrise or plan to hike any of the surrounding mountains, you'll need to book months in advance, especially if you're booking during high season.
If you're visiting Machu Picchu on a trek, you should also plan to book well in advance. We suggest booking 6 months in advance for the Inca Trail and just 2-3 weeks in advance for the Salkantay trek.
It's important to note only 500 people (between 200 tourists and 300 porters) are allowed on the Inca Trail each year, and you must go with a tour company, making spots very limited.
For other trails there is more leniency, but it's still recommended to book them as soon as you know the dates you're available for the trek.
Can you stay overnight in Machu Picchu?
No. It closes at 5:30 p.m. However, you can stay (literally) right at the entrance at the Sanctuary Lodge for a hefty chunk of change.
The next closest place to stay is in Aguas Calientes, that's about a 30 minute shuttle ride from the entrance.
Is there a lot of walking in Machu Picchu?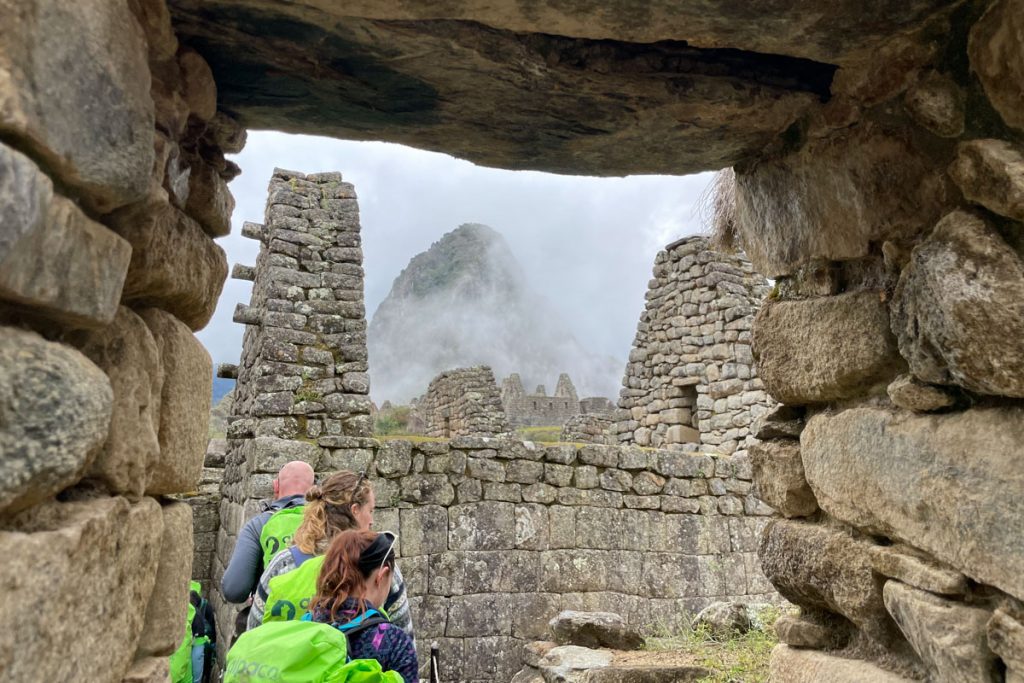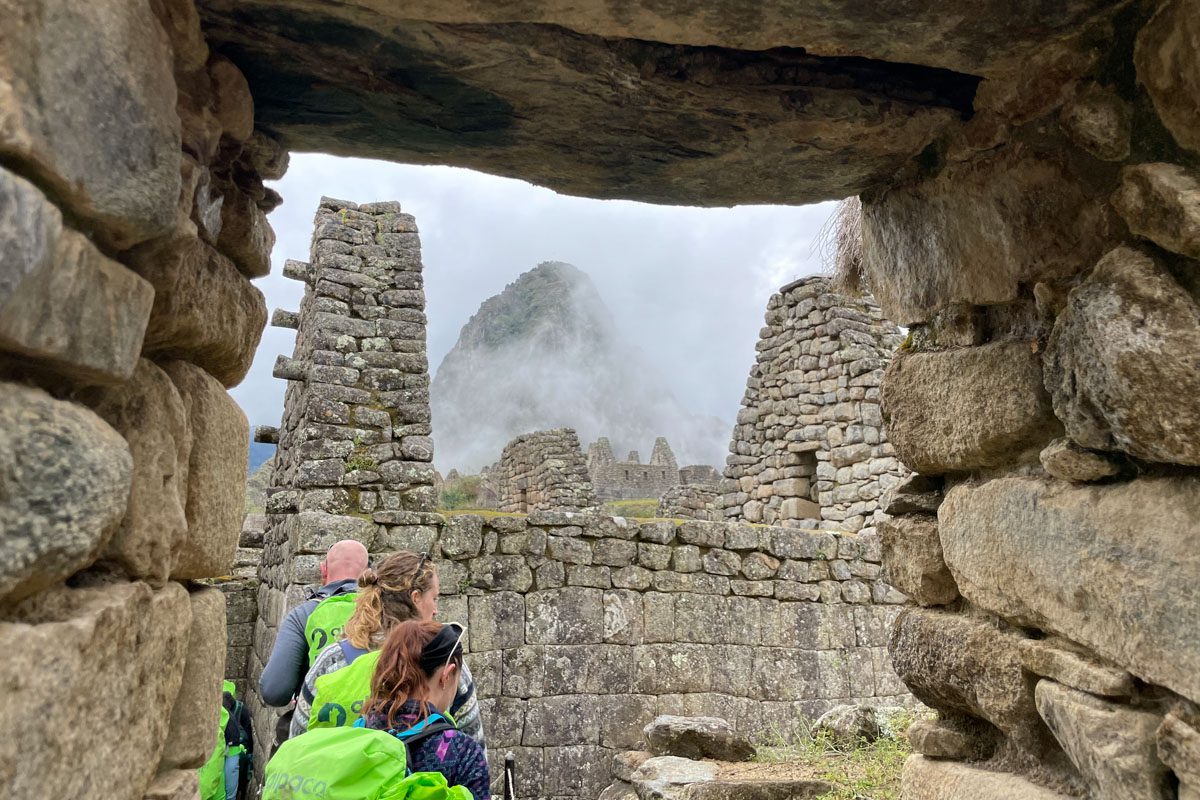 Walking is the only way to get around Machu Picchu, so you'll spend the entire time walking. If you're with a guide, you'll typically spend 2.5 hours walking around the site.
See out note above about the different circuits available. Circuit 3 is the best option for those with low mobility.
Are there bathrooms at Machu Picchu?
The only bathrooms at Machu Picchu are outside of the main entrance and cost 2 soles per person to use. It's important to use the restroom before you enter since you cannot re-enter Machu Picchu once you've exited.
How long can you stay at Machu Picchu?
4 hours is the maximum amount of time you can be in Machu Picchu. If you book a ticket that includes hiking to one of the mountains, Wayna Picchu, Machu Picchu Mountain, or Huchuy Picchu, your ticket slot will be 6 hours instead of 4.
Does the train take you all the way to Machu Picchu?
No. All trains to Machu Picchu depart at the Machu Picchu Station in Aguas Calientes. Additional transport is required to get to the entrance of Machu Picchu from there.
---
Are you planning a trip to Peru?
We have lots of resources on travel in Peru and destinations throughout the country. Check out our Complete Peru Travel Guide for all the answers to your most burning questions, or read some of our favorite articles below.
Save this article on Pinterest for later!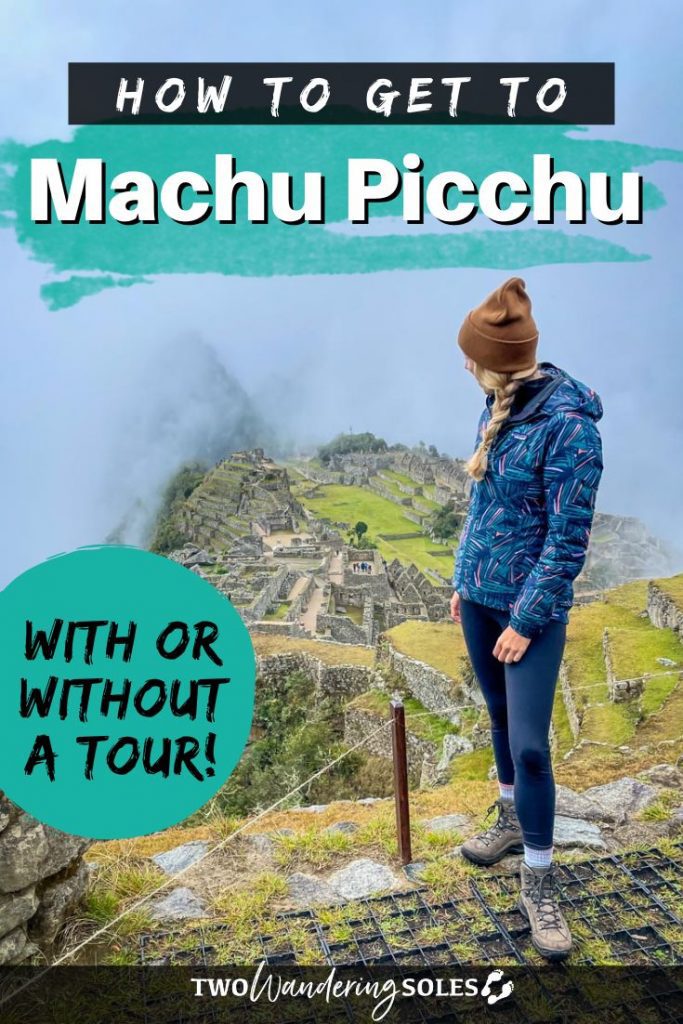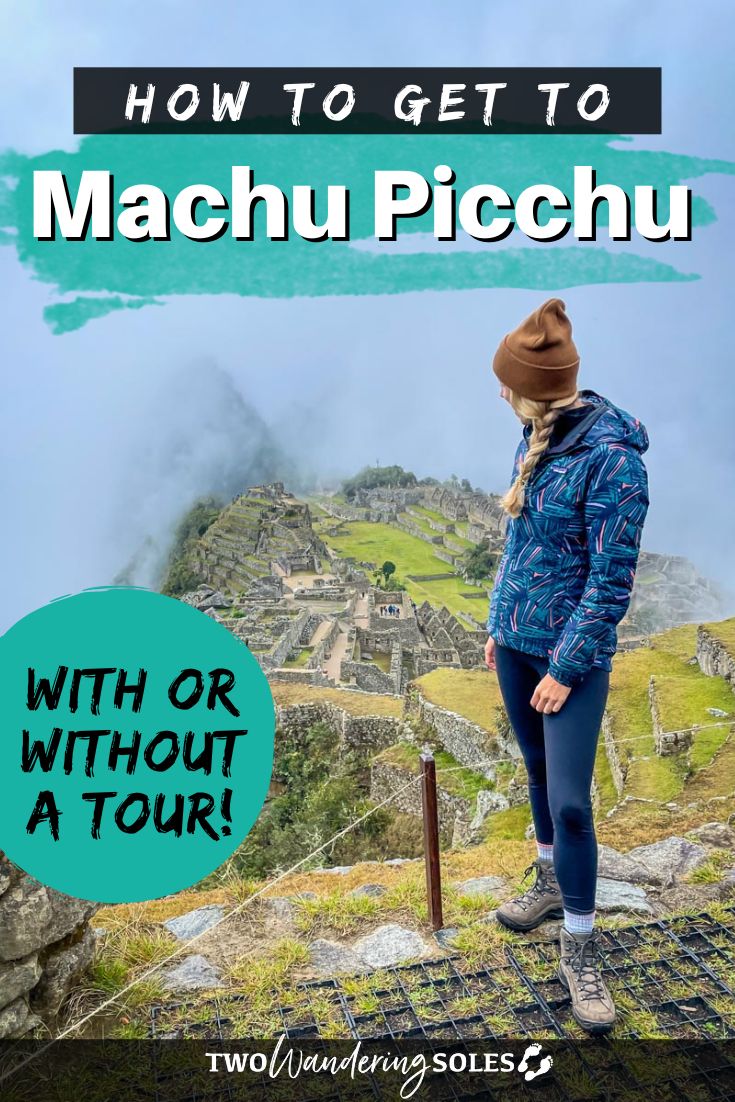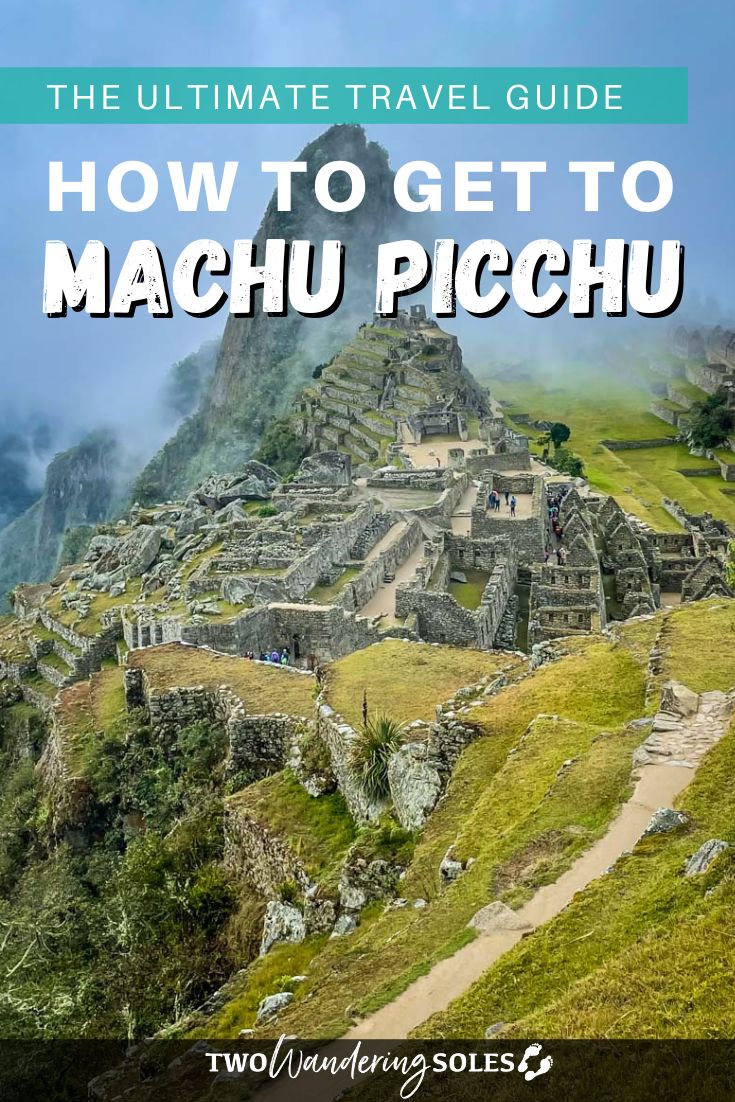 We want to hear from you!
Have you ever been to Machu Picchu before? What was your experience like? Do you have more questions about how to get to Machu Picchu? Leave your comment below and we'll do our best to get back to you!