Cusco is a city bursting with life. There's both a large presence of foreigners (mostly on their way to Machu Picchu) and locals going about their daily life. It's a city with such a rich history that is worth more time than just a stop before the Inca Trail; there are so many things to do in Cusco, Peru.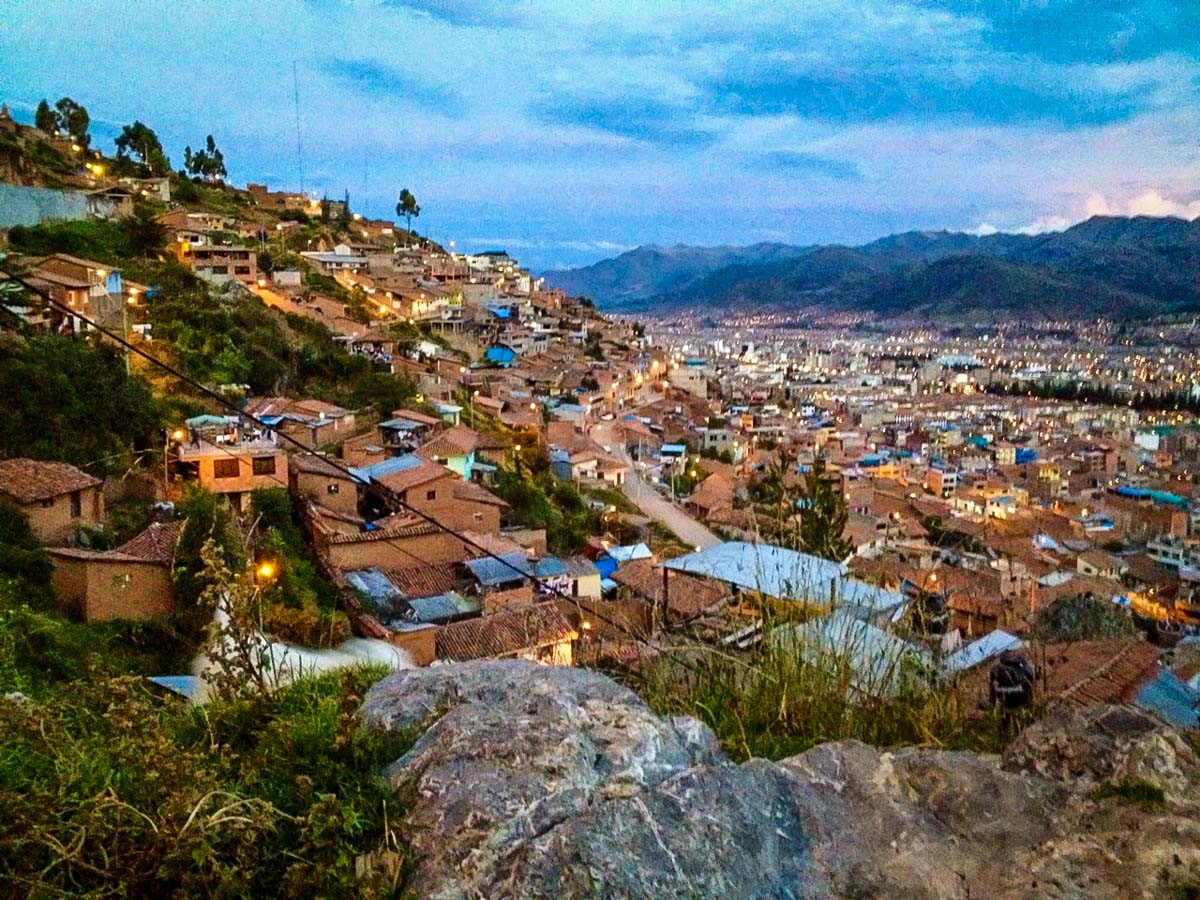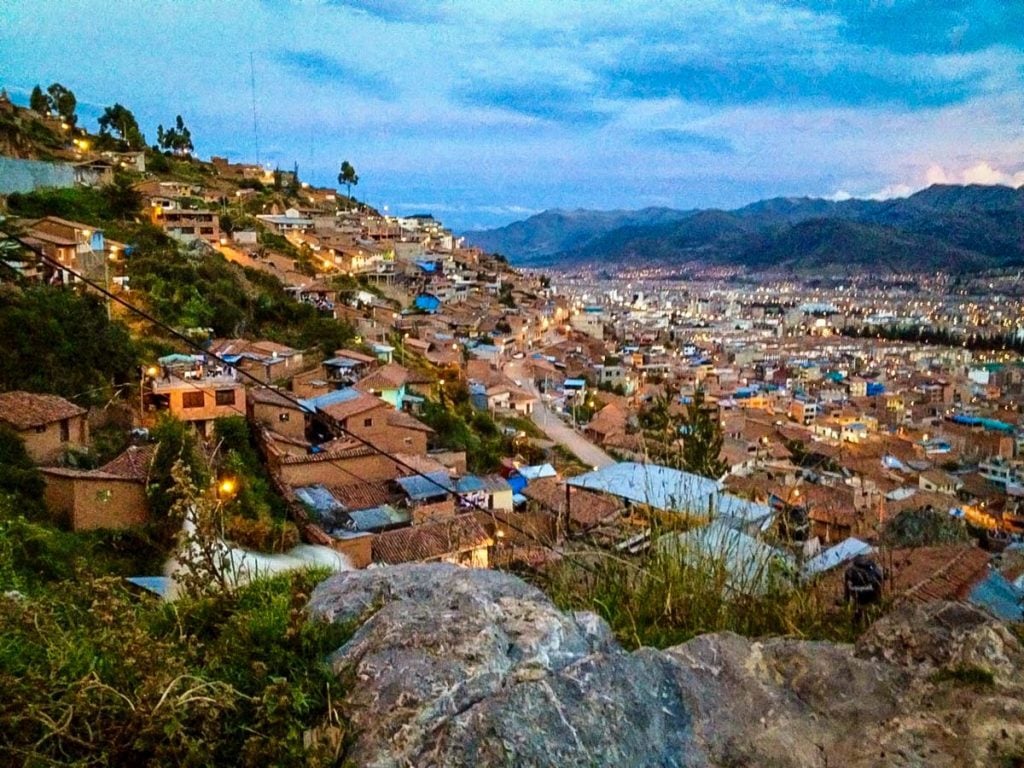 As the ancient capital of the Inca Empire, every traveler in Peru is bound to find themselves passing through Cusco. It's a city with such a rich history and there are so many things to do in Cusco that are worth more time than just a stop before the Inca Trail.
Where do I start with this city? It's bursting with life. There's both a large presence of foreigners (mostly on their way to Machu Picchu) and locals going about their daily life.
Our first glance of Cusco from the bus window as we were winding down bumpy mountain roads was indescribable. I think the fact that we took a 16-hour, bumpy, sandy, overnight bus from Huacachina made this sight even more spectacular.
Nevertheless, the large cluster of stucco-roofed buildings surrounded on all sides by mountains is a beautiful sight.
Cusco is truly a fascinating place, and whether you have 3 days in Cusco or 3 months, you'll find reasons to love it!
In total, we spent eight days in Cusco before and after our trek. We were able to explore the city, relax and meet other travelers, and when it came time to leave it was hard to say goodbye.
Psst! If you'll be traveling more throughout the country, be sure to check out our bucket list of can't-miss things to do in Peru!
Article Contents
---
Things to do in Cusco
This small mountain city is packed full of culture, history and adventure. There are so many things to do in Cusco, you could easily spend a month exploring the city's nooks and crannies.
No matter how much time you have to spend, here is a list of our top things to do in Cusco you won't want to miss.
1. Take a free walking tour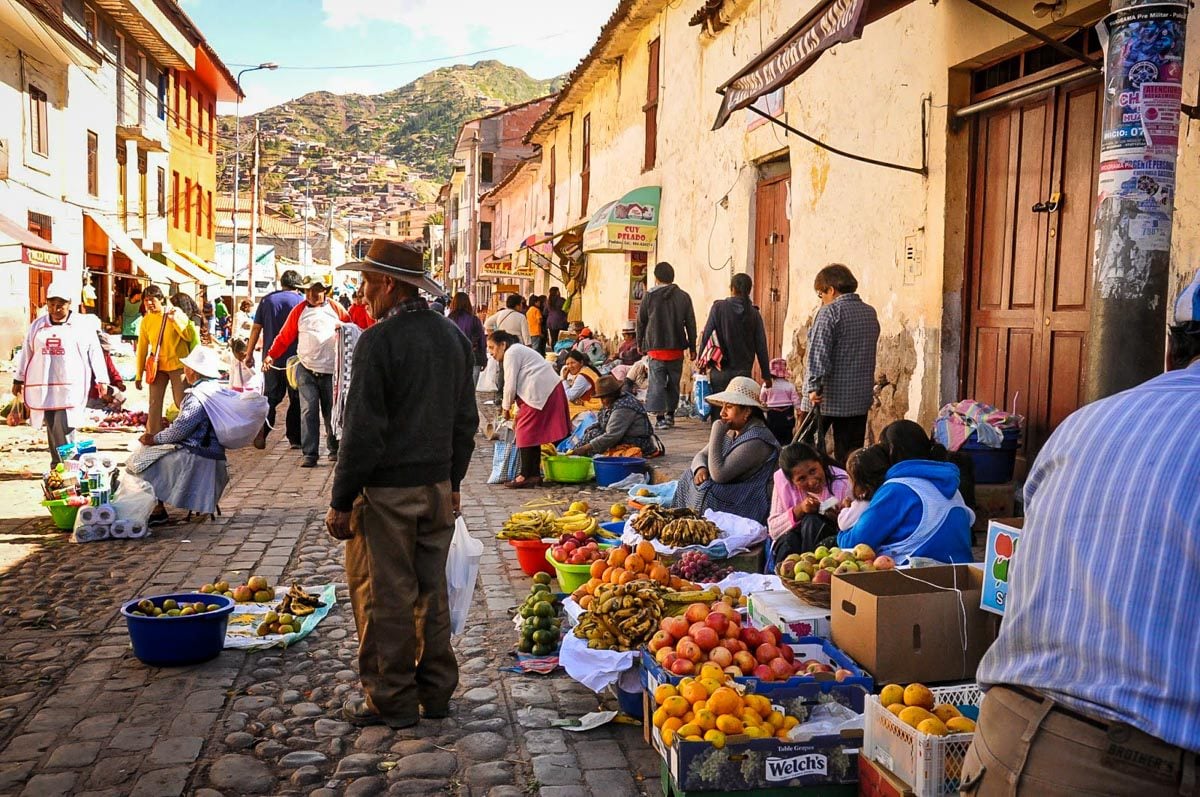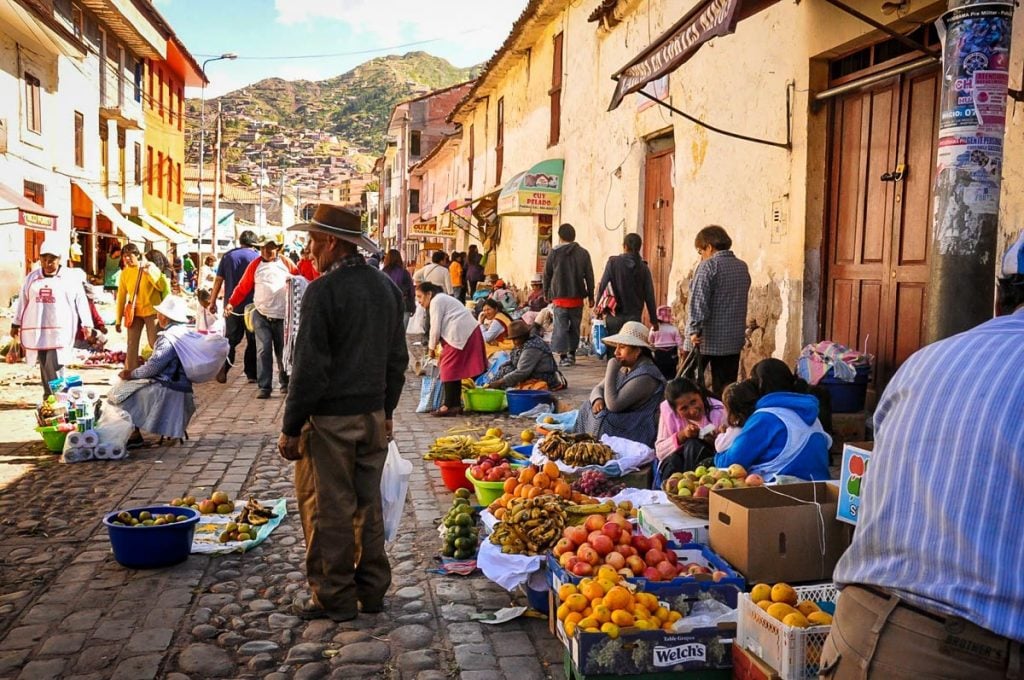 One of the best ways to get your bearings in a new city is to take a walking tour, and Free Walking Tour Cusco offers exactly that. Their tour focuses on history, architecture, art, and local lifestyle. The best part is, it's entirely tips-based. So you can decide how much you are willing to pay for the tour based on your experience.
The local guides will take you through the city on a two-hour walking tour, explaining the history and stopping at important sites such as the Sun temple and beautiful Incan ruins and ancient palaces. Stopping for the occasional llama selfie, the tour concludes with a bus ride to Sacsayhuaman and Cristo Blanco to get the best ​panoramic views of the city.
How to do it yourself:
Free Walking Tour Cusco offers 4 tours daily for groups of up to 16 persons. It is best to reserve your spot ahead of time by sending a WhatsApp message to: +51 931093123
Tour times: 9:50 a.m., 12:30 p.m., 3:30 p.m., and 6:00 p.m. (by request only)
Meeting Point: They meet at the Plaza de Armas in front of the KFC next to the Cathedral. You will recognize your guide wearing a red t-shirt with "Free Walking Tour Cusco" printed on it.
2. Shop at the San Pedro Market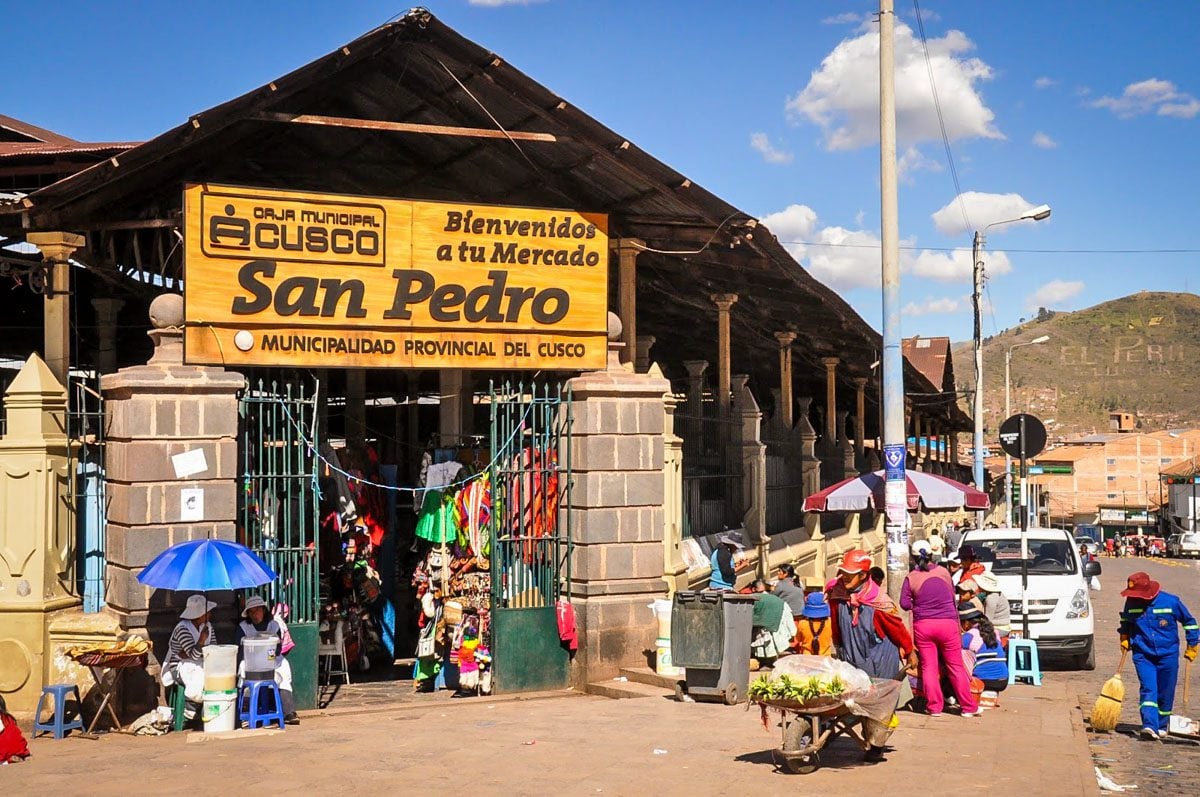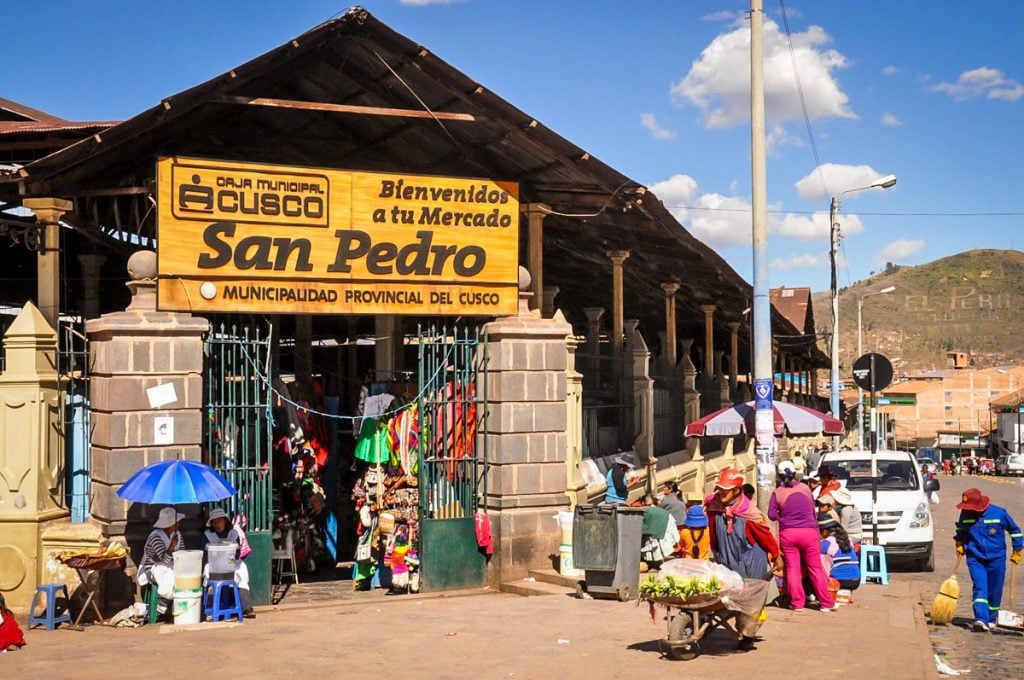 If you're looking for an authentic glimpse into Peruvian life, this is the place to be. Where else can you buy a beautifully woven alpaca sweater and a whole pig head in the same place!?
Want to mingle with the locals? Simple. Just sit down at one of the many almuerzo stands and order lunch for 5 soles (about $1.75 USD). You will be sure to make friends with the woman serving your food and the many locals packed on the bench beside you.
Planning a Trip to Peru? Find out the best time to visit Peru based on regional weather patterns and your personal travel style.
3. Admire the Plaza de Armas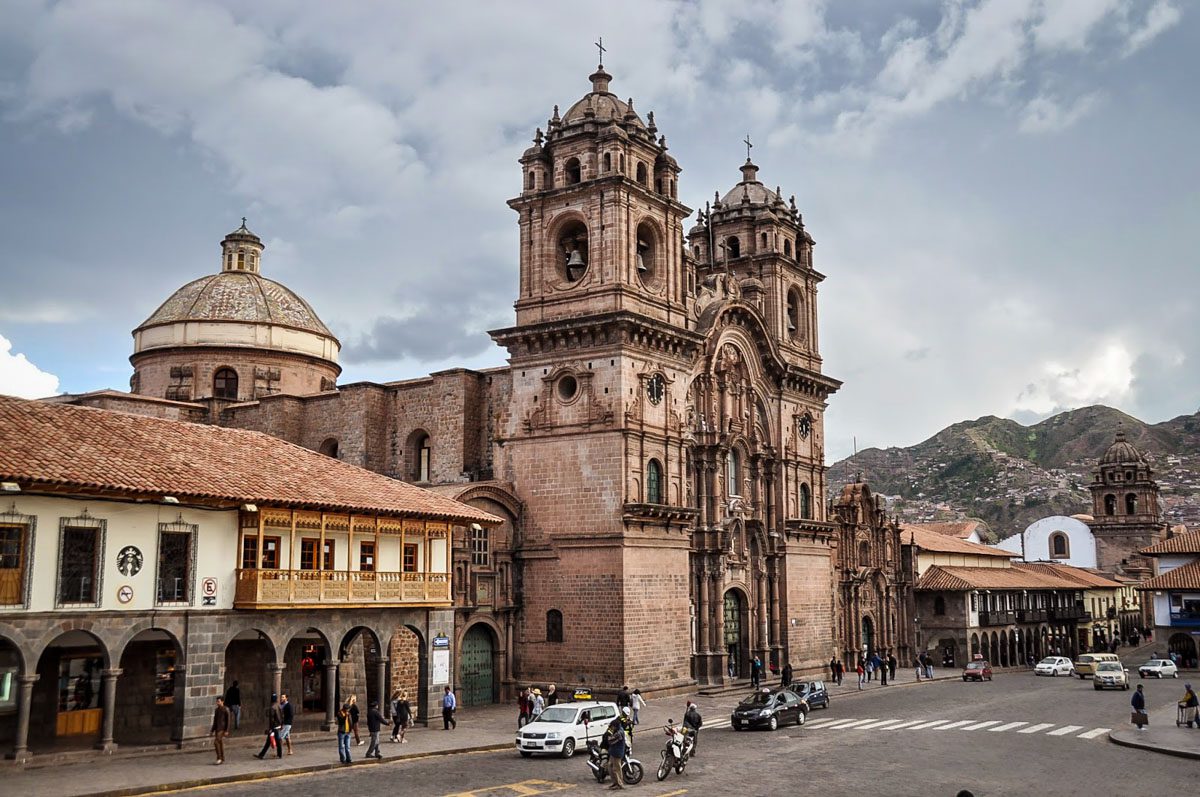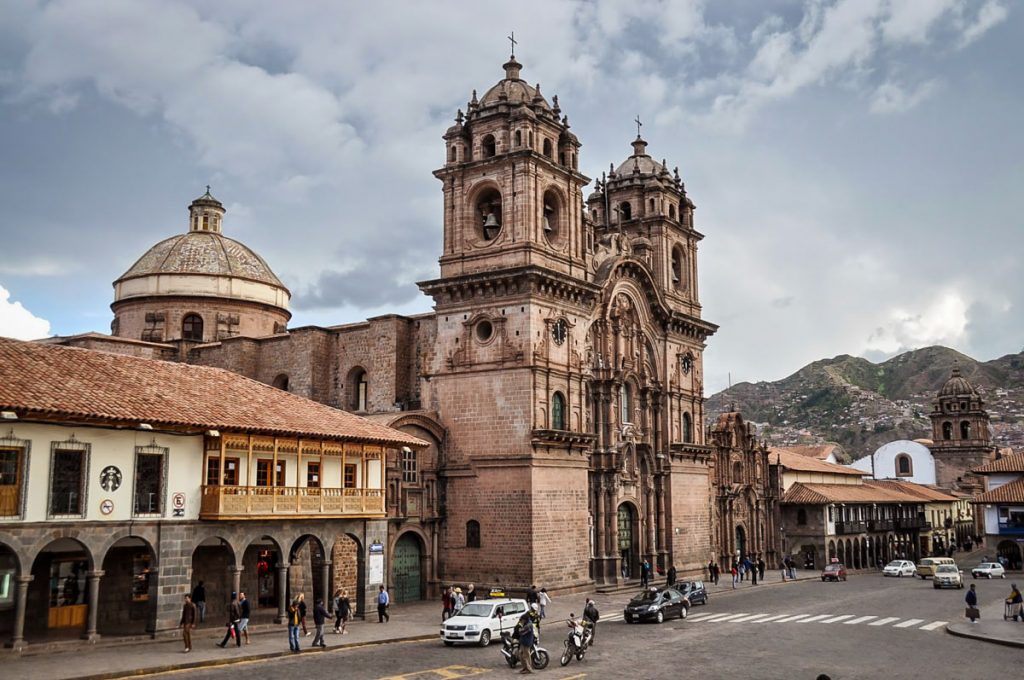 It seems as if every city in South America has a "Plaza de Armas". But the one in Cusco is famous – ranking as one of the top plazas in the world, and for a good reason. It's stunning.
One of the best ways to experience the plaza is from above. Grab a coffee or a drink on one of the second floor balconies surrounding the plaza, sit back and watch the people passing through. Your drink may be a bit pricy, but the people-watching is definitely worth the inflated tourist prices.
We were in Cusco the week before Easter, known as Semana Santa, or Saint's Week. During this time, the plazas were filled with carnival games and stands selling exotic looking sweets.
I forget the name of this pastry, but it was a bit like a shortbread cookie baked into parchment paper. Strange, but surprisingly good!
4. Explore the San Blas neighborhood
If you walk a bit further uphill from the San Pedro Market, you'll run into the San Blas district. This cute little neighborhood is a nice change from the tourist-centric city center of Cusco. Here you'll find a handful of cute restaurants and coffee shops as well as boutique clothing and jewelry stores.
You can buy all kinds of crafts directly from the artists themselves, post up in a cafe or wander the streets. You could also get your hair wrapped by one of the street artists like I did!
5. Hike to Sacsayhuman ruins
One of our most memorable days in Cusco was our last full day in the city. We didn't spend the day doing any of the activities listed in the guidebooks.
Instead we decided to abandon all maps and take a hike to some ruins we had heard about from a friend. We knew the ruins were in the hills above Cusco, but didn't have much of an idea beyond that.
So, along with our friend Emma who we met on the Inca Trail, we set off that afternoon in search of these enigmatic ruins.
At points during the day, we were on our hands and knees crawling up the side of hill, hoping it would lead to a path.
And eventually, it did.
We finally did find our ruins – hours later – but the search for them was an adventure none of us will ever forget.
How to do it yourself:
If you want to hike to the Sacsayhuman ruins without all the mishaps we ran into, it's actually quite an easy 45-60 minute walk from the center of town.
Beginning at the Plaza de Armas, walk northwest on Calle Suecia, then take a right on Don Bosco which curves around. Once you reach Cafe Sapantiana, you'll see the trailhead. Follow the signs all the way up to Sacsayhuman.
6. Experience all things chocolate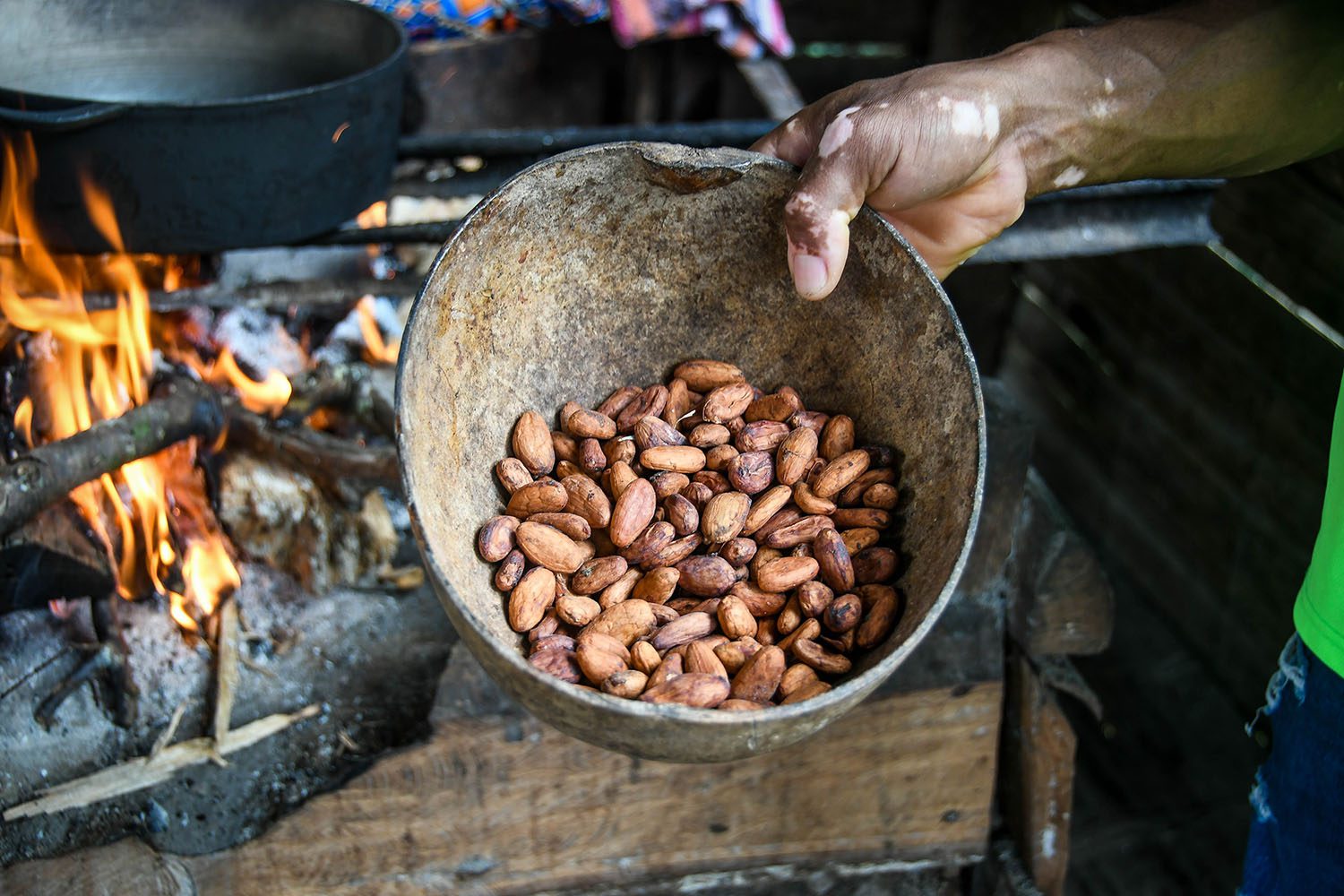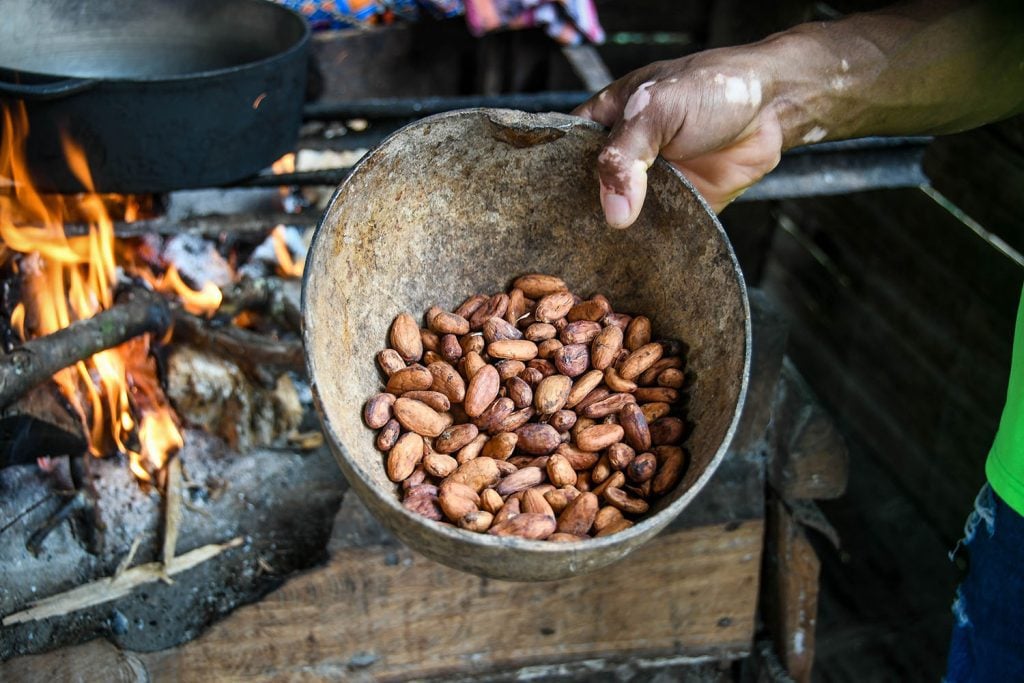 Chocolate is a corner-stone of Peruvian culture and has been a part of Peruvian cuisine for centuries. In fact, Peru is said to produce some of the best chocolate in the world! So it should come as no surprise that there are plenty of different ways to experience chocolate in Cusco.
Pay a visit to one of Cusco's many chocolate factories for a tasting experience that will satisfy your sweet tooth. You can also try your hand at chocolate-making by taking a class or interactive tour. This Bean to Bar workshop at ChocoMuseo is highly rated as one of the best chocolate experiences in Cusco.
Other notable chocolate factories to check out in Cusco are:
Bonbonoa
La Chocolita
Tika Chocolate
Chocomuseo
7. Take a Peruvian cooking class
If you're been following along with our adventures for a while, by now you know why we love taking cooking classes on our travels. It's one of the best ways to get to know a new culture and it's a great way to meet people as well.
We've had a love for Peruvian food for quite a while, so we were excited to plan a cooking class on our travels. We found a cooking school in Arequipa that we fell in love with and were taught by a local chef how to make 2 of our favorite Peruvian dishes – Llomo Saltado (made with alpaca meat) and Ceviche.
There are some great options for cooking classes in Cusco as well. We'd recommend finding a class that brings you to the market to pick out fresh ingredients you will then use during your class.
8. Find your center at Healing House Cusco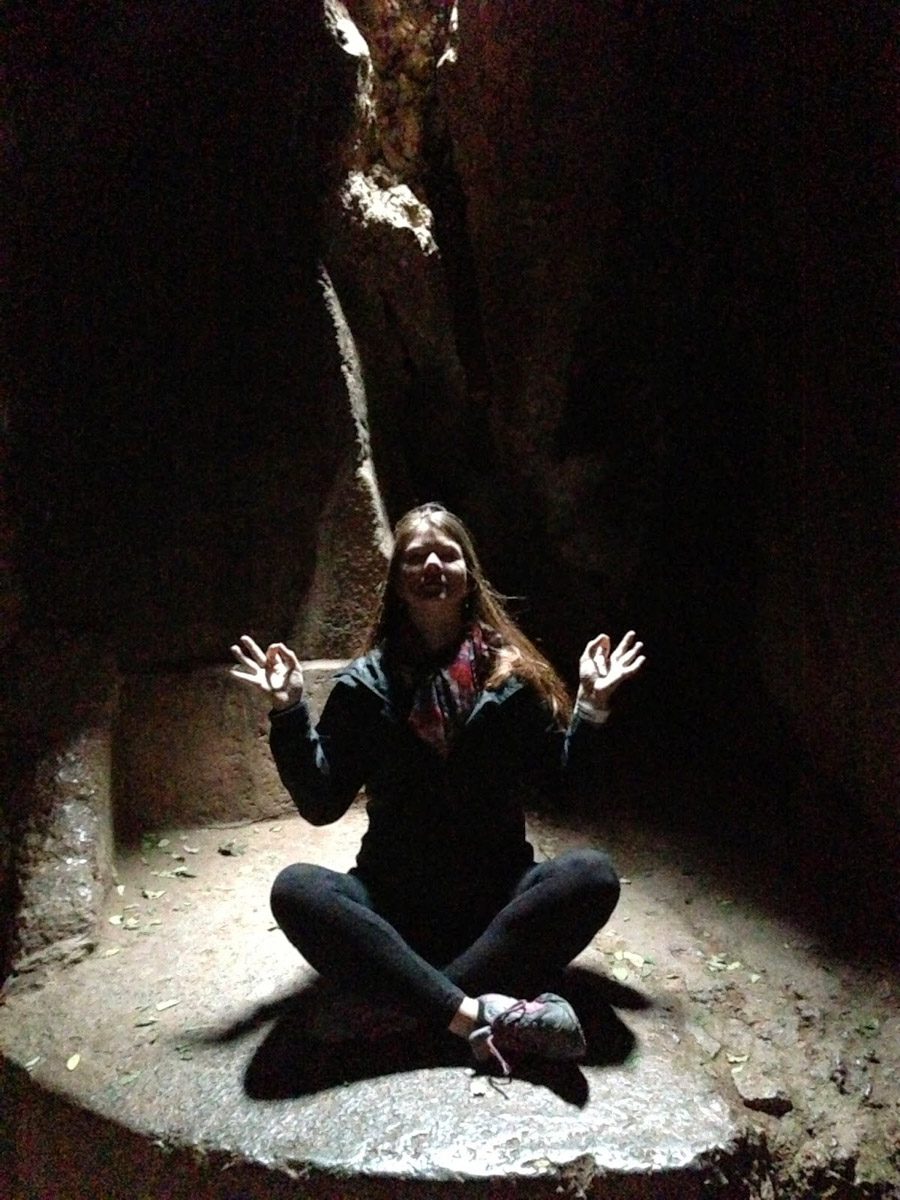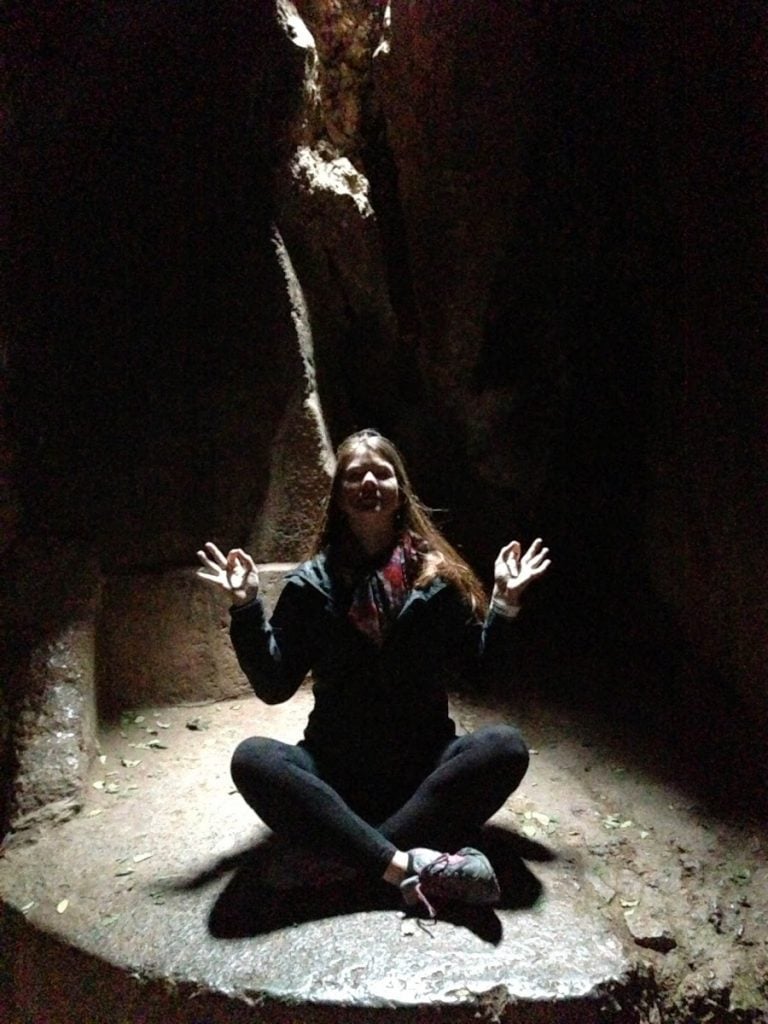 If you like to find unique ways to stay active on your travels, then this one is for you!
Healing House was established as a community for creatives who come together to heal, create and inspire. They offer "creative healing" in the forms of yoga, reiki, meditation and dance. Show up for a yoga class (drop in price is only 25 soles), or participate in one of their sacred dance workshops. All the while reconnecting with your center and finding your wholeness.
9. Emerge yourself in the café culture
Cusco is full of quirky, Instagrammable, and hipster-filled coffee shops. Here are some noteworthy spots to check out on your visit:
10. Take in the views around the city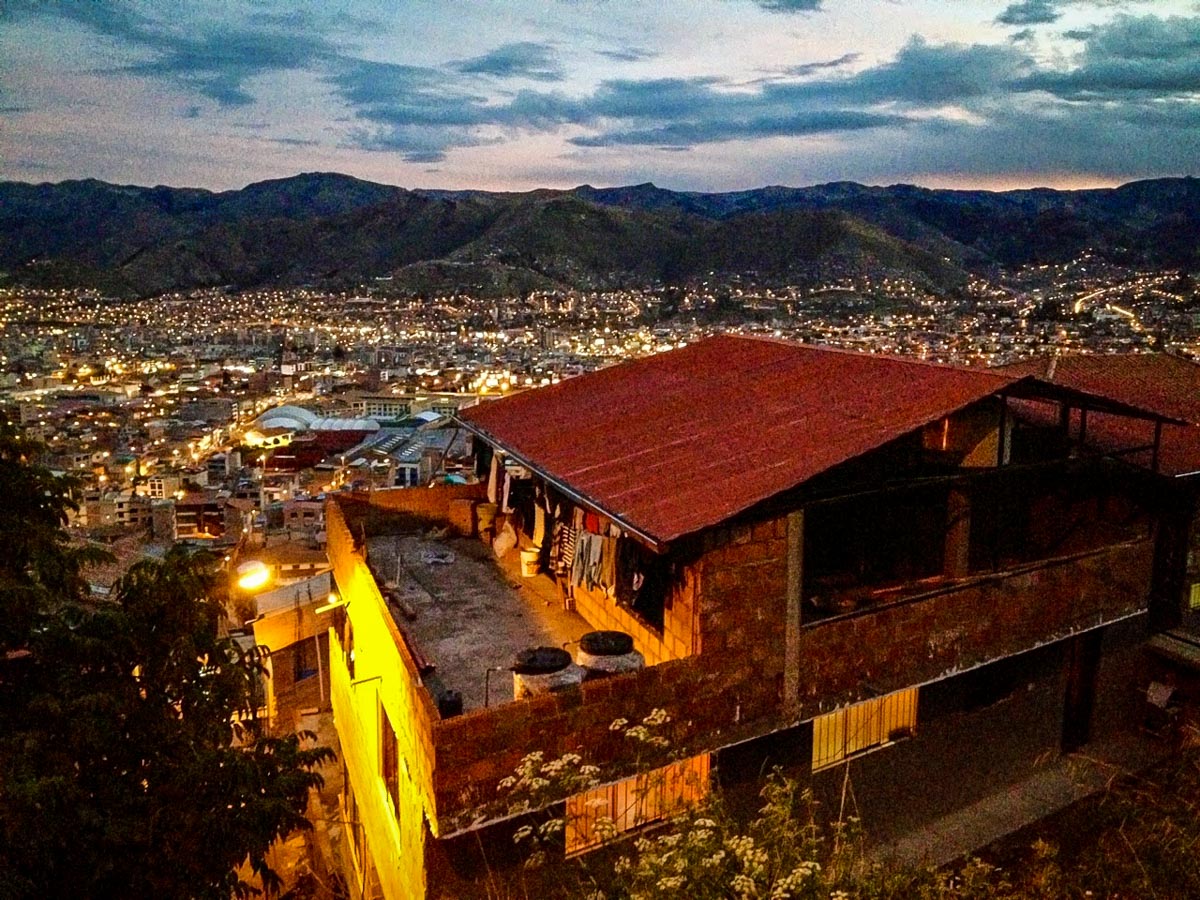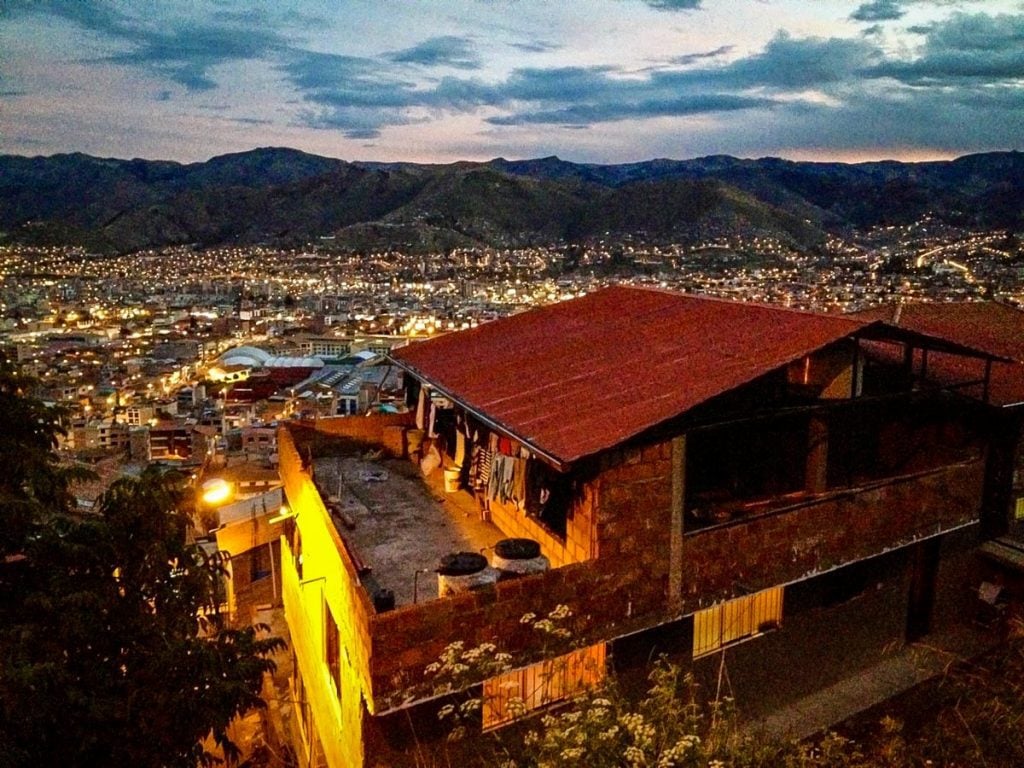 Set in a valley and surrounded by mountains, there is no shortage of epic views around the city of Cusco.
There are lots of official lookouts or "miradors" in the surrounding foothills. Some of our favorites are Mirador de San Blas, Mirador de Plaza San Cristobal, and Mirador El Camino del Inca.
Another unique way to get some great views is to head to the Planetarium. Visitors can tour the facilities, learn about the cultural significance of Inca astronomy, and view the night sky through professional telescopes.
One of our favorite ways to take in the views around a city is to find a good rooftop or cliffside bar for sunset drinks.
Limbus Restobar has a nice outdoor seating area and floor-to-ceiling glass windows for excellent city views. It is quite the popular spot at sunset though, so get there early to snag a spot or risk waiting in a long line.
ViewHouse Restobar is just a bit further up the hill. It has more of a chill/backpacker vibe on the rooftop, but the good news is, you won't have to wait long for a seat at sunset.
11. Enjoy the nightlife in Cusco
Cusco is known throughout the country as having some of the best nightlife in Peru. No matter what night of the week, there is always a place near the city center with music going to have a few drinks and dance all night long.
Here are some of the most popular bars for nightlife in Cusco:
KM 0: Located in San Blas, this place has nightly live music and a lengthy happy hour menu. Reviews would have us believe that the food isn't the greatest, but the atmosphere makes it a fun place to get drinks.
Paddy's Irish Pub: Every city in the world has an Irish pub and Paddy's is the place in Cusco to hang out and meet travelers from all over the world.
Loki Hostel: If you've traveled in South America as a backpacker, you've probably heard of Loki Hostels. Cusco's location opens its bar to anyone who wants to come and party.
12. Visit the Maras Salt Mines
Just an hour outside of Cusco in the Sacred Valley lies a town called Mares. This tiny town is famous for the Maras Salt Mines, or Las Salineras de Maras as they are known in Spanish, made up of thousands of individual salt pools nestled into the hillside which have been operational since pre-Inca times.
In a beautiful example of community cooperation, each of the individual salt ponds are owned and operated by farmers in the Maras community. Their efforts are pooled as a cooperative, making the Maras Salt Mines one of the top 10 largest in the world.
The simplicity of using the evaporation method in the salt ponds is nothing compared to the intricacy and sophistication of the ancient irrigation system, which is fed by a single subterranean spring and channeled into the 6,000+ terraced pools.
Important Note: As of 2019, entrance to the mines has been restricted. (The downside of tourism: the influx of tourists walking through the fully operational mines increased contaminants such as hair, trash and cigarette butts – yuck!) You can still see the salt pools from the viewpoint above where you can get plenty of photos without disturbing the mines. Afterwards be sure to peruse the souvenir shops and buy all the salt products you can think of! The profits from these sales help the Maras community keep the salt mines operational.
How to get there: You can take a colectivo from Cusco to Mares for about $2 USD or a taxi directly to the Mines for about $5. As with all colectivos, they take off from the main station in Cusco and will not depart until the bus is completely full.
13. Day trip to Pisac
Pisac is a village in Peru's Sacred Valley, located about an hour northeast of Cusco. This small community in the Andes still practices a more traditional way of life, offering visitors a unique glimpse into Peruvian culture. This combined with the Incan ruins perched atop the mountain looking down over the village makes Pisac a great place to visit on a day trip from Cusco.
Things to do in Pisac
Explore the small town and watch as the locals go about their day dressed in traditional attire.
Eat empanadas fresh off the wood-burning stove and other classic Peruvian dishes.
Visit the Sunday Market – by far the best time to visit as the village comes alive in the Plaza de Armas.
Hike up the canyon to the ruins above the town for the best views.
Browse the souvenir markets to find hand crafted traditional items such as textiles, bags and wearable garments.
How to get there: To get to Pisac from Cusco, you'll need to take a colectivo (shared taxi bus). The trip will take 45 minutes – 1 hour and shouldn't cost you more than 4 soles (about $1.20 USD). You can find the colectivos on Calle Puputi in Cusco. They will depart when full, meaning you might have to wait a bit for more customers heading in the same direction to join.
For the return journey, wait on the opposite side of the street as your drop-off point in Pisac and flag down a colectivo as they pass.
---
Tips for visiting Cusco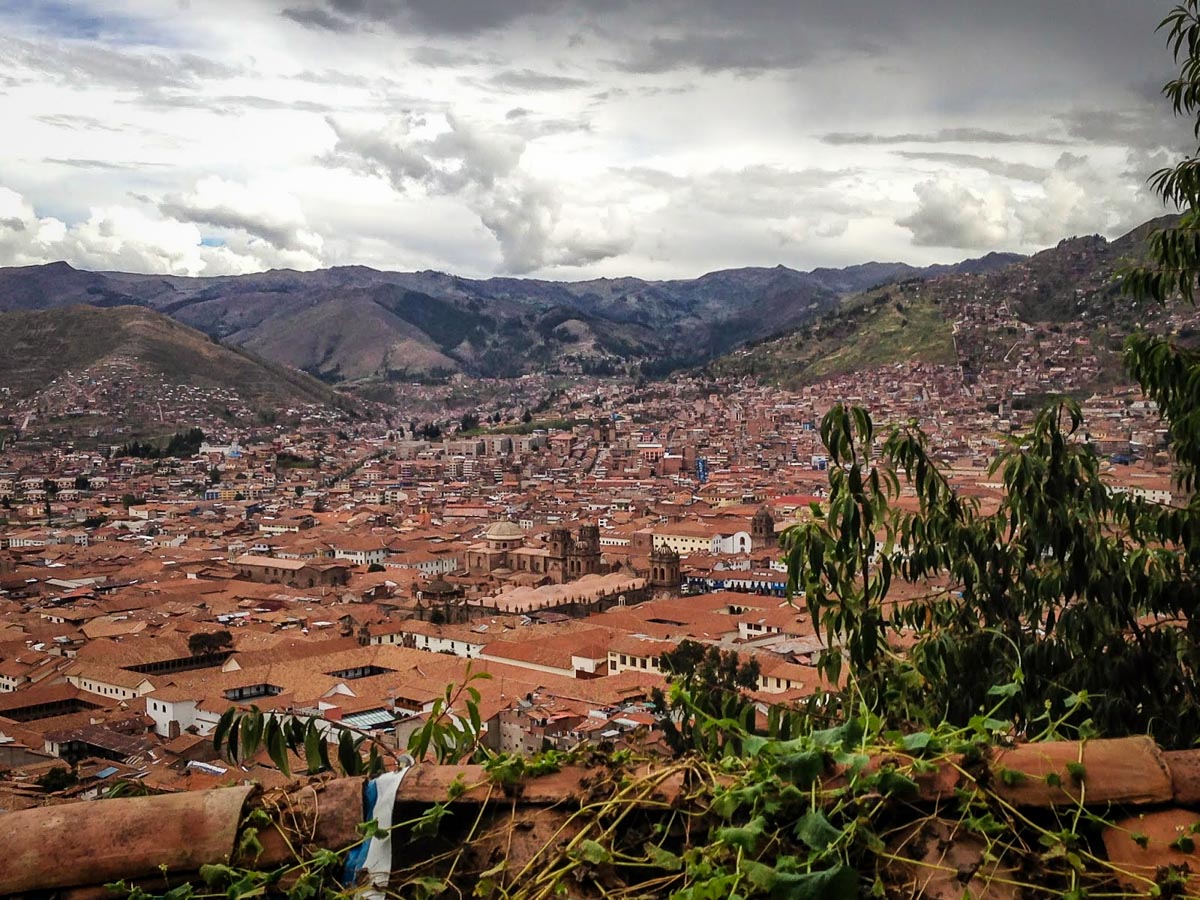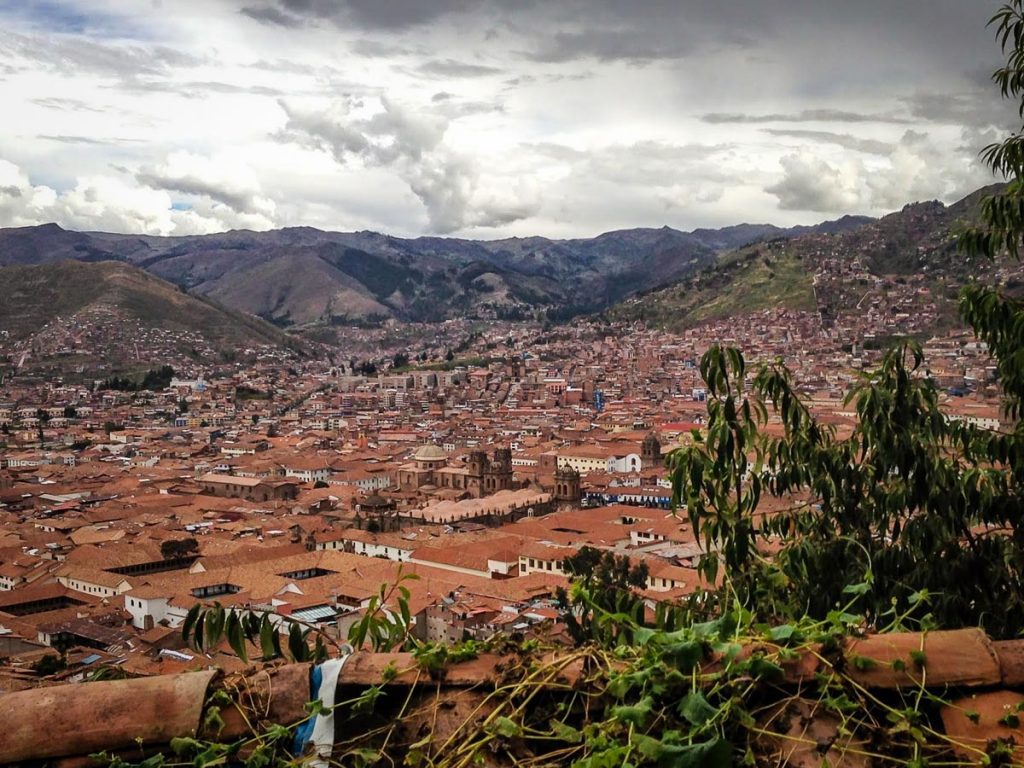 Given its location in the Andes, its proximity to Machu Picchu, and its cultural and historical significance, it's no wonder that Cusco is the most visited place in Peru for tourists. Now that you have a good idea of all the exciting things to do in Cusco, there are some things you should know before you visit.
The altitude is not to be underestimated: Cusco sits at approximately 3,400 meters above sea level (that's over 11,000 feet!). This means that travelers who are not used to such high altitudes may have trouble adjusting on their first few days in town. Altitude sickness can happen to anyone and it will put a real damper on your trip, so it's best to be prepared. Drink lots of water and take it easy on your first day or two. Give yourself a few days to acclimate before attempting any hiking, especially if you plan to do the Inca Trail to Machu Picchu.
Don't drink the water: Despite what some locals may tell you, the tap water is not suitable for drinking in Cusco. Before you go, invest in a reusable water bottle, or better yet, a Steripen to sterilize water from any source.
Bring warm layers: Remember that Cusco is set in the mountains and it can get quite chilly after the sun goes down. Even if you are planning your visit in the middle of summertime (December – February), be prepared with warmer layers for the evenings.
The Boleto Touristico: Chances are you may have heard of this "tourist ticket" while researching things to do in Cusco. The Peruvian government implemented this system for visitors to enter popular tourist sites (think ruins, museums, monuments, etc.) by purchasing this single ticket ahead of time. You can purchase your ticket in person at the COSITUC office on 103 Avenida del Sol.
Getting around Cusco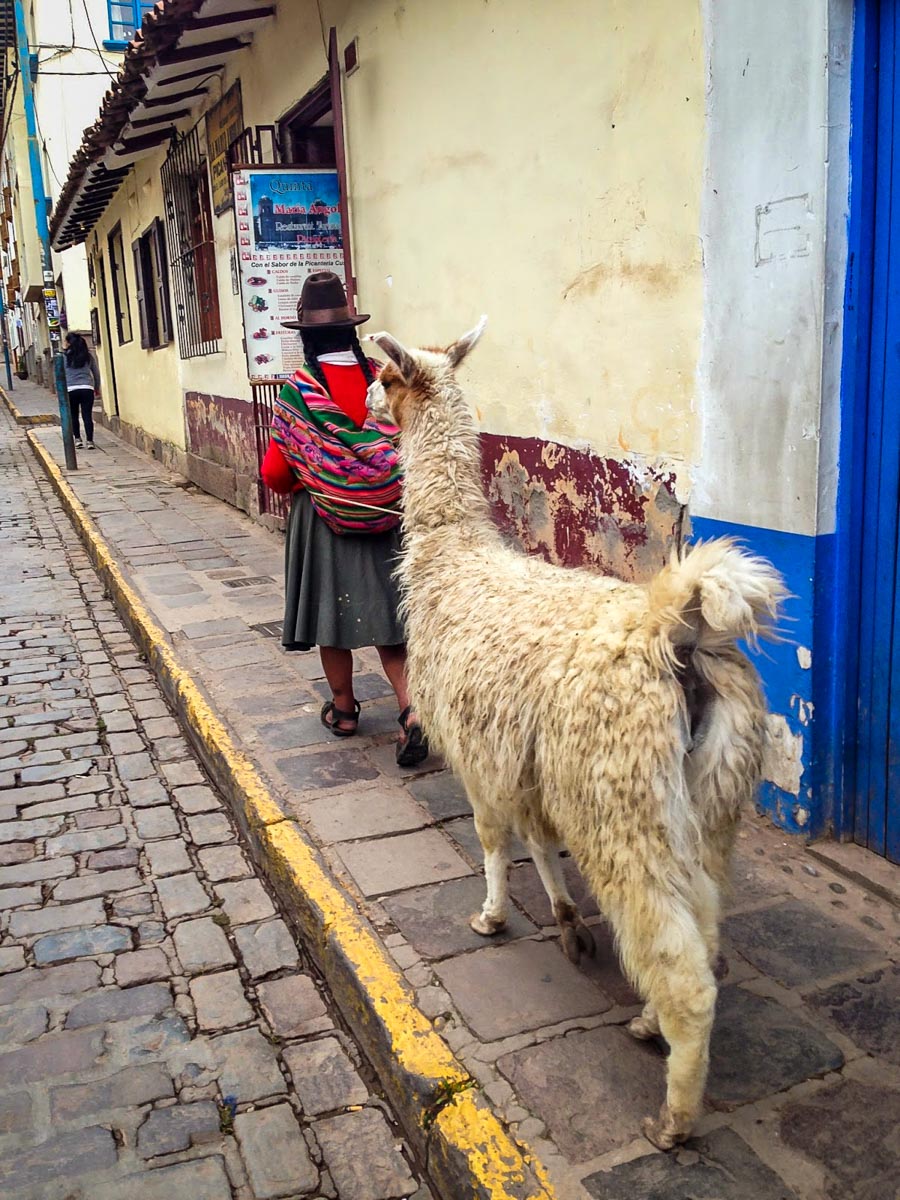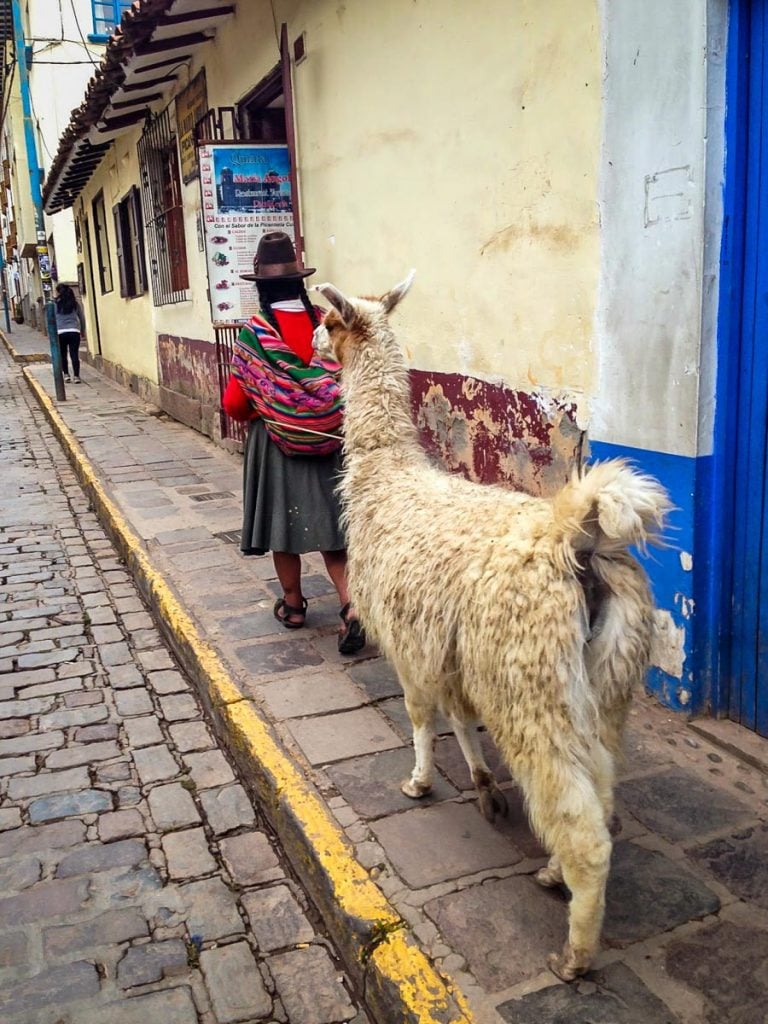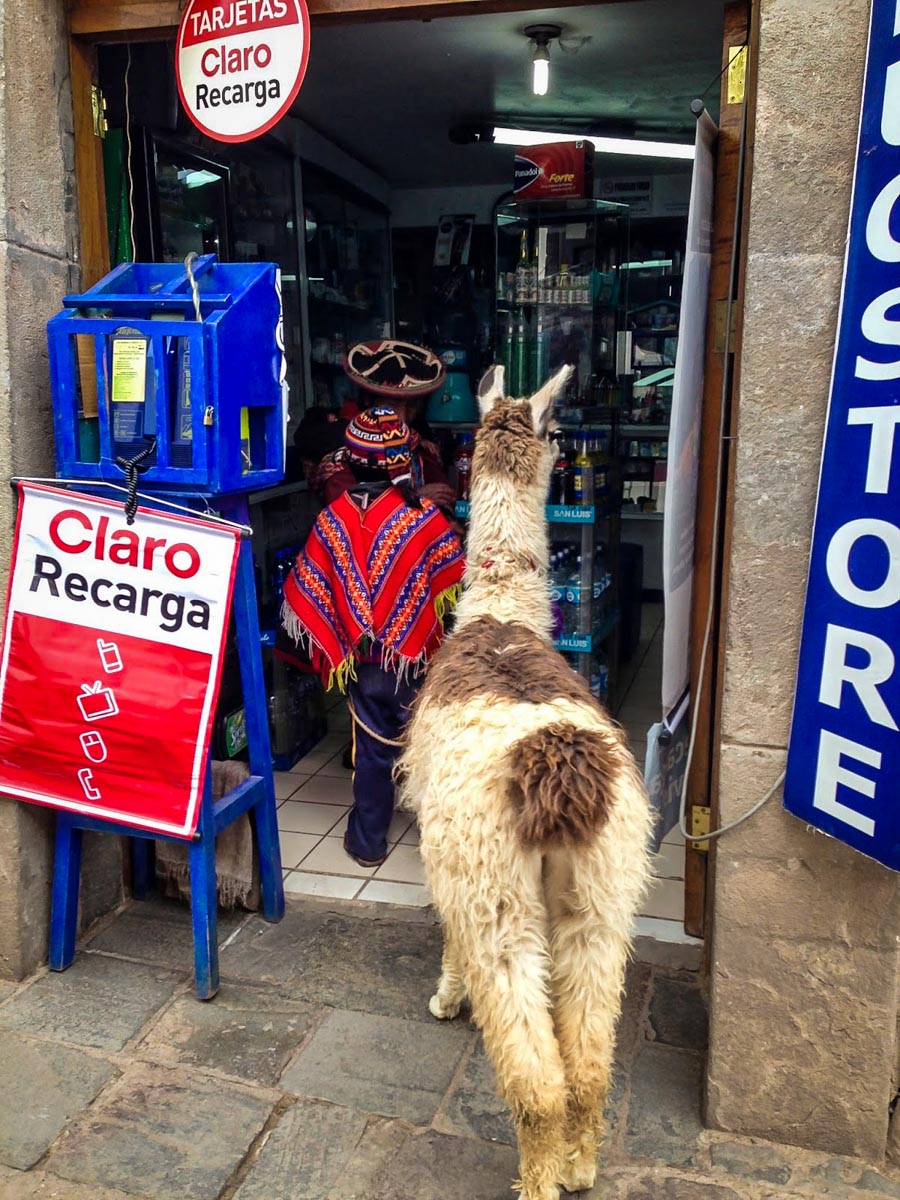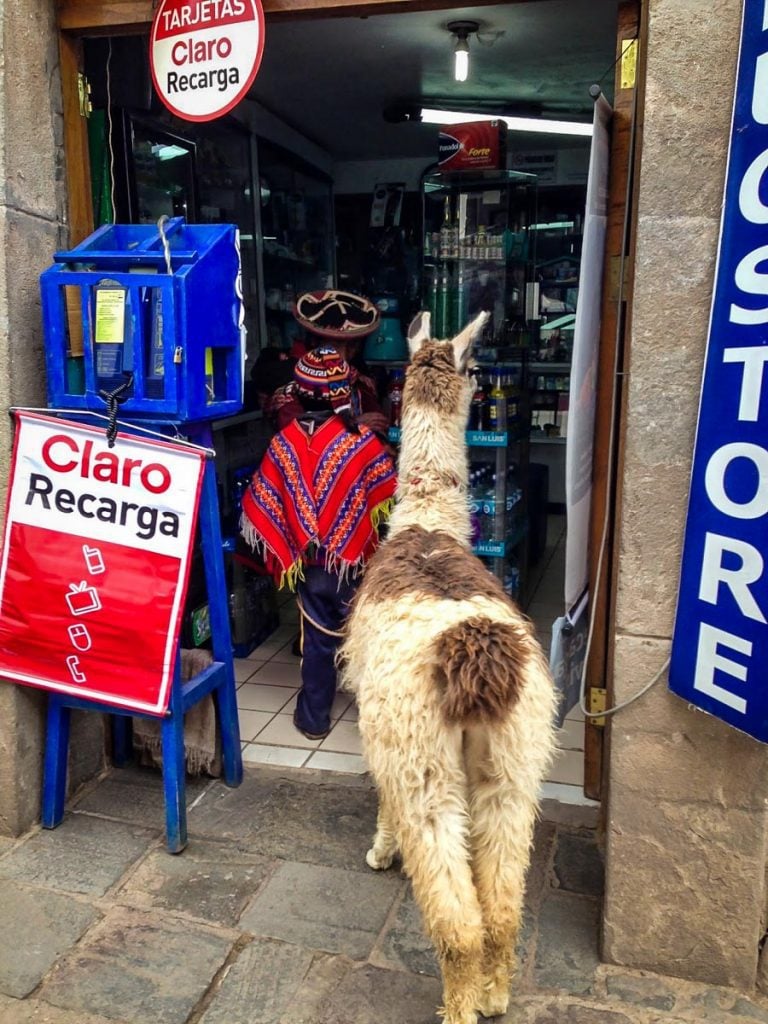 Cusco is a very walkable city, if you can adjust to the altitude and don't mind walking up steep hills to reach certain areas. If you are staying near the city center, you're never more than a 15-20 minute walk from any of the major sites, restaurants, etc.
There are, however, plenty of taxis available to hail if the shortness of breath starts to catch up to you. Uber also works in Cusco, but comes with its drawbacks as there aren't nearly as many Ubers as taxi drivers. You can sometimes find you'll have to wait for quite a while to find an available driver.
Colectivos (shared taxi buses) are also common around Cusco and this is the best way to get to destinations outside of the city center. Colectivos heading to different destinations will queue up in different parts of the city. The best way to find the colectivo you need is to ask a local taxi driver to take you to the colectivo stand for the destination you are heading.
How to get to Cusco
By Air
International flights arriving in Peru will go through the city of Lima (LIM). From there you can board a plane and about an hour later you will touch down at the Cusco Airport (CUZ). A one-way flight will set you back anywhere from $40 – $100 USD and there are plenty of options throughout the day.
By Bus
We already mentioned we took an overnight bus to Cusco from Huacachina. You can actually find buses to Cusco from near and far destinations around Peru, and even from La Paz, Bolivia. Most of the longer bus trips (from Lima, Huacachina, Arequipa, La Paz, etc.) will be overnight trips.
Tip: If you choose to cross the border on an overnight bus, be prepared with extra cash and all of your visa paperwork in order.
The safest and fastest way to travel by bus in Peru is on PeruHop, a hop-on-hop-off bus that gives travelers the option to choose how long they stay in each place. Another option is to book with Book-a-Way, a reliable booking site that allows you to compare prices and schedules of different bus companies.
By Train
Train enthusiasts visiting South America will be excited to hear that despite the lack of railways in the region, there is in fact an option to travel to Cusco by train. The only train line currently in operation to Cusco is from Puno, near Lake Titikaka and the Bolivia border.
The Andean Explorer is a luxury train transporting tourists on a 10-hour scenic day trip. A one-way trip will set you back at least $220, but it is a seriously luxurious experience.
Where to Stay in Cusco
Budget Option/Hostels: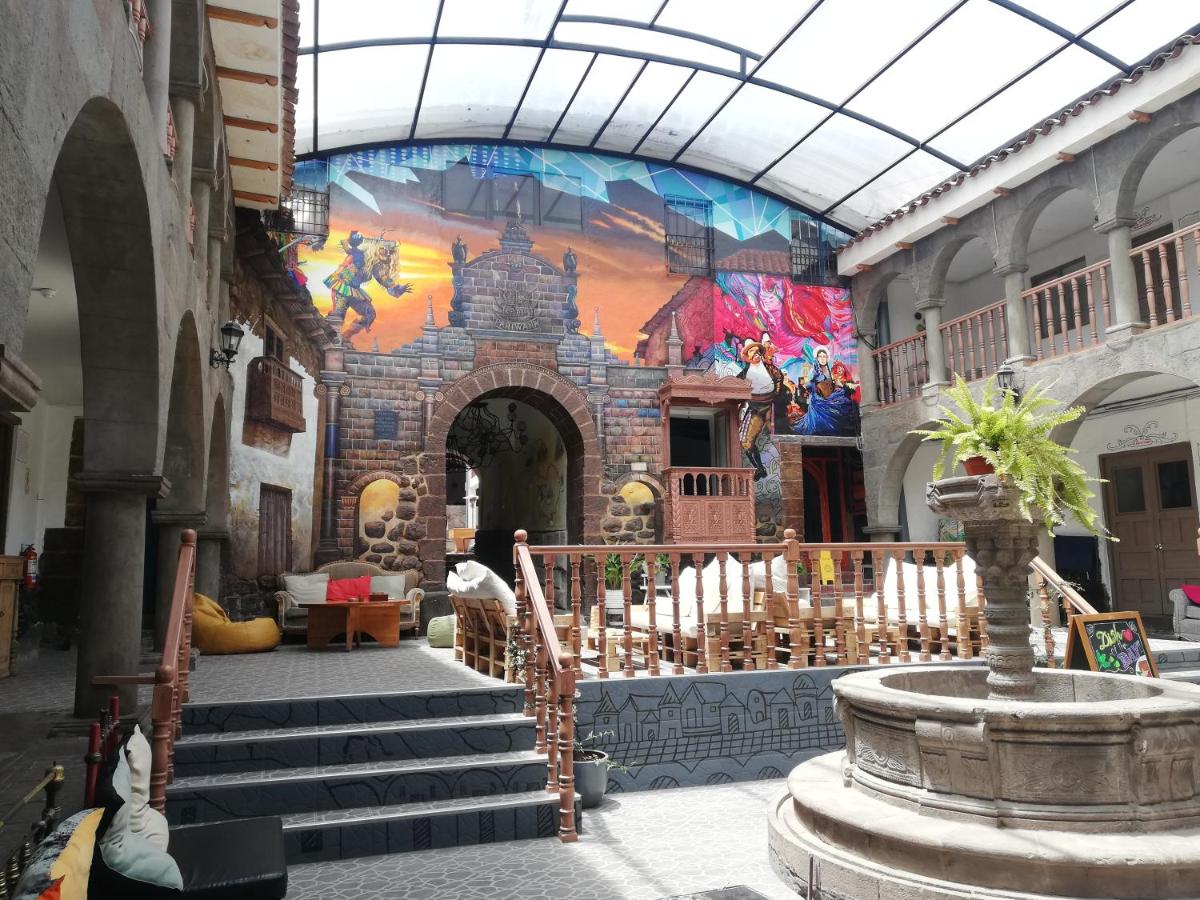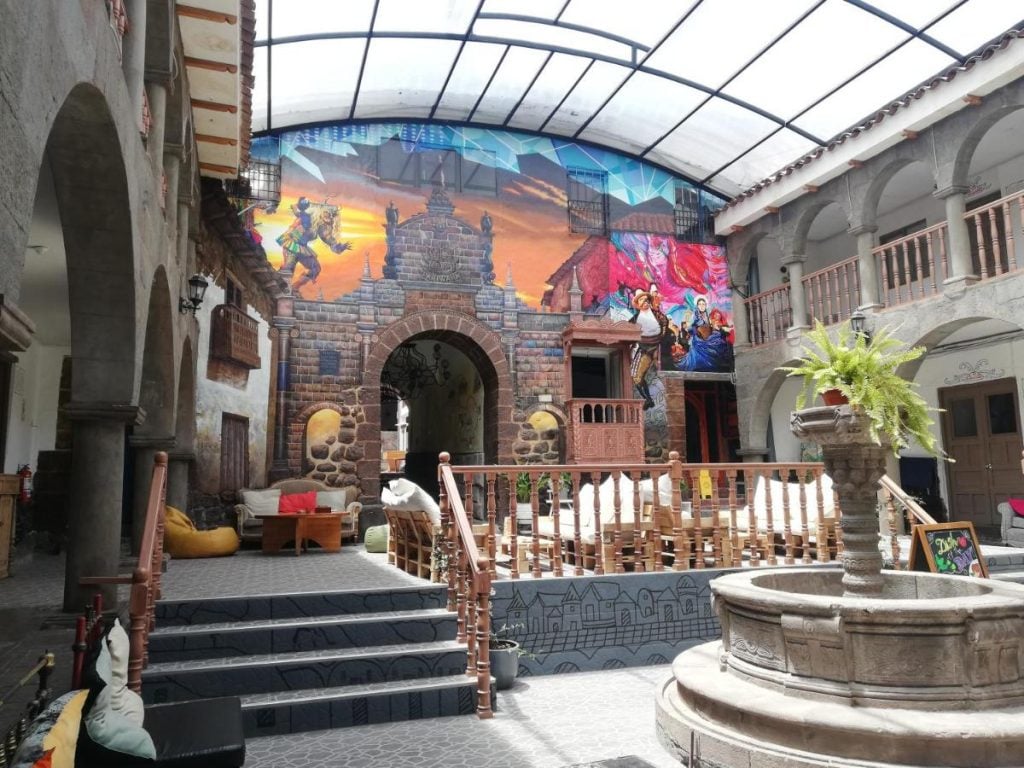 Location: Historic City Center
Aside from being woken up nearly every night in the large dorms by other travelers, our stay here was excellent. The hostel always had something going on each night, whether it be a ping pong tournament (which Ben almost won!), live music, or a toga party, we were never bored.
(We loved Pariwana Hostel so much that we actually listed it as the "Best All-Around Hostel" in all of our travels in South America. Read more here!)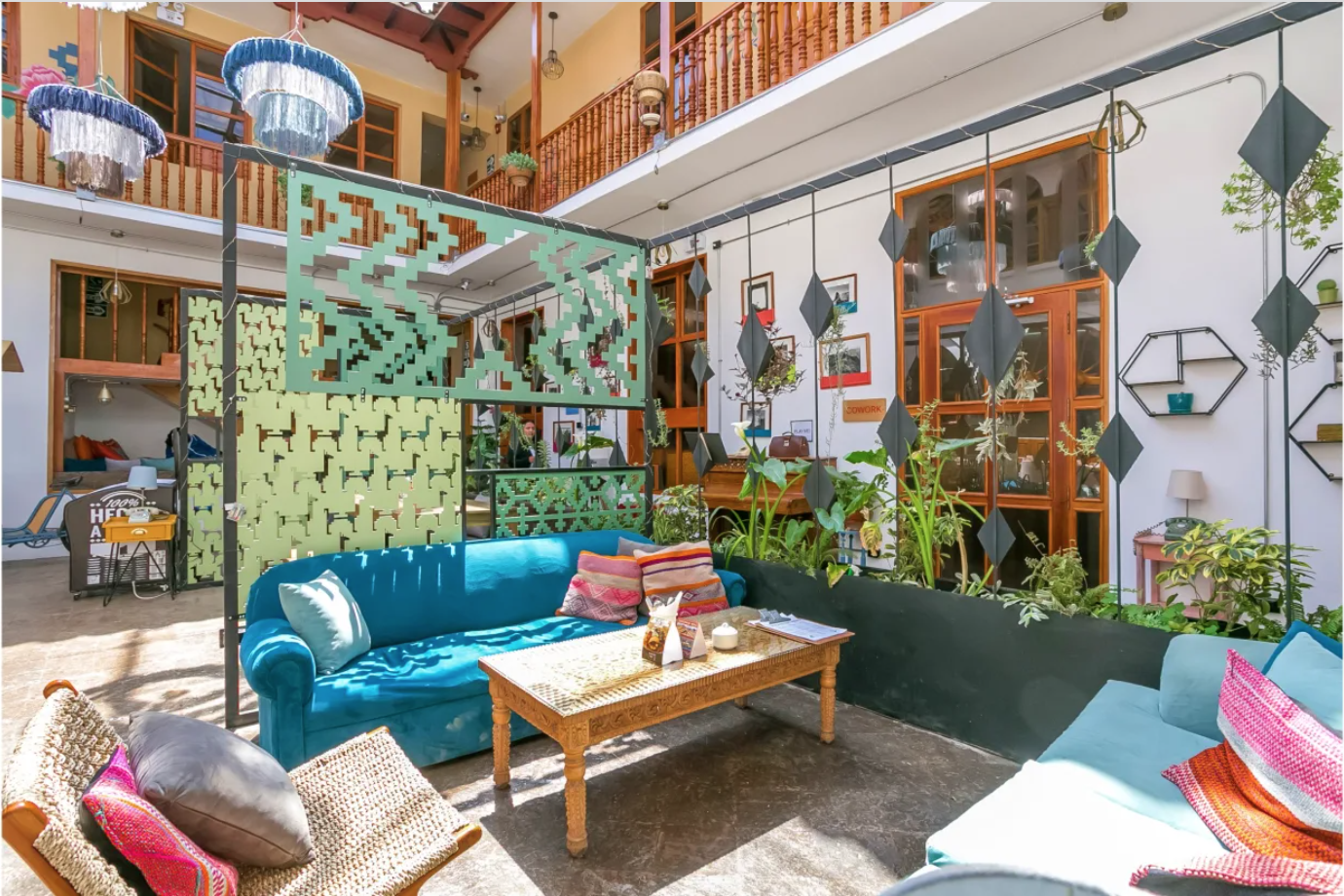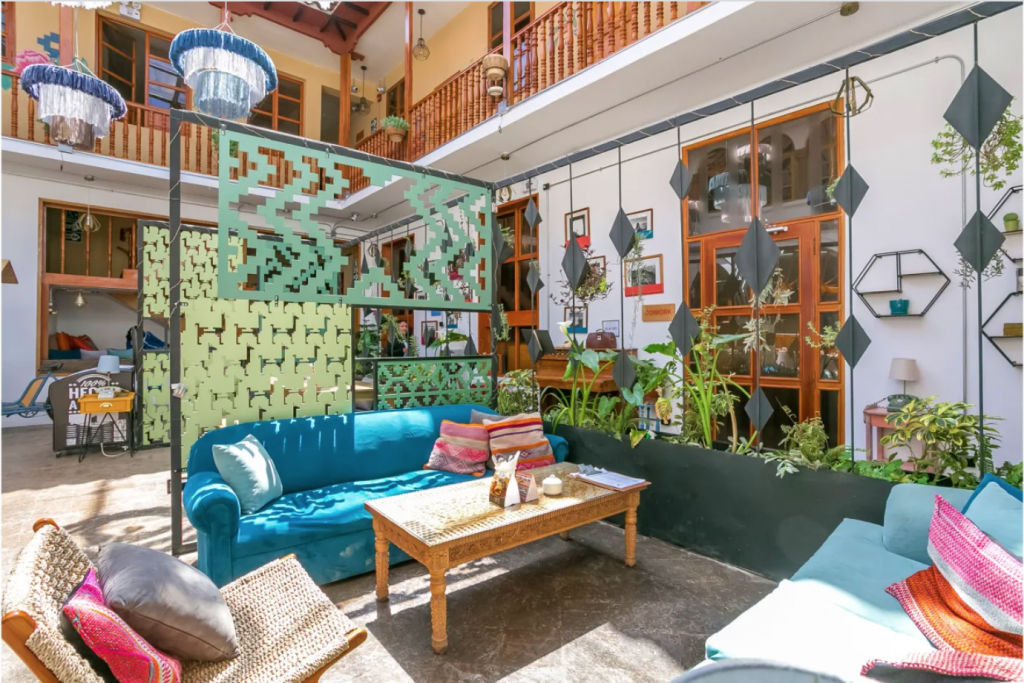 Location: Plaza de Armas
You may recognize the Selina name as they have hundreds of hostels throughout Central and South America. The Selina in Cusco is relatively new on the scene as it was just opened in early 2019. Comfortable common areas, high-speed internet and lots of private rooms make it feel a bit more like a boutique hotel than a hostel.
Mid-range/couples stay: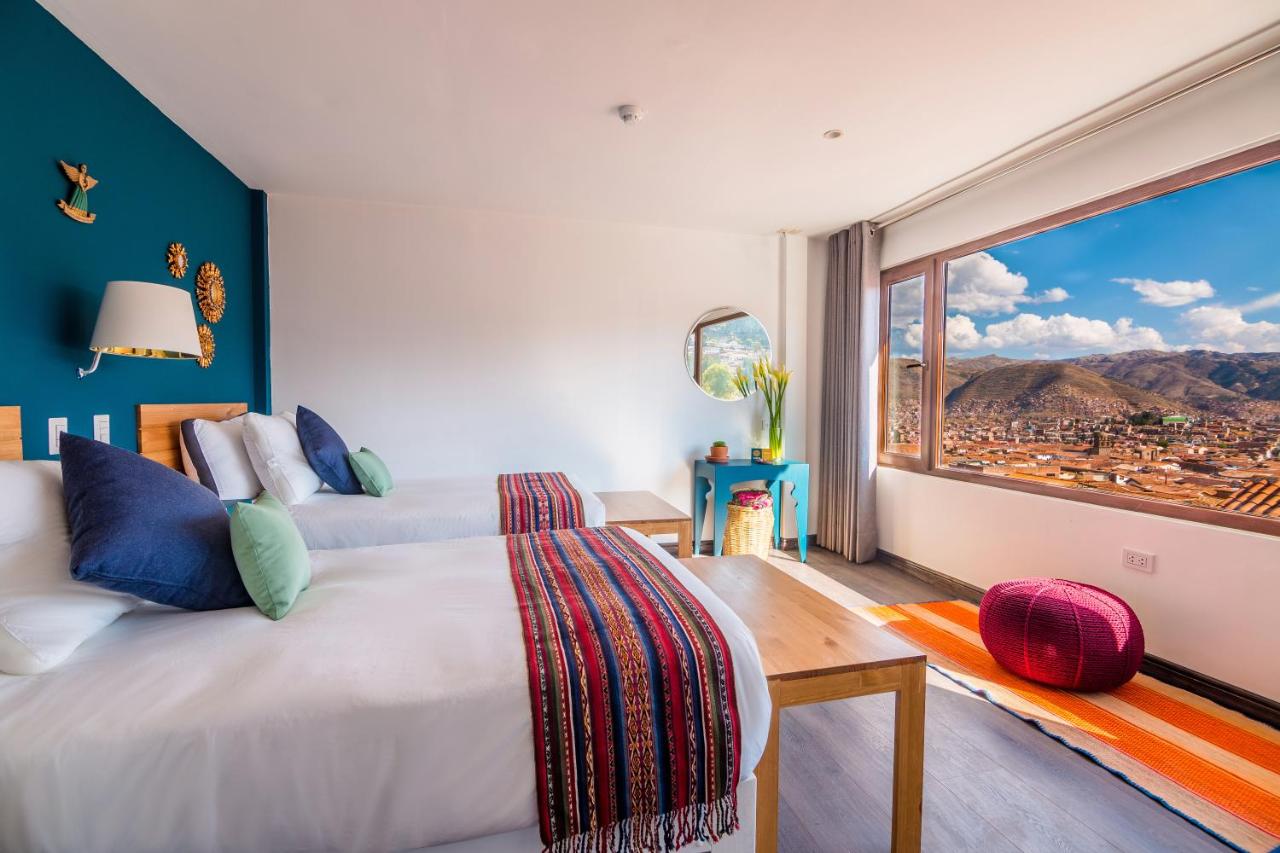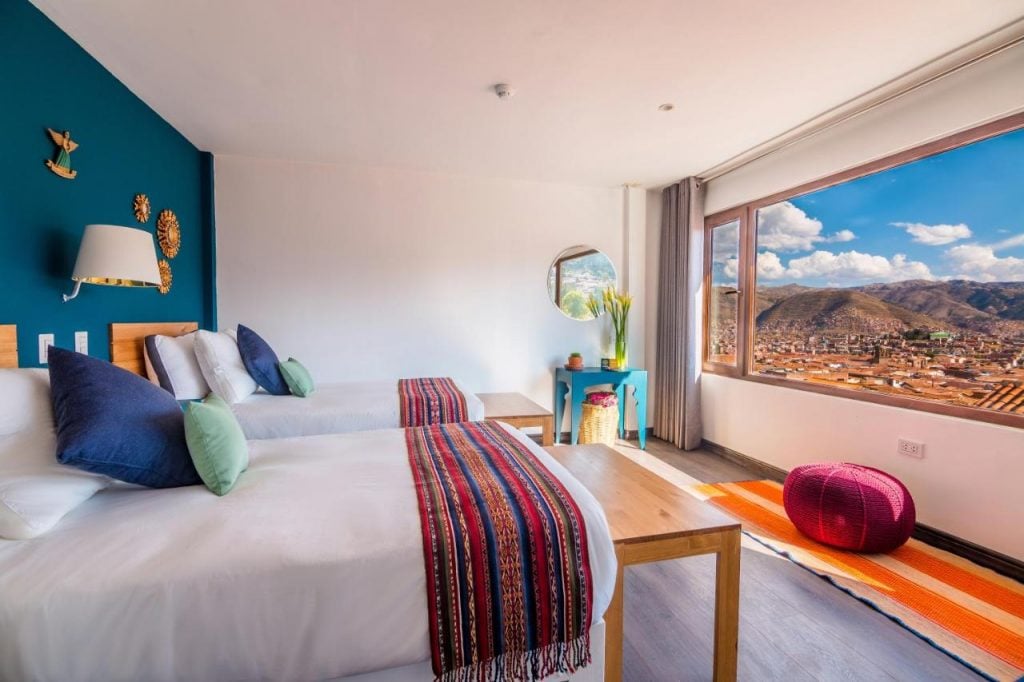 Location: Historic City Center
The beautiful boutique property is located in the Historic City Center, just down the street from San Blas Church. The property features an onsite restaurant, bar and private garden with stunning views overlooking the city. And all at a very affordable price.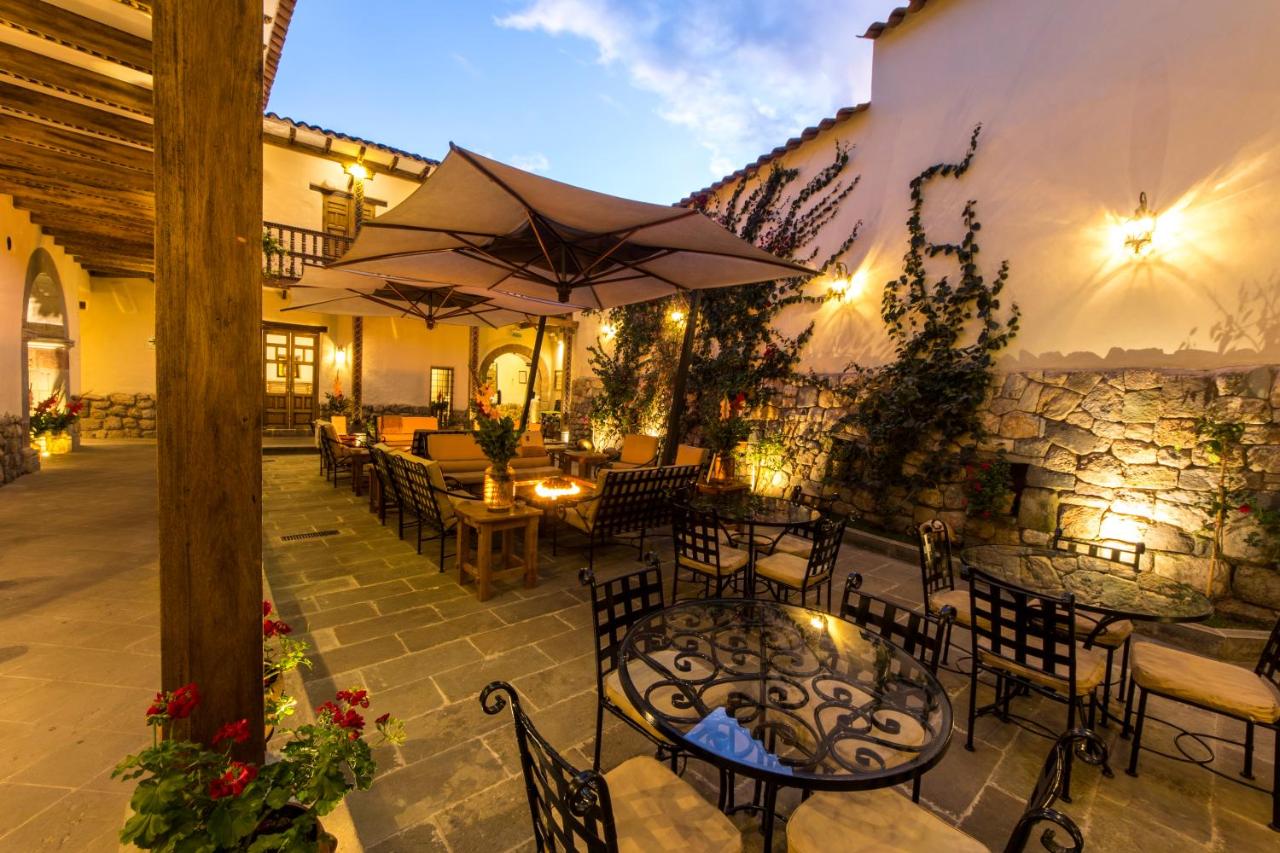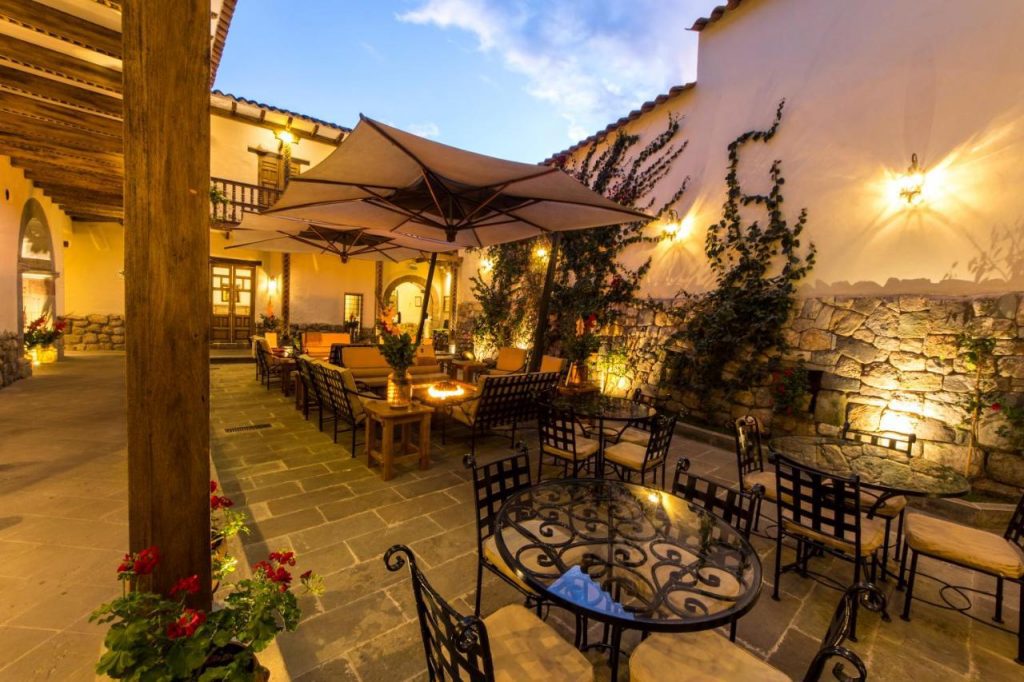 Location: San Blas neighborhood
Stay just outside of the city center in the popular and historic San Blas neighborhood. You'll still be able to walk to everything important, but the bohemian feel of this neighborhood is a bit different than the tourist-filled historic center. The breakfast buffet here is one of the best buffets in town and the fire pit in the courtyard is the perfect place to curl up in front of on those chilly evenings.
Splurge stay: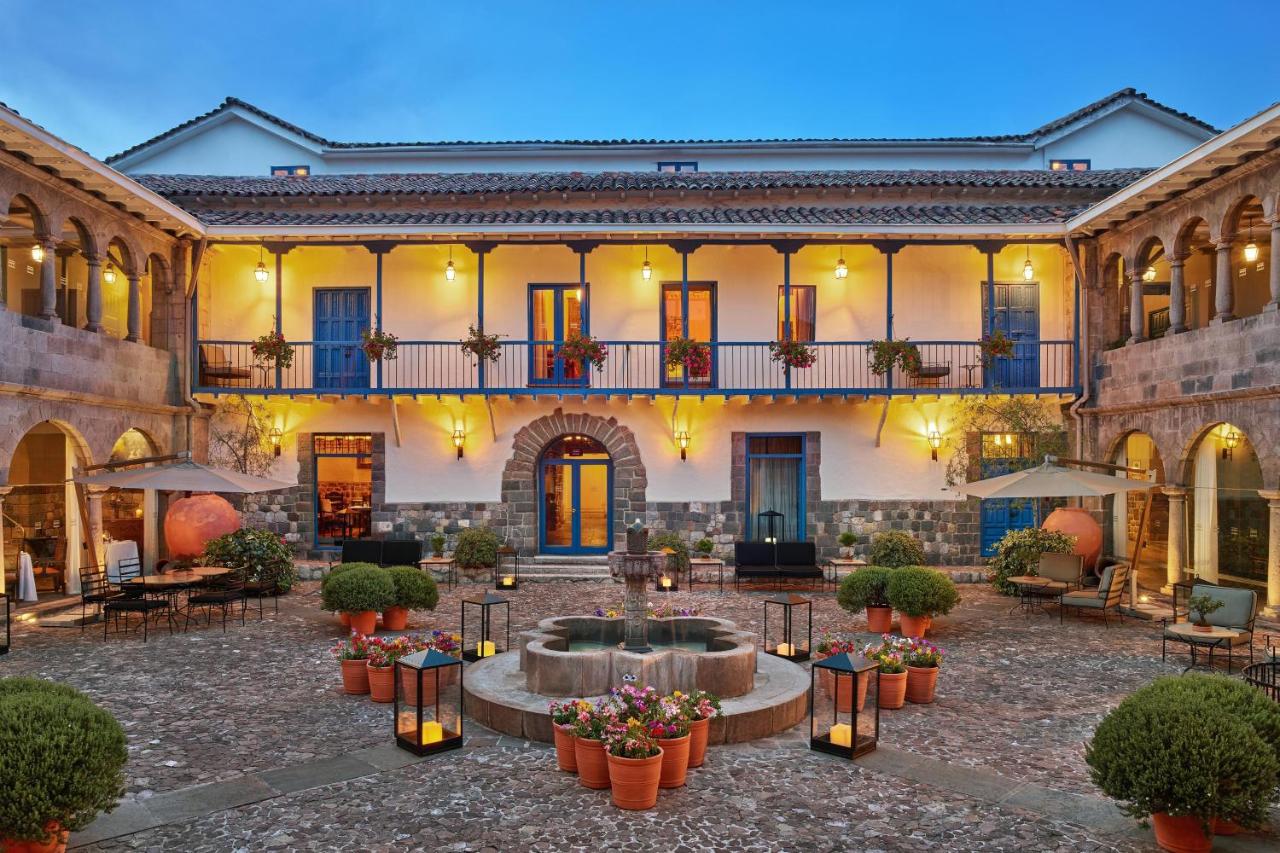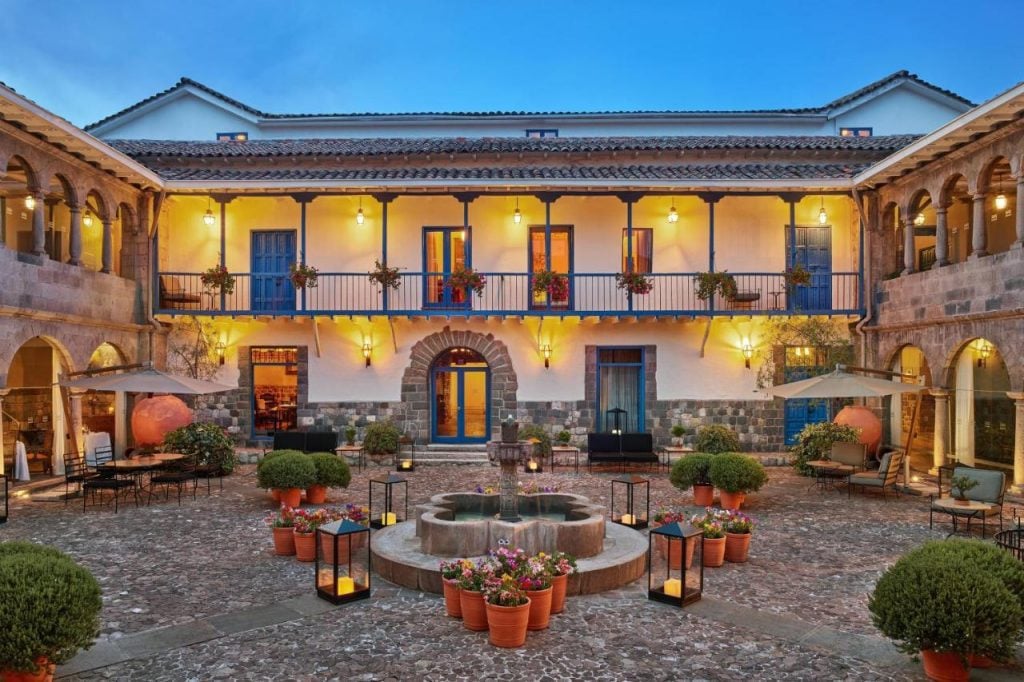 Palacio del Inka, a Luxury Collection Hotel by Mariott
Location: Historic City Center
Located in front of the Koricancha, in the historical center of Cusco, this boutique property features stylish and modern suites. The real draw is the gorgeous onsite spa with a fitness center and indoor pool. Post up with a cocktail from the bar and take in the views of the city.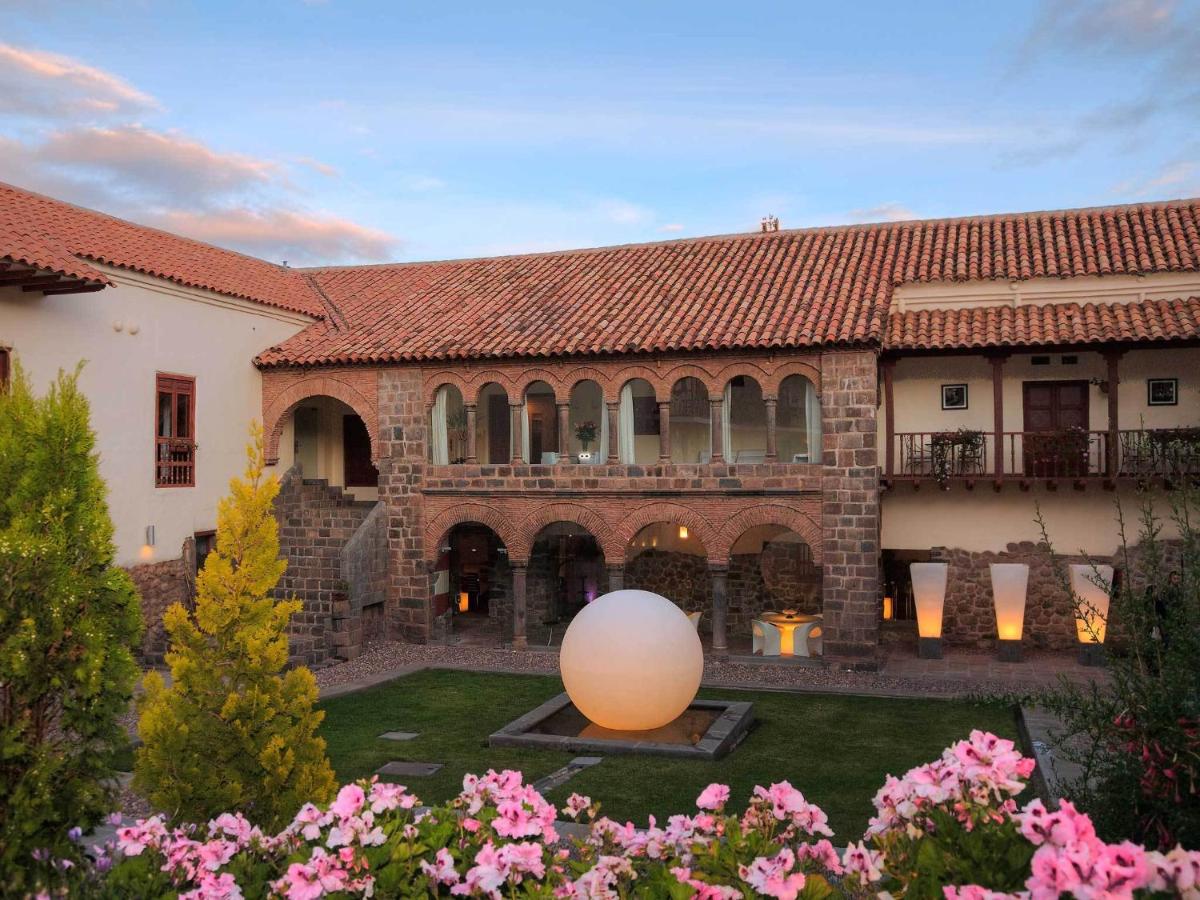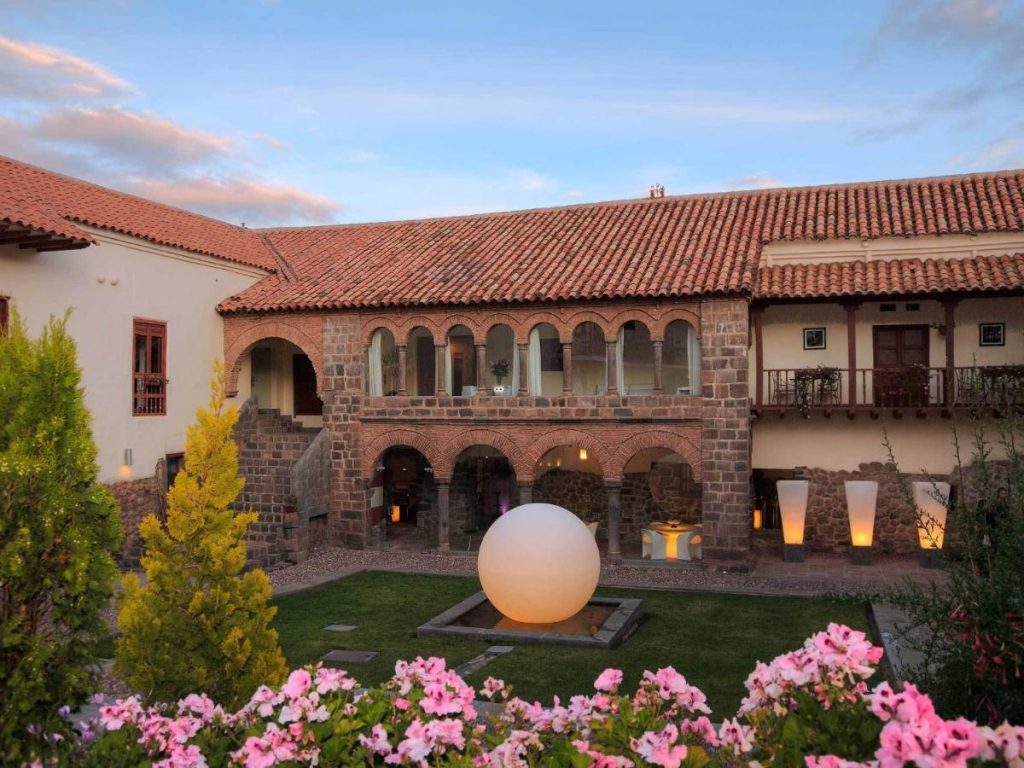 Casa Cartagena Boutique Hotel & Spa
Location: Historic City Center
Spend the night in the elegantly decorated Casa Cartagena and overlook the luxurious pool garden from your private suite balcony. The luxury property is located in the city center, just 2 blocks from the Plaza de Armas. If you're feeling in the mood for pampering, treat yourself at the onsite restaurant or luxurious spa.
---
Are you planning a trip to Peru?
We have lots of resources on travel in Peru and destinations throughout the country. Check out our Complete Peru Travel Guide for all the answers to your most burning questions, or read some of our favorite articles below.
Save this article on Pinterest for later!
We want to hear from you!
Are you planning a trip to Cusco and still have questions? Leave your questions in the comment section below and we'll do our best to find you the answers you are looking for!