Traveling from Edinburgh to Isle of Skye is doable, but requires some advanced planning with so many different transportation options. In this guide, we've broken down all the best options for traveling between both can't-miss destinations.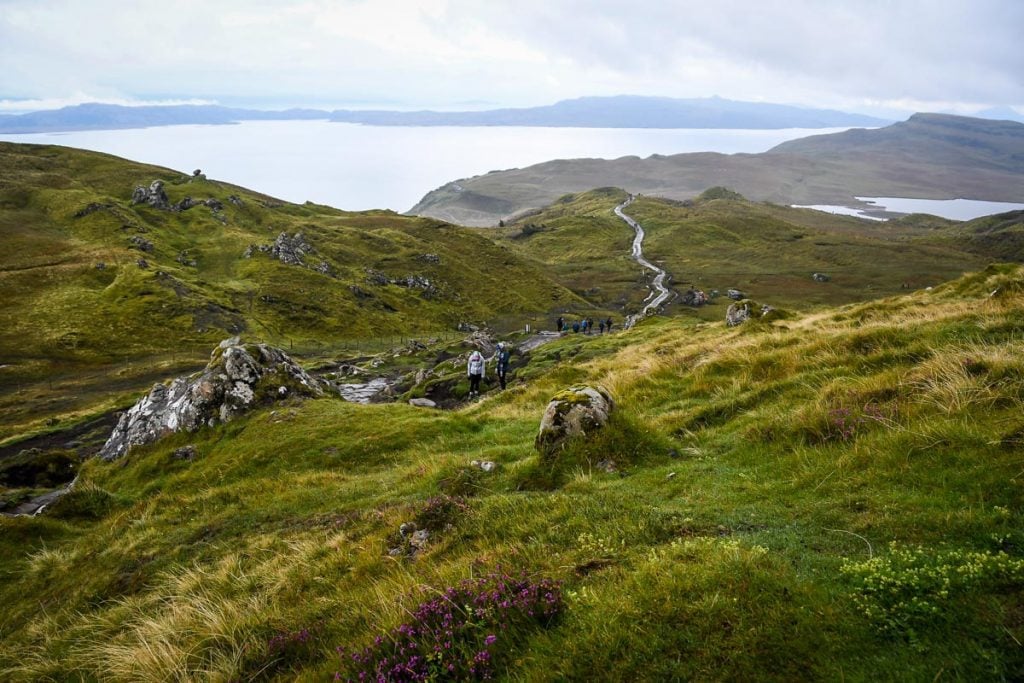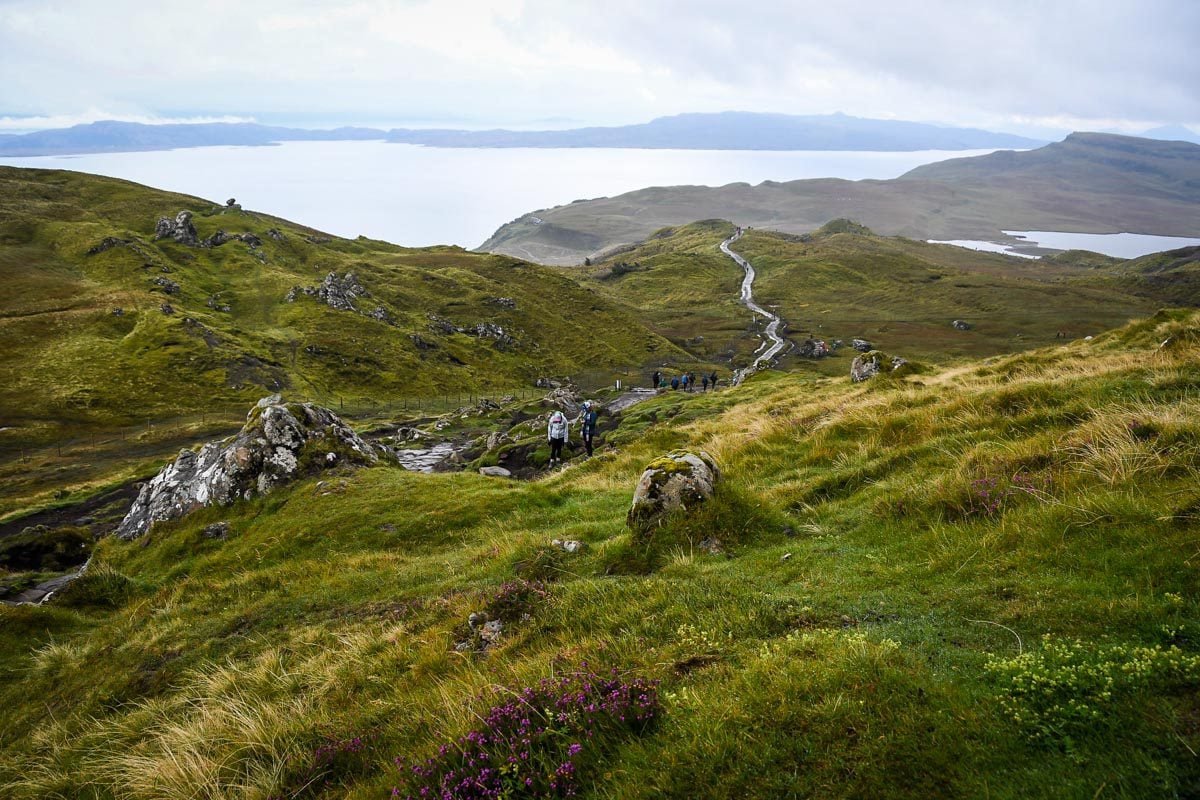 Historic Edinburgh enchants visitors with its charming streets, ancient castles, city parks, and lively food and pub scene. There's much to be said about the capital city's urban delights, but what's a Scotland trip without a healthy dose of nature?
Isle of Skye, commonly referred to as simply Skye, is exactly the place to satisfy that outdoor itch. Located in the Inner Hebrides archipelago, the island feels a bit like stepping back in time.
Filled with rugged, verdant green terrain, dramatic crags, and jaw-dropping coastal scenery, the nature on Skye is seriously stunning. Throw in castles, colorful villages, and fascinating history, and it's easy to see why many say this island is a do-not-miss.
Situated 200 miles apart, it does take a bit of effort to travel from Edinburgh to Isle of Skye. The island is connected to the mainland by Skye bridge, but navigating the connection can be tricky, especially when taking public transportation.
In this guide, we've outlined all the various transportation options so you can make reaching this slice of earthly paradise as smooth as possible.
Edinburgh to Isle of Skye
---
Other resources for planning your trip
Be sure to download our complete packing list for Scotland! It's packed with good suggestions and insider tips to help plan your Scotland trip. And it's completely FREE, so why not!?
---
Edinburgh to Isle of Skye by train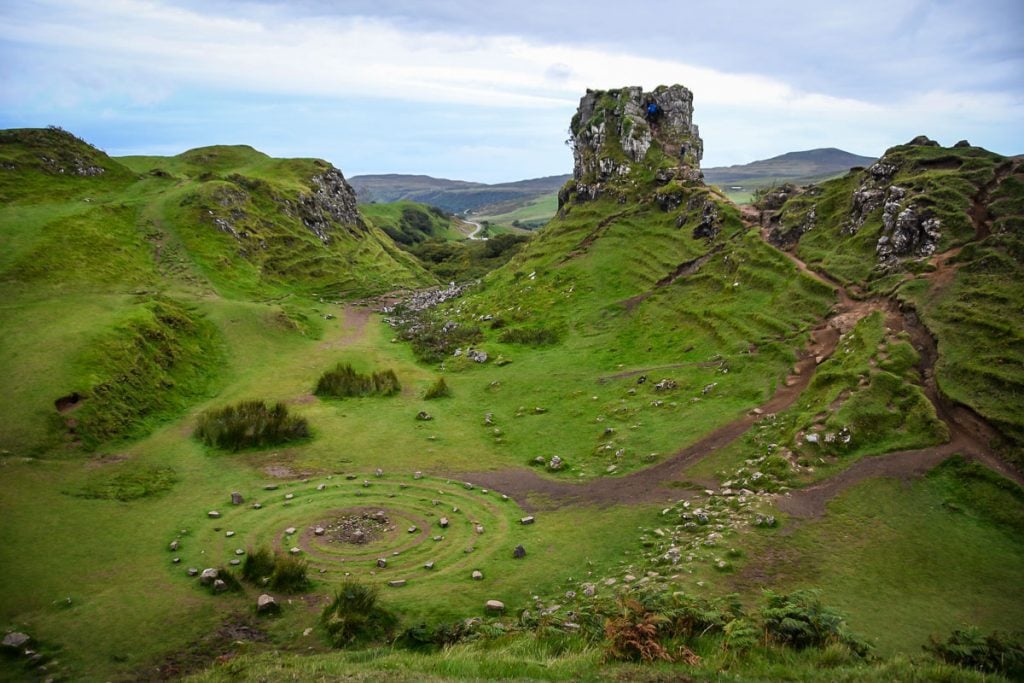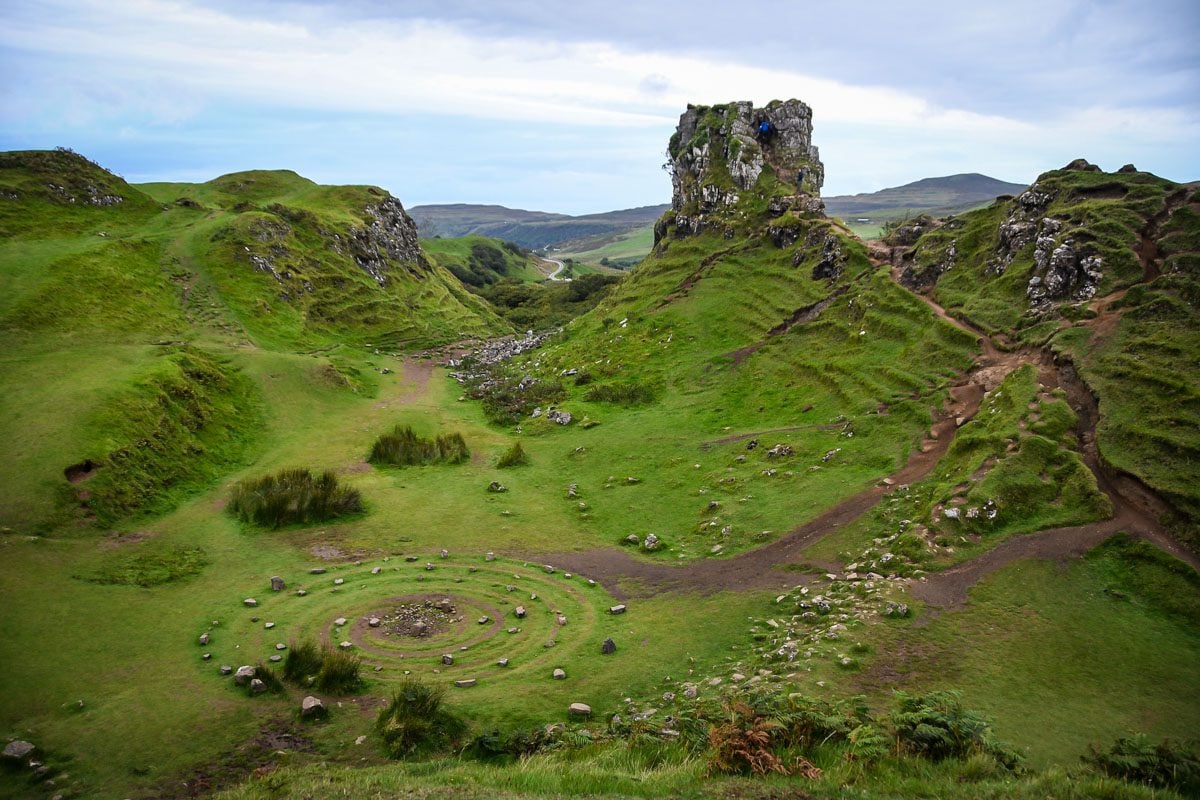 Technically, getting from Edinburgh to Isle of Skye by train is impossible — there isn't a rail system on the island. However, passengers can reach a convenient jumping-off point in Mallaig or Kyle of Lochalsh, then switch to another transportation method or tour.
Figuring out the best route can be tricky since there are no direct rail lines from Edinburgh, but don't shy away from this option. The effort is worthwhile! Not only is it a comfortable method of transit, these trains are also some of the world's most scenic!
Kyle through Inverness
First, you'll need to catch a train from Edinburgh to Inverness, the capital and transit hub of the Scottish Highlands.
The journey takes just under five hours, and there are 13 trains a day. It isn't necessary to reserve tickets in advance, but doing so reduces the fare to as low as £5.
There are tons of fun things to do in Inverness, so consider adding extra time before or after your visit to Isle of Skye.
From Inverness, take the rail to Kyle of Lochalsh, commonly called simply Kyle. This tiny town sits right next to the Skye bridge, so it's convenient to catch a tour or local bus into Skye.
This rail route, known as the Kyle Line, is incredibly beautiful, topped only by the West Highland Line. The journey takes 2.75 hours, and there are four trains a day with fares starting at £15. It doesn't usually book out completely, so buying a ticket in advance isn't necessary.
Mallaig through Glasgow or Fort Williams
The other option is taking a train to Mallaig, a coastal port town that has ferry service to the Isle of Skye.
While a slightly more complicated route logistically, this option allows for a journey aboard either one of the world's most scenic trains or the real-life "Harry Potter train" known as the Hogwarts Express. Talk about a trip to remember!
Either way, you'll first need to get from Edinburgh to Glasgow. From Glasgow, board the West Highland Line, which is often noted as being one of the world's most picturesque rail journeys!
The trip is just under 5.5 hours, and there are anywhere from two to six departures a day, depending on the season (more in the summer). It can be handy to reserve your tickets in advance, but don't sweat it if you don't, especially in the off-season. Fares start from £28.
Make sure to book a ticket during daylight hours and try to grab a window seat, particularly on the left side.
Hogwarts Express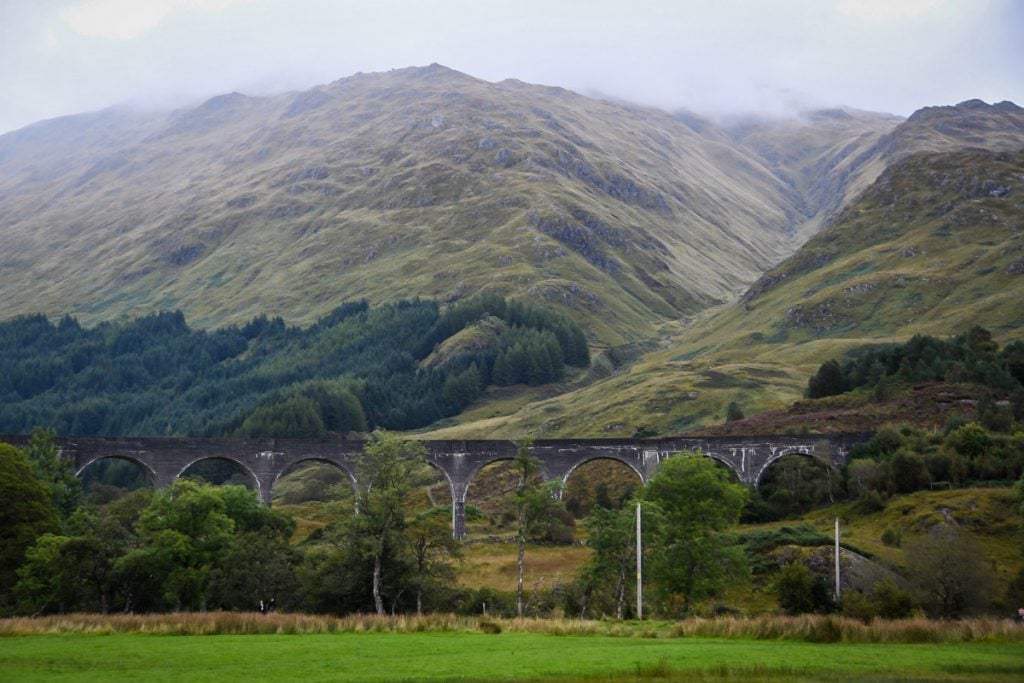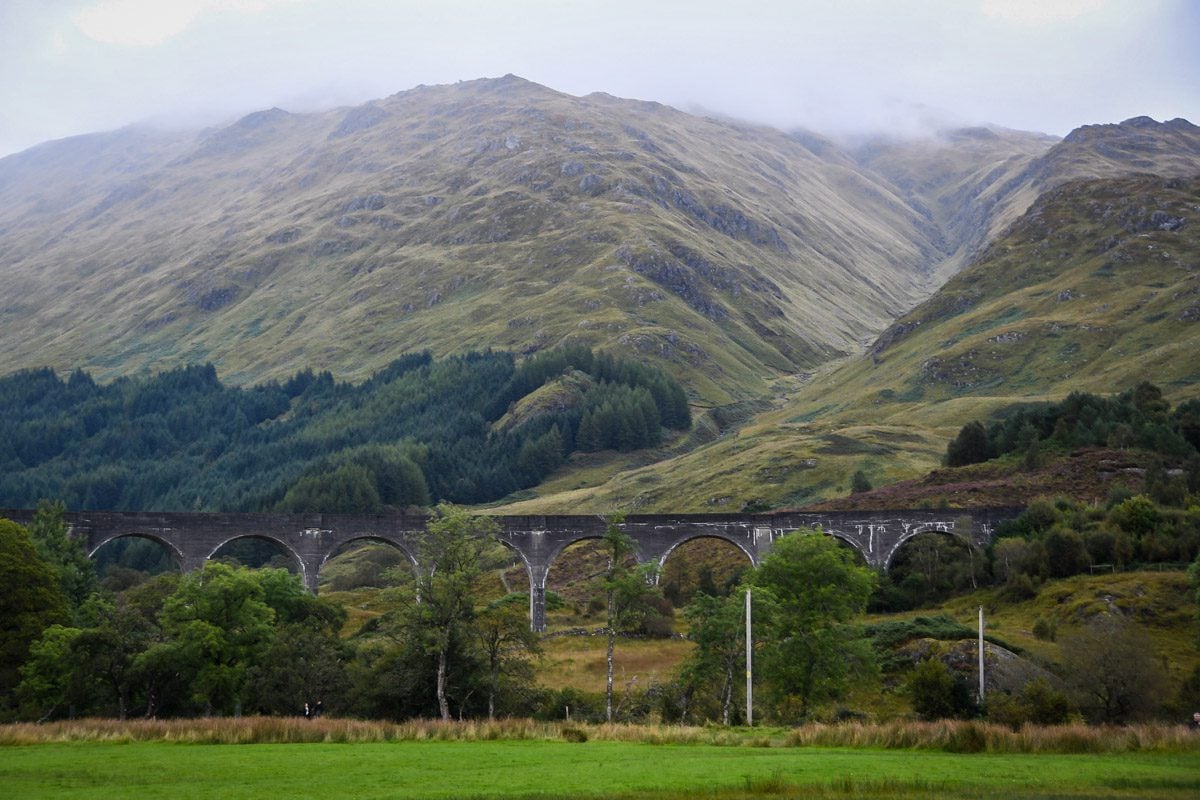 While both pricier and slower, you may also want to consider a trip aboard the Hogwarts Express, AKA the "Harry Potter train." Known as the Jacobite Train, this steam engine is the exact train featured in the world-famous films!
The train runs along a portion of the West Highland Line, so you'll first need to catch a train from Glasgow to Fort Williams. This leg of the route is just shy of four hours long, and costs £19.
Since the Jacobite Train departs in the morning, you'll need to stay overnight (or longer!) in Fort Williams, a picture-perfect town located right next to Scotland's highest peak, Ben Nevis.
From Fort Williams, board the magical steam engine at 10:15 in the morning and enjoy the scenery on the ride to Mallaig! Unfortunately, they do not sell one-way tickets for this route, so you'll need to book a return trip for £50 and get off in Mallaig.
Once in Mallaig, catching a ferry to Skye is super easy. The trip takes around 40 minutes and you can see your destination, Armadale, before departing. Keep in mind, this route only operates from March to October.
Psst! If you have time to discover more of the country, don't miss these epic places to visit in Scotland.
Edinburgh to Isle of Skye by bus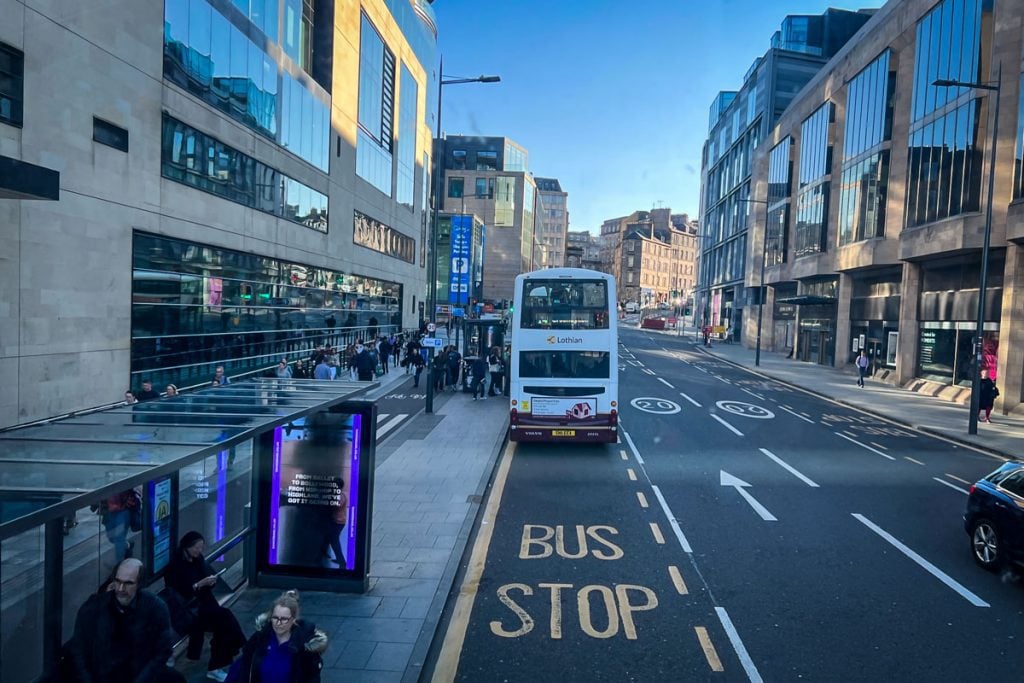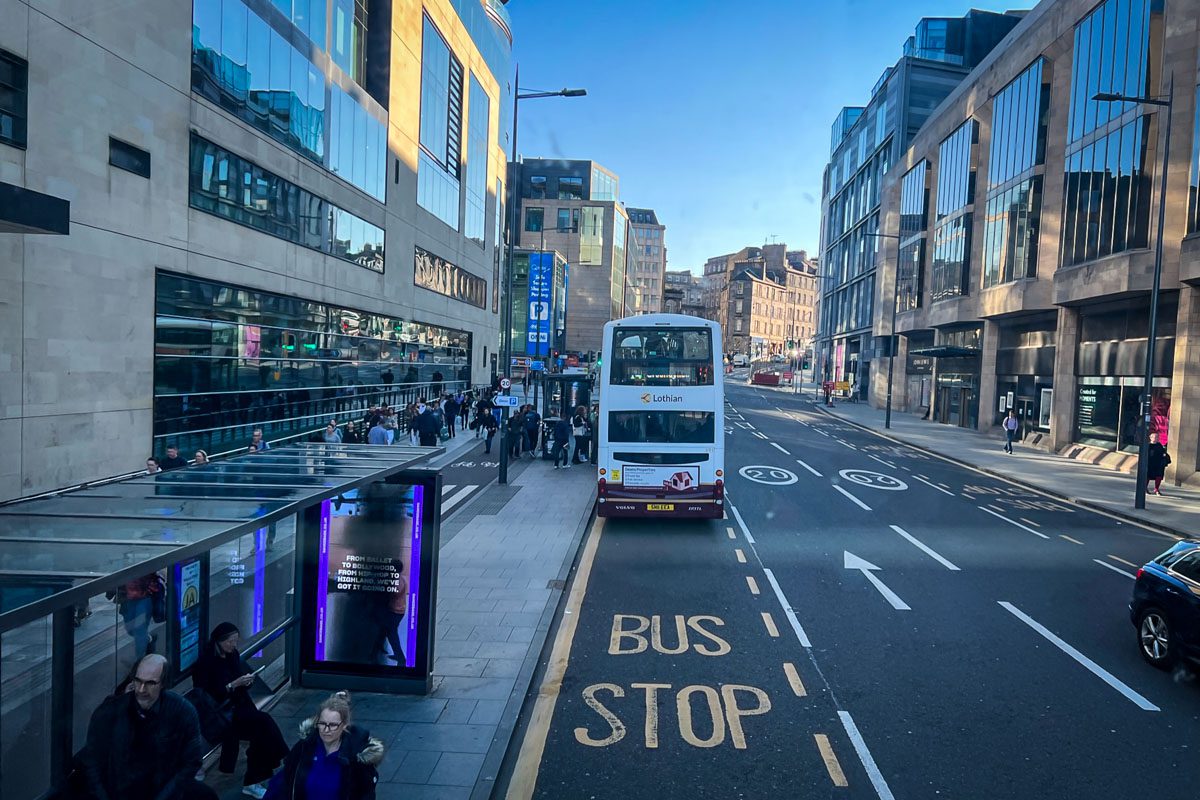 Similar to train travel, there is no direct bus route from Edinburgh to Isle of Skye. Instead, you'll need to transit through one of the same two hubs: Inverness or Glasgow.
However, buses go directly to the village of Portree, located on Skye. Vibrant and happening, Portree is one of the best places to visit in Scotland! You can book a tour from here to explore more of Skye, or take local buses operated by Stagecoach.
It's possible to book the entire journey from Edinburgh to Portree as one ticket if booked through City Link. However, doing so results in a long 9-hour travel day with a late evening arrival.
It's far more relaxing to break up the trip and stay overnight in Inverness or Glasgow. Plus, that way you can enjoy the scenery of the Scottish Highlands before sunset!
Portree through Inverness
Getting from Edinburgh to Inverness by bus is a breeze. There are typically 10 daily departures, all leaving from Edinburgh's central bus station and taking just under four hours.
Fares cost about £9-11, and we recommend using Megabus to book the trip.
Traveling from Inverness to Portree, there are two daily buses — one in the morning and another in the evening. The trip time is 3.25 hours and it costs £40, but this route can only be booked using City Link.
Portree through Glasgow
Getting from Edinburgh to Glasgow is also super easy. Check out our detailed transportation guide for all the options for that first leg.
Once in Glasgow, catch a City Link bus to Portree. There are three departures a day, with a total travel time of 6.5-7 hours and a price of about £44.
Edinburgh to Isle of Skye by car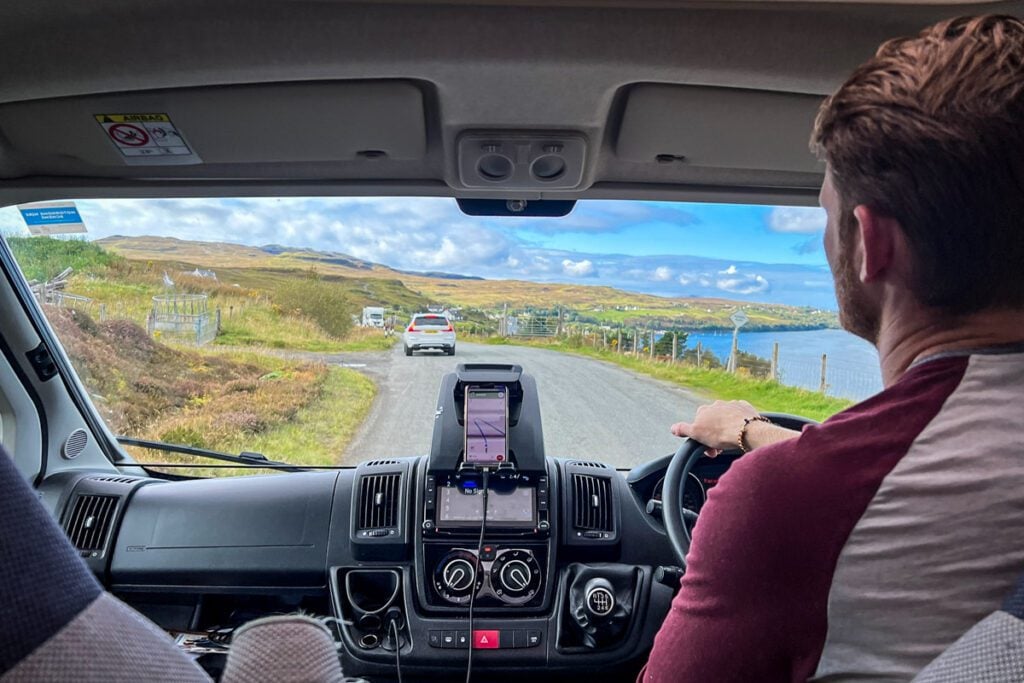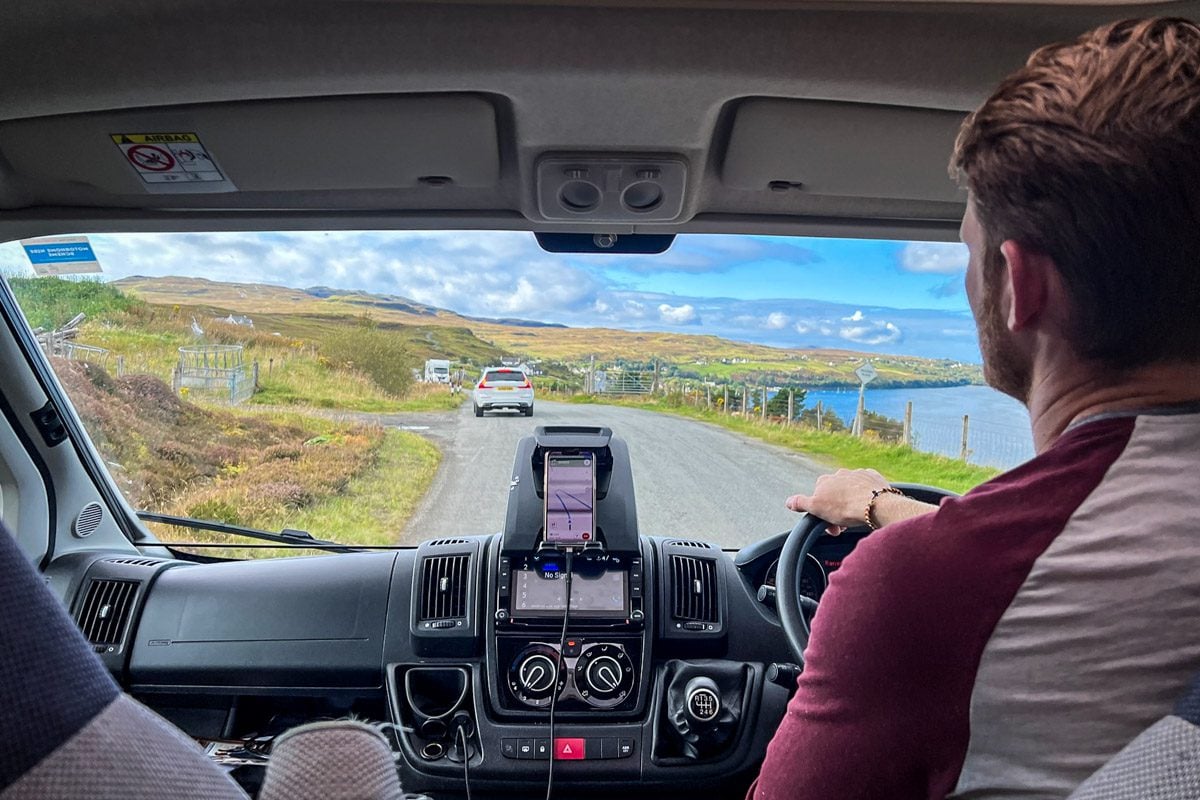 When it comes to flexibility and speed, nothing beats renting your own vehicle to travel from Edinburgh to Isle of Skye.
This option allows you to depart at any time and showcases the best scenery Skye has to offer. Plus, it could even be the cheapest option, especially when split among several people!
All the big, familiar car rental companies operate in Scotland. In the off-season, prices tend to be low, starting at just £12 a day. Use Discover Cars to easily compare rental companies and car types.
Keep in mind it's most affordable to pick up and drop off a car in the same location.
Search & Compare Rental Car Prices
Discover Cars: We personally use this aggregate site to compare rental car prices from all the big name companies and get the best price possible.
RentalCars.com: We've had good experiences finding rental cars with this site in the past.
Self-driving route
It takes approximately 4.25 hours to drive from Edinburgh to the Isle of Skye bridge, the only entry point to the island. The drive is straightforward, following major roadways.
First, to exit Edinburgh, you'll need to take the A90 until it merges with the M90. Next, you'll pass over the Queensferry Crossing Bridge and continue for 40 minutes until the road combines with the A9.
From here, continue to the fork with the A89. The scenery gets particularly scenic from this junction, and the drive is also a little more demanding. Make sure to drive this portion in daylight!
Continue for just a few miles before merging with A86. This soon turns into the narrow but stunning A87 that leads right to the Isle of Skye.
Although road closures are not common, make sure to pay attention to weather conditions. Snow, ice, and flooding can shut roads down quickly and without notice, especially during the winter. Being Scotland, that's one thing you can count on — unpredictable, rapidly changing weather!
Psst! Don't leave before you check out our bucket list of cool things to do in Scotland.
---
Want to save time and energy on planning?
We traveled in Scotland for about 2 weeks and were able to visit most of the highlights of the country, including most of the top places to visit.
We took our 2-week travels and created the perfect Scotland road trip itinerary. We'll send you our complete 2-week itinerary, filled with tips and advice. Just click below to get your 2-week Scotland road trip itinerary today!


---
Private Driver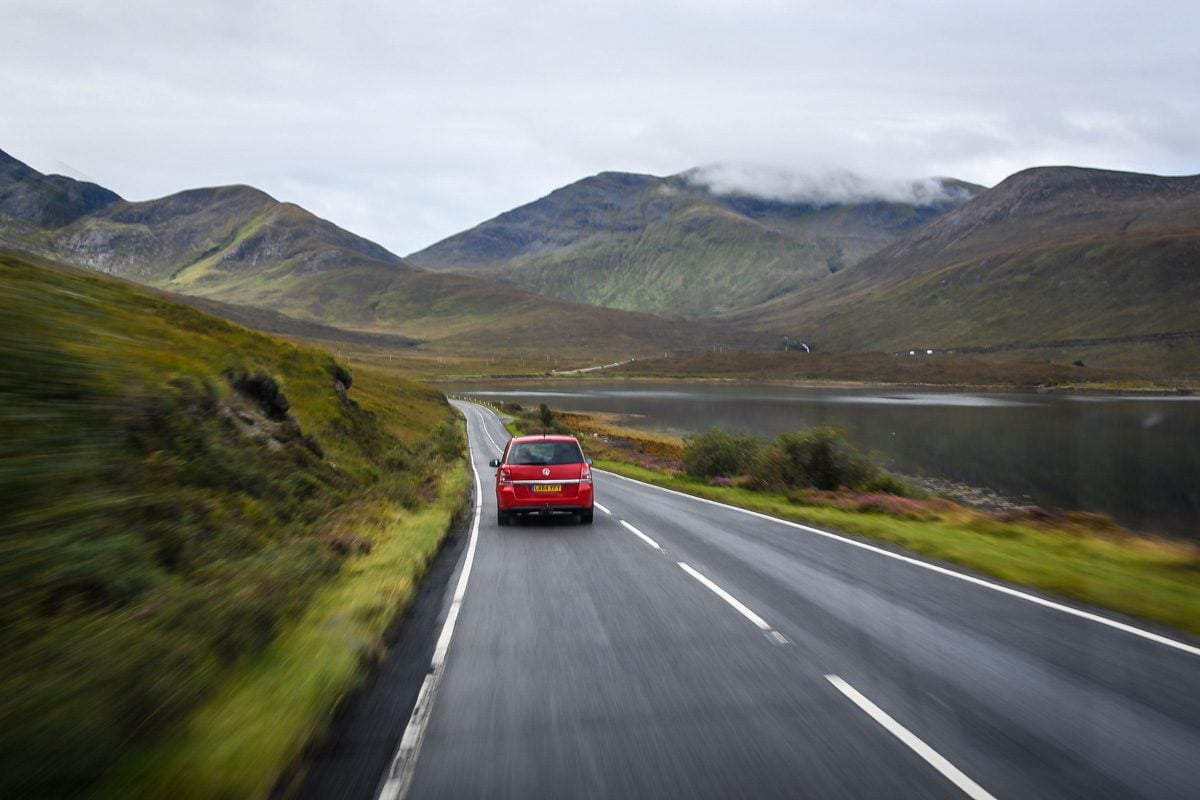 In addition to driving yourself, it's also possible to hire a van or driver to get from Edinburgh to Isle of Skye.
Tour Skye can arrange transportation to Portree or even a private tour of the Island, and there are many other providers available through online search.
Get Your Guide is another great place to search. Don't hesitate to contact a provider before booking; even if they don't offer the exact itinerary you're looking for, they may be happy to adjust!
Guided tours from Edinburgh to Isle of Skye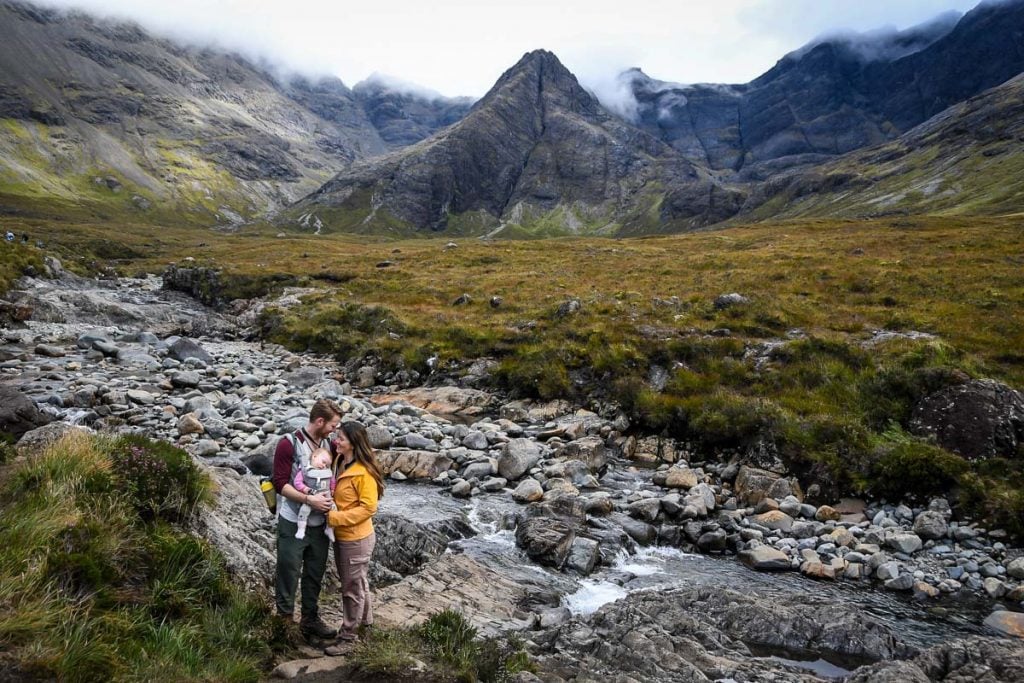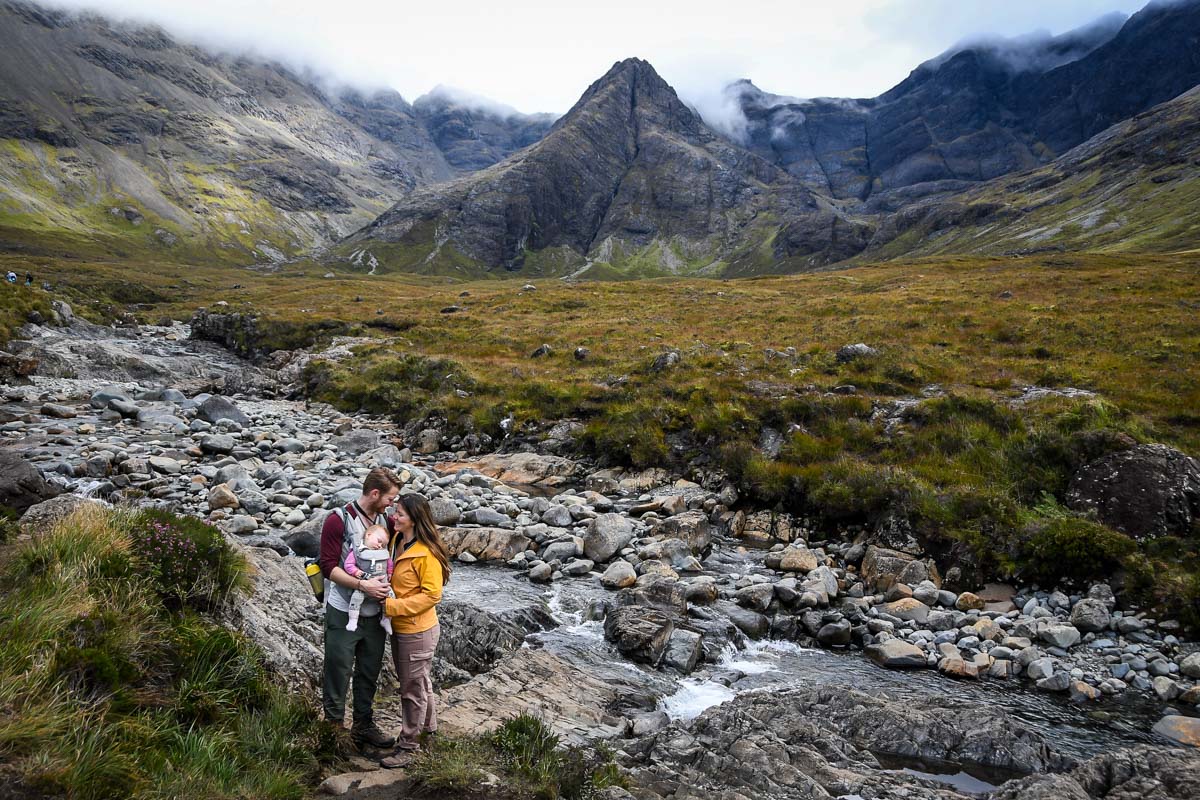 For a more immersive way to get from Edinburgh to Isle of Skye, consider taking a guided tour that hits multiple sites along the way.
---
Are you planning a trip to Scotland?
We have lots of resources on travel in Scotland and destinations throughout the country. Check out our Scotland Travel Homepage for everything you need to know, or read some of our favorite articles below.
Save this article on Pinterest for later!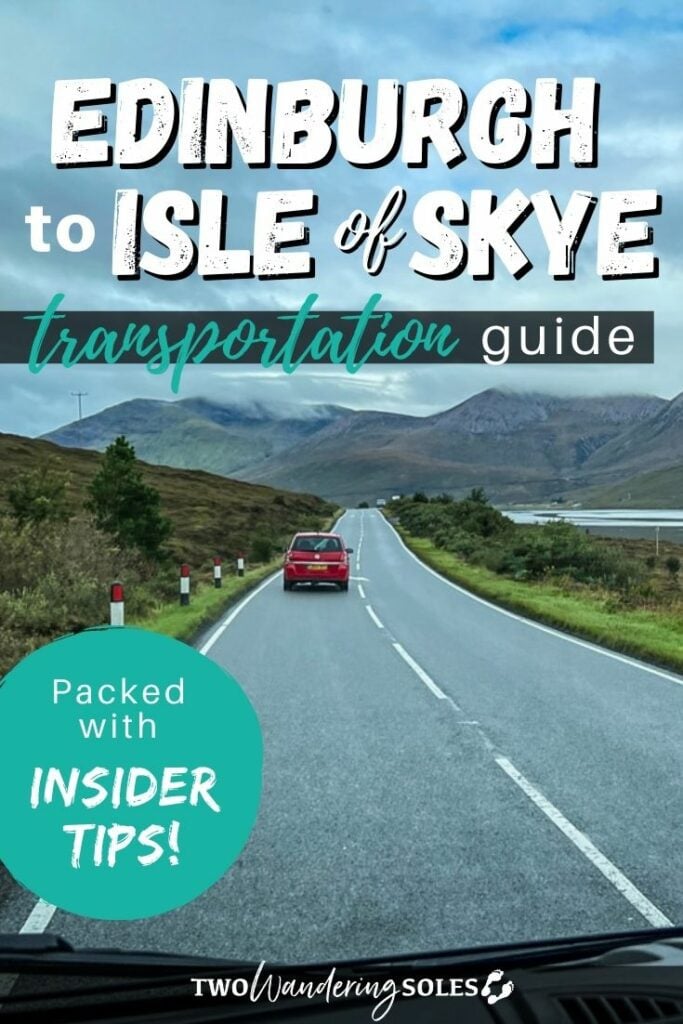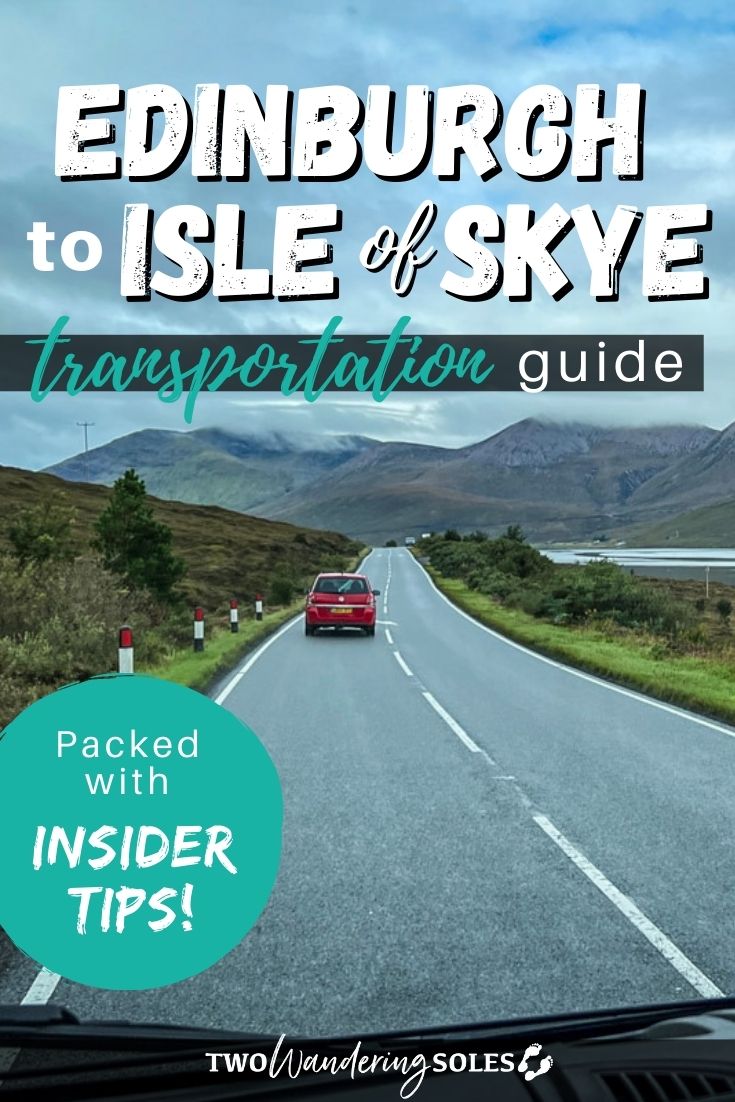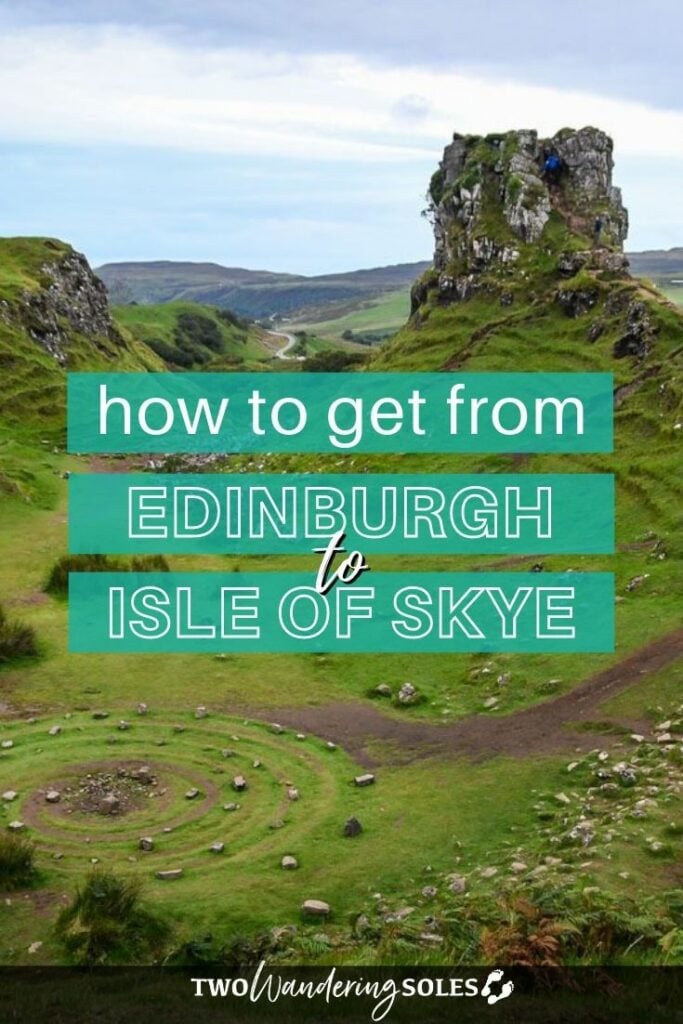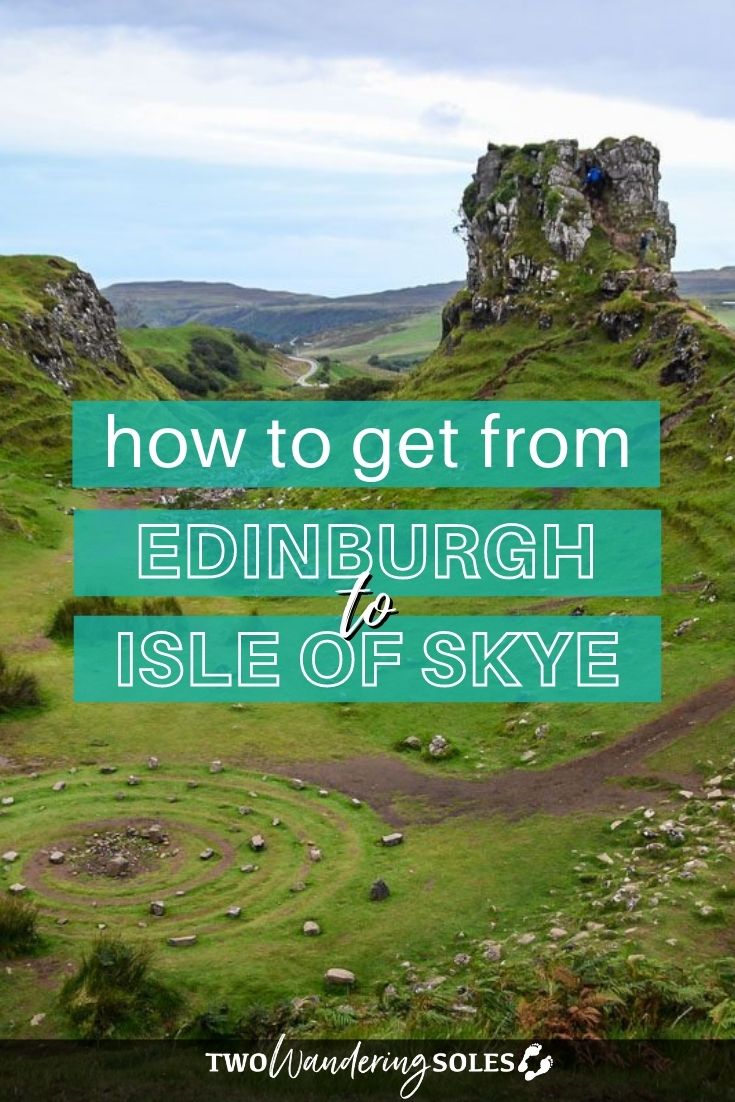 We want to hear from you!
Are you planning a trip from Edinburgh to Isle of Skye and still have questions? Comment below and we'll do our best to find you the answers you're looking for!