Traveling from Inverness to Isle of Skye is doable, but requires some advanced planning with a few different transportation methods. In this guide, we've broken down all the best options for traveling between both can't-miss destinations.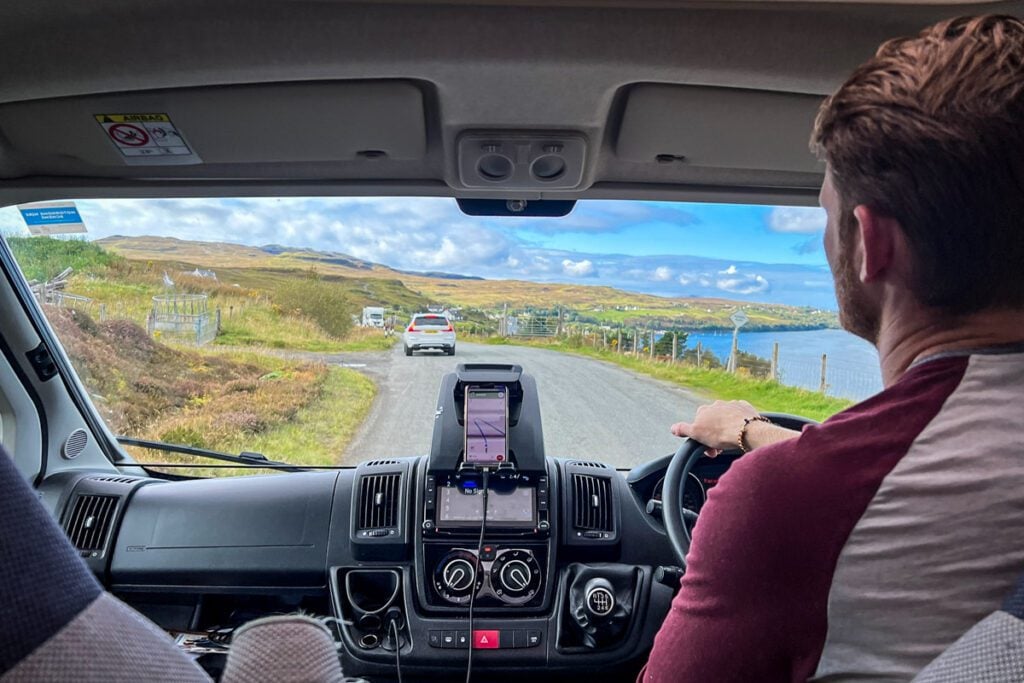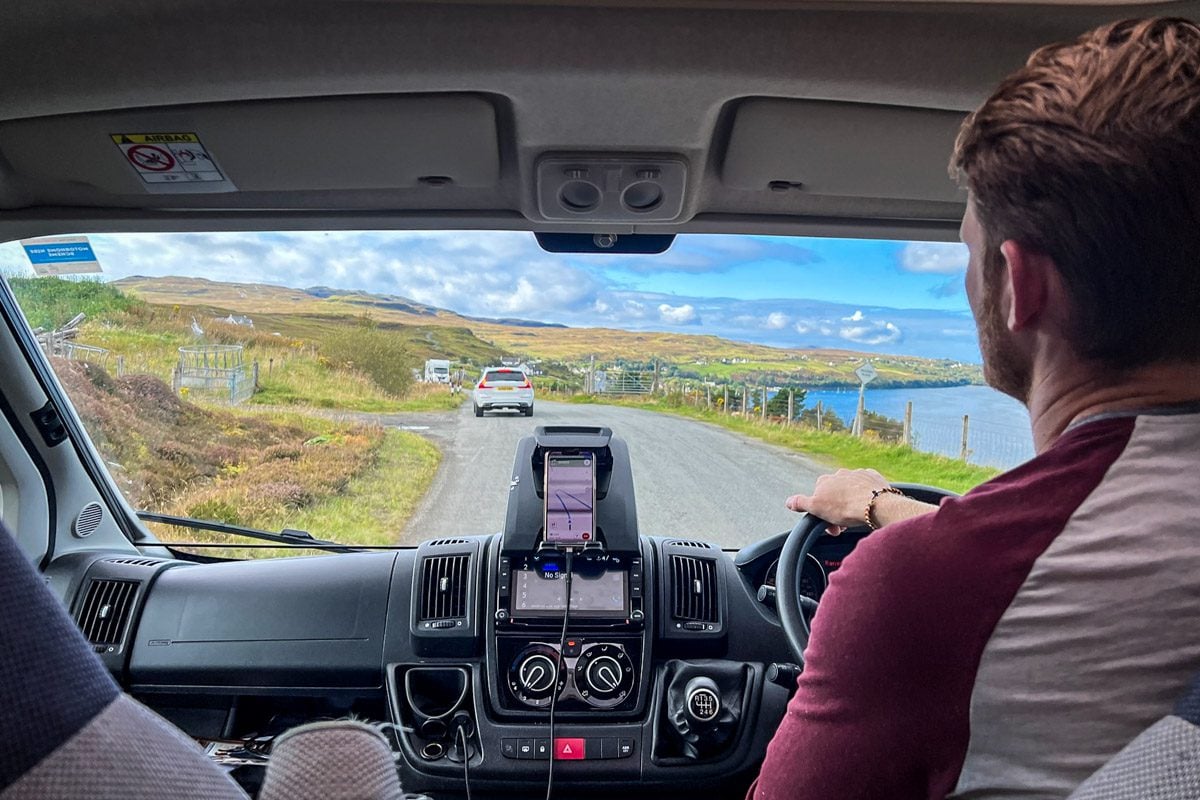 When planning a Scotland trip, there's an excellent chance you're envisioning waterfalls, rolling green hills, sleepy fishing villages, ancient castle ruins, and lively pubs.
That's exactly why traveling from Inverness to Isle of Skye is so popular — the two destinations (and the route connecting the two!) offer a fantastic overview of Scotland, particularly for first-time visitors.
As the largest hub in the Scottish Highlands, Inverness is a pleasant coastal town filled with super cute cafes, shops, and the best accommodation options in the area. It's also a great place to recharge after some hiking — after all, exploring The Great Outdoors is one of the best things to do in Scotland!
For the country's world renowned natural pursuits, it hardly gets any better than Isle of Skye.
Although it takes just five hours to drive completely around this small island, it can truly take weeks to see it all. Filled with stunningly beautiful, rugged mountains, waterfalls galore, tiny cute villages, and even beaches, this slice of Scotland known as Skye is not to miss.
When it comes to transportation and travel logistics, Inverness is the ideal base. Just a few hours away by car and connected to Skye via a variety of transportation methods, getting from Inverness to Isle of Skye is fairly simple.
There are several options for actually making the trip, however, so we've broken everything down in this guide.
Inverness to Isle of Skye
---
Other resources for planning your trip
Be sure to download our complete packing list for Scotland! It's packed with good suggestions and insider tips to help plan your Scotland trip. And it's completely FREE, so why not!?
---
Inverness to Isle of Skye by train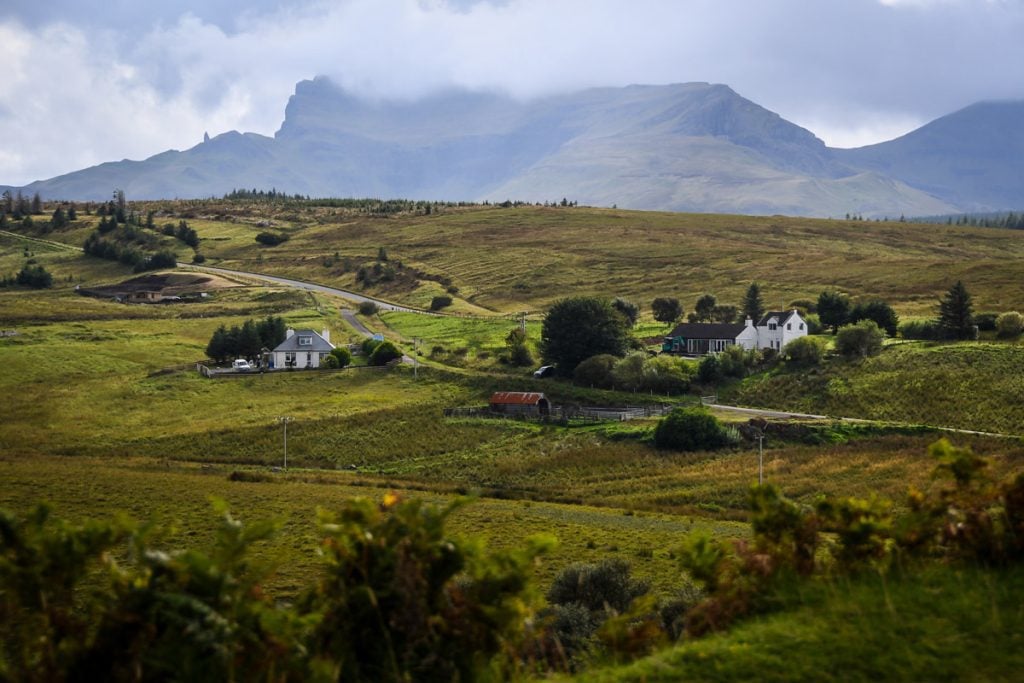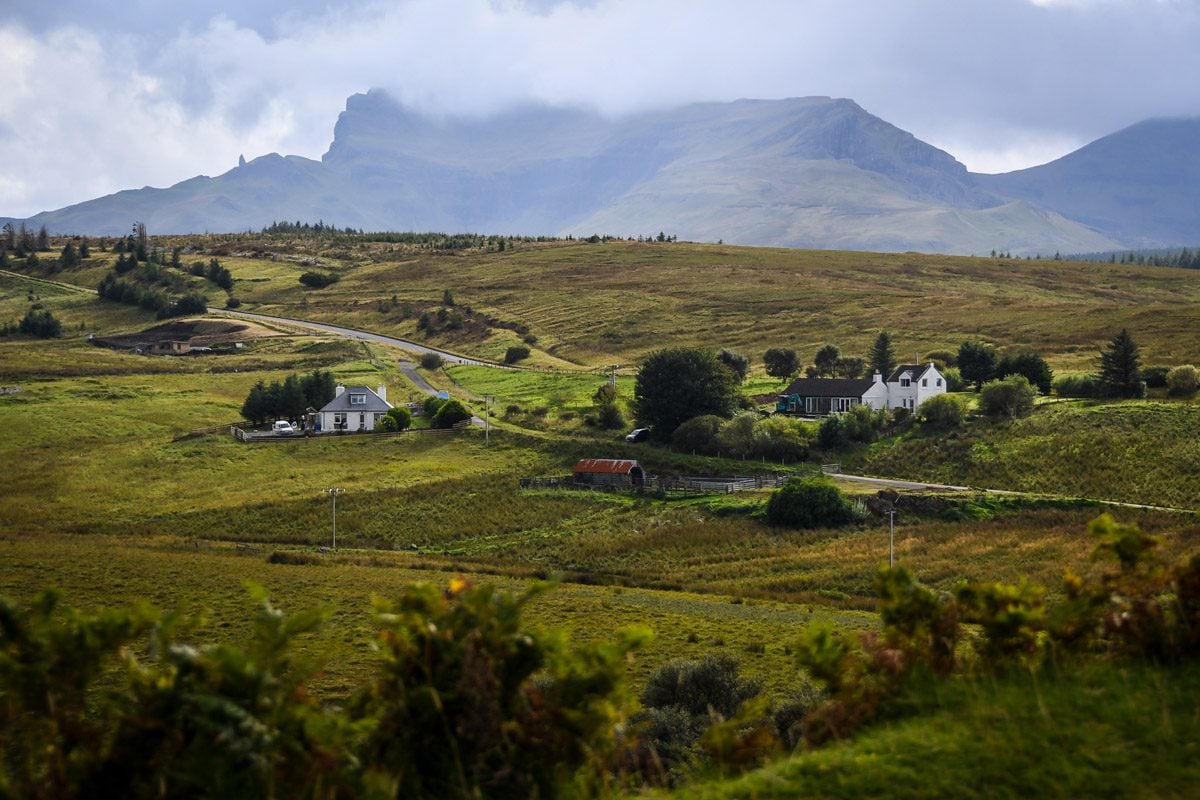 Somewhat unfortunately, there is no rail network on the Isle of Skye. You can get really close by train, however.
Kyle of Lochalsh, typically abbreviated to simply Kyle, is a small town located just before the Skye bridge, and it has a train station. From here, you'll be perfectly poised to catch a local bus or organized tour onto the island.
Traveling from Inverness to Isle of Skye by train is incredibly affordable, with fares starting at £15. It's best to book in advance through ScotRail for the cheapest rates, but don't sweat it if you don't — the train rarely sells out.
In addition to its convenience and affordability, this rail trip is also known for its incredible beauty. Called the Kyle Line, the route is often deemed as one of the UK's most scenic train voyages and is underrated in contrast to the much more celebrated West Highland Line.
The trip takes just under three hours, and there are generally four daily departures. If you have extra time, you can get off at any one of the small villages in the Scottish Highlands. Notable stops include Achnasheen, Achnashellach, and Strathcarron.
Psst! If you have time to discover more of the country, don't miss these epic places to visit in Scotland.
Inverness to Isle of Skye by bus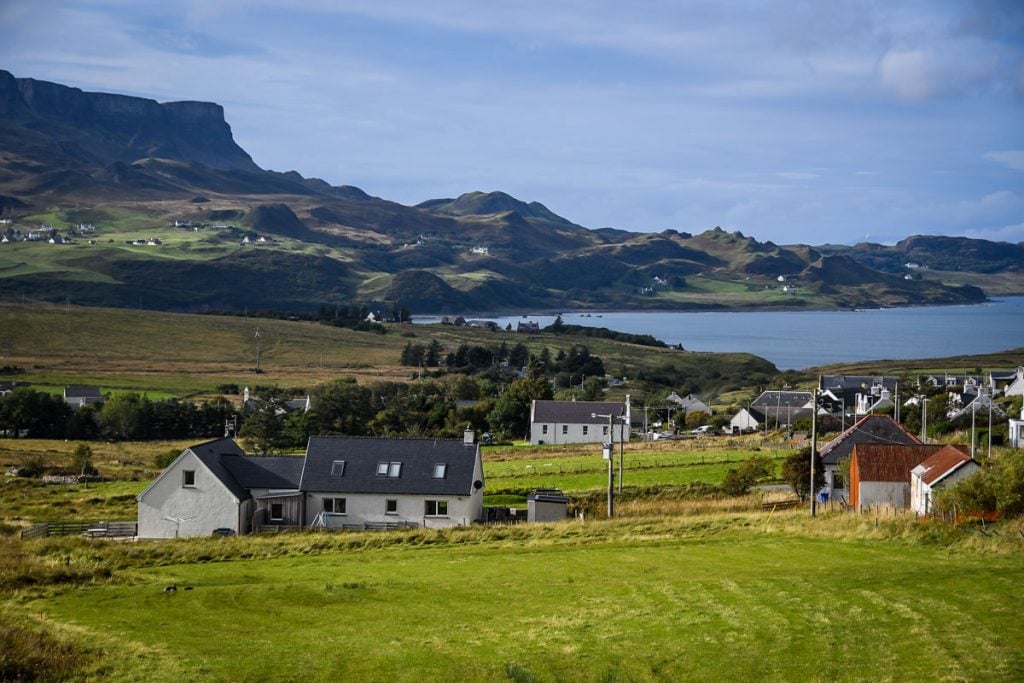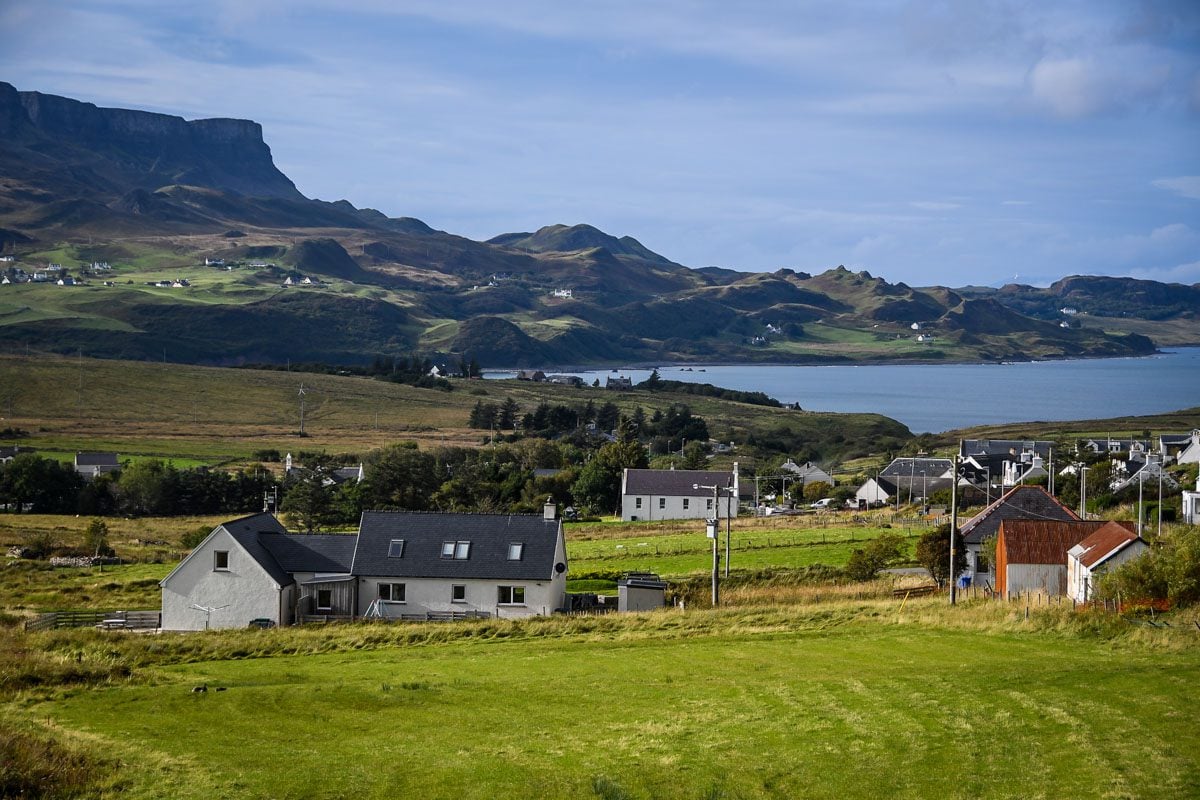 Traveling from Inverness to Isle of Skye by bus is simple. Like with the train travel option, there isn't a direct bus route onto Skye, but fortunately, there's a straightforward alternative.
Simply catch the City Link line from the Inverness bus station to the small coastal village of Portree, on Skye. There are two daily departures, one in the morning and one in the evening, and the total trip time takes about 3 hours 15 minutes.
The bus from Inverness to Isle of Skye also stops in the tiny but scenic fishing settlement of Luib before reaching Portree. Sleepy Luib is well worth a quick visit, but most travelers will want to base themselves out of colorful Portree for more options in terms of restaurants, accommodation, and tours.
Note that this bus route can only be booked directly through City Link, and fares generally cost around £40 each way. This is also one of two main bus routes travelers use for getting from Edinburgh to Isle of Skye.
Local public transportation in Portree isn't super frequent or reliable, so once there, Stagecoach is excellent for checking schedules and options.
Inverness to Isle of Skye by car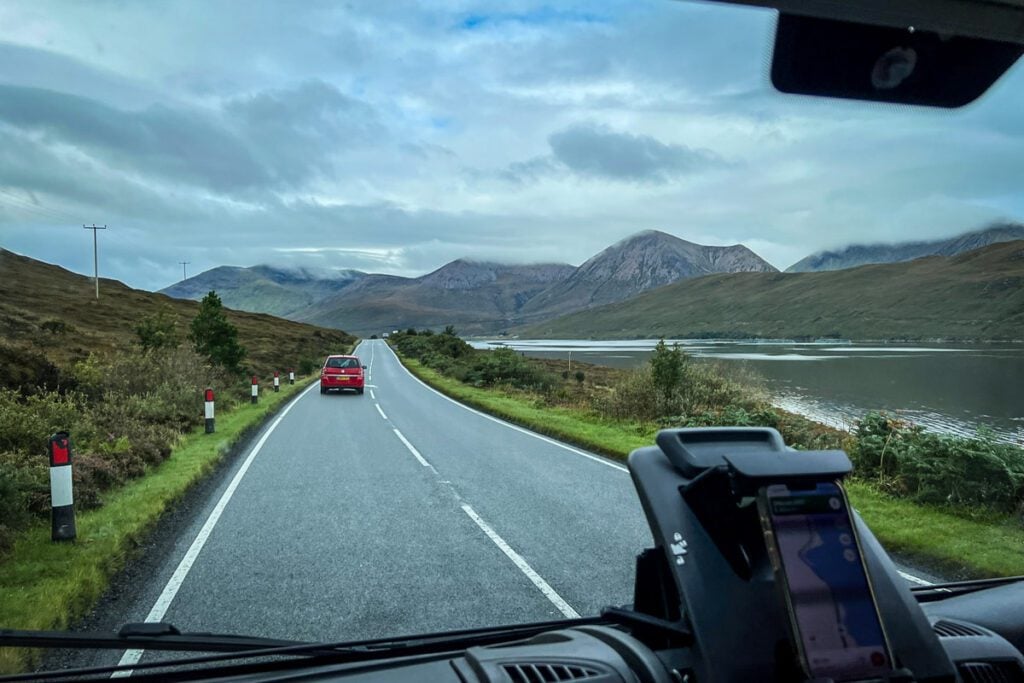 Driving yourself from Inverness to Isle of Skye is not only the quickest transportation method, but also offers the most independence once on the island. The drive takes about 2.5 hours, covering 112 miles (180 kilometers).
If you're the type of traveler who prefers to immerse in nature and travel at your own pace, this is by far the best option!
Since Inverness is well connected to the rest of the UK via public transportation, it's an excellent city to rent a car for independent travel. While rates are often a bit more expensive than larger hubs like Edinburgh, it shaves off several hours of drive time and allows for more exploration.
We highly recommend using Discover Cars to search for rental cars. Most of the familiar big companies like Alamo, Budget, Enterprise, etc. are aggregated on the site, allowing you to compare several rates and car types at once.
In the off-season, rates are often as low as £40 a day. During the high season, they increase significantly, so book as far ahead as possible for the best deals.
Search & Compare Rental Car Prices
Discover Cars: We personally use this aggregate site to compare rental car prices from all the big name companies and get the best price possible.
RentalCars.com: We've had good experiences finding rental cars with this site in the past.
Self-driving route
There are two alternate routes to get from Inverness to Isle of Skye, both super scenic, passing by lochs, mountains, and many small charming mountain and coastal towns. You'll want to build in some extra time for this particular road trip, as it's tempting to stop frequently!
The first route from Inverness to Isle of Skye heads south down A82 out of the city. After leaving town, you'll spend about 30 minutes driving along the infamous Loch Ness (which is certainly worth at least a stop!).
From Loch Ness, you'll merge onto A87 in Invermoriston, which will take you all the way to Isle of Skye. There are plenty of other photogenic stops along the way, like Loch Cluanie and Eilean Donan Castle.
At the end of this route, you'll approach Kyle of Lochalsh, drive over the Skye bridge, and be on Isle of Skye!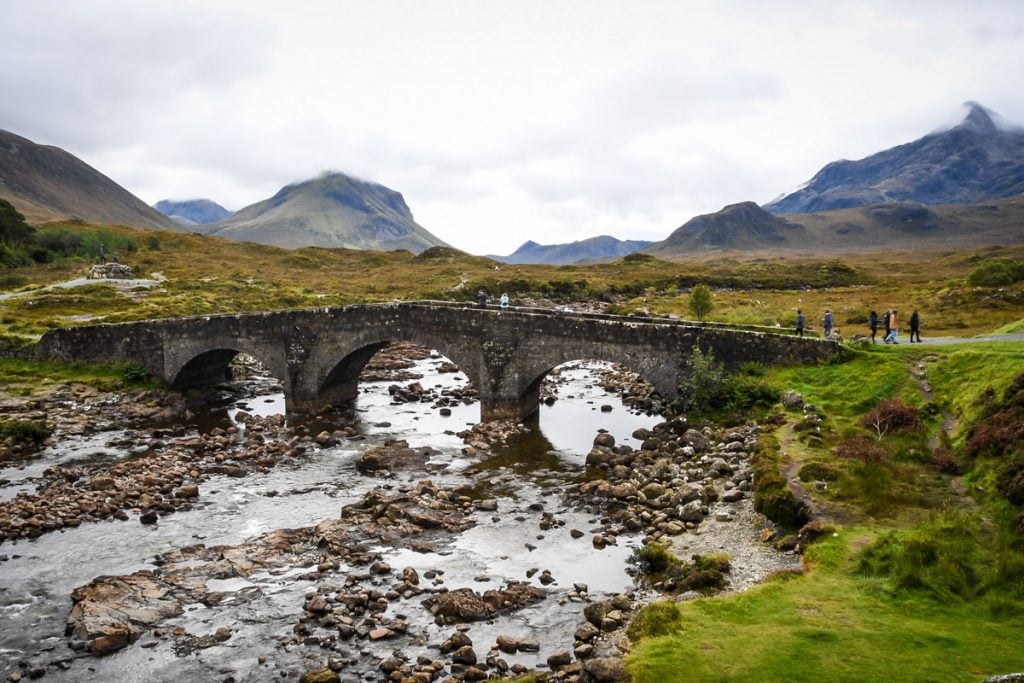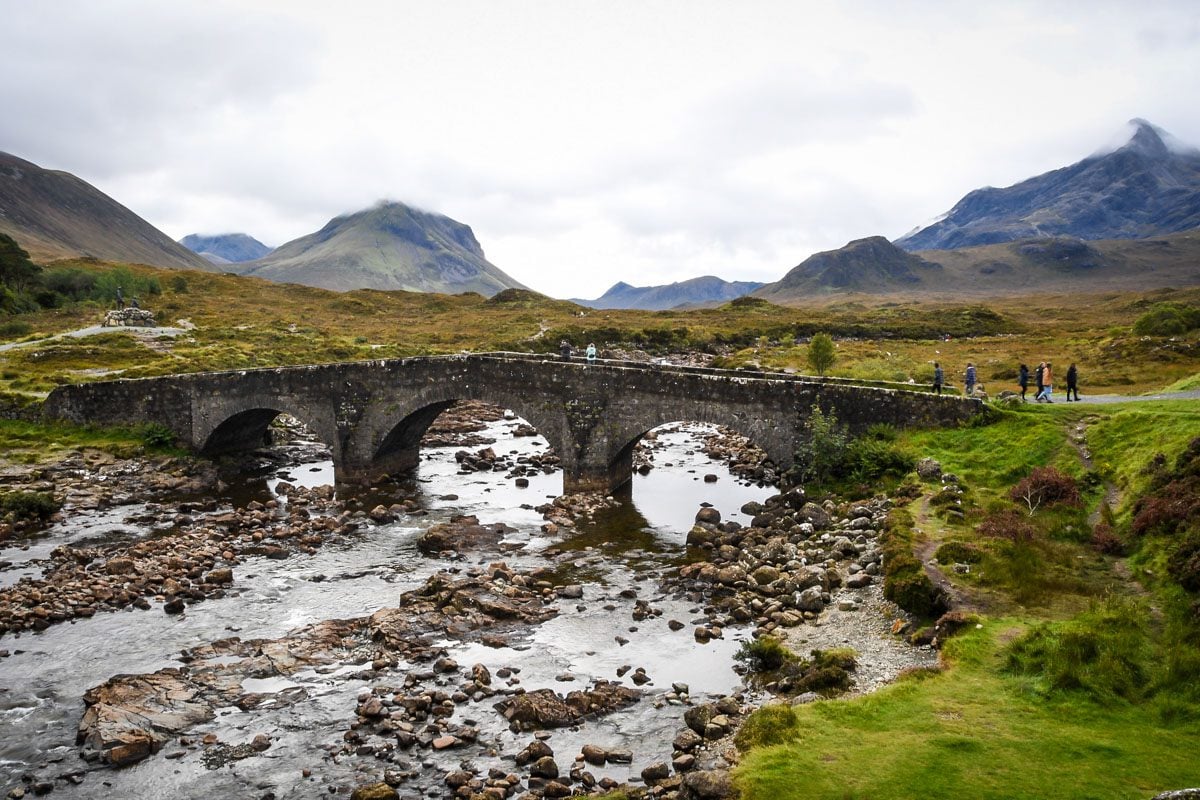 The second route, which takes the same amount of time to get from Inverness to Isle of Skye, heads north on the A9. Shortly after getting out of town, take a left turn to merge onto A832.
There are some opportunities to stretch your legs relatively soon into the drive — check out the bridge over to Rogie Falls, or take a short detour to Black Water Falls. While the viewpoints on this road are less famous than on the other route, they're still mesmerizing, passing forests, mountains, and smaller lochs.
After following A832 for about 35 miles, you'll take a left onto A890. You'll drive by the sea, then merge onto the larger A87 and arrive on Isle of Skye. Of the two options, this drive is slightly less straightforward, but will have significantly fewer cars on the road.
The roads to Skye and on the island are in excellent condition overall, but keep in mind they're generally narrow and wind through some rugged scenery (which is precisely one of the things that makes driving through Scotland so unique!). Especially on Isle of Skye, watch out for sheep!
Keep in mind that adverse weather conditions can also cause traffic, which sometimes comes to a complete standstill. During the rare snowstorm, the roads may even completely shut down for a few hours.
---
Want to save time and energy on planning?
We traveled in Scotland for about 2 weeks and were able to visit most of the highlights of the country, including most of the top places to visit.
We took our 2-week travels and created the perfect Scotland road trip itinerary. We'll send you our complete 2-week itinerary, filled with tips and advice. Just click below to get your 2-week Scotland road trip itinerary today!


---
Taxis and private transfers
Although somewhat limited, there are a couple of options for getting from Inverness to Isle of Skye by hiring a driver.
Tour Skye offers private transfers starting at £225 per person, and Skye Taxis offers a variety of options.
Psst! Don't leave before you check out our bucket list of cool things to do in Scotland.
Guided tours from Inverness to Isle of Skye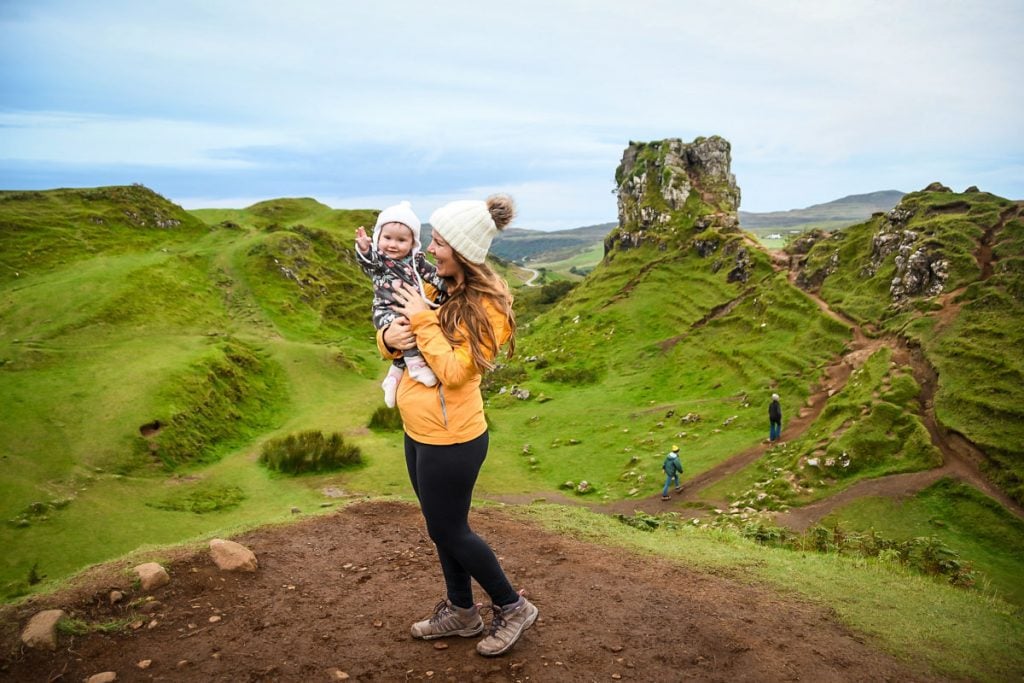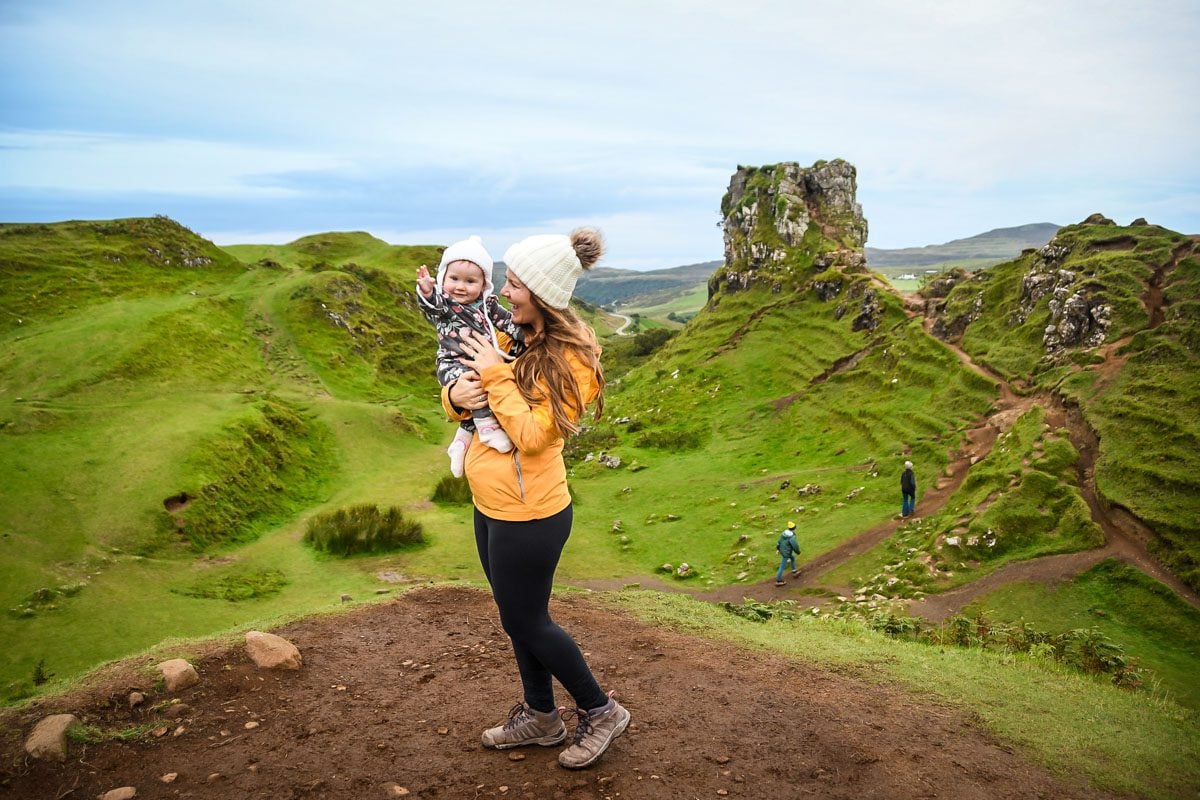 For a more immersive way to get from Inverness to Isle of Skye, consider taking a guided tour that hits multiple sites along the way.
---
Are you planning a trip to Scotland?
We have lots of resources on travel in Scotland and destinations throughout the country. Check out our Scotland Travel Homepage for everything you need to know, or read some of our favorite articles below.
Save this article on Pinterest for later!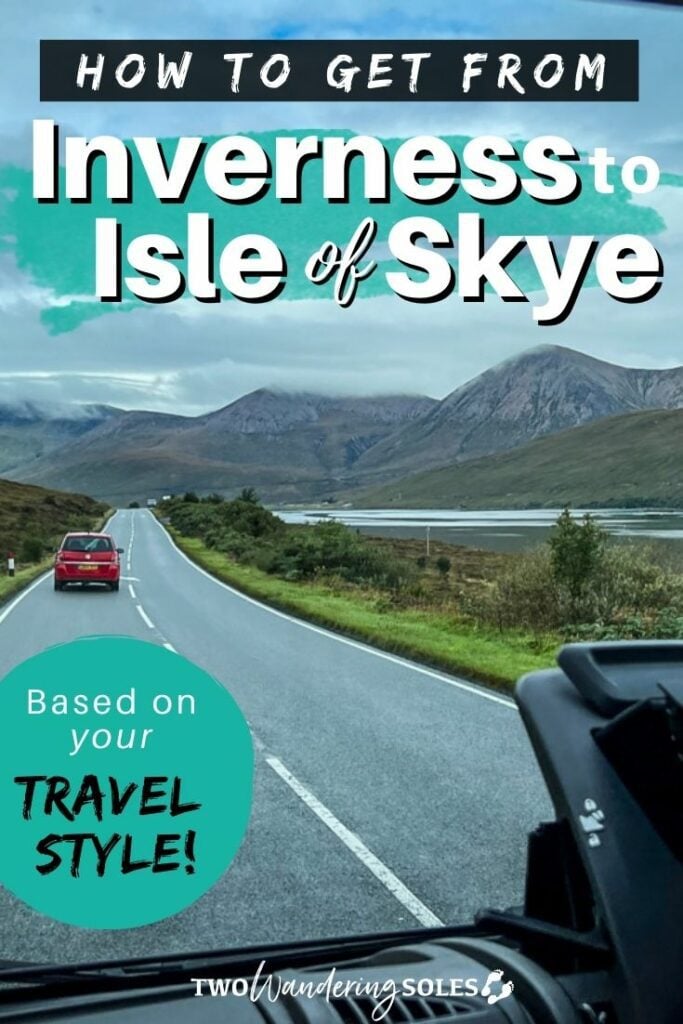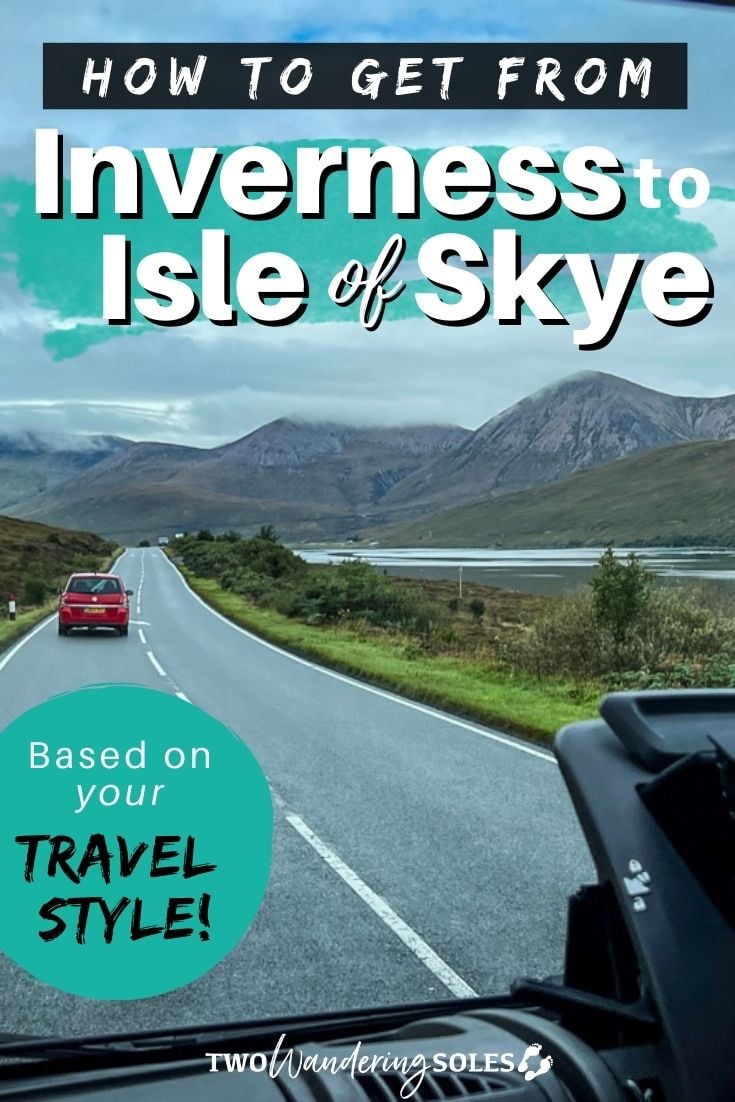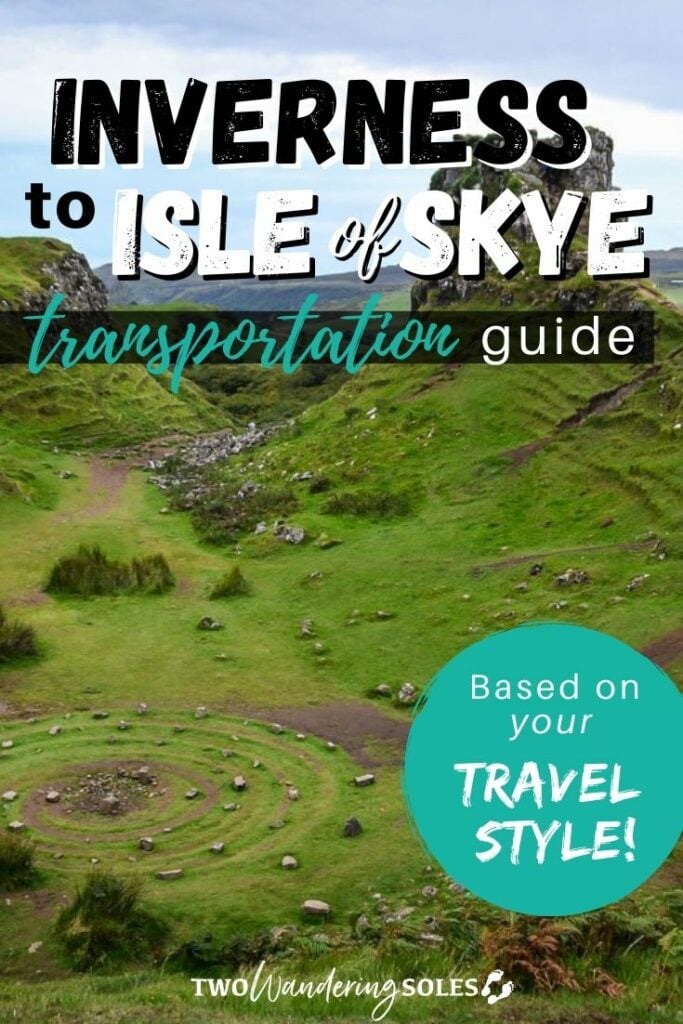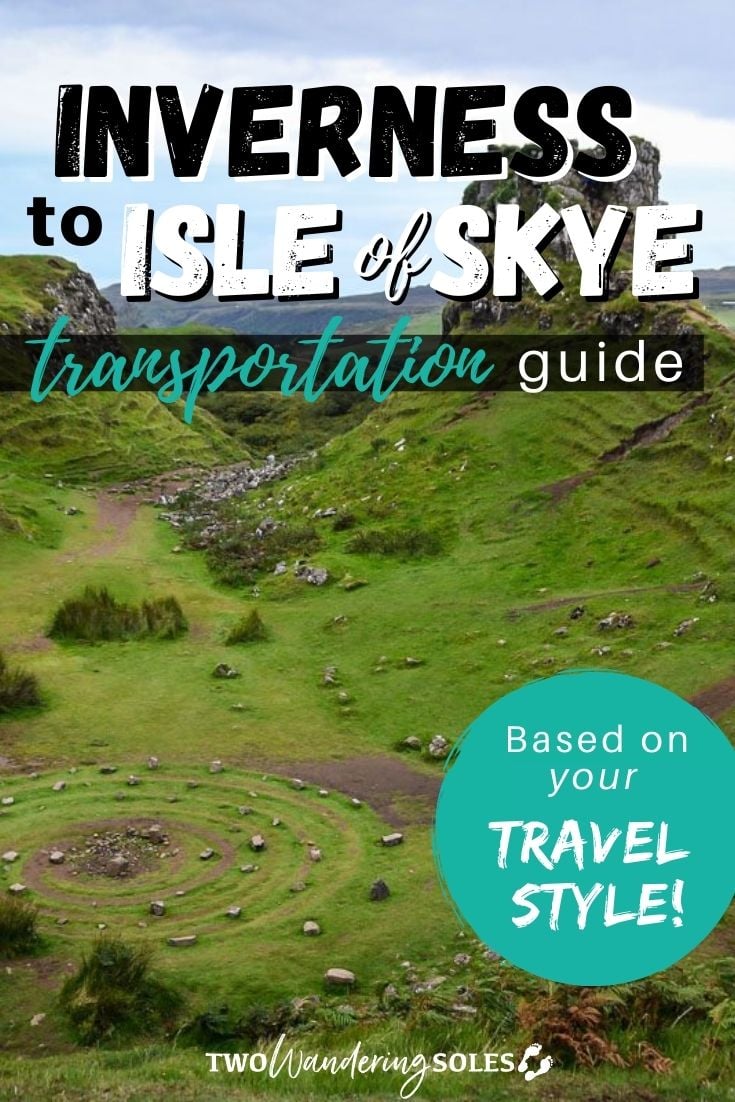 We want to hear from you!
Are you planning a trip from Inverness to Isle of Skye and still have questions? Comment below and we'll do our best to find you the answers you're looking for!