From ceviche to pisco sours, Peru has been voted the Best Culinary Destination in South America time and time again. In this guide, we're sharing all the staple ingredients that make Peruvian food so unique, as well as the foods you must try when you visit.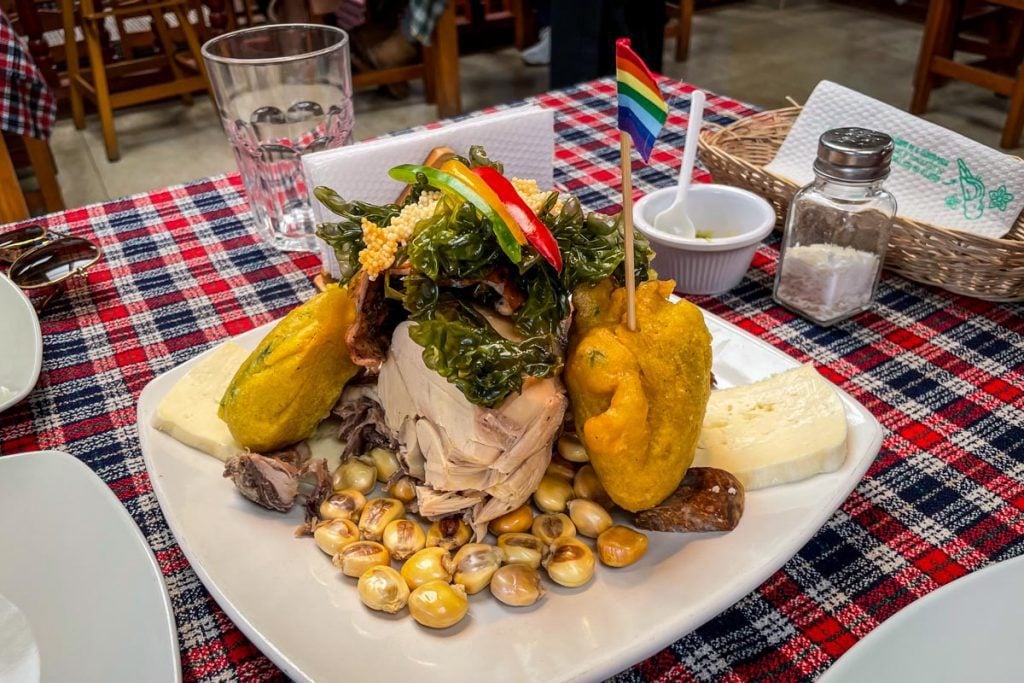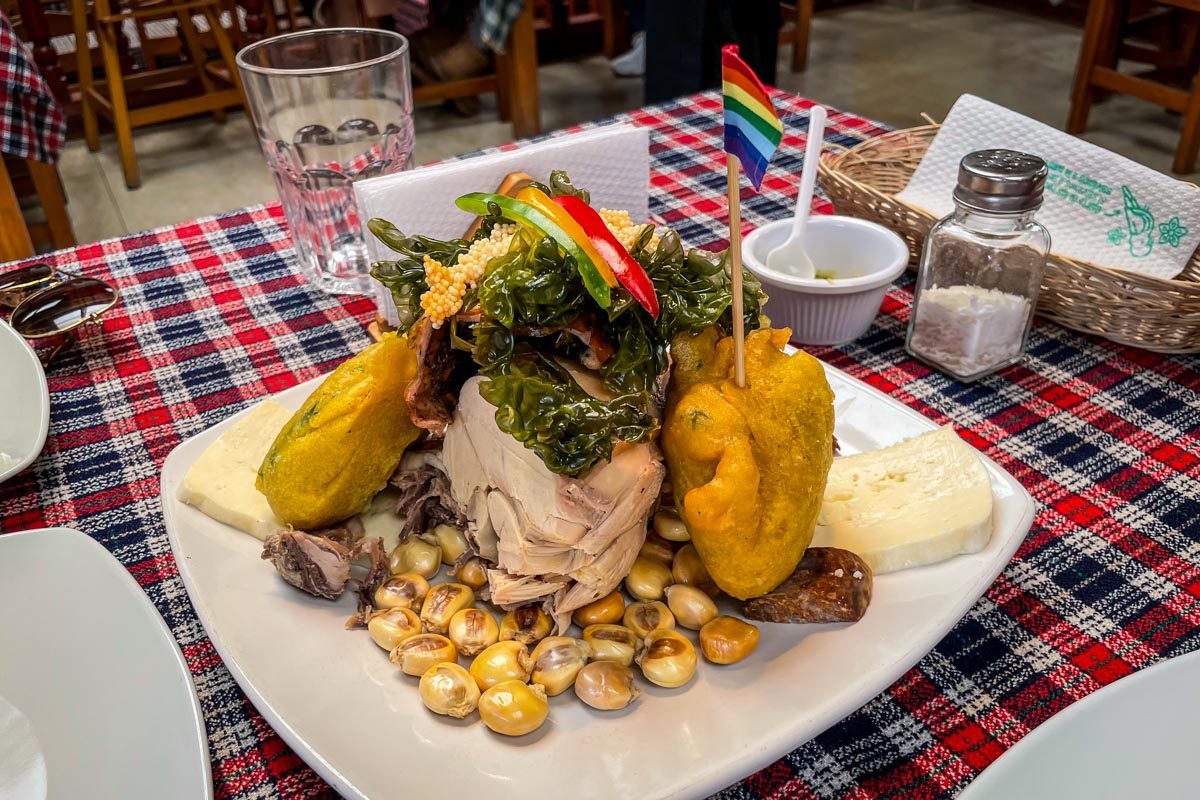 Many travelers are drawn to Peru to hike the infamous Inca Trail to Machu Picchu, or to snap a photo of the layered tones of Rainbow Mountain, but what truly pulls travelers in is getting a taste of the traditional Peruvian food.
While you may first consider Peruvian food to be much like other South American cuisine, you'll find that it's entirely different. Due to its agricultural diversity and multitude of global culinary influences from Japanese nationals to the Spanish conquistadors, these forces have fused together to coin Peruvian food as one of the most interesting and unique cuisines in the world.
After just a few tastes of these world-renowned Peruvian dishes, you'll feel as though you've traveled through Peru's unique, multicultural history. In this guide, we're sharing all the Peruvian foods you must try on your trip.
Article contents
Planning a trip to Peru? Find out the best time to visit Peru based on regional weather patterns and your personal travel style.
---
A brief history of Peruvian food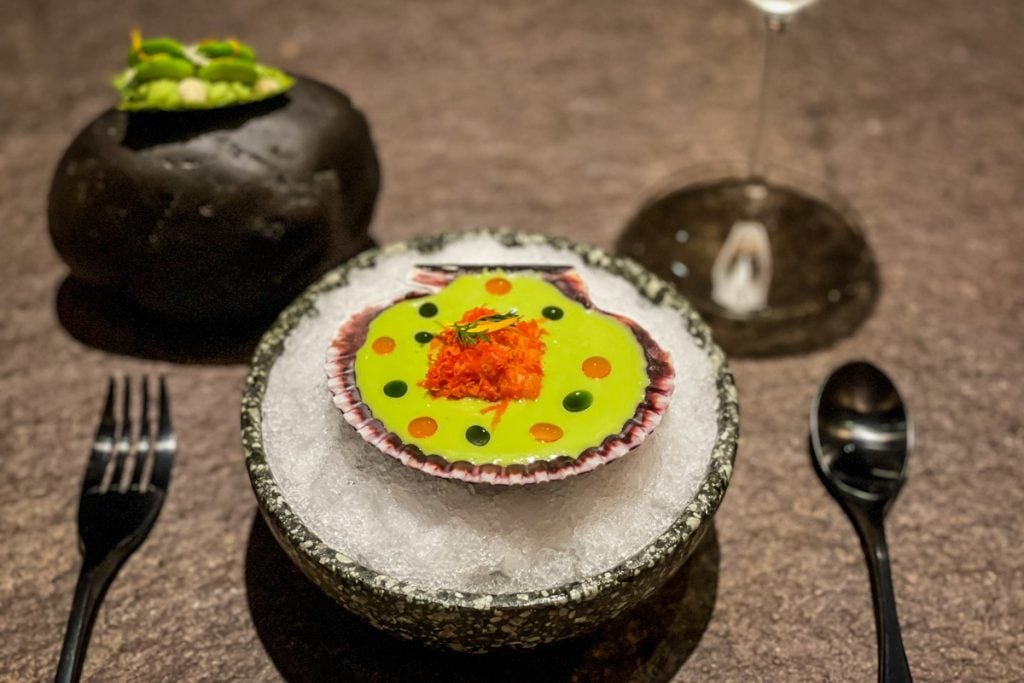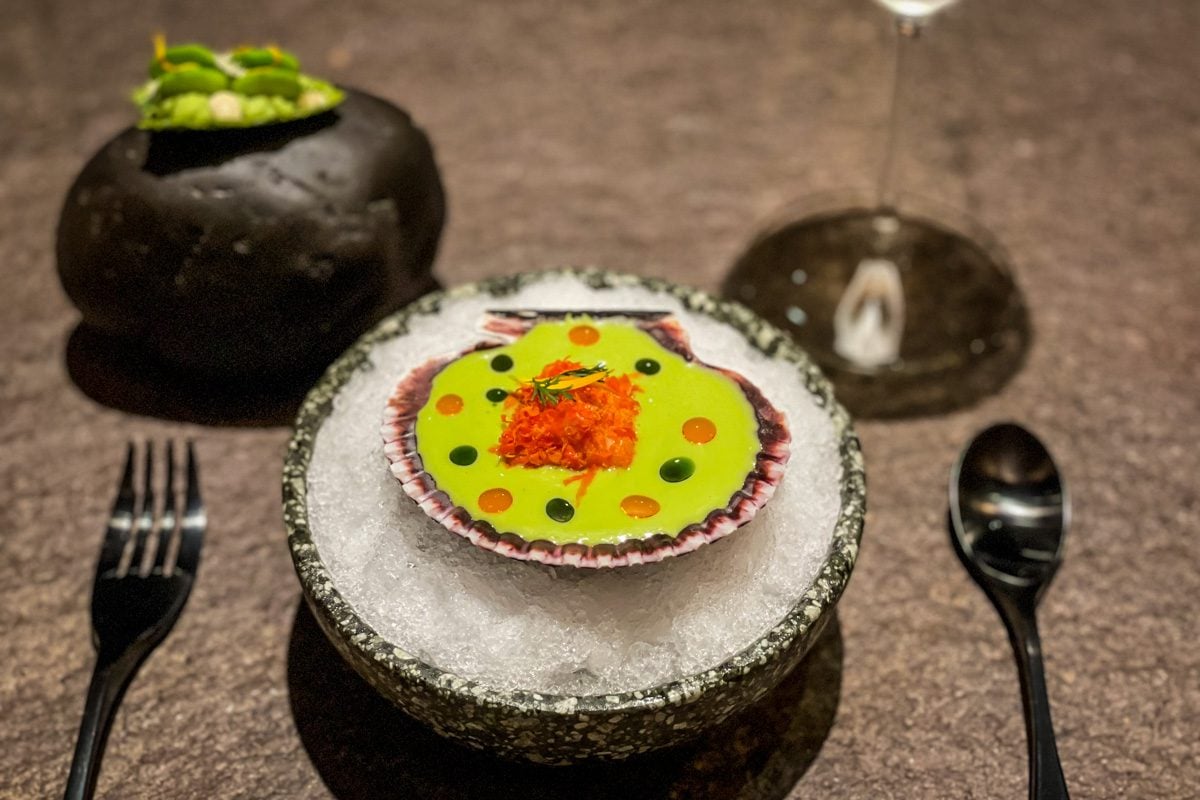 Peruvian cuisine is one of the finest examples of fusion food across the world. Indigeous, Spanish, Moorish, Chinese, Japanese, and African influences have joined forces to create unique dishes and food culture in Peru.
Over centuries, many immigrants arrived in Peru and no longer had access to the ingredients from their home countries, so they recreated their recipes using Peruvian ingredients. These new dishes paved the way for new culinary traditions in Peru after the techniques were perfected over many generations.
Today, the capital city of Lima is known for its world-class gastronomic scene and has made quite the name for itself as a "foodie" city. In fact, Lima is home to some of the best restaurants in the world according to the Taste Hunters at The World's 50 Best.
Indulging in a tasting menu at one of the best restaurants is one of our top recommended things to do in Lima.
Peruvian Ingredients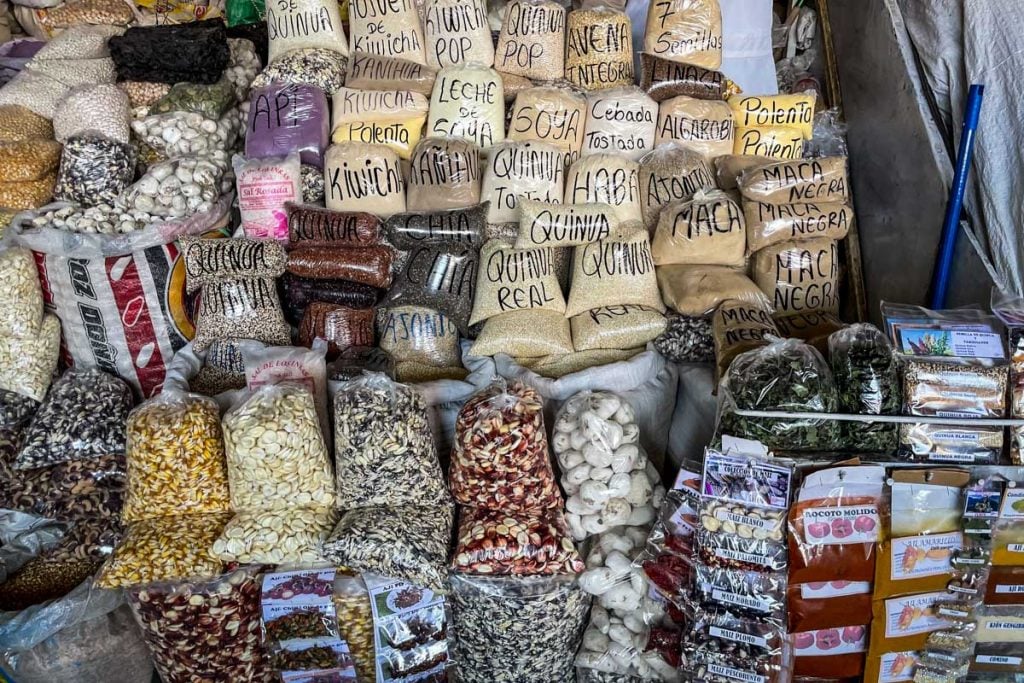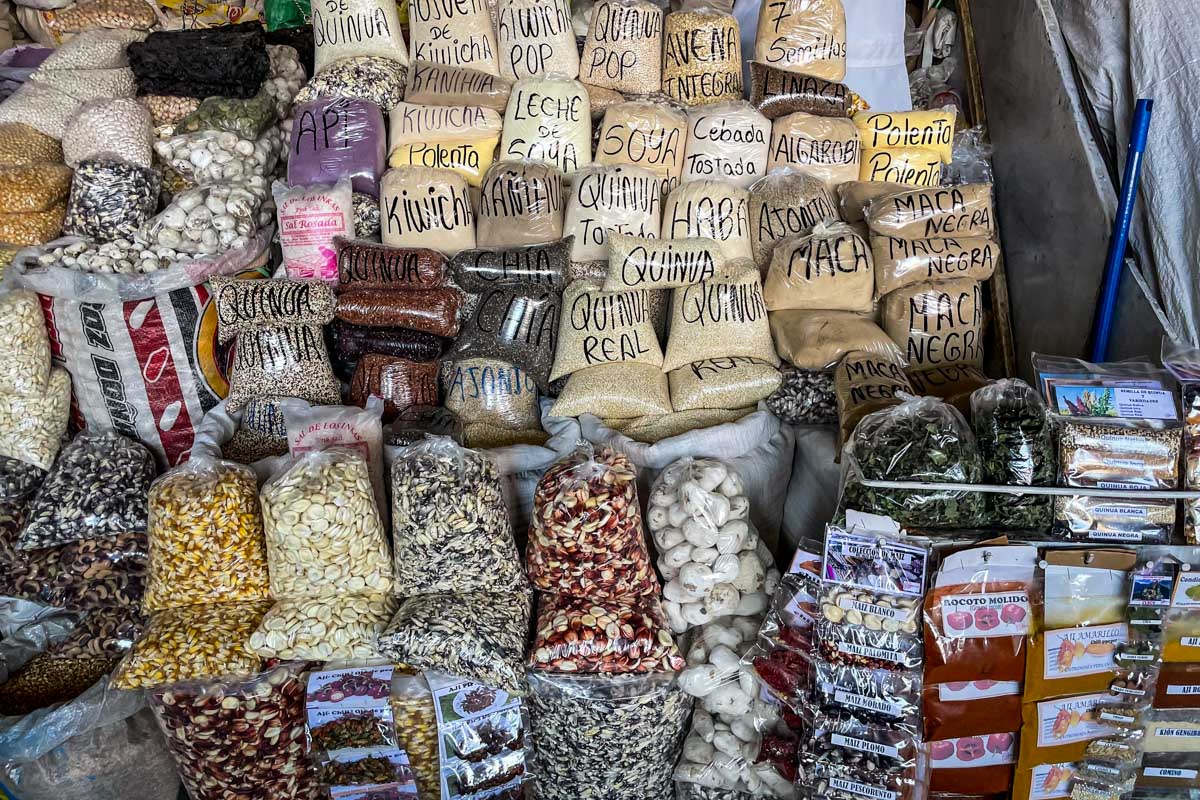 These are the fundamental ingredients found in Peruvian cuisine and the best Peruvian dishes.
Maize: Also known as corn or choclo, maize is one of the main ingredients found in Peruvian food. It's used in countless ways in a variety of dishes. It can be ground to make bread or humitas (a steamed corn dish), served with ceviche, or dried, toasted, and salted to make tasty roasted corn kernels.
Rice: While rice isn't native to the Americas, the colonists brought it over in the 1500s, it's still very prevalent in South American countries. This ingredient shines in many classic Peruvian dishes like lomo saltado, ají de gallina, and arroz con pollo.
Beans: Frijoles are a popular side dish for many lunchtime meals in Peru, especially if the dish comes with rice. Many different types of beans are grown and harvested in Peru, most famously Lima Beans, which originated in the capital of Peru.
Quinoa: This ancient grain is produced and used more in Peru than anywhere else in the world. It comes in three different varieties; white, black, and red, and is the perfect side to soak up sauces and stews.
Fish: Peru has an impressive variety of fish used as a staple in lots of different dishes, mainly ceviche, the country's unofficial "national dish." You can indulge in trout caught near Lake Titicaca, paiche from the Amazon, corvina along Peru's pacific coastline, and many more fresh and saltwater varieties.
Chicken: This is a key ingredient to many staple Peruvian dishes like ají de gallina, pollo a la brasa, and escabeche de pollo.
Pork: This is a popular ingredient in the Peruvian jungle, Cusco, or anywhere in the highland region of Peru. Find it as a smoky street food staple in the city of Tarapoto.
Potatoes: Almost 4,000 different varieties of potatoes grow in the highlands of Peru, so showcasing them in their cuisine is a country staple. One of the most popular potato dishes in Peru is papas a la Huancaína. Another is causa, which dates back to the Incan empire.
Red onion: White and yellow onions are a rarity in Peru, but the sweeter and smaller red onions are used in most Peruvian dishes around the country. It's most commonly found in ceviche, lomo saltado, and escabeche.
Tomatoes: While these aren't the star of many Peruvian dishes, they do serve an important component to a variety of sauces and salads.
Ají amarillo: This yellow chili pepper is recognized for being one of the most important elements in all Peruvian cuisine. The pepper has a fruity flavor that isn't found in any other chili variety in the world, giving Peruvian food its unique signature. It's most commonly found in sauces, soups, ceviches, and stews.
Ají rocoto: This chili pepper grows in the higher elevations of the Andes Mountains from Peru to Colombia. It resembles a mini bell pepper, but is packed with A LOT more heat. It's used in the popular Huacatay hot sauce that Peruvians add to virtually any meal, but it can also be ground into spice and added to sauces, soups, stews, and pastes. This chili is also the star of rocoto relleno, or Pervian stuffed peppers.
Cilantro: Cilantro is a popular garnish and ingredient in Pervian food. It is used to make sauce for arroz con pollo, beef seco, and a variety of other classic dishes in Peru. You'll discover all the incredible cilantro-based sauces pair traditionally with some type of meat dish.
Queso fresco: This classic cheese is used for making a variety of dishes like solteritos, ocopa arequipeña, as well as huancaína sauce, which is made with queso fresco, ají amarillos chilis, and onions blended together to make a creamy sauce.
Bananas: The Peruvian jungles are filled with all varieties of bananas, but plantains are most commonly used in Peruvian cuisine. They're sliced lengthwise and fried to add a sweet element to dishes, part of a dessert, or to be eaten on their own.
Learn to cook Peruvian food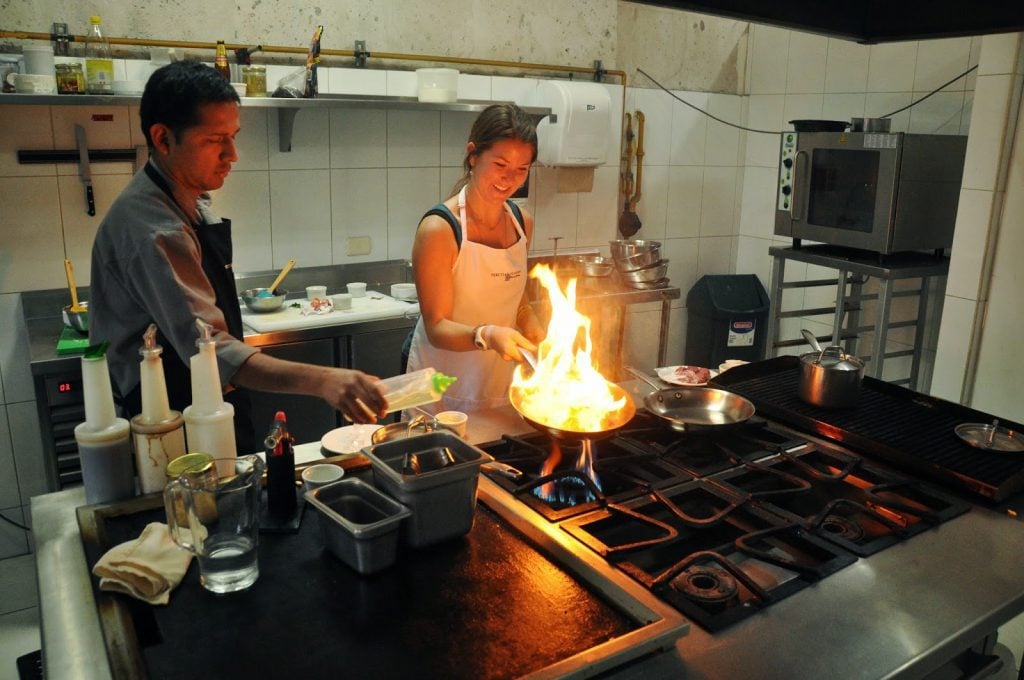 One of the best ways to immerse yourself in Peruvian food is by taking a cooking class. We love taking cooking classes around the world to work with locals and gain more in-depth insight about what key ingredients are fundamental to a country's culinary framework.
Plus, on top of an incredible meal made with a local teacher, we are given recipes to take home that we can give a whirl in our own kitchen (and hopefully impress some of our friends!).
Peru stands as one of the world's best culinary destinations so there is no shortage of amazing cooking classes:
Lima: Peruvian Cooking Class with Market Tour, Exotic fruits
This cooking class is based in the colorful capital of Lima. You'll tour a local market to learn about the ingredients and then use them to create traditional Peruvian dishes using ceramic pots, the same as the ancestors.
There are four dish options for a variety of diets: fish, chicken, meat, and vegetarian. For each option, you'll create a flavorful starter and main course to enjoy after learning hands-on from local chefs.
Lima: Private Home-Cooking Tour
For this cooking tour you'll join a local family in Lima to make many classic dishes, tour a bustling local market to shop for ingredients, and even learn how to make an unforgettable pisco sour.
You'll travel on a local bus to the city of Chorrillos and meet Doña Mechita, who will pass down her family recipes and generations of culinary practices and traditions.You'll whip up ceviche, and other popular dishes in Peru, and enjoy a variety of different drinks as you cook: maracuya, causa limeña, and pisco sour.
Cusco: 3-Hour Peruvian Cooking Class
Explore the Peruvian Central Market to pick up all the local ingredients you'll need for a three-course meal. Learn with an expert instructor to create an entree, main, dessert, and the famous pisco sour.
There are three different menus available for you to create:
Menu 1: Pisco sour or fruit juice, potatoes with Huancaína sauce, rice with chicken, and chocolate fondue.
Menu 2: Pisco sour or fruit juice, corn soup, salted beef with French fries, and a chocolate fondue.
Menu 3: Soltero de habas, aji de gallina with rice, chocolate fondue, and a Pisco sour or fruit juice.
Psst! Looking for more adventures? Check out these exciting things to do in Cusco to round out your trip.
Best Peruvian food tours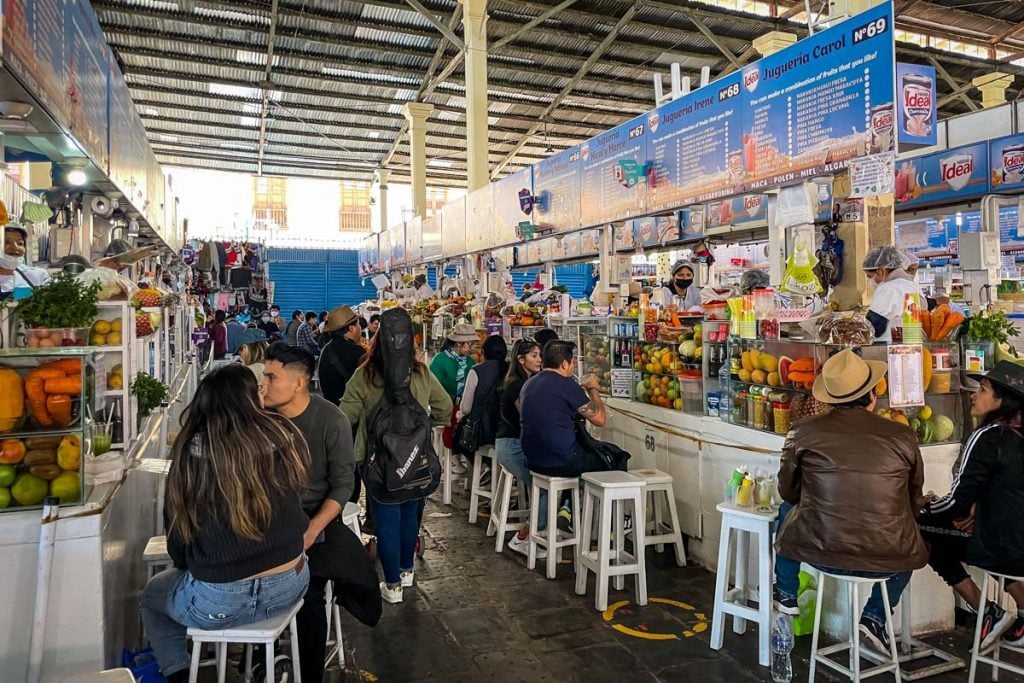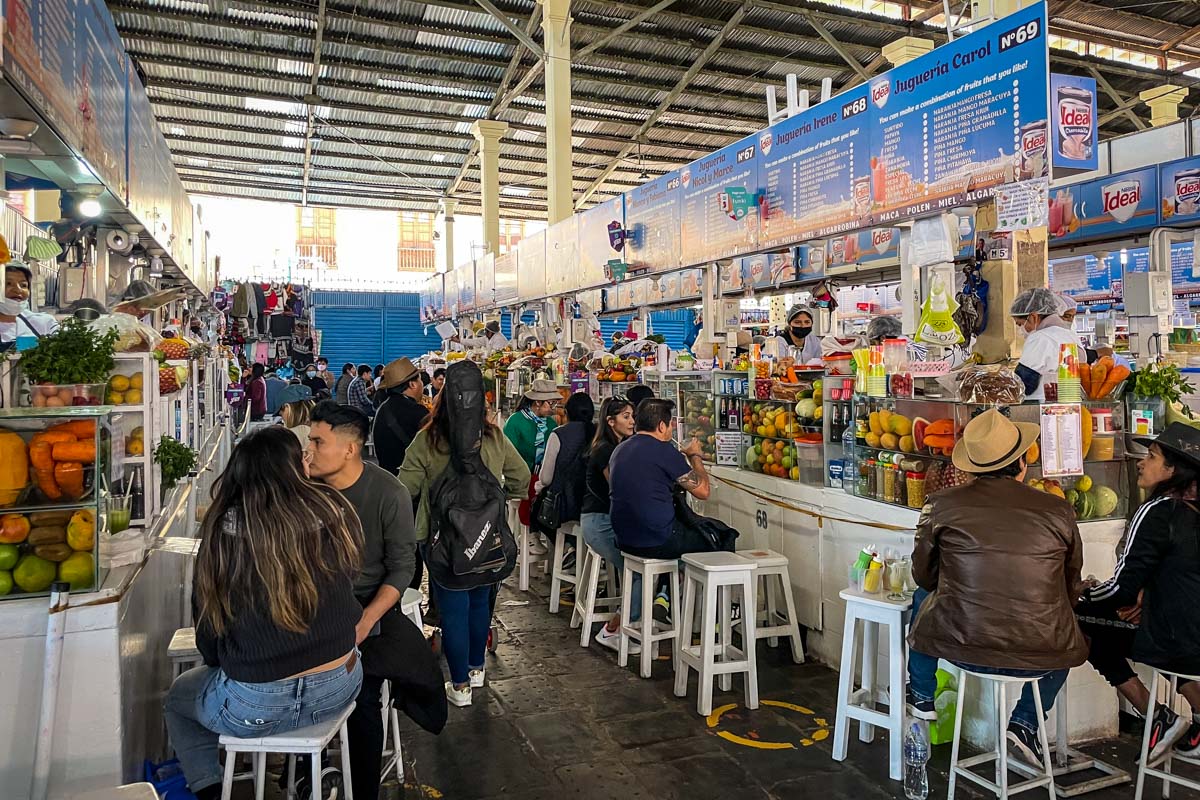 If a cooking class doesn't suit your style, you can have all the work done for you on a Peruvian food tour. Food tours are the perfect way to squeeze in a day of exploring while eating some of the country's most delicious and famous dishes.
Lima: Peruvian Food Tour through Local Markets
Join an expert local food guide beginning at the southern district of Chorrillos. Explore the area of Lima that has a strong fishing tradition and tour the local fish market.
After Chorrillos, you'll head further north to Sucro where you'll sample juices made with Amazonian fruits and taste other exotic fruits from the Peruvian jungle.
Continue the tour on the coast in Miraflores to see a variety of fresh Peruvian produce like vegetables, grains, and a wide variety of potatoes. Finally, you'll end the tour at a local restaurant to learn about and indulge in traditional ceviche.
Lima: Ultimate Peruvian Food Tour
Join a local guide for the ultimate walking food tour in Barranco, one the most colorful districts in Lima. Taste 16 different local flavors at 8 different restaurants from exotic fruits, local dishes, and popular drinks.
You'll immerse yourself in historical and cultural facts about the flavors and dishes you try, as well as join an interactive workshop about fairtrade and locally produced chocolate.
Psst! If you'll be traveling more throughout the country, be sure to check out our bucket list of can't-miss things to do in Peru!
---
Peruvian foods to try
With so many incredible restaurants and food around every corner, it's hard to know what dishes to try to be sure you're getting the best Peruvian food. So let's just jump right into our favorite Peruvian dishes, all must-tries on your trip to this food-loving nation!
1. Ceviche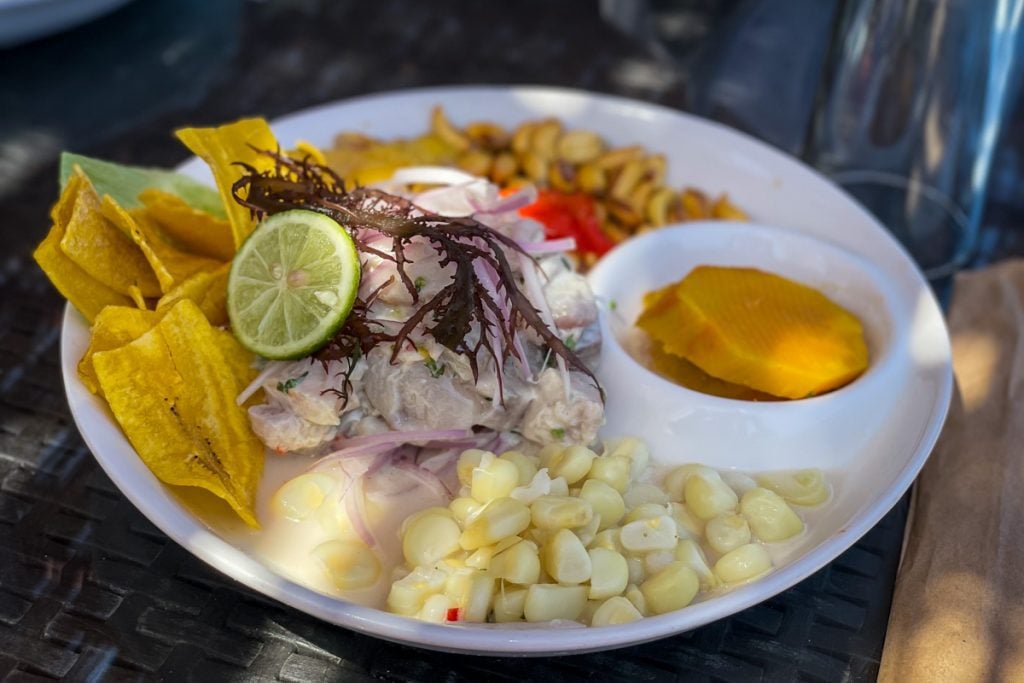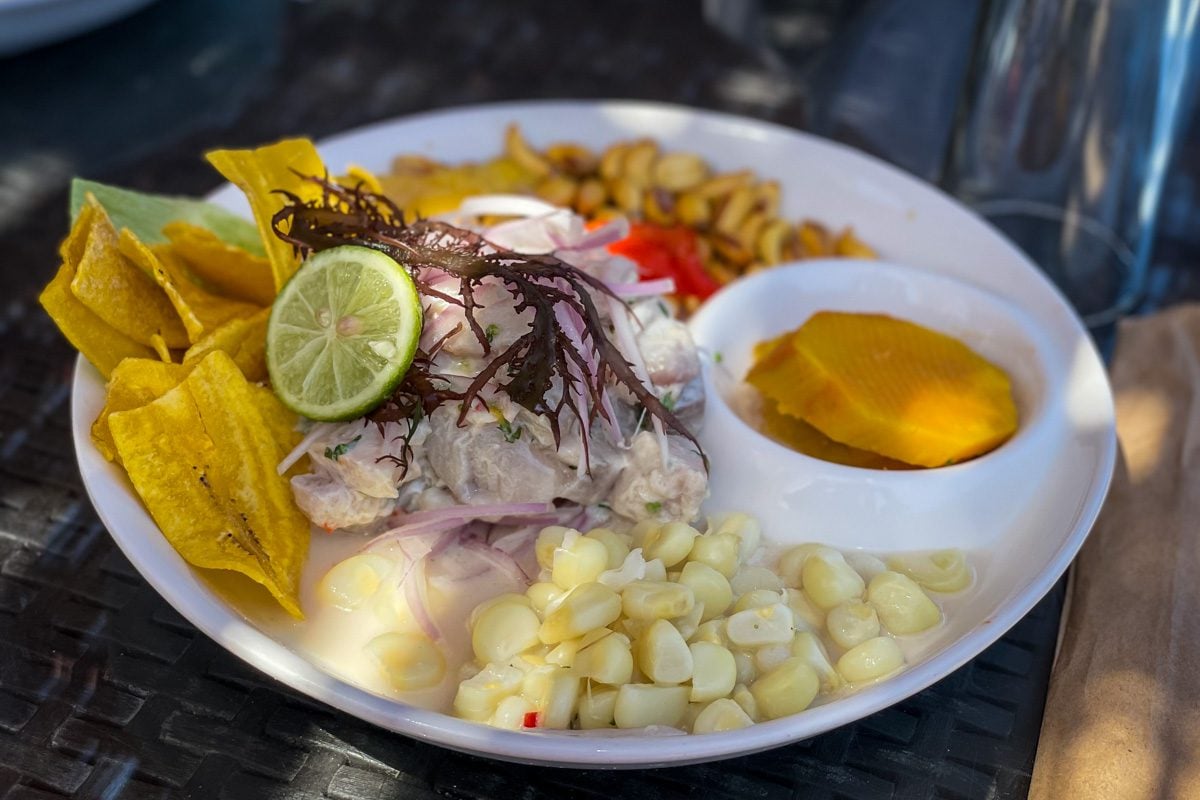 As one of the most renown dishes among Peruvians, ceviche can be found in almost all the restaurants along the coast and throughout the country. There are many regional adaptations to ceviche (combination or mixed with fish and shellfish), but it's traditionally made with marinated raw white fish, Andean chili peppers, onions, aromatic lime, and garnished with herbs.
Before the Spanish colonists came to Peru with citrus fruits, the Moche marinated the seafood using fermented juice from the banana passionflower. Today, the fish is marinated with lemon or lime juice, and served either chilled or at room temperature with sweet potato, raw onions, and toasted corn.
2. Empanadas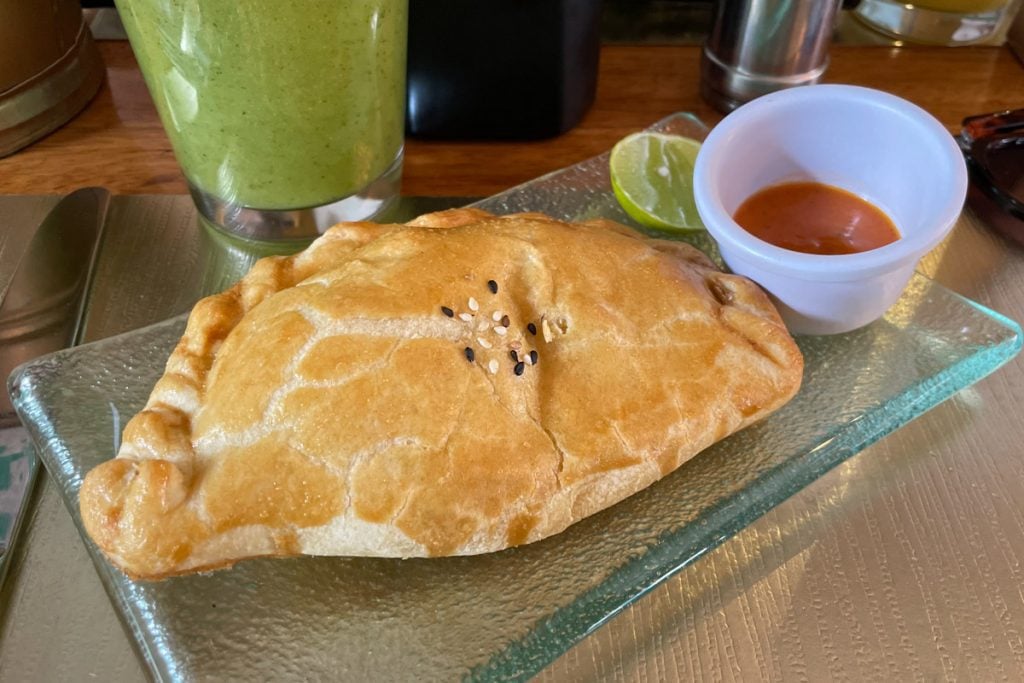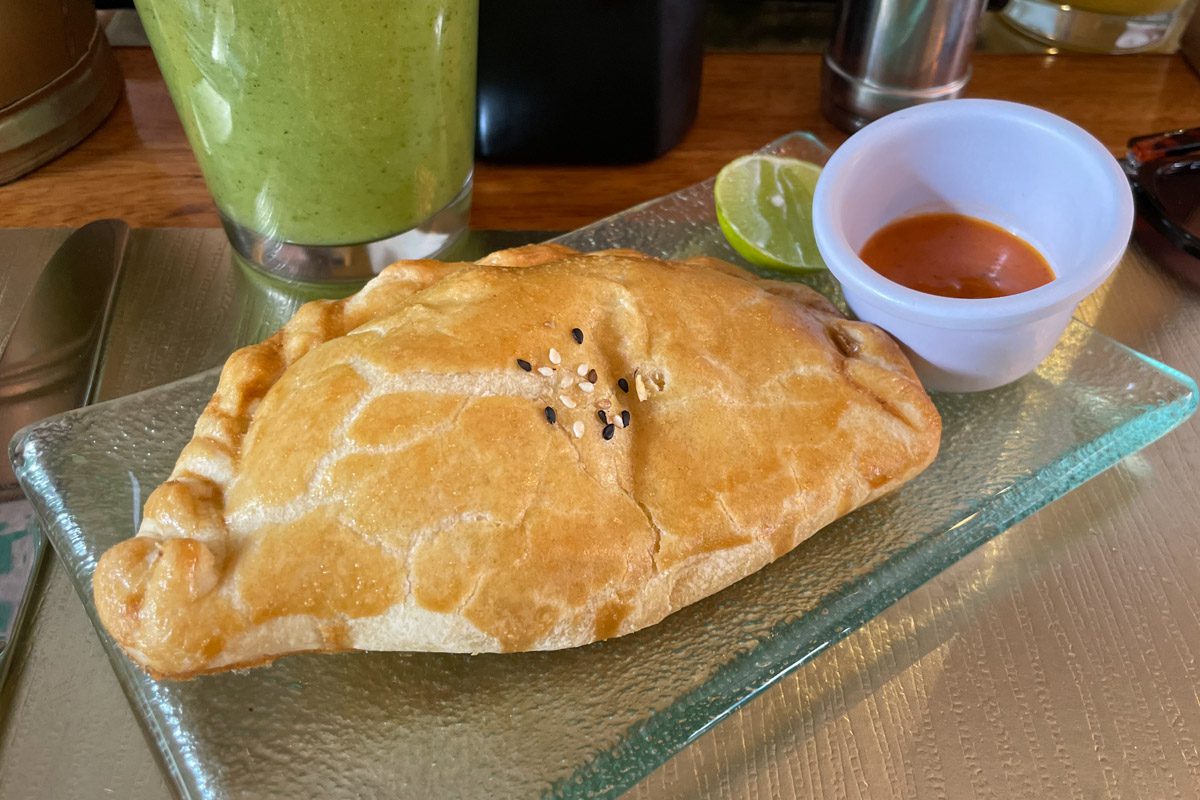 The name empanada originates from the Spanish word "empanar", meaning to "roll in pastry dough." These are a type of meat turnover that were introduced by the Spanish during the colonial period.
Empanadas are made by combining fried ground beef, chicken, or cheese, and wrapping it in a warm fried dough. Some include onions, olives, hard boiled eggs, and raisins giving it a unique flavor.
3. Lomo Saltado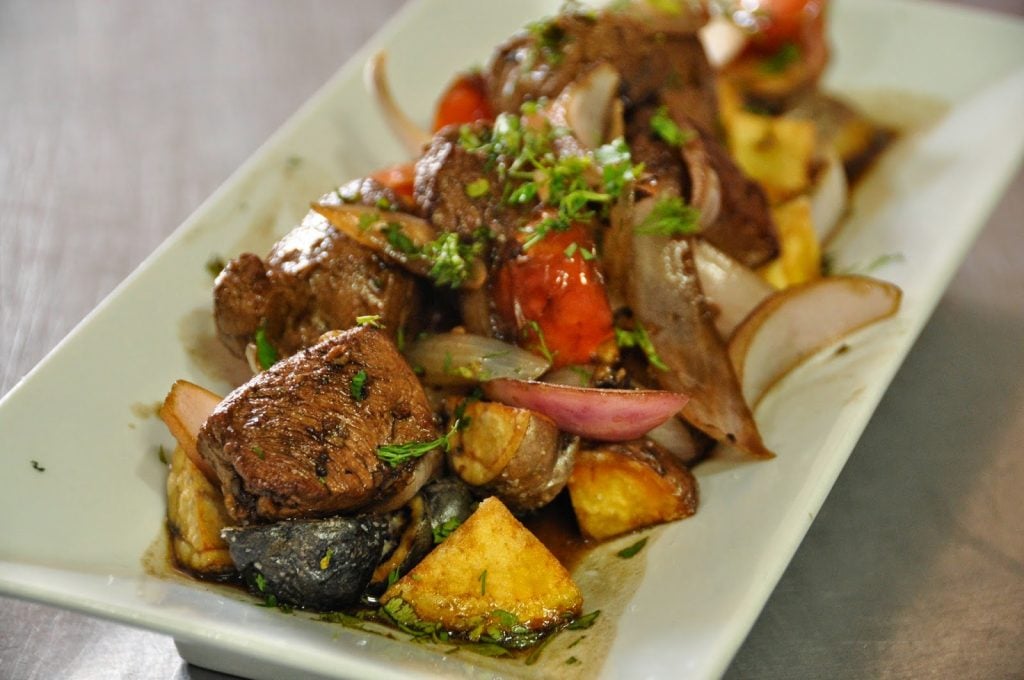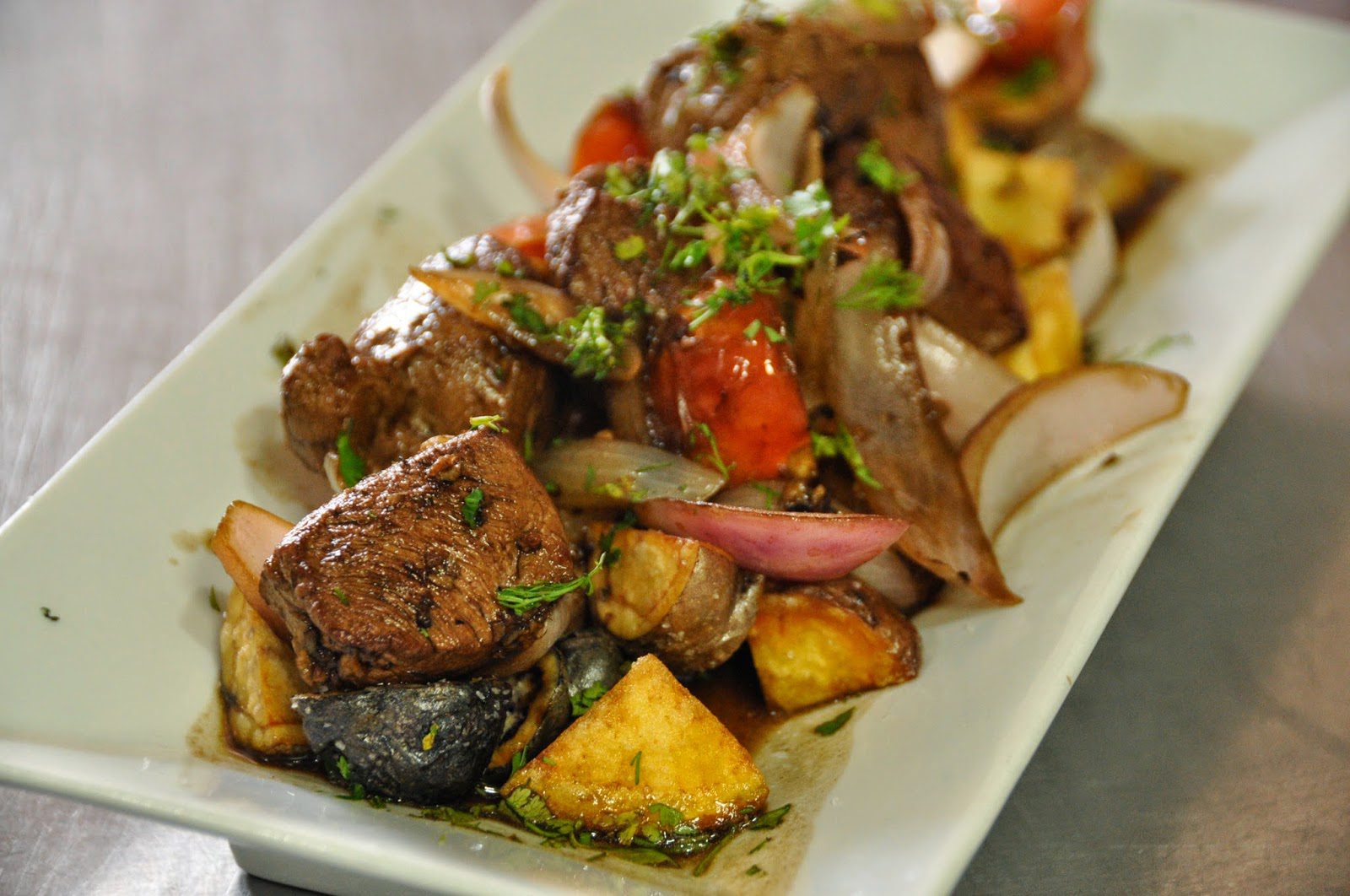 This beef dish is a local staple in Peruvian food. The marinated sliced beef is stir-fried with garlic, cumin powder, tomato, Spanish onion, and served with rice and french cut potatoes that resemble traditional fries.
This dish is a prime example as to why Peruvian food is one of the world's truest fusion cuisines, particularly Chinese-Peruvian fusion cooking.
Lots of Chinese nationals settled in Lima during the 19th and 20th centuries after their contracts ended in the agricultural field. Many settled on the coast, most notably in Lima, and introduced the wok and stir-fry style of cooking to Peruvian cuisine.
4. Aji de Gallina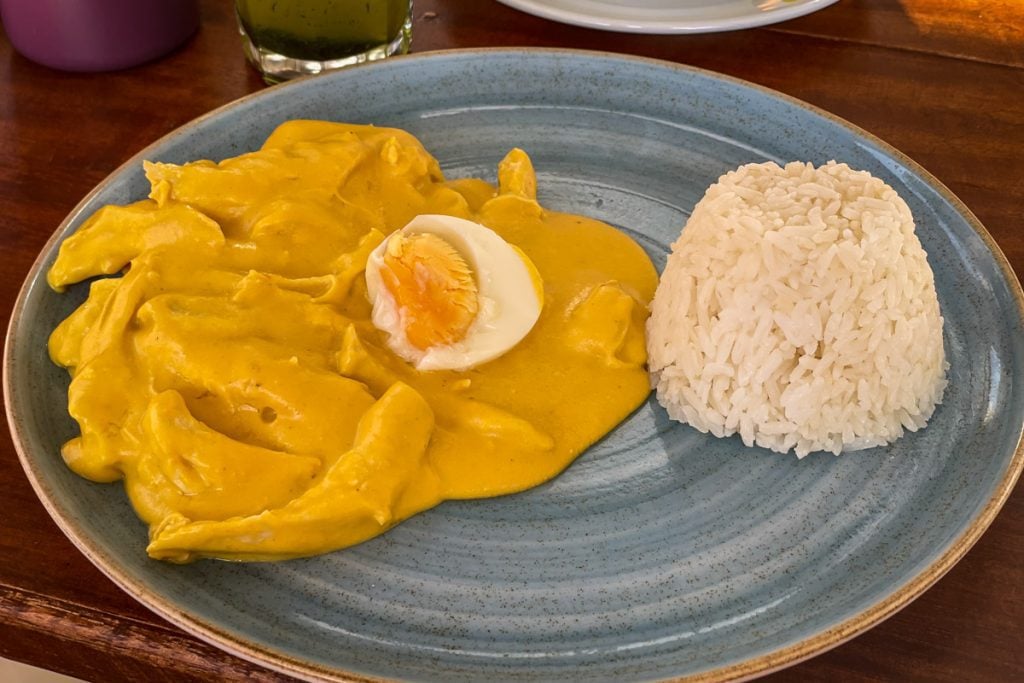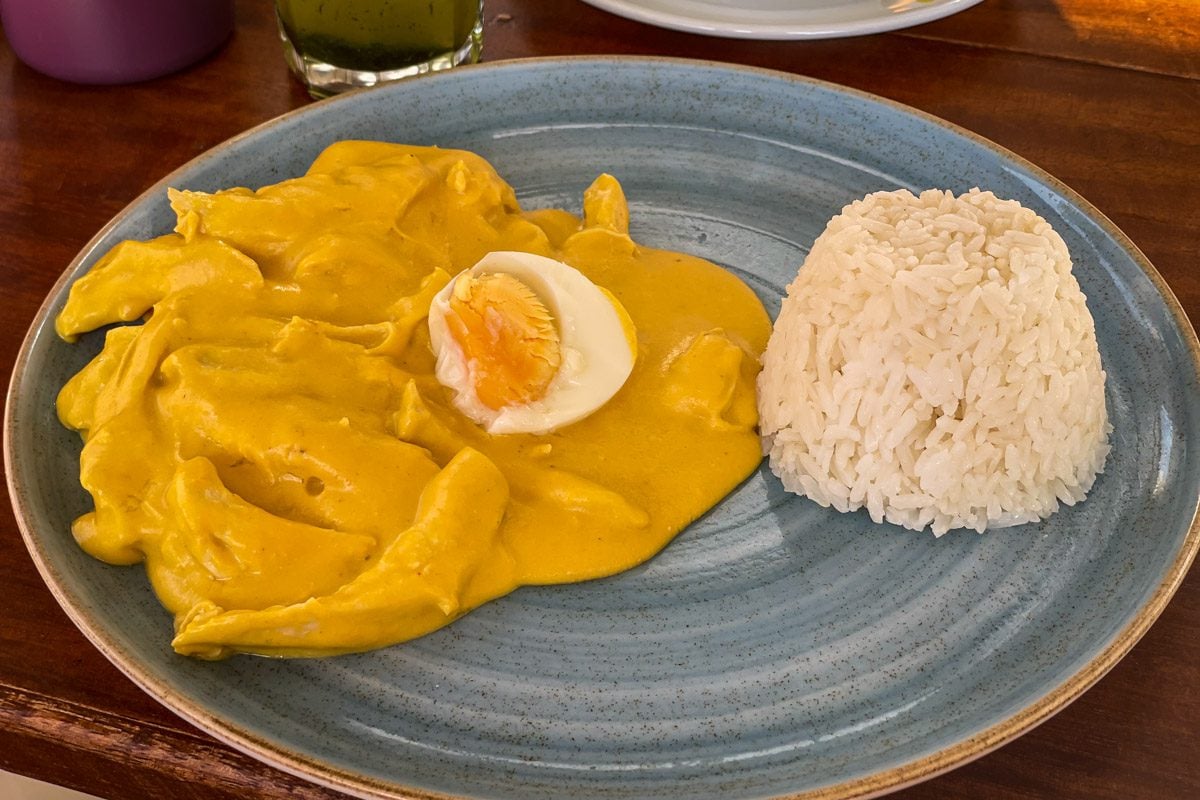 This creamy chicken stew is a Peruvian comfort food made with shredded poached chicken coated with a thick stock made from aji amarillo, garlic, onions, milk-soaked bread, and cheese. Walnuts are added to this dish for special occasions or at upscale restaurants due to their high cost.
Aji de gallina is served over rice and potatoes, garnished with a hard-boiled egg and olives. Traditionally, the meat used was from non-laying hens, but now it's made with more tender chickens.
5. Pollo a la Brasa
This roasted chicken dish is one of the most popular Peruvian foods. You know it's a local favorite when they're is a national holiday dedicated to the perfectly spit-roasted chicken.
Pollo a la brasa is traditionally served with french cut fries, salad, and condiments like aji sauce, ketchup, mustard, and mayo. This may seem like your average rotisserie chicken with some fixings, but the flavors and technique blow the former out of the water. There is a reason it's one of the most consumed dishes in the country.
6. Cuy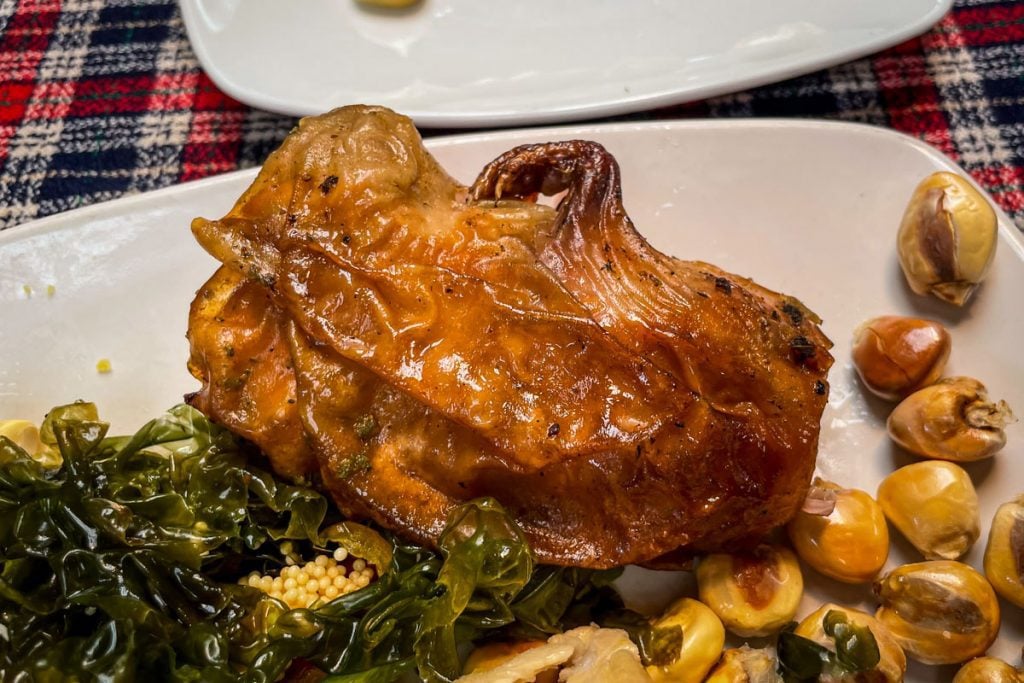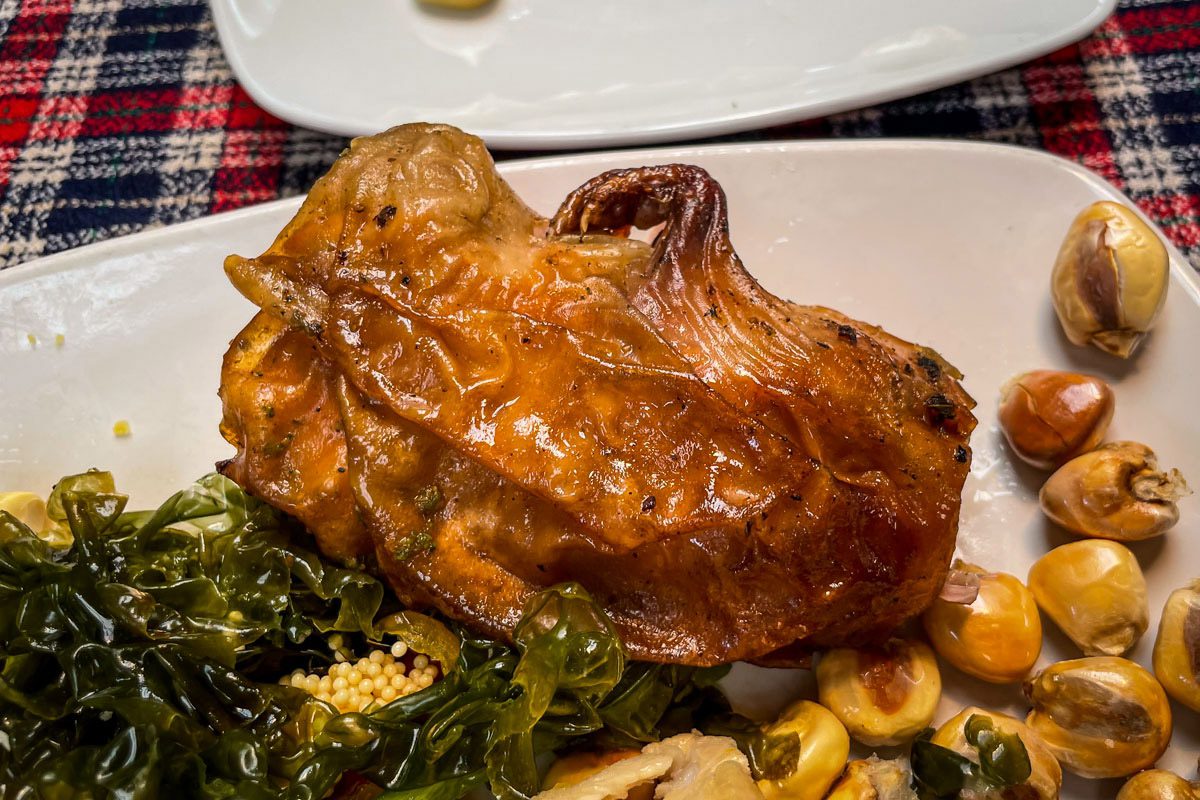 Cuy, or guinea pig, is considered a delicacy in Peru. While foreigners typically don't regard them as a food, Peruvians have been raising guinea pigs as livestock and feasting on them dating back to the Incan empire.
Their fast reproductive rates and small size have allowed these animals to be farmed even in urban areas. Over 65 million guinea pigs are consumed in Peru alone each year.
Traditional cuy is made by stuffing the guinea pig with various herbs, roasting it over an open fire, and eating it with—you guessed it—potatoes. Now, you can find it spit-roasted, braised and fried. The flavor has been compared to dark meat chicken or poultry, and once you dip it into the aji sauce, you'll get a taste of Peru's ancient history.
7. Tiradito
Often referred to as "Japanese ceviche", Tiradito is made with raw fish sliced like sashimi and served with a flavorful citrus sauce.
Japan is another culture that heavily influenced Peruvian fusion food. This dish is an excellent example of that known as Nikkei food, which refers to dishes made with Peruvian ingredients prepared using Japanese techniques.
Although this dish is compared to ceviche, it's different in two main ways. 1) Tiradito uses sliced fish (mainly tuna, sea bass, salmon, or corvina) and ceviche is cubed white fish. And 2) Tiradito is sauced immediately before serving whereas ceviche is marinated beforehand.
8. Rocoto Relleno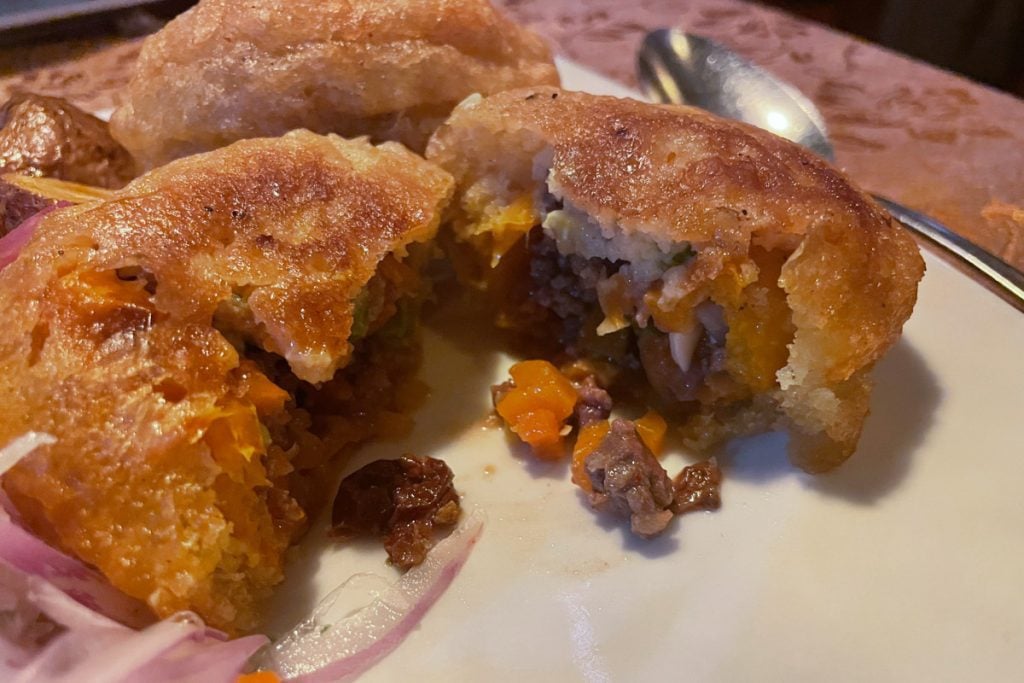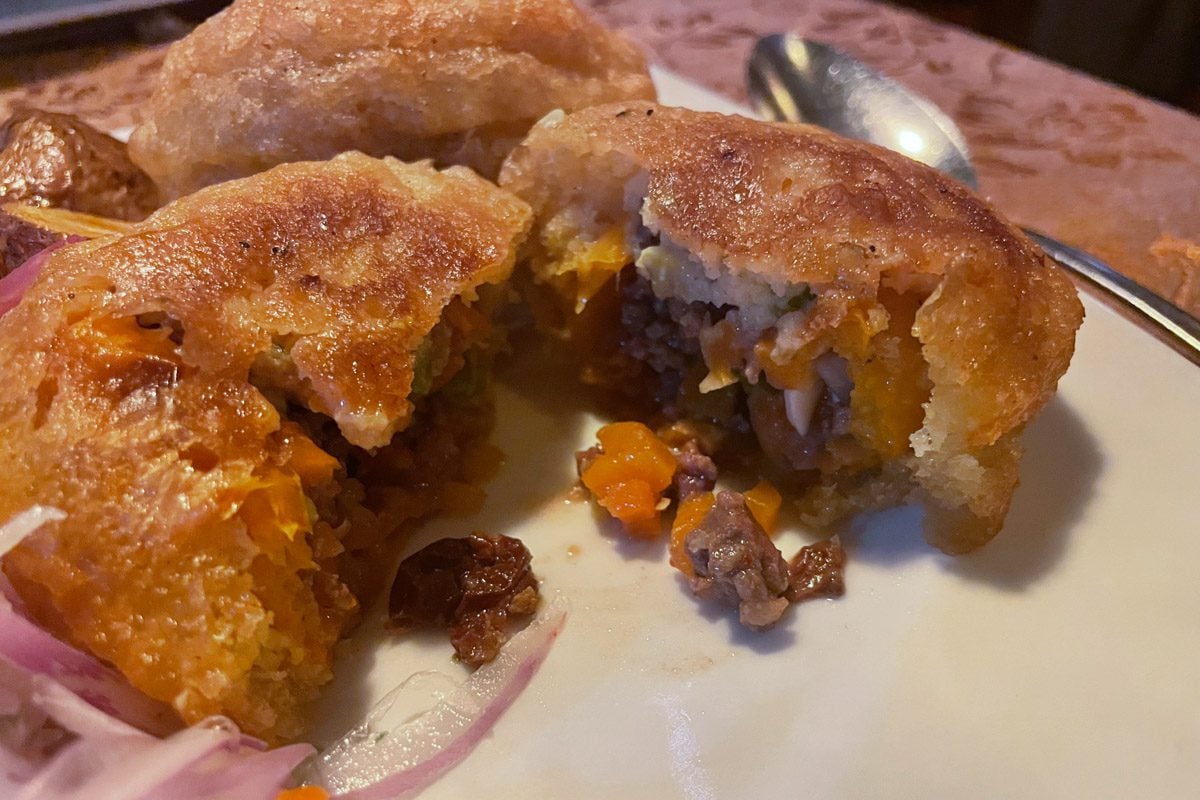 These Peruvian-style stuffed peppers originated in Arequipa and have since become a beloved dish across Peru. The recipe was derived from a stuffed bell pepper popular in Spanish food, but the sweet peppers weren't available in Peru, so locals opted for the much hotter rocoto pepper.
The rocoto pepper is around ten times hotter than a jalapeño pepper! But don't worry, in order to make the heat more mild, the peppers are boiled in water and vinegar.
You may experience a touch of that heat in the first bite, but it's immediately followed with a burst of flavor from the sweet and savory filling made with ground beef, onions, garlic, olives, raisins, herbs, spices. What's even better, it's topped with creamy queso fresco and a creamy egg sauce to enhance the richness.
9. Palta a la Reina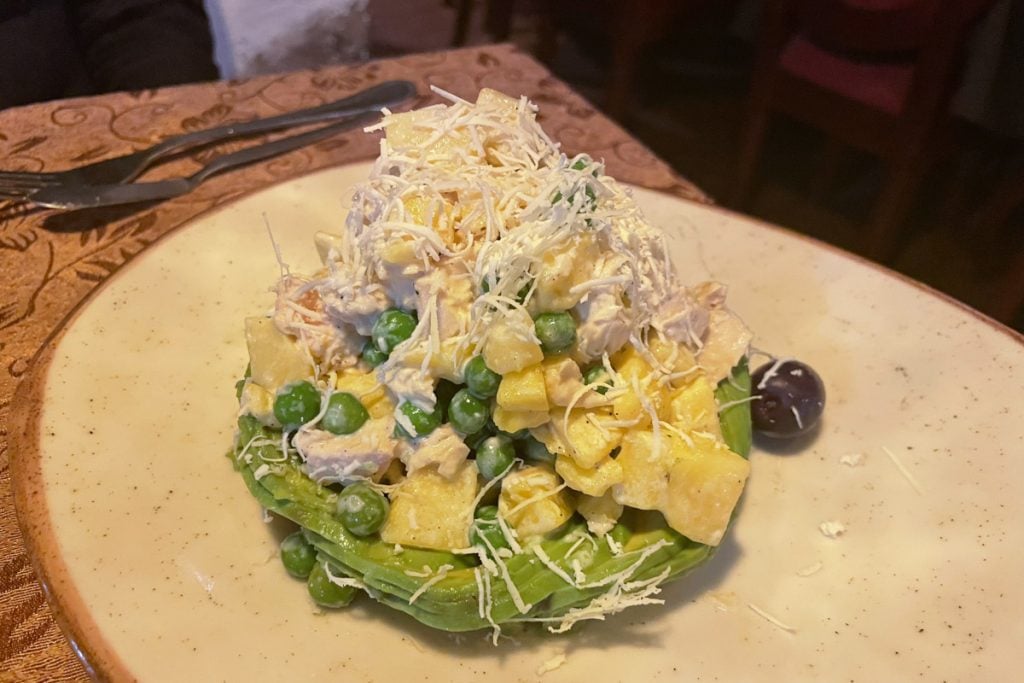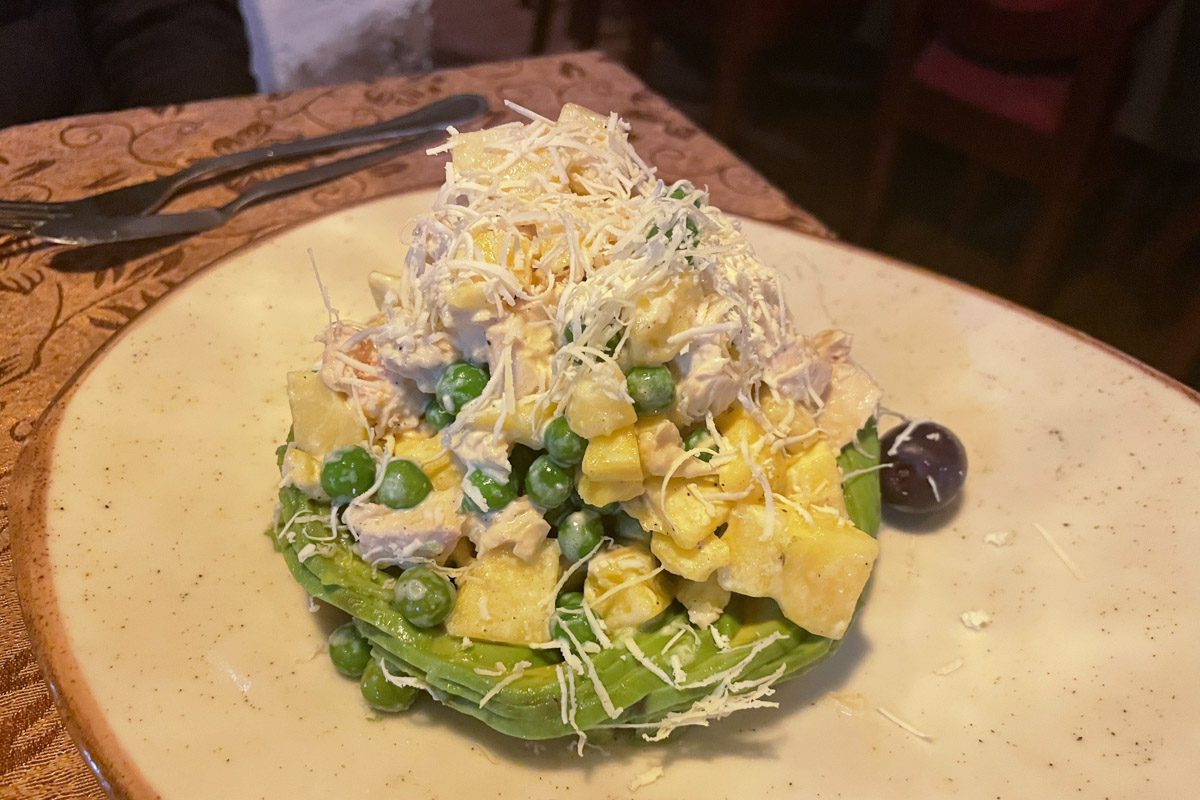 Palta a la reina is a stuffed avocado dish most commonly served as an appetizer, but packs enough punch to be an entree. Peru is one of the few countries in the world that grows avocados, which is what makes this dish significant and exclusive to Peru.
The stuffing used in the avocado varies by region, as different areas will stick with locally grown foods nearby to give the dish a different signature depending on where you are. Tuna, chicken, peas, and corn are commonly used, but you'll likely see a wide variety of other fillings throughout the country.
10. Causa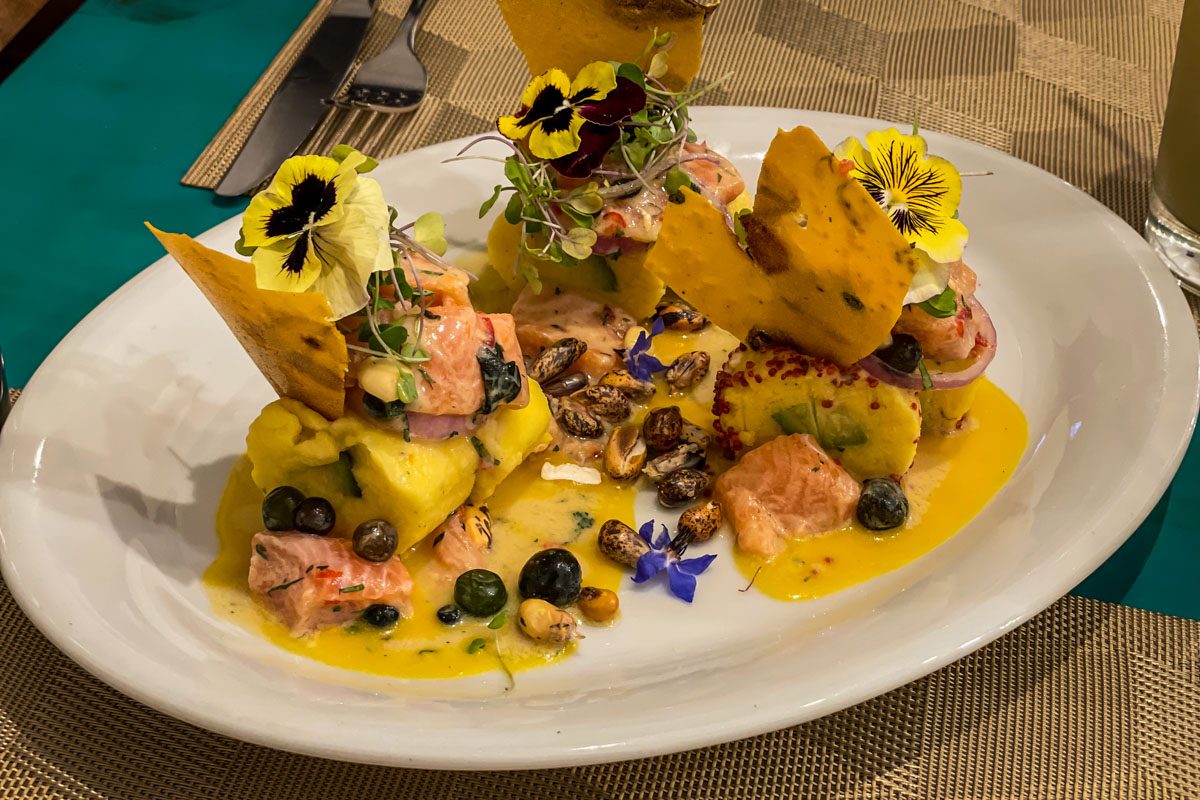 Causa is another Peruvian food where the potato is the star of the dish. While there are many renditions of this dish, it's most commonly prepared lasagna-style by alternating different fillings between layers of mashed yellow potatoes. The most popular filling used is tuna, salmon or chicken combined with mayo, aji amarillo, avocado, and lime juice.
The layers of causa are put together in a small circular ring mold that gives the dish a more sophisticated look. It's served cold most commonly as a side or appetizer.
11. Arroz con Pato
This dish originated in Chiclayo, a city just north of Lima, and is a spin on the classic arroz con pollo (chicken and rice) dish. What makes arroz con pato so famous is the mound of green rice the duck is served on. The muted or bright green rice is caused by the generous amount of cilantro used in its preparation.
The duck legs are fried and then cooked in beer, broth, and pisco, a famous Peruvian alcohol. The grape brandy really brings out the flavor of the duck and gives the dish its signature taste. Like many Peruvian foods, there are many different adaptations to arroz con pato, even using chicken, fish, and a variety of vegetables.
12. Papas a la Huancaina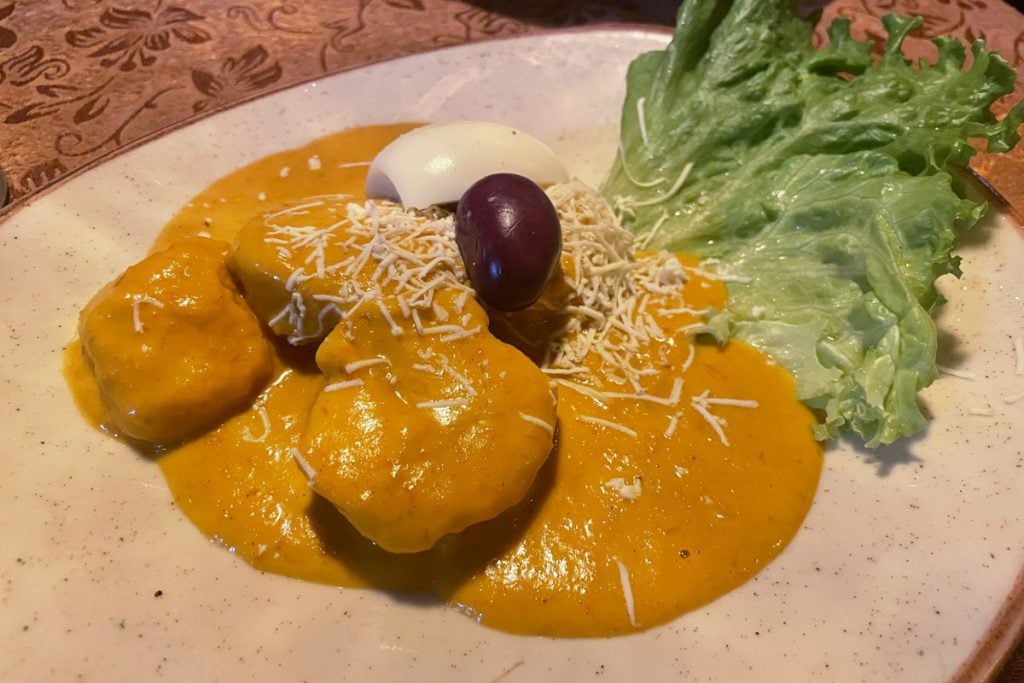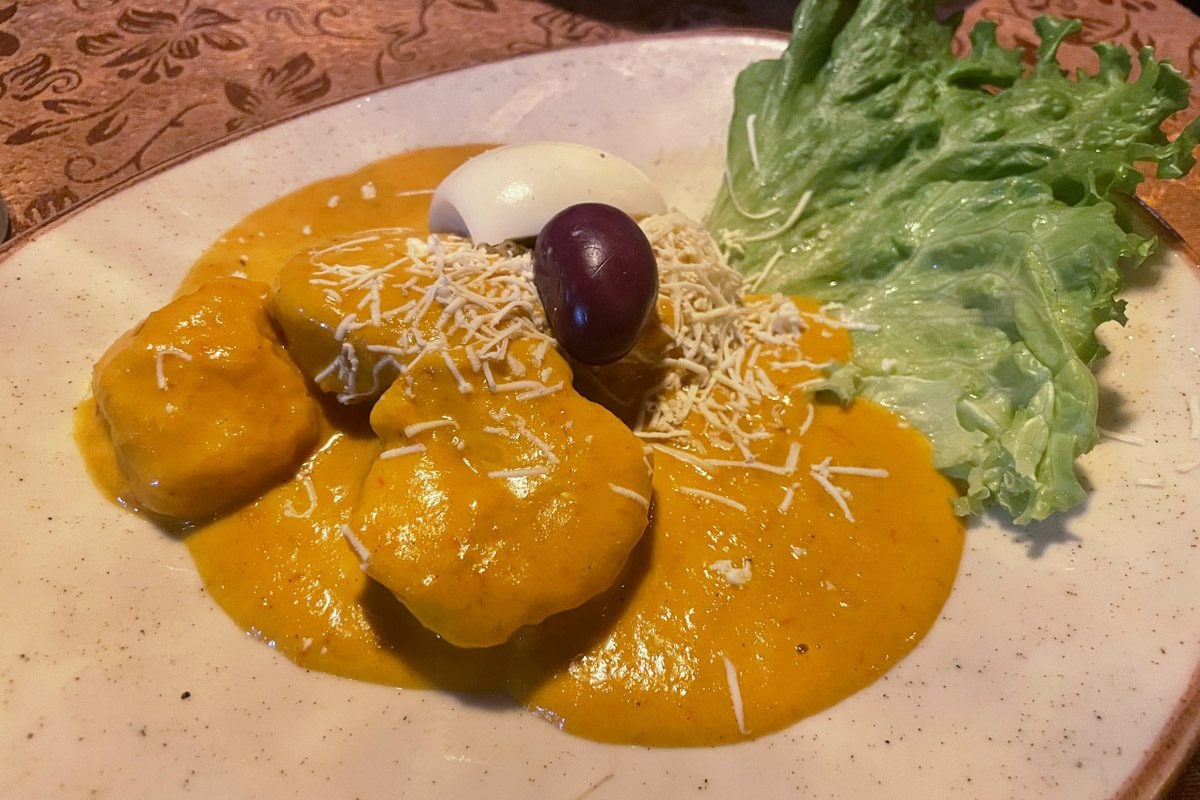 You wouldn't think potatoes covered in cheese sauce would be a star dish in Peru, but it is a flavorful staple in Peruvian homes.
What makes papas a la Huancaina much more than a cheesy-covered starch is the unique Huancaina sauce. Made with queso fresco, aji amarillo, evaporated milk, and lime juice, the unique blend of ingredients packs a variety of complex flavors.
Garlic and Saltines are often added to the sauce to give it a special flavor and consistency. This dish is traditionally served chilled after the boiled potatoes and sauce have cooled down and garnished with boiled egg, olives, crackers, and parsley.
13. Anticuchos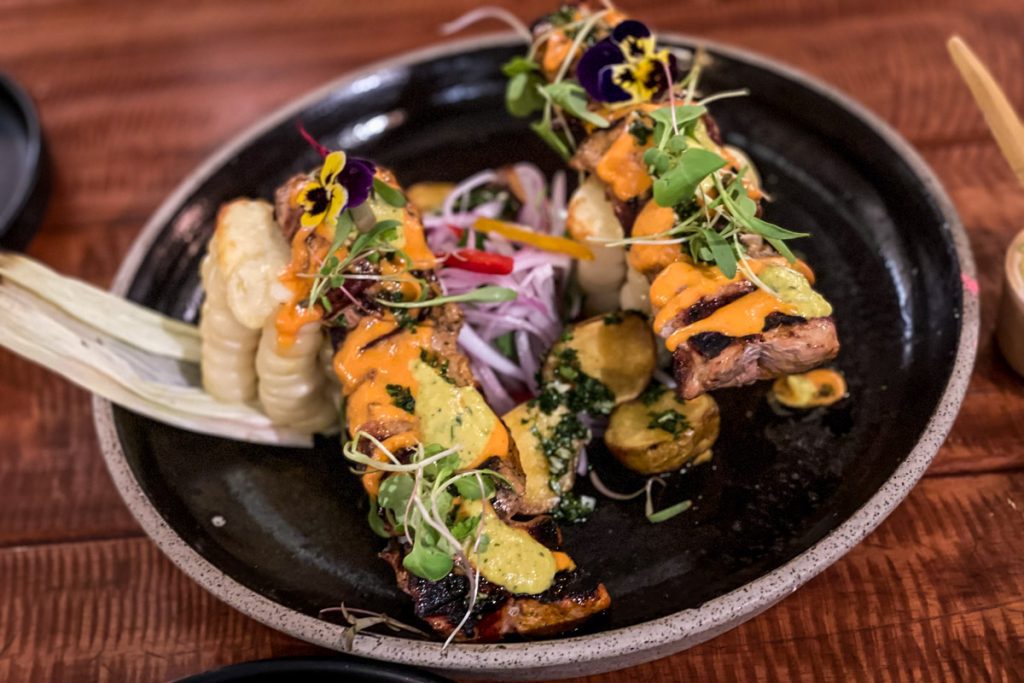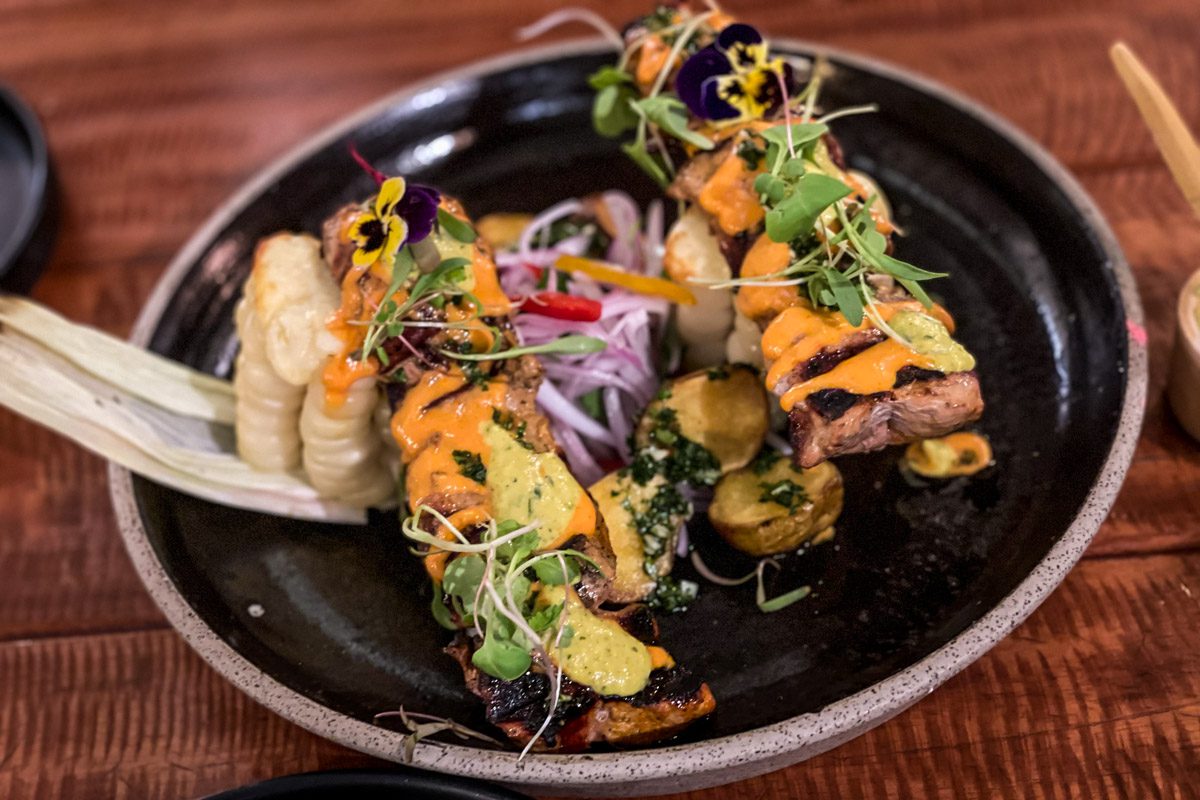 With a bold flavor and decadent when grilled over an open flame, anticuchos, or meat skewers, are another Peruvian dish that dates back to pre-Columbian times. They were first made with alpaca or llama hearts, but the Spanish conquistadors later replaced them with beef and added garlic to the recipe.
The meat is marinated with vinegar, cumin, aji, and garlic and roasted over charcoal for its signature char around the edges. These are a very popular street food around the country and some vendors use various cuts of meat or even chicken in addition to the traditional heart meat.
14. Chupe de Camarones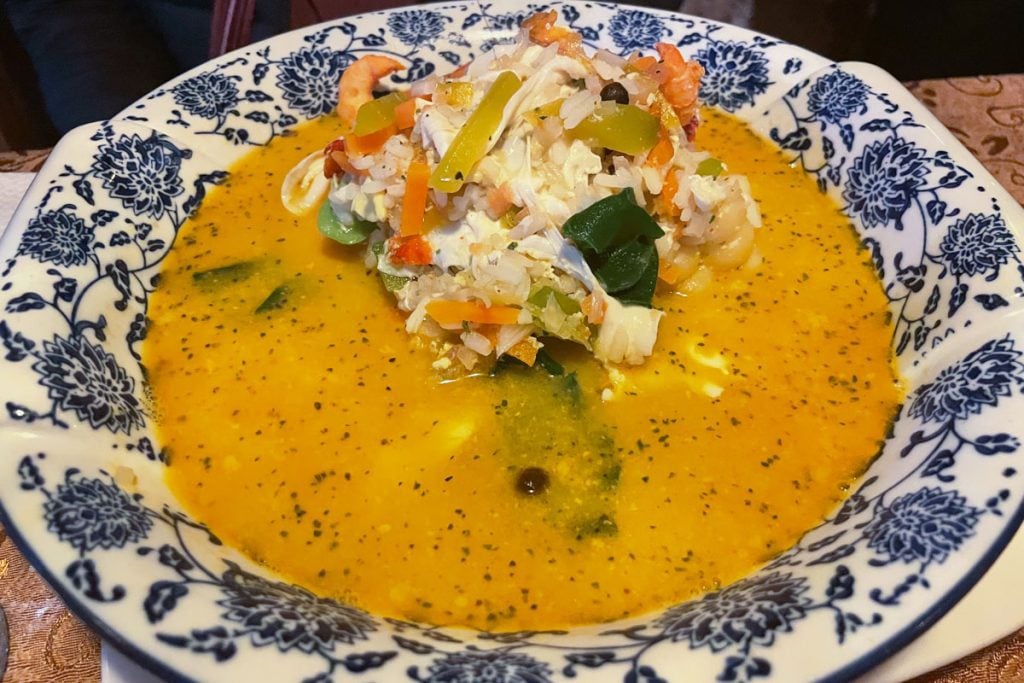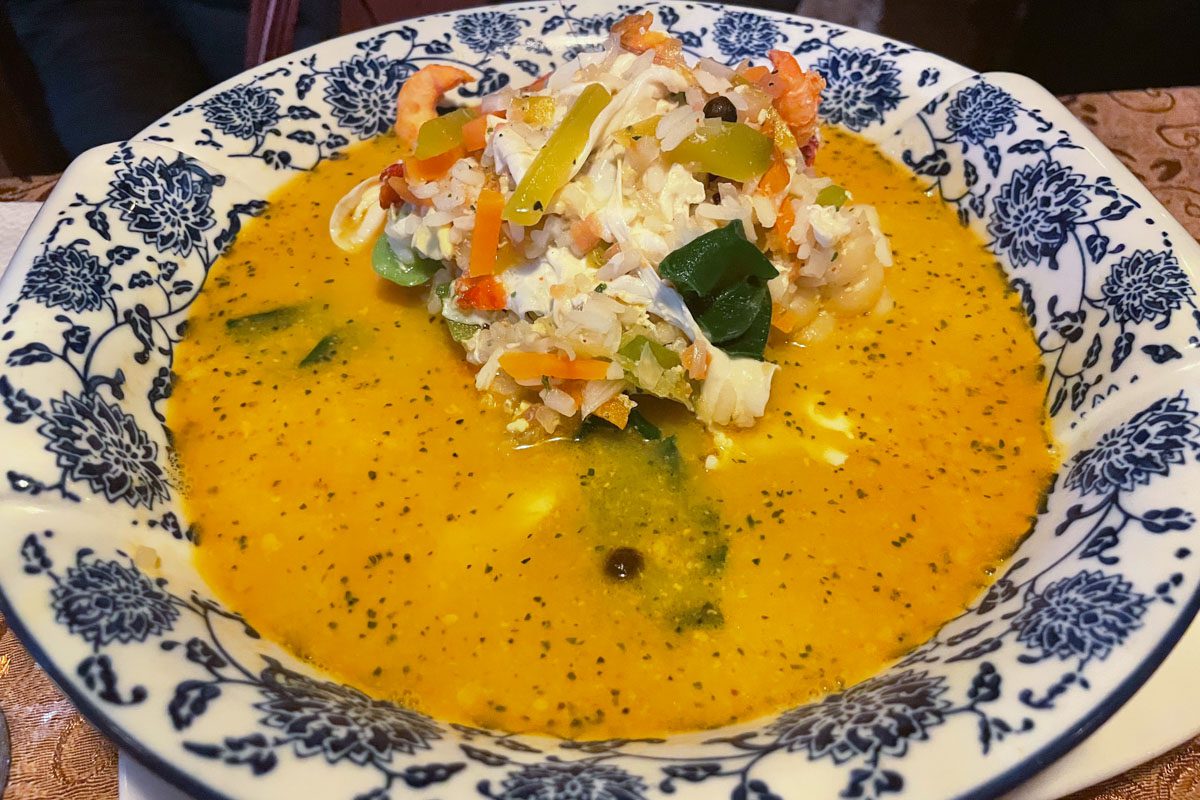 Taste the rich flavors of fresh Pacific seafood in this chupe, also known as a thick South American soup or stew. Chupe de camarones was made with either shrimp or crayfish caught off the coast and cooked with rocoto pepper, potatoes, and vegetables.
However, once the Spanish came to Peru, they added milk and eggs to the soup that evolved the recipe and brought the flavors to life. The best place to try chupe de camarones is in the Peruvian coastal town of Arequipa, where the seafood is fresh and intense.
15. Butifarra
A ham sandwich may not seem like a bucket list-worthy food to try in Peru, but as we've uncovered throughout the other Peruvian foods on this list, they always find a way to pack bold flavors into simple recipes.
Jamón del País is a type of Peruvian ham that is essential to any butifarra. The ham is prepared by cooking pork leg in a blend of garlic, cumin, achiote spice, pepper, oregano, and lard. The juicy ham is then prepared between two slices of roseta, a round crispy bread.
This comfort food is most enjoyed from bakeries, takeaways, and in Peruvian homes.
16. Alfajores
No tour of Peruvian food is complete without a little something sweet, and these alfajores cookies have been made famous around the world, originating in the Arabic regions of North Africa.
Alfajores, or dulce de leche cookies, are given the Peruvian twist by sandwiching dulce de leche, or other sweet filling, between two shortbread-like cookies and finished with a sprinkle of sweet coconut.
You won't have to search hard for this sweet treat as it's sold in bakeries, shops, and restaurants across Peru.
---
Traditional Peruvian drinks
We couldn't make a guide to Peruvian food without including some of the most popular and traditional beverages.
17. Pisco sour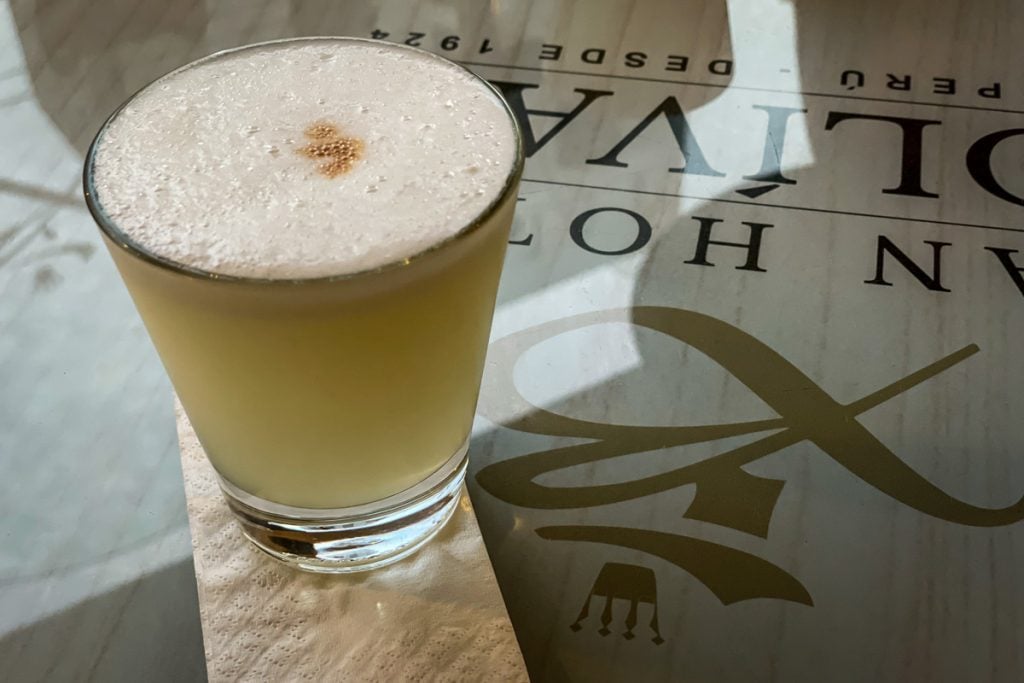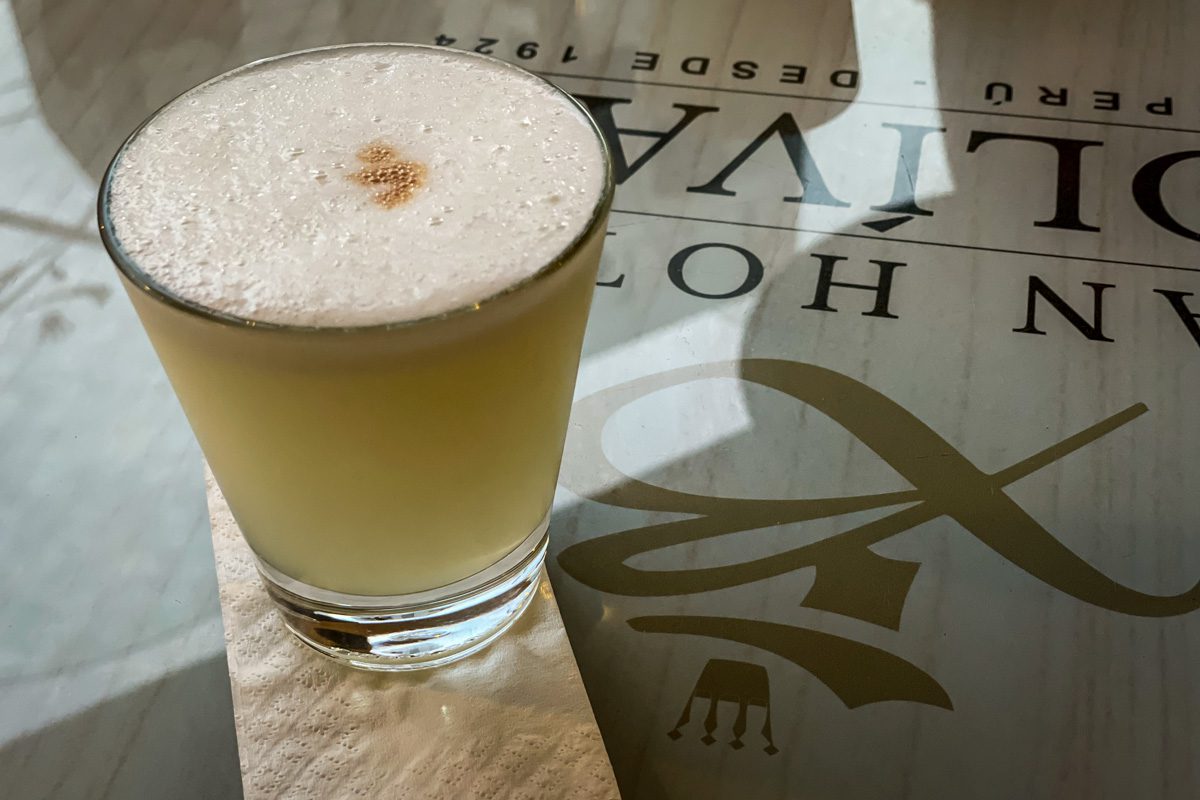 Unofficially designated the national drink of Peru. This famous cocktail is made with Pisco, a type of white grape brandy that originates in Peru, citrus juice and egg white.
Pisco was developed in the 1500s by Spanish settlers as an alternative to orujo, a pomace brandy that was being imported from Spain. The settlers found the grapes grown in Peru could be fermented and distilled into a high-proof spirit.
Though pisco-based beverages date back centuries, the cocktail as it's known today was invented in the 1920's in Lima. The modern recipe for a Peruvian Pisco Sour uses pisco as the base and includes freshly squeezed lemon or lime juice, simple syrup, and Angostura bitters. It's served over ice and topped with an egg white foam, giving the cocktail its distinctive look.
18. Leche de Tigre
Leche de Tigre, or Tiger's Milk, is the famous citrus marinade that cures the white fish for ceviche. The intense array of flavors in this drink wouldn't be possible without lime juice, fish juice, onions, chili pepper, coriander, salt and pepper.
Originally, it was enjoyed as the leftovers of ceviche, but it became so beloved it became a drink of its own right, and is served alongside ceviche in a small glass. Many Peruvians believe it to be an excellent hangover cure after a few too many pisco sours the night before, or a way to increase drive and desire, hence the name Tiger's Milk.
19. Chicha de Jora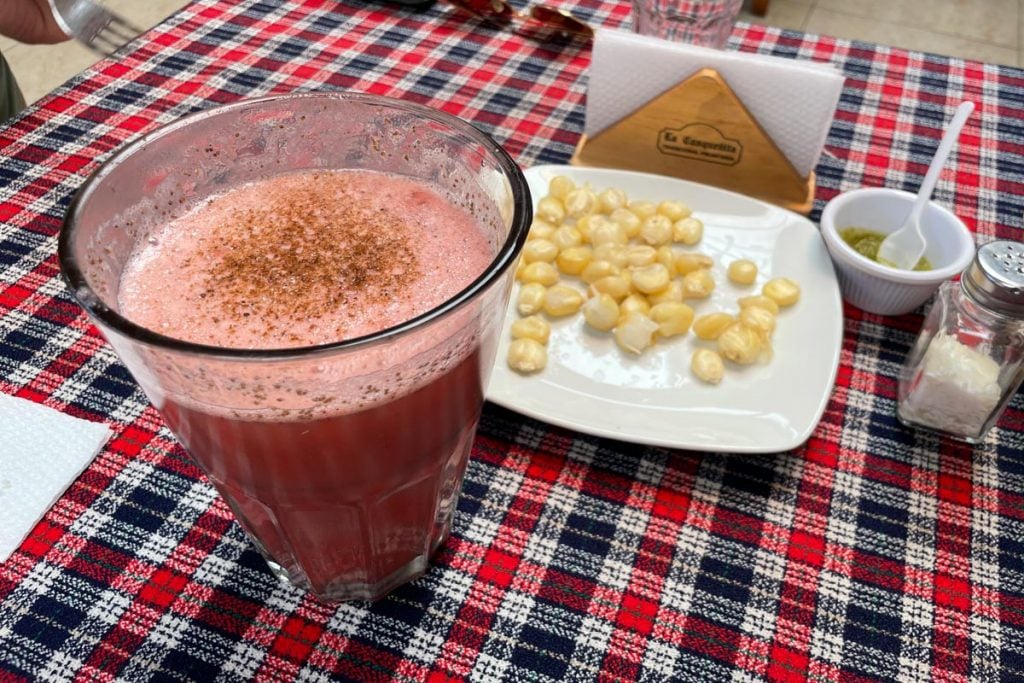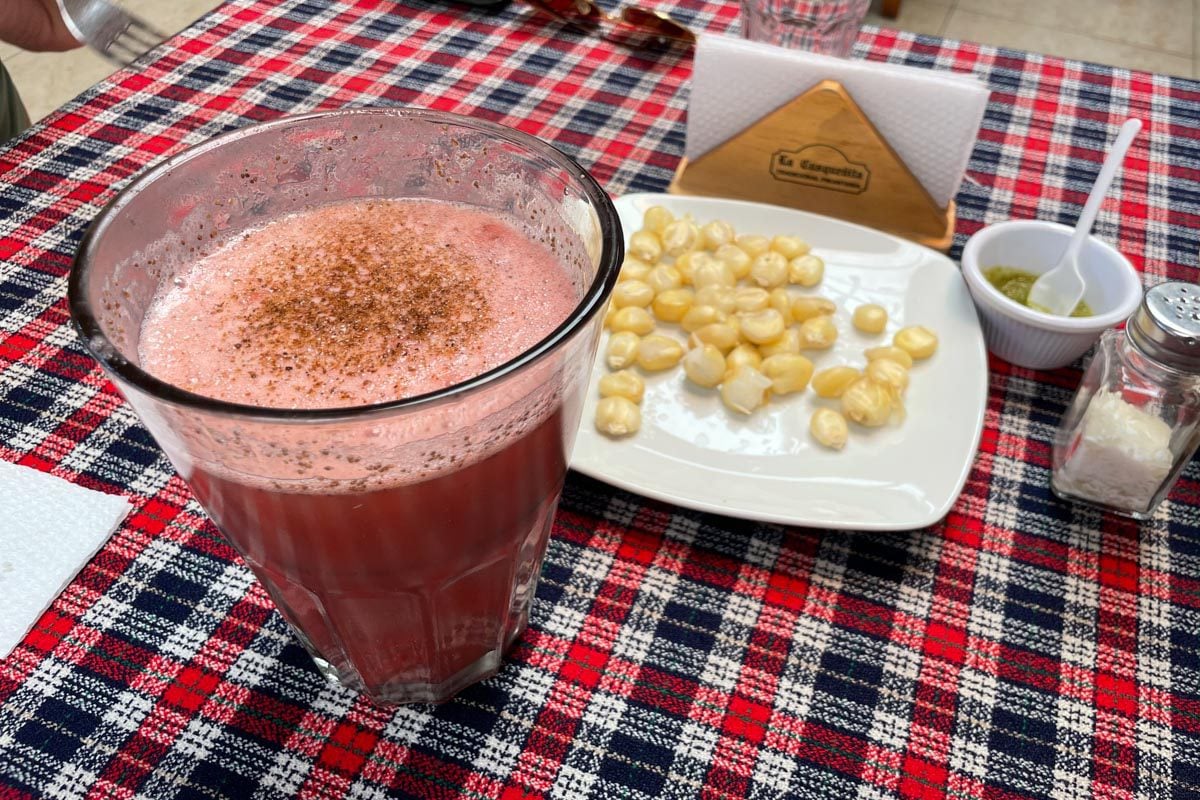 Considered the Nectar of the Incas, this tradition drink is made from fermented corn. Very similar to the process of brewing beer, chicha de jora is prepared by germinating corn, extracting the malt sugars, and then fermenting it for several days.
Chicha de jora has been a popular drink consumed by people of the Andes for millennia. The history of drinking chicha dates back to Incan times, when they used this beverage for rituals and produced and consumed it in vast quantities.
It's traditionally made from a specific kind of yellow corn, jora, and only contains a small about of alcohol (1-4% abv). There are lots of variations on flavors made with with fruits, pseudograins and aromatic herbs.
---
Are you planning a trip to Peru?
We have lots of resources on travel in Peru and destinations throughout the country. Check out our Complete Peru Travel Guide for all the answers to your most burning questions, or read some of our favorite articles below.
Save this article on Pinterest for later!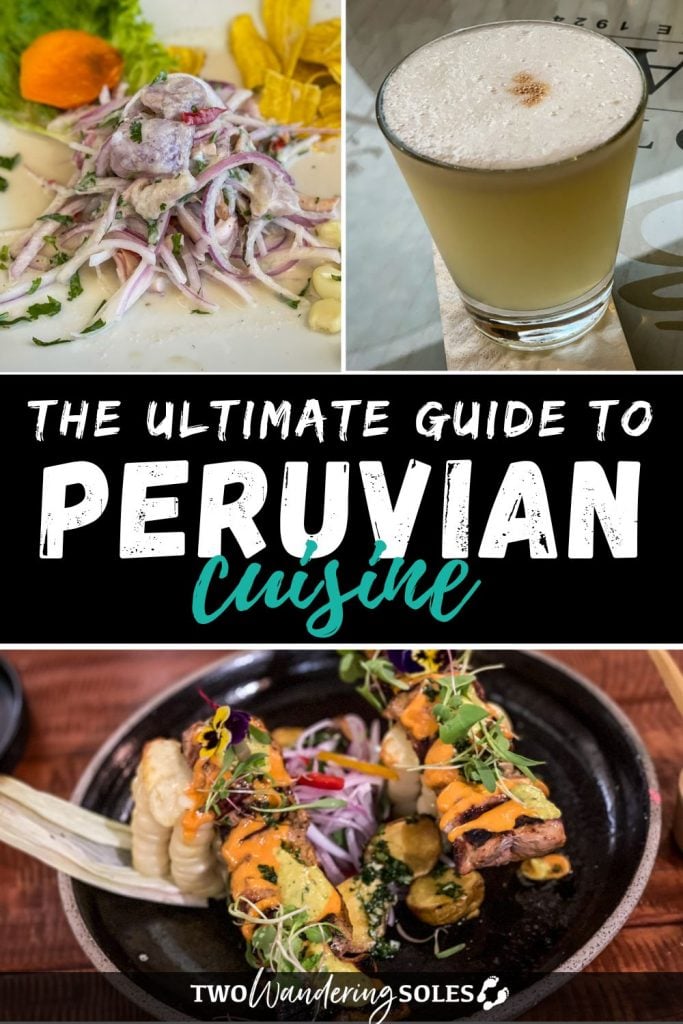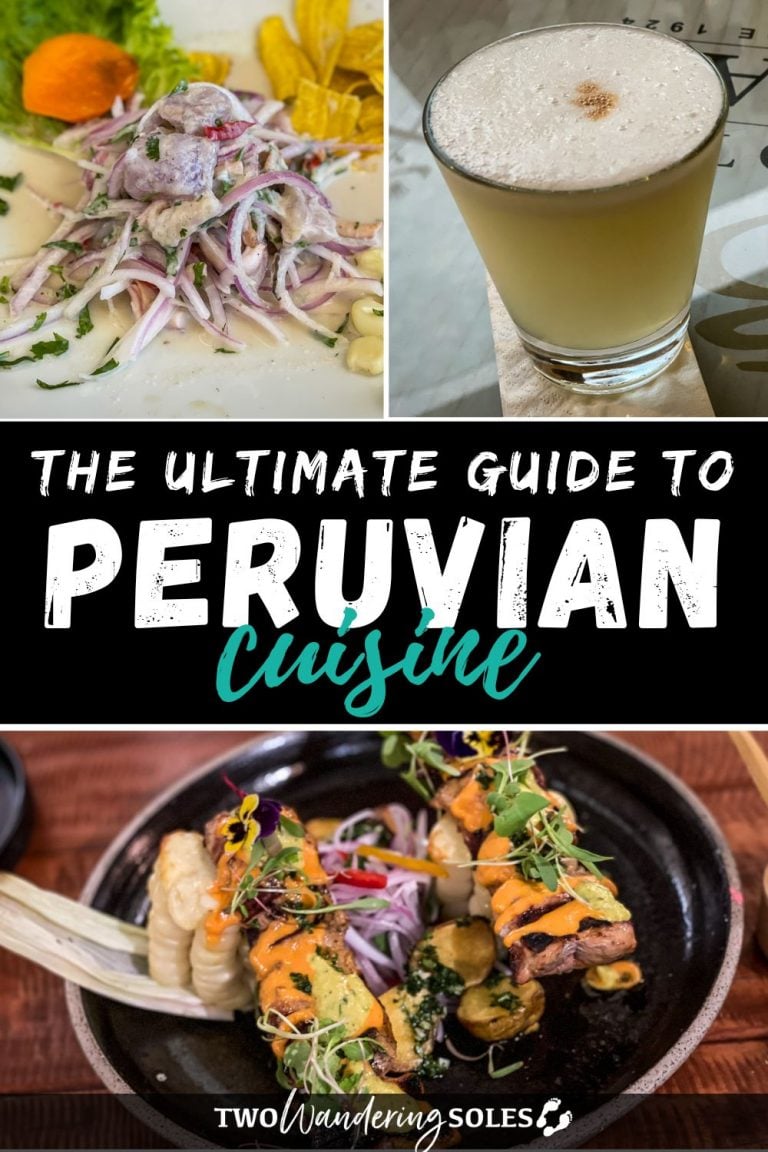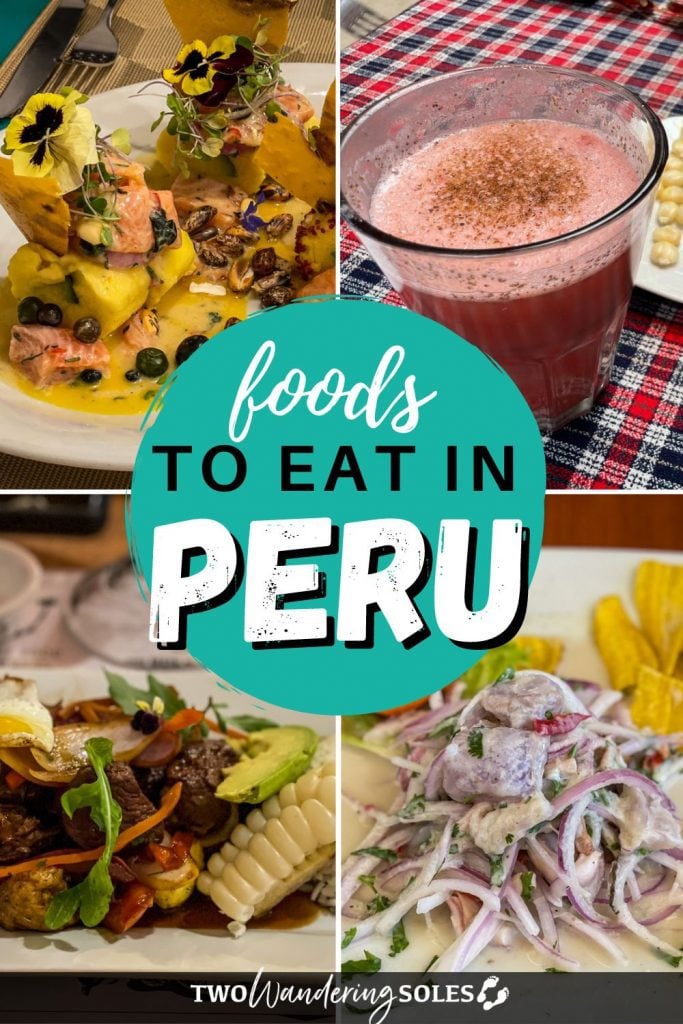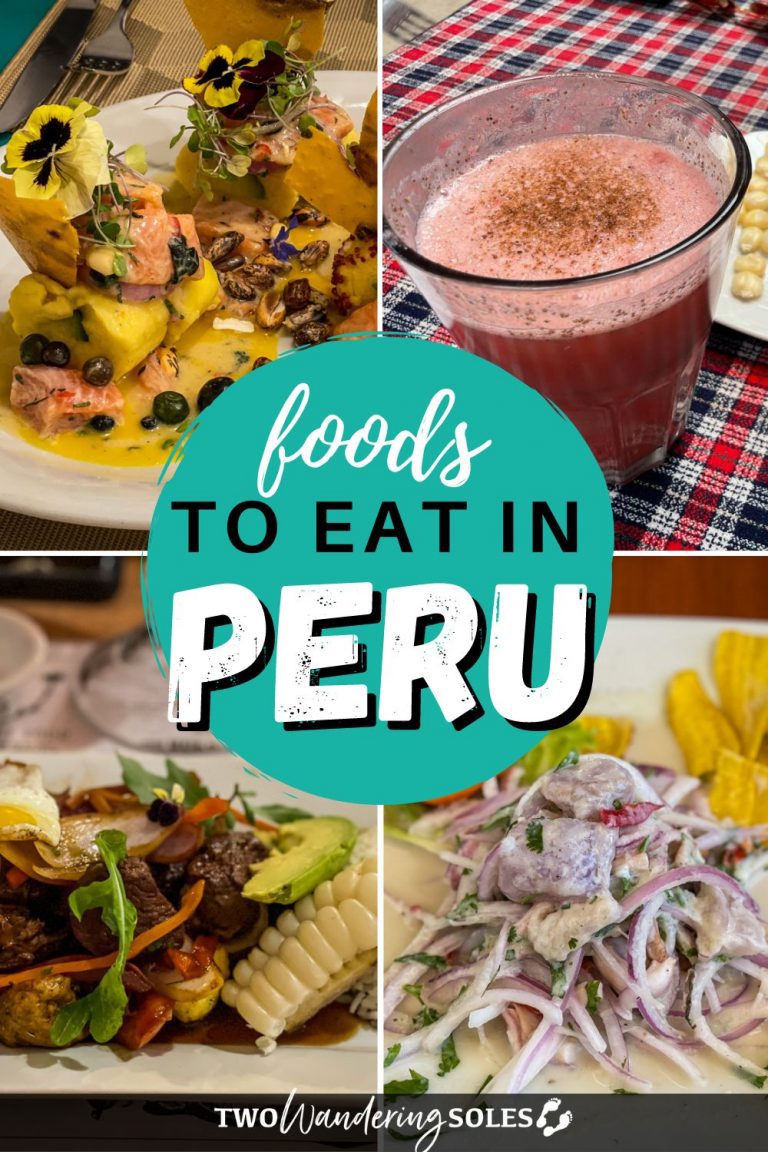 We want to hear from you!
Do you have a favorite Peruvian dish? Which Peruvian foods are you most excited to try? Leave your comments in the section below and we'll do our best to respond to any questions!