As the adventure capital of Costa Rica, there are so many things to do in La Fortuna to get your heart pumping. We've covered all the highlights of the Arenal region in this detailed travel guide. Plus everything you need to know before you plan a trip!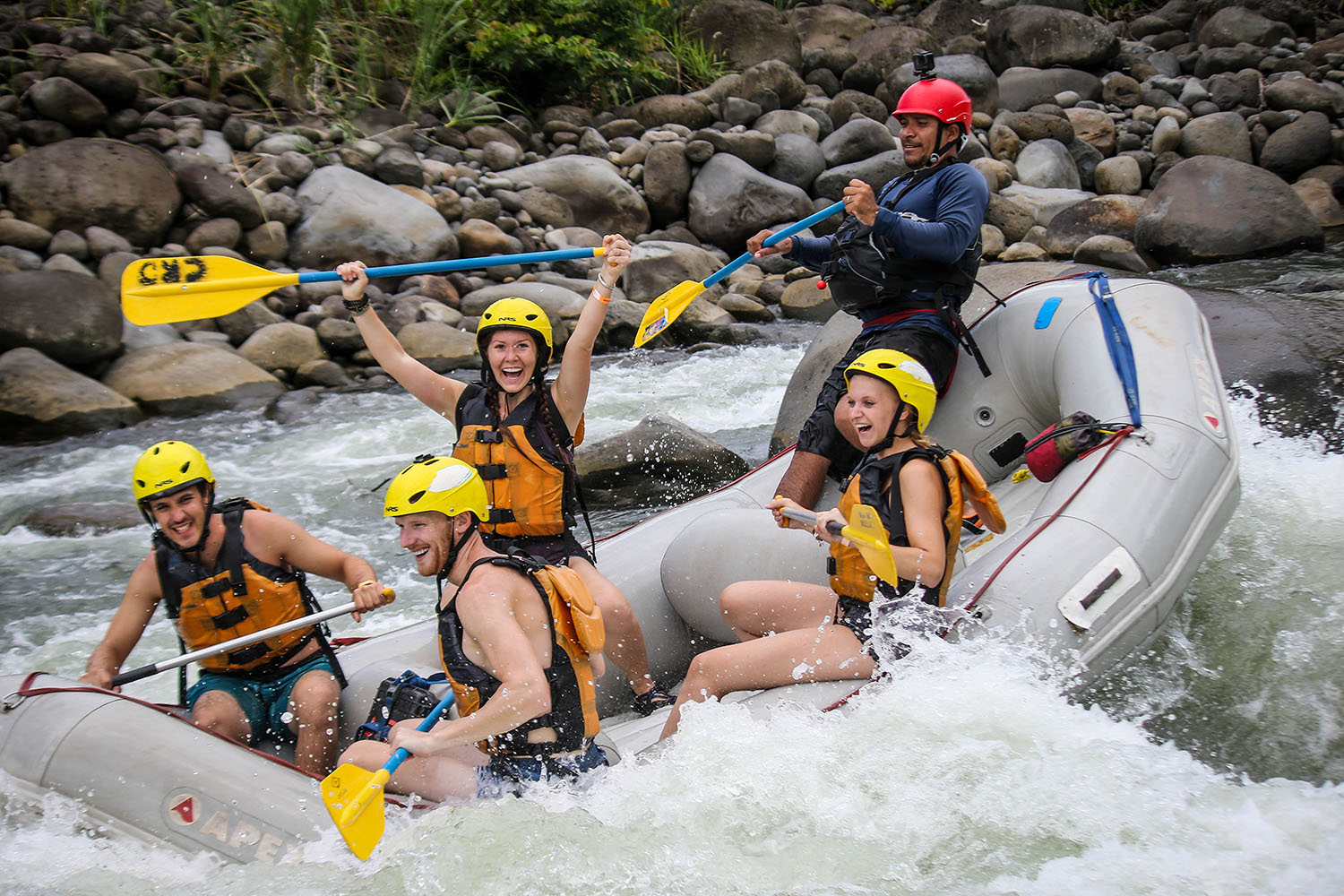 There's no denying Arenal is the adventure capital of Costa Rica with jaw-dropping landscapes and adventure activities for travelers of all ages. Known as a gateway to Arenal Volcano National Park, La Fortuna is on many travelers' Costa Rica itinerary.
We've rounded up a list of the best things to do in La Fortuna, from heart-racing adventure activities to free things to do around town to unique, off-the-beaten-path experiences.
We're also sharing the best places to stay in and around La Fortuna, as well as where to eat. You won't want to miss this complete guide to Arenal and La Fortuna, Costa Rica!
*Personal Note: This was our second time visiting La Fortuna and it was just as good as the first. We ventured here one spring break during university and had such a good time we decided to return. This time around we were able to do many of our favorite activities a second time as well as try out some new adventures. We rarely visit the same place twice, so that should tell you that La Fortuna and Arenal is a very special place!
La Fortuna, Costa Rica Travel Guide
For more tips and advice for planning your trip to La Fortuna, jump to the following sections (or just keep scrolling to see it all!).
---
Top things to do in La Fortuna
If you're looking for the very best things to do in La Fortuna, Costa Rica, here are our top recommendations.
Go canyoning with Desafio
Catch some rapids on a white water rafting tour
Fly through the jungle on a zipline
Peep the Arenal Volcano up close
Day trip to Rio Celeste Waterfall
Check out the hot springs
Keep reading for more detailed information on each of these things and more ideas of fun things to do in La Fortuna.
1. Go canyoning with Desafio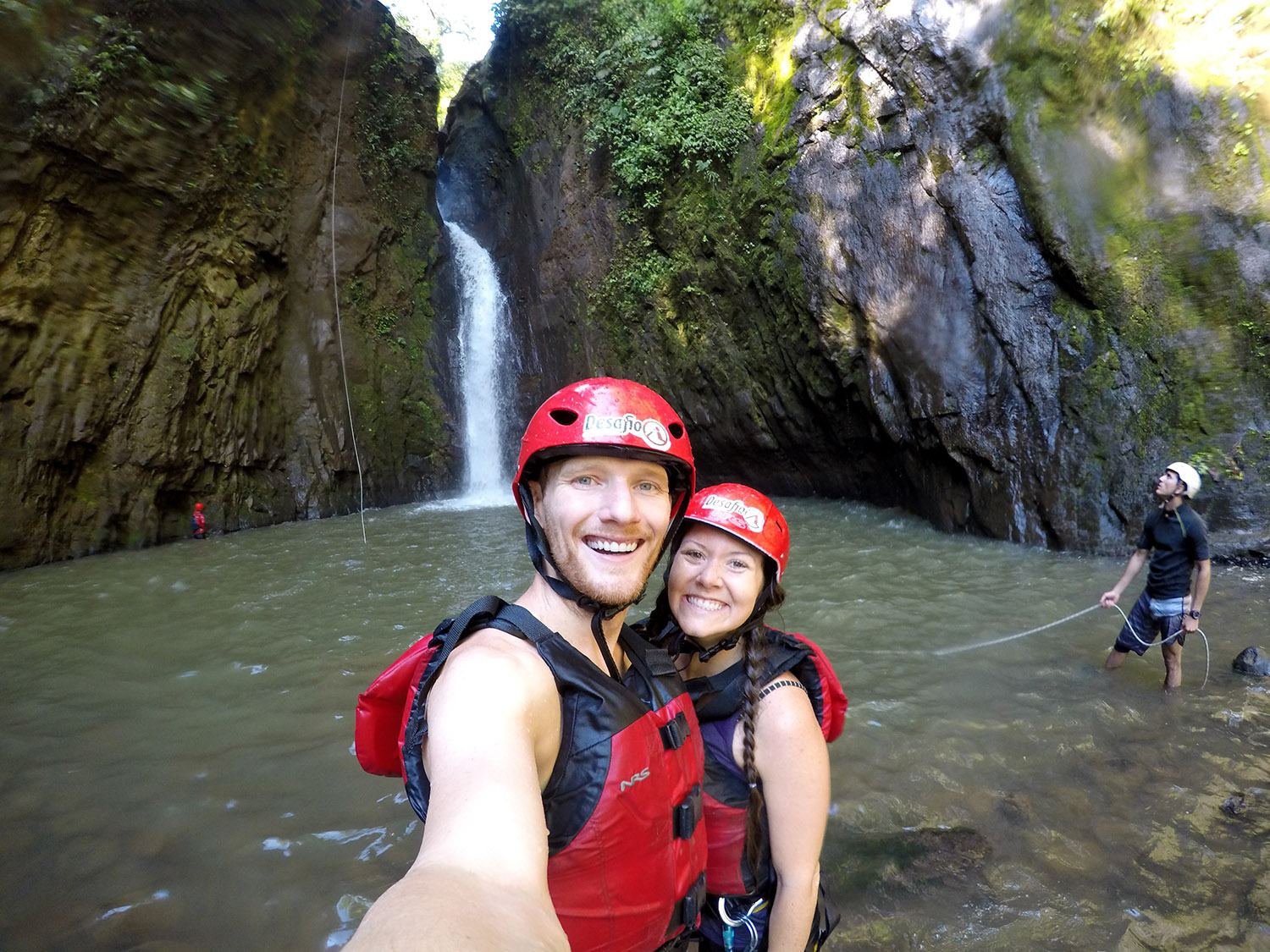 If you have an adventurous spirit and you want to do something really unique in La Fortuna, the Gravity Falls tour is our absolute top recommendation.
This combination of rappelling over waterfalls, cliff jumping, hiking through pristine jungle, and a bit of rock climbing is perfect for any adrenaline junkie. Check out our video of it:
Note: If you can't see the video, be sure to turn off your Adblocker
If we only had time or money to do one adventure tour in La Fortuna, we would choose Gravity Falls.
It is set in a stunning river canyon, so the scenery alone is epic. And on top of that, this combination tour is really unique and it would be hard to find something similar elsewhere in the world.
We felt very safe on the Desafio tour, and there are plenty of guides watching out for your well-being. That said, there are parts of this tour that would be scary if you are afraid of heights. The final high jump is from a platform 39 ft (11.8 meters) tall, after all.
The Desafio staff is some of the best we've had anywhere in the world. They were fun, energetic, and professional. And every detail has been thought of. After the tour, each guest gets a clean towel to dry off with, fresh fruit and water, juice or beer.
Post-tour
After the tour you get a delicious Costa Rican buffet style meal at their new restaurant, Hunters & Gatherers. Start with homemade plantain chips and a variety of fresh salsas and salad.
Then fill up with a traditional assortment of rice, beans, chicken, yucca and more. Don't forget to try their fresh maracuya (passionfruit) juice and ginger lemonade before finishing your meal with local coffee. This was one of the best meals we had in Costa Rica.
Mixed in amongst all the climbing and jumping, one of the guides is taking pictures of everyone on the trip. They offer the whole CD of photos to you for $20 USD. They even let you see the photos first before you decide whether or not you'd like to purchase them.
Note: This tour has an age suggestion of 18–55 years. There was a large group of college students in our group, many of them just 18 years old, as well as a mom, who had just turned 54 years old, there with her son.
What to bring on your canyoning tour
Swim suit and/or athletic clothes you don't mind getting wet (you WILL get wet!).

Ben wore swim trunks and Katie wore athletic shorts over a bikini.

GoPro or cell phone in a waterproof case (optional): The guides will take photos along the way, but you can also carry your own waterproof camera if you'd like. (Just don't bring it on the last cliff jump! The guides will remind you!)
Chacos or other sturdy shoes: Your shoes will get wet and should have good grip. We've said it once and we'll say it again: Chacos are the BEST shoes for this type of adventure! We wore them everywhere in Costa Rica, and they were perfect for this tour.
2. Catch some rapids on a white water rafting tour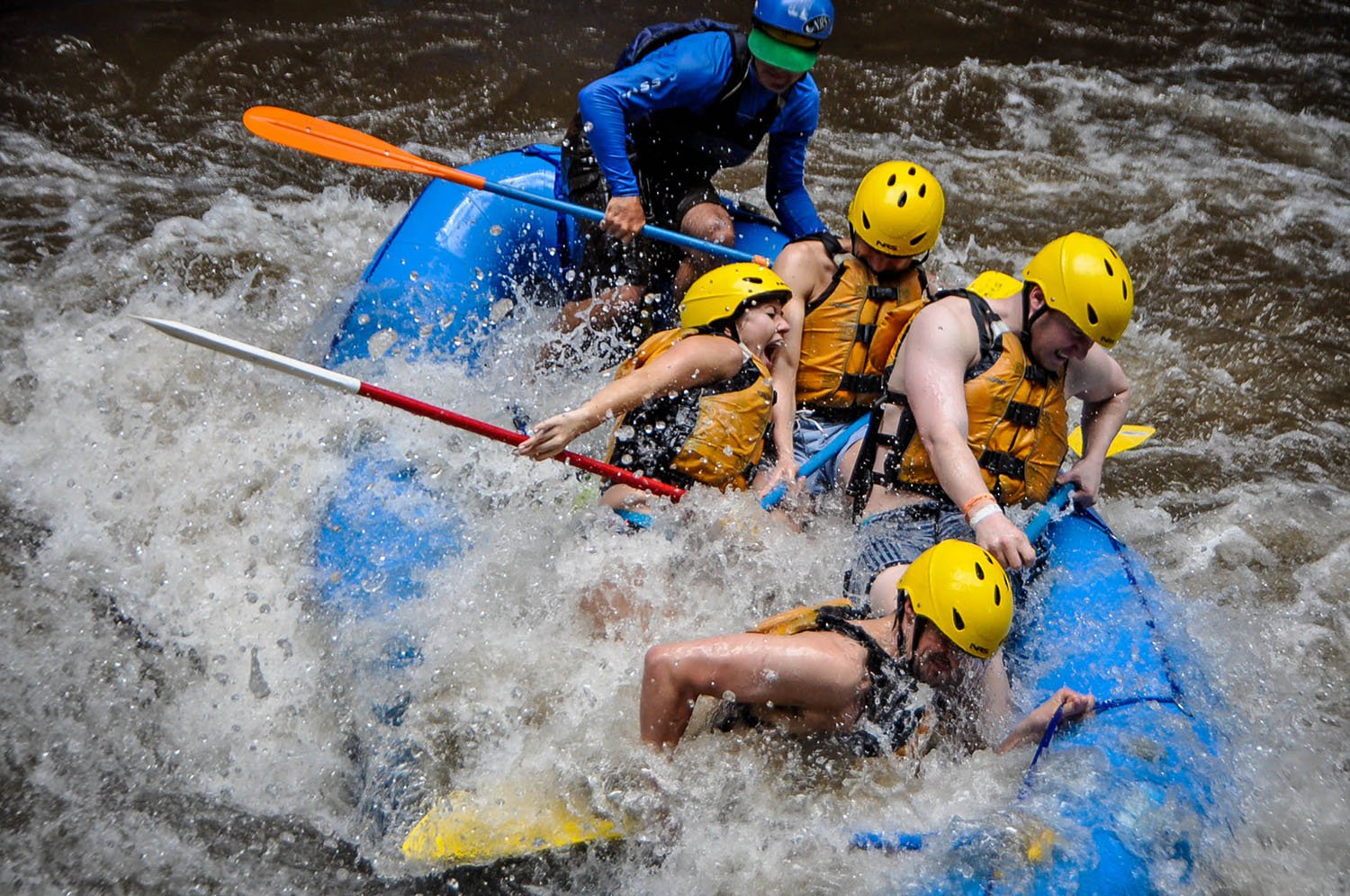 One of the most popular things to do in La Fortuna is white water rafting down the Balsa River. With rapids ranging from class II to IV, there's something for everyone. Bring your whole family on the class II rapids, or get your heart pumping on class IV.
Our very first time white water rafting was back in 2012, and it was in La Fortuna! We've been rafting a handful of times since, and always say that we were spoiled by our first experience. The rapids are big and exciting (no sitting around and getting bored if you do class IV!).
We went with Costa Rican Descents on our first visit to La Fortuna and had such a good time that we booked with them again!
The river we went on was class III and IV, and it did not disappoint. You will be jerked around in the boat and will have to paddle hard, but as long as you listen to your guide you'll have a blast.
Similar to all the other adventure activities in Arenal, there is a photographer taking pictures as you fly through the rapids. To get all the action shots taken of your raft, it costs $40 USD, but the cost can be split between each person in the raft.
3. Fly through the jungle on a zipline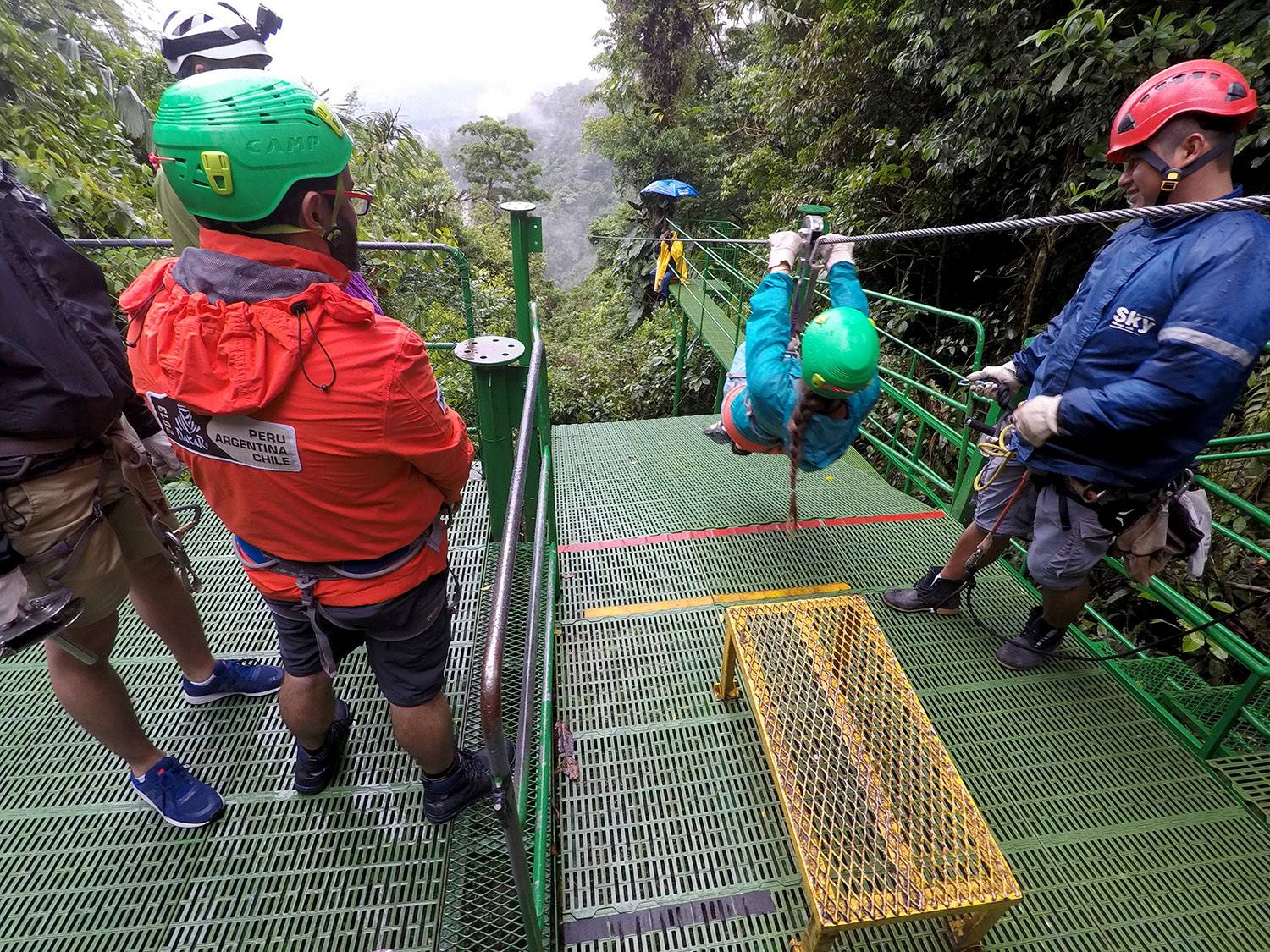 We've been zip-lining in a few places around the world, from Cambodia to Korea, and while we have been tempted many times in the past, we know nothing can live up to zip-lining in Costa Rica.
You'll feel like you're flying through the jungle reaching speeds of what felt like 60 mph and when you try to smile you feel like a cartoon with your cheeks flapping in the wind!
There are many zip-lining companies to choose from, each with their own number of lines and platforms. We went with Sky Adventures because of their great reviews online and they had a half-mile zip-line that made Ben scream like a toddler.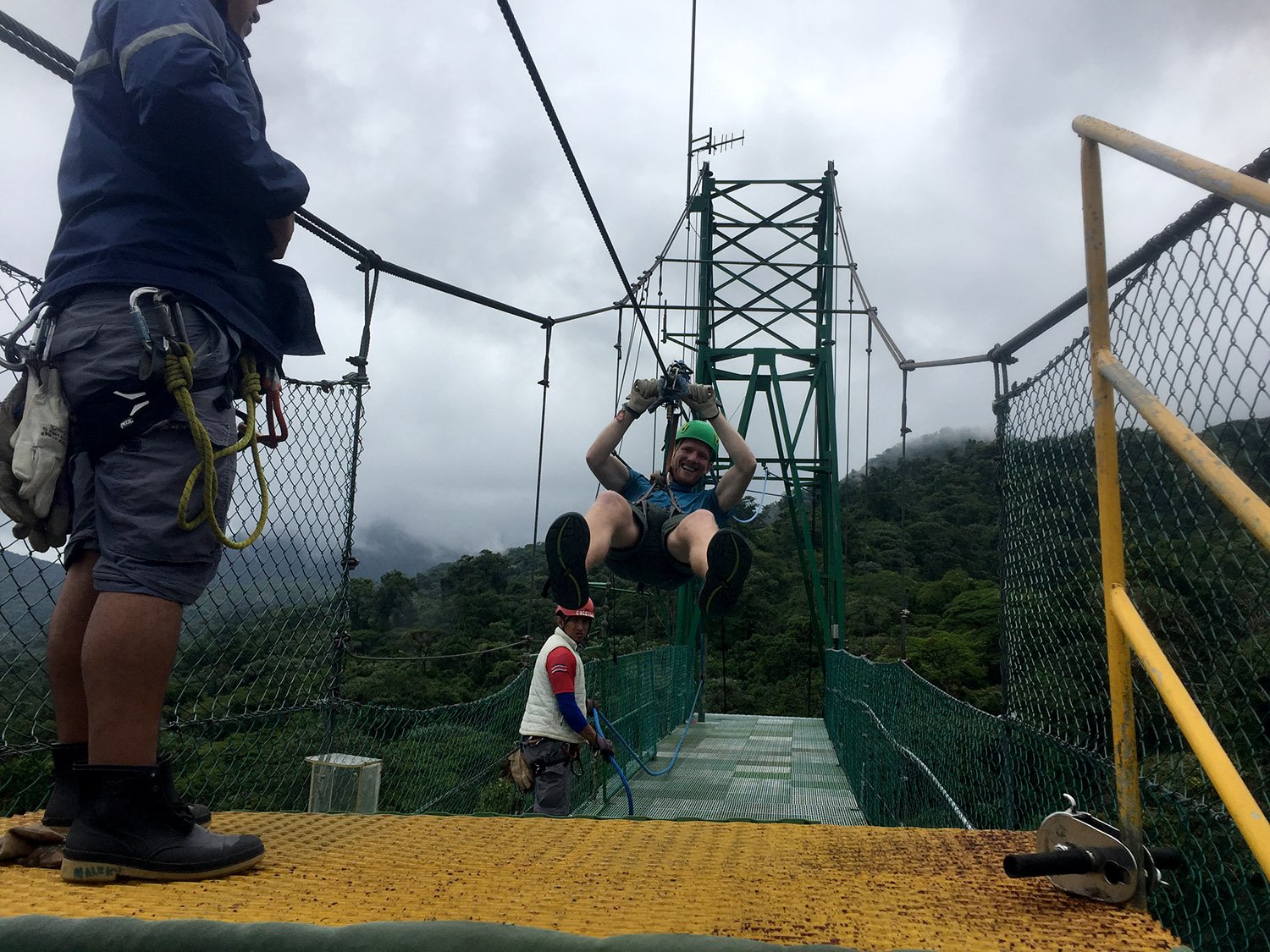 The staff is very professional and has safety as a number one priority. They give you a briefing at the start (both in English and Spanish) and make sure you are 100% comfortable with it. (To be honest, zip-lining is not really scary compared to canyoning and whitewater rafting. We felt safe the entire time and were more thrilled than scared.)
Sky Adventures has a shuttle that runs from La Fortuna to the course so if you don't have a car be sure to book it online. If you are traveling to Sky Adventures on your own be sure to allow 45 minutes to get there and we would recommend a 4×4 car.
Read more: We put together a guide with everything you need to know about renting a car in Costa Rica.
4. Peep the Arenal Volcano up close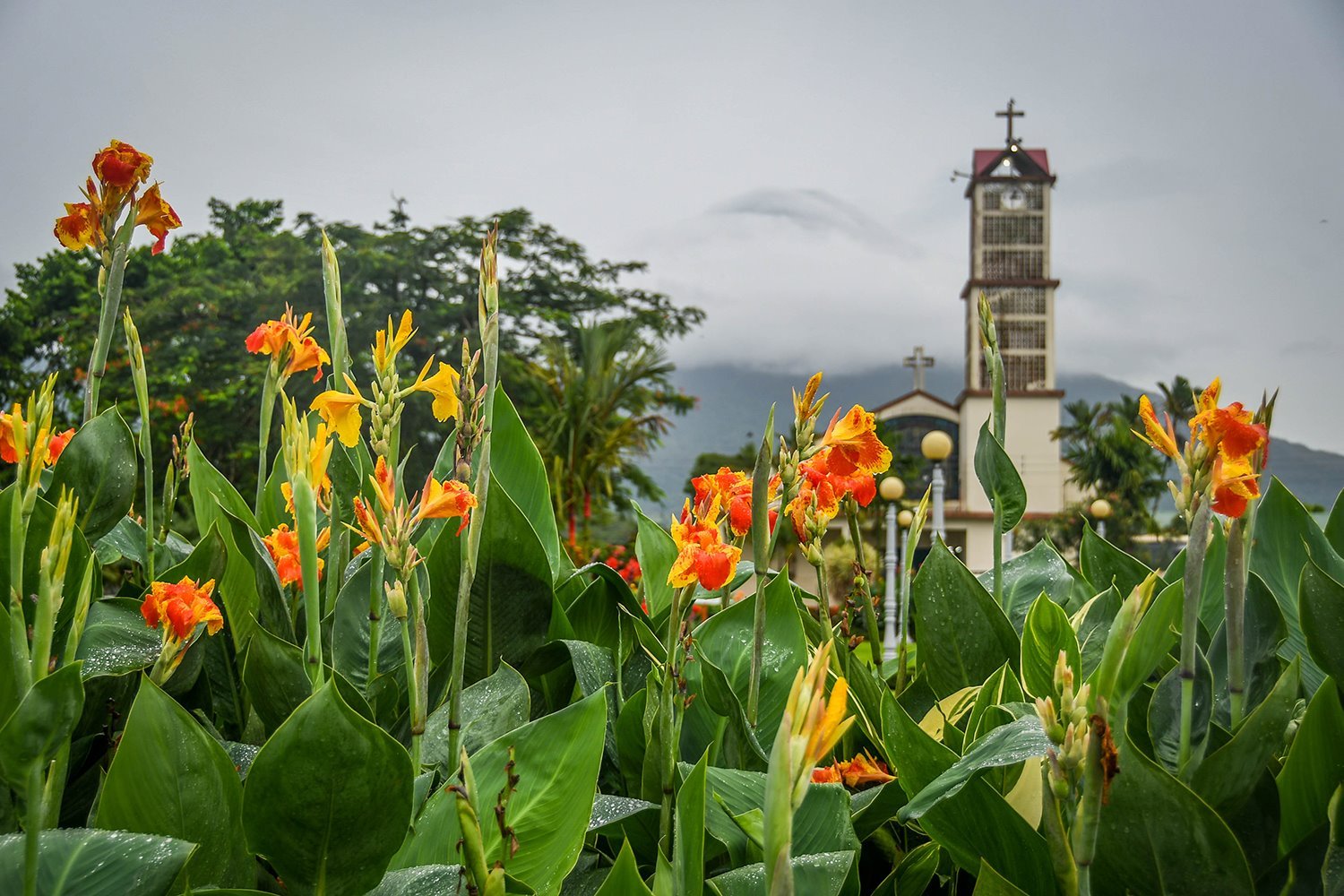 One of the most iconic sights of this area is the Arenal Volcano. Towering behind La Fortuna town, you will have no problem seeing it if the skies are clear.
There are many different spots to view the volcano from. Here are just some of our favorites!
San Juan Church: The church in downtown La Fortuna is directly in front of the Arenal Volcano and is a good place to get a different perspective.
Mistico Park Hanging Bridges: Get a view of the volcano from high above the trees at the Mistico Arenal Hanging Bridges Park or at Sky Adventures. If you're traveling with family, the hanging bridges are a great activity with children in Arenal (see #14).
Arenal Volcano National Park: This park will give you a unique perspective of the volcano, because you will be walking amongst the lava flows that spewed out in the 1968 eruption.
Arenal Observatory Lodge: Get up close and personal with Arenal Volcano. This lodge (which you can stay at, check prices on Booking.com) has the closest view of the volcano than any other hotel in the area. If the skies are clear, the view is breathtaking!
5. Day trip to Rio Celeste Waterfall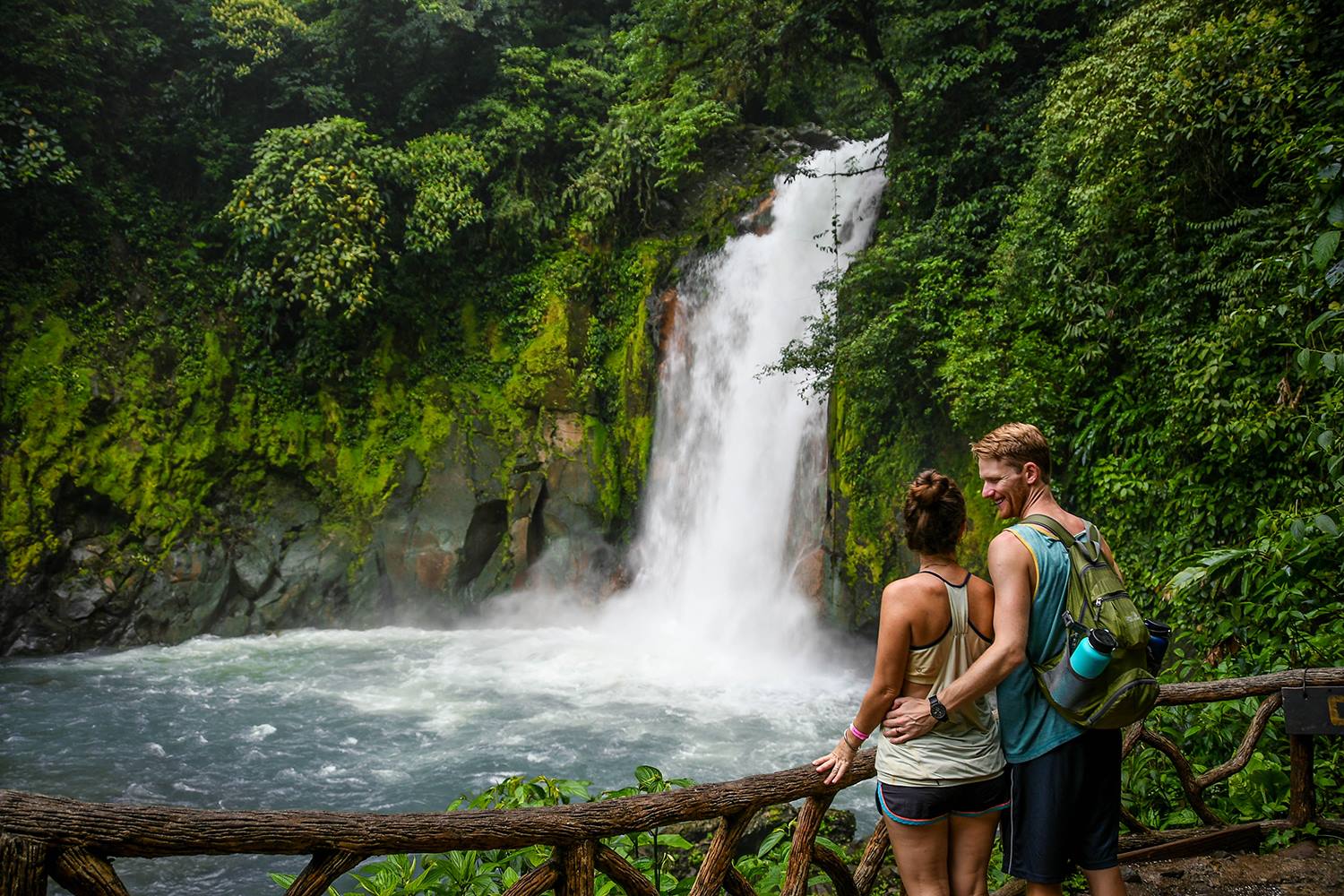 If you love a good waterfall, Rio Celeste in Tenorio Volcano National Park will surely be a favorite to add to your list.
The really unique thing about this waterfall is that it happens right after the confluence of two rivers. Each river has its own minerals, and the mixture of them turns the water a brilliant milky blue.
We spent about 2 hours in the park hiking around. The trails were undergoing a facelift when we were there, so it got a little muddy at times. But by now there should be new trail steps and some paved paths.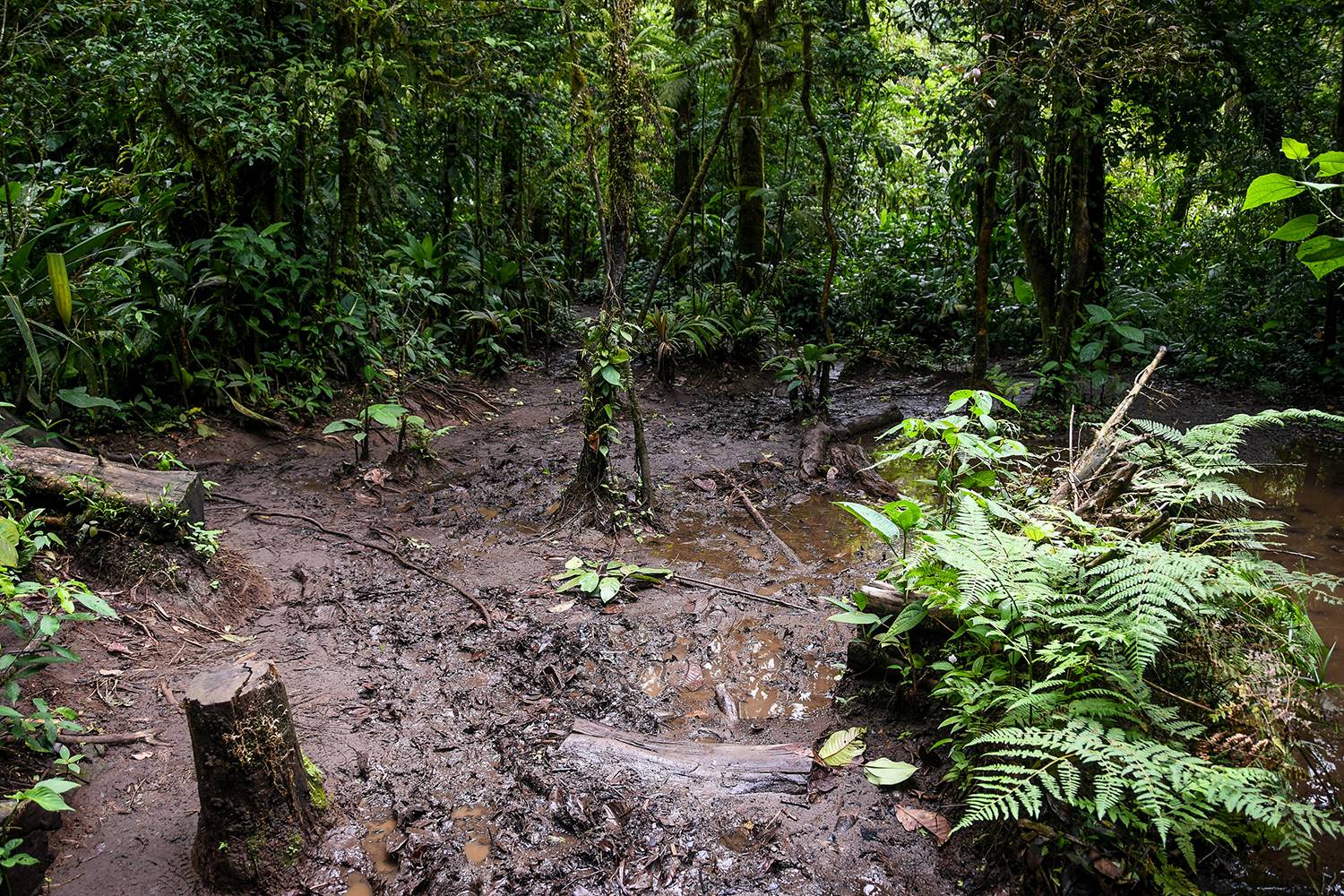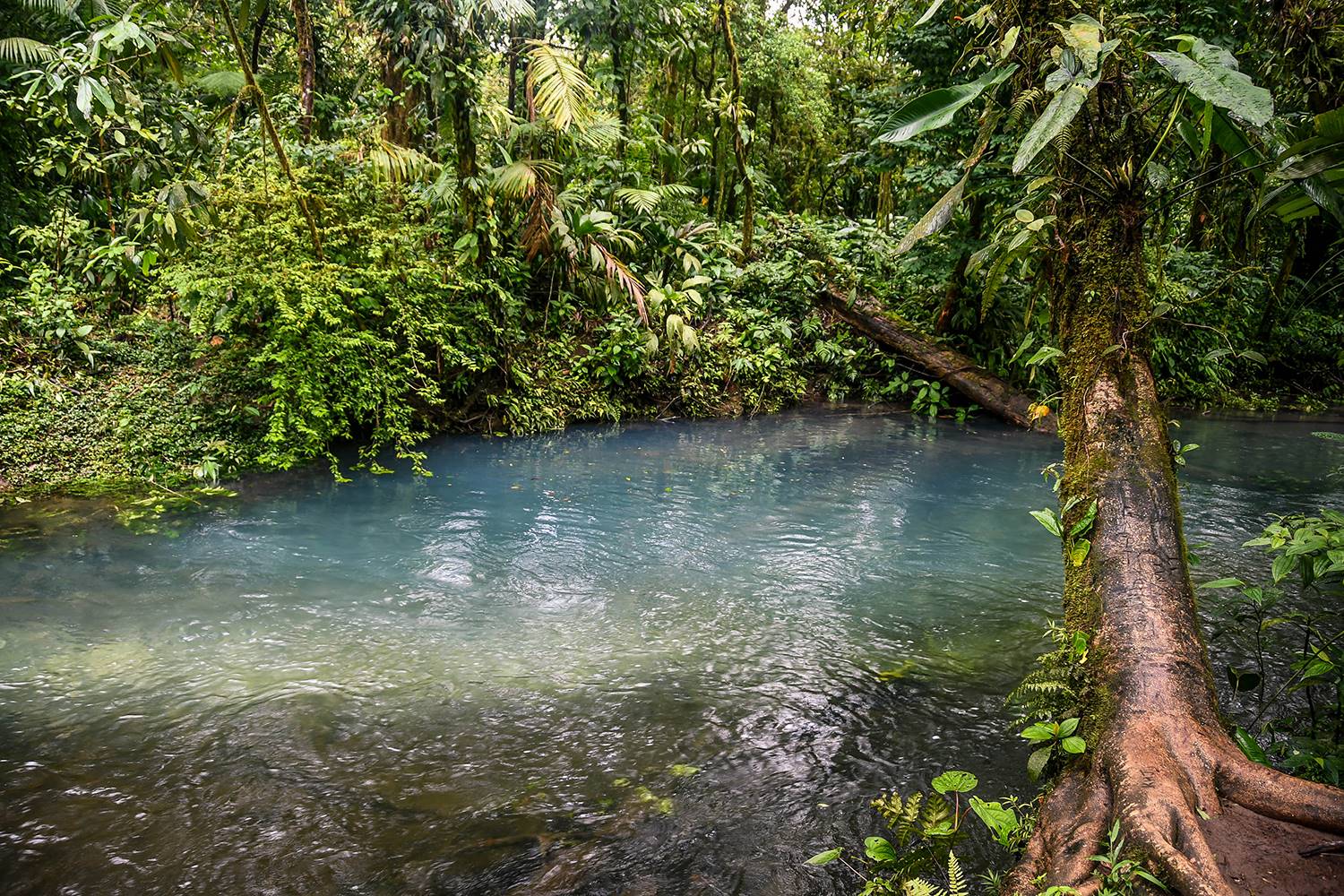 The Rio Celeste waterfall is the main attraction of the park, but we would recommend you continue walking to the end of the trail because there is a great viewpoint and at the end where the minerals are naturally released into the river. It's pretty cool to see the water change colors right before your eyes.
Read all about how to get to Rio Celeste Waterfall on your own.
Note: If you visit during the rainy season (May-November, like we did!), the water won't be nearly as bright blue as it is during the dry season (December-April). The rain can cause the water to be mixed around more, churning in sludge from the riverbed and dulling the color. But despite the dull blue, the park is pretty great and has some cool spots to see.
6. Check out a hot springs resort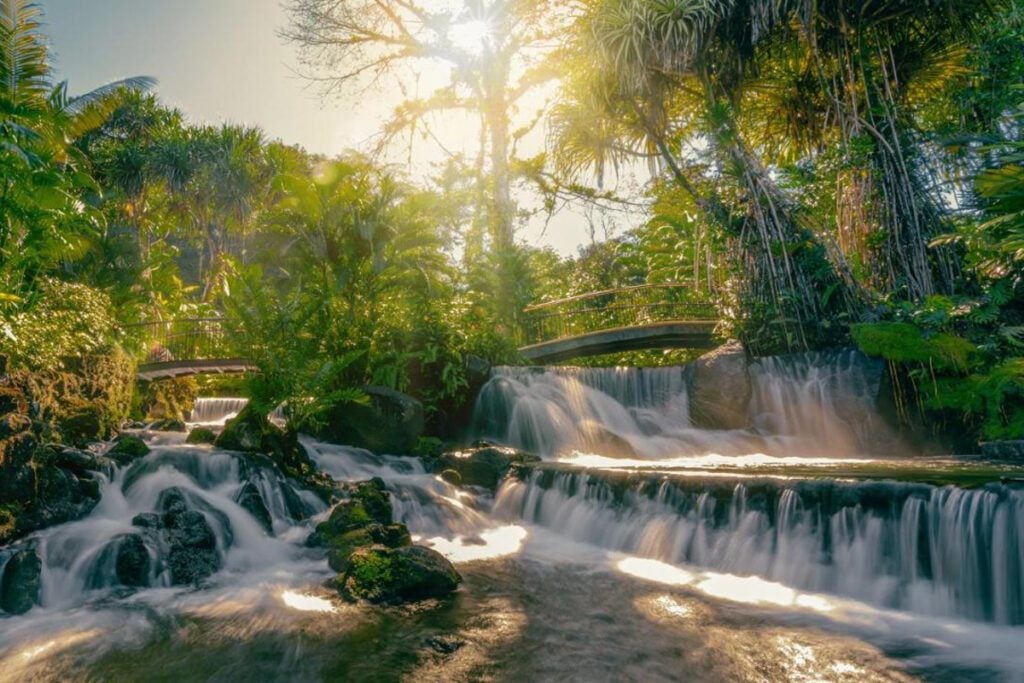 Arenal is known for hot springs, and while you're in La Fortuna you'll definitely want to try at least one! The good news is, there are hot springs for every budget and each type of traveler, from luxuriously-landscaped to more rustic experiences.
Below are some of the most popular hot springs resorts in the La Fortuna area.
Psst! The best way to get to these hot springs is by car. We'll help you find the cheapest rental car in Costa Rica before you go.
Tabacon Hot Spring Resort
Known as one of the nicest hot springs in town, Tabacon Hot Springs are beautifully landscaped and have an on-site restaurant and bar.
Not only is it gorgeous and you could spend all day here, Tabacon Resort was granted a Certification for Sustainable Tourism from the Costa Rican Board of Tourism.
Baldi Hot Springs
This hot spring resort has 25 spacious pools with jungle vibes. The thermal pools vary in temperatures ranging from 60ºF to over 100ºF.
You can swim up to the bar and order a cocktail or head up to the restaurant and grab a bite to eat at the buffet. No outside food or beverages are allowed.
Open every day from a.m. to 10 p.m. Adult entrance costs $35 USD without meal or $57 USD with a meal.
Las Termalitas de Arenal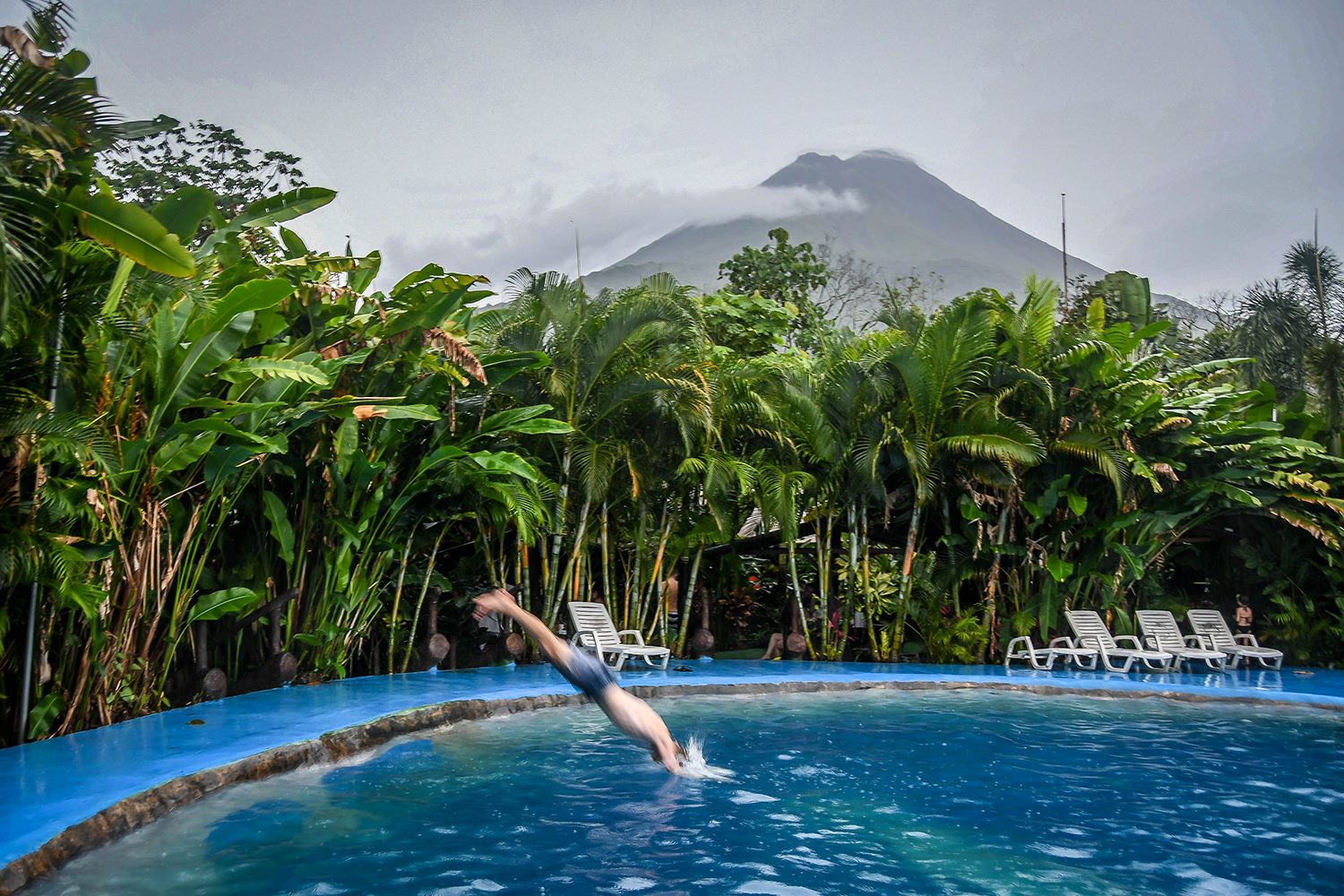 In the same area as the big expensive hot springs is this local hot spot (pun intended!). At only $8 USD for an all day pass, this nice, but smaller hot spring allows you to bring in your own food and drinks.
There are lots of picnic tables and even some grills (but you must bring your own charcoal). We saw numerous local families with crock-pots that smelled delicious.
There are 9 different pools including one with two big waterslides. And on a clear day, you can get a great view of the Arenal Volcano!
Open every day from 10 a.m. to 10 p.m. Cost 4000 CRC and 2000 CRC for a locker.
7. Soak in natural hot springs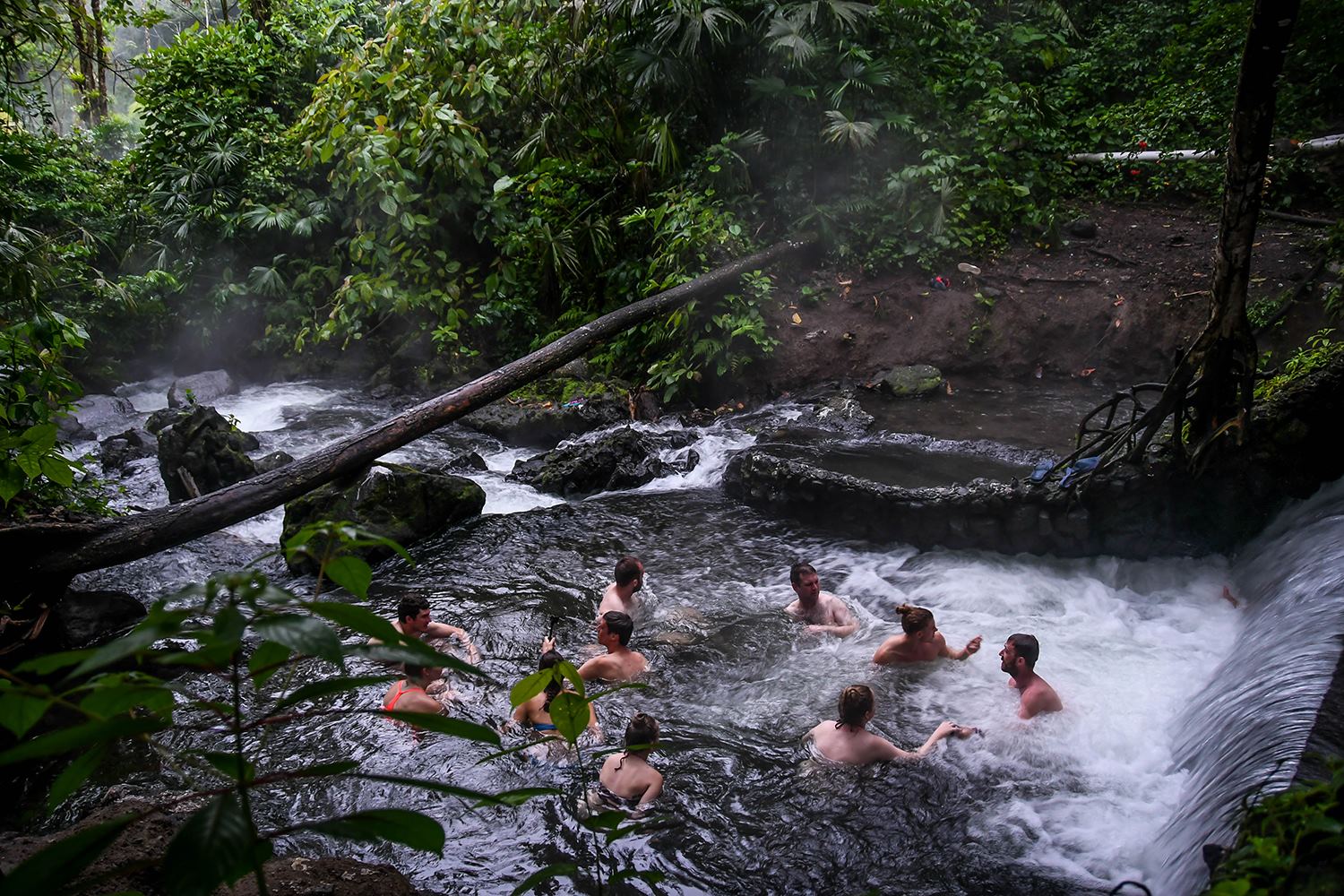 If you're traveling in Costa Rica on a tight budget, the natural hot springs not far from town will allow you to experience one of Arenal's famous hot springs for free. And even if you go to one of the luxurious hot spring resorts (listed above), we would still recommend stopping here for a totally different experience.
Just a short walk from the road, you'll find a river with spots for soaking. You'll see steam billowing up from the water, as this stream is fed by natural hot springs.
Depending on the time of day, you may have this place to yourself or you may be sharing it with tour groups that stop here for a half hour in the late afternoon. We arrived just after the tour groups left and had it mostly to ourselves.
It's a fun spot to relax with a couple beers as the sun sets. But beware that it gets dark quickly, so pack a headlamp. Some people bring candles, and you'll see remnants of wax on the rocks.
Responsible travel tip: If you visit these natural hot springs, please be sure to pack out all your belongings, trash and fruit peels to keep it nice for other visitors.
Warning: If it starts raining hard while you are there, leave immediately because the river can rise fast without warning.
How to find the free natural hot springs
Labeled on Google Maps as "El Choyin Public Bath". Head west out of La Fortuna (toward Arenal Lake) on Hwy 142 for about 12 km.
Right after Tabacon, there is a bridge crossing over a river. Park on the side of the road (well off the road because there is lots of traffic), and head down the trail on the south side of the bridge.
It's a 1 minute walk from the road. Watch your step while in the water because it can get slippery.
8. Take the leap at the El Salto Rope Swing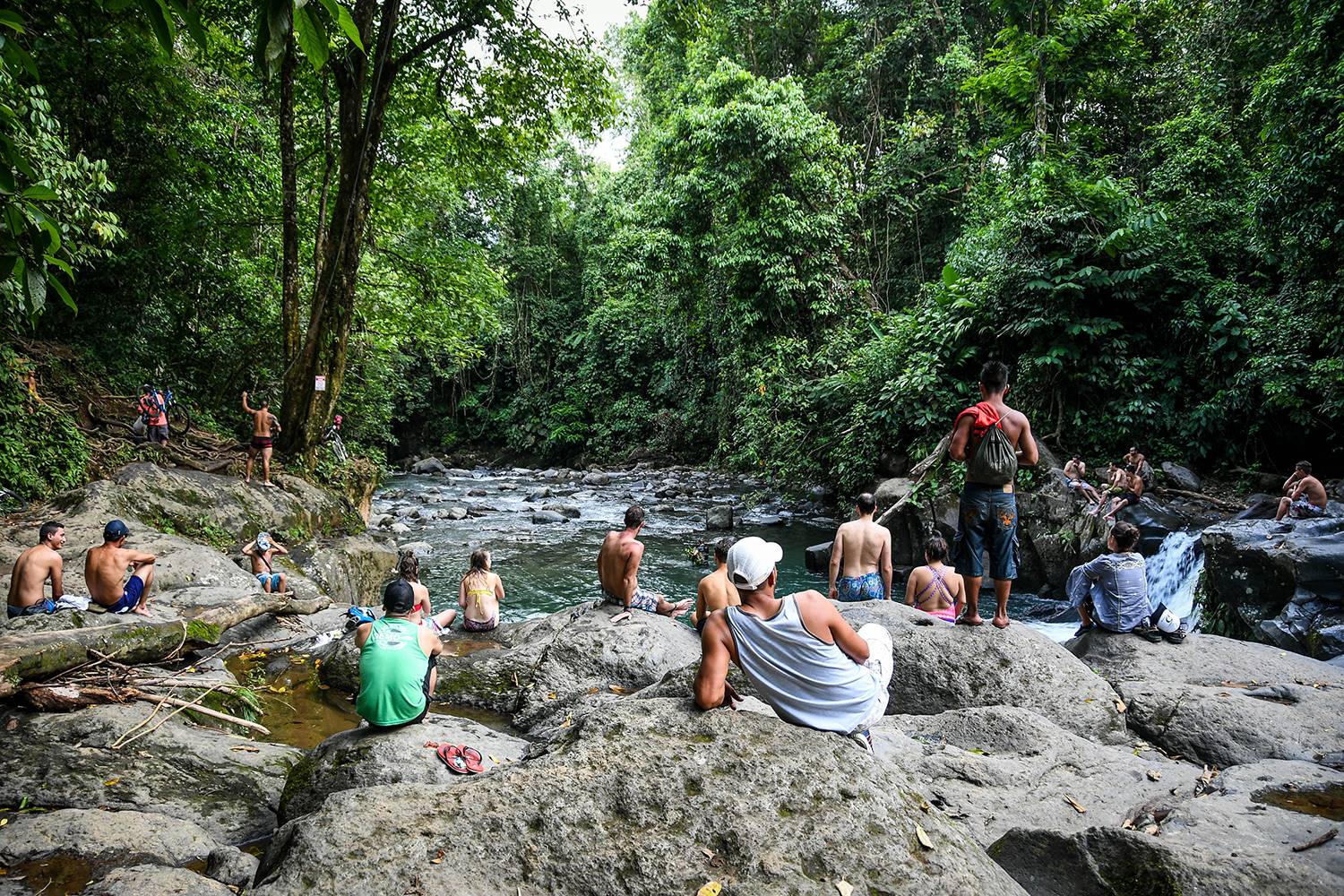 If you're looking for a way to spend the afternoon that won't break the bank, we've got you covered. Not far from town, there's a spot on the river where you can cliff jump, cool off in small pools and take a leap from a rope swing, all for free!
The jumps and rope swing at El Salto aren't too high (around 4 meters, or 12 feet), but if you're not feeling like getting wet, you can always watch the locals doing crazy stunts and just relax next to waterfalls in the forest. Not a bad way to spend part of your day in La Fortuna!
The best part: this hidden gem is totally free, and will satisfy your adventure cravings.
How to get there: You can walk or drive to the El Salto Rope Swing area from La Fortuna because it is only 1.5 km away from the church.
Take the road just past the church in town head south on road 702. After about 1.5 km, the road will bend to the right and you might see cars parked on the side of the road.
On the south side of the bridge, there is a path that leads down to the rope swing area.
Word of caution: If it starts raining hard while you are here, leave immediately because the river can rise fast without warning.
9. Explore El Castillo Town
Tucked away just south of Lake Arenal is the cute little town of El Castillo that often gets overlooked by adrenaline-seeking visitors. You'll need a 4×4 vehicle to get here (in our opinion), but cars are easy and cheap to rent in Costa Rica.
On a clear day, you can drive up the hill in town and look out over the lake for a stunning view. There is a butterfly conservatory and many small B&Bs that would be perfect for a relaxing stay to get away from the crowds in La Fortuna.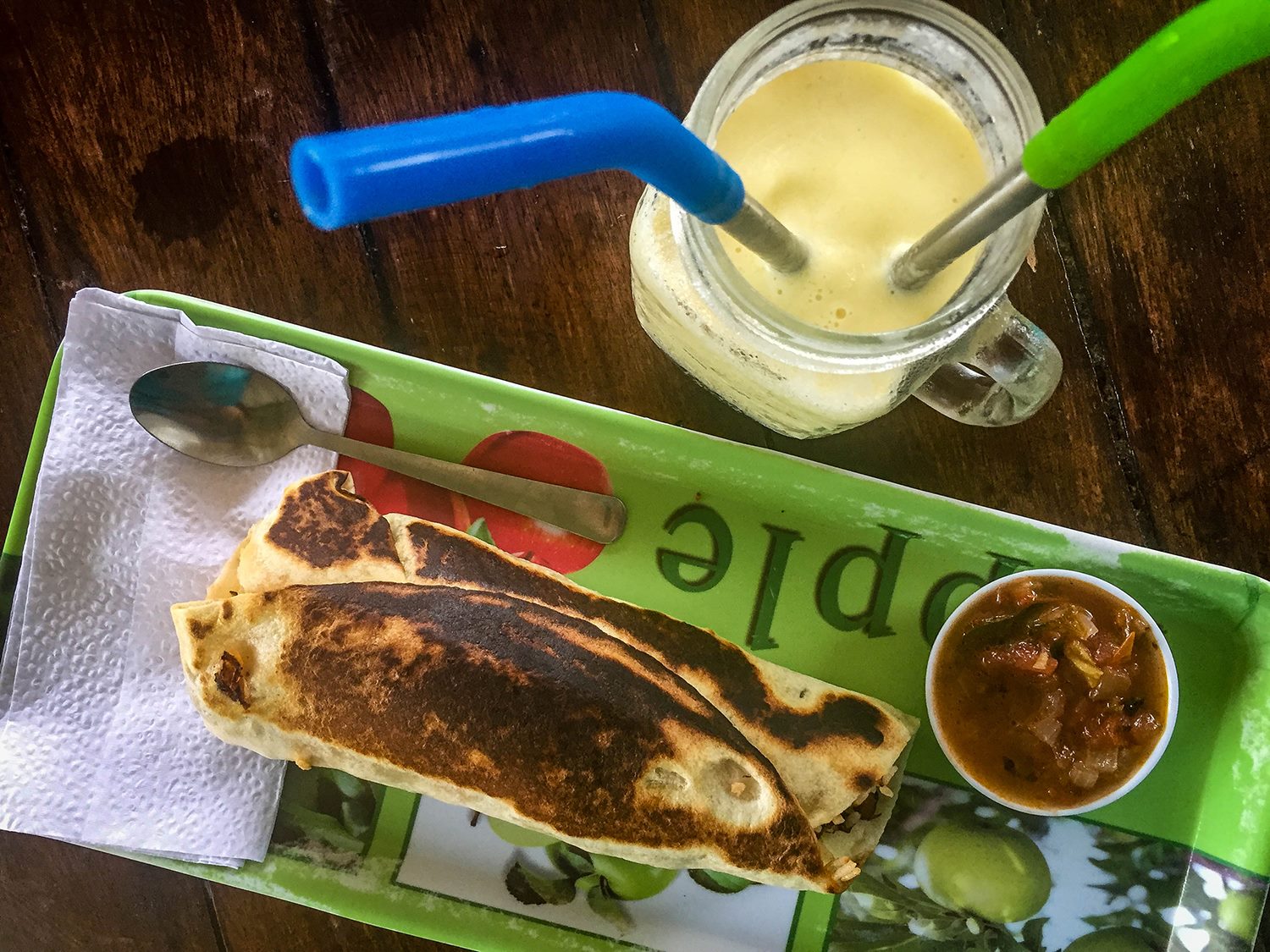 If you do go, be sure to eat lunch or dinner at La Ventanita, which has the best burritos and smoothies in Arenal (and they are reasonably priced at $5 USD for a burrito and $2 for a smoothie).
Another nice spot is the quaint La Gavilana Herbs and Art Café, which gets its name from a plant with many medicinal properties.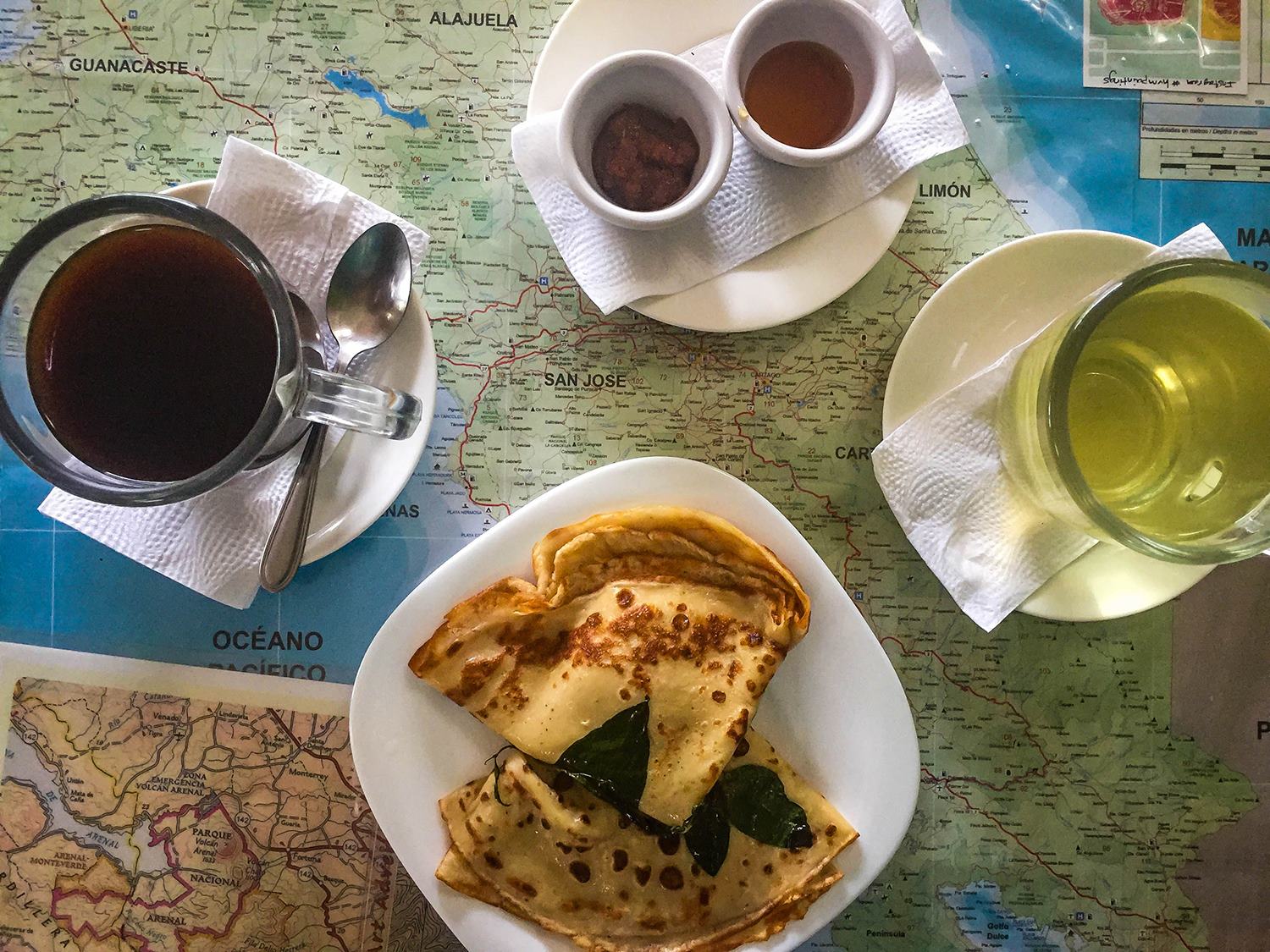 You can order food and try their homemade hot sauce, or you can relax with a cup of local coffee or tea while checking out the artwork on display. The cafe is open weekdays from 8 a.m. to 5 p.m. and Saturdays 9 a.m. to 2 p.m.
Psst! Did you know Costa Rica is a great place to teach English? Find out how to get certified to teach English abroad.
10. Visit La Fortuna Waterfall
Located just a 10 minute drive from downtown La Fortuna, the stunning La Fortuna Waterfall cascades from a height of 75 meters into a pristine emerald pool, inviting you to take a refreshing swim.
The "hike" down to the waterfall provides incredible views of the surrounding rainforest. The majority of the approximately 0.75 miles / 1.2 km round trip walk is on stairs, you should expect to get down in about 15 minutes, but it usually takes longer to walk back up.
A taxi to get to the entrance should cost around $10 to $20 USD from La Fortuna, and the entrance fee is $10 USD per person. If you don't feel like arranging your own transportation, you can sign up for this La Fortuna Waterfall tour.
11. Do a safari float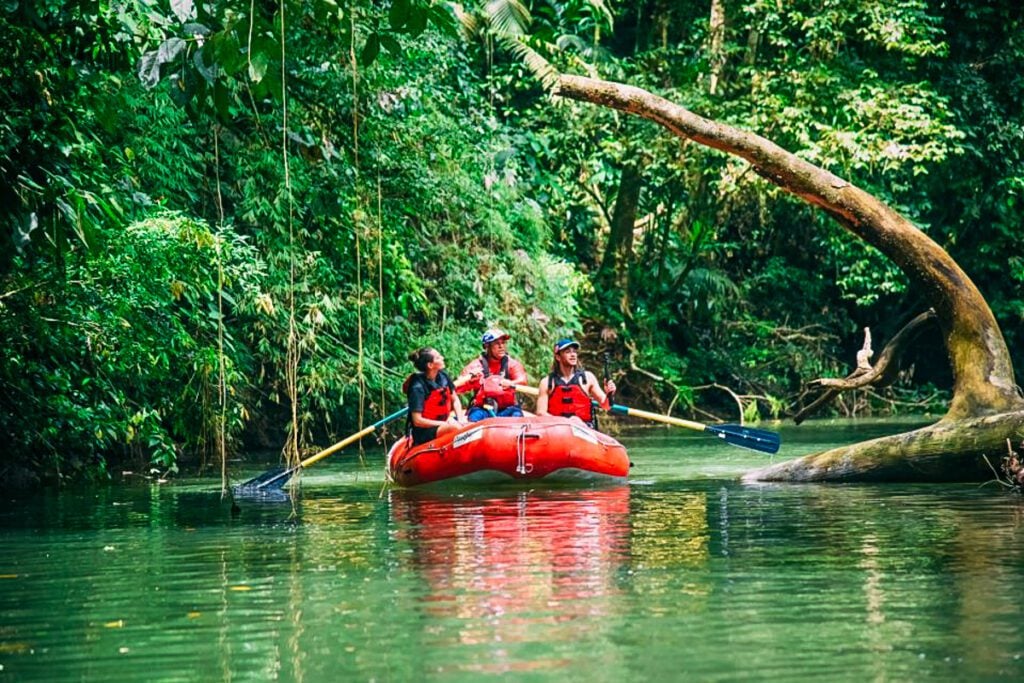 If navigating white water rapids has your stomach feeling queasy, or maybe you're just looking for a relaxing alternative to all the adrenaline-pumping things to do in La Fortuna, we suggest looking into doing a Safari Float.
This experience includes a two-hour guided paddle on the Sarapiqui River. Your safari float will be guided by an expert naturalist, pointing out the diverse wildlife along the way.
Encounter sloths, monkeys, and a variety of birds in the Mesoamerican Biological Corridor. You can also take a dip in the river for a refreshing break.
The experience also includes a stop at the Pozo Azul waterfall and a traditional Costa Rican lunch with gourmet coffee.
12. Take a hike around Arenal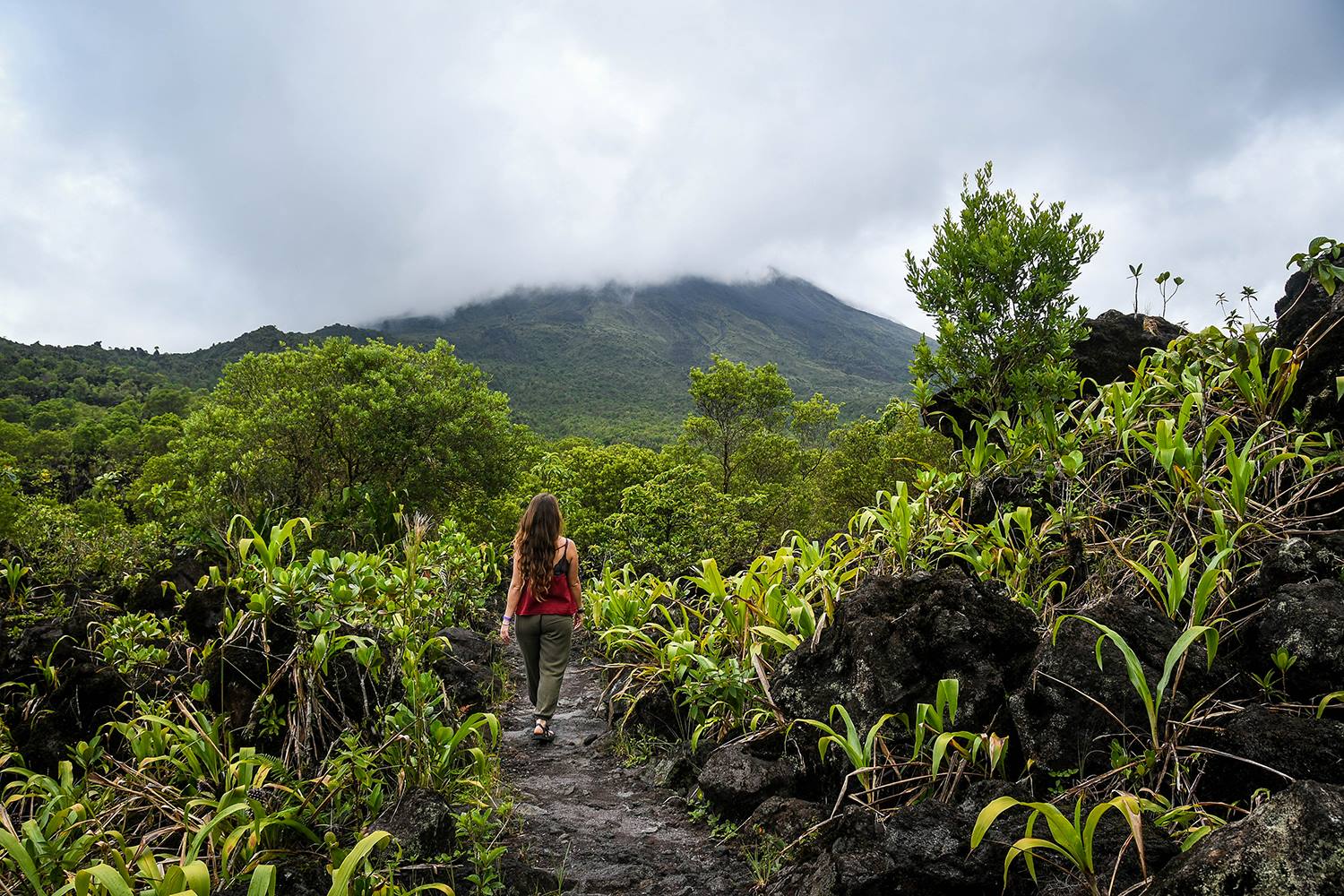 There are a few places to go hiking around Arenal. Depending on how much time you have and how much of a sweat you want to work up, there's definitely an option for you!
Arenal Volcano National Park
With mostly flat, well-groomed trails, we wouldn't consider this truly a hike, so to speak. It's more of a nature walk amongst the lava rock formations.
You can take the short loop that offers great views of Arenal Volcano, when the weather is clear, and is suitable for all ages and abilities. The long loop includes the short loop and a section around a small lake.
Cerro Chato
This used to be a popular route for hiking enthusiasts and adventure seekers, and offers a great view of a crater lake at the top. However, this trail has been recently closed for safety reasons.
We try to abide by rules when traveling and decided not to do this hike, though we knew of other people who did this trek. Do some research yourself and make an informed decision. And if you choose to hike, be prepared for quite a climb and bring plenty of water.
13. Canoe, SUP or kayak on Lake Arenal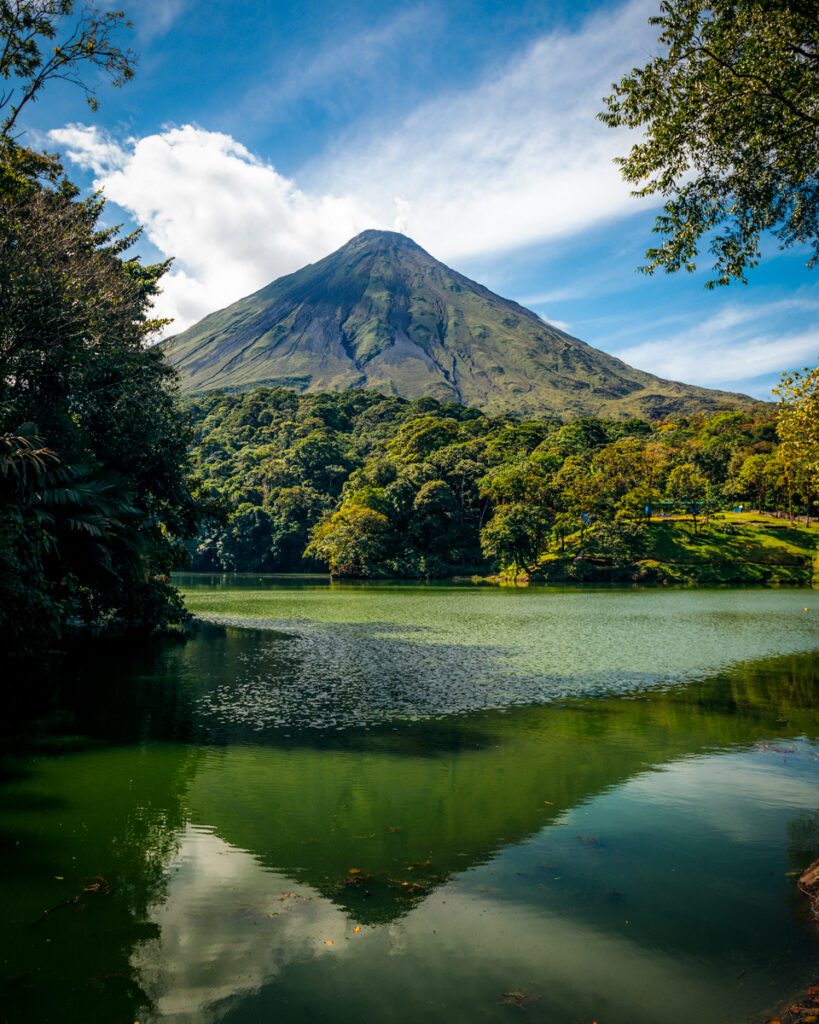 During the right time of year, it's refreshing to go kayaking or stand up paddle boarding on Arenal Lake. The views of the volcano from the lake are spectacular when the skies are clear.
The lake is 19 miles long so it would take all day to paddle back and forth, but it's a fun day to go splashing around for a bit. Be sure to bring sunscreen and enough water for the day.
There are several companies that will take you on a day trip tour there (like Desafio) but you could also go to the boat launch and they typically have boats you can rent by the hour.
14. Mistico Hanging Bridges Park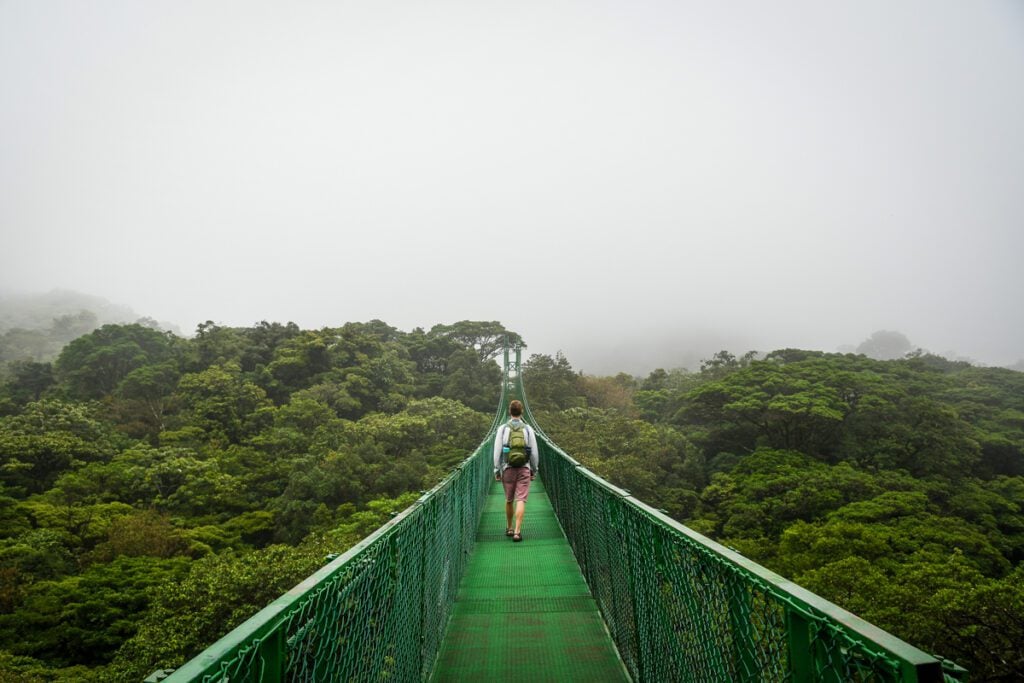 Located amidst lush rainforests, the Mistico Hanging Bridges offer an unforgettable and quintessential Costa Rican experience.
Sometimes referred to as the "Arenal hanging bridges," you'll traverse a network of suspended bridges throughout the park. These hanging bridges provide stunning views of the treetop canopy and the chance to encounter the rich biodiversity of the region.
Explore winding trails, spot exotic wildlife, and immerse yourself in the natural beauty of Costa Rica's rainforest.
Entrance to Mistico Park is on a scheduled basis and costs $31.64 USD for adults (19-64), and $20.34 USD for teenagers (11-18). Children 10 and under enter for free and seniors 65+ cost $25.99 USD. You can make your bookings on their official website.
15. See sloths along the Borgarin trail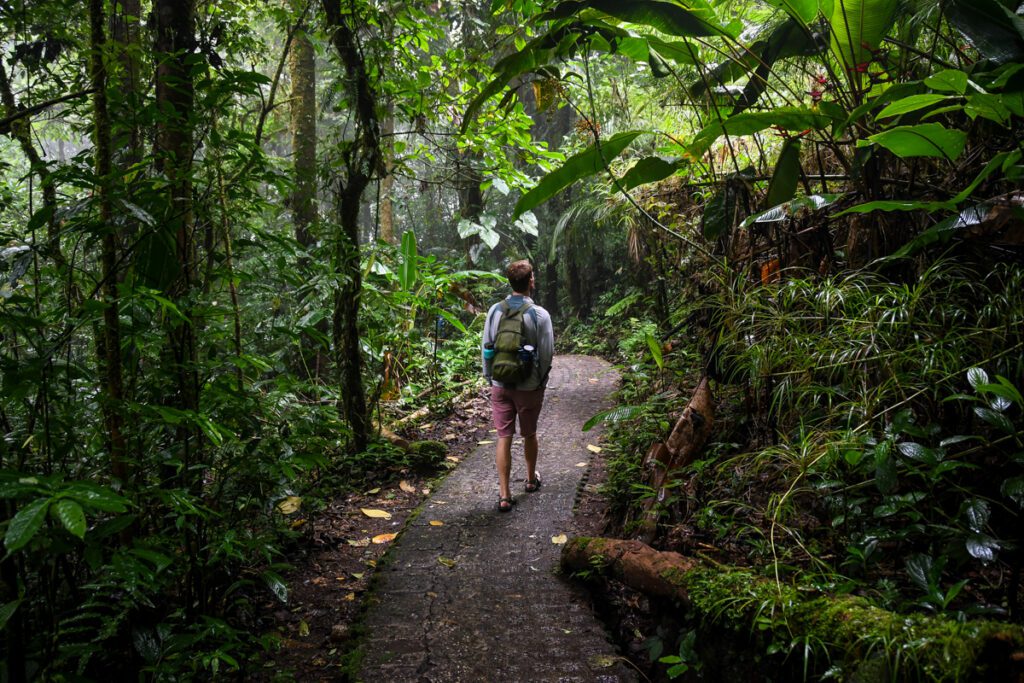 Self-proclaimed the "best sloth and birdwatching trail in La Fortuna," the Borgarin Trail is the perfect place to discover the diversity of Costa Rica's rainforest, without venturing too far "off the beaten path."
Located right in the heart of downtown La Fortuna, the Borgarin trail has a unique history. For starters, the train is named after its founder, Joanne Bogarin (known as Giovanny), a local wildlife guide and conservationist with more than 30 years experience.
Giovanny began in 2000, volunteering to recover farmland back to nature. This land, which was once used for cattle, was converted back into forest known as "secondary forest."
Now a home and sanctuary to countless species, this trail is truly accessible (wheelchairs, strollers and even guides for the seeing-impaired) and a great place to witness Costa Rica's iconic sloths in their natural habitat.
The property offers guided and self-guided tours, as well as night walks. It's open from 7 a.m. to 4 p.m. daily, and at 5 p.m. for night walk participants.
---
How many days do you need in La Fortuna?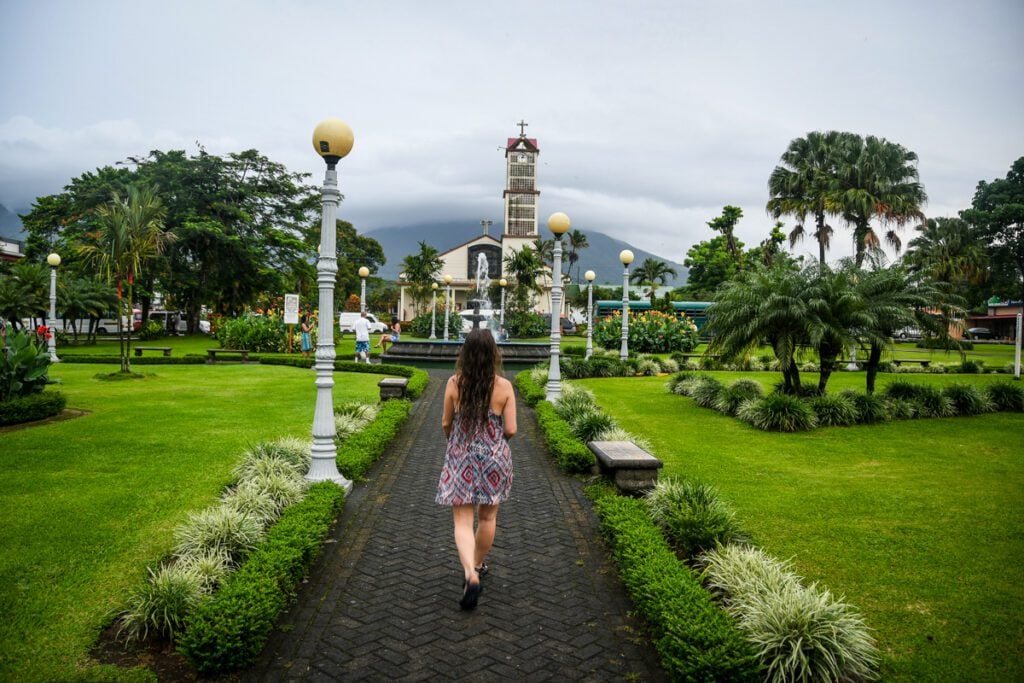 The ideal number of days to spend in La Fortuna, Costa Rica, can vary depending on your interests and the activities you want to experience.
A typical visit to La Fortuna usually ranges from 2 to 4 days if you're exploring other parts of Costa Rica. However, if your trip is just to this region to experience all of the adventure activities, you could easily spend a week here.
Here's a general breakdown:
2 days: Just the highlights: Spend your first day visiting Arenal Volcano National Park, hiking and soaking in hot springs. On day two, you can enjoy an adventure activity like zip-lining or white-water rafting.
3 days: Delve a bit deeper: You can add another adventure activity or explore nearby attractions like the La Fortuna Waterfall or Mistico Hanging Bridges Park.
4 or more days: The immersive experience: This will give you the opportunity to explore the region at a leisurely pace, enjoy additional activities, and venture further to discover the natural beauty and culture of the surrounding areas.
Ultimately, the duration of your stay in La Fortuna should align with your interests and what you hope to accomplish during your visit. Whether you're seeking adventure, relaxation, or a mix of both.
Best time to visit La Fortuna, Costa Rica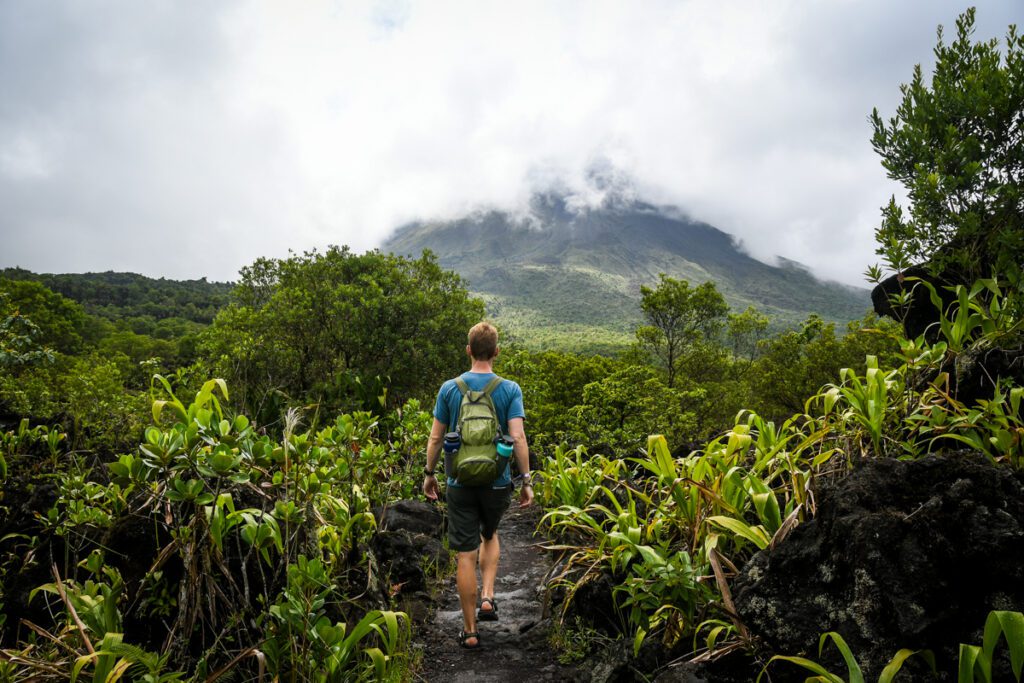 The best time to visit La Fortuna is from November through April. These are the dry season months in the central highlands.
For an in-depth guide on the regional seasons, weather patterns and other factors, check out our complete guide to the best time to visit Costa Rica.
How to get to La Fortuna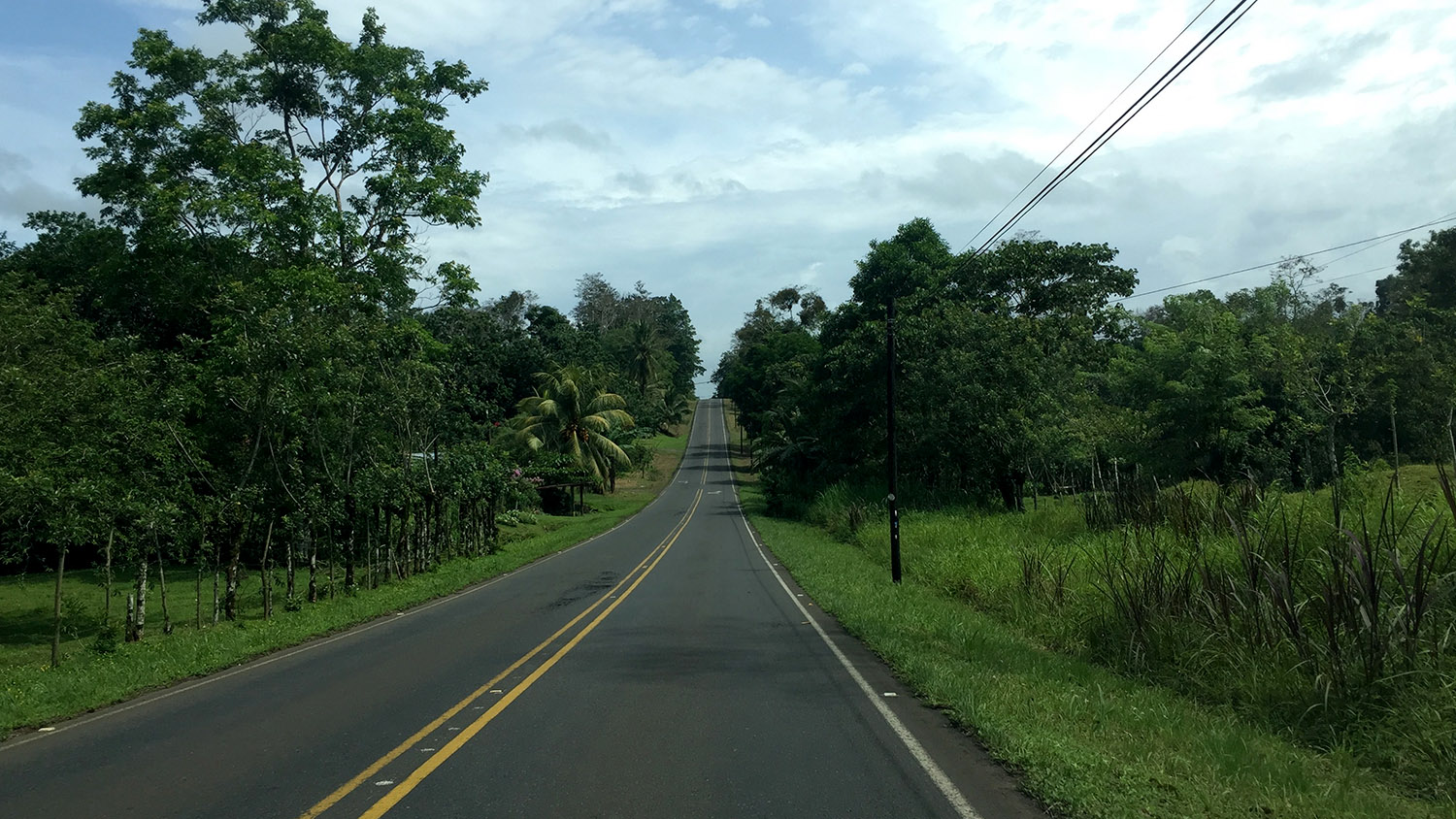 It is very simple to get to La Fortuna, and there are a few different options if you are coming from San Jose. Choosing the best option for you depends on your budget, timing and level of comfort you are seeking.
Note: If you are staying outside of the town of La Fortuna, this will likely be your first stop.
By public bus
Best option for you if… you have a tight budget and time to spare.
Taking the local bus is the cheapest way to get from San Jose to La Fortuna. We paid about $5 USD each, and after taking the "chicken buses" in Guatemala, we were surprised to find the Costa Rican buses are similar to coach vehicles, with comfortable seats.
That said, we stopped every couple miles to pick up people on the side of the road, and the bus soon became packed with people in the isles and uncomfortable without good AC. It took us about 6 hours to finally arrive in La Fortuna, whereas the direct shuttles take 3 hours.
How to get to the public bus station: Take an Uber (much cheaper and more reliable than taxis) to Terminal 7-10. Head to the second floor of the shopping complex to the ticket window.
Buses to La Fortuna leave at 5 a.m., 6:15 a.m., 8:40 a.m., and 11:50 a.m and take 5 to 6 hours. We arrived 25 minutes before the bus departed and had no problem getting a seat.
By direct shuttle
Best option for you if… you have a larger budget and want to get there quickly without worrying about driving.
Direct shuttles can be booked through your hotel or hostel and will usually pick you up. The price is around $54 per person ($27 per child) and the journey takes roughly 4 hours.
Direct shuttles will not stop along the way like the local buses, so you will arrive more quickly. They are usually large vans with air conditioning and will stop for a restroom break along the way.
By rental car
Best option for you if… you want freedom to explore and don't mind driving.
Renting a car in Costa Rica is much cheaper and easier than we expected. This is the best way to get from San Jose to La Fortuna, as it will be the fastest and cheaper than taking the direct shuttle.
Having a car in La Fortuna is also really nice, as it allows you to have the freedom to explore the nearby hot springs and waterfalls without overpaying for taxis.
Transportation in La Fortuna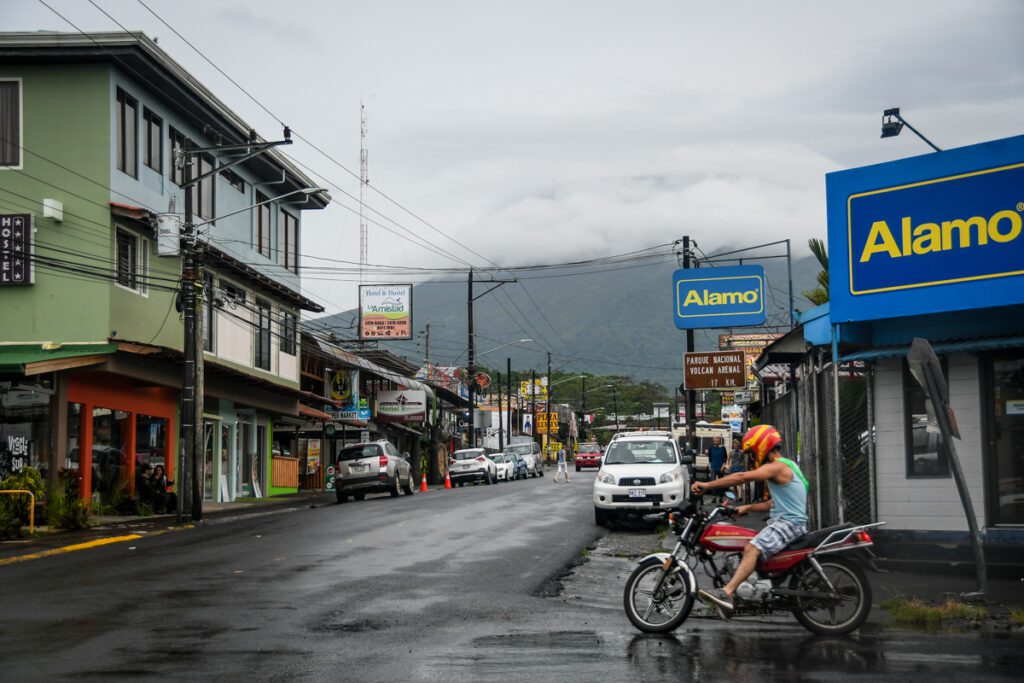 The town itself is small and very walkable, however, we really recommend having your own rental car to explore more of the area on your own time.
As we mentioned above, renting a car in Costa Rica is much cheaper and easier than expected, so be sure to look into it as an option before booking your trip. Otherwise you can rely on shuttles, local buses and taxis to get around the area.
Tips for visiting La Fortuna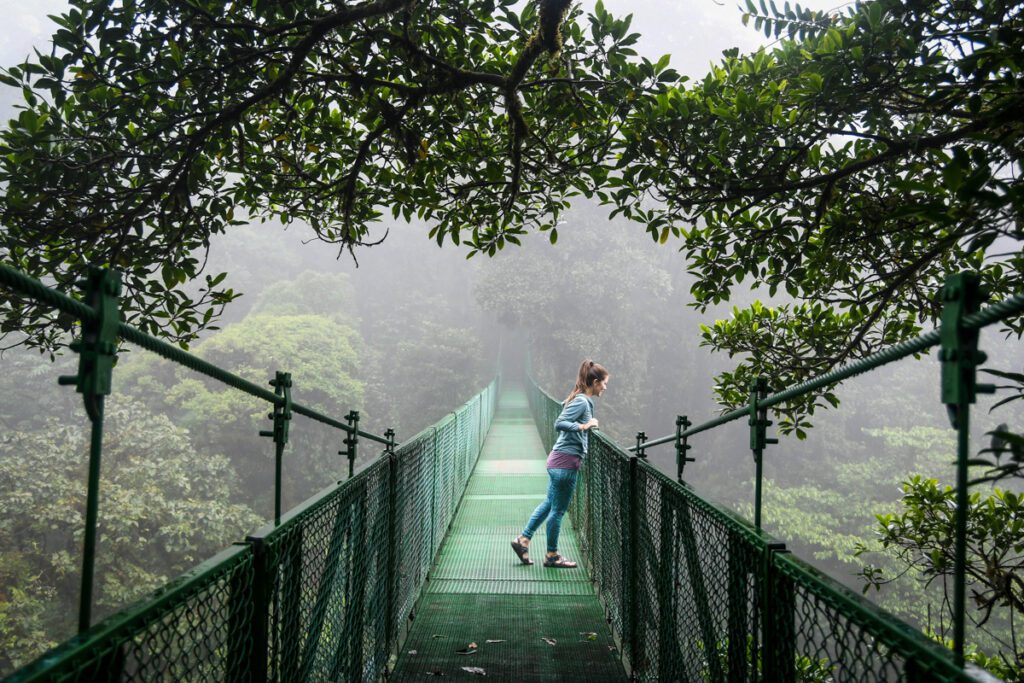 By following these tips, you can make the most of your visit to La Fortuna and have a memorable experience in this beautiful part of Costa Rica.
Plan ahead to see the Arenal Volcano. Check the weather forecast and try to plan your visit to Arenal Volcano on a clear day to get the best views. Consider taking a guided tour for a deeper understanding of the volcano's history and significance.
Pack appropriate gear. Bring comfortable hiking shoes, lightweight and breathable clothing, rain gear, and insect repellent. The rainforest environment can be wet and humid, so being prepared will make your trip more enjoyable. We have more advice for what to pack in that section below.
Don't skip out on the hot springs. La Fortuna is renowned for its natural hot springs. Don't miss the opportunity to relax and soak in these therapeutic pools. Some are part of luxury resorts, while others are more budget-friendly, so there's an option for every traveler.
Pick and choose your adventure activities to fit into your itinerary and your budget. La Fortuna offers a wide range of adventure activities, including zip-lining, white-water rafting, and canopy tours. Research and book your activities in advance to secure your spots, especially during the high tourist season. And remember, if you're traveling Costa Rica on a budget, you may not get to do them all, so choose wisely!
Respect the environment. Costa Rica places a strong emphasis on eco-tourism and preserving its natural beauty. Be a responsible traveler by following Leave No Trace principles, not disturbing wildlife, and disposing of waste properly. Support local conservation efforts and sustainable tourism practices by doing your research before picking a tour company.
Where to eat in La Fortuna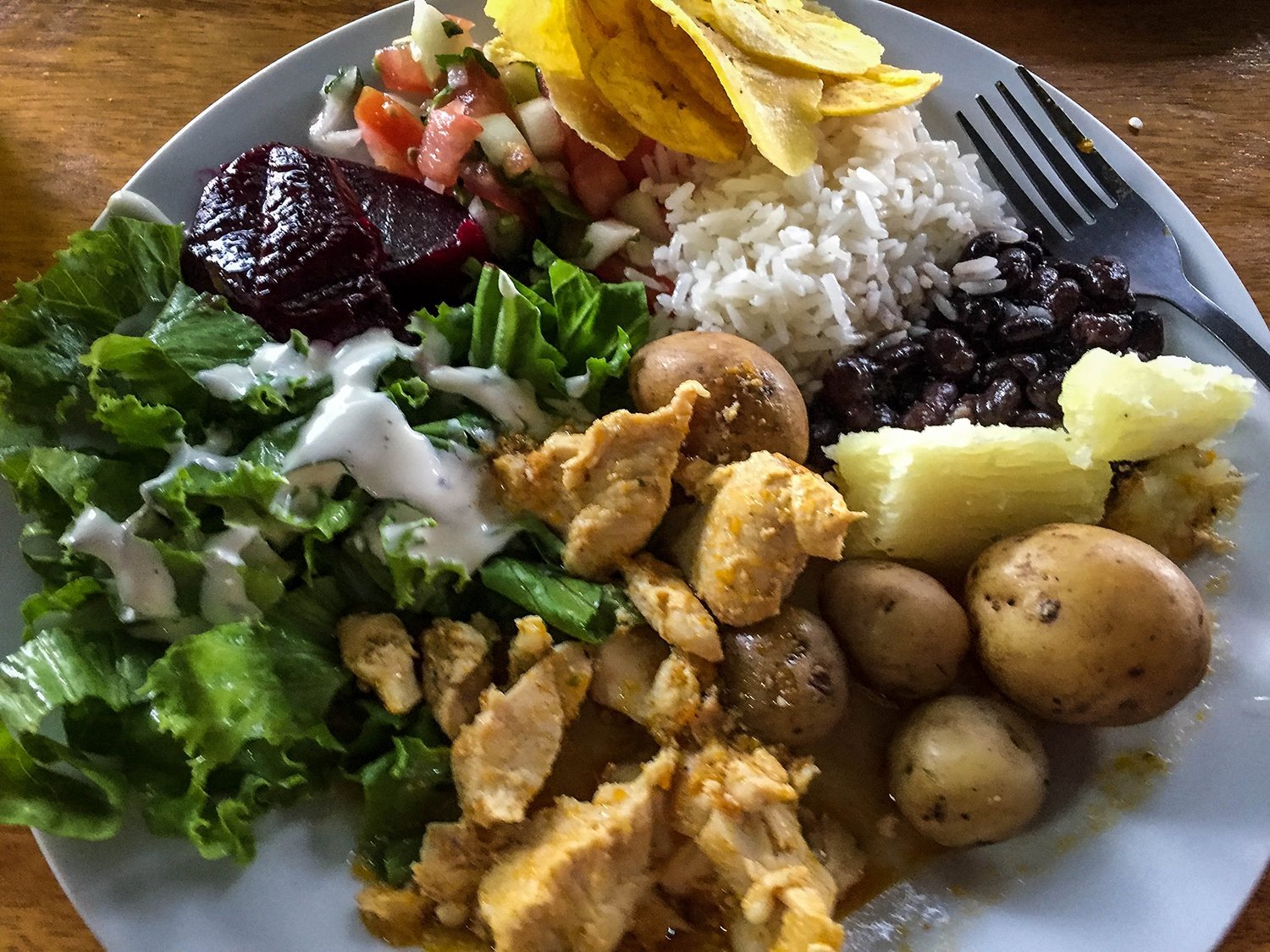 To be honest, we found the majority of the restaurants in La Fortuna to be overpriced (typical for a touristy town) and the food just meh.
That said, there are a few places we'd recommend. In our opinion, these are the best restaurants in La Fortuna, Costa Rica:
Known for their fresh and healthy menu items, this is a great spot for breakfast or lunch!
This place is always packed at night, so be sure to arrive early (around 6pm if you want the roasted chicken) When we arrived around 8pm, the roasted chicken was already finished
Cheap and local: Little local stand with no name
If you're in the mood for something fast and cheap (or it's really late), there's a tiny stand we found that sells tacos, taquitos, and hamburgers for local prices (aka SUPER cheap). There's not a place to sit and eat, but you can take it to go or stand around and mingle with the locals who hang out around there. It's on Avenue 325 near Cabinas Jerry.
Budget friendly local food: Soda Viquez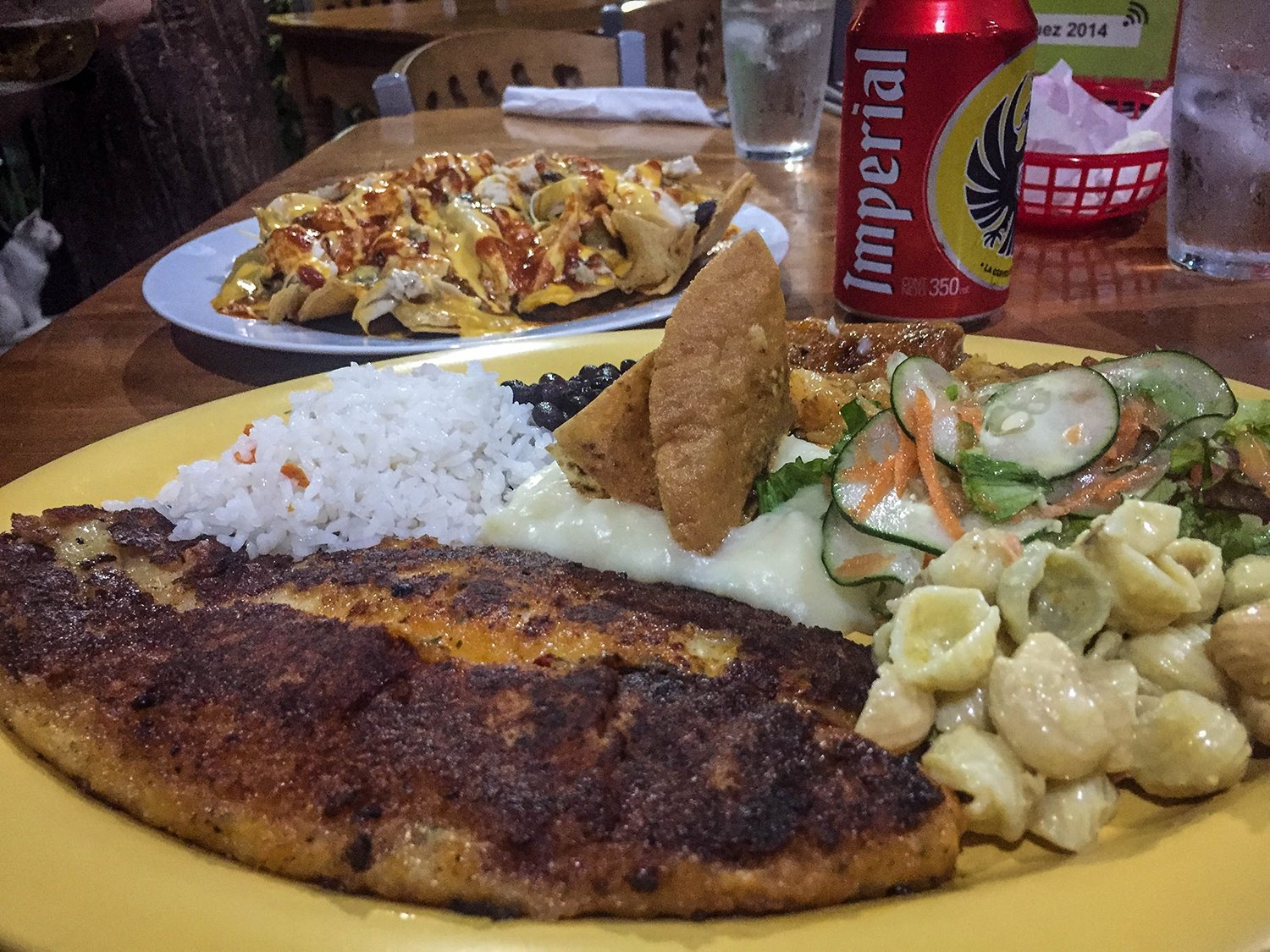 If you want a large meal for a reasonable price, this local soda, or restaurant, is a good choice. We'd recommend the casado or pescado (fish platter). The fish is delicious. Split it between two people, as it's a ton of food!
Healthy & cute cafe: Fresh Dayz
Okay, we can't truly report on this place since it was closed when we arrived, but it is super cute (a food truck parked in a landscaped garage!) and has a menu with items like sandwiches and salads.
Where to stay to explore La Fortuna & Arenal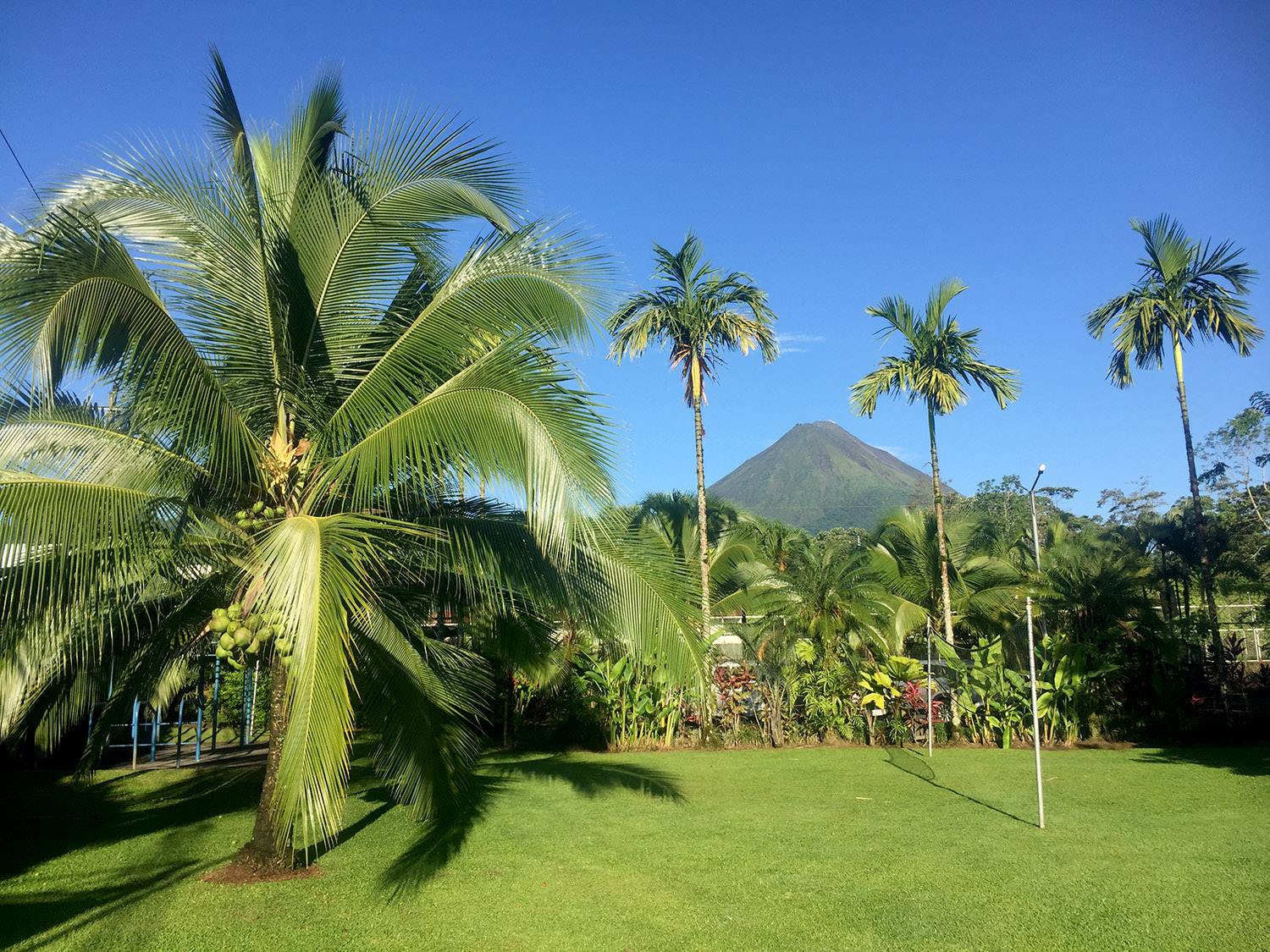 There are a few different areas you can stay while exploring the natural beauty of Arenal.
Which area you choose depends on your travel style and budget. You could even split your time so you can experience a little of each!
In La Fortuna: Best budget options and convenient
Resorts just outside La Fortuna: Luxury hot springs resorts
Near Lake Arenal: Quiet nature vibes in El Castillo
1. La Fortuna
If you're on a budget, your best bet for cheap accommodation is going to be in La Fortuna town itself.
Though the town of La Fortuna is quite touristy and not all that noteworthy, it is a great jumping-off point for all sorts of adrenaline-pumping activities and epic journeys around Arenal Volcano National Park.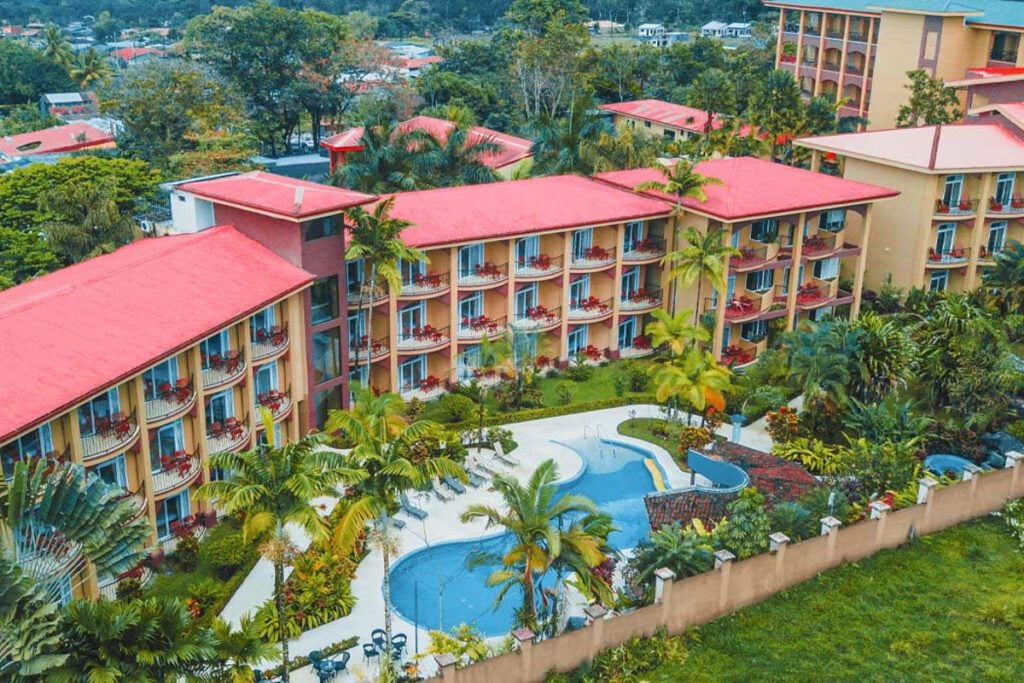 Luxury Hotel: Hotel Magic Mountain
Massive pool, spacious rooms, on-site bar and restaurant, this hotel has everything. Select rooms have stunning views of Arenal Volcano and the staff can help arrange all your activities in the area.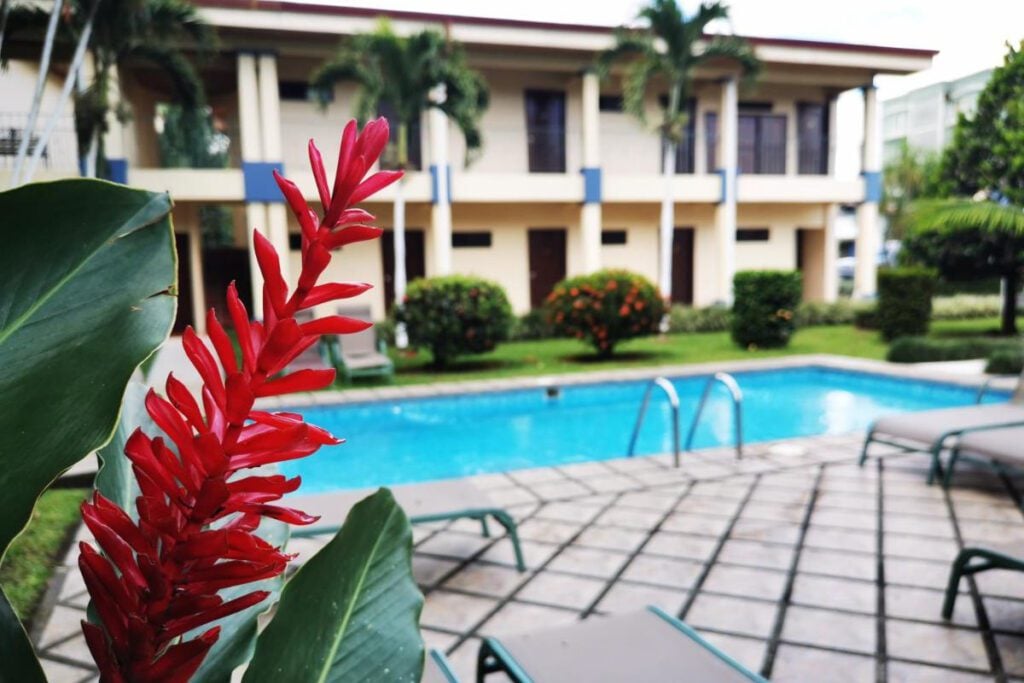 Mid-Range/Couples Hotel: Hotel Monte Real
Best hotel you can find right in the heart of the city. Perfect location for couples or friends looking to explore during the day and go out at night.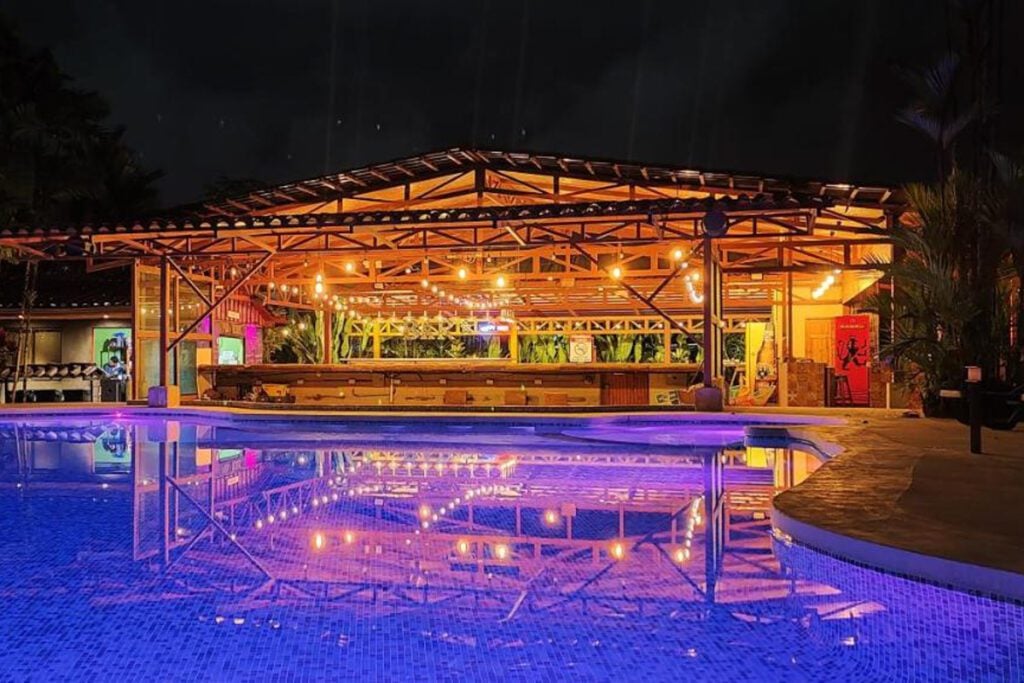 Budget/Social Hostel: Arenal Backpackers Resort
Known for its massive pool and large gathering area, this backpacker resort has nice clean rooms and good WiFi throughout the complex.
2. Luxury hot springs resorts just outside of La Fortuna
Just west of La Fortuna on Highway 142 are several luxurious resorts, many of them with their own private hot springs on site.
If you choose to stay in this area, you'll need a rental car, and should have a higher budget. But you'll be rewarded with a selection of plush resorts that you'll never want to leave.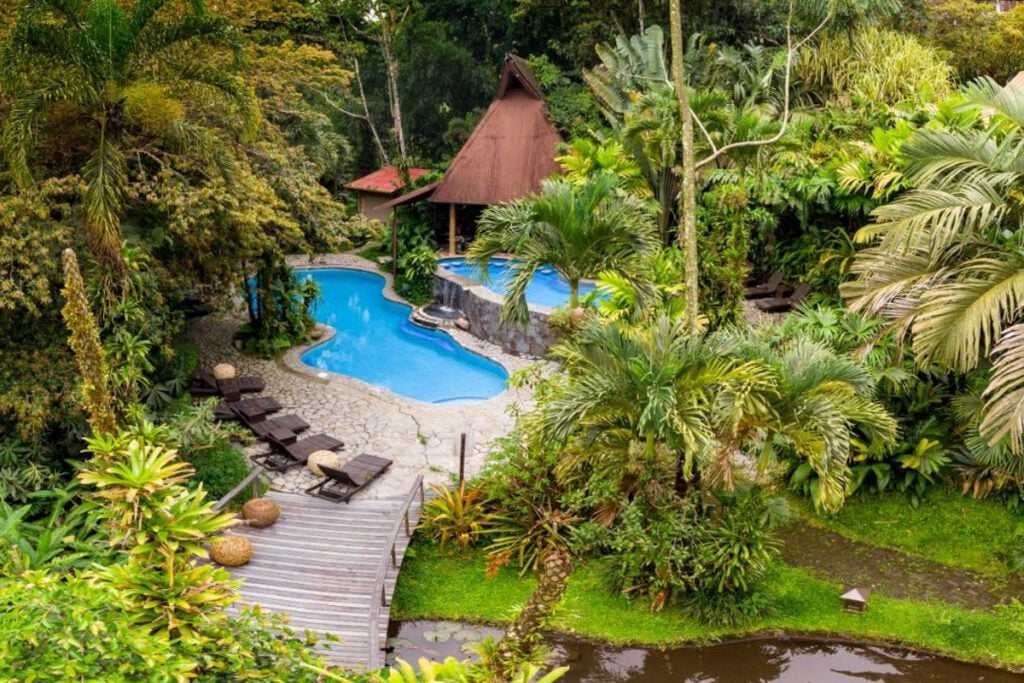 Situated in the lush Costa Rican jungle, the Lost Iguana has two large pools and spacious rooms with strong A/C, WiFi and stunning views of Arenal Volcano. Enjoy their breakfast buffet every morning and organize adventure day trips at the front desk.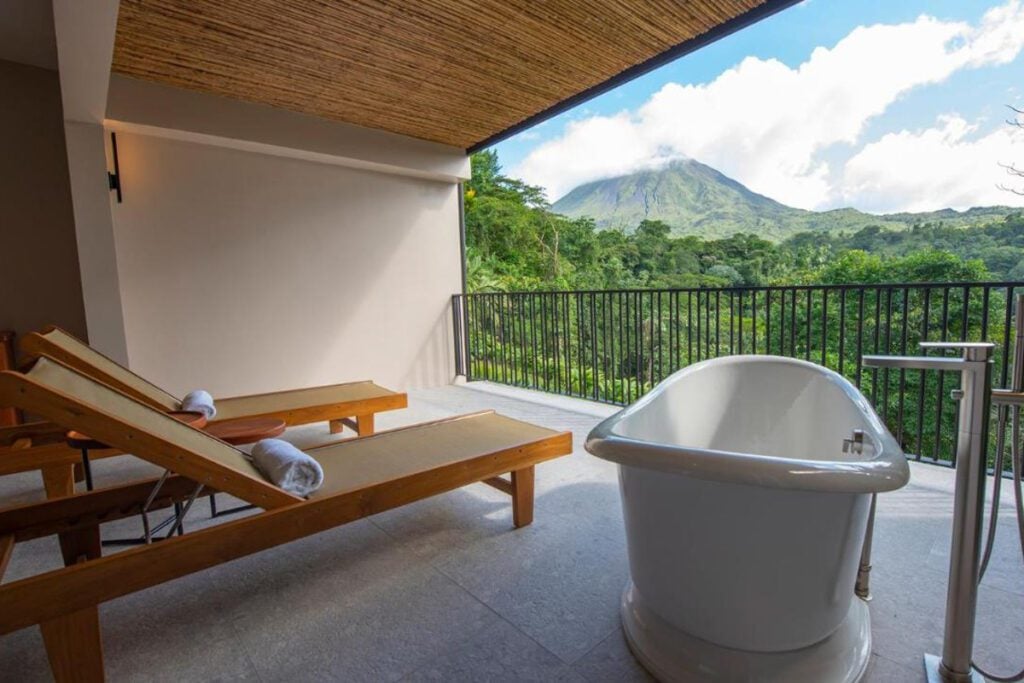 Stay at the world-famous hot springs and have access to the pools anytime of the day. Swim up to the bar, eat at the delicious buffet, or get a couples massage while staying at the resort. With the best reviews in the city, this is the perfect stay.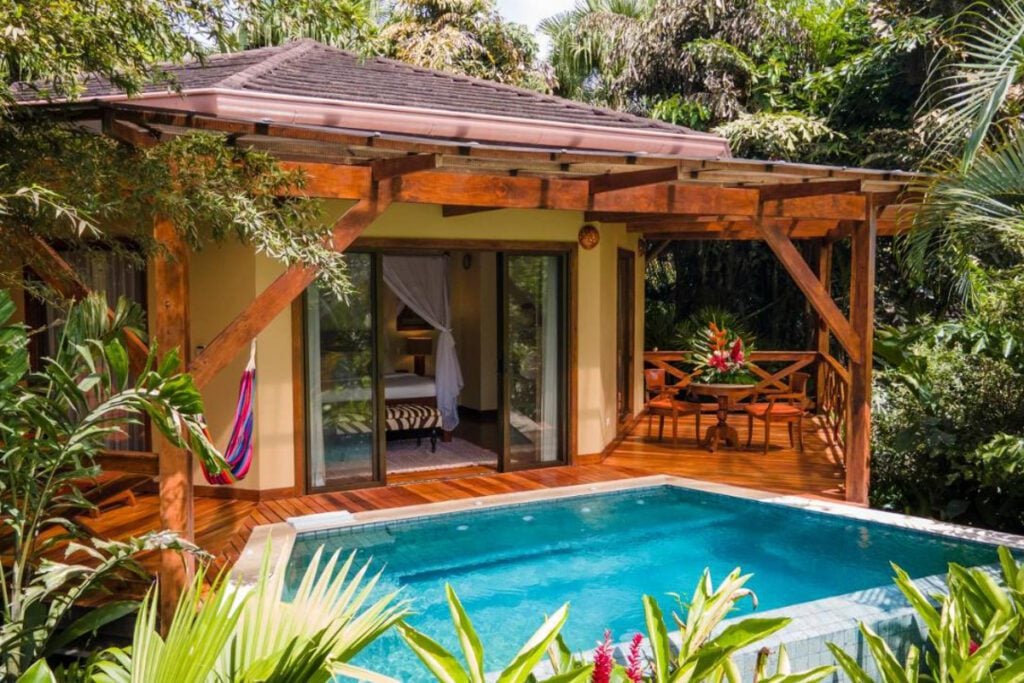 Luxury in the jungle, look no further. Nayara has everything: private bungalows with private terraces and 2-person hot tubs, mud and coffee scrubs at the spa, and handcrafted exotic cocktails. Perfect for honeymooners or couples celebrating an anniversary.
3. El Castillo and Lake Arenal
If you really want to have a relaxing experience surrounded by nature (without the touristy feel of being based in La Fortuna) and you don't like the idea of a big hot spring resort, staying near the village of El Castillo is a great option.
In this area, you'll find affordable B&Bs as well as boutique hotels with sweeping views of the Arenal Volcano and the lake. You will be based about 45 minutes from La Fortuna, so choose a place that serves delicious food, since you won't be driving to town all that often.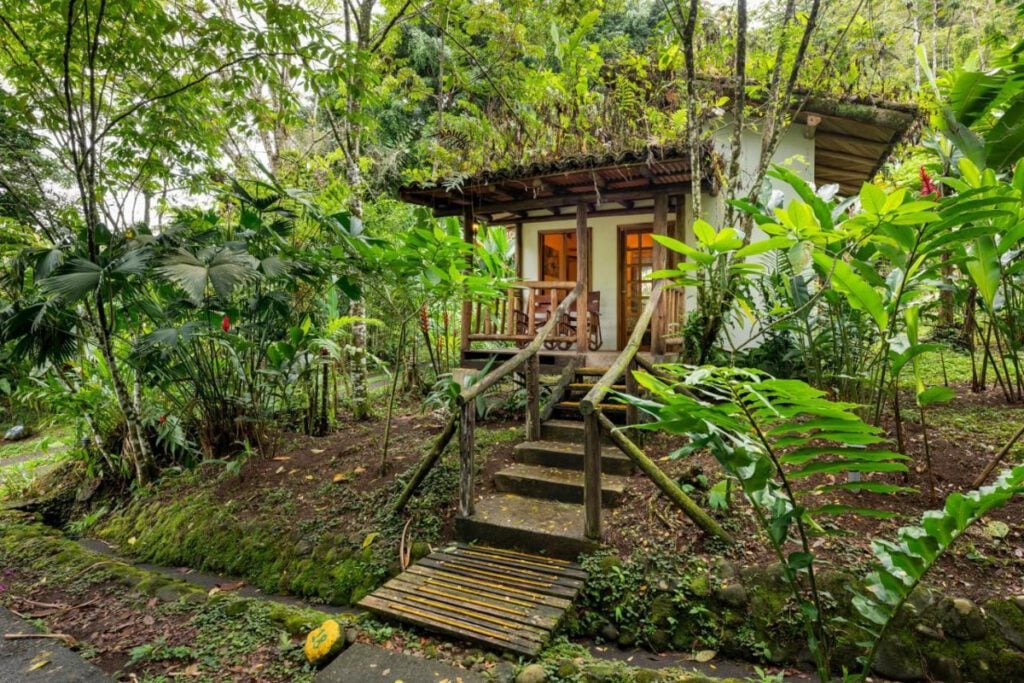 Eco-friendly accommodation set in the jungle near the town of El Castillo. Guests are served breakfast and have an opportunity to make pizza in their pizza oven. There's plenty to do around the property like hiking, kayaking, waterfalls, and biking.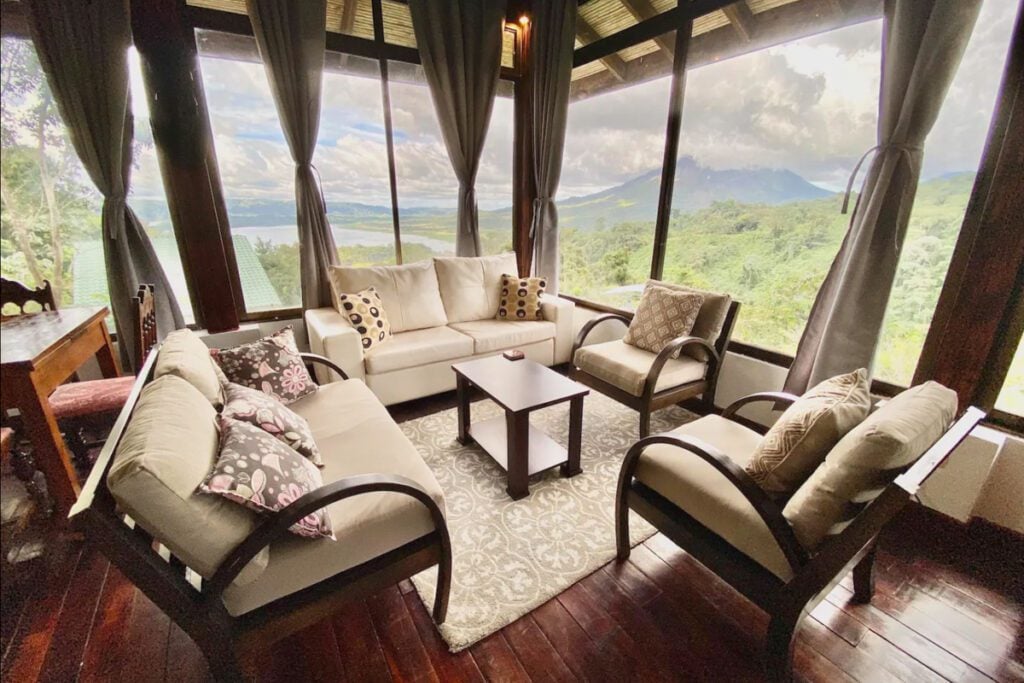 This adorable bed and breakfast perched on the side of the volcano has stunning views and spacious rooms. You'll be in the deep jungle but still have all modern amenities including a hot tub.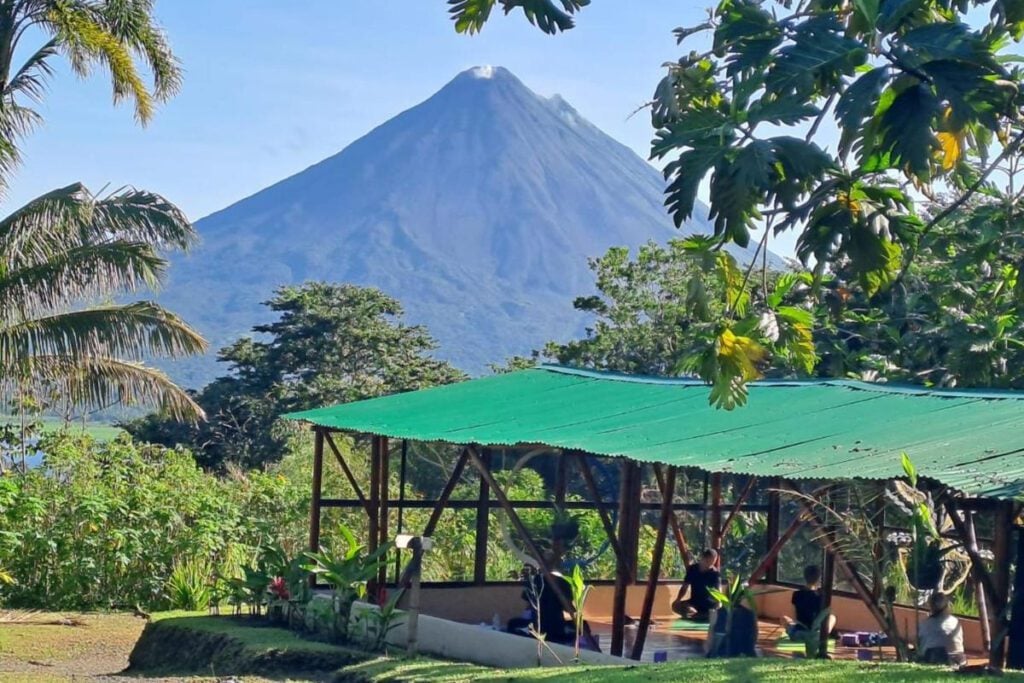 Essence Arenal Boutique Hostel
Reasonably priced with great rooms, Essence has everything you need for a great stay like a hot tub and massages available. They have an outdoor spring fed swimming pool and vegetarian cuisine restaurant.
Note: You will need a rental car if you plan on staying in this area. Know that some of the roads are gravel, and a few of them get quite steep. We'd recommend a 4×4 vehicle if you plan to stay in this area. This article goes over everything you need to know about renting a car in Costa Rica.
What to pack for traveling to La Fortuna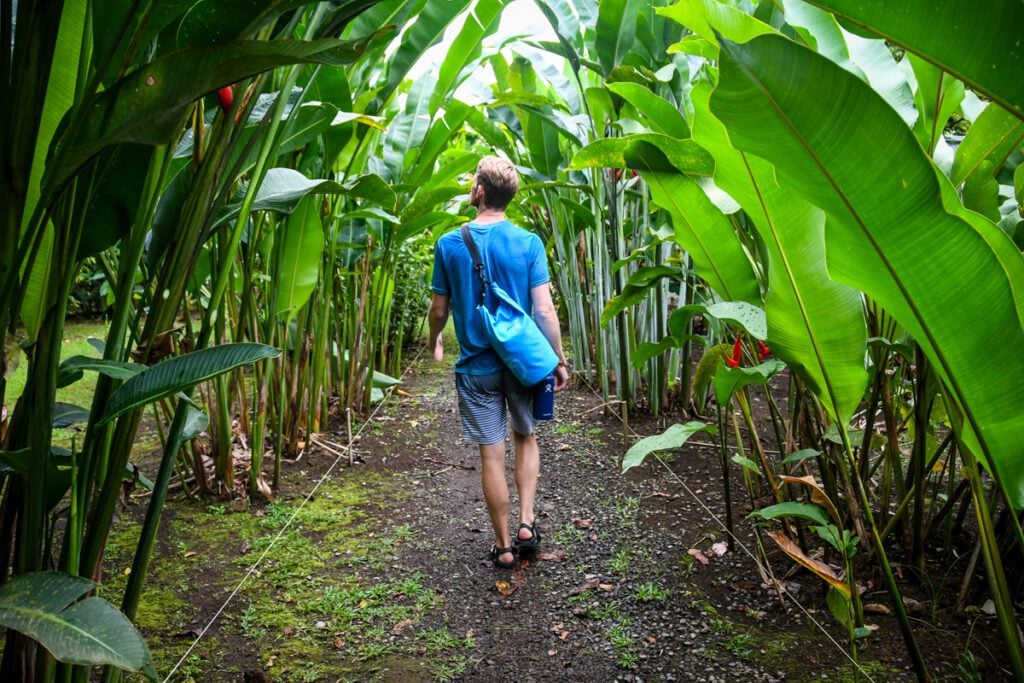 Here are some specific items we'd recommend packing for La Fortuna, Costa Rica:
bug repellant (solids are the way to go)
dry bag or waterproof phone case
reusable straw & reusable bag
loose, lightweight clothes & layers
rain jacket (it can rain during any season, so you'll want to be prepared!)
swimwear
Chaco sandals (we'd recommend these instead of hiking boots as they are less bulky and are good for walking through water) or other sturdy shoes
Be sure to download our complete packing list for Costa Rica! It's packed with good suggestions and insider tips to help plan your Italy trip. And it's completely FREE, so why not!?


Round up of the best things to do in La Fortuna
Here's a recap of all the best things to do in La Fortuna so you can see everything in one place.
Canyoning
White water rafting on the Balsa River
Zipline canopy tour
Arenal Volcano
Rio Celeste Waterfall
Hot springs resort
Natural hot springs
El Salto Rope Swing
El Castillo Town
La Fortuna Waterfall
Safari float
Hike around Arenal
Lake Arenal
Mistico Hanging Bridges Park
Borgarin trail
---
Planning a trip to Costa Rica?
We have lots more resources on travel in Costa Rica and destinations throughout the country. Check out our Ultimate Costa Rica Travel Guide for all the answers you're looking for, or read some of our favorite articles below.
Save this article on Pinterest for later!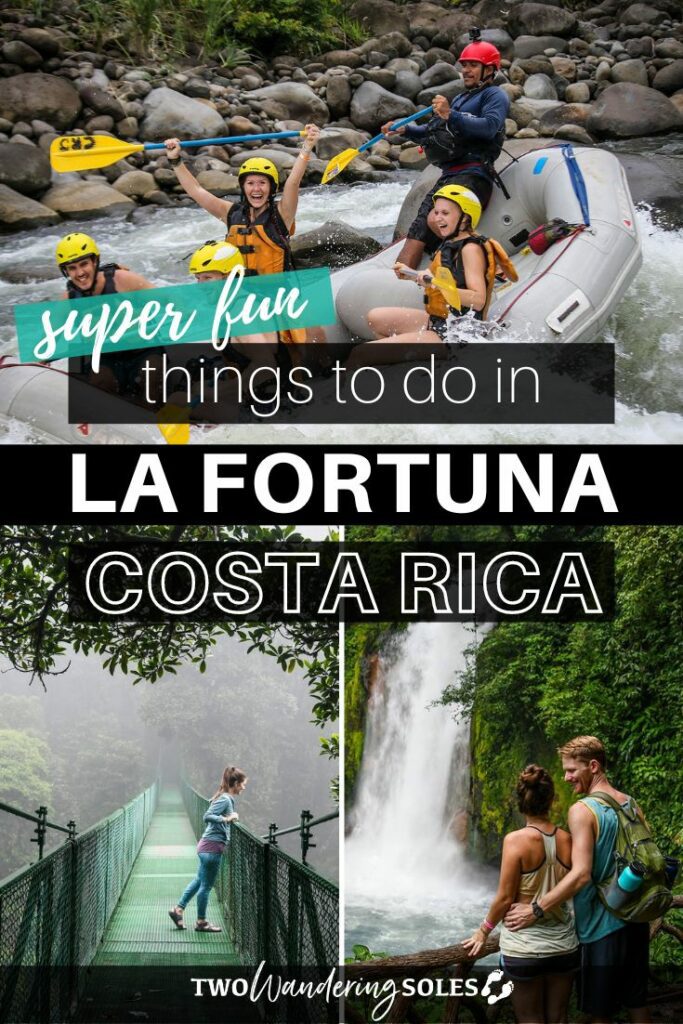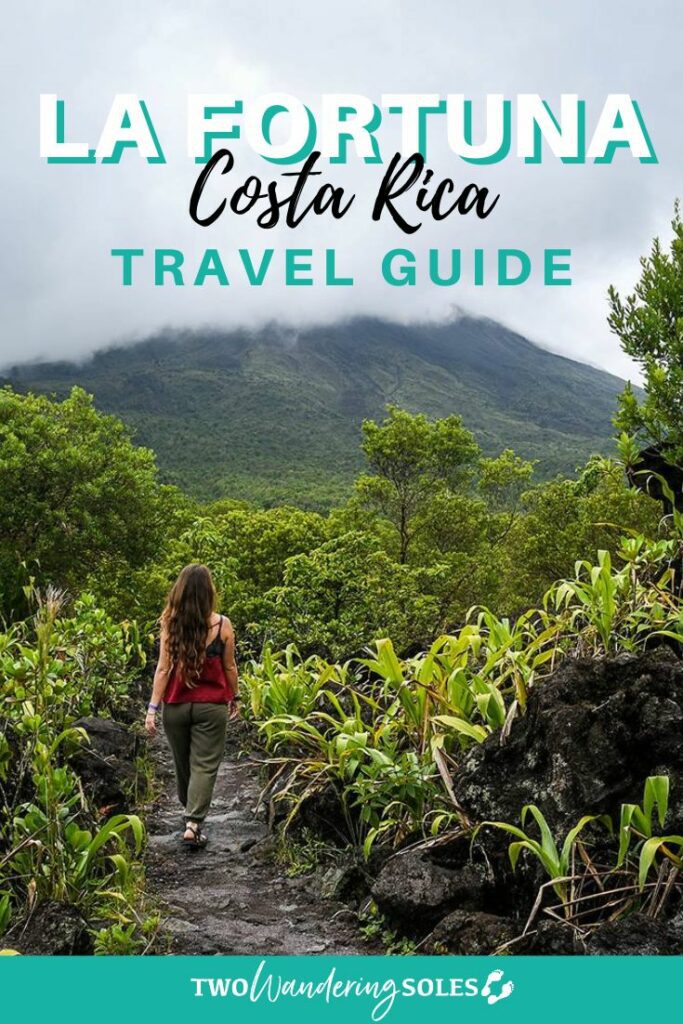 We want to hear from you!
Are you heading to Costa Rica soon? Which of these things to do in La Fortuna is going straight to the top of your list? Anything we missed on this list? We would love to hear in the comments below.