With active volcanoes, a vibrant indigenous culture, and colorful markets, there are so many incredible things to do in Guatemala. You'll find adventure, culture, history, and warm locals all in one place. Traveling in Guatemala is not always easy, but if you come with an open mind, this country is sure to steal a piece of your heart.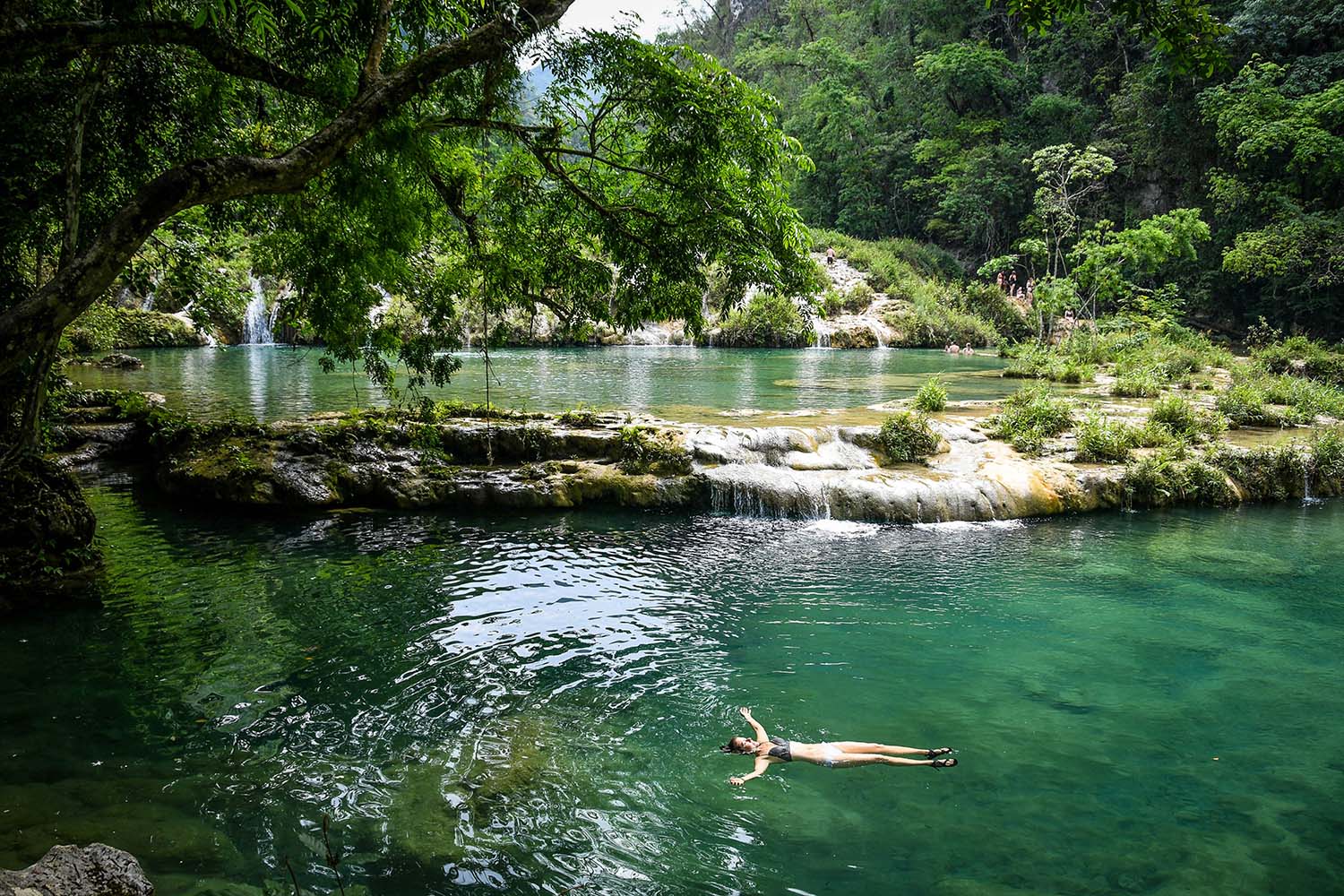 Updated April 2022
Known for active volcanoes, charming colonial towns, vibrant indigenous cultures, and ancient ruins, Guatemala is a place we've been itching to travel for years. And I've gotta say, it lived up to the magical expectations I'd built up in my head, which is not an easy feat.
But I'm going to be blunt: Traveling in Guatemala is not without difficulties.
There are certain areas known for crime, and while we didn't have any issues, we heard stories from people who did. Food poisoning is something you have to cautiously of avoid, and transportation between cities can be an… undertaking. And that's a nice way of putting it.
All challenges aside, Guatemala is a country with charm, vibrant culture, and endless adventures. And if you're up for the journey—bumps and all—we think you'll love Guatemala.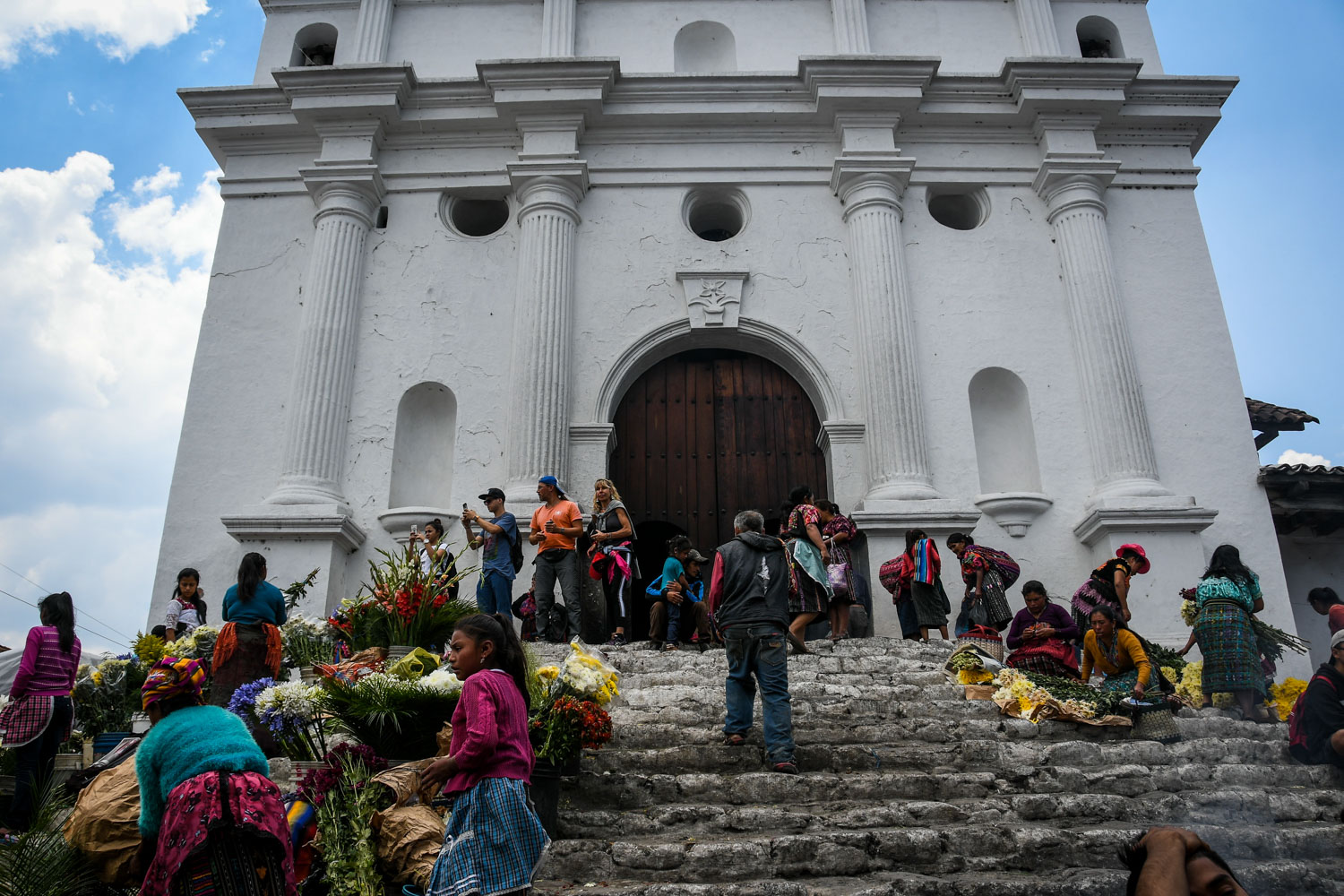 Whether you're backpacking through Central America or are planning to explore this country alone, there are so many incredible things to do in Guatemala. The only problem will be decided how to fit them all in!
We're going to go over all the best things to do in Guatemala and the places you must see if you have limited time. We're also going over some off-the-beaten-path experiences if you have more time in this captivating country.
But let's start things off by answering one major question many travelers likely have…
Is Guatemala Safe?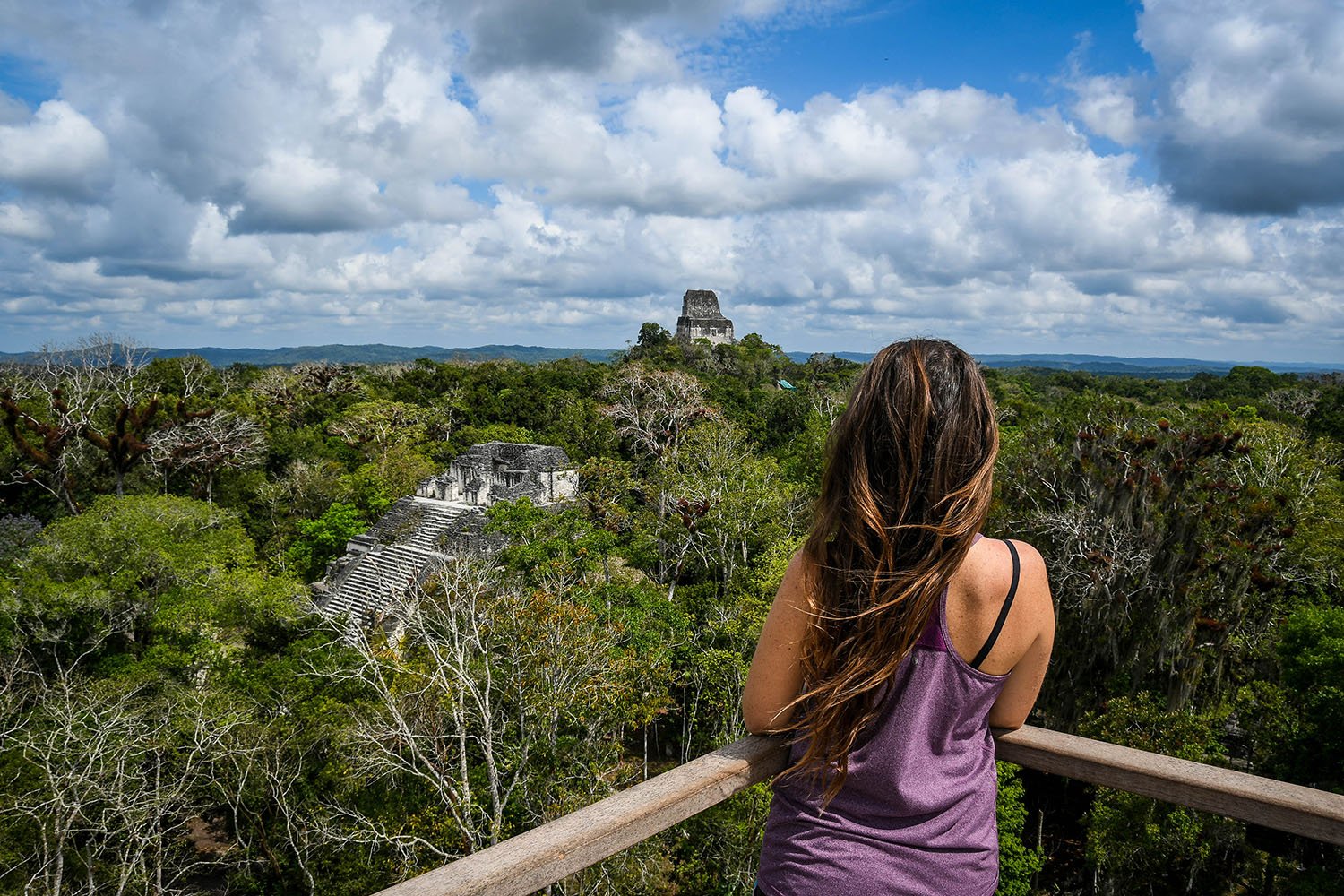 I don't think a country can get generalized as safe or unsafe as a whole. And while we never had any safety issues while traveling in Guatemala, that doesn't really answer the question, does it?
If you follow world news, you likely know that Guatemala deals with violent crime on a regular basis. Much of the violence in this country is related to cartel activity, however some of the crimes target tourists.
As of March 2021, the US State Department has Guatemala listed as a "Level 3 Travel Advisory" due to the pandemic. However, mask mandates are in place and travel can be enjoyed as long as you exercise caution. Before your travels, do a bit of your own research to stay up to date with the current warnings.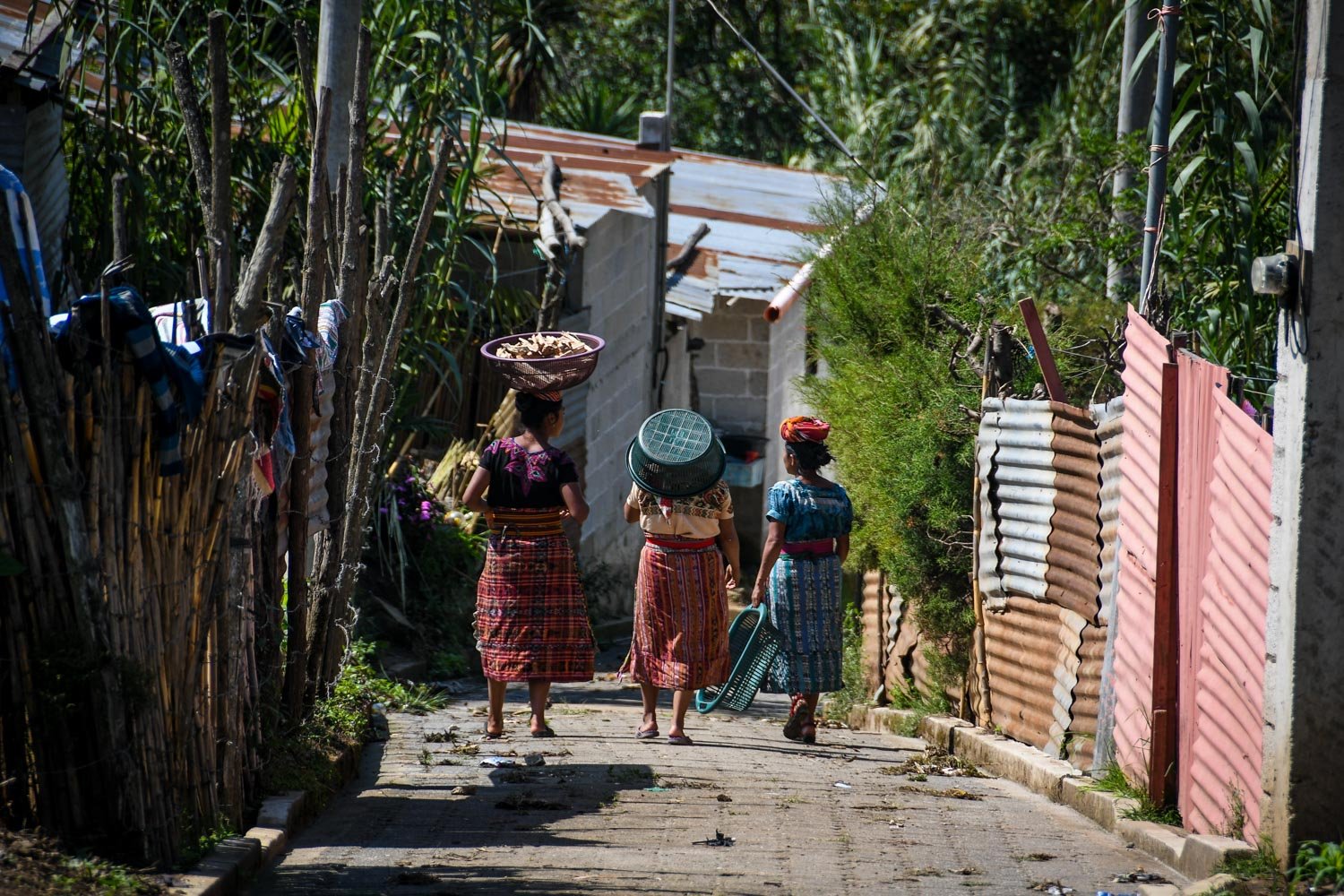 Here are some tips for traveling safely in Guatemala:
Safety in numbers: When you're exploring towns, don't go alone. We did meet solo travelers—many of whom are female—so it is certainly possible to travel on your own through Guatemala. However, if you are a solo traveler, we'd recommend trying to find fellow travelers at hostels to go exploring with during the day.

Be especially cautious after dark: Avoid wandering around at night if possible. And when you do, make sure you're with a group or you hire trustworthy transportation. If you're in a city, you can always stop inside a hotel or restaurant and ask them to call a driver for you.

Listen to local advice: There are certain routes that are known for dangerous muggings. For example, many locals will warn you against walking between some of the towns around Lake Atitlan. Listen to them.

Keep your valuables out of sight: Be mindful about what valuables you're flashing around.

Use common sense: While bad things can happen even when you're using common sense, there are situations that can be avoided if you are aware of your surroundings. We've put together some essential travel safety tips that can help you feel more confident.
2 Weeks in Guatemala: Best Places to Visit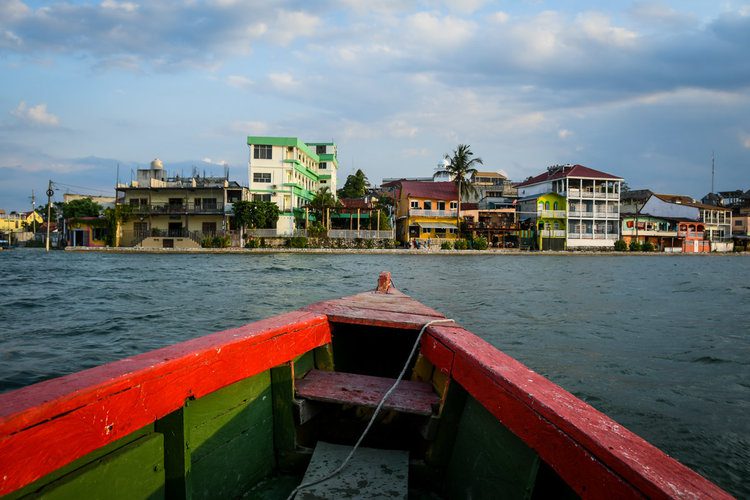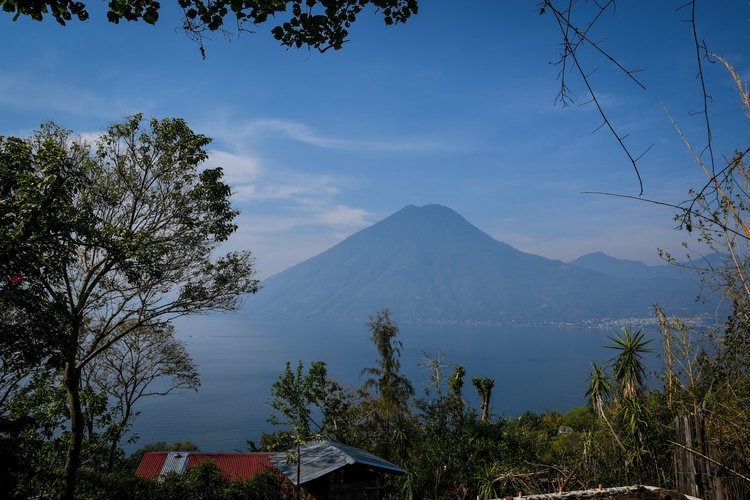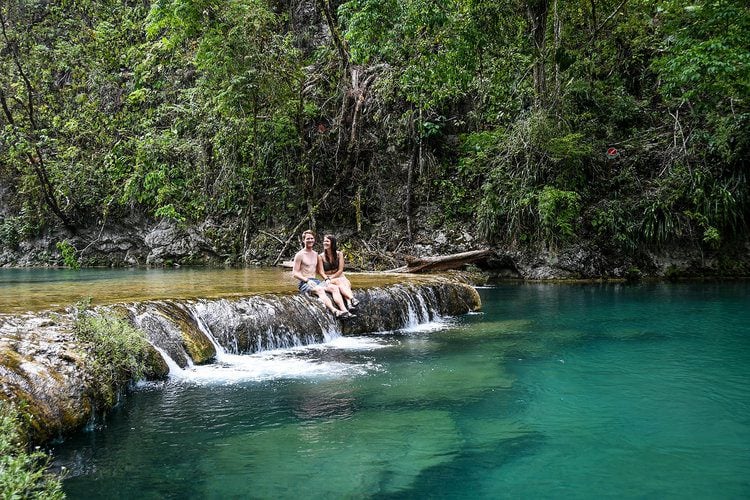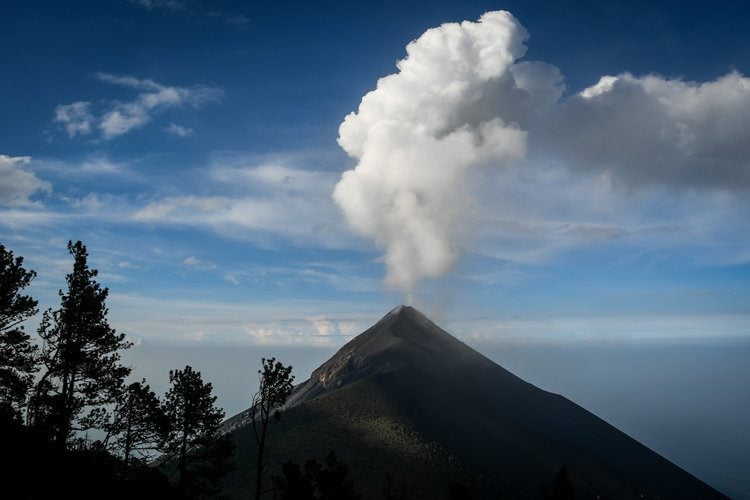 Your route in Guatemala is going to be determined on whether you're traveling from
San Cristóbal, Mexico
and onward to Honduras (this is what we did), or if you're flying in and out of Guatemala City.
Below, you'll find which places we recommend visiting with 2 weeks and how many days to spend in each place.
Insider Tip: When planning your route, keep in mind that transportation between towns can take the better part of a day.
How to get around Guatemala
The options for transportation around Guatemala will vary greatly depending on your budget and itinerary. 
Uber is an affordable and reliable option for getting around in some of the more populous areas like Guatemala City and Antigua. It's also a great option for getting from the airport in Guatemala City to Antigua. 
For shorter distances (intercity) Uber is our preferred method of transportation because you don't have to negotiate prices and it feels safer knowing the ride is being tracked. 
Renting a car in Guatemala is also an affordable way to get around, plus you have the freedom to chart your own path and move at your own speed.
The downside to renting a car is that the roads in Guatemala can be hazardous at worst and tricky to navigate at times with poor signage and foreign driving etiquette. It may not be the most best option for travelers who aren't as comfortable behind the wheel in a foreign place. 
Busses are the main method of transportation for Guatemalans and probably the most affordable option for travelers on a budget. The "chicken busses" run inter- and intracity routes and come with some surprising additions (read more about this in #1 below) but can be quite the experience!
Shuttles, whether private or shared, are probably the most reliable option for traveling between cities, that offer a balance between comfort and affordability. 
GuateGo is a reliable and easy to navigate site that we'd recommend using to book your transportation throughout the country. You can find busses, shuttles, private transport and even flights on the site that'll take you all around Mexico and Central America. 
---
Top things to do in Guatemala
From epic volcano hikes to exploring charming colonial towns, and delicious foods to try, we've curated a list of all the ubiquitous "Guatemala experiences" and sharing the details to help you plan your trip.
1. Ride in a "chicken bus"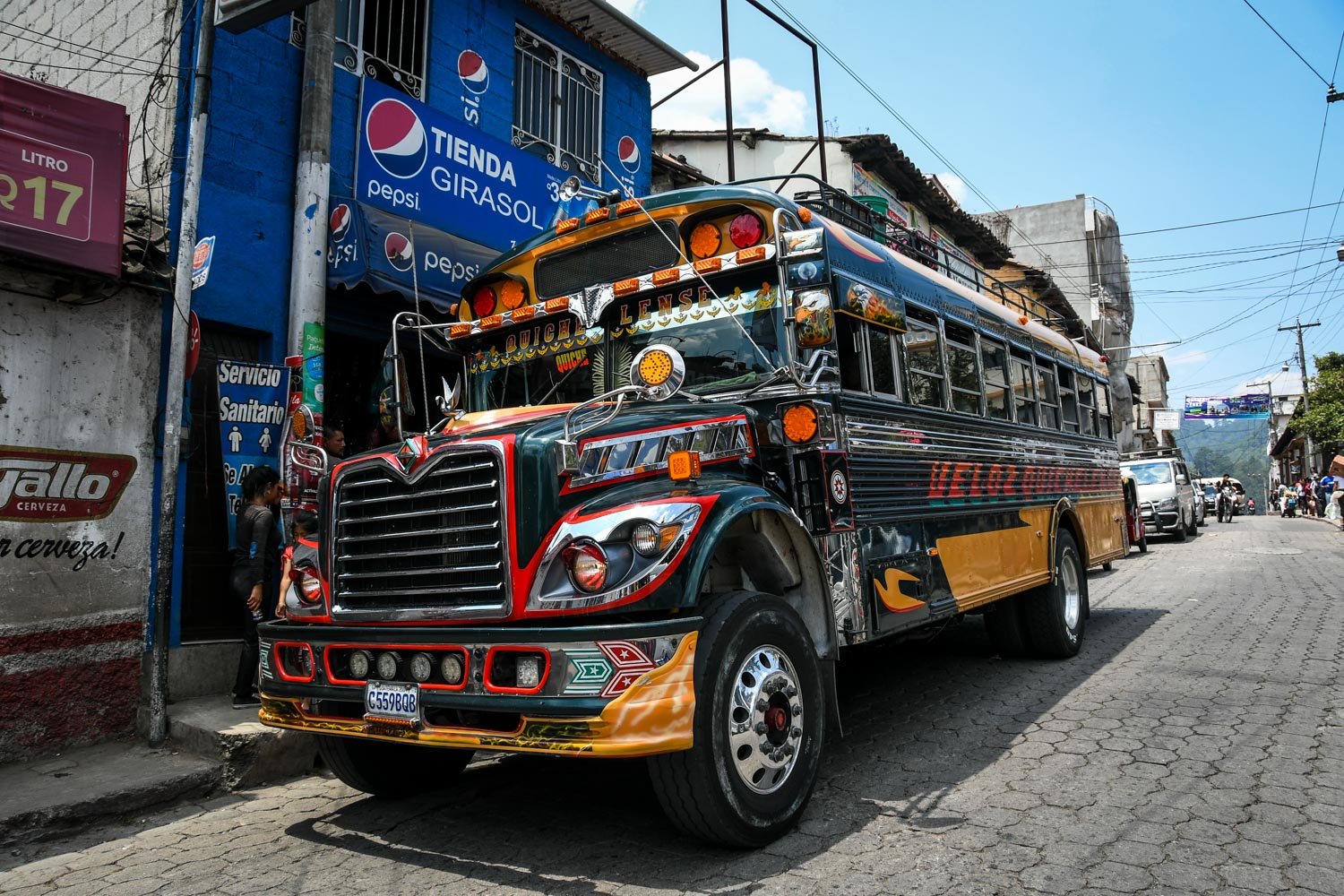 These brightly painted American school buses are common throughout parts of central America, and Guatemala is the perfect place to hop aboard.
They earned the nickname "chicken bus" because locals bring everything on board—from machinery parts to giant bags of produce to, you guessed it—chickens!
Depending on the route, the bus might be really crowded. But don't be surprised when the driver stops to pick up more passengers. There is always room for everyone on a chicken bus!
Unless you have lots of time to spare and are really looking for adventure, we'd recommend trying a shorter route. These local buses can take infinitely longer than direct shuttles, so a cross-country drive can take a really, REALLY long time.
And don't expect comfort. While you might have a whole seat to yourself, you may also be squished between strangers for the whole bumpy ride.
Insider tip: When entering the bus, tell the driver your destination to be sure it's going the correct direction. Then find a seat or a place to stand. Someone will come around to collect the fare, and the amount will be based on your final destination. But don't worry, it is cheap!
2. Explore the Mayan ruins of Tikal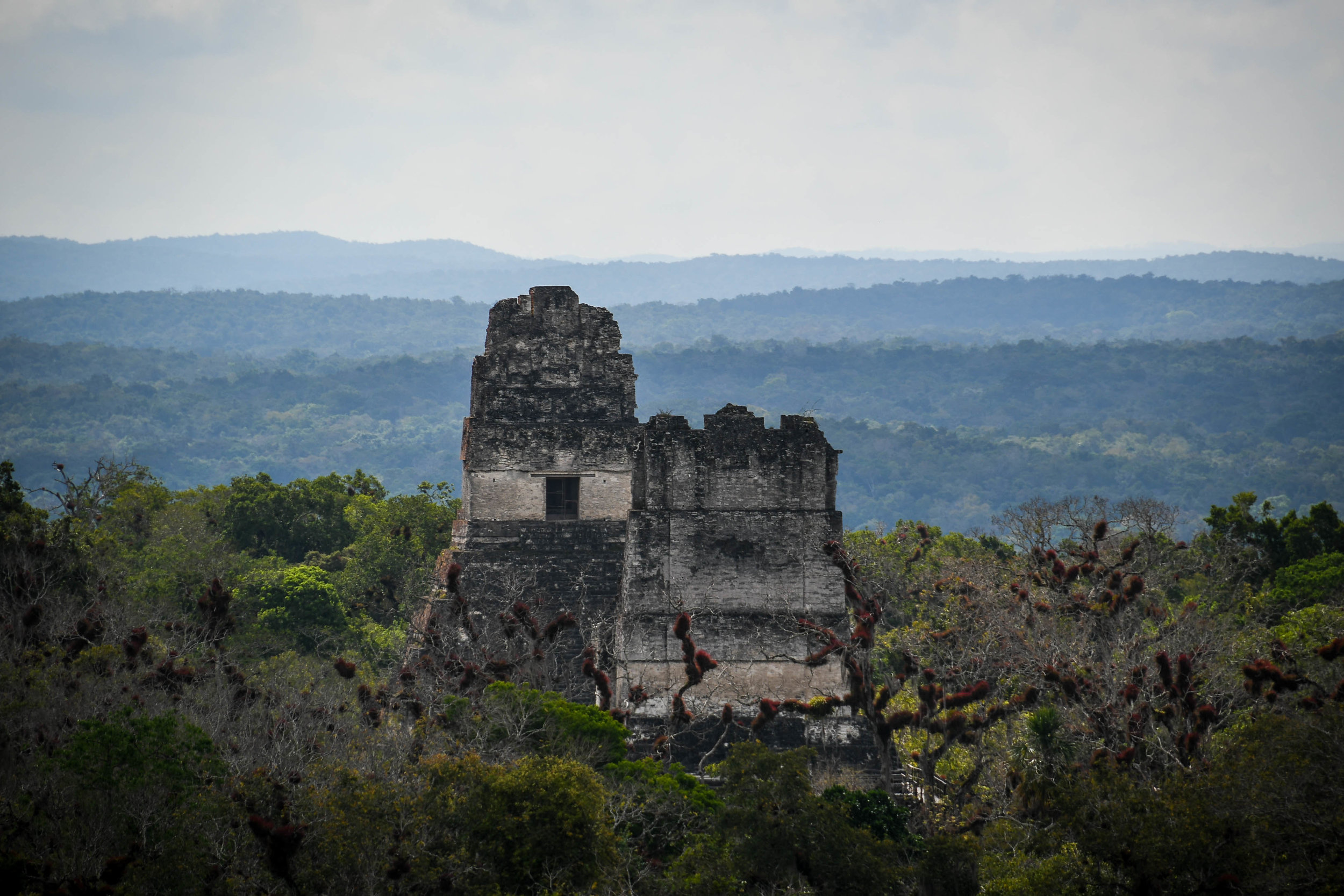 Central America is full of Mayan ruins to explore, but one of the most loved sites is Tikal. Located in the jungle of northern Guatemala near the borders of Belize and Mexico, this used to be one of the most powerful cities in Mayan civilization.
Being that it is a bit difficult to get to, Tikal sees less visitors than other popular ruins. Plus, the complex is huge and spread out through a jungle, so you can pretend you are Indiana Jones as you roam about the ruins.
Insider Tip: We've put together a complete guide to visiting Tikal packed with everything you need for for planning your trip!
3. Jump off a rope swing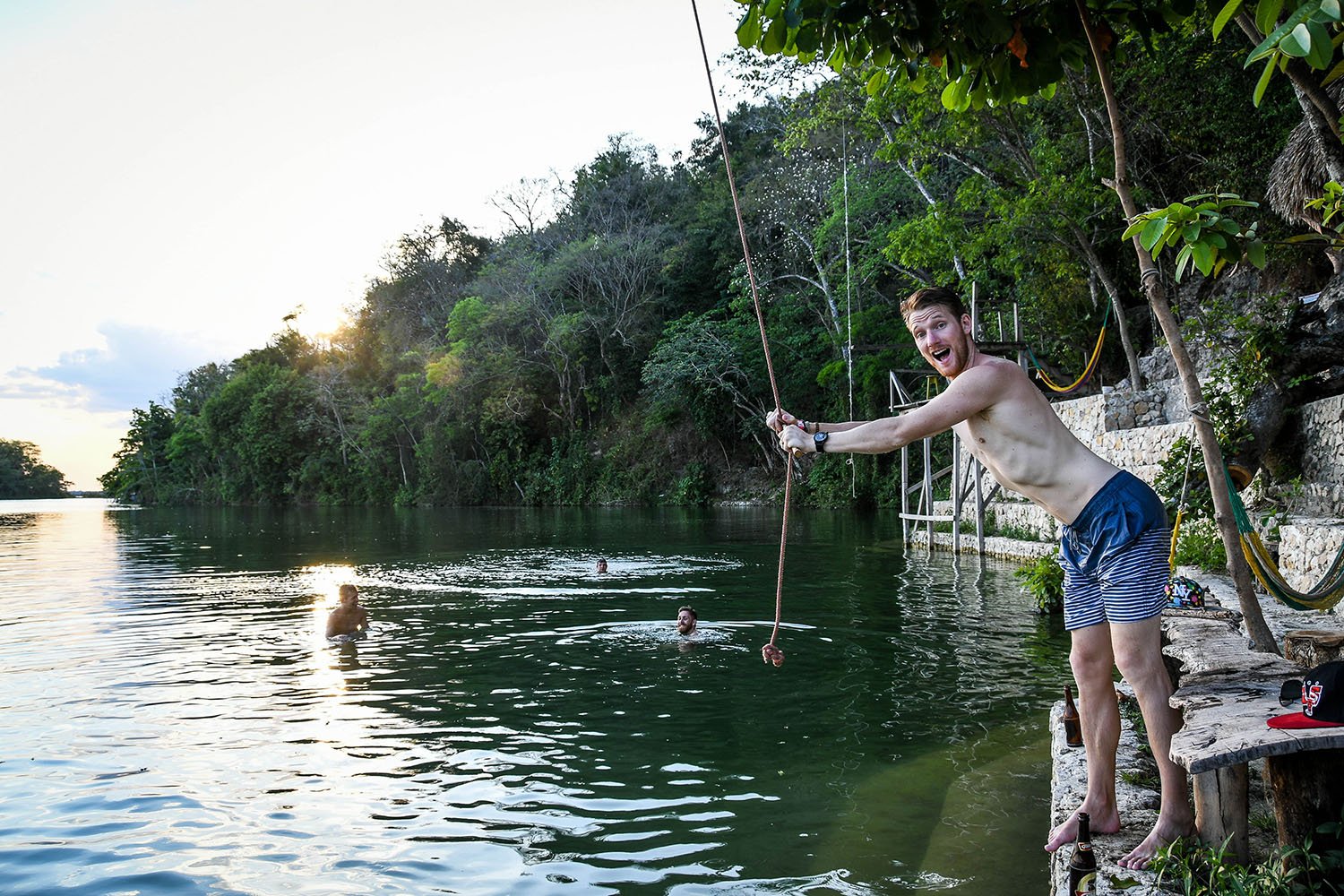 The town of Flores is cute, but the main reason people pass through is to visit Tikal. However, there is one more thing you shouldn't miss before heading onward.
Jorge's Rope Swing is set in a secluded bay on the lake, and it is a seriously fun place to escape the afternoon heat.
Order a drink (or two!) and relax on hammocks, mingle with other travelers, swim in the tepid waters or take a leap and jump off the famous rope swing. You'll be happy you came!
Do it yourself: Here are details on getting to Jorge's Rope Swing as well as more info about what to do in and around Flores.
4. Visit the turquoise pools of Semuc Champey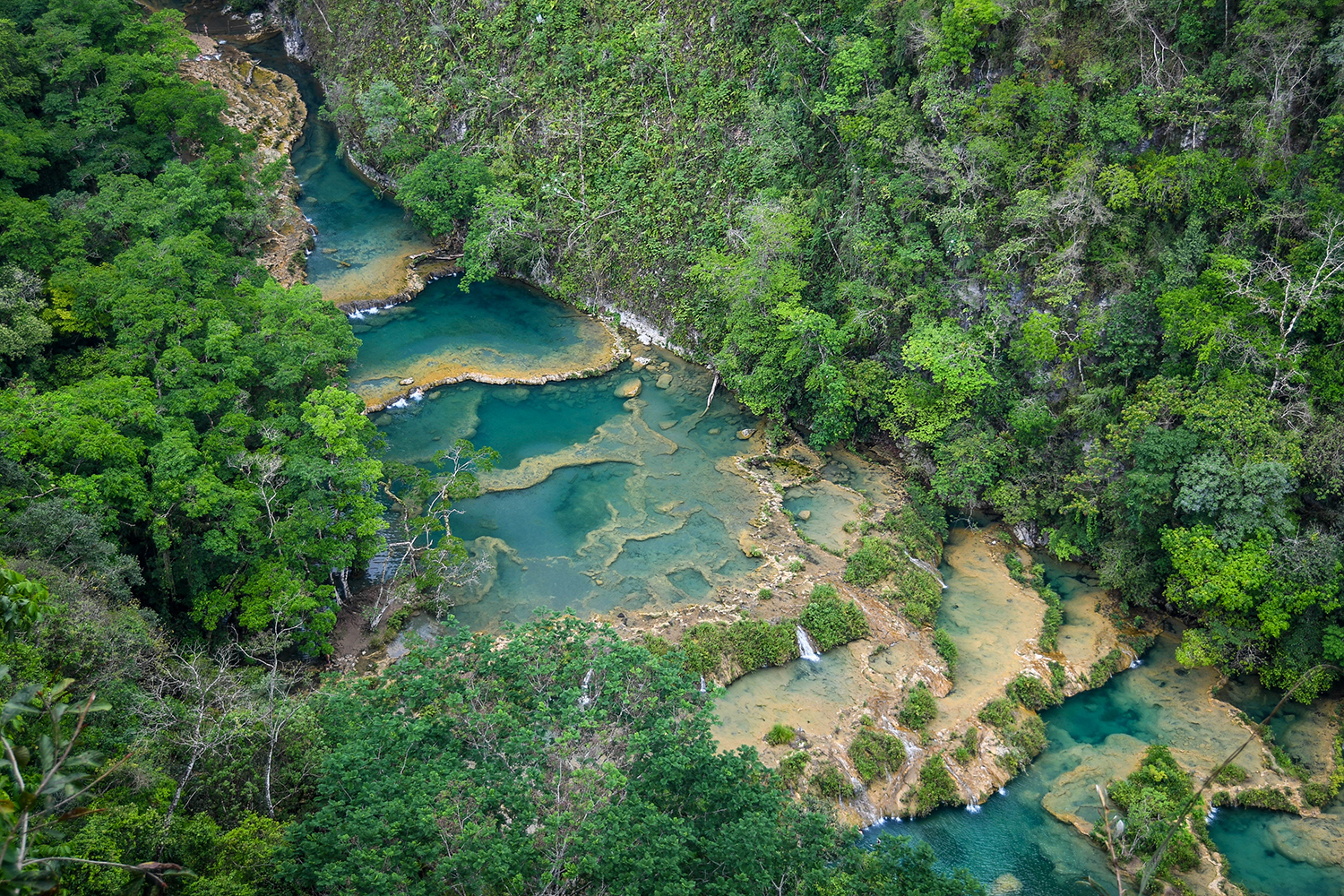 The turquoise pools of Semuc Champey are something out of a dream, and they truly are as beautiful as they look on Instagram.
Spend the day swimming, splashing and taking photos. Oh, and don't forget to go up to the mirador for the most beautiful view. We have a complete guide to visiting Semuc Champey, which will help you plan your trip and know exactly what to expect.
Important Note: The thing that you have to understand before putting Semuc Champey on your itinerary is that it is not easy to get to. The long (and bumpy!) bus rides, however, mean that there are fewer crowds than you might expect in a place this breathtaking.
Caving by candlelight
The pools aren't the only thing to see in Semuc Champey. There is a cave system which can be explored on a tour. And you'll use candles to light the way!
Extreme Tubing at Semuc Champey
Many hostels organize groups to go tubing on Rio Cahabon. After spending a day in the pools, we grabbed tubes (and a beer or two!) and joined the group headed back to our hostel.
It is called it "extreme tubing" for a reason! The river has a series of rapids and sharp turns, so it was a wild (but fun!) ride back.
5. Fall in love with Antigua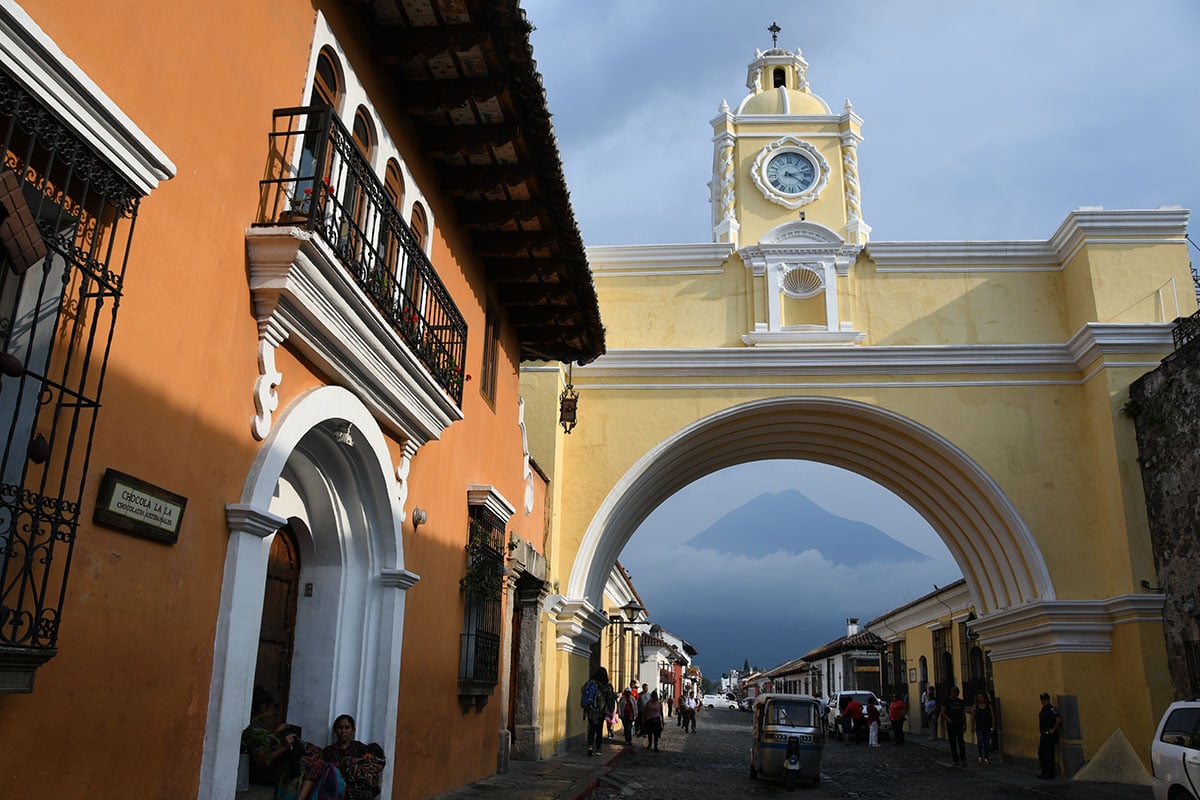 This charming colonial city flanked by volcanoes is hard not to love. Wander through cobblestone streets and past colorful buildings.
Take a break in a cafe with some Guatemalan coffee

Photograph the famous Arco de Santa Catalina

Explore Antigua's ancient ruins

Visit Caoba Farms for lunch or their famous Saturday farmers market
Read More: Our favorite things to do in Antigua (including where to eat and where to stay!).
6. Hike up to Guatemala's active volcanoes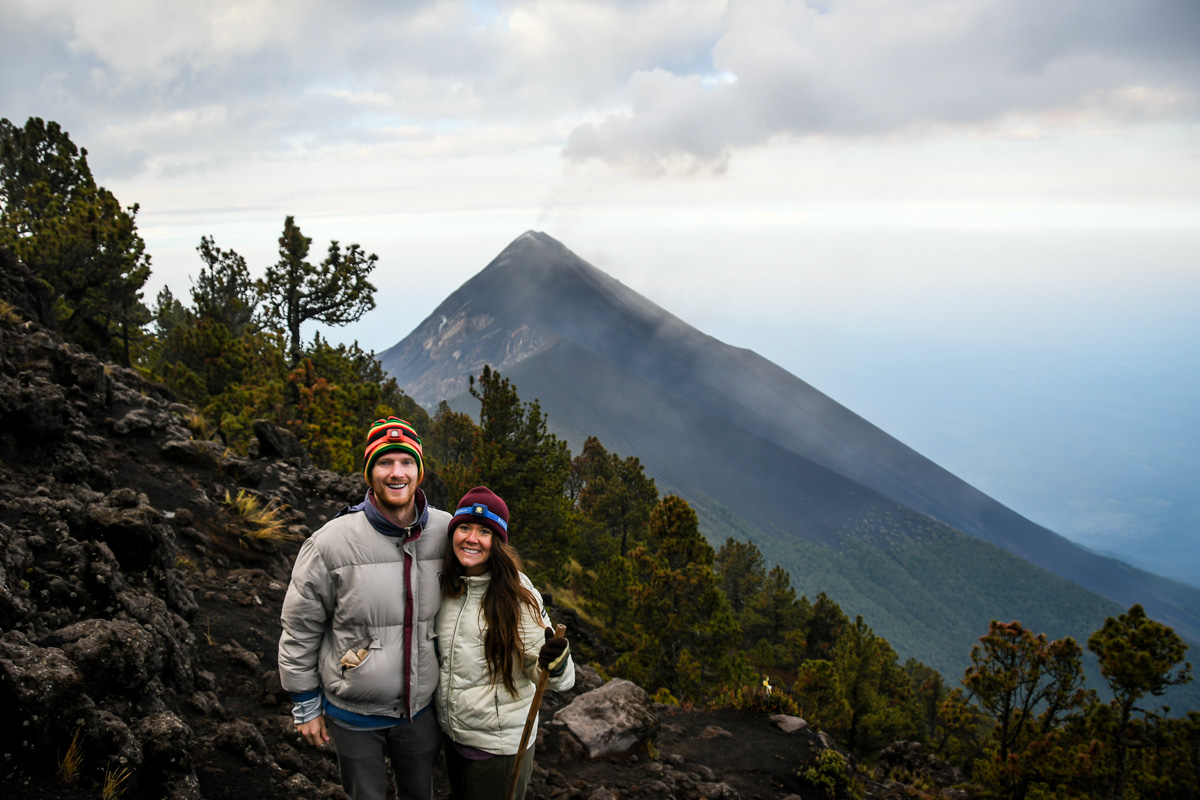 With 37 volcanoes in the country, Guatemala is a great place to see these natural wonders. Three of the country's volcanoes are still active—Pacaya, Fuego, and Santiaguito—with the first two being the most popular for tourists to visit.
Getting up close and personal with these forces of nature is sure to be one of the highlights of your trip to Guatemala.
And if you really love volcanoes and hiking, why not put both Fuego AND Pacaya on your list?!
Volcan Fuego: Watch a volcano erupt all night long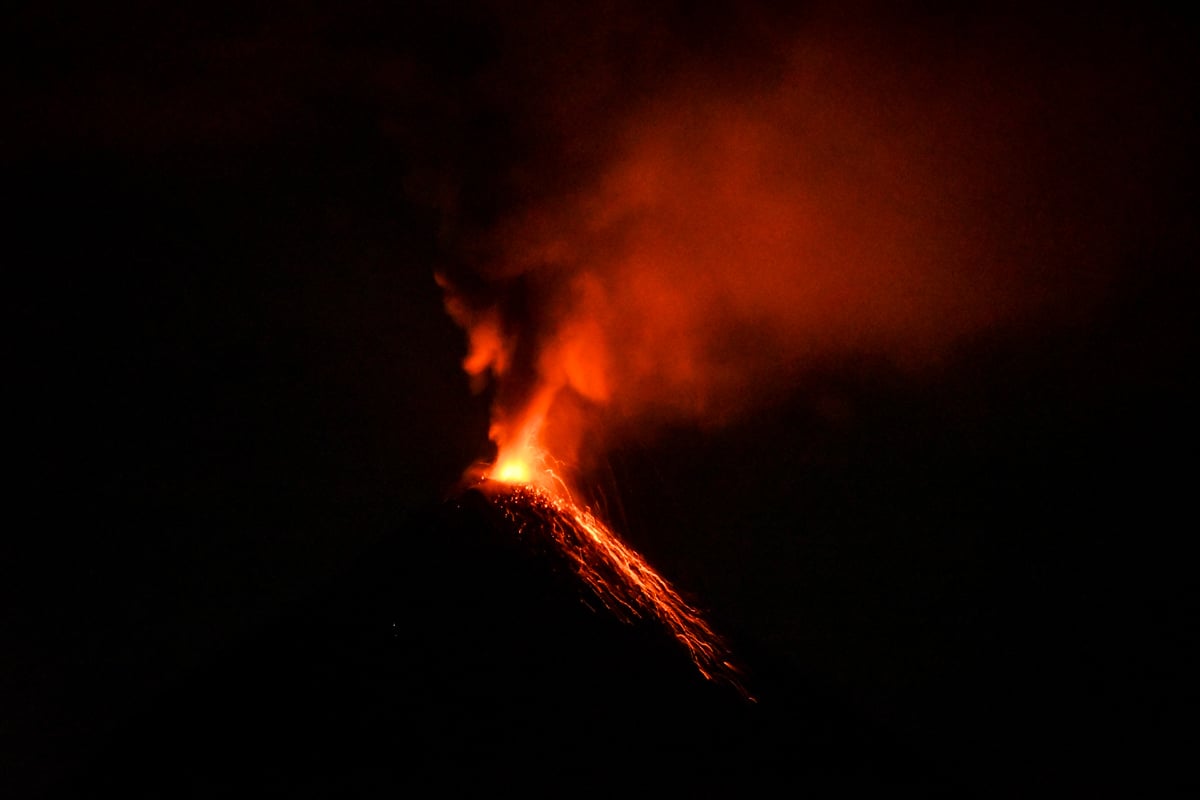 We've been hearing travelers' stories about Volcan Fuego for years, and we finally got to experience it for ourselves.
This active volcano erupts frequently (usually at least once per hour) and is most active at night. A popular excursion from Antigua is to hike up the neighboring volcano, Acatenango, to watch it erupt all night long.
Spending the night beneath the stars and watching lava spew out of Volcan Fuego was unlike anything we had ever seen. And it is one of our favorite memories from our 3-month trip in Central America.
However, this trek is not for the faint of heart. We've written about our trek to Volcan Acatenango so you can know exactly what to expect and how to prepare.
Volcan Pacaya: Roast marshmallows over an active volcano
If camping overnight isn't for you (aka Acatenango), hiking up Volcan Pacaya is an easier and less time consuming alternative. This volcano is much more accessible and can be easily done on a day trip if desired. 
The entire hike takes just 2 hours up and about 1.5 hours back depending on your speed, and is suitable for families and hikers of all abilities. Most tour companies offer morning and sunset times, and we've been told sunset is optimal!
At the top, you can roast marshmallows over warm lava rocks. How cool is that?!
*2021 Update: Because of its recent hyperactivity, Volcan Pacaya is closed for hiking until further notice. Check back with your local tour companies for the most up to date info on this.
7. Find your zen at Lake Atitlan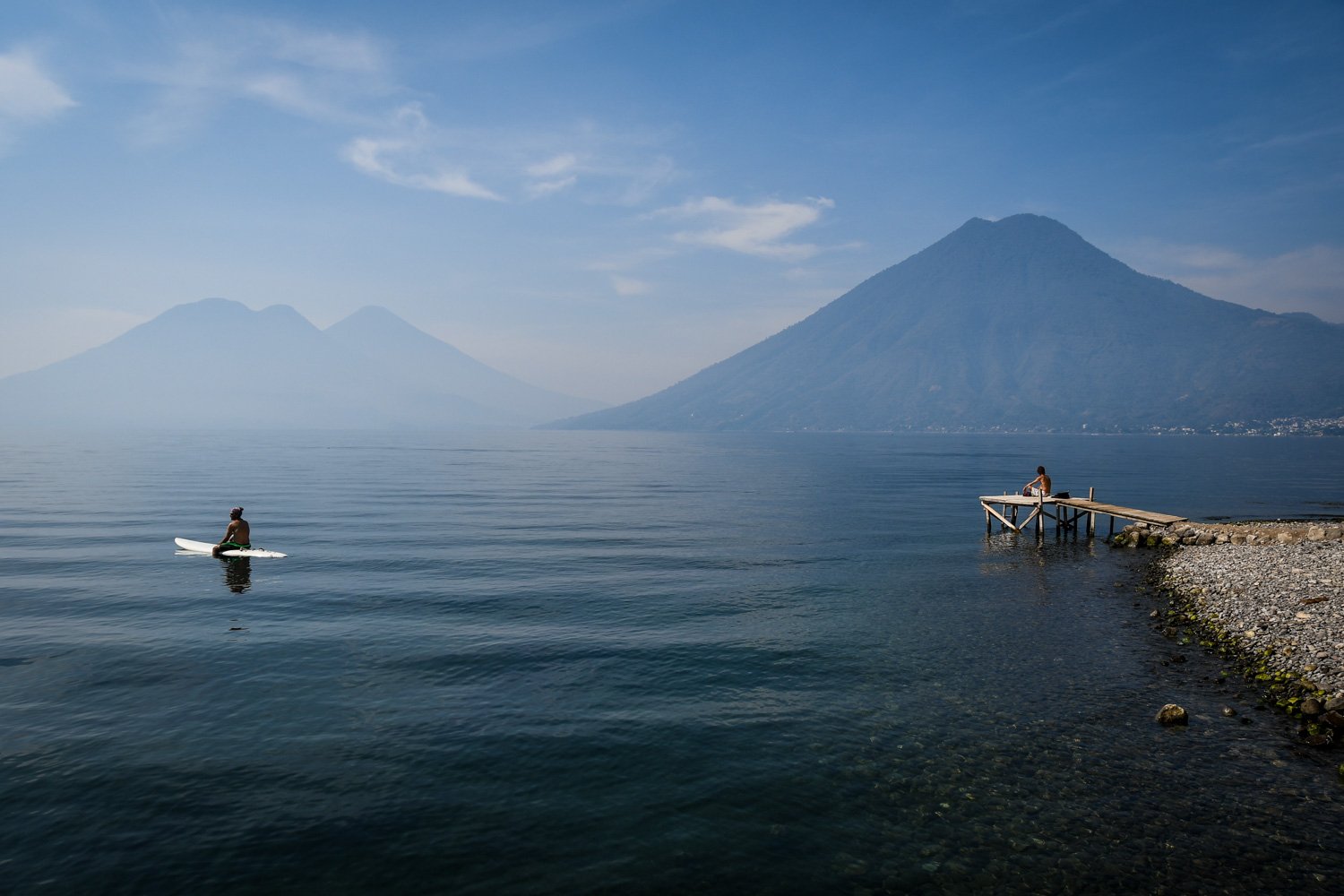 Lake Atitlan is known for sucking people in, getting them to stay longer than expected. The ironic thing is while there is so much to do, it is also a great place to just relax.
Kayak or SUP along the shoreline or jump off a dock and swim! Before you do, read up on the pollution in the lake and make your own decision on whether or not you want to jump in. And if you'd rather just chill on shore, this is the perfect spot to soak up the lake views with a good book.
Keep reading: Check out the best things to do at Lake Atitlan.
Embrace your inner Hippy in San Marcos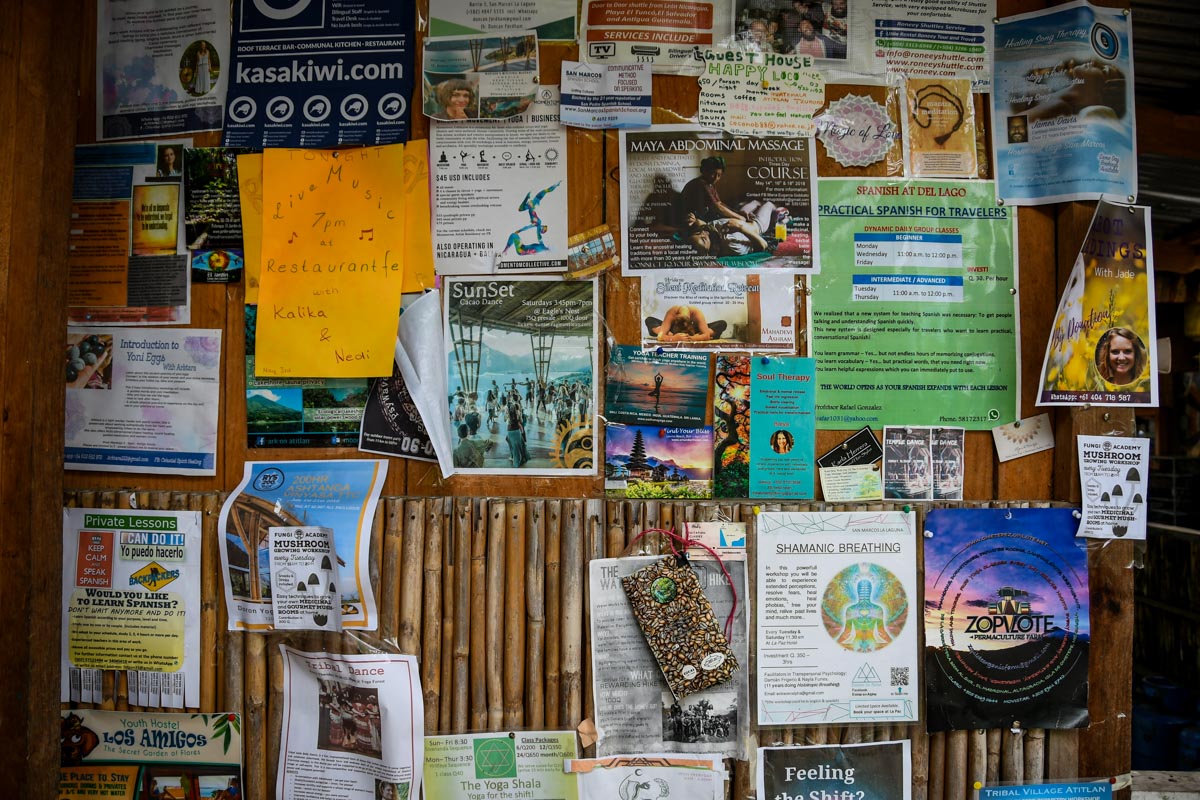 San Marcos has an unapologetic "hippy vibe" that some people love, and others (like us) find a bit… how shall we say this… over the top.
All hippy vibes aside though, it is a cute town to relax in, eat yummy vegan food and soak up the lake atmosphere. And if you are open and curious, you can try all sorts of healing and spiritual rituals:
Cacao Ceremonies

Temezcal Ceremony

Be vegan for a day

Reiki healing

Silent Retreats
If any of the above experiences interest you, head to the main street of town and check out the bulletin board for dates and times. During the busy season, these events and ceremonies seem to take place quite frequently. We visited during low season (May), and found many yoga studios and other places closed.
Indian Nose Hike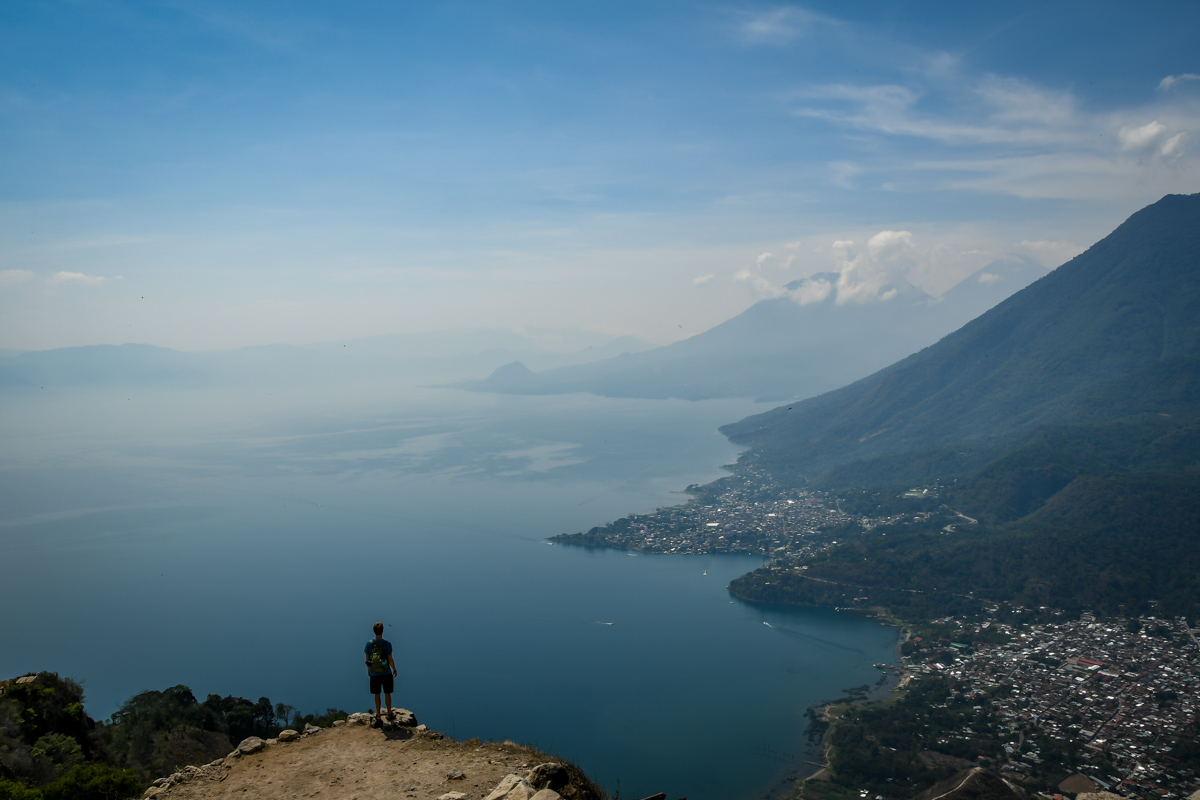 The hike to Indian Nose viewpoint is relatively short (30 – 45 minutes) and not too difficult. But the views overlooking Lake Atitlan, several volcanoes and small villages, makes it a pretty epic experience.
You can choose to join a tour group and hike for spectacular sunrise views, or do it on your own in the daylight hours.
8. Take a yoga class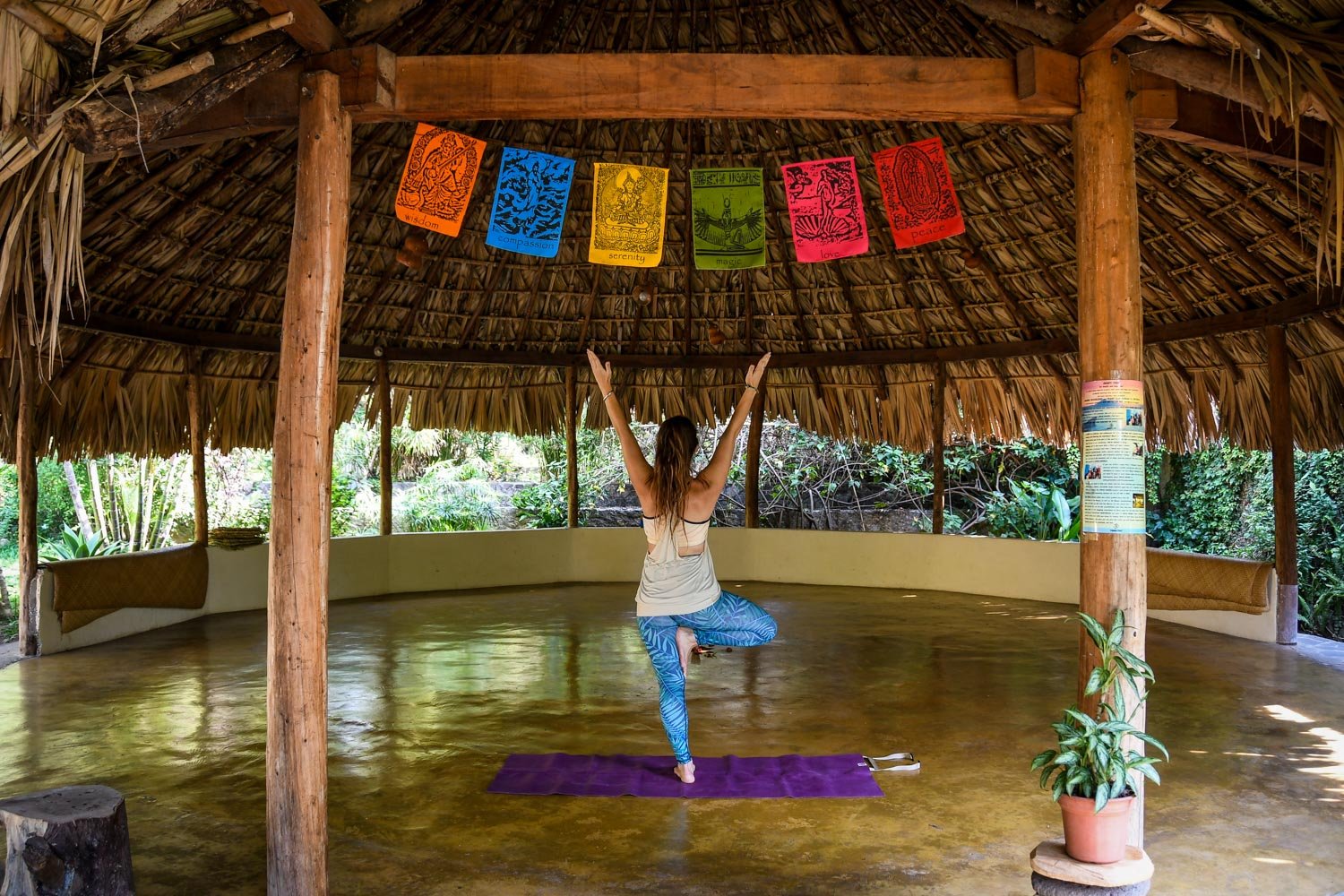 Whether you are an experienced yogi or you are new to the practice, You'll find yoga classes all around the country—from the eco lodges in Semuc Champey to studios in Antigua to full-on retreats in Lake Atitlan. With an overwhelming amount of options, the latter is arguably the best place in Guatemala to get your downward dog on.
The town with the most yoga classes and retreats is undoubtedly the hippie and wellness haven of San Marcos, but you can find classes all around the lake.
You'll find everything from drop-in beginner classes to month-long retreats, so there is a class for everyone at every level.
9. Shop for handicrafts at local markets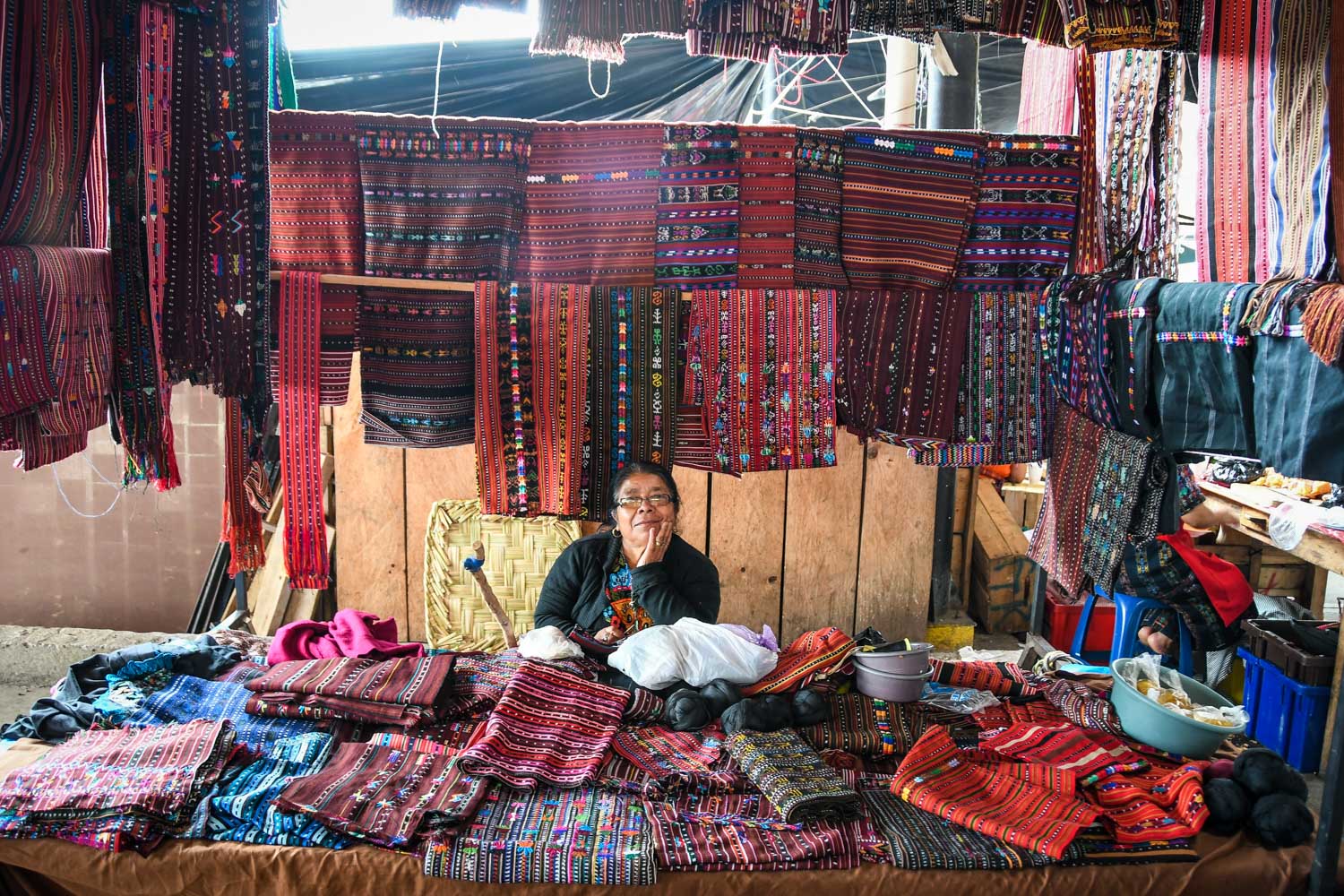 Guatemala is known for shockingly colorful textiles and beautifully crafted artisan goods. If picking up a souvenir (or a suitcase full of them!) is on your to-do list in Guatemala, you'll have no shortage of places to choose from.
And even if you don't have room in your backpack, going to the markets is a great way to get a glimpse into local life and try regional foods you may have never seen before.
We visited a handful of markets during our time in Guatemala, but two of our favorites were around Lake Atitlan.
One is an excellent place to find crafts to purchase, while the other is an amazing place to observe local life.
Chichicastenago Market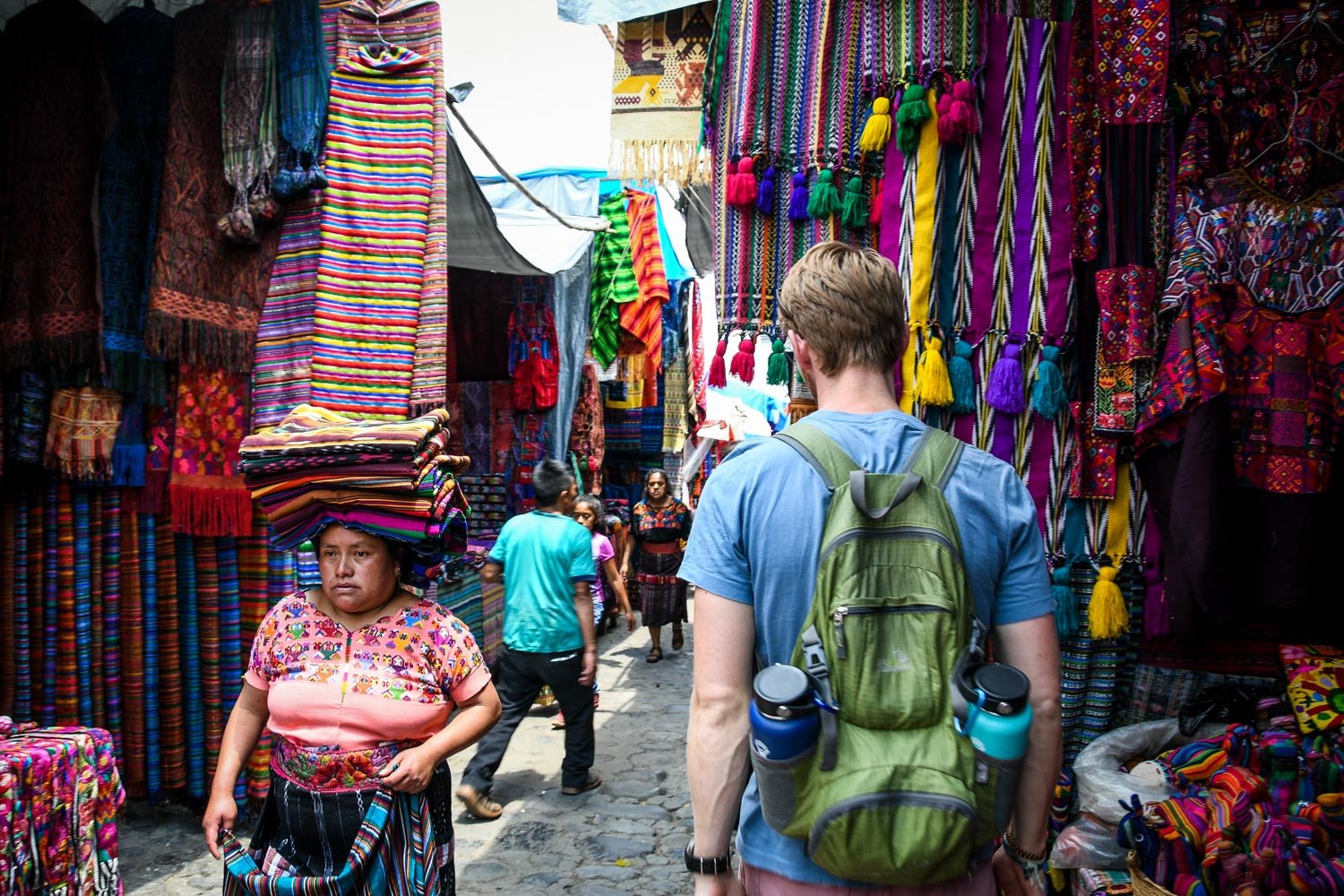 Commonly called "Chichi" for short, this market is a must-see. It's actually known as the largest market in Central America!
With rows upon rows (upon even more rows!) of locals selling handicrafts, this colorful market is a sight to see. Plus, it's one of the best places to purchase souvenirs in Guatemala. Even though it is popular amongst tourists, we found it a totally worthwhile stop.
And while you're in Chichicastenango, make sure to stop at the colorful cemetery not far from the market.
Sololá Market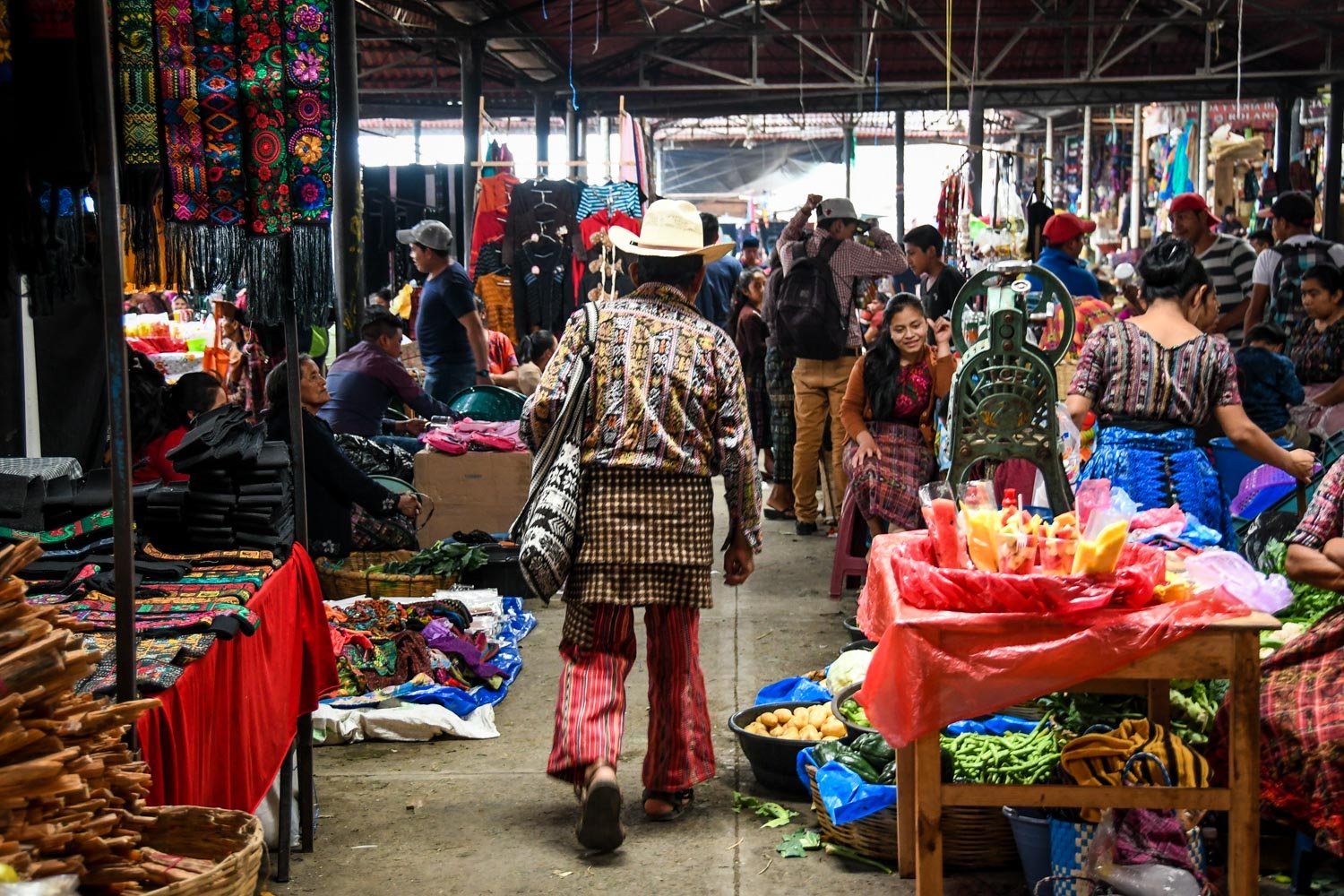 Unlike Chichi, you won't find many souvenirs. But you'll find hardly any tourists either. Instead, experience true local life, as the nearby villagers come to purchase produce and home goods.
This is also one of the best places to spot men wearing their traditional clothing, which is a rare site in much of the country.
10. Scuba dive and see thermal activity
Scuba diving in Lake Atitlan will be different than most other dives you've experienced.
For one, don't expect to see much marine life. But what the lake lacks in underwater life it makes up for in interesting sights like shipwrecks and thermal activity.
Plus, at 1,562 meters (5,125 feet) above sea level, it is possible to get your high altitude specialty at Lake Atitlan.
11. Drink Guatemalan coffee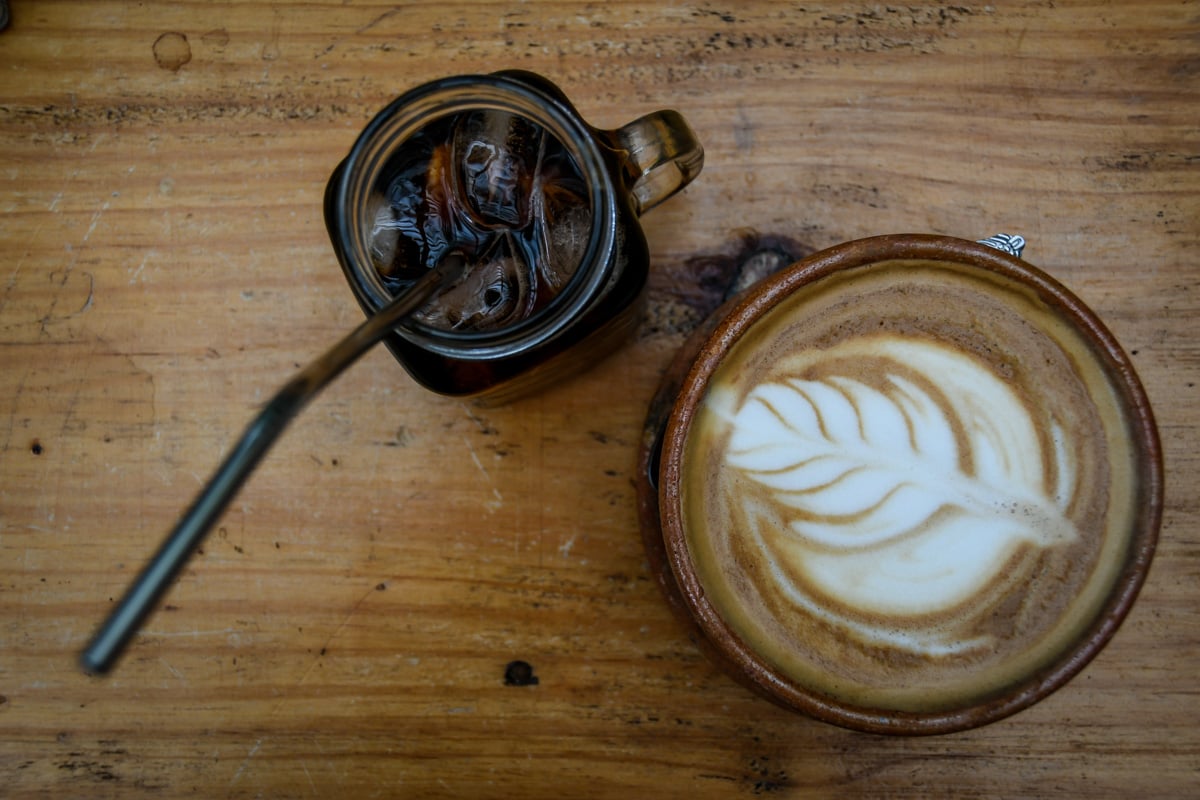 Guatemala is known around the world for its robust and delicious coffee beans. They export their coffee around the globe, so there's a good chance you've already had a Guatemalan brew before stepping foot in the country.
If you're a coffee-lover, you're going to be buzzed (quite literally!) your whole time in Guatemala.
Cafes
In the more "tourist-friendly" towns, you'll find super cute cafes with artisan coffees and dreamy decor. Often times the beans sourced fairly from local communities, meaning your coffee habit will not only caffeinated you, but it will give back.
Visit a Coffee Farm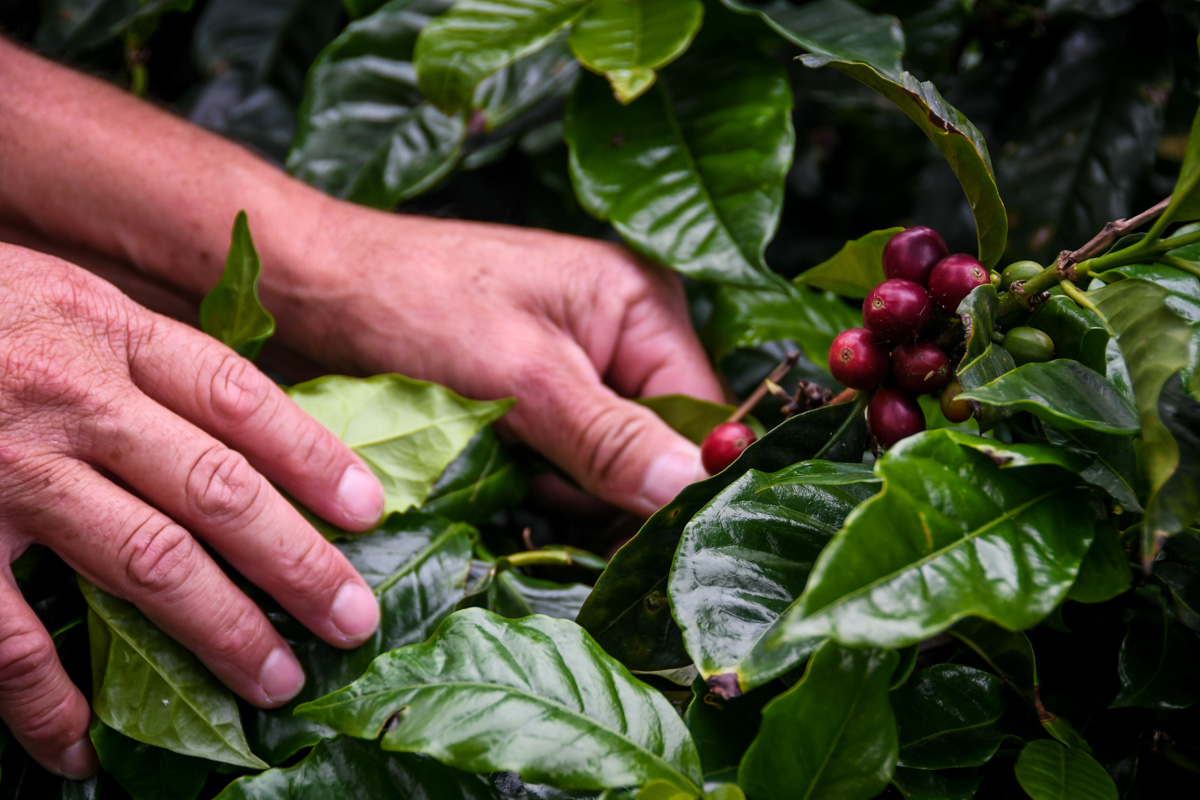 Learn about the process and support the farmers who work hard to produce quality coffee plants by taking a tour with De La Gente.
We've taken coffee tours in a handful of places, and it always gives us a deeper appreciation for the process and people behind it.
12. Learn about Chocolate (or just eat it!)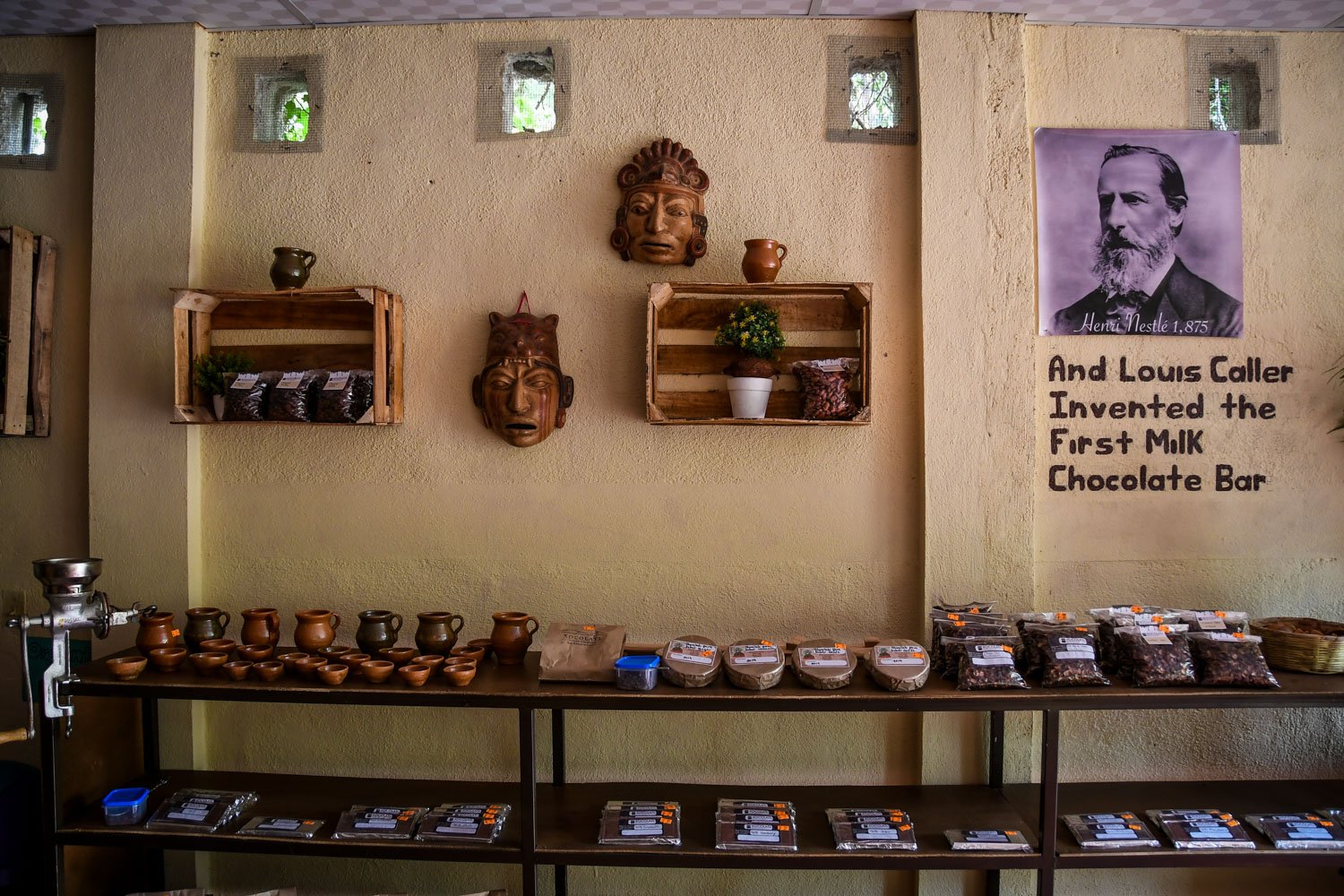 Central America is known for chocolate, so it makes a perfect place to indulge.
Eat ALL the chocolate: Diego's Chocolate is available all around the country (usually by the register of small shops) and comes in a variety of tasty flavors. Our favorite was dark chocolate sea salt.

Visit a chocolate museum: Yep, you read that right! The most famous one is in Antigua.

Do a cacao ceremony: Explore the spiritual side of chocolate.

Learn about the process: If you're in San Marcos (town on Lake Atitlan), stop in Dalileo where you can sample some amazing chocolate and learn about how it goes from the bean to the bar.

Make your own chocolate: Take your chocolate knowledge to the next level and book a chocolate-making workshop!
13. Eat pepián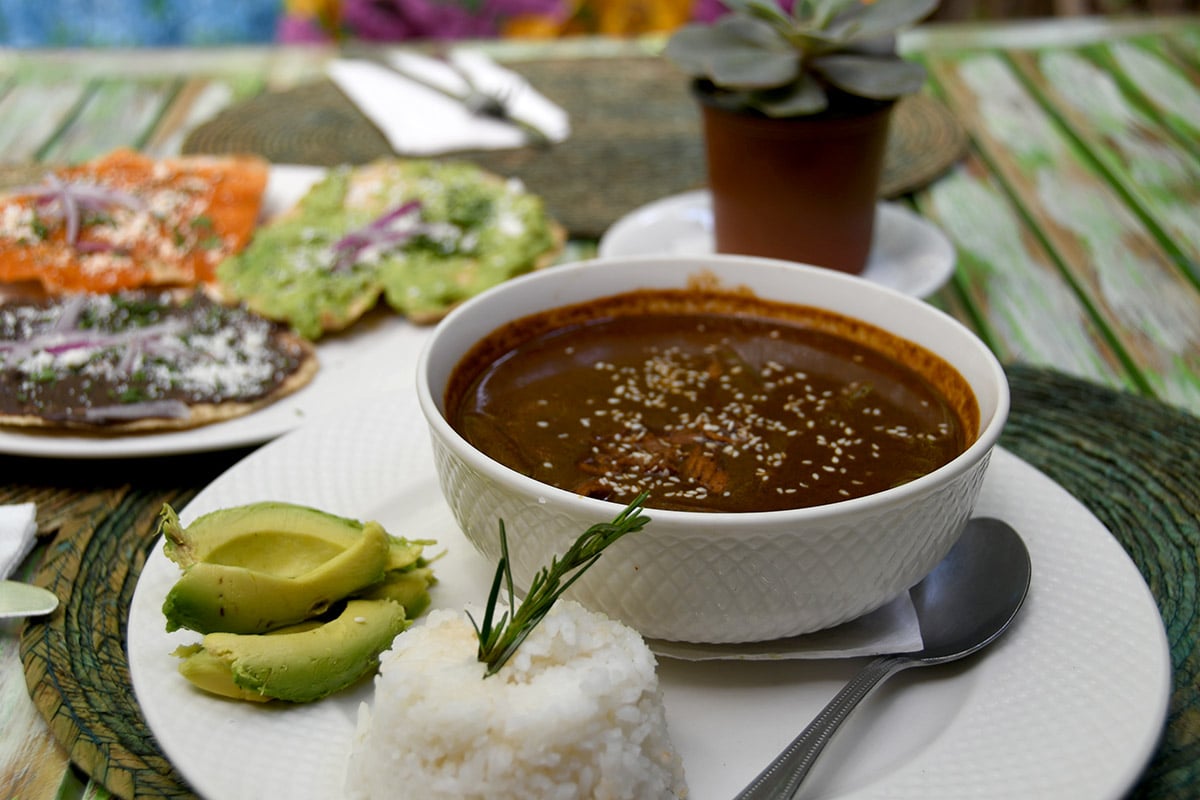 Known widely as the "national dish of Guatemala", be sure to try this meat and vegetable stew at least once.
Here are some top restaurants to try pepián in Antigua (but it can be found all around the country):
Rincón Típico

Los Tres Tiempos

Saberico

La Cuevita de los Urquizú
Take a cooking class
We're obsessed with taking cooking classes around the world, and think that it's a great way to get a deeper look into culture, support locals, and have one of the best meals of your trip.
Browse these cooking classes and food tours in Antigua, or if you're traveling to Lake Atitlan, check out the classes run by CECAP & Amigos de Santa Cruz. It is a really cool organization that empowers locals in the community, and offers very cool experiences for travelers (plus, it's one of the most affordable cooking classes in the country!).
---
Have more than 2 weeks in Guatemala?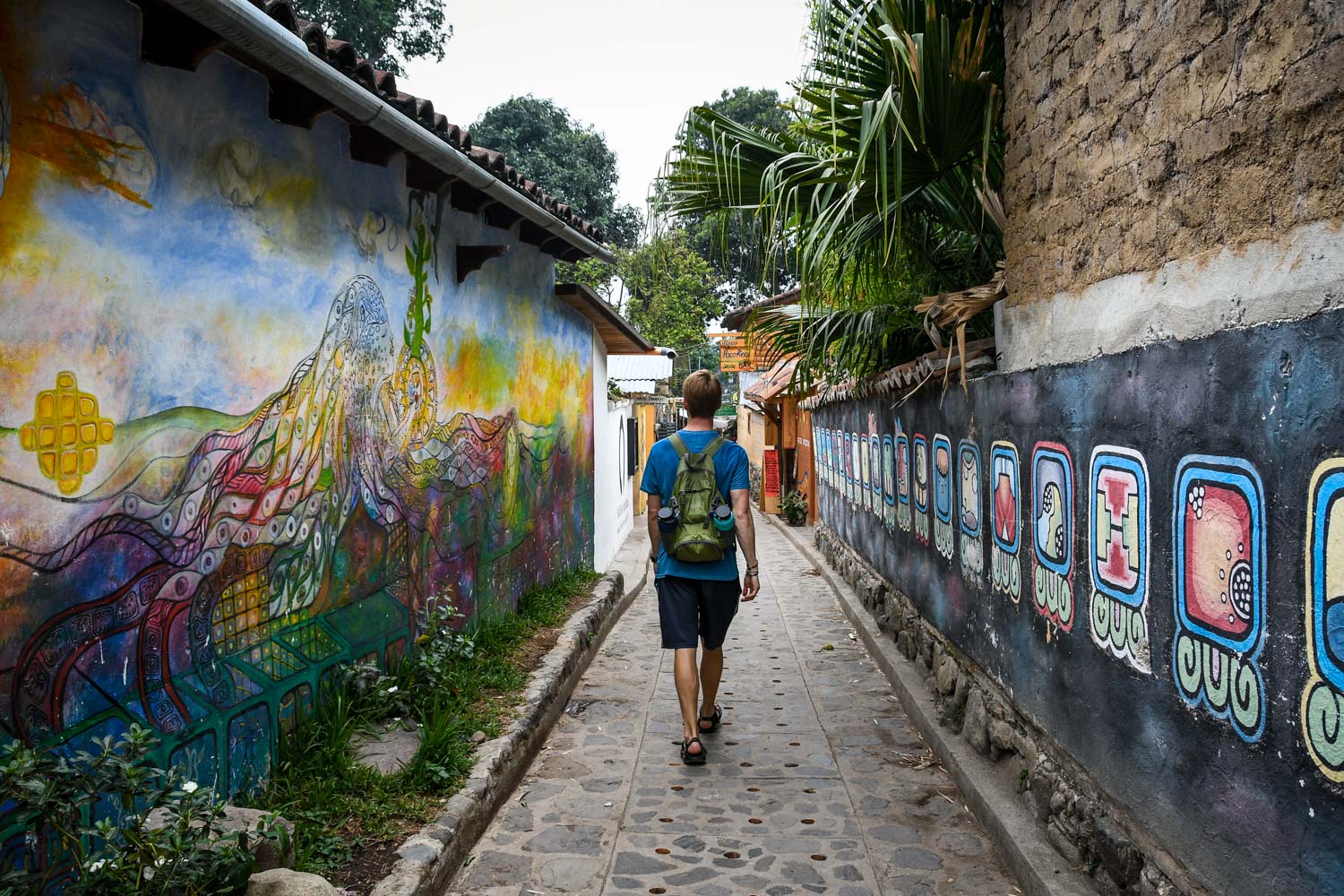 If you are traveling to Guatemala for 2 weeks or less, we'd recommend sticking to the list above. It can be tempting to try to squeeze in as much as possible, but we'd urge against this.
As we've mentioned a few times, getting around the country can be extremely time consuming, and part of the beauty of Guatemala is being able to take things at a slower pace and really get a feel for local customs and culture.
The list above is a great start for planning your first trip to Guatemala, as it goes over the biggest highlights in the country.
However, if you have more time to explore Guatemala or want to get off the typical tourist path, here are some ideas of more things to do in Guatemala.
14. See the "real Guatemala" in Xela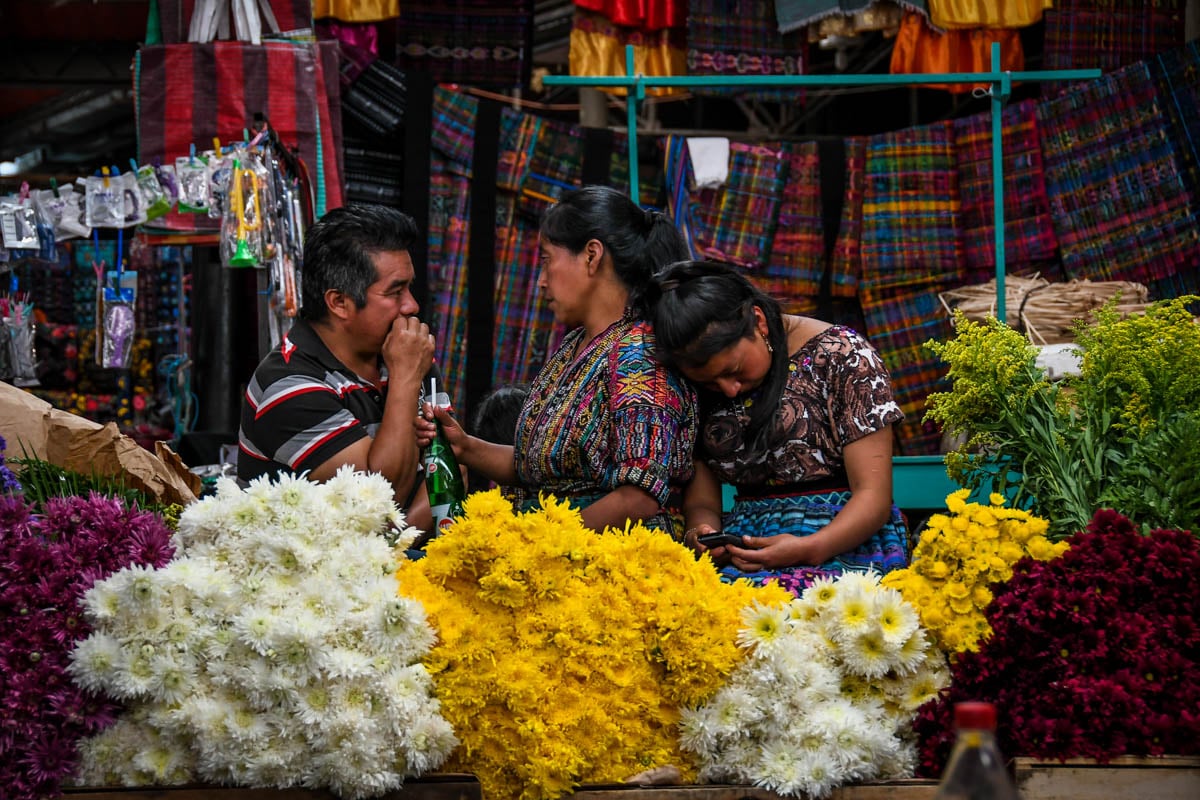 Set high up in the Guatemalan highlands, Quetzaltenango or "Xela" (pronounced "sheh-la") for short is often said to give visitors a glimpse of the "real Guatemala".
Xela is the second largest city in Guatemala, yet it has a more laidback atmosphere than the not-so-charming capital, Guatemala City.
Surrounded by volcanoes and known for beautiful churches and markets, Xela is far less touristy than Antigua and Atitlan, so it makes a nice stop if you have the time.
Spend a couple days exploring, or stay a while and take a Spanish class. Xela has many affordable options, including the choice to do a homestay.
Quetzaltenango is also known as a base for trekking. Standing tall at 4,222 meters (13,852 feet) Tajumulco is the highest point in Central America and takes 2 days to summit. Another popular multi-day hike is the 3-day trek to Lake Atitlan. Had we more time in Guatemala, this would have been at the top of our list!
Responsible Travel Tip: If you are considering doing a trek in Guatemala, check out Quetzal Trekkers, a non-profit trekking company led by volunteer guides. All profits go to a school and home for street children in Xela.
15. Volunteer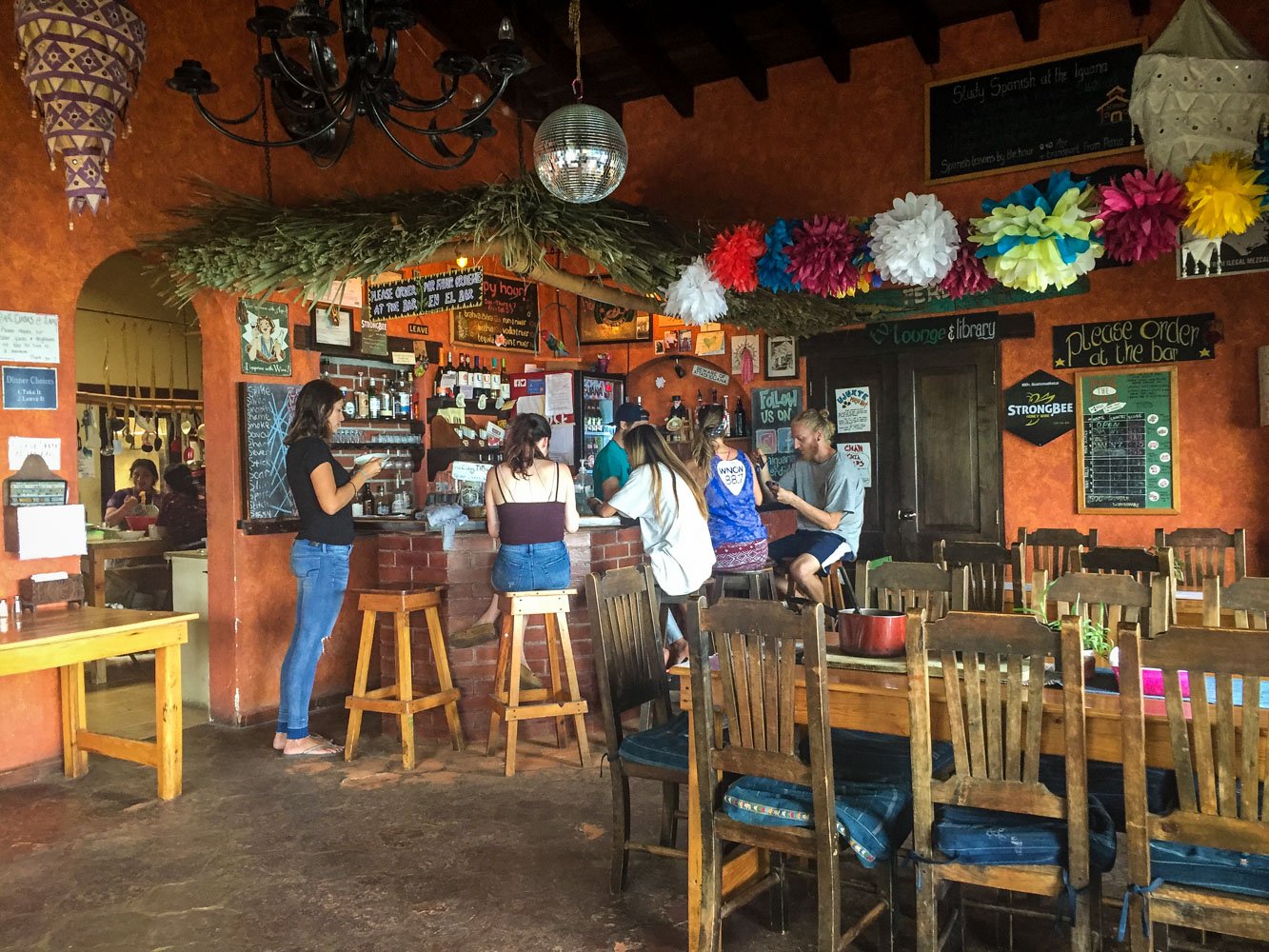 Being that there is a high level of poverty, Guatemala has many volunteer opportunities. But beware. Volunteering abroad is not always as good as it sounds. If you plan to volunteer with people, please do your research on the subject of "voluntourism" and ensure that you are choosing a reputable and ethical organization.
An alternative option for those who want to stay longer in Guatemala but don't want to breach the fuzzy ethical lines of working with children and impoverished communities is to volunteer at a hostel, guesthouse, animal rescue center, yoga studio, or farm.

Typically these programs are free, and in exchange for a few hours of work a day, you will be provided room and board. There are many opportunities on WorkAway, and unlike volunteering with impoverished communities, the repercussions of your work aren't as much of a concern.
16. See a different side of the country in Rio Dulce
While we didn't have to to make it to Rio Dulce and Livingston, this spot is a good stopping point if you are traveling from Guatemala to Belize.
With an old fort, a national park, jungle, birds, and small Mayan ruins, there are a handful of attractions in Rio Dulce. However, we haven't heard anyone name this place as a highlight of their time in Guatemala.
Truthfully, we heard mixed reviews about this area. Some people we spoke with said it was a nice way to break up their trip to Belize. However, others said it didn't feel super safe and the town of Livingston didn't have the best vibes (in their opinion).
We can't speak from experience, but had we been traveling to Belize, we probably would have tried to make it here just to check it out.
17. Go surfing in El Paredon
If you're a surfer (or want to learn) El Paredon is one of the best place to catch waves in Guatemala. Surfing in this region is best from September through November, and undercurrents can be strong.
While El Paredon doesn't get the same attention as more famous neighbors, like surfing towns in Mexico, El Salvador, Nicaragua and Costa Rica, this could be a nice way to soak up time away from the crowds.
Just 2.5 hours from Antigua, this laidback beach town could be a good addition to your Guatemala itinerary if you have some time to work with and want to get off the tourist path. You'll find a completely different vibe here than you will throughout the rest of the country.
Take a surfing lesson, do a cooking class, visit a sea turtle hatchery, and explore the mangroves on a boat tour. Oh, and take some time to just relax at a luxurious hotel with a pool, like this one!
18. Practice your Spanish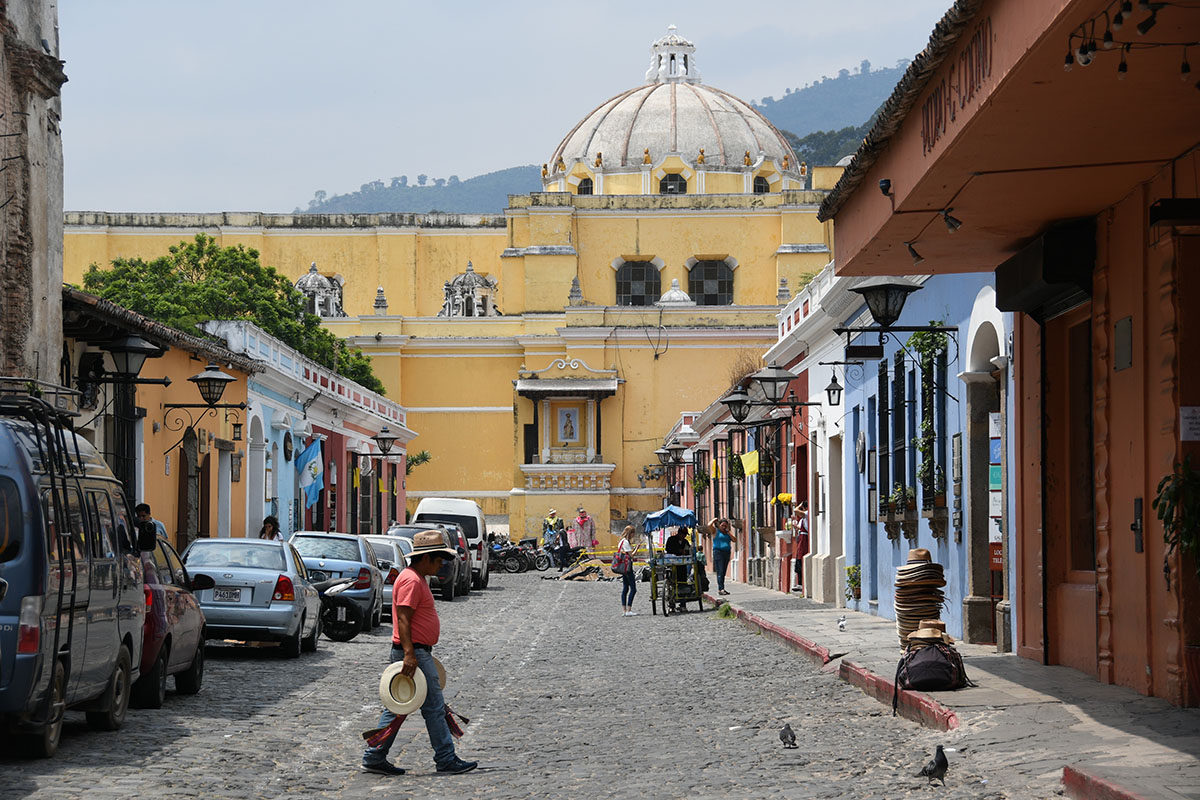 Guatemala is the perfect place to take a Spanish class. There are courses offered all around the country, and they vary on length and cost depending on what you're looking for.
The towns around Lake Atitlan are popular places for people to take Spanish courses, as is the charming town of Antigua. You can book in advance, or visit each place and see where you'd prefer to spend more time.
---
Are you planning a trip to Guatemala?
We have lots more resources on travel in Guatemala and destinations throughout the country. Check out our Ultimate Guatemala Travel Guide for all the important travel information, or read some of our favorite articles below.
Save this article on Pinterest for later!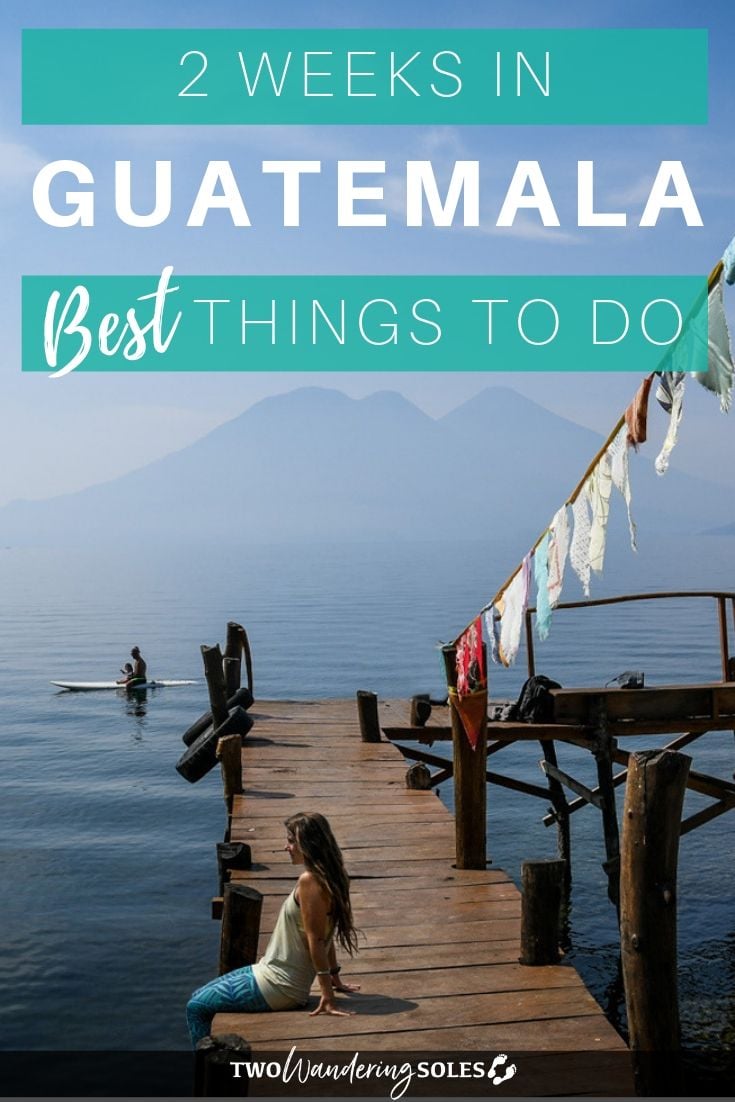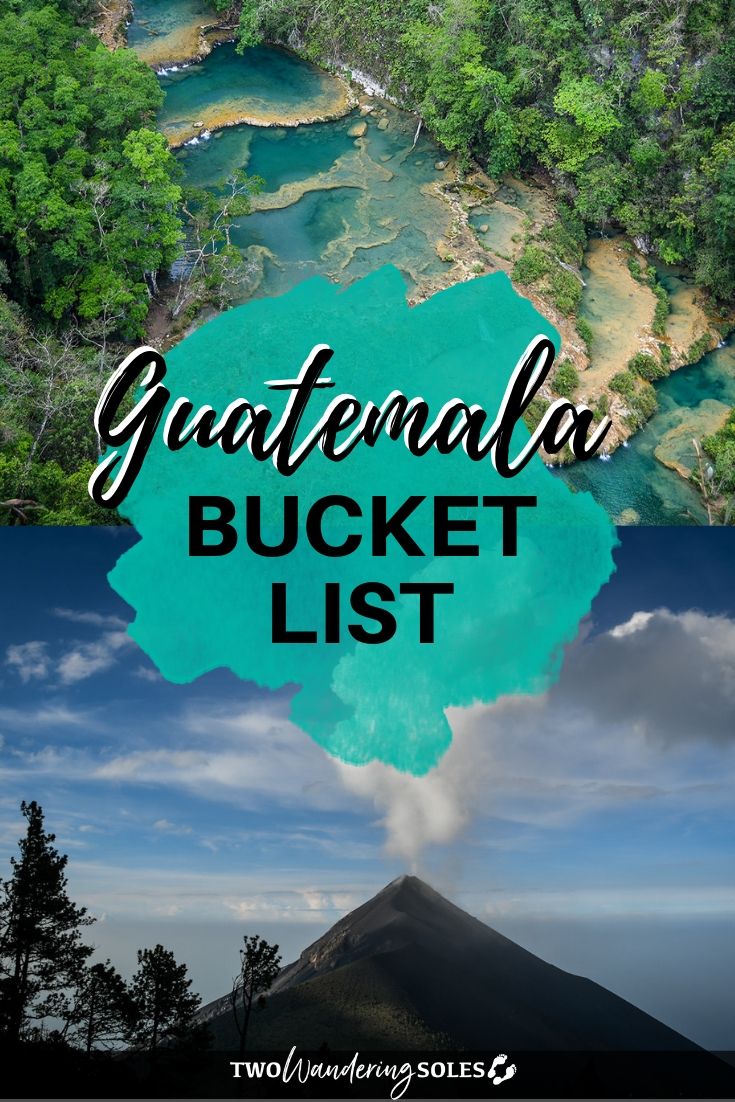 We want to hear from you!
Have you been to Guatemala? What was your favorite experience?
Are you planning a trip and still have questions? Comment below and we'll do our best to get back to you!