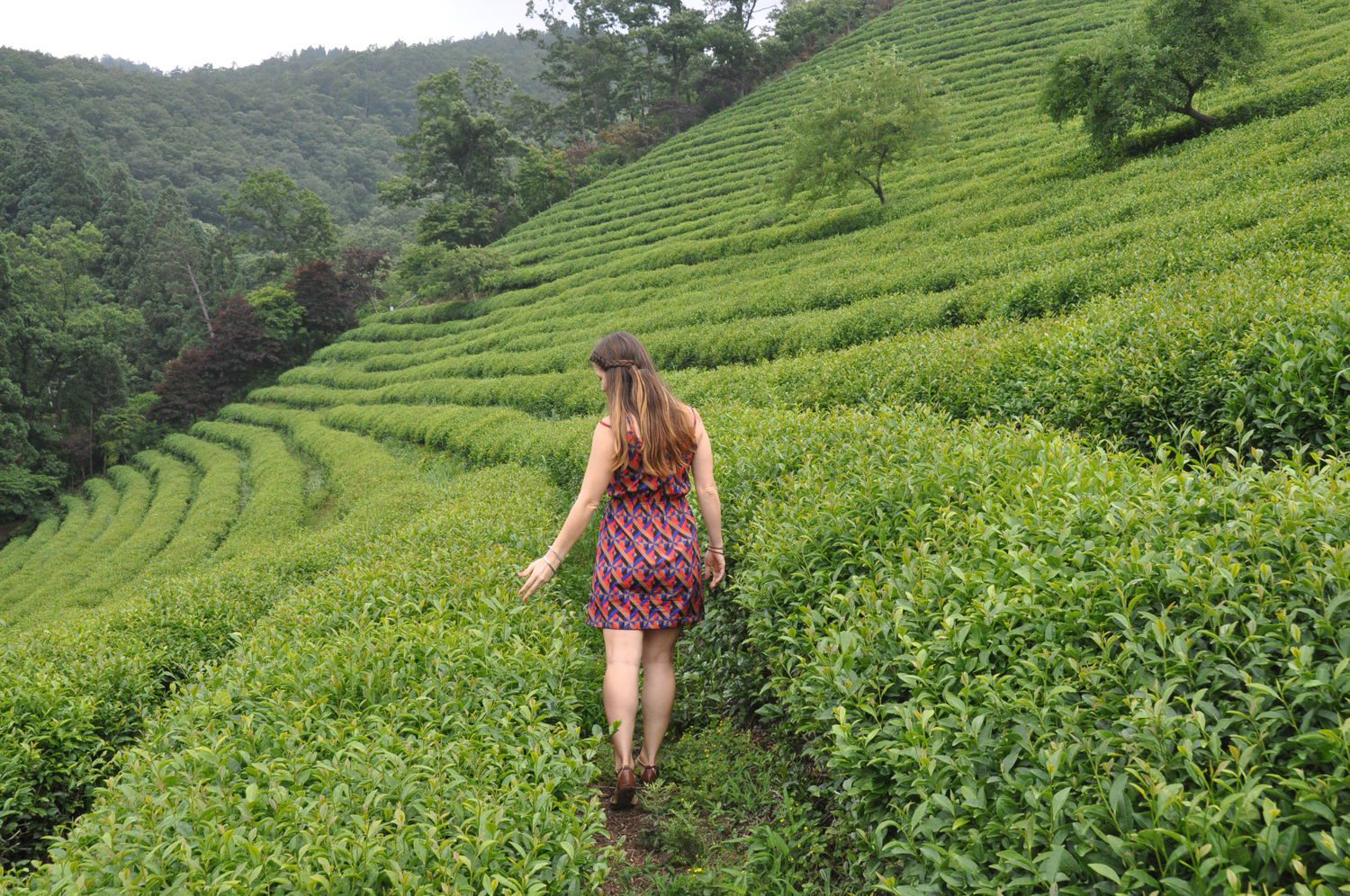 When we moved to South Korea to teach English, bright-eyed and unsure what to expect, we made a list of things to do and see and experience in the 12 months that followed.
I do have a little beef with Bucket Lists, but sometimes having all your goals written out can help you achieve them. And that's what this list did for us. We were lucky to see and experience some pretty incredible things!
If you are living in Korea, or even just visiting for a short time, these things to do in Korea will hopefully give you some travel ideas of places to go, meals to eat, and experiences to be had in South Korea.
So here it goes: our list of highlights from our year in the R.O.K.!


---
Korean Experiences
Some things are so quintessentially Korean, that we couldn't leave the country without experiencing them for ourselves.
1. Get naked at a Jimjilbang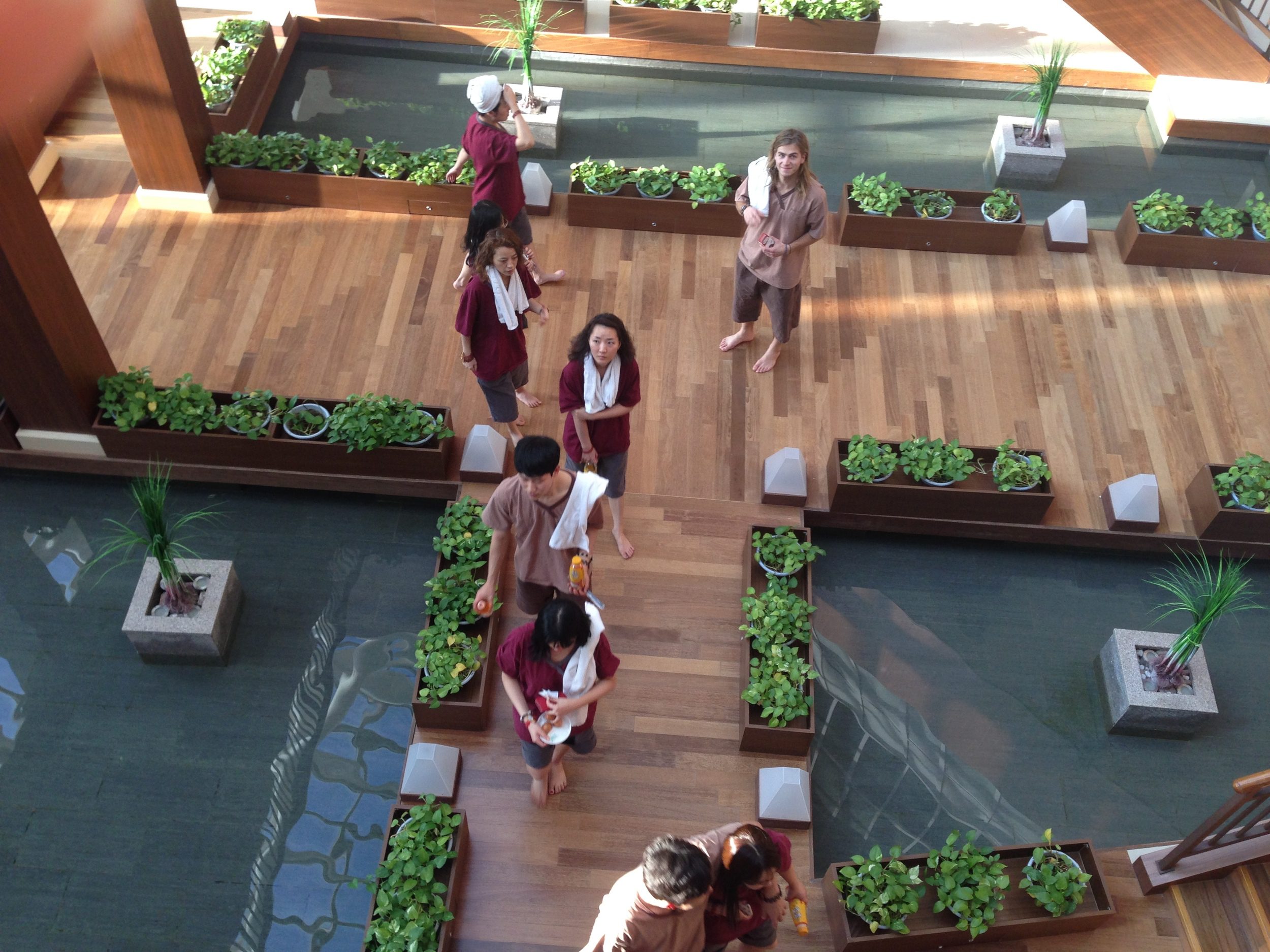 Alright, time to suit up… birthday style. Don't be embarrassed; everyone will be wearing the same thing: nothing! Traditionally, this is where Koreans would go to get cleaned up for the week, but today, Jjimjilbangs have turned into a spa retreat. You can relax in the varying temperature hot tubs or splurge on an exfoliating body scrub.
Our first time at a jimjilbang was with a group of our friends on Christmas. Yes, Christmas. A very different holiday tradition, to say the least. And during my second encounter, I graduated to a full on, whole body exfoliation.
Here's what happened: A middle-aged woman wearing see-through black lingerie scrubbed me down from head to toe… yes, even there. It sounds a lot more uncomfortable than it actually is. Once you get over the initial weirdness, it's actually quite liberating. And dayummmm, was my skin smooth.
Experience it for yourself: There is probably at least one in every city, but the biggest one is Spa Land in Busan. Attached to Shinsegae Centum City, this "jjimjilbang on steroids" will suit all your relaxing needs. For only 15,000 won, enjoy the gender separated whirlpools or meet your friends in the co-ed (wearing the required clothing) and get your sweat on in one of the different style saunas. If you're a little unsure about if this experience is for you, read up on what to expect at a Korean spa.
2. Sing until your voice is gone at a Noraebang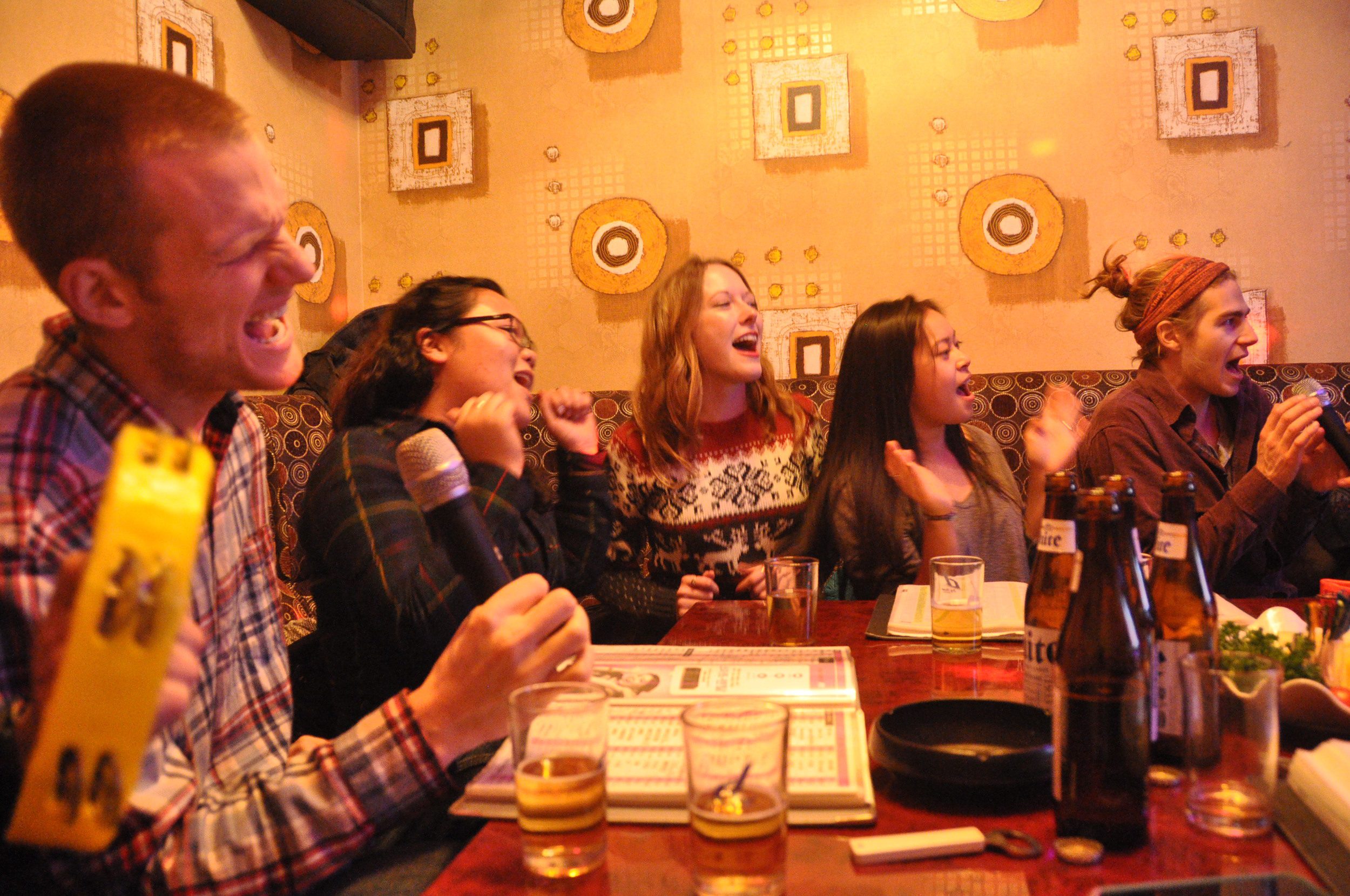 Well, this one has happened quite a few times. Singing rooms — or noraebang — are everywhere in this country and are the perfect way to start (or end) the night with your friends!
Experience it for yourself: Just look for the neon signs flashing "노래방". You can rent a room with a comfortable couch for your group of friends for around ₩20,000-30,000. Many times beer and some light snacks are included in this price.
3. Go clubbing in Seoul
Seoul is known for its wild nightlife, and it took us the better part of a year to finally experience it. Let's just say, if we had the choice between clubbing and sampling a flight of microbrews, we'd choose the latter almost every time. But we finally decided to make it happen. We rallied a group from our hostel, and together went to the hottest club in the Hongdae neighborhood.
We've partied with the best of them in Barcelona, Miami, Buenos Aires, and Bangkok, and I'd say clubbing in Seoul could be ranked somewhere in the middle as far as wild night life is concerned.
To say it was packed is an understatement. We rubbed elbows and err… sweaty bodies (did I mention it was crowded?!) with the young university crowd and a spattering of foreigners. Dancing until sunrise to Kpop and techno was certainly a Korean experience we'll never forget — even if the memory is a bit fuzzy.
Experience it for yourself: The Hongdae neighborhood has no shortage of clubs. Head to NB2 where you'll find a young crowd that has no intention of ending the party while the sky is still dark. Expect to pay a cover between 10,000 and 20,000 won depending on the night (we paid 15,000). This fee covers entrance and one drink.
Dress code is smart, but on the casual side. No heels? No problem. Oh, and don't forget to grab a slice of greasy pizza from across the street when you've had your fill of partying.
4. Cheer in the stands of a Korean baseball game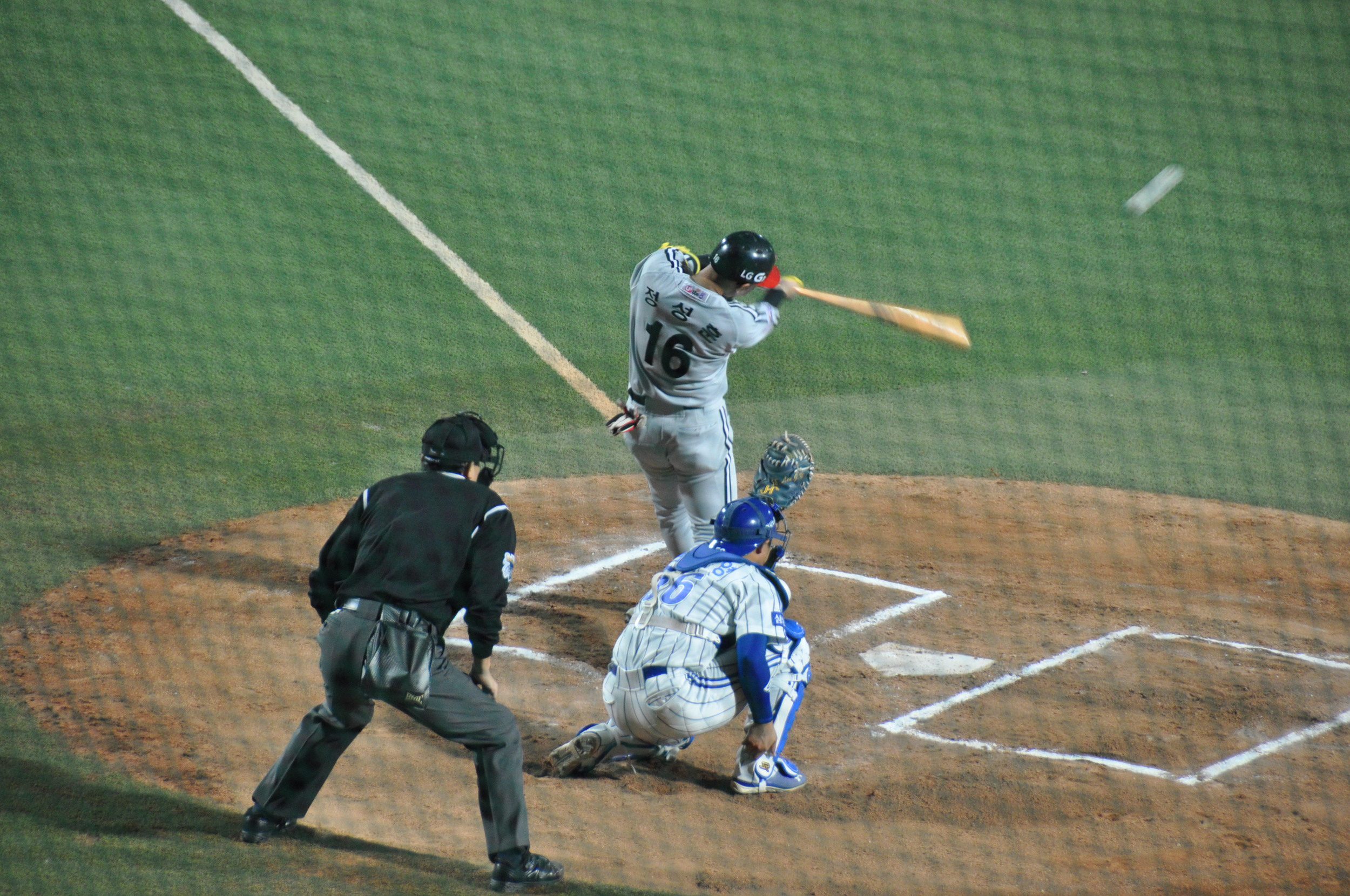 Korean baseball is a riot. It is such a different experience than attending baseball games in America. For starters, you can bring in your own food AND alcohol! That's right, you don't have to pay the jacked up prices of the stadium concession stands. It's pretty wonderful.
Add to that, crowds of cheering fans, songs, chants, and dances, and you're in for a really good time! if you're living in Korea you'd better get your butt out to at least one game!
Experience it yourself: There are 11 baseball teams in Korea, 5 of which are located in the Seoul area. Outside the stadium, you'll see women selling boxes of fried chicken for 5,000 won – you can't beat that! Try to make it to a fall or spring game before it gets miserably hot in the summer months. And keep an eye out for the token foreigner on each team — they often have the best chants!
5. Go camping… Korean style!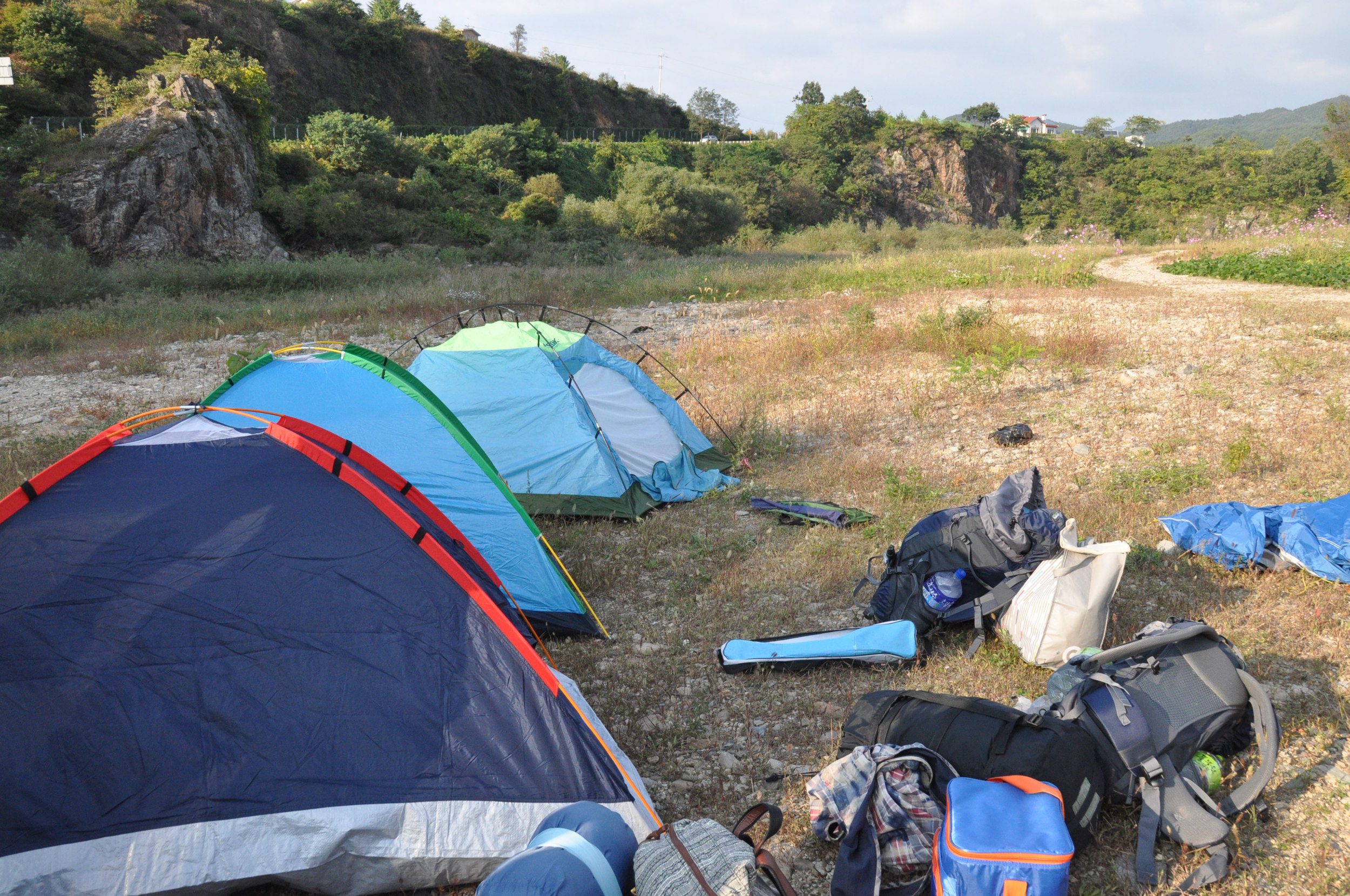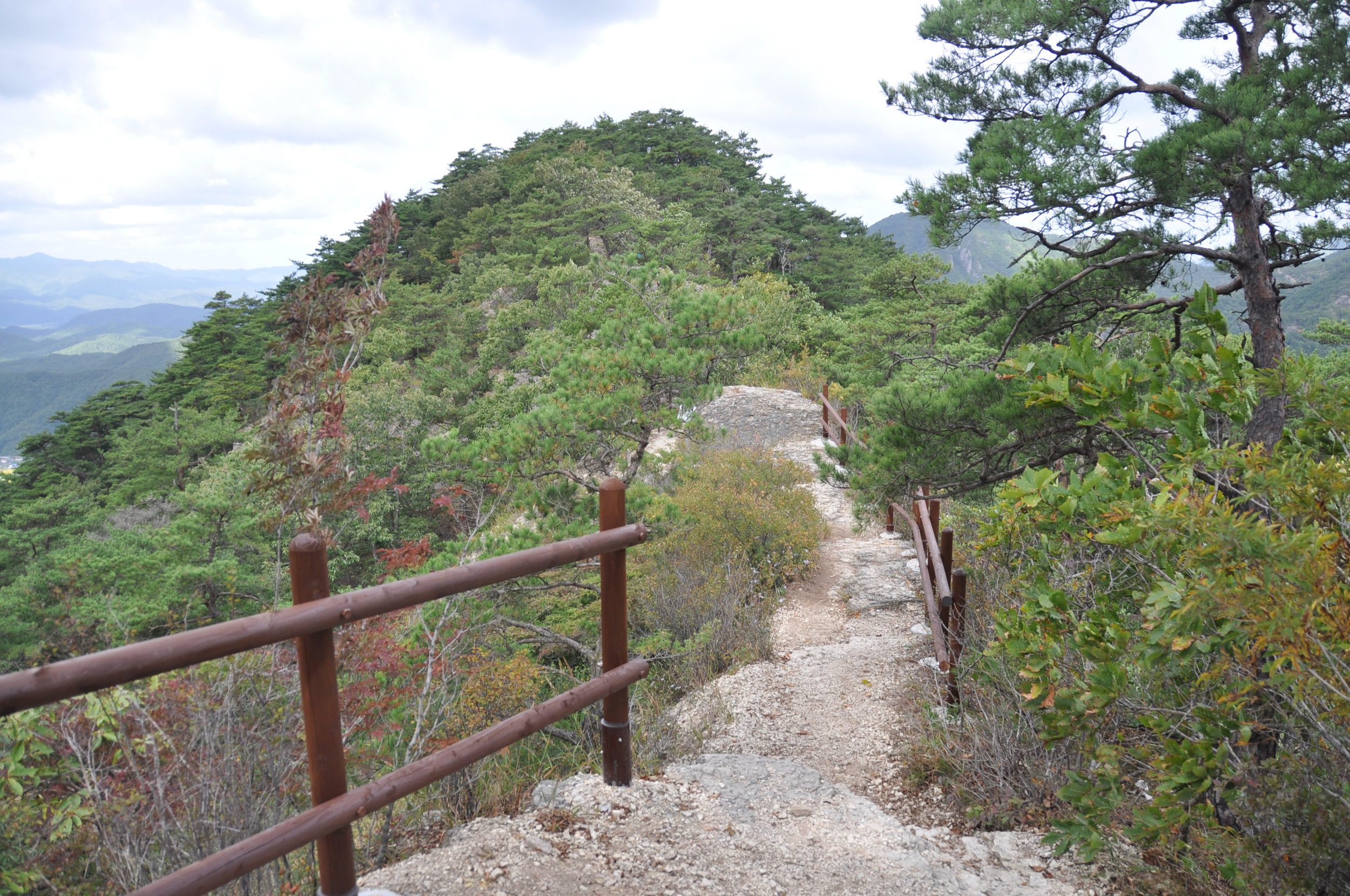 Camping is hugely popular in Korea, but it's quite different than what you may be used to. We went camping on two different occasions while living in Korea, and it is certainly an experience to be had. Plus, if you're traveling around Korea on a budget, camping can save you a ton of money!
Our camping experiences: In the fall, we made the trek up to Juwangsan National Park and brought with us tents, a little stove, and all the camping essentials.
Well, we were pretty shocked when we realized there was no site to rent, but instead a gravel area that had already been taken over by several families with tents nearly touching.
Not exactly the secluded site surrounded by towering pines we're used to finding in Minnesota, but we embraced the experience and had so much fun we decided to get another use out of our tents in the summer months.
Another weekend we went beach camping on Namhae Island with good friends, sunshine, sea kayaking, games, wine, and one tipsy banana boat ride, is a weekend we'll never forget!
Related: Eco-friendly travel gear you can bring anywhere in the world.
Experience it yourself: Head to Homeplus or Emart and pick up a cheap tent — we found ours on sale for 10,000 won – and choose a national park with good scenery and hiking. Avoid the HOT HOT HOT months of July and August, and opt instead to go camping in early fall or late spring.
And pack your own meals if you can. Most Korean families pack lots of food, so we found that restaurants weren't super abundant around popular camping areas.
6. Explore different theme cafes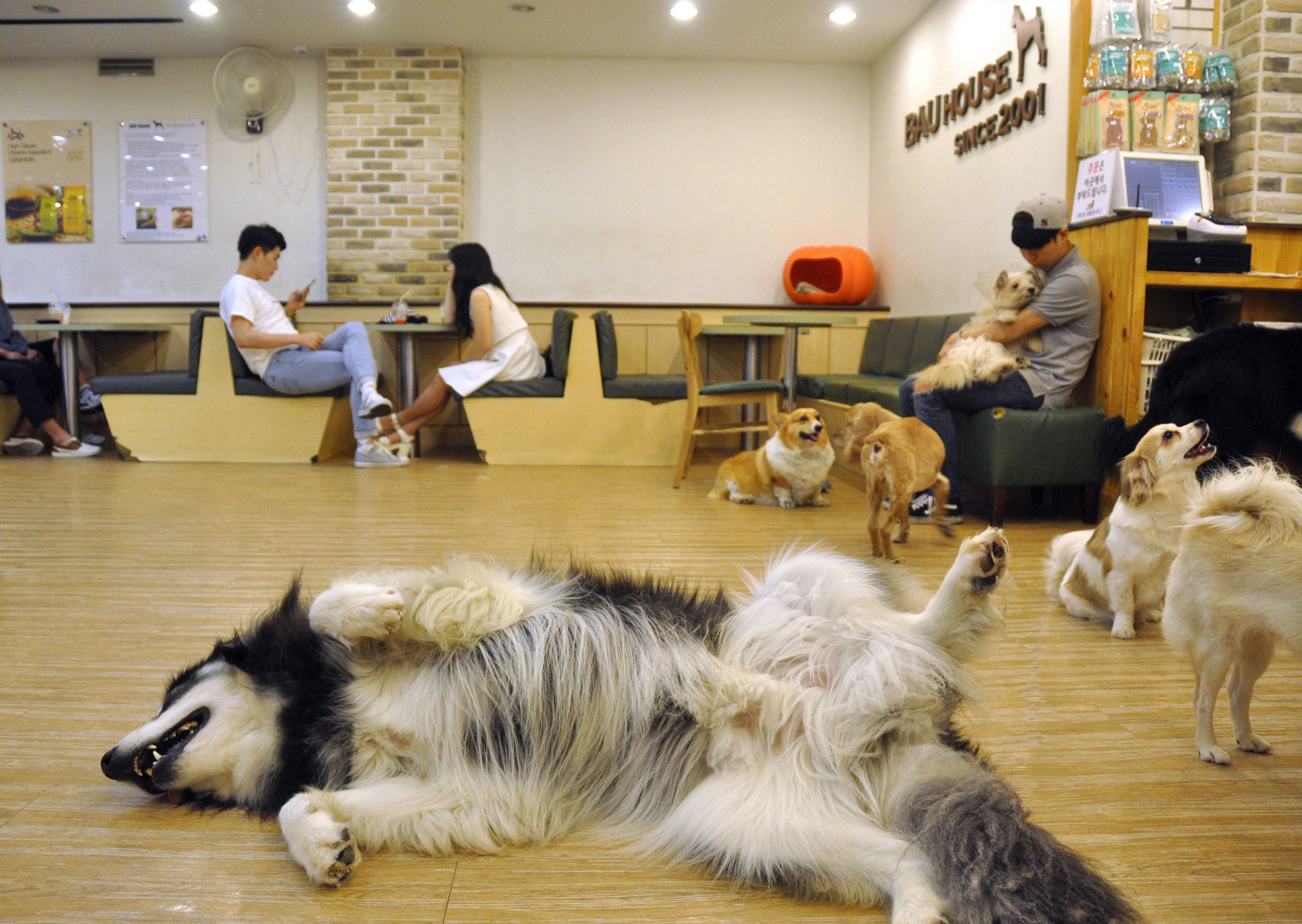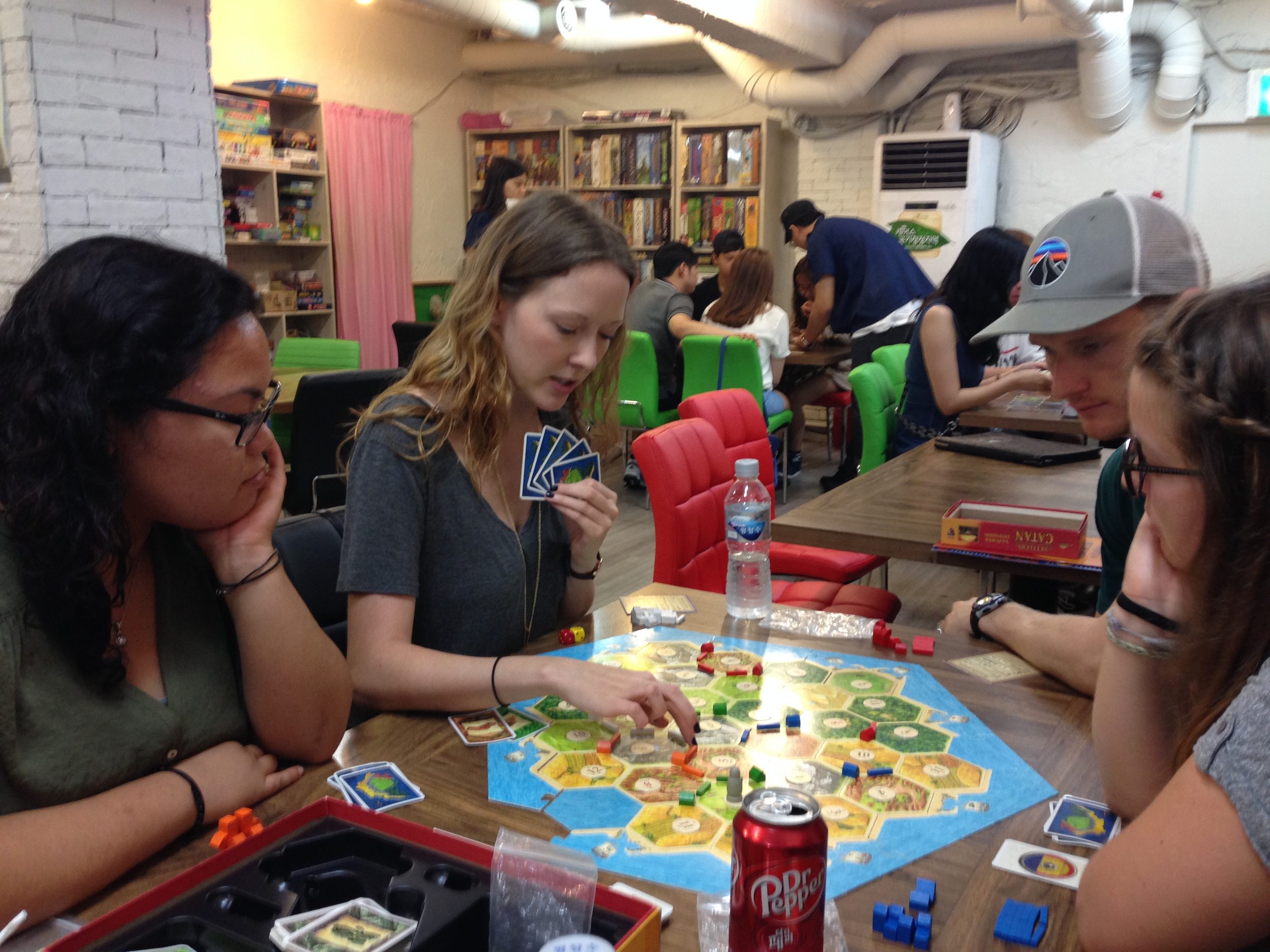 Korea is full of cafes ranging in theme from K-Pop to sheep. Our favorite is, without a doubt, board game cafes. Unlike coffee shops at home that have a handful of well-worn games that are missing half the pieces, board game cafes in Korea have any game you can think of in mint condition.
Experience it yourself: Board game cafes are quite common in bigger cities. You pay based on time, but it is almost always very reasonable. For example, we typically pay 5,000 won each for 2 hours of board game bliss.
---
Korean Festivals
Korea has festivals just about every weekend. It's hard to decipher between the interesting and the dull. We had our fair share of both, but found a few of the festivals to be incredible places to gain a deeper understanding of Korean culture (and eat some kickass food!).
7. Watch the traditional dance at the Andong Mask Festival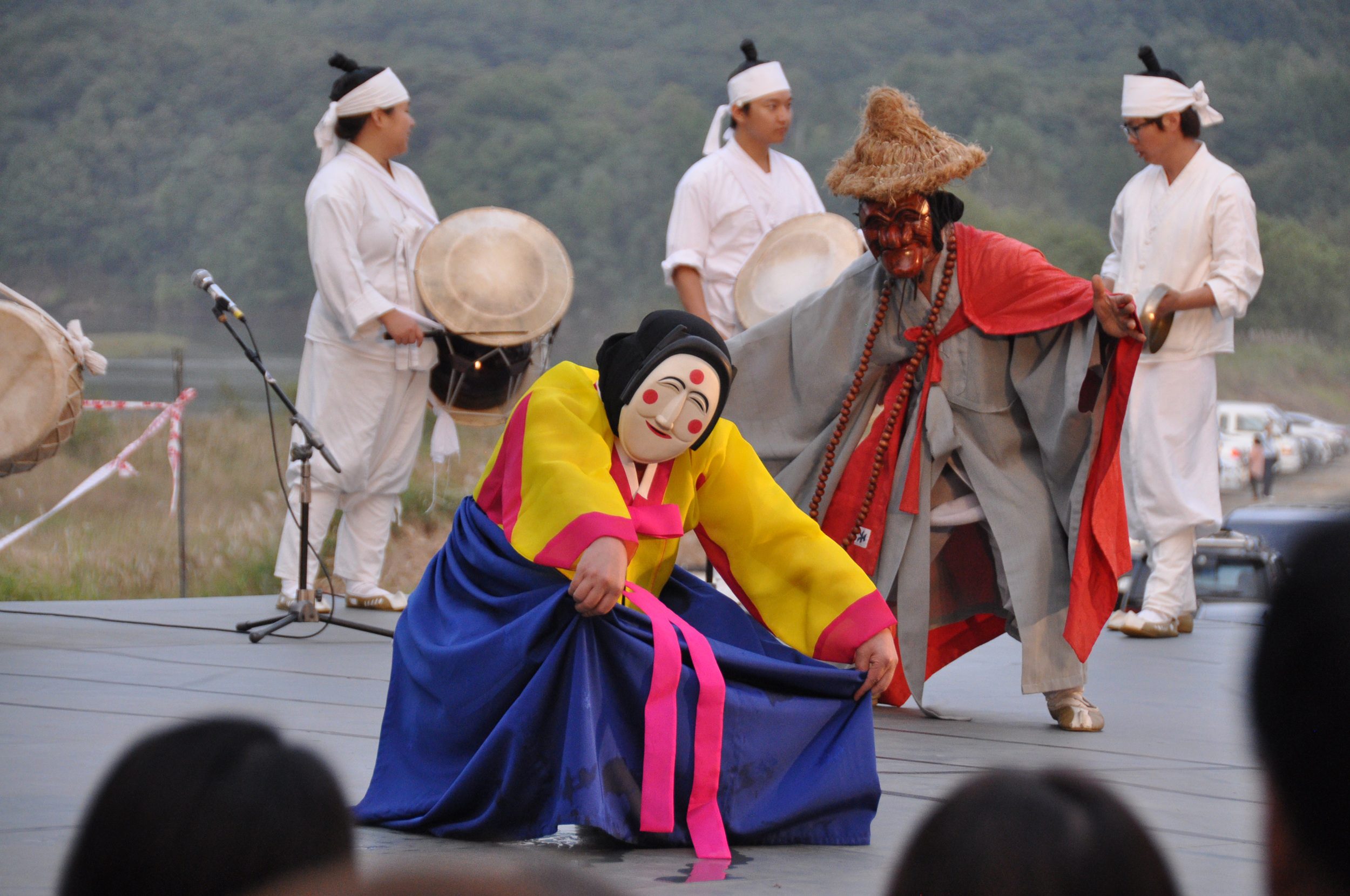 The Andong Mask festival is perhaps one of the best festivals of the year, and is well worth the visit. We made masks, watched the traditional dance (and even got called up on stage to join in!), ate street food, and explored the charming Hahoe Folk Village.
Experience it yourself: Part of the festival takes place at the cultural center in the heart of Andong. But the most interesting part, in our opinion, took place in the Hahoe Folk Village. To get there, you'll need to take a city bus for nearly an hour.
Once in the village, explore the streets that are frozen in time and lined with traditional hanok houses. Be sure to watch the mask dance performed alongside the winding river with cliffs as a backdrop. If you're able, stay for the fireworks that take place after the sun sets. With burning bushes being thrown off the cliff's edge, it's unlike any firework show you've ever seen.
8. See Cherry Blossoms in Bloom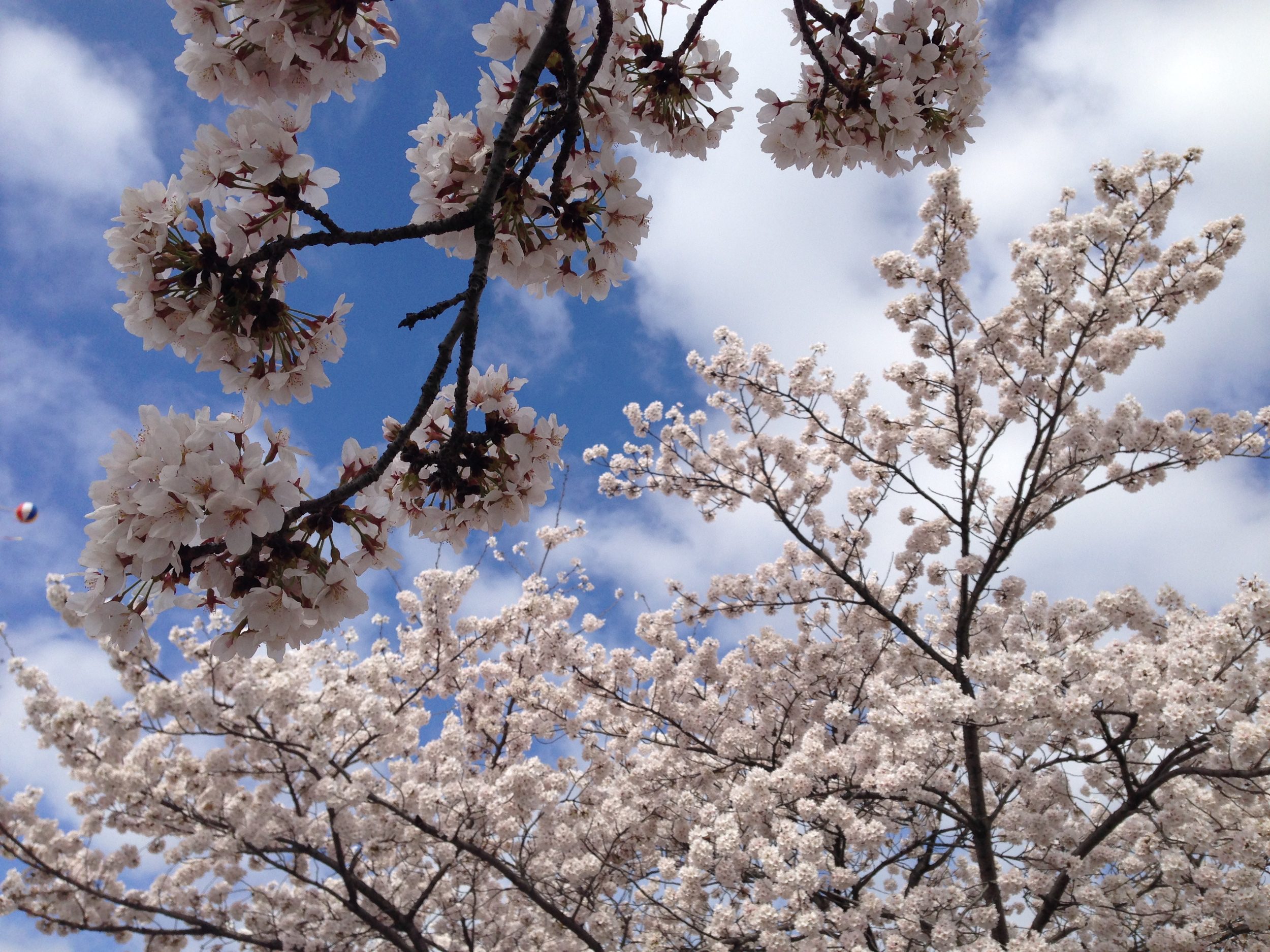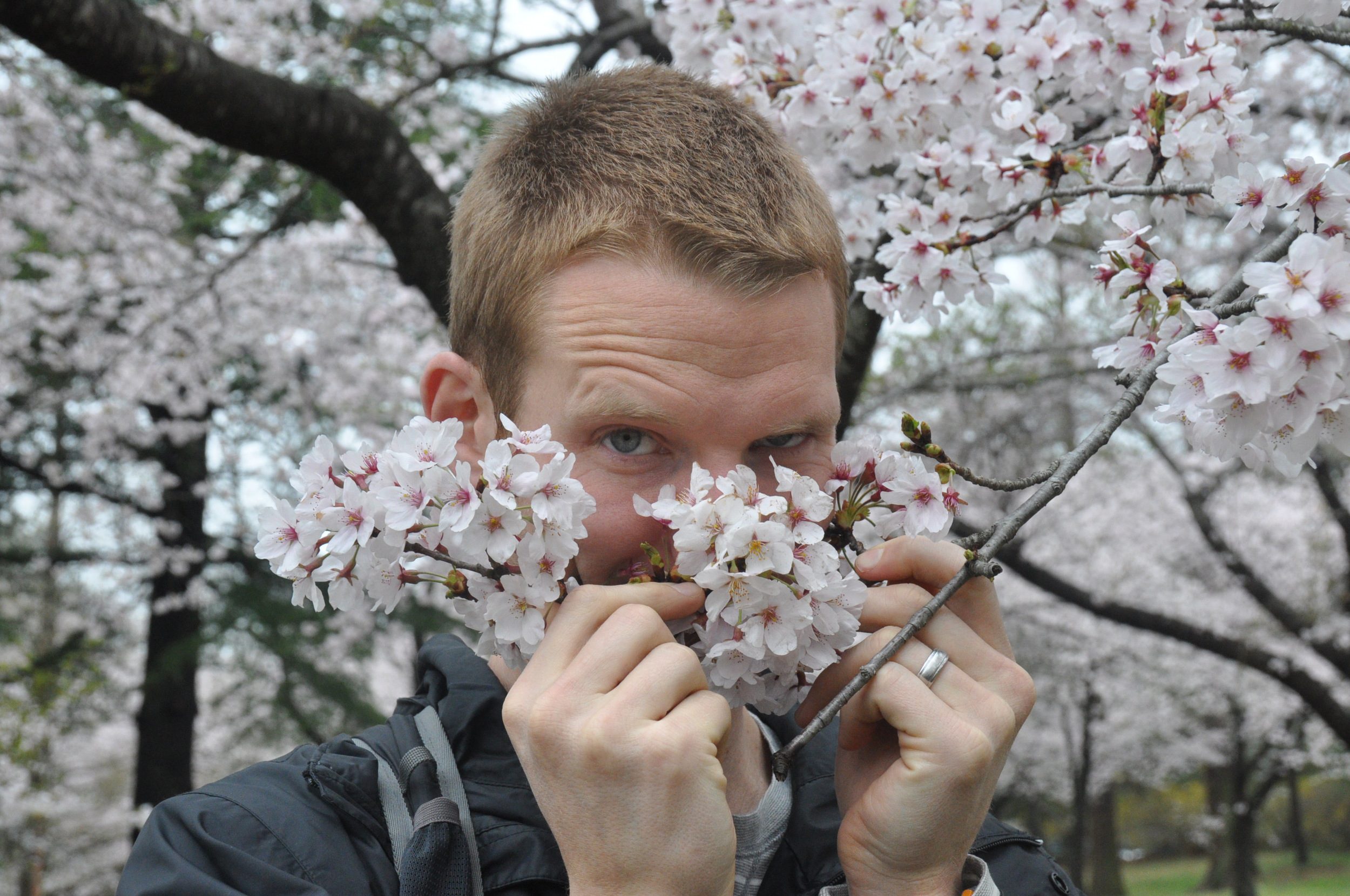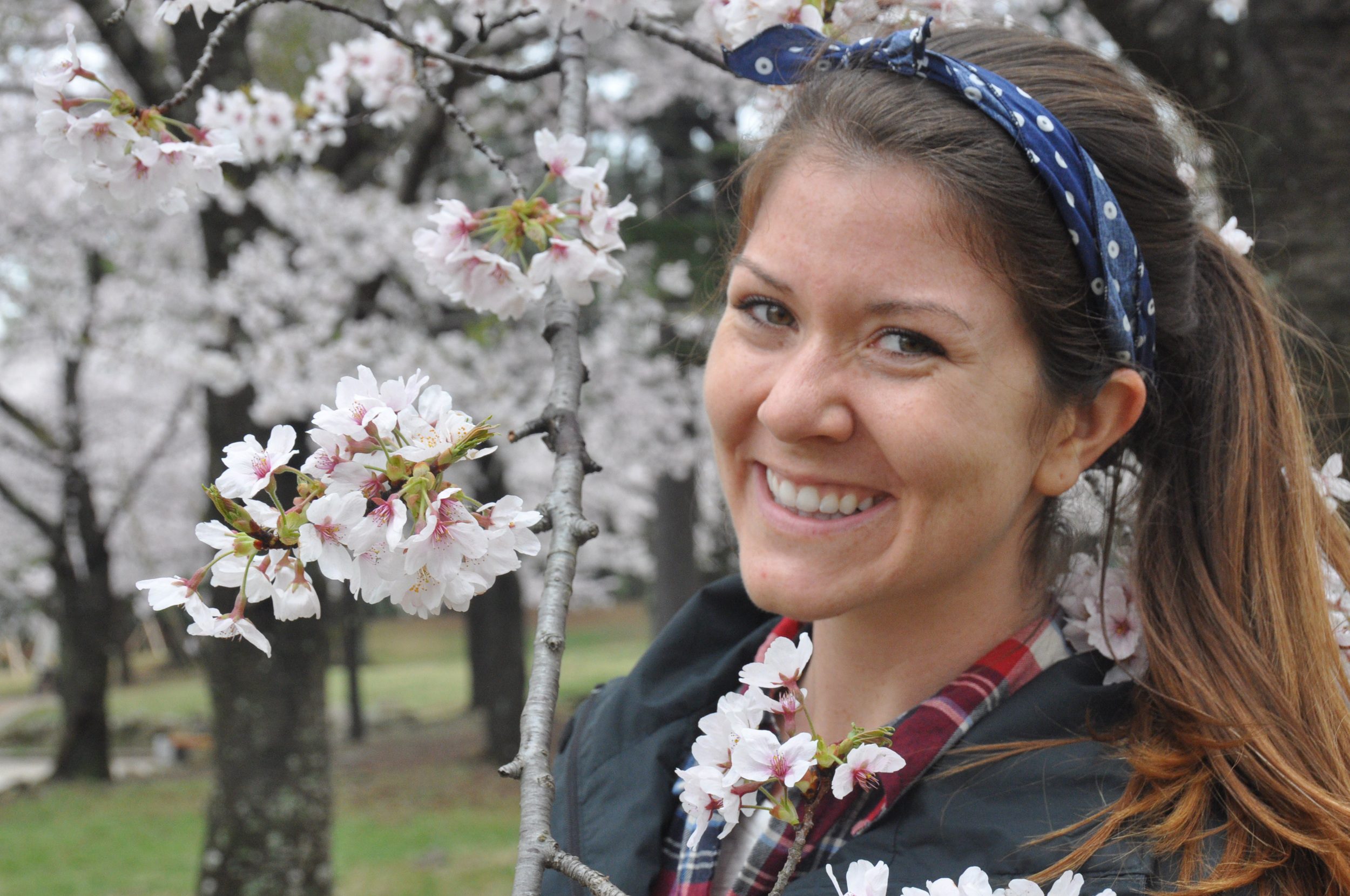 For just two weeks in April, Cherry Blossoms take over South Korea. We also ran in the annual Cherry Blossom 10K in Gyeongju — definitely the most beautiful race we've ever been a part of.
Experience it yourself: There are plenty of festivals around the country to choose from. The most famous, however, are located in Jeonju and Gyeongju. Be sure to book your transportation and accommodation well in advance, as it is a popular time to travel.
9. Get dirty at Boryeong Mud Festival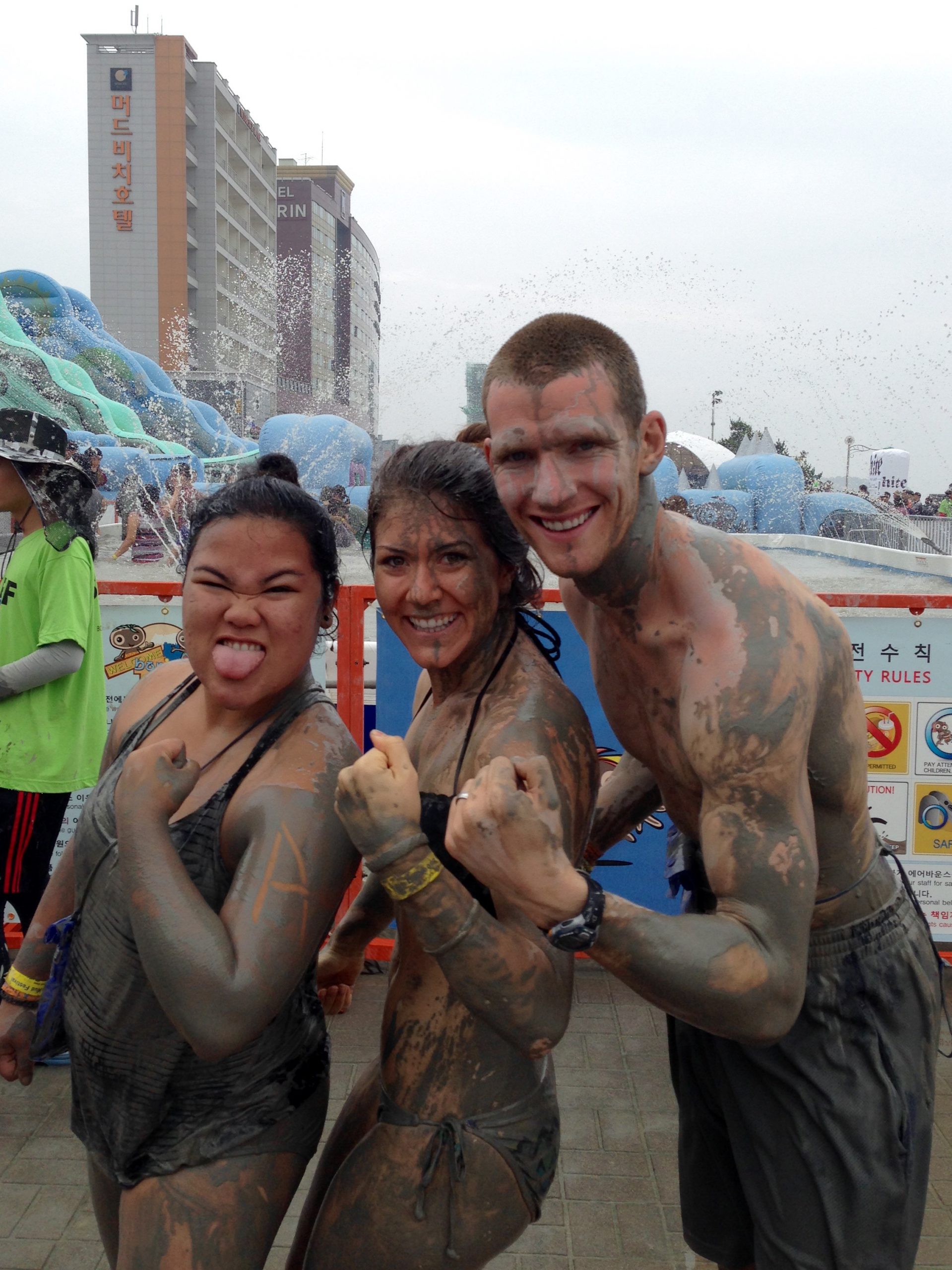 This certainly isn't a festival rich in culture, but if mud and beer sound like fun, you'll have a blast! We had memorable weekend with our group of friends while playing on inflatables, drinking soju, and getting mud in places we won't name.
Experience it yourself: There are several organized tour groups, many of which you can find on Facebook. They typically include transportation, accommodation, entrance fees, food and sometimes beer.
Prices range from 75,000 to 130,000 won depending on who you go with. One thing to keep in mind is that the lines for the muddy activities are especially long on the first day of the festival. Plan to buy an additional entrance ticket on the second day (10,000 won) and you'll have far fewer lines. We thought it was well worth the extra 10,000.
10. Go Ice Fishing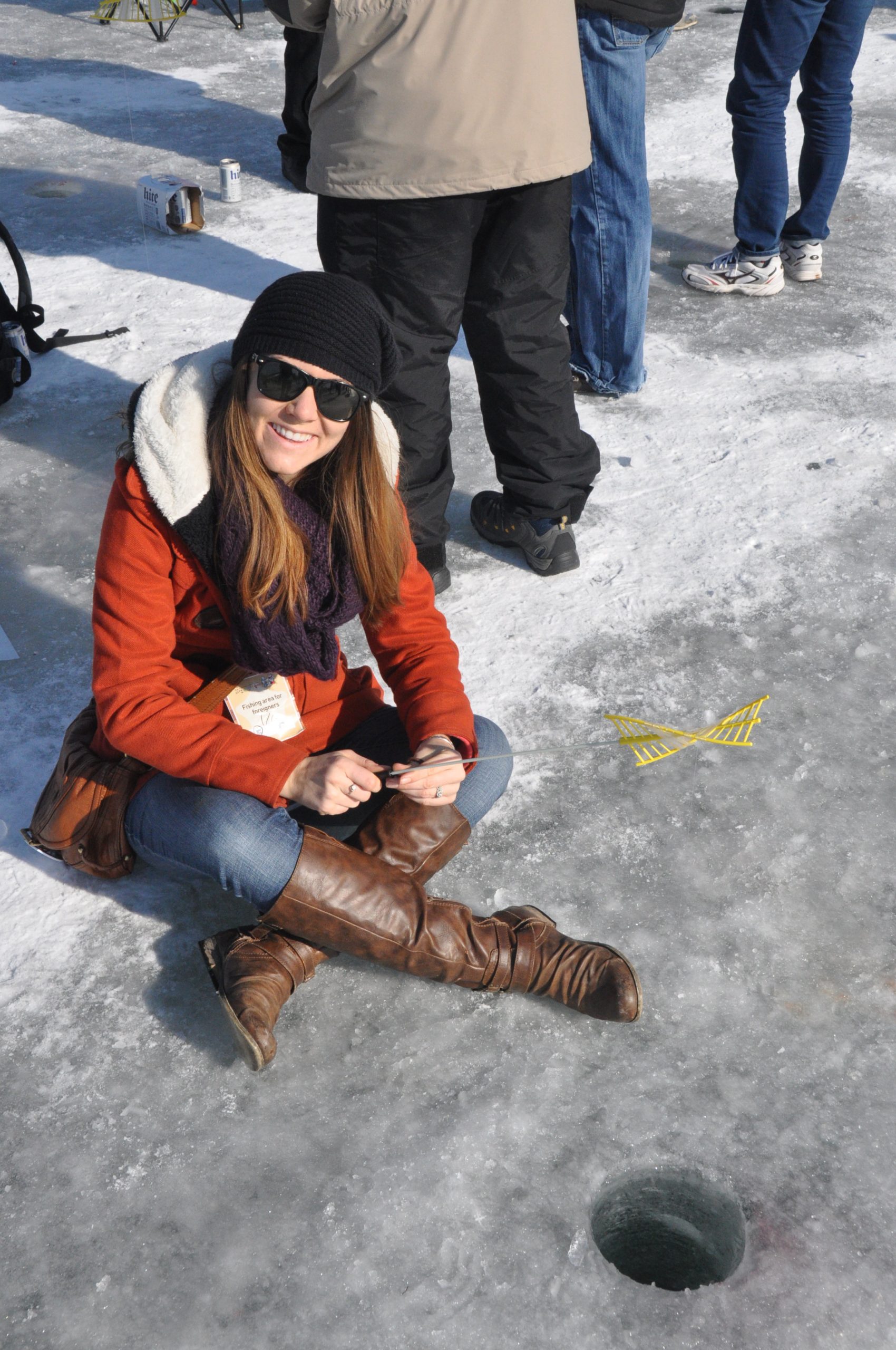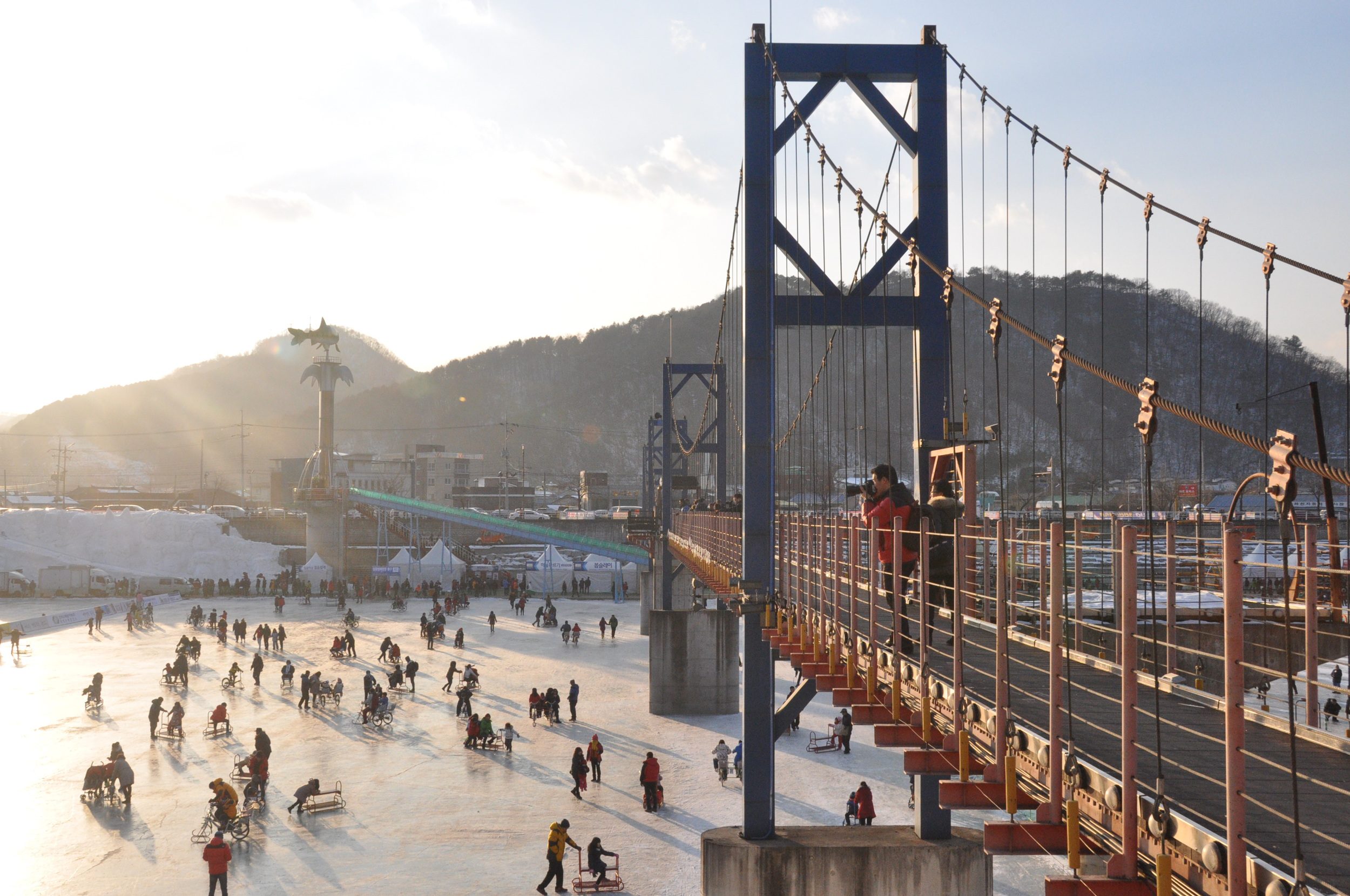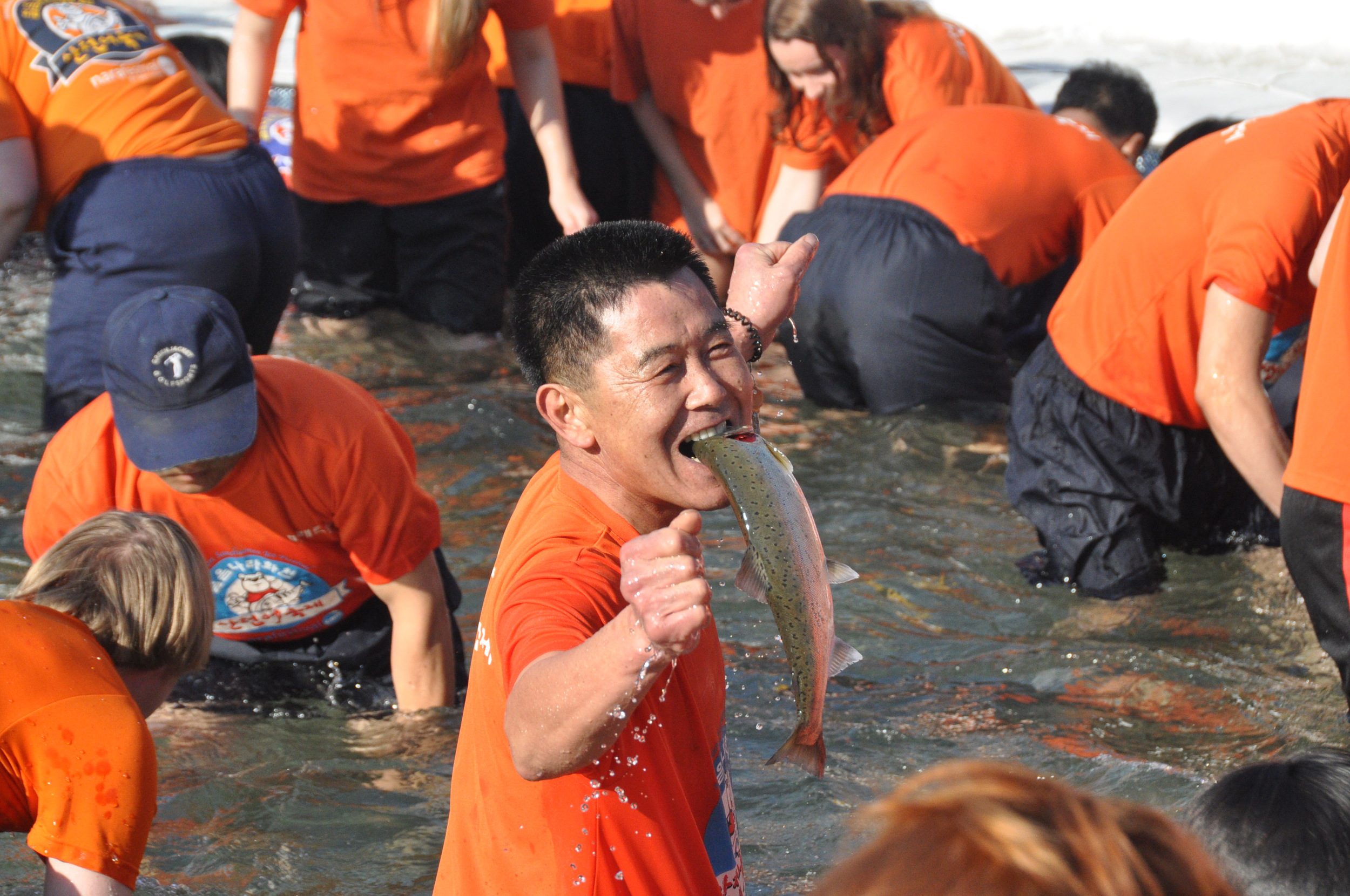 In the bitter cold of winter, there can't be a more fitting festival than the Hwacheon Ice Fishing Festival. Walk onto the frozen river and you might be ushered into the "Foreigner Fishing Zone" to try your skills at catching the mountain trout.
If you are lucky enough to catch one (we were not), turn it into the barbecue booth and get a hot, smoked trout to enjoy with chopsticks. Check out the other activities going on for the festival such as inner tube slides, push cart skating, and the crowd pleasing (and freezing) bare-handed fishing.
Experience it for yourself: The easiest way to participate in this festival is to take a tour with Adventure Korea. They bring you to and from Hwacheon and help you get into the frozen festive mood.


---
Korean Destinations
Before we even arrived in Korea, we had a list of places we wanted to visit. From mountains to islands, and from cities to remote parks – we've seen Korea from all different angles, and it's hard to decide what part we liked best!
11. Wander the beautiful Boseong Green Tea Fields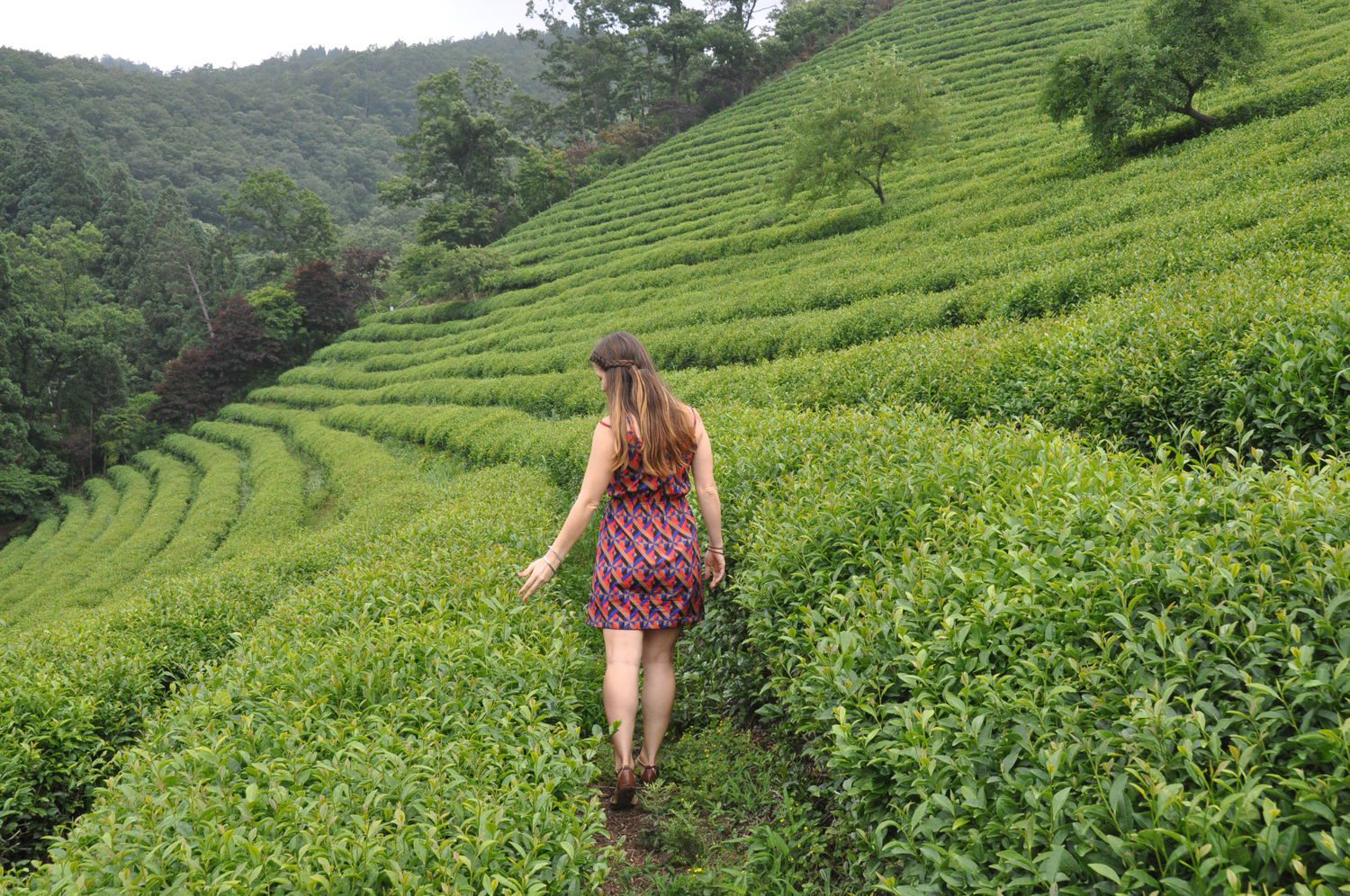 When I think of my favorite places I've visited in Korea, this one jumps high on the list. Perfect rows of tea curve with the rolling hills, and fresh mountain air is abundant. We enjoyed green tea ice cream and churros while listening to the gurgling stream and chirping birds. 
If you want to up your photography game for the green tea fields, brush up on your skills with 32 Easy and Creative Travel Photography Tips.
Experience it yourself: it's quite the trek to get here from most places in Korea. (We had to take a total of 6 buses!) But you'll be so glad you made the trip. The best time of year is late spring and early summer (before it gets too hot).
Be sure to hike to the very top of the hills and you'll be rewarded with spectacular views of the fields below. Instead of walking back down the way you came, head through the forest, which will pass by a tiny stream and bring you back the the entrance.
Did you know South Korea is a great place to teach English. Find out how to get certified to teach English abroad.
12. Glimpse North Korea at the DMZ
It's pretty bizarre how little South Koreans talk about the country directly to the north. Sometimes I think people feel like they can't help, so they pretend it doesn't exist.
The sad truth, which we discovered, is that less than an hour outside of the bustling, modern city of Seoul, people are living with so little technology, freedom, and knowledge of the outside world. The tour of the DMZ was both enlightening and depressing.
At one point, we looked through binoculars and saw people on the other side of the border. And it's a helpless feeling knowing you are so close, yet can't do anything to help.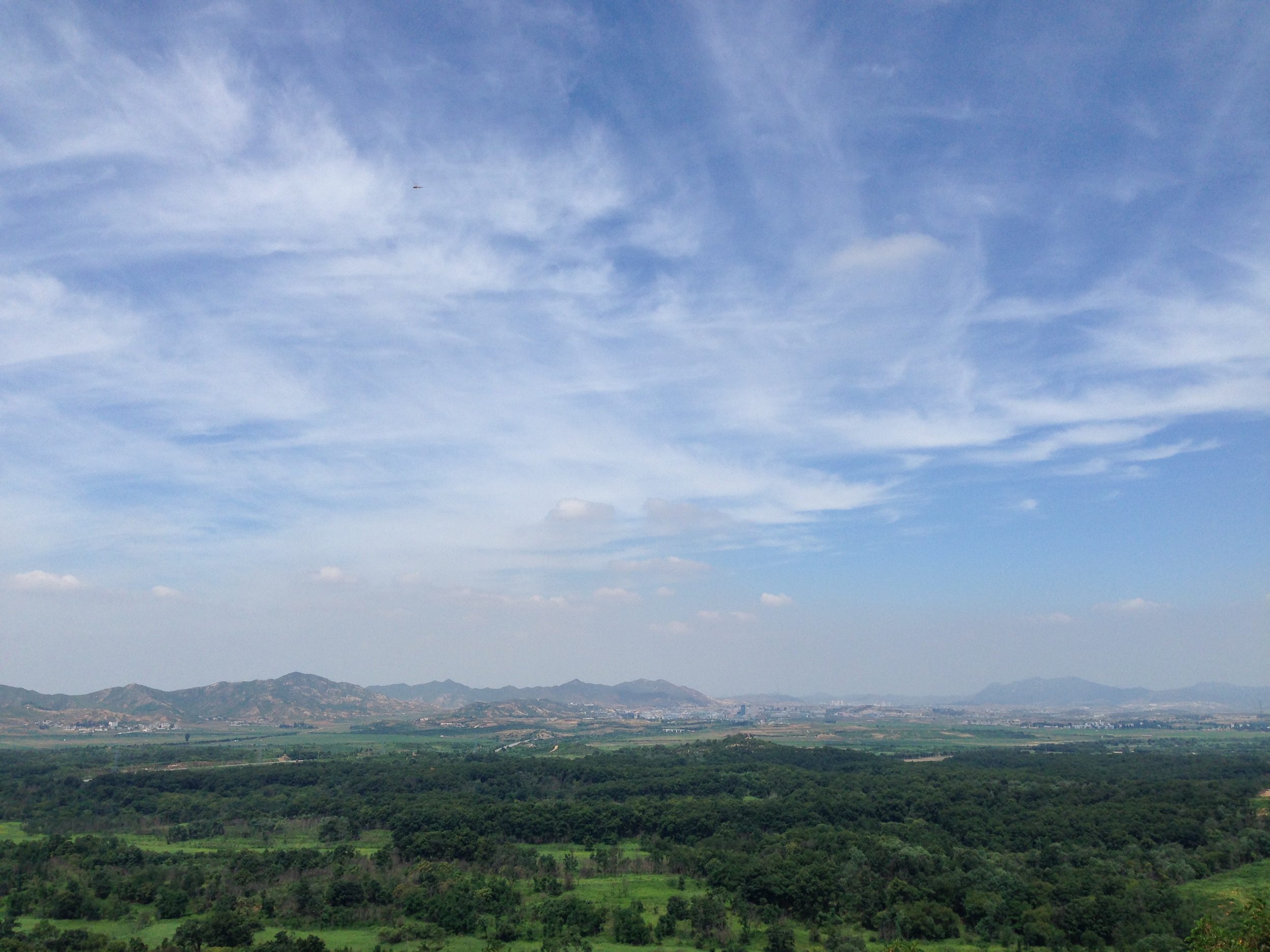 One of the most interesting parts of the tour was seeing the underground tunnels that were discovered leading into South Korea. Another interesting stop was at the northernmost train station in South Korea. If the two countries were reunified, this train station would connect the missing link to the Trans-Siberian Railway, and people could in theory travel from South Korea to Portugal. 
Experience it yourself: There are many companies that do DMZ tours, but the one we went through was Koridoor Tours. It is run by the USO, and offers half and full day tours. Read up more about booking your DMZ tour.
13. Visit Ulleungdo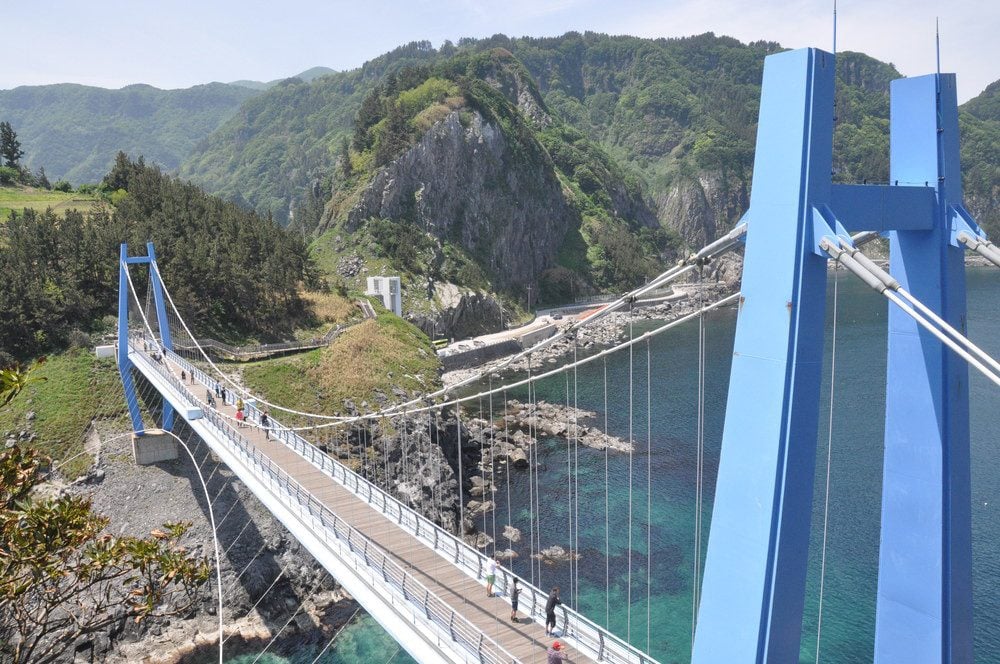 We were incredibly lucky to have the opportunity to visit Ulleungdo on a trip sponsored by the Office of Education. The jagged seaside cliffs and small town feel make this remote island one of the most beautiful places we saw in all of South Korea. 
Experience it for yourself: I can imagine it would be a bit difficult to navigate on your own, so going with a tour group is a good option for exploring this gem. Be sure to make it to Yeon Doh Gyeo (연도교). This bridge is on the very north side of the island and was the highlight of our trip to Ulleungdo. Read about our time in Ulleungdo and Dokdo here.
14. Explore the famous Jeju Island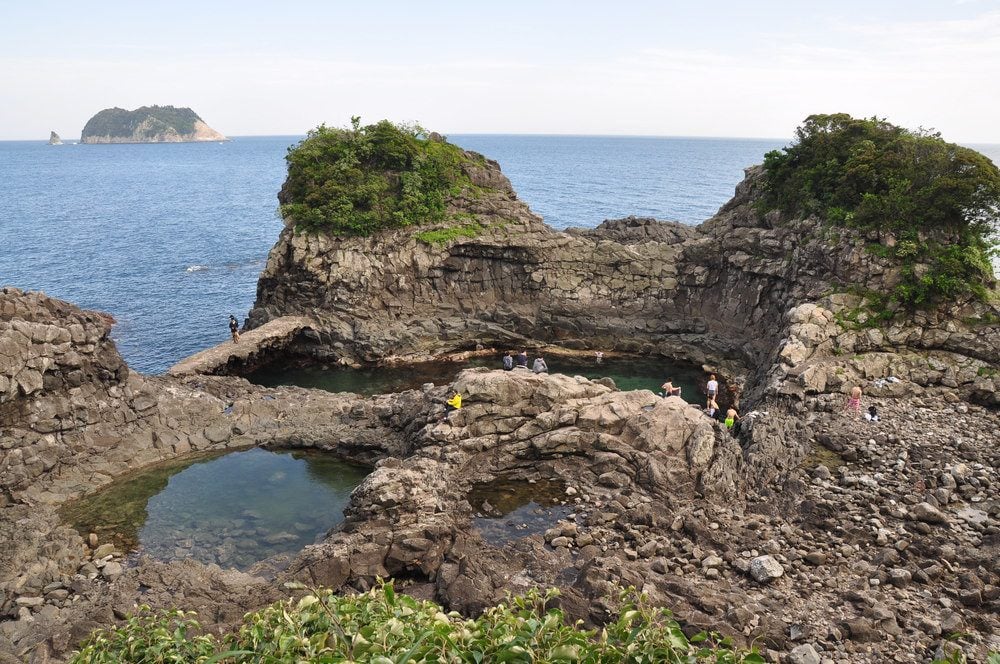 When asked, many Koreans profess this volcanic island their favorite place in the country. With stunning mountain views and turquoise waters, there's no question as to why it's so popular.
We ventured to waterfalls, hiked to the rim of a volcanic crater, and swam in a naturally formed "swimming pool" in the ocean. We found Jeju to be a mix of old Korea with aspects of the West. While it was charming and no doubt beautiful, we both found it to be a bit over-hyped. 
Experience it for yourself: Getting to Jeju can be tricky. We know of people who've flown there and back for under 100,000 won. That said, flights sell out quickly and well in advance (especially during holidays). Another option is to take the overnight ferry. Thirteen hours can be long when the flight is shy of an hour, but we found the ferry ride itself to be quite the unique experience. Read about our long weekend in Jeju here.
---
Korean Food
One of our favorite parts of exploring this world is trying the food. We both fell in love with Korean food this year, and tried some things we never expected to put in our mouths. Check out our 16 Must Try Korean Foods for more delicious eats!
15. Eat live octopus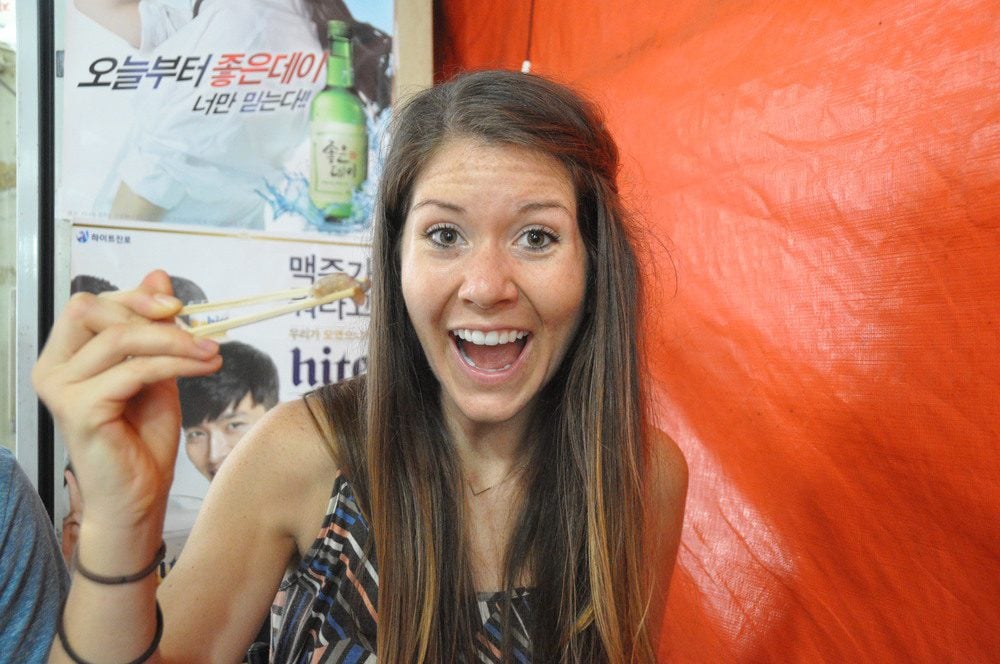 We both consider ourselves pretty adventurous when it comes to trying new food. We've sunk our teeth into guinea pig in Ecuador, a cow stomach sandwich in Italy, rattlesnake in Canada, a whole frog in Thailand, and silkworm pupae in Korea. 
Devouring a meal that's still moving didn't seem all that strange. It actually tasted quite good, and the squirmy sensation was not as unappetizing as you may expect.
Technically, the octopus is not alive when you eat it. It just continues moving after for a few minutes after being prepared to eat.
Experience it for yourself: Head to one of the many fish markets in South Korea. (Two of the most famous are in Busan and Seoul). Walk up to any of the stands and ask for "ssanakji". They will hand you the live octopus and direct you to a nearby restaurant where they'll prep it and serve it to you with side dishes. 
16. Eat fresh fish at Busan's famous Jakgalchi Fish Market
We are both big seafood fans. If I could eat shrimp all day every day, I wouldn't be mad. But the thing is, seafood in Korea is, well, different. A lot of times, it is pretty fishy, and I'm just not a fan. Oh, and then there is the dried fish. No thank you. There are a few exceptions to my no seafood in Korea rule.
The famous Jakgalchi Fish Market sits right on the water in Busan, and is where you can find some of the freshest seafood in the country. Even if fish isn't your thing, walking through the rows of stalls selling the catch of the day, most of which is still swimming around in tanks, is an experience in itself. But if you're like us and you like seafood, this is the place to eat it!
Experience it yourself: Stop by one of the stalls (they all seem to be pretty similar), and pick out your own fish. You'll pay for it there, and then be escorted to a restaurant on the floor above where they will prepare your meal fresh.
We paid about 12,000 won for a medium sized fish, and then an additional 3,000-4,000 won for the cooks to prepare it, but it was well worth the price. Read about our accidental splurge at the fish market in Busan here.
17. Learn how to make kimchi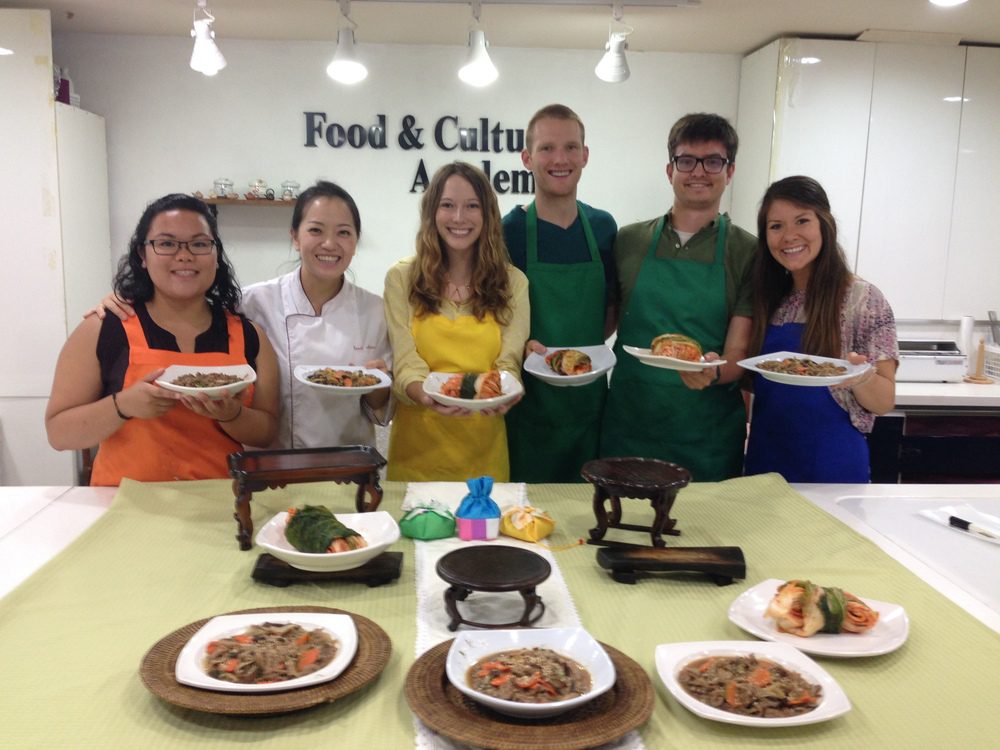 Taking cooking classes is one of our favorite things to do in a new country. We've found that you learn so much about a culture through the food, and what better souvenir than to bring back some cooking skills to share with your family and friends!
We've taken a 4-month food and wine course in Italy, learned how to make our favorite dishes in Peru, rolled some fresh sushi in Japan, and made a gigantic Indonesian meal in Bali. We decided that Korean cuisine needed to be added to our repertoire since it's the country in which we've spent the most time.
We not only learned a ton, but we got to enjoy a delicious meal, and take some of our very own handmade kimchi home. 
Experience it yourself: We booked a cooking class through Food & Culture Academy, and were able to choose the dishes we wanted to cook. Our instructor, Ellie, was very patient and taught us many things we didn't know about Korean cuisine (even after we'd been living here 10 months). Read more about our cooking class as well as some other unique experiences in Seoul!
---
Korean Surprises
South Korea is weird and wonderful and surprised us in ways we never thought possible. 
18. Pyeongchang Caving Trip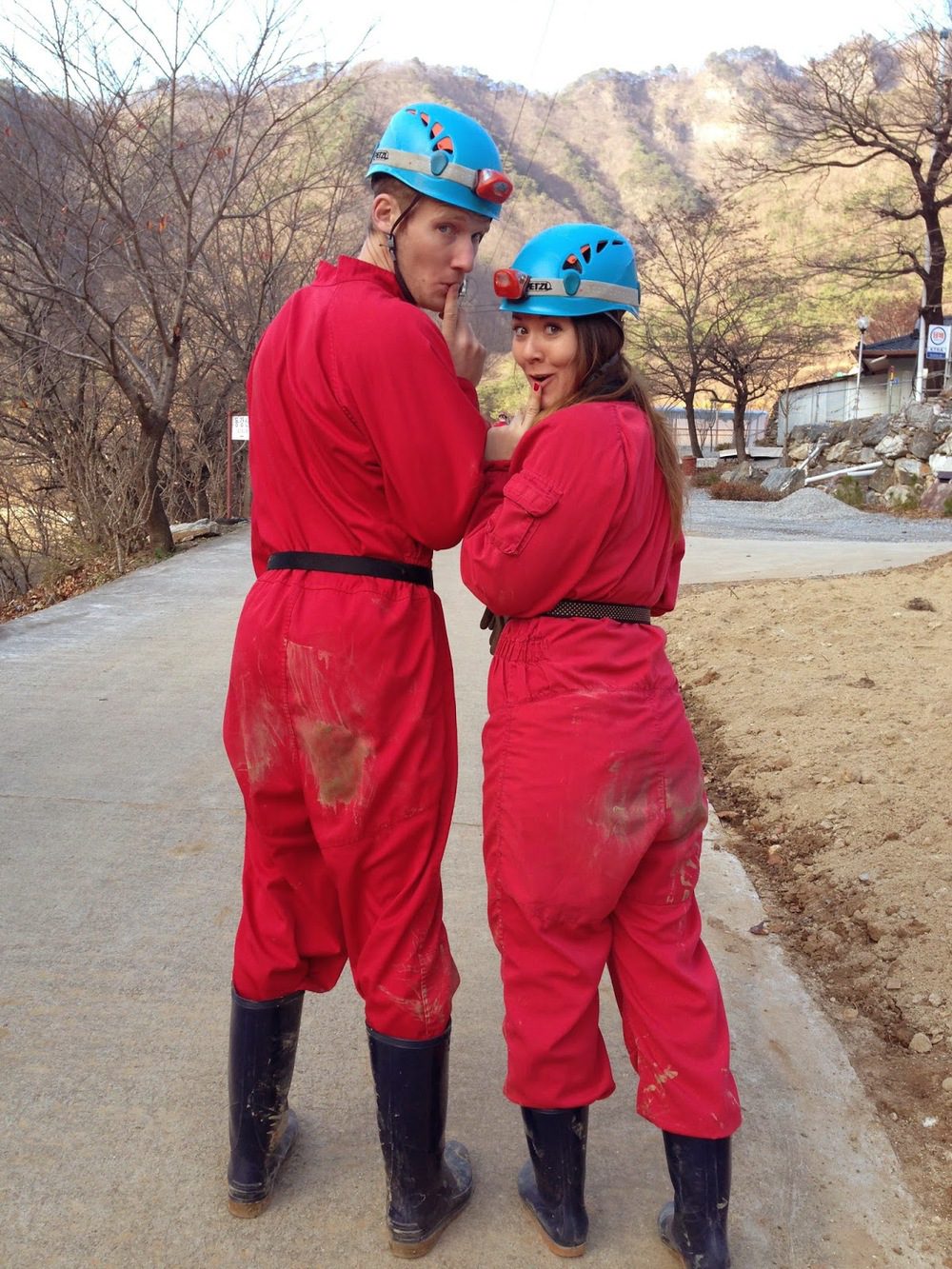 Where can you go zip lining, bungee-jumping, spelunking, bare-handed trout fishing, enjoy in a barbecue feast, and go on a night safari all in the same day? In Pyeong Chang county, of course (home of the 2018 Winter Olympics). This trip has the weirdest combination of activities imaginable, but it makes for one of the most memorable trips for your while time in Korea.
Experience it yourself: This trip is a package tour through Adventure Korea tour company. Round trip from Seoul, this two day/one night adventure gives you a little taste of all the quirky-ness in the northern most providence in Korea (soon to be home to the Winter 2018 Olympics!).
19. See Bull Fighting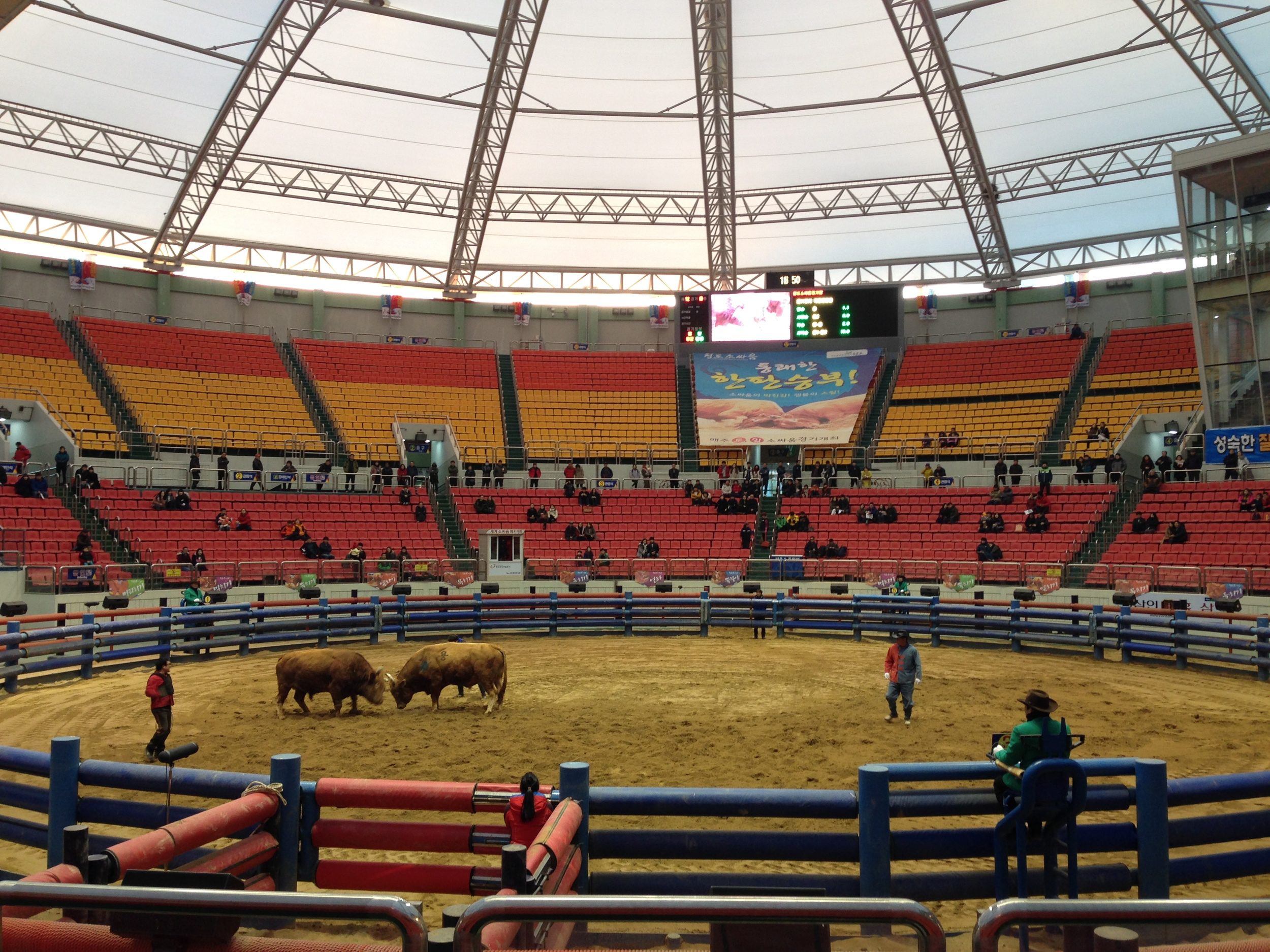 Everything is a little different in Korea. When you think of bullfighting, you imagine a matador testing his limits with an angry bull. Well in Korea, bullfighting consists of two bulls head-butting each other as trainers call out strategic commands. It is an unique experience in itself.
If you wish, you can place bets on which bull will win the match. (It's easy, just go to the ticket counter, fill out a form, and hand it to the ticket taker with the amount you'd like to bet.)
We placed a few thousand won on bulls before each match to raise the stakes a bit (and we figured we had a 50/50 chance, so why not!). It got us cheering and made the experience even more fun. Oh, and we won a couple thousand won (about $2 USD… high stakes, I know)! Beers on us!
Experience it for yourself: Head to Cheongdo by the slow train and then take the number 7 city bus to the bull fighting arena. If you have extra time, check out the historic Persimmon Wine Tunnel. Read more about our quirky experience at the bull fighting arena and the persimmon wine tunnel here.
20. Run a Cherry Blossom Race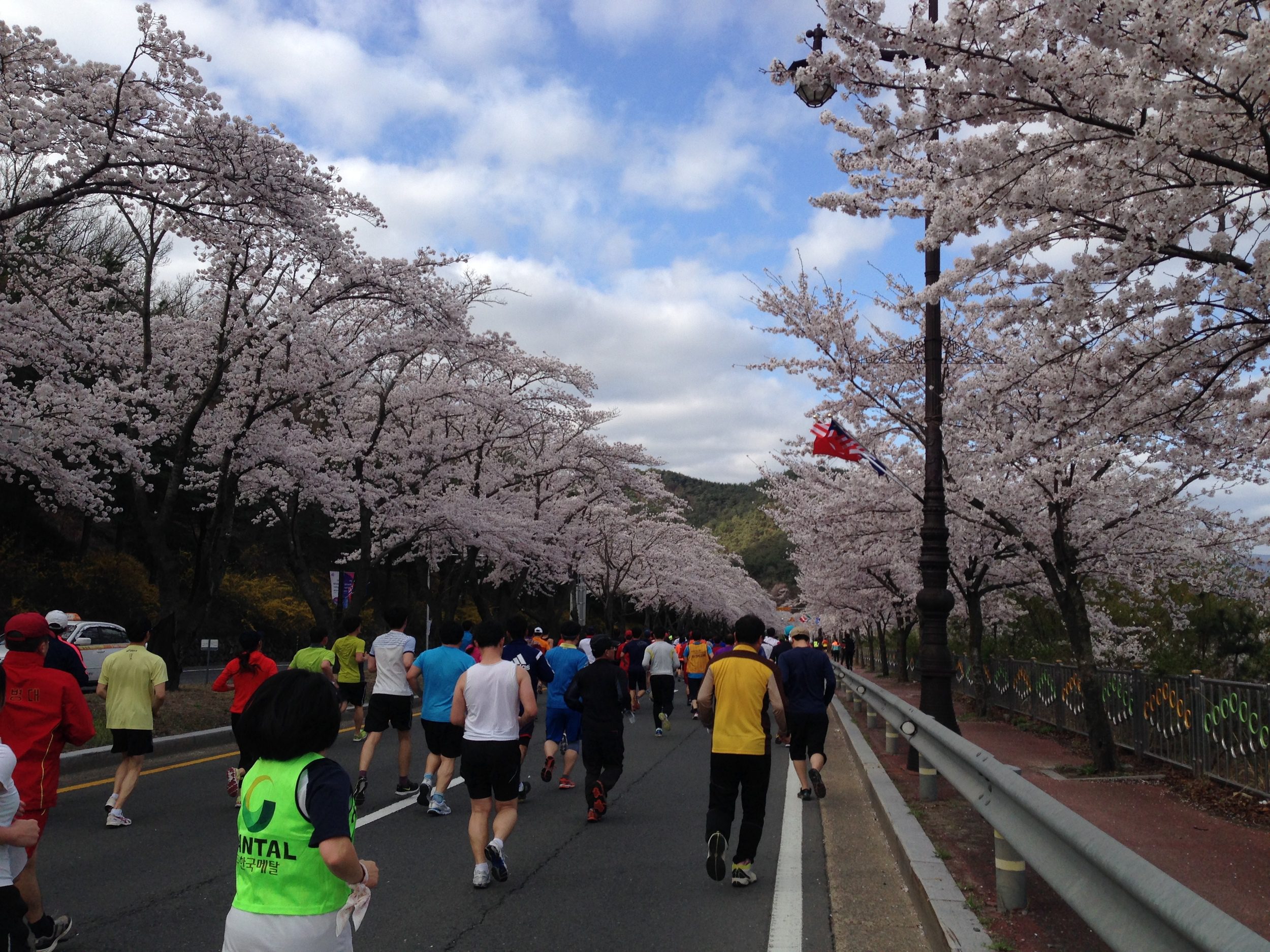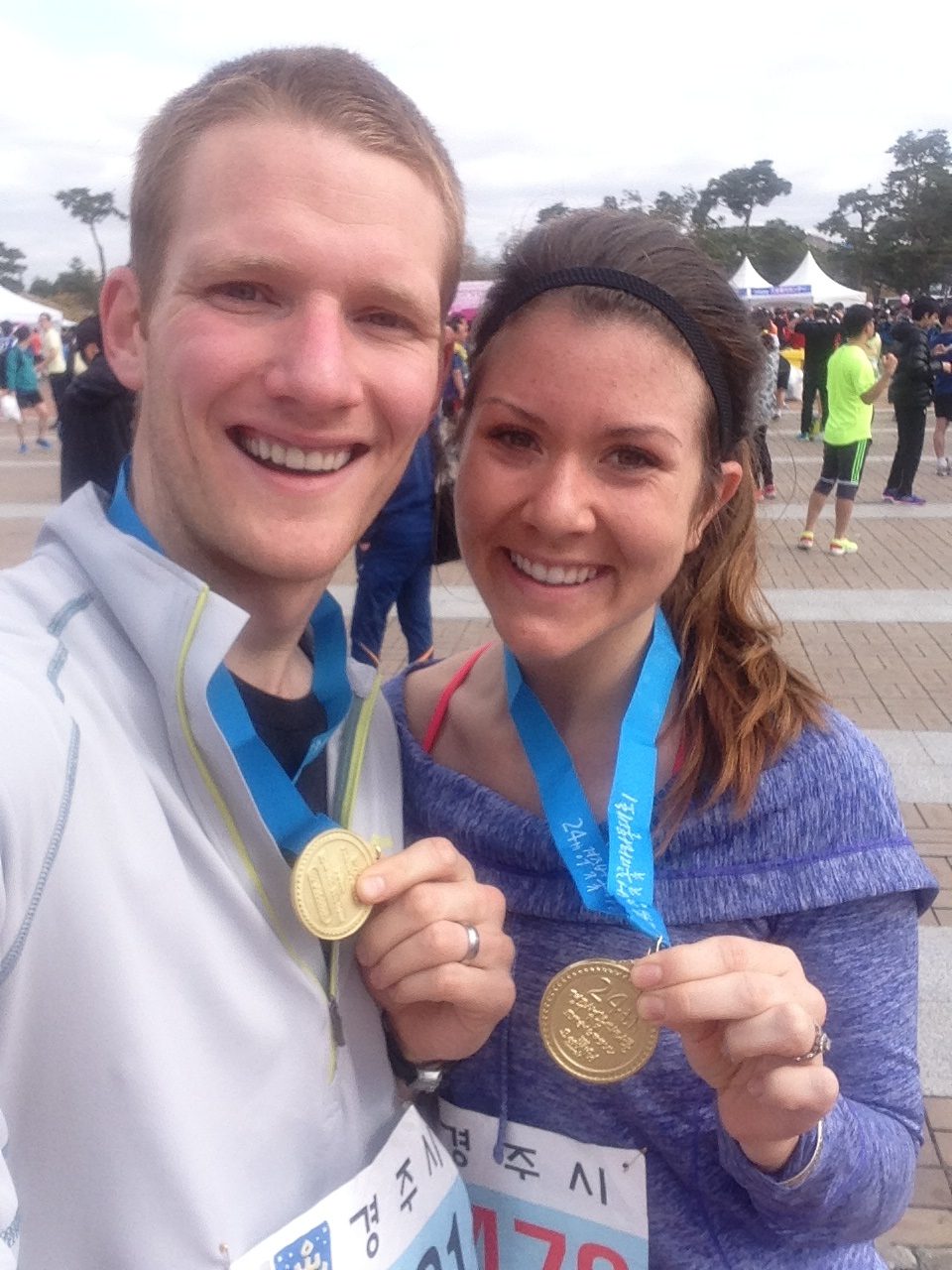 Just when Korea starts to thaw out, the cherry trees begin to bloom as if they are shaking the winter cold away. What better way to get rid of the winter blues and welcome spring than run in the Gyeongju Cherry Blossom Race! Set in arguably the most beautiful city in the Korean spring, you can run a 5k, 10k, half-marathon, or full marathon race around the famous Bomun Lake.
Experience it for yourself: Sign up on the race website here. The English version of the website needs a bit of work, so maybe have a Korean friend help you sign up.
21. Zip-line above the forest in Herb Hillz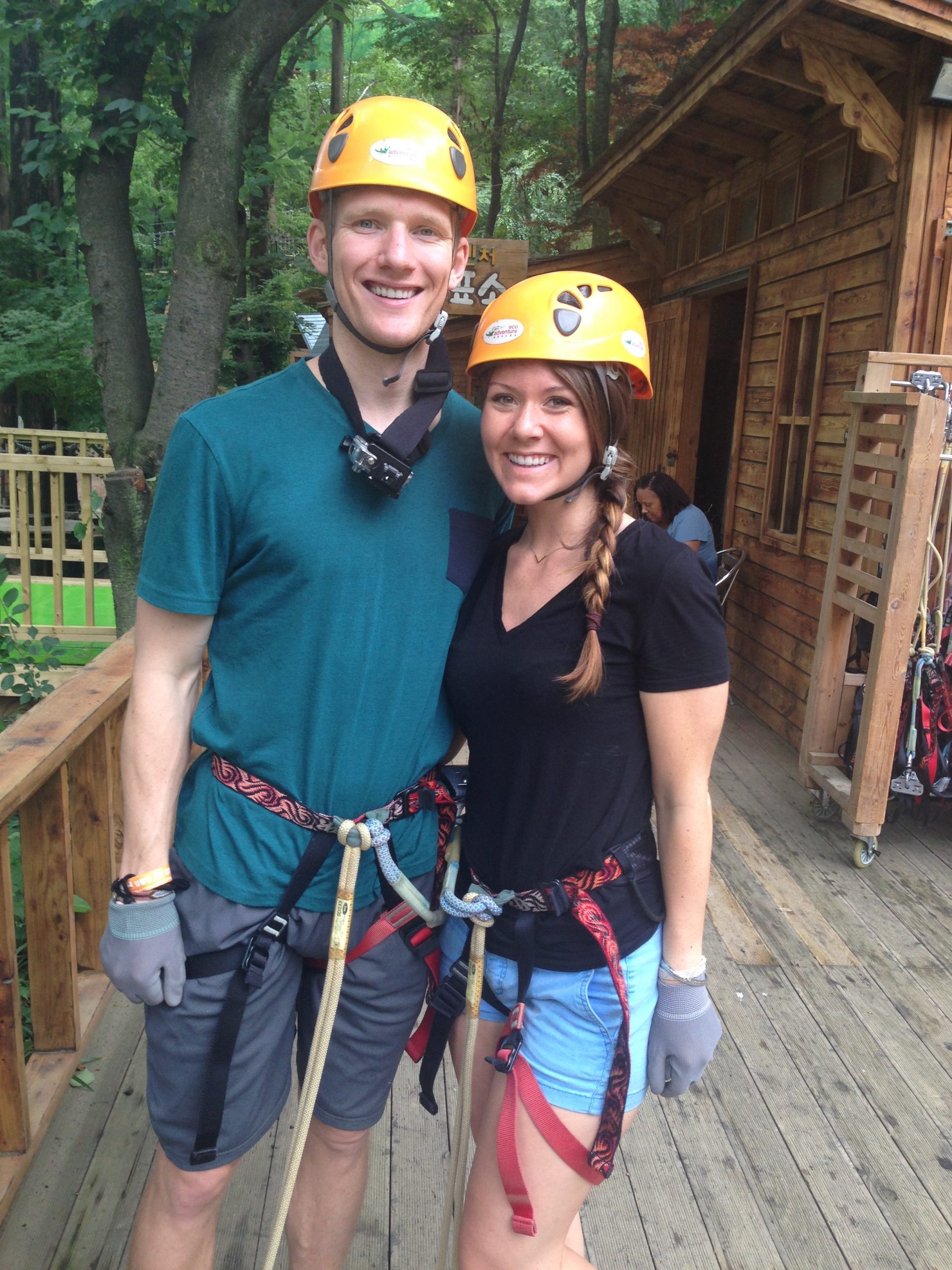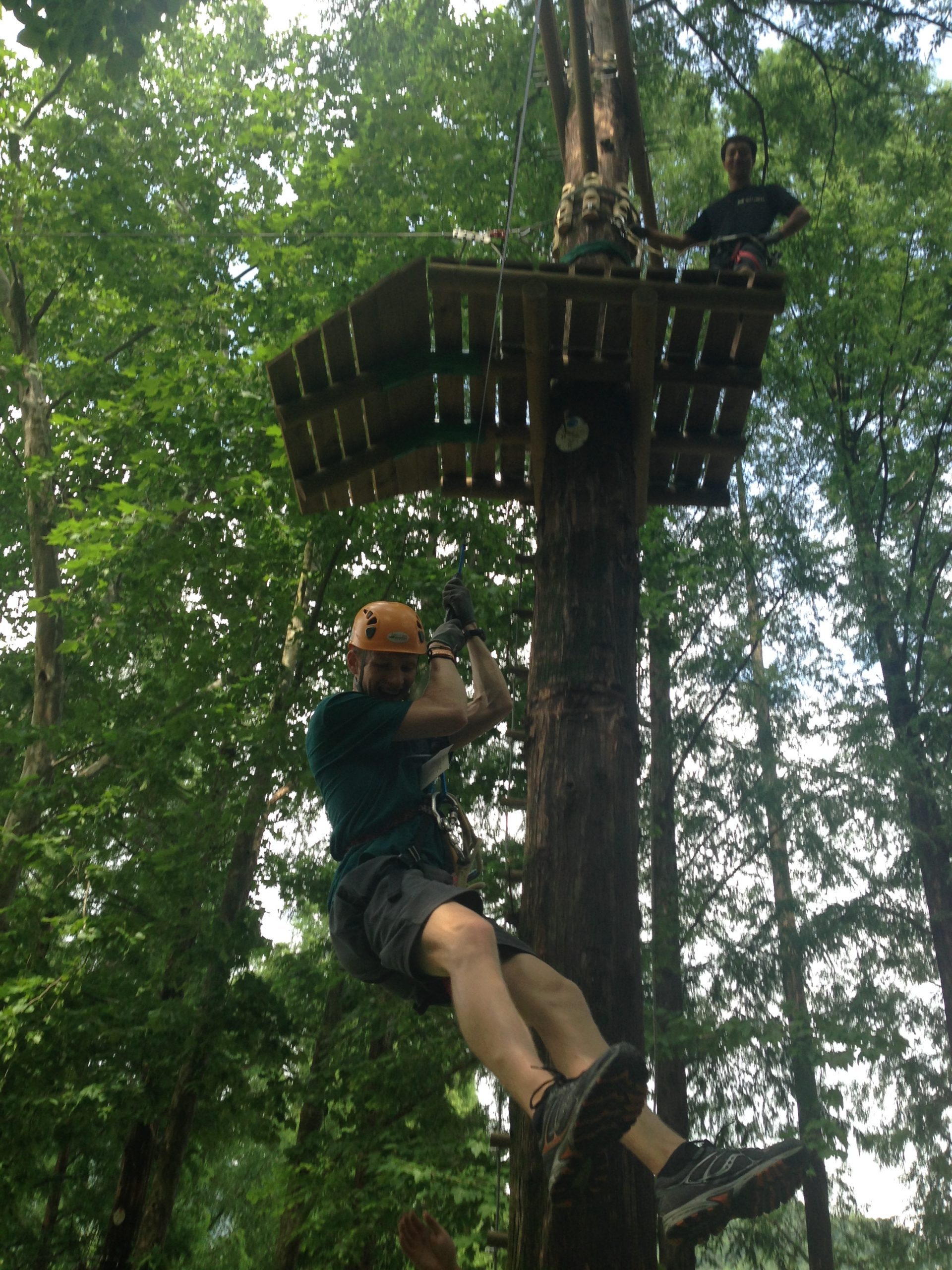 This wasn't really on our radar, but when my co-teacher gave us free tickets to this eco-park in Daegu, how could we say no?! The park itself is a relaxing, tree-shaded escape from the bustling city, but the highlight for us was definitely the ropes course.
We were given a quick instructions in Korean, and left on our own to navigate the course up in the trees. We spent nearly an hour climbing, zip-lining and walking across tight ropes. It turned out to be much more than we were expecting!
Experience it yourself: If you are adventurous, do the King Kong course. The others seemed to be much smaller. The price for the ropes course is 15,000 won. Add to that the 6,000 won entry fee, and it is a bit expensive, but definitely makes for a good afternoon.
22. Get crazy on the "disco bang bang"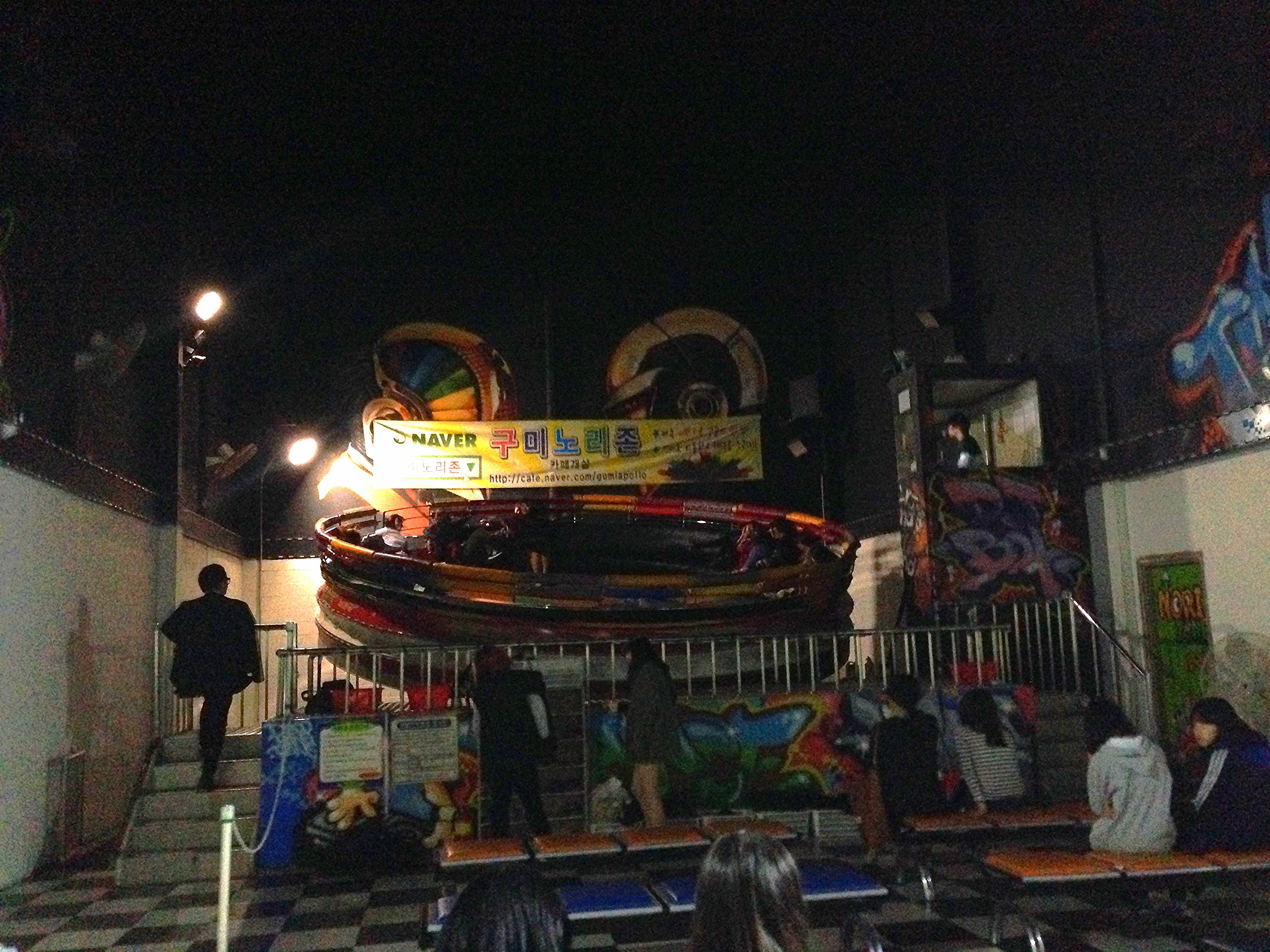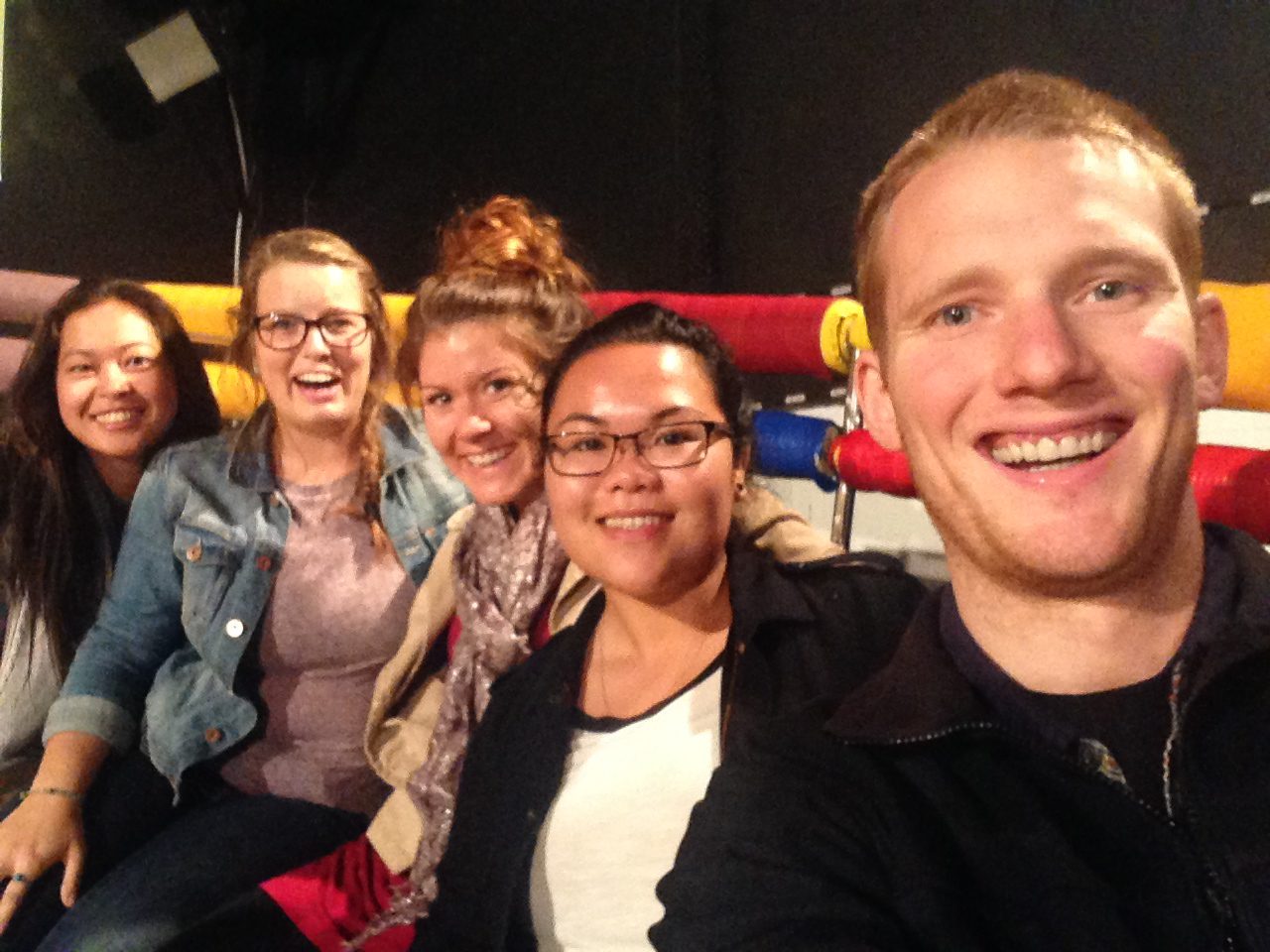 This is the most ridiculous ride we've ever experienced. If you stumble upon one, you'll find yourself amidst a gaggle of middle school girls. You may even sit next to one of your students (it happened to me).
Be prepared for the announcer to make a big deal of you being a waygookin (foreigner) and shine the spotlight on you as onlookers giggle.
Experience it yourself: Many towns have this ride, though they may be a bit difficult to find. Ask around, and when in doubt, follow groups of tween girls into what looks like an arcade. Often times, you'll find this ride here.
---
Are you planning a trip to South Korea?
We have TONS of resources on travel in South Korea and destinations throughout the country. Check out our Ultimate South Korea Travel Guide for all the answers to your most burning questions, or read some of our favorite articles below.
Save this article on Pinterest for later!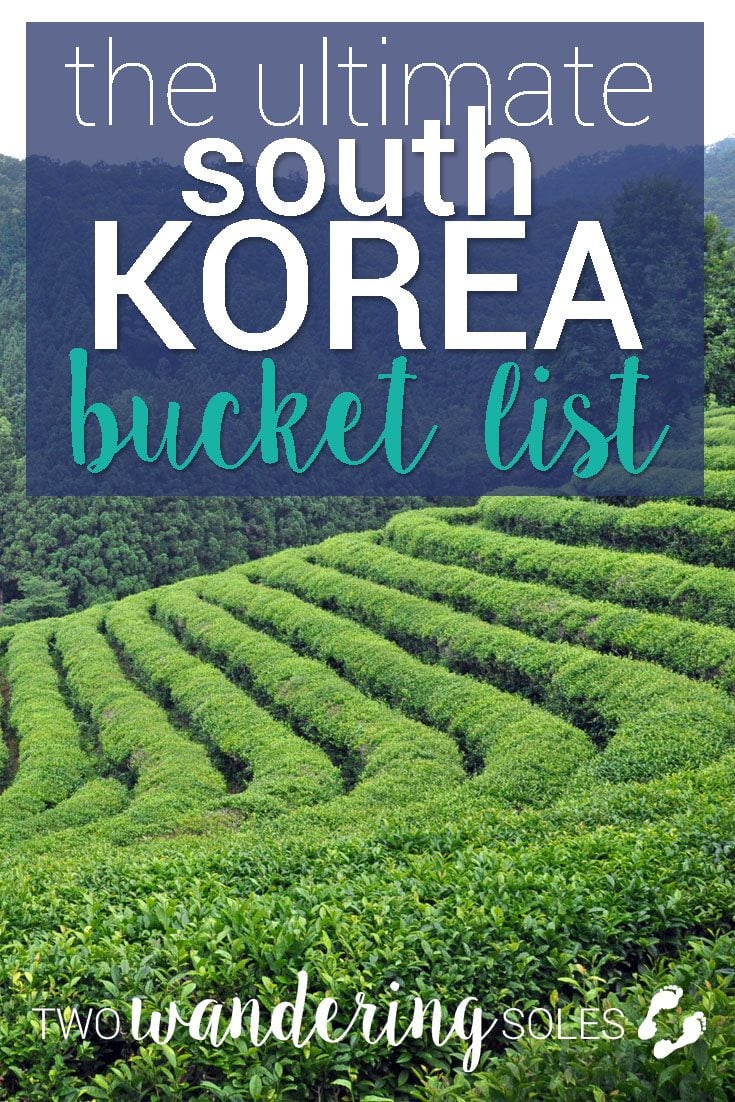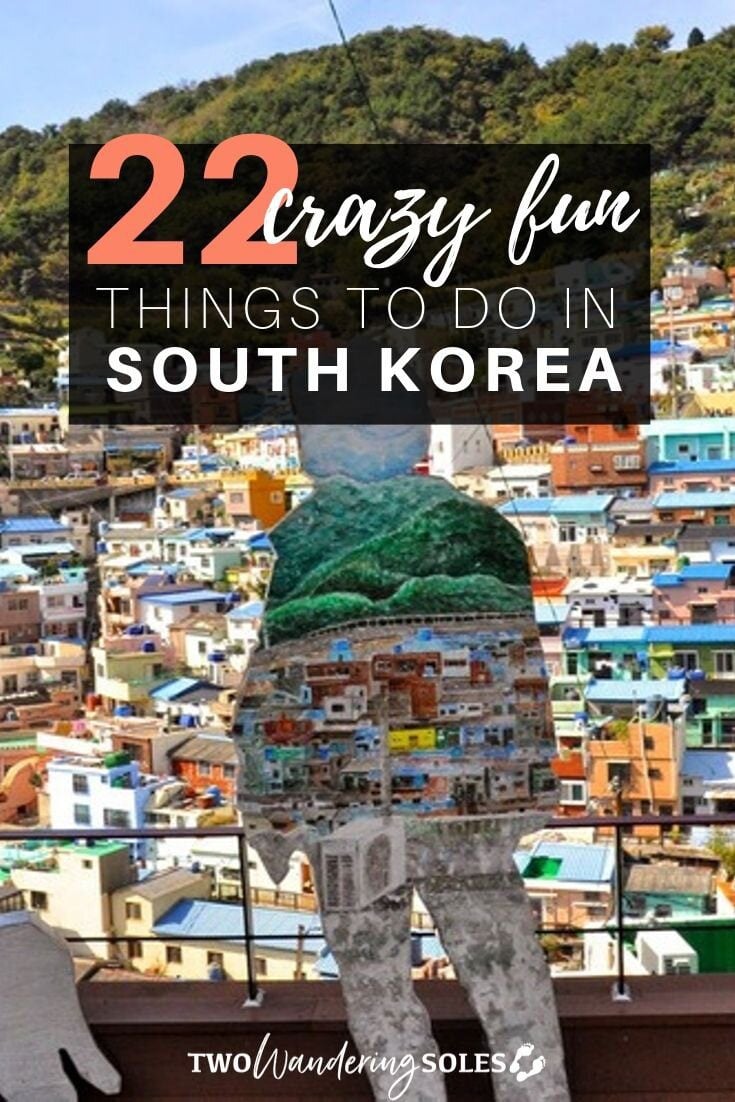 We want to hear from you!
Do you have any questions about South Korea? Comment and we'll do our best to get back to you!