There's more to Siem Reap than Angkor Wat. If you're in this buzzing city and are looking for a unique adventure to break up your time spent temple-hopping, look no further. Flight of the Gibbon (now Angkor Zipline) brings you to the heart of Angkor Wat Archaeological Park and sends you above the lush tree line. Listen to exotic birds calling below as you speed through the system of 10 zip-lines high above the ground.
We went zip-lining a few years ago in Costa Rica, and found it to be an exhilarating experience, so we were pumped to add it to our itinerary while in Siem Reap. I mean, how many people can say they've flown above a UNESCO World Heritage Site?! Umm, Angelina Jolie can (She's very well loved in Cambodia)! And now, so can we. Maybe you'll join the list too.
Keep reading to see what to expect, and check out our video of our adventure above the trees with Flight of the Gibbon!
What was our experience like?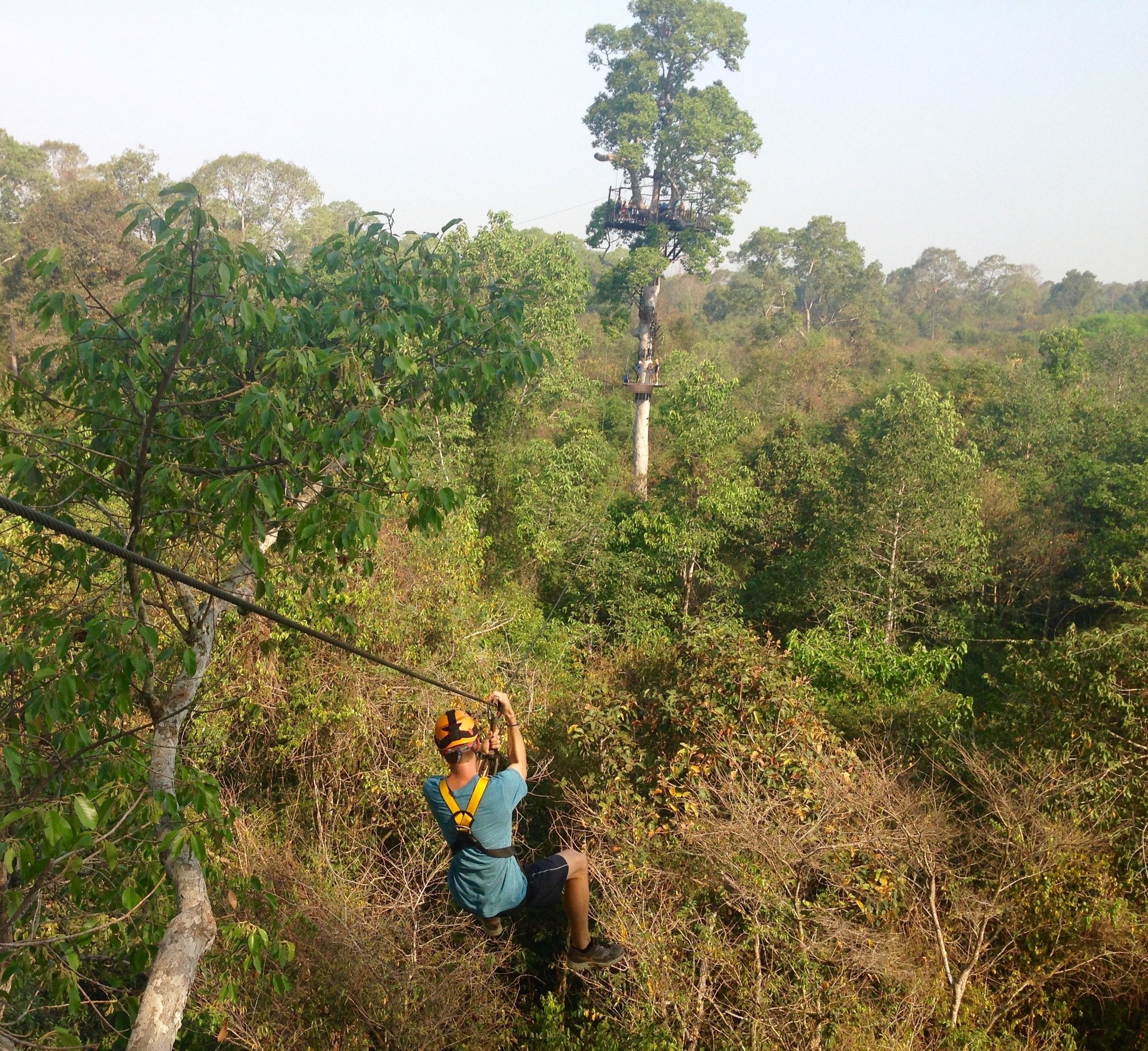 We were picked up at our hotel promptly at 8 a.m. for our adventure-filled day. Once we reached the park, we met our guides, Tola and Tida. Their English: Perfect. Their attitude: Professional. Their laughter: Contagious. We knew immediately that we were in for a good day.
Tola and Tida (referred to as T & T from now on) helped fit our group of 8 into gear, and explained exactly what we would be doing during the next 2 hours. And even through these instructions, they both wore big grins. I guess I'm not surprised though. If my job involved speeding through the jungle with people from all over the world, I would look forward to work each day too.
Now that we were all geared up, it was time to fly. We made our way through the thick jungle, and up, up, up a staircase around the trunk of a massive tree. All the way up to platform number one. I looked down and felt the familiar excited/nervous/eager butterflies swirling around in my stomach. I actually like heights because of the feeling it gives me.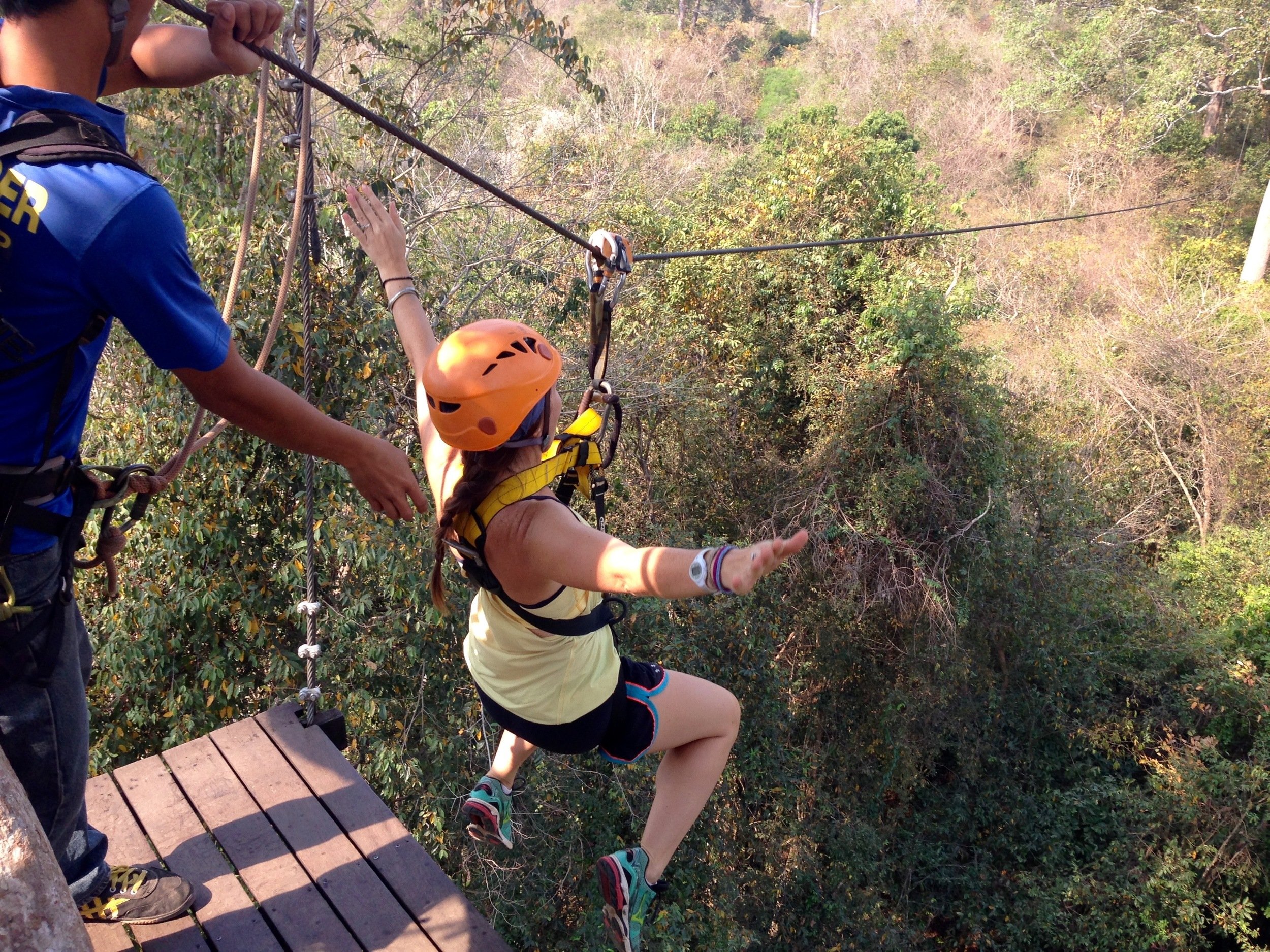 Then we took the leap – one by one – and screamed (happy screams, of course!) as we whizzed through the forest to the next platform. Some of the platforms were connected not by zip-lines, but by bridges instead. So we traversed across these wobbly, Indiana Jones inspired walkways looking like baby deer that just learned to walk. Seriously, you try walking on one of those gracefully and I'll buy you a beer.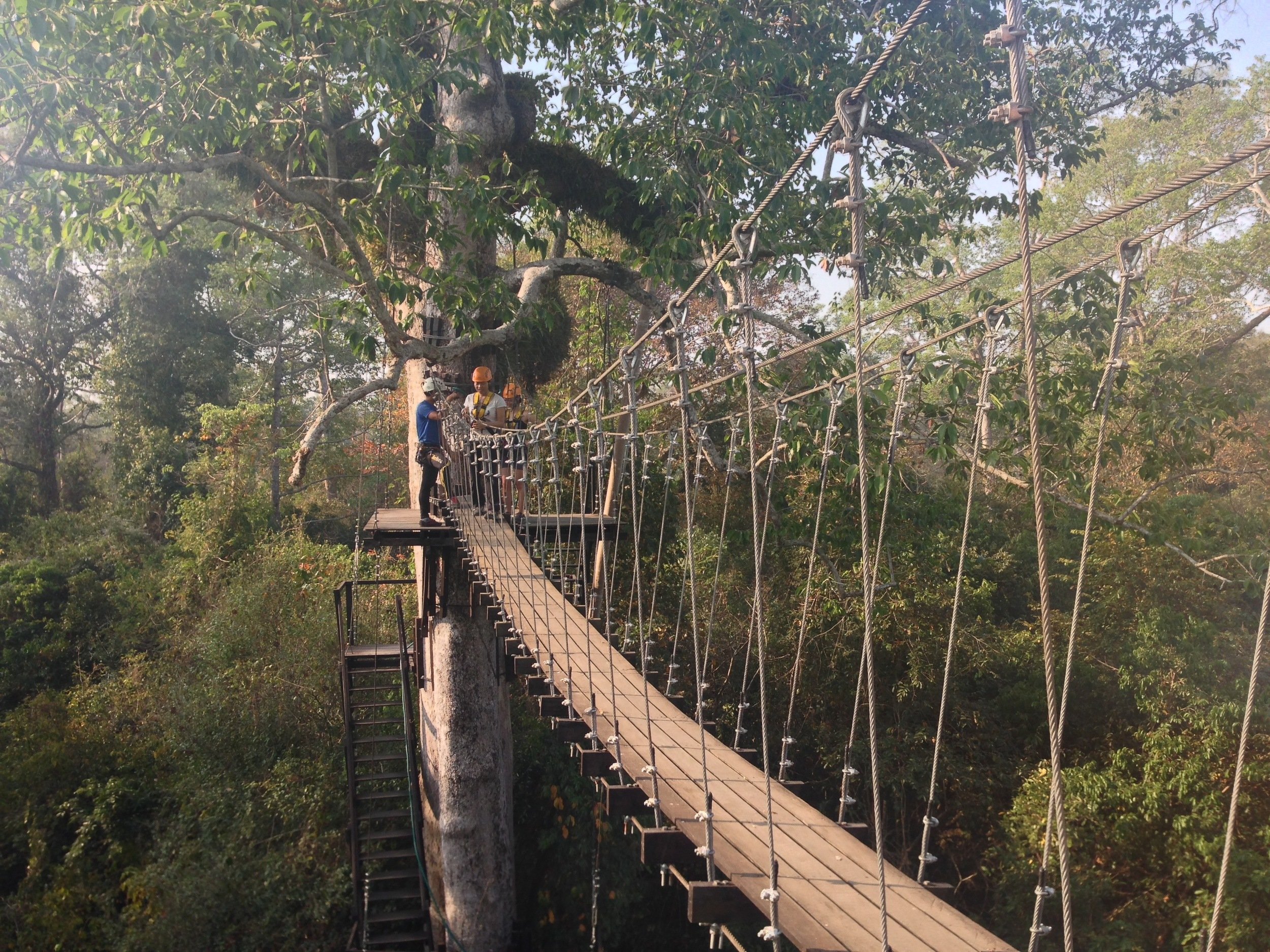 The next 2 hours were spent above the trees, breathing in the fresh air, taking in the panoramic views, and getting to know the others in our diverse group. Oh, and there was zip-lining, too. Lots of it!
T & T continued to be on top of our safety, told us some interesting facts about the area, and also made us laugh. At one point, they gave us all "poses" to strike during our zip-line… meditating Buddha, Gangnam style dance, Superman… and my attempt at a bird flapping its wings, which they said looked more like an octopus.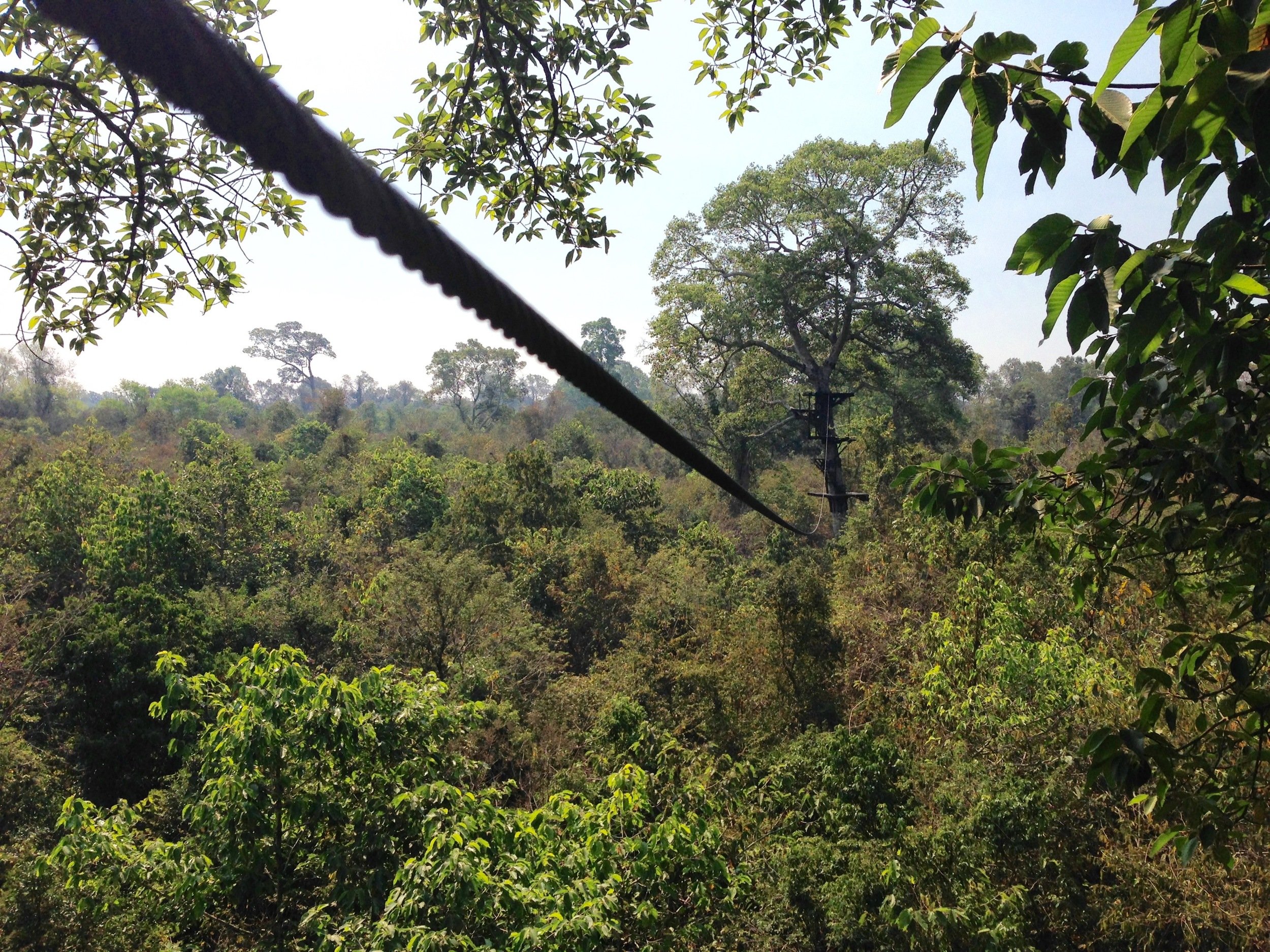 One of the very last zip-lines was a whopping 45 meters above ground (That's about 135 feet, for all our American friends). And at 300 meters (600 feet), this one was the longest too. Being that high above the jungle with the wind blowing through my hair was exhilarating… plus, it was a much-needed relief from two days of temple hunting in the unrelenting sun.
Next Read: 2 Weeks in Cambodia – The Ultimate Backpacking Itinerary
What about the gibbons?
Although we never actually caught a glimpse of the famed gibbons, we actually appreciated the fact that they are free to roam as they please instead of being on display for our enjoyment. As wild animals, I can imagine they'd prefer not to have many close encounters with humans.
Is Flight of the Gibbon a socially responsible company?
Another aspect we respect about Flight of the Gibbon is the fact that a portion of the money they earn goes to planting trees inside the national park. Just last year alone, they planted more than 5,000 trees, and their guests are part of making this possible.
What else does Flight of the Gibbon offer?
In addition to zip lining, Flight of the Gibbon can arrange guided tours of the temples within the park. Our guide, Mr. Vang, took us through Ta Prohm temple, more commonly known as the "Tomb Raider" temple. Mr. Vang was easy to talk to and extremely informative. He guided us through the temple, dodging the massive crowds, to find the best photo spots that no one else knew of. Some of our best photos from Siem Reap were taken by him. Double thumbs up to Mr. Vang.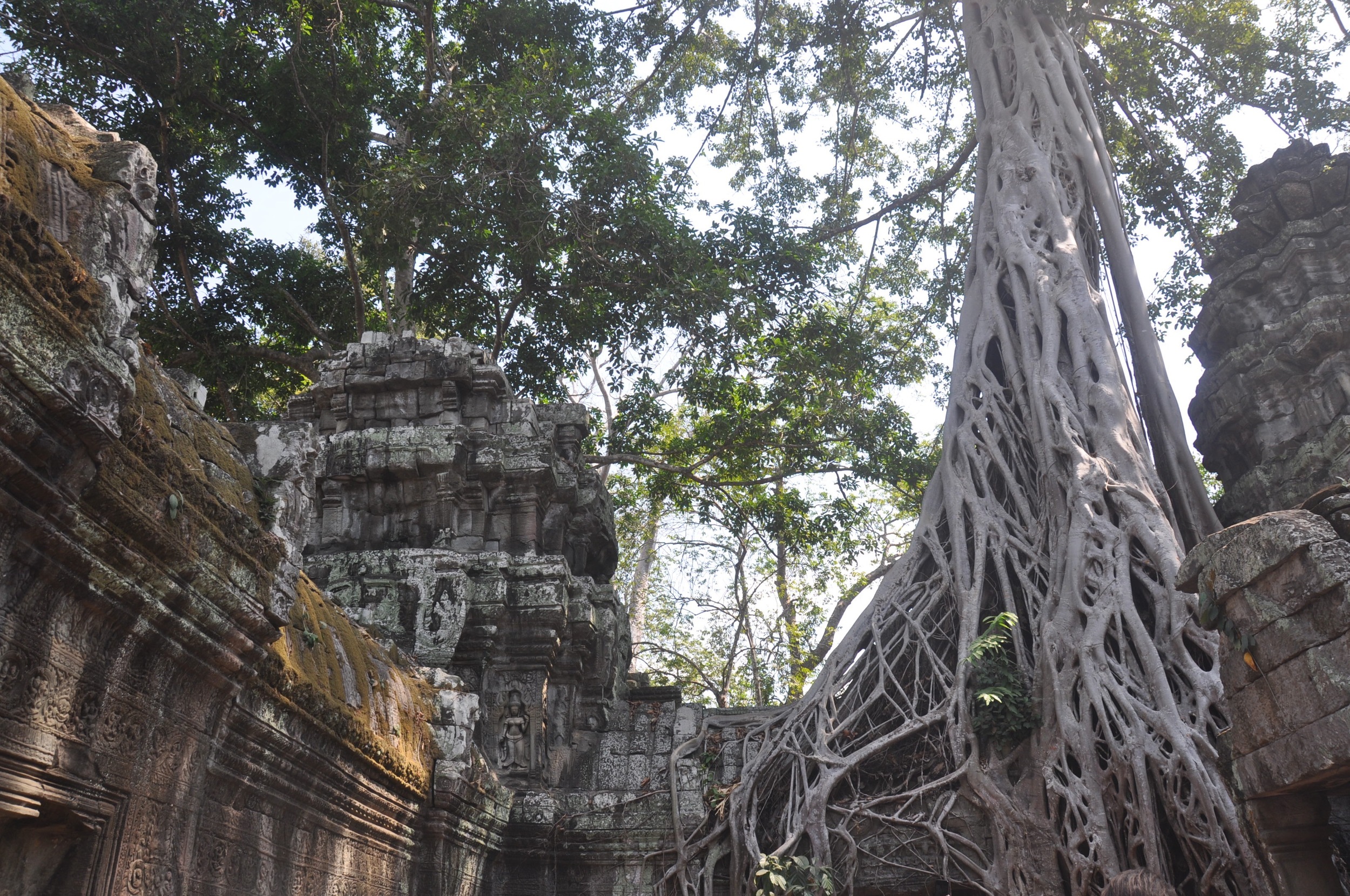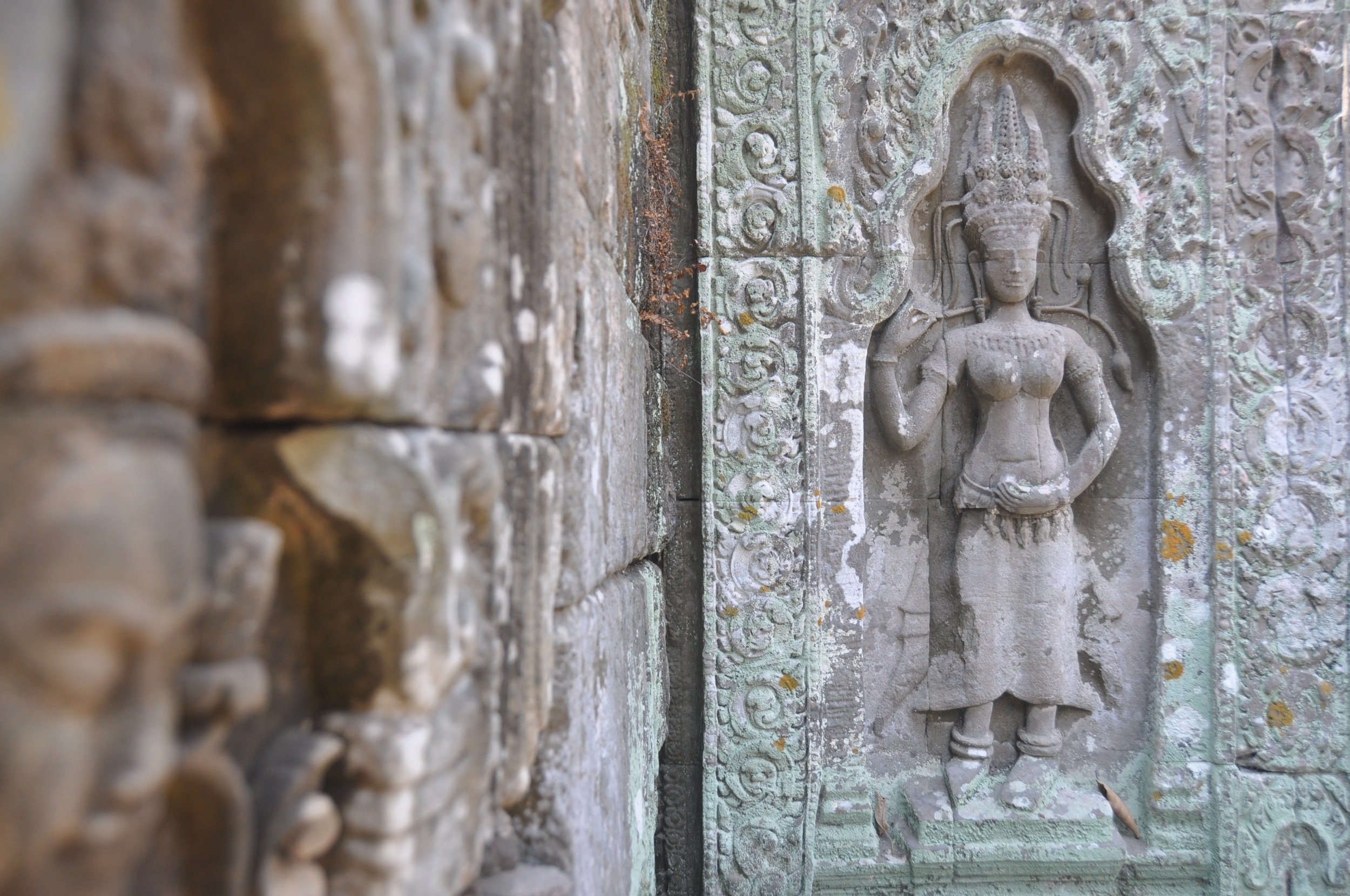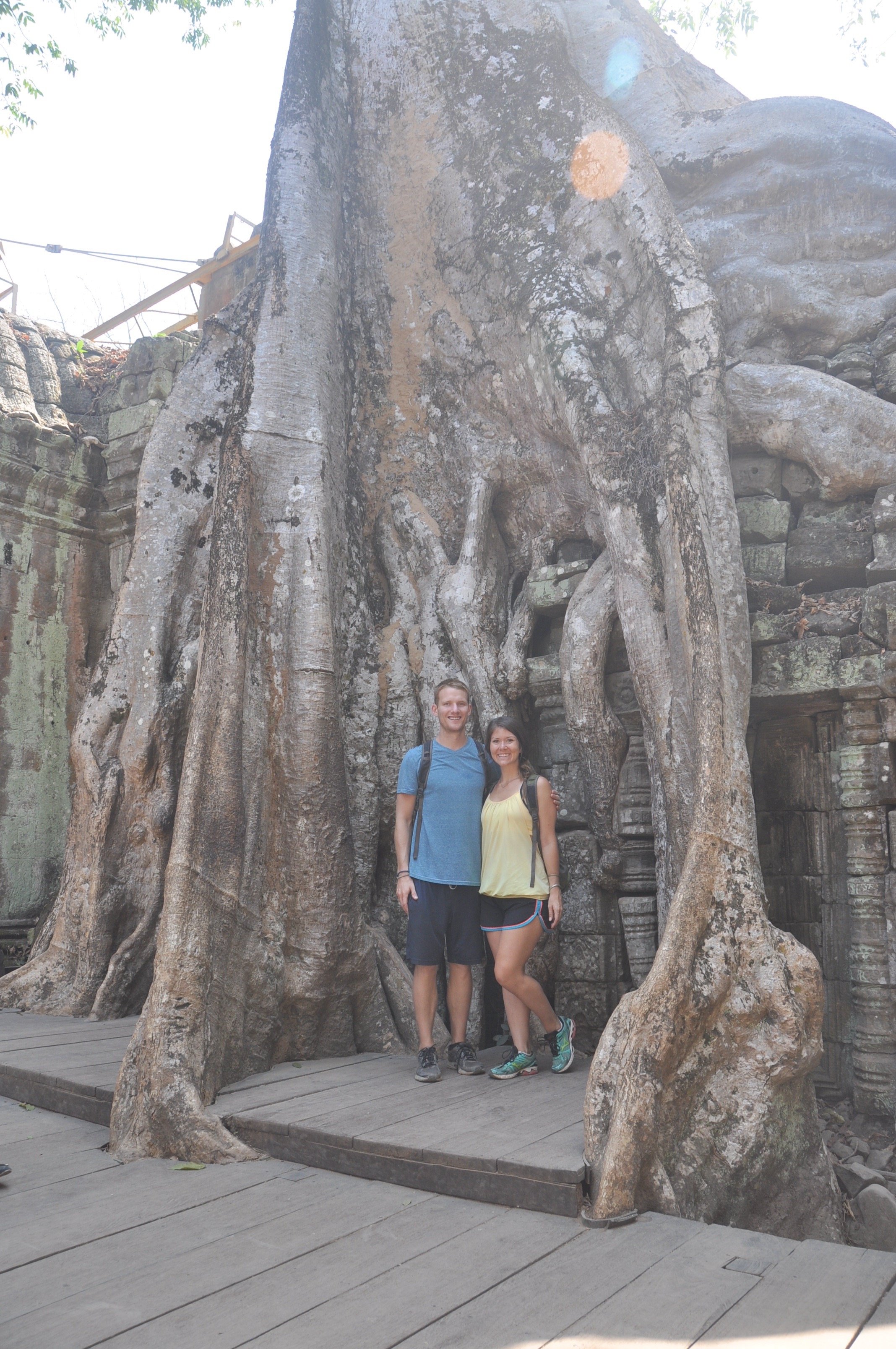 After zipping through the jungle and exploring one last temple, we had worked up quite an appetite. Good thing for us, a 5-course set meal was waiting for us at Palmboo Restaurant. The local fare was delicious, and couldn't have been a better end to our morning.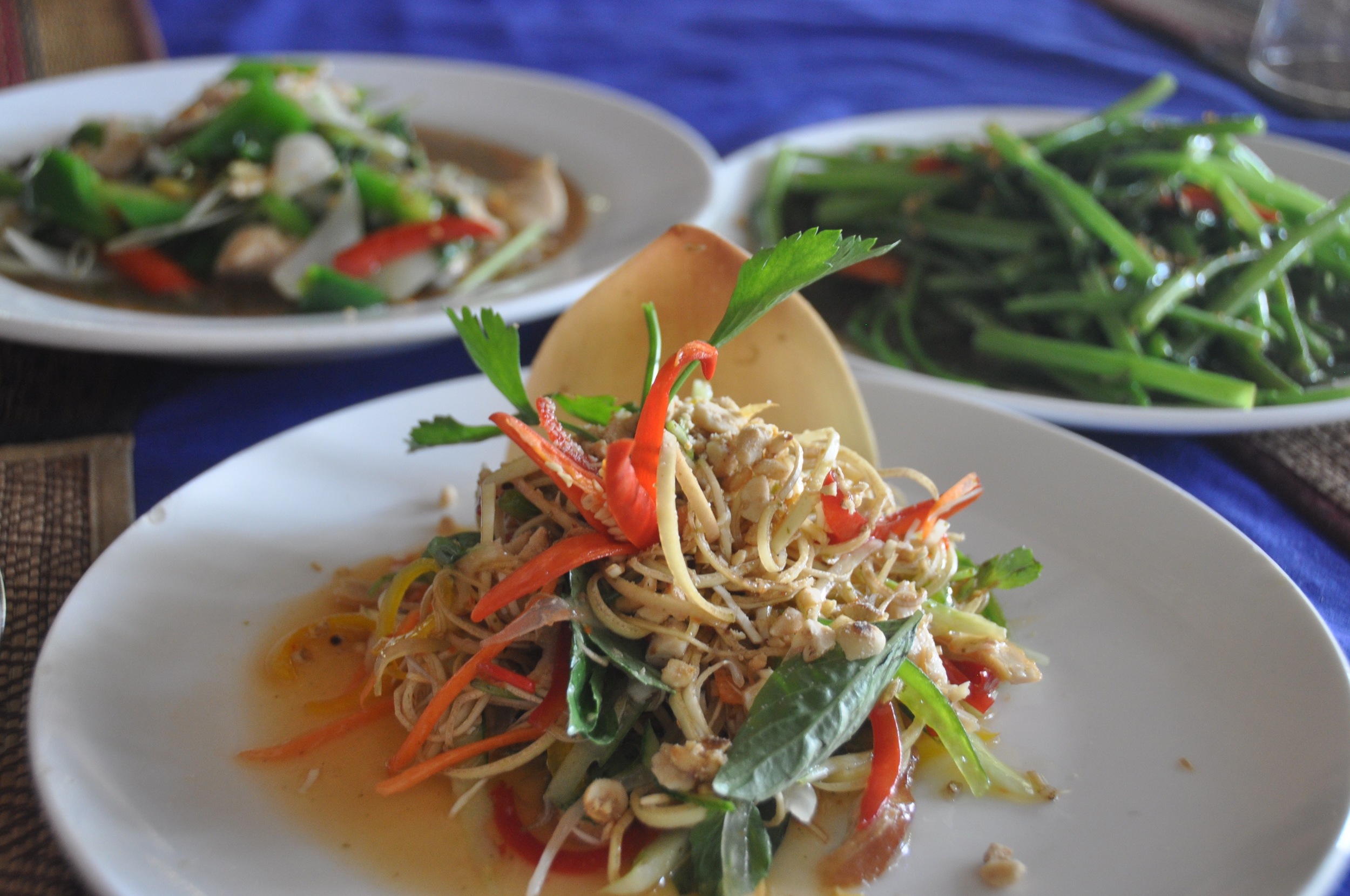 Is Flight of the Gibbon for you?
If you've spent one too many days wandering through temples under the sun's heat and you're ready to feel the wind rushing through your hair and your heart beating in your chest, an adventure with Flight of the Gibbon might be just what you need.
The Itinerary:
8:00 – 8:15 a.m. – Pick-up in AC van
8:30 a.m. – Arrive at Flight of the Gibbon headquarters, safety briefing, get geared up
9:00 – 11:00 a.m. – Fly through the jungle! Don't forget to enjoy the view!
11:15 a.m. – 5-course set lunch at Palmboo restaurant
12:30 p.m. – Drop off at your hotel (or opt to take a private guided tour of one of the nearby temples)
What to wear:
Comfortable clothes that are suited for adventure – athletic shorts and tank top/t-shirt. Avoid shorts that are too short (as the harness will make them ride up to embarrassing heights)

Close-toed shoes that stay on your feet. You don't want to lose a sandal when you're zipping through the forest. And exposed toes could get stubbed when landing on the platforms – ouch!
What to pack:
Sunscreen (especially if you are as sunburn-prone as Ben)

Small camera or GoPro to document your adventure (be sure to have a way to hang onto it, like a wrist strap or a case)

An appetite for adventure

Anything else you bring (water bottle, sunglasses, wallet, etc.) can be stored in a complimentary locker
What's provided:
Transportation in AC van to and from your hotel

All necessary equipment

Professional, English-speaking guides

Safety instructions

Nature walk

Drinking water

Delicious 5-course set lunch
The Numbers:
The cost to play Tarzan for the day is $99, and even though the zip lines are in the archaeological park, you do not need to by a pass for the day. If you wish to spend the afternoon exploring the surrounding temples in the park, make sure to get a day pass for $20 before you arrive at the Flight of the Gibbon. The maximum size per group is 10 people, so be sure to book in advance to avoid disappointment.
Still wondering if it's for you?
At Flight of the Gibbon they preach safety first and made everyone feel comfortable the entire time – even those in our group who were afraid of heights.
Check out their website for more information.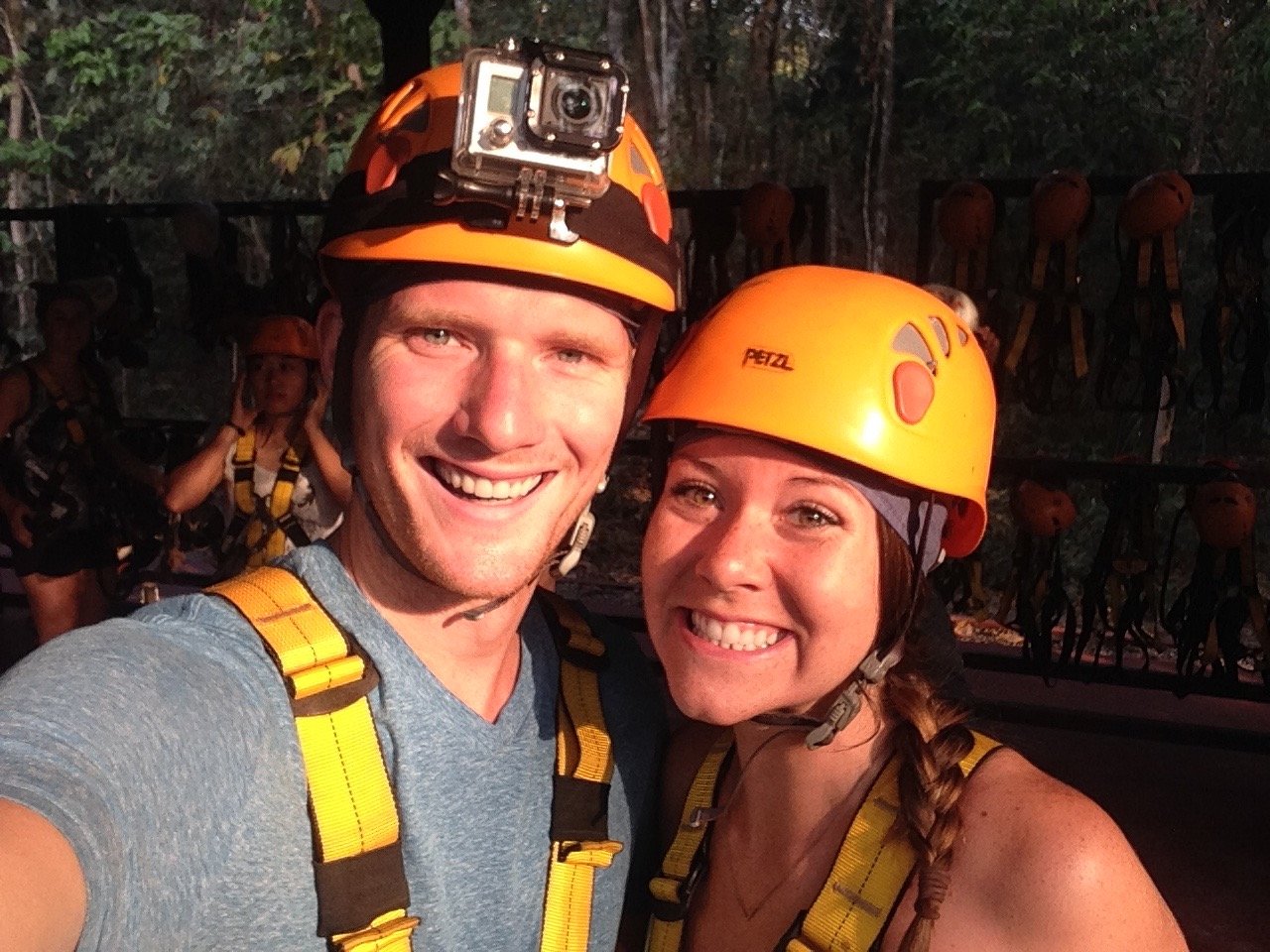 Thanks to Flight of the Gibbon Angkor (now Angkor Zipline) for sponsoring our high flying jungle experience. As always, our opinions are our own.