Hiking Acatenango Volcano in Guatemala is on many travelers' bucket lists for good reason. The trek involves an overnight stay and the opportunity to see an active volcano erupt up close. This guide walks you through how to prepare and what to expect on your Acatenango hike.
Did you know that Guatemala is a country with 37 named volcanoes? And three of them —Pacaya, Fuego, and Santiaguito— are still active, attracting visitors from near and far to witness their power and beauty up close.
One of the best (and most popular) ways to do so is by hiking Acatenango Volcano and spending the night on the dormant stratovolcano adjacent to Fuego Volcano, which is predictably active.
And when we say predictably, we mean it — Fuego erupts every 15 to 20 minutes! Yep, you read that right! This means travelers that are up for the adventure can pretty much be guaranteed to see this volcano erupt several times (barring incredibly cloudy weather).
We'd heard for years that watching Fuego Volcano erupt was one of the top things to do in all of Central America, and we were not disappointed. Hiking Acatenango Volcano was one of our favorite things we did in Guatemala and was a highlight of our 3-month Central America trip.
Acatenango Hike Guide
---
So, how does it work?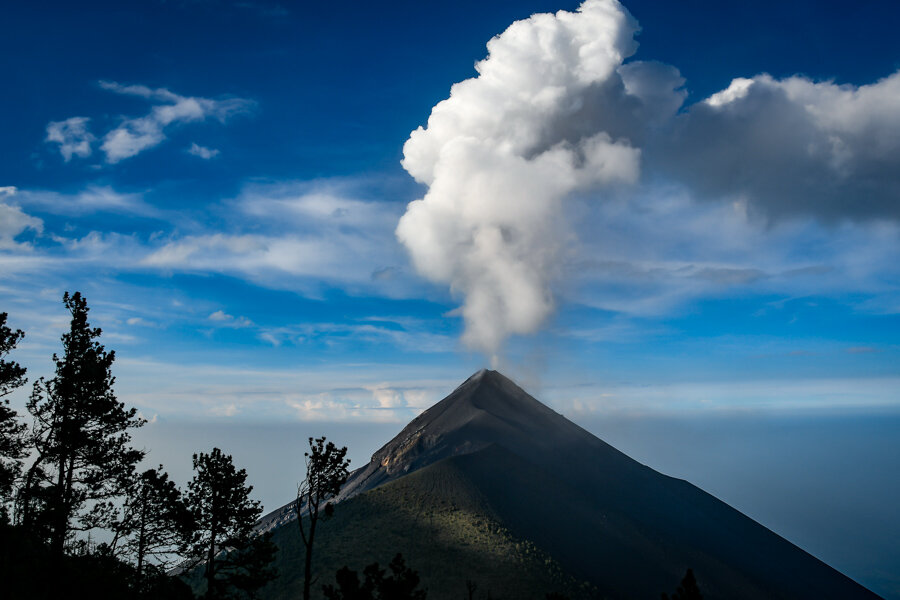 We were a bit confused at first as to how to witness this volcanic eruption. Plus, we didn't understand why people kept talking about Volcano Acatenango… wasn't it Fuego that erupts? And also, how would we know we'd be safe?
Don't worry — we'll explain…
Here's the skinny:
Volcan Fuego (as it's known in Spanish) erupts very frequently and consistently.
In order to view these eruptions, you will hike up the adjacent volcano, Acatenango.
Acatenango is dormant, and the last eruption was in 1972.
You can do the Acatenango hike as a day trip, but the best and most popular way to view Fuego's famous eruptions is to stay overnight.
There are many tour companies that offer overnight treks to spend the night in their "base camp" on Acatenango where you'll have incredible views of lava-spewing Fuego erupting all night long.
Acatenango hike stats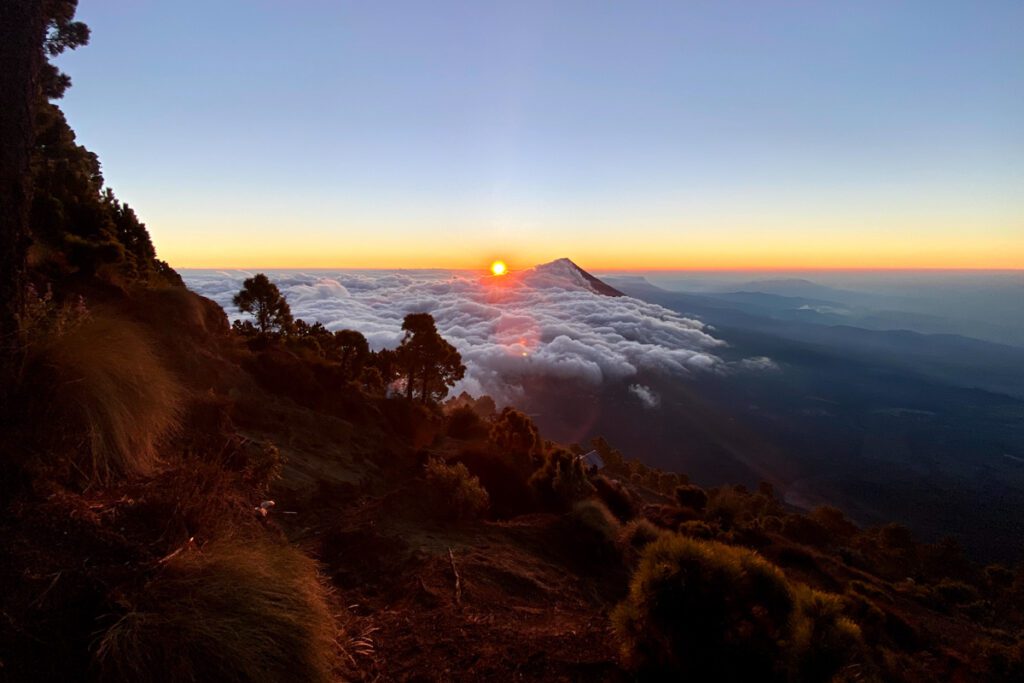 Elevation at summit: 13,044 feet (3,976 meters)
Elevation gain: 5,253 feet (1,600 meters)
Type of hike: Out and back
Distance covered: 8.6 miles (13.8 km) + an optional hike to Volcan Fuego (explained later)
Acatenango hike difficulty: Difficult
Cost: There is a park entrance fee of Q110, plus the cost of your tour
Crime: Since they started charging an entrance fee, crime on Acatenango has gone down and it is now considered a safe hike.
Current Status of Volcan Acatenango: Dormant
Highlights: Volcano Acatenango is known for its above-the-cloud views and proximity to Volcano Fuego, one of the most active volcanoes in Guatemala.
Time needed: While it is possible to do this difficult trek in one day, it is recommended to do an overnight trek. You won't want to miss the nighttime views of Fuego Volcano spewing lava (it's most active at night!) or the sunrise views from Acatenango's summit.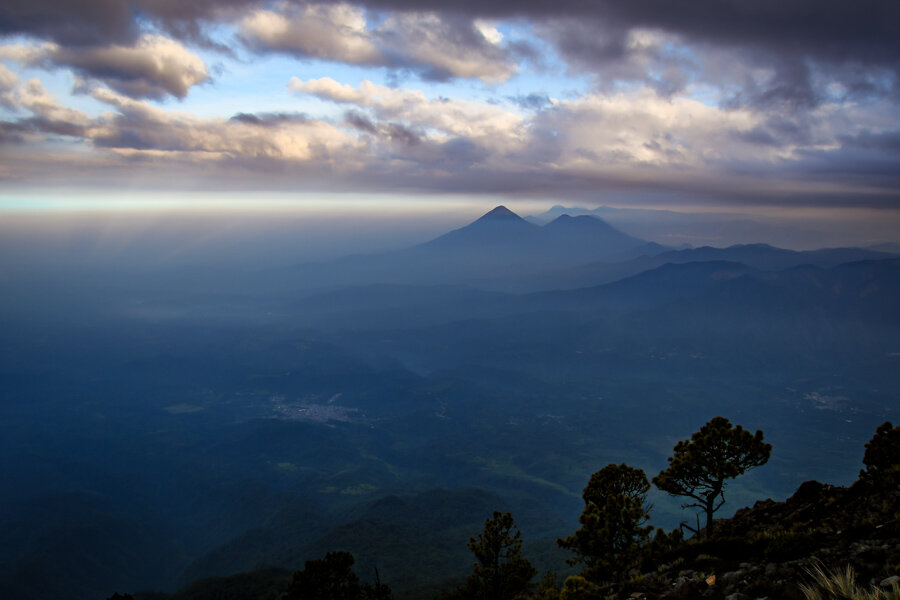 Best time to visit for the Acatenango hike
The ideal time would be to plan your hike to fall within Guatemala's dry season, November – April.
That gives the best chance at optimal weather, although the conditions are still not guaranteed and you never know what kind of weather you'll run into when you reach the summit.
Is hiking Acatenango Volcano safe?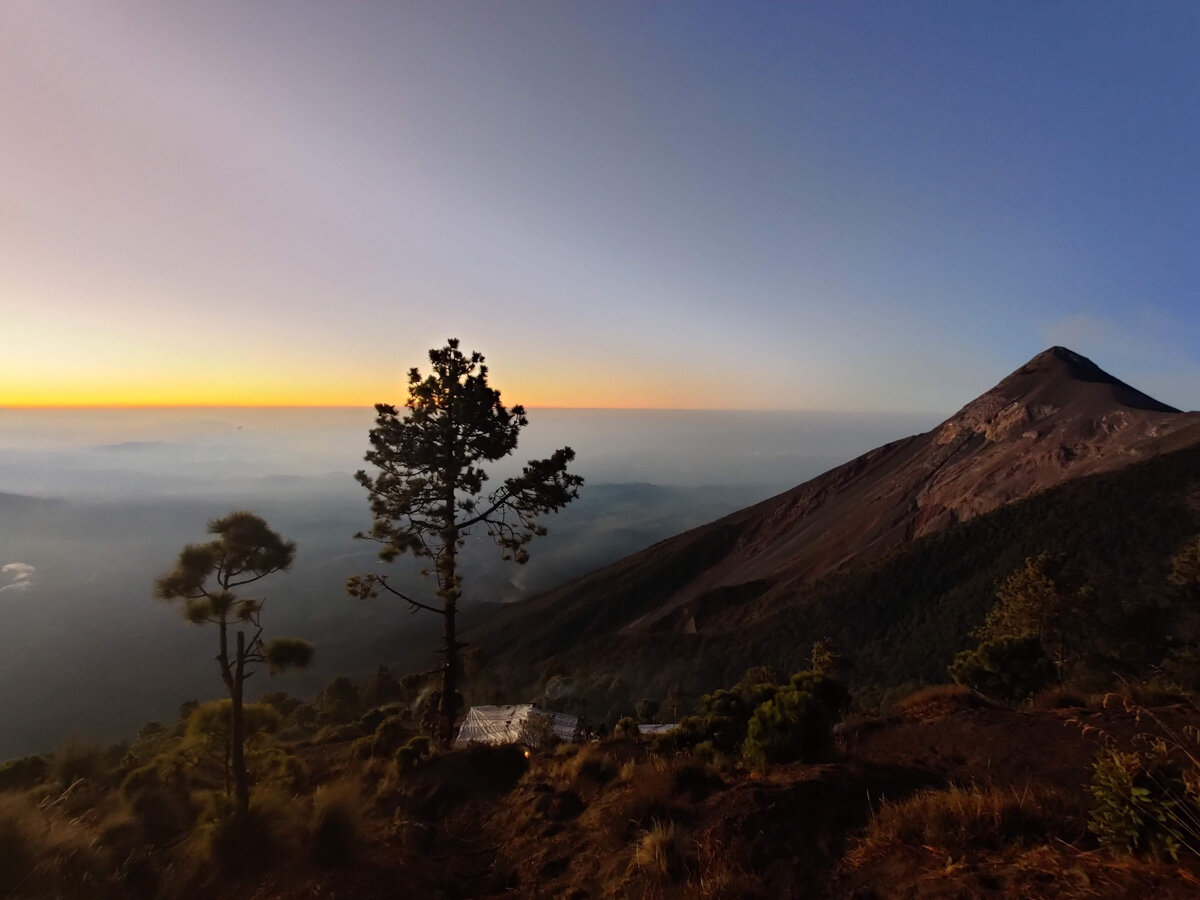 Yes. Most of the time.
Volcan Fuego is just about 3 km (1.8 miles) from Acatenango, so theoretically, you are pretty far away from the eruptions when you're at base camp. There is an option to actually hike to Volcan Fuego, in which case you'll be closer (more on that below!).
For the vast majority of hikers, there are no issues or threats of danger as the regular eruptions are very small. However, volcanoes by nature are unpredictable.
A few weeks after our own Acatenango hike, there was a massive eruption (on June 3, 2018) that killed at least 69 people, most of whom were locals living in the village just below the volcano.
A few weeks later, we met a traveler who had been hiking Acatenango on that day. He said that everyone had to run down the mountain as ash filled the sky. He ended up staying in the area for a couple of weeks to help with the clean-up of this tragic natural disaster.
We don't bring this up to scare you because you are far more likely to have an incredible time and encounter no issues at all. However, any volcano hike does come with some inherent risk.
Best tour companies for the Acatenango Volcano overnight hike
In Antigua, you won't have to walk far to see signs for this hike. Oftentimes your hostel or hotel will offer to make your Acatenango hike arrangements for you.
Much of the time this means they will place you in a tour group that has open spaces. This is what happened to us, and we would not recommend this.
Our experience hiking Acatenango Volcano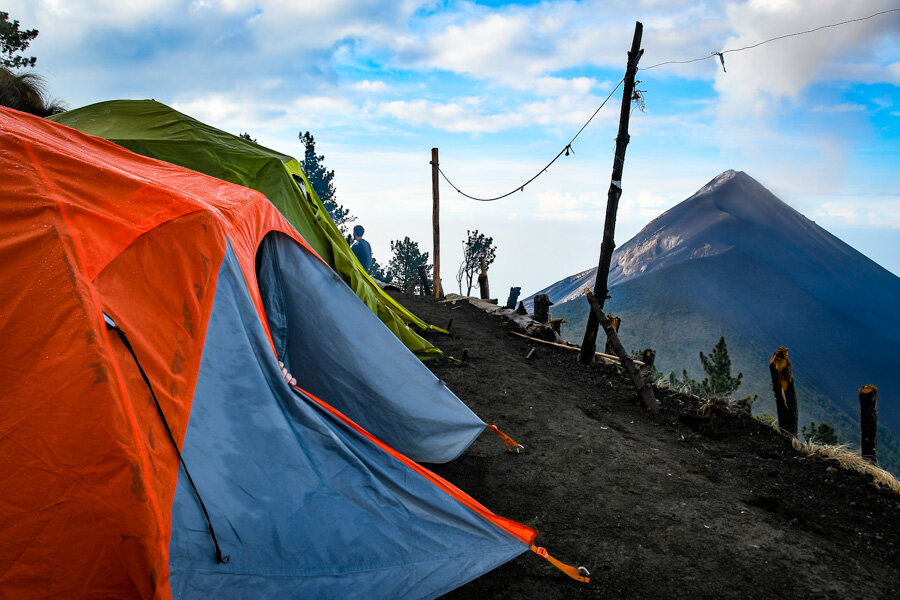 We had no idea what company we were going with and therefore didn't have control over the quality of service. The experience was still incredible — I mean, witnessing a volcano erupt all night long is something out of a dream — but there was a lot of room for improvement in the tour company itself.
For one, our guides didn't give us much of any information on anything — not on the schedule, the volcano, nothing!
Additionally, the food was pretty meager and the company didn't have enough sleeping gear. We were assigned tents but were squished in there like sardines and not everyone had sleeping bags.
Luckily, we spent most of the night watching the eruptions, but it felt like this particular company just tried to take as many people as they could without really having the proper equipment.
So, learn from our mistakes and actually choose the company you want to go with instead of having your guesthouse arrange it for you.
Tour operator recommendations
In theory, the tour operators provide most of the same things for the Acatenango overnight hike: sleeping gear, guides, and food. The quality of these things will vary quite a bit, as we've already described.
If you're looking for tour company recommendations, we've got two:
OX Expeditions
We have heard consistently good things about OX Expeditions. They've been in operation since 2004 and are widely known as Guatemala's top guiding service.
They also have some impressive environmental initiatives, and some of their profits support community projects that educate local children. They have some pretty cool programs where they teach them English, eco practices, as well as guiding skills to open up opportunities for them in the future.
Wicho & Charlie's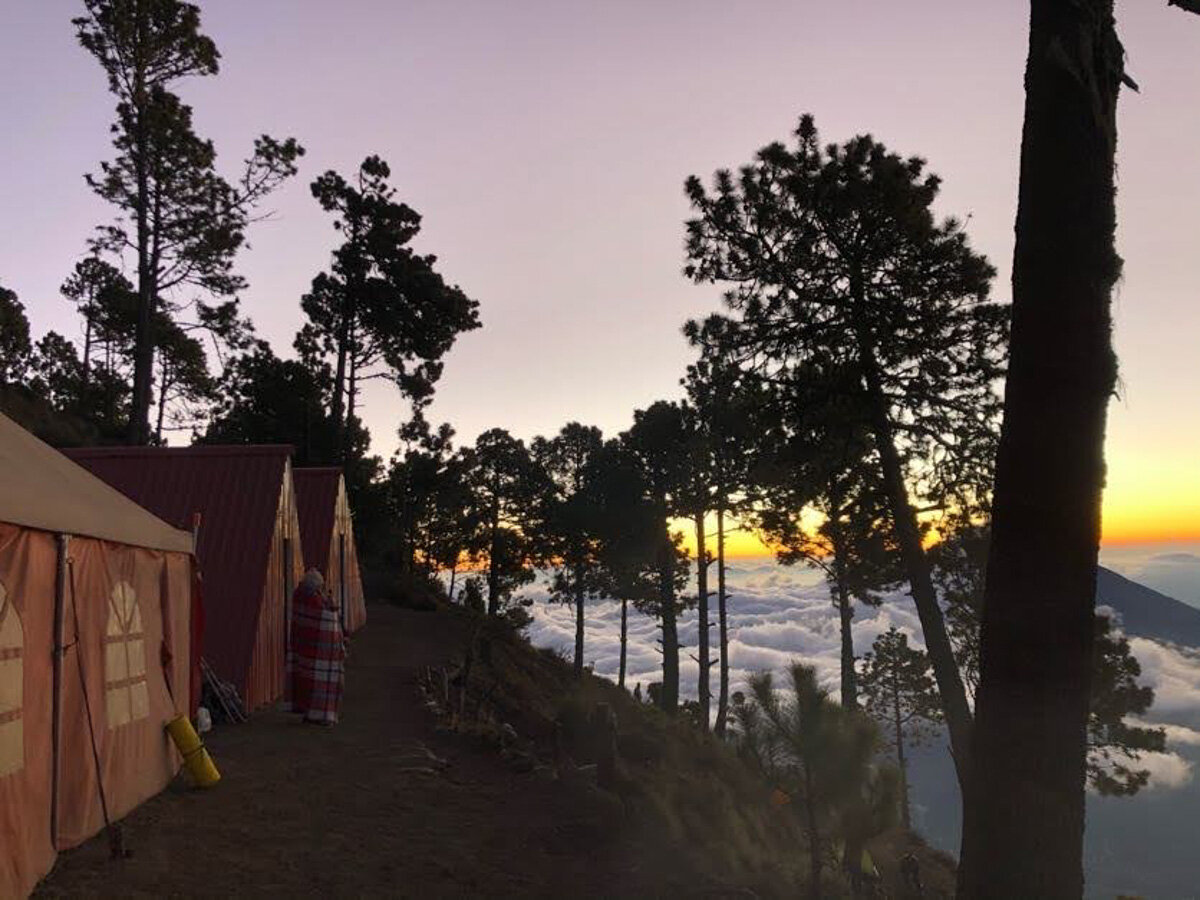 Our Editor, Amanda, was in Guatemala in March 2021 and did the Acatenango overnight hike with Wicho & Charlie's and had a very good experience. One of the main benefits of going with this company is they are the only company that has sleeping huts instead of tents at basecamp. (You can compare our tent photo with Amanda's much more luxurious hut photo!)
When we heard this, we asked her:
"Wait, you mean you weren't squashed like sardines into a tent, fighting over sleeping bags? Tell me more…"
So we'll let Amanda take over from here and give us a front-row seat to her experience hiking Acatenango!
Amanda's experience on the Acatenango Volcano hike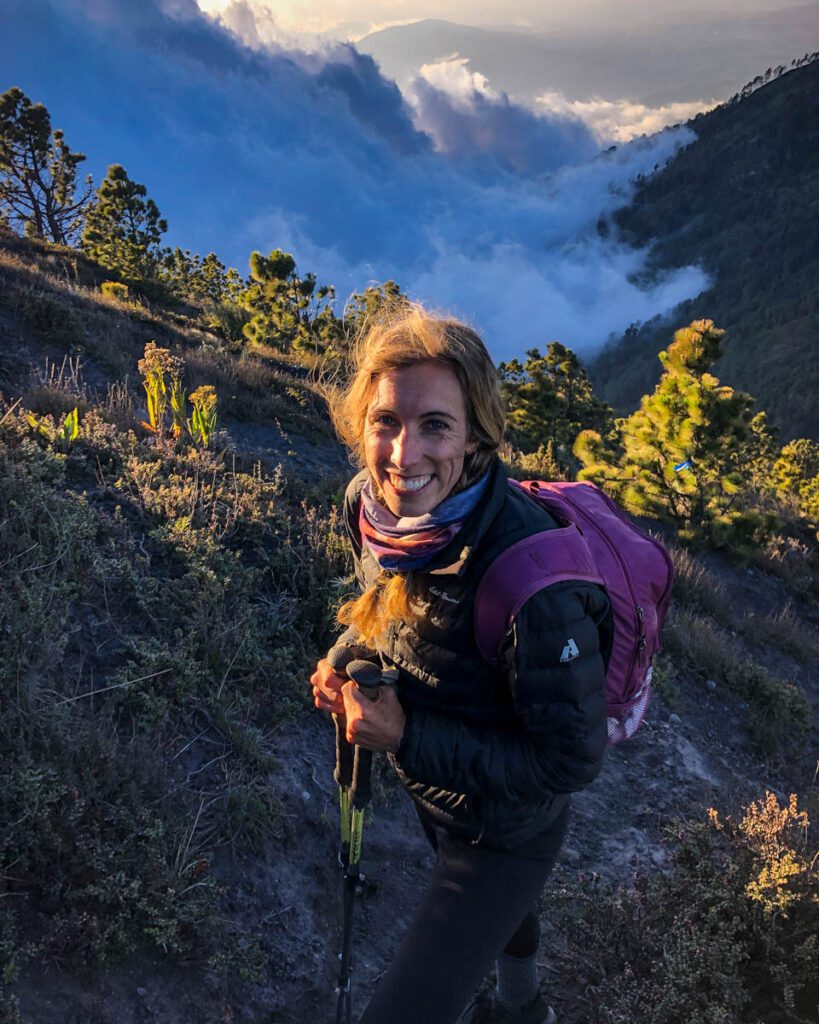 For starters, we were still squashed in like sardines, just in a slightly more comfortable and arranged sleeping situation inside huts.
Wicho & Charlie's has a number of different huts at basecamp on Acatenango. The larger huts are shared space with room for 4, 6 and 8 people, and there are a couple smaller huts for just 2 people (you can splurge for the private hut for two if you prefer). The beds are adequate, but calling them "comfortable" might be a stretch, depending on your definition of comfort.
They are more or less just sleeping cushions arranged on the wooden bunks in each hut. Each person gets a sleeping bag and 2 large wool blankets. However, there are no pillows, so you may wind up using your pack or one of your blankets as a pillow.
The real benefit of the huts is not having to set them up or take them down like you would a tent. And they add a layer of protection if in the unlikely event the neighboring Volcan Fuego has an uncharacteristically large eruption and spews debris as far as base camp, the huts would be safe and keep you protected.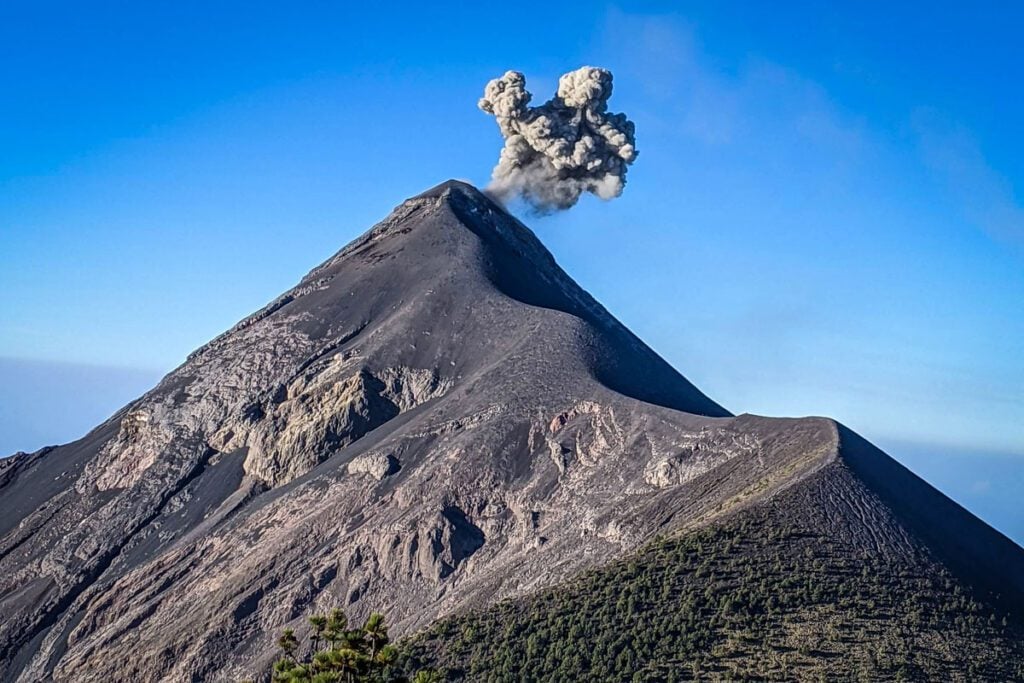 Other than that, I chose to go with Wicho & Charlie's because the company came highly recommended by fellow travelers and offered everything we needed to make our Acatenango hike as smooth as possible.
The guides were knowledgeable and spoke great English, the food – albeit simple – was good and kept us plenty full, and they had everything we needed available to rent directly from their shop including water bottles, warm clothing, hiking poles and porters.
What to expect on the Acatenango hike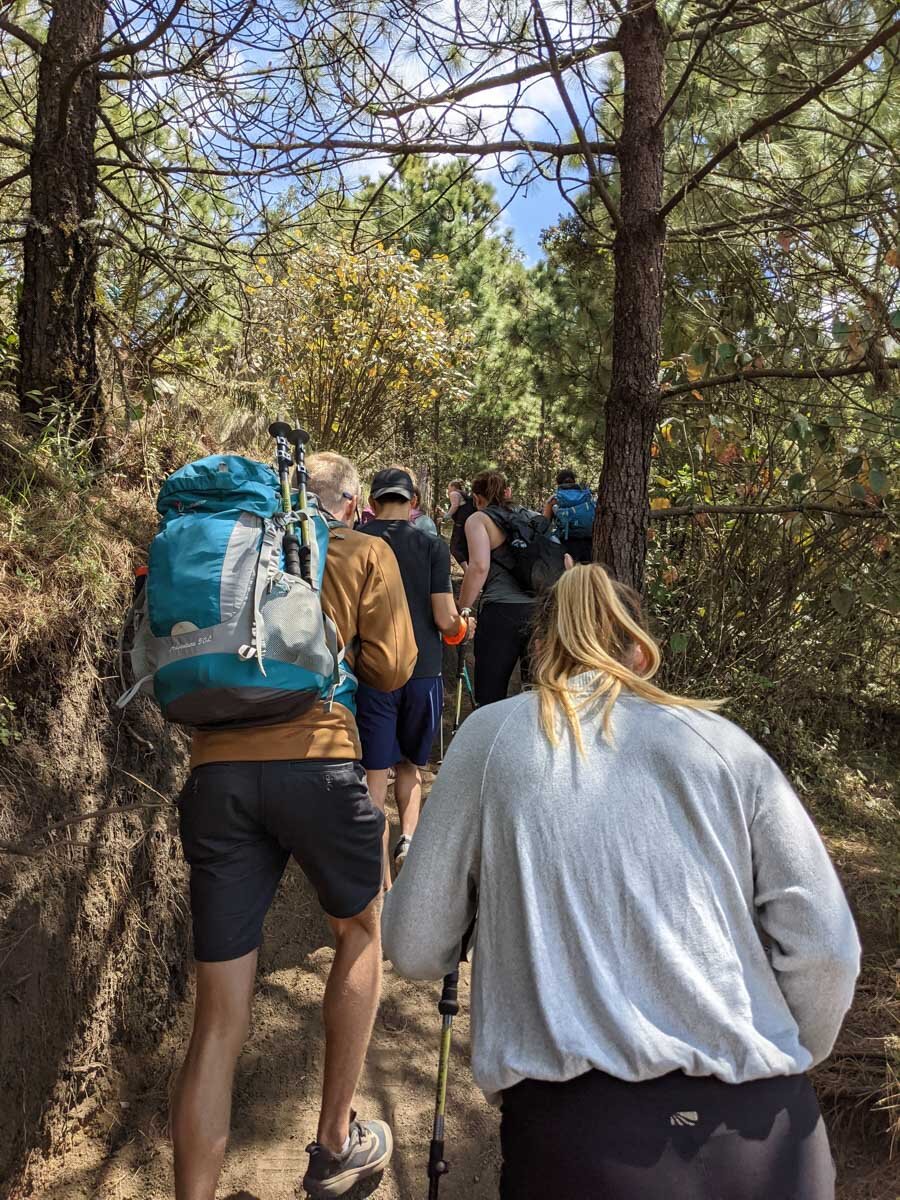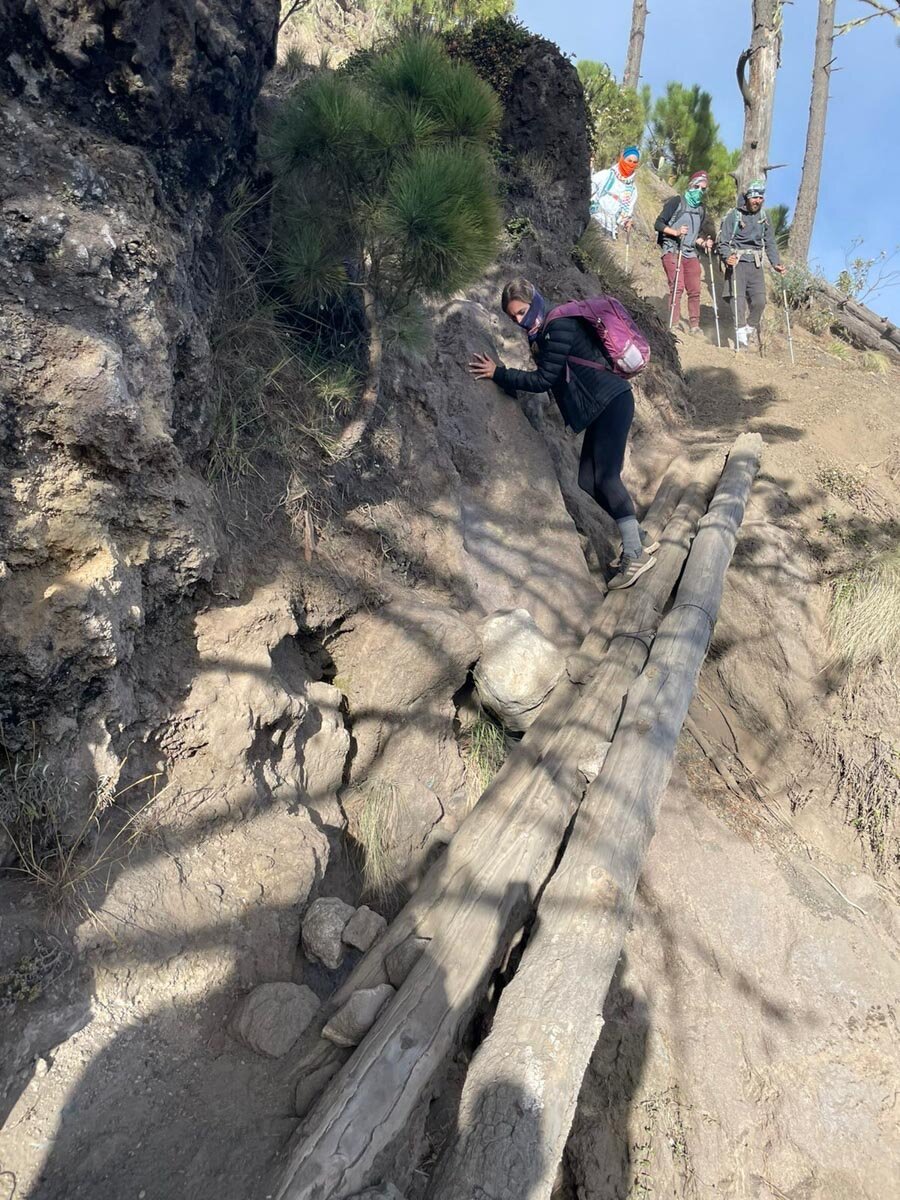 The Volcan Acatenango hike is a challenging 3,976m (just over 13,000 feet!) hike, but can be achieved by someone with an average level of fitness and the will for adventure!
There are a few portions of the hike we're going to go over:
Hike to Base Camp
Hike to Volcan Fuego for sunset (optional)
Hike to Acatenango summit for sunrise (optional)
Hike to Acatenango Base Camp
The hike up to basecamp will take anywhere from about 3.5 to 6.5 hours depending on your pace.
Most of the hike should have fairly mild temperatures (in the low 70° F range – weather dependent) and you'll be fine with hiking pants or shorts and a t-shirt with an extra top layer.
It's also highly recommended to bring hiking poles as these will help you navigate the soft earth of the volcano, especially on the way down!
You'll be required to carry all of your personal items, including warm clothes for the night and toiletries, plus your own water.
There are no water fill stations on the volcano so you'll want to carry the recommended 4 liters with you from the start. (A hydration pack, like a Camelbak, makes it easier to carry water on a trek like this.)
Note: Many tour companies offer porters to help carry your belongings. You can also hire a porter at the start of the hike. Porters are available at an extra cost of Q200 one-way for a 10-kilo bag (you'll pay Q250 for an overweight bag), and Q200 for the way down.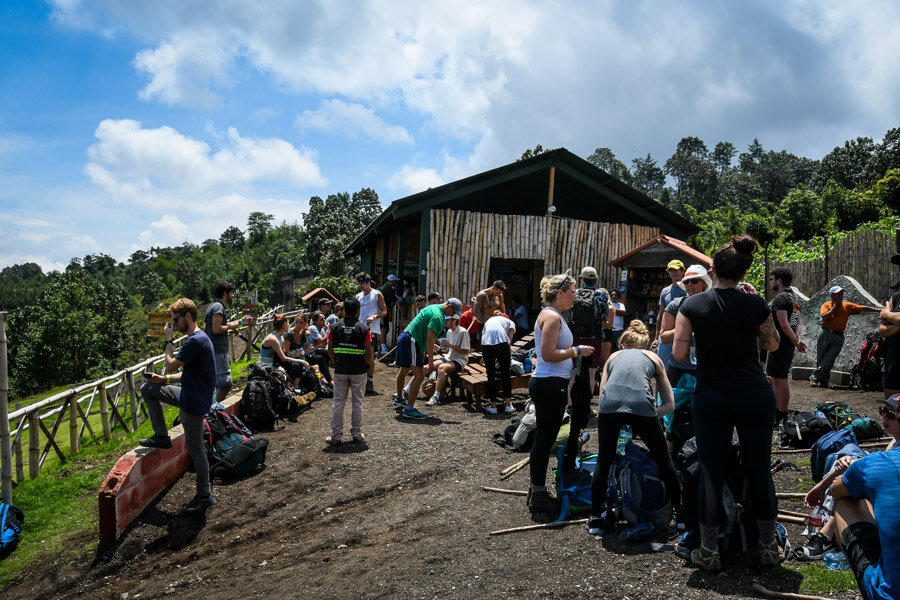 There is a small shop at the park entrance, which is about 30 minutes or so into your journey that sells water, sports drinks and snacks. At this point, you'll be required to register your hike and pay the park entrance fee of Q110.
The rest of the hike is made less challenging with frequent planned rest stops, including a lunch break.
You'll arrive at basecamp by mid-late afternoon and get settled in. Be prepared to notice a little altitude sickness. Some effects of high altitude include a headache, dizziness or shortness of breath. As long as you drink enough water, you should be fine, but everyone reacts differently so it's good to be prepared.
And this isn't the end of the hike (unless you want it to be!)…
Hiking Volcan Fuego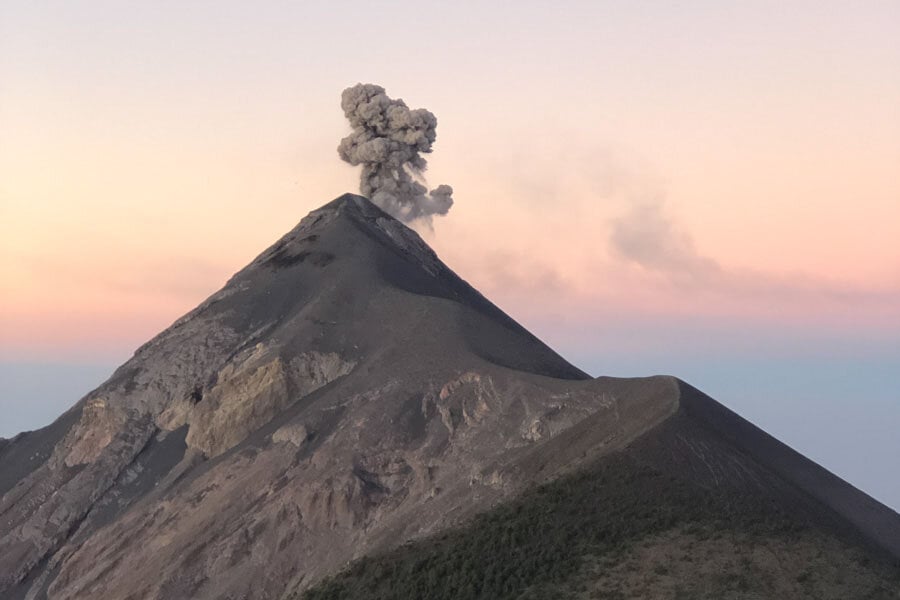 If you're feeling up for the challenge—weather and visibility permitting—you can make the additional trek to summit Volcan Fuego for sunset.
The additional hike may cost extra depending on your tour company (mine was an additional Q200 / around $26), but it was totally worth it!
Though this was easily the most challenging part of my trek, both physically and mentally, I would highly recommend you make the effort if you're not feeling too depleted from the accent to basecamp.
The hike will take about 1.5 hours to go down Acatenango and up Fuego. Then it'll take about 2.5 hours to make it back to basecamp at the top of Acatenango, most of which you'll be hiking in the dark so a headlamp is absolutely necessary.
You'll begin the hike by descending Volcan Acatenango (on the opposite side you hiked up) in very loose volcanic dirt. This is where your hiking poles will really come in handy as well as a Buff or face covering to keep the dust out of your lungs.
You'll also want to make sure you bring all the warm layers you have on this part of the hike. The top of Fuego is the coldest part of the entire overnight journey.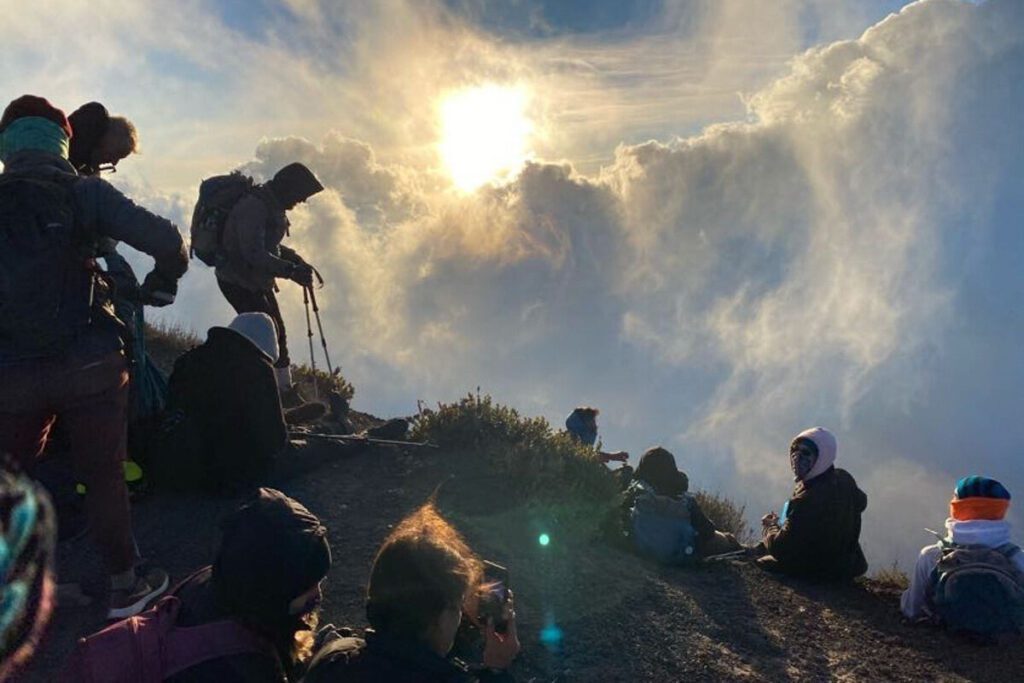 Once you reach the valley between the two volcanos, you'll start the ascent to the top of Fuego. Since this is very much an active volcano, you'll be climbing to the ridge about 500m from the actual crater. Your tour company will provide you with extra gear such as helmets if necessary (it wasn't at all necessary on our trip).
The ridge can be extremely windy, so you'll want to layer up just before you reach the top. But you'll be rewarded with some of the most amazing sunset views I've ever witnessed. You'll be so far above the cloud it'll feel like you're in an airplane.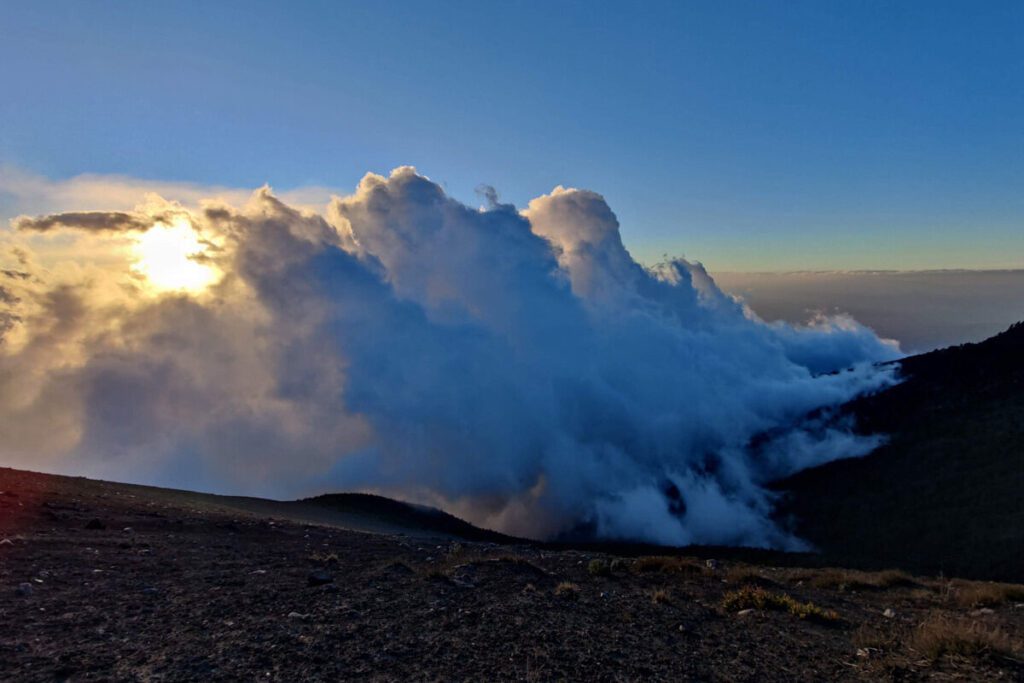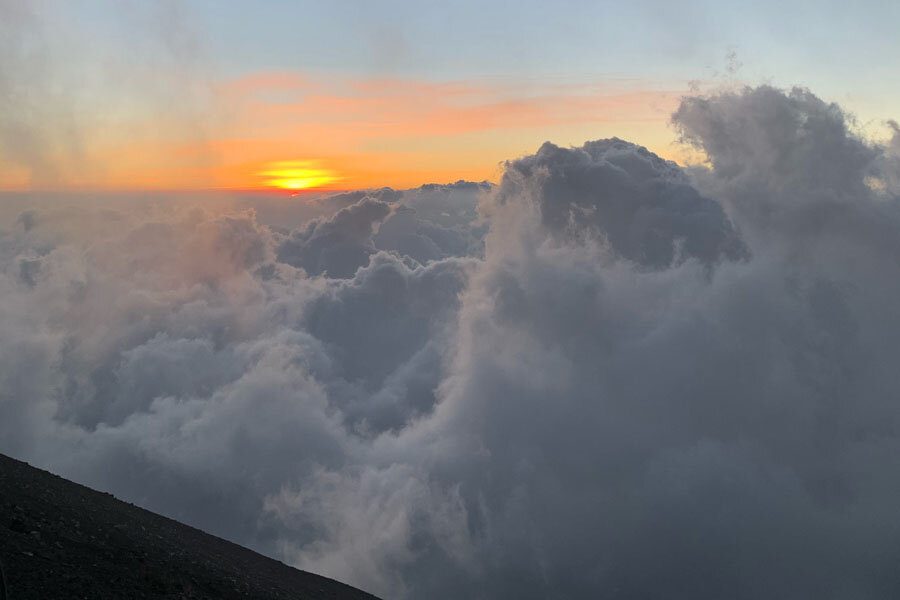 Stay for sunset and if you can weather the cold, just after dark you'll start to see the lava erupting from Fuego's crater up close and personal!
After you make it back to basecamp, you'll be rewarded with a warm fire and hot meal. My tour company made all the food we needed for our trip and we had a delicious meal of rice and curry prepared for us when we returned, plus hot chocolate around the bonfire.
Acatenango Summit Hike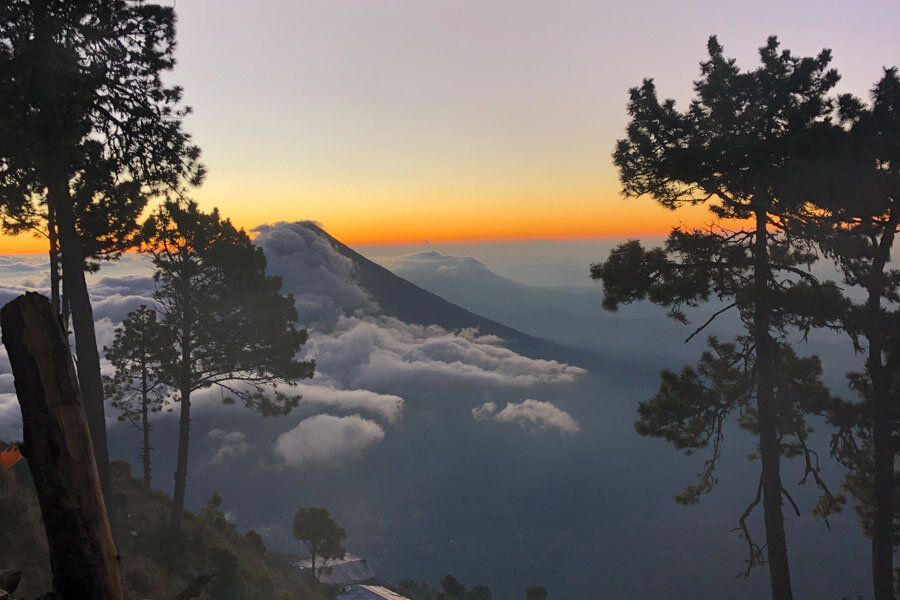 The following morning after a cozy night sleeping under the stars (or in my case, a volcano-proof hut), you'll have the option for one final hike before you make your descent back to civilization.
You can choose to climb to the summit of Volcan Acatenango from basecamp, to watch the sunrise.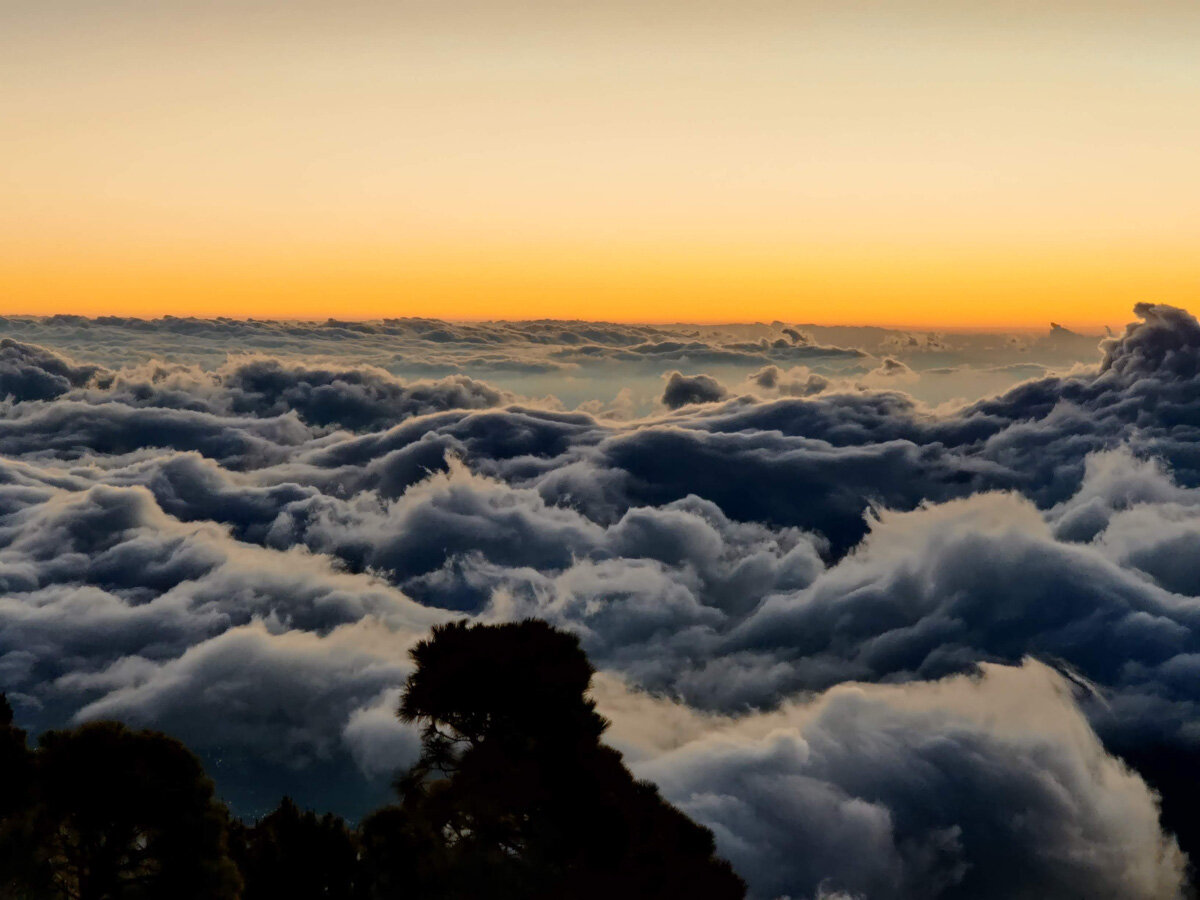 This additional hike is a quick one that takes just 45-minutes to reach the top, but it comes with a 4 a.m. wake up call!
After you watch the sun come up over the clouds (a truly magical experience!), it'll take just about 20 minutes to climb back down to basecamp for a quick breakfast and pack up to hit the trail around 7:30 a.m.
The food
Before doing an overnight hike, it can be helpful to know what to expect when it comes to food (especially if you have allergies or dietary restrictions).
As we already explained, our (Katie and Ben's) experience with food on this hike was not the best…
It's not like I was expecting a 5-course meal or anything special when it came to food. But dinner was Cup Noodles, and we each got a couple of marshmallows to roast on a fire and a pack of hot chocolate.
Maybe Ben and I eat a lot, but we were pretty hungry all night because we had just done a pretty intense hike and hadn't packed many snacks.
Amanda had a better food experience with the tour company she went with…
Wicho & Charlie's provided lunch, dinner and breakfast.
Lunch: The lunch was a portion of rice and curry and included an assortment of snacks such as granola bars, fruit and nuts, which was plenty to tide me over. I ate about half the lunch during our lunch stop and the other half when I reached basecamp.
Dinner: Dinner was a simple meal of rice and curry, but it was pretty delicious considering it was prepared on top of a volcano. We were offered as many portions as we preferred, but most people were satisfied with just a single bowl. There was also hot chocolate by the campfire afterwards.
Breakfast: Coffee and tea was offered while our guides prepared a simple breakfast of instant oatmeal. While it wasn't much, it was early and no one was particularly hungry. Plus we had left over snacks if needed on the hike down.
Our advice: No matter which company you choose to go with, it's always a good idea to bring a few granola bars, dried fruit, nuts and chocolate to keep you energized!
Acatenango trek itinerary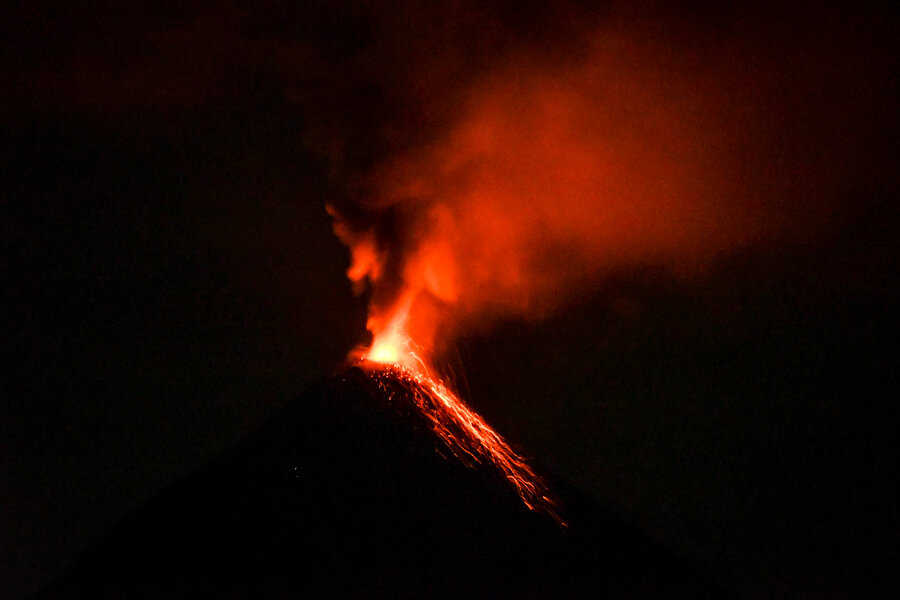 If you decide to go with a tour company, your 2-day trek itinerary will look roughly like this (times are rough estimates and not exact!).
Day 1
8:00 a.m. meet at shop, 1.5 hour bus ride (windy, bumpy roads) to the start of the hike at La Soledad
10:00 a.m. begin hike
11:30 a.m. lunch break
2:00 p.m. arrive at base camp and relax
4:00 p.m. start hike to Fuego
7:00 – 8:00 p.m. return to base camp and have dinner & campfire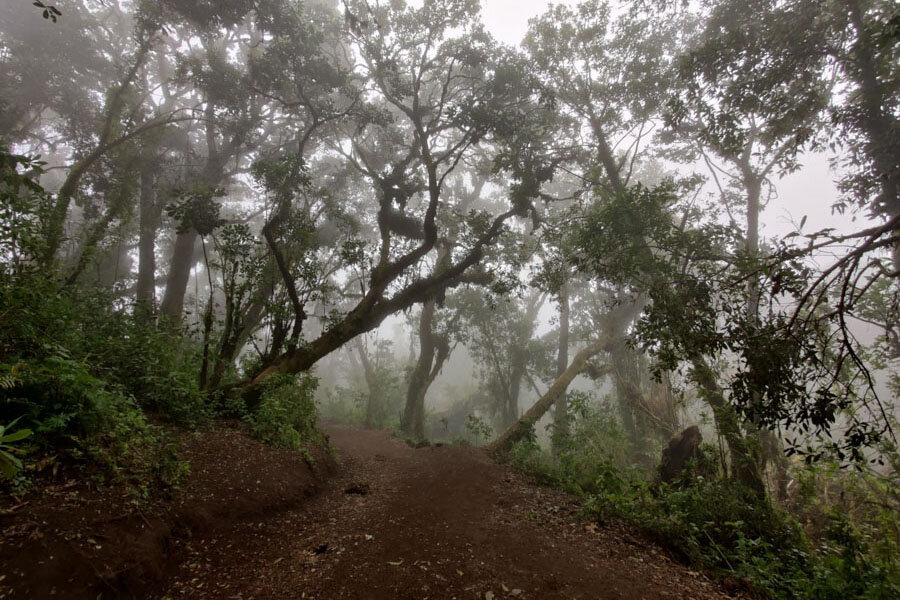 Day 2
4:00 a.m. wake up call for Acatenango summit sunrise hike
5:45 a.m. sunrise
6:45 a.m. light breakfast at base camp
7:45 a.m start decent to La Soledad
11:00 – 11:30 a.m. arrive back in Antigua at the shop, gear rental returns
What to wear for hiking Acatenango Volcano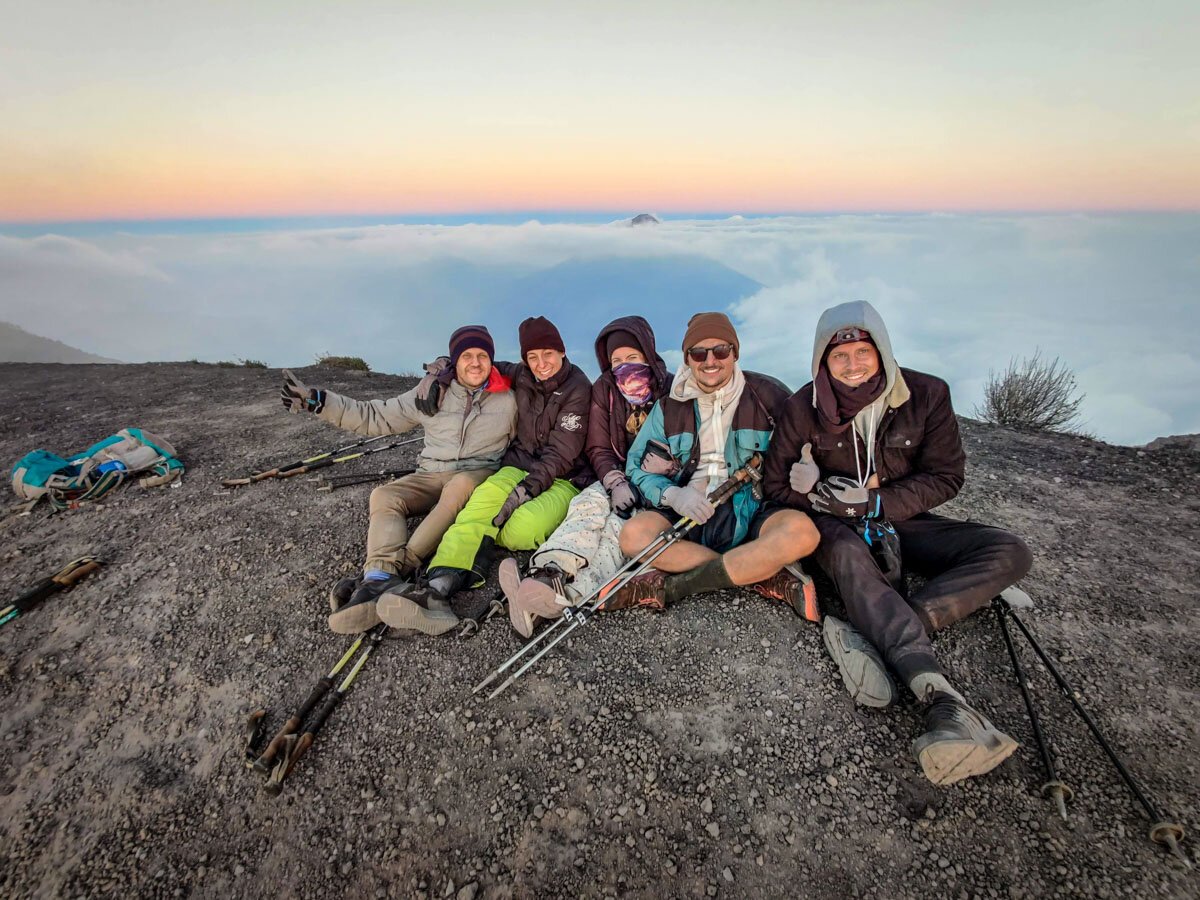 You'll want to pack plenty of warm layers, especially if you plan to summit Volcan Fuego for sunset. And believe me when I say plenty, I mean all the warm layers you can manage!
Basecamp gets very cold at night (it can get down to the single digits — that's -14° C at its coldest!) and the wind on top of Volcan Fuego will have your teeth chattering and your fingers (almost) too frozen to take photos.
Good news! If you didn't pack warm clothes for your Central American travels, no worries! You can rent everything you need from tour companies, outfitters or even some hostels in Antigua.
Warm clothing is key! Bring or rent all the warm clothes you possibly can and make sure you have all these layers with you when you climb Volcan Fuego.

The tour companies typically provide warm clothes for rent at a small additional fee. You can also rent through your hostel or hotel in Antigua. I recommend you get EVERYTHING you haven't packed: wool socks, hiking pants/long underwear, outer layers and jackets, scarves, Buff, gloves, hats, headlamp, hiking poles
Check your wool socks before you leave the shop – more than one of us found holes in our rented wool socks when we went to put them on at the top of the volcano.
Rent gear the day or few days before your hike, can leave it at the shop in a locker (must provide your own lock) or take it home with you.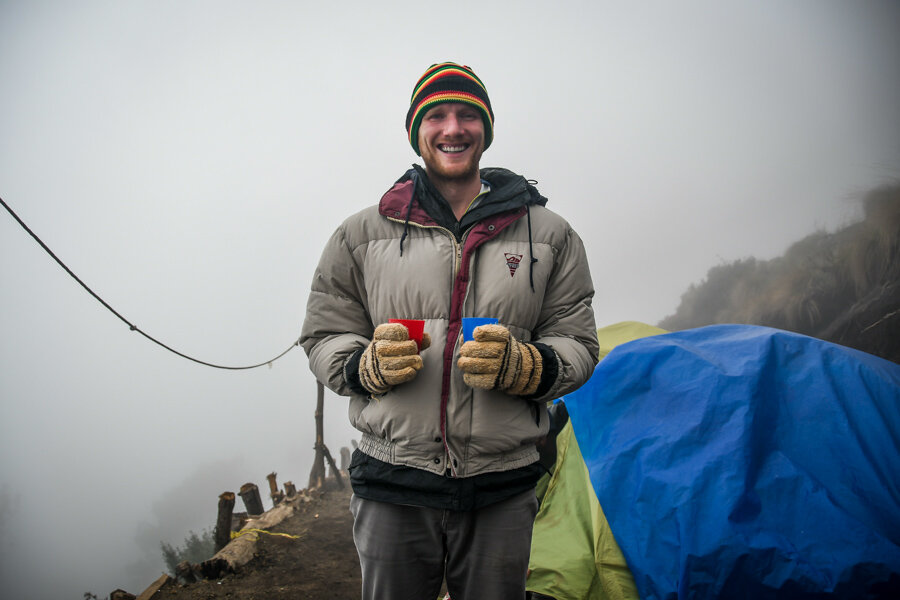 Athletic shoes or sneakers are fine, but they will be absolutely covered in dirt. You'll want shoes you can throw in the washer when you're finished with the hike. If you decide to rent boots/shoes, keep in mind you may get blisters.
Poles are a necessity and will come in seriously handy for the unstable earth of the volcano. You can rent these from your tour company or from rental shops in Antigua.

Budget Tip: You can rent a walking stick from the small stand at the base of the volcano. It costs just Q10 ($1.30 USD) and is super handy on the hike if you didn't bring poles.
What to pack for your Acatenango hike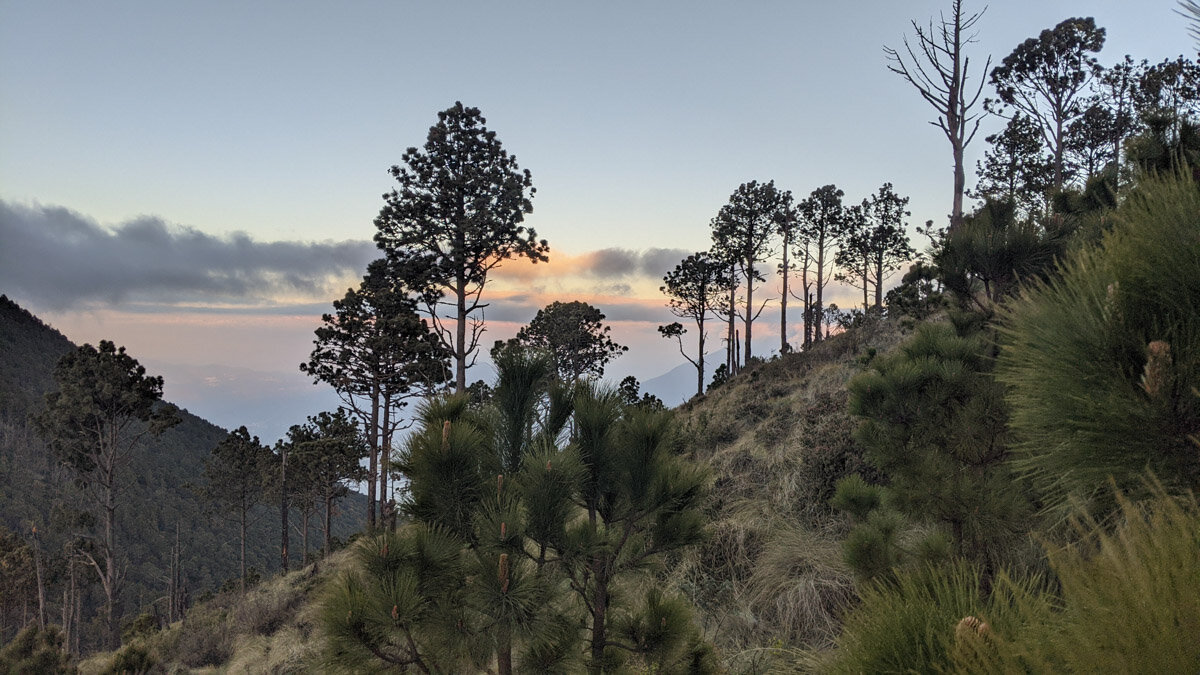 You'll need to carry all your own supplies, including water. Here's a list of the items we'd recommend bringing.
Water: It's recommended to have 4 liters for the entire trip. A hydration pack, like a Camelbak, will make carrying the water much more comfortable.

Check with your tour company before your hike to see if they provide water, and if so, how much. The guides may also require each hiker to give them up to 1 liter of water to cook dinner and breakfast, so you'll want to account for that too.
Ask your tour company if they provide bottles. Wicho & Charlie's gives hikers 1.5L bottles you can fill in their shop before your hike.
You may also want to bring a bottle of Gatorade along to give an extra boost of sugar and electrolytes.

Bring plenty of snacks for the hike
Pack all your own personal items/toiletries

Good to bring extra underwear/sports bras to change once you've gotten all sweaty
No need to get fancy with your toiletries, just a toothbrush and toothpaste and face or baby wipes (your tour company may or may not provide these)

Bring your own toilet paper!
Remember to bring a bag to carry out all your garbage (including used TP!)
Tips for hiking Acatenango Volcano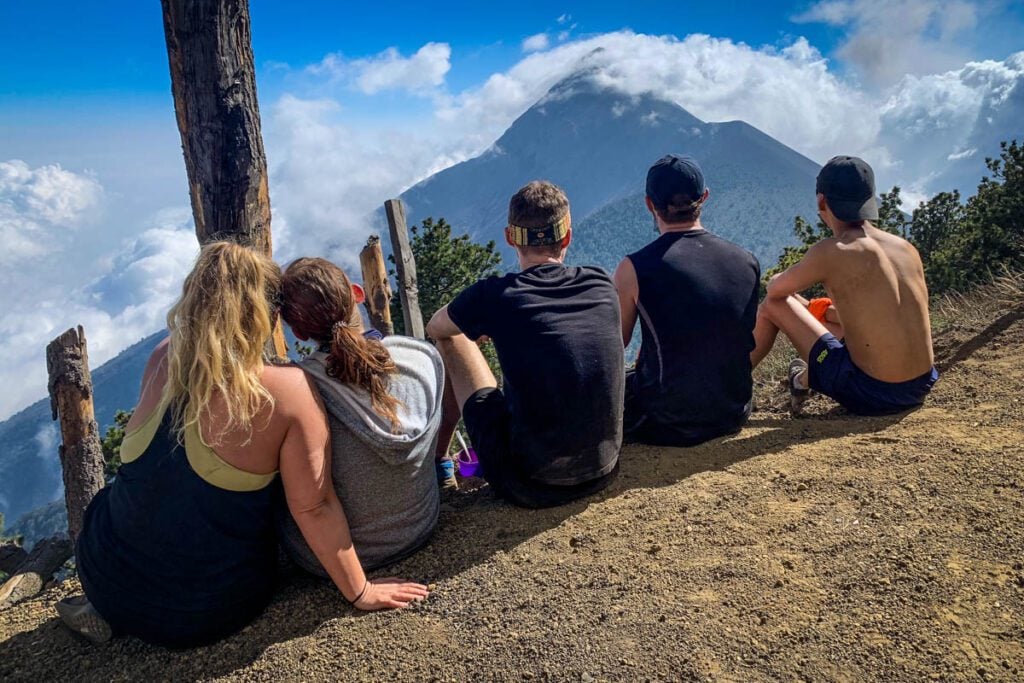 Everything will be covered in dirt/dust, including your face. Bring or rent a Buff to protect your lungs from the dust.
You can hire a porter to help you carry your weight. This can make the hike a lot more manageable, especially if you're a less experienced hiker.

Another option to consider is to rent a porter backpack (made to carry all your belongings and water more comfortably).

Warm up a rock by the fire and put it in the bottom of your sleeping bag to keep warm overnight. Genius!
Be prepared for the altitude, 13,044 ft (3,976m), and spend a few days getting acclimated in Antigua before your trek.
The 1.5-hour bus ride from Antigua to the base of Volcan Acatenango is a bumpy and windy ride. Take motion sickness medication if you are prone to getting car sick. But, (and this is a really important but!) make sure not to take anything that will make you drowsy. You'll need peak energy levels to tackle this hike!
How much does it cost to hike Acatenango?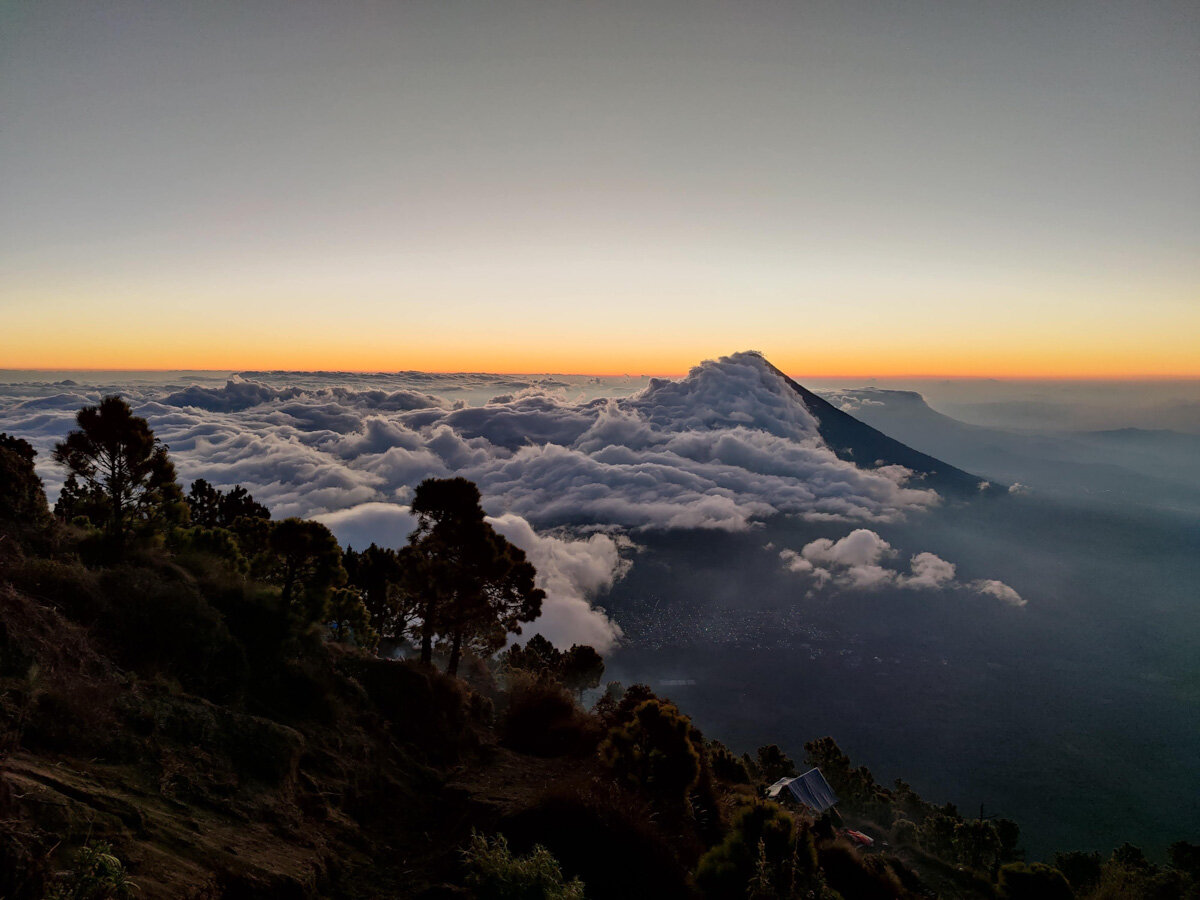 The price of the overnight Acatenango trek varies depending on the tour company you go with and what is included in your tour. In total, I paid about $160 USD for my entire trek. Below are some costs you should consider when planning your hike.
Cost of the tour: Depending on which tour company, what's included and your sleeping arrangements (private or shared), you can expect to pay anywhere from $90 – $200 USD per person.

OX Expeditions is a flat all-inclusive rate for shared tents at $99
Wicho & Charlie's has a range of rates with and without food and shared or private huts from $120 – $170 per person.

Park entrance fee: Q110 (about $15 USD)
Rental equipment: Depending on what you need, you'll have to pay extra for rental equipment that isn't covered in the cost of the tour. Each piece of equipment, from socks to hiking poles, will cost around Q10-ish. I paid roughly Q150 (about $20 USD) for all my rental gear.
Porters: Hiring a porter for the hike up costs Q200, or Q250 if you have a heavy bag. The way down is a flat Q200 fee. And don't forget to tip on top of that!
Food: Food was included in the cost of both the tours we experienced. But we also recommend bringing your own snacks.
Cost of extra hikes: The additional Volcan Fuego hike costs an extra Q200 (about $25 USD).
Other epic hikes to add to your bucket list
If you're reading this article, I imagine you're a hiking enthusiast. We've done some pretty epic hikes around the world and have created helpful guides…
Inca Trail: This classic trek in Peru is worthy of a top spot on your hiking bucket list.
Tongariro Crossing, New Zealand: Widely considered to be the best day hike in New Zealand, this is a can't-miss if you're visiting the North Island.
Routeburn Track, New Zealand: If you're traveling in New Zealand, you'll want to add this hike to your list as well. This multi-day trek on the South Island is one of the best hikes in the country.
Fimmvorduhals Hike, Iceland: This is one of our very favorite day hikes ever, and if you like the Tongariro Crossing, this should also be on your list!
Old Man of Storr, Scotland: This hike on the Isle of Skye brings you up close to some otherworldly rock formations.
Kumano Kodo, Japan: This multi-day pilgrimage trek in Japan is a perfect blend of adventure, nature and culture.
Ijen Crater, Indonesia: This classic sunrise hike in East Java ends with epic views over a neon blue crater lake.
Everest Base Camp: If you're looking for a hike you'll be telling your grandkids about, this is it! Stay at tea houses along the way and make lifelong friends.
---
Are you planning a trip to Guatemala?
We have lots more resources on travel in Guatemala and destinations throughout the country. Check out our Ultimate Guatemala Travel Guide for all the important travel information, or read some of our favorite articles below.
Save this article on Pinterest for later!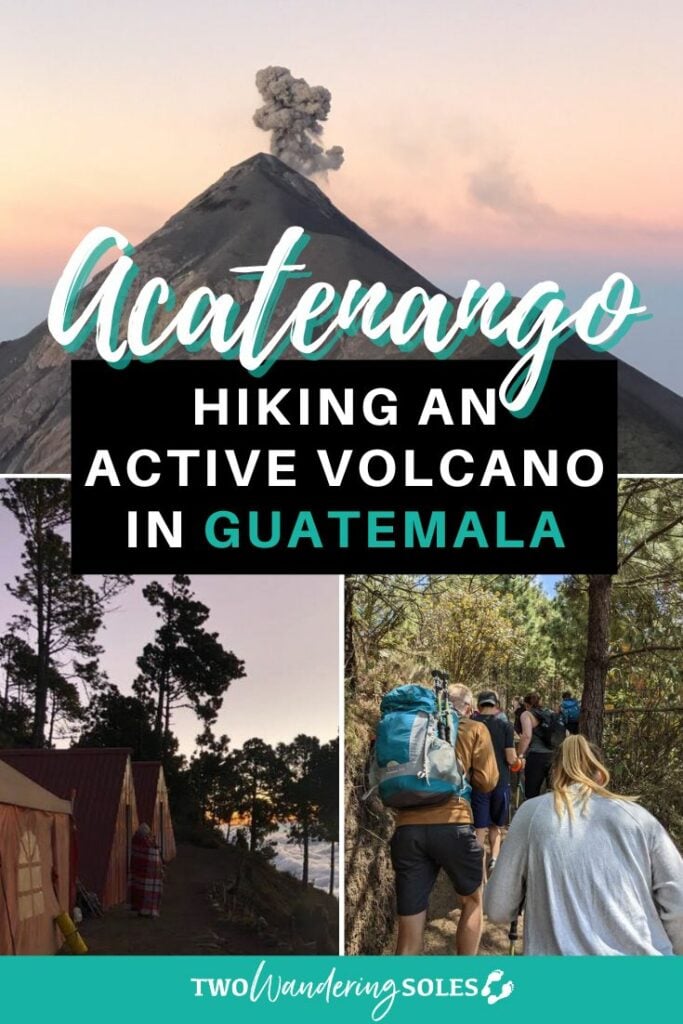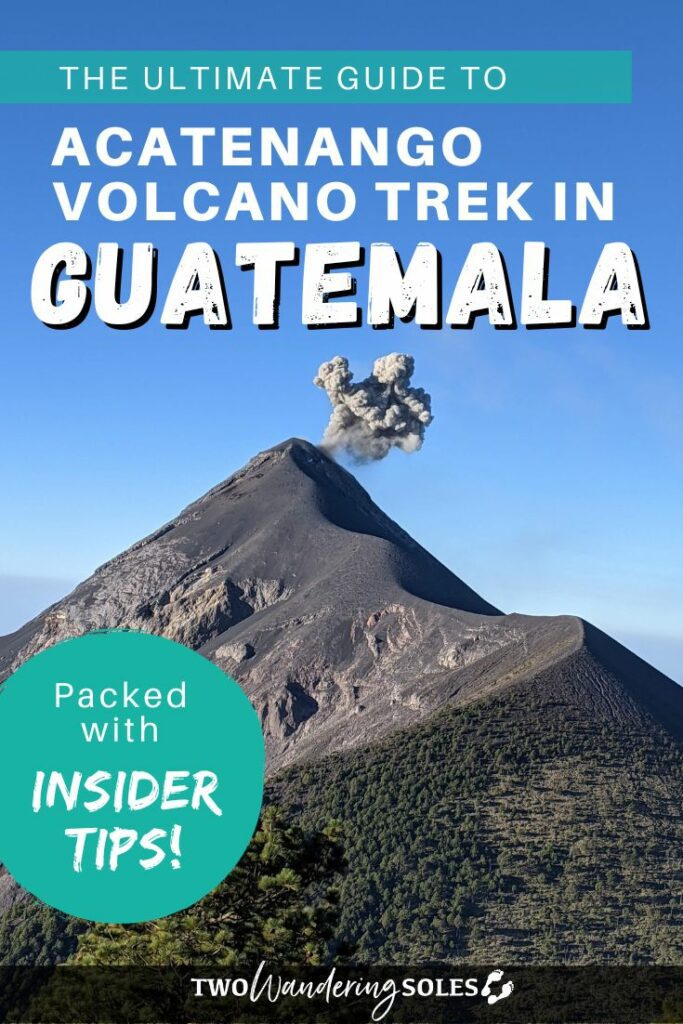 We want to hear from you!
Are you planning on hiking Acatenango Volcano and still have questions? Leave your comment below and we'll do our best to find answers for you!