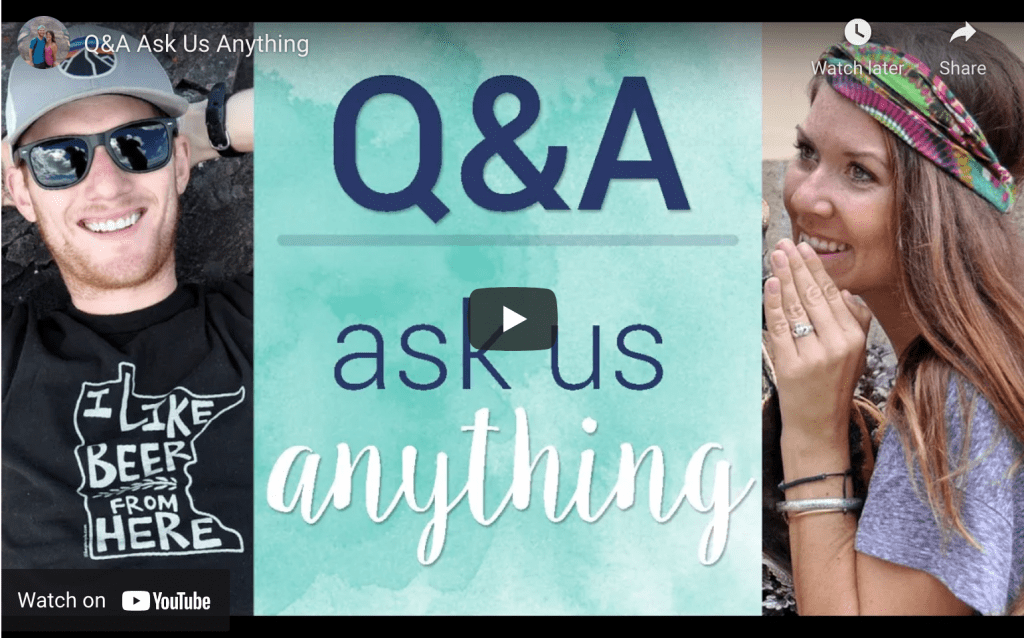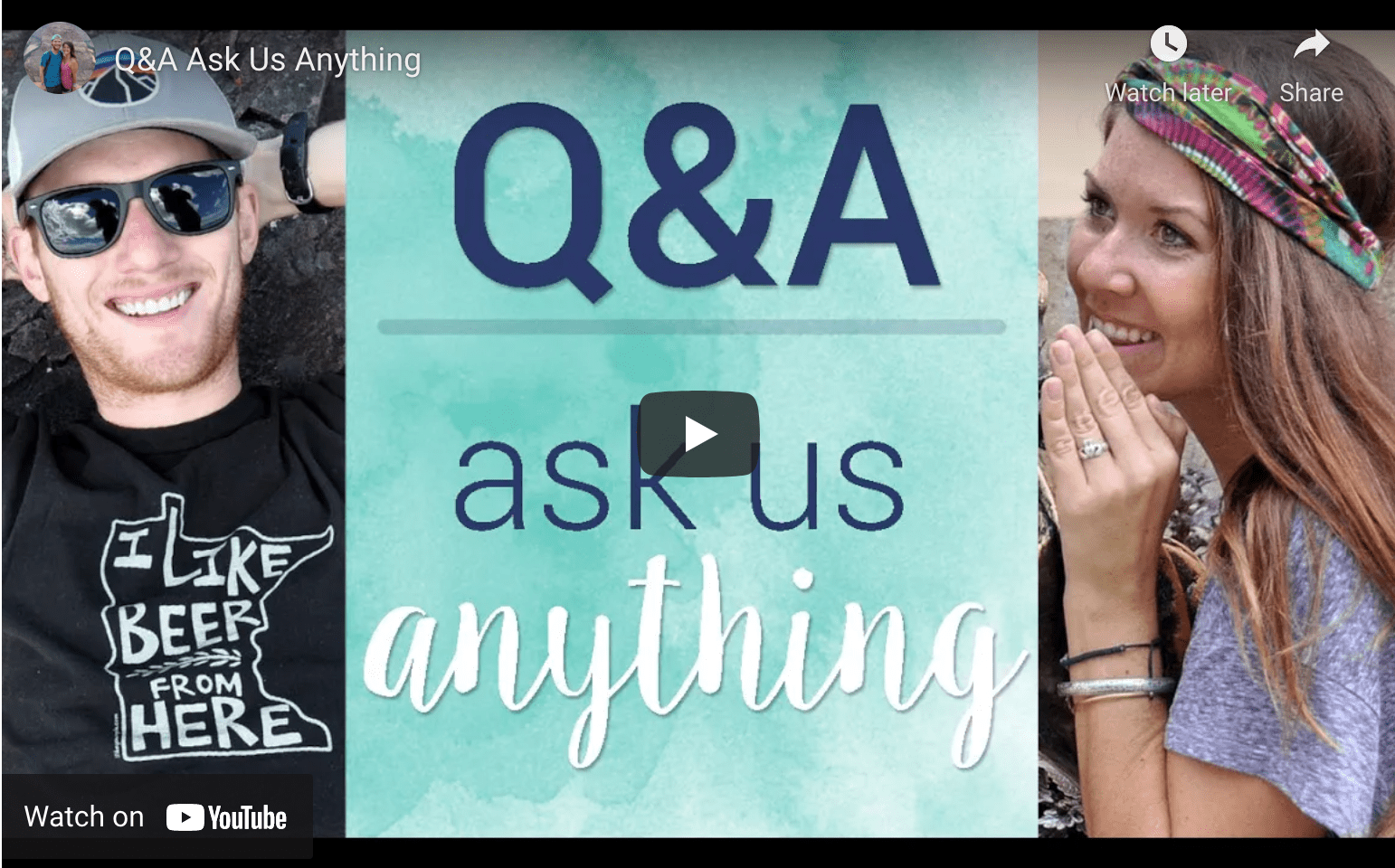 Read through the questions or jump to the video below.
1. How do you not kill each other when you're together 24/7?
Ben: We've been together for a pretty long time, which helps – We've been married for 3 years and before that, we dated for about 8 years.
Katie: So we know each other pretty well, but that doesn't mean we don't argue. We definitely do, but traveling has taught us what sets us off. For instance, Ben gets really anxious and hard to talk to before taking any mode of transportation.
B: And Katie gets "hangry" and I know that if she's hungry we should find food and she'll be less cranky. Knowing these things helps us diffuse potential fights before they start.
K: Also, when traveling, we can't just slam a door and retreat to another room. We're kind of stuck together. It's taught us to tackle things right away and really, really communicate instead of being passive aggressive. Which in the end has made our relationship stronger.
2. What are your "roles" as you travel? 
K: We definitely have different roles when we are traveling. I'm usually the one who finds new destinations on Instagram or Pinterest or to wanderlust about. And then I make Ben get just as obsessed as I am.
B: And then I find those destinations and find the best way to get there and figure out the logistics.
K: I'm the dreamer, and Ben is the one who makes my dreams come true (awwww)!
3. What has been your favorite place?
 B: This is so hard to answer.
K: It sometimes depends on our mood, for instance it it's winter, I might choose a beach destination. But I'll try to be a little more specific. We've really loved spending the summer in Europe. And this area of the world was actually the first place we both traveled overseas (when we studied abroad in Italy), Europe is not the place that really pulls us.
B: I think for us, Asia wins. We're obsessed with the beaches in the Philippines, the people in Myanmar and the food in Vietnam.
K: And another region of the world we just love is South America. Ecuador and Colombia stole our hearts. But really, there are so many places we love that this is just a hard one to answer.
4. Where do you still want to visit? 
K: Everywhere! It's probably easier to list places we're not all that interested in going, which is very, very few… But we'll try to name a few places that are high on our list right now.
B: For me it's New Zealand, South Africa and Argentina.
K: And I'm really wanderlusting over Cuba, Ethiopia and Sri Lanka.
5. Is space in your list of destinations? 
K: We actually both have very different answers…
B: If you ask me, I would say HECK YES! Give me a helmet, give me a space suit, sign me up and I am there.
K: And I am a little more hesitant. I get really anxious when I watch space movies and they get stuck in space. Like the movie "Martian" kind of freaked me out! If it was possible (and guaranteed the space ship wouldn't blow up!) I would go to the moon, but I think that's it for me. There are too many places in the world I want to see first!
6. How do you stay safe during your travels? Everything seems so awesome, but it's got to worry some at home.
B: The truth is that world is not big, scary place. Even if the media may portray a country as dangerous, people still live there and go about their everyday lives.
K: Honestly the biggest concern we have when traveling is not getting ripped off. Usually before we go to a new part of the world, we might look up common scams to look out for.
B: But we do know that accidents can happen, and that's why we always travel with travel insurance. We have a whole post dedicated to how to find the best policy for for you.  
7. You two take amazing pictures, did you take a photography class? 
K: My dad is very passionate about photography and owned a photo finishing business, so I grew up around it and fell in love with taking pictures at an early age. I took classes in high school and university, but there's always more to learn when it comes to photography. I'm also in the process of teaching Ben, and I must say that he's becoming quite the photographer!
If you want any tips on how to take better travel pictures, we share our top 32 tips everyone whether your a beginner or an expert.
8. What do you have for camera gear? Do you find travelling to be difficult with a large camera? 
K: I shoot most pictures with a Nikon D90, which is about 8 years old now, and it's showing, so it may have to be replaced soon. I have an 18 – 200mm lens and I love it because it is so versatile. Even though it's super heavy, I bring it everywhere – even trekking to Everest Base Camp! I just feel naked without it, so the extra weight is worth it to me.
B: We also have a GoPro Hero that we use for wi de angle pictures and action videos. It's going on 3 years old now, so it too may need to be upgraded eventually!
9. What food do you miss the most? 
K: When we were in Asia, this question was easy to answer – cheese and craft beer. But now that we're in Europe and we have plenty of craft beer and lots of cheese, our cravings have changed. Now we really, really miss healthy food. I dream about kale, green smoothies and chia seeds.
B: And we really miss cooking in a nice, big kitchen and grilling outside.
10. How do you budget while traveling? How do you afford to travel? 
K: This is by far the most popular question we get, and we are in the process of writing a really in depth article where we share all of our tricks and secrets. But for now, we'll share a few tips.
B: We track EVERYTHING we spend. We use an app called Trail Wallet that tracks all of our expenses and helps keep us on our budget. If we didn't have this app, we would be home right now. It would be so easy to spend all of our money without being able to see how much we are spending each day.
K: And another point to make is that when you travel for 2 weeks, you travel very differently than we are traveling now. You eat at the nicest restaurants and do all the activities you possibly can. You might go to many places and hop around quickly in order to squeeze everything in.
B: But long term is different. We travel slowly and we pick and choose what we will do and see. We know we can't do it all if we want to stay on a budget.
11. How much money do you usually spend per day?
B: Since we track all of our expenses, we know exactly how much we spend. On average… (Drumroll, please!)… we spend $70 USD per day.
K:  And that's between the two of us. That is just $35 per person per day. (You can see examples of some of our travel budgets here.)
B: In parts of Europe it's been a bit more, but in Asia it was typically less.
K: To put that in perspective, when we were at home living in Minnesota, paid rent, had cars car, utilities, phone bills, groceries, insurance. And all of that added up. On average at home, we spent $80 USD per day. So for us, traveling has actually been cheaper.
12. How do you find the hotels you stay at?
B: We have a few booking sites we swear by. In Asia, there is nothing better than Agoda. We used this site to find some killer hotels for a steal.
K: And another site we use is Hostelworld. Some people might be surprised to know that it's just dorms. We've actually been able to book some really nice private rooms for much cheaper than hotels.
B: And in Europe, we've been using AirBnB a lot. It's usually cheaper than hotels, and many times you get a whole apartment to yourself with a kitchen and everything, which saves on food costs. Sign up here and we'll give you $55 off your first booking!
We have loads of info on how to book Airbnbs, red flags to watch out for when booking, and our favorite Airbnbs in our Airbnb article. Plus, we'll give you our Airbnb coupon code for up to $55 off Airbnb.
13. What's your favorite thing you carry in your bag?
K: We've actually dedicated a couple posts to this very question, and we have shared our very favorite travel items.
B: But we'll just highlight a few. One of my favorite travel items is our Steripen. It's a UV light that sterilizes tap water to make it drinkable. We used it every day in South America and Asia and never got sick from drinking water from the tap.
K: And one of my favorite things is our Charles Schwab debit card. They reimburse us for all ATM fees around the world, so it's saved us hundreds of dollars!
14. How do you handle communication in places where English is not widely used? 
K: Usually in countries where a different language is spoken, we try to learn a few basic words like "hello" and "thank you."
B: We also do a lot of miming and hand signals.
K: One of the trickiest things is ordering off a menu, because you might not know exactly what you're getting (which can be part of the adventure!). We've really liked using the Google Translate app because you can actually take a picture of a word on a menu, and it will translate it just like that!
B: We used it all the time when we were living in Korea. All the buttons on our washing machine were in Korean, so we had to translate every single one!
K: And the biggest lesson that we've learned about traveling in countries where English is not widely spoken is not to be scared of it. Often times interactions with people who don't speak the same language as you can be really special and memorable. So we wouldn't let that scare you away from traveling to a country where you don't speak the language.
15. Do you ever find yourselves overwhelmed with the state of travel? How to you reconcile that?
K: This is a great question that many people overlook. They go on Instagram and see people traveling and think it must be glamorous all the time.
B: But it's often not picture perfect. We sometimes have to take night buses, we've had to deal with bed bugs, and eating take out food every night. We're packing and unpacking our bags every day.
K: Living out of a backpack can be tiring, as can travel in general. We actually wrote an entire article about some of the times travel straight up sucks. There are those days where you're like, "What are we doing?!" But to reconcile that we travel slowly. We don't hop around as quickly as we might on a two week trip.
B: And sometimes we take a "vacation from vacation" where we'll stay in an AirBnB (Click here for $55 off your first stay on Airbnb) or with a friend and just do normal things like cook or watch movies about travel 😉
16. Which city or country has caused you the greatest culture shock?
B: I think we'll have the same answer…
B & K: INDIA
K: Before traveling in India, we had been to many places in Asia, Europe and South America, but no place shocked us like India.
B: India unlike any place we've ever been – the colors, the sights, the smells – both good and bad… It's crazy!
K: And the culture is so complex to understand, especially as a visitor. And it's just taken us a long time to process our experience there. It can be addictive to people – like we know some people who only want to travel in India, and never really leave. And although we aren't quite hooked like that, we want to be.
B: We aren't finished with India. It's definitely a place that we want to get back to, because there's just no place like it!
17. Do you plan on traveling North America as extensively as you have Asia, South America and Europe? 
K: Absolutely! We've actually done quite a bit of traveling already in the US, but there's still so many places we haven't been and several that we want to get back to for a second (or third!) time.
B: It's a common joke among travelers that you save your home country to travel last.
K: It just seems like it will always be there and accessible.
18. What's your next destination? 
K: Sadly, we only have about 2 weeks left on our round-the-world trip. We are in London at the moment, and will be heading to Amsterdam and then Iceland before making it back home to Minnesota just in time for a very special wedding.
B: My sister is getting married in September and we're really excited to be able to celebrate with them.
K: And we'll be spending some time at home in Minnesota this fall, which is our very favorite time to be there, so we're looking forward to that. And we've got some pretty exciting plans for this winter that we're still sorting out, so we'll be sharing those soon.
Thanks to all of you who sent in questions – they were lots of fun to answer! If you don't see yours answered here, or think of a new one, comment below and we'll try to answer that way. 
Q&A video
---
Need help planning the perfect trip?
Be sure to check out our Travel Planning homepage for resources on everything you need to know from how to get started to packing, budgeting and more! Or you can read some of our favorite articles about planning your next trip below. 
Featured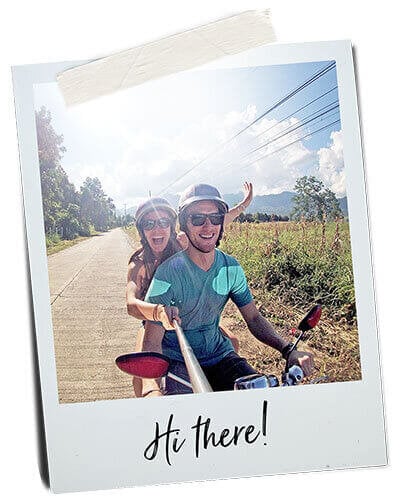 We're Katie & Ben!
High school sweethearts from Minnesota, USA. We seek adrenaline rushes, good food, authentic experiences, and adventures off the typical tourist path. We think travel can be life-changing, and we're here to share our best travel tips & inspiration that'll get you packing your bags!