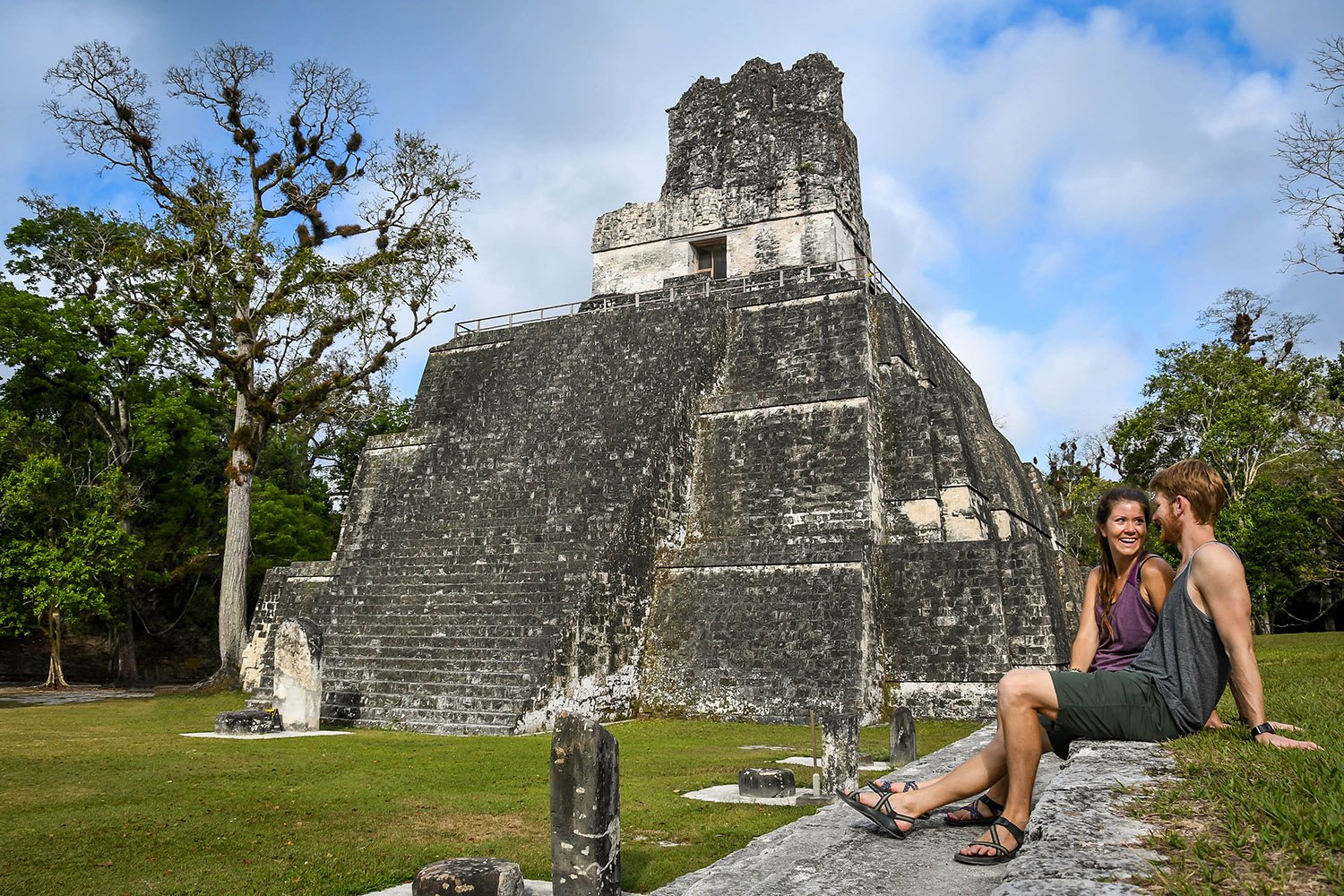 Whether you're backpacking through Central America or just have a short trip to Guatemala, visiting the ancient Mayan ruins of Tikal will surely be a highlight of your travels.
In a region where ancient ruins are seemingly everywhere, Tikal stands out as one of the best.
These ruins are smack dab in the middle of a protected jungle wilderness that is home to monkeys, toucans and macaws (just to name a few of the creatures you might spot!). As you walk amongst ruins that emerge from grassy mounds and are surrounded by trees and vines, you'll feel like you've been cast in a remake of Indiana Jones. It's utterly magical.
What makes Tikal so great?
There are many ancient ruins sprinkled all around Central America, so what makes Tikal so special? There are a couple factors that make Tikal a favorite.
Less Crowded: Being that Tikal requires a bit of effort to get to, it's not nearly as touristy and crowded as Mexico's Chichen Itza or Teotihuacan. We even found paths and ruins where we were the only people around.

The Size: Tikal is larger than Honduras's Copan and Palenque in Chiapas, so there's much more to explore.
For these reasons, Tikal is often people's favorite of the Mayan ruins that can be found in Central America. If you are to go to just one of the ancient ruins in this part of the world, make it Tikal.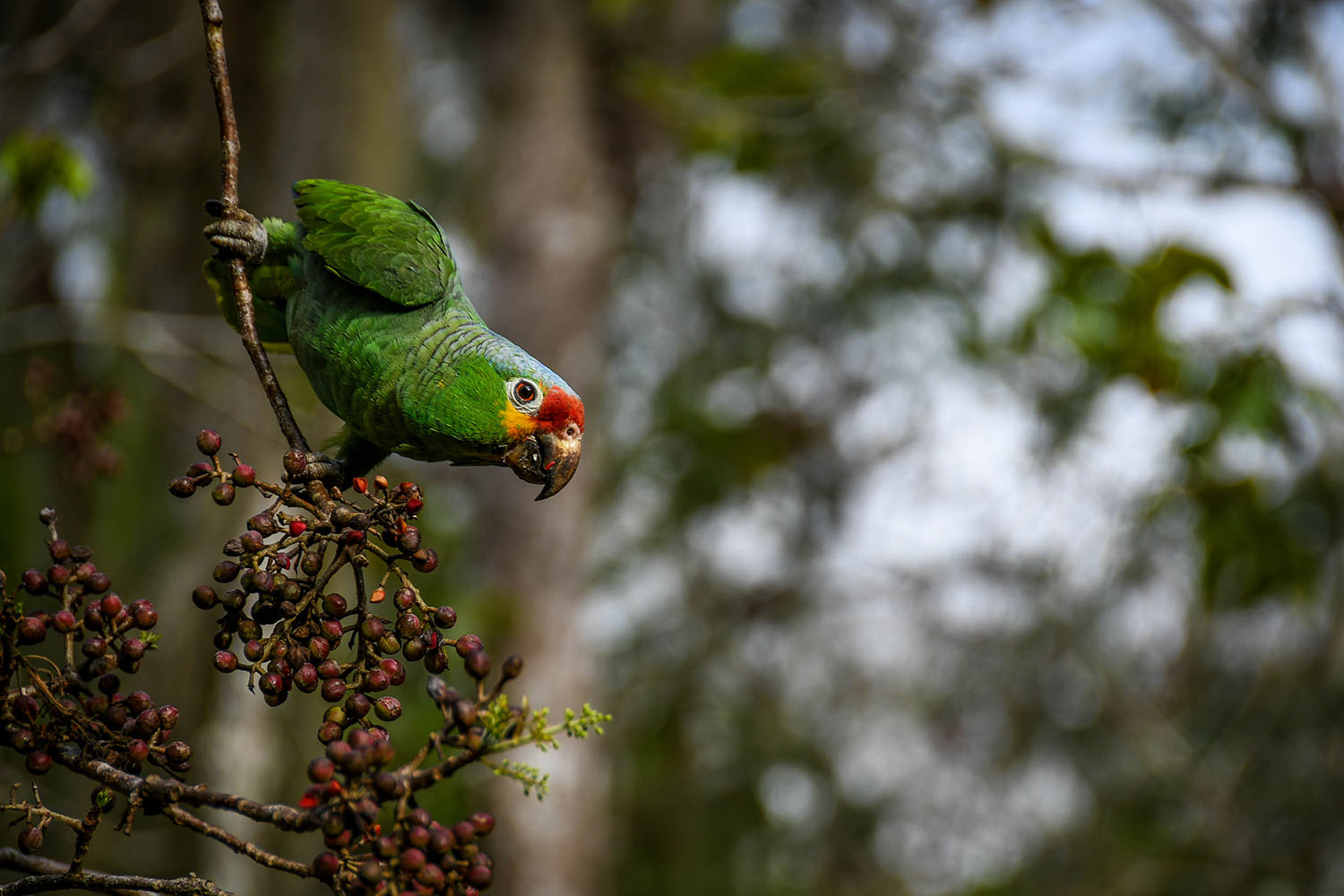 Tikal Ruins Article Contents
Visiting the ruins of Tikal is such an epic experience, in fact it's one of the top things to do in Guatemala, but you want to be sure you're prepared. There are many different things to consider when visiting this ancient wonder, and we're going to walk you through it all so you make the most of your trip.
We're sharing everything you need to know about planning your trip to Tikal, from its history, to how to get there, to some of our top tips!
---
Brief History of Tikal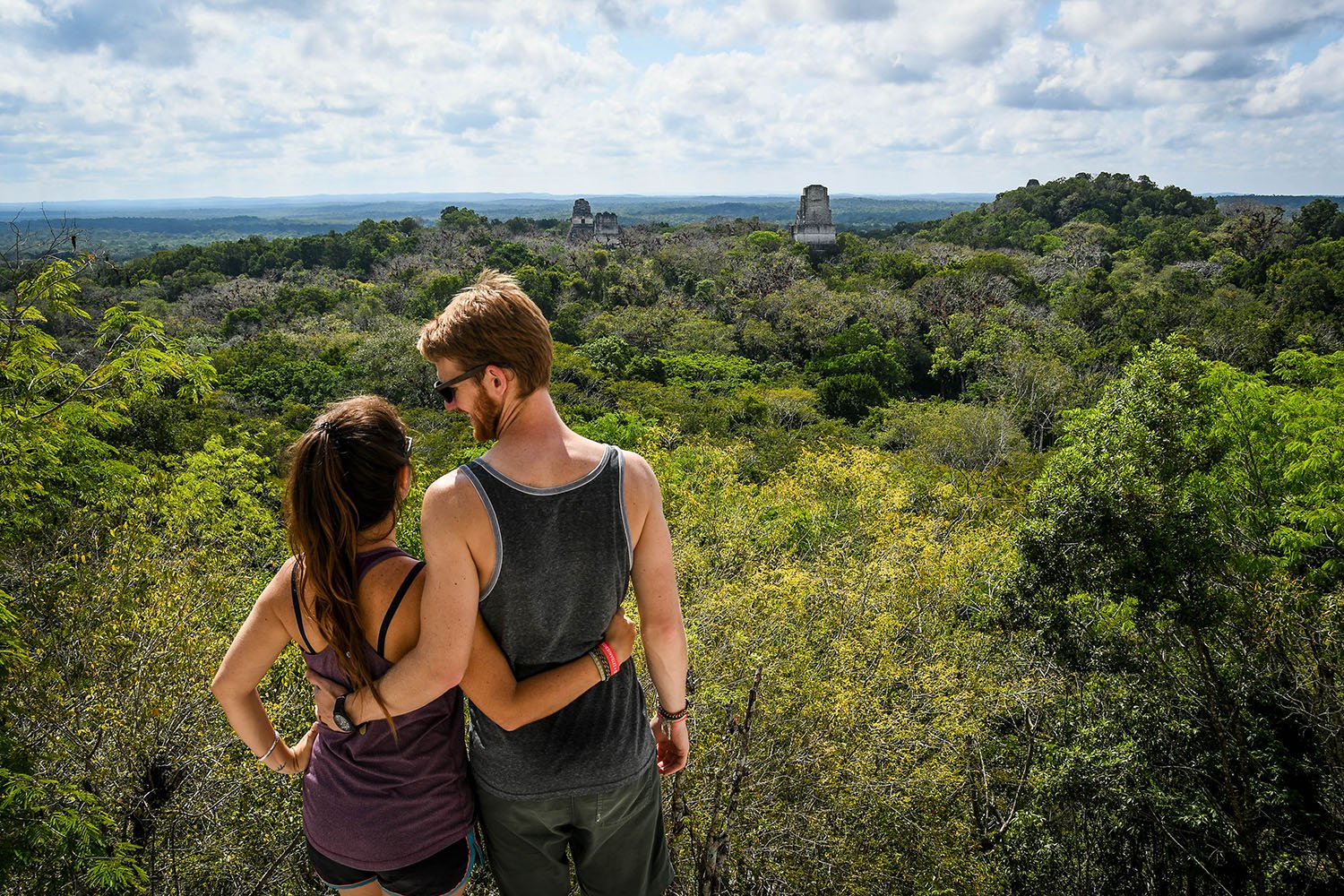 Maybe it's just me, but when I'm at ancient sites I love trying to imagine what it used to be like "back in the day". It's difficult for me to actually picture it, but still fun knowing that the ground I'm walking on was once a busy city street, or the crumbling ruin I'm looking at used to be a family's home.
Knowing a bit of a landmark's history not only helps me imagine what it used to be like, but it is integral to understanding its cultural significance.
On the grounds of Tikal, there have been signs of life dating back to 1,000 B.C., however, it wasn't really a thriving city until 300 B.C. Researchers aren't entirely sure of the exact population of Tikal, but they have reported it could have been close to 100,000 residents at the city's peak. In its prime (around 700 – 750 A.D.), Tikal was one of the most powerful city-states in the Americas.
If you could step back in time, you would have experienced an advanced and bustling city with a school, hospital and library. You would also find a sports stadium, royal palaces, temples and pyramids. While it was a progressive city, the Mayans practiced the ritual of human sacrifice. And while it is hard to us to imagine in our day and age, it was actually an honor to the Mayans to be sacrificed.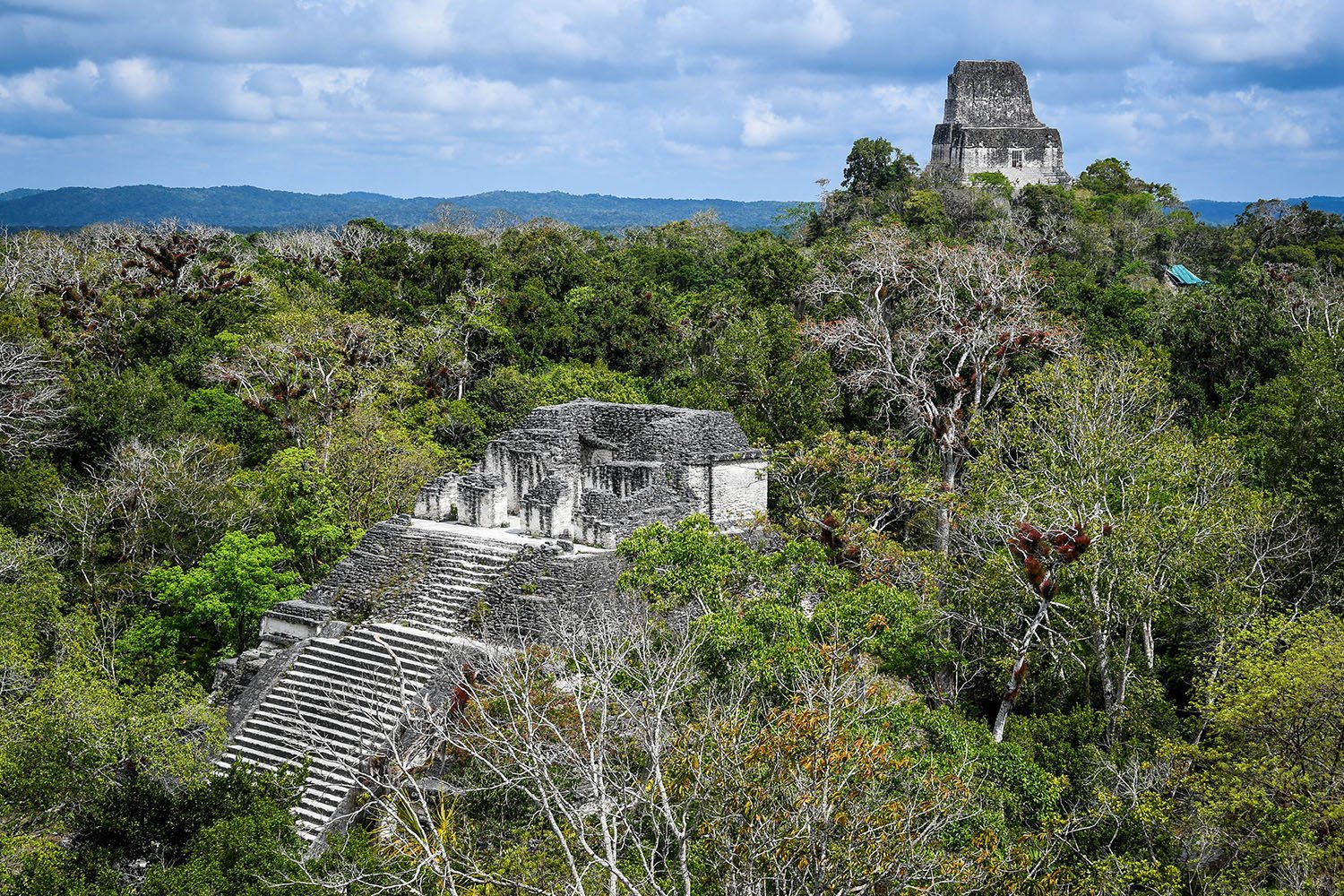 But all the success and power Tikal once embodied didn't last. By 950 A.D., the city had been entirely abandoned, which has stumped researchers ever since. Some believe deforestation and drought contributed to the city's abandonment, but this is just a theory.
Temples and palaces that were once symbols of wealth and prosperity have been reclaimed by the jungle. Trees have taken root and now grow in the places that once were buzzing with life. It is spectacularly beautiful and eerie at the same time.
In 1979, Tikal was named a UNESCO World Heritage Site, and it continues to be a large draw for tourism.
Best Ways to Visit Tikal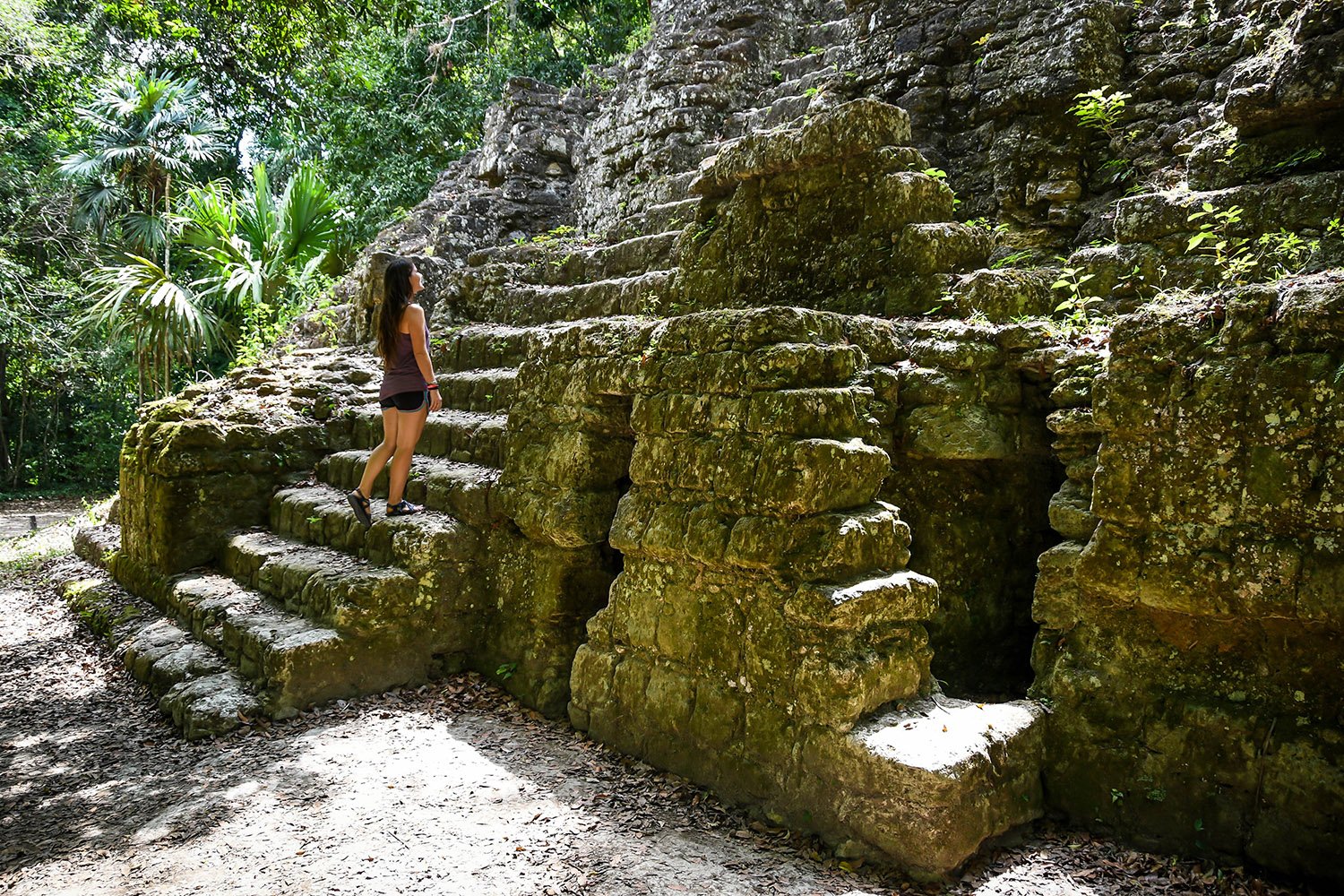 When you arrive to Flores, the closest city to Tikal, you'll be inundated with different choices for visiting Tikal. Consider these questions ahead of time so you aren't caught off guard.
Do you want a guide or will you explore at your own pace?

Do you want to be there for sunrise or sunset?

How long do you want to stay on the grounds?
It can be really overwhelming – we had no idea what to do – and making a choice is completely personal. We're going to walk you through what we think are the 2 best options for visiting Tikal.
1. Arrive at 6 a.m. as the gates open
This is the option we chose, and we were happy with it. We got there before the majority of the crowds and had a lot of time where it was just us alone amongst the temples.
Also, being there early is a must if you don't handle the heat well (like us!). By 9 a.m., it was getting hot, hot, HOT!
Read more about our experience visiting Tikal below.
2. Stay at Jaguar Inn and see sunset and sunrise
If you're a history buff or avid photographer and you want to experience it all, this may be the perfect option for you. Jaguar Inn is situated right at the entrance to the ruins and will grant you easy access to Tikal.
You can come and go from the park as you please as long as you have the day ticket. So you could go early and once it gets too hot and crowded you can head back to the Jaguar Inn, shower and be ready to go back in just before sunset.
Alternative Option: Camping at Tikal
You can also tent camp near the grounds of Tikal. This was originally our first choice, but after hearing that the heat of the day doesn't cool off at night we opted against it.
We were told you can just turn up (no reservations required). If you choose this option, be aware that there are no lockers, but you can lock your tent with your valuables inside.
Our thoughts on camping at Tikal: We were pretty excited about the prospect of camping near Tikal, however when we saw the tents baking in the midday heat, we were pretty glad we hadn't done it. In the 40°C temperatures (104°F), they looked like they would be extremely hot and kind of miserable.
Unless you've got your heart set on camping or are on a super tight budget, we think the Jaguar Inn would be a better (and more comfortable!) option.
Read Next: Ultimate Guide to Semuc Champey: Things to Do and Where to Stay
Sunrise or Sunset at Tikal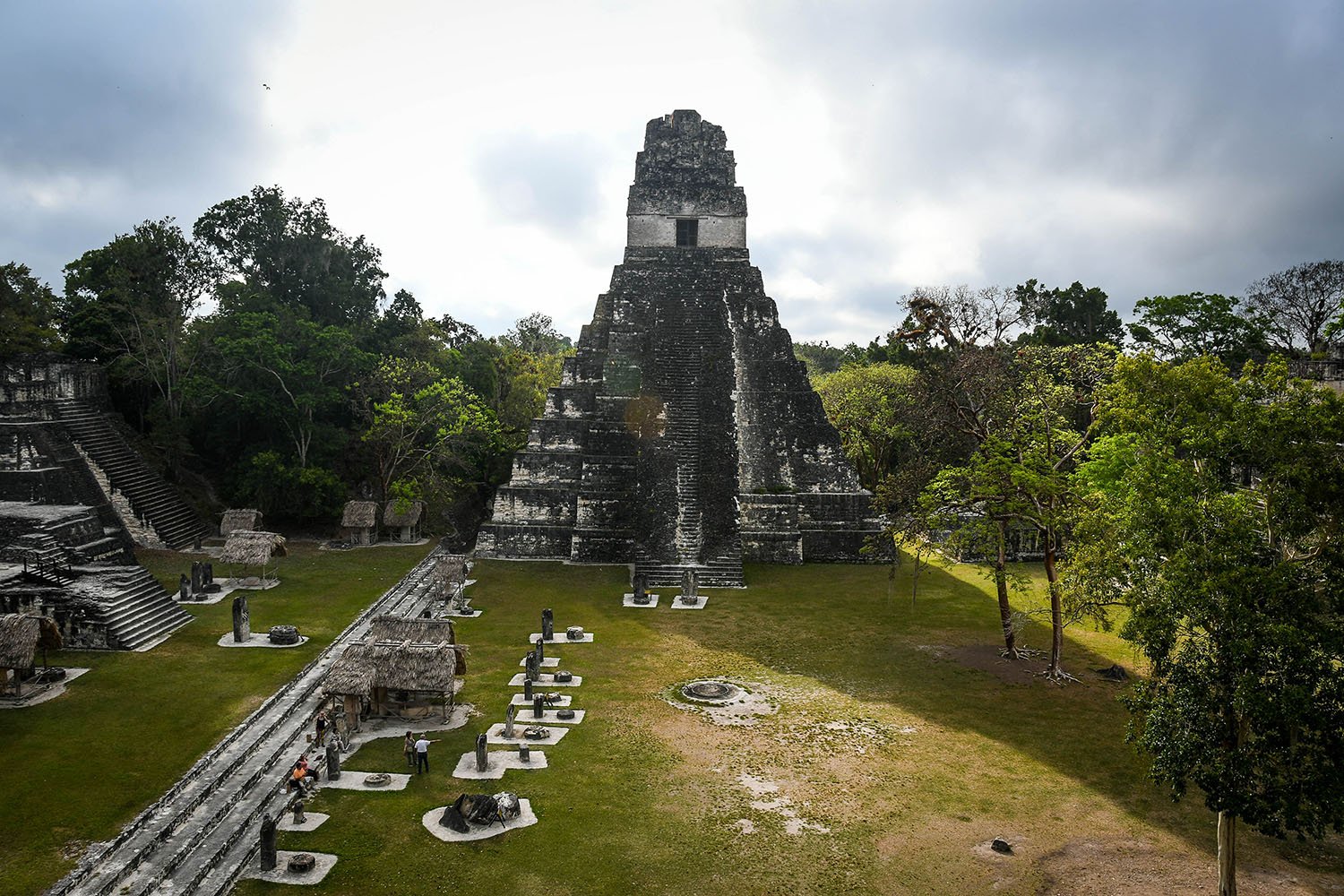 To be honest, this is a totally personal decision and there's no wrong answer.
If seeing both sunset and sunrise isn't an option for you (don't feel bad!), and you just have time for one, we're gonna give you some information about the different times you can visit Tikal. Hopefully this will help you make a decision that's best for you.
We've heard both rave reviews and disappointed rants about the sunrise and sunset. The truth is, some days are cloudy early in the morning and don't allow you much of a view. And on other mornings, lucky visitors are rewarded for waking up early with spectacularly colorful, misty views. We've heard the same for sunset. It's just not something you can predict.
Sunrise at Tikal
cooler temperatures

less visitors

super early wake up call (bus leaves at 3 a.m.)

you must hire a guide (cost: 100 Q ($13.50 USD) per person)
Important Note: For sunrise (3 a.m. bus) you have to purchase your ticket at the bank in town the day before since the ticket booth at Tikal will not be open with you arriving in the dark. Your hotel should be able to point you in the right direction to the Banrural Bank in Flores.
Sunset at Tikal
you'll get there during midday heat

last bus returning to Flores leaves at 5:30 p.m., so you must make it on that one (unless you stay at Jaguar Inn, as described in the section above)

no early morning wake up call
Should you hire a tour guide at Tikal?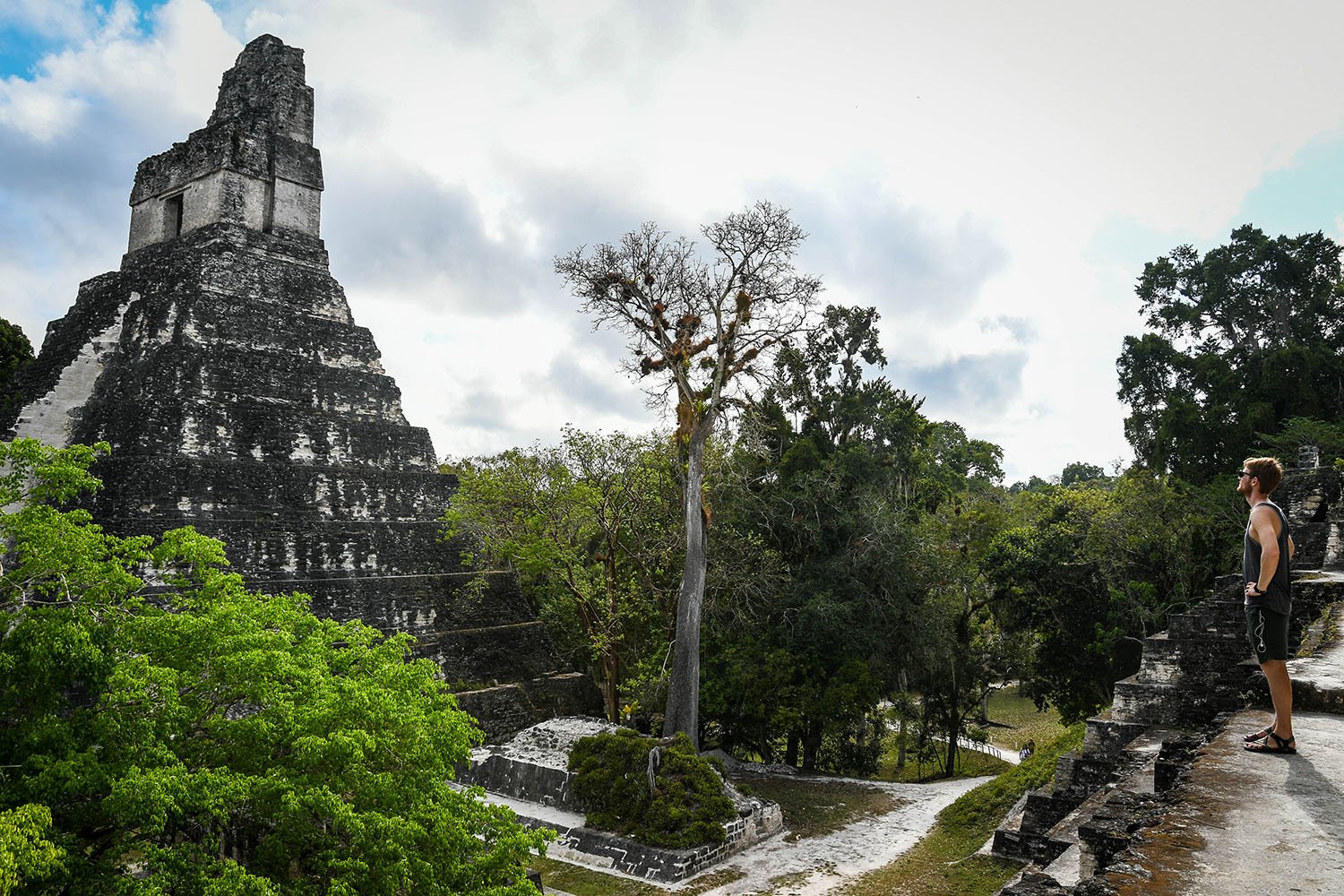 Just like the time of day you choose to visit, this decision is completely personal. Guides at tourist attractions can be hit or miss, and honestly, it's hard to know what you're getting ahead of time.
When booking our shuttle the night before, we were told we had to decide if we wanted a guide or not. Right that moment.
We didn't like the fact that we couldn't meet the guide ahead of time or know how many people would be in our group (could be several or just a few).
We panicked and chose to go without a guide. We thought maybe we could hire a guide at the entrance, but it turns out this is not possible.
Alternative to hiring a guide: Download Tikal Audio Guide
While we were in WiFi, we downloaded a Tikal Audio Guide so that we'd get some of the history while being able to explore the ruins at our own pace and take photos. The audio guide was convenient and informative, albeit boring at times (when we just skipped ahead).
It is a decent option for those who are interested in the history but preferring to go at their own pace.
We liked having the chance to explore hidden areas all by ourselves without a group of others tagging along. We felt that we got a lot of the history from the audio guide, but missed out on the more "fun" stories that a local guide can sometimes offer.
The guide that other people in our shuttle were assigned to seemed pretty good. His English was great and they seemed to like him.
Final Thoughts: If you like to take photos and go at your own pace, going independently might be the option for you. However, if you want to know all the little stories and details about its history, going with a tour guide is a great option.
Read Next: 18 Unforgettable Things to Do in Guatemala
Top Tips for Visiting Tikal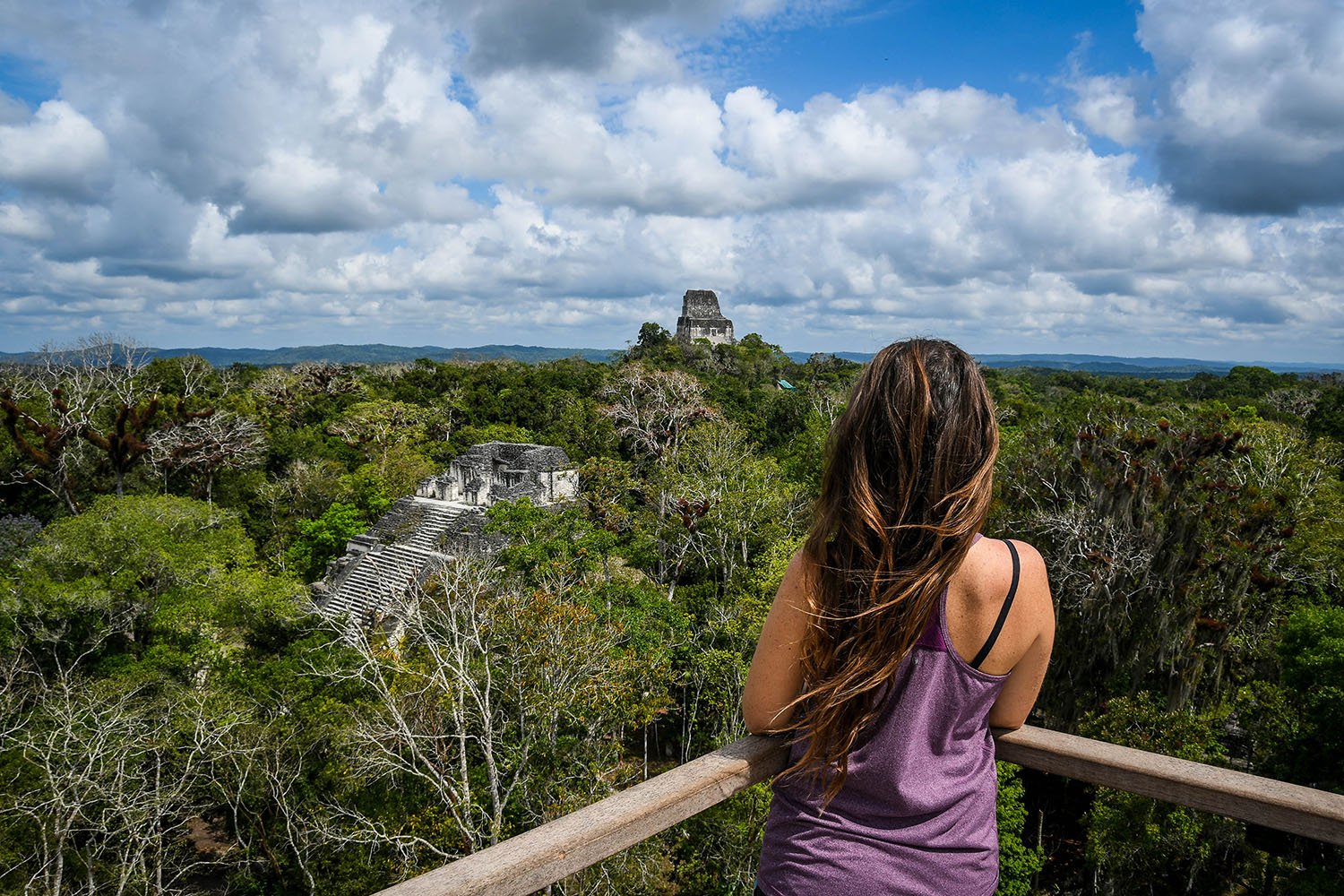 1. Avoid the onsite "restaurant"
Near the entrance, there is a small shop/restaurant that sells things like sandwiches, chips and coffee. Unless you are desperate, avoid this place completely! The lines get long, and the sandwiches are very basic and cost a ridiculous price of 25-35Q ($3.50 to $4.50 USD). The girl in front of us ordered a vegetarian sandwich, and was presented with a slice of Kraft single cheese sandwiched between two pieces of white bread. Ewww.
We ordered a coffee and paid 10Q for a tiny cup of crappy, watered down brown water. We'd recommend packing your own snacks and food the evening before your visit so you're prepared.
2. Take a photo of the site map
At the entrance, they have maps for sale for 20Q, but the staff member told us we could take a photo instead of purchasing it. Unless you really want the map as a souvenir, take a photo with your cell phone, or save the photo from this article on your device so you have it all ready for your visit.
3. Wear comfortable shoes and clothes
While you won't necessarily be doing any strenuous trekking, you will be walking through the jungle, and parts of the path are uphill and sections are uneven.
4. Get to the bus stop on time
When catching your return bus back to Flores, make sure you're on time because in our experience, they left promptly and some people were left behind. The interval between buses is quite long, and it wouldn't be great to be stuck waiting in the heat for an hour and a half until the next bus arrives.
Our Visit to Tikal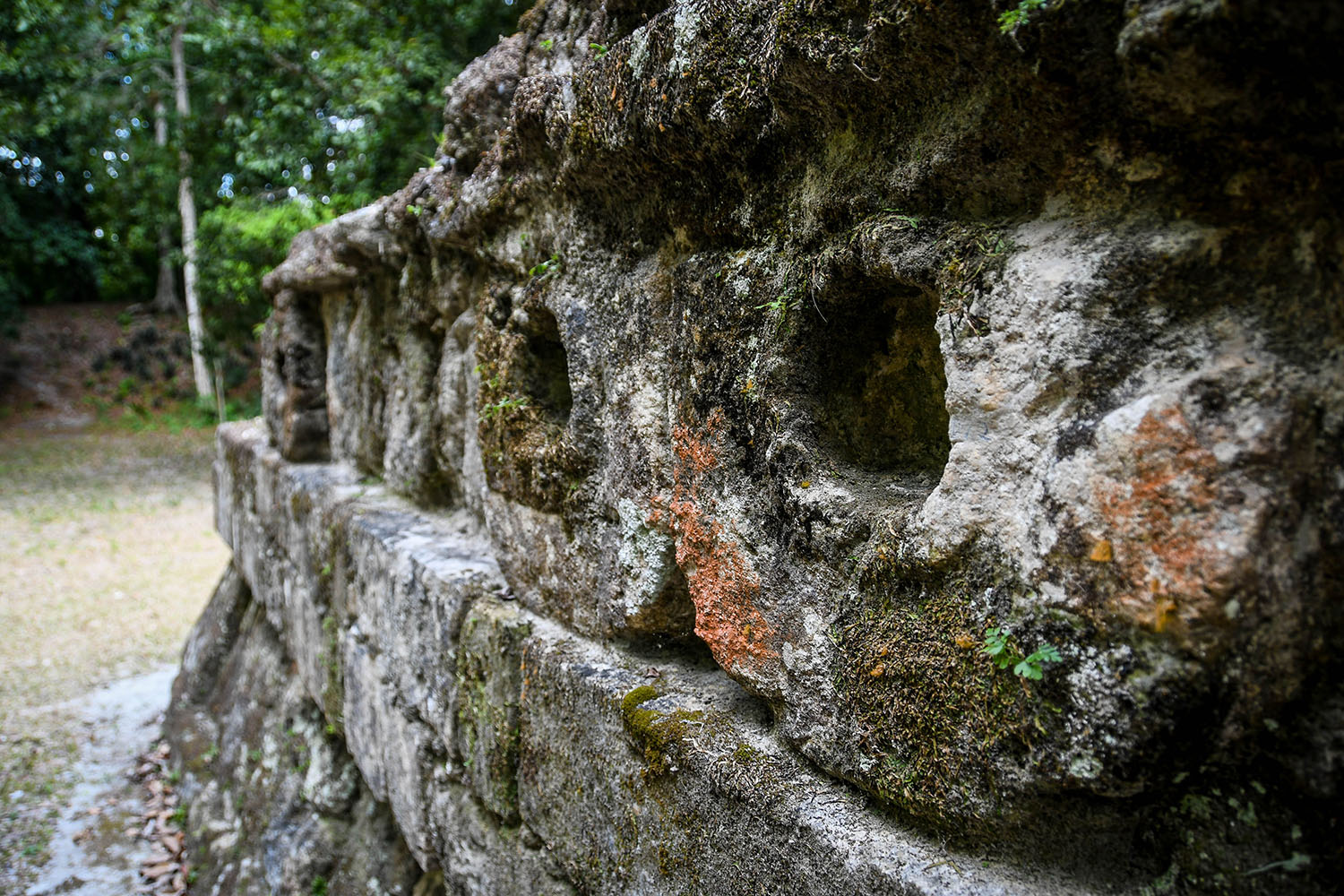 Preparing for our visit
We purchased our bus ticket the night before at our hotel. This is also the time that you will need to reserve a tour guide if you'd like (you cannot get a guide onsite). Most hotels or hostels will be able to do this for you, or you can book at one of the tour operators you'll see around the streets of Flores.
Since we were staying in San Miguel, a 5-minute boat ride from Flores, we had to get shuttled across the water, and arrived at the meeting point (the boat docking area) around 4:20 a.m. There were a handful of others waiting there, which made us feel good knowing we were in the right place.
After waiting for a bit, we were getting nervous that the bus had forgotten us, but it finally arrived at 4:40 a.m. We both kind of fell asleep on the drive out of town, and were awoken when we arrived at the ticket booth at 5:55 a.m.
Everyone on our bus formed a queue and we waited until they opened the window promptly at 6 a.m. We handed over our money 150Q each ($20 USD) for the entrance along with our passport, and were given our ticket.
Once everyone on our bus had made it through the line, we re-boarded and drove another 20 minutes to the entrance.
The place that you get off the bus is where you will need to catch it back to Flores, so we made a mental note of our surroundings. We used the bathroom and got a (crappy & overpriced!) cup of coffee at the small shop before walking to the main gate. This is where they checked our tickets and gave us wristbands, and we had the chance to look at a map of the property.
Exploring Tikal National Park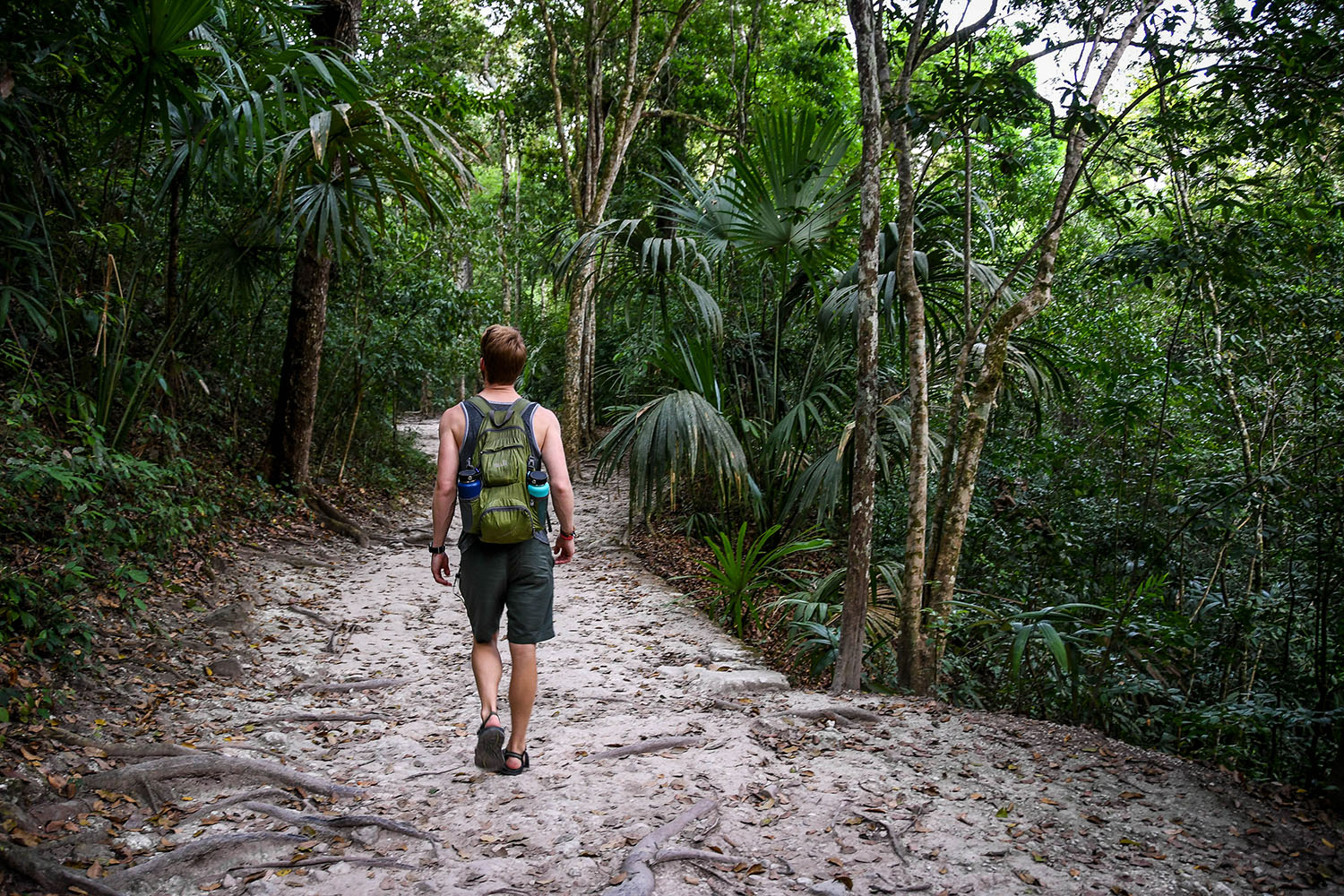 The first section of walking was about 1km uphill, but nothing too strenuous. And after about 20 minutes, we were rewarded by the stunning views of the iconic Great Plaza.
We spent the next hours exploring, walking through jungle, spotting wildlife, and climbing up steps to see the ruins from above. We took pictures and listened to some of the history on our audio guide.
By 9 a.m. it was starting to get hot, and we sought more shade. And by 10 a.m., we started noticing many more people had arrived and it was beginning to lose the peaceful vibes we felt at the beginning of the morning.
We made sure to get back to the meeting point to catch the 11 a.m. bus, because by that time it was sweltering and we had seen everything we wanted to.
The bus left promptly at 11 and the next departure wasn't until 12:30 p.m., so we were happy we got there on time. We returned to Flores at 12:20 p.m., just in time for lunch and a very fun afternoon activity (keep reading to find out!).
Insider Tip: Sit on the right side of the bus if possible – it's sunny on the left side the whole drive back and gets really hot. We know from experience.
How much does Tikal cost?
You will purchase your bus ticket the day before (from your hotel or a tour agency in town). This is also when you will pay for a guide if you choose.
Round-trip Bus Ticket NO Guide = 80Q ($10.70 USD)
Round-trip Bus Ticket WITH Guide = 120Q ($16 USD)
You will then purchase a ticket at the entrance of Tikal
Ticket to Enter Tikal = 150 ($20 USD)
Important Note: If you choose to visit Tikal at sunrise, you will need to purchase your entrance ticket the day before at the bank in town. The ticket booth will not be open when you arrive at Tikal, so be sure you come prepared with a ticket. Also, be sure to get to the bank before it closes at 6 p.m.
What to Pack for your Visit to Tikal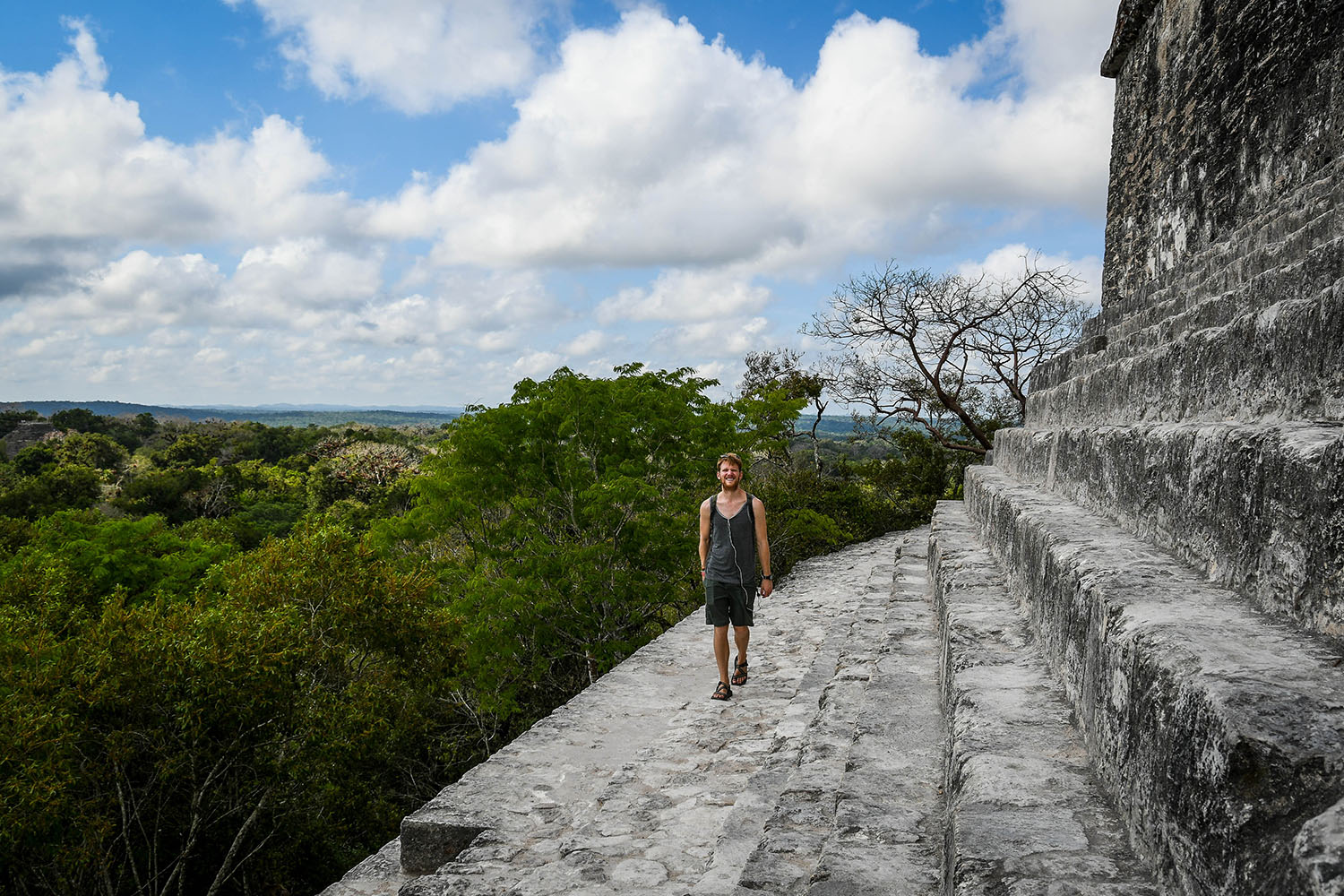 Passport (you MUST have this in order to enter; we saw one guy get turned away)

Comfortable clothes and shoes (Our Chacos were great)

Snacks

Tikal Audio Guide downloaded on your phone before you leave Flores. And pack headphones and splitter (if you're traveling with a partner).

Tripod (if you want to get really artsy)

Kindle or book if you want something to do on the bus ride
Things to Do in Flores, Guatemala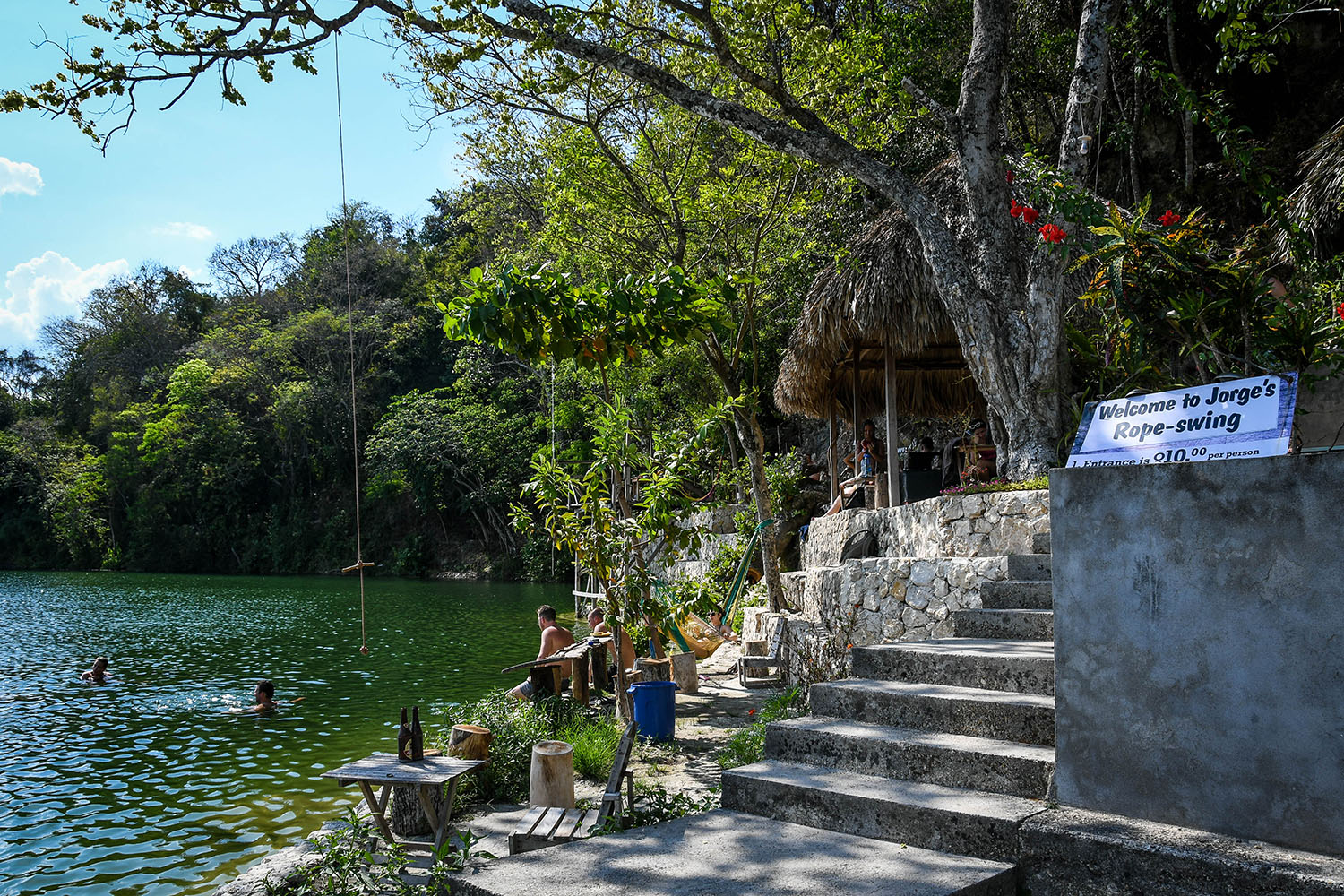 To be honest, we didn't find a ton to do in Flores. The town itself is pretty small, and just about every traveler coming through is there for the same reason: to visit Tikal.
After seeing the ruins, people typically leave. It's not a place you really need to stick around long (in our opinion). That said, the town is actually quite pretty and there was one activity that we really enjoyed! (Keep reading…)
Highlight: Jorge's Rope Swing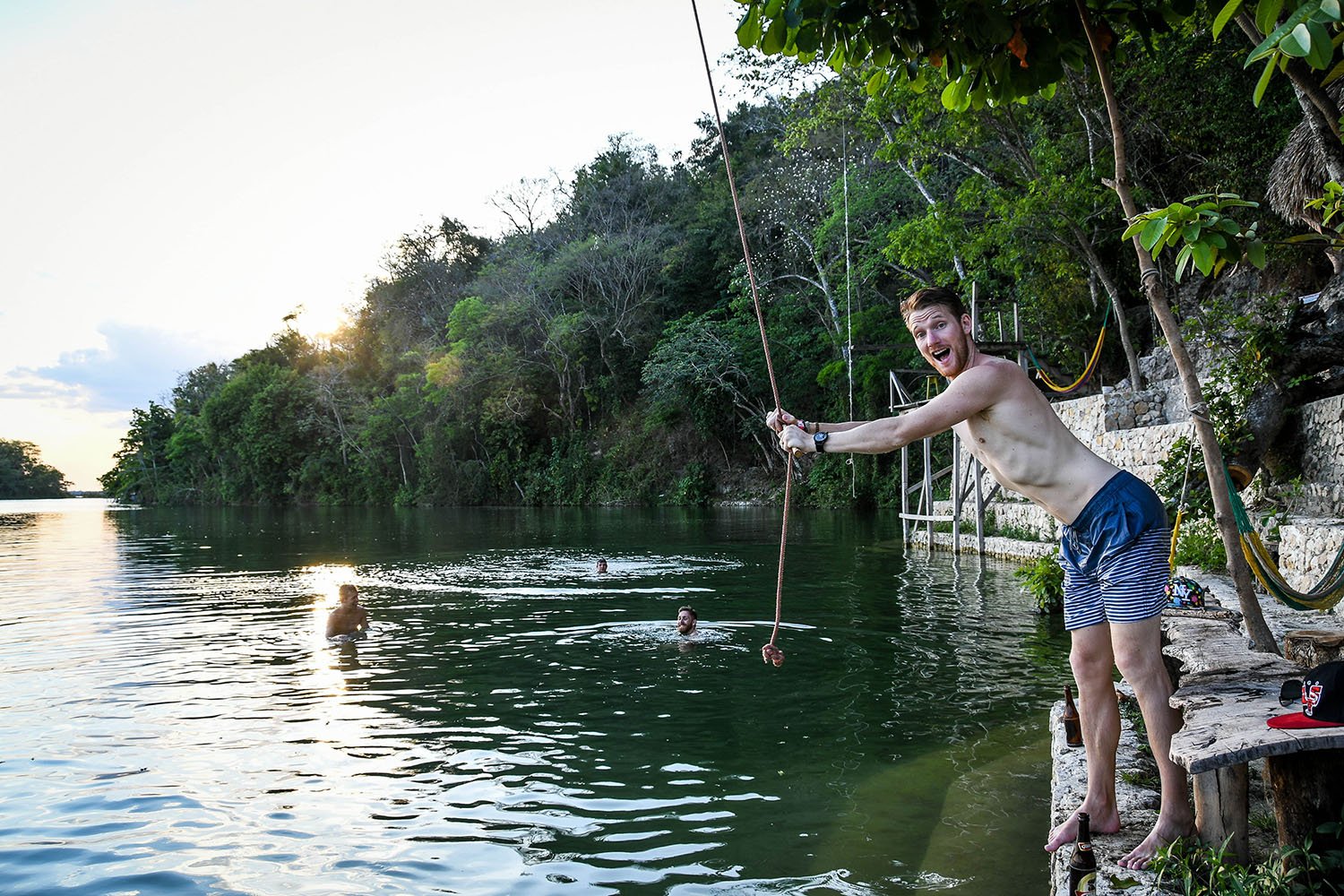 If you have an afternoon to kill (aka you went to Tikal early in the morning and have the rest of the day to relax) head to Jorge's Rope Swing.
This family-run bar and restaurant is situated right on the water and has – you guessed it! – a giant rope swing. There's also a high dive, hammocks and plenty of places to sit and relax or mingle with other travelers. The water is really warm, so you can float and swim for hours without getting cold!
Jorge and his family sell beer and Cuba Libres (rum and Coke) for 15Q each ($2 USD). They also have a small food menu, and when we saw what people had ordered we got some serious food envy. (We heard good things about the nachos!) You'll also have to pay a 10Q ($1.5 USD) entrance fee per person.
Word of warning: Just be careful if you do decide to drink and swing or dive!
How to get there:
You can either rent a canoe or kayak (not sure on the cost of this) or you can hire a boat driver to take you there and pick you up at a time you choose. We paid 50Q total for two people to get there and back.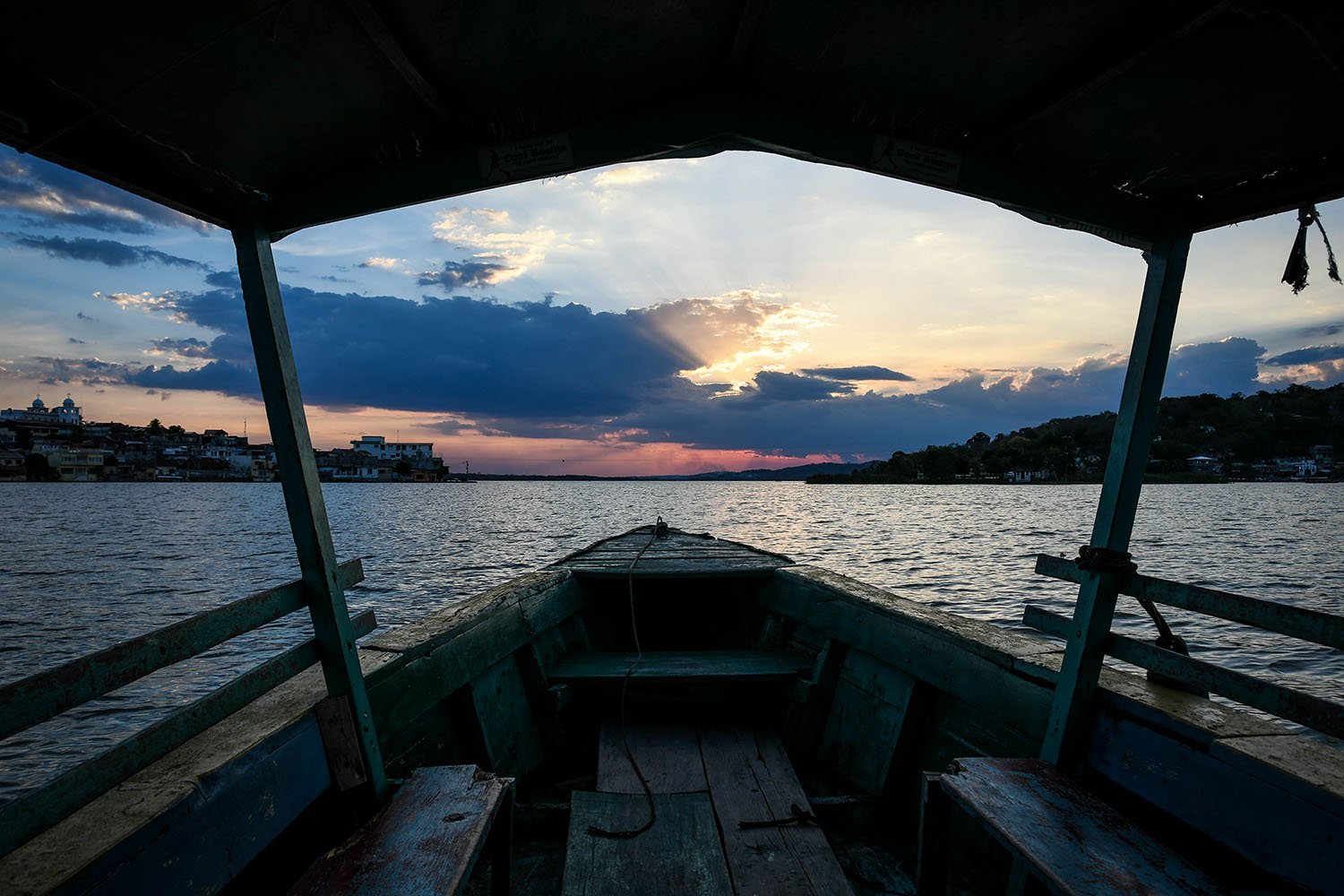 Other things to do in Flores
Rent a kayak or canoe and explore!

Hike to the viewpoint: Or just hire a lancha – aka boat – to take you to San Miguel so you can get a view of the island of Flores (a better view, in our opinions!). The ride to and from San Miguel should cost 5Q each way.
Where to Eat in Flores
We ate at a couple of (overpriced) duds in Flores, but there was one restaurant we came back to twice: Restaurante San Telmo.
With lots of vegetarian and healthy options, it was hard to choose! The falafel platter was big and delicious, and the stuffed portabellas were really yummy too! They also offer special on 2-for-1 cocktails at a reasonable price, like 2 mojitos for 25Q (about $3.35 USD).
Where to Stay in Flores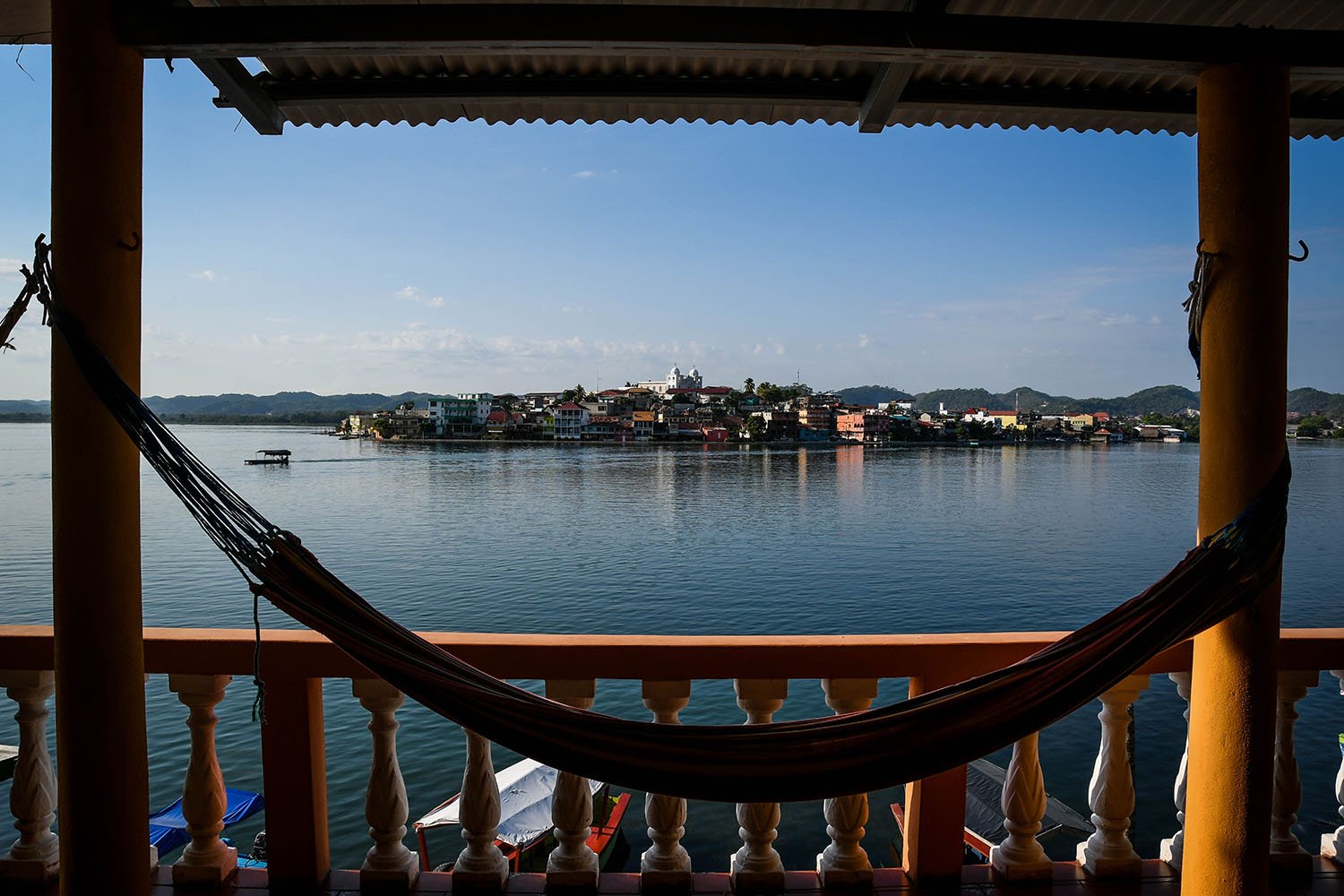 The place we stayed wasn't terrible, but it wasn't great either, so we aren't going to recommend it.
Social Hostel: Hostel Amigos
We have heard good things about the vibe at Hostel Amigos, and this would be our pick next time!
Boutique Hostel: Casa Grethel
If Hotel Amigos is full, Casa Grethel is a good choice too. It is located a short boat ride away from Flores in San Miguel. The boat should cost 5Q, but sometimes they try to make tourists pay more (especially when you are carrying your bags).
Mid-Range – Couple Stay: Hotel Isla de Flores
One of the highest rated hotels in Flores. Enjoy spacious rooms, cute decorations and a rooftop pool to beat the heat.
Near the Ruins: Jaguar Inn
Another option is to actually stay in the park at Jaguar Inn. This is a great option for one night if you don't want to camp, but you want to be close to the ruins to see both sunrise and sunset.
The downside of this is that you are limited to the food options that they have at the inn, and you won't be able to check out Jorge's rope swing (which was definitely a highlight for us!).
---
Are you planning a trip to Guatemala?
We have lots more resources on travel in Guatemala and destinations throughout the country. Check out our Ultimate Guatemala Travel Guide for all the important travel information, or read some of our favorite articles below.
Save this article on Pinterest for later!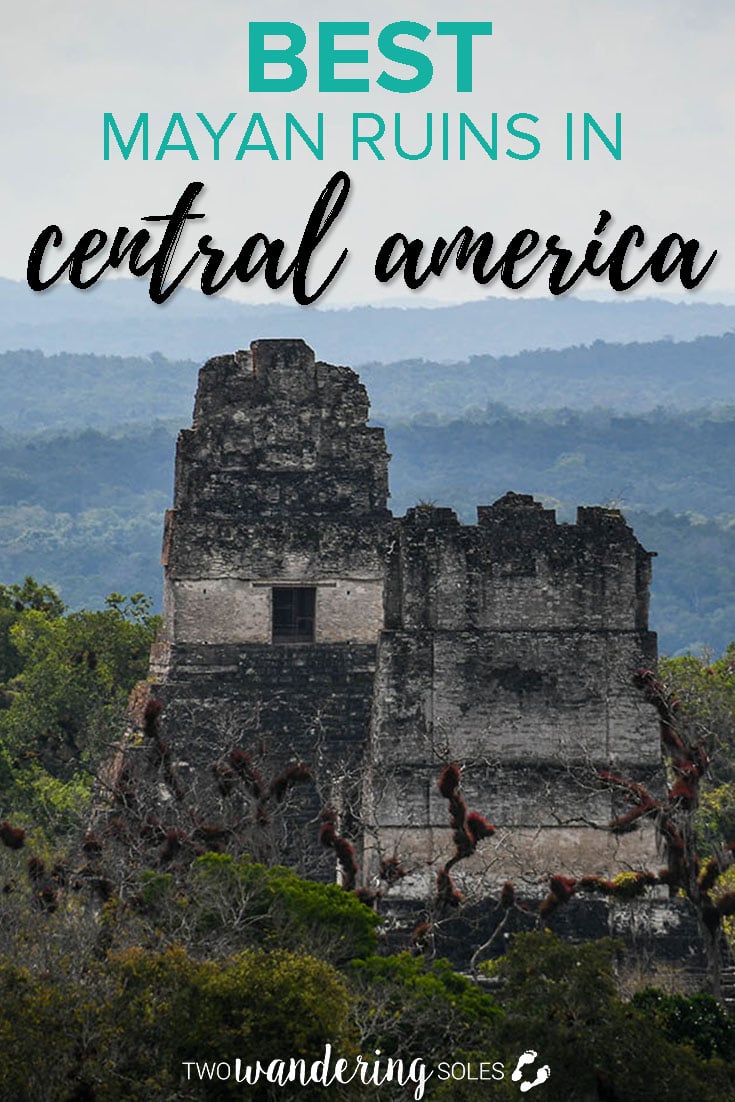 We want to hear from you!
What other questions do you have? Have you visited Tikal? What was the highlight for you? Do you have any tips that we are missing? Comment below!