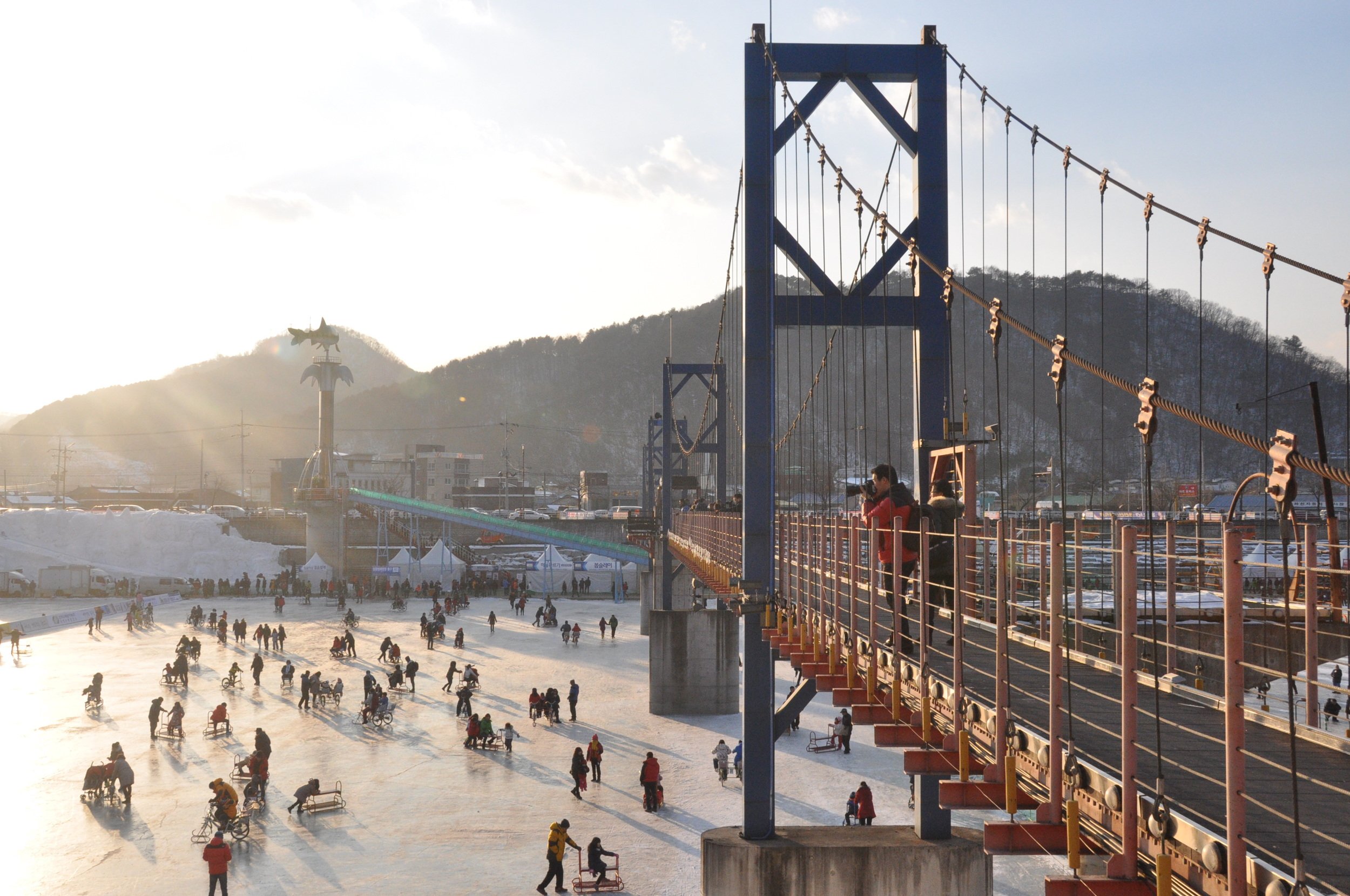 I have a confession. Until last weekend, I had never gone ice fishing in my life. Neither had Ben. Yep, that's right. Two midwesterners, hailing from the land of 10,000 lakes, had to move all the way to South Korea before taking a whirl at ice fishing. And here's a spoiler alert: being Minnesota-born and raised did not give us any special powers or ice fishing advantages. Although we didn't pull a single fish out of the water, we had a great time at the annual Hwacheon Ice Fishing Festival!
From big events like the Lunar New Year, to seemingly mundane things like chili peppers and mimes, it seems like there are festivals for everything in Korea. And ice fishing is no exception. 
So what does an ice fishing festival entail? I'll set the scene. 
In one of the northern-most provinces of South Korea, thousands of people flock from near and far during the beginning of January. They pack onto the frozen river and hover over freshly-drilled holes, clutching bottles of makgeoli and soju, in hopes of catching one (or several!) of the region's famous sancheoneo – river trout.  
We were able to take part in this festival through Adventure Korea, a budget travel company that gives participants the opportunity to experience Korea in ways they may not otherwise have the chance. We had a blast on the caving and bare-handed fishing trip earlier this fall, and were very excited when they invited us to come along to the Ice Fishing festival.
Our bus arrived to the festival around 10:30 in the morning, and were given a small rod before being ushered onto the ice. Our group, made up mostly of other expats and travelers, was restricted to a "foreigners only" section. I didn't like the idea of being isolated at first, but after seeing the Korean section packed shoulder-to-shoulder, I was thankful for some personal space and didn't care so much about being separated.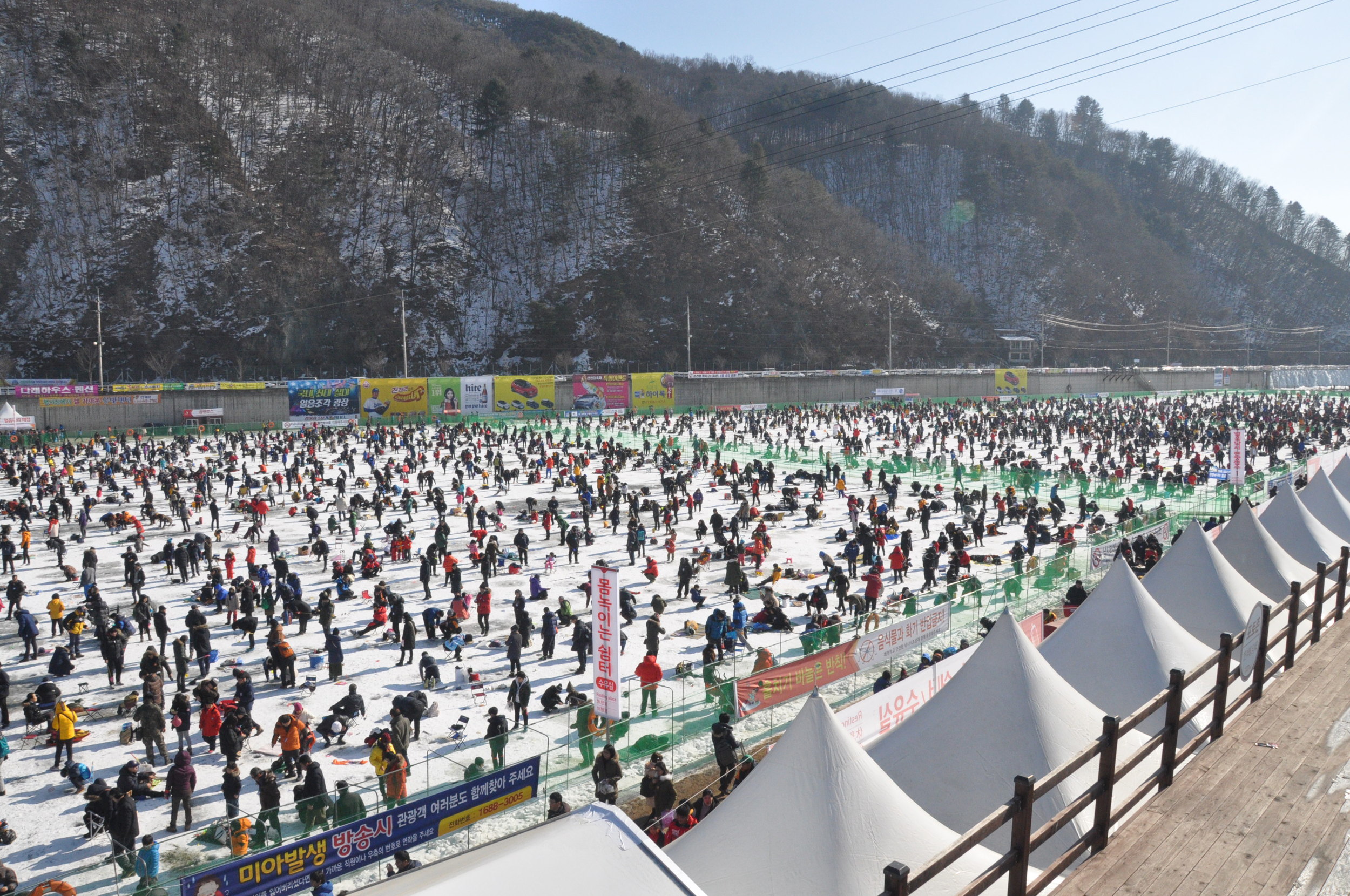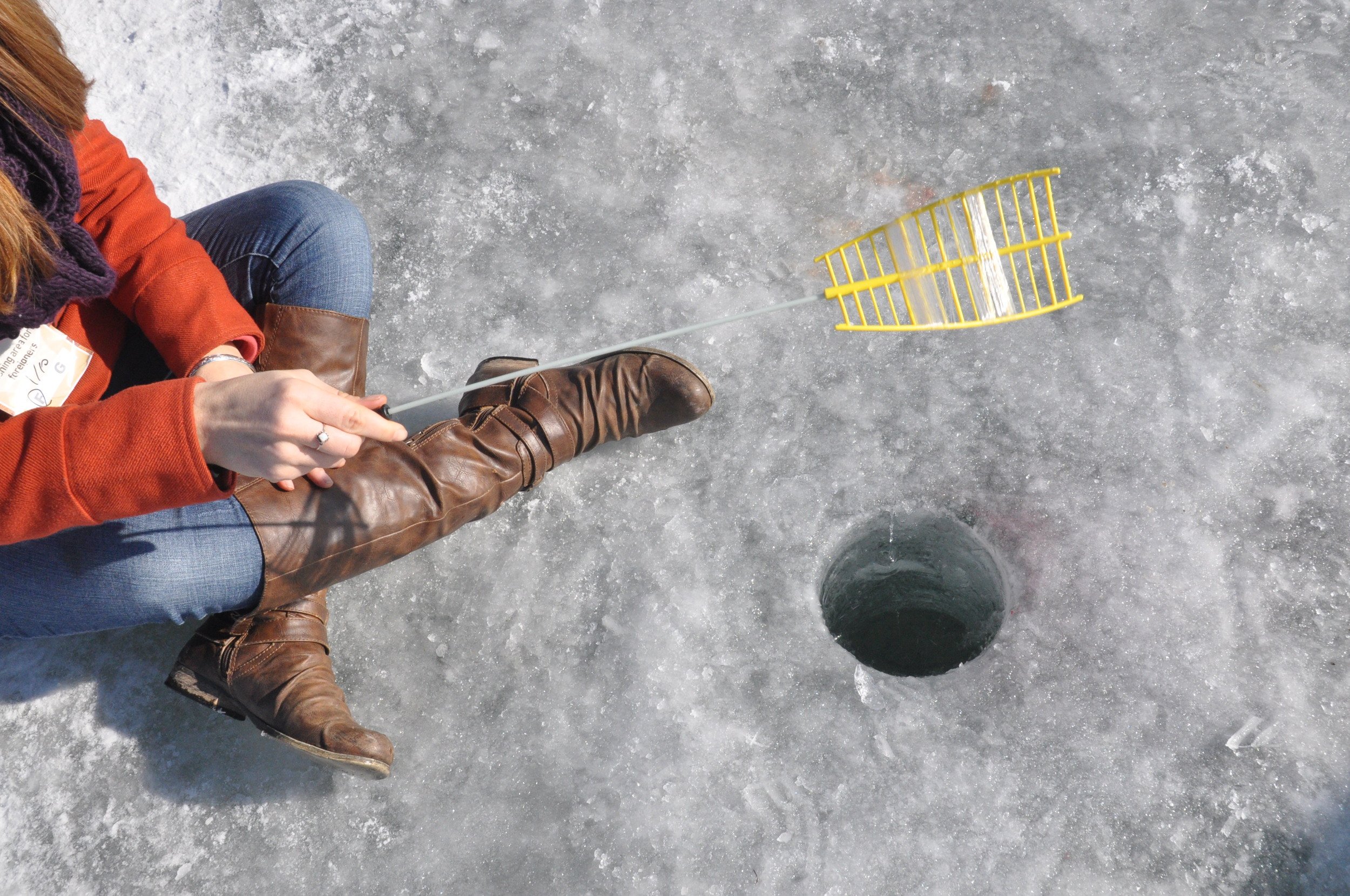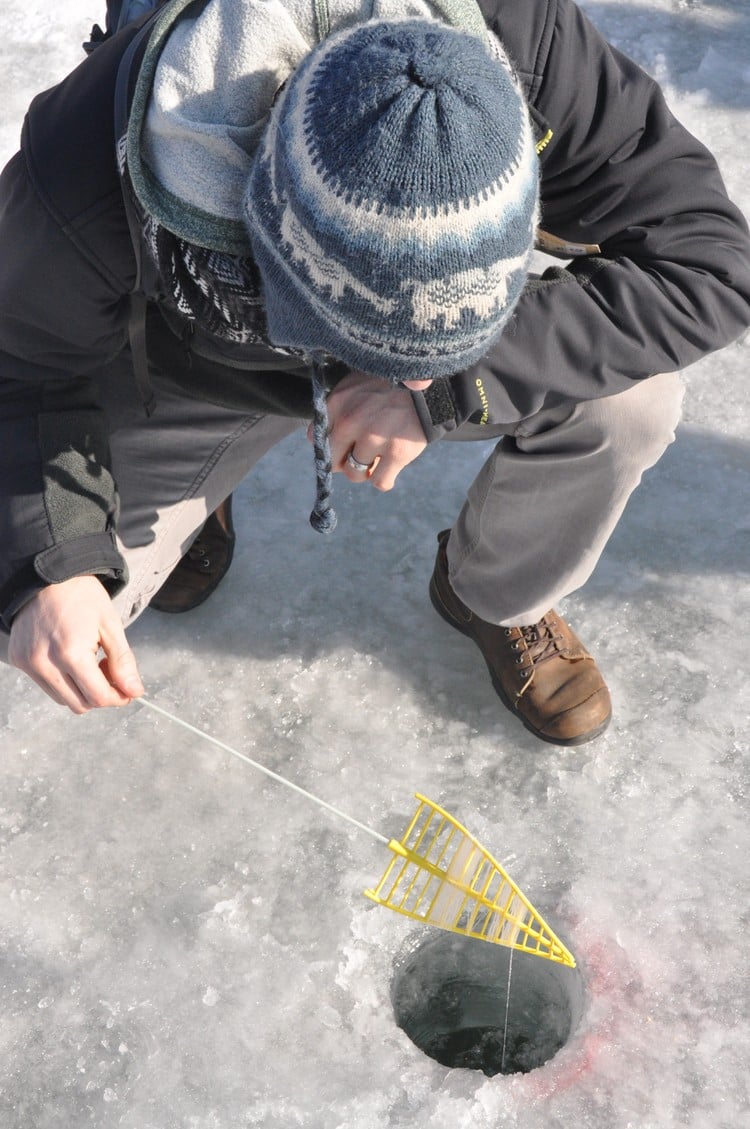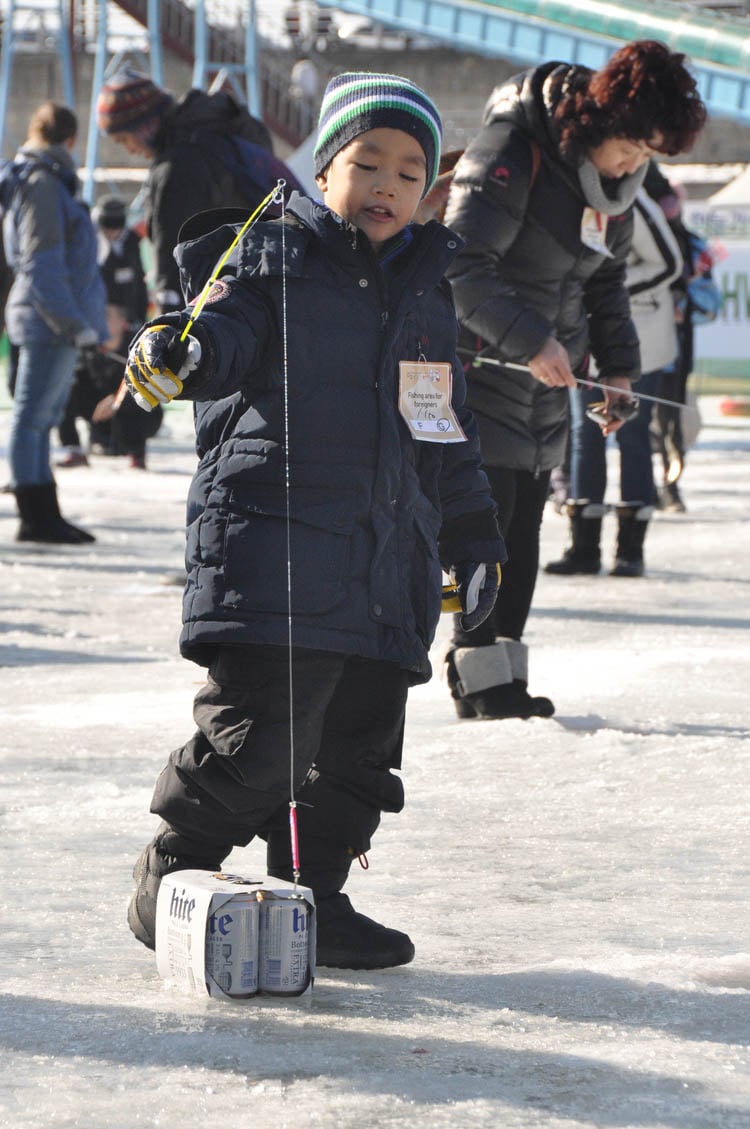 Without any bait, we were told that the trick was to snag a fish swimming past by tugging up quickly on the line. We never quite caught on, and watched as fish after fish swam by our hook.
A nearby Korean man, who'd sneaked into the foreigner section (presumably because it was less crowded), saw our pathetic failed attempts and handed me one of his many bags of trout. We thanked him and waited around for a few more minutes, as to not seem too anxious, before calling it quits. 
We brought our "borrowed" trout to the grill and had a lovely little afternoon snack.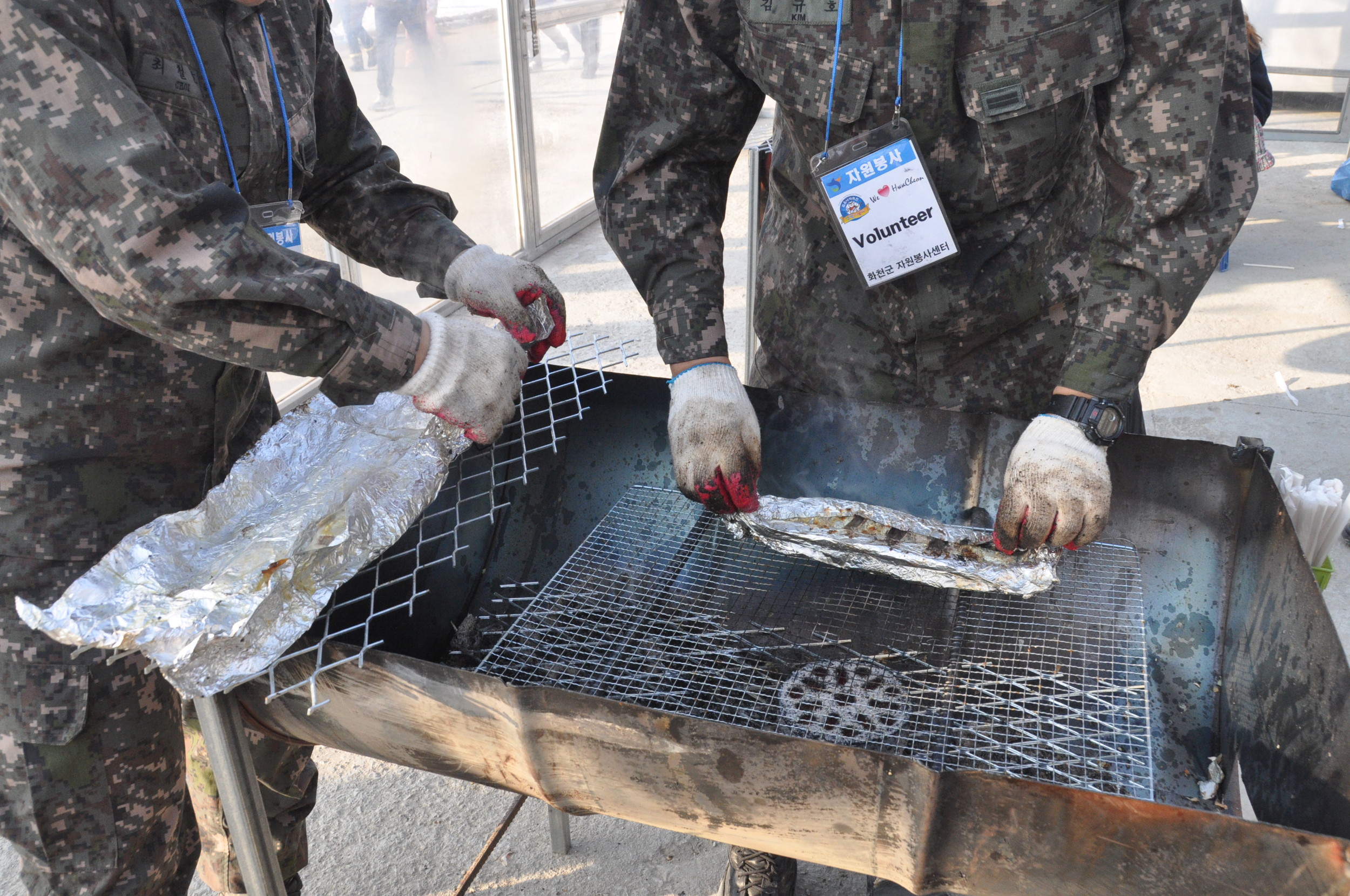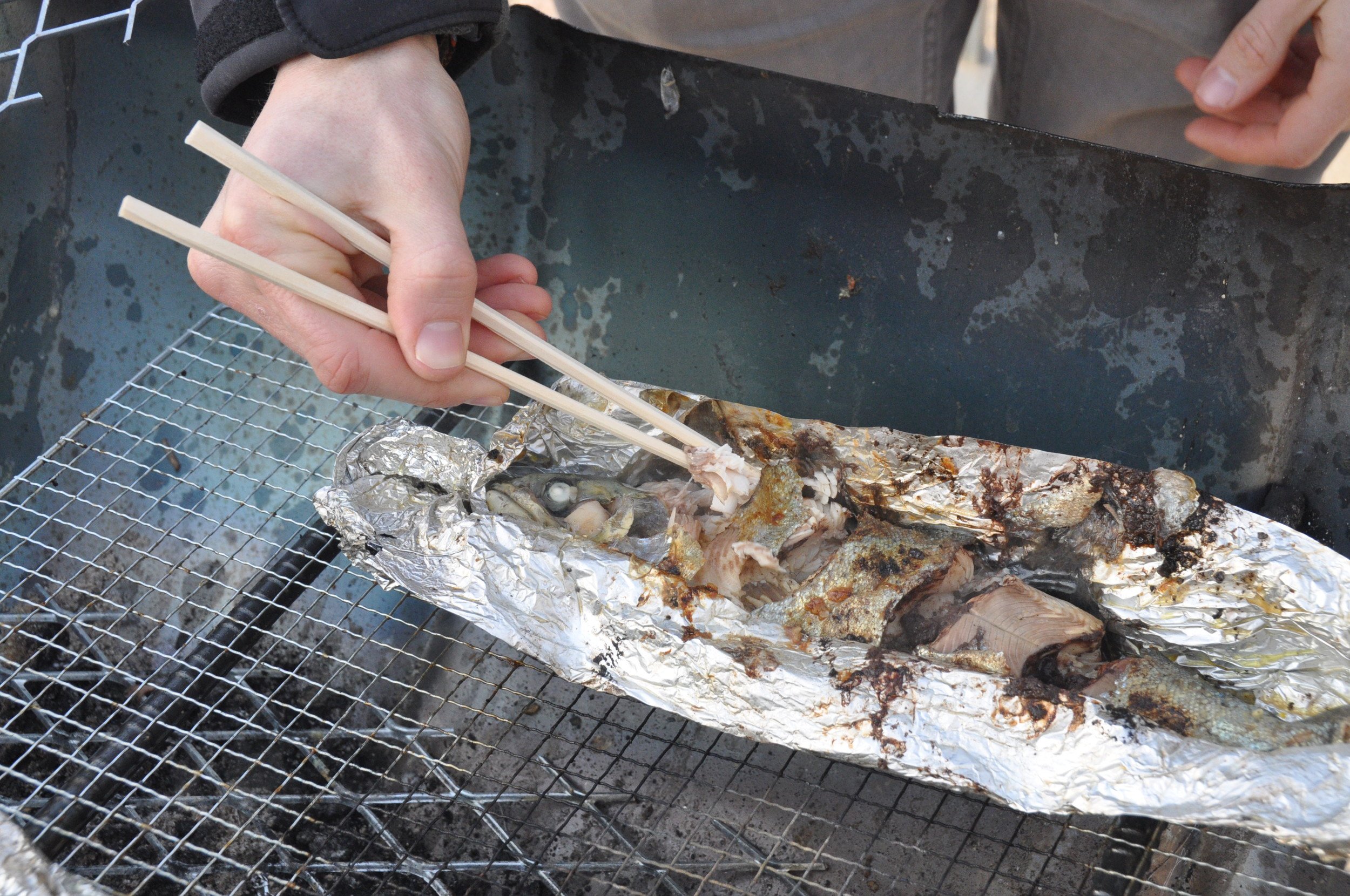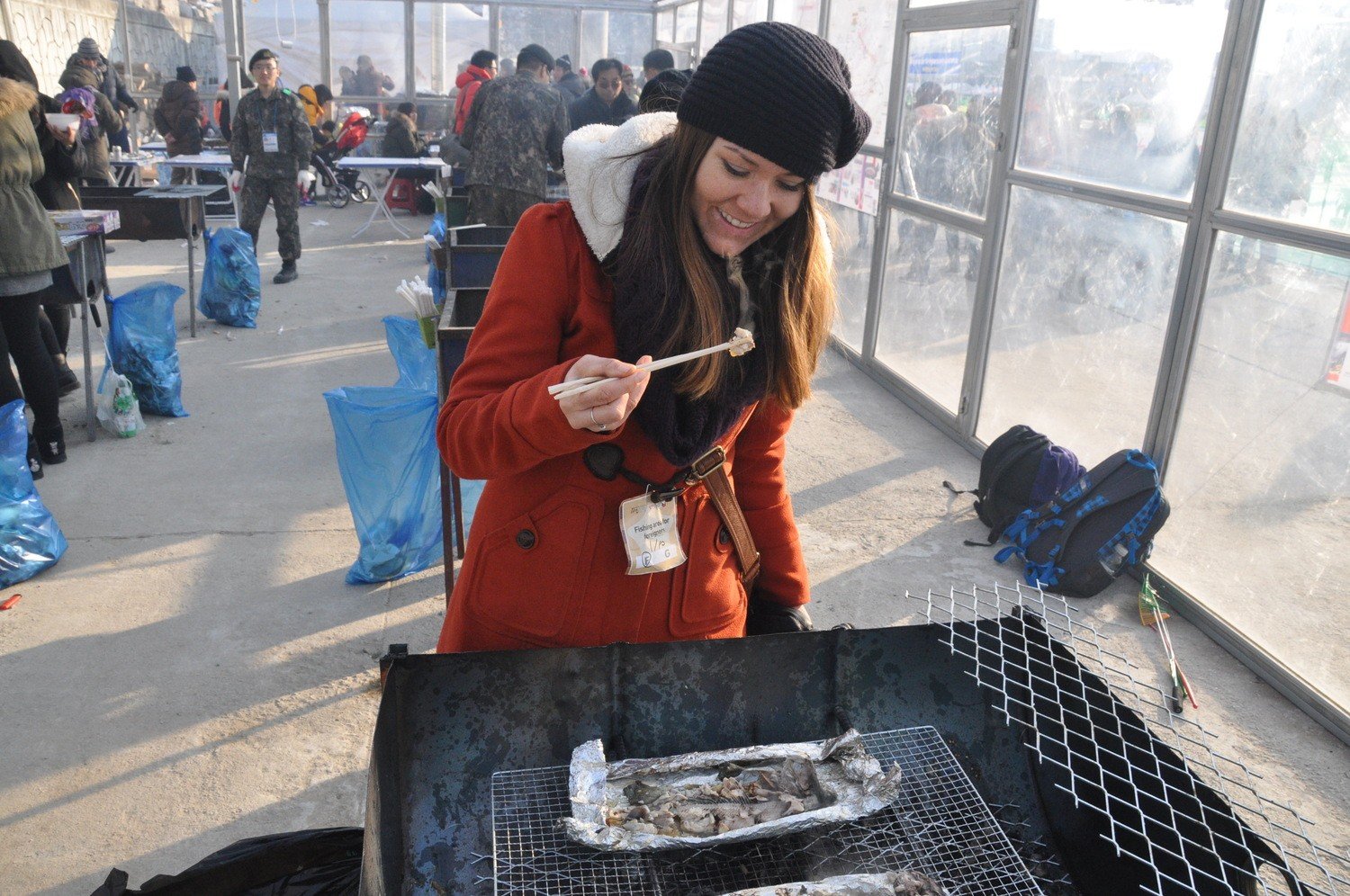 Though ice fishing was undoubtedly the most popular event, there were tons of other things going on all around us. Children and adults sped past on sleds, we walked through an ice building and past intricate snow sculptures. There were ice skates for rent and food vendors whose booths were enveloped in clouds of fragrant steam. 
We wandered around the festival grounds and were surrounded by scenes that seemed as if they were lifted straight from a nineties holiday movie. Parents pulled giggling children behind them on toboggans, and toddlers bundled in brightly-colored snowsuits teetered on unsteady legs across the ice.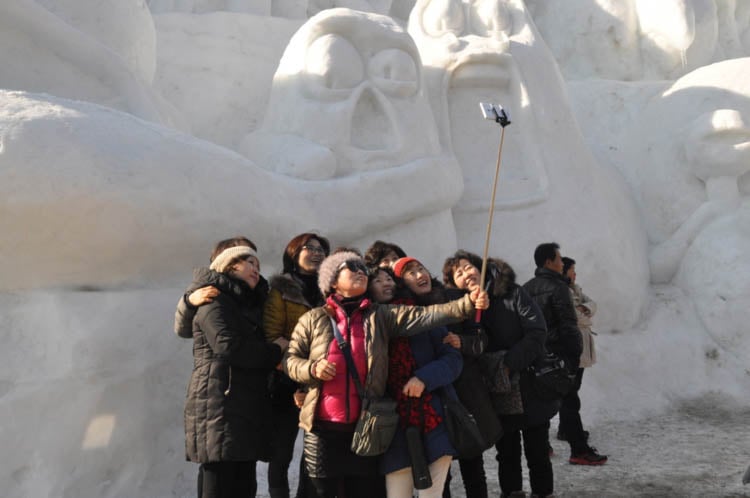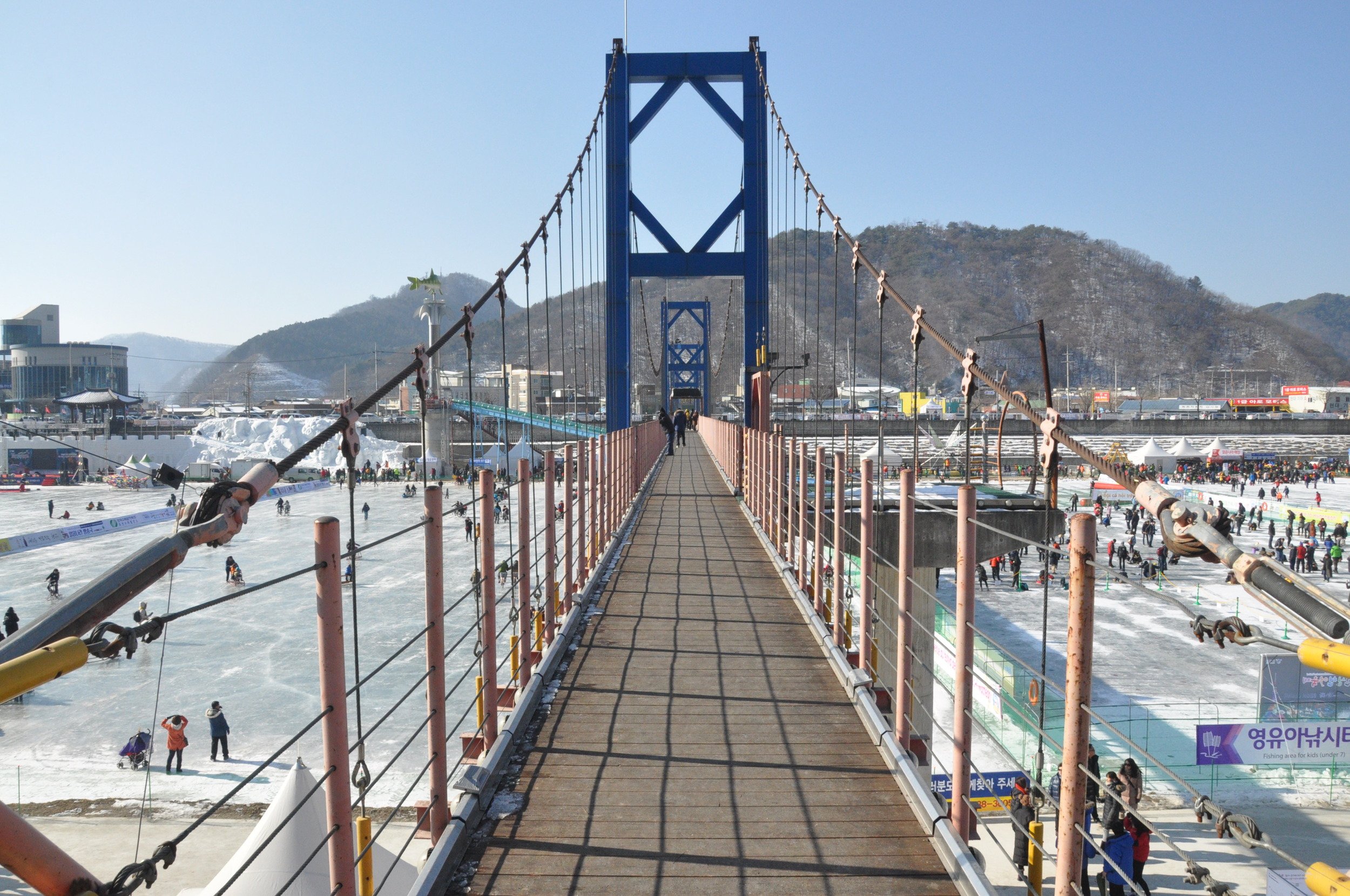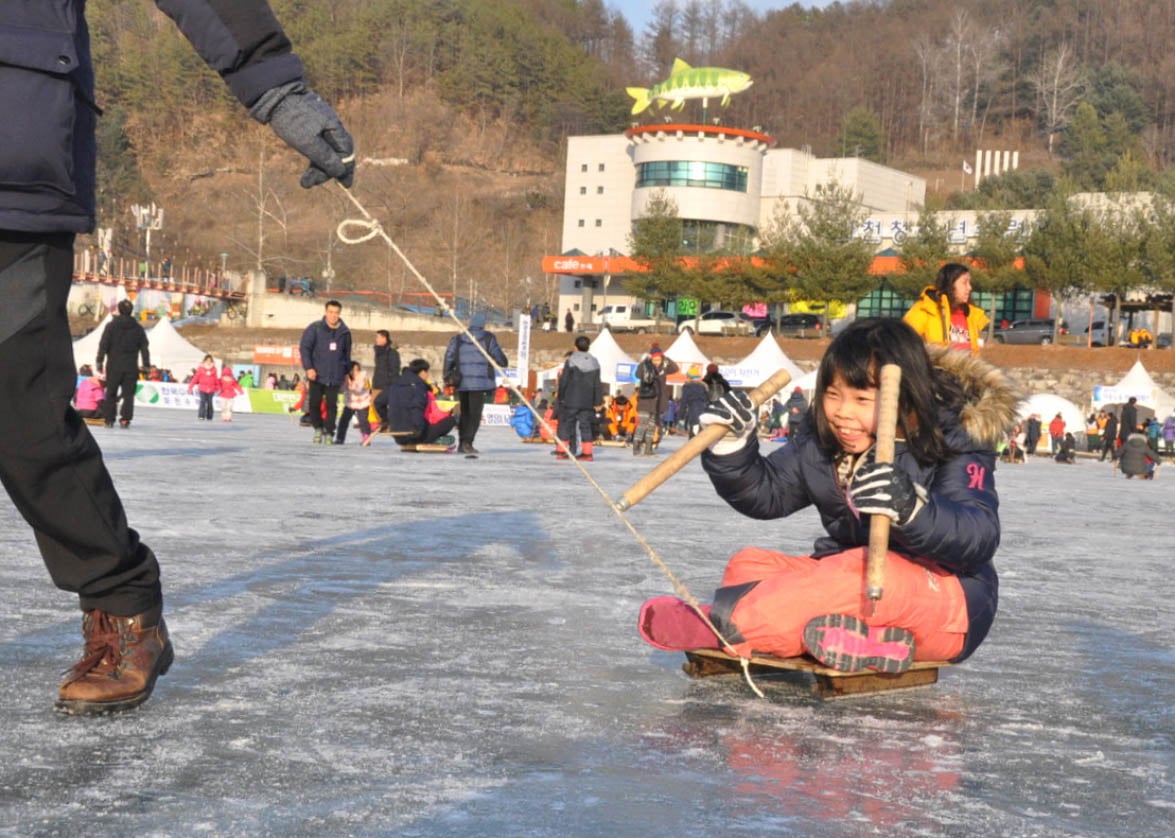 The highlight of the day, though, was the bare-handed fishing competition.
We partook in this event on our previous trip with Adventure Korea, and it is exhilarating. We sat out this time in order to watch the commotion, and as it turns out, it was just as fun to observe. 
A group of about fifty locals and foreigners swapped their down jackets for t-shirts and shed their boots as they prepared to get wet. Cold and wet.
The emcee counted down from three, and all at once the splashing began as people sought out the trout swimming around their ankles. Some people were timid and reached in just past their forearms, as other participants were bold, diving beneath the icy water in pursuit of their prey.  
It seemed that after catching a fish, the protocol was to stash it – very much still alive and thrashing about – inside one's shirt as they dove in for more. 
We observed a range of emotions from the participants. One Korean man got a crazed look in his eye before stuffing each fish he caught headfirst into his mouth. He then paraded around, pumping his fists in triumph. Then there was this young girl almost in tears as the fish stuffed down her shirt wriggled around.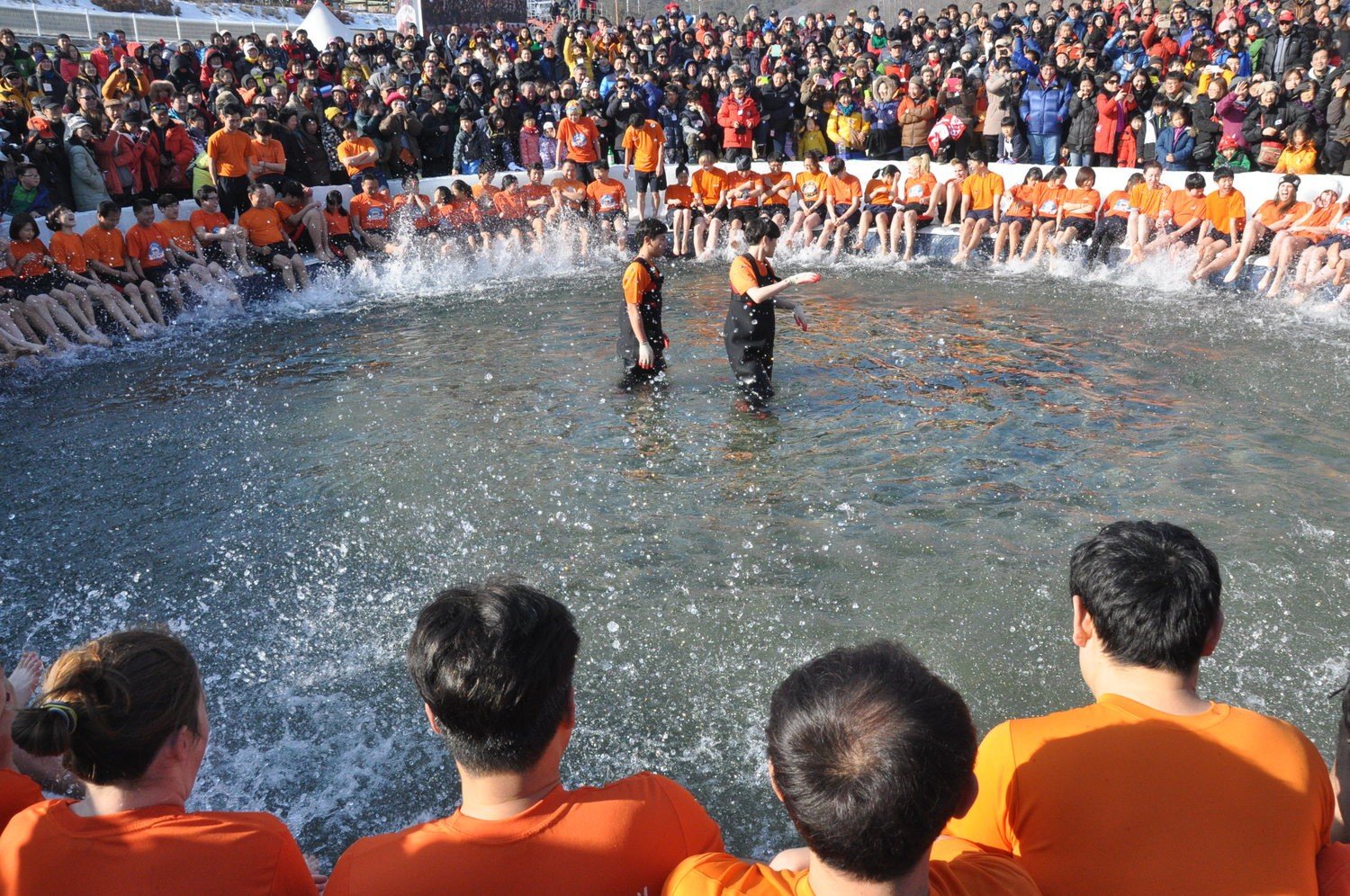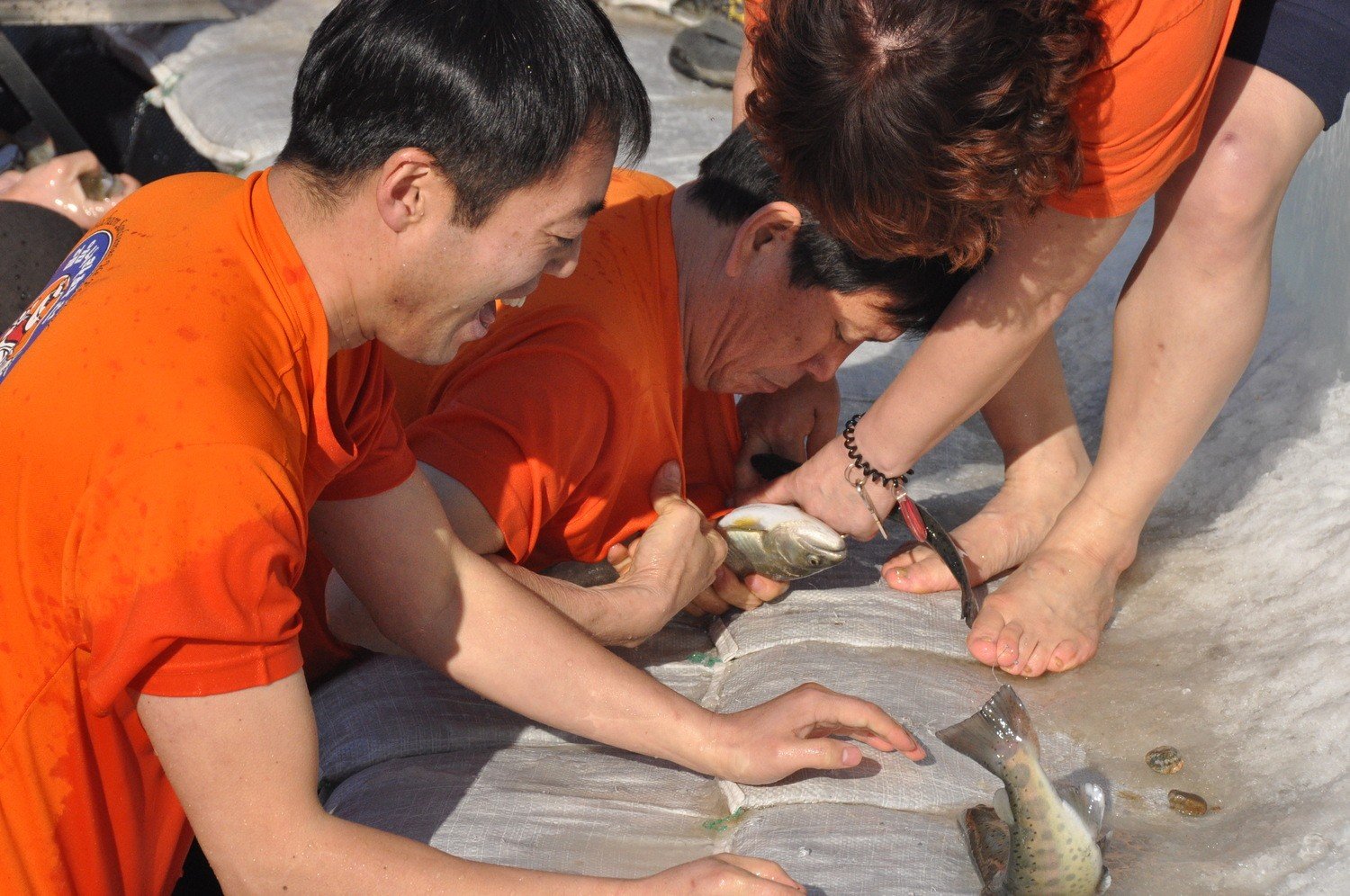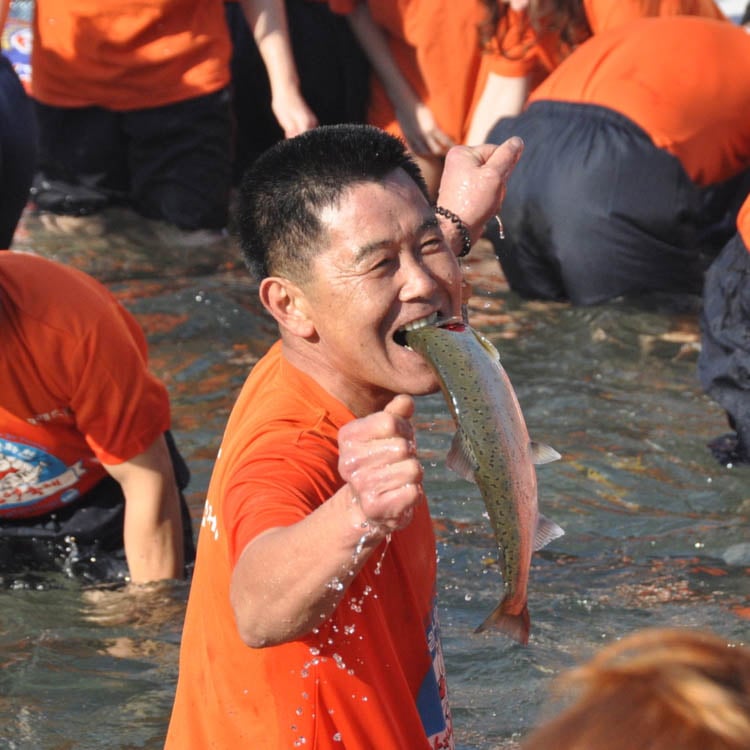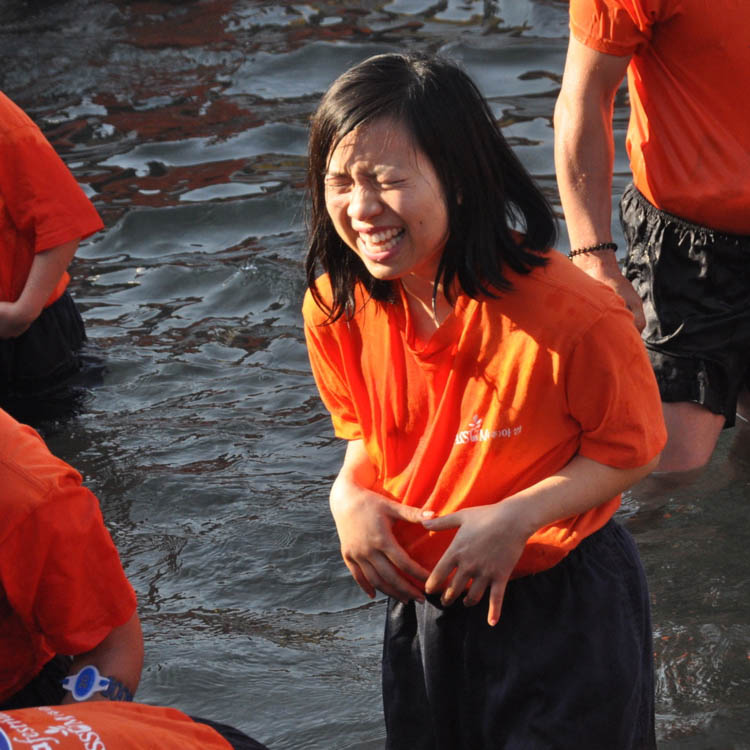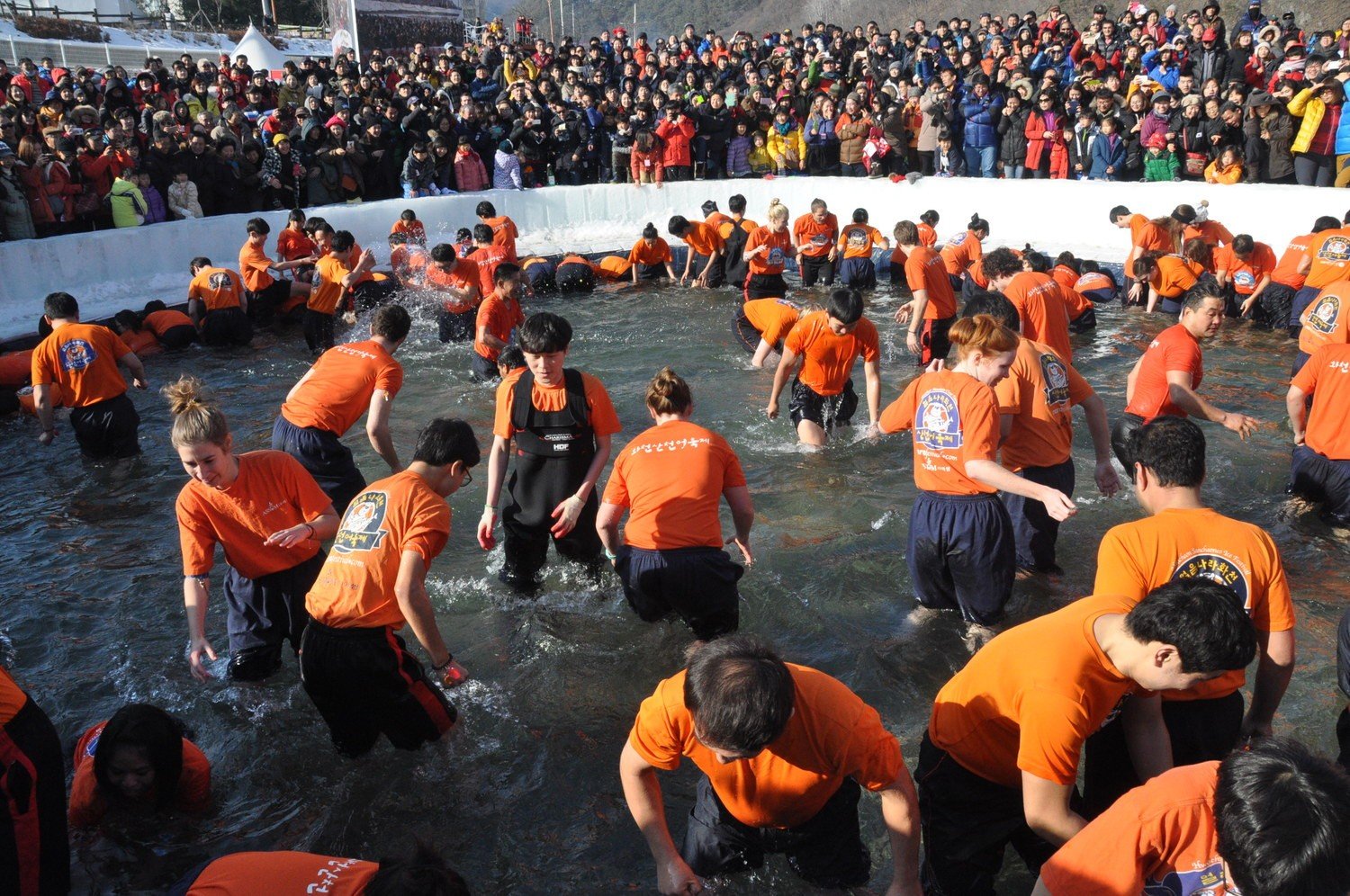 One thing is for sure: bare-handed is by far the most exciting form of fishing. It sure trumps waiting around for a tug on your line, if it's a thrill you're after, that is.
The Hwacheon Ice Fishing Festival was a perfect way to embrace the January chill and spend the day doing something a little different. 
Adventure Korea offers this trip in January during the dates of the Hwacheon Ice Fishing Festival. The price is 34,000 won (about $31 USD) and includes transportation, admission, fishing pole rental and a 5,000 won coupon that can be used as cash on the festival grounds.
This is a sponsored post, but as always, all opinions are our own.
---
Are you planning a trip to South Korea?
We have TONS of resources on travel in South Korea and destinations throughout the country. Check out our Ultimate South Korea Travel Guide for all the answers to your most burning questions, or read some of our favorite articles below.