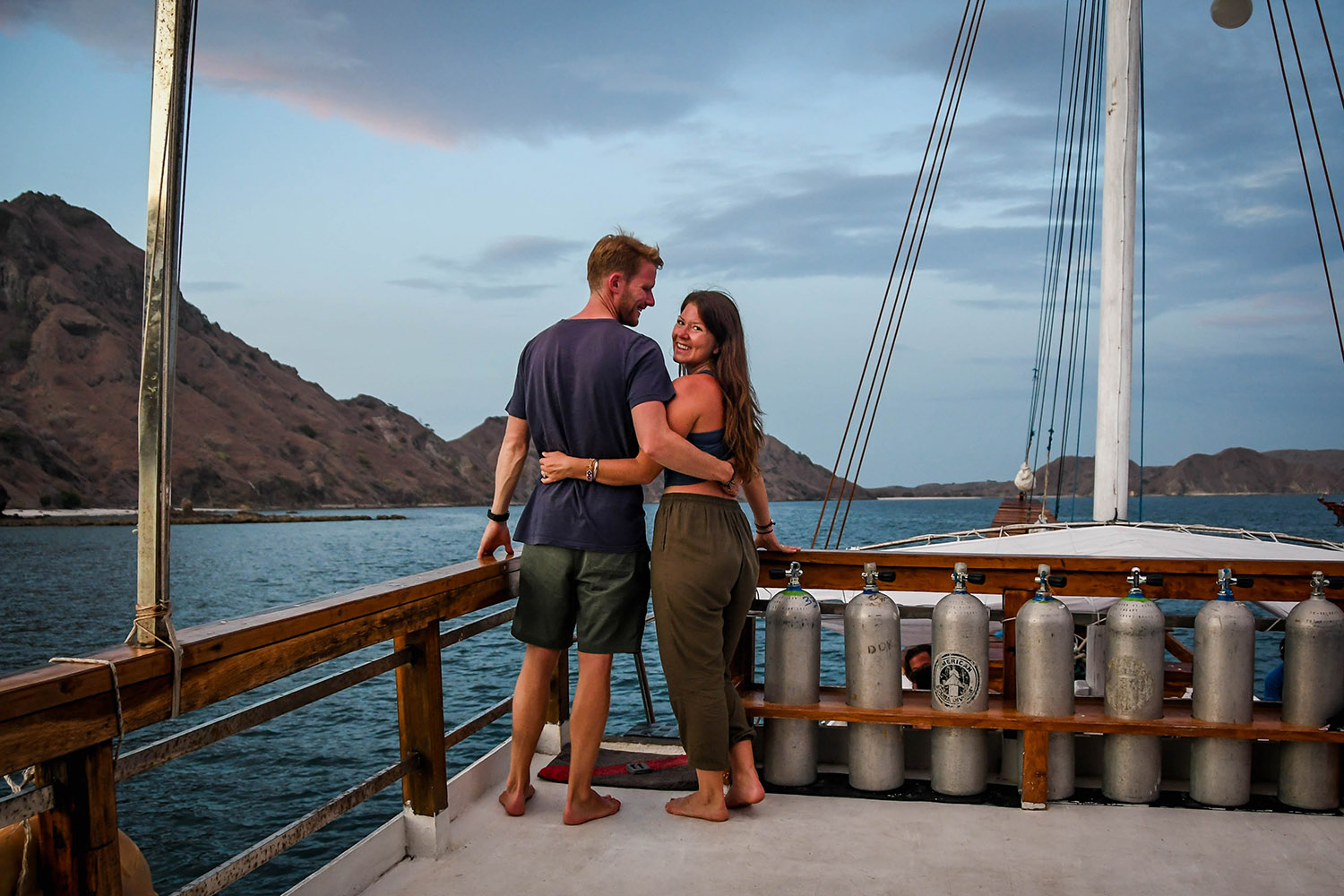 If you dream of scuba diving in remote sites where you can spot the big stuff — manta rays, reef sharks and dolphins — a Liveaboard trip in Komodo National Park should be near the top of your bucket list!
Not only will you be able to experience some of the top dive sites in Indonesia, but you'll be able to sleep beneath the stars, relax in the sun and make friends from all over the world.
This is a trip of a lifetime whether you're a scuba diving junkie or relatively new to the sport. And whether you're hoping to do a Liveaboard on a budget or enjoy diving in luxury, there is a boat for every budget. You can easily add a Komodo dive trip onto your travels in Bali since it's just a short flight away.
We have done 2 Liveaboard trips now, and can't wait to do it again (and again!). If you like scuba diving and are up for an adventure, we couldn't recommend a Liveaboard trip highly enough.
---
Komodo Liveaboard Article Contents
---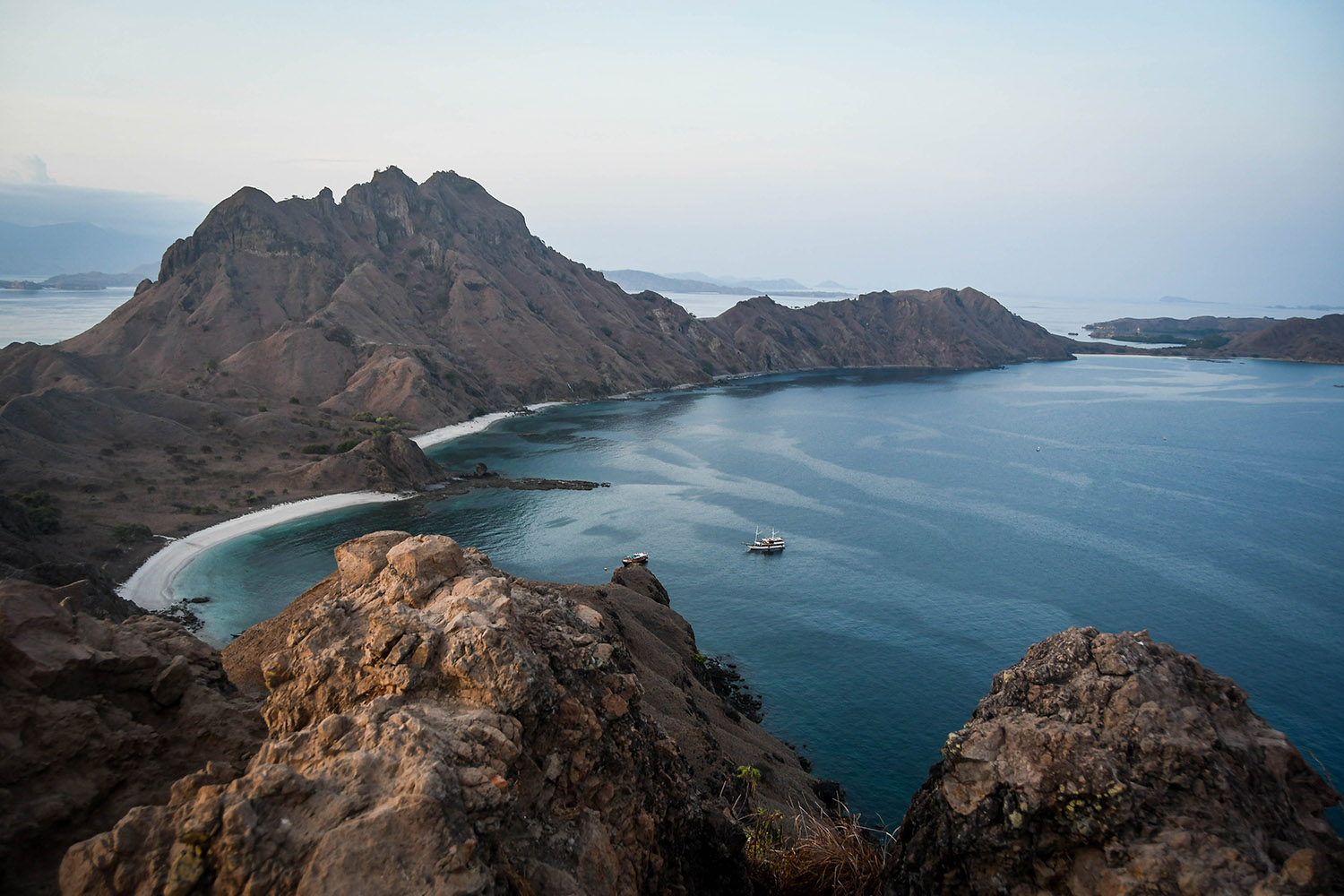 Below is a breakdown of our experience on our Komodo Liveaboard to help you get a better understanding of what to expect on the ultimate diving experience in Indonesia. 
Let's start from the beginning…
Our Liveaboard Story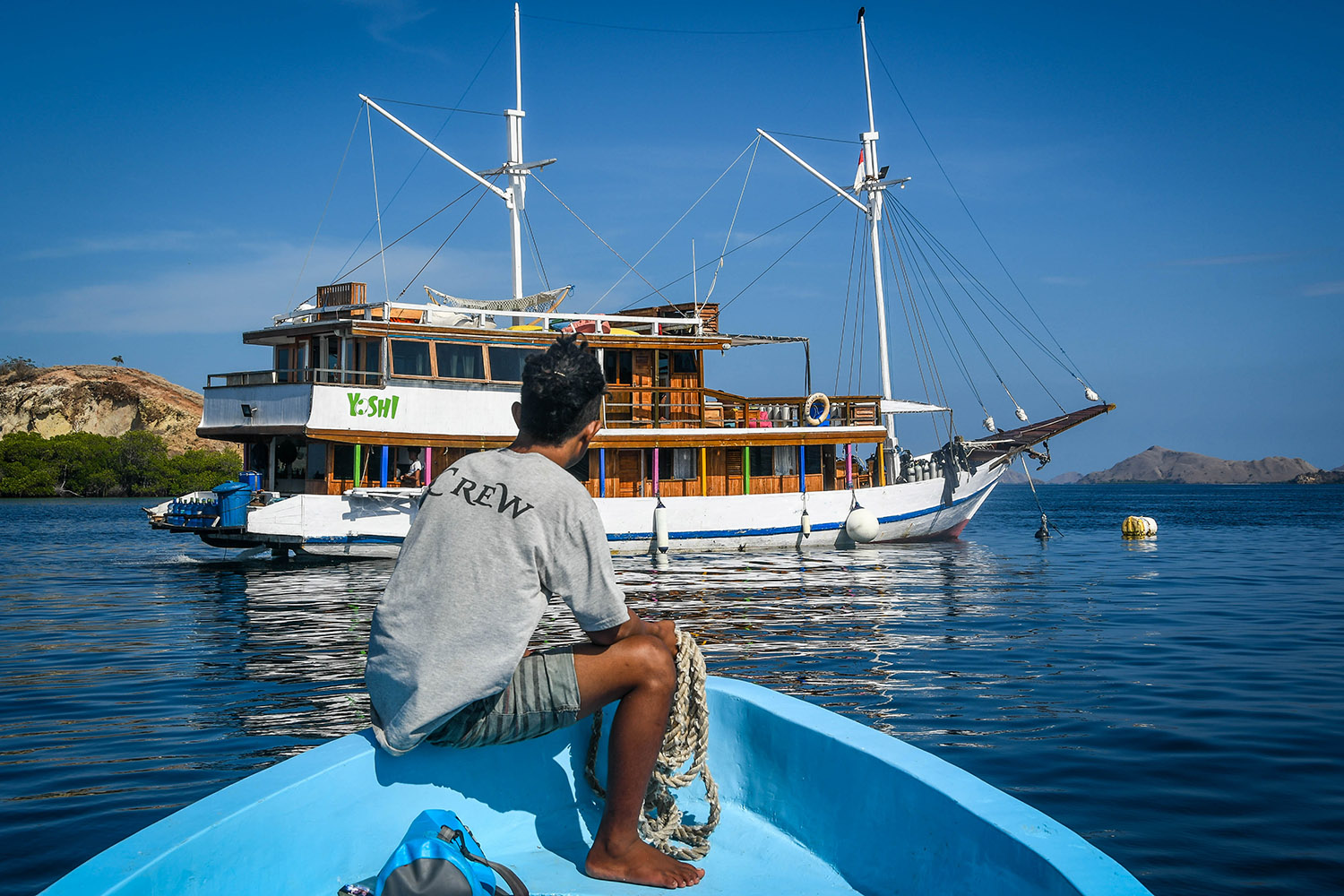 While traveling in Thailand a few years ago, we met a girl who had just finished a Liveaboard dive trip, and scrolled pictures of her diving next to a whale shark. Our interest was piqued…
This was our first time ever hearing about a Liveaboard, so we bombarded her with all sorts of questions and nodded dreamily at her answers.
Do you sleep on the boat? Yes, there are dorms and even private rooms.

How many dives do you do each day? It depends, but usually 3 a day, and possibly up to 4!

Are liveaboards expensive? Prices vary, but they don't have to be! There are budget liveaboards all the way to luxury dive trips, and of course, everything in the middle!

What else do you do on a liveaboard? Relax in the sun, read a book, swim, eat, make new friends from around the world, play cards, nap, eat some more, soak up time "off the grid", talk about diving… Well, this all sounds dreamy.
Let's just say that after this conversation, we were hooked.
We started doing all sorts of research, and found that there are liveaboards all over the world — from the Caribbean to the Galapagos Islands to Australia, and of course, Southeast Asia.
And then we did what we do best: we started plotting and planning and were determined to make our dreams of doing a liveaboard trip come true.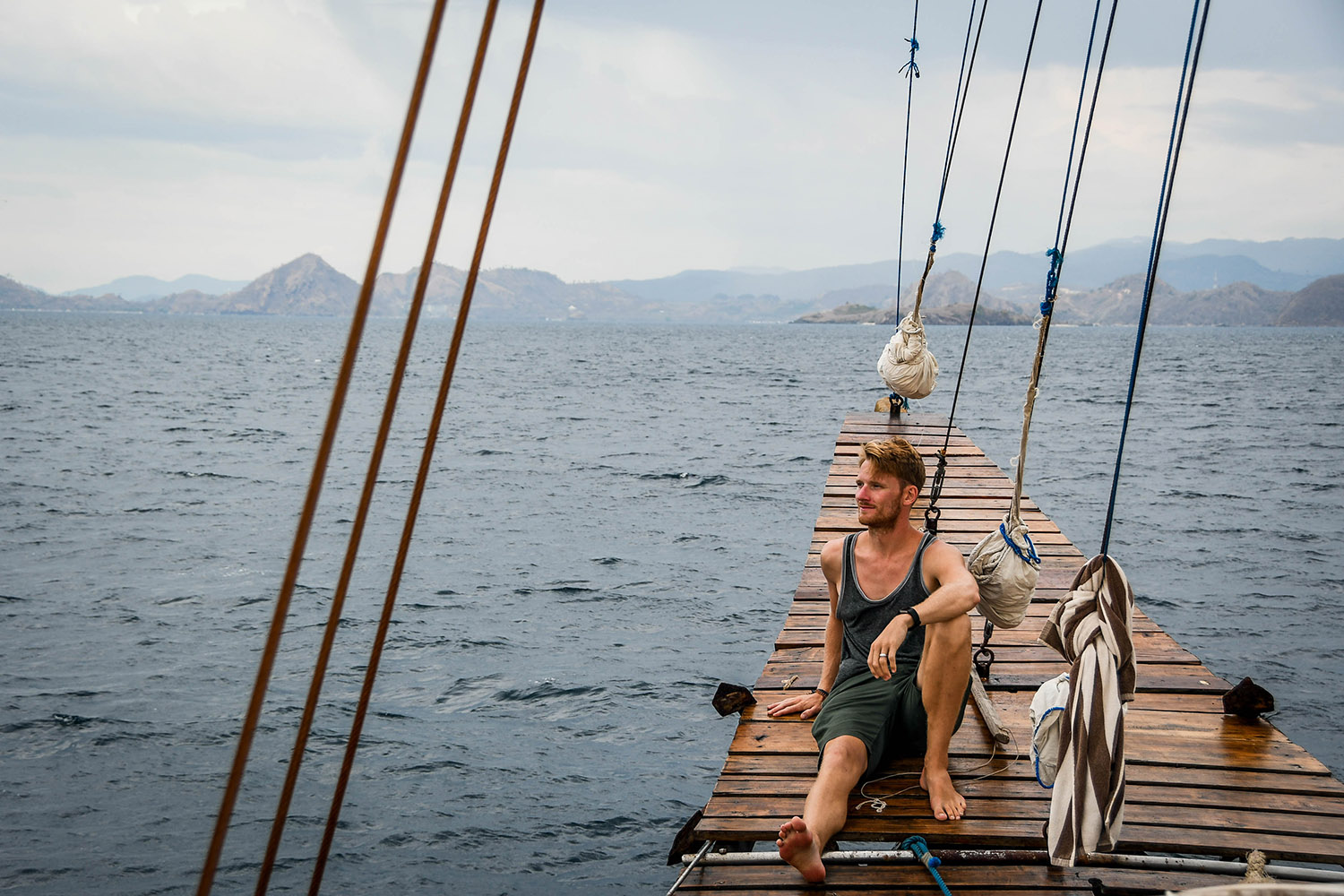 We didn't even have our Open Water certifications at the time, so getting that was the first thing on our to-do list. Turns out we liked scuba diving so much, we stuck around and got our advanced certs!
And just like that, we were on our first Liveaboard in Thailand's famous Similan Islands. We had such a wonderful experience that our fins… err, feet… were itching to do another. So we booked a second voyage, this time in Indonesia with Dragon Dive Komodo. And let me tell you, this certainly won't be our last Liveaboard!
You don't have to take our word for it, check out our Komodo National Park Liveaboard video below:
Why Komodo National Park is a great Liveaboard destination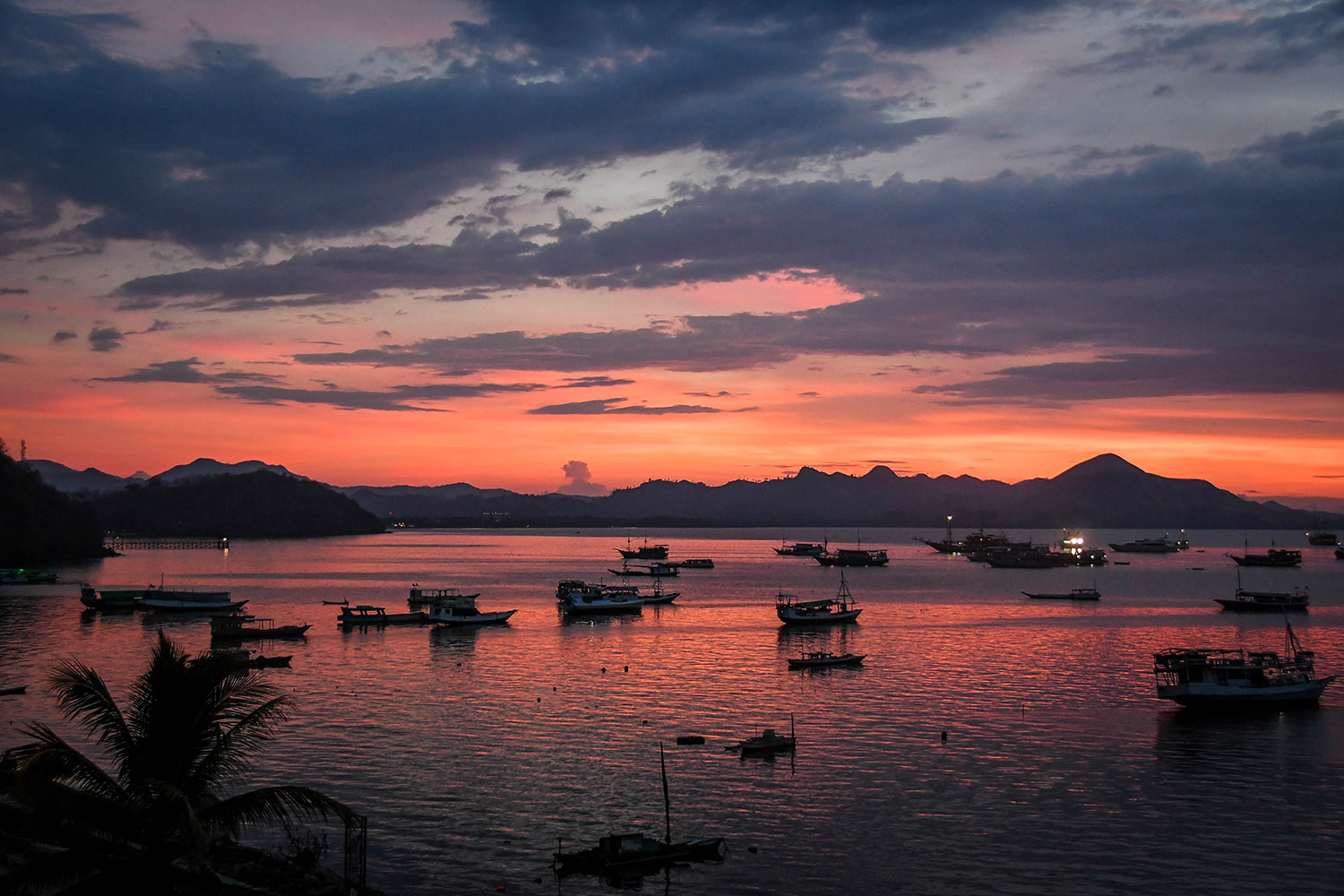 Indonesia is home to some of the best diving in the world. And arguably one of the top (and relatively accessible) regions for diving in the country is in Komodo National Park.
All Komodo Liveaboards will start their voyage from the seaside town of Labuan Bajo, located on the west side of Flores island.
Looking to get more out of your travels? Read our recommendations for unique things to do in Flores, Indonesia that go beyond Komodo National Park.
So what are the dives in Komodo National Park like?
Komodo National Park is known for having somewhat strong currents, which make dives slightly more challenging than other places in the world, like Thailand, for example.
In Komodo, divers have the chance to see lots of big marine life such as manta rays, sharks and dolphins, just to name a few! And dive sites vary quite a bit: You'll find pinnacles as well as sandy slopes, and there are plenty of drift dives as well as those where you'll need to swim against the current.
Another cool aspect of the Liveaboards in Komodo is many of the longer trips stop on land for a few excursions, like seeing the famous Komodo dragons and hiking to the stunning Padar Island Viewpoint (see that sweet sunset picture above?!).
Let's paint you a picture…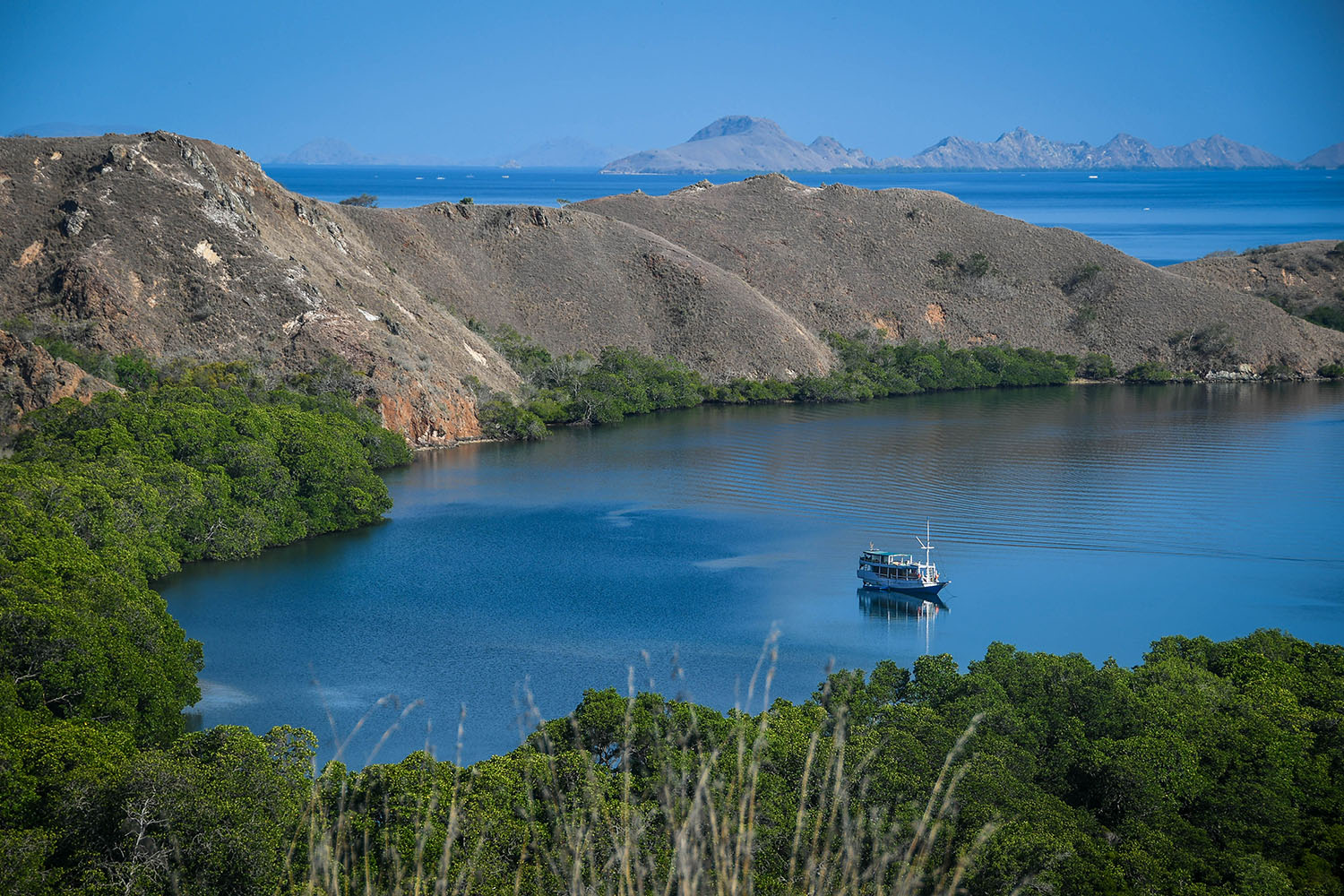 Our boat neared the dive site, and everyone on board prepared their gear. Masks were defogged, weight belts fastened and air pressure triple-checked.
Then someone spotted them: "Dolphins!" Just beyond the boat, two fins peeked out of the water for just a moment before disappearing into the depths below.
The possibility of swimming beside dolphins in these remote waters made everyone hurry to get geared up and into the water. Truthfully, I thought we'd seen the last of the dolphins, but as I descended into the water, equalizing my ears every few meters, I spotted them again. And this time, I saw more than just their fins.
All of us were there, suspended in the water, as these two beautiful creatures danced before our eyes. They swam in playful circles just meters in front of us, and we looked on in disbelief. And when they finally decided to swim off into the distance, it was now all of us divers who were dancing in silence, regulators in our mouths, and pure joy radiating through our masks.
And this was just the beginning of the trip — 1 of 15 dives, that is. On just that one dive alone, we saw dolphins, manta rays, schools of barracuda and a reef shark.
Looking for a Liveaboard elsewhere in Indonesia? We've put together a guide to diving in Indonesia with Liveaboard recommendations for every budget.
Best Dive Sites in Komodo National Park
There are all different lengths of Liveaboards in Komodo, the most popular being 3-day, 4-day and 5-day trips. The longer the trip, the more remote the sites you'll visit.
Each Liveaboard company has a rough itinerary, but the sites will change depending on the tides and weather. They will try their best to get you to the top sites if the currents and other factors are working in your favor. 
Here are some of the best dive sites we visited on our Komodo Liveaboard:
Manta Alley: This is one of the most famous sites in Komodo, and for good reason. You are almost guaranteed to see manta rays as they hang out in a cleaning station. This was one of our most memorable dives in Komodo!

Manta Point: While the dive site itself isn't anything too special — sandy spots and broken corals — you have the opportunity to see tons of manta rays. Our guide counted 33 when we were there! This is also a popular site for day trips and snorkelers.

Batu Bolong: One of the favorite sites in Komodo, Batu Bolong means "hole in the rock", and gets it's name from an arch in the pinnacle that sticks out of the water. Visibility is typically excellent and you'll see tons of life on this dive.

Yellow Wall: This sloping wall is somewhat yellow in color from the corals, sea cucumbers and other marine life that calls this place home. It is teeming with smaller marine life, like nudibranchs, but is also a good place to spot schools of fish.

Siaba Besar: Perhaps not as famous as those mentioned above, but this site was one of our favorites, as the visibility was great, coral was healthy and we saw tons of big sea turtles.
Looking for more diving in Indonesia? Why not check out Amed, Bali, the off-the-beaten-path slice of paradise on Bali's east coast.
Komodo Liveaboard Boat Tour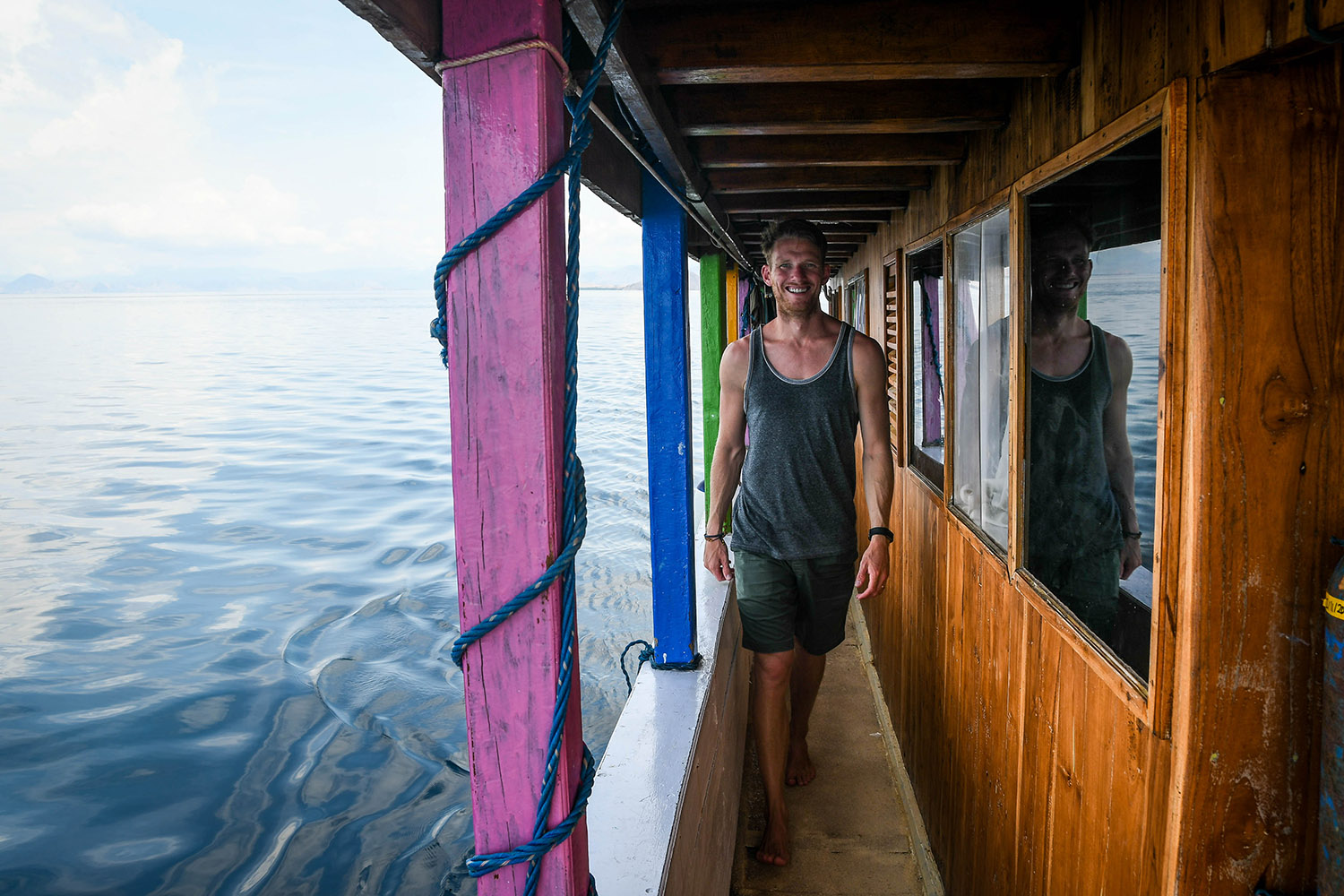 Each Liveaboard boat is different depending on your destination and price point. The higher the price tag, the plusher you can expect the boat to be. But even the more affordable boats are still quite comfortable. 
Our boat in Komodo was in the mid-range in terms of price. Let's take you on a tour!
Liveaboard Bedroom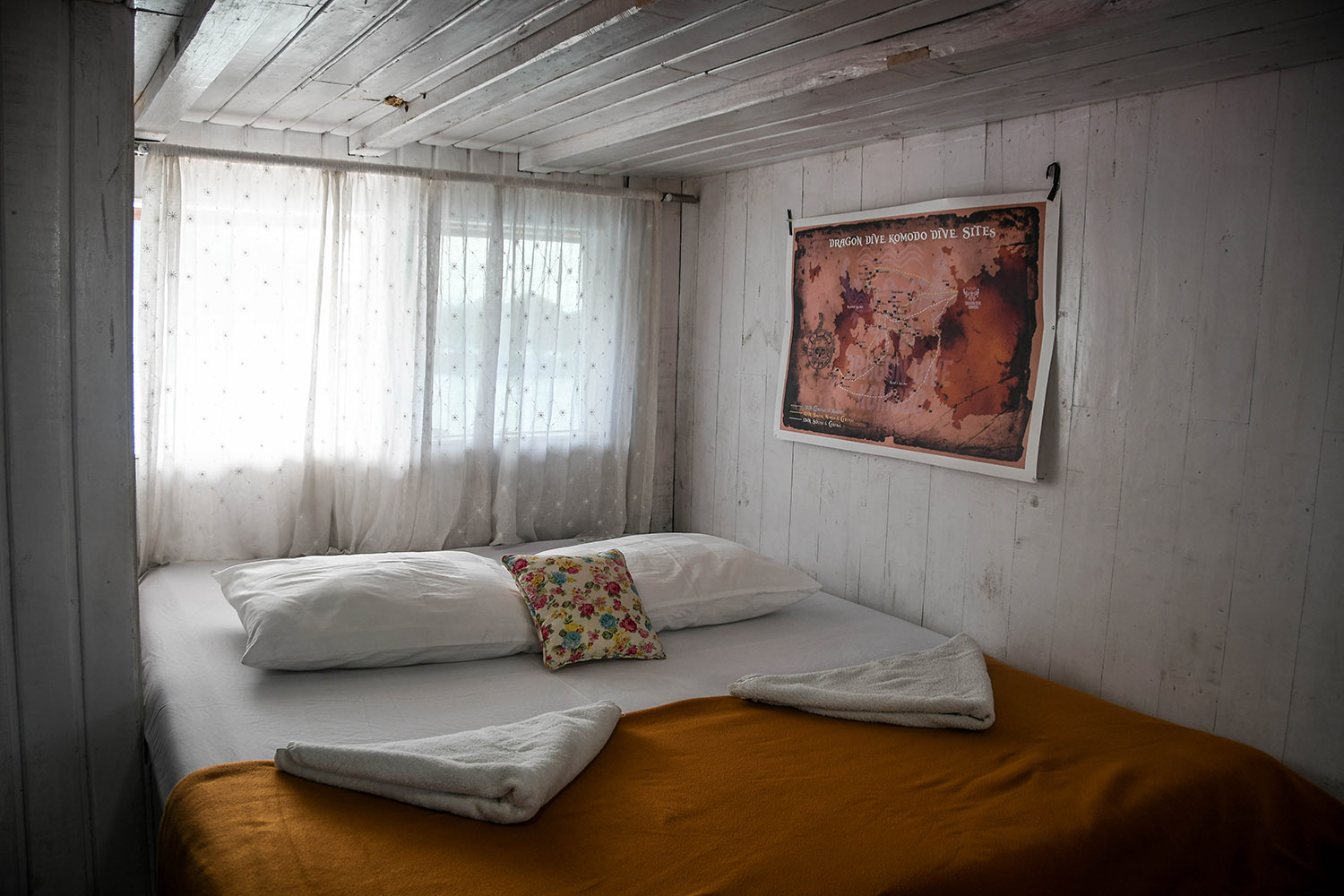 Our deluxe private room had a doubly bed, air conditioning, a few places to store our things, and a private bathroom. That was about it, but hey, what more do you need when you're diving, eating and sunbathing most of the day?!
During our Komodo Liveaboard, the generator was shut off in the nighttime, so sleeping on the top deck on a beanbag or hammock turned out to be much more comfortable. You get a nice breeze and a view of the night sky with no light pollution.
Liveaboard Bathroom
For some reason, I was more curious about the bathrooms than I was about the actual room itself when I was first looking into booking a Liveaboard. It totally depends on the boat you choose, but ours was quite nice.
We had a private bathroom inside our deluxe room with a flush toilet and get this — a shower with WARM water (not hot, but I'll take what I can get in the open ocean!). 
Toiletries, like shampoo and body wash, were not provided on this liveaboard. This means it's important for you to bring your own pH Neutral and biodegradable products because they will be washing into the ocean.
Liveaboard Common Space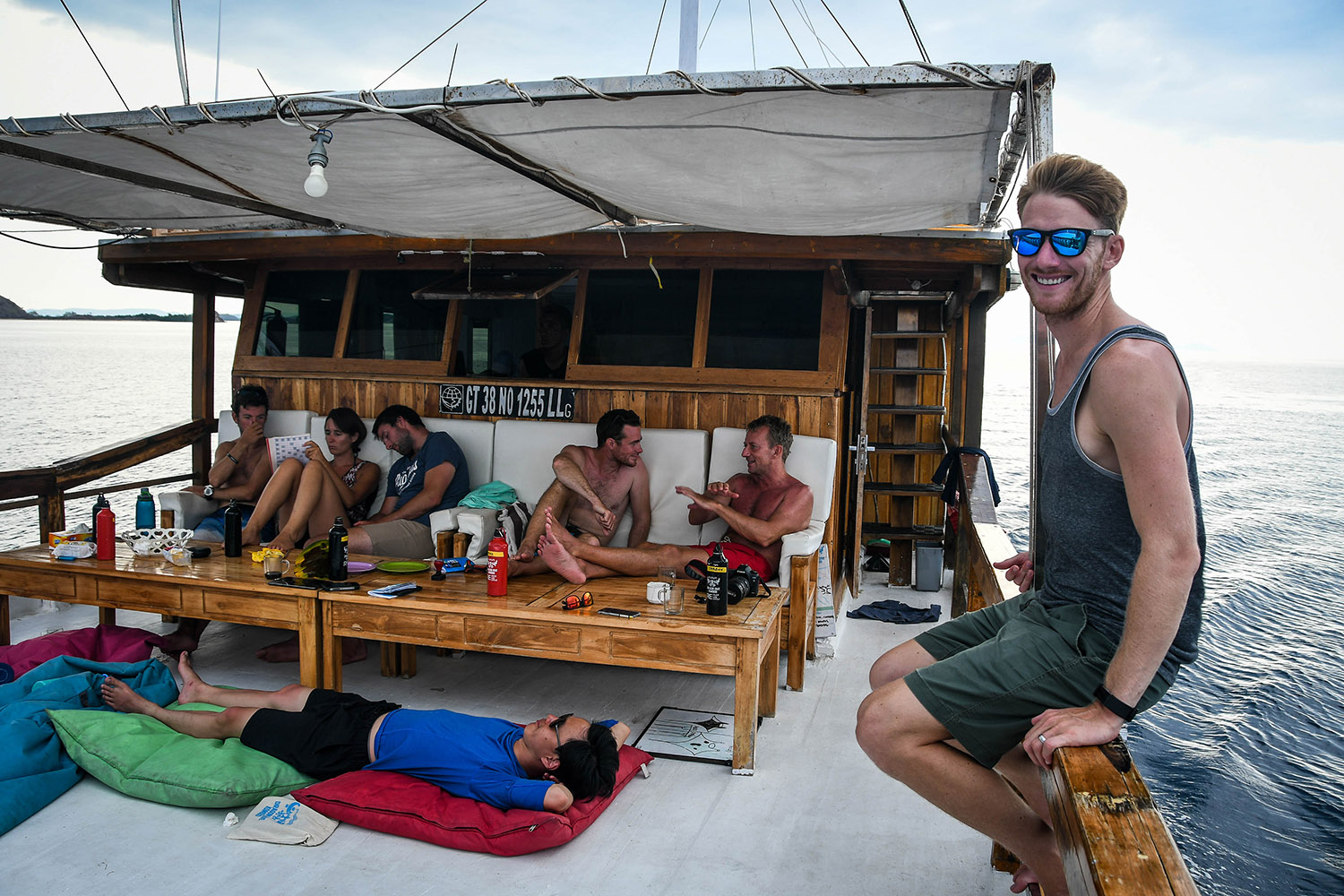 Every boat, whether luxury or budget, will have a couple of common areas to hang out and relax in. Our boat had a covered couch and table where we all sat at meals and in between dives. There was also a rooftop sun deck that had bean bags, a hammock and a mattress for lounging in the sun and chatting with other guests about your last dive.
You just gotta be careful that you don't get too burned, because it's not fun shimming into a wetsuit with sunburnt skin. I speak from experience!
A Typical Day on Our Komodo Liveaboard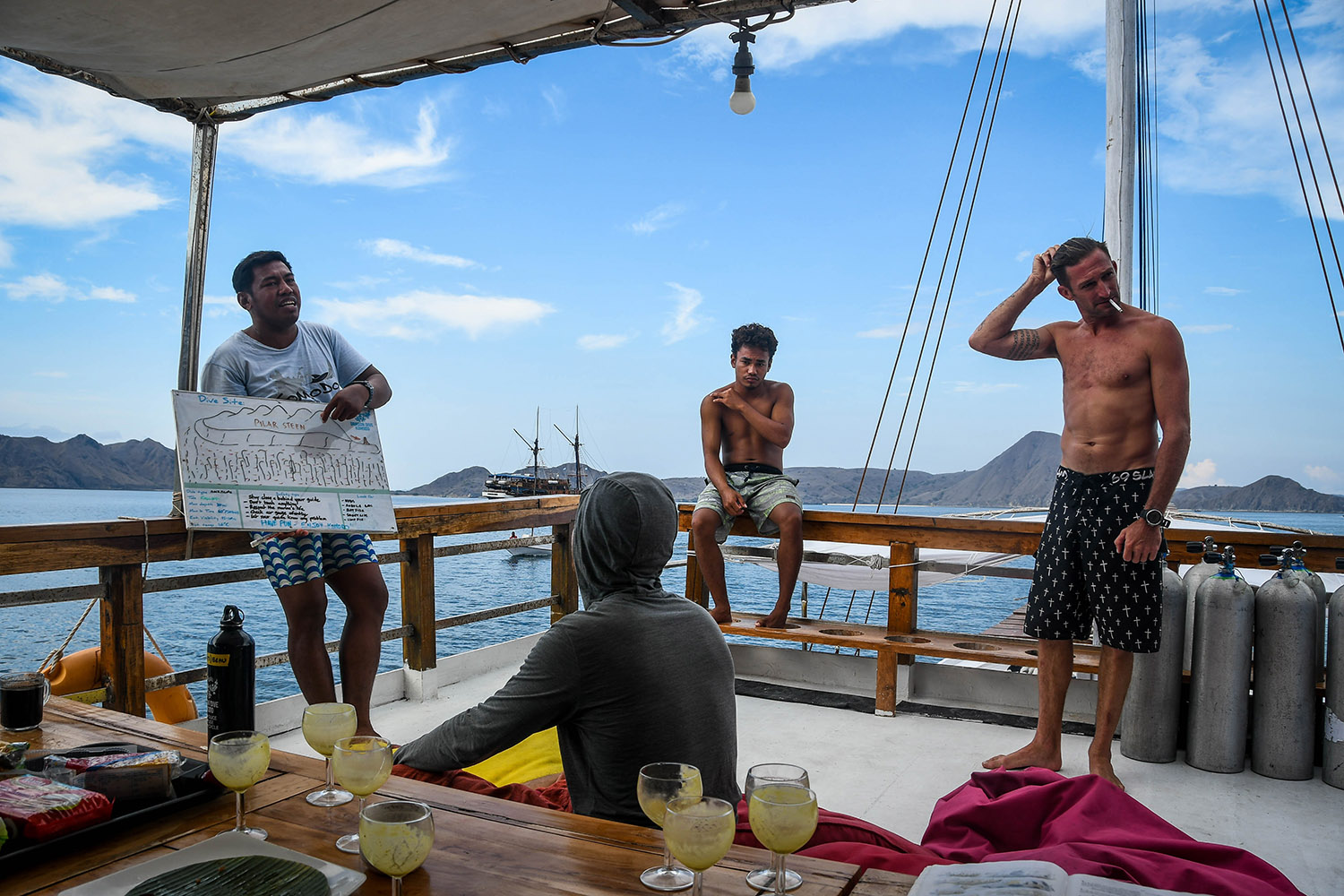 People joke that life on a Liveaboard consists of 4 things: Dive, Eat, Sleep, Repeat.
And it's kind of true. While every day is slightly different depending on the dives you are doing that day, a typical day for us on our Komodo Liveaboard looked pretty much like this: 
6 am: Wake up around sunrise

6:15 am: Coffee and light bites

7:30 am: 1st dive of the day

9 am: Breakfast

9:30 am: Hang out on the sun deck

11 am: 2nd dive of the day

12:30 pm: Lunch

1 pm: Nap and hang out on the sun deck

2:30 pm: 3rd dive of the day

4 pm: Afternoon snacks

4:30 pm: Relax and read

6:30 pm: Dinner and chat

9:30 pm: Early to bed so you're ready to do it all over again 
Note: We did two night dives on our Komodo trip, so the other dives on those days didn't start quite so early in the morning!
What was Included in Our Komodo Liveaboard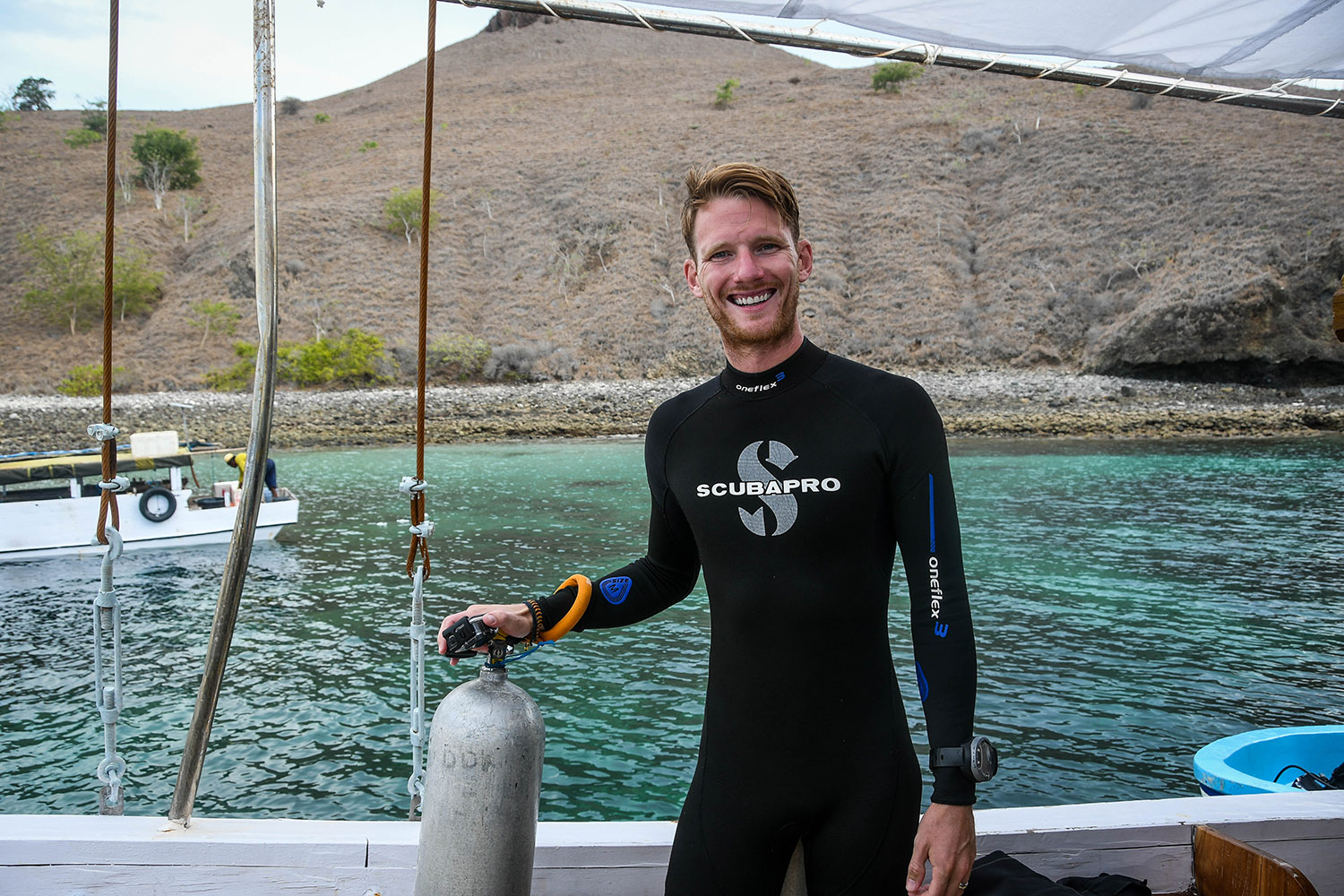 15 dives with an instructor

Diving equipment (excluding dive computers)

Excursions

hike to the viewpoint on Padar Island 

see the Komodo Dragons

Breakfast, lunch and dinner for all days on board

Coffee, tea, fresh drinking water, snacks

Private or shared room (depending on what you book)

Transport to and from Labuan Bajo
Not included: 
National Park fees

Dive computer

Alcohol (available for purchase)
The Food Onboard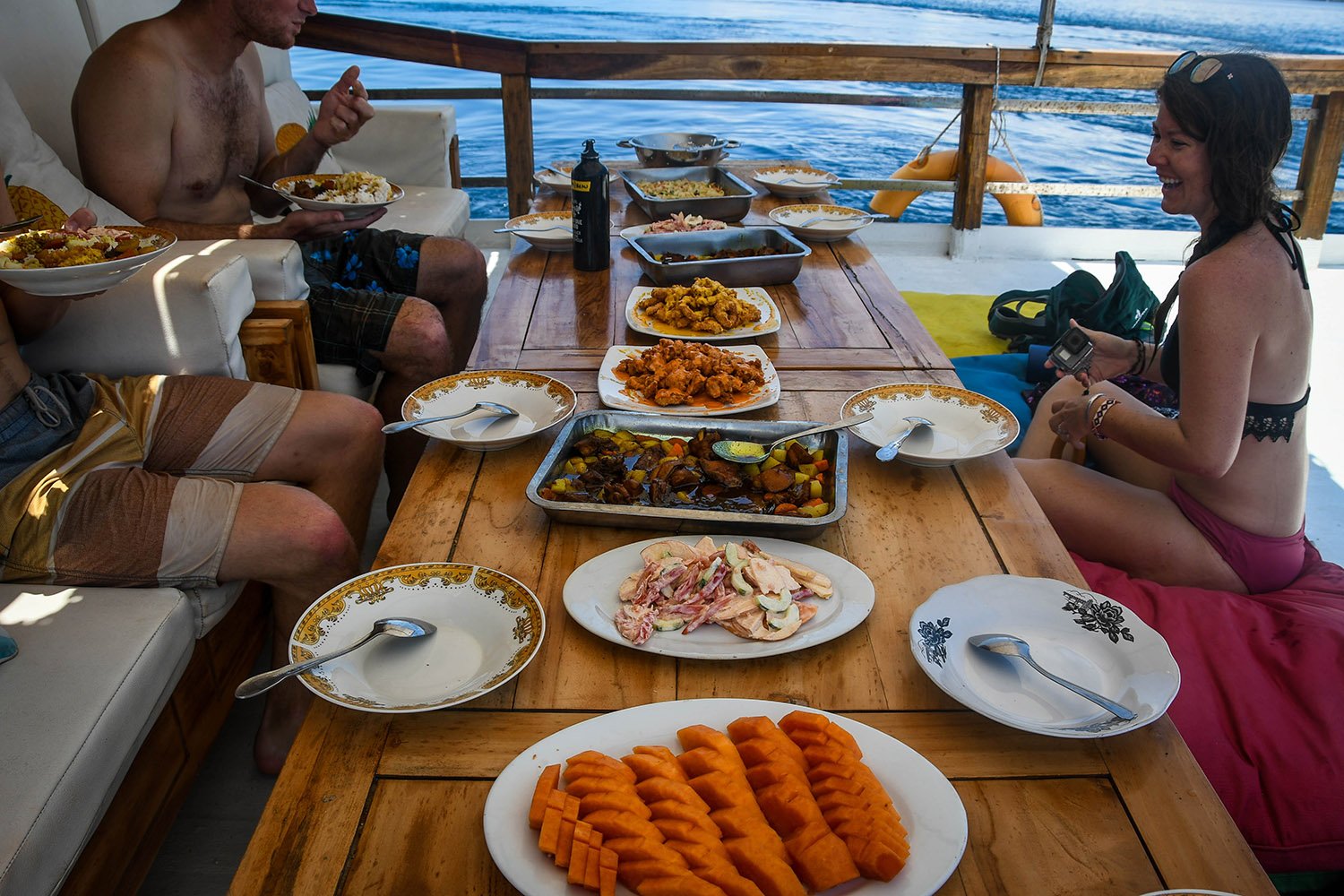 Considering our chef was cooking food for a large group (around 12 divers and 4 dive masters) while on a boat with limited space, we were pretty darn pleased with the meals that we were served on board.
We ate lots of local dishes like curries, seafood, grilled meat, noodles, rice and fruit.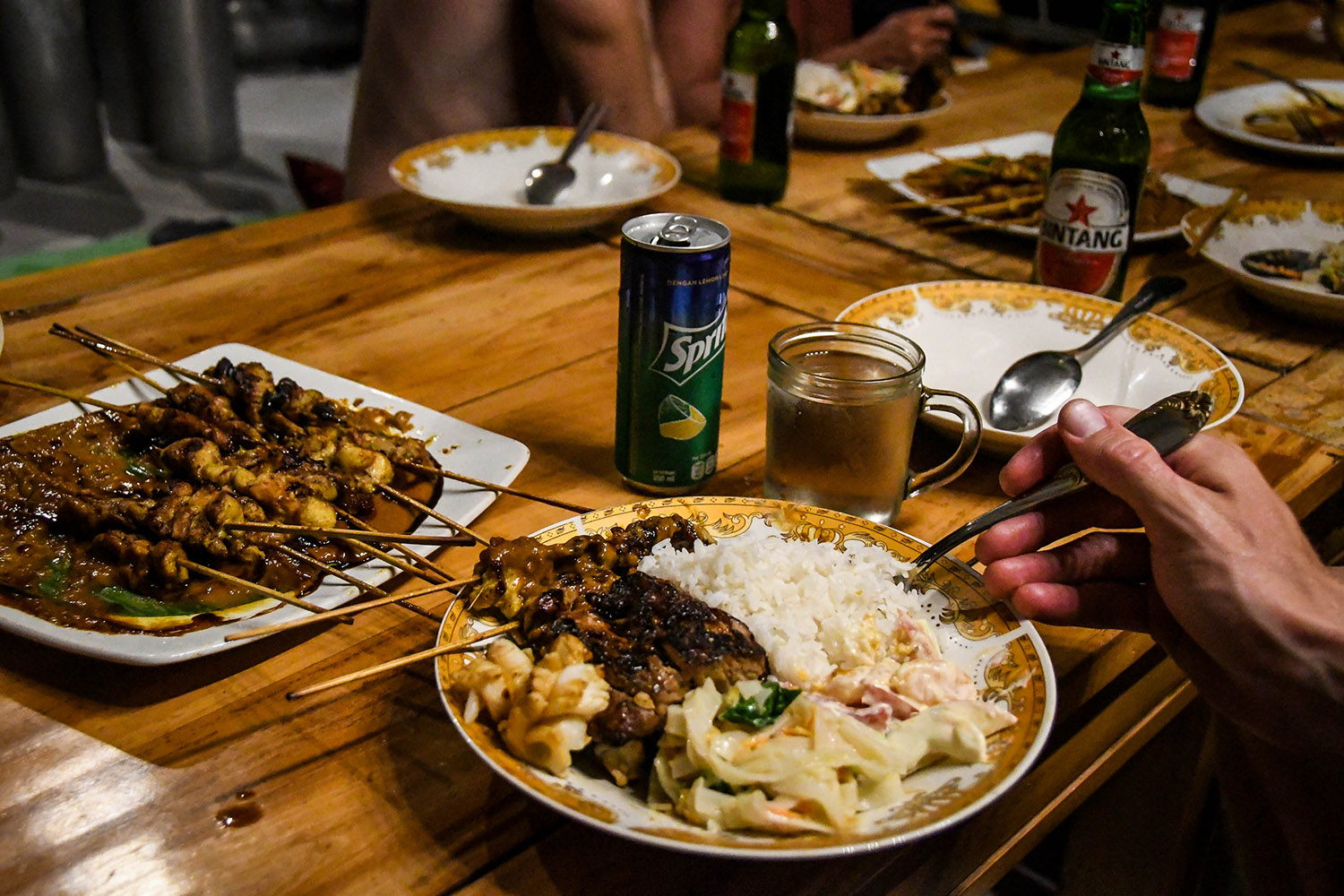 In addition to breakfast, lunch and dinner, there was also an afternoon snack of smoothies and fried bananas to enjoy between dives.
Let's just say, we had plenty to eat the whole trip!
Note: If you have any dietary restrictions or allergies, let them know before your trip and they can accommodate you.
Best Liveaboard Options in Komodo
Diving in Komodo National Park is a relatively popular route for liveaboards, with options ranging from budget to luxury. You can also find voyages as short as 3 days and as long as 11 days.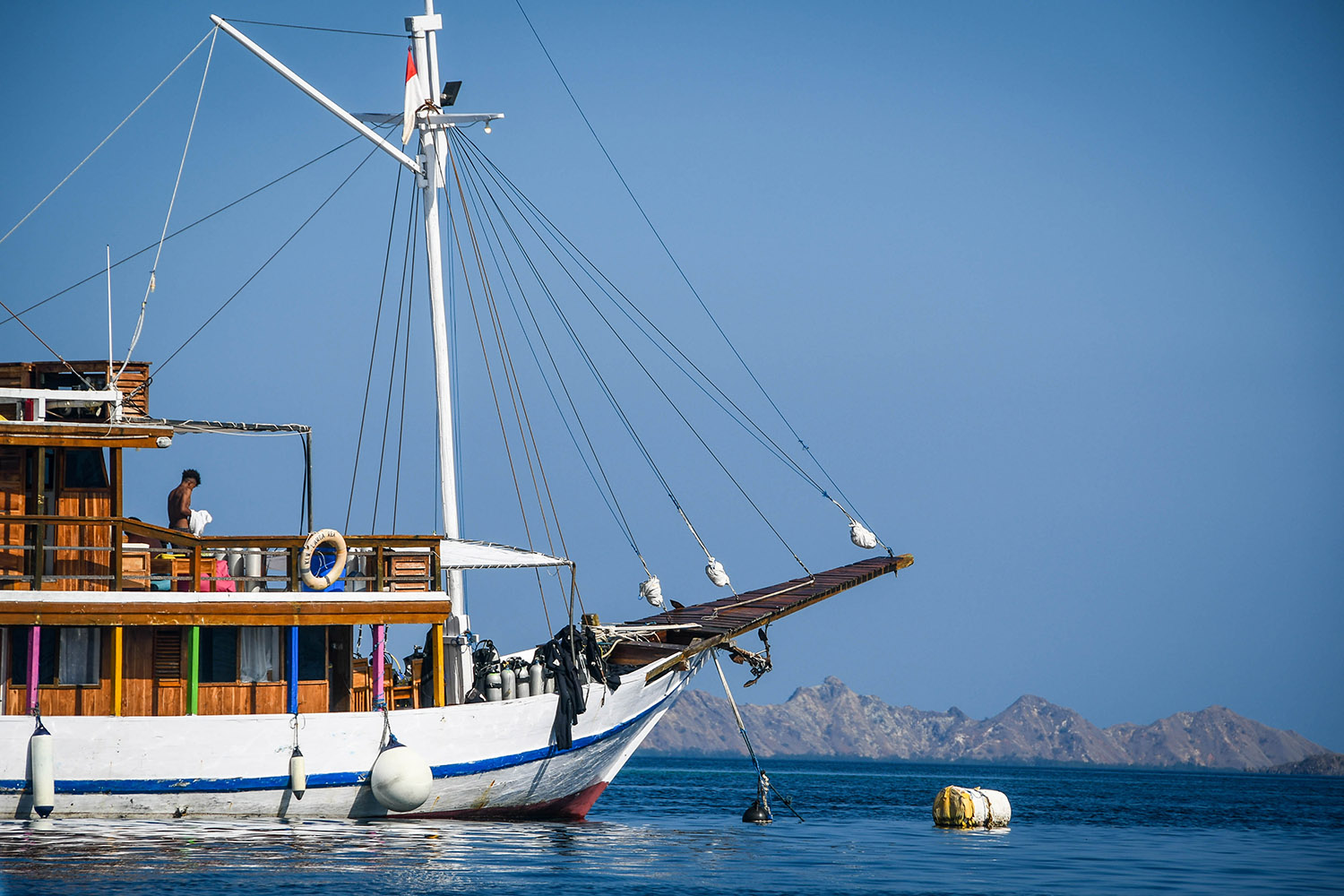 Komodo Liveaboard Budget Option
Our Pick: Dragon Dive Komodo
We chose to book with Dragon Dive Komodo and we were overall very happy with our choice.
This is a good budget option, and everyone on our voyage was really fun! The instructors were professional, yet relaxed and the food was pretty good.
---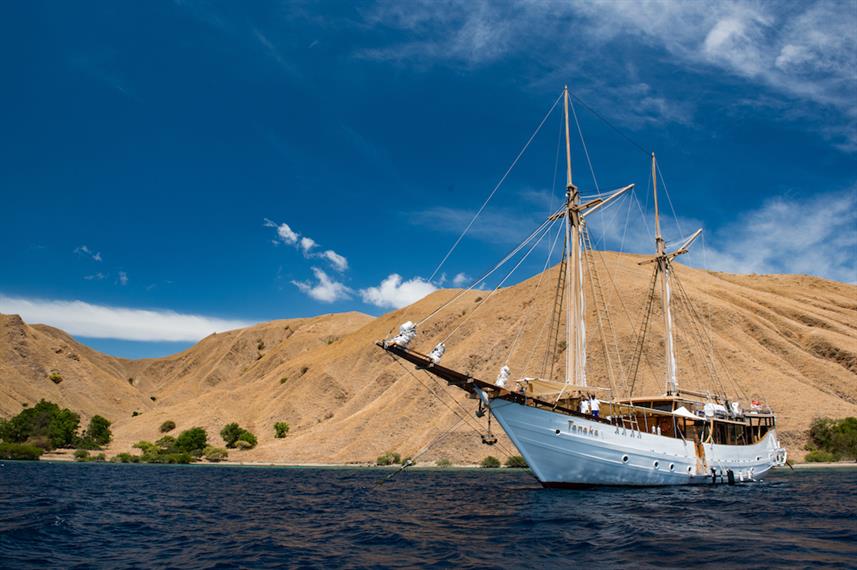 Komodo Liveaboard Middle-Range Option
Our Pick: Tanaka
With a beautifully-design boat, rooms with ensuite bathrooms and fine wine stocked on board, it's no wonder that Tanaka earns exceptional reviews.
---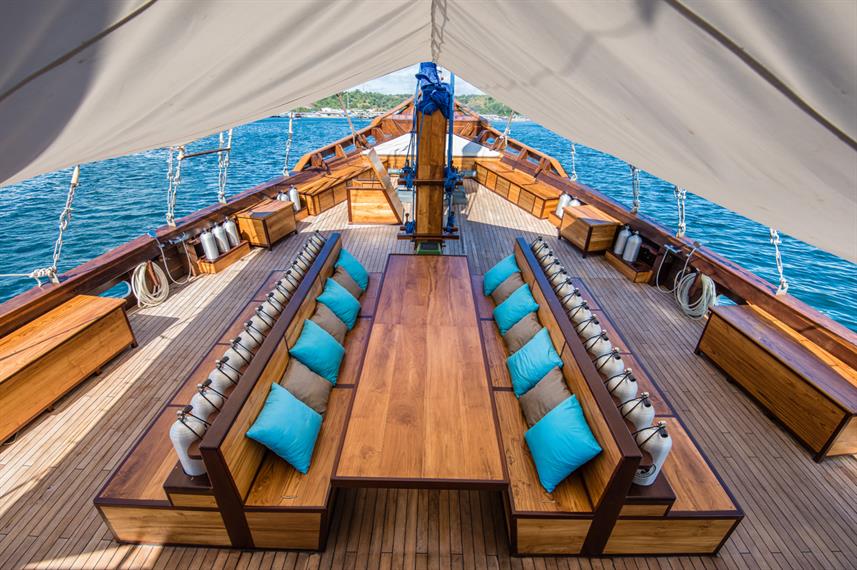 Komodo Liveaboard Luxury Option
Our Pick: Samambaia
This stunning yacht has a spacious design, offers guests free nitrox and food worthy of a 5-star restaurant, this luxury liveaboard offers guests a truly unforgettable experience.
Can't find what you're looking for? Search all liveaboards in Indonesia, and find one to suit your needs.
Insider Tip: Raja Ampat (in eastern Indonesia) has incredible diving as well!
How to book a Liveaboard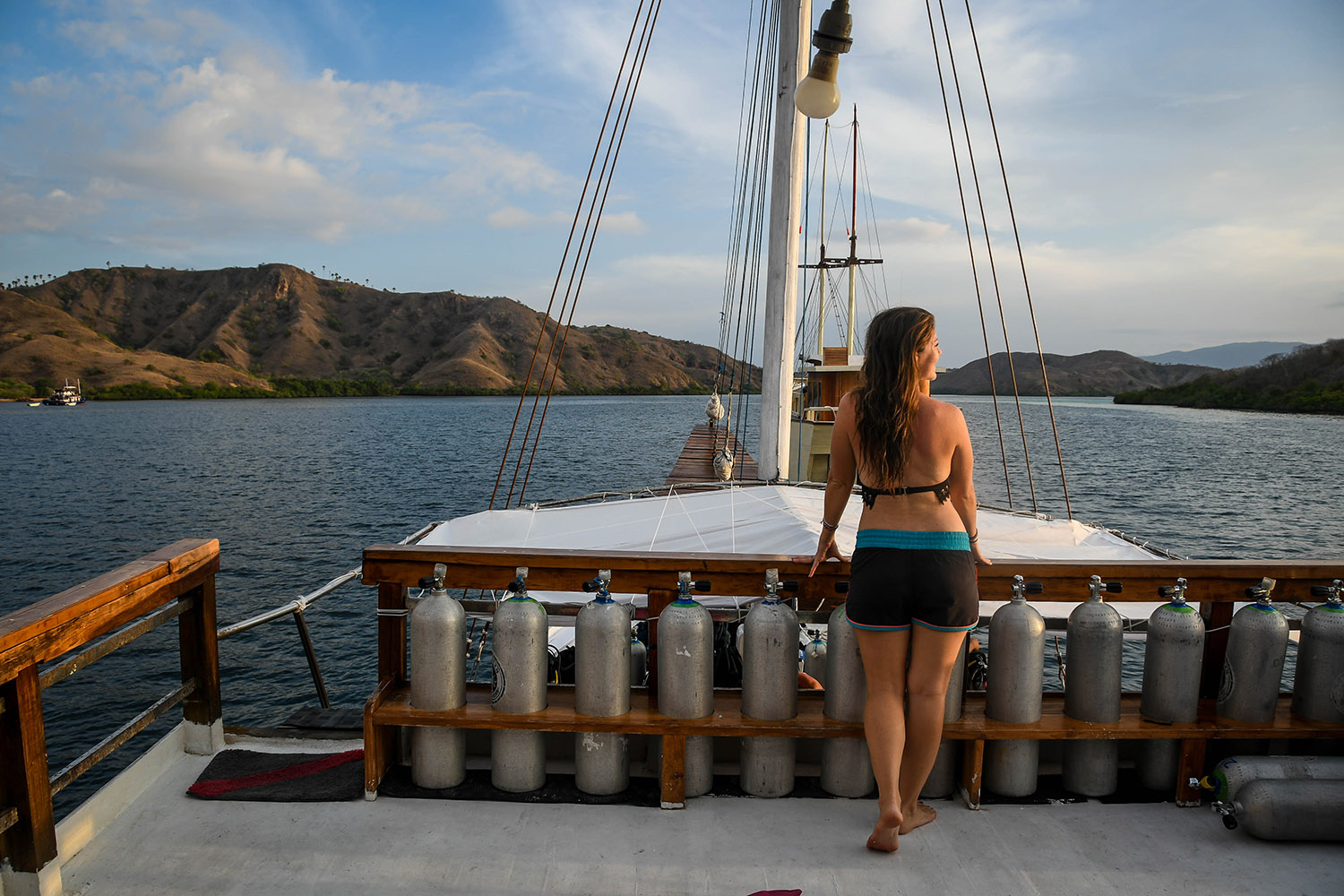 Are you ready to book a Liveaboard trip?! Whooo hoo! We don't think you'll regret it. 
Before you book, be sure to read Everything You Need to Know About Doing a Liveaboard Trip for a deeper dive (*no pun intended!) on what to expect and what questions to ask before booking. We also go over how much a Liveaboard trip will cost you, what's included in your price and what extra fees you can expect.
Whether you're looking to book a trip in Komodo like we did, or elsewhere in the world, Liveaboard.com is a fantastic place to search. You can compare voyages, reviews, availability and prices all in one place, making it the easiest and most secure way to book your Liveaboard.
If you're stumped on where to experience your first Liveaboard, we've put together a list of the best diving destinations in the world, which includes our top Liveaboard pick in each place.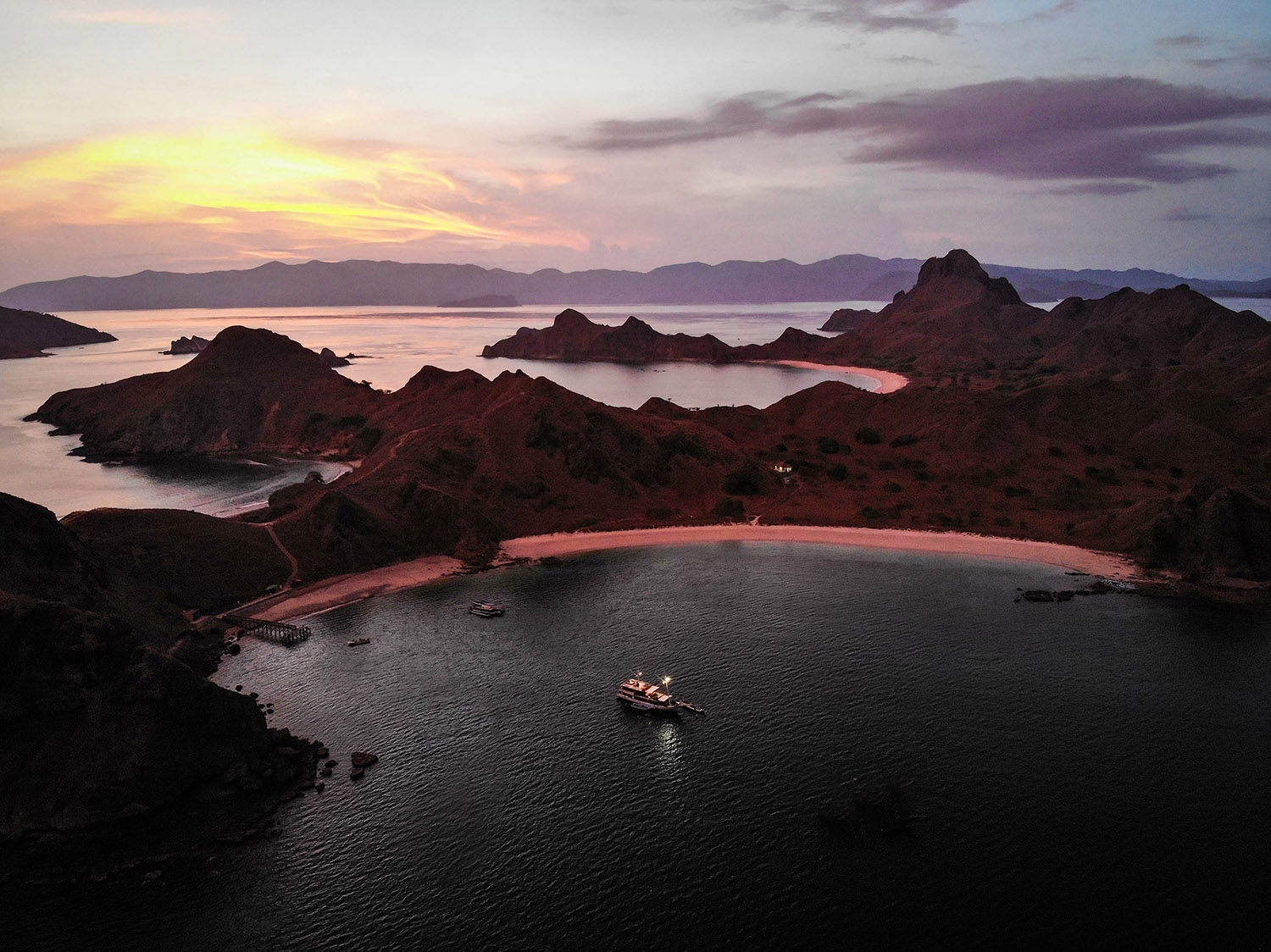 What to Pack for a Diving Liveaboard
Now that you are all excited to participate in your first Liveaboard dive experience, the only thing left to do is pack!
Figuring out what to pack for a scuba Liveaboard can be tricky… you want to be prepared, but you definitely don't want to overpack when you're going to be living in tight quarters. There are some definite musts that you don't want to forget, and even more things that you should just leave on land.
We've taken all the guess work out of packing for you and complied a complete liveaboard packing list, including tips and advice for first-timers and some specifics you should definitely leave at home. Oh, and it's totally free!
Sign up below to get the FREE PDF download sent directly to your inbox!


Disclosure: A big thank you to our friends at Liveaboard.com for hosting us on our trip with Dragon Dive Komodo. As with every article on our site, all opinions are entirely our own.
---
You may also like…
Save this article on Pinterest for later!
We want to hear from you!
Have you ever thought about doing a diving Liveaboard? Do you have more questions about it? Comment below and we'll do our best to answer your questions!