Cartagena is a colorful and bustling city on Colombia's Caribbean Coast that makes it easy to fall in love. With a vibrant nightlife scene, stunning colonial architecture (hello Instagram!) and some of the best food in the country, this city is well worth a spot on your Colombia itinerary. We've visited this exciting city 3 times and are sharing the best things to do in Cartagena, as well as our top tips, what to eat, and where to stay!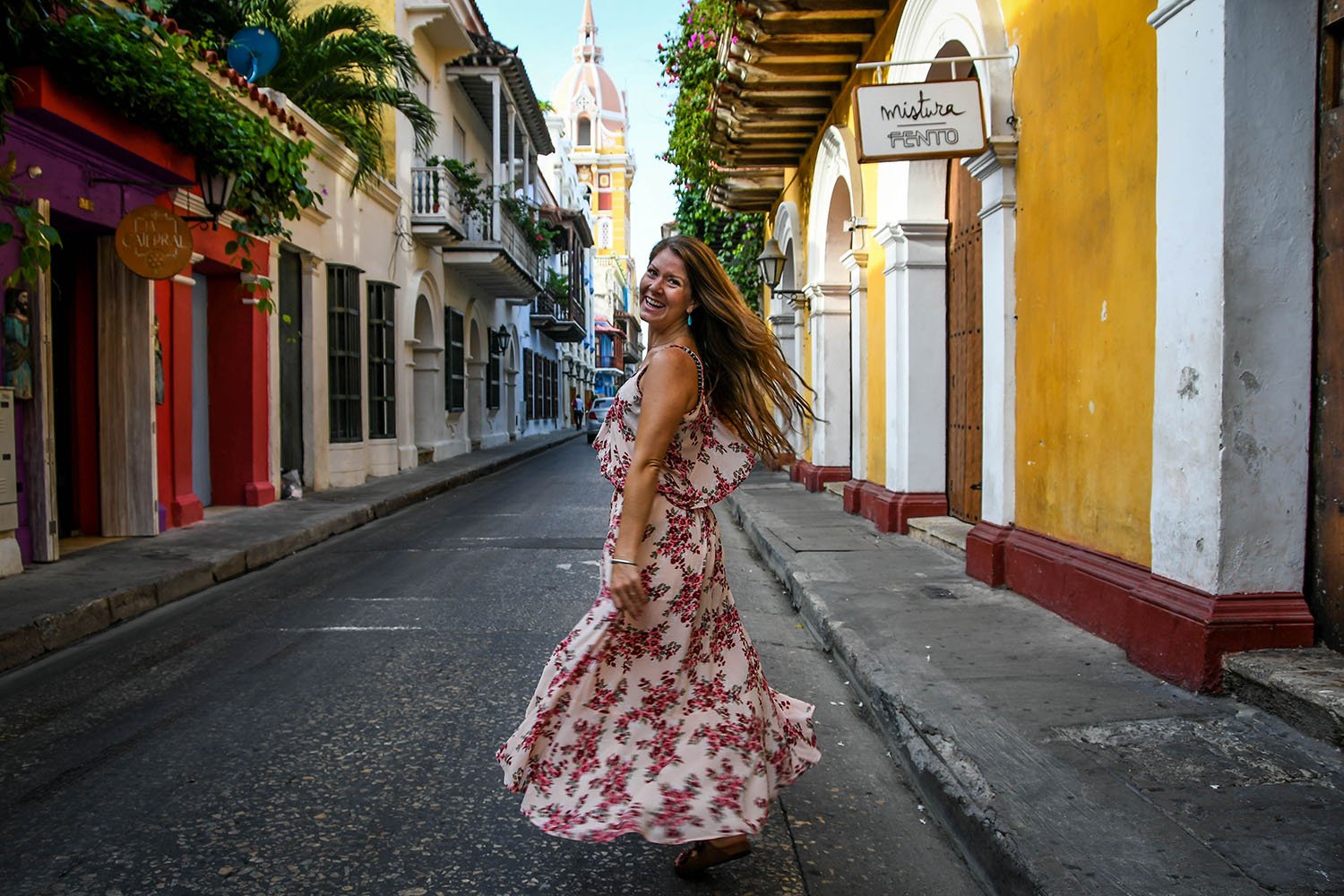 With colorful colonial buildings, tropical fruits and fresh seafood, legendary nightlife, and that famous Caribbean heat, Cartagena is often times the first city on travelers' Colombia itinerary.
If this is your first taste of Colombia, be prepared for sensory overload. There is a palpable energy that buzzes through the streets, and you'll find color and culture around every turn. You'll meet locals who are proud to call this city home, and they'll tell you about it! In the evenings, watch as the streets fill with people and food vendors; and listen to the sounds of salsa music until dawn.
Yes, Cartagena is touristy — popular with both foreign travelers and Colombians vacationing in their home country. But if you know where to look and what to eat in Cartagena, we think you'll come to appreciate this vibrant city by the sea.
Situated on Colombia's Caribbean Coast, Cartagena is notably divided into two sections: the modern skyscrapers and condos of the new city and the pastel colonial architecture of the Old City.
And while the Caribbean heat can be a lot to handle at times, you'll definitely want a few days to explore what this city has to offer.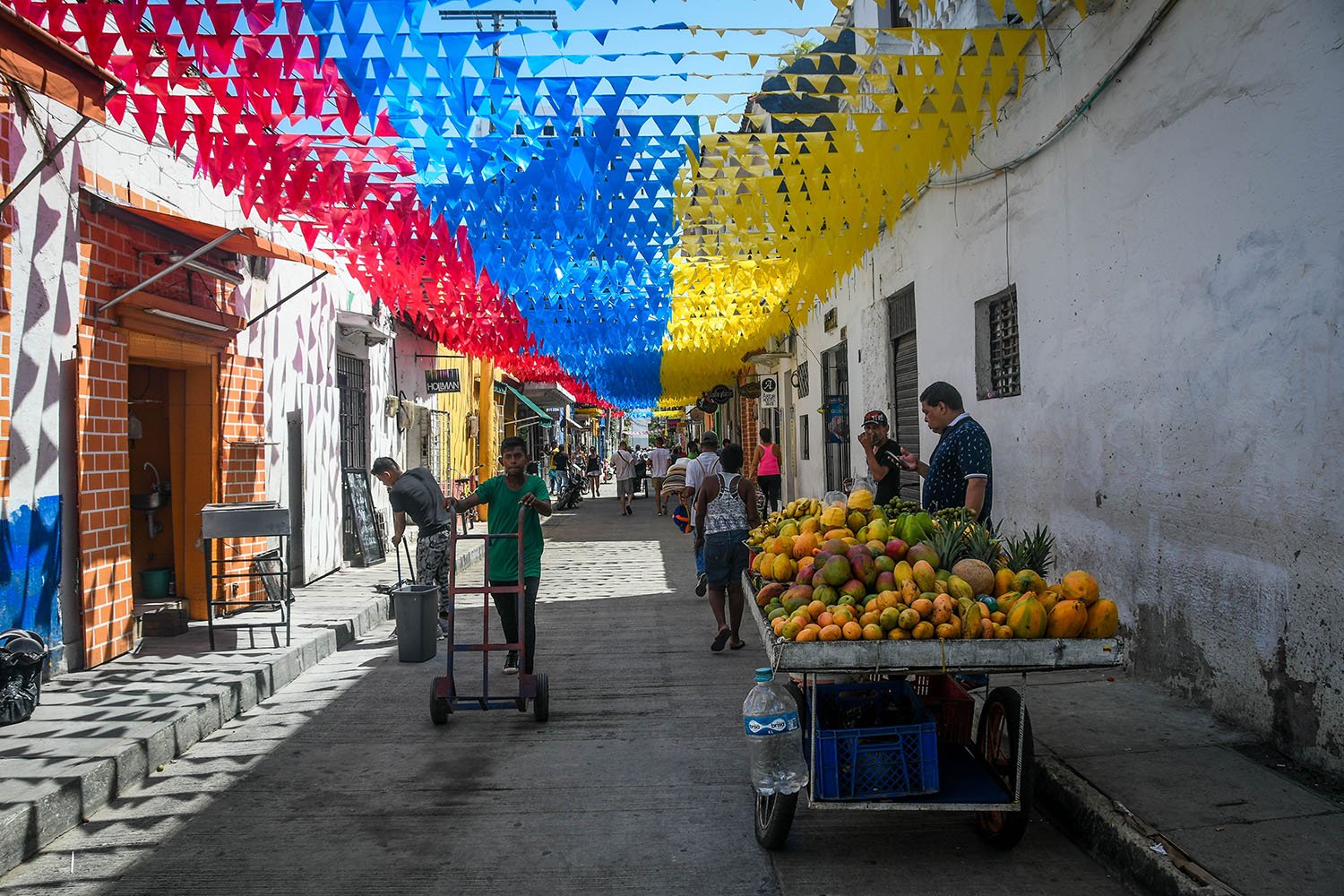 Personal Note: Cartagena is a city that holds a special place in our hearts. It was a ridiculously cheap flight to this Colombian hub and a bottle of wine that convinced us to quit our jobs and travel.
Nearly 5 years later, we still haven't returned to our "old way of life", so I guess we owe a lot to this charming town. Since our first visit, we've actually been back to this city a few times, and on each visit we discover something new.

We're going to break down a list of the best things to do in Cartagena to make planning your trip easier. We're sharing free activities throughout the city, best food to eat (you won't want to miss tip #12), worthwhile day trips, and how to experience Cartagena's nightlife.
Cartagena Article Contents
Things to do in Cartagena's Old City & Getsemani
The Old City is where you will find colorfully mesmerizing streets with flowers clinging to the walls – the Cartagena you've seen pictures of.
The Old City and Getsemani neighborhood are the best places to explore!
1. DIY Walking tour in the Old City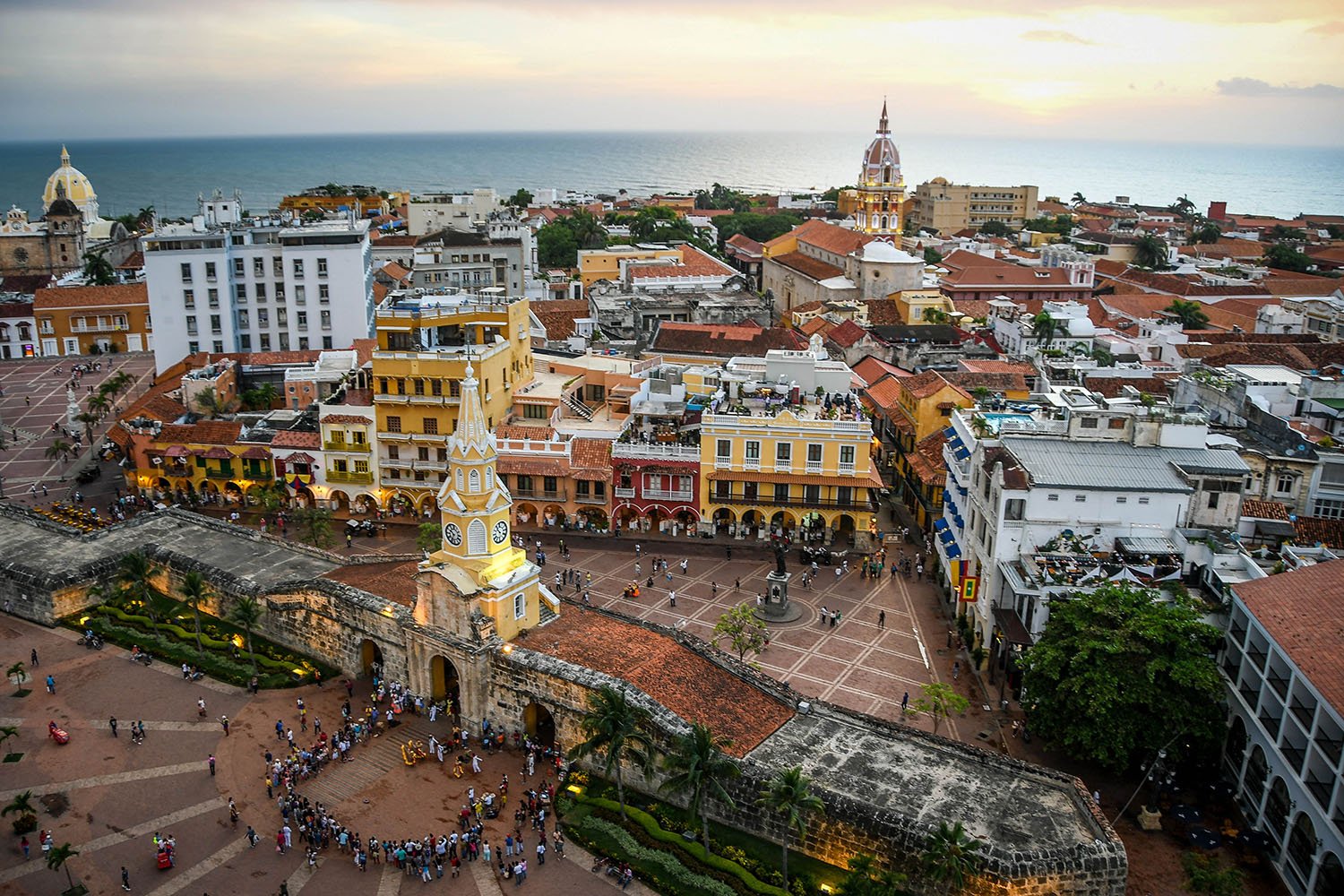 We're usually huge fans of joining free walking tours, but after hearing mediocre reviews about the ones in Cartagena, we decided to explore at our own pace.
There's something magical about getting lost among the colorful doors and beautiful plazas. But if you want to be sure you see all the main sights, we've made a Self-Guided Walking Tour for you to follow that will introduce you to the Old City's most important sights. You're welcome!
Insider Tip: Be sure to start wandering early. The midday heat is so strong here, you'll want to crawl back to your hotel room for a cold shower and nap in AC. (Speaking from experience!) Plus, starting early will ensure you'll have the streets mostly to yourself.
Clocktower
The iconic clocktower, or Puerta del Reloj, stands tall at what was the main entrance to the Old City. This was once the location of a drawbridge that linked the walled city to Getsemaní over the moat.
El Portal de los Dulces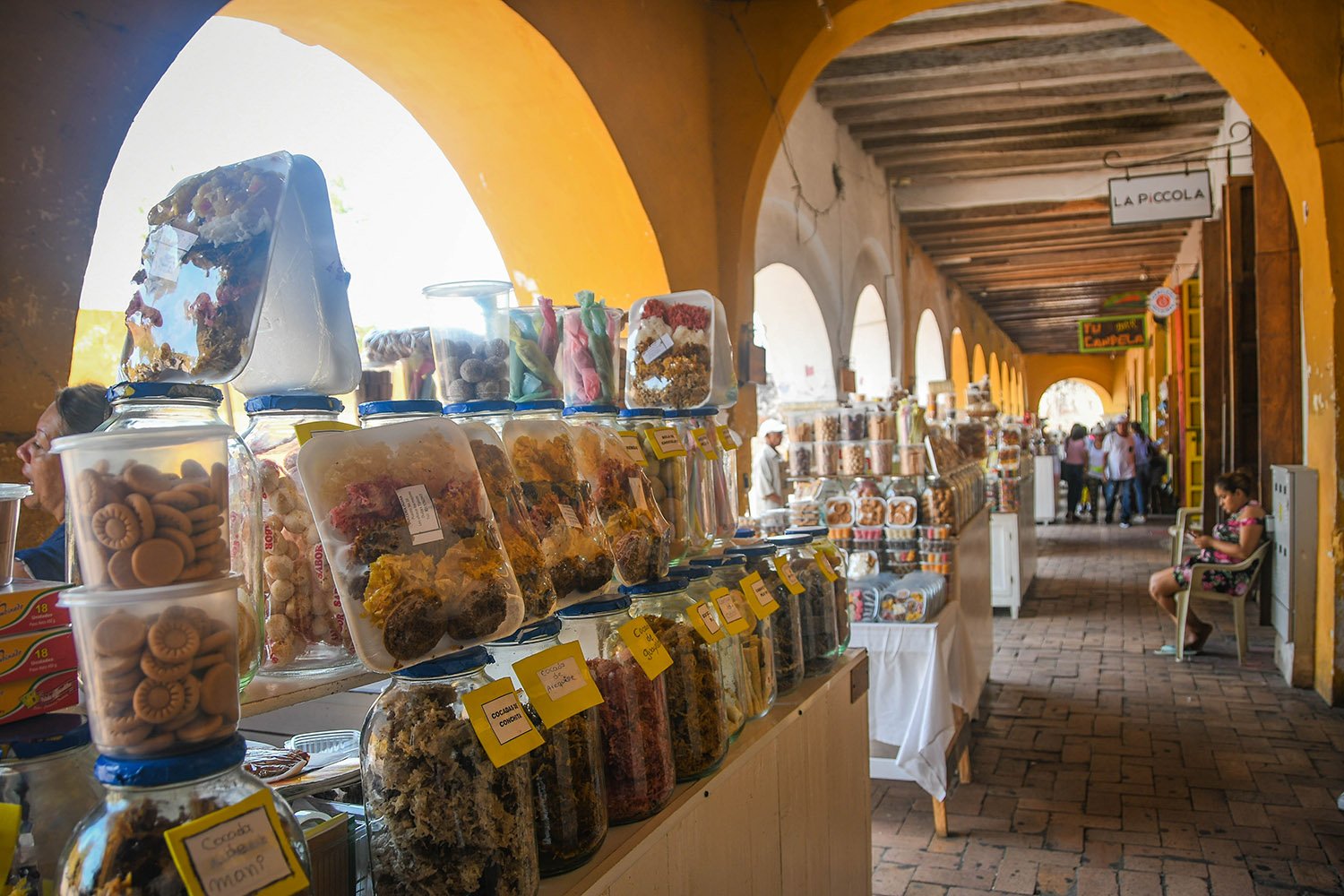 And while you're in this square, be sure to walk through the covered archways opposite the clocktower. This is known as el portal de los dulces (the portal of sweets), and is full of vendors selling traditional Colombian sweets. Whether or not you want to try them (they tend to be on the super sweet side), it's still a fun place to stroll and look at all the handmade candies displayed in glass jars.
San Pedro Claver Church
Just around the corner is the historic church, San Perdo Claver, with another nice surrounding square. If you are facing the church in the plaza, the Modern Art Museum will be to your left if you want to pop in for a bit.
Palace of the Inquisition
Known as being one of the best examples of colonial architecture in Cartagena's Old City. This is more than just a pretty building, however. It was used as a torture chamber during the Spanish Inquisition. You can take a look from the outside free of charge, but there is a fee to enter (around $6 USD). From reviews we read online, it didn't sound worthwhile to us.
Parque de Bolivar
Right next to the infamous Palace of the Inquisition is a small park dedicated to Simon Bolivar (as are many parks in this part of the world!). Sit on a shaded bench and rest your legs while you take in the sights and sounds around you. If you'd like a coffee or a snack, you'll have no problem finding a vendor who will gladly sell you one.
Plaza de Santo Domingo
Yet another picturesque square. Be sure to check out the statue by famous Colombian artist Botero, and bonus points if you pose for a picture like Ben did!
Abacus Books & coffee
This beautiful bookshop and café is a nice place to end your walking tour and refuel with a Colombian coffee.
2. Cool off at Museo del Oro Zenu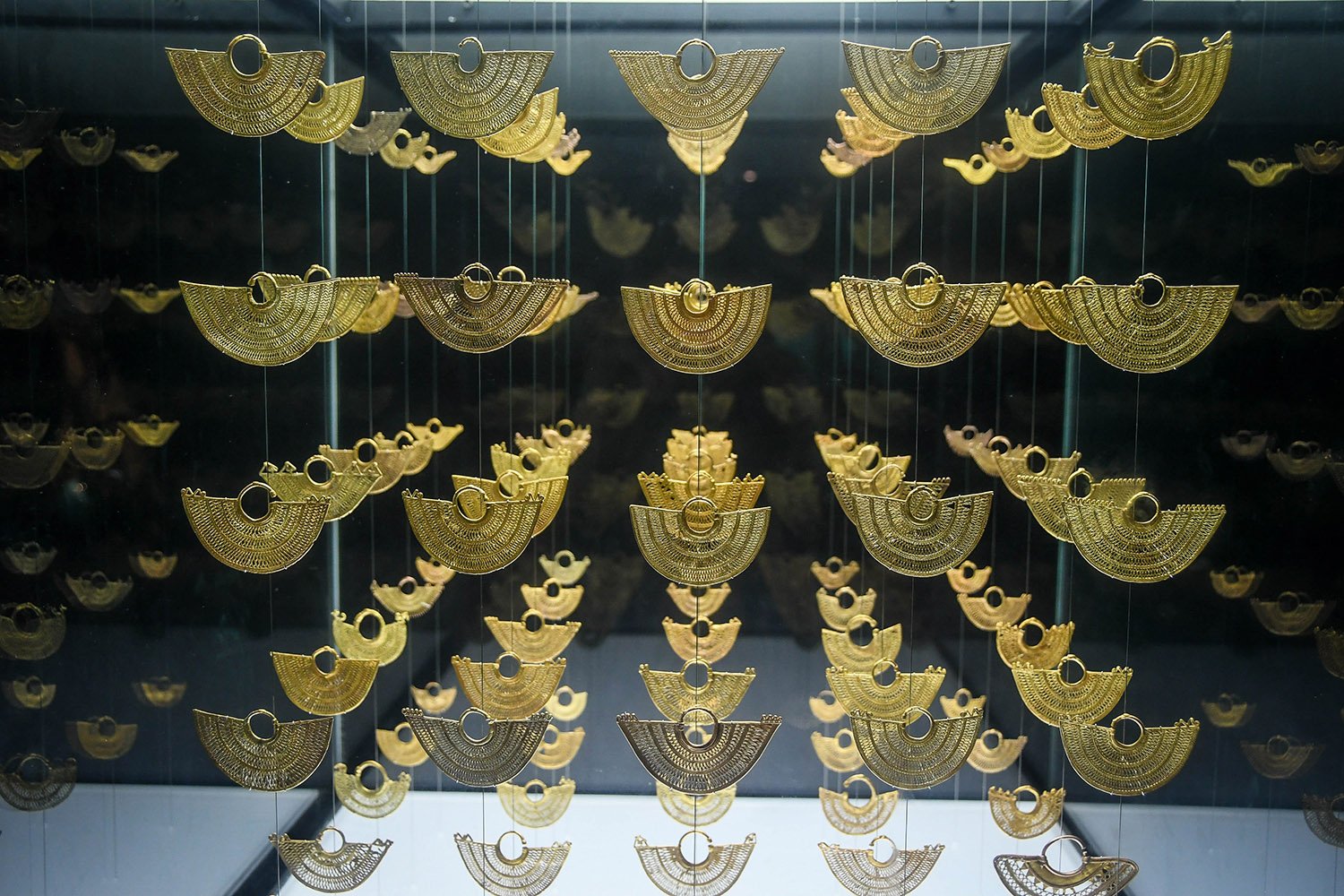 While quite small, the Gold Museum is free to enter. And the museum's strong AC means it's a great way to cool off after your self-guided walking tour (#1). Back sweat is a real struggle in this city, folks.
The museum also has a nice and clean restroom, which isn't always easy to find in this city.
But the Gold Museum is more than just a place to cool down and stop for a bathroom break. There's actually some quite beautiful pieces on display, and you can learn about the process of how gold gets from the ground to a pair of intricate earrings. It's quite fascinating, really.
You don't need any more than 30 minutes in this museum.
3. Hunt for pretty doors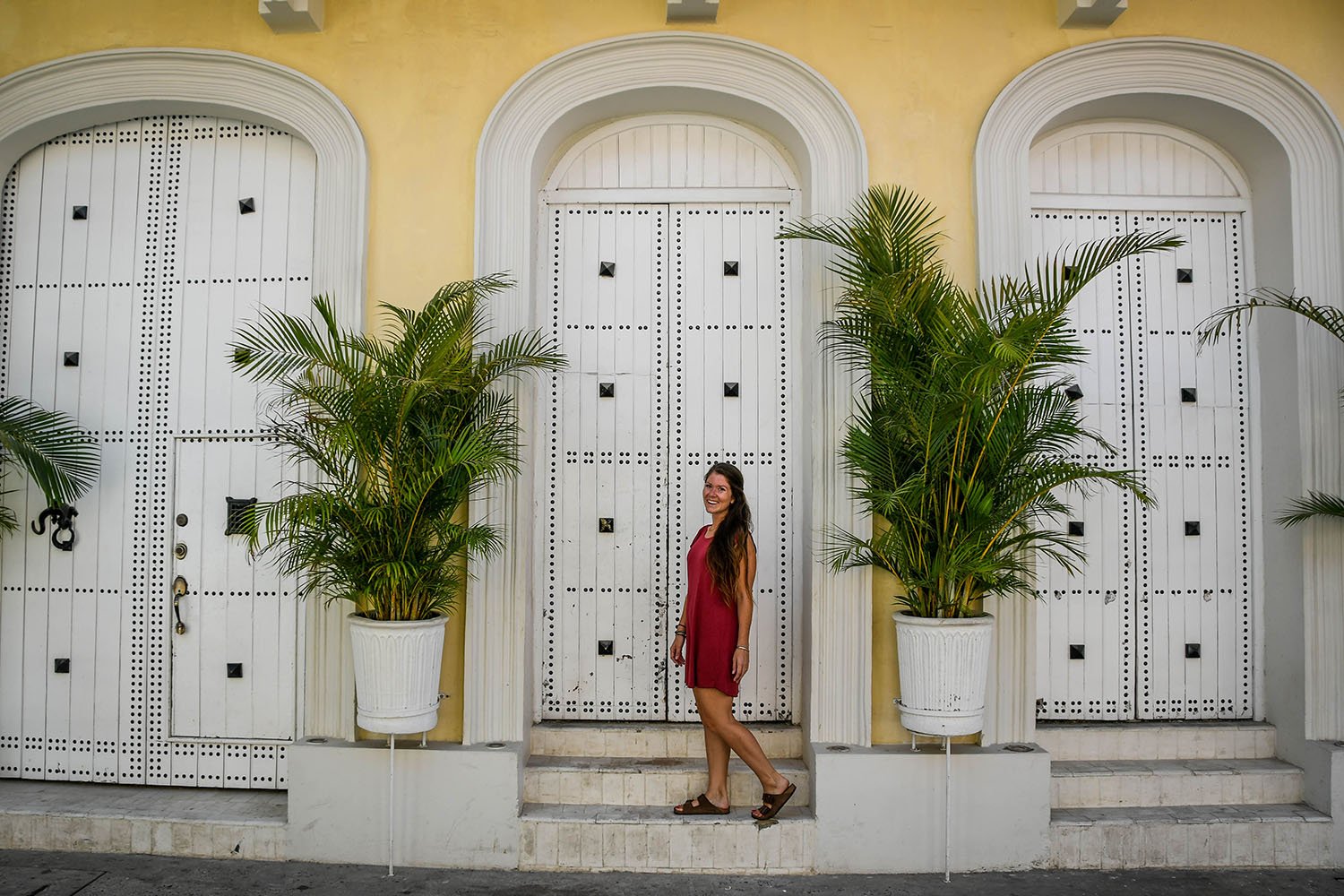 I have a thing for doors… anyone else?
Cartagena has some of the most colorful and beautiful doors I've seen, and I loved wandering around the Old City, snapping photos of my favorite ones (which was pretty much all of them).
And it's not just the doors that are beautiful… it's the walls, the flower boxes, the windows and just, well, everything.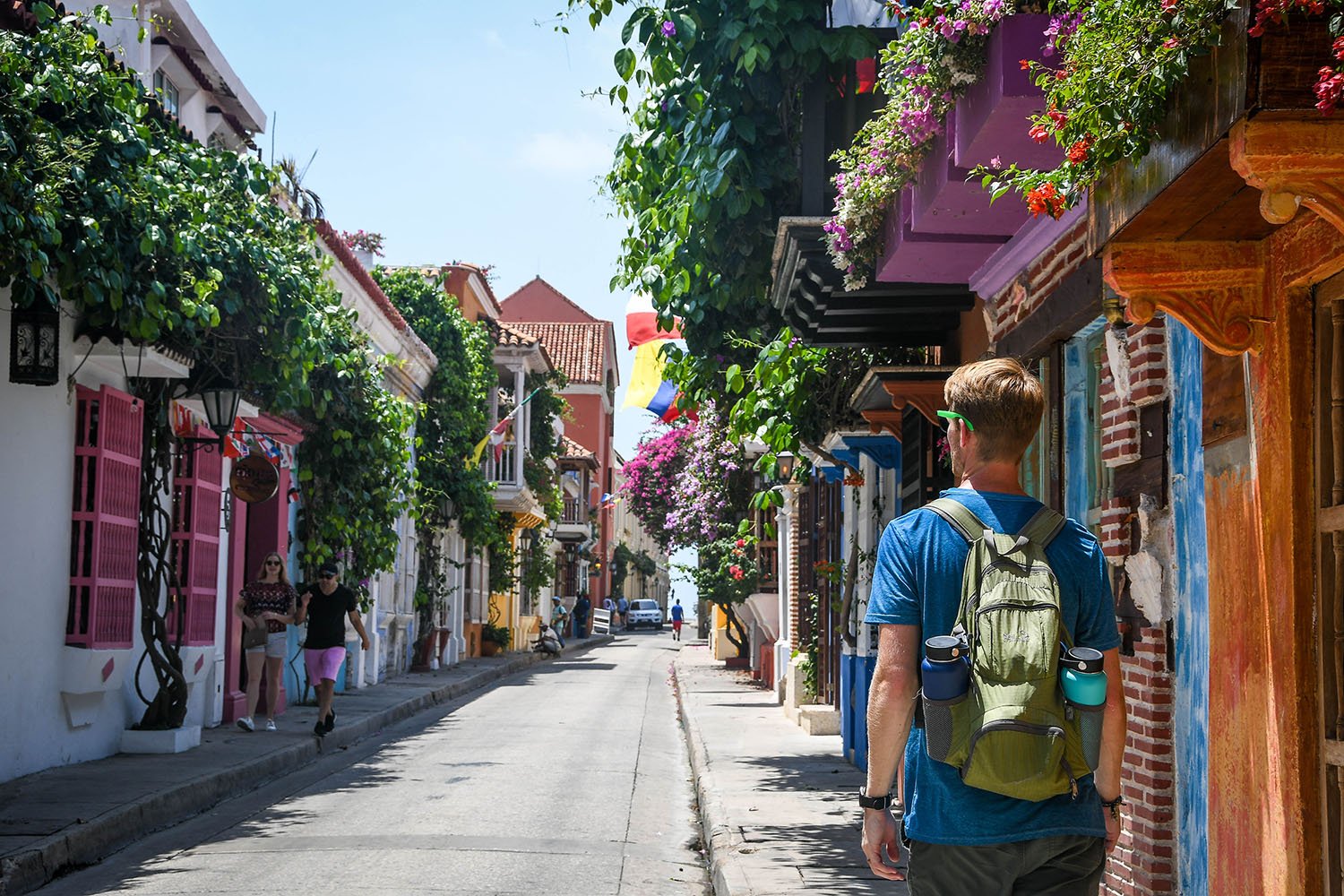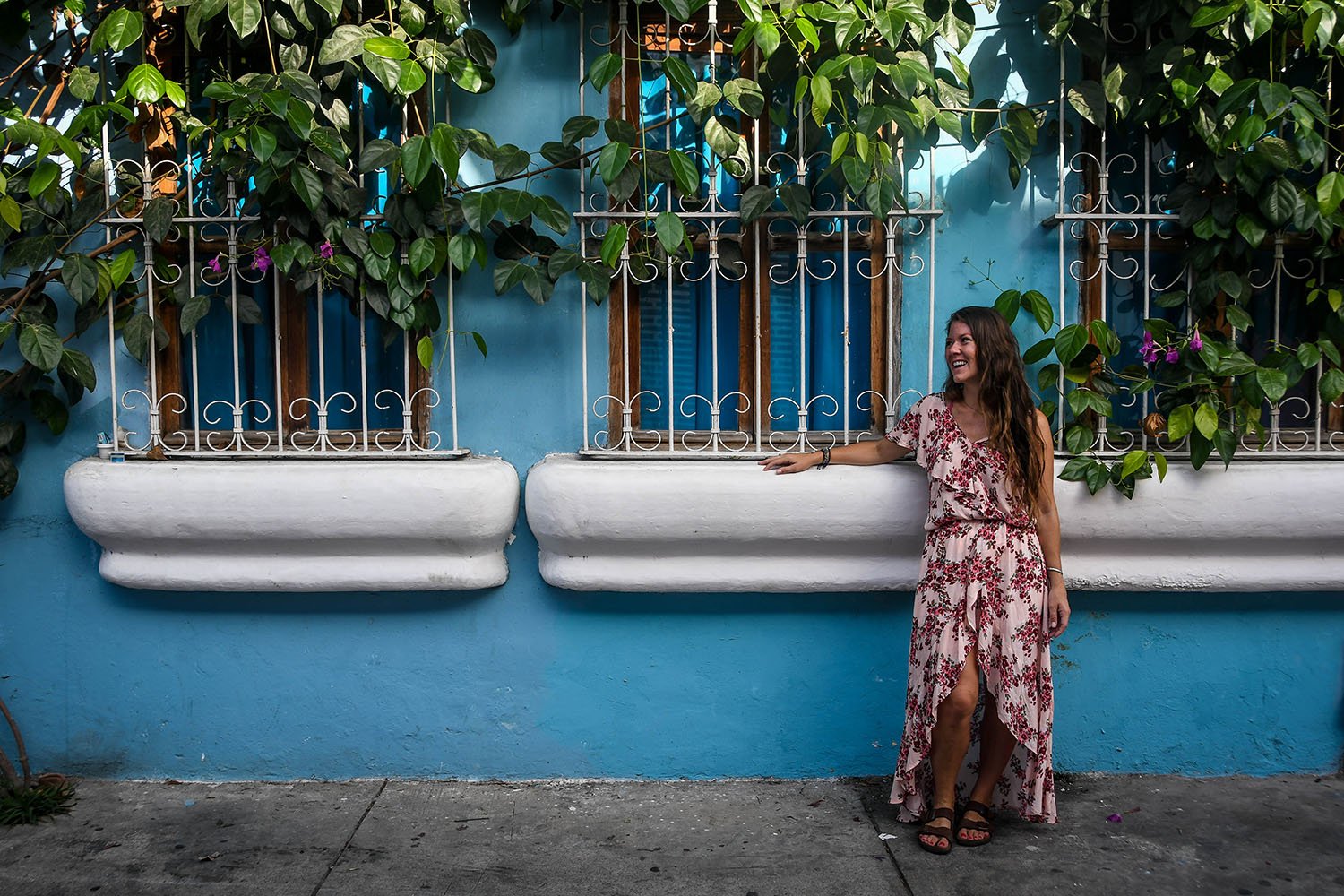 Wander around with a camera and catch some of the morning light or the lovely golden hour rays.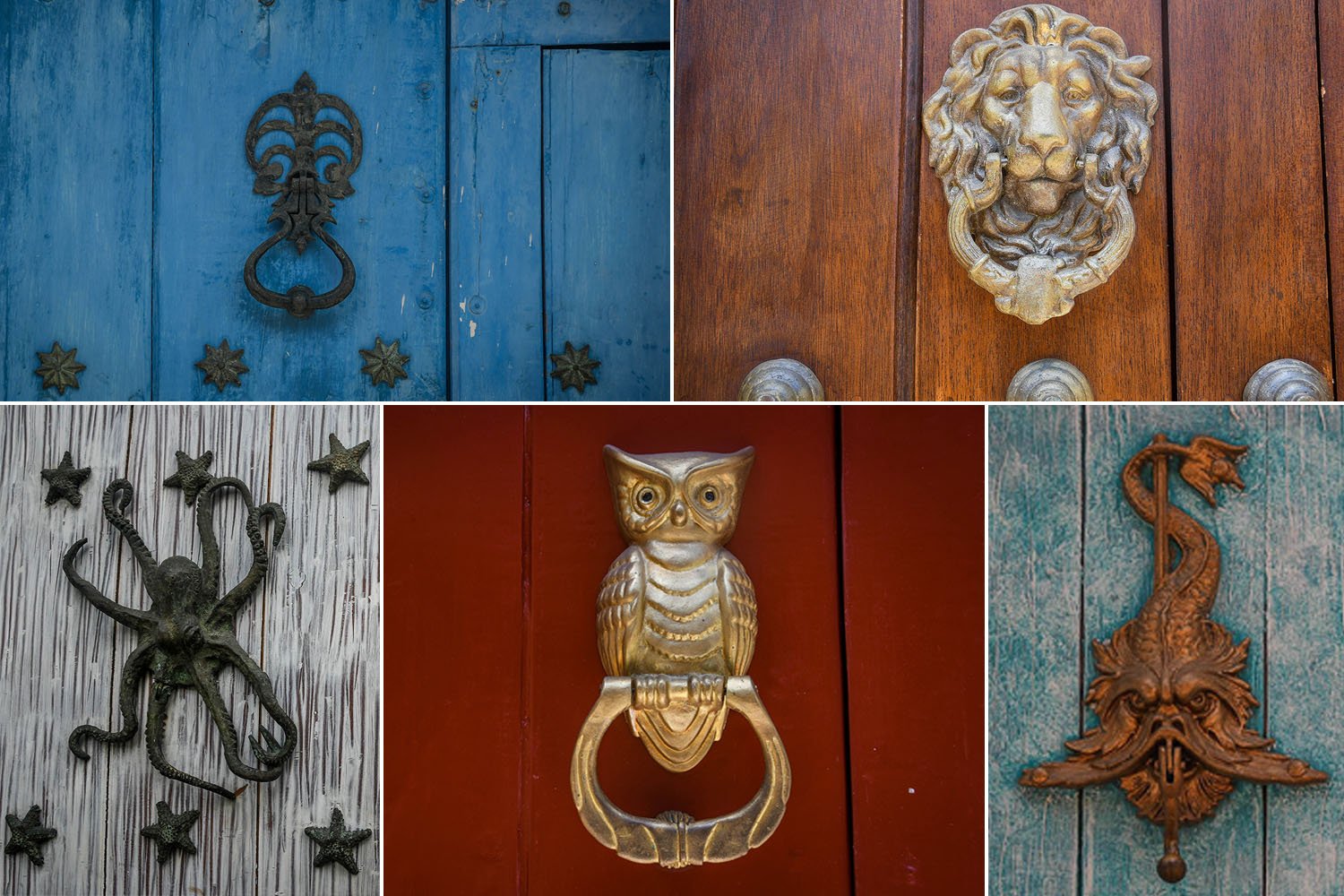 Insider Tip: Pay careful attention to the door-knockers too. There are tons of really unique ones. We spotted lizards, lions, owls and even an octopus!
4. Explore Castillo de San Felipe
Learn about Cartagena's history and get amazing views of the city all in the same place. Castillo San Felipe de Barajas is an iconic fortress located just outside the Old City's walls, and is a popular tourist attraction (for good reason).
The construction of this fortress started in 1536, and it was very advanced for its time. For example, the fort was designed so that if it was attacked by the enemy, the Colombian soldiers could still defeat them from within. And it worked! This impressive structure was attacked on several occasions, but never conquered.
Be sure to explore the extensive maze of underground tunnels, which are both interesting and a welcomed relief from the sun!
Insider tip: The sun's rays and Caribbean heat are magnified in this castle built of stone, so you'll want to visit in the morning or late in the afternoon so you can avoid the sweltering midday temps.
Set aside a few hours to get there, explore and listen to the audio guide (worth the purchase!).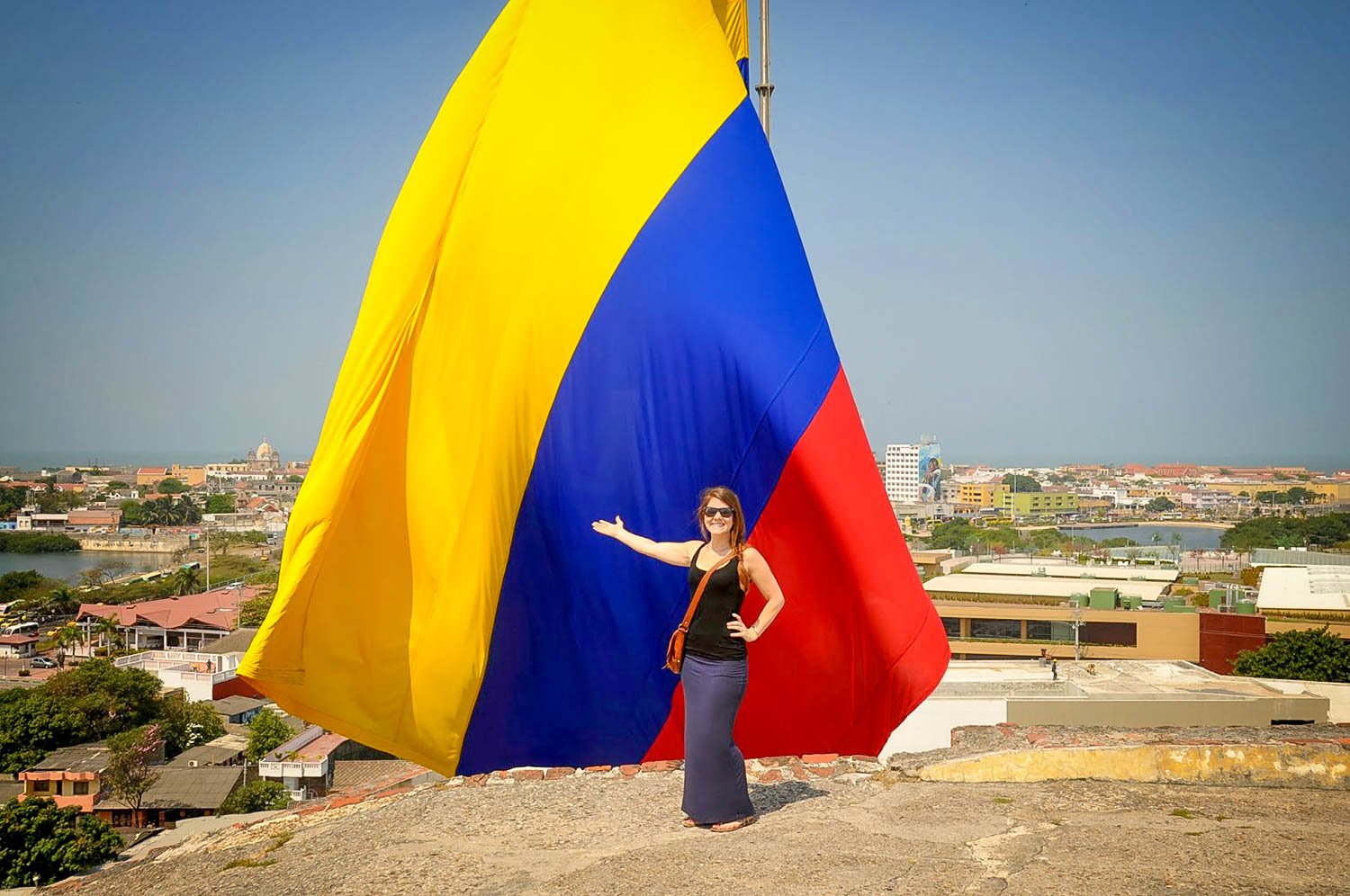 Oh, and while you're there, you've gotta get the typical shot everyone gets in front of the Colombian flag. Because, well, it's pretty damn huge.
5. Search for Street Art in Getsemani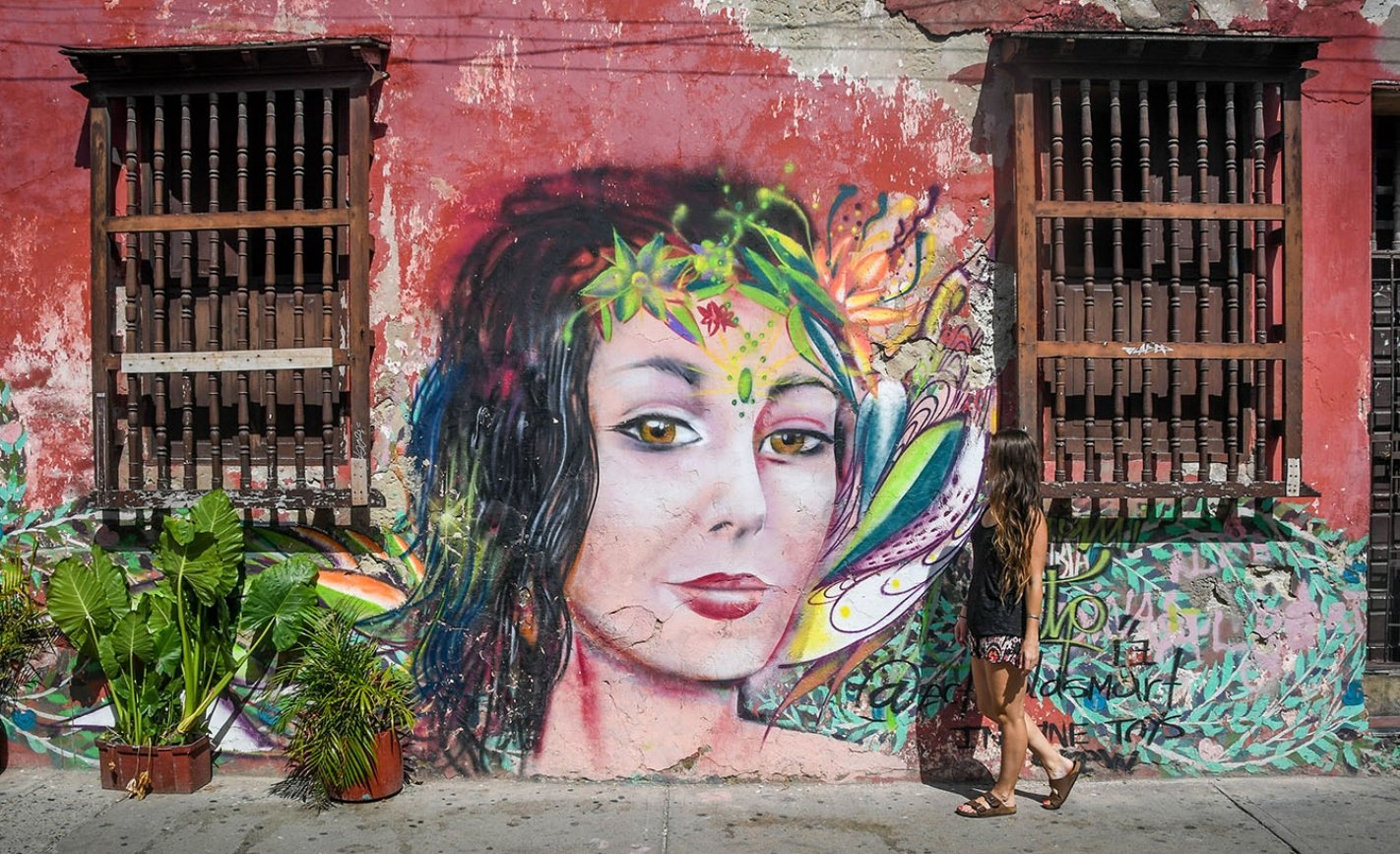 The neighborhood of Getsemani is a great place to spot street art.
You can wander around and get lost in the back alleys at your own pace, or you can join a guided free street art tour which starts at 10 a.m. each day.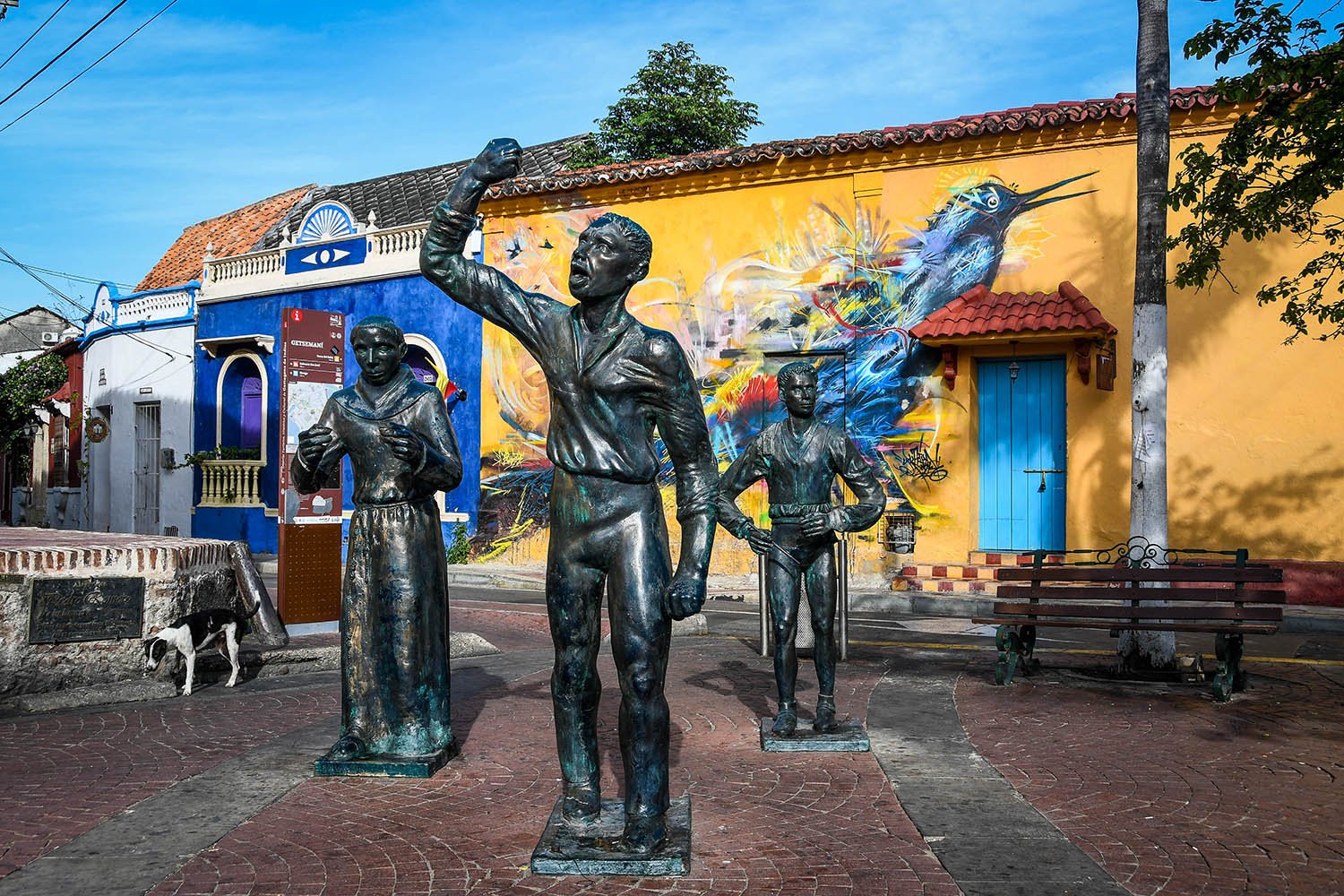 The tour is led in English and lasts for 2 hours. While this is a free activity, be sure to tip your guide at the end!
6. Support a Vendor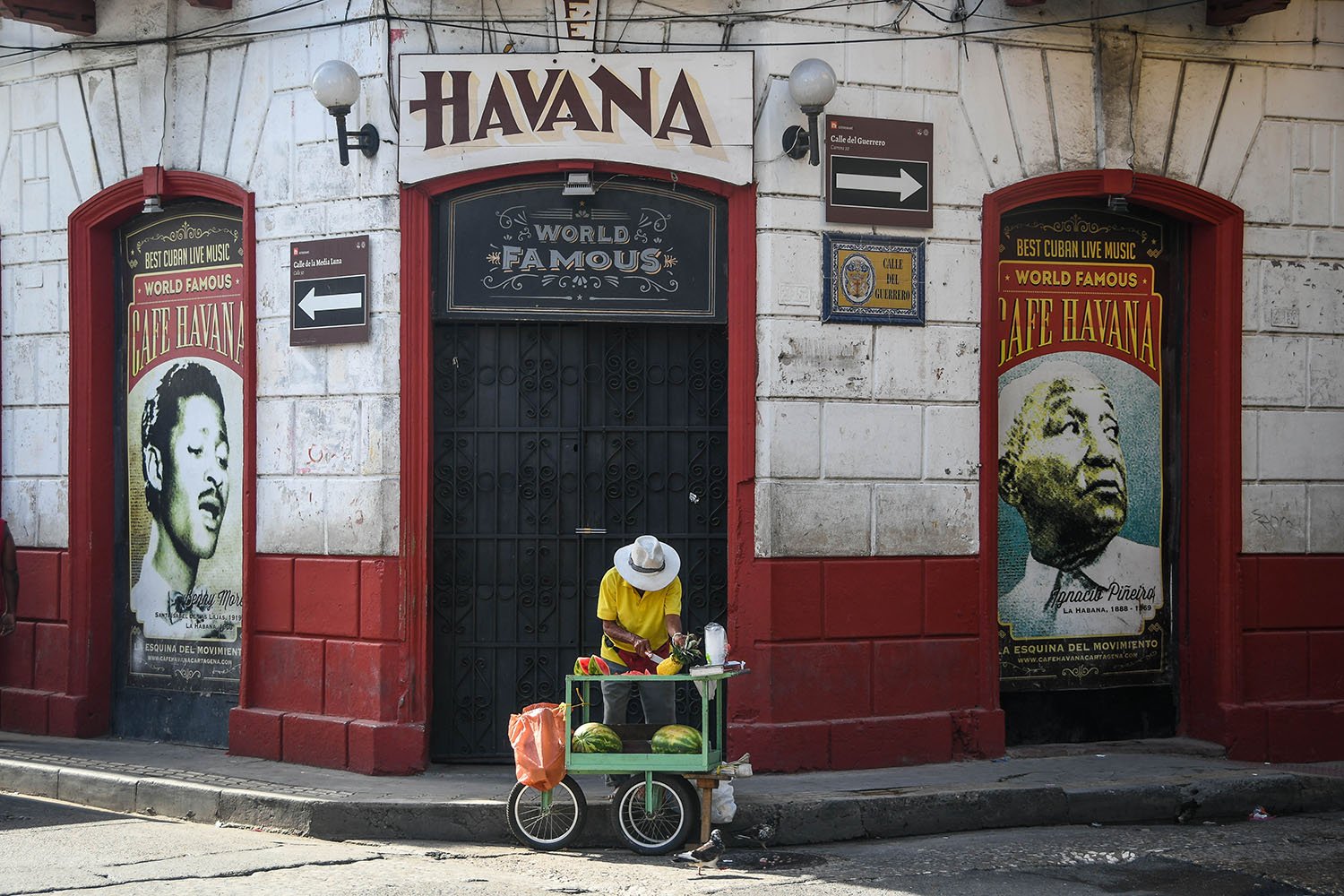 Buy fresh fruit from a cart vendor (they're everywhere!). They work hard being out in the heat all day, so it's nice to show them a little support!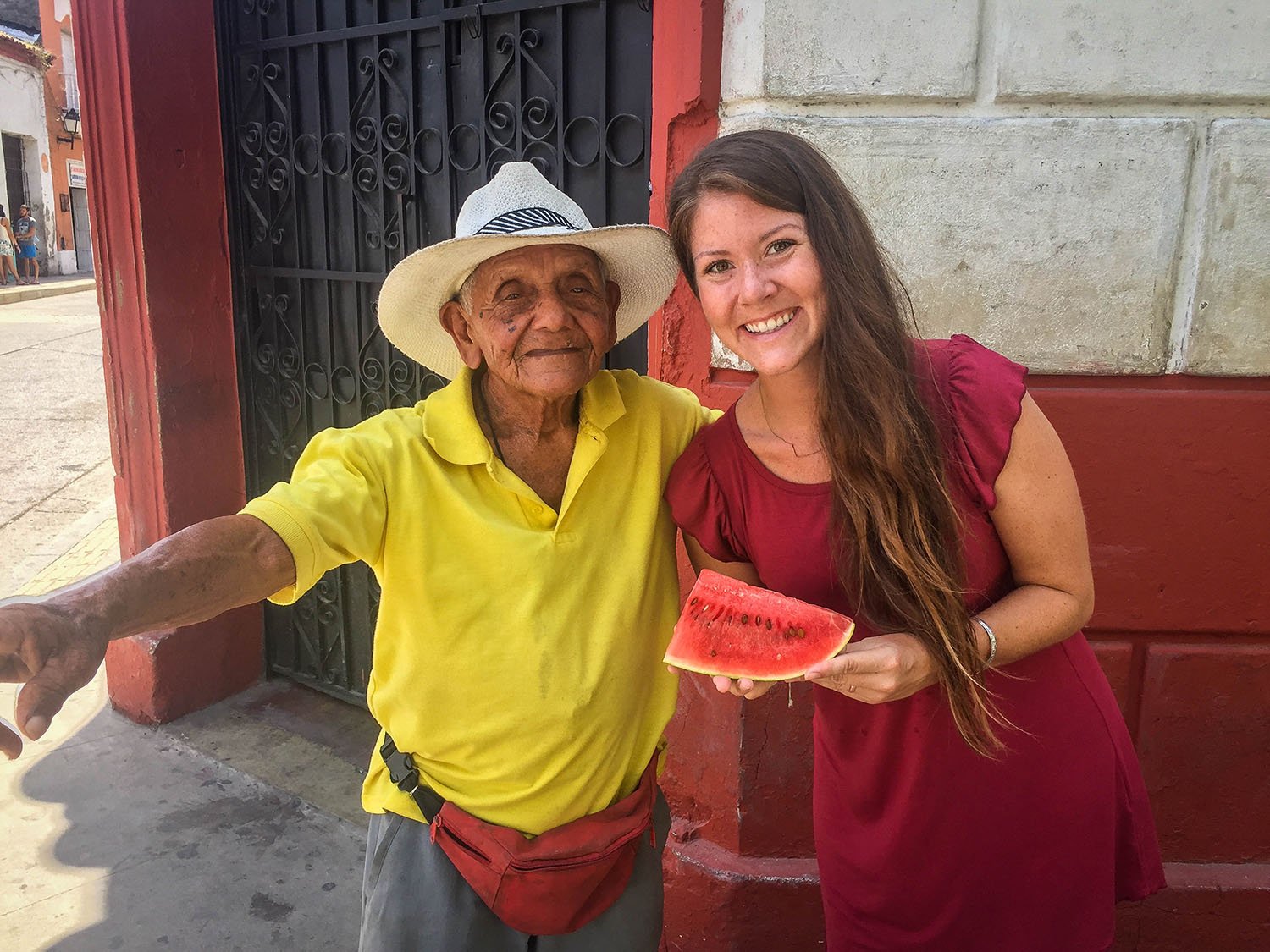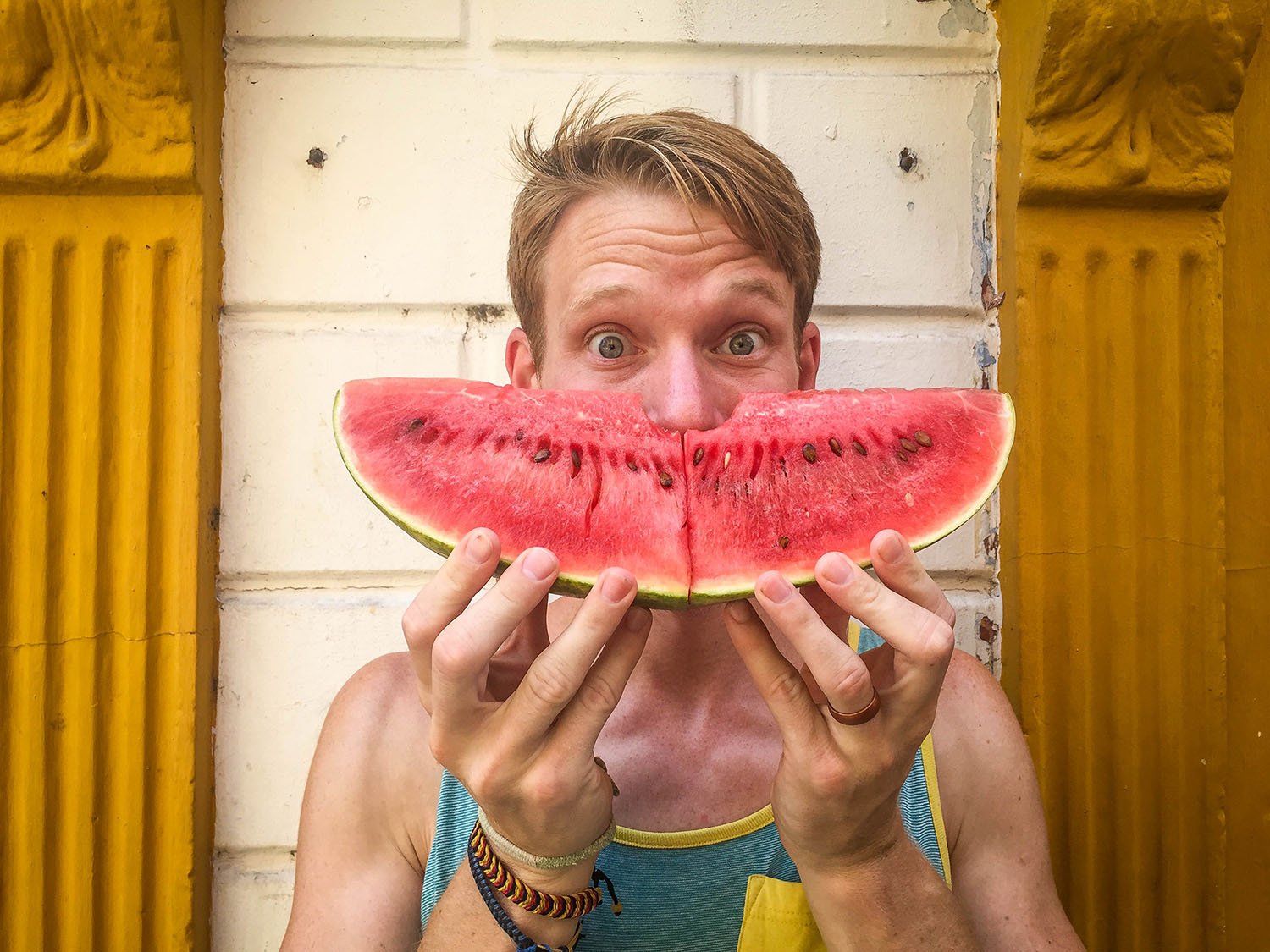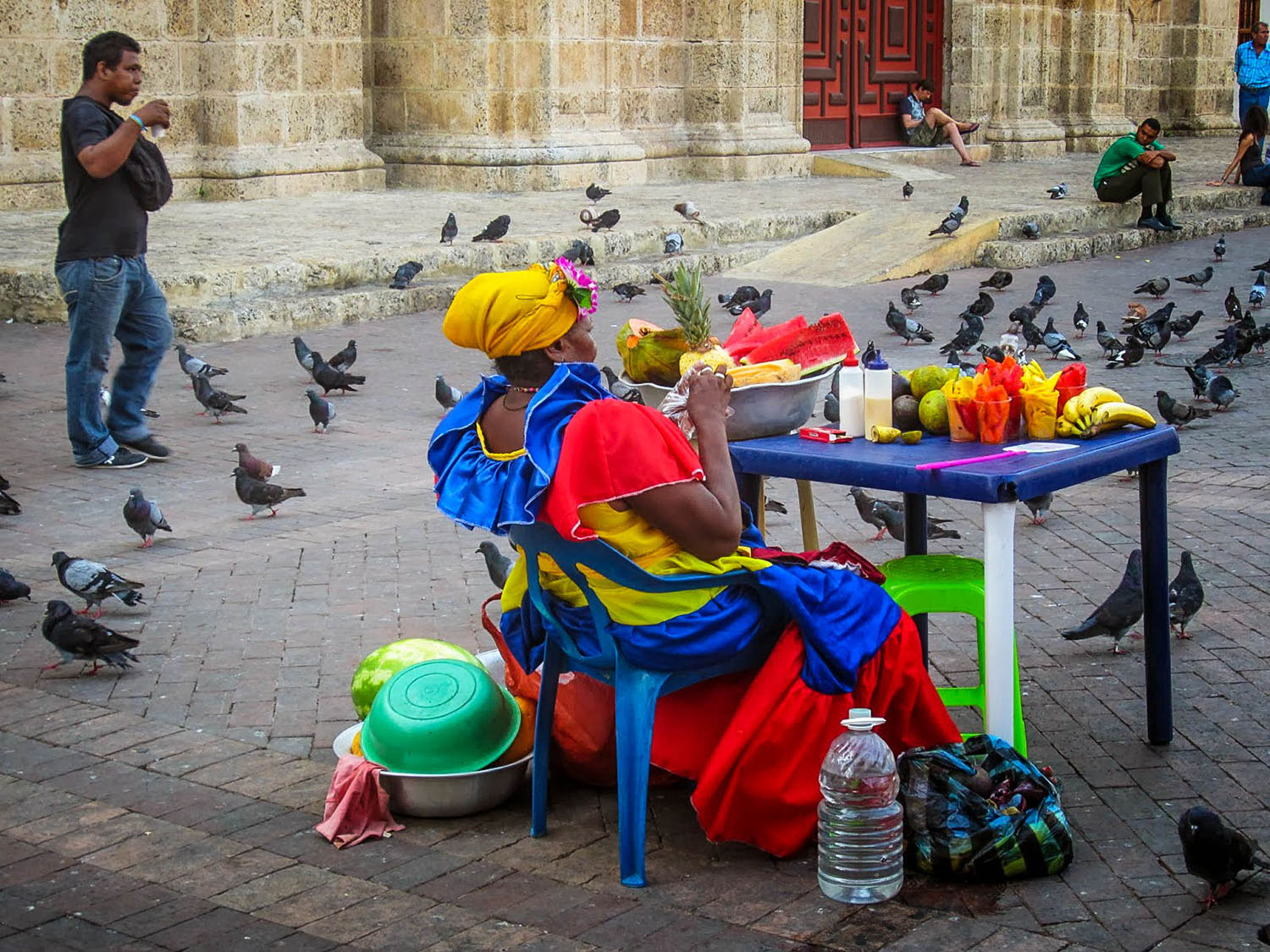 Good to know: If you want to take a picture with one of the colorfully-dressed women with fruit baskets (an iconic Cartagena sight), you will need to tip them.
7. Take a Spanish Class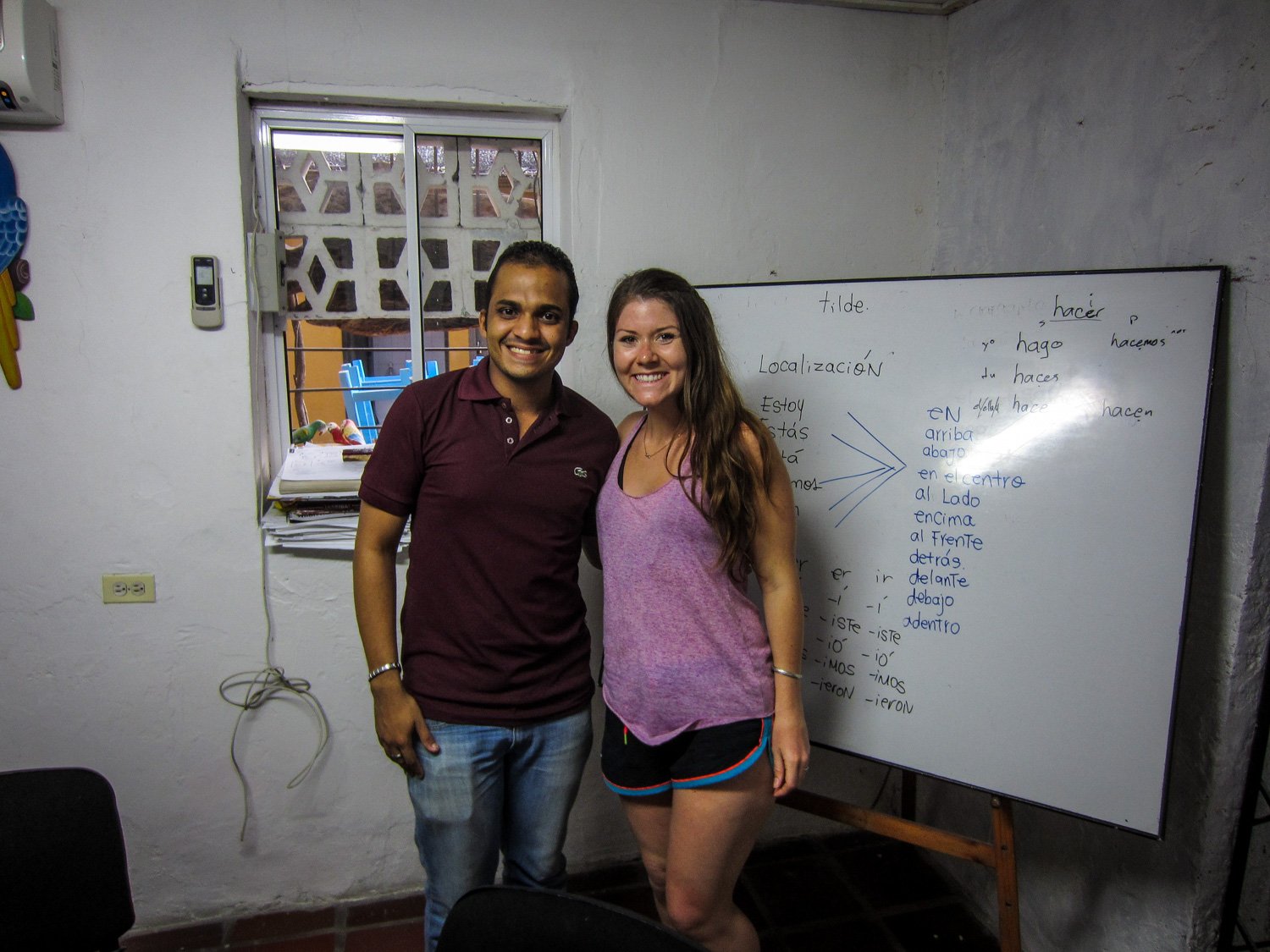 If Cartagena is your first stop on a South American trip, why not spend a few days polishing up your Spanish skills? We did just that and enrolled in 5 days of Spanish classes before continuing our travels through Colombia, Ecuador, Peru and Boliva. It was a good chance for us to ask questions, learn travel vocabulary, and practice pronunciations (and attempt to rid of our God awful gringo accents!).
We took classes through Nueva Lengua and were happy, but there are many Spanish courses to choose from in this city. There are group lessons as well as private classes, depending on your level and budget. Plus, being that there are lots of things to do in and around Cartagena, it makes a good place to base yourself for a while.
8. Free bike tour
If you prefer to see the Old City on wheels rather than on your feet (it'll be breezier than walking!), sign up for Free Bike Tour Cartagena.
You rent the bike (find them around the city starting at 5,000 COP per hour) and the tour guide is added for free!
Know that the guides work for tips, so if you have a good time, it's customary to give them gratuity. The tours are fun and informative and last around 2 hours.
9. Walk on top the Old City Walls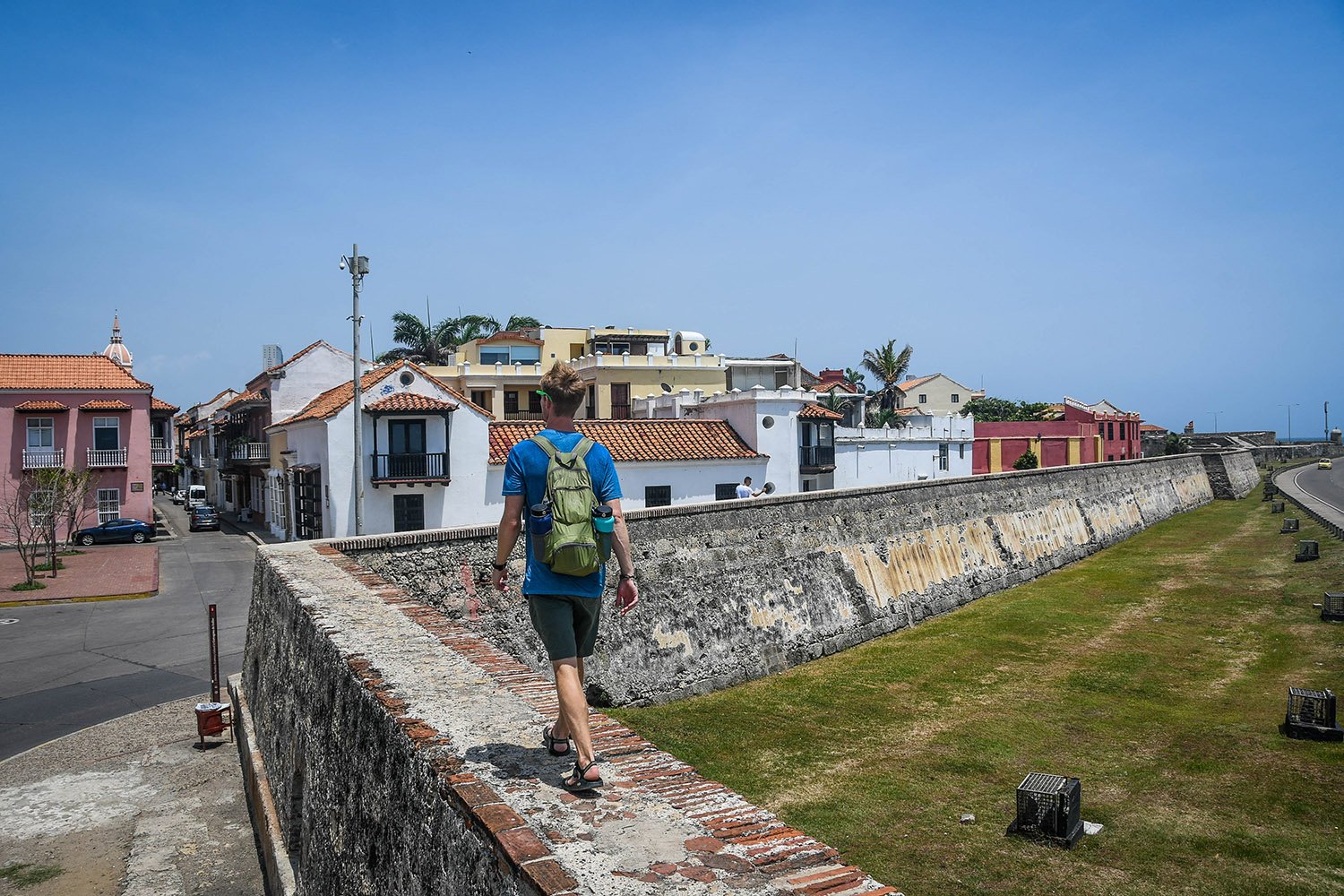 The Old City is still surrounded by walls, and there are places where a set of stairs makes it possible to climb up and walk along the perimeter.
Simply head toward the sea, and when you reach the wall you won't have to go very far to find a staircase.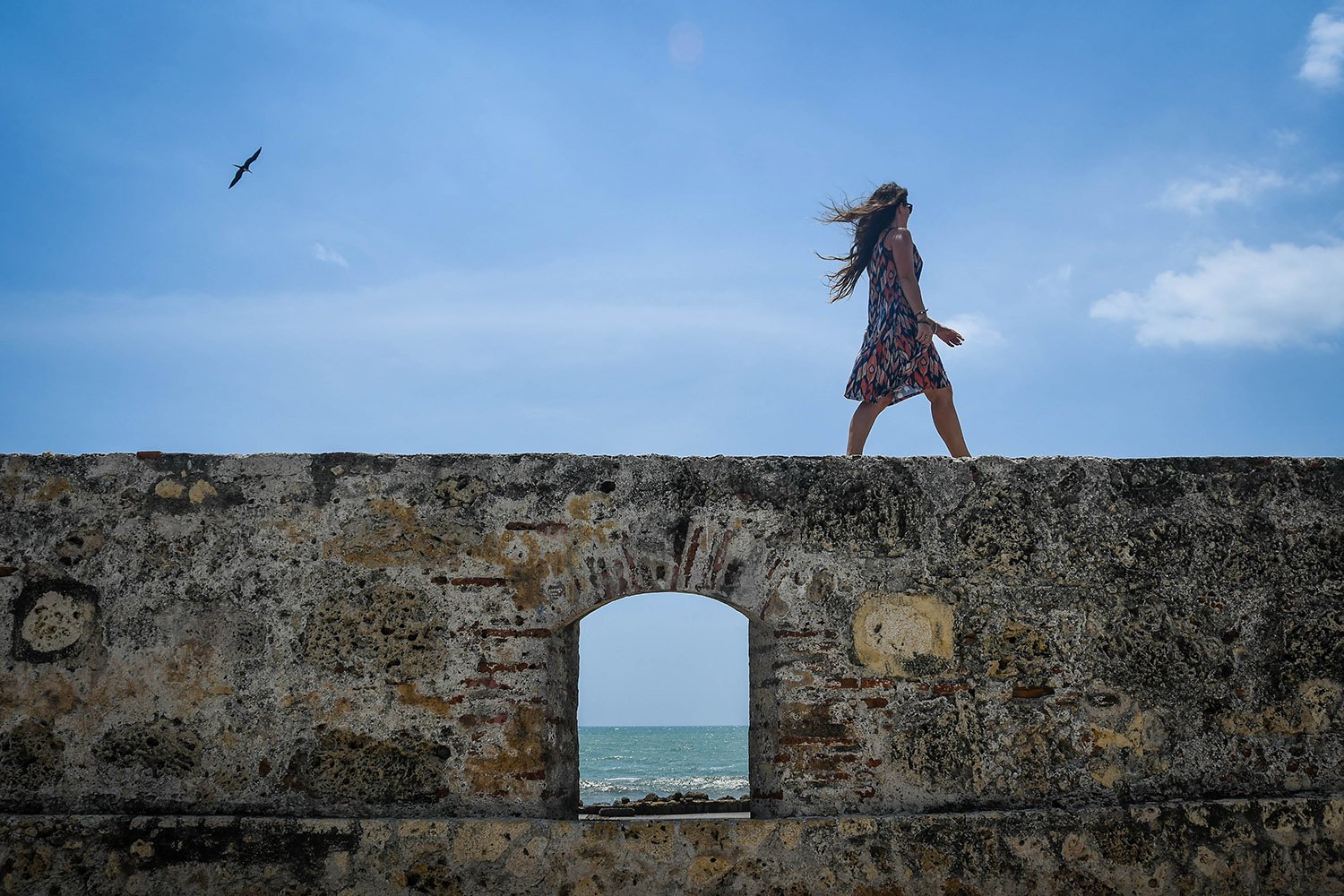 Just know that walking along the Old City walls will leave you totally exposed to the sun, and guys, the sun here is no joke. It's best to do this in the morning or late afternoon. And whatever time you go, be sure to apply that sunscreen!
10. Get away from the tourists at Mercado de Bazurto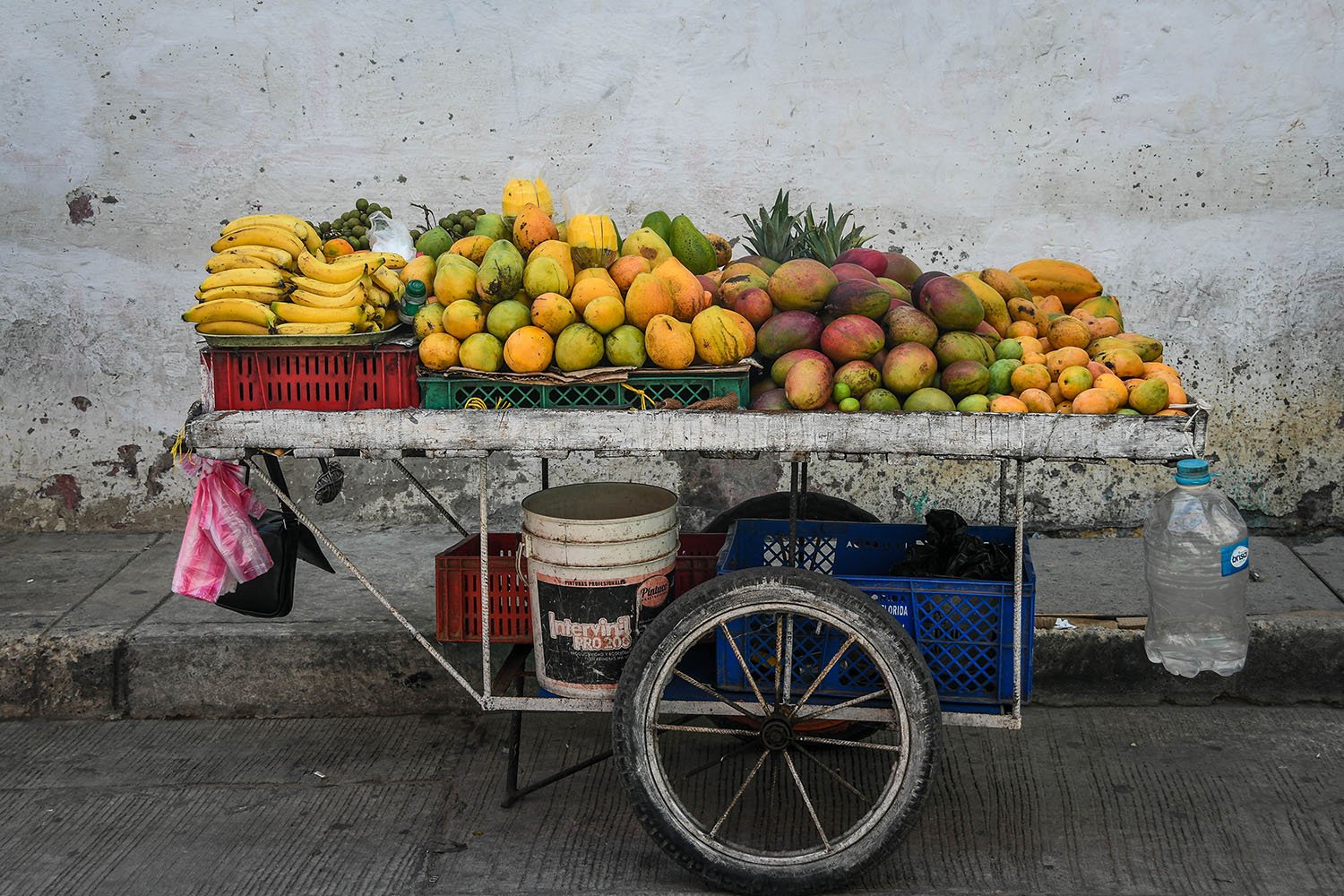 Okay, this one is outside of the Old City, but it's worth a trip if you want to get a bit off the typical path.
This marketplace is where locals go for the freshest fish and produce, and it can be a bit overwhelming and busy. This market isn't a place where you'll find souvenirs, and is unlikely that you'll see many other foreigners wandering amongst the stalls.
We love exploring markets to get a taste for how locals live and to see what fruits and vegetables are most important in the country's cuisine.
---
Best Day Trips from Cartagena
There are several different day trips you can take from Cartagena. And any time you walk around the Old City, you'll be approached by vendors selling tours.
We're sharing two tours we did along with honest descriptions so you can decide if they are worthwhile to add to your trip to Cartagena.
11. White sand beaches of Playa Blanca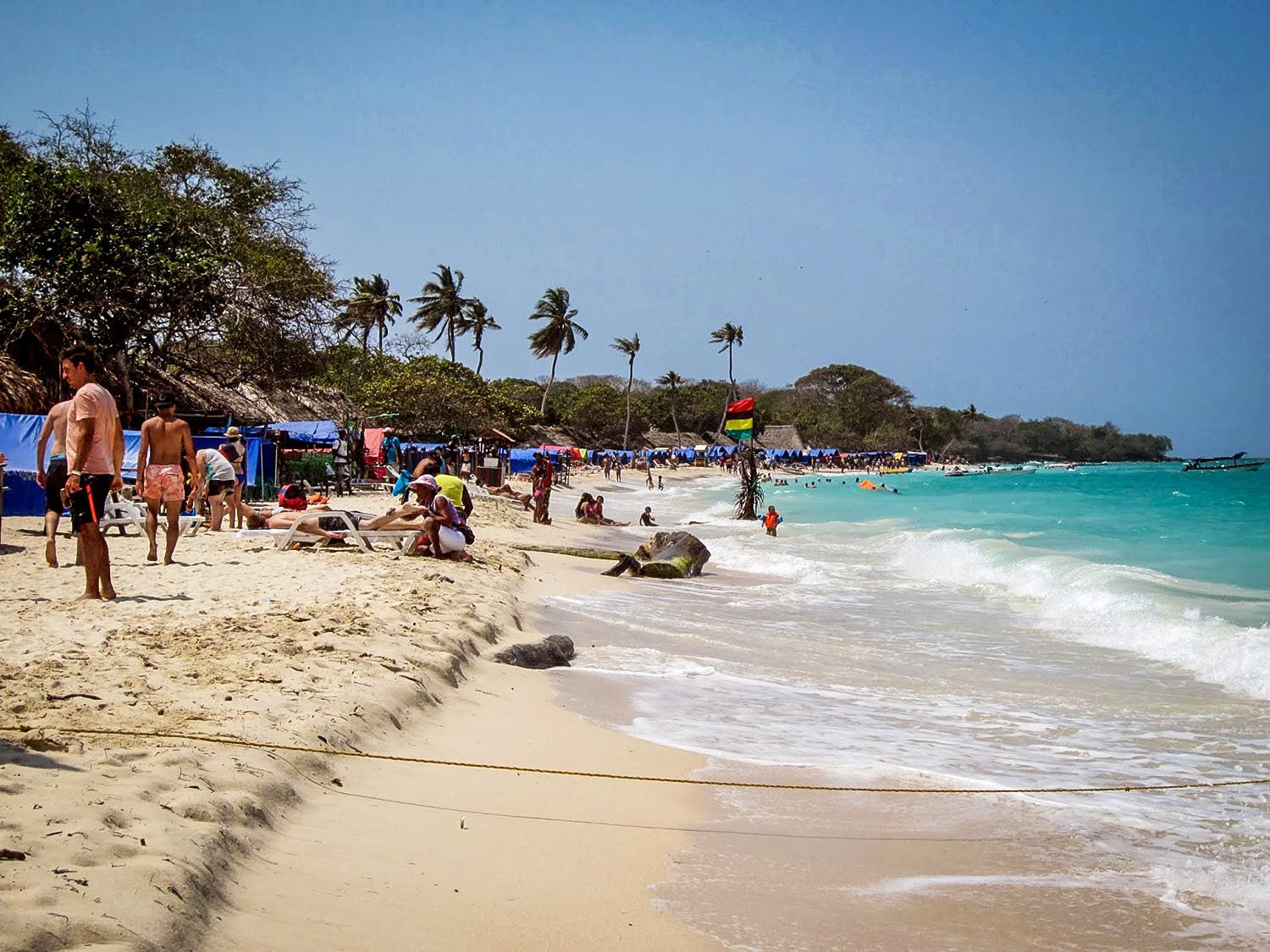 To be honest, if you're looking to relax on a beautiful beach, we'd recommend getting out of Cartagena altogether. The beaches within the city leave a lot to be desired, and the nearby islands tend to be saturated with very pushy vendors.
If you have time, head to Tayrona National Park or Palomino for a better beach experience.
But if you want to soak up some rays without sitting on a bus for 5+ hours, we can totally understand. We went to Playa Blanca on a day trip during our first visit to Cartagena, and let's just say, it's an experience…
The beach itself is really beautiful — white sands and all! But the vendors nearly ruined what we were hoping would be a relaxing day at the beach.
Read an excerpt from our travel journal to see what to expect on a day trip to Rosario Islands and Playa Blanca.
Insider Tip: We think the best way to see this beautiful beach is by spending the night (or two!) so you get to enjoy it without the crowds of day-trippers. We met some people who did this, and they had a great time!
12. Day trip to Volcan del Totumo
A busload of tourists + a volcano filled with mud = a rather interesting (and surprisingly fun!) experience.
As long as you know this is super touristy activity and come prepared to let loose and have fun, we think you'll enjoy gettin' dirty in this faux "volcano".
Read an excerpt from our travel diary from our visit back in 2014, which describes our Volcan Totumo experience in detail so you'll know what to expect.
SPOILER ALERT: It includes a muddy massage and getting "bathed" by local women who know no boundaries!
---
Best food to eat in Cartagena
We're sharing some of the top foods to eat while in Cartagena. Please don't miss #12!
13. Drink fresh jugo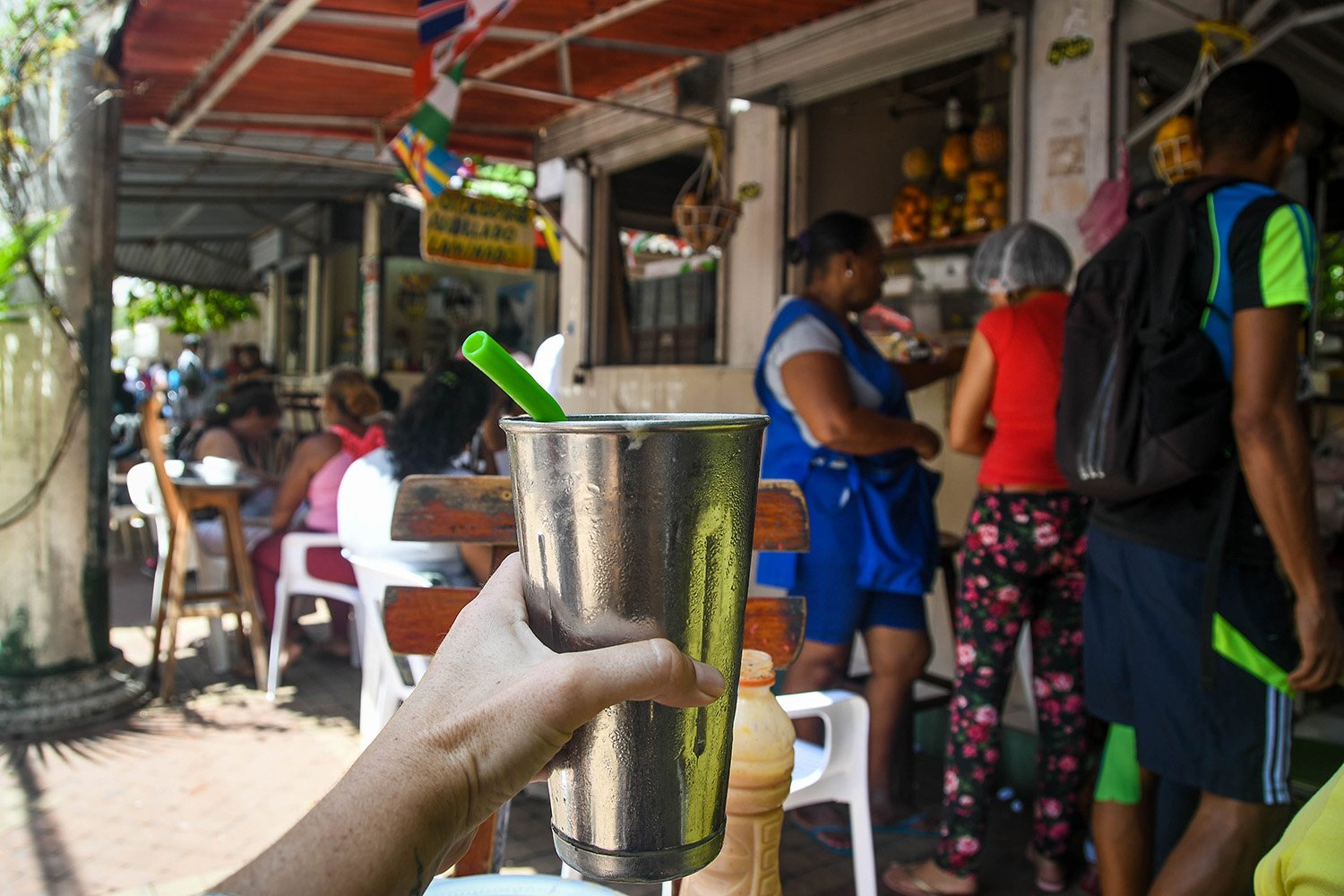 You can't spend much time in Colombia without seeing fresh juice stands. And you'd be crazy not to try it!
We're going to let you in on a secret, so listen up. We found the BEST juice stand in Cartagena, and we're giving you directions…
During our first visit to Cartagena, we stumbled upon a juice stand that was shaded by big trees and had plastic chairs that were occupied only by locals.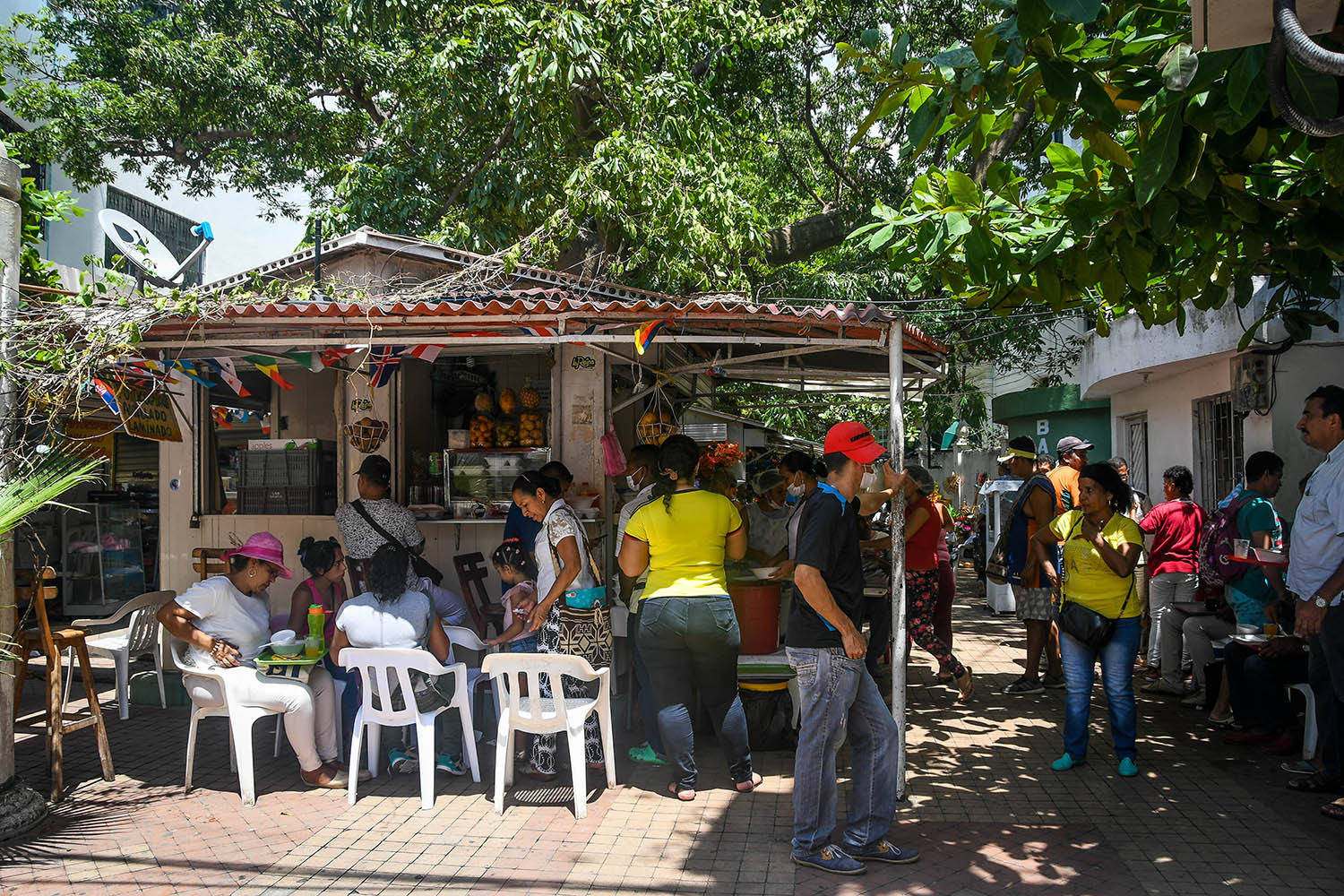 We sat down and didn't know what to order, so we asked to be surprised. Behind the counter, we watched as a fruit we had never seen before was peeled and plopped into a blender with milk and a bit of sugar. The juice was handed to us in an enormous metal cup, and we didn't know what to expect.
But oh my goodness, the juice was heavenly. Turns out that mysterious fruit is called lulo, and is found in select parts of South America. Mixed with milk and sugar, this tart fruit juice is perfection. If I had to describe the flavor, I'd say it's kind of like passion fruit mixed with lime, but don't just take my word for it… Go out and try it yourself!
(And send us a message after you've tried it. It would make our day!)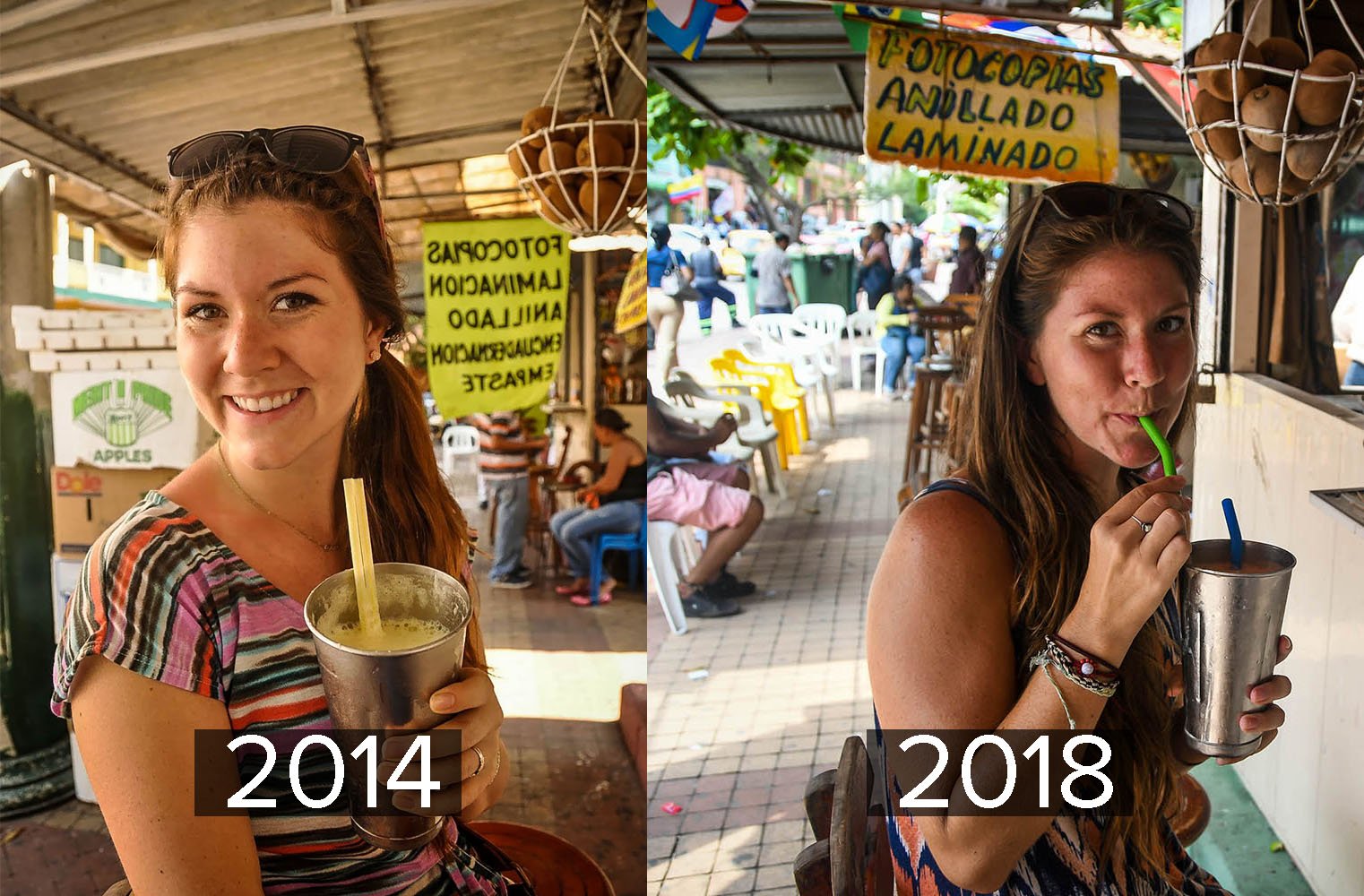 We returned to this exact stand 4 years later and were worried our expectations were too high. But no, it was just as good as we remembered. And sitting there in the chairs next to locals is an experience in itself. We've visited this stand at least 8 times and never saw one other gringo there, so it's a great opportunity to practice your Spanish! In fact, the locals seem a bit surprised each time we walk up and order.
How to get there: There is not really a good landmark for where this jogo stand is. It is tucked in between all the banks of offices buildings in a row of other juice stands. If you search "Refresquería Parque de las Flores" in Google Maps, It should bring you stright there, just outside the walled city. Once you get to the spot, facing south, it is the juice stall that is furthest to the right on the corner (right in front of you), but I bet they all will be good.
Cost: 3,000 COP (about $1 USD) for one GIANT juice. We always split them, but can't blame ya if you want to try two different flavors!
Responsible Travel Tip: At just about every juice stand in Colombia, they serve drinks with single-use straws. Instead, bring your own reusable straw and show it to them while saying, "sin pitillo, por favor", no straw, please.
Important Note: Depending on which Spanish-speaking country you're traveling in, the word for straw may vary. For instance, the word for "straw" in Colombia means "marijuana joint" in some other Spanish-speaking countries, so be careful! This infographic is a good way to learn how to say "straw" correctly in the country you're visiting.
Read more about reducing your use of plastics while traveling.
14. Eat breakfast at a sustainable cafe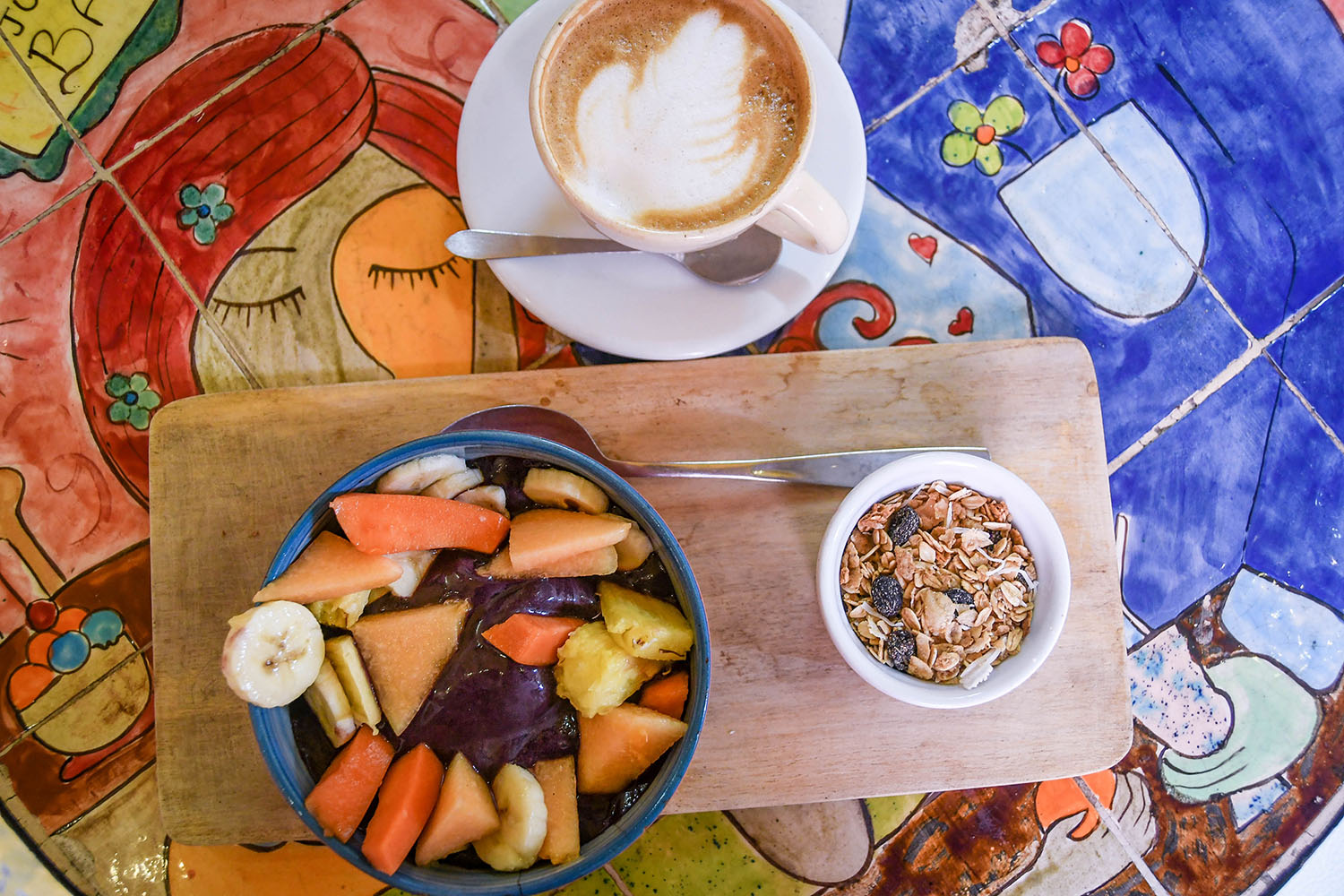 There are actually some really nice options for breakfast in Cartagena. But one of our favorites is Beiyu, a tiny cafe that prides itself on slow food using local ingredients. After eating lots of fried Colombian fare, this spot and its yummy smoothie bowl was a welcomed relief.
Located in Getsemani, it is a good spot to grab a bite to eat before starting your day of exploring!
15. Have café con leche in a park
Wander past any park in the city and you'll likely see a vendor carrying a thermos or two. These are filled with cafe con leche, and are served in a small, nearly shot glass-sized cup for cheap.
Do as the locals do and take a break on a park bench with one of these babies for a midday pick-me-up. It's a perfect excuse for people-watching!
16. Taste fresh ceviche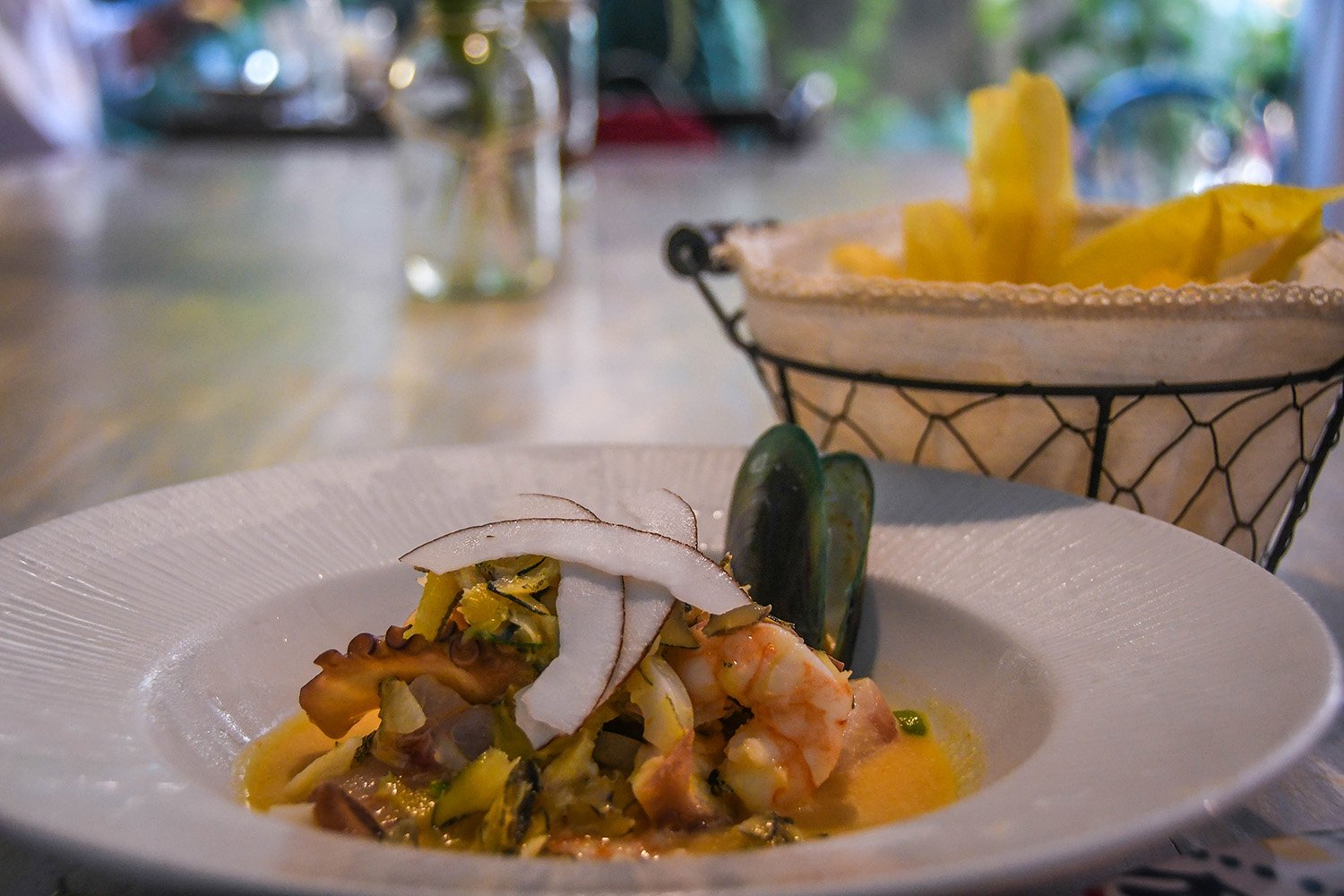 Being that Cartagena is right on the ocean, it is a great spot to try fresh seafood. And one of the best ways to have it is in the local specialty – ceviche!
There are many great places around the city to try ceviche, but here are the two most famous:
La Cevicheria: This is the most popular choice, and can sometimes have a line outside the door of people waiting to get seated.

El Boliche Cebichería: A little less well-known, this place has equally good ceviche.
The ceviche at both of these restaurants is fantastic, but it's not cheap. One order of ceviche will set you back around 60,000 COP ($20 USD), and if it's within your budget, it is totally worth it. You can even just get one order to split between you and your travel partner. (That's what we did!)
Budget Tip
However, if you prefer your meals to cost half of that, consider trying ceviche from a street vendor. Yeah, it sounds sketchy, but it is totally legit. In fact, there are several street stalls that are highly rated on Trip Advisor, so you know it is good quality.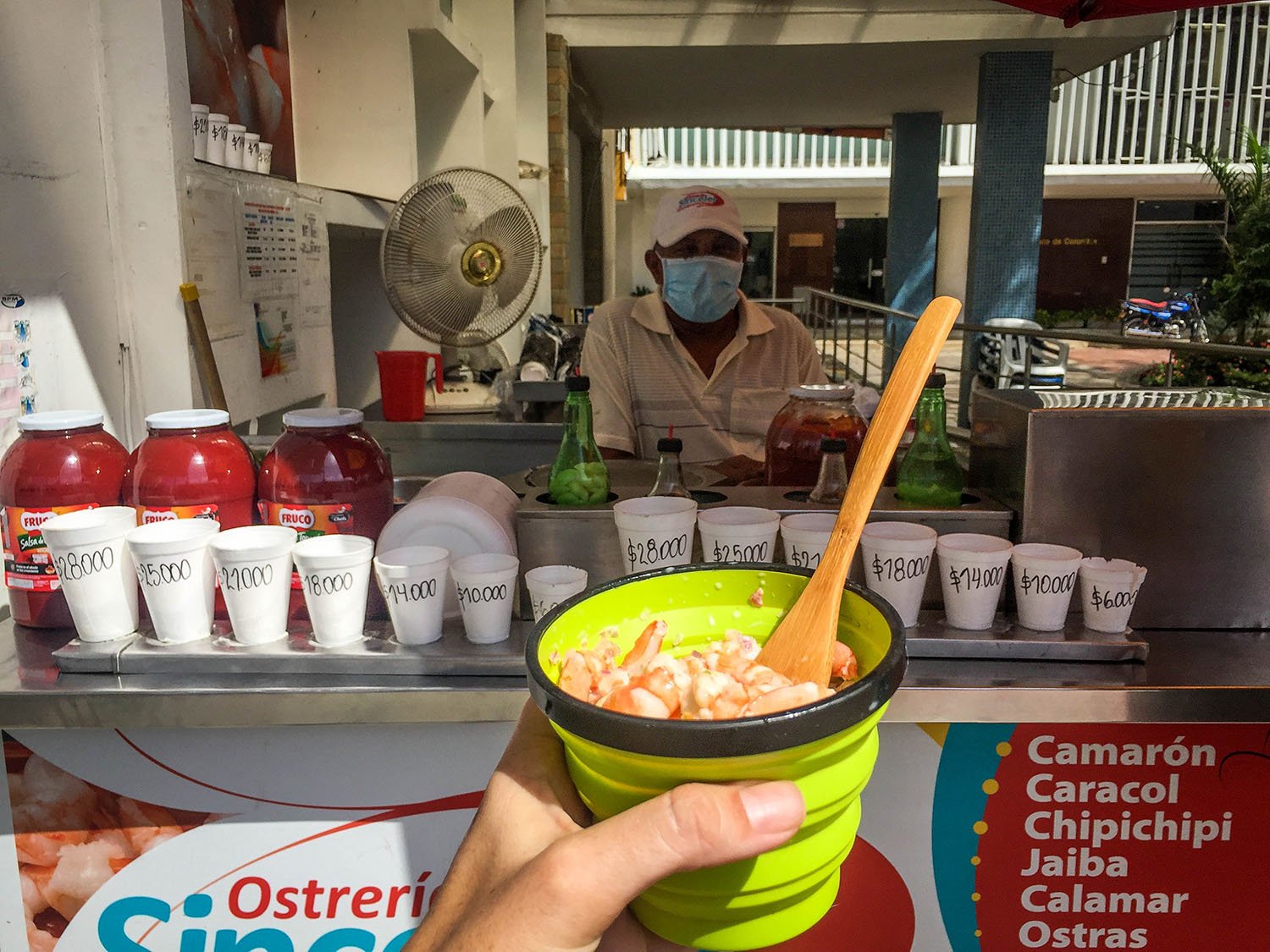 We went to Ostrería Sincelejo and ordered a shrimp ceviche (without ketchup, because I absolutely despise the stuff!). The sweet man behind the stand juiced a handful of limes, added onions and some seasoning to a big bowl of big ol' shrimp! And I've gotta say, it was pretty dang tasty. A different kind of experience than the one we had at El Boliche, but still very good.
Cost: The medium size cost us 18,000 COP (a little less than $6 USD).
Responsible travel tip: Most of the ceviche street stalls serve their food in Styrofoam containers and with plastic utensils. We came prepared with our collapsible cups and bamboo utensils so we created less waste. Read more about eco friendly travel gear you can pack with you on your next trip!
17. Arepas. Lots of arepas.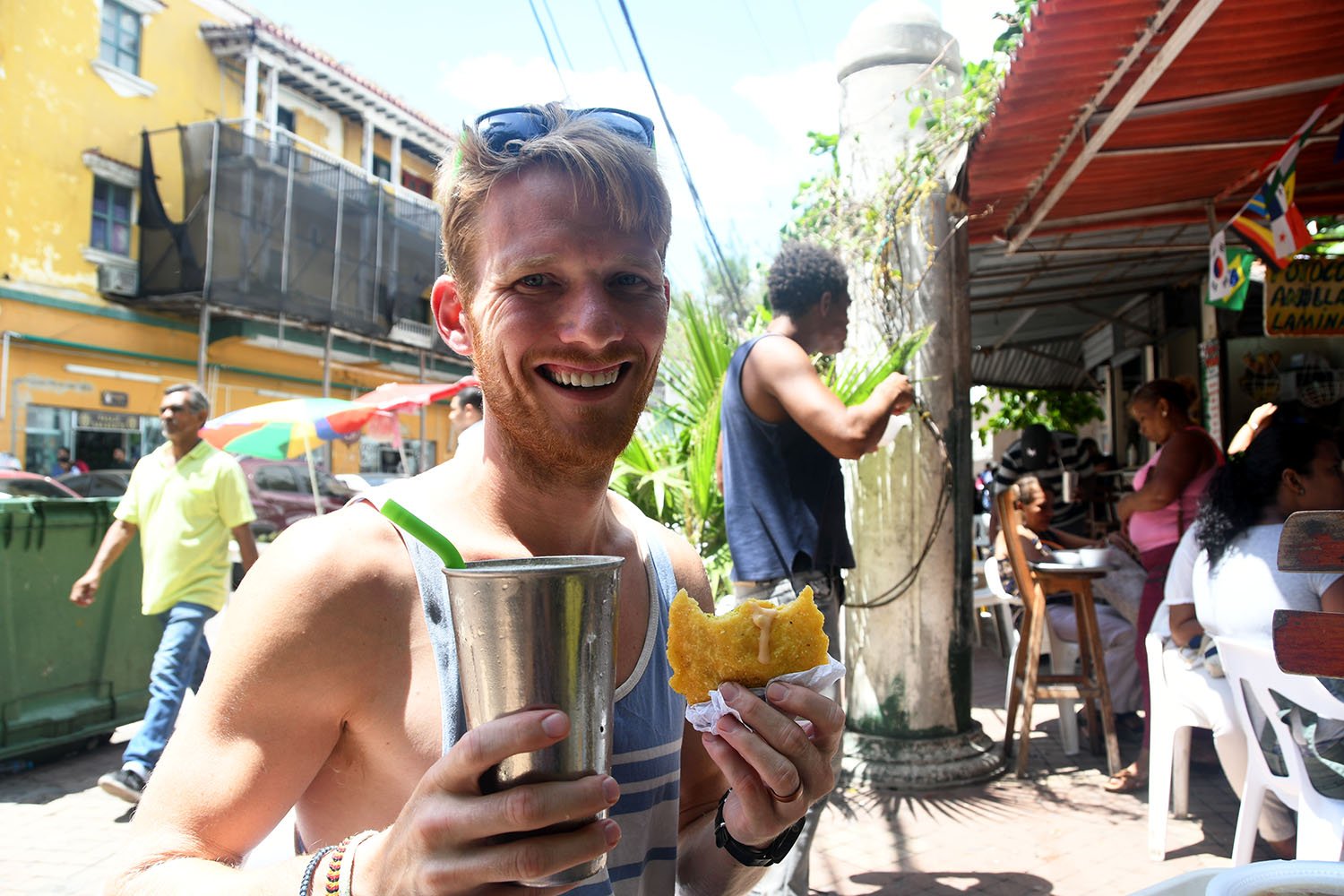 These cornmeal "cakes" are a Colombian staple and you can find them everywhere throughout the country. They are best eaten from a vendor on the street (this is our opinion, but it is also fact!).
Good to know: Celiac friends, rejoice: Arepas are naturally gluten-free!
Arepas come stuffed with just about anything you can imagine: queso (cheese), huevo (egg), aguacate (avocado), pollo (chicken), chorizo (pork sausage)… the list goes on. Try one, try 'em all!
18. Eat a Colombian Street Burger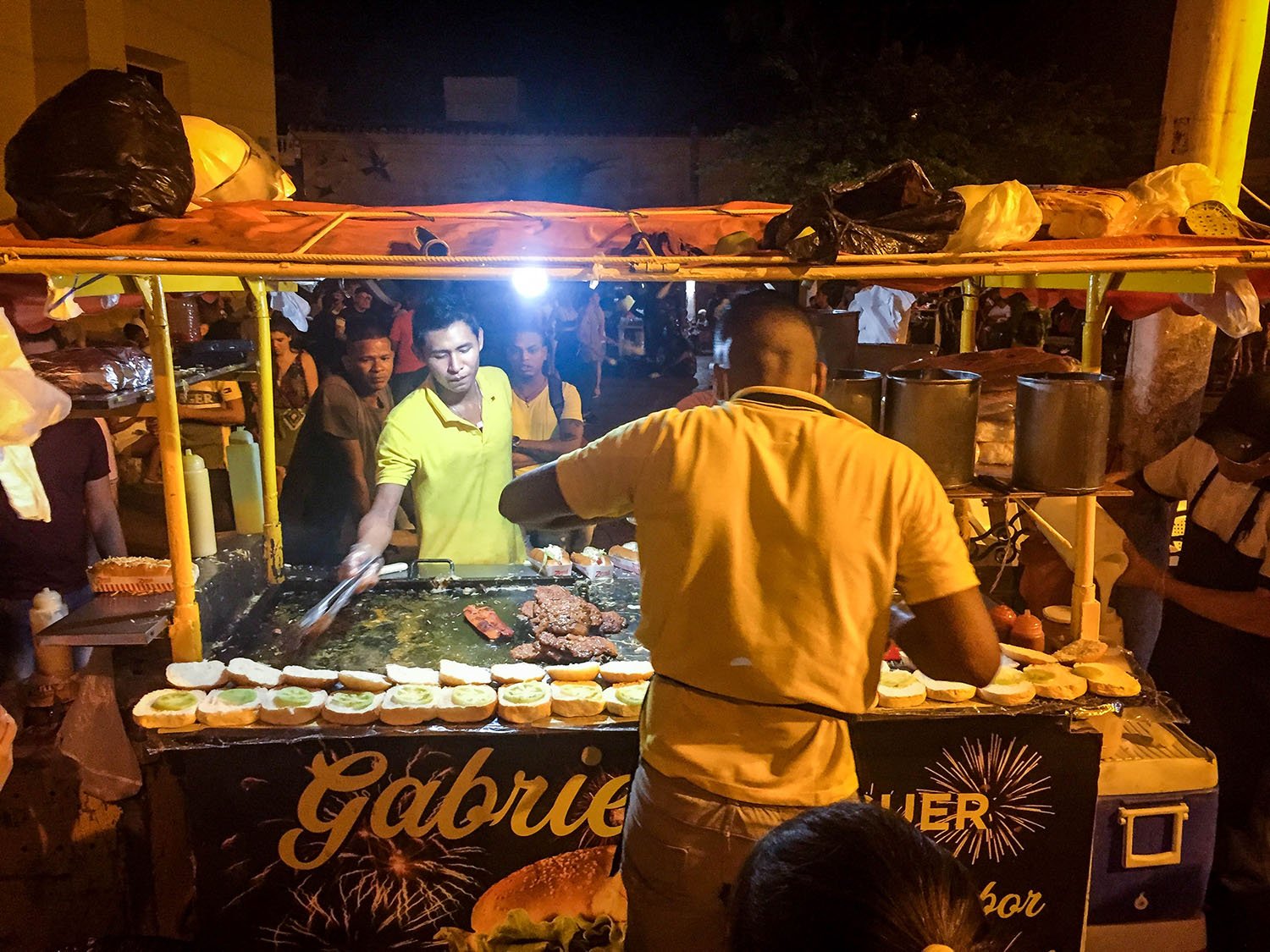 Colombian cuisine isn't known for being the most healthy… and this is a prime example. Colombian-style street burgers are topped with melty cheese, crunchy potato sticks, grilled onions, a combination of yummy sauces, then finished with tomatoes and lettuce and more melty cheese… Yeah, it speaks for itself.
If you find yourself in Trinidad Square in the evening (which you should — see tip #21!), the burgers at the stand on the east side of the church plaza are hella good. Did I just say hella? Well, I meant it. Get one and you'll understand.
Go and get one of these Colombian burgers before you start drooling all over your computer screen. Just beware that during peak hours, the line gets long; but it's worth the wait.
Cost: 8,000 COP per burger ($2.60 USD)
19. Whole fish with coconut rice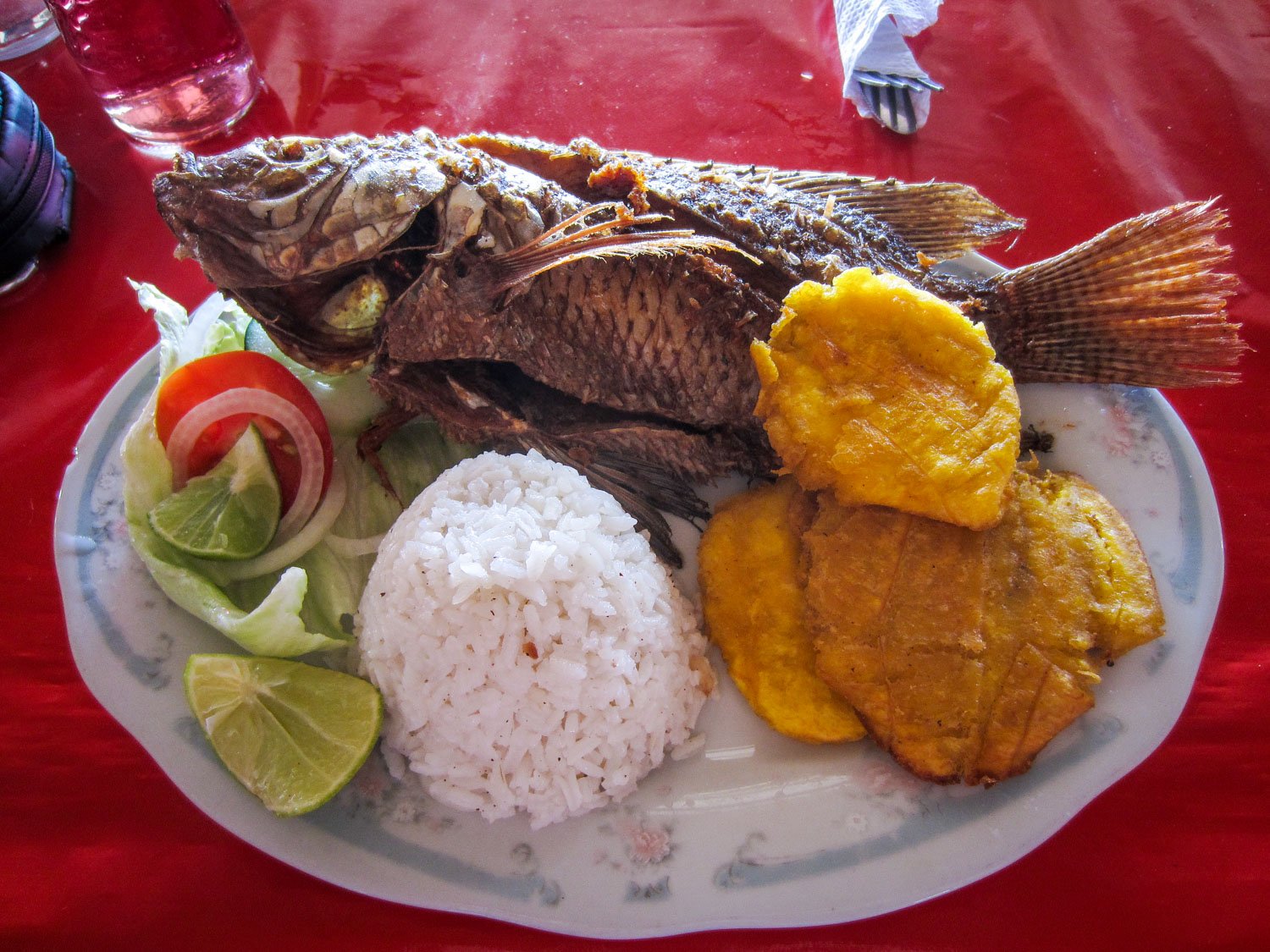 This is a dish that'll be hard to find outside the Caribbean Coast, so if you like fish, be sure to try it. It comes whole, but don't let that turn you off. It's actually delicious, and typically comes with coconut rice, patacones (flattened, fried plantains,) and salad.
20. Try Posta Negra Cartagena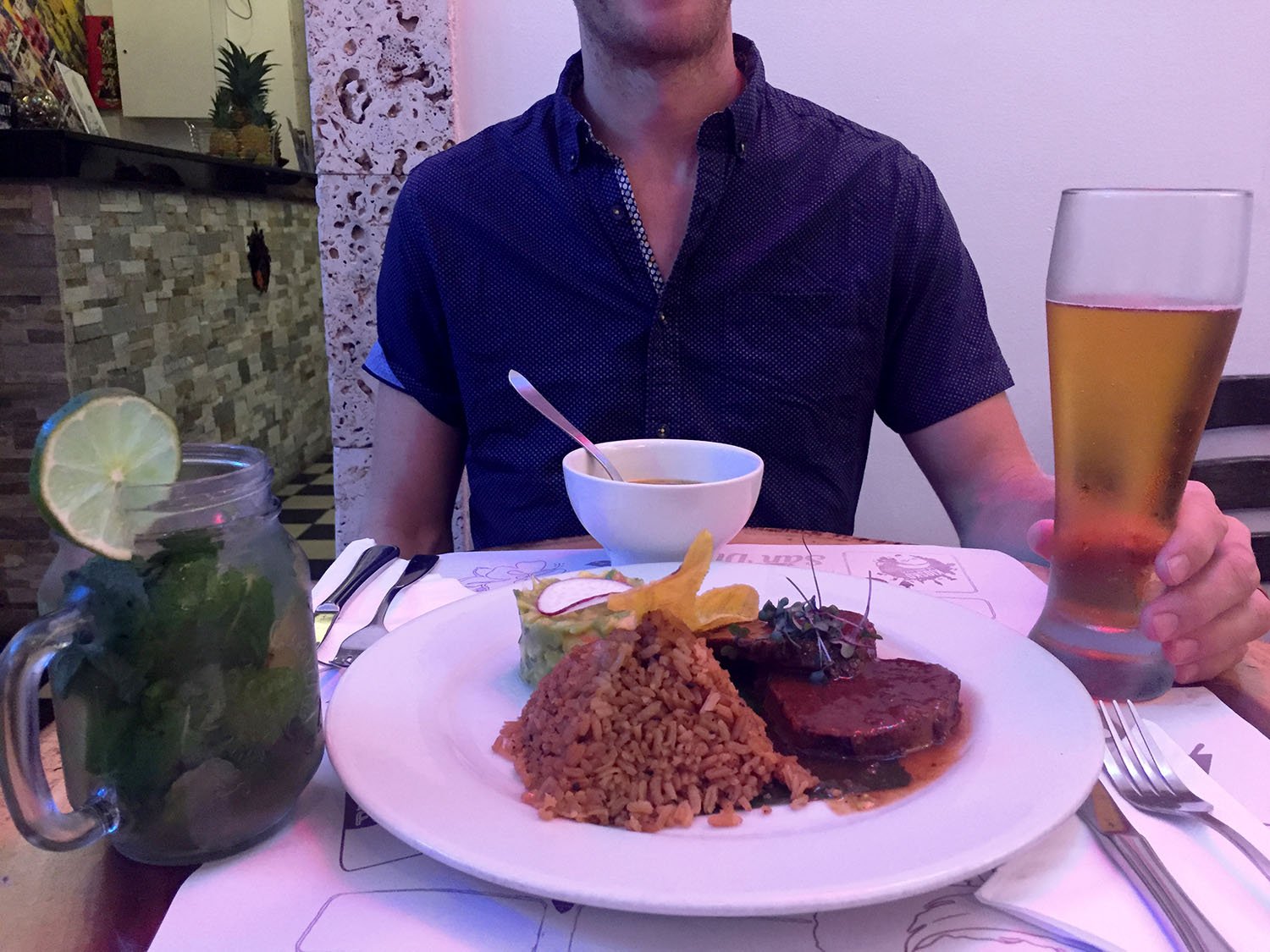 Truthfully, we hadn't heard of this dish until our last visit to Colombia. So apparently we've been missing out!
This dish is made with cuts of sirloin steak, bathed in a sweet and rich sauce made of Worcestershire sauce and a special ingredient… Coca-Cola! Yep, that's right. Sounds weird, but damn, it is gooood.
You can only really find this dish on the Caribbean, specifically in Cartagena, so give it a try while you're in the city. As we were researching the best place to order it, we kept seeing recommendations for La Mulata. We decided to try it there, and we weren't disappointed!
Insider Tip: At La Mulata, order a limonada de coco to drink. It's a frothy blend of coconut water, lime juice and sugar. Yum!
Cost: We ordered one Posta Negra to split between the two of us as well as a drink each (beer and a mojito), and the bill came to about 60,000 COP ($20 USD).
Sorry vegetarians, you'll have to avoid this one. Since you can't use this tip, I'll give you another one: Check out Happy Cow's selection of vegetarian-friendly restaurants in Cartagena.
21. Evening Boat Cruise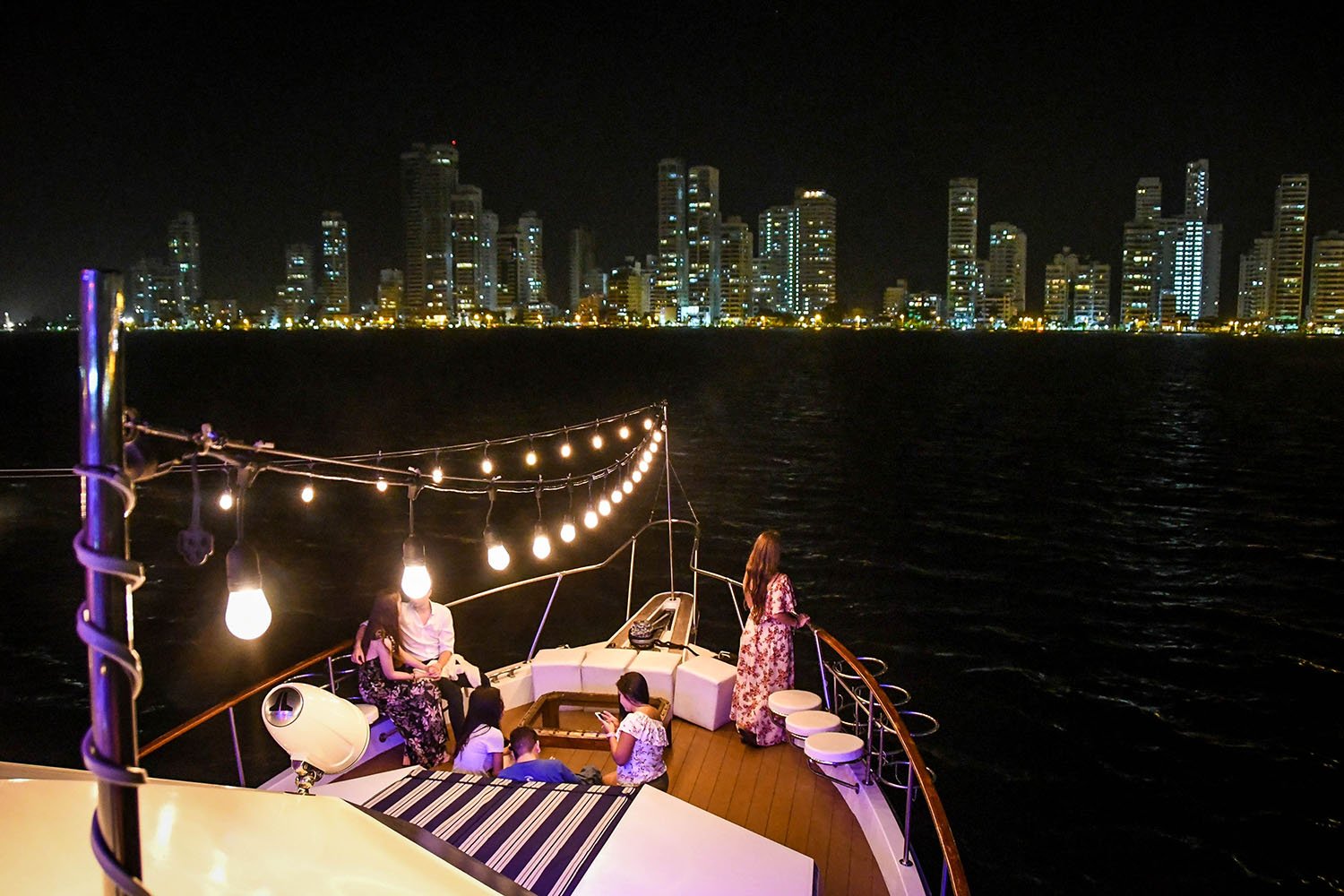 If you're visiting Cartagena with your hunny and want to plan a super romantic evening, the Sibarita sunset boat cruise might be right up your alley.
Enjoy a 3-course menu and watch the city lights from a beautiful yacht. Oh, and did I mention the bottle of wine?!
Interested in reading up on more romantic destinations? Check out our roundup of amazing romantic getaways around the world.
---
Best of Cartagena's Nightlife
No matter what vibe you're looking for, there is a nightlife scene for you. In Cartagena, you'll find everything from chill whole-in-the-wall bars, to taprooms, to salsa dancing venues with live bands, to clubs with covers and DJs.
And if you want to do the super touristy thing, hop on a chiva (brightly colored party bus) and drink unlimited rum and coke while music is blasted and you're driven around the city.
22. Plaza de la Trinidad at Dusk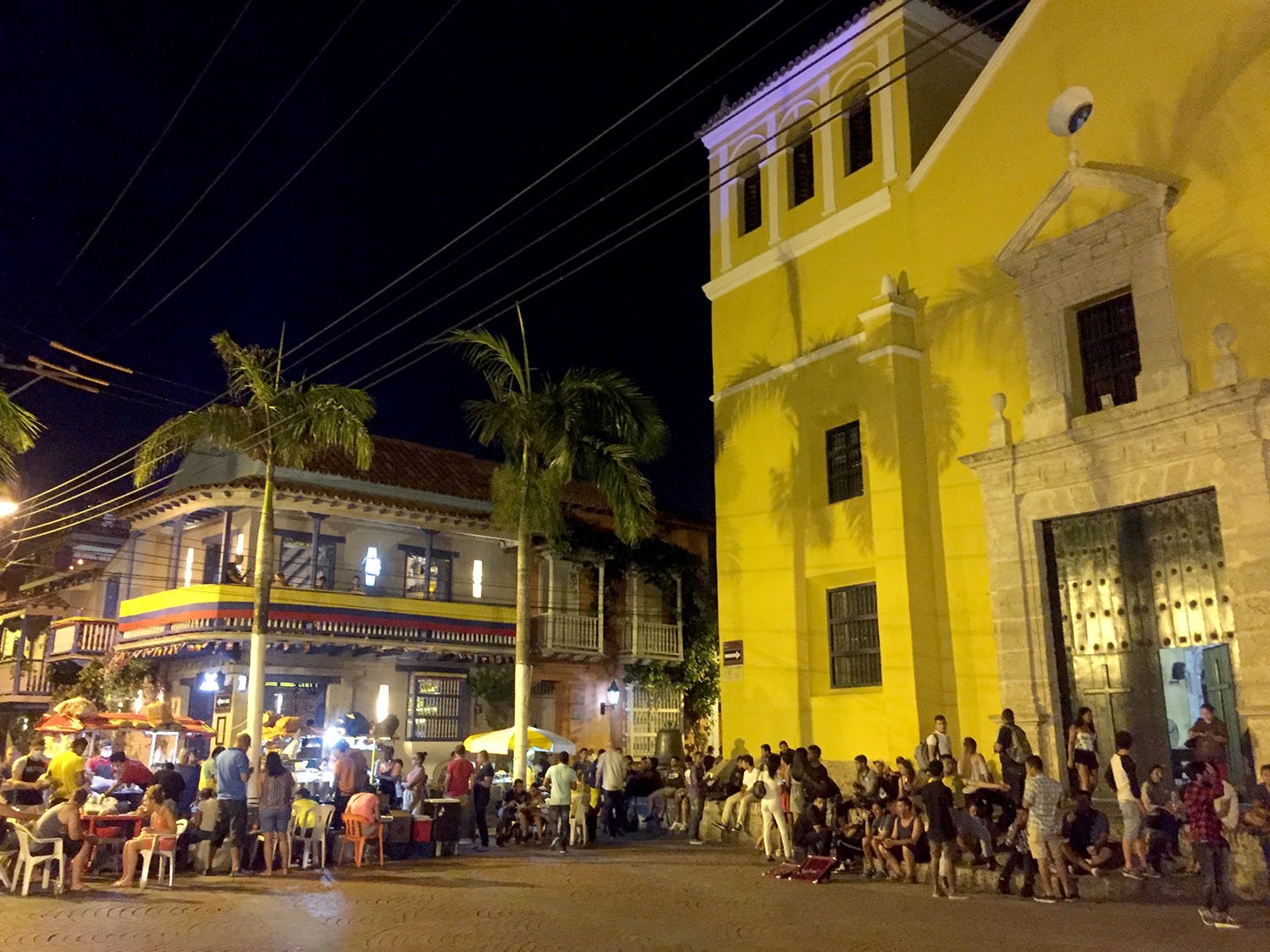 During the daytime, this square is relatively quiet, but come late afternoon, people start to gather. You'll see street food vendors, street performers and groups of locals and tourists alike.
Grab a (cheap!) beer from one of the shops along the street – we found one shop selling them for 2,500 COP ($0.80) – and hang out in the square and just people watch and make new friends.
One thing to note is glass bottles are not allowed in this square, and policemen will come around to make you get rid of them. So buy a can instead of a bottle. Some police don't like the cans either and make you pour beer into a cup. So just be prepared either way.
And while you're in Trinidad Square, check out tip #16. If you eat meat, you're gonna thank us…
23. Sunset Drinks Cafe del Mar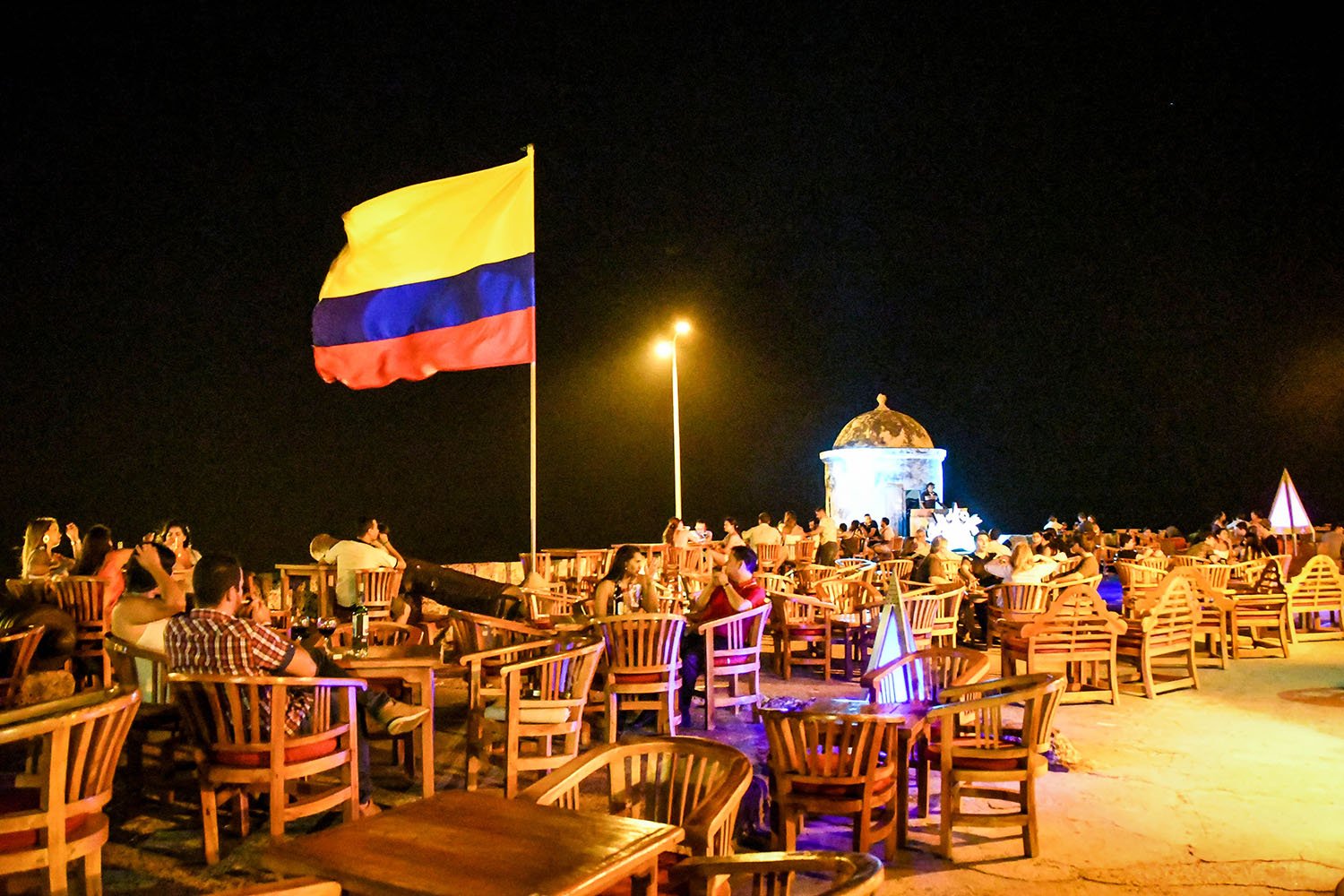 If you're looking for sunset drinks with a view, it's hard to beat the view at Cafe del Mar. The big, open-air seating area gets breezy in the evening, and is a welcomed relief after a day under the sun.
This is popular with foreign tourists as well as Colombians traveling in their home country (I came here for the first time with a Colombian friend).
With views of the sea and a long list of cocktails (pisco sour & a lychee martini, yes please!), it's a nice stop for an evening drink.
The cocktails aren't the cheapest around, but you're paying for the view and ambience, after all.
24. Sip on creative cocktails at Alquímico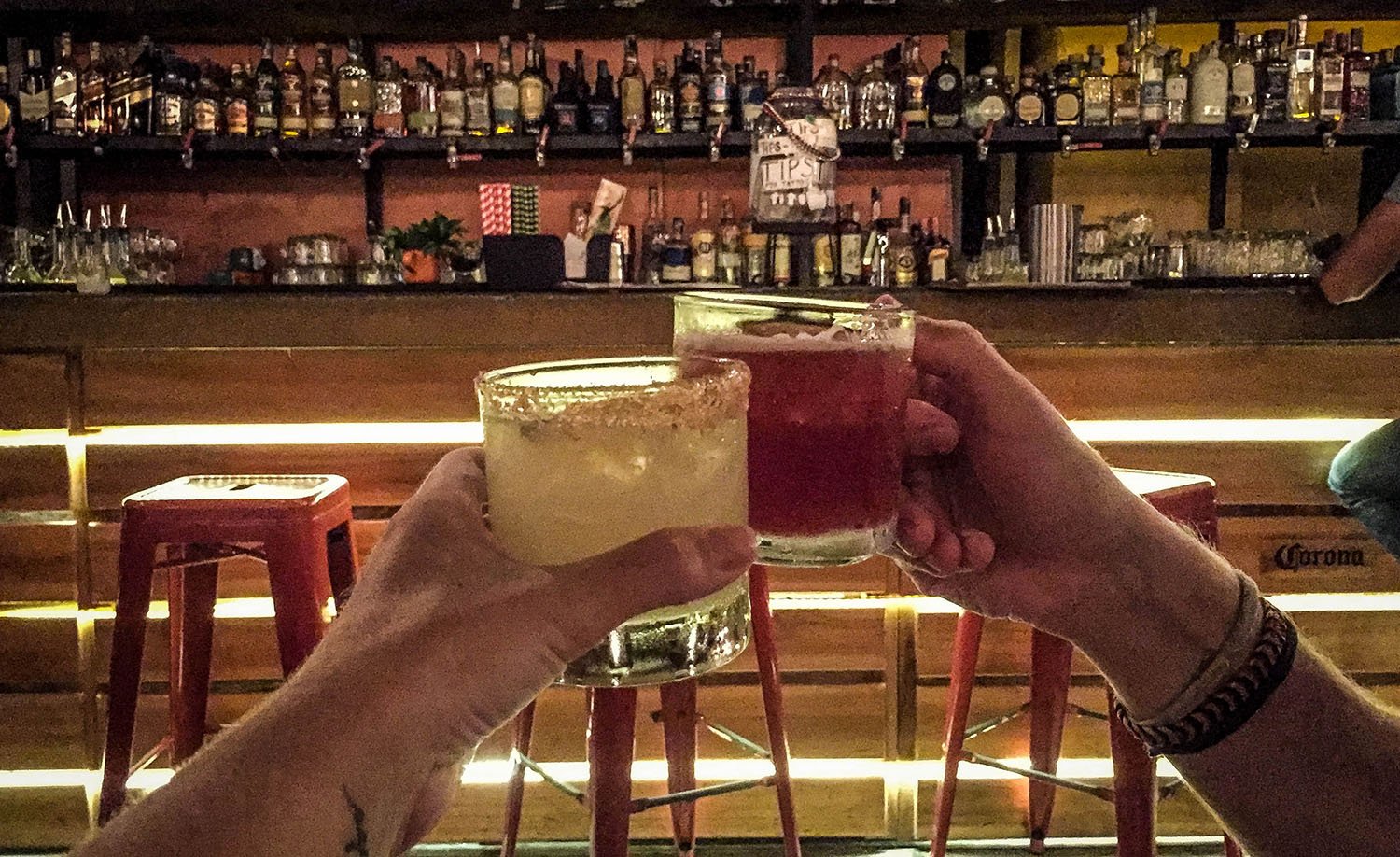 This place is well known for its inventive cocktails and trendy atmosphere (check out their drink menu here!).
We went here twice and tried a handful of different cocktails, but the Inquisición was our favorite. The combination of ginger rum, rose salt and Tahitian lime was not too sweet, and had a hint of tantalizing spice that got us hooked!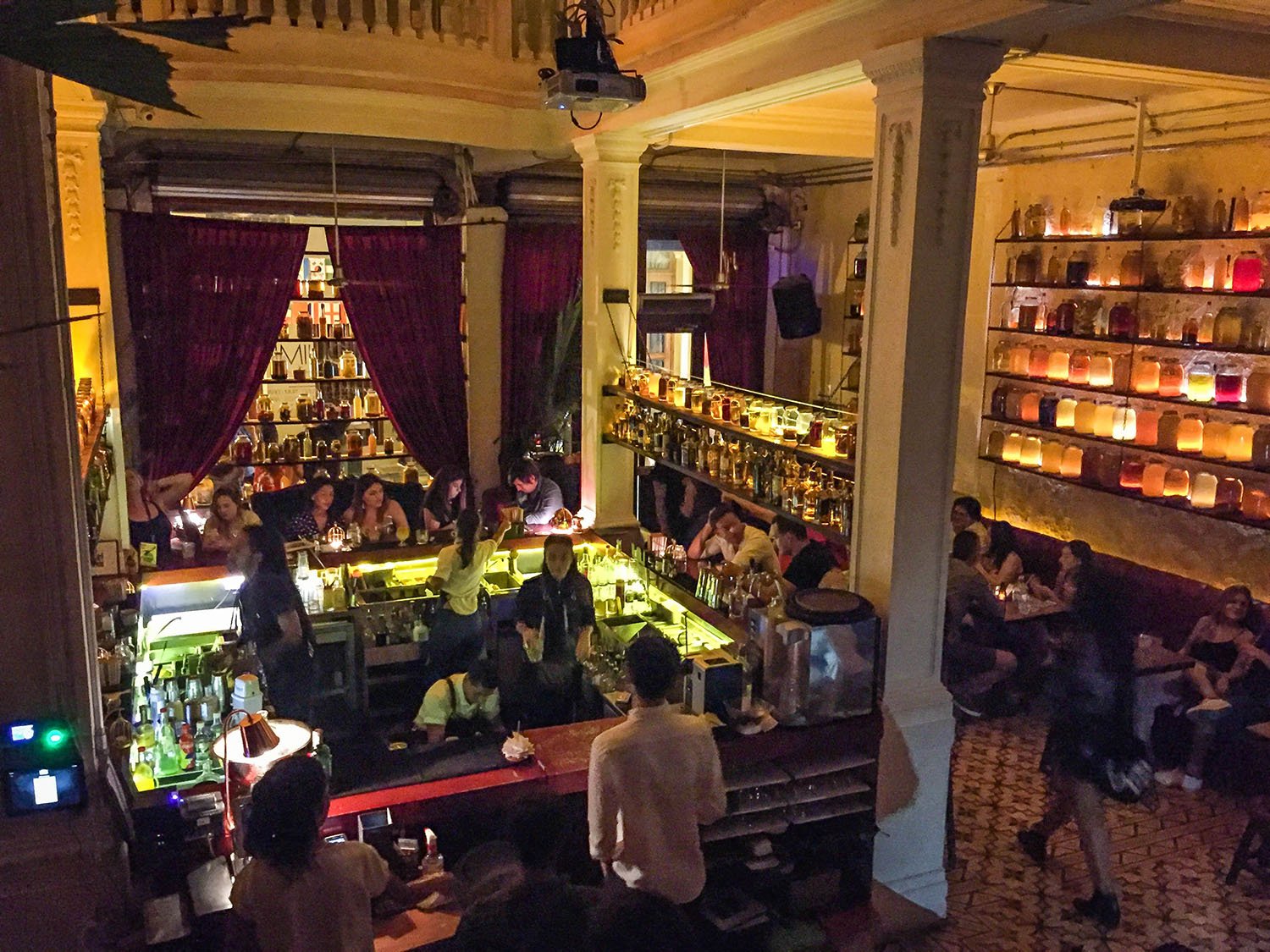 Insider Tip: Be sure to sit on the rooftop if possible!
More info
Dress code: Ditch your backpacker getup and wear something a little more classy. You don't need to be too fancy: a sundress and sandals (for ladies), or nicer shirt and shorts (for guys) will be just fine.

Hours: Weekdays 6 p.m. to 2 a.m., Friday & Saturday 6 p.m. to 3 a.m.

Price: Cocktails are around 25,000 COP ($8 USD)
25. Craft beer on tap or takeaway
If you're a craft beer lover (like us!) you'll be happy there is a place in Cartagena where you can get a brew stronger than a watery Aguila!
The Beer Lovers is a tap room and bottle shop, and you can either order off the tap list or buy a bottle (or two!) to go.
If you want to escape the heat, you'll find A/C and WiFi here as well as a selection of local and imported beers. I came here for the first time with a Colombian friend and tried a local IPA. Though quite a bit more expensive than the typical Colombian beers, it was far superior (in my opinion!).
Insider Tip: Heading to the city walls for sunset views with a beer in hand spells out a perfect evening!
26. Dance the night away
Colombians are known to be great dancers, and if you want to go out and get your groove on, there are plenty of places to choose from. And the best part is most will have incredibly talented live salsa bands.
Know that many of the places in the Old City will be filled with more foreigners than locals, and often have a cover charge.*
Bazurto Social Club: We went here with a group of friends from our San Blas Islands trip and had a great time! Cover was 10,000 COP each (about $3.25 USD), which was less expensive than many others in the area.

Cafe Havana: Arguably the most famous dance club in Cartagena, Cafe Havana is a popular choice with tourists. If you want a more laidback experience come on a Thursday night instead of much busier nights of Friday and Saturday.

Tu Candela: Another popular option in the Old City, this spot is always busy!
*Many hostels and budget hotels have wristbands for free entry to some of the more touristy clubs in the city. Ask at the front desk to see if they have any free passes (which typically also include a free beer).
Insider Tip: If you want to go to the Salsa capital, be sure to include Cali on your Colombia itinerary.
---
What to skip in Cartagena
Bocagrande Beach
The city of Cartagena sits right on the Caribbean coast; however, the beaches in the actual city leave one with much to be desired.
Bocagrande is the biggest beach in Cartagena. It's often compared to Miami's famous South Beach for the juxtaposition of a sandy shore next to white condo high-rises.
Well, we ventured to Bocagrande, and let's just say that it was pretty disappointing. After living in Miami for two years, I can assure you its beach is far superior to Boca Grande.
For one, as soon as our feet hit the sand, we were approached by vendors selling everything from drugs to ceviche. When I go to the beach I prefer not to have to say "No, gracias," every 3 minutes. Is that too much to ask?
A second reason we were unimpressed was the beach was dirty. It was littered in places with cigarette butts and trash, and even sand felt dirty.
Alternatives to Bocagrande
If you are craving time in the sun, there are better beaches around Cartagena.
One good pick is Punta Arena Beach on Isla Tierra Bomba is a good alternative. Just a 10-minute water taxi ride from Bocagrande, the ride should cost between 10,000 – 20,000 COP each way.
And if you have more time in Colombia, head along the Caribbean Coast to Tayrona National Park and Palomino for far nicer beaches and far fewer annoying vendors!
---
Responsible Travel Tip in Cartagena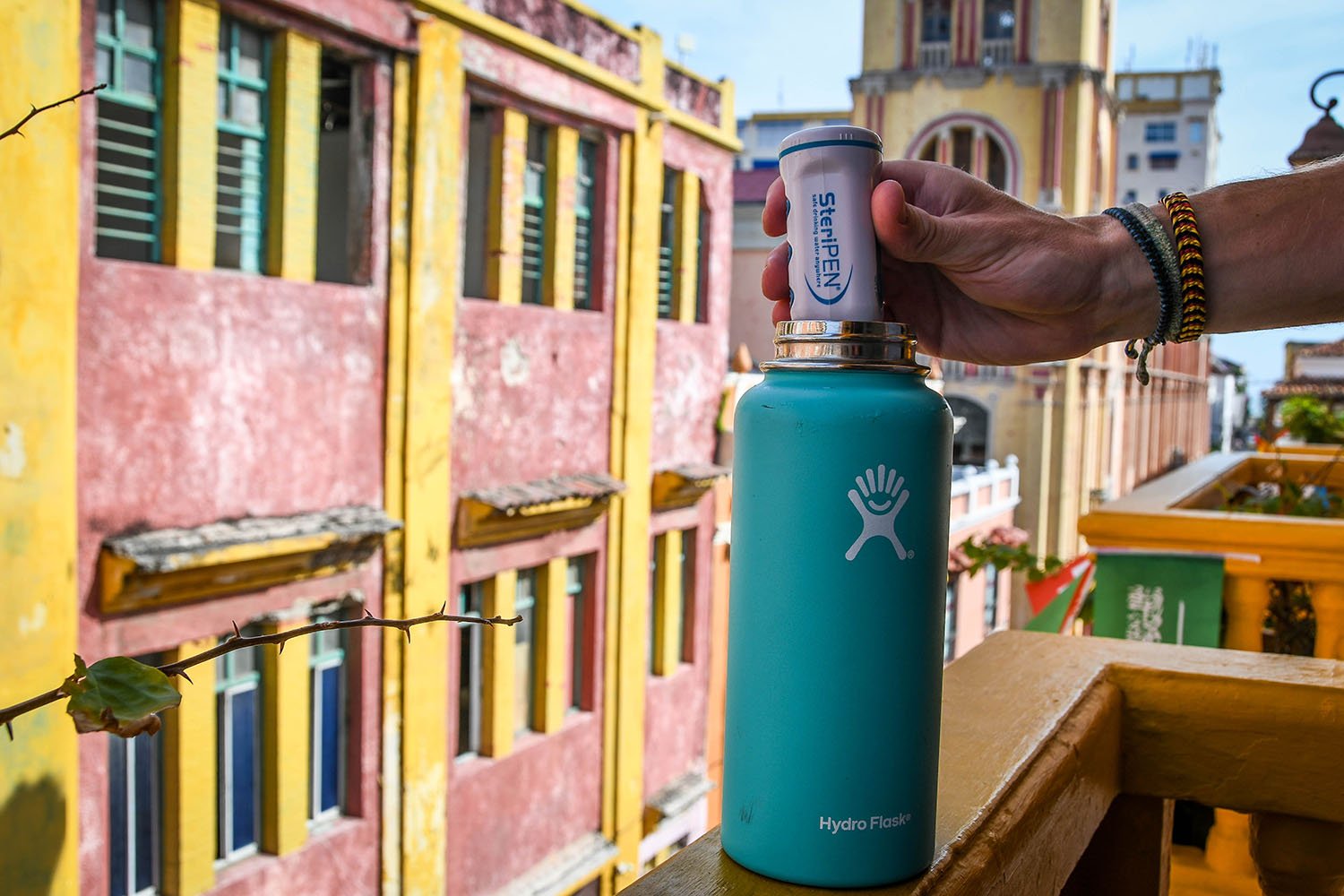 Water is not potable is most parts of Colombia. Instead of constantly buying bottled water, however, we recommend packing a reusable bottle (our favorite is Hydro Flask) and a water purifying system, like a Steripen.
---
Where to stay in Cartagena, Colombia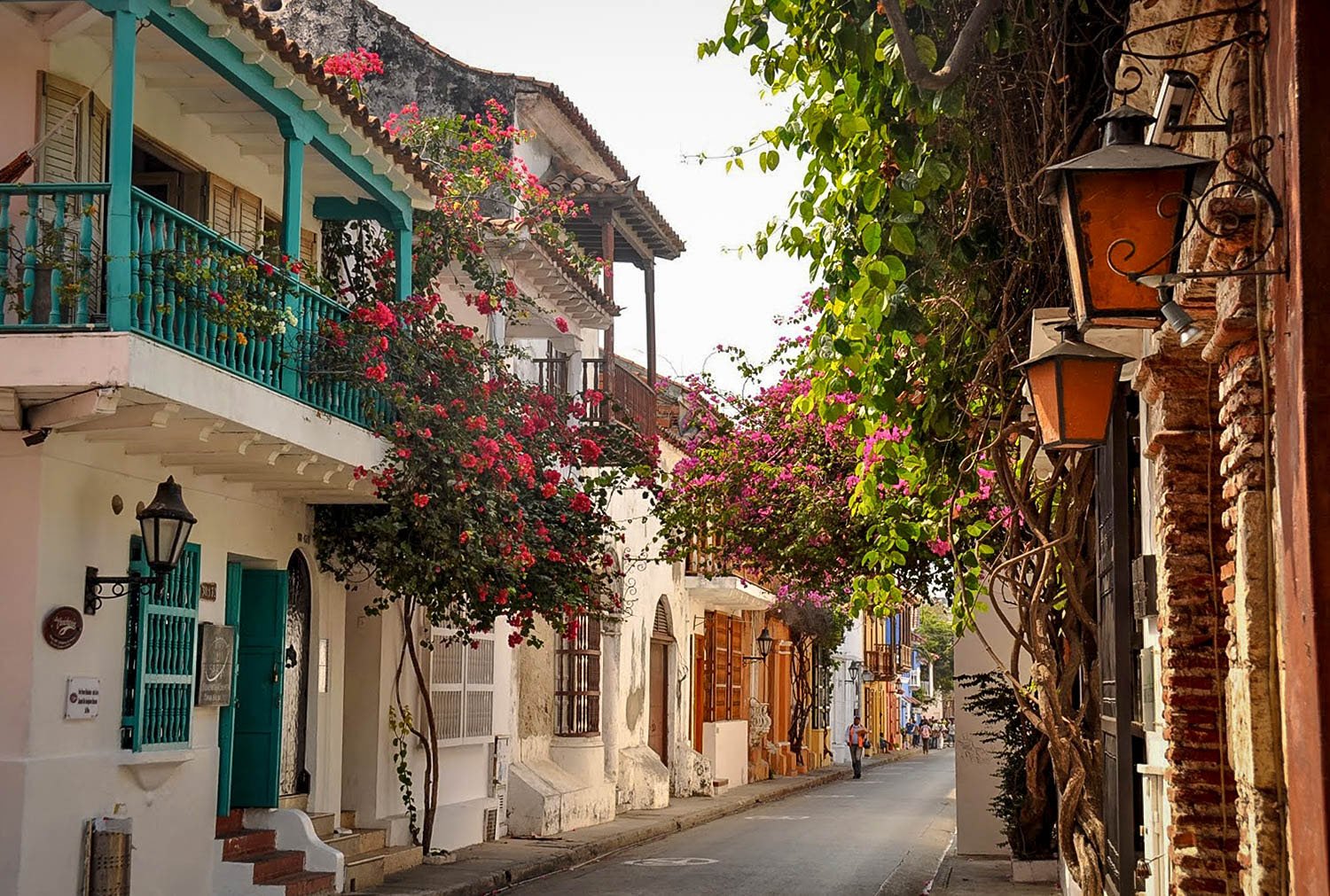 We would recommend to stay either within the Old City walls or in the Getsemani neighborhood. Both will be safe and convenient for exploring all the major attractions in Cartagena.
Typically, you'll find a bit more touristy and upscale accommodation in the Old City, and more budget options in Getsemani. Both are great picks!
If you're traveling on a budget or just want to have a great time hanging out with other travelers, we'd recommend staying in a hostel over a hotel. Check out this list of recommended hostels in Cartagena to find one that suits you!
If you're not the hostel-going type of traveler, here are some hotel options…
Here are some great hotels in Cartagena: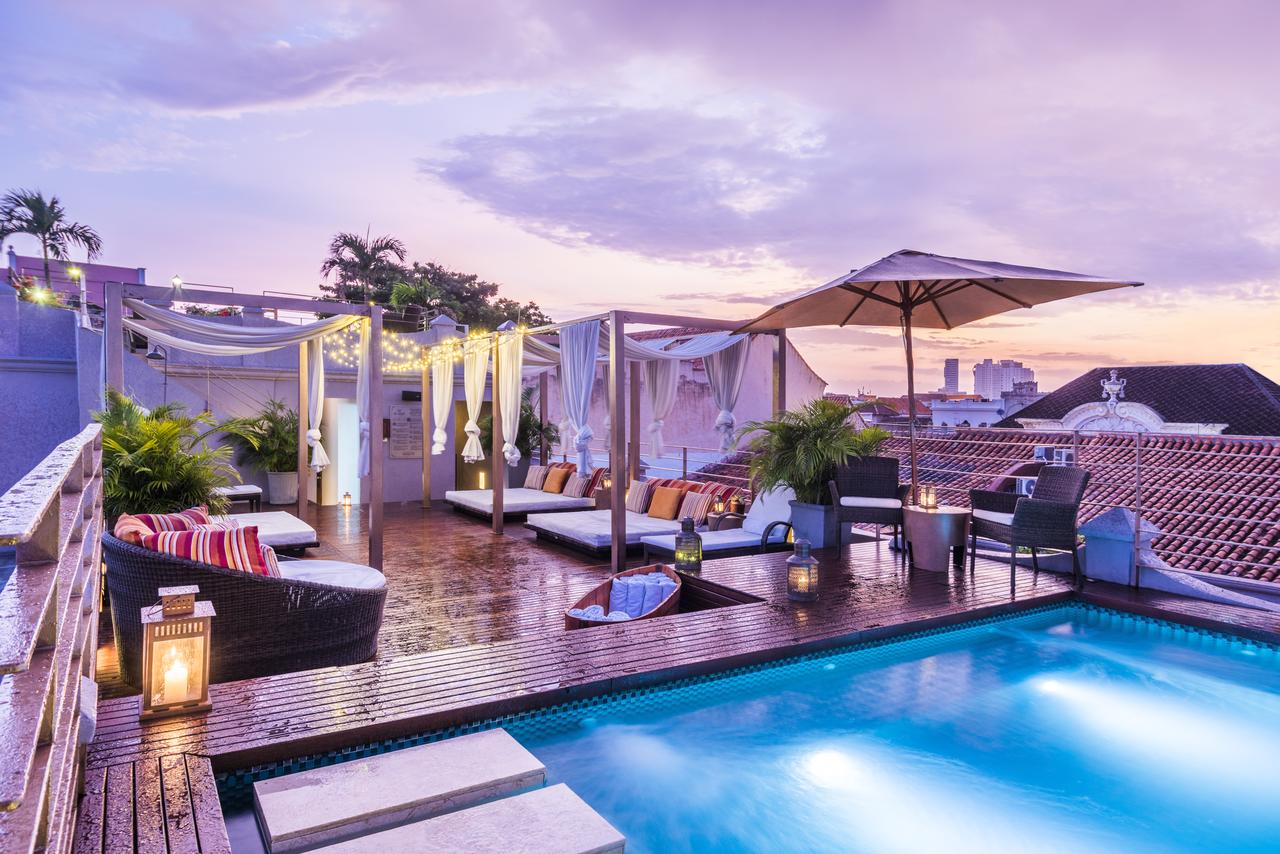 Luxury Hotel – Ananda Boutique Hotel – This stunning boutique hotel is where I stayed during my solo trip with the UNWTO and it may possibly be one of the best hotels I have ever stayed at. The only thing I would have changed is having Ben with me! Check prices on Booking.com and Agoda.com.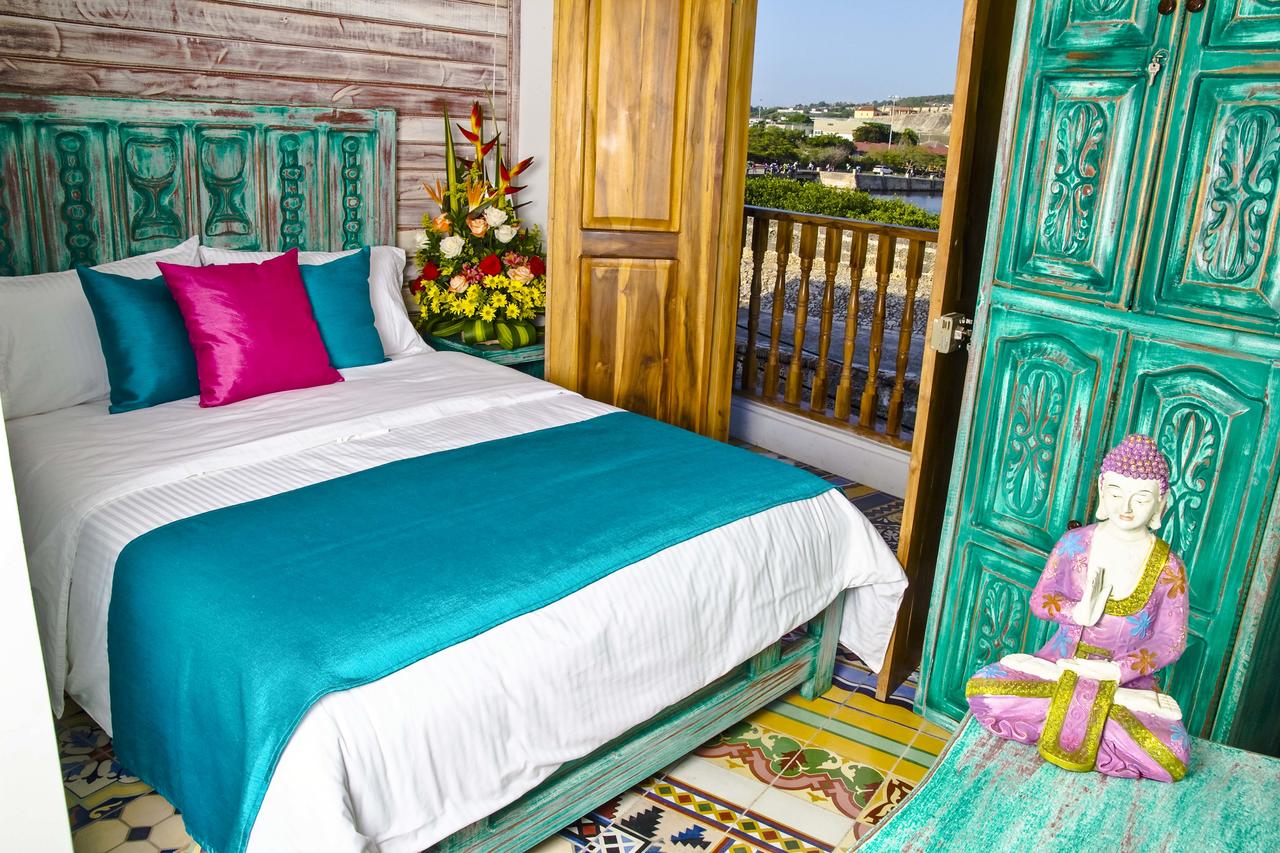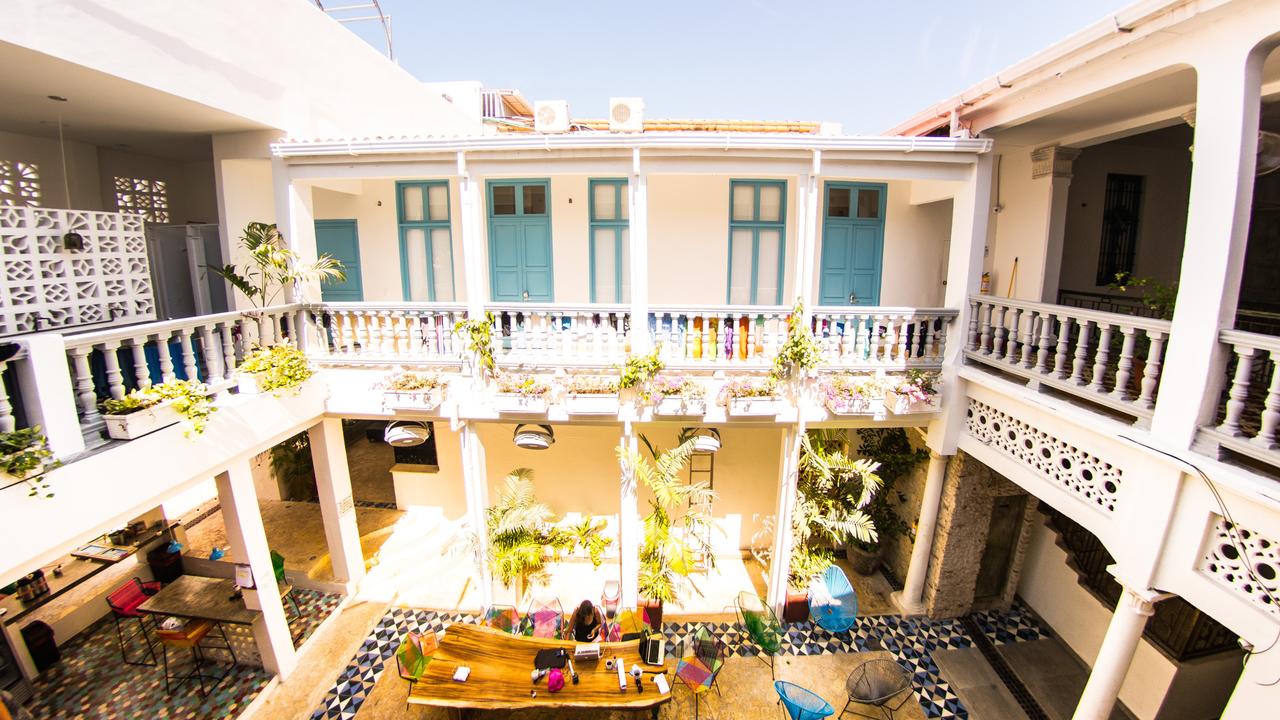 Budget: Social Atmosphere – República Hostel Cartagena – Located in the old walled city, offering dorms and private rooms, a long pool and bar, and free breakfast. What more could you want?! Check prices on Booking.com and Agoda.com.
You might also like…
Heading to Cartagena soon? Save this article on Pinterest!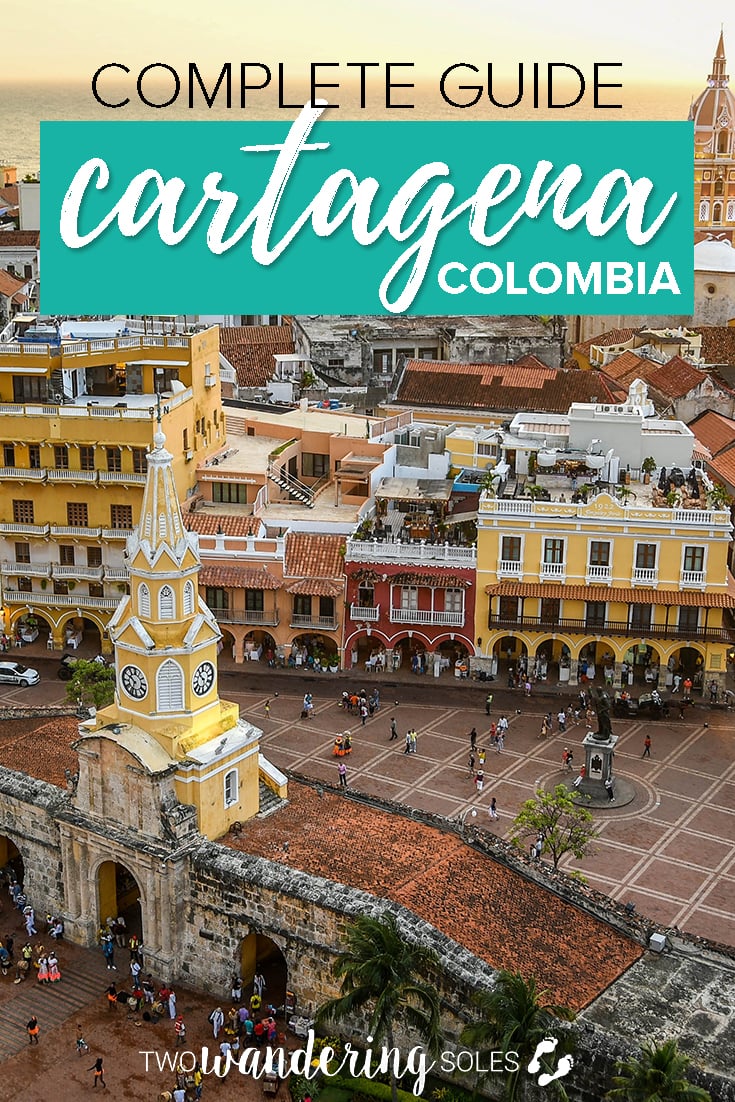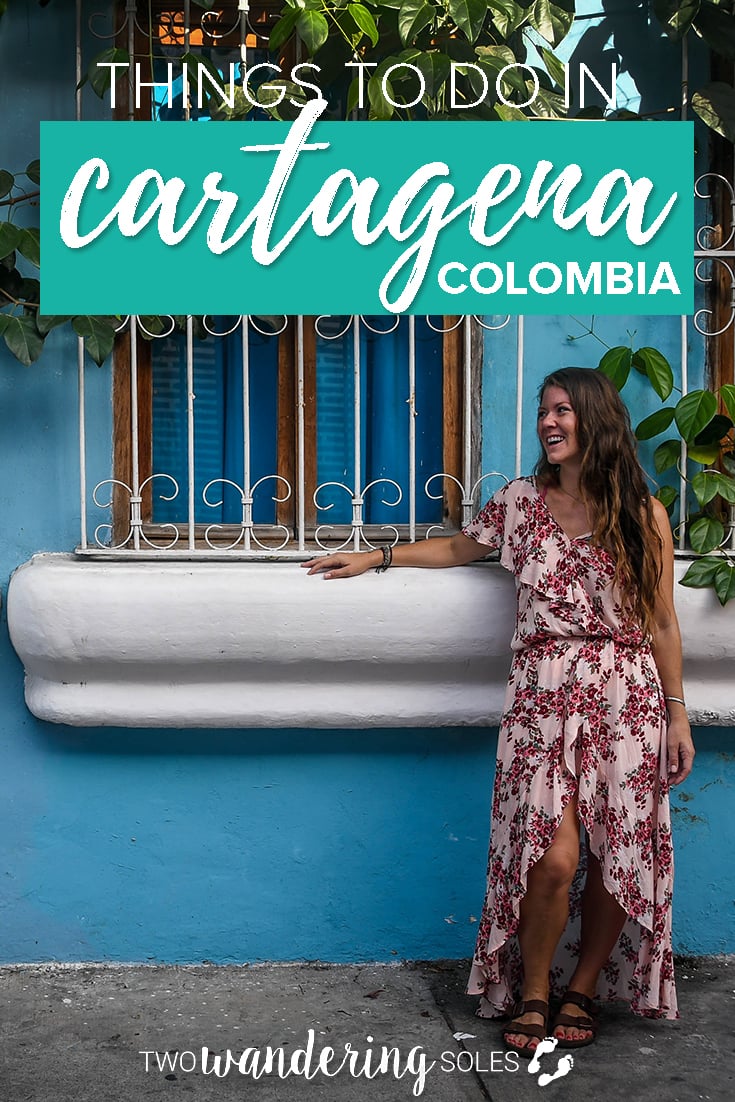 We want to hear from you!
What experience sounds most intriguing to you? Have you been to Cartagena? What was your favorite memory? We want to hear from you in the comments below!