Most people think of beaches when they imagine a vacation to the Philippines. But this diverse country has much more than sand and surf! If you are looking for motorbike adventures, off the beaten path experiences and jungle treks, you will want to be sure to add Bohol to your Philippines itinerary! Come with us as we share the top things to do in Bohol and the most unique places to stay.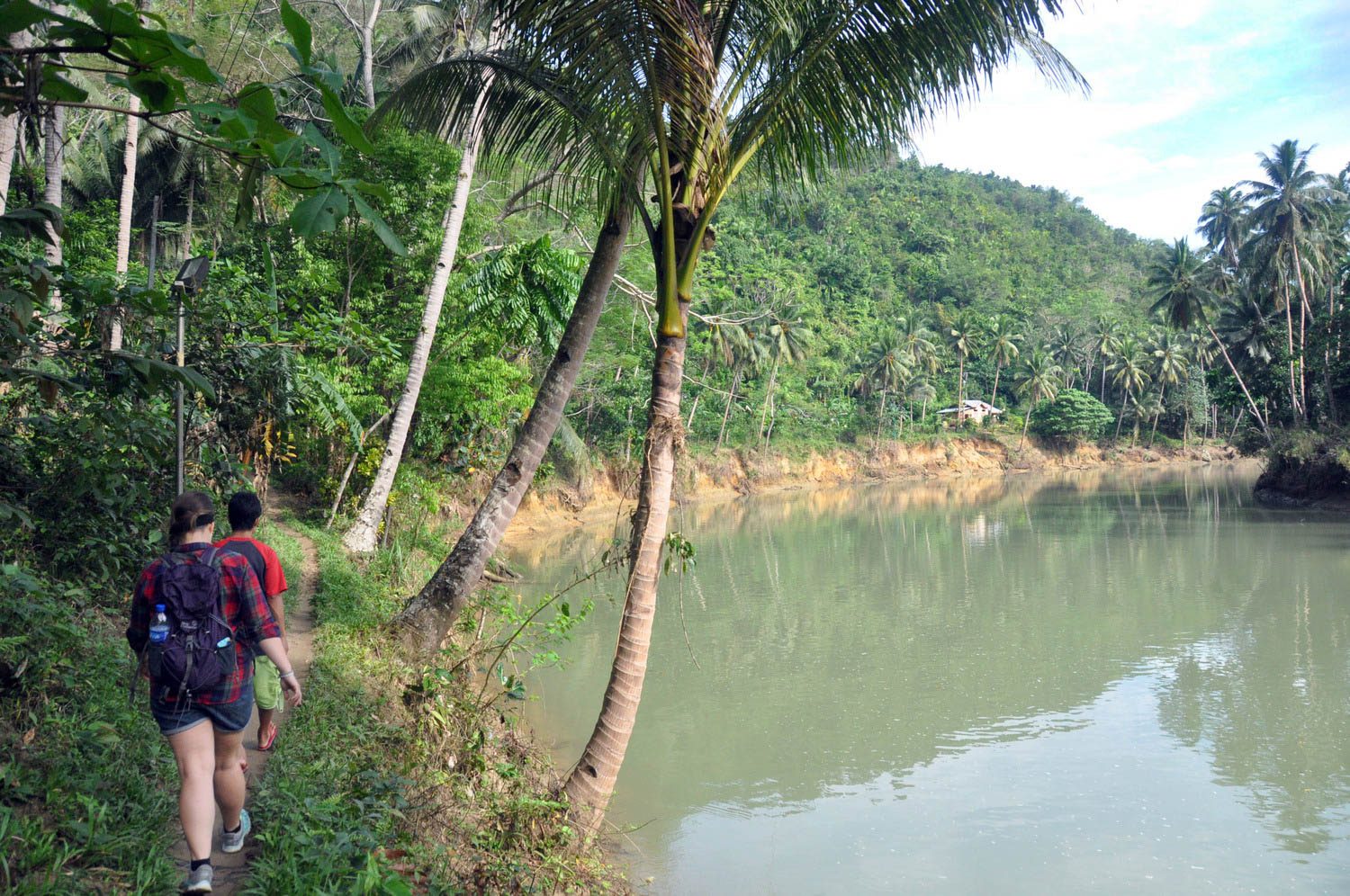 The primary reason most people visit the Philippines is for the beaches, and we were no exception. We started our trip in this country in the ultra-touristy (but equally beautiful!) island of Boracay and were spoiled with white sand and turquoise waters.
And as beautiful as the beaches are, there is far more to this diverse country than surf and sand, and it would be a shame not to venture past the tourist spots.
After doing quite a bit of research for "off the beaten path" destinations in the Philippines, we decided to make the journey to Loboc – a sleepy little village on the island of Bohol.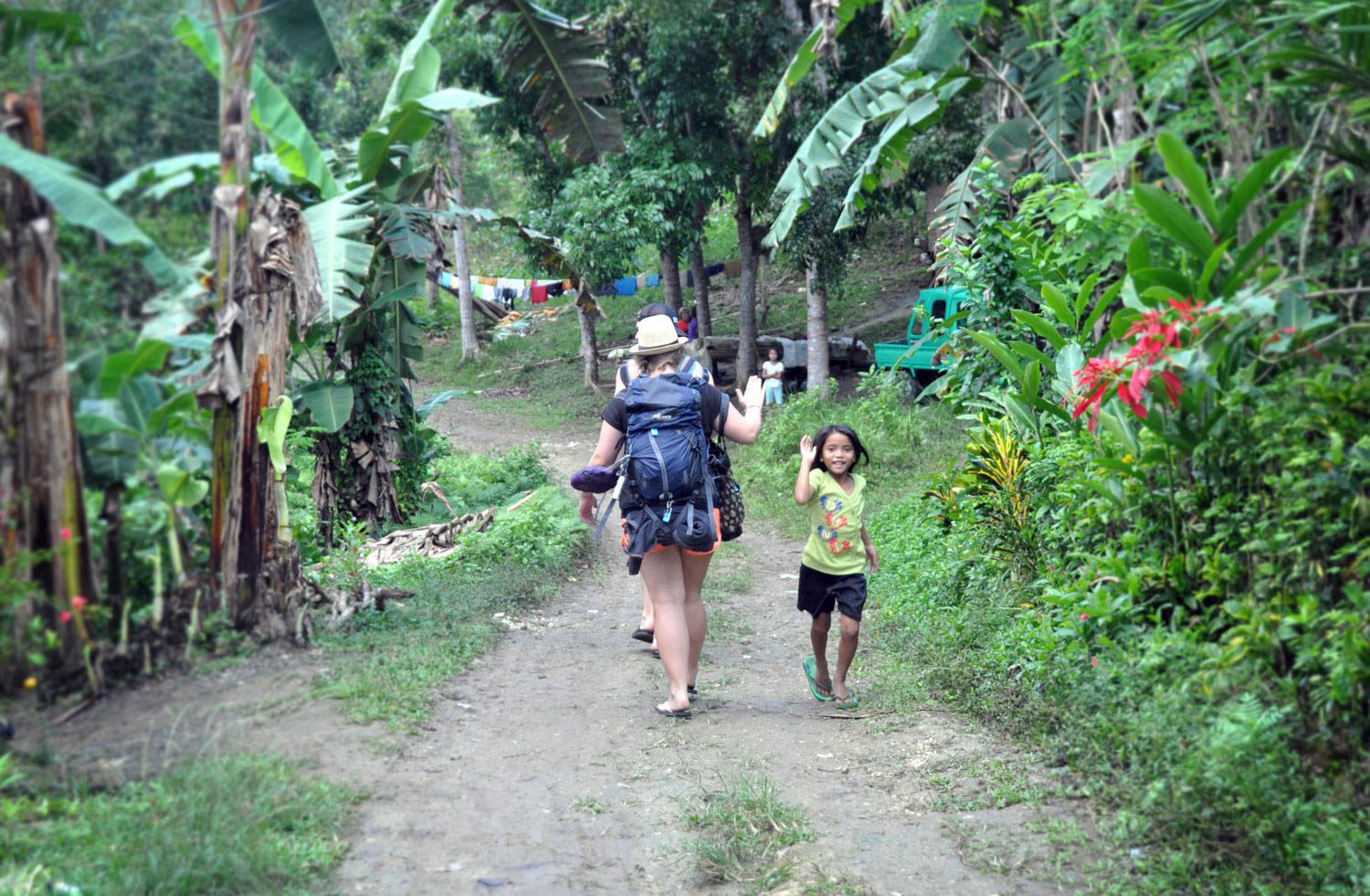 Getting to Bohol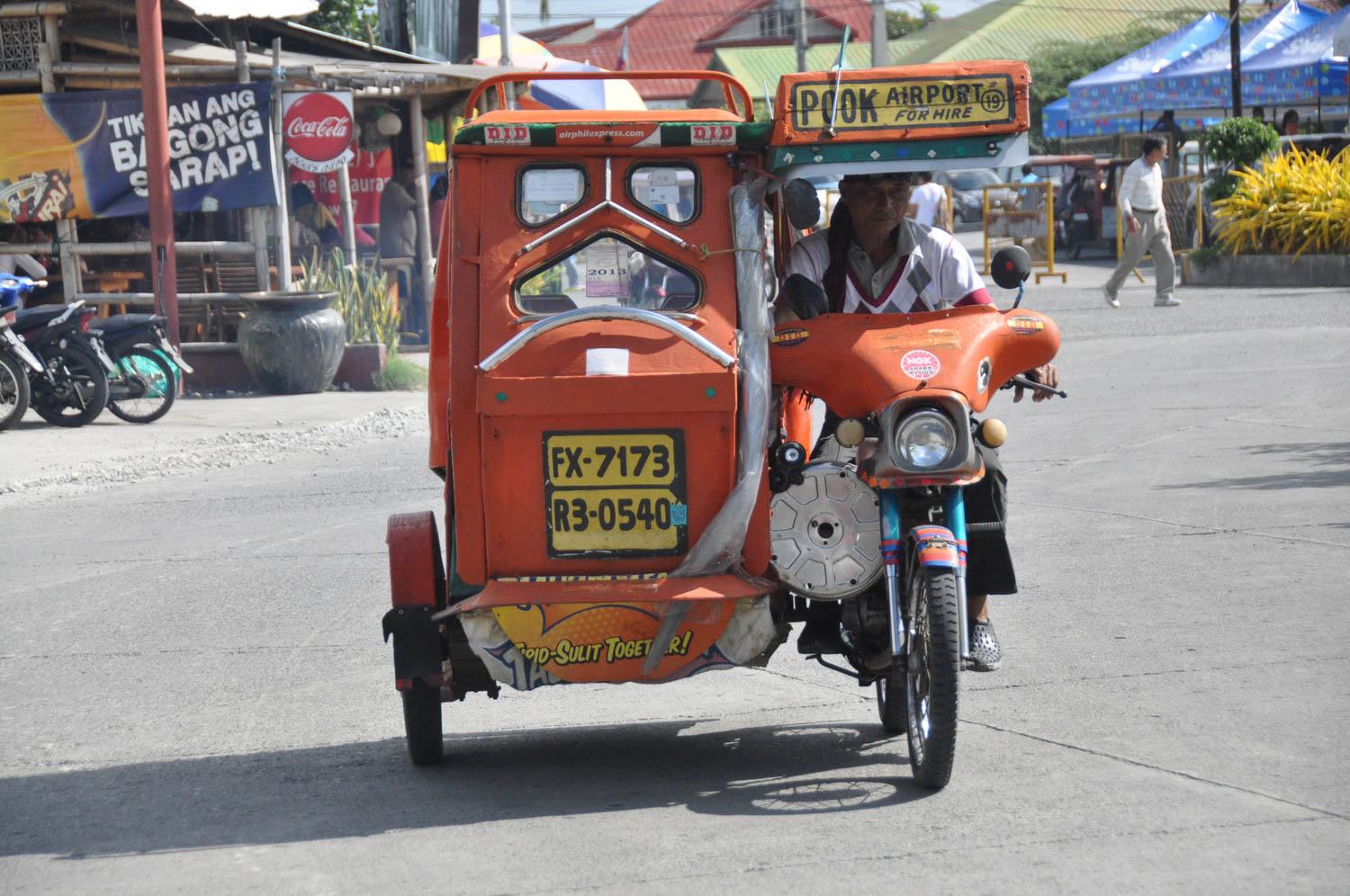 Our journey there from Boracay was no small feat.
Our modes of transportation tallied up quickly: shuttle, ferry, van, airplane, taxi, ferry… and that wasn't all. Although we began our journey early in the morning, nightfall was quickly approaching as we started our last leg of the journey on tricycle – essentially a motorbike with an attached sidecar.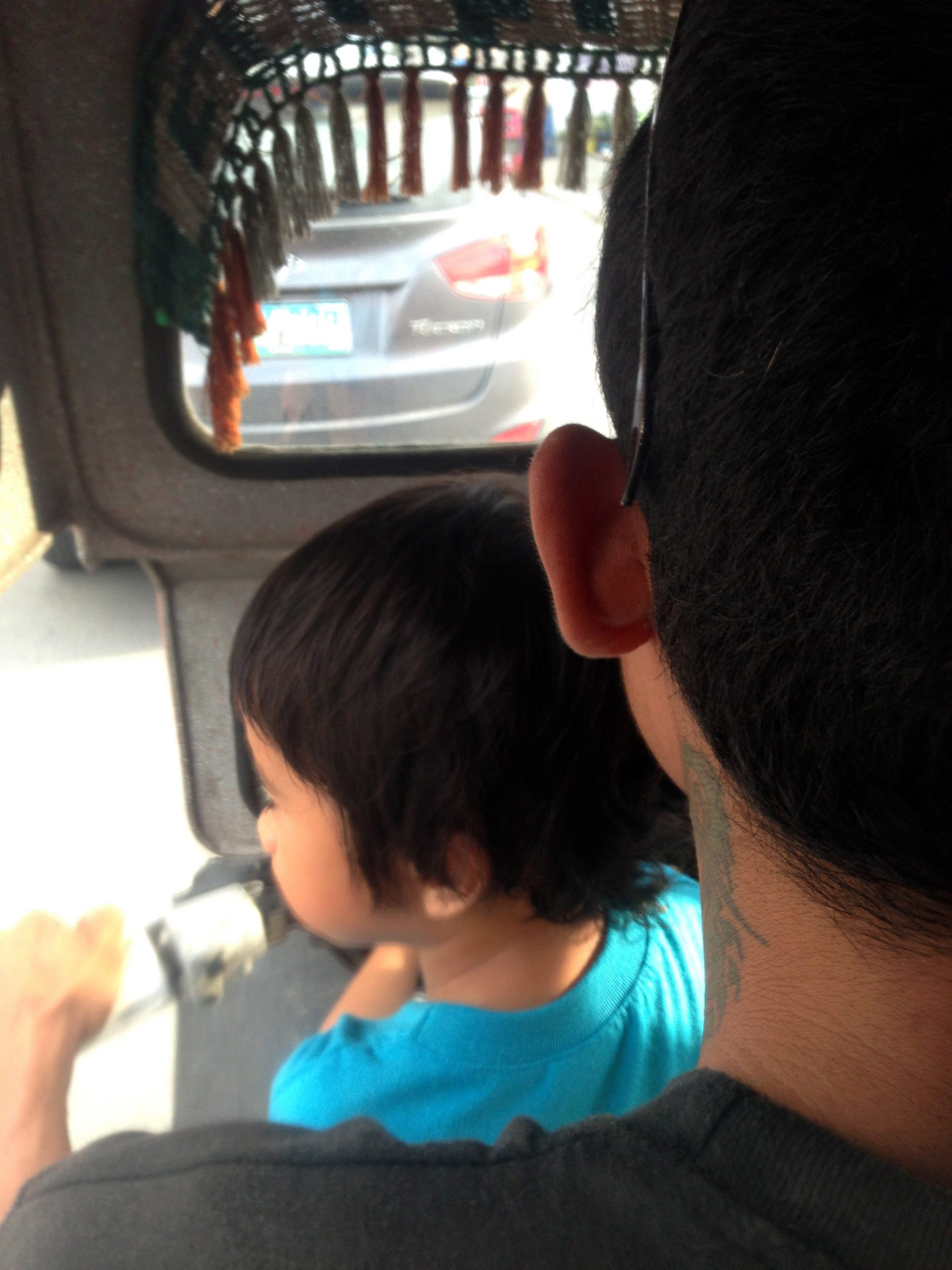 It's not uncommon to see entire families of 5 or 6 stuffing themselves into one trike. I have no idea how though, because the three of us barely managed to squeeze inside with our daypacks.
I sat on the motorbike behind the driver who had his small son in his lap, for the hour-long ride to Nuts Huts, a secluded guesthouse in the jungle we'd heard other travelers rave about online.
We abandoned the tricycle when the road became too muddy to navigate, and walked another 15 minutes by foot to the entrance, passing through a little village. We finally reached the entrance and descended on a steep stairway to the peaceful jungle hideaway.
Best Things to do on Bohol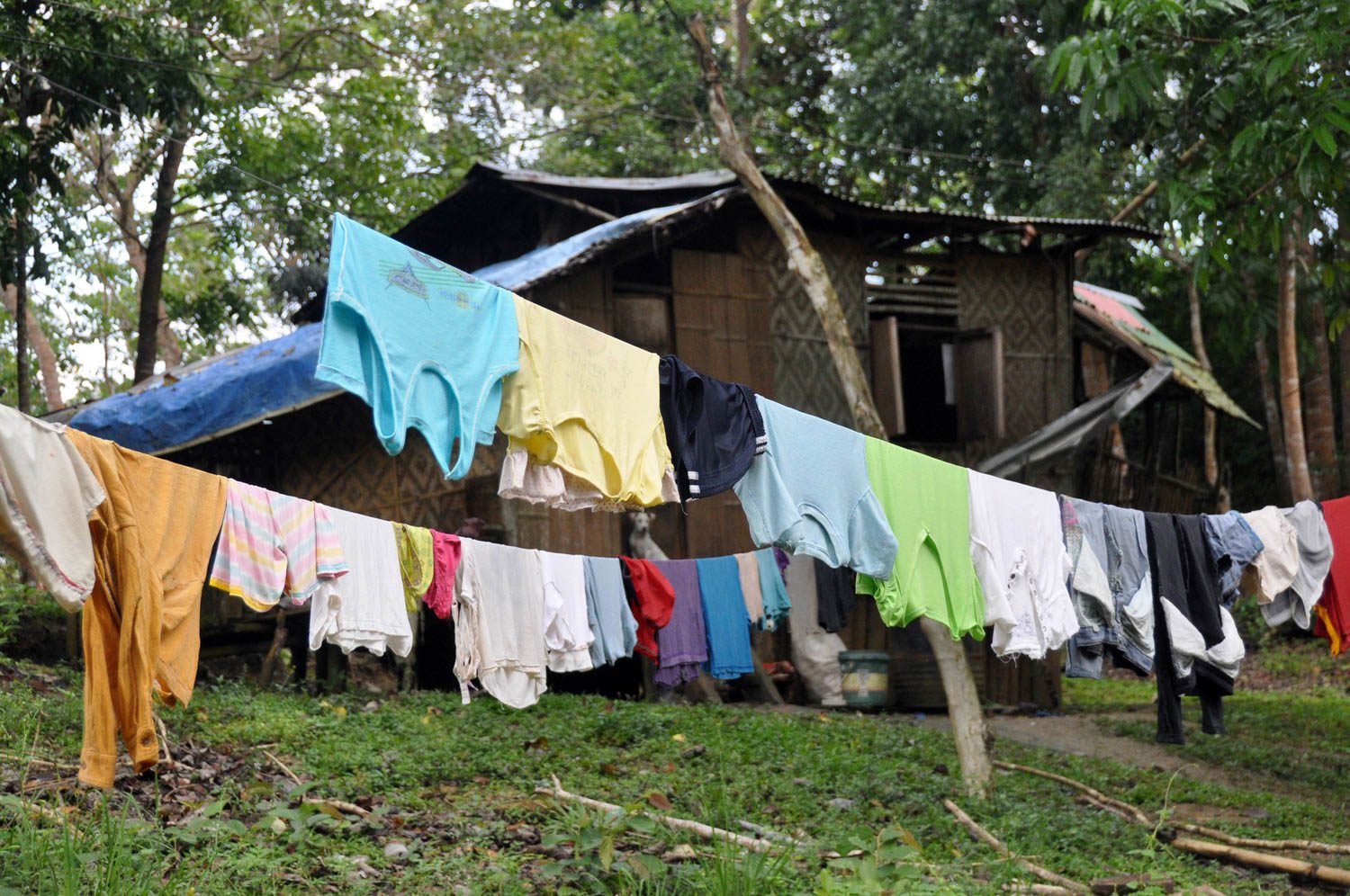 While there are beaches on this island, Bohol isn't necessary a place you just lay on the beach. There are other islands for that!
Instead, Bohol is a perfect place to explore the jungle, pass through local villages on motorbike and experience a side of the Philippines you won't find elsewhere.
If this sounds like your type of adventure, keep reading because we're going to share the top things to do and an unforgettable place to stay on this special island.
1. Stay at Nuts Huts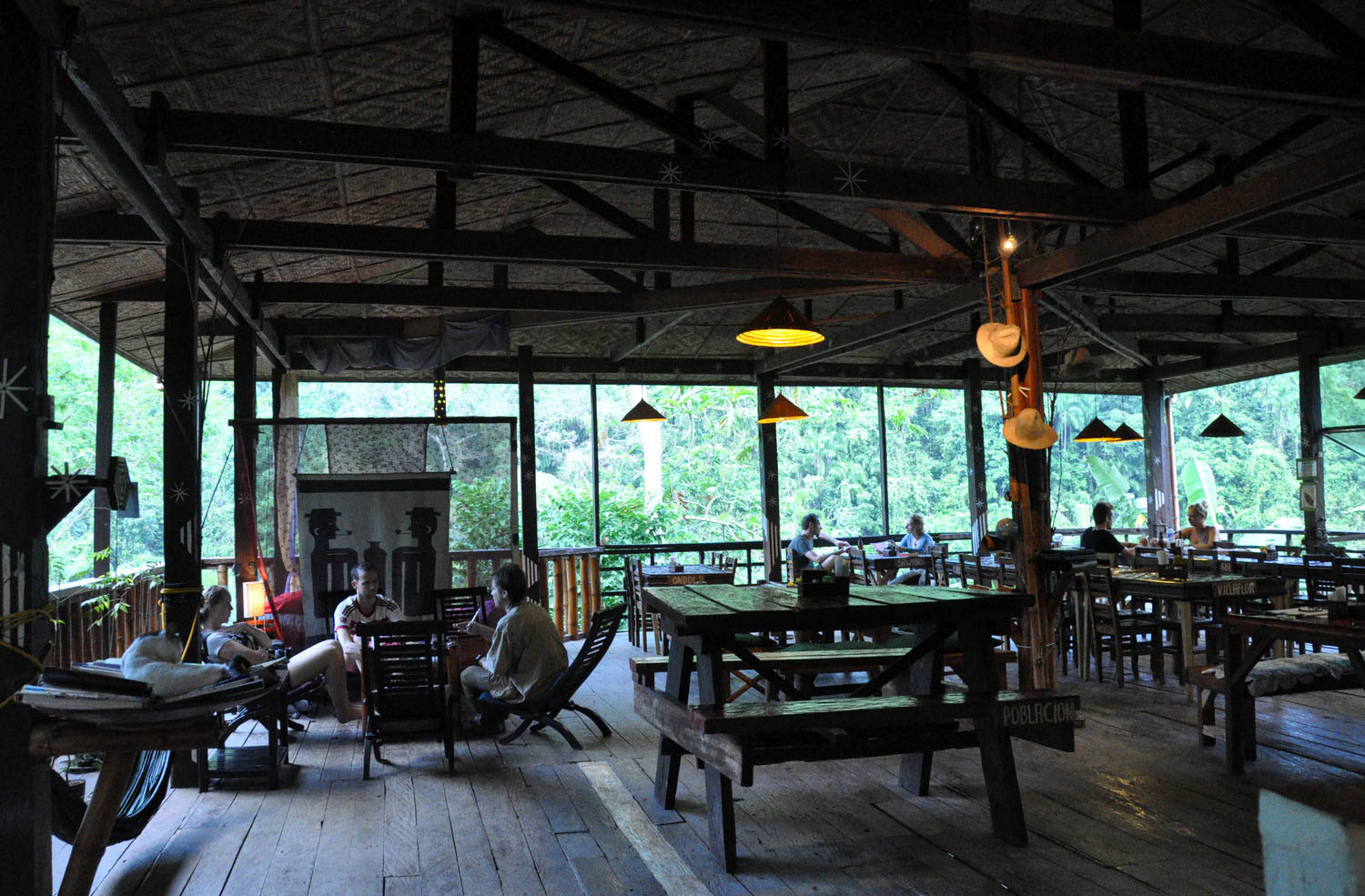 If you like "going off the grid" and don't mind a bit of adventure, staying at Nuts Huts is a perfect place to spend a few nights in Bohol.
This jungle hostel requires a bit of work to get to, but once you arrive, you'll be rewarded with stunning views of the river valley and a beautiful open-air space to hang out and mingle with other likeminded travelers.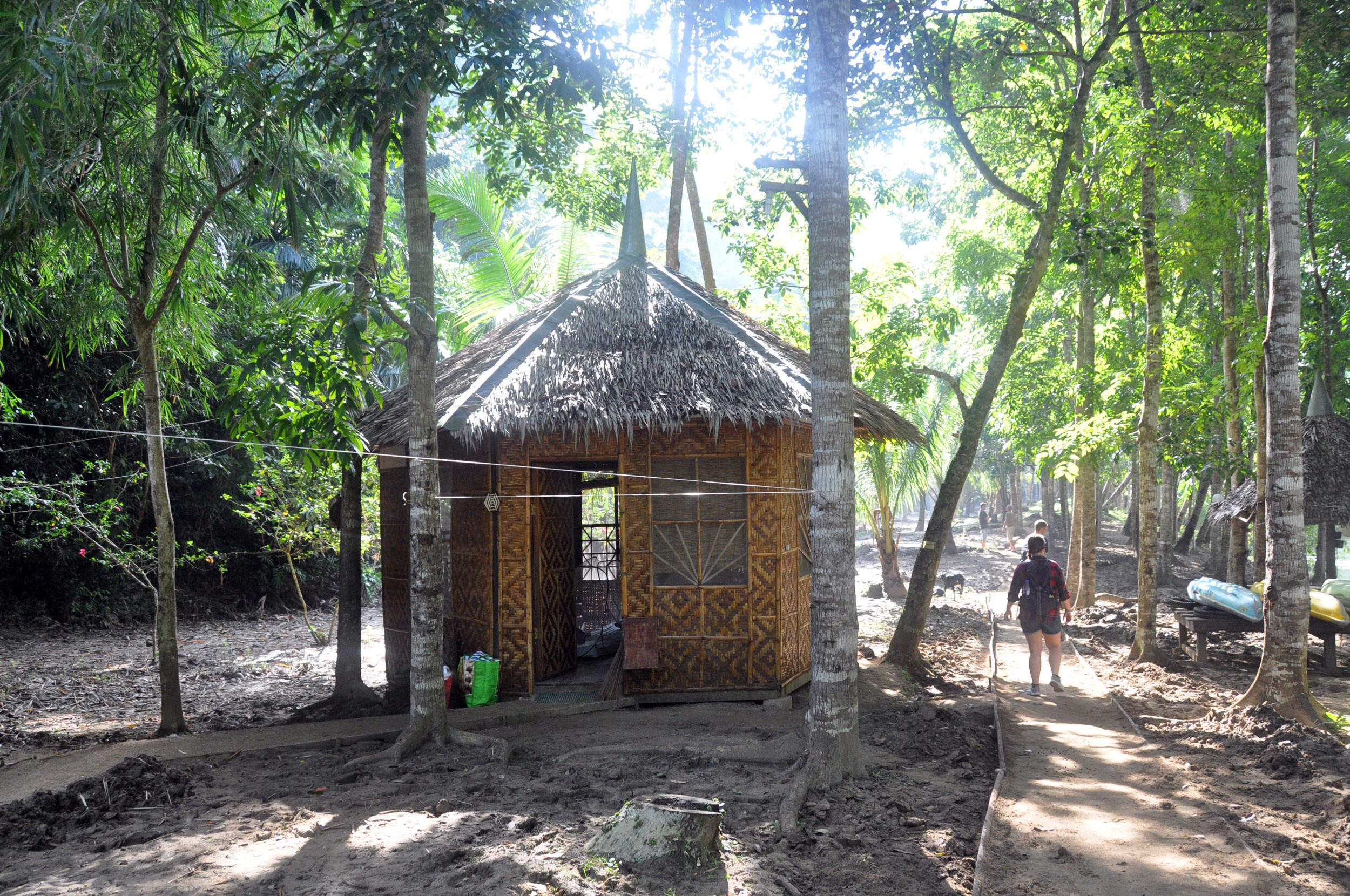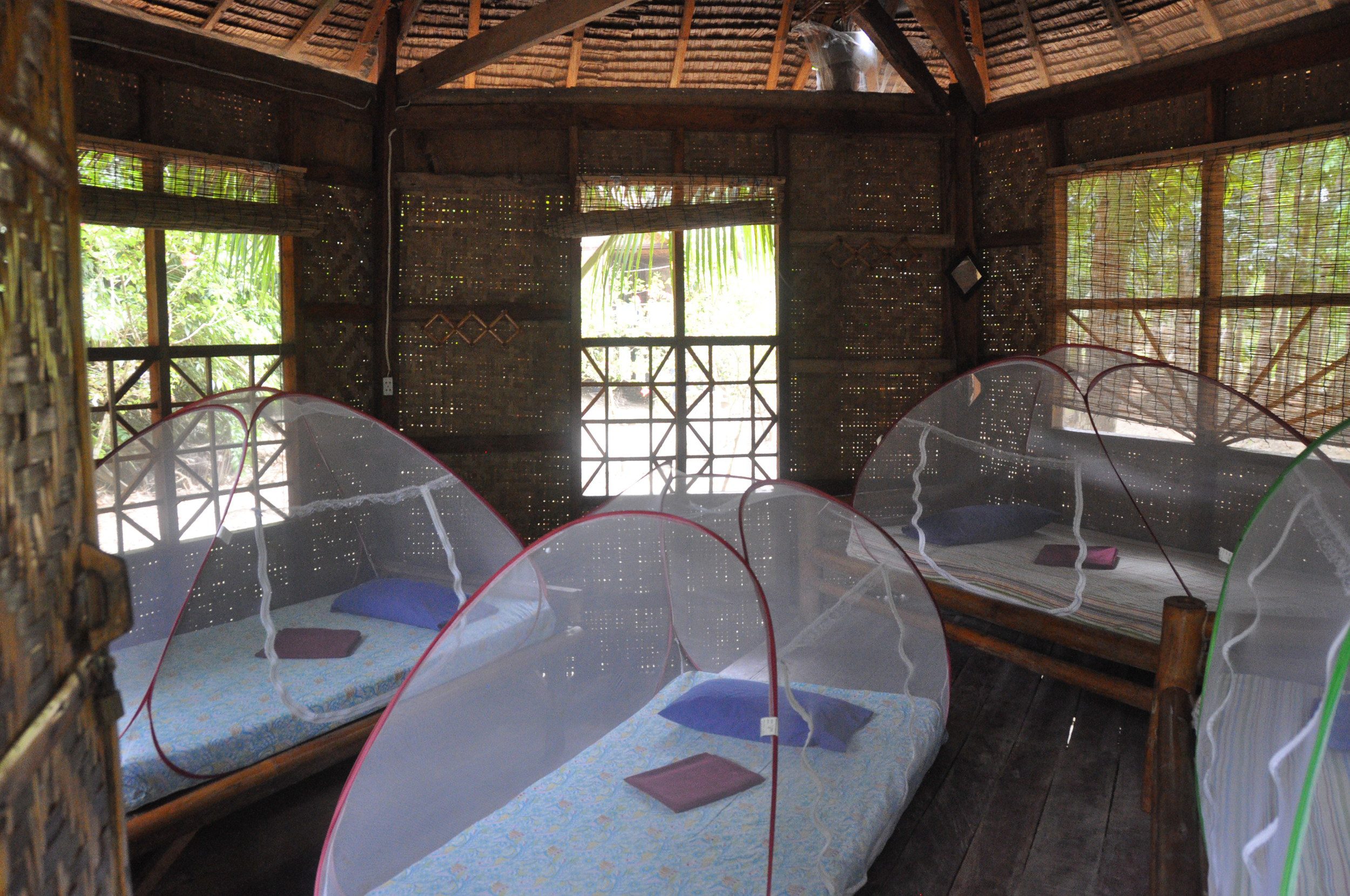 The accommodation is basic, but comfortable enough, and the restaurant serves up tasty and healthy meals.
2. Explore the island on Motorbike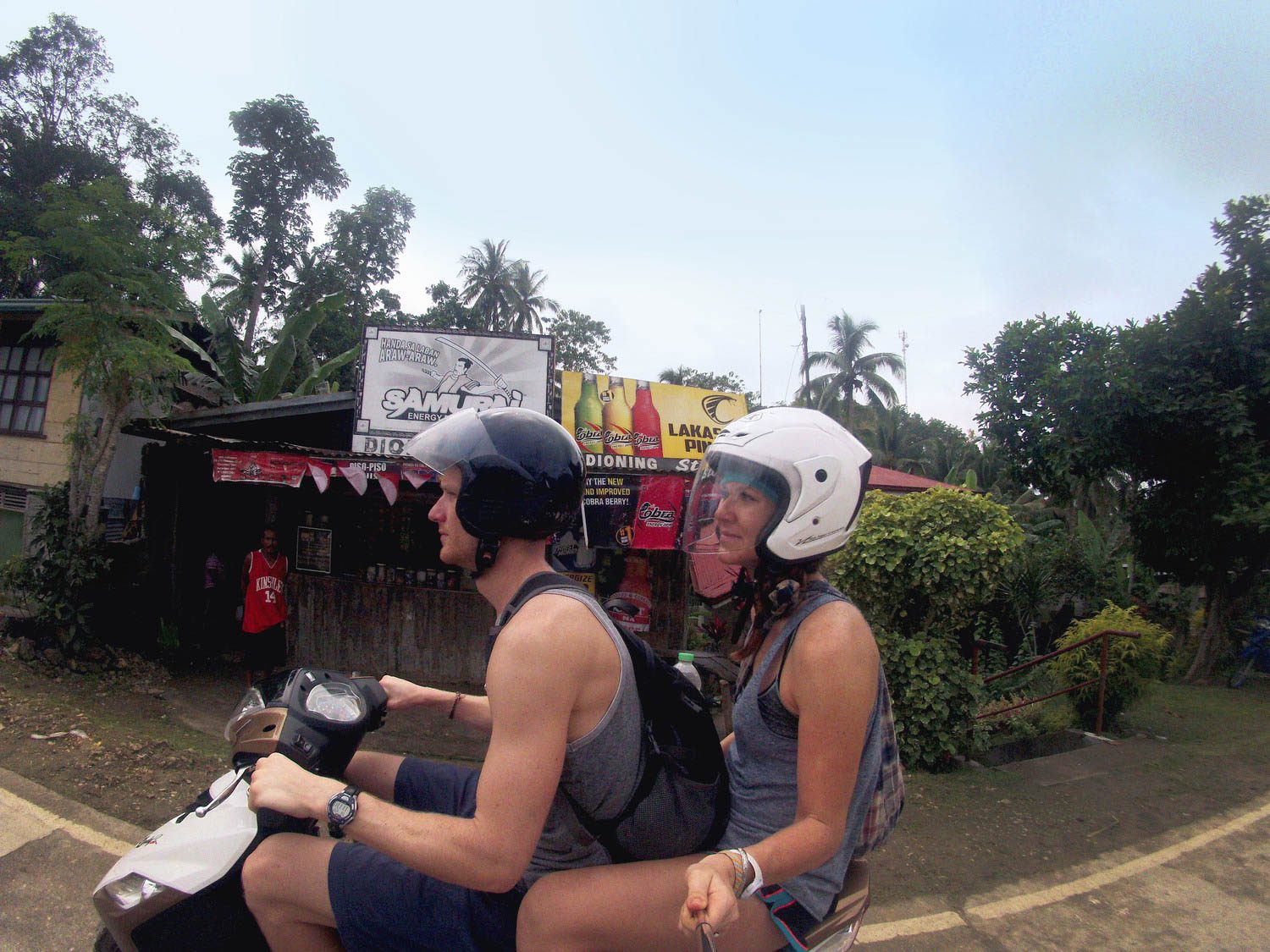 The best way to explore the island of Bohol is on motorbike. It gives you the freedom to stop in small villages along the way, and since there's not much traffic outside the main cities, it's actually a great place to learn.
It is faster and more convenient than taking public transportation, and it's less expensive than hiring a driver.
It's very simple (and cheap!) to rent a motorbike for the day. We had the staff at Nuts Huts arrange it for us the night before. When we wok up the next morning, we walked up to the road and waiting there for us were three local men and their motorbikes.
Yep, we literally handed them cash and they handed us keys in return.
A Word of Caution When Driving a Motorbike
Driving motorbikes is a popular way to get around in many Southeast Asian countries. But it's not without its dangers. After traveling in Asia for years, we have seen our fair share of accidents and injuries. We are sure to always, ALWAYS wear a helmet, and we never go without travel insurance.
If you don't feel comfortable driving a motorbike, it is possible to hire a driver to bring you around the island or rent a car.
And if you want proof of the dangers, here's my little motorbike mishap story from our time in Bohol… (embarrassing, I know)
After renting 3 motorbikes, we all did a test run down the highway and we were off. The only problem? Instead of taking a long straight road, as we had done on our "practice run", we had to start by immediately making a sharp turn and cross a steep bridge. Turns out, it was a lot harder than it sounds.
I pressed the gas as I made a sharp uphill turn onto the bridge and barely moved. I pressed the gas harder. A little too hard, I think.
And that's when I saw an oncoming driver – a 15-year-old kid. I knew I had to brake, but in my panic, revved the gas harder instead. It was one of those outer-body moments where you watch yourself, knowing full well you are doing the wrong thing. But try as you might, you just CAN'T. STOP.
Well, after being on the motorbike for approximately 20 seconds, I crashed. That's right – full-on hit another motorbike. And as you can imagine, it caused quite a scene. The young boy, who was unharmed, gave me a "what the hell?!" look and sped off.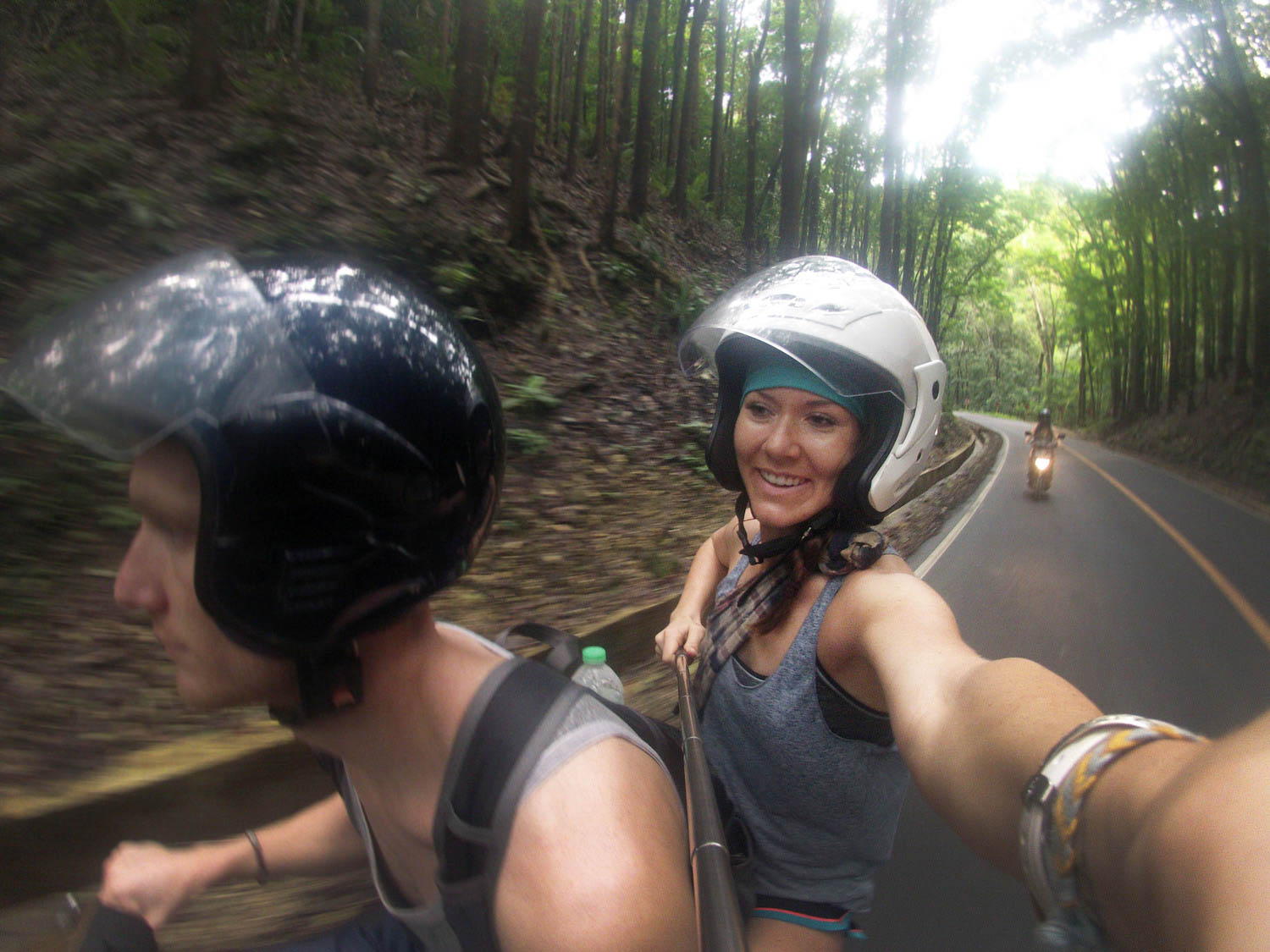 The owner of the pink motorbike I was straddling, Dario, rushed over to see if I was alright. Seeing that I was unscathed other than a small scrape on my ankle, he looked at me with concerned eyes and said, "Okay, just be more careful next time."
WHAT? I just crashed your bike, and you are still going to let me drive it?
I was a bit shaken up, and the prospect of riding behind Ben seemed more appealing at the moment. So I abandoned the pink bike, assuring Dario I would pay for any damages when we returned in the evening. Turns out $40 USD is enough to replace a cracked fender in the Philippines. Check out what else we paid for in our Philippines Budget.
I was lucky it was just a fender bender. It could have been much worse, so consider yourself warned!
3. Stop in local villages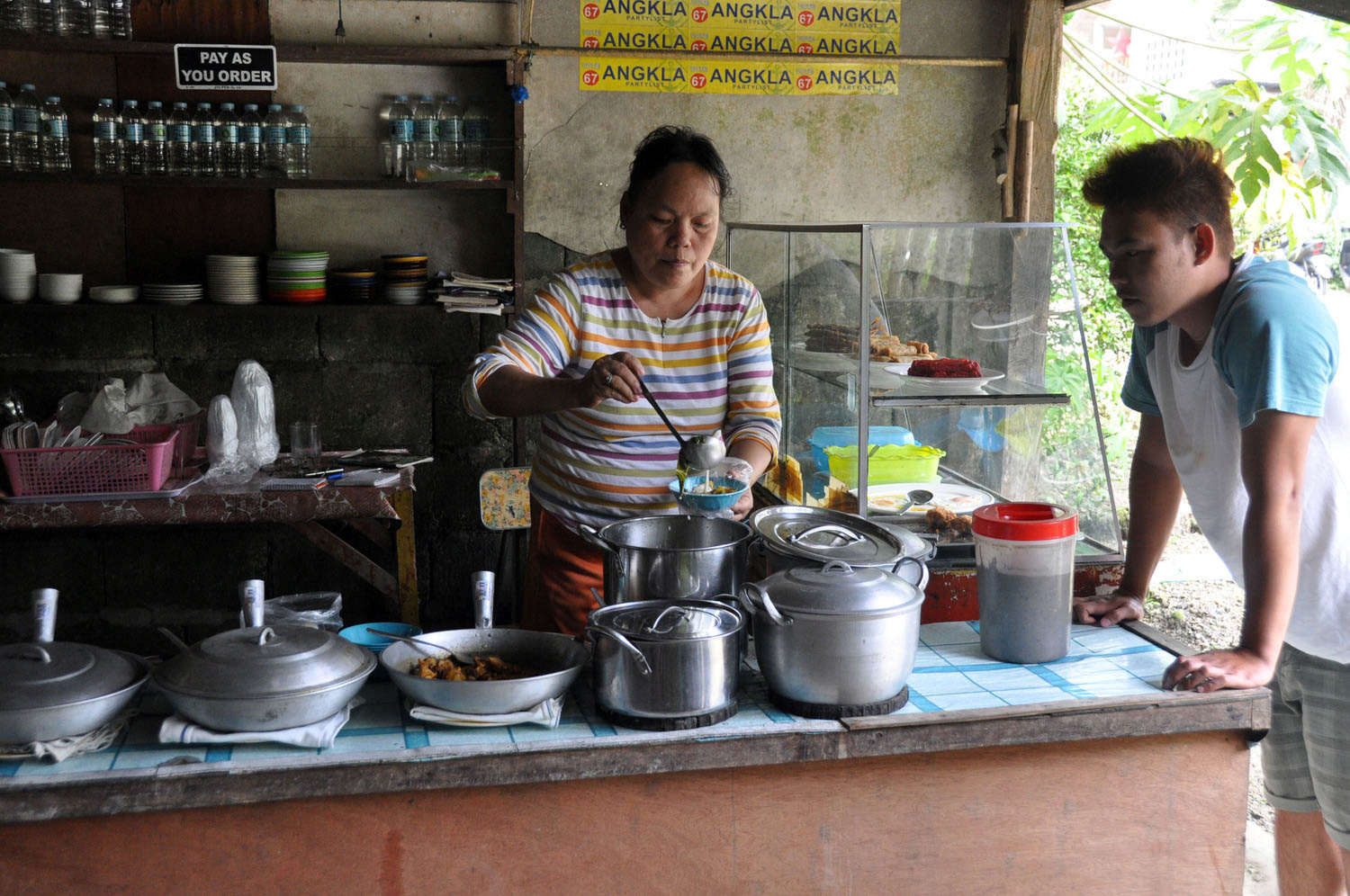 One of the best parts about exploring the island by motorbike is you can stop wherever you'd like. We spotted a small shop serving food and stopped for a local, authentic lunch.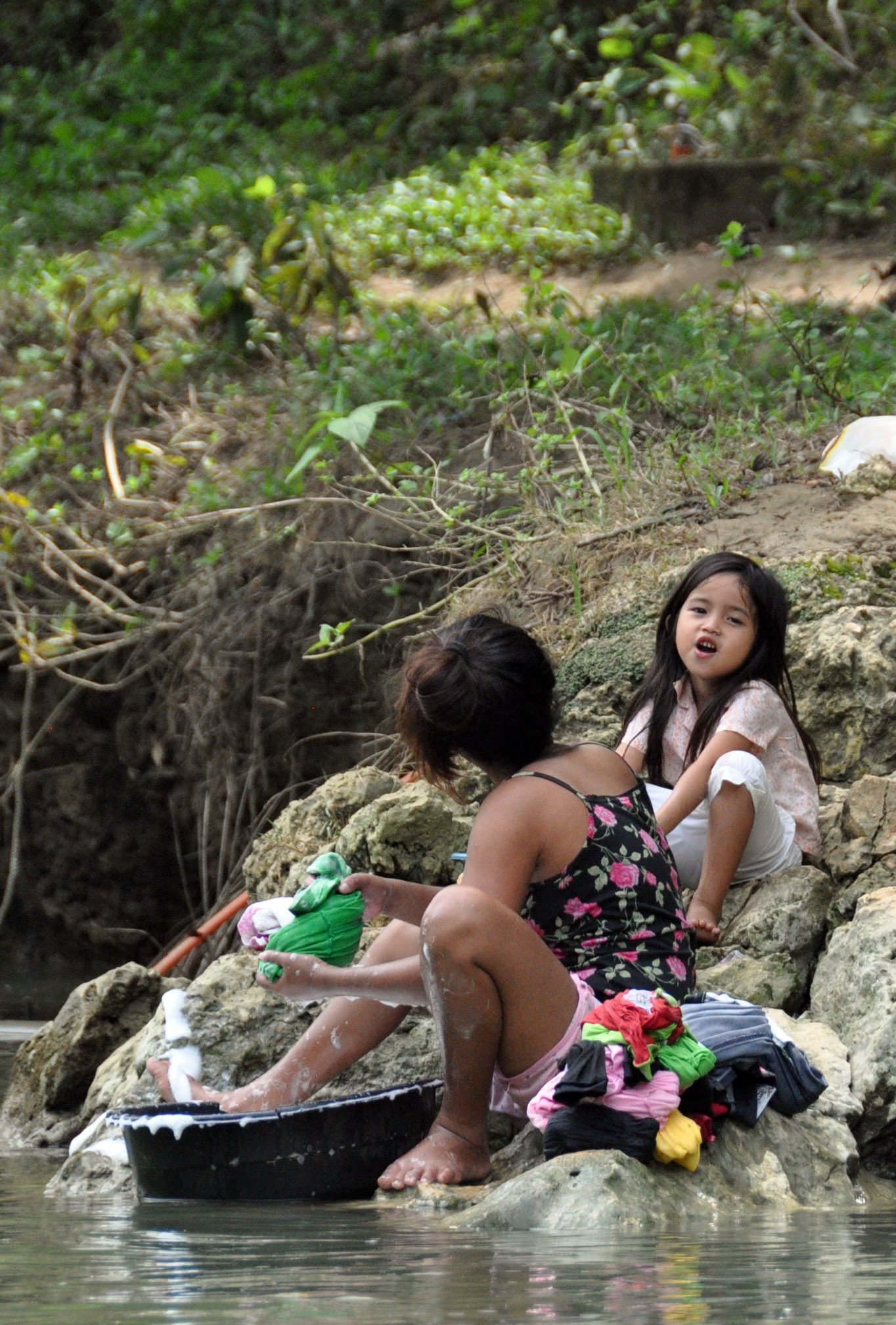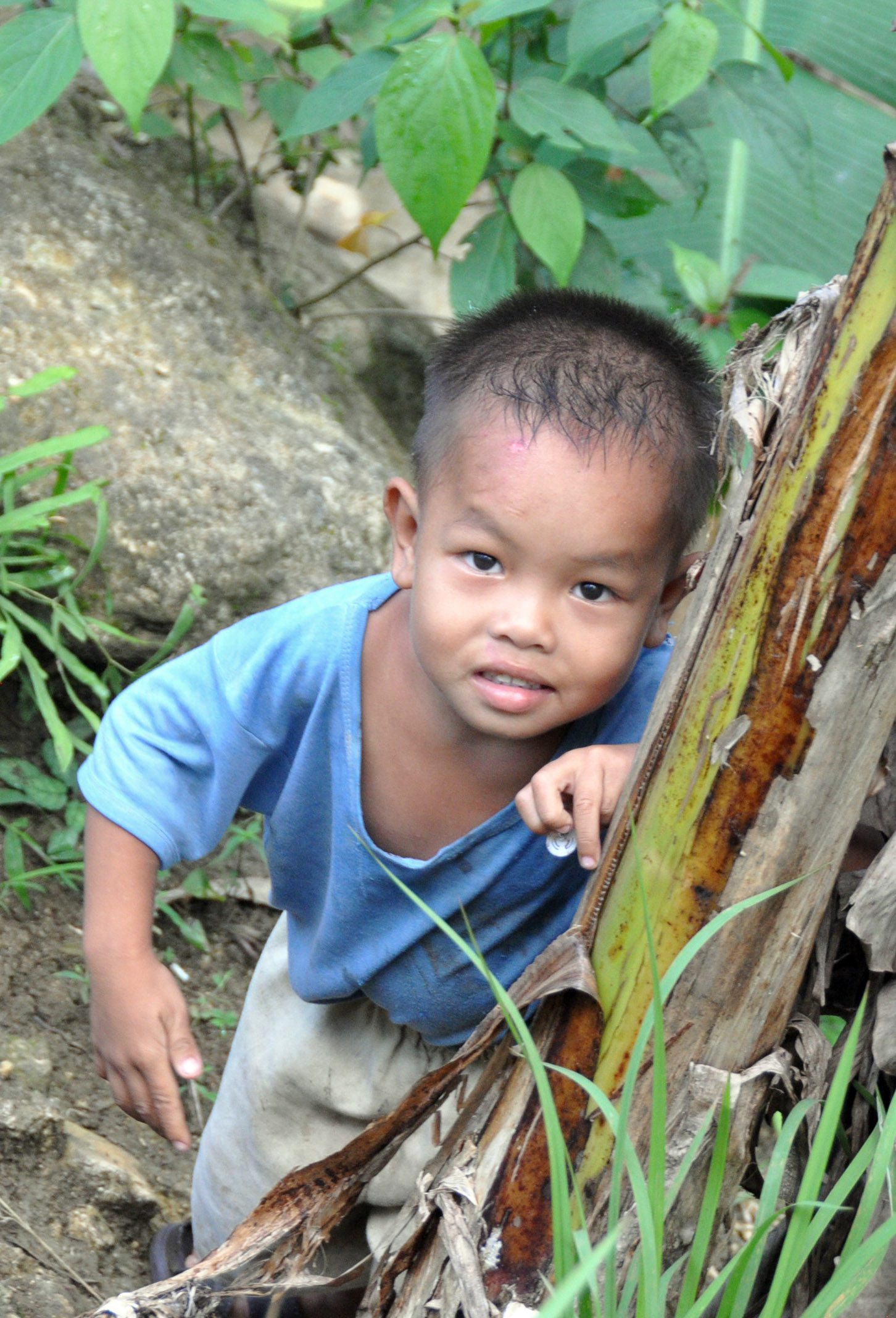 We drove past children walking home from schools and our hearts melted when they waved and shouted "hello!" and asked for high fives.
Driving through and stopping in these villages will likely be a highlight of your day, just like it was for us!
And if you're staying at Nuts Huts, be sure to explore Loboc itself. There's a bridge and a town square where you can chat with local children who are eager to practice their English!
4. Visit the Tarsier Sanctuary
Our first stop was to see tarsiers.
What is a tarsier, you ask? I didn't know either until I started research things to do in the Philippines.
They are one of the world's smallest primates. Though they used to be found around much of the world, tarsiers are currently nearing extinction and can only be found in Southeast Asia.
They have long, spindly fingers, furry bodies, and tails. Their distinguishing feature though, is their gigantic, bulging eyes.
I've heard them described as looking like a "teddy bear getting a colonoscopy".
Just Google them. Cute, huh?
In captivity these furry little guys are said to commit suicide, yet sadly, many places still keep them in cages to attract paying tourists.
The sanctuary we visited is one of the only places you can view these nocturnal creatures in their natural habitat. They are also working to restore the population of this critically endangered animal.
5. Gaze at the Chocolate Hills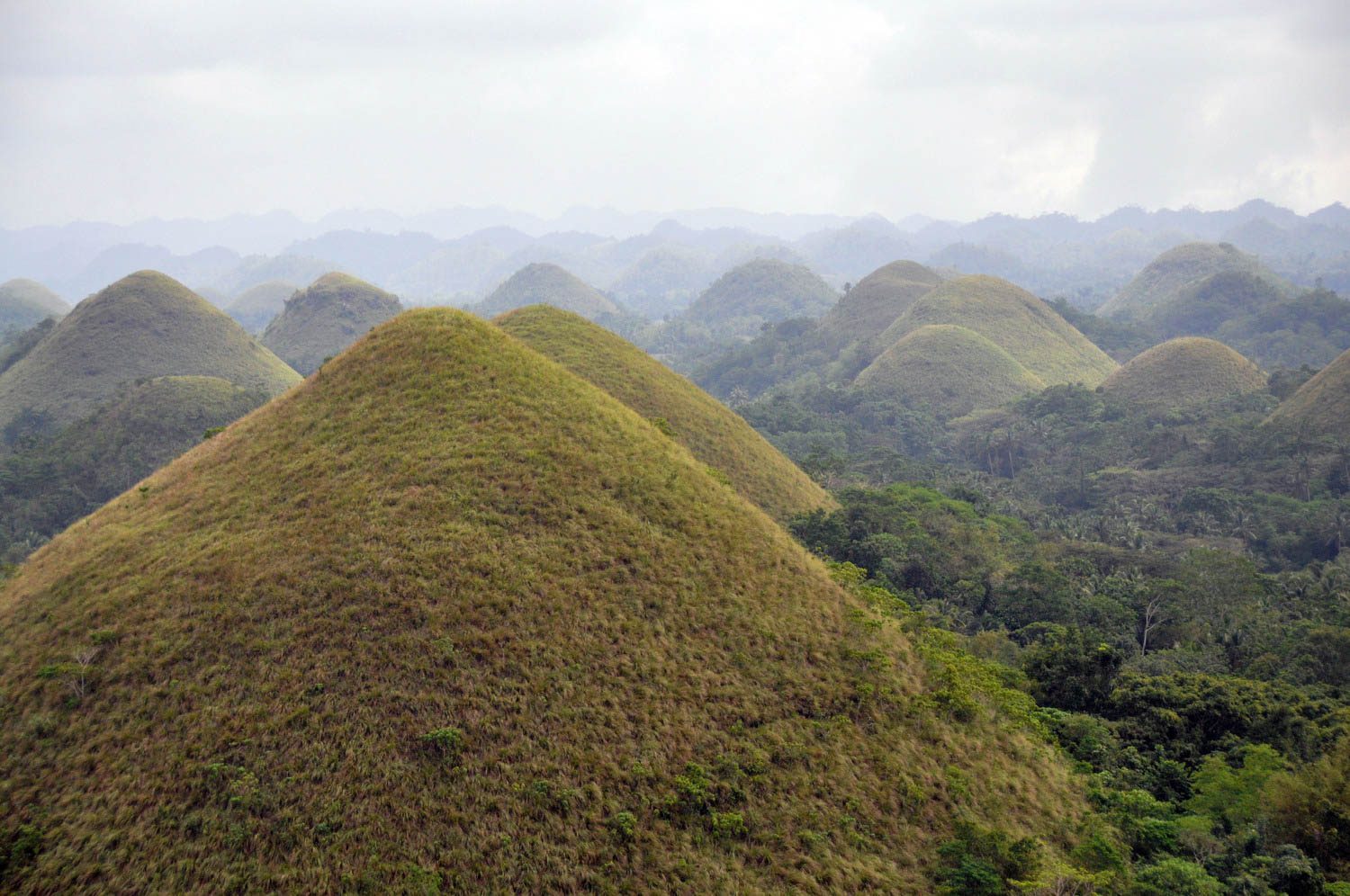 After seeing a few tarsiers, we hopped back on our motorbikes and rode on to the famed Chocolate Hills. In the center of Bohol, stand more than one thousand huge, dome-shaped mounds.
No, they do not produce cacao here. I thought that too.
They received the tantalizing name due to the brown color of the grass during dry season. Not quite as sweet of a name anymore, is it?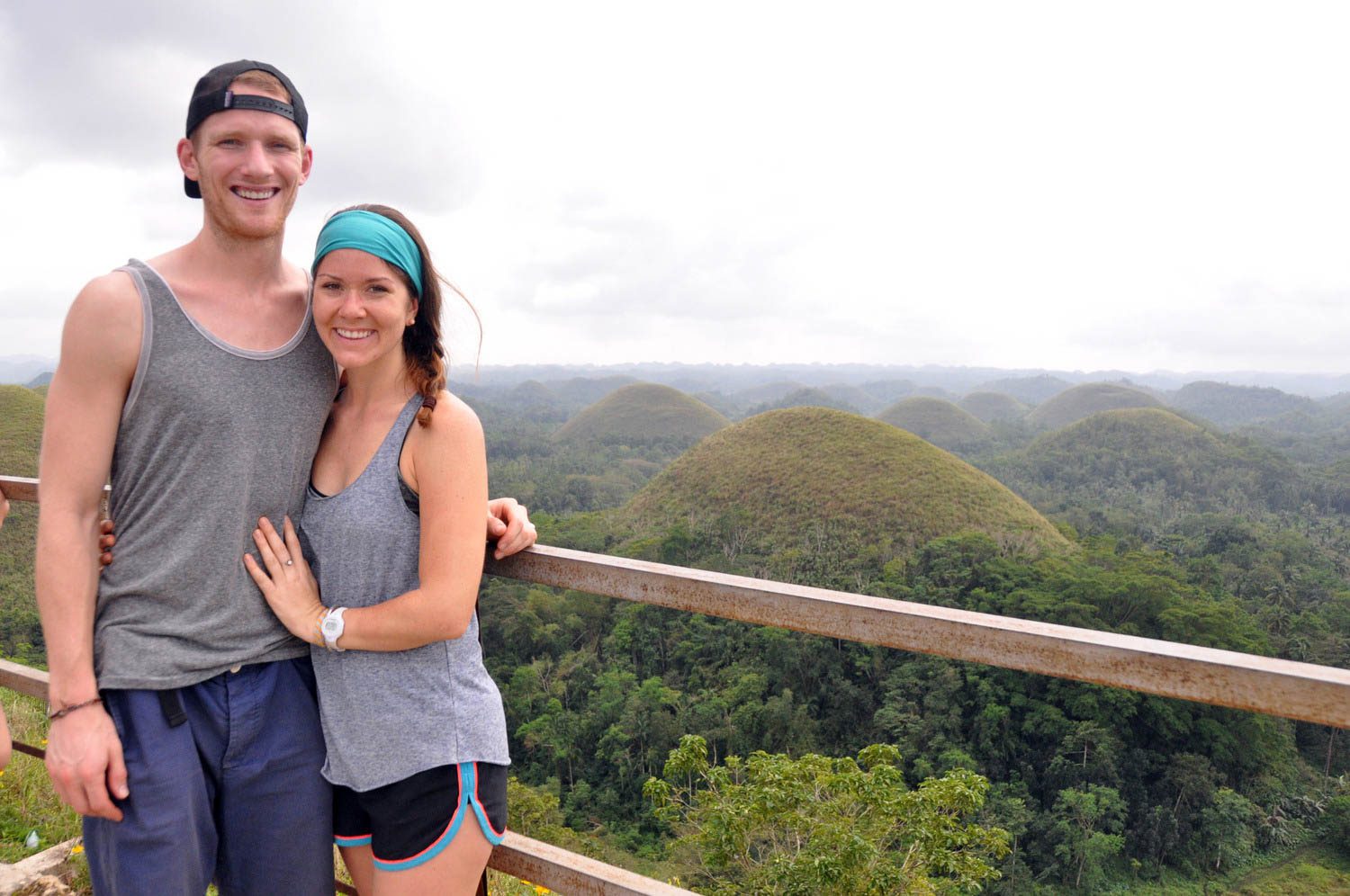 The hills themselves, though beautiful, were not the highlight of my day. The ride there – the wind blowing through my hair – was definitely the best part.
The hour-long journey took us on winding roads, through small villages and past groups of waving school children who giggled and screamed as we waved back. We listened to music and took in the sights of rice fields, rivers, and lush rainforests whizzing by.
6. Drive through the Bilar Mahogany Forest
This forest is man-made, but that doesn't mean it's not beautiful! Drive along the well-paved roads and stop for a few pictures, but be cautious of oncoming traffic.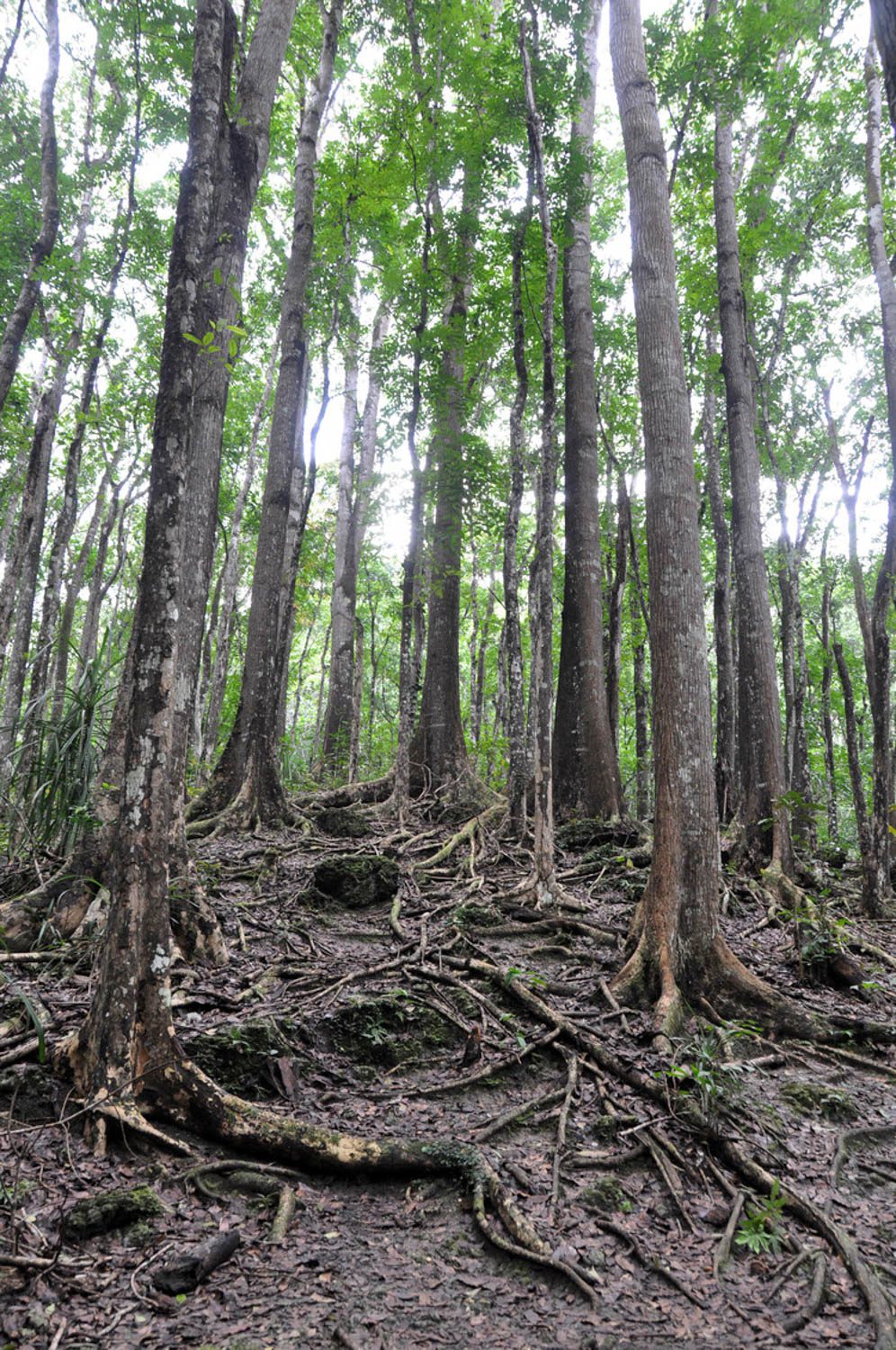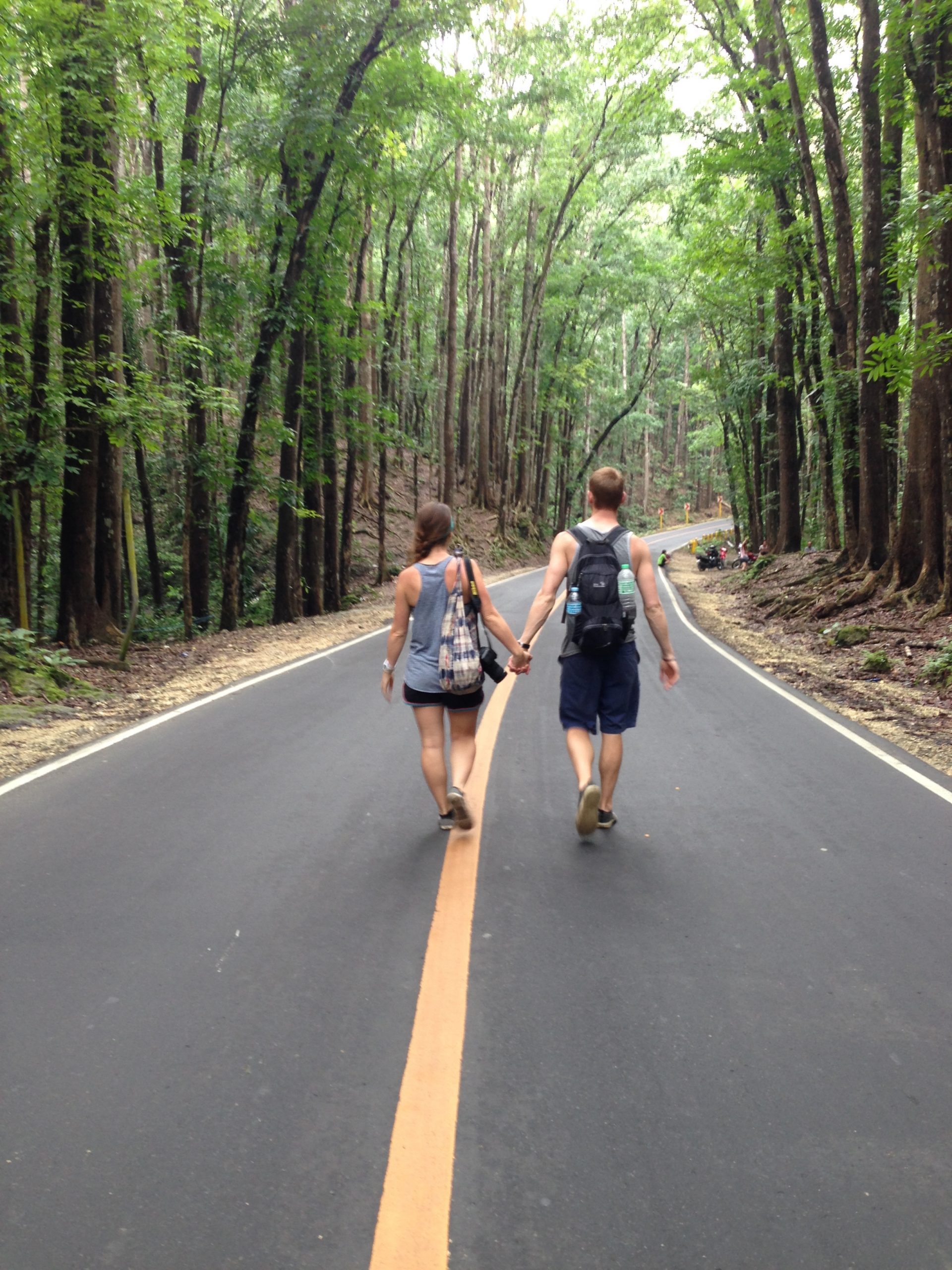 7. Explore Secret Bat Caves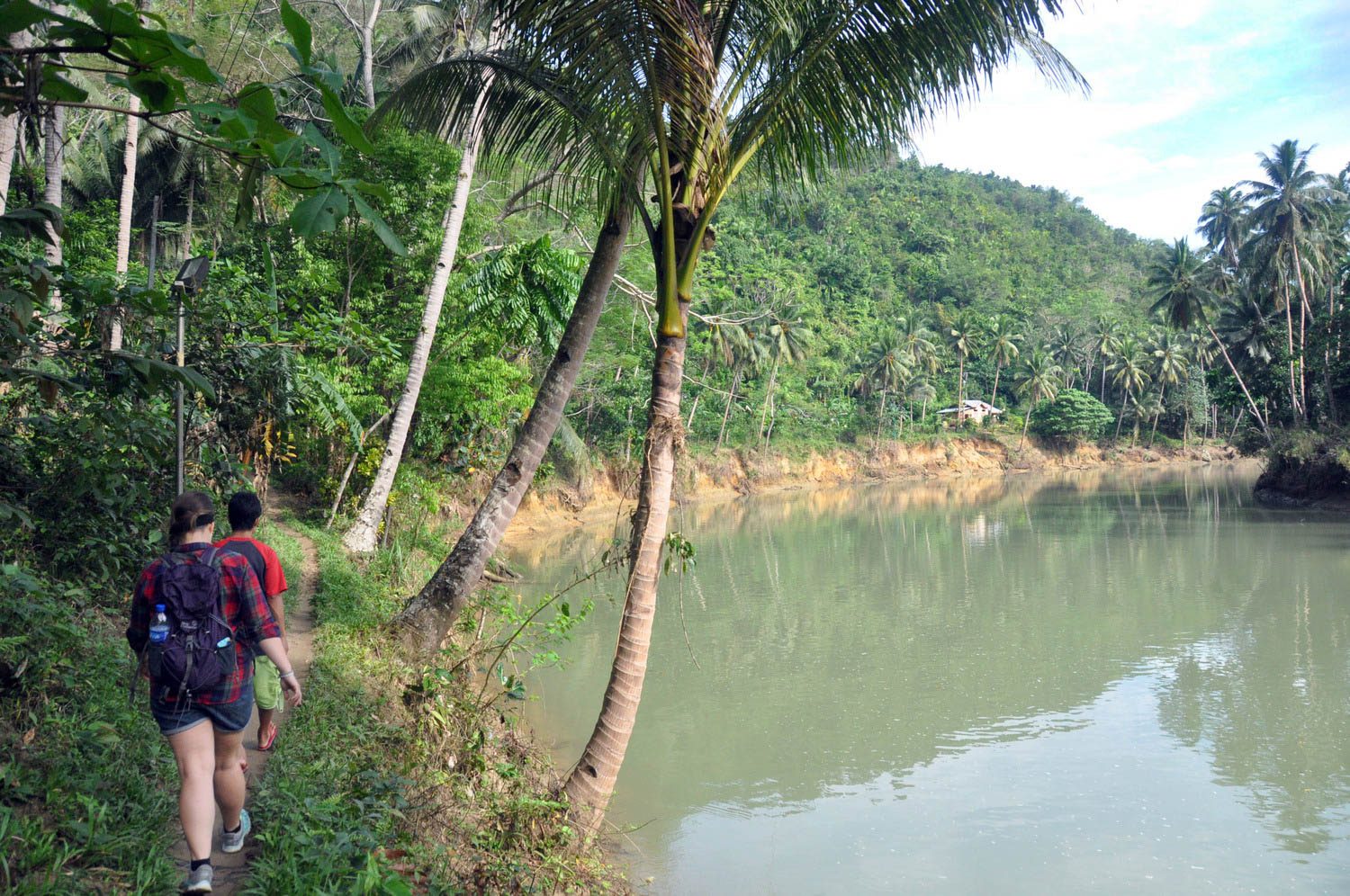 At the front desk of Nuts Huts, you'll see a few different tours listed. One that caught our eye was a morning Cave Trek, which was advertised as "magnificent". We were really given no other information by the woman at the front desk, so we set off, unsure of what to expect.
Our guide was a local man who'd grown up on the river, and now resides in a small hut high up in the hills with his wife and baby.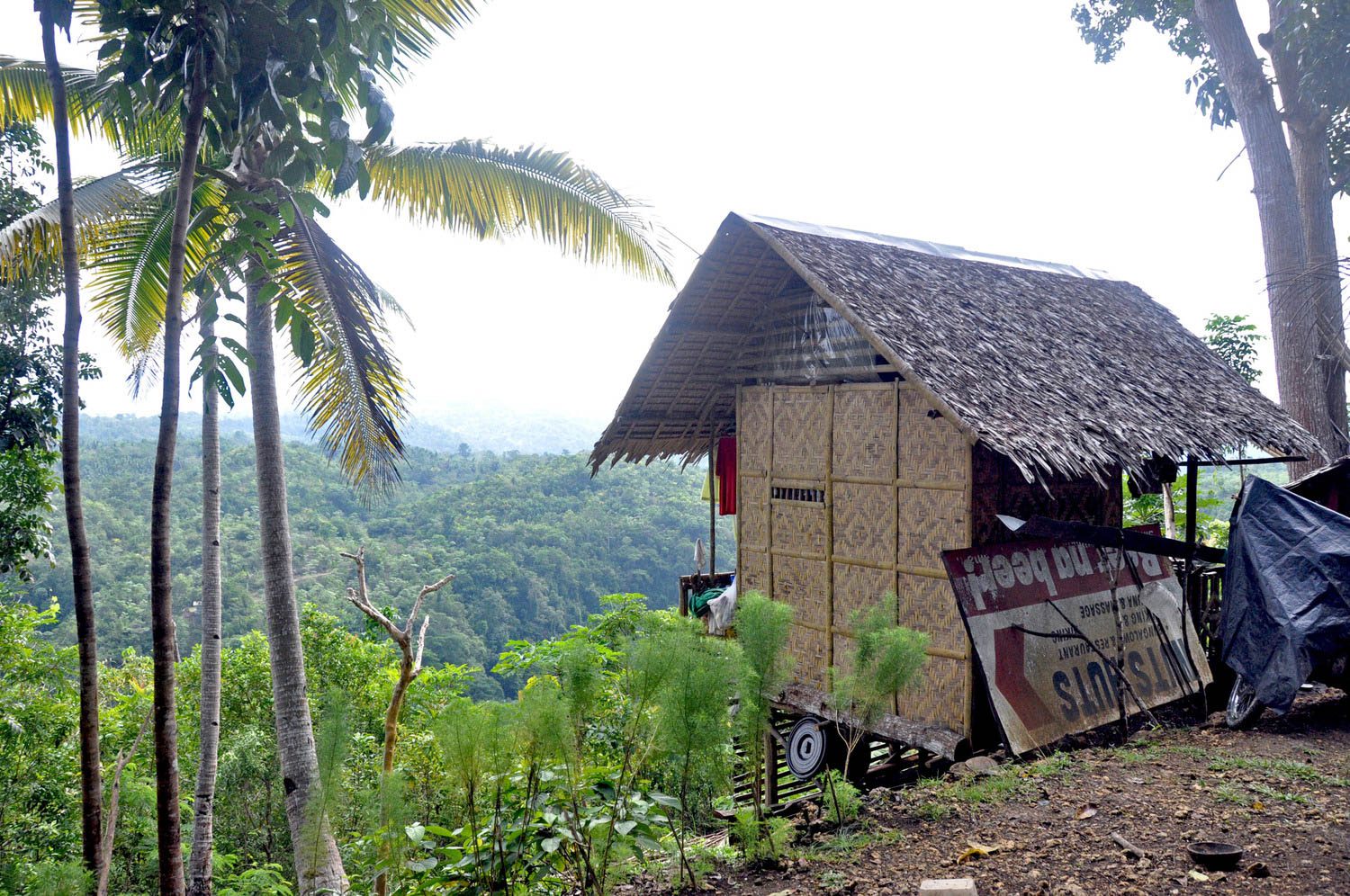 There had been a flood just a month prior to our visit, so instead of taking the usual trail, we climbed up the side of the steep hill on a makeshift path. This past year, we've hiked a lot. From the Inca Trail to some smaller hikes in Korea, we've done our fair share of treks.
Comparatively, this hike was not all that difficult, aside from the stifling humidity. For some reason, we had all thought the caves would be located just down the river, so I thought my knockoff Vans (with no grip whatsoever) would suffice. Add that to the fact that we hadn't brought nearly enough water, and you'll get an idea of how we were feeling on this unexpectedly strenuous trek.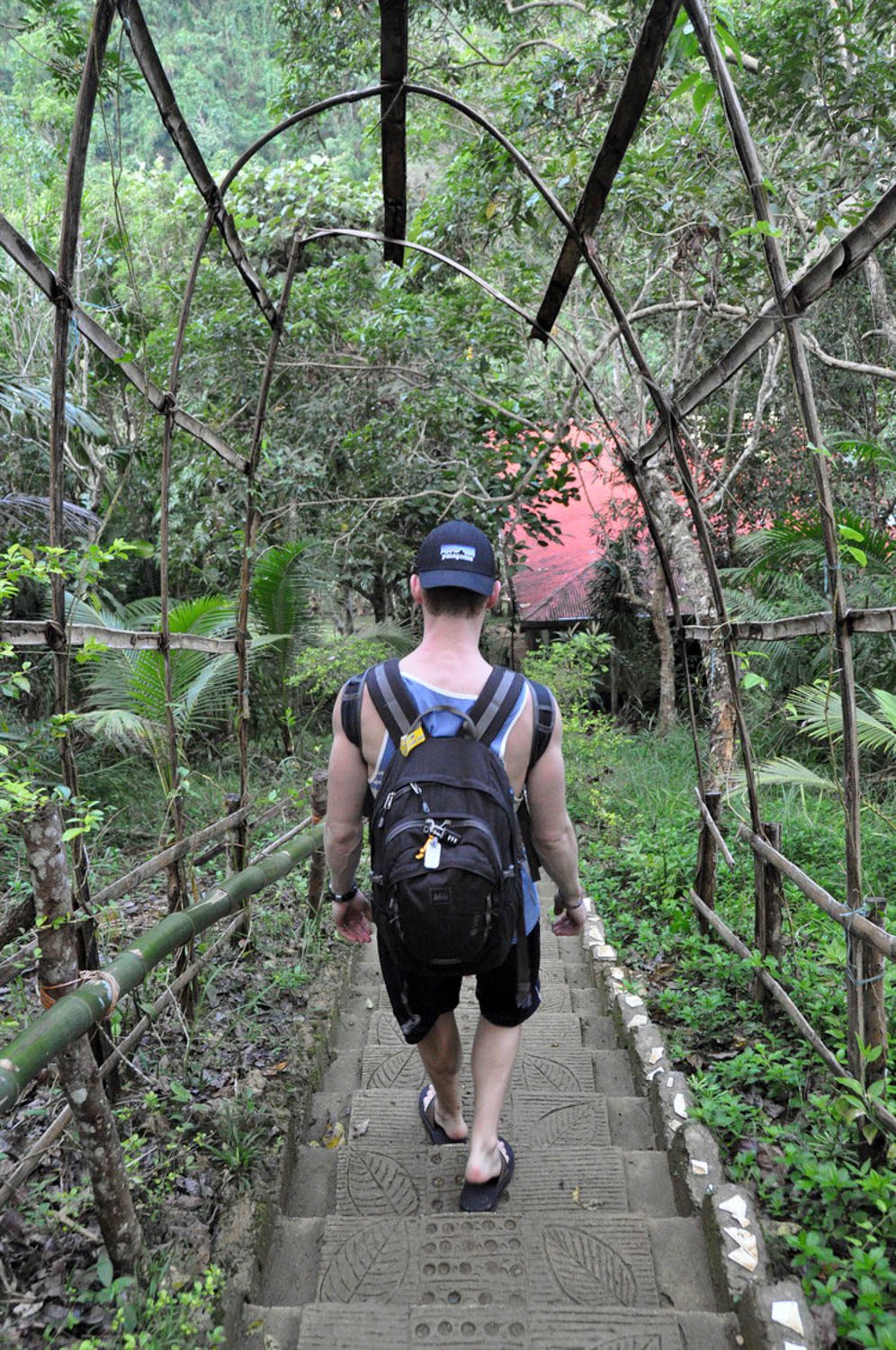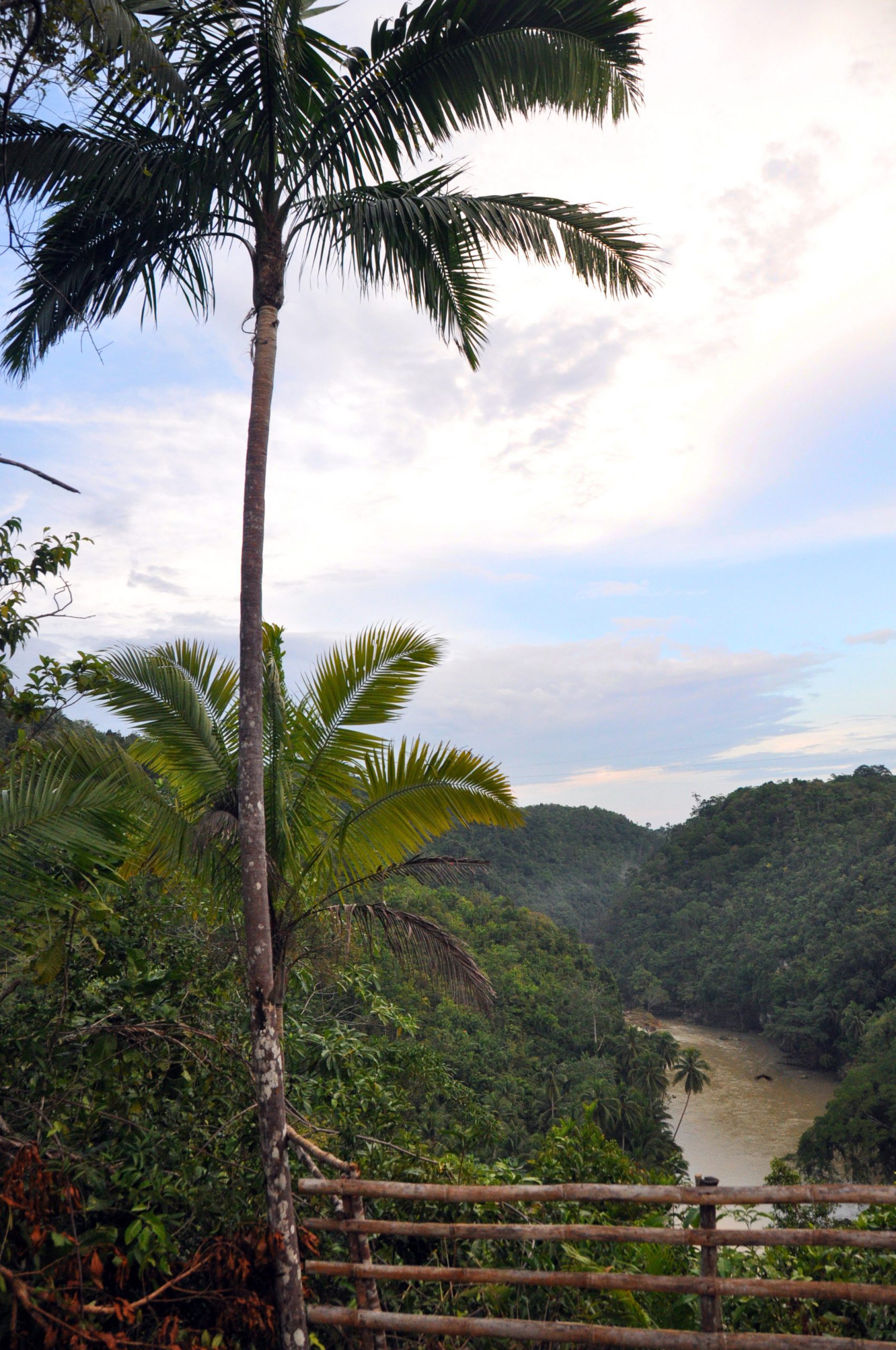 As unprepared as we were, we are not quitters, so we climbed on. Our guide showed us his humble, yet picturesque home, perched on a cliff overlooking the river. And we climbed further.
I remember thinking, these caves better be worth it, on multiple occasions.
Well, they were.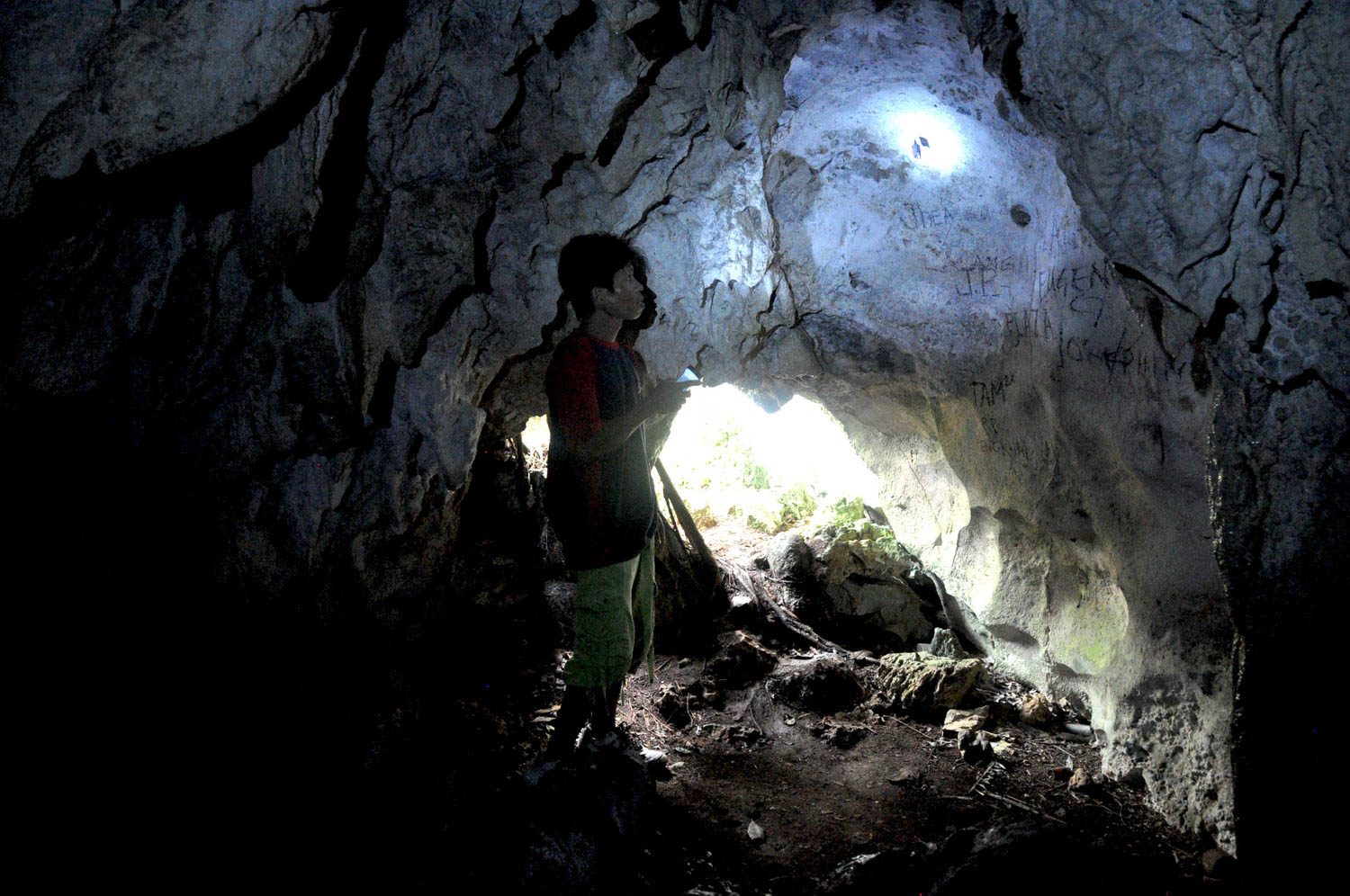 I actually wasn't expecting much, but when we reached the cave I was floored. It was of Indiana Jones proportions.
We visited two caves – both of which were enormous and swarming with bats. Thousands upon thousands of them. They swooped in all directions and the eerie, high-pitched screeches I've only heard from one or two bats at a time was magnified to a level I can't quite describe.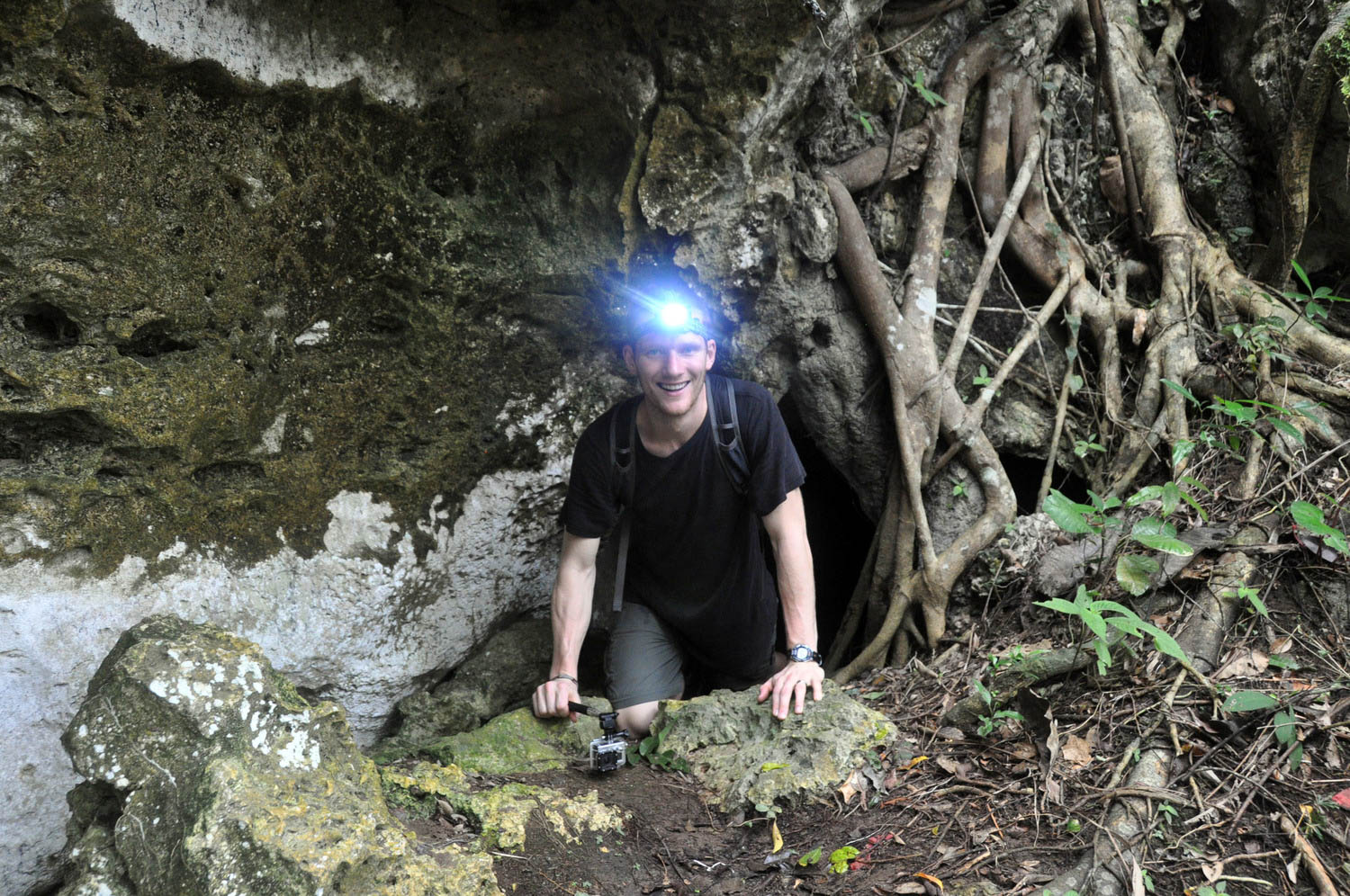 We navigated the poo-covered floor carefully. Our guide told us stories his grandfather told him about Philippine soldiers hiding in these caves when the country was invaded by Japan. It was surreal being in a place with so much history that few have ever seen.
Unlike the cave we visited in Korea, where we were given jumpsuits and rubber boots before being corralled into a long line of other tourists, this was completely different. There were no ropes guiding you to where you must step and we were the only people in sight. Our guide said the only people who see these caves are curious people, who like ourselves, sign up for the mysterious tour from Nuts Huts – not knowing quite what we will find.
Do it yourself: You will need a guide, and you can only sign up for this tour at Nuts Huts. 250 PHP per person
8. Relax at Alona Beach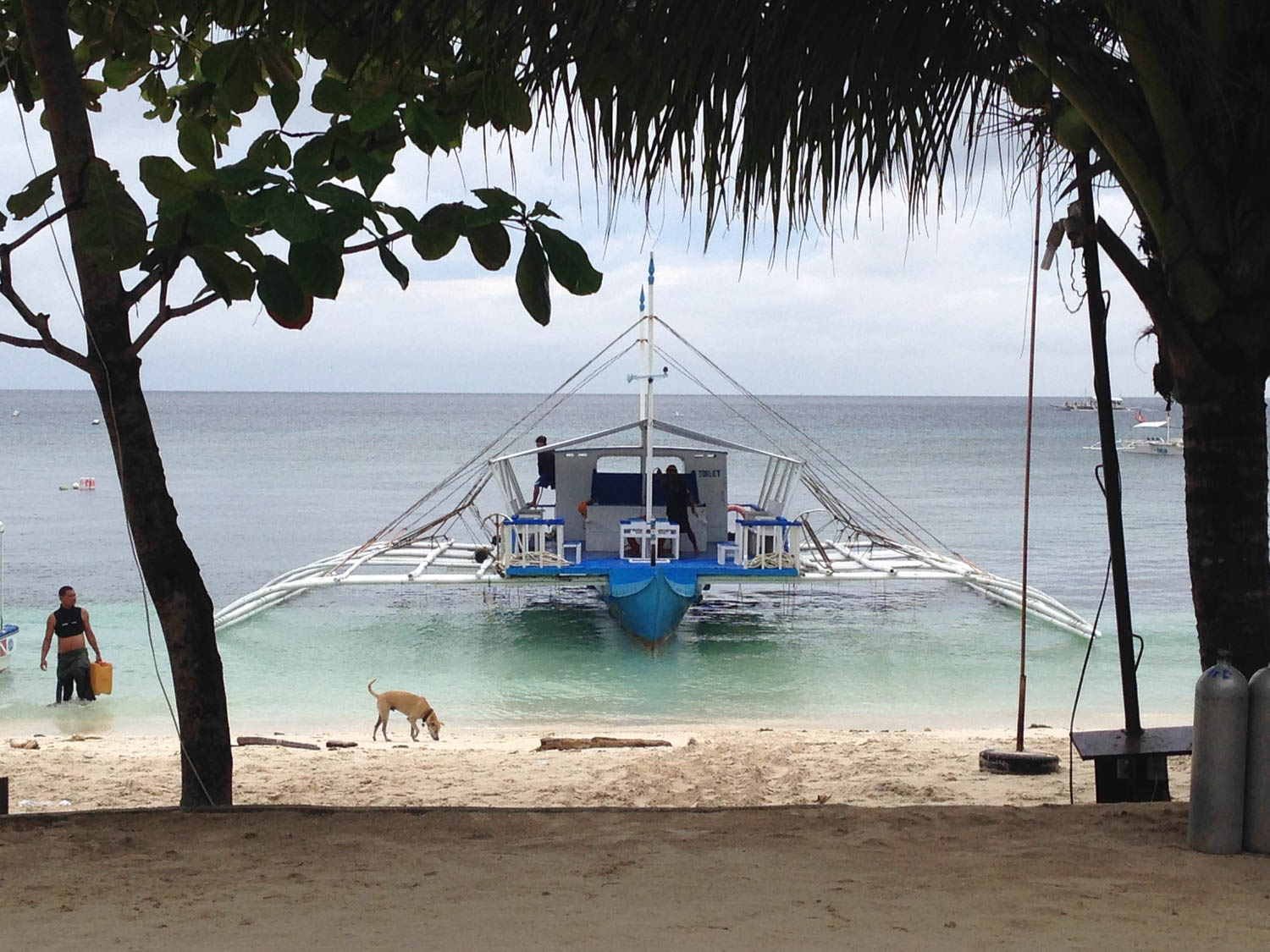 Honestly, we weren't all that impressed with Alona Beach. Maybe it was due to the fact that it was raining while we were there, or that the sand wasn't white… or perhaps it was because we had just spent a few days getting spoiled by beautiful turquoise waters in Boracay. In our opinion, Alona Beach was just, well, average.
Insider Tip: If you're in search of beautiful beaches near Bohol, consider making a trip to the nearby Siquijor Island, which has amazing beaches and waterfalls.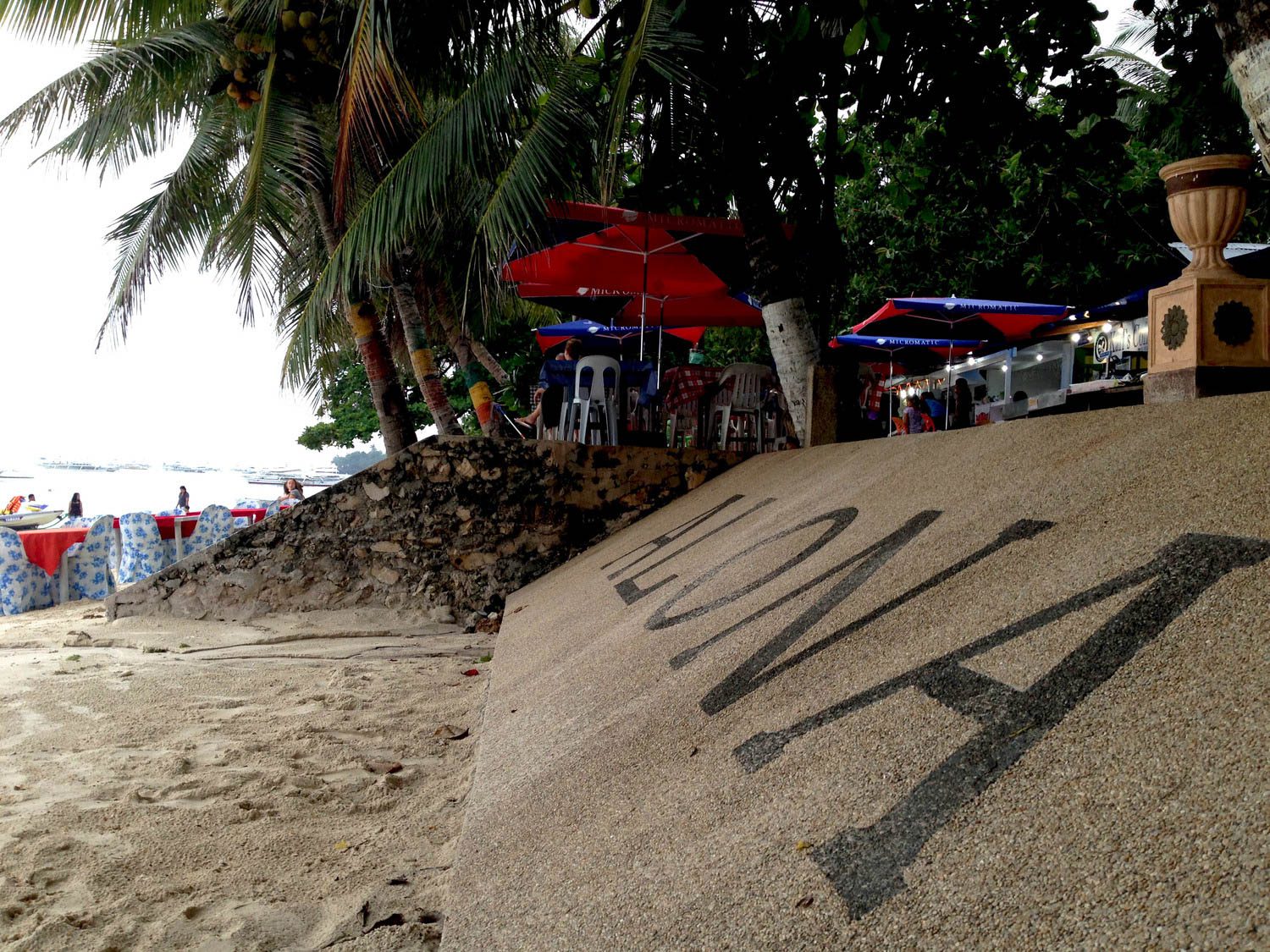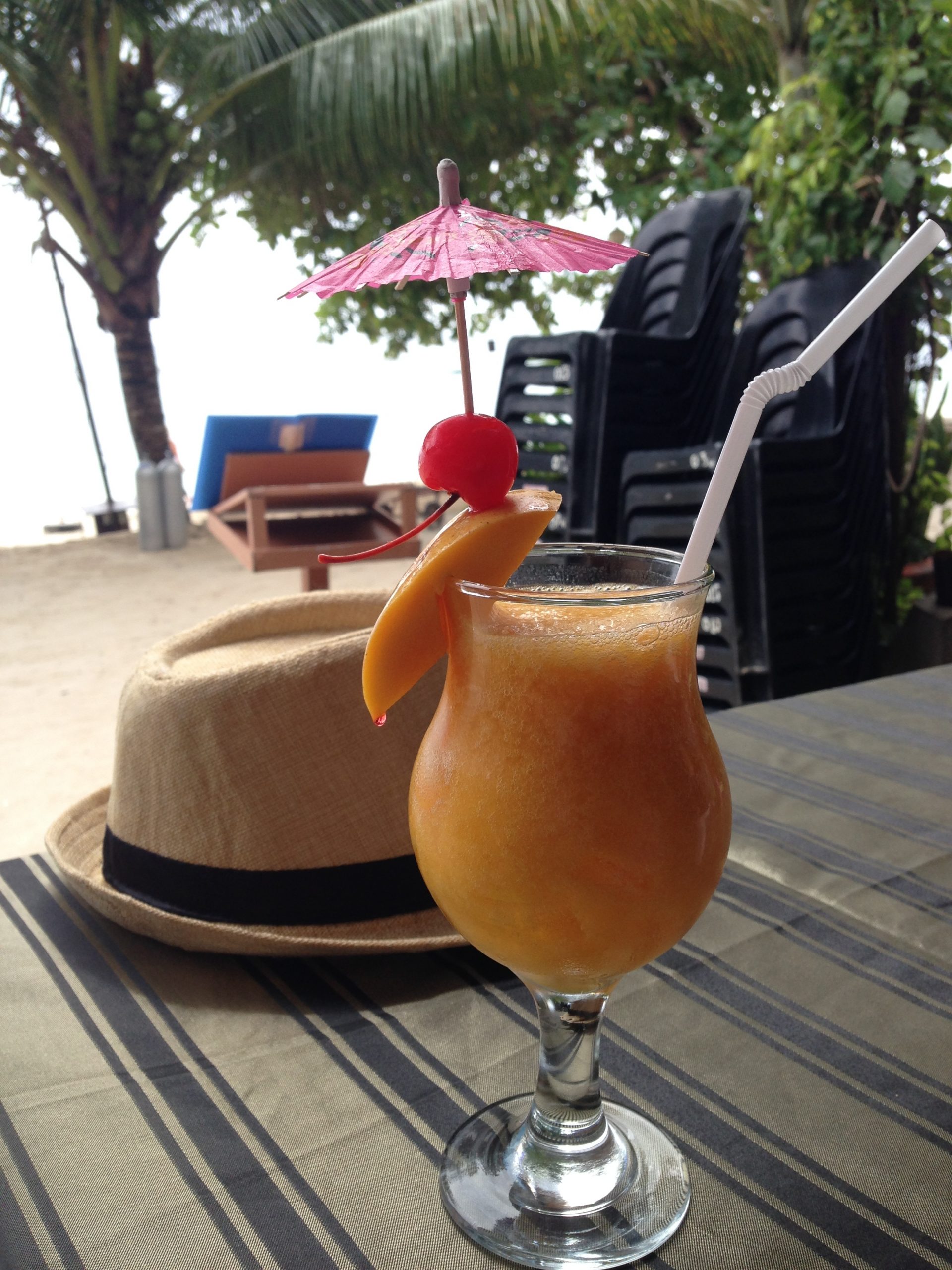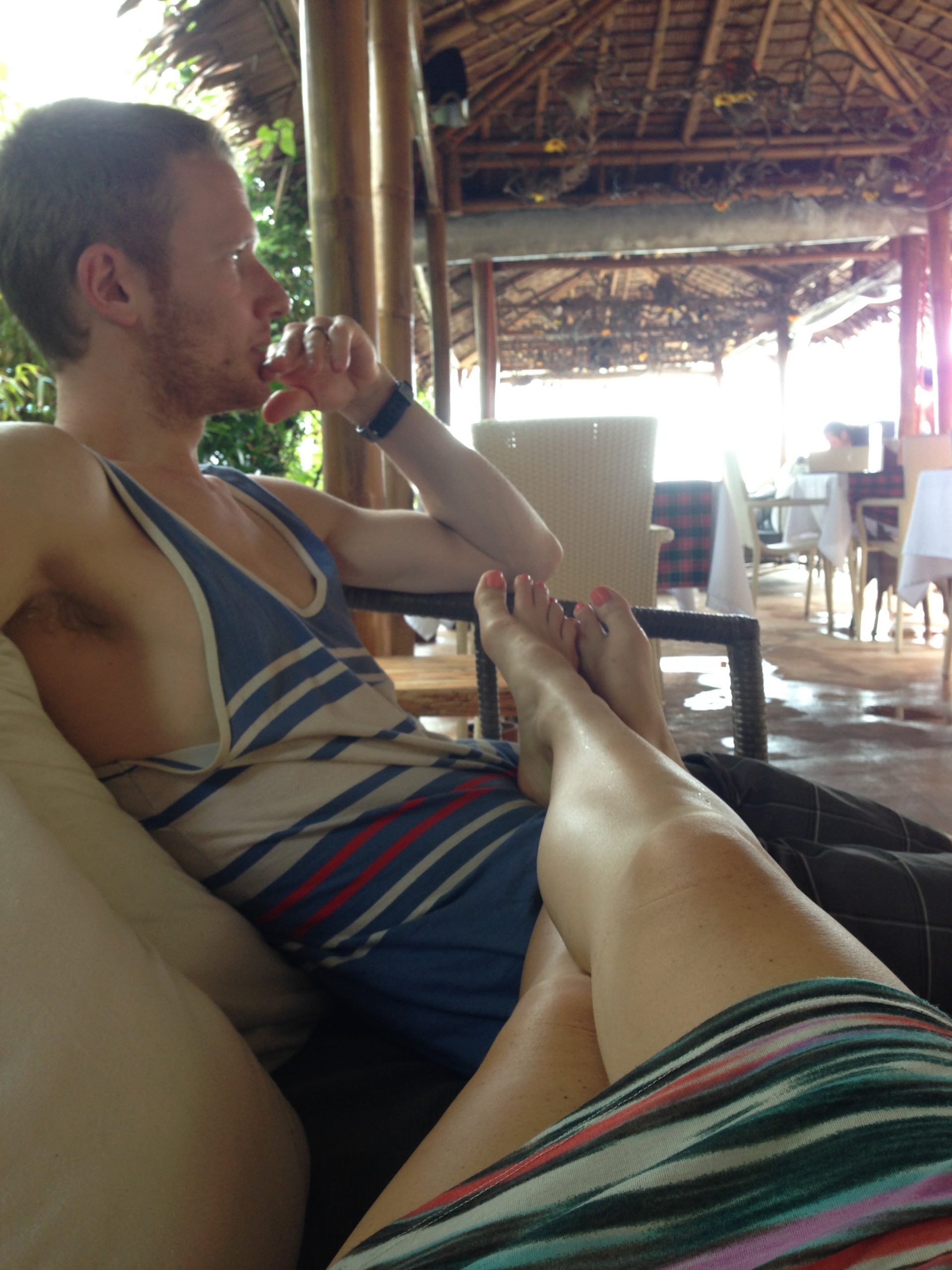 We were really only there one full day and spent most of our time playing cards, sipping fruity cocktails, and just relaxing.
Although most of our time there wasn't anything special, there was one experience that made it totally worth it.
9. Firefly Kayaking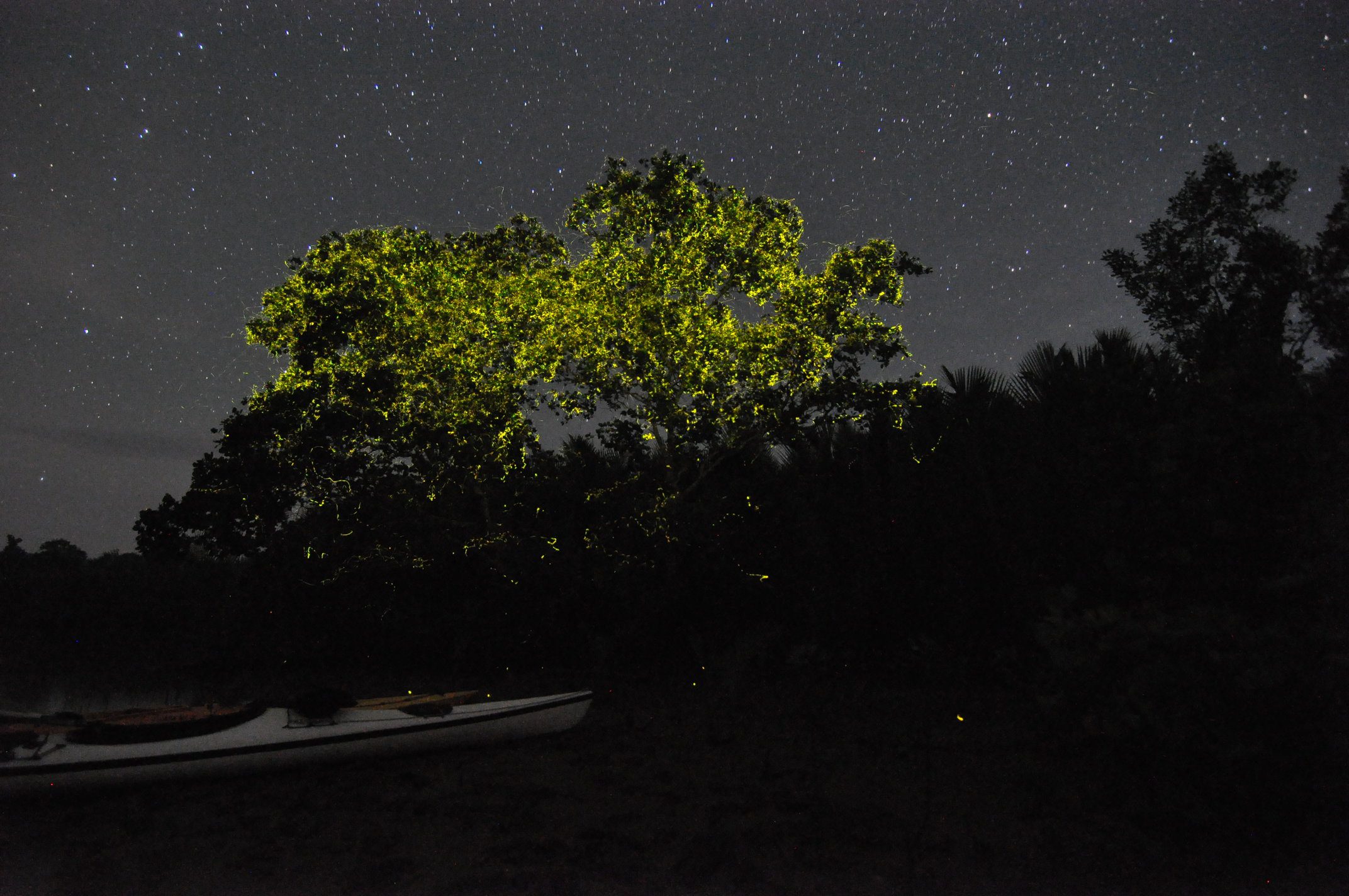 If you have the time, booking a firefly kayaking tour is sure to be a highlight of your time in Bohol.
Over the past year, we've been lucky enough to experience some incredible natural wonders. The salt flats in Bolivia, the lava tunnels in the Galapagos, and the wax palms in the Cocora Valley, to name a few.
Now we can add another phenomenon to our list: seeing a "firefly tree".
It's a rare occurrence, but when conditions are just right, fireflies will gather on one tree and illuminate it in an undulating glow.  
We booked our trip through Kayakasia, an eco-friendly company that organizes all sorts of kayaking adventures around Bohol. Read more about our magical kayaking experience in Bohol.
---
Where to stay in Bohol
If you're looking for some budget-friendly and unique accommodation on the island of Bohol, look no further!
Loboc, Bohol Island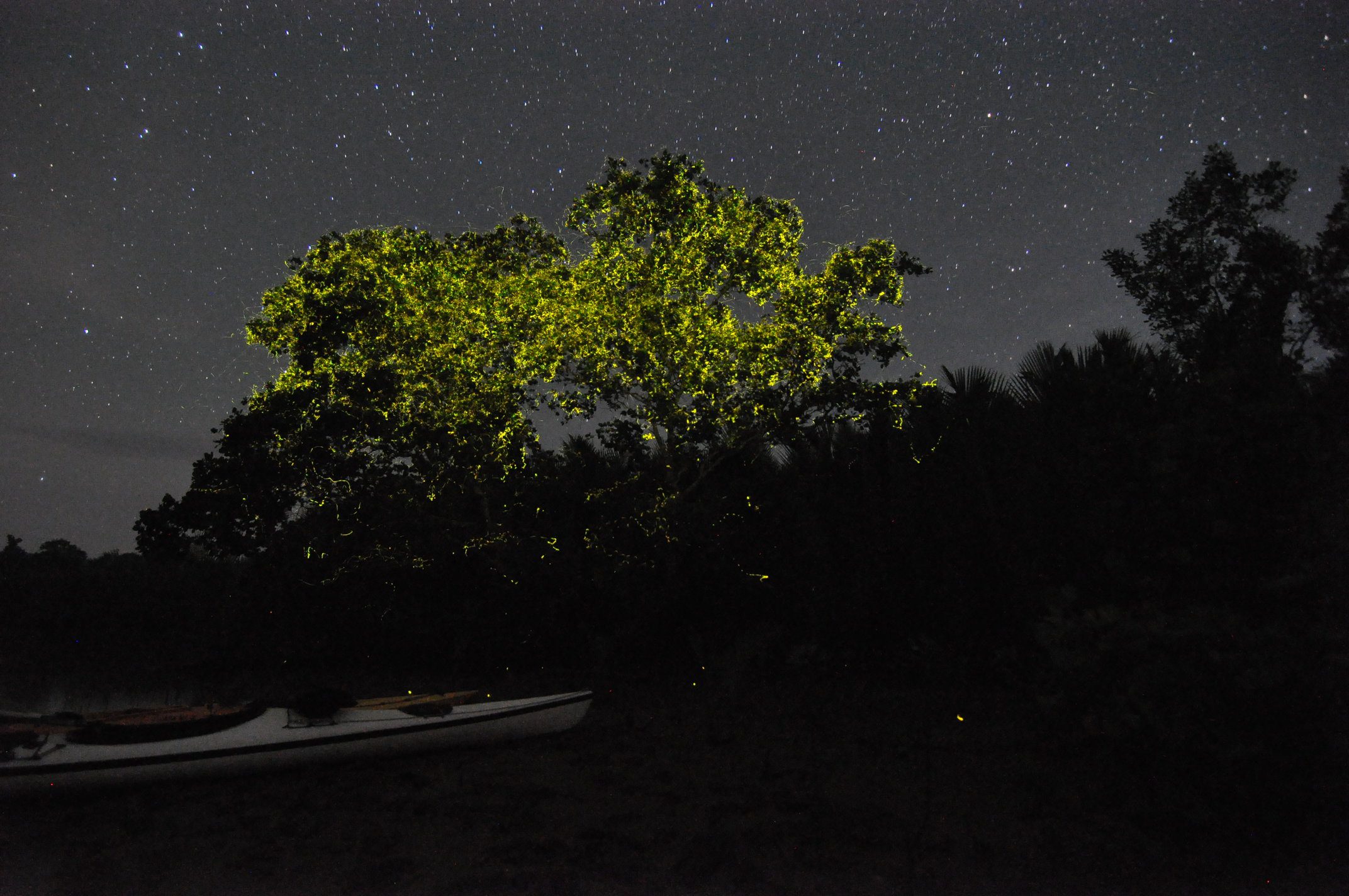 Nuts Huts is a unique guesthouse located in a secluded portion of the Loboc River. It is quite the adventure to get there, but totally worth it (in our opinions).
Be prepared to live without some modern luxuries during your stay at Nuts Huts like wifi and air conditioning. While this guesthouse may not be ideal for the more high-maintenance traveler, it is an unforgettable jungle hideaway that is perfect for someone who doesn't mind  "roughing it" a bit.
There is an onsite restaurant that serves delicious (though a bit pricey) food. Our favorites were the Farmer's Omelet and the Muesli with fruit and homemade yogurt (both pictured below). The common area has a warm vibe and is usually occupied with travelers from around the world.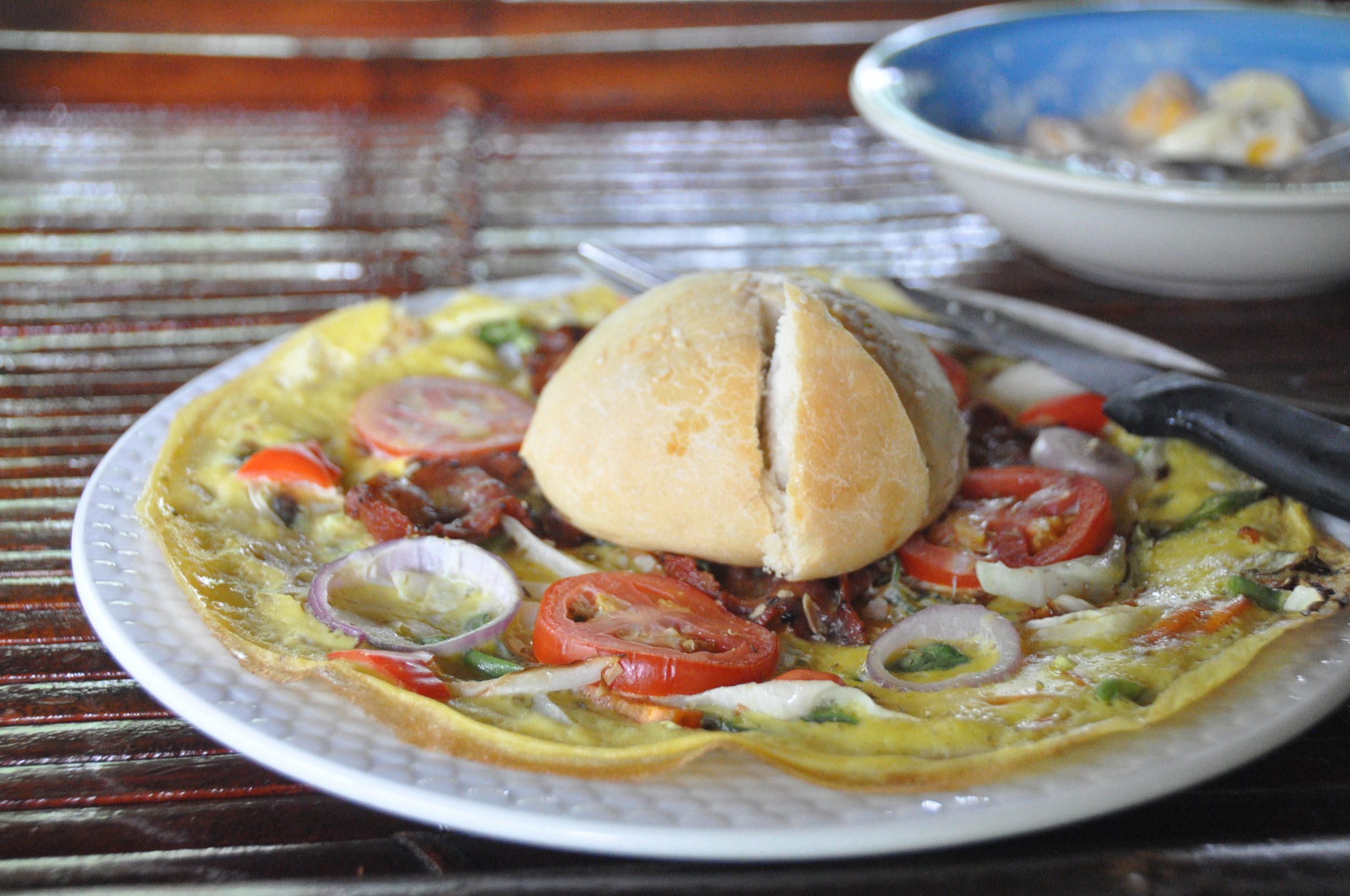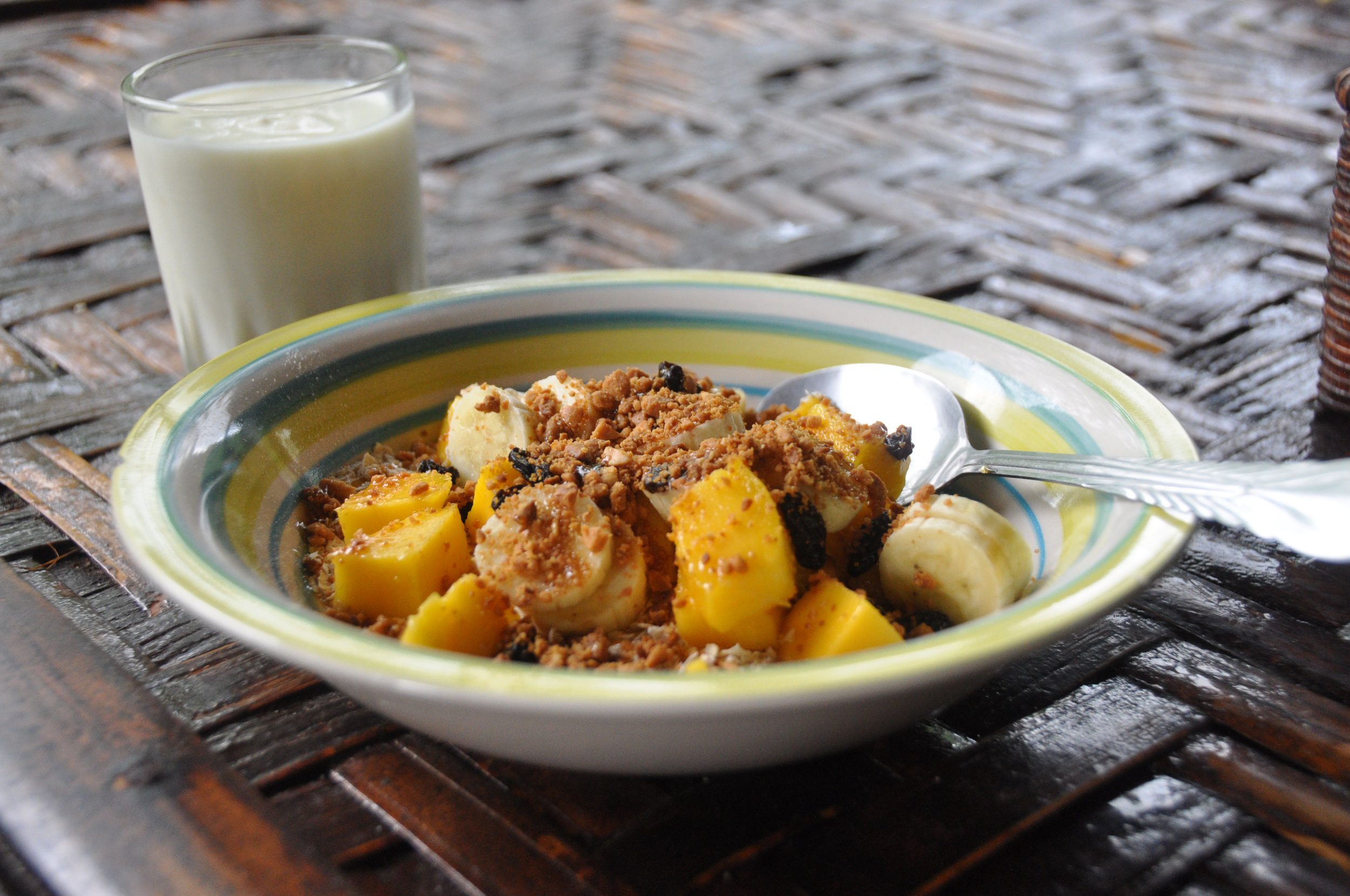 Our dorm room was basic but comfortable and cost just 300 PHP per person each night (under $7 USD).
Helpful Information: Their reservation system is rather complex. You must first send an email inquiring about your dates. Once your reservation has been confirmed, you must still call them on the day of your arrival. Since our phones didn't work in the Philippines, we were unable to do so, and were informed upon arrival that they almost gave up our beds. It would have been quite a shame to have made the crazy journey there for nothing.
Alona Beach, Panglao Island
Reggae Guesthouse is a grouping of cozy little bungalows in a tropical garden. There is a bar area that serves a large breakfast at a decent price (180 PHP). Our stay there was comfortable and relaxing, but it seemed the only other guests were middle-aged French travelers who all knew each other.
Our three-person bungalow cost just 420 PHP per person each night (less than $10 USD).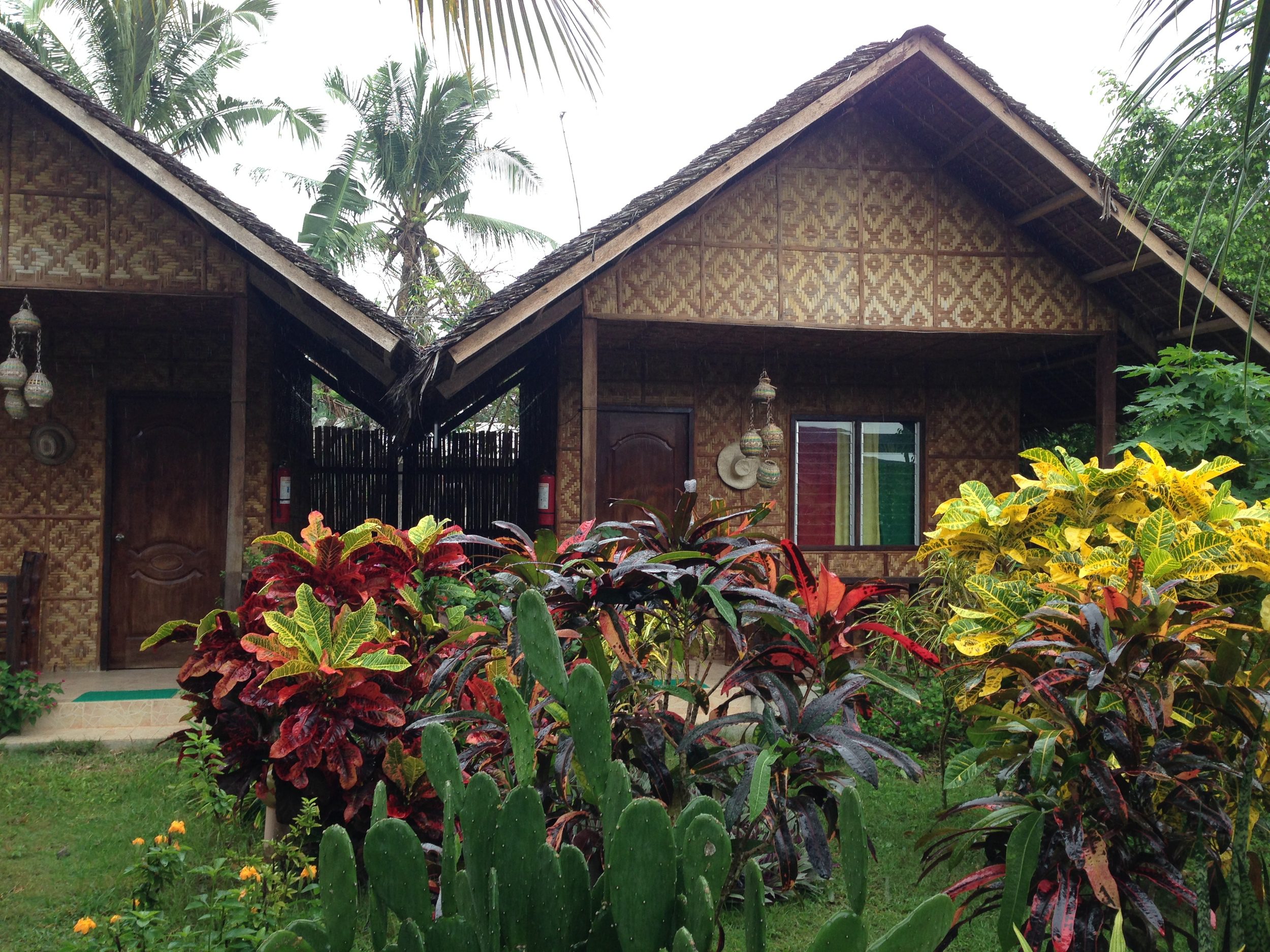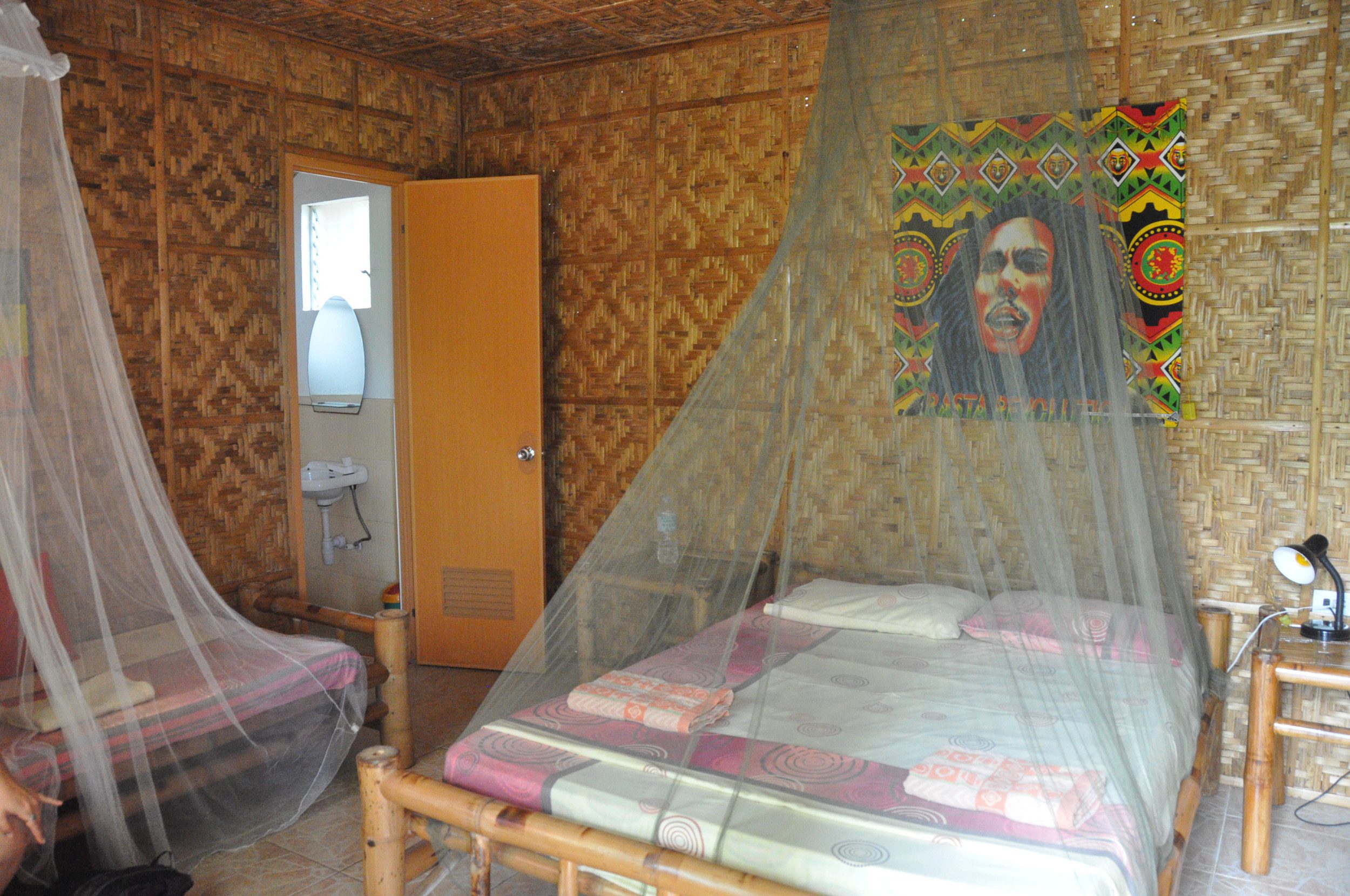 Where else should I travel in the Philippines?
With 7,000 islands, there's no way you can see it all in this stunning country. Depending on your travel style, here are some ideas of places to visit in the Philippines:
If you love beaches, the island of Boracay will be your dream come true.

For epic diving and island-hopping, look no further than the island of Palawan. The small town of El Nido is pretty darn charming!

For a totally different side of the Philippines, visit the Banaue Rice Terraces in the north of the country.
Still not convinced?
2 Weeks in the Philippines: Best Itinerary
If you have been convinced to travel to this island nation, this ultimate 2-week Philippines itinerary is everything you'll ever need!
Is traveling in the Philippines expensive?
We've got all your budget questions answered in the post that details how much it costs to travel in the Philippines!


Are you planning a trip to the Philippines?
We have TONS of resources on travel in the Philippines and destinations throughout the country. Check out our Ultimate Philippines Travel Guide for all the answers to your most burning questions, or read some of our favorite travel articles below.
Save this to Pinterest for later!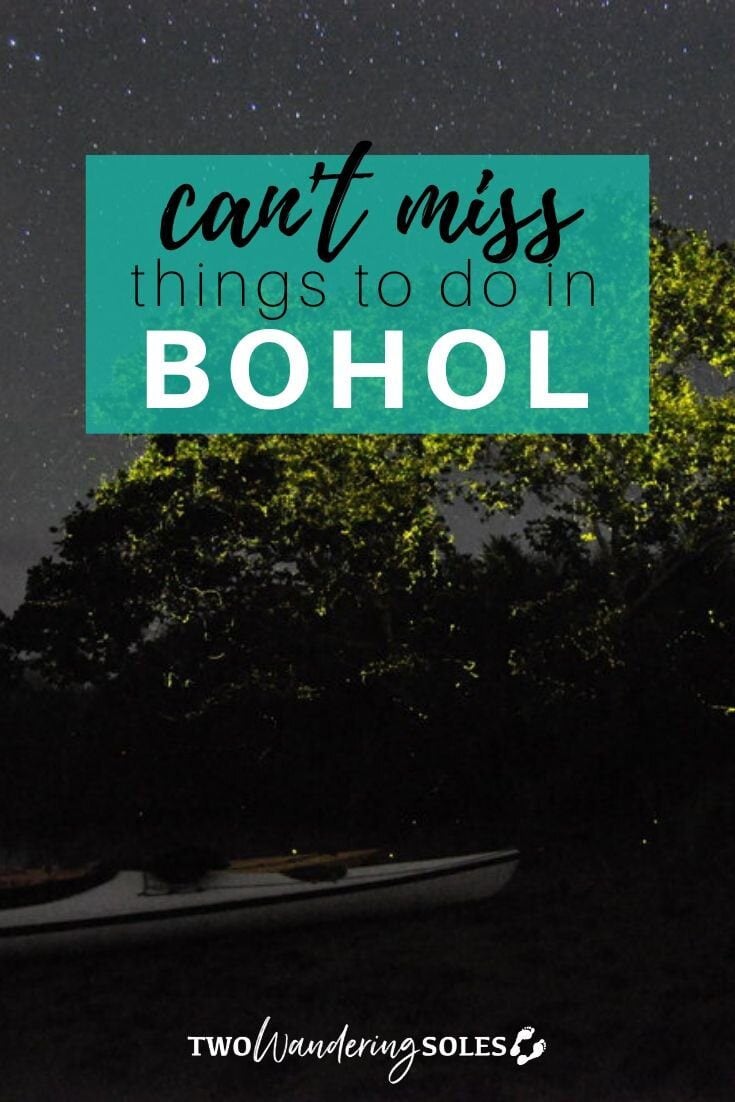 We want to hear from you!
Planning a trip to the Philippines? Need advice? Comment below, we'd love to help!