Now we can add this phenomenon to our list: seeing a "firefly tree". It's a rare occurrence, but when conditions are just right, fireflies will gather on one tree and illuminate it in an undulating glow.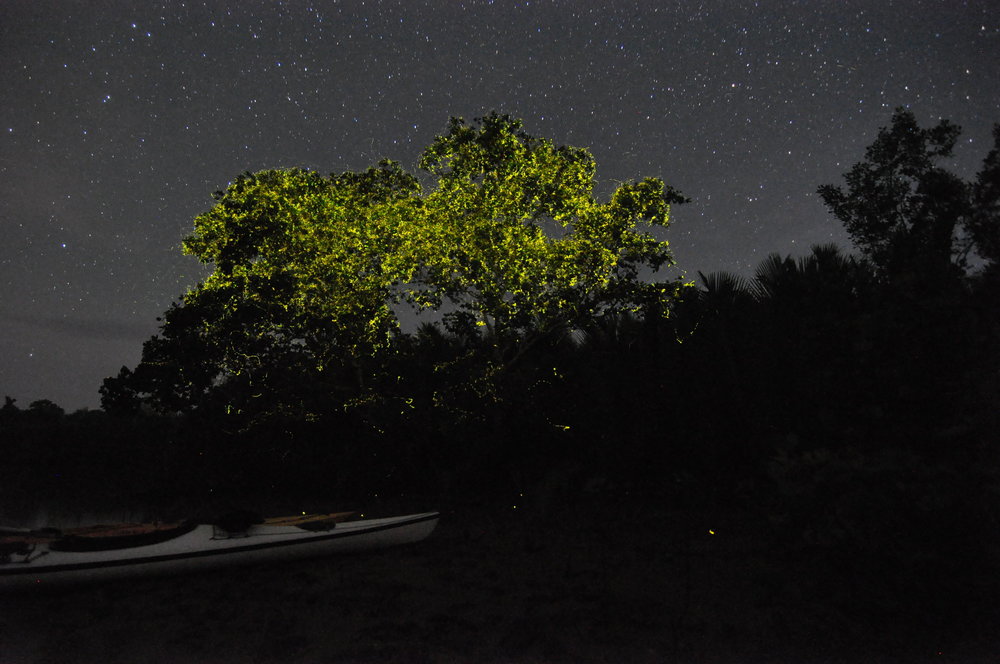 Over the past year, we've been lucky enough to experience some incredible natural wonders. The salt flats in Bolivia, the lava tunnels in the Galapagos, and the wax palms in the Cocora Valley, to name a few.
Now we can add another phenomenon to our list: seeing a "firefly tree".
It's a rare occurrence, but when conditions are just right, fireflies will gather on one tree and illuminate it in an undulating glow.  
We booked our trip through Kayakasia, an eco-friendly company that organizes all sorts of kayaking adventures around Bohol.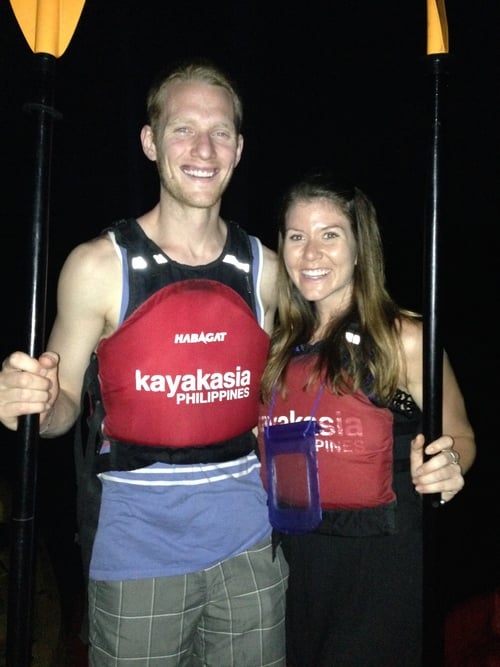 They picked us up from our hotel and brought us nearly an hour away to a secluded section of the Abatan River. We met our guide, Rey, an easy-going guy with an infectious smile and a passion for kayaking, and set out on the river just as dusk was setting in.
Although we've been kayaking several times, paddling in the dark was a first for both of us.
Our group of five glided through the blackness, with only the stars (and the red light on the back of Rey's kayak) to guide us. After about a half hour, we made it to the first tree. The river was lined with mangroves, but there was one tree that stood out amongst the rest.
It was like something out of a fairy tale – glimmering hypnotically in the moonlight. The tree was illuminated by thousands of fireflies hovering around its branches. The closest thing I can compare it to is a twinkling Christmas tree.
We paddled on and stopped at more trees, each getting bigger, brighter, and more mesmerizing.
Rey explained some of the measures that Kayakasia takes to ensure they are not harming the fireflies' ecosystem. And in addition to protecting the environment, Kayakasia contributes to the community by offering positions to local teenagers as an opportunity for them to get valuable work experience.
Suddenly, a loud noise pierced the otherwise serene moment as a large motorboat passed by, sending waves in our direction. Rey told us that another tour company had seen kayakers departing on the river each night and saw the firefly trees as a business opportunity. They now offer a motorized version of Kayakasia's tour. The problem is that these boats, with their loud motors and bright spotlights, are slowly affecting the fireflies' natural habitat – an unfortunate effect of tourism.
After being completely entranced by several trees and exploring some mangrove tunnels, we headed back to shore. Once on land, we sat down for a traditional Filipino meal that had been prepared while we were away. Every bite was delicious – roasted chicken and pork, soup with fresh vegetables and ginger, rice inside woven palm pouches, cucumber and tomato salad, and fresh mangoes. It was one of the best meals we had in our time in the Philippines.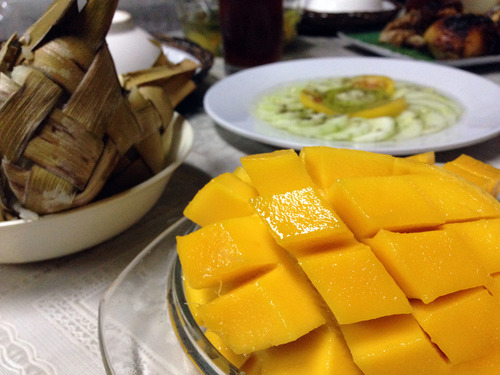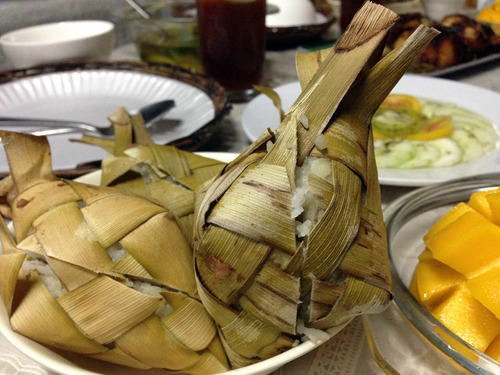 If you find yourself on the island of Bohol, taking a trip with Kayakasia is a must! And don't just take our word for it. Check out the rave reviews on TripAdvisor, hailing Kayakasia's firefly tour as one of the top activities on the island of Bohol.
The tour costs 1950 pesos ($45 US) per person and includes transportation to and from your hotel as well as entrance fees, a certified guide, all necessary equipment, and a home-cooked Filipino dinner. You can make reservations by messaging Kayakasia's Facebook page or sending an email to kayakbohol@gmail.com.
Read more about our adventures in Bohol.
Our firefly kayak trip was sponsored by Kayakasia, but as always, all opinions are our own.
---
Are you planning a trip to the Philippines?
We have TONS of resources on travel in the Philippines and destinations throughout the country. Check out our Ultimate Philippines Travel Guide for all the answers to your most burning questions, or read some of our favorite articles below.