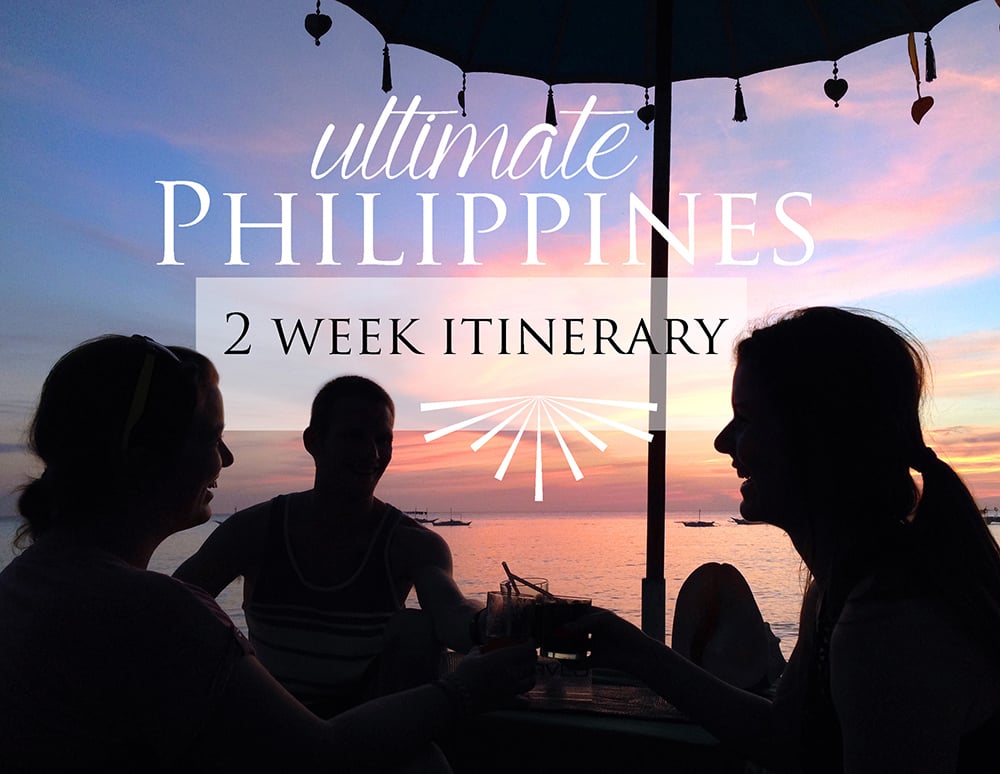 When we first started researching places we wanted to see in the Philippines, we had a list that would have taken nearly 3 months to get through.
The problem? Like many people, we only had two weeks off of work to make this trip to the Philippines happen. So as you can imagine, we had to cut a ton of places from our wish list.
Truthfully, two weeks isn't much time in the Philippines. It is a country made up of islands, and therefore transportation can be (understandably) challenging. If you want to visit more than one island during your visit, you will likely need to devote an entire day to travel.
The itinerary below is an adaption of what we followed. We altered it a bit based on some things we would have changed, and came up with what we think is a pretty badass route for a first-time visit to the Philippines.
By following this itinerary, you will get to explore three islands, see jungles as well as beaches, and some spend time outside the typical "tourist" path. You will see a lot during these two weeks in the Philippines, but there are certainly days planned for (much needed) relaxation.
Enjoy!
Before your trip:
Plan your trip with the weather in mind! We've put together a great resource for evaluating when's the best time to visit the Philippines based on the weather as well as your travel style and preferences.
Prior to you packing your bags and booking your flights, don't forget to do this… you'll thank us later.
Also, if you're strict on your travel time in the Philippines, we highly recommend to book your Philippines transportation online ahead of time. 12go.asia is a booking site we have used and have found some good deals on buses, ferries, trains and even flights.
---
Day 1: Travel day to Boracay
Most likely, you will be flying into Manila. Sure, there are direct flights to Boracay from many major cities now, but they are usually quite expensive.
There are several flights leaving each day from Manila to Caticlan (MPH) airport, so try to line the times up so you don't have to leave the airport in Manila and deal with the city's chaotic traffic.
You can also look at flying into Kalibo like we did. Often these are the cheapest flights, but be prepared for a roughly 2 and a half hour journey to Boracay.
Our advice would be to skip Manila. Most everyone we talked to advised us to do so. Yes, I'm sure there are things worth doing in Manila, but with only two weeks, you just can't see everything.
Knowing that, Manila was the first to be cut from our list of places to see. The only reason to stay in Manila to use it as a hub to go to the Banaue Rice Terraces.
Where to Stay in Boracay Island
Once you get to Boracay, get settled into your hotel and relax.
Luxury Hotels: Henann Crystal Sands Resort – Station 2 Beach front 5-star resort with fantastic views with three pools and a pool-side bar. Complete luxury throughout entire hotel including on-site restaurant and room service.
Couple Stay/Mid-range: Hue Hotels and Resorts Boracay – Beautifully designed hotel in the Station 2 area and only 300 meters from the beach. This hotel has a fitness room, outdoor pool, pool-side bar, and on-site restaurants.
Budget Friendly/Social Atmosphere: CHILLAX Flashpackers Boracay – Located in the Diniwid area of Boracay Island, this fun backpacker hotel has private rooms as well as dorms. There is a game room and an outdoor common area with WiFi in all the rooms.
---
Everything you need to pack for the Philippines


---
Day 2 – 4: Beach days in Boracay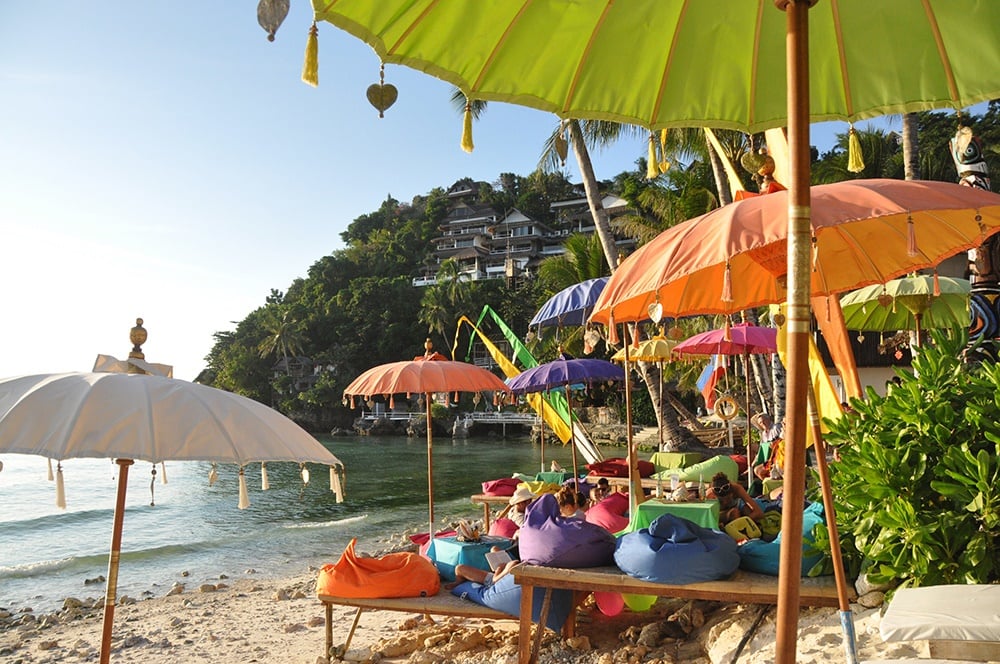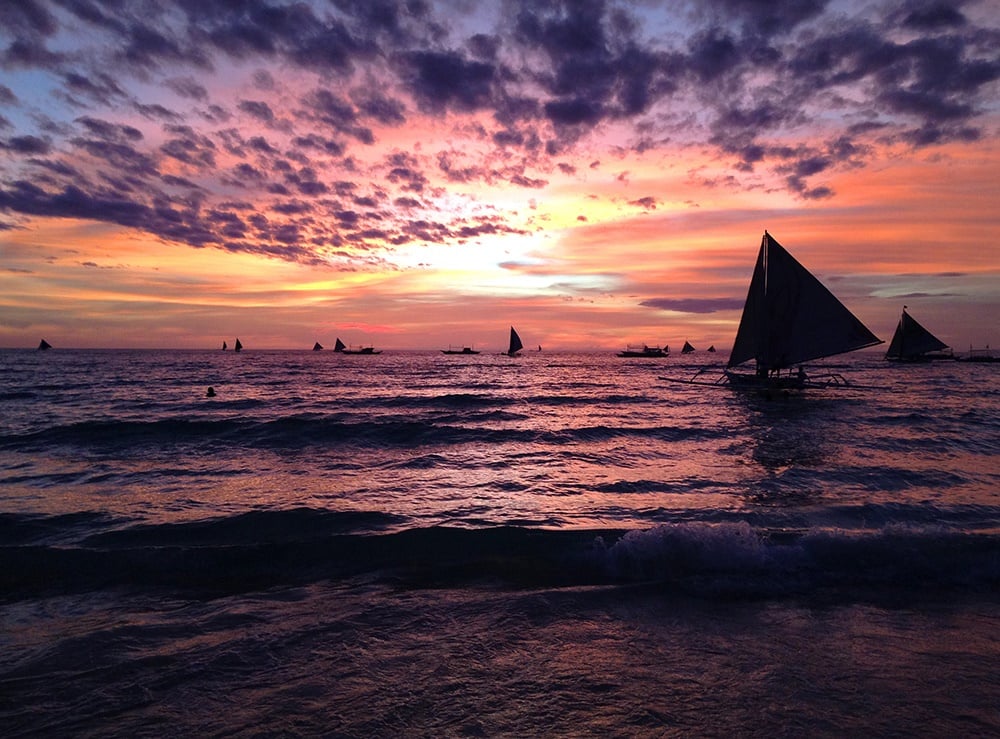 Relax on the beach with a drink in your hand, and be sure not to miss the sunsets!
These relaxing days should help you adjust to the new time zone and power through jet lag.
Check out our tips on where to stay and eat while in Boracay. Make sure you visit Spider Bar (information in the link). It is an absolute must!
Day 5: Travel day to Bohol
This one's a doozy, but by evening, you will be in a completely different side of the Philippines than what you see in Boracay. You will be away from the crowds and will experience a piece of the country that few get to see.  
The cheapest way we found to get to Bohol was to fly to Cebu City, then take a 2 hour ferry to Tagbilaran. From there, hire a tricycle (or van) bound for Nuts Huts in Loboc. Most of the drivers we spoke to knew where this guesthouse is located.
The ride should take roughly 50 minutes by trike (shorter by van). Local bus is another option and is much less expensive (50 PHP, versus 500 PHP for a tricycle), but considering the other modes of transportation you'll be taking today, hiring your own transport is the easier option.
Note: Nuts Huts seemed to be the only guesthouse in the Loboc area. Be sure to make reservations ahead of time because it is a popular place and is usually fully booked. Read more about our stay at Nuts Huts and our adventures in the jungle.
Day 6: Relax in the Jungle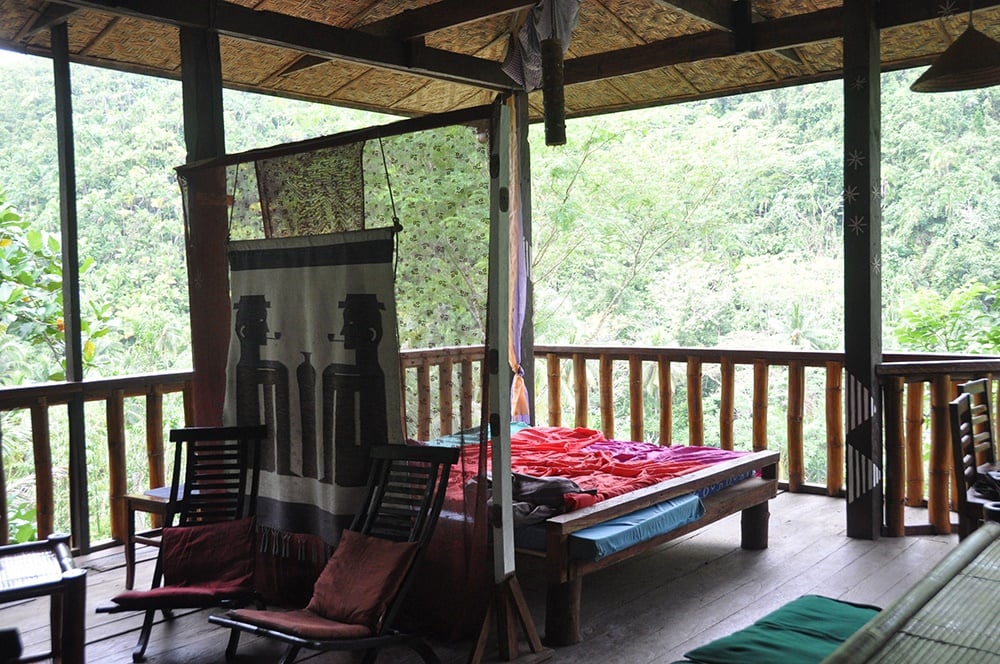 Grab a hammock and just relax! After a day of travel, you'll be needing the rest. If you are feeling up to it, a local man offers a guided tour to bat caves high up in the hills. It is pretty cool and a place that most tourists never see, but be prepared for a little work out. Make sure you reserve your "cave trek" the night before.
We tried lots of food on the menu at Nuts Huts, but there were two sure winners.
Day 7: Tarsiers and Chocolate Hills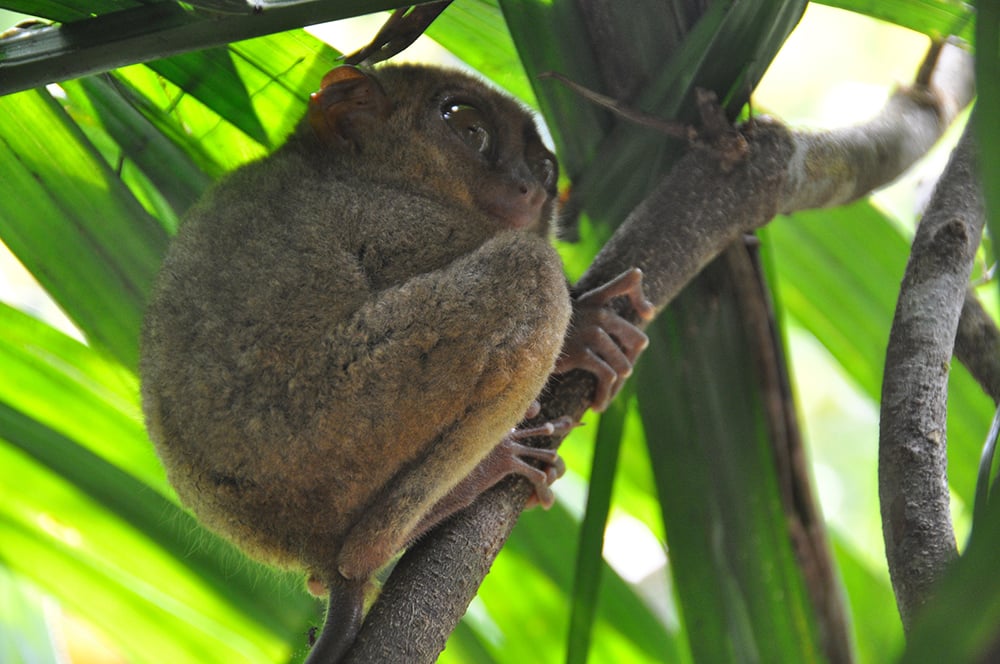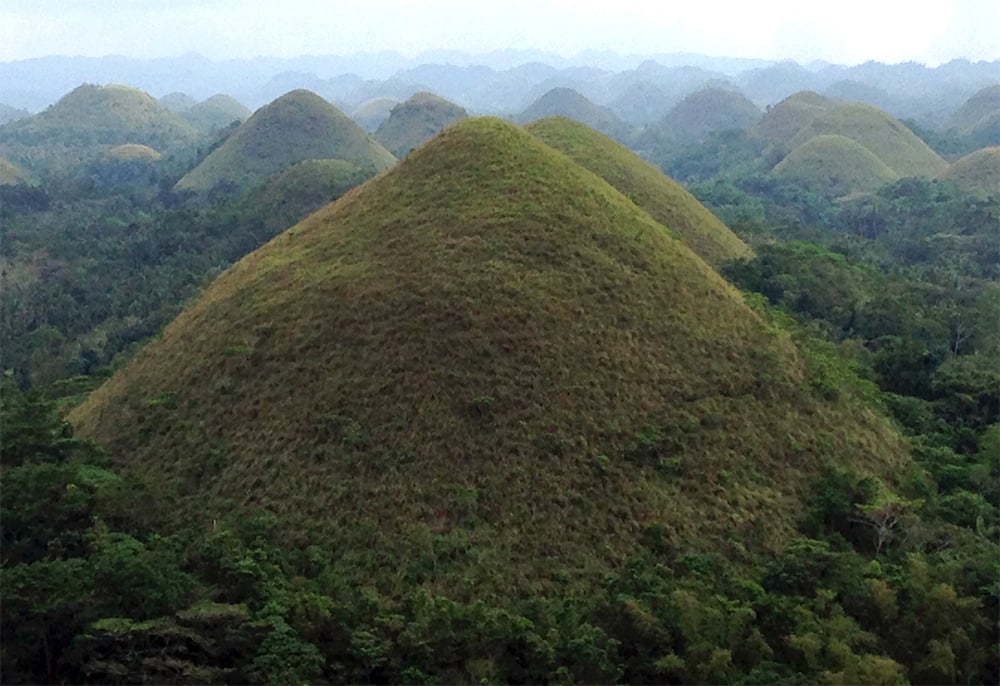 Rent a motorbike and head first to the Tarsier Sanctuary near Corella, about 30-40 minutes from the small town of Loboc. Next, head back on the same road toward the Chocolate Hills (about 35 km).
Take in the scenery around you and wave at the passing schoolchildren – they will make your day! Stop at any small restaurant along the way for an authentic lunch.
If you have time, stop in Loboc before returning to Nuts Huts. One of the oldest churches in the Philippines stands in the center of town. It was badly damaged in a recent typhoon, but definitely worth a look.
Read more about our adventures exploring Bohol by motorbike.
Note: We cut Alona Beach from this itinerary because we weren't overly impressed by it. You will be seeing many beaches on this trip that are far superior, but if you do end up staying on Panglao Island, check out Kayakasia's Firefly Kayak Tour. It was pretty incredible!
Day 8: Travel day to Palawan
Wake up early and wait on the highway near Nuts Huts for the local bus headed to Tagbilaran. Take a late morning flight to Puerto Princesa. (You may have to fly to Manila first before getting another flight to the island of Palawan.)
Once you land, you will have no trouble finding a van outside the airport bound for El Nido. But if you want piece of mind and don't want to haggle a driver, book your van trip to El Nido ahead of time online. I'm sure it will be more comfortable than our ride.
We bargained and got seats for 500 PHP per person. We had a rough trip – broken seats and a driver who stopped to pick up his friends, making our trip take longer than usual. Considering the higher-end vans don't cost much more, we would have opted for the more comfortable ride.
Some things to note: I believe the last vans leave around 6:30 pm. The trip should take between 5 and 6 hours. Most vans and buses will drop you off at the bus station about 1 km from the town of El Nido. You will have to grab a tricycle from there and it should cost no more than 50 PHP.
If you don't want to do so much jumping around by air and land, you can book a popular liveaboard trip on Liveaboard.com. They have collections of the best tours and scuba trips that will bring you to prime spots only locals know about. Be sure to check out their tours in the Philippines.
Where to stay in El Nido:
Spin Designer Hostel – El Nido: With some of the highest reviews in all of El Nido, this laid back hostel is the perfect place to relax after a long day of island hopping. They have dorm rooms and private rooms at great prices. And with only 600 meters to the beach, what's not to love!
Find other affordable and fun hotels and hostels in El Nido.
Day 9: Relax in El Nido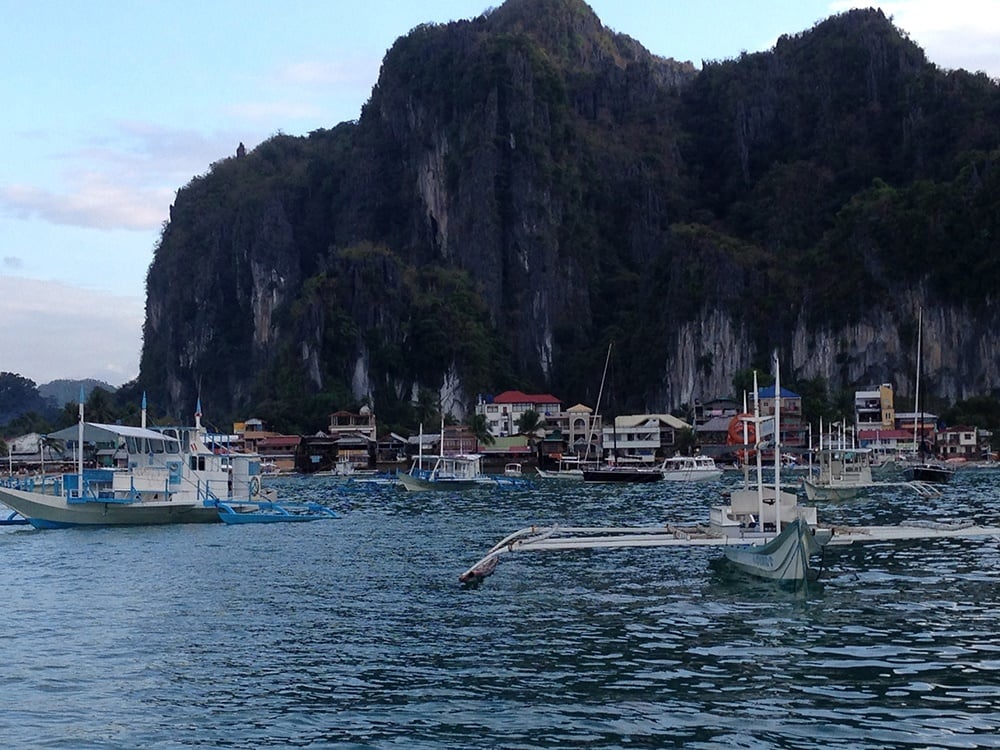 Get acquainted with El Nido. If you are feeling up to it, grab some drinks at Reggae Bar in the evening. Tables are hard to come by, so if you want a seat to listen to the live reggae band, come early. The real party starts after the band is done playing at midnight.
Day 10: Island Hopping in El Nido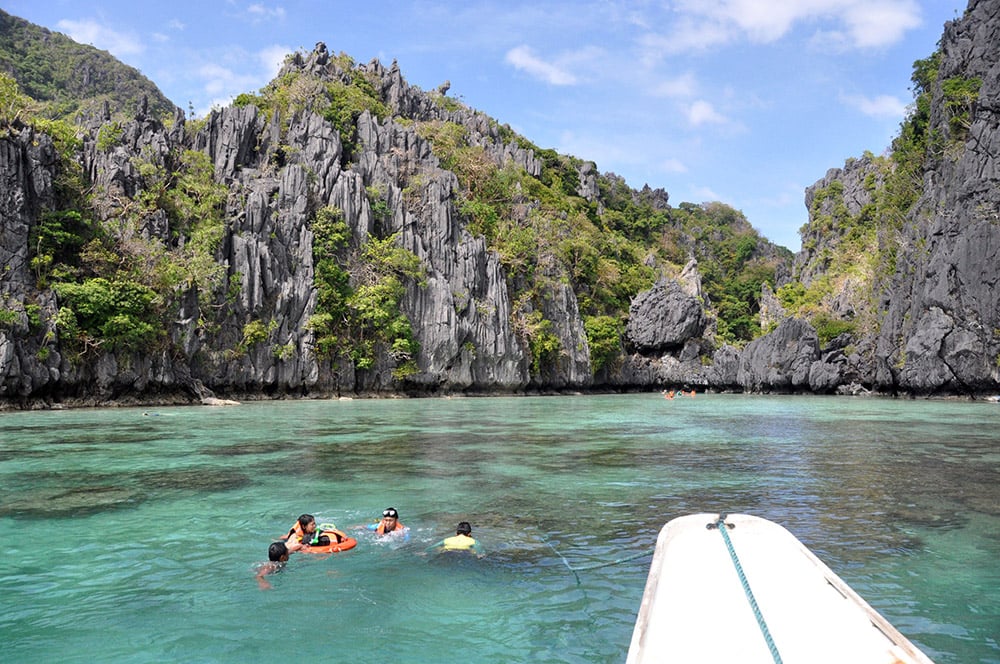 Do an island hopping tour through one of the many tour companies in town. We would recommend either tour A or C.
Day 11: Nacpan Beach Adventure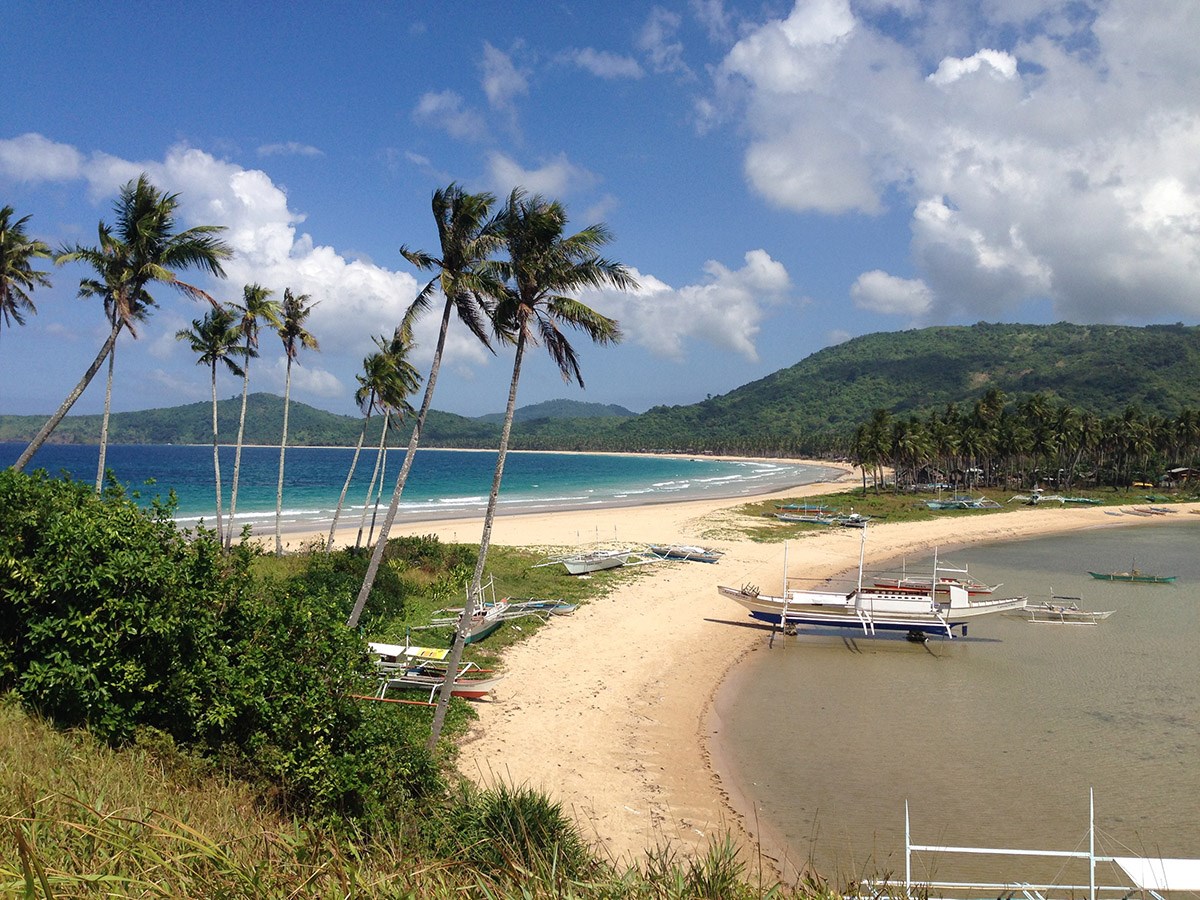 Hire a tricycle to drive you to Nacpan Beach for the day – it's an adventure, but totally worth it! Be sure to walk to the viewpoint at the far left end of the beach. Enjoy fresh seafood and a fruit shake for lunch with an ocean view at one of the beach's two restaurants.
Want more? Read about our crazy journey getting there in our Palawan blog post.
Day 12: Scuba Diving or Free Day
Go Scuba diving (or try freediving) with Palawan Divers. Check out our review on free diving.
If you're not one for diving, go on another island hopping tour or just have a relaxing day in town!
Day 13: Relax and Travel to Puerto Princesa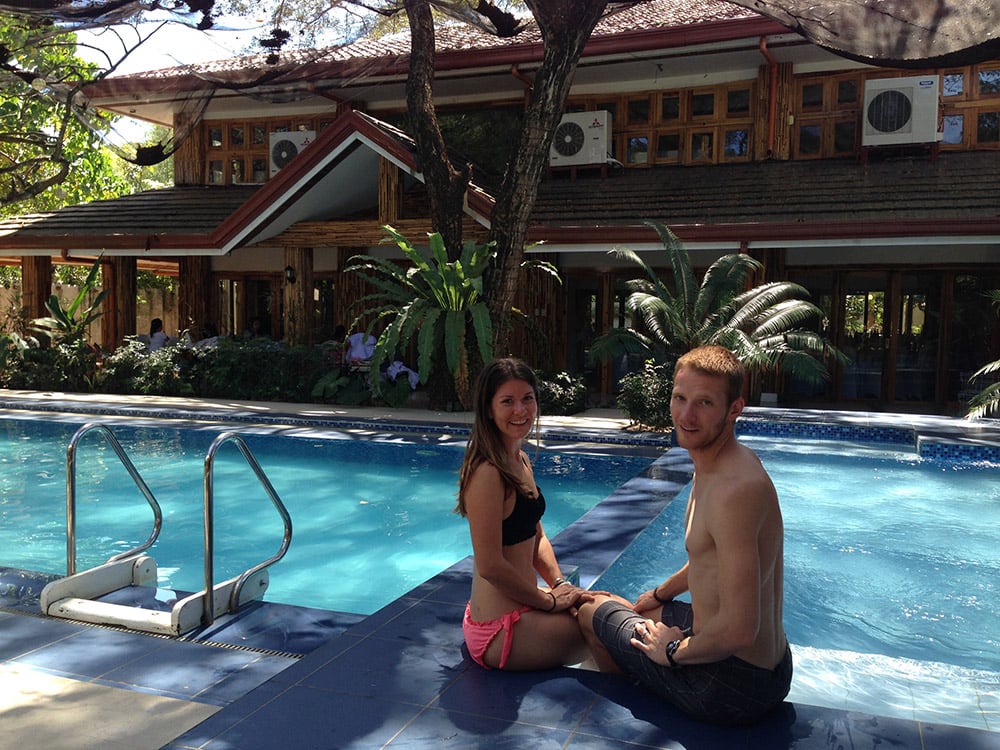 When you are ready, catch a van back to Puerto Princesa. The last vans leave at 6:30 p.m., so you can do a tour during day if you are feeling up to it. We went diving on our last day, but were a bit rushed trying to get to the van. Book your ride back to Puerto Princesa ahead of time so you'll know you have a seat
There isn't much to do in Puerto Princesa. We spent most of the day hanging around the infinity pool at our beautiful hotel.
The main attraction near Puerto Princesa is the Underground River. We heard mixed reviews – both good and bad – and in the end decided not to dot this tour. If you'd like to add this to your itinerary, you'll need to cut one day from El Nido and arrive to Puerto Princesa earlier, as this tour takes a full day.
Find other nice places to stay in Puerto Princesa here.
Day 14: Travel Home & Say Goodbye to the Philippines!
If you're anything like us, you won't want to leave. But… work… bills… we can't all be beach bums.
Take a morning flight to Manila, and catch your international flight home. Again, if you can align your flights so that you don't need to leave the airport, that is best. Just know that flights are often delayed in the Philippines, so be sure to have plenty of time between each as a buffer.
Also, it's important to note that the domestic and international terminals are separate buildings. You will have to take a shuttle (infrequent but 20 PHP per person, or a taxi 150-200 PHP). It is about a ten minute trip between the two.
For more information about planning your own trip, read in-depth accounts of our experiences in Boracay, Bohol and Palawan. Still need more convincing that you to visit the Philippines? Find out why you need to go now!
---
Are you planning a trip to the Philippines?
We have TONS of resources on travel in the Philippines and destinations throughout the country. Check out our Ultimate Philippines Travel Guide for all the answers to your most burning questions, or read some of our favorite articles below.
Save this article on Pinterest for later!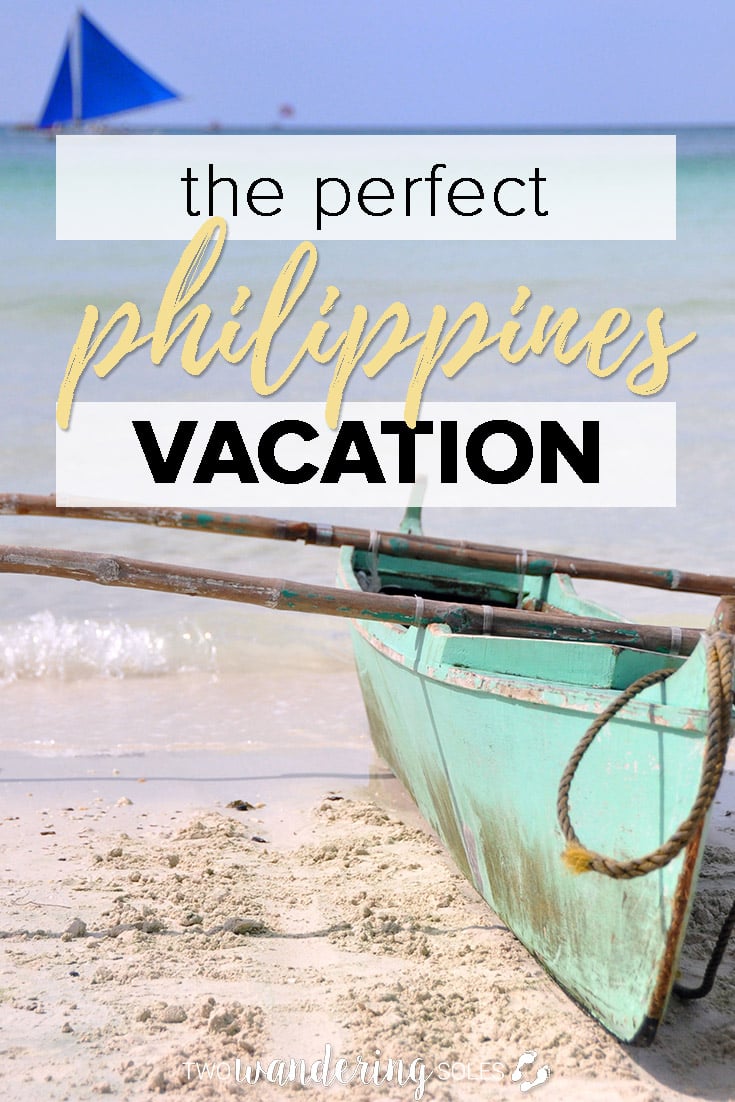 We want to hear from you!
Is there anything you would change about our itinerary? Places you would cut or add? Comment below!