Palawan's turquoise waters and seaside cliffs make this island one of the top hotspots in the Philippines. And the town of El Nido is situated in the perfect spot to base yourself for all sorts of adventures, from island hopping to free-diving to dancing on the beach. Check out our list of top things to do in El Nido for an adventurous trip to the Philippines!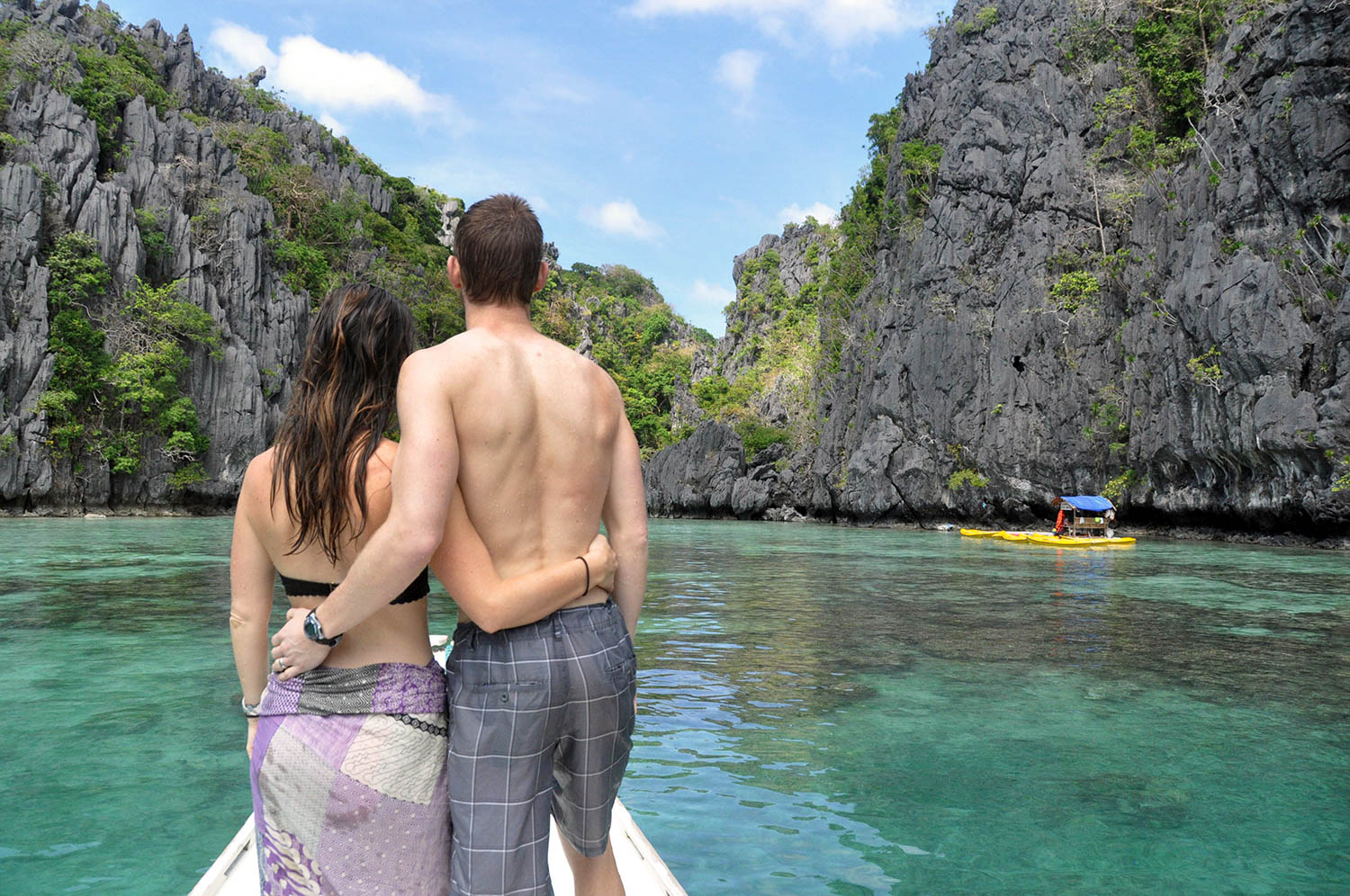 It's hard not to fall in love with the island of Palawan. With jagged cliffs jutting out of sparkling turquoise waters, it is like something out of a travel movie.
And the most popular place to base yourself for exploring this stunning part of the Philippines is the town of El Nido.
Located at the north part of this elongated island, you'll find a collection of beachside restaurants and bars, over-water bungalows as well as friendly hostels, and an endless amount of adventures to be had!
Related: Find out when's the best time to visit the Philippines based on the climate, weather patterns and your travel style.
Why you should visit Palawan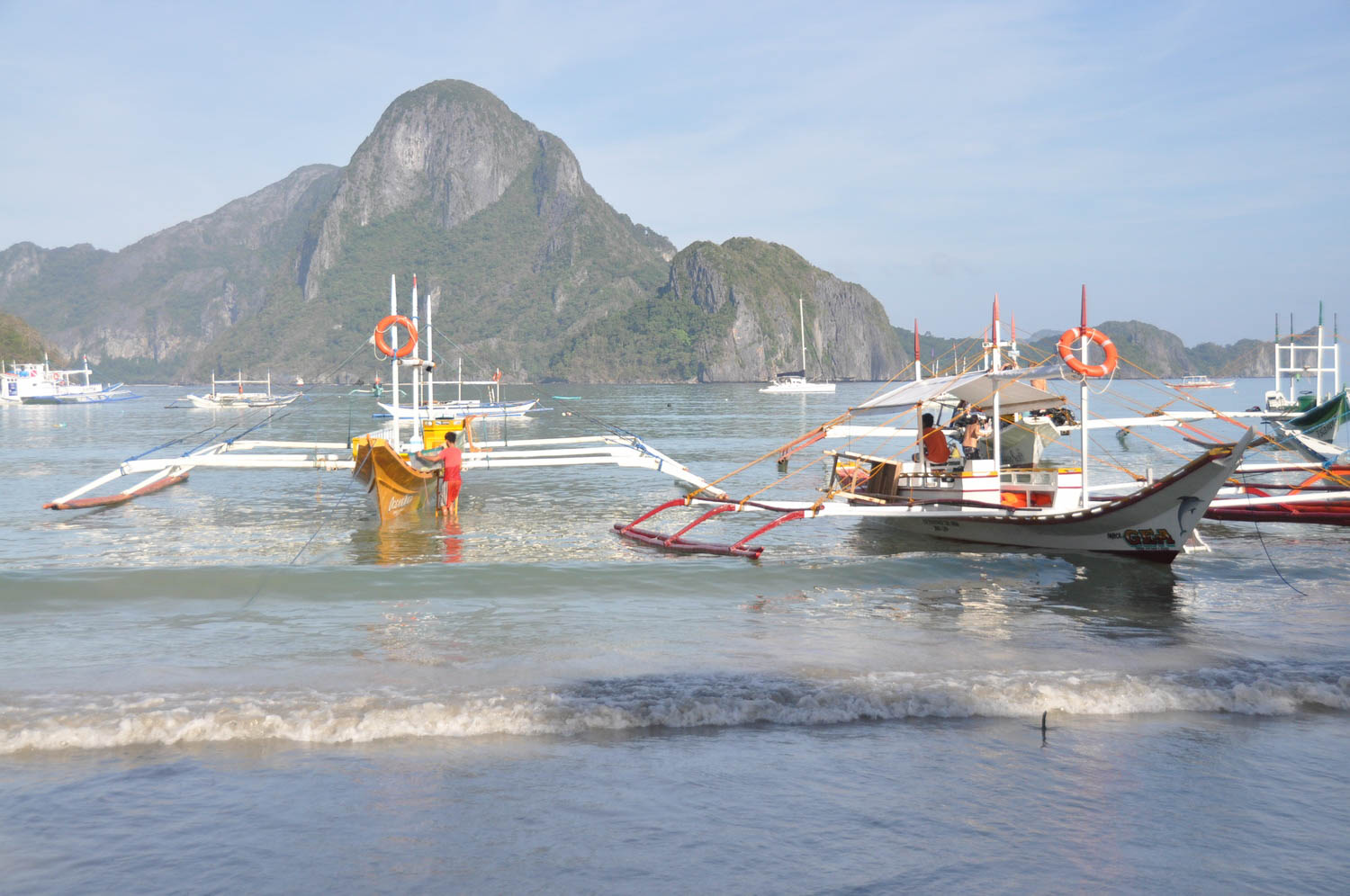 In the past decade, Palawan has become more visited and the town of El Nido certainly has a big presence of tourists. But overall the beaches here were far less crowded than we expected – especially when compared to world-famous Boracay.
Palawan is a bit isolated from the main clustering of islands that make up the Philippines. Being that it takes some time to get there, many travelers leave it off their itinerary.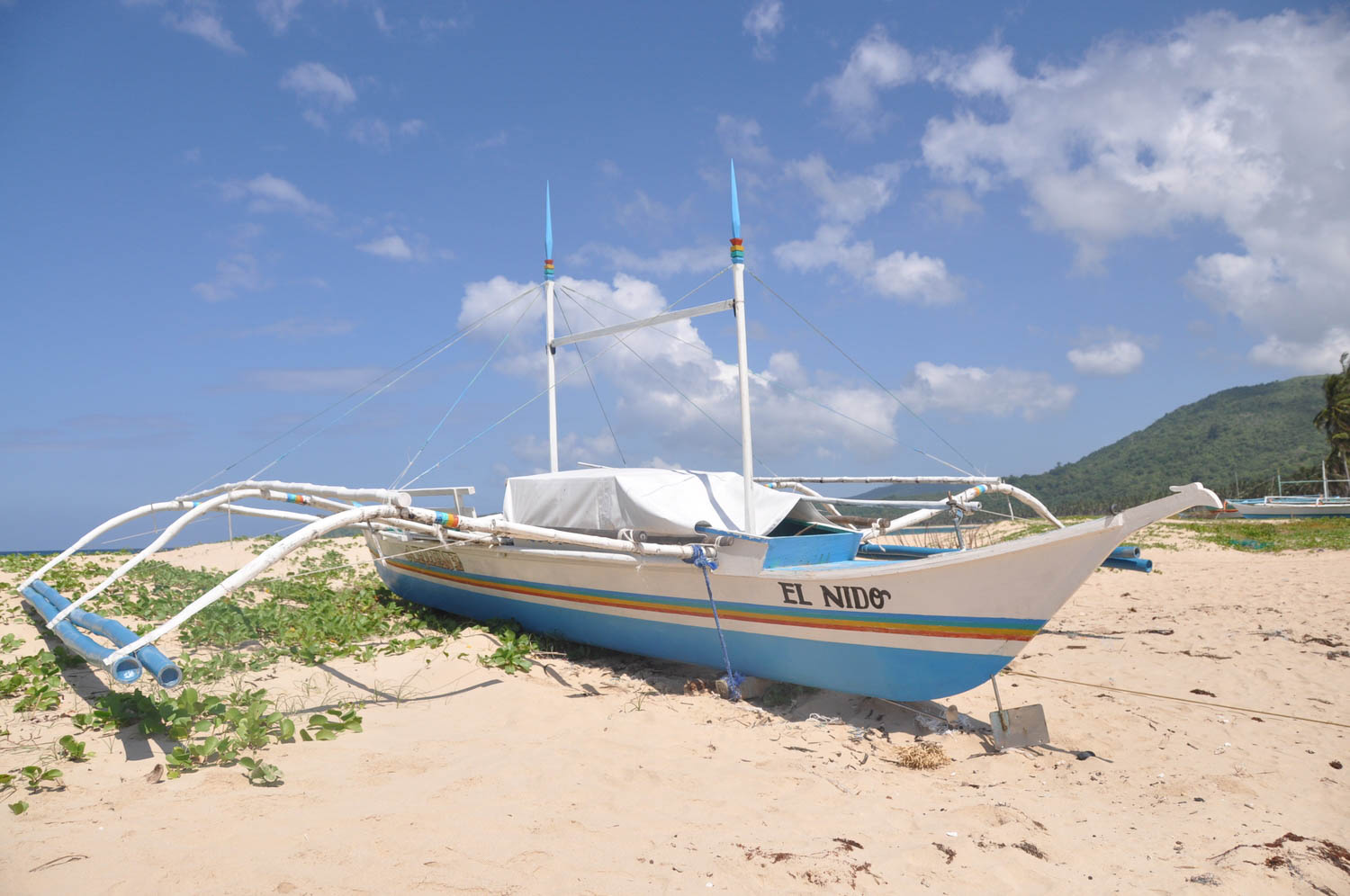 We almost made the same mistake. But after talking to a couple friends who had just ventured to the charming oceanside town of El Nido, we were convinced that it was worth 2 flights and a 6 hour van ride.
Things to do in El Nido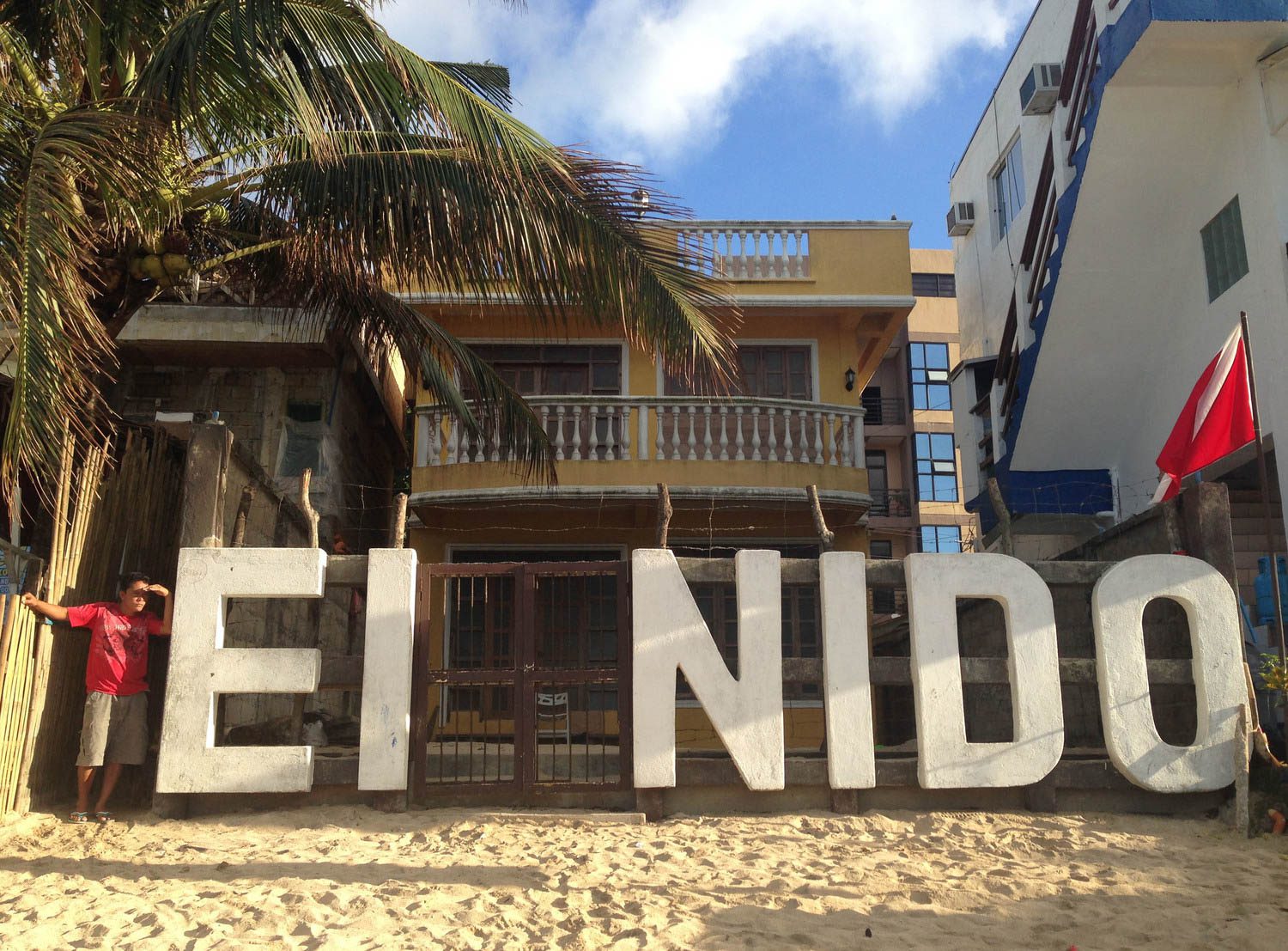 This laid-back town on the island of Palawan is the best jumping off point to explore oceanside cliffs and dreamy white sand beaches. And when nighttime comes, the town transforms to a fun place to enjoy a cocktail on the beach and sway to the Reggaeton beats.
1. Island Hopping near El Nido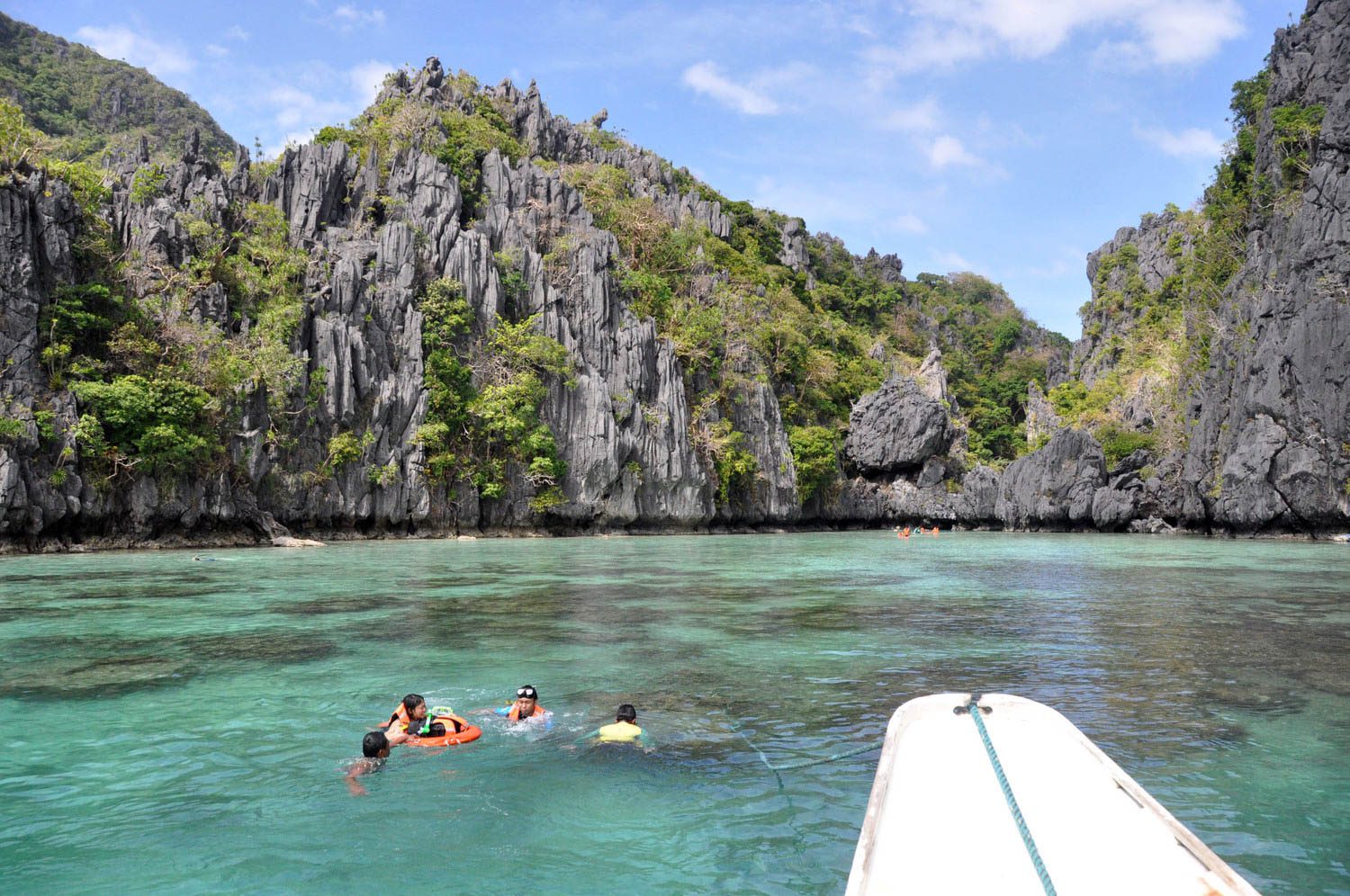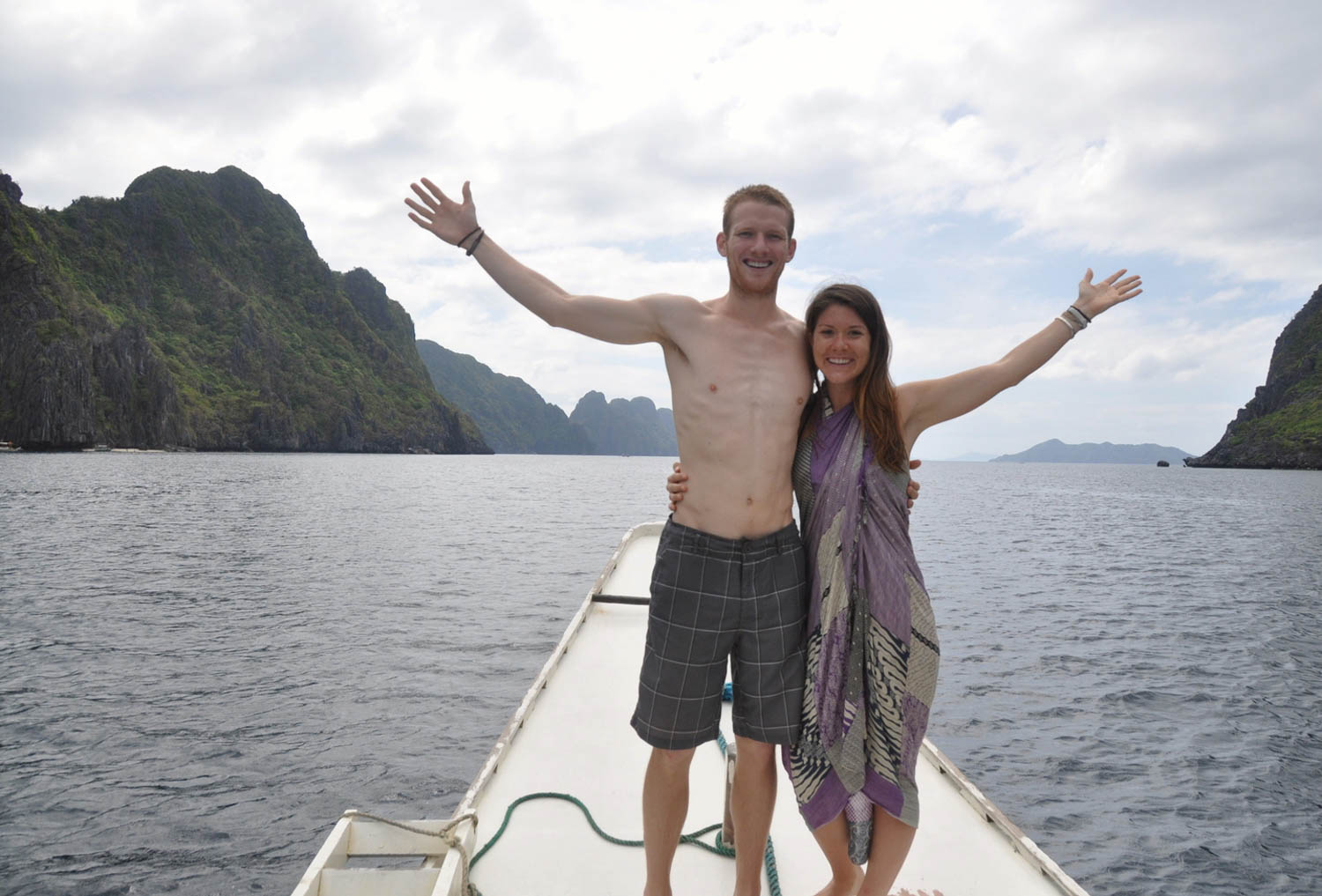 El Nido is set in a boat-filled bay with cliffs looming in the background. Though the town is charming in itself, the beauty that we were seeking was just a boat ride away.
The Philippines is a country made up of 7,107 islands. and more than 1,700 of those belong to Palawan. And so it seems fitting that one activity everyone seems to do while in El Nido is to partake in the famous island hopping tours.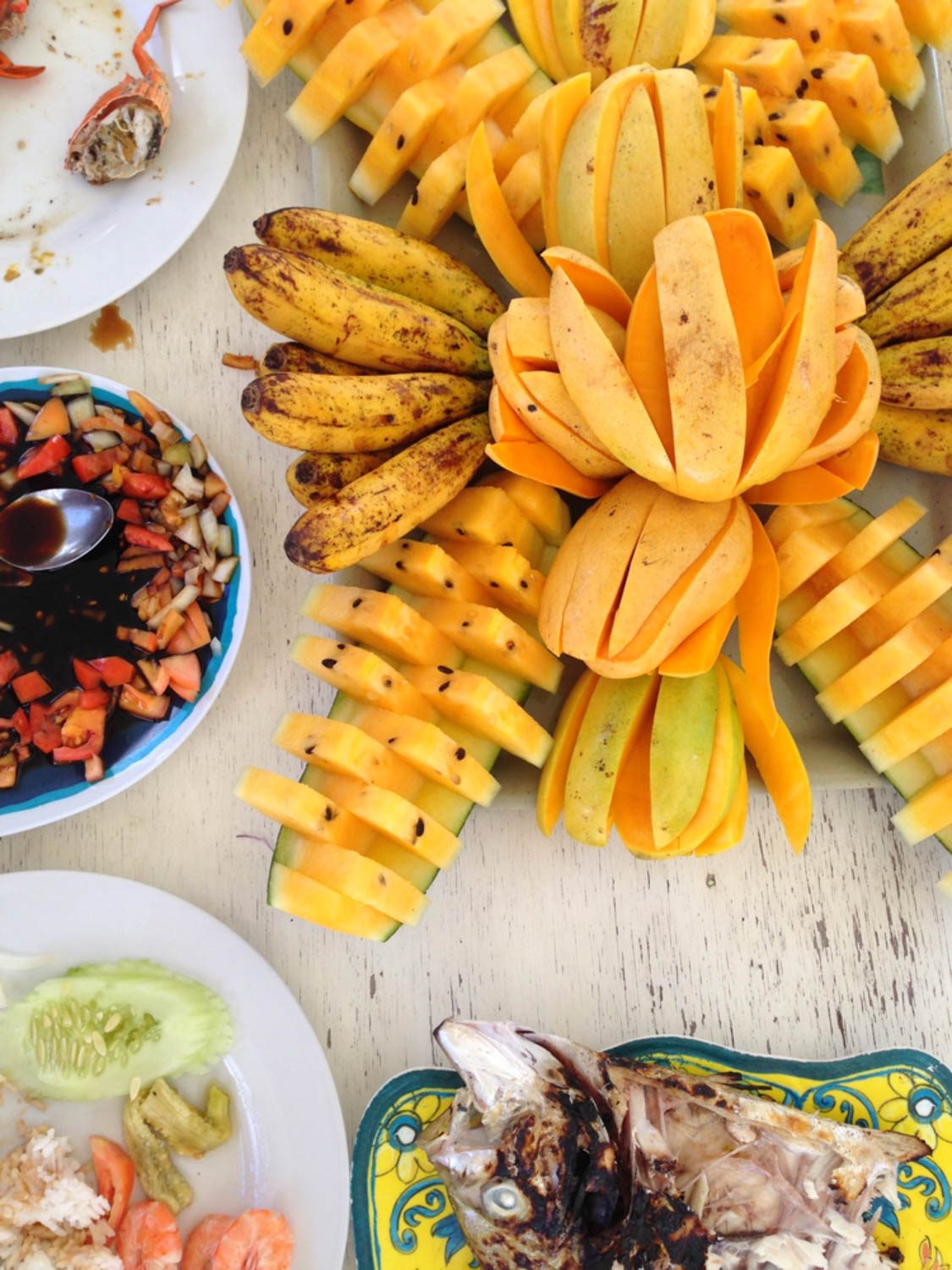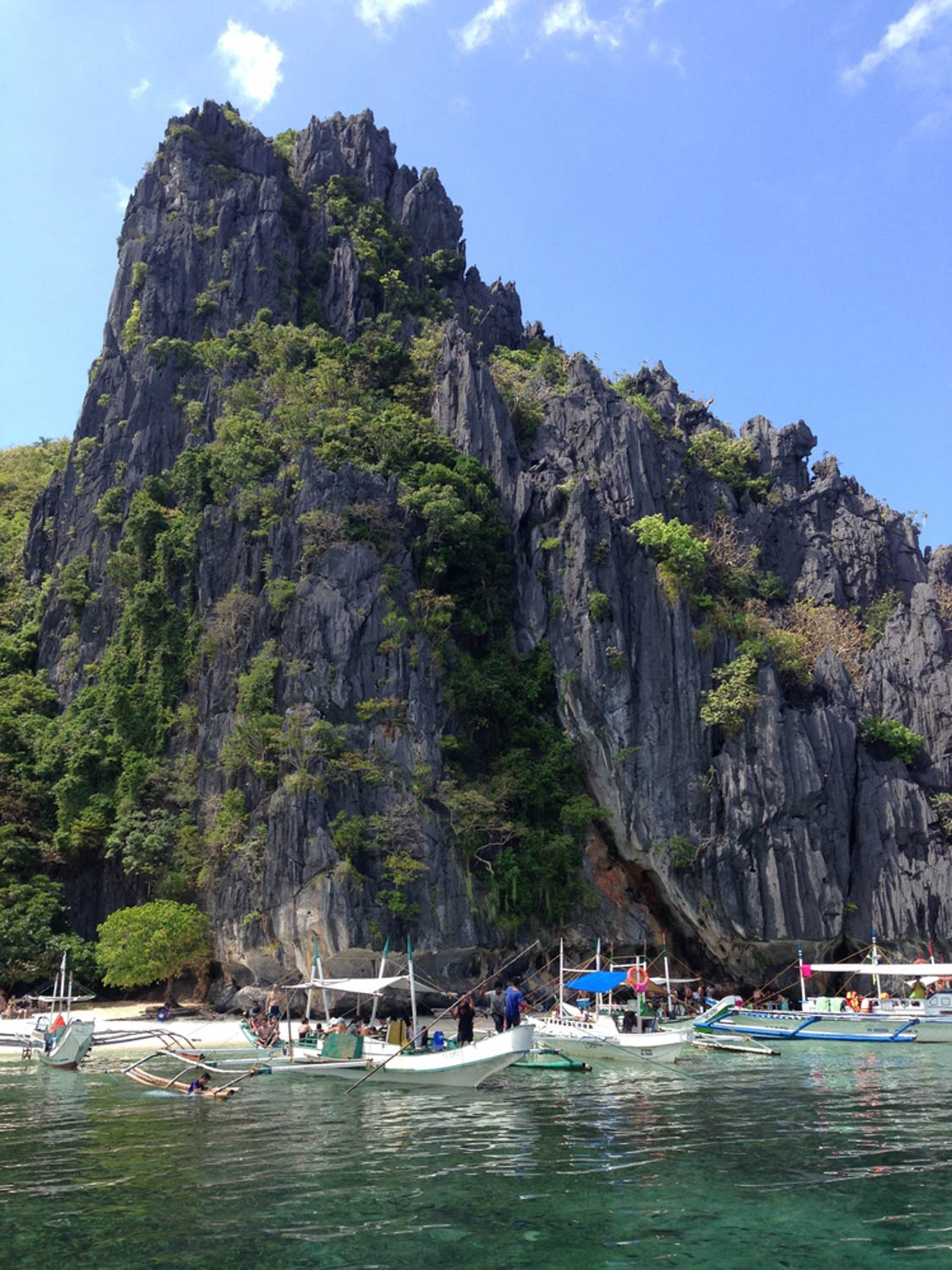 There are tons of tour operators in El Nido, and they all offer the same itineraries. Just do a simple Google search, and you'll find that the best and most popular tours are undoubtedly A and C.
Since we only had time for two, we trusted in the advice of others before us, and weren't disappointed. We wrote up a complete description of both Tours A and C with all our pictures of this incredible place.
2. Visit Nacpan Beach (aka Twin Beaches)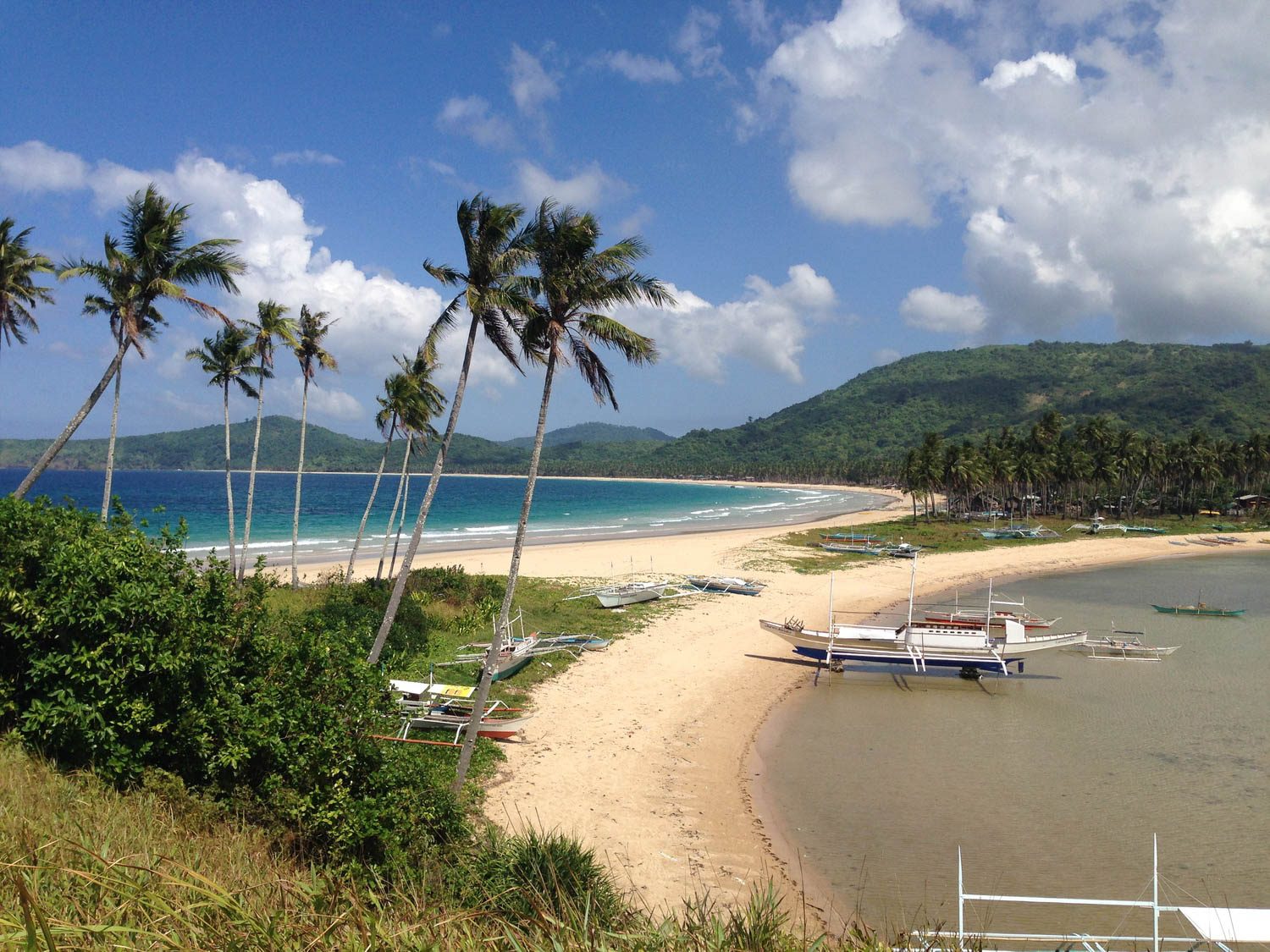 Nearly every person we met in El Nido said we couldn't miss a trip to Nacpan Beach. When we followed up by asking how they got there, each person laughed and replied with something like, "Oh, it was an adventure!" It was as if they were all in on the same inside joke.
But as soon as we made the journey ourselves, we understood.
2018 Update: We visited this beach in January 2015, and there were hardly any people there. We've heard it is getting more and more busy, and we've even seen pictures of some development that wasn't there a few years ago. We still think it is worth a visit, but keep in mind that it might be busier than described in this article.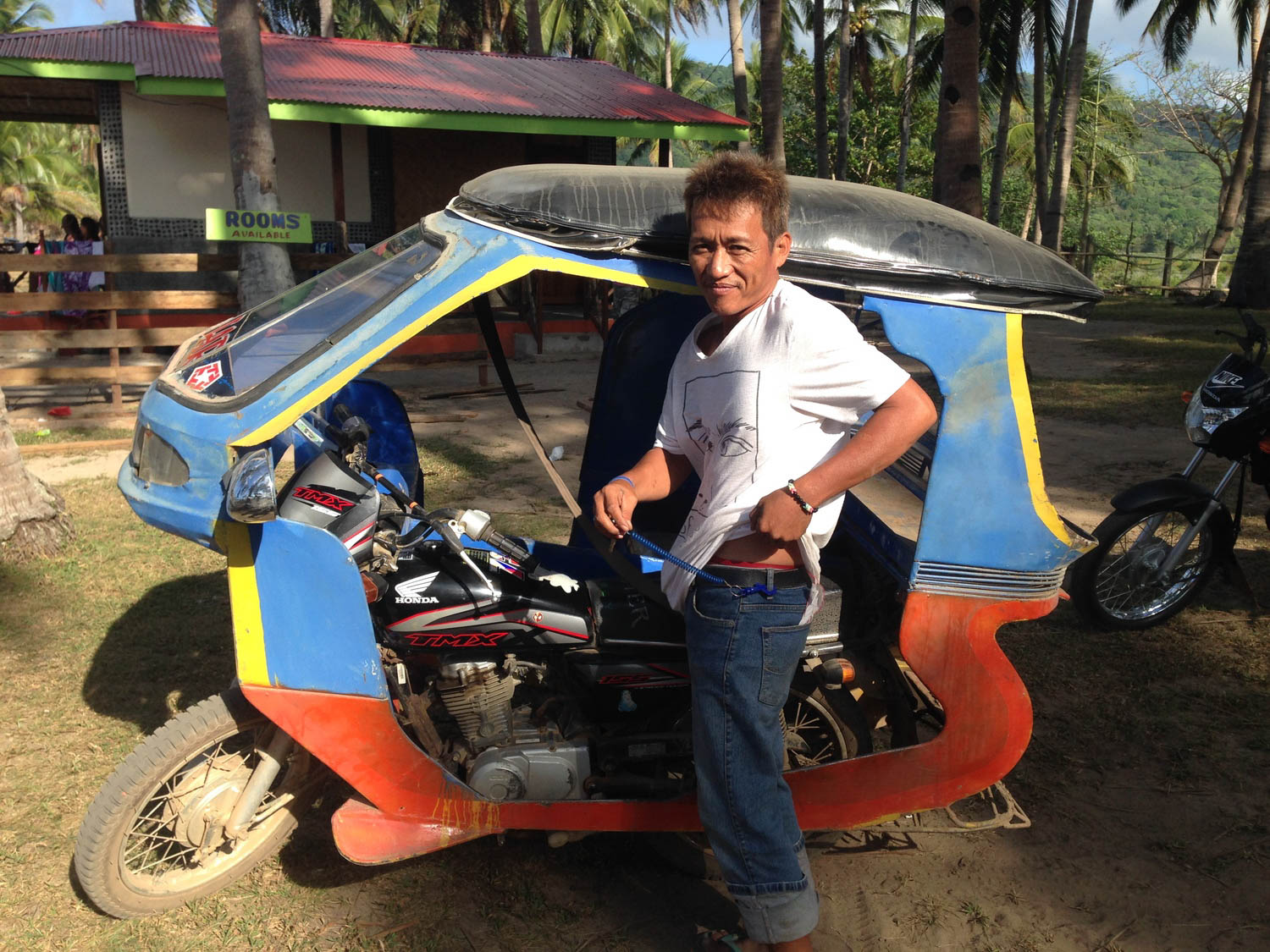 We hired a tricycle for the day. Our driver, Edgar, agreed to drive us one hour to the beach, and wait until we were ready to return.
The road started out to be pretty normal – downhill and winding, but paved nonetheless. After about twenty minutes though, things changed. The road morphed into a gravel path with entire sections eaten away from heavy rains.
Edgar slowed as we came to a "bridge" (if you can call it that). There were a handful of logs strewn over a stream, and some boards thrown haphazardly on top. It seemed that this was the norm, so I braced myself as we crossed this bridge and several others like it further on.
The last 15 minutes of the journey were the craziest. My teeth clashed together as the tricycle bounced along the jagged road, and the sound of metal on metal filled my ears. I am honestly surprised we made it without the tricycle falling apart (or getting a flat tire at the least).
Well, we finally made it, and the beach before us was just as beautiful as described.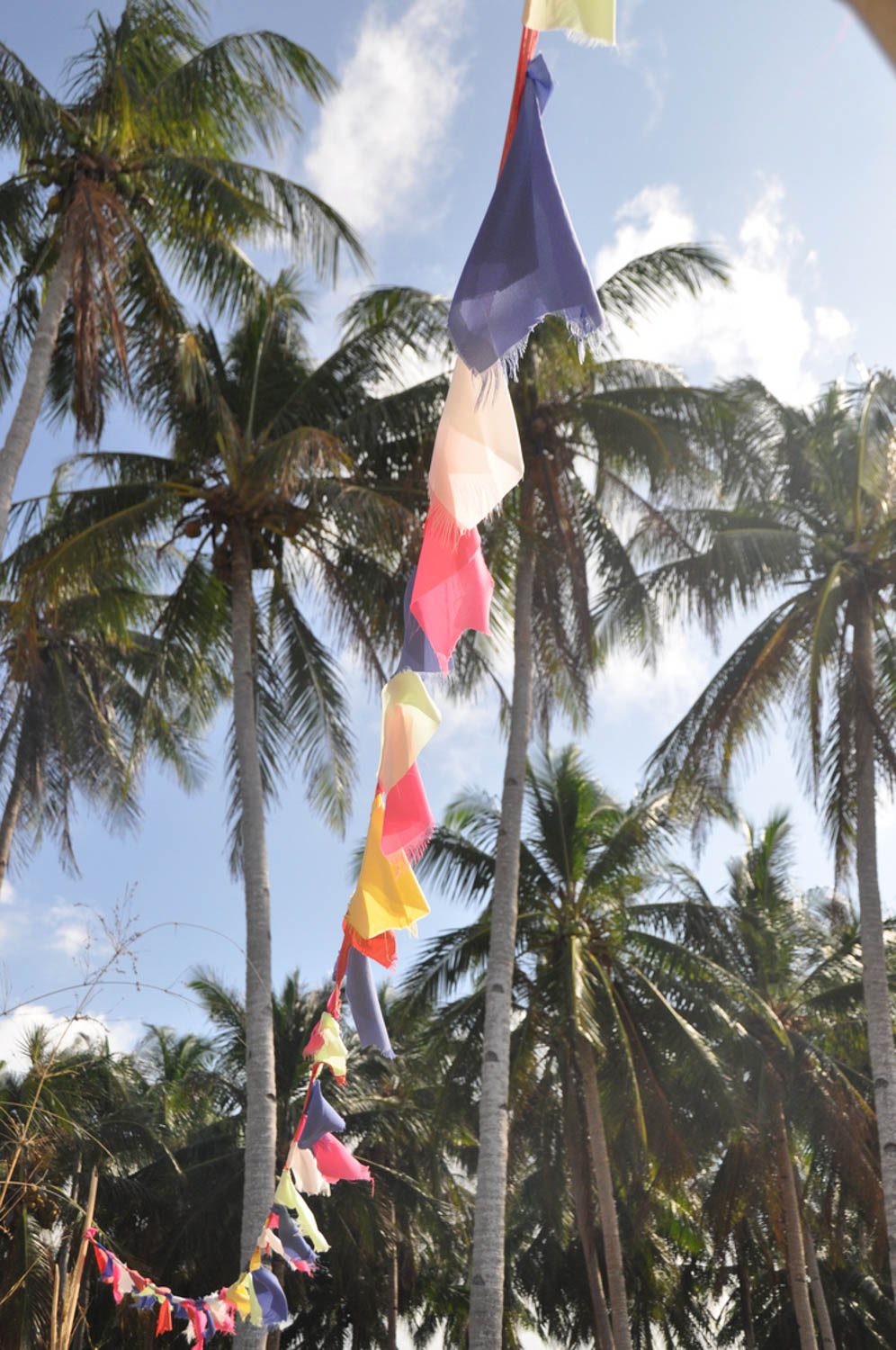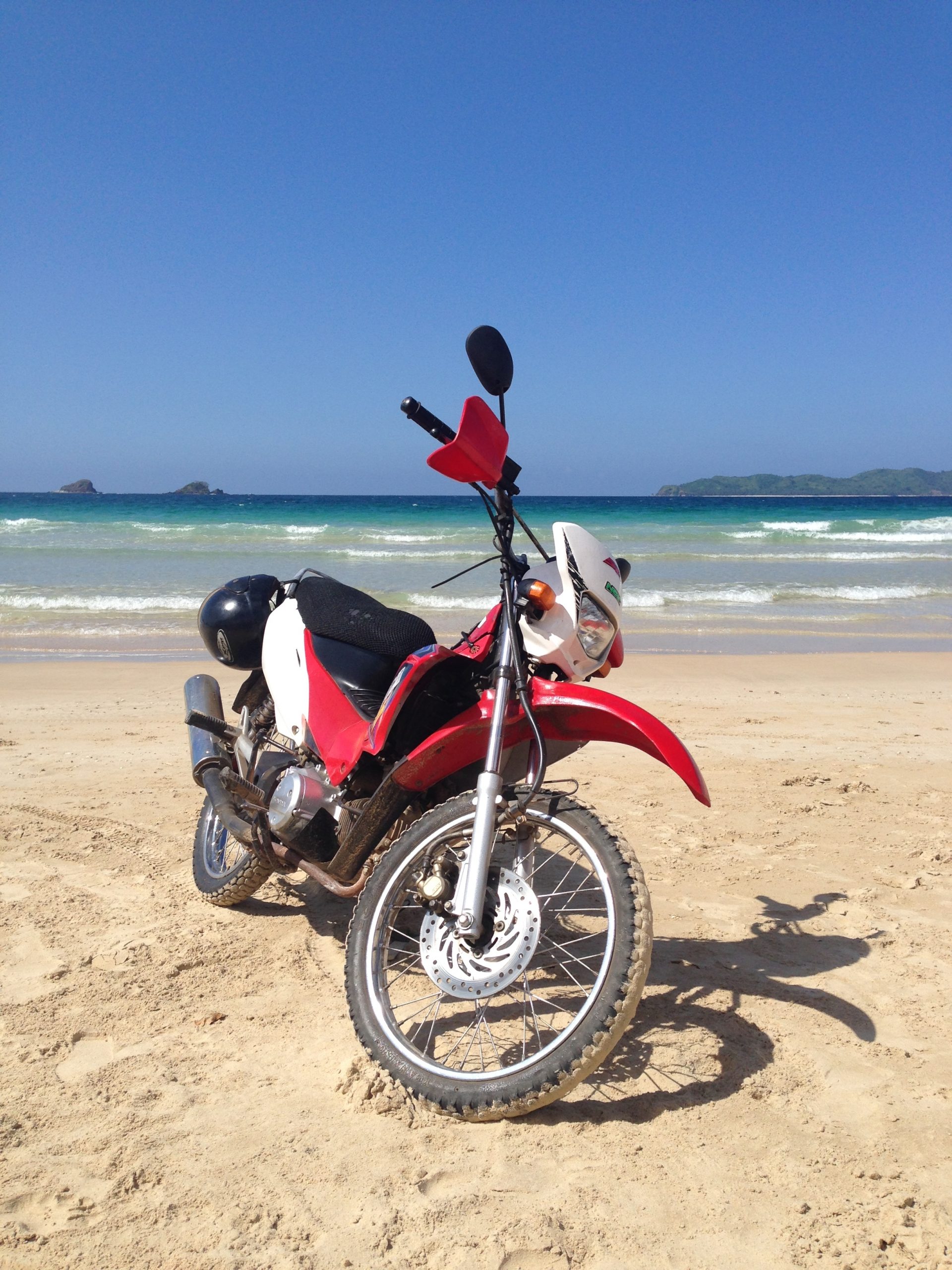 It was everything a beach should be – sand stretching in both directions with giant palms swaying in the warm breeze. There were far fewer people than the beaches in Boracay, and no souvenir stands in sight. The water was warm and clear. Small waves crashed in rhythmically, making conditions perfect for body surfing.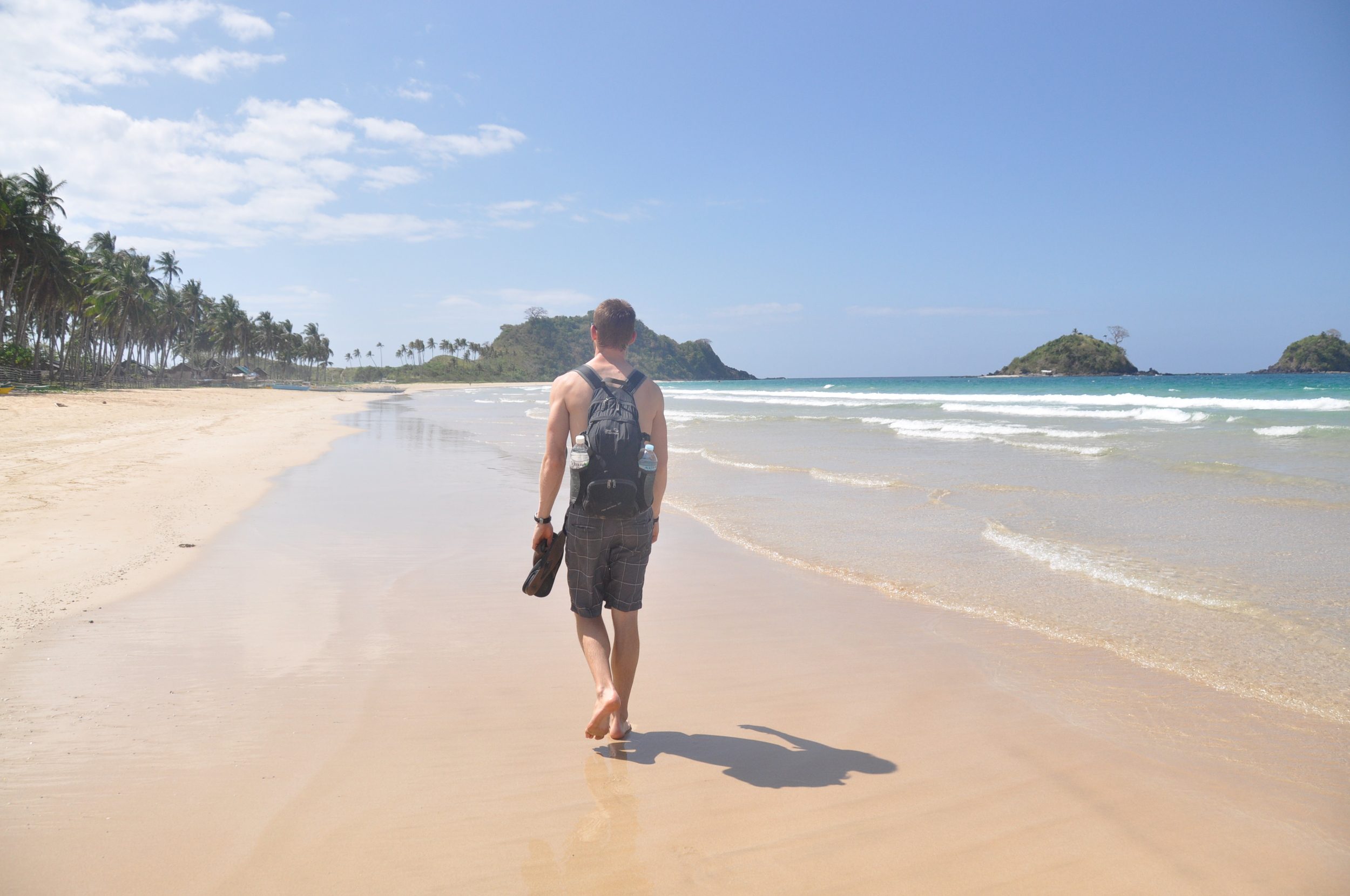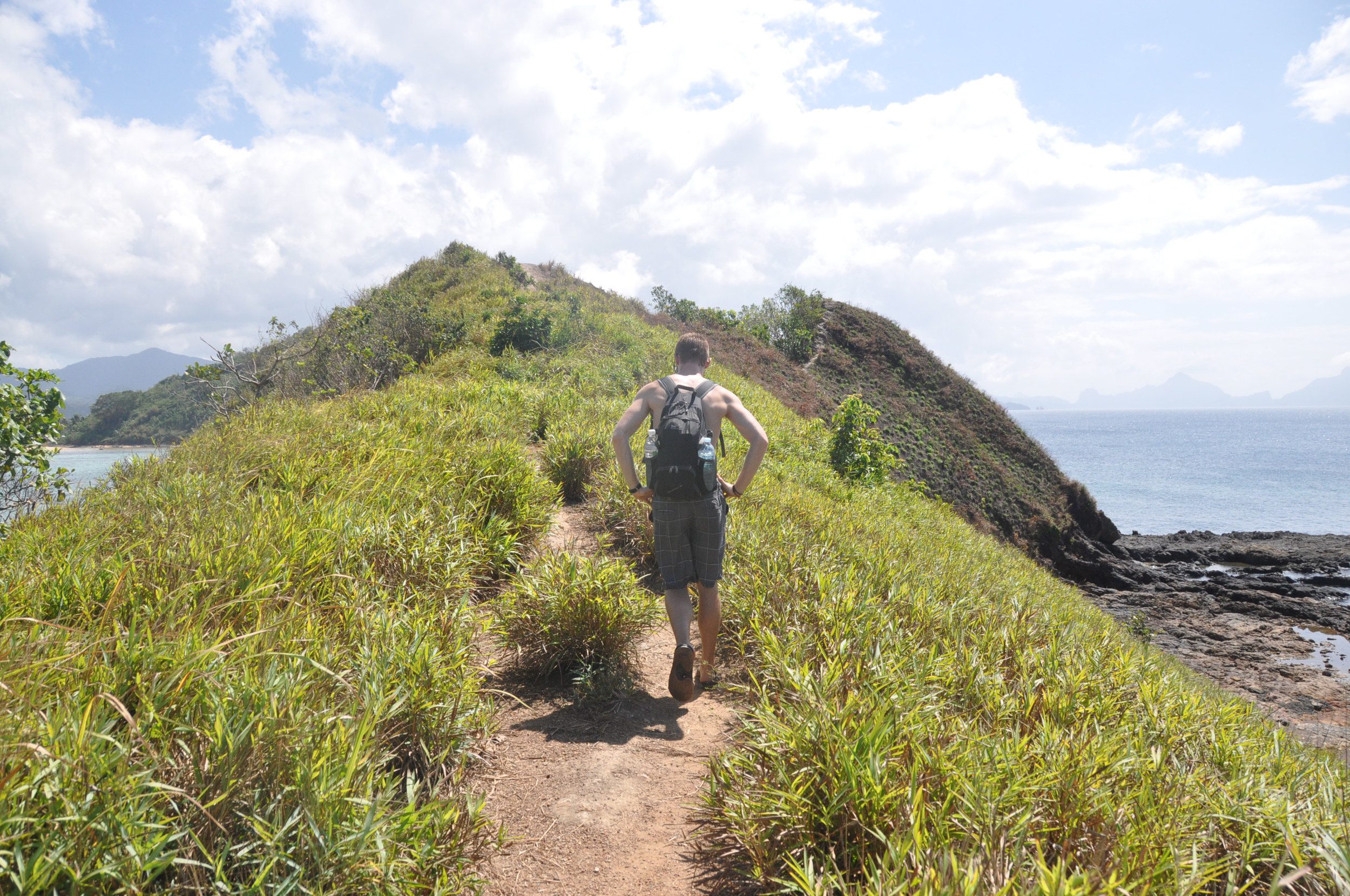 Ben and I walked twenty minutes to the end of the beach, where another bay connects, earning the nickname "Twin Beaches". We climbed up a small hill to take in the view.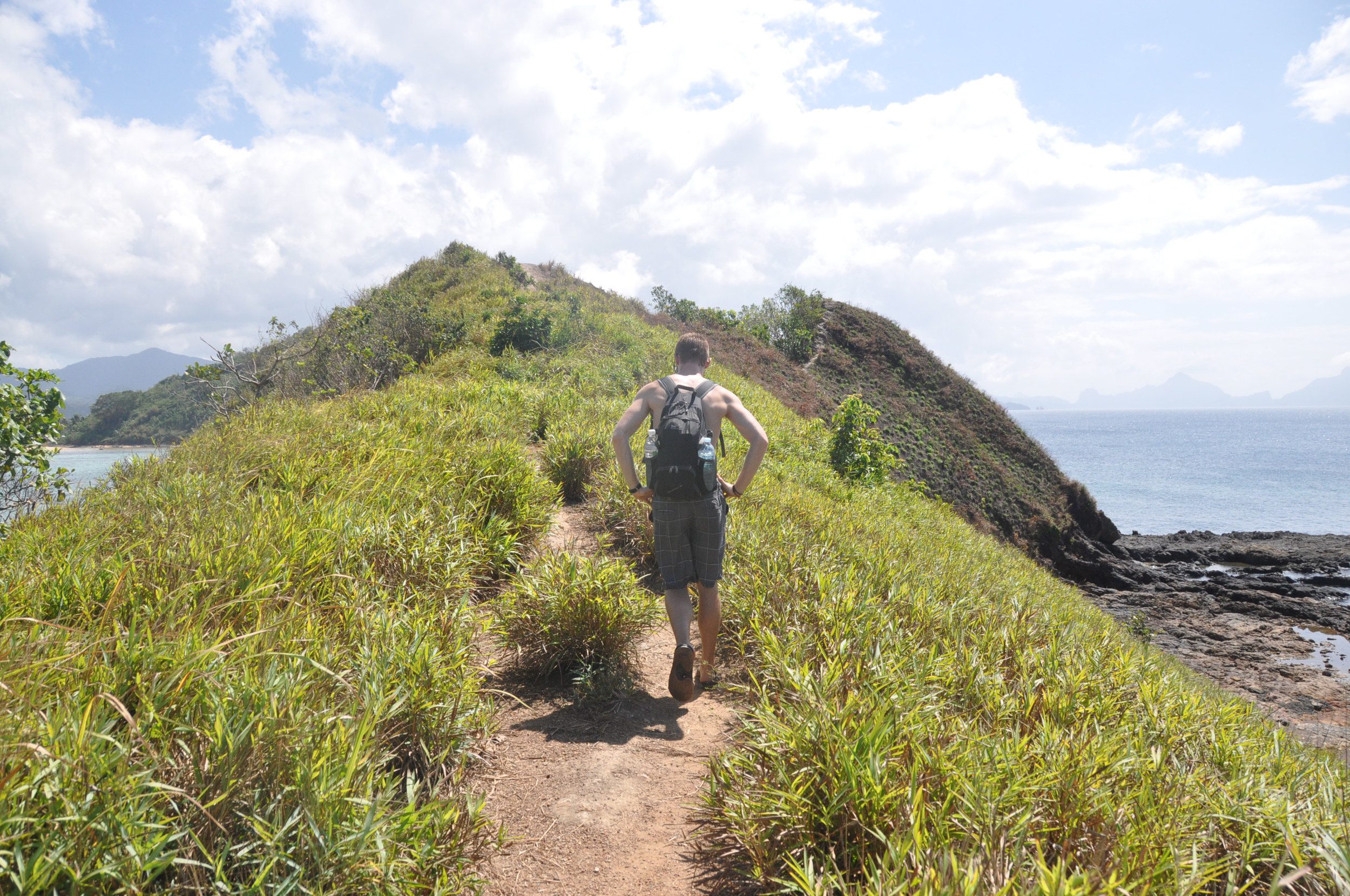 Unlike many other tourist attractions, we were all alone up there. Well, except for two local boys who promptly said hello and introduced themselves as Cesar and Alfonso.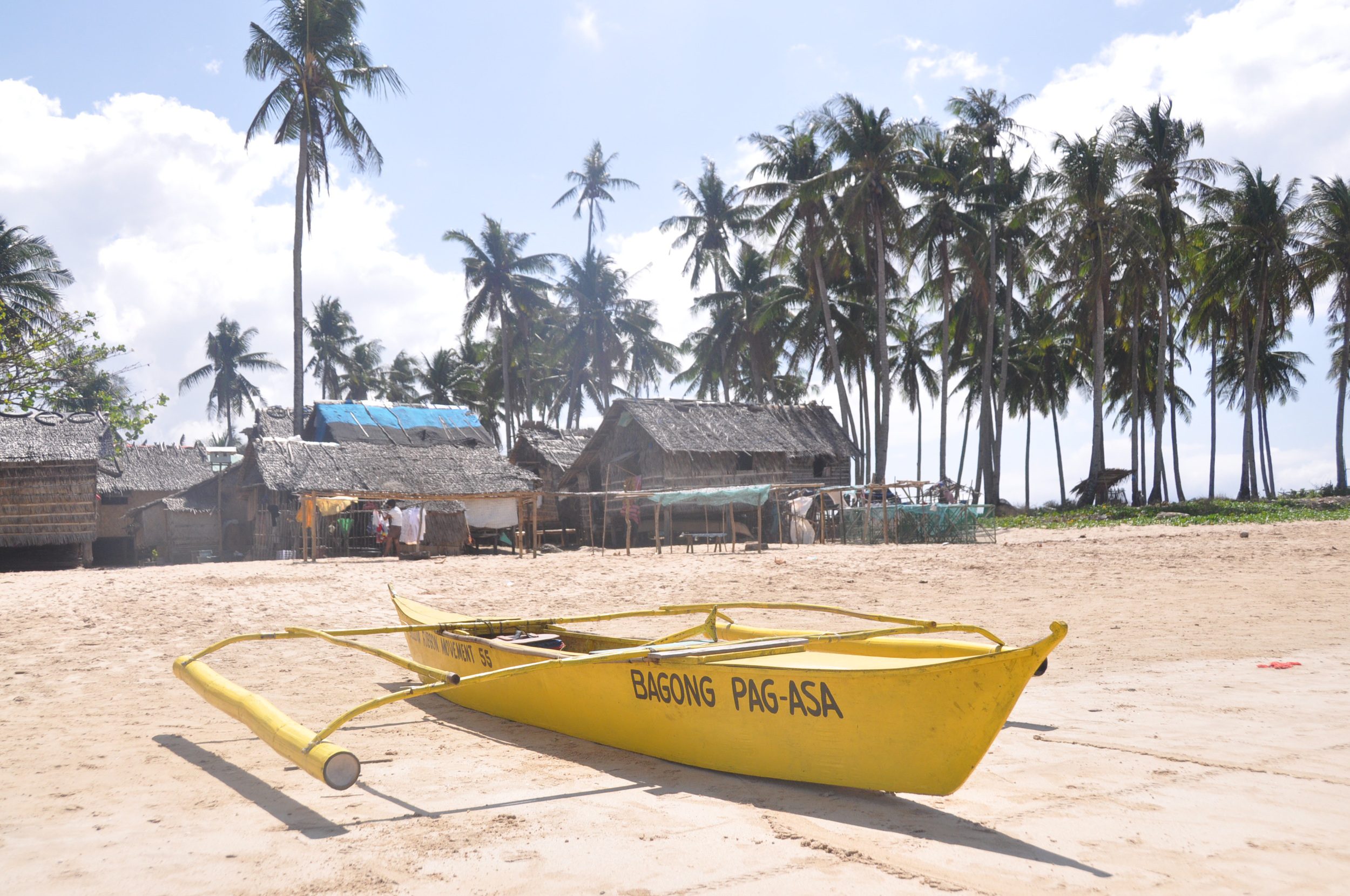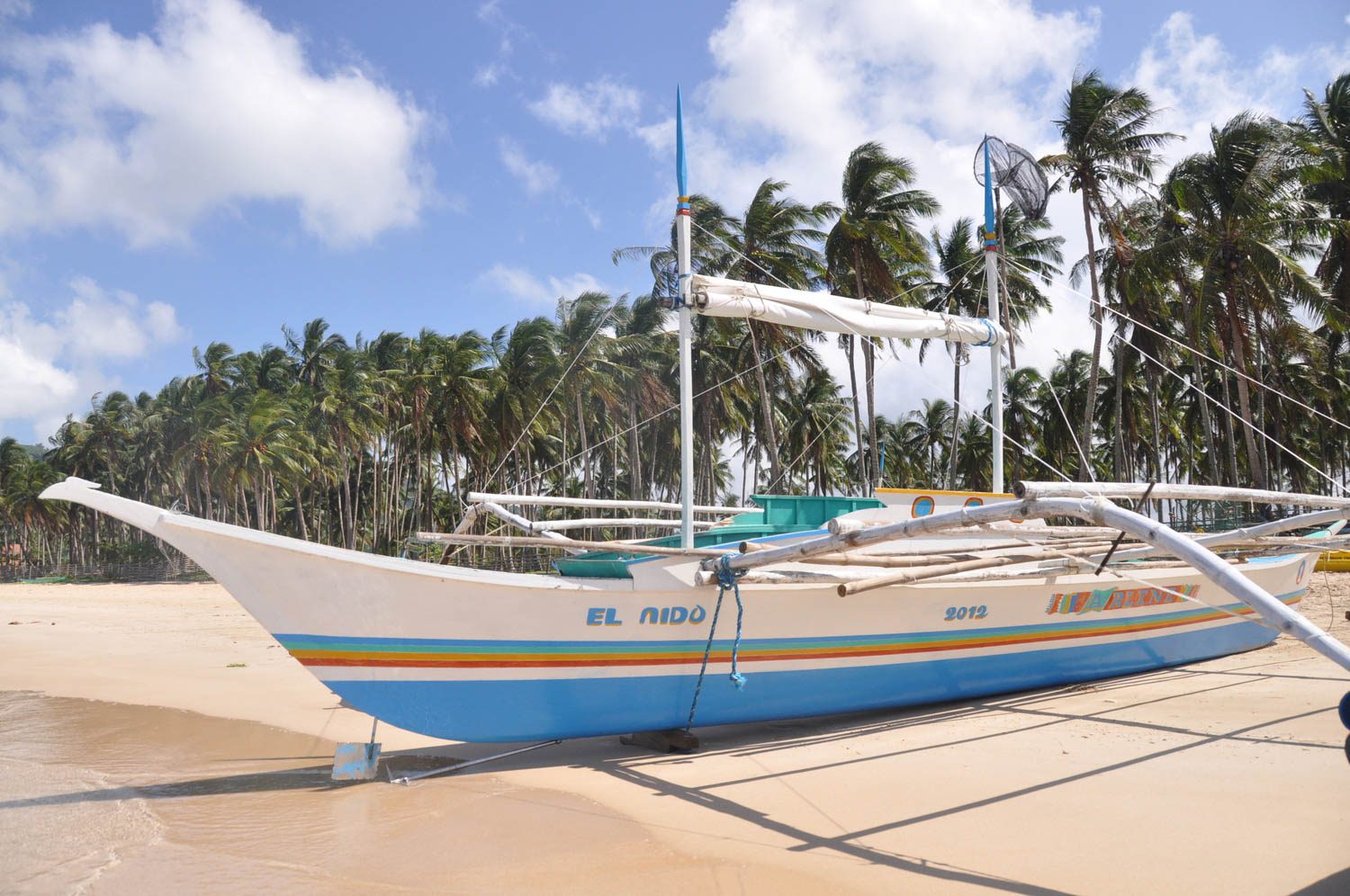 For lunch, we sat at one of the two local restaurants on the beach and ordered seafood and fruit shakes. You can't quite top that.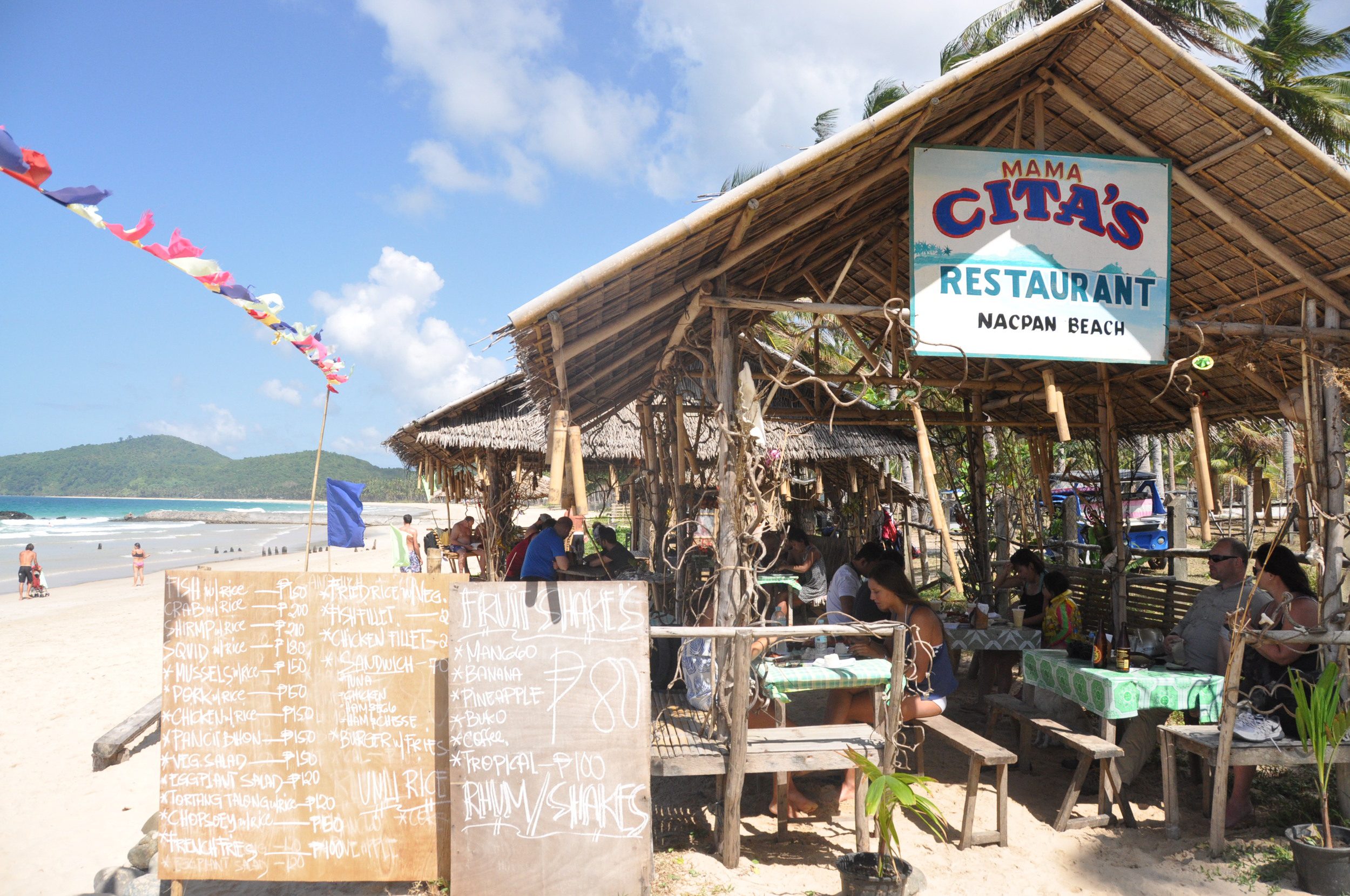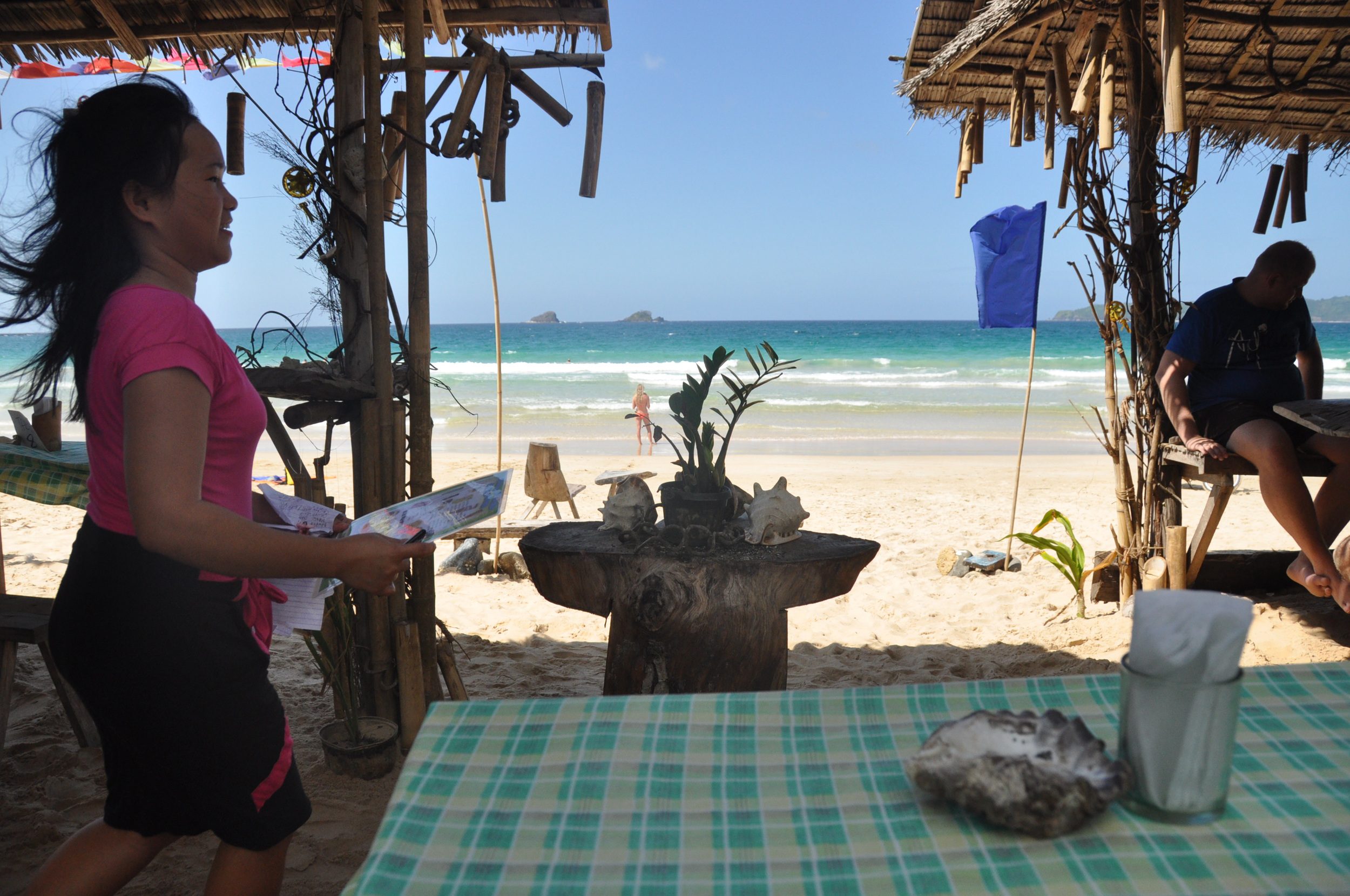 When we were ready to head back (well, we didn't actually want to leave, but we thought it best to make the journey while there was still daylight), Edgar was waiting with a mischievous grin. And we made that ridiculously bumpy ride back to El Nido.
3. Go Freediving with Palawan Divers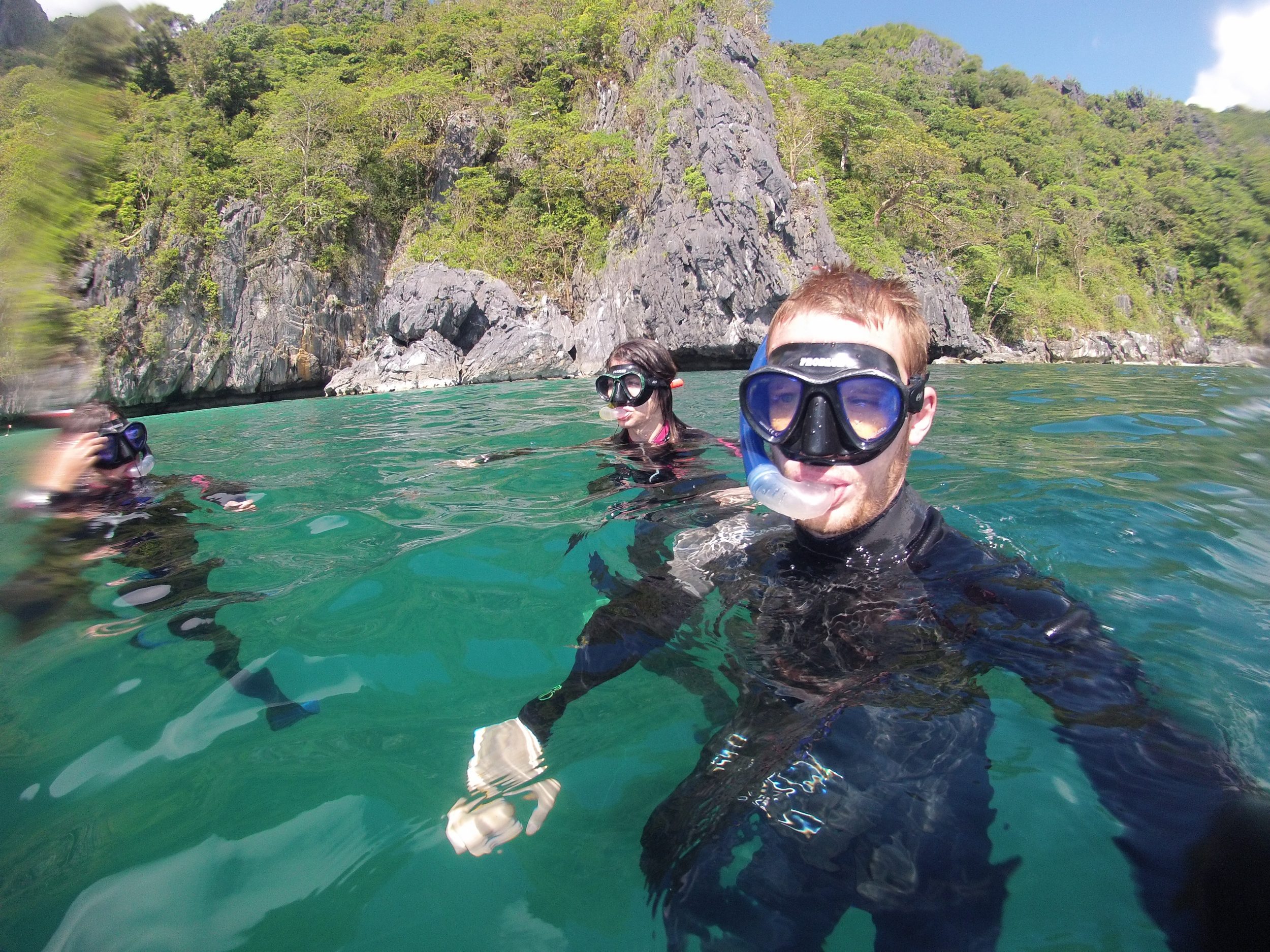 Truthfully, neither Ben nor I knew much about freediving before signing up. We are always up for trying something new and challenging, so it seemed to be the perfect way to spend our last day in El Nido.
We embarked on this adventure with a highly regarded company called Palawan Freedivers. It is run by Florent, a Frenchman who recently made the Philippines home. He opened this freediving school to share his passion with others.
I imagined freediving to be a sort of a cross between Scuba diving and snorkeling – but I found it to be quite different. Interested? Check out our full review.
Other things to do in El Nido
Where to Stay In El Nido
When we return to El Nido someday, we will stay at Spin Designer Hostel.
Spin Designer Hostel – El Nido: With some of the highest reviews in all of El Nido, this laid back hostel is the perfect place to relax after a long day of island hopping. They have dorm rooms and private rooms at great prices. And it's located only 600 meters to the beach… What's not to love?!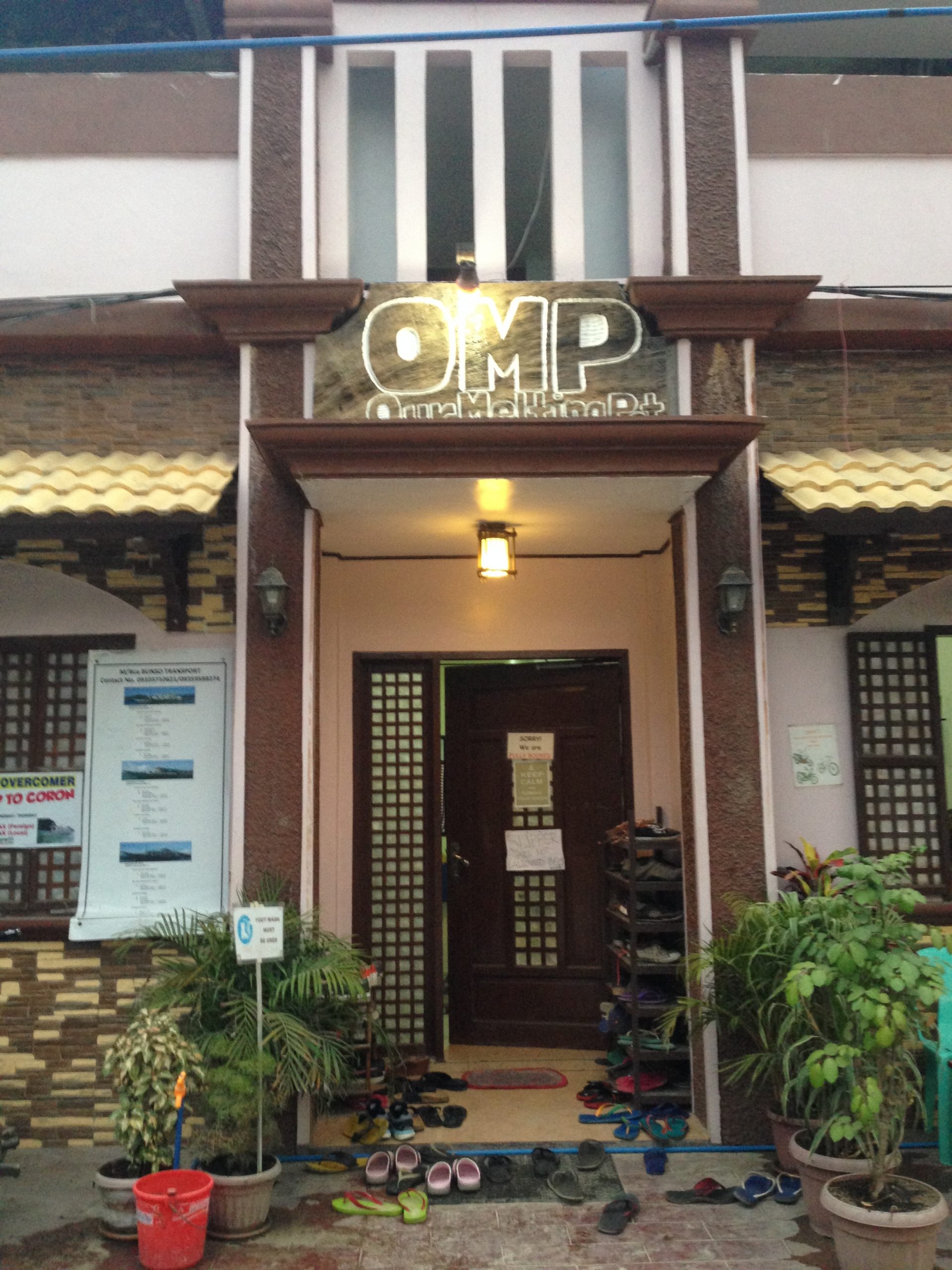 This is far from the best hostel we've stayed in, but it wasn't the worst either. The dorm room was three bunks high, and kind of felt like a chicken coop.
The wifi was next to nonexistent, and in the off-chance that you could connect, it was terribly slow. Now for the good parts: The hostel was kept relatively clean, and there was a free breakfast that included oatmeal, fruit, bread and spreads.
Although it was pretty simple, we left the hostel each morning with a full stomach. Overall, as one of the only hostels in El Nido, OMP is a good value for budget travelers, but anyone who wants a bit more than bare bones should look elsewhere.
550 PHP ($13 USD) per person each night in a 10 bed dorm.
Check out some other great places to stay in El Nido here.
Where to Eat in El Nido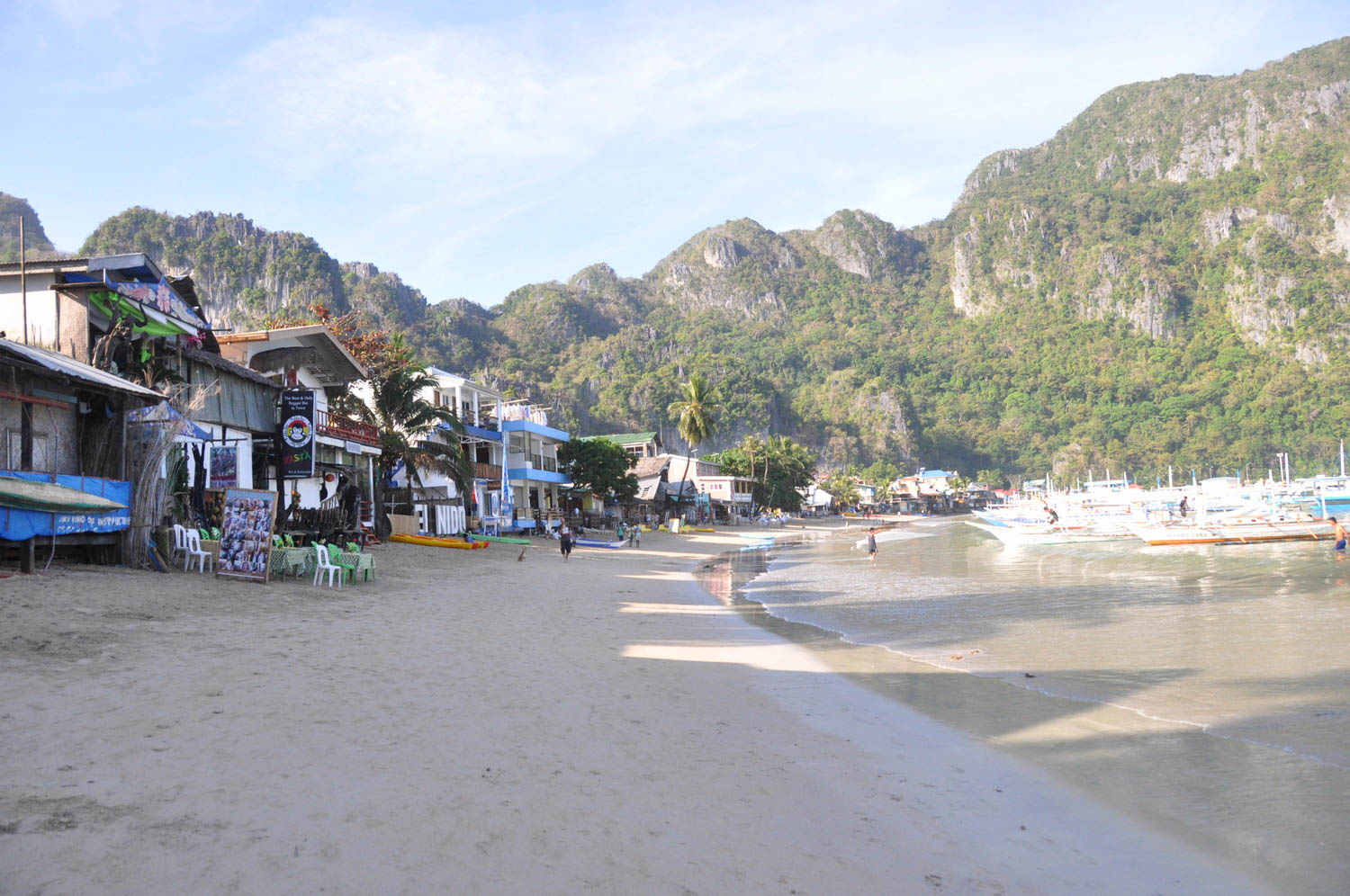 Each evening in El Nido, we ended up gathering quite the group for dinner. We'd invite one person, who invited a few more, and before we knew it we were a group of eight. This happened every night, and it was wonderful. We ate delicious food and enjoyed conversation with people from all over the world – Germany, the Netherlands, England, Latvia, and Bulgaria. This is the epitome of a perfect evening in my book.
One night, we had a lovely meal served on the sand and ate while waves lapped up near our feet. The only light came from a single candle on our table and the stars above.
Another evening, we ate at a local restaurant that also doubled as the family's home. They pushed some tables together for us in a garden outside, and we chose the meat and vegetables we wanted grilled.
Most restaurants around the beach will be quite similar and on the more expensive side (the fresh seafood is worth it though!).
If you are looking for some cheap and local food, check out IBR Fast Food. It's not too far from from OMP Hostel. The food is reasonably priced and it's open 24 hours. Tip: We'd recommend the beef stir-fry.
And for the best pizza in El Nido, check out the ultra popular Altrove.
Where to get Internet in El Nido
Art Café: We didn't have anything here besides a mediocre smoothie and coffee drink, but the food menu looked delicious and featured fresh food from a local organic farm. The Internet isn't actually all that good, but it was the strongest signal we found in El Nido.
Where to Drink in El Nido
Reggae Bar: This bar is packed every night with locals and travelers from around the world. As the name suggests, they usually have a reggae band playing until midnight, when a DJ takes over. The party trickles out onto the beach in front of the establishment.
Be prepared to get wet during high tide when the waves come crashing right up to the bar. Tip: Cocktails are a bit pricey here, and can take a while to be prepared. Order a Red Horse instead.
How to get to and from El Nido
You will likely fly in and out of Puerto Princesa, and you can easily catch a van headed to El Nido. You'll take the same type of van back to Puerto Princesa. Instead, you can take a ferry from El Nido to Coron to continue your trip!
Although we were surprised by how long and bumpy the 230 km trip was up to El Nido, it seemed that this journey was considerably shorter than it used to be.
We talked to one expat who said up until 5 years ago, the roads that lead from Puerto Princesa to El Nido did not exist. He had to get there by riding his motorbike through the jungle.
Be prepared for an adventurous ride! Our van was so packed that the driver sent a teenage kid to the roof. Not joking. The van whipped around bends on the gravel road so fast that I don't know how he managed not to get flung off. Then at the rest stop, the same kid who had ridden atop the van switched into the driver's seat. Like I said, adventurous.
Book your van ride back to Puerto Princesa here, and hopefully you'll have a better experience than we did.
Where to stay in Puerto Princesa: Palo Alto Bed & Breakfast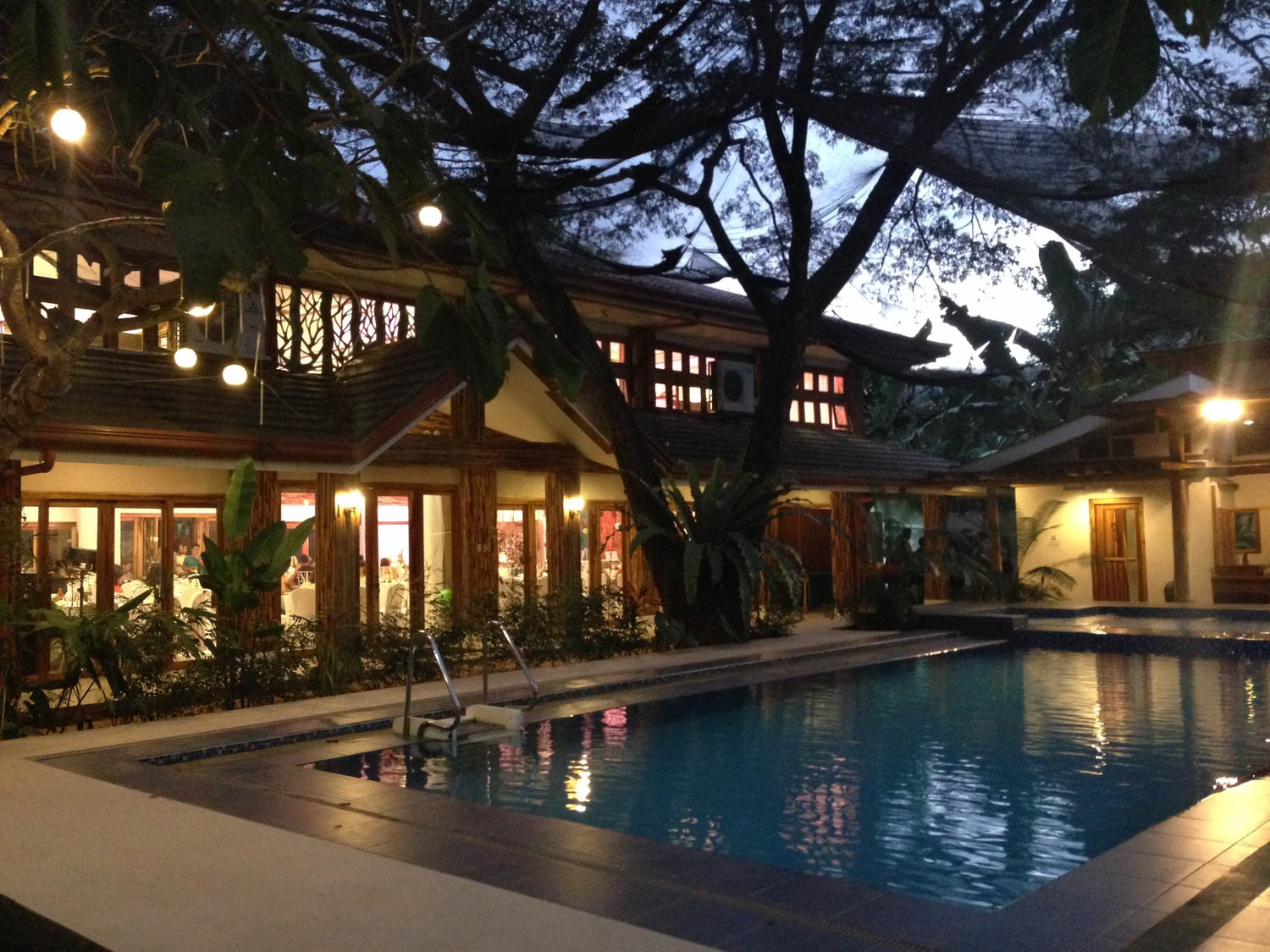 This family-run eco-lodge, set in a tropical forest, is the stuff of dreams.
For starters, the construction of the entire property is gorgeous. The buildings are made of sustainably-sourced and recycled wood and were built around the existing trees.
The rooms are comfortable and let it lots of natural sunlight. We loved this place so much we wrote a separate article to review our stay of Palo Alto Bed & Breakfast.
We were sad to say goodbye to the Philippines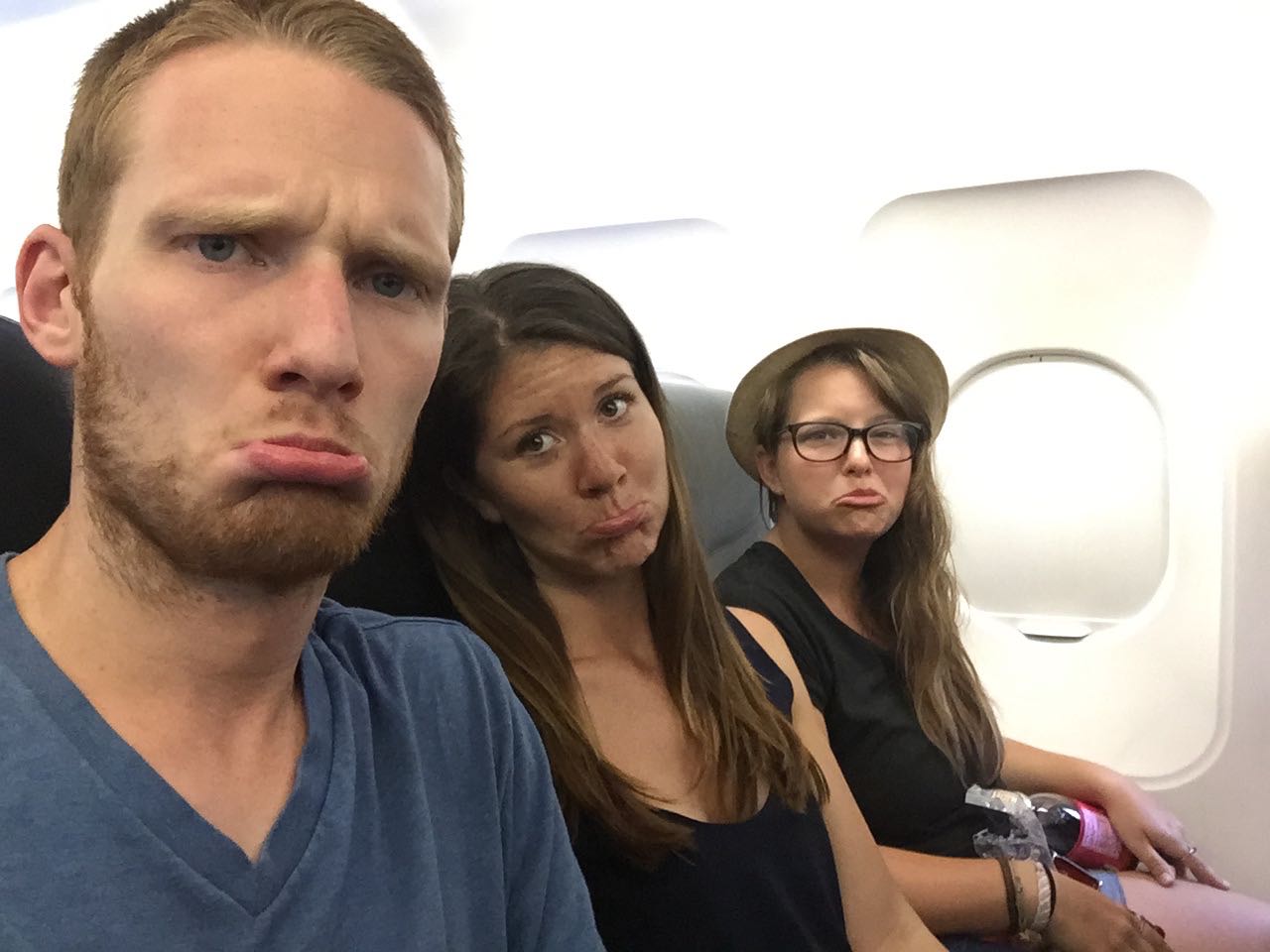 Sadly, our time in the Philippines had to come to an end. Saying goodbye is never fun, but we have a feeling we'll be back someday. We already have so many places in mind we want to explore!
Where else should I travel in the Philippines?
With 7,000 islands, there's no way you can see it all in this stunning country. Depending on your travel style, here are some ideas of places to visit in the Philippines:
Still not convinced?
2 Weeks in the Philippines: Best Itinerary
If you have been convinced to travel to this island nation, this ultimate 2-week Philippines itinerary is everything you'll ever need!
Is traveling in the Philippines expensive?
We've got all your budget questions answered in the post that details how much it costs to travel in the Philippines!


Are you planning a trip to the Philippines?
We have TONS of resources on travel in the Philippines and destinations throughout the country. Check out our Ultimate Philippines Travel Guide for all the answers to your most burning questions, or read some of our favorite travel articles below.
Save this article on Pinterest for later!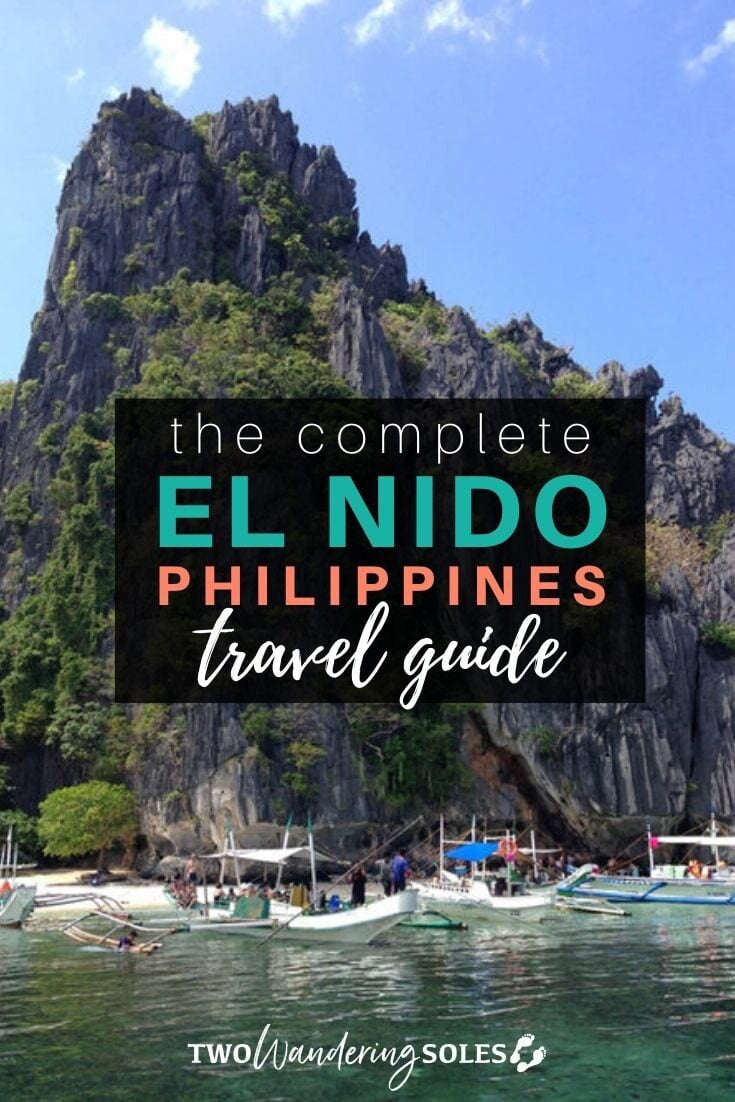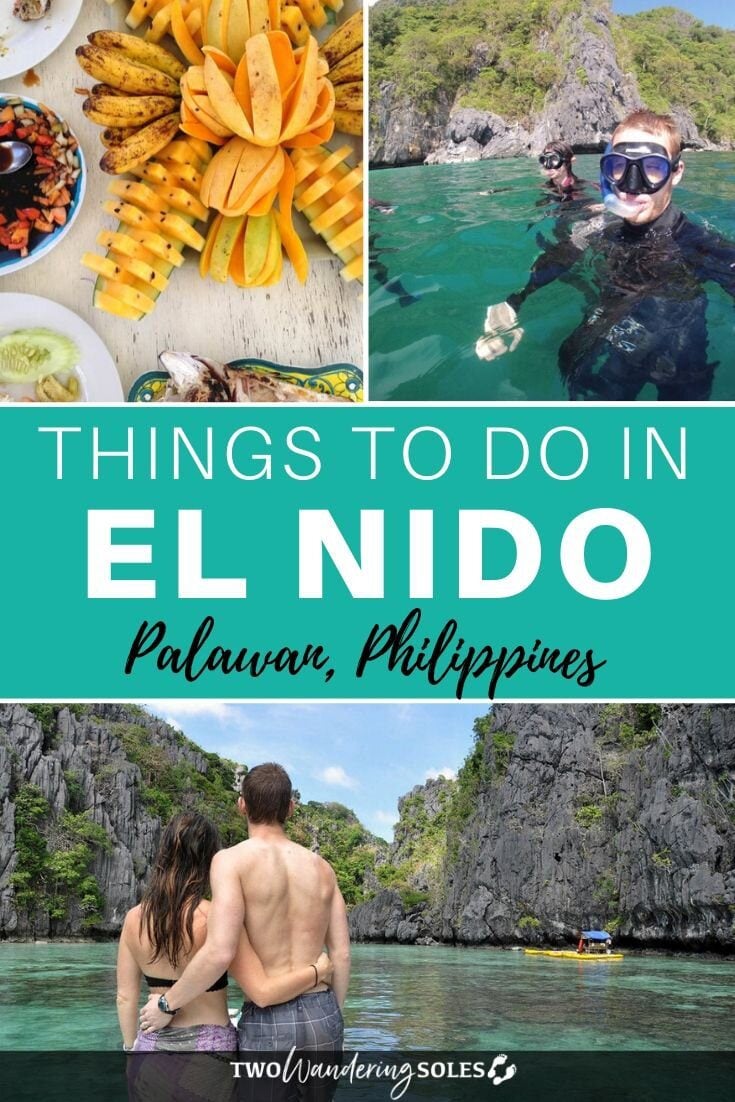 We want to hear from you!
Did we miss anything? What do you think of El Nido, Palawan, Philippines? Let us know in the comments below and we'll do our best to get back to you!