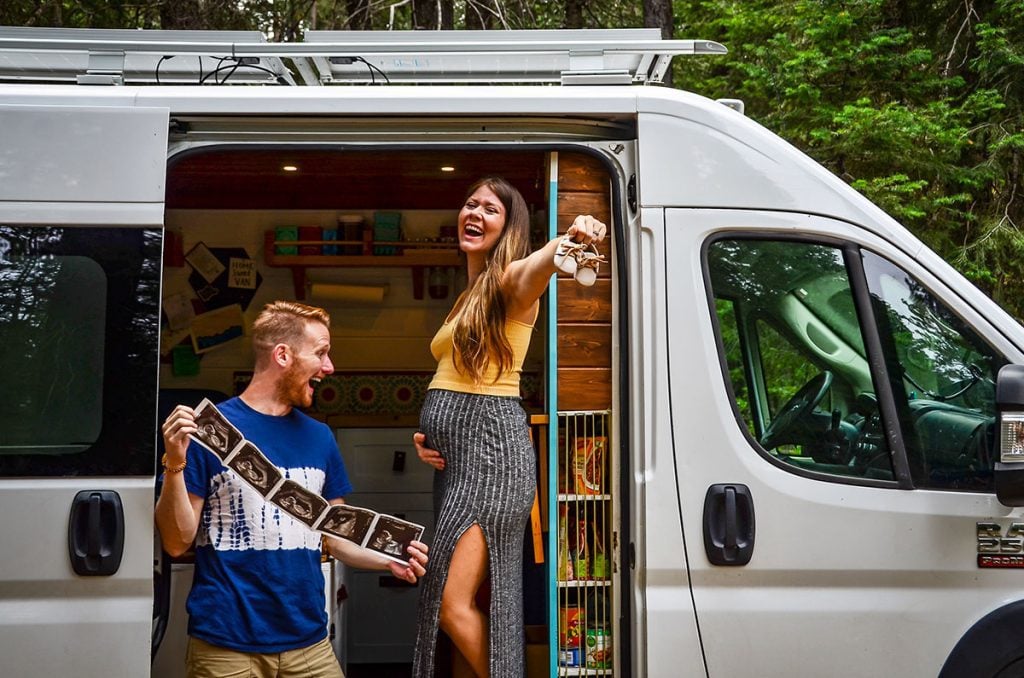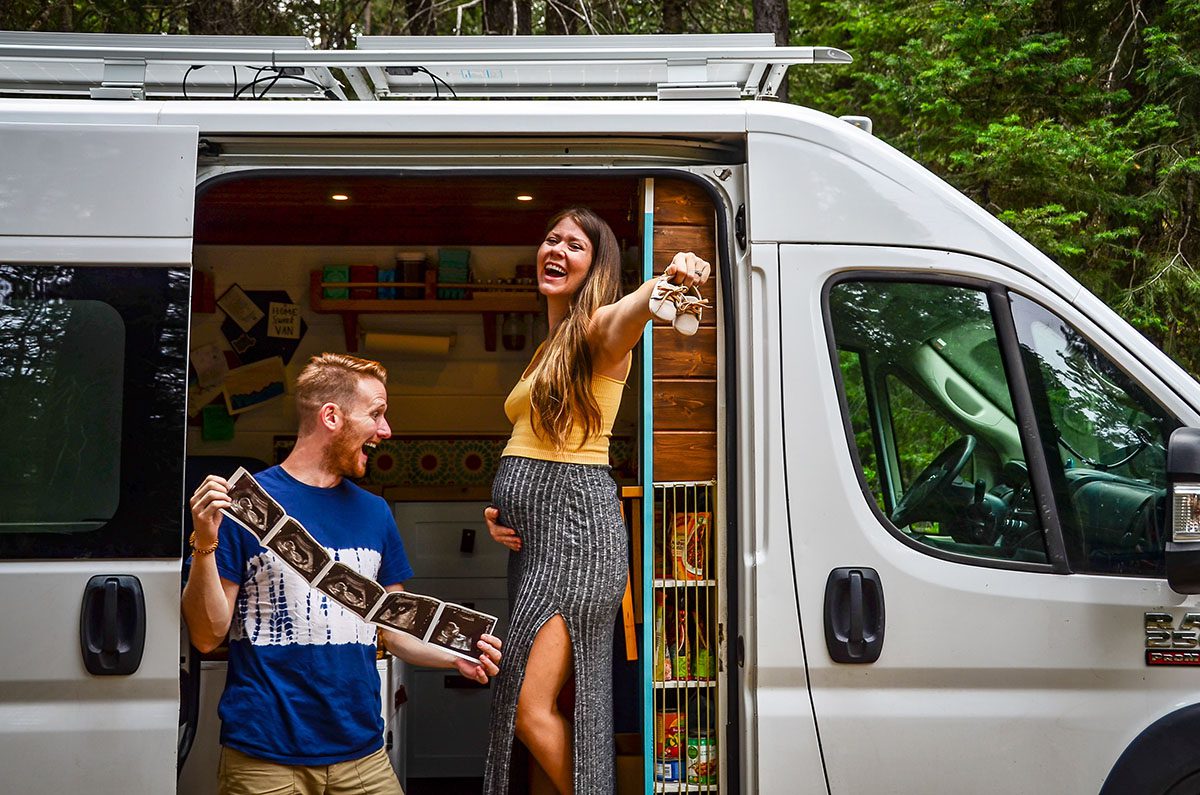 I haven't written a personal blog post in a while.
I've more or less stuck to "25 things to do in [insert destination]" and "Guide to building [insert part of campervan]" types of articles for quite some time, so it feels long overdue to get personal here again.
And I suppose there's no better time than now, being that we're about to become… 
THREE Wandering Soles!!!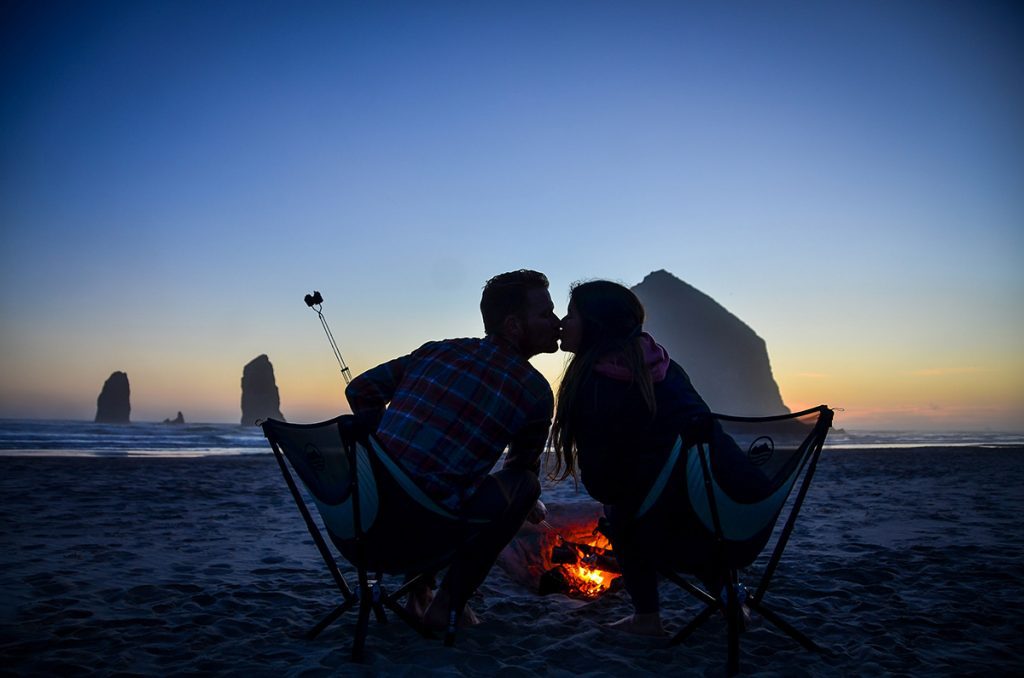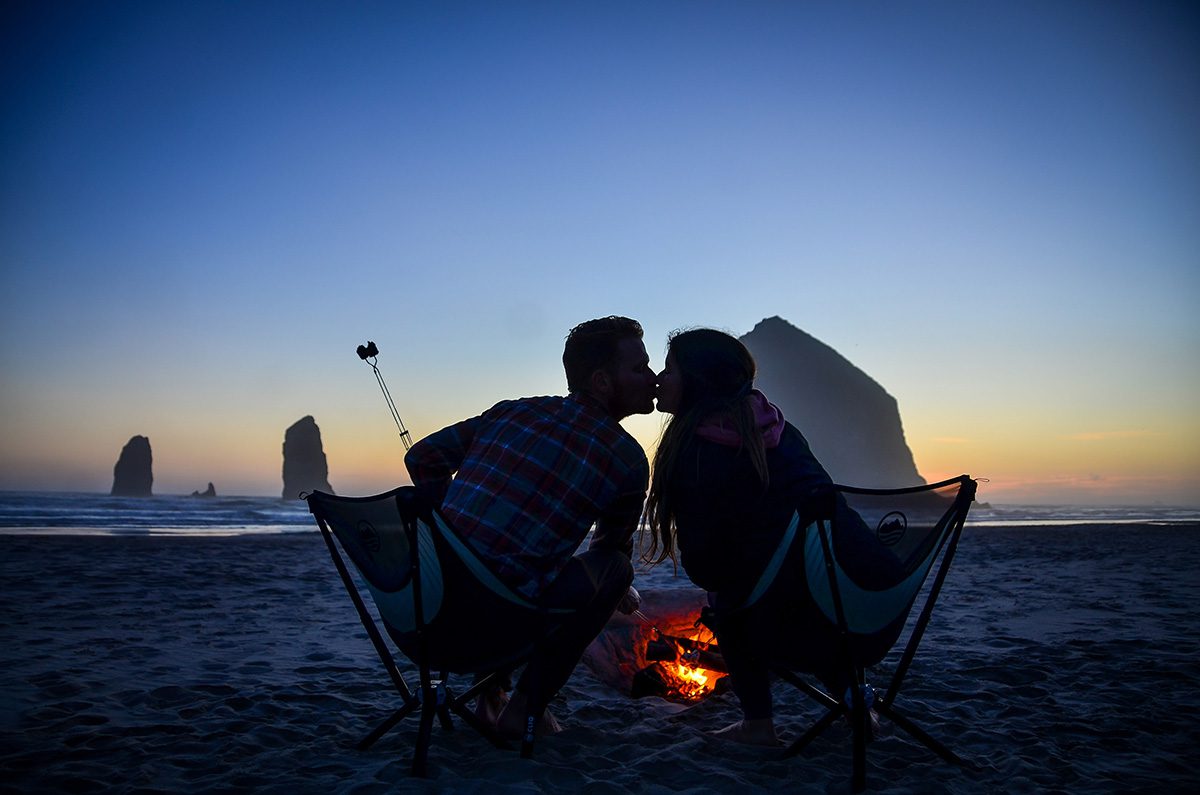 That's right, we'll be adding a pint-sized traveler to our crew in just a handful of months. And we're feeling alllllll the emotions. All at once.
This is more or less the roller coaster we've been riding each day:
We wake up so excited we want to shout from the mountaintops. (It's been real hard for us to keep this secret so long!)
Then we get nervous that we have no clue what we're doing, because let's be real — we don't!
We talk it out and realize we'll figure things out along the way, and in talking about it, we get stoked to meet our little one and show them the world.
Then we get scared about the state of the world we're bringing them into…
But then we remind ourselves that there is so much more good in this world than bad, and we start the emotional roller coaster from the top again.
Can anyone out there relate?! (Just us…?)
A whole new kind of adventure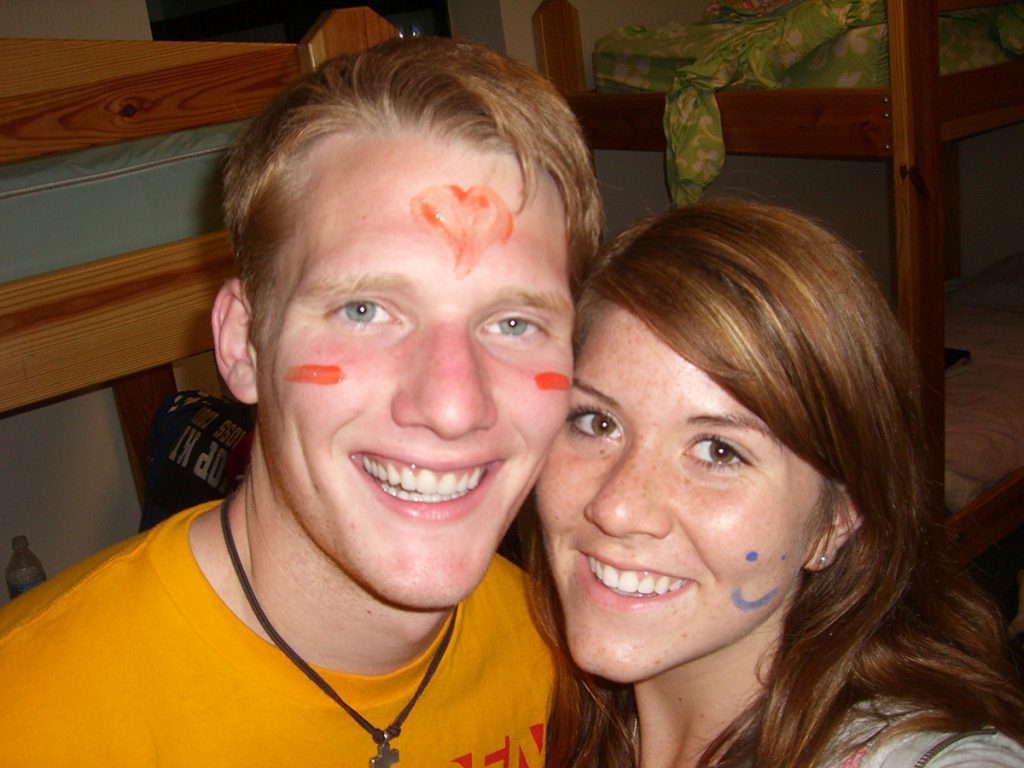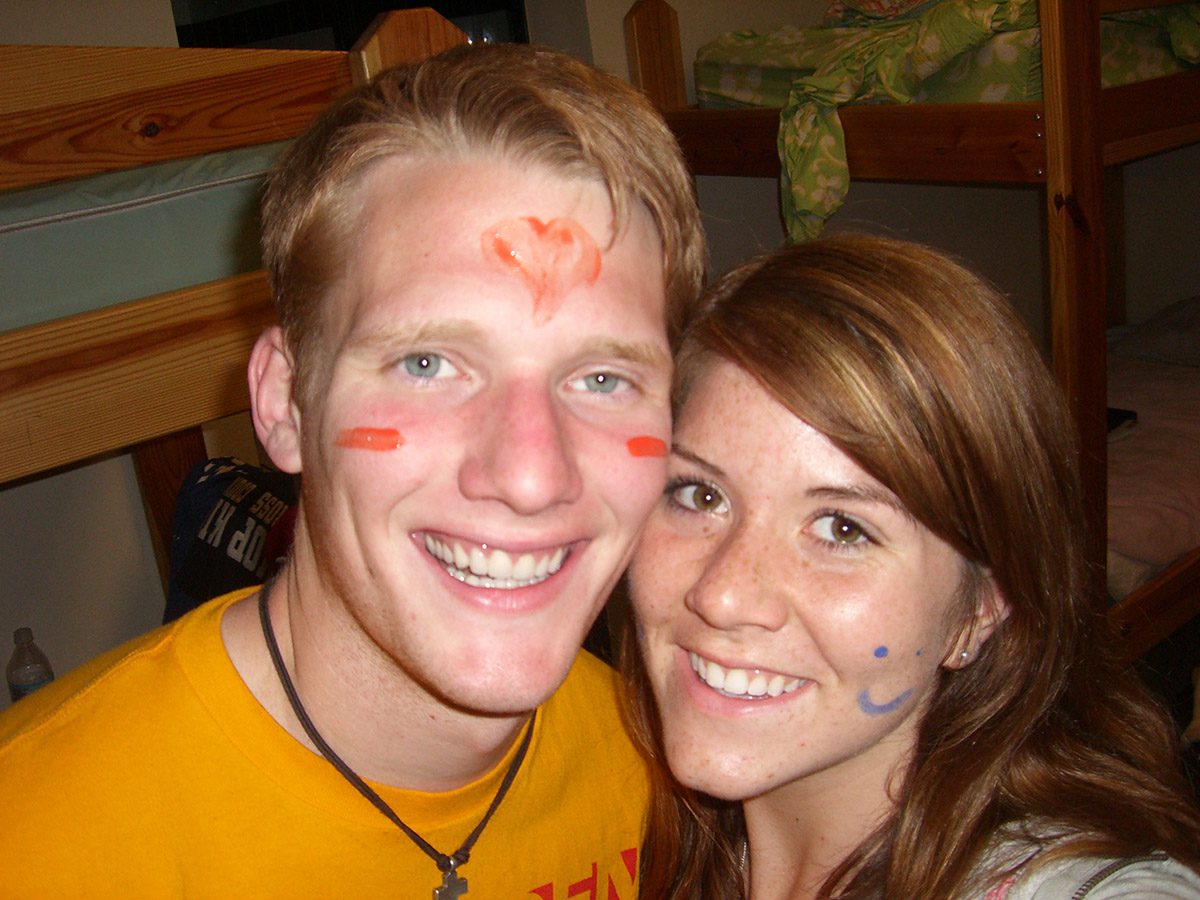 In one month from now, we'll celebrate 8 years of marriage (and roughly 16.5 years together… which means our relationship could legally drive a car!). So I guess you could say we've taken our sweet time getting to this stage of life.
Ever since we returned from our honeymoon (Banff National Park!), we've been asked when we're gonna start poppin' em out. Usually, it was asked a tad more eloquently than that, but you get the point.
We've been asked by family members. By acquaintances. By strangers we met around the world.
Usually, we'd just shrug the question off or change the subject. Because honestly, we didn't have an answer.
Here's the thing… we always knew we wanted a family someday, but we never felt a huge rush to get there. There were so many things we wanted to do, places we wanted to see, goals we wanted to accomplish.
And I will be forever grateful for the time we've had — just the two of us — to build the life we wanted and to grow into the people we are today.
We've lived in 5 different countries together, built two campervans from scratch, and created a business that we are deeply passionate about and gives us near-endless freedom.
We've worked as ski instructors, English teachers, photographers, and now full-time travel bloggers.
We've eaten scorpions, taken care of each others' bouts with food poisoning, and made so many inside jokes that we practically have our own language. (Annoying, I know.)
We've hiked to Everest Base Camp, slept in remote villages around the world, jumped off of bridges and out of planes.
We've gotten our advanced scuba certifications and have gone diving in some of the most incredible sites around the world. We've gone rock climbing, canyoneering, mountain biking, whitewater rafting, backpacking, and spelunking.
Sometimes I can't believe what we've experienced and accomplished together.
But somehow I know this next chapter is going to be an adventure unrivaled by anything we've ever done before. Bigger. Sweeter. Harder. More meaningful.
And I find myself getting more and more excited (and let's be real — nervous too!) with each passing day.
Am I doing it all wrong?
The past few months have given me a lot of time to reflect on what society tells us this chapter of life should look like.
And what reflects society more in this day and age than social media?
For me, social channels like Instagram have been both frustrating and inspiring at the same time.
On one hand, the perfectly curated squares make me feel like pregnancy and motherhood are supposed to look a certain way. Follow a specific formula.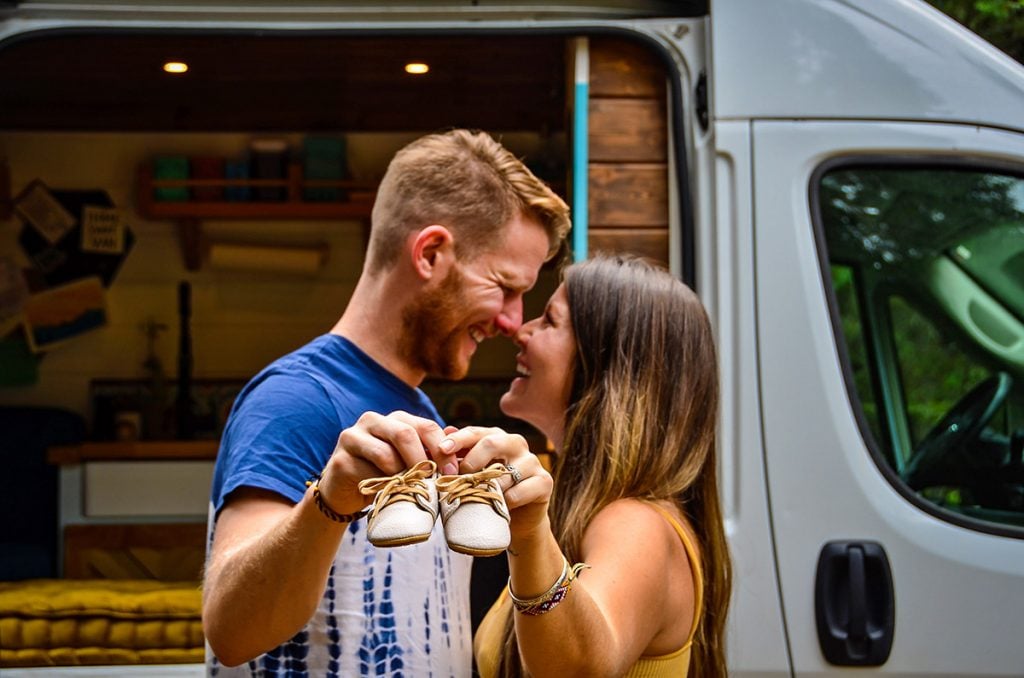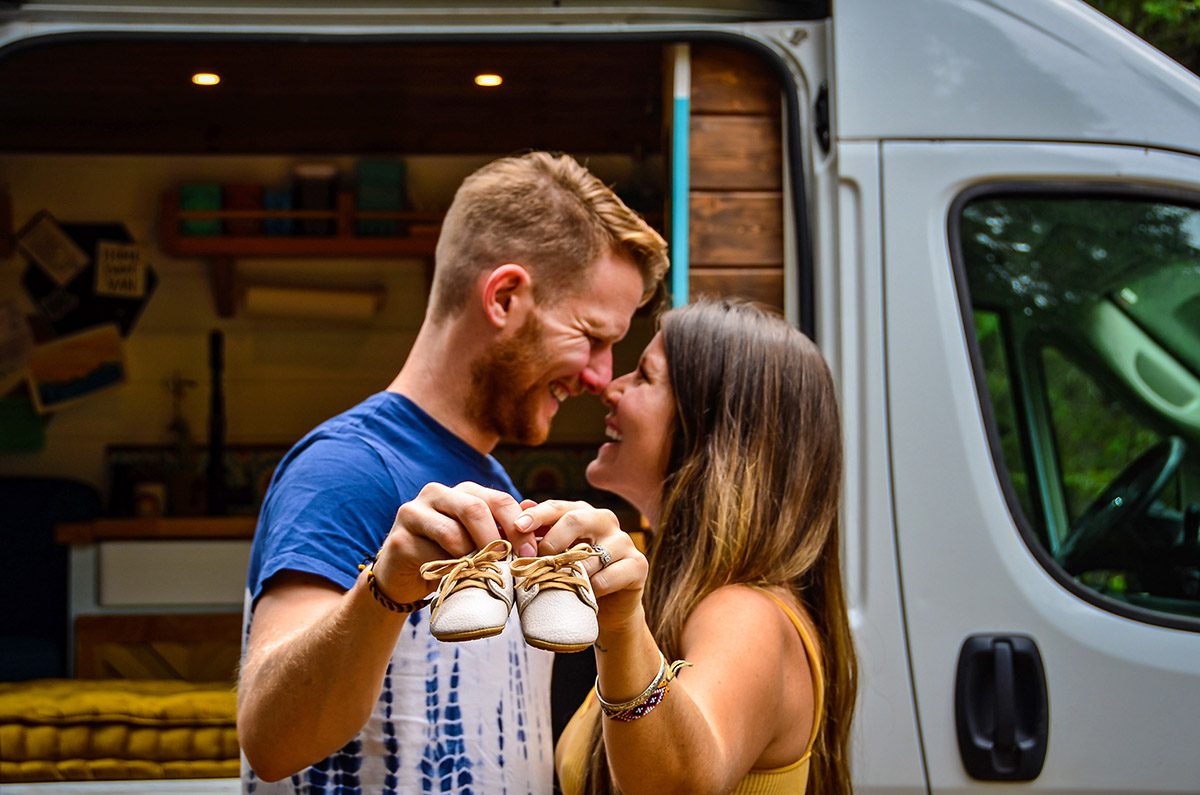 And let's just say, we're not doing a great job of sticking to those rules so far…
Take a cute/corny pregnancy announcement and post it on all your social channels.
Check. (Evidence scattered throughout this article.)
Put together a perfectly decorated nursery.
Ummm… not even close. At the moment, our home is a campervan.
Take monthly pictures with a sign that says how many weeks you are and what fruit baby is now the size of.
Oops, I guess I didn't get the memo that I needed one of those signs…
For the last few months, I've often found myself wondering, "Am I doing this wrong?"
But as quickly as that thought and wave of guilt comes, it seems to dissipate as the same platforms show me examples of people who are doing pregnancy and parenthood their own way. Without following any so-called rules.
People who are having their baby in a different country.
New parents who are living in a campervan, or schoolbus or sailboat with a newborn.
Moms and dads who take their little ones on epic backcountry trips and international adventures.
Like I said, social media can be uplifting and empowering too. Shocking, I know.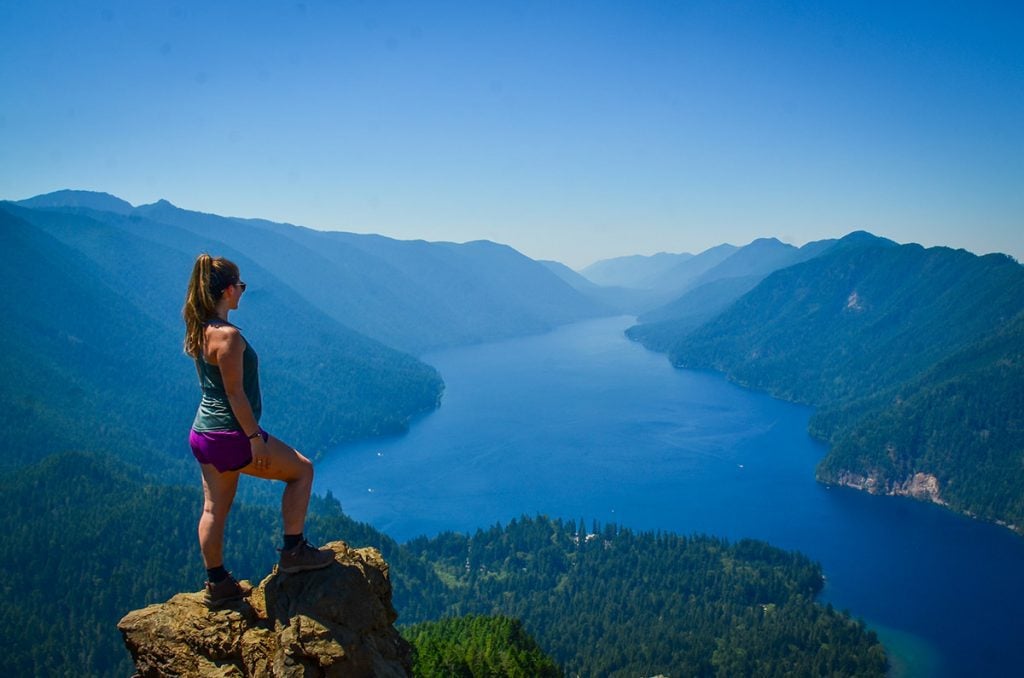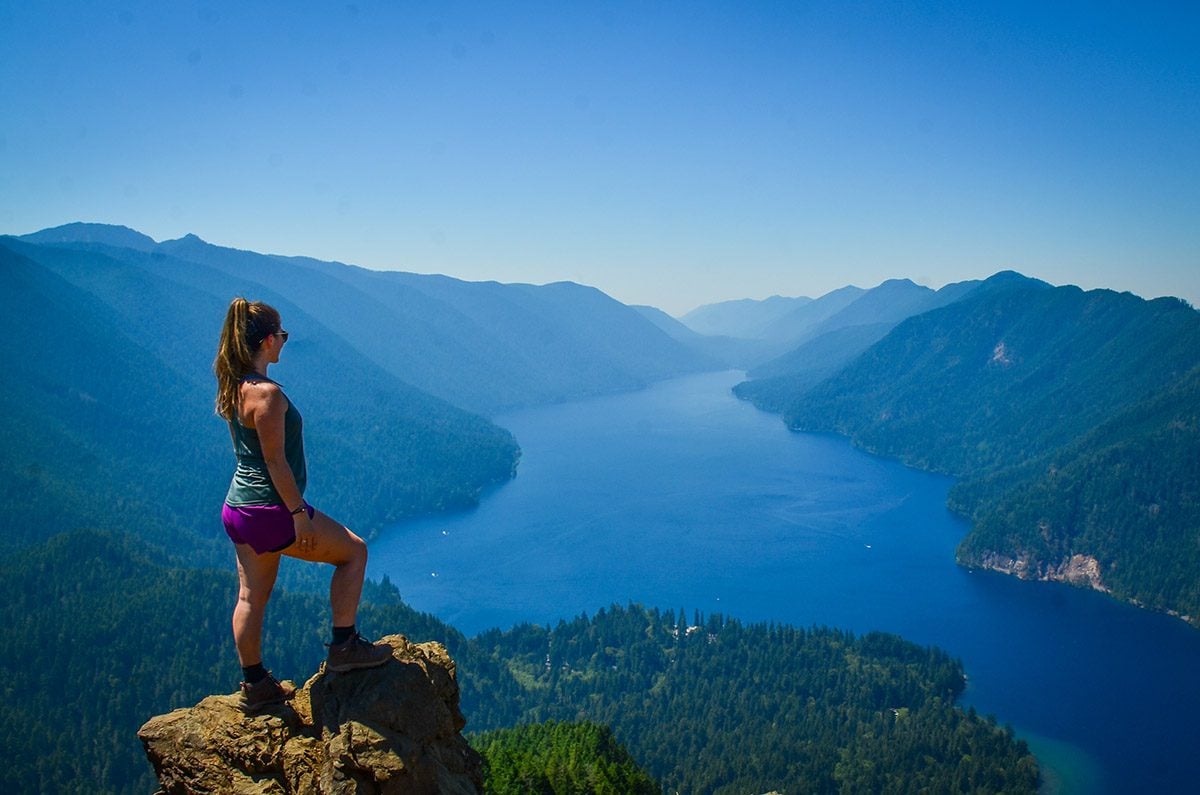 Plus, social media has begun normalizing topics that used to be avoided or discussed only in hushed tones, like what a struggle it can be for many to get pregnant in the first place. And the fact that some people don't want to have children at all, which is totally, 100% NORMAL.
So I guess the point of all this is to say that I've realized there is no "right" way to do this.
Pottery Barn nursery or campervan.
Epidural or water birth.
Stay at home parent or childcare.
These are all the "right way" to someone.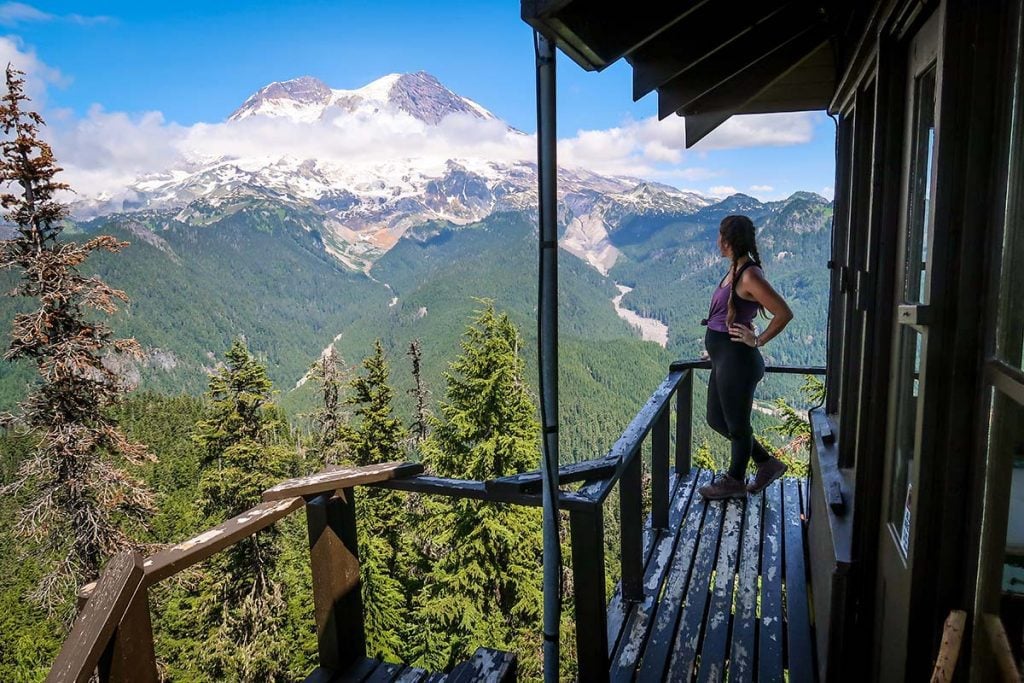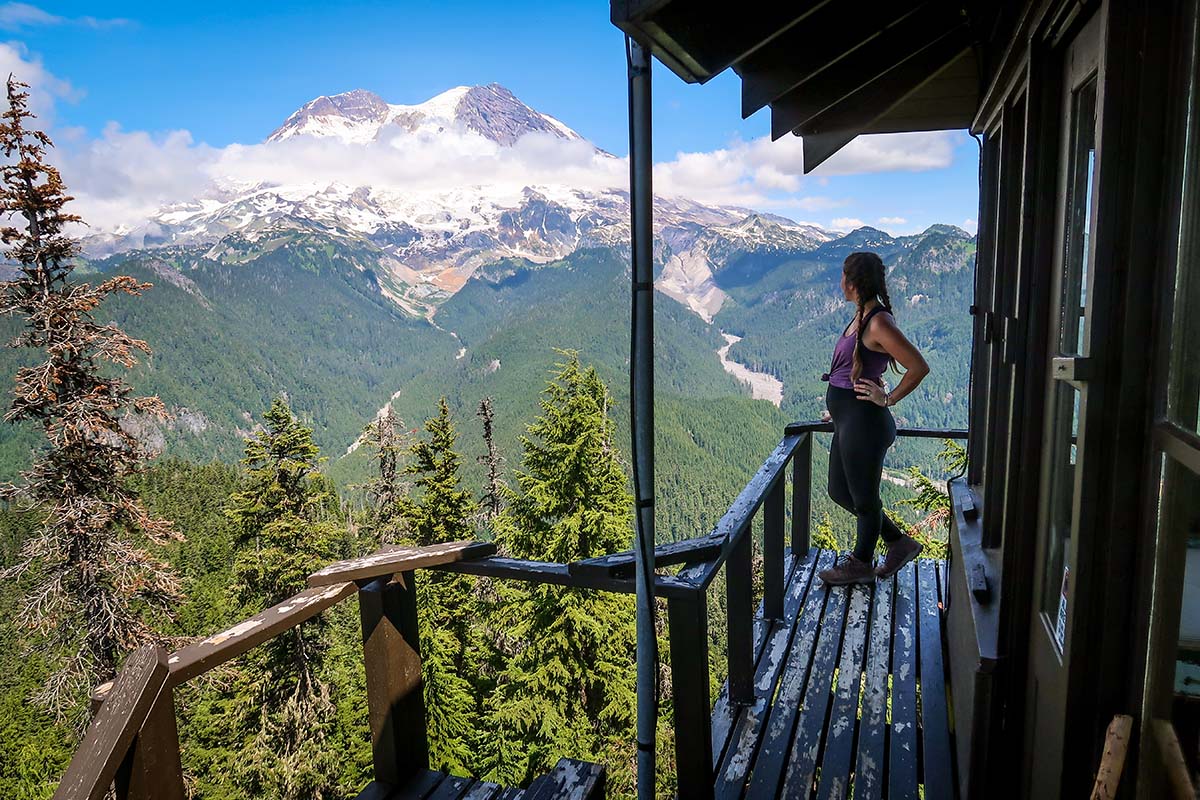 Sure, we don't have a nursery set up, but one day we'll be able to tell our little one that before they were even born, they went swimming in cenotes throughout Mexico, they lived in a campervan for months at a time, and came with us on two 30+ mile backpacking trips.
Oh, and pretty soon, we'll be able to add "road-tripped through Iceland" to that list!
While this pregnancy may not look "normal" in some eyes, I honestly wouldn't have it any other way. To me, this feels right. And there are so many pieces of this journey that I'm already so thankful for.
I am grateful for the beautiful campervan we built that has been so comfortable that being pregnant hasn't been a hindrance at all. Yes, seriously.
I am thankful for this job that is going to allow me to have a very flexible maternity leave (and for Ben to have cushy paternity leave as well!). Like, just typing that makes me feel so damn lucky.
I am grateful for supportive friends and family who have shown us love and excitement as we approach this new chapter.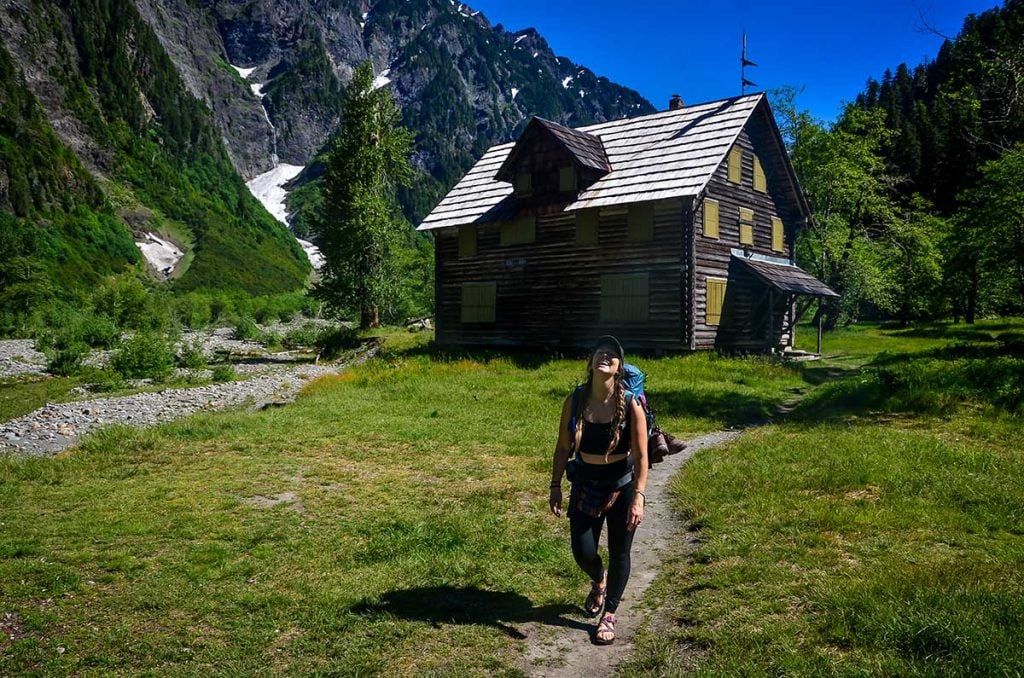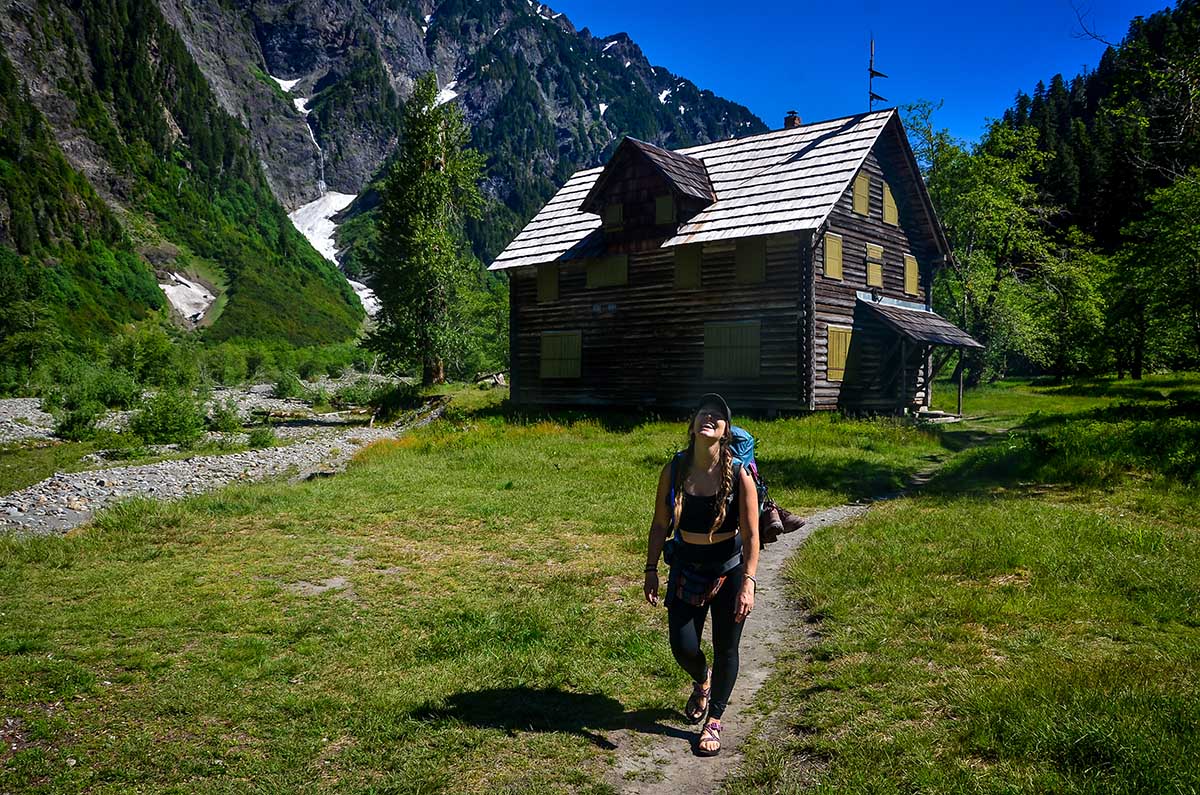 I am filled with gratitude for my body for growing a human being while allowing me to function normally (for the most part!). I know this is cliche, but truly, pregnancy has opened my eyes to just how powerful and amazing female bodies are.
I will be forever grateful for a partner who is sweet, supportive, understanding and patient. Oh, and who gives me daily (yes, daily!) foot rubs. How lucky am I?!
And I am already so grateful for the little human who is about to flip my world upside down and turn me into a mom.
Okay, typing that just gave me chills.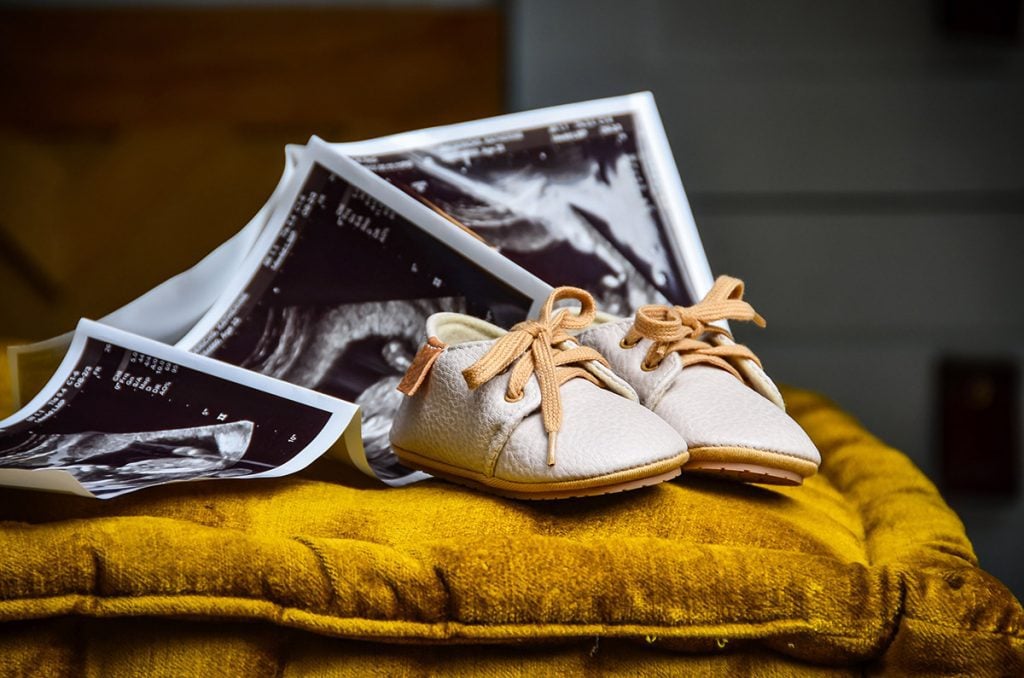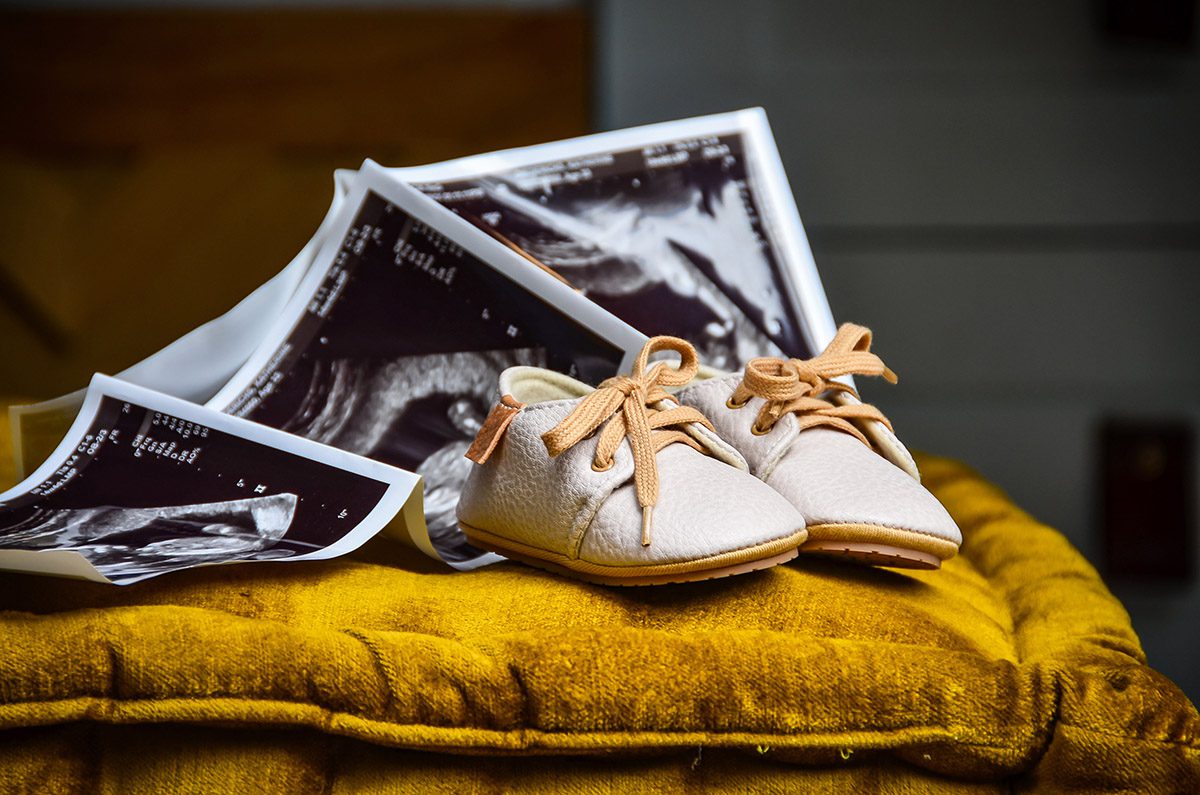 Tell me more, tell me more!
Before I sign off, I'll answer a handful of questions we've been getting…
Is it a girl or a boy?
We don't know! (And we don't plan to find out… well, until little one decides to join us.)
I've always wanted to wait to find out the gender. Although I'm curious (and have gotten lots of "are you seriously not finding out?!" exclamations), I feel like this is a surprise unlike anything else you can experience.
And in my opinion, life could use more happy surprises.
When are you due?
The estimated arrival date of Baby Z is early December. Though let's be real, we don't really know when they will choose to make their grand entrance.
Where will your baby be born?
We are currently based in Bend, Oregon, and that's where we plan to give birth.
Do you have health insurance?
Yes. Since we work for ourselves, we have self-employed health insurance through our state. It's certainly not cheap, but it's comparable with what you'd get in benefits through an employer.
Will the blog change once you have a baby?
Yes and no.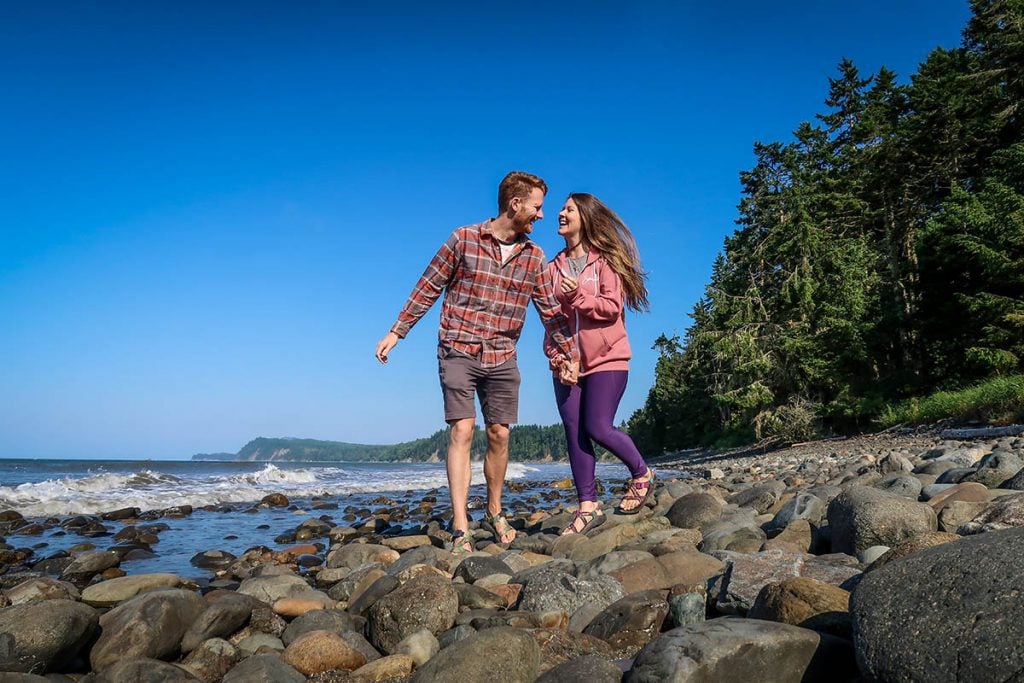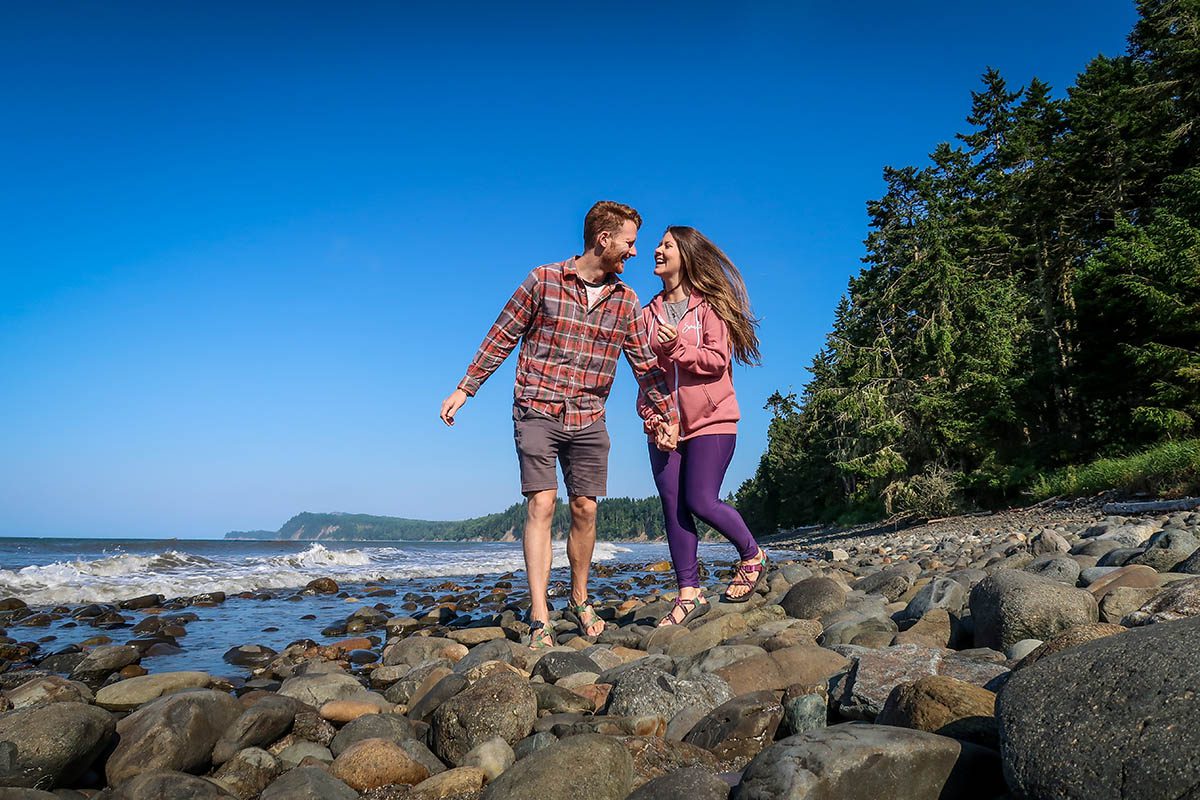 I think it would be naive to say that things here won't change at all.
But the focus of Two Wandering Soles has always been and will continue to be responsible and adventurous travel for everyone.
That won't change.
What you'll still find on TWS…
authentic experiences
tips for traveling more mindfully & ethically
off-the-beaten path adventures
small businesses worth supporting on your travels
must-try dishes
bucket list adventures
ethical wildlife encounters
epic hikes
budget-friendly tips
campervan travel and build advice
how to work and live around the world
These topics will always be at the core of our brand. But soon, we'll also be able to add "tips for traveling with little ones" to the list!
Are you going to stop traveling when you have a baby?
Heck no!
I mean, there will definitely be some downtime before we hop in our van or board a plane, but we've already got some sweet ideas for 2022 travel.
And while it'll look quite a bit different than what we've been used to these last 8 years, we have a feeling this next chapter is going to be pretty darn special.
We already can't wait to show our little one the world and see things through their eyes.