There are dozens upon dozens of day trips from Denver oftering up unique and fun experiences for every type of adventurer. Whether you're looking to visit nearby towns or get a taste of the outdoors, our detailed guide will offer all the information you need to plan.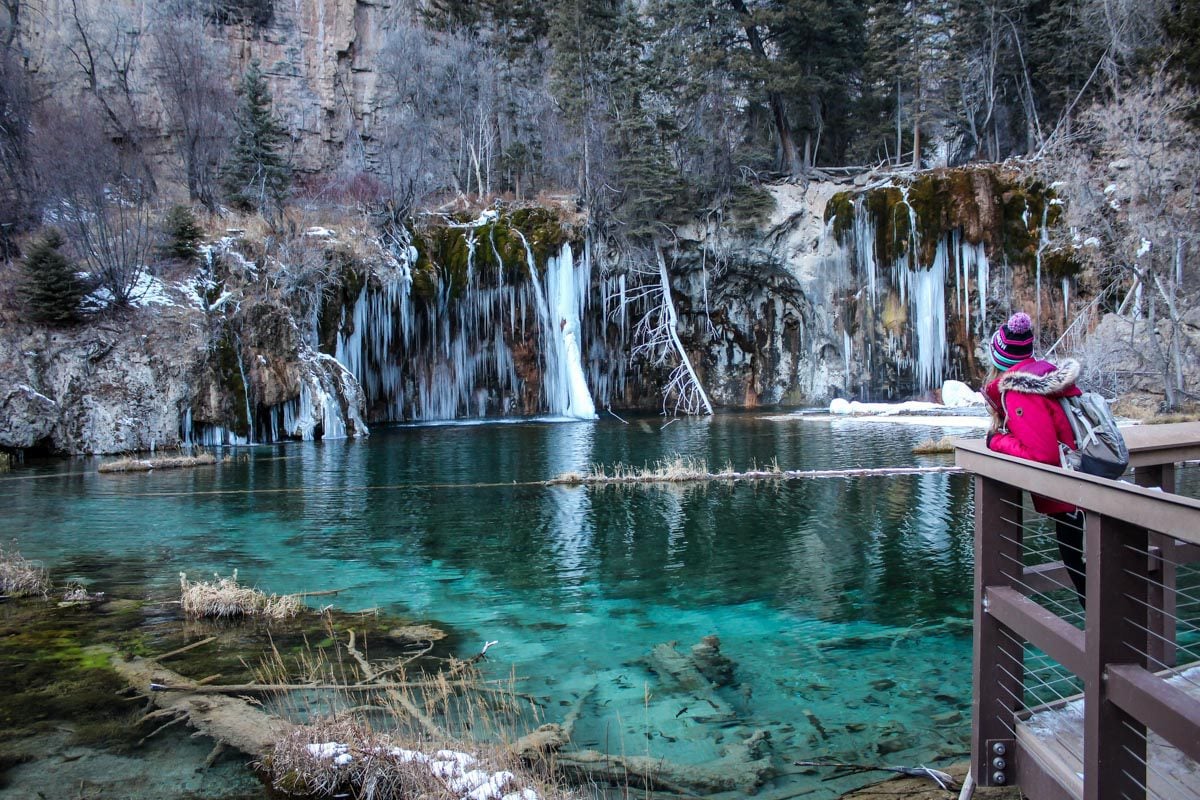 Denver is a creative, lively city with a surplus of things to do, eat and explore. However, due to its close proximity to local towns, gorgeous scenery and adventures, there are countless opportunities for day trips from Denver as well, giving you even more opportunities to explore the many faces of Colorado.
Driving from Denver offers gorgeous views of the mountains and pleasant, safe roadways making a day trip adventure from the city an enjoyable and easy one no matter where you decide to go.
Within just a short distance outside the city you can find hundreds of hiking opportunities, recreational areas and state parks and, wait, did we mention the gorgeous mountain views?
Peppered all around Denver—less than a 3 hour drive to reach—you can pop into numerous vibrant cities and towns that will offer you their own set of adventures. In this guide, we're sharing some of the best things to do when planning your day trips from Denver.
Psst! Don't miss our round-up of seriously fun things to do in Denver.
---
Before we get to the good stuff, we have a few helpful resources we wanted to share with you…
Getting a rental car in Denver
Having your own vehicle when visiting will give you a lot more freedom to explore the best day trips from Denver.
We personally like using Discover Cars when we rent vehicles around the world, as they gather options from all sorts of rental companies in one place. It makes it really easy to compare prices and vehicles so you can determine which is the best option for you.
Search & Compare Rental Car Prices
Discover Cars: We personally use this aggregate site to compare rental car prices from all the big name companies and get the best price possible.
RentalCars.com: We've had good experiences finding rental cars with this site in the past.
Planning a trip to Colorado? Find out the best time to visit Colorado based on seasonal weather patterns and your personal travel style.
---
And now the good stuff…
1. Boulder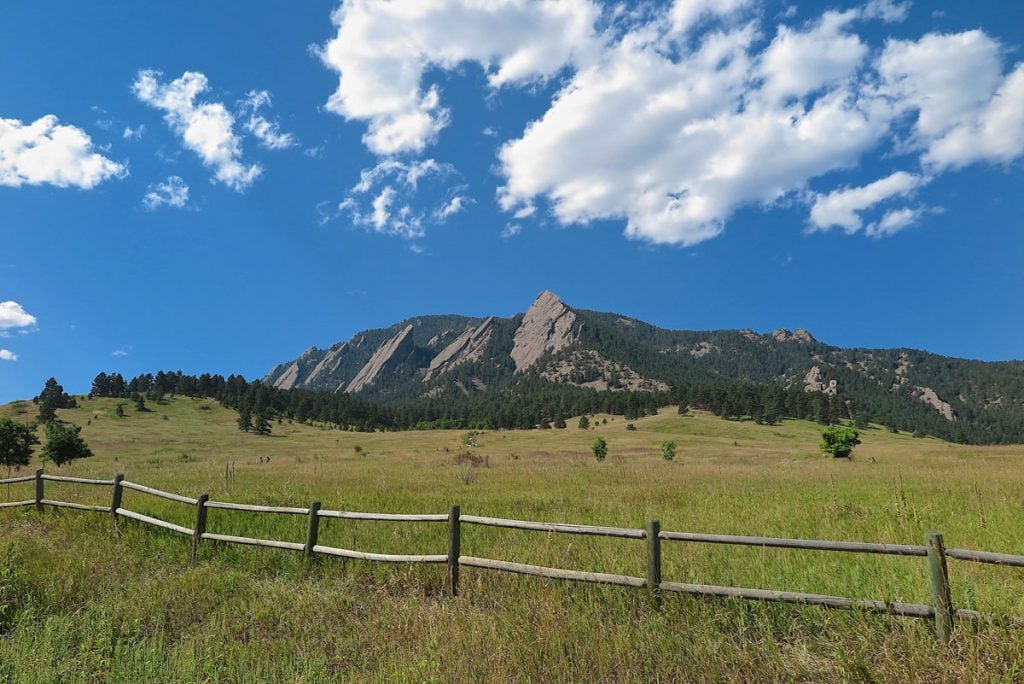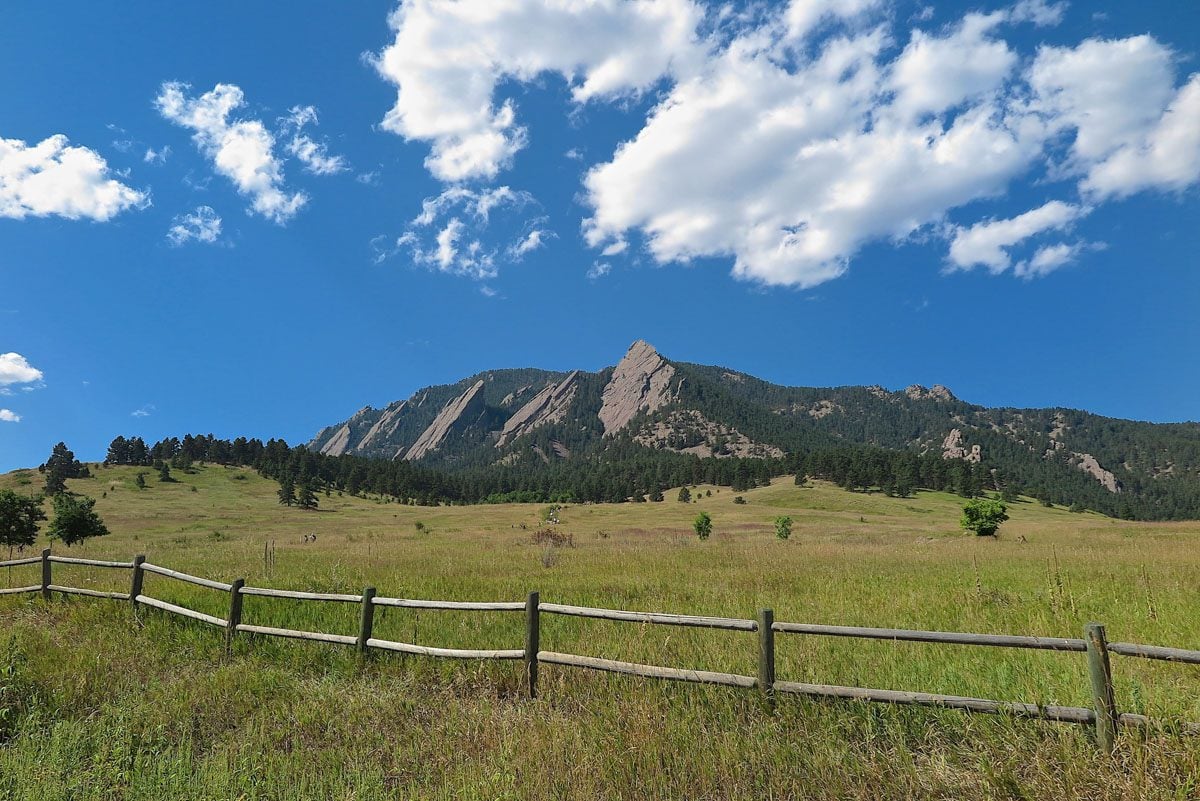 At a glance: Situated right at the foothills of the Rocky Mountains, Boulder is a haven for outdoor enthusiasts, adventure-seekers, and foodies.
Distance from Denver: 30 miles; 50 minutes driving time
Boulder is part college town, part outdoorsy mountain town, part bougie foodie town.
People have been flocking here in droves, making what used to be a quaint town balloon in size (and in price… if you're talking real estate). And it's easy to see why. There's a lot to love about Boulder:
proximity to outdoor adventures
burgeoning foodie scene
idyllic mountain setting and cute walking streets
Whether you're looking to just visit Boulder as a day trip from Denver or you're planning to spend a few days, there are plenty of things to keep you busy and entertained. Here are just a few:
Dushanbe Tea House: Beautifully constructed building that was made in Tajikistan, shipped to Boulder and rebuilt next to the creek. Come for tea and snacks or make a reservation for their afternoon tea service. (Pictured above)
Go hiking: There are countless trails in and around the Boulder area. We recommend checking out Chautauqua Park or Mount Sanitas. Look on AllTrails to find a hike that is the length and level you're looking for.
Celestial Seasonings Tea Factory: Visit the tea factory, take a free tour, and sip on the good stuff at their onsite cafe.
Boulder Falls: Quick hike to a pretty waterfall, located just up Canyon Dr. (119) on the way to Nederland.
Rayback Collective: Beer, coffee, food trucks, space for working on your laptop, live music, fire pits, a cool atmosphere… what more could you ask for?!
Eat your way through town: With a reputation for being one of the foodiest cities in America, you'll want to sample some of the local eateries while in town. From chef-driven newcomers to tried-and-true staples, here are some of our favorite Boulder restaurant recommendations:
Psst! If you'll be traveling more throughout the state, be sure to check out our bucket list of epic things to do in Colorado!
2. Hike a 14-er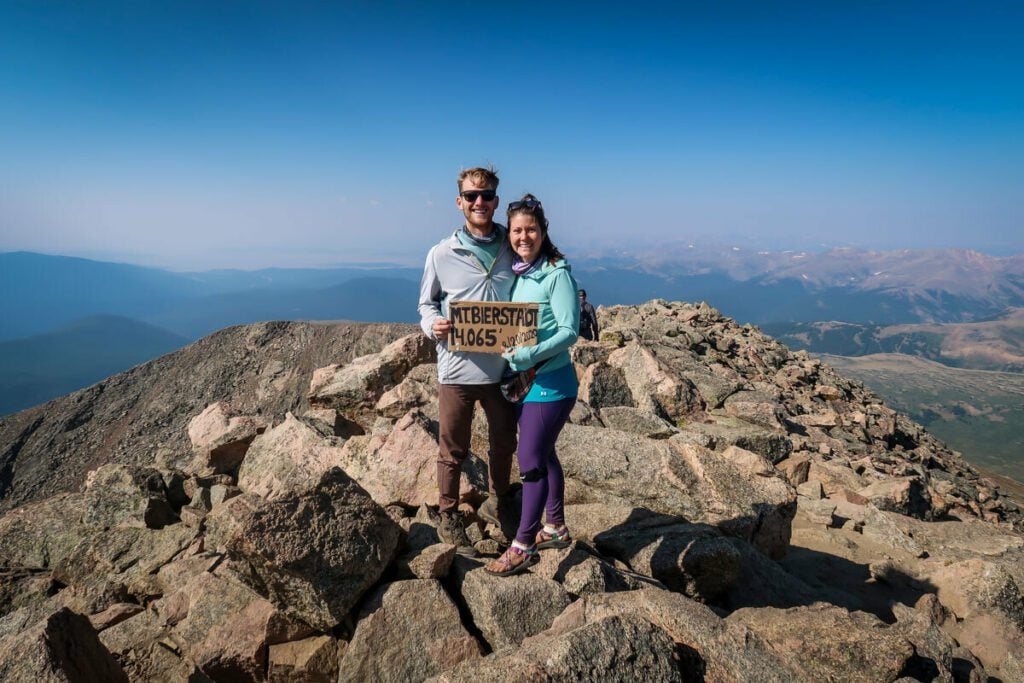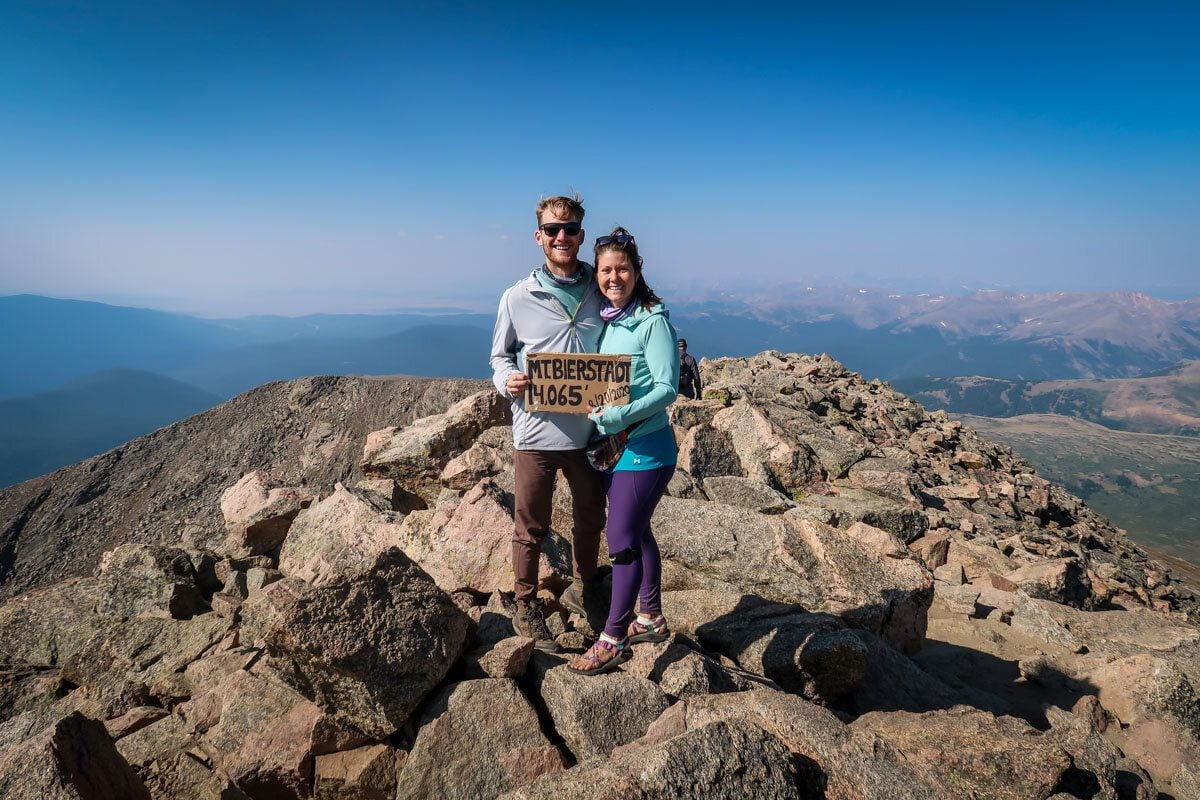 At a glance: Hiking enthusiasts flock to Colorado to tackle one of the 58 mountain peaks in the state that reach over 14,000 feet in elevation.
Distance from Denver: distance and driving time varies depending on which peak you choose
As you start to plan your day trips from Denver, you'll without a doubt come across all sorts of suggestions to hike a 14-er.
So first things first, what the heck is a "fourteener" to begin with?
It's simply a mountain that is more than 14,000 feet tall at its summit. And Colorado has a ton of them. Well, 58 to be precise. That's more than any other contiguous US state.
Hiking to the top of a 14-er is on many-a Colorado bucket lists, and it's more doable than it might seem.
While 14,000 feet is an incredible height, remember that you're not actually climbing all 14,000 feet. You'll be starting from a somewhat high elevation to begin with, so many 14-ers only require 3,000 feet (or so) in elevation gain from the beginning of the hike to the summit.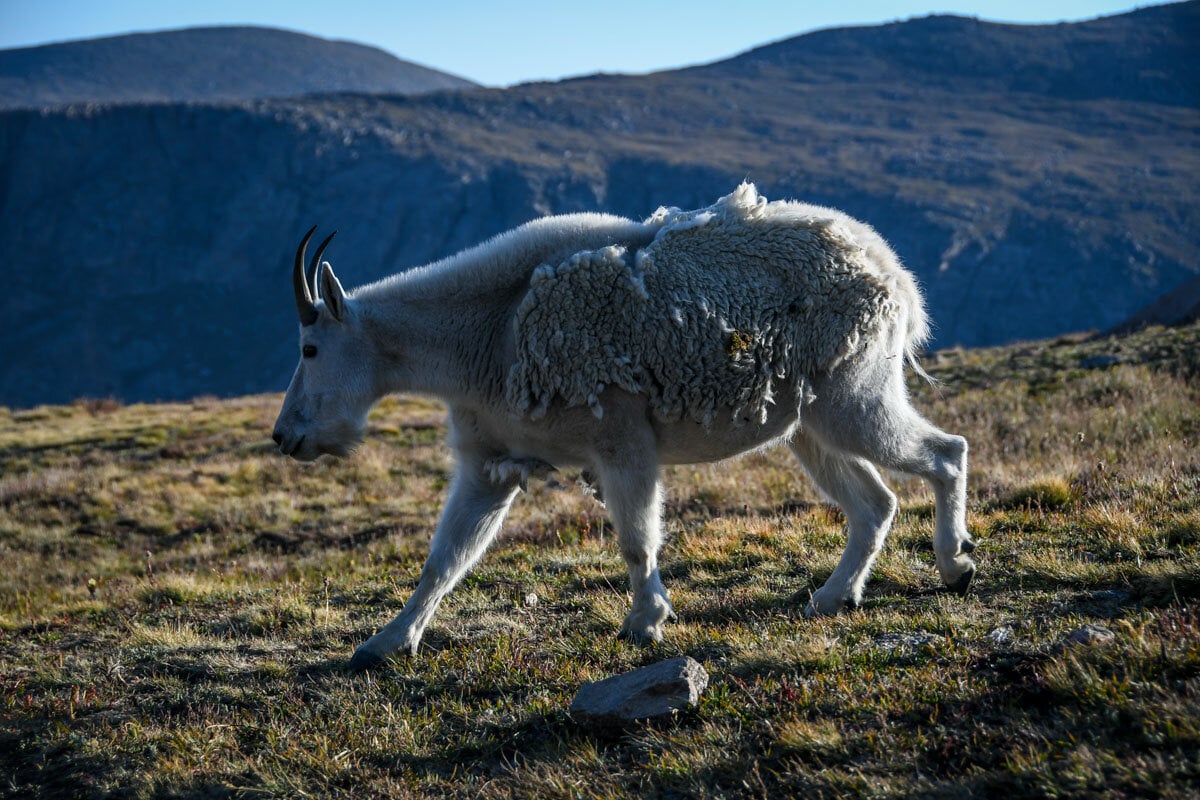 Now, when I say "only 3,000 feet" there's two major things I want to point out…
a) 3,000 feet is still a big elevation gain
b) Starting at such a high elevation can affect people differently. If you live in say, Miami or NYC (aka essentially sea level), you're already experiencing a huge shift in altitude when you set foot in Denver. So it is advised that you give yourself a few days in Denver to acclimate before attempting a major hike.
Alright, now onto the fourteener that we hiked…
Mount Bierstadt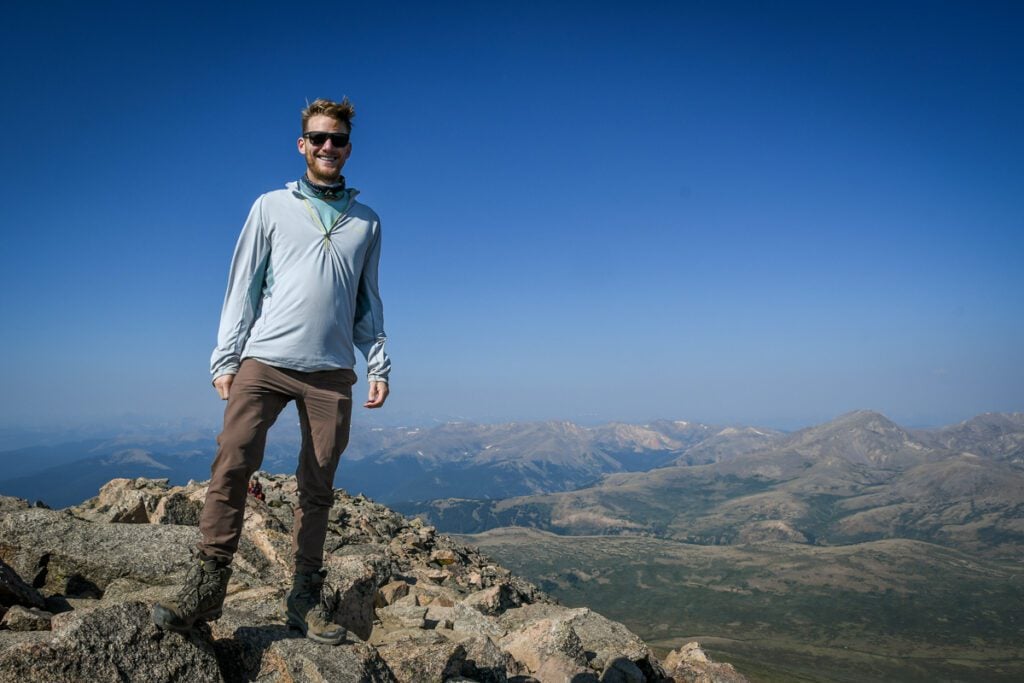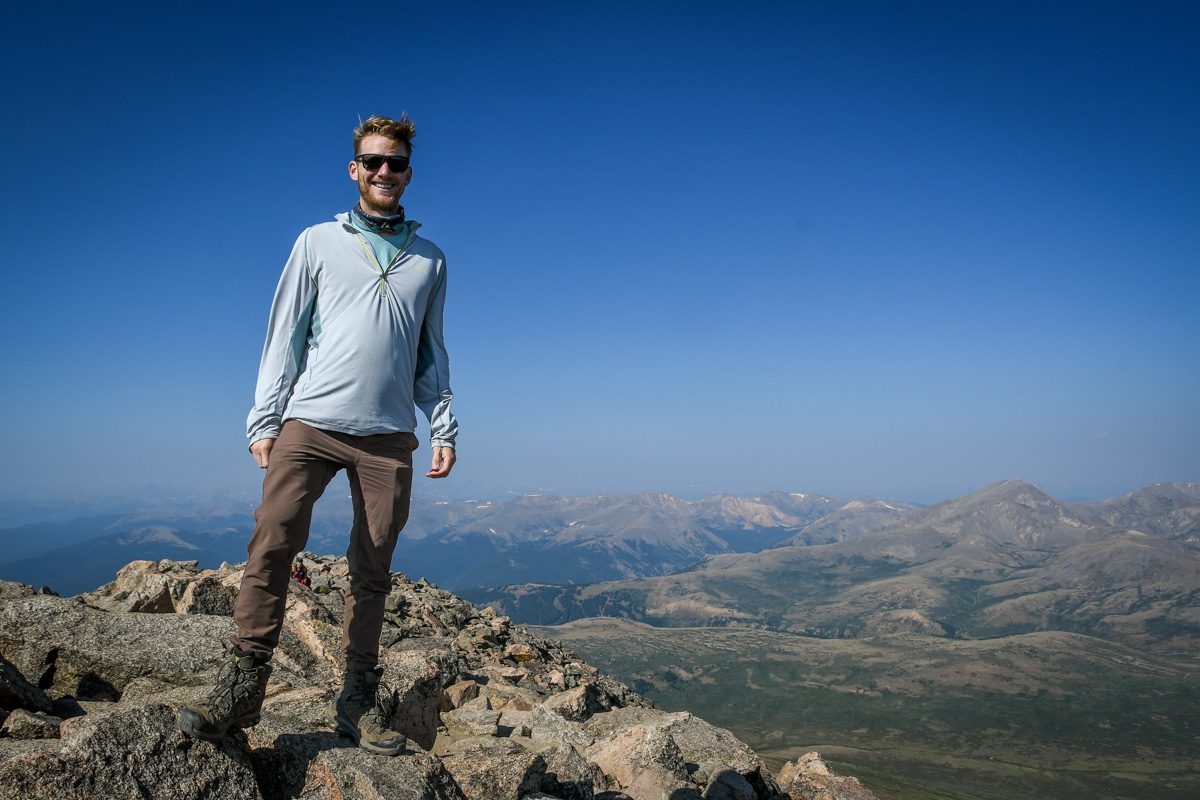 Distance: 7.5 miles out and back
Elevation Gain: 2,782 feet
Difficulty Level: Challenging
Drive from Denver: 1 hour 45 minutes
Often described as one of the easiest 14-ers in Colorado, Mount Bierstadt makes a great choice, especially if you're somewhat new to hiking. (We even saw a handful of children doing this hike!)
This hike took us 5 hours in total hiking time: 3 hours up and 2 hours down. Additionally, we stopped at the top for a bit to enjoy the view, adding on about 20 minutes.
The last hour or so gets pretty steep, and the last bit of the trail requires some scrambling, but it's not a technical climb. We saw some mountain goats and had nice views from the top!
Other Fourteeners near Denver
Grays Peak
Distance: 8 miles round trip
Elevation Gain: 3,000 feet
Difficulty Level: Challenging (easy by 14-ers standard)
Drive from Denver: 2 hours
As the highest peak in Colorado's front range, Grays is a well-traversed beginner-friendly hike just off I-70 with a gentle ascent.
Start your hike on the Grays Peak trailhead, and if you're feeling ambitious you can continue your climb to neighboring Torreys Peak and check two 14-ers off your list at once!
Torreys Peak
Distance: 8 miles round trip
Elevation Gain: 3,000 feet
Difficulty Level: Challenging (moderate by 14-ers standard)
Drive from Denver: 2 hours
Similar to its neighbor Grays, Torreys is a short, gentle climb with little exposure to the elements. As a popular hike, you can expect to have lots of company on the trail during the summer months.
Start your hike on the Grays Peak trailhead, or bypass the summit of Grays by going directly to the Grays-Torreys saddle.
Pikes Peak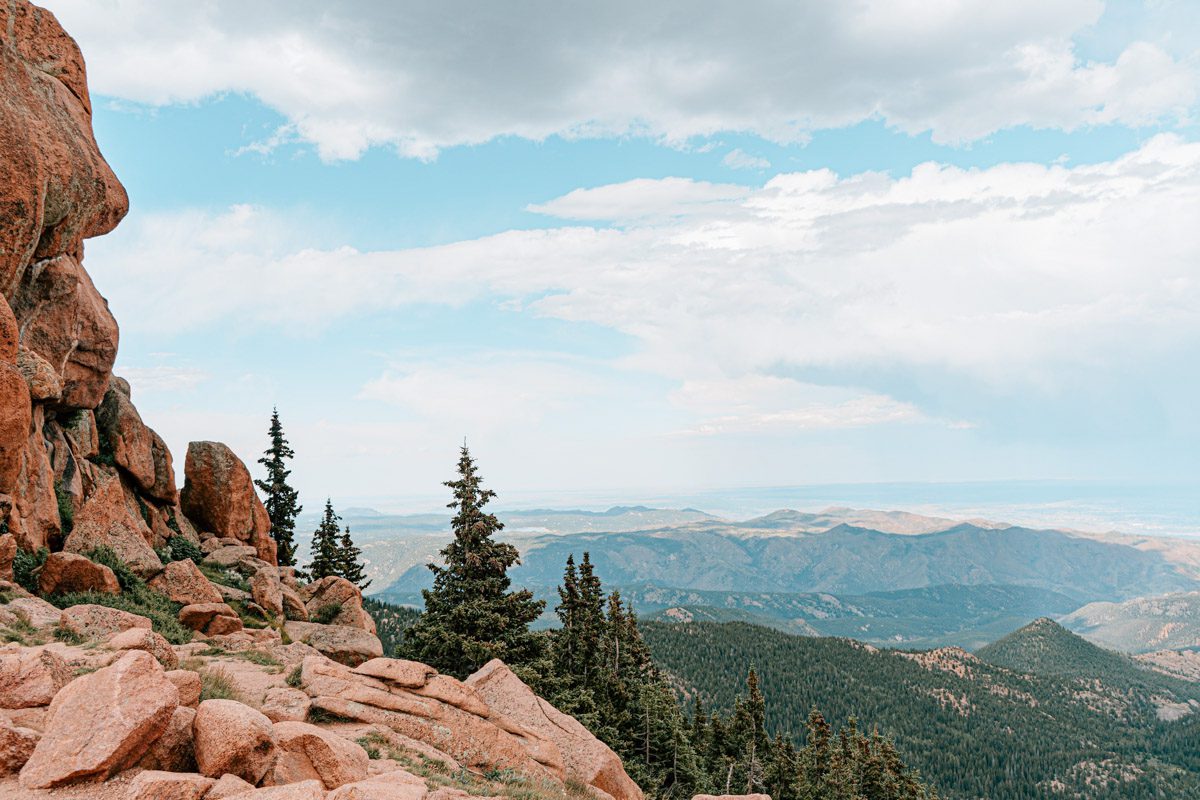 Distance: ~14 miles round trip
Elevation Gain: 7,400 feet
Difficulty Level: Challenging
Drive from Denver: 2 hours
The most prominent peak in Pike National Forest near Colorado Springs is also a popular but challenging 14-er. With over 7,400 feet in elevation gain this hike can take 6-8 hours to complete depending on your hiking ability.
With two different trails to the summit, you can choose the popular but more advanced Barr Trail (14 miles one way) or the shorter less-traversed Crags Trail (13.6 miles round trip).
Longs Peak
Distance: 14 miles round trip
Elevation Gain: 5,100 feet
Difficulty Level: Challenging
Drive from Denver: 1 hour, 30 minutes
Not a great hike for beginners, Longs Peak comes highly recommended for experienced hikers who are used to the altitude. In fact, it is considered somewhat of a rite of passage by locals.
You'll want to start your hike early (like 3 a.m. early!) from the Longs Peak Trailhead near Estes Park, CO to avoid the afternoon thunderstorms.
Psst! We also have a complete round up of the best hikes near Denver, including some much easier and shorter day hikes, on our sister site. Check it out for more inspiration!
Tips for hiking a 14-er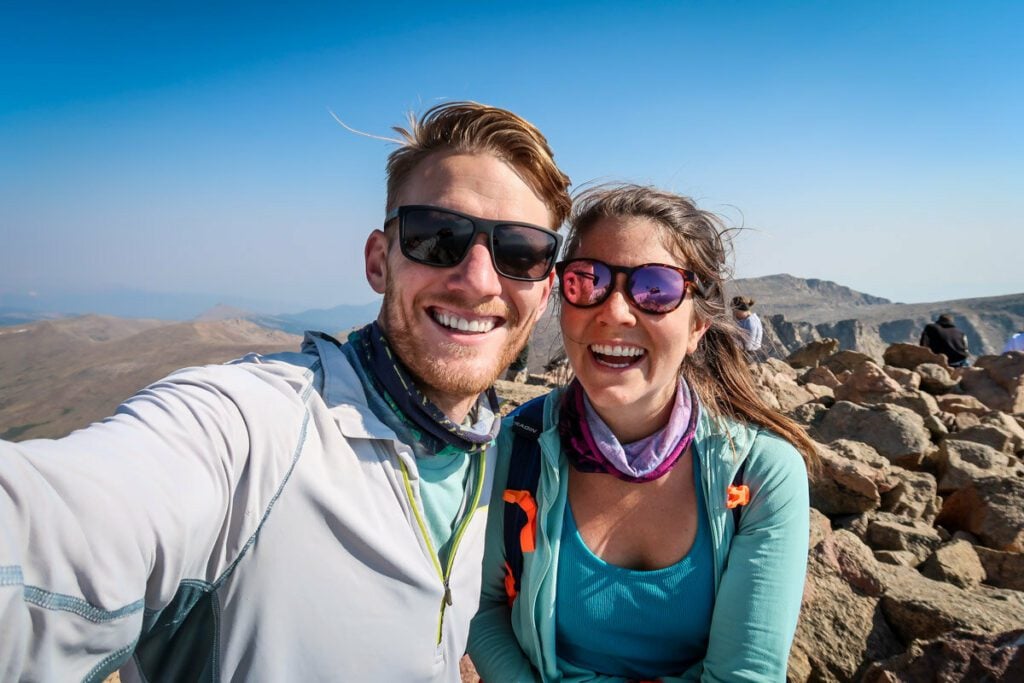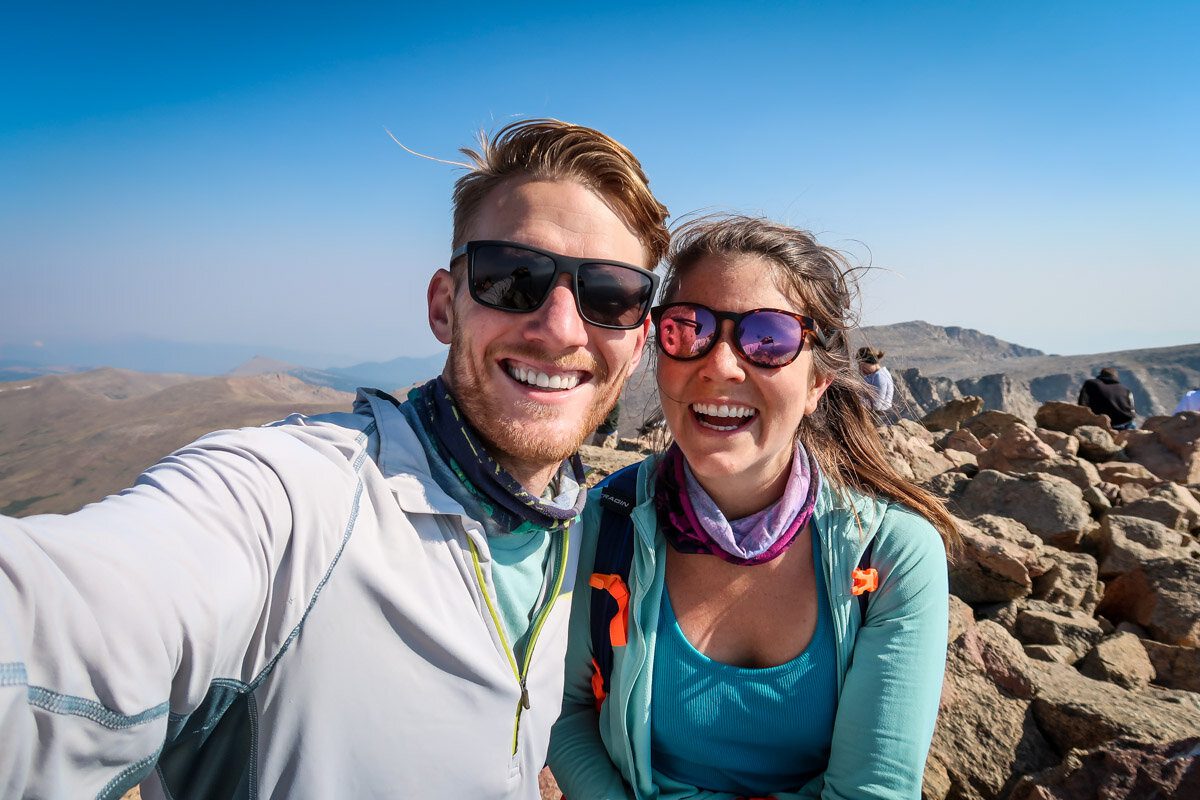 Carry enough water: Your hike may not cross a water source, so come prepared. For our 14-er, we each carried 3 liters of water.
Bring sun protection: Even if it's not sunny, you are more susceptible to getting burnt at higher elevation.
Be prepared for rain: Some mountains around Colorado are notorious for having frequent afternoon showers. Look into the weather a bit, but know that it can change quickly in the mountains and come prepared.
Start early: This will help you avoid crowds, secure a parking spot, and avoid the midday heat. It's also just nice to get long hikes like this done with so you don't have to worry about making it out before dark.
Download AllTrails Pro: This will allow you to have access to the map and elevation gain even without being connected to cell service. We have the paid version of the app because we like to record our hikes, but the free version is just fine to follow along with.
Wait a few days before you hike: It's not a good idea to hike a 14-er on your first day in Colorado, especially if you're from, say, NYC or Miami (aka sea level!). Give yourself a couple of days (at least!) to acclimate to higher elevation before you attempt a big hike. And don't write this one off — not waiting long enough can make your hike miserable and potentially dangerous.
Listen to your body: One of the most difficult parts about hiking a 14-er is that you'll be at high elevation from the time you begin your hike. Elevation affects everyone differently, so listen to your body. If you feel dizzy, lightheaded or nauseous, stop and rest. If it doesn't subside, consider going back down in elevation, which is the only way to truly alleviate these symptoms.
3. Rocky Mountain National Park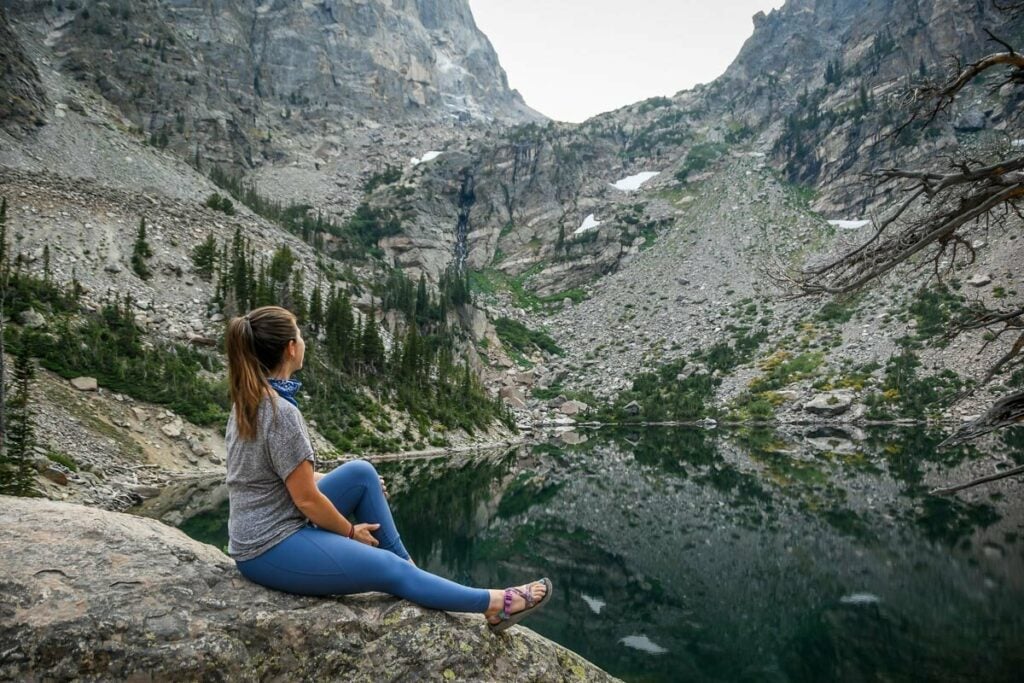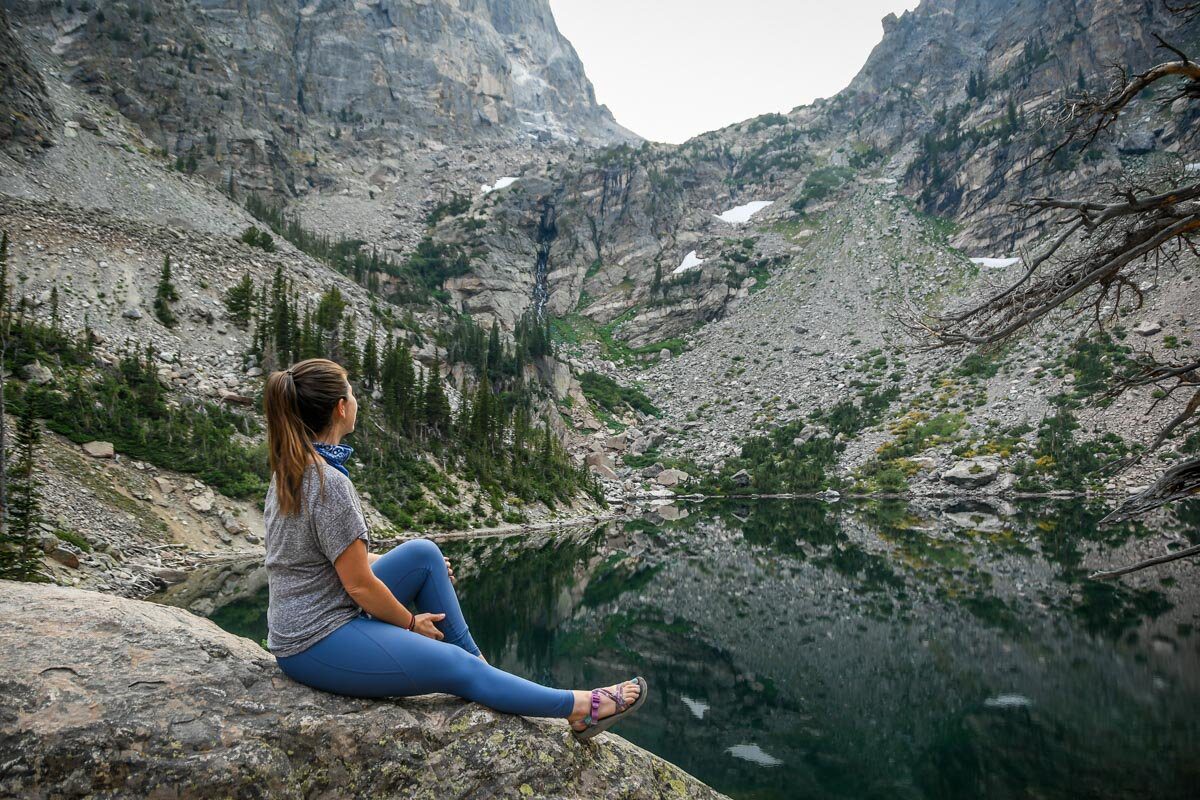 At a glance: A gorgeous national park with various hiking trails, plentiful wildlife and pristine lake views
Distance from Denver: 65.7 miles; 90 minutes driving time
If you too are a fellow National Park geek, RMNP will likely already be on your radar. Just an hour and a half from downtown Denver, visiting this park makes an excellent day trip.
If you have the time, we'd recommend stretching your visit over a few days, but we also know that's not always possible. Heck, when we visited we only had a few hours because there was a reservation system in place to enter the park and all tickets were sold out. The only way to visit was to enter after 5 p.m.
Tip: Make sure you plan ahead and secure a timed-entry permit if you're traveling from May through October.

With limited time in Rocky Mountain National Park, we'd recommend the following:
Emerald Lake Trail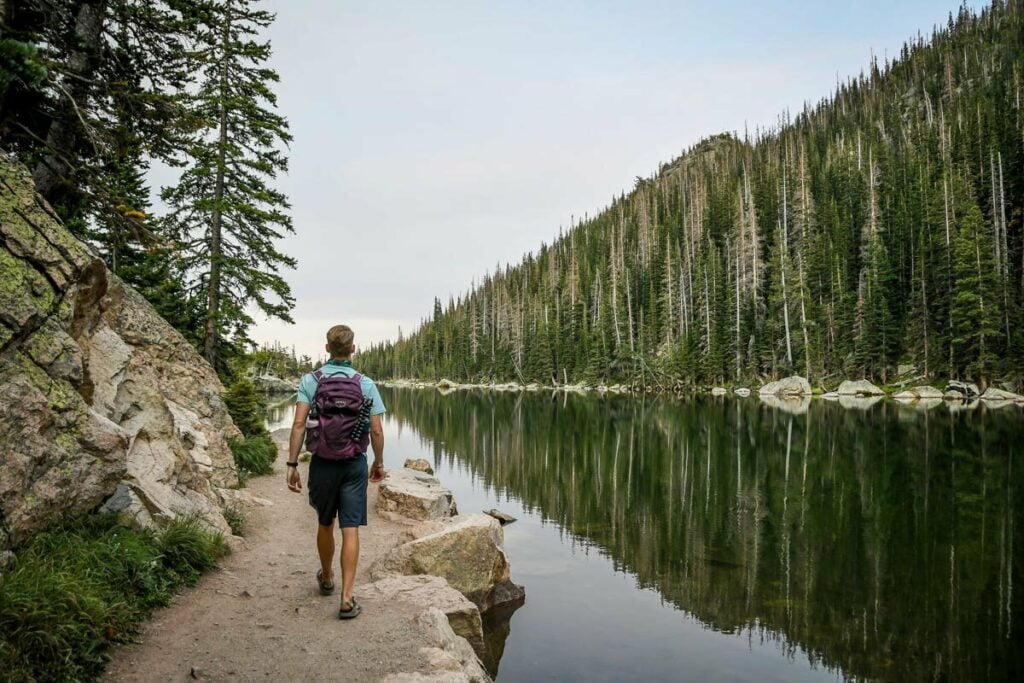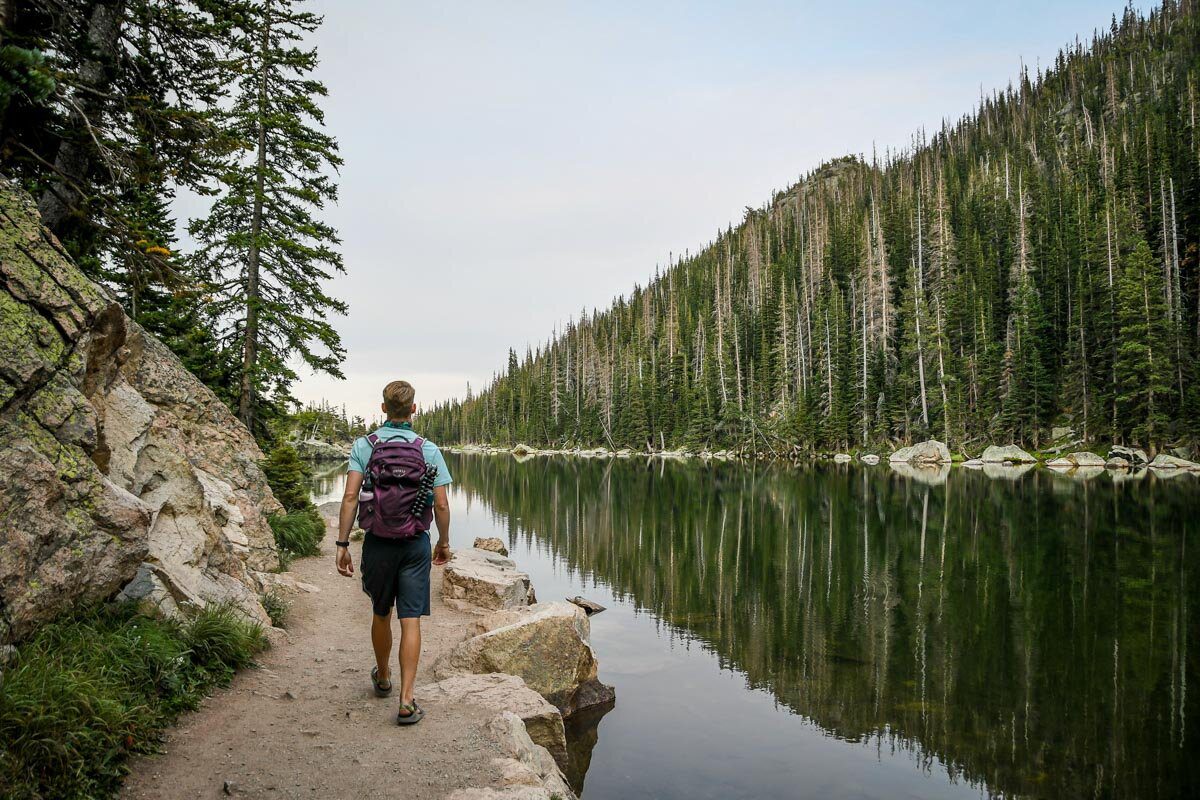 Distance: 4.1 miles out and back
Elevation gain: 744 feet
Difficulty level: easy/moderate: this trail rated on AllTrails as moderate, but we thought it was on the easier side of the spectrum
This trail is popular, but the crowds thin out the further along you go. Both photos above were taken on this hike, and the trail packs in a lot of epic views in a relatively short distance.
You'll pass by 4 lakes (with Emerald Lake being the last), and will have views over a forested valley. It's a great hike, especially if you want to make the most of your limited time!
Sprague Lake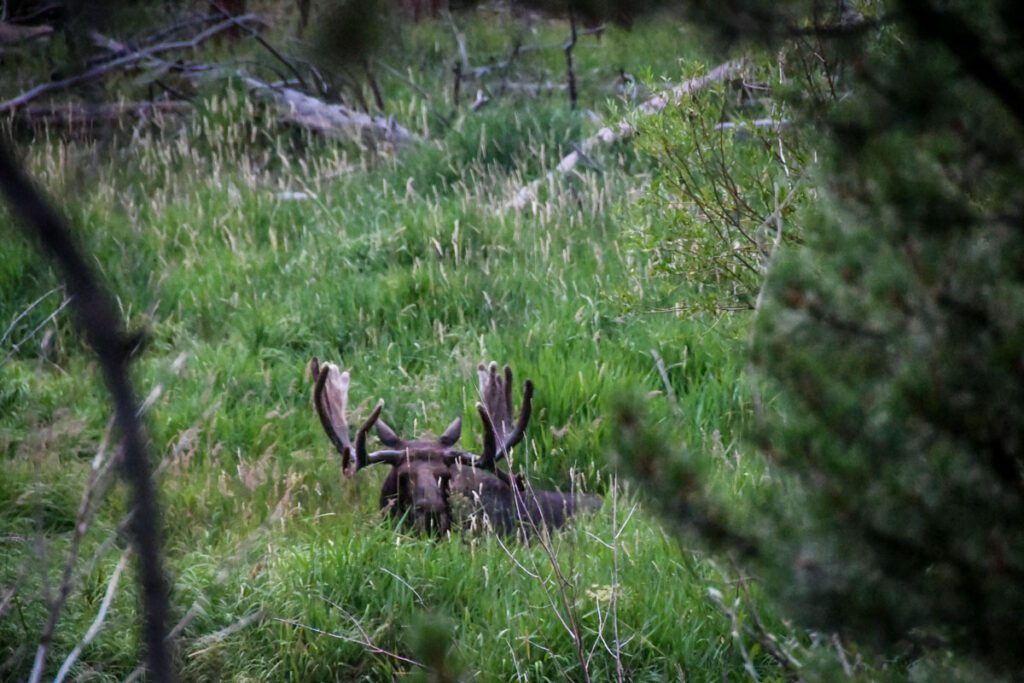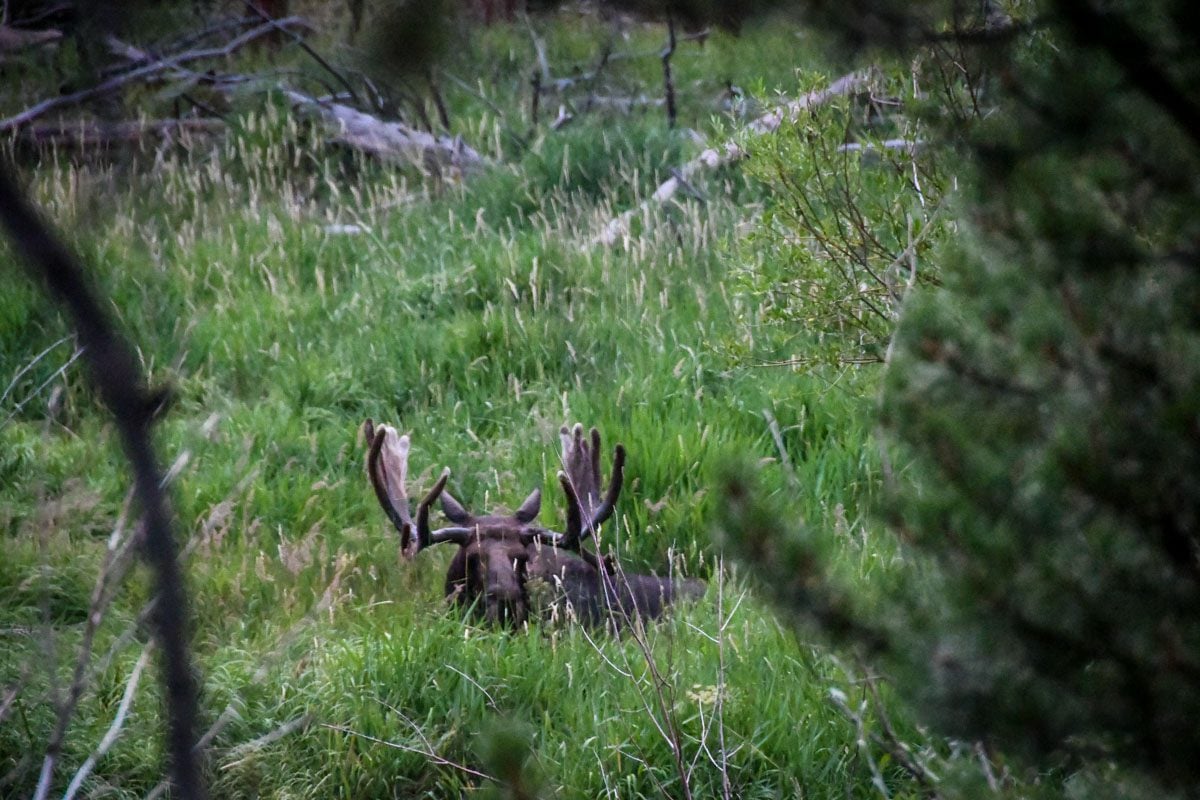 Distance: .8 mile loop
Elevation gain: 39 foot elevation gain
Difficulty level: easy
For a super easy and quick loop, this path offers views of Long's Peak and is suitable for all ages and abilities. We even spotted a moose on the way to the lake!
Psst! Check out this round up of the best hikes in Rocky Mountain National Park on our sister site for more inspiration!
Drive on Trail Ridge Road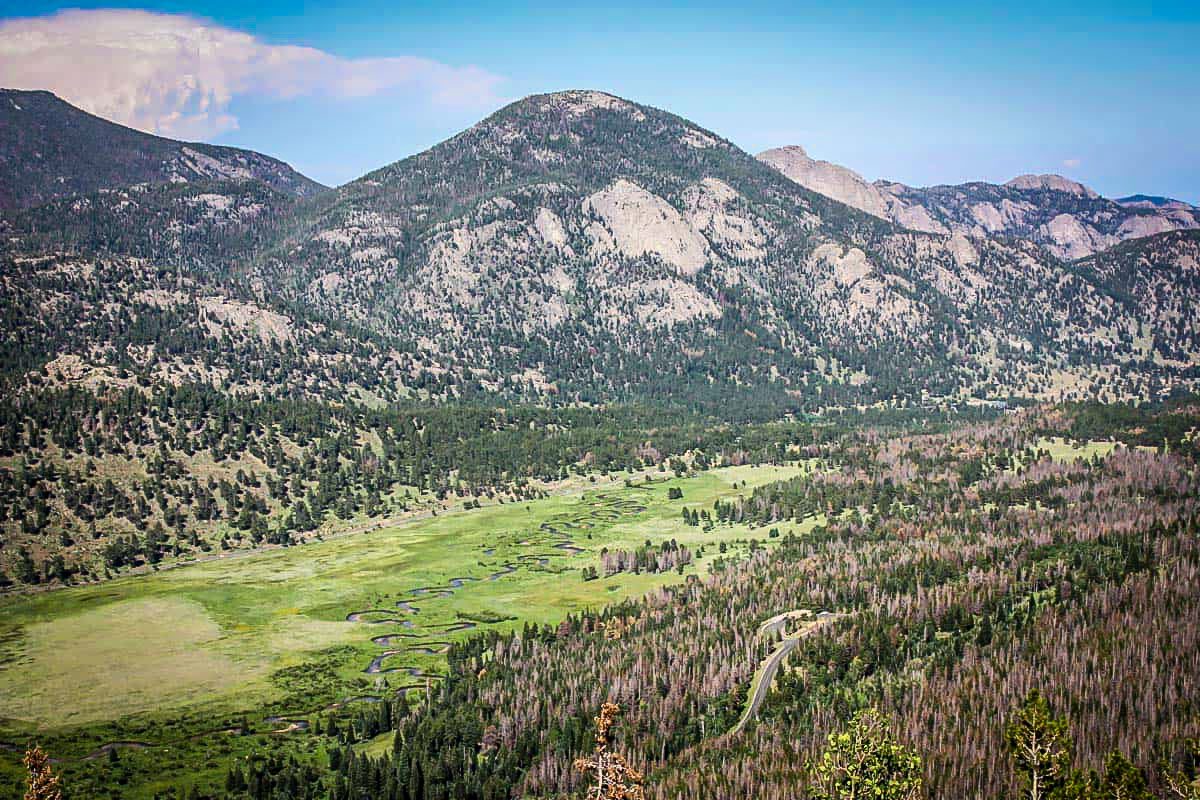 This road crosses over the Continental Divide and offers many viewpoints and turnouts along the way. (Trail Ridge Road is closed in the winter.)
Have more time?
If you're feeling adventurous, we always recommend people do a backcountry trip in National Parks. Spending the night in the backcountry is the best way to avoid crowds and really see the park in a different, more intimate way.
And don't worry if you're new to backpacking — there are often pretty easy hikes that work for an overnight trip. Just be sure you check in with the ranger station to get the proper permits (and a bear canister).
Next time we're in Colorado, we'd love to do an overnight in RMNP's backcountry.
4. Estes Park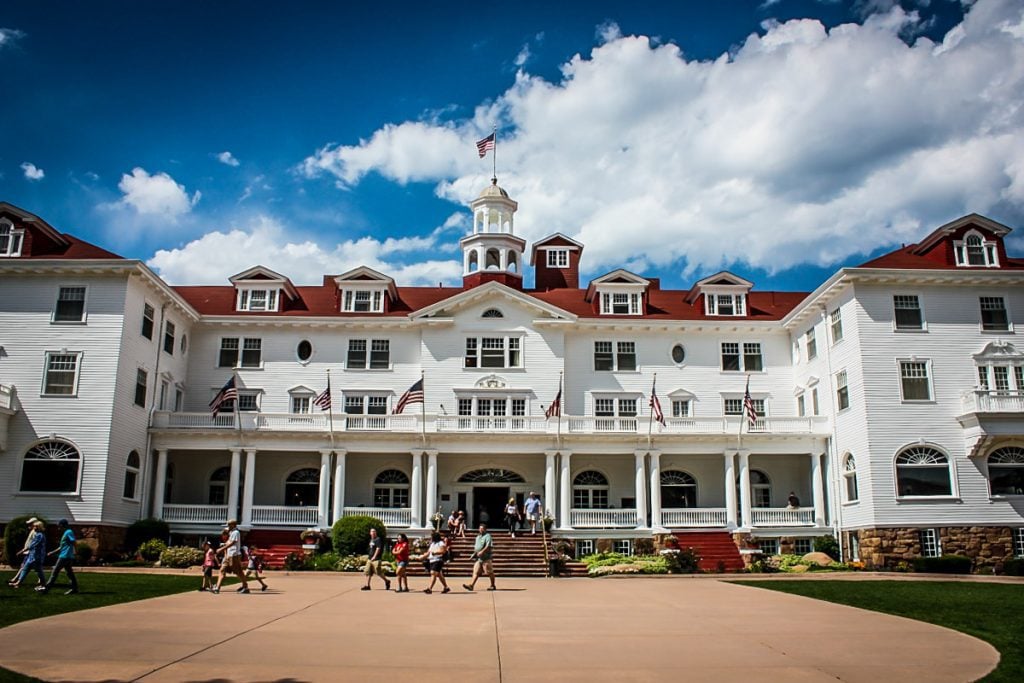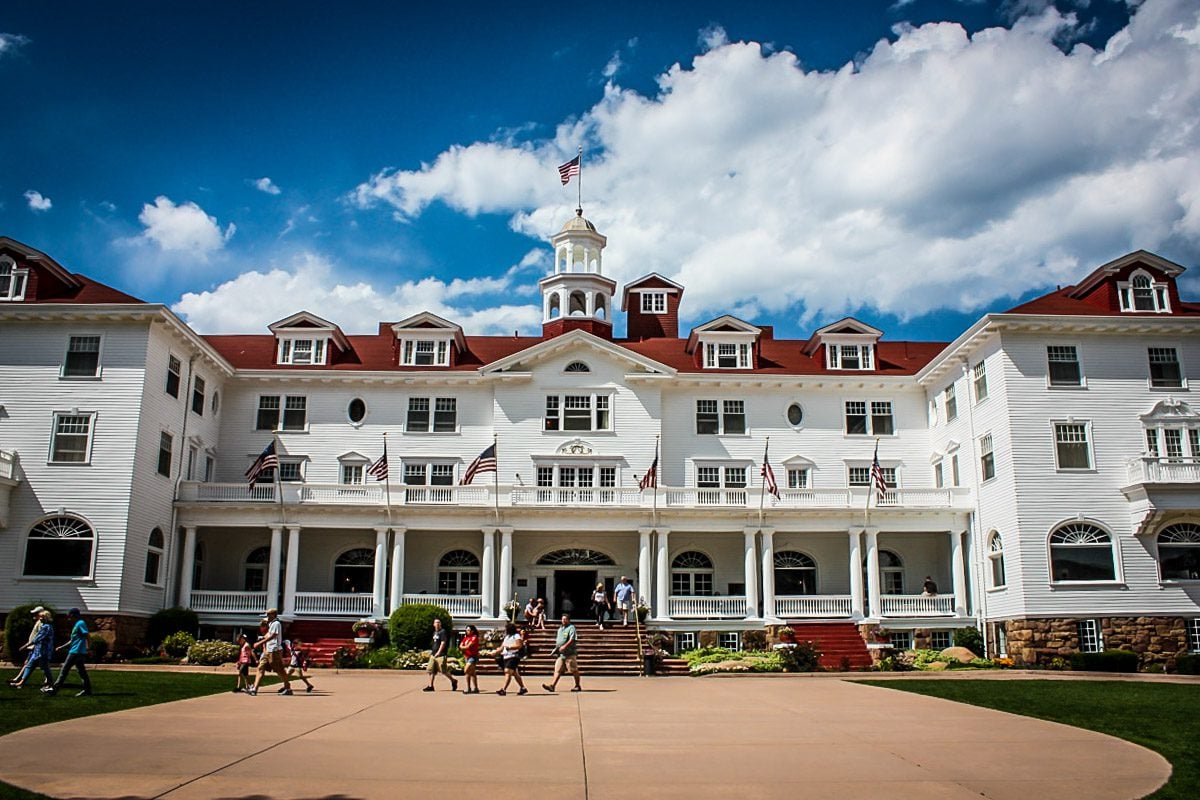 At a glance: Famous for being Colorado's wilderness 'playground' and we can see why!
Distance from Denver: 65.1 miles; 90 minutes driving time
Estes Park is a quaint mountain town that is revered by nature enthusiasts for the scenery, access to outdoor adventures and free-roaming wildlife. Within the park, visitors will experience a multitude of landscapes: mountains, meadows, glaciers and waterfalls.
Known for its surplus of free-range wildlife roaming throughout the park, if you're lucky, you have the possibility of spotting elk, llamas and maybe even a moose!
Due to its close proximity to the Rocky Mountain National Park (Estes Park is located at the base!), you can easily pair these two stops together on a day trip from Denver.

Aside from an abundance of nature, Estes is a great place for outdoor activities beyond just hiking—kayaking, horseback riding and whitewater rafting—to name a few.
Top things to do in Estes Park
Go hiking, of course! We recommend the Emerald Lake Trail and, if you like an extra challenge, try Bear Lake as well! Please note, however, you need an exact parking permit to hike this trail; not just the entry pass.
Take in the scenery via horseback. Estes Park offers a variety of horseback riding tours and packages from 1 hour trips to overnight ones.
Catch an outdoor concert. Is there anything better than listening to live music and sipping a craft beer while surrounded by lush forests? In summer, Estes Park hosts outdoor concerts and a free shuttle service!
Pop by the luxurious Stanley hotel to snap some photos or grab a bite to eat. Visitors might recognize the infamous hotel from the set of The Shining.
Check out the local eateries. Lumpy Ridge Brewery is especially unique as it has been transformed from an old gas station! Another favorite is Bird & Jim which is a local favorite.
Psst! If you're planning a trip to Denver, be sure to check out our guide to where to stay in Denver so you can get a feel for each of the popular neighborhoods and exactly where'd we'd recommend staying on your first visit.
5. Golden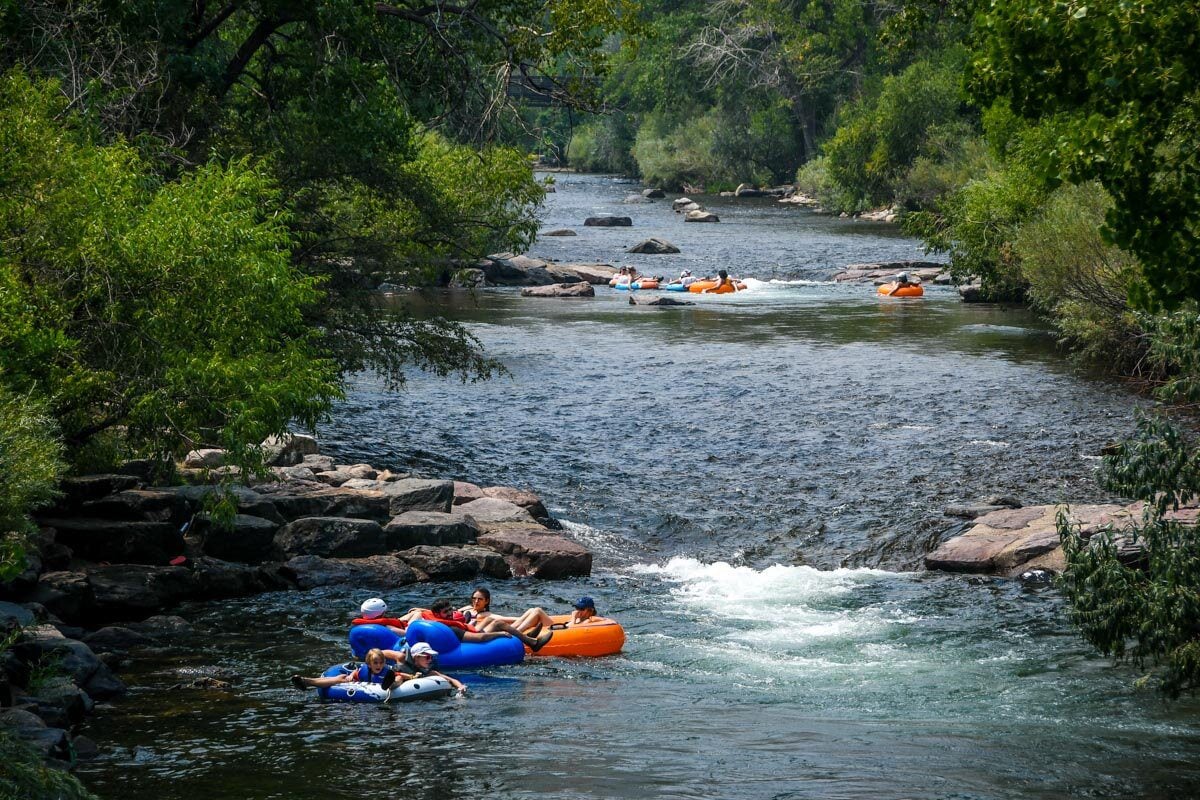 At a glance: A charming mountain town neighboring Clear Creek; a perfect place to cool off in the summertime.
Distance from Denver: 15.2 miles; 20 minutes driving time
Being that it's just 30 minutes away from Denver by car, Golden makes a perfect day trip. The town itself has a cute Old Western vibe, and there are lots of breweries and restaurants to check out.
Things to do in Golden
Float down the river in summertime: 'nuff said! Read #4 in our Denver guide for all the details.
Coors Brewery Tour: If you're a Coors fan, you'll probably want to do a brewery tour at the source. It's free, and you get samples! It's my older brother's favorite beer, but honestly I can't stand the stuff (sorry!). And truthfully, it's not just Coors I dislike specifically; it's all light lagers. I'm much more excited about craft beers.
Visit a craft brewery: Not a fan of the light stuff either? Head to one of the many local craft breweries or taprooms in Golden instead!
Hike Table Mountain: You'll find trails of varying lengths, and from this area you'll get great views.
6. Red Rocks Park & Amphitheater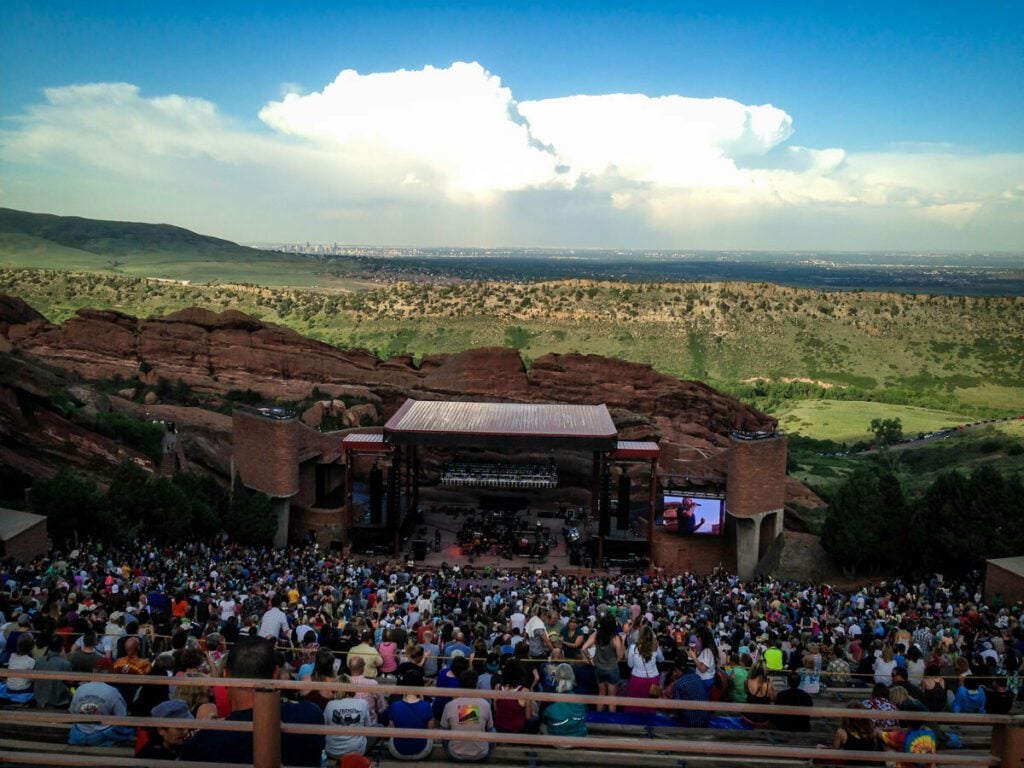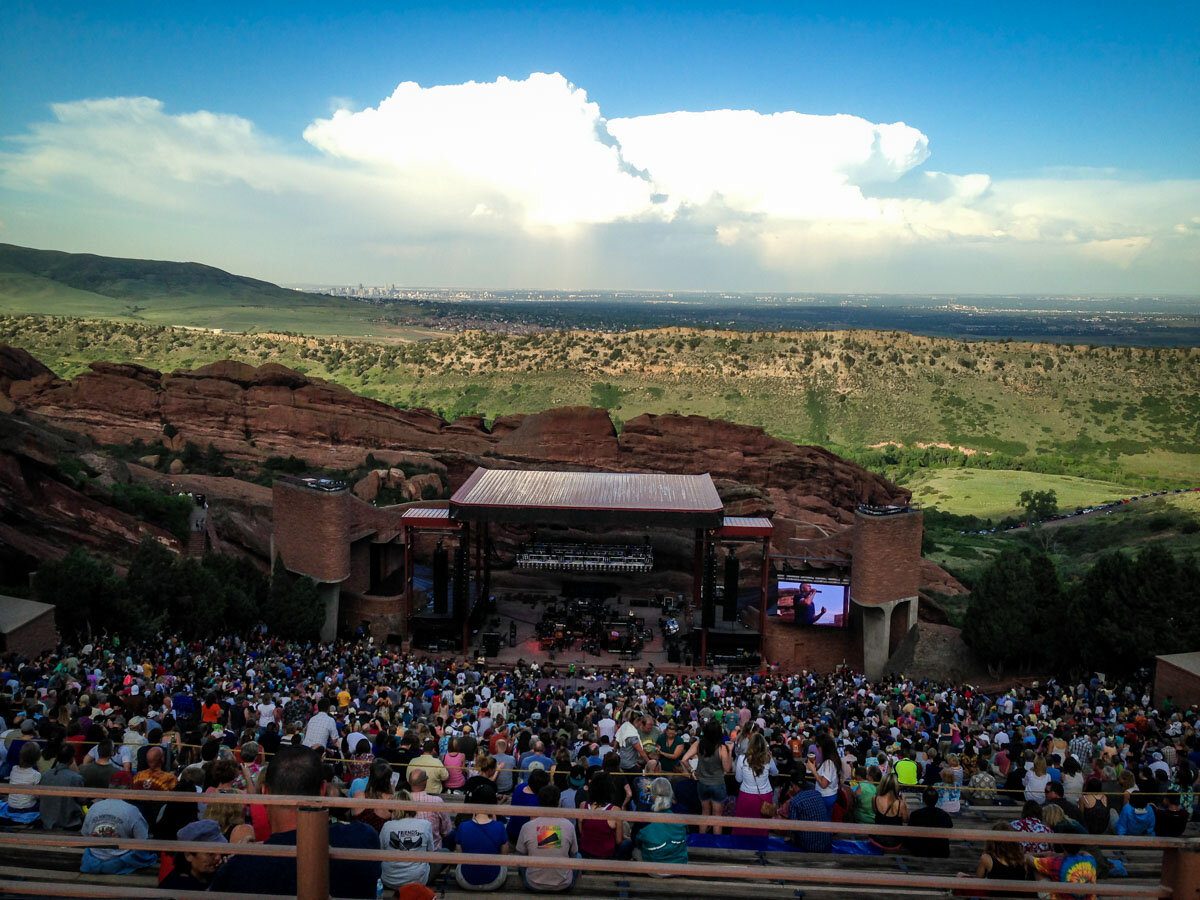 At a glance: Surrounded by stunning natural rock formations, this famous amphitheater offers a surplus of entertainment to enjoy day and night
Distance from Denver: 16 miles; 25 minutes driving time
If you're visiting Denver, you'll really want to place Red Rocks near the top of your list. A quick 25 minute drive from the city, this is a unique and seriously stunning place.

Best known as an epic concert venue that has hosted some big name acts from the Beatles and Johnny Cash all the way up to current pop artists and world-renowned DJs, Red Rocks Park and Amphitheater has a lot going on.
Within the park there are numerous walking, hiking and biking trails to explore. The altitude of the park is around 6,000 feet and while the trails range in difficulty, they all offer incredible views of Denver and the opportunity to spot some unique wildlife like prairie dogs or foxes.

Red Rocks is also seriously…old. It has a rich geographic history and contains million-year old fossil fragments from prehistoric eras—including dinosaur tracks!

The famous outdoor amphitheater hosts a series of concerts and events throughout the year. Visiting the park is one thing, but seeing one of your favorite artists perform there puts things on a different playing field; we highly recommend this!
Top things to do at Red Rocks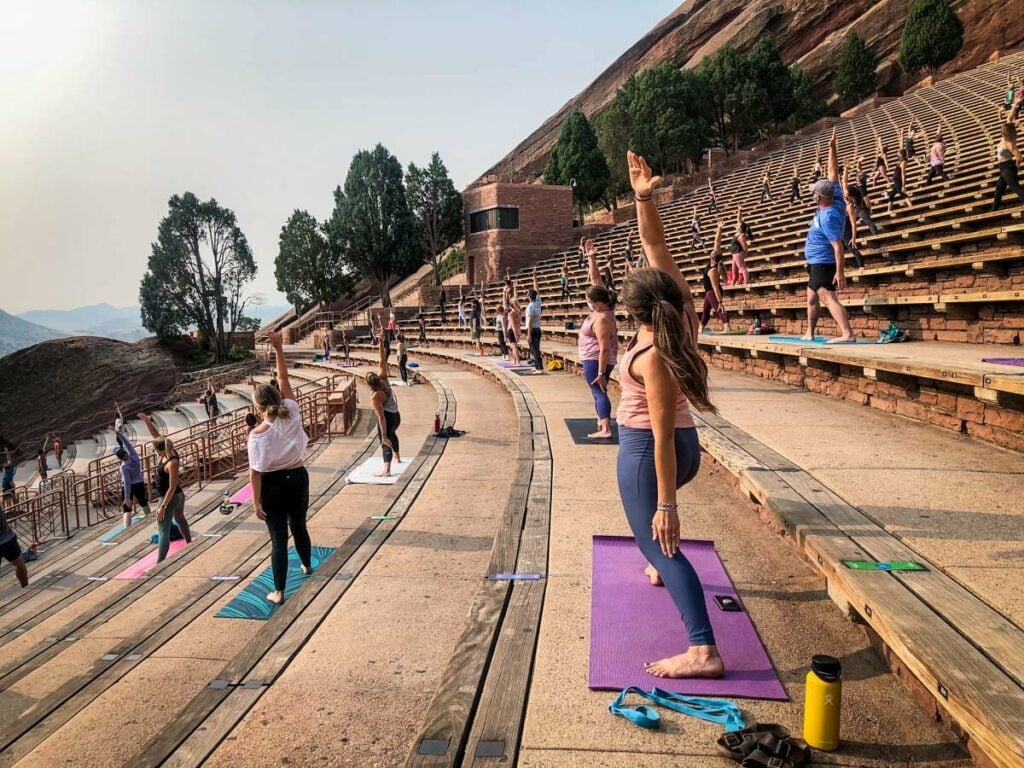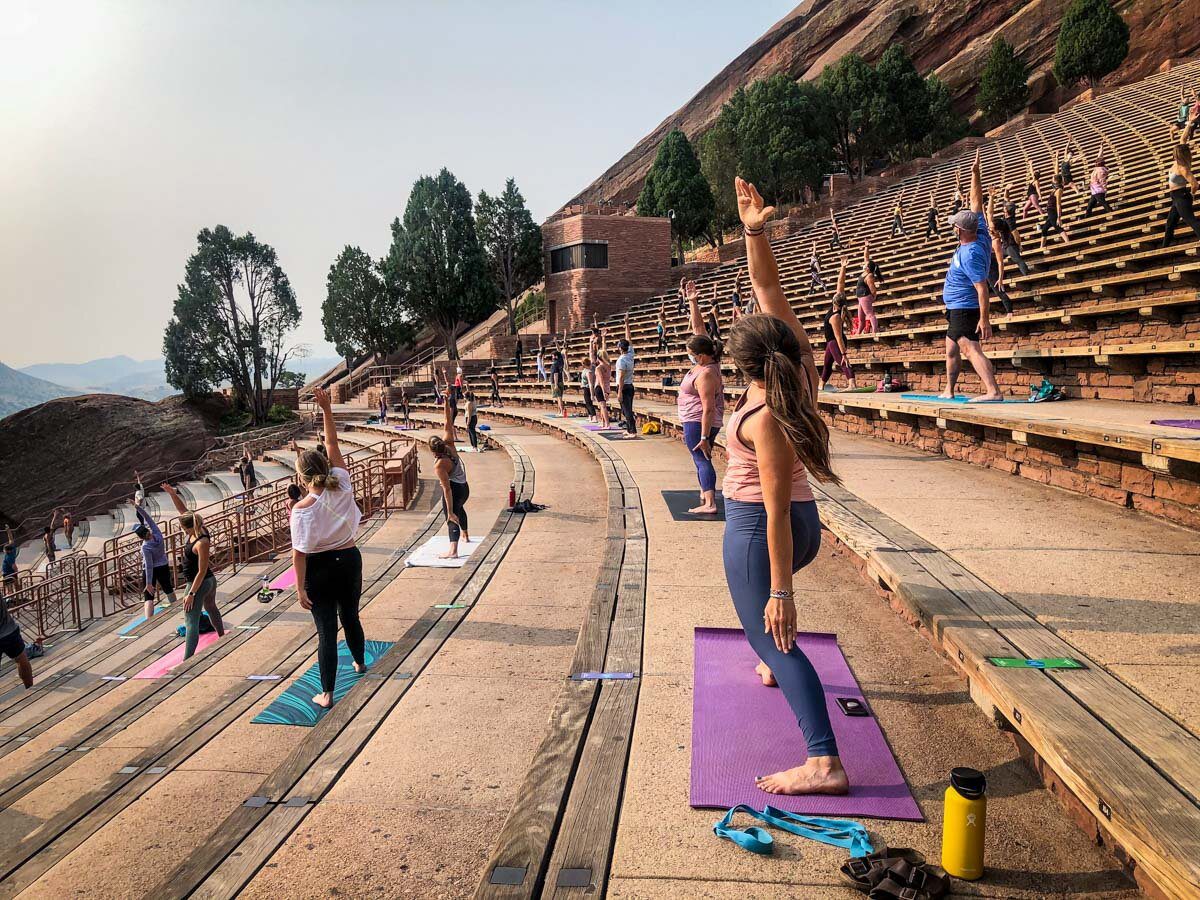 Catch a show: With its natural rock formations, this amphitheater is unlike any other venue you've seen. And what could be more fun than catching a live concert of one of the big name bands under the stars? We speak from experience when we say—not much!
Get zenned out at Yoga on the Rocks: This event welcomes yogis of all levels to join together and enjoy their practice amongst the stunning scenery. Yoga on the Rocks happens every Saturday in summer (June through August). Tickets are $17 per session, but packages are also available and can only be purchased online ahead of time.
Attend an outdoor movie screening: Red Rocks has hosted Film on the Rocks for over 20 years and it is still as popular as when it first started. They screen movies for all ages including old classics (think: The Goonies, Star Wars, etc.) and somewhat newer blockbusters and indie films as well. Tickets are $16 per person and must be purchased online in advance. Movies start at dusk. Don't forget to BYO snacks!
Go hiking: We cannot really mention a day trip to Red Rocks without suggesting some hikes!

The Geologic Overlook Trail is a great choice for a day trip as it is quite short, but will still lead to some gorgeous views.
The Mt. Vernon Creek Trail is only about a mile and offers views of the amphitheater.
If you're looking for something more challenging, you might try the Trading Post Trail. It is only over a mile, but the trail can be a bit rough in places.

Join the early morning exercise crew: Red Rocks has become a popular place for those looking for a challenging workout at 6,400 ft. If you show up around sunrise, you're sure to run into plenty of others running the stairs or doing various other workouts in the empty amphitheater.
7. Roxborough State Park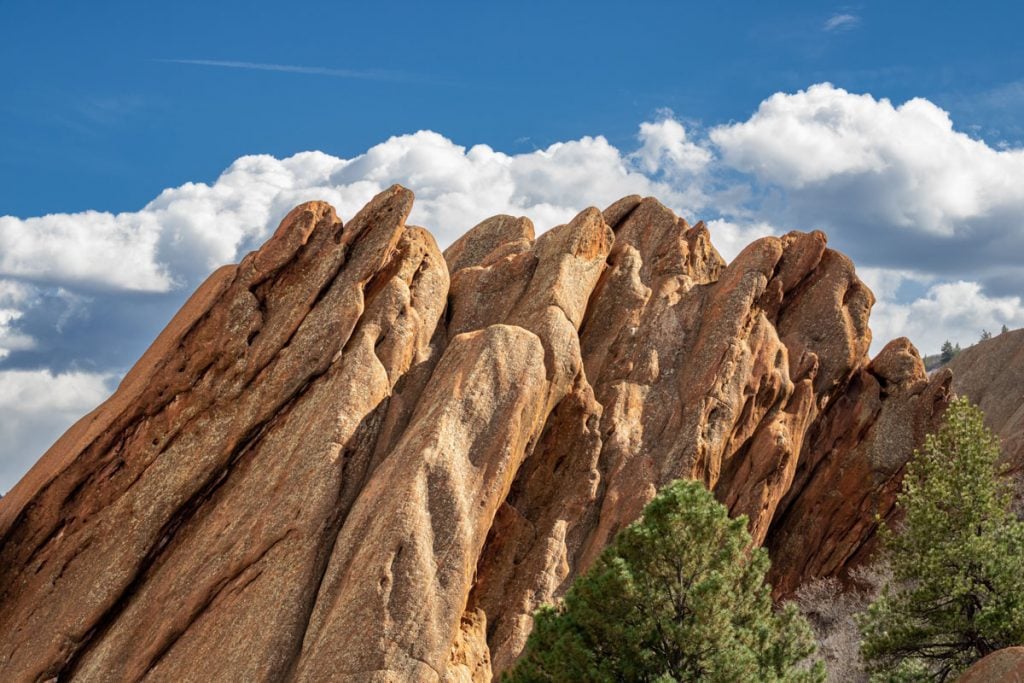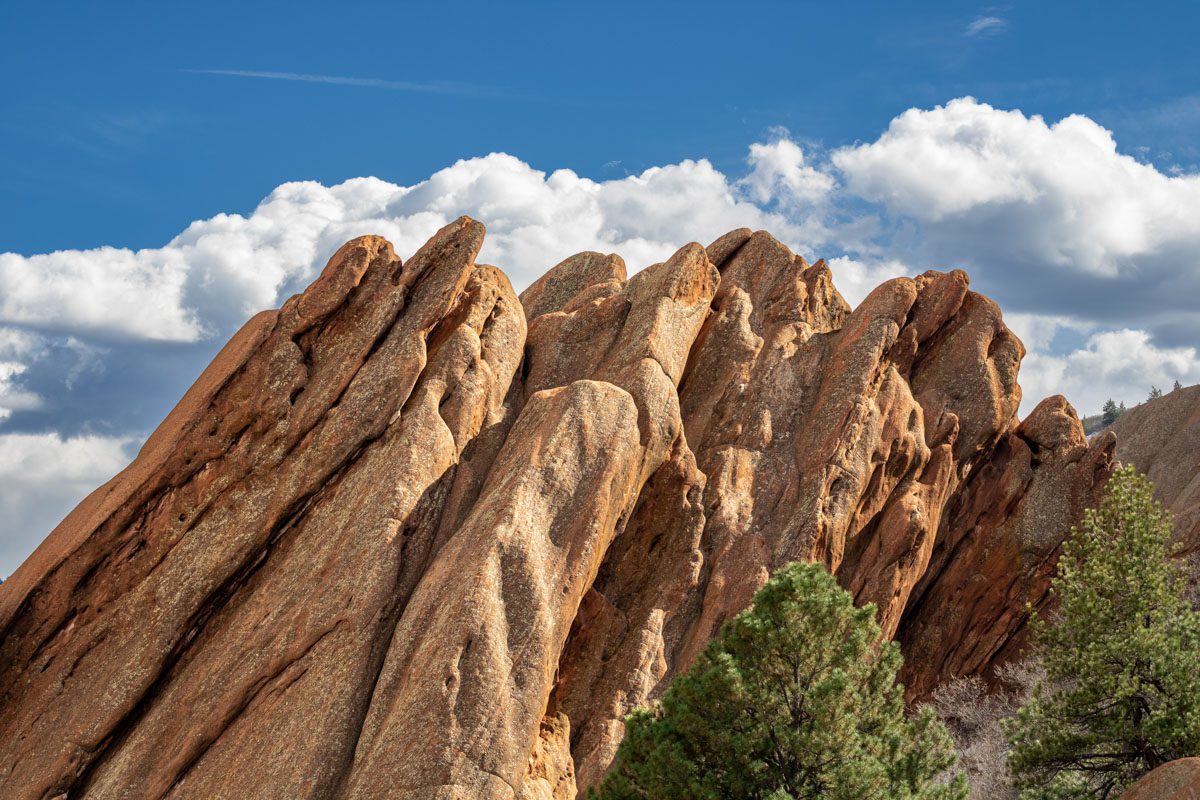 At a glance: A lovely state park with an impressive commitment to conservation
Distance from Denver: 26.7 miles; 44 minutes driving time
Roxborough State Park is quite popular due to its quick access from Denver. In less than 45 minutes, you'll be able to experience a true sense of tranquility.
The park has quite a few restrictions such as no rock climbing, no camping, no bikes and no drones, but that also helps maintain the extremely peaceful atmosphere.
Even more noteworthy, Roxborough is recognized by the Leave No Trace organization which recognizes public spaces that value conversation ethics. As travelers, it has always been important to us to support places that actively work to protect the environment. Plus, it's totally worth the trip!

If you're looking to escape the crowds, you should plan to visit on weekdays or early mornings.
Psst! We always practice and encourage others to adhere to the 7 principles of Leave No Trace.
Top things to do in Roxborough State Park
Have a picnic: Pack some of your favorite snacks and go for a relaxing picnic with your favorite person amongst the nature views. Don't forget to take your trash with you when you leave!
Try snowshoeing: In winter, Roxborough is a fantastic place for snowshoeing. Since it is quite undisturbed and private, you are likely to spot some animal tracks on your trip, too, especially if you go when the snow is still fresh.
Go birdwatching: Since birds are protected in the park, Roxborough is a great place to bring your binoculars and try to spot some! There are also guided hikes designed for bird watching available.
Go hiking: In case you need more hiking recommendations, Roxborough has 9 trails totalling 14 miles within the park to choose from. The best part? Bears are often spotted by hikers here!
8. Evergreen
At a glance: A charming mountain town for those who appreciate a more local and laid back vibe
Distance from Denver: 29 miles; 40 minutes driving time
Tucked between the towering foothills of the Rocky Mountains, this town is a quick, but worthwhile trip from Denver. Since it is so close to the city, many locals commute from Evergreen making it an easy place to visit.

Have a stroll around Evergreen Lake or hop in and paddleboard. Loop through the paved trail that passes the quaint and historic downtown area. In summer, the town hosts many festivals and farmer's markets so keep an eye on your travel dates and see if they align with an interesting event in Evergreen.

Aside from nature, Evergreen has a fantastic food scene so definitely try to arrange your trip over lunch or dinner. We especially love Murphy's Mountain Grill (for food) and Creekside Cellars (for wine) but because both these places are also loved by the locals, be sure to make a reservation.
Top things to do in Evergreen
Get out on the lake: Since Evergreen lake is open year round, it offers a surplus of activities. In summer, you can rent paddle boats, kayaks or even sailboats from the Lake House. From December-March, try ice skating or hockey!
Go hiking: There are loads of hiking opportunities around Evergreen. Many of the trails allow mountain biking, too!
Indulge in some local wine: Creekside Cellars is a family-owned winery with a gorgeous view of Bear Creek. This is a perfect way to wind down after a hike.
Explore Evergreen's food scene: We recommend Murphy's Mountain Grill which serves exceptional bar food and signature cocktails. If you're looking for a 'townie' steakhouse vibe, visit Switchback Smokehouse. They also have a dog-friendly patio! For a more laid back experience, grab a beer and some snacks at Evergreen Brewery.
9. Mount Evans Scenic Byway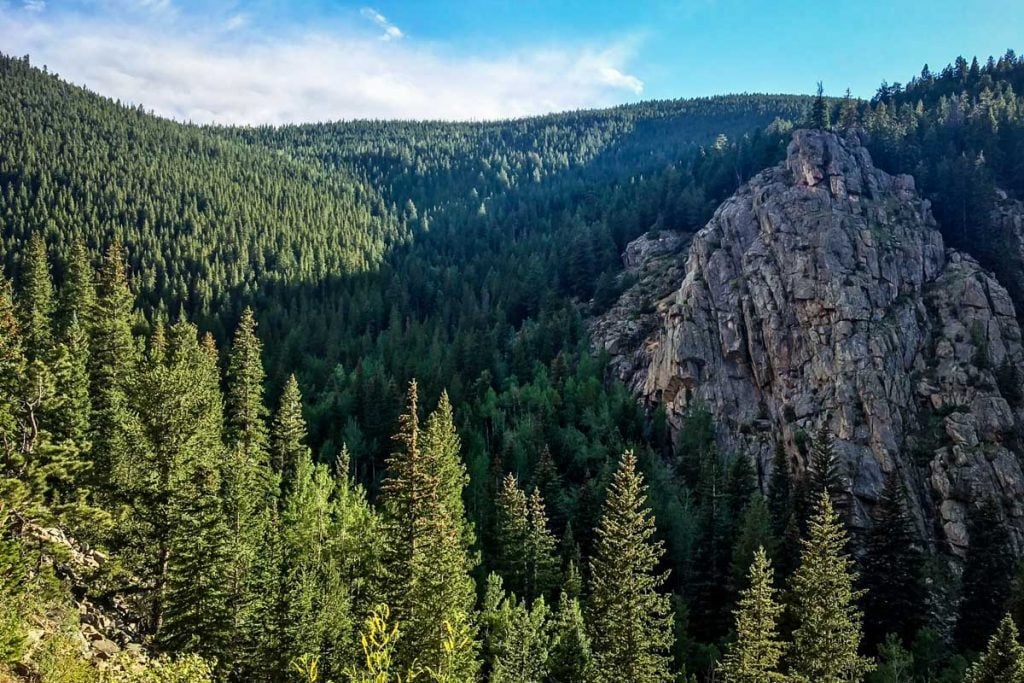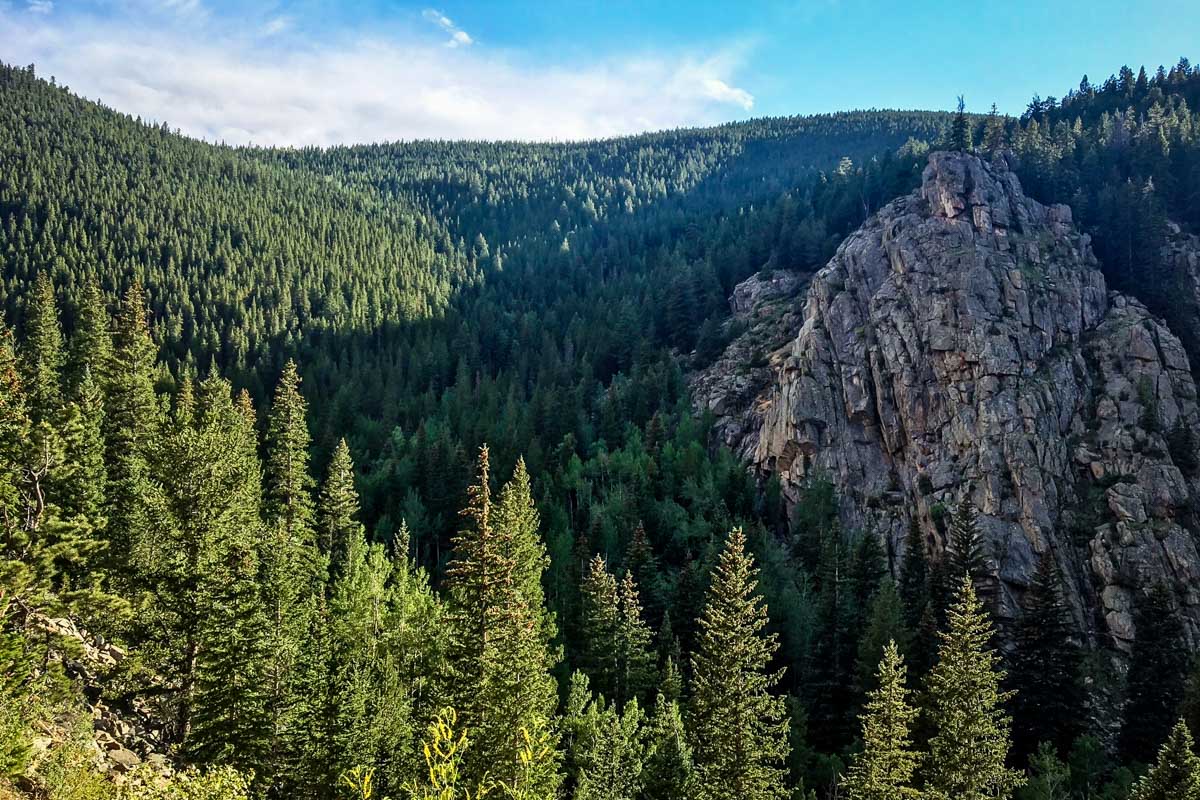 At a glance: The highest roadway you can travel (by car) in America with an astonishing summit view
Distance from Denver: 33 miles; 40 minutes driving time
The paved road to the 14,260-foot summit of Mount Evans is the highest road you can travel by car in the U.S. The road is so high that you'll pass through five different climate zones on the way up. (How cool is that!?)
Before you ask, it's well-worth the journey for the stunning mountain vistas, high-altitude lakes, wildlife, and rare bristlecone pine forests you'll pass on the way. Not to mention the views from the summit!
At 60 miles round-trip from downtown Denver, it's closer (and cheaper!) than driving up Pikes Peak. The Mount Evans Scenic Byway drive will take 2-3 hours each way (depending on how many times you stop for photo ops) and is not recommended for people prone to motion sickness as there are many twists and turns on the road.
Open Memorial Day through Labor Day, the road is free to traverse until you get to the top. The last 14 miles of road before you reach the summit are maintained by the US National Forest Service and will cost $10 per car to enter (or free with an annual park pass).
From the parking lot at the top, there is a short hike to the actual summit of the mountain. The altitude will be challenging, so walk slowly up the path and be careful not to over exert yourself.
10. Garden of the Gods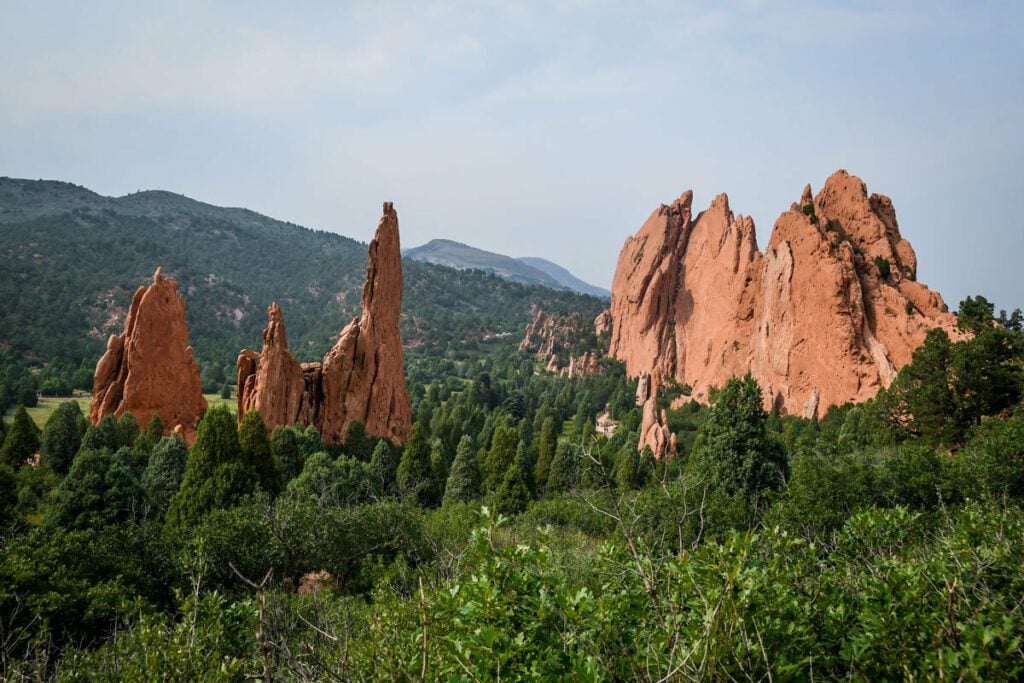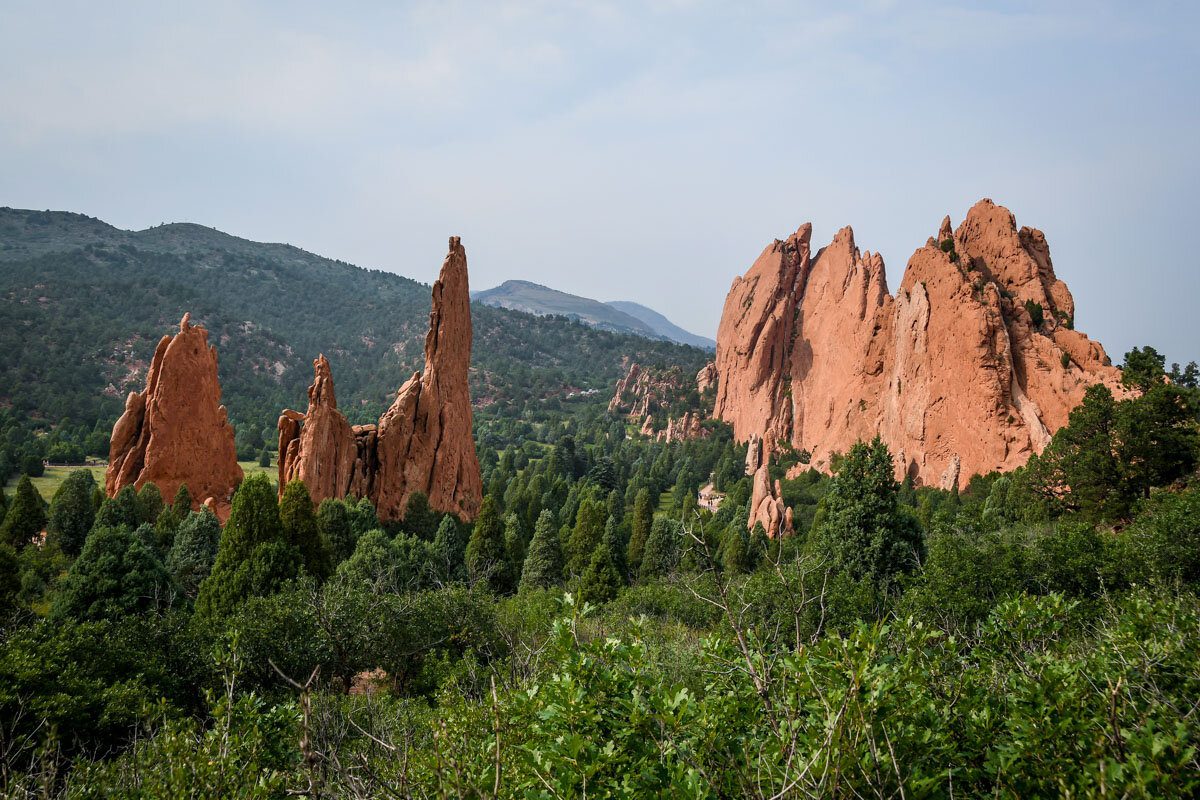 At a glance: With its eccentric rock formations and a palpable history, this unique park simply oozes beauty!
Distance from Denver: 69.7 miles; 1 hour and 20 minutes driving time
Cost: free to the public
Hours: 5 a.m. to 9 p.m.
The breathtaking sandstone formations known as Garden of the Gods jut up from the forest in all directions, seemingly defying what rocks should look like.
Just outside the town of Colorado Springs, this National Natural Landmark is well worth a visit on your trip to Colorado, even if just as a day trip from Denver. (It takes just 1 hour 20 minutes to get there from downtown.)
This area attracts everyone from casual hikers to rock climbers.
Photography enthusiasts will love capturing the rusty reds of the rocks against the lush green juniper trees all set against a blue sky backdrop. And history buffs will be enthralled to learn about the dinosaurs that once roamed this land as well as the Native Americans who found shelter in these unique rock formations.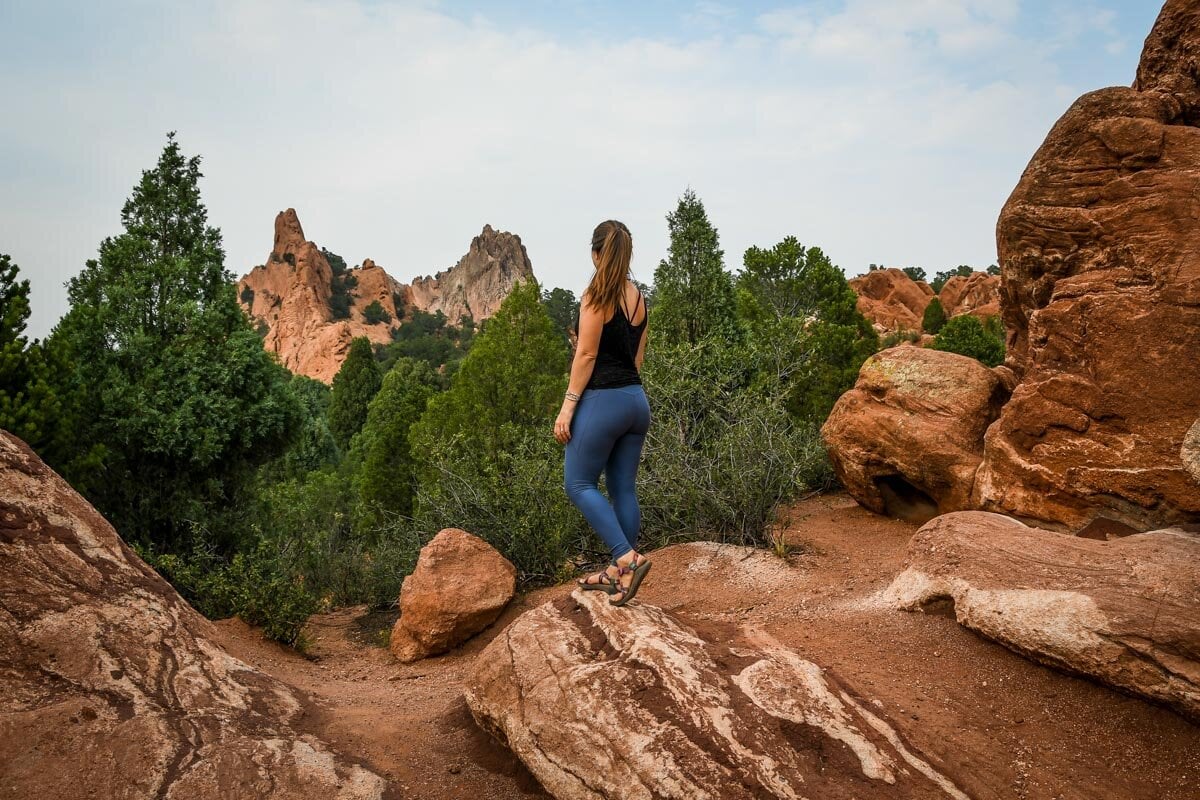 There are many hiking trails in the area but with limited time, the Garden of the Gods Loop Trail packs in the most punch for a quick visit.
Garden of the Gods Loop Trail
Distance: 3.7 mile loop
Elevation gain: 416 ft
Difficulty level: easy
Wander past all sorts of rock formations, through desert brush and get some epic views along the way. (Both photos above are from this trail.)
11. Whitewater rafting at Clear Creek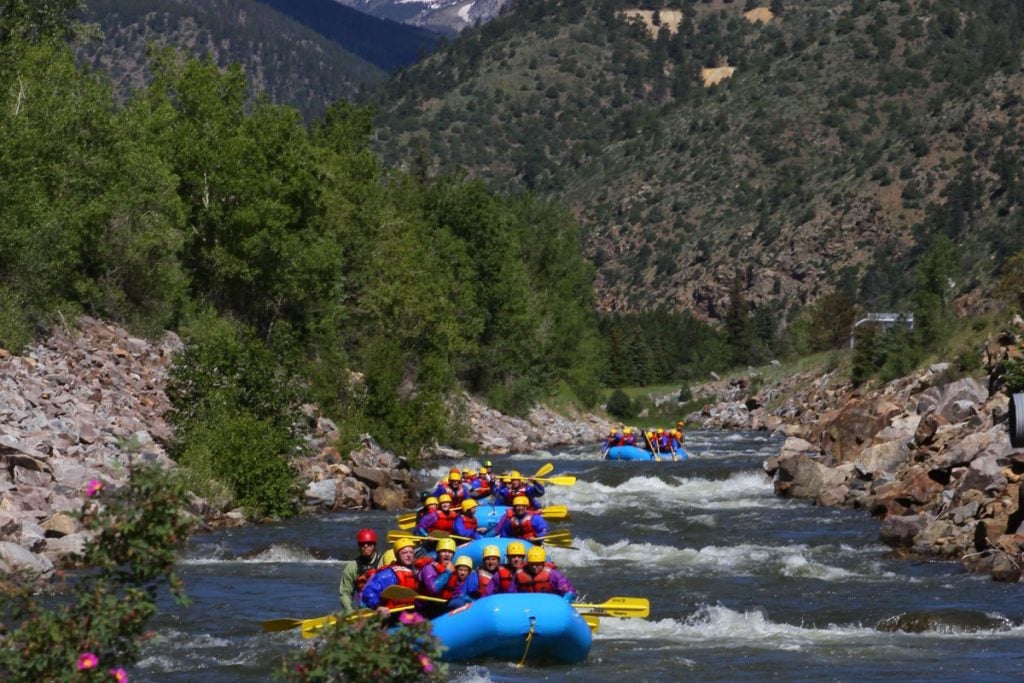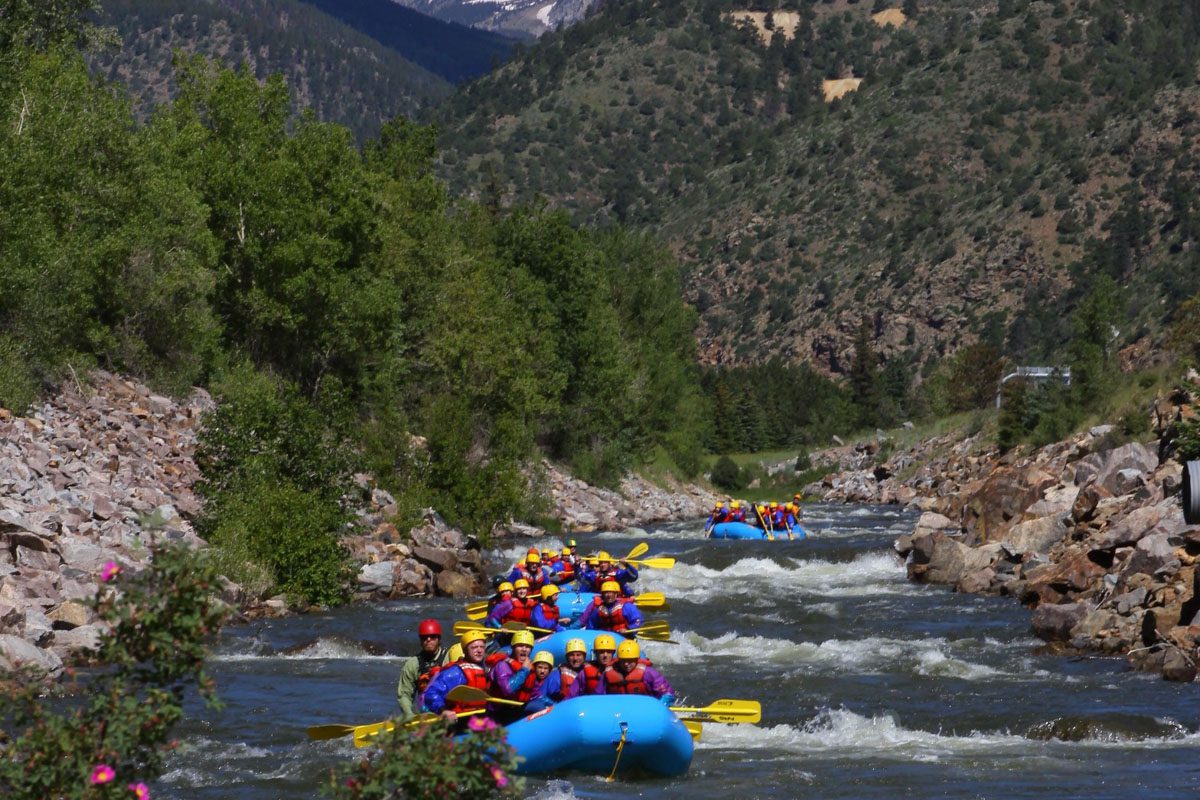 At a glance: An unforgettable and exhilarating outdoor adventure with striking views along the way
Distance from Denver: 40.7 miles; 50 minute driving time

If you're visiting Colorado in the spring or summer time and looking for a heart-thumping adventure, whitewater rafting should definitely be on your bucket list! As the winter snow melt comes down from the high country and flows into the Colorado rivers, it makes for an adrenaline rush like no other.
We've been whitewater rafting all around the world — from Costa Rica to Nepal to Washington State — and I've gotta say, each time is totally unique and different. In fact, you can raft the exact same river on two different days and have completely different experiences depending on the conditions.
There are many rafting opportunities throughout the state of Colorado, but if you're looking for an excursion near Denver, Clear Creek is going to be the closest place to get your rapids on.
Clear Creek Rafting is a reputable company that offers trips ranging from beginner level (suitable for children) to gnarly Class V rapids!
What time of year can I go whitewater rafting? They run trips on Clear Creek from mid-May to mid-August, and switch to a different river for trips during the month of September when Clear Creek is too low. Find out more information on their website.
On a related note: Find out what to pack, how to best prepare, and what to wear white for water rafting.
12. Skiing near Denver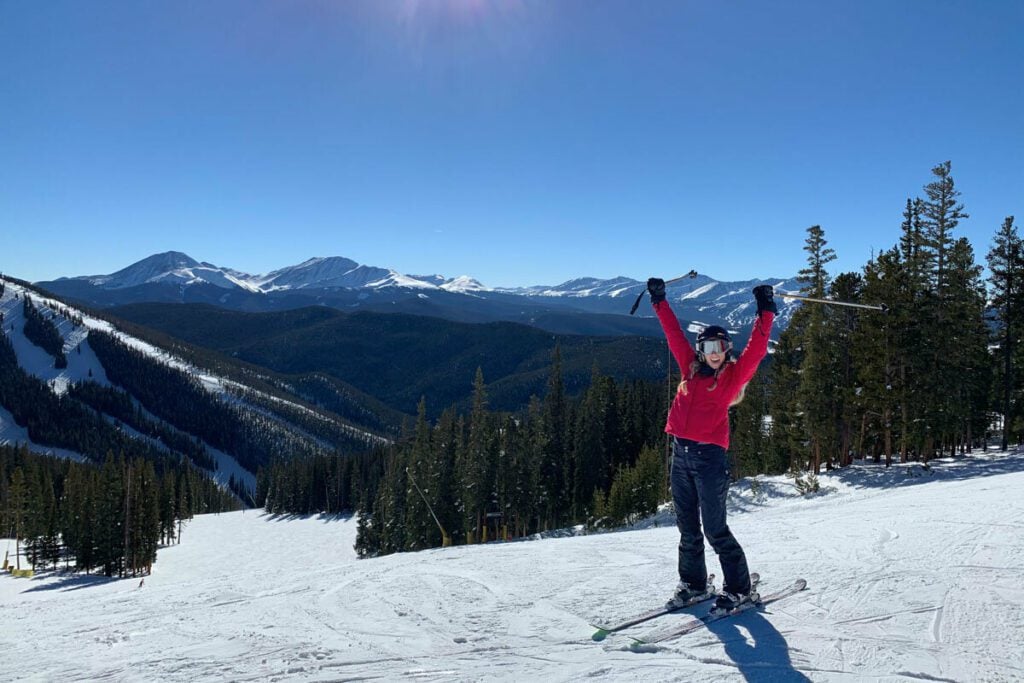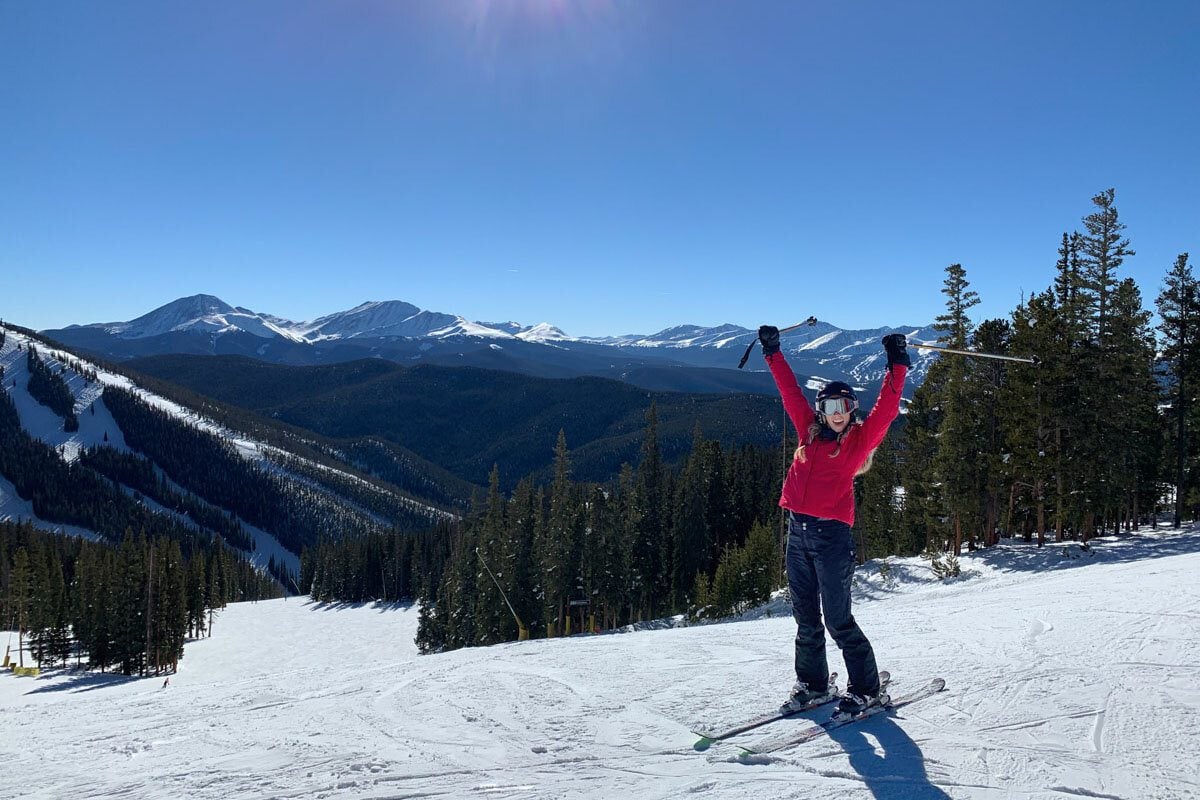 At a glance: With the combination of 300 days of sunshine + high altitude + pristine snow … need we say more?
Distance from Denver: varies depending on location
If you're traveling to Denver in winter, skiing/snowboarding is likely on top of your list. And if it isn't … might you consider adding it? Since there are loads of ski resorts close by, this adventure makes for an easy day trip.

If you're looking to go skiing near Denver, check out some of the closest ski resorts for your to visit.

Note: all prices below are for the 2022/2023 season. Be aware that prices may vary depending on when you buy your ticket and the number of days you'll spend skiing. Many of the mountains have a three day pass 'discount.'
Arapahoe Basin:

Distance from Denver: 64 miles
Lift Ticket Cost: $59-99 on weekdays, $109 on weekends and holidays
SeasonPass: $619 for adults, (also available on the Ikon Pass)

Eldora Mountain:

Distance from Denver: 50 miles
Lift Ticket Price: $149 for adults
SeasonPass: $719 for adults, (also available on the Ikon Pass)

Keystone:

Distance from Denver: 69 miles
Lift Ticket Price: $143-$180
SeasonPass: $365 for adults, (also available on the Epic Pass & Summit Value Pass)

Winter Park:

Distance from Denver: 66 miles
Lift Ticket Price: Starting at $108 for adults when bought in multi-day packages; starting at $143 for single-day tickets
SeasonPass: $649 for adults, (also available on the Ikon Pass)
These are just a few of the well-known resorts near Denver, but there are plenty more. Check out our guide to Colorado ski resorts for more detailed information to plan your ski trip near Denver.
13. Pikes Peak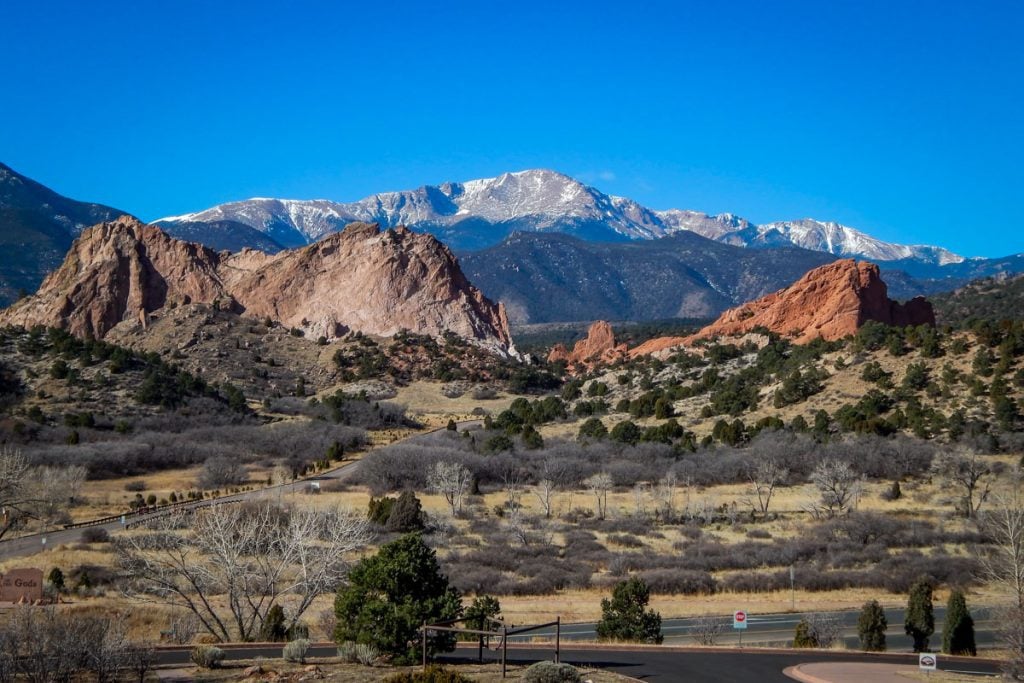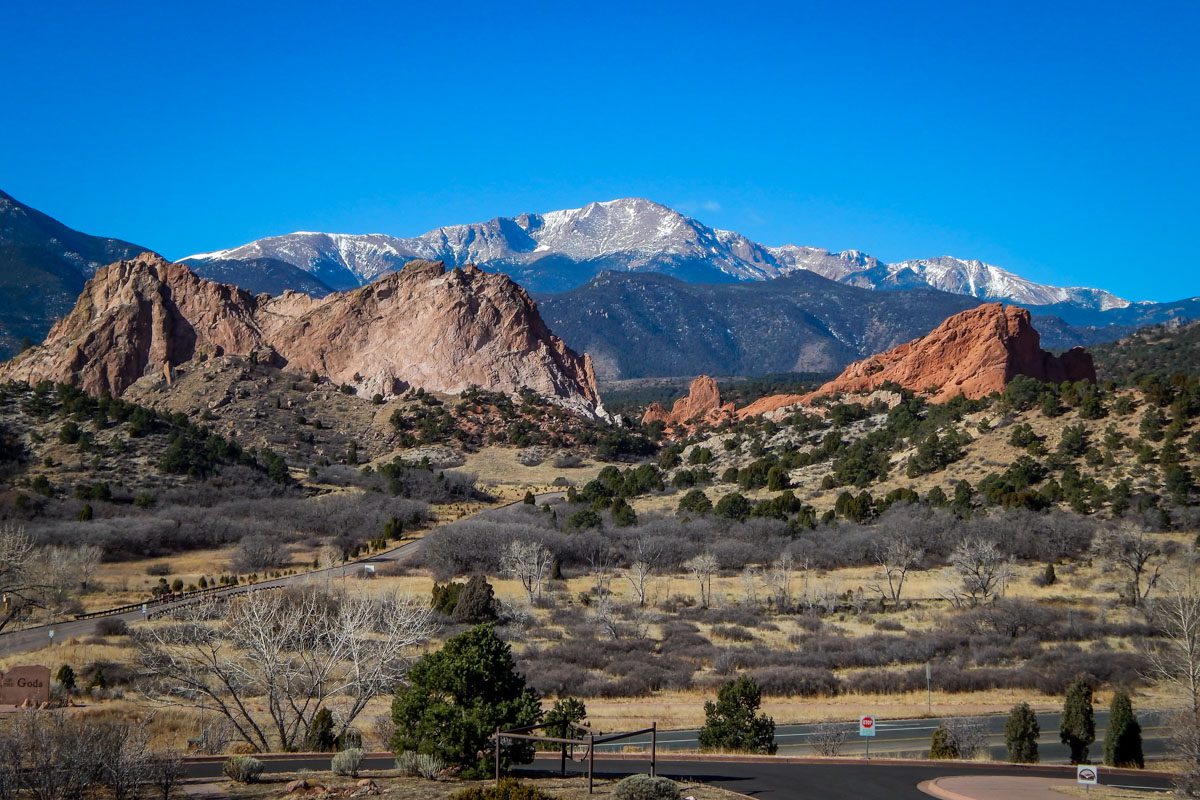 At a glance: One of the state's breathtaking 14-ers which is also completely accessible by car
Distance from Denver: 99.6 miles; 2 hours driving time
Pikes Peak is a stunning fourteener near Colorado Springs. Due to the high elevation, this hike is particularly difficult and recommended for experienced hikers. The trail is around 14 miles with an elevation of about 14,110 feet.
Trail stats:
Distance: 14.5 miles, out and back
Elevation Gain: 7,400 feet
Level: Difficult
Drive from Denver: 2 hours
If you plan to attempt Pikes Peak by foot, do your research ahead of time and plan accordingly.
On average, this hike takes around 6-8 hours to complete so if you're planning this as a day trip from Denver, you'll need to get an early start.
While this can be a challenging hike, it is also completely worth it! Near the summit you'll have the chance to see ravens, eagles, Rocky Mountain Big Horn sheep and, well, absolute gorgeous-ness.
Not interested in hiking Pikes Peak?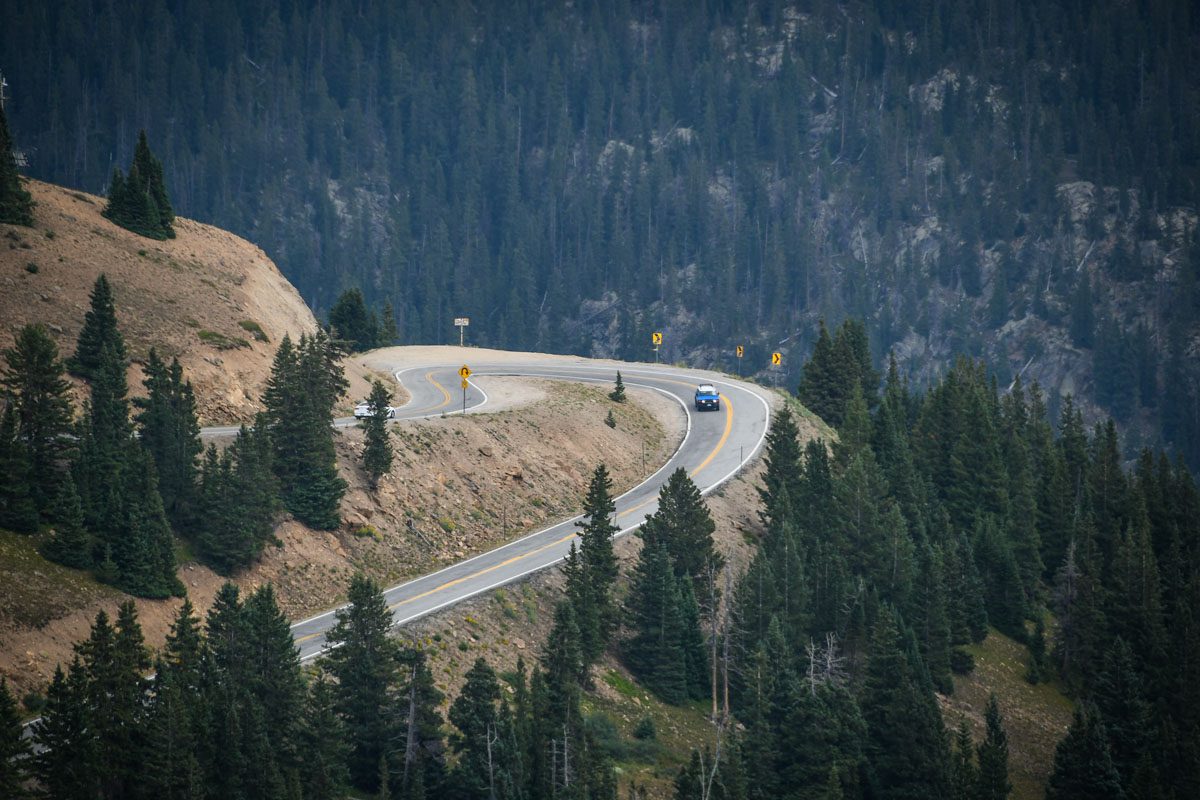 You can also drive it! In fact, Pikes Peak is the only fourteener in Colorado that allows you to reach the summit by car. It's about a 19 mile drive though there are many areas to stop along the way where you can stretch and rehydrate. Be sure to fill up your gas tank before the journey, however, as you cannot do this along the way.

To drive, it costs $15 per adult and while we do find that quite expensive, it is a much more convenient and time-effective way to see Pikes Peak than hiking it. Plus, this option is totally accessible to everyone.
Take the train to Pikes Peak
The Cog railway brings visitors straight to the peak and is currently the highest cog railway by elevation in the country.
A little fun-fact: Way, way, way back a tourist took a two-day journey by mule to the summit. After visiting, he was in such awe of the scenery he wanted more people to experience the view and worked to have the railway built—thanks buddy!

The train journey costs a hefty $38 per adult and $20 for children, but the scenery is unmatched and the experience is unique. Purchase your train tickets online.
Whatever way you decide to visit the summit—hike, drive or ride—you'll need to make a reservation. And because this is a quite popular destination, we recommend planning this day trip in advance.
14. Colorado Springs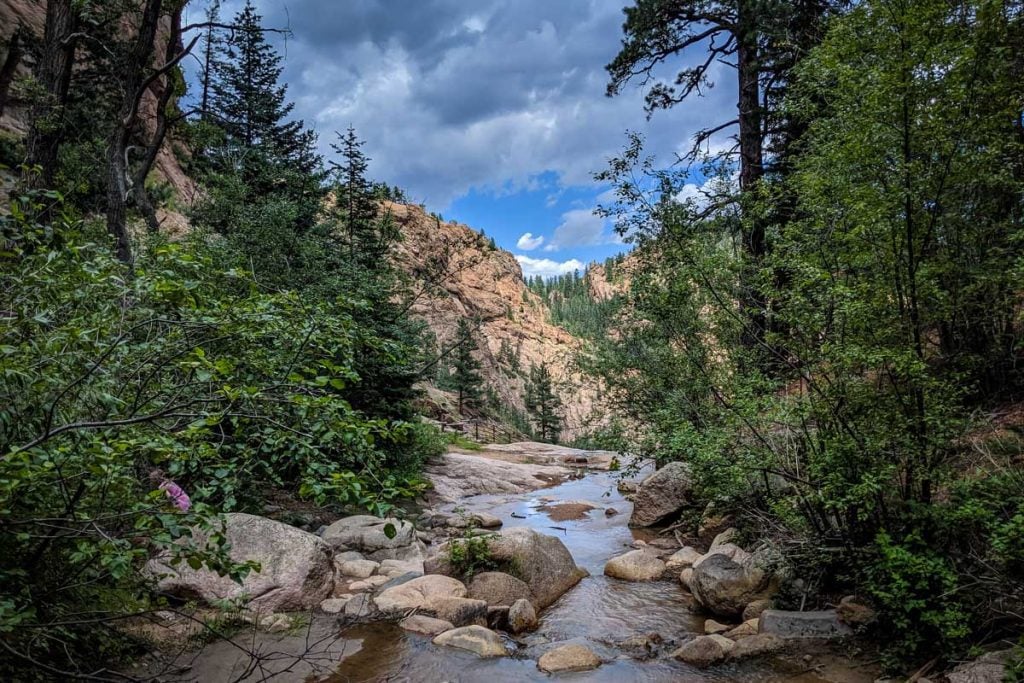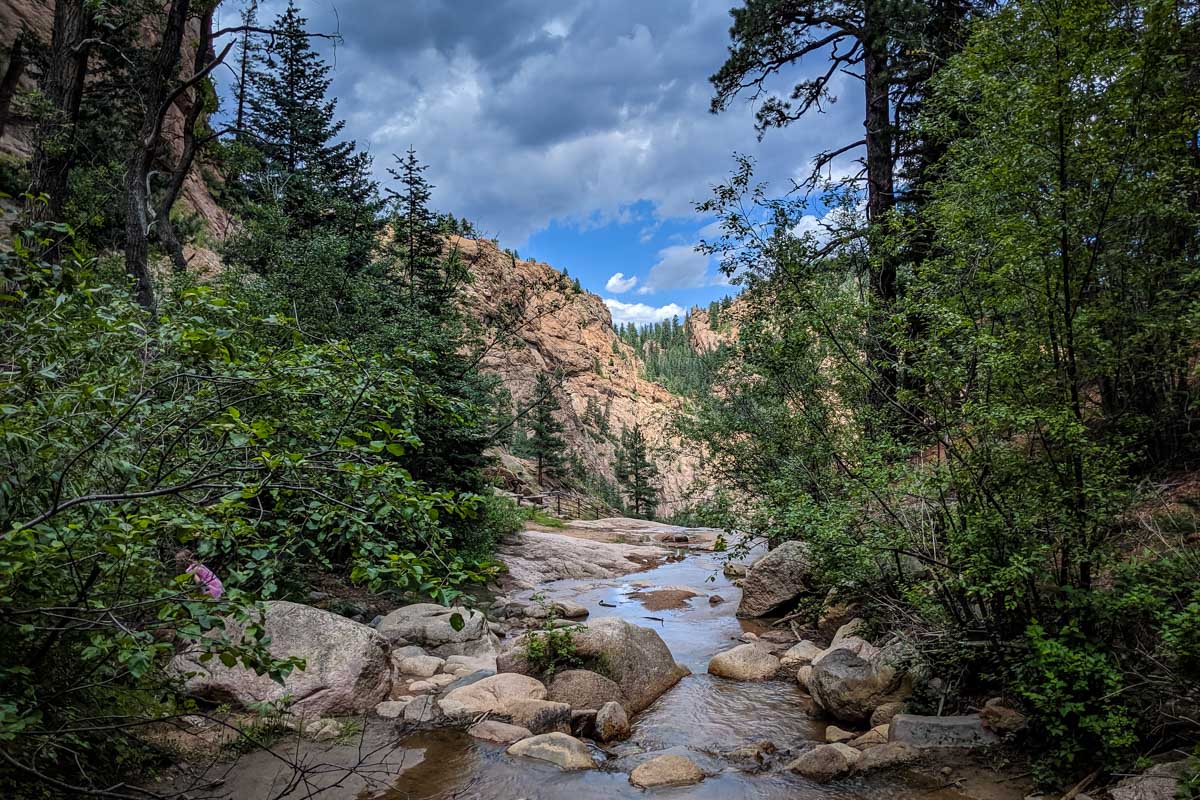 At a glance: A beautiful city sitting at an elevation of 6,000 feet surrounded by views of the Rocky Mountains
Distance from Denver: 70.9 miles; 1 hour driving time
A day trip to Colorado Springs is totally doable from Denver since it's only an hour drive away. Like many places in the state, Colorado Springs has phenomenal views, hidden gems, cozy hot springs and a variety of other attractions geared toward nature lovers. You definitely won't run out of things to do on this visit.

Aside from the outstanding nature, Colorado Springs has a vibrant food and nightlife scene. One of our favorite things to do when we explore a new place is take a food tour. Not only do you get to try a variety of local treats, but you often get exposed to some interesting history and local tips.
You can really visit Colorado Springs at any time of the year and there will be a variety of things to do, but it can get quite touristy in summer so, if your plans allow, we recommend visiting in the fall when the weather is crisp and the crowds have thinned. Not to mention the red and golden hues of the foliage—yes, please!
Top things to do in Colorado Springs
Cave of the Winds Mountain Park: Explore the ancient, underground world on a tour weaving through underground passages while learning about the history of the rock formations. There is also a haunted lantern tour that seems especially interesting considering the legends surrounding the caves. The tours range from 45 minutes to an hour and a half making this a perfect day trip activity!
Tour the US Olympic Training Center: Colorado Springs is home to the training facility that offers guided tours year-round. Visitors will be able to explore some of the facilities used by athletes training for the Olympics. The tours start at the top of each hour and last about 1-2 hours long.
The Broadmoor Seven Falls: Although this is quite touristy, the Broadmoor Seven Falls looks like an interesting stop. It is quite accessible with stairs straight to the falls, but additional hiking around the area for something a bit more challenging.
Take a food tour: Rocky Mountain Food Tours offers a variety of packages from local eateries to luxurious ones. Food tours are a fantastic way to get a taste of the city especially if you're unsure of where to start.
Since both Garden of the Gods and Pikes Peak are located in close proximity to Colorado Springs, you can easily add these to your day trip from Denver.
15. Black Hawk / Central City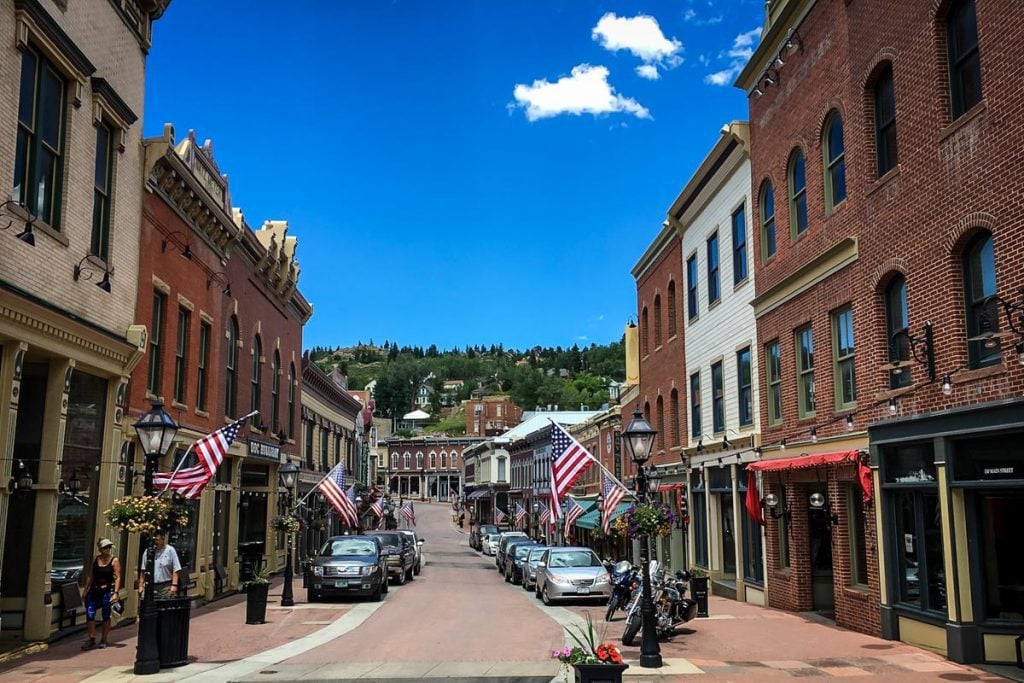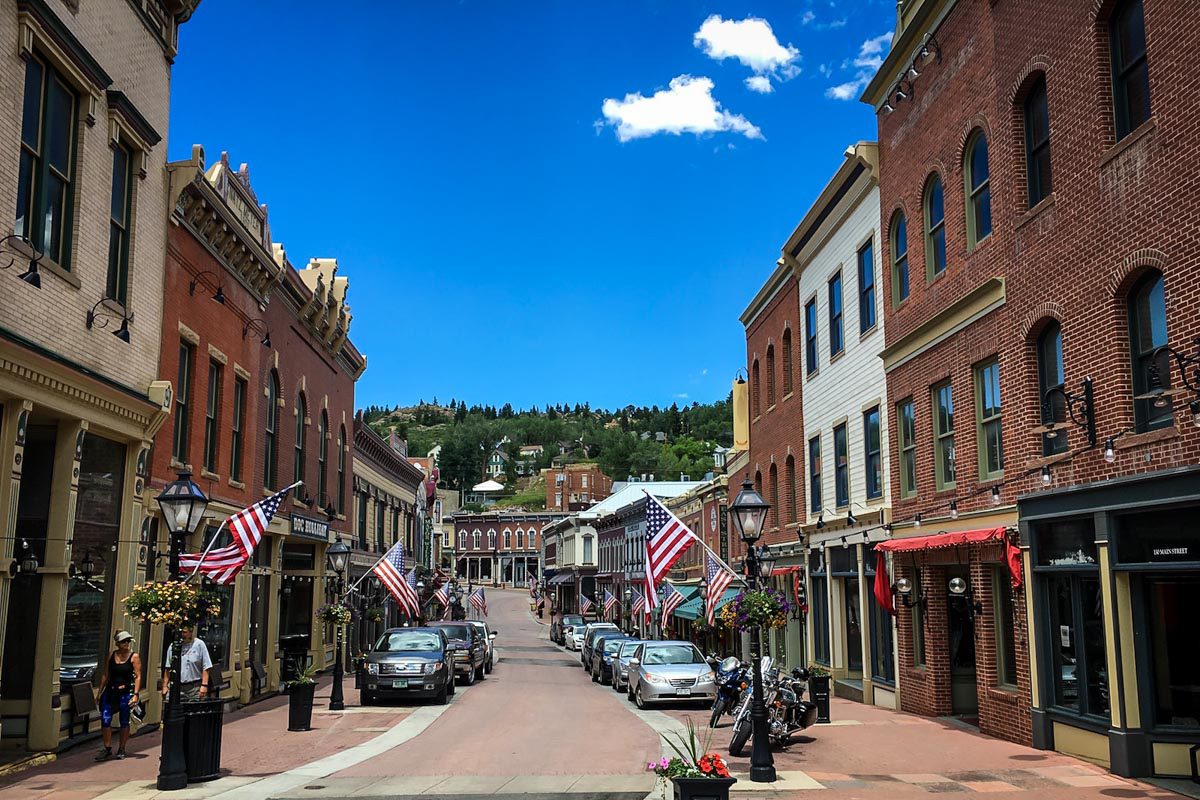 At a glance: A mini-Las Vegas in the heart of the Rocky Mountains
Distance from Denver: 38.2 miles; 50 minutes driving time
Just west of Denver, this former mining town has a colorful history which you can experience by taking a walk through the town. The main attraction of this place, however, is the gambling. Locals and tourists alike flock to this area to experience the 20+ casinos ranging in style from high-end to family-owned—and everything in between!

An especially cool accommodation is the Black Hawk Shuttle which runs up and down Main Street allowing you to hop from casino to casino quite easily.
Not into gambling? Black Hawk, like nearly every other mountain town in the state, appeals to nature lovers as well.
You can explore the many hiking trails or go fishing in Clear Creek. In winter, you might try snowshoeing as the views look incredible. The Great Parks Bicycle Route runs through Black Hawk and while you won't be able to complete the entire thing (…it's over 2,000 miles long!) you can explore parts of it on your day trip from Denver.
There is also a scenic byway that connects Black Hawk to Estes Park so you could easily combine these two trips together. The roadway is a little over 50 miles so, depending on how often you stop to take photos, stretch or refresh, this will take around 5 hours.
16. Fort Collins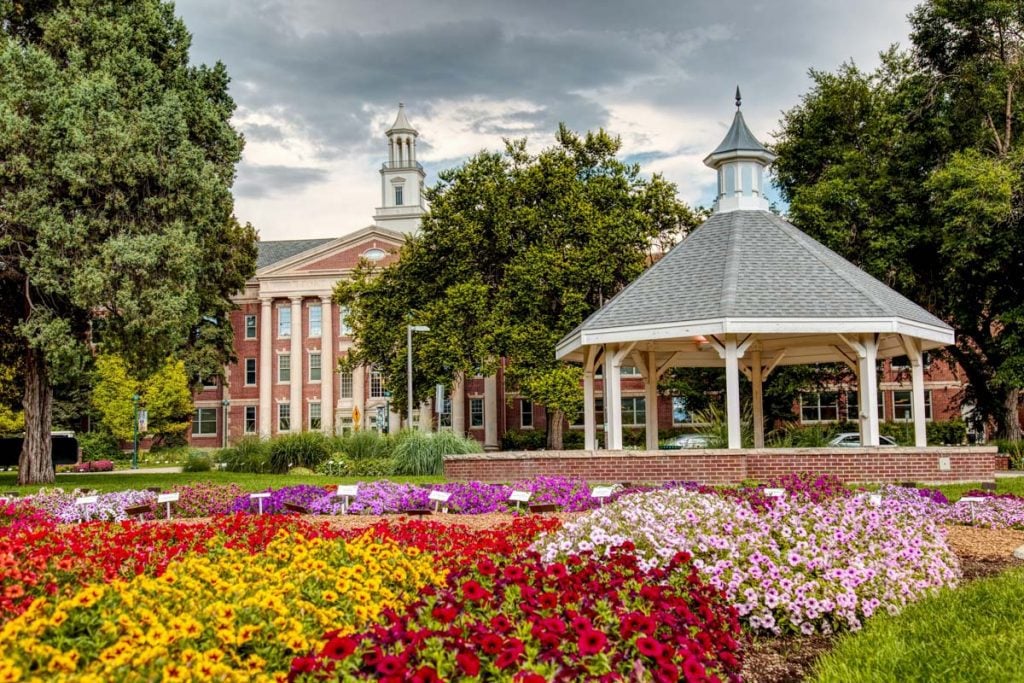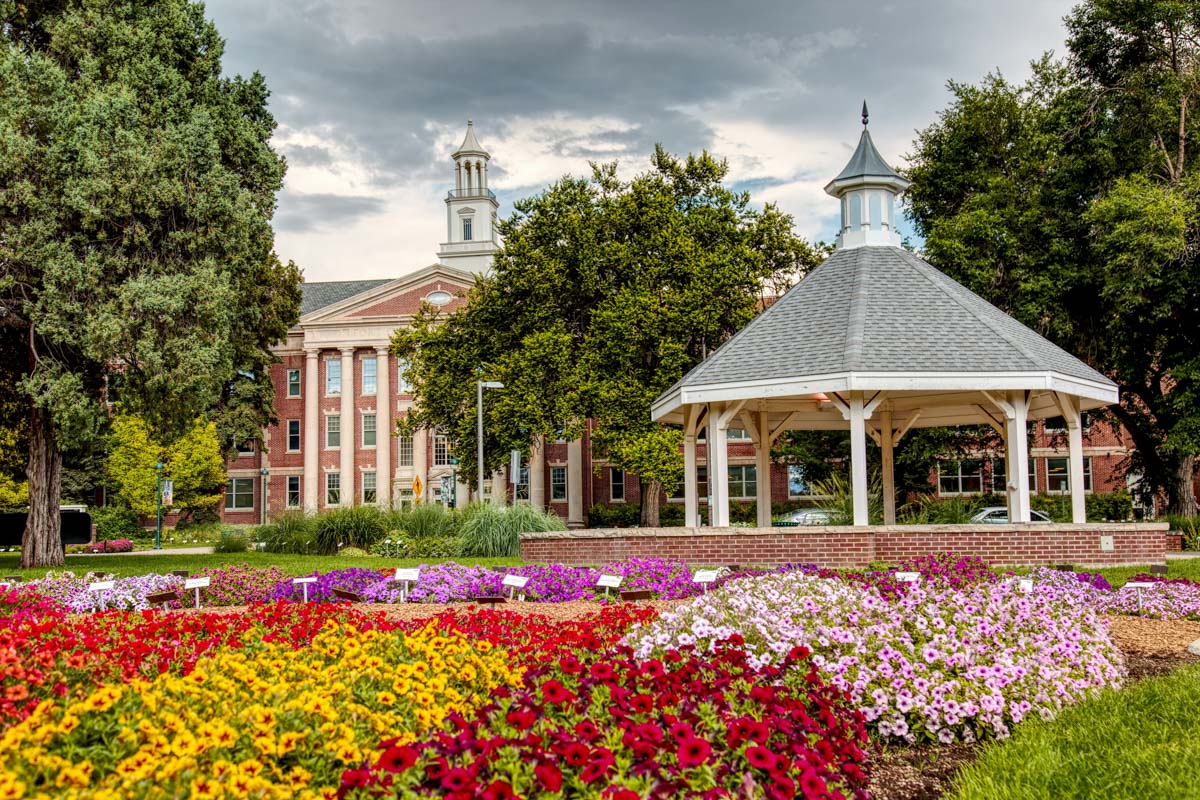 At a glance: A lovely city packed with culture, outdoor activities and microbreweries
Distance from Denver: 64.9 miles; 1 hour driving time
If you're looking for a fun day trip from Denver, but don't want to spend too much time on the road, Fort Collins is a great choice as it is only an hour north of Denver. This city has a vibrant art scene, endless outdoor activities and is especially known for its microbreweries.
Fort Collins is home to Colorado State University which really gives it a local vibe. There is plenty to keep you occupied on a day trip.
Top things to do in Fort Collins
Go for a brewery tour by bicycle: Fort Collins Brew Cruise allows you to choose which brewery you want to visit then sets you up with an expert guide and all the gear you'll need for your cycling adventure.
Explore Old Town Fort Collins: There are numerous places to eat, drink and shop in this adorable downtown area.
Explore Horsetooth reservoir: Spend the afternoon exploring this stunning area, which is great for swimming, hiking, biking and horseback riding. We definitely recommend trying a hike that leads to horsetooth rock!
Check out a live show: Fort Collins has a vibrant music scene. There are numerous venues, but the Magic Rat sounds especially quirky.
17. Nederland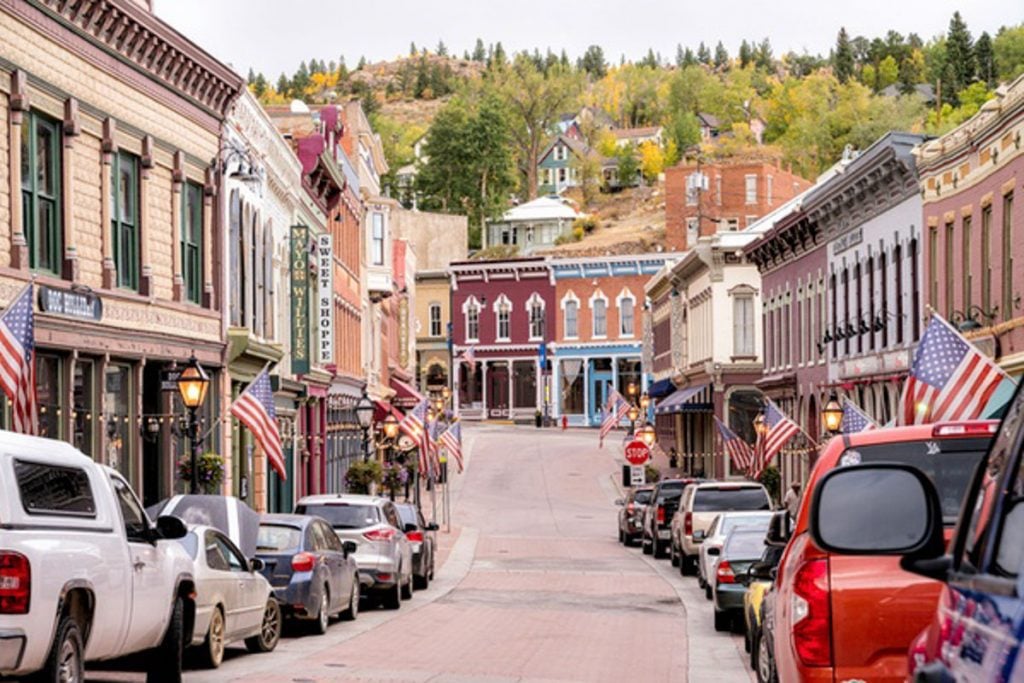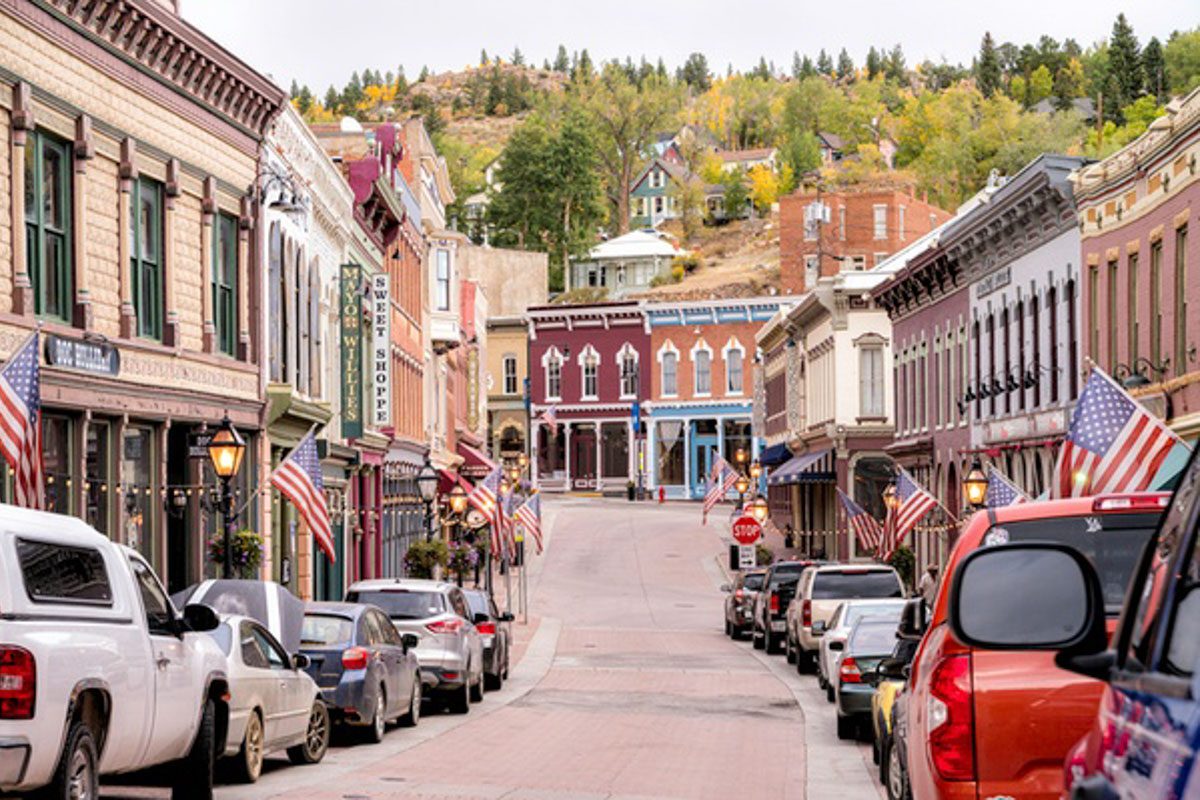 At a glance: With a town motto of Life is Better Up Here, you'll want to pay a visit to find out why
Distance from Denver: 25 miles; 1 hour driving time
Nederland is a picturesque little mountain town with a vivid history; it began as a trading post between the European settlers and Ute Indians. It is known for its flourishing indie music scene, microbreweries and—of course—stunning mountain scenery.

The nature in Nederland (sometimes nicknamed 'Ned') is stunning and the downtown is lined with restaurants and boutiques. In fact, most of the shops are local and you won't find any chain stores in this area.
Located about an hour outside of Denver, just north of Boulder, you could easily combine these two stops together as you arrange your day trip plans.
Top things to do in Nederland
18. Summit County in the summertime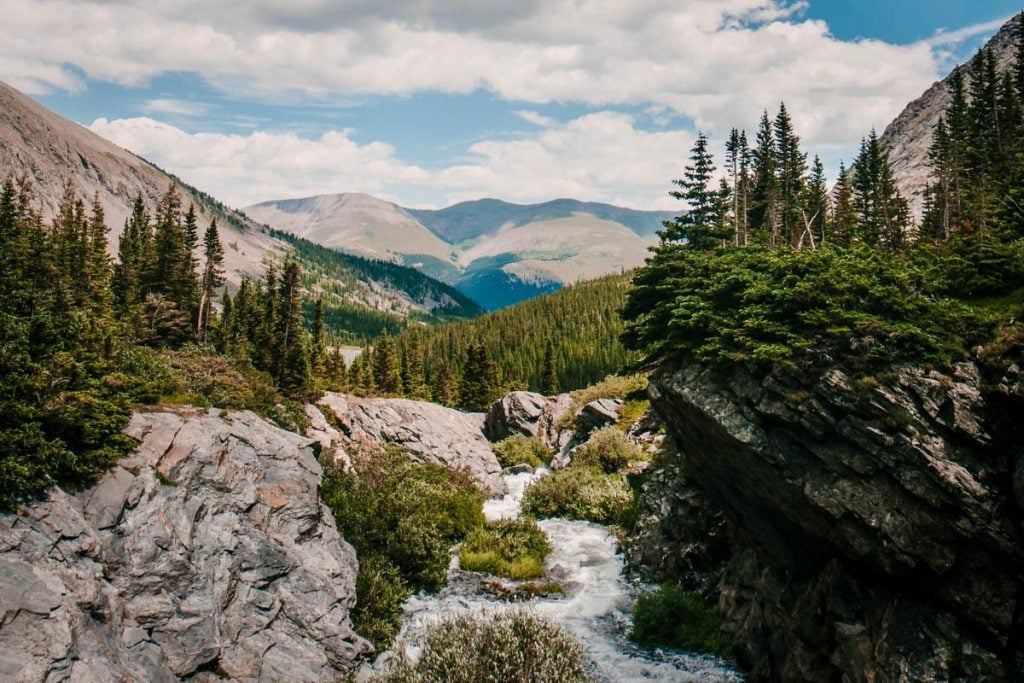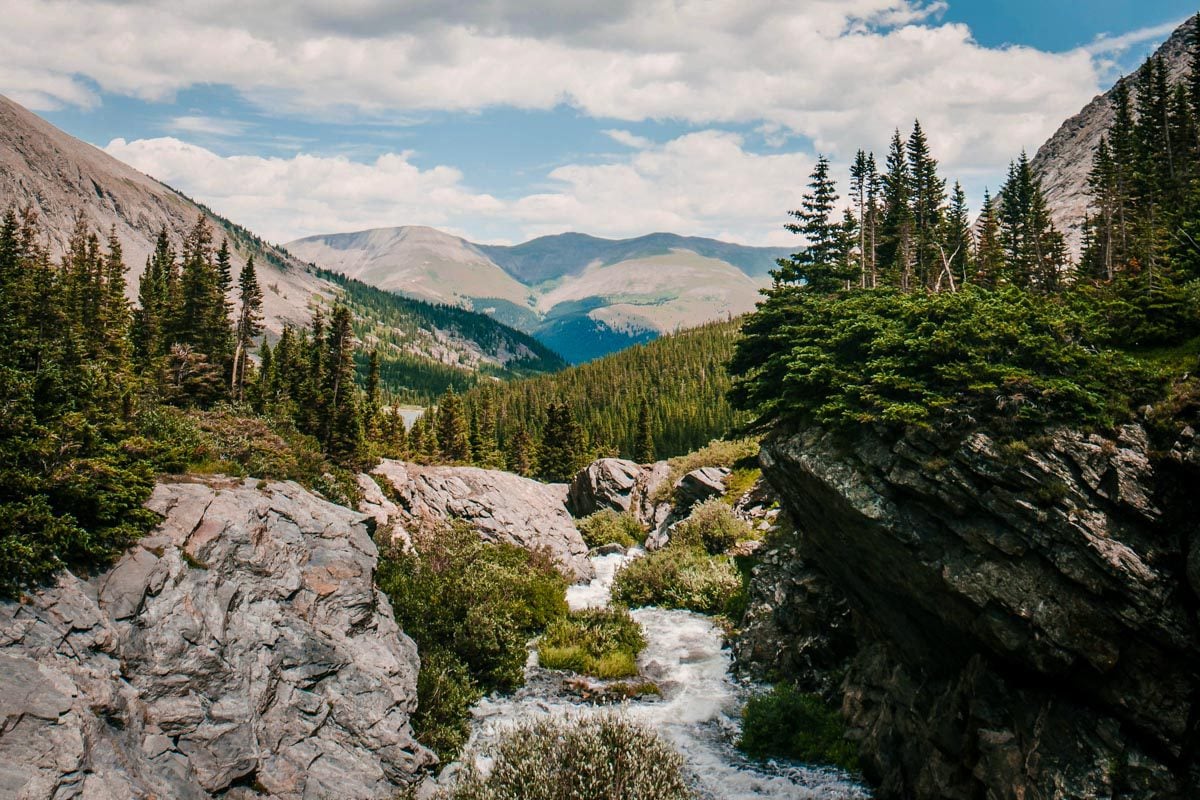 At a glance: Coined as Colorado's Playground, Summit Country is full of world-class ski resorts and outdoor recreational hotspots
Distance from Denver: 73 miles; 1 hour 30 minutes driving time
If you're looking to escape the flurry of city life, Summit County is less than 2 hours from the city by car and is easily one of the best day trips from Denver.

The area covers some of the most popular ski towns in Colorado such as Copper Mountain, Keystone and Breckenridge. And while hitting the slopes is certainly a wonderful day-trip activity, Summit County is also a great place to visit in the summer months for all kinds of outdoor activities like biking and hiking.
Top things to do in Summit County in the summertime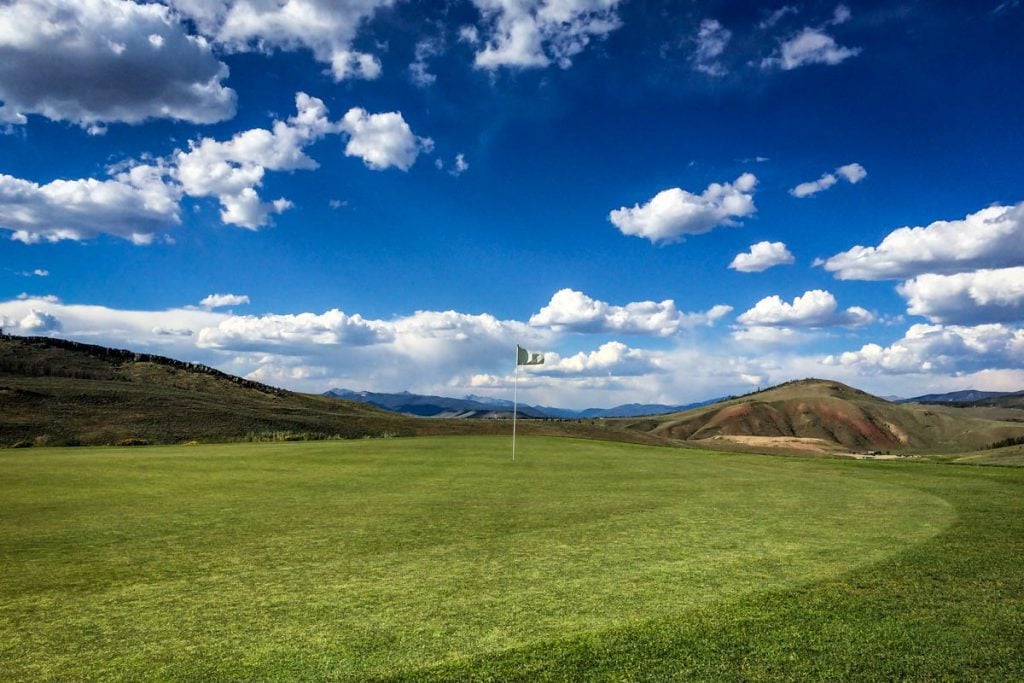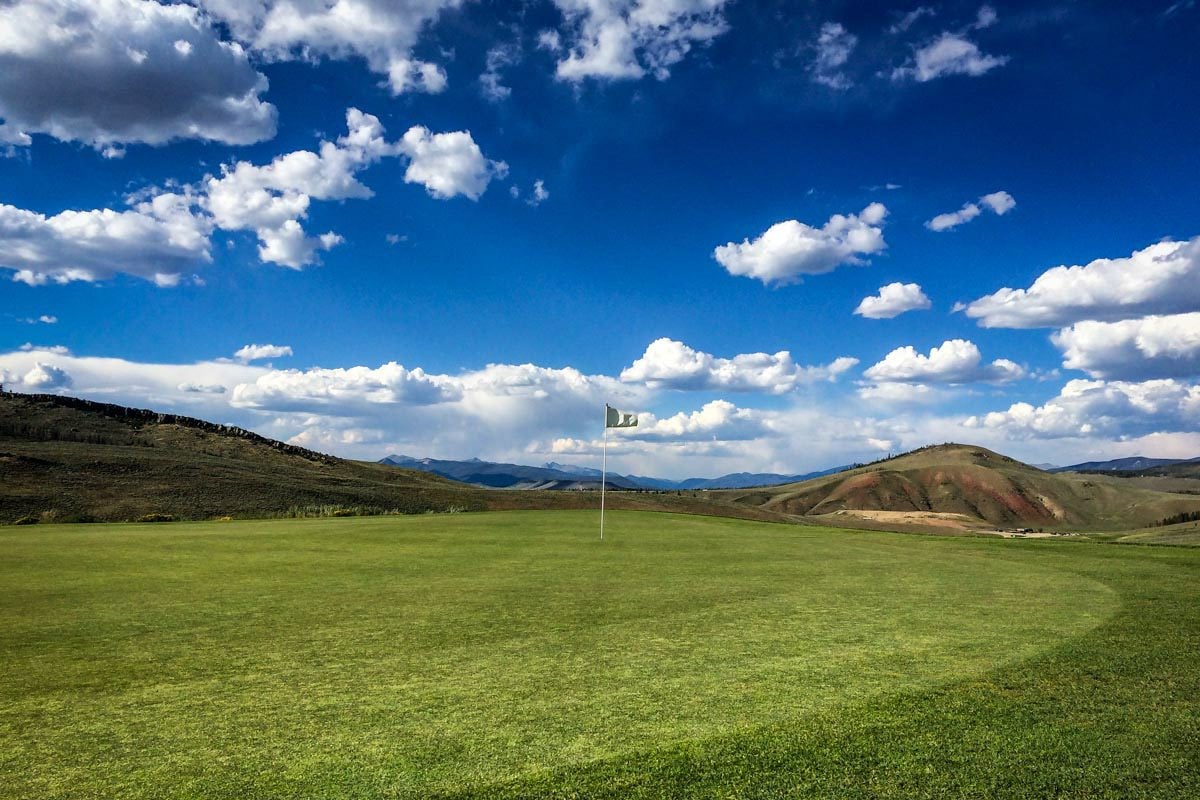 Mountain biking: Keystone & Breakenridge are two ski resorts that also provide some pretty gnarly bike trails.

Mountain View Sports even offers a 'Ride the Pass' trip where they drop you off at the top of Vail Pass and you descend through gorgeous vistas and paved roads. There are multiple levels for this tour, too, so you don't have to be an experienced mountain biker to participate!
If you want to bike on your own, try Summit County Bike Path (easy) or Black Power Pass (challenging).

Set up a Tee-Time: There are numerous golf courses to choose from in the county, but Keystone is especially popular.
Spend a day at Lake Dillon: This reservoir is surrounded by stunning 14-ers and it's almost impossible to run out of things to do here. Spend the day hiking, biking, fishing or windsurfing. Or simply pack a picnic and a book, toss down a blanket and just take it all in.
Take a boat cruise: Enjoy the views of the mountains straight from the Dillon reservoir by booking a boat tour. While visiting, you can take a historic tour and learn more about the area, go sailing or even plan a romantic little date on a sunset tour.
19. Idaho Springs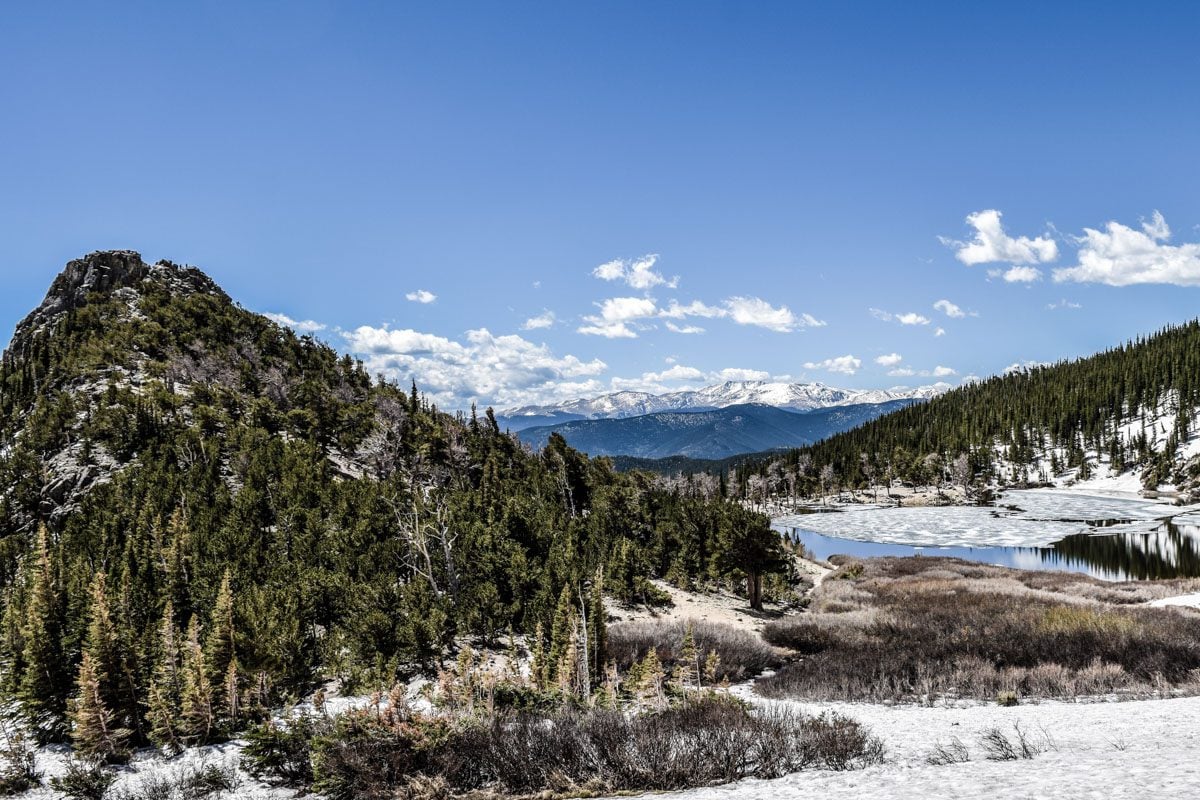 At a glance: A charming mountain town with outdoor activities, shopping and restaurants
Distance from Denver: 33.8 miles; 40 minutes driving time
If you're anything like us, you don't like spending a ton of time in your car while traveling. Idaho Springs is only 40 minutes outside of the city making it a great choice for a day trip from Denver, especially if you don't have loads of extra time to spare.

Similar to many cities surrounding Denver, Idaho Springs has a rich history in the mining industry. If you take a stroll downtown, you can visit many old, preserved buildings. The Phoenix Gold Mine even lets visitors try their hand at gold panning.
Due to the close proximity to the highway, it is hard to escape traffic noises in Idaho Springs. One major bonus, however, is you can always stop for a tiny visit, fill up on gas here and then travel onward to some of the more remote and quieter places.
Top things to do in Idaho Springs
Take a soak in the Indian Hot Springs. These are the closest hot springs you'll find from Denver and they are definitely with a visit. You'll have the choice to recharge in the mineral swimming pool (enclosed in a giant garden atrium), geo-thermal caves or rent a private bath; all surrounded by lush scenery.
Whitewater rafting: If you're visiting in the summer, go white water rafting with Clear Creek Rafting Company. Check out #11 on this list for more details.
Hike St. Mary's Glacier which takes about 2 hours round trip and begins near downtown Idaho Springs.
Take a drive to Mount Evans: You'll enjoy the landscapes of Idaho Springs on your drive and have plenty of opportunities to stop for photos and snacks along the way. See #9 on this list.
Go window shopping in downtown Idaho Springs
20. Cheyenne, WY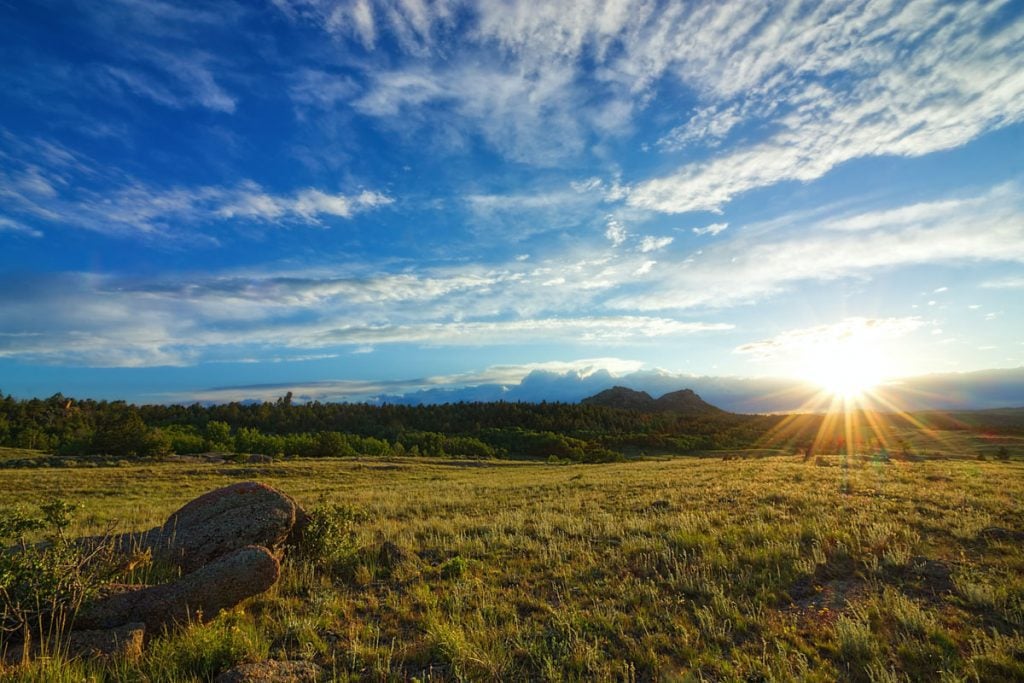 At a glance: Get a taste for the Wild West and cowboy culture in the capital of Wyoming
Distance from Denver: 113 miles; 2 hours driving time
In just two hours, you can easily pop up to Wyoming for a quick day trip from Denver. Leave it to Cheyanne to fully immerse you in that classic Wild Wild West culture. In this capital city, there is an abundance of historical and cultural attractions, restaurants and outdoor activities.
While Cheyanne is a large and busy city, it also appeals to nature lovers with its famous botanical gardens and Curt Gowdy state park.

In our opinion, there are cooler places to visit from Denver, but if you're in the area or it works with your travel plans, Cheyenne still offers some lovely things to do.
Top things to do in Cheyenne, WY
Attend the rodeo: Each summer the capitol of Wyoming hosts Cheyenne Frontier Days, a 9-day long outdoor rodeo and western celebration. If you're traveling to Denver during this time, it would make a fun trip to check out the rodeo!
Visit the Cheyanne Botanical Gardens where you can explore three stories of tropical foliage all-year round.
Enjoy a surplus of outdoor activities at Curt Gowdy State Park. You'll definitely forget you're a few miles from the city-center as you explore the reservoirs or try the Crow Creek Trail.
Roam the streets of downtown Cheyanne and take a self-guided tour to learn some of the history of the city. While you're there, check out many restaurant options available.
Go to a museum—there are loads! The Frontier Days Old West Museum or Wyoming State Museum are two great choices.
21. Hanging Lake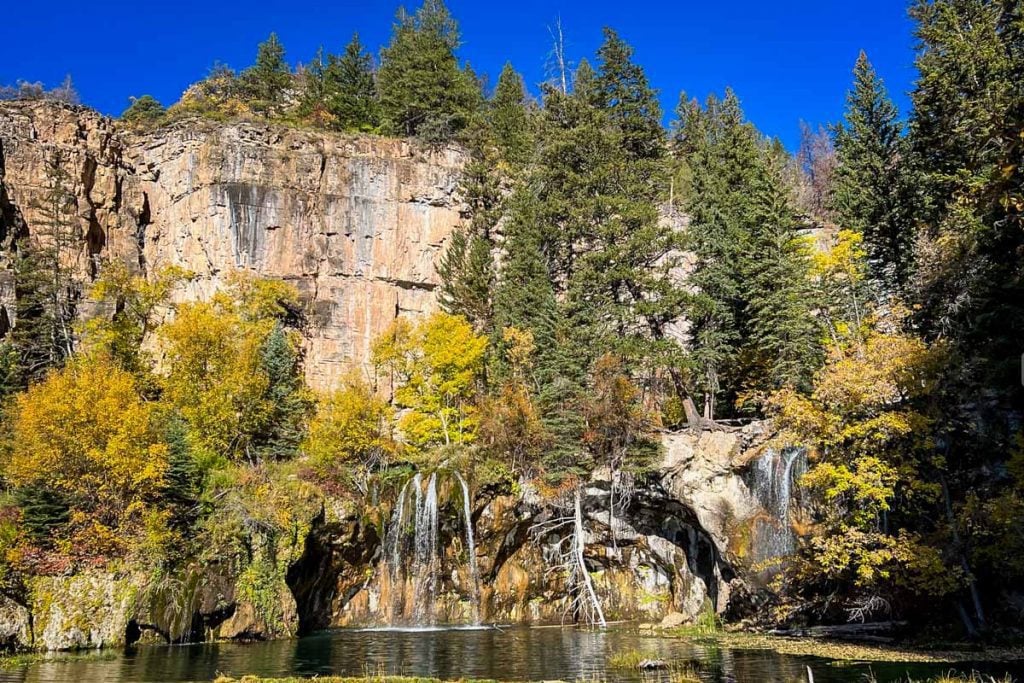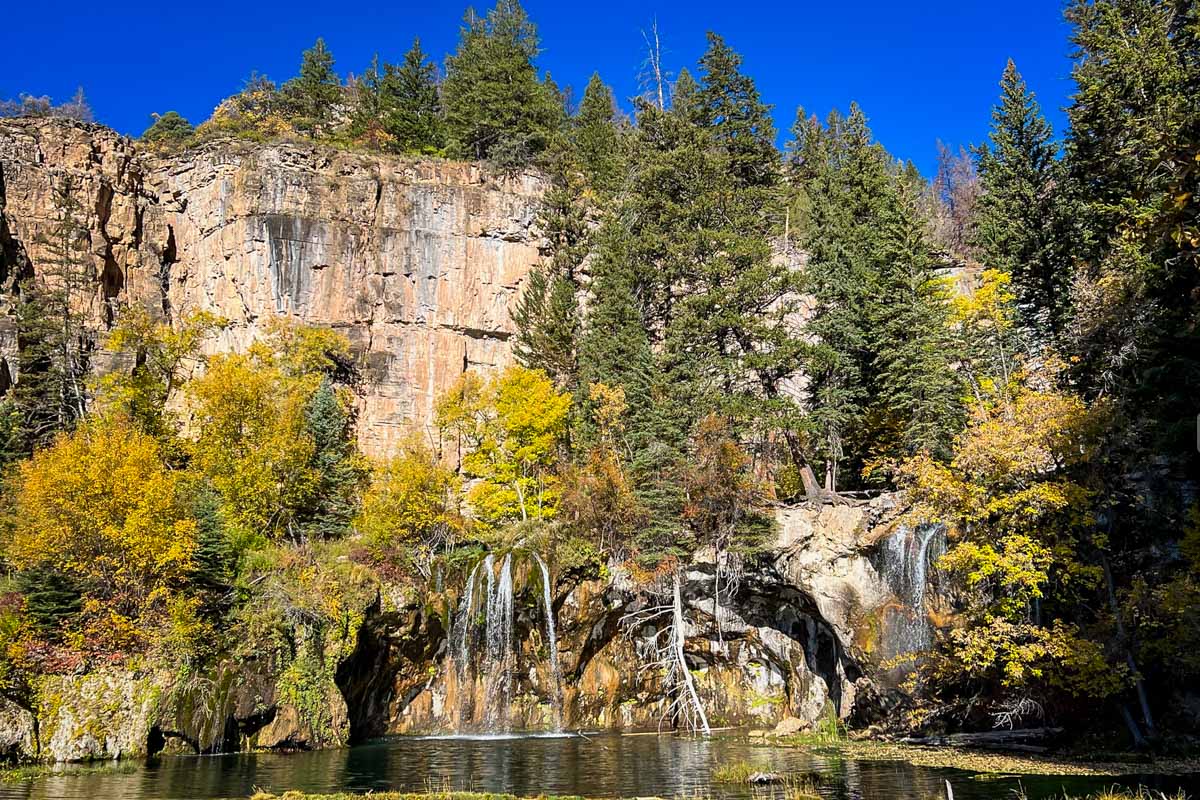 At a glance: A pristine, jaw-dropping waterfall-fed lake that requires a hike in
Distance from Denver: 156 miles; 2 hours 30 minute driving time
Hanging Lake is considered a National Natural Landmark; it is a true gem located in the White River National Forest. With captivating views and tranquil waterfalls, this is an absolutely perfect way to spend a day trip from Denver.
The hike is short, but can be quite steep in places. In addition, as of 2021, you do need a permit to hike here so be sure to plan a little ahead of time to account for this.
Hanging Lake hike
Distance: 3 miles, out and back
Elevation: 1,187 feet
Difficulty Rating: moderate

This is a really cool hike in all 4 seasons; in fact, the frozen lake is quite the draw (just check out our cover photo!). Always be mindful when hiking in winter, however, as the trail can be icy and you might consider using microspikes.
Following the hike, we highly recommend a soak at Iron Mountain Hot Springs. There are over 15 pools to choose from and because it is open late (until 10 p.m.), you can really take your time to enjoy.
---
Planning a trip out west?
We have TONS of resources on travel in the US and how to make the most out of your trip. Check out our Ultimate USA Travel Guide for everything you need to know, or read some of our favorite articles below.
Save this article for later on Pinterest!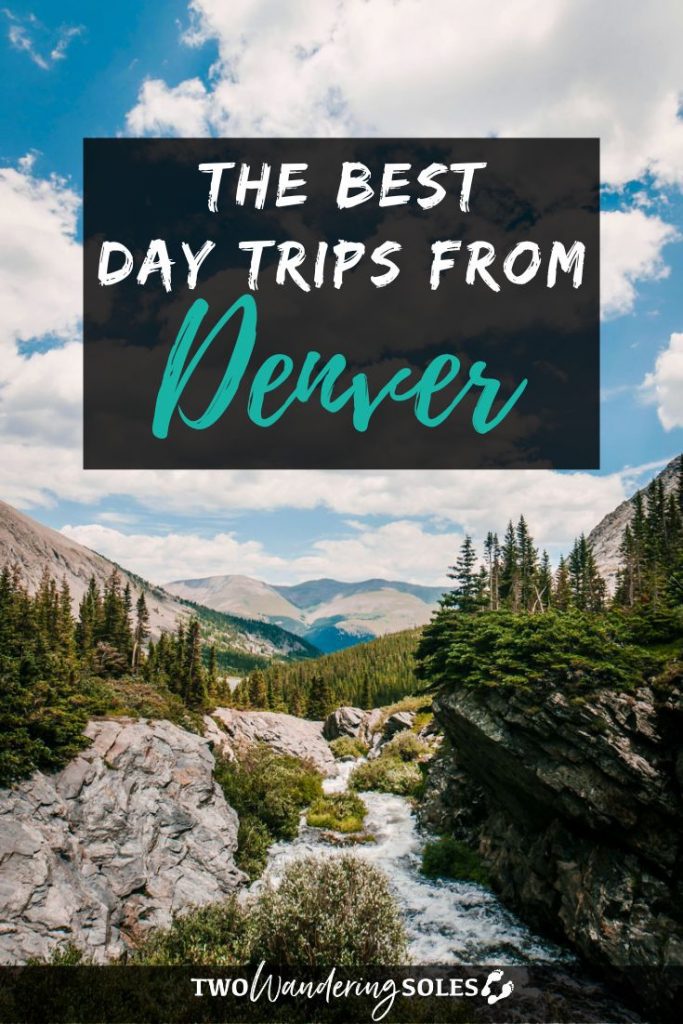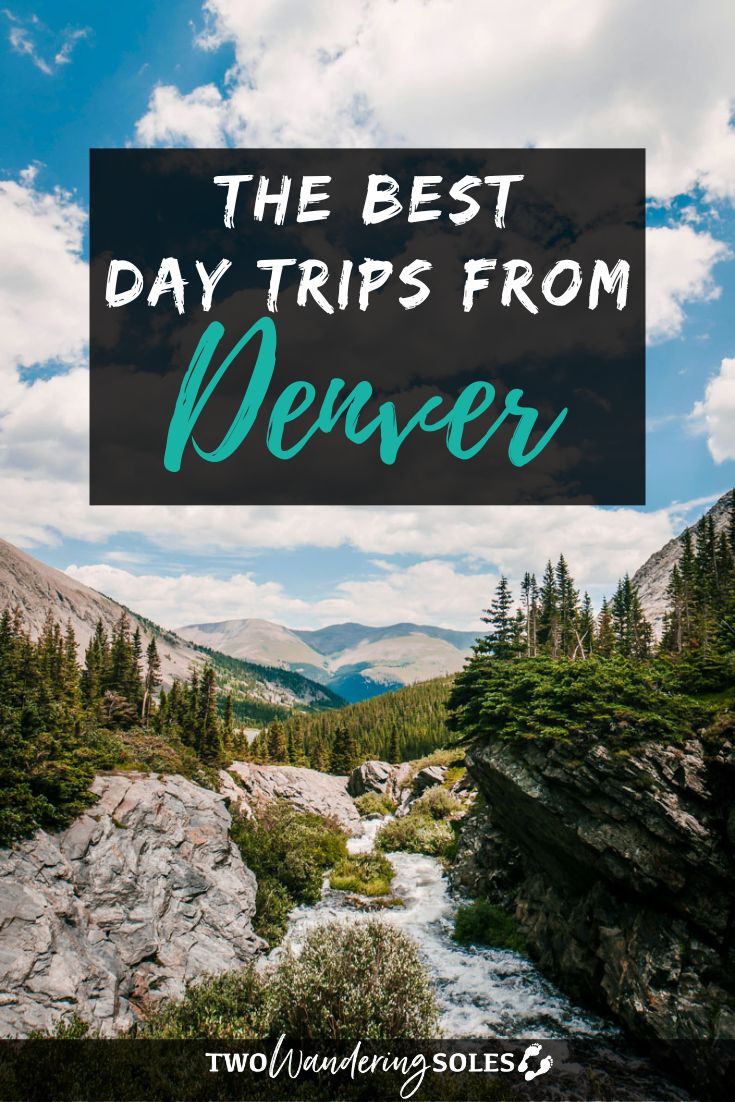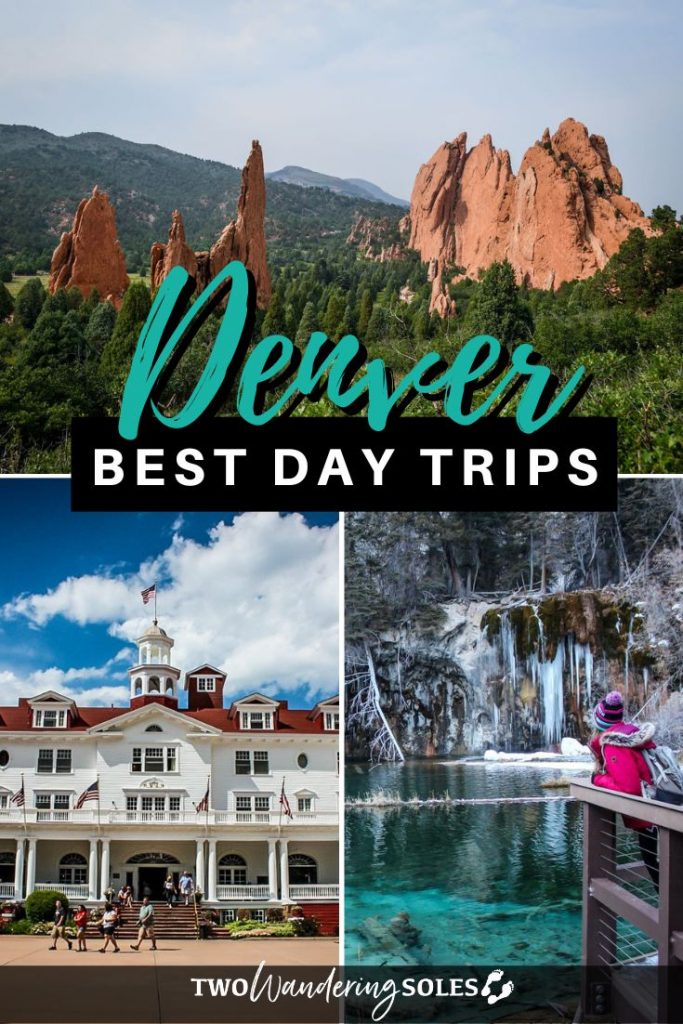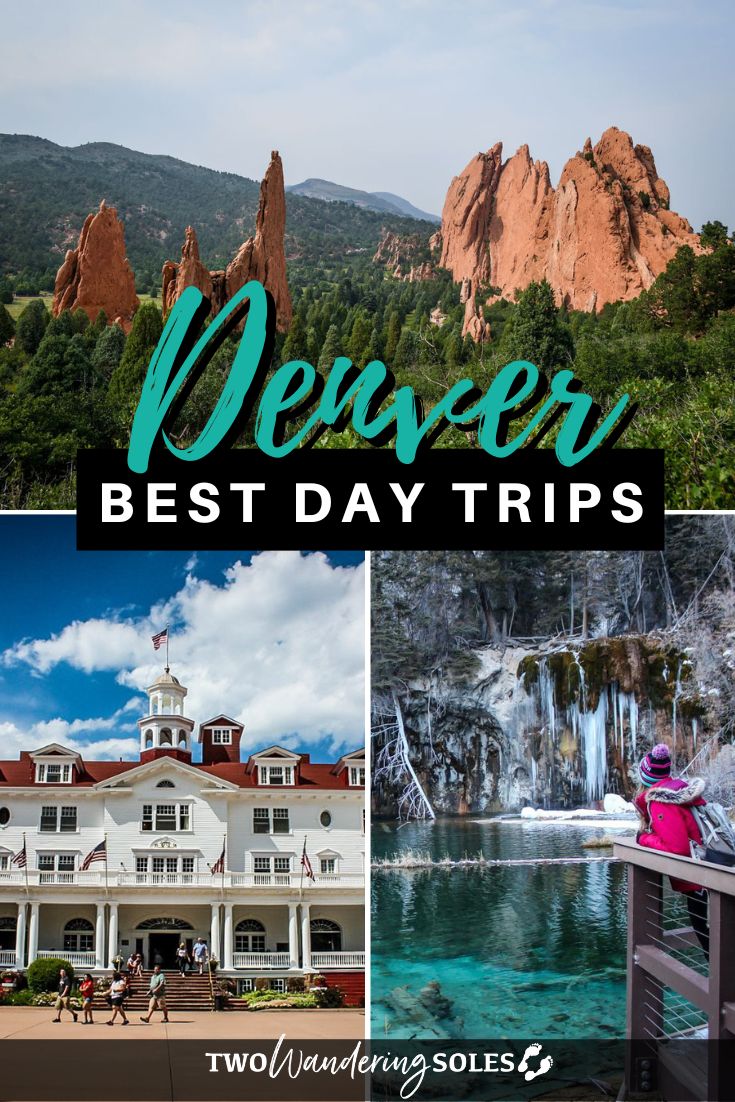 We want to hear from you!
Have questions about planning any of these day trips from Denver? Anything you think we missed? Let us know in the comments below and we'll do our best to get back to you!