One of our favorite cities in Thailand, Chiang Mai makes a great place to visit or base yourself as a digital nomad. If you're planning a trip and wondering where to stay in Chiang Mai, this guide will go over the different neighborhoods and what you can expect in each, plus recommended stays for every budget.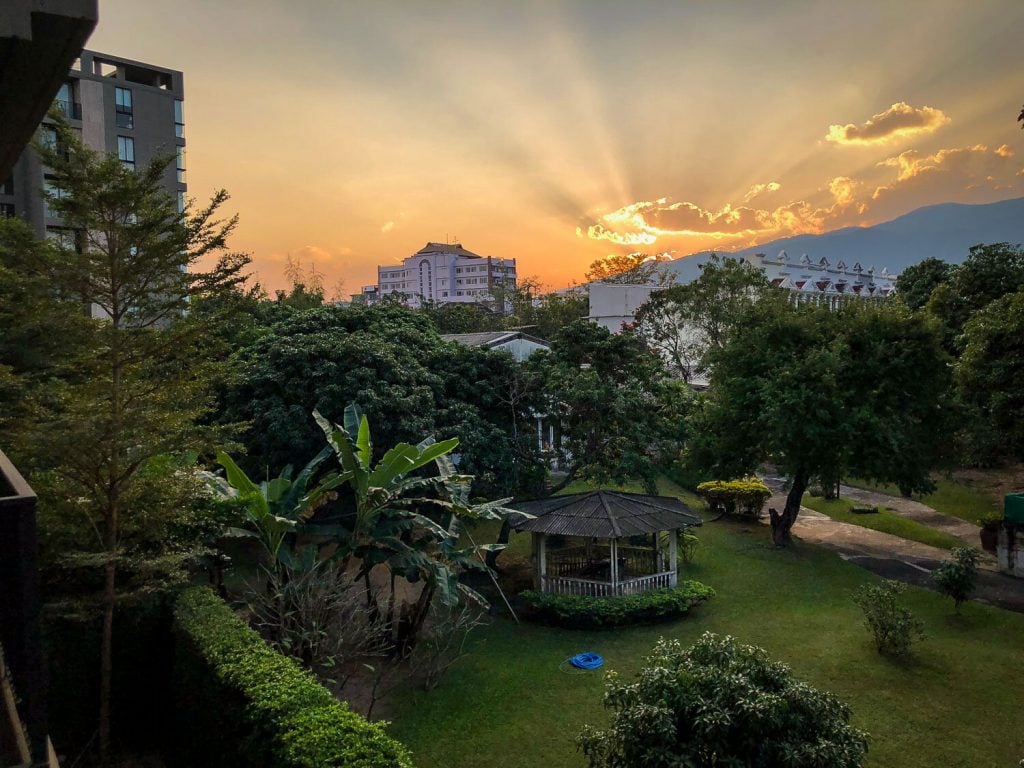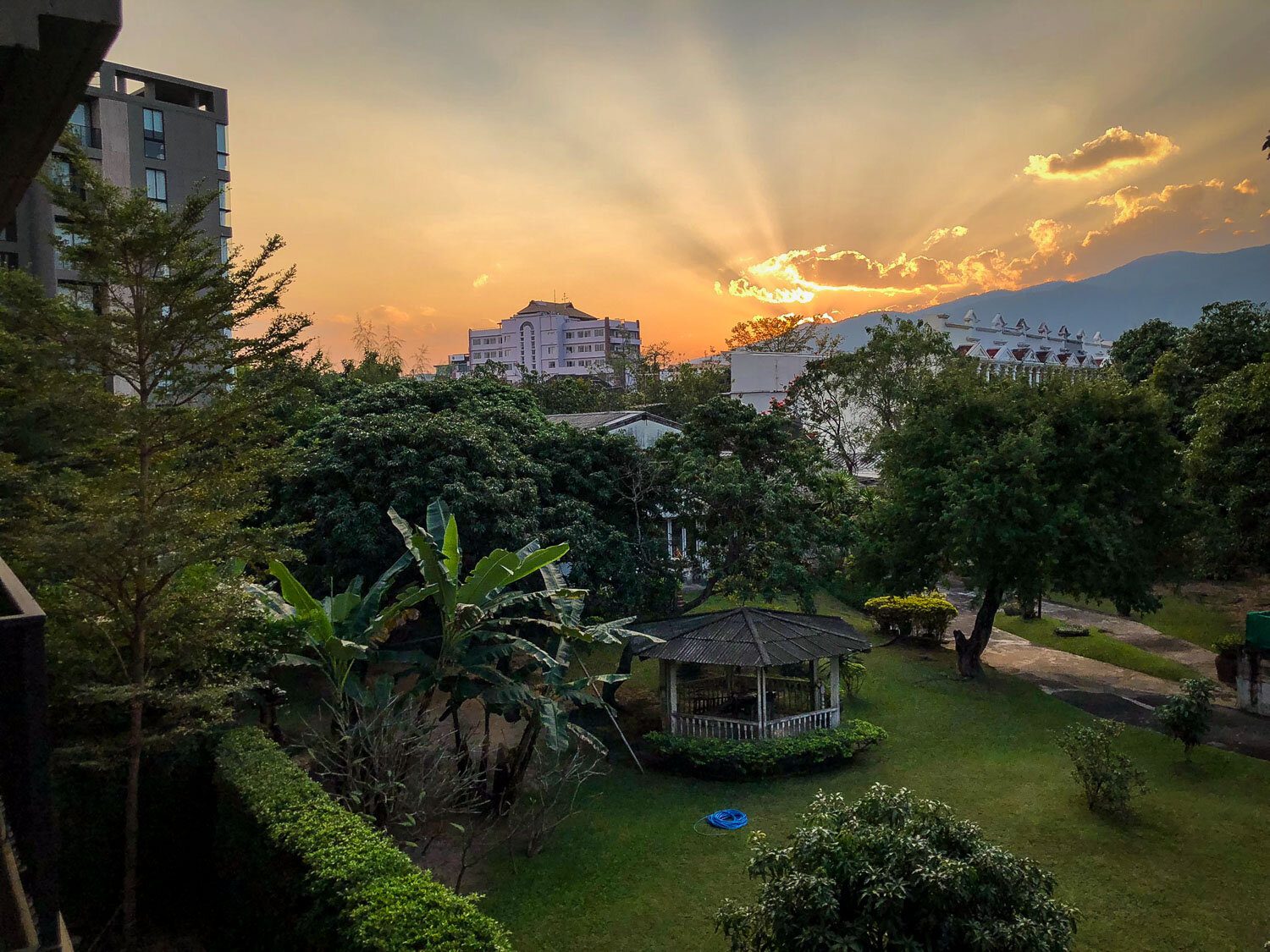 Chiang Mai is one of our favorite cities in the world, and cumulatively over the years, we've spent more than a year living there.
Not only is Chiang Mai a fun city to visit on a trip to Thailand, but it is also one of the best cities for digital nomads.
With a strong sense of culture, an incredible food scene, vivid history and all the modern comforts you could ask for, Chiang Mai is a beautiful blend of old and new.
And with mountains and jungle to explore, as well as cute, air-conditioned cafes to work from, Chiang Mai speaks to all different travelers and nomads. Whether you're staying for a few days or a few months, we think you'll love this city.
In this guide to where to stay in Chiang Mai, we're going to go over the different neighborhoods and what you can expect in each.
We'll share what each area is known for – from the bougie neighborhoods that are central to all the top attractions to neighborhoods that have an eclectic "hippy vibe" to those that have many co-working spaces and are popular with digital nomads, you'll get a sense of which Chiang Mai neighborhood you'll like best.
Let's dive in and explore the many areas of Chiang Mai!
Best places to stay in Chiang Mai for…
If you're looking for quick answers, here are our suggestions on where to stay in Chiang Mai for different scenarios. If you want more info and the lowdown on each neighborhood, click on the links to jump to a specific 'hood or just keep reading!
Other article contents
---
Overview of Chiang Mai Neighborhoods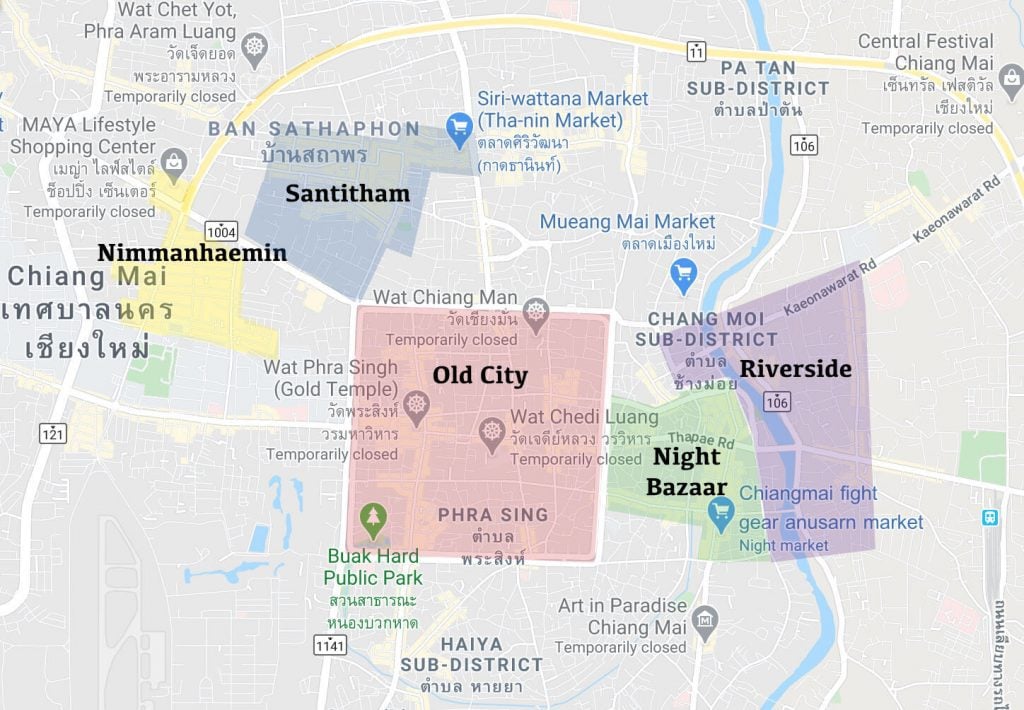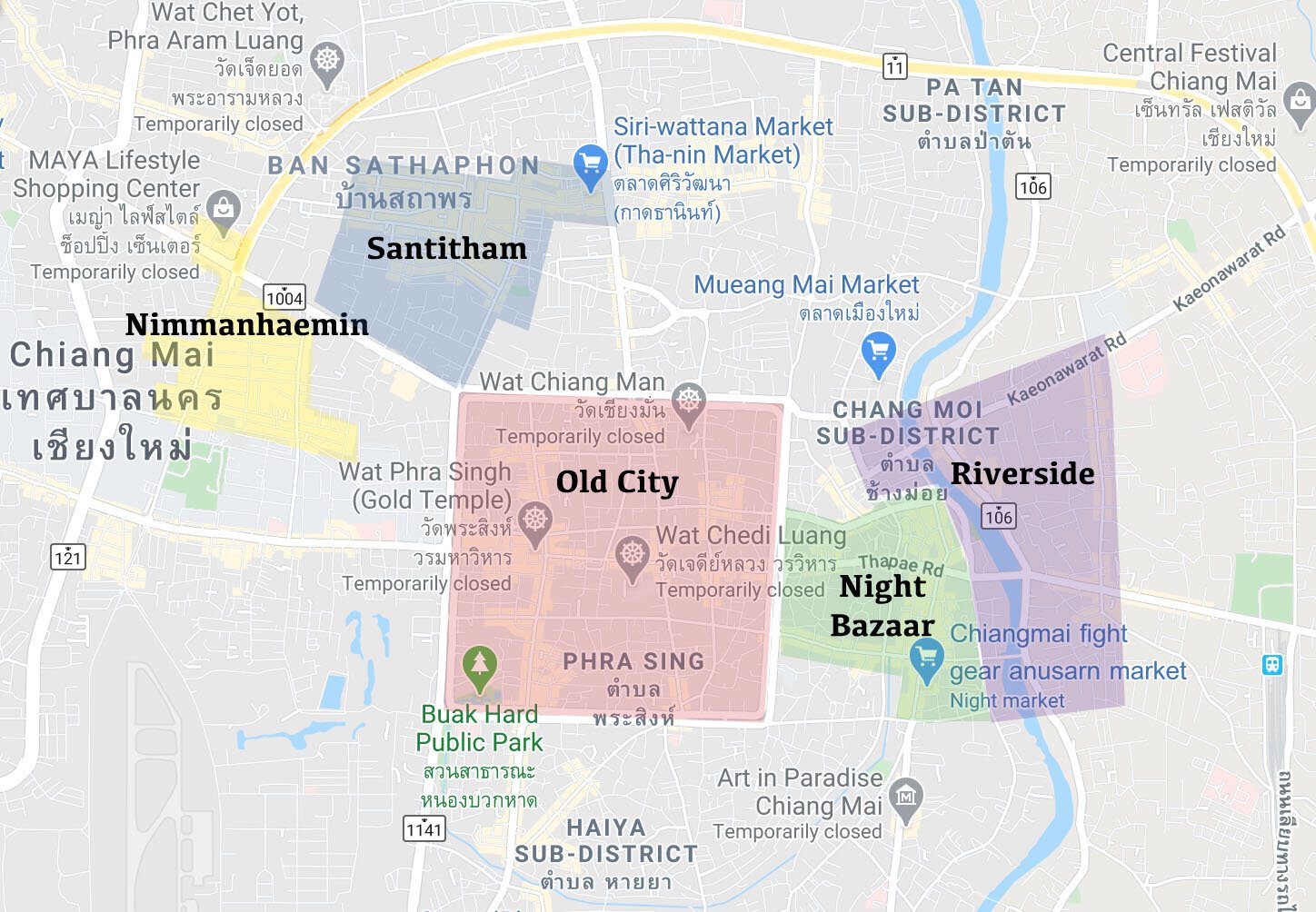 It's no secret that Chiang Mai is the best hub for exploring northern Thailand. This city is surrounded by mountains and dotted with ancient temples giving it a rare combination of adventure, nature, culture, history, food, and modern comforts.
While the province of Chiang Mai is quite large, the downtown area of the city can easily be covered by motorbike or taxi in about 20 minutes from end to end. The main areas we recommend staying in Chiang Mai can be separated into 5 general neighborhoods as shown on the map above.
Nimmanhaemin: shown in yellow
Santitham: shown in blue
Old City: shown in red
Night Bazaar: shown in green
Riverside: shown in purple
You'll notice a lot of uncolored space in between and around the neighborhoods on the map. This is not to say you cannot find accommodation in these areas and be well located. We've just roughly mapped out the main recommended areas for you.
Budget Tip: It is worth noting that if you are a backpacker looking for hostels, the area just south of the Old City walls is full of highly rated hostels that are within walking distance of the Old City.
Each of the neighborhoods are pretty walkable on their own, but if you want to explore in different areas, we recommend finding other modes of transportation which we've summed up below.
Getting Around Chiang Mai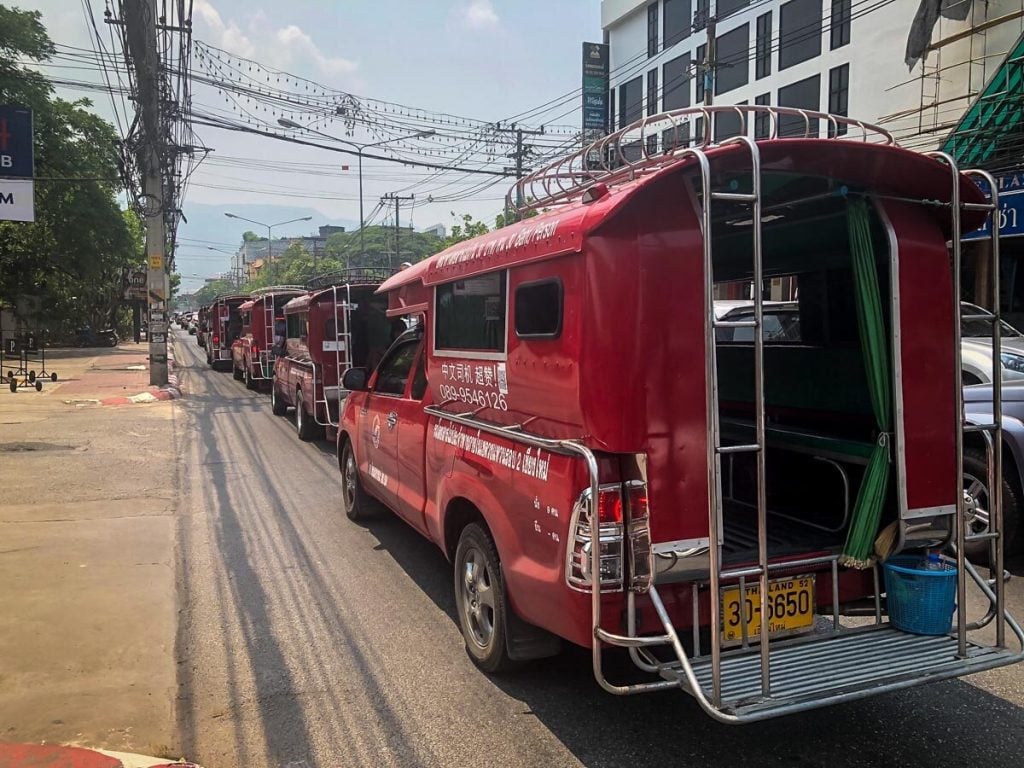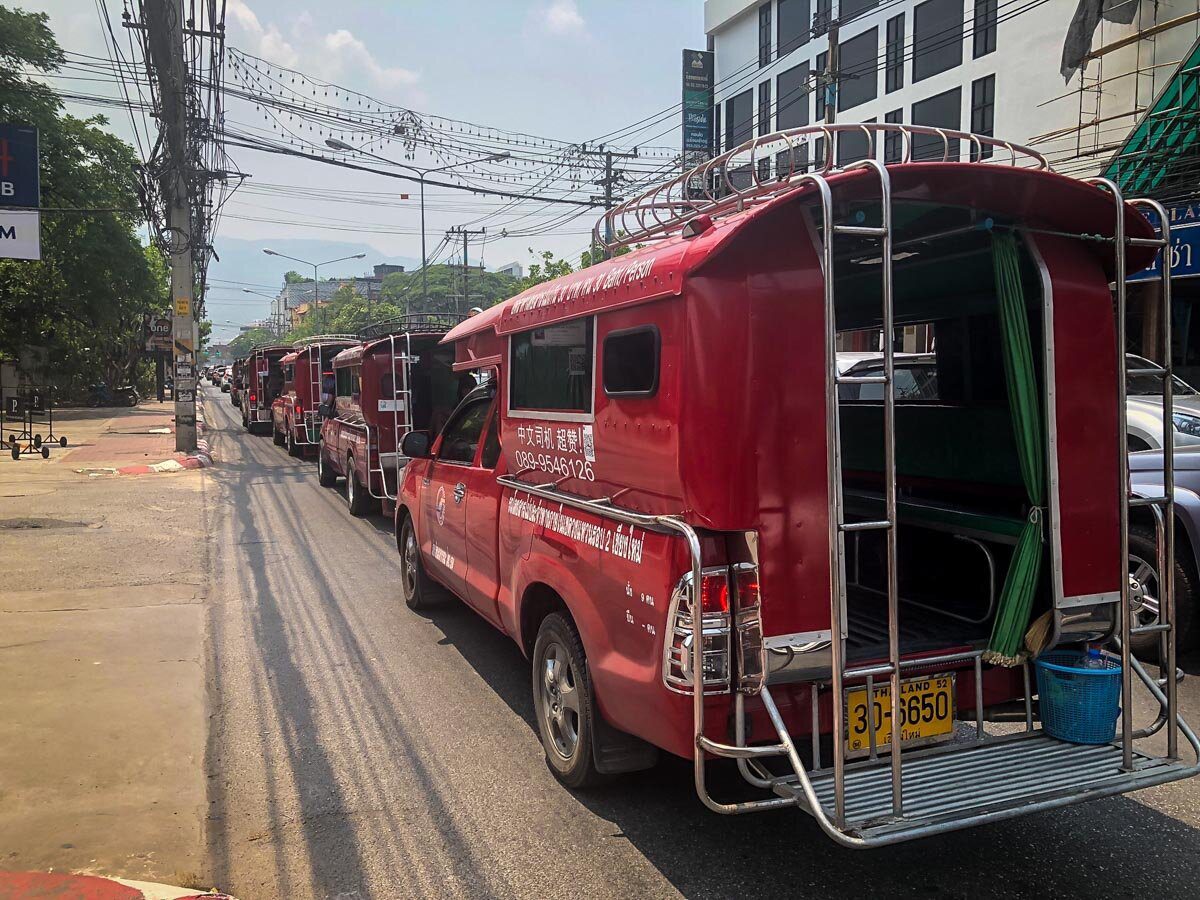 Getting around Chiang Mai is very easy due to all the different options for transportation. Here are just a few of the most common ways to get around:
Songthaew (Red Truck)
These red trucks are everywhere in Thailand and super easy to use as a shared taxi system.
Flag down the driver, and tell them where you'd like to go (sometimes it's best to use a general landmark instead of an exact address or show him directions on your Maps app). If they say yes, you can get in the back, and you'll be dropped off in the order that works best with the other customers in the truck.
In general, a ride within the city limits should cost 30 baht per person, but it can increase the further your ride or depending on the time of day.
Tuk Tuk
You can flag down a tuk tuk and negotiate the price. We've found these to be more expensive (and slower) than taking a Grab, so we wouldn't necessarily recommend taking them regularly.
Grab
Southeast Asia's version of Uber and Lyft, this ride sharing app is super handy when wanting to get to a specific place. Grab constantly has promotions going on and we have gotten across the city for 20 baht before! Typical rides around town vary from 50-100 baht.
Motorbike
We only recommend renting a motorbike if you have driven one before and are comfortable with driving in a busy city and on the left side of the road. Additionally, you should always respect the rules of the road and don't ride like an idiot to try to impress people.
Now that I've gotten that warning over with: Renting a motorbike can be one of the cheapest ways to get around and explore the outskirts of Chiang Mai. Rentals start at around 250 – 300 baht per day. You'll need to leave your passport at the rental shop for collateral.
And please, please, PLEASE… where a proper helmet (with wind-guard and facemask). It's worth the extra 50 baht ($1.66 USD). We have seen/heard of too many travelers getting in accidents and we don't want that to be you.
MoBike Rental
This bike-sharing program is relatively new to Chiang Mai. But you'll be able to spot these orange bicycles (and some e-scooters too) around the city. Download the app, and you'll be able to see the bikes free near you as well as rent them in 30-minute intervals ($1 USD for 30 minutes).
Tip on transportation from the Chiang Mai Airport: When you arrive at the airport in Chiang Mai, there is a taxi queue, but it is overpriced. Instead, order a Grab, or wait in front of the departure doors for a songthaew to come by. From the airport to the city, it should cost around 50 baht per person.
---
Old City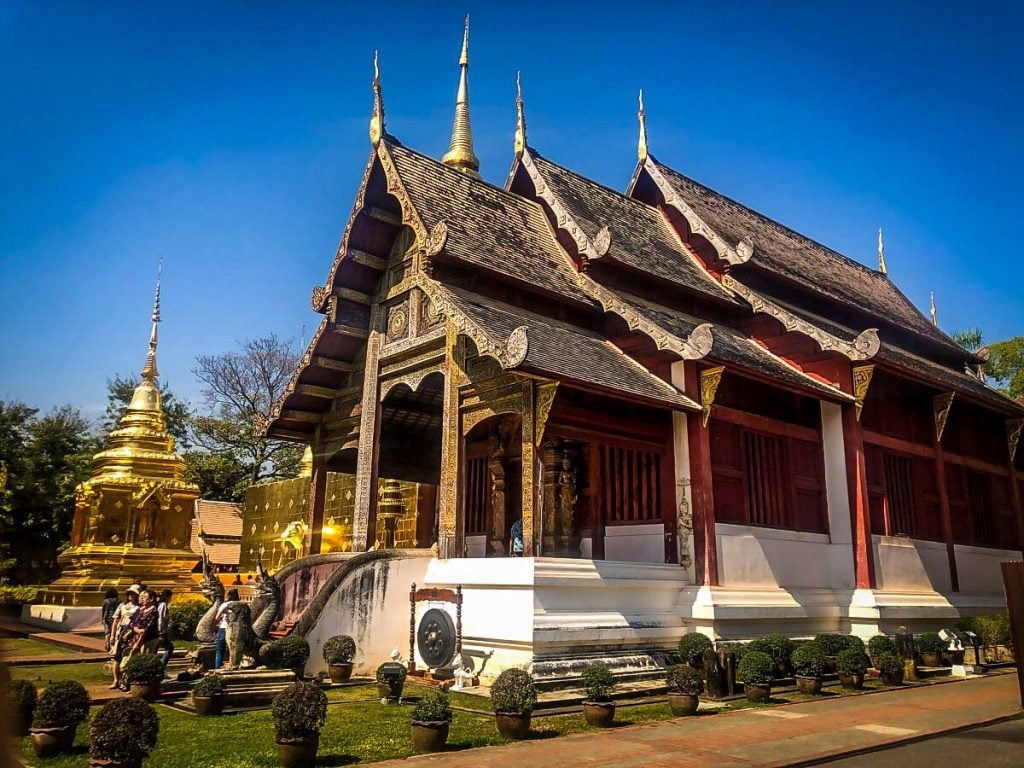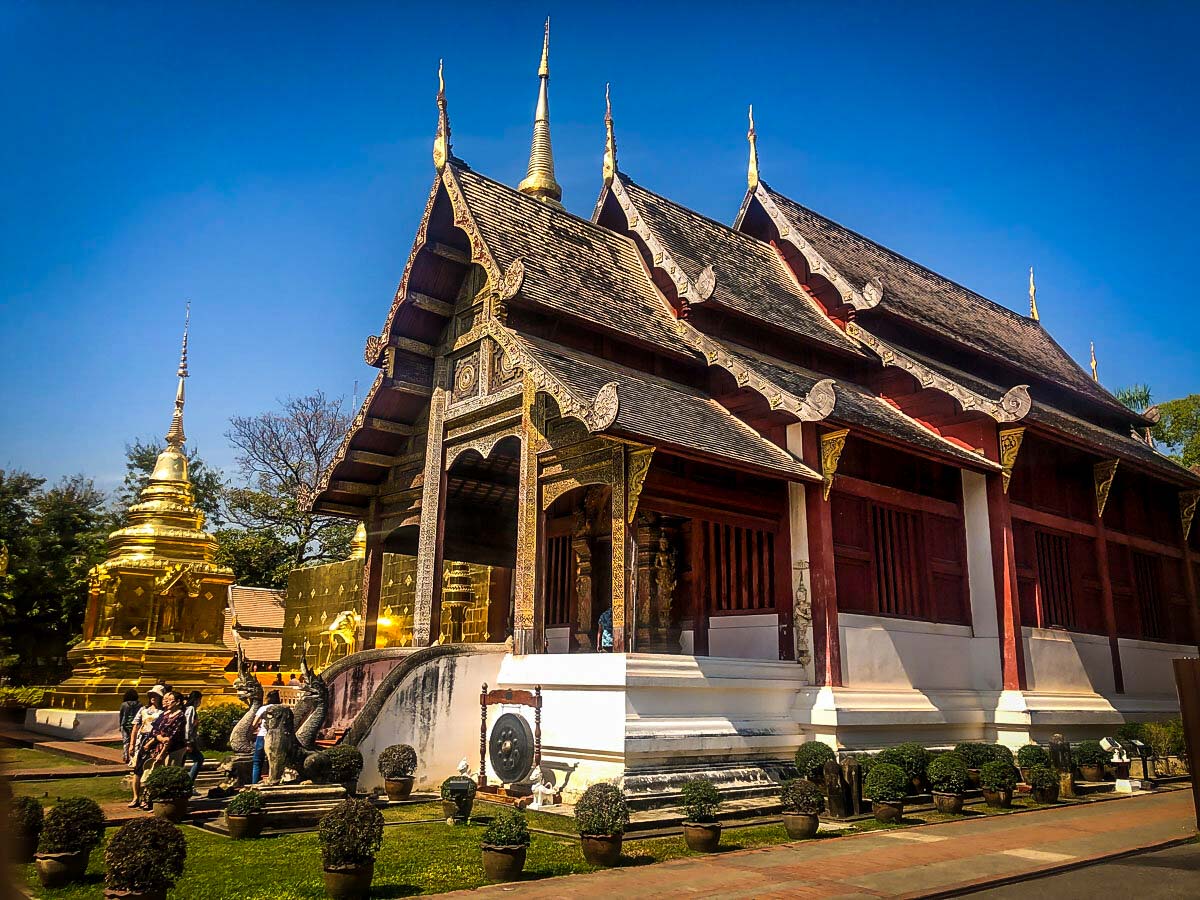 The vibrant historical center of Chiang Mai is easy to locate on a map as its crumbling 700-year-old moat-lined fortress walls create a near-perfect square in the heart of the city. Home to ancient temples, bustling markets and a plethora of guesthouses, boutique shops, and restaurants, the Old City is where you'll find all the action.
With its central location, proximity to most cultural attractions, and plenty of affordable accommodation options, the Old City has also become the backpacker's hub of Chiang Mai.
Pros and Cons
Highlights of Old City
Ancient temples such as Wat Chedi Luang, Wat Phra Sing, and Wat Chiang Man
Museums such as the Chiang Mai Historical Center, Chiang Mai Arts & Cultural Center, and the Lanna Folklife Museum
Tha Phae Gate and the fortress walls
Somboon Market
Best Budget/Backpacker Stays
Best Mid-Range/Couple Stays
New to Airbnb? Find out how we set our filters to choose the best Airbnb every time. Plus get a $55 discount code for first time users!
Best Luxury Stays
Night Bazaar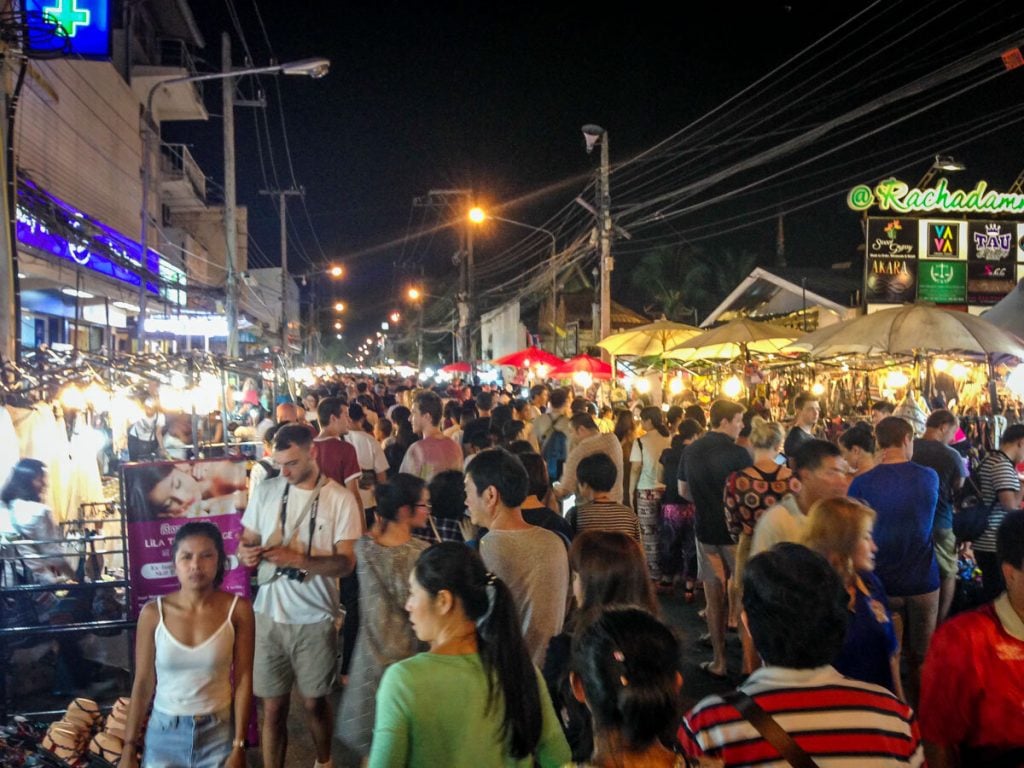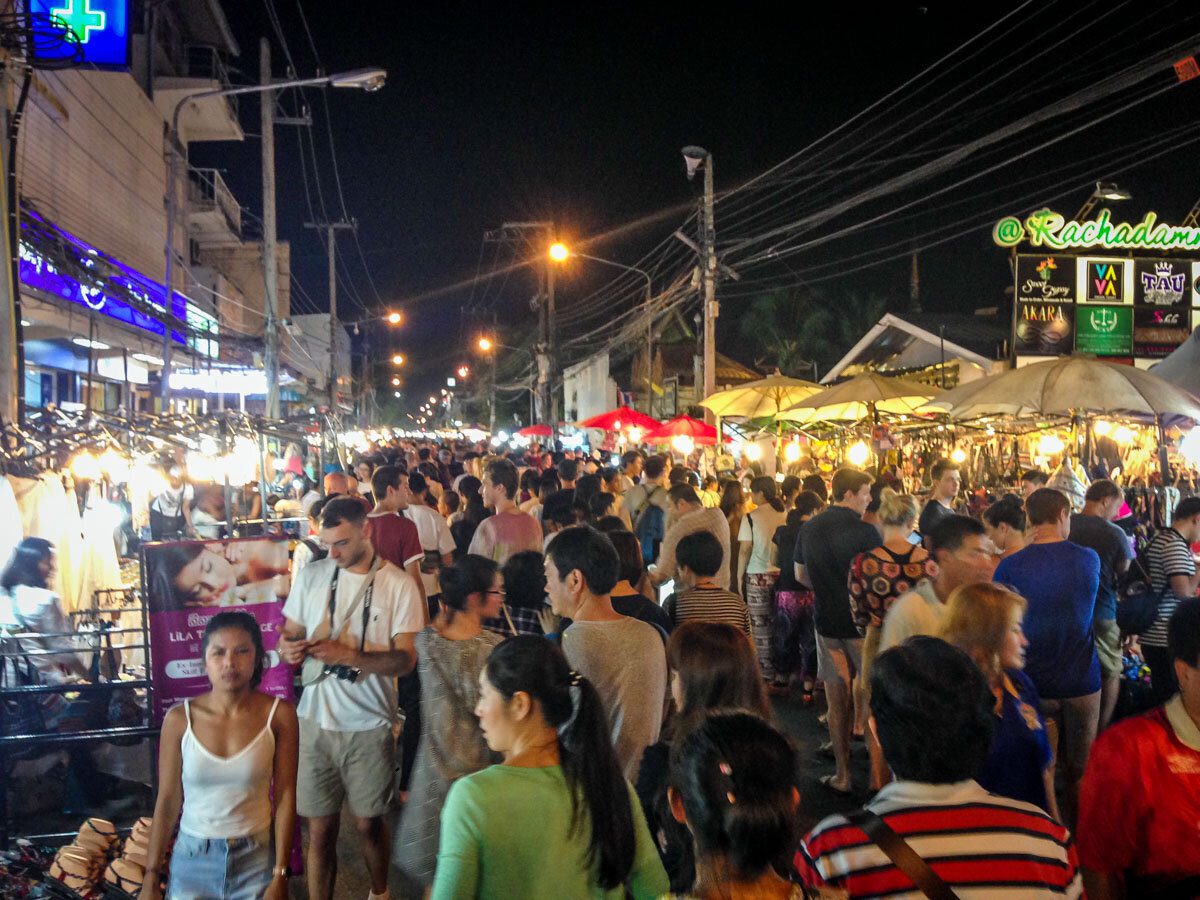 Just east of the Old City, this area is aptly named for the city's largest night market, which runs nightly, and happens to take up space in most of this neighborhood. As one of the must-do things in Chiang Mai, the convenience of staying near the Night Bazaar is reason enough for some travelers to book their accommodation here.
The centrally located neighborhood is pretty average during the day, but comes alive around 6 p.m. each night when the stalls start setting up for the night market. It is the prime neighborhood for shopping and nightlife in Chiang Mai with beer bars and late-night dance clubs all around Loi Khroh Road.
Accommodation here includes a range from budget guesthouses to luxury hotels, but you tend to see more on the pricier side than in Old City.
Pros and Cons
Highlights of the Night Bazaar Neighborhood
The Night Bazaar… duh
Nightlife highlights include: Bubbles Nightclub, Foxy Lady Go Go, O'Malleys, Boy Blues Bar
Art in Paradise: A 3D interactive art gallery
Anusarn Market
Kampangmuang Gallery and cocktail bar
Best Budget/Backpacker Stays
Best Mid-Range/Couple Stays
Best Luxury Stays
Nimmanhaemin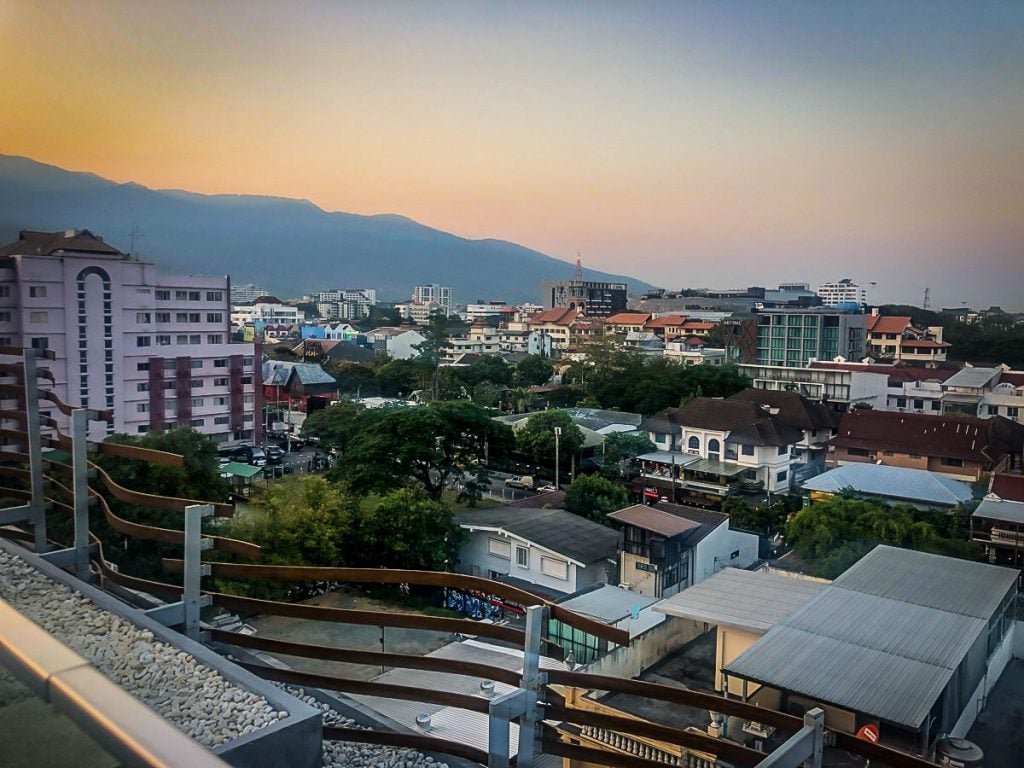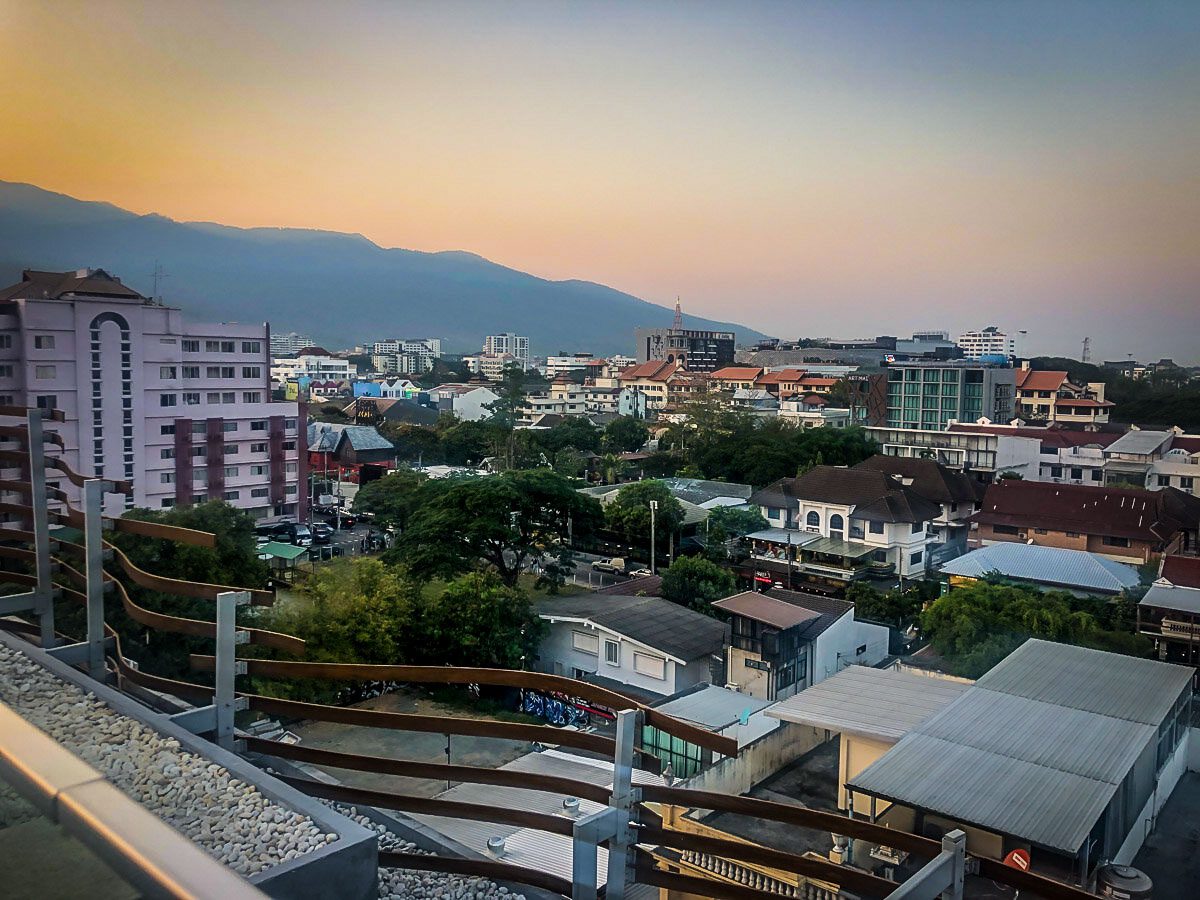 Often times shorted to just "Nimman", this neighborhood is the hip and modern area that attracts young people from the nearby University and ex-pats from all over the globe. There is a thriving avant-garde cafe culture here and you'll find digital nomads parked in front of their laptops around every corner.
You will also find trendy restaurants, shopping boutiques, and a more sophisticated nightlife scene here that includes some rooftop hotspots. Just be prepared to pay a premium for accommodation in such a trendy location… But remember it's still Thailand, so luxury doesn't come at as a high a price as other destinations such as Europe or the US.
Pros and Cons
Highlights of Nimman Neighborhood
Maya Mall Shopping Center
Lots of trendy cafes including favorites like: Rustic & Blue, Seascape, Free Bird Cafe, and Healthy B Cafe
One Nimman plaza and food market
Rooftop Bars
Best Budget/Backpacker Stays
Best Mid-Range/Couple Stays
Best Luxury Stays
Riverside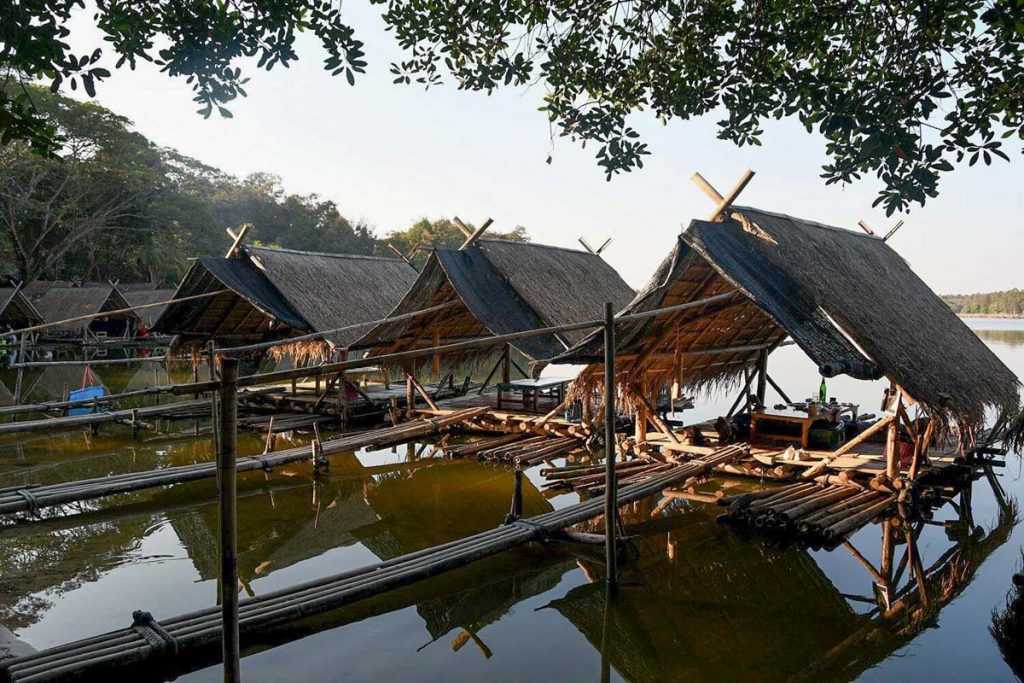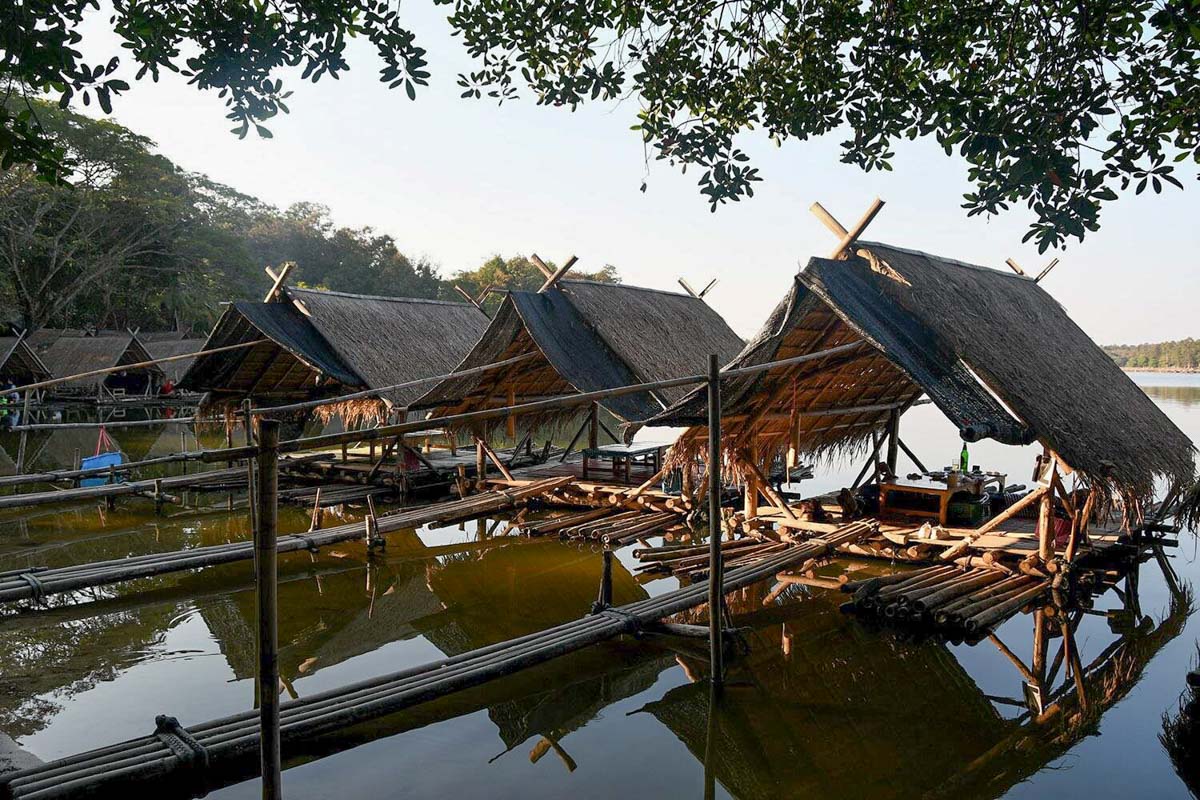 Just east of the Mae Ping River, opposite the Night Bazaar area you'll find the Riverside neighborhood. This area has a more laid back tranquil vibe, good for families and the older crowd looking for a more relaxed stay. Most hotels here are gear towards the luxury resort crowd.
There are plenty of waterside restaurants, bars and cafes here, but the real action in the city center is about a 10-minute drive away.
Pros and Cons
Highlights of Riverside Neighborhood
Ton Lamyai Flower Market
Spas & resorts
Higher-end shopping
Elephant Parade House: Learn about elephant conservation and paint a souvenir elephant to take home
Wat Ket Karam: An ancient temple from the 1400s
Best Mid-Range/Couple Stays
Best Luxury Stays
Santitham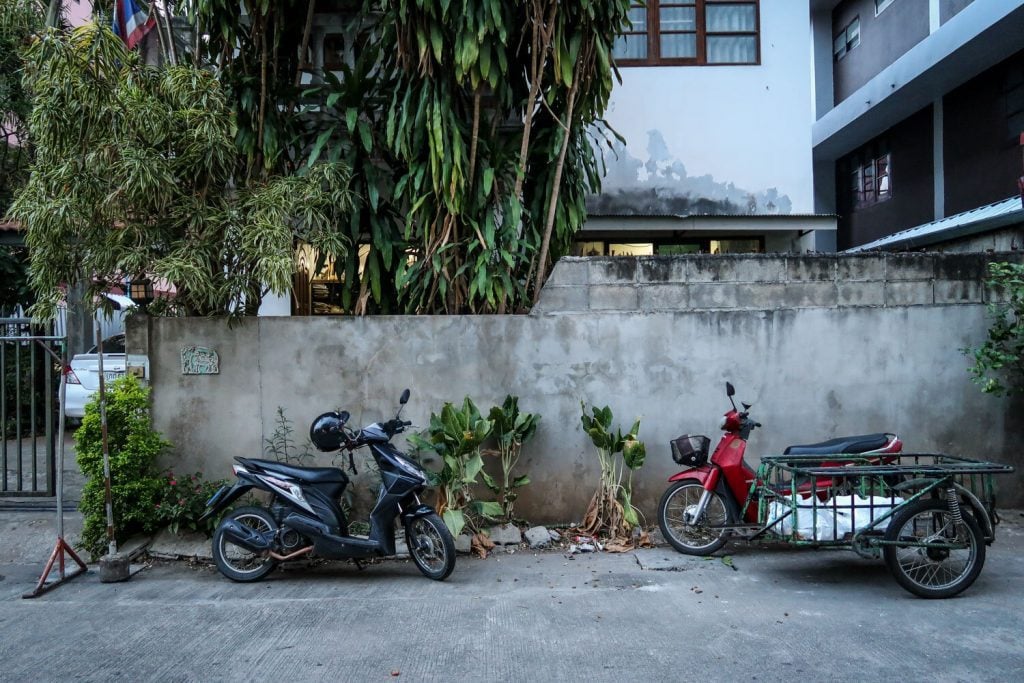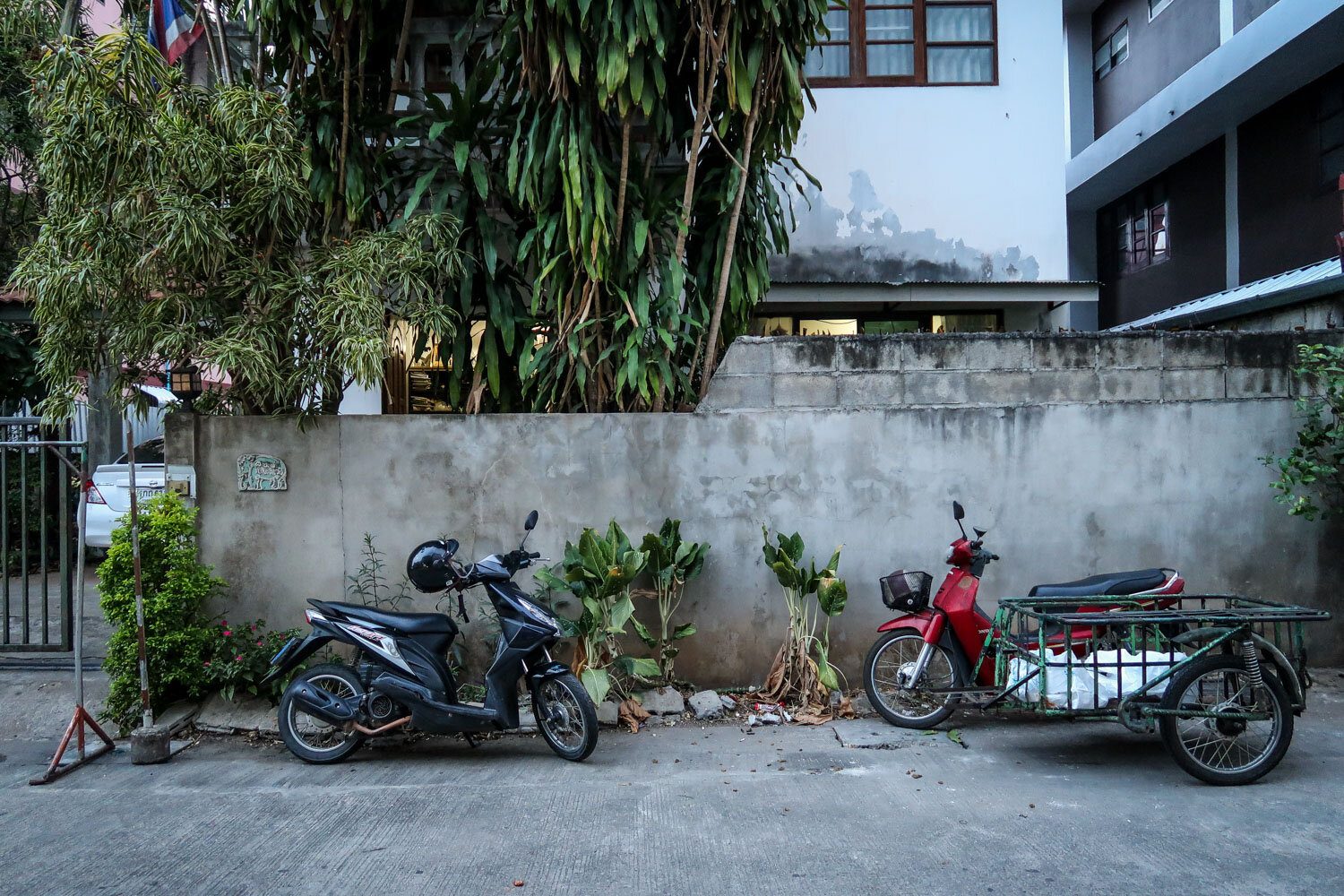 Located northeast of the Maya Mall and Nimman neighborhood is the quaint Santitham neighborhood. A good compromise if you're looking to be well located but want affordable accommodation, Santitham is an up-and-coming area filling with ex-pats and digital nomads as they spill outwards from Nimman. Here you'll find a more local experience as day-to-day life isn't yet overrun by tourism.
Pros and Cons
Highlights of Santitham Neighborhood
Khao Soy Maesai: One of the best local joints to get this Northern Thai staple
Passion Project the Cafe: A yummy western-style health food cafe where the digital nomads like to hang out
Best Budget/Backpacker Stays
Best Mid-Range/Couple Stays
Best Luxury Stays
Chiang Mai Insider Tips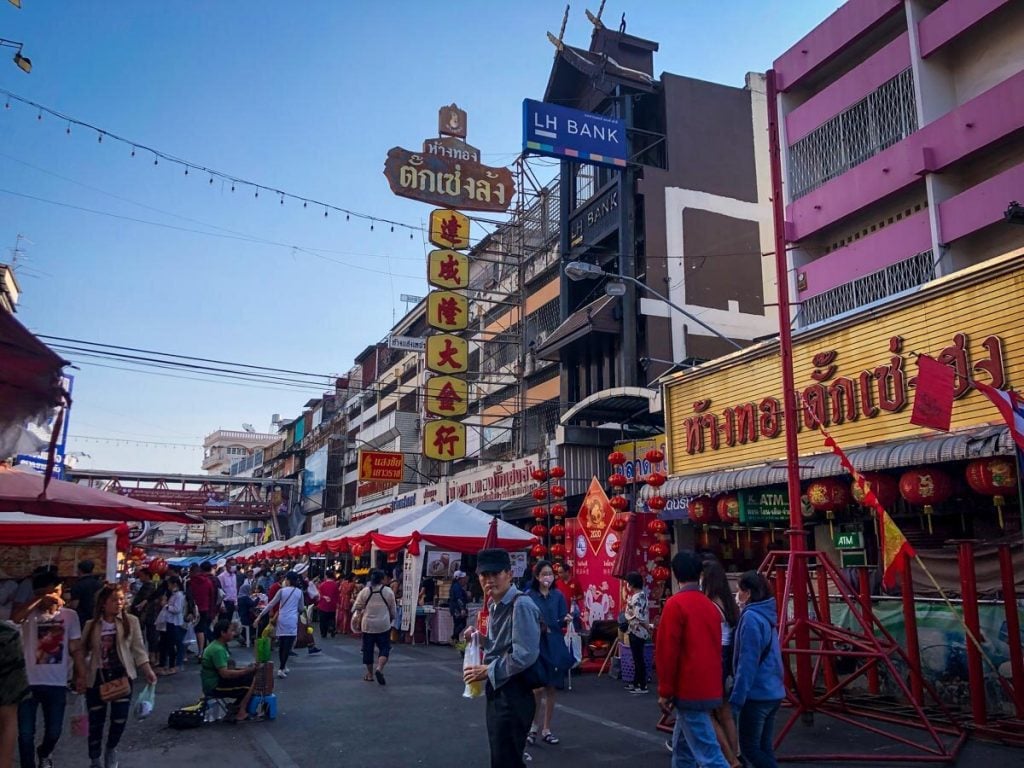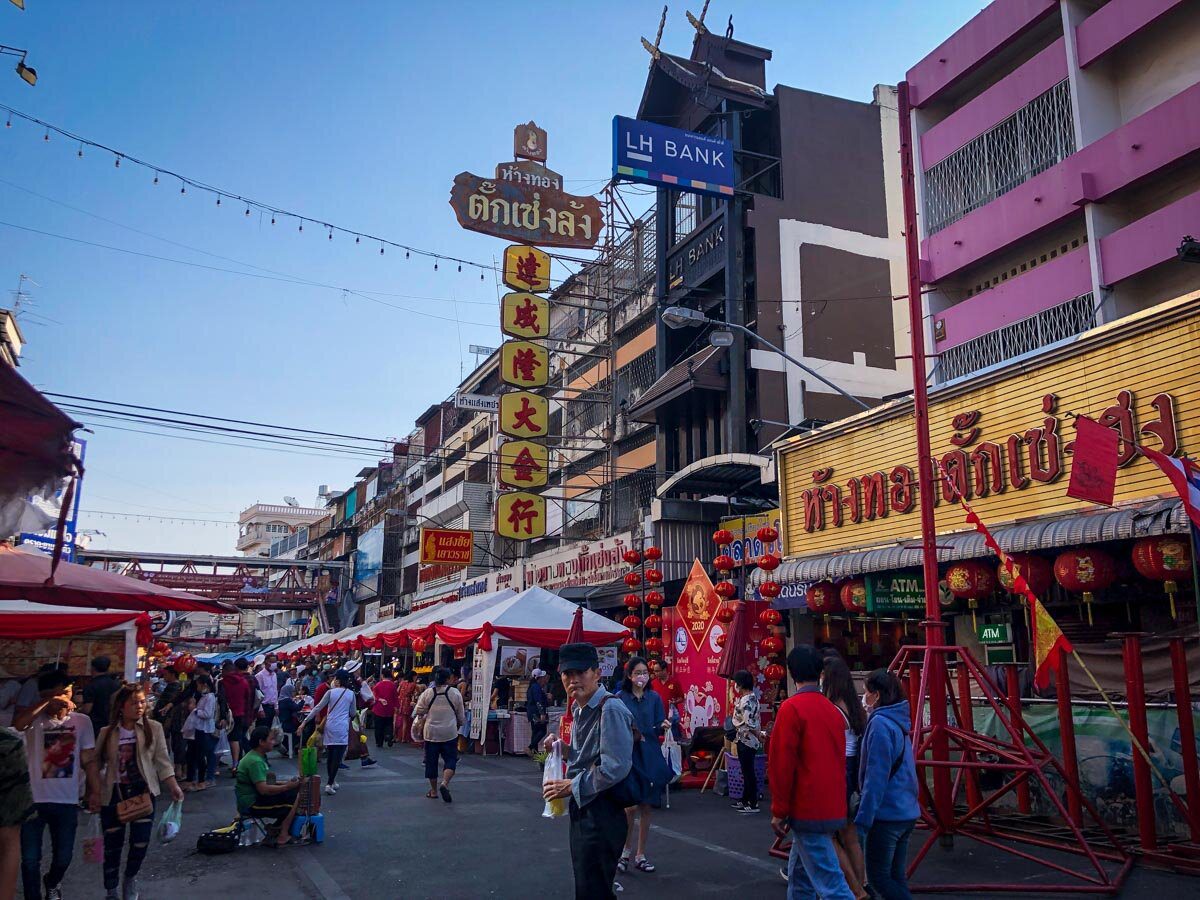 We've spent over a year (cumulatively) living in Chiang Mai and have picked up a lot of insider tips along the way. Here are some of our top tips for traveling there.
There are so many fun things to do in Chiang Mai, you can easily spend months exploring the city and never get bored.
We decided long ago that we will not knowingly contribute to attractions that exploit people or animals while traveling. So on that note, there are a few things we recommend NEVER doing in Chiang Mai: Tiger Kingdom, elephant trekking, visiting the long neck "Hill Tribes". You can read more about why not, here.
Avoid visiting Chiang Mai during "Burning Season". This falls during the months of February, March and April, and is a time when farmers in many parts of Southeast Asia burn their fields to prepare for the next season. The air quality in Chiang Mai plummets during this time and it makes it harder to enjoy a lot of the outdoor activities. We'd recommend visiting the Thai Islands instead if you plan to travel to Thailand during those months. Find out when is the best time to visit Thailand all around.
Our Opinion: Best Place to Stay in Chiang Mai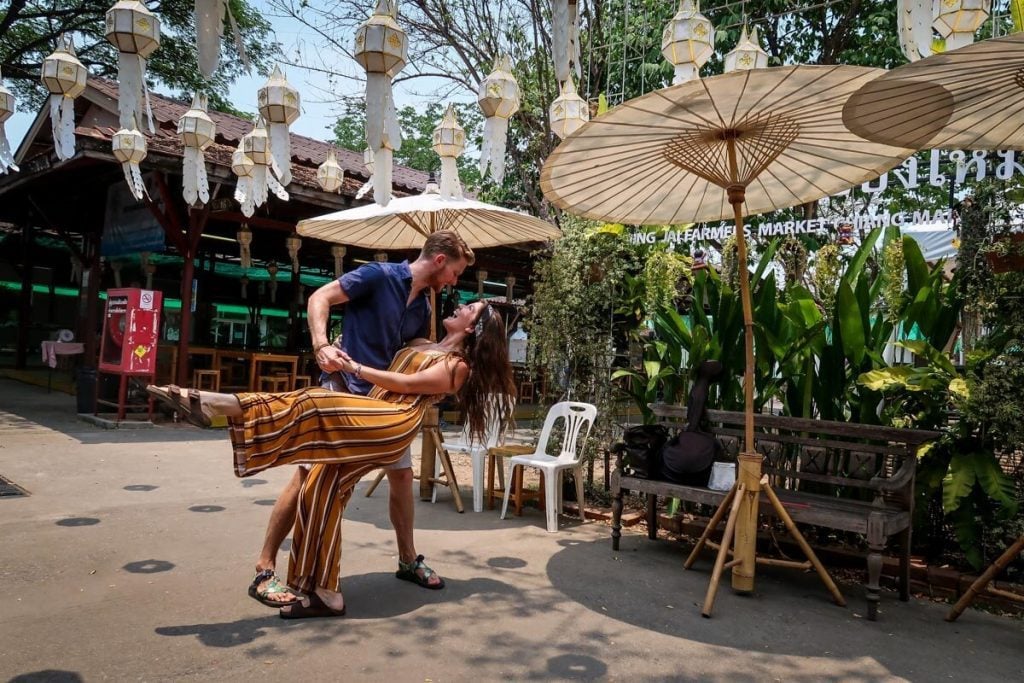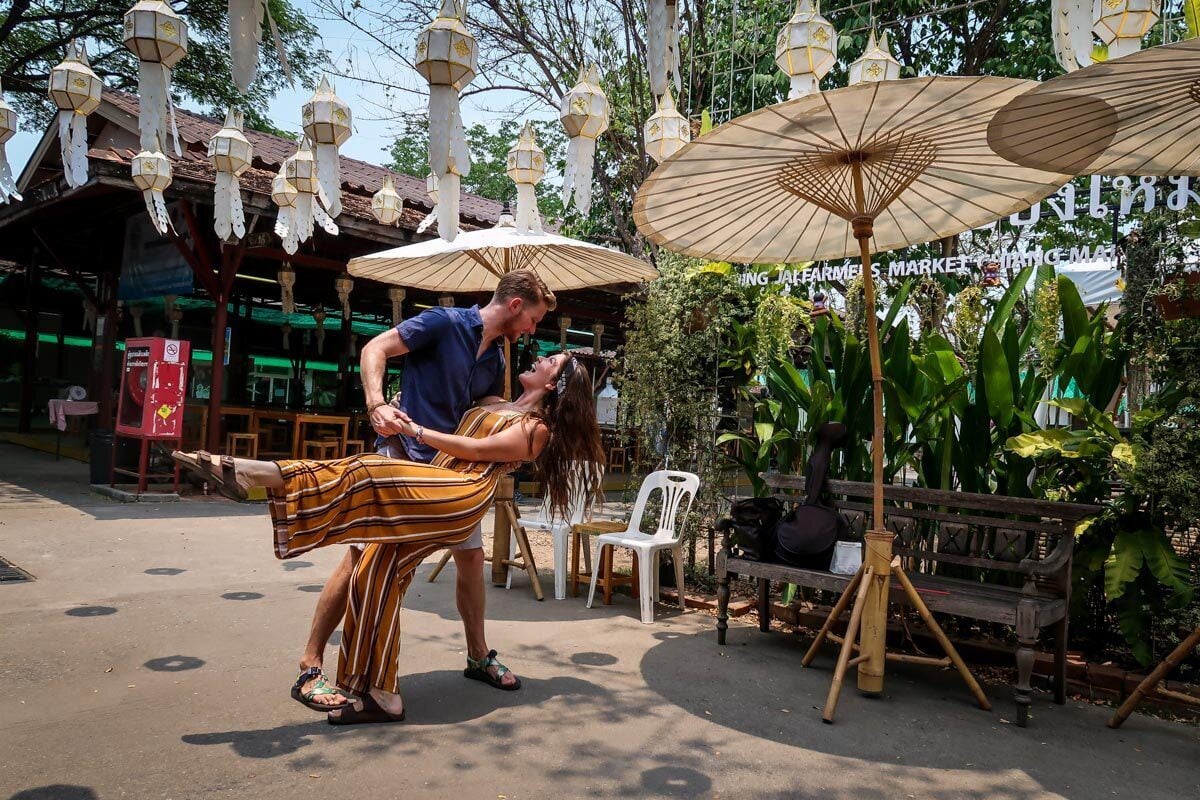 If you're looking for the best place to stay during a short visit, we'd recommend finding accommodation near Tha Phae Gate in the east part of the Old City, or just outside in the Night Bazaar neighborhood. You will be right in the center of the action with all kinds of attractions within walking distance. There is a range of accommodation for every budget and plenty of agencies to help you set up tours in the surrounding region.
If you plan on living in Chiang Mai as a digital nomad, we'd recommend finding accommodation in the Nimman neighborhood. With tons of trendy cafes, modern apartment buildings and a convenient location, you'll feel at home among the other ex-pats who land here.


Are you planning a trip to Thailand?
We have TONS of resources on travel in Thailand and destinations throughout the country. Check out our Ultimate Thailand Travel Guide for all the answers to your most burning questions, or read some of our favorite articles below.
Save this article on Pinterest for later!
We want to hear from you!
Are you planning a trip to Chiang Mai? Is it your first time, or are you returning to live there as an ex-pat or digital nomad? What other questions about where to stay in Chiang Mai do you have for us? Comment below and let us know!