If you've ever wondered what it's like floating down a river that carves its way through the jungle while sitting on a rustic raft made from long pieces of bamboo tied together with a cold beer in your hand. You should definitely check out bamboo rafting in Chiang Mai. We're going to go over everything you need to know about this activity to do it on your own!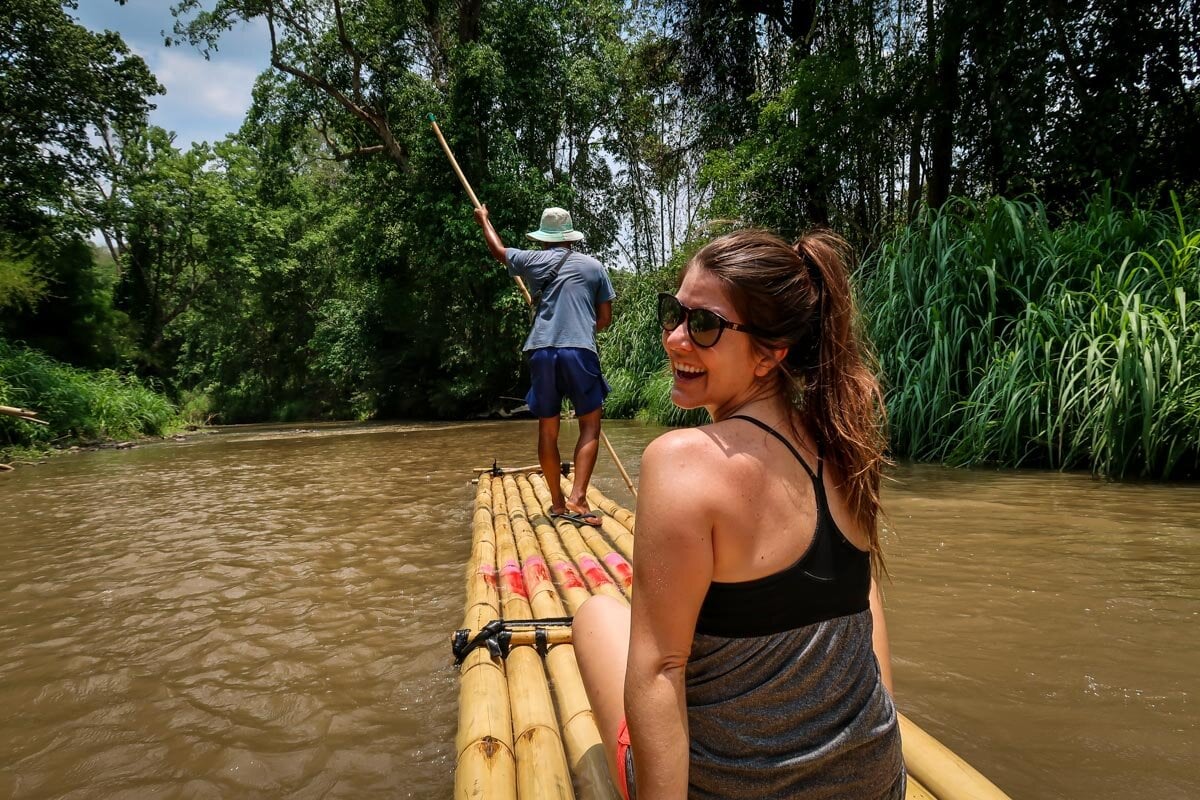 Picture this: You're floating down a narrow river that carves its way through the jungle in the Thai countryside. You're sitting on a rustic raft made from long pieces of bamboo tied together, and the cool water that splashes up is refreshing in the afternoon heat. And so is the cold beer you're sipping as you float around the river bend.
Yep, bamboo rafting just outside of Chiang Mai sounds pretty dreamy, right?!
It took us a couple of years to actually do this activity after first hearing about it, and I've got to say, it can be a really fun way to spend the day (especially during the hotter months of the year).
We're going to go over everything you need to know about this activity to do it on your own!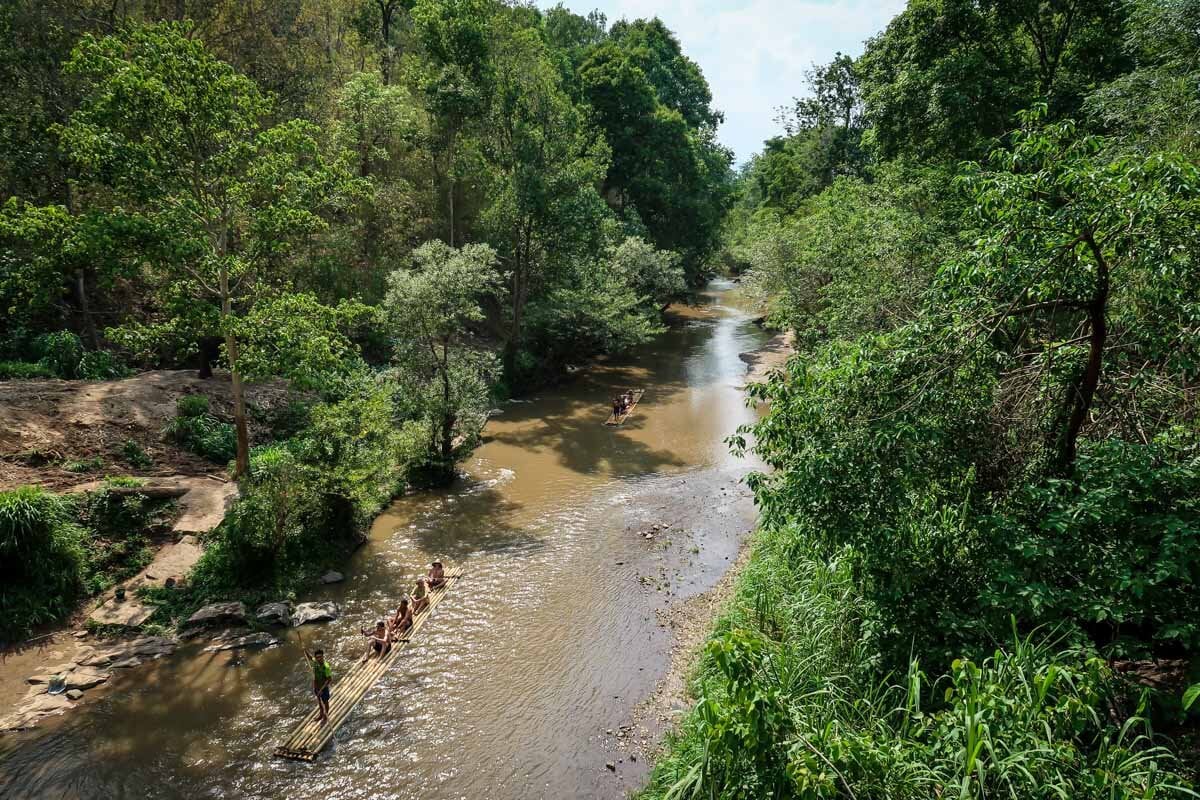 A little less than an hour southwest of Chiang Mai, the Mae Wang River slowly carves its way through the jungle, making a perfect spot for this activity.
Hop aboard a 25-foot-long raft made of bamboo strung together. It's certainly not a fancy vessel, but it's made for adventure!
You can book an organized tour, which includes transportation and have the rafting all taken care of, but if you want to do it on your own and save a bit of money it's really easy to arrange the bamboo rafting yourself.
Looking for another adventure near Chiang Mai? Check out our guide to visiting the Sticky Waterfall (Bua Tong).
How to get to there
One option is to drive yourself via motorbike (we'd only recommend this option for experienced drivers and if you don't plan to drink on the river). But for most people, we'd recommend you hire a driver:
Whatever mode of transportation you choose, your final destination should be Phutawan Cafe, which is located at the entrance of the pretty well-known Chai Lai Orchid Hotel.
Stop in for a fresh juice or coffee and let the staff know you'd like to go rafting. They will arrange it for you!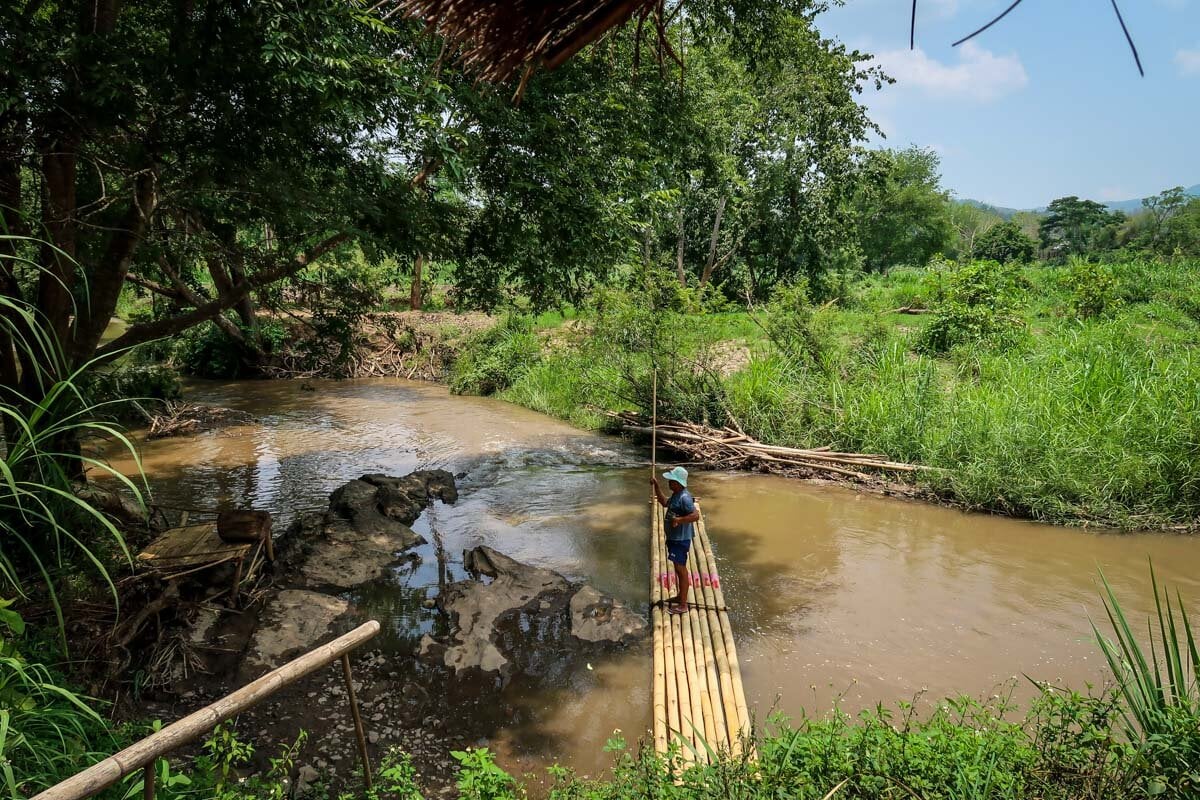 First, someone will drive you in an open-bed truck to the put-in point, where you will be connected with your guide (basically they'll just steer the raft while you enjoy the experience).
The endpoint is back at Phutawan Cafe. Easy peasy!
Do you need a guide?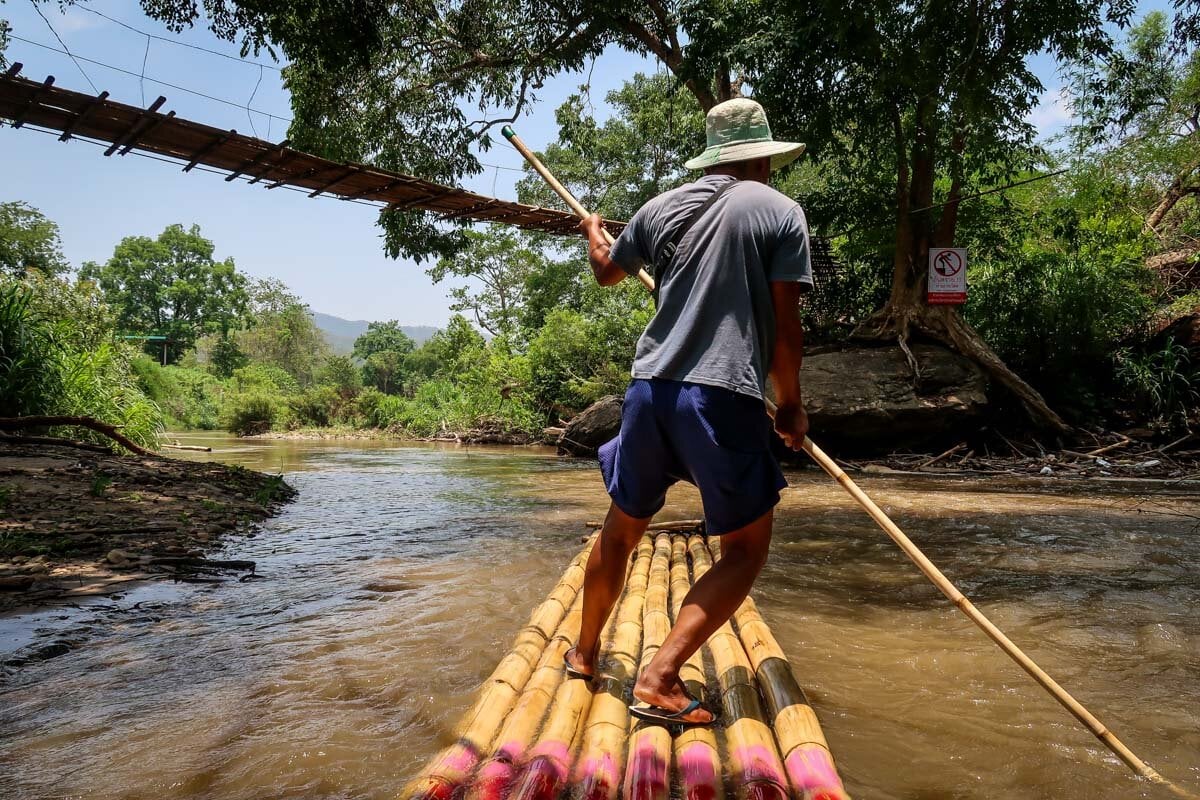 First of all, the guide won't really tell you anything. Their job is really just to navigate the raft (which is a big job alone).
We have heard of people who have rented just the raft (no guide) for 300 baht, but when we were there, this was strongly discouraged.
And honestly, it seemed like it would have been pretty difficult to steer the raft on our own (even though we're experienced at canoeing and kayaking). Plus, hiring a guide creates a job for a local and allows you to relax with a beer!
How much does it cost?
If you arrange the rafting yourself, you'll pay 500 baht for a raft and guide (each raft can fit 3-4 people). Remember, this does not include the cost of transportation to get there and back.
Can I book a bamboo rafting tour?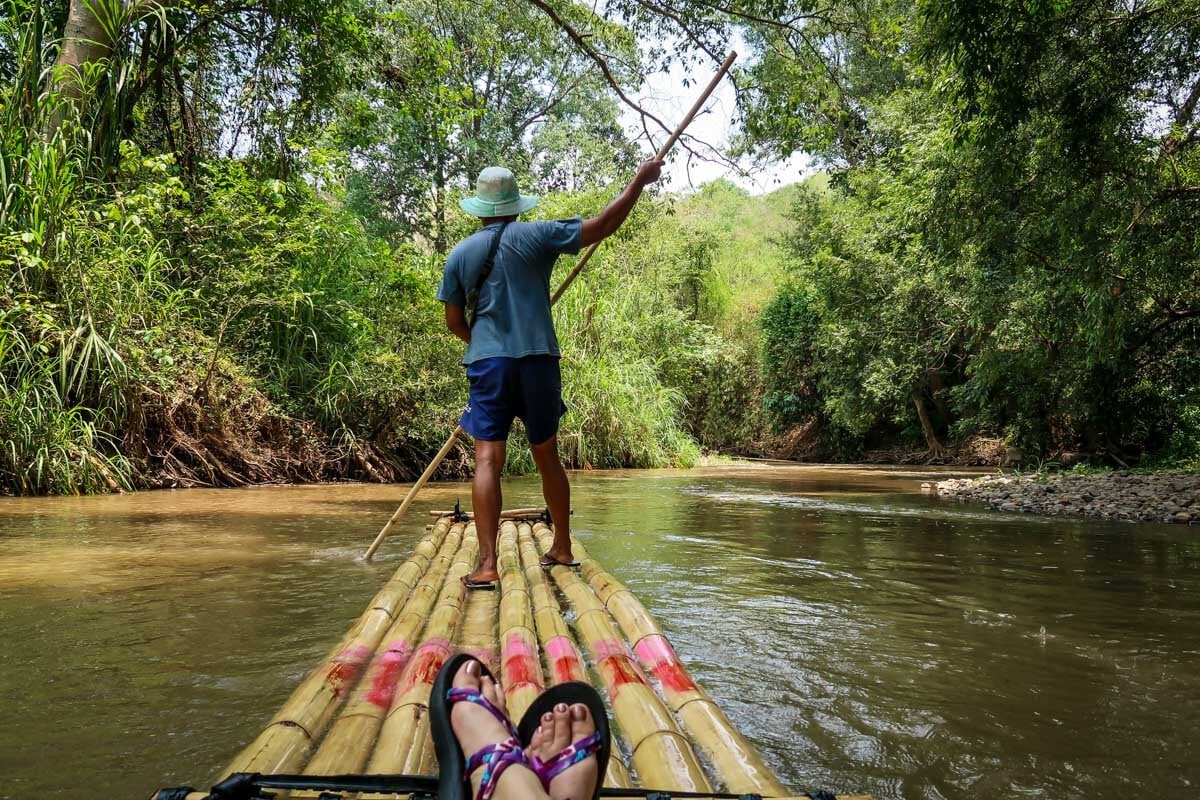 Of course! If doing it on your own doesn't appeal to you and you'd rather have all the logistics taken care of for you, there are a few different tour operators to choose from. They are different prices and include different activities, so read each description carefully to select the one that sounds best to you.
What is the rafting like?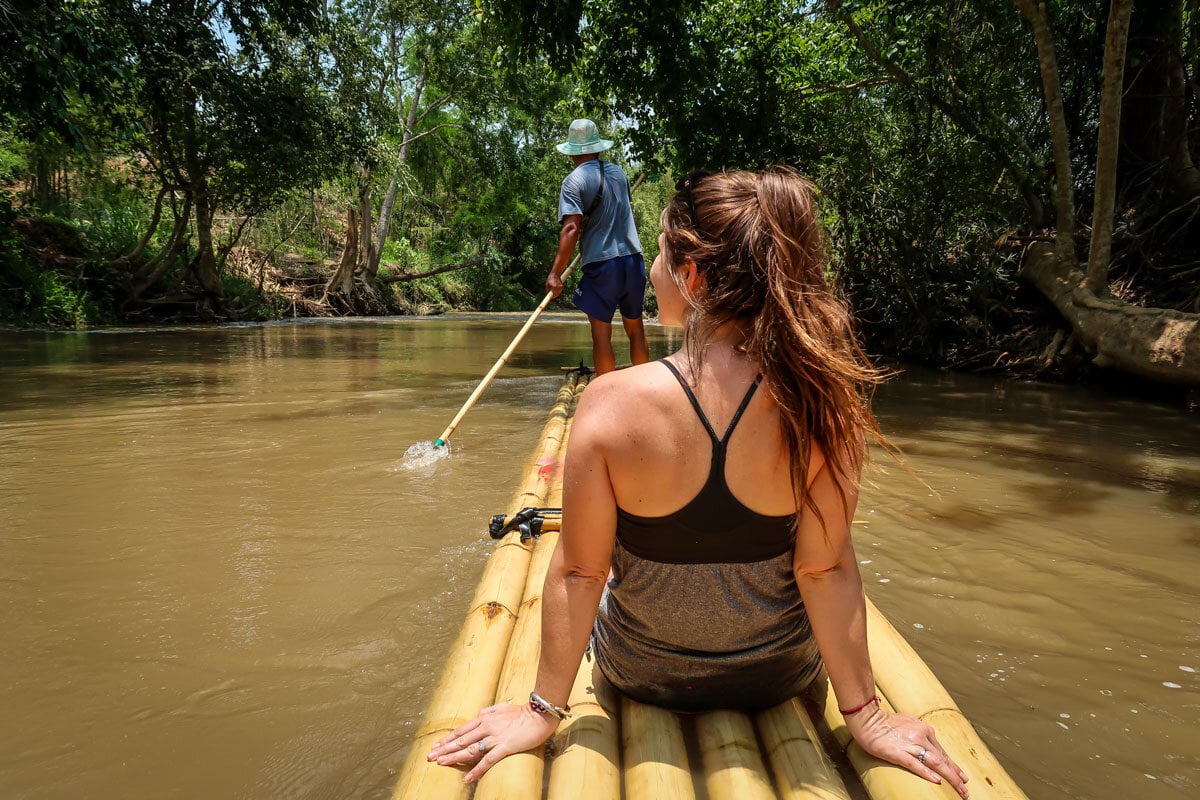 You'll wind along the narrow river through shaded portions of jungle as well as open sections where the sunshine warms your shoulders.
While the raft is far from plush, the experience was short enough that our bums didn't feel too sore. I will say though, that you'll be sitting in some water, as the bamboo shafts tied together are certainly not waterproof. Honestly though, it'll probably be a welcomed and refreshing relief from the hot Thai sun!
Our guide navigated expertly (in silence) while we took in the views and sipped on some cold beer. I mean, can it get any better?! (I guess my only wish was that it would have lasted longer!)
Good to know: One thing I will point out is that the experience in itself is quite short. In our case, we weren't on the river much more than 30 minutes. So when you factor in the time it took to get there, it might not be worth squeezing in if you have a really tight schedule.
Alternatively, we've heard of people booking a day trip that includes both bamboo rafting and a visit to Doi Inthanon National Park, which is not far past the area where you'll go rafting.
How long does it take?
The rafting itself is quite short. We were on the river for no more than 30 minutes. But after we were done, we headed down to a shaded area near the river (below the Chai Lai Orchid Hotel).
We laid out our sarong as a blanket and hung out with some snacks and a beer. We went swimming and made friends with a sweet stray dog. It was a really wonderful way to stretch out our time in the jungle.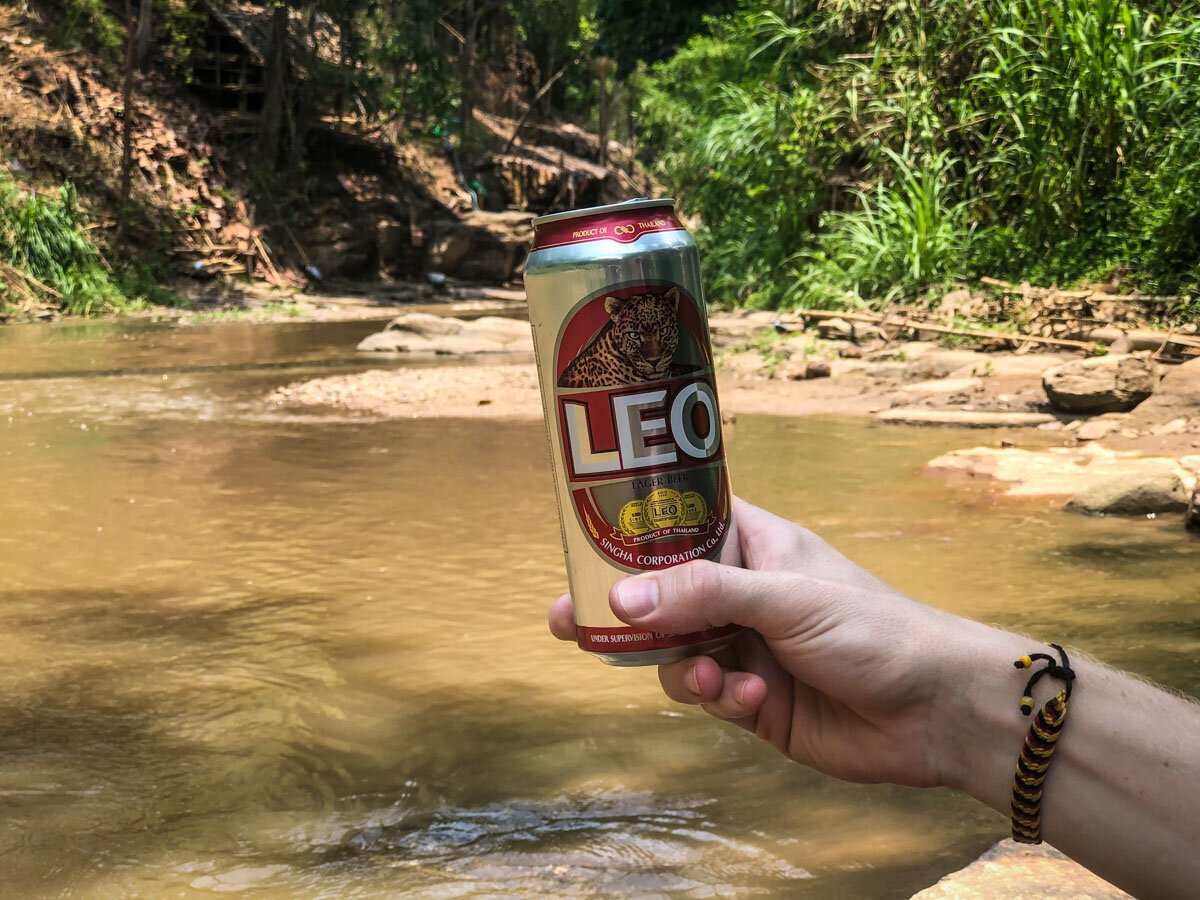 In total, between getting there, rafting, eating lunch, and hanging out on the river, this experience took a good chunk of a day (maybe 4-5 hours in total).
A note on Elephant Camps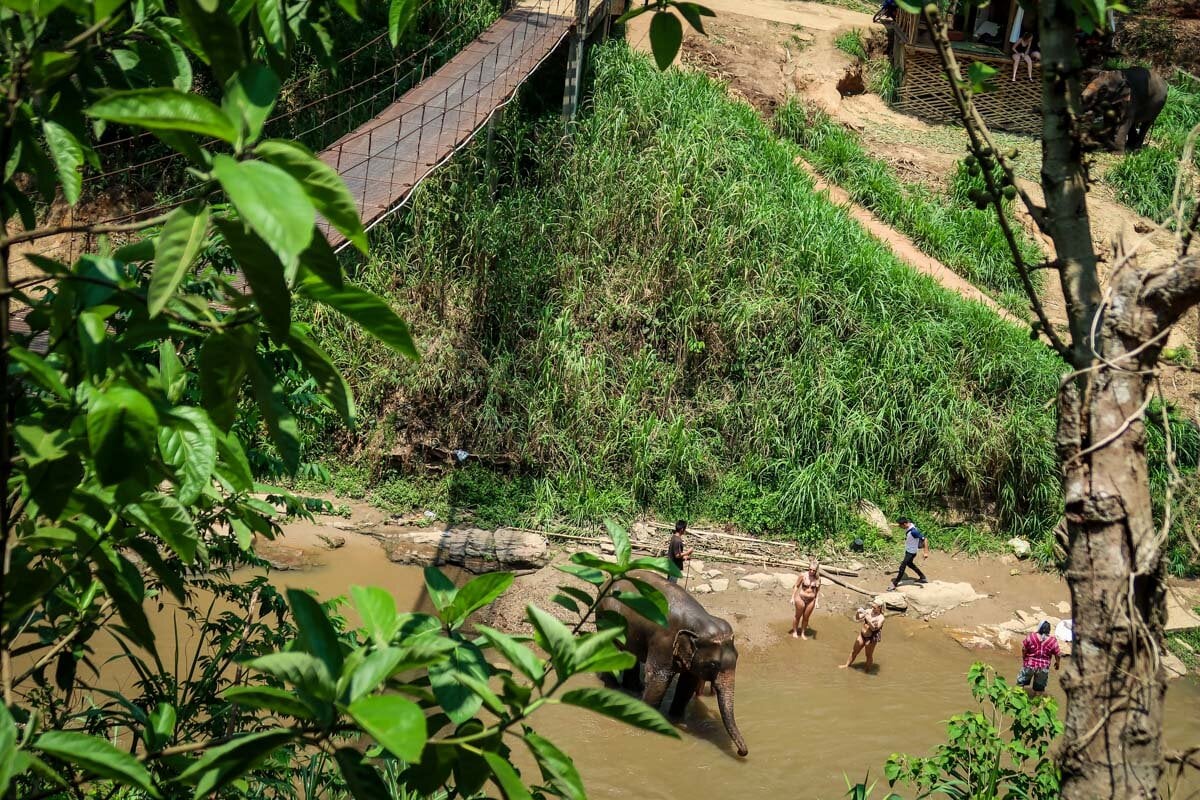 You might pass by some elephant camps and see the giant creatures near the riverside. We have heard that some of the camps along the river are ethical, but in our observations it seemed like the guests were having a lot more interactions with the elephants (posing for long photoshoots while bathing them in the river) than we have read is good for the animals.
As with any activity involving animals, please do your own research and come to an educated decision on whether or not you will partake.
Where to eat
There are several small restaurants along the river serving Thai dishes and grilled fish. We were really hungry when we arrived and ate at the Phutawan Cafe (out of convenience), and it was fine (the coffee was good!).
Instead, we'd recommend venturing to one of the little restaurants for some grilled fish if you are looking for a local lunch.
Things to pack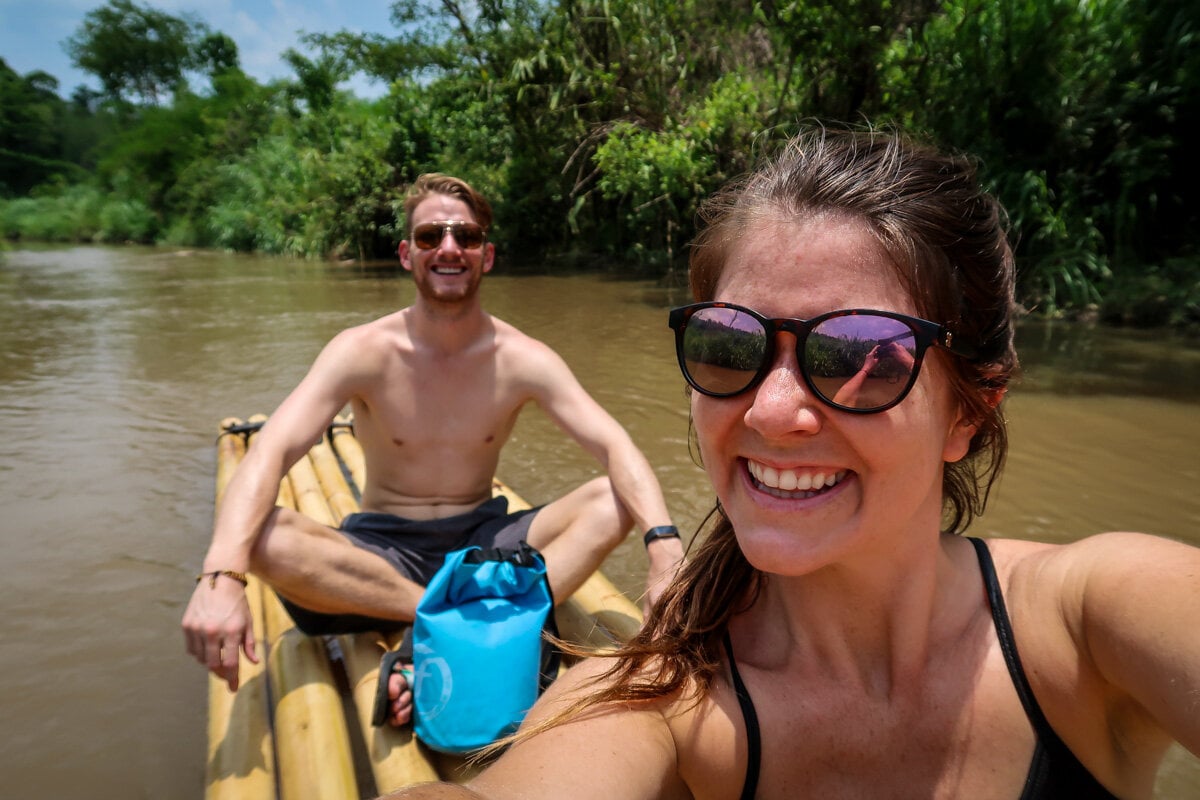 Are you planning a trip to Thailand?
We have TONS of resources on travel in Thailand and destinations throughout the country. Check out our Ultimate Thailand Travel Guide for all the answers to your most burning questions, or read some of our favorite articles below.
Save this article on Pinterest for later!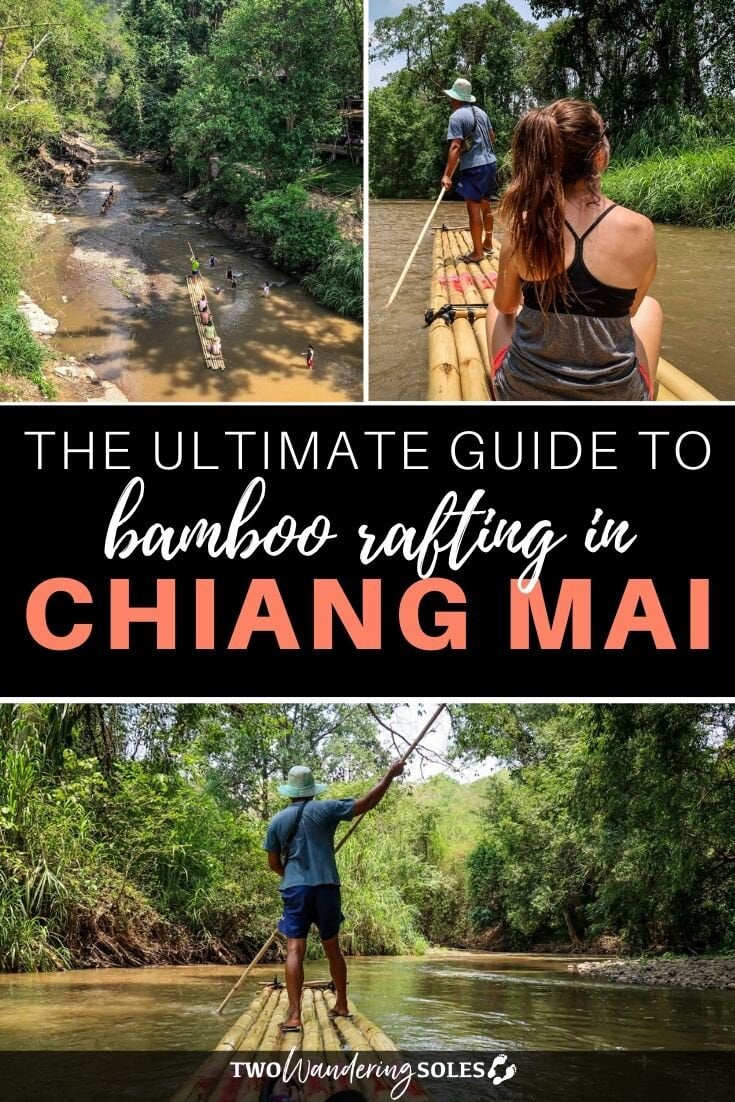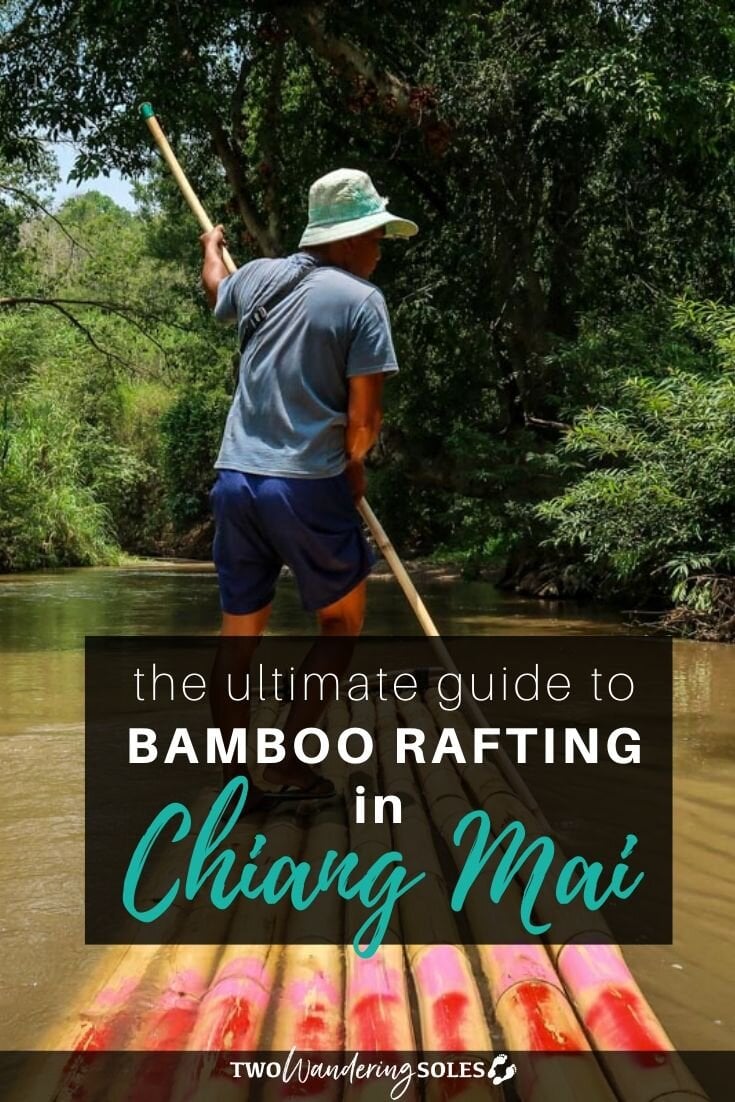 We want to hear from you!
Have you ever been bamboo rafting in Chiang Mai? What was your experience like? Is this something you'd like to do on your next trip? Leave your comment in the section below and we'll do our best to get back to you!