If you're looking for a slice of paradise that's still off the beaten path, Amed, Bali should be on your radar. This sleepy fishing village is not yet a staple on every Bali itinerary, so you'll be able to get a glimpse into the "real" authentic Bali and enjoy the laidback vibes. We're sharing the top things to do in Amed as well as where to stay and where to eat!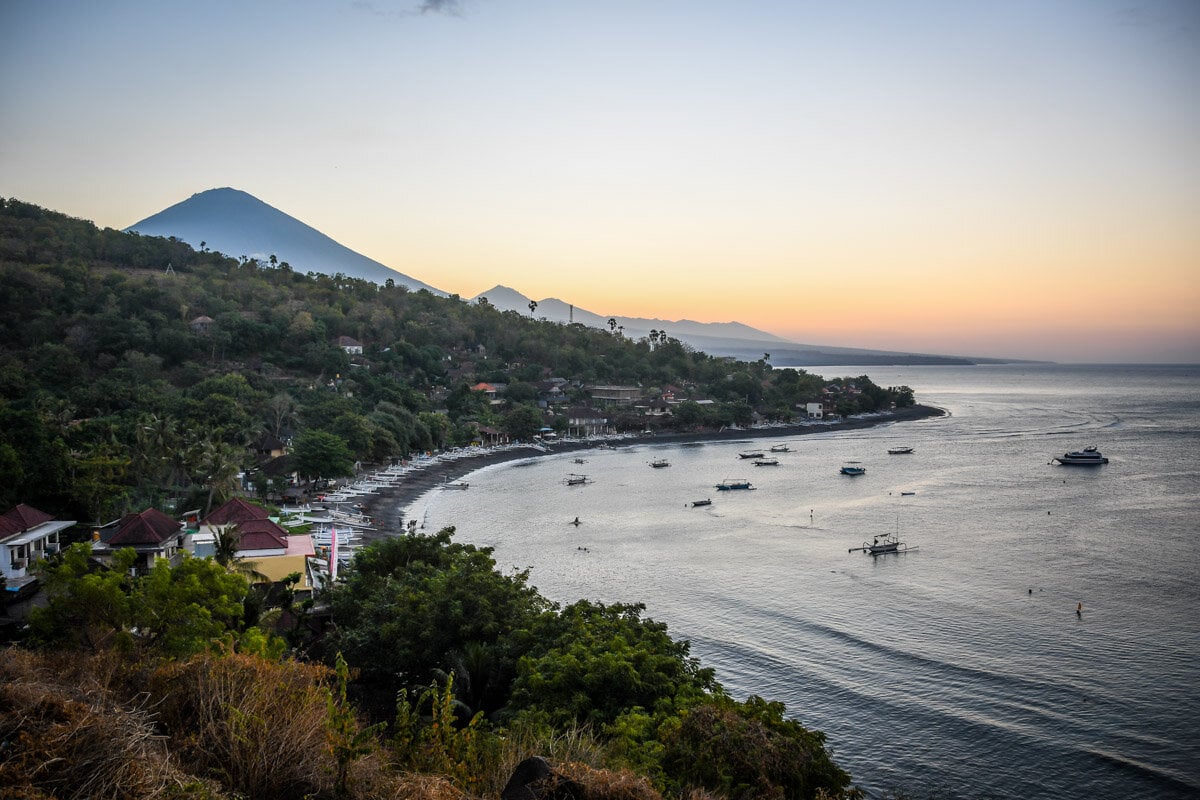 Situated on Bali's east coast, the quaint fishing village of Amed has a laid back vibe that reminds us of what Bali must have been like decades ago.
While we wouldn't say it's a hidden gem, you'll feel far away from the Bintang-slinging crowds of Kuta, the hipster vibes of Canggu and the Instagram queues around Ubud.
On one of our last weekends living in Bali, we decided to make the trip out to Amed, and we are so glad we did! We fell hard for the relaxed vibes here and found that there are lots of things to do in Amed (much more than we were expecting!).
We're walking you through exactly what things to put on your itinerary, where to eat, and where to stay. So put on your scuba mask and we'll dive into in this travel guide to Amed, Bali. See what I did there?!)
Come with us to escape the tourists, souvenir vendors, and traffic as you fall in love with Amed, Bali!
If you know what you're looking for, jump ahead to these sections:
Amed, Bali at a glance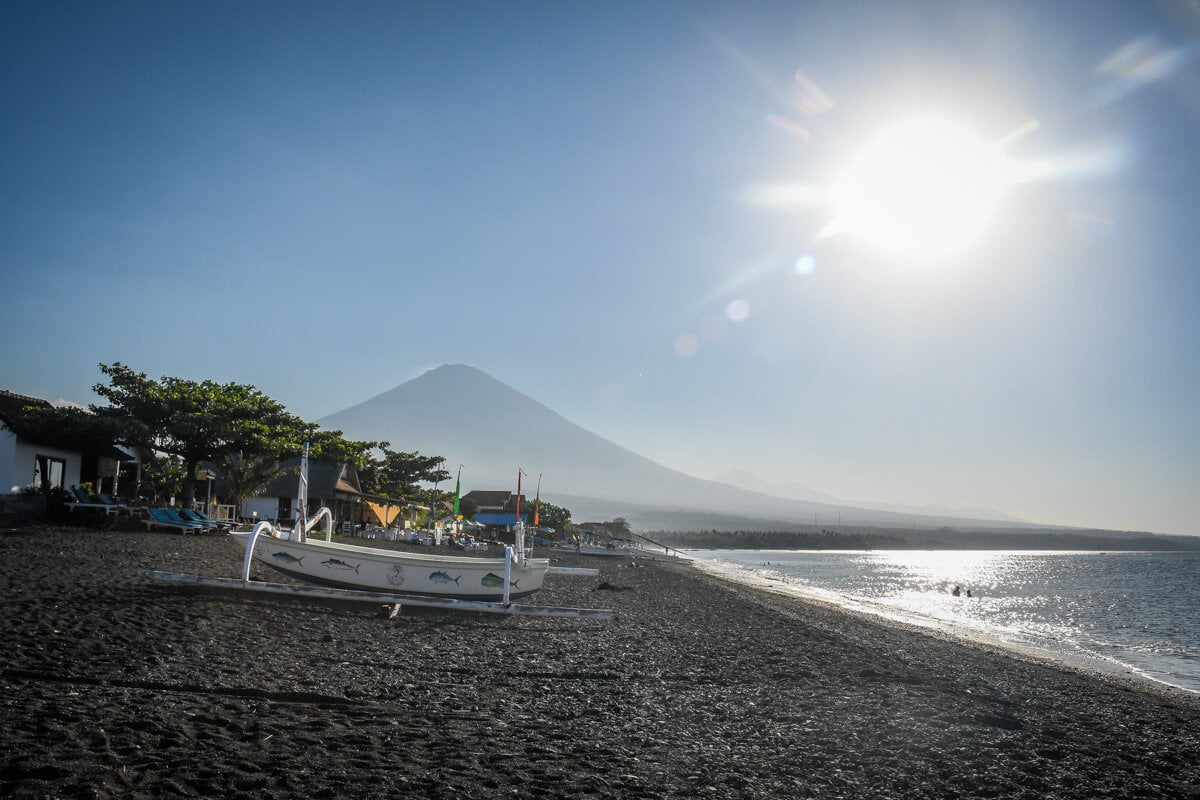 Amed is spread out more or less on one main road, known as Amed Street (very creative, huh?!). The majority of restaurants and guesthouses are clustered around each of the 3 beaches, the first being a black sand beach, the second rocky, and the third white sand (actually, I'd call it regular sand).
While it's kind of difficult to walk very far in Amed (due to the lack of sidewalks), it is a great place to rent a scooter since there is little traffic. You can also arrange transportation through your hotel or by using a ride sharing app like Grab or Gojek.
With Bali's iconic Mount Agung looming in the distance and plenty of coastline, Amed is undoubtedly beautiful. But there's more to it than looks. This fishing village is known for some of the best scuba diving in Bali, plus, you'll have opportunities to see Balinese life without tons of tourists around.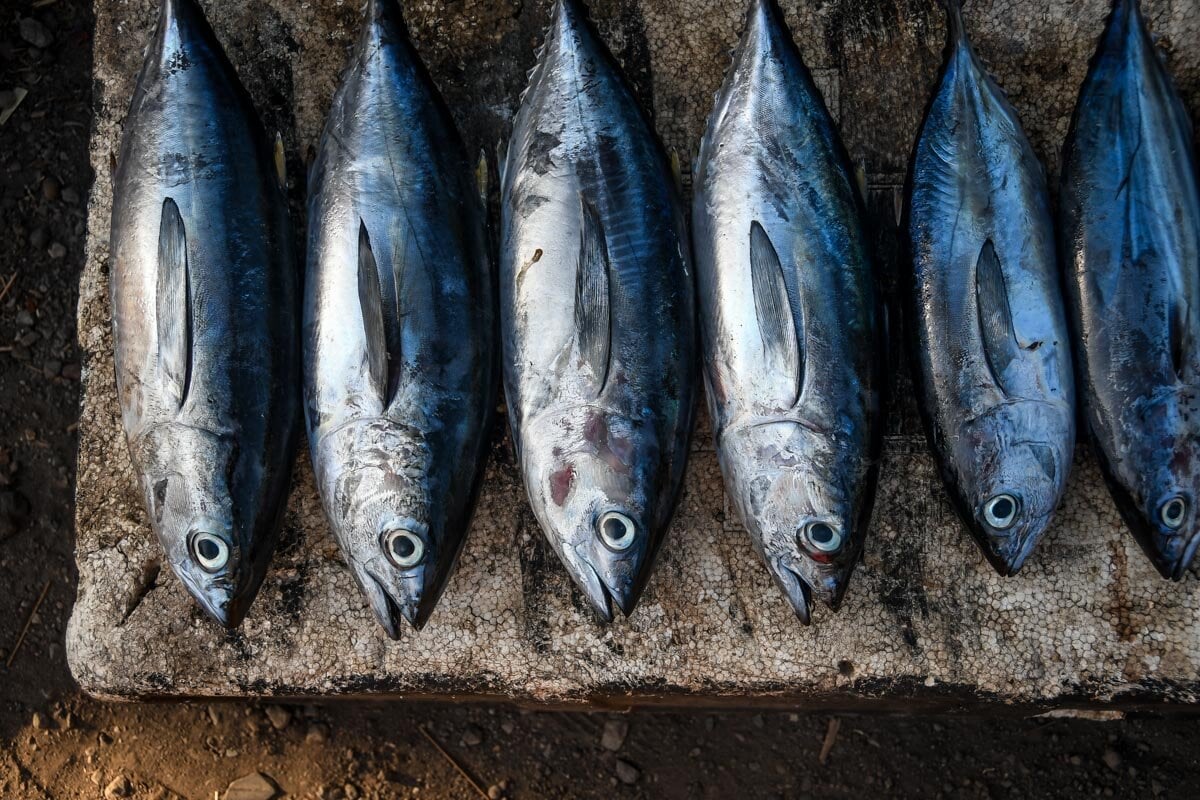 Alright, now let's go over all the fun things to do around Amed, Bali.
1. Go Scuba Diving at a Shipwreck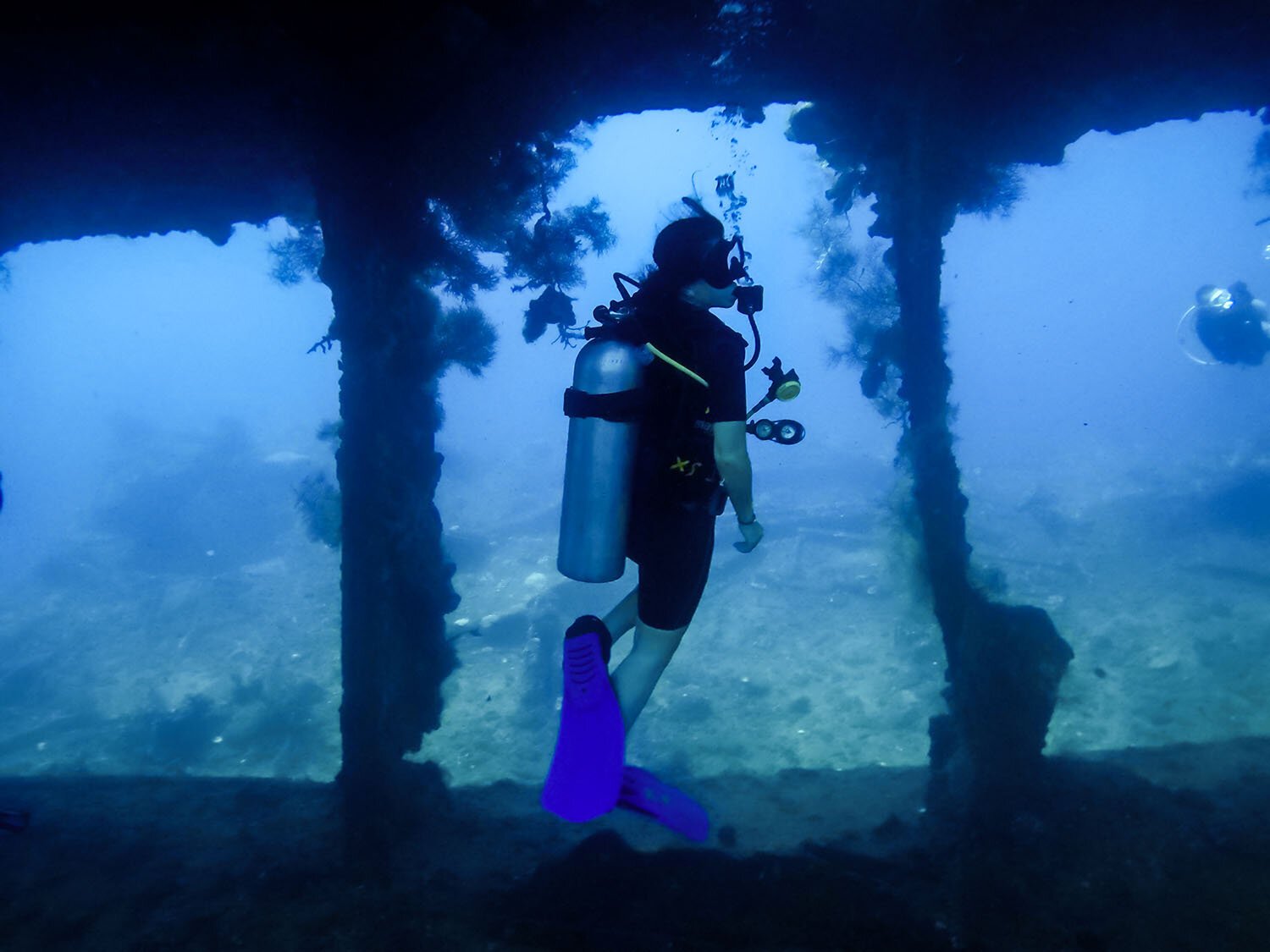 We're going to start with the number one thing to put on your to-do list in Amed: Scuba Diving, of course! This is one of the major draws of this town and is in fact the reason we initially started planning our trip.
But I'm going to be honest, we were not expecting much from this dive. We've heard repeatedly that Bali does not have great diving (when compared to the rest of Indonesia), and we sort of avoided it in nearly all of our 5 months of staying there.
However, on one of our last weekends living in Bali, we decided to make the drive to Amed and dive at the USAT Liberty. We did two dives at the wreck, and we were super impressed. We had really good visibility and saw lots of marine life.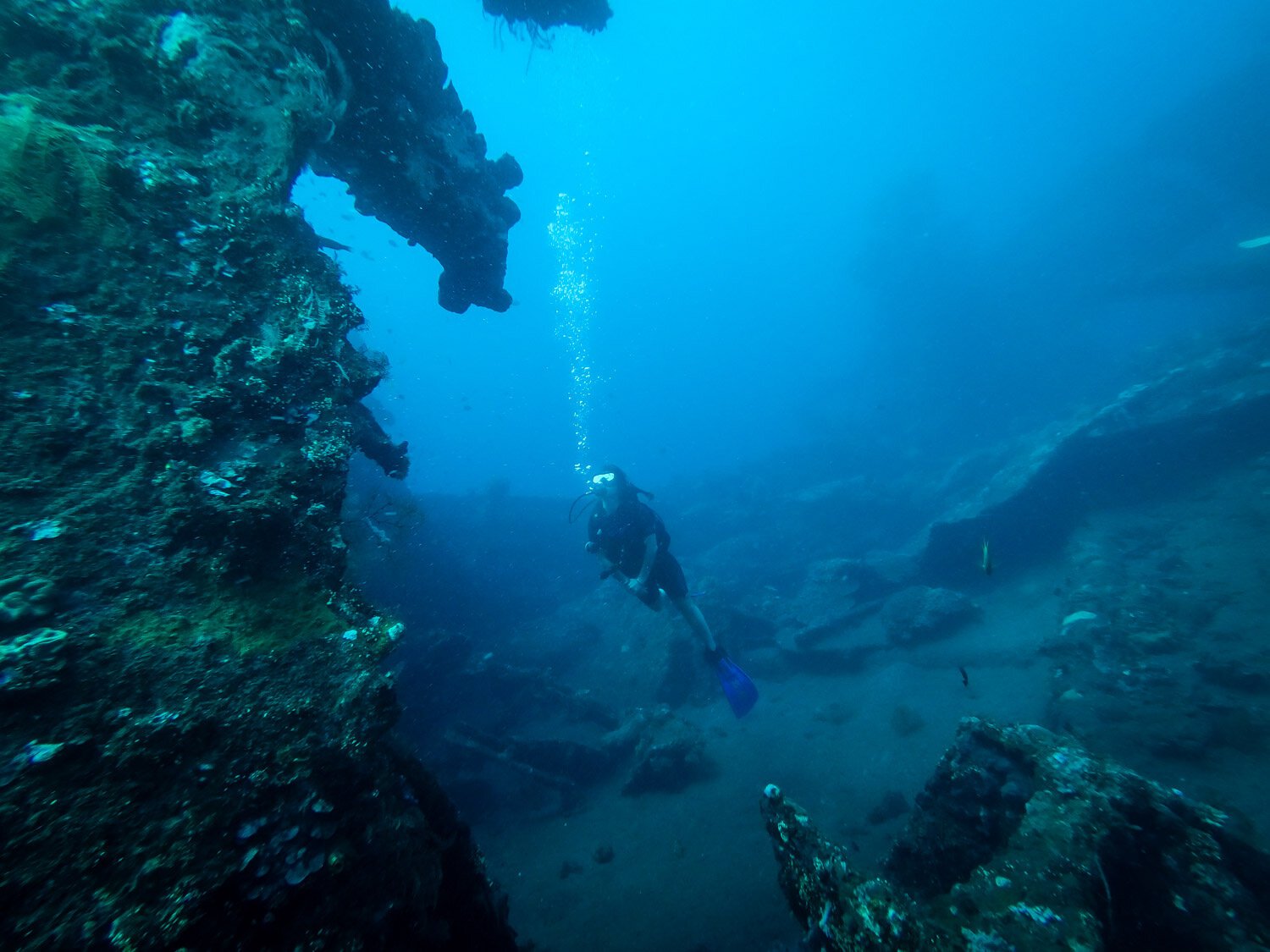 A little background on this wreck: First off, this wreck is located roughly 25 minutes north of Amed near a tiny village called Tulamben. All the dive shops in Amed (to our knowledge) arrange trips to this popular dive site, so we'd recommend staying in Amed over Tulamben because there is more to do.
The USAT Liberty was a US cargo ship that was used back in World War I. It was hit by a Japanese torpedo in 1942 (during WWII) when the ship was just off the coast of Lombok.
The Liberty was eventually beached on the shore outside the town of Tulamben where it was being scrapped for parts, but Mother Nature had a different plan for the vessel. In 1963, Mount Agung erupted and the tremors caused the Liberty to slide off the beach and sink into the water just off shore.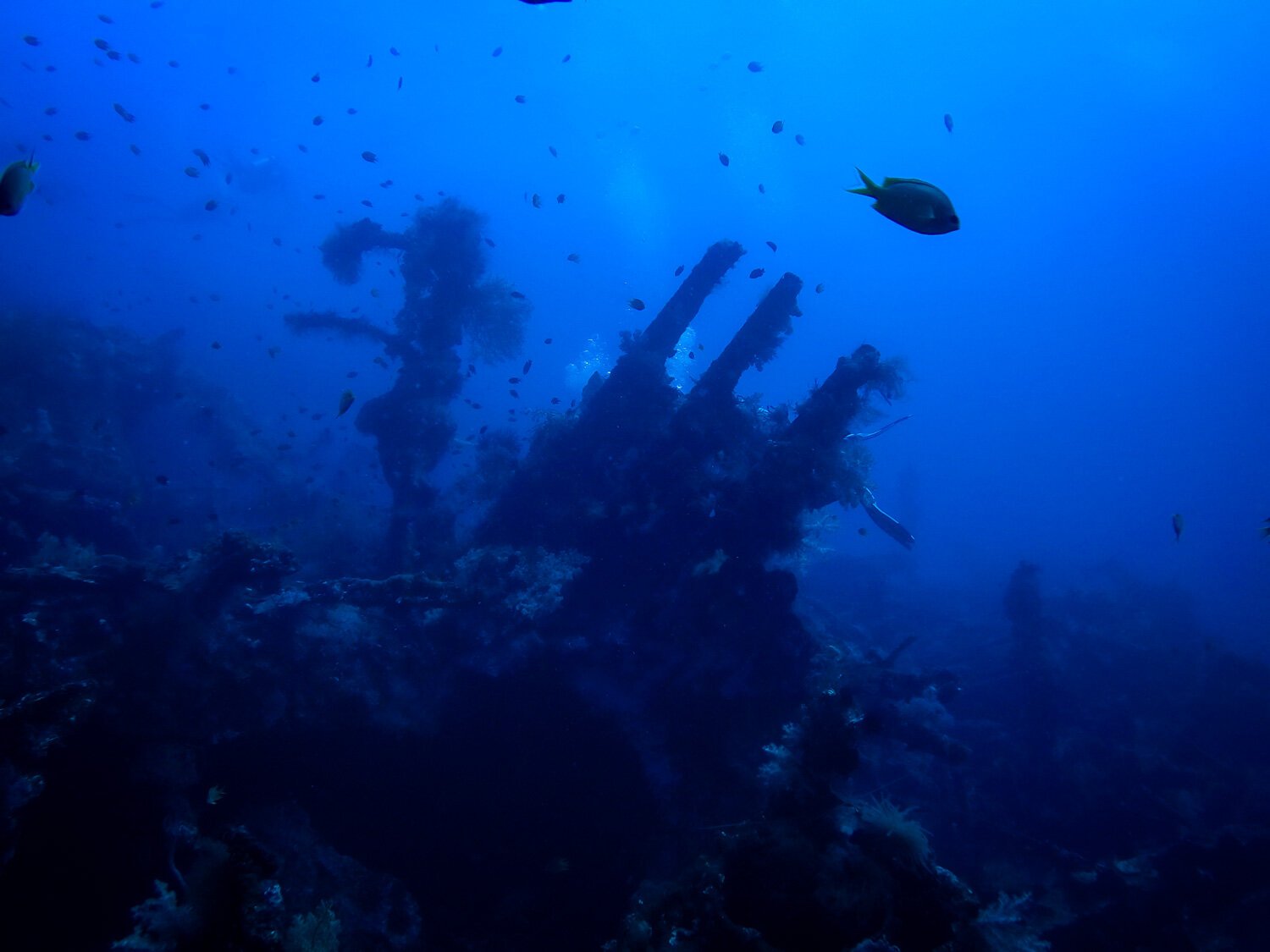 Now, this is one of the most popular dive sites in Bali, for good reason. This wreck makes a perfect dive site because it is so close to the shore that you can walk into the water with your scuba gear on (our first time doing so!).
Plus, it is situated on a slope, so the most shallow part of the wreck sits just below the surface at 5 meters (16 feet). You can even see some people snorkeling at this part of the wreck. The deepest section sits 30 meters (98 feet) below the water's surface.
What can you see? This wreck dive is good for beginner to advanced divers because there are many parts to explore. More experienced divers can go inside parts of the wreck, where beginners can observe from shallow areas.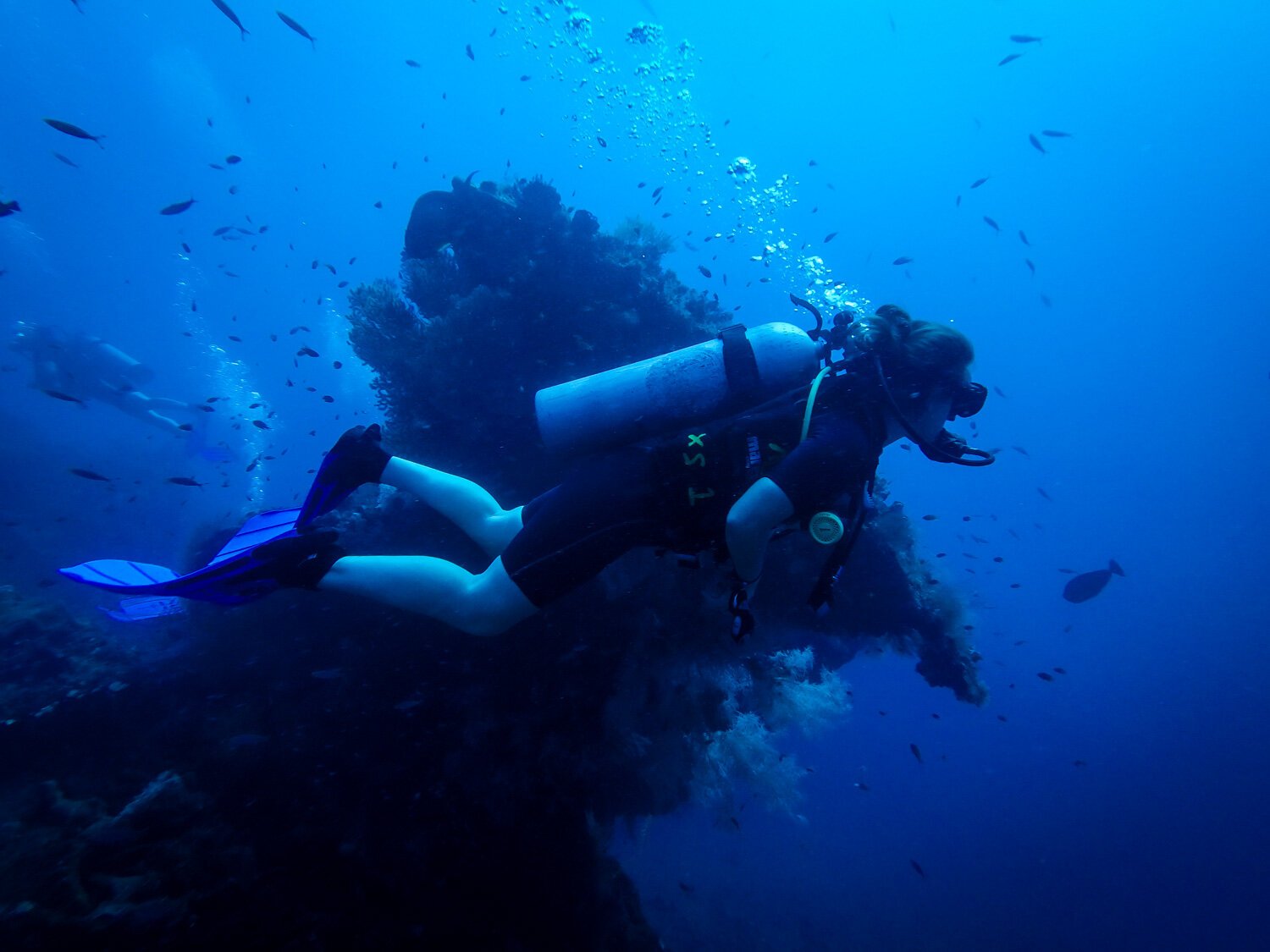 The wreck has lots of marine growth and there is lots of life to be seen. We saw a sea turtles, a giant moray eel, puffer fish, trigger fish, flounder, scorpion fish, box fish, sweetlips, grouper, crabs, lobster, and pipefish. Whew! (And that was just all we wrote down.)
We did two dives here, and they were both fantastic. We spoke with others who had done many more dives, and they said each was very different.
Choosing a dive school in Amed
There are kind of an overwhelming amount of dive schools to choose from in Amed. We looked for one that was near(ish) our hotel and had good reviews, and we landed on Adventure Divers Bali.
They are one of the more well-known and reputable dive shops in Amed and they run daily tours to the USAT Liberty (which is what we wanted to dive). There are lots of other schools that look good too, so shop around a bit and find one you like.
Want to get Scuba certified? Amed is actually a pretty good place to do your PADI certification because it is cheap, there are many schools to choose from, and it's a nice, laidback town.
We talked to some people who were finishing their certification at Adventure Divers Bali and they had only good things to say. Most dive shops also offer accommodation in your course, so do a bit of comparing before you choose your dive school.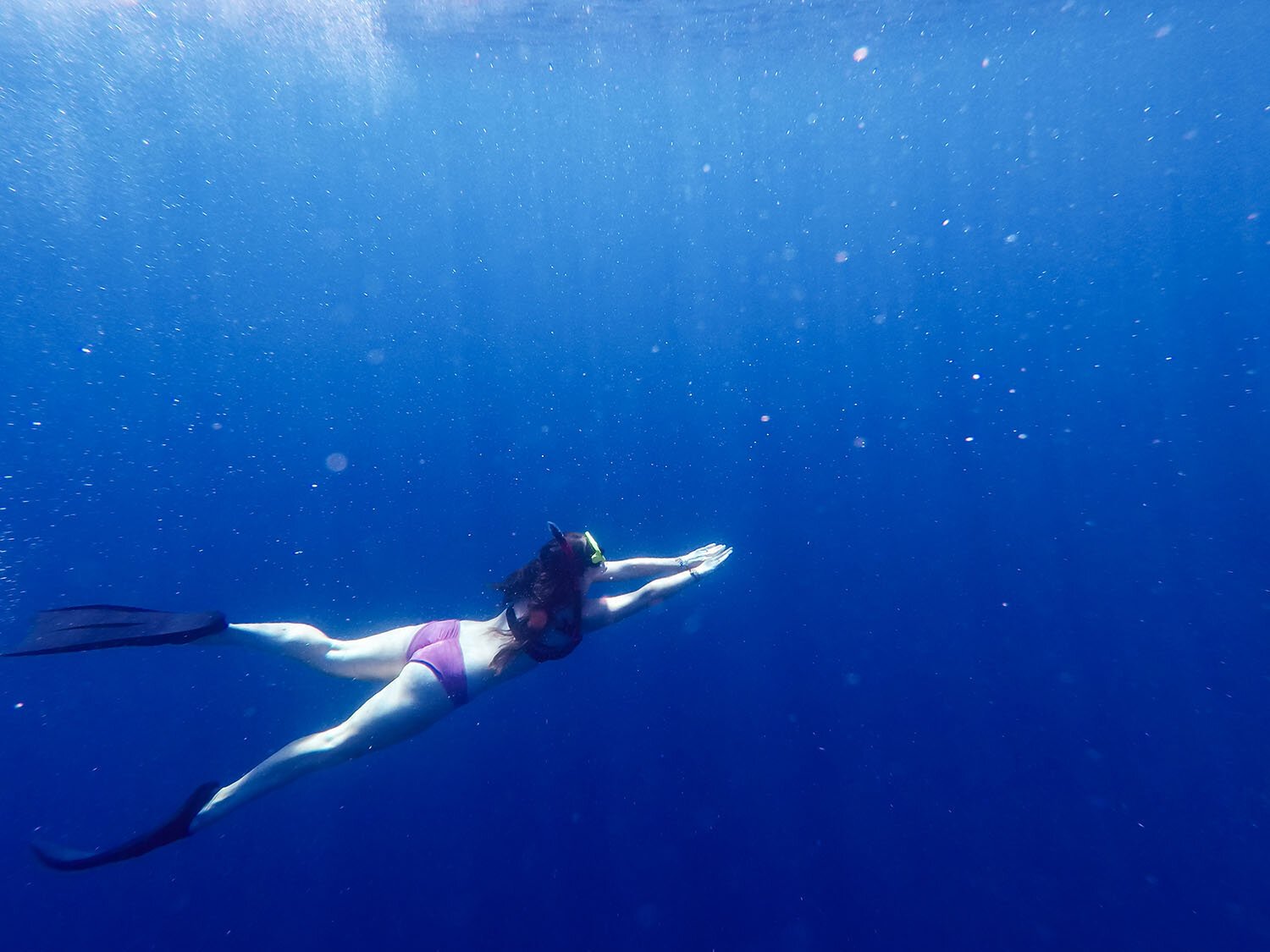 Feeling really adventurous? You might want to try Freediving! Yep, that's when you dive underwater without a tank. There are a few schools in town that teach you the skills and explain the methods behind freediving. We tried it in the Philippines and were super surprised by how long we could hold our breath by the end of the day using the tips our instructor gave us.
2. Go Snorkeling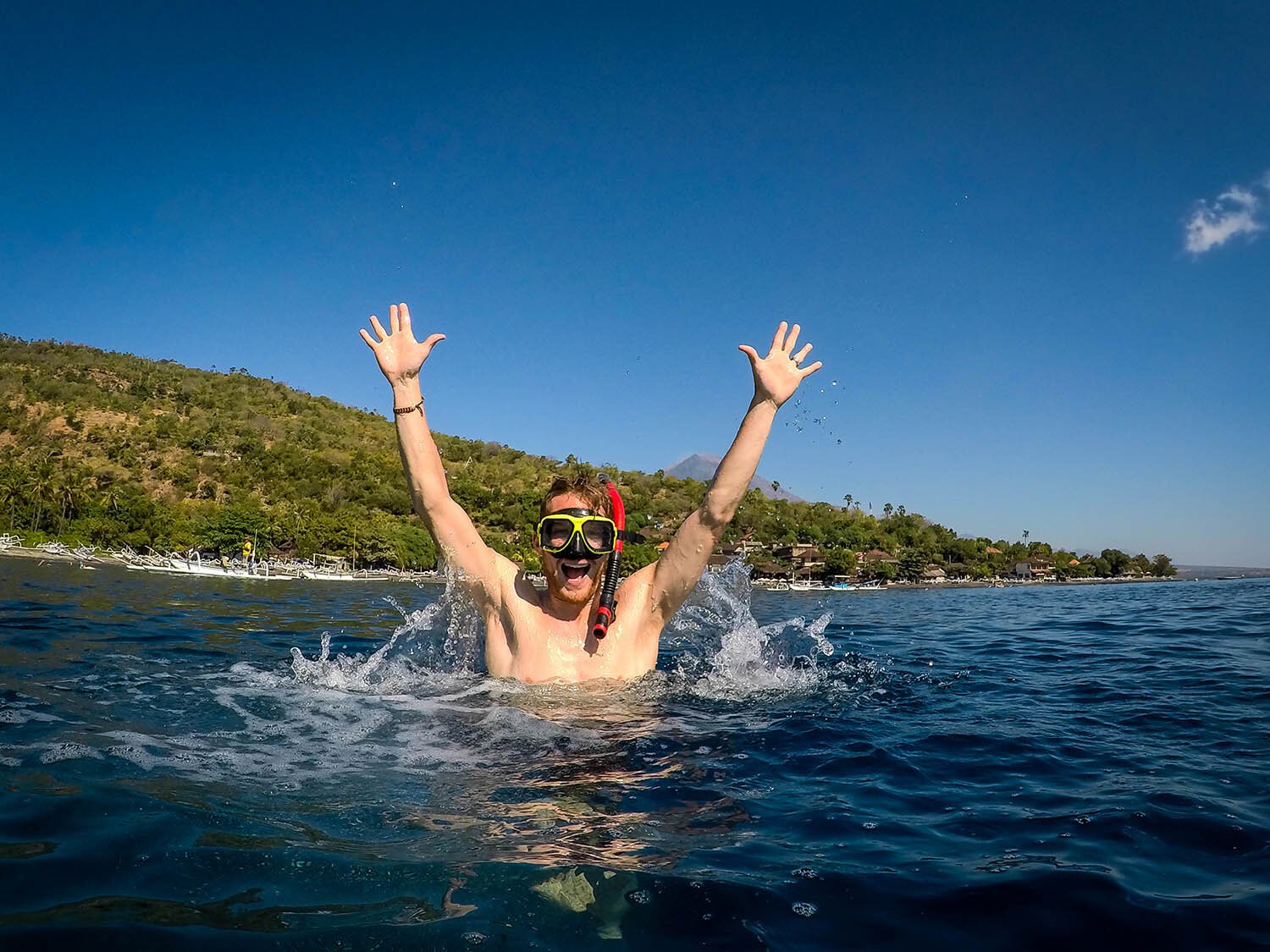 If diving isn't your thing, don't worry, there's still plenty to do and see in Amed. If you still want to get a glimpse "under da' sea", why not grab a snorkel and goggles and head to the beach! Even if you are planning to scuba dive, there are some fun snorkel spots in town to check out (we did both diving and snorkeling!).
With calm and warm waters, the beaches around Amed are great for snorkeling. And the great thing is you can simply snorkel from shore! No need to book a day trip excursion.
While it's possible to snorkel at any of the beaches in town, we'd recommend bringing your fins and goggles to the spots listed below.
Snorkel at Jemeluk Bay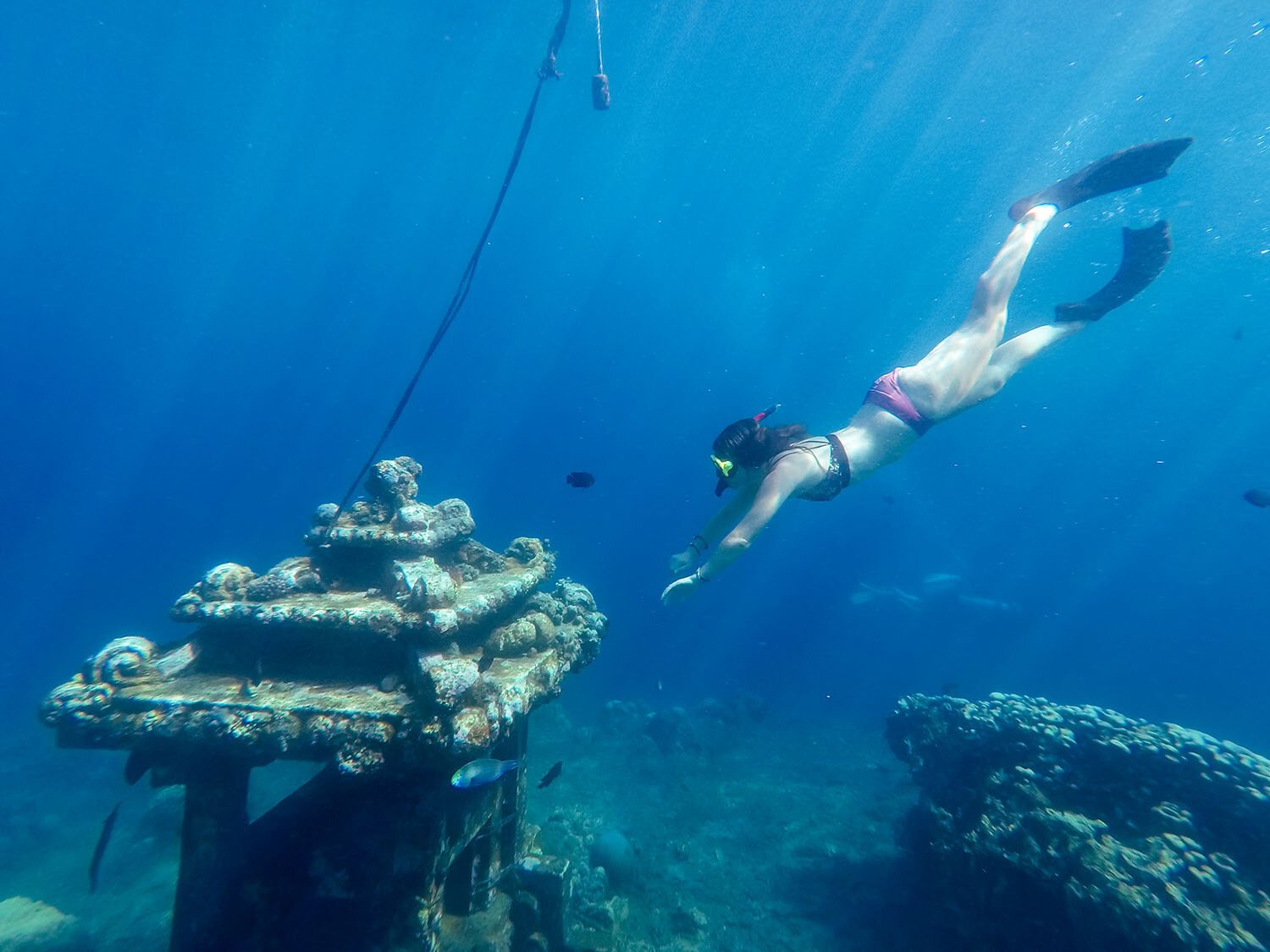 At Jemeluk Bay (aka the "rocky beach"), there are lots of corals and fish to see and even an underwater sculpture to check out.
Head to BlueStar Seafront Bungalows at the far east end of the beach or to your right as you're facing the ocean (here is the pin on Google Maps). From there, you are directly in front of the small underwater sculpture. Swim out and you'll see a buoy that's above the sculpture, called Pantai Jemeluk.
There are also some nice coral reefs and lots of schools of fish to see, so swim around and do a little underwater exploring!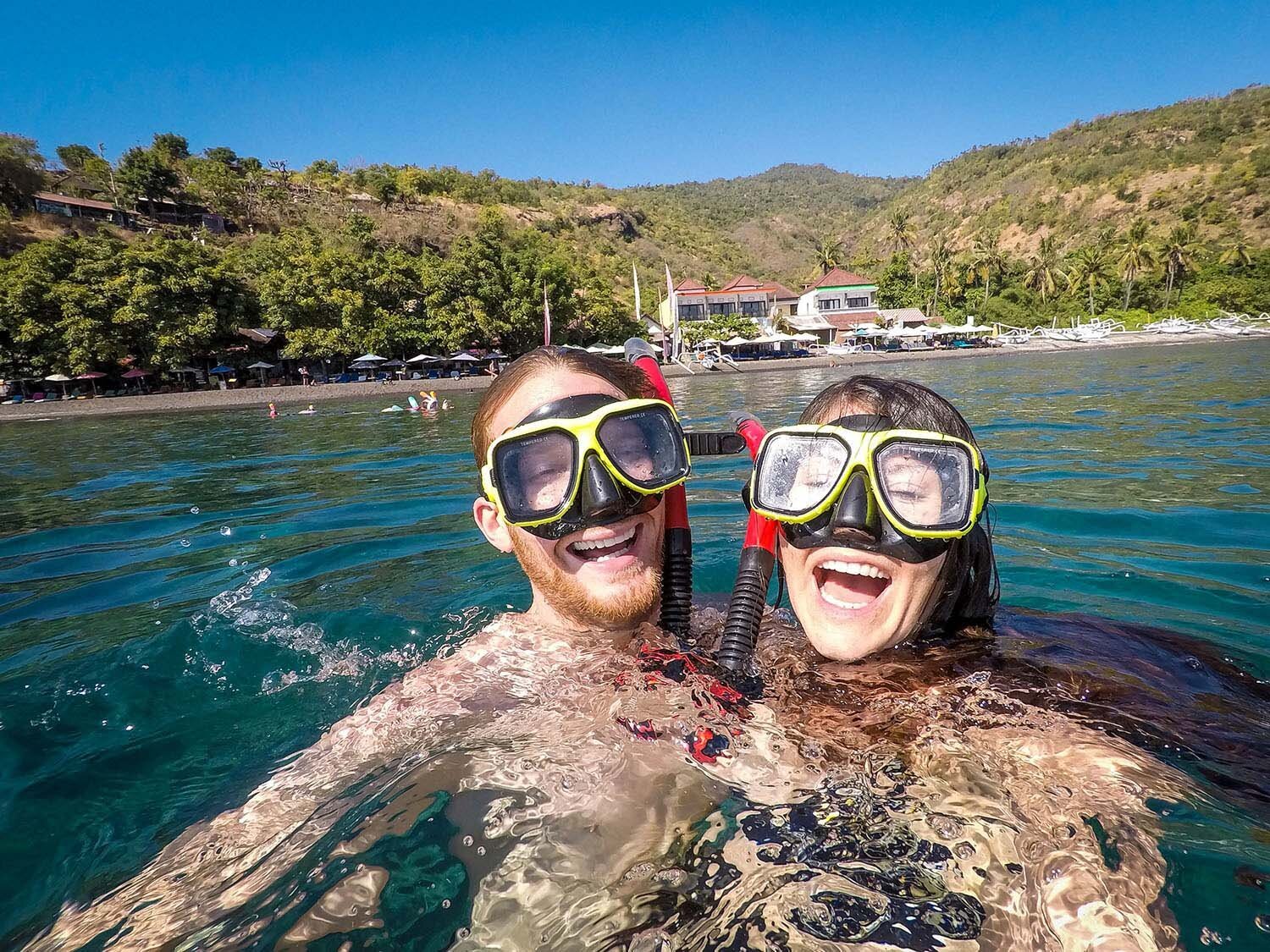 Snorkel at Lipah Beach
This is another great snorkel spot as there are many corals and fish to see. You might even get lucky and glimpse a sea turtle!
Snorkel at the Japanese Shipwreck
Another popular snorkel spot is over the Japanese Shipwreck, which is a bit further past Lipah Beach. You can see the Japanese Shipwreck Point on Google Maps, or just head straight out from Astungkara Warung. The shipwreck is covered in corals and barnacles and is quite close to the water's surface. You may also see people scuba diving at this spot.
Where to rent snorkel gear: If you don't have your own snorkel gear, there are plenty of places to rent from along the beach. We rented sets for 50,000 IDR each ($3.50 USD) from a small shop across the road from Jemeluk Beach. When we crossed the street we found a handful of other people renting gear (some for cheaper than we paid!).
3. See Sunrise over Mount Agung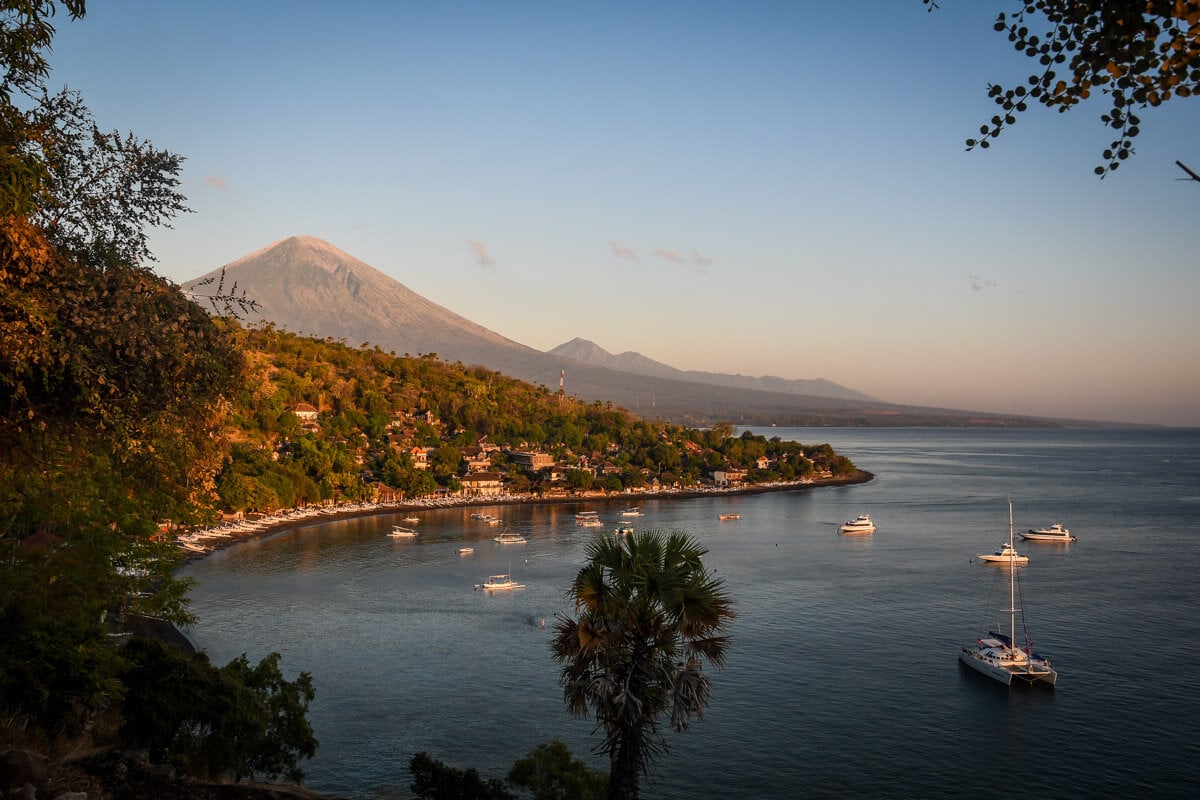 Seeing the morning light color Mount Agung is a beautiful sight, even if you just glimpse it from your hotel window.
But if you can break away from your cozy bed before the sun peaks beyond the horizon, we'd recommend driving up to Jemeluk Viewpoint. Although this is often referred to as the "sunset viewpoint", we think the view is just as good (if not better) in the morning light.
Alternative Sunrise Viewpoint:
If you're feeling up for a bit of a drive, there is a famous "Instagram spot" that many influencers photograph called Bukit Cinta, or Love Hill. Just check out our friends, Charlotte and Natalie's photo below! Stunning, huh?
Here are a couple of things to know before making your way out to this place:
It's not your typica l overrun photo queue spot that you see so often in Bali (at least not yet). Yay! In fact, when we were there, it was hard to even tell where to go.

For nice lighting, you'll want to go for sunrise or sunset. We were there around noon and it was far less magical than all the photos we've seen. Bummer dude.

There's a restaurant called Bali Asli which is very close to this spot. It is handy to plug into Google Maps to direct you to the viewpoint, but we wouldn't necessarily recommend eating here. We were planning to grab lunch, as we were really hungry when we arrived. However, it looked like atourist trap with the only diners being middle-aged couples on tours. It's a set menu with a very steep price tag for the types of food they serve. We ended up leaving and eating elsewhere.
4. Yoga with a view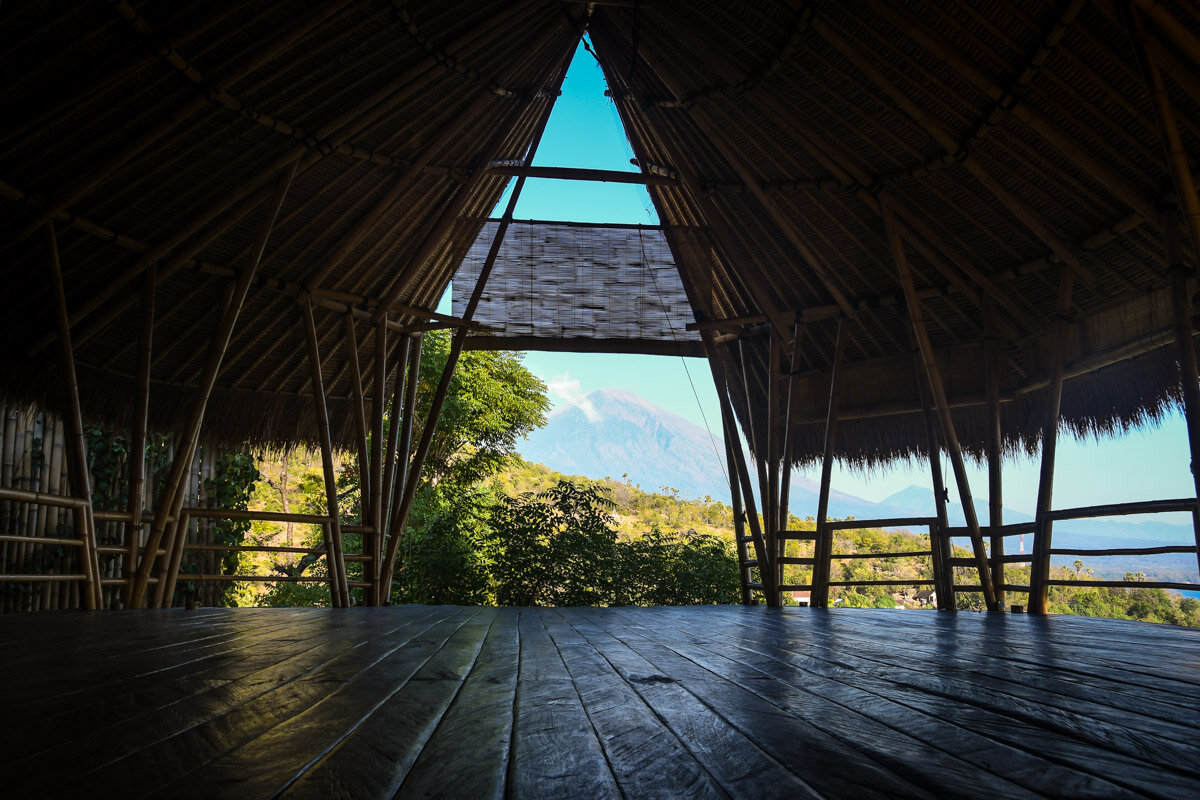 Situated on a cliffside that overlooks the ocean, Blue Earth Village is a popular restaurant in town with absolutely incredible views.
But in addition to serving up pizzas and Balinese dishes, they also have a beautiful bamboo open-air yoga deck with views of Mount Agung. Wake up and catch the morning light over this iconic volcano as you go through your Vinyasa flow.
Classes cost 100,000 IDR per person ($7 USD), and they have mats you can borrow, so there's no need to bring your own. Typically, they have yoga classes at 7 a.m. and 5:30 p.m., but check out their yoga schedule, which they post on their Facebook page. We thought we'd be doing a 7 a.m. yoga class, but it was a Daoist meditation on the day we chose to go.
Insider Tip: After your morning yoga class, order a smoothie and relax for a bit with the beautiful views. And if you take a sunset class, stay for dinner or a drink to soak it all in.
5. Go beach hopping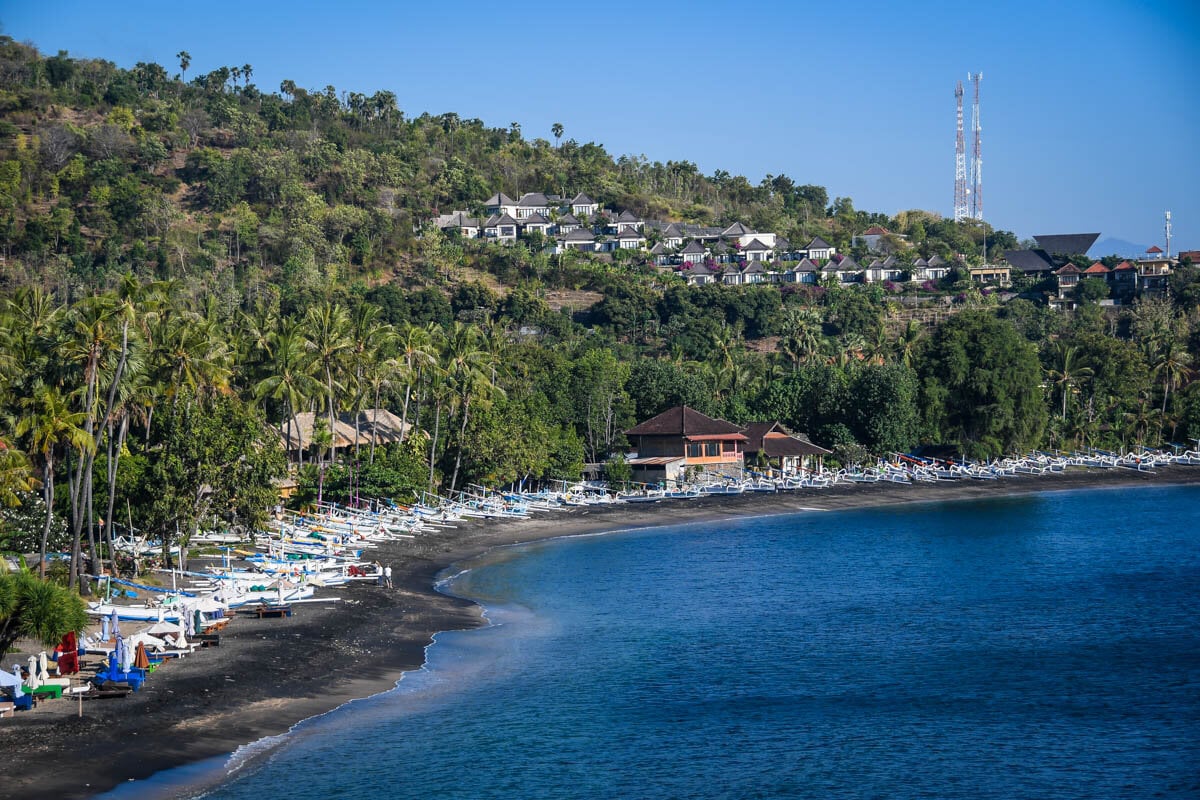 Amed has 3 main beaches, each of which is quite different:
Amed Beach: Black sand beach at the very start of town

Jemeluk Beach: Rocky Beach in the middle of the three beaches

Lipah Beach: It is often called the "white sand" beach, but we'd say it's more of a "regular" sand than the powdery white sand you may be thinking of.
Grab a sarong, a good book and reef safe sunscreen, and head to the beach of your choosing.
Each of the beaches is lined with warungs (local restaurants) where you can grab a bite to eat or rent a beach chair (which should cost around 50,000 IDR during peak season). When you get bored, pick up your stuff and head to the next beach!
6. Relax by the pool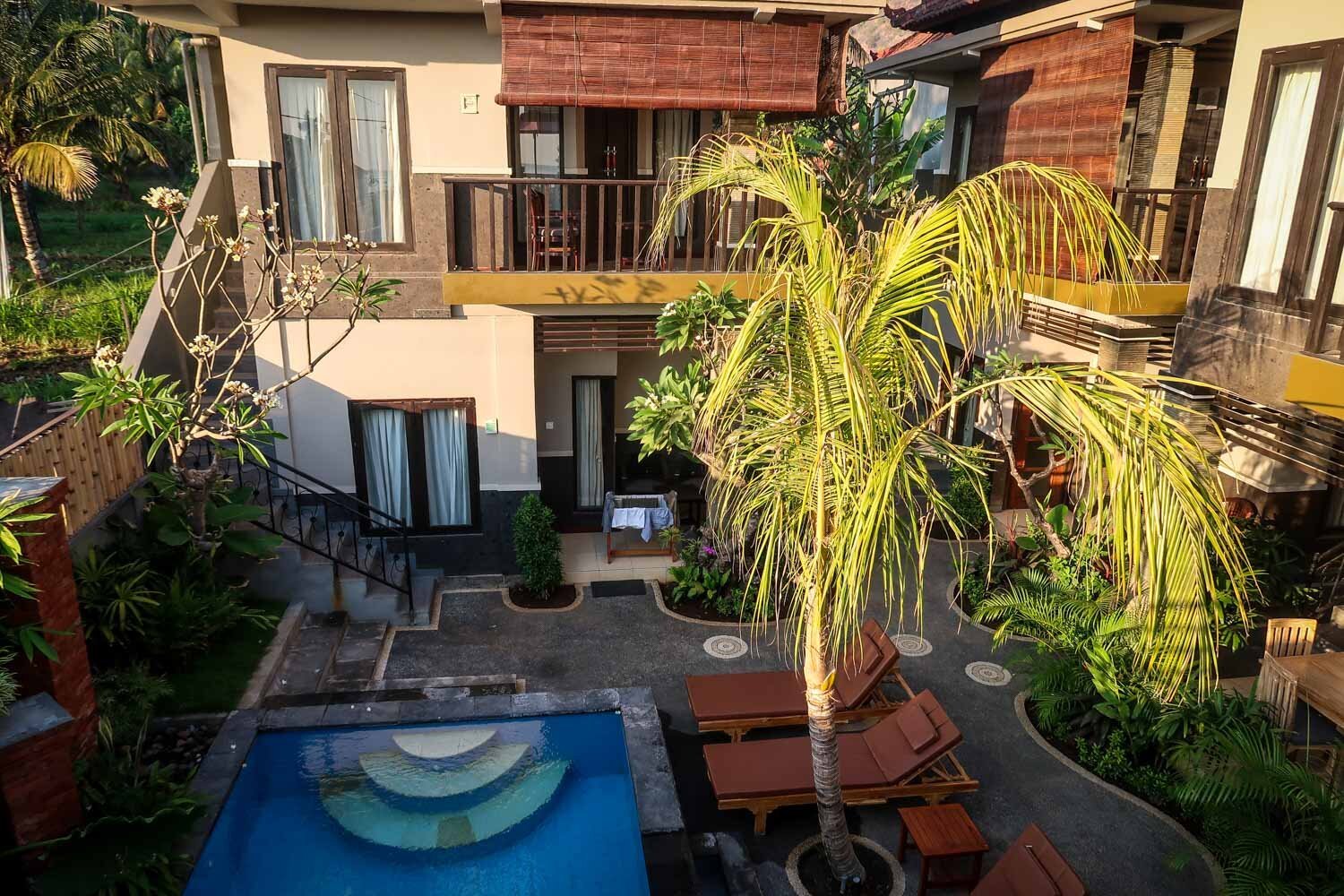 If you're more of a pool person than a beach bum, be sure to choose a hotel that has a pool onsite. There are lots of great hotels in Amed that have pools, so you should have no trouble finding one.
It's nice to be able to relax on a beach chair after a long morning of exploring without having to worry about getting sand everywhere. Just be sure to pack a good book!
7. Get a Balinese Massage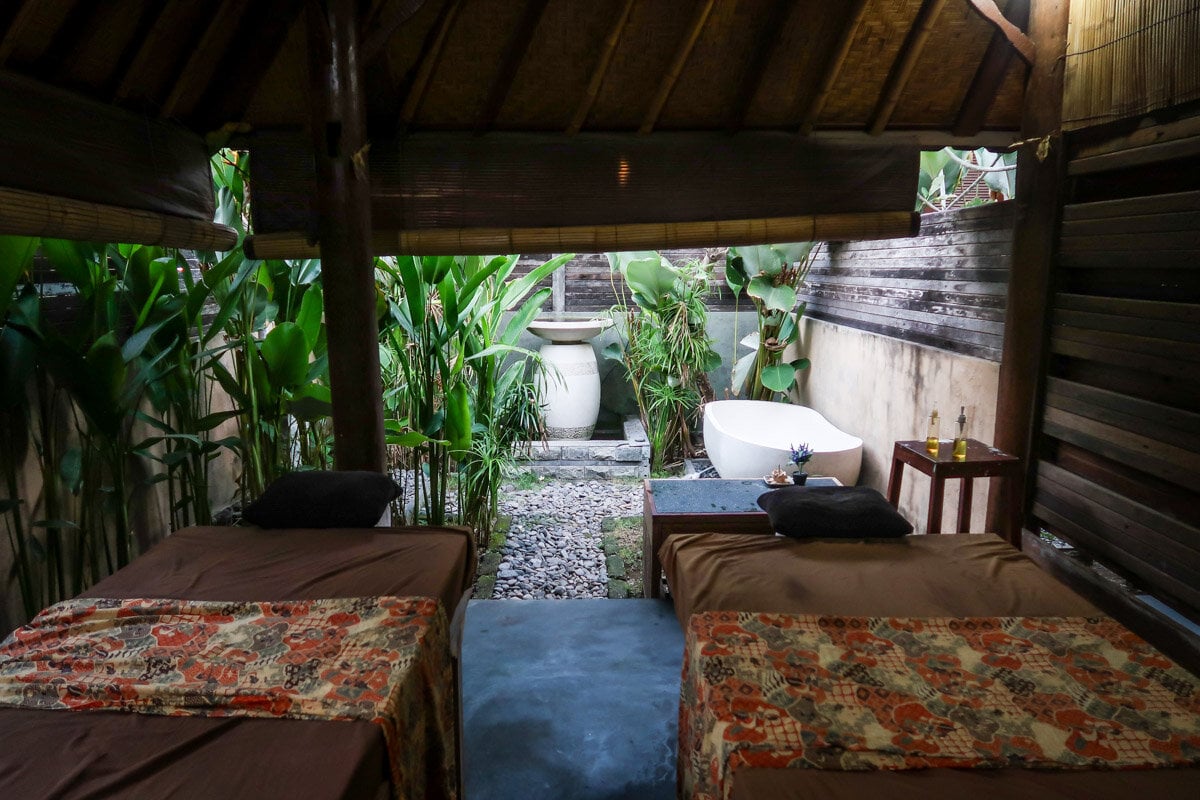 If you're not getting a massage every other day in Bali, you're missing out! Okay, just kidding, that would be excessive. But my point is, massages here are plentiful, cheap, and when you find the right one, AMAZING.
Lucky for you, Amed has many quality spas where you can get blissed out after a day in the sun. Our advice would be to check out Google Maps for spas and read reviews before walking into a random one. Trust me, we've made that mistake one too many times and got subpar massages.
We had a wonderful experience at Swasti Dewi Salon & Spa (which was conveniently located right by our hotel). We each got a Balinese massage in a super relaxing atmosphere. Bliss, I tell you!
Insider Tip: Many of the spas in Amed allow you to make appointments, so if you have a time in mind call them or stop in to make a booking so you don't have to spend your time waiting around.
8. Happy Hour with a view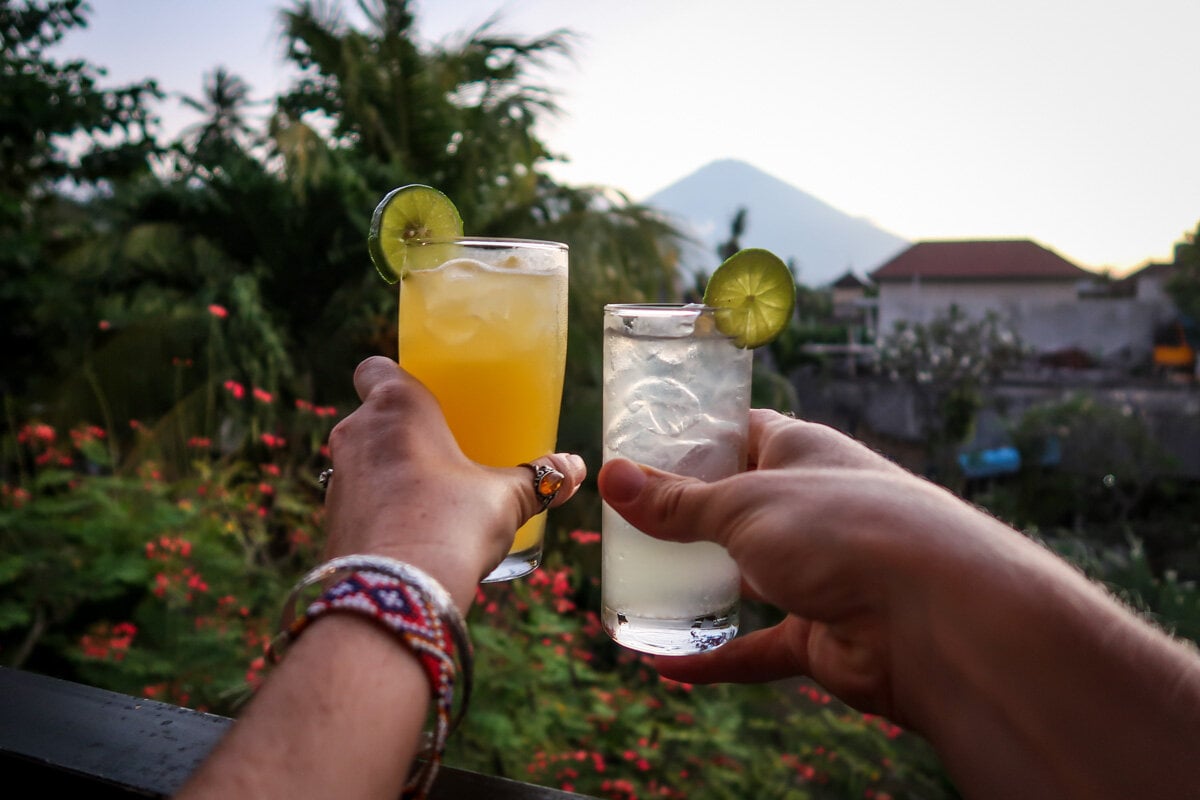 There are few things we like more than cocktails with a view. And better yet is when those cocktails are on happy hour!
Amed doesn't have much when it comes to nightlife, but who really need a party when you can have a mojito – or 3! – (no judgment here!) and soak up ocean views.
9. Sunset View at Jemeluk Viewpoint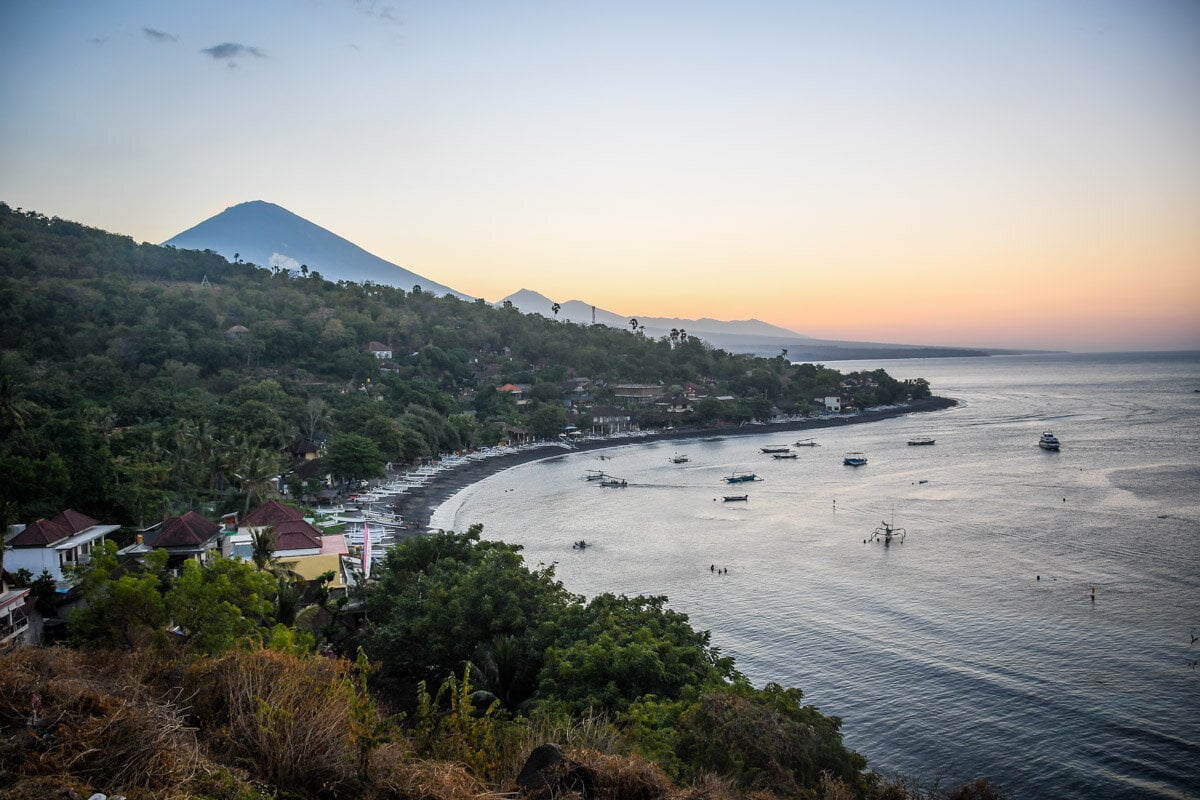 While living in Canggu we were spoiled for sunsets, as the beach faces west. Each night, we'd get to see the sun dip below the ocean. Even though Amed doesn't have the same west-facing views, sunset is still pretty noteworthy, especially if you can get up to Jemeluk Viewpoint (also called "sunset viewpoint"), which is on a bit of a hill and overlooks the beach below and Mount Agung in the distance.
There's not much of a place to stand other than a small platform and some spots alongside the road. Be careful as you're walking because some people come down the hill fast on motorbikes.
When we arrived around sunset time we were the only ones there and some small children approached us trying to sell us trinkets. There was construction going on to build what looked like a restaurant.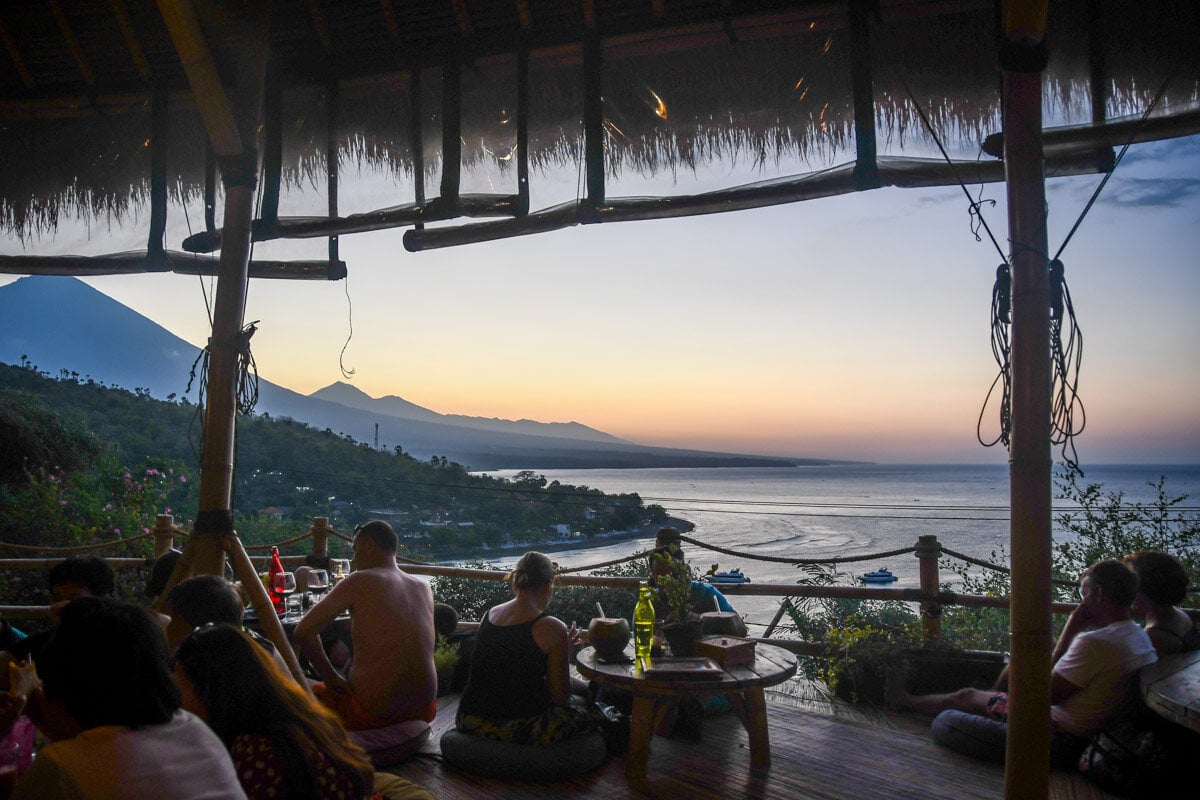 We'd recommend carefully checking out this view, then parking in the Blue Earth Village, which is just beside the viewpoint. Grab a drink or some food and enjoy the view without trying to dodge traffic and vendors. I know we keep mentioning Blue Earth Village, but honestly it has one of the best views in town!
10. Visit Tirta Gangga
Located just 25 minutes from Amed, Tirta Gangga (also known as the "water temple") is a really interesting place to see.
Tirta translates to "holy waters" and Gangga refers to the Ganges River in India. This temple is an important place for Balinese Hindus, and it is also a popular spot for Instagrammers. Known as one of Bali's famed "Instagram spots", Tirta Gangga is filled with flowy dresses and patient photographers waiting for their turn in line.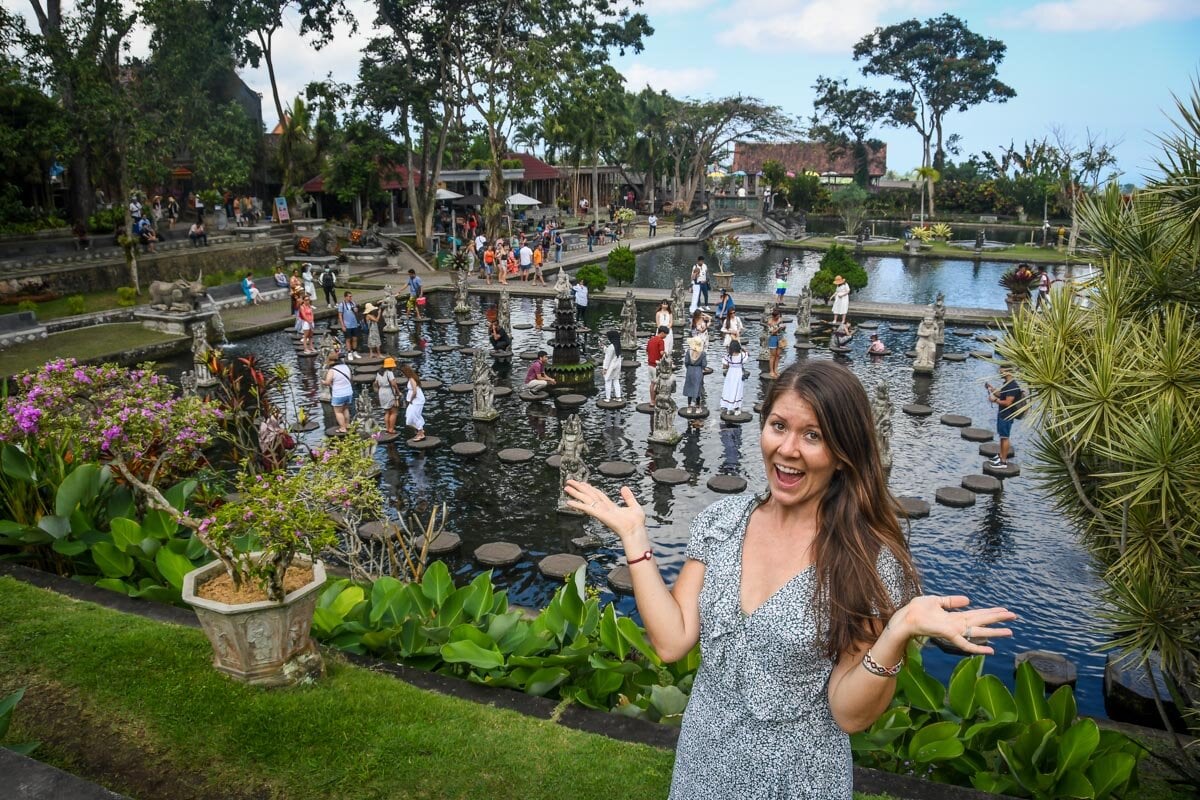 The Insta Pic: The shot that everyone waits for is where you step on the "floating" rock steps and feed the golden carp so they surround you in an almost surreal photo op.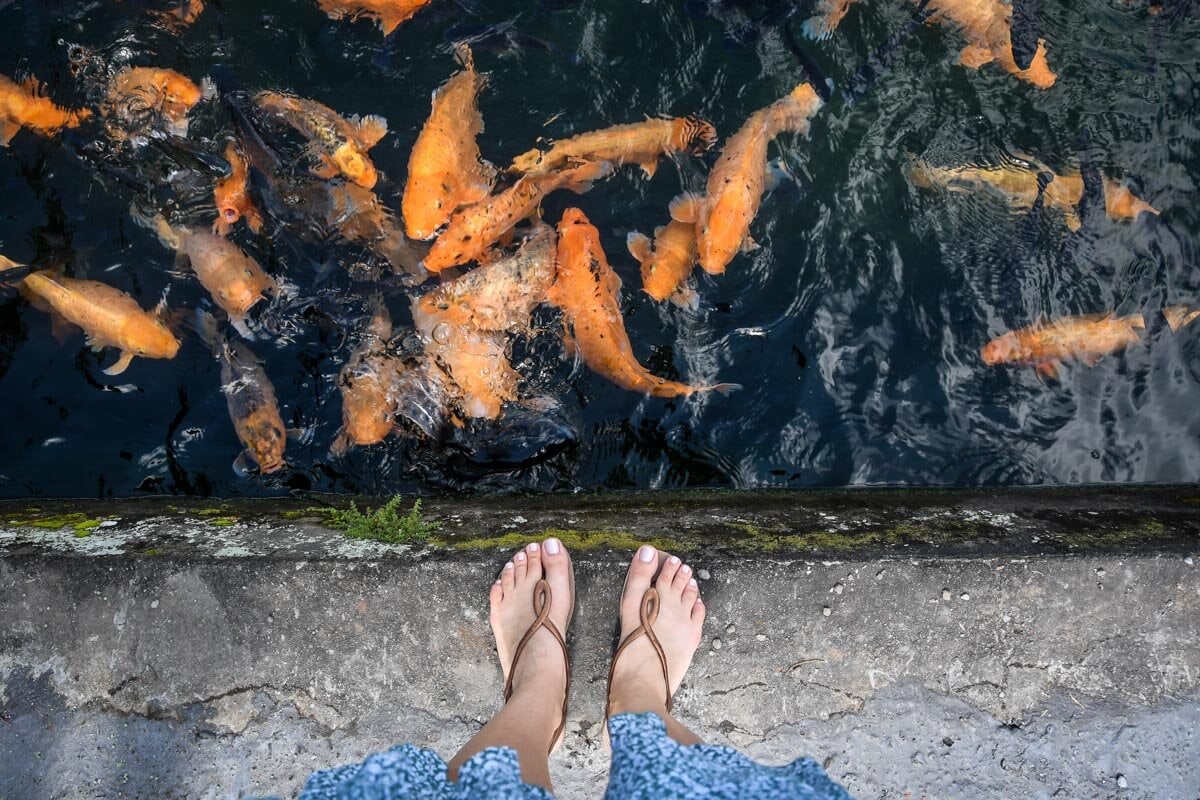 To be honest, I'm kind of over the whole "wait in line for a photo" thing, so we opted not to take the typical photo, and found the rest of the grounds to be really nice (and not crowded – gasp!). If you want to get that shot with the overfed fish, by all means, go for it! But be sure to venture past that one area and you'll find lots of other photo ops.
On the grounds, you'll find the water spring, which is considered to be holy as well as a place to bathe. You'll likely see many locals bathing here, and foreigners are welcome to bathe as well.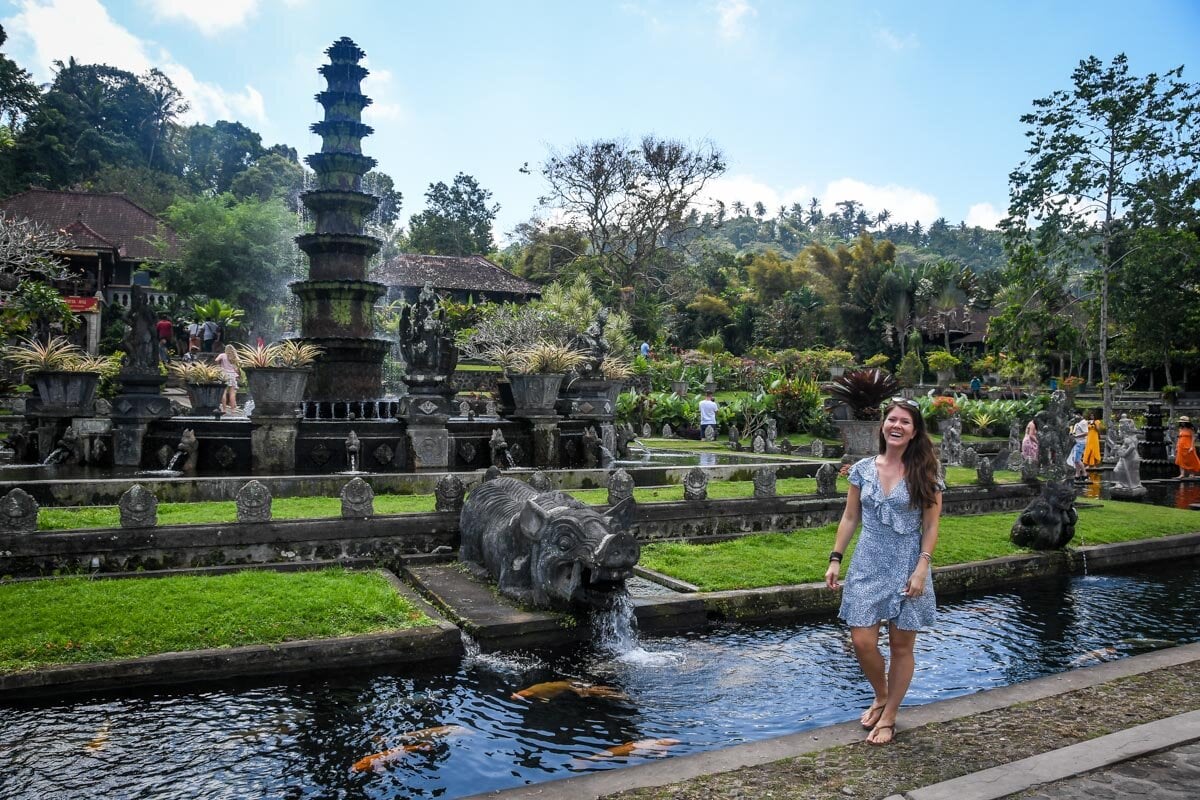 There is a café on the grounds, Tirta Ayu Restaurant, which looked like a nice place escape from the midday sun. Honestly, the drinks were overpriced and just meh. We didn't order any food, but it looked average.
That said, the view is very nice, so let that help inform your decision. Near the entrance, there are more cafes and warungs to choose from that seemed to have better prices.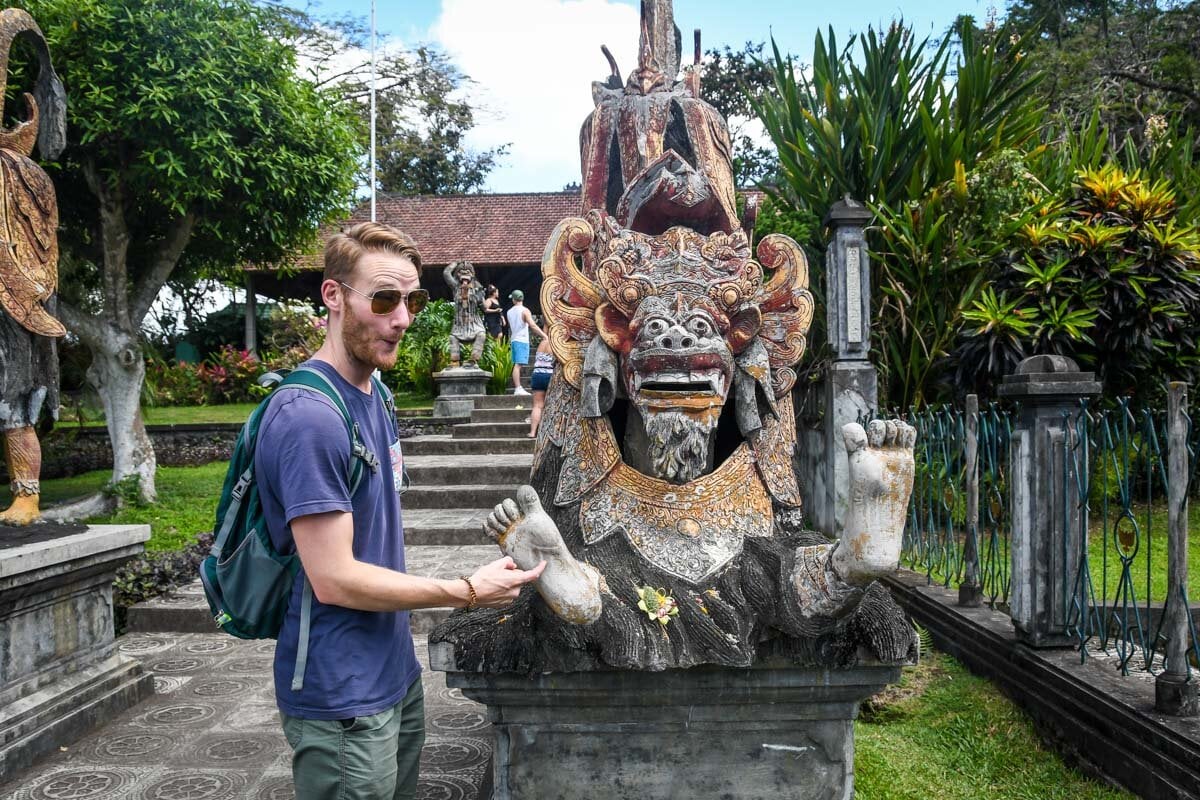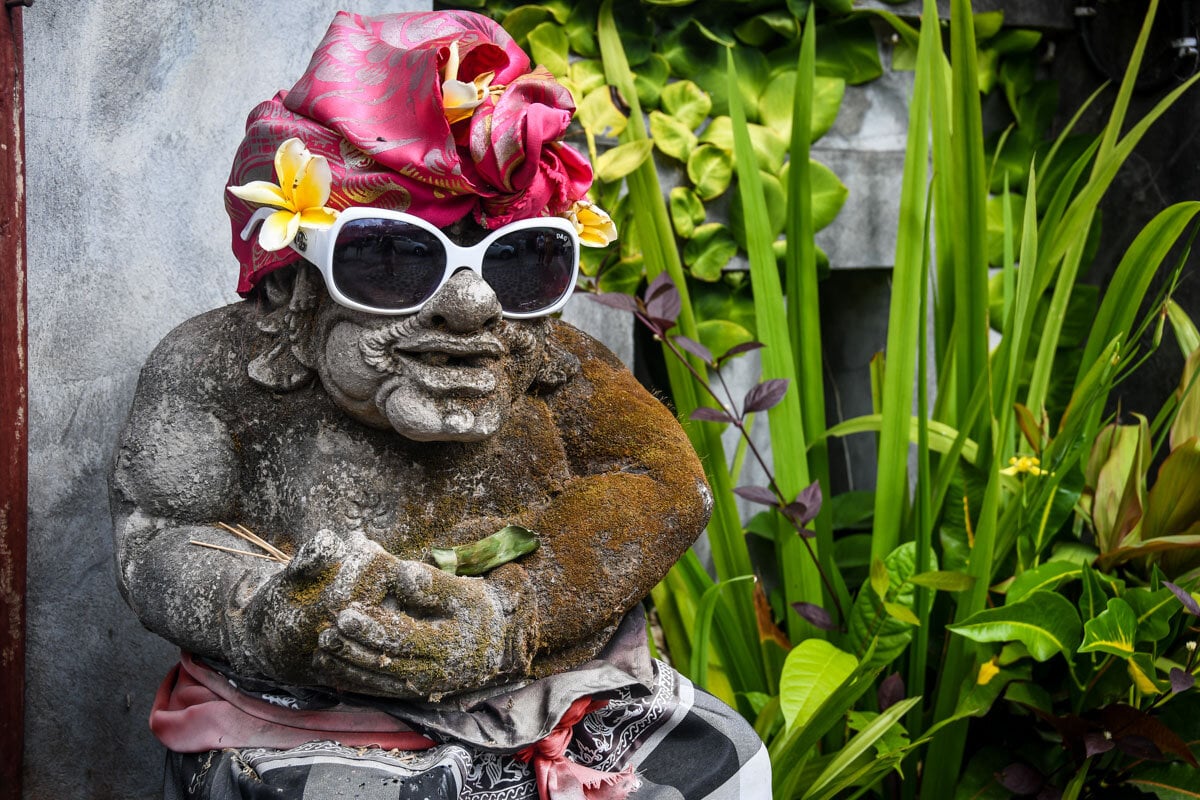 How to get to Tirta Gangga: We drove to Amed on a scooter and made a stop here on our drive since it's on the way. However, if you're arranging transportation to Amed, you can rent a motorbike in town and make the drive that way. Alternatively, you can arrange a driver to bring you to and from Tirta Gangga. Your hotel should be able to help you with either the motorbike rental or the driver.
11. Eat seafood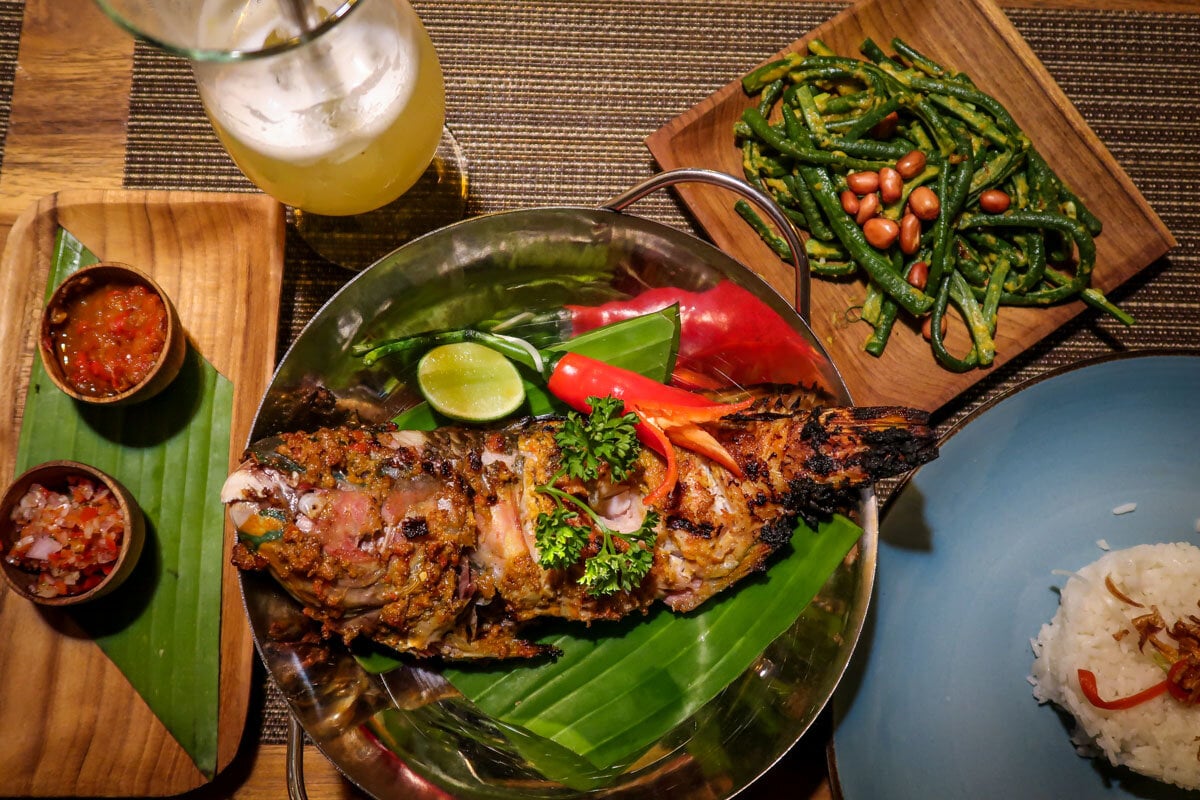 If you're a fan of seafood, Amed is the perfect place to order up some fresh fish, as you can't get much fresher than right here on the ocean.
One local dish to try is pepes ikan, which is fresh fish seasoned with chilis, ginger, garlic, shallots, and lemongrass before being wrapped in a banana leaf and steamed. It is served with rice and sambal, an Indonesian chili paste.
You can also find many restaurants serving the fresh catch of the day grilled over charcoals and served with local side dishes (and rice, of course!).
Bonus: If you want an authentic experience, why not get out and do the fishing yourself?! Some hotels will organize a fishing excursion where you can go out with a local fisherman. But be prepared to wake up early as most fishing is done at the crack of dawn! Your efforts will be rewarded once you get back to land as your catch is grilled up for you to eat!
12. Motorbike to secret rice terraces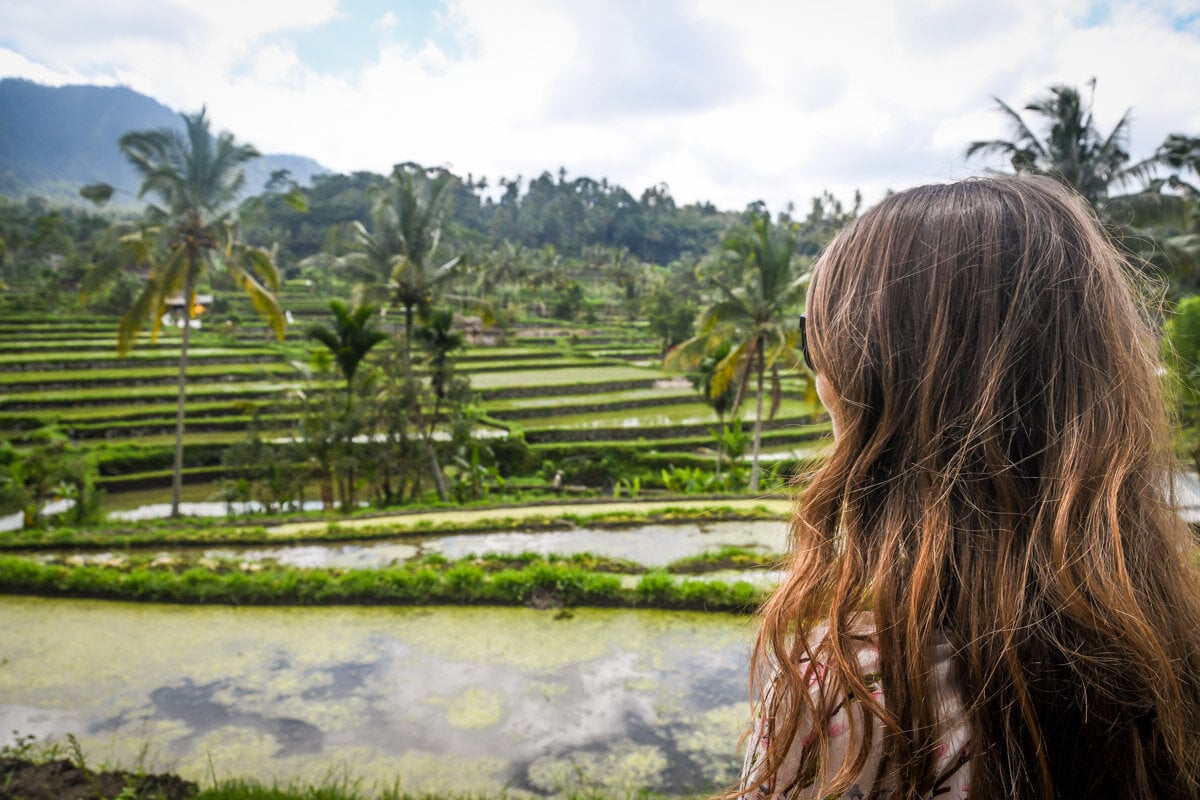 Everybody knows of the popular rice terraces outside of Ubud, and while they're still 100% worth visiting, the rice fields on the eastern part of Bali are seldom visited. The best way to explore is to rent a motorbike and drive inland.
Truthfully, we just stumbled upon beautiful spots as we were driving to and from Amed with no agenda. And sometimes those are the best kinds of discoveries – just getting lost and finding beautiful surprises. So if you have time, just hop on a motorbike and drive with no plan.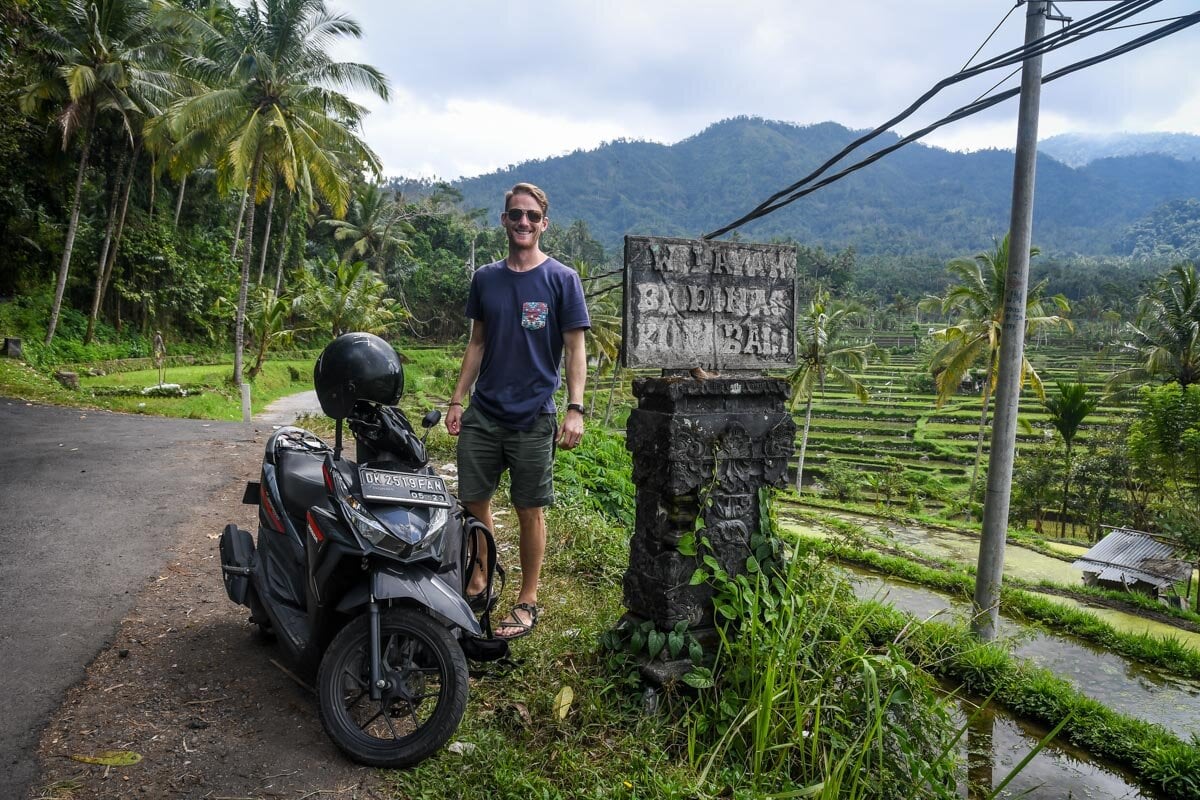 But if you're limited on time, there is a really beautiful and tranquil rice terrace not far from Amed that you can go straight to (without wasting time). Take the main road, Kutut Natih, about 10 minutes outside of town, and put this coordinate into your Google Maps. You'll turn off onto a smaller side street and will find stunning rice fields with few (if any!) other foreigners.
13. Do a Pub Quiz or a Movie Night
If you happen to be in Amed on a Tuesday or Saturday night, you're in luck. Head to Blue Earth Village for a good time!
Tuesdays at 7 p.m. is "Movie Night" where they show a film free of charge! Check their Facebook page to see what movie they'll be playing during your visit.

Saturdays at 7 p.m. is the weekly Pub Quiz where you can test your trivia skills! It's free to play, and if you love trivia as much as we do, you'll want to pencil this into your plans!
Where to Eat in Amed, Bali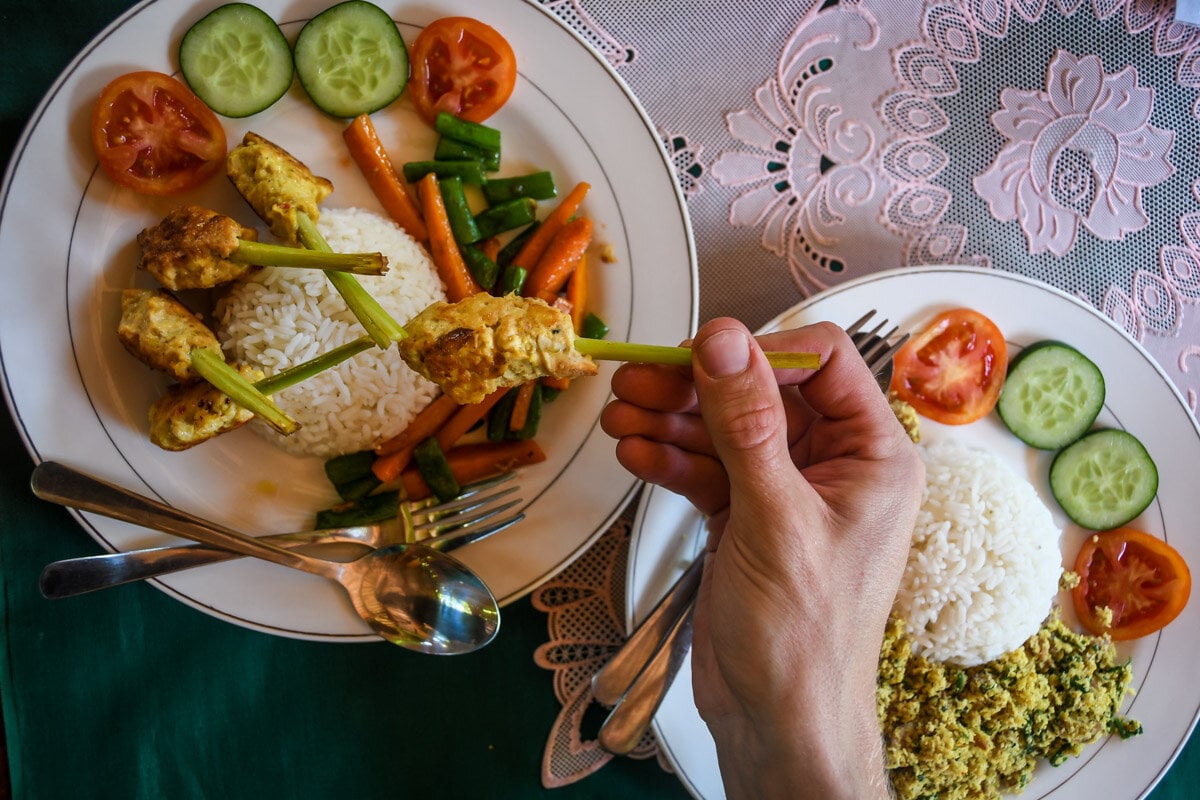 Blue Earth Café: With a nice atmosphere and arguably the best view in town, Blue Earth Café makes a good choice for a sunset dinner. With a large menu full of Indonesian and Western options, there's something for everyone here.

Our experience: We ordered a large specialty pizza (split half and half with two different combinations) and pepes ikan, a Balinese dish of fish steamed in a banana leaf. The food, in our experience, was good but nothing incredibly noteworthy. The views are what really make this place great. For dinner and drinks, we paid 275,000 IDR (just short of $20 USD).

Galanga: This is a beautiful fusion restaurant owned by a Balinese fisherman and a French chef, so you know the food is good! With an array of choices from local specialties to fresh fish to creative fusion dishes, there's something for everyone on this menu. And the cocktails are fantastic as well.

Warung Enak Amed: For local food at a reasonable price, this warung is one of the best in town. Recommended to us by locals, this place has a large selection and has many vegetarian options too.

Asli Amed: For a special dinner, Asli is a "nicer" pick, but be prepared for a bit of a splurge in Indonesian terms. Our dinner and drinks came to 425,000 IDR (just shy of $30 USD), but the service was wonderful and the food was delicious and beautifully presented.

Sails Restaurant: For a more refined atmosphere, Sails Restaurant might float your boat. Nautical puns are just too easy!
Where to Stay in Amed, Bali
Bali in general has no shortage of amazing places to stay, and Amed is no exception.
The biggest thing you'll need to decide is where in town you want to stay. Since Amed stretches mostly along one road and continues for several miles, you want to base yourself in a central location that's convenient for the things you really want to do during your stay.
Most of the hotels in Amed are clustered around each of the 3 main beaches. We stayed near Amed Beach (the black sand beach) and it was just fine. However, if we were to return, we would choose to base ourselves closer to Jemeluk Bay, as it is in the middle of the 3 beaches and is a little more centralized.
One other thing to consider is if you are planning to scuba dive a lot while in Amed (or take a PADI certification course), you'll want to stay near your dive school. Many even offer accommodation as part of their package, so look into that as well.
Good to know: Almost all the accommodation in Amed will include a free breakfast. Score!
Budget Stays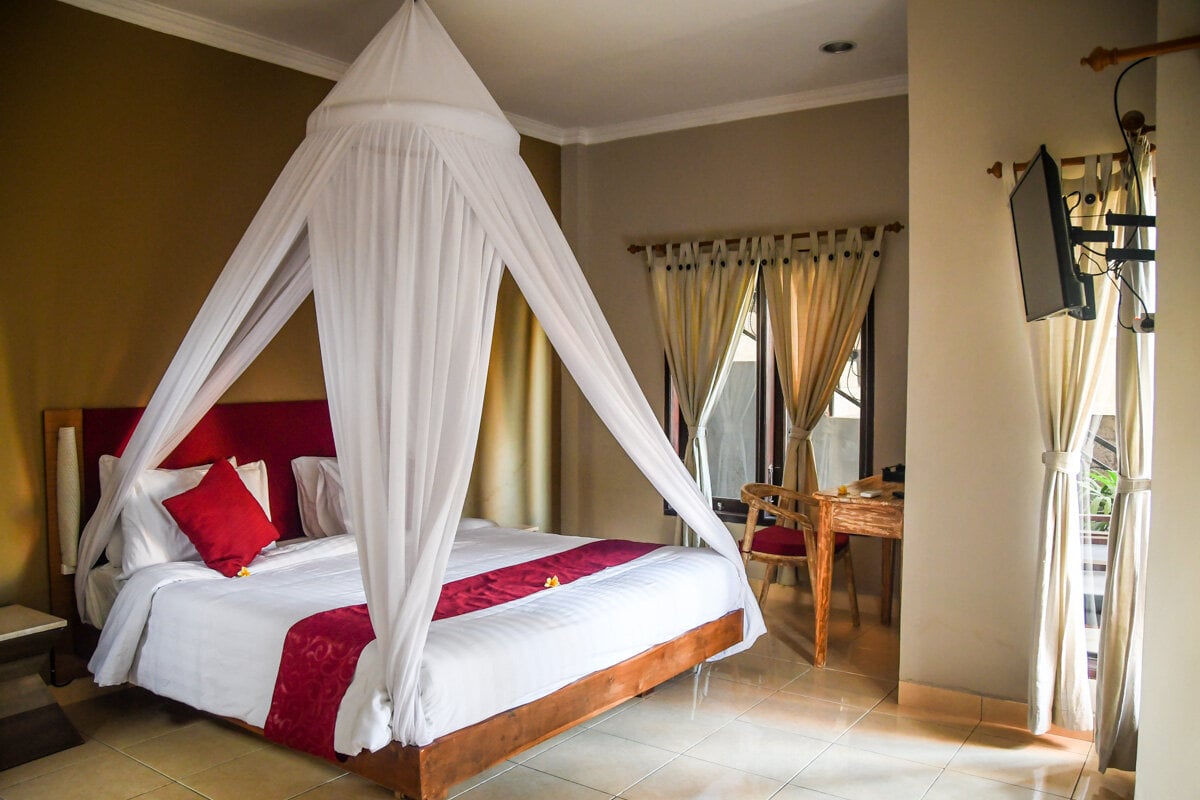 Villa Di Amed: This is where we stayed in Amed, and overall we really liked it. The room was comfortable and clean, they provided free breakfast, happy hour, and welcome drinks, and there was a small pool. The staff were incredibly kind, but dare I say almost too attentive?!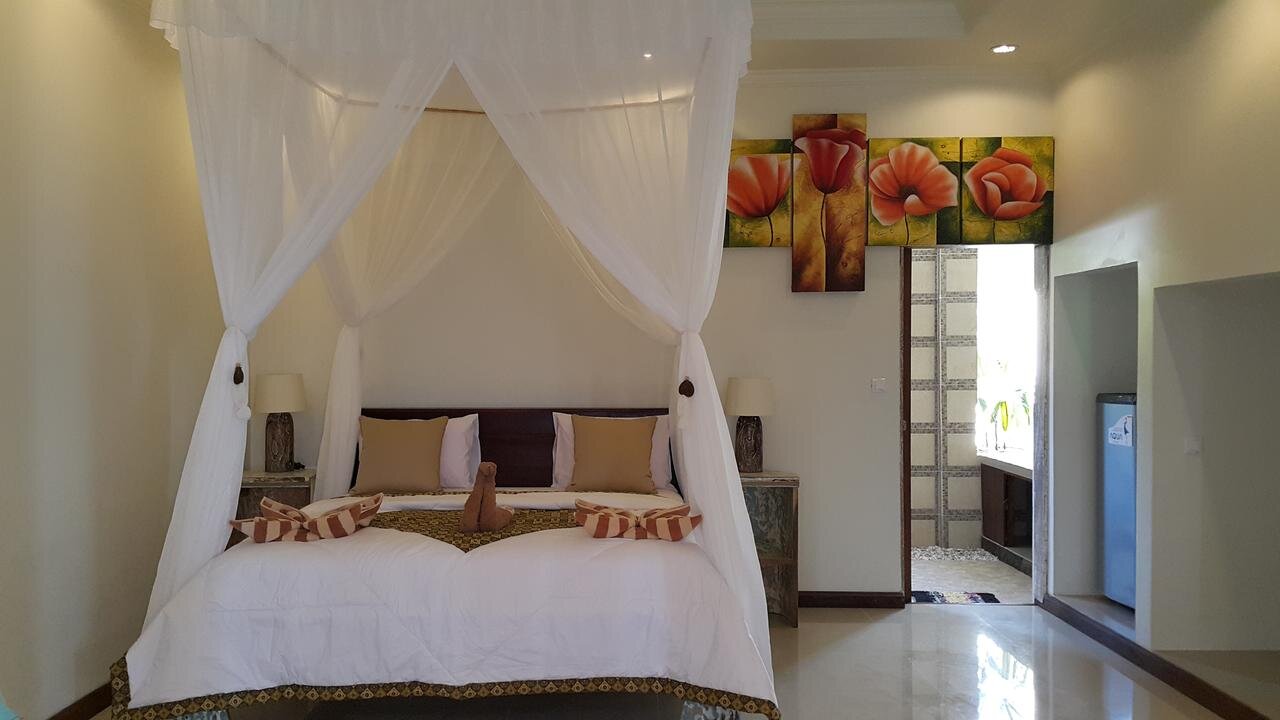 Solaluna Beach Homestay: With a beachfront location and a staff that makes you feel completely at home, this is a popular option with those who are looking for a budget stay and a more authentic experience. While the rooms are clean, they are quite basic. But after reading reviews, it's clear most guests can't find much (if anything) to complain about here!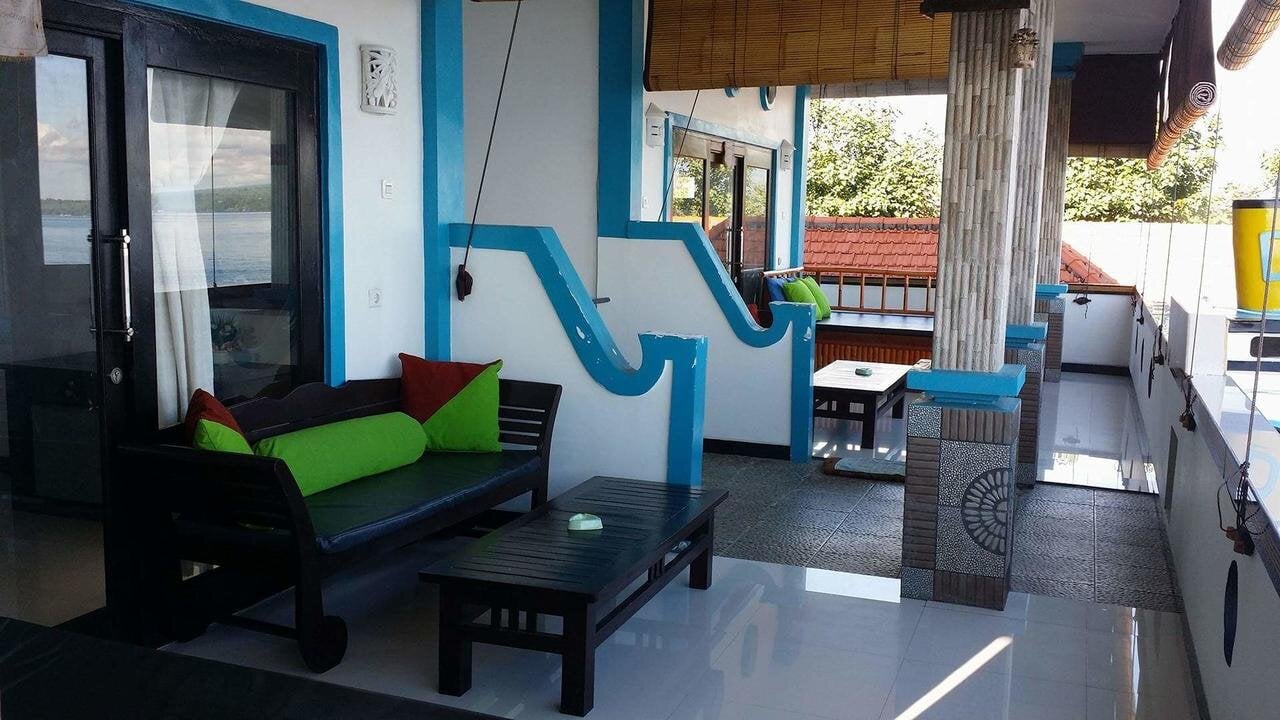 De Adema Homestay: If you're not bothered with basic facilities, this might be a great stay, as the rave reviews of the family who own this place speak for themselves. They can help organize local experiences, like joining a fisherman on his morning fishing trip.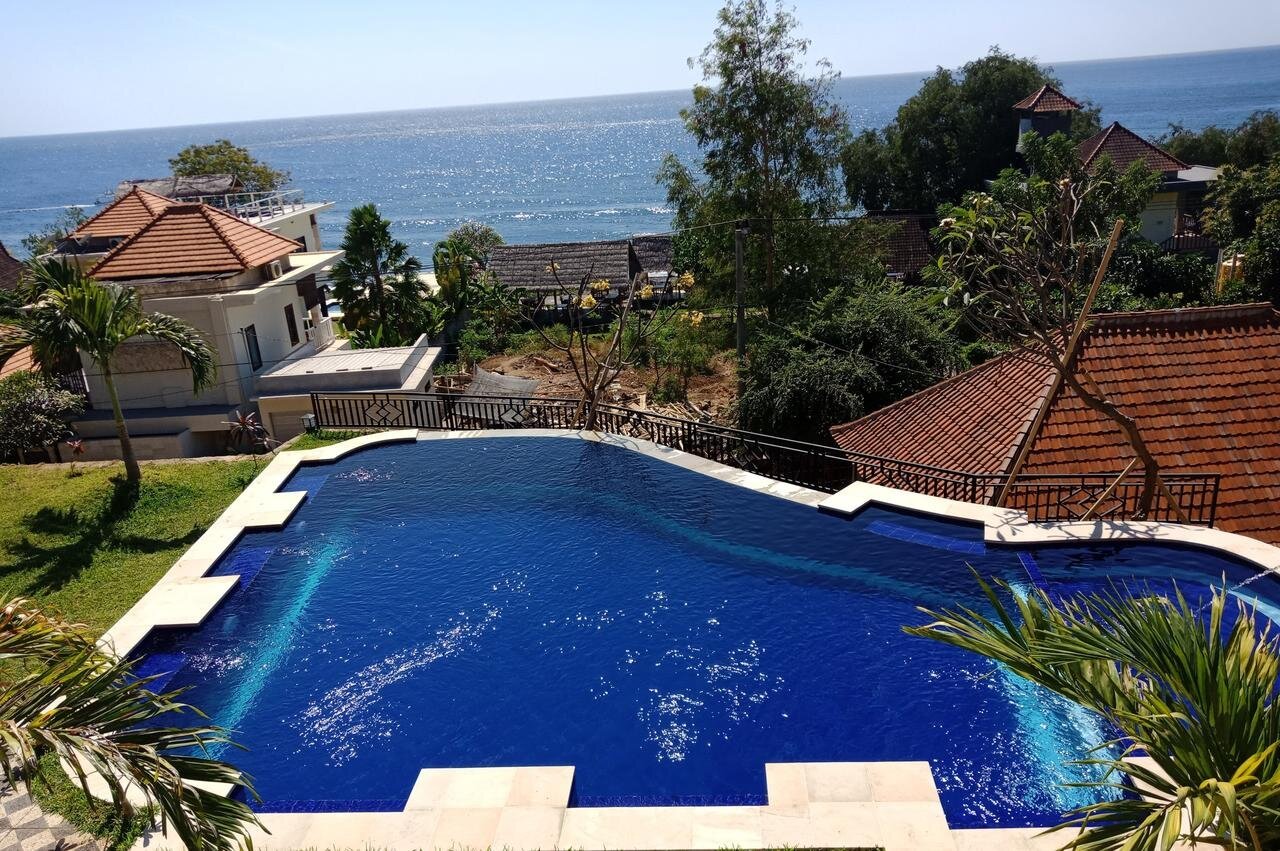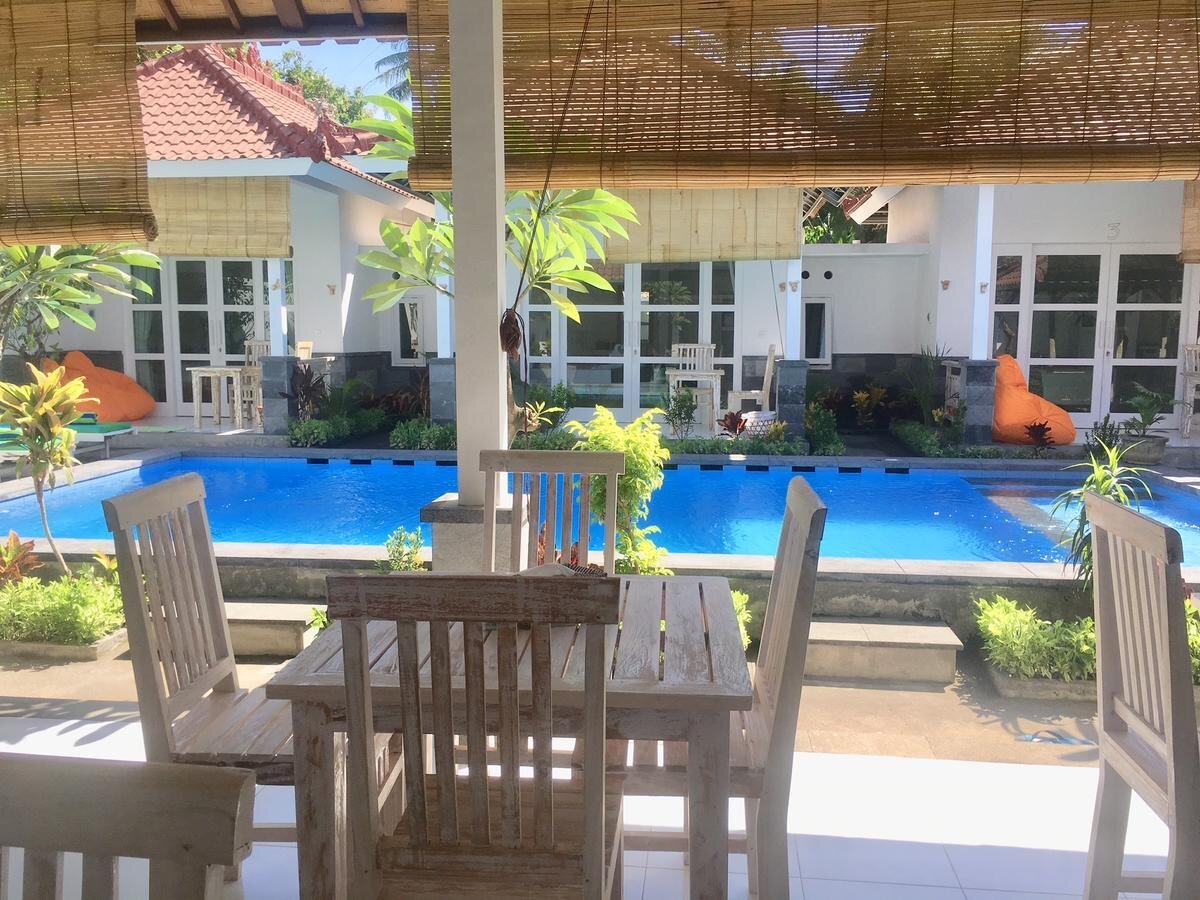 Narayana Homestay: A budget stay with a pool, this is another good option if you're trying to save money but don't want to stay in super basic accommodation.
Mid-Range Stays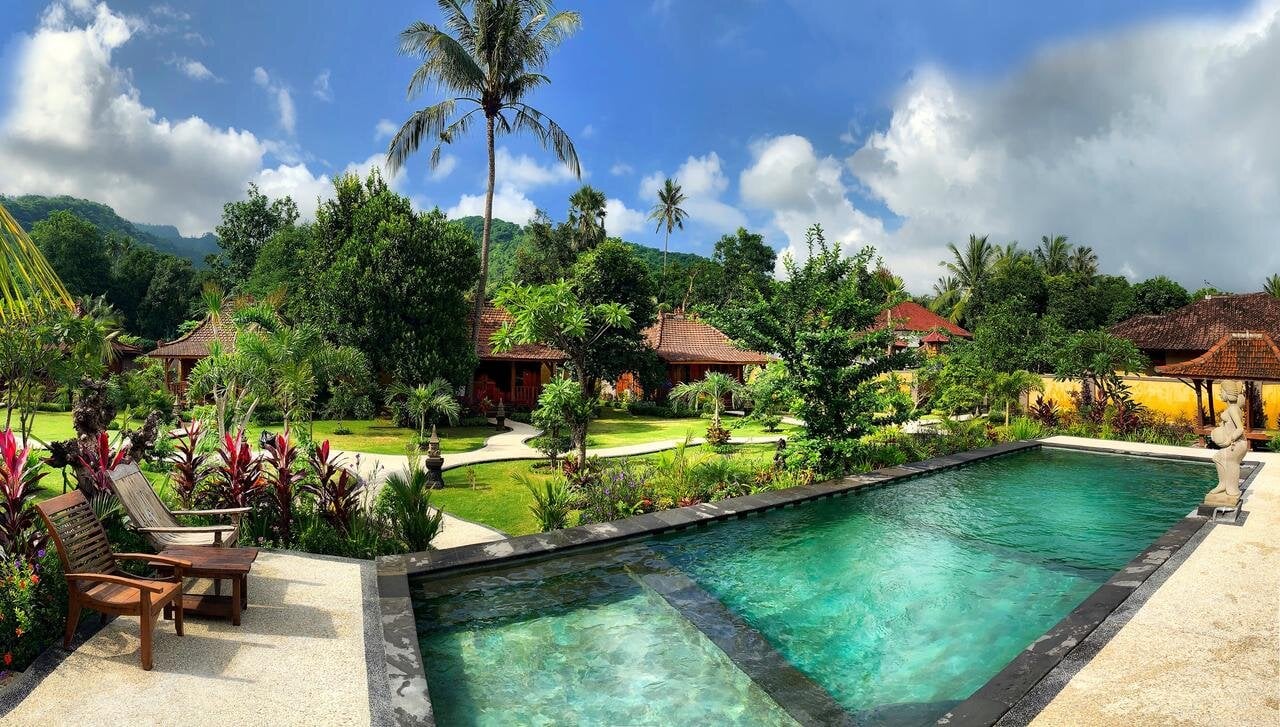 Kubu Kangin Resort: One of the more budget-friendly of our mid-range options, this property is stunning. Guests stay in individual bungalows in an idyllic garden setting at the center of which is a pool. This property receives rave reviews with the only downfall seeming to be that it is set back inland a bit, so you aren't right on the beach like many other Amed hotels. This won't be a problem if you feel comfortable getting around on a motorbike.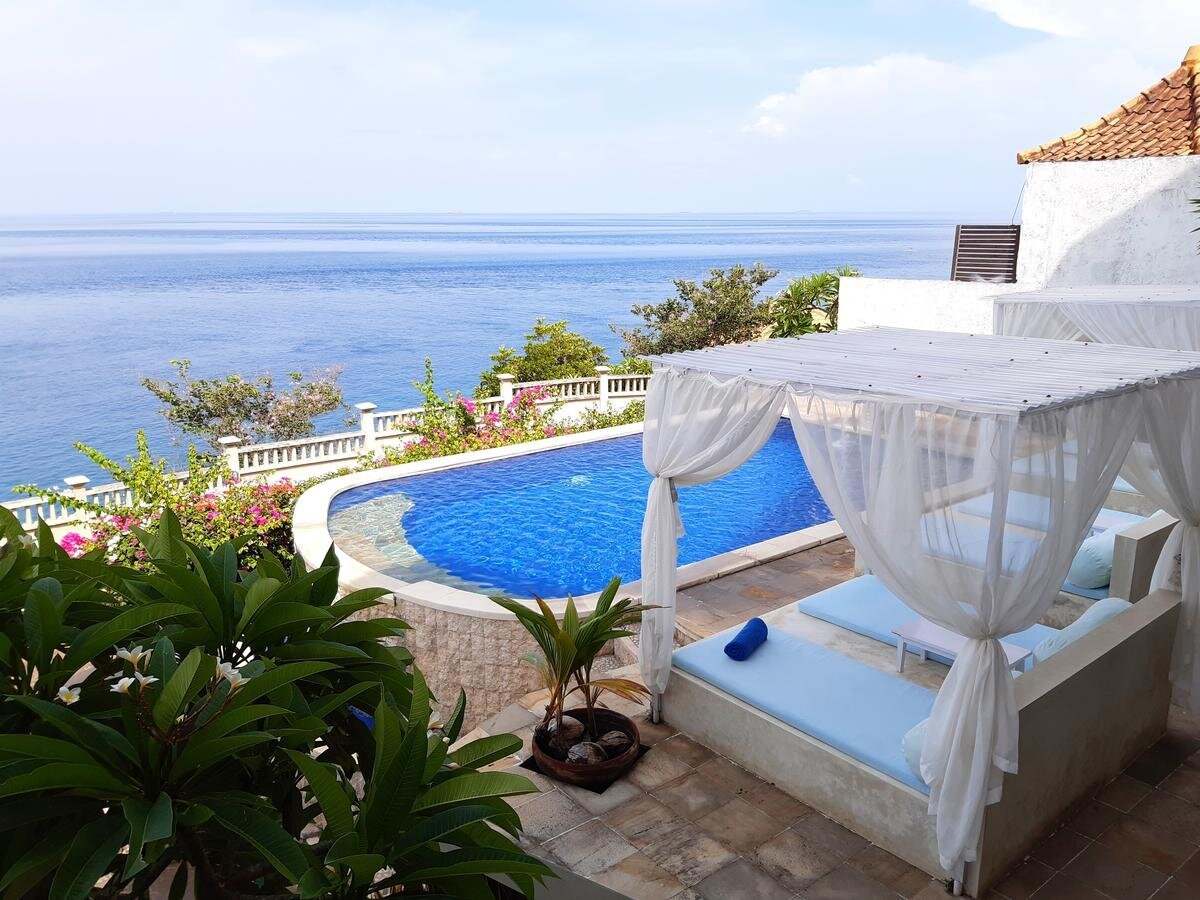 Guesthouse Aquaterrace: With stunning views over the ocean and bay below, this property has a nice infinity pool, onsite spa, and well-appointed rooms.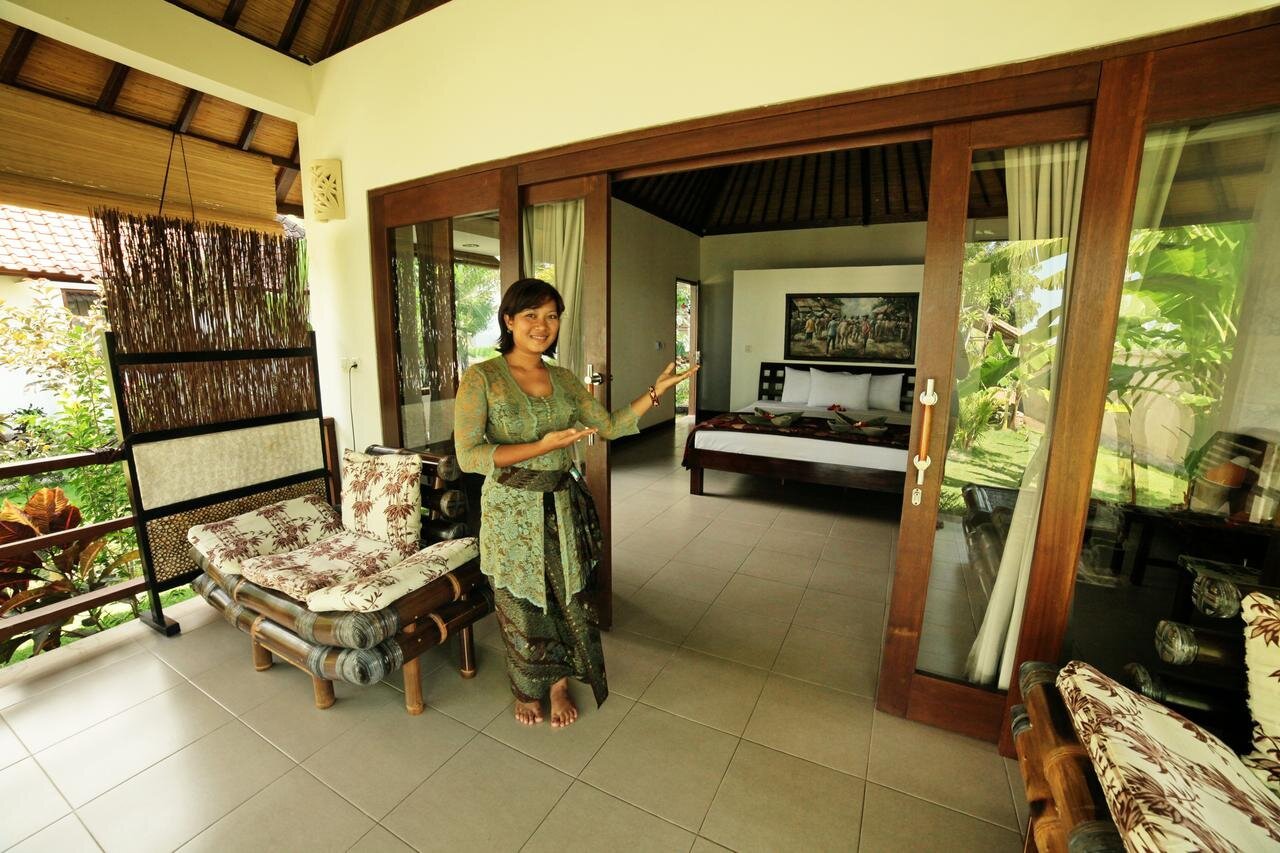 Bali Dream House: With hints of traditional Balinese architecture, a swimming pool, and beachside location, this is a good mid-budget choice.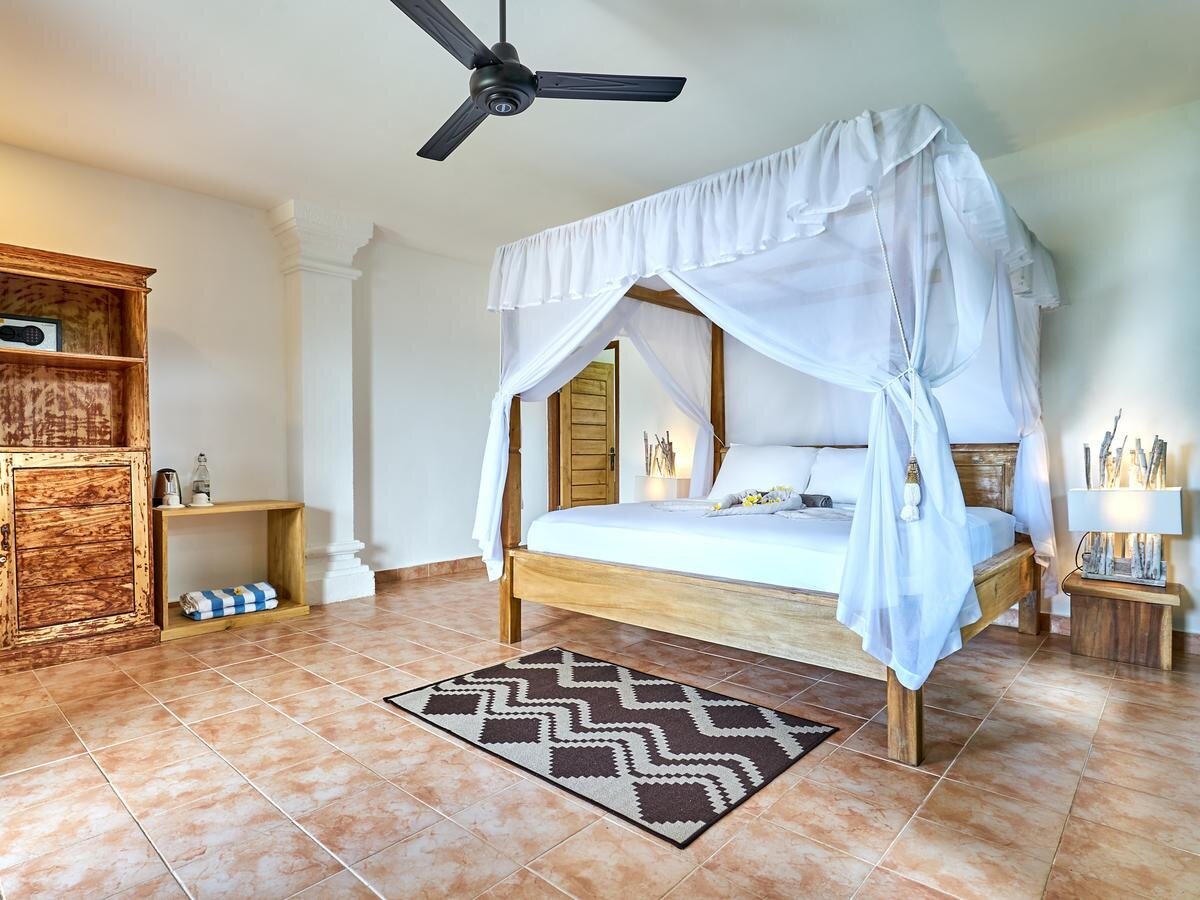 Vienna Beach Resort: This beachside resort has spacious rooms with thoughtful touches, an onsite restaurant, and a pool that overlooks the ocean.
Splurge Stays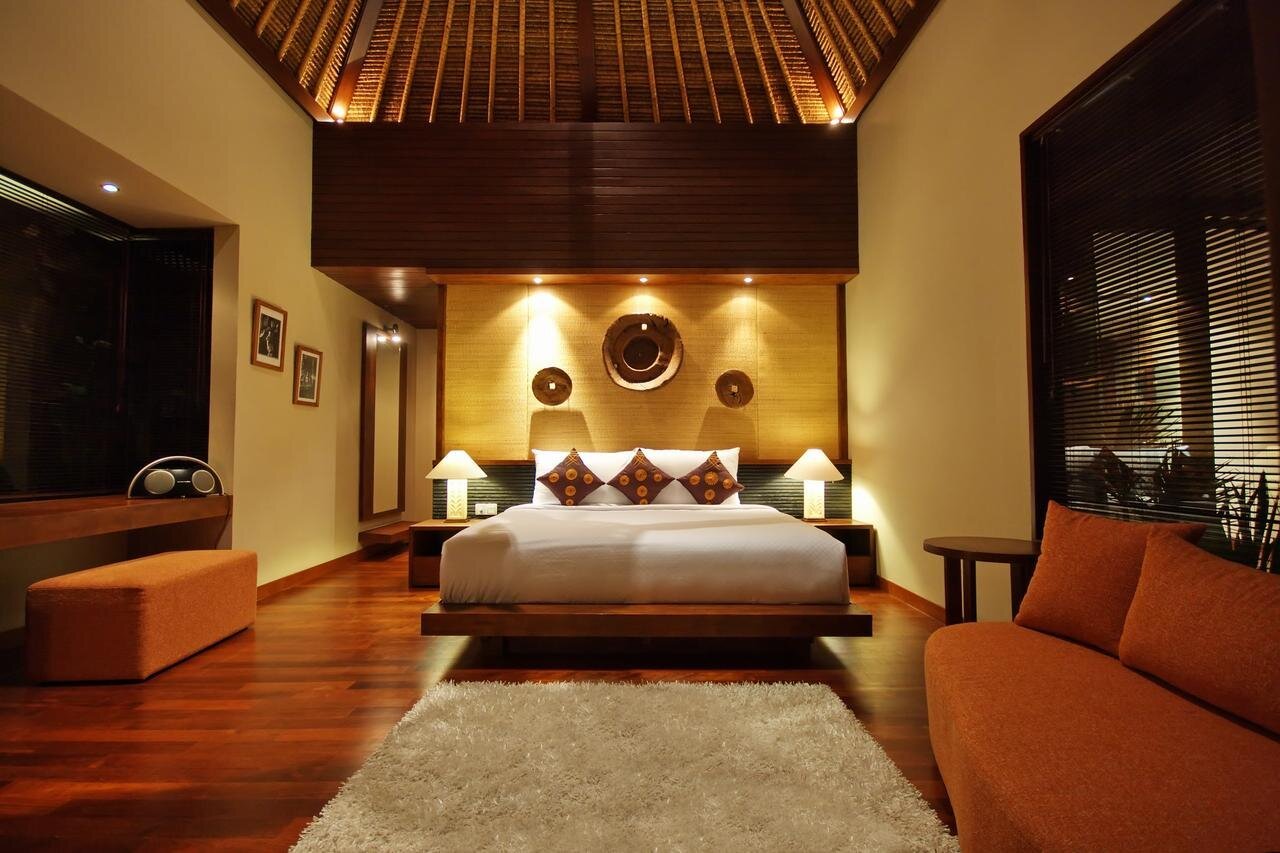 The Griya Villas and Spa: This property is stunning and offers all the amenities you'd expect of a top-notch hotel. Staying at these oceanfront villas surrounded by lush gardens is worthy of a honeymoon or a romantic getaway!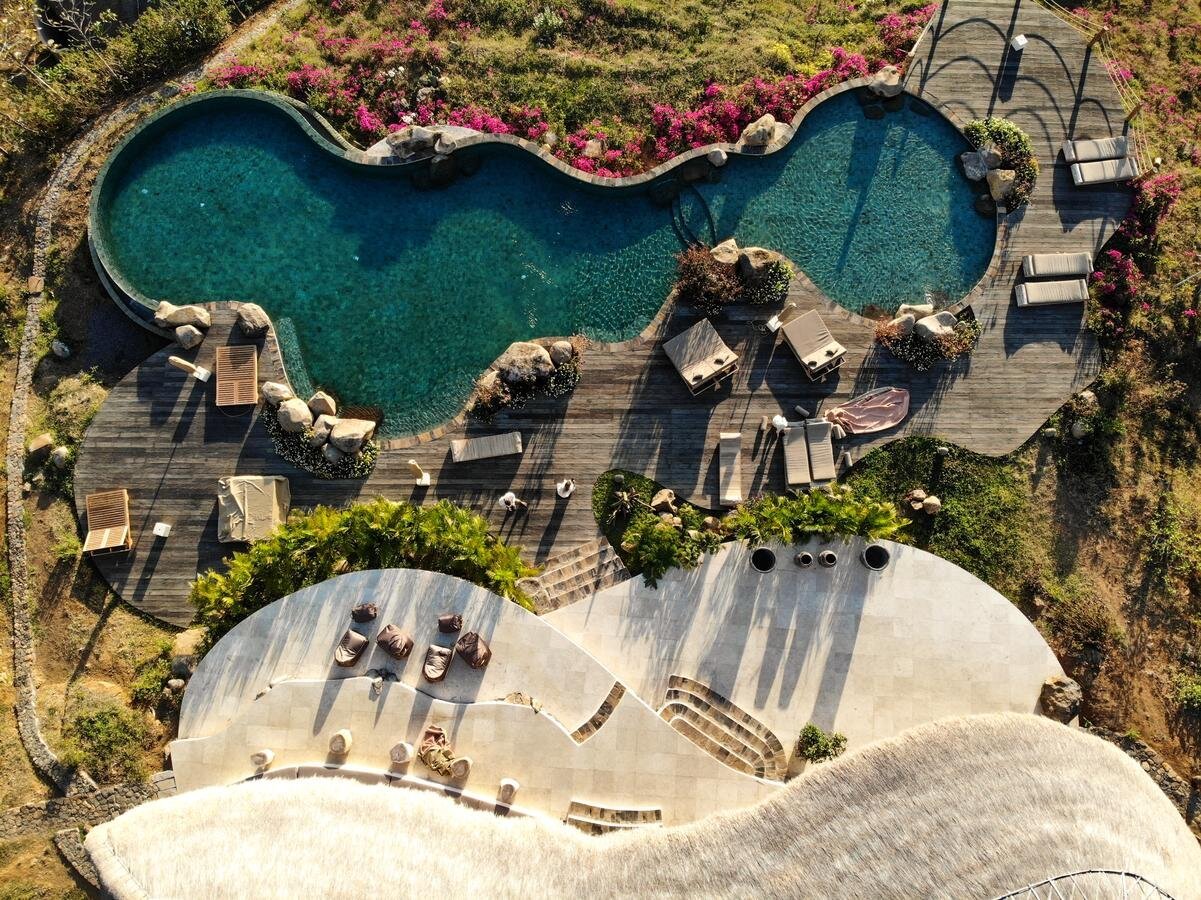 Mathis Lodge: If you're looking for accommodation that is a destination in itself, this property might just fit the bill. Set inland from the ocean, this hotel is stylishly designed and is perfect for couples who want some quality R&R in a beautiful place.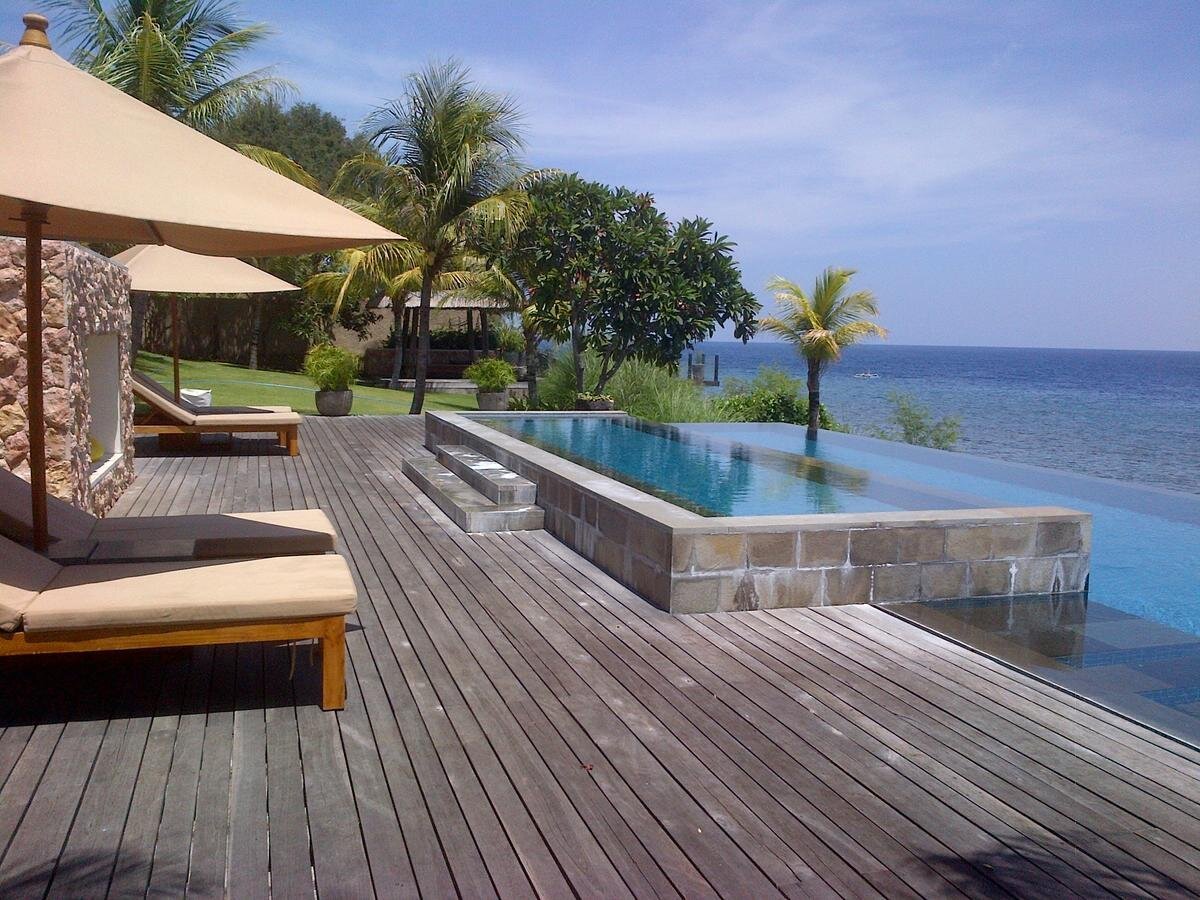 Villa Bukit Segara: A seaside retreat with private terraces, a stunning infinity pool, ocean views and an onsite restaurant. What more could you ask for in a romantic getaway?!
Dive School Stays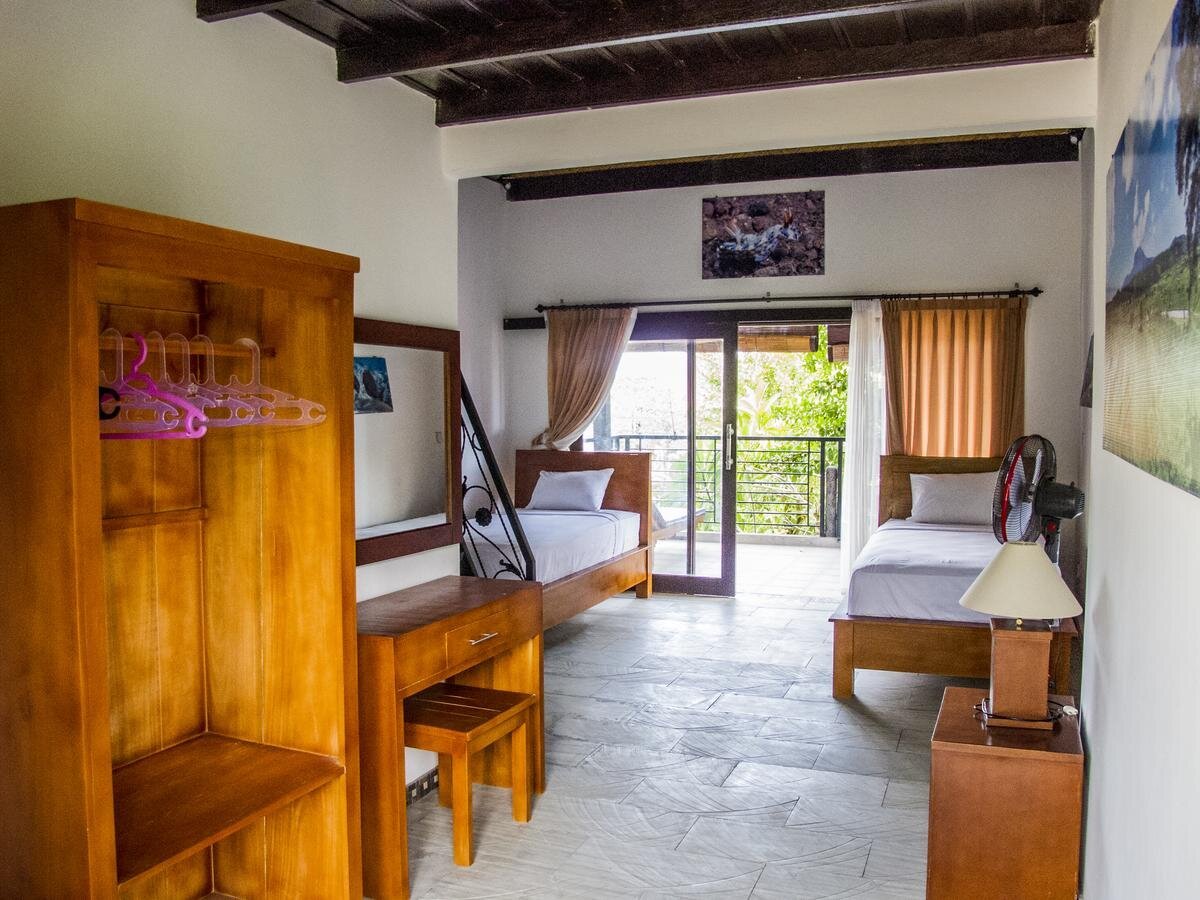 La Bila: This highly-rated budget hotel is also a restaurant and dive resort, so this might be a great choice if you're planning to do your PADI course in Amed.
How to get to Amed, Bali
There are a few different ways to get to Amed from other areas in Bali. We'd recommend the following:
Drive yourself on a motorbike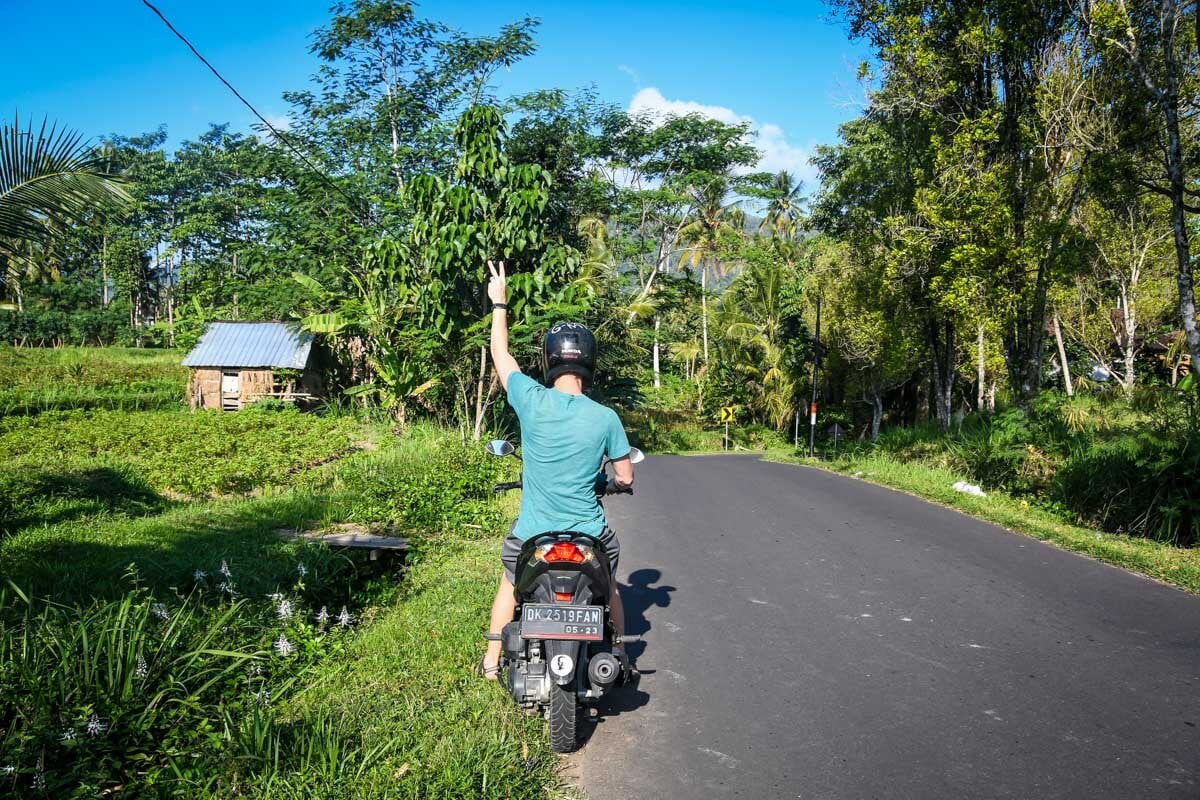 If you feel confident driving a motorbike, the drive to Amed is pretty nice (once you get outside the craziness of Denpasar). We drove from Canggu and made stops at Tukad Cepung Waterfall and Tirta Gangga, making it a pretty epic road trip. Just be sure to leave early enough to be able to enjoy these stops and arrive to Amed at a decent time.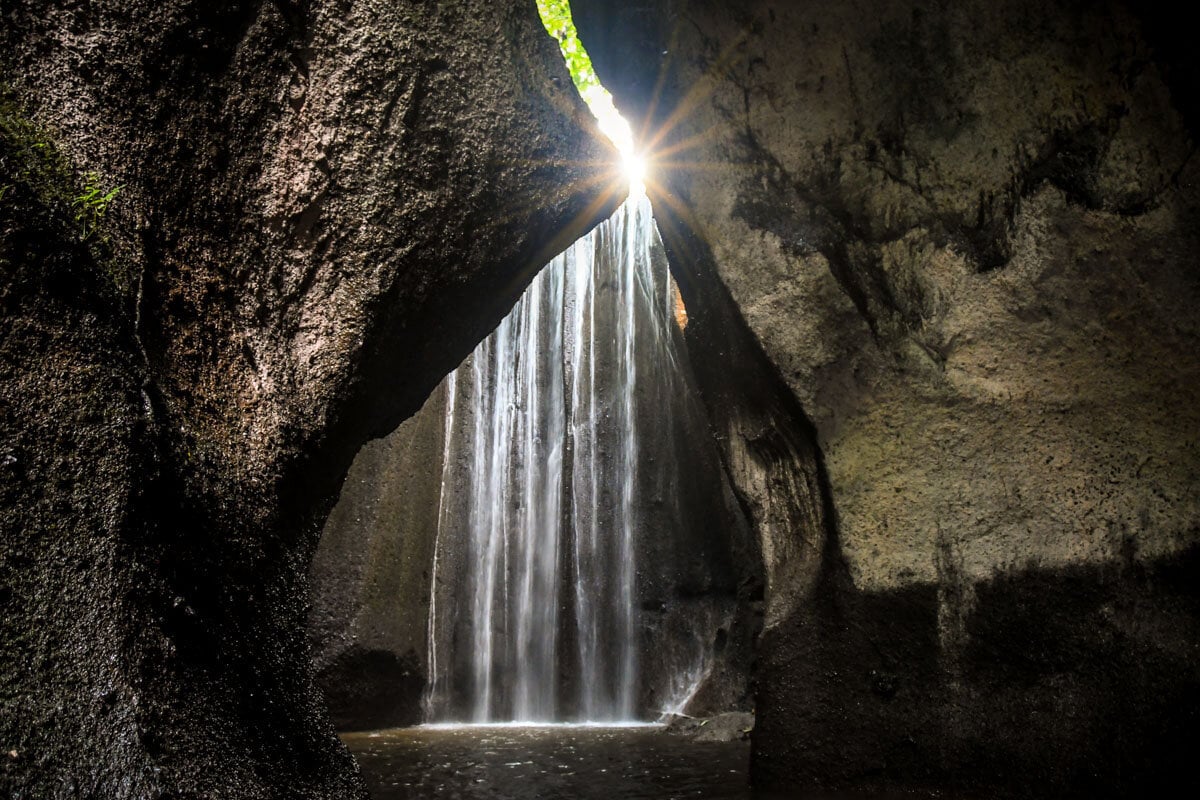 Note: If you're driving from Ubud, the drive through Sideman is stunning and the route is not quite as hectic as driving from Canggu, Denpasar, or Kuta.
One more thing before we move on… PLEASE wear a helmet if you choose to drive a motorbike in Bali. We've known far too many people who have been injured on scooters, and sadly traffic accidents are not uncommon in Bali. Even if you're a super experienced driver, that doesn't mean your immune to other people on the road.
Hire a driver
If you're not confident on a motorbike, we'd highly recommend hiring a driver. It is very easy to find drivers all around the island, and this service is extremely affordable. Prices will vary depending on where you're coming from, but your hotel should be able to arrange transport for you.
Getting around Amed
Rent a motorbike: Amed sprawls out quite a distance on one main road. The best way to get around is to hire a scooter. Once you're in Amed, the driving isn't too bad. With the exception of a few broken patches, the roads are paved and pretty easy to drive. There are some twists and turns and hills, but you don't need to worry about the traffic of bigger towns in Bali.
We drove our motorbike from Canggu, but if you are arriving via car it is easy to rent a motorbike from your guesthouse. A daily rental (including helmets) should be between 50,000 – 70,000 IDR ($3.50 – $5 USD), and it costs around 10,000 IDR ($0.70 USD) to buy a bottle of petrol.
Walk: If you're just not comfortable on a scooter, you'll want to be sure you choose a hotel that is located near most of the things you want to see. Walking short distances is possible in Amed, but there is really no sidewalk and the town is very spread out so we wouldn't recommend walking long distances in town.
Grab, Go-Jek, or Shuttle Services: Some of the fancier restaurants in town offer free pick-up services, and some of the higher-end hotels provide shuttles. You can also hire a drive through popular ride sharing apps like Grab or Go-Jek.
Traveling onwards to the Gili Islands and Lombok?
Amed is actually a great place to catch the ferry to the Gili Islands or onto Lombok. There are two ferry companies, and each runs boats once per day. You can arrange your ferry once you arrive in Amed or by booking online.


Are you planning a trip to Indonesia?
We have TONS of resources on travel in Indonesia and destinations throughout the country. Check out our Ultimate Indonesia Travel Guide for all the answers to your most burning questions, or read some of our favorite articles below.
Save this article on Pinterest for later!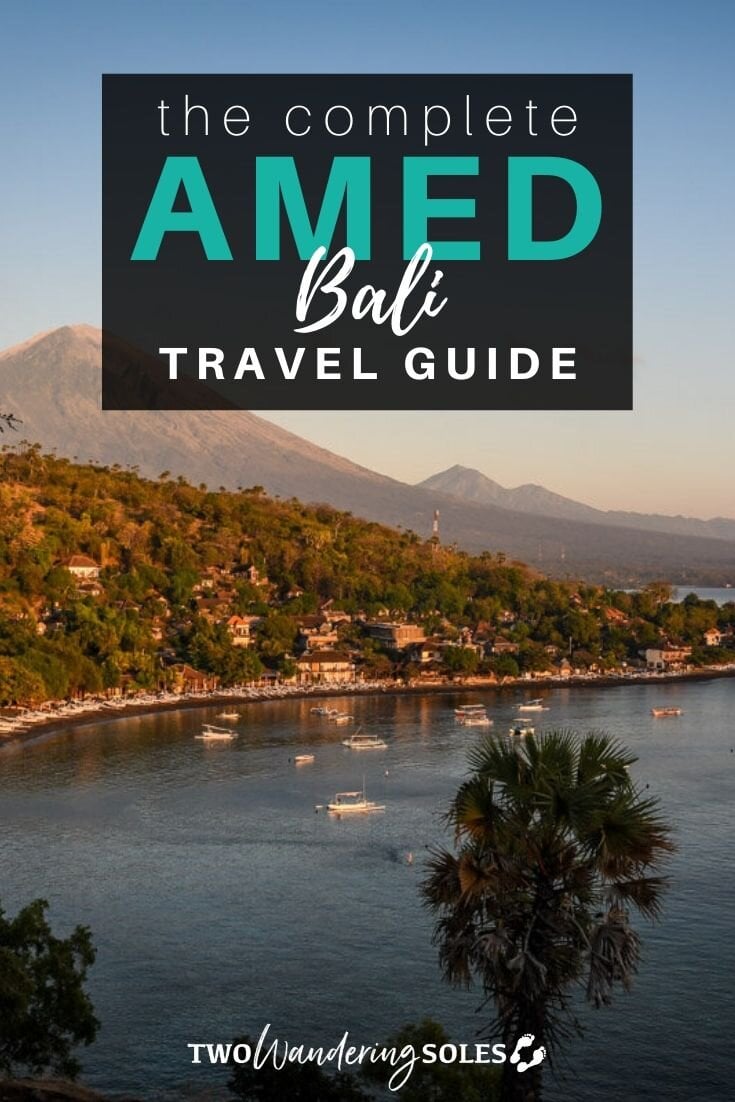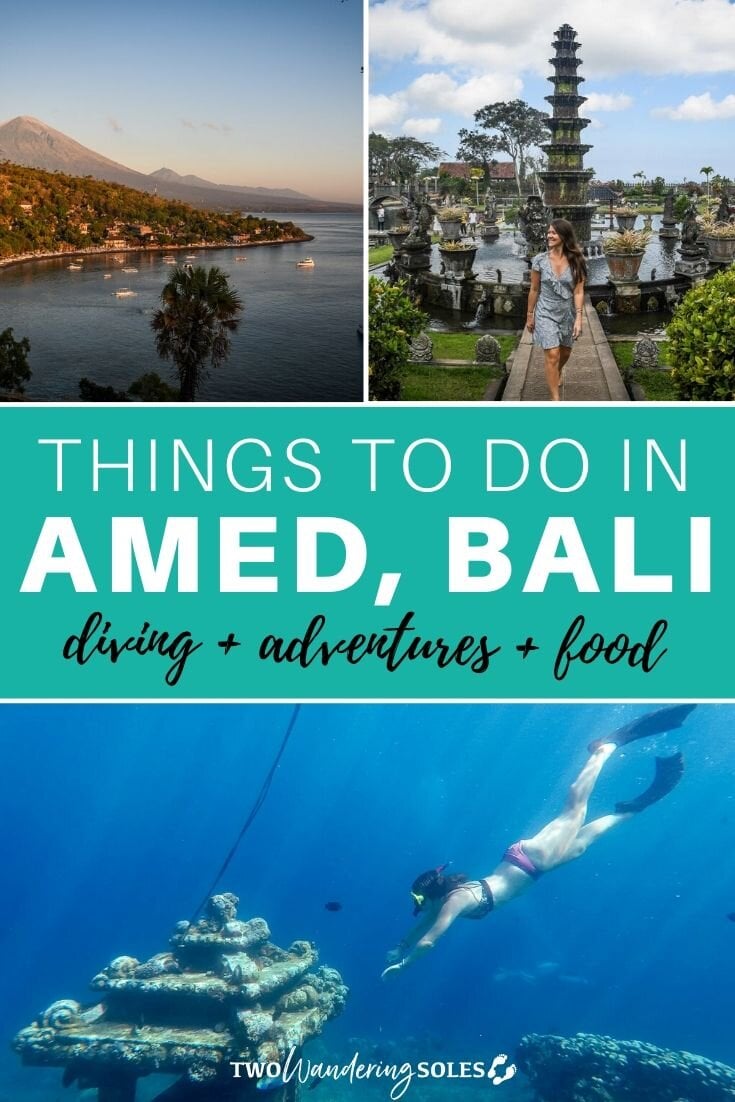 We want to hear from you!
Are you planning a trip to Bali? Is Amed on your list? What questions do you still have? Comment below and we'll try our best to get back to you.