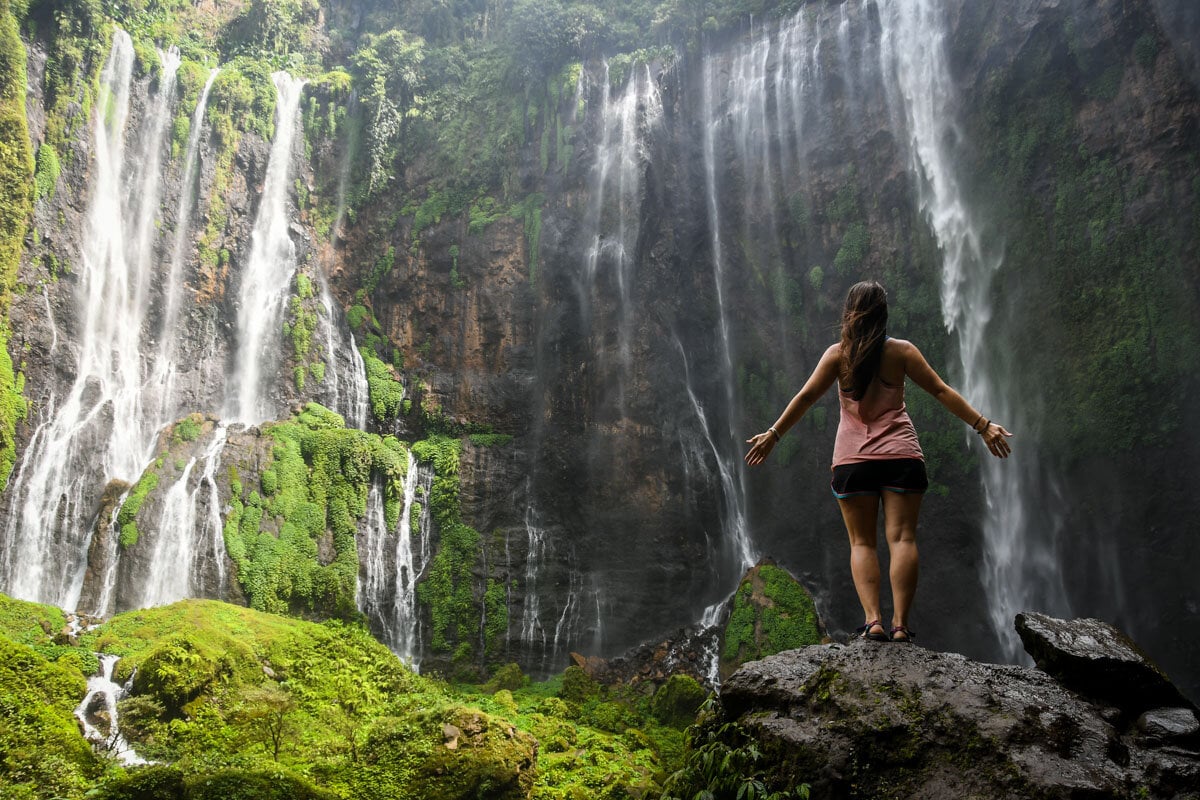 We've seen a lot of waterfalls throughout our travels, and I've got to say that while we can't definitively choose a favorite, Tumpak Sewu is up there as one of the most spectacular we've ever seen.
If you're planning a trip to Java, do yourself a favor and make room for visiting Tumpak Sewu waterfall on your itinerary; it is worth every ounce of effort to get there.
We're going to walk you through how to get to Tumpak Sewu (it's a bit of a challenge, but doable!), plus what to expect once you're there, and lots of insider tips, of course!
Tumpak Sewu Waterfall Description
The only words that come to mind to describe it are majestic, awe-inspiring, and dazzling, which make me sound like I'm writing a bad 1980's romance novel…
But in all seriousness, standing in the mist as water crashes down around you on three sides is a – dare I say magical – experience. 
We certainly have not been to every waterfall in Java let alone the entire country, but I would go out on a limb to say Tumpak Sewu is one of the best waterfalls in Indonesia, and even one of the most beautiful waterfalls in the world.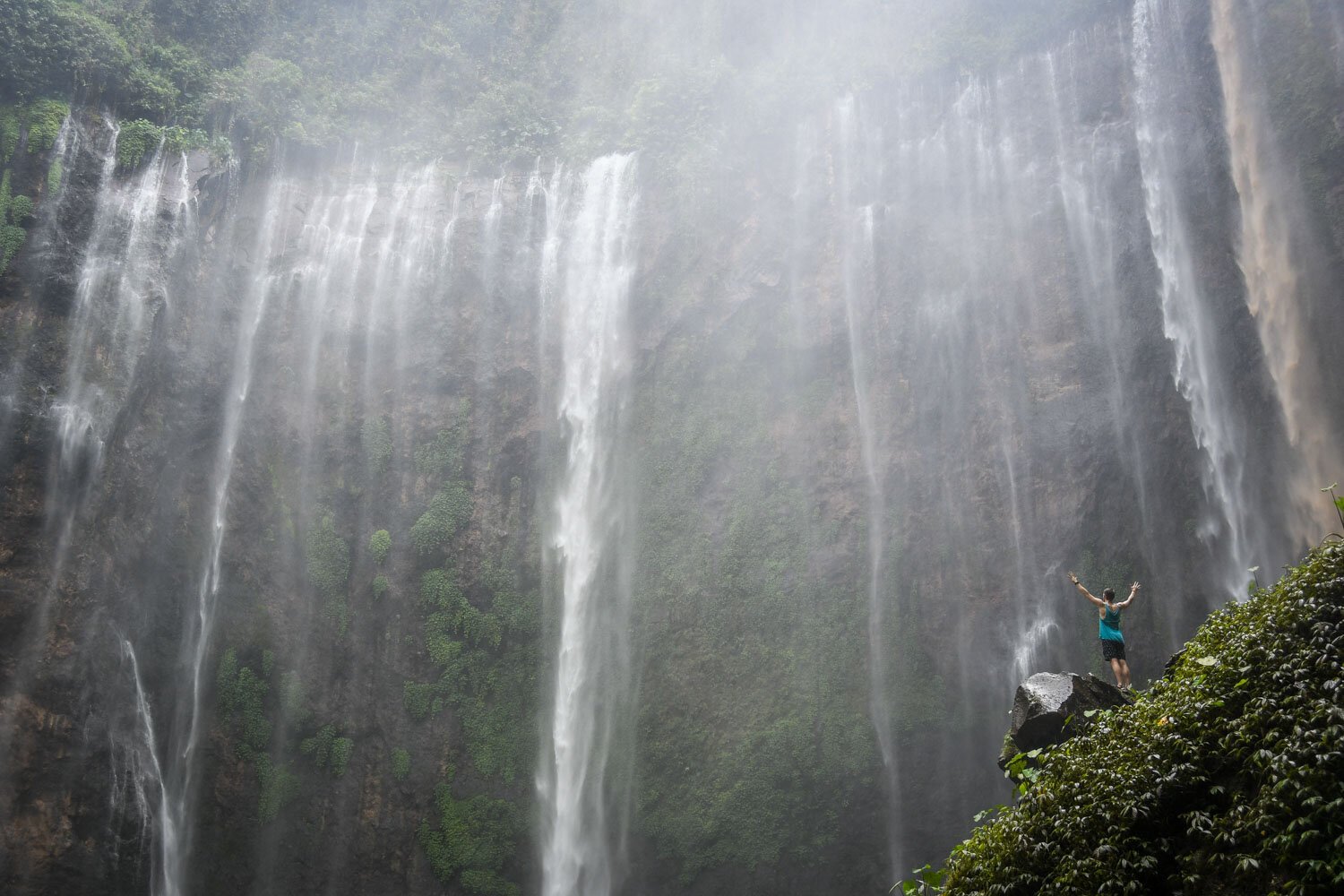 Not only is this waterfall absolutely gigantic (which will make you feel like a tiny speck of a person!), but it is not very crowded, so you won't have to deal with (many) crowds. In fact, we had about 10 minutes of complete and utter solitude at this waterfall where there wasn't a soul in sight.
With the rise of Instagram, this is becoming more and more of a rarity, and there's no telling how long Tumpak Sewu will actually be relatively under the radar.
Not long before our trip to Java, two friends of ours made their own trips to this island (separately). And when we were asking them both for tips, each of them had very similar advice…
"You absolutely need to go to Tumpak Sewu when you're in Java. It's soooo beautiful!"

"Tumpak Sewu was probably the most beautiful waterfall I've seen in my life. Please tell me you're going there!"
After such high praise, we couldn't not go to this waterfall, now could we?!
So now that you're (hopefully) intrigued, we're gonna share everything you need to know about visiting Tumpak Sewu so you can experience this epic place for yourself. 
Article Contents:
Important Info about Tumpak Sewu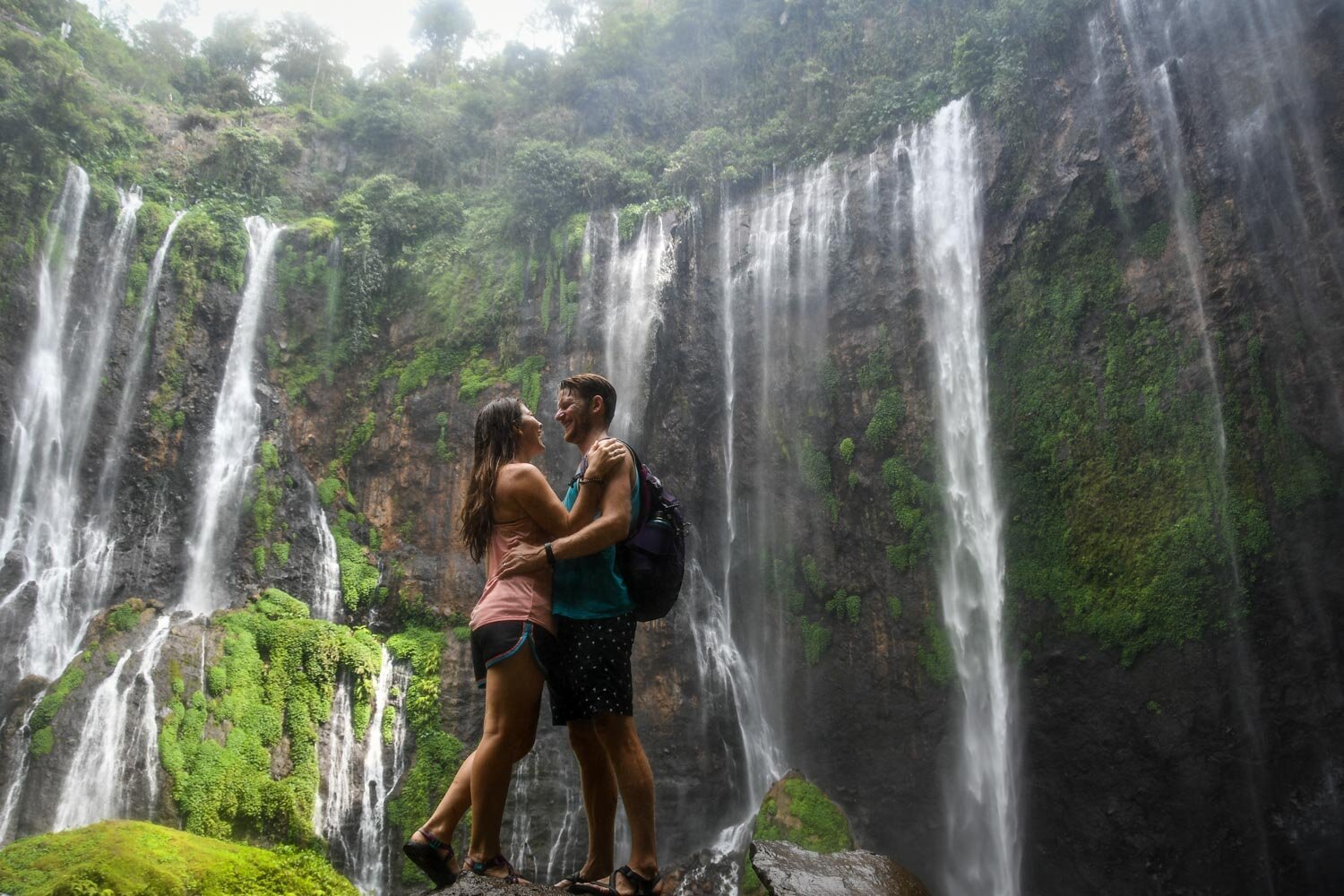 Name: Tumpak Sewu, Air Terjun Tumpak Sewu, Coban Sewu (you may see all of these names used interchangeably)

Meaning: The name Tumpak Sewu translates to "one thousand" in the Javanese language, and refers to the fact that it looks like there are a thousand waterfalls all cascading down the cliff walls to form Tumpak Sewu. A fitting name, if you ask us! You may also see it called Coban Sewu.

Good to know: air terjun means "waterfall" in Indonesian, and sometimes you'll see that phrase paired with the local waterfall names. For example, you may see it referred to as Air Terjun Tumpak Sewu. 

Height: 390 feet (120 meters) 

Location: This waterfall is located on the Indonesian island of Java. More specifically, Tumpak Sewu is in East Java in the Lumajang Regency.

Nearest major city: Malang (2 hours and 15 minutes away by car), Surabaya (4 hours away by car)

Nearest accommodations: 

Nearby Sights: Looming behind Tumpak Sewu is another iconic landmark: Semeru. This is an active volcano and the tallest mountain on the island of Java. Paired with the majestic waterfall, it is quite the sight.

Hours: 6:00 a.m. – 5:00 p.m.

Cost to visit: 10,000 IDR per person for entrance to the waterfall + 5,000 IDR per person to explore the canyon further (Goa Tetes cave and more waterfalls)
How to Get to Tumpak Sewu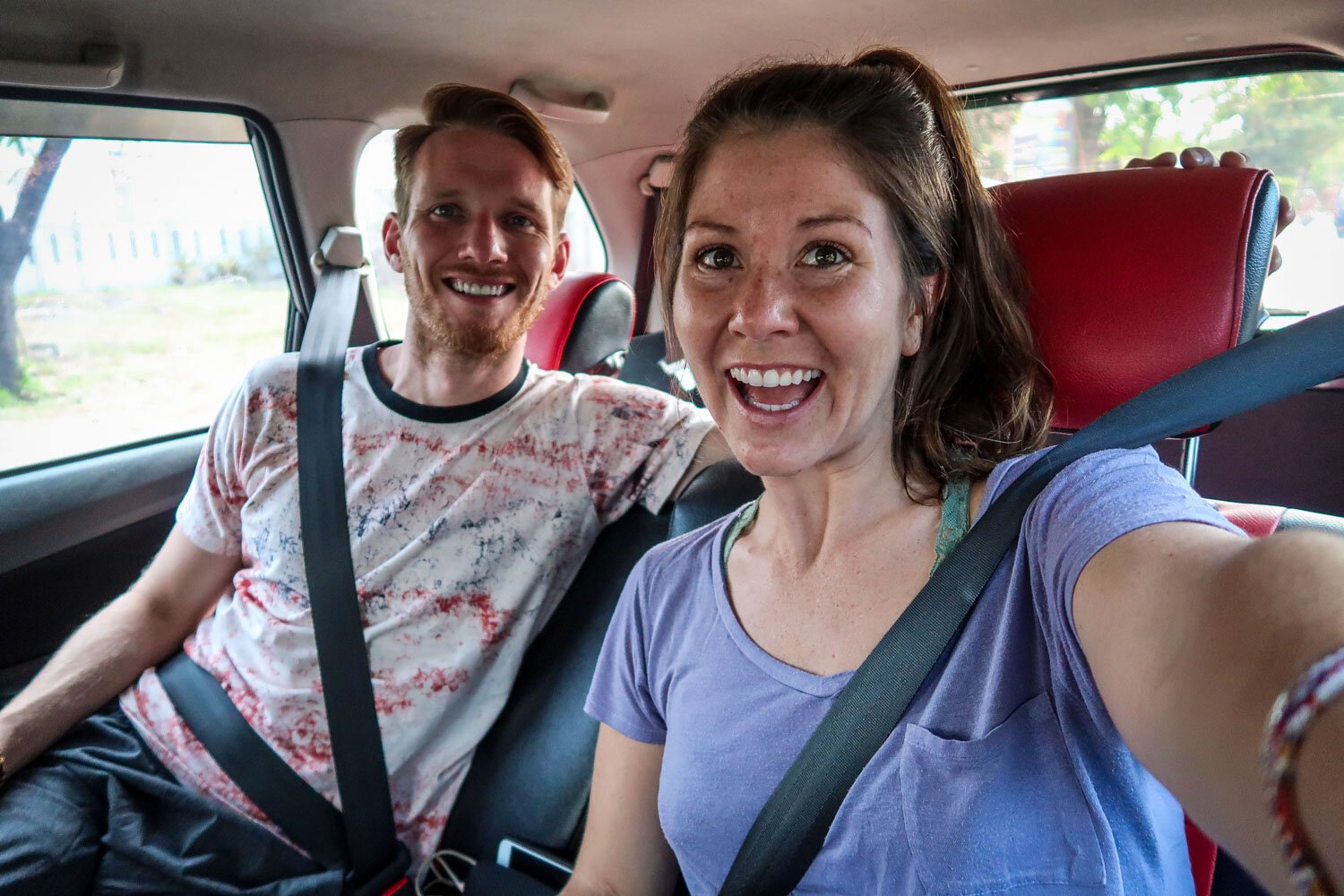 This waterfall is nestled in a box canyon far from any major city. Some may see this as an inconvenience, because as you'll see, it can take a while to get to and from this waterfall. But to the adventurous traveler, its remote location might be part of the draw. Since it's time-consuming to reach, you'll find far fewer visitors at Tumpak Sewu than you will at the popular waterfalls in Bali, for example. 
The cheapest way to get there would be to rent a car and drive yourself.
However, the traffic on this route can get bad… like really bad. The route there is mostly on a one-lane highway. Add to this the fact that there are lots of trucks taking this road, and drivers trying to pass each other, so it can be quite chaotic.
Let's just say we were very happy with our decision to hire a driver so we could just relax after our waterfall adventure. Plus, it creates a job for a local and gave us the opportunity to ask (lots of!) questions about the waterfalls and Javanese culture.
How to hire a driver
We arranged a private driver through our guesthouse and paid a total of 800,000 IDR ($56 USD), which included transportation to and from Tumpak Sewu and one other waterfall (Coban Sriti), as well as a boxed lunch of nasi campur. Our driver also paid our entrance fee for the main waterfall. Had we been traveling with more people, we could have split that cost to be less money per person.
You can probably negotiate for a cheaper rate, but we thought this seemed like a fair price to pay for an entire day of someone's time (plus, having our guesthouse arrange it all for us).
Map of Tumpak Sewu
To see exactly where Tumpak Sewu Waterfall is located, we've pinned it on the map for you (you're welcome, fellow visual learners!).
One important thing to note is that Google Maps is quite ambitious with the time it tells you it'll take to get from Malang to Tumpak Sewu. When I plugged the address into my maps, it told me I'd be there in 1 hour 59 minutes.
This wasn't too far from the truth on the way there (it took us just about 2 hours and 15 minutes in the morning). But on the way back to Malang in the afternoon, Google Maps was a big fat liar! It took a full 3.5 hours, and our driver said we were lucky.
So just remember to take those Google Maps directions and add some extra time pretty much everywhere in Indonesia.
Cost to Visit Tumpak Sewu Waterfall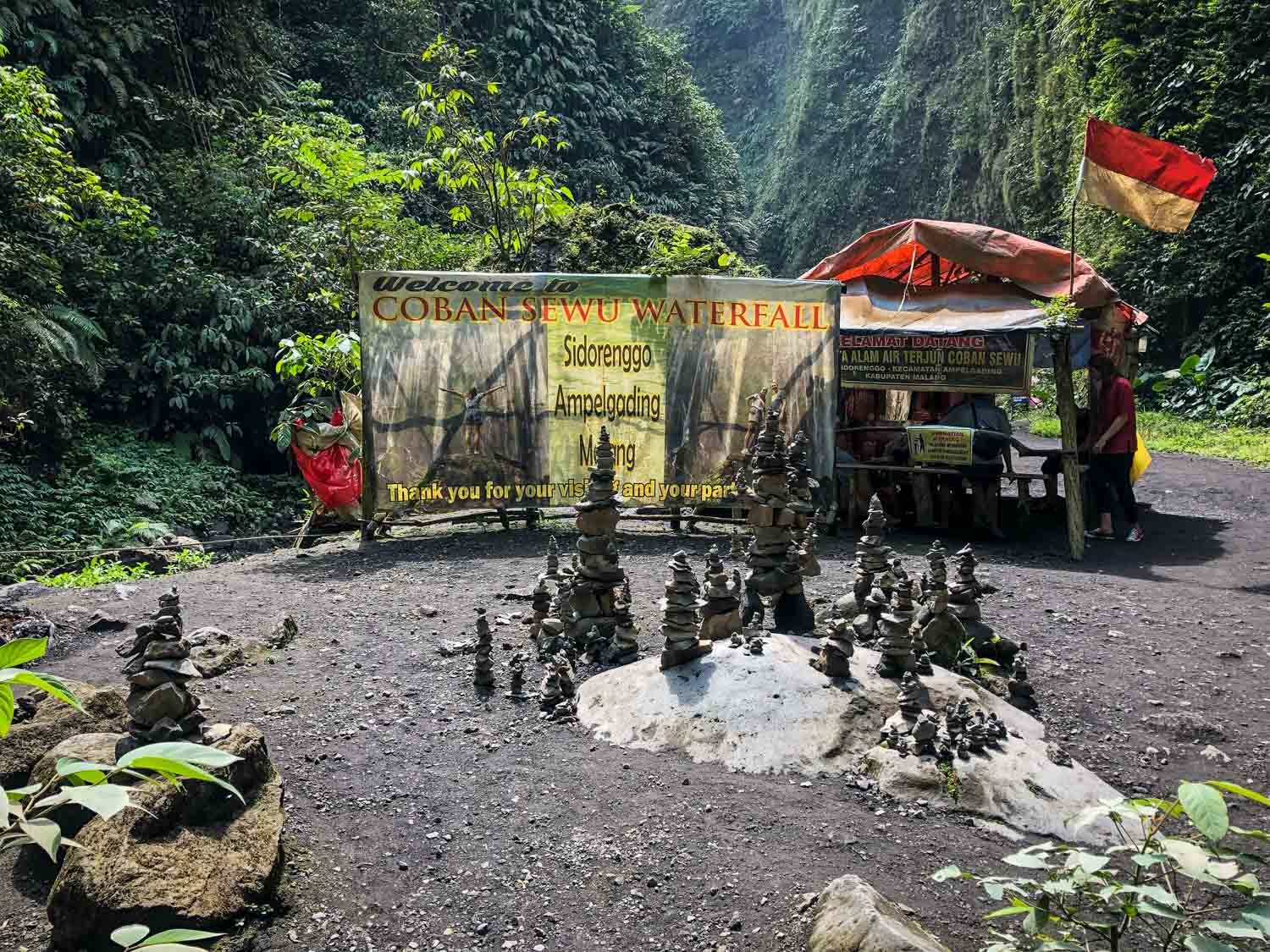 The entrance fee to visit this waterfall is very cheap:
Waterfall entrance = 10,000 IDR each ($0.70 USD); pay near the parking lot

Goa Tetes Cave entrance = 5,000 IDR each ($0.35 USD); pay inside the canyon
Remember, you also need to consider the cost of getting to and from Tumpak Sewu (explained in the section above). 
The hike down to the waterfall
You'll pass some vendors at the beginning of this hike (near the viewpoint). If you're hungry or want some snacks, stop here and support them. Just remember to carry all your trash out with you.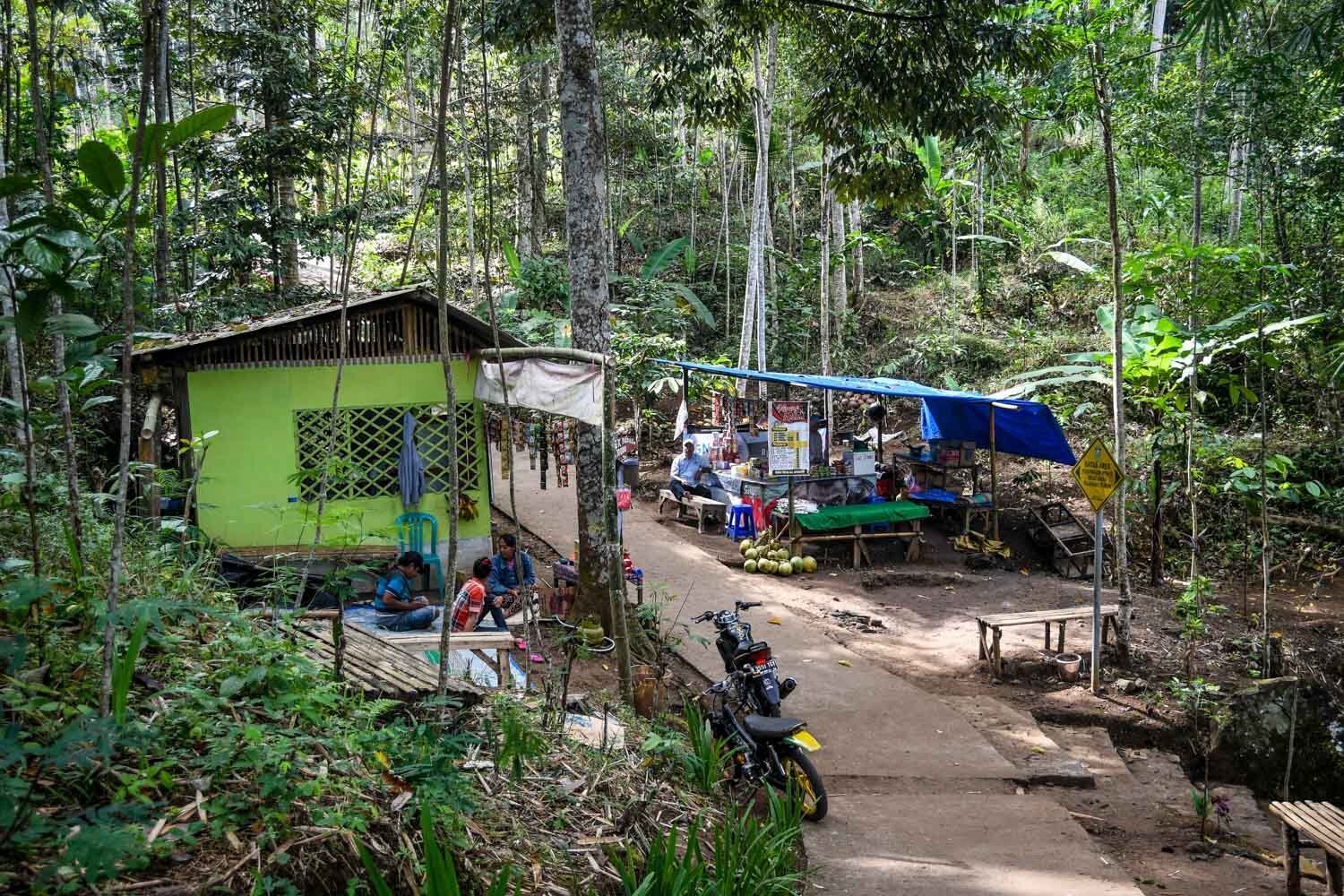 It is about a 45-minute hike down to the waterfall, and it's not for the faint of heart. It wasn't anything too crazy, but there are places where you'll need to cross over streams and small waterfalls. And there are some sketchy "ladders" built from bamboo and wood that have seen a few too many pairs of feet. For this reason, we'd highly recommend wearing sturdy shoes.
Insider Tip: Our Chacos were perfect for this type of hike. Any type of shoe meant for hiking (and getting wet) will be fine. Do NOT wear flip flops or flimsy shoes on this trek.
There are a couple sections to this hike, which we've described below.
Tumpak Sewu Viewpoint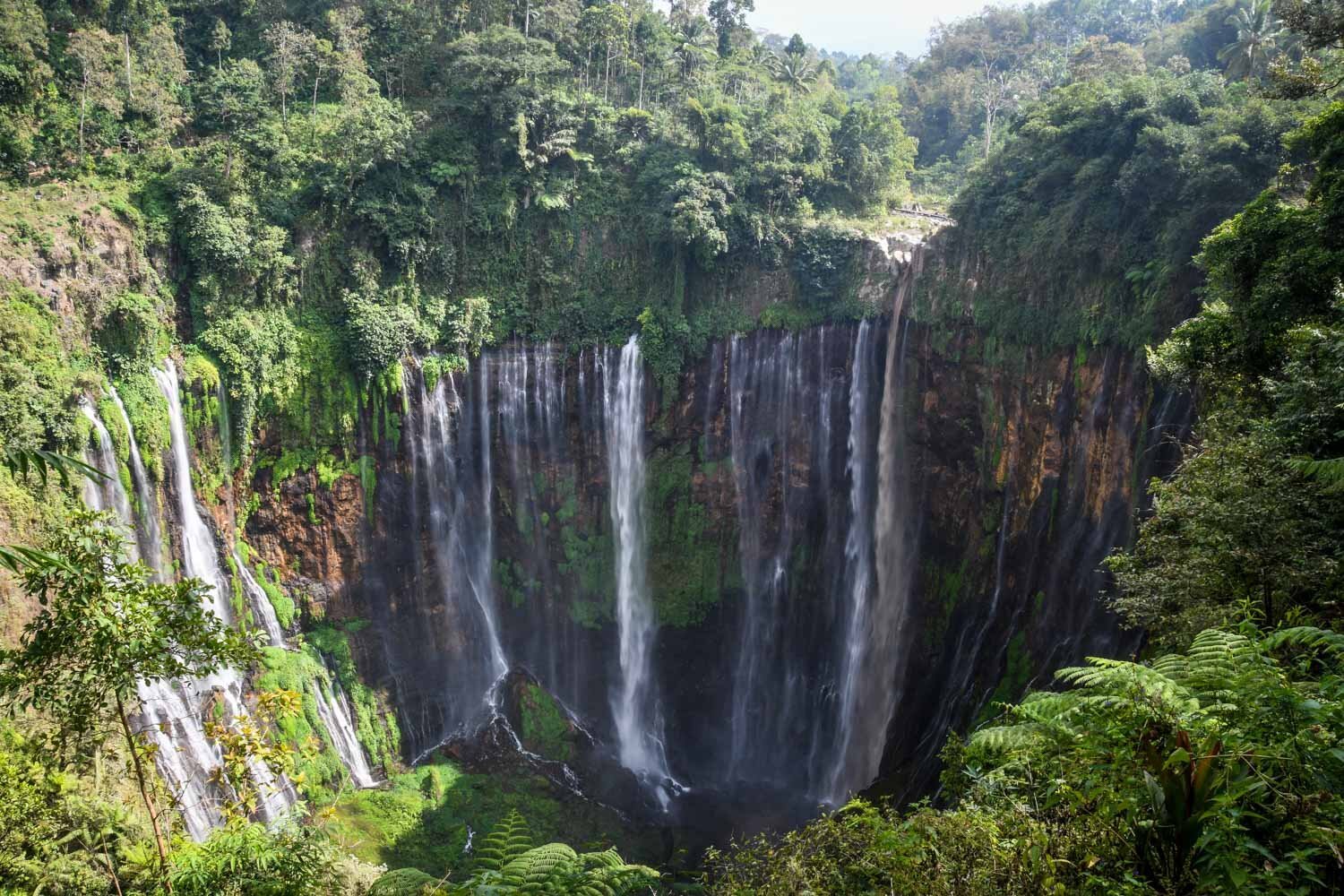 The first stop along your hike takes roughly 10 minutes to reach from the parking lot and is reached via a paved path through the jungle, passing by a couple of humble vendor stands selling snacks. You will turn to see a sight that quite literally takes your breath away.
A clearing in the trees will open up the view over this massive waterfall and this spot is absolutely worth spending some time. We were so focused on getting down to the waterfall that we didn't spend much time here and wish we would have gotten more shots.
Photography tip: If you have a drone, this is the spot that you'll want to fly it. You'll be able to get a nice view of Mount Semeru looming in the distance. Unknowingly, we trekked our drone to the base of the waterfall and it was way to windy and misty for us to fly it.
Into the Canyon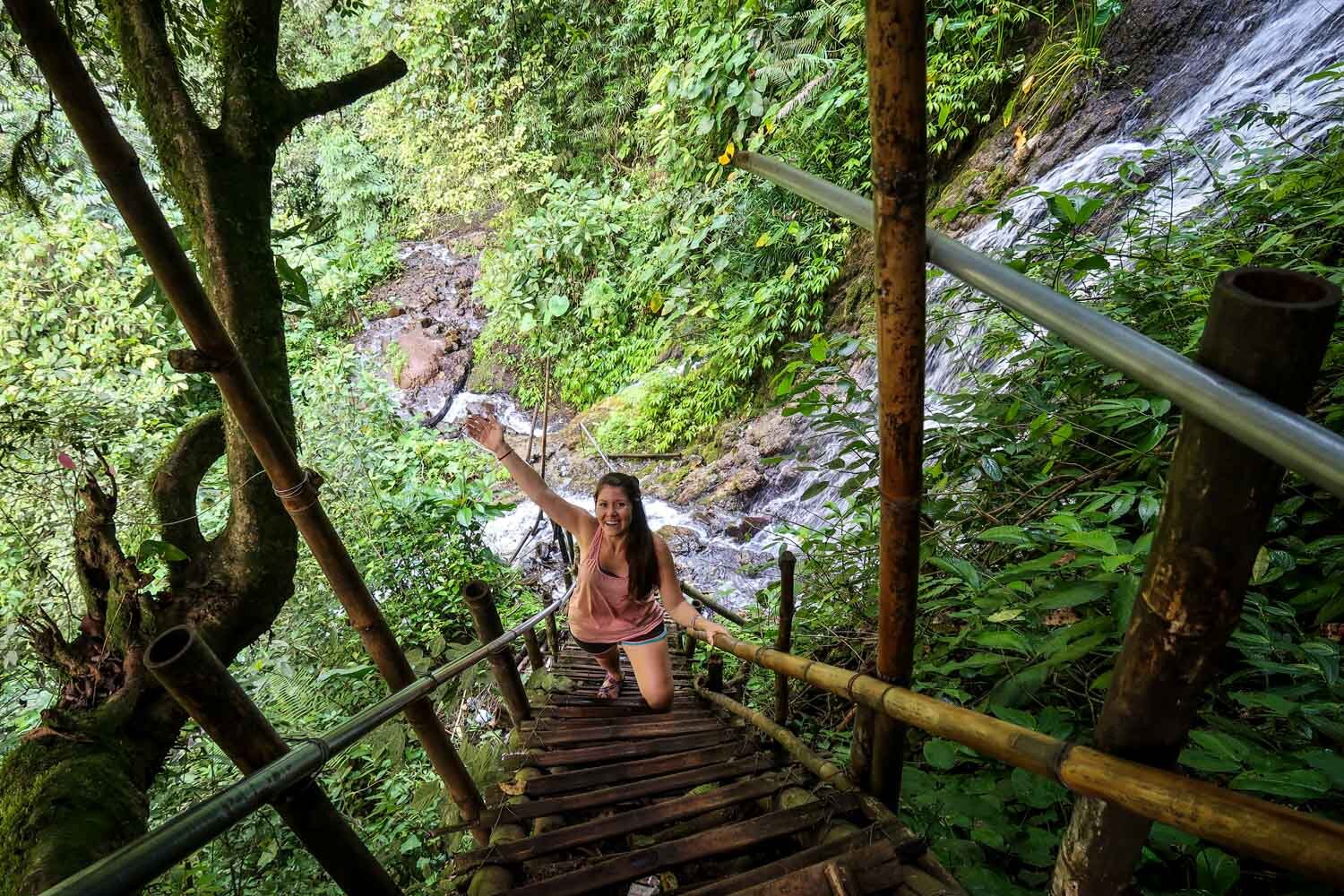 The rest of the trek down is where it gets sketchy, and in total, it should take about 30 – 40 minutes, depending on your pace. The hike down from the viewpoint took us roughly 35 minutes and we took it pretty slow over some of the more dodgy areas.
You'll cross small waterfalls, hang on to ropes while you shimmy down wet boulders, and climb down makeshift "ladders" made from bamboo. Don't be surprised if they're missing a few rungs!
Looking for other exciting hikes in Java? Why not try the Kawah Ijen Crater hike at sunrise. You'll even have a chance to view the famous blue flame.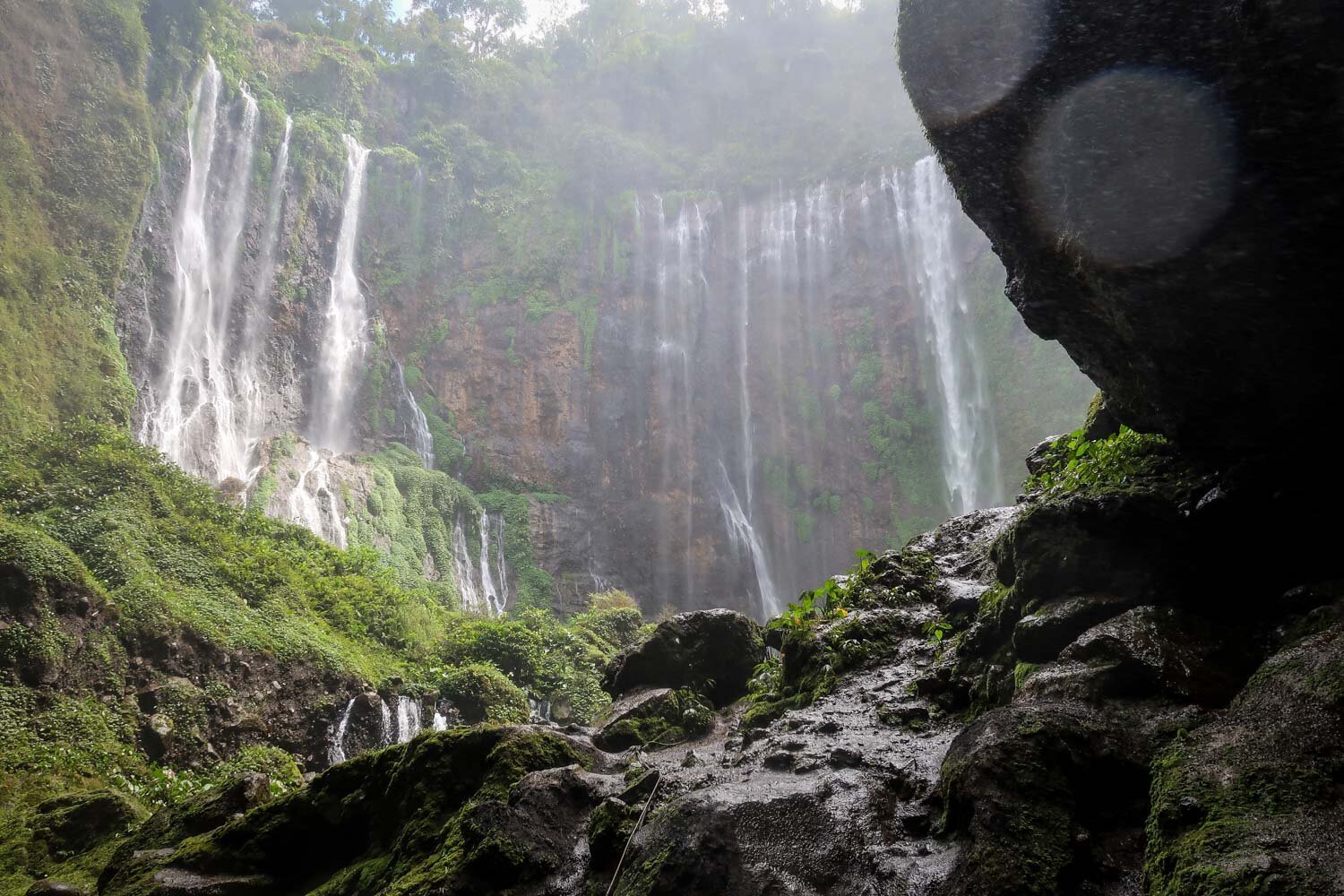 Once you reach the canyon floor, the difficult part is done and now it's time to take out that camera, because you're about to be blown away. Follow the signs toward the waterfall (to your right), and after crossing a small portion of the river you'll be right where you need to be… at the base of the impressive Tumpak Sewu Waterfall.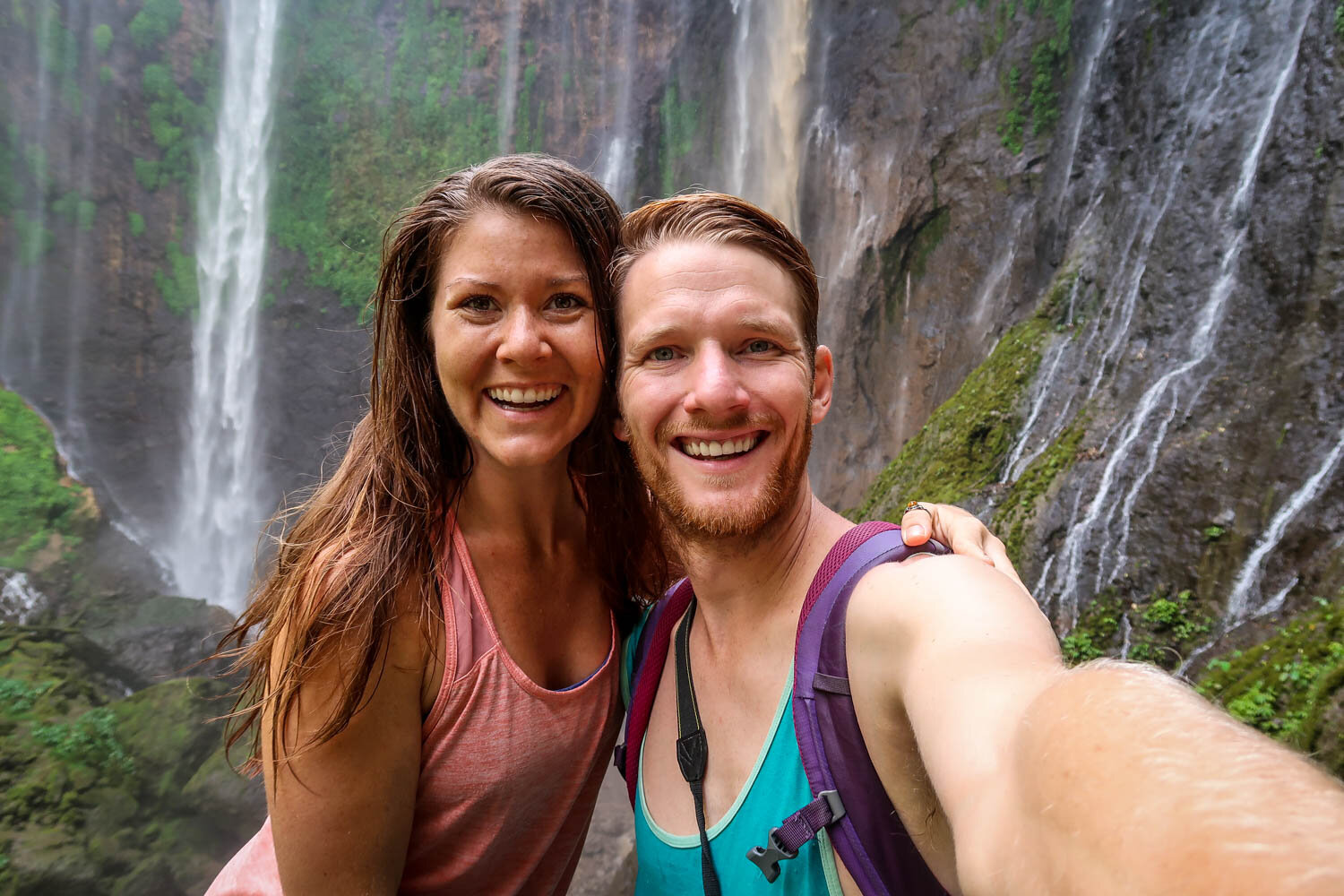 There is a large, flat area to view the waterfall without getting too wet, but if you walk up a bit closer, you'll see a ledge where many people post for pictures (it's a great photo spot!). Just beware that you will be well within the waterfall's mist when you stand here, so be prepared to get wet!
Goa Tetes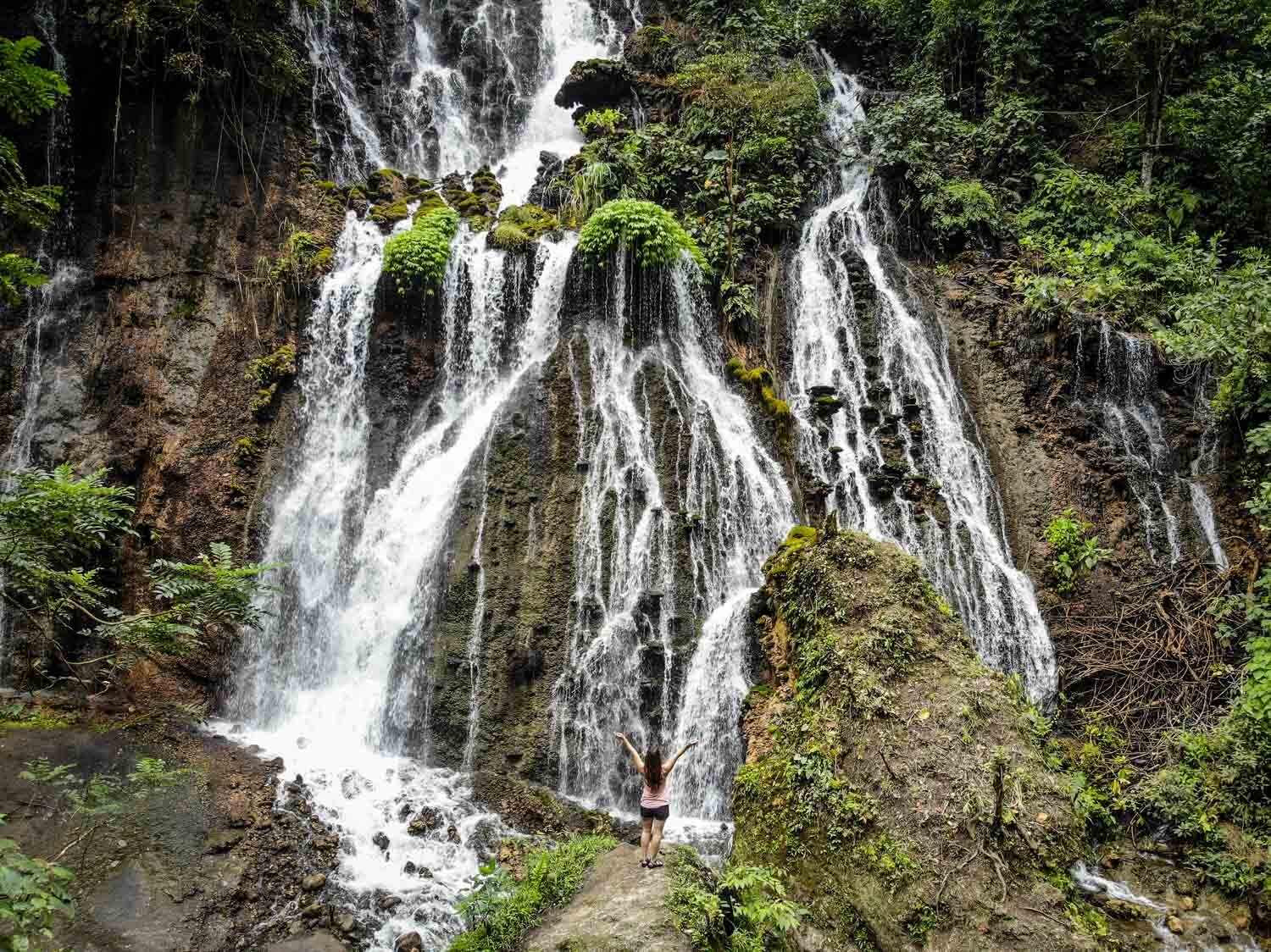 After you've seen the main Tumpak Sewu Waterfall and had your mind blown, don't leave just yet! Head back to the path you took down and head the opposite direction of the main waterfall, following the signs for Goa Tetes.
You will be asked to pay 5,000 IDR ($0.35) as an entrance fee. On our visit, there was a man sitting on a folding chair in the sand collecting money in exchange for a small "ticket". Just be sure to carry some small cash notes on you for this entrance fee.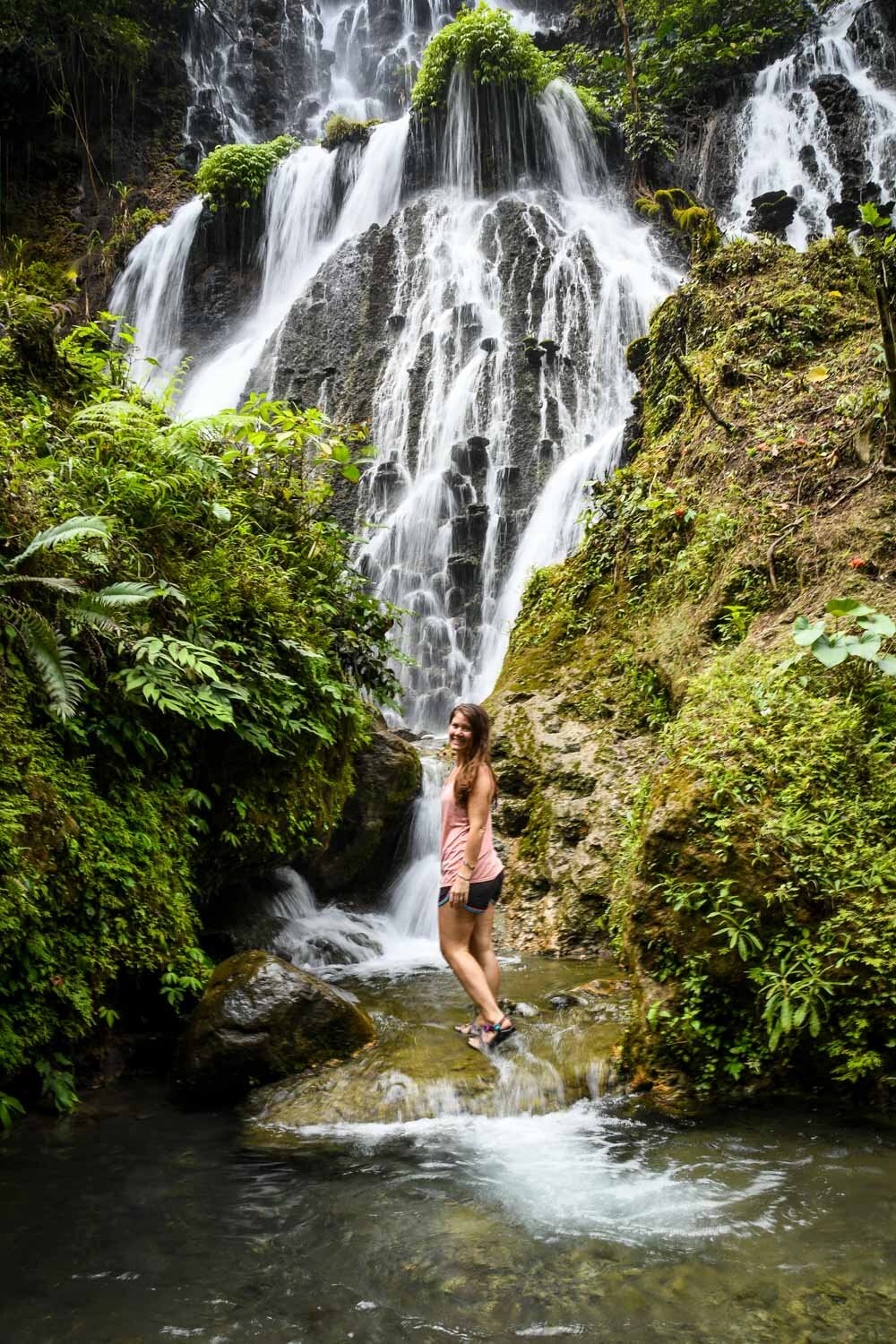 Goa translates to "cave" and tetes means "drops of water", a fitting name when you consider this cave is situated in a cliff where waterfalls flow over.
This area is nice to explore, as there are more waterfalls, rocks to climb, and pools to hang out in. We didn't think we could be very impressed after seeing the magnificent waterfall, but even still, the area around Goa Tetes was a beautiful surprise!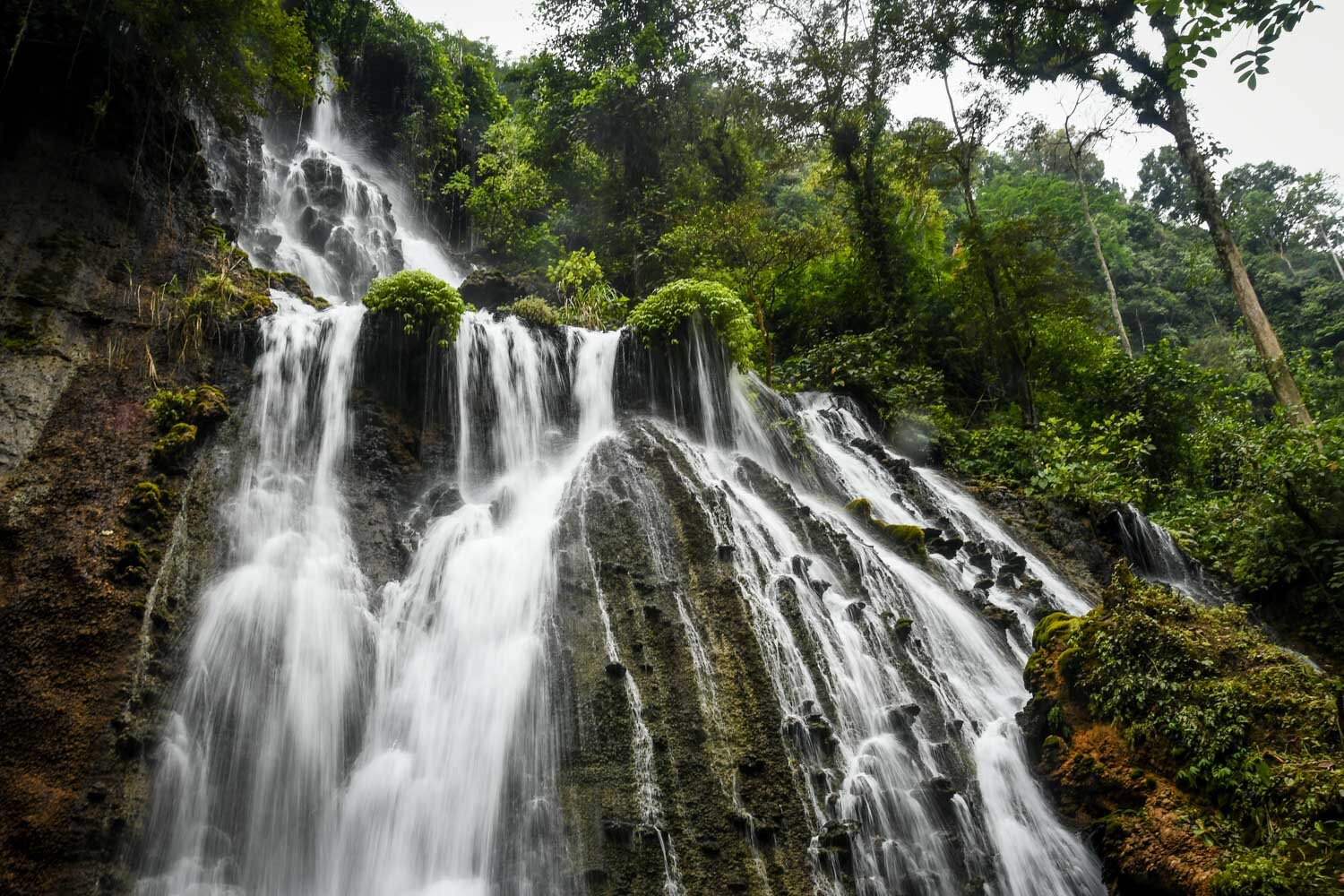 We had arranged a time to meet our driver, but had we not set a time to leave, we could have relaxed on the rocks in the sun for a while longer.
What to wear and pack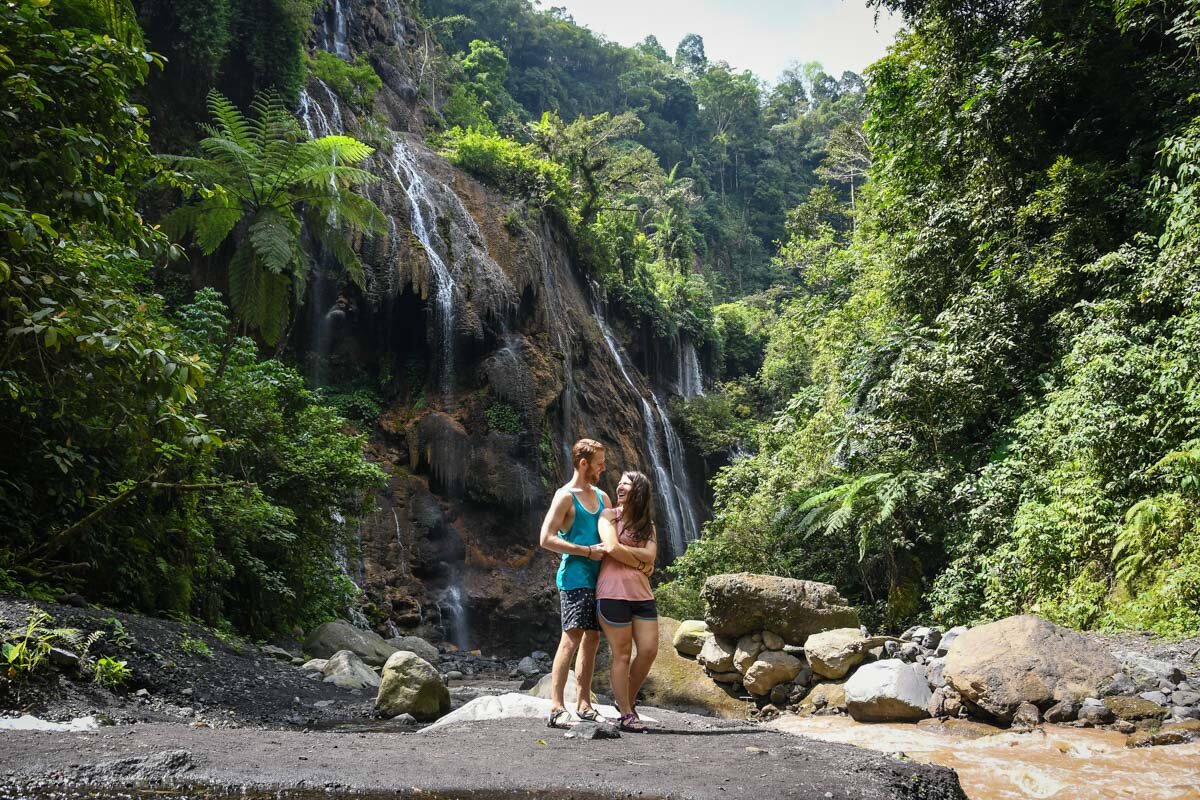 First things first, you WILL get wet.
If you read our section about what to expect on the hike down, you already know this and you are aware of the importance of sturdy shoes that handle well in water. Below are the items we'd recommend packing, as well as what you should wear.
Wear this:
Chacos (or other hiking sandals): If you've been following our blog for a while, you know we are long-time lovers of Chacos! In fact, I got my first pair back in 2007 and have been obsessed ever since. These are the perfect shoe for hiking down to Tumpak Sewu because they are meant to get wet, have excellent grip, dry quickly, and allow your feet to breathe in those tropical temps! 

Note: Closed toe shoes would work too, but be prepared for them to get wet. We prefer hiking sandals when we're expecting to walk through water.

Light clothing that will dry quickly: Unlike Mount Bromo and Ijen Crater where the temperatures get crazy low, you'll be in humid heat all day. Here's what we wore:

Women: Katie wore athletic shorts, a quick-dry athletic tank, and a lightweight quick-dry zip up as an outer layer.

Men: Ben wore athletic shorts, a quick dry t-shirt, and a quick-dry half-zip as an outer layer.

Rain jacket: No matter how hard you try, you won't avoid the mist once you get down in the canyon. And honestly, getting pelted with mist from this magnificent waterfall is quite refreshing! That said, we're happy we packed our raincoats so we didn't get totally soaked. We'd recommend investing in one that is lightweight and packs up small, making it perfect for traveling to hot and humid places, like Southeast Asia!
DO NOT WEAR THIS: Don't wear flip flops or any sandals not meant for hiking. Trust us, this is not the kind of hike you should be making with crappy shoes. You're just asking for a rolled ankle (or worse!)
Packing List: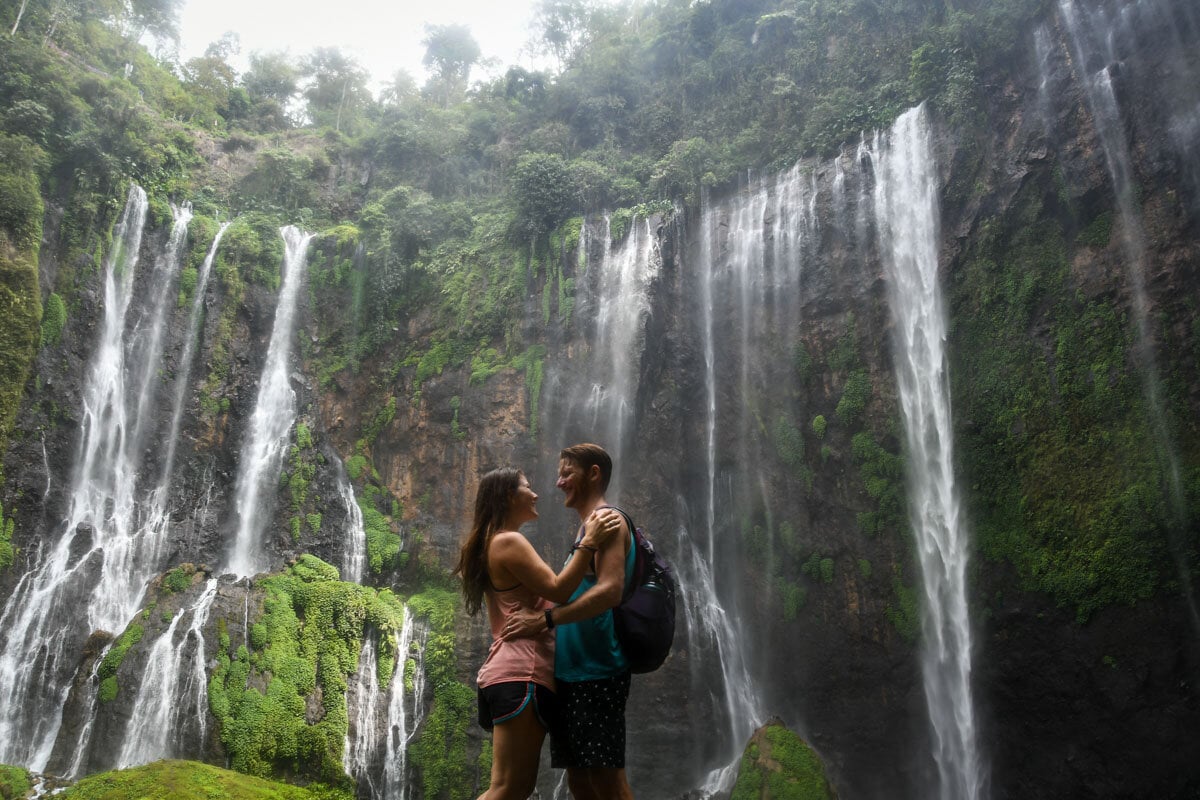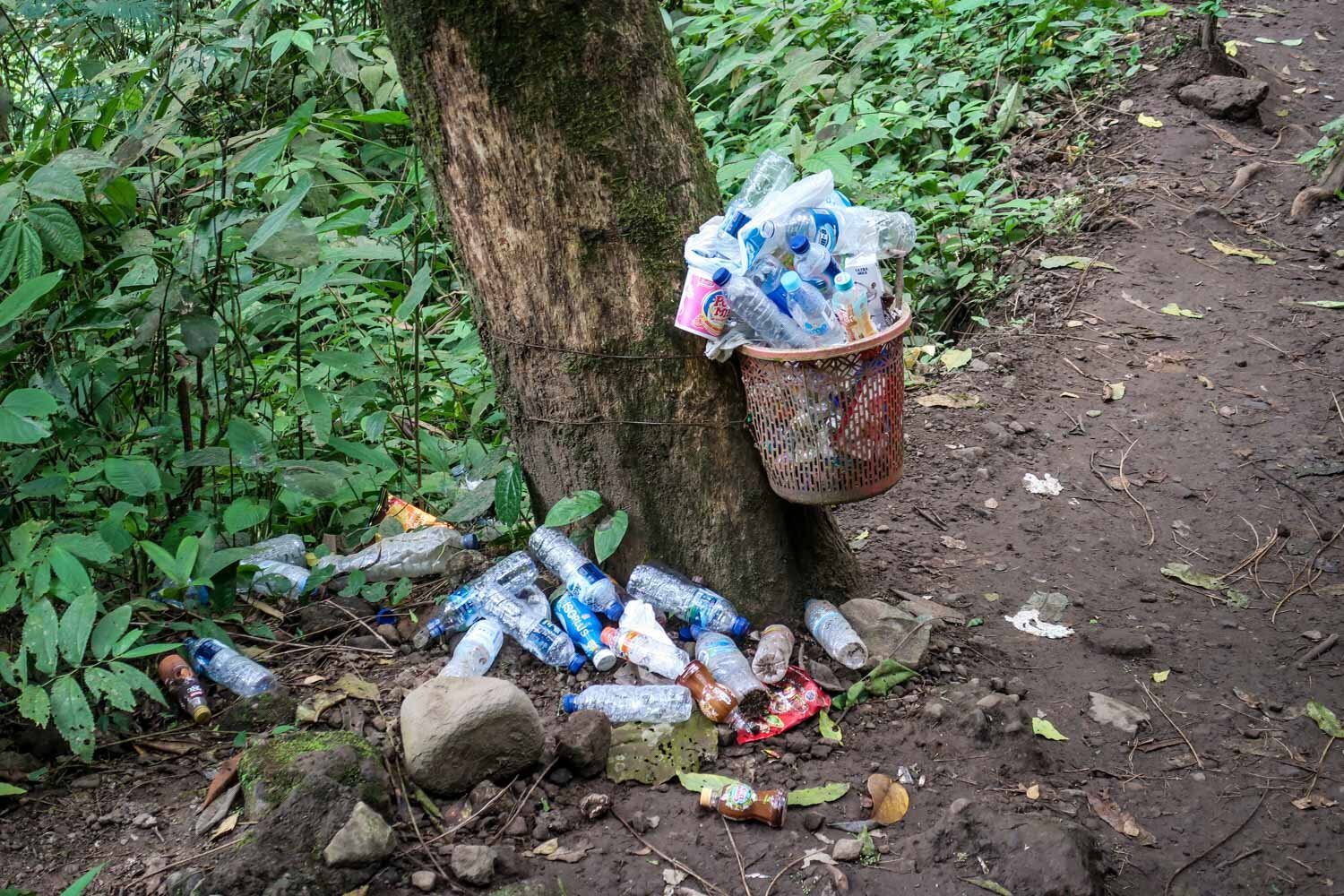 Snacks: If you are prone to getting "hangry" (we're right there with ya!), you'll want to bring some snacks along on this full-day excursion. The drive to and from the waterfalls is long. Our guesthouse sent us with a packed lunch of nasi campur, which was very sweet, but I still got pretty hungry! There are a couple of small stands at the parking lot where you can purchase tea or coffee and a small variety of food options too. 
Toilet paper: Carrying TP around with you in Java is kind of a must. Many public bathrooms don't have it, so be sure to throw a roll (or just a big clump of the stuff) into your daypack.
Tumpak Sewu Waterfall Day Trip Schedule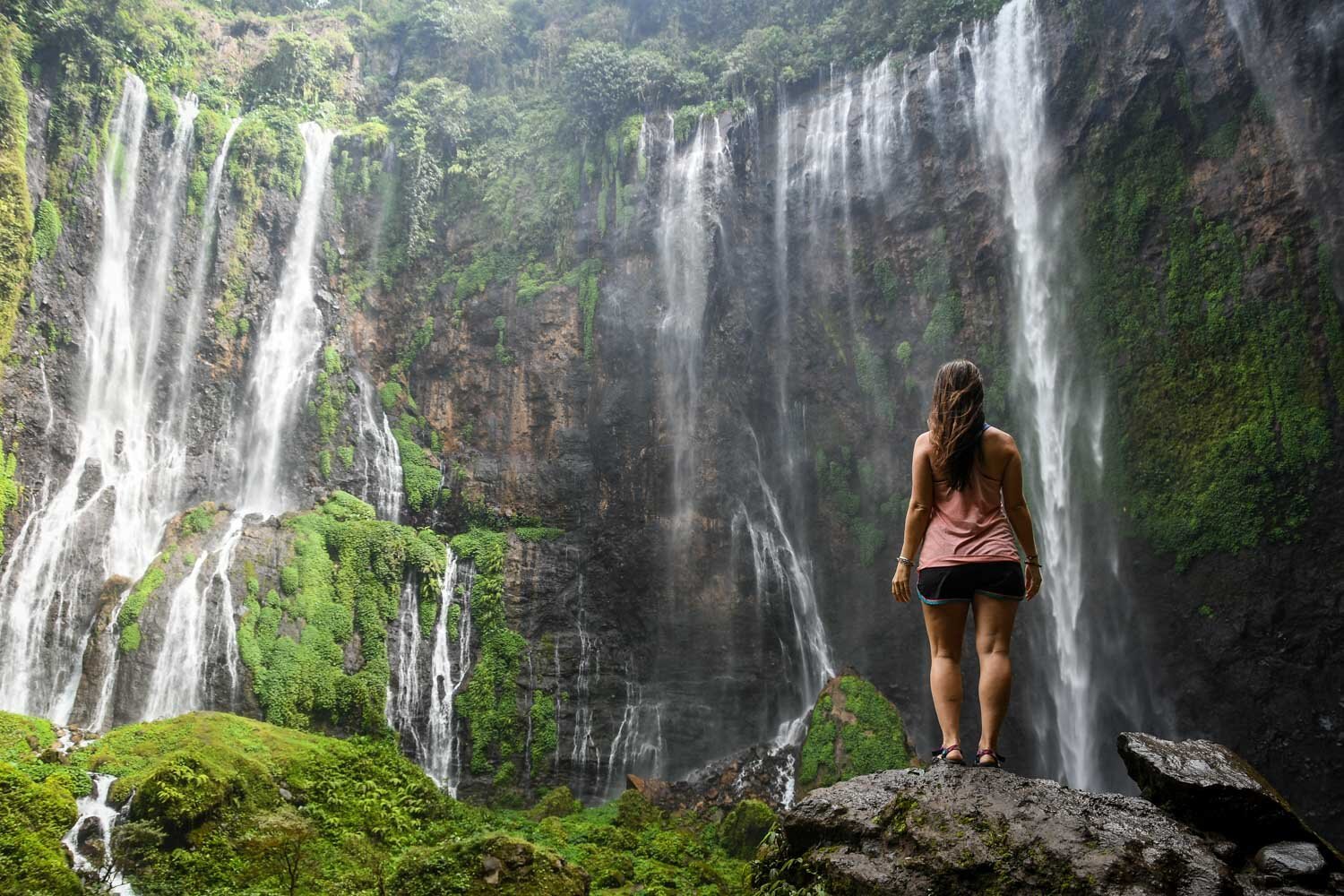 To give you an idea of what to expect, here's what our waterfall day trip looked like:
7 a.m. driver picked us up and we started the drive

9:15 a.m. arrived at Tumpak Sewu, used bathroom, and started our hike at 9:25 a.m., stopping briefly at the viewpoint.

10:10 a.m. reached the bottom of the canyon after roughly 45 minutes of hiking/scrambling down

11:45 a.m. after hanging out at the waterfall and exploring the canyon for about an hour and a half, we started making our way back up. (Our driver had given us a time to shoot for, though we could have easily spent a bit longer down there!)

12:10 p.m. we reached the parking lot — the hike up look about 25 minutes (though we kind of rushed up, so you may want to account for a bit more time). Although it's kind of steep, it seemed easier on the way up because you don't have to worry as much about slipping.

We had a lunch and coffee break with our driver before departing.

12:50 p.m. after a 15-minute drive, we arrived at the second waterfall: Coban Sriti and started hiking down.

1:15 p.m. we reached the bottom after a 25-minute hike down and hung out and took pictures of the waterfalls, as we were the only ones there!

1:55 p.m. started hike back up and got to the top at 2:15 p.m. (20-minute hike up)

2:20 p.m. started drive back to Malang

5:45 p.m. arrived back in Malang after a roughly 3.5-hour ride through crazy "rush hour" traffic.
How long do you need at Tumpak Sewu?
This is a somewhat tricky question to answer because if you are coming from Malang and plan to return for the evening, you will need to account for the transportation time. Plus, if you hire a driver, they may give you a "time limit" down at the waterfalls to make sure they stay on schedule.
We spent about 3 hours in total:
45-minute hike down

1 hour 50 minutes exploring the waterfall & Goa Tetes

25-minute hike up (we kind of rushed, so you may need to factor in a bit more time)
We would have loved even more time in the canyon, so we would advise to plan on spending at least 3 hours here.
How crowded is it?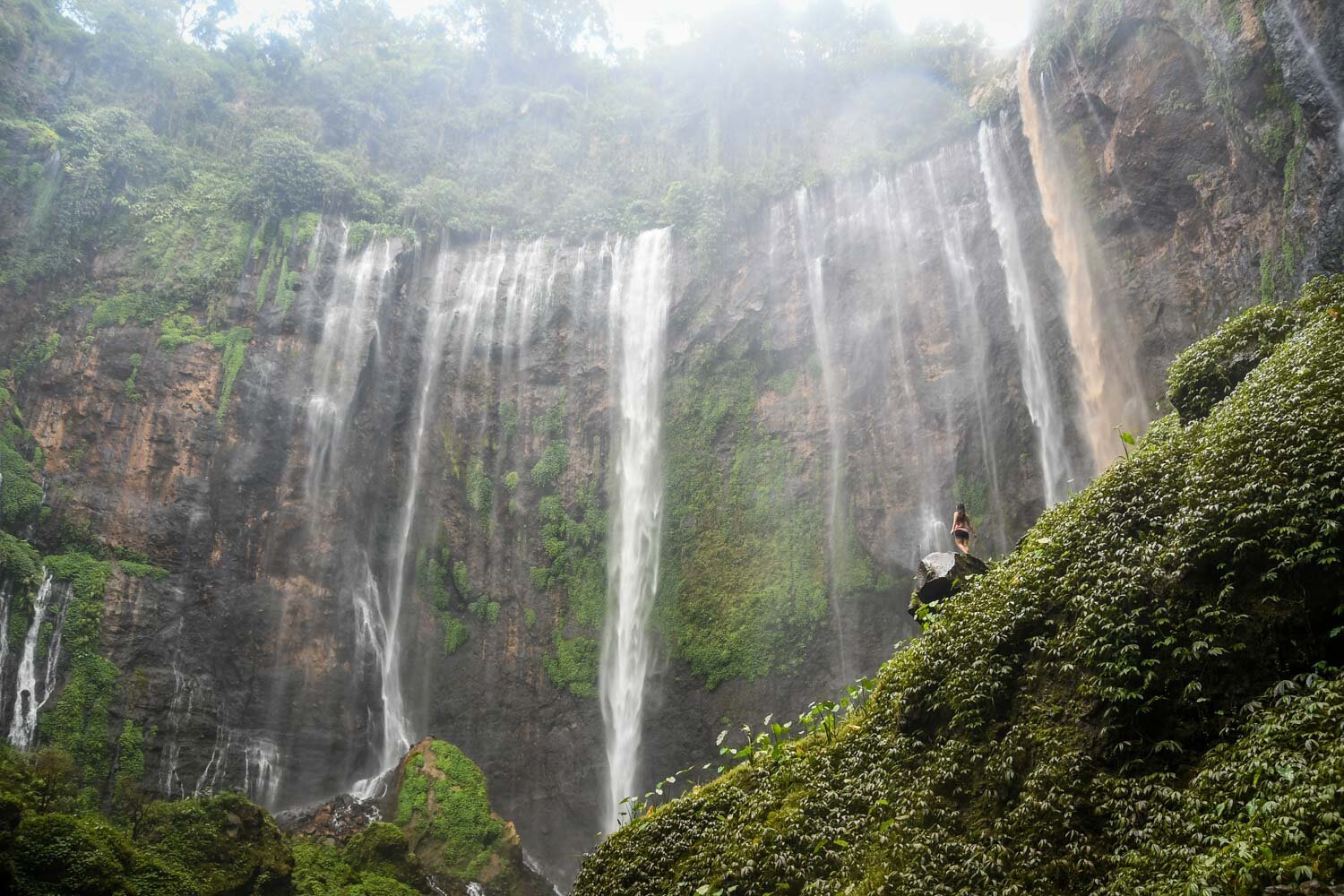 Honestly, we were shocked by how few people were at this waterfall. However, having come from Bali, much of Java surprised us in the lack of tourists (well, except for Ijen Crater and Mount Bromo, both of which were packed!). 
We spent a good 30 minutes at the main falls, and there was a group of 3 friends from Portugal there at the same time. Once they left, we were left entirely on our own, which was a crazy feeling in the midst of such a powerful sight. About 15 minutes later, another couple joined us. 
This is just an example of one day, and we'd expect it would get more crowded later in the afternoon as well as on weekends.
TL;DR (too long; didn't read): Come early and stick to weekdays for the best chance of solitude.
More Waterfalls near Tumpak Sewu
While Tumpak Sewu is arguably the most famous and perhaps the most spectacular, it is far from the only waterfall in this region. In fact, this part of East Java has such a dense concentration of waterfalls that you'll need to pick and choose which ones are a priority for you to visit.
Ask your driver if you can visit one or two more waterfalls in addition to Tumpak Sewu since you'll be near so many!
Coban Sriti Waterfall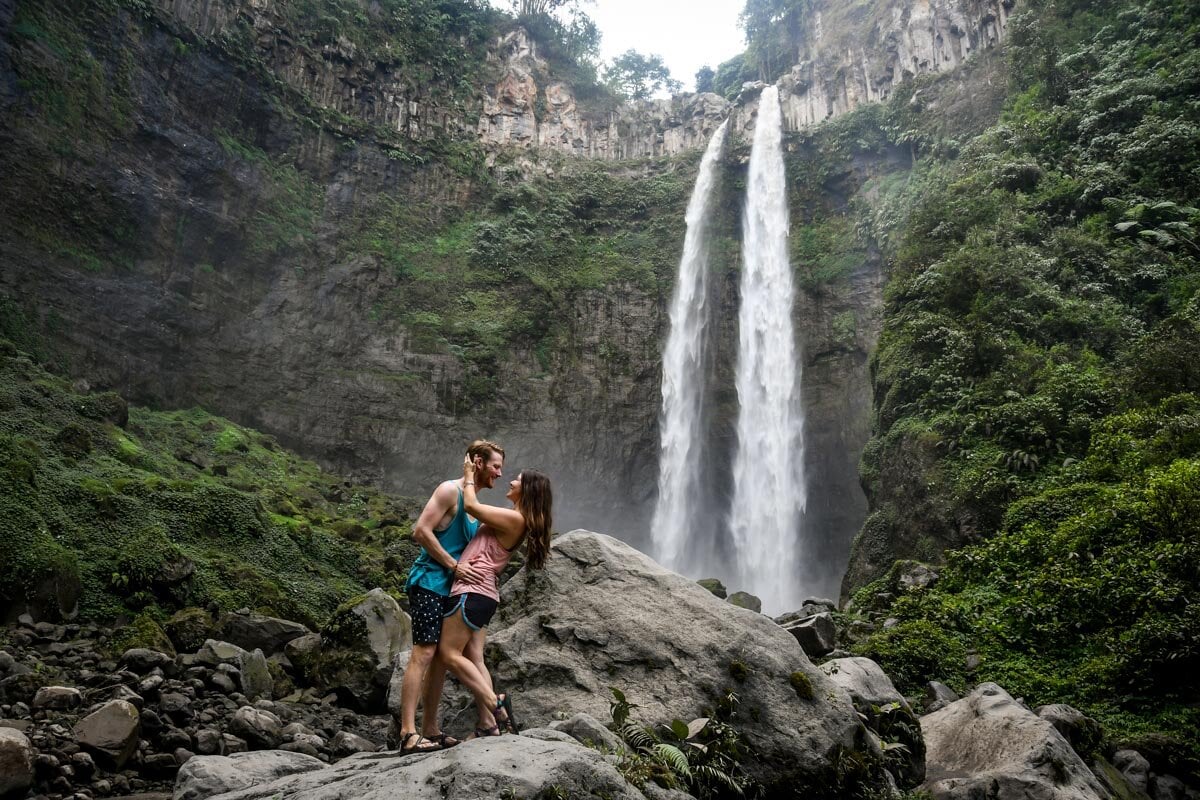 We had only planned on visiting Tumpak Sewu, but our driver asked if we'd like to stop at another falls before heading back to Malang, and of course we said yes… 
So we drove another 15 minutes to reach Coban Sriti Waterfall.
We had no expectations, and were yet again blown away, which was a hard feat after standing beneath Tumpak Sewu. 
The hike down took about 25 minutes (coming up took 20 minutes), and it was much easier than the trek to Tumpak Sewu (thank goodness!). 
We crossed paths with a group of 3 local girls, who wore their school uniforms and giggled when they saw us and headed up the trail. Other than them, we were the only people at Copan Sriti. We hung out at the bottom for 40 minutes in complete solitude. 
The falls itself if quite unique, as the two chutes of water split off, making it look like two separate waterfalls. Our driver said it is named after a bird's tail, but after some digging on the Interwebs, I can't seem to find which one…
More waterfalls nearby (in Lumajang regency):
Kapas Biru: This waterfall is quite tall and has a backdrop of red cliffs, making it pretty unique.

Kabut Pelangi: Huge waterfall surrounded by mossy cliffs.

Coban Srengenge: Not nearly as tall as the rest of the waterfalls on this list, Coban Srengenge is still beautiful and makes a good pitstop.
Accommodation near Tumpak Sewu
If we had more time in Java, it would have been nice to spend the night near Tumpak Sewu so we could have split up the driving and had more time to just hang out at the falls. There aren't any major towns near Tumpak Sewu, but there are two places to stay nearby.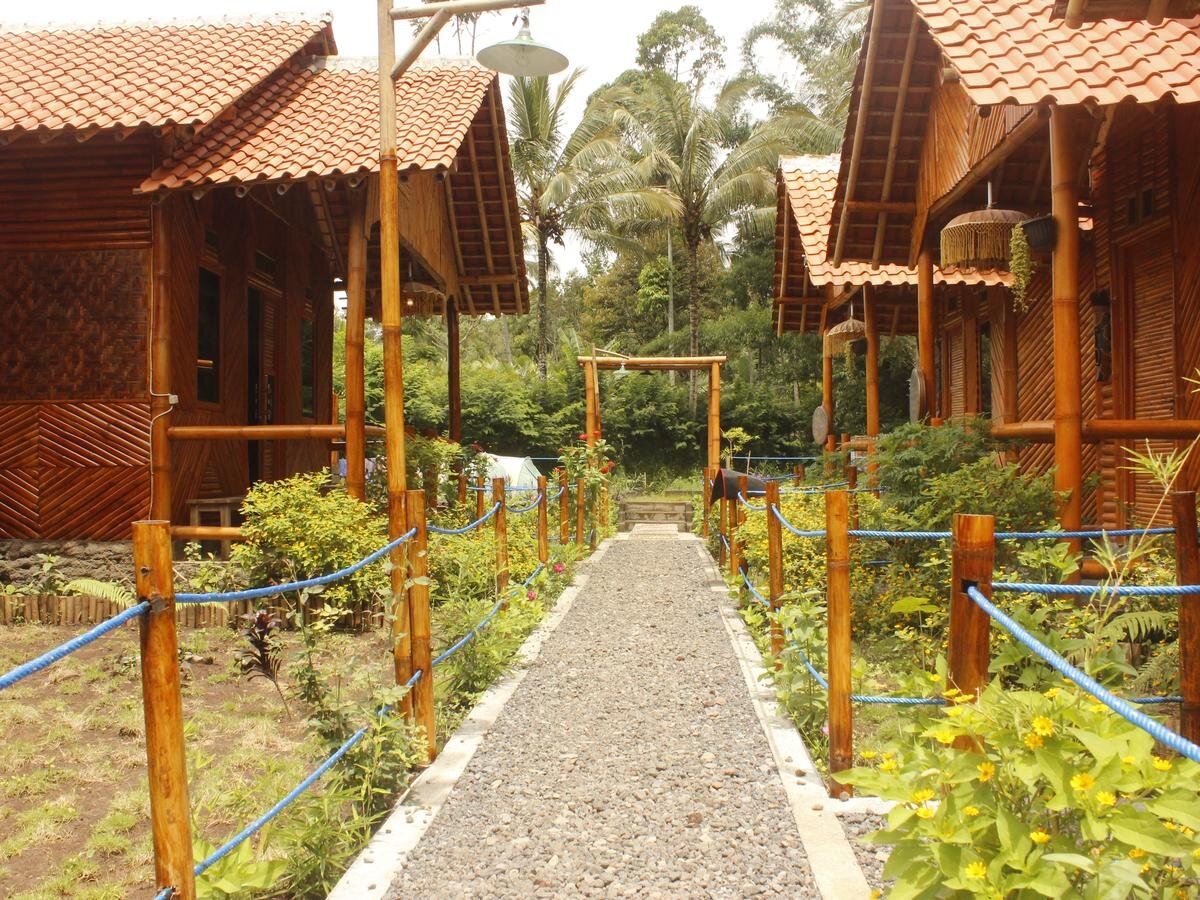 Dear Traveller Guest House & Glamping: Stay in bamboo cottages in a garden setting with mountain views. And if that doesn't convince you, perhaps the free breakfast, kind owners, and super affordable rates will! This place earns rave reviews and it would be our pick if we were to stay in the area.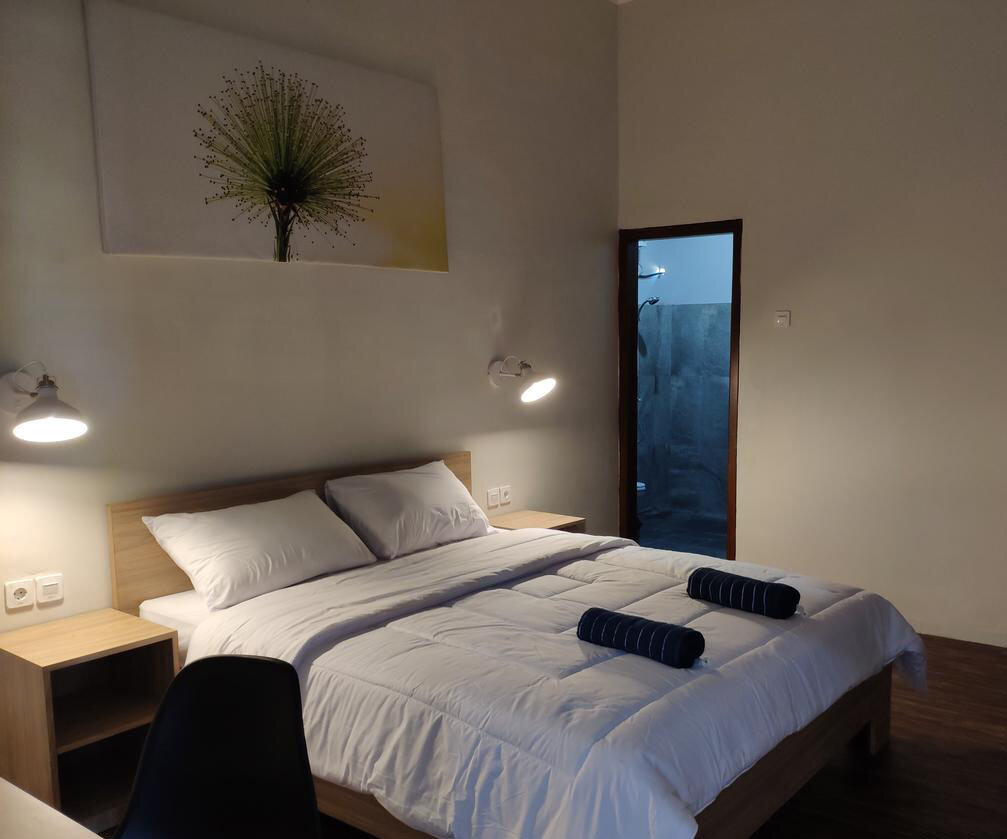 Tumpak Sewu Homestay: Just a 20 minute walk, this is the closest you can stay to the waterfall (only slightly closer than the property above). Comfortable rooms and free breakfast make this one another good option if you want to stay in the area.
Tip: Staying near Tumpak Sewu would allow you to get to the falls early enough to catch sunrise, which we have heard is pretty spectacular.
If however, you don't have time in your itinerary to devote a night to staying nearby (sadly, we didn't either!), keep reading so you know what to expect on the drive back to Malang…
Getting Back to Malang
It's worth mentioning that the drive back to Malang in the afternoon is a looong one, and you should expect it to take more time than it did getting there in the morning. Our driver said it was "rush hour", so apparently even in the remote reaches of Java they have to deal with frustrating commutes!
Our experience: We left Coban Sriti at 2:20 p.m. and didn't arrive back to our guesthouse in Malang until 5:45 p.m., so the journey took nearly 3.5 hours. Yikes! This is yet another reminder that it is possible to stay close to the waterfalls to avoid this traffic.
Insider tip: You'll be arriving back in Malang around dinnertime, and if you're anything like us your tummy will be a rumblin' and you'll want to have a place to eat in mind. Here are our suggestions:
Gloria's Noodles: Soups with homemade Chinese-style noodles. So yummy and cheap!

Night Market: For a sampling of different street foods, you can go wrong at the night market.

Taman Indie: For a nicer meal, this is your place! Great atmosphere and really nice food for an affordable price.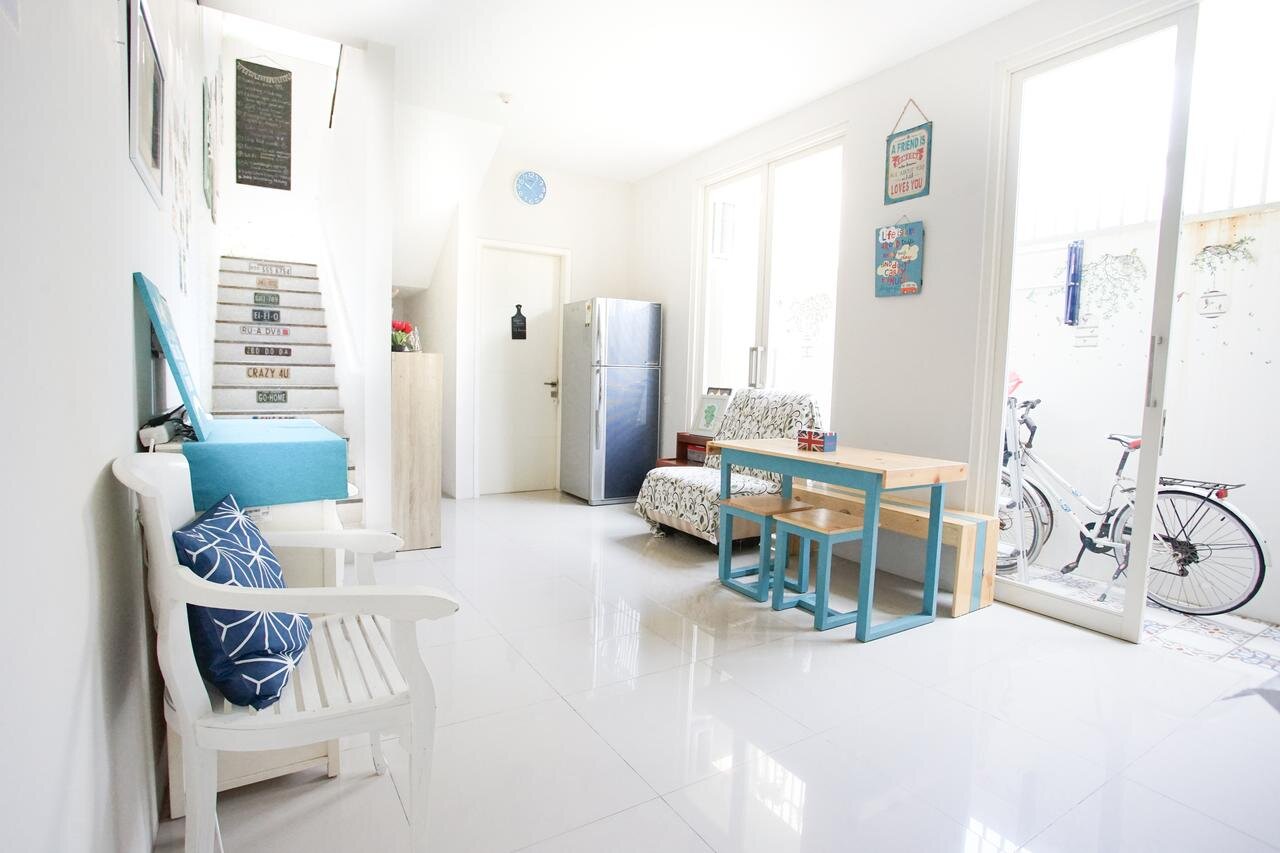 Where to stay in Malang: Accommodation options in Malang aren't spectacular, but we loved our stay at INNI Homestay. Rooms are basic, but the mother-daughter duo who own the place are incredibly kind and helpful in organizing tours.
How to book a tour to Tumpak Sewu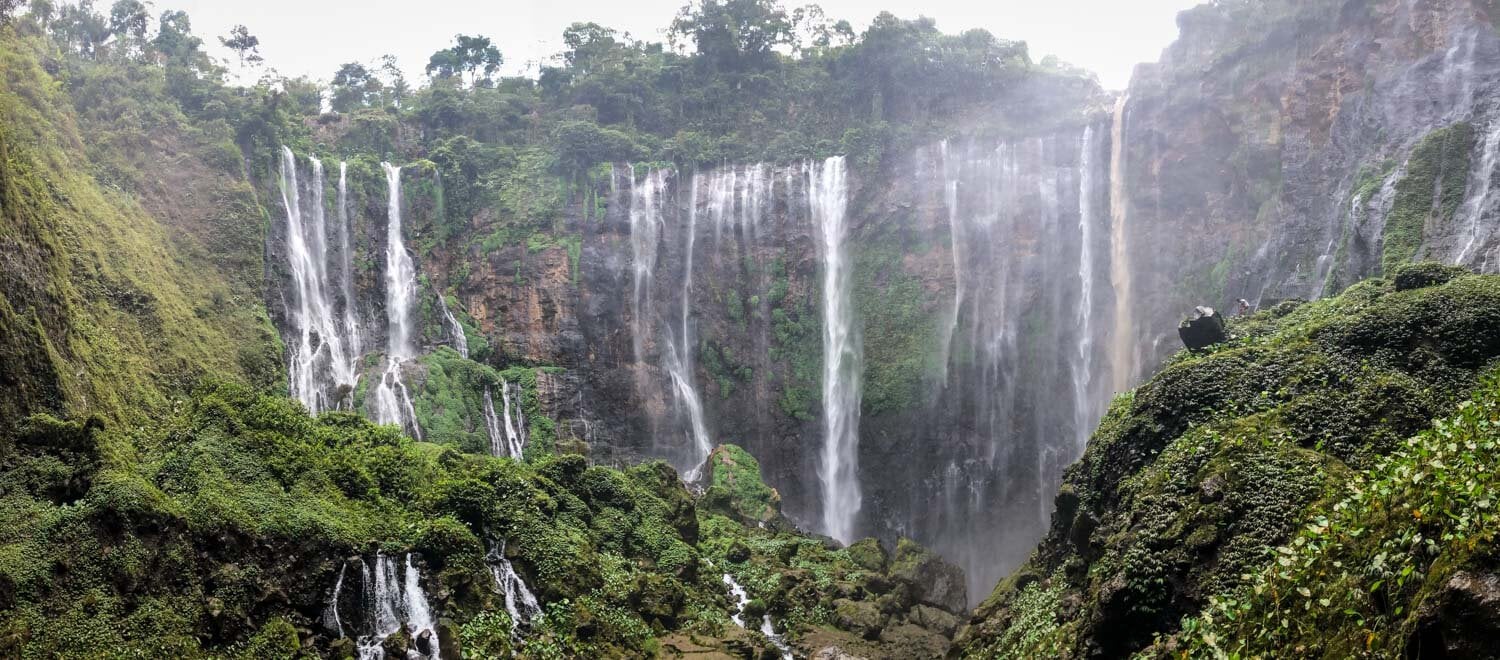 We arranged our waterfall day trip through our guesthouse in Malang, INNI Homestay. We had a private driver for the day and a boxed lunch, which cost a total of 800,000 IDR ($56 USD) for both of us.
You could rent a car and drive there, but we'd advise against that because that traffic is crazy and it's fair price to support a local driver. All hotels in Malang, should be able to arrange a driver for you, all you have to do is ask.
---
You may also like…
We have TONS more resources on Java, so if you're planning an Indonesia trip, you'll definitely want to check out our other articles too!
Save this article on Pinterest for later!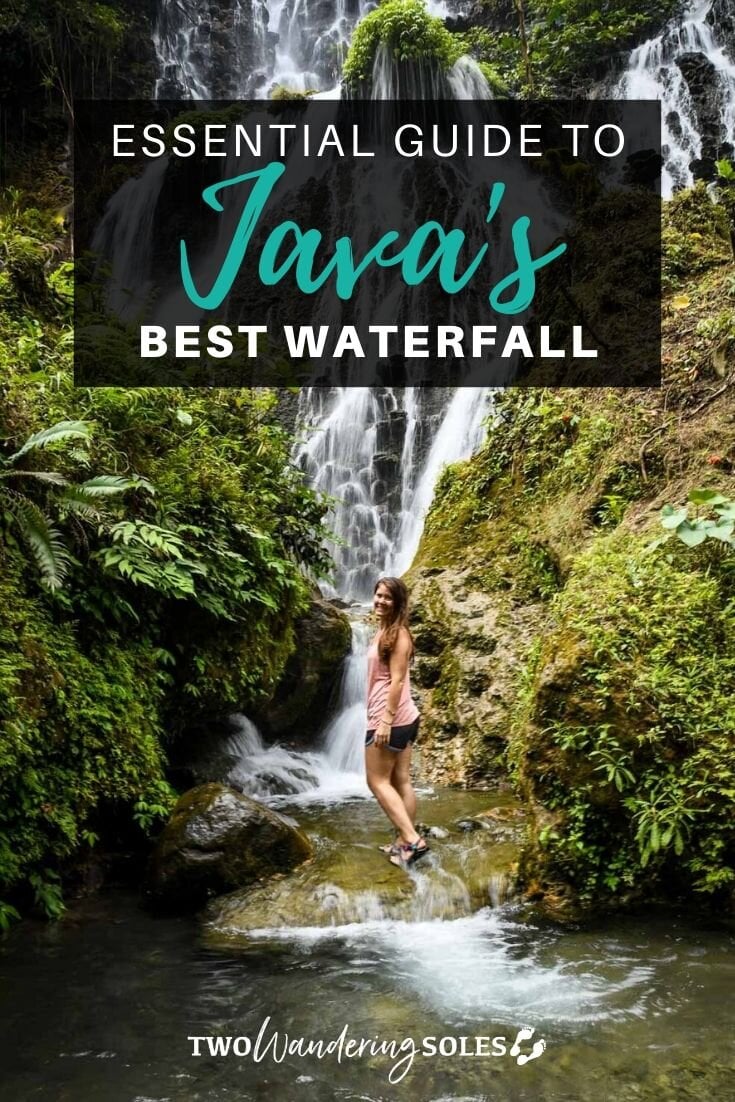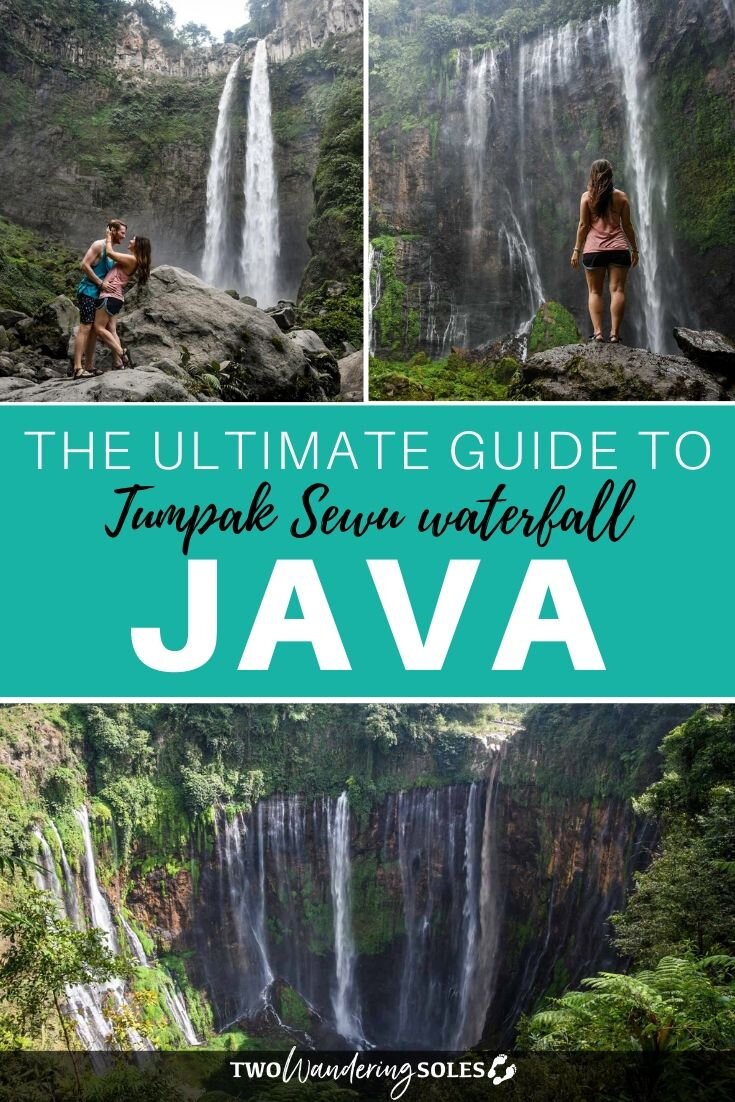 We want to hear from you!
Are you planning a trip to Tumpak Sewu waterfall? Did we spark some wanderlust to see some of Java's best waterfalls? Please share your question and comments in the comments below!